There is no shortage of awesome things to do in Kananaskis, but this provincial park often gets overshadowed by Banff, its big sister. From ice skating on frozen ponds in the winter to canoeing on one of the most beautiful lakes in the summer, you could spend years here and never get bored.
Let's dig into the best things to do in Kananaskis Country!
---
Best Things to do in Kananaskis Country
---
Paddle on Goat Pond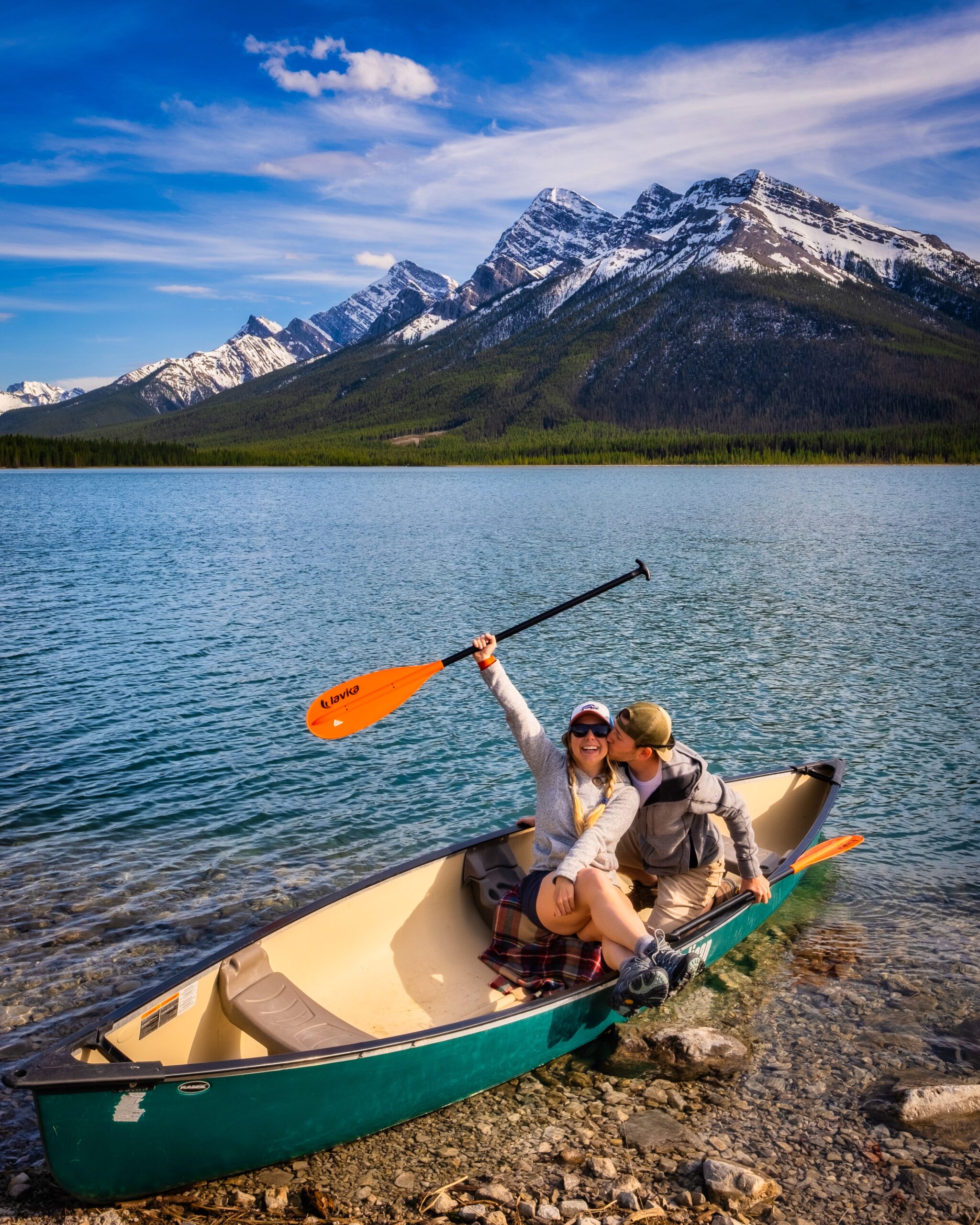 Whenever I'm looking for an excellent activity close to Canmore, I'll head to Goat Pond. It's a great place to bring a Canoe or Kayak as there is super easy access to get your water device in.
Goat Pond is typically calm and enjoys lots of sunlight with majestic mountain views. It's also a great alternative when the other lakes in Banff are busy in the summer. A bit of a local secret! You'll need to bring your own canoe, kayak, or stand-up paddleboard here!
---
Ice Skate on Spray Lakes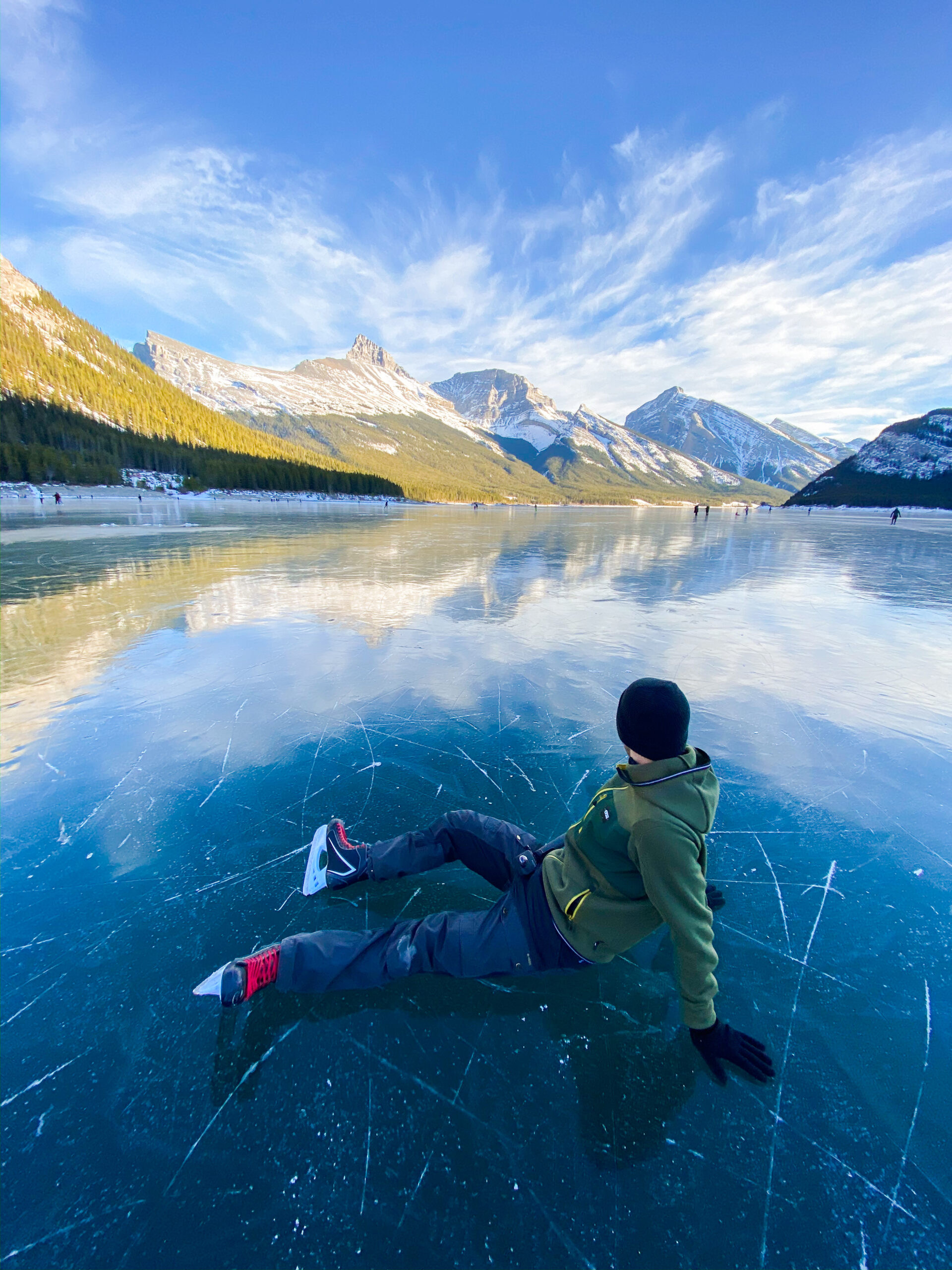 One of the best things to do in Kananaskis in the winter is head to Spray Lakes when the lake freezes over. Spray Lakes is right next to Goat Pond and often freezes over enough to ice skate sometime in November or December – depending on the year.
This is a massive lake in Kananaskis that literally cannot be missed if you're driving down the Smith Dorrian Road. The key to finding great frozen lakes to skate on is timing. Wild skating on these lakes is best when the lakes first freeze, but a significant snowfall hasn't fallen enough yet to cover the ice.
16 Amazing Places to Go Ice Skating in Banff and Beyond
---
Hike Up Windtower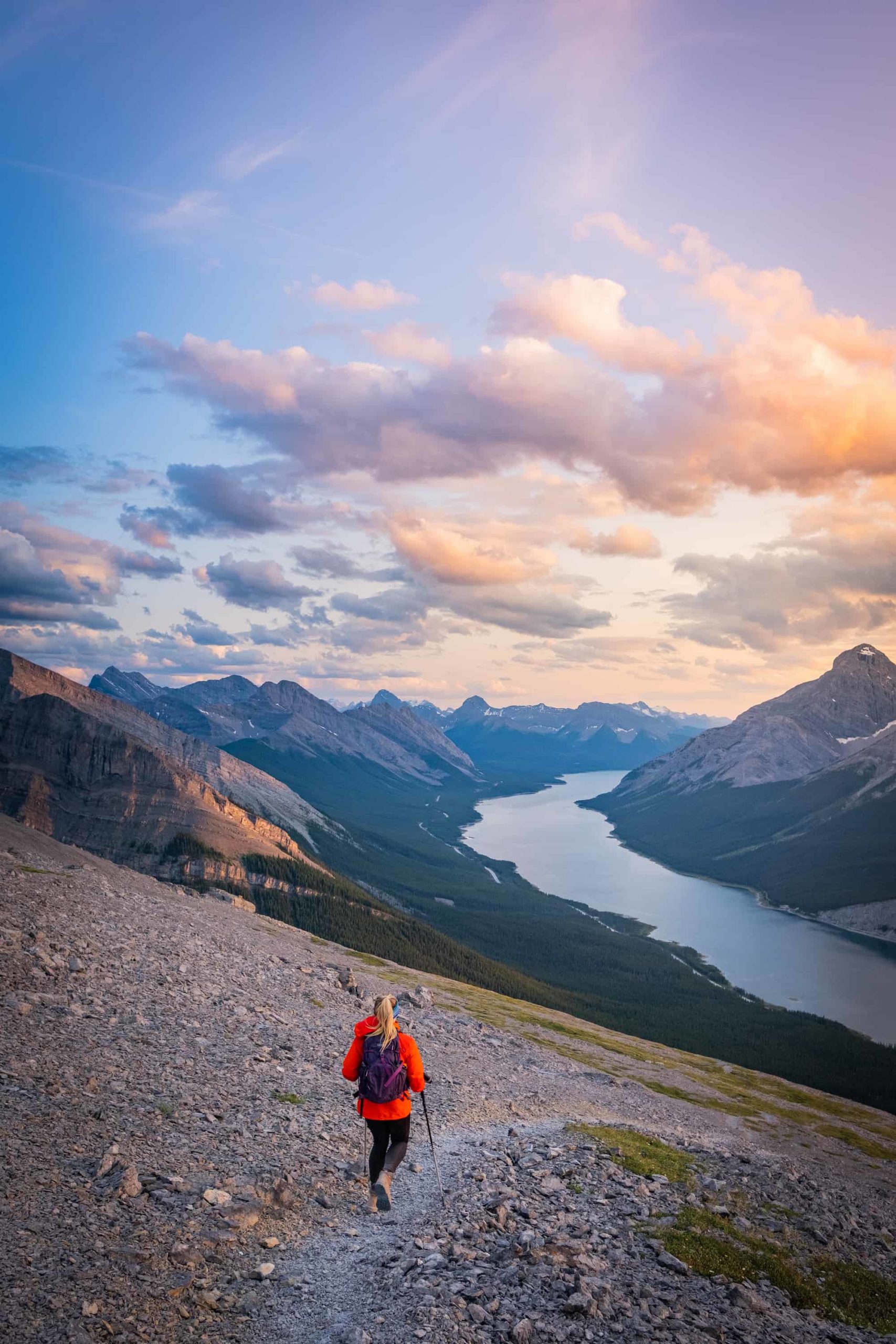 If you're looking for a challenging hike/easy scramble, consider hiking up Windtower! It's one of the best hikes in Kananaskis Country and provides absolutely epic views of both Canmore from the summit and Spray Lakes from the other direction.
Depending on your hiking fitness, the hike will take between 3-6 hours round trip and gains some serious elevation, but the views are worth it!
---
Relax at the Kananaskis Nordic Spa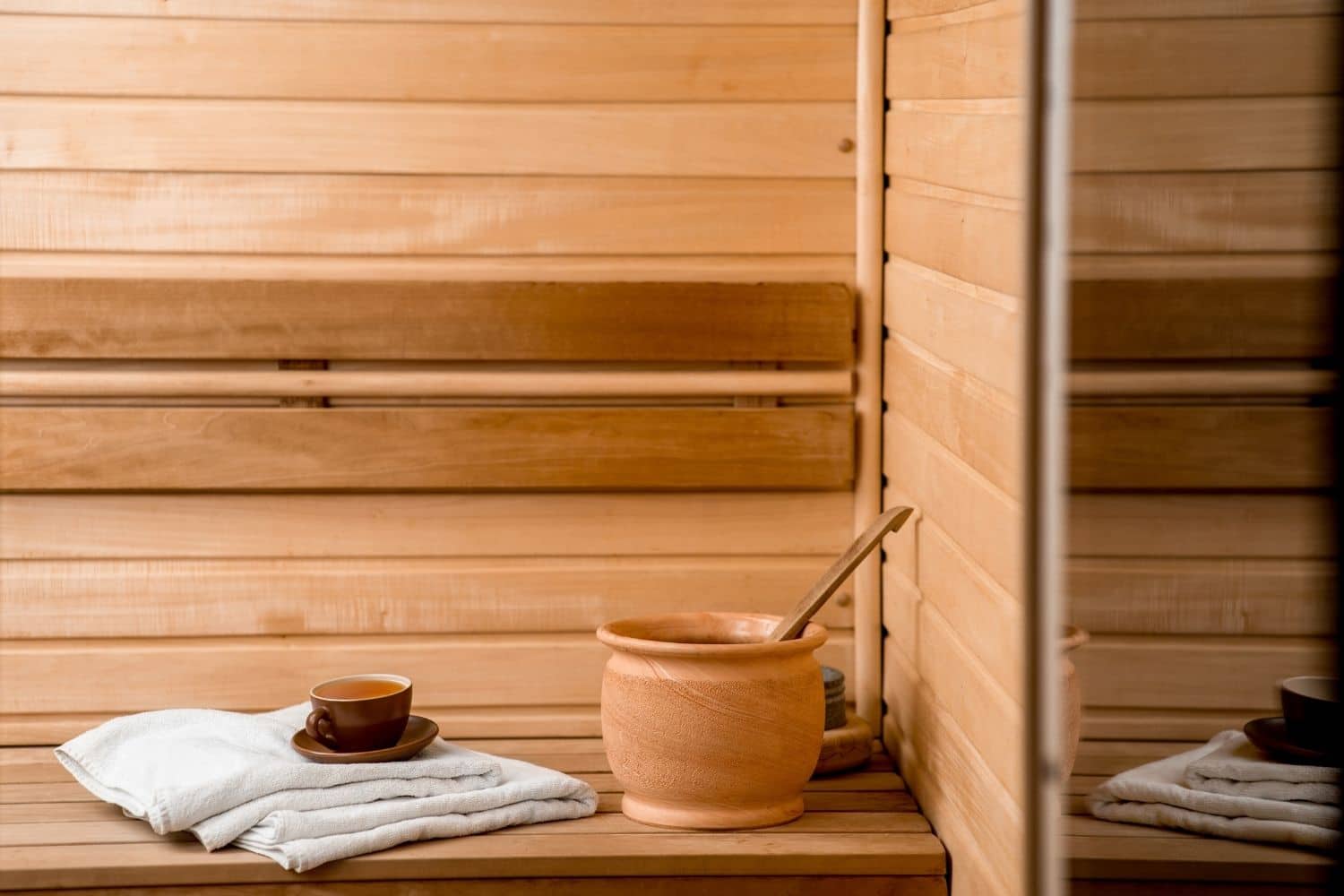 The Kananaskis Nordic Spa at Kananaskis Mountain Lodge is one of the best places to head on a cool or winter day in the Rockies. It's here you can find outdoor hot tubs and a pool, as well as a relaxation room, steam room, and saunas. It's great for a romantic holiday in the Rockies or to enjoy with friends!
---
Stay at Sundance Lodge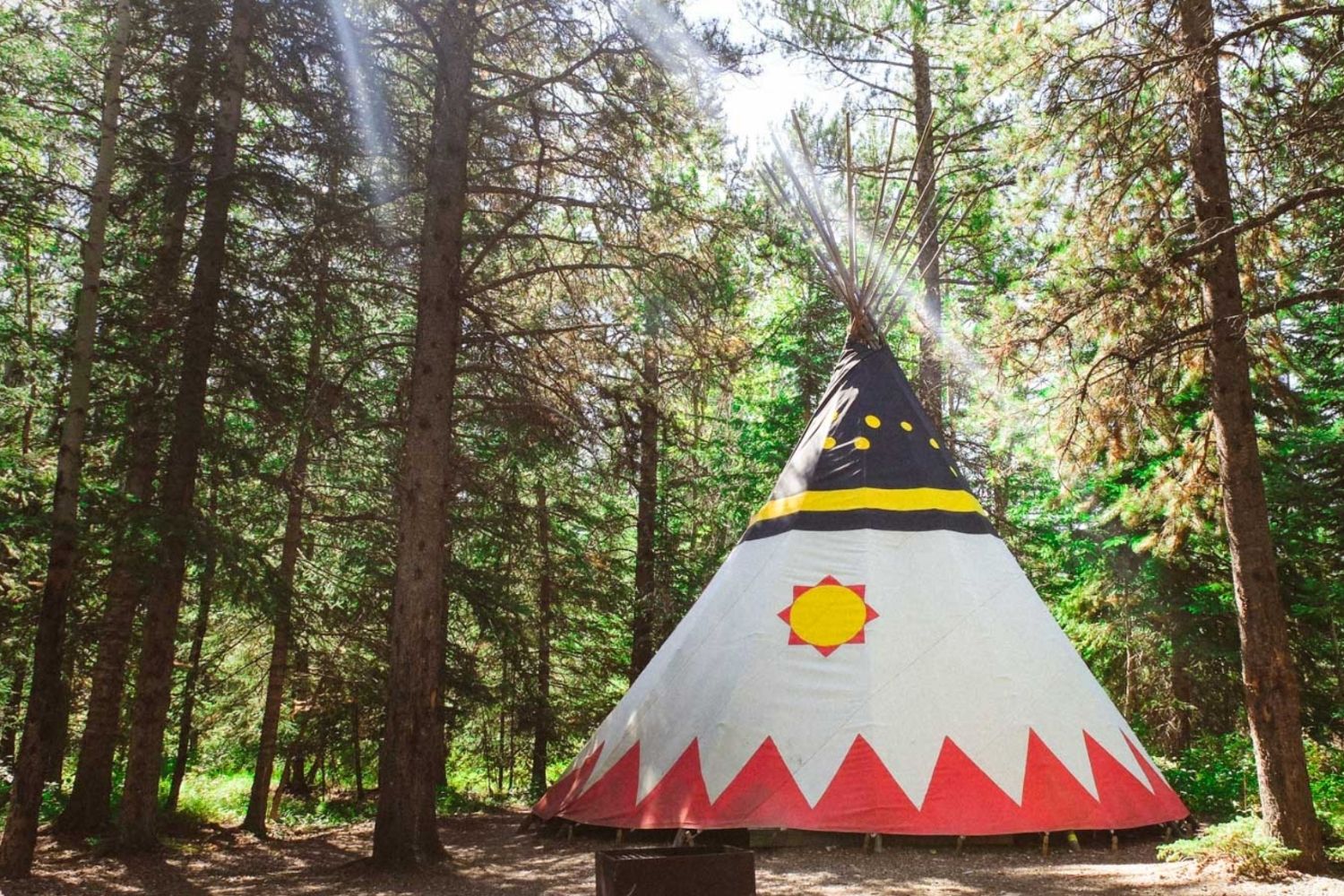 If you are looking for a unique cabin rental to stay in Kananaskis, consider Sundance Lodge.
Located near the Wasootch Ridge Trailhead and Nakiska Ski Resort is this fantastic accommodation option. Sundance Lodges offers accommodation in the form of canvas tipis and trappers tents. It's an excellent choice for those who wish to have more camping adventures as each site is unserviced.
---
Hike Tent Ridge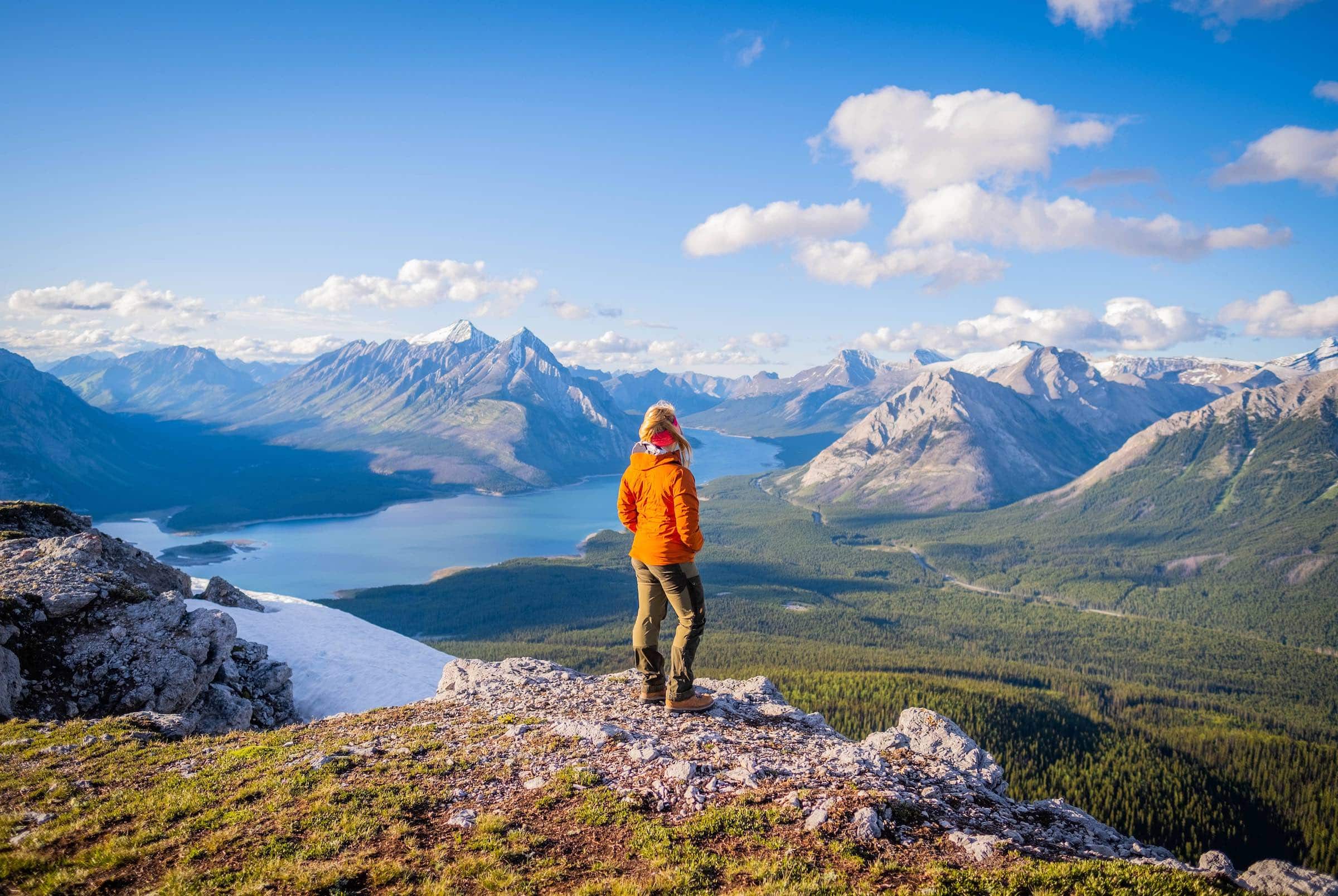 Nearby to Windtower is one of the most famous Kananaskis Hikes. Tent Ridge is a favorite for locals and visitors alike. It's a short (for the Canadian Rockies, that is), easy scramble with absolutely incredible views of Spray Lakes. The best time to get up there is at sunrise or sunset for amazing photos.
---
Bike Highwood Pass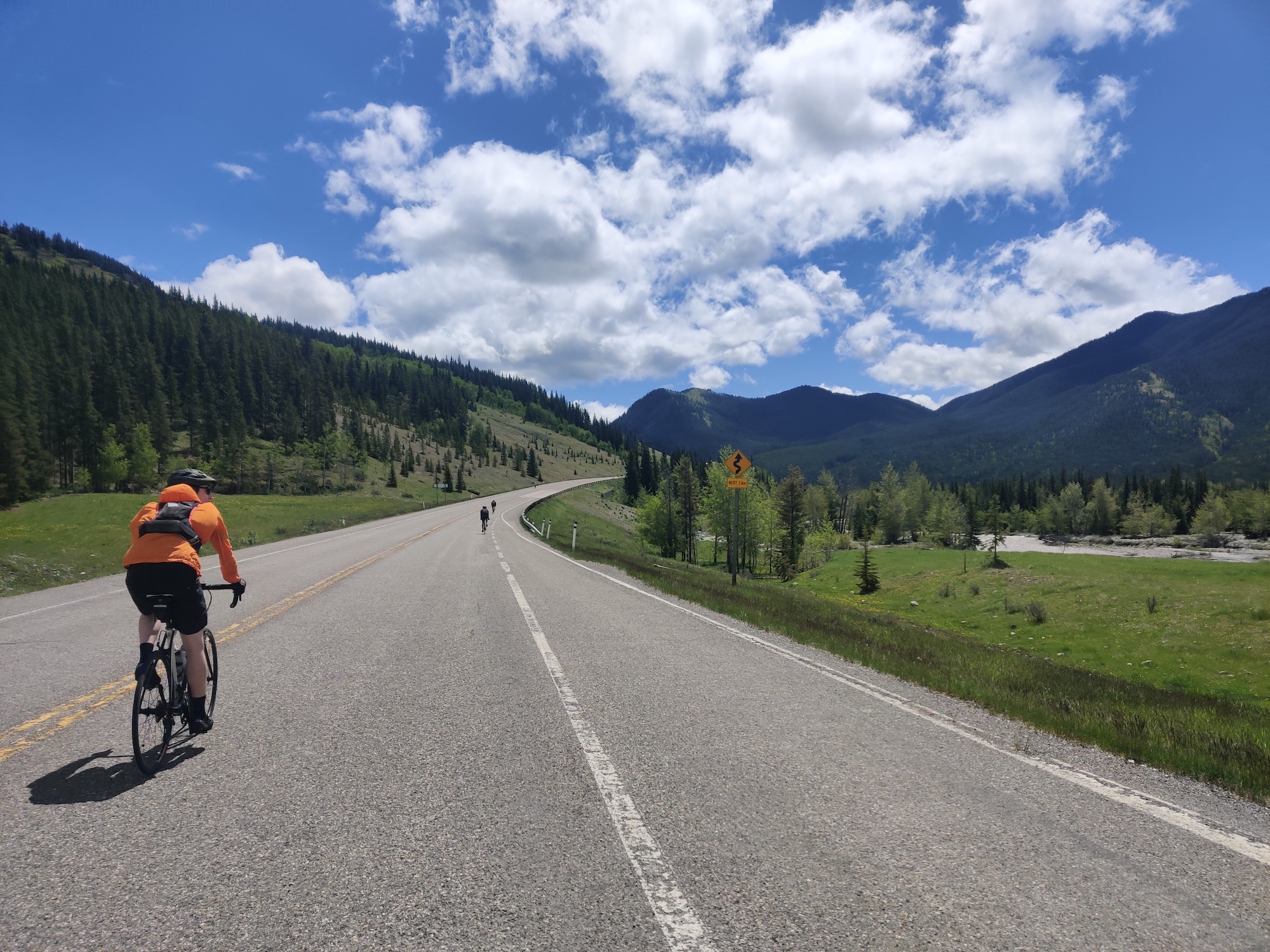 Highwood Pass is the highest highway in Canada, with some astounding views of the front range. Due to the elevation and high snow levels, the road closes in the winter months due to avalanche risk.
However, at the start of summer, the snow often melts before the official opening date for the highway (typically June 15th). It makes for an excellent car-free route for cyclists and a pretty nice challenge if you bike the entire route.
---
Ski at Nakiska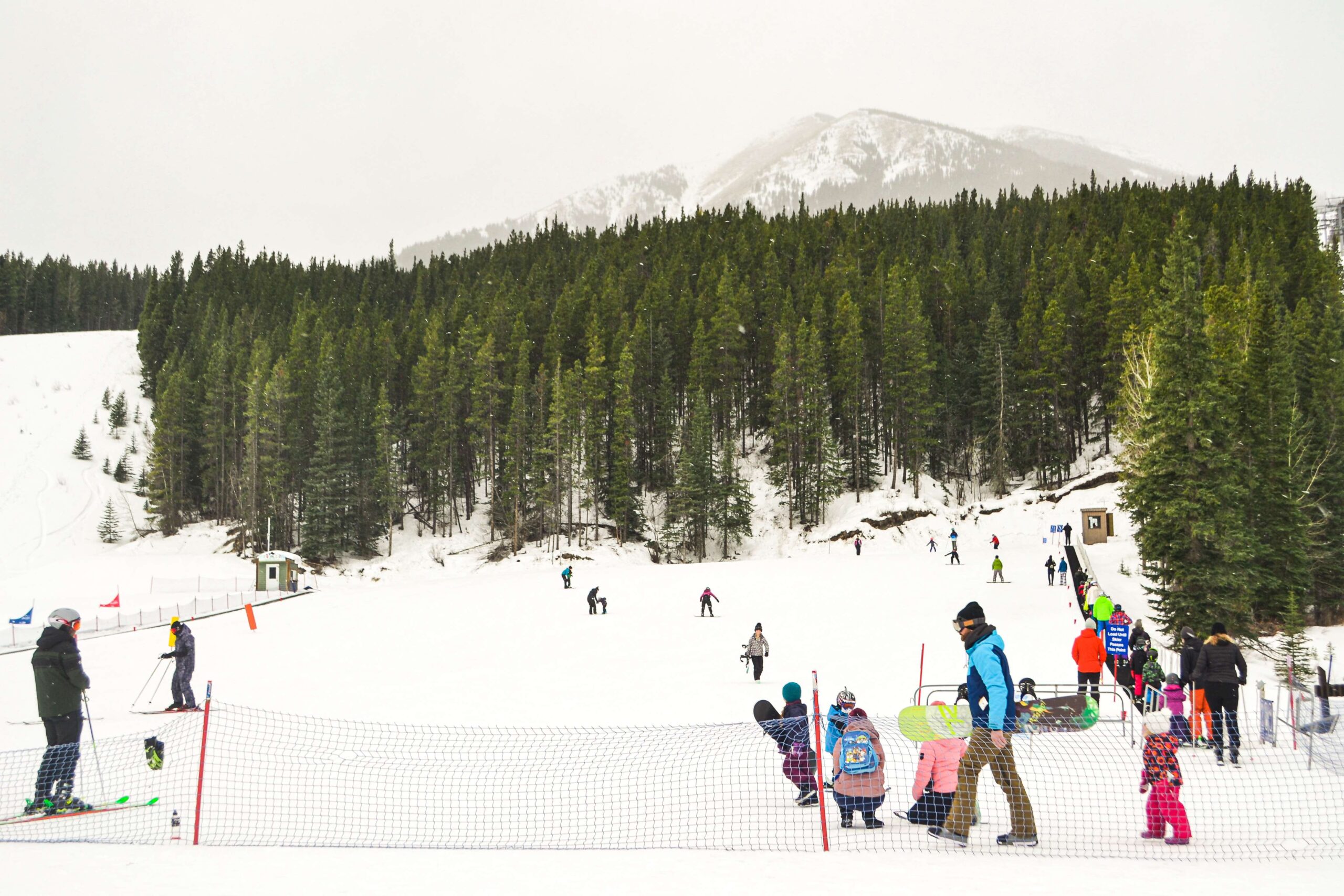 Another one of the best things to do in Kananaskis in the winter is ski or snowboard. Nakiska Ski Resort has family-friendly terrain in Kananaskis Country.
It's an excellent alternative for beginner and intermediate skiers compared to Banff Sunshine and Lake Louise Ski Resort. I love Nakiska, as there's typically not a soul around on the weekdays (however, weekends are another story). They also have some fun tree skiing and long cruiser groomers.
---
Enjoy Kananaskis Lakes
Kananaskis Lakes are some of my favorite lakes to enjoy in all of Alberta. The Upper and Lower Kananaskis Lakes are surrounded by colossal peaks that visitors can hike, or just enjoy from the shore.
There's a large beach area here to come on a nice summer day with the family. Bring a blanket and a cooler with some treats!
---
Stay At Mount Engadine Lodge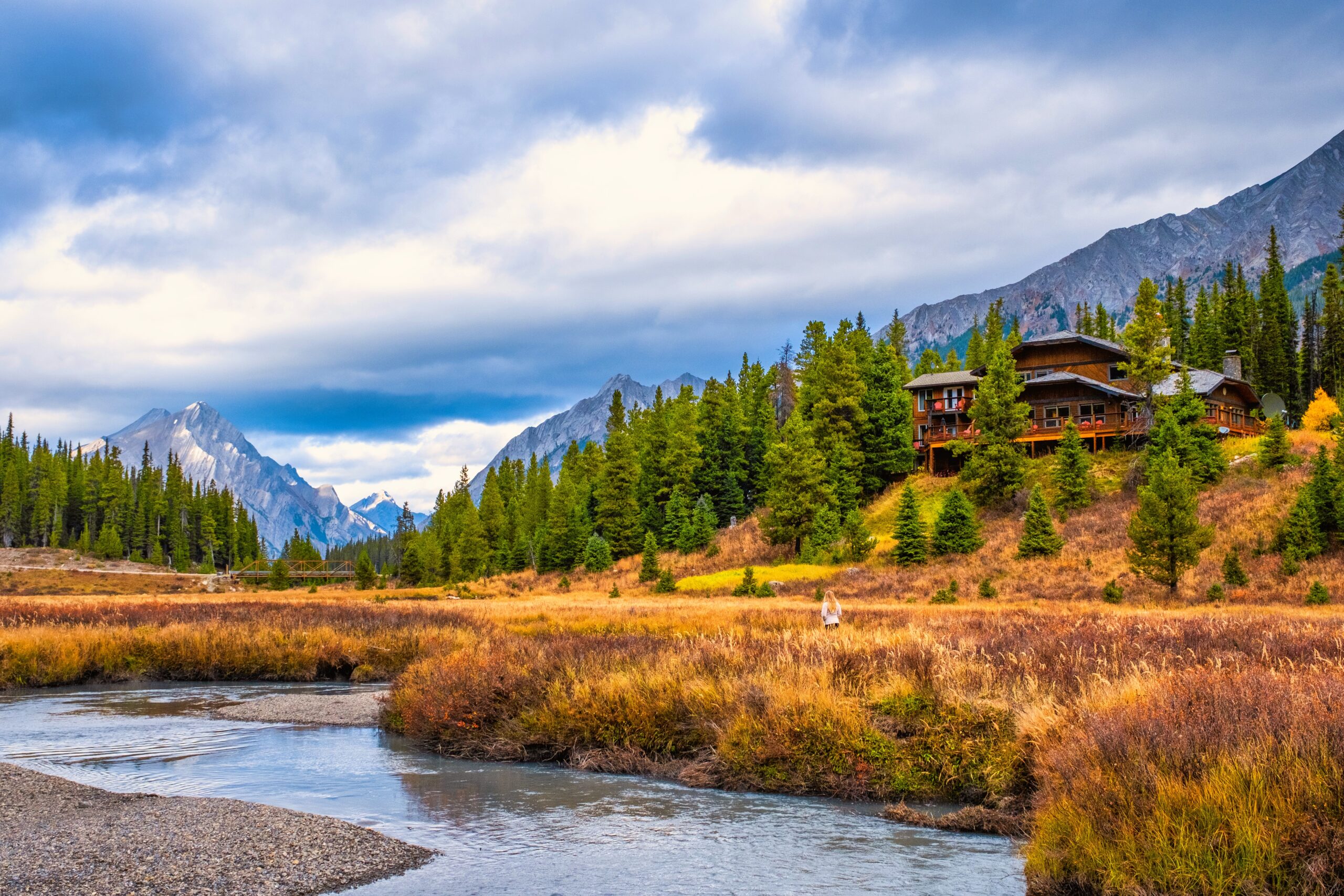 There's no better place to stay in Kananaskis than Mount Engadine Lodge! In the remote section of the park is this truly amazing place to stay. Mount Engadine offers cabins, yurts, and traditional rooms.
They operate all year long and offer a home away from home in the mountains. It's the closest thing to Glamping that you'll get in the area and is right next to the trailhead for Smutwood Peak and Tent Ridge.
---
Walk Across the Blackshale Suspension Bridge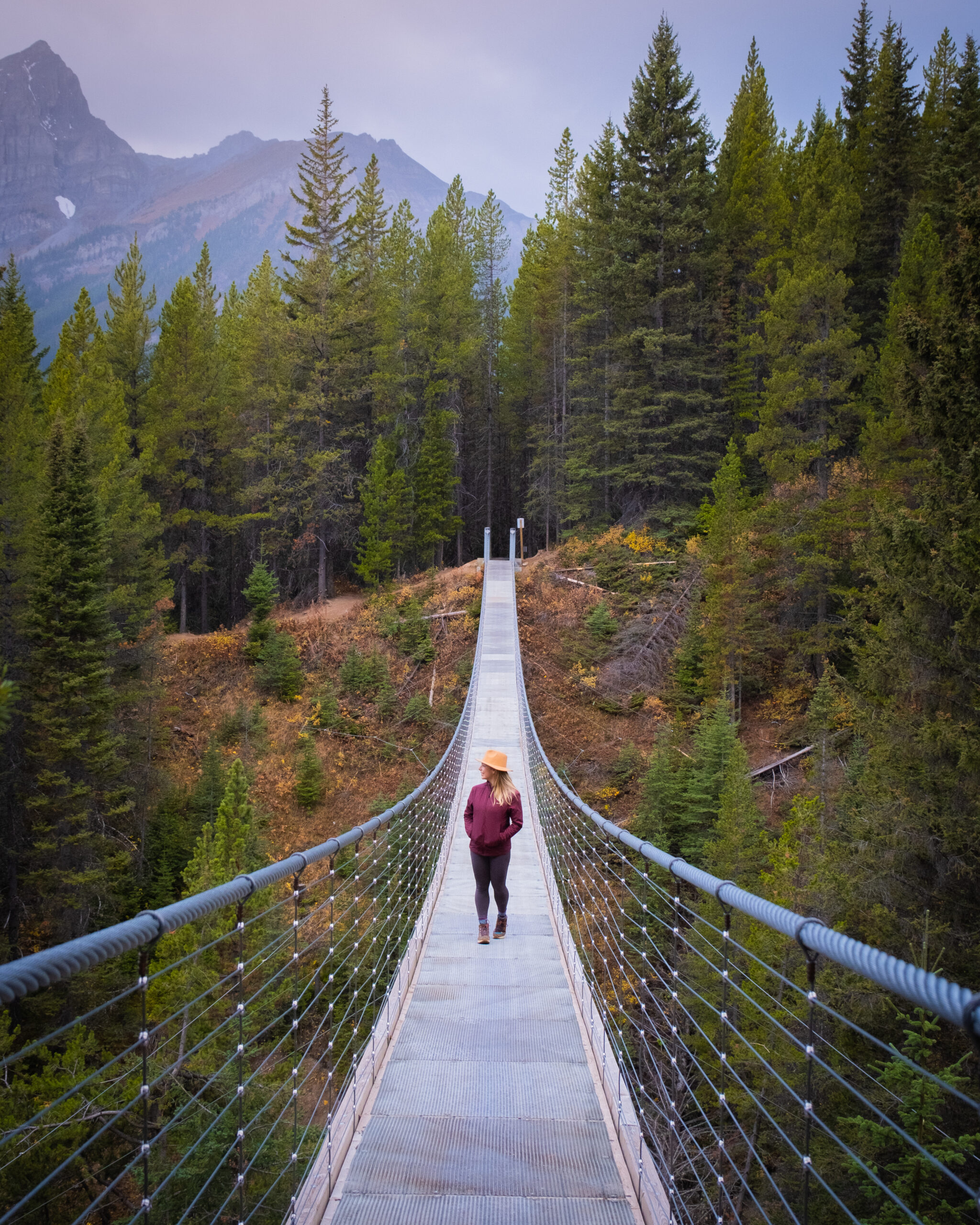 Not many people know about the Blackshale Suspension Bridge. Even after more than a year of living in the Rockies, we didn't! However, it's a beautiful very short hike in Kananaskis near Kananaskis Lakes that will take you high above the trees on a scenic bridge. It's a nice free bridge alternative to the Golden Skybidge.
---
Hike Up to Rawson Lake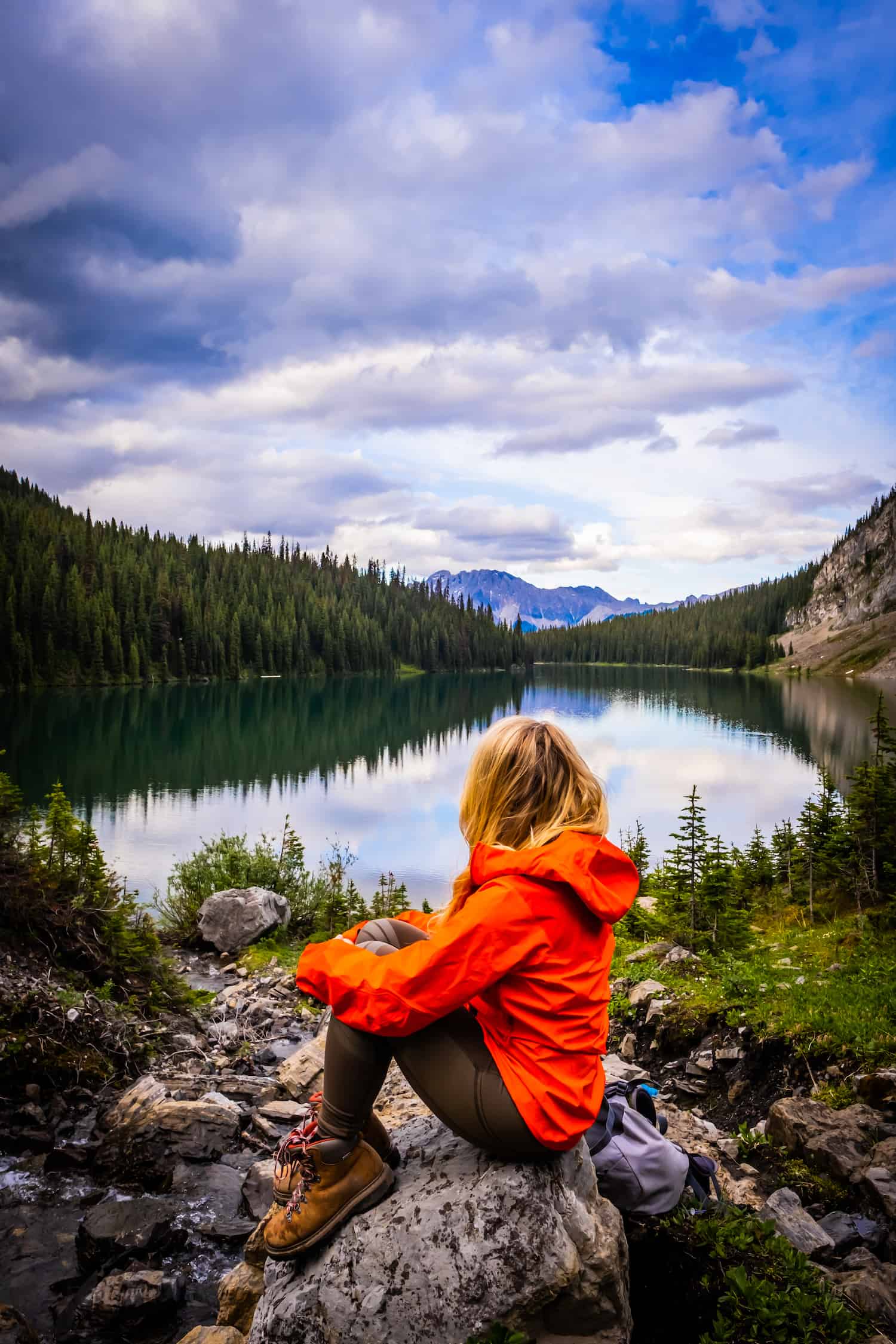 From the parking area at Kananaskis Lakes, you can actually hike up to another lake. Rawson Lake is an 8 km easy hike that is an excellent endeavor in the summer months.
Make sure to bring bear spray on this hike, as it's prime grizzly territory. Though if you are doing any hiking in the Rockies, you truly need bear spray with you at all times.
---
Continue to Sarrail Ridge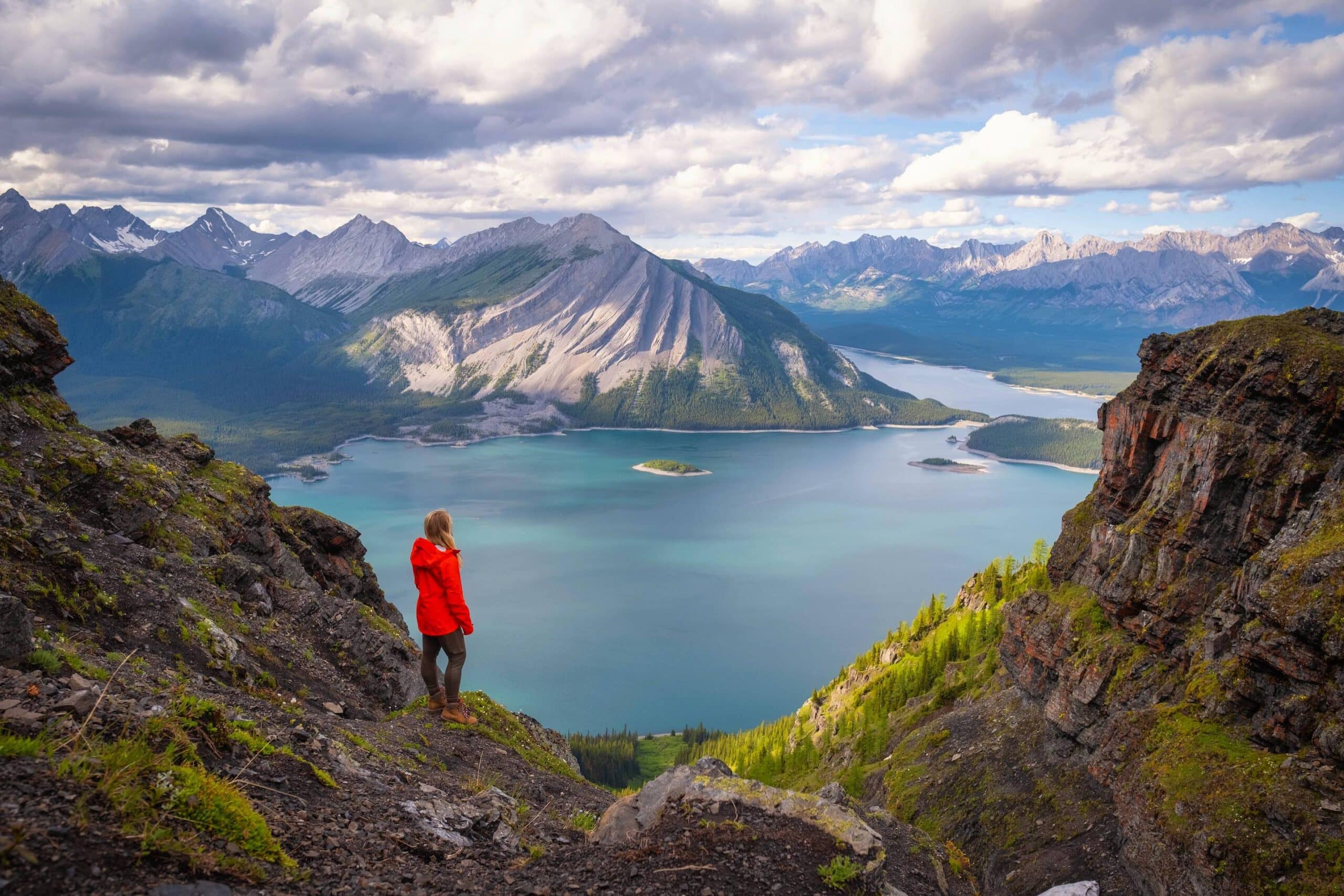 From Rawson Lake, you can either stop there or continue up to Sarrail Ridge. The hike up to Sarrail Ridge is steep and crosses grizzly territory, but once you reach the top, you get astonishing views over Kananaskis Lakes.
Make sure you have good shoes on this hike and poles to make for a more pleasant descent.
How to Hike Sarrail Ridge Via Rawson Lake in Kananaskis
---
Find the Mist Mountain Hot Springs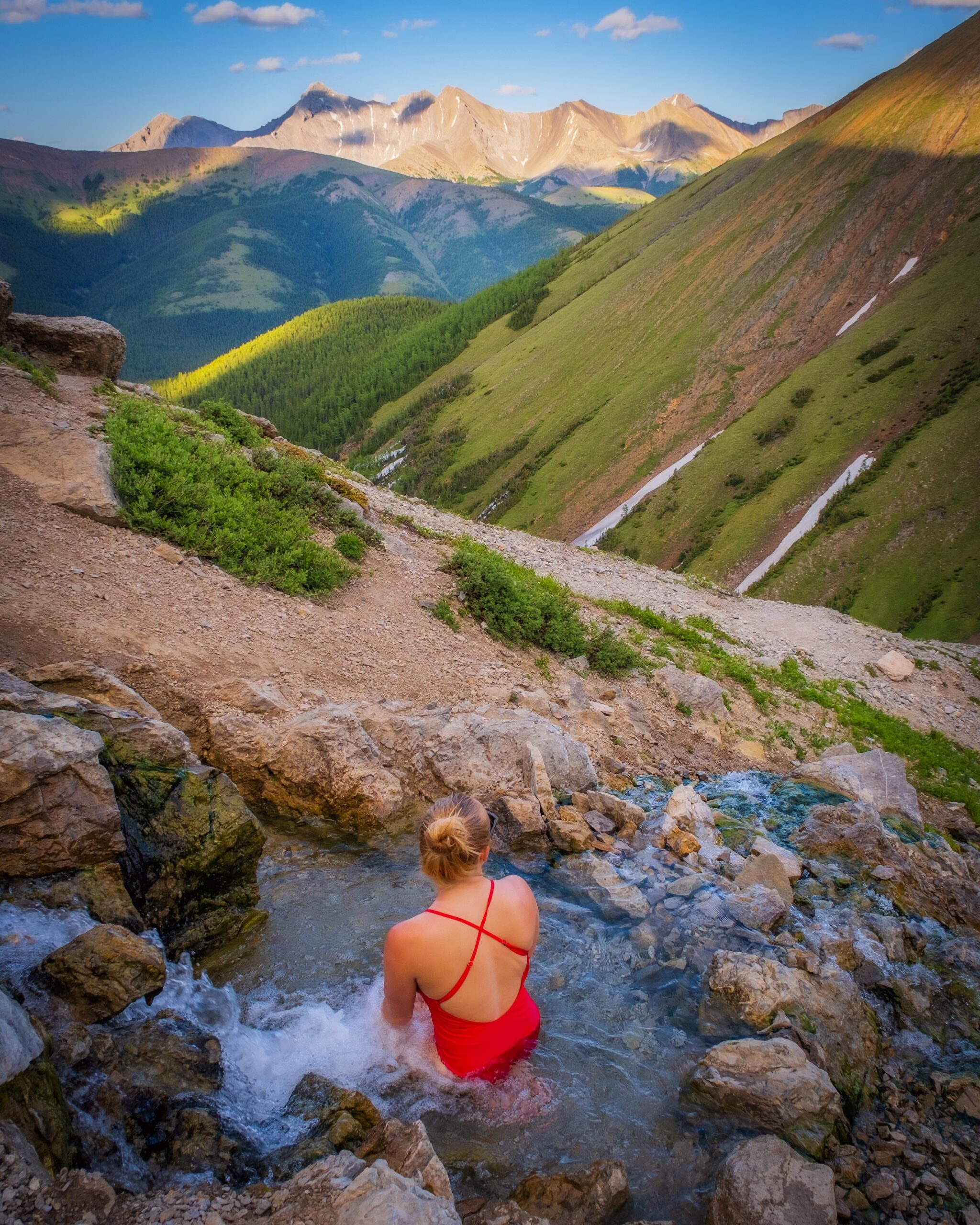 Somewhere deep in Kananaskis are the Mist Mountain hot springs. You may have seen them on social media as they've become more popular over the years.
I don't like calling them hot springs, as they are more "warmish." Regardless it's quite literally a natural warm tub in the middle of the mountains. I don't think you'll ever find springs like this that are more scenic.
Get there at sunrise in the offseason to avoid crowds, or you will likely be waiting in a line to get in the springs meant for 3-4 people max.
---
Catch Sunrise Over Barrier Lake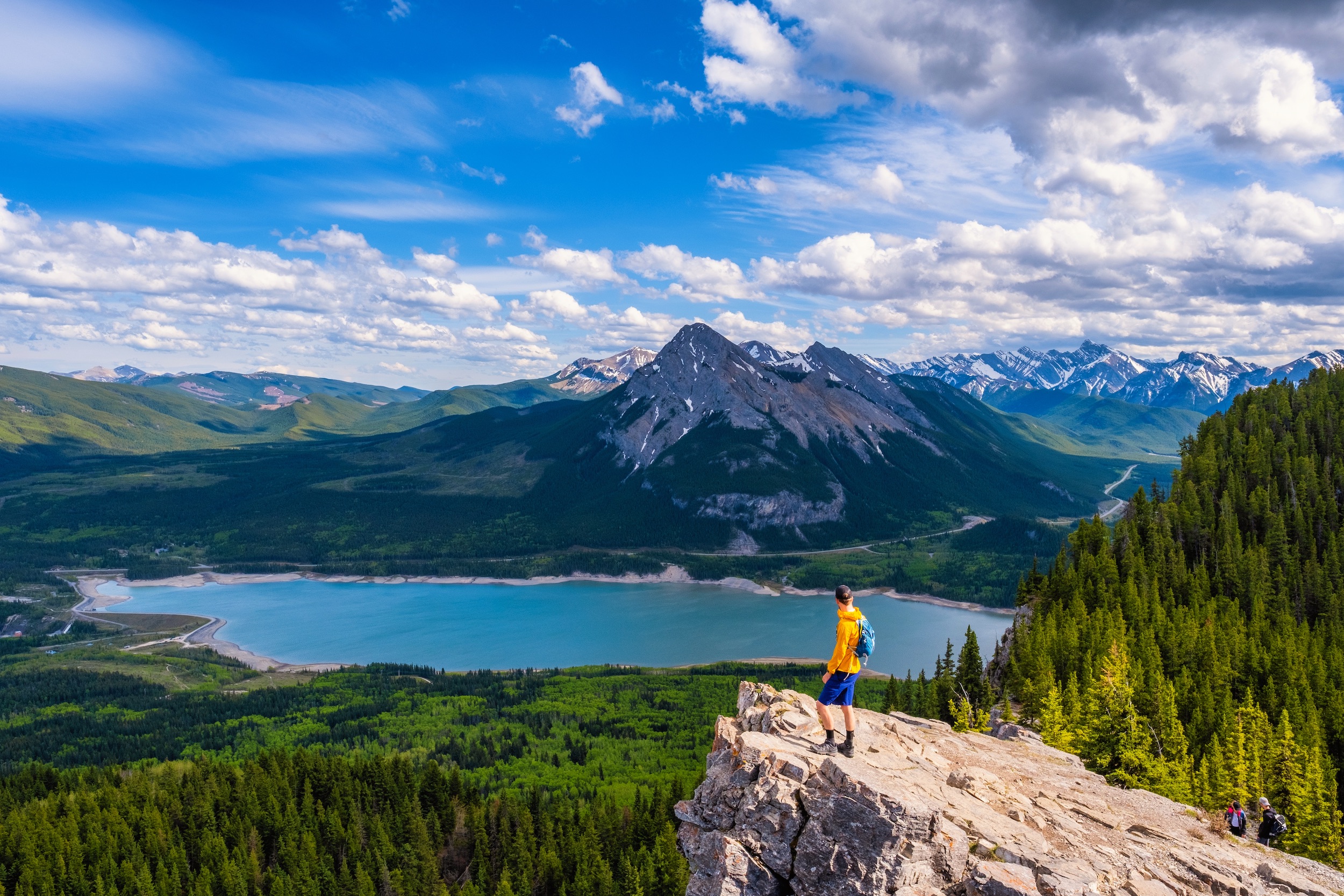 Barrier Lake is one of the most popular spots to head in the entire park. It's beautiful for one, but you can reach it in less than an hour from Calgary, as it's located right after the entrance to Kananaskis.
Visitors can choose to either enjoy the lakeshore of Barrier Lake, or go for a moderate hike to the Prairie View lookout point, head up Jewell Pass via the Prairie View trail, or continue up to Yates Mountain and check out the Barrier Lake Fire Lookout.
---
Shoeshoe Around Burstall Pass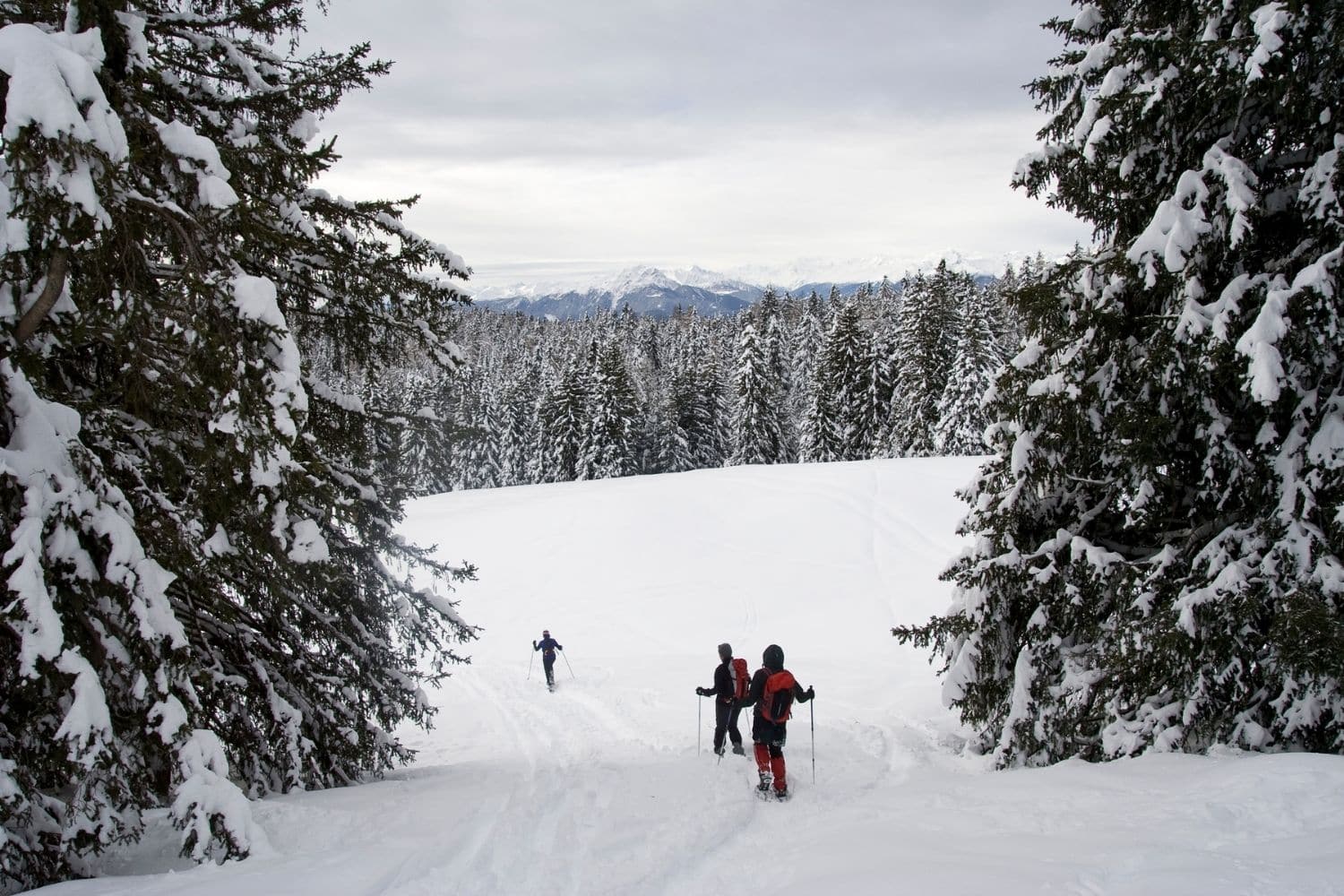 Burstall Pass is a classic hike in the summer and snowshoe trail in the winter in Kananaskis Country and off Smith Dorrien Trail. The hike moves past several marshy lakes and streams, before a steep ascent up to an alpine meadow and then finished on a high mountain pass with grand glaciated mountain views.
Before venturing back here, it's best to have proper avalanche training, gear, and knowledge.
---
Drive the Smith Dorrien Highway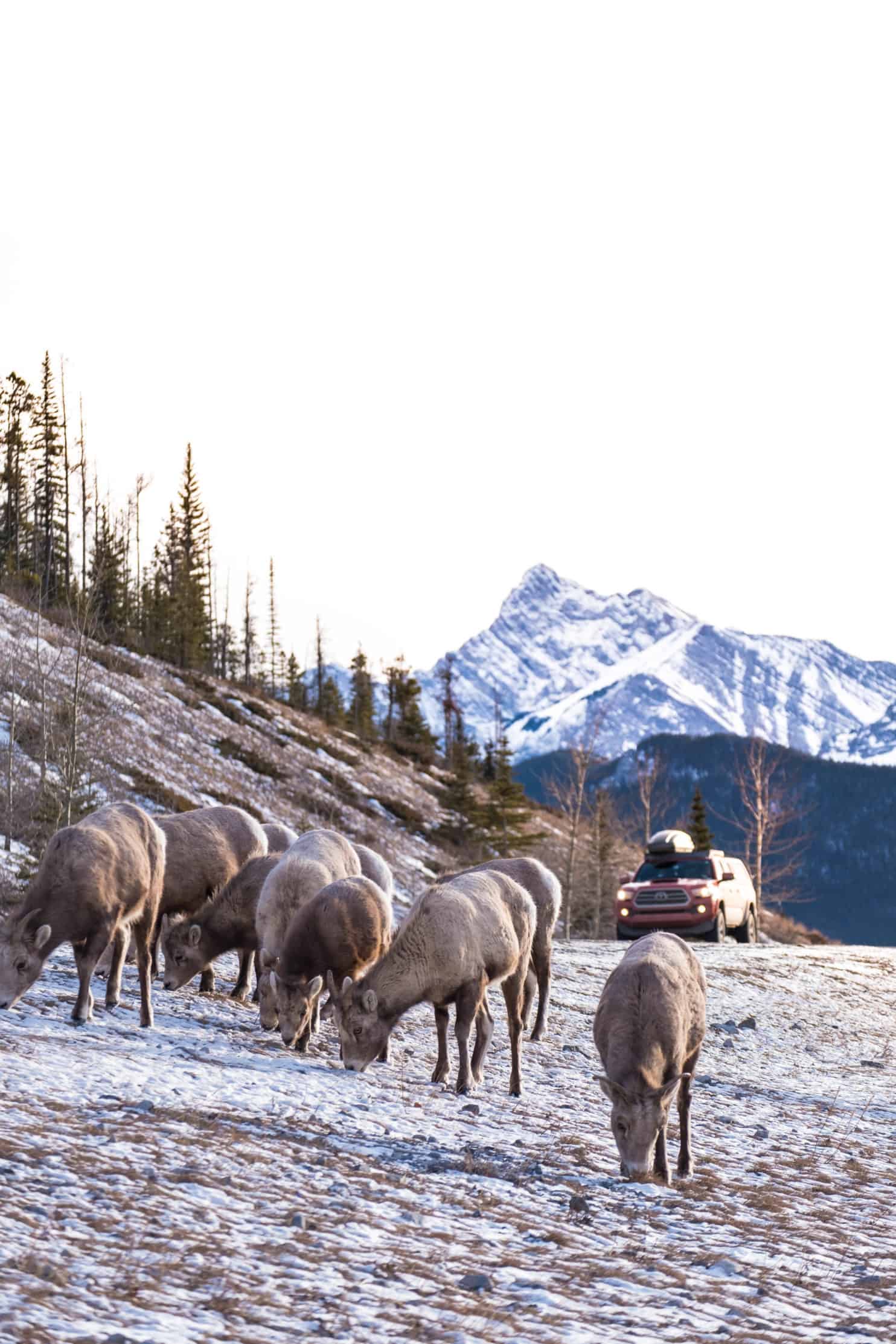 If you're just feeling a leisurely road trip day and enjoying the mountains from the car, you have to drive the Smith Dorrien Highway. This drive is a gravel road that starts in Canmore and ends at Kananaskis Lakes or vice versa.
Along the drive, you'll pass sights like Whiteman's Pond, Goat Pond, Spray Lakes, and so many beautiful mountains, possibly even some mountain goats or bighorn sheep! I suggest two hours to complete the drive at a leisurely pace.
---
Hike Up to West Wind Pass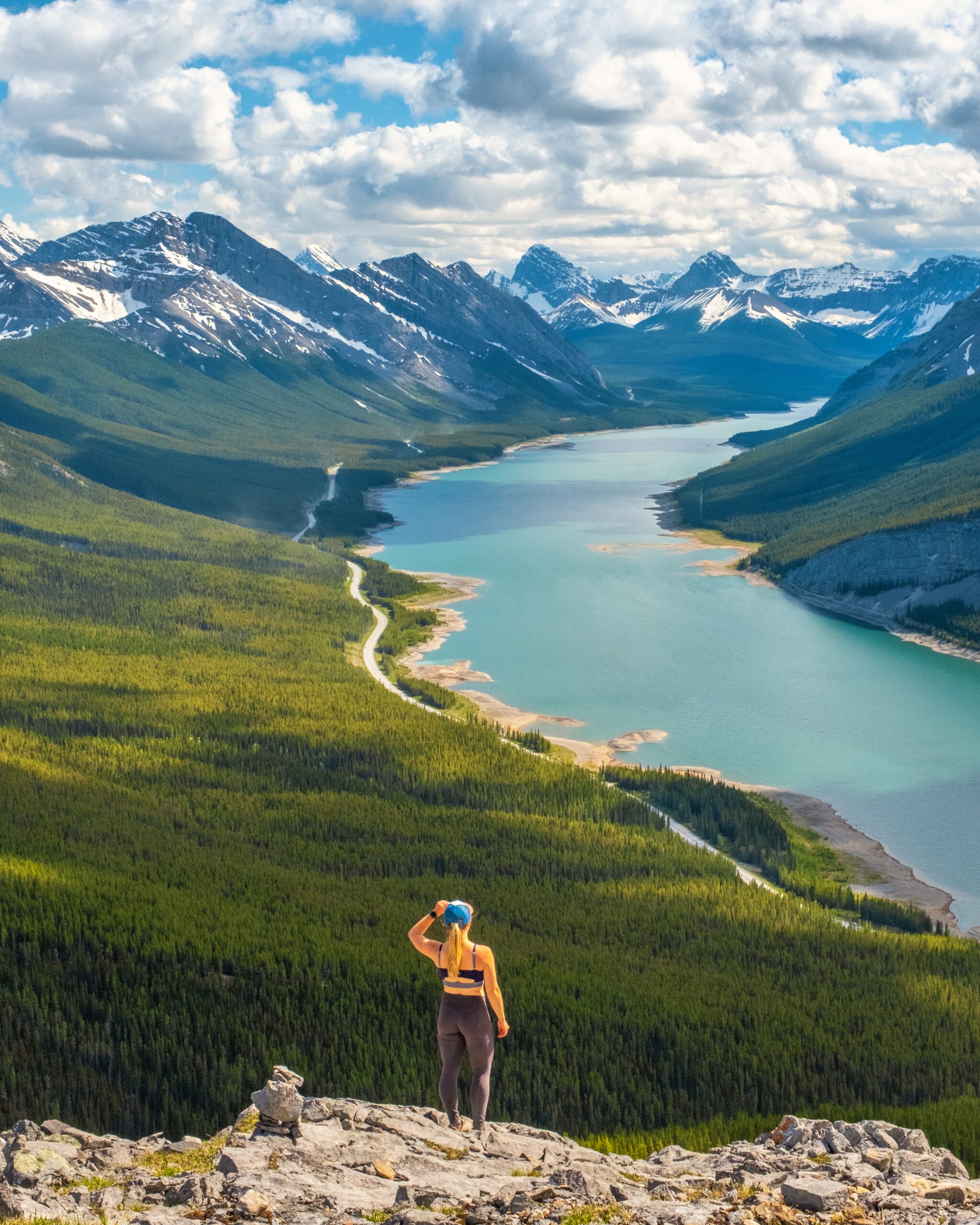 Before you make your way up mountain summits like Windtower or Rimwall Summit, you will hit West Wind Pass first. The hike starts out pretty mild. You'll hike in the treeline for the first 45 minutes or so until you reach West Wind Pass.
It's a steady uphill easy climb to West Wind Pass. If you want a nice short hike – stop here and enjoy the views over the Bow Valley. You'll know you have reached West Wind Pass around 3km when you get above the trees and have fantastic views. You can continue up to Rimwall Summit or Windtower from West Wind Pass if you want to keep going.
---
Hike to Troll Falls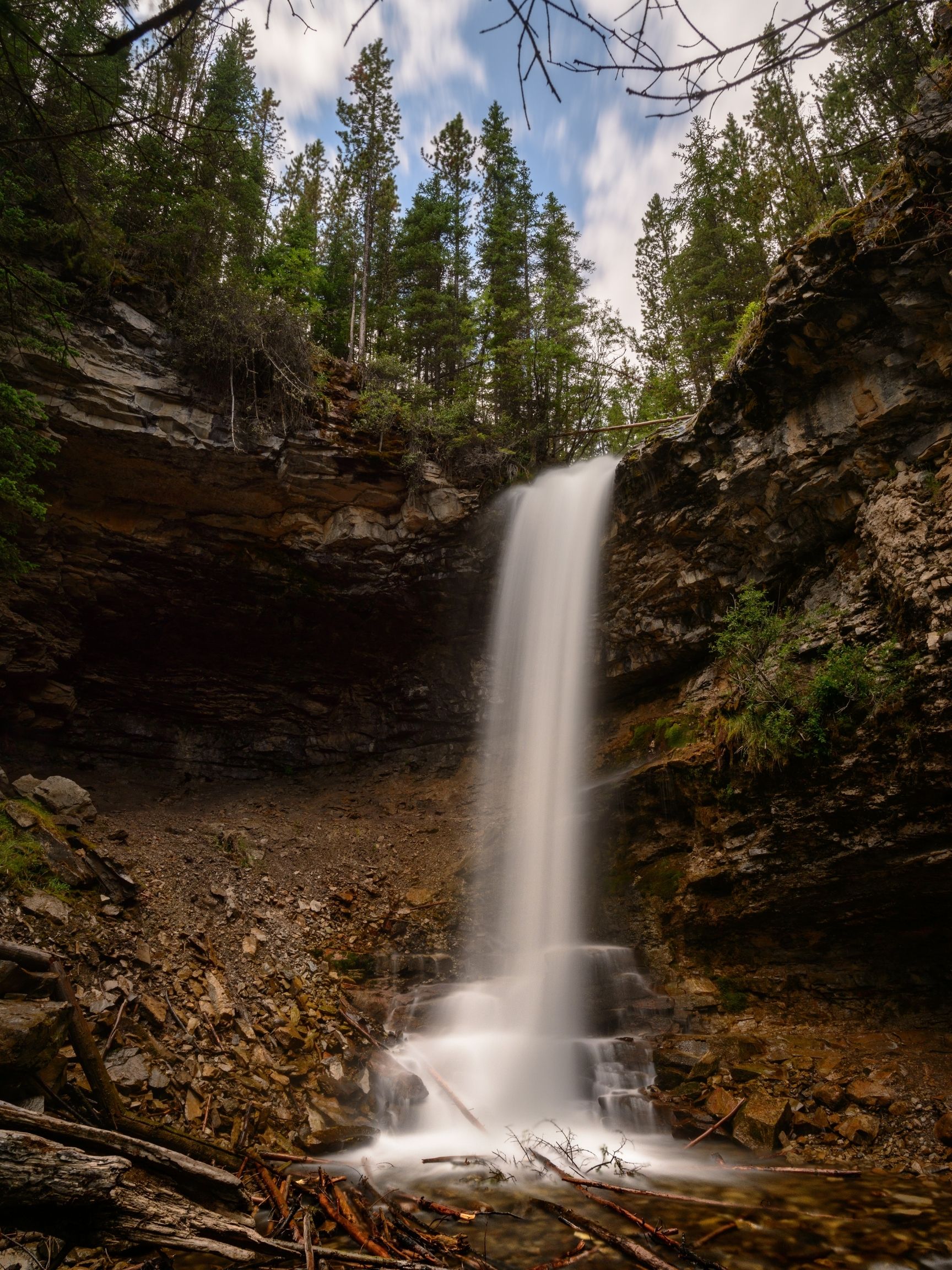 A fun, family-friendly Kananaskis hike to an incredible Alberta waterfall is Troll Falls. This 2.1 mile heavily trafficked out and back trail brings you to Troll Falls. It's fantastic in the summer, but in the winter you'll be able to see a fantastic frozen waterfall.
---
See the Larches on the Pocaterra Ridge Trail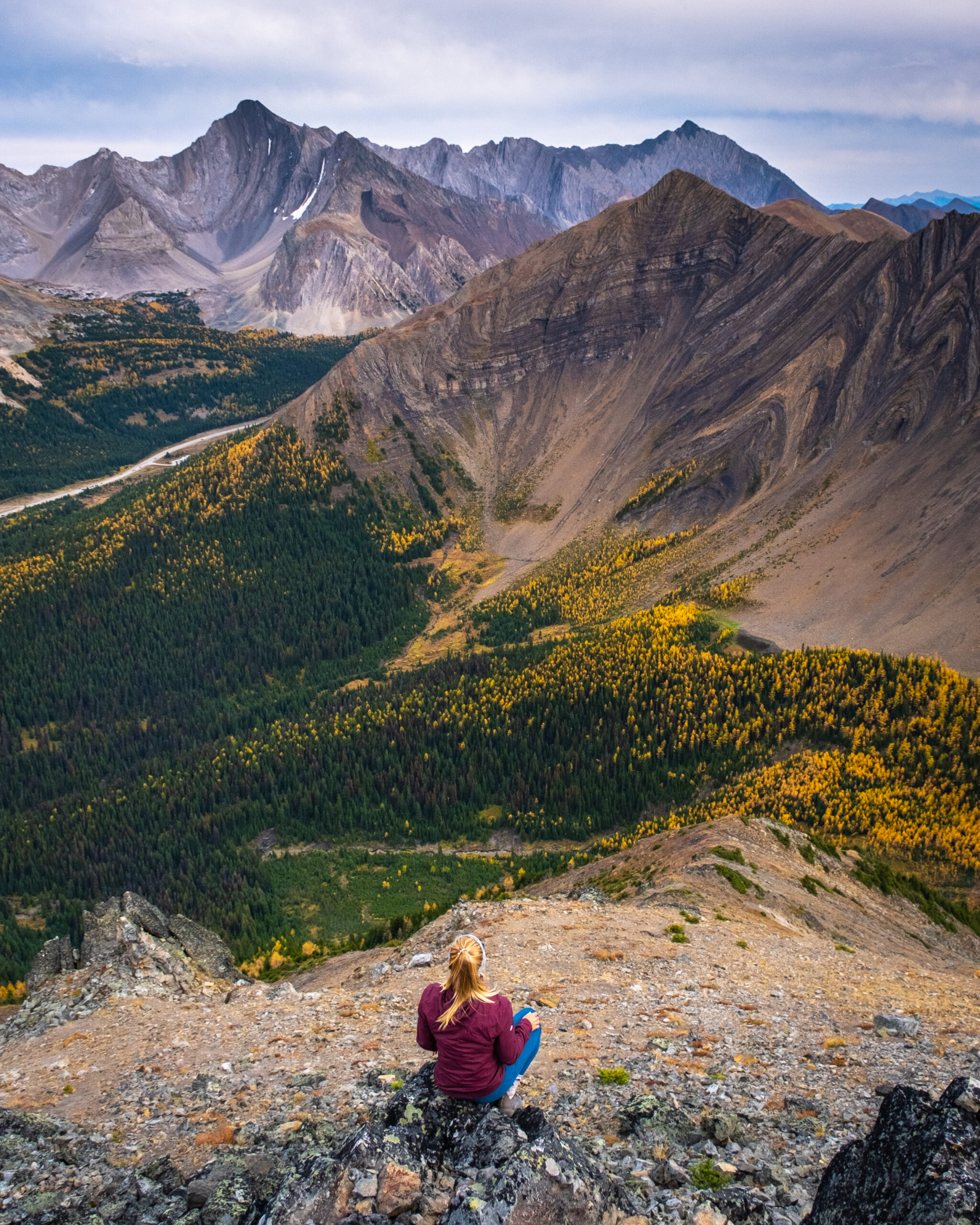 Pocaterra Ridge is a well-known hike in Kananaskis come September. This is thanks to the endless larch trees that turn golden yellow come the last few weeks of September.
Hiking Pocaterra Ridge is one of the best things to do in Kananaskis during this time! Other nearby larch hikes that are also awesome are Arethusa Cirque and Ptarmigan Cirque.
17 Unreal Alberta Larch Hikes
---
Hike Wasootch Ridge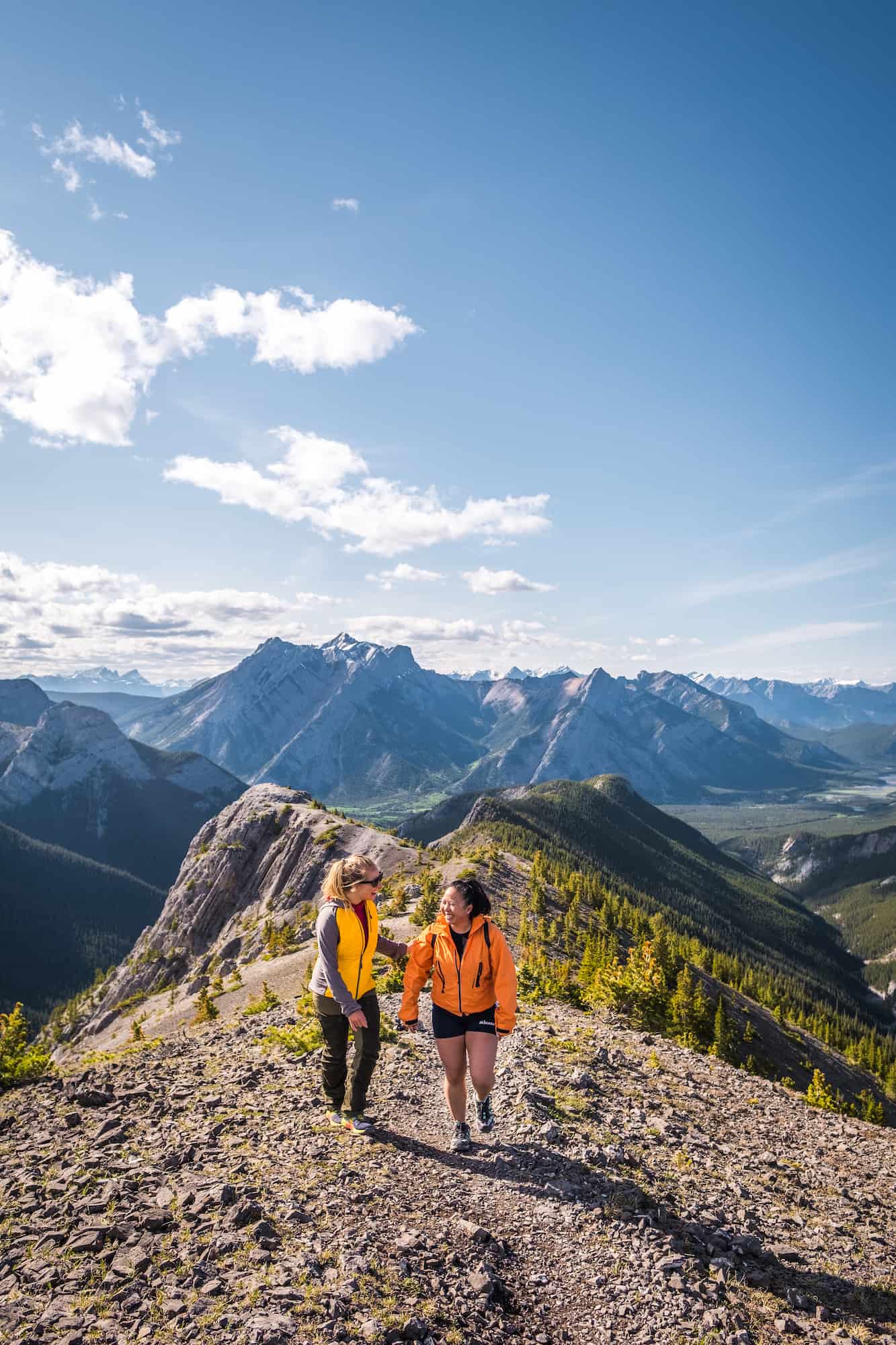 Wasootch Ridge is a favorite hike near Canmore in Kananaskis Country. The trail is straightforward to follow and gains quick elevation, then travels along a ridge that delivers spectacular views for hours. The roadway slowly evaporates from view on the ridge before a challenging scramble to the true peak.
---
Where to Stay in Kananaskis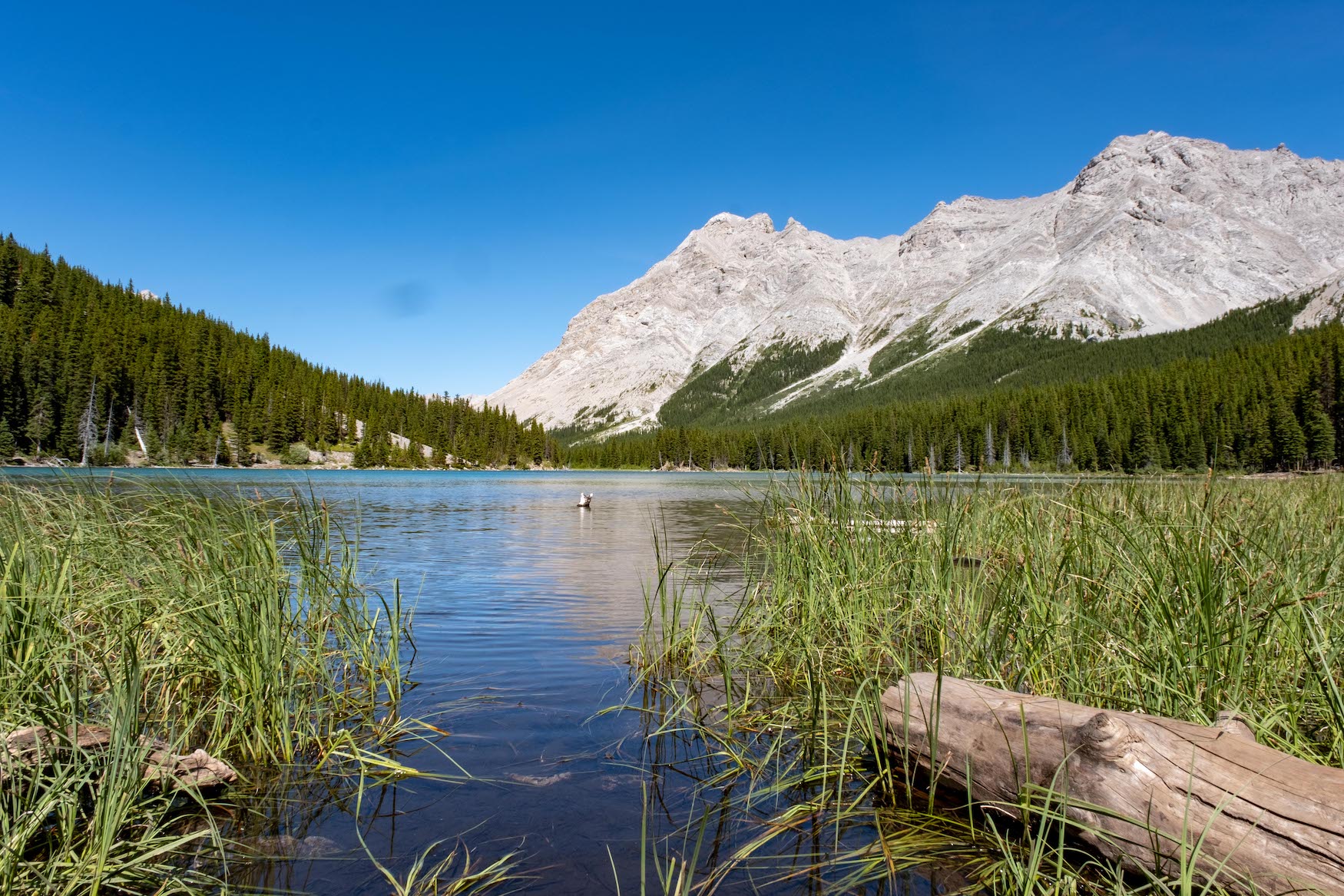 Camping – There are plenty of front and back-country camping sites in Kananaskis. A few of our favorites are Spray Lakes West and Mount Kidd. We break down all the best camping spots in Kananaskis here.
Glamping – Camp in luxury at Mount Engadine! Mount Engadine is one of our favorite cabins in Kananaskis. They offer excellent all inclusive packages in their rooms, yurt, and glamping tents.
Kananaskis Hotels – There aren't a plethora of accommodation options in Kananaskis Country, and only a limited number of hotels. Our favorite in the park is Kananaskis Mountain Lodge at the base of Nakiska.
---
Want More Kananaskis Hikes?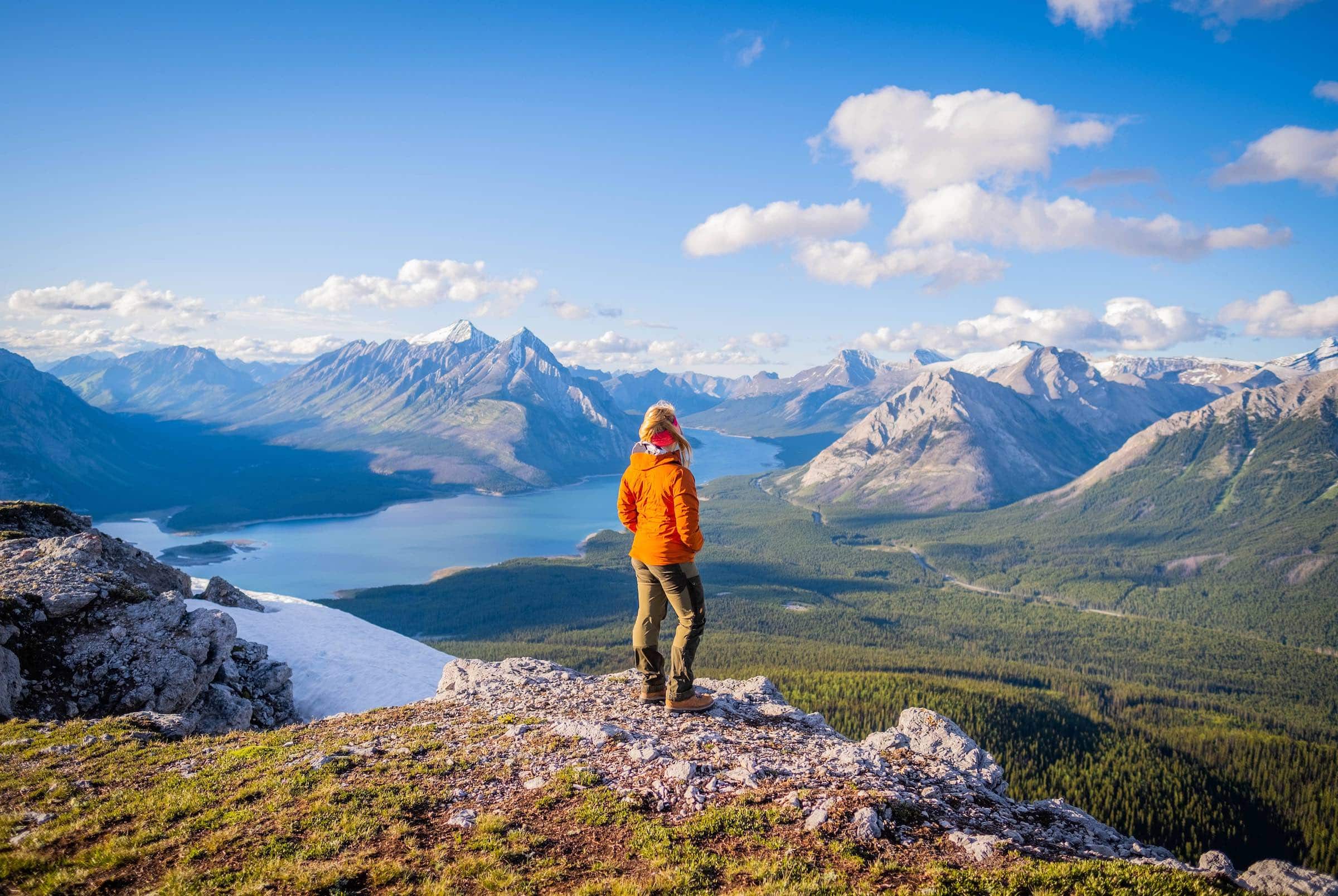 For a bit more challenge check out our full list of hikes in Kananaskis! A few of our favorites are Mount Allan, Smutwood Peak, and Tent Ridge!
---
Hopefully, this helped you determine some fun things to do in Kananaskis!
If you have any other questions leave a comment or see our Canadian Rockies travel guide for more articles about photography spots, lakes, hikes, and everything else.
---
↓ Join the community ↓
The Banff Blog Facebook Group is your headquarters for the Canadian Rockies travel advice and information. Including hike info and off-season travel information. This is also a place where you can meet one another when you need adventure buddies.

Plan Your Trip to the Canadian Rockies