If you are thinking about canoeing in Banff, there are plenty of places to take to the water. With so many lakes to canoe and kayak on in Banff, it's hard to narrow down which one to paddle on, especially if you're short on time!
All rowboats, canoes, sailboats, kayaks, and stand-up paddleboards are allowed on all lakes and rivers in the park. The only boat you can't bring on the lakes of Banff are motorized ones (with the exception of Lake Minnewanka and Maligne Lake).
So you're wondering where to go canoeing in Banff? What lake is good for your skillset? Read on for the ultimate guide to kayaking and canoeing in Banff, as well as stand-up paddleboarding! There are also some fun extras like where to paddle in Kananaskis and Jasper as well!
---
Best Places to Go Canoeing in Banff
---
Moraine Lake
Good Canoeing in Banff for Beginners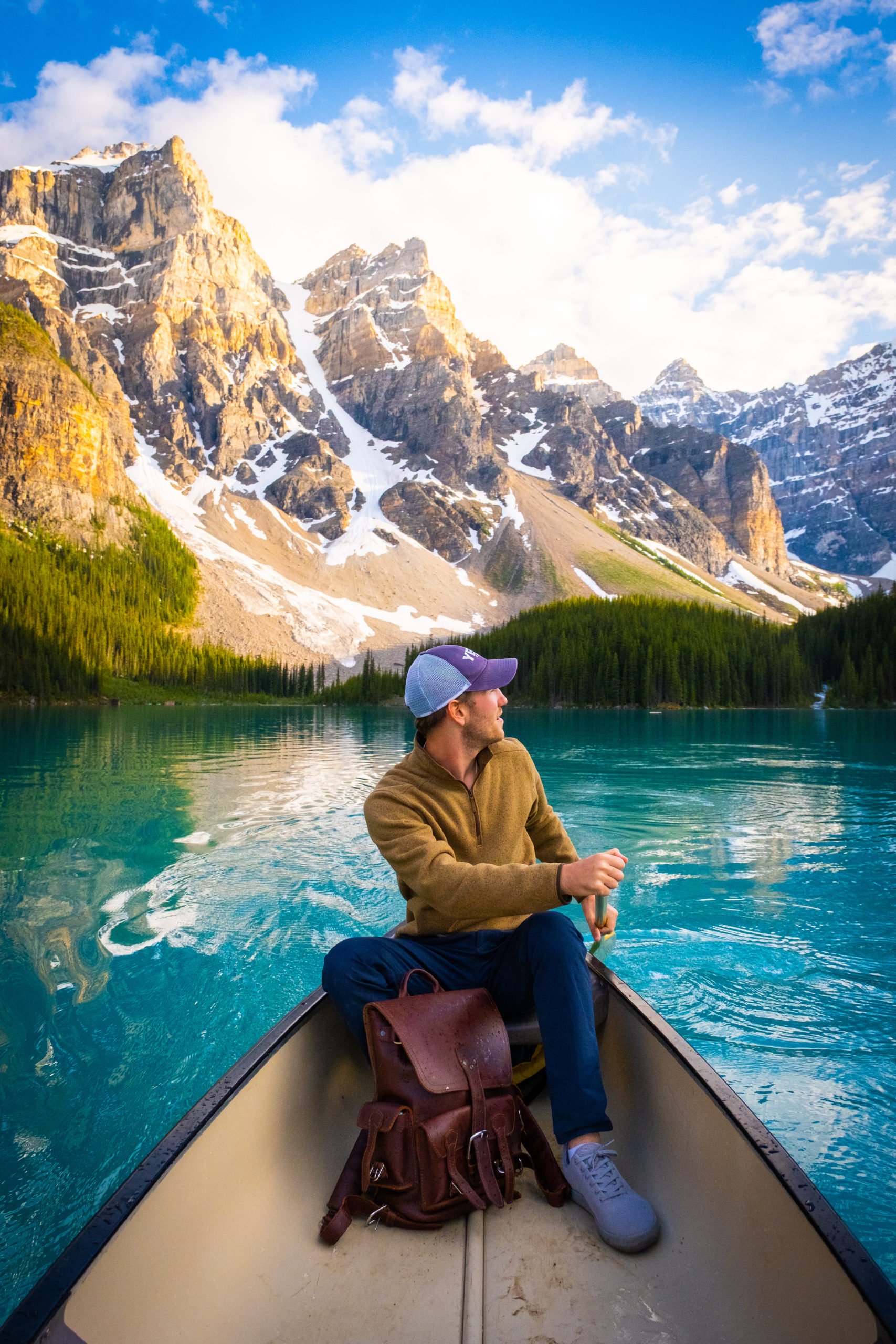 There is likely no lake in the world more beautiful to canoe and kayak than Moraine Lake. The turquoise waters of Moraine Lake are framed by the magnificent Ten Peaks for a splendid scene. It's an iconic view of Canada and, at one point, was on the back of the Canadian $20 bill. To hop in a canoe here and paddle across the glacial waters is a memory you likely won't forget.
There is one downside to canoe rentals at Moraine Lake, and that is the price along with the competition to get a canoe. Parking at Moraine Lake is limited, and the shuttle bus system, although improving, still makes it difficult to reach the lake. However, it is worth the effort. There is only one location to rent canoes on the lake, and it is at the canoe dock run by the Moraine Lake Lodge.
The canoe rentals at Moraine Lake operate on a first-come-first-serve basis, so if you arrive late in the day, you may be out of luck as it's a popular activity. Canoes can accommodate two to three people, and they do not allow pets.
You cannot rent a kayak at the canoe dock, but you can bring your own and kayak around Moraine Lake. The best part is that Moraine is not super wind affected, so you will likely have a very smooth paddle here. It's a great spot for beginner kayakers to test the water.
Where to Rent a Canoe at Moraine Lake
---
Bow River
Experienced Kayakers Only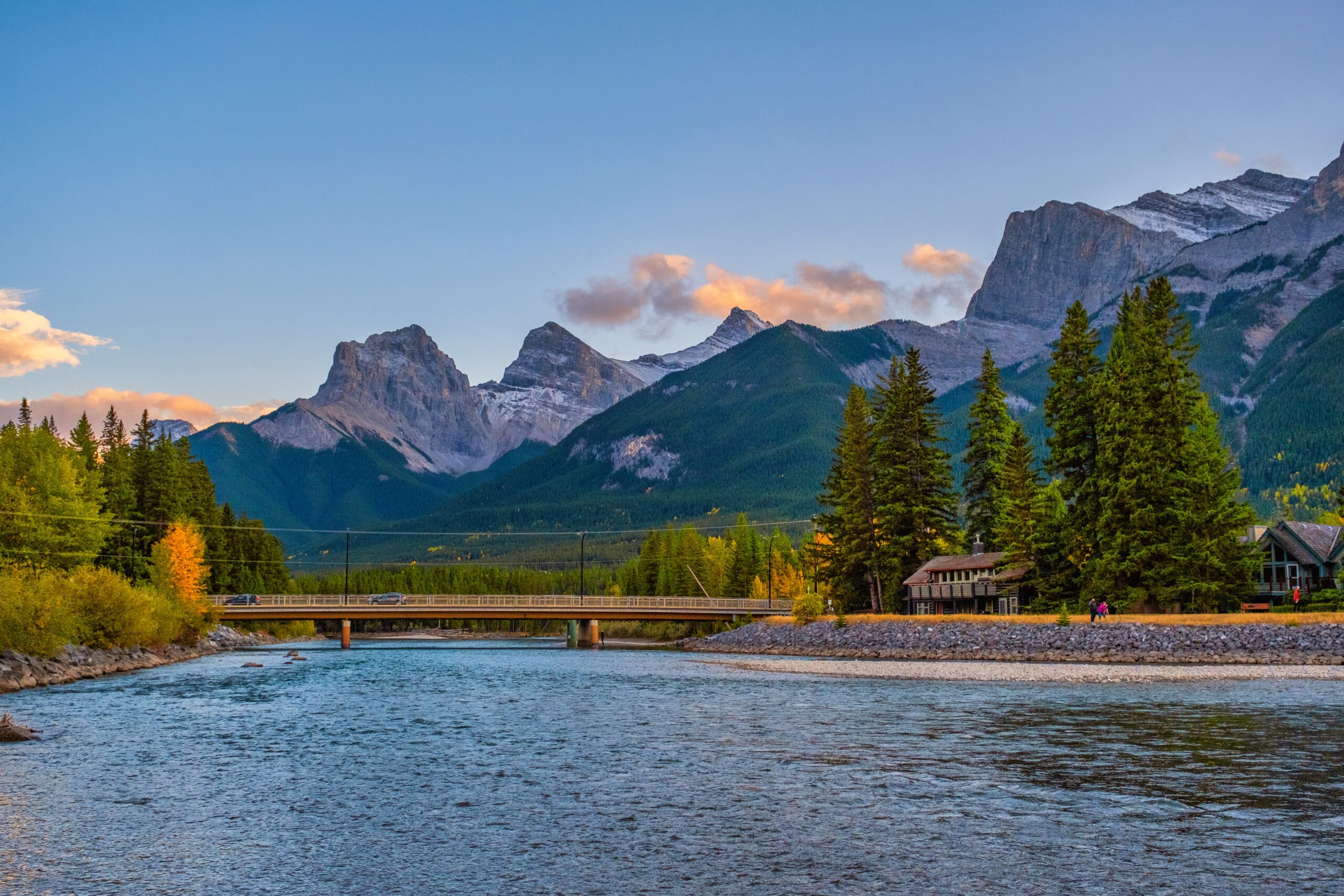 One of the best places to take a canoe or kayak out in Banff is on the Bow River. You can leave right from Downtown Banff with your kayak or canoe. Though it's worth noting that only experienced kayakers and canoers should take their boats out on the Bow. While it's relatively tame for a well-seasoned kayaker or canoe, beginners could get themselves into real danger here.
The Bow River is a serious and real river in the Rockies and not a lazy river you could find at Disneyland. Please treat the river with respect. I've seen visitors try and get out on the Bow River on pool floaties, only needing to be rescued later.
The Bow River has sections of fast-moving sections and some log jams. It's best to hire a guide for your first time on the Bow River. Some of the best sections to kayak on the Bow River are from Banff to Canmore, Castle Junction to Banff, Lake Louise to Castle Junction, and Downtown Canmore to Three Sisters. Read more on paddling the Bow River here.
Rent Canoes and Kayaks from the Banff Canoe Club.
---
Vermilion Lakes
Good Canoe in Banff for Novice Paddlers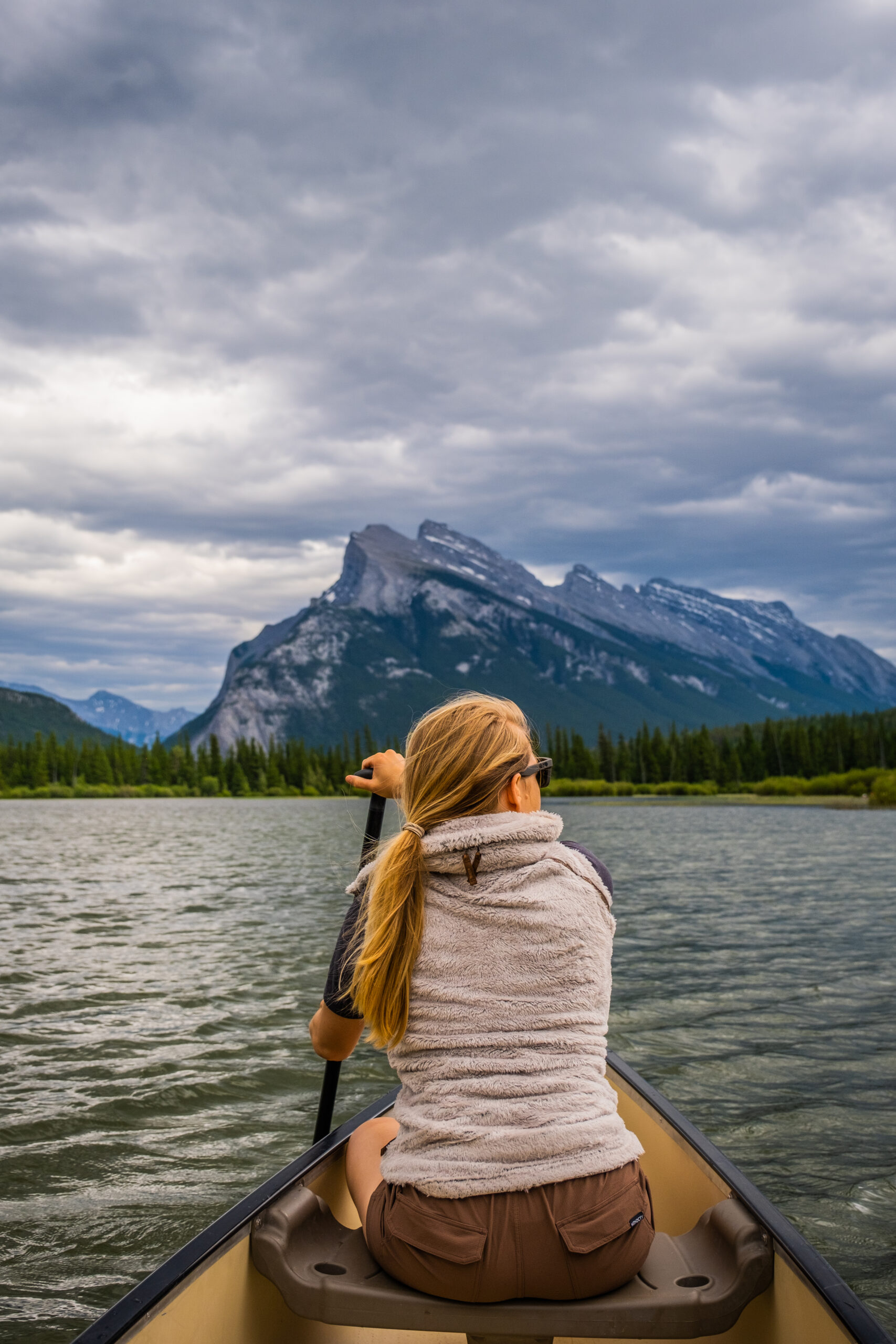 Canoeing in Banff doesn't get much better than Vermilion Lakes. Vermilion Lakes is largely a marsh, so it doesn't hold the brilliant blue waters like many of the other lakes around Banff, but it still makes for an incredible place for canoeing in Banff. The lakes are well protected by the winds, and the shallow water means that the waters remain calm on most days, so it's an easier place to canoe kayak or SUP.
The marsh and trees make for prime habitat for wildlife, and it's a well-known spot for birders. We've personally seen beavers, bald eagles, owls, elk, muskrats, and herons. However, even if you don't see any birds, you will still have amazing views of Mount Rundle the entire time. The docks also make it easy for those with their own canoe and kayak in Banff to enter the water.
Vermilion Lake is easily reached via the Forty Mile Creek from the Banff Canoe Club. If you have plans to rent more or mixing it up with canoes and SUPs or renting more than once, consider signing up for a membership for $50, which provides the first hour for free, and then all hours from then on are $25.
Rent Canoes and Kayaks from the Banff Canoe Club.
Location: Banff Canoe Club
Canoe Cost: $55 first hour / $30 additional hour
Kayak Cost: $55 first hour / $30 additional hour
SUP: $90 daily rate / $30 hourly rate / $10 wetsuit rental
Season: June to October
---
Lake Minnewanka
Experienced Canoers and Kayakers Only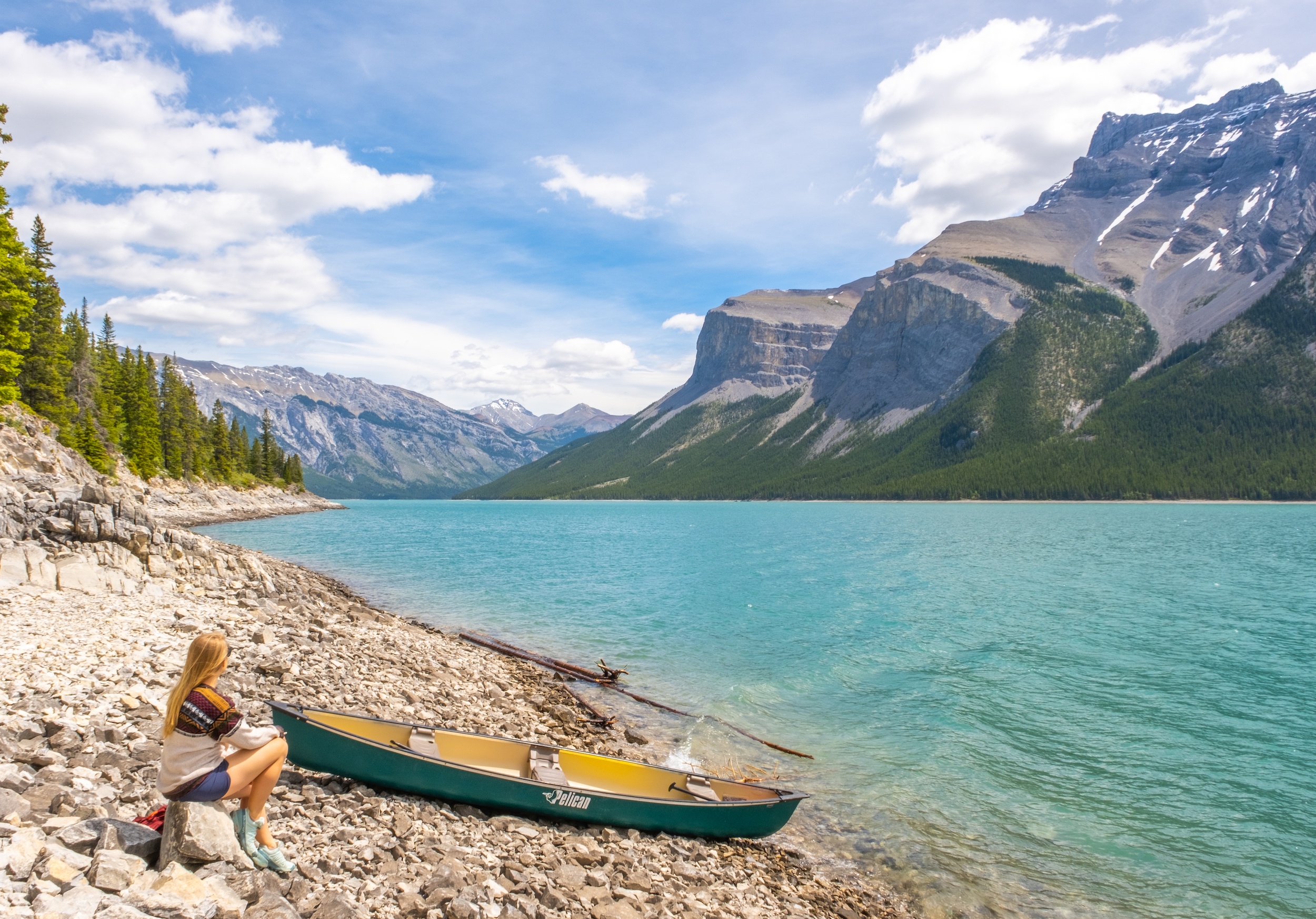 If you're seeking more of a challenge or to experience canoeing in Banff on open water, head to Lake Minnewanka. Though Lake Minnewanka should be reserved for only experienced kayakers and canoers. Because of its size and other factors, it's not suitable for inexperienced canoers.
The large lake is well known for its "swells" that occur when the wind gust picks up. However, if you stick close to the boat launch and skirt the shoreline, it may make you feel safer.
Lake Minnewanka has a rich historical past with centuries of Stoney Nation American's inhabiting the area and then the remains of a former resort submerged under the water. The submerged resort results from a dam created for hydroelectric power, which submerged the original town where you can now go for a dive.
Its name comes to the Stoney who lived here for centuries calling it Minn-waki, meaning "Lake of Spirits," and when you paddle along its shores, you may experience some of those spirits. The massive lake and towering mountains will leave paddlers humbled by the scale of the landscape.
More advanced paddlers with their own canoes and kayaks can plan multi-day camping trips along the lake. The boat launch managed by Pursuit also rents small motorboats as Minnewanka is the only lake in the park that allows motor-powered boats in addition to kayaks and double kayaks.
All rentals come with the necessary equipment, which includes gas with the motorboat rental. As an added plus, you're allowed to fish the lake, but be sure to check with Parks Canada for current fishing regulations and permits.
Rent Canoes and Kayaks from the Lake Minnewanka Boat Dock
Location: Pursuit Collection Lake Minnewanka Boat Dock
Canoe Cost: $85 first hour / $42.50 additional hours
Kayak Cost: $45 first hours /$22.50 additional hours
Double Kayak Cost: $85 first hour/$42.50 additional hours
Motor Boat Cost: $155 first hour/$77.50 additional hours/ Half Day (4 hours) $355
Season: June to October
---
Lake Louise
Good for Beginners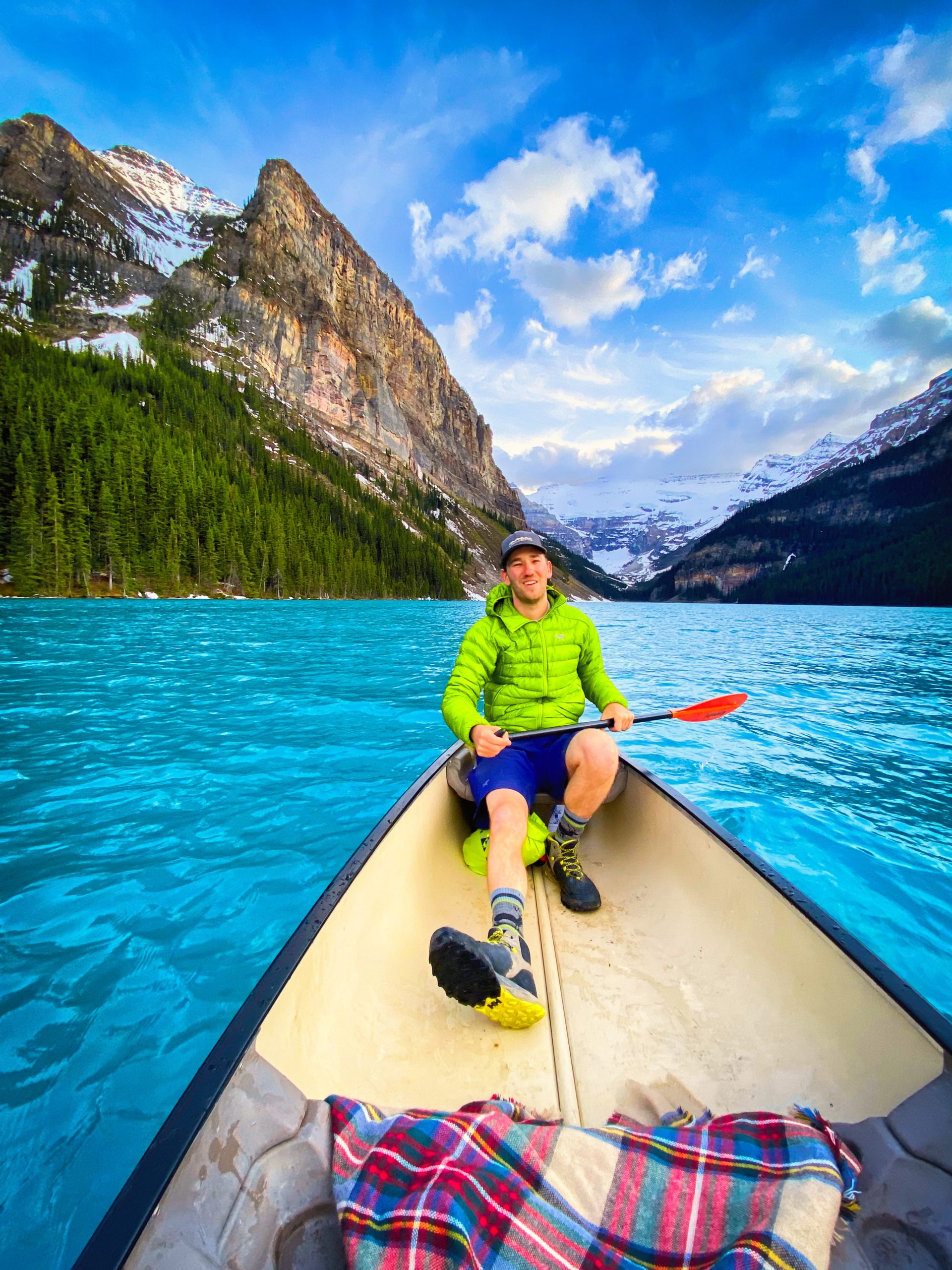 There is likely no place more quintessential lake to canoe or kayak on in Banff than Lake Louise. It's one of the most spectacular scenes in the world. It's tough to find a more stunning scene to paddle through as you look out to Mount Victoria and the hanging Victoria glacier. No need for fancy edits on your Banff photographs the water at Lake Louise, like Moraine Lake, is truly that radiant turquoise blue.
You can pick up canoe rentals at the Lake Louise Boathouse because even if you have your own, you'd have to arrive very early in the morning to secure a close parking spot to carry the canoe to the lakeshore.
If you have your own canoe or kayak, there's no simple way to get it into the water yourself, though with enough will, you'll manage to get your canoe or kayak in (we've done it plenty of times). The Lake Louise boathouse doesn't have kayaks for rent, but they do have canoes!
Where to Rent a Canoe at Lake Louise
Location: Fairmont Lake Louise Boathouse
Canoe Cost: $155 per hour / $145 per half hour (+tax)

$95 per hour / $85 per half hour (+tax) for Fairmont Hotel Guests

Season: Mid June to October
---
Johnson Lake
Good for Beginners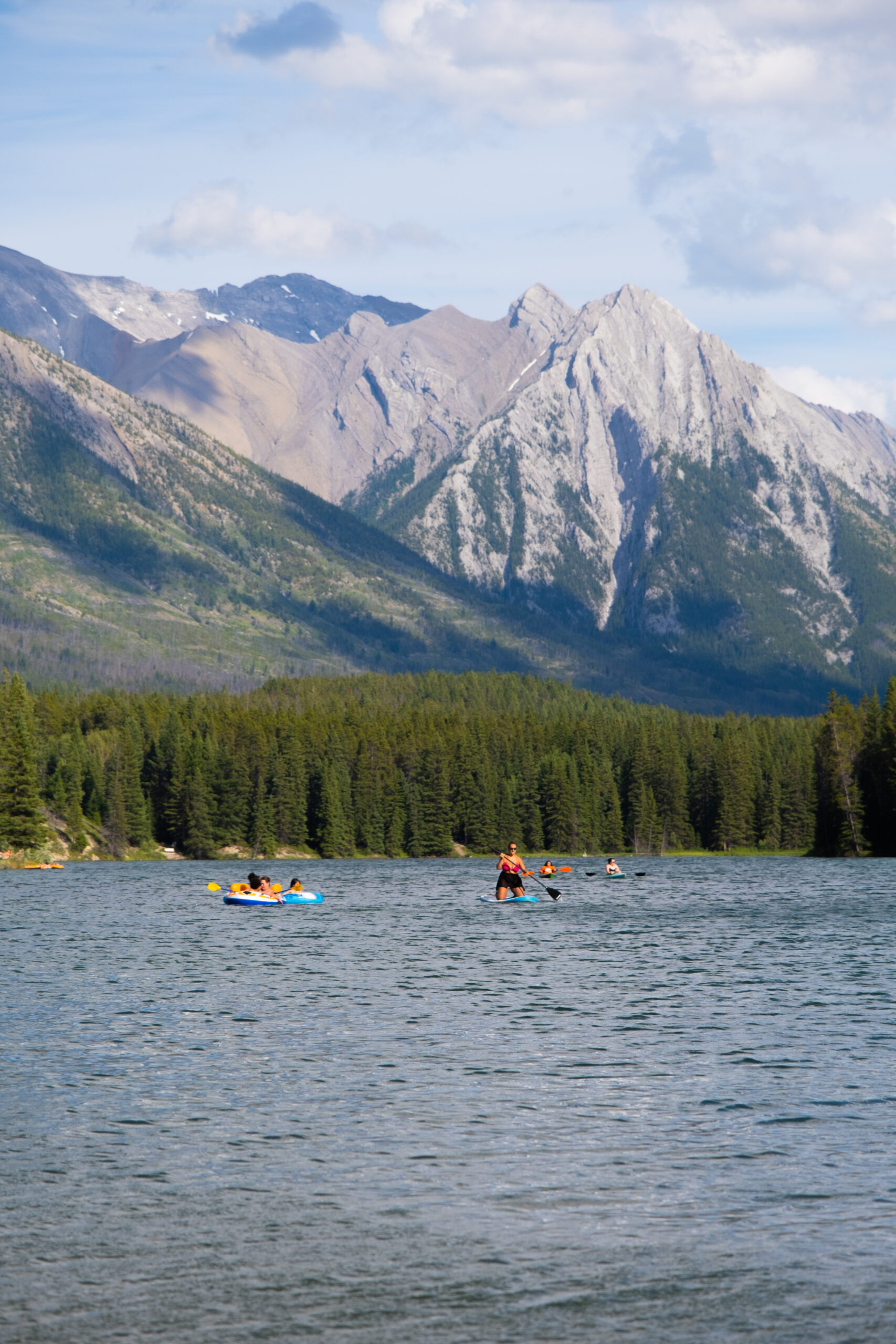 Johnson Lake is a quiet lake just off the road to Lake Minnewanka. Its manageable size, lack of crowds, and protection from the wind make it a great spot to kayak, canoe, or SUP in Banff. We love it for an evening or morning paddle as it's not too far from Banff town and very close to Two Jack Lake campsite.
The lake offers some astounding views out over the lake back to Cascade Mountain looming high above. The lake is tranquil and a great place to go stand up paddleboarding or even take a swim if you're brave enough. Keep an eye out for a rope swing! There is no place to rent a canoe or kayak here, so you'll need to bring your own or rent one Downtown.
Bring your own canoe, kayak, or SUP
---
Two Jack Lake
Good for Novice Paddlers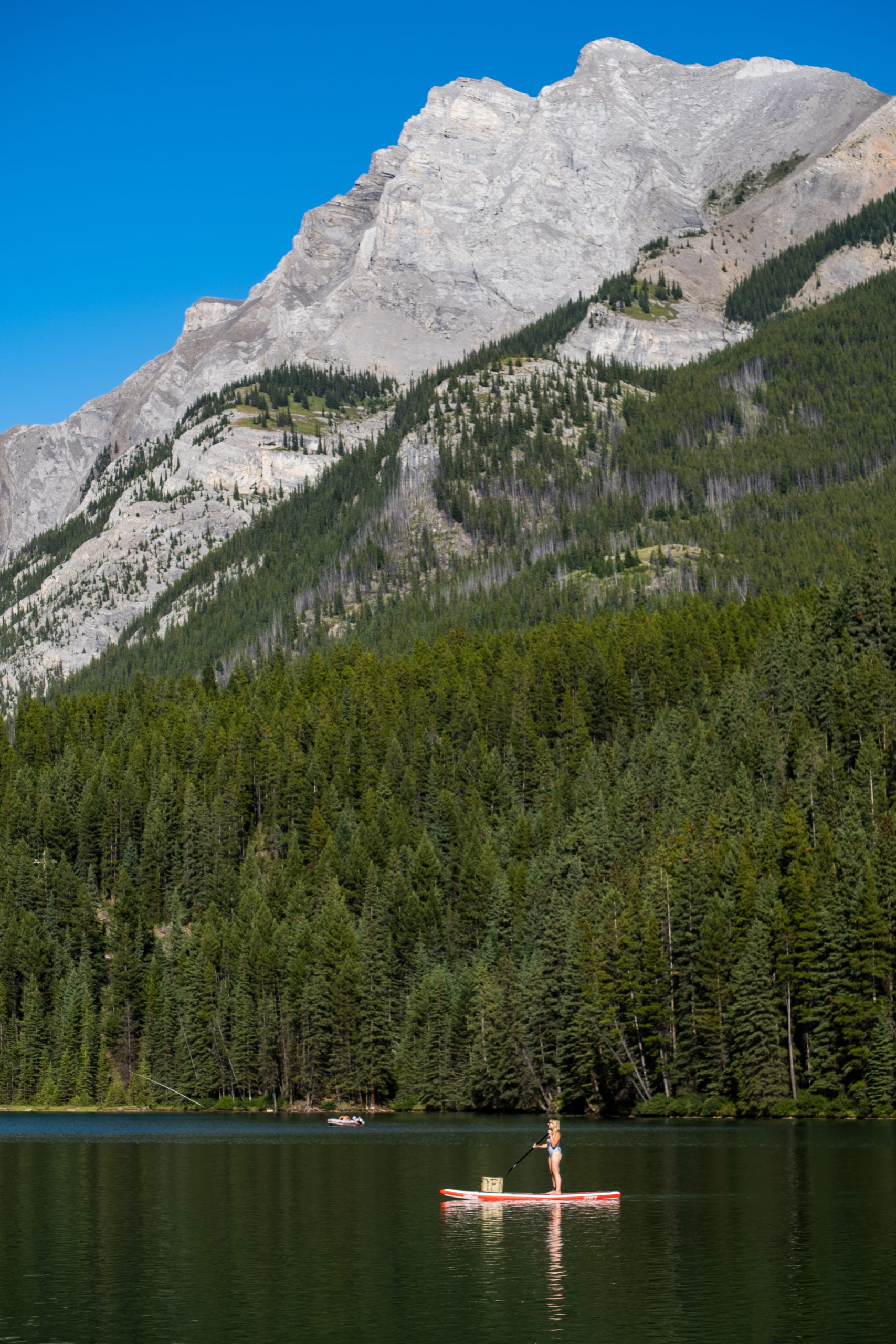 Right next to Lake Minnewanka and Johnson Lake is the scenic Two Jack Lake. Given its location, it is one of my favorite spots to kayak and sup in Banff as it gives amazing views of Mount Rundle.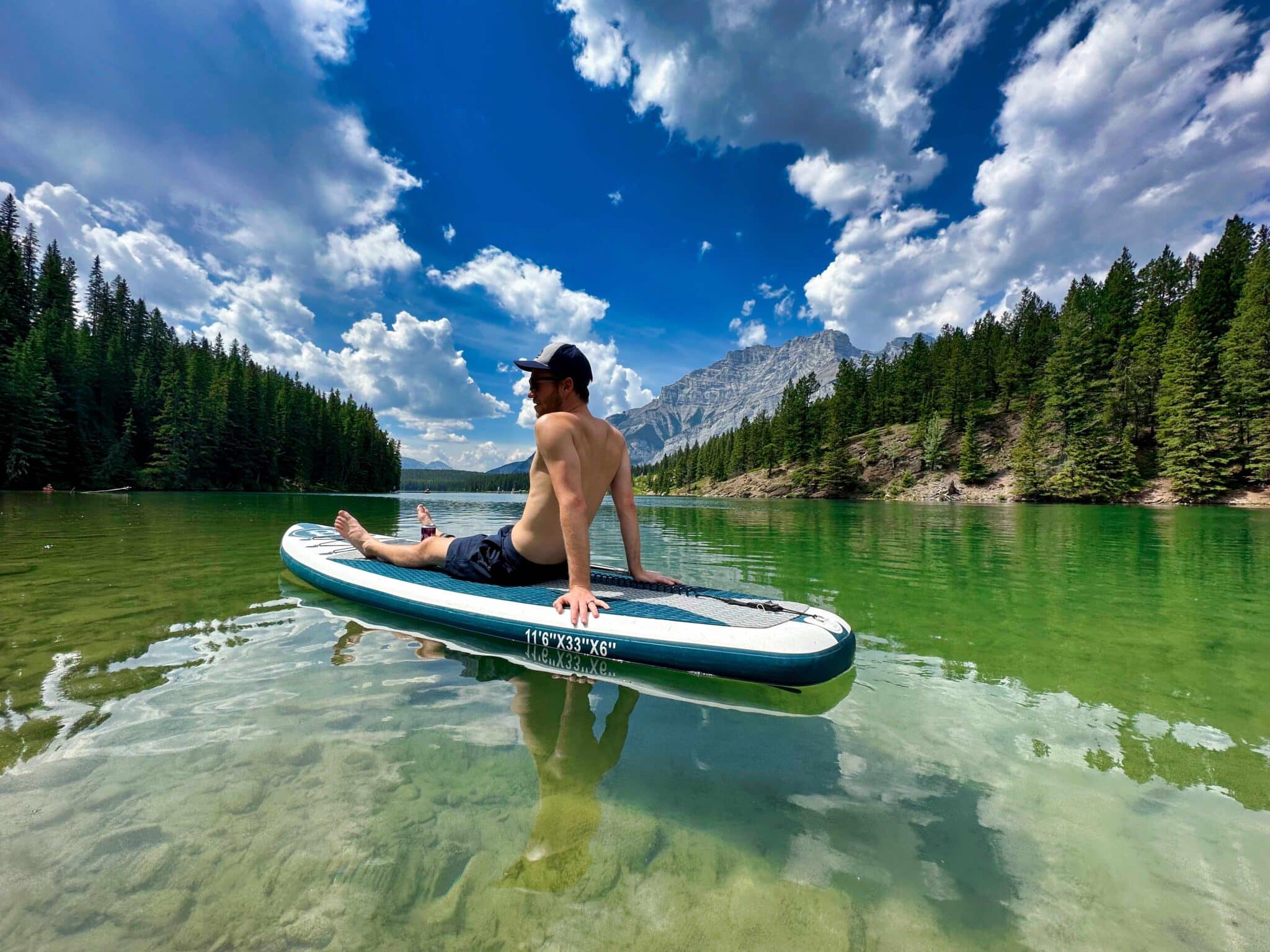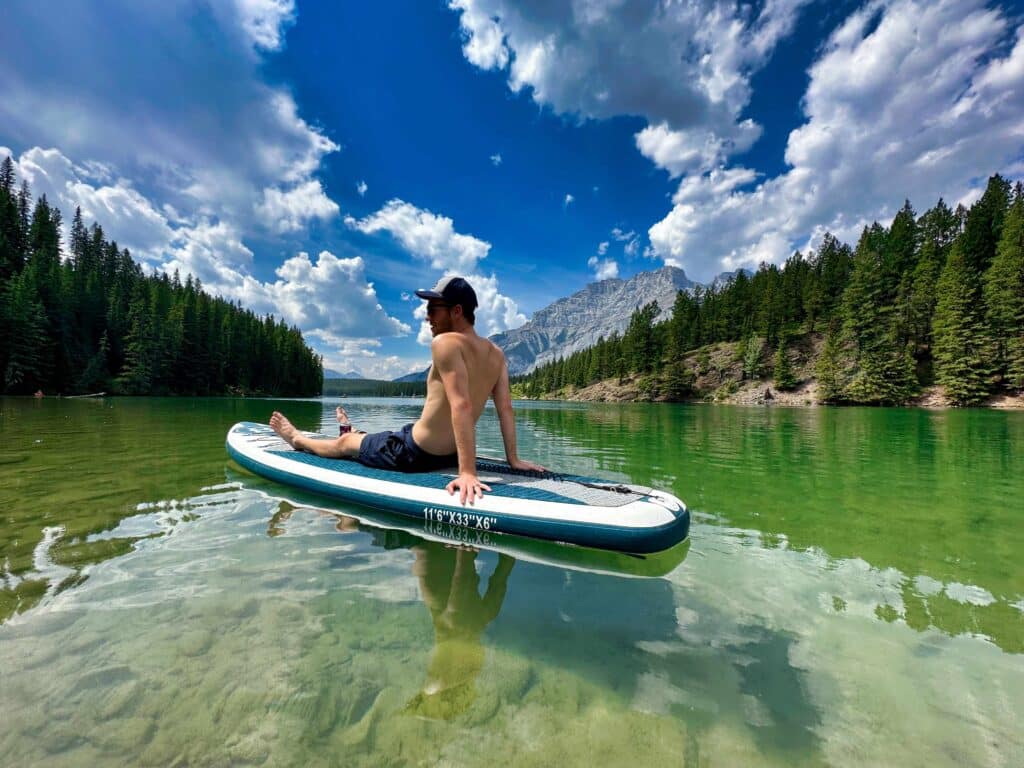 Its water is not quite as blue as other lakes in the park, but there is a teal tint that in the right light is simply striking. It's the steep forested banks on its sides that protect the lake from wind, and the surrounding mountain views are fantastic.
It's relatively calm, and if it's a windy day, you can always escape down the small channel that flows near Johnson Lake. Again, Two Jack doesn't have a dedicated place to rent a kayak or canoe, so you'll need to bring your own.
Bring your own canoe, kayak, or SUP
---
Waterfowl Lakes
Good for Novice Paddlers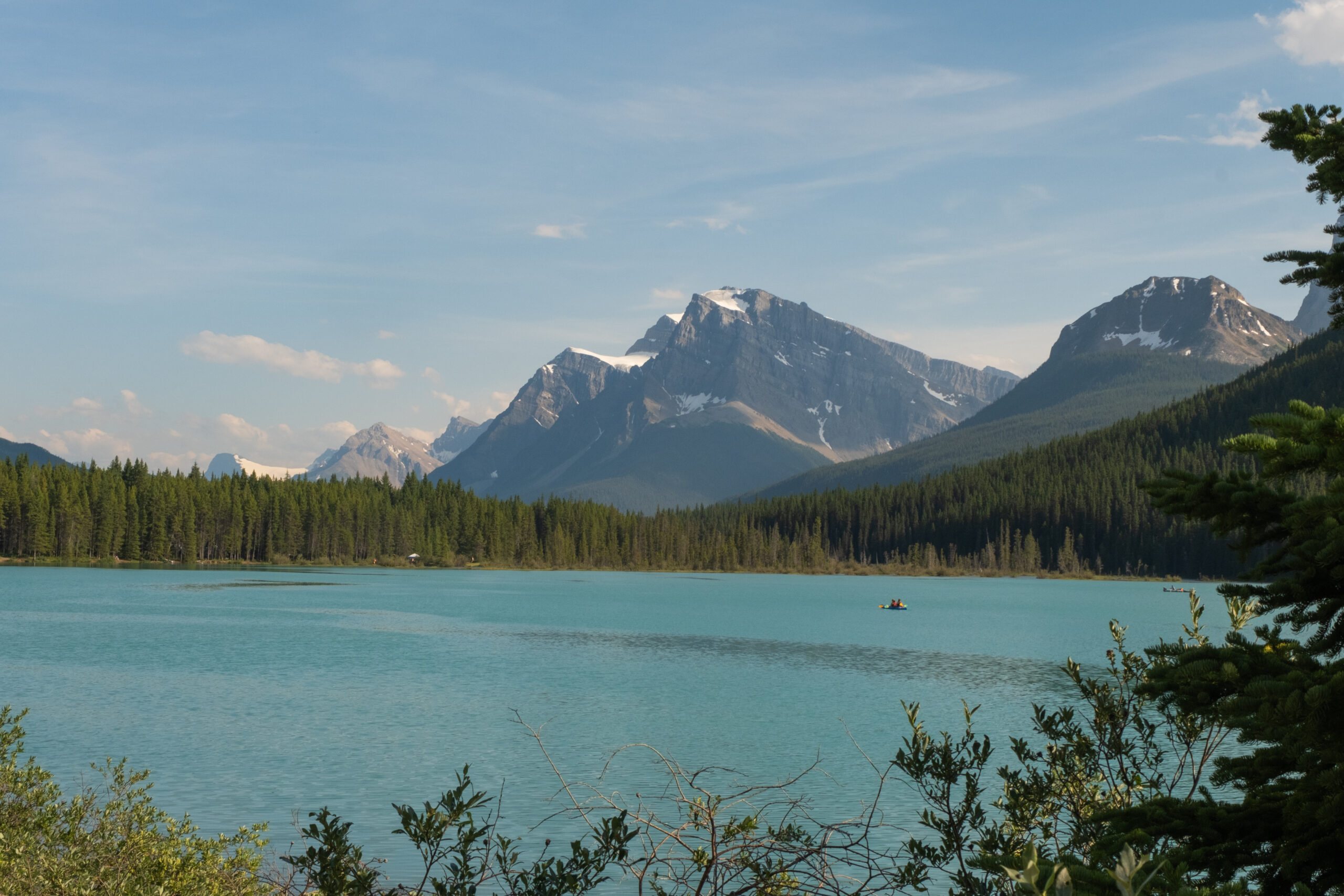 The Waterfowl Lakes are two relaxed lakes in the park that see a fraction of the visitors you'll see the other lakes on this list. To get here, you'll need to drive up the Icefields Parkway towards Jasper, but on a nice day, they are worth the drive!
The two lakes are glacial and have the classic blue color that radiates on a sunny day. They are easy to enter the lakes with a kayak or canoe from the Waterfowl Lakes Campground. There's no place to rent a kayak or canoe up this way, so come prepared with your own.
Bring your own canoe, kayak, or SUP
---
Herbert Lake
Good for Beginners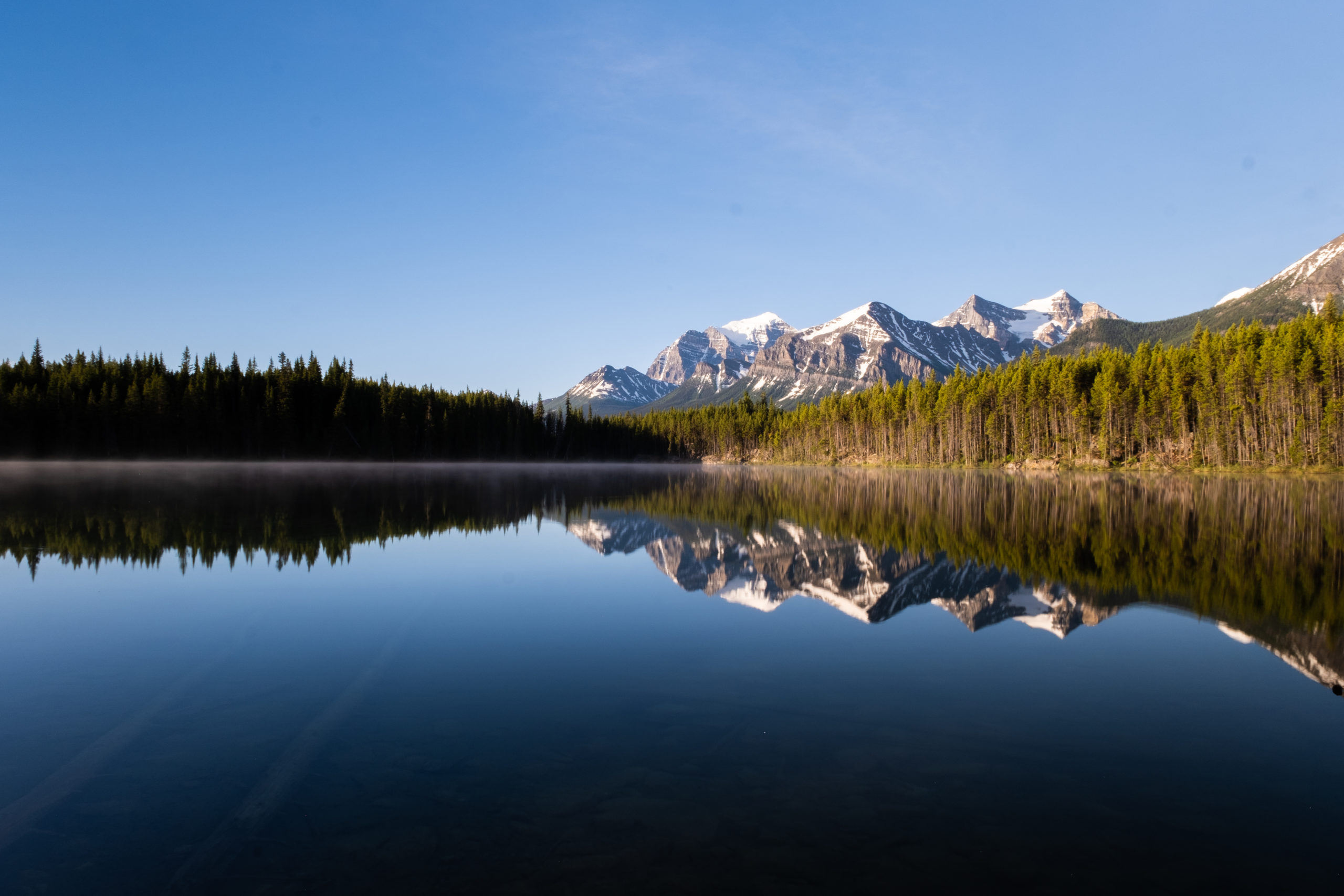 Herbert lake is a small lake just off the Icefields Parkway not long after you pass the park gates leaving the TransCanada highway in Lake Louise driving from Banff to Jasper. Its location and the fact that it's not considered a real highlight in Banff means the lake remains quiet throughout the summer.
Herbert Lake is gorgeous and has some phenomenal mountain views from its waters – you can even get great views of the famous Mount Temple. A picnic area right along the shores of the lake makes it easy to put a kayak or canoe in the water. While you're paddling around, keep an eye out as there is a diving board; if you're brave enough to take a dip in the frigid waters — make sure you pick a warm day. It's a small lake, but I promise you it's a serene one.
Bring your own canoe, kayak, or SUP
---
Bow Lake
Good for Advanced Paddlers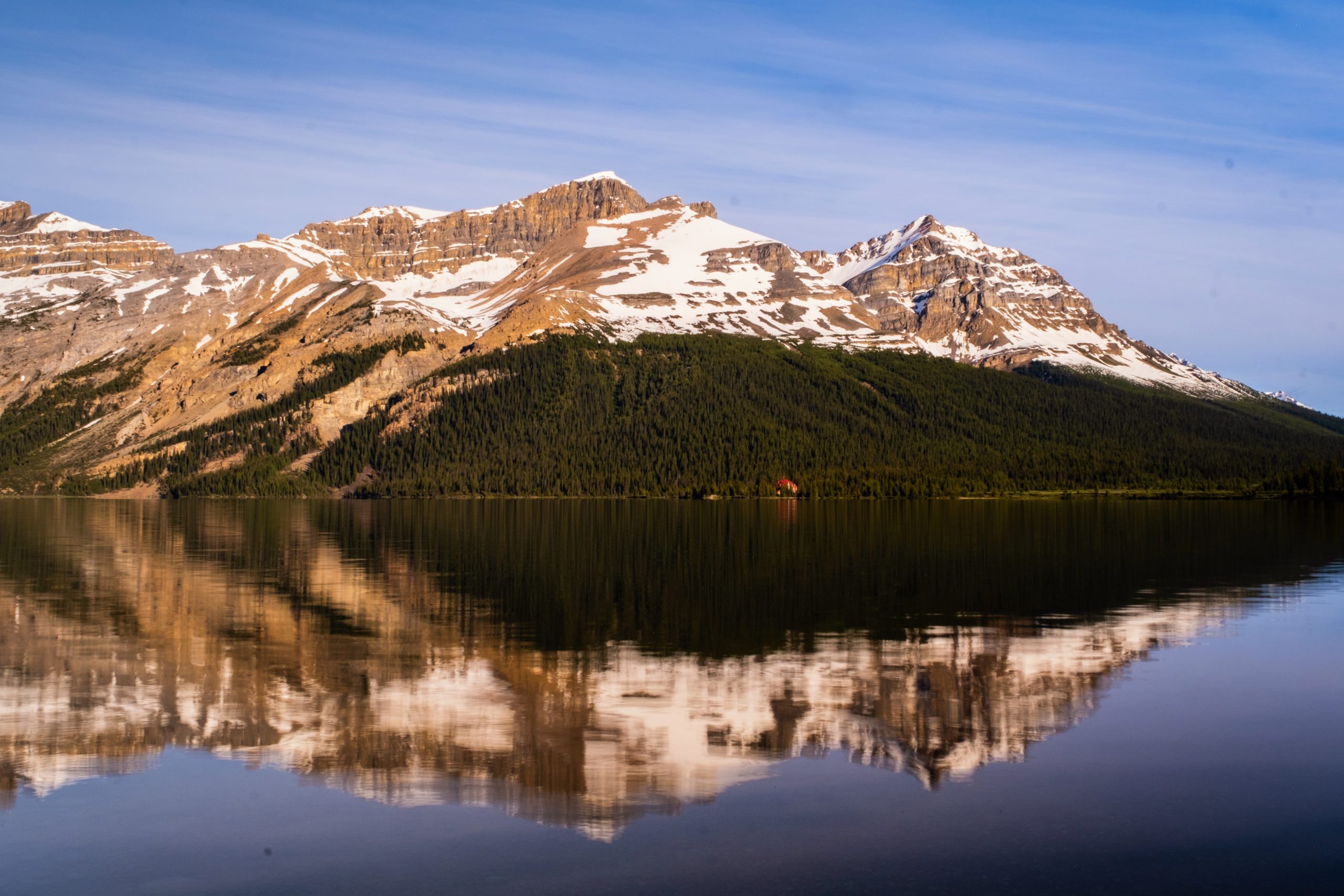 Bow Lake is arguably one of the most beautiful vistas in all of Banff, so it makes for a prime spot to kayak or for canoeing in Banff. It's a large lake in the Canadian Rockies and is best explored on the water. However, the lake is the largest one on this list, and its position in the valley makes it very susceptible to winds.
It took us three separate attempts while on the Parkway to put our paddleboards in here here. So to be able to paddle on Bow Lake, you'll need to catch it on a beautiful summer day with low wind. If it doesn't work out, don't worry; Herbert Lake and Waterfowl Lakes are not too far away.
Bring your own canoe, kayak, or SUP
---
Best Spots to Kayak and Canoe Outside of Banff
---
Emerald Lake
Good for Beginners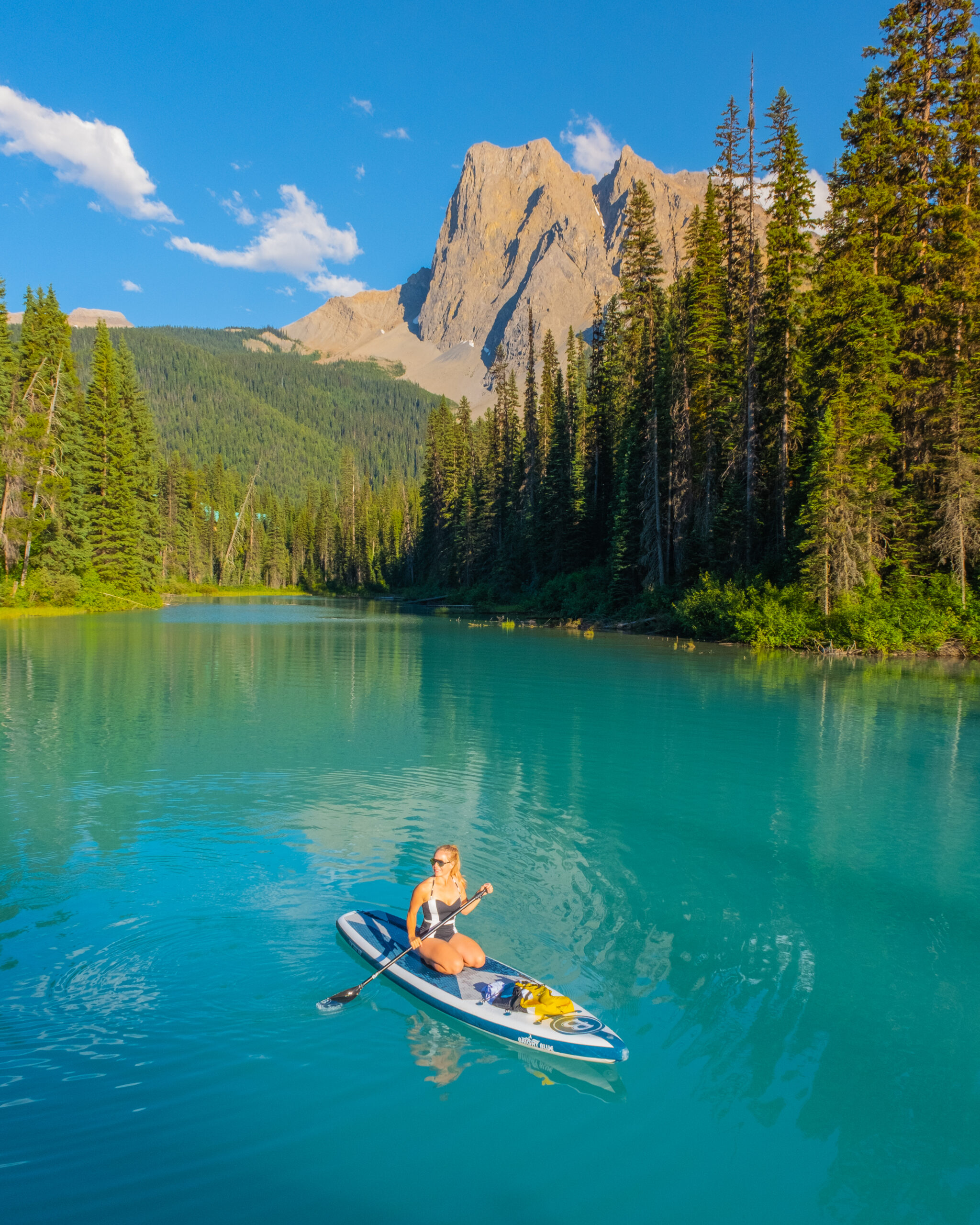 While it's not in Banff National Park, Emerald Lake in Yoho National Park is too beautiful and convenient to reach not to include on this list. Parking here is a lot easier than at Lake Louise or Moraine Lake. Sometimes you'll have to park pretty far from the lakeshore; that's when I like to drop our canoe and kayak off at the lake and then park afterward.
There are a few entry points for those who have their own kayak or canoe to enter at. If you don't have your own canoe, you can easily rent from the Emerald Lake Lodge; information below.
Where to Rent a Canoe at Emerald Lake
---
Canmore Reservoir
Goof for Beginners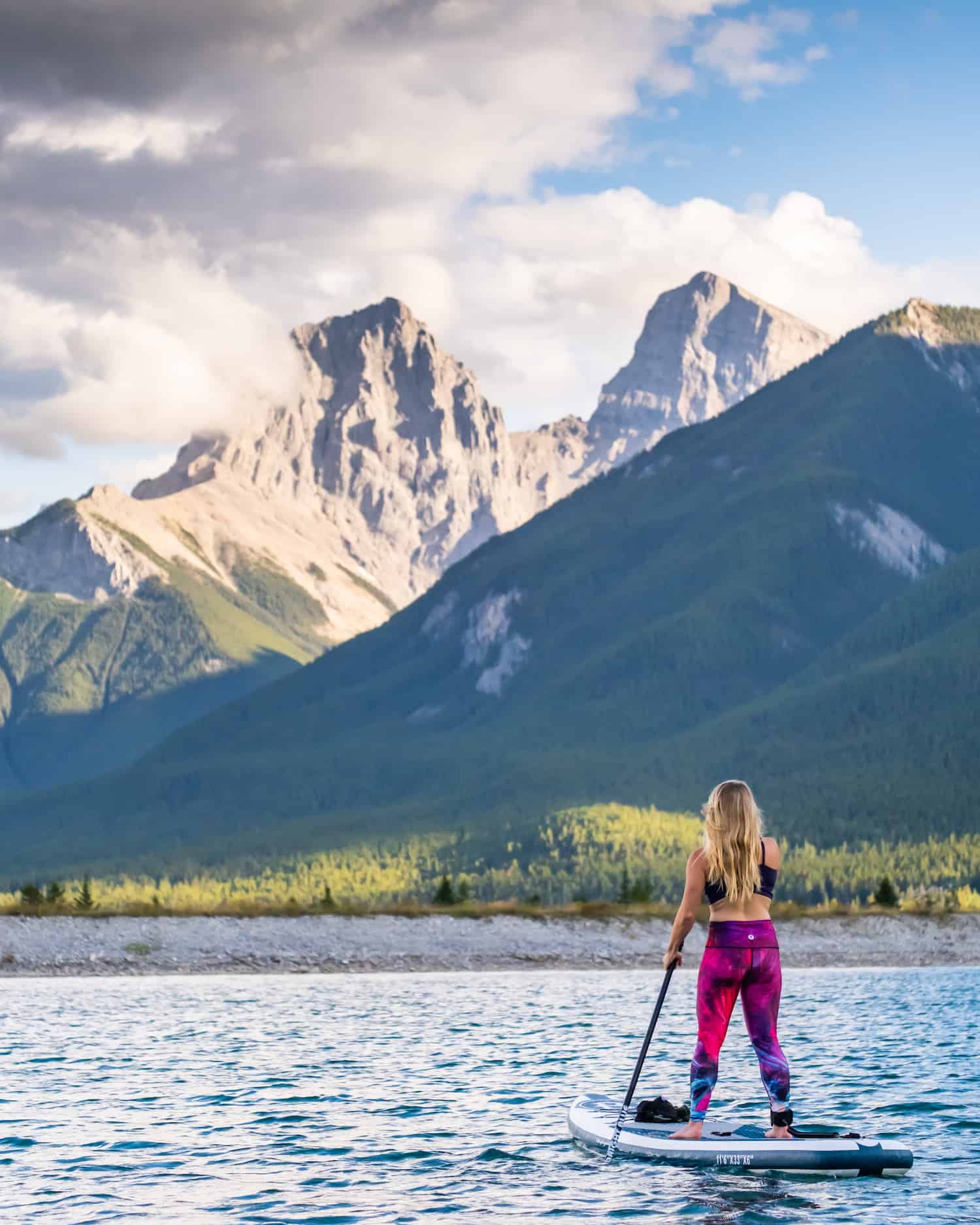 If you're staying in Canmore, there are a few great options to bring your canoe and kayak. My favorite is the Canmore Reservoir, just 5 minutes outside of town, past Quarry Lake and near the Nordic Center.
It's easy to access and put your own kayaks, SUPS, or canoes in. What I love most though, is that it's seldom wind affected, and you get fantastic views of Ha Ling, Mount Rundle, and the Three Sisters.
There's no place to rent your own kayak or canoe from here, but on summer days on the weekend, there's often a popup van renting out SUP boards. Still, I find it best to have your own.
Bring your own canoe, kayak, or SUP
---
Kananaskis Lakes
Good for Novice Paddlers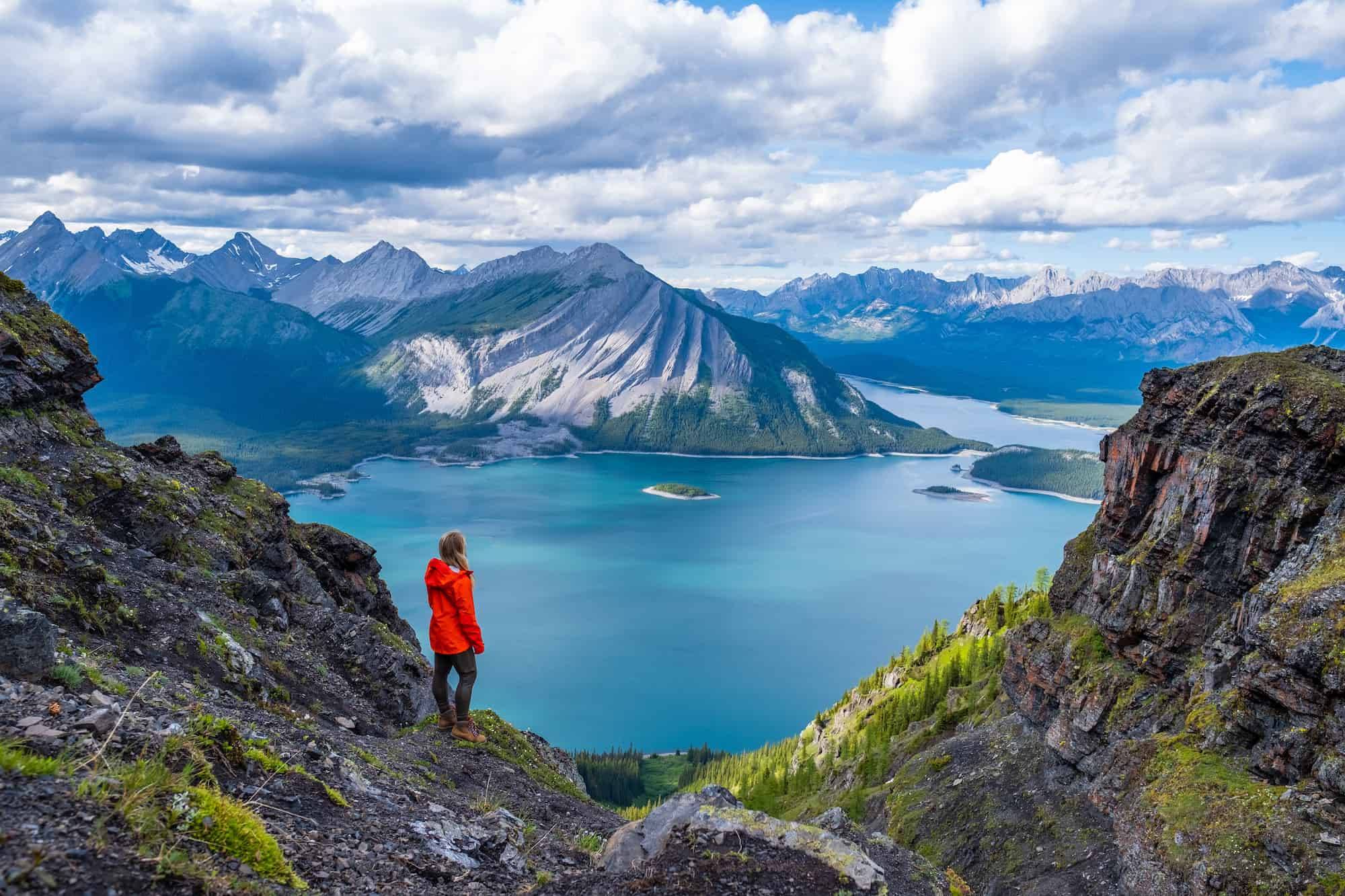 Kananaskis Lakes are among some of the best Alberta lakes to visit and are a vast area to bring a canoe, kayak, or sup in the Canadian Rockies. They are a popular place to head in the warm summer months, but their location nestled in the beautiful mountains makes them an amazing site to paddle on.
There is a large area to park and there is a boat launch here. Keep an eye out for the motorboats here; it's one of the few lakes in the Rockies you can bring an engine boat on.
Bring your own canoe, kayak, or SUP
---
Barrier Lake
Good for Novice Paddlers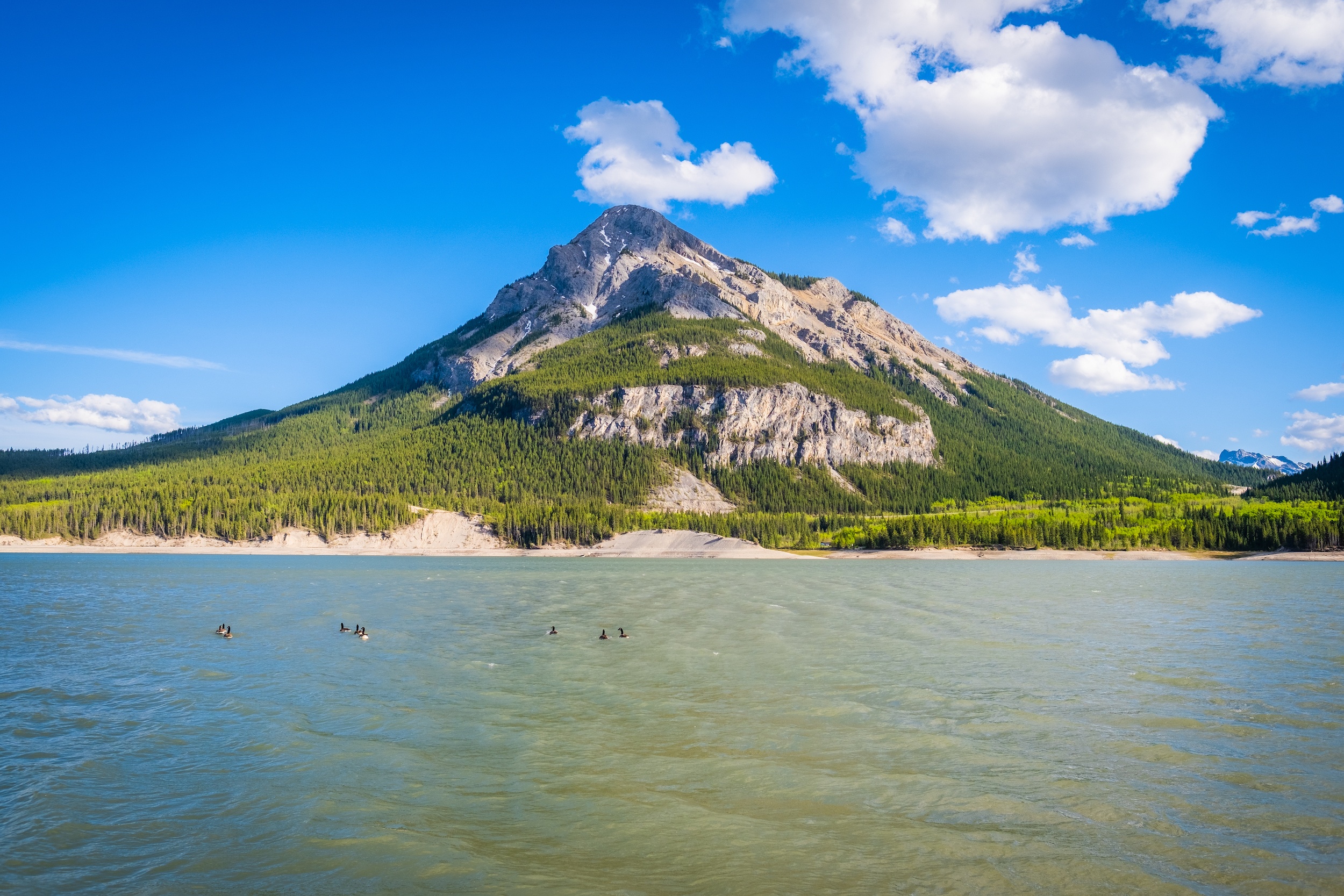 Barrier Lake in Kananaskis Country is one of the most popular spots to head in the entire park. It's beautiful for one, but you can reach it in less than an hour from Calgary, as it's located right after the entrance to Kananaskis. Seriously, when you are heading to Kananaskis, you cannot miss Barrier Lake on your right-hand side.
We like coming here for a paddle when we don't want to drive too far from Canmore and want to put our kayaks or paddleboards in the water easily. Parking is also pretty simple here on weekdays, and you don't have to walk your kayak or canoe far to enter the water.
However, weekends here can be somewhat of a madhouse, so you should arrive in the early morning or late evening for easy parking and solitude.
Bring your own canoe, kayak, or SUP
---
Spray Lakes
Good for Experienced Paddlers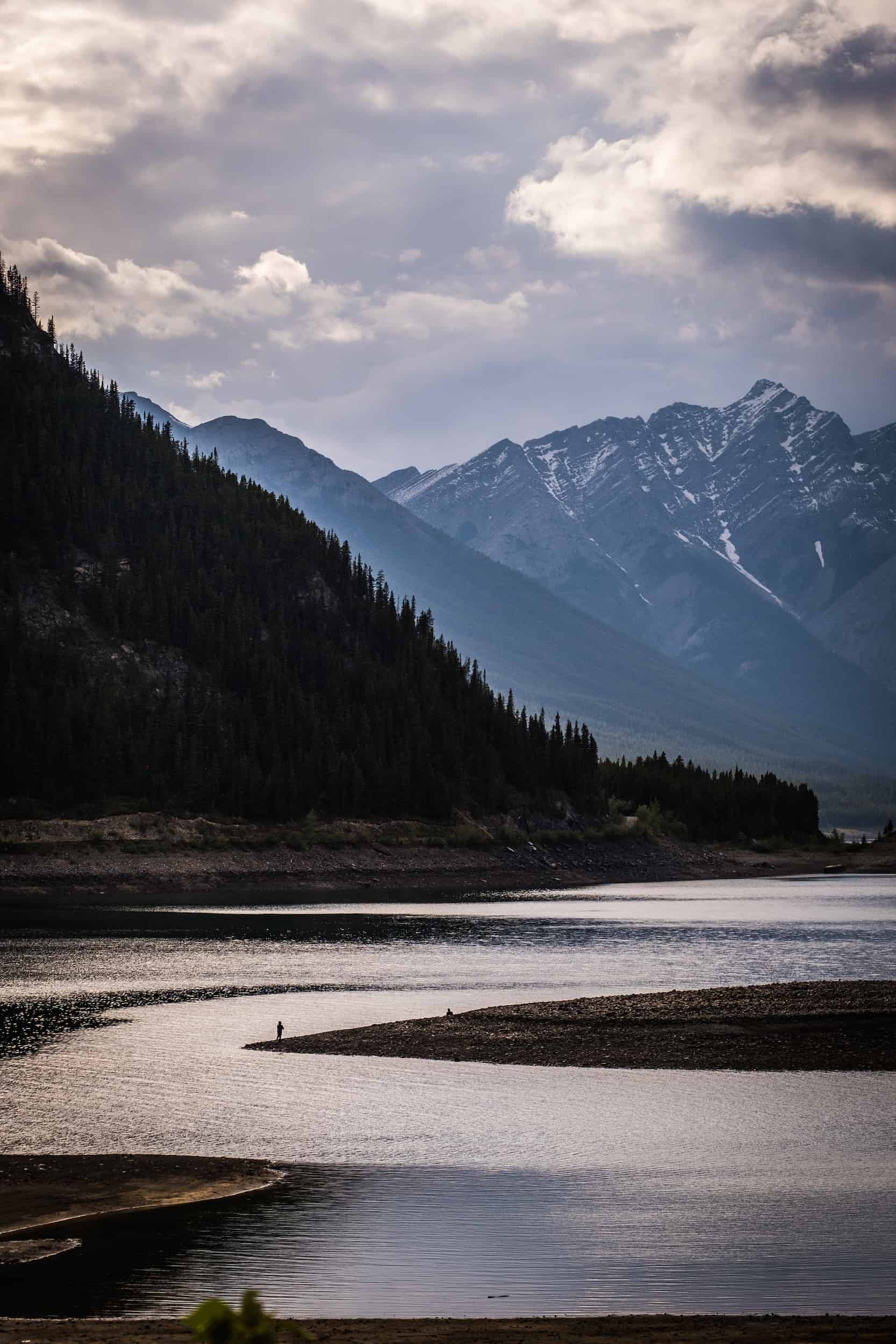 You can definitely canoe or kayak on Spray Lakes, but the water can move fast, so I would suggest only moderate to experienced paddlers head to Spray Lakes for a paddle. You can also fish from your canoe at Spray Lakes!
Bring your own canoe, kayak, or SUP
---
Goat Pond
Good for Beginners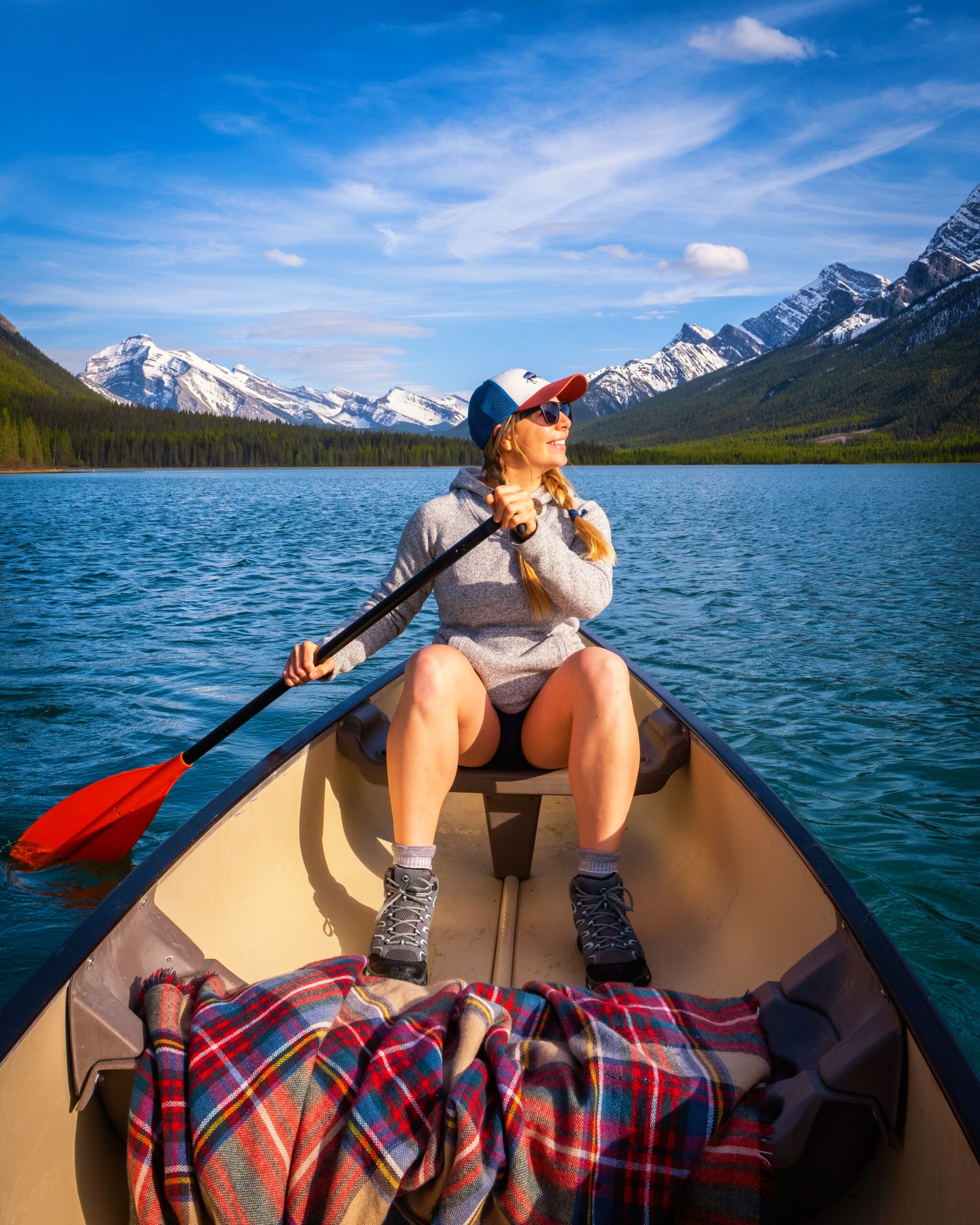 Goat Pond is a smallish pond up the Smith Dorrian Road past EEOR and HaLing. I like to come here and paddle as it's not wind affected, is not busy, and is extremely beautiful.
When we are looking to escape the crowds on the weekends in Banff, we head to Goat Pond. There is no place to rent a canoe or kayak here, so you'll need to bring your own.
Bring your own canoe, kayak, or SUP
---
Best Lakes to Canoe in Jasper
---
Lake Edith, Annette, and Beauvert
Good for Beginners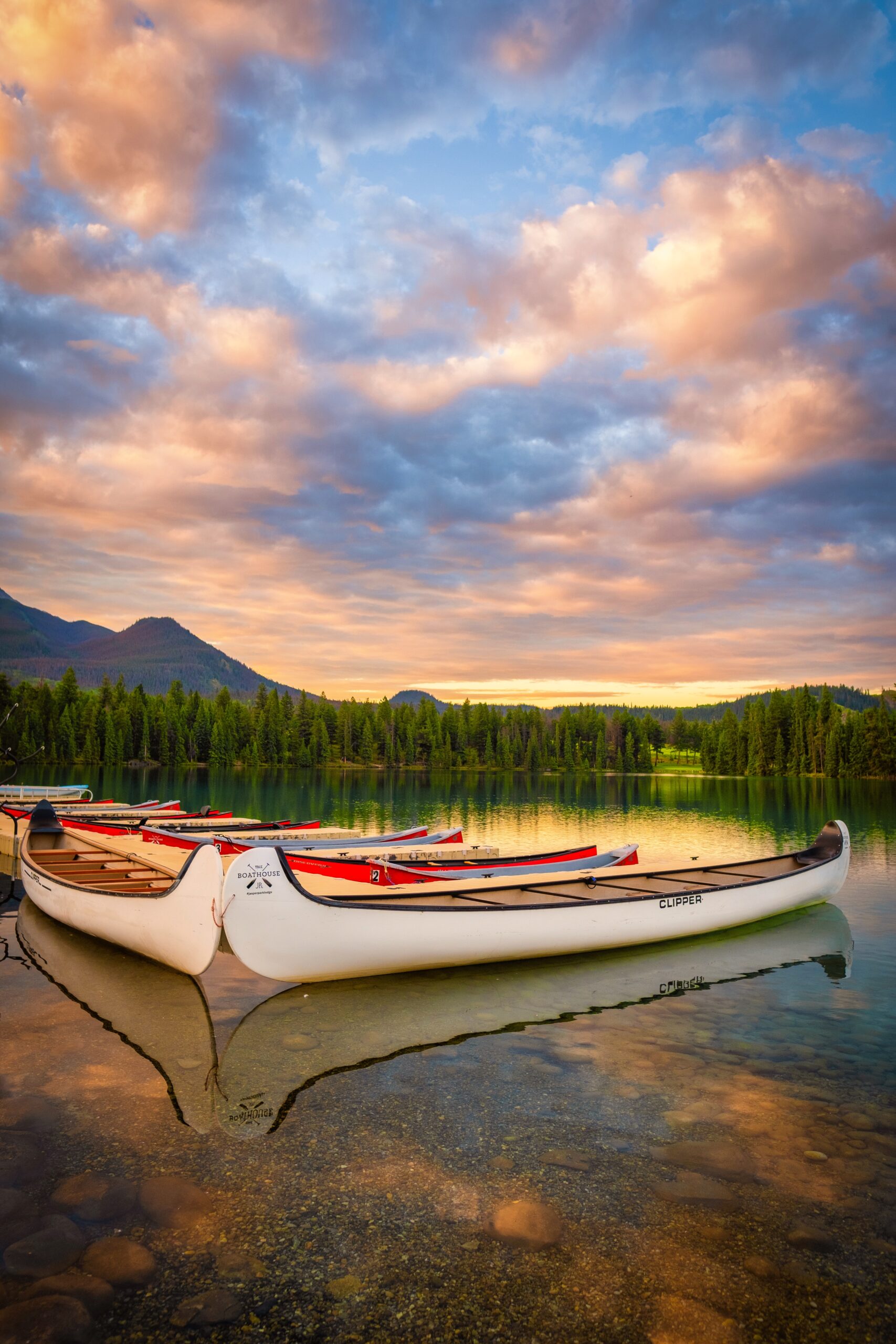 We spent many days in Jasper enjoying these three lakes. They all have a beautiful blue color, although my favorite is Lake Beauvert. My favorite part about canoeing and kayaking on these lakes is just how calm the water is.
Oh, and I found them so much quieter than some of the lakes you kayak on in Banff. While there isn't anywhere to rent a canoe or kayak at Edith and Annette, the Fairmont Jasper Park Lodge rents out canoes, kayaks, and stand-up paddleboards to guests and visitors on Lake Beauvert.
Where to Rent a Canoe, Kayak, or SUP on Lake Beauvert
---
Pyramid Lake and Island
Good for Beginners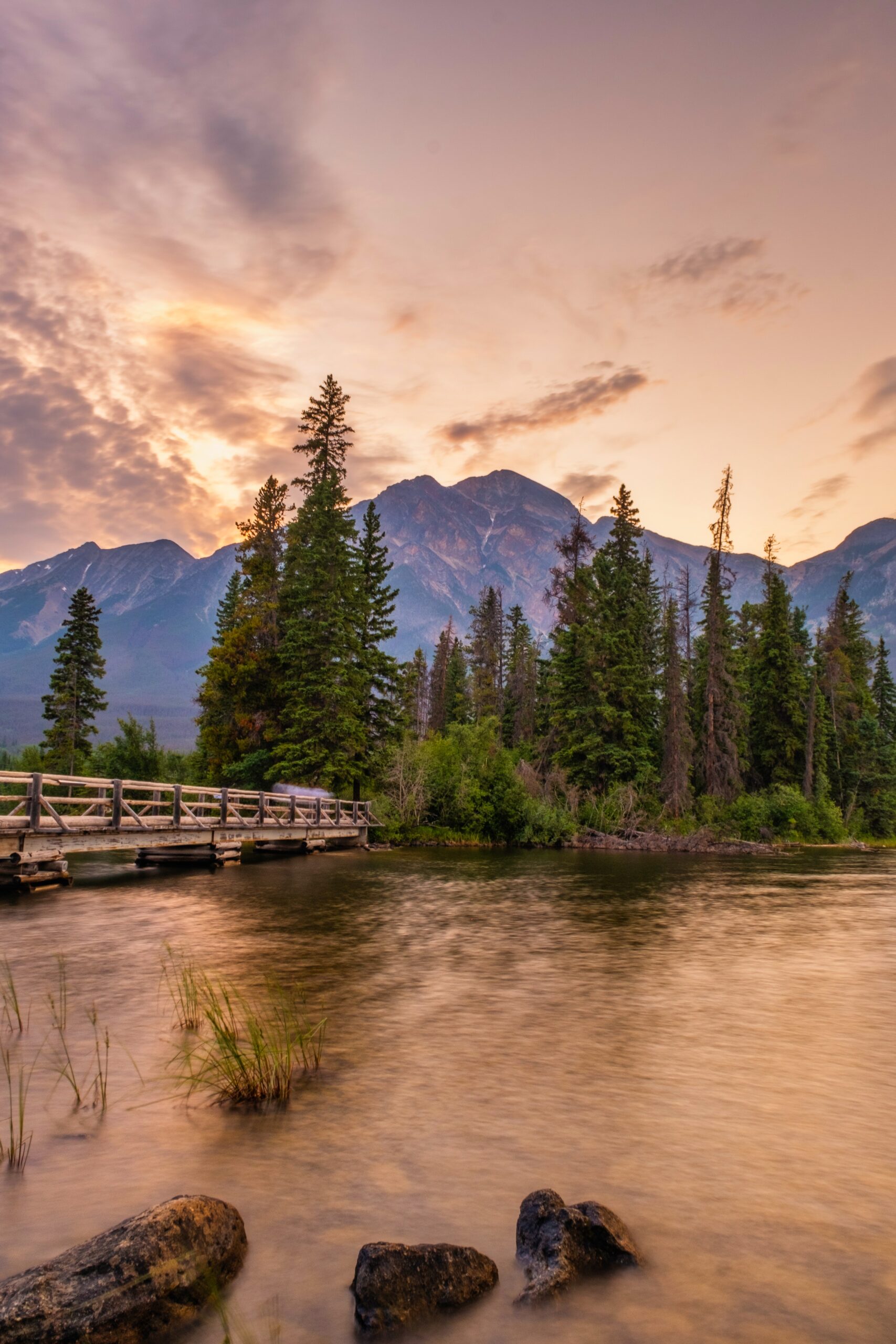 Another great Jasper lake to get out on is Pyramid Lake which sits right under Pyramid Island. Pyramid Lake is close to the town of Jasper and is another great lake to enjoy. Bring the paddleboard, canoe, and kayak here and even take a jump in! I actually found this lake much warmer than the others in the Canadian Rockies.
Don't miss Pyramid Island either; it's a small island with a bridge to it. Try and catch it at sunrise or sunset for a wicked view. You can reach it by car, but you can also canoe or kayak right to it (or even under it!) You can rent a canoe from the Pyramid Lake Lodge by the hour.
Where to Rent a Canoe at Pyramid Lake
---
Lake Patricia
Good for Beginners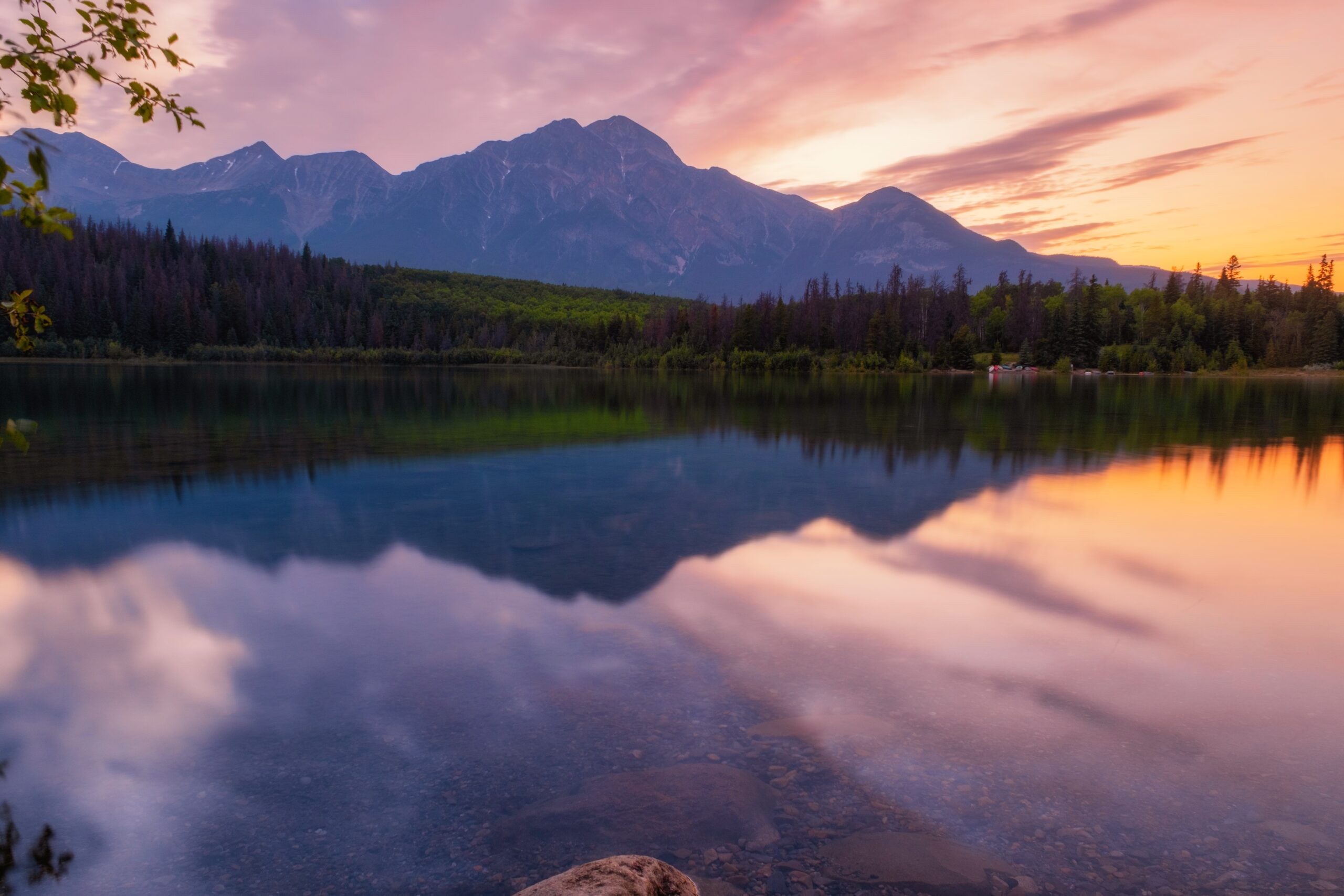 Lake Patricia is right next to Pyramid Lake and is one of the best lakes in Jasper to head to for your summer needs. It's another very chill lake in Jasper to canoe on. Although it's not bright blue like many other lakes in the Canadian Rockies, it's a good local hangout spot and away from the tourist stops.
Where to Rent a Canoe at Patricia Lake
Location: Pyramid Lake Lodge Resort
Canoe/Kayak Cost: $80 per hour for canoe/ $45 per hour for kayak
Season: June to October
---
Maligne Lake
For Experienced Paddlers, if Going to Spirit Island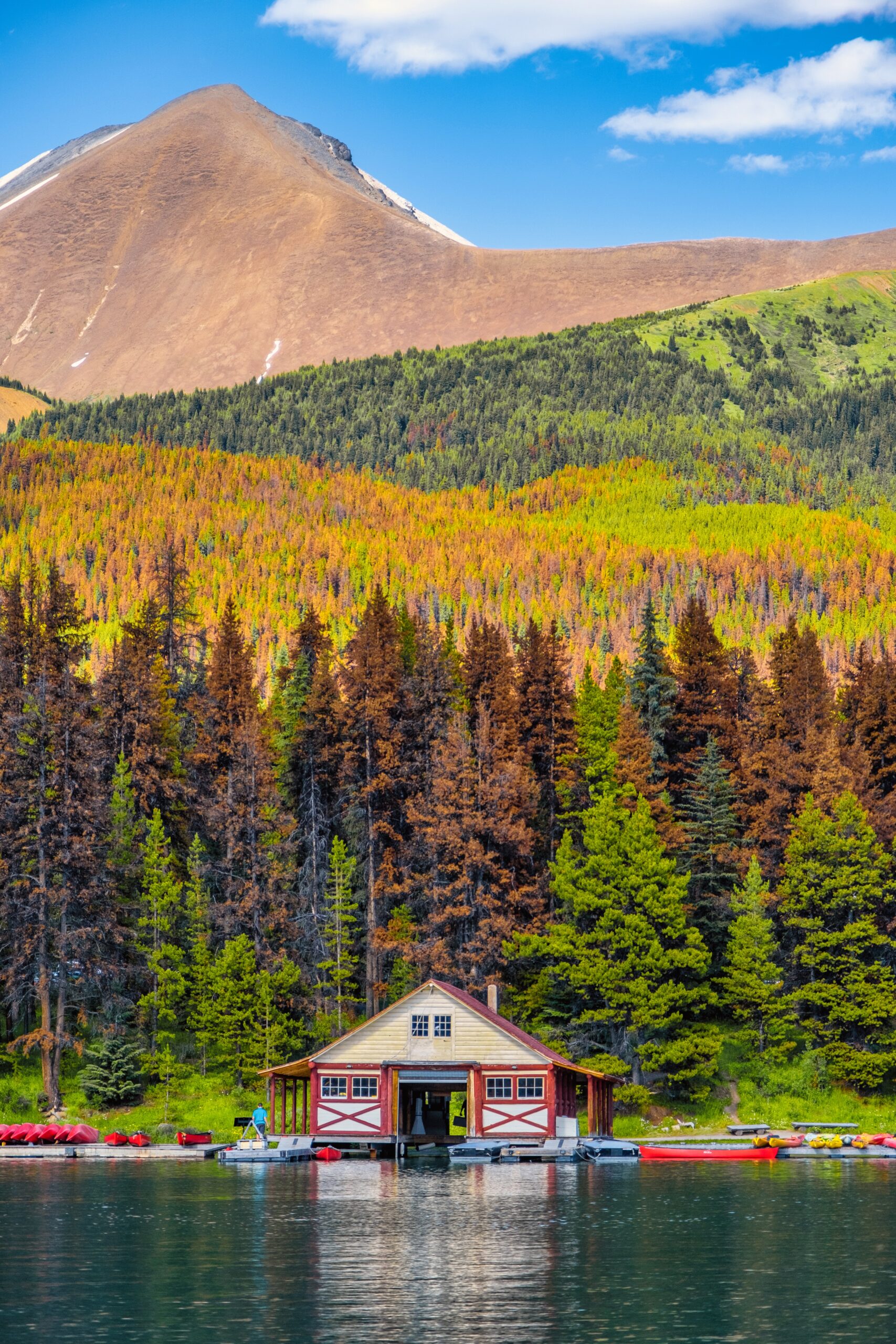 Maligne Lake is a glacial lake that is just a 45-minute drive from the town of Jasper. It is one of the most serene lakes in all of the Canadian Rockies and prized for astounding natural splendor. It's a popular spot to canoe or kayak on, especially those camping near Spirit Island. You can easily canoe, kayak, and sup around the Maligne Lake Boathouse. This is an easy paddle anyone can do.
The hardcore adventurers can canoe or kayak out to Spirit Island. You've likely seen the photos of Spirit Island when doing research on visiting the Canadian Rockies and admired how beautiful it is.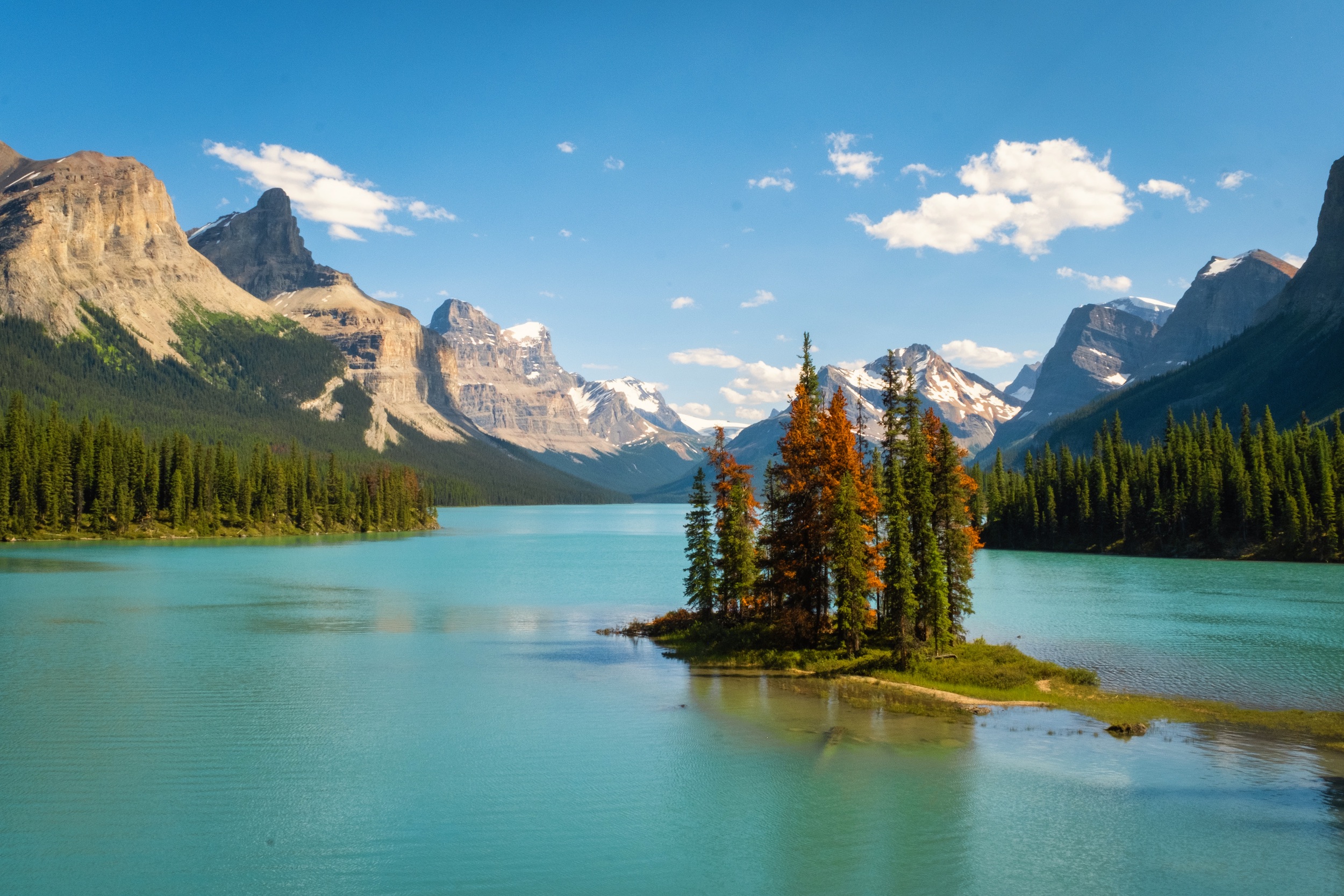 However, to get there is no simple feat. Spirit Island is a small peninsula island that sits 14 kilometers up the lake. It's a grueling grind to get to it and is only accessible by nonmotorized boat, and if you happen to paddle against the current to get there, it could take over five hours to reach.
Where to Rent a Canoe at Maligne Lake
Location: Maligne Lake Boathouse
Canoe Cost: $80 per hour or $205 per day
Season: June to October
---
Always Remember Before Heading Out for a Paddle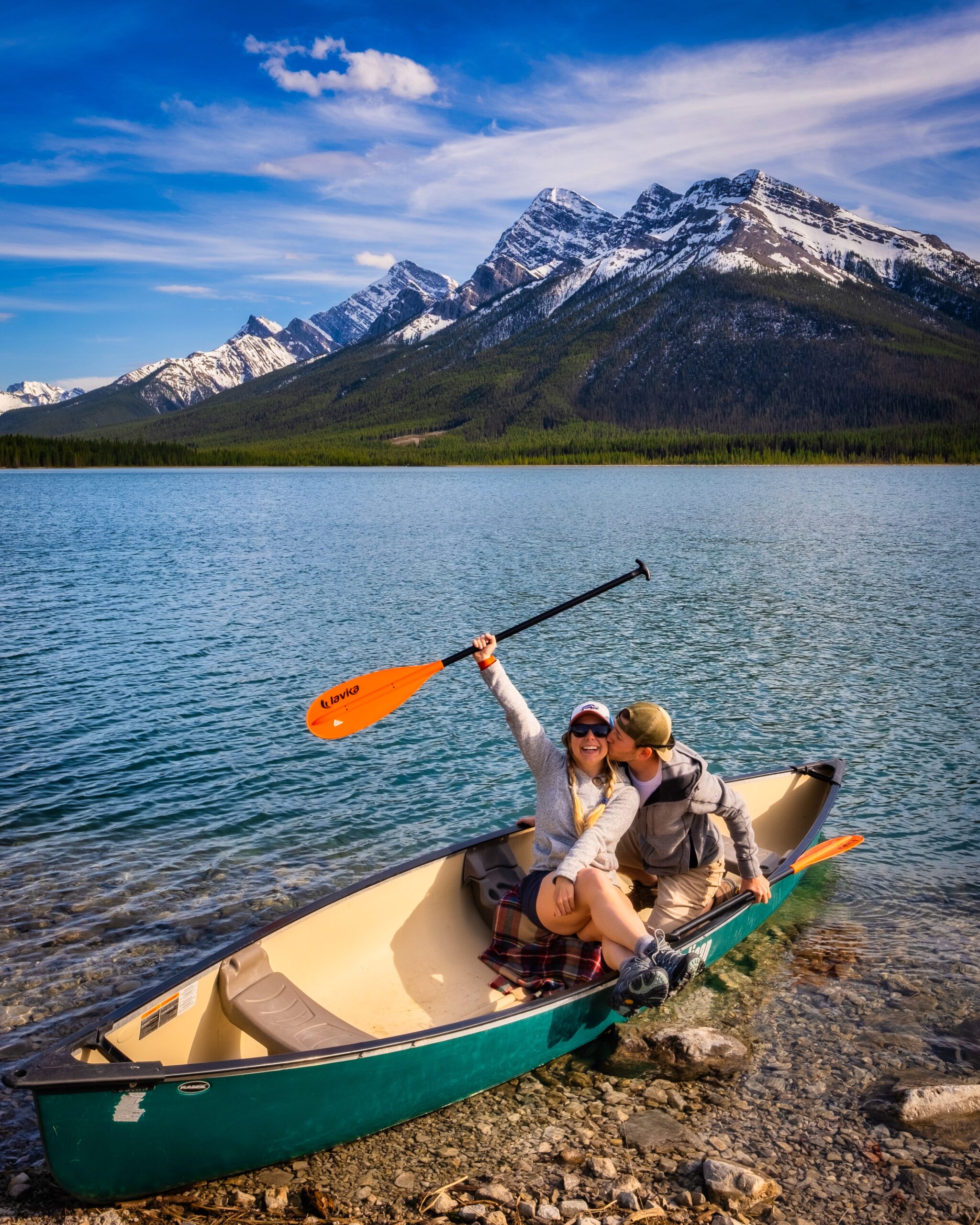 Before you go canoeing in Banff, you should have a life jacket in your canoe or kayak on most of these waters, even if you are a capable swimmer. If you are on a river, you need a life jacket as the water is fast-moving.
The glacier lakes like Waterfowl, Lake Louise, and Moraine stay freezing year-round with an average temperature of 4°C. That means you only have 10-15 minutes in this water before hypothermia sets in. Here are some ways to treat hypothermia.
Choose a suitable lake for you and your ability. The larger ones are more prone to wind and currents. That means lakes like Minnewanka and Maligne should be reserved for experienced kayakers and canoers.
No matter how blue and amazing that glacier water looks, remember it is not safe to drink. This water needs to be filtered and then treated or boiled for drinking.
What to Bring With You When Out on the Water
Warm weather gear to keep you dry. I like to carry a fleece on me.
Lifejacket
Snacks
Wetsuit and wetsuit boots if whitewater rafting or paddling in the offseason
First Aid kit with waterproof matches could save your life.
---
Can You Bring Your Own Canoe on the Lakes in the Rockies?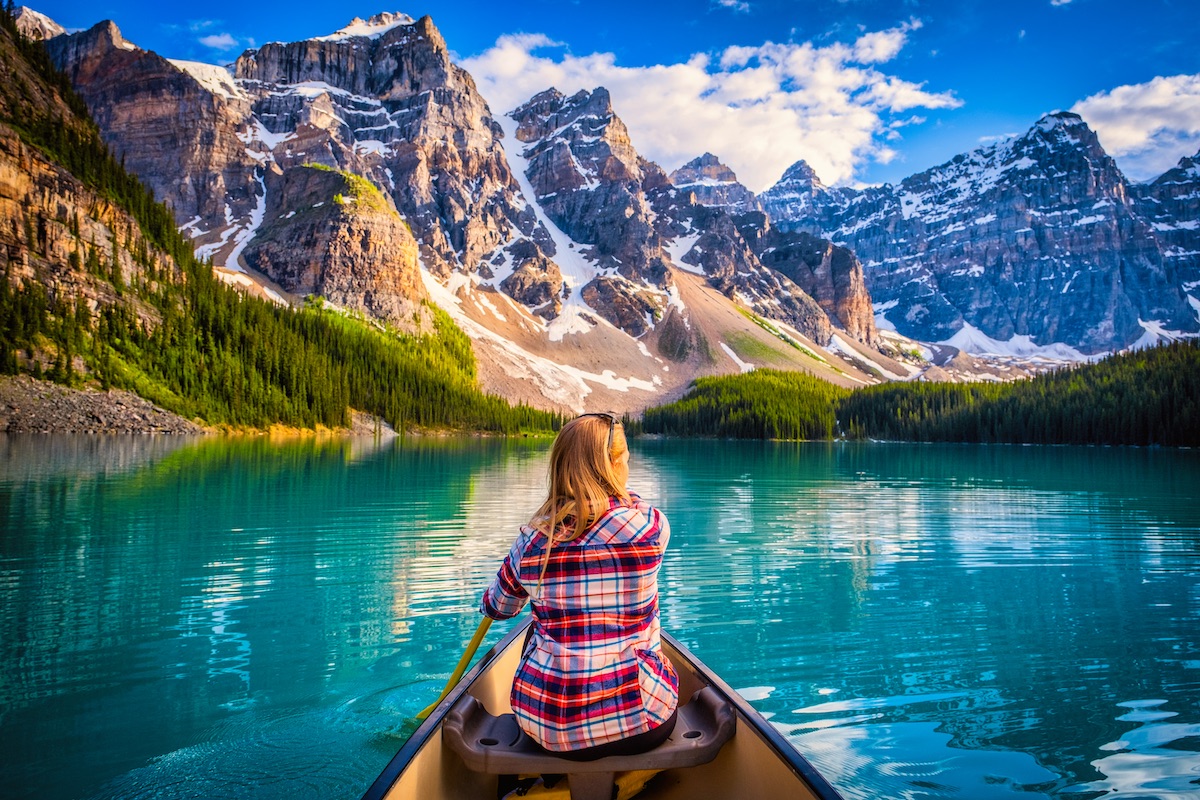 You can bring your own personal canoe on any of these lakes in Banff, including the Bow River. If you plan to canoe on many lakes in Western Canada, it might be worth it to buy a canoe rather than rent it everywhere.
This is given you have the proper transportation to lug it around and an area to store it when not in use at home! Canoes take up a lot of space!
We personally bought our canoe used off Kijiji for $400, and it was the best investment ever! Considering canoes cost over $100 per hour to rent at Moraine Lake and Lake Louise, it easily paid itself off with just a few paddles.
Keep in mind, to prevent the spread of Aquatic invasive species visitors must now fill out a Self Certification Permit with Parks Canada for any nonmotorized watercraft entering the water. This includes kayaks, canoes, and paddleboards. The Self Certification Permits and full rules can be found online.
---
Where to Rent a Canoe in Banff?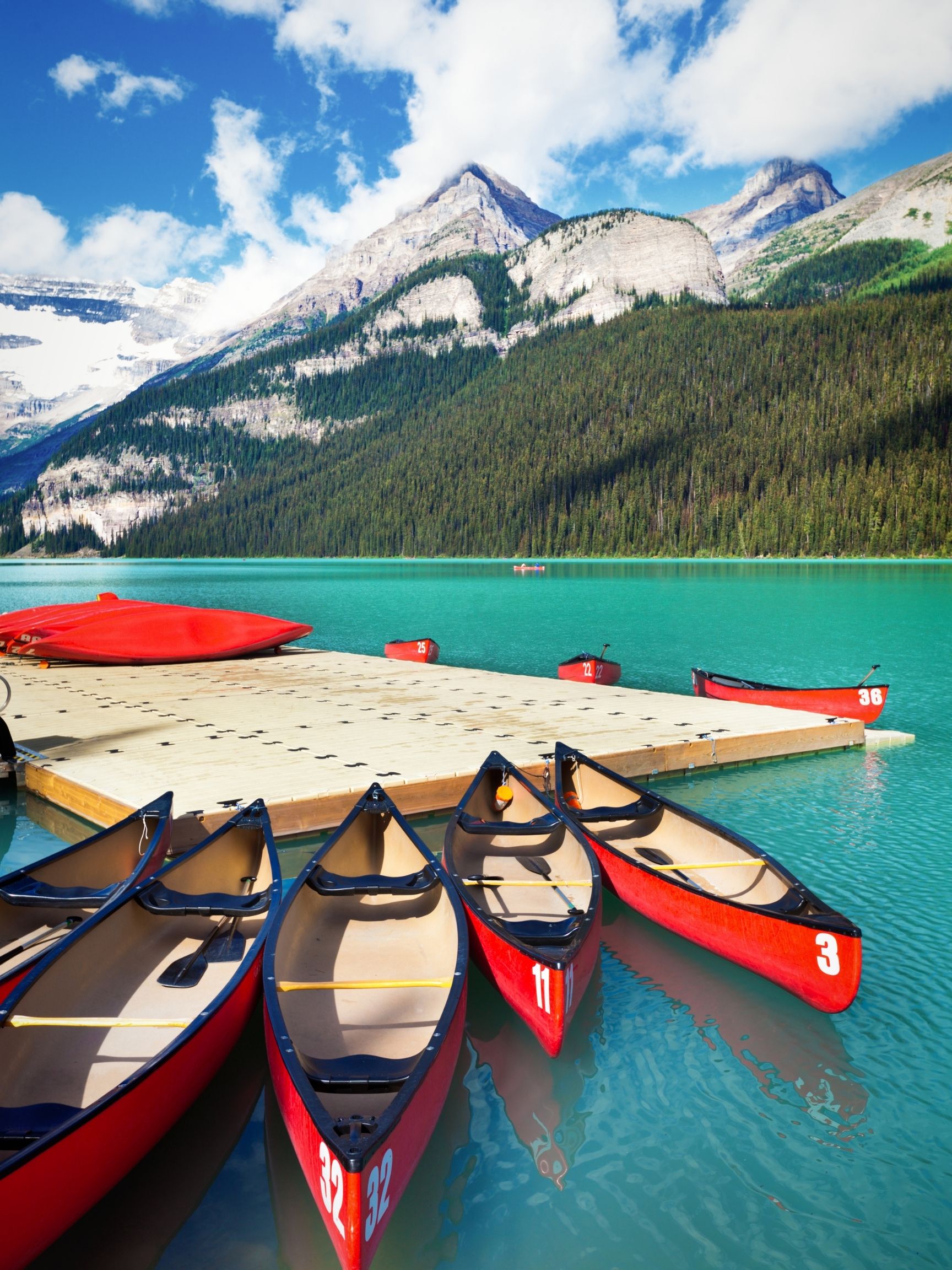 The best place to rent a canoe in Banff is The Banff Canoe Club. They charge $55 per canoe or kayak for the first hour and $30 per hour after that.
Rentals come with some basic canoe tips, a dry bag and bailing bucket, life jackets, safety whistles, and of course paddles. Rentals are on a first come first serve basis and only 3 adults per canoe are allowed (a third person in the canoe is an extra $10).
---
Canoeing in Banff Guided Tours
If you would rather take to the water on a guided tour the Banff Canoe Club runs tours on the Bow River. This is a great way to get out on the water with the safety of a guide.
See also the Big Canoe Tour Option Here
---
Are you planning a trip to the Canadian Rockies and would like to know more about canoeing in Banff or anything else? Post your questions in the comments. We will be happy to answer them!
See our Canadian Rockies travel guide for more articles about photography spots, lakes, hikes, and everything else.
Plan Your Trip to the Canadian Rockies
---
↓ Join the community ↓
The Banff Blog Facebook Group is your headquarters for the Canadian Rockies' travel advice and information. Including hike info and off-season travel information. You can also meet new adventure buddies.