Canoeing in Banff is one of the best things you can do in the Canadian Rockies. In our guide to canoe rentals in Banff, we share all you need to know about paddling here.
Canoeing across the stunning bodies of water in the park is a great family-friendly activity, and makes for an enjoyable day out when the weather is great. It's a great way to take in the natural scenery, and compared to the busy trails around Lake Louise and Moraine Lake, you can find some tranquility.
Kayaking or canoeing in Banff is one of our favorite things to do in Banff and it's an activity that can be enjoyed by all. It's a Banff itinerary idea and a fantastic way to spend an afternoon or spend a few enjoyable hours.
See Also:
---
Places to Go Canoeing in Banff (With Rental Information)
---
Moraine Lake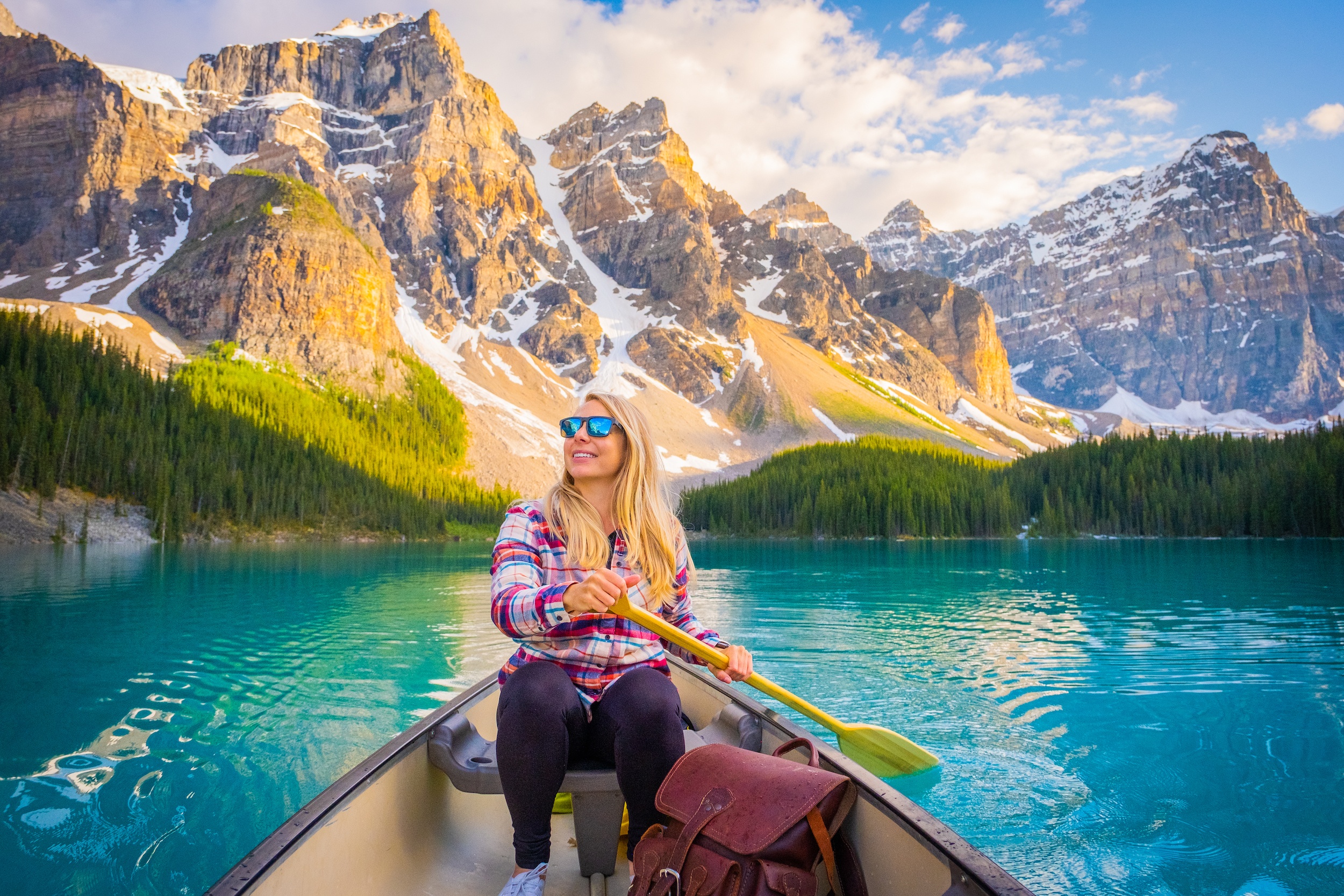 There is likely no lake in the world more beautiful to canoe than Moraine Lake. The turquoise waters of Moraine Lake are framed by the magnificent Ten Peaks for a splendid scene. It's an iconic view of Canada and, at one point, was on the back of the Canadian $20 bill. To hop in a canoe here and paddle across the glacial waters is a memory you likely won't forget.
There is one downside to canoe rentals at Moraine Lake, and that is the price, along with the competition to get a canoe. Parking at Moraine Lake is limited, and the shuttle bus system, although improving, can make it hard to plan on a paddle on Moraine.
There is only one location to rent canoes on the lake, and it is at the canoe dock run by the Moraine Lake Lodge. The canoe rentals at Moraine Lake operate on a first-come-first-serve basis, so if you arrive late in the day, you may be out of luck as it's a popular activity. Canoes can accommodate two to three people, and they do not allow pets. You can bring your own stand up paddleboard, canoe, or kayak to paddle on Moraine.
Location: Moraine Lake Lodge
Cost: $140 per hour
Season: Mid-June to Mid-September
Paddle, life jackets, and basic instructions are provided.
---
The Bow River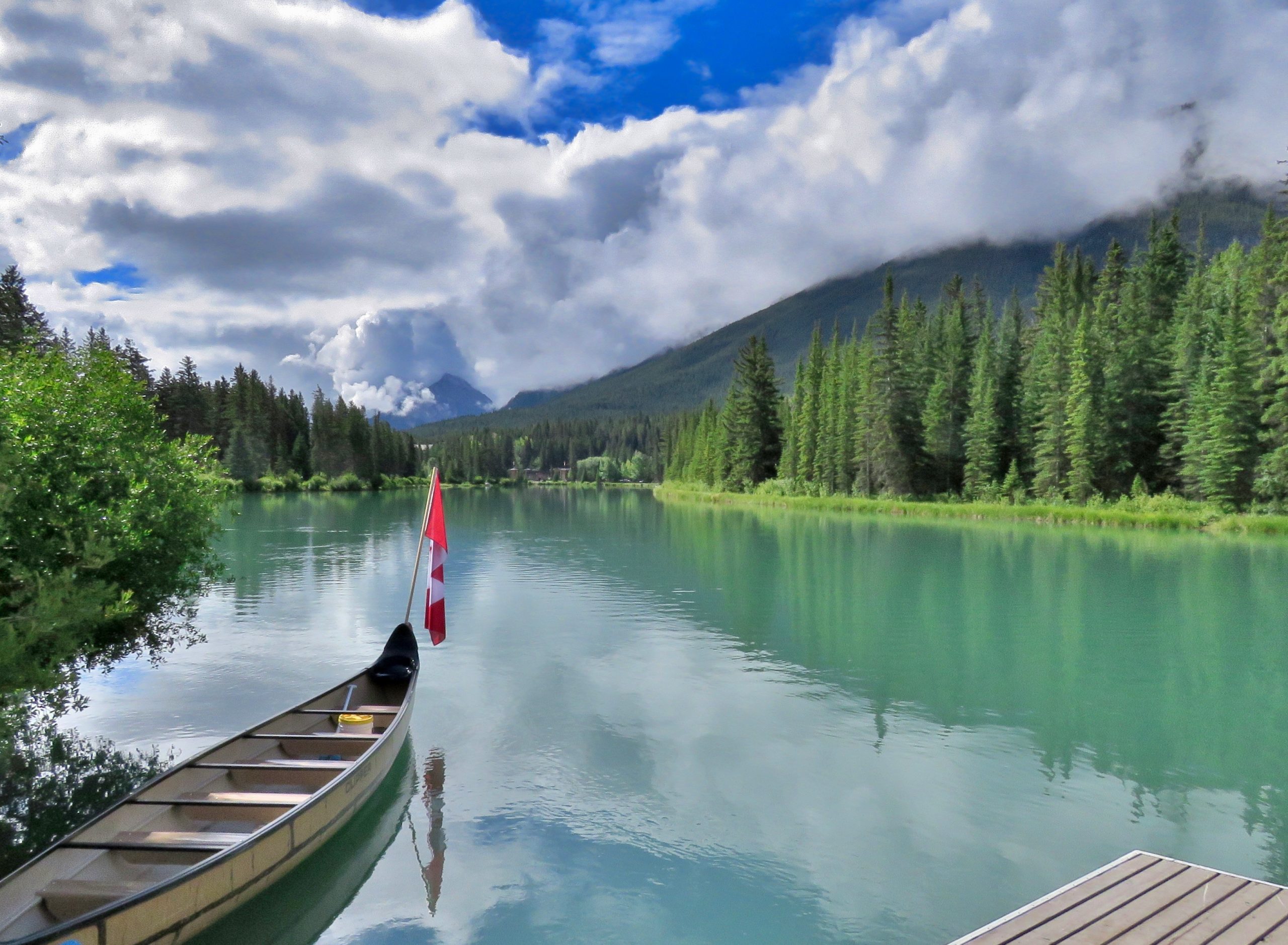 You don't have to go far if you're staying in downtown Banff if you want to rent a canoe. It's a short walk from the center of town to the Banff Canoe Club, where you can rent a canoe, SUP, or get a Banff kayak rental. Rental options range from hourly to daily. While there is no direct Canmore canoe rental company, the Banff Canoe Club will allow you to take their rentals to Canmore.
From the Banff Canoe Club, head up the Bow River in search of some beautiful natural scenery. The section of the Bow River is calm and has plenty of space for first-time canoers to explore.
Not only are their rates far cheaper than the more popular locations on the lakes The Banff Canoe Club offers guided tours. The tours are great if you're not confident tackling the waters on your own or you'd like to learn more about the landscape and spot wildlife. Perfect for families to get out on the water!
Location: Banff Canoe Club
Cost: $50 per hour
Season: June to October
---
Vermilion Lakes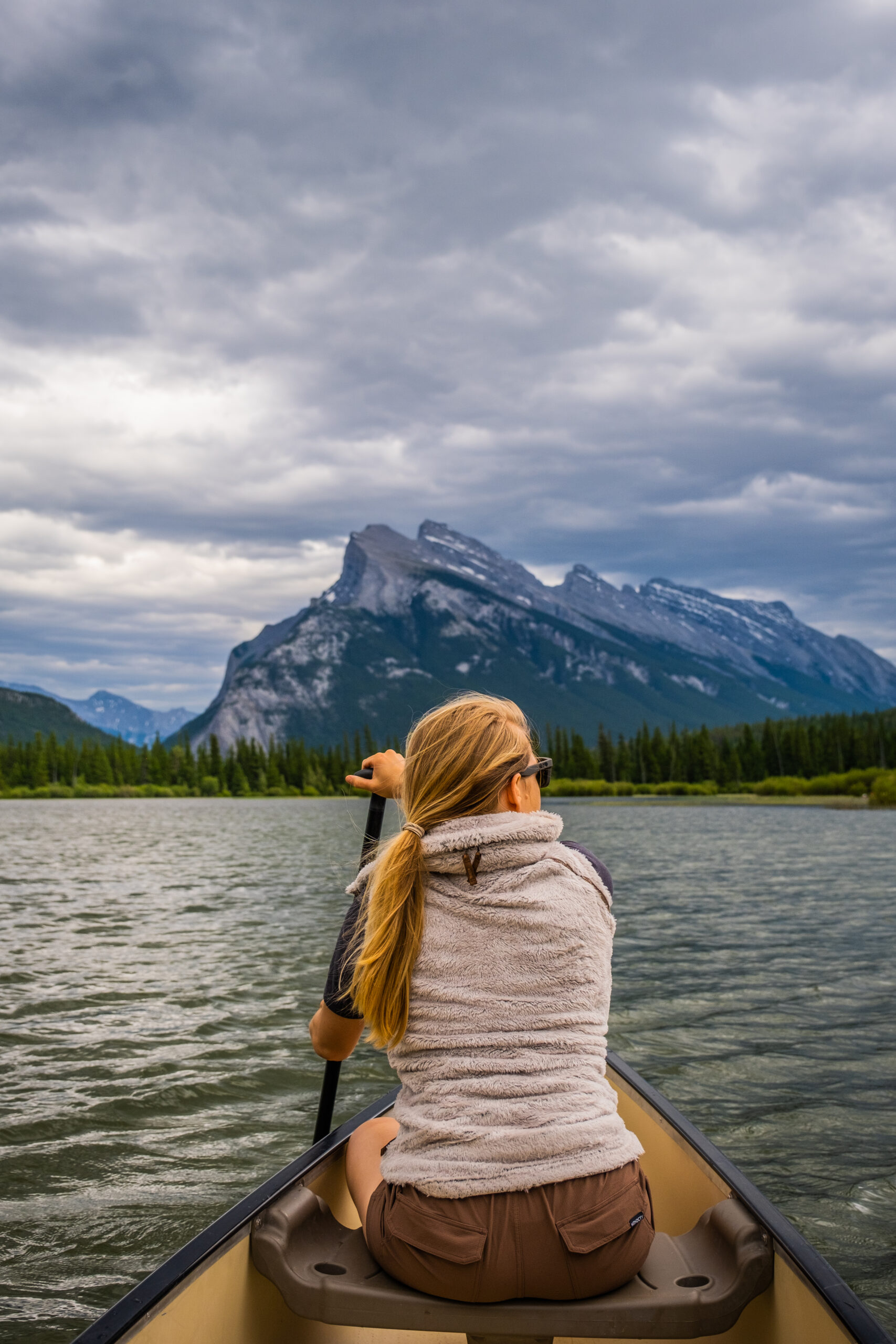 Vermilion Lakes is largely a marsh, so it doesn't hold the brilliant blue waters like many other lakes around Banff, but it still makes for an incredible place to canoe. The lakes are well protected by the winds, and the shallow water means that the waters remain calm on most days, so it's an easier place to canoe kayak or SUP.
The marsh and trees make for prime habitat for wildlife, and it's a well-known spot for birders. We've personally seen beavers, bald eagles, owls, elk, muskrats, and herons. The docks also make it easy for those with their own canoe to enter the water.
Vermilion Lakes is easily reached via the Forty Mile Creek from the Banff Canoe Club. It's a great option if you're hoping to spot some wildlife, but manage expectations as the only thing you're guaranteed to see are various birds.
While there is nowhere to rent a watercraft on Vermilion Lakes, you can rent from Banff Canoe Club along the Bow River and let them know of your plans – they'll sort you out! If you have plans to rent more or mix it up with canoes and SUPs or rent more than once, consider signing up for a membership for $50, which provides the first hour for free, and then all hours from then on are $25.
Location: Banff Canoe Club
Canoe Cost: $50 first hour / $30 additional hour
Kayak Cost: $50 first hour / $30 additional hour
SUP: $90 daily rate / $30 hourly rate / $10 wetsuit rental
Season: June to October
---
Lake Minnewanka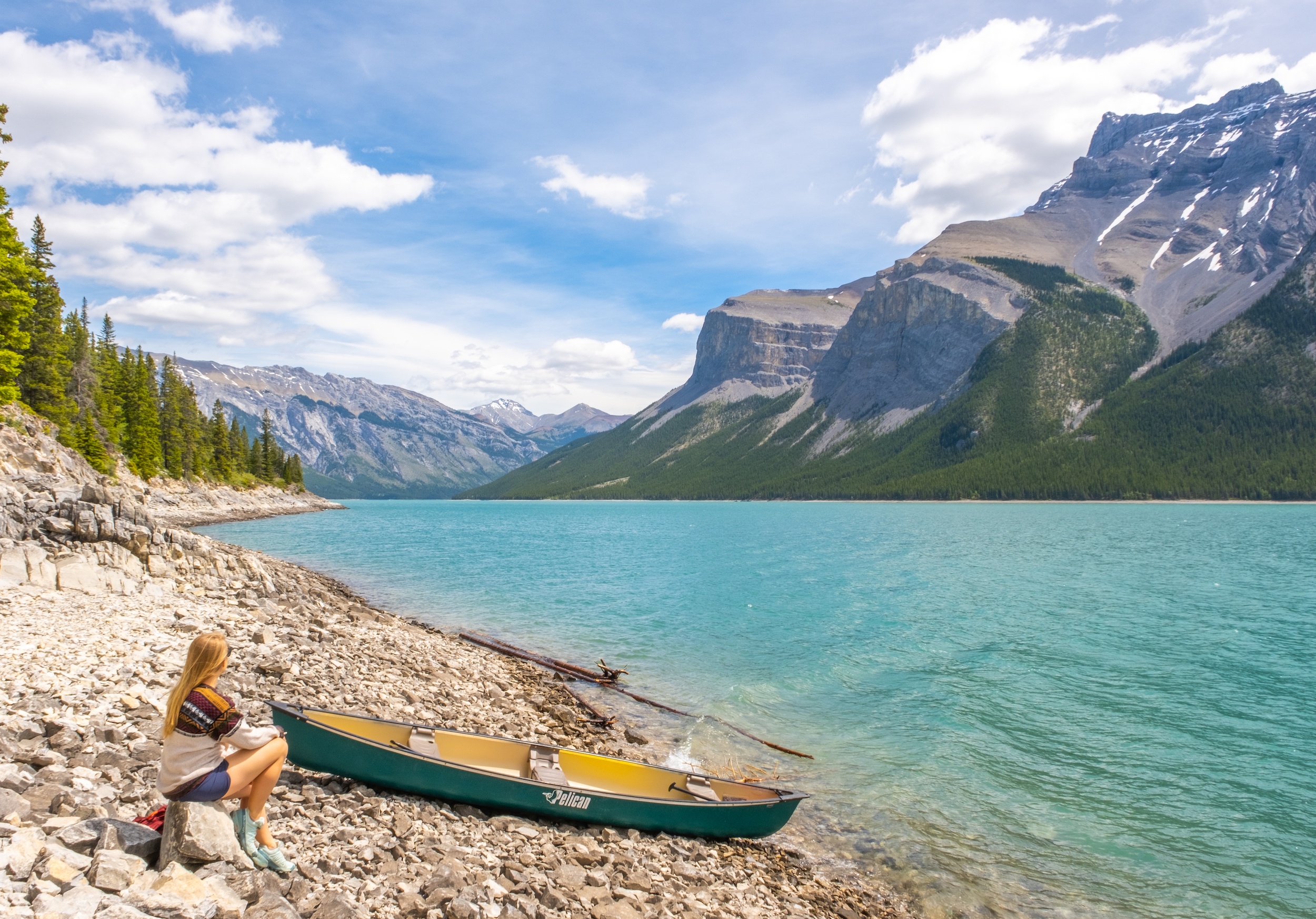 If you're seeking more of a challenge or to experience canoeing on open water, head to Lake Minnewanka. The large lake is well known for its "swells" that occur when the wind gust picks up. However, if you stick close to the boat launch and the shoreline, you should be fine.
Lake Minnewanka has a rich historic past with centuries of Stoney Nation American's inhabiting the area and then the remains of a former resort submerged under the water. The submerged resort is the result of a dam created for hydroelectric power, which submerged the original town where you can now go for a dive.
Its name comes to the Stoney who lived here for centuries calling it Minn-waki, meaning "Lake of Spirits," and when you paddle along its shores, you may experience some of those spirits. The massive lake and towering mountains will leave paddlers humbled by the scale of the landscape. It also makes for a tremendous place to ice skate in the winter.
More advanced paddlers with their own canoes can plan multi-day camping trips along the lake. The boat launch managed by Pursuit rents canoes as well as rents small motorboats. Minnewanka is the only lake in the park that allows motor-powered boats in addition to kayaks and double kayaks.
All rentals come with the necessary equipment, which includes gas with the motorboat rental. As an added plus you're allowed to fish the lake, but be sure to check with Parks Canada for current fishing regulations and permits.
Canoe Cost: $85 first hour / $45 additional hours
Kayak Cost: $45 first hours / $25 additional hours
Double Kayak Cost: $75 first hour / $40 additional hours
Motor Boat Cost: $115 first hour / $65 additional hours
Season: June to October
---
Lake Louise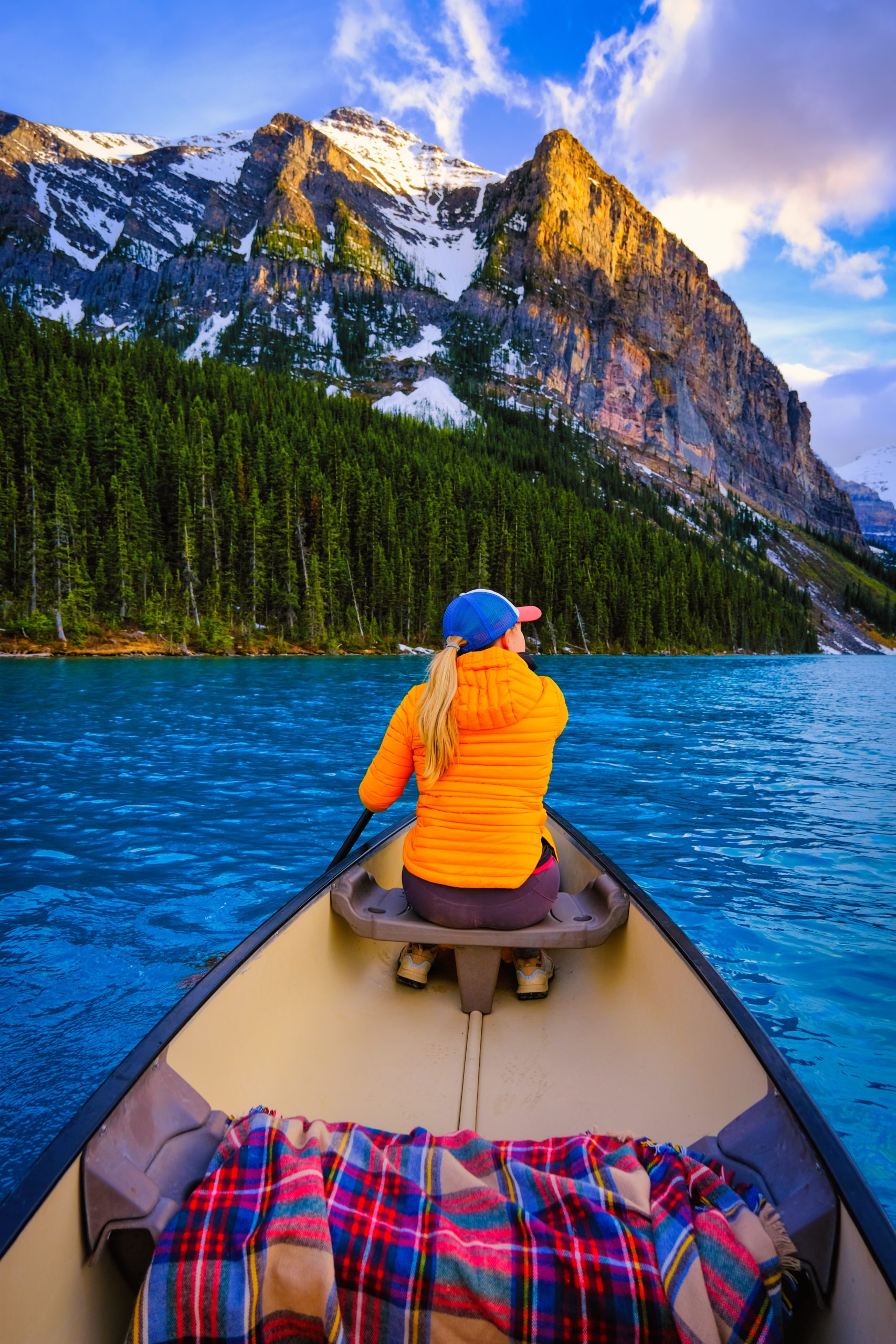 There is likely no place more quintessential to rent a canoe in Banff than Lake Louise. It's one of the most spectacular scenes in the world. It's tough to find a more spectacular scene to paddle through as you look out to Mount Victoria and the hanging Victoria glacier. No need for fancy edits on your photographs the water in Lake Louise, like Moraine Lake, is truly that radiant turquoise blue.
You can pick up canoe rentals at the Lake Louise boathouse managed by the Fairmont Chateau Lake Louise. This is the only place to rent a canoe at Lake Louise, and like all things Fairmont, expect to pay a premium for it.
Renting a canoe on Lake Louise is a very popular thing to do in Banff in the summer and you may find yourself waiting in line to rent one. To minimize waiting time try to arrive as soon as they open or two hours before they close. The middle of the day is the worst time to rent a canoe on Lake Louise.
Like all lakes in Banff, it is possible to bring your own canoe to Lake Louise. However during peak summer, you'll have to arrive at the crack of dawn or later in the evening to get a parking spot close enough that you can carry the canoe to the lake. In the photo above we arrived at Lake Louise around 8pm for an evening paddle. There's no comfortable place to launch your own canoe at Lake Louise either, so you'll have to pick somewhere random on the lakeshore, but it's totally doable!
Location: Fairmont Lake Louise Boathouse
Canoe Cost:

In-House Guest: $95+GST for one hour/ $85+GST for 30 minutes
Day Visitor: $155+GST for one hour/ $145+GST for 30 minutes

Season: Mid June to October
---
Why are Canoe Rentals so Expensive in Banff?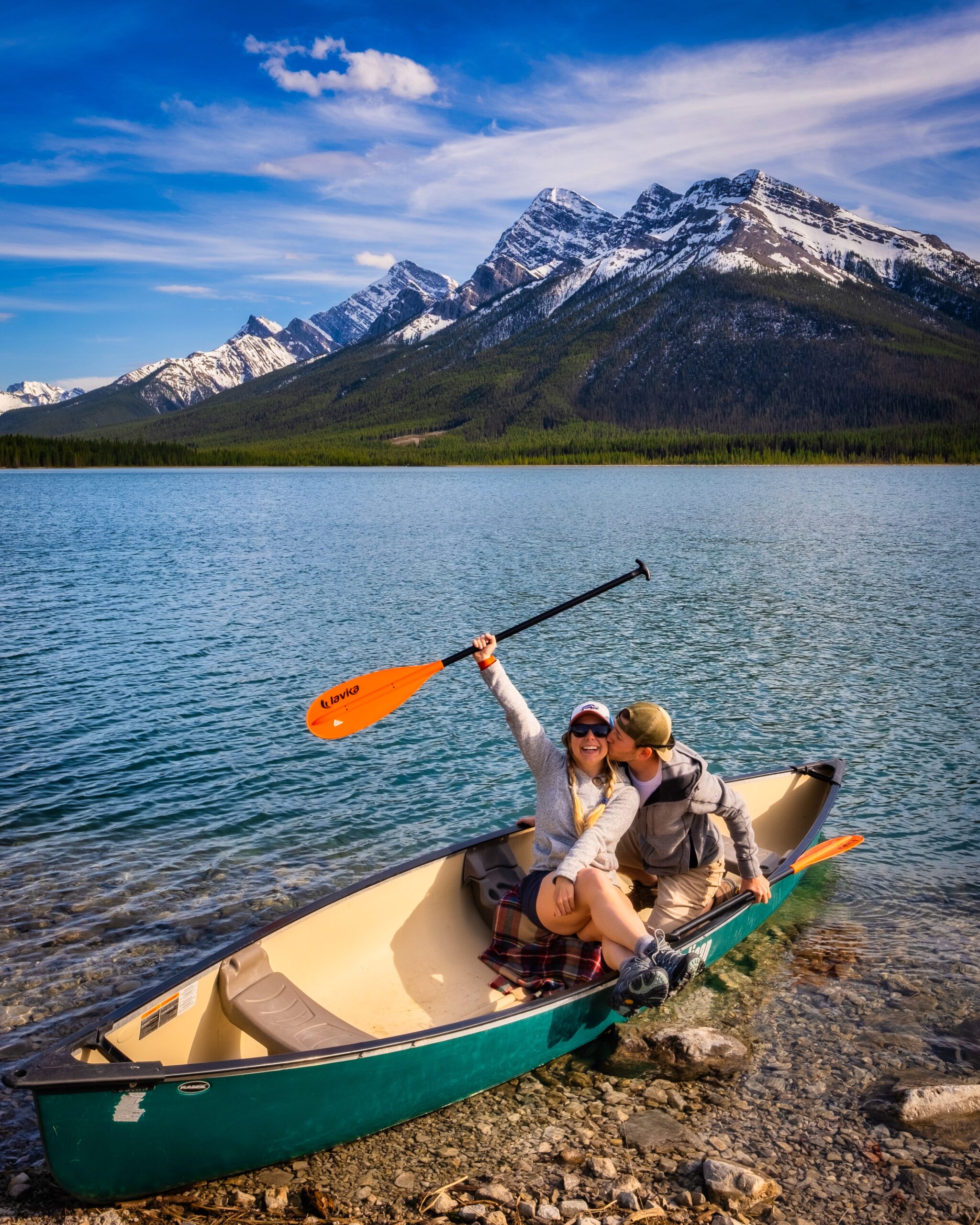 I'm sure by now you realize canoe rentals in Banff are pretty expensive, especially on the popular lakes like Lake Louise and Moraine. There are several reasons for the prices of canoe rentals.
The first is the short season the operators have to recoup their investment; it's only a couple of months that the lakes are unfrozen. You also have zero competition in most locations, so operators can set prices. On top of all, the liability insurance for operating in a national park and renting canoes is costly.
Lastly, at places like Lake Minnewanka, Lake Louise, and Moraine Lake there is only one operator supplying canoes, with oodles of tourists wanting to rent one. It's simple supply and demand.
---
Top Lakes To Go For A Canoe in the Rockies
---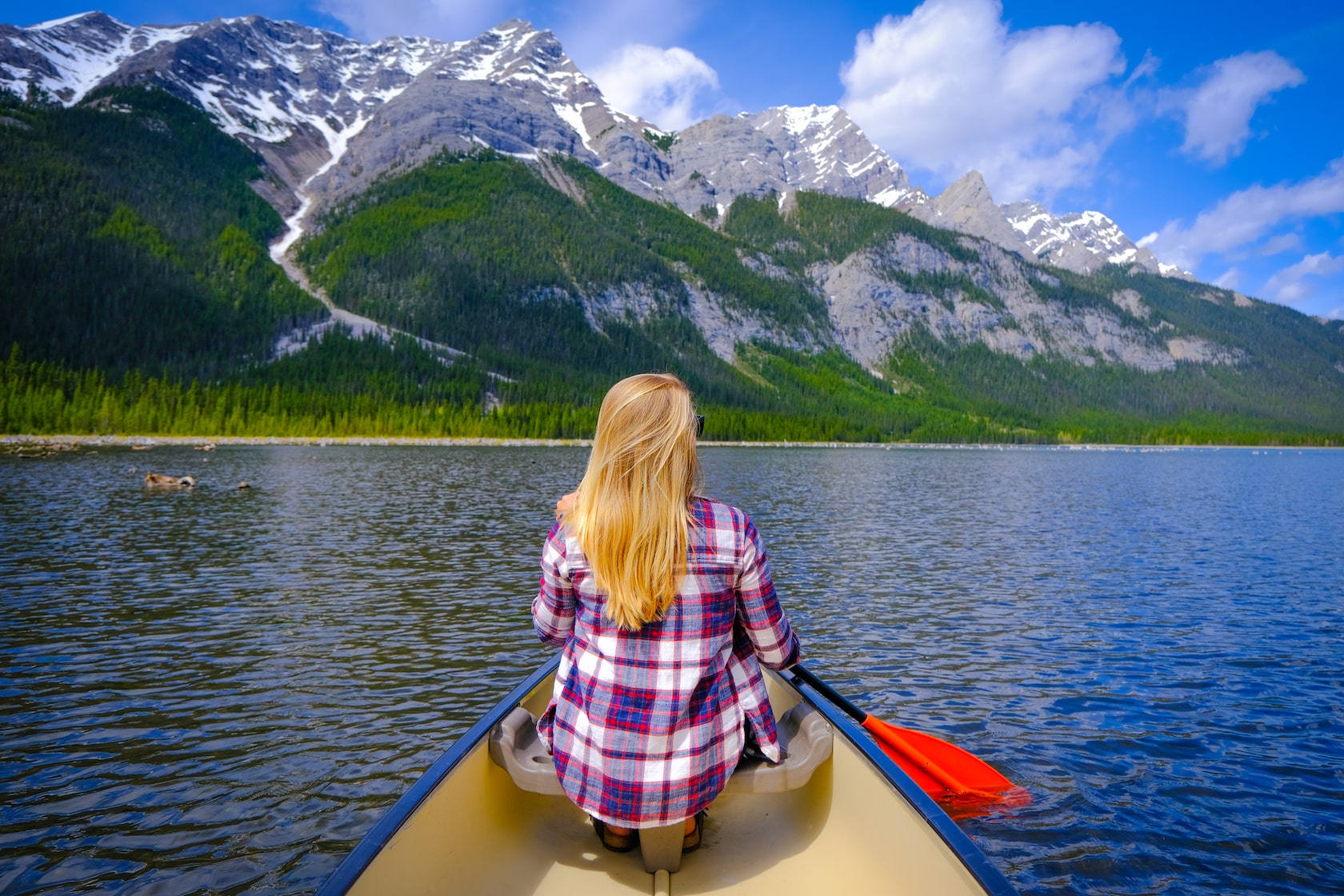 Goat Pond
Waterfowl Lakes
Upper and Lower Kananaskis Lakes
---
Tips For Renting a Canoe in Banff (+Kayak Rental)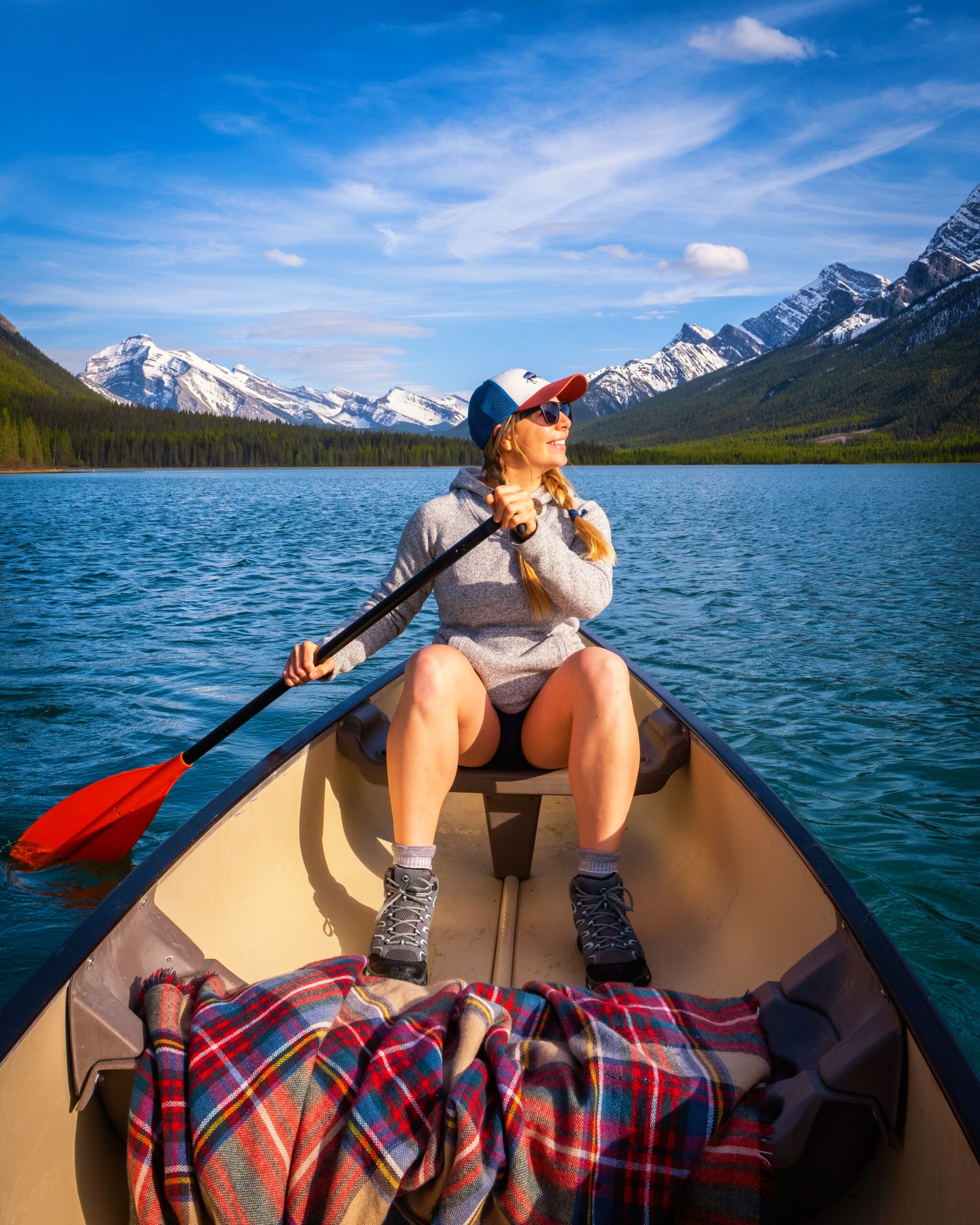 Temperatures are very cool in the shoulder months of June and September. When you go out on the water, be sure to pack in layers so you can remain warm.
Weather on the lakes and particularly the large bodies of water can change rapidly. Keep an eye on the horizon if it's looking like a storm or the wind starts to pick up it may be time to get off the water.
Take sun protection seriously on warm and sunny days as the water reflection is very strong. We suggest making sure you have a hat, long sleeve shirt, and sunglasses.
Bring a water bottle in case you start heating up in the peak summer.
Remain calm and don't rock the boat when out on the water. The glacial-fed lakes are frigid all year round and you're not going to be a happy camper if you end up in the water and require rescue.
All canoe rental operators provide life jackets so make sure to take advantage.
---
Can You Bring Your Own Canoe Out on the Water in Banff?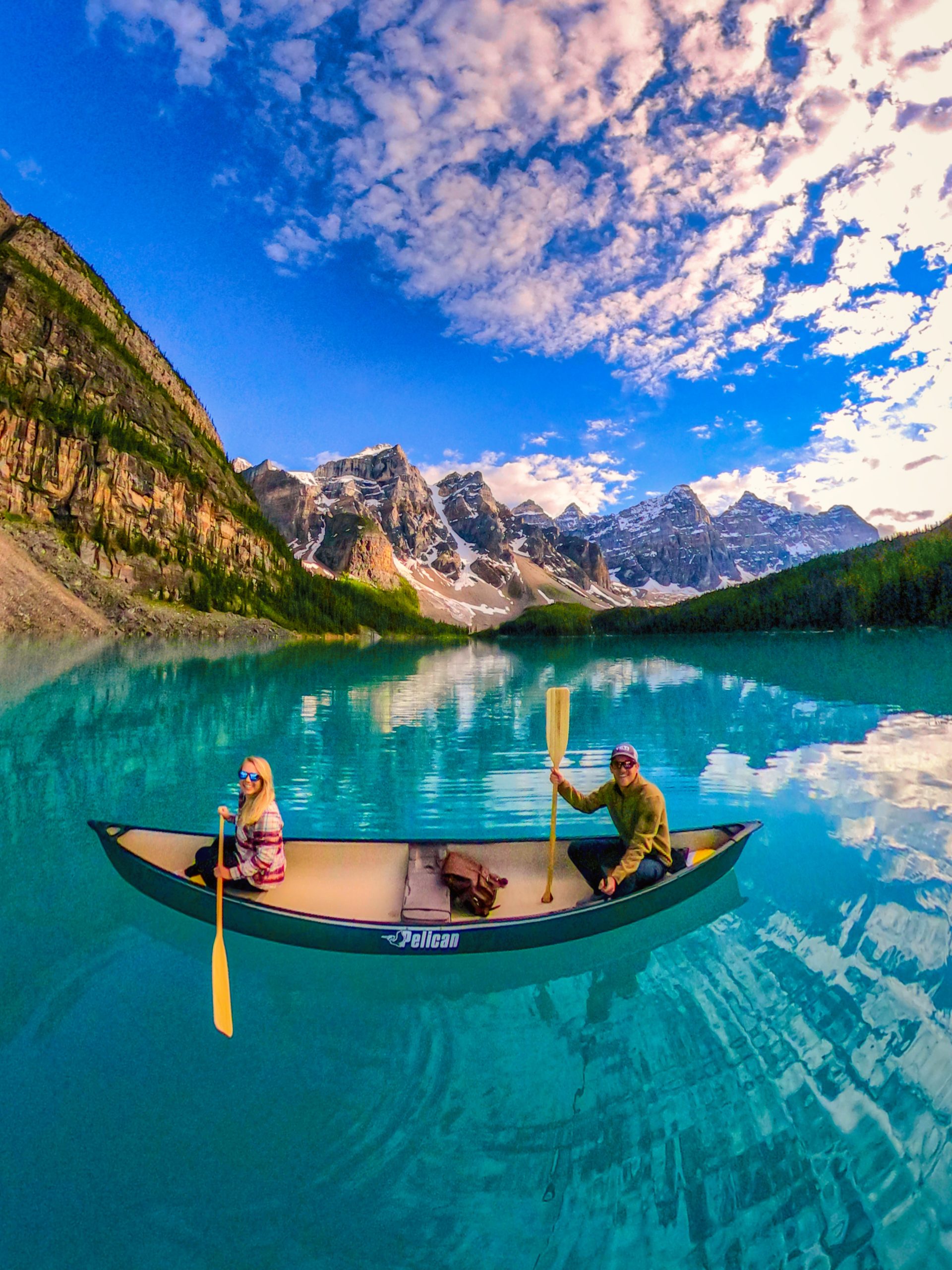 Of course you can bring your own canoe, kayak, or stand-up paddleboard on any of the lakes in Banff! All of the photos in this article are taken with our own personal canoe.
If you think you'll be kayaking and canoeing a lot, and have road tripped to Alberta it may be worth it to invest in a canoe. We also love stand up paddleboarding as they are easier to manage and cost less than a canoe.
If you bring your own canoe out on the lakes in Banff it's important to note that to prevent the spread of Aquatic invasive species visitors must now fill out a Self Certification Permit with Parks Canada for any nonmotorized watercraft entering the water. This includes kayaks, canoes, and paddleboards. The Self Certification Permits can be found online.
---
Plan Your Trip to the Canadian Rockies
↓ Join the community ↓
The Banff Blog Facebook Group is your headquarters for the Canadian Rockies' travel advice and information. Including hike info and off-season travel information. This is also where you can meet one another when you need adventure buddies.