Ice skating in Banff and Canmore is a highlight for many visitors visiting Banff in the winter and a favorite way to pass the time for many locals. The best part is it's a free activity for most places around the area with a mix of maintained rinks and beautiful natural frozen lakes.
When the weather is correct, it's tough to find a better winter experience in Banff than skating across a scenic lake. Ice skating on the Canadian Rockies lakes can happen during any time of the winter, but the best conditions are early in the winter, around November or December. Later in the winter, snow can often cover the lakes and make skating nearly impossible without a shovel and some work. However, there are several maintained rinks you can head to once that happens.
There is likely no better place in the world to lace up a pair of ice skates and take to the ice than Banff and Canmore. Before venturing out to any of these destinations, please read the safety information at the bottom of this post.
---
When Can You Go Skating in Banff?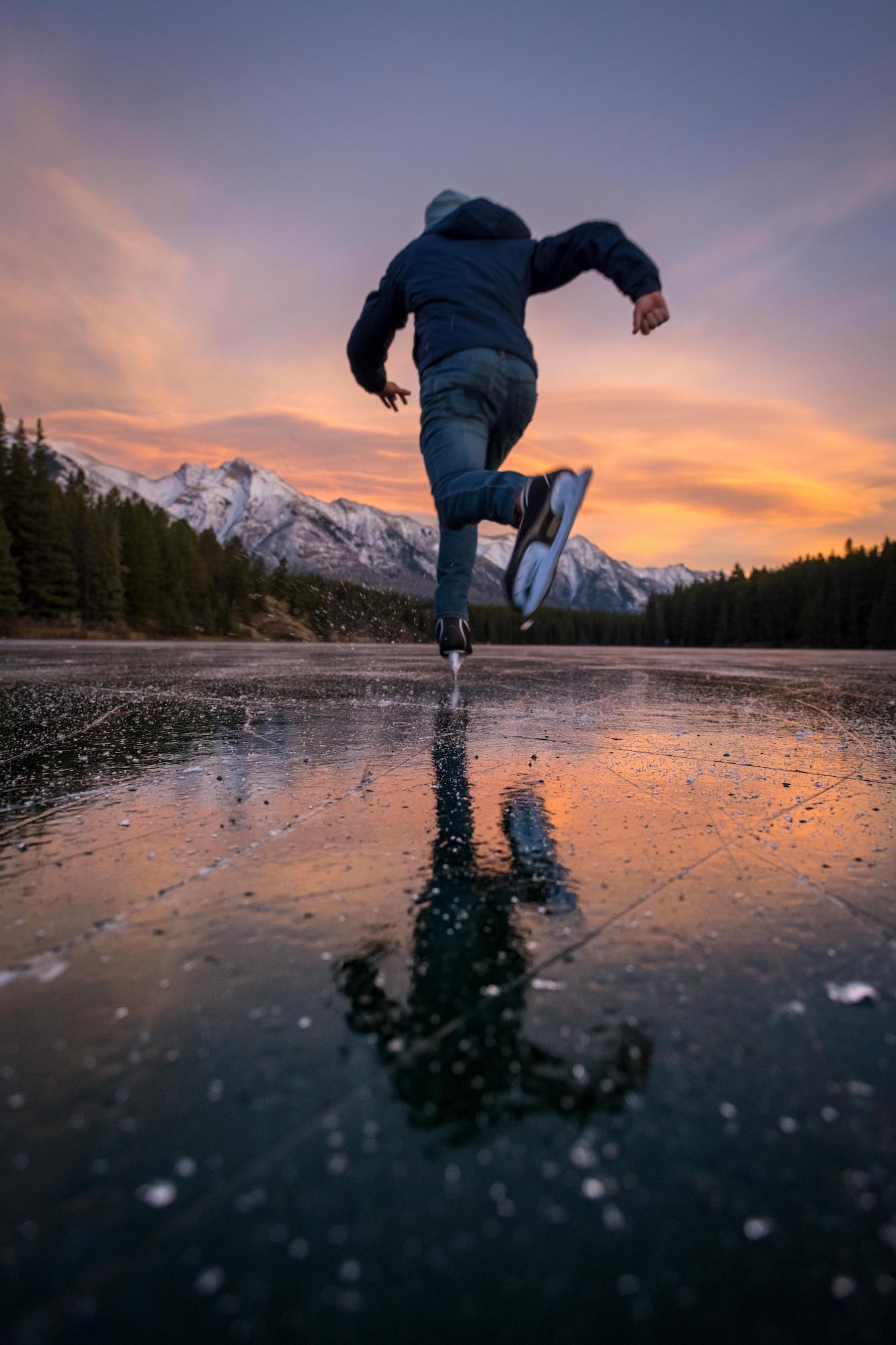 Skating in Banff depends on the seasonal weather. In 2020 we caught the first excellent ice skate of the season on Johnson Lake the first week of November, but we were waiting a bit longer the year before that. 2021 didn't see a great wild ice skating season at all.
Timing is key to skating in Banff and Canmore. It needs to be cold enough that the ice has frozen over enough to skate on, but also before the snow falls enough to cover the lake. All of the photos in this post were taken between November and January.
You can ice skate on many of the maintained rinks all winter long. This includes the Canmore town pond and Lake Louise.
---
Where to Enjoy Skating in Banff
---
Lake Louise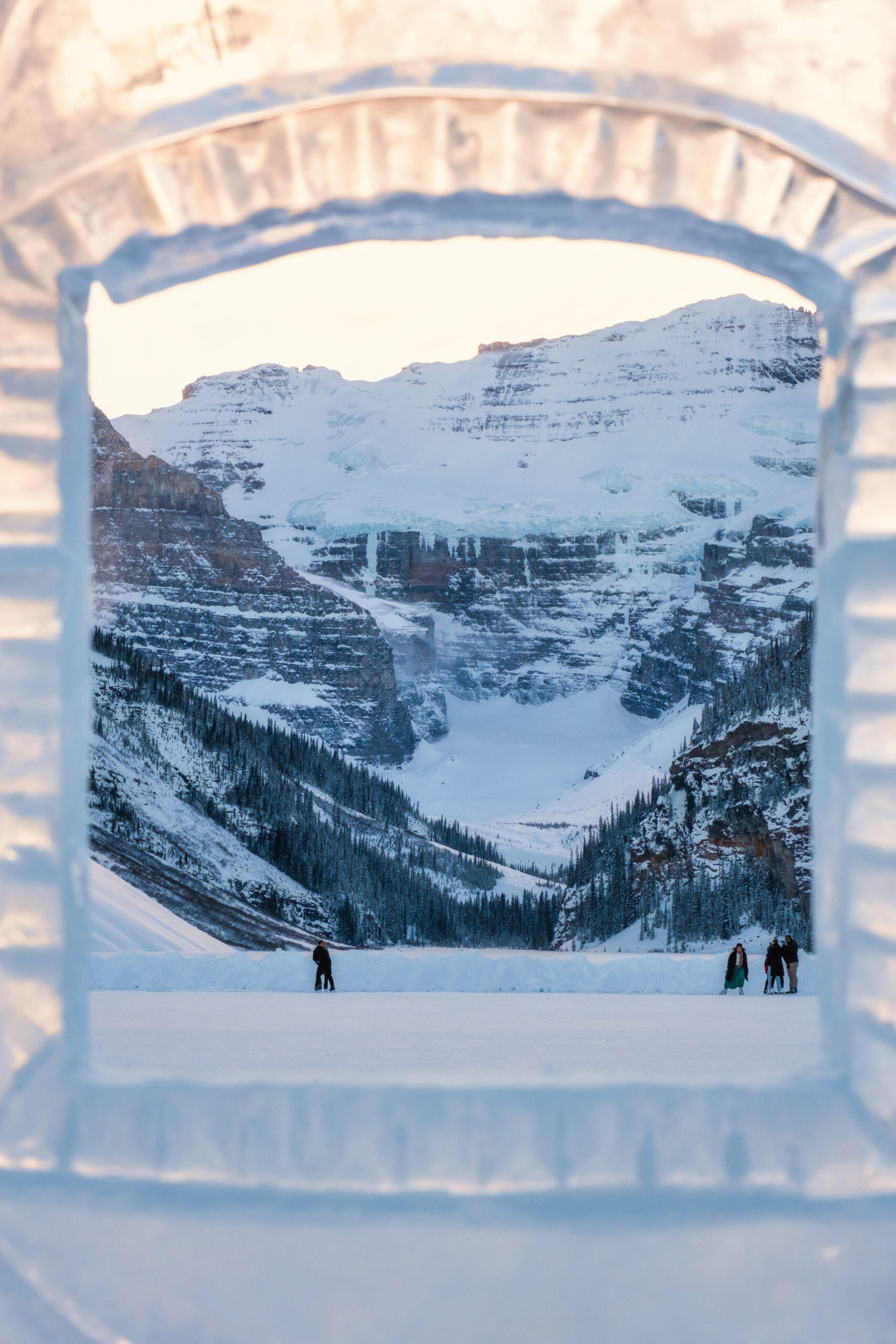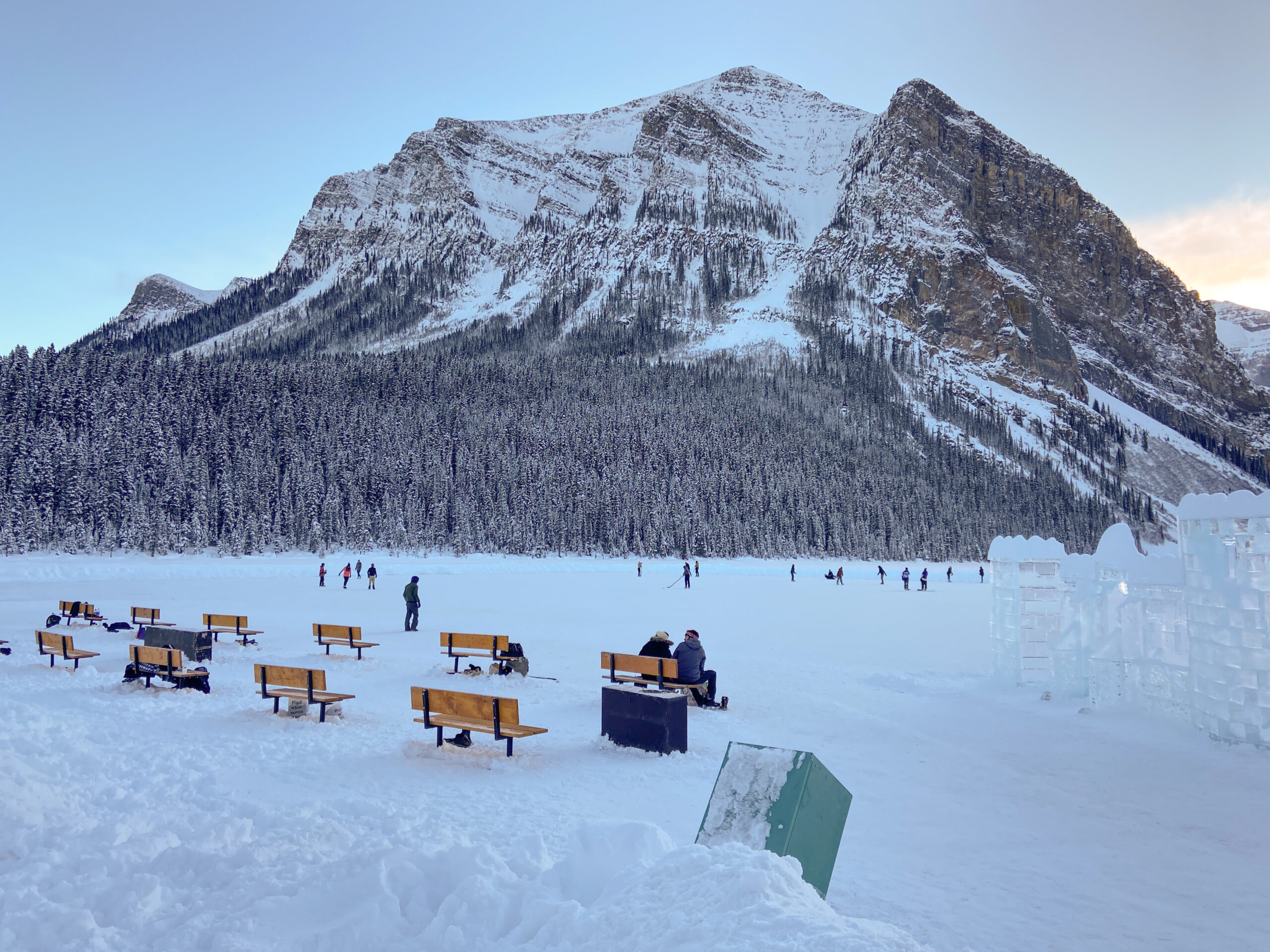 There is no place to ice skate in Banff more iconic or scenic than the famous Lake Louise. Not much of a surprise, but it's regularly been considered one of the world's best ice skating rinks. It's also tremendous as the Fairmont Chateau Lake Louise maintains the frozen lake.
The lake is regularly cleared of snow and resurfaced, so visitors can enjoy ice skating during the winter despite conditions on other natural lakes.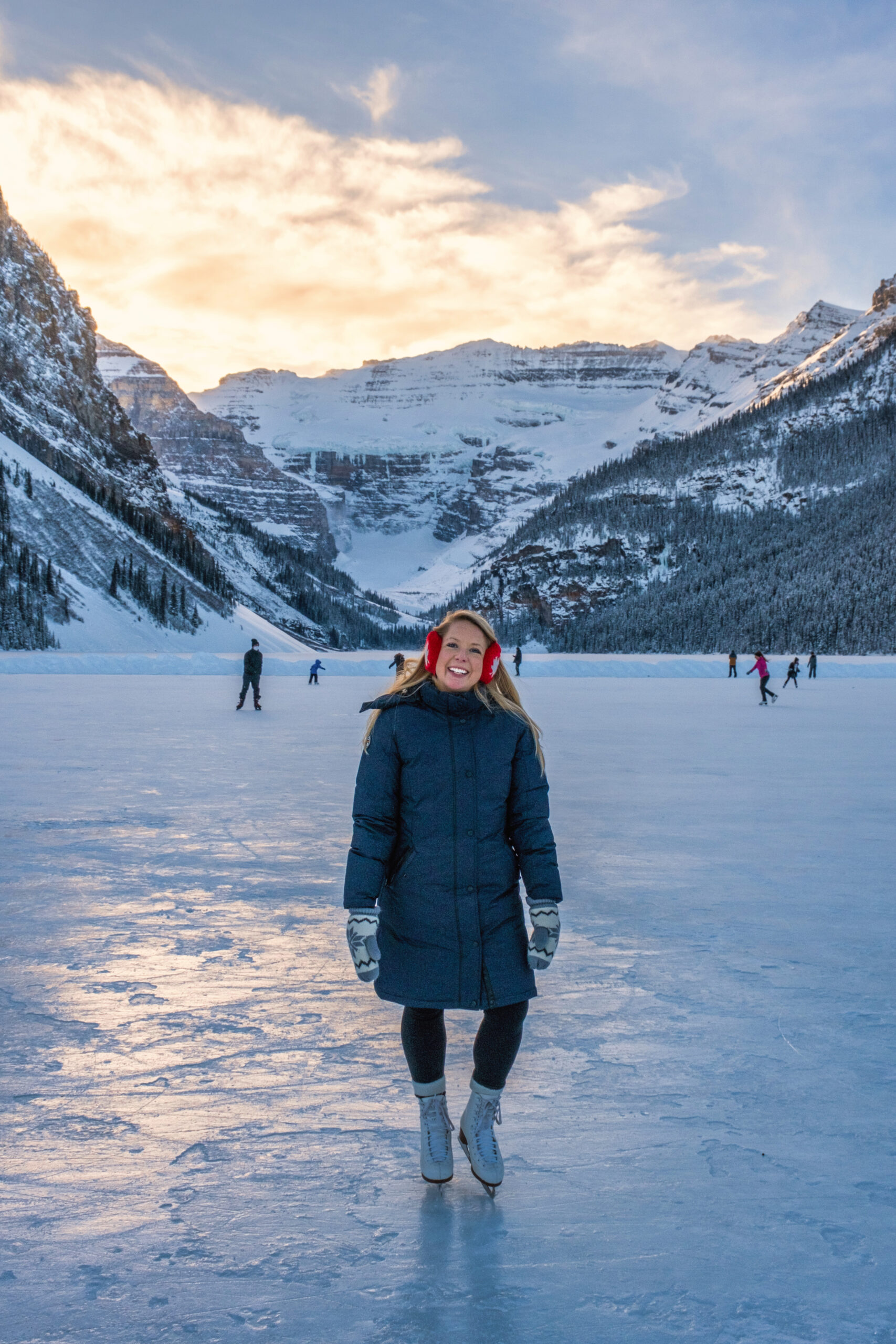 What really sets Lake Louise apart from the other lakes is the lake's atmosphere. Around the lakeshore, you can find fires, an ice bar, a horse sleigh, and an ice castle during December, and it gets even more festive the closer you get to Christmas. It's one of our favorite things to do in Banff in winter, and it's always a treat.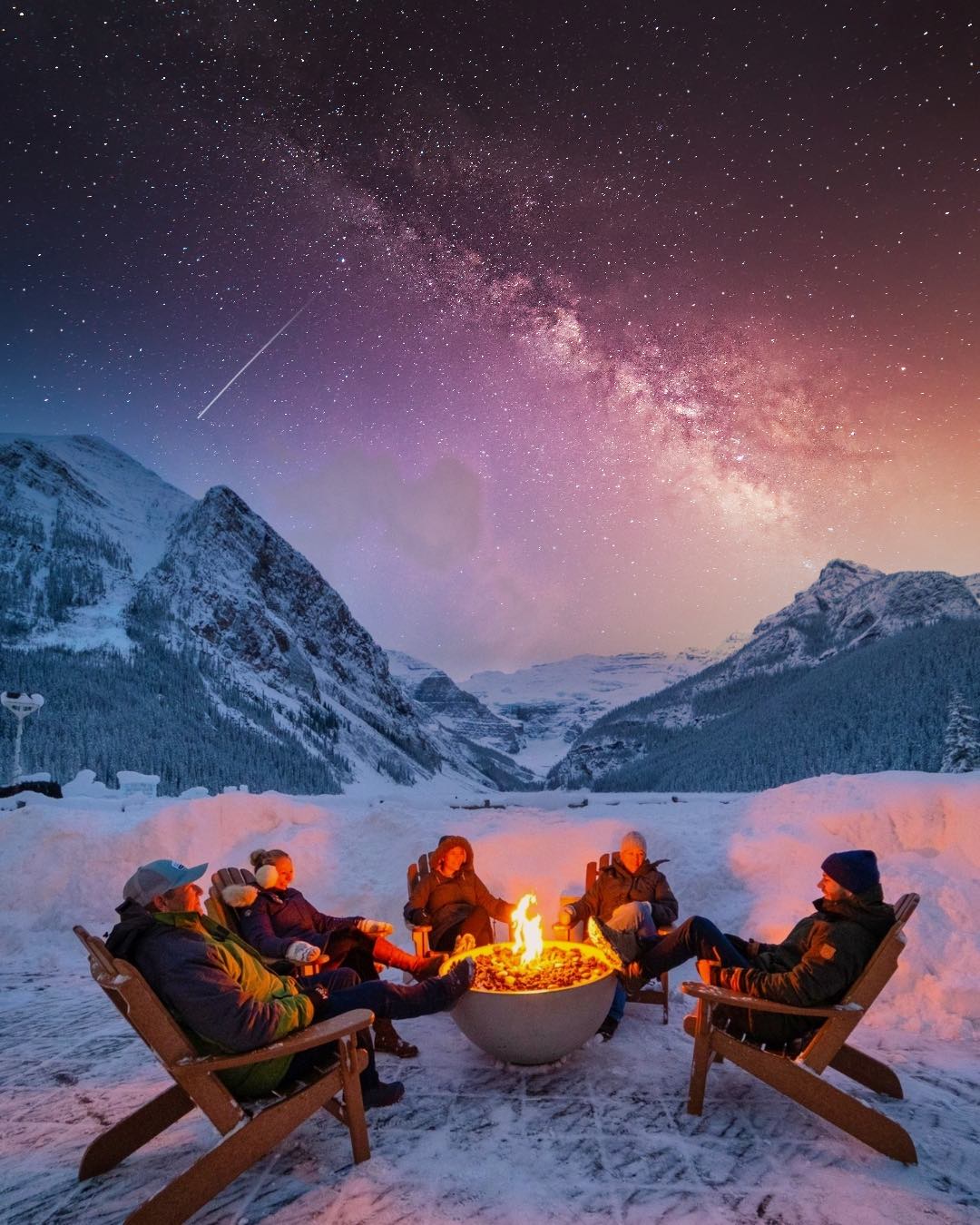 Lake Louise every few winters can freeze very early before a significant snowfall, resulting in a blue glass lake. It's an absolutely stunning natural occurrence and can happen in November, but don't count on seeing the lake this way as November is generally the worst month to visit Banff.
The lake freezing like this has also only happened five times in the last 30 years. Typically when it does happen, you have a tiny window of time to enjoy it; last year, this window of time was literally 6 hours. I say this only to manage expectations as the surface will likely be a frosted white, but the views are sublime!
---
Lake Minnewanka Skating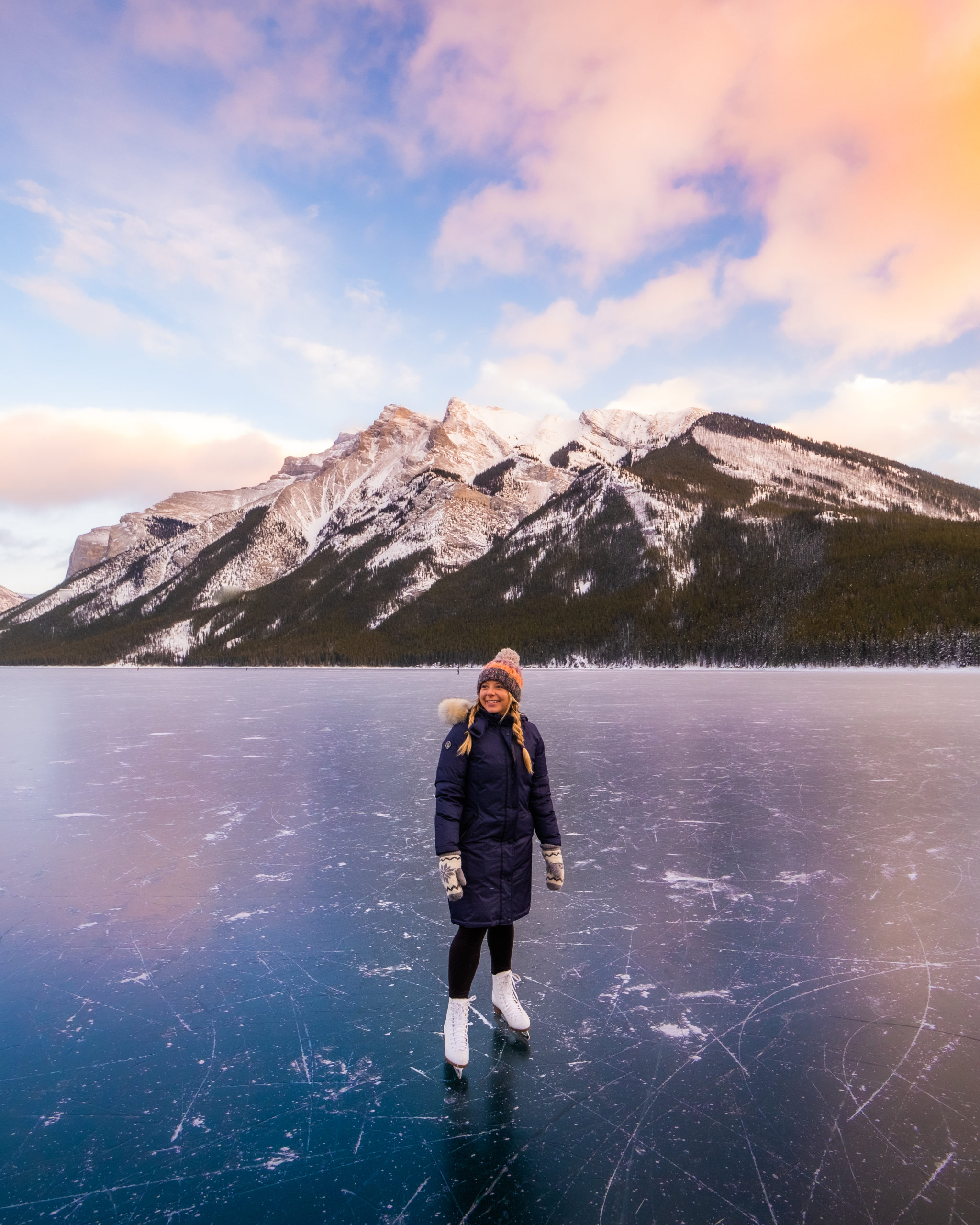 If you're hoping to get that gorgeous mountain lake with a glass surface, Minnewanka in December is probably your best bet. The lake freezes later than Lake Louise as it's lower in elevation, and it lies in a valley that experiences high winds.
This can blow the snowfall off the ice and leave a perfect surface. The experience on ice like this is extraordinary as it's gorgeous and a better surface to skate on than most ice rinks.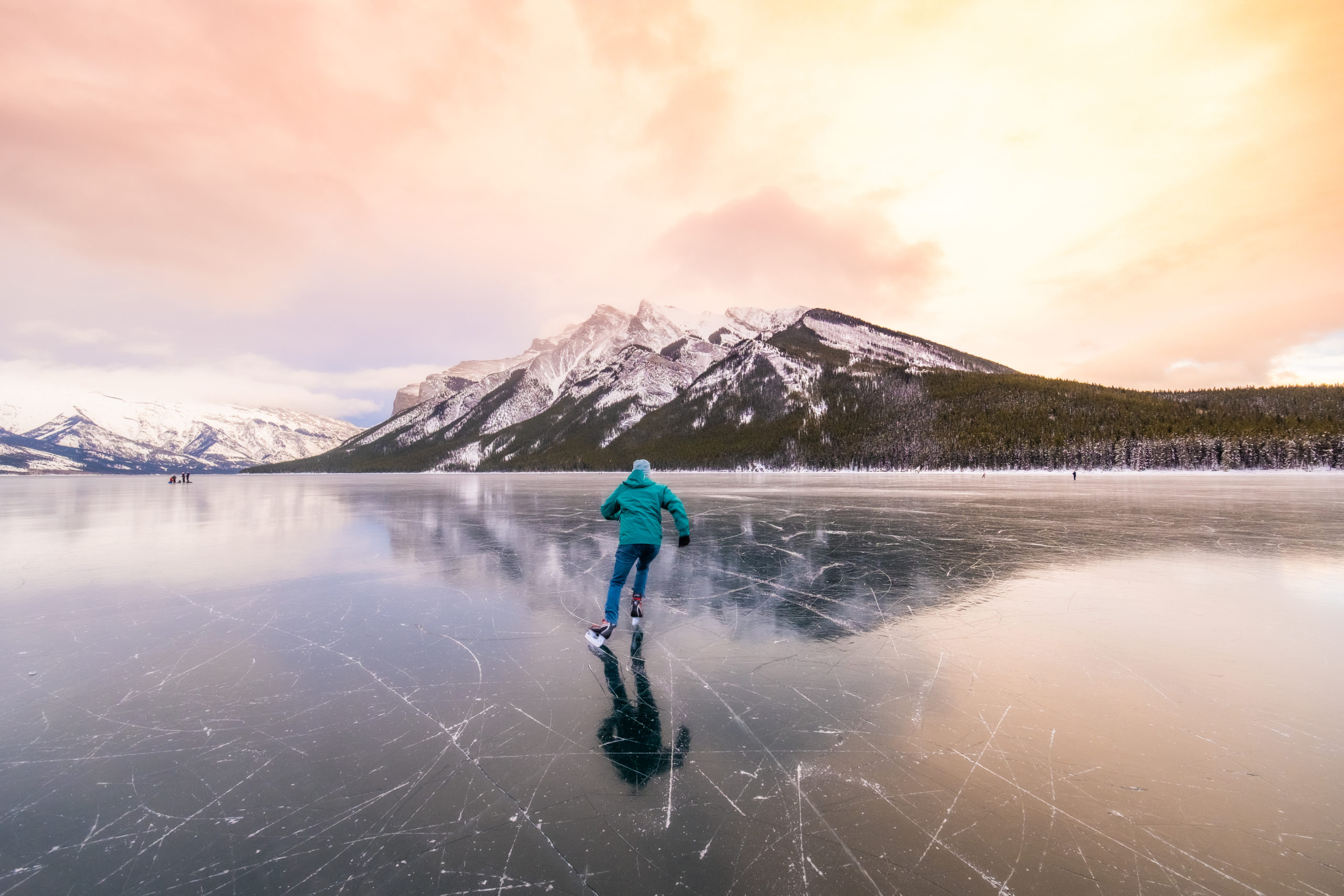 Lake Minnewanka is massive, and when it freezes, you can skate in one direction for ages and watch the mountain scenery pass. It's a fantastic experience and one of our favorite places to ice skate in Banff. A big downside is that the vast majority of winter, it's impossible to ice skate on Lake Minnewanka as the lake is not maintained, and snow/ice build-up makes it impossible.
The good news is if you're visiting Banff during Christmas/New Year, you have a good chance of getting a chance to skate on the lake as it freezes around this time. We skated on Lake Minnewanka on New Year's day in 2020. However, it all depends on the year. You can stay up to date by joining our Facebook group, where we post updates about what lakes are frozen in Banff.
---
Vermilion Lakes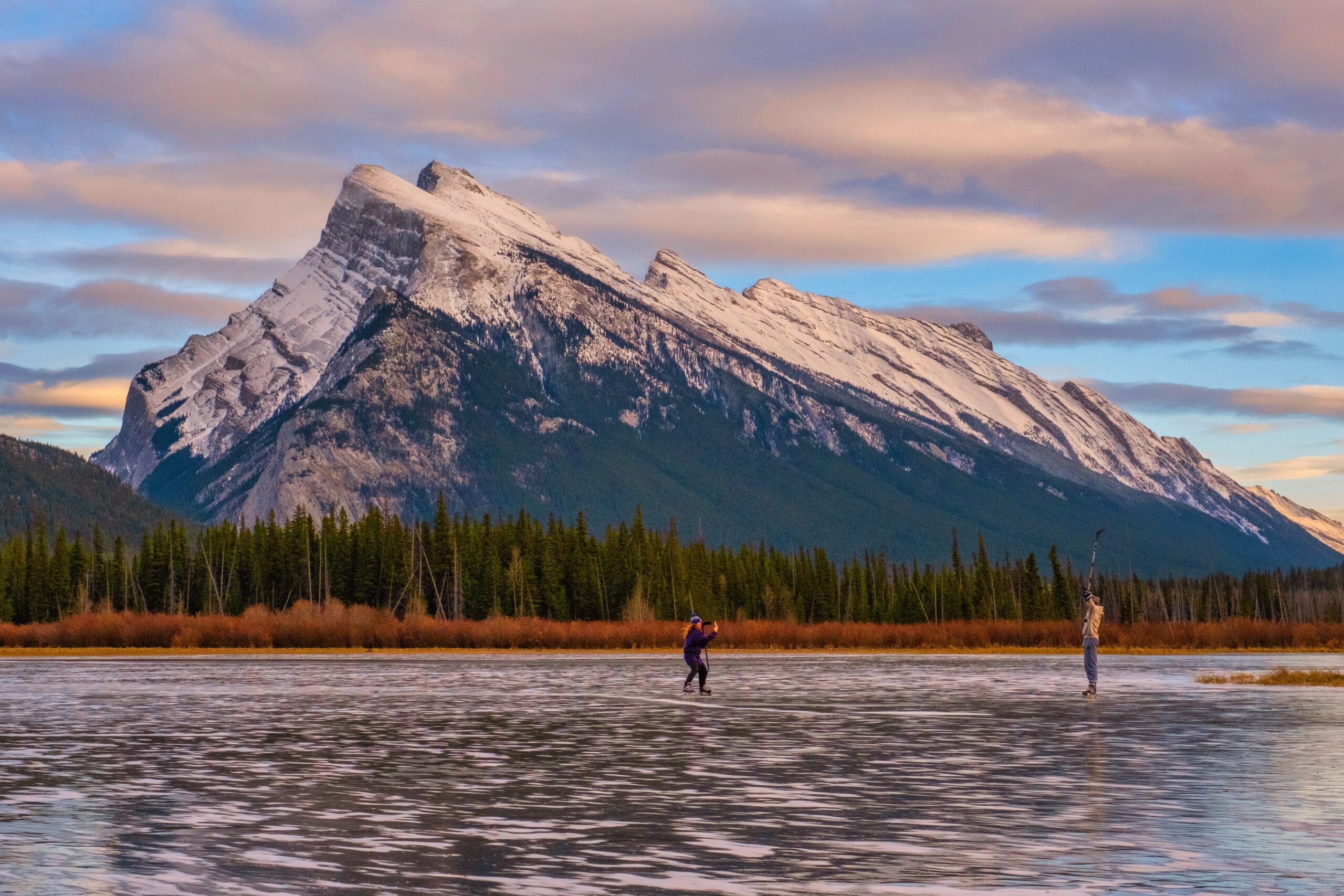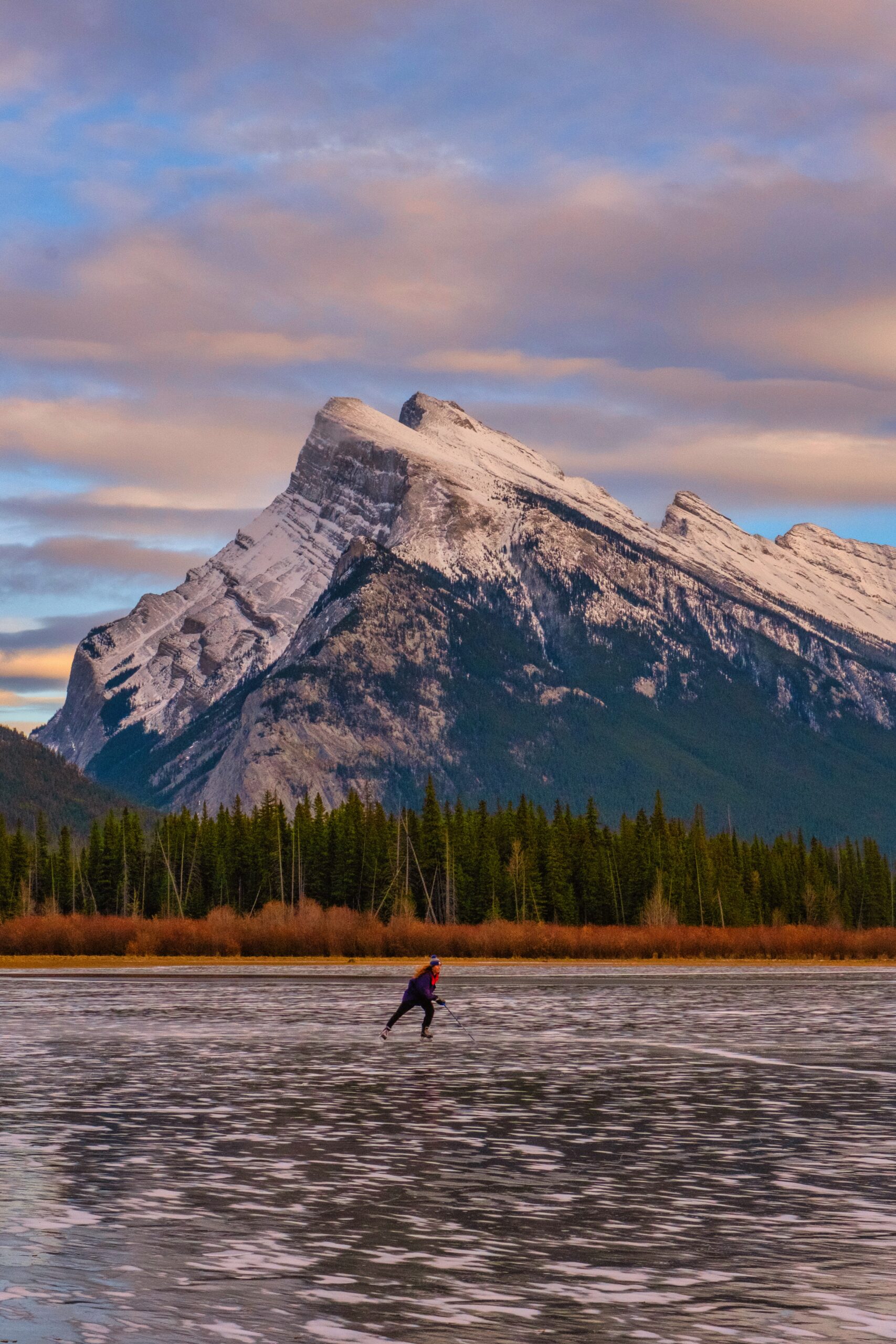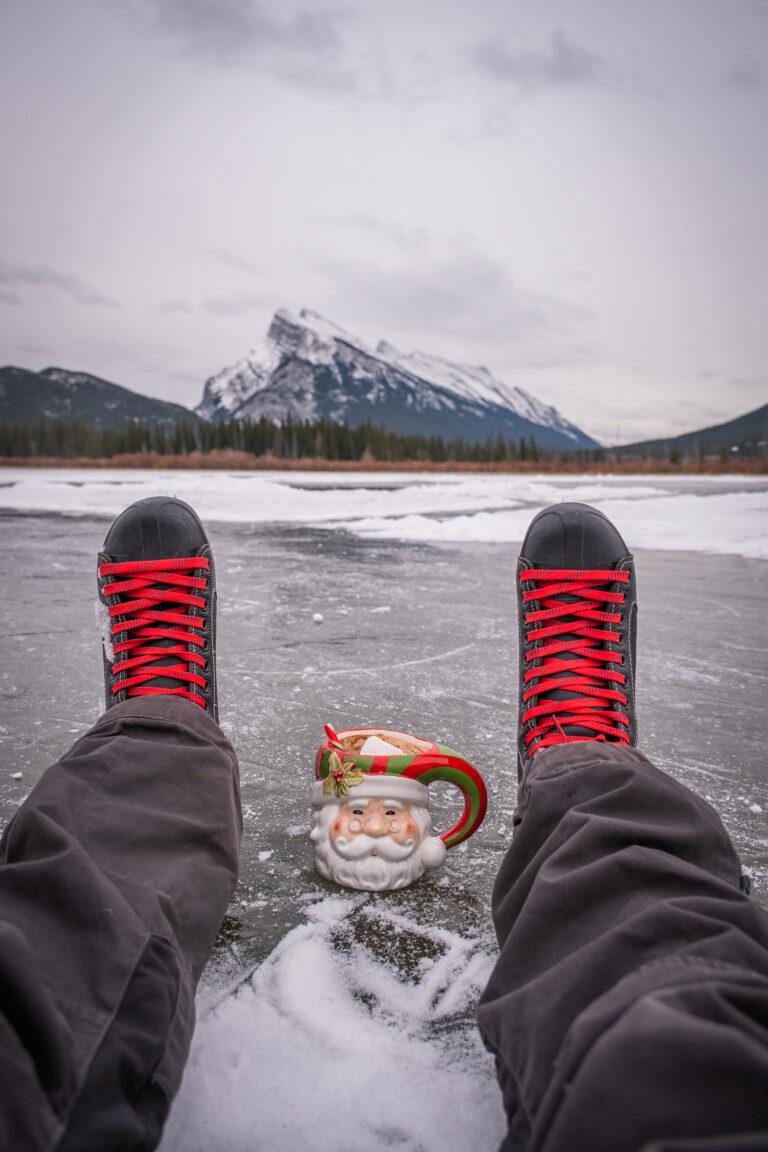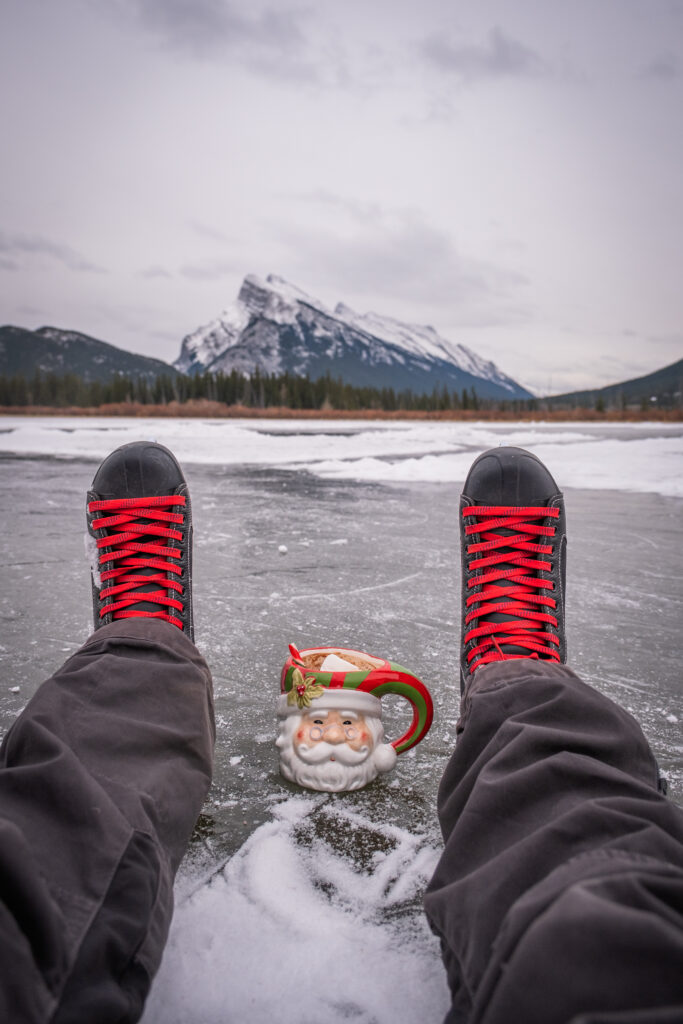 Vermilion Lakes are some fantastic natural lakes that are very just outside of the town of Banff and offer some incredible views. It's one of our favorite spots in Banff for sunset or sunrise and a hotspot for photographers as the views out over the lakes to Mount Rundle are stunning.
It's not always possible to skate on this lake as it is not maintained and often is covered in a thick layer of snow, but usually, it's one of the first lakes in Banff to freeze over. You should take note of the ice thickness near the dock of the third lake, as warm spring water makes the ice thin.
---
Bow River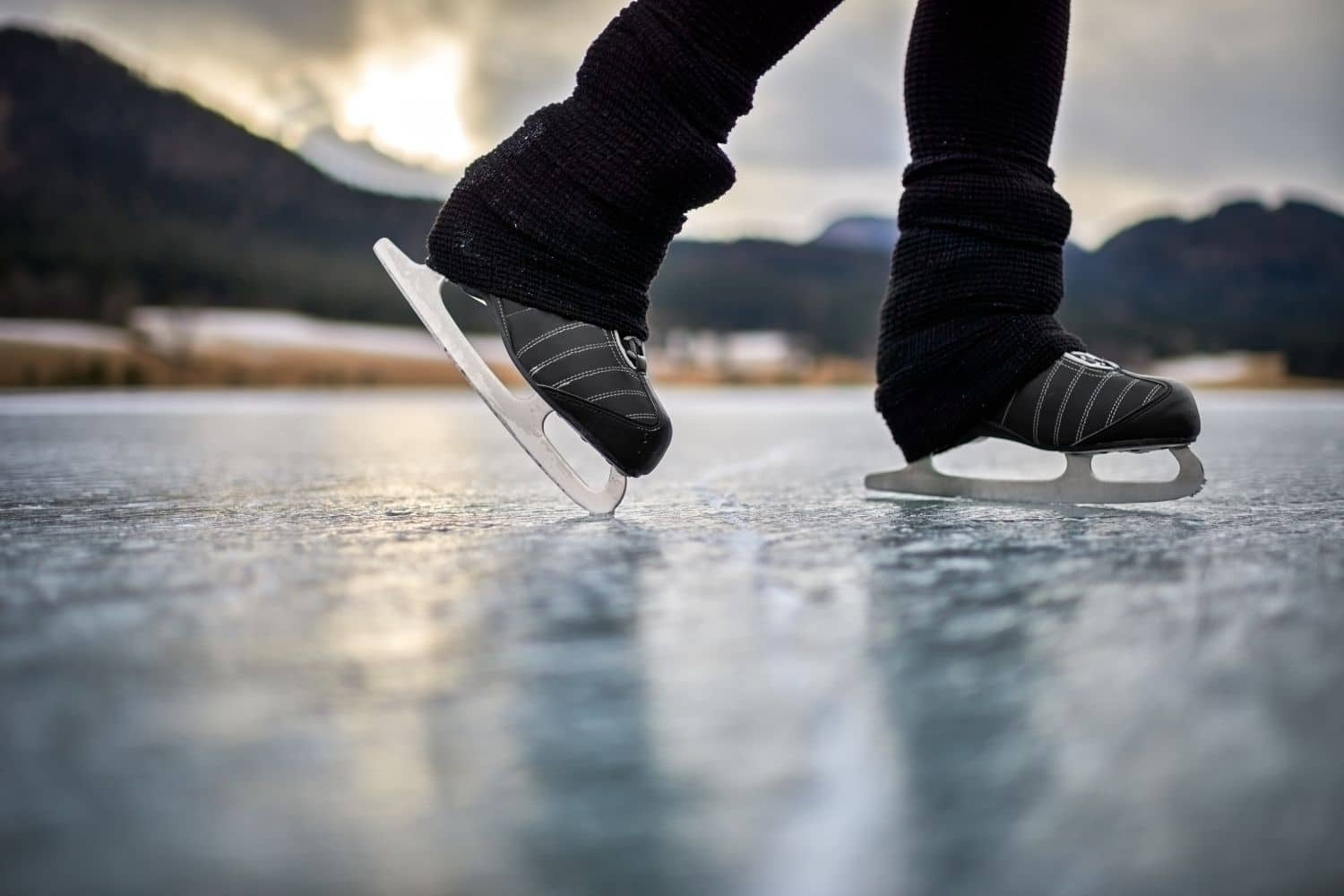 You aren't limited to lakes and ponds; you can also skate on the famous Bow River. Every year just outside of the town of Banff, just west of Bow Avenue, an oval is cleared by the town when conditions permit.
However, it can be very subjective to seasonal changes and varying ice thickness as it's a river. It's located next to the Banff Canoe Club, and it's a short walk outside of the center of town.
---
Lake Louise Recreation Centre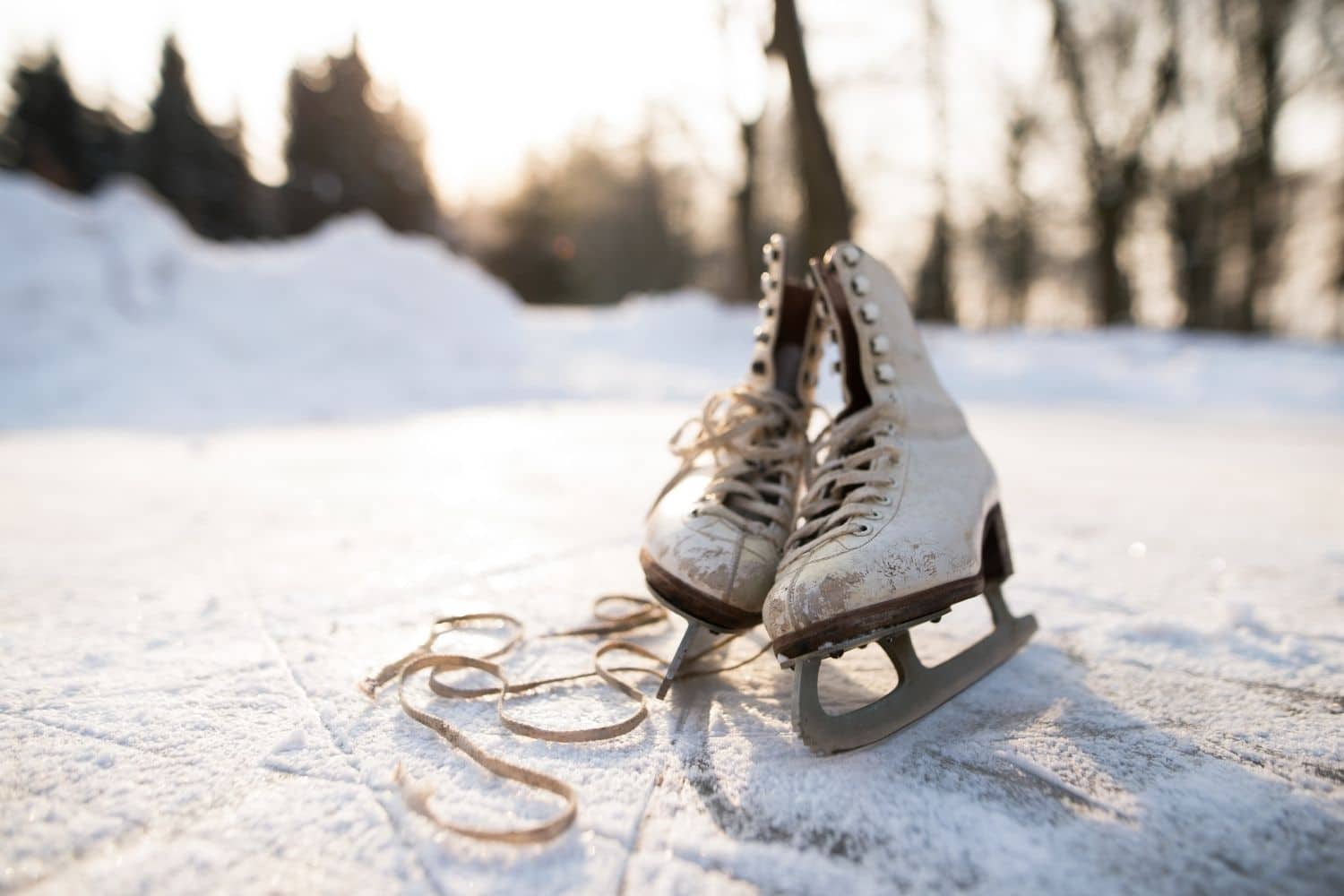 This maintained rink is located off Village Road in Lake Louise, and the facility has both an outdoor hockey and skating rink. It's a great place to go for an ice skate on a maintained surface.
---
Johnson Lake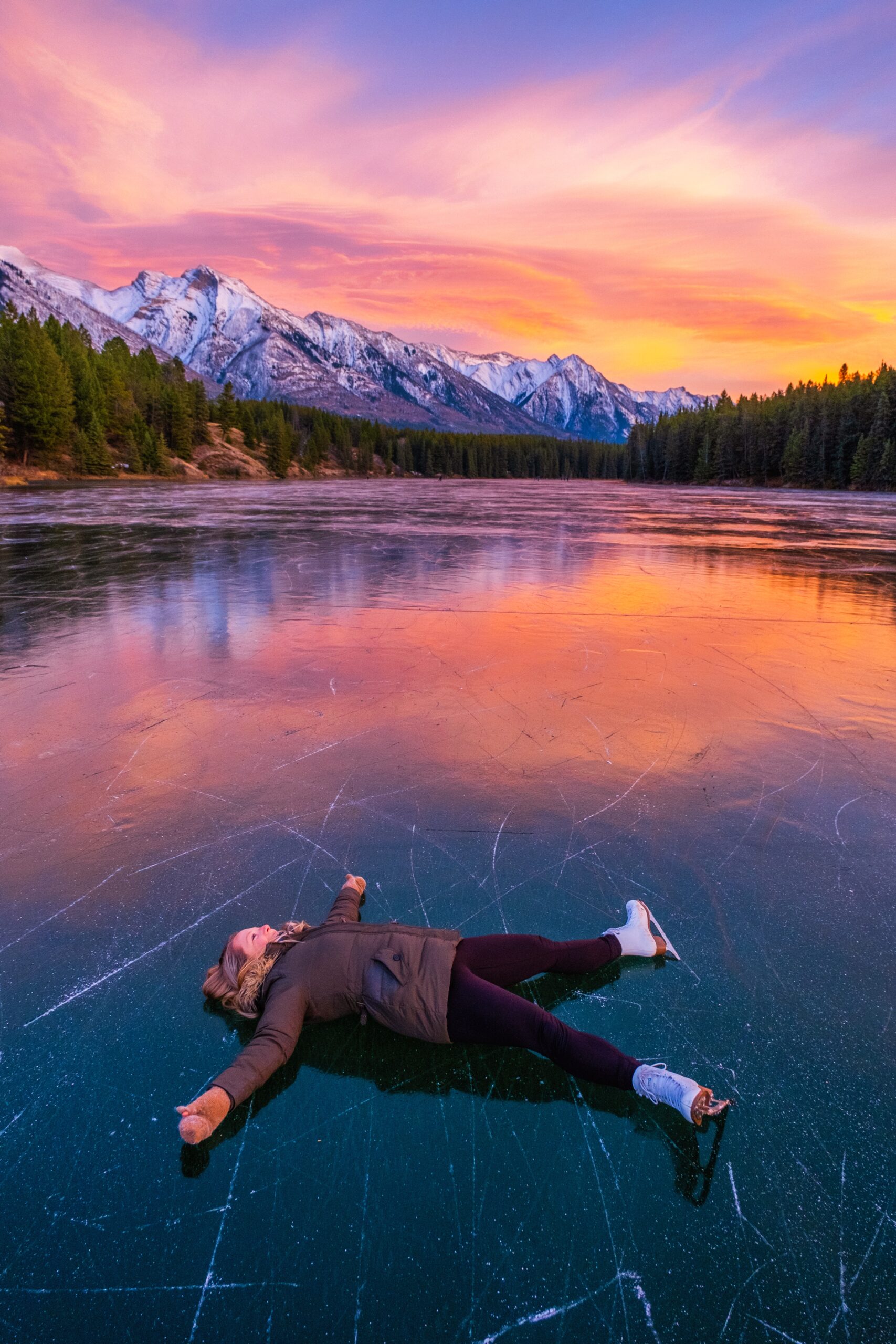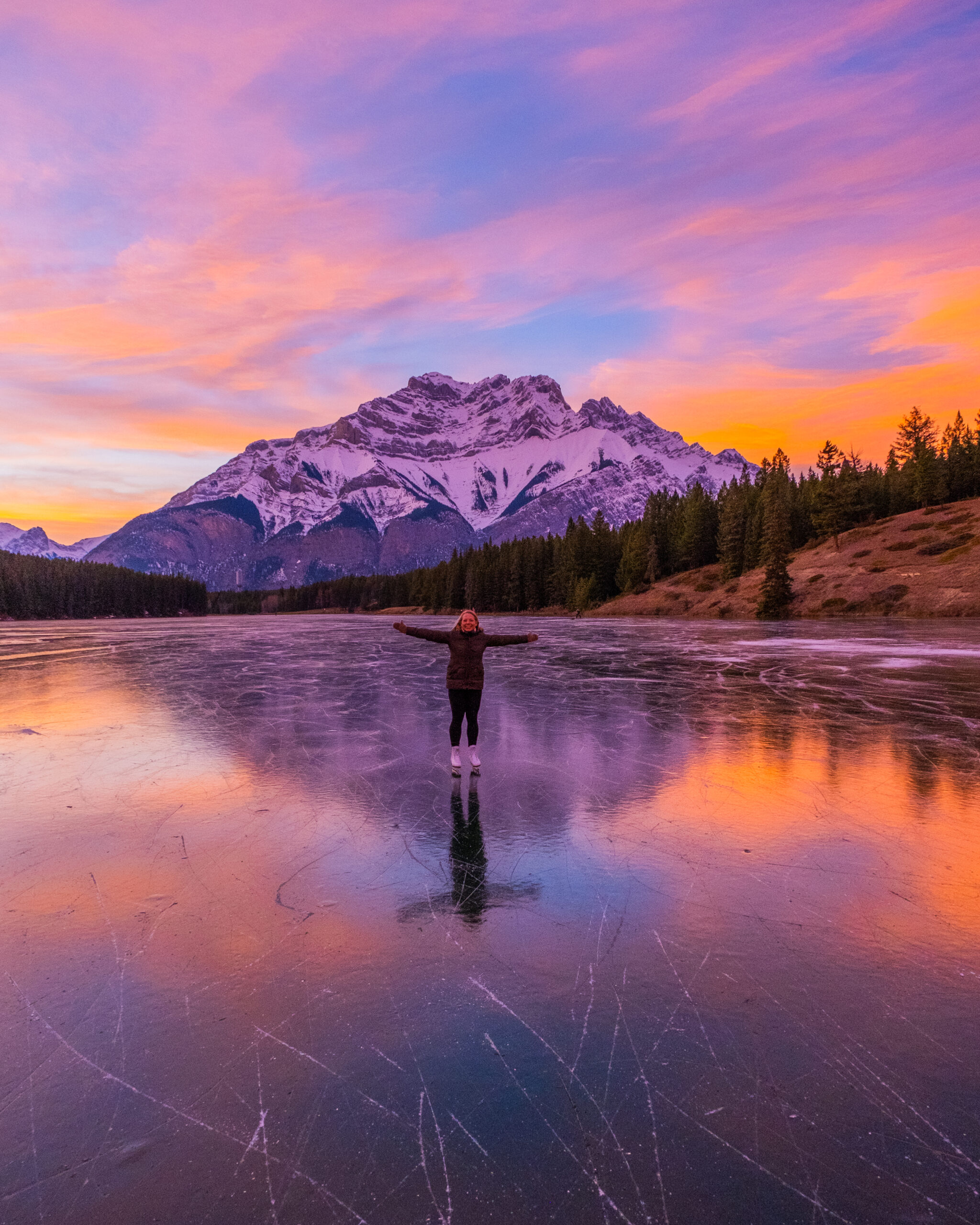 Johnson Lake is off the road to Lake Minnewanka, and it's a popular spot for ice skating while conditions last. Like many natural lakes around Banff for ice skating, it has a small window of time when ice skating is possible here.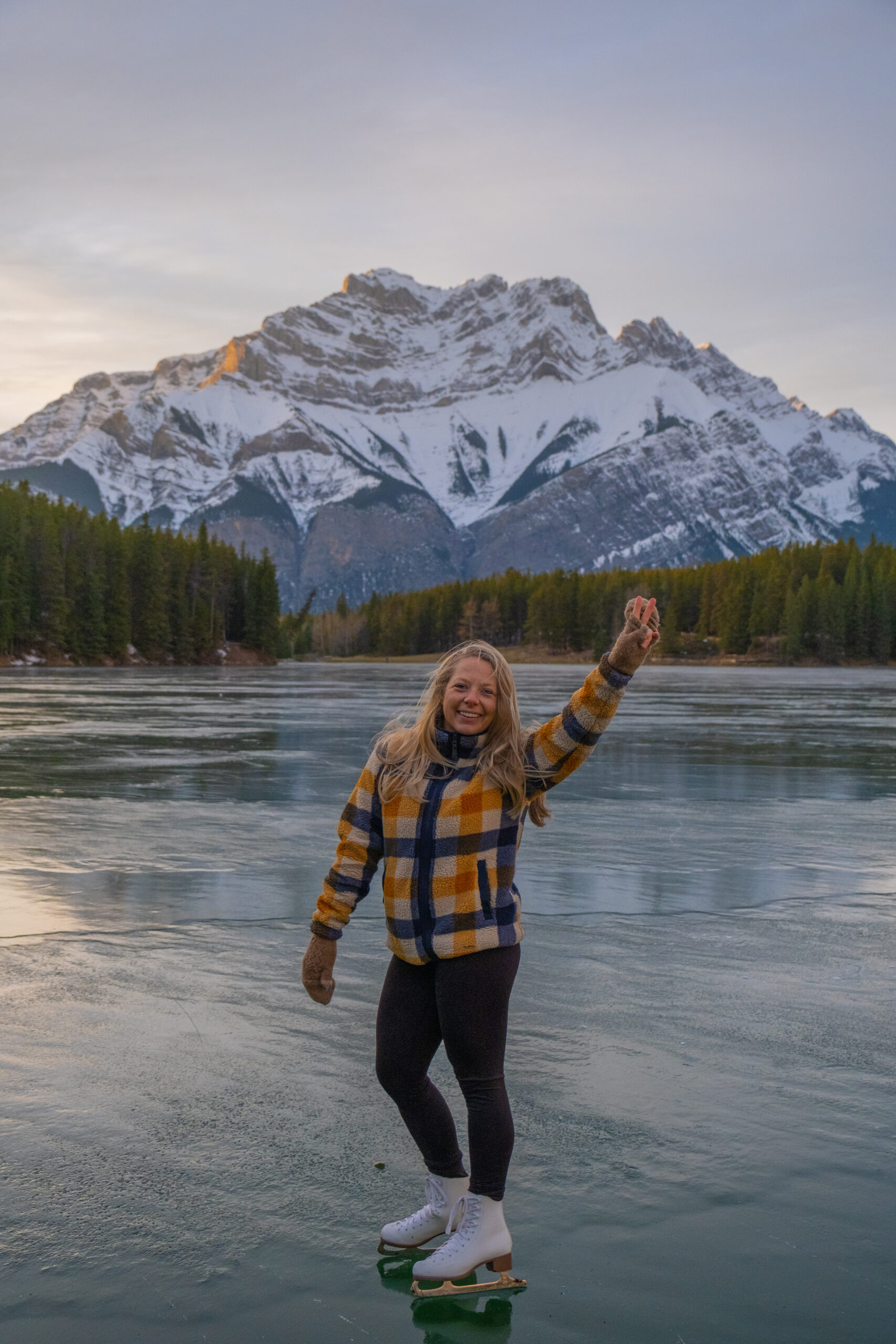 Skating at Johnson Lake means you get fantastic views of Mount Cascade while skating. There's also a hidden rope swing on Johnson Lake. It's intended for jumping into the lake in the summer, but it is pretty fun to swing on it and skate off!
---
Two Jack Lake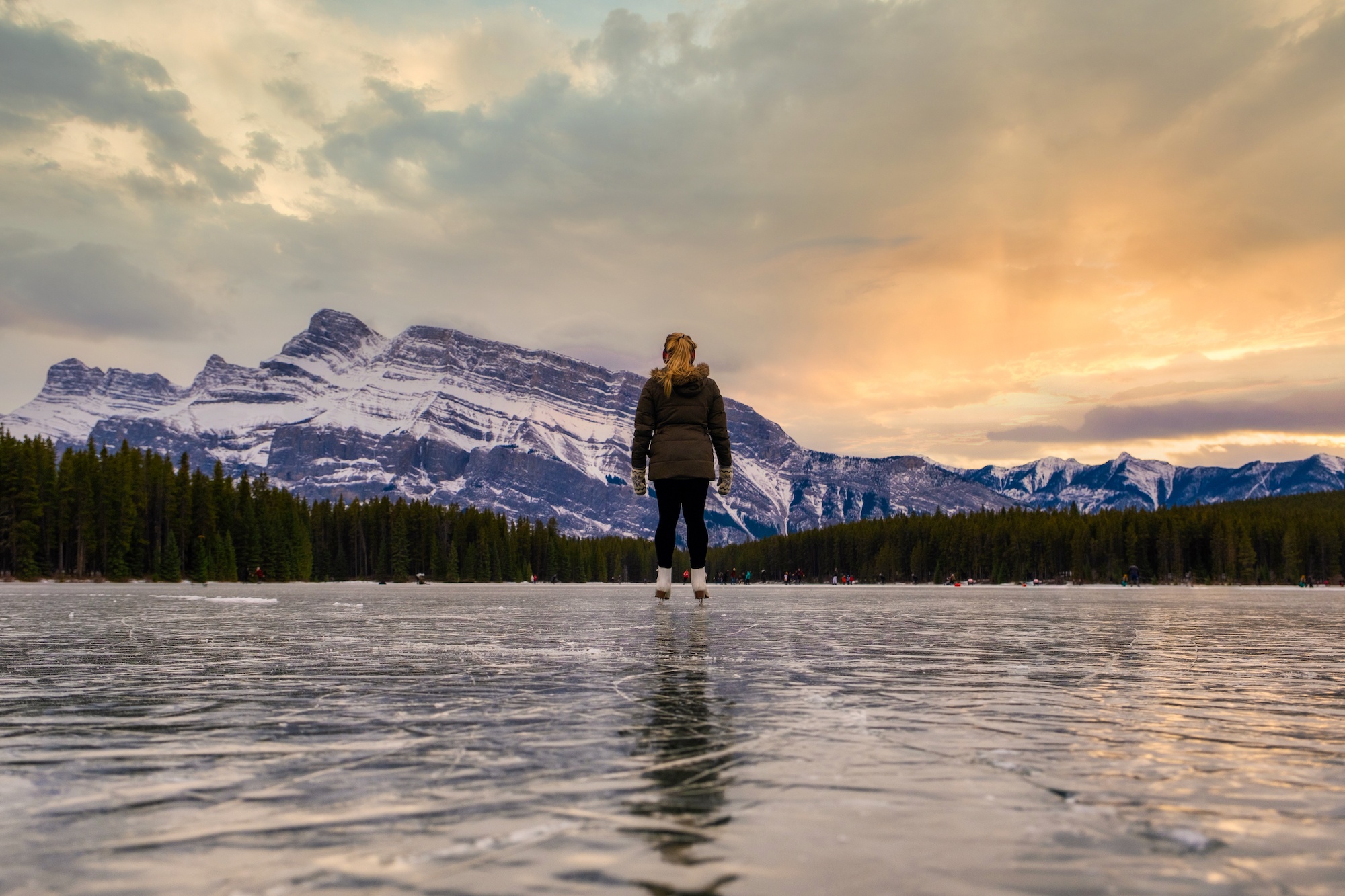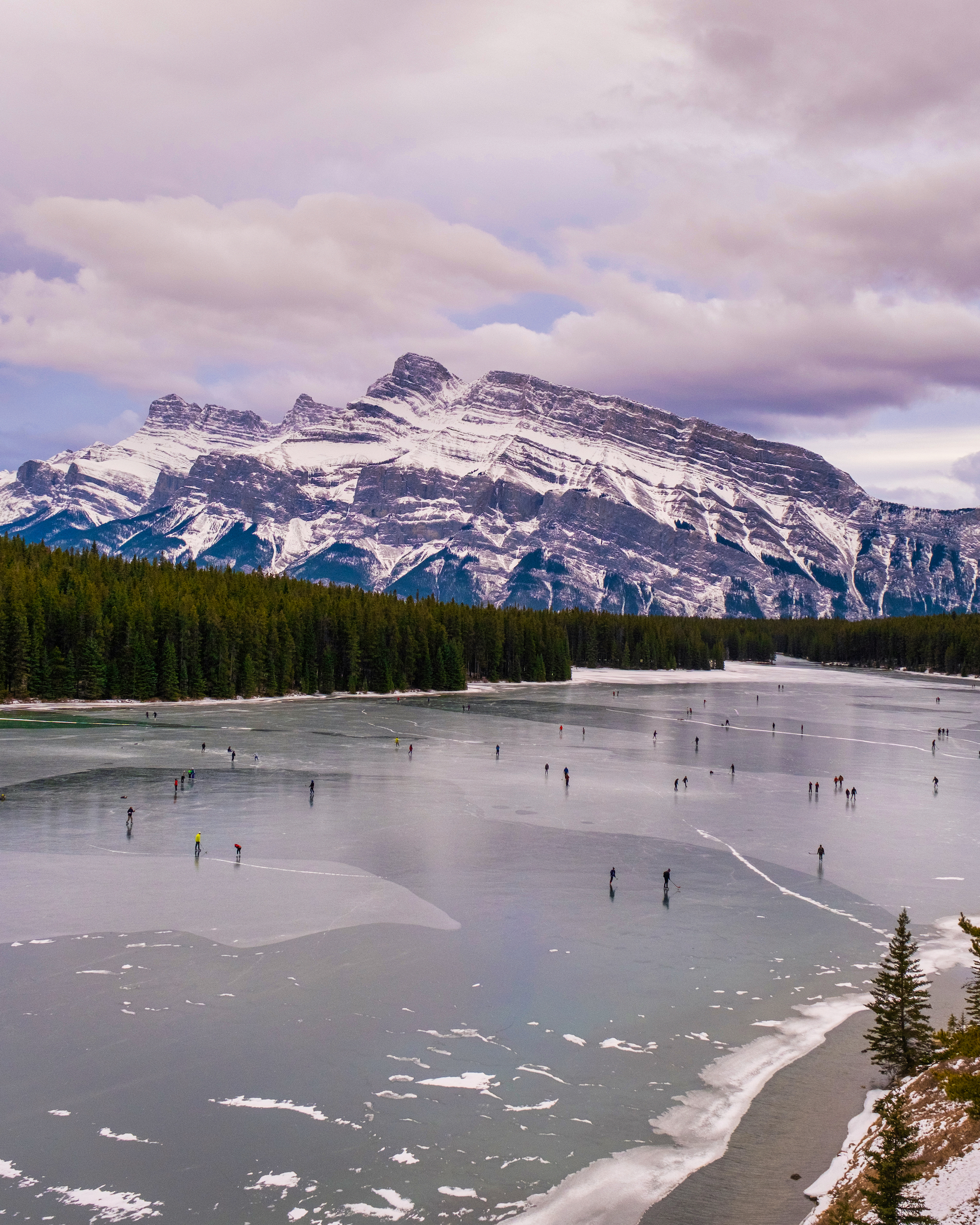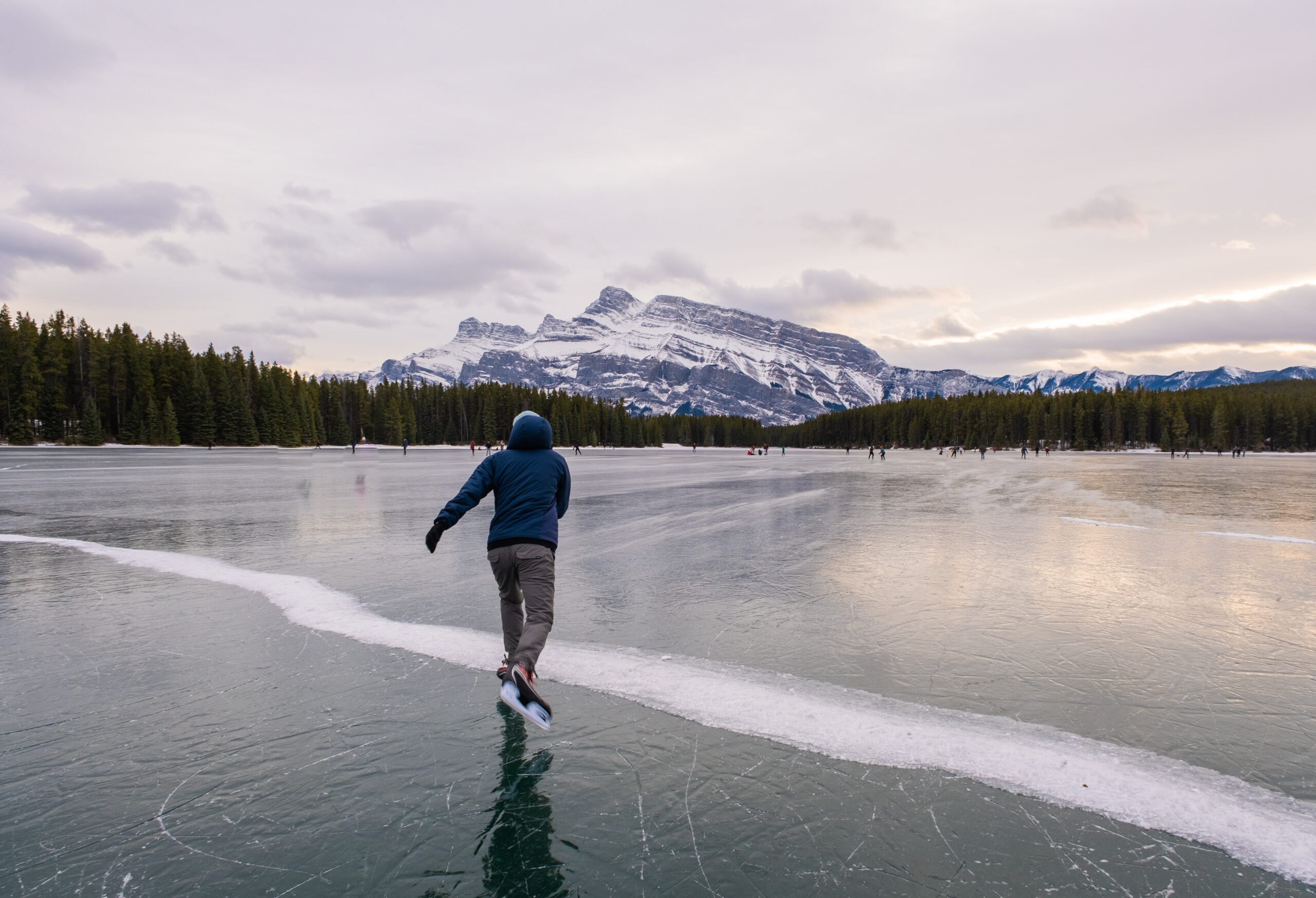 When Two Jack Lake freezes over, you can enjoy some fantastic views of Mount Rundle and enjoy a gorgeous skate. The lake is one of our favorite places to head for a stand-up paddleboard in the summer.
It's also an excellent photo spot when the lake reflects the landscape. It's suitable for a skate around November to December before the lake gets covered in snow.
---
Fenlands Banff Recreation Centre
This is the only Banff indoor ice rink on this list, and it's open all year, so you can still ice skate in the summer! It's a guaranteed smooth surface and outstanding as when it gets too cold, temperatures are far milder on the indoor ice rink.
You will have to pay for use of the ice rink plus ice skate rentals if you don't have your own. Never worry, it's not too expensive at $7 for adults over 18, and This is also the only place on the list that costs money. $7 for over 17's, $4.75 for teenagers, and a flat rate of $15 for a family.
For more information about when you can skate at the Fenlands Banff Recreation Centre email [email protected] or call 403.762.1235.
---
Banff Springs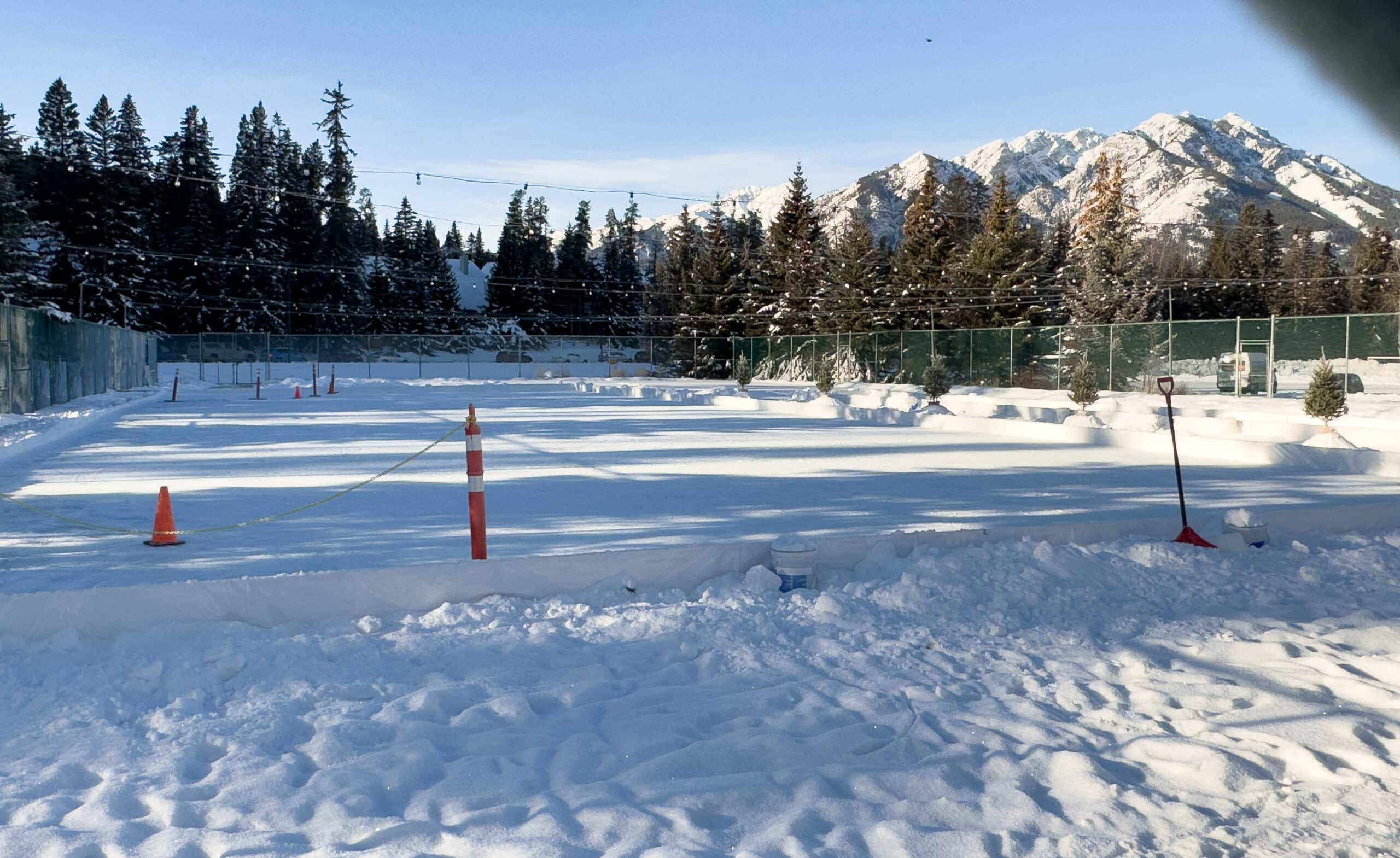 We never skated at the Banff Springs Hotel as we've never stayed in the hotel during the wintertime. The small rink is located right outside the hotel
As a guest, you can enjoy a skate here, and it would be possible to skate as an outside guest as the main levels are open to the public. It's one of the most magical places to head to during the holidays as "Christmas at the Castle" is in full swing.
---
Banff High School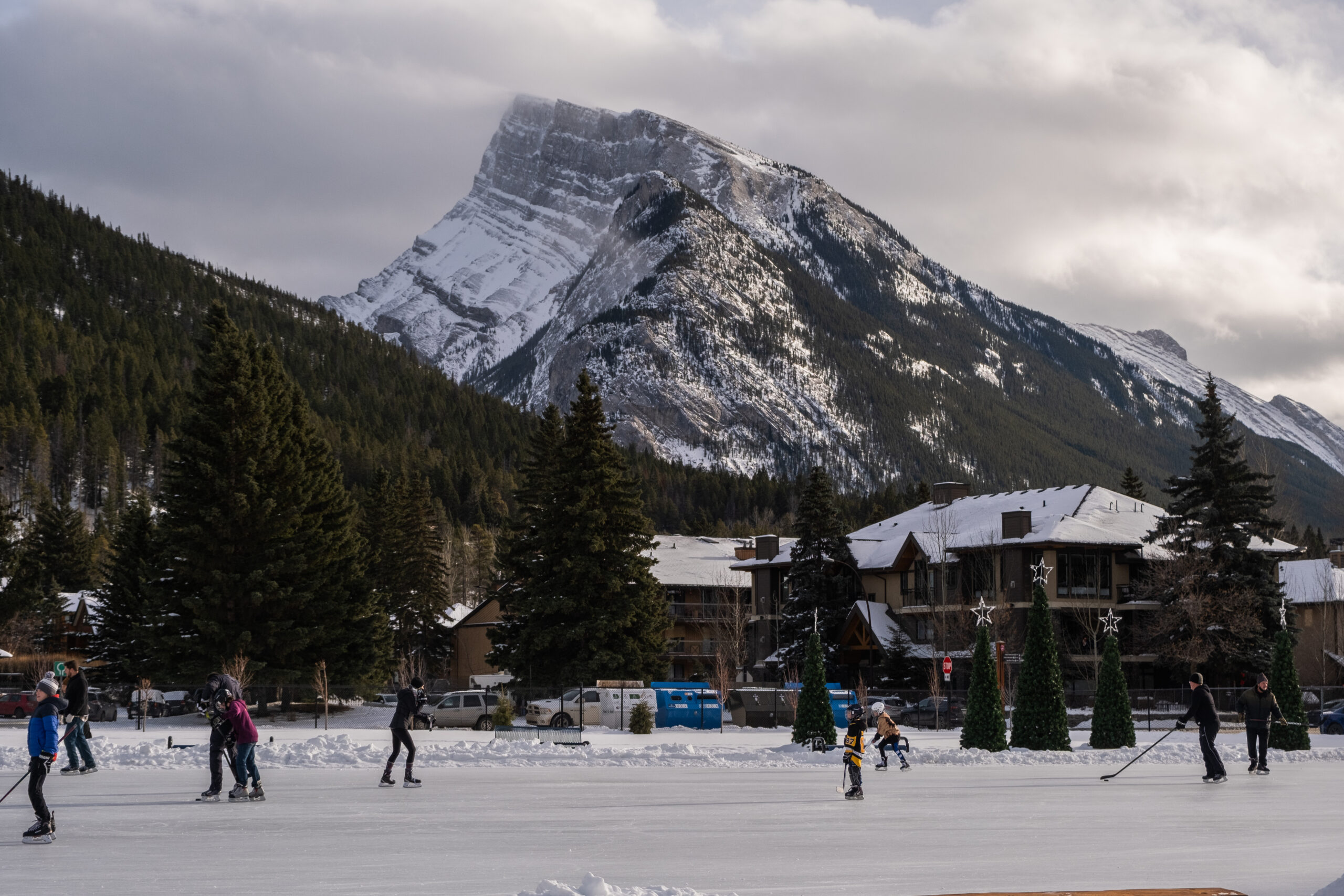 This is the most obvious place for skating in Banff because you can't miss it as you drive down Banff Avenue. The athletic field is converted to an ice rink in the winter months and maintained by the town.
If you don't fancy heading into the frozen wilderness, this is a great place to skate, just a stone's throw from most hotels, making it a comfortable Banff ice skating spot for all visitors. It's completely safe, too, as the town maintains it.
---
Where to Enjoy Skating in Canmore
Although Canmore and Banff are incredibly close, it may make sense to ice skate in Canmore if you stay in a Canmore hotel rather than driving into Banff. These are our favorite places for ice skating in Canmore and Kananaskis. For more information on rinks around Canmore stay up to date on the town website.
---
Canmore Town Pond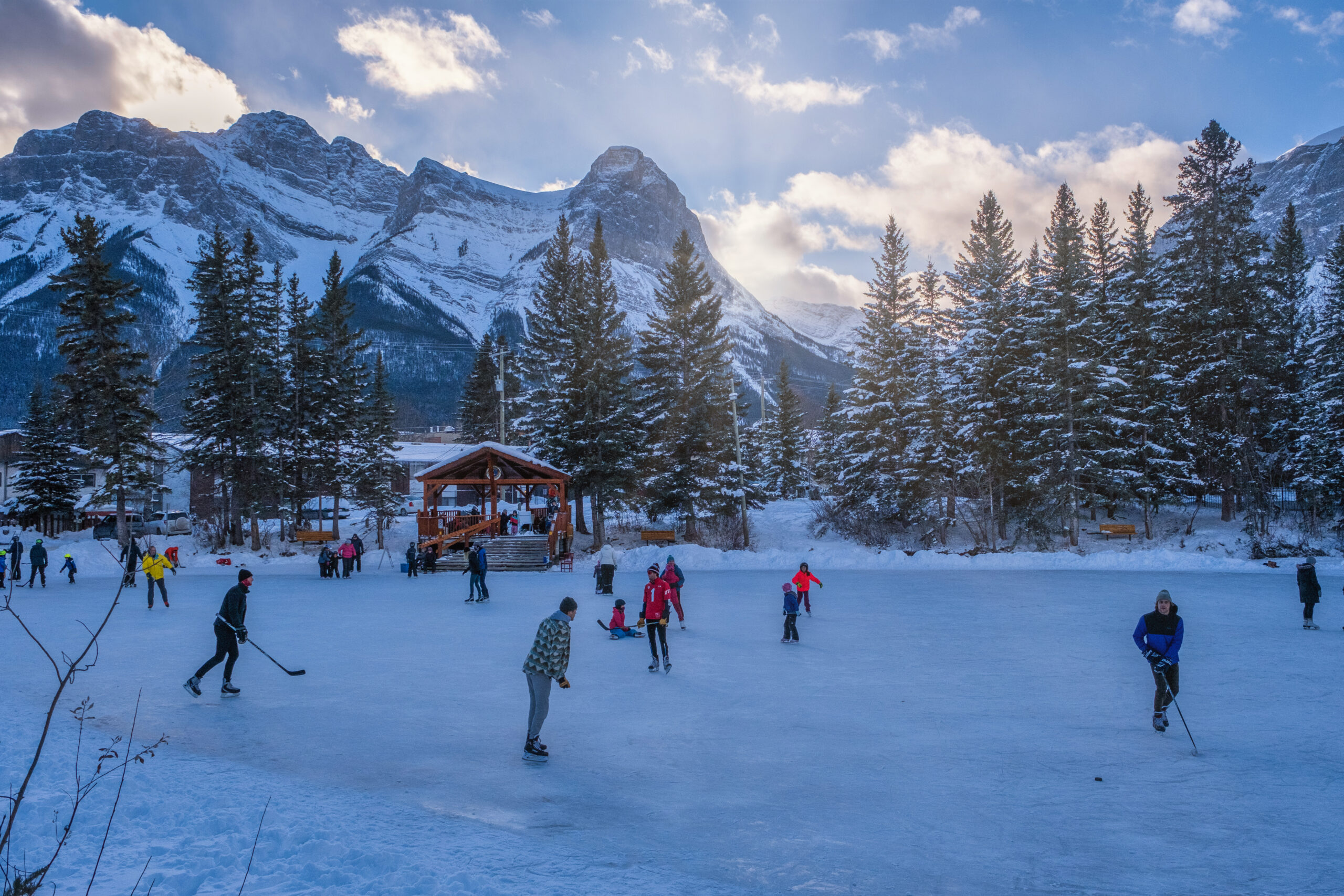 This is easily one of the best places to go skating in Canmore. Each winter, the town of Canmore maintains a lovely natural ice skating pond just outside of downtown. It's serviced daily and resurfaces three-five times a week, so you have a reliable surface, and it's great for vacations who choose Canmore as their base.
It's even lit at night, so it's a great place to head if you feel like enjoying some nighttime skating. The only downside is there are no views as the pond is surrounded by trees and in a neighborhood. There are several frozen ponds around the town of Canmore. You can find those on the site here.
---
Gap Lake Skating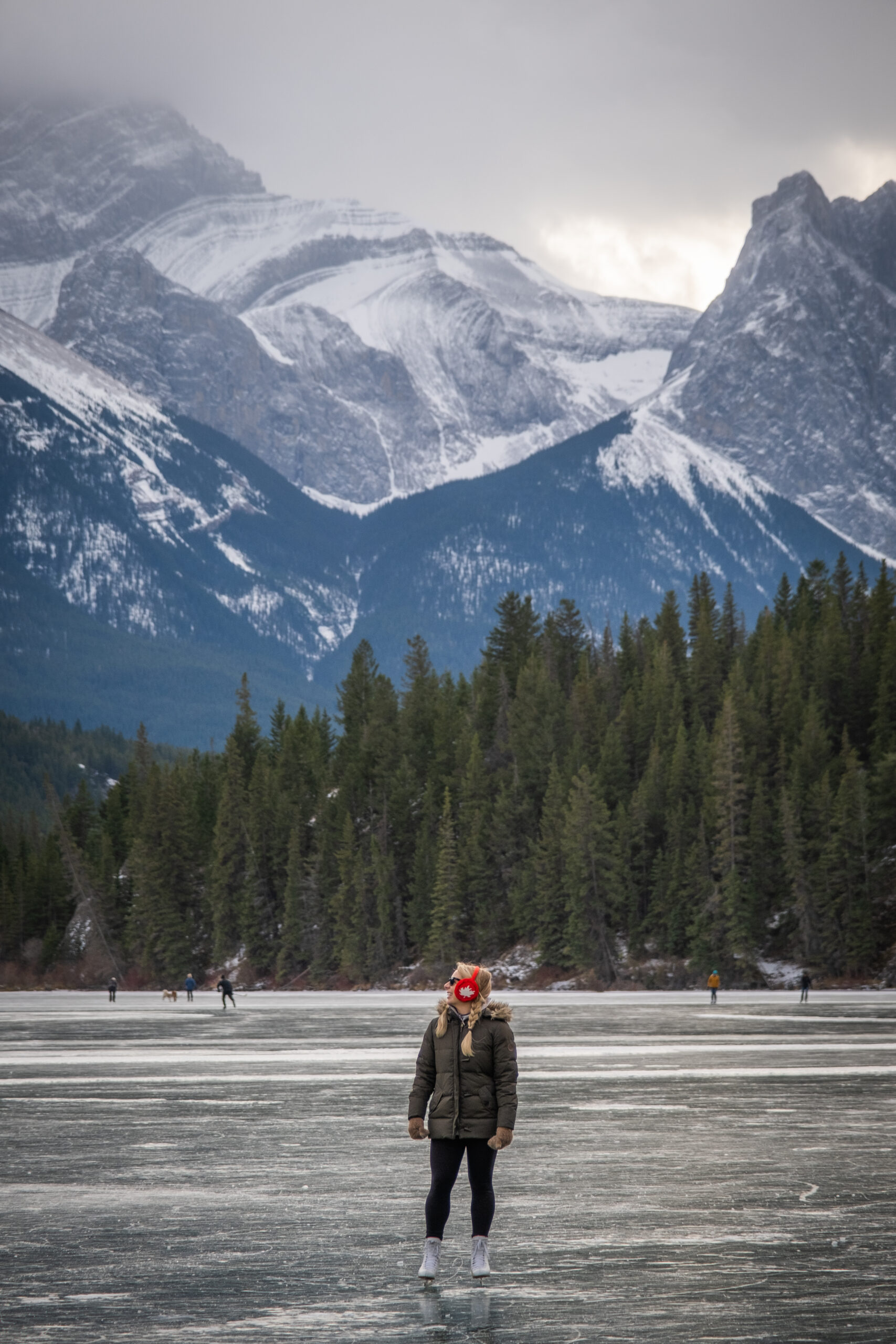 Off of the 1A on the way to Cochrane from Canmore lies Gap Lake. The lake is prone to the wind, which keeps it snow-free for an extended time. It's not the most beautiful lake for a skate, but it does have some excellent ice when it's frozen.
---
Spray Lakes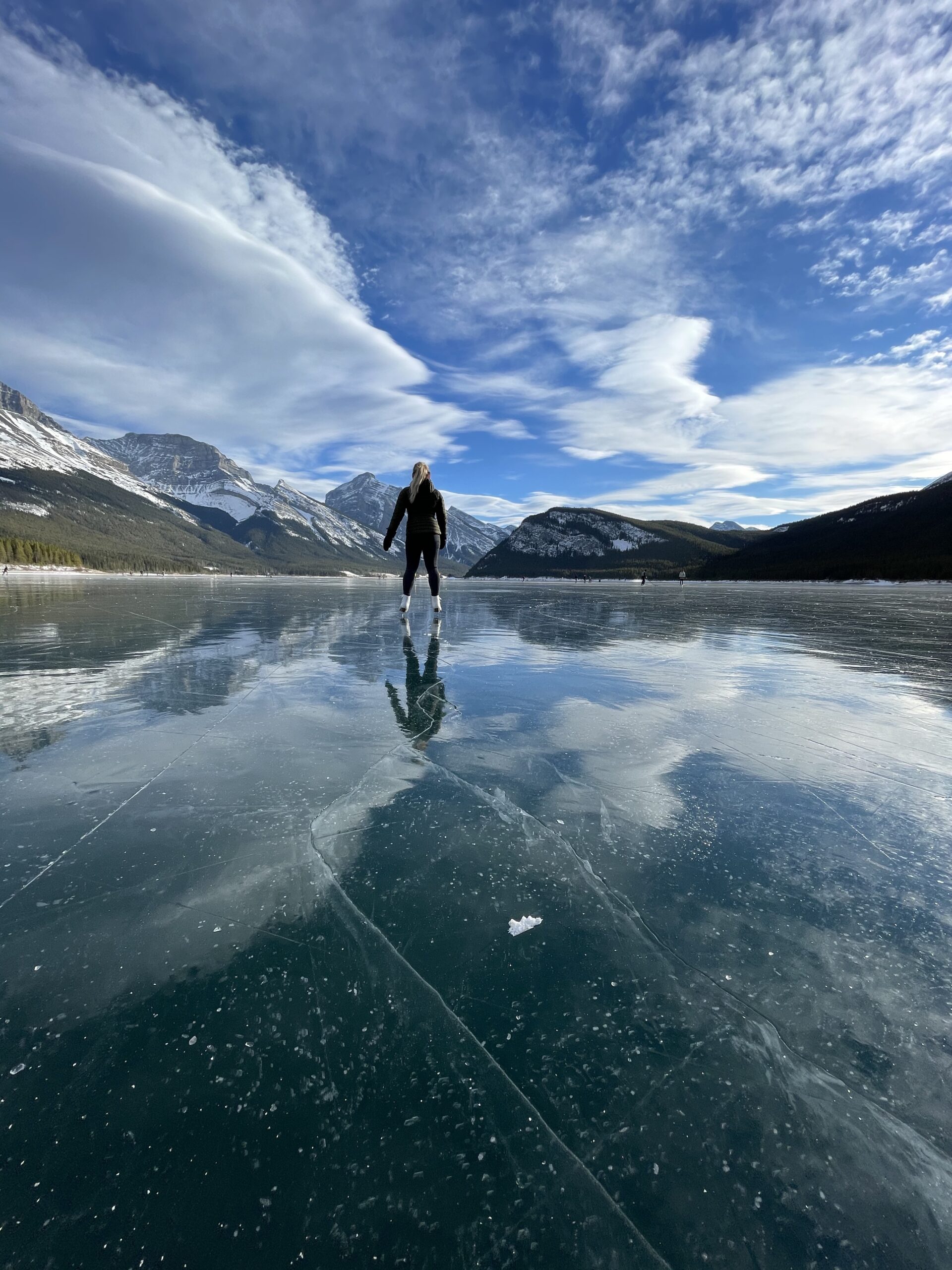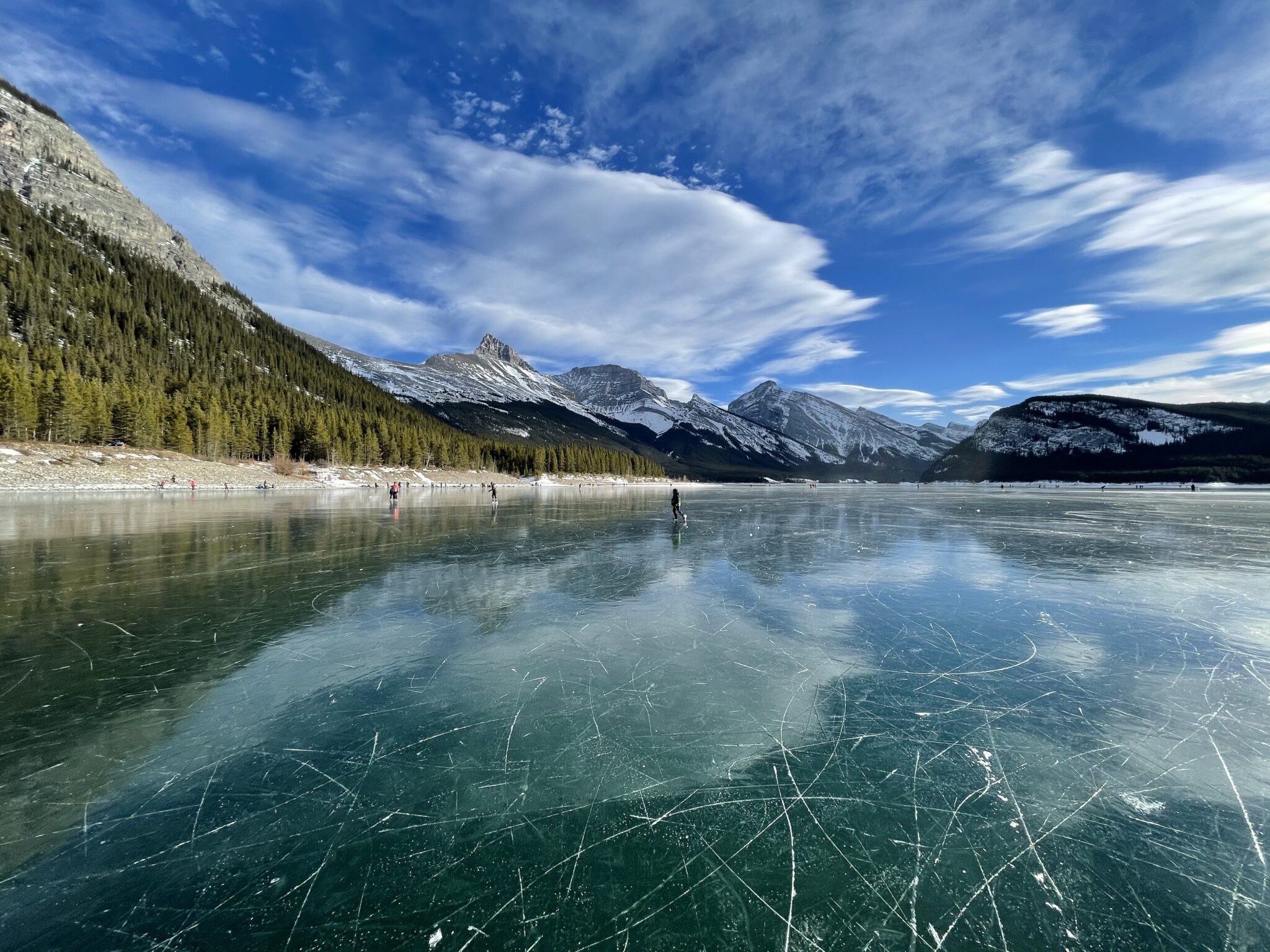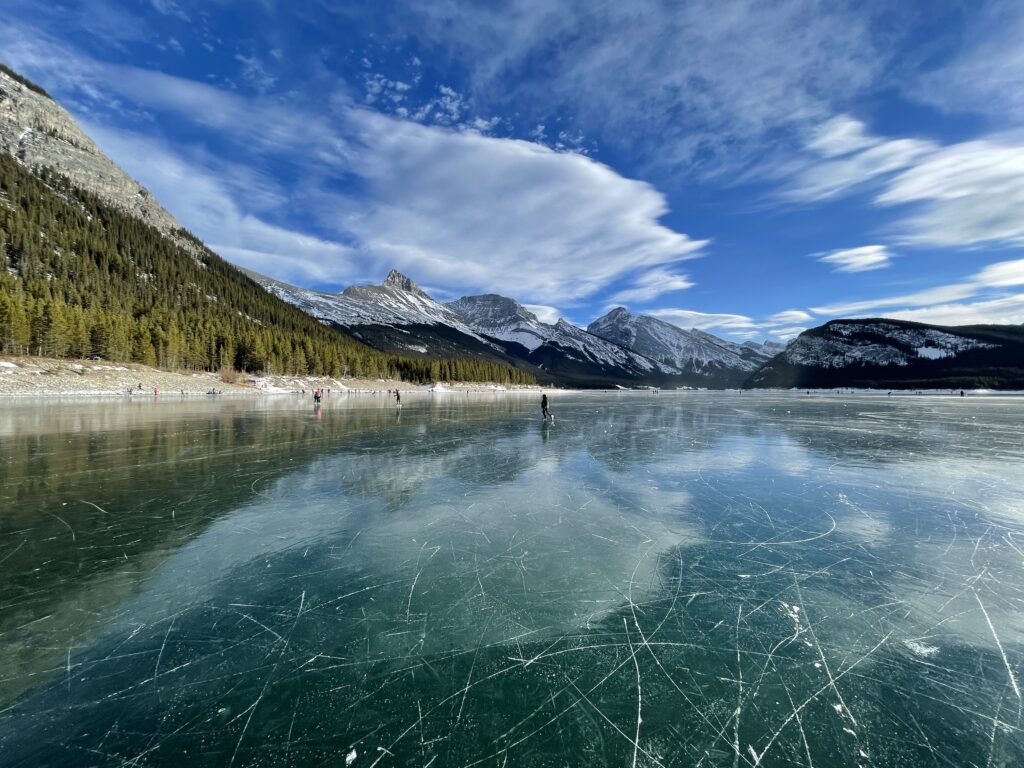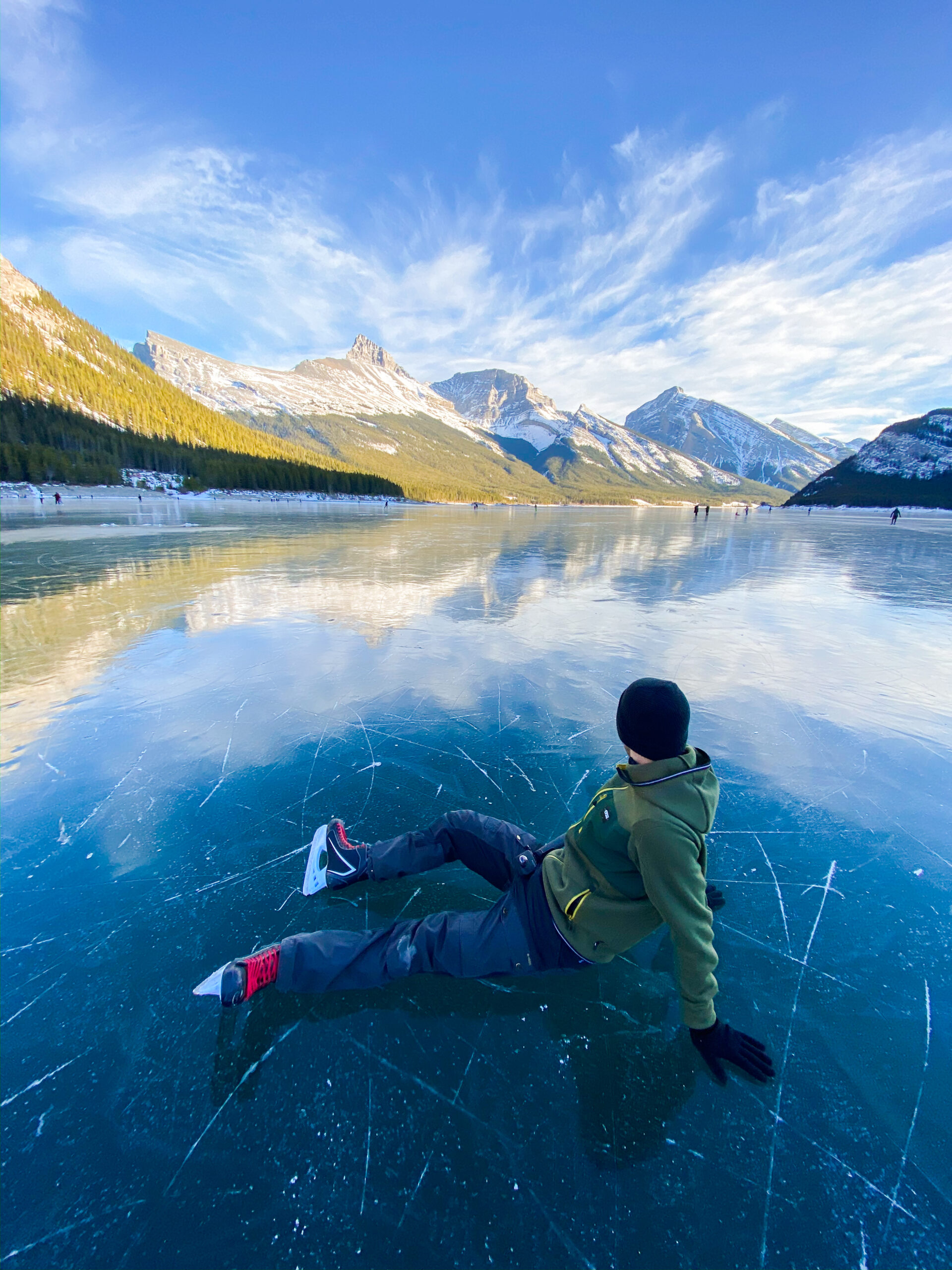 Like Lake Minnewanka, this massive man-made lake can freeze over with perfect ice that reflects the breathtaking views of the Spray Valley. The natural valley creates a bottleneck for winds which, like Abraham Lake, creates hard ice that is often snow-free.
It's an impeccable place to go for ice skating in the Canadian Rockies. However, be mindful as the reservoir remains deeper than many other lakes, and a fall in the ice could have real consequences.
---
Lac Des Arcs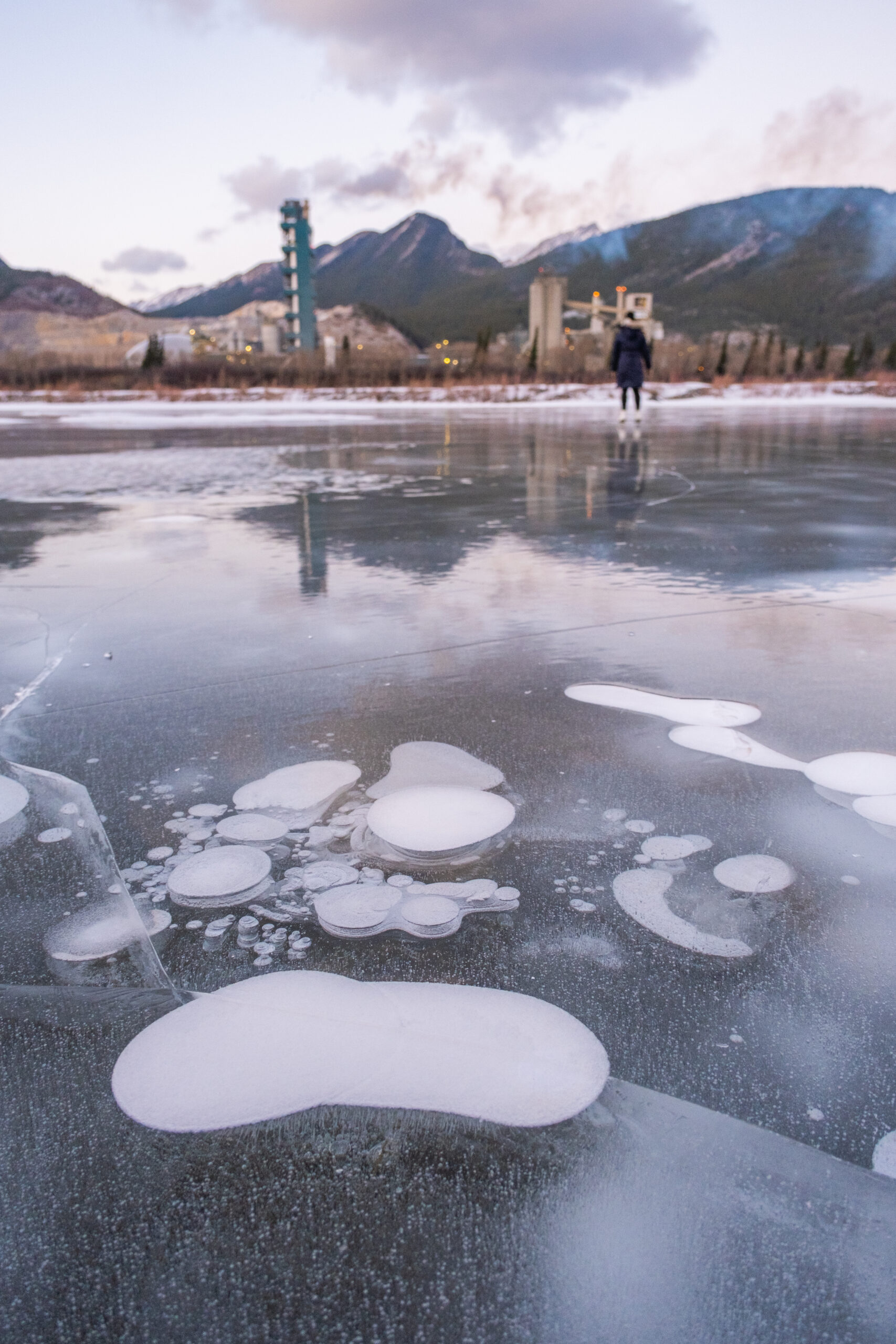 It's hard to say this is the most scenic spot in the Canadian Rockies for ice skating. Lac Des Arcs sits at the end of the Bow Valley with the TransCanada on one side and a sizable cement plant on the other.
However, the ice here, when in season is generally excellent. The area is well known for the high winds and chinooks that rip through the narrow valley section out to the foothills. The wind keeps the ice in good condition and snow-free.
---
Goat Pond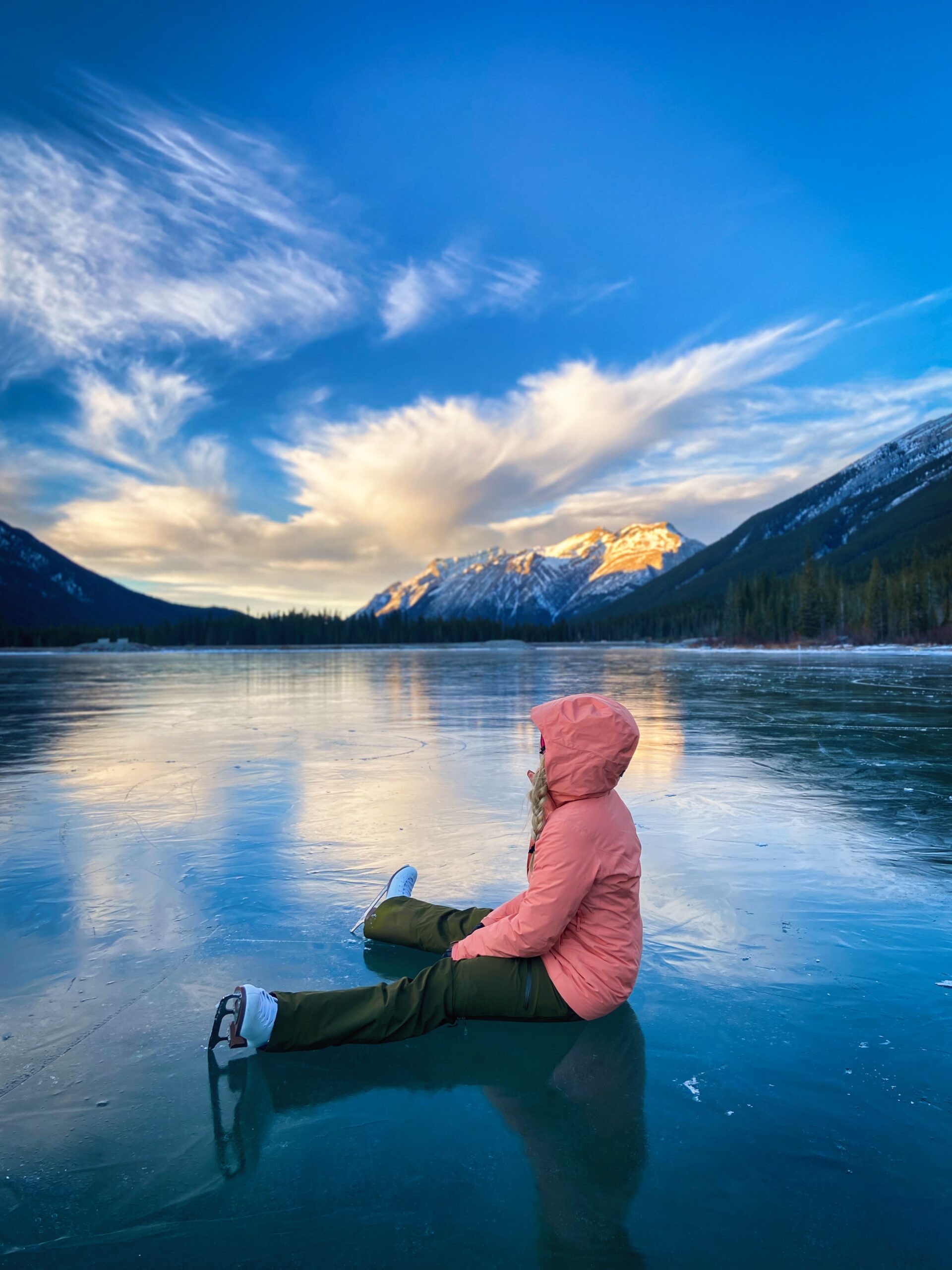 Goat Pond isn't in Banff, but it has to be mentioned on this list as it's truly an exceptional place to wild ice skate near Canmore. Located on the Smith Dorrien Road is Goat Pond. If you can catch the pond right after it freezes, but before the first snowfall, you'll be in for a real treat. Many logs and stumps here are beautiful to view through the clear us.
If the ice is completely frozen, you'll get more and more views as you head further away from the road. There's even a "field" of stumps. Goat Pond may not look like much at first sight, especially when compared to so many of the photogenic points around Banff, but I promise you it's a great place to ice skate.
---
Kananaskis Village Ice Skating Rink
Kananaskis Village Ice Skating Rink is an excellently maintained rink in Kananaskis Village that is small and perfect for families. This rink is awesome if you stay at the Kananaskis Mountain Lodge or visit the Nordic Spa.
There are often nets, so bring your hockey sticks and pucks for a game! *Before venturing out to Kananaskis Village for skating it's best to call the Mountain Lodge and make sure it is operating first.
---
Where to Go Ice Skating Beyond Banff
Ice skating doesn't stop at the Banff park gates. There are beautiful frozen lakes to skate on all around the area!
Abraham Lake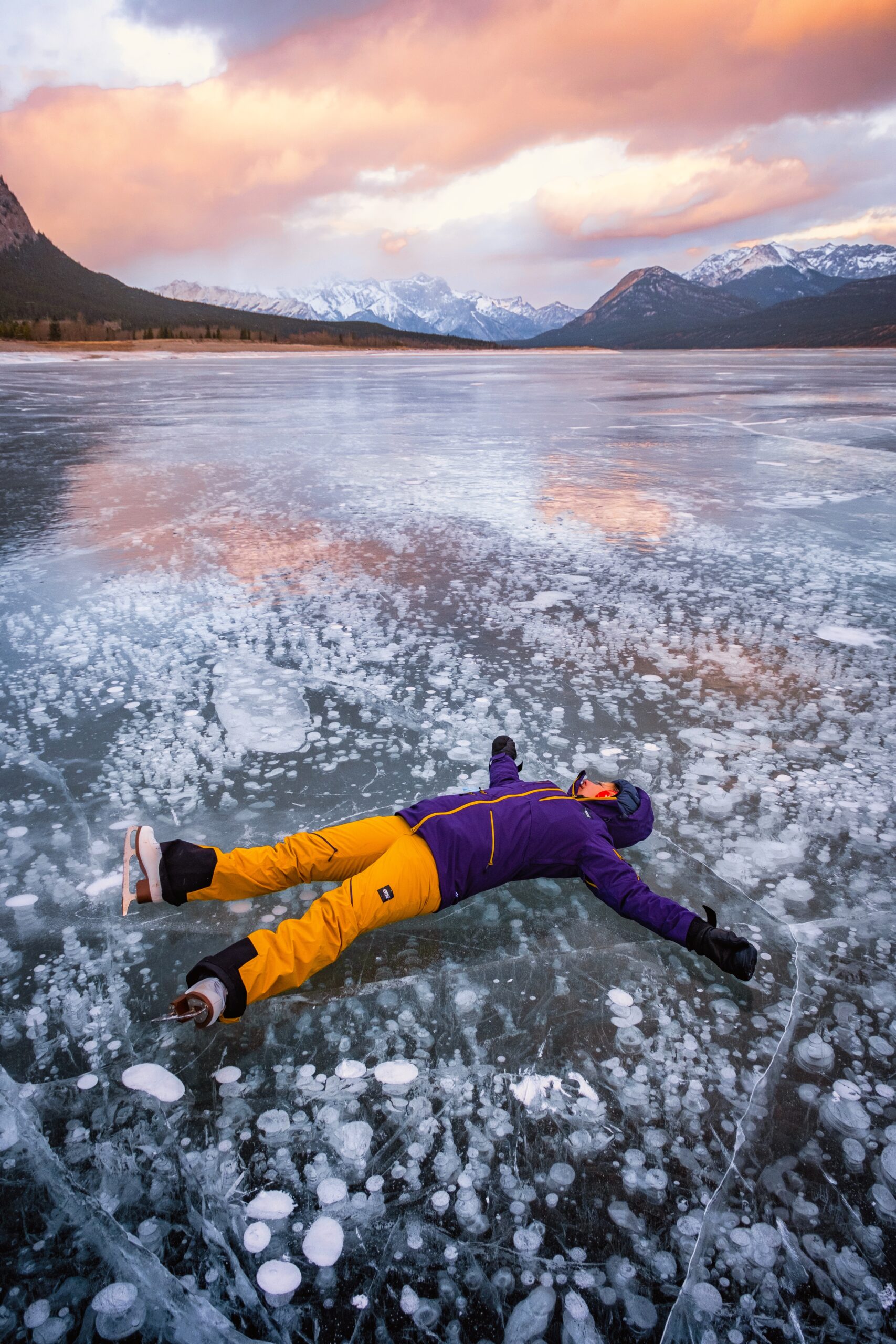 No, Abraham Lake is not in Banff National Park, but it's not too far in David Thompson Country. In about a two-hour drive from Banff, you can be at one of the most famous spots in all of Canada to see the renowned methane ice bubbles, so it definitely deserves a special place on this list. If you have ever wanted to skate on ice bubbles, head here around January and February.
In lakes, large white bubbles are created when water-dwelling bacteria feed on decaying organic matter, expelling methane gas. When the water freezes, the methane bubbles get trapped in the ice and create these fantastic phenomena.
This area is exceptionally windy, meaning snow doesn't cover the ice like all the other bodies of water on this list. So there's typically a massive window of time to skate on the ice bubbles here. However take extra precautions at Abraham Lake. It's not the best place to wild ice skate, as Abraham Lake is a reservoir, meaning the water levels are constantly changing creating gaps in the ice.
We've skated on Abraham Lake, but only on the shallow areas at Preachers Point, where an accident or fall through the ice would result in a very wet foot. Please use your common sense here.
---
Pyramid Lake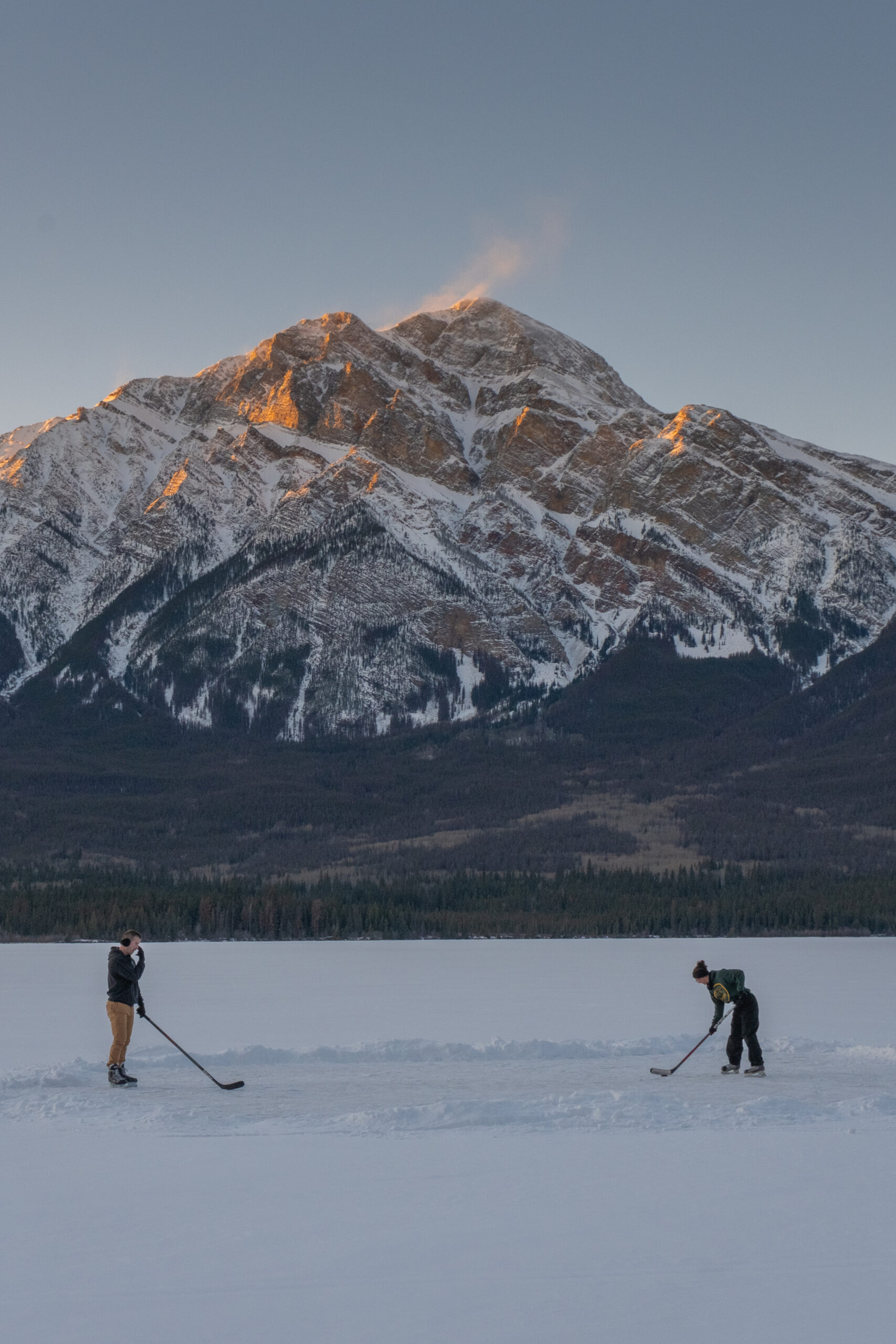 Pyramid Lake is the Lake Louise of Jasper National Park. Make the journey from Banff to Jasper in the winter, and you'll be treated to fewer crowds with just as many mountain views.
One of the best places to ice skate in Jasper is Pyramid Lake. This lake is typically frozen by early December. Pyramid Lake Lodge maintains a small ice rink where visitors can skate or play hockey. Around the holidays, they also have sleigh rides all around Pyramid Lake!
---
Ice Skate Rentals Around Banff
You don't need to come with your own set of skates to Banff, as there are many places to rent a pair.
Banff
Lake Louise
Canmore
---
Buy Ice Skates
Of course, if you plan on skating in Banff a lot, you don't have to rent skates every day. It may be worth it for you to buy a pair of ice skates. You have your choice for them if you buy online, and Canadian Tire in Canmore sometimes has a few different pairs.
We purchased ours for $20 at Crossway Community Thrift in Canmore, and they had plenty of pairs there if you shop around in November before ice skating in Banff is in full swing.
I also recommend browsing Facebook Marketplace to find a good used pair. Though come Banff ice skating season, ice skates are a hot commodity.
---
Banff Ice Skating Safety Tips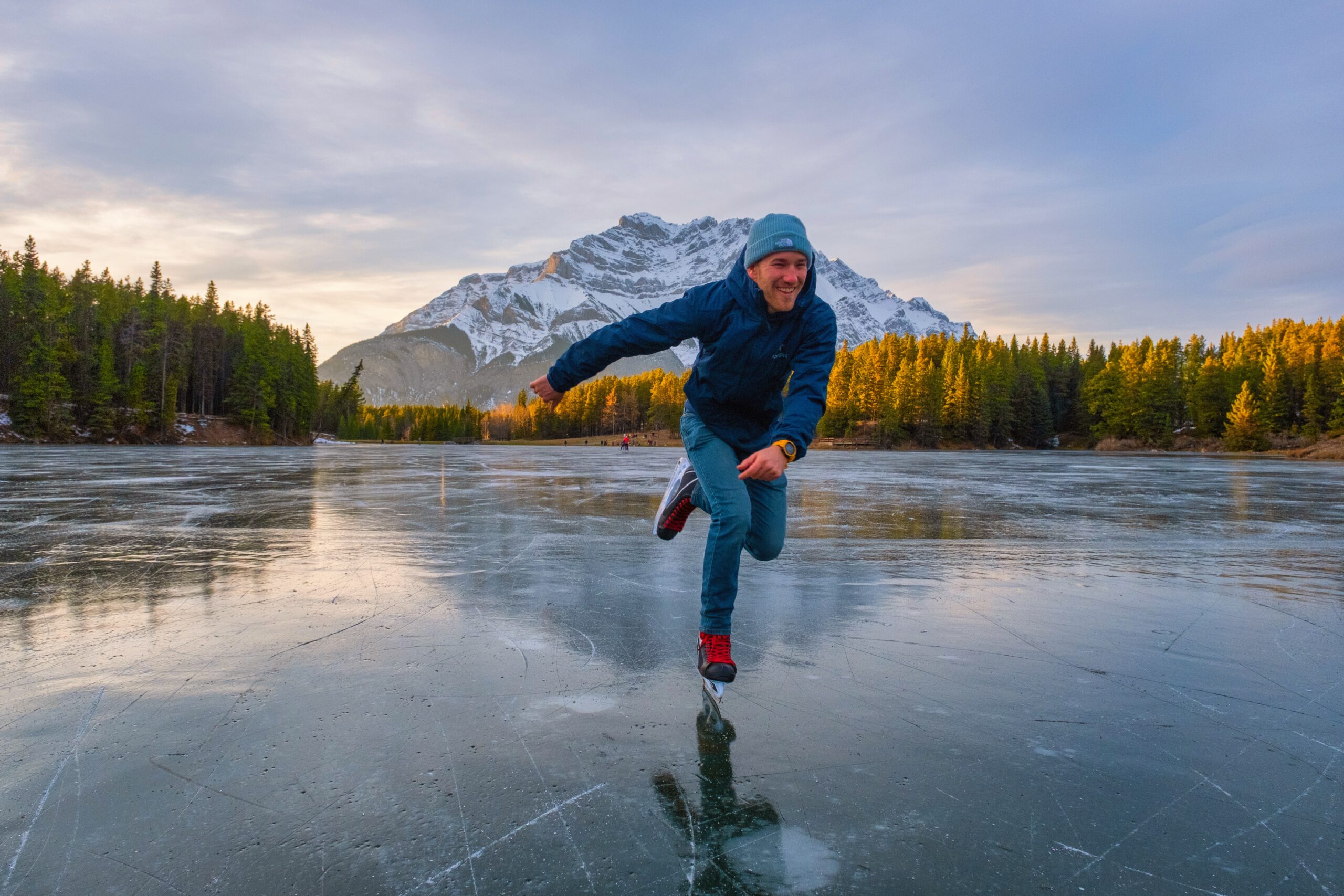 There is always some level of risk when skating in Banff or Canmore. The frozen lakes are a real treat – there are not many areas left in the world you can wild skate like this. November is off-season in Banff, and skating on the frozen lakes is many locals' highlight of the month!
"Wild skating," as locals call it, is risky, but if you take proper precautions, you can have a safer experience. You mustn't just do what the crowd is doing and think it's perfectly safe. I know your mom asked you as a child:
"if your friend jumped off a cliff, would you do it too?"
Well, the age-old question couldn't be more accurate with ice skating on frozen lakes in Banff. You are responsible for ensuring ice safety in these areas in the Rockies.
Check ice thickness yourself before venturing out. In recent years a few skaters fell through the ice in the park; they were okay, but a scary experience you don't want to have nonetheless.
It's best to watch some Youtube videos and read up on ice safety. It's essential to know how to rescue yourself if you fall in. You may even feel more comfortable wearing a PFD while ice skating in Banff.
We'd advise airing on the side of caution. Don't take off exploring any lake you can find if it's your first time. There are plenty of local resources and maintained rinks that ensure everyone is safer skating in Banff.
It's best not to skate alone unless you're on a maintained rink unless you are an experienced ice skating enthusiast, but even then, we recommend using the buddy system.
---
Are These Frozen Lakes Monitored?
There is no one monitoring and ensuring the safety of others when ice skating in the Rockies. Like hiking and scrambling in the summer, skating in Banff is an at-your-own-risk activity. Parks Canada does not monitor these lakes and inform the public when lakes are safe or not to skate on.
---
What To Watch For When Banff Ice Skating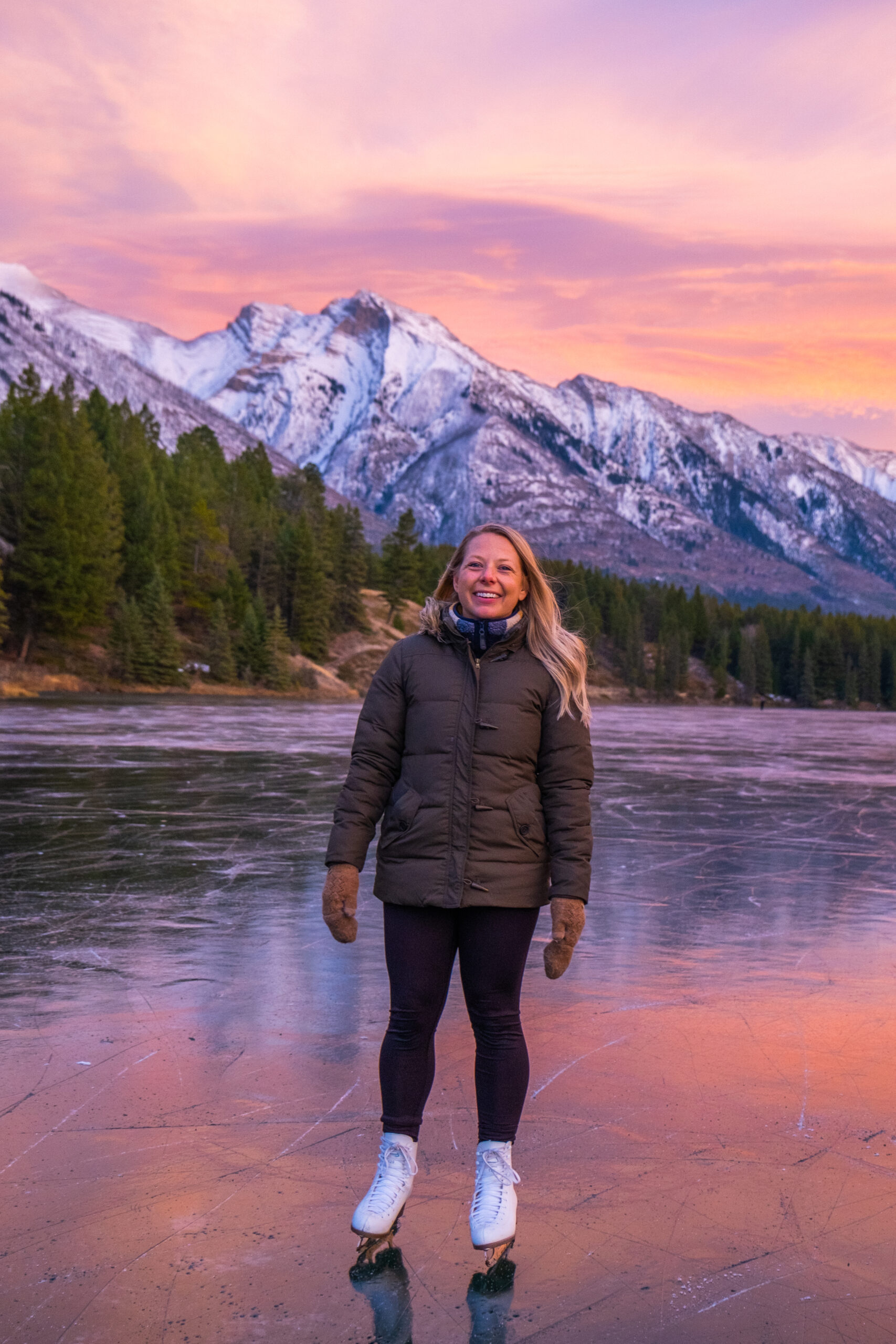 Many factors affect ice thickness, including time of year, location, weather, and the following.
Depth and surface of the body of water
Moving water such as river, springs, and streams
Salt or other chemicals
Objects that can absorb solar heat such as docks, rocks, or logs
Temperature changes
Fluctuations in water levels
---
Depth of Ice
Ice should be at least 15 cm for walking or ice skating and 20 cm for a sizeable skating party or hockey game.
How to Check the Thickness of Ice?
Parks Canada recommends checking the thickness of the ice by drilling a hole in the ice to ensure its thickness. With an ice screw, ice chisel, auger, or cordless drill, you can do this. Then insert a tape measure into the hole.
It's also recommended to check ice every 150 feet. It's essential to keep in mind that ice is never %100 safe, but all these tips can help you minimize risks.
---
Color of Ice
The color of the ice is a great way to indicate its strength. Clear ice is the strongest and best for ice skating in Banff. White or opaque snow ice can be half as strong as blue ice. The white surface comes from wet snow melting and freezing on the ice. If the ice is grey, do not skate on this surface as it is weak and indicates water in the ice.
---
How to Find Out What Lakes Are Good to Ice Skate On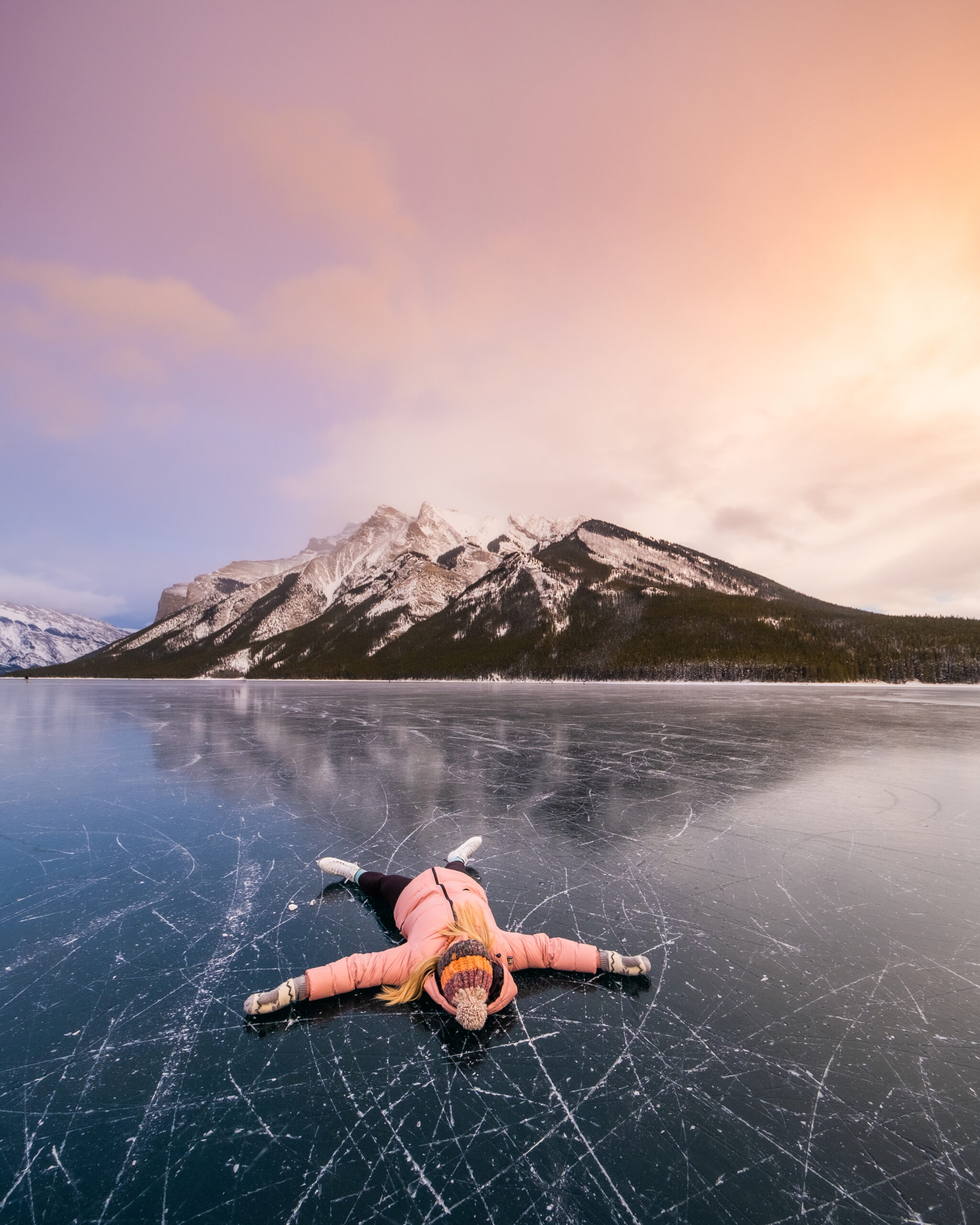 There are no official announcements from the park indicating when lakes freeze over and are suitable for ice skating. The best way to find out about skating on the lakes in Banff is through word of mouth and social media. We have an up-to-date Facebook group dedicated to traveling Banff here.
That being said, viral social media posts can cause a crowd, but no one wants to gatekeep the wilderness. If an area is so crowded that you can't even find parking, best to pick another activity.
---
Where are the Famous Methane Ice Bubbles?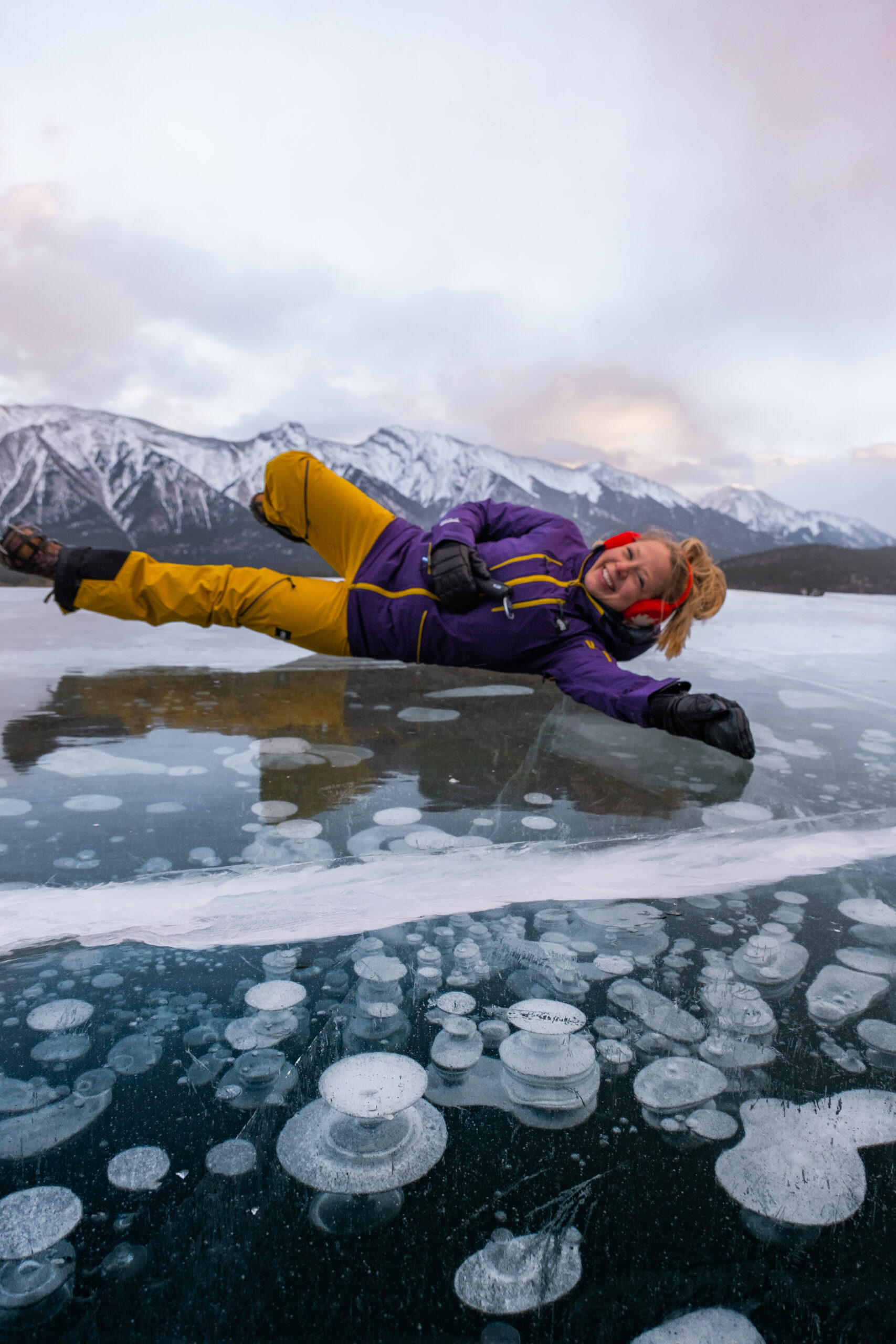 The most famous place to see the methane ice bubbles in the Rockies is Abraham Lake. Come February, these photos will be all over Instagram. However, these frozen methane bubbles can be seen at lakes closer to Downtown Banff, just not in abundance. Lake Minnewanka and Lac Des Arcs are prime examples.
---
Is Banff Ice Skating Free?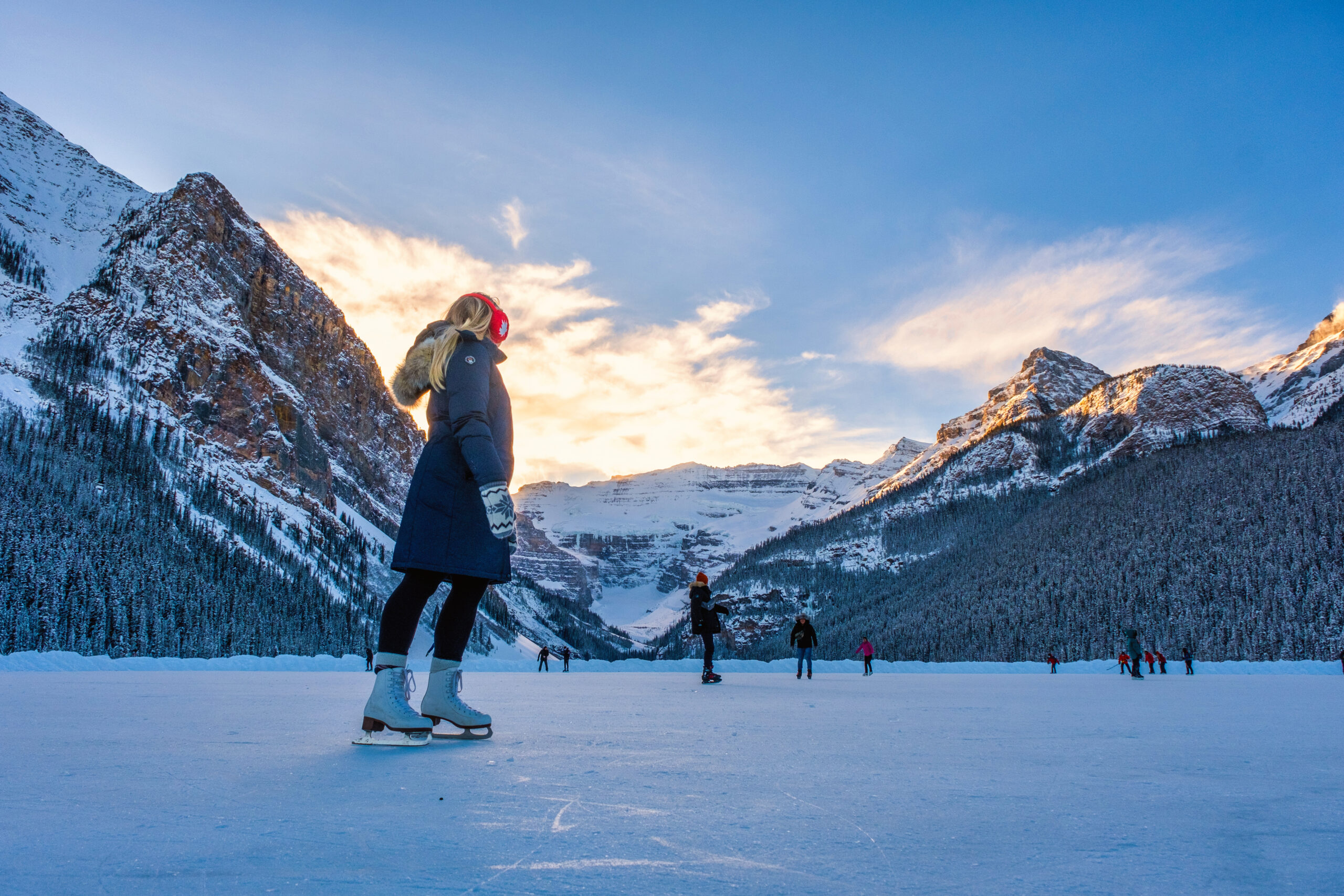 Besides the cost of a Parks Canada pass and ice skates, ice skating in Banff is a totally free activity. You can always skate at the Canmore Town Pond, Lac des Arcs, or Goat Pond if you don't have a Parks Canada Pass!
---
Where Are the Safest Places to Skate in the Rockies?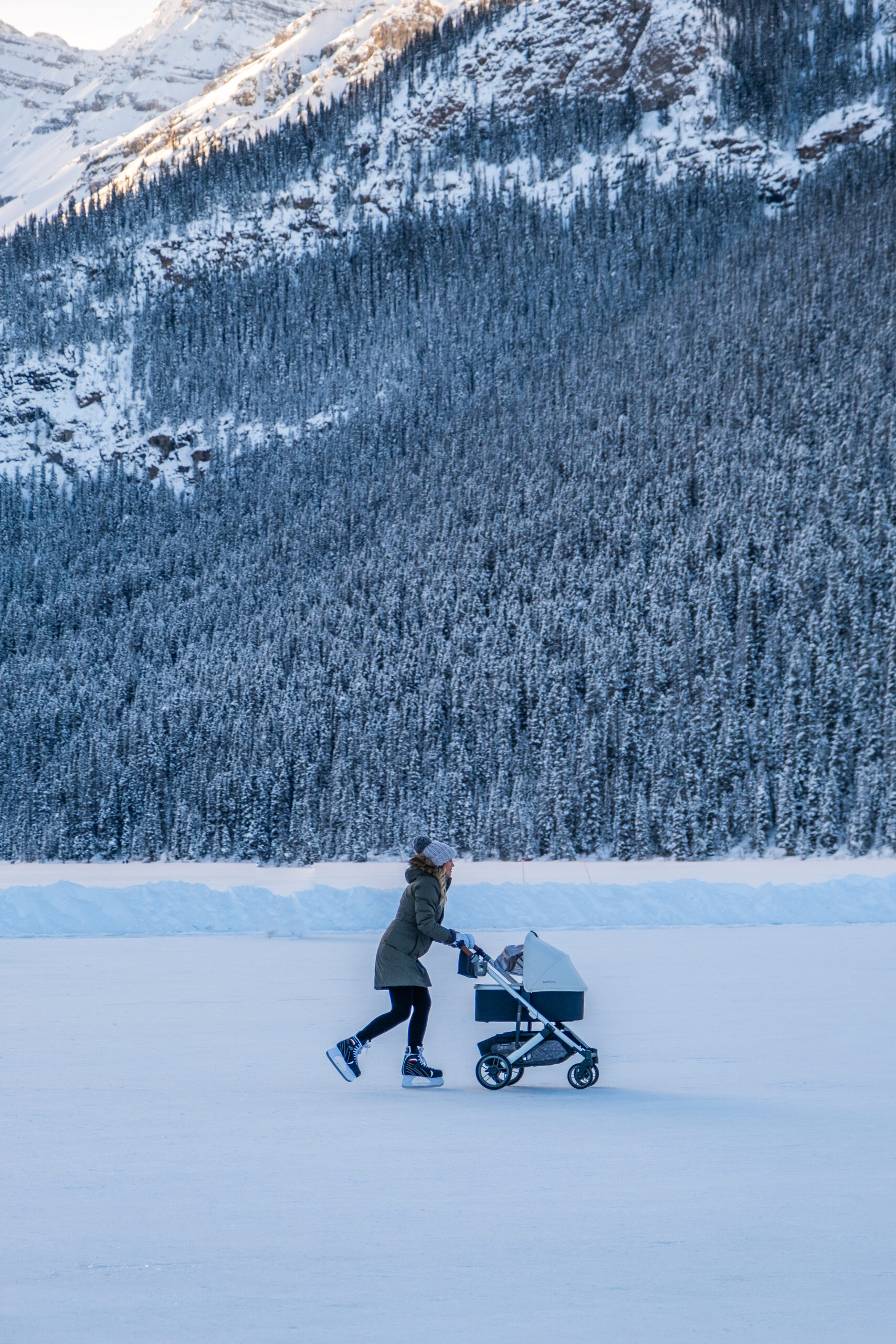 Unless you are on a maintained skating rink, I want to reiterate that nowhere is 100% safe. If you are a bit nervous about skating on a frozen lake, it's best to head to the Canmore Town Pond, Banff High School, Banff Springs Hotel, Fenlands Banff Recreation Centre, or Lake Louise.
---
If You Get into Trouble on Ice and You Are Alone
Call for help if possible.
Resist the urge to climb back out where you fell in as ice is weak in this area.
Relax and Breath. Try not to panic.
Face the shore, the ice is more stable close to shore.
Reach forward without pushing down and kick your legs so you are in a horizontal position, and slowly try to crawl back onto the ice.
---
What to Pack When Ice Skating in Banff?
Obviously, you need your ice skates and possibly a hockey stick and puck, but a few other items will make your experience much better.
If you're able to skate on the frozen lakes of the Canadian Rockies, one thing is sure – it's cold, freezing, actually. You'll want to dress warmly. A parka or down jacket, hats, and gloves at a minimum. I'll also wear fleece leggings and snow pants, especially for the really chilly days.
We also find having a blanket to throw down is excellent for relaxing. Our favorite adventure blanket is the Yeti Lowlands Blanket. Chairs are never a bad idea, and a thermos with hot cocoa or coffee inside!
For safety, many people wear a helmet, especially kids. Just like skiing, you could easily catch an edge on a crack which could result in you hitting your head. In addition, if you are unsure of the ice wearing a life jacket is never a bad idea.
---
Bring a Shovel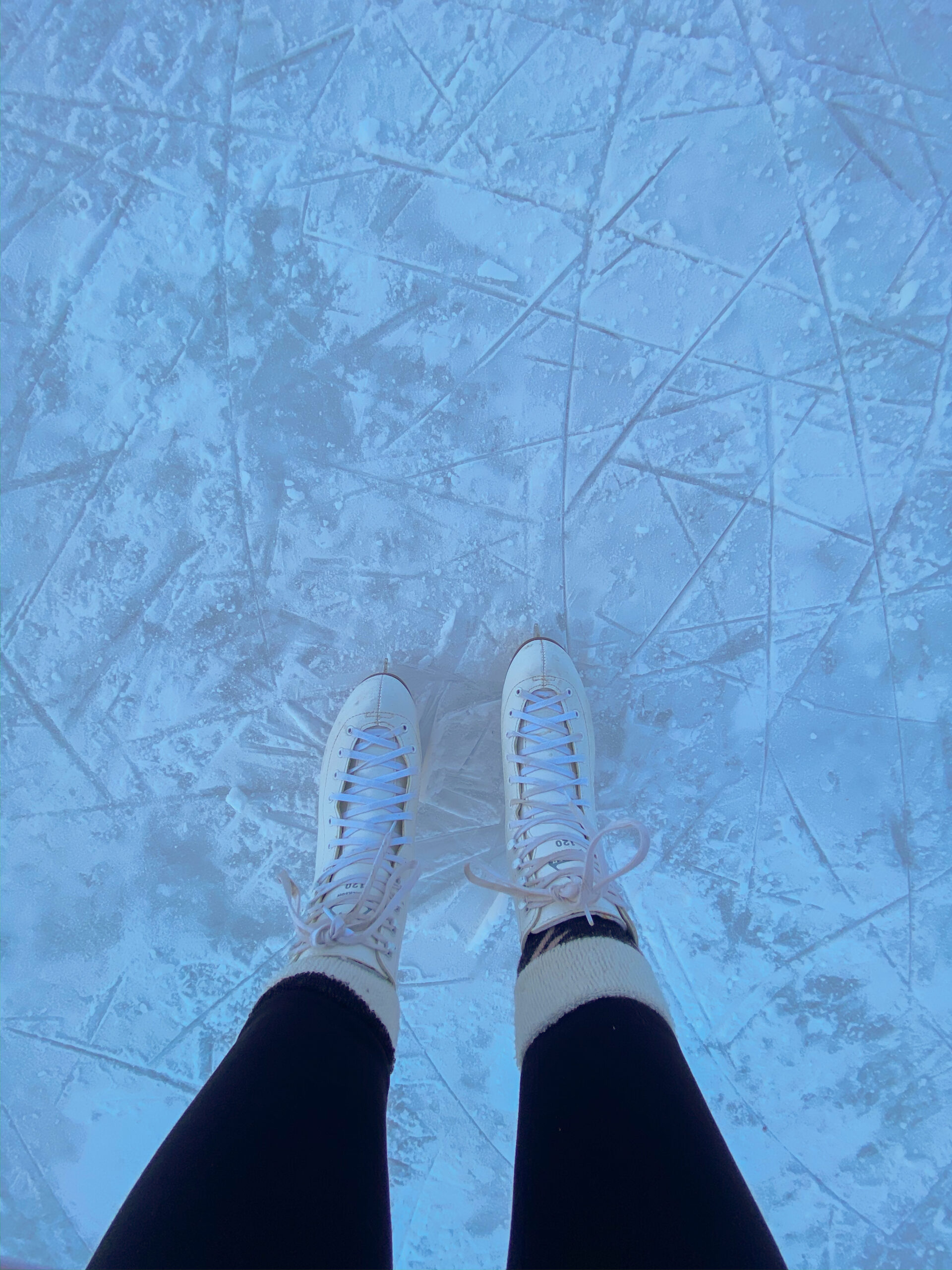 If you have your heart set on ice skating, but the lakes have been covered in snow consider bringing a shovel and shoveling your own ice rink. Of course you won't get to skate on a marble-like ball, and the ice will be rougher, but you are still skating in a beautiful area nonetheless! Always make sure to inspect the area you are shoveling.
---
Hopefully, this helped you determine where to go ice skating in Banff. Please note this post is for information purposes only, and we are not responsible for actions taken on the ice.
If you have any other questions, leave a comment or see our Canadian Rockies travel guide for more articles about photography spots, lakes, hikes, and everything else.
---
Plan Your Trip to the Canadian Rockies
---
↓ Join the community ↓
The Banff Blog Facebook Group is your headquarters for the Canadian Rockies' travel advice and information. Including hike info and off-season travel information. This is also where you can meet one another when you need adventure buddies.