Banff in December is one of the best times of the year to visit the Canadian Rockies. If you are into winter, snow, and hot chocolate, that is. Banff in December is the most magical time of year.
You are almost guaranteed a white Christmas, so if that is what you are after, then consider Banff and the Canadian Rockies a top holiday vacation choice.
If you ski or snowboard, you'll also love Banff in December as the SkiBig3 Resorts offer fantastic riding in December. Besides that, December means that holiday cheer is all around you in Banff. Even if it is -10°C outside, it will be hard to have a bad day in the most beautiful place on earth.
---
Things to Know Before Visiting Banff in December
---
How Cold is Banff in December?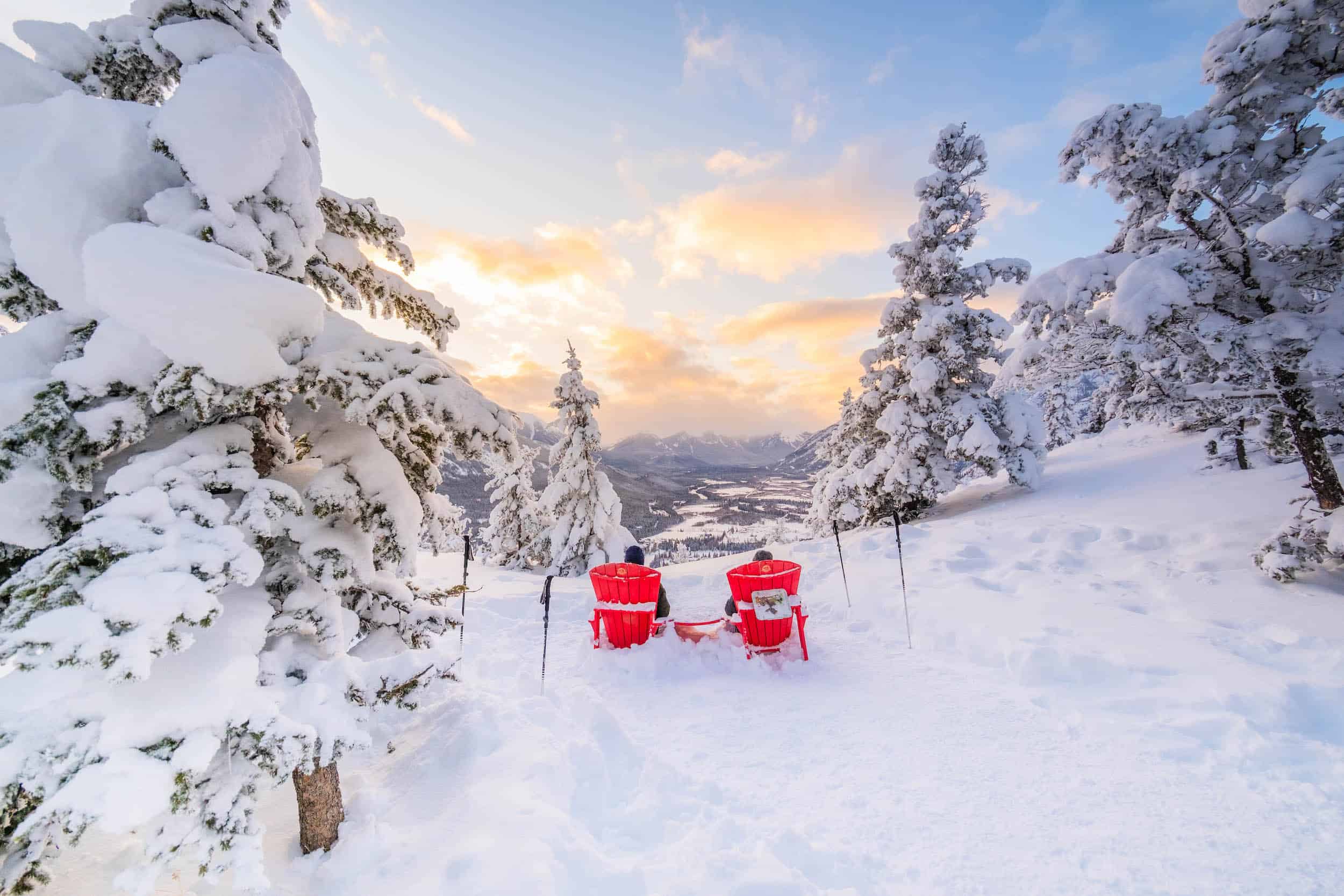 So what is the temperature in Banff, Canada in December? December is cold in Banff; there's no sugar-coating it. In fact, some of the most frigid weather of the entire year is in December. The average temperature is about -4°C, and after dark, it plummets below -10°C, but don't be surprised if it reaches -15°C.
That being said, the weather in Banff in December can be pretty pleasant with many sunny days throughout the month. When you're standing in the sun, even in December, you can feel relatively warm – for Alberta that is.
Keep in mind that the winter air in Banff and Lake Louise tends to be very dry and cold, though if you're coming from elsewhere in Alberta, you may find it surprising that Banff in December can feel warmer. This is thanks to the Chinook winds.
---
What Are Chinook Winds?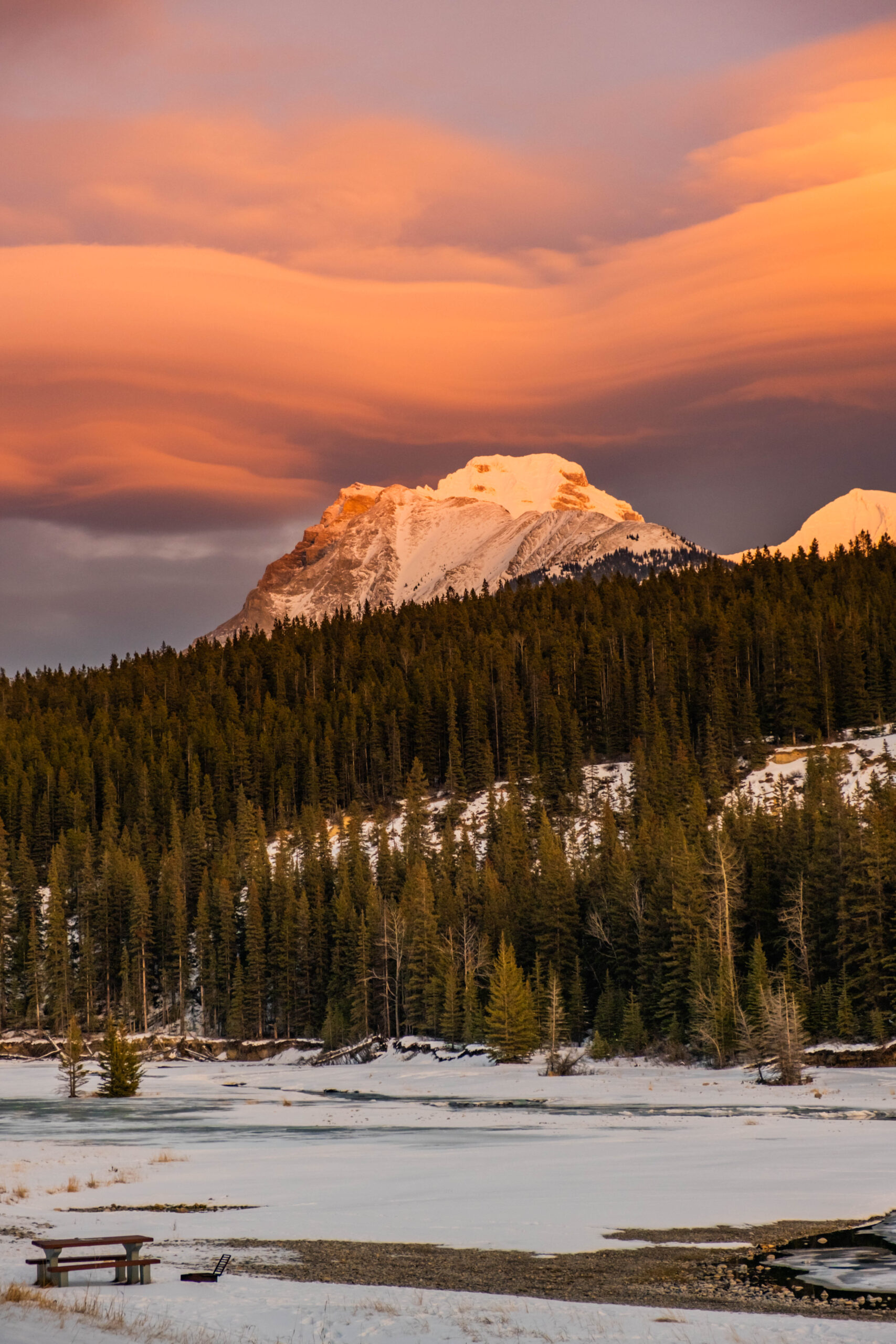 If you're visiting Alberta in the winter, you should familiarize yourself with Chinook winds or just "Chinooks."
A Chinook is a weather phenomenon in Southern Alberta where warm dry wind originating from the Pacific blows eastward over the Rockies after passing through British Columbia.
These warm winds can shift the temperature by over 20°C in just one day!
You'll notice the Chinooks from a rapid change in temperatures and sometimes strong winds that can reach dangerous speeds. What I love most about the Chinooks is their ability to create the most beautiful sunrises and sunsets in the Rockies.
---
Does it Snow in Banff in December?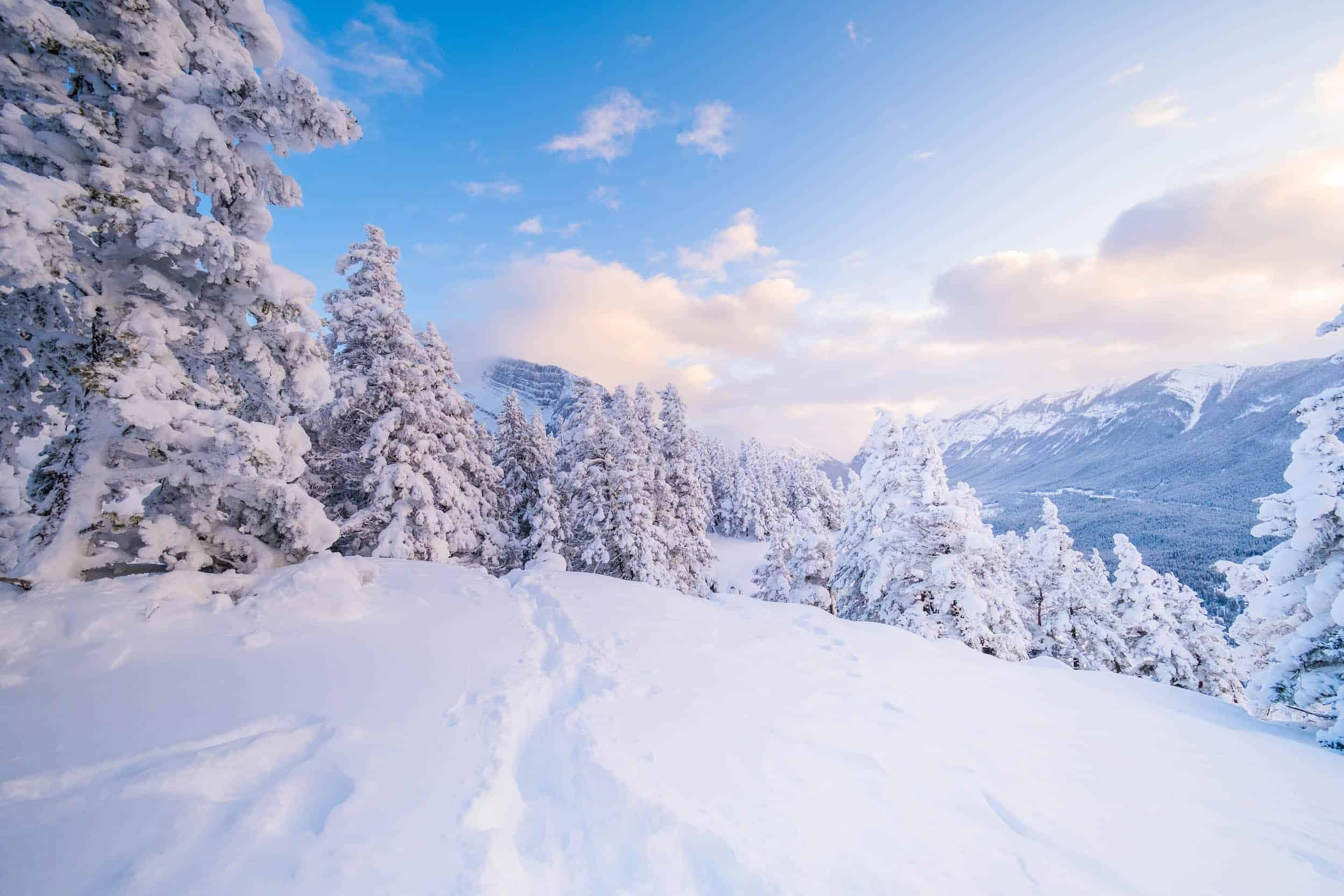 You can expect snow in Banff in December, especially as the month progresses. The past few Decembers, we have gotten huge 22 cm dumps of fresh powder overnight in Canmore. Meaning the ski resorts further down the valley and along the Icefields Parkway are getting plenty of snow.
December in Banff, on average, sees about 10cm of snowfall per week. Snow doesn't fall every day, but according to Snow Forecast, it snows 3.6 days a week on average.
The closer to Lake Louise and the Icefields Parkway you get, the more snow you will notice. The high peaks and ski hills receive the most snow, while the town of Banff receives a moderate amount.
One thing is for sure: you can expect to be singing White Christmas as the ground will certainly be sparkling white on Christmas day.
---
What to Expect Out of a Banff December Day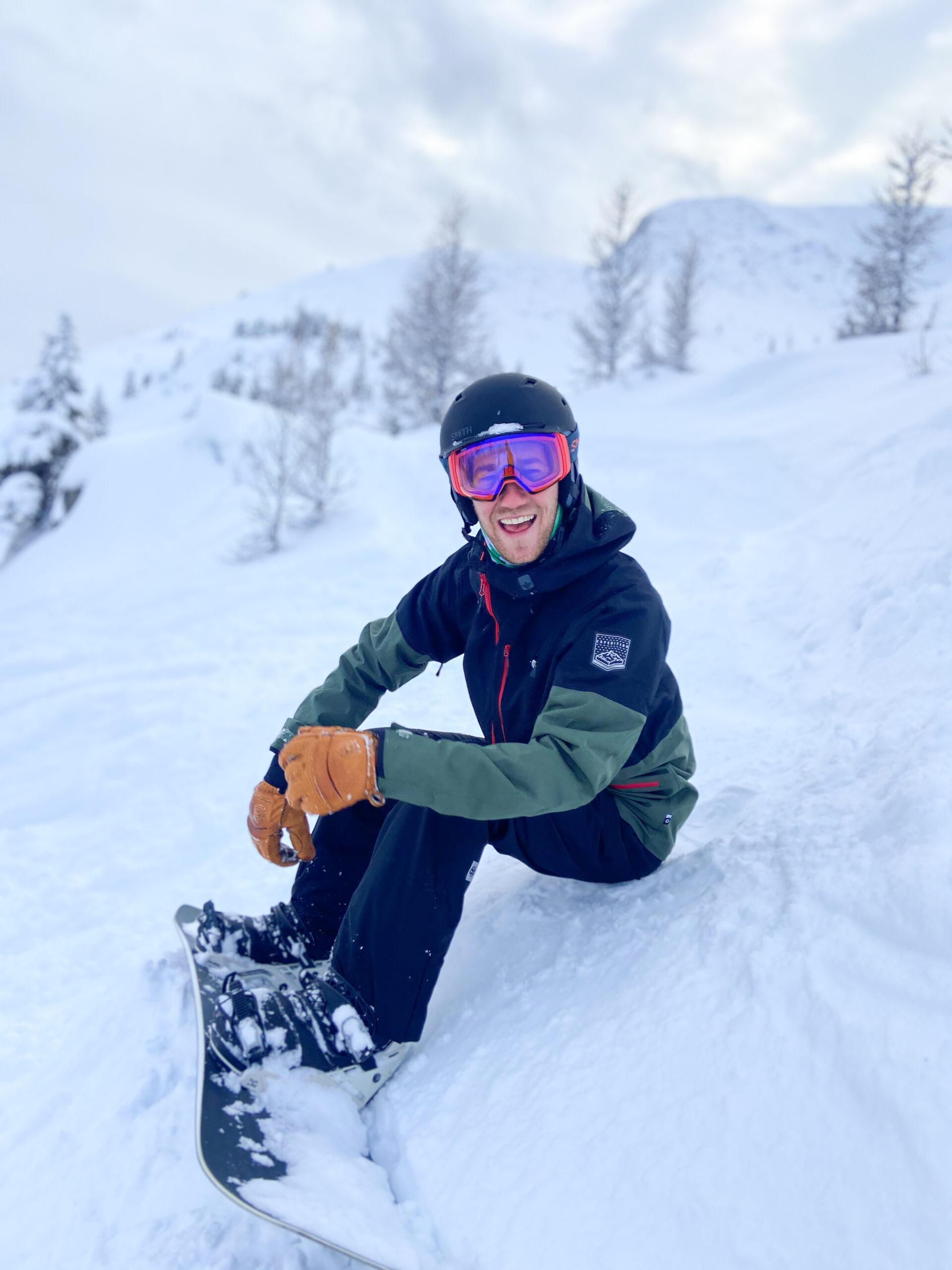 December has some of the shortest days of the year. You can expect the sun to rise just before 9am and set around 4:30 for most of the month.
The good news is there's a lot you can accomplish outside in those short hours, and there are many sunny days in December as well, but that means not a ton of snow. So sometimes, especially if you're a ski bum, you'll be praying for fog, clouds, and sweet, powdery goodness.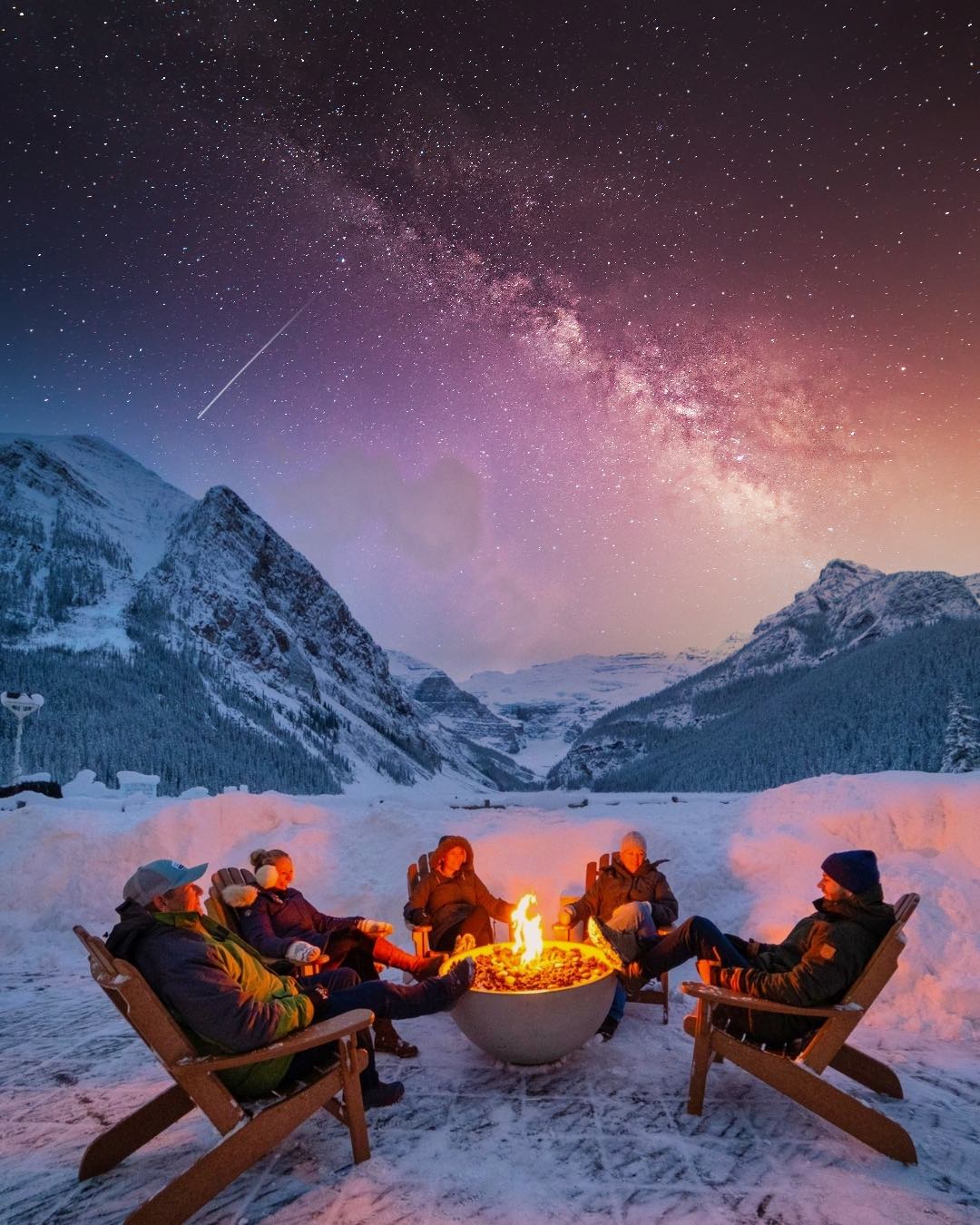 Skiing and snowboarding in Banff are in full swing come December. The earlier in the month that you are on the mountain shredding it, the less busy it will be. Expect holiday crowds from December 24 until after New Year.
The same goes for the rest of the park. Banff gets noticeably busier around the holidays until about a week after January. Visitors flock here to spend Christmas inside a snowglobe, but it's nothing compared to the summer crowds.
---
Festivals in Banff in December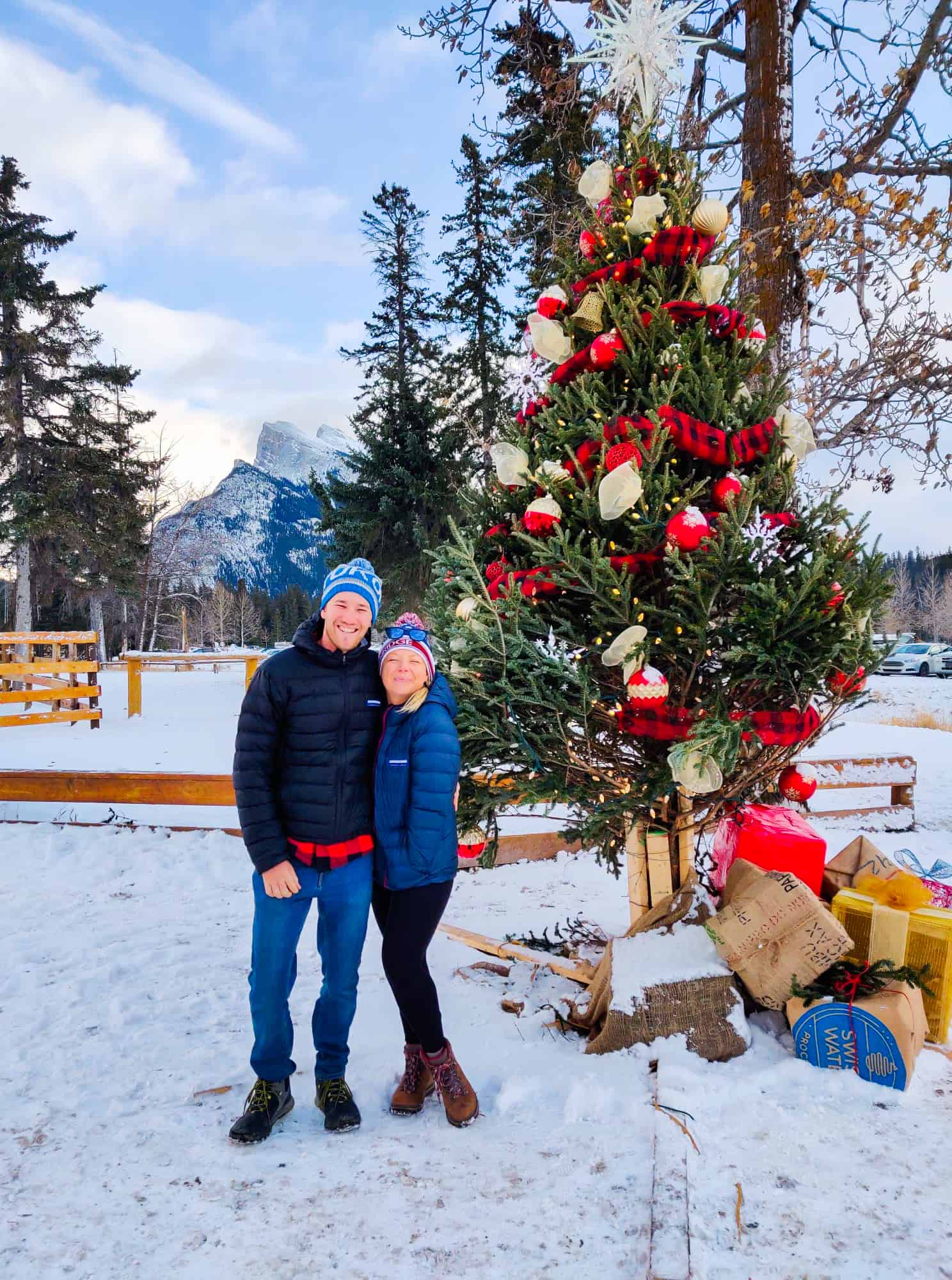 December is awash with festivities. Obviously, there's Christmas, the run-up to New Year, and the general holiday season fun will be throughout Banff and Lake Louise. The Lake Louise Alpine Ski World Cup is a huge event watched by some 73 million fans worldwide takes place in early December.
There are also events like Carols in the Park, the Santa Clause Parade of Lights, Christmas at the Castle at the Banff Springs Hotel, and a Mountaintop Christmas on top of Sulphur Mountain.
We break down all the Banff Christmas festivals here
---
What to Pack for Banff in December?
---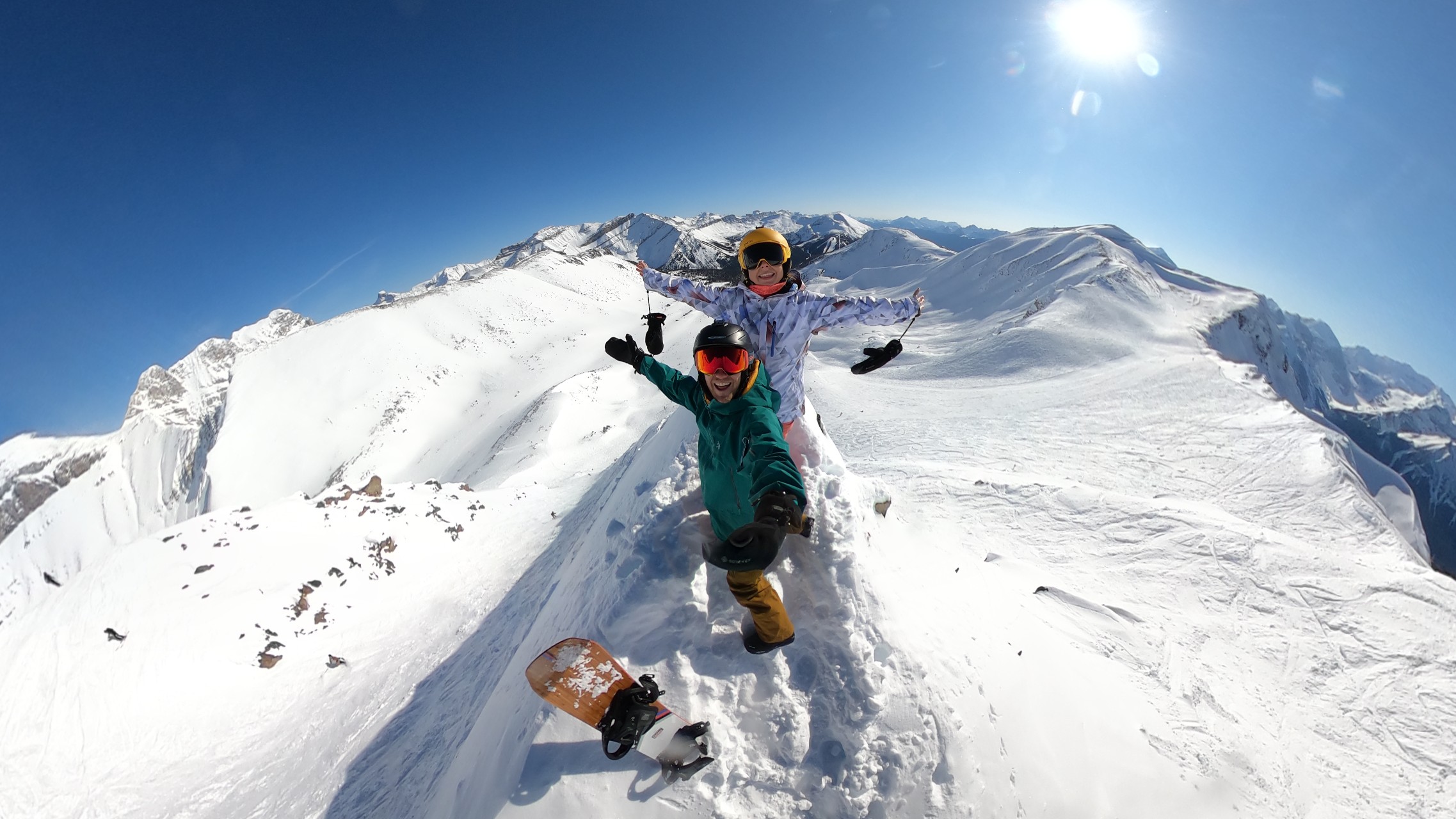 Layers, layers, and layers. December in Banff is one of the coldest months of the year, and you'll want to prepare accordingly. That means a proper winter jacket, thermal underwear, merino wool socks, winter boots, gloves, and a hat, at the very least.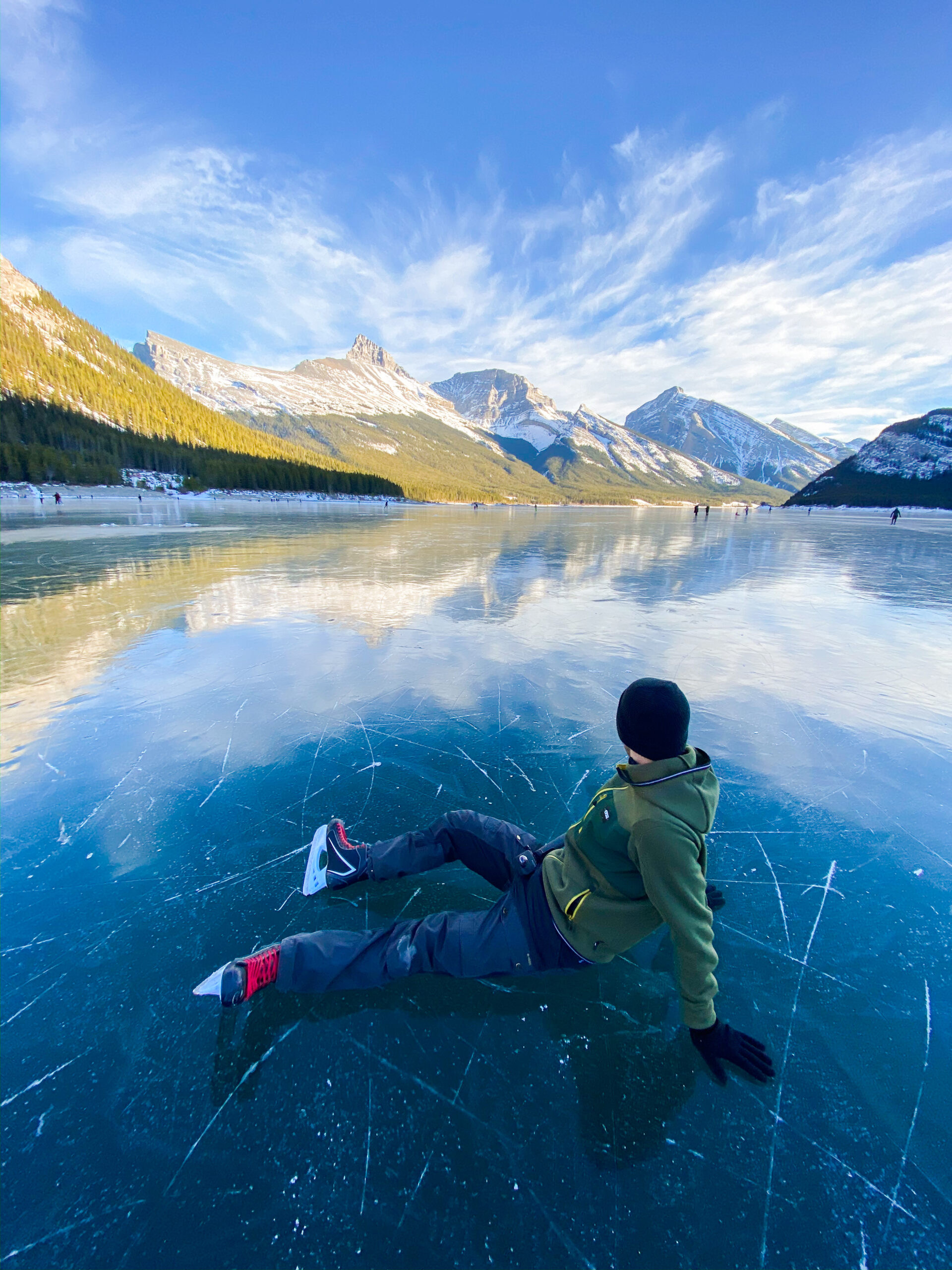 For indoor time you'll want to pack things like a sweater and comfortable pants. Don't bother with any kind of summer gear during this time, and unless you plan on having an extravagant dinner out, I wouldn't advise bringing a dress or dress shoes. To fit in a tremendous dress-up outfit is a nice sweater and nice boots for both women and men!
Here's an essential list to go off. The left column is for general winter packing, and the right is if partaking in snow sports
Sweater
Flannel
Casual Pants
1 x Top Base Layer
1 x Bottom Base Layer
2-3 x Wool Sports Bra
2-3 x Wool Ski Socks
Mittens
Warm Hat
Winter Boots
1 x Mid-Layer Jacket
1 x Shell Jacket
1 x Shell Pants
1 x Insulated Jacket*
1 x Snow Pants*
1 x Mitts or Gloves
1 x Balaclava
1 x Buff Headwear
1 x Helmet* (if skiing or snowboarding)
---
Can You Visit Lake Louise in December?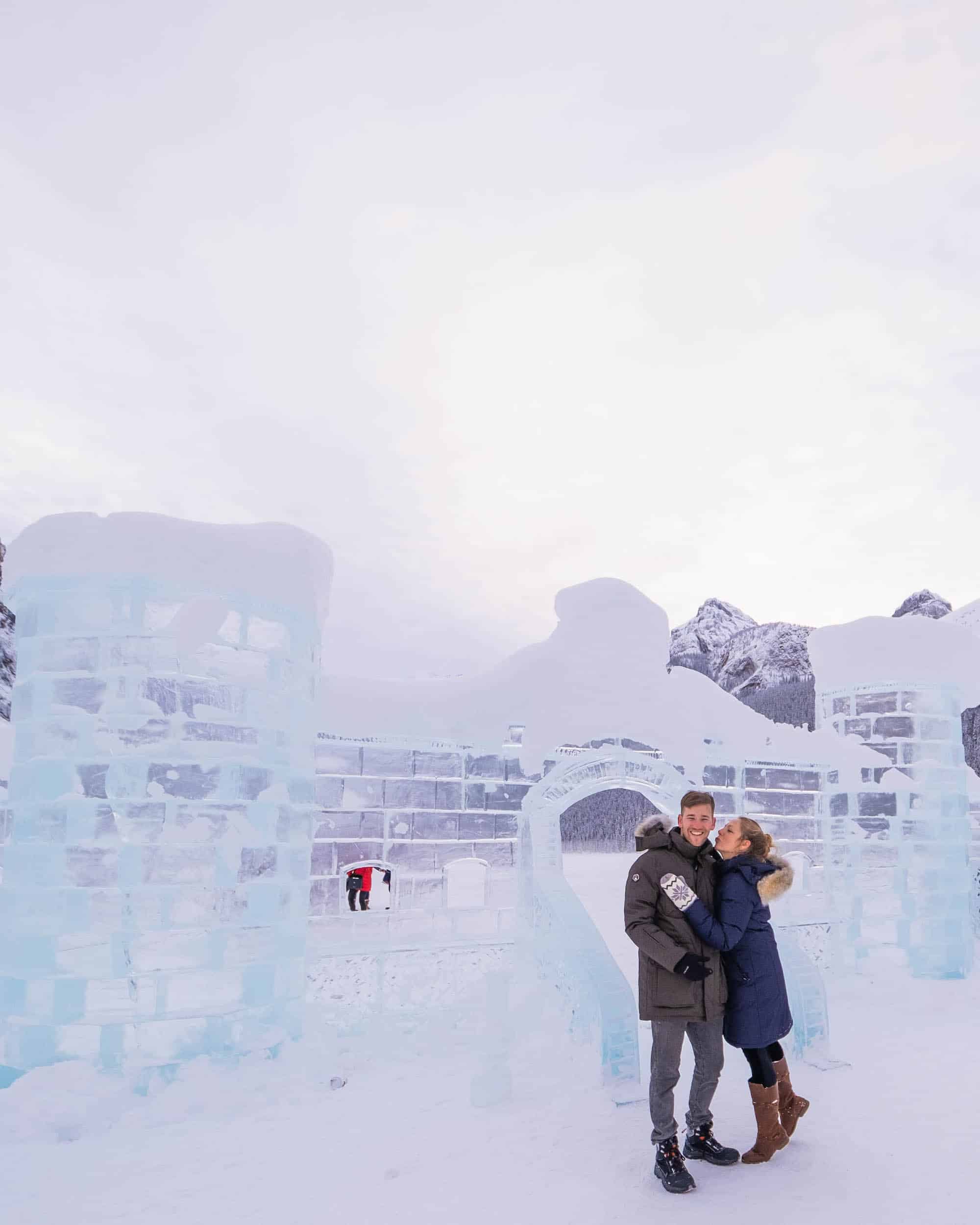 December is one of the best times to visit Lake Louise! It's not nearly as busy as Banff in the summer, but just as beautiful – as long as you bring a good jacket.
Expect an Ice Castle to be built by Mid December as well as the famous ice bar. Head here with family and friends to feel merry and cherry and enjoy a walk around the ice castle and a hot chocolate. You can also take a horse-drawn carriage around the lake and enjoy the Lake Louise ice skating.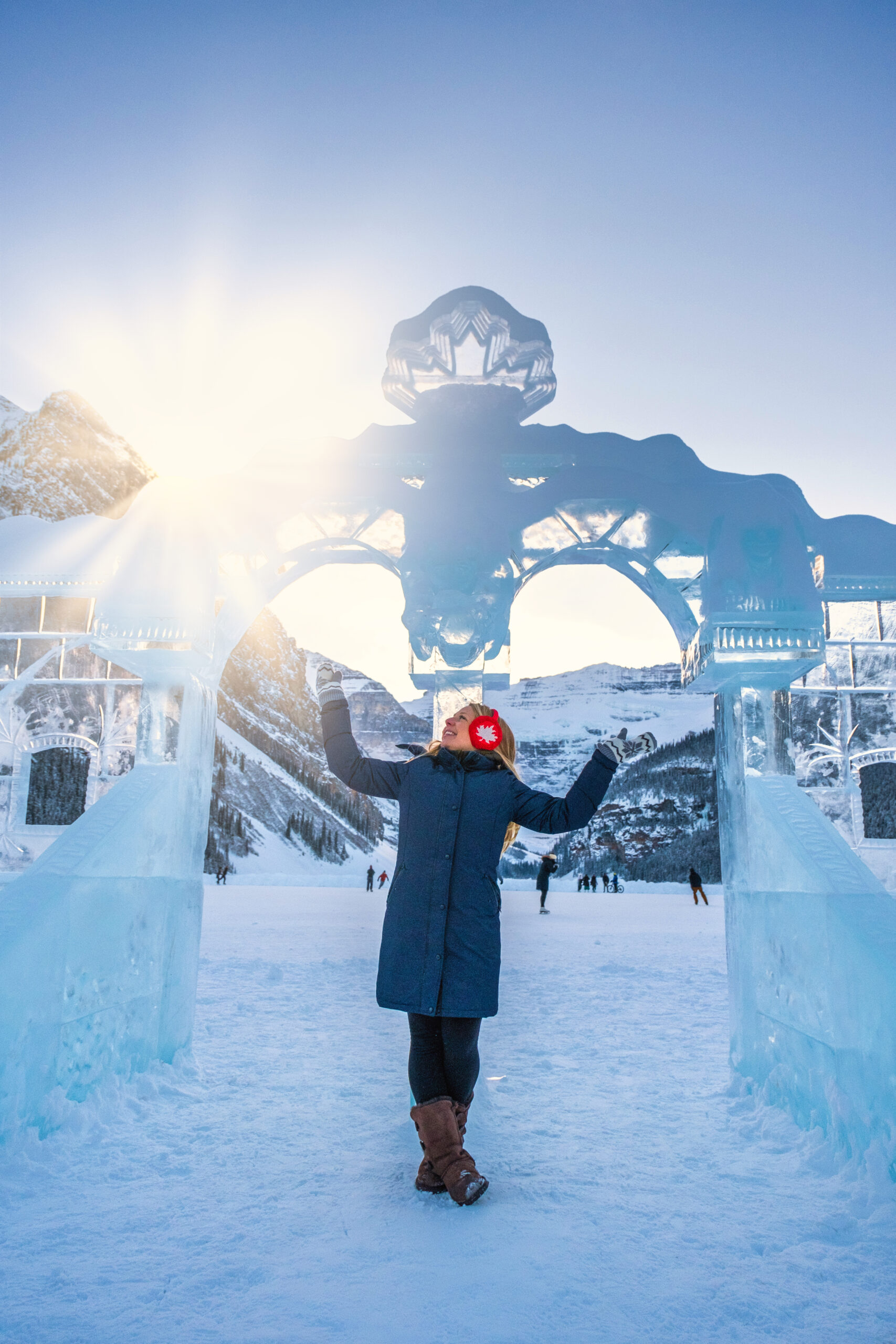 Another fun thing to do is ski or snowboard at Lake Louise Ski Resort. As there's almost nothing open on Christmas Day, heading to the ski resorts is a great Christmas Day activity once the presents are unwrapped.
Although there are crowds, it's still easy to get parking and enjoy Lake Louise to the fullest. Just dress warm and get to Lake Louise early. It's the shortest month of the year, and you can expect the sun to set before 5pm. For full sunshine on Lake Louise, I would suggest getting to Lake Louise around 10am.
---
Things to do in Banff in December
---
Enjoy the Christmas Festivities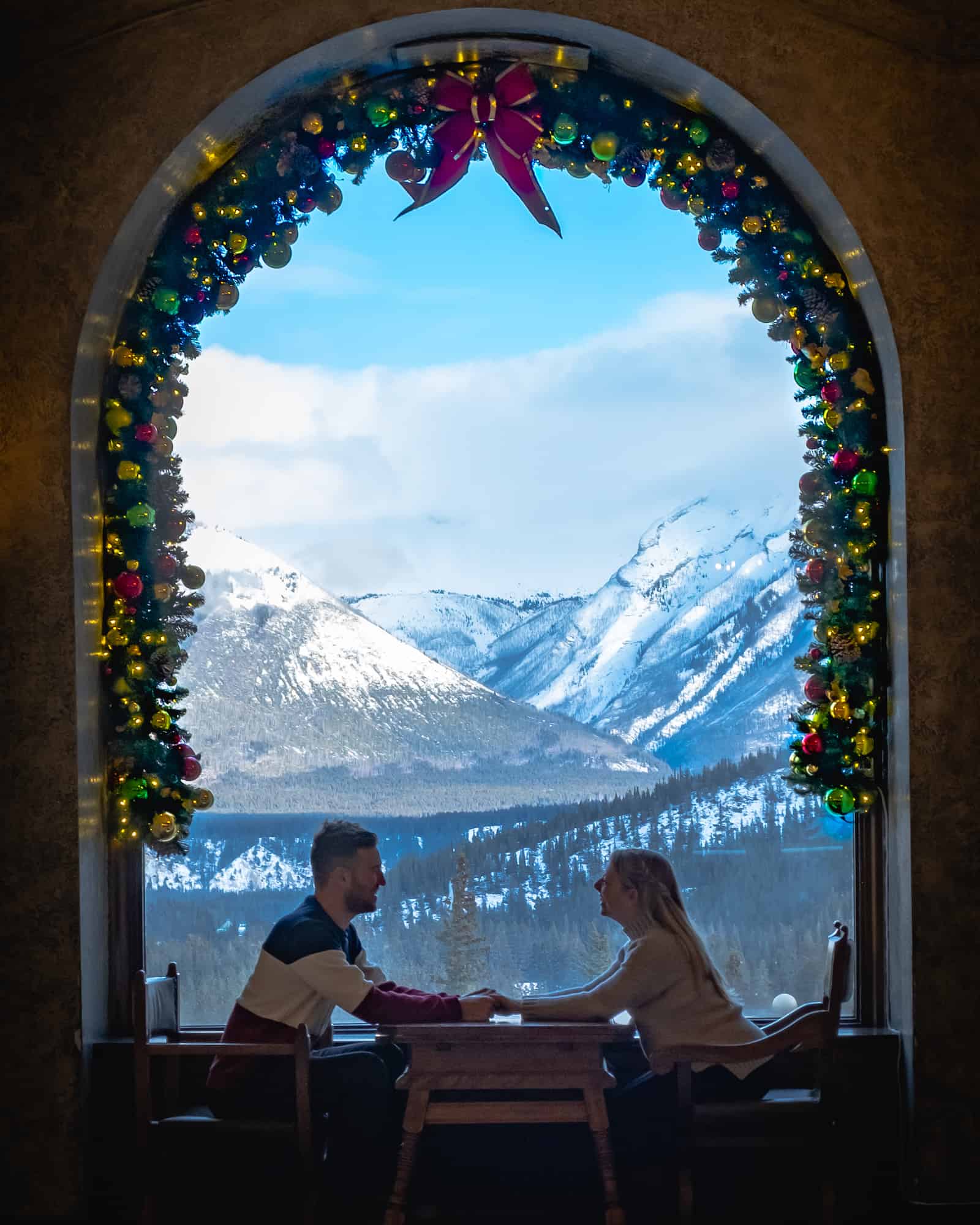 You can't visit Banff in December and ignore the Christmas cheer! From Downtown Banff to Lake Louise, there is always a place to listen to jingles and drink mulled wine.
My favorite thing to do around Christmas time in Banff is visit the Banff Springs Hotel and head to Carols in the Park, but there is so much more! Here is a rundown of all that is on offer for Christmas 2022.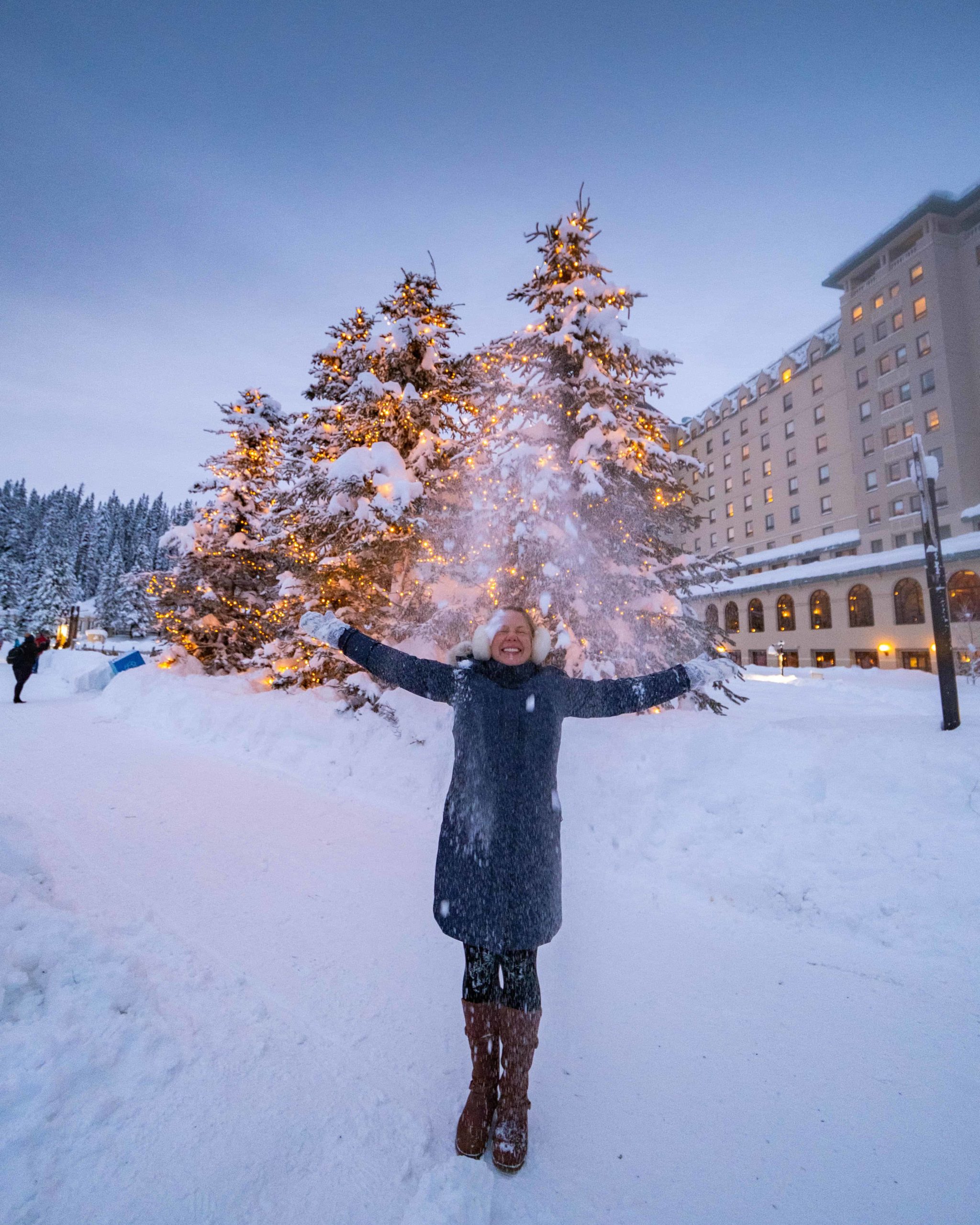 Banff Christmas Market
The Banff Christmas Market is at Warner Stables. It's actually in late November each year, as the town of Banff becomes too busy during the holidays to host it in December. However I figured I should mention it here in case you visiting in both November and December. The Christmas Market is a fun event where you can enjoy local food, shop from local artisan booths, and take a few photos with Banff's favorite Clydesdale horse.
Christmas at the Castle
Christmas at the Castle takes place at the Banff Springs Hotel, aka "The Castle." Each year they host a ton of fun holiday events. The best part is you don't have to be a guest to enjoy them all!
Their North Pole is where you can bring the kids to enjoy crafts like building a Gingerbread House. They also have the Christmas Concert Series featuring a variety of Canadian musicians performing on different dates throughout December. And new this year is the amazing outdoor space that has a skating rink, fire pits with s'mores, and even a curling rink. There will be beer and wine served for the adults!
In Search of Christmas Spirit
This is a live Christmas story told by an impressive light display that starts from Banff Avenue Square. This is a free experience that typically takes about 45min – 1 hour to complete. So grab a hot chocolate and enjoy.
Banff's Hot Chocolate Trail
The Banff Hot Chocolate Trail will have you and the family stuffed on whip cream and sprinkles. The trail highlights the best places to grab a hot chocolate in Banff, if you are staying for a few days challenge yourself and try them out!
Banff Craft Beer Festival
The Banff Craft Beer Fest takes place on Bear Street this year from November 24-26th. This is a sampling event held partially outdoors and has been dubbed "The most beautiful beer festival in the world."
It's where you can head to try all of Alberta's unique craft beers. Tickets cost $32 at Alberta Beer Festivals.
Santa on the Slopes
Head to the SkiBig3 resorts any day five days before Christmas and be on the lookout for Mr. and Mrs. Claus. They are frequently seen shredding on the days leading up to Christmas. If you want to dress up like Santa yourself you get to ski for free on December 25th!
---
Ski or Snowboard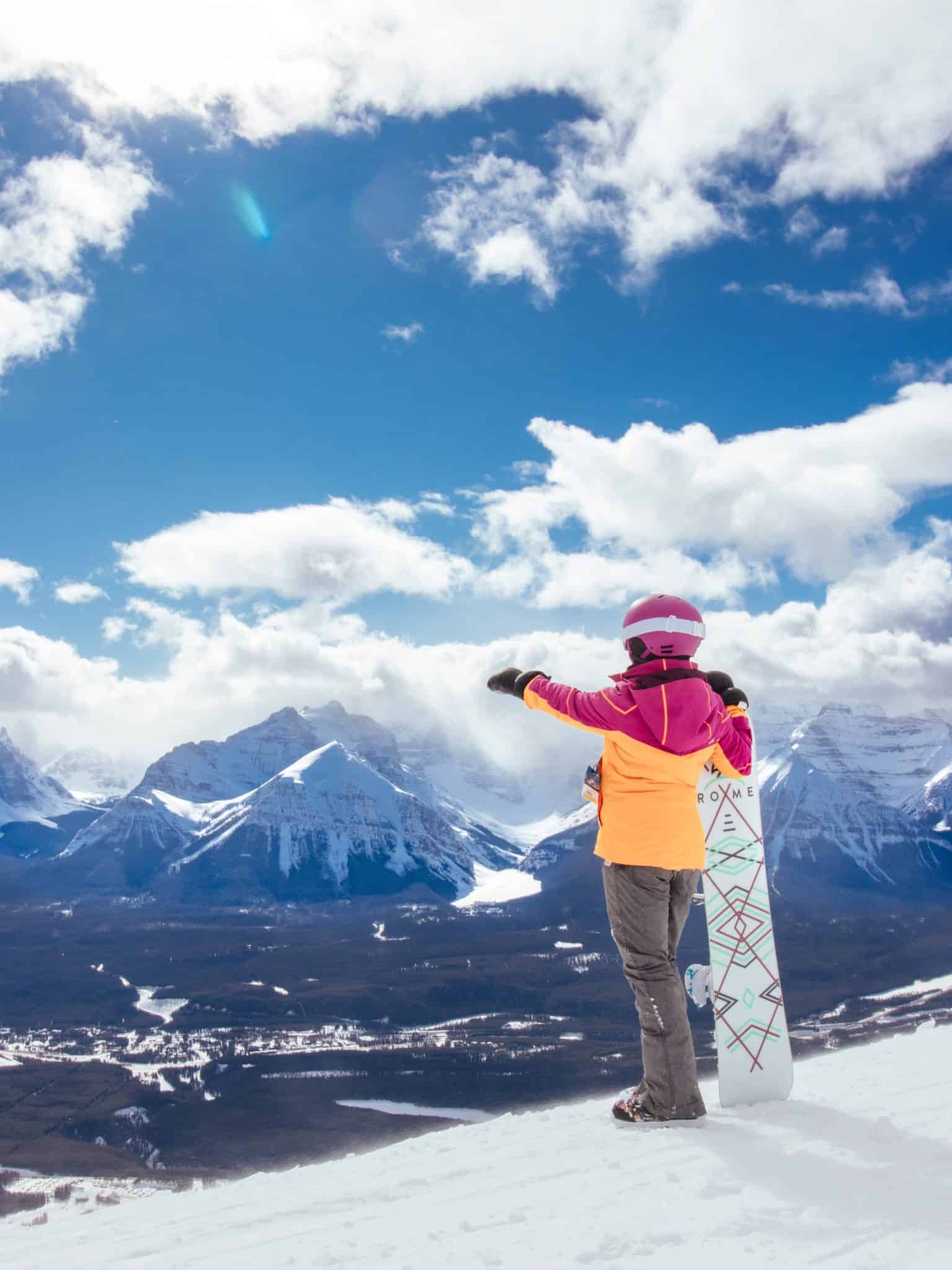 There are three epic ski resorts in Banff to enjoy (and Nakiska in Kananaskis is close by). Snowboarding at all of the SkiBig3 resorts was our primary reason for heading to Banff in the winter before we settled on moving here. SkiBig3 is a collection of three mountain resorts, all within Banff National Park. You have Lake Louise, Banff Sunshine, and Mt. Norquay, all fantastic and unique ski resorts.
Skiing or snowboarding here is one of the best things to do in Banff in the winter. Mt. Norquay is the closest ski resort to town, while Banff Sunshine is about 20 minutes from Banff, and Lake Louise is about 40 minutes from the town. They are all great options! (But we love Lake Louise the most).
---
Cross Country Ski/Nordic Ski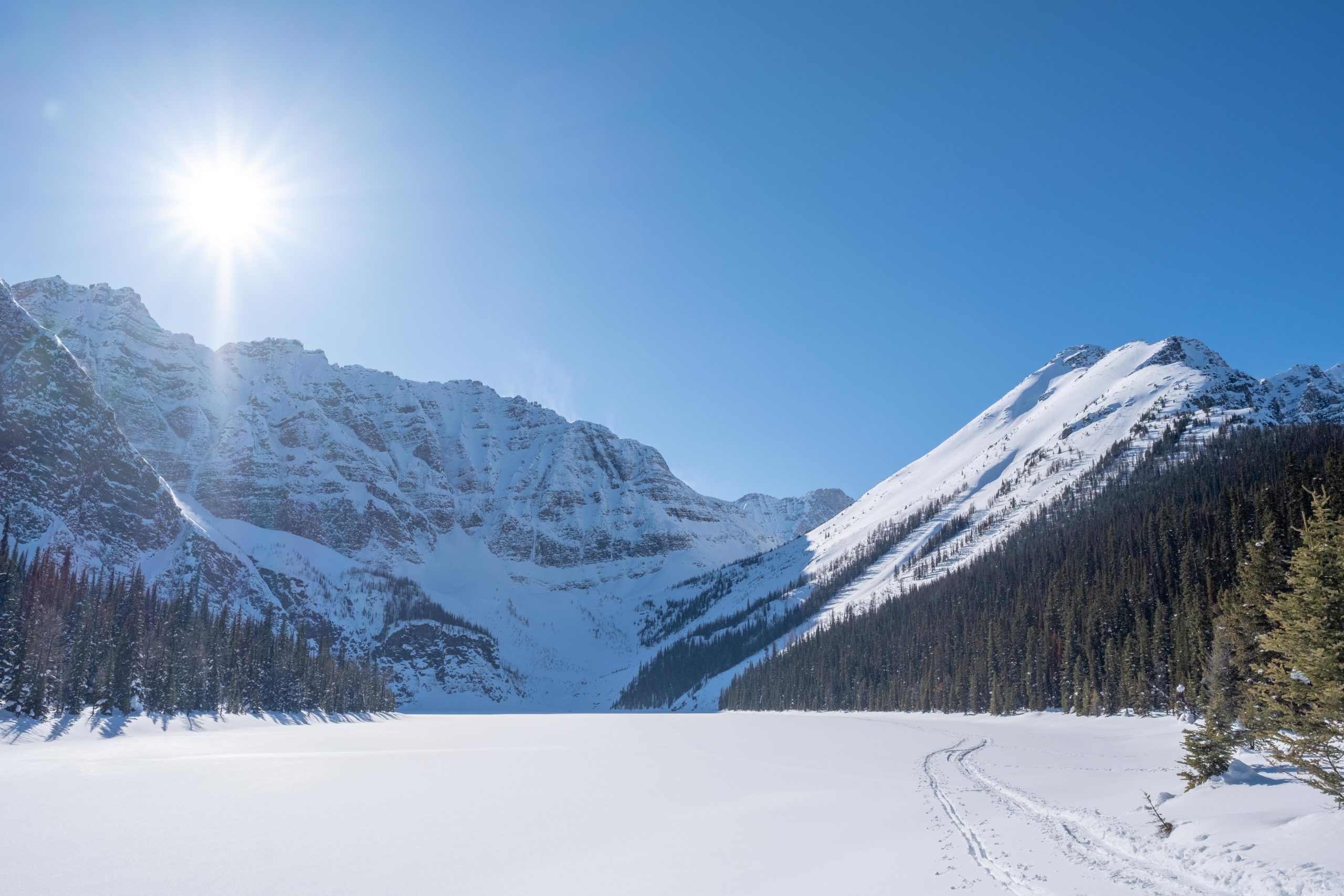 Cross Country skiing is a low-impact sport that gets your heart racing and allows you to slide across the snow. One thing you can't argue against is the pristine wilderness beauty nordic skiers will find themselves, especially in Banff.
Cross country skiing is a serious hobby here, and you'll find plenty of people getting out there and stretching their legs. The Nordic Center near Canmore is a popular and safe place to cross country skiing with the family.
10 Best Banff Cross Country Skiing Trails
---
Ice Skate or Play Hockey on Lake Louise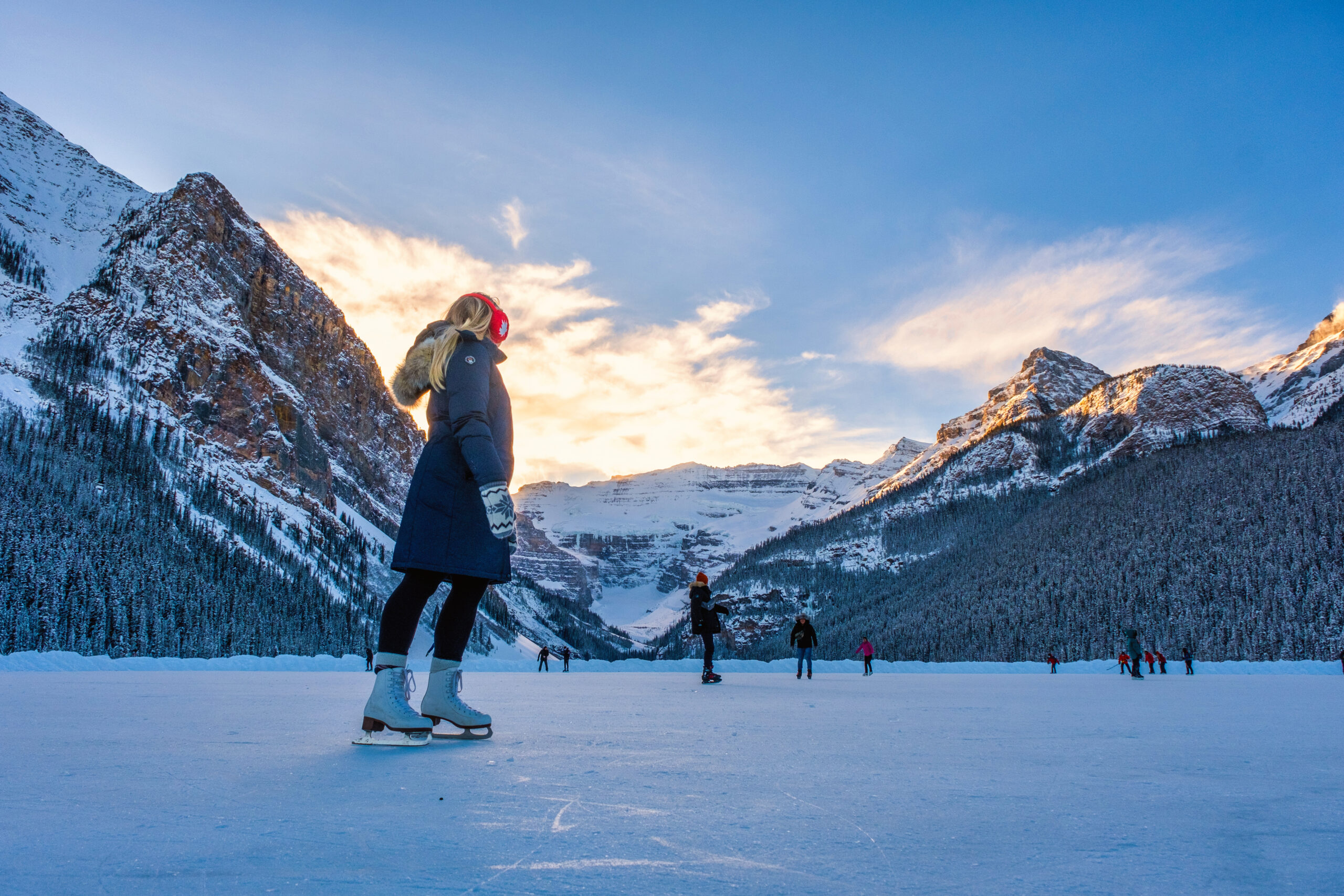 There is no place to ice skate in Banff more iconic or scenic than the famous Lake Louise. Not much of a surprise, but it's regularly been considered one of the world's best ice skating rinks.
It's also tremendous as the frozen lake is maintained by the Fairmont Chateau Lake Louise. The lake is regularly cleared of snow and resurfaced, so visitors can enjoy ice skating at Lake Louise every day, regardless of conditions on other natural lakes.
Lake Louise, every few winters, can freeze very early before a significant snowfall, and the result is a blue glass lake. It's an absolutely stunning natural occurrence and can happen in November, but don't count on seeing the lake this way as November is generally the worst month to visit Banff.
The lake freezing like this has also only happened five times in the last 30 years. I say this only to manage expectations as the surface will likely be a frosted white, but the views are stunning nonetheless!
---
Go Dog Sledding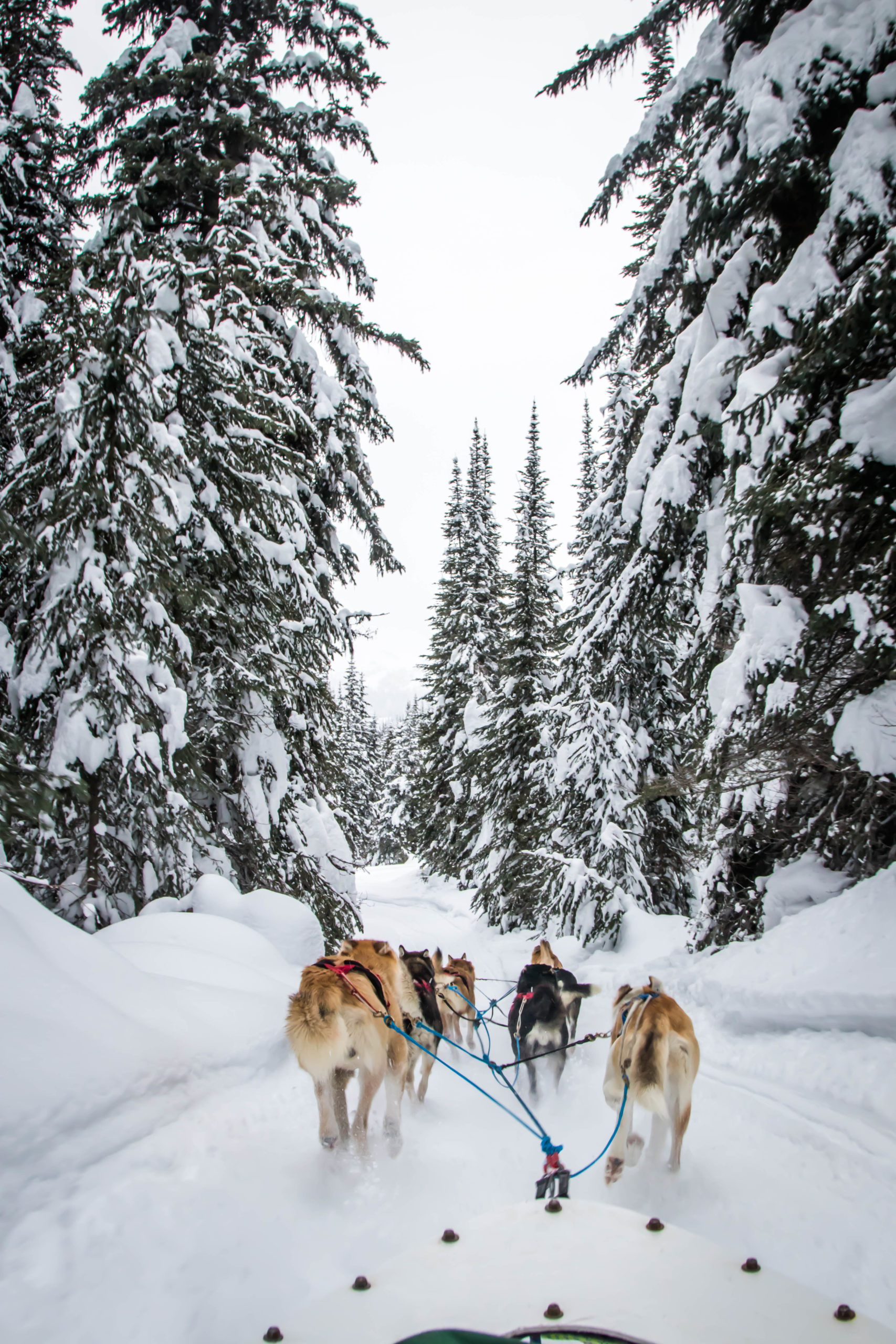 One of the best things to do in Banff in the winter is go dog sledding. Howling Dog Tours tours run out of Canmore and will take you dog sledding deep in Kananaskis, or you can head to Lake Louise to mush your way around there.
---
Check out Nearby Emerald Lake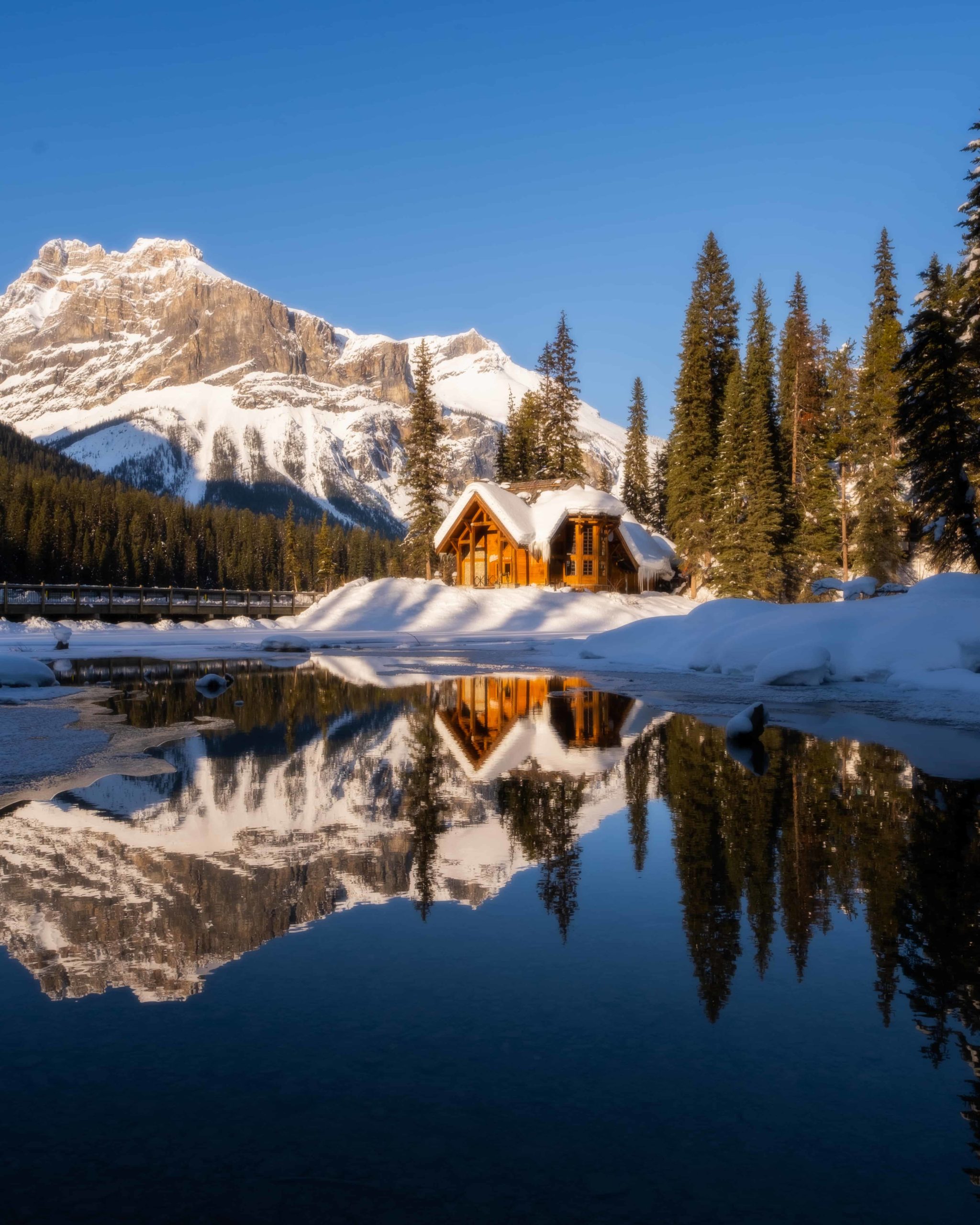 Emerald Lake is a stunning lake in Yoho and makes for a great family-friendly day out. Emerald Lake freezes over in the winter, and you won't see any of that dazzling emerald color.
However, the natural shape of the surrounding mountains and the lake's elevation creates a microclimate that encourages a heavy amount of snowfall in the winter.
So a visit to the lake feels like stepping into a winter wonderland. You can take a leisurely stroll along the lake, snowshoe, or cross-country ski. Or book one of the cozy romantic cabins at the Emerald Lake Lodge.
---
Take an Authentic Horse Sleigh Ride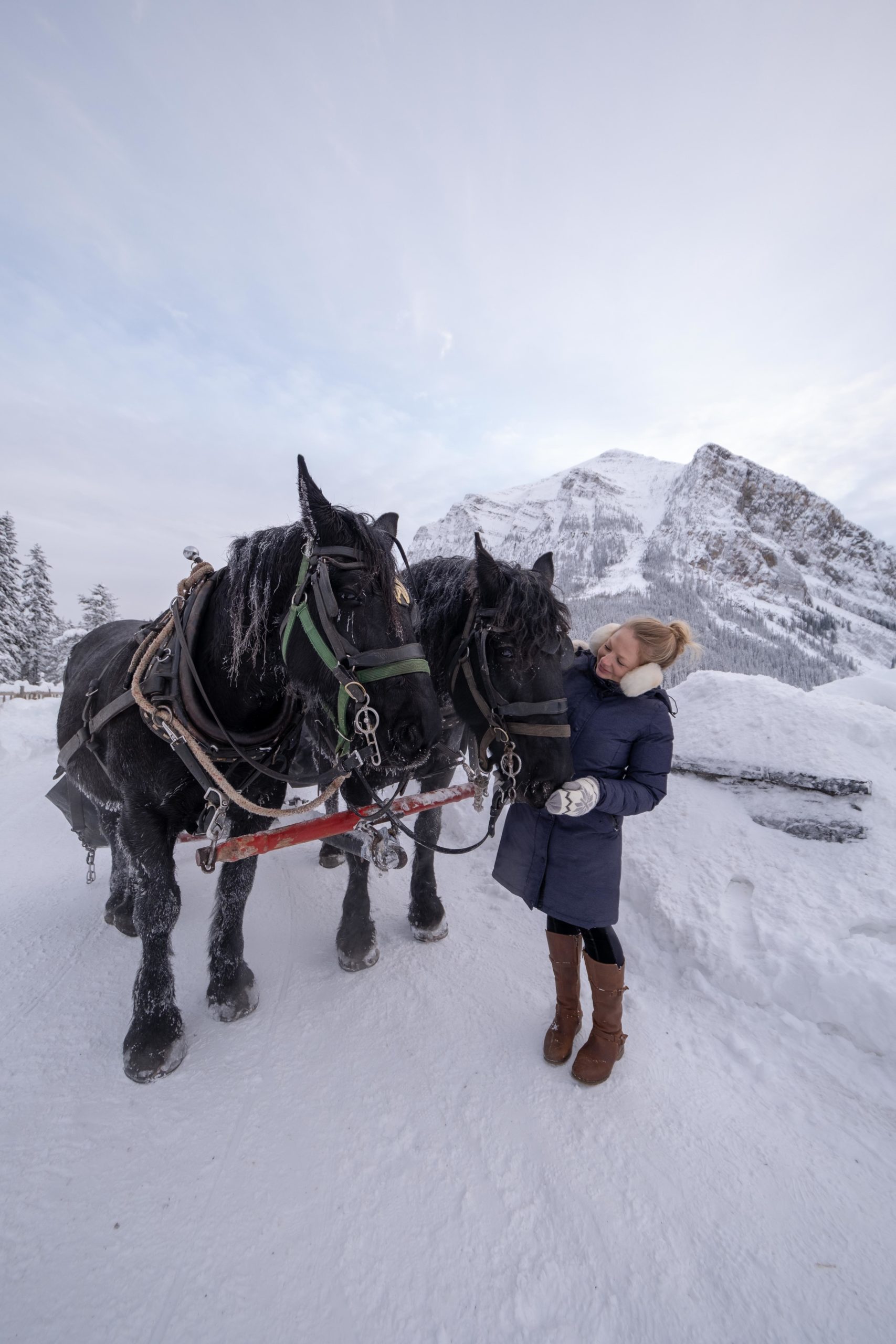 In the wintertime, you might not be able to take to the trails on horseback, but you can ride on a horse-drawn sleigh at Lake Louise or around Downtown Banff.
There aren't many places you can still ride on a real sleigh through a winter wonderland, and that's what makes it such a fantastic thing to do in Banff in December.
Check out Banff Trail Riders for magical rides around Downtown Banff!
---
Enjoy the Lake Louise Ice Bar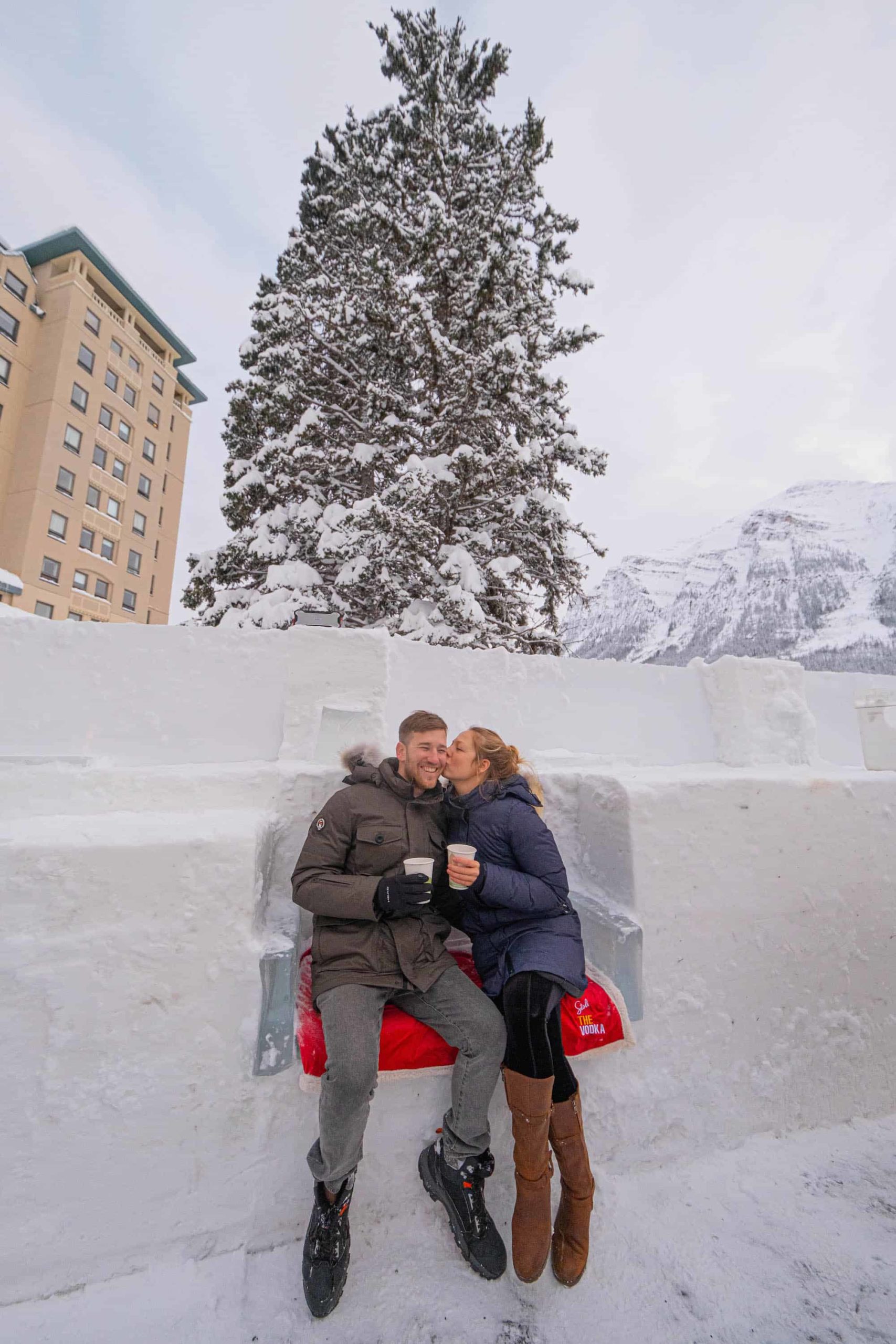 Every year around the holidays, the Fairmont Lake Louise creates an entire bar – out of ice! They have heaters to keep warm, a full bartender serving up spiked hot cocoa, and a maple syrup popsicle stand, which really impresses the kids!
Between the ice skating, horse-drawn carriage ride, and the ice bar, you could spend an entire day at Lake Louise in December! Just make sure to bring a good winter jacket.
We find Lake Louise is often 5-10° colder than the Town of Banff. Typically we wear our down parkas unless we are doing something active; ours are from Triple Fat Goose and they are so perfect for winter in Banff.
---
Wild Ice Skate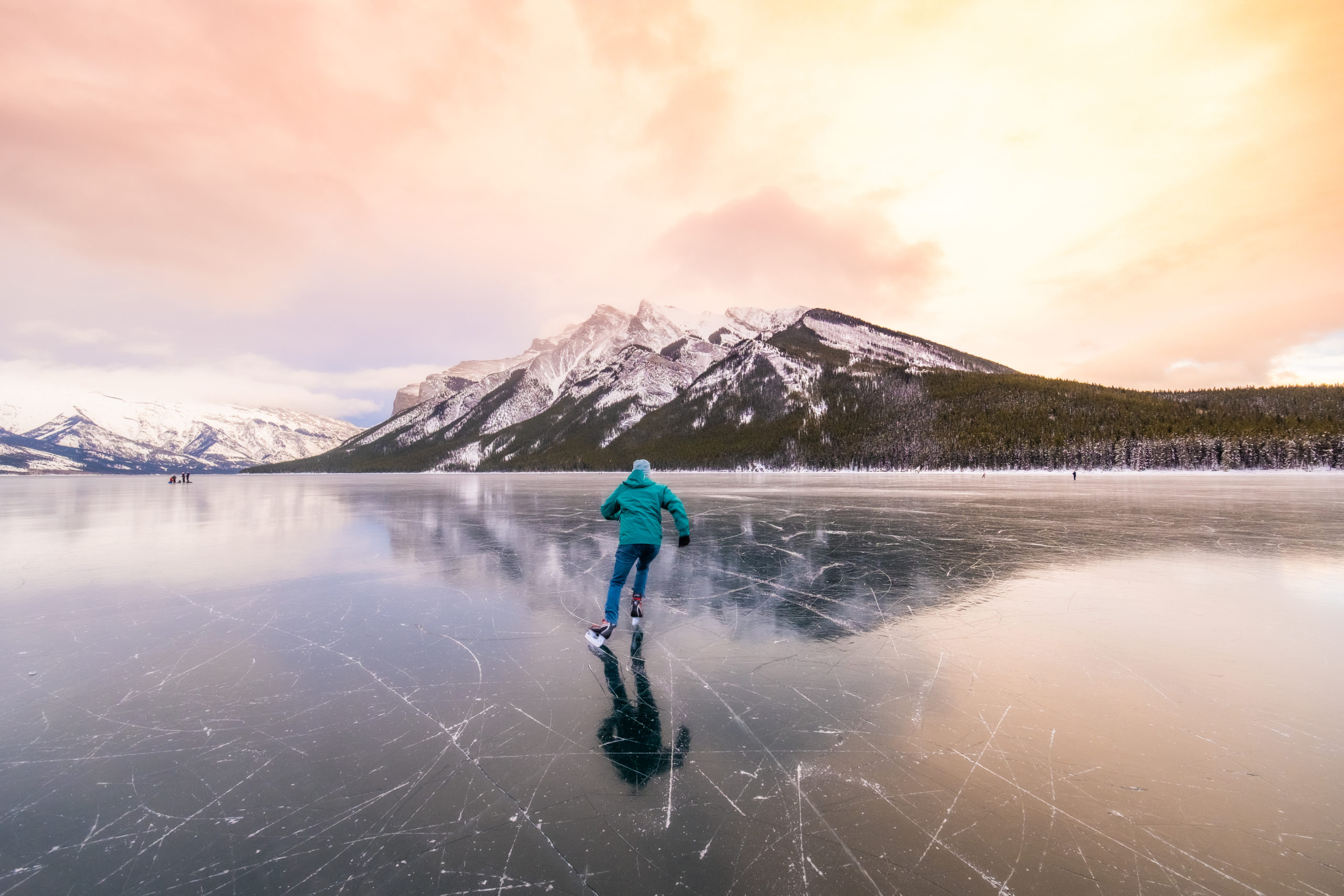 November and December are the best months out of the entire year for ice skating on frozen lakes. It's during this time that many of the Banff lakes freeze over.
The trick to feeling like you are ice skating in heaven is to catch them shortly after they freeze, but before a heavy snowfall comes and covers the ice. See all of our safety tips, plus favorite lakes to ice skate on.
---
Snowshoe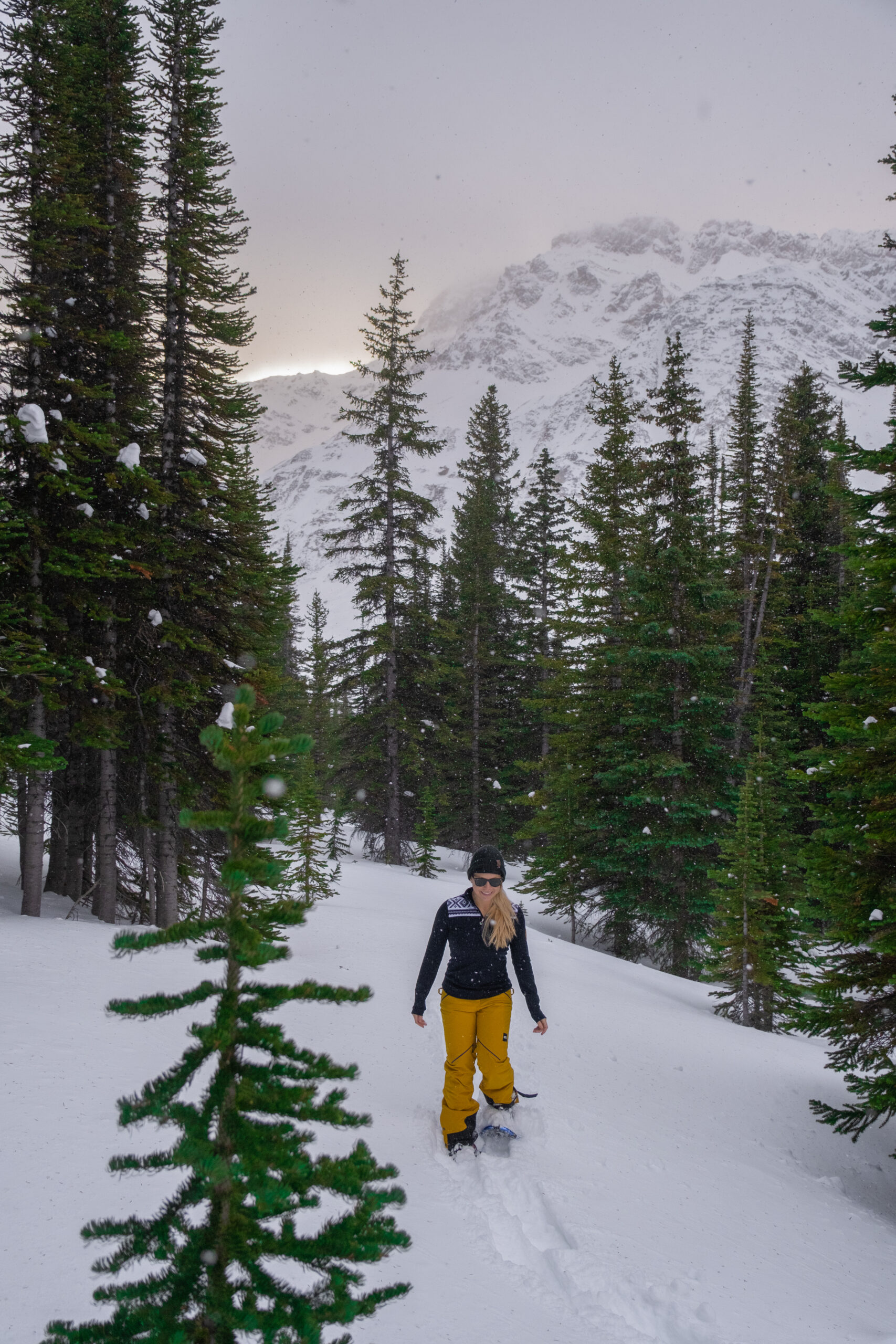 One of the best things to do in the winter in the Rockies is head out for a snowshoe. Some of the most popular snowshoes are in Kananaskis. My favorite area is Chester Lake, Troll Falls, and Sawmill Loop Snowshoe Trail.
While in Banff, a few good ones are Taylor Lake, Fairview Lookout, and the Ink Pots trail. It's crucial to have avalanche safety knowledge if you are venturing into avalanche terrain; please don't decide to go snowshoe up a random mountain without proper awareness – tourist deaths have occurred this way. You can rent snowshoes at Snowtips-Bactrax.
---
Hike Up Tunnel Mountain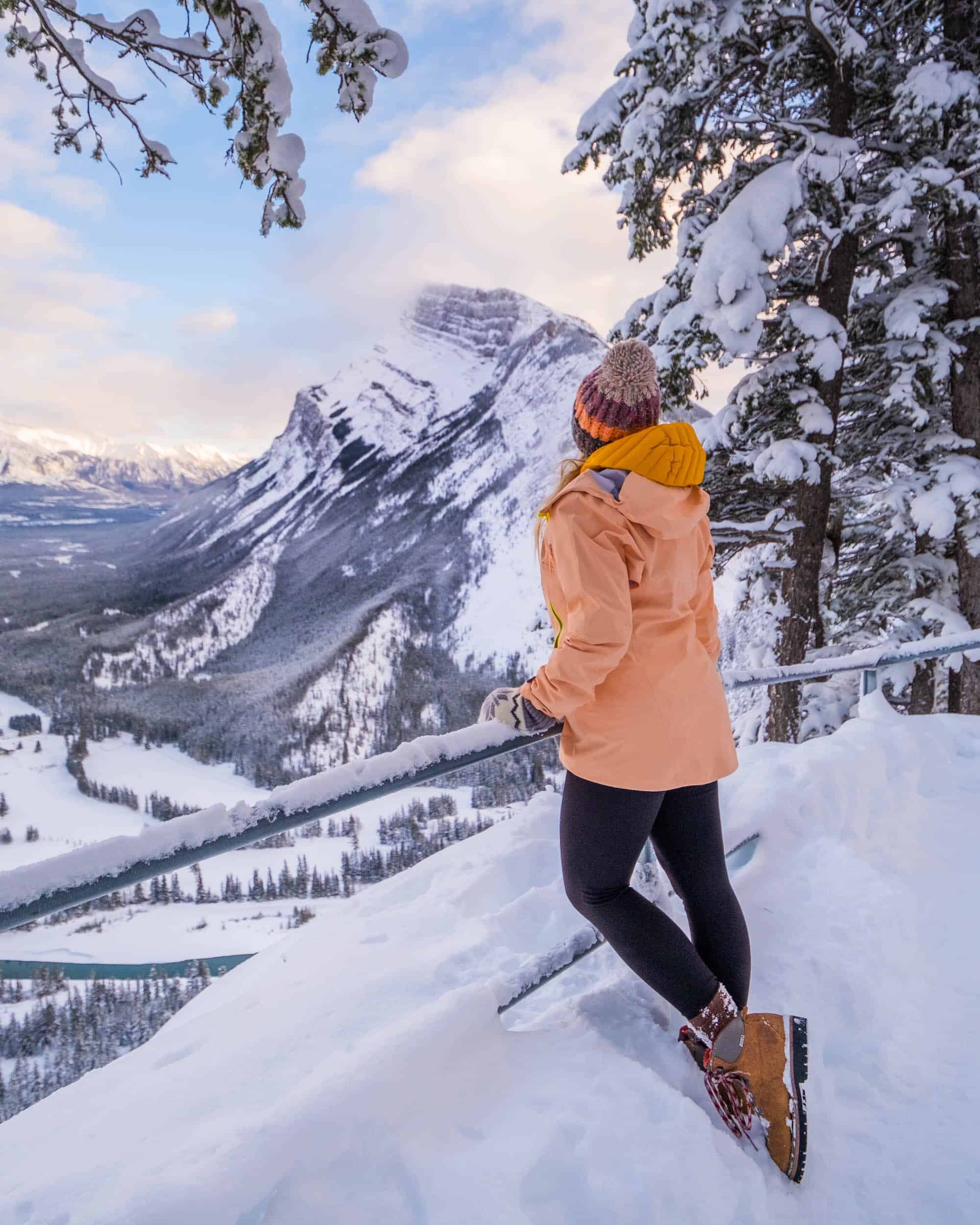 Tunnel Mountain is an accessible mountain in Banff that is fun to summit year-round. As a tradition, we bring the family up here every winter as they love the views you get over the Town of Banff and Bow Valley from the top.
In December, you can expect a pretty well-packed trail as this is a popular hike. That is unless you are the first one up after a fresh snowfall. Then it may be worth it to bring microspikes or snowshoes to break the track. At the very least, make sure you have waterproof boots for hiking in December.
---
Soak Up the Views at Lake Minnewanka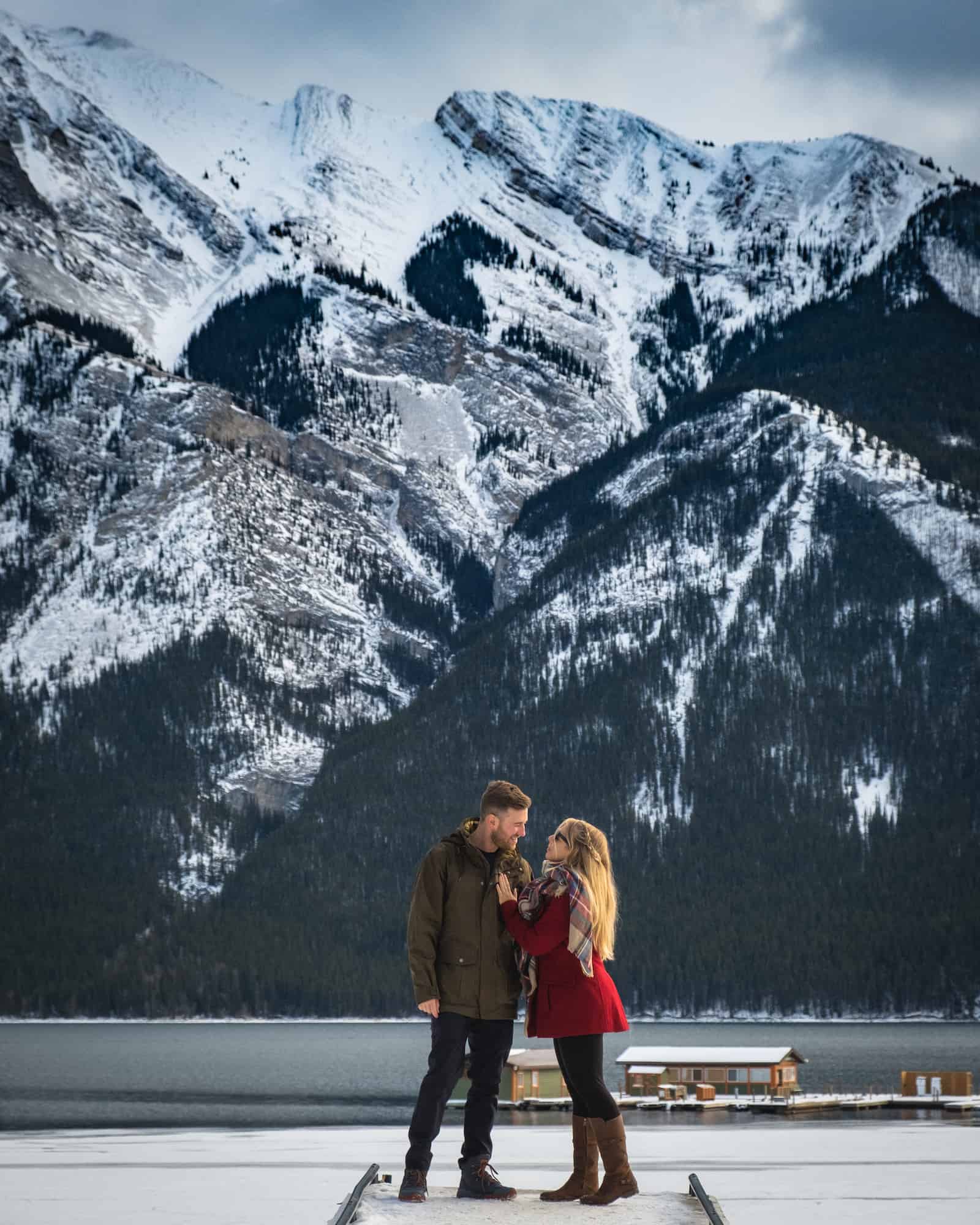 One of my favorite places to head in Banff in December is Lake Minnewanka. It's lovely to see the whole area covered in snow. Lake Minnewanka is likely yet to be frozen, meaning you'll be able to enjoy the beautiful unfrozen lake dominated by Mount Girouard ahead.
There are some excellent trails to walk around here in the winter, and if you bring some warm soup or a hot cup of tea, there are even picnic benches around the lake to sit by.
---
Drive the Icefields Parkway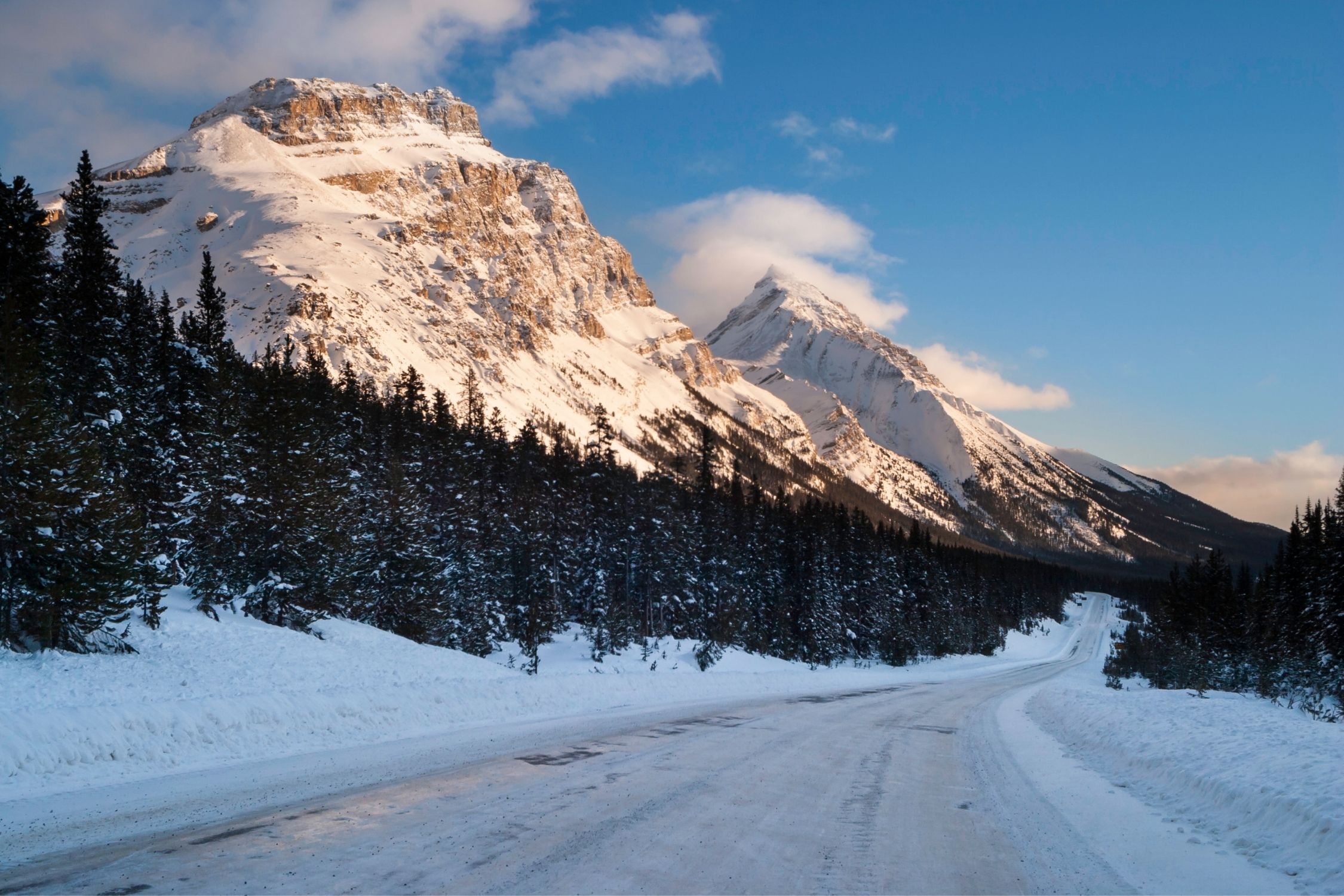 The Icefields Parkway is considered one of the most beautiful drives in the world. It connects Banff to Jasper over some 232 km stretch of double-lane highway. I love driving it in the summer, but it's also wonderful to drive in the winter. To see all the peaks topped with fresh snow and the lakes frozen over will make you feel as if you are dreaming.
Even if you aren't heading all the way to Jasper, it's worth just driving a portion of the Icefields Parkway to see sights like Bow Lake and Peyto Lake.
Pay attention to the road conditions in the winter. It's a road that should only be driven by experienced winter drivers, and winter tires are a must! If there's been recent snowfall or a big winter storm is on the way, you don't want to be on this road. Stay up to date with road conditions on 5.11 Alberta.
---
Soak in the Kananaskis Nordic Spa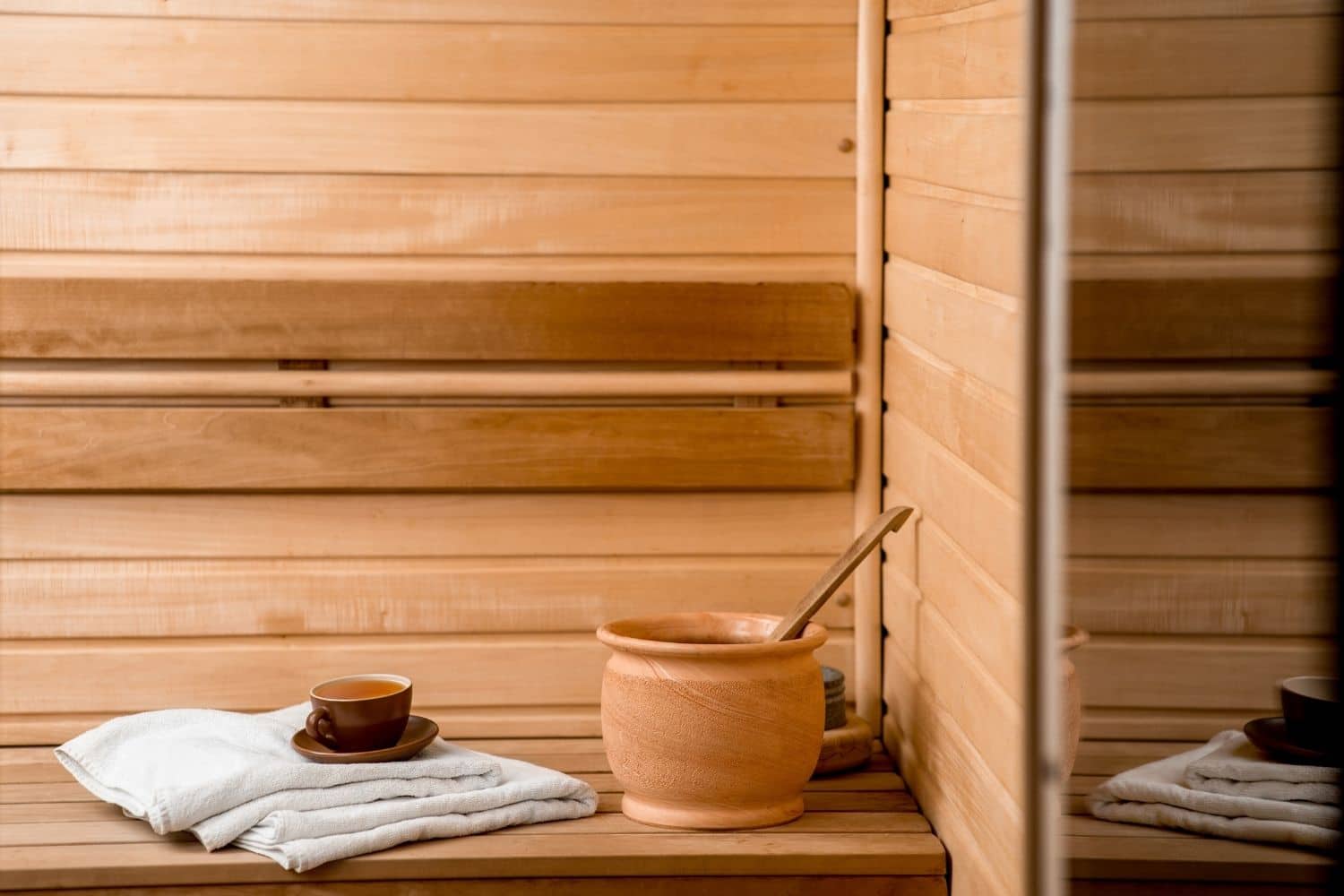 The Kananaskis Nordic Spa is in the Kananaskis Mountain Lodge in Kananaskis Country. Right near the base of Nakiska Ski Resort is this beautiful hotel. Their new Nordic Spa is the ultimate space for relaxation in the mountains.
Here they have a Eucalyptus Steam Room, Alchemist Steam Room, Finnish Sauna, an Exfoliation Cabin, and so much more. You could easily spend a whole winter day here enjoying the pools and other amenities.
If you really want to have a fabulous wellness weekend in the Rockies, book a stay at the Kananaskis Mountain Lodge, so you never have to hop in the car.
---
Hop on the Fat Bike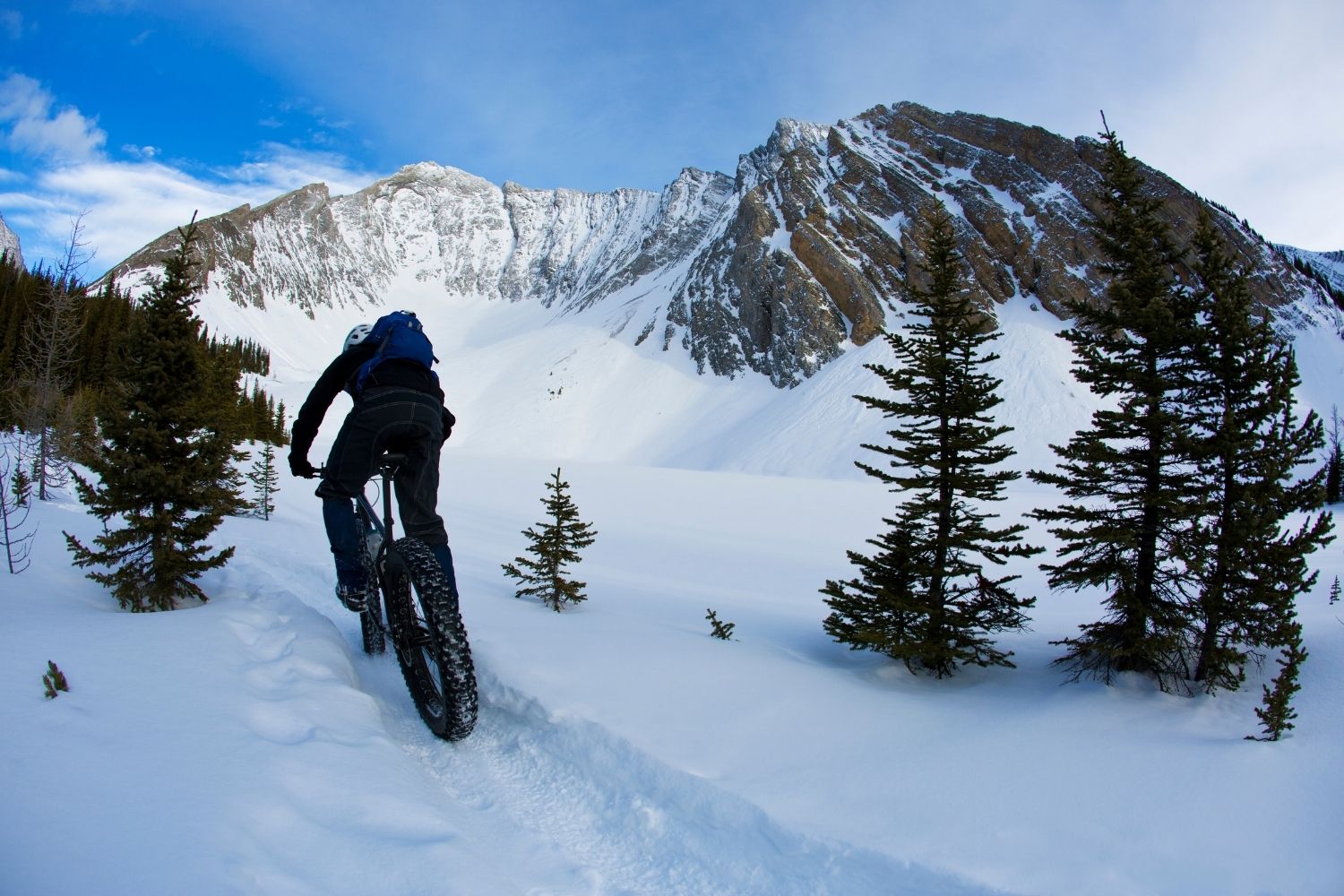 Fatbiking is a fun activity to enjoy in Banff in December. You can rent fat bikes at Snowtips Bactrax and hit the trails.
The best fat bike trails are the Goat Creek Trail, the Lake Minnewanka Cascade Trail, and bike the Moraine Lake Access Rd (this road ends at a viewpoint overlooking Moraine Lake, any further is avalanche terrain).
---
Catch the Northern Lights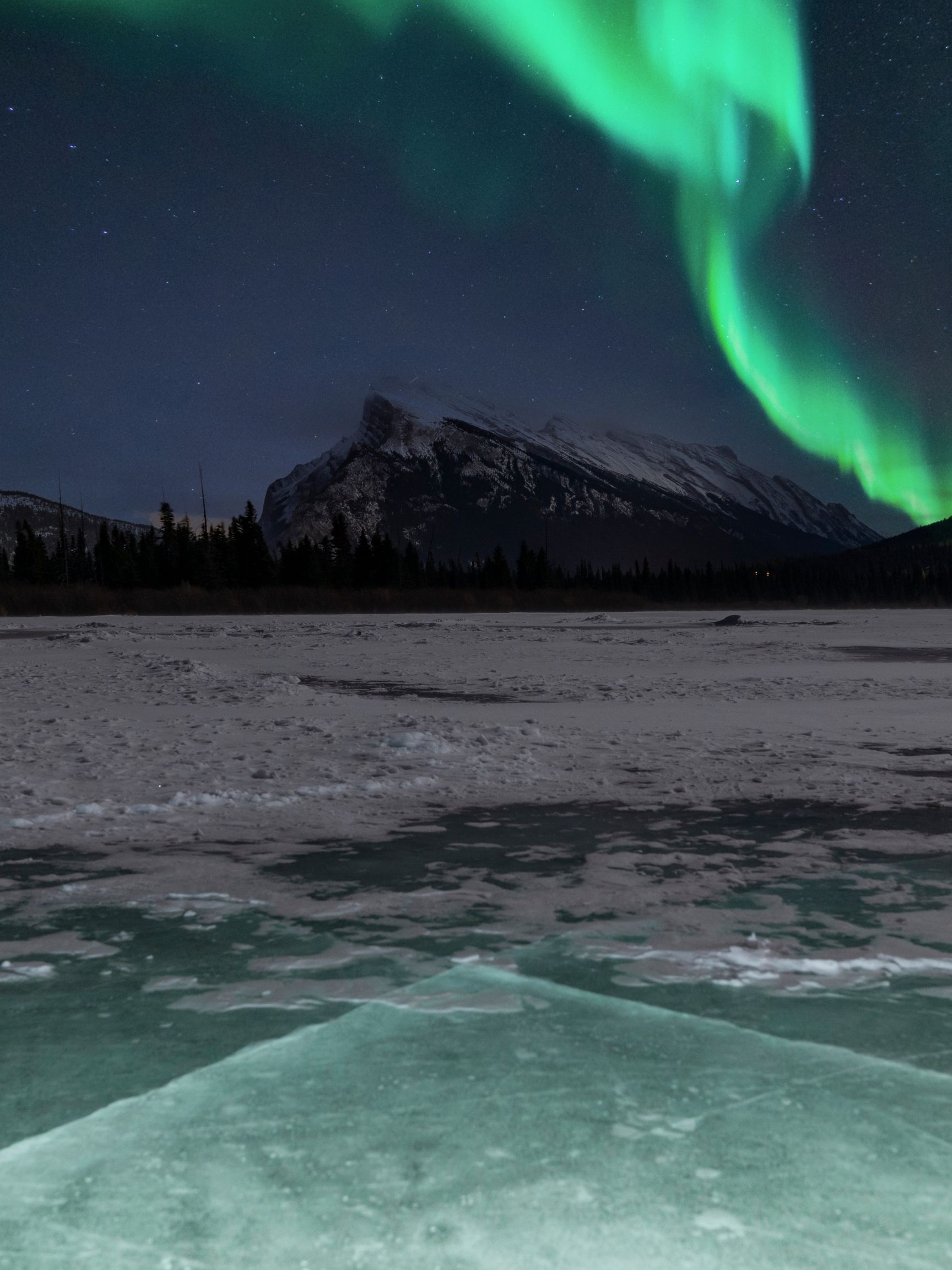 December is one of the best times to catch the northern lights, thanks to the short days. With the sun setting at 4:30pm, there is plenty of nighttime to see the aurora.
The northern lights aren't on display every night in Banff in the winter. You'll have to be pretty lucky to catch them. Look for a clear night with the Kp index is high. See all our tips for capturing the Northern Lights in Banff here.
---
Go Up Sulphur Mountain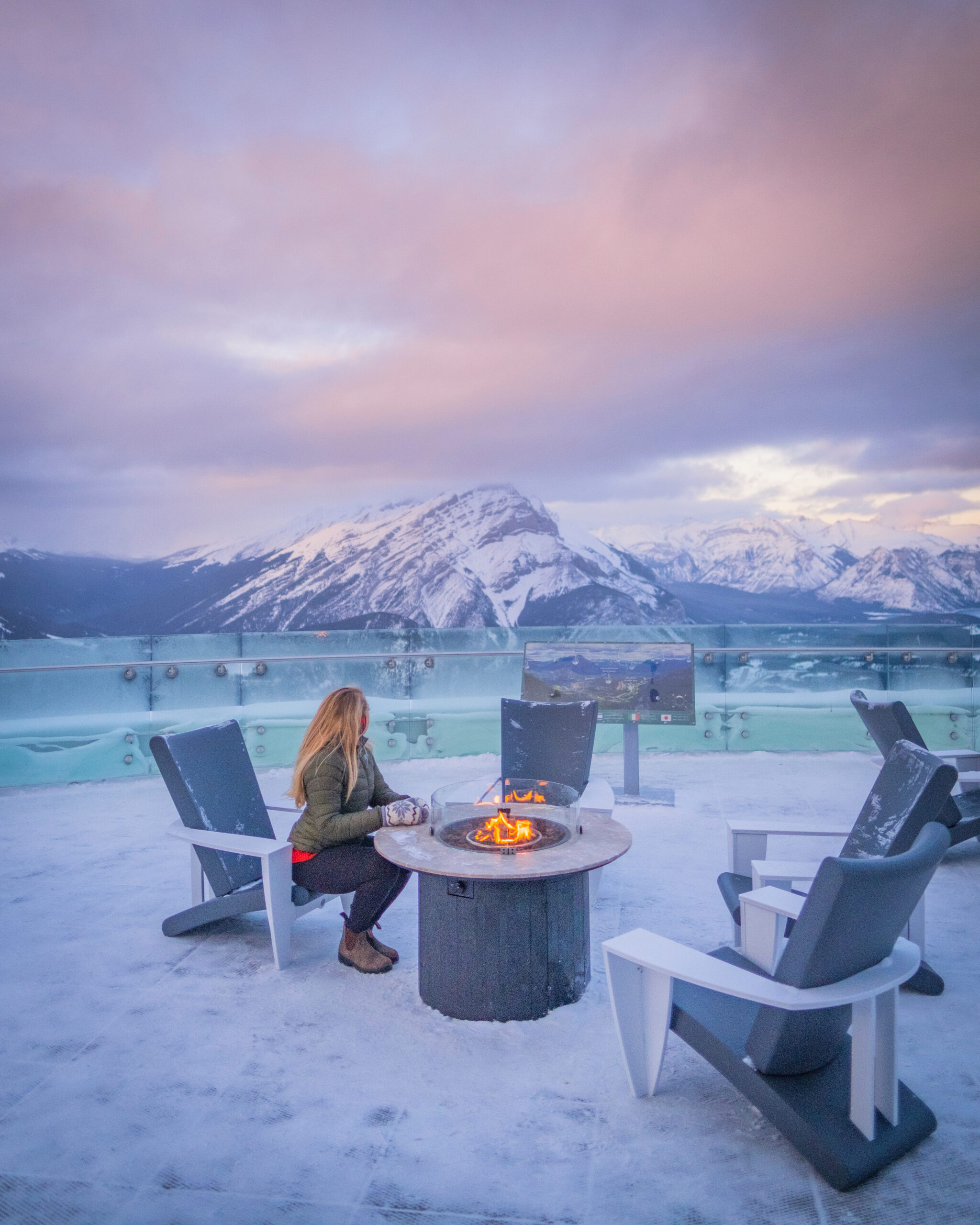 I say "go up" because there are two ways up Sulphur Mountain. One is a 1-2 hour hike via a series of switchback trails, and the other is the more leisurely way on Banff Gondola.
Both are great options that you can do in the winter. It just depends on what kind of day you want to have! Sulphur Mountain is a fun winter hike in Banff, and once you reach the top, you'll have access to all the Banff Gondola facilities like the Sky Bistro and the Banff Interpretive Center. Access to these facilities are for everyone, regardless on if you hiked or paid for a Banff Gondola ticket.
The best part is that if you get up to Sulphur Mountain in December, you will get to enjoy the Mountaintop Christmas. This is where Santa's Workshop is, as well as a warming igloo and plenty of cheerful decorations and festivities.
---
Drive the Bow Valley Parkway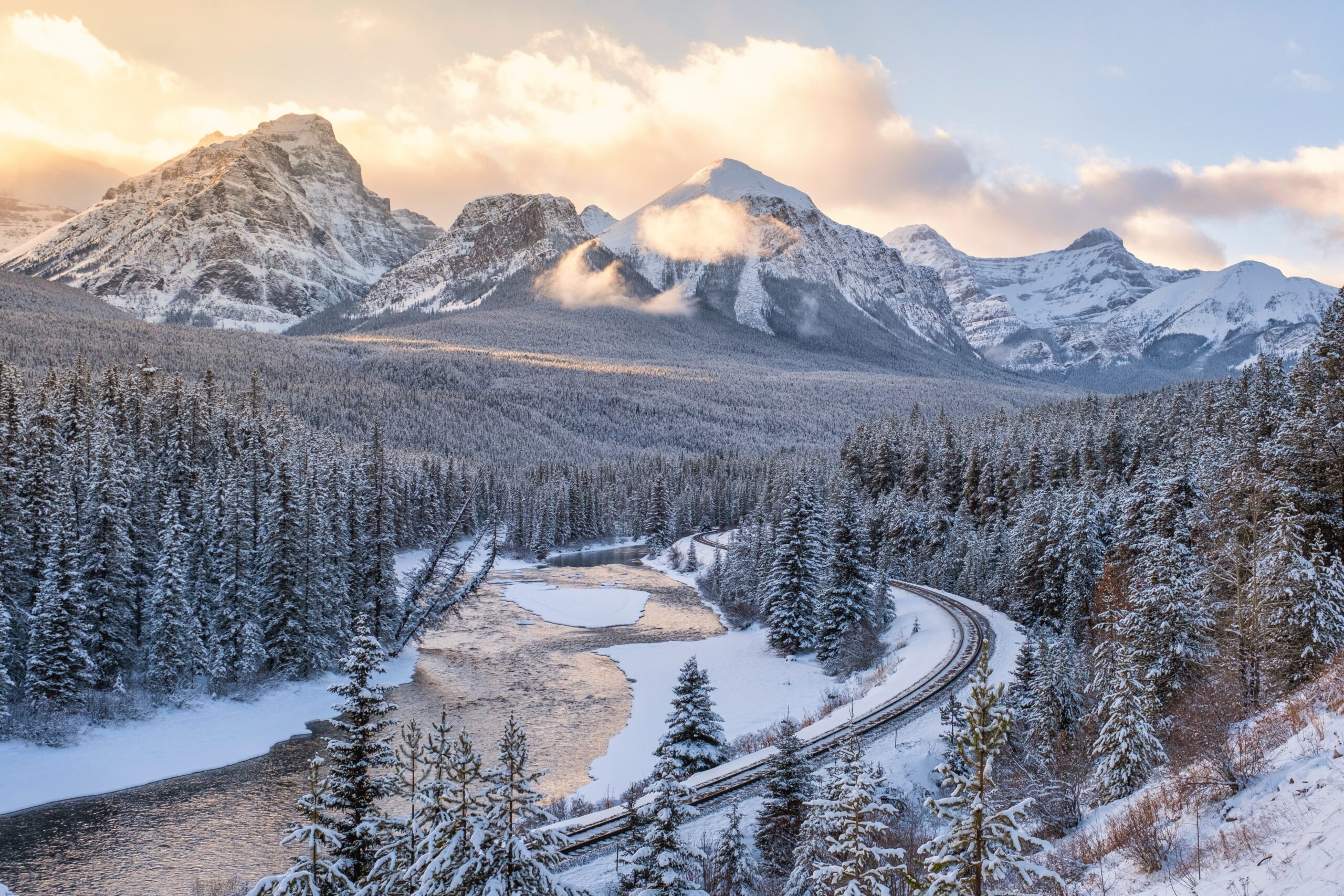 The Bow Valley Parkway (or the 1A) connects Banff to Lake Louise and is a great alternative to the Trans-Canada. In the summer, it's a great place to cycle, but in the winter it's a beautiful road to drive below frosted trees.
One of my favorite stops along the Parkway is Morant's Curve. This is a photography point and where many photographers hang out in the freezing cold with hopes to see the train come around the tracks under Mount Temple.
---
Where to Stay in Banff in December?
---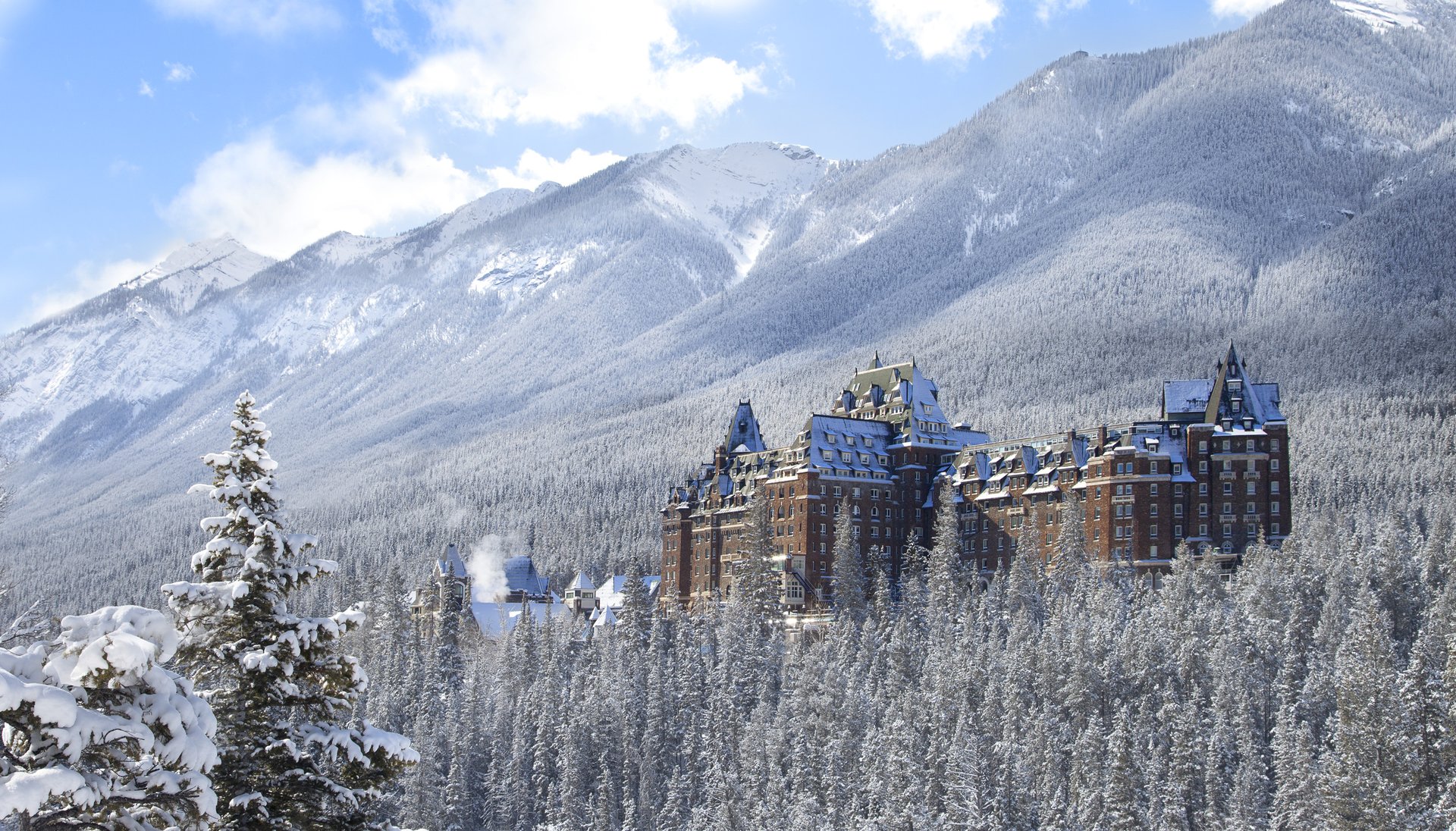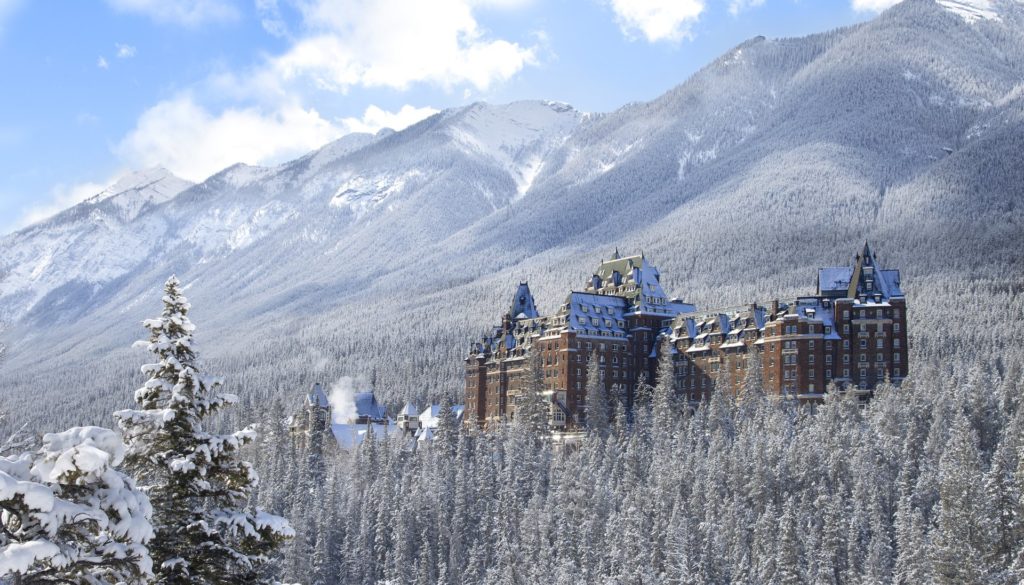 Banff Springs Hotel
The best place to stay in Banff in December is the castle itself. They host all the best Christmas events, but they are located close to Downtown Banff. It's one of those places in Banff you won't forget – great for special occasions.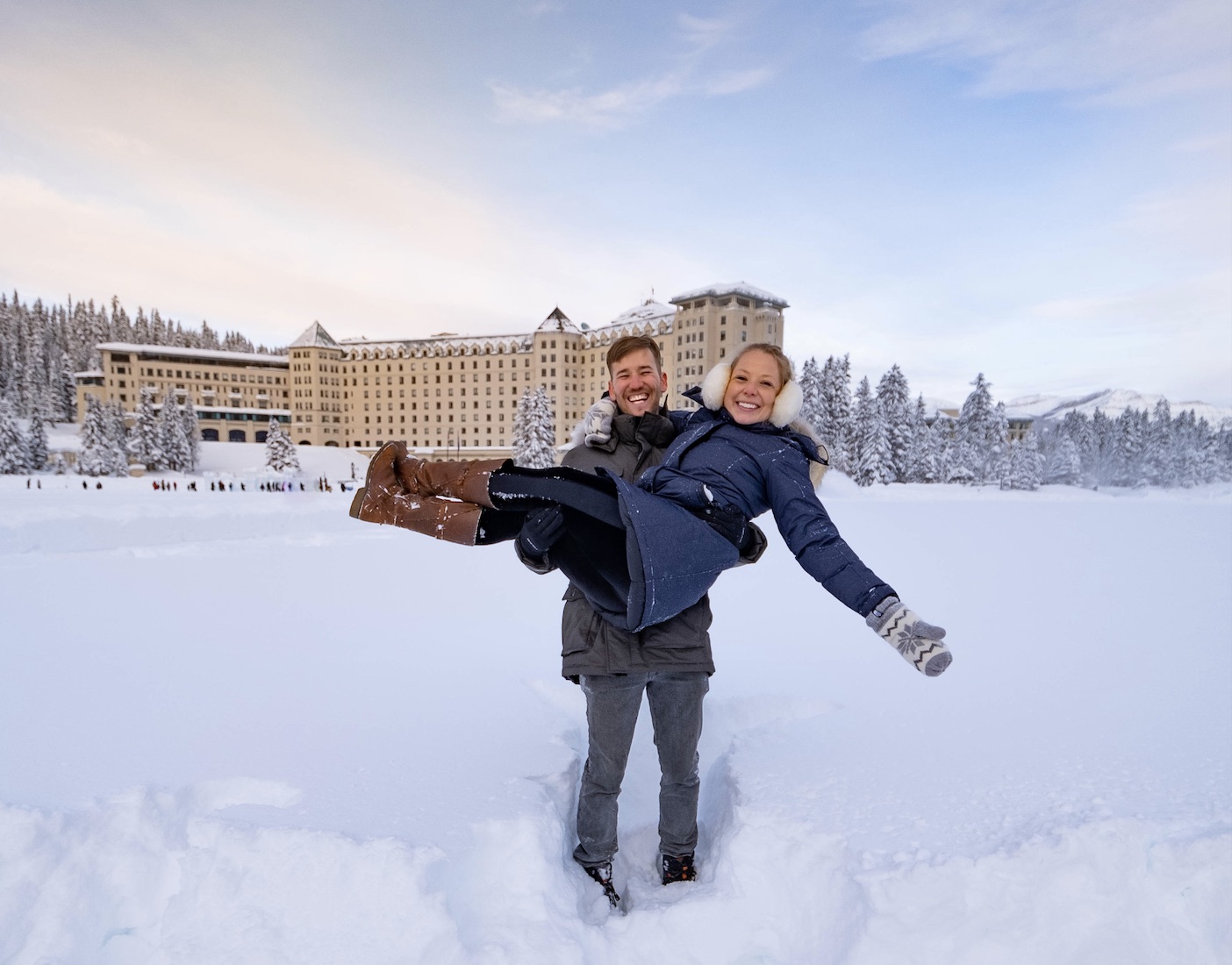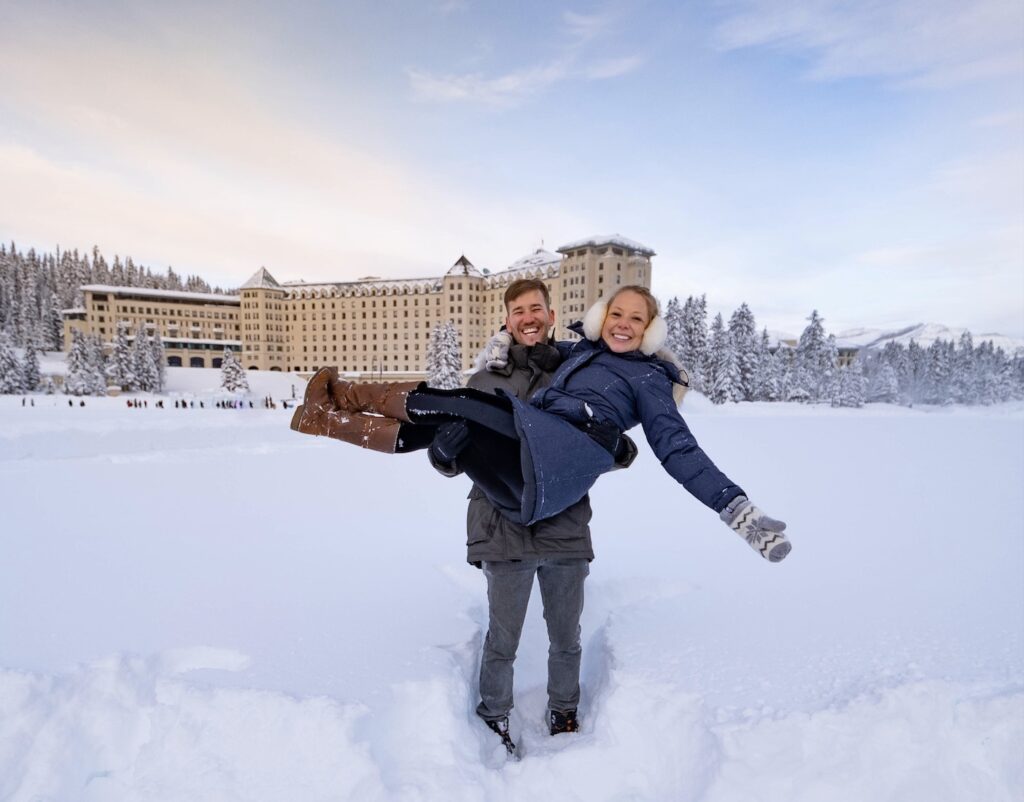 Fairmont Chateau Lake Louise
If you want to stay at Lake Louise and enjoy all the holiday experiences I mentioned above, then the best place to stay is the Chateau. Although this is one of the most expensive places to stay in Banff so save it for one of those once-in-a-lifetime experiences.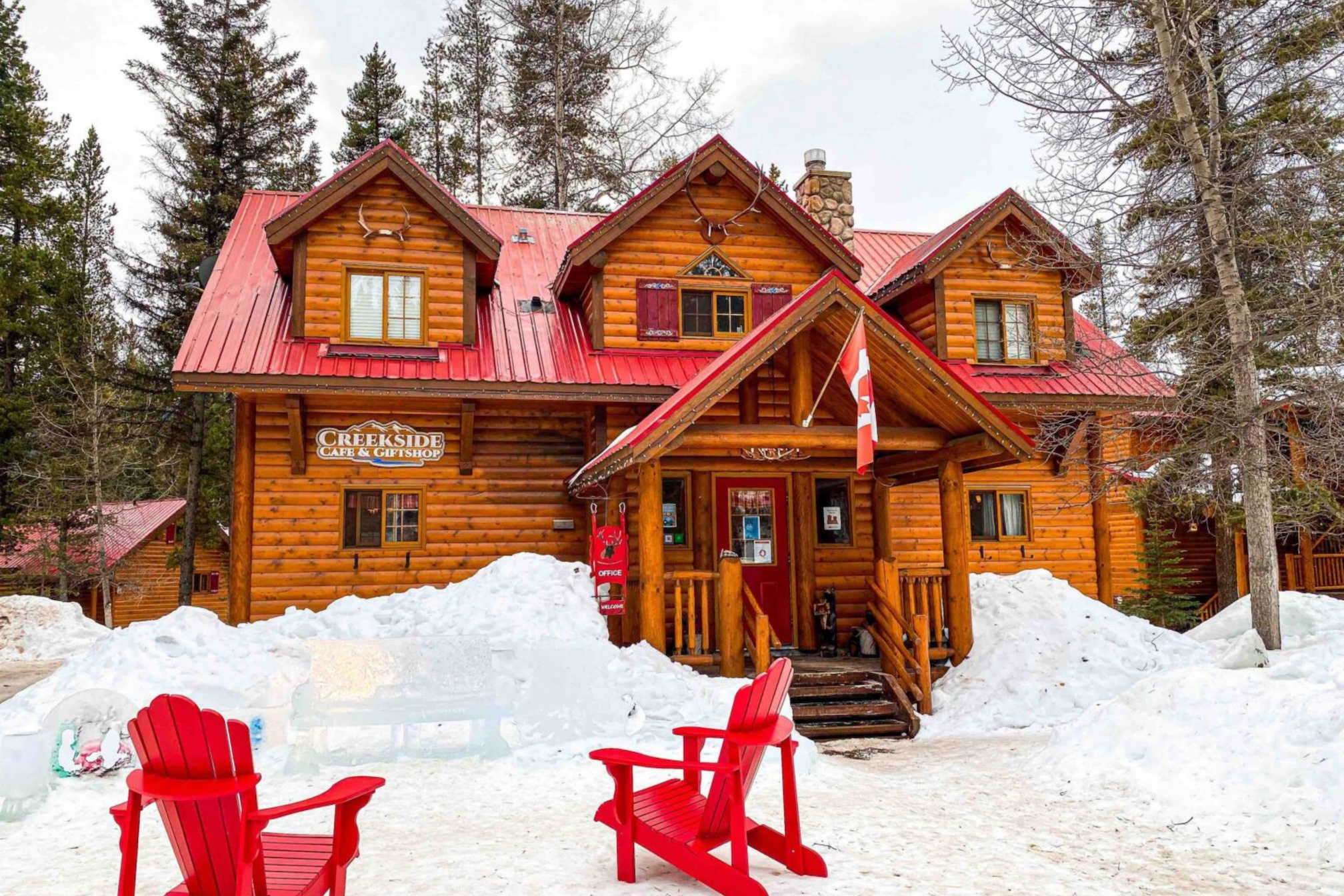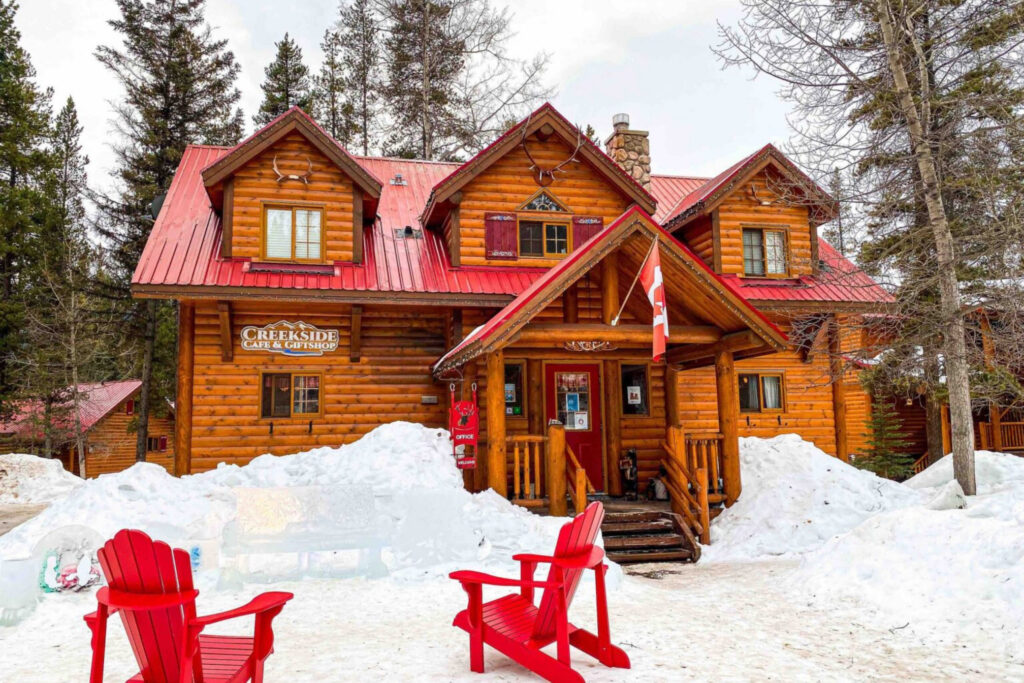 Baker Creek Mountain Resort
In the winter one of the coziest places to stay is a Banff cabin. Hands down our favorite cabin in Alberta is Baker Creek. Stay in a log cabin with friends and family and enjoy playing board games by the fire every night after getting home from an adventure.
Budget Friendly Places to Stay in Banff
In early December you can score some great shoulder season rates on accommodation in Banff. However as the month goes on and we get closer and closer to Christmas, hotel prices will creep up.
It's best to book a hotel in Banff well in advance for the holidays. Nevertheless, there are still some great budget-friendly accommodations in the Rockies. Those are:
---
Is December a Good Time to Visit Banff?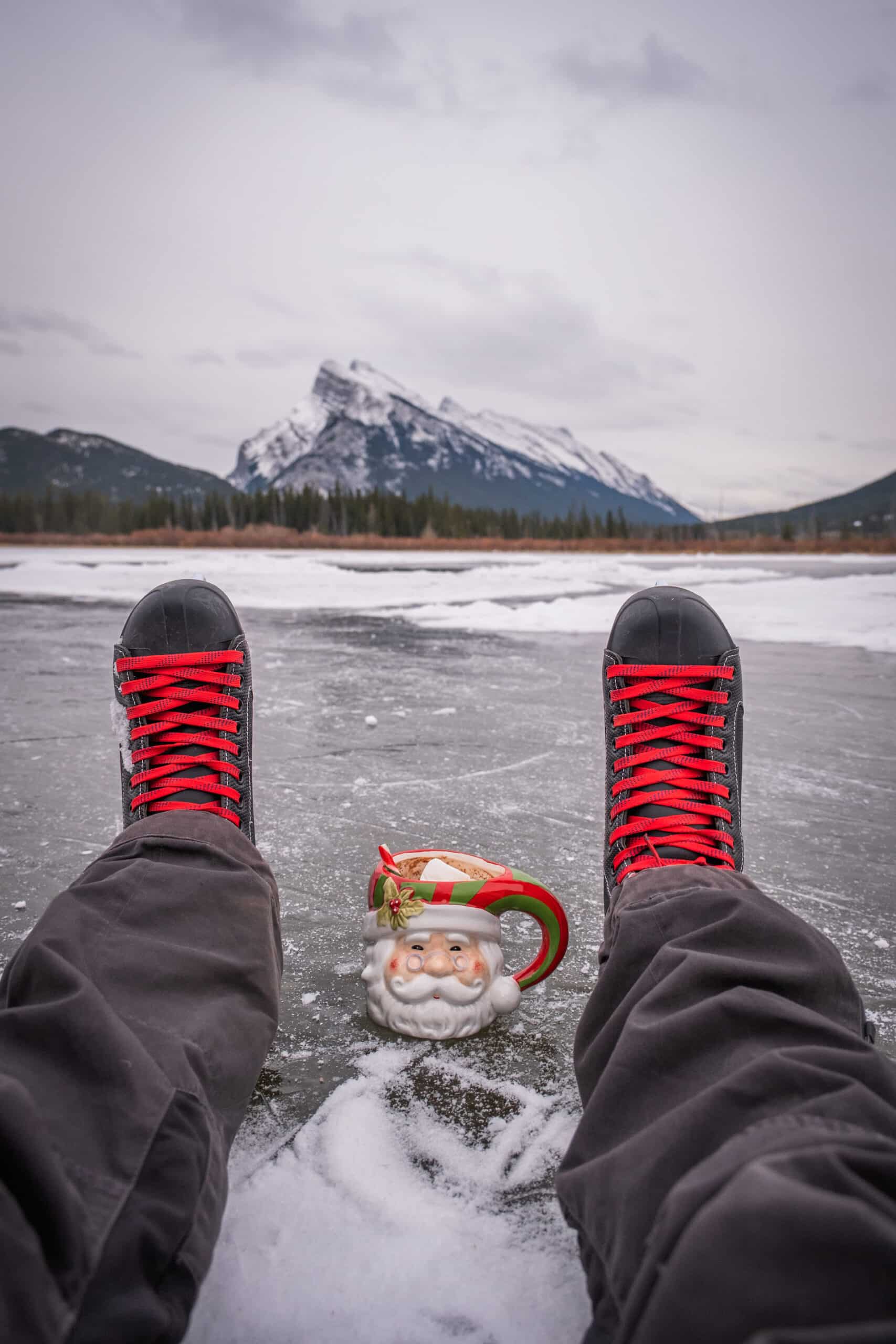 Many locals rave about Banff December, and I can't disagree with them. December is one of the best times to visit Banff, if you love building snowmen and sipping hot cocoa, that is.
There are a full range of winter attractions and activities during December, and the holiday cheer before Christmas in the air is truly contagious. Fat biking, snowshoeing, ice skating, dog sledding? Everything is on offer right now.
Bring your warm jacket and snow boots and prepare to see those red and green Christmas lights twinkle underneath the colossal peaks.
---
Hopefully, this helped you determine what to do in Banff in December
If you have any other questions leave a comment or see our Canadian Rockies travel guide for more articles about photography spots, lakes, hikes, and everything else.
---
↓ Join the community ↓
The Banff Blog Facebook Group is your headquarters for the Canadian Rockies' travel advice and information. Including hike info and off-season travel information. This is also where you can meet one another when you need adventure buddies. 

Plan Your Trip to the Canadian Rockies