December is one of the best times of the year to visit Banff and the Canadian Rockies. If you are into winter, snow, and hot chocolate that is. In my opinion, Banff in December is the most magical time of year. You are almost guaranteed a white Christmas, so if that is what you are after then consider Banff and the Canadian Rockies a top holiday vacation choice.
If you ski or snowboard you'll also love Banff in December as the SkiBig3 Resorts offer fantastic riding in December. Besides that December means that holiday cheer is all around you in Banff. Even if it is -10°C outside, it will be hard to have a bad day.
---
Things to Know Before Visiting Banff in December
---
What's the Weather Like in Banff in December
---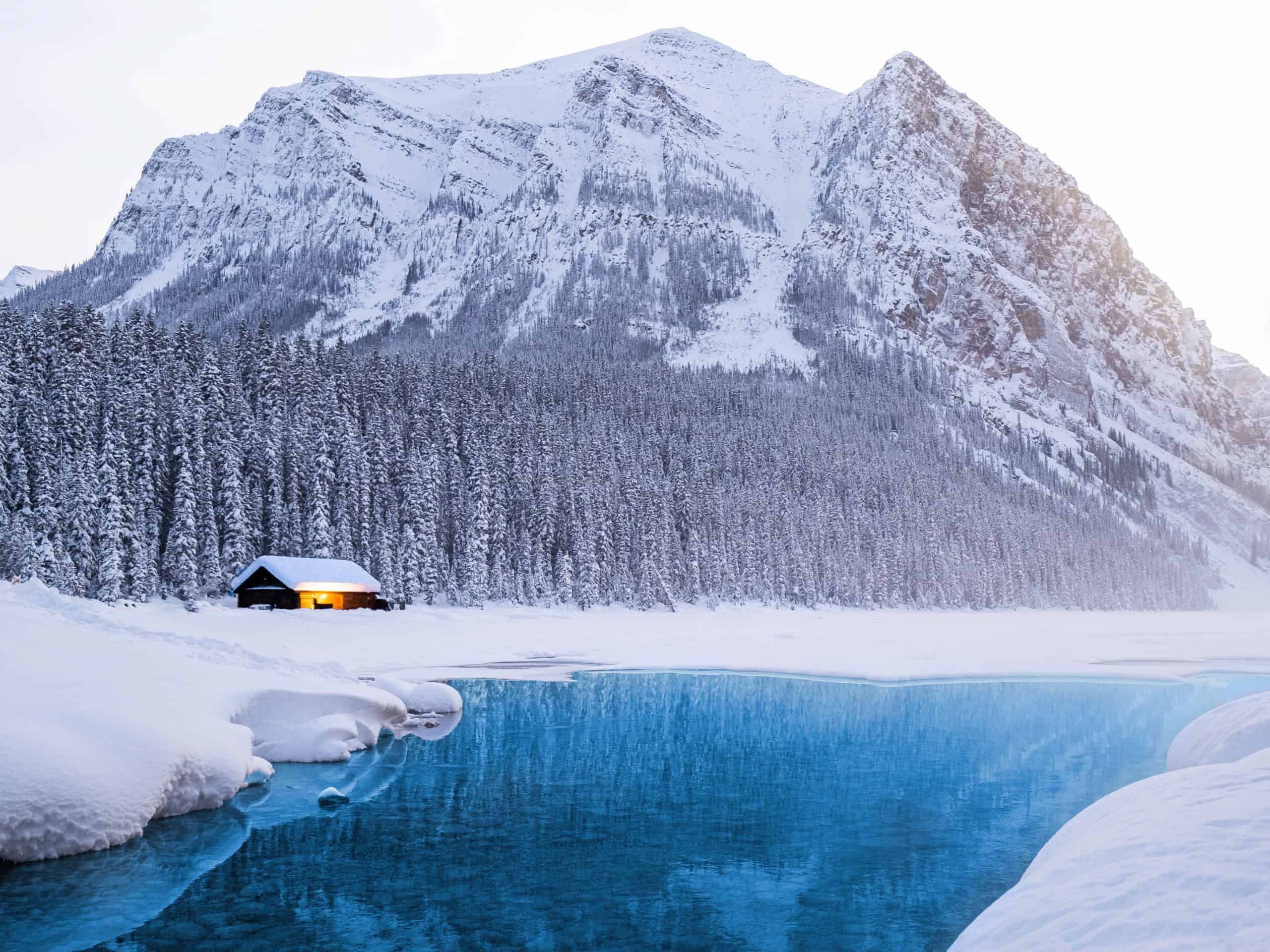 December is cold in Banff, there's no sugar-coating it. In fact, some of the coldest weather of the entire year is in December. The average temperature is about -4°C and after dark, it plummets below -10.
December also has some of the shortest days of the year. You can expect the sun to rise just before 9am and set around 4:30 for most of the month. The good news is there's a lot you can accomplish outside in those short hours, and there are many sunny days in December as well, but that means no snow. So sometimes you'll be praying for fog, clouds, and sweet powdery goodness.
Skiing and snowboarding is in full swing. The earlier in the month that you are on the mountain shredding it the less busy it will be. Expect holiday crowds from December 24 until the after New Year. The same goes for the rest of the park. Banff gets noticeably busier around the holidays until about a week after January. Visitors flock here to spend Christmas inside a snowglobe, but it's nothing compared to the summer crowds.
---
Festivals in Banff in December
---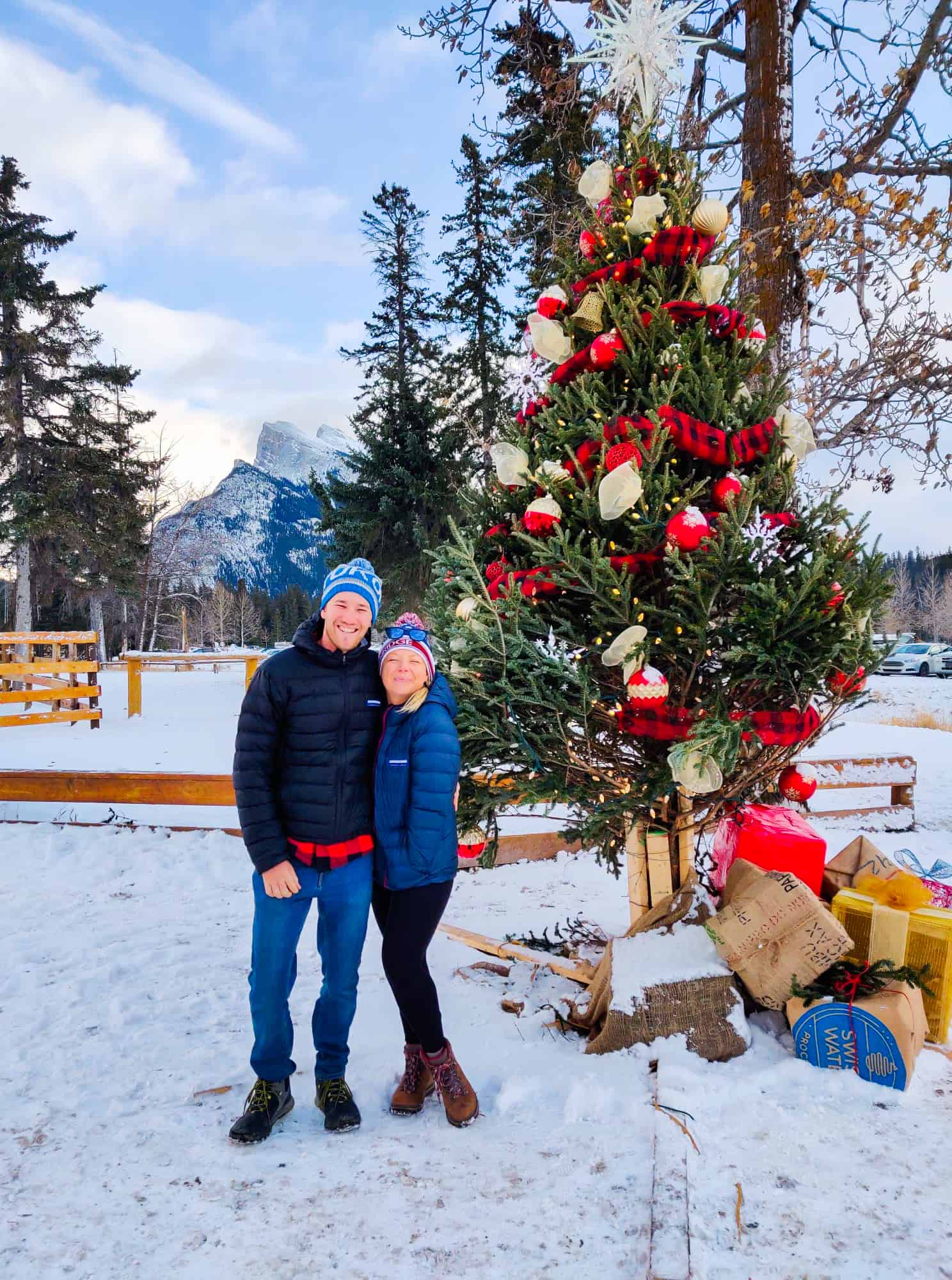 December is awash with festivities. Obviously, there's Christmas, the run-up to New Year, and the general holiday season fun will be throughout Banff and Lake Louise. The Lake Louise Alpine Ski World Cup is a huge event that's watched by some 73 million fans around the world takes place in December.
There are also events like Carols in the Park, the Santa Clause Parade of Lights, Christmas at the Castle at the Banff Springs Hotel, and also a Mountaintop Christmas on top of Sulphur Mountain.
---
What to Pack for Banff in December?
---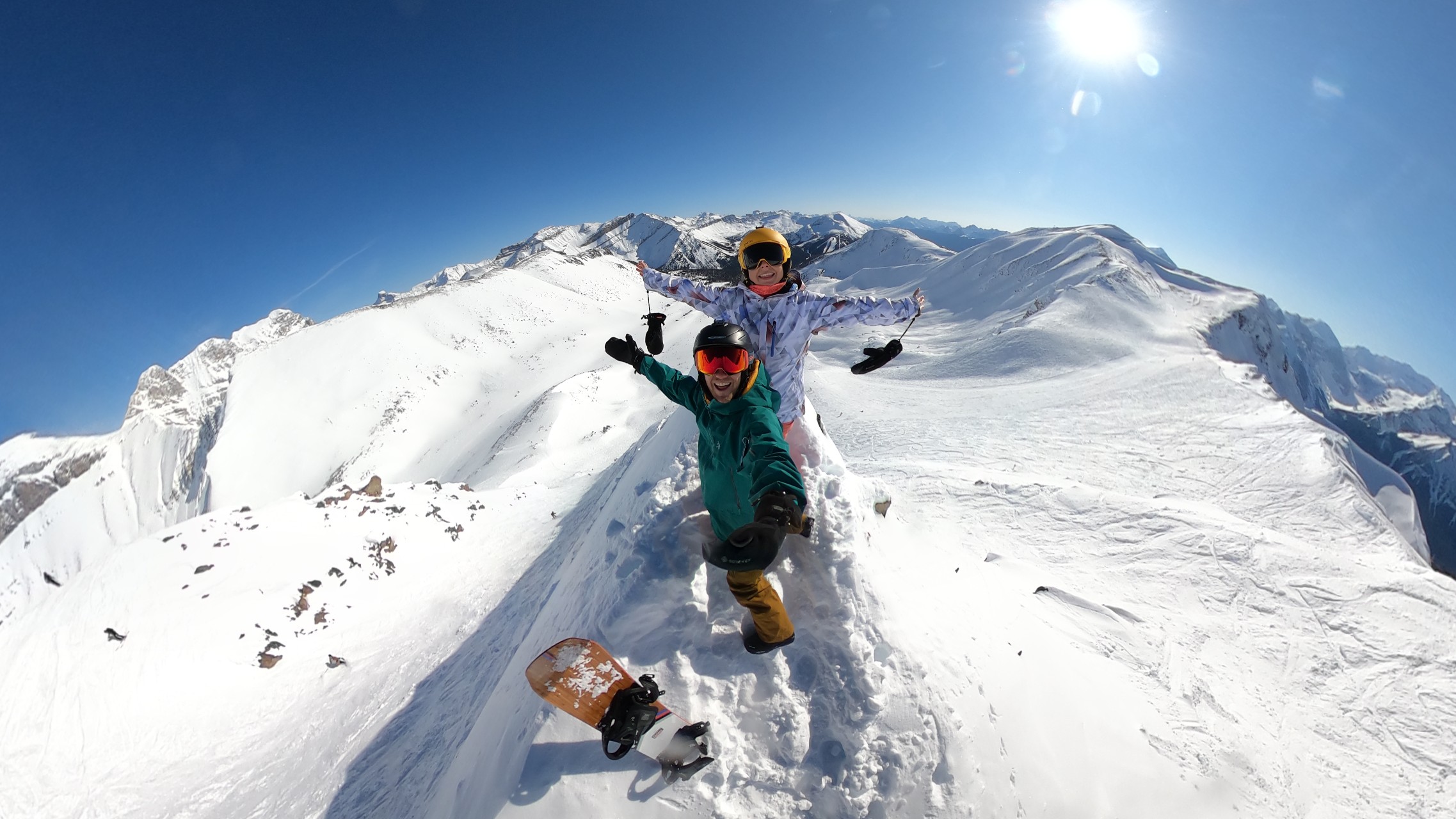 Layers, layers, and layers. December in Banff is one of the coldest months of the year and you'll want to prepare accordingly. That means a proper winter jacket, thermal underwear, merino wool socks, winter boots, gloves, and a hat at the very least.
For indoor time you'll want to pack things like a sweater and comfortable pants. Don't bother with any kind of summer gear during this time, and unless you plan on having an extravagant dinner out I wouldn't advise bringing a dress or dress shoes. To fit in a great dress up outfit is a nice sweater and cute boots for both women and men!
Here's a basic list to go off. The left column is for general winter packing and the right is if partaking in snow sports
Sweater
Flannel
Casual Pants
1 x Top Base Layer
1 x Bottom Base Layer
2-3 x Wool Sports Bra
2-3 x Wool Ski Socks
Mittens
Warm Hat
Winter Boots
1 x Mid-Layer Jacket
1 x Shell Jacket
1 x Shell Pants
1 x Insulated Jacket*
1 x Snow Pants*
1 x Mitts or Gloves
1 x Balaclava
1 x Buff Headwear
1 x Helmet* (if skiing or snowboarding)
---
Can You Visit Lake Louise in December?
---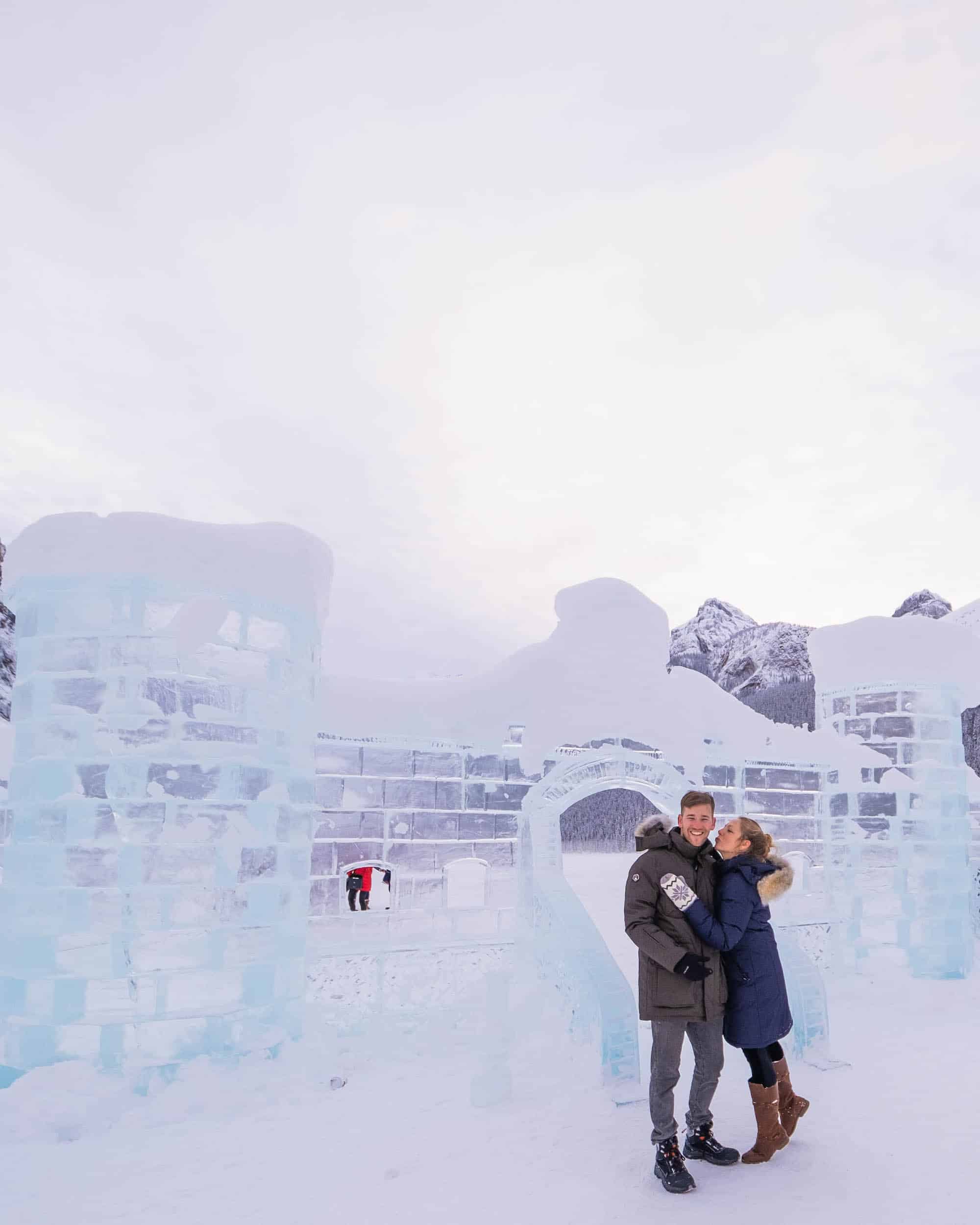 December is one of the best times to visit Lake Louise! It's not nearly as busy as in the summer, but just as beautiful – as long as you bring a good jacket.
Expect an Ice Castle to be built by Mid December as well as the famous ice bar. Head here with family and friends to feel merry and cherry and enjoy a walk around the ice castle and a hot chocolate. You can also take a horse drawn carriage around the lake and enjoy the Lake Louise ice skating.
Another fun thing to do is ski or snowboard at Lake Louise Ski Resort. As there's almost nothing open on Christmas Day heading to the ski resorts is a great Christmas Day activity once the presents are unwrapped. Although there are crowds, it's still easy to get parking and enjoy Lake Louise to the fullest. Just dress warm and get to Lake Louise early. It's the shortest month of the year and you can expect the sun to be set by 5pm! For full sunshine on the lake I would suggest getting to Lake Louise around 10am.
---
Things to do in Banff in December
---
Enjoy the Christmas Festivities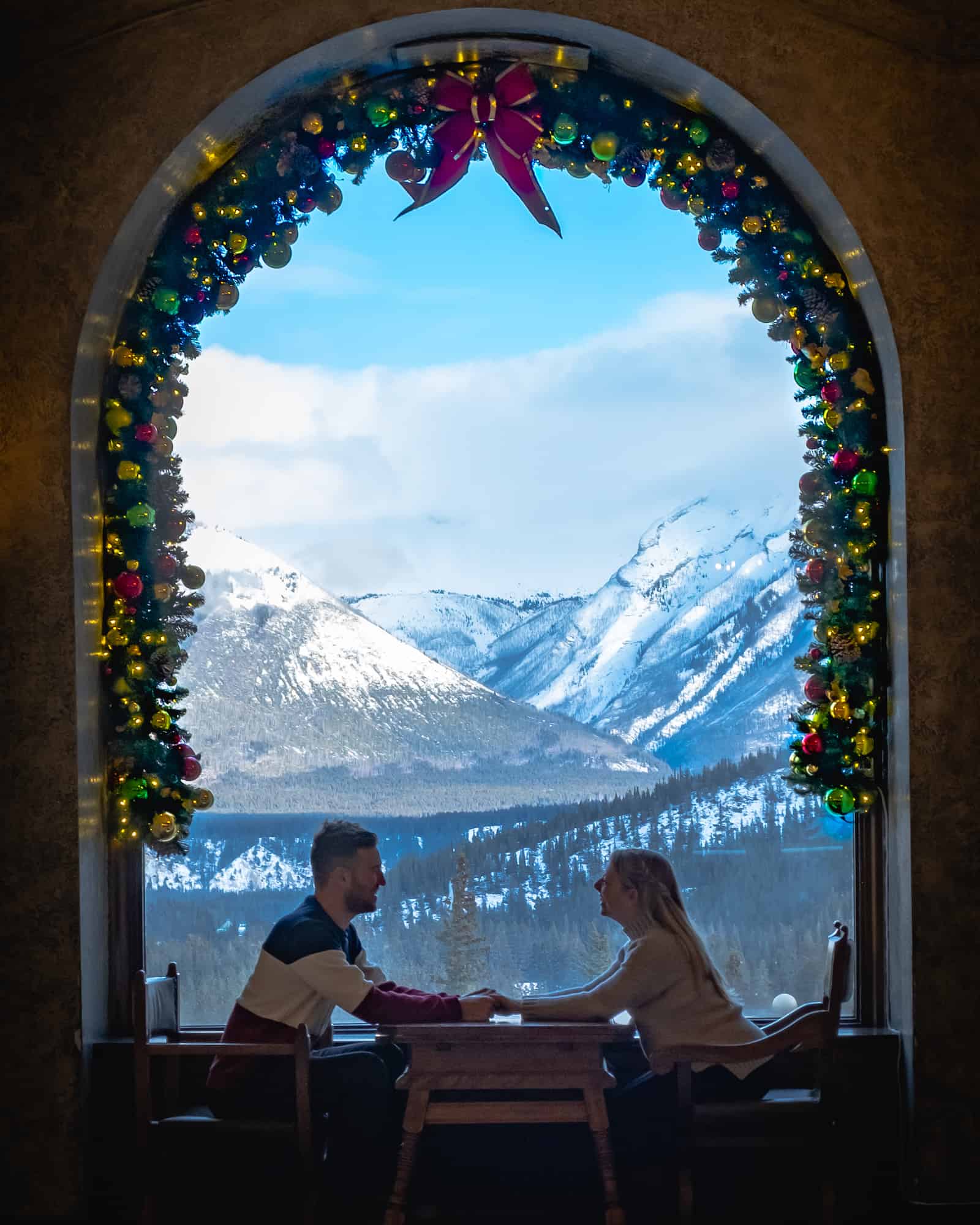 You can't visit Banff in December and ignore the Christmas cheer! It is everywhere! From Downtown Banff to Lake Louise there is always a place to listen to Christ jingles and drink mulled wine. Some of my favorite things to do around Christmas time in Banff is visit the Banff Springs Hotel and head to Carols in the Park.
---
Ski or Snowboard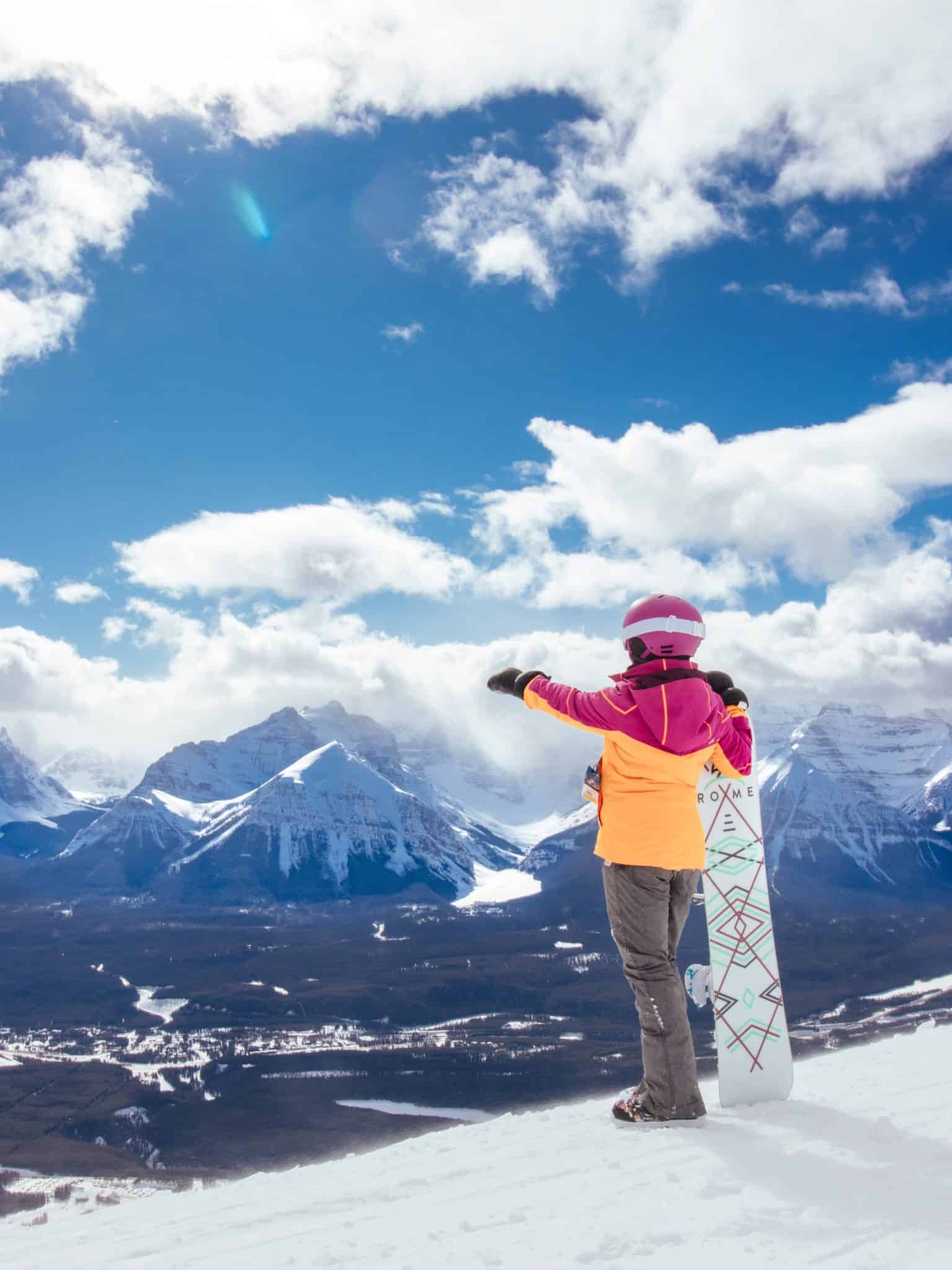 There are three epic ski resorts in Banff to enjoy (and Nakiska in Kananaskis). Snowboarding at all of the SkiBig3 resorts was our primary reason for heading to Banff in the winter before we settled on moving here. SkiBig3 is a collection of three mountain resorts all within Banff National Park. You have Lake Louise, Banff Sunshine, and Mt. Norquay which are all fantastic and unique ski resorts.
Skiing or snowboarding here is one of the best things to do in Banff in the winter. Mt. Norquay is the closest ski resort to town, while Banff Sunshine is about 20 minutes from Banff and Lake Louise is about 40 minutes from the town. They are all great options! (But we honestly love Lake Louise the best).
---
Cross Country Ski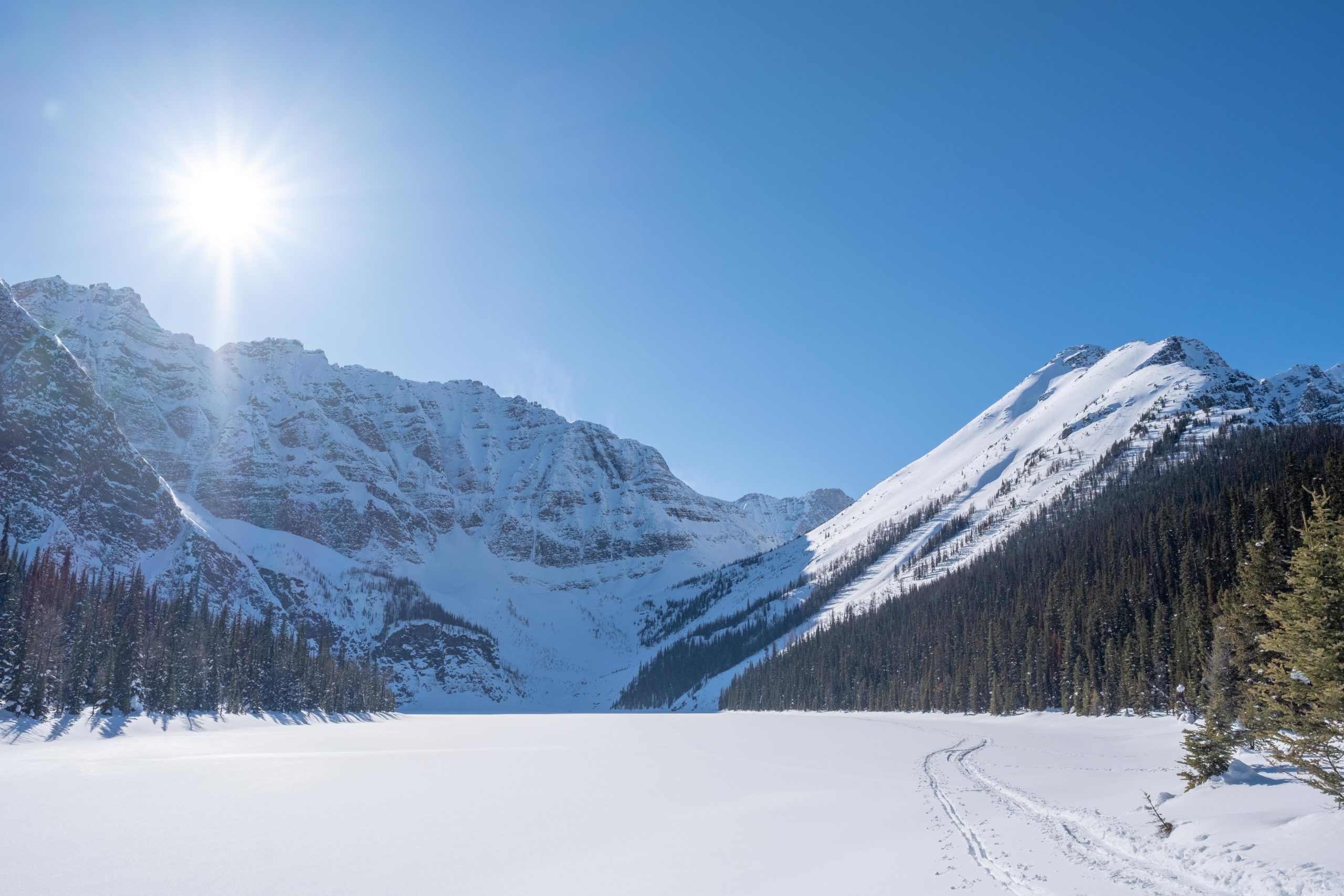 Cross Country skiing is a low impact sport that gets your heart racing and allows you to slide across the snow. There is one thing you can't argue against is the pristine wilderness beauty nordic skiers will find themselves, especially in Banff.
Cross country skiing is a serious hobby here and you'll find plenty of people getting out there and stretching their legs. The Nordic Center near Canmore is a popular and safe place to go cross country skiing with the family.
---
Ice Skate or Play Hockey on Lake Louise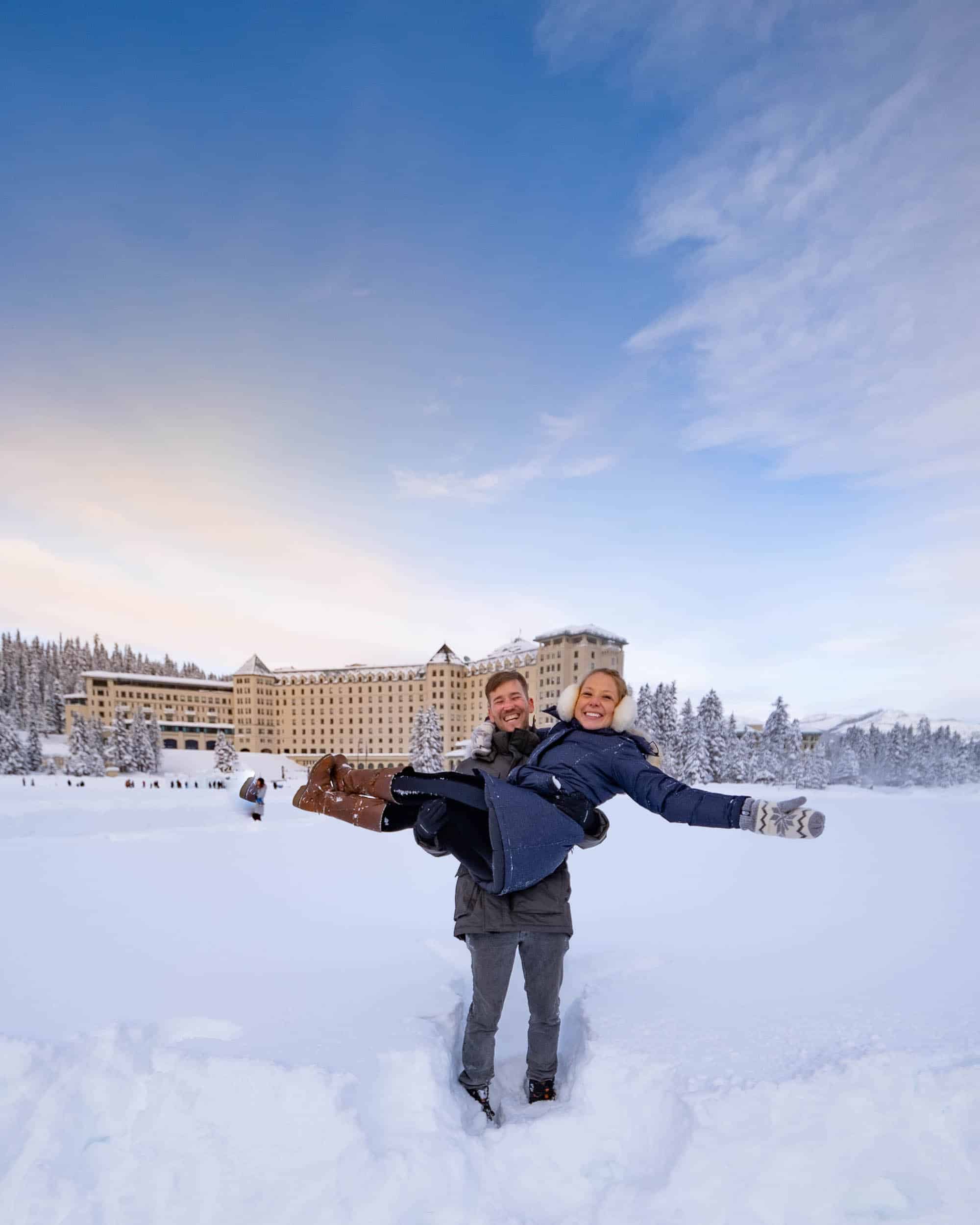 There is no place to ice skate in Banff more iconic or scenic than the famous Lake Louise. Not much of a surprise, but it's regularly been considered one of the world's best ice skating rinks. It's also tremendous as the frozen lake is maintained by the Fairmont Chateau Lake Louise. The lake is regularly cleared of snow and resurfaced so visitors can enjoy ice skating during the winter despite conditions on other natural lakes.
Lake Louise every few winters can freeze very early before a significant snowfall and the result is a blue glass lake. It's an absolutely stunning natural occurrence and can happen in November, but don't count on seeing the lake this way as November is generally the worst month to visit Banff.
The lake freezing like this has also only happened five times in the last 30 years. I say this only to manage expectations as the surface will likely be a frosted white, but the views are stunning the none the less!
---
Go Dog Sledding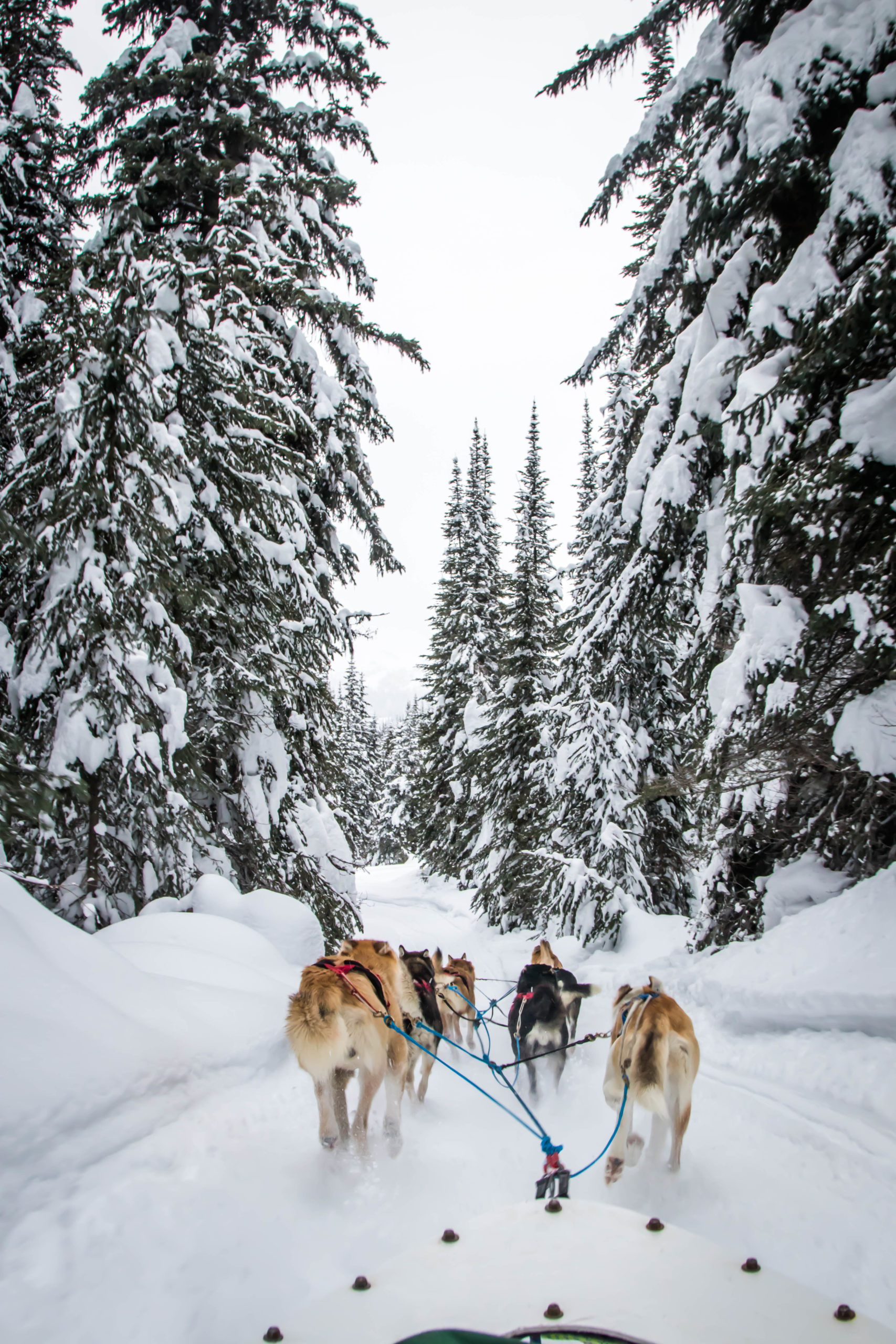 One of the best things to do in Banff in the winter is go dog sledding. Howling Dog Tours tours runs out of Canmore and will take you dog sledding deep in Kananaskis or you can head to Lake Louise to mush your way around there.
---
Check out Nearby Emerald Lake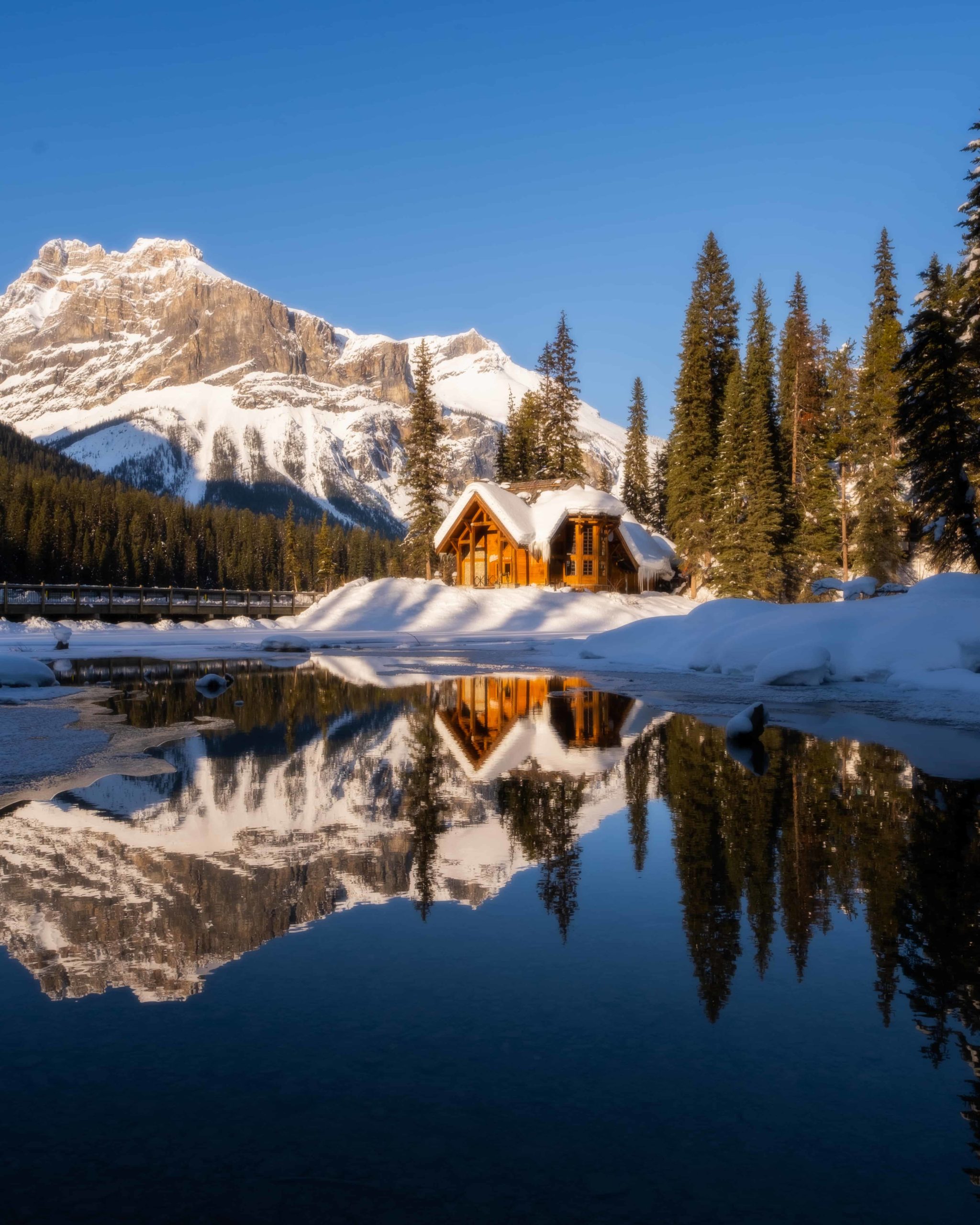 Emerald Lake is a stunning lake in the Yoho and makes for a great family-friendly hike. In the winter Emerald Lake freezes over and you won't see any of that dazzling emerald color.
However, the natural shape of the surrounding mountains and the elevation of the lake creates a microclimate that encourages a heavy amount of snowfall in the winter. So a visit to the lake feels like stepping into a winter wonderland. You can take a leisurely stroll along the lake, snowshoe, or cross country ski. Or book one of the cozy romantic cabins at the Emerald Lake Lodge.
---
Take an Authentic Horse Sleigh Ride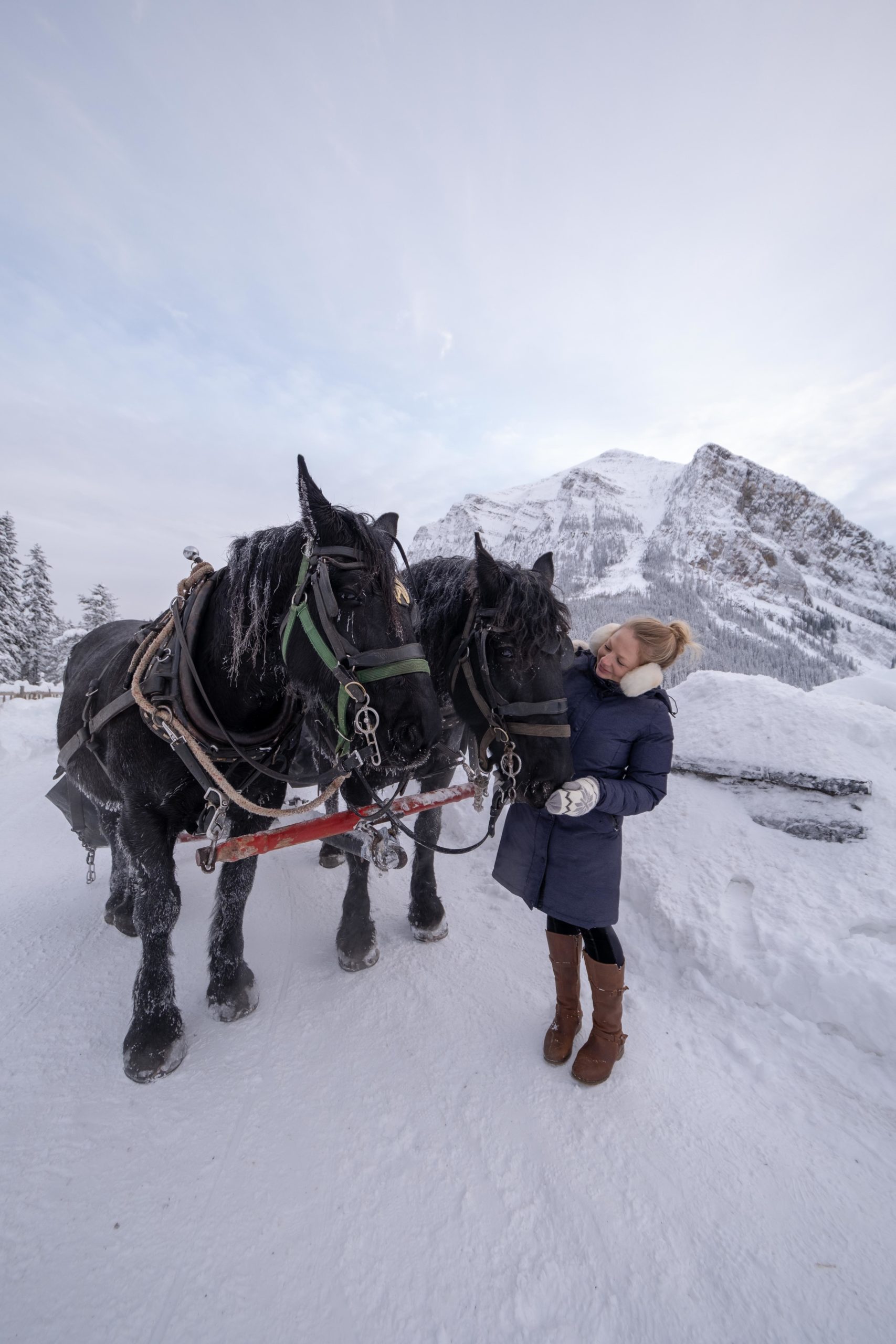 In the winter time you might not be able to take to the trails on horseback, but you can ride on a horse drawn sleigh at Lake Louise or around Downtown Banff. There aren't many places you can still ride on a real sleigh through a winter wonderland and that's what makes it such a fantastic thing to do in Banff in December.
Check out Banff Trail Riders for magical rides around Downtown Banff!