Morant's Curve is a scenic viewpoint near Lake Louise of a dramatic bend along the Bow River where trains pass through the Canadian Rockies. As trains pass around the bend, they have a spectacular backdrop of the Lake Louise mountains and surrounding valley.
The famed photo spot is along the Bow Valley Parkway and is a very popular location for photographers. It's a fabulous stop for visitors who plan to take a leisurely drive down the parkway.
---
All About Morant's Curve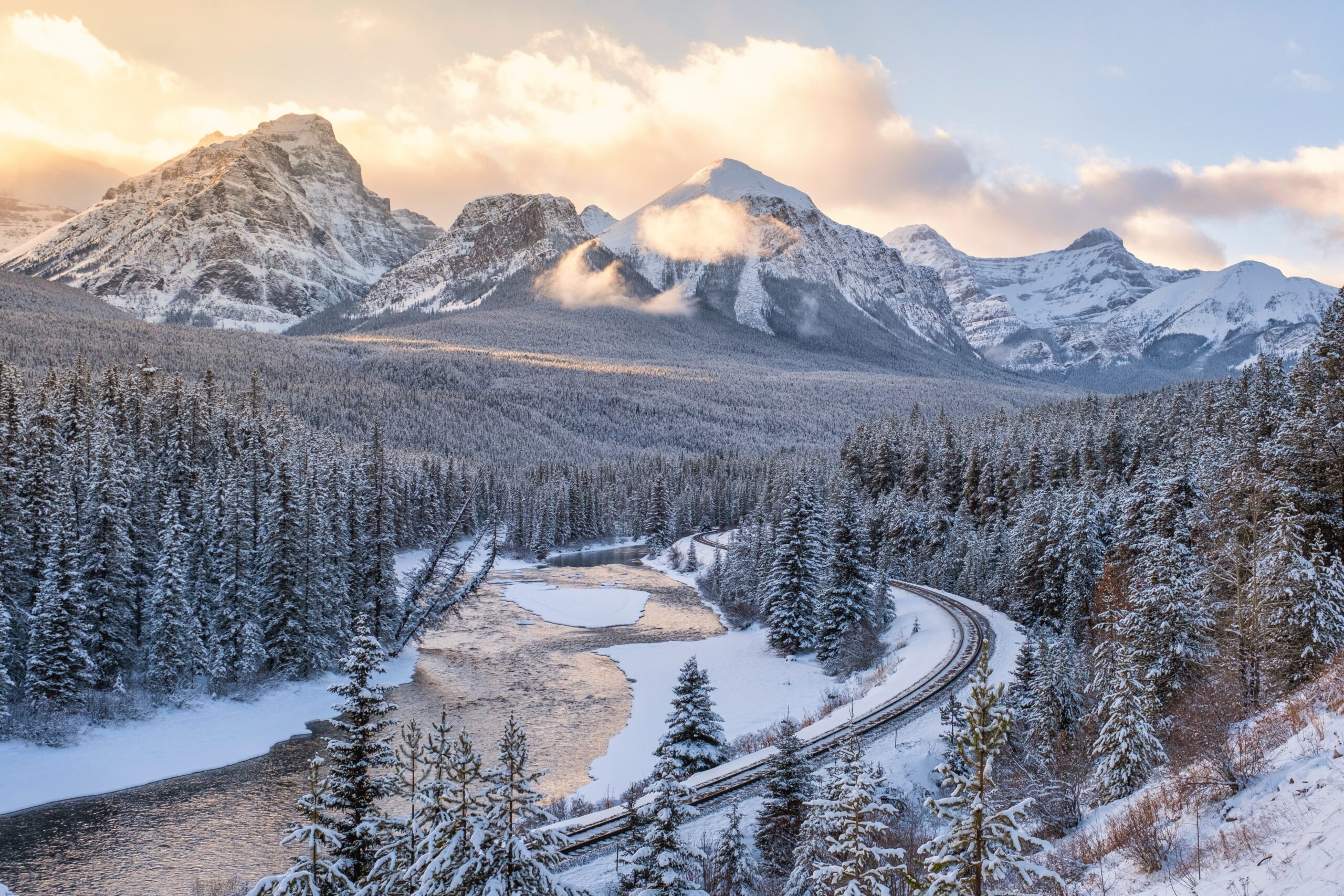 The famed photo spot is a short drive from Lake Louise and you can even see the mountains that surround the glacial lake. Its location is off the Bow Valley Parkway, an alternate scenic route that connects Banff and Lake Louise.
Photographers plan their time here strategically and to catch a shot of a train heading west in the morning light is certain to be a winner. However, anyone can appreciate the spectacular view so it's well worth a stop for anyone driving along the parkway.
Mount Fairview is the most prominent mountain background, but also Mount St. Piran, Niblock, Whyte, Saddle, Sheol, and Haddo Peak. If you're curious Lake Louise sits to the North of Mount Fairview.
The Best Banff Photography & Picture Spots (and How to Get To Them)
---
Why is it Called Morant's Curve?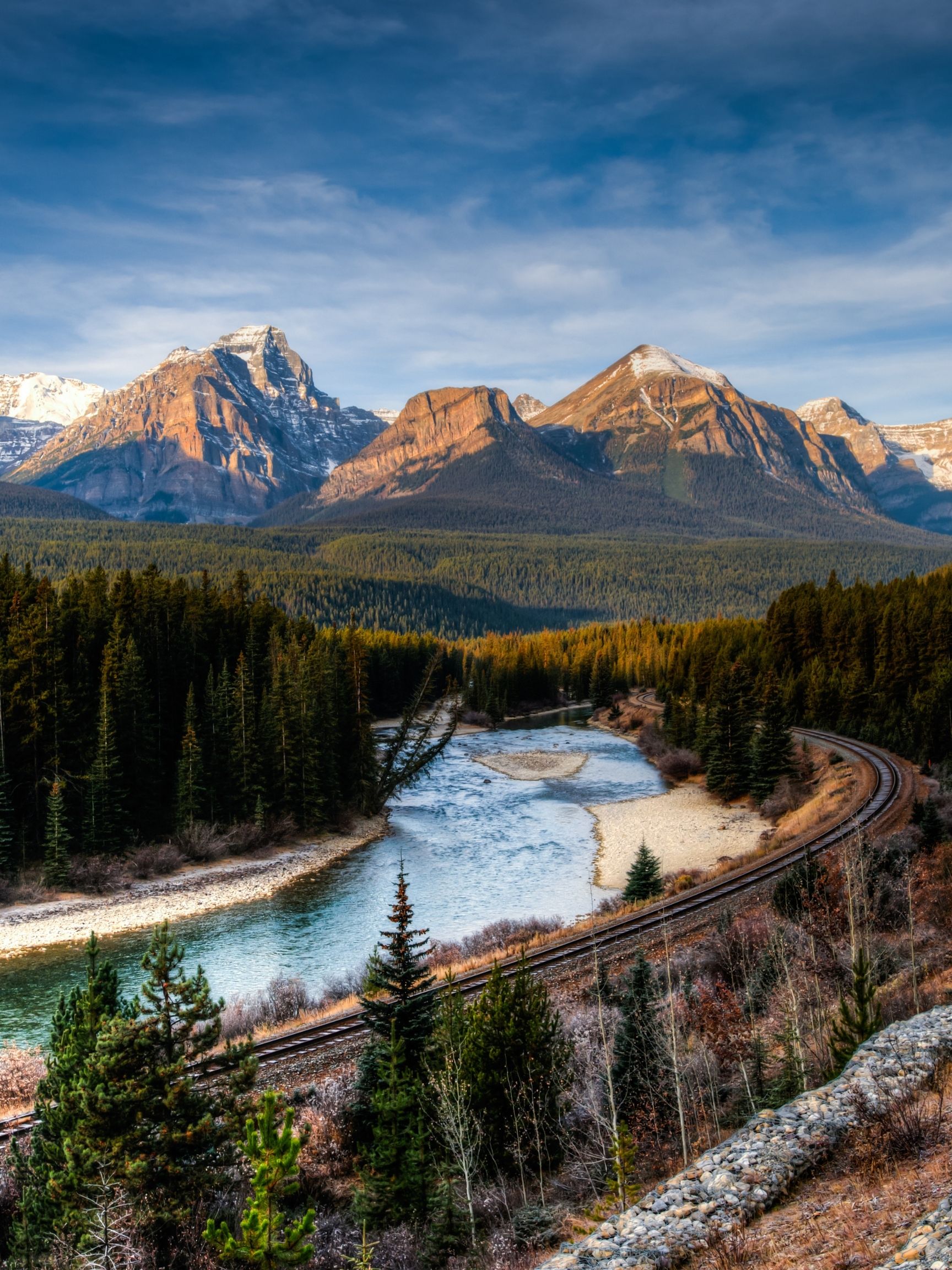 Morant's Curve gets its name from Nicholas Morant a photographer working for the Canadian Pacific Railway in the mid 20th century. He was hired by the railway to produce promotional material, but his extensive work in the Canadian Rockies was used to promote tourism to Western Canada.
His images of Emerald Lake and Moraine Lake were used as sources for the banknotes that featured the two iconic lakes. It's said that the curve was his favorite location to photograph.
---
Directions To Morant's Curve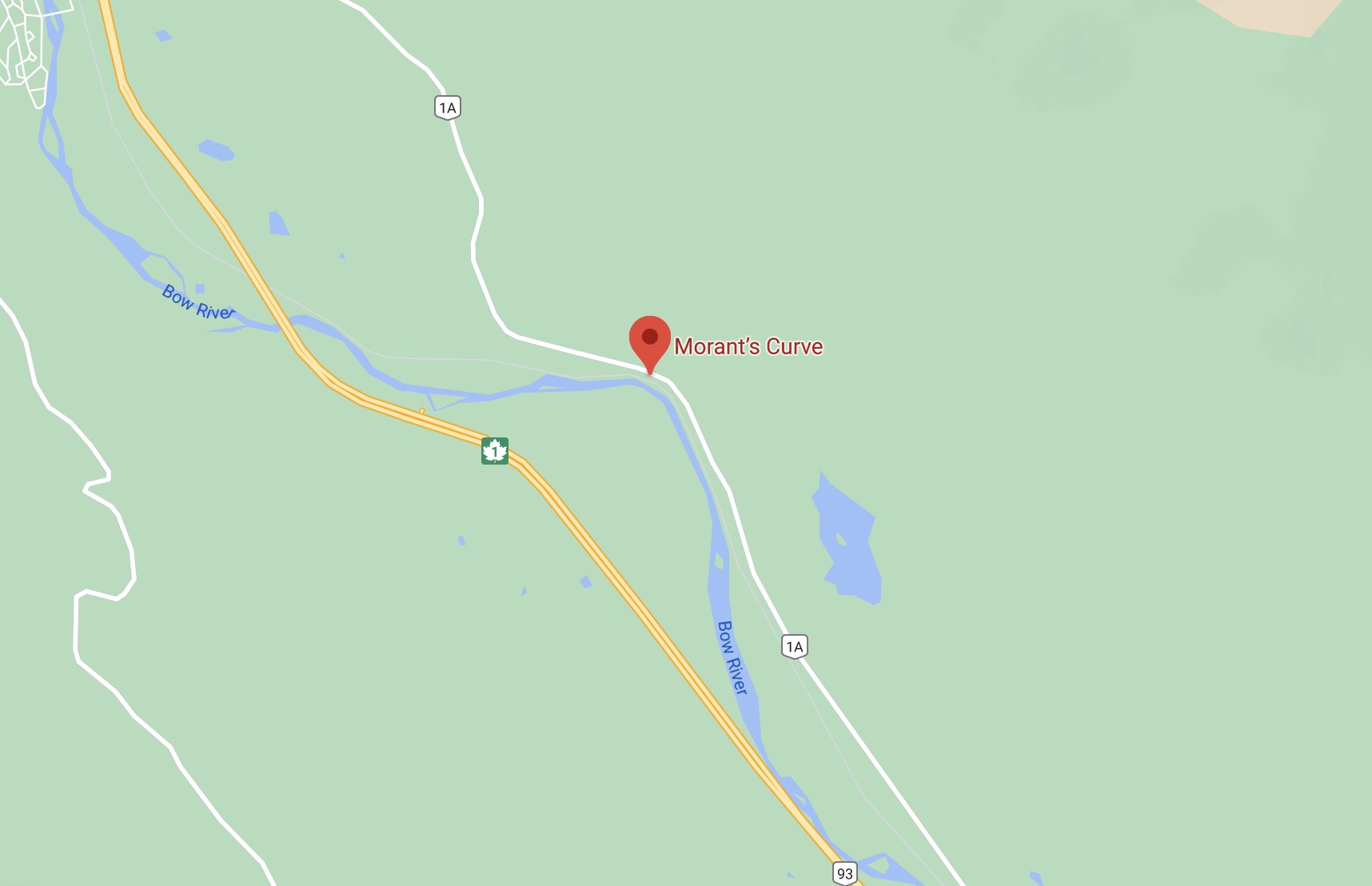 The fastest way to Morant's Curve is from the North end of the Bow Valley Parkway. It is one of the first notable stops along the parkway from this direction and takes about a five-minute drive.
It's pretty tough to miss the viewpoint as there is a nice concrete viewpoint with a railing constructed when the view opens up. Across from the viewpoint is a small parking lot with enough room for a dozen vehicles.
---
Is There Parking at Morant's Curve?
There is a small parking area across the road from the Morant's Curve viewpoint. It is free to park here. In the summer the parking area can get quite busy as it's a small parking lot.
From the parking lot to Morant's Curve is less than a one minute walk – no hiking involved, making Morant's Curve a great family friendly activity in Banff.
---
When to Visit Morant's Curve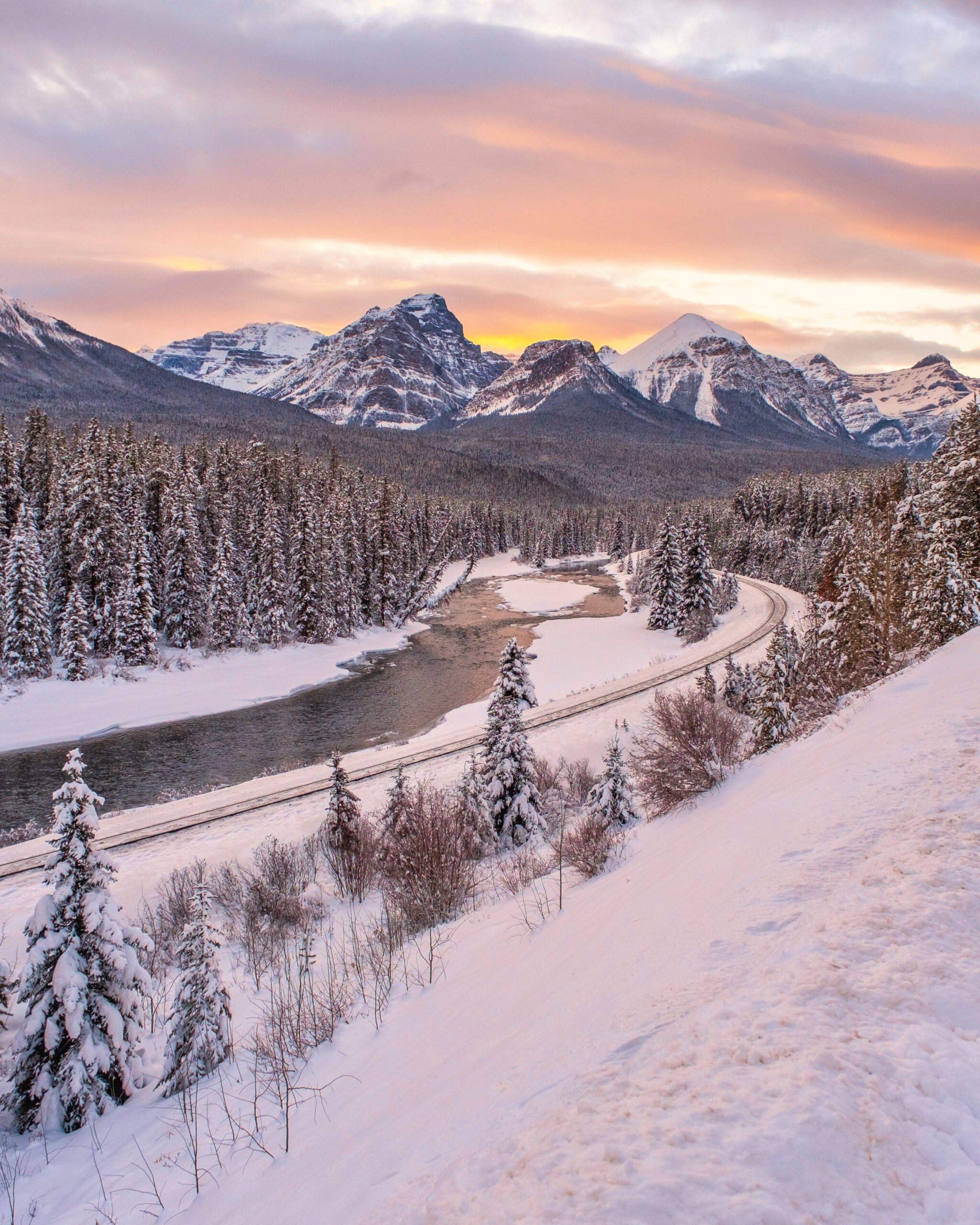 If you hope to catch a train traveling along the train tracks it's best to visit on a weekday. The train line service business along the railroad so it sees the most frequent traffic during the business days and during working hours.
If you visit during the weekday trains come almost every hour. However, there is no guarantee, and CPR does not post schedules for security reasons. We've waited over an hour before in the dead of winter for the train only for it to never come. We left with very frozen faces and fingers, and the photo you see above!
You can visit the Morant's Curve viewpoint during any season; it always looks magical. However, I love the winter season the most. Keep in mind that after a big winter storm, plowing is prioritized on the TransCanada before clearing the Bow Vallely Parkway.
---
How Long Should You Spend at Morant's Curve?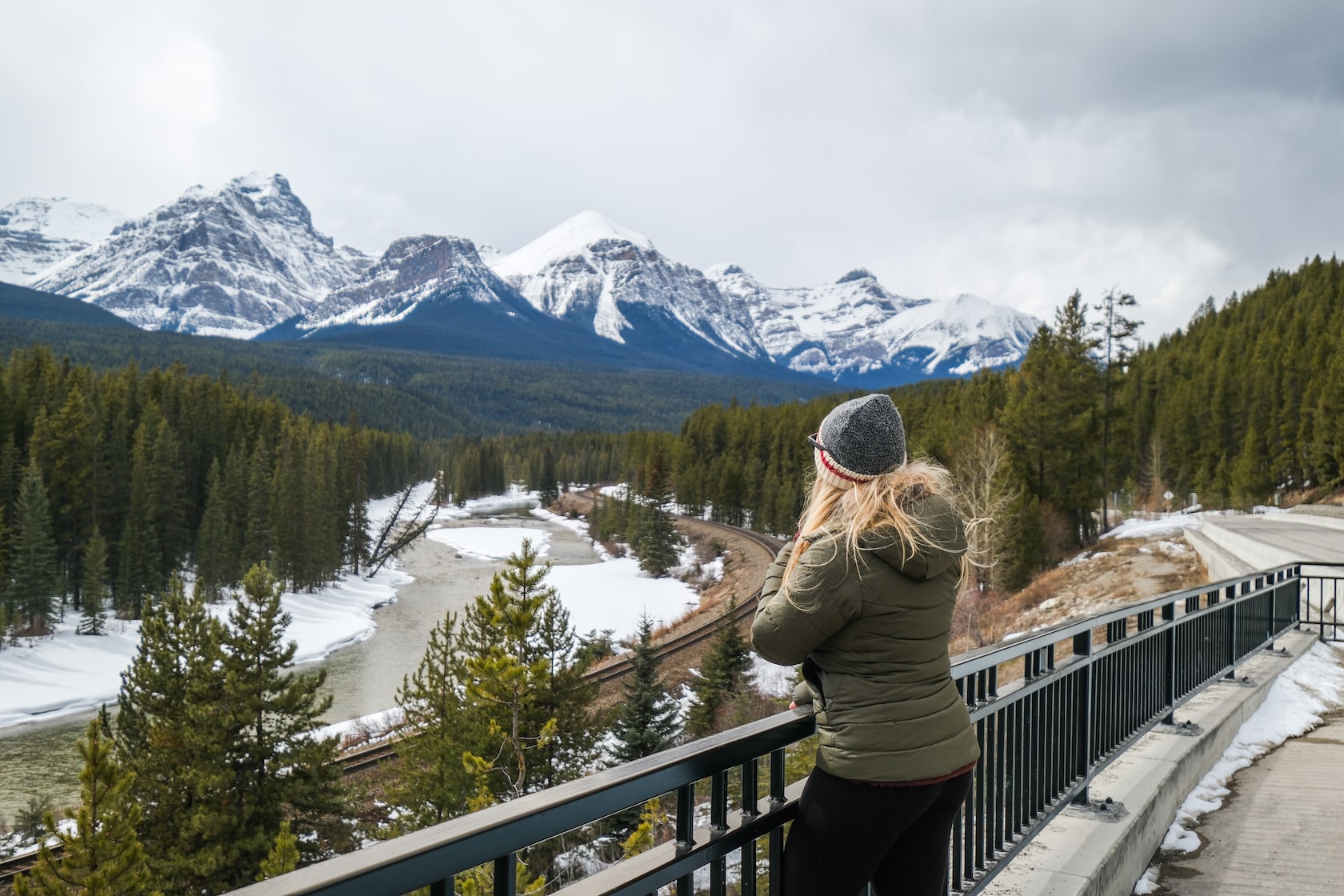 How long you spend at Morant's Curve depends on if you are waiting for a train to pass by! If you are just after the view and a quick photo of Mount Temple with the train tracks, a stop at Morant's Curve shouldn't take longer than 10 minutes.
However, if you are dead set on seeing a train come around the mountains you could spend an hour at Morant's Curve.
If visiting in the winter, make sure to dress warm. Hats, gloves, and a good parka are all your friend if you plan on standing outside waiting for the train.
Of course, you could wait in your car and listen for a train horn. Though, you'll have to run, cross a street, and get your camera ready very quickly.
---
Tips For Photographs at Morant's Curve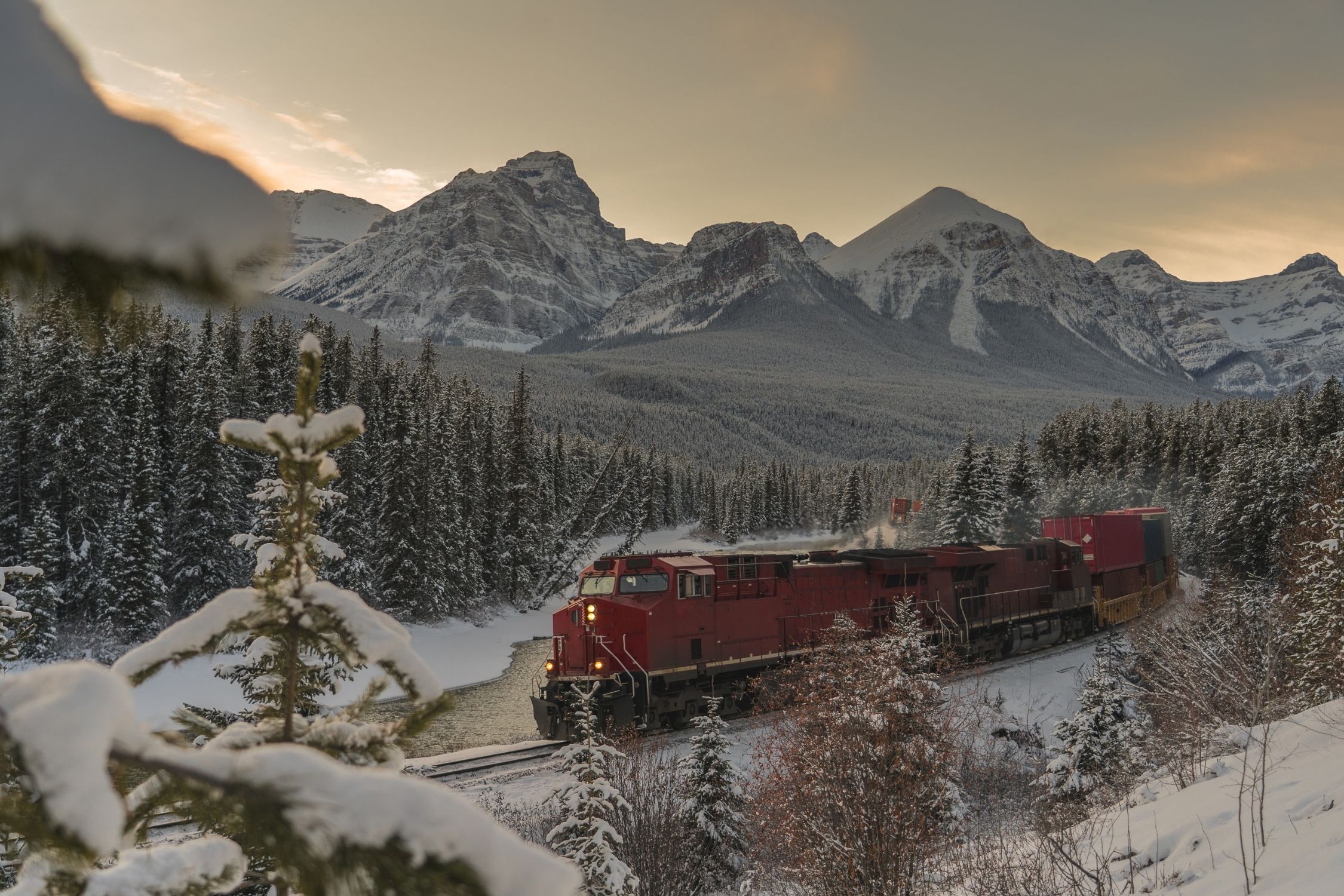 The classic shot for photographers at Morant's Curve is of a red Canadian Pacific train traveling westbound in the morning light. Morning is the best time to photograph the location. However, it's always worth a stop to grab a photo of the stunning landscape.
Most of the trains that pass along Morant's Curve are freight trains and for security reasons, they do not post their schedules publicly. You can find the schedule of the passenger train, the Rocky Mountaineer, in the summer months, but the train is far less dramatic than a large freight train with a red CP train leading the way.
It's said that the trains travel the most during business hours. This means Monday through Friday, 9am-5pm.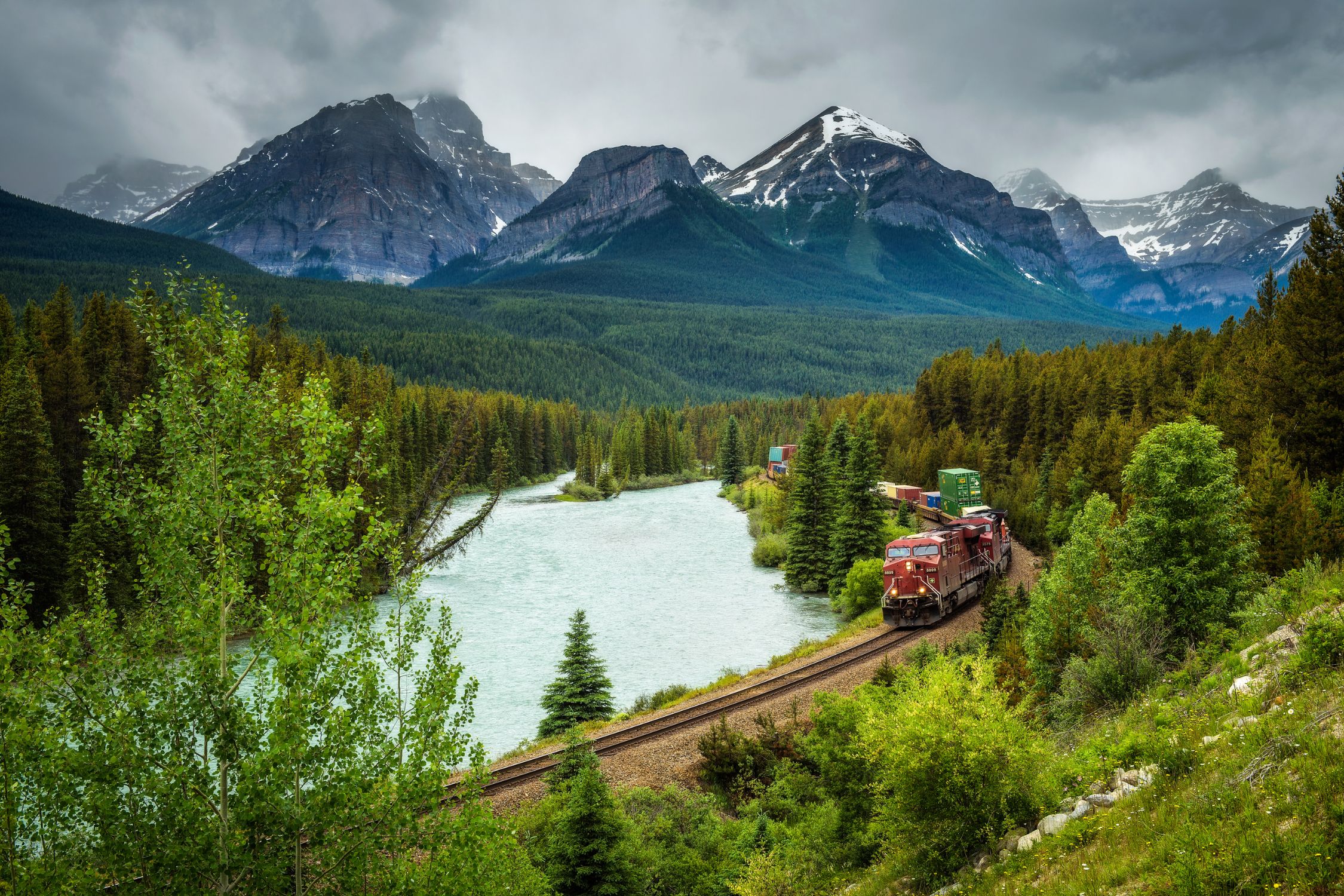 My favorite photos of Morant's Curve are taken during the winter months. After a fresh snowfall the trains really pop out amongst a sea of frosted trees and frozen mountains. Of course, it's an amazing photo location any season of the year!
If you are celebrating Christmas in Banff and happen be in town when the iconic red CP Holiday Train is coming through, make sure to check their train tracker to try and catch it passing through Morant's Curve.
My personal preference for photographing Morant's Curve is a fast shutter speed as it captures a sharp train versus the slow shutter speed and movement. Though with a tripod, and a long exposure you can get a stunning photograph of a blurred train moving.
---
Is Morant's Curve Free?
It is free to visit Morant's Curve, however you need a Parks Canada pass to recreate in Banff National Park, and stopping at Morant's Curve is definitely recreating. An adult park pass cost $10.50 for the day, or if you're spending multiple days in Banff with the family you can consider getting a Discover Pass. Read more about the Banff Park Pass here.
---
Continue Driving the Bow Valley Parkway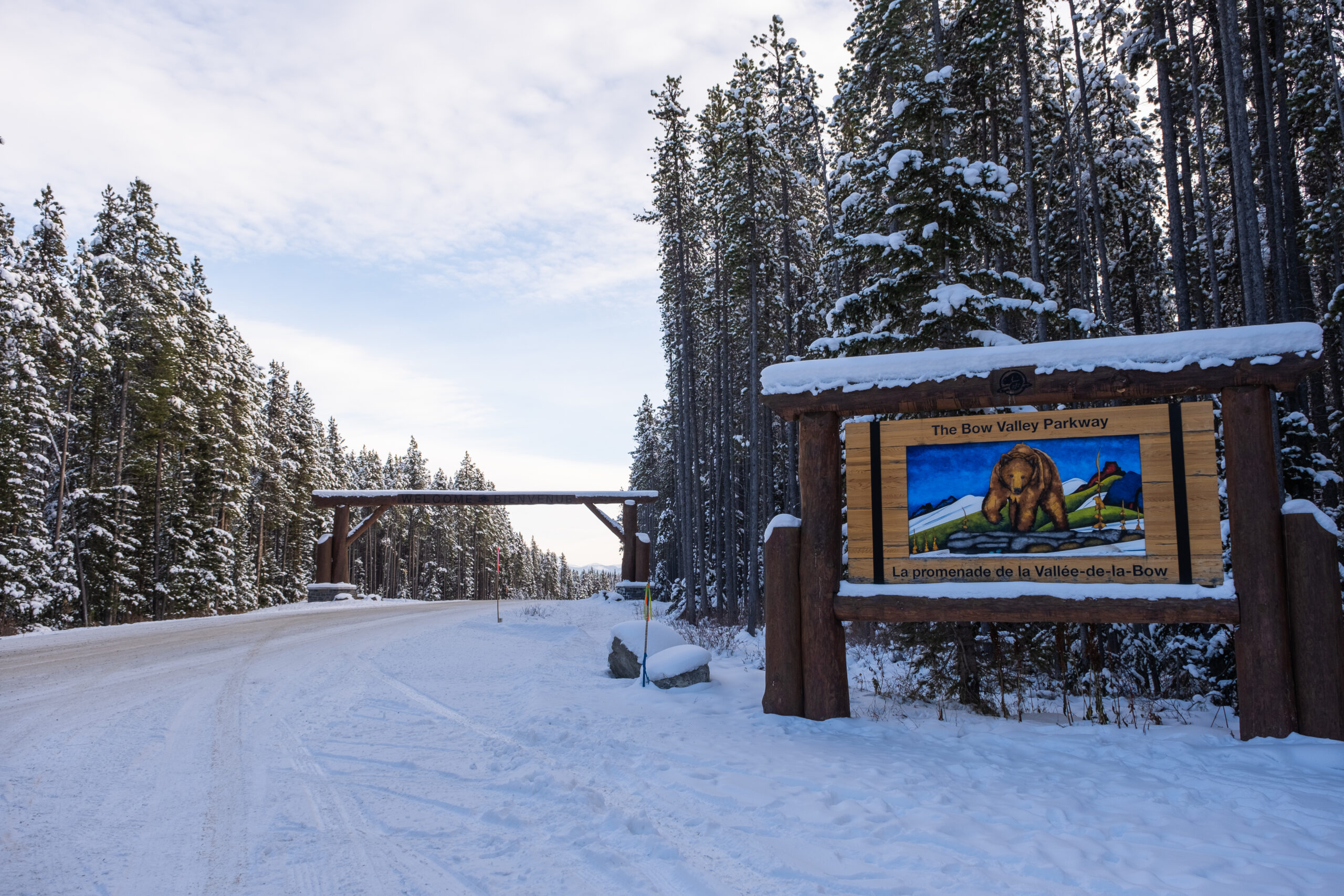 After you've snapped your photos of beautiful Morant's Curve we recommend continuing the drive on the Bow Valley Parkway.
The Bow Valley Parkway (1A) is easily accessible from both Banff and Lake Louise, and in between at Castle Junction. The Parkway is slower to drive than the Trans Canada, but the views and stops are simply magical. Some of my favorite stops are Castle Junction and Storm Mountain Lookout.
10 Awesome Bow Valley Parkway Stops (Driving Banff to Lake Louise)
---
Where to Stay Near Morant's Curve?
There are a few great places to stay along the Bow Valley Parkway and near Lake Louise. Some of our favorites are:
---
Things To Do In Lake Louise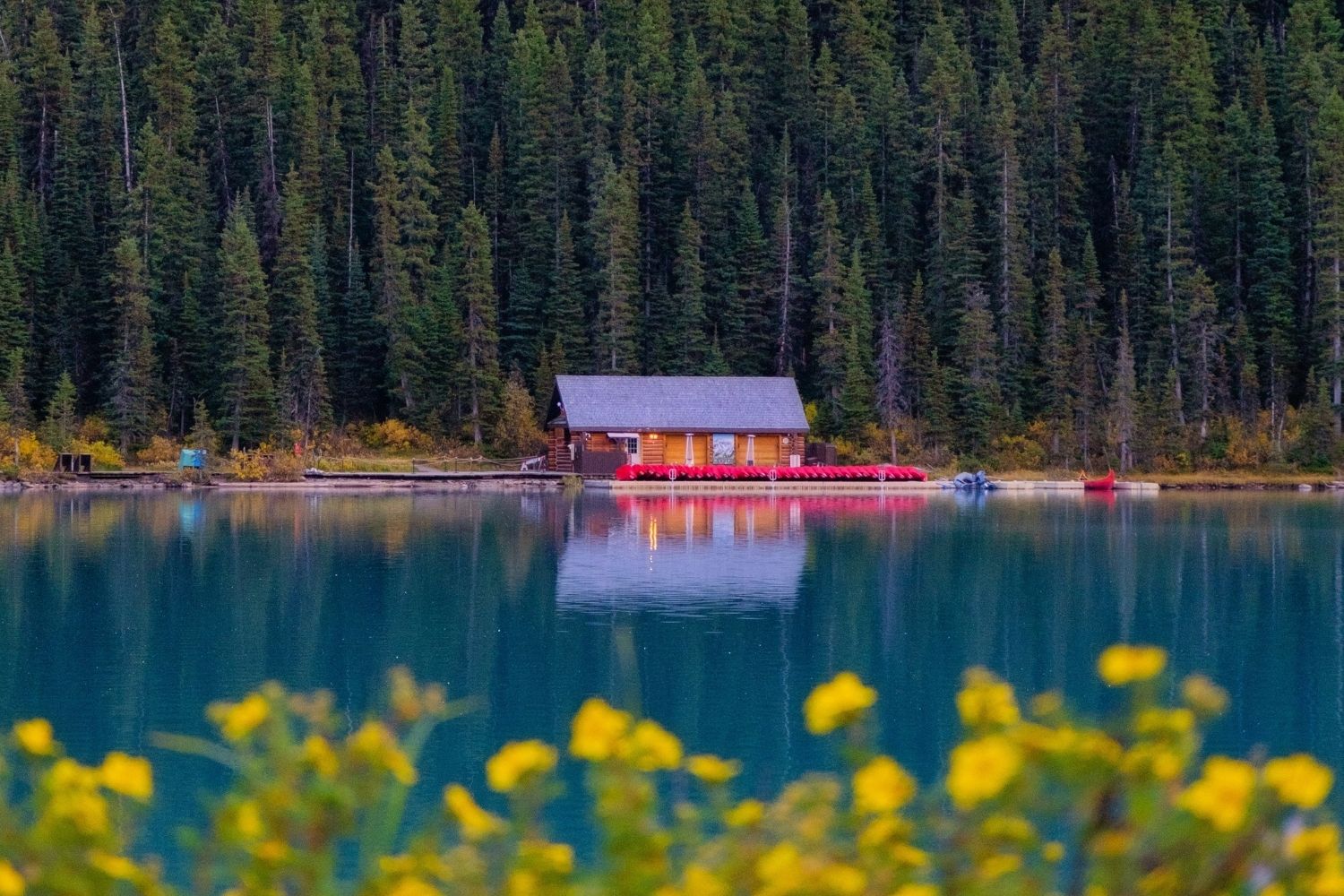 After you stop at Morant's Curve, keep heading towards Lake Louise for plenty of things to do like canoeing on Lake Louise, hiking the Big Beehive, or going up the Lake Louise Sightseeing Gondola.
21 Amazing Things to Do in Lake Louise
---
Where to Eat Around Morant's Curve?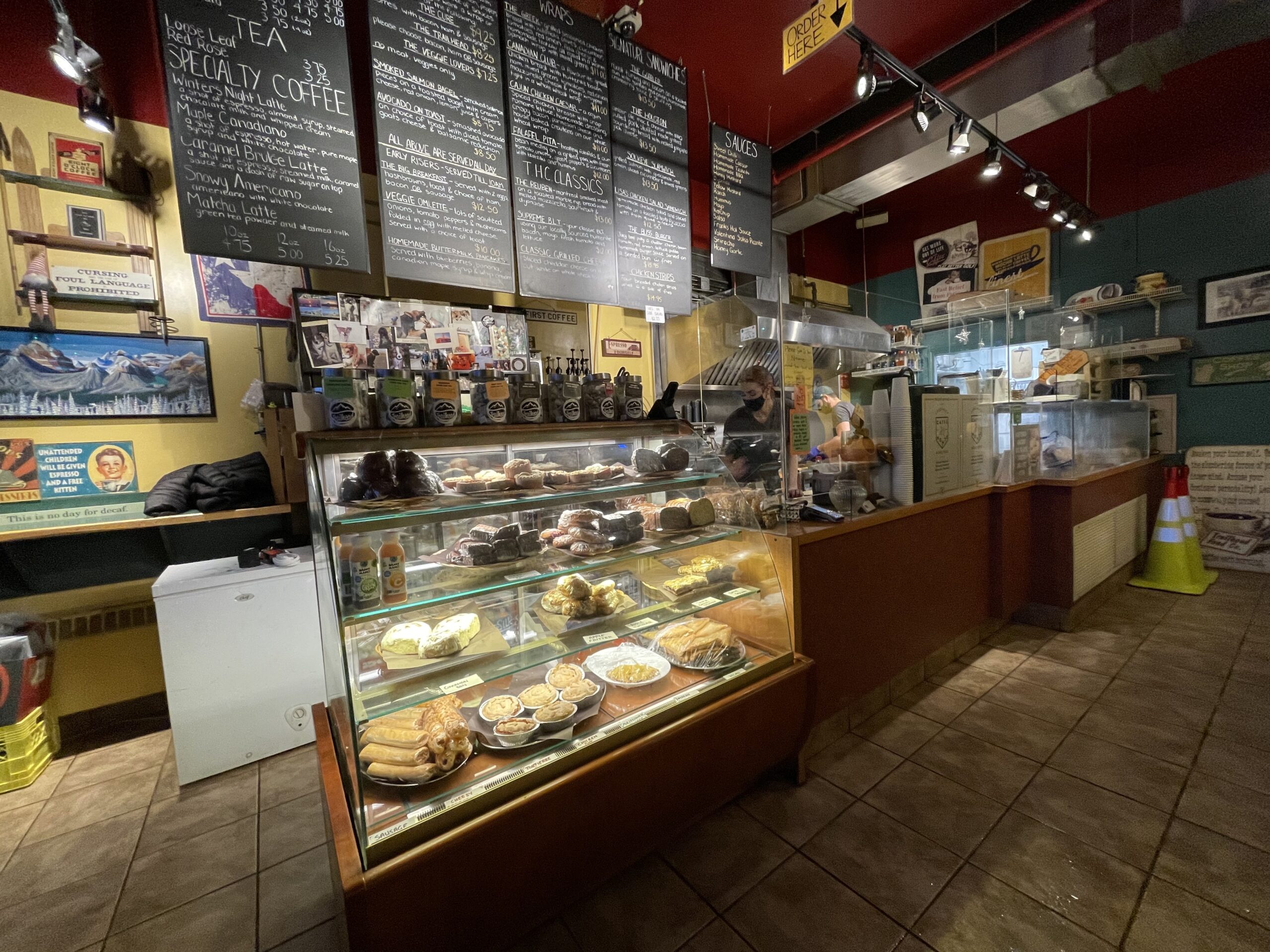 You are less than a 10 minute drive from Lake Louise village if you are at Morant's Curve, so if you are hungry, it's best to head there. At the Samson Mall there are a few Lake Louise restaurants such as Trailhead Cafe and Laggan's. I'm particularly fond of Trailhead Cafe smoothies and coffee.
There's also a bubble tea joint, and a small grocery store. If you are in the mood for a burger check out Bill Peytos Cafe, and if you are craving a meal with a view head on up to the Lakeview Lounge at the Fairmont.
Plan Your Trip to the Canadian Rockies
↓ Join the community ↓
The Banff Blog Facebook Group is your headquarters for the Canadian Rockies' travel advice and information. Including hike info and off-season travel information. This is also where you can meet one another when you need adventure buddies.