The Bow Valley Parkway (or the 1A) is a road that every visitor to Banff National Park should drive on at least once. Before the Trans Canada, the Bow Valley Parkway was the original road linking Banff and Lake Louise in the early 1900s.
Now it's a road primarily used for sightseeing and outdoor recreation, and is a great alternative to the Trans-Canada when connecting Banff to Lake Louise. Although it's much slower than the highway, it allows visitors ample time to get out of the car and enjoy the breathtaking views.
The Bow Valley Parkway runs parallel to the Trans Canada with the Bow River between the two. While both routes are scenic the Parkway offers much more for visitors.
There are some great hiking options along the way, including the famous Johnston Canyon. As well as a few accommodation options and scenic pull-off points. It's open year-round and honestly never gets old.
Besides being one of the most scenic drives in Alberta (only behind the Icefields Parkway), It's one of the best places to bike in Banff National Park as well. Here's all you need to know about driving the Bow Valley Parkway and the best stops on it.
Is the Bow Valley Parkway Open? Important Notice
From March 1st to June 25th, travel is not permitted between 8 p.m. and 8 a.m. from the Johnston Canyon Campground to the Fireside Picnic Area (17km). This restriction applies to all forms of travel (vehicle, walking, and biking). The restriction is to ensure a high quality home remains in place for the wildlife.
All businesses remain open during this time and can be accessed via Castle Junction.
---
What is the Bow Valley Parkway?
The Bow Valley Parkway, or 1A, is a scenic route that connects Banff to Lake Louise. It runs parallel to the Trans Canada highway and is best for those that want a slow, scenic alternative to the highway.
---
Is the Bow Valley Parkway Open?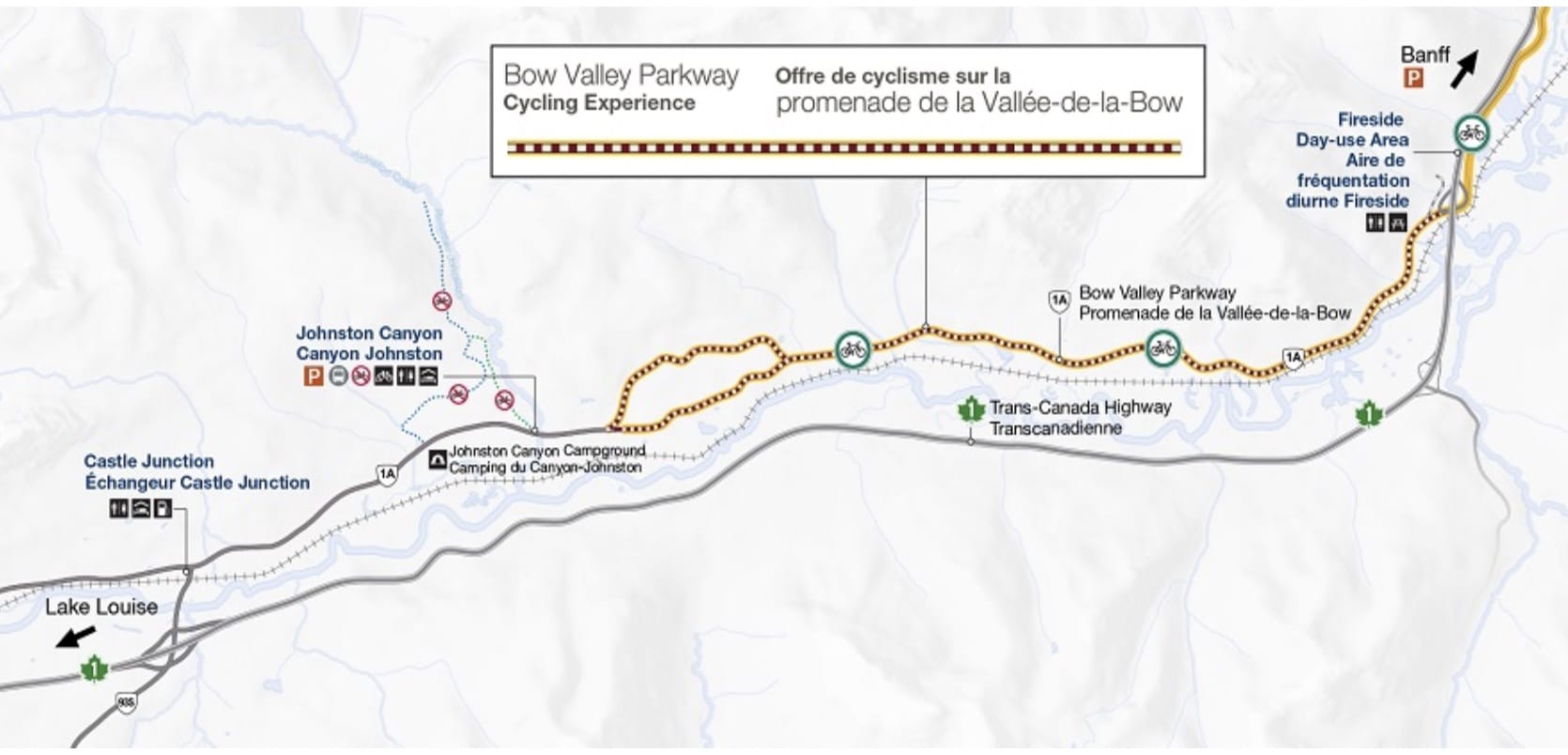 In addition to the nighttime closure above, there is another closure to be aware of.
Parks Canada has approved a three-year pilot that restricts vehicles every day from 8am to 8pm from May 1 to June 25, 2022 and from September 1-30, 2022 only along the eastern 17-kilometer section of the parkway to allow for vehicle-free cycling. This closure is between the Fireside Day-use Area and Johnston Canyon. So if you would like to go to Johnston Canyon during this time it's recommended to cycle in (make sure to bring a bike lock!). Your other alternative is to access Johnston Canyon via the Castle Junction exit.
It's a wonderful bike ride, and a fantastic thing to do in Banff. You can bring your own bike, or rent a road bike or e-bike with Banff Cycle to enjoy this closure!
---
The Bow Valley Parkway vs the Icefields Parkway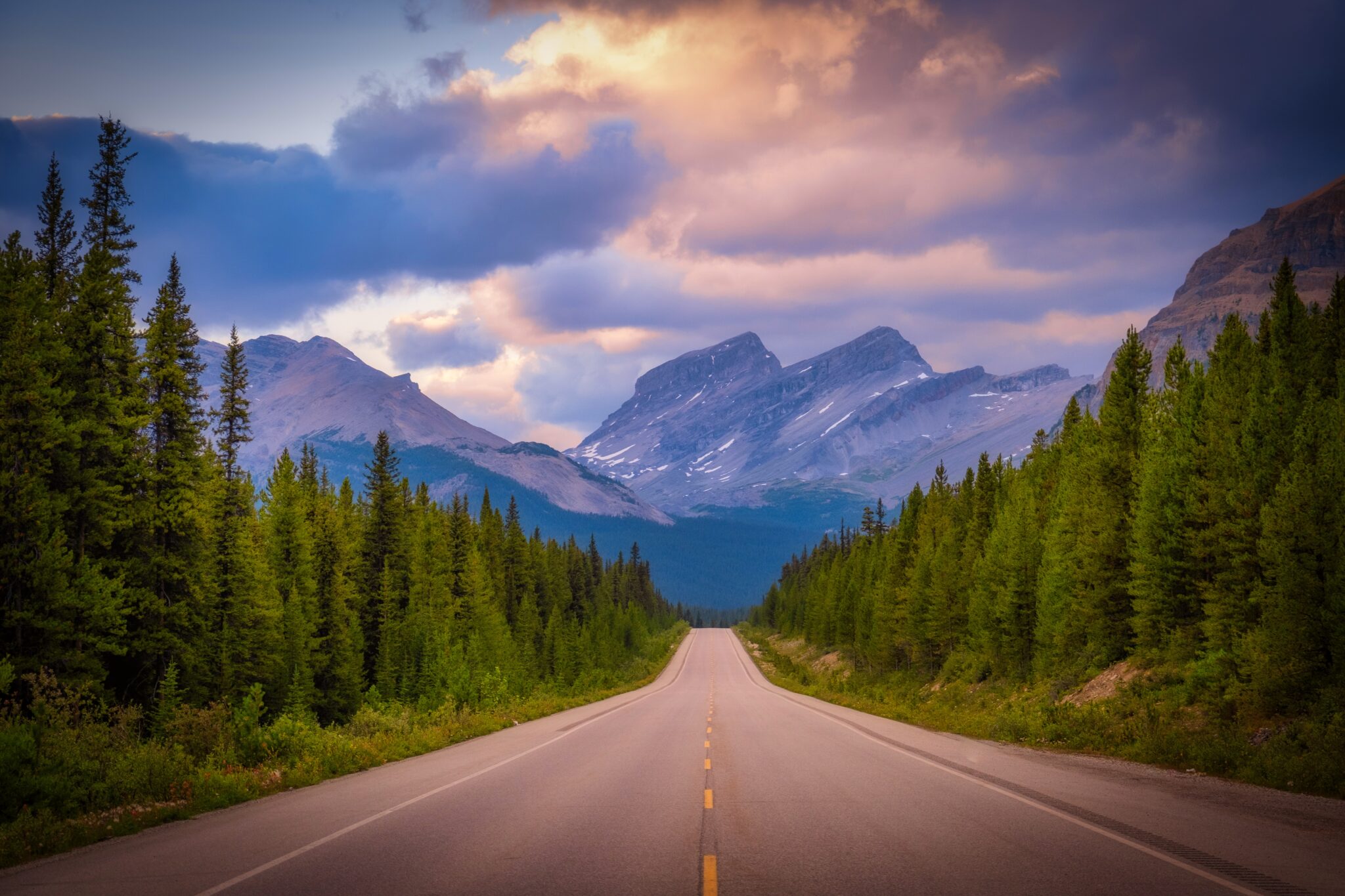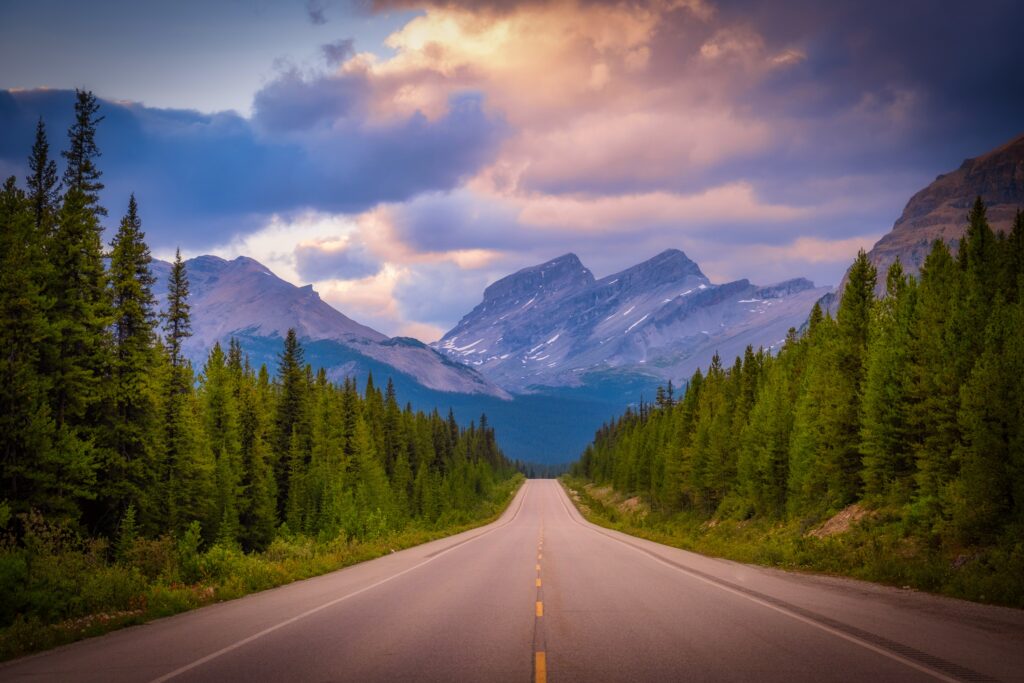 The Bow Valley Parkway (1A) should not be confused with the Icefields Parkway (AB-93). The Bow Valley Parkway connects Banff to Lake Louise, while the Icefields Parkway is much longer and connects Lake Louise to Jasper. Both are beautiful drives that should be factored into your Banff itinerary.
---
How to Access the Bow Valley Parkway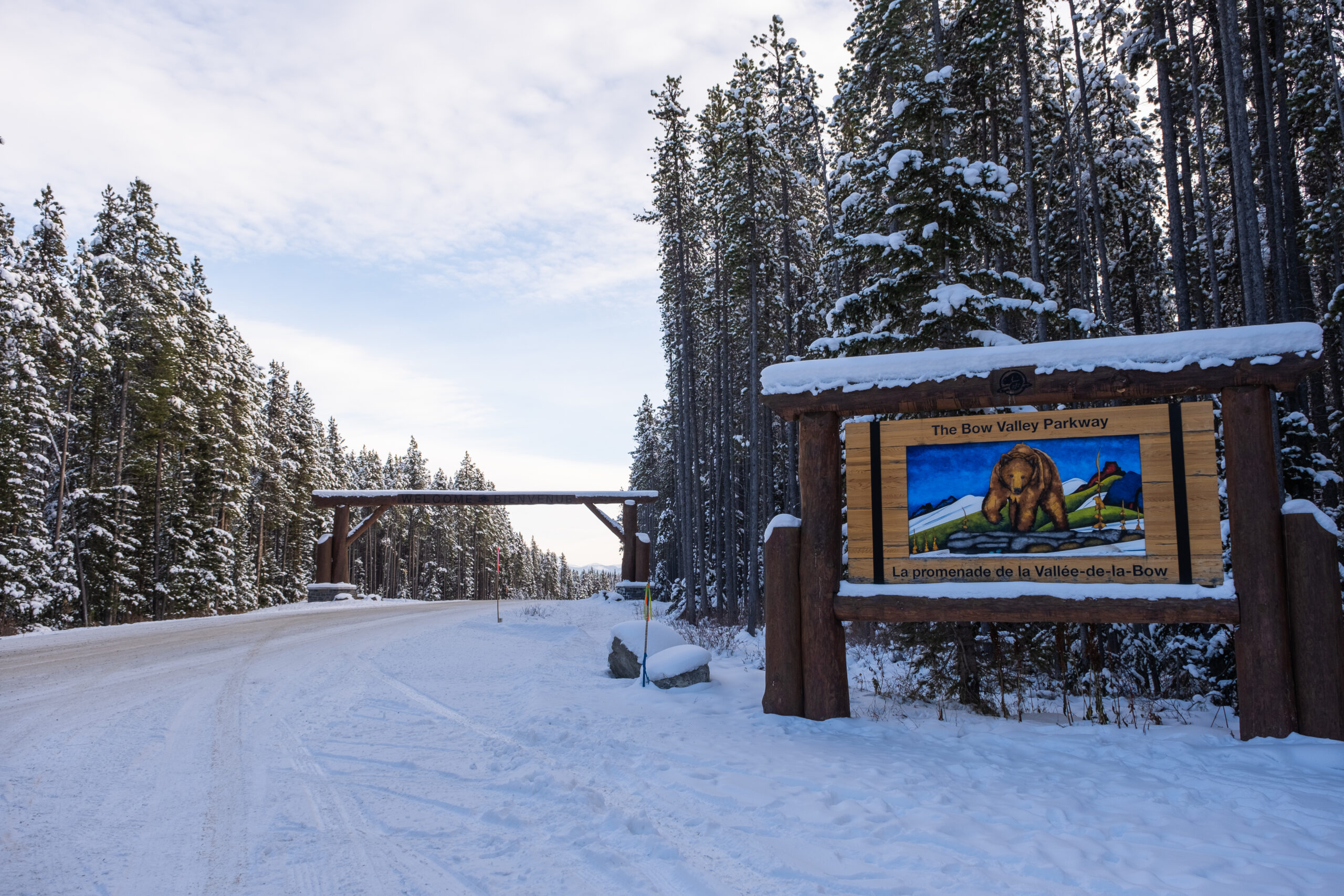 The Bow Valley Parkway (1A) is easily accessible from both Banff and Lake Louise, but if you don't know it's there you could miss it and spend all your time driving on the Trans-Canada.
To access the Bow Valley Parkway from Banff you'll drive on the Trans-Canada passing Vermilion Lakes on your left. About 6 km past the Mt/Norquay Rd you'll exit on the right for the Bow Valley Parkway
To access the Bow Valley Parkway in Lake Louise, head up towards the Lake Louise Ski Resort. As you're driving up Whitehorn drive, you'll see a turn on your right. If you hit the sign for Skoki Lodge, you've gone too far.
If you are want to access the Bow Valley Parkway you can get off at Castle Junction while driving on the Trans-Canada. Cross the bridge (pictured above) and continue on in the direction you wish to go.
---
How Long is the Bow Valley Parkway?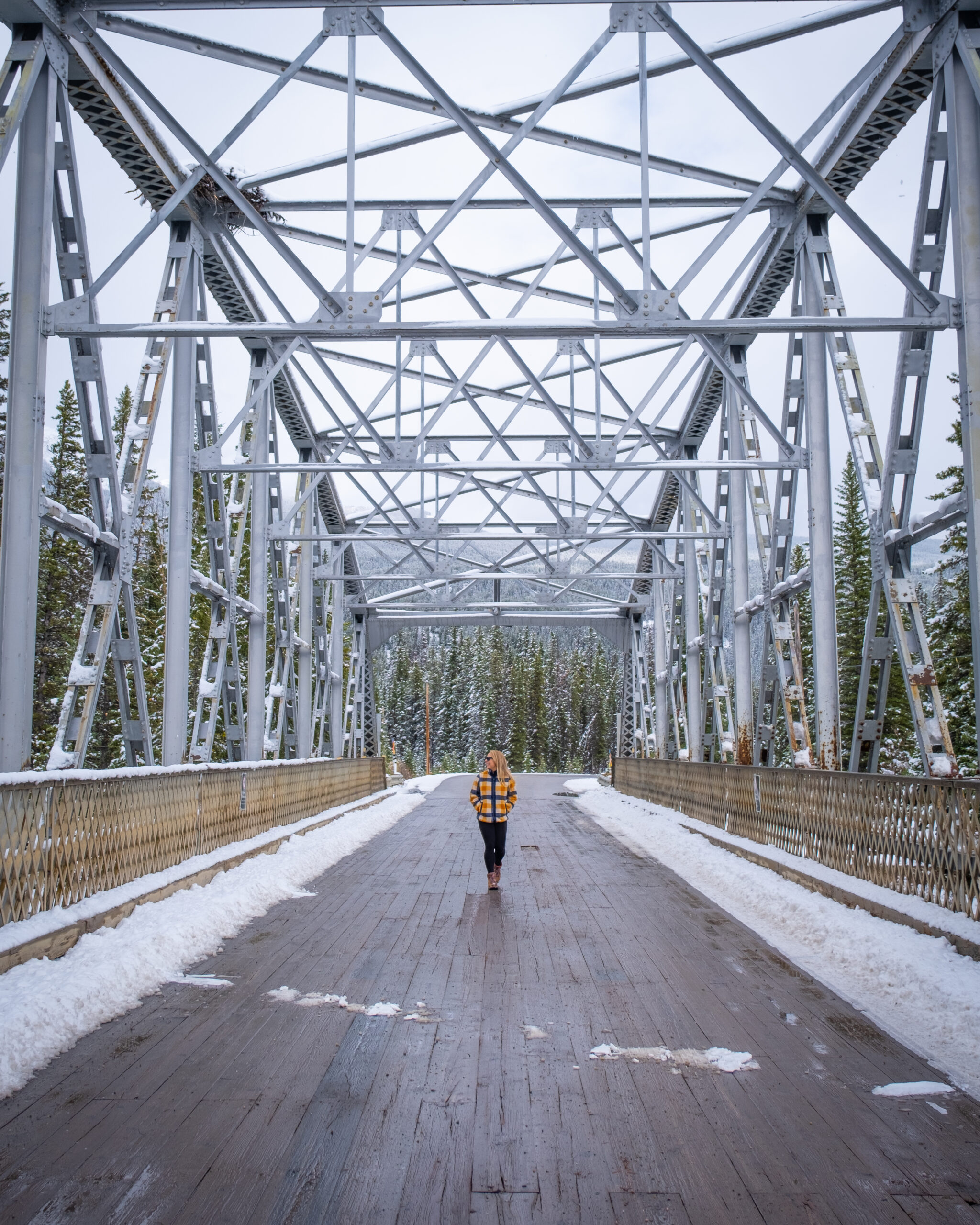 The Bow Valley Parkway is 50 km long (one-way) and will take the average driver about one hour to drive it straight without any stops in the summer. In the winter expect the drive to take longer as there is often snow and ice on the road.
Cozy Cabins on the Bow Valley Parkway You'll LOVE
---
The Best Stops on the Bow Valley Parkway
From Banff to Lake Louise
---
Backswamp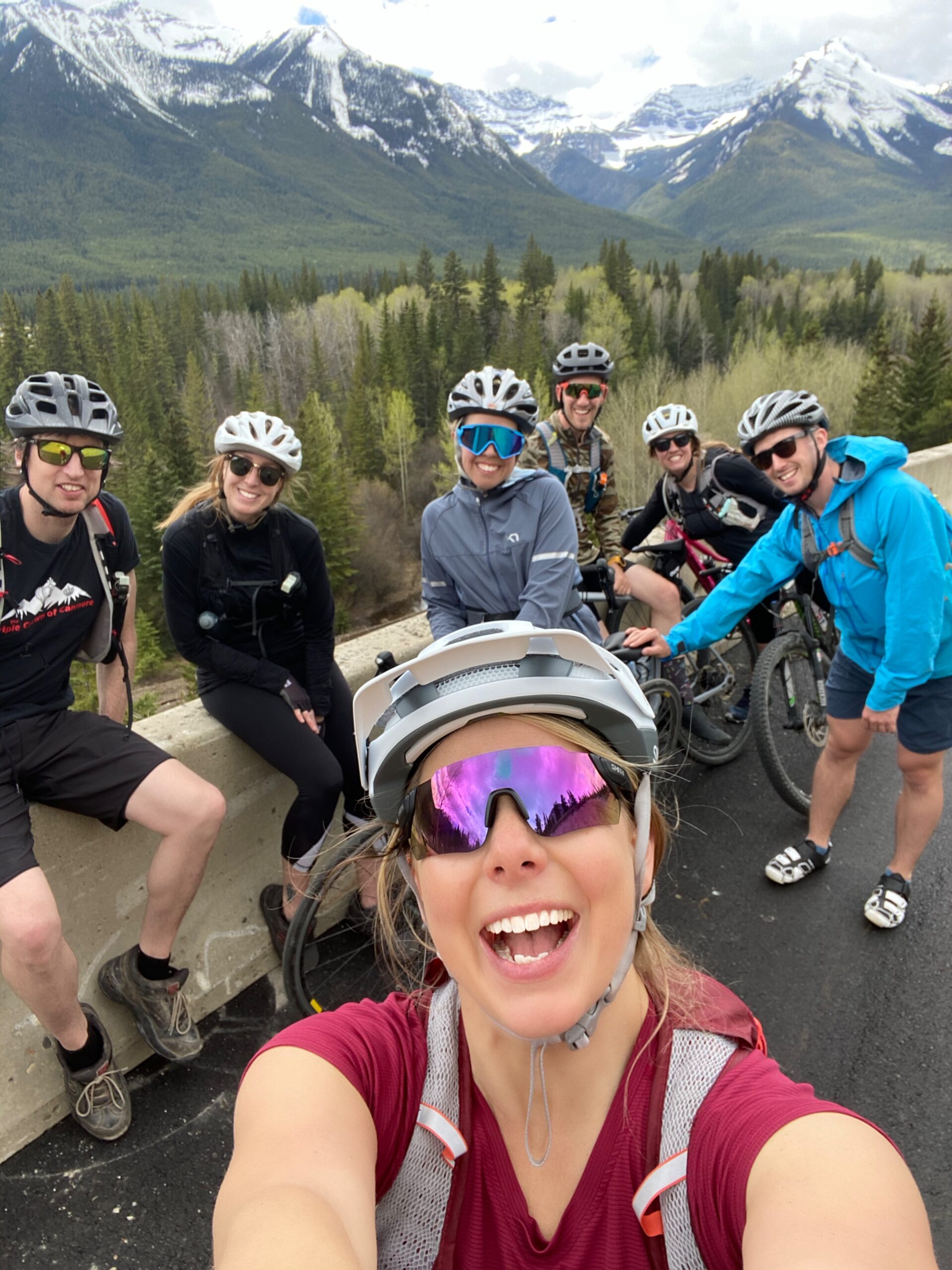 The Backswamp, which doesn't sound so pretty, is actually an amazing lookout over Banff. There's a little pull-off area for bikes and cars to step out and snap a photo.
---
Hillsdale Meadows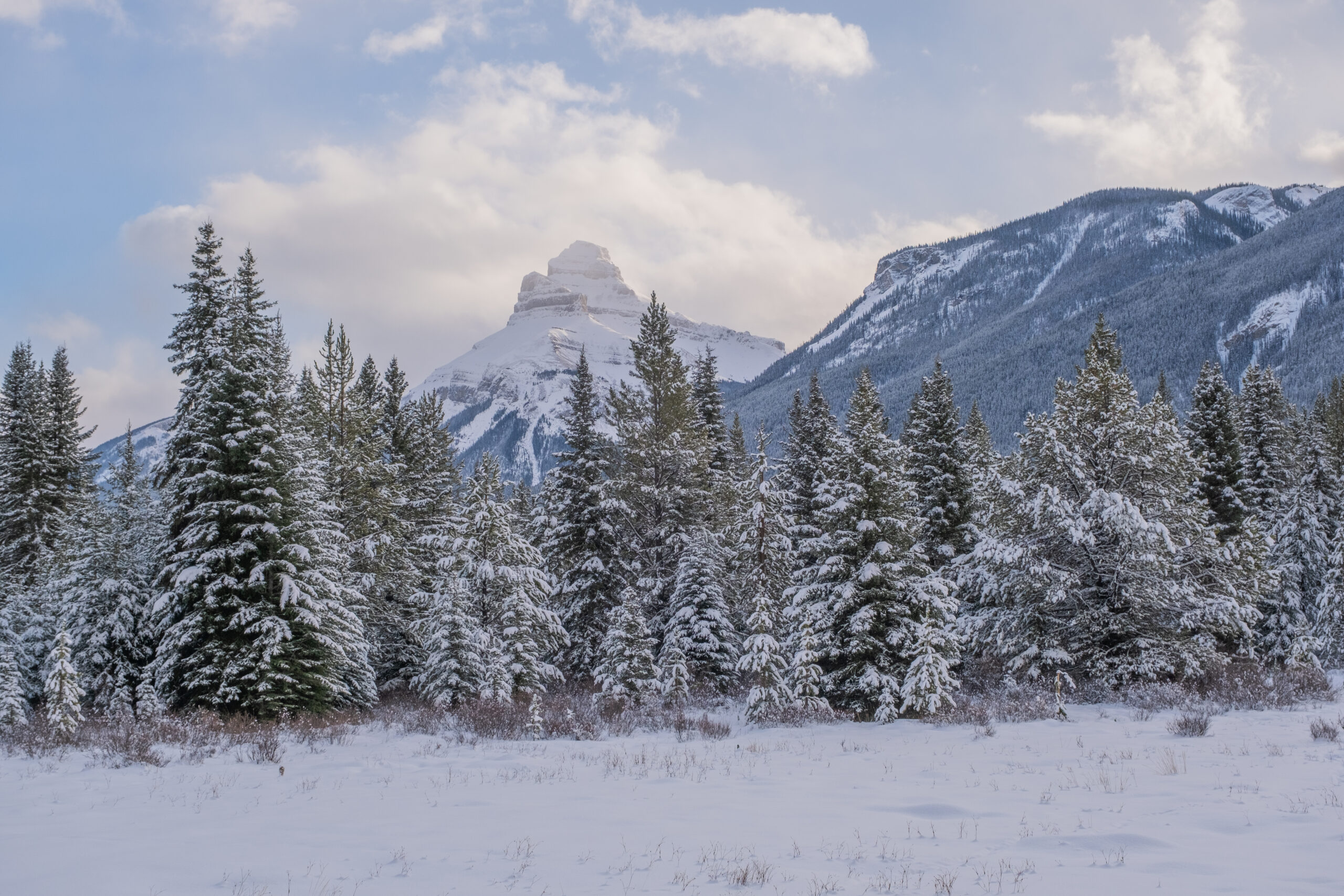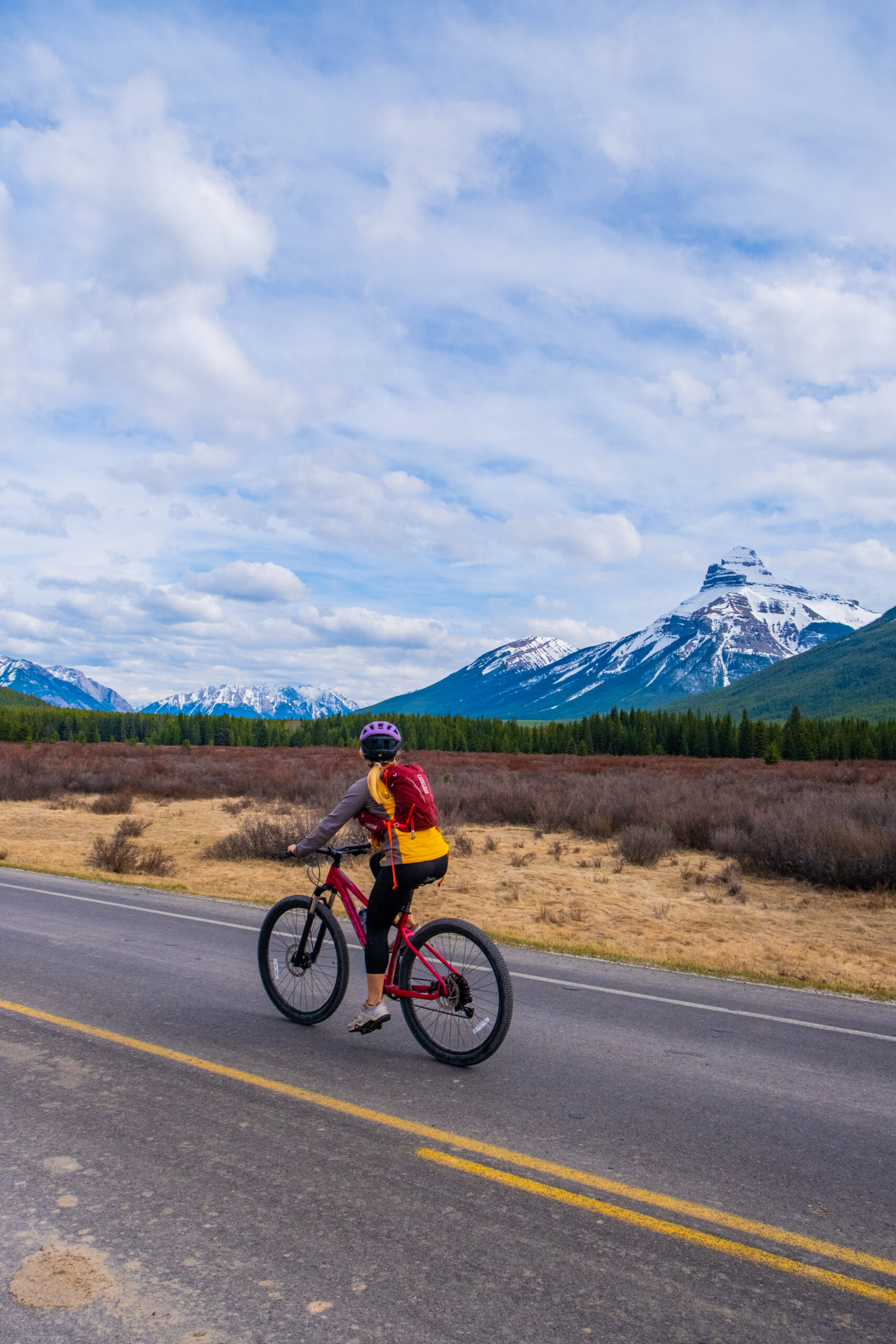 I always stop at Hillsdale Meadows when I'm riding my bike on the parkway. It's a scenic stop with plenty of wildflowers in the summer and a great view of Pilot Mountain.
---
Johnston Canyon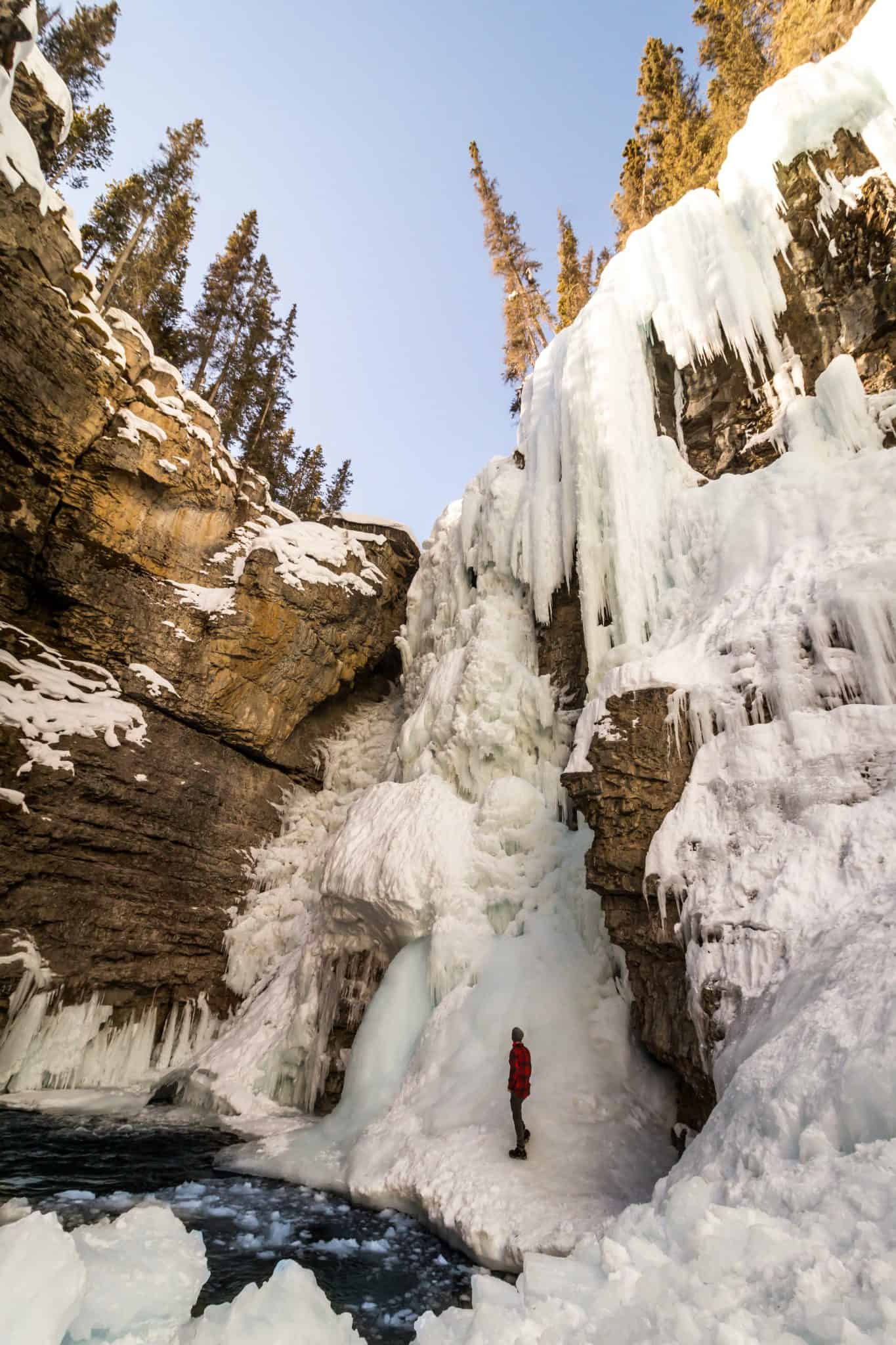 Perhaps the most famous and well-known stop on the Bow Valley Parkway is Johnston Canyon. Johnston Canyon is a highlight for many on their trip to Banff. It's a nice easy hike the whole family can enjoy on a maintained trail. It's great to walk in both the winter and summer.
In the winter the falls freeze creating the most beautiful scene, and in early summer the falls are absolutely roaring as the snow melts off the surrounding mountains.
Johnston Canyon is a popular stop, and you can expect it to be busy. There's a gift shop here, as well as a restaurant, cafe, as well the Johnston Canyon Bungalows to stay at. Read all about hiking Johnston Canyon here.
---
Moose Meadows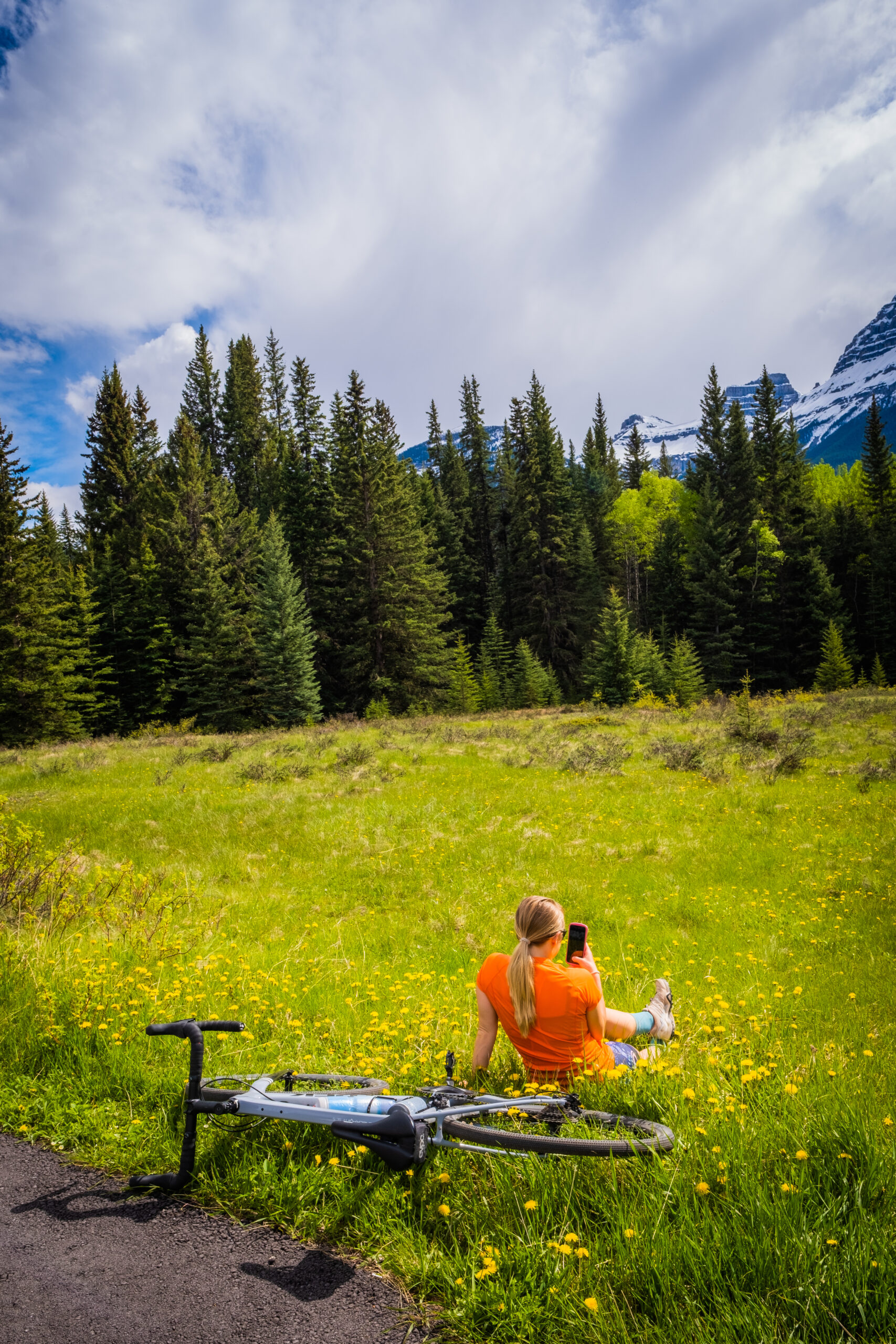 Another large meadow that's famed for its moose sights, although I've never seen a moose here I do believe it happens if you are lucky. In the summer its wildflowers abound, while the winter creates amazing scenery with the snow.
35 Best Canmore and Banff Bike Trails
---
Rockbound Lake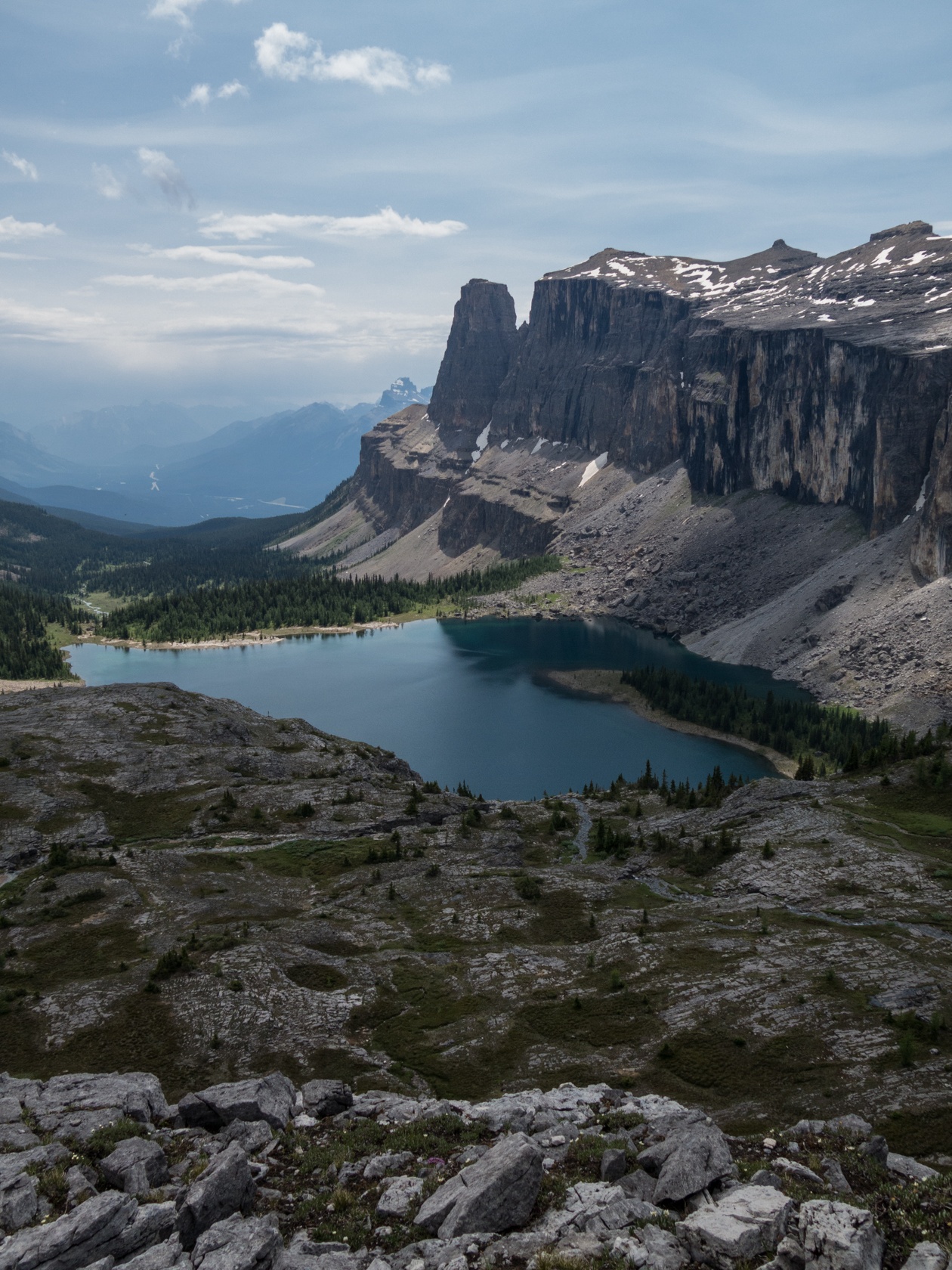 Before you reach Castle Junction there's a parking area for the trailhead to Rockbound Lake. Rockbound Lake is a beautiful Banff lake that sits under Castle Mountain.
To reach them you'll have to climb over 900 meters of elevation as well as 18 km of distance round trip, but it's well worth it!
---
Castle Junction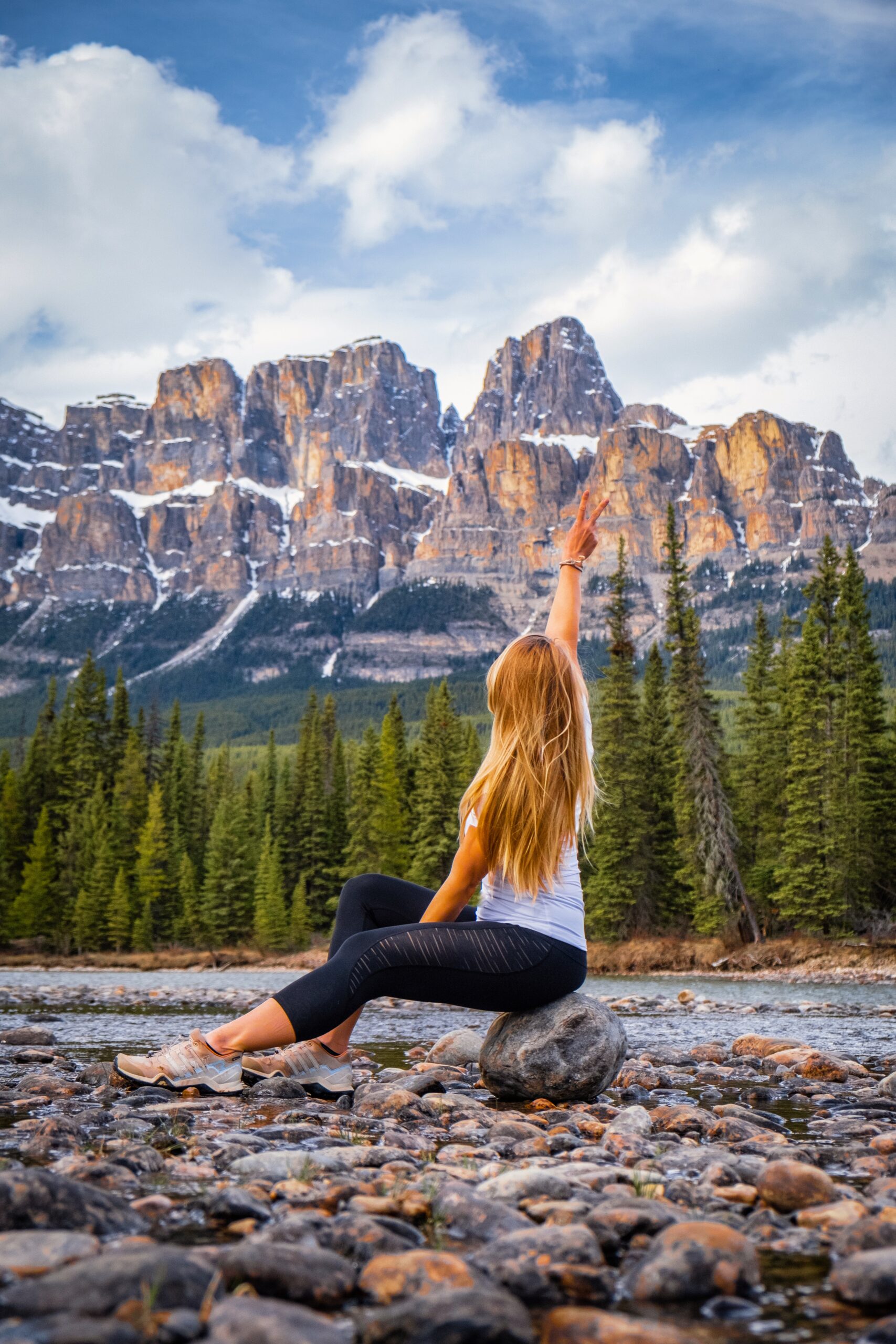 Another one of my favorite stops on the Bow Valley Parkway is Castle Junction. Castle Junction marks the halfway point between Banff and Lake Louise. It's where the Valley connects to the Trans-Canada. It may not sound that exciting, but this is where I find the best views of Castle Mountain are.
Head to the bridge to get photos along the Bow River. There's also a small convenience store here as well as the Castle Mountain Chalets.
---
Castle Mountain Lookout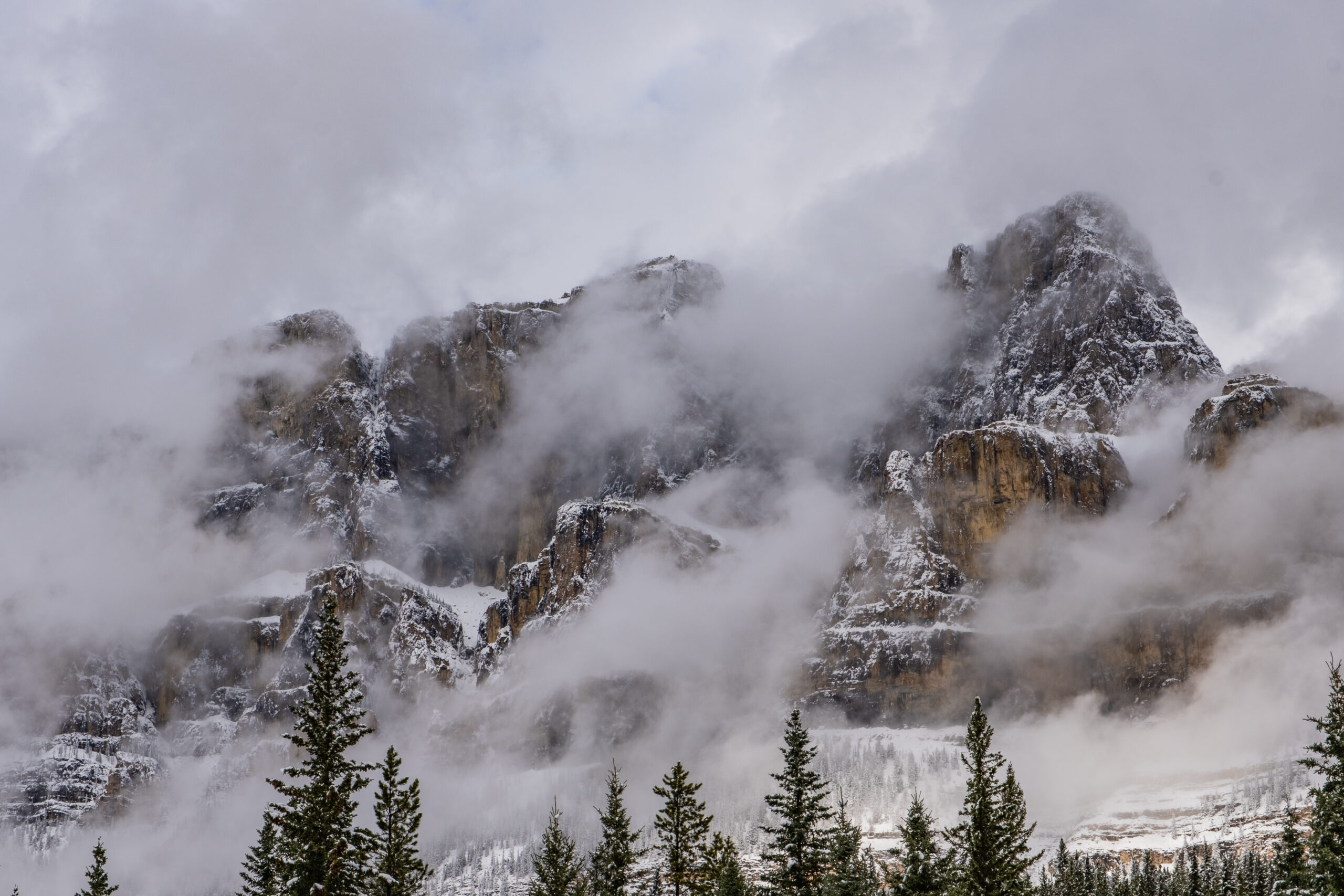 In case you missed the junction there is another designated lookout point right after the junction. It comes up quickly on your right. There's a small elevated path, with information and amazing views of Castle Cliffs.
---
Storm Mountain Lookout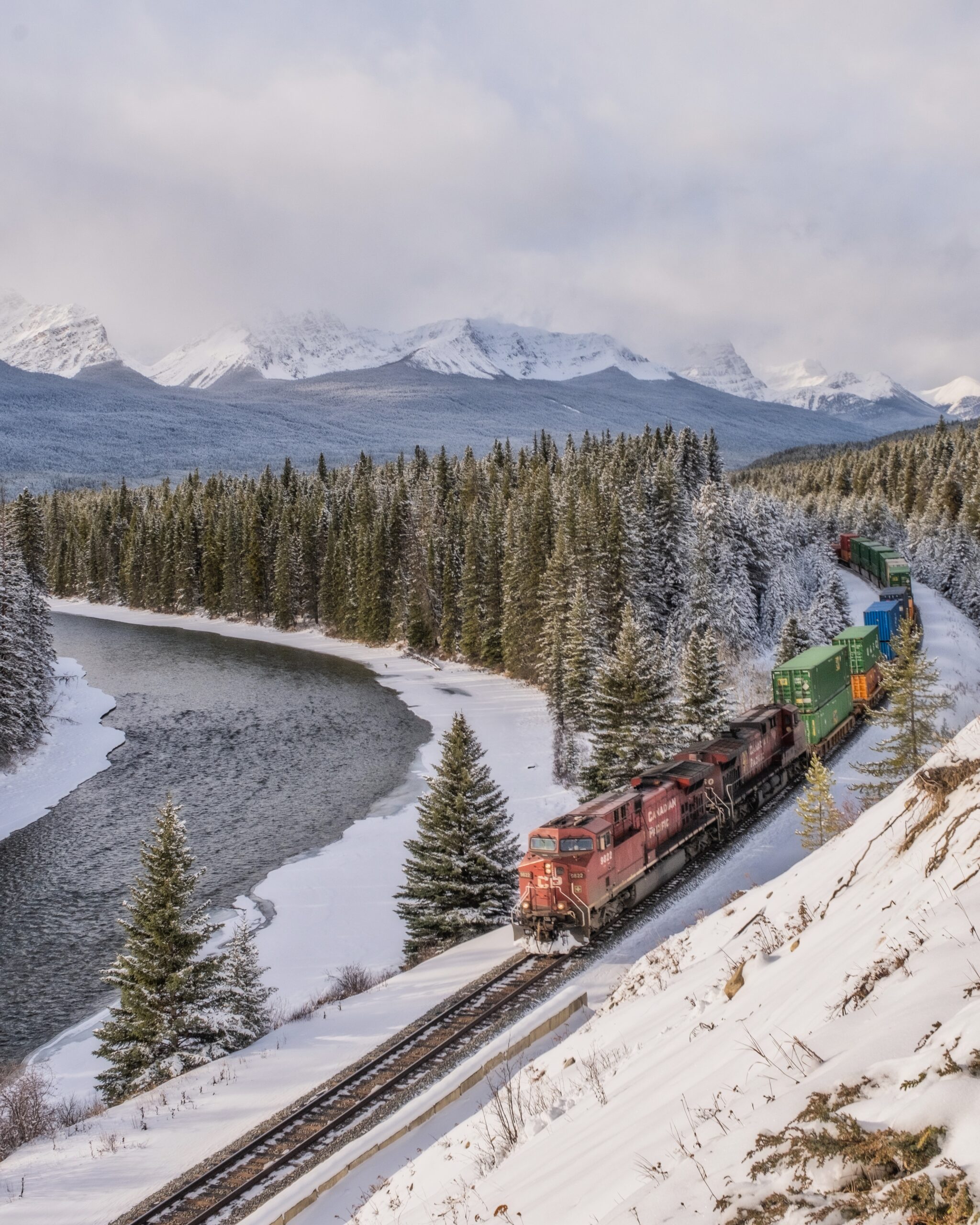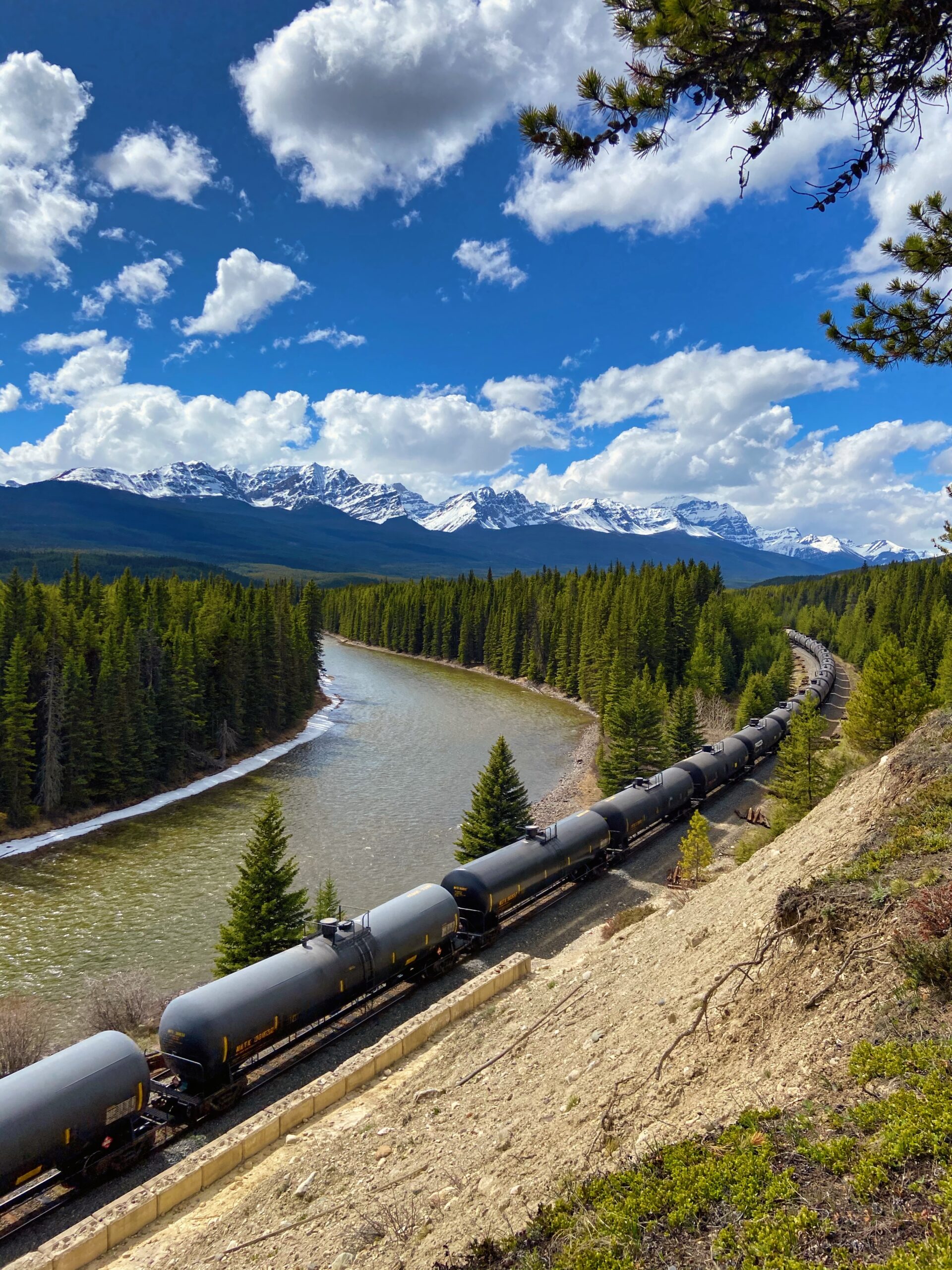 This is another fantastic lookout on your left hand side. You get great views of storm mountain here. There are also a few picnic tables to enjoy lunch at, and down below are the train tracks.
If you get lucky and time it right you'll be able to see a train coming through the beautiful Bow Valley.
---
Internment Camp Memorial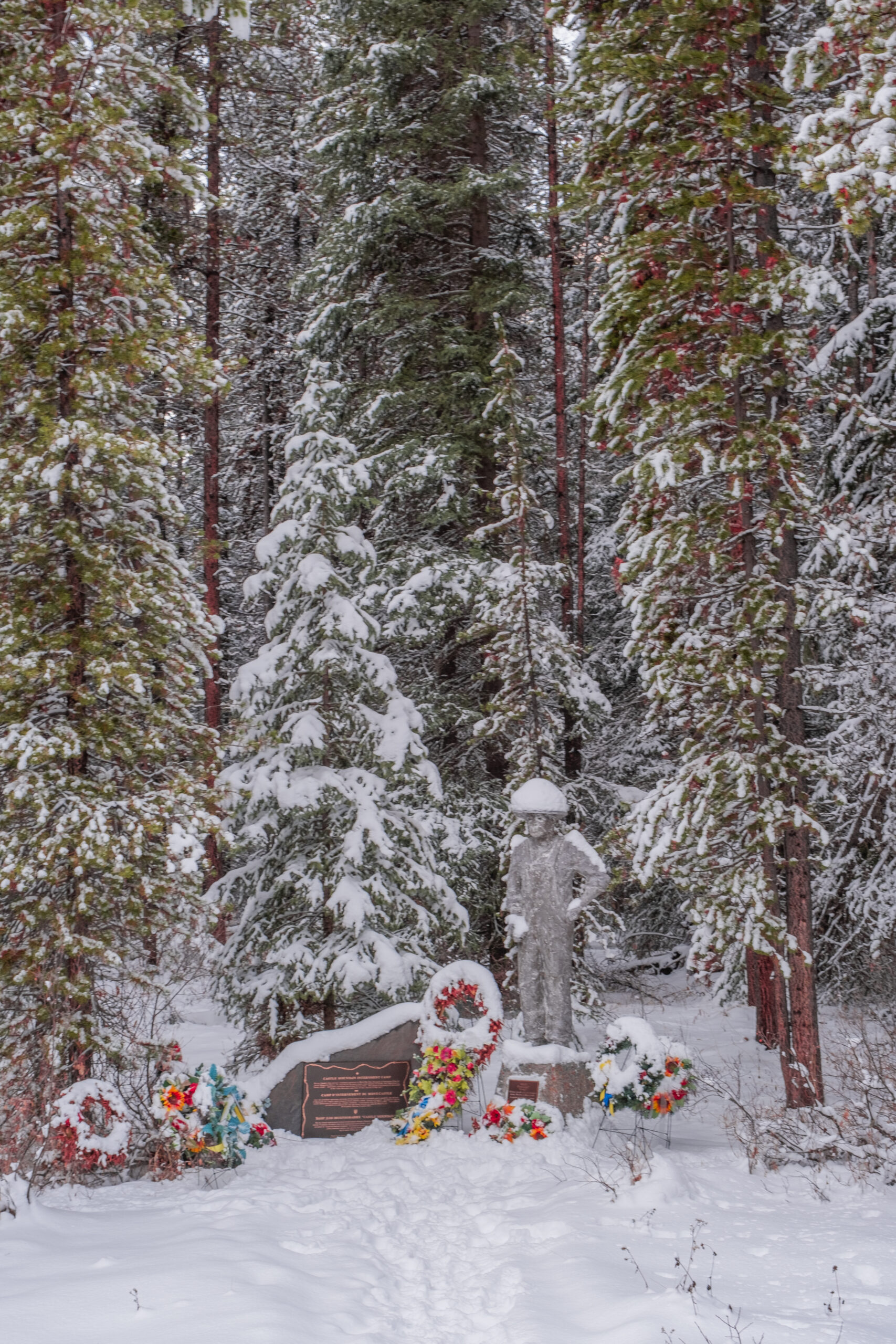 The Castle Mountain Internment Camp was the largest internment facility in the Rockies in the early 1900s. Over 600 prisoners of war were interned here that were of Ukrainian, Austrian, Hungarian, and German descent during WWI.
These individuals helped make the infrastructure in Banff National Park what it is today. They were subject to abuse and extreme conditions in the winter. There's a memorial statue here and some important reading information.
---
Morant's Curve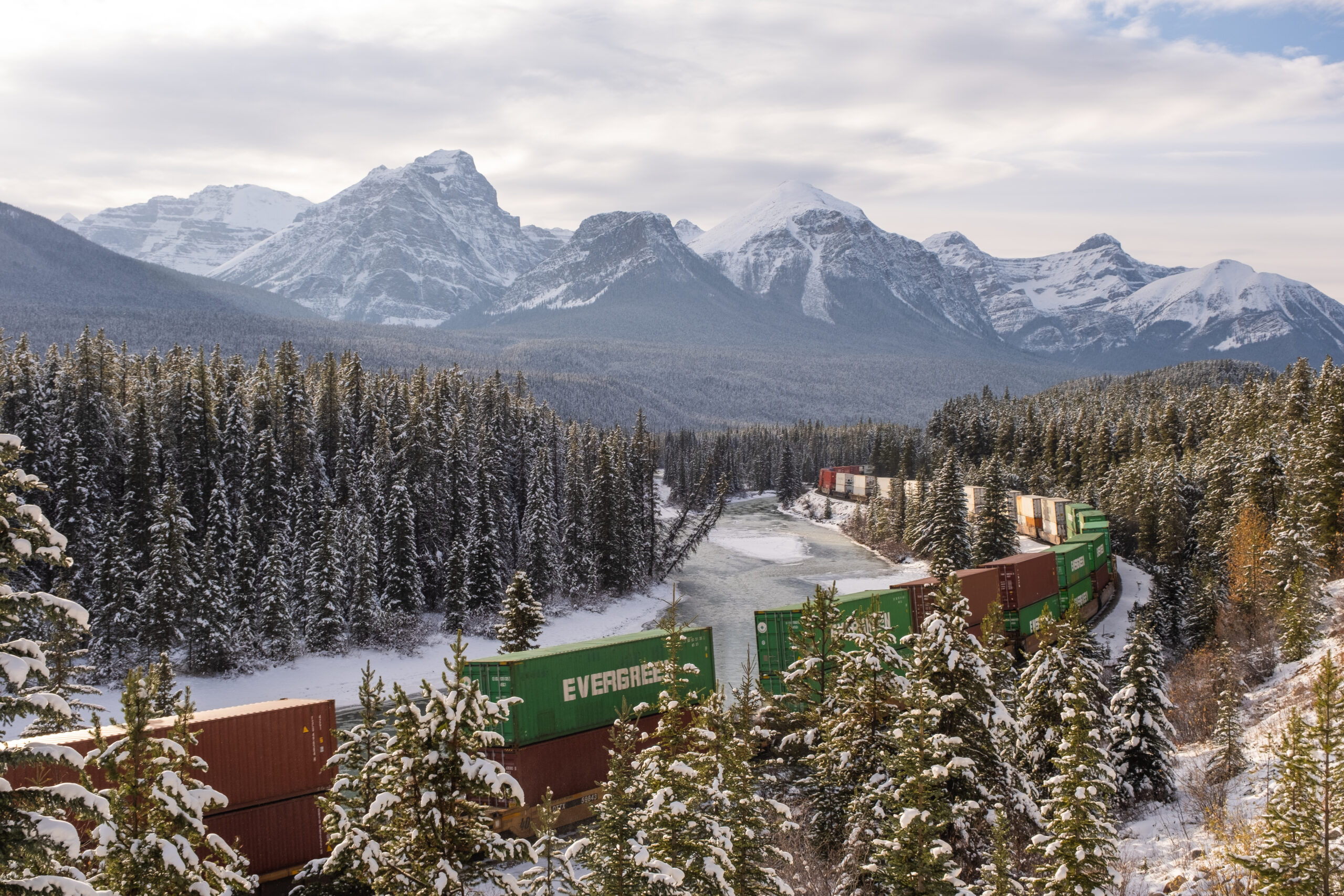 Just before you get to Lake Louise, you'll pass a spot just before you get to Lake Louise that overlooks the train tracks down an epic valley.
This is called Morant's Curve and is a photo hot spot in the Rockies. It particularly looks ideal in the winter when the mountains and trees are blanketed in snow.
It looks great without a train, but to really nab the shot, you'll need to hang out in the cold waiting for the Canadian Pacific train to pass by. It requires patience and warm clothes, but it can be done.
If you really want to outdoor yourself, you should look up when the Canadian Holiday Train is passing through which happens every December!
---
How Much Time Do You Need to Drive the Bow Valley Parkway?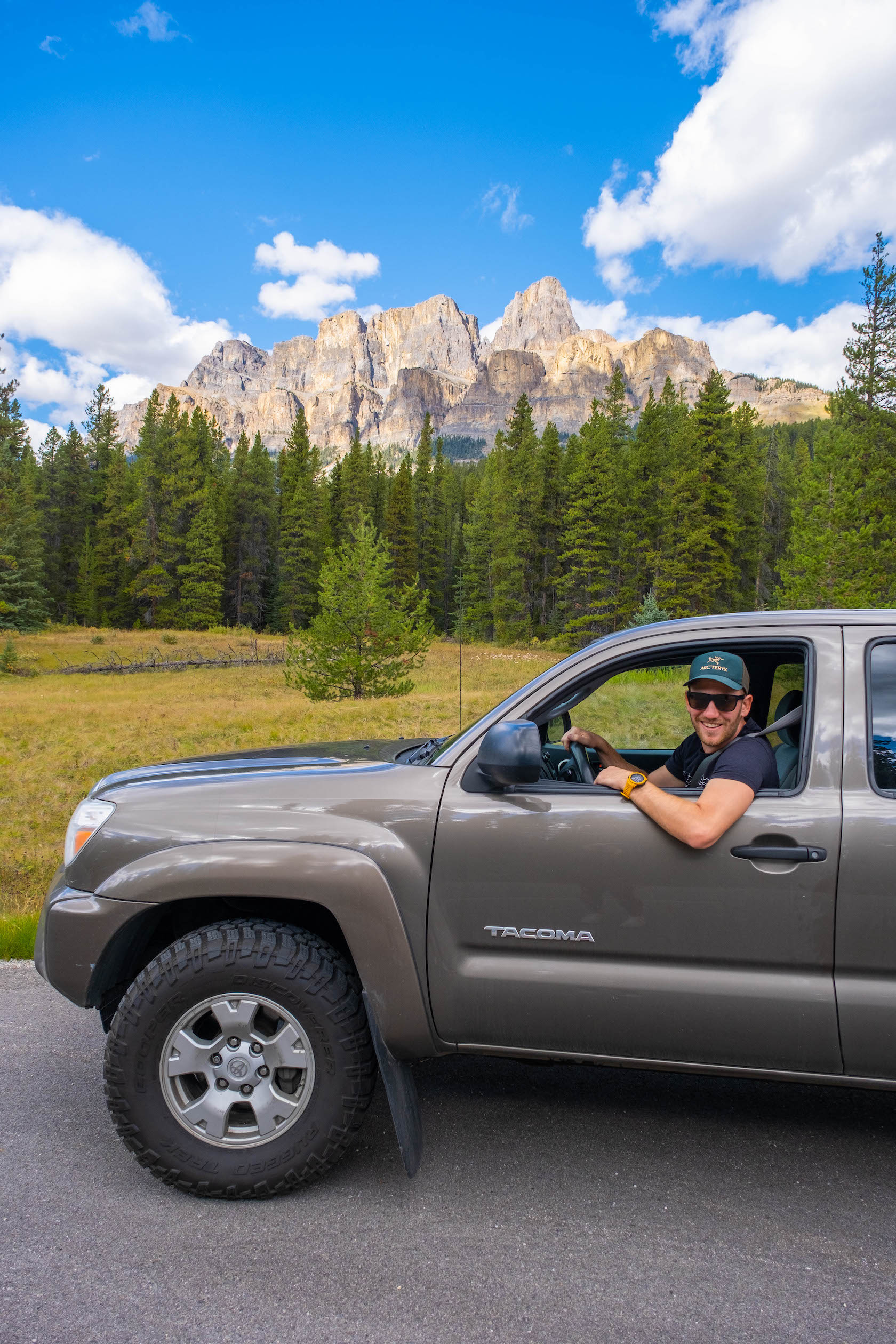 The Bow Valley Parkway is 50km of sheer beauty. If you plan to make all the stops I would allocate 1.5-2 hours to complete the drive at a laid-back pace. If you plan to hike back to Johnston Canyon I would allocate at least half a day.
Our best advice is to drive the Bow Valley Parkway one way, and take the Trans Canada back the other to save time!
---
Wildlife on the Bow Valley Parkway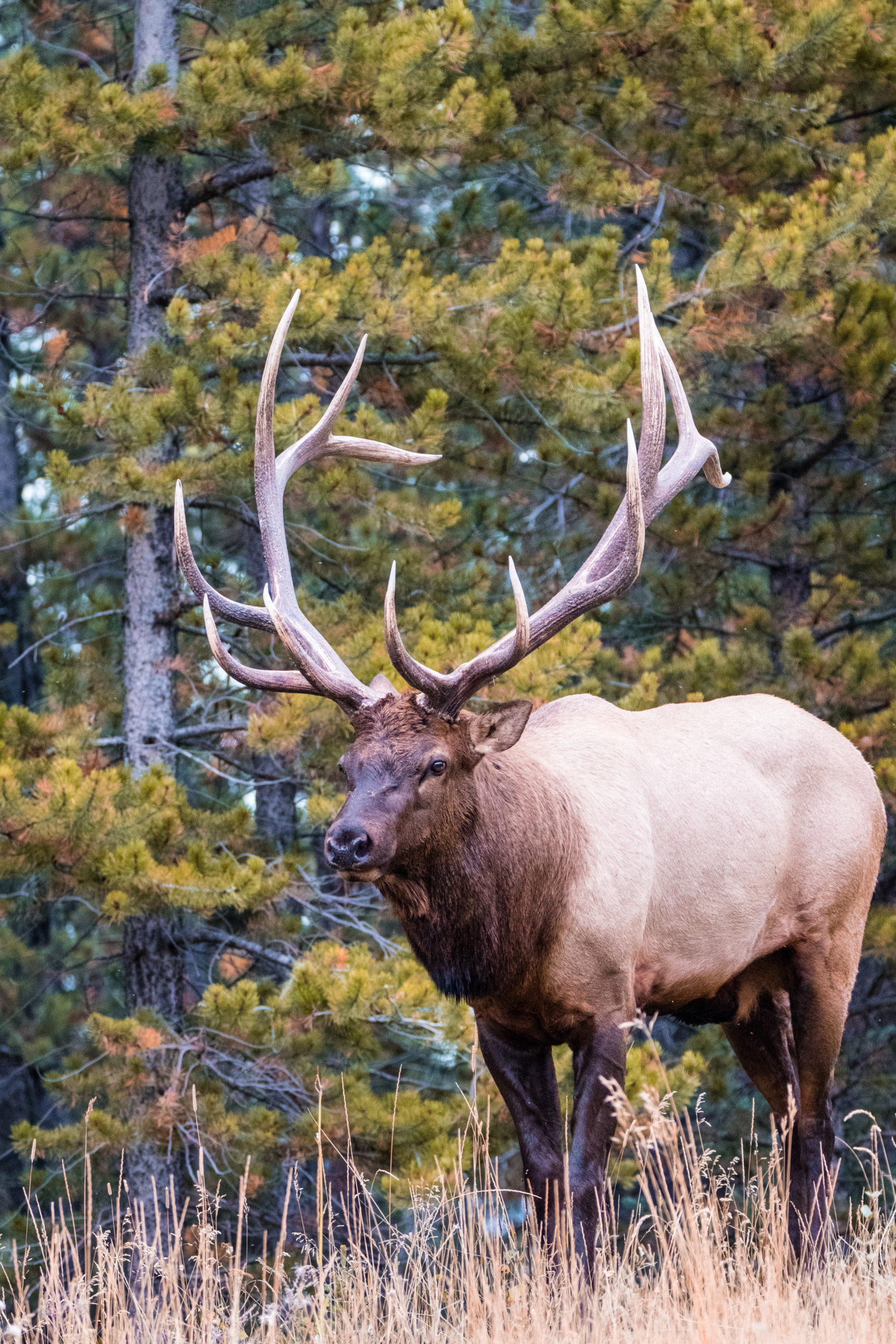 You're bound to see some Canadian Rockies wildlife while driving on the Bow Valley Parkway. The most common animals you will see are Bighorn sheep, deer, and elk. If you're visiting in the summer, you stand a good chance at seeing a bear; I've seen a few while cycling the Bow Valley Parkway before.
Other animals I've spotted on the Parkway are foxes and moose. Cameron has seen a wolf before (or so he says); if this happens to you, consider yourself lucky. If you see a wolf, let a Parks Canada employee know by calling when you get service.
When you see these animals, you'll probably be mesmerized by their beauty and want to stop for a photo. Please pull over safely, do not get out of your car, and do not stop traffic. Also, please don't hog the sighting; stay for a few moments and move on to let others enjoy.
---
Tips for Driving the Bow Valley Parkway in the Winter
Canadian winters can be extremely harsh and dangerous for driving. If you are not an experienced winter driver and planning a magical Canadian winter trip, you should take caution.
The Bow Valley Parkway is plowed in the winter, but conditions are worse than on the Trans-Canada. Read more about renting a car in Banff in the winter here.
---
Where to Eat on the Bow Valley Parkway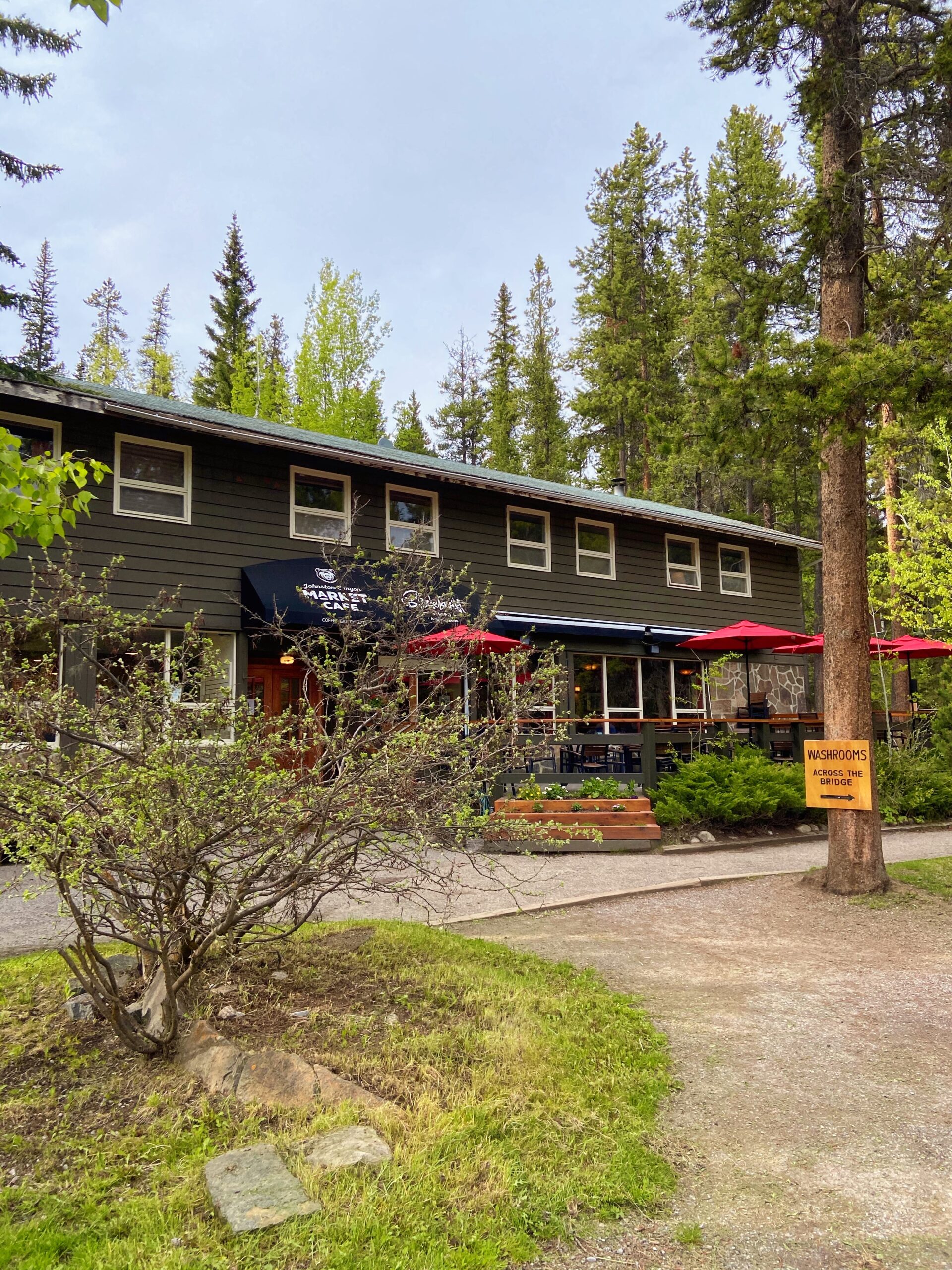 Like most of Banff National Park, there aren't very many places to eat outside of town. So come prepared with snacks for your epic road trip. There are a few stops you can make on the Bow Valley Parkway, noted below. If you miss these stops there are a few cafes in the Lake Louise Village, and obviously in Downtown Banff.
---
Where to Stay on the Bow Valley Parkway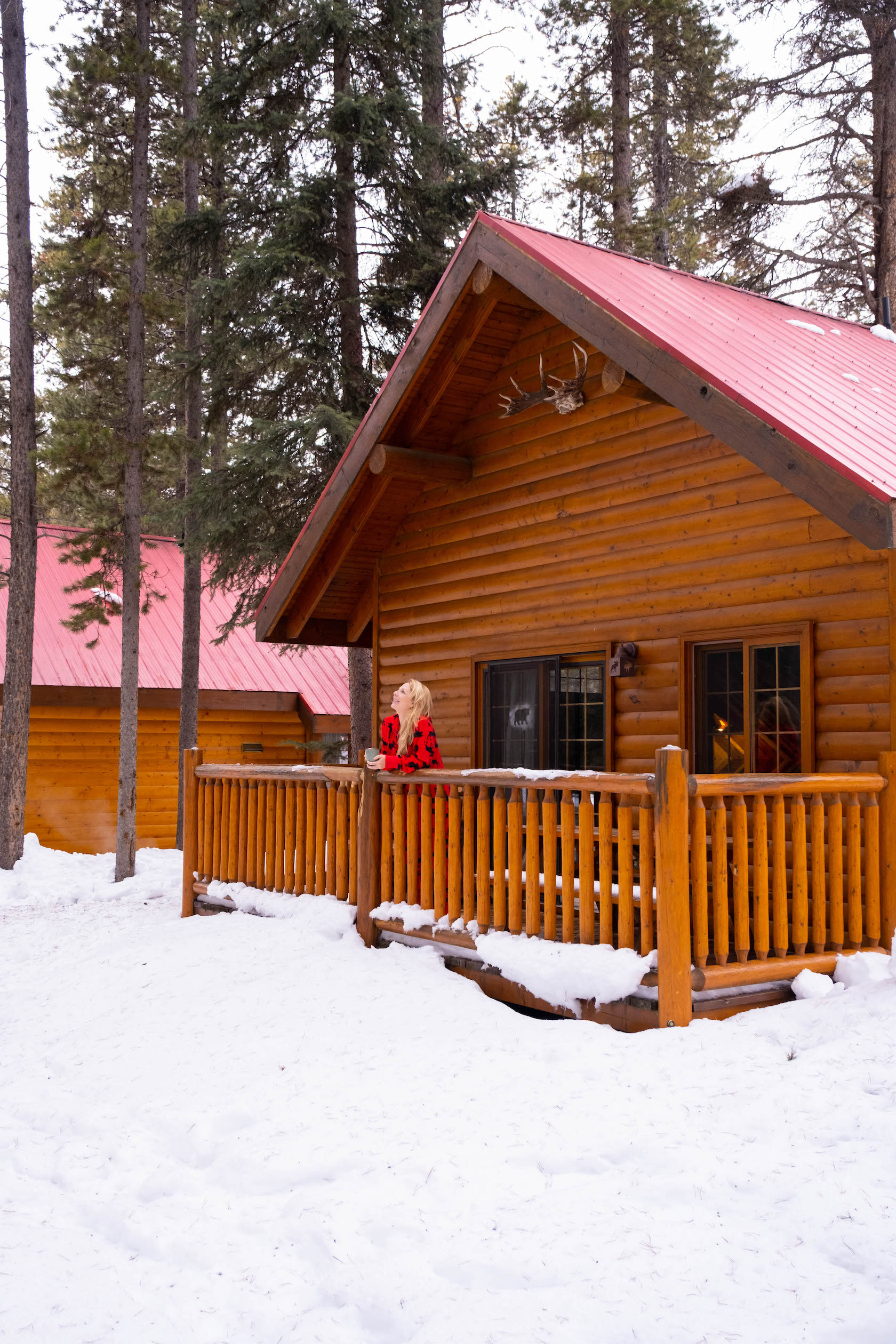 If you are looking for some beautiful places to stay on the Bow Valley Parkway you have three amazing Banff cabins to choose from. Johnston Canyon Bungalows near Johnston Canyon, Castle Mountain Chalets near Castle Junction, and Baker Creek Mountain Resort near Morant's Curve.
Baker Creek, in particular, is our favorite place to stay in all of Banff, and if you can score a reservation there for your trip we highly recommend it!
---
Cycling the Bow Valley Parkway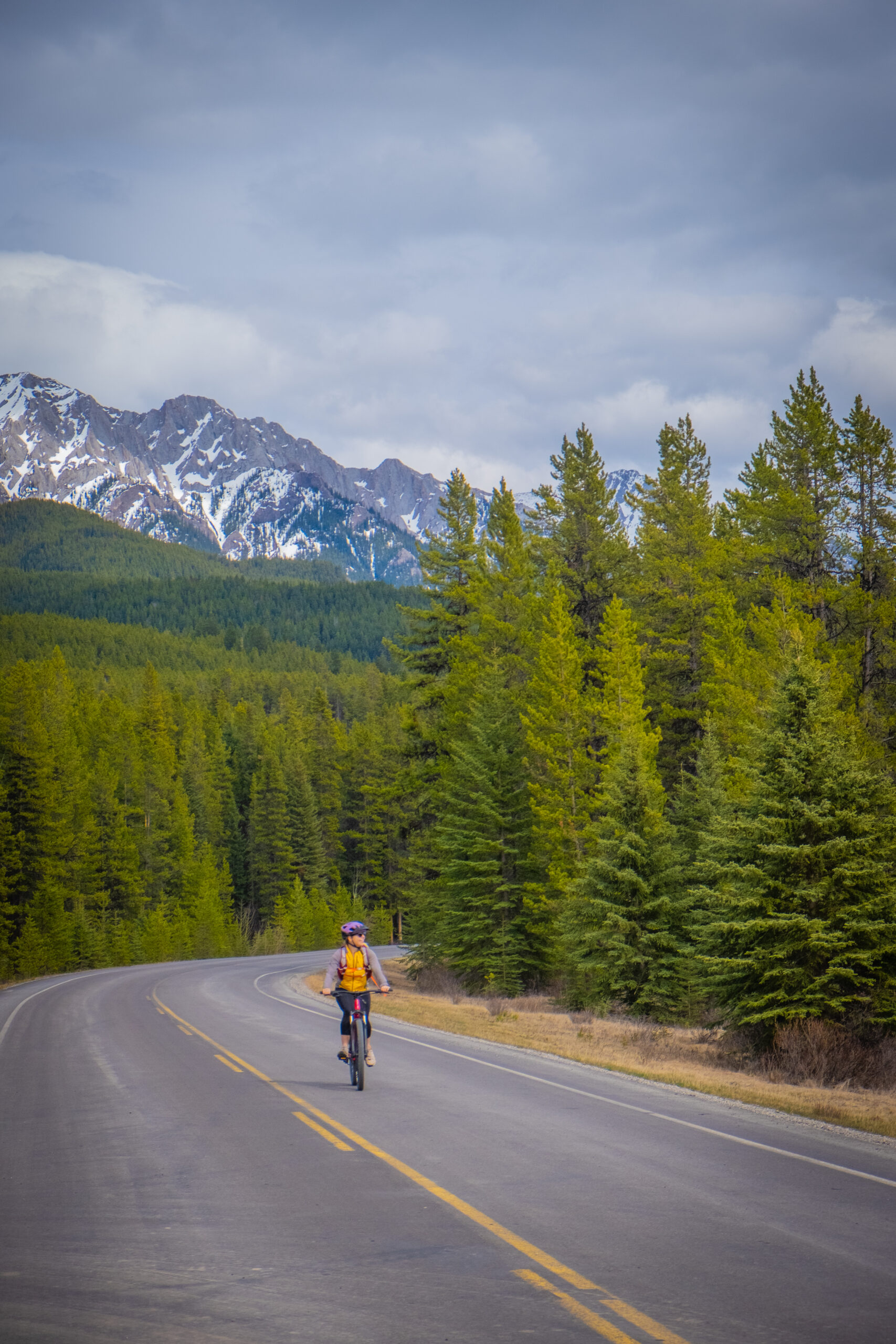 The Bow Valley Parkway is a continuation of the Banff Legacy Trail (trail linking Canmore to Banff). The trail continues past Banff, loops around Vermilion Lakes Dr and eventually links up to the Bow Valley Parkway. This means you can enjoy a bike ride from Canmore to Lake Louise without ever getting on the Trans Canada highway.
In 2020 due to COVID, the Bow Valley Parkway was closed for most of 2020 to vehicles. This meant cyclists could get out and enjoy the road without cars. We were able to get out many times on the Bow Valley Parkway, and each time I was reminded of what an amazing road it is to bring the bike on.
The restricted vehicle access of the roads had fantastic feedback and now Parks Canada has launched a three-year cycling pilot program along the Bow Valley Parkway's eastern section. Each spring and fall from May 1 to June 25 and from September 1-30, vehicle access will be restricted along the eastern 17 km of the parkway to allow for an enhanced cycling experience.
Vehicle access to the west section of the parkway between Johnston Canyon and the Whitehorn Road junction at Lake Louise will still remain open to vehicles. Vehicle access to Johnston Canyon Trail and campground will remain open during the pilot via Castle Junction only.
With these spring and fall closures, there's never been a better time to enjoy road biking on the Bow Valley Parkway.
There are plenty of ups and downs and challenging sections that make this cycle a great workout, the road it's well-paved and well maintained. If you get the chance to take a bike out on the parkway, I highly recommend it. Make sure to bring a lock if you plan to do some hiking at Johnston Canyon.
Where to Rent a Bike for the Bow Valley Parkway
You can rent a road bike or e-bike with Banff Cycle to enjoy this closure! The Bow Valley Parkway is one of the only places in Banff where e-bikes are permitted. You can see where else to ride an e-bike in Banff here.
Wildlife and Cycling on the Bow Valley Parkway
It's likely you may encounter wildlife on your bike ride. We have seen a bear, elk, and even a moose every time we cycle the Bow Valley Parkway. Always make sure to give wildlife their space. If you see a large carnivore, such as a bear, cougar, wolf or coyote, report the sighting when you get into service by calling Banff Emergency Dispatch at 1-403-762-1470.
Cyclists in particular, are susceptible to bear encounters because of the speed and silence of their travel. Stay alert and make noise when biking. It's important to carry bear spray with you even when riding a bike. The use of ear buds is not recommended.
---
Hopefully, this helped you determine what to do on the Bow Valley Parkway.
If you have any other questions leave a comment or see our Canadian Rockies travel guide for more articles about photography spots, lakes, hikes, and everything else.
---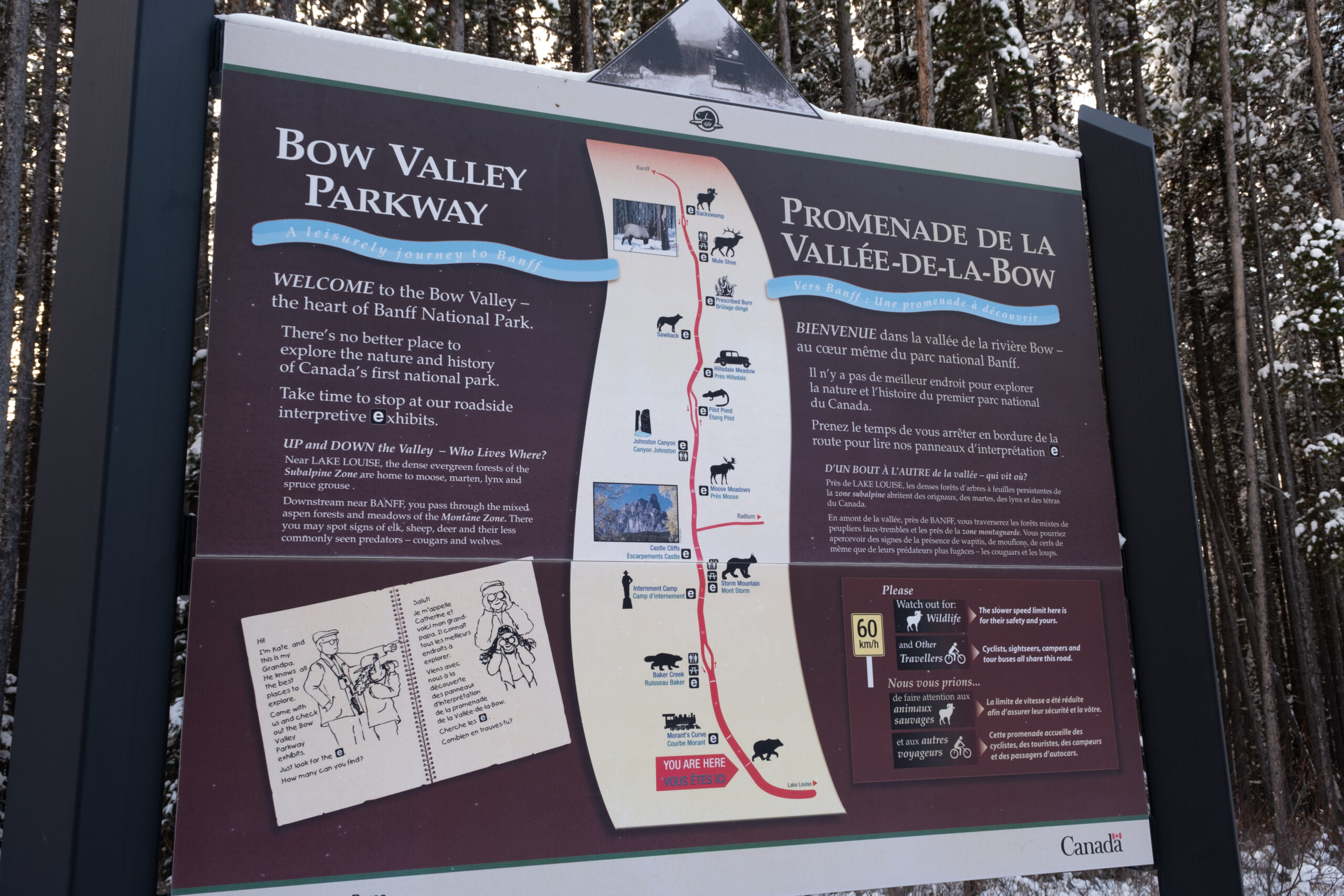 ↓ Join the community ↓
The Banff Blog Facebook Group is your headquarters for the Canadian Rockies travel advice and information. Including hike info and off-season travel information. This is also a place where you can meet one another when you need adventure buddies.

Plan Your Trip to the Canadian Rockies