So you are wondering where to go for amazing Banff photography in the Canadian Rockies?
It's easy to visit Banff National Park and walk away with amazing photos. You really just have to throw your camera in the air and you'll walk away with an epic shot. Just kidding, it takes a little more effort than that.
Seriously though the Canadian Rockies are up there as one of the prettiest areas in the world, so it's only natural you want to come here and grab photos everywhere.
For all the people chasing amazing Banff photography, we've made this list for you. These are some of the best photo spots in Banff. So whether you are trying to get Instagram famous, or just take some photos for the memory bank you should try to make it to a least a few of these locations.
First, we'll start with the most photogenic lakes in the Canadian Rockies and work our way to easy to get to Banff photography spots, to hikes in Kananaskis and beyond.
---
Best Photo Spots in Banff – Lakes
---
Moraine Lake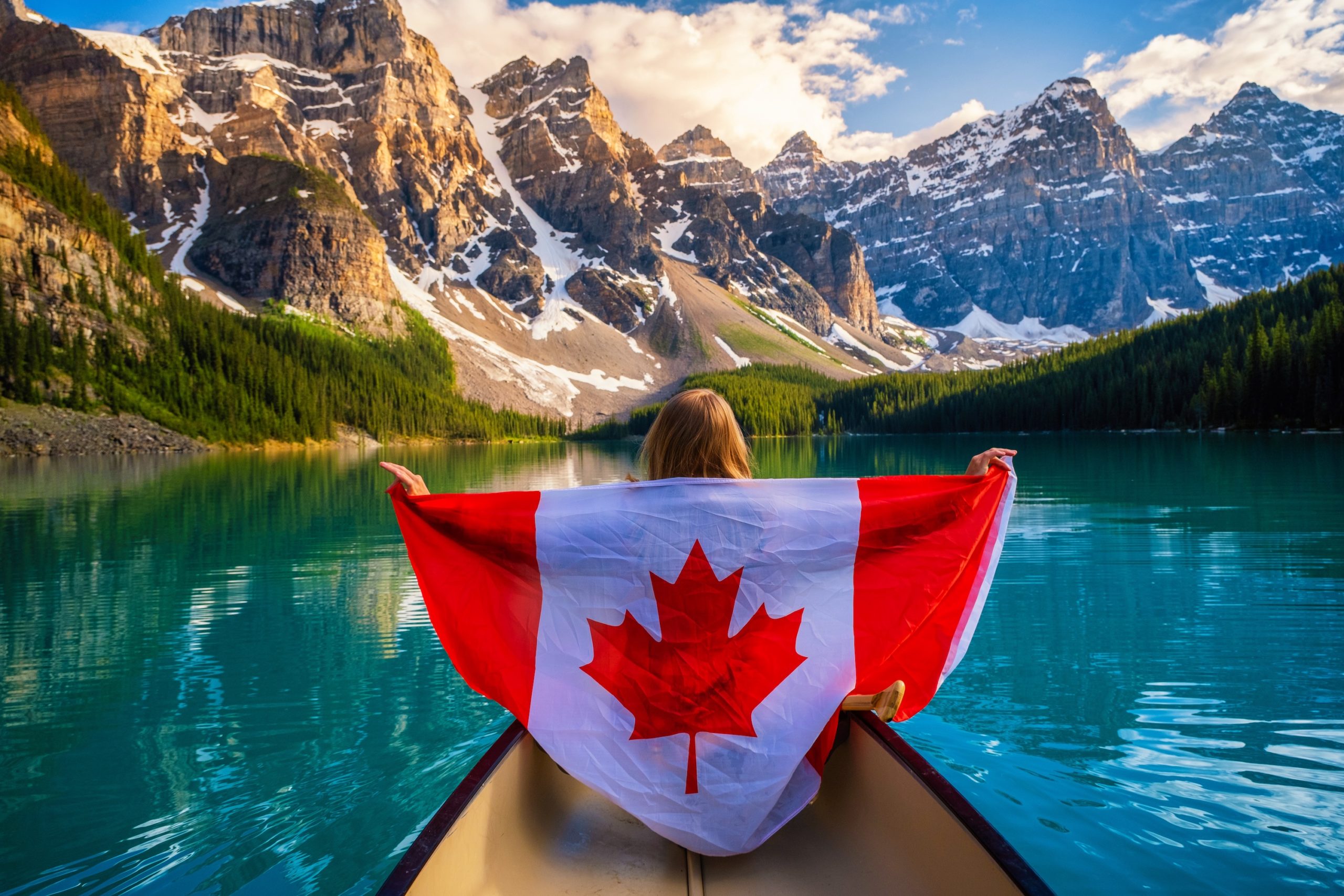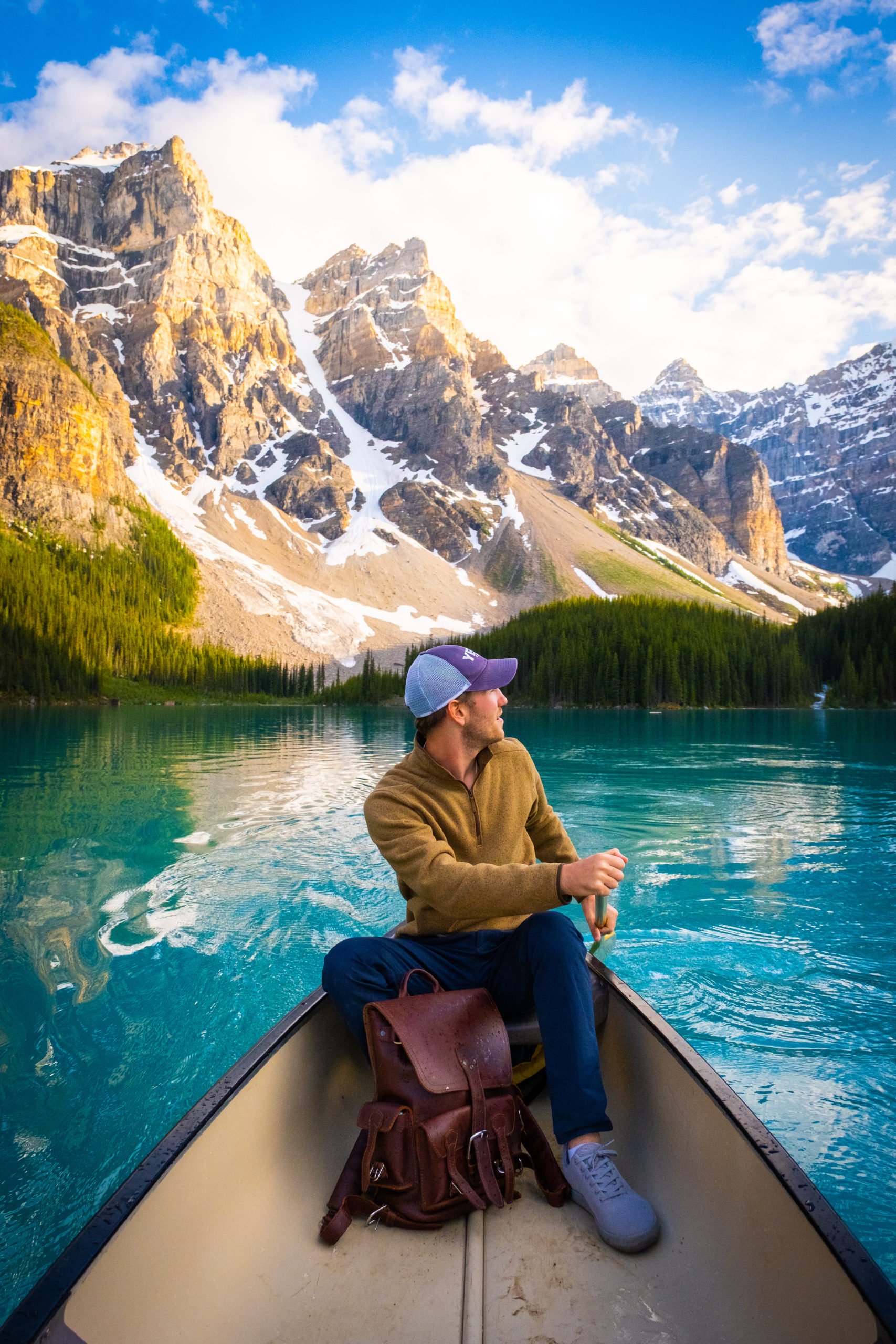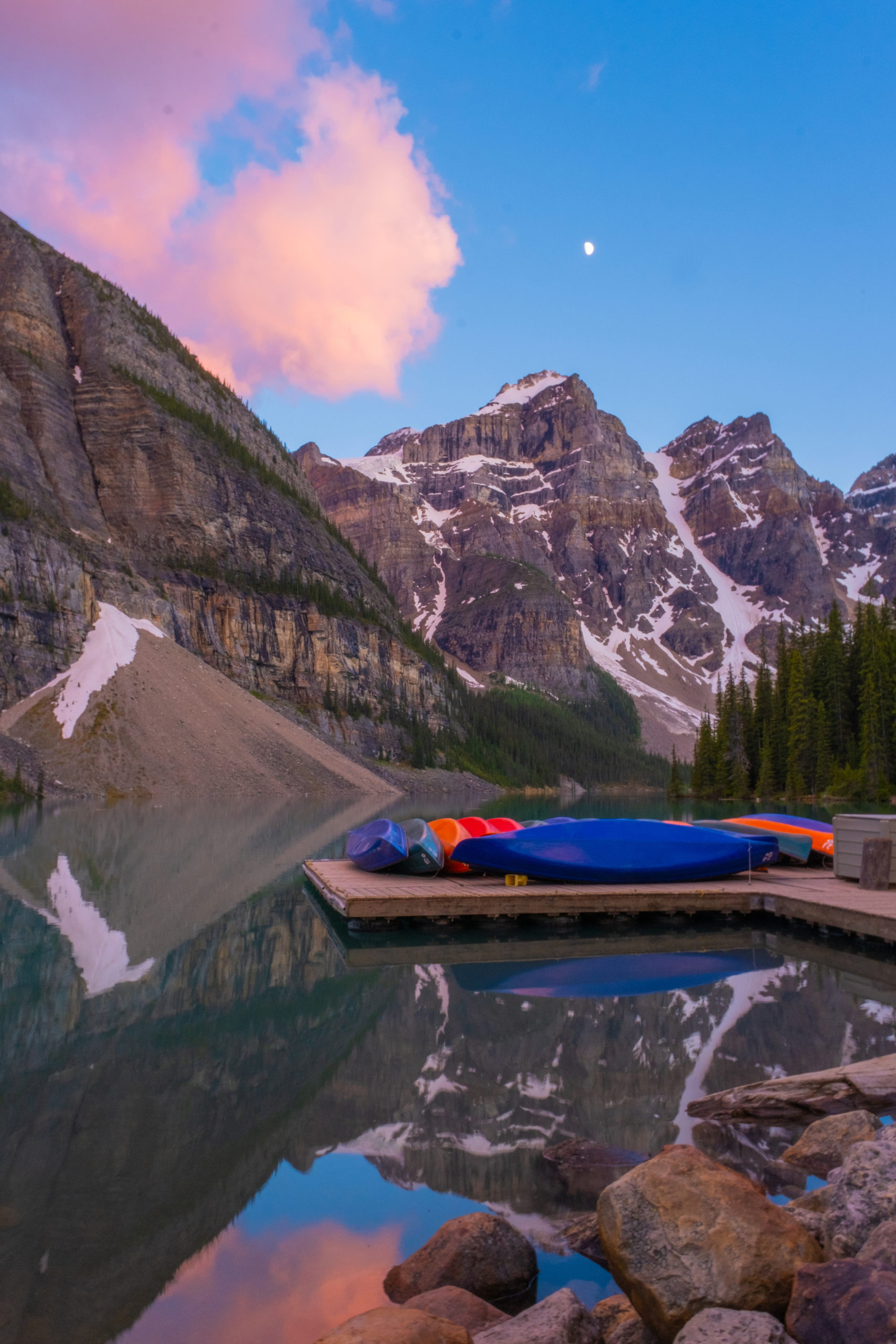 There is no image more iconic of the Canadian Rockies or Canada for that matter than Moraine Lak so we'll start off this list of Banff photographer spots with Moraine Lake. I'm certain you've seen images of Moraine Lake whether you knew it was in Banff or not, it pops up everywhere and even once graced Canada's twenty-dollar bill. The alpine lake is a wild turquoise blue fed by glacier melt and set with a backdrop of the Ten Peaks.
It's hard to find a more majestic and awe-inspiring place in the world than Moraine Lake. Not only is it one of the best places to photograph in Banff, but the entire world.
The best part is it's so easily accessible, as long as you can score yourself a ride on the Moraine Lake shuttle. You can also only visit it in the summer. Between early October and early June, the road is closed due to snow and avalanche hazard, so unless you want to walk or ski in on a snow-ridden road (not safe in avalanche terrain), you are limited to photographing Moraine Lake in the summer.
That is unless you are able to time it right and get to Moraine Lake after the first big snowfall, but while the lake is still thawed and before Parks Canada has closed the road.
To really get some stunner photographs, I suggest renting a canoe at Moraine and/or hike of the Sentinel Pass, which is the most beautiful during the larch season.
Best Time to Photograph Moraine Lake? At sunrise when the alpenglow hits the top of the ten peaks, though with the new parking restrictions at Moraine Lake, this will be nearly impossible for most visitors unless you are very dedicated. Sunset can also display amazing colors if you are able to hang around until that time. July and August is when you will get the bluest color in the water.
How to Get There: Take the Trans Canada and get off at Lake Louise. See our post on how to get to Moraine Lake here.
---
Lake Louise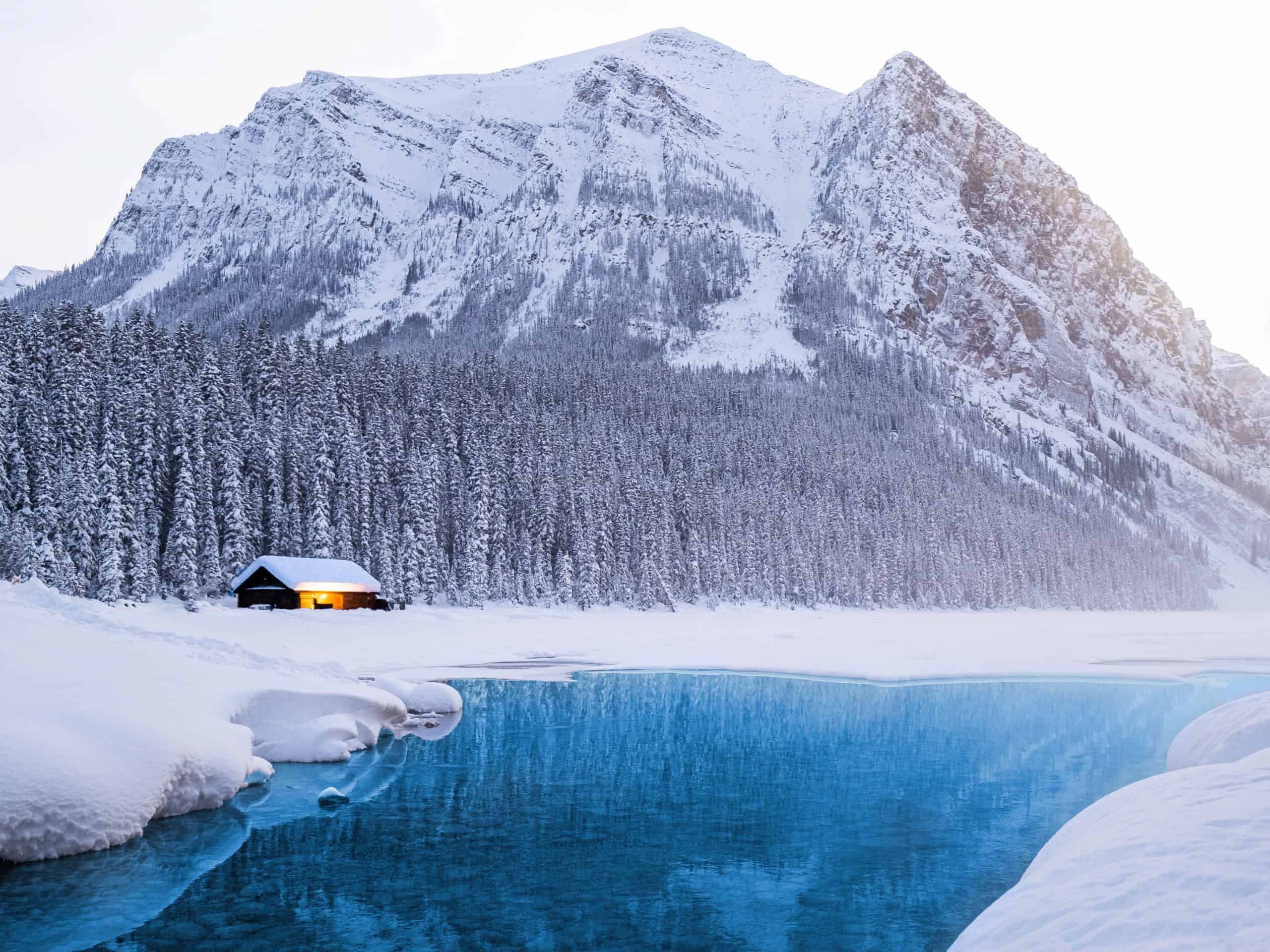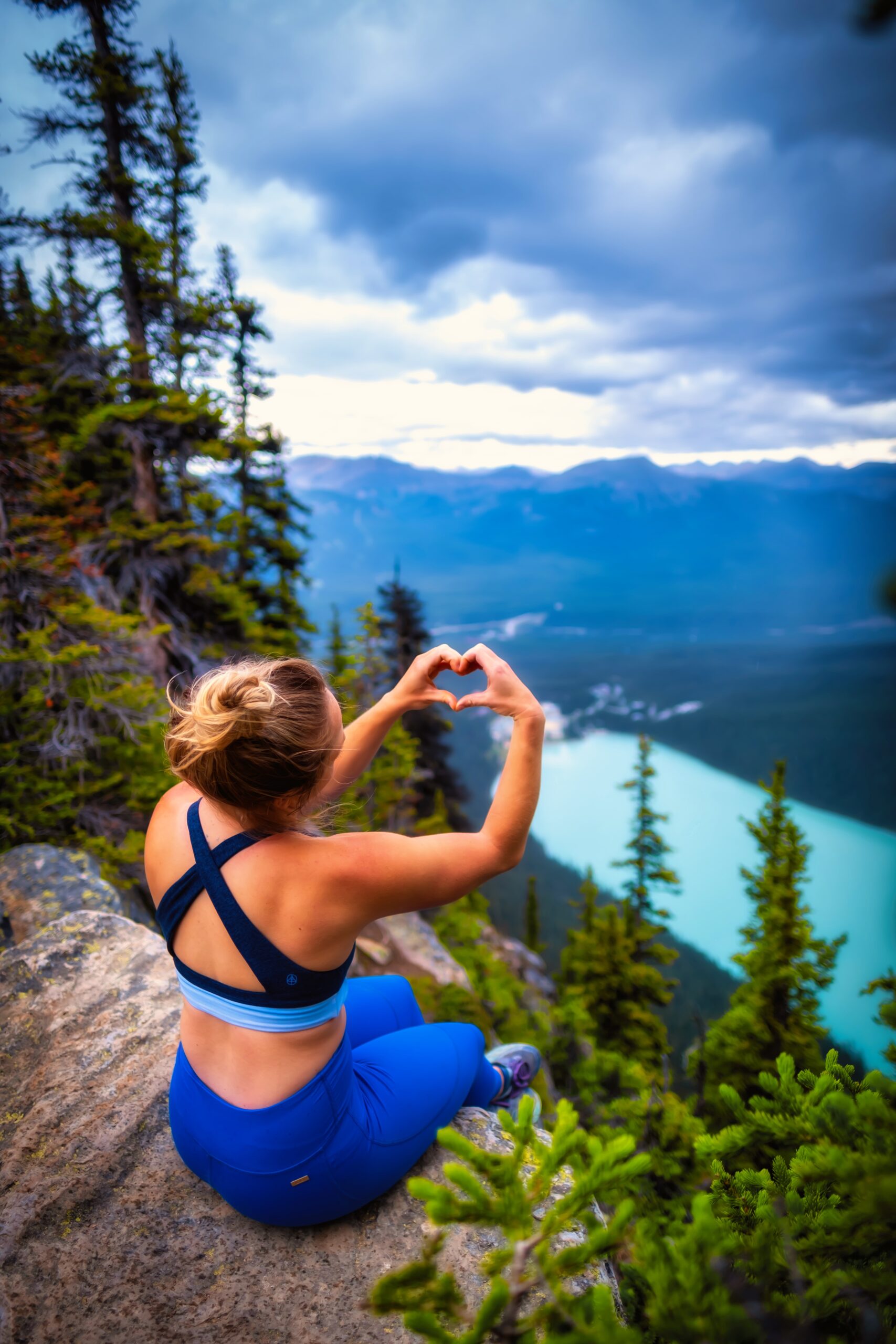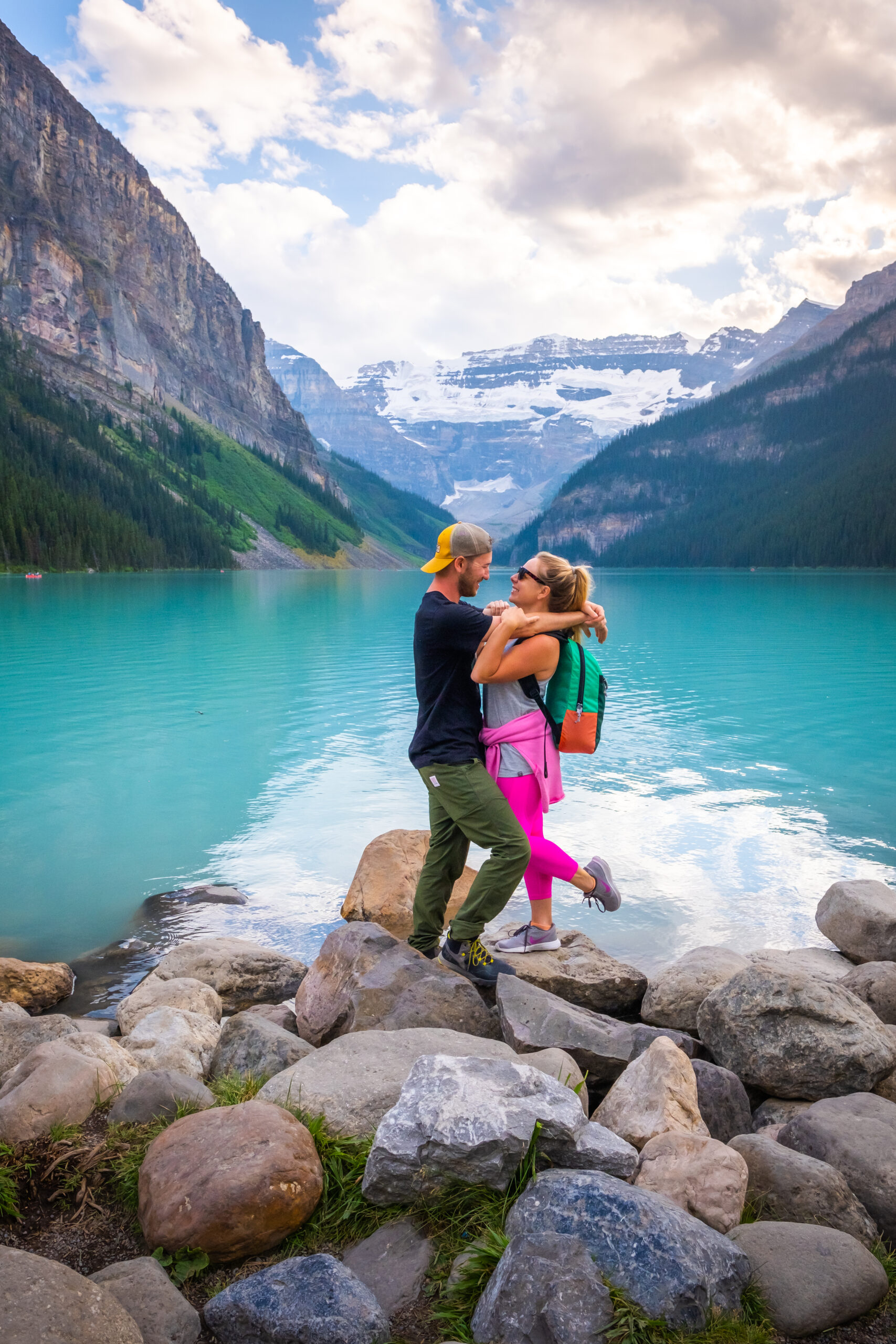 Lake Louise is the crown jewel of Banff National Park and has been drawing visitors to the Canadian Rockies for over a century. When you hit up Moraine, you should add on Lake Louise to your day; it's one of those Banff photography spots you can't miss.
Lake Louise is a large lake surrounded by colossal Banff mountains in all directions. To the left of you have Mount Fairview, while straight ahead of Lake Louise, there is Mount Victoria topped by a massive glacier.
Look to your right to see the Beehives and Mount Whyte and Niblock. In my opinion, Lake Louise is one of the most beautiful places you have to see in the world (after Moraine Lake).
The reason for its popularity is its brilliant blue color, which comes from rock flour (fine particle of rock) that refracts the light. The time to witness this brilliant color is relatively short-lived as the majority of the year, the lake is frozen, from October to late May. That being said, it is accessible year-round and is still stunning in the winter too!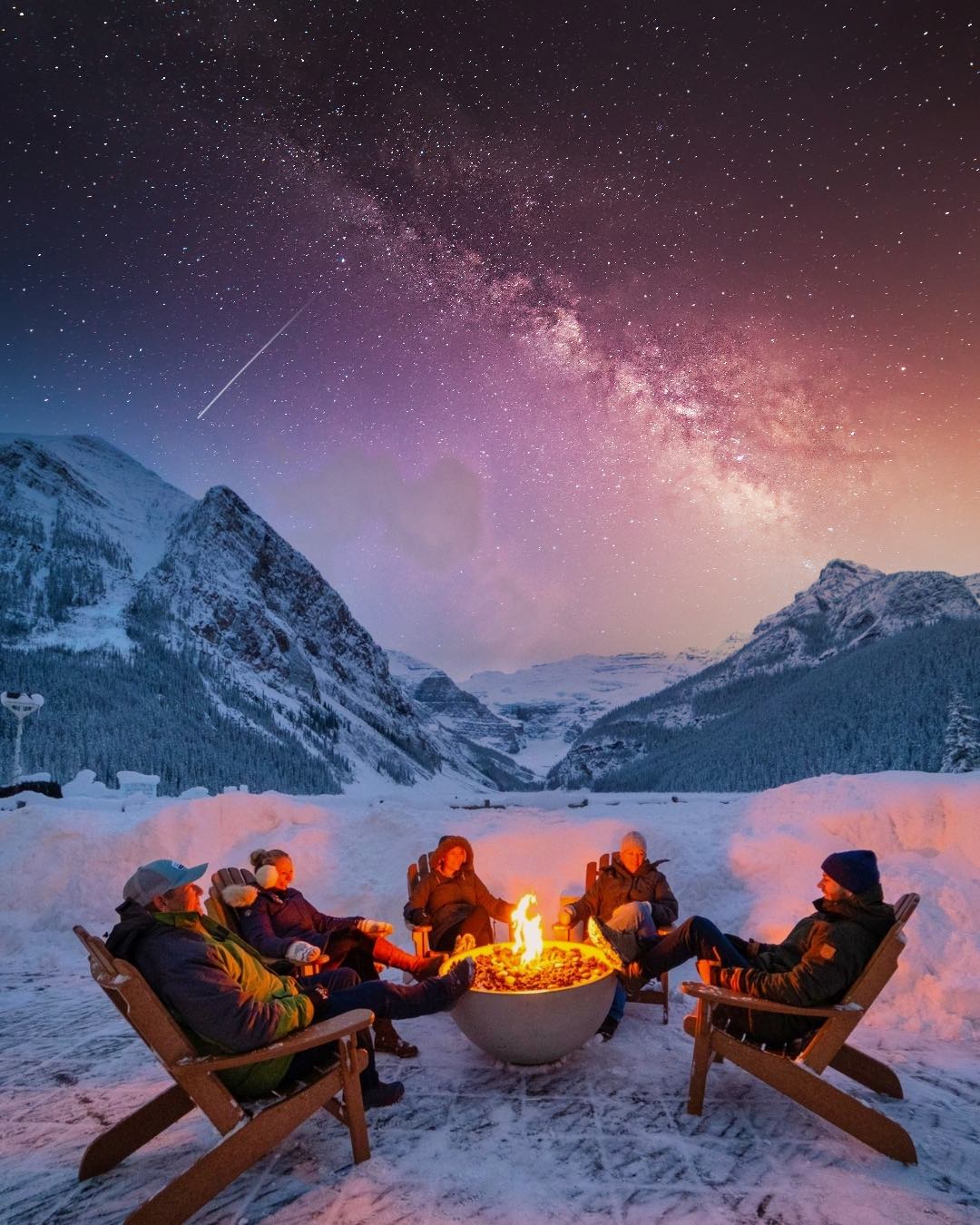 Given its accessibility, Lake Louise is the most popular place in Banff. To avoid the crowds, arrive before sunrise, in the evening after 6pm, or in the winter.
When is the Best Time to Photograph Lake Louise? Sunrise will give you the most amazing colors over the mountains, but even midday, Lake Louise is beautiful as the blue color really shines. Head here between June and September to catch Lake Louise thawed. If you want to photograph Lake Louise in the winter the best time to visit in between December and March.
How to Get There: Take the Trans Canada and get off at Lake Louise, drive up Lake Louise Drive until you cannot drive any further.
---
Peyto Lake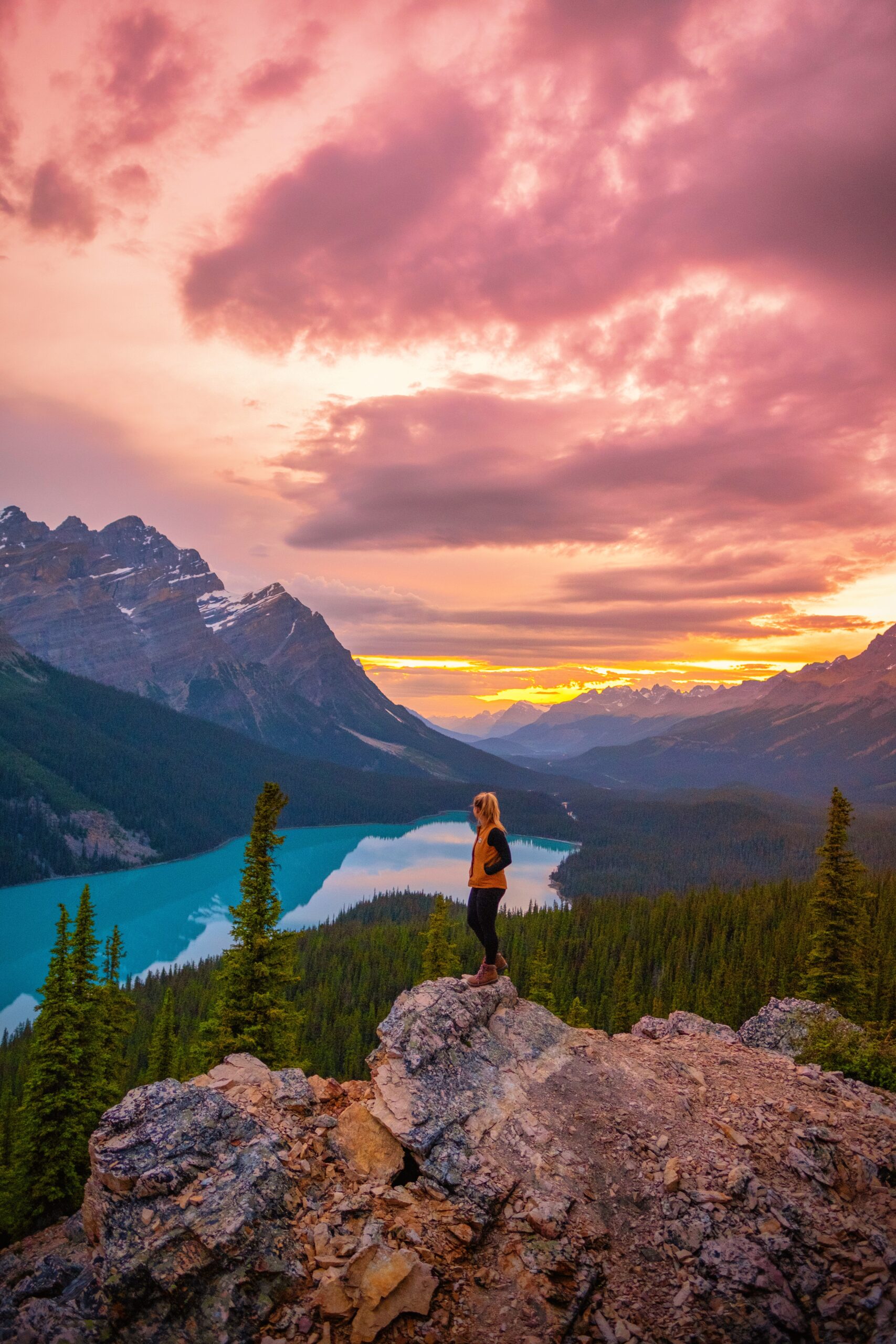 Peyto Lake is the most visited Banff lake in Banff after Moraine and Lake Louise. It's another one that is easily accessible and only requires a short uphill hike to reach the viewpoint. It's a must-stop while driving the Icefield Parkway, especially in the summer when the brilliant display of blue is fed by the Peyto Glacier high above the lake and part of the Wapta Icefield.
The viewpoint is one of the most spectacular in all of Banff National Park and a super popular spot for photographers. Peyto Lake, in our opinion competes for beauty with Moraine Lake without as many visitors, though it's still busy.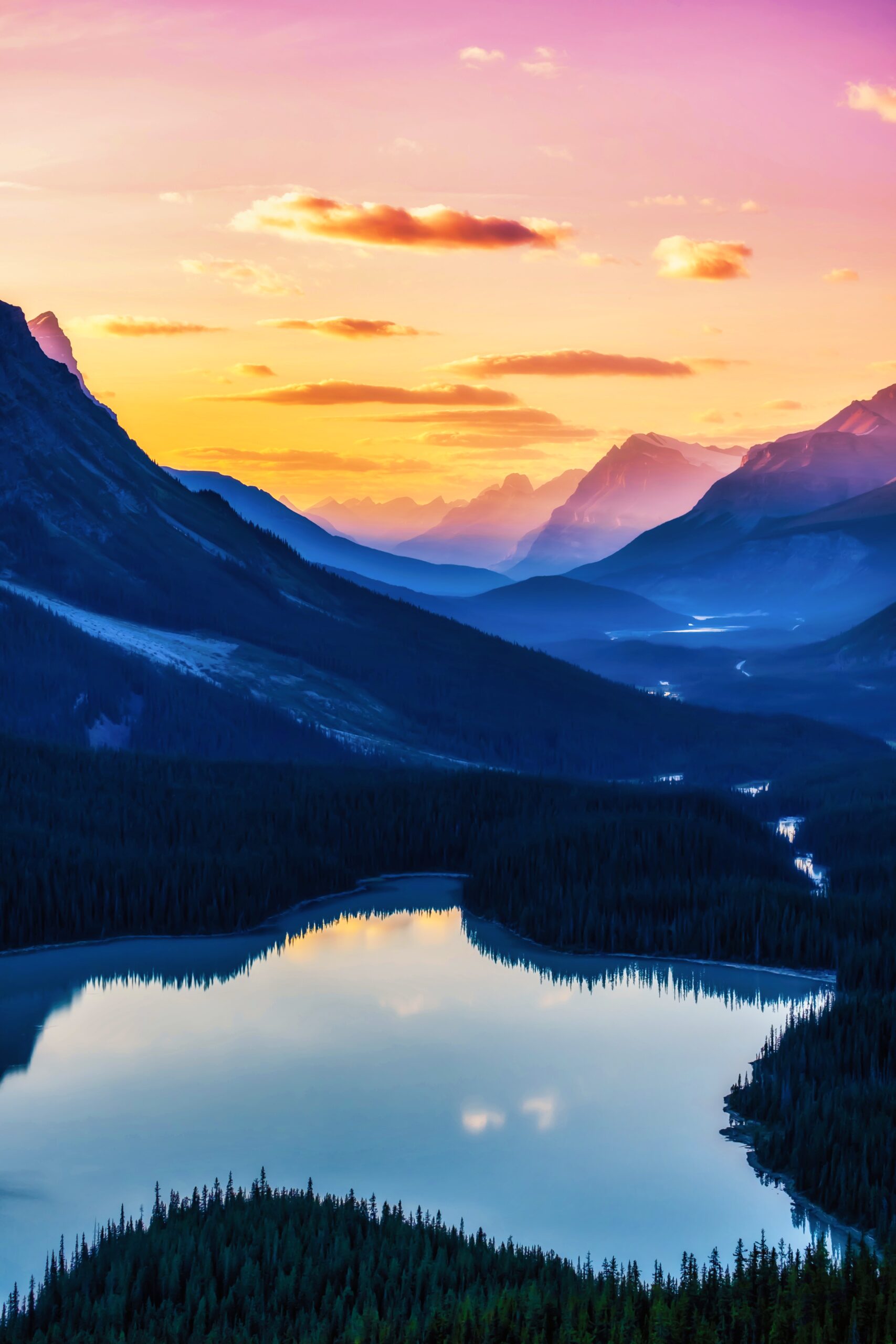 When is the best time to photograph Peyto Lake? Peyto Lake is best photographed at sunset when most of the visitors from the day have departed. Another stunning time to visit is right after the first snowfall when the scenery is covered, but the blue lake still shines and has not frozen over yet.
How to Get There: Drive Along the Icefields Parkway, look out for Peyto Lake on your left when driving from Banff to Jasper. The pull off comes up fast right after Bow Lake.
---
Two Jack Lake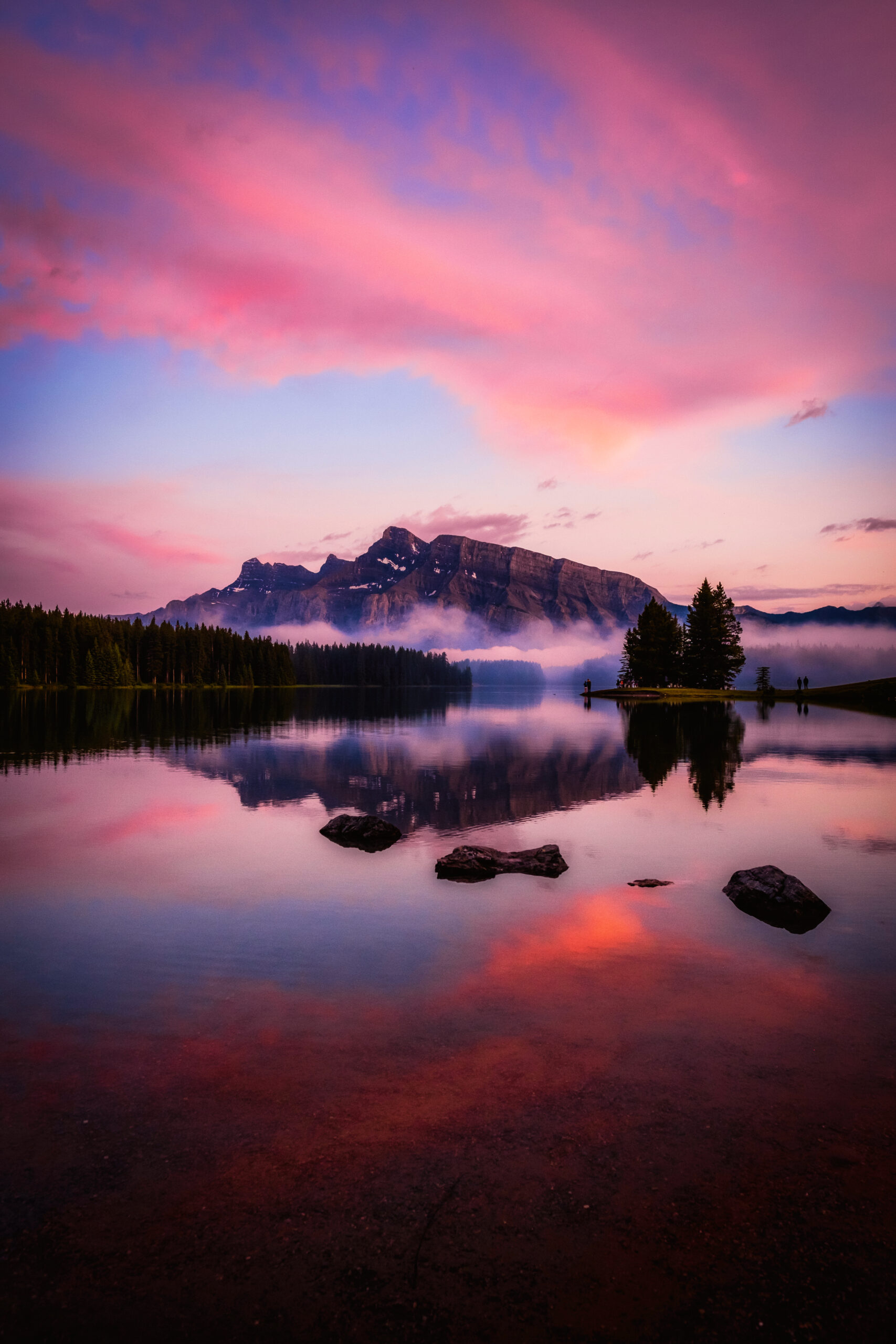 While Two Jack Lake is not a glacial-fed lake and is not nearly as blue as the lakes mentioned above, it's still a must-visit in Banff. Two Jack is only a short drive away from town, and besides being a fantastic lake to canoe on, sup on, or even swim in, it's also one of the most photographed spots in the park.
Thanks to its neverending views of Mount Rundle, photographers flock from all over to get a shot of Two Jack Lake.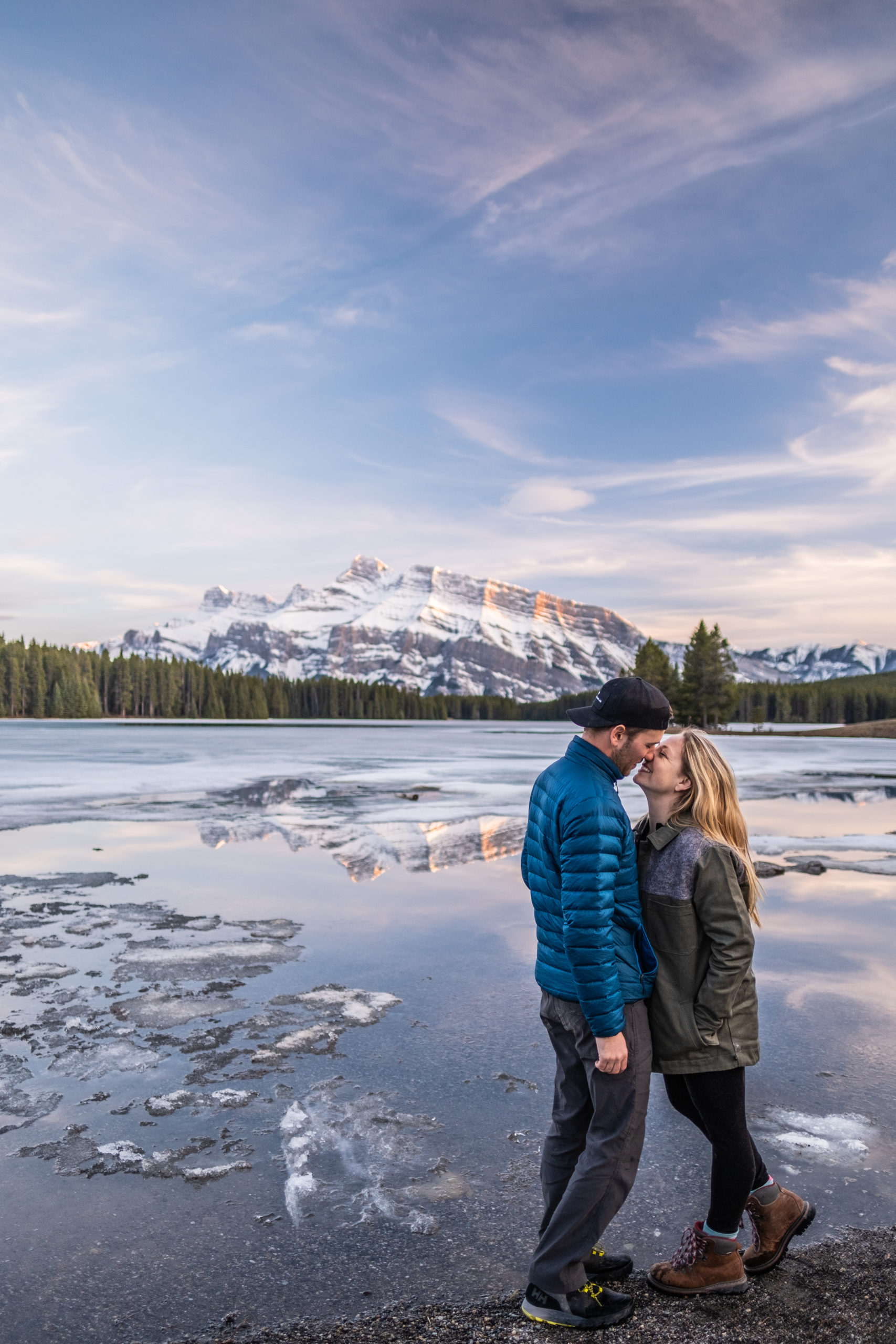 The best news is you don't have to try too hard to get a stellar photograph here. Right from the shore will give you fantastic views and images.
When is the best time to photograph Two Jack Lake? Sunrise and sunset are both fantastic times to head here for a photo when the light hits Rundle ever so perfectly. If you are lucky, you may even get a cotton candy sky.
How to Get to Two Jack Lake? Drive the Lake Minnewanka Loop Road towards Lake Minnewanka and pull off at Two Jack Lake before you reach Minnewanka.
Helpful Tip: If you can score a Banff campsite at Two Jack Lake campground you can hang out in front of Mount Rundle all day and enjoy the photography in the early morning and evening.
---
Lake Minnewanka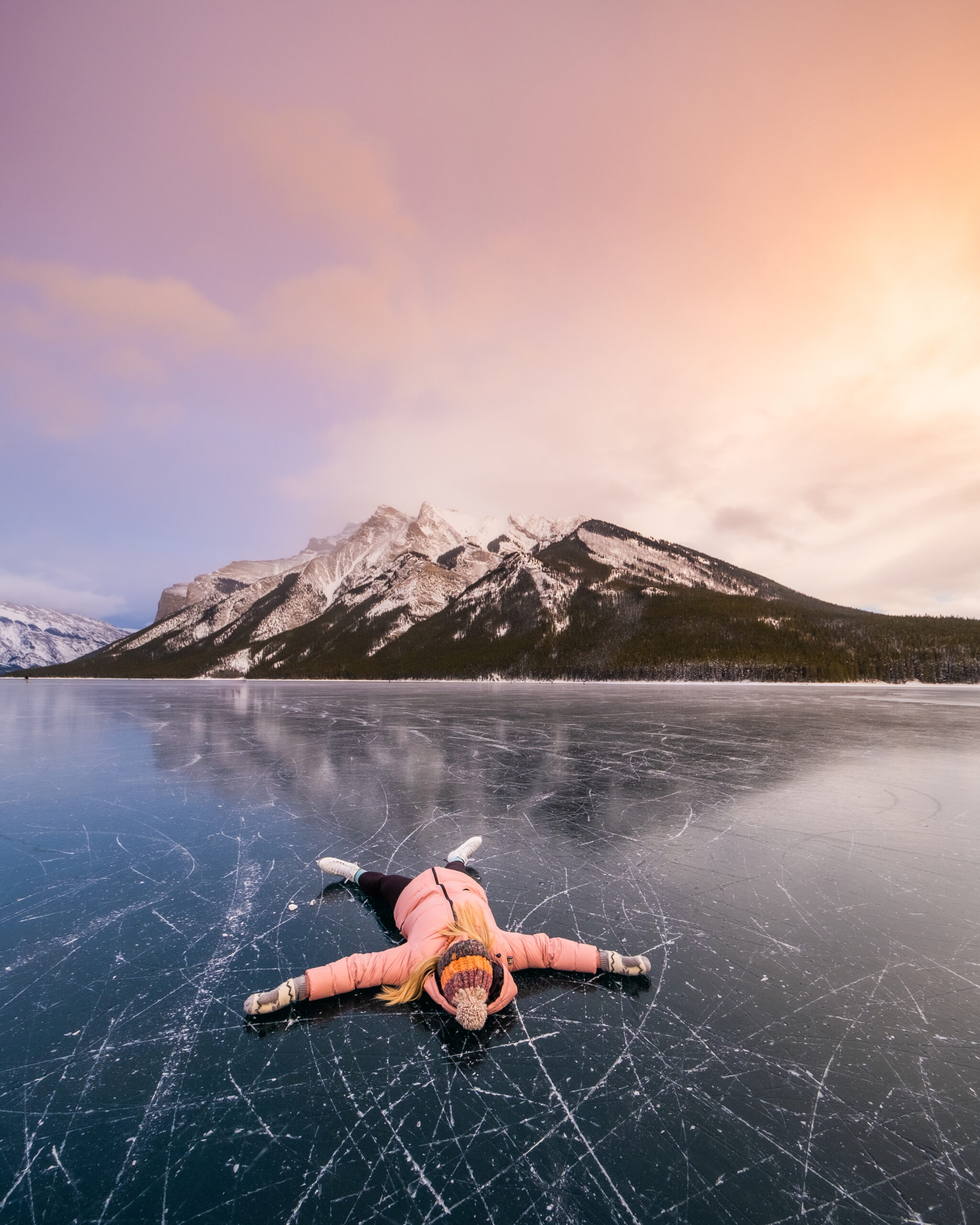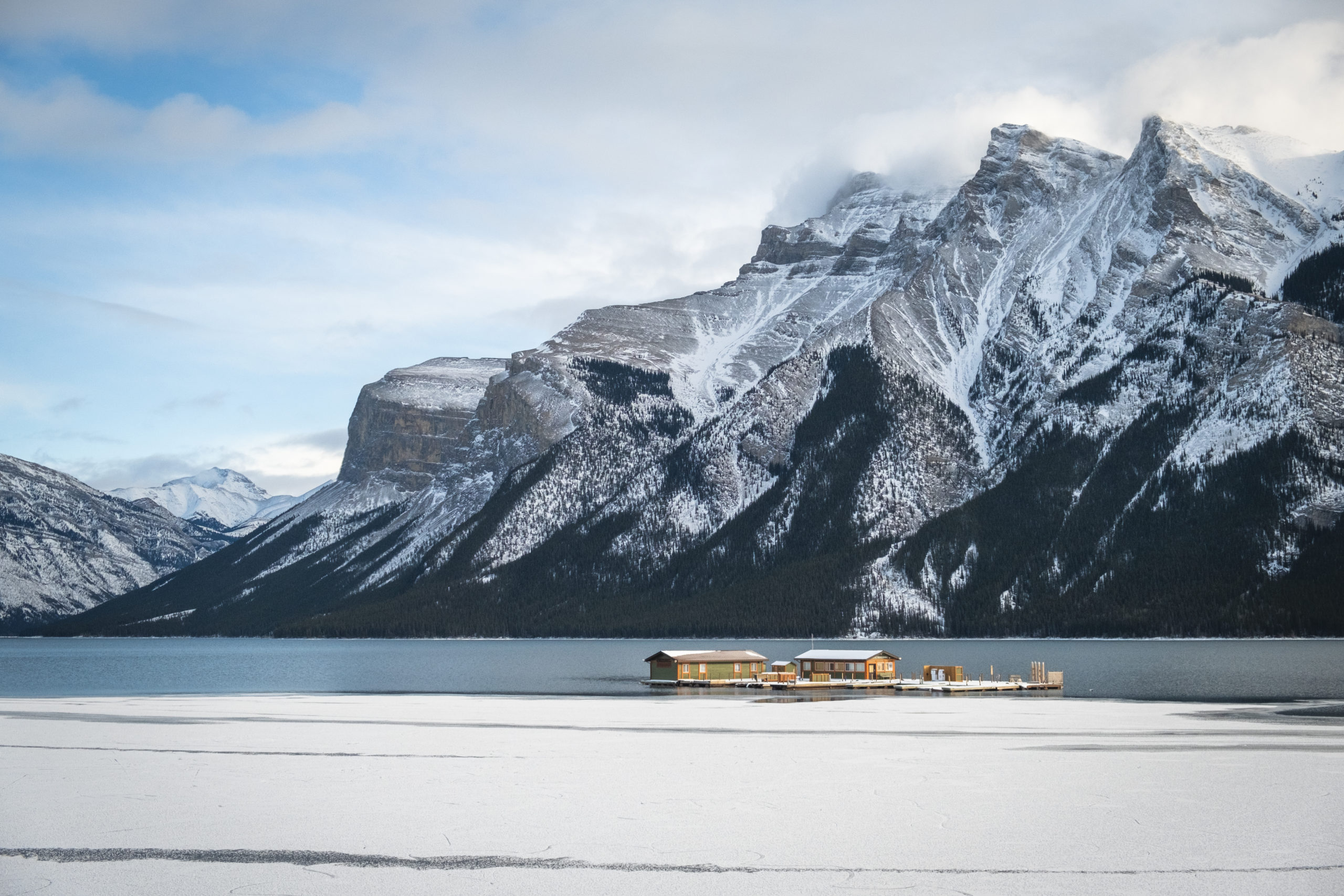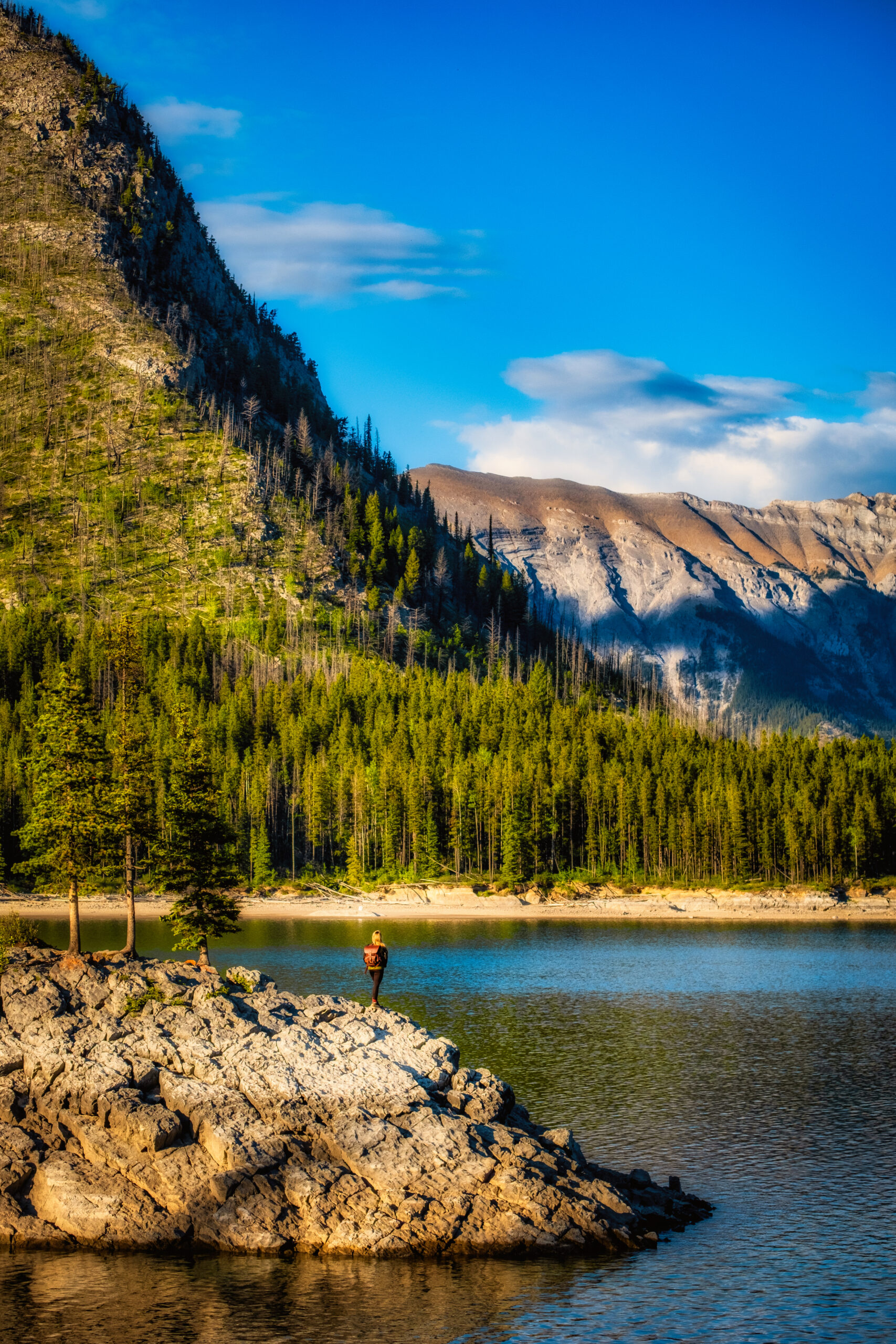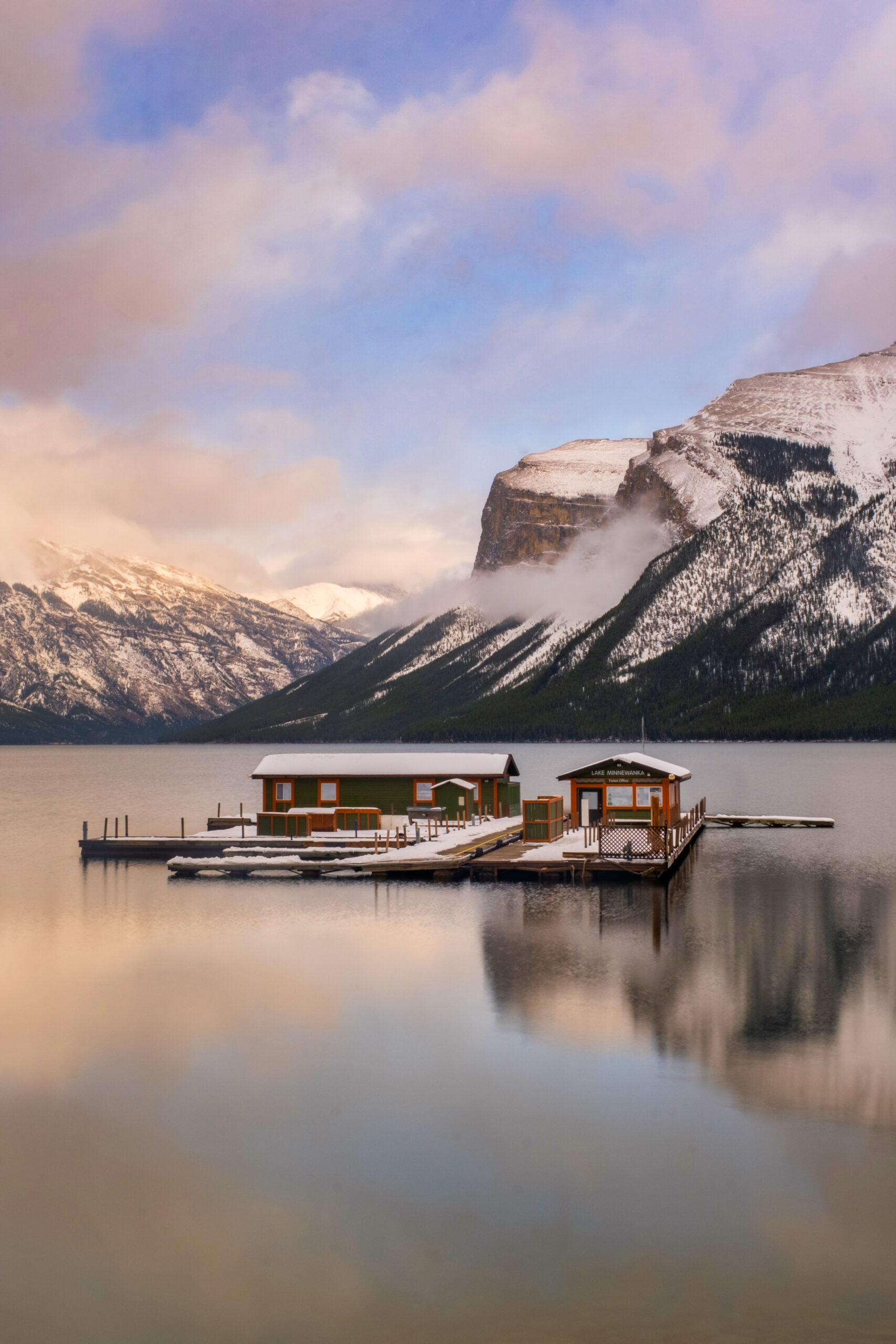 Lake Minnewanka is another lake that is just a ten-minute drive away from the town of Banff and right next to Two Jack. The lake is 21 km long, and 142 meters deep and helps power Banff with hydroelectric power, making it one of the largest lakes in the Rockies and all of Alberta.
In the summertime in Banff, it's a busy place to hike, picnic, and go canoeing, and in the winter, it's a sight to behold. I love coming here to chill and breathe in nature, but it's a fantastic lake to photograph.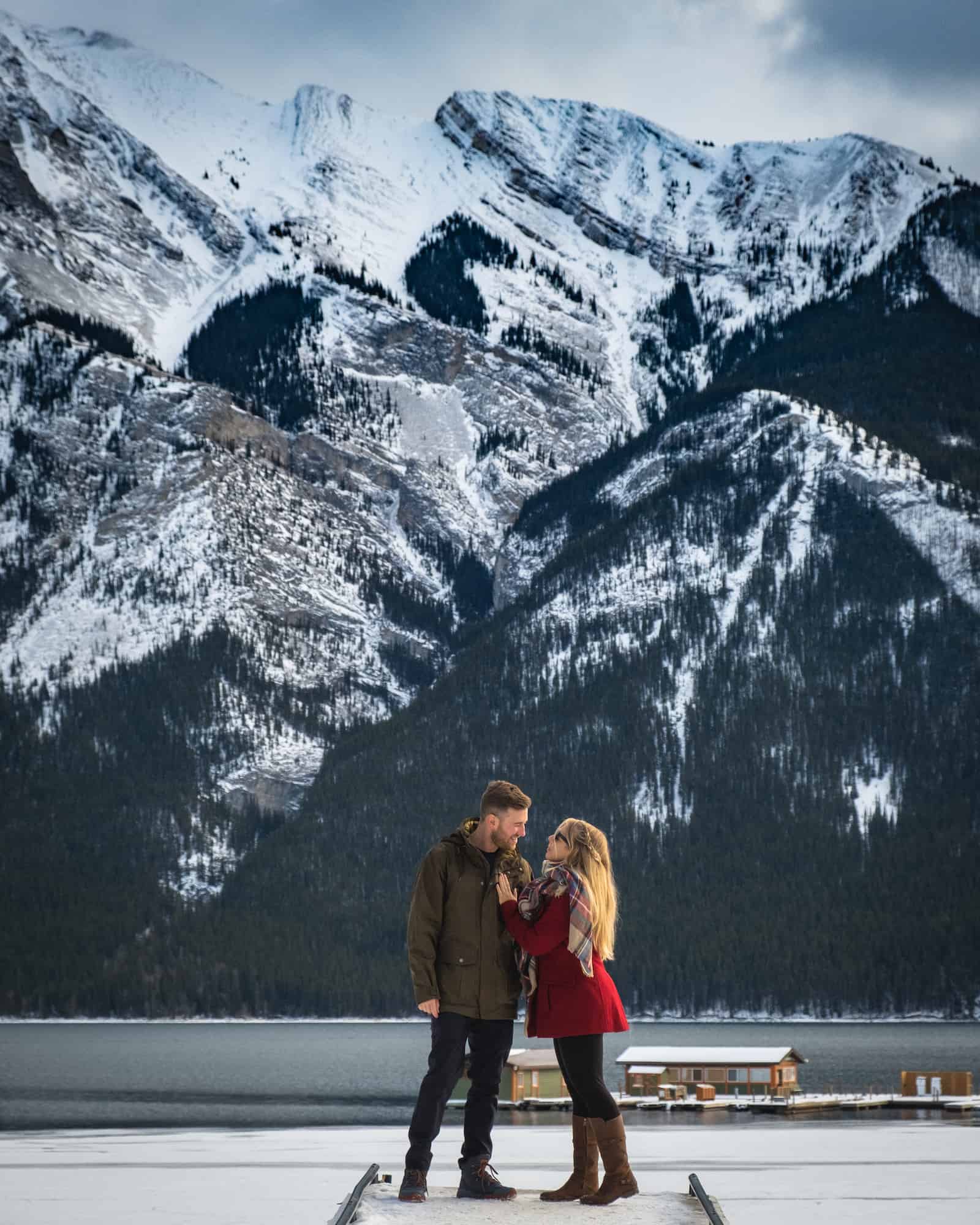 Unlike some of the other lakes on this list which have every specific place to get the best photograph, Lake Minnewanka is more of a free for all. There is no "one spot" to get the best photograph. You'll have to adventure around and choose your own photographic adventure.
When is the Best Time to Photograph Lake Minnewanka? Both winter and summer are amazing, but I actually prefer winter when the lake freezes over, and you can ice skate on it. Keep your eyes out for the famous Methane bubbles.
How to Get There? Take Lake Minnewanka Loop Drive From Banff
---
Vermilion Lakes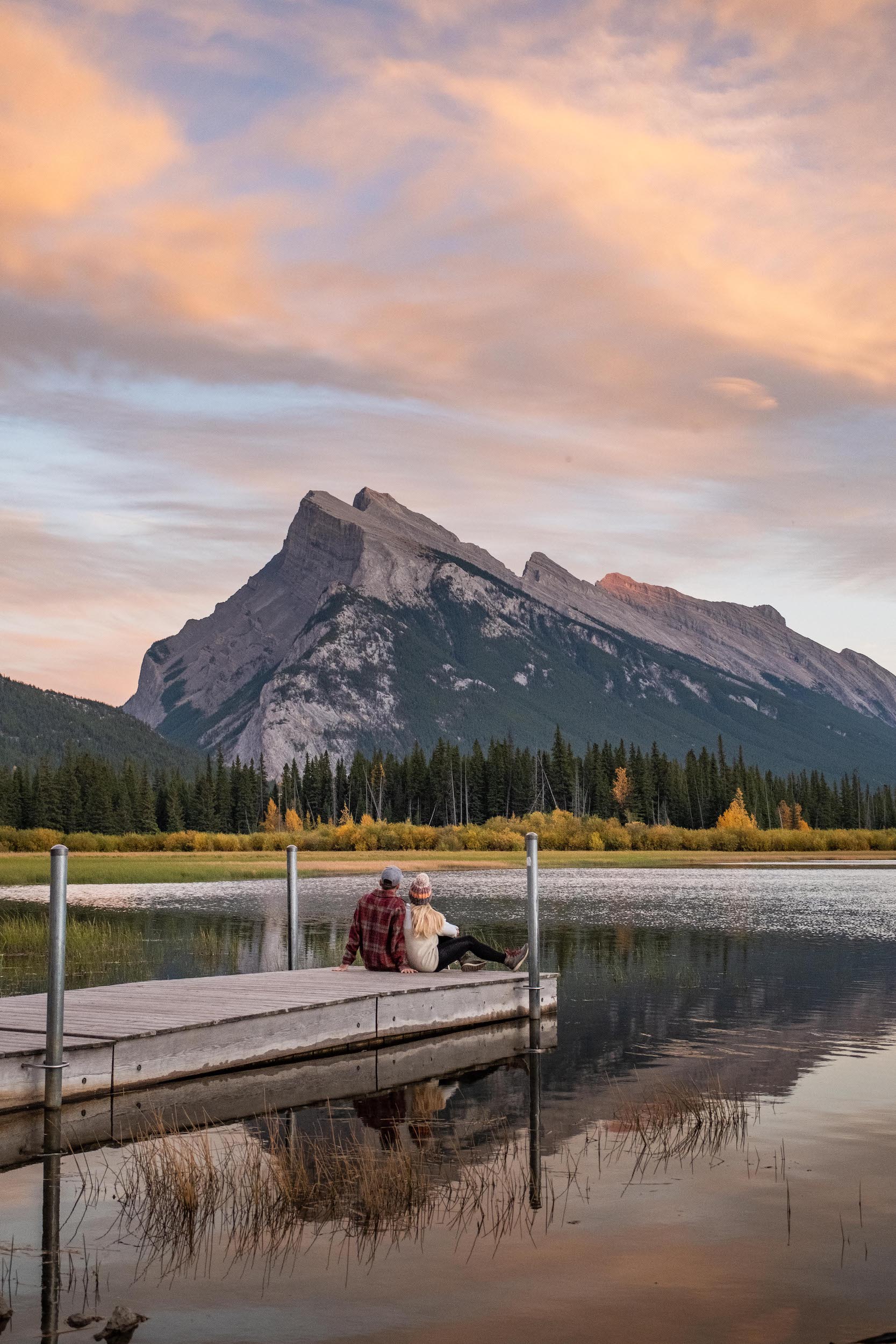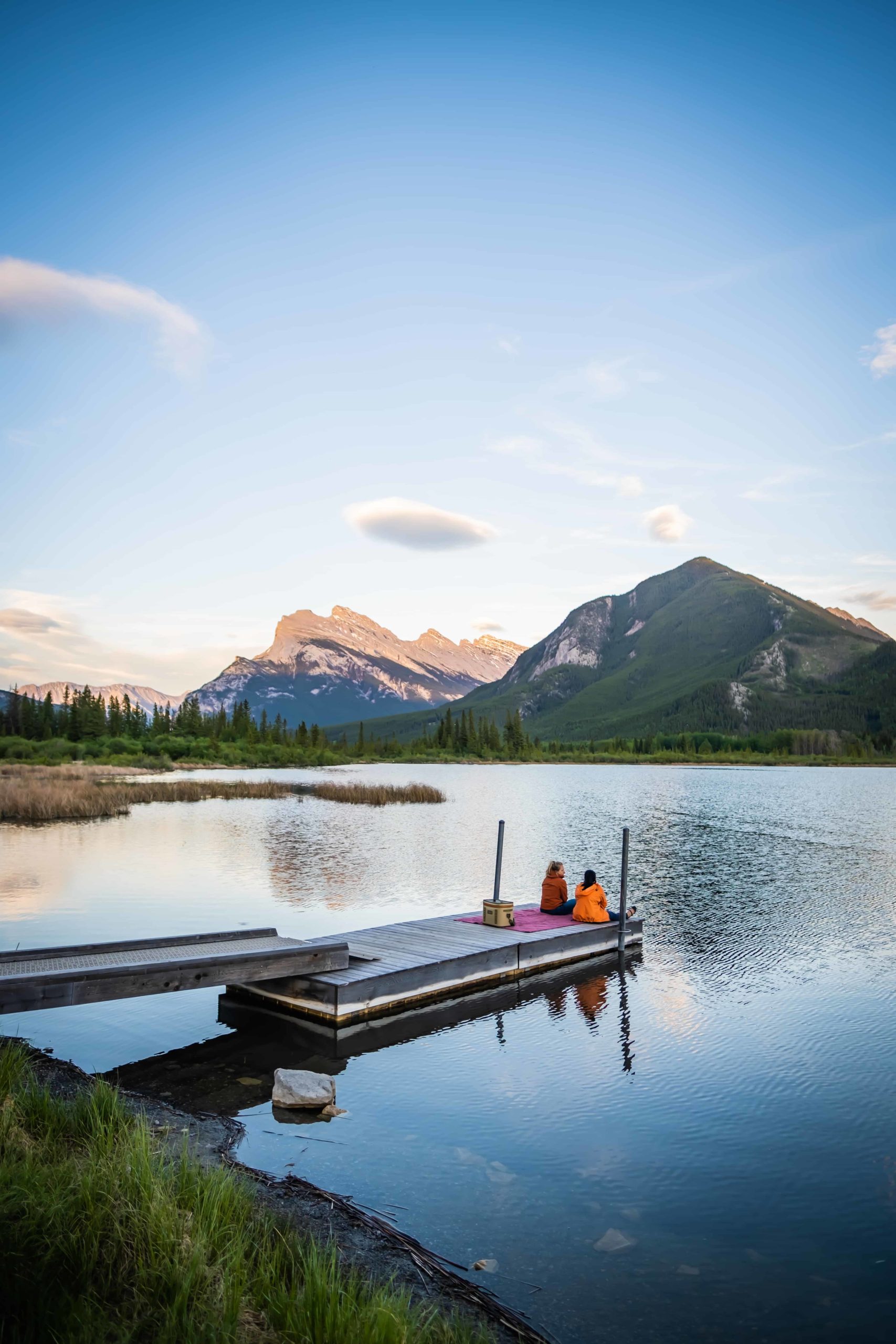 Vermilion Lakes reflect the iconic Mount Rundle that looms over the town of Banff and are the ultimate Banff photography spot. The series of three lakes are situated west of Banff and are fed by the Bow River in the Canadian Rockies. They can be seen from right off the Tran-Canada, but you'll need to stop to grab an epic photo.
Please do not just pull off on the side of the highway (we see this happen all the time). There is a pull-off point to grab a photo and overlook the view.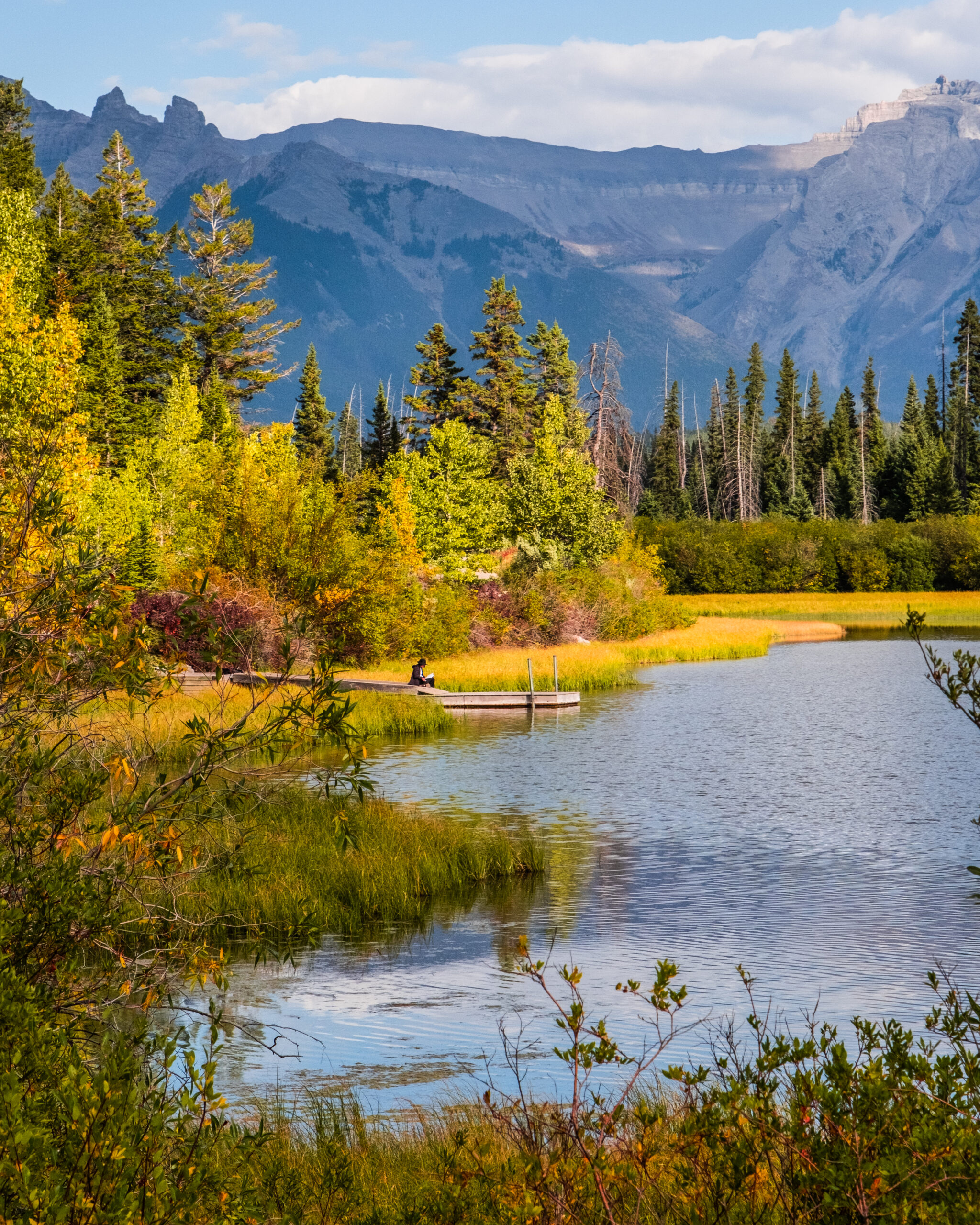 Although to get the best angle and viewpoint of Vermilion Lakes with Rundle in the background, take the exit off the highway and onto Mt. Norquay Road and then onto Vermilion Lakes road. Drive slow as there are always lots of bikers on this road.
You'll find the lakes on your left-hand side and plenty of pull-off points. There are three docks along the road that jet out into the water, which all give great views of Mount Rundle, though my personal favorite is the first dock you'll come to.
Best Time to Photograph Vermilion Lakes? Sunrise in both the winter and summer are a great time to photograph the lakes, although we've also had some epic sunsets here as well.
How to Get There: When driving from Canmore to Banff exit on the second exit towards Banff (Mt. Norquay Rd). Right after you turn off you need to take a right immediately to drive Vermilion Lakes road.
---
Bow Lake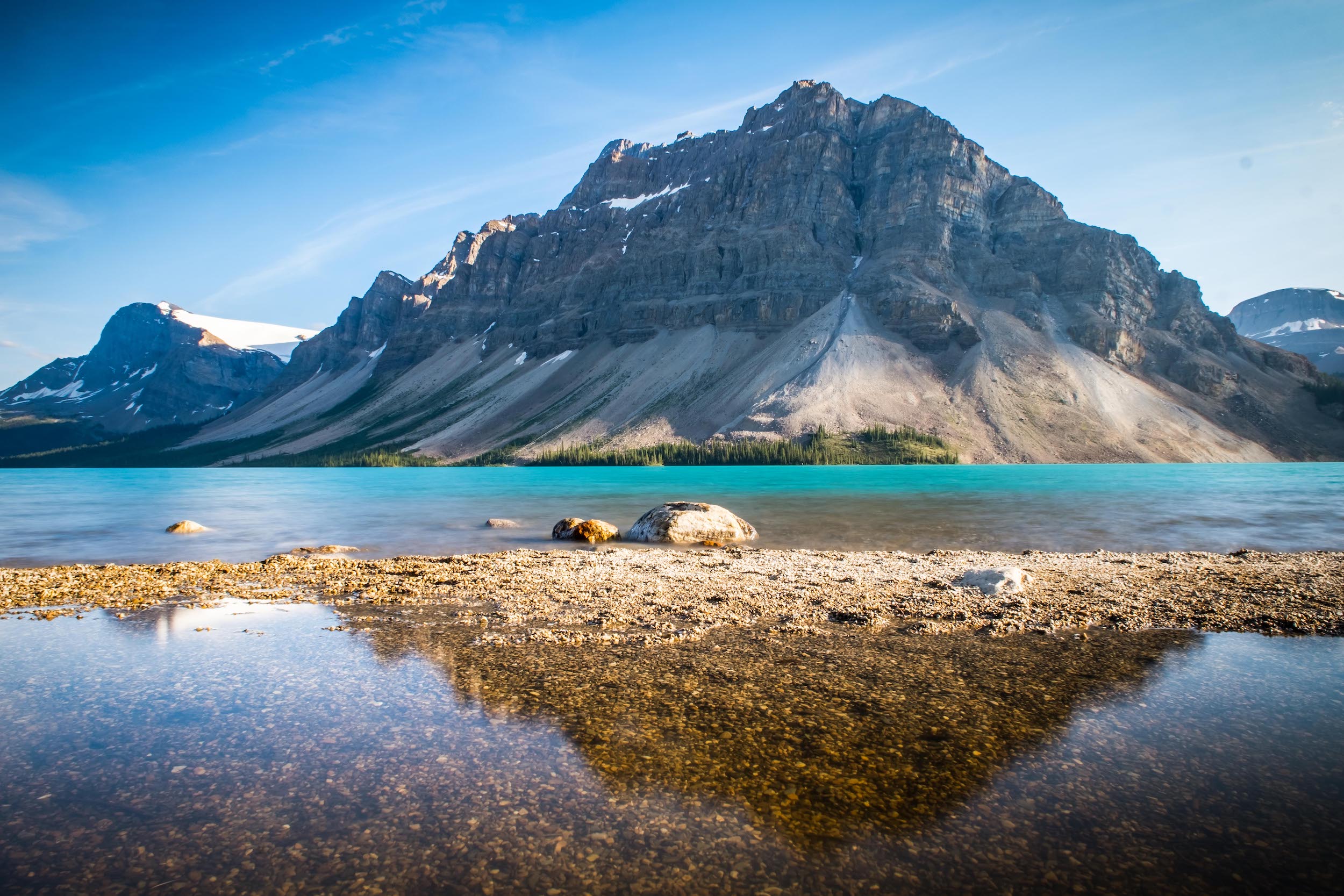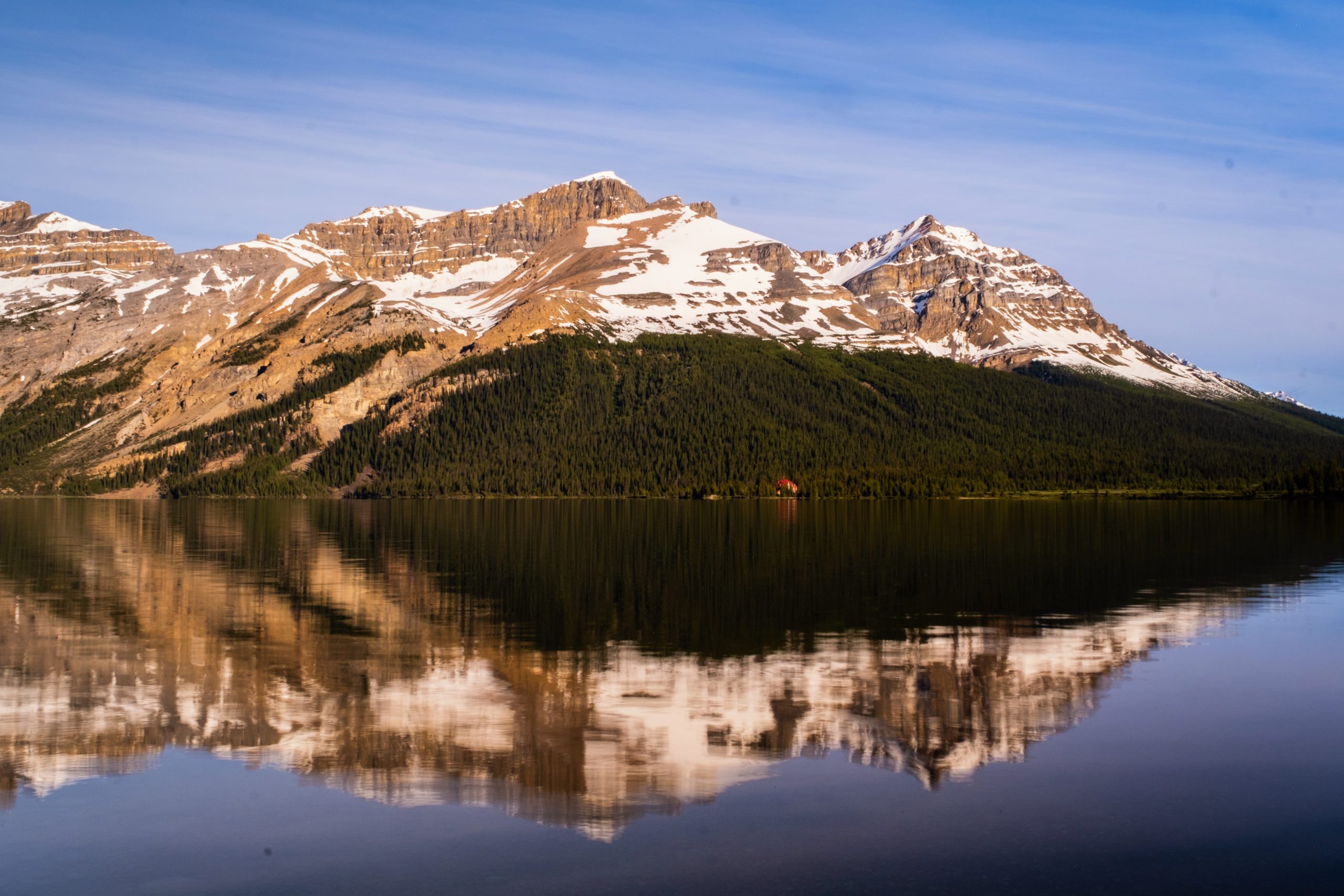 Bow Lake is one of the many lakes that line the Icefields Parkway and a popular stop for visitors to Banff National Park in Alberta, Canada. If you don't know it's coming, you'll be in for a real surprise as you drive the Icefields Parkway from Banff to Jasper and this bright blue wonder pops up out of nowhere on your left.
While it's not a large lake in the scope of the world, it is big for the Canadian Rockies. In the summer months, when the lake thaws, it turns a dizzying blue from the glacier melt of the Crowfoot Glacier and Wapta Icefield. The sheer rock wall of Crowfoot Mountain, the hanging glacier, and the expansive Wapta Icefield provide have an innate way of humbling all who gaze on the landscape.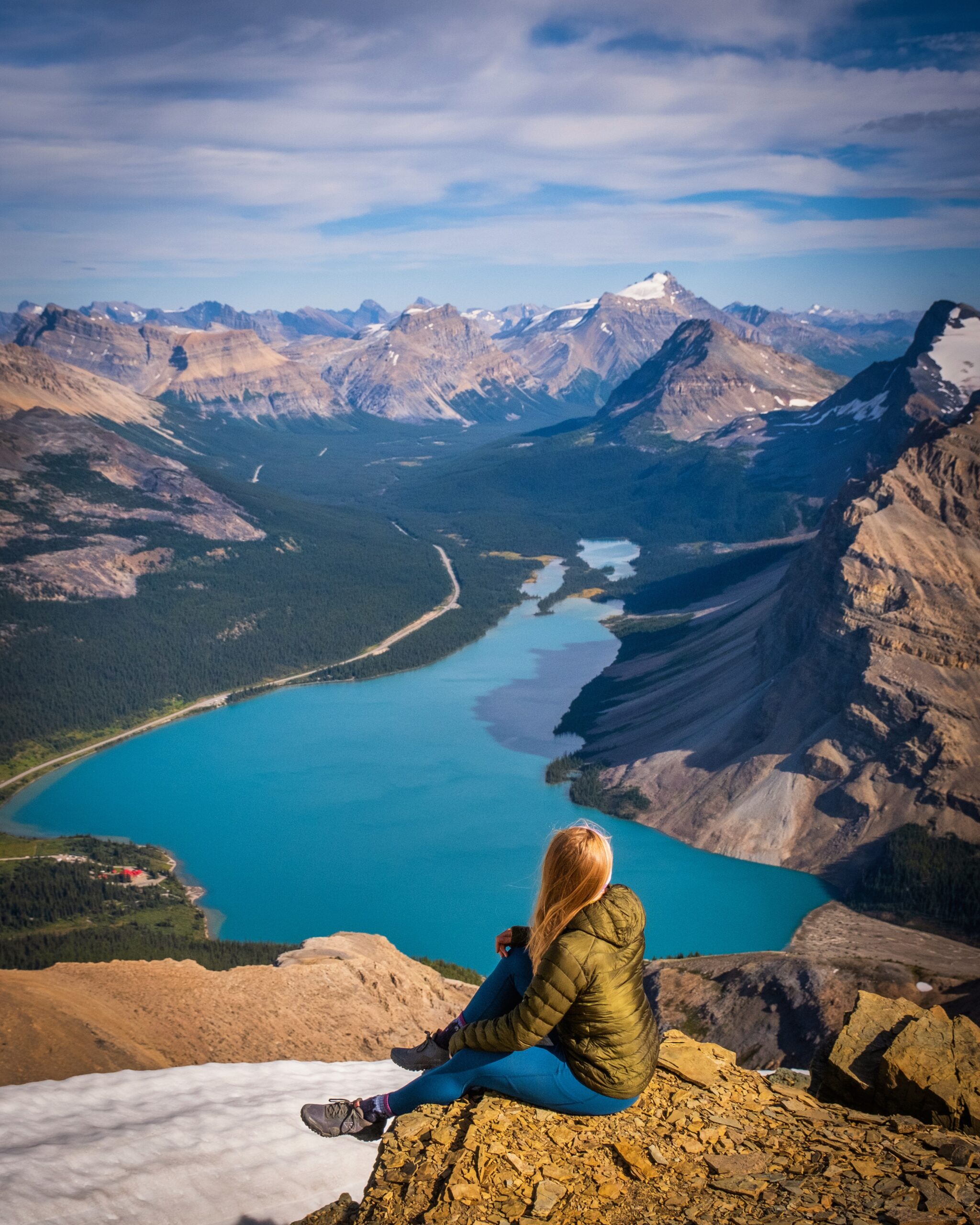 It's a popular spot in both the winter and summer as it is right off the Icefields Parkway and easily accessible. There are a ton of great photo points along the lakeshore. However, if you are really in for an adventure and epic views of Bow Lake you'll have to get up high like on The Onion Scramble or Mount Jimmy Simpson.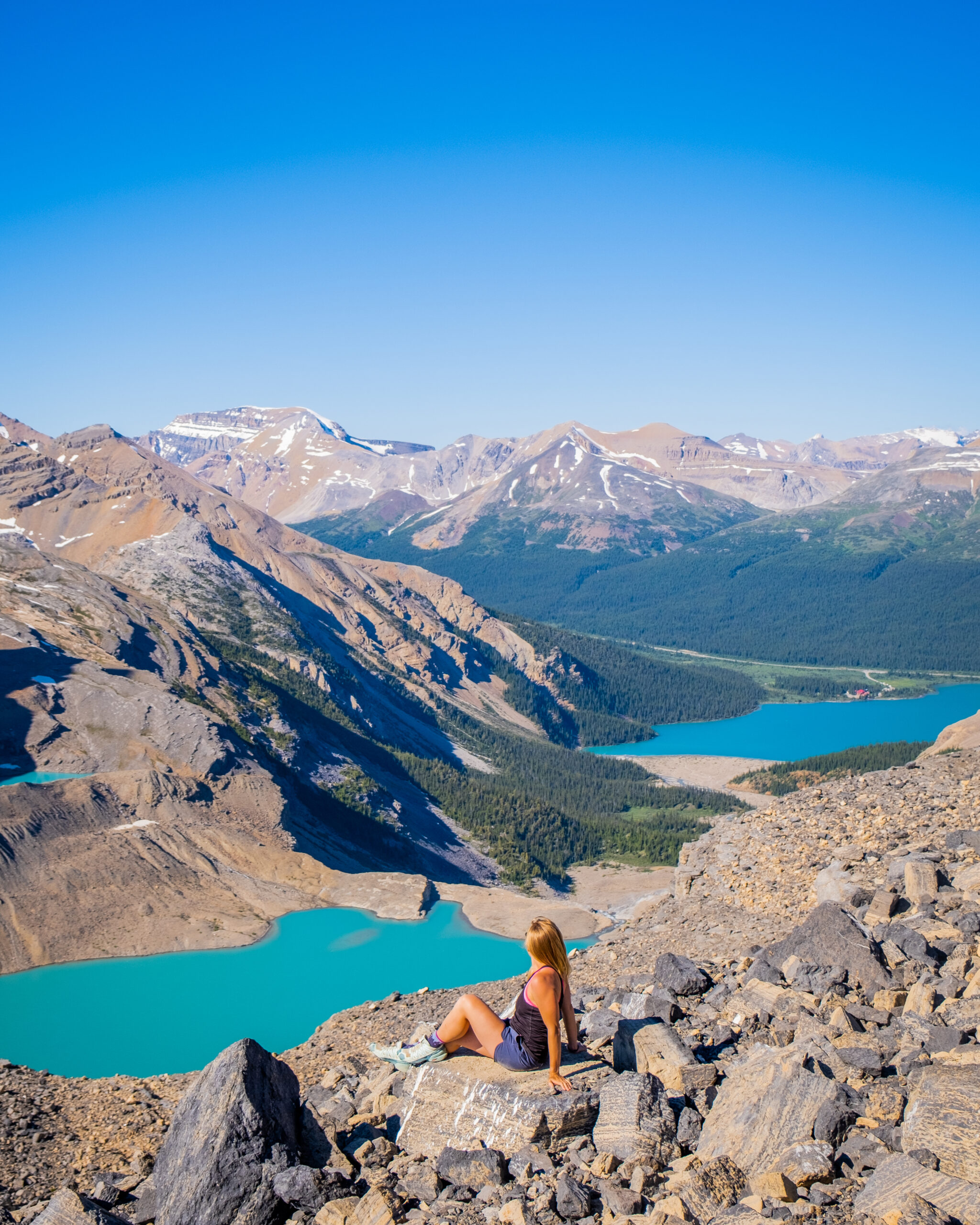 Best Time to Photograph Bow Lake? Is at sunrise as the sun hits the peaks ever so nicely.
How to Get There: When driving the Icefields Parkway pull off at Num Ti Jah Lodge and park.
---
Herbert Lake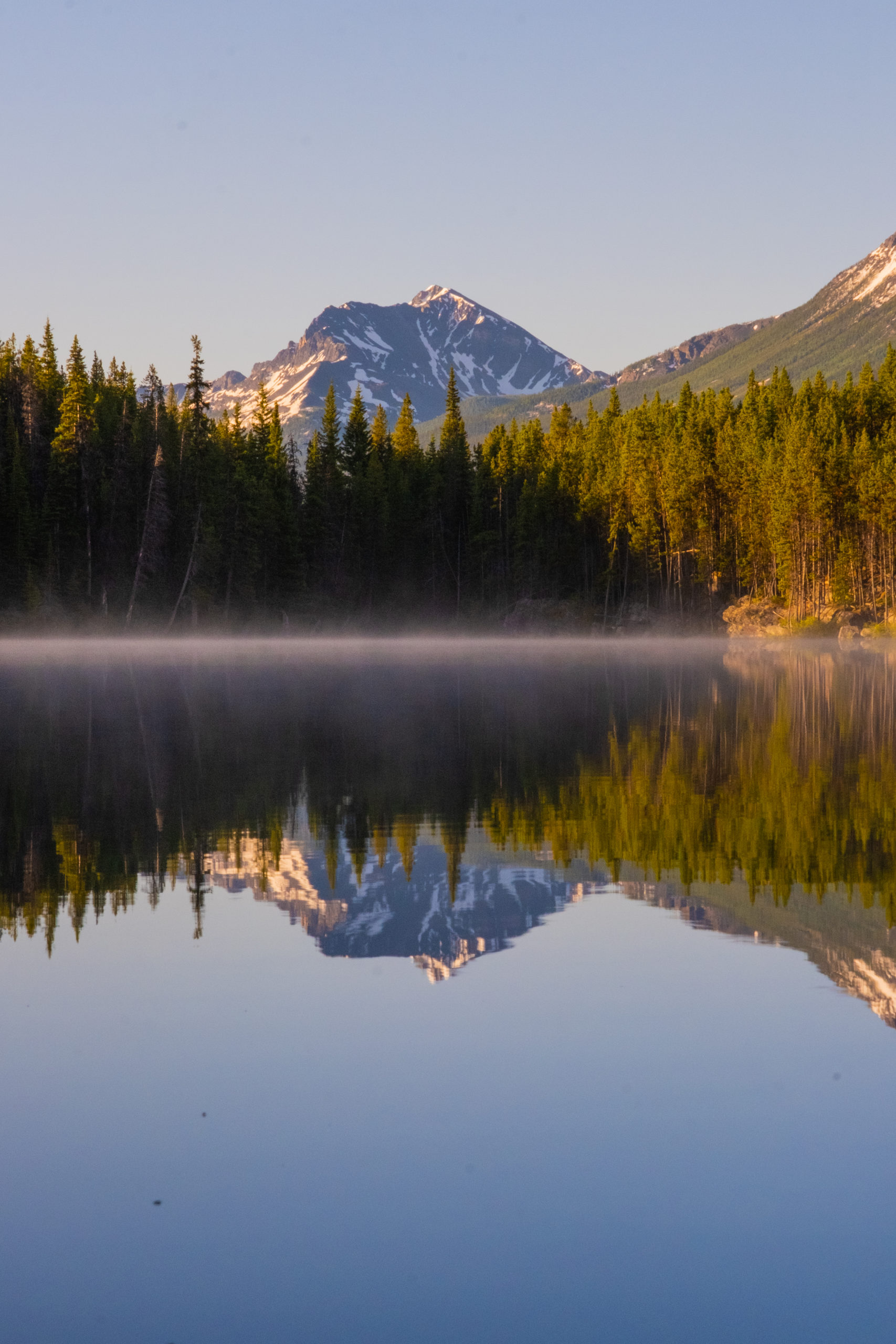 Not the most well-known Banff photo spot is Herbert Lake. Well Before Bow Lake, the very first stop you'll come across when you cross the park gates on the Icefields Parkway is Herbert Lake on your left-hand side (driving from Banff to Jasper). It may be easy to miss if you're not paying attention, but I promise you it's well worth a stop.
This is one of the lesser talked about lakes in the park, but it's a local favorite. Especially because it's quiet and you can get amazing views of the surrounding mountains.
Best Time to Grab a Photo of Herbert Lake? Sunrise
Hoe to Get There? Herbert Lake is the first lake on your left hand side (driving from Banff to Jasper) on the Icefields Parkway
---
Waterfowl Lakes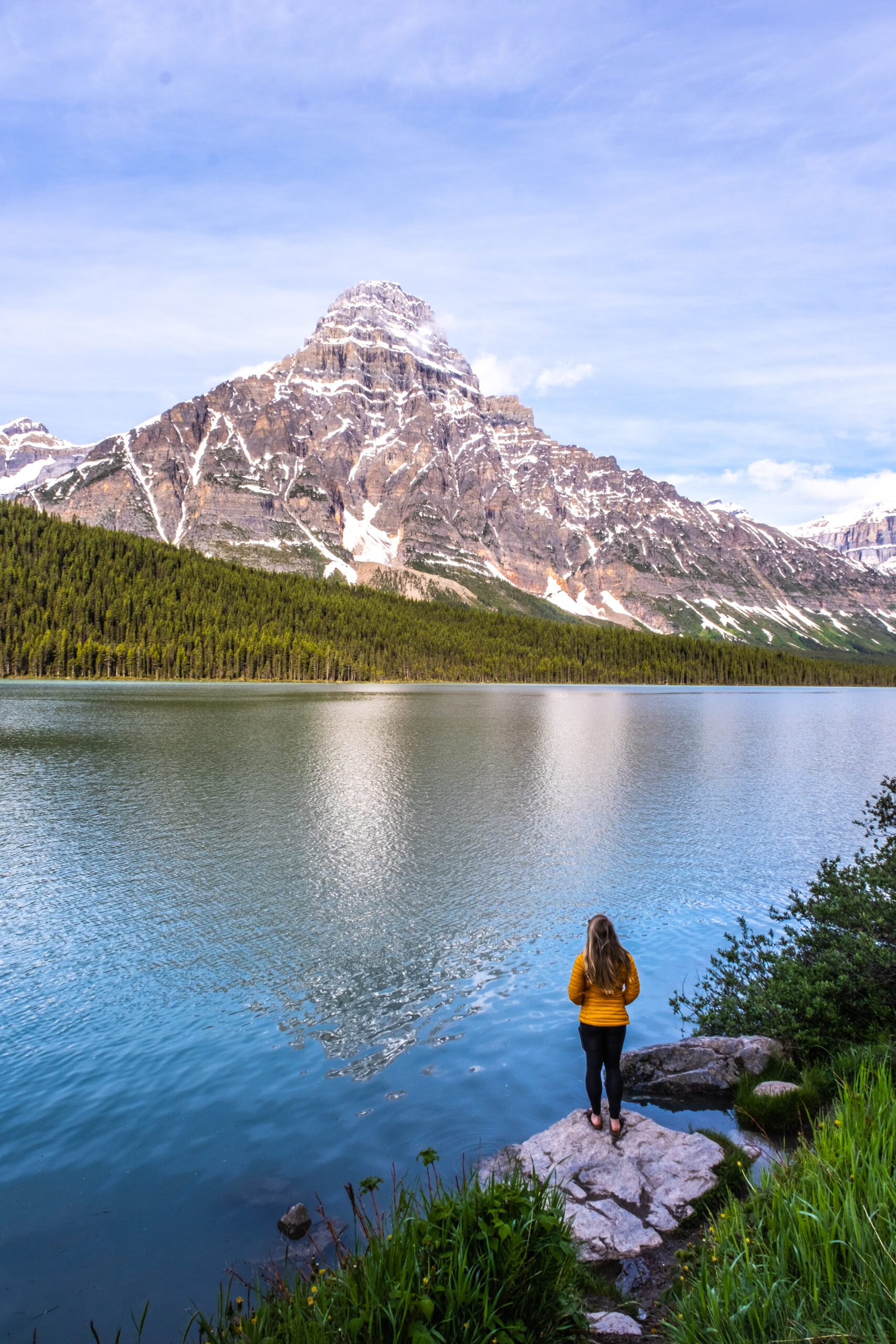 Another more unknown Banff photography spot is the Waterfowl Lakes. The Waterfowl Lakes are two relaxed Alberta lakes in the park that see a fraction of the visitors you'll see the other lakes on this list.
You can easily stop on the side of the Icefields Parkway and get epic photos of the lakes. The most popular photo stop is one that gets you direct views of Mount Chephren only steps away from the car.
Best Time to Grab a Photo of Waterfowl lakes? Sunrise
Hoe to Get There? Keep an eye out for Waterfowl Lakes campground. Past this there are a few pull off points next to Waterfowl Lakes.
---
Emerald Lake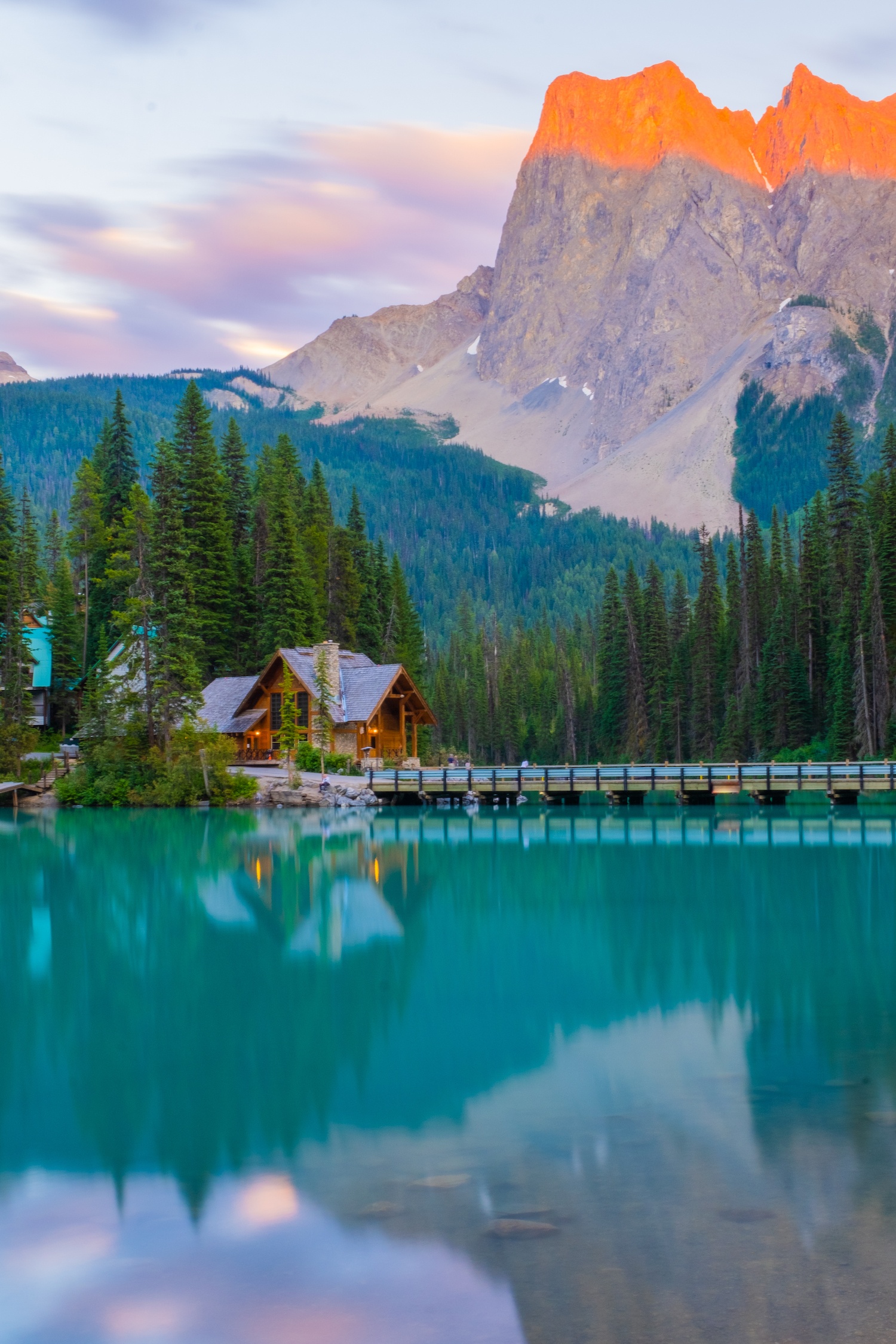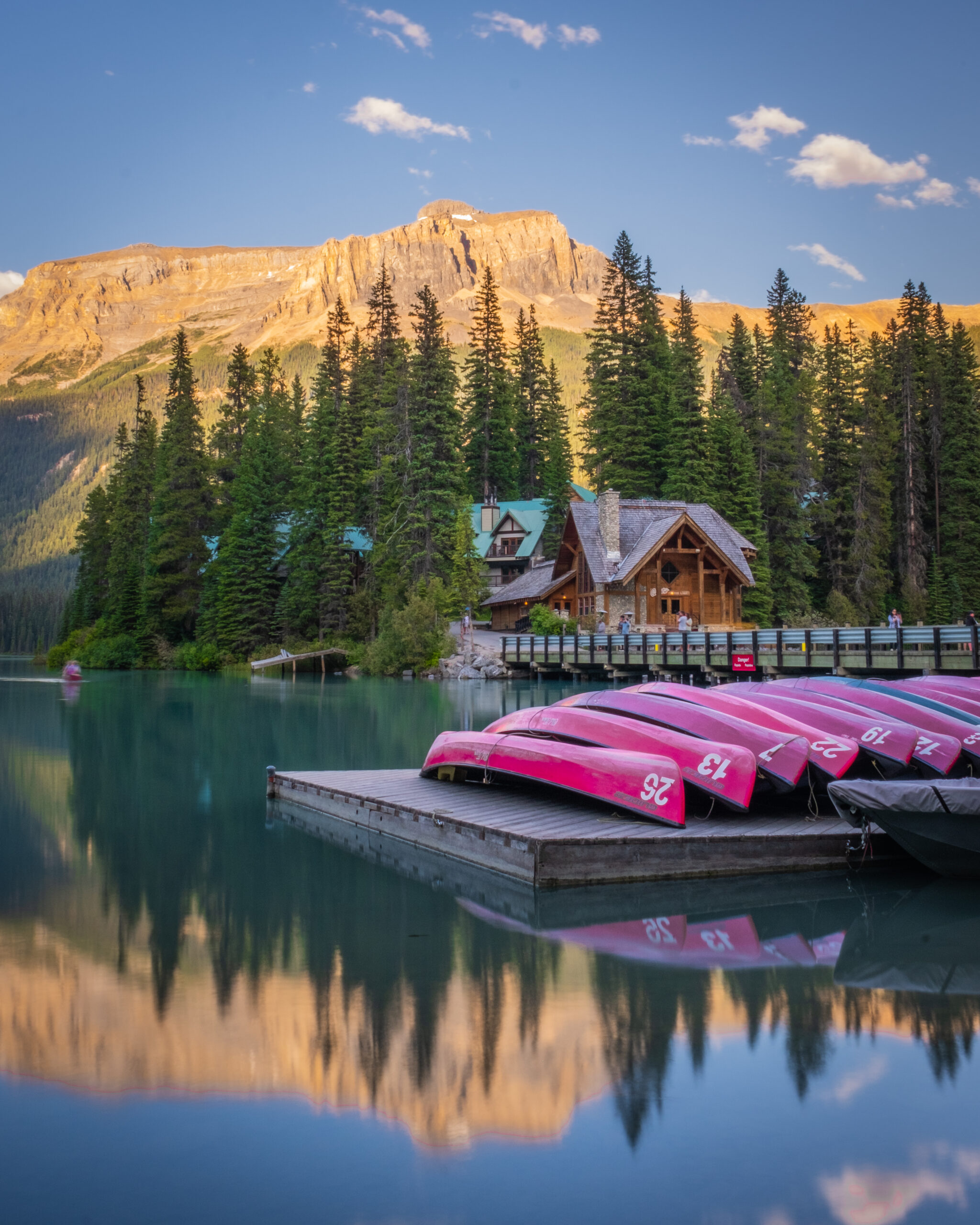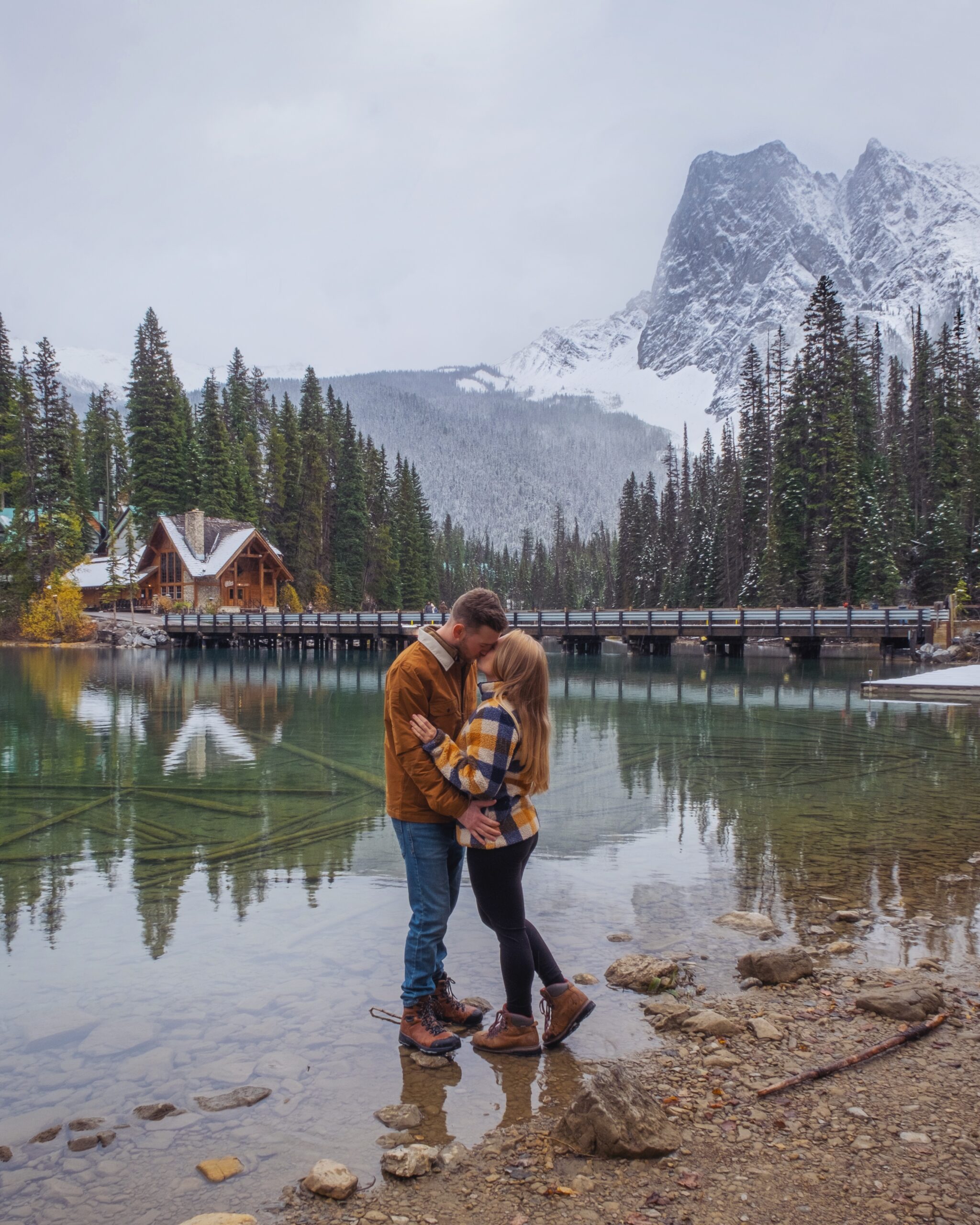 Emerald Lake is in Yoho National Park and is one of the Canadian Rockies' finest lakes and a resplendent place to visit. Emerald Lake is named so because it is quite literally Emerald Colored in the summertime when the glacial waters refract light.
To see the color at its peak, you'll have to arrive in summer as the melting glaciers high above the lake deposit a rock flour (fine rock ground by moving glaciers) into the lake, which causes the lake to refract light in the brilliant color.
There's one lodge here, The Emerald Lake Lodge, and if you walk your way around the lake you'll get a picture-perfect angle of Emerald Lake, the Lodge, and Mount Burgess towering over the scene in the background.
Best Time to Grab a Photo of Emerald Lake? Sunrise and Sunset are both spectacular, but mid-day is when you'll still get vibrant colors of the lake.
---
Easy to Reach Photography Spots in Banff
---
Castle Mountain Lookout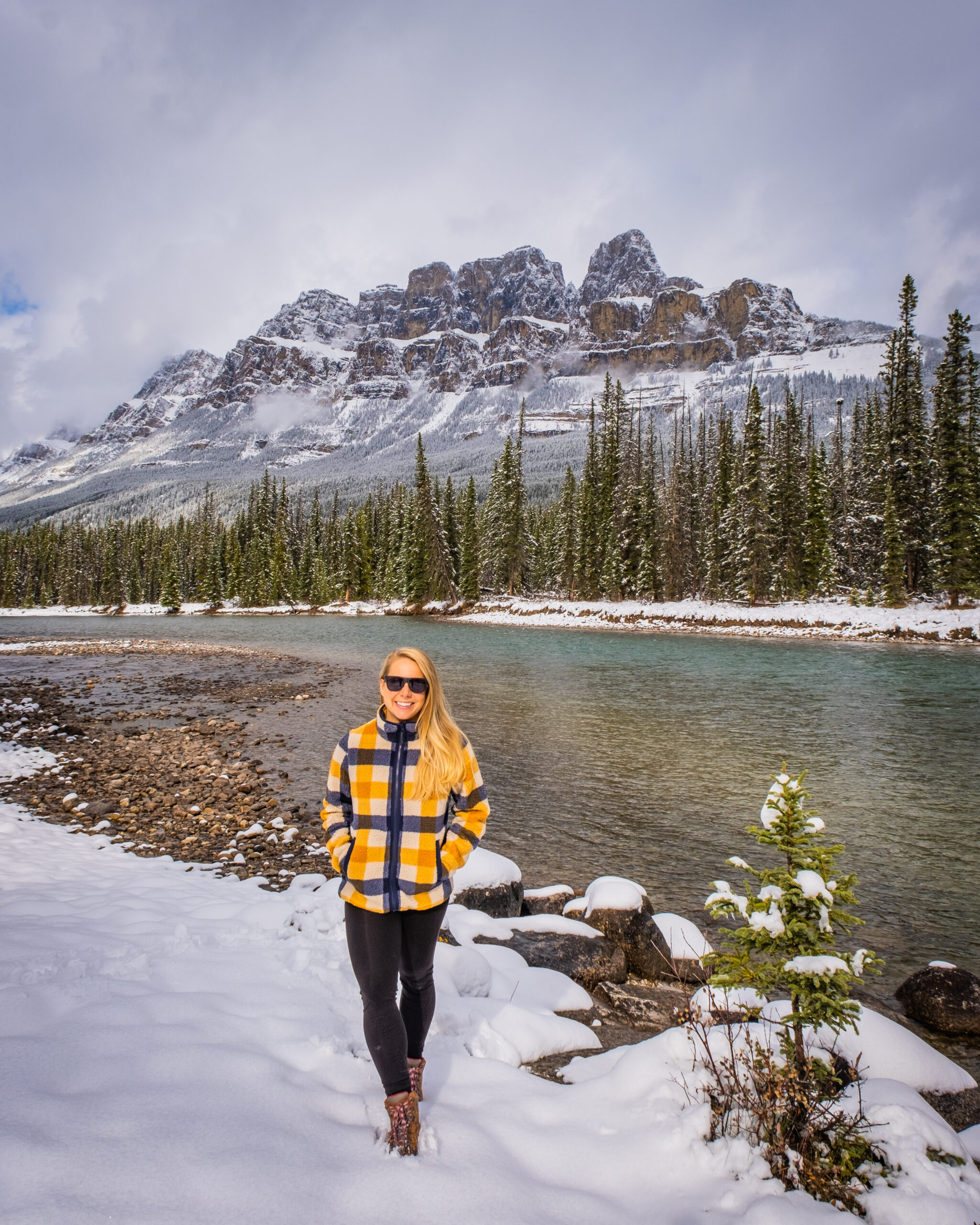 You literally cannot miss Castle Mountain whether you're traveling down the Bow Valley Parkway or the Trans-Canada (unless you're sleeping). It's a unique mountain in Banff with an awesome shape and features that set it apart from the rest of the Banff mountains.
The mountain was named for its castle-like features, but for over 30 years, it was referred to as "Mount Eisenhower" after Dwight D Eisenhower. After some pressure, the name was restored back to Castle Mountain, but the pinnacle you can see in the photo on the southeastern side is named Eisenhower Tower.
It's extremely photogenic and one of our favorite places for Banff pictures. One of the best spots to photograph Castle Moutain is right off the Castle Junction exit. Before you cross over the bridge, there is a spot you can walk to along the Bow River. You'll have to pass through a gate, but this keeps animals off the road, so just make sure you lock it when done.
Best Time to Photograph Castle Mountain? Year-Round!
---
Johnston Canyon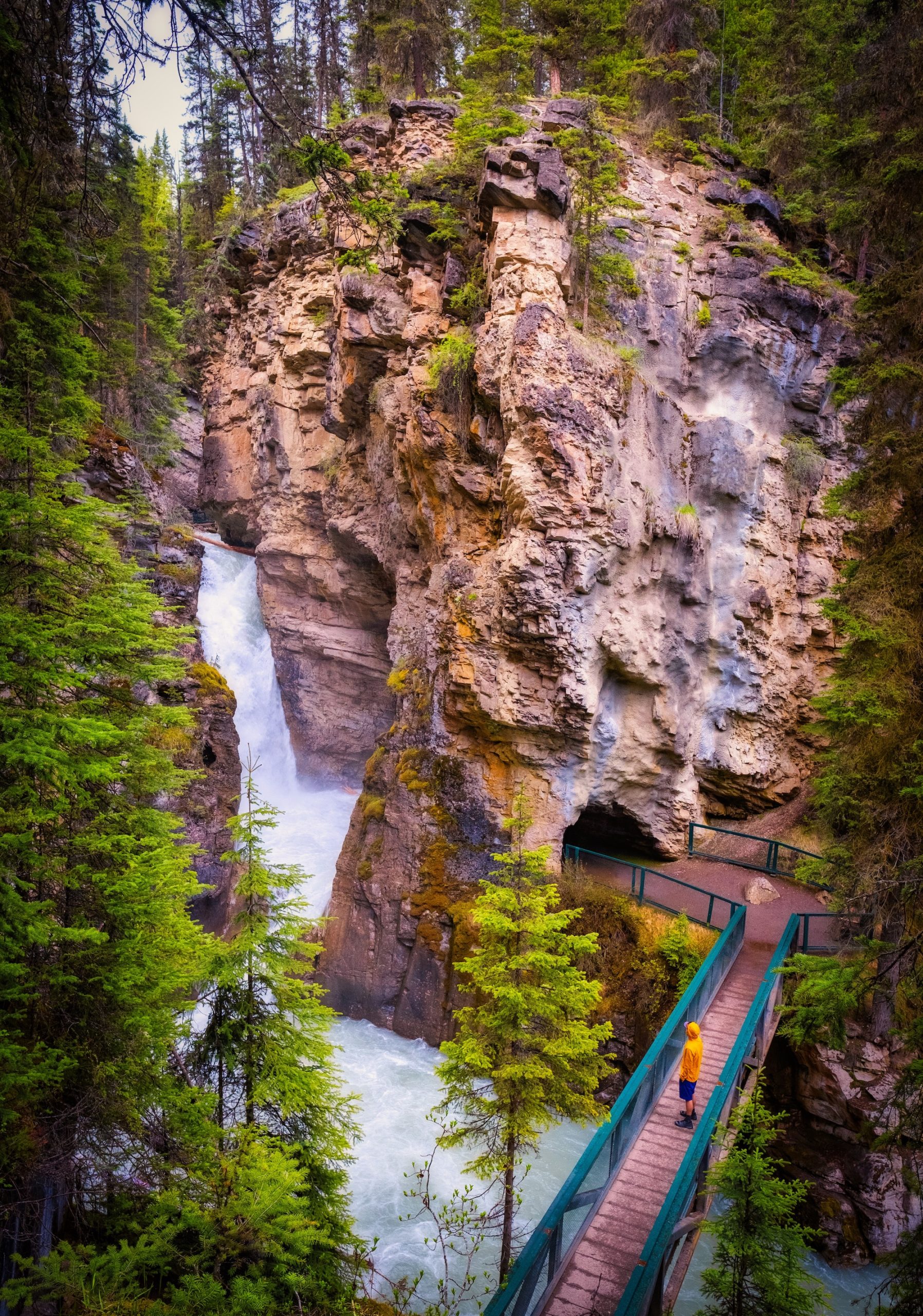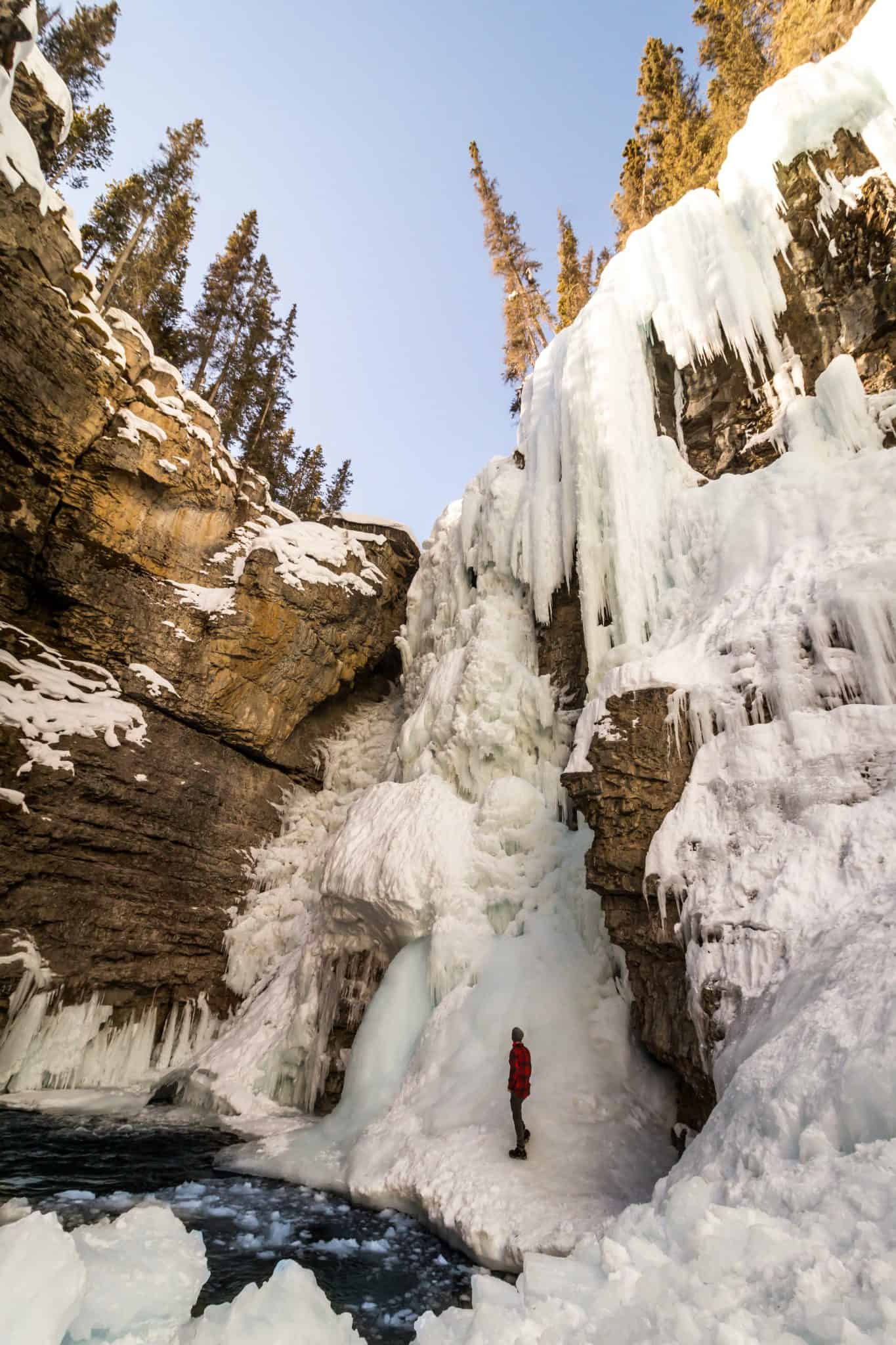 Johnston Canyon is a highlight for many on their trip to Banff, and it's an easy Banff hike good for families. The trail through Johnston Canyon moves through the center of the small canyon until reaching the Upper Falls.
It's possibly the busiest trail in all of Banff, so you'll need to arrive early in peak season if you want to avoid the crowds. That being said, Johnston Canyon offers some splendid natural features in both the winter and summer.
In the summer, the falls are roaring – especially in June and July as the snow melts off the surrounding mountains. However, I think the best time to photograph Johnston Canyon is in the winter when the waterfalls turn to cascade ice.
Best Time to Photograph Johnston Canyon? When it's a Winter Wonderland. December through March, and one of the best snowy Banff photography spots.
---
Morant's Curve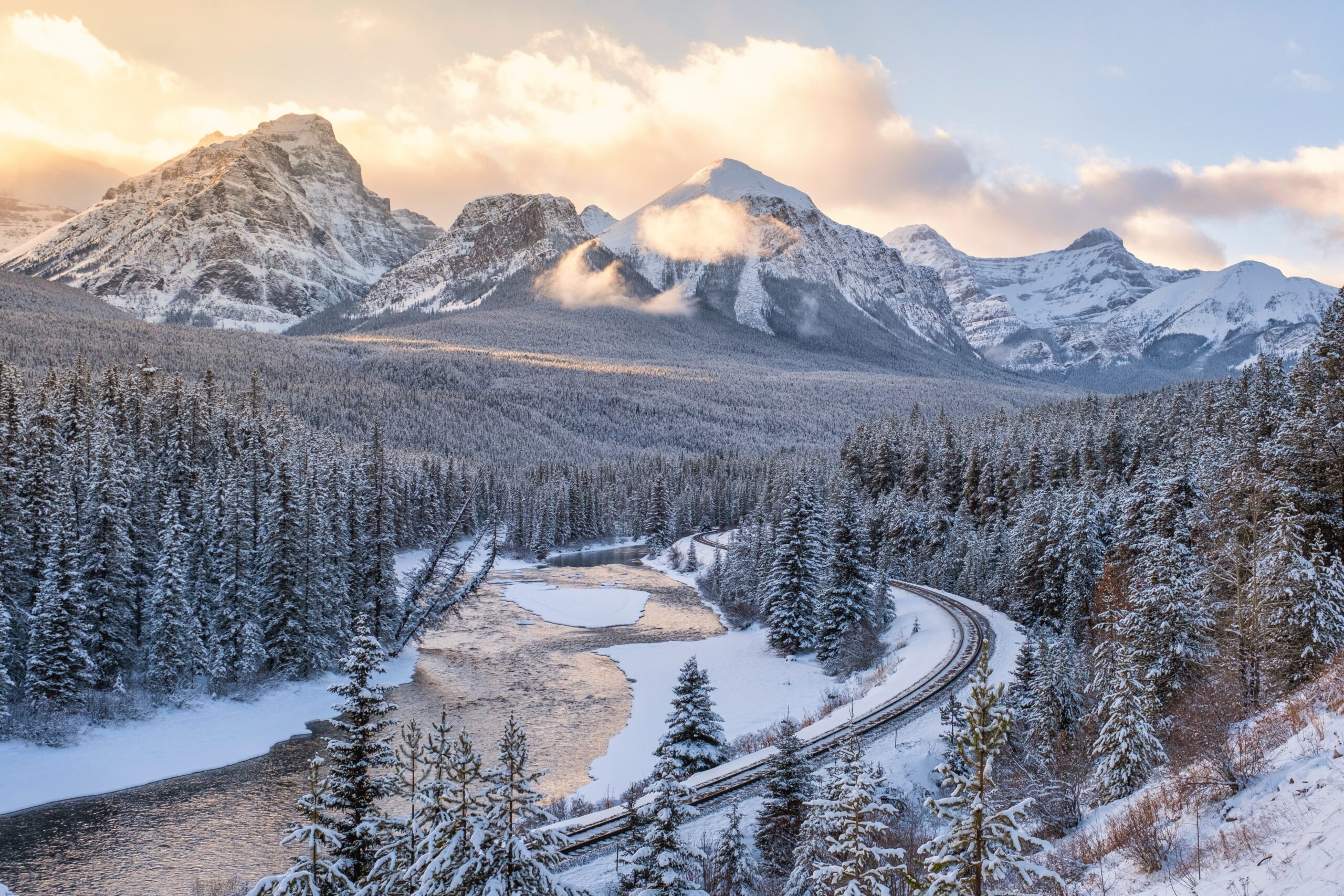 If you're driving the 1A (Bow Valley Parkway) from Banff to Lake Louise, you'll pass a spot just before you get to Lake Louise that overlooks the train tracks down an epic valley.
This is called Morant's Curve and is one of the best Banff picture spots. It particularly looks ideal in the winter when the mountains and trees are blanketed in snow.
It looks great without a train, but to really nab the shot, you'll need to hang out in the cold waiting for the Canadian Pacific train to pass by (there is no train schedule). It requires patience and warm clothes, but it can be done. If you really want to outdoor yourself, you should look up when the Canadian Holiday Train is passing through.
Best Time to Photograph Morant's Curve? After a Fresh Dump of snow in the Winter
---
Sulphur Mountain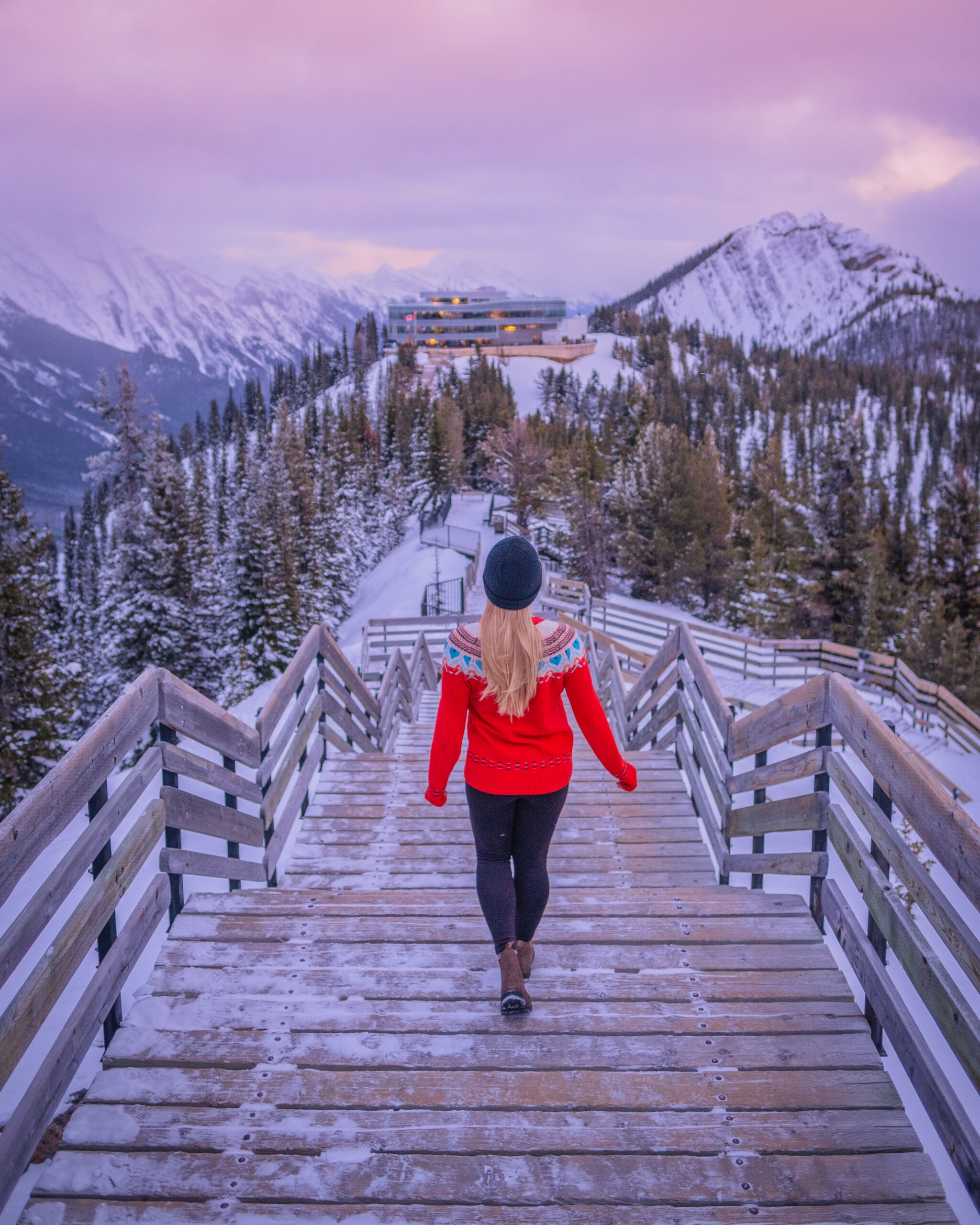 Sulphur Mountain is one of the closes mountains to hike in Banff. It's also the site of the Banff Gondola. At the top is a whole world of fun you may never expect on top of a mountain. Here you'll find a weather station, restaurant, cafe, and a nice walkway for visitors.
If you're a frequent hiker or scrambler, it may not be the most exciting experience but I wanted to mention it as a great mountain summit for all ages even if you have never hiked before. You can either take the gondola up or hike to the top on a neverending series of switchbacks (my favorite option).
Once at the top, you'll have astonishing views over the Bow Valley and the town of Banff. I would suggest heading here in the winter at sunset for beautiful photos.
Best Time to Photograph Sulphur Mountain? Sunset in the Winter
---
Cascade Ponds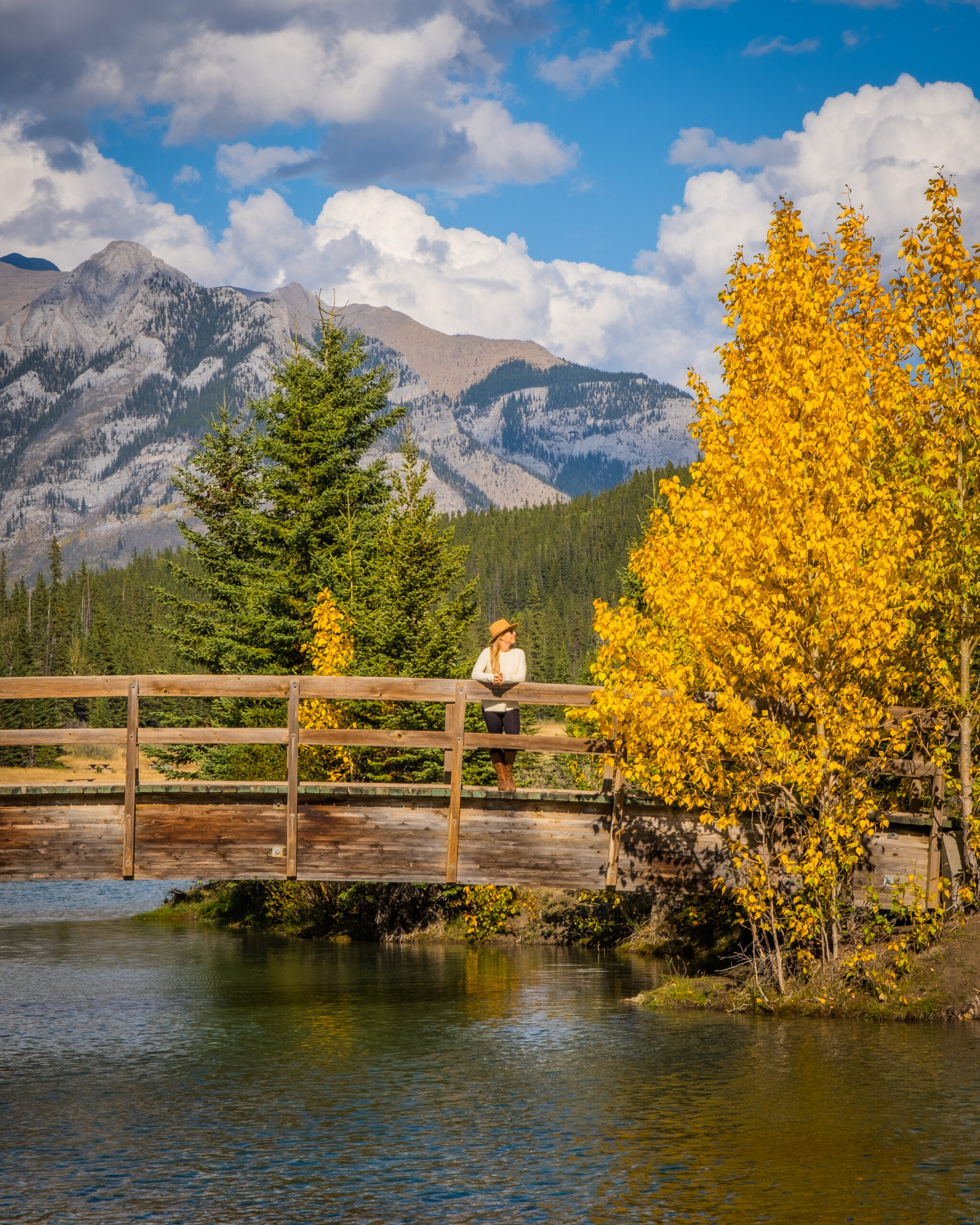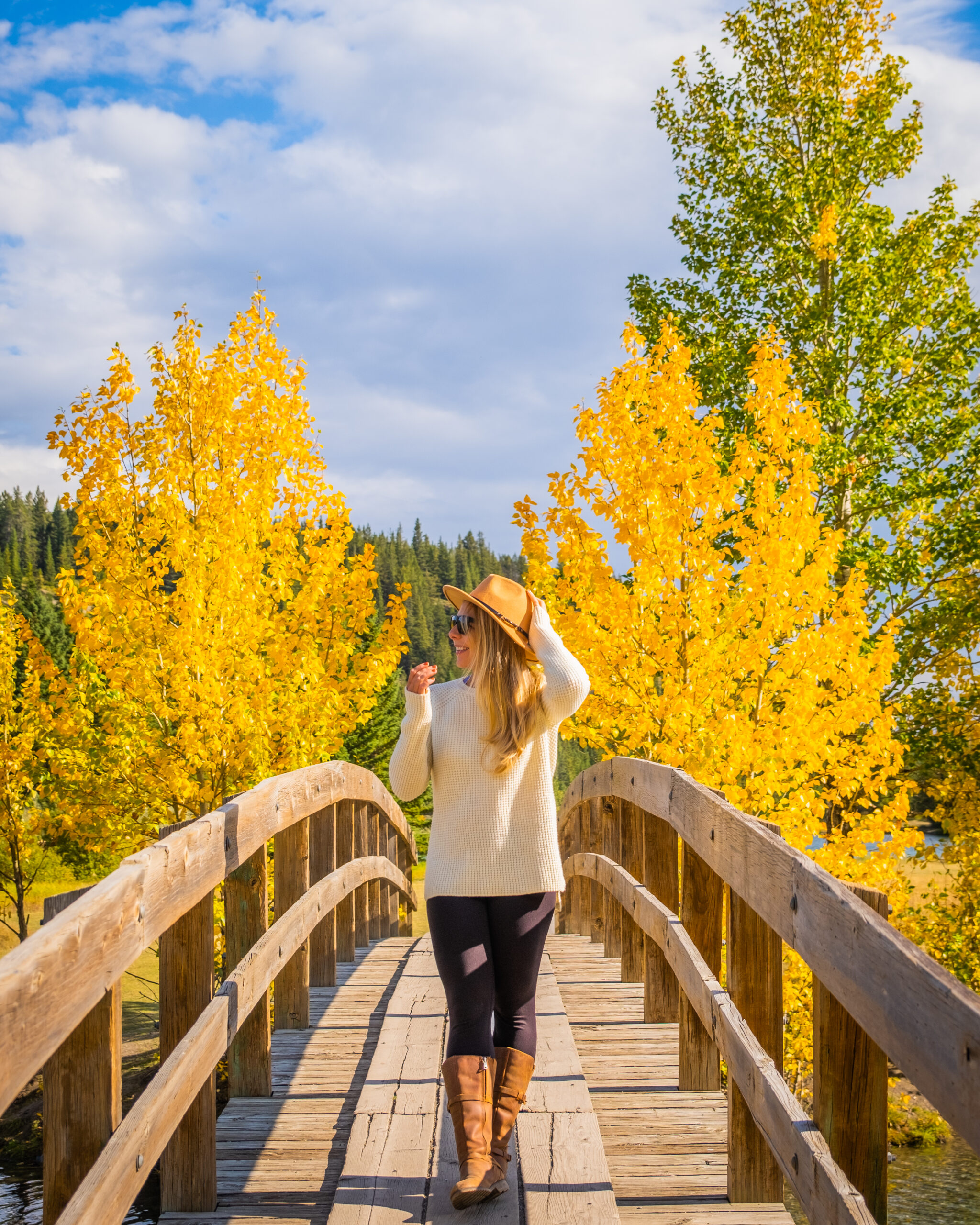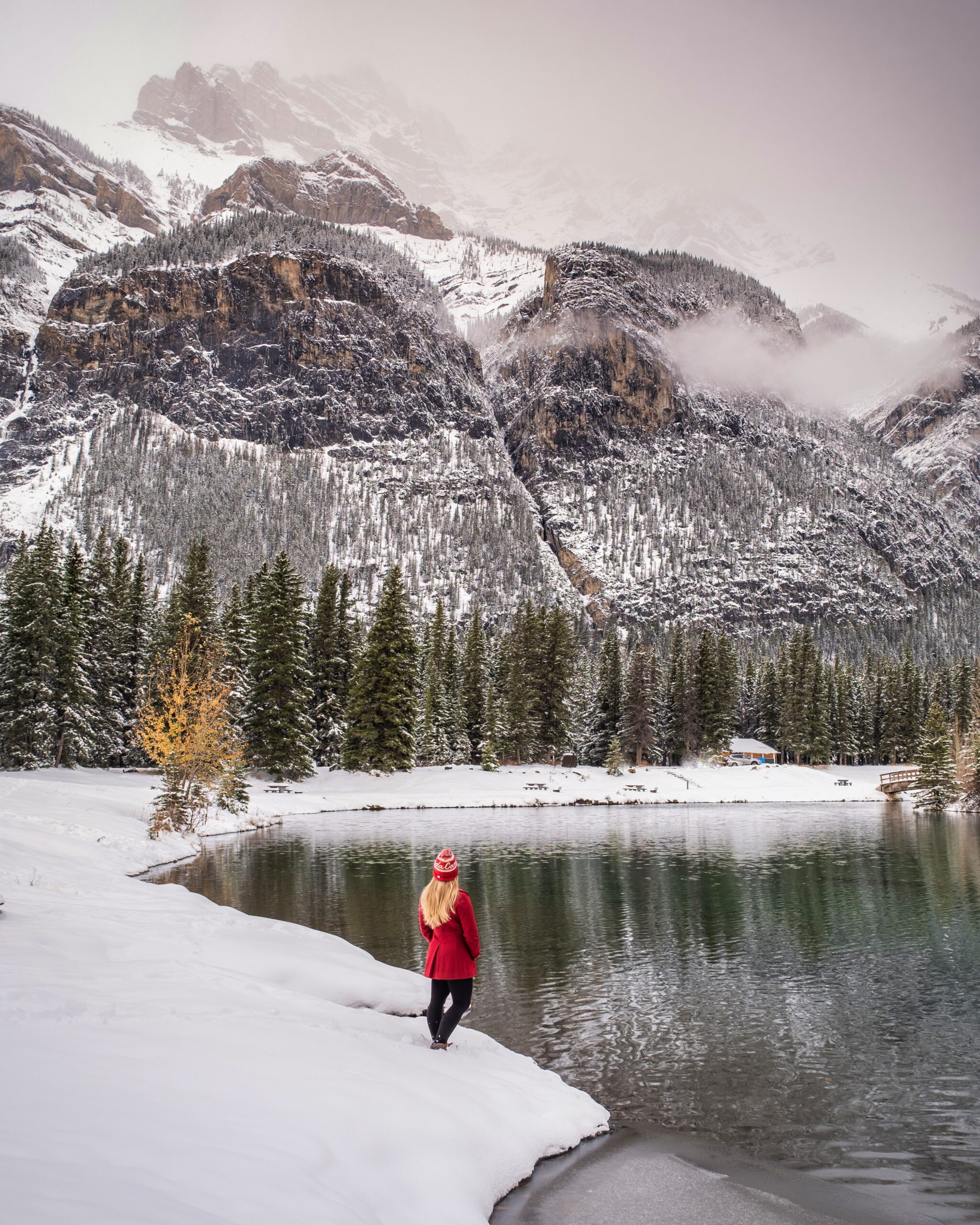 Before you reach Two Jack Lake or Lake Minnewanka, you'll come across Cascade Ponds. Which are literally a series of ponds that air under Cascade Mountain. There are plenty of picnic benches and firepits here to enjoy a picnic at, but it's also a fantastic place to come year-round and grab some photos of the bridges that make walking between the ponds accessible. This is one of the easiest Banff photography spots you can reach.
Best Time to Photograph Cascade Ponds? Sunrise! In the fall there are plenty of Aspen trees that turn golden yellow.
---
Surprise Corner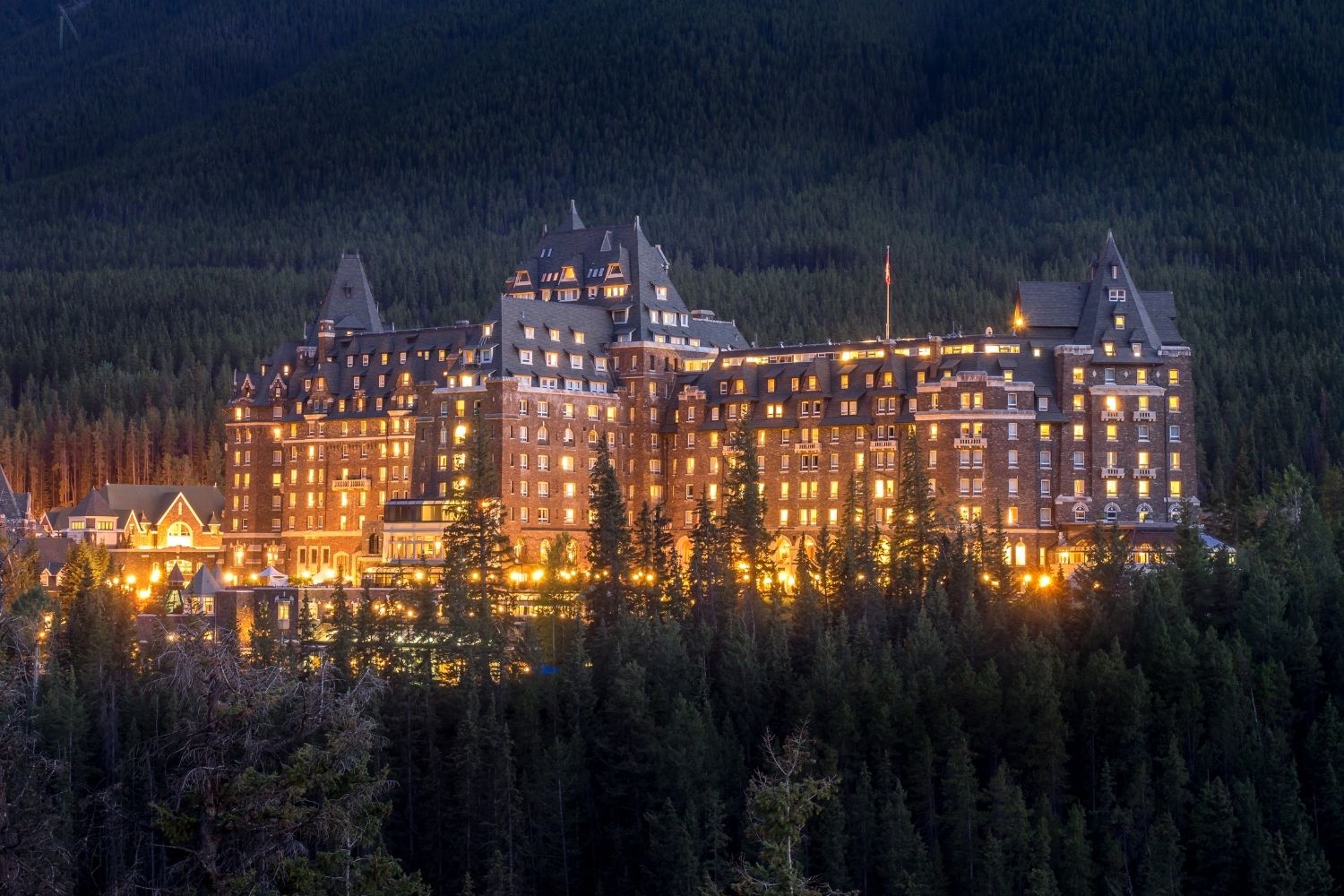 The surprise corner viewpoint is right off of Tunnel Mountain Drive in Banff. Along the Bow River and easily reached by car. It's called Surprise Corner because of its amazing view of the Banff Springs Hotel, which is literally a castle right in the heart of the mountains.
Best Time to Photograph Surprise Corner? In the winter after a fresh dump of snow. Sunrise will give you the best light!
---
Banff Ave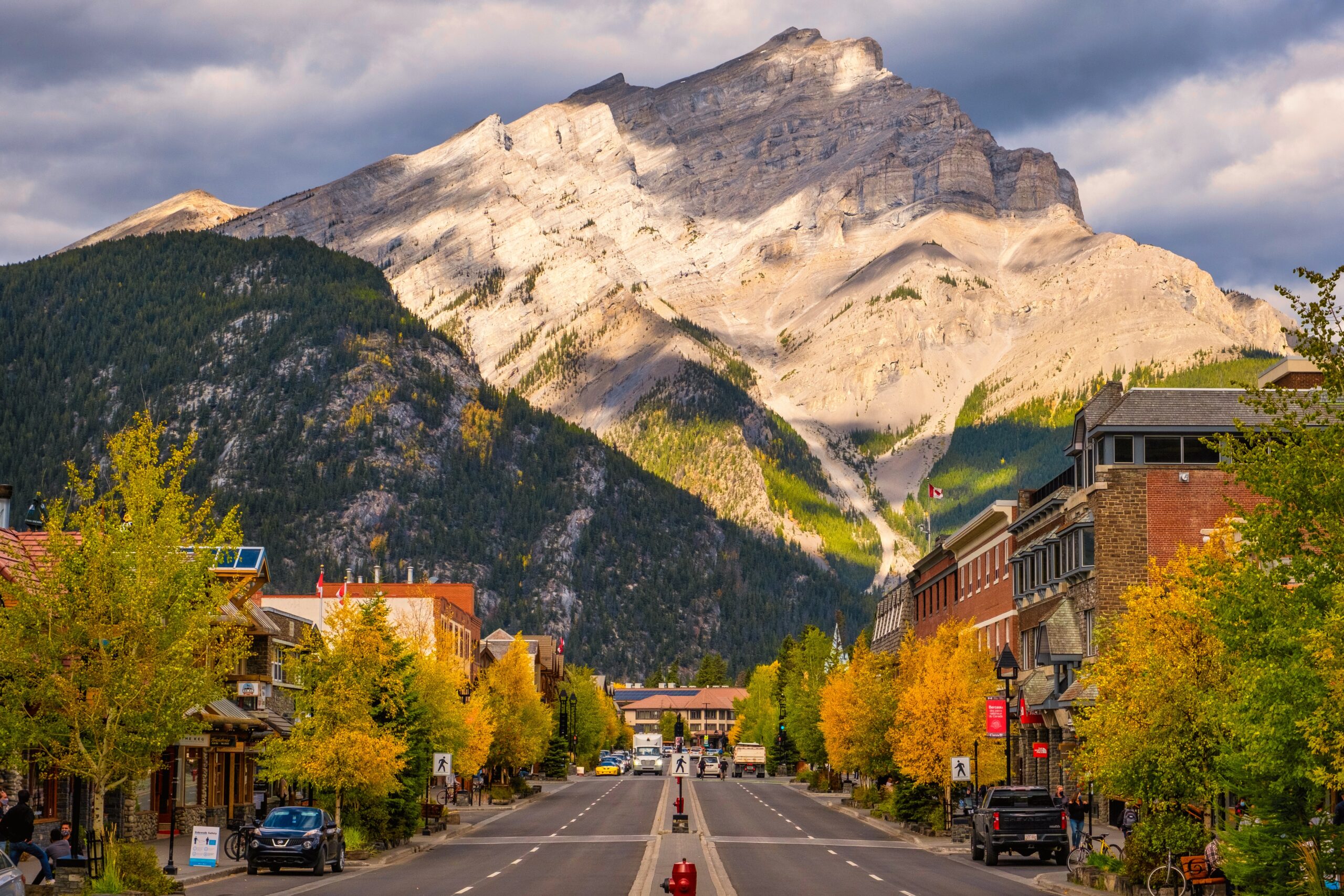 Perhaps the absolute easiest photo spot in Banff for anyone to get on this entire list is one right off of Banff Ave, looking down towards Cascade Mountain. If you are staying in Banff, all you have to do is step outside one of your Banff hotels or Banff Airbnbs and head to the middle of the street (there is a place to stand and not construct traffic) and take this photo year-round.
The best time to grab this photo is at sunrise, when the clouds have a tendency to turn cotton candy pink, and the light hits Cascade Mountain ever so nicely.
Best Time to Photograph Banff Ave? Early Morning before the crowds come.
---
Mt. Norquay Lookout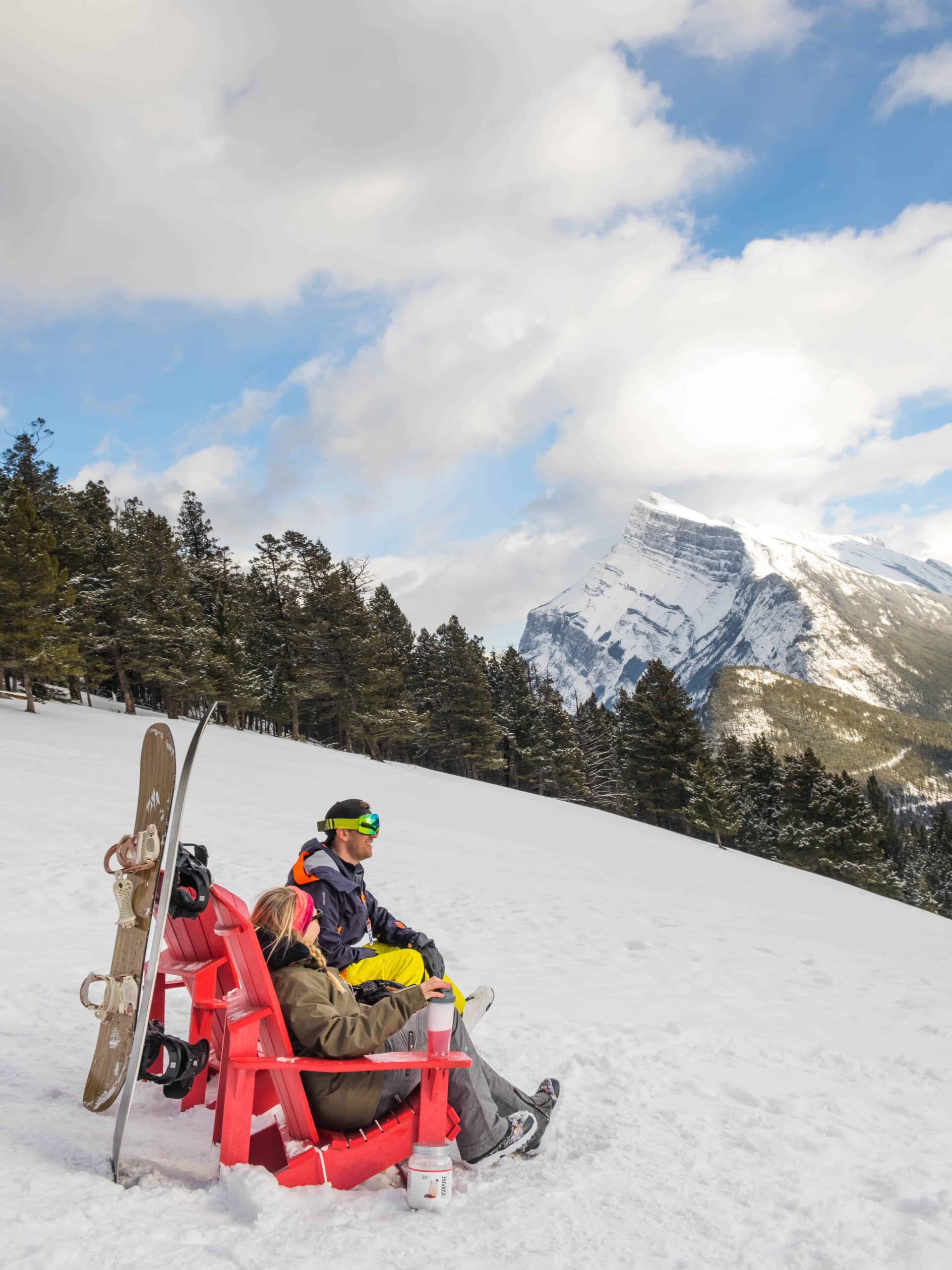 The Mt Norquay Viewpoint gives exceptional views over Mount Rundle. You know it's exceptional because Parks Canada has put a few of its iconic red chairs there for visitors to sit and marvel at the view. To reach this destination, you'll need to drive to Mt. Norquay for about 4.8 km till you reach a pull-off point on your right-hand side.
Best Time to Photograph the Mt. Norquay Viewpoint? Sunrise or sunset as the light hits Mount Rundle.
---
Best Photo Spots in Kananaskis
---
Tent Ridge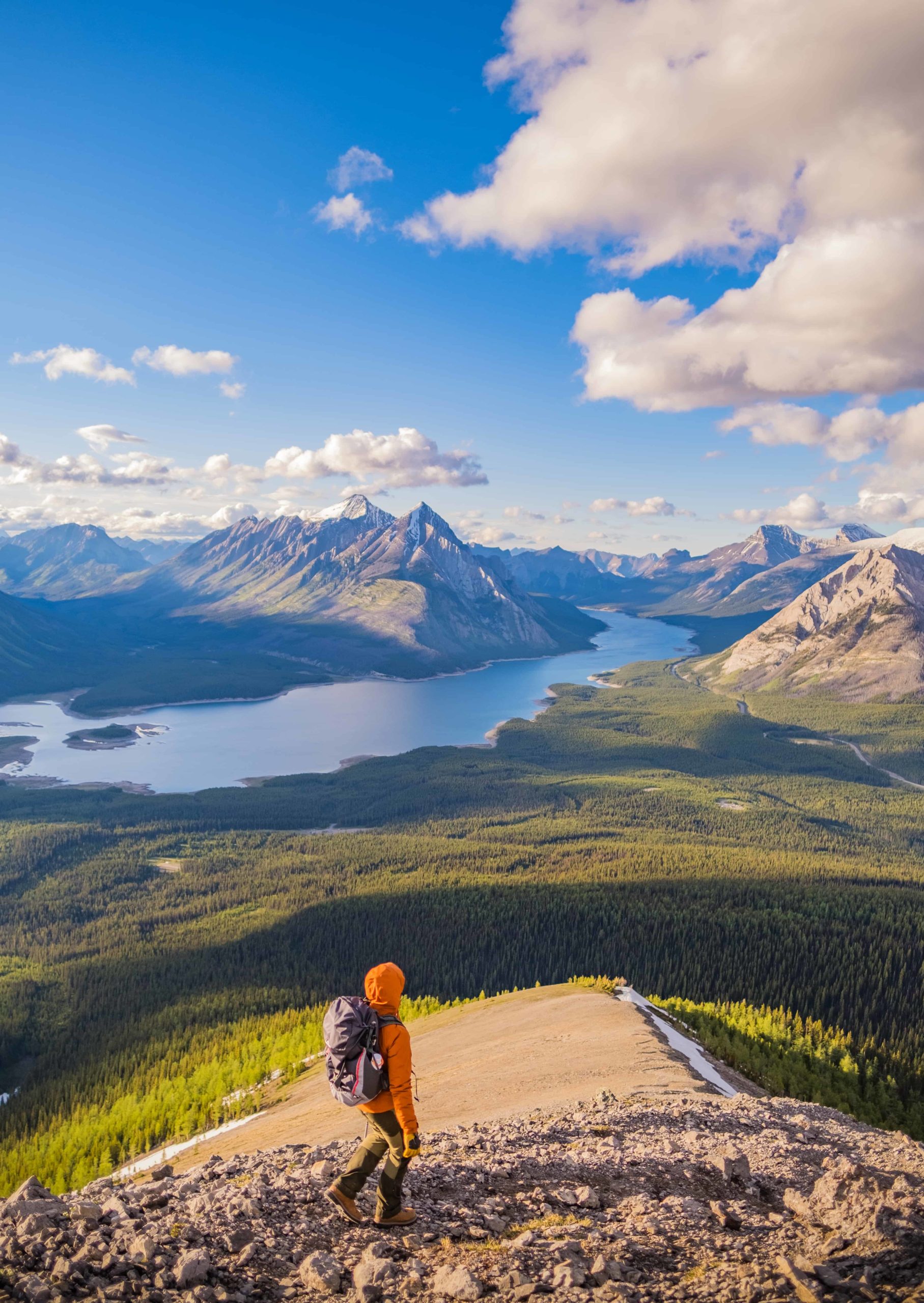 Tent Ridge is one of my favorite hikes in all of Alberta. Just an hour's drive from Canmore in the Spray Valley is this beautiful loop trail. It's the perfect hike with amazing views of the surrounding mountains and lakes. Tent Ridge has exploded in popularity, which I'm pretty sure is because of Instagram tags alone.
If you see the photo, you'll know why and want to hike Tent Ridge immediately to get astonishing views over the Spray Lakes valley. Expect Tent Ridge to take you around 4-5 hours to do the full loop. I would highly suggest hiking Tent Ridge counter-clockwise, so you end on a high note with the view above. Sunset will provide you with the most stunning colors.
---
Sarrail Ridge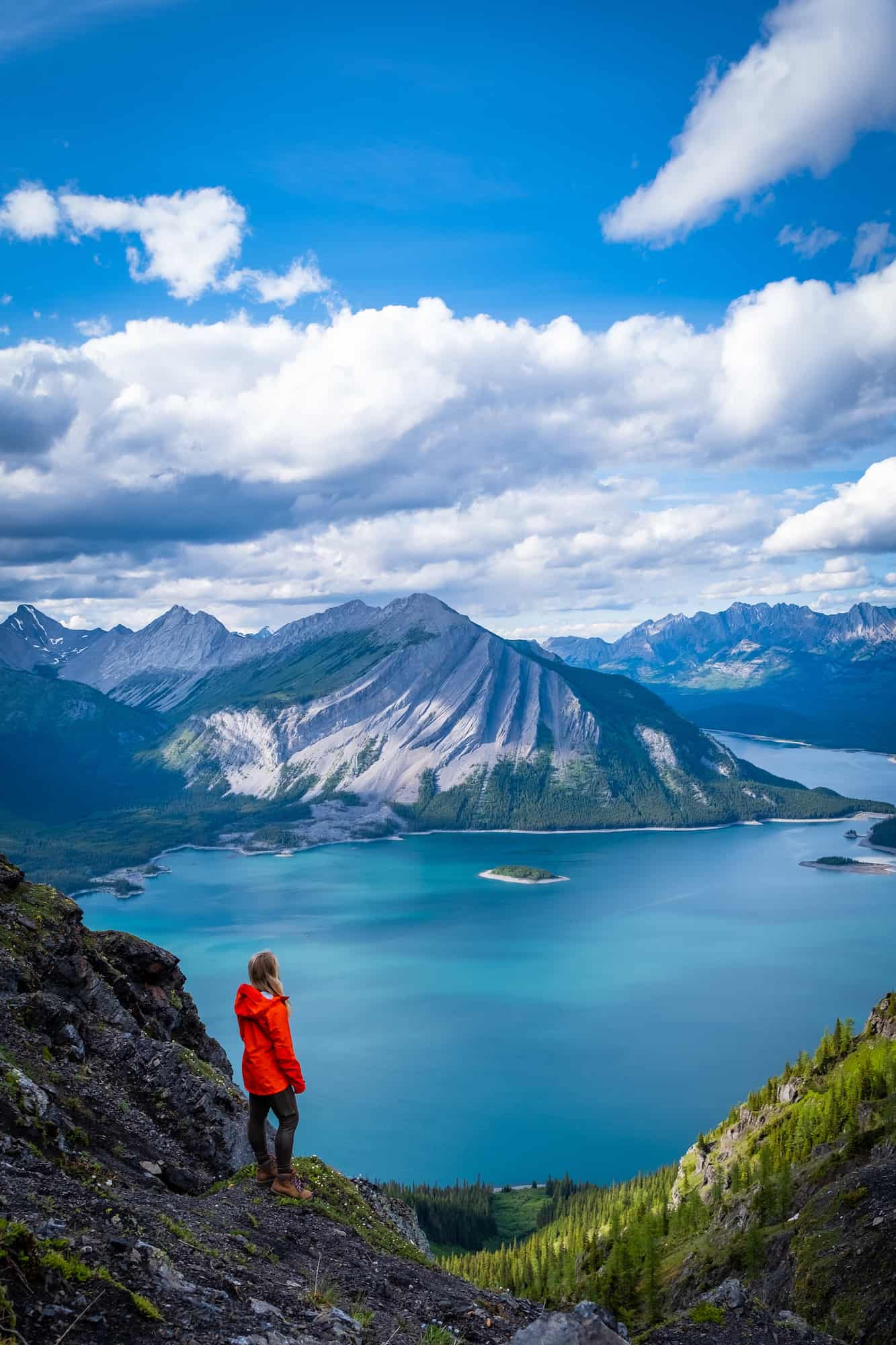 Rawson Lake and Sarrail Ridge are often combined as the hike up to Sarrail Ridge go around and up above Rawson Lake. Once you reach the top of Sarrail Ridge you'll see why this is one of the best photo spots in the Canadian Rockies. You'll get unparalleled views over the Kananaskis Lakes. Be forewarned it's a steep grind!
---
Rimwall Summit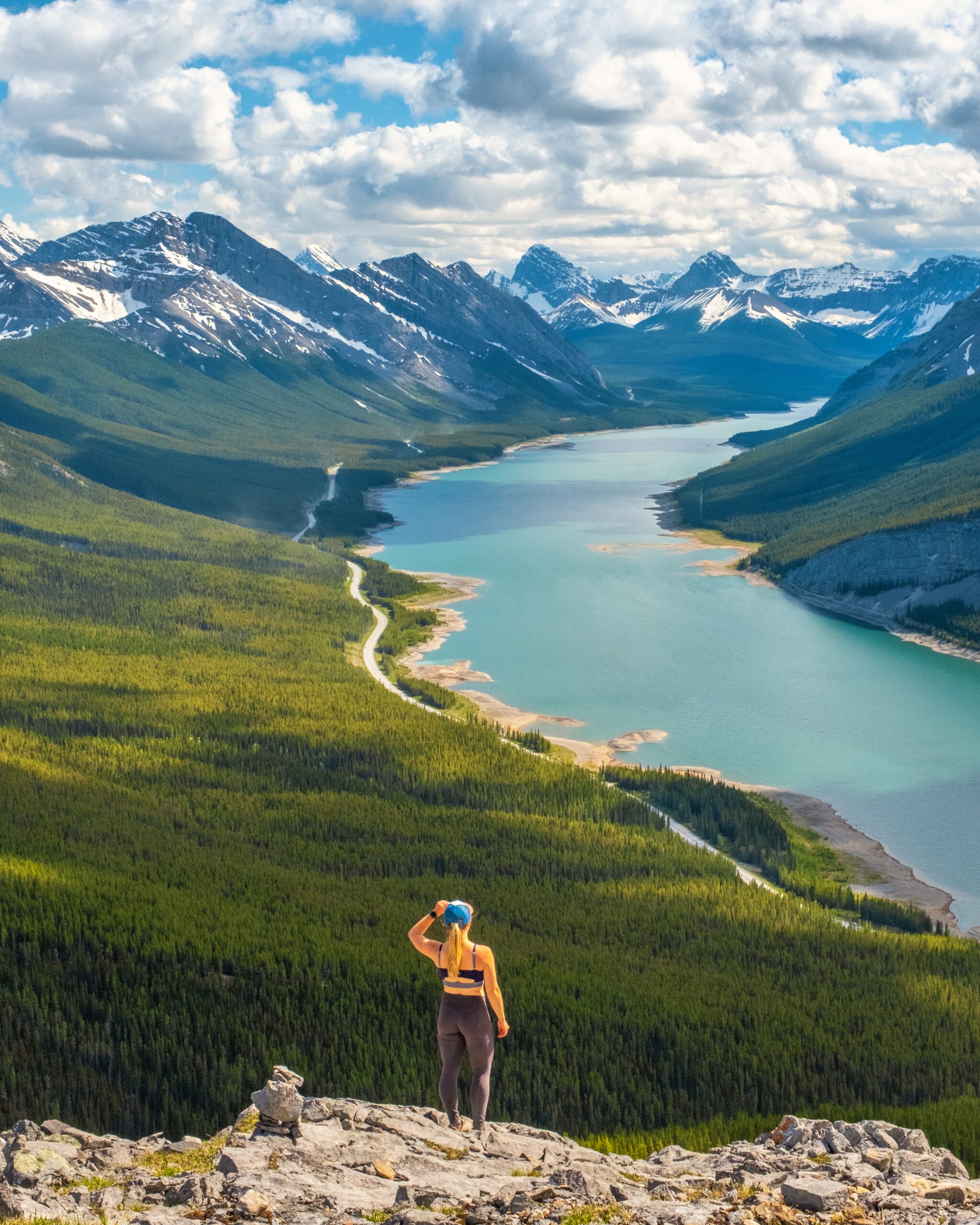 Rimwall summit is one of my favorite half day hikes in Kananaskis. After you pass West Wind Pass you'll start the scramble up to Rimwall Summit. On your way up, turn around, and you'll find yourself in awe of the view over the Spray Lakes!
---
Best Photo Spots in Canmore
---
Canmore Reservoir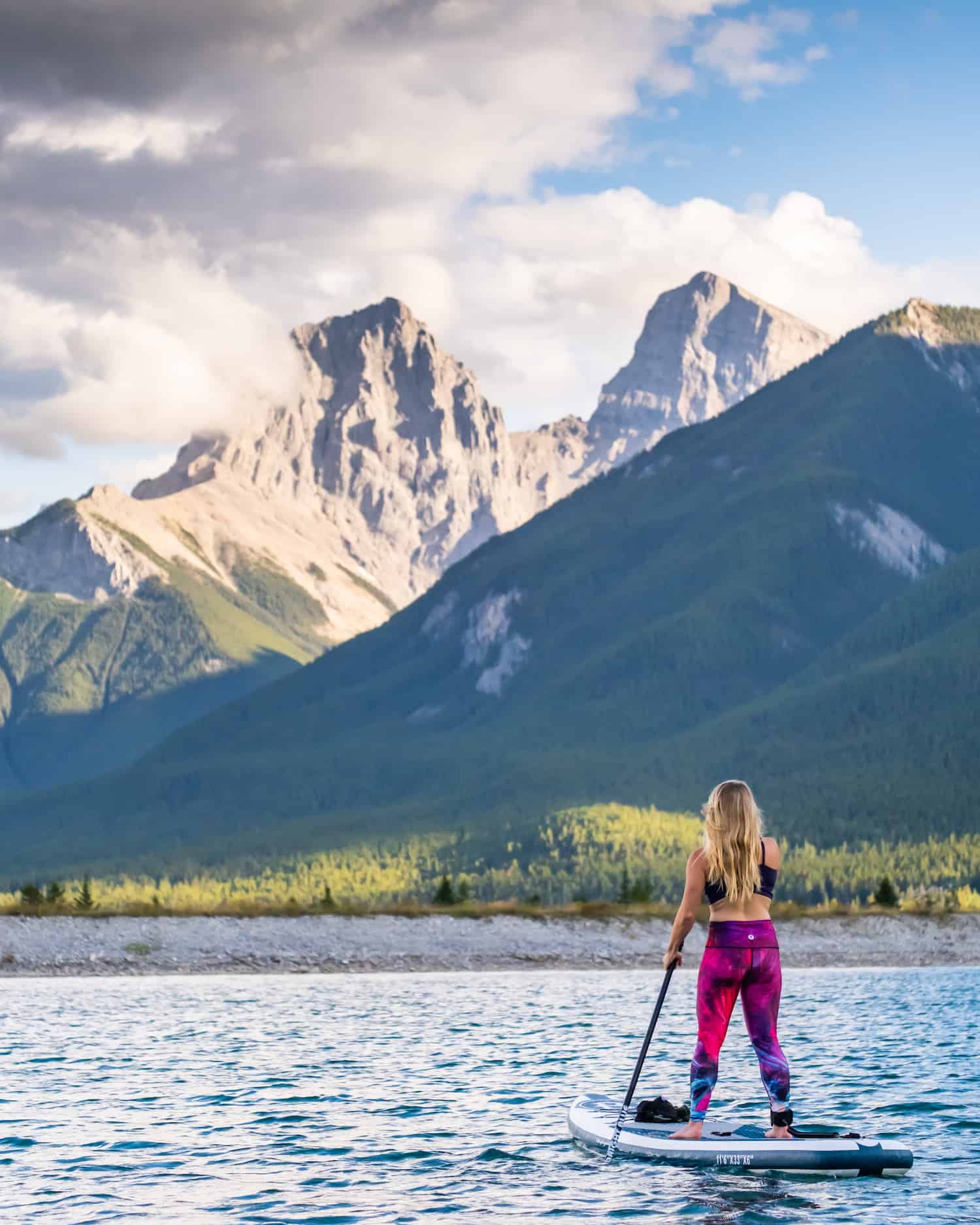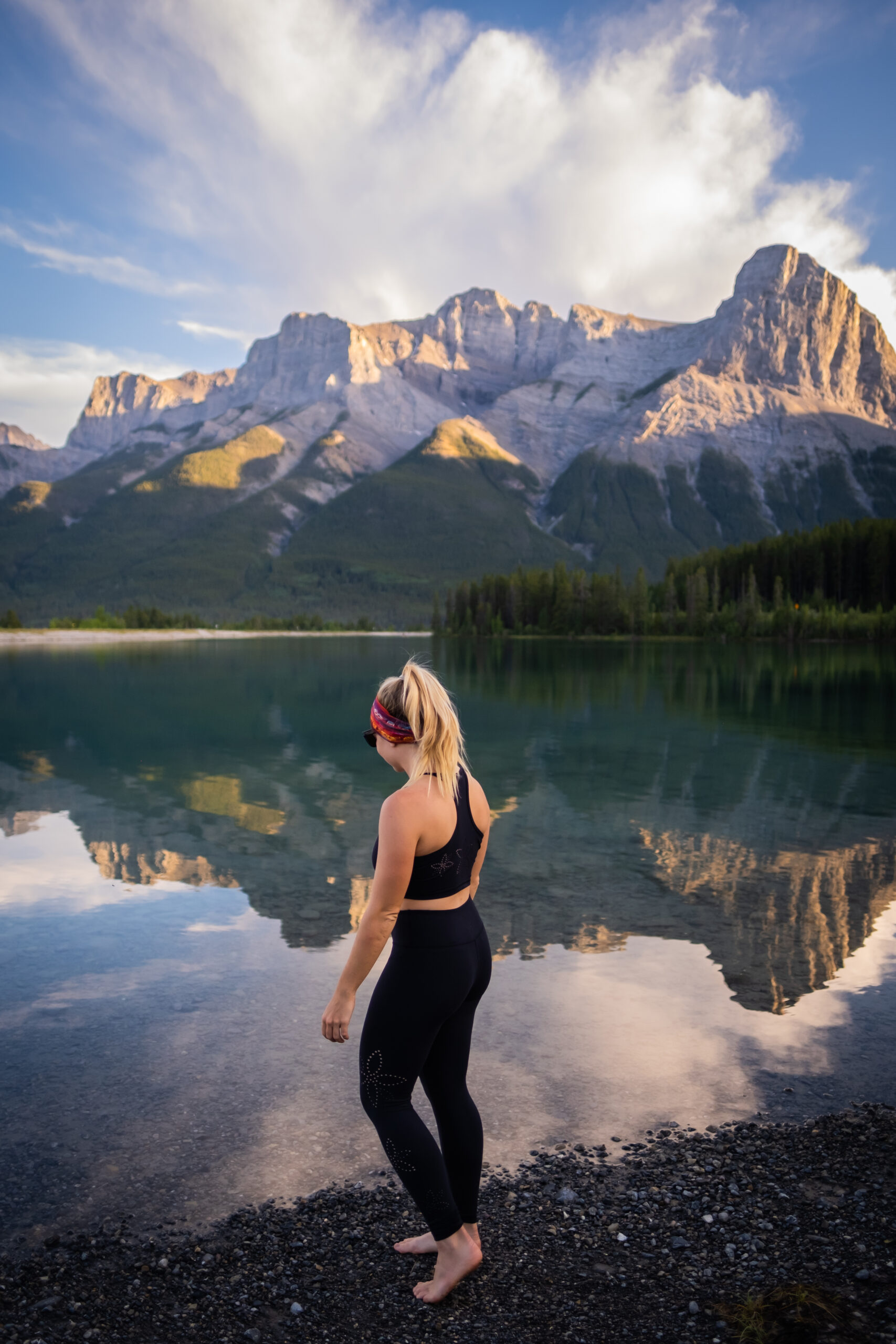 The Canmore Reservoir is one of the best things to do in Canmore as it's a fantastic place to canoe, sup, kayak, and even swim in the summer. It also supplies the Town of Canmore with its water, so we are incredibly thankful for it.
Not only is it a practical place to visit, but it's one of the most beautiful as the magnificent Ha Ling Peak towers over it, and if you look to your left you'll get great views of the Little Sister.
Best Time to Photograph at the Canmore Reservoir: Sunrise and sunset!
---
The Three Sisters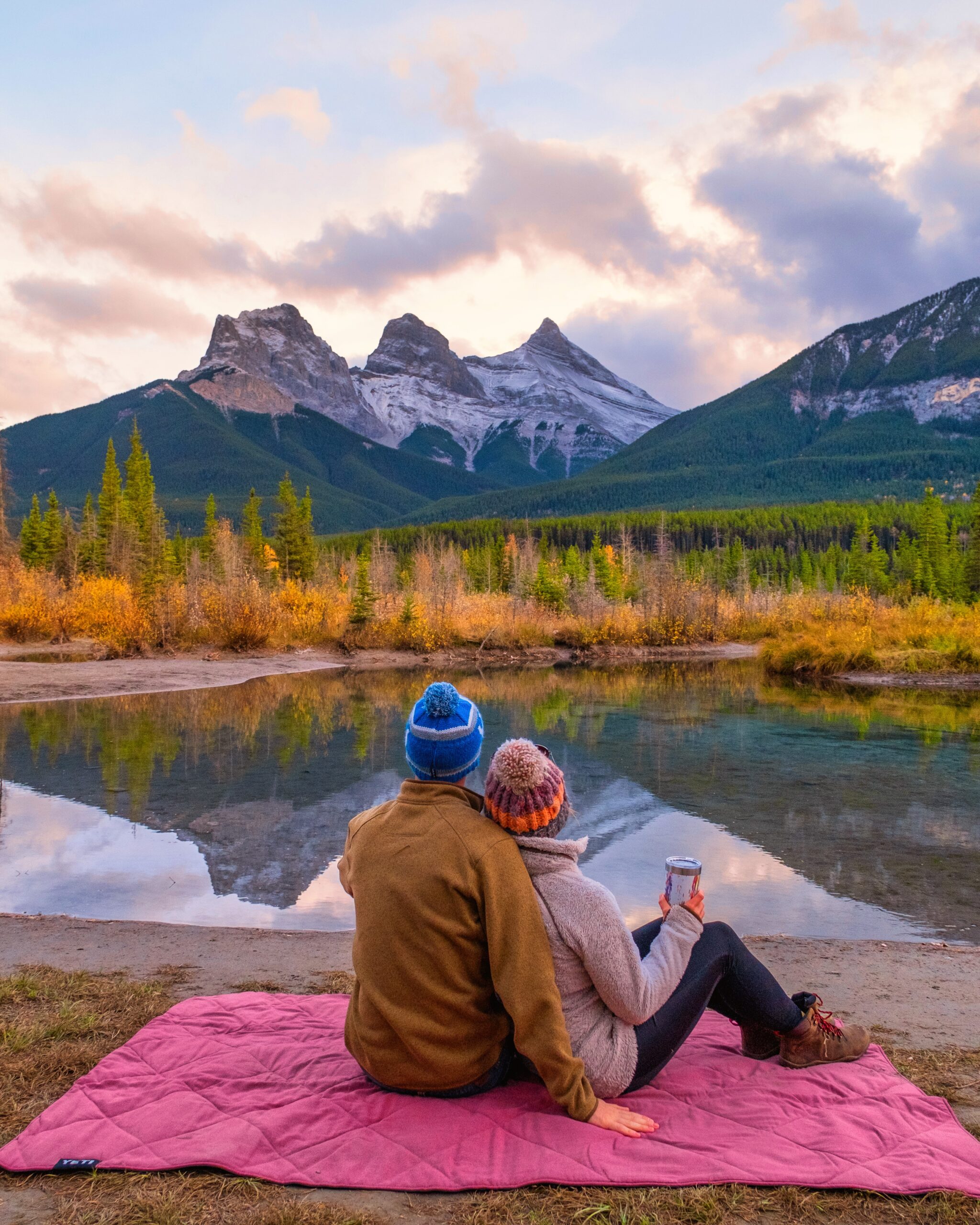 Faith, Hope, and Charity, the individual mountains that make up the Three Sisters Mountain, visible almost everywhere in Canmore. They are revered by all locals and are the majestic and easily recognizable icons of Canmore. At nearly 10,000 feet, they're hard to miss, and that's a good thing because experiencing these stalwart giants is one of the best things to do in Canmore, Alberta, that you won't want to pass up.
You'll be able to get great views of them from the bridge in Downtown Canmore or just about anywhere else in Canmore. But there is one spot that is significantly better than the rest to get a great shot. That is across the street from the town's off-leash dog park near the helipad on the Bow Valley Trail. Cross the road and go under the train tracks, and you'll find a faint path leading you to the photo point in about five minutes.
Best Time to Photograph the Three Sisters? Sunrise in the summer. If you try and go at sunrise in the dead of winter the sun never quite hits the sisters perfectly.
---
EEOR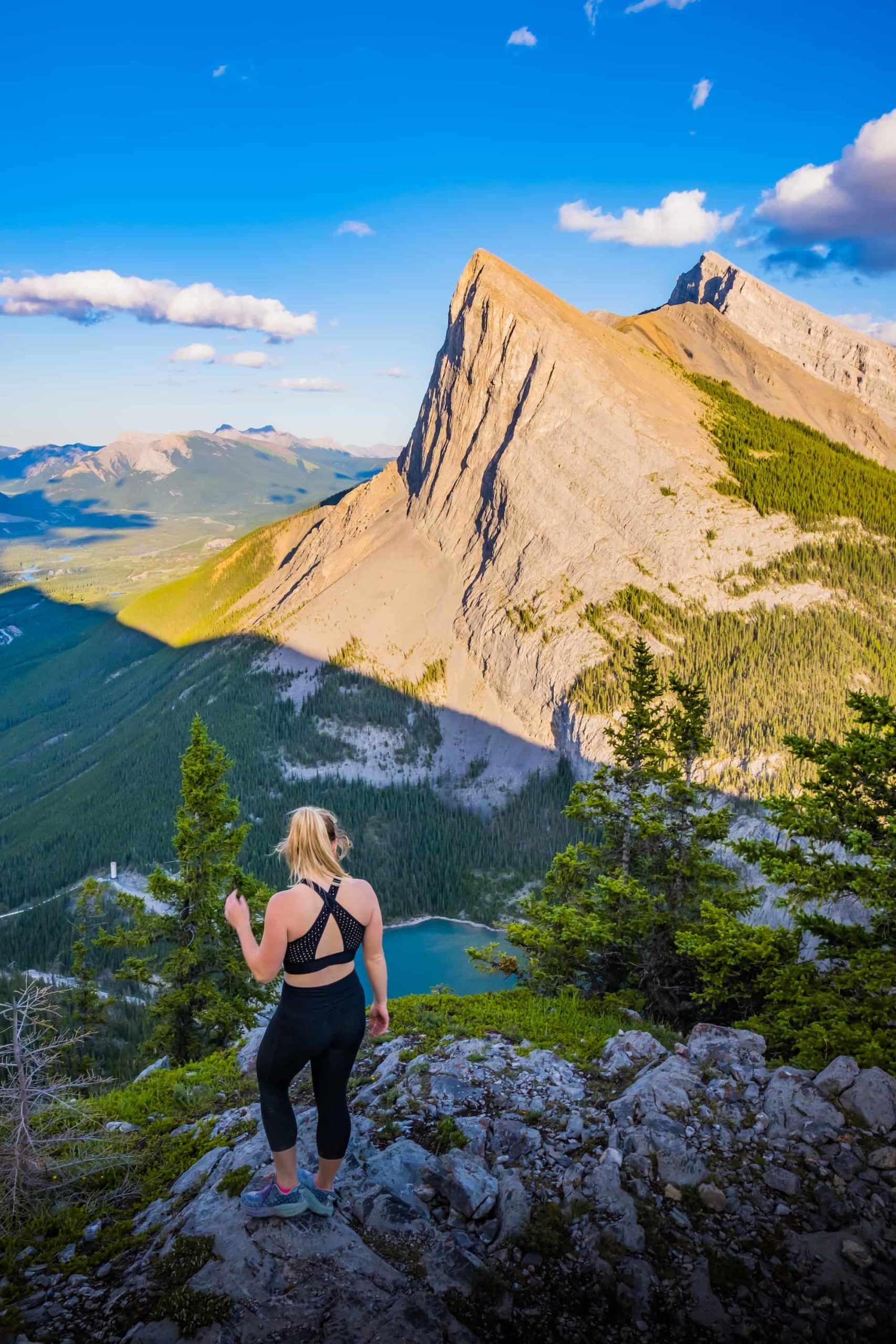 The East End of Rundle hike is easily one of the most popular hikes near Canmore. It's also the best effort to reward in all of the regions with breathtaking views of Spray Valley and Ha Ling Peak. Many people climb up here to get views over Whiteman's Pond and Ha Ling Peak.
The viewpoint for this is about 50 minutes up the steep mountain – expect some scrambling to get here. You can stop at this point, or if you are prepared and a decent hiker, you can continue up to the summit of East End of Rundle, which is about another hour further, be prepared though. The trail gets tougher and harder to navigate as you go further.
Best Time to Photograph on EEOR? Sunrise and Sunset are both great options!
---
A Map of These Banff Photography Hotspots
---
What Do We Shoot Our Banff Photos With?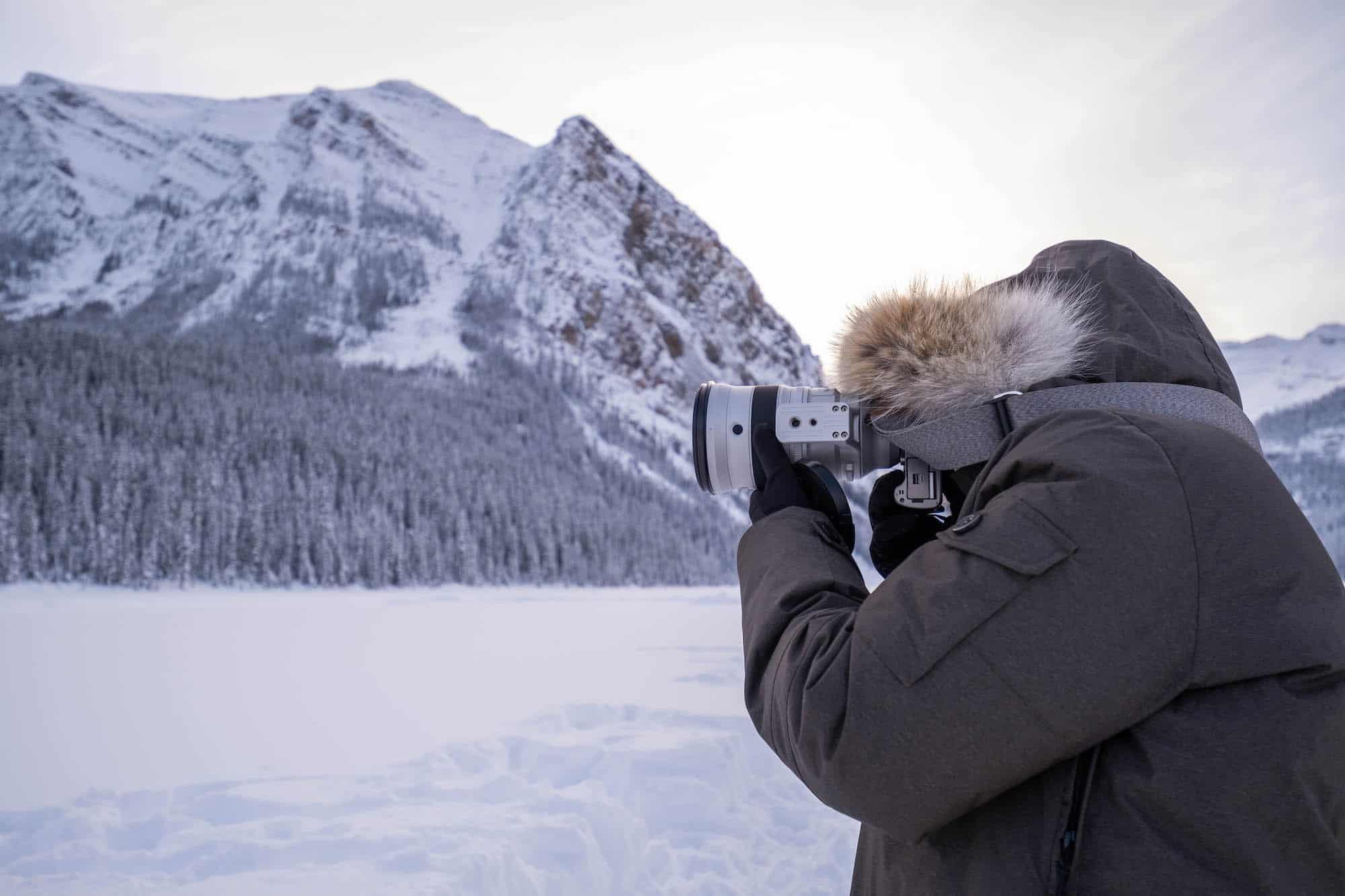 If you're curious about what equipment we use to shoot all of our photos, check out this post here!
---
---

Plan Your Trip to the Canadian Rockies
↓ Join the community ↓
The Banff Blog Facebook Group is your headquarters for the Canadian Rockies' travel advice and information. Including hike info and off-season travel information. This is also where you can meet one another when you need adventure buddies.