Comparing two of the most beautiful lakes in the world is no easy feat. Regardless we often get asked which Canadian Rockies lake is better to visit – Lake Louise or Moraine Lake.
I don't have children yet, but I feel like this question would be like asking me to compare two of my offspring. It's impossible to answer! However, many aspects of each lake might make visitors prefer one over the other.
Of course, if you are on a once-in-a-lifetime trip to Banff, you have to go to both Moraine Lake and Lake Louise! However, in the rare occurrence you can only visit one, we want to assist!
---
About Moraine Lake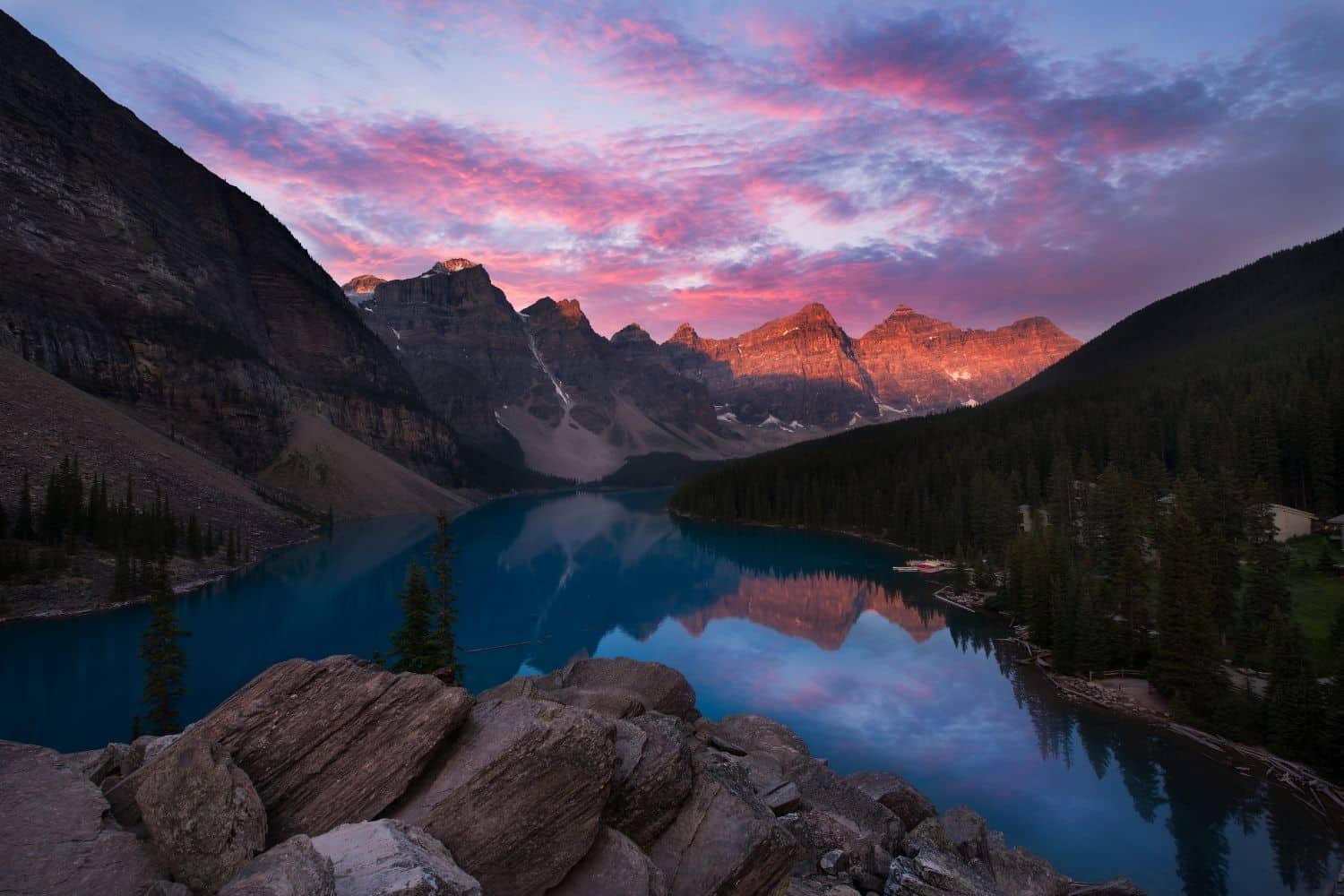 Moraine Lake is perhaps the most well-known lake in all of Canada and North America. This brilliant glacial lake sits under the iconic ten peaks. Which are ten beautiful mountain peaks in the Canadian Rockies.
In 1894 the peaks were named from east to west using the numbers from the Stoney Indian language as follows: Heejee, Nom, Yamnee, Tonsa, Sapta, Shappee, Sagowa, Saknowa, Neptuak, and Wenkchemna. They are now named Mount Allen, Mount Bowlen, Deltaform Mountain, Mount Fay, Mount Little, Neptuak Mountain, Mount Perren, Tonsa, Mount Tuzo, and Wenkchemna Peak.
It's honestly hard to believe a natural setting as perfect as this exists. Moraine Lake is located 14 km away from Lake Louise at the end of the Moraine Lake Rd. Everyone that visits Banff wants to see Moraine Lake, and it's easy to understand why.
Moraine Lake • Guide to Visiting Canada's Most Beautiful Lake
---
About Lake Louise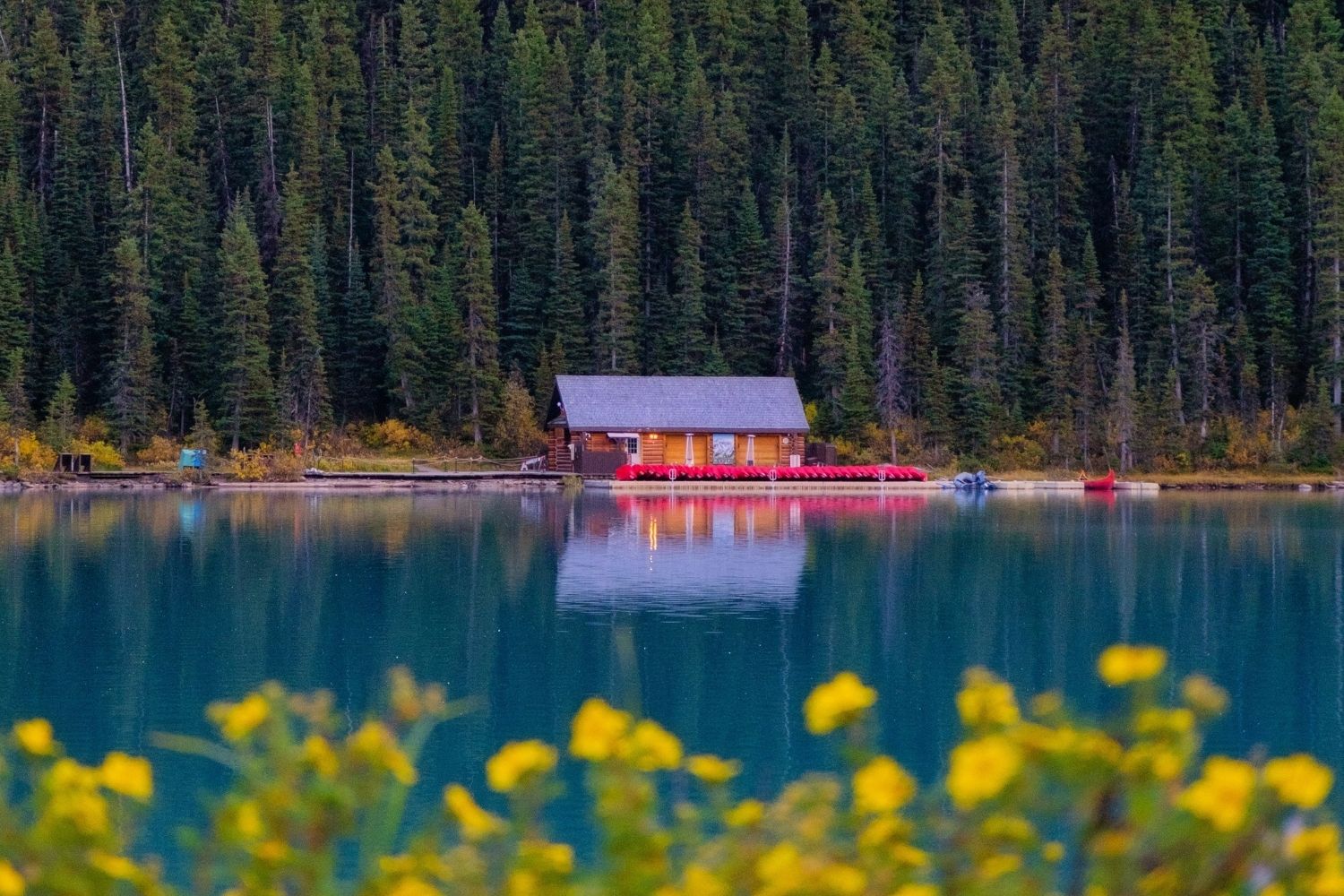 Lake Louise is located 60 km northwest of the town of Banff and one of the most scenic lakes in Banff. In the summer it is bright blue, which has everyone taking a million photos as soon as they lay eyes on it!
In the winter it's a cold winter wonderland, especially around Christmastime. Lake Louise was first named "Ho-Run-Num-Nay, which means the Lake of Little Fishes, by Stoney natives that had settled in the area. The area has been drawing hikers, tourists, and mountaineers in for well over a century.
20 Things to Know Before Visiting Lake Louise (Alberta)
---
Accessibility: Moraine Lake vs Lake Louise
---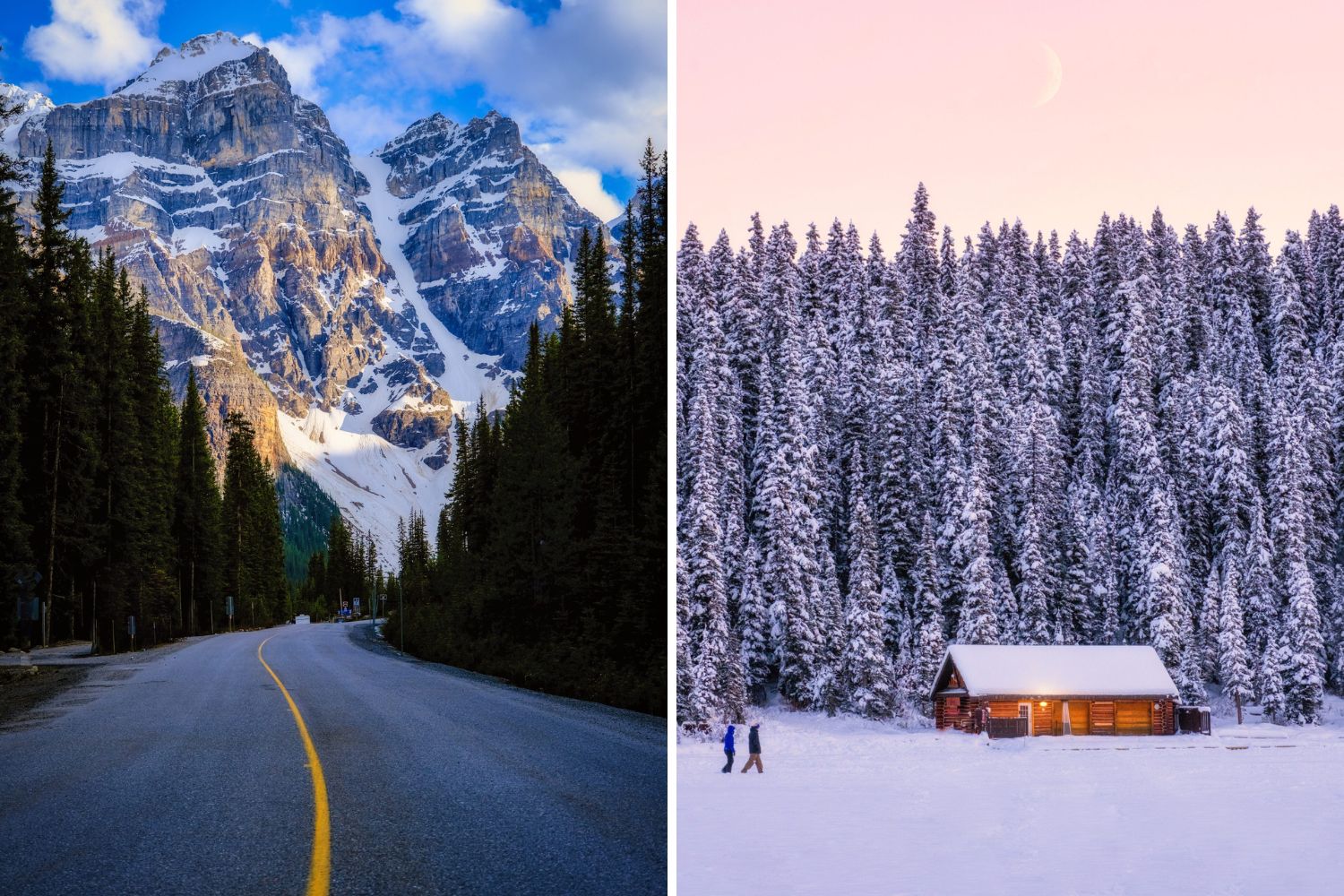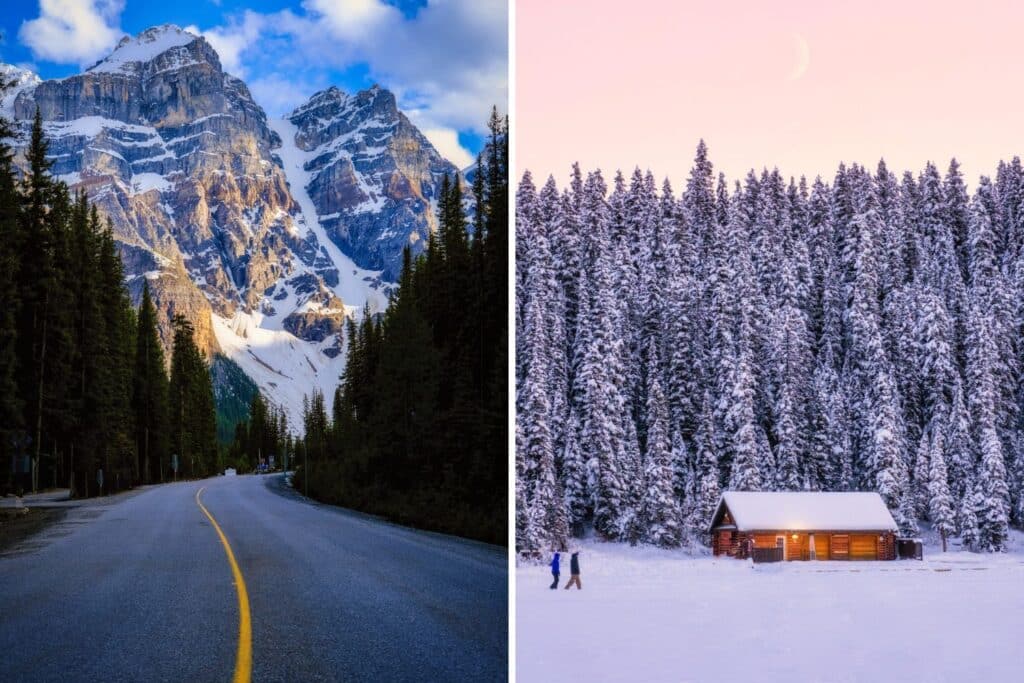 Moraine Lake Accessibility
Moraine Lake is not nearly as accessible as Lake Louise. This is mainly due to the fact that it is located at the end of Moraine Lake Rd (12km). The road closes in the winter, from mid-October to the end of May.
Unless you are cross country skiing or ski touring Moraine Lake is completely inaccessible in the winter. The summer poses its own problems because of parking concerns (more on that later).
Lake Louise Accessibility
Lake Louise never closes and is a great place to head in winter and summer. Besides parking struggles during peak summer months, Lake Louise gets an A+ for accessibility!
---
Parking: Moraine Lake vs. Lake Louise
---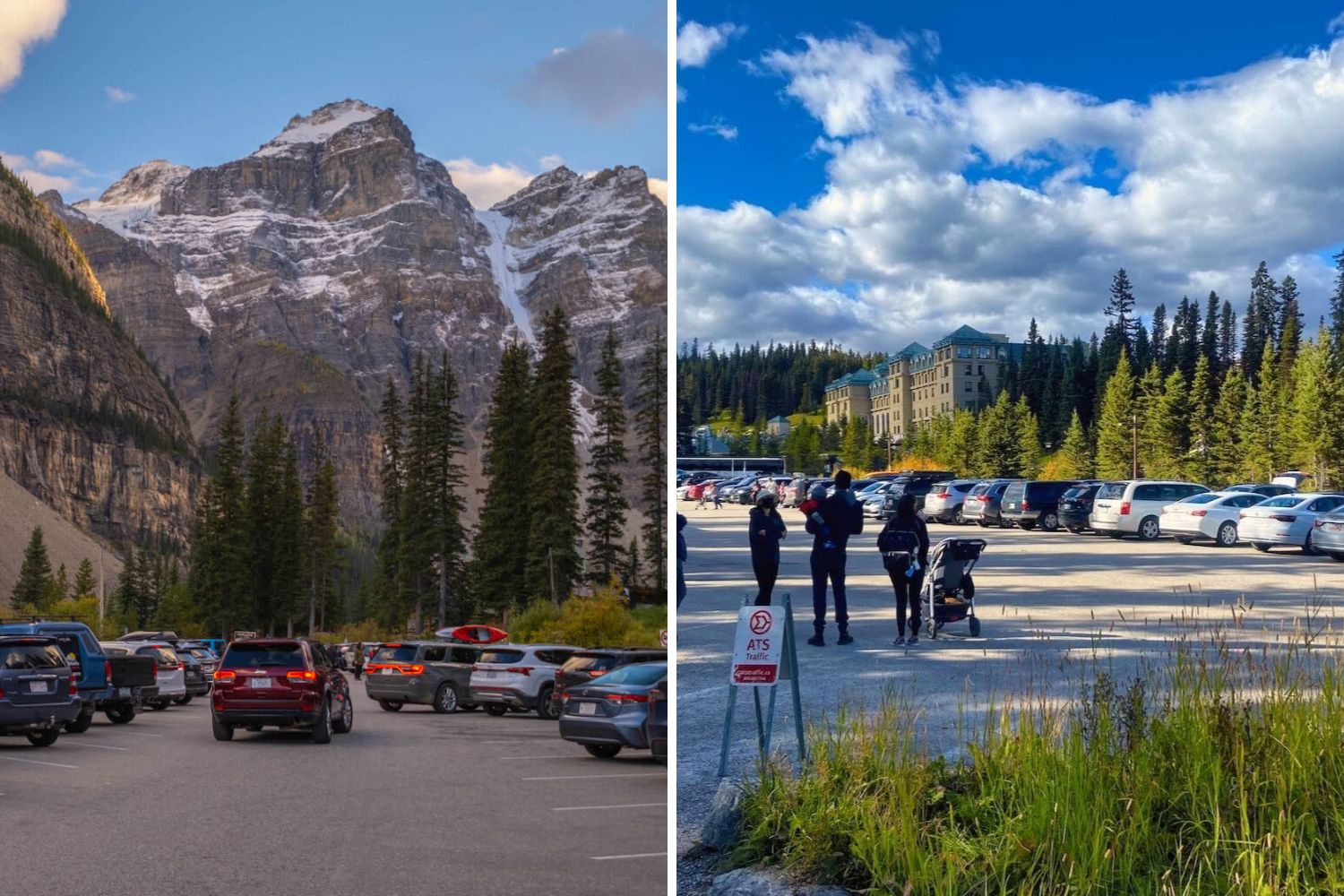 Moraine Lake Parking
Parking at Moraine Lake has become a major issue in recent years. From the time the road opened up in late May/Early June, through the summer, and to the end of the larch season, parking was very limited here. The parking area at Moraine Lake is much smaller than at Lake Louise. There are only 100 or so parking spaces at Moraine Lake, meaning that the lot often filled up before 6am in the summer.
Almost every visitor to Banff National Park is dying to see the bright blue lake with the famed ten peaks behind it, and therefore they were willing to wake up well before 3am and leave their hotel room to guarantee a space.
Do you see that I'm using a lot of past tense there? That's because while parking at Moraine Lake was a concern, it is no longer, because Parks Canada has closed Moraine Lake Rd to personal vehicles.
Now there are a handful of ways to get to Moraine Lake, but none of them are with personal vehicles (unless you display a handicap sticker). You can now only take the Parks Canada Shuttle, book a spot on a private tour, take the Moraine Lake Bus Company shuttle, take Roam Transit in the larch season, book a night at Moraine Lake Lodge, take a taxi, hike or bike in.
Phew that's a lot of options – so we broke down all of your options for getting to Moraine Lake in this separate article.
Lake Louise Parking
Parking at Lake Louise is slightly less complicated than at Moraine Lake. However, that doesn't mean it comes without struggle. All park visitors want to see Moraine Lake AND Lake Louise, so you can expect crowding and parking issues at Lake Louise.
Visitors can still park at Lake Louise. Typically if you want to drive yourself, we recommend visitors arrive before 7am to get a spot at Lake Louise, sometimes earlier.
The Lake Louise parking area is well managed by parking attendants. Once the lot fills up, they will turn you around. Meaning you can waste a lot of time driving up to Lake Louise to not get parking, forcing you to make alternative plans.
To avoid this, we highly recommend booking the Lake Louise Shuttle, catching a ride on the Roam Transit bus from Banff, or getting the Super Pass.
Lake Louise Parking: Everything You NEED to Know
---
Lodging: Moraine Lake vs. Lake Louise
---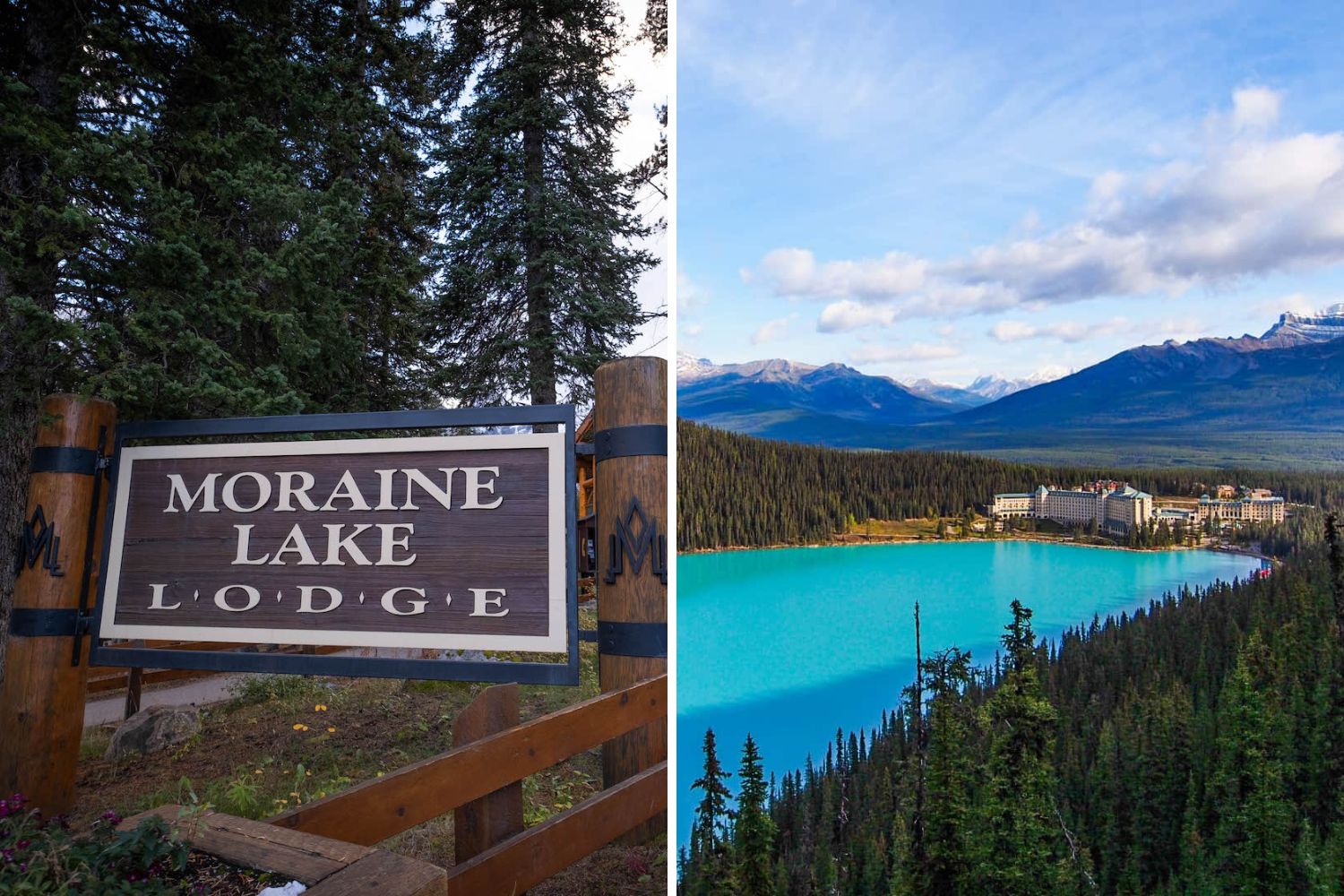 Moraine Lake Lodging
There is only one lodge at Moraine Lake, the Moraine Lake Lodge. It is one of the most exclusive places to stay in Banff, and its high rates reflect that. As Moraine Lake is only open during the summer months, the Moraine Lake Lodge has a short operating timeline.
There are few rooms and high demand, so it's well worth it to book Moraine Lake Lodge well in advance. Expect rates to fetch well above $1000 per night in the summer. On the flip side, guests get a free canoe rental and easy access to parking at Moraine Lake with the room rate.
There is nowhere to camp at Moraine Lake.
Lake Louise Lodging
There are many more options to stay at Lake Louise, though not nearly as many as Banff or Canmore. The only place to stay on Lake Louise herself is the Chateau Lake Louise. This is a Fairmont property and one of the park's most desirable hotels. Due to its location on Lake Louise, the Chateau books up well in advance during the summer months, even with a $1000 per night price tag.
There are other places to stay at Lake Louise, though they aren't located on the lake but around the Lake Louise area. Paradise Lodge is our favorite place to stay, which is only open during the summer and is walkable to Lake Louise. The Deer Lodge is near Lake Louise but is poorly reviewed and run down.
There are other options in Lake Louise village, including a hostel. You can also camp at the Lake Louise campground.
10 Awesome Lake Louise Hotel and Accommodation Options
---
Hiking: Moraine Lake vs. Lake Louise
---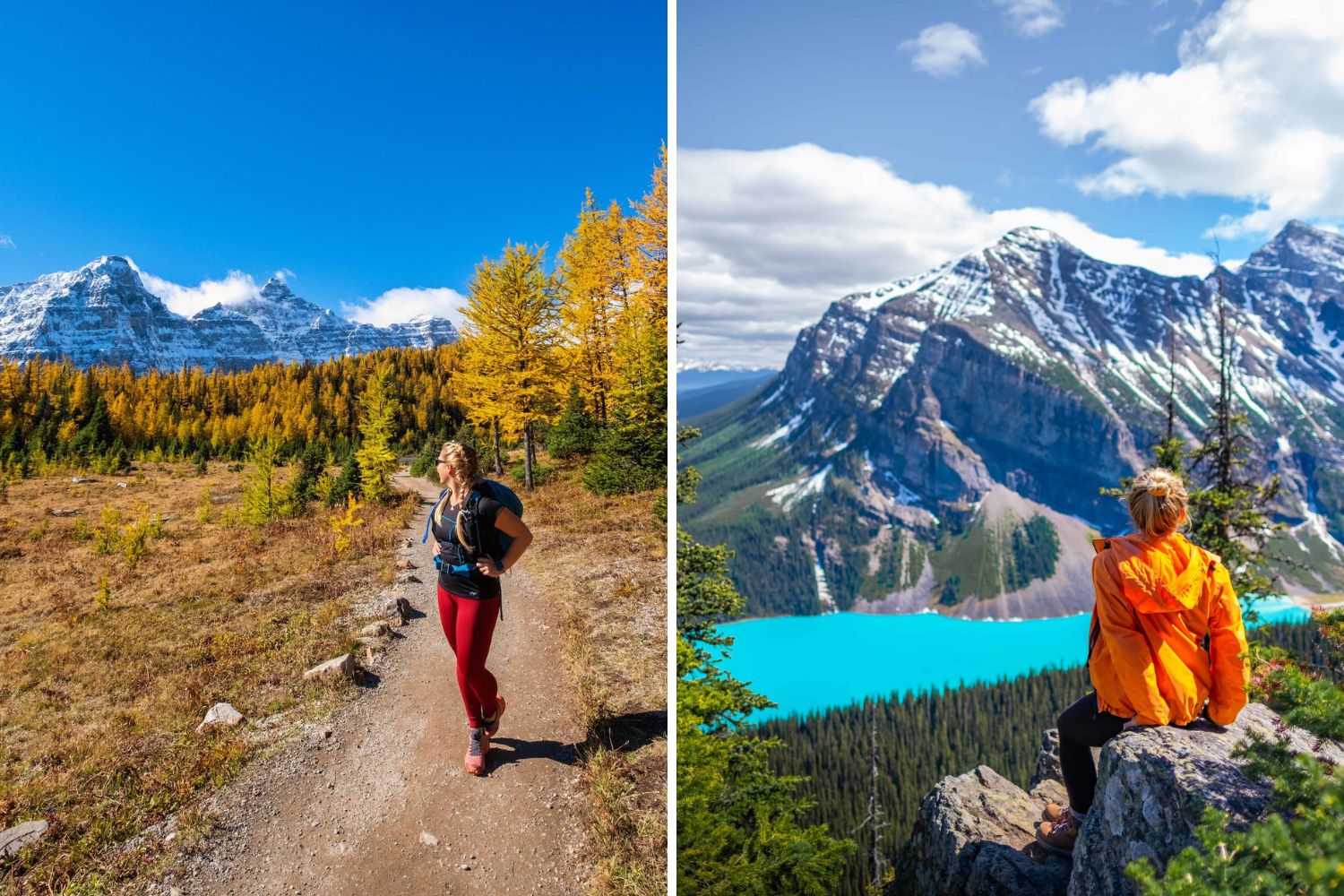 Moraine Lake Hiking
Some of the best hiking in Banff can be found around Moraine Lake. Sentinel Pass and the Larch Valley is arguably the most popular hike in the entire park come larch season.
Some of the more accessible hikes are Consolation Lakes and the Moraine Lake Lakeshore, but most are considered more difficult hikes like the Tower of Babel scramble and Effiel Peak Scramble. Then there is the granddaddy of them all with Mount Temple. Mount Temple is a famous mountain in the Canadian Rockies as it's over 3000 meters, and you can summit it without having a mountaineering experience.
The only issue with hiking at Moraine Lake is getting to Moraine Lake with the new parking restrictions. The Moraine Lake Bus Company, can get you there at sunrise to start your adventure.
10 Moraine Lake Hikes With Amazing Views
Lake Louise Hiking
I always love hiking around Lake Louise as almost every hike gives beautiful views of the brilliant Lake Louise below. There are many hikes around Lake Louise for beginners and advanced hikers. The most popular is the Lake Agnes Teahouse Trail, followed by the Plain of 6 Glaciers and the Beehive Circuit.
Fun scrambles in the area include Fairview Summit, Devil's Thumb, and Mount Niblock.
As Lake Louise sits at a lower elevation than Moraine Lake, many hikes are accessible sooner. Starting in late May/Early June, you can begin to complete some of the lower elevation hikes.
15 Stunning Lake Louise Hikes and Trails You'll Love (from Easy to Hard)
---
Canoeing: Moraine Lake vs. Lake Louise
---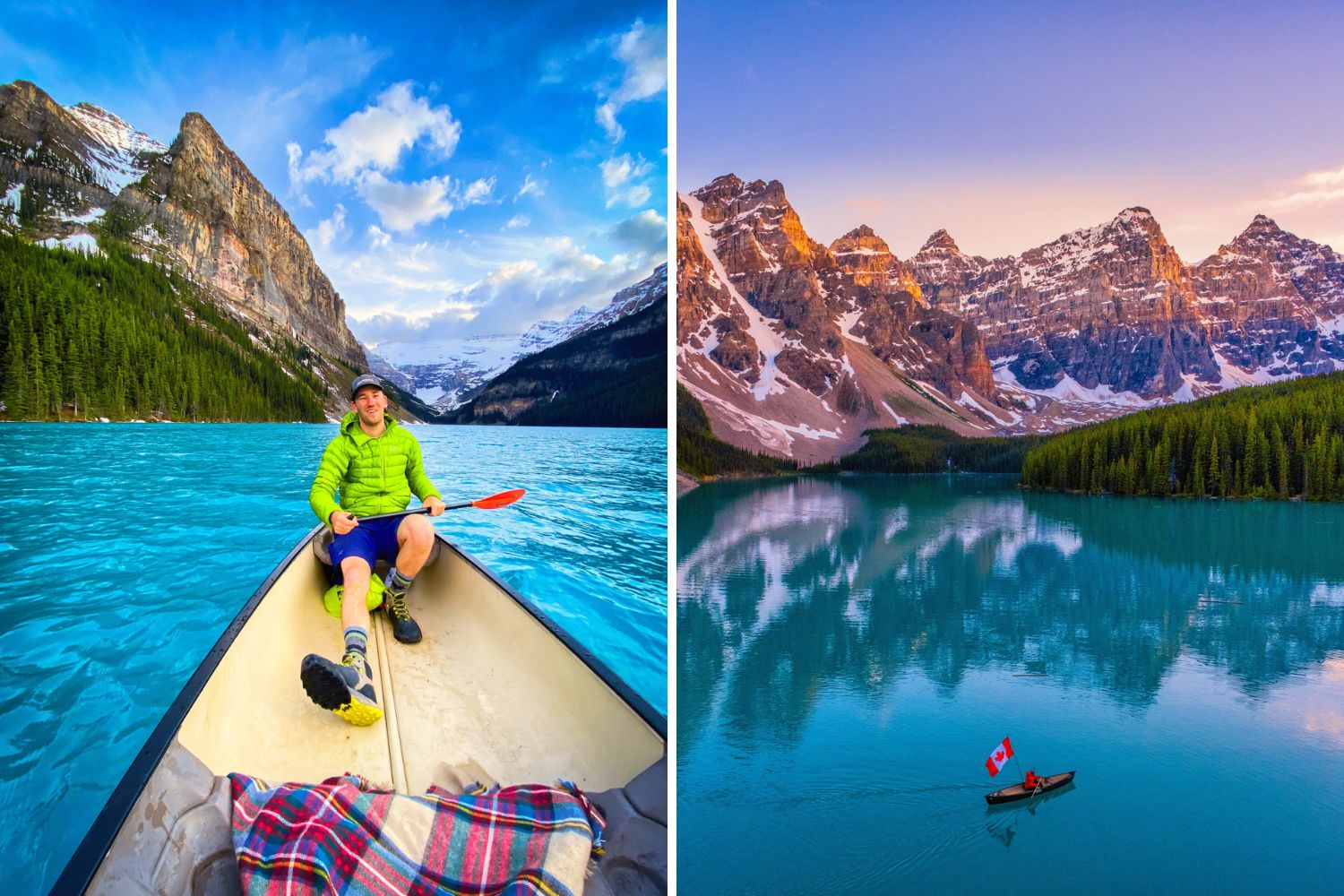 Canoeing at Moraine Lake
Canoeing on Moraine Lake is a beautiful experience. Canoe rentals are run by the Moraine Lake Lodge. They are the only operator at Moraine Lake, though you can bring your own kayak, stand-up paddleboard, or canoe to Moraine Lake if you would like. Canoe rentals cost $140 per hour from 9:00 AM – 5:00 PM (last boat at 4:00 PM).
 Moraine Lake Canoe Rental: Everything You Need to Know
Canoeing on Lake Louise
If you thought the canoe rentals at Moraine Lake were expensive, you might not want to see the prices at Lake Louise. The Lake Louise canoe rentals are run by the Fairmont, who charge a whopping $155 per hour. The Fairmont Boathouse is the only operator at Lake Louise though bringing your own floating device to Lake Louise is possible.
Lake Louise Canoe Rental: 10 Tips You Need to Know
We know these are both very expensive options, so to save a little money we recommend canoeing on Emerald Lake in Yoho National Park.
---
Other Activities at Moraine Lake and Lake Louise
---
Activities at Moraine Lake
Besides hiking on your own and canoeing, there aren't many other guided or tourist experiences at Moraine Lake. Some people prefer this, but if you are looking for a more serviced vacation with more activities, you may choose to spend time at Lake Louise.
Activities at Lake Louise
There is much more going on at Lake Louise during the winter and summer. Thanks to the Fairmont, it plays host to many activities. There is, of course, hiking and canoeing. The Chateau has activities like Afternoon Tea and plenty of dining experiences in the summer. There is trail riding operated by Brewster adventures, and there is also rock climbing in the area.
Lake Louise has dog sledding, ice skating, snowshoeing, cross country skiing, an ice bar, an ice castle, and sleigh rides in the winter. If you time your visit right in January, you may even get to take part in the ice magic Festival.
---
Truthfully, we don't think Lake Louise is better than Moraine Lake or vice versa, and you should try to make plans to see both if you can!
If you have any other questions leave a comment or see our Canadian Rockies travel guide for more articles about photography spots, lakes, hikes, and everything else.
---
Plan Your Trip to the Canadian Rockies
↓ Join the community ↓
The Banff Blog Facebook Group is your headquarters for the Canadian Rockies' travel advice and information. Including hike info and off-season travel information. This is also where you can meet one another when you need adventure buddies.