There is no image more iconic of the Canadian Rockies, or Canada for that matter, than Moraine Lake. The alpine lake is a wild turquoise blue fed by glacier melt and set against a backdrop of the Ten Peaks. This pristine piece of wilderness draws in millions of visitors a year and once graced Canada's twenty-dollar bill.
Finding a more majestic and awe-inspiring place than Moraine Lake is hard. The scenery is astounding, and the tranquility of the place descends on every visitor. Its grandeur and wonder inhale the hum of its crowds and leave almost every visitor speechless.
After taking in the spectacular scenery, go hiking, climbing, skiing, or canoeing in Banff National Park. Moraine Lake (or Lac Moraine) is an image that will last with you for a lifetime.
---
Is Moraine Lake Open?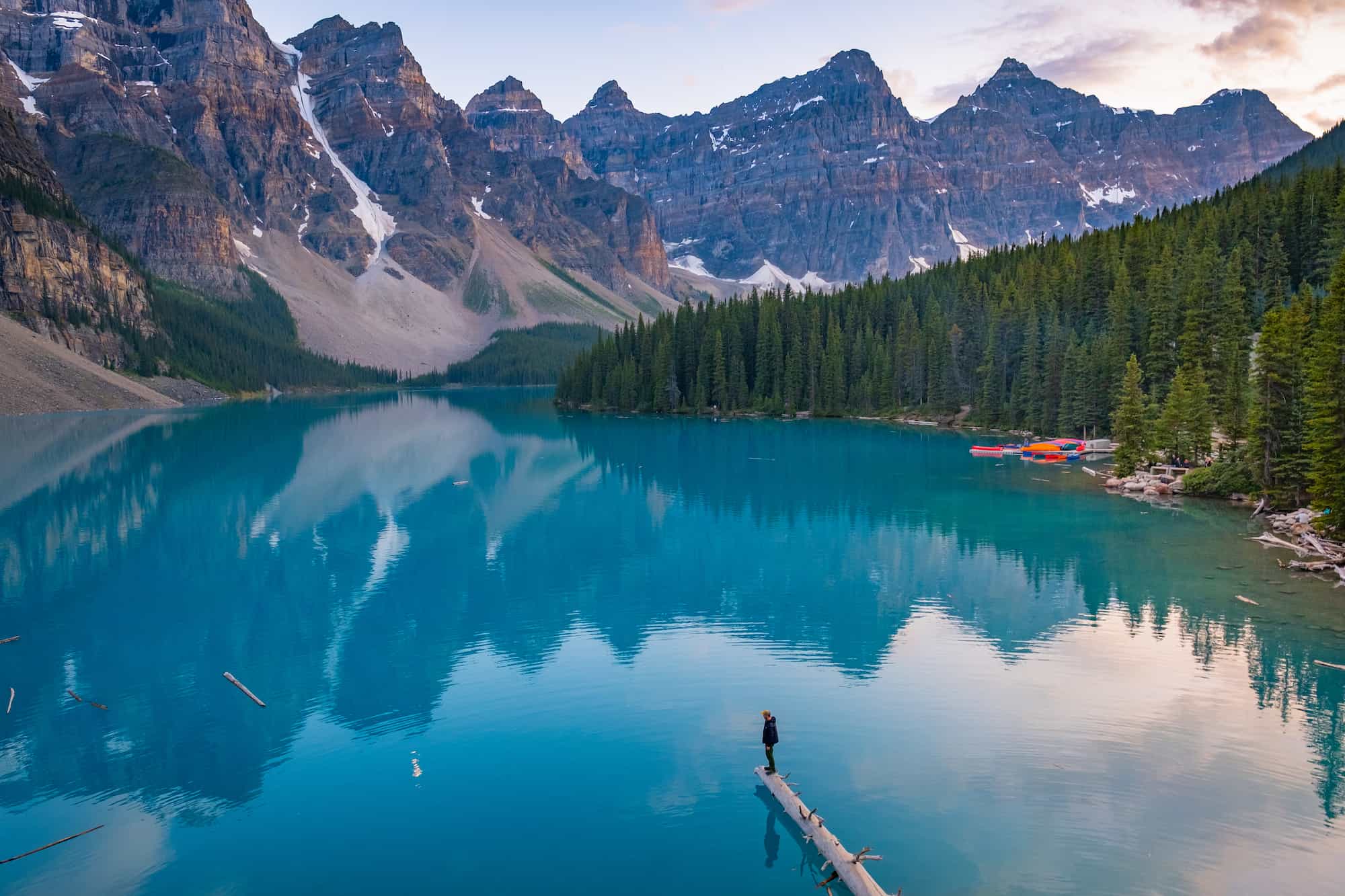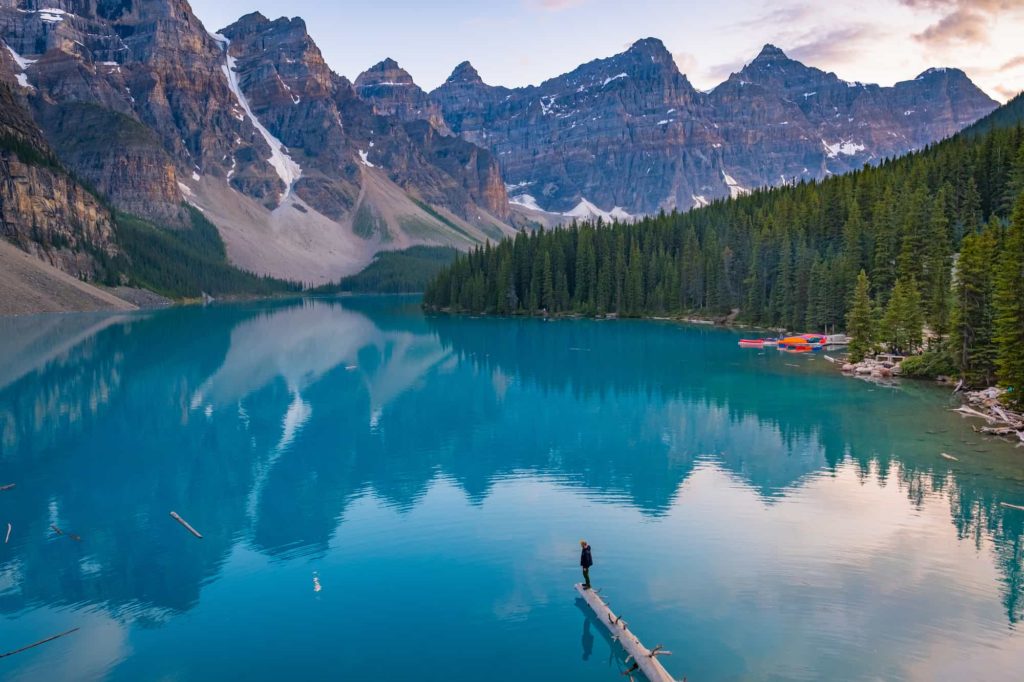 The road to Moraine Lake is now open for the 2023 summer season. Continue reading for all the information about this stunning lake.
---
About Moraine Lake (Lac Moraine) in Alberta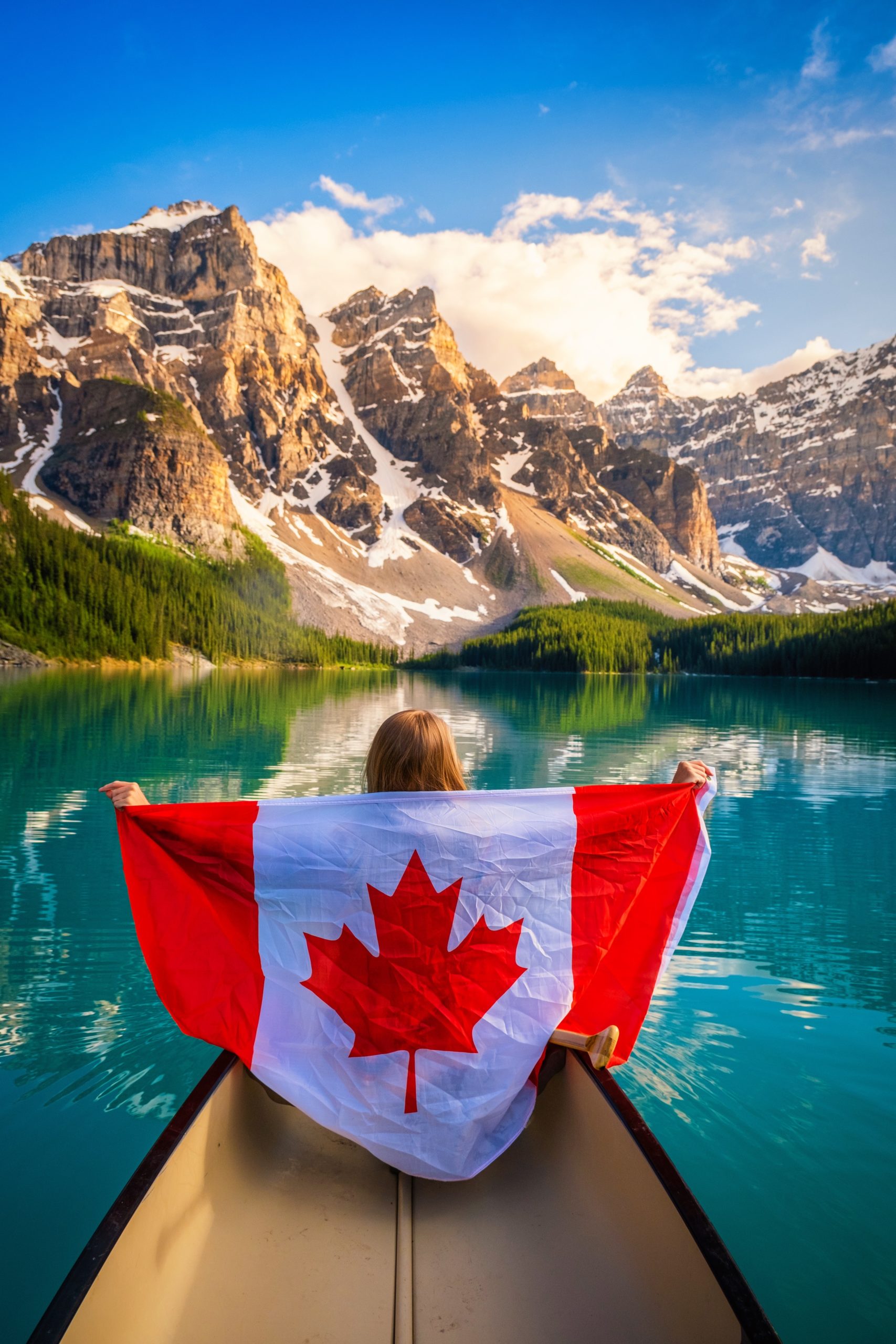 Moraine Lake (Lac Moraine) is 14 kilometers southeast of Lake Louise. Like many other blue lakes in Banff, the lake can attribute its brilliant blue color to glacier waters full of rock flour (fine particles of rock) that refracts the sunlight.
The best time to witness this brilliant color is relatively short-lived, as it remains frozen most of the year. The lake's waters only thaw from June to October. This is due to its elevation of 1,885 meters or 6,183 feet.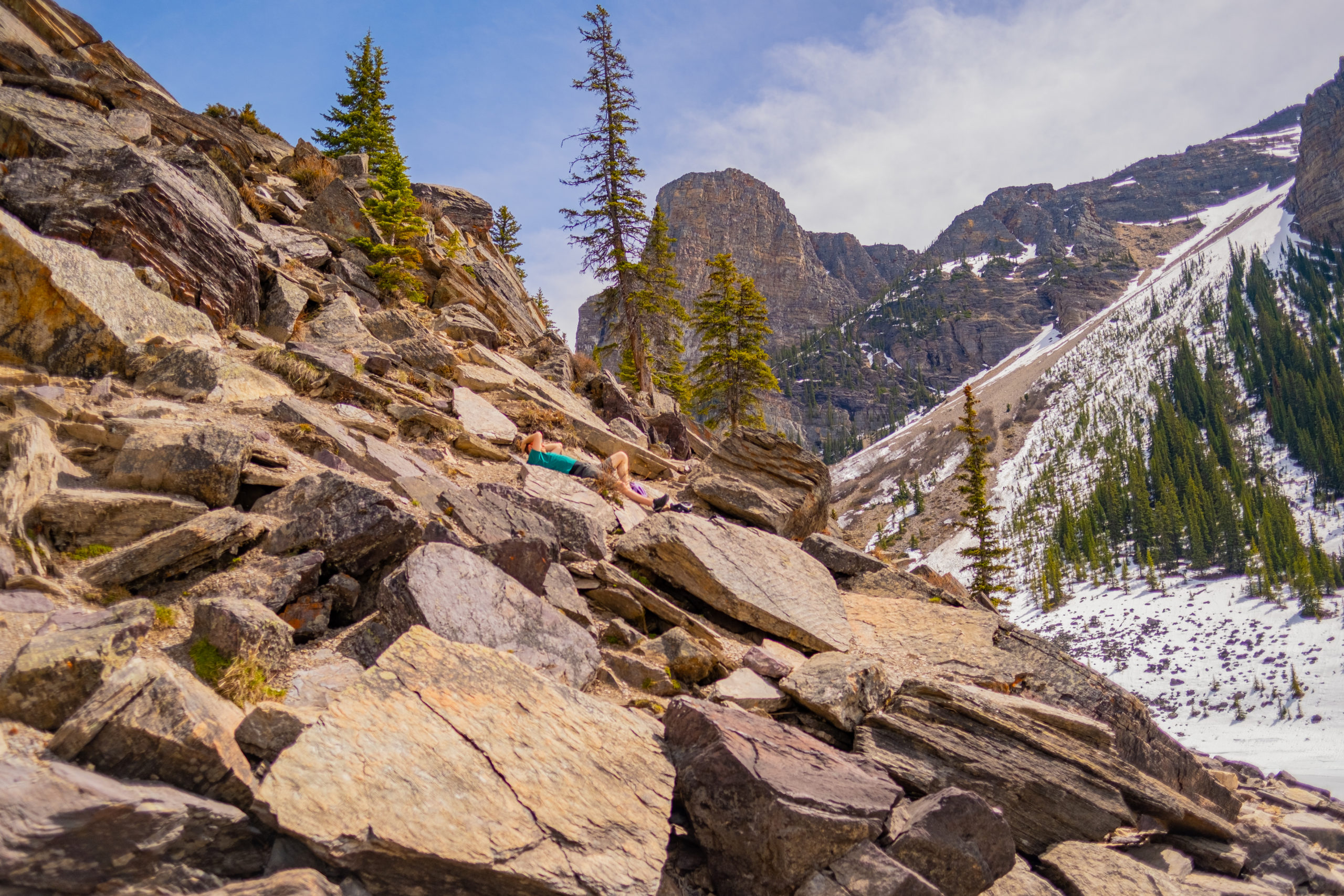 There are several fantastic hikes and walks around the lake. The most famous is a short walk up The Rockpile Trail that leads to the "Twenty Dollar View." The scene is featured on the Canadian twenty-dollar bill and is the vantage point for almost every photograph of the stunning lake.
---
Tips To Visit Moraine Lake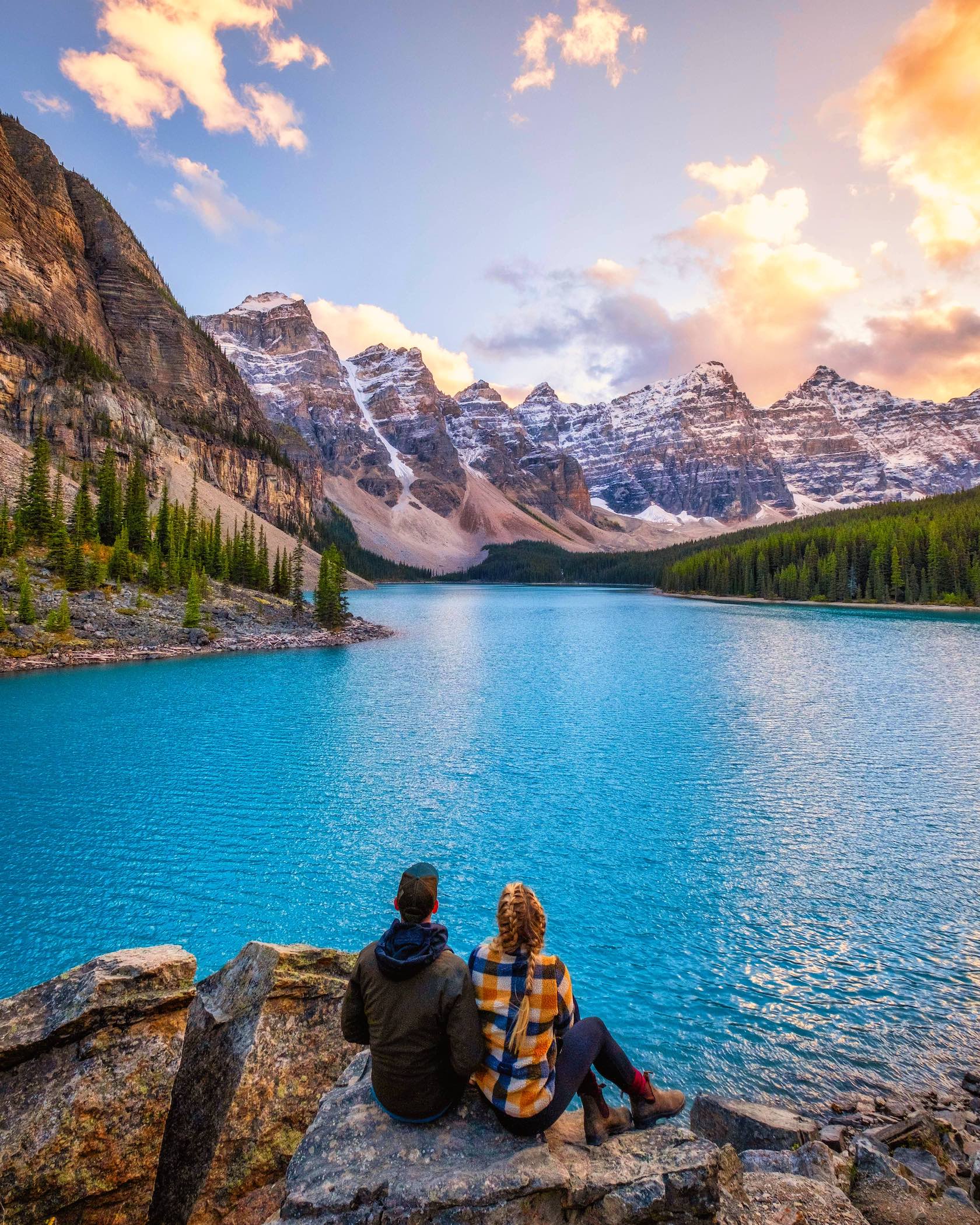 ---
When Is The Best Time To Visit Moraine Lake?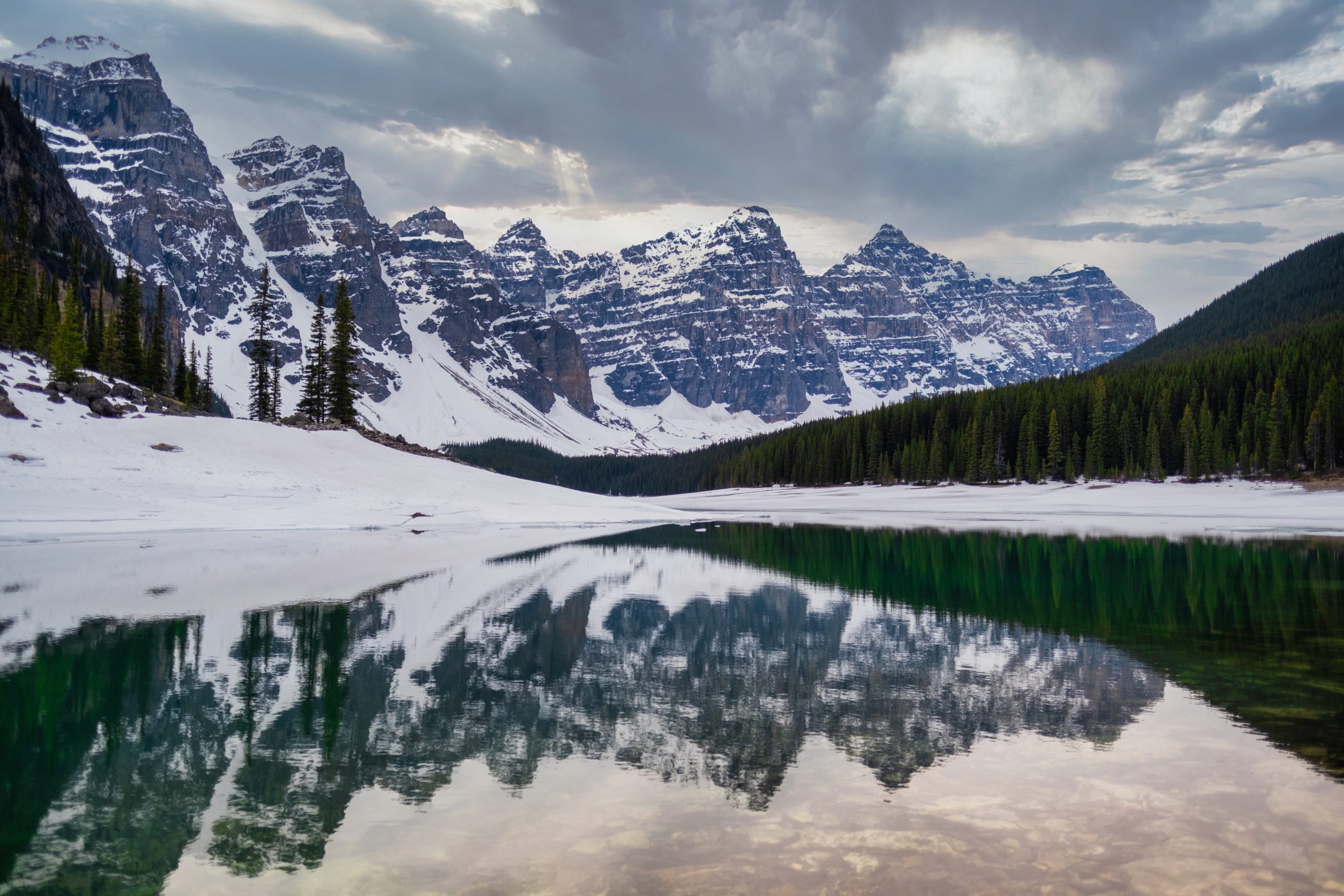 Unless you're an experienced adventurer with avalanche knowledge and snowshoes or skis, you can only visit Moraine Lake from June to October. The road is closed the rest of the year because it is snow-covered and crosses avalanche paths.
You can cross-country ski, fat bike, or snowshoe in the winter, but please do so with some avalanche knowledge. Since the lake sits at a high elevation, it remains frozen until late May. We recommend that any visit to Moraine Lake be planned for June to late September.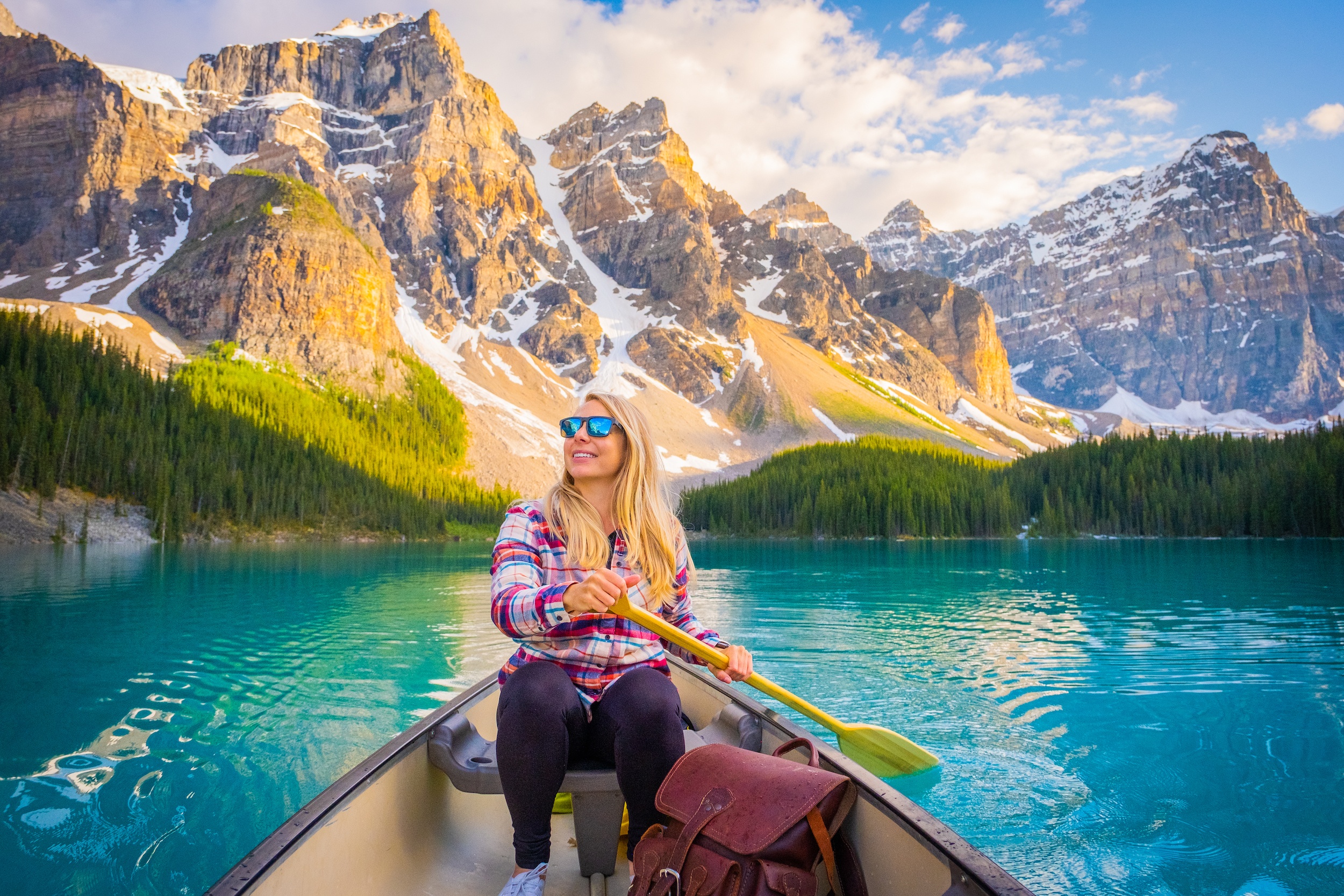 Since the lake is fed by Glacial melt, its water level and color change based on temperatures. The water level upon first melting remains low until Fay Glacier begins to melt in June. During this time, Moraine Lake reaches its highest water levels and beauty. To ensure warmer weather and vivid turquoise water, it's best to visit Moraine Lake from mid-June to August.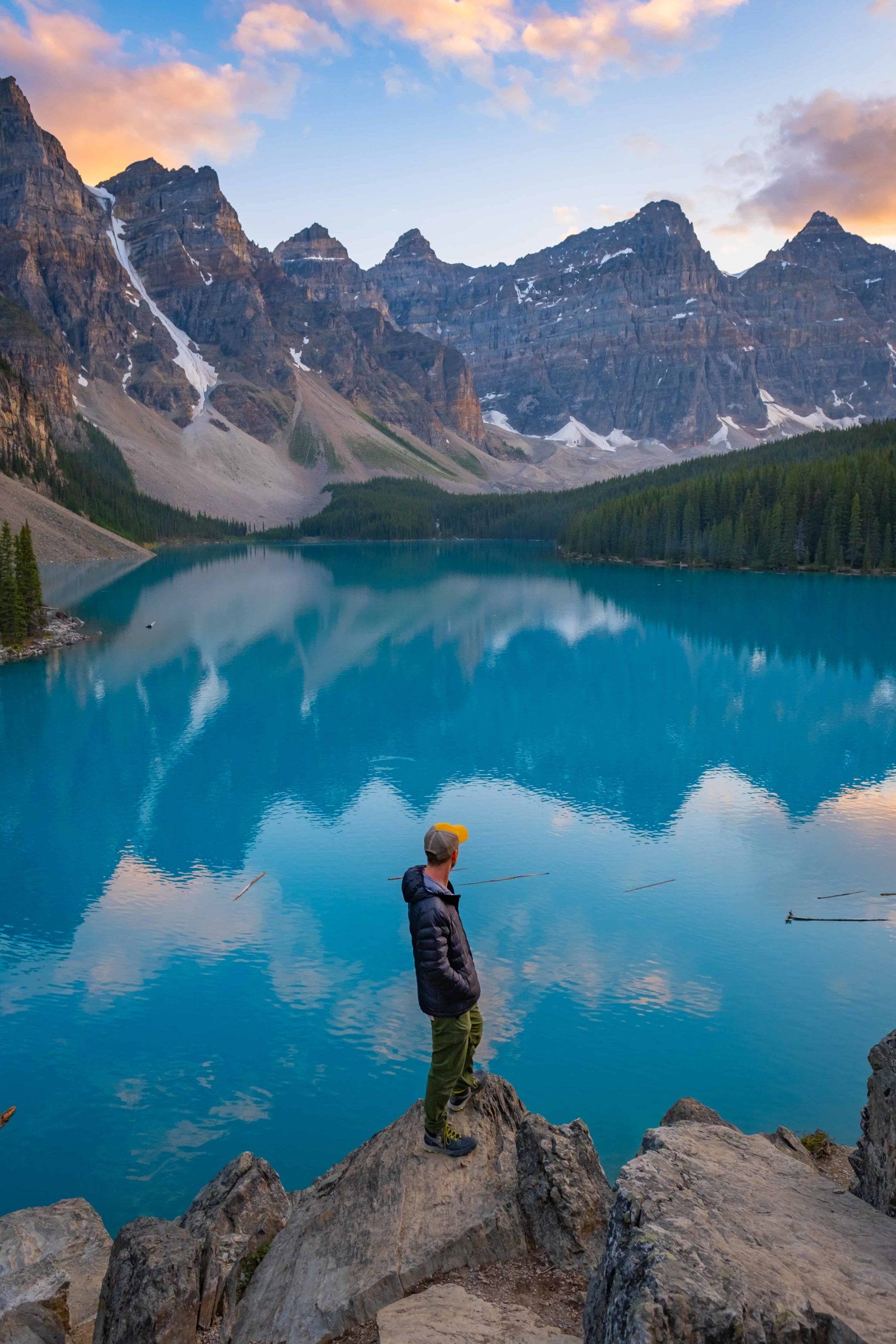 That being said, the color never leaves, and you can still see the lake's colors until early October before the road to the lake closes. However, the lake will recede by then, and there will likely be snow and ice. At the season's end, the lake does lose some color, but if you catch the Ten Peaks in a fresh layer of snow, it is a spectacular sight.
---
What Time of Day Should I Visit Moraine Lake?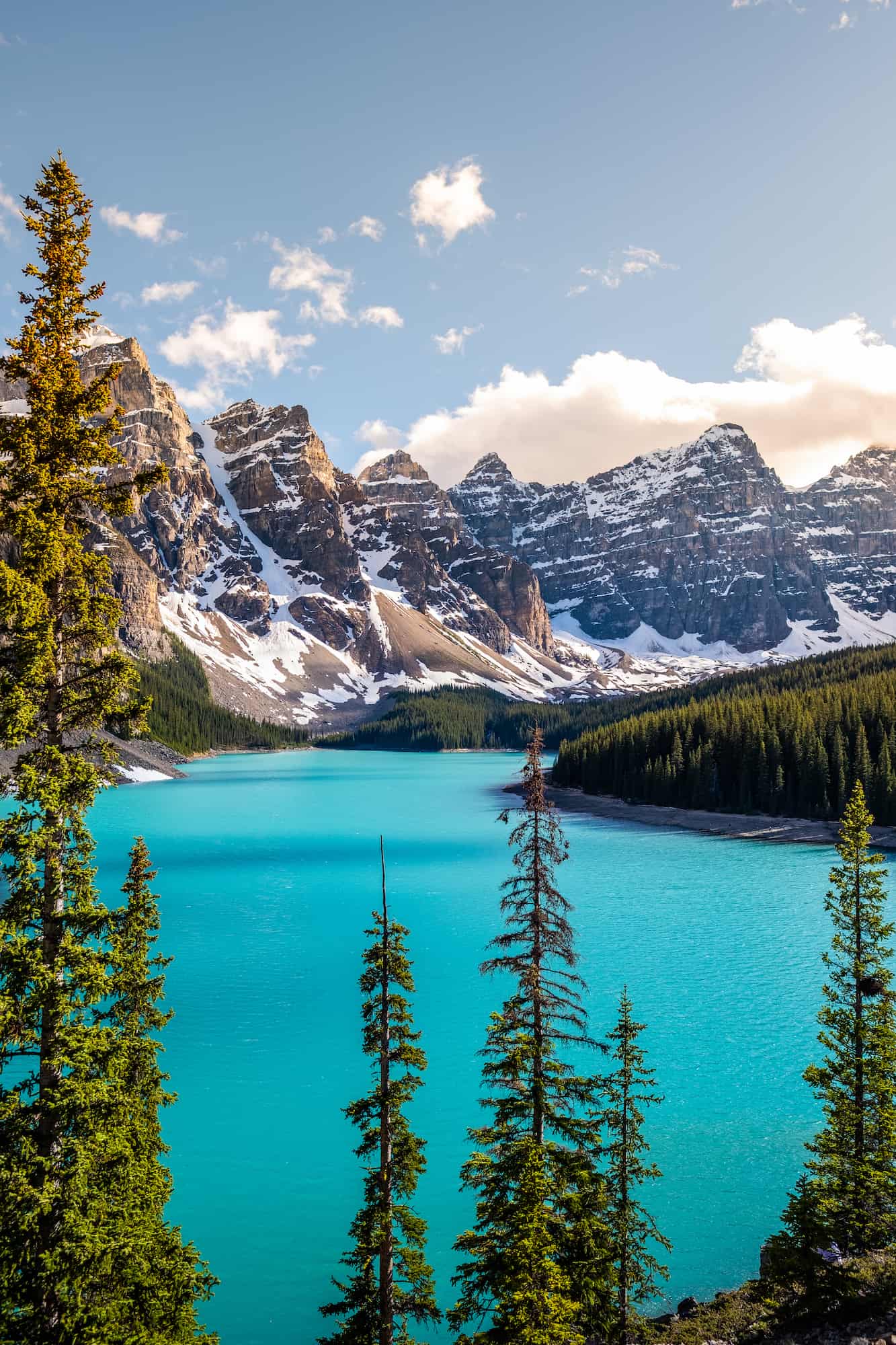 We're sad to say that Moraine Lake's beauty and popularity are also its downfalls. The demand to see the lake for almost every visitor to Banff National Park on a narrow mountain road with a small parking lot means that driving to Moraine Lake used to require arriving around 5 a.m. or earlier in the summer months to guarantee a parking spot.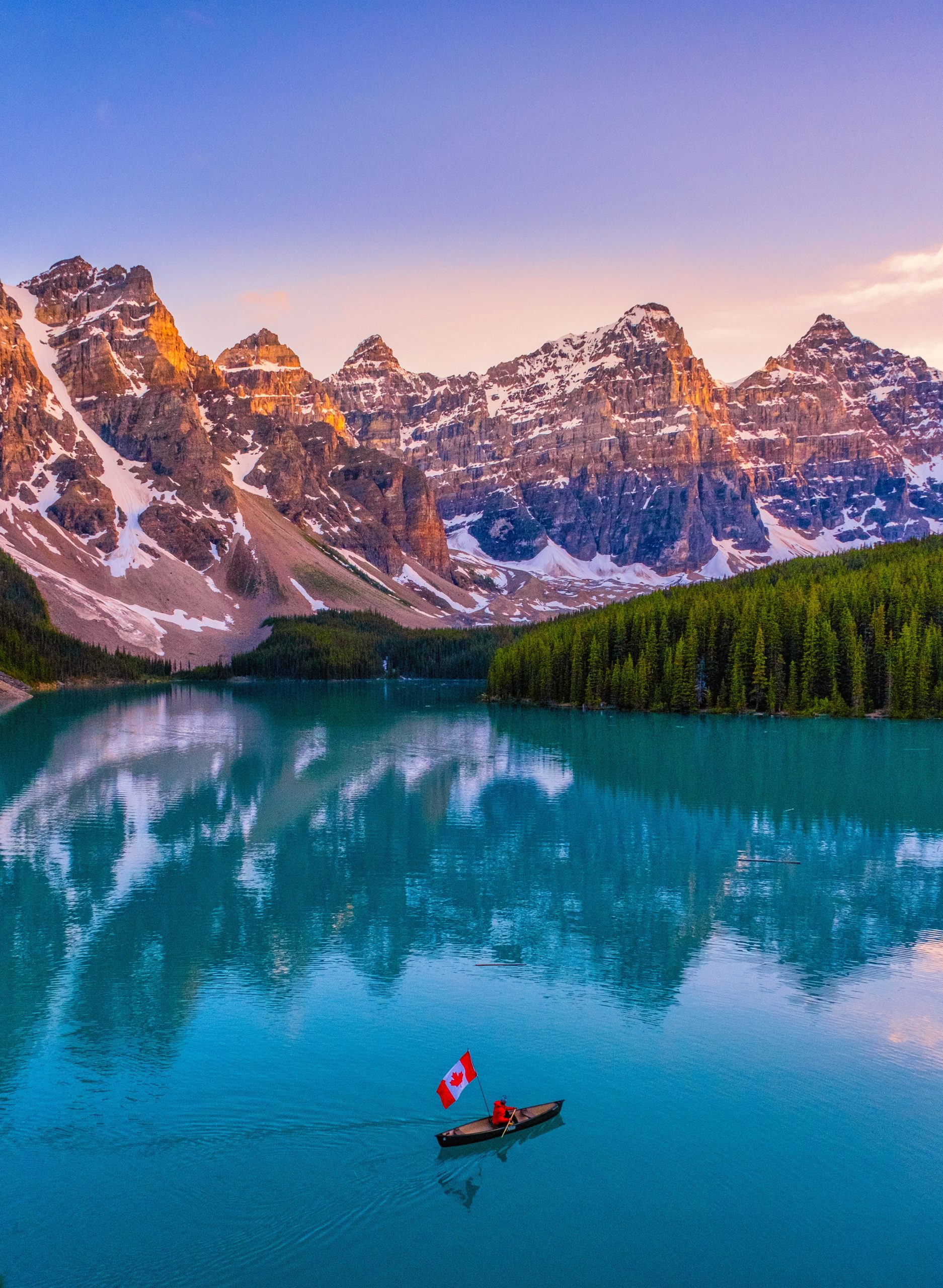 However, Parks Canada banned all personal vehicles from driving up to Moraine Lake in 2023, and now the only way to see the lake is to use the Moraine Lake Shuttle, Roam Transit, Moraine Lake Bus Company, hire a private tour operator, have a disabled car tag, hike, or bike in. We detail everything you need to know about getting to Moraine Lake here.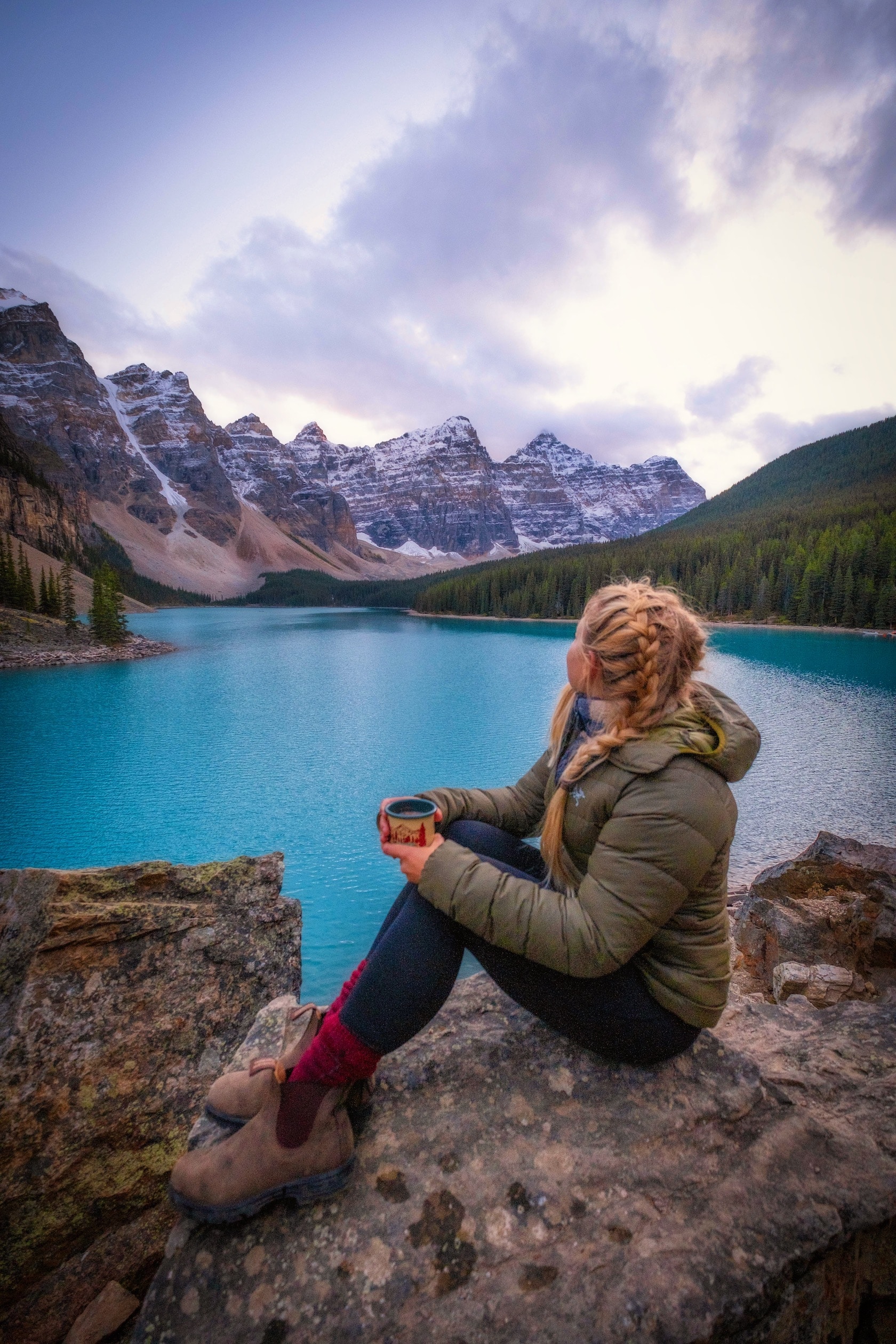 Getting to Moraine Lake is particularly tough for those who plan to tackle some of Moraine Lake's more arduous hikes/scrambles, such as Eiffel Peak or Mount Temple. However, don't fret too much you have some options with shuttles and public transport that we will break down.
---
Getting to Moraine Lake
---
The Parks Canada Park & Ride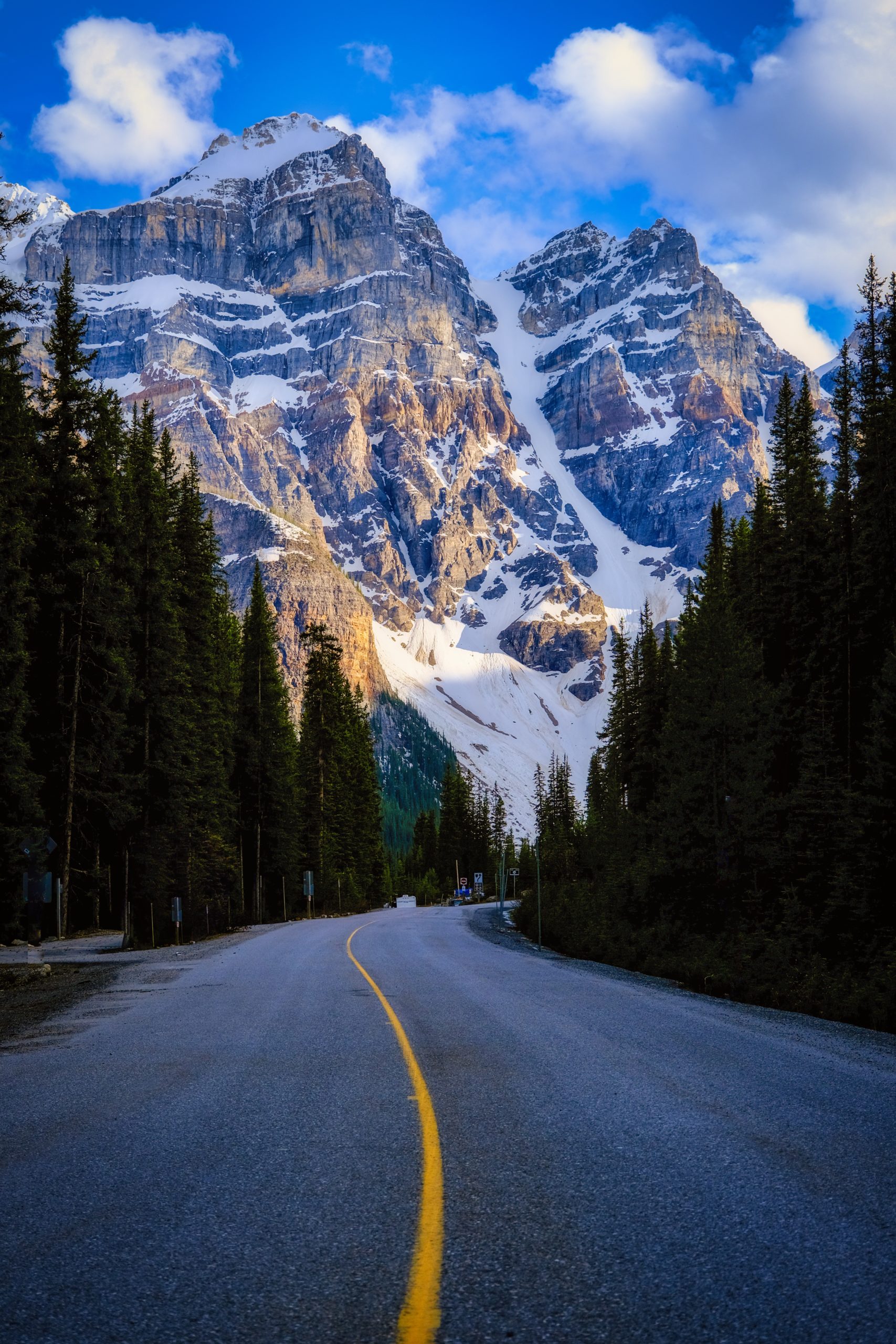 The parking concerns at Moraine Lake have gotten worse each passing year, not better. Because of this, in 2023, Parks Canada stopped all personal vehicles from accessing the road. The best option for most visitors to see the lake is the Park & Ride shuttle.
It is the best way to guarantee you get to see Moraine Lake. This new system reduces the harmful impacts of crowds and ensures visitors do not have to deal with the stresses around parking at the lake. It cuts back on congestion and emissions too!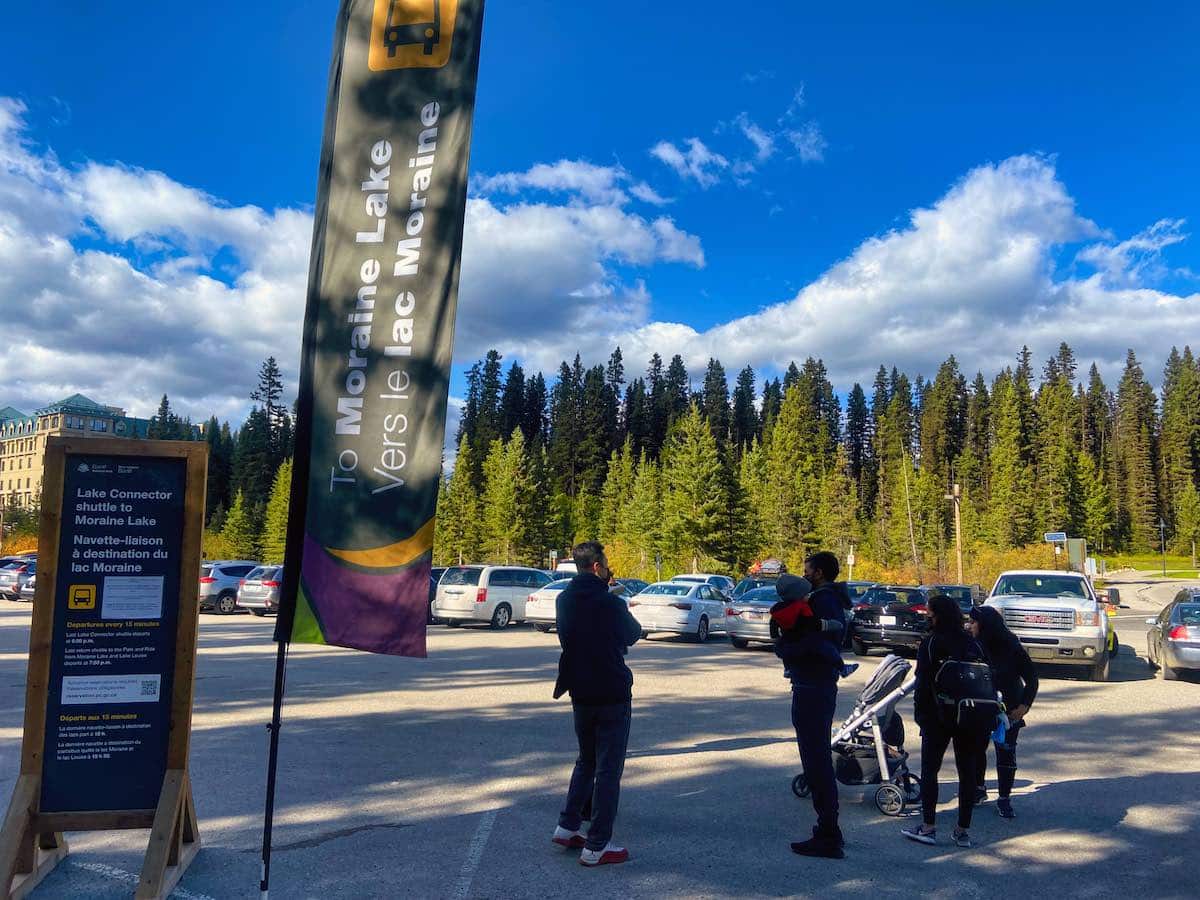 The Park and Ride parking lot is located at Lake Louise Ski Resort with direct buses to Lake Louise or Moraine Lake. It is recommended that you make a shuttle reservation in advance.
Shuttle reservations will be made available in the spring of 2023. Parks Canada will release 40% of the operating season. The remaining 60% will be released on a rolling window at 8 am, 48 hours before departure day, throughout the entire season.
The Park and Ride shuttle to the lakes shall begin at 6:00 am, and the last return bus from the lakes to the parking lot is 7:50 pm.
Pro Tip: Late afternoon/ evening shuttles are less busy than morning shuttles. You are able to reserve a shuttle day of, if there is space available.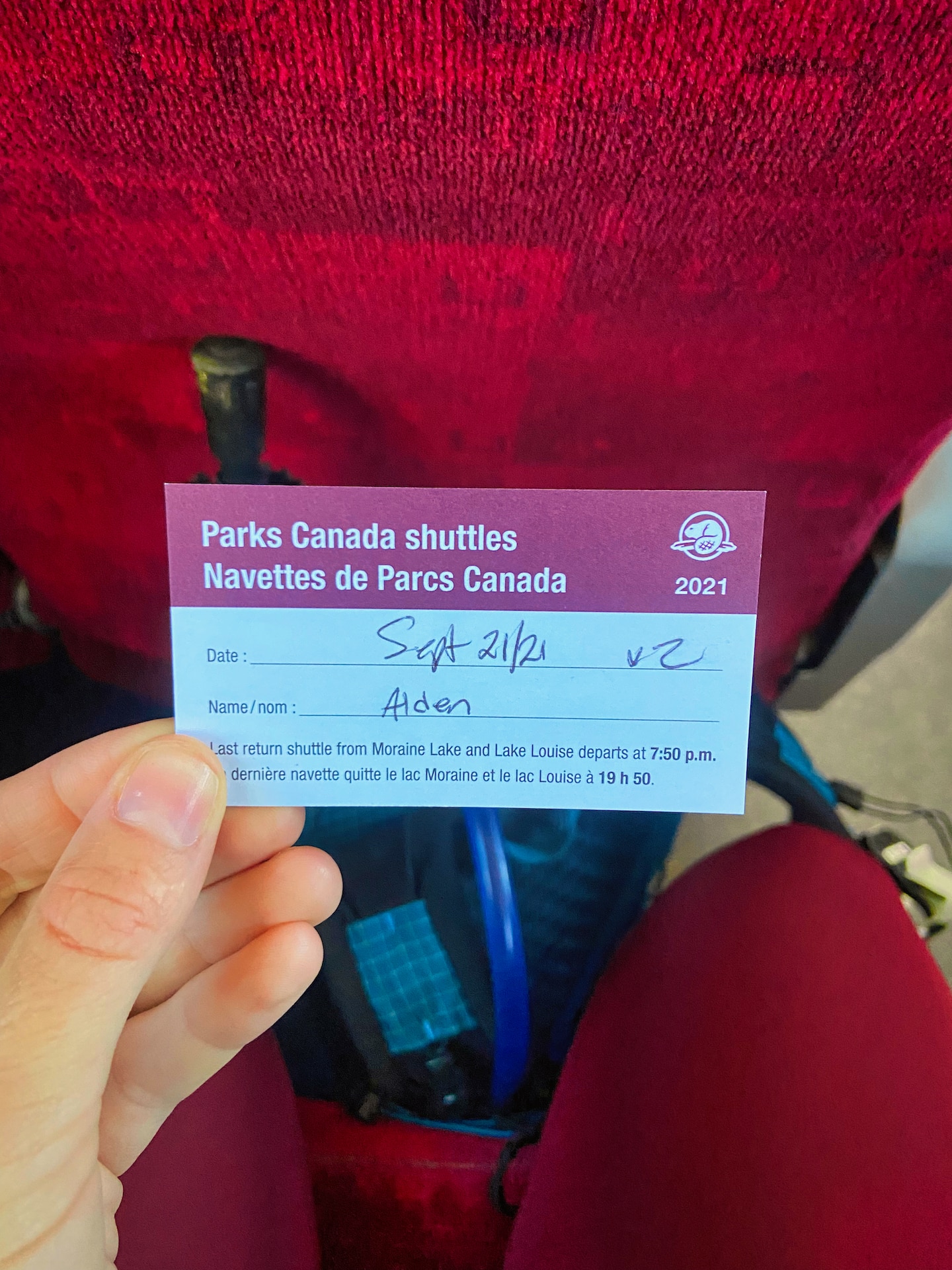 Shuttle reservations are for one specific bus route. Once at Moraine Lake or Lake Louise, you can connect between the lakes on a first-come-first-serve basis via the Lake Connector shuttle.
The Lake Connector bus is free of charge for those with a shuttle ticket, making it easy to see both lakes in one day. The shuttle is for reservation holders only. You can not park at Lake Louise and hop on the Lake Connector.
Certified service animals are allowed on the shuttle buses. All other pets must be crated and kept on their owner's lap while riding the shuttle. No large pets are permitted on the shuttles.
Park And Ride Shuttle Fairs (Return Trip)
(prices listed in CAD)
Adults: $8
Seniors (65+): $4
Youth (6-17): $2
Children (under 6): Free
*There is a $3 non-refundable transaction fee per reservation when purchasing shuttle tickets on the Parks Canada Reservation System.
The shuttle runs every 20 minutes between 8:10 am and 4:50 pm. The last return bus from Moraine Lake to the Park and Ride is at 7:50 pm.
It's important to note that these fees are in addition to your National Parks entry fee.
Parks Canada is constantly changing their times and rules, we try to update this article as much as possible but encourage you to Check the Parks Canada Reservation System Here.
---
Lake Connector Shuttle Frequency
Lake Louise to Moraine Lake: Every 15 minutes between 9 am and 6 pm.
Moraine Lake to Lake Louise: Every 15 minutes between 9:10 am and 6 pm.
Check out the map to better understand the layout and where to park. If you'd like more info, such as schedule and up-to-date fairs, check out the Parks Canada Website.
---
Shuttle Reservations For Moraine Lake In 2023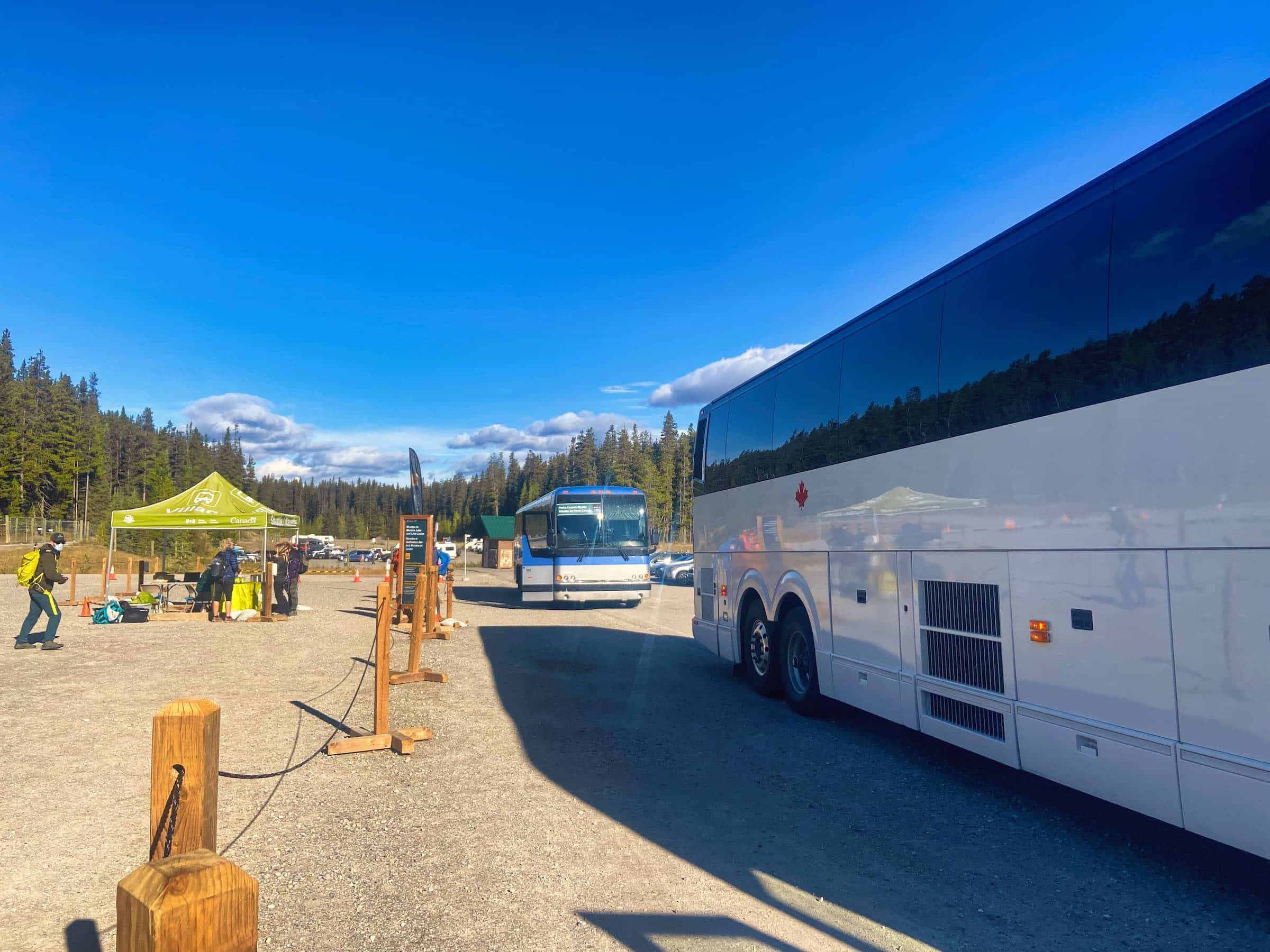 Parks Canada shuttle reservations are required. Reservations for 2023 will be available in the spring of 2023, and you'll be able to book your seat on a shuttle bus in advance. The shuttle to Moraine Lake will begin on June 1 and run until mid-October.
There will also be a portion of seats released on a rolling basis, 48 hours before departure day at 8am MST starting in May 2023. You can reserve a seat up until the end of your timeslot this year. Walk-up seat sales may be permitted if there are still seats available. Book your seat reservation on the Parks Canada website.
We find the shuttle system very easy to use, which is an excellent solution to the parking issues at Moraine Lake.
---
What Shuttle Do I Take If I'm Staying in Lake Louise?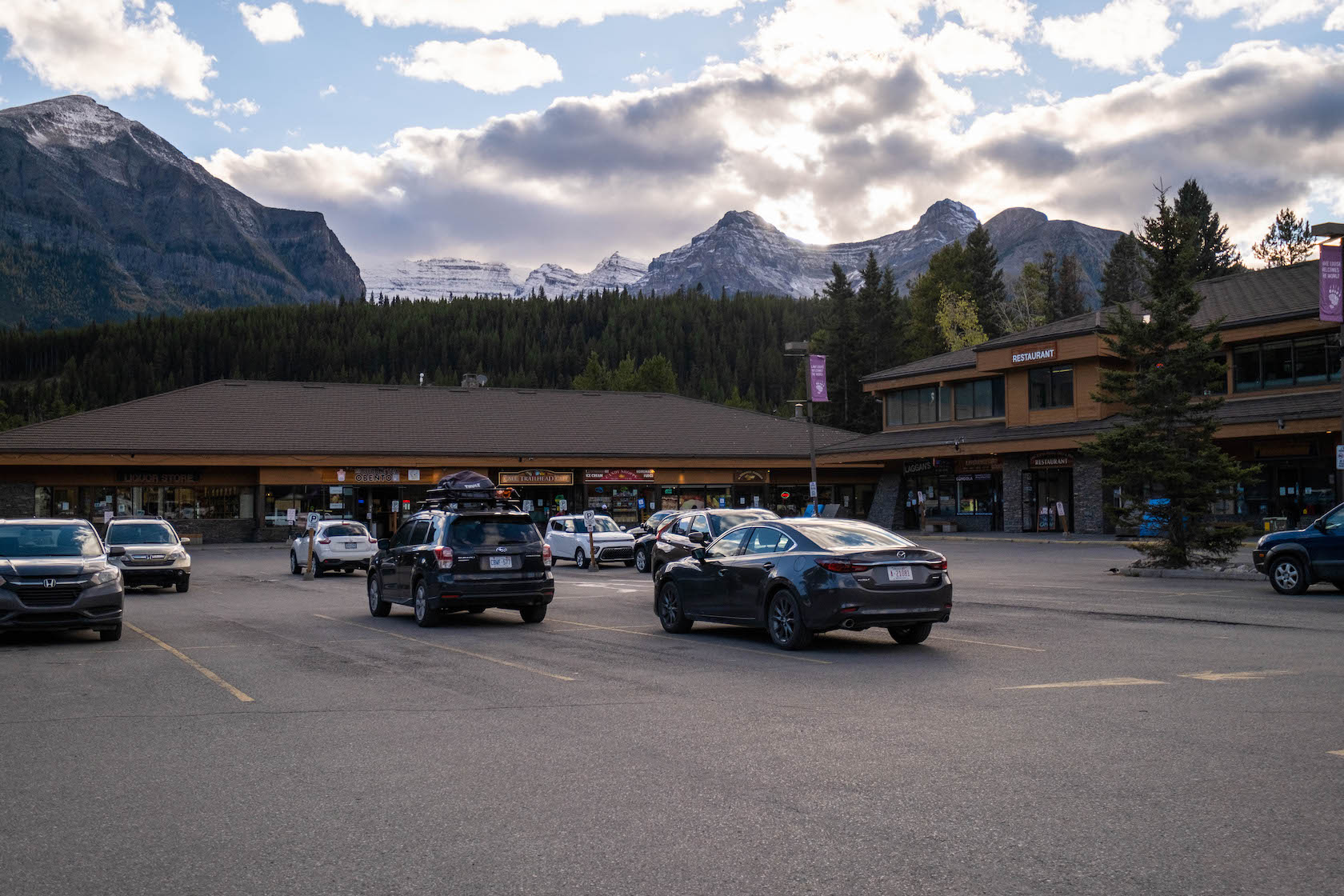 If you stay at a hotel in Lake Louise Village or the Lake Louise Campground, you can use the Park & Ride Connector shuttle for free as it stops in the village and campground.
The Park and Ride Connector shuttle loops between the Lake Louise Campground, the town of Lake Louise (Samson Mall), and the Lake Louise Park and Ride located at the Lake Louise Ski Area.
Staying in a Lake Louise hotel does not get you special access to Moraine Lake. Some hotels and lodges around Lake Louise village offer private shuttles, though. You will have to call the Lake Louise hotel you have booked to confirm if they offer a free shuttle to Moraine Lake.
*Guests staying at Deer Lodge, Paradise Bungalows, and Chateau Lake Louise are within walking distance to Lake Louise, and are welcome to get directly on the Lake Connector Shuttle rather than driving to the Park & Ride lot. These guests still need a Park & Ride shuttle reservation for that day, and they must provide proof they are staying at one of the above hotels.
Learn More About Moraine Lake Parking & Transport
---
ROAM Transit to Moraine Lake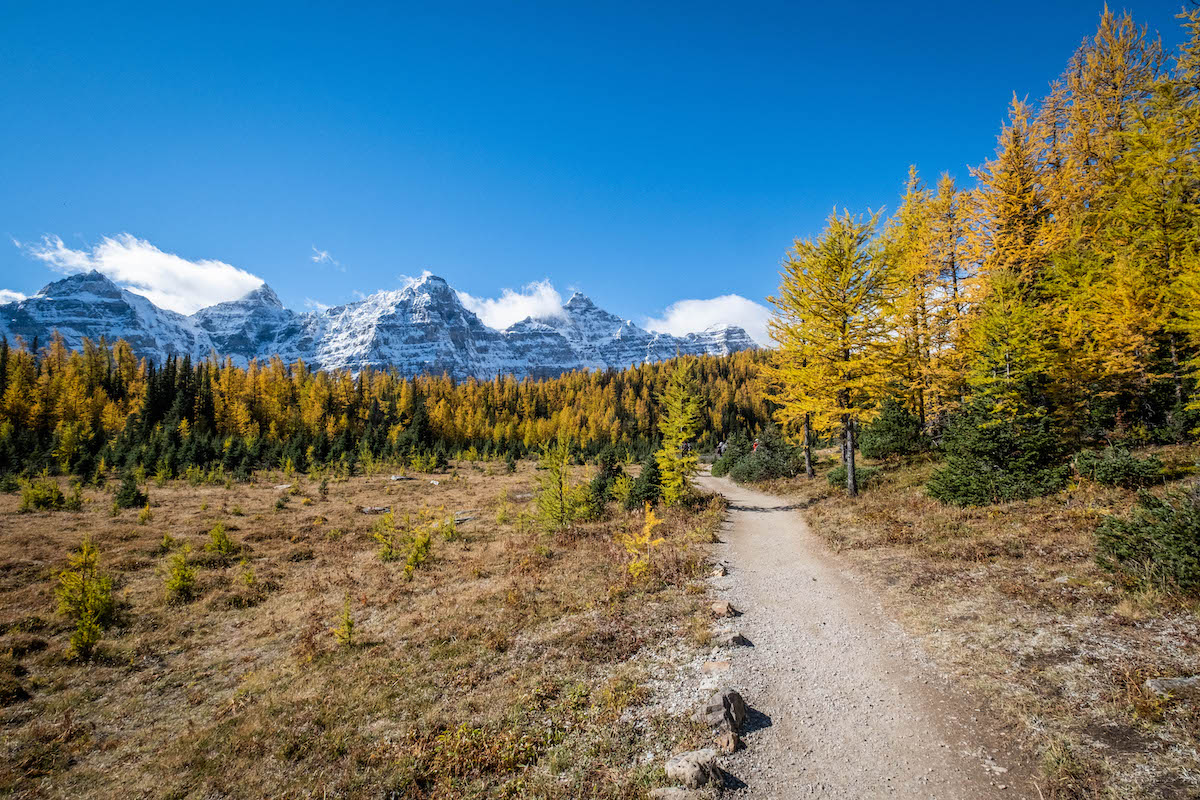 The Roam Transit bus does not run to Moraine Lake except between September 19 – October 10, 2023, for the larch season. You can catch the Roam Route 10: Moraine Lake Express from Banff to Moraine Lake during this time.
The Roam Transit Route 8x runs daily between May 20 – September 18, 2023, to Lake Louise from Banff. The Roam Route 8X: Lake Louise Express runs from Banff to Lake Louise Lakeshore along the Trans-Canada Highway, stopping at Lake Louise Village.
The Roam Route 8S: Lake Louise Scenic stops at scenic sights like Johnston Canyon and Protection Mountain Campground. Route 8S will run 3 days/ week (Fri-Sun), July 1 – Aug 31.
The cost is $10 per adult; reservations are recommended. However, you can walk- up to the fare boxes. Roam buses accept US and Canadian currency as small as a nickel and up to $20. Children 12 and under are free but still require a reservation.
The Roam Transit Super Pass. Roam has a One Day Super Pass, which allows travel on any/all Roam routes – From Canmore to Banff to Lake Louise for just $25. The Super Pass is sold only on the bus, at the Roam office in Banff, or through the Token Transit App.
The Super Pass comes with free access to the Parks Canada Lake Connector shuttle. With the new Roam Transit Super Pass, visitors will receive free access to the Parks Canada Lake Connector shuttle from the Lake Louise Lakeshore or Moraine Lake. Show a valid Roam Super Pass to Parks Canada staff at Lake Louise or Moraine Lake to receive your Parks Canada boarding pass.
---
Bike To Moraine Lake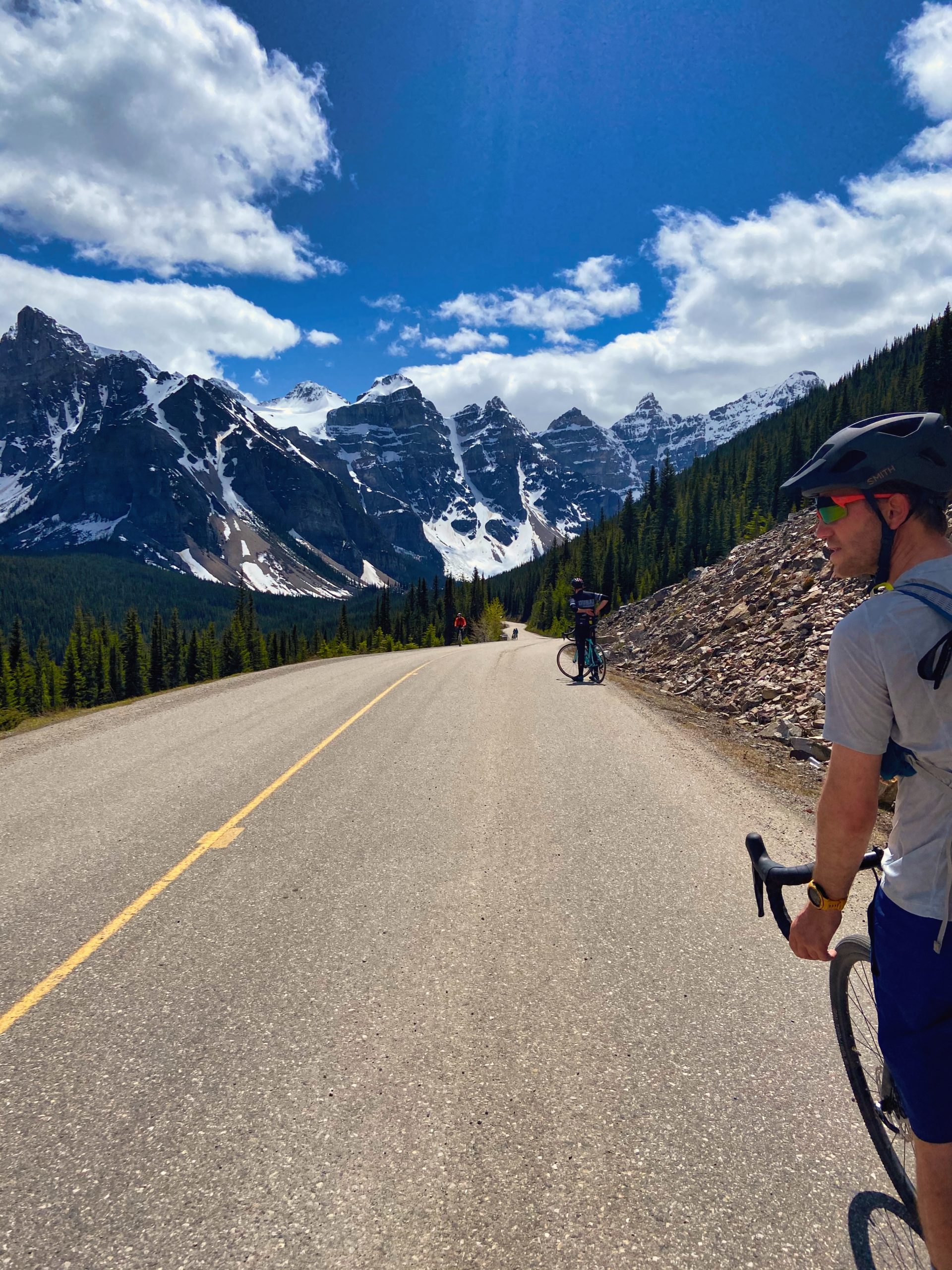 There is one short week in Banff when Parks Canada plows Moraine Lake Road but leaves the road closed to vehicles. This is when all the locals take advantage of biking Moraine Lake and seeing the beauty without the crowds. If you want to bike to the road in May before Parks Canada plows it, it might be possible until the Ten Peaks viewpoint as they plow this part first. After this viewpoint, you may encounter some snow.
The exact timing of road clearing depends on snowpack and avalanche conditions above the road. This is not announced and typically is only known through local know-how. We've biked to Moraine Lake a few times in the past. From Lake Louise, it's approximately 14 km uphill. This takes me about 50 minutes on a mountain bike and 40 minutes on a road bike. It's all uphill, but the fun ride down makes it all worth it.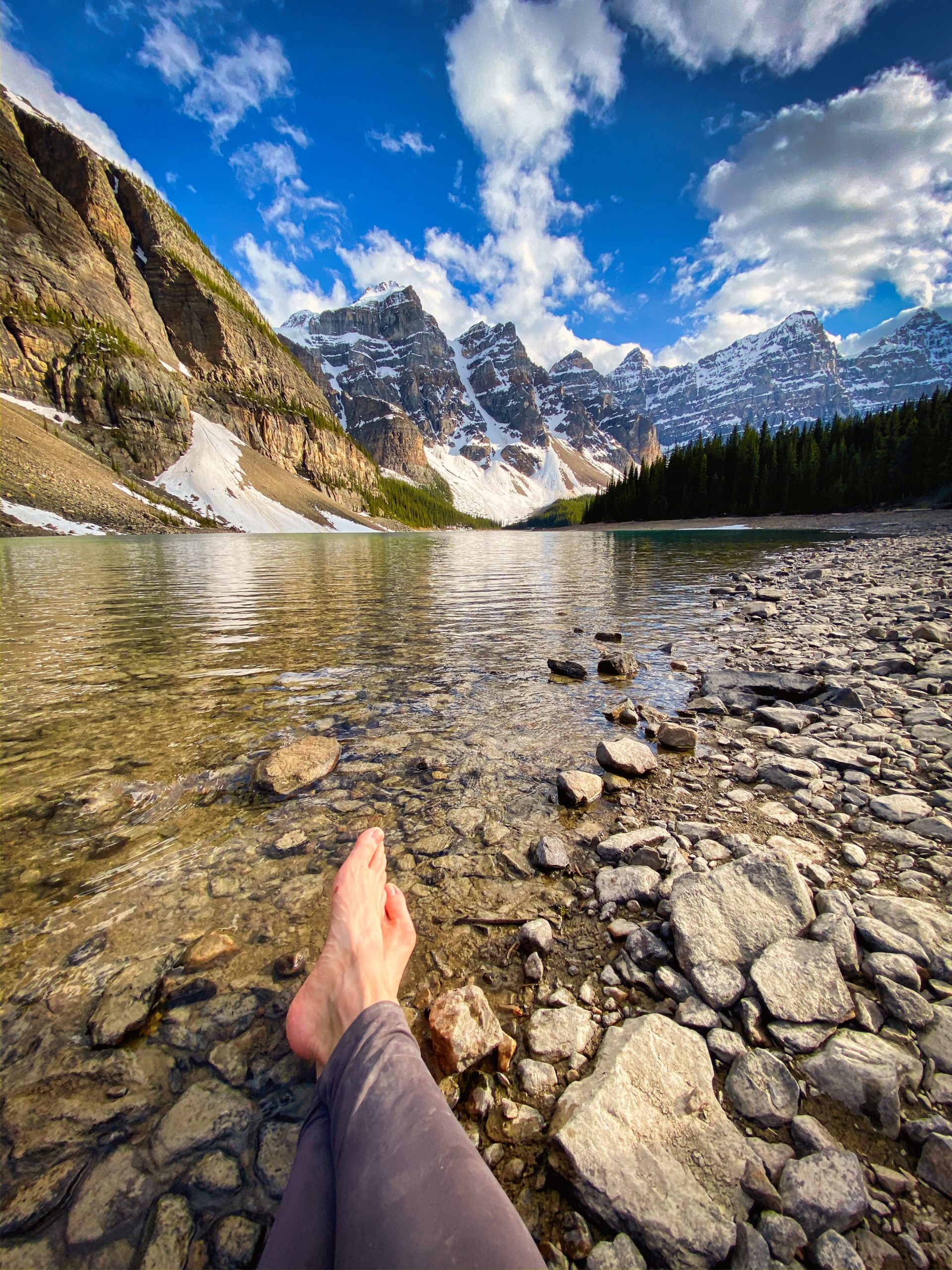 There are a few spaces to park your car at the start of Moraine Lake Rd, but those often fill up in bike season. If you can't get parking here, one of your options is to park at Samson Mall. This adds a lot of elevation and distance to your bike ride, so pack extra snacks.
If you're a domestic traveler, make sure to bring your bike to Banff, or it's possible to rent bicycles for the day in either Banff at Bactrax, Rebound Cycle in Canmore, or Wilson Sports in Lake Louise Village.
**You can always bike to Moraine Lake during any season, but when the road opens to vehicles, you will be biking next to buses.
---
Stay at Moraine Lake Lodge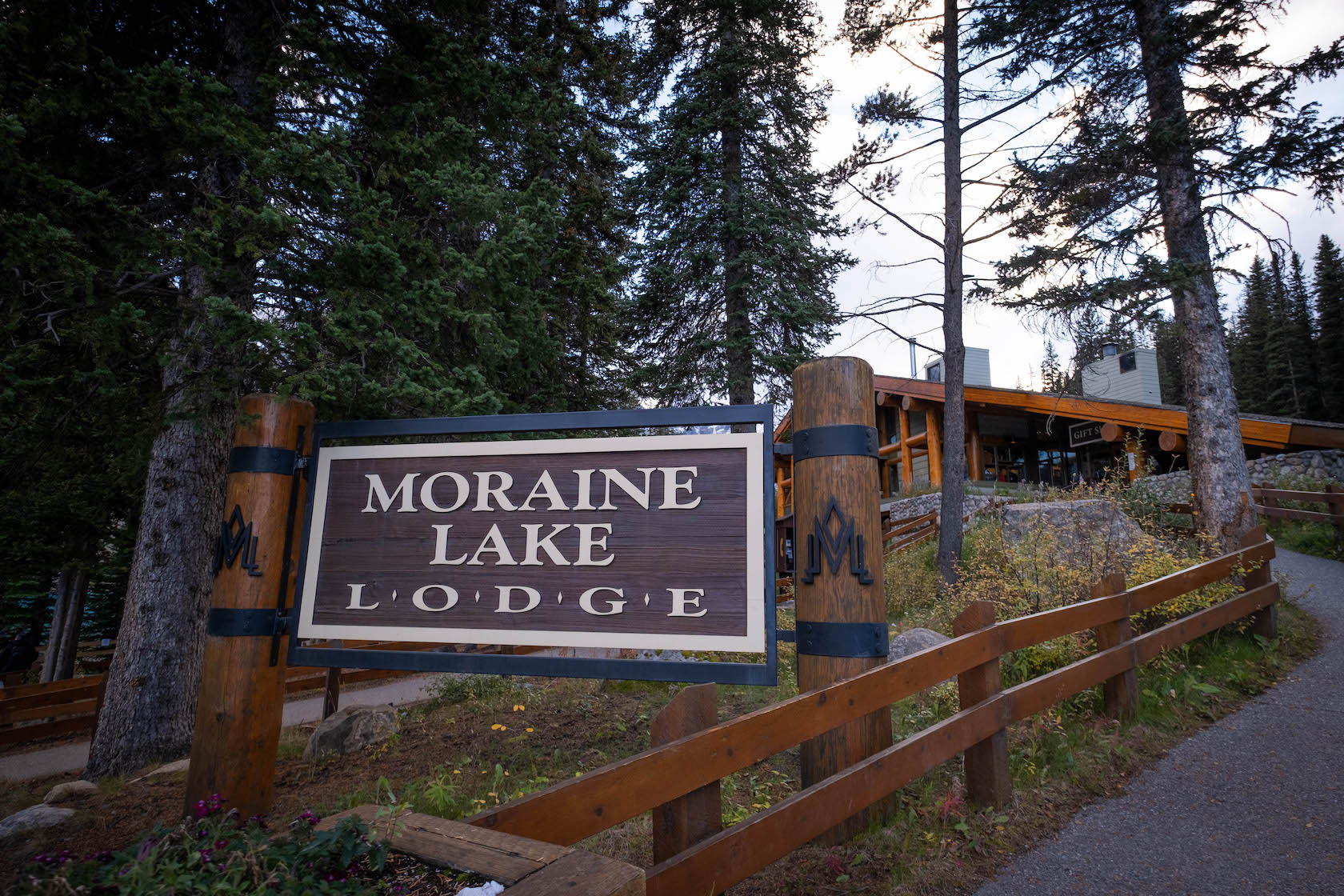 If you can secure a stay at the Moraine Lake Lodge, you have guaranteed access to Moraine Lake. Since room rates range between $900-1100 per night, rightfully so. Moraine Lake Lodge is the only lodging at Moraine Lake, so if it's in your budget, make sure to book well in advance.
---
Book an Organized Tour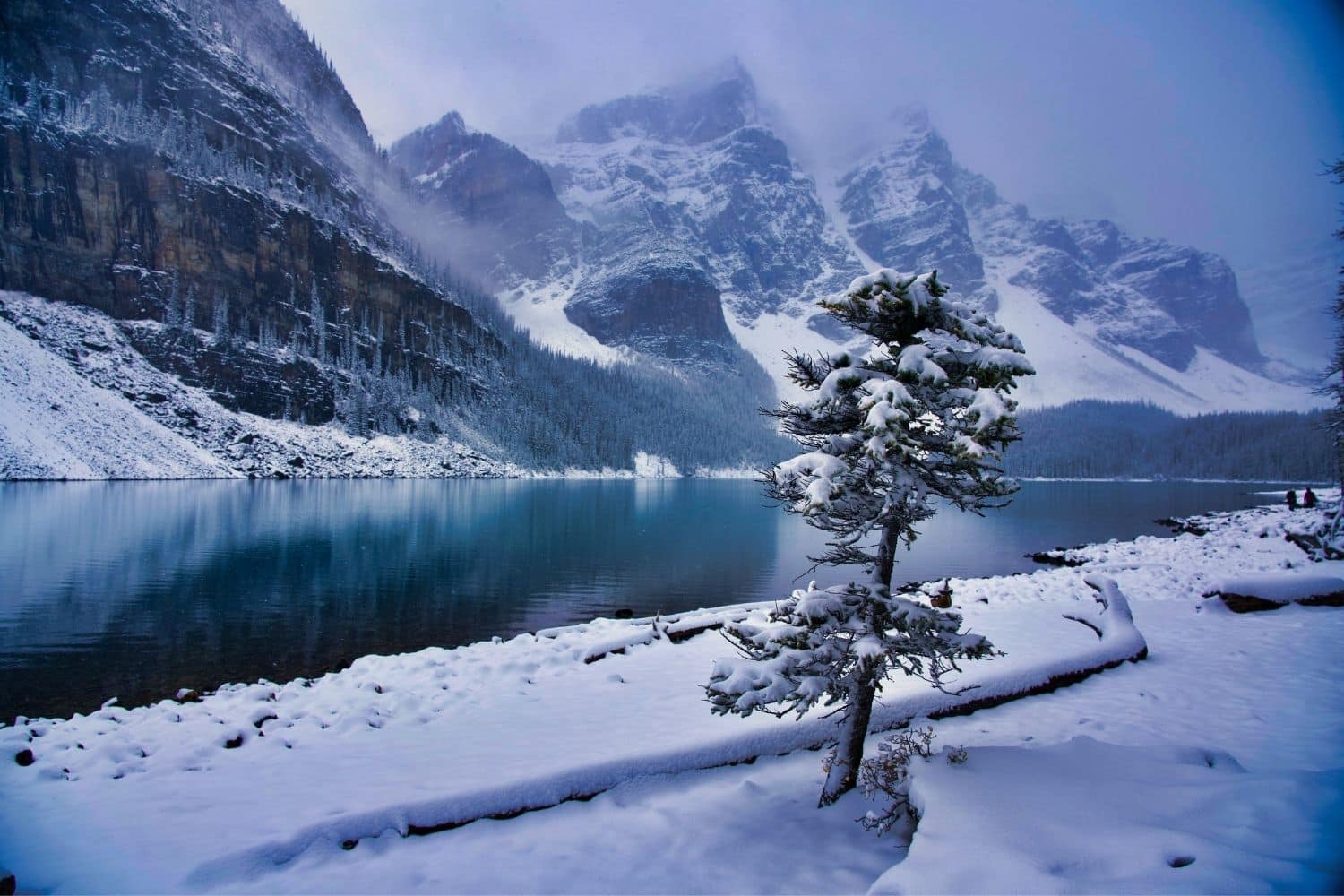 Another way to guarantee that you will see Moraine Lake is by booking an organized tour or utilizing the Banff Hop on Hop Off Bus. Tour operators have access to park at Moraine Lake.
Radventures offers small group (max 14 guests) guided tours, starting and ending with hotel pick up in Banff, with local interpretation and an amazing guide on hand to answer questions. Enjoy complimentary hot drinks, see the best spots at Moraine Lake to view the sunrise, and get our guests set up for sunrise photos (as their guiding team has photography training). After guests can get an optional hot cafe breakfast at Trailhead Cafe, before heading to Lake Louise, where you get front-of-the-line access to canoe rentals (something unique to only a Radventures tour). Book that tour here.
---
Sunrise Shuttle to Moraine Lake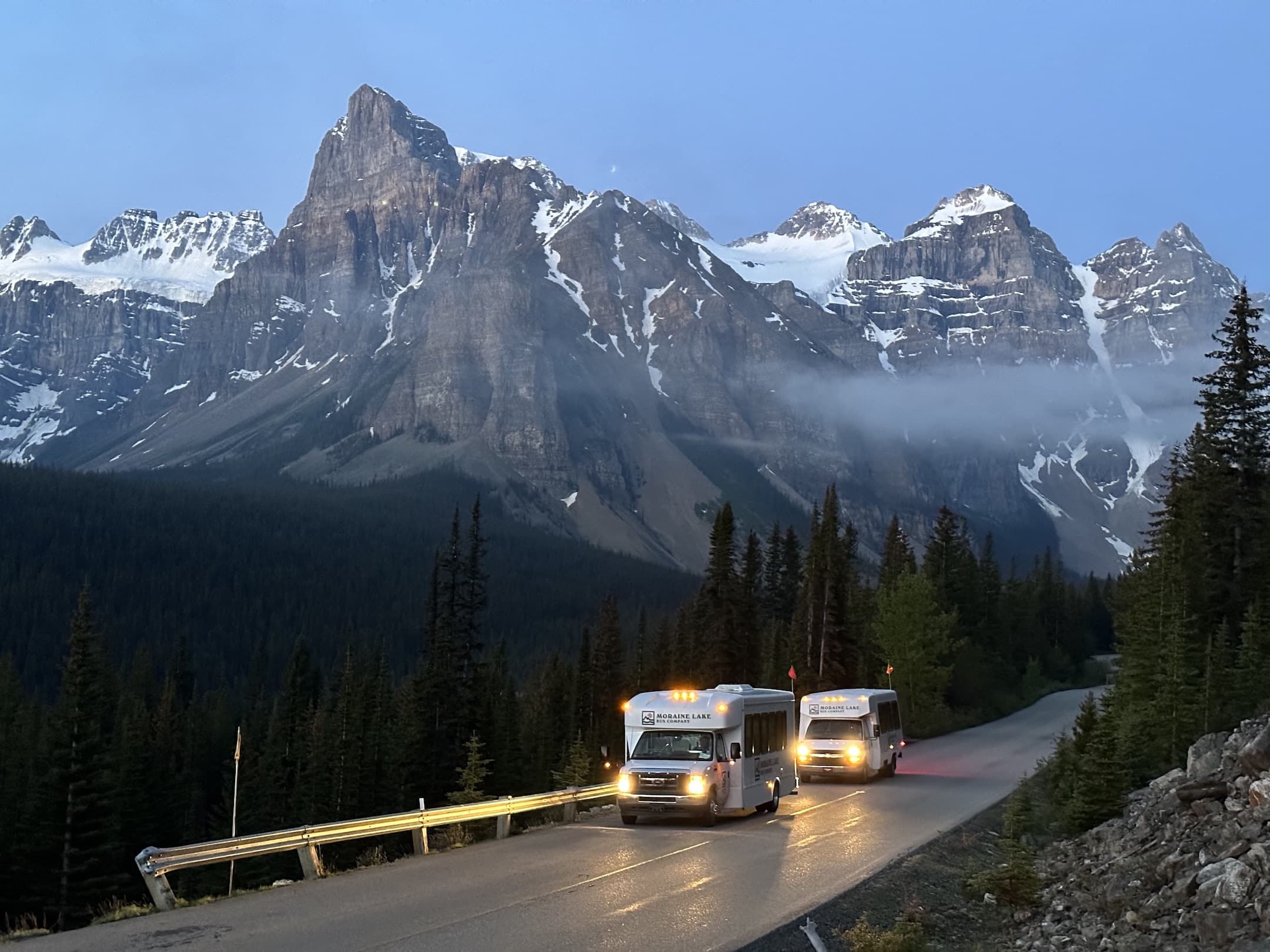 Moraine Lake Bus Company offers sunrise shuttles to Moraine Lake. This is a point-to-point shuttle service and is solely a bus transport, not a guided tour.
Shuttles transport guests to Moraine Lake as early as 4am, and from there guests can choose how long they want to stay. This is a fantastic option for hikers and climbers who want an alpine start. This service starts at $35 for a round-trip ticket and utilizes variable pricing, with tickets at 4am starting from $49. Long weekend and last weekend tickets are priced higher.
They also have four daily shuttles that include a one hour stop at Lake Louise. Check their schedule here.
---
Taxi to Moraine Lake
Let a taxi take you all the way from Canmore or Banff to Lake Louise and Moraine Lake.
Three Sisters Taxi: Offers return service to Lake Louise & Moraine Lake from Canmore or Banff for up to 6 people. This self guided option offers one hour at Lake Louise and one hour at Moraine Lake for a total of a 5.5 hour tour ($100 per additional hour). They give you the option to leave at your time.
---
Hike To Moraine Lake Via the Paradise Valley Trail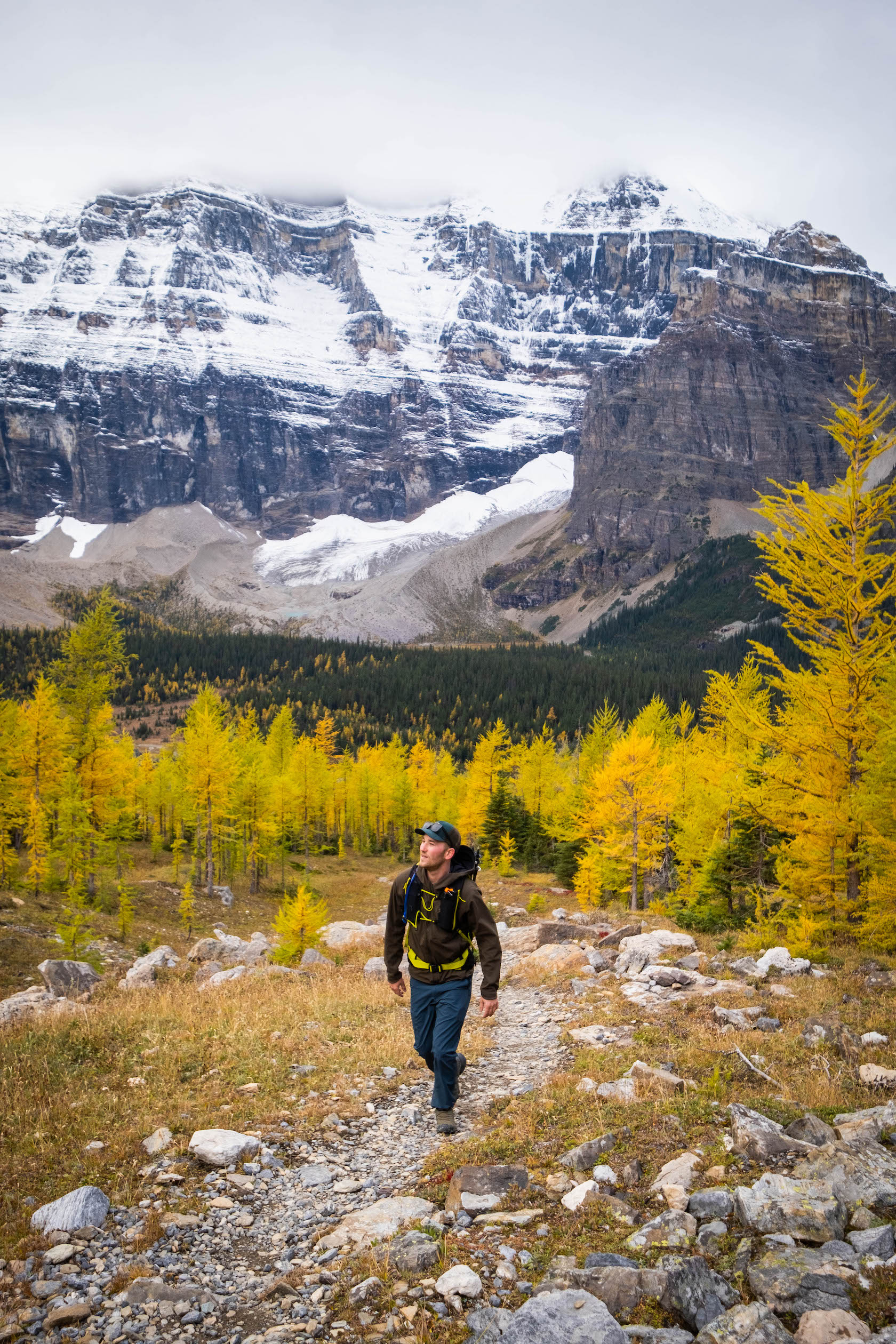 This option should only be reserved for those with experience hiking in the Rockies as it is a long hike, with a very steep section up Sentinel Pass (photo below,) so you have to be pretty determined for this method.
The Park and Ride allowed us to cross a point-to-point hike off our list. The Paradise Valley trail connects Moraine Lake to Lake Louise via a 20km hike. As we only own one car, we could never complete it. However, a few years ago we took the Park and Ride to Moraine Lake, hiked to Lake Louise, and took the shuttle back to the Park & Ride from Lake Louise for a truly epic day.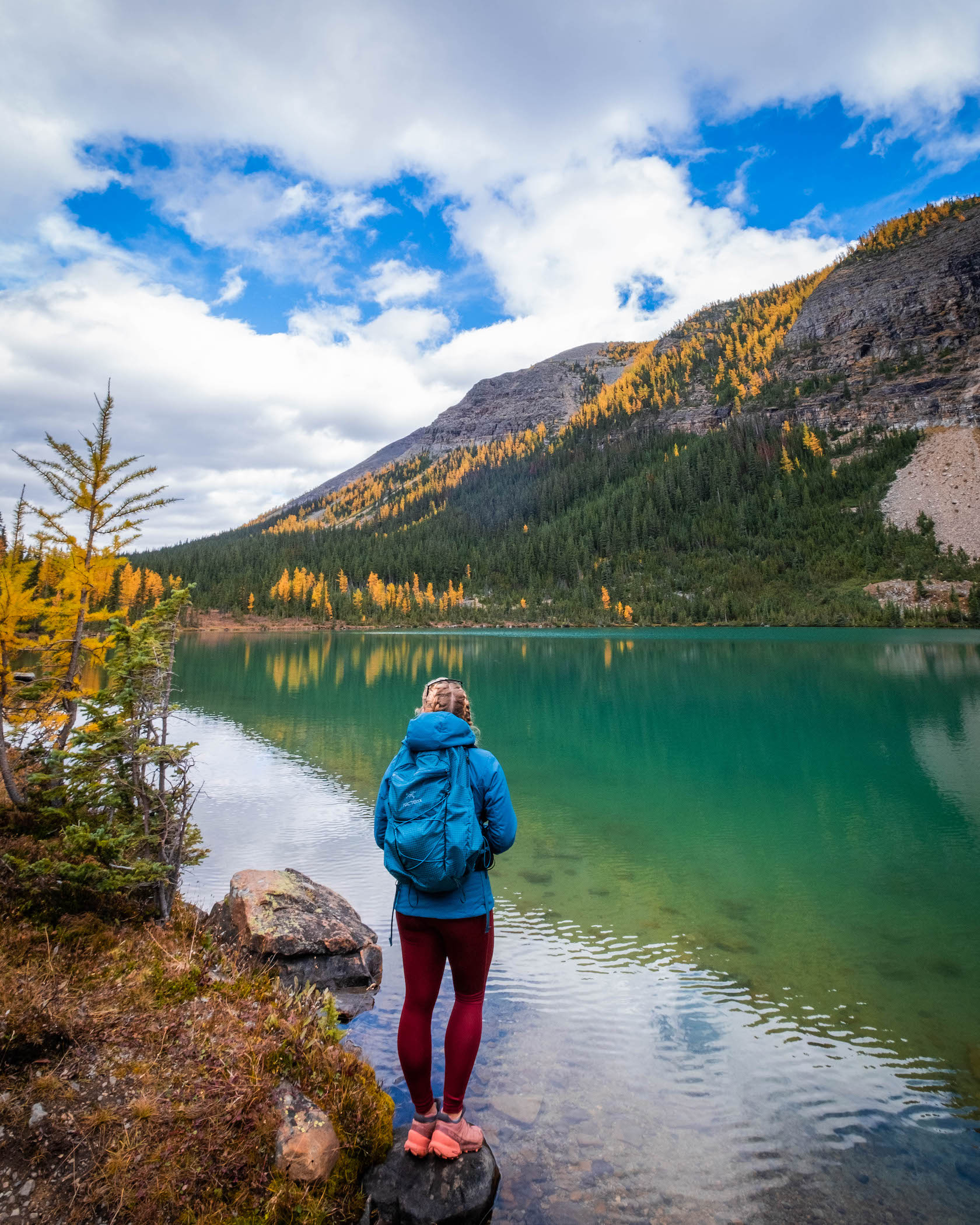 For those dead set on seeing Lake Moraine, it's possible to hike there on the Paradise Valley Trail from either Lake Louise or the trailhead for Lake Annette, which you still need a shuttle reservation to get here as it's along Moraine Lake Rd.
This trail is 20 km that is a point-to-point hike through the stunning Paradise Valley. During the larch season, it's one of the most incredible hikes in Alberta!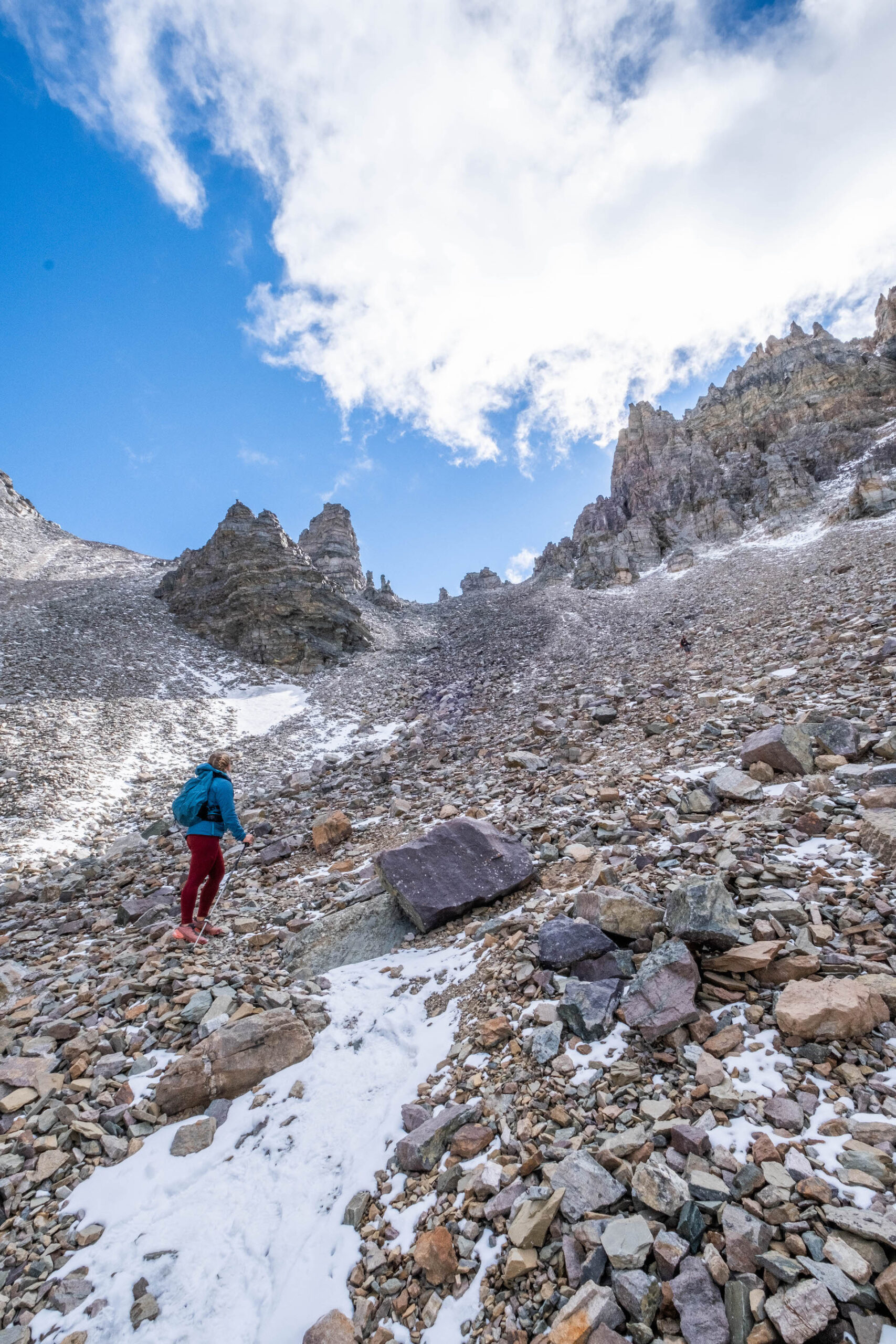 Along the way, you'll pass Lake Annette, Mount Little Temple, and Mount Temple before ascending to Sentinel Pass the back way. Once at Sentinel Pass, you'll descend down to Moraine Lake.
If you have a shuttle reservation (park at the Park & Ride at the Lake Louise Ski Area), you can utilize the buses to complete this point-to-point hike. This hike had been on our list for a long time, and we finally checked it off last season. Even during the busiest time in the park, we didn't see a soul for most of the trial.
---
Hike the Moraine Lake Highline Trail
A slightly easier alternative to the Paradise Valley Trail is the Moraine Lake Highline Trail, which almost runs parallel to Moraine Lake Rd. Start your hike at the Paradise Valley Trailhead, which after a kilometer will fork. Take the left trail to get on the Moraine Lake Highline Trail.
---
Canoeing at Moraine Lake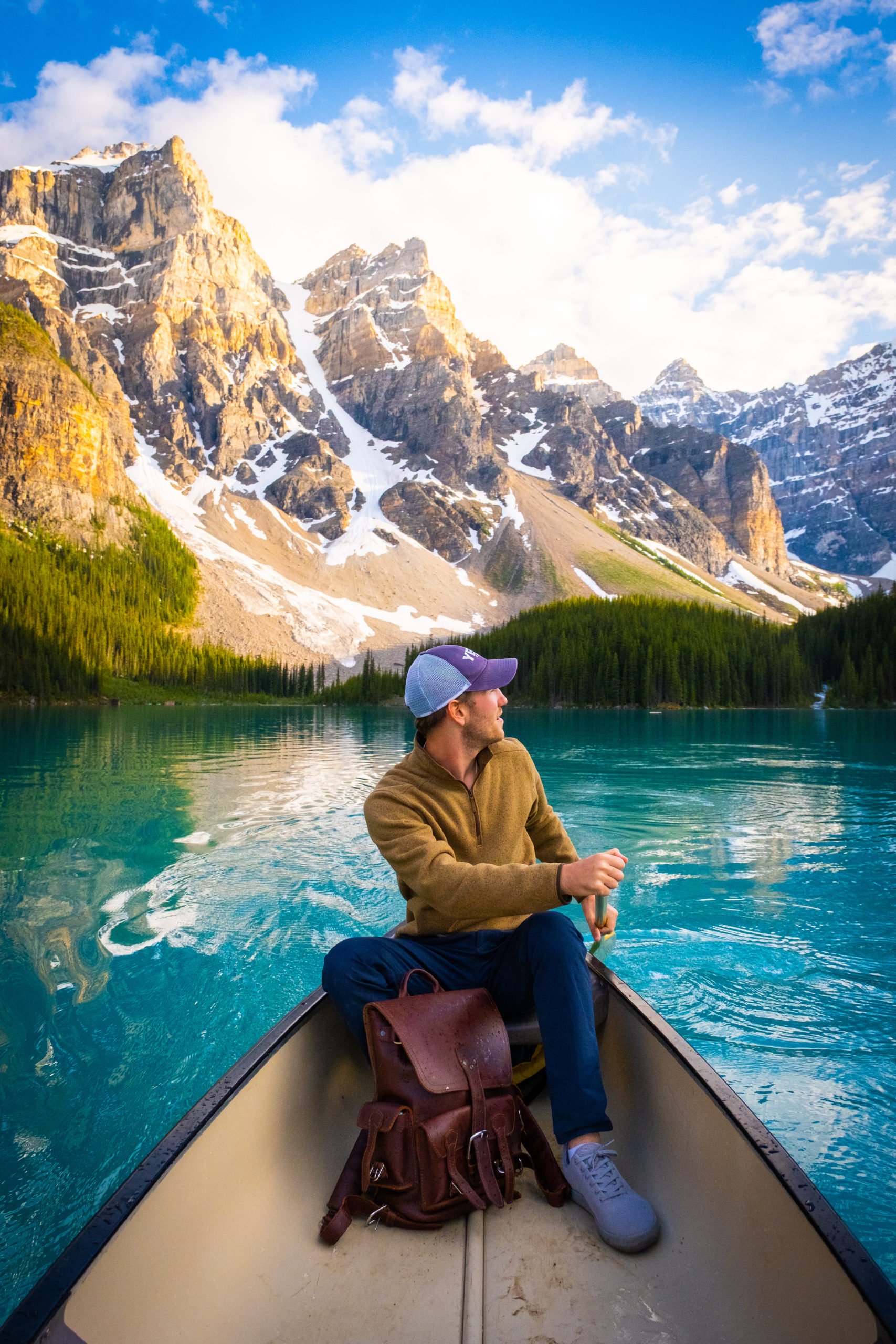 Beyond walking around the lake, canoeing is the most popular activity at Moraine Lake. It's a fantastic experience to paddle across the alpine lake with the mountains towering high above. The dock is open from 9:30 am to 5 pm from mid-June to mid-September.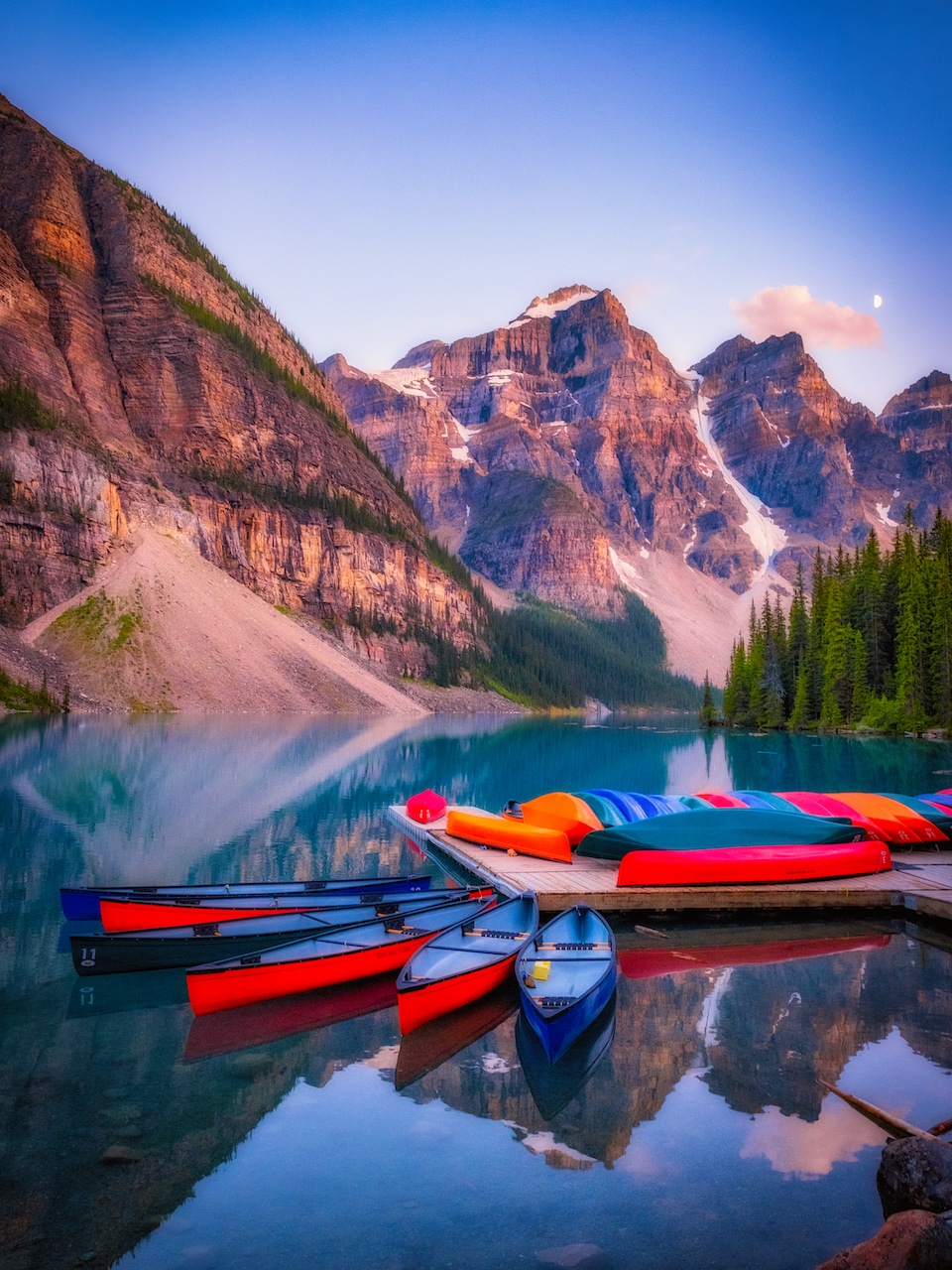 Canoe Rentals are run by the Moraine Lake Lodge, and rates start at $140 CAD an hour. The canoes include paddles, life jackets, and some basic instructions. Each canoe can accommodate two or three people, and pets are not permitted.
Reservations are not accepted, and the canoes operate on a first-come, first-served basis. Also, the dock is weather dependent and can shut down in inclement weather, such as heavy snow, rain, or wind.
---
Can you Bring a Private Canoe, Kayak, or SUP to Moraine Lake?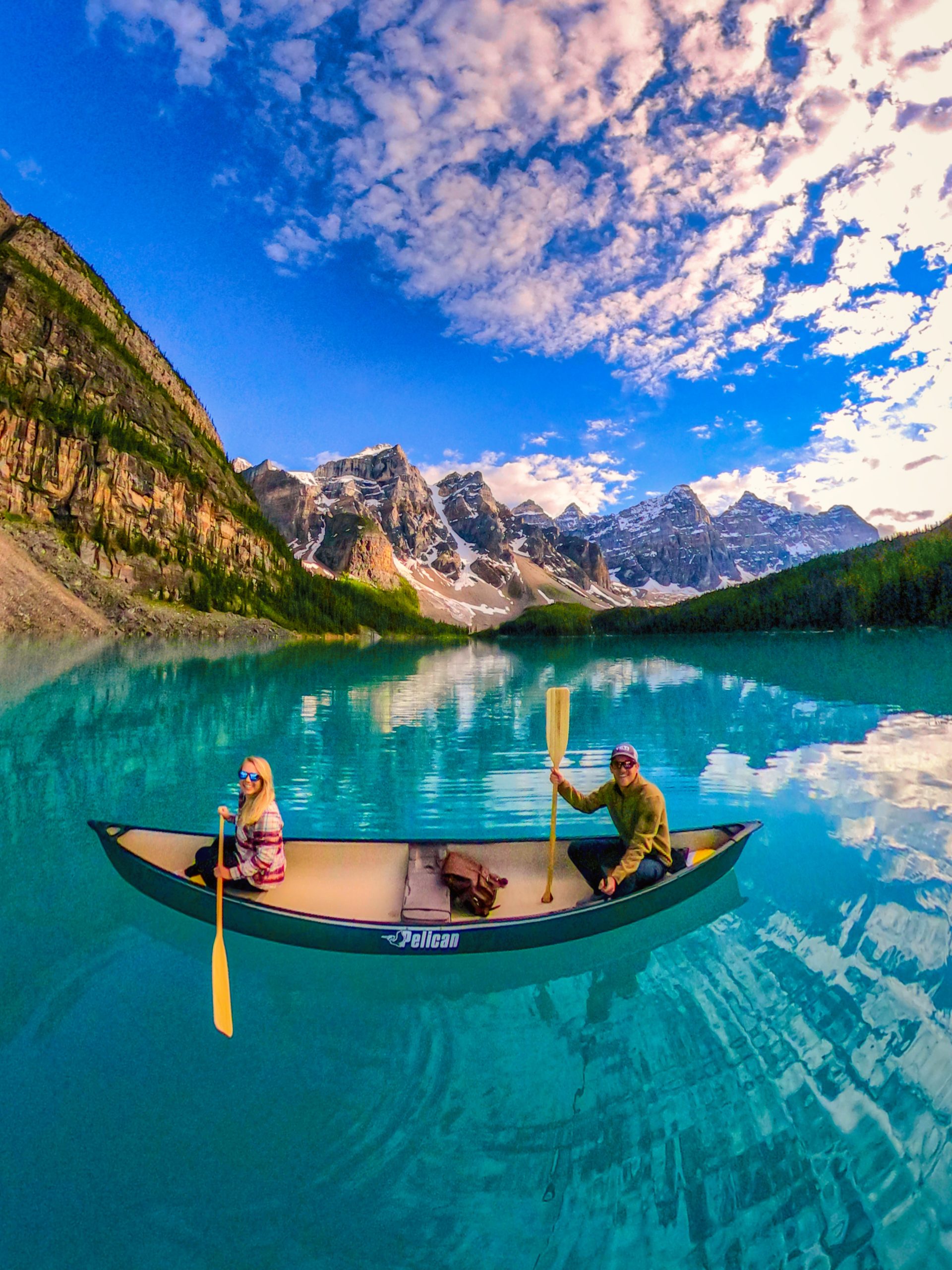 Visitors can bring their own watercraft to any lakes or rivers within Banff National Park. All the photos in this post were of our personal canoe when you were still allowed to park at Moraine Lake.
You can not drive to Moraine Lake for parking if you want to take your own watercraft. The Parks Canada shuttles can take several types of watercraft, including packrafts, inflatable kayaks, paddleboards, and some small hard-sided kayaks.
Parks Canada requires self-certification for all non-motorized watercraft in Canadian Rocky National Parks. If you'd like to canoe on Moraine Lake, you will have to rent one by the hour from the lodge.
---
The Moraine Lake Rockpile Trail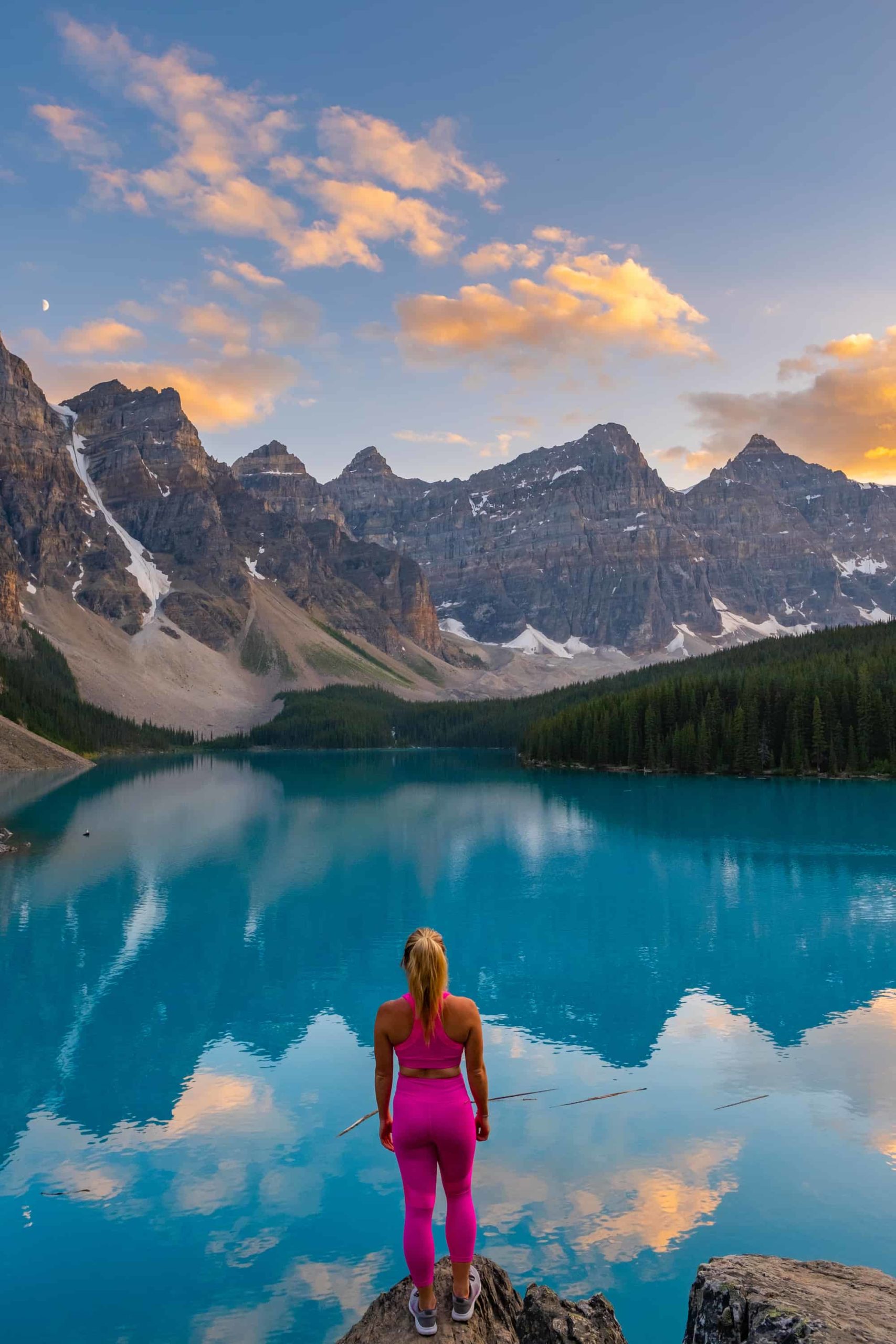 The Moraine Lake Rockpile trail brings you to the aptly named "Twenty Dollar View" because it is the scene used on the former Canadian twenty-dollar bill and shot by almost every photographer.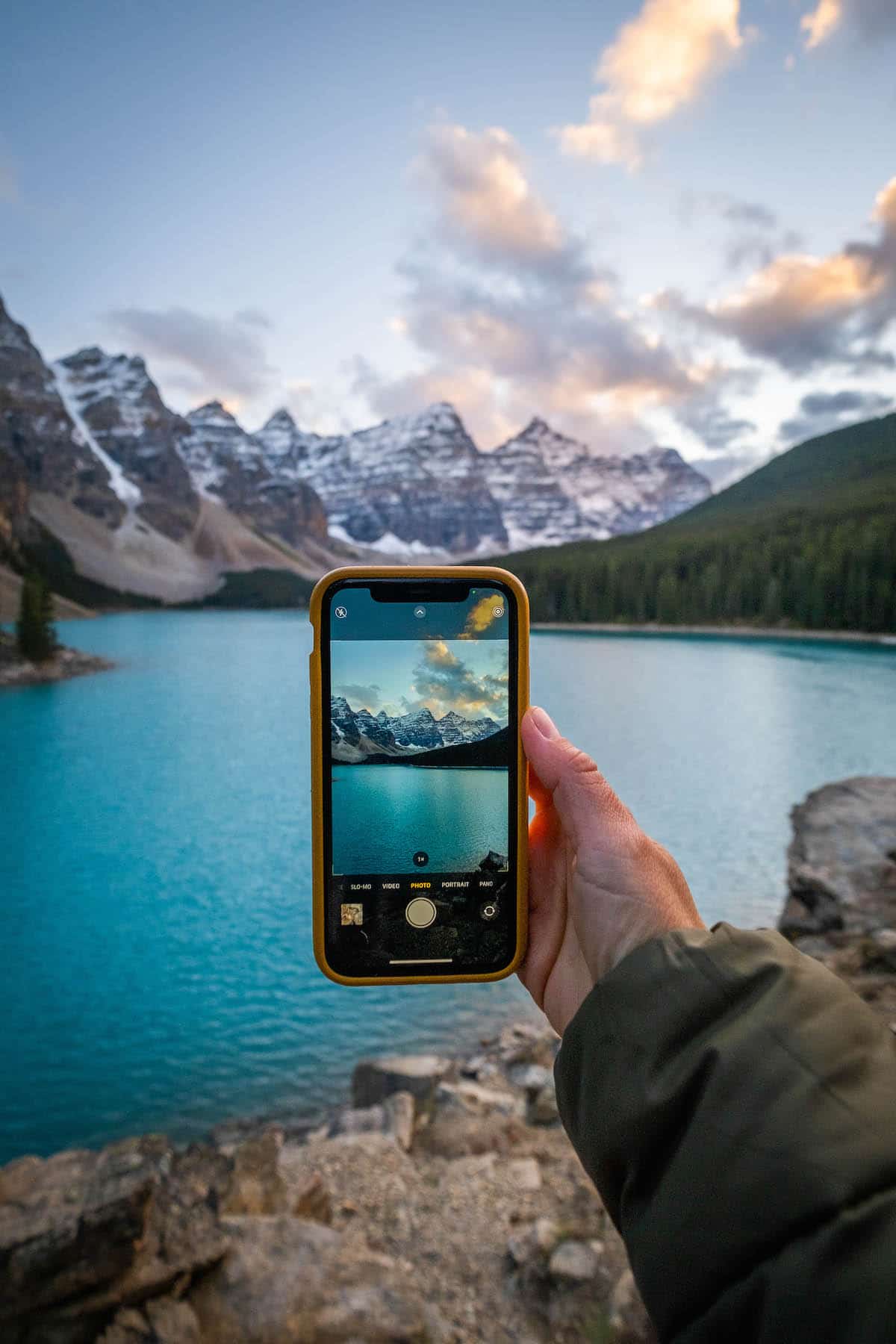 We like to consider it one of the best views in the world. Moraine Lakes' deep blue is backed by the famed Ten Peaks – ten towering snow-capped peaks.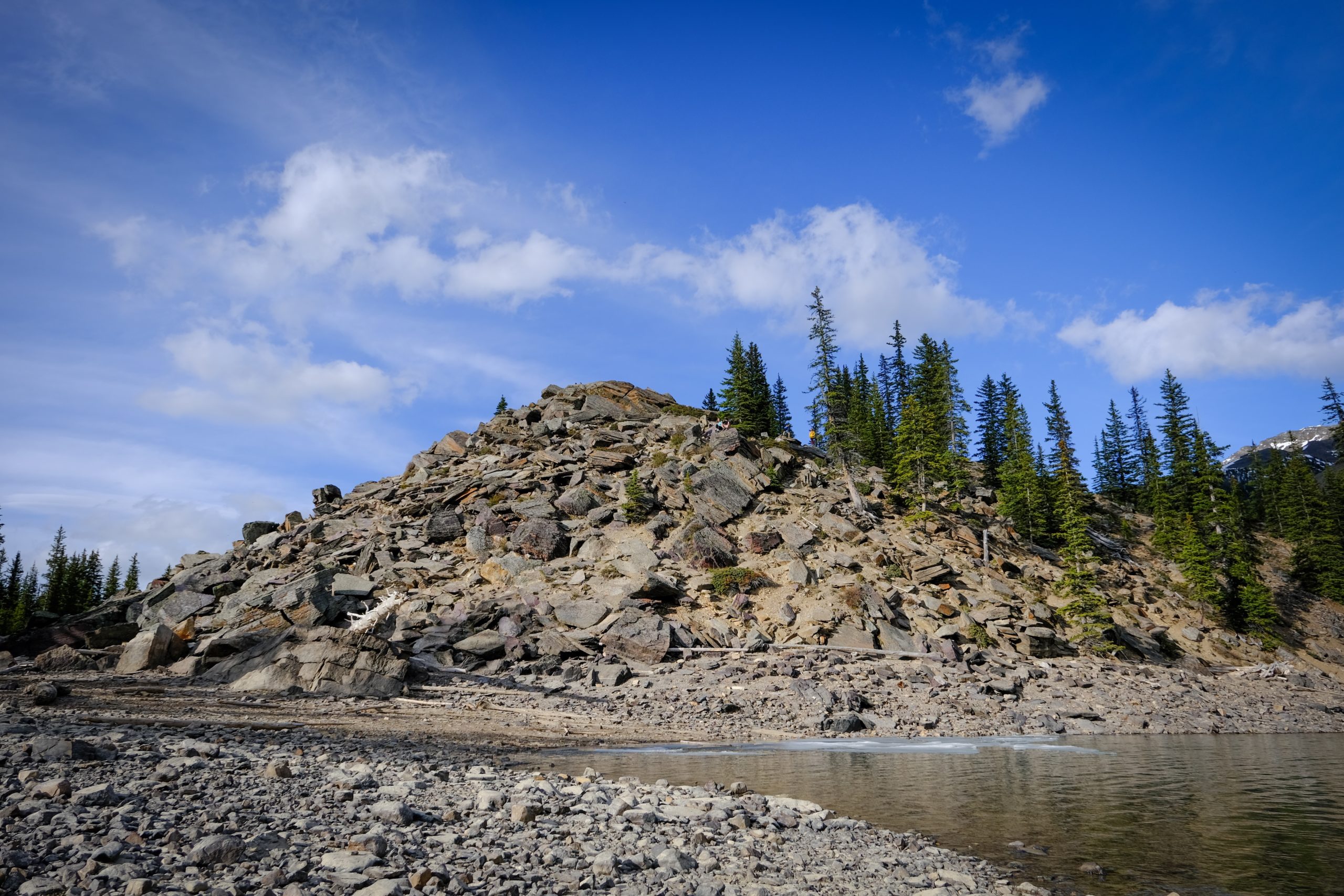 It's a short walk up to the top of the rockpile trail that almost anyone can accomplish. The trail switchbacks along the backside of the rocky moraine. Stone and log steps make it accessible to most able-bodied people. Keep an eye out for pikas and chipmunks frequently seen darting in and out of the rocks.
Trailhead: Begins at the end of the parking lot and over the bridge.
Distance: 350 meters
Elevation: 30 meters
Time: 20 – 40 minutes (return)
---
Hiking Around Lake Moraine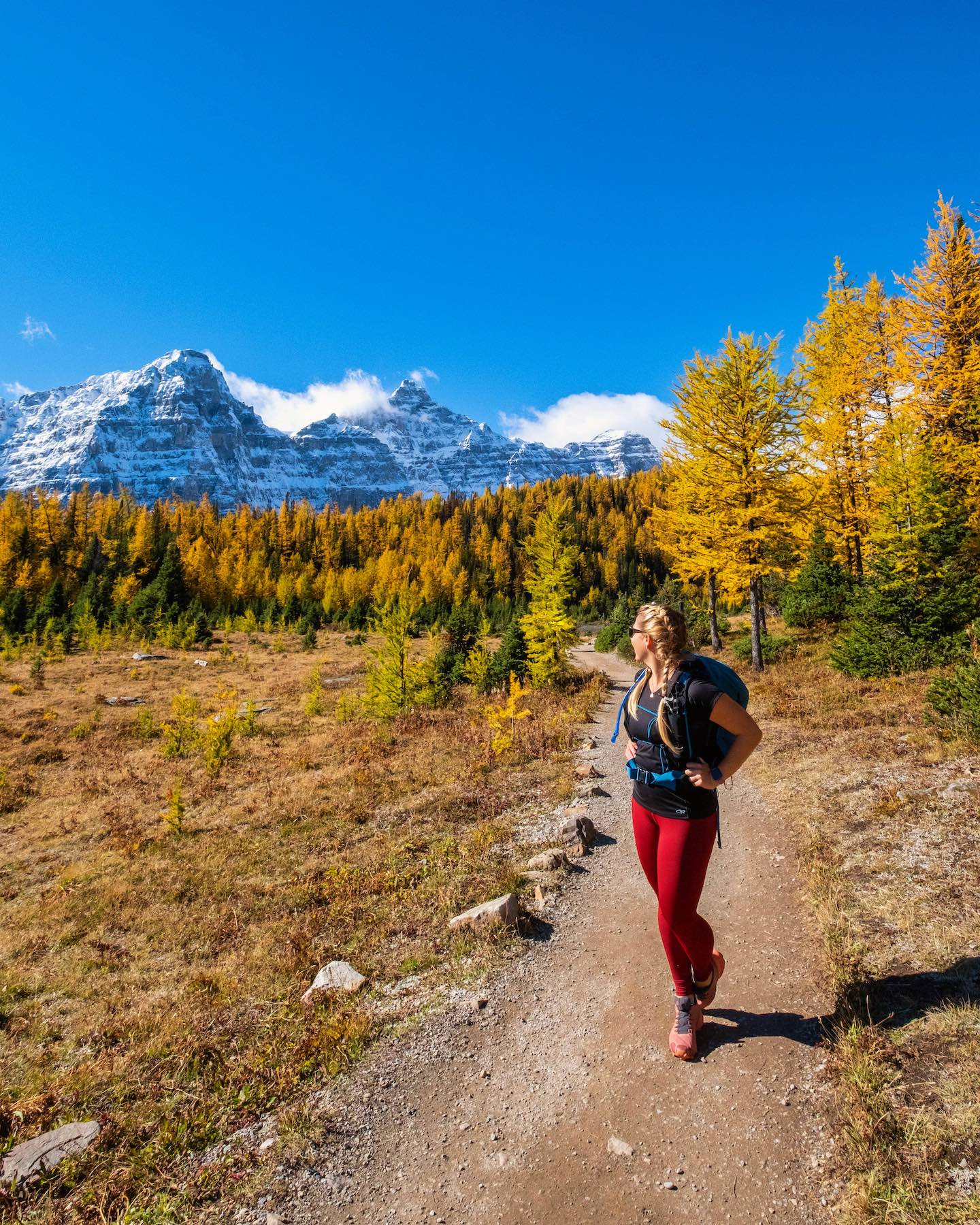 There are some very popular hikes around Lake Moraine should you want to get more activity in! I've ranked them all here in terms of difficulty. You can also find all the best Lake Moraine hikes summed up here as well.
---
Moraine Lake Shore Trail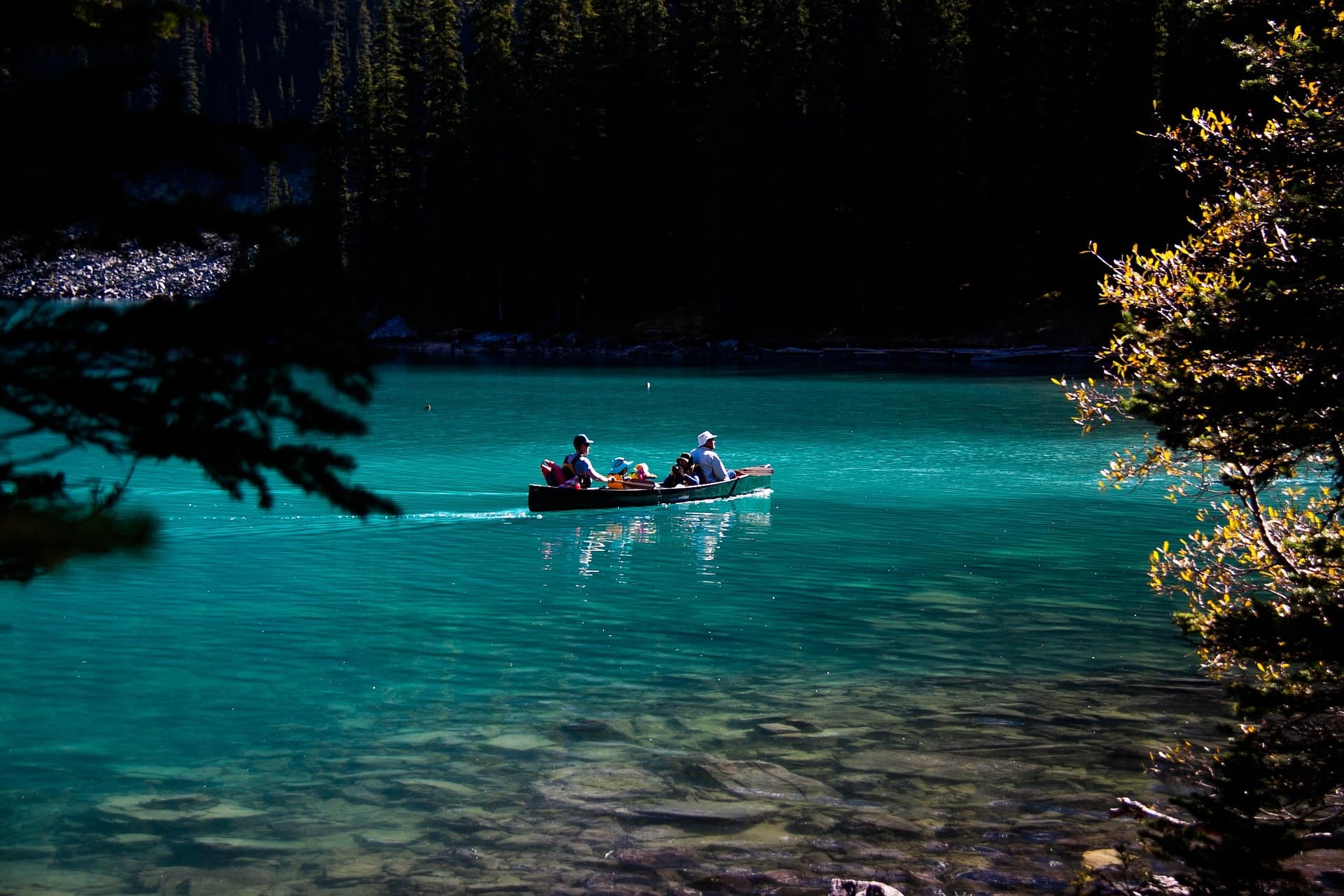 From the Canoe docks, this is a flat trail that works its way along the lake's shoreline and back. It's a beautiful trail that moves in and out of the forest with great lake views and mountains.
You'll be shocked at how few visitors to Moraine Lake go just a little further to hike along one of the most accessible trails in the area. At the end of the hike is a boardwalk near the waters flowing down from Wenkchemna pass.
Trailhead: Begins at the canoe docks.
Distance: 2.9 km
Elevation: 162 meters
Time: 45 to 60 minutes (return)
---
Consolation Lakes Trail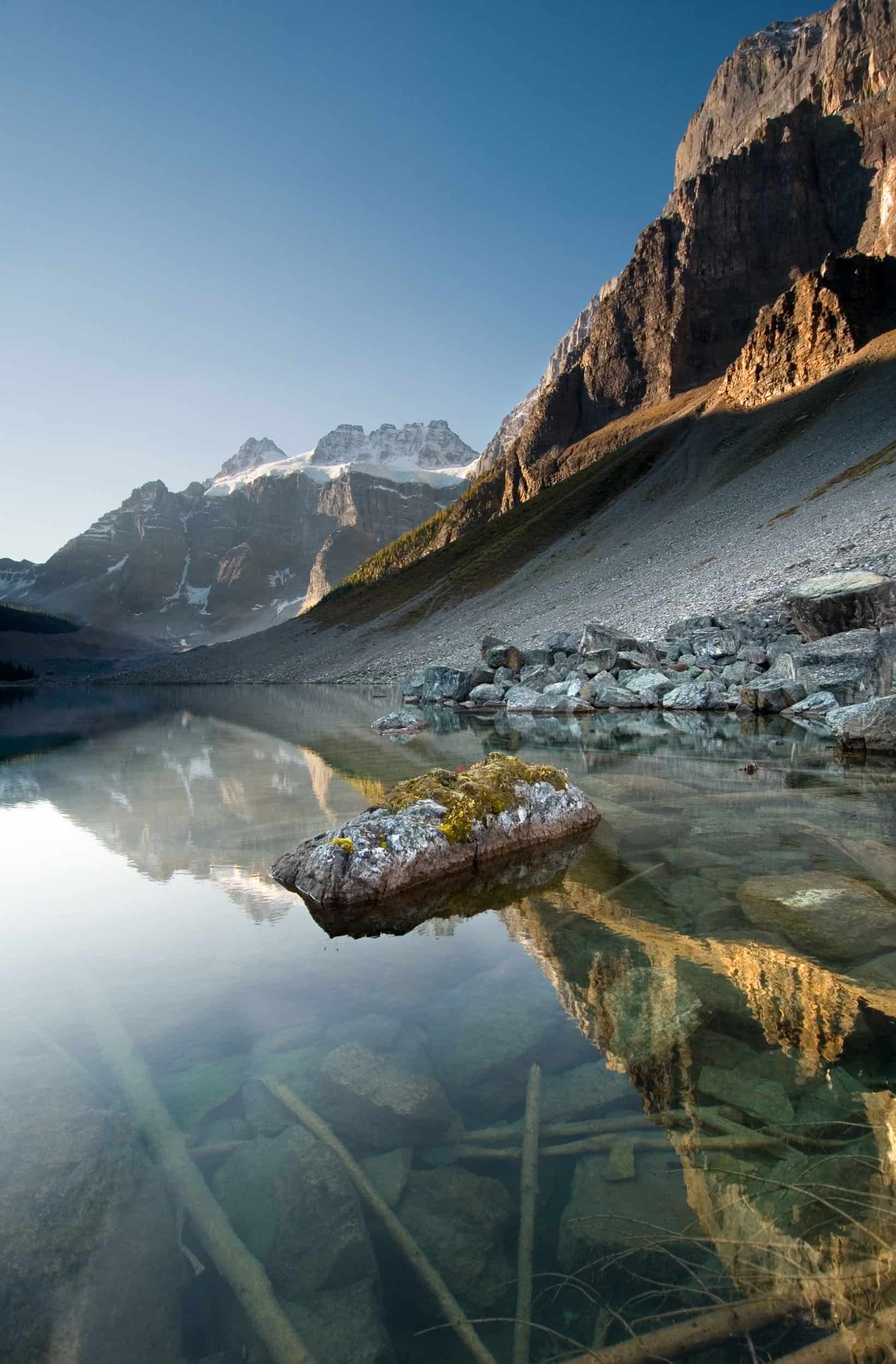 This is a family favorite as it can be paired with the Moraine Lake Rockpile, and it's pretty easy with a bit of elevation gain. It's an excellent step up from the Lakeshore Trail as the terrain is more difficult with more significant elevation gain and a short section that crosses over a boulder field.
Along the hike, you get views of the scree slopes from the Tower of Babbel. The hike passes through the old-growth forest before arriving at an alpine field and wetlands with the consolation lakes at their end. You get tremendous views of the backside of the Ten Peaks, Mount Babbel, and Mount Fay, topped by glaciers from the lakes.
Trailhead: Begins from the Rockpile Trail
Distance: 5.8 km
Elevation: 255 meters
Time: 1.5 to 2 hours (return)
---
Eiffel Lake Trail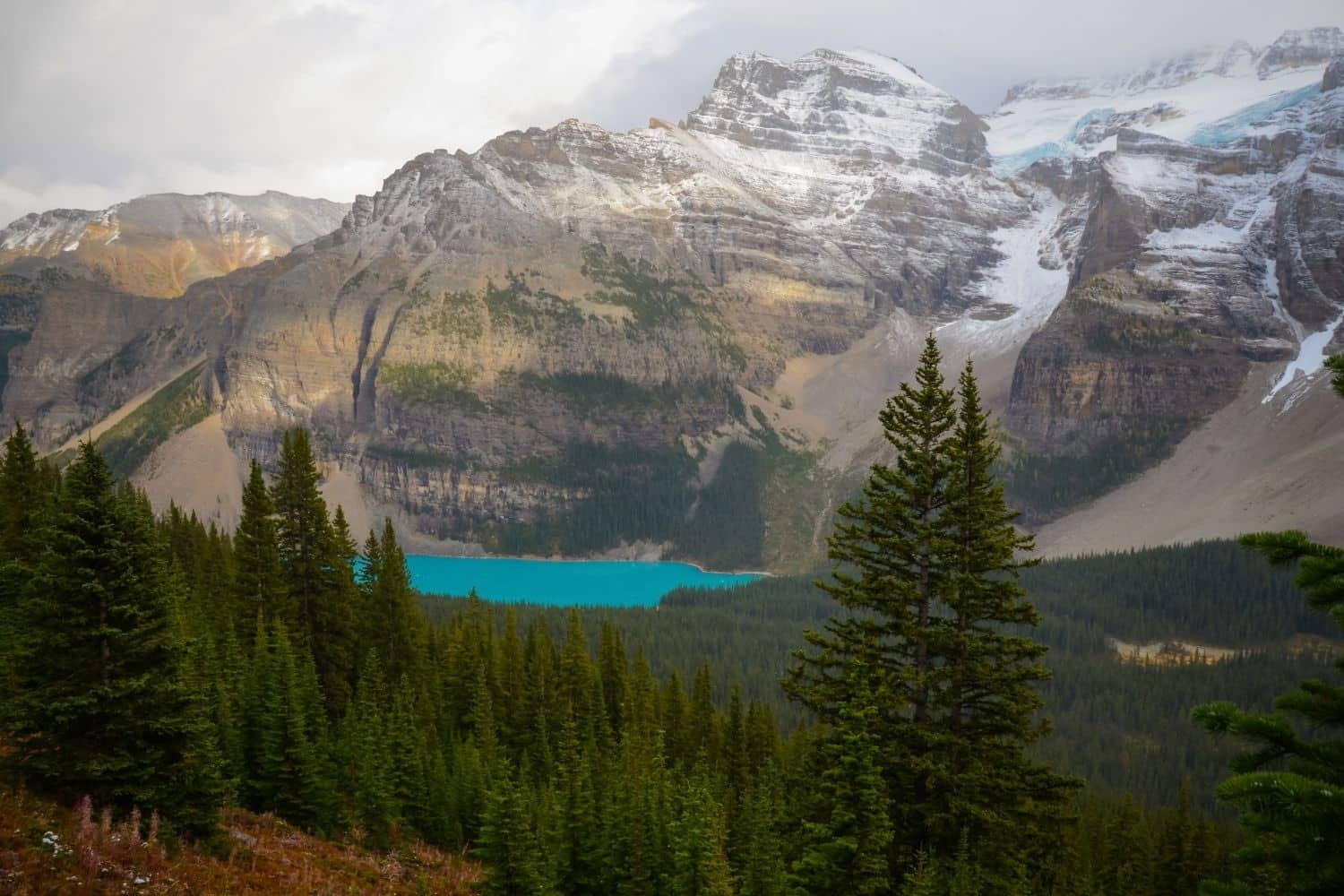 Witness amazing views of the Valley of Ten Peaks as you climb to two mesmerizing glacial lakes on the Continental Divide. The trail from Moraine Lake is pretty easy to follow up to the fork for Eiffel Lake or Sentinel Pass.
The route up to the fork is pretty demanding as it climbs 350m at a relatively high grade for about 40 minutes. From the fork, you take the less-traveled path to the Eiffel Lakes. Past the lakes lies Wenkchemna Pass Trail, which passes through the mountains into Yoho National Park. The top of the pass provides stunning views of the Ten Peaks.
Trailhead: Begins at canoe docks
Distance: 11.7
Elevation: 570 meters
Time: 3 to 4 hours
---
Sentinel Pass via Larch Valley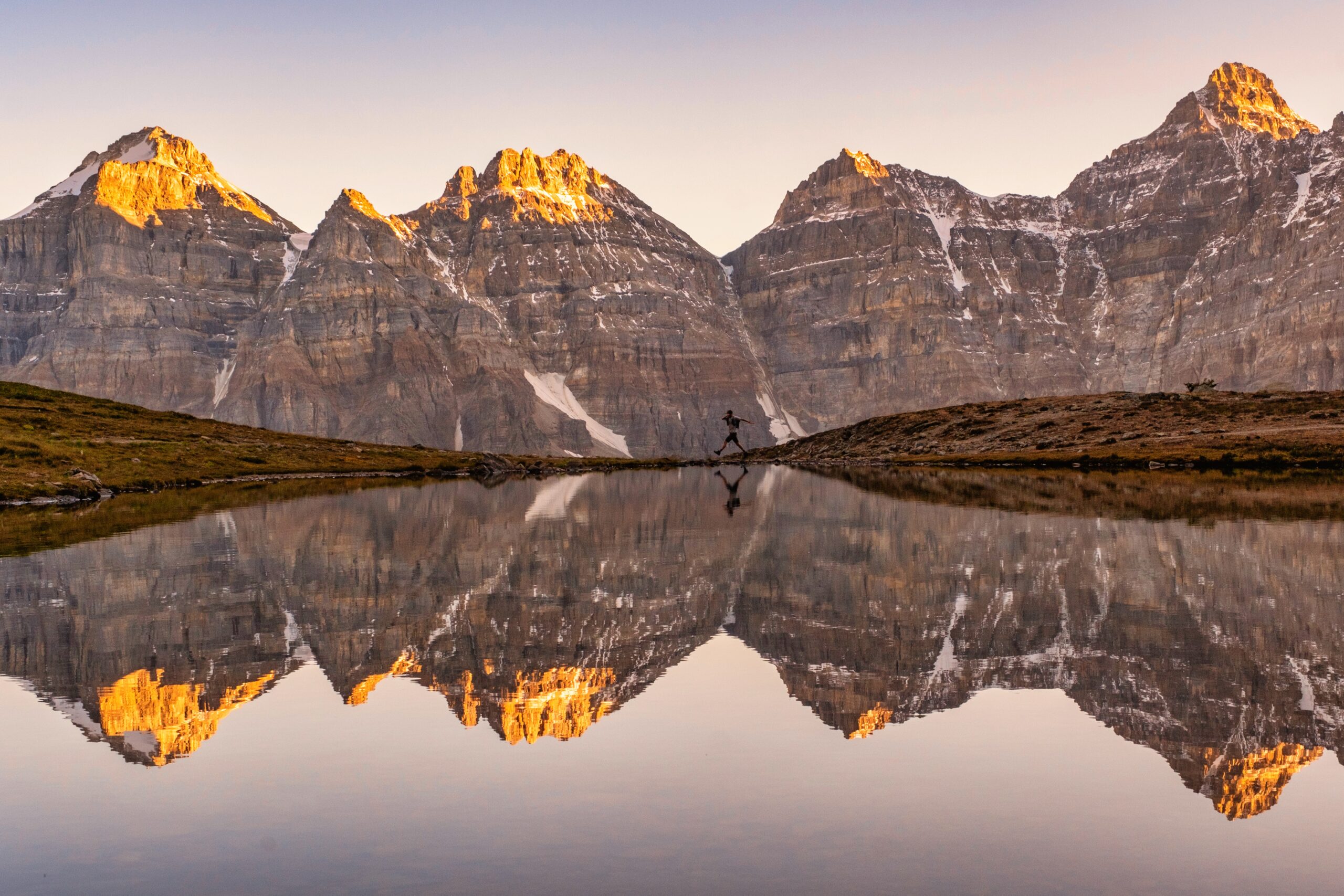 Sentinel Pass is the quintessential Canadian Rockies hike. It's relatively challenging, hugely popular, and offers a fantastic view of the Ten Peaks. The hike follows a similar route as the Eiffel Lakes hike but departs at the fork and up into the Larch Valley.
The pass is the most well-known and attracts hundreds of photographers and hikers during the larch season in late September. During this period, the valley trees turn to a bright golden color, and the mountains are topped with the first signs of the new season's snow. It's a soul-stirring scene that can easily be considered one of the best day hikes in the world.
Trailhead: Begins at canoe docks
Distance: 10.9
Elevation: 792 meters
Time: 2.5 to 4 hours
---
Scrambles Around Lake Moraine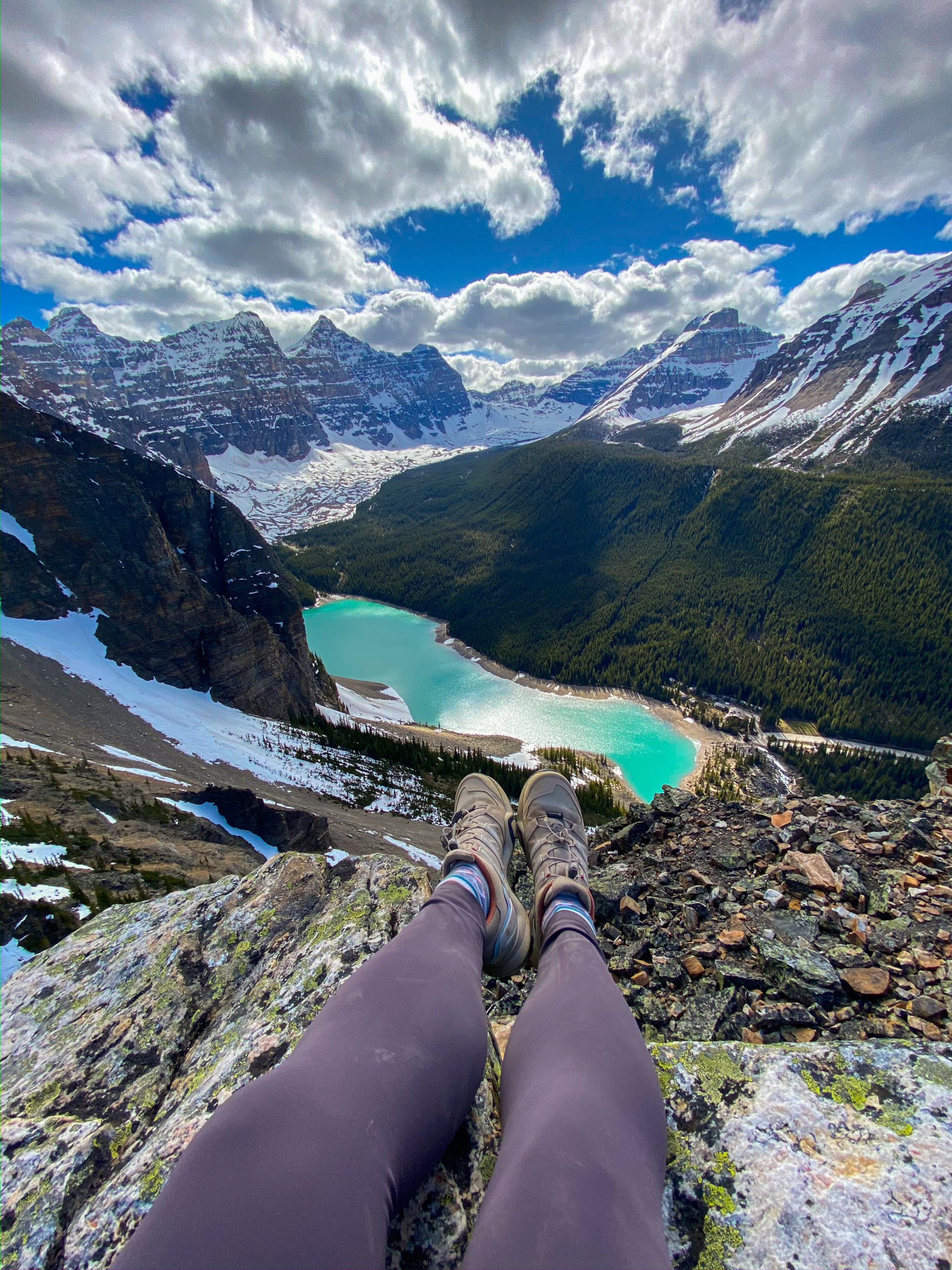 These scrambles are for experienced hikers and people who have spent their fair share of time in the outdoors. These hikes are easy to moderate scrambles but come with mountain hazards that can result in death.
Every year tourists are evacuated by Search and Rescue on one of these hikes/routes. If you plan to tackle any of these, please plan accordingly and be prepared for the elements — also, wear a helmet.
---
Moraine Lake Lodge Accommodation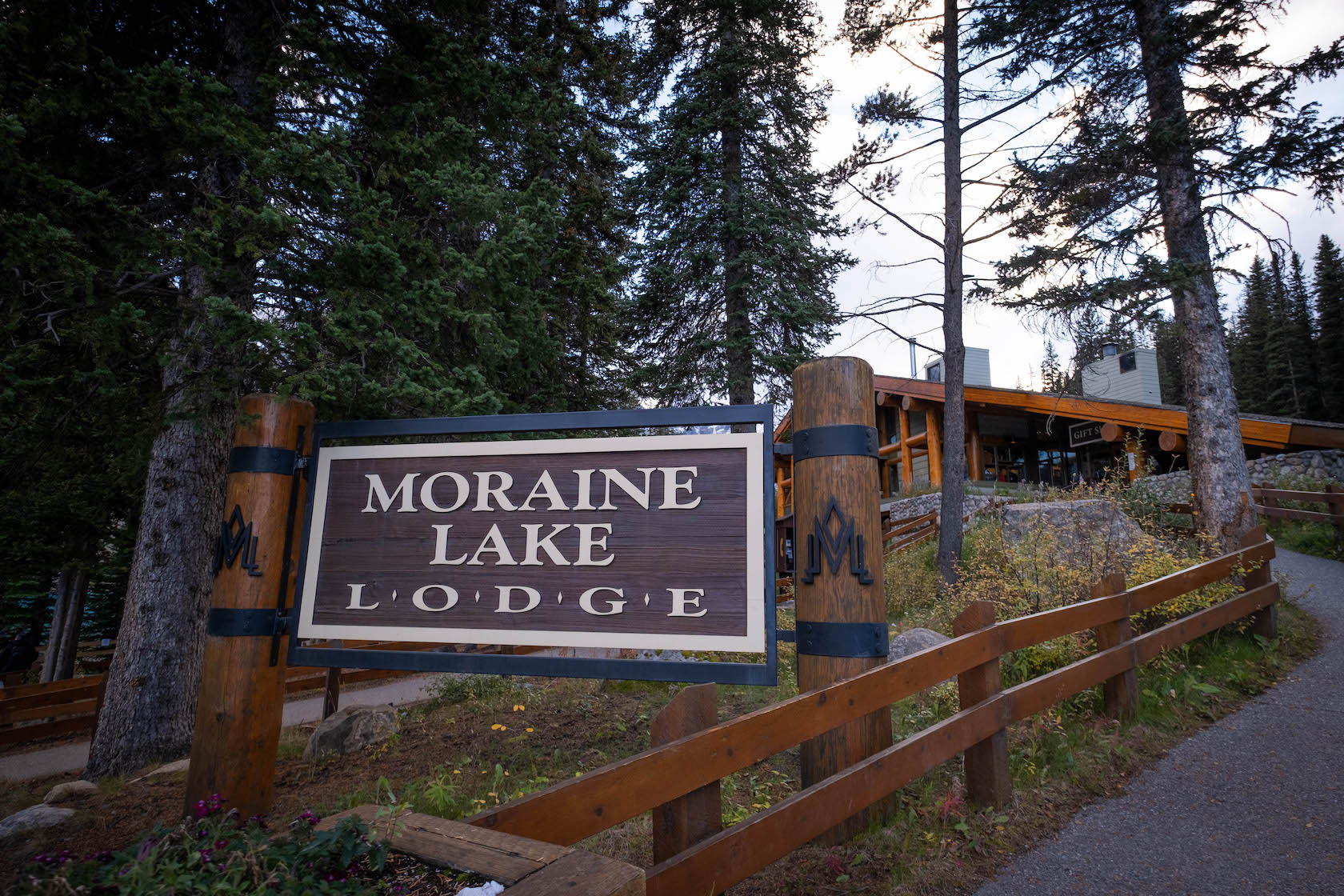 There is only one place to stay at Moraine Lake, which is the aptly named Moraine Lake Lodge. It has been closed for two years and is now newly renovated – reservations are open! Staying at the lake allows you to take advantage of it at all times of the day, and they have a private parking lot, so you're guaranteed a spot to park.
The Moraine Lake Lodge is open from early June to early October. It does cost upwards of $1000 per night. You can find a cafe, restaurant, and gift shop at the lodge. Note there is no camping at Moraine Lake.
---
Frequently Asked Moraine Lake Questions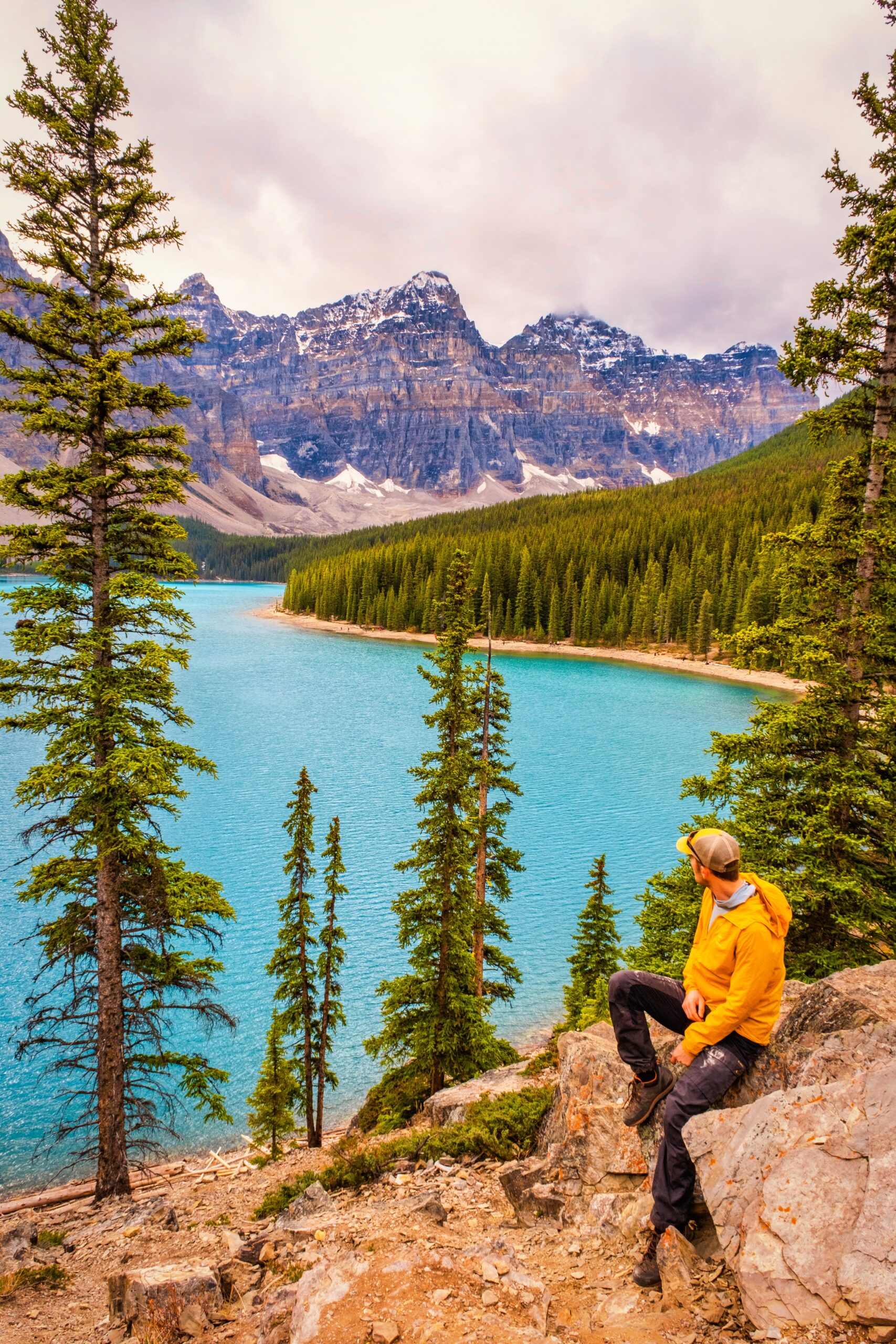 Is Moraine Lake open?
The road to Moraine Lake is currently open for the season. The road to Moraine Lake closes for the winter yearly due to avalanche risk. On average, the road to Moraine Lake is open every year from Late May/Early June to Mid October — weather-dependent.
Where is Moraine Lake?
Moraine Lake is located in Banff National Park, 14 km south of Lake Louise in Alberta. It is located in the Valley of the Ten Peaks, with an elevation of 1,884 meters or 6,181 feet.
How Far is Moraine Lake from Lake Louise?
Moraine Lake is on Moraine Lake Road and 14 km from the Lake Louise lakeshore. The drive from Lake Louise to Moraine Lake takes around 20 minutes.
Can you Fish in Moraine Lake?
You can fish in many bodies of water in Banff National Park. However, there are better places for fishing, and given the crowds, we'd recommend anglers head elsewhere, like the Bow River, for a quiet experience.
Can You Drive to Moraine Lake?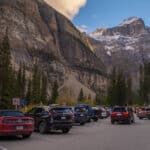 No, in 2023, Moraine Lake Parking will be officially closed to personal vehicles. This new policy will help alleviate some safety, preservation, and congestion concerns around the Moraine Lake site.
Visitors can now visit the lake through the public shuttle bus system known as Park & Ride. It is also possible to access the lake via bike, public transport from Banff, or a private tour company. Disabled visitors can still access the Moraine Lake parking lot.
When Does The Road To Moraine Lake Open And Close?
Since the lake lies at a high elevation and is accessed by a tiny road, it is prone to high avalanche risk. For safety, the road is closed to all vehicles during winter. So if you're wondering if the road to Moraine Lake is open, consider the month.
Moraine Lake Road usually opens around late May and closes the Tuesday after the Canadian Thanksgiving Holiday (the second Monday in October). Yes, Canada has its own Thanksgiving.
There are no set dates regarding the opening and closing of the road as it's entirely subject to the weather/snow conditions. When Parks Canada feels the route is safe, they will plow the road and open it to the public. For reference, last year, this was after the first significant snowfall on October 13th.
Is it Easy to Get Parking at Moraine Lake?
You can no longer park at the lakeshore at Moraine Lake. Visitors must take advantage of the Park & Ride system with Parks Canada or look into the other methods previously listed. The parking lot for the shuttle system is located at the Lake Louise Ski Resort.
It depends upon conditions, but the summer season at Moraine Lake runs from June to Mid-October. Parks Canada shuttle reservations ensure visitors can reach Moraine Lake and Lake Louise, eliminating the risk of not being able to park a personal vehicle upon arrival.
There is an exception to this rule for disabled visitors. Those possessing a disabled hang tag may proceed to the road to Moraine Lake, and staff will permit access to Moraine Lake Road.
Can You Bike to Moraine Lake?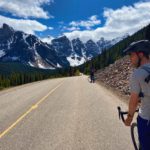 Yes, you can bike to Moraine Lake. However, we would not advise doing so unless you are a comfortable road biker due to the traffic on the narrow road.
There is an occasional time in late May when the road is free of snow but closed to vehicles. During this time, it can be a great way to visit the lake if the avalanche conditions are safe. It's best to check with Parks Canada in advance.
Can You Swim in Moraine Lake?
You can swim in Moraine Lake, but you probably won't want to as the water temperature ranges between 3-4°C. If you do decide to take a plunge, make sure to have a way to get dry and stay warm afterward.
---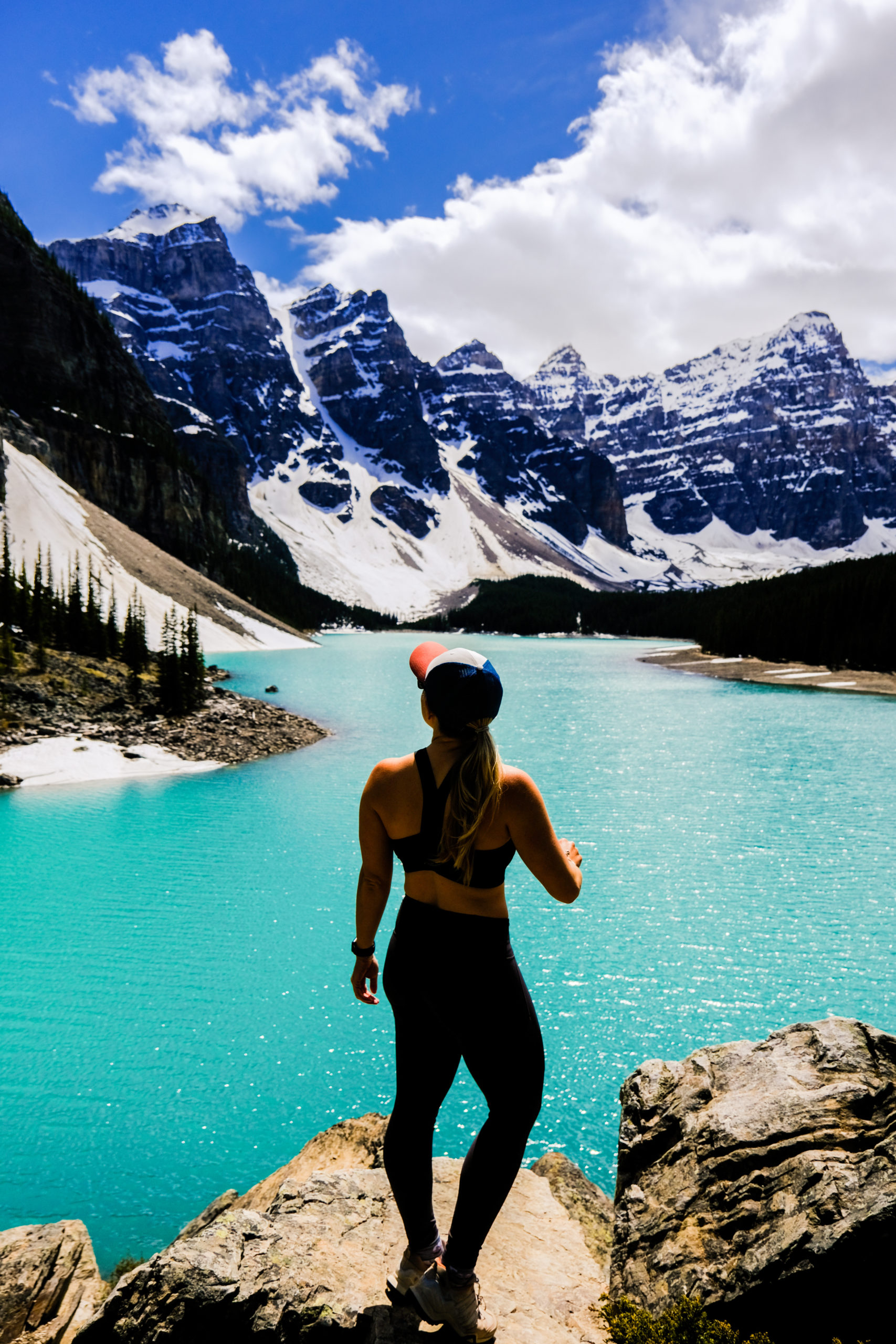 ---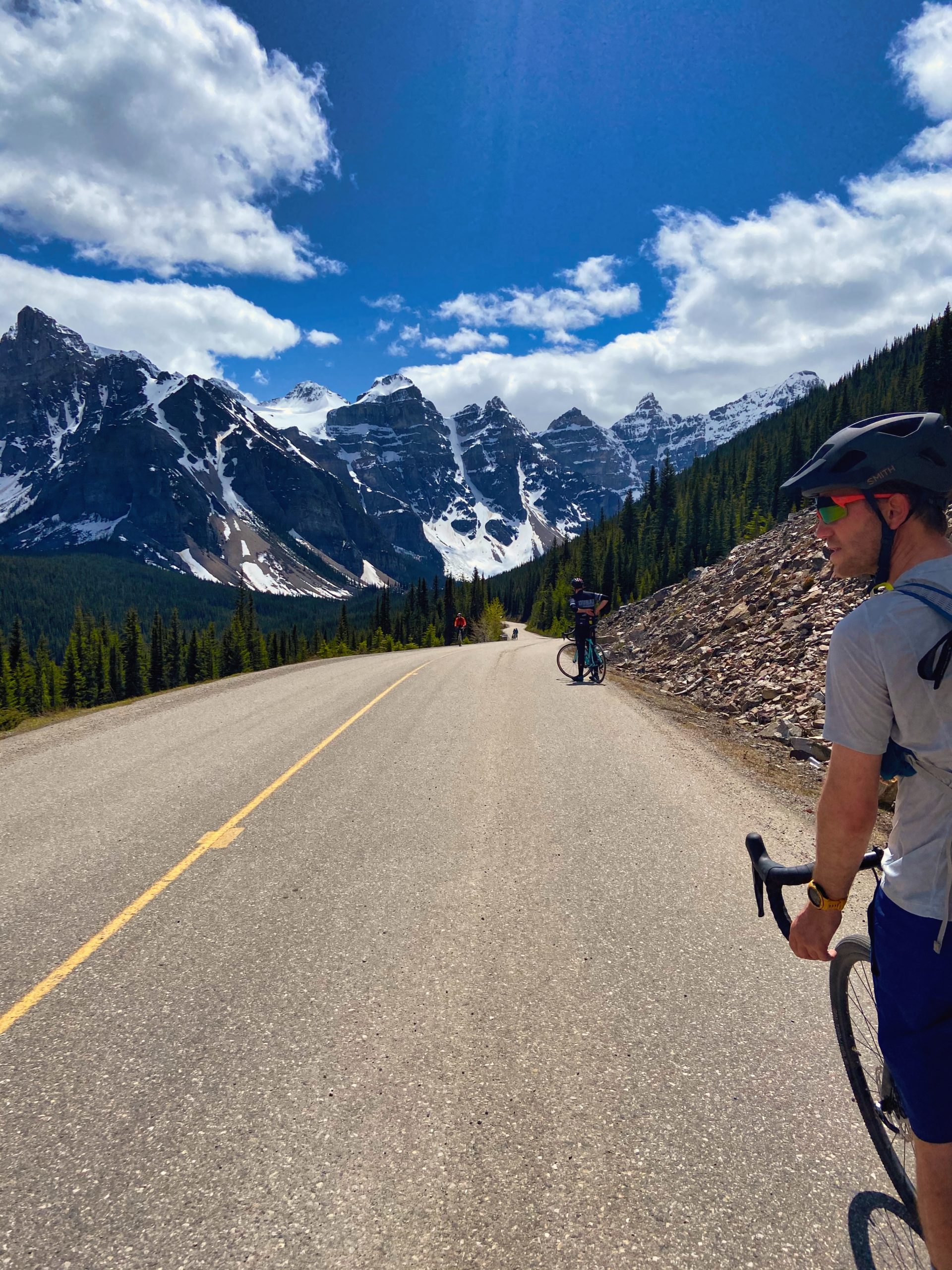 ---
Can You Walk to Moraine Lake?
You can walk to Moraine Lake – and I've seen people do it (although I never have). Prepare for a 14 km walk one way uphill, following a boring paved road.
I would plan at least 2.5 hours to walk to Moraine Lake from the start of the road. To get back would be a little shorter as you are going downhill, but not much. You may be able to hitch a ride if you get tired.
Can You Visit Moraine Lake and Lake Louise on the Same Day?
Yes, visiting both lakes is easily doable. If you aren't planning any big hikes, you can easily see Moraine Lake in an hour and then head down to Lake Louise and spend another hour there. The Lake Connector Shuttle makes this incredibly simple. Or you can try hiking up to Lake Agnes and the Beehives. You can see a complete list of example Banff itineraries here.
Are There Bears Around Moraine Lake?
If you plan to hike around Banff, you need to go to the local outdoor store (there's a big one in Banff called Atmosphere) and purchase a canister of bear spray. This will set you back around $50, but it is more than worth it in the event of a threatening encounter with a bear.
Before any hike in Banff National Park, pack bear spray, check the park websites for wildlife information (Parks Canada and AB Park), and check again for notices at the trailhead. The valleys around Moraine Lake are well known for their bear sightings.
When on the trail, make noise by banging hiking poles, talking, whistling, clapping, or singing. This is particularly important around blind bends and corners. It's also a busy trail, so you generally don't need to make too much noise, but always be bear aware. This means staying alert, traveling in a group, minding children and pets, and finally, carrying bear spray and knowing how to use it.
---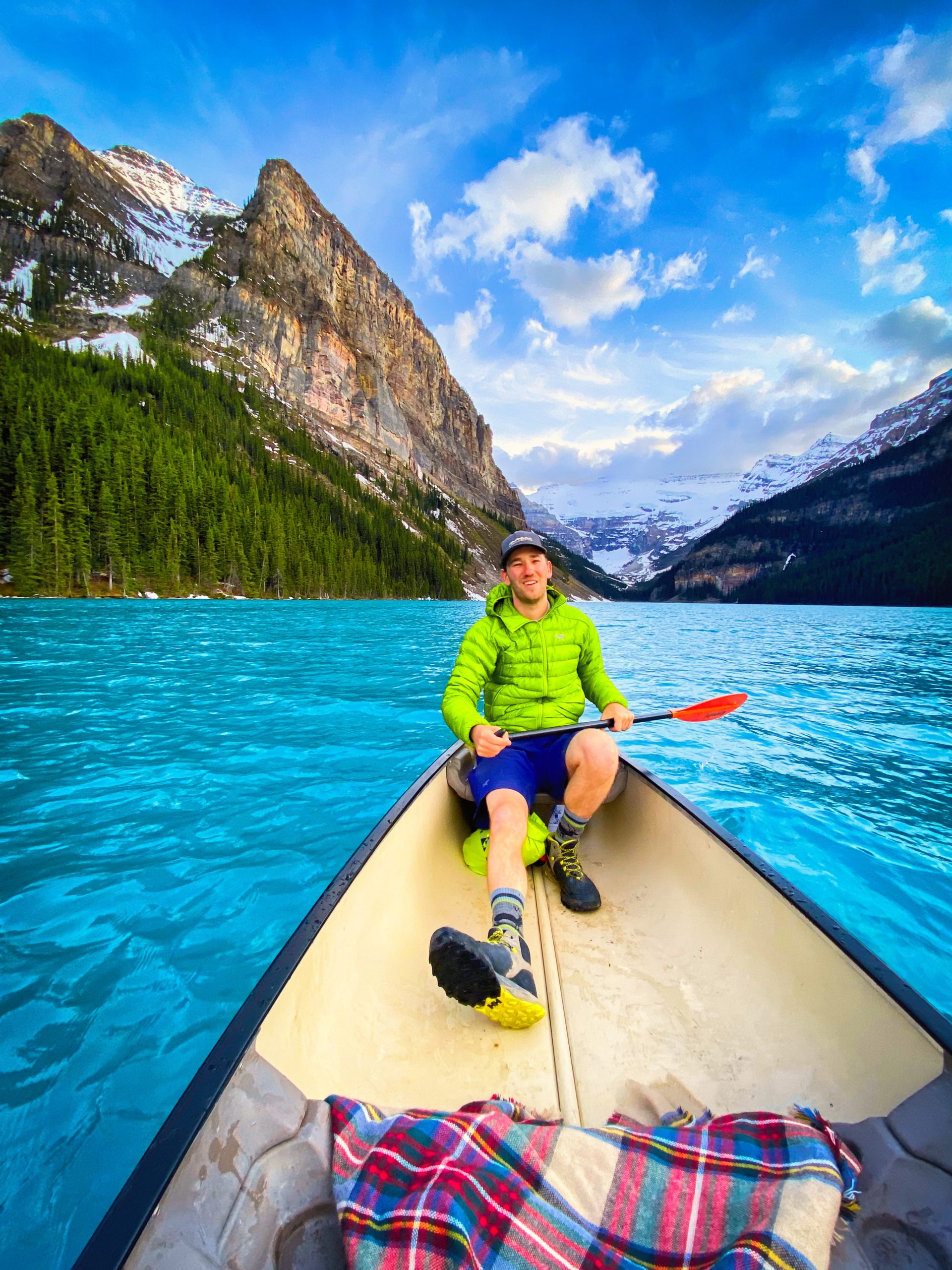 ---
Can You Visit Moraine Lake During the Winter?
Simply put, you can not visit Moraine Lake during the winter months, at least not the average visitor. No vehicles are permitted on the road during this time, and no tour operators are allowed to operate, so no sleigh rides, snowshoes, or dog sled tours will bring you to the lake. This is due to the avalanche risk on the road as it crosses avalanche paths.
There are several cross-country ski trails in the winter, including one that utilizes Moraine Lake Road. However, it stops short of the Lake when it approaches the first avalanche path. You can see the Ten Peaks in the distance at its trail end. Occasionally, experienced skiers make the trek as they are equipped to travel in avalanche terrain. We do not recommend anyone travel in such terrain without proper training and equipment.
How Can I Escape the Crowds at Moraine Lake?
Even in the heat of summer, it's possible to have some alone time at Moraine Lake. Most visitors to Moraine Lake congregate at the rockpile and don't venture past that.
To get away from that, walk the Lake Moraine Lakeshore trail, get out on a canoe, or try one of the hikes suggested. The more complex and difficult the hike, the fewer people you will see.
Your other option is to head to Lake Moraine for sunset when crowds die down in the shoulder season. It's also best to avoid holidays and weekends if possible.
---
When are the Holidays at Moraine Lake?
Moraine Lake is always busy in the summer, but you should note the following holidays as it's even busier.
Victoria Day Long Weekend – Monday before May 25th each year.
Canada Day – July 1st
Heritage Day Weekend – First Monday of August.
Labour Day Weekend – First Monday of September.
---
How Do You Get To Moraine Lake?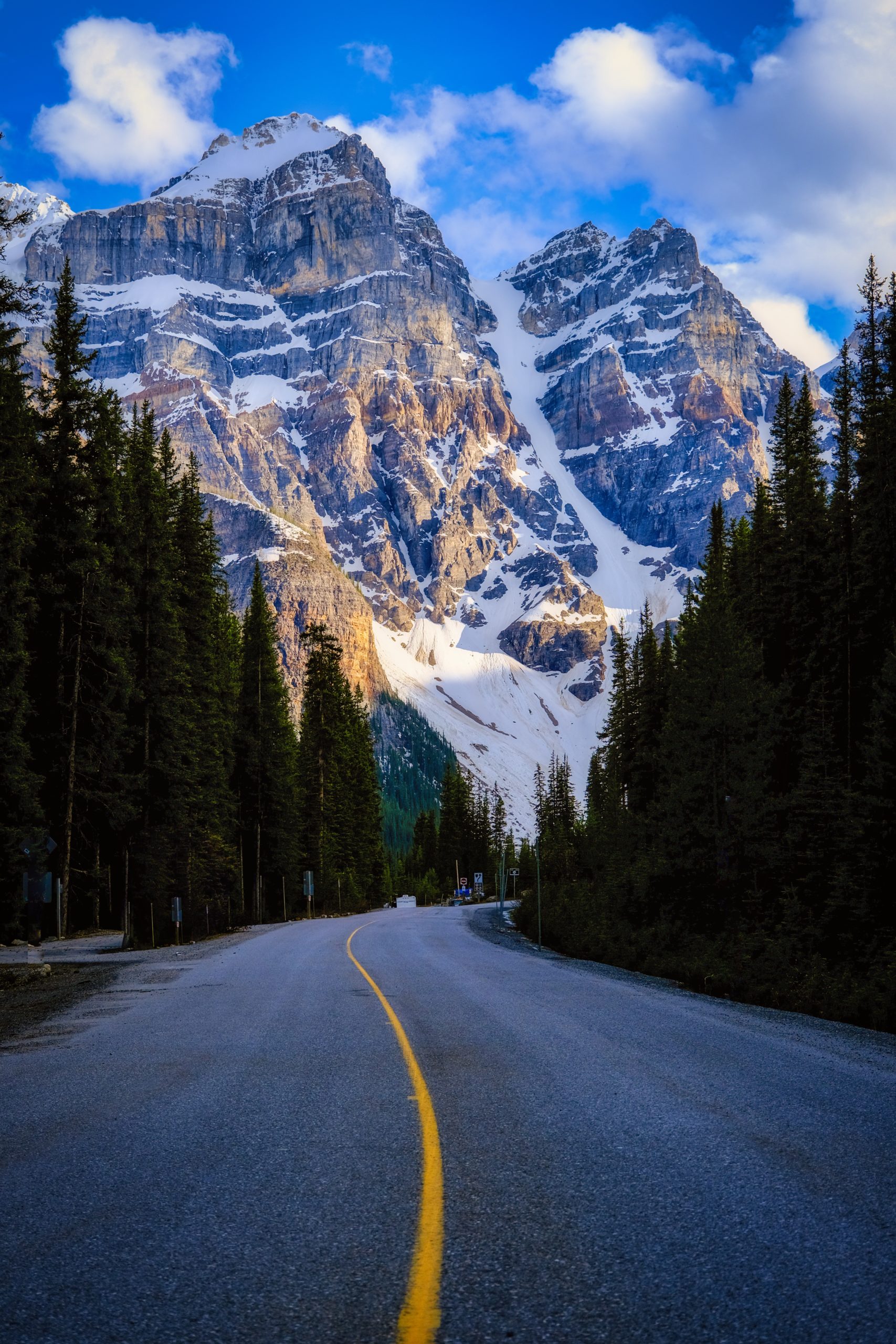 In 2023, Moraine Lake Parking will be officially closed to personal vehicles. This new policy will help alleviate some safety, preservation, and congestion concerns around the Moraine Lake site.
Visitors can now visit the lake through the public shuttle bus system known as Park & Ride. It is also possible to access the lake via bike, public transport from Banff, or a private tour company. Disabled visitors can still access the Moraine Lake parking lot.
Parking at Moraine Lake presents its own problems, so we created this parking guide to help you navigate them.
---
Fly into Calgary or Edmonton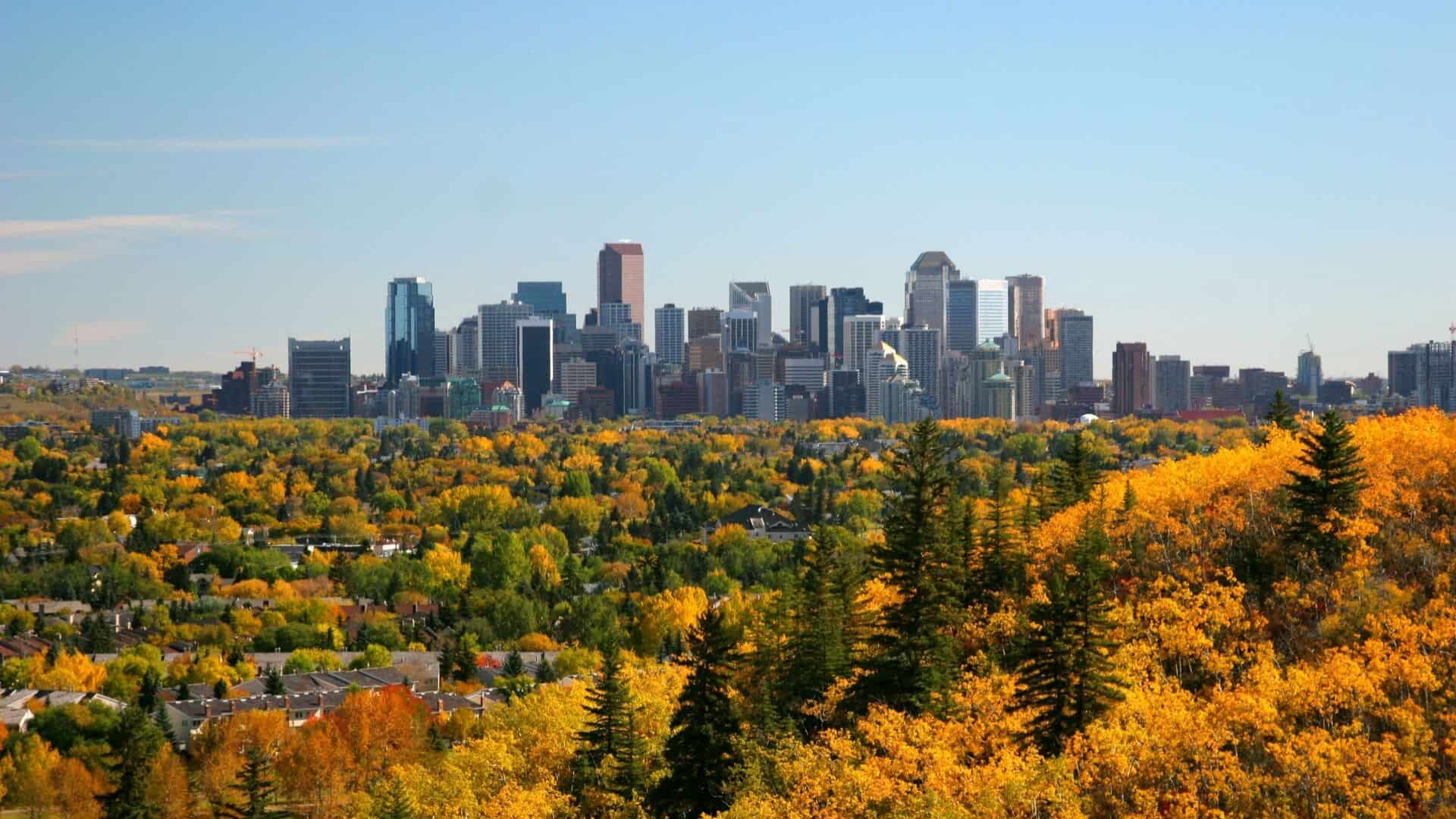 Calgary (YYC) is the closest international airport, located around 200 km from Lake Louise, a two-hour car ride. It's one of our favorite airports as it's modern, not too busy, and has several flight connections within Canada.
It's also well connected to several major hubs in the United States and directly to Europe. If you're coming from Europe, we like to connect through London Gatwick Airport as Westjet offers an affordable flight with excellent service.
The alternative is to fly into Edmonton and make a road trip to Jasper and down the Icefields Parkway to Banff. From Banff, you can drive to Calgary and depart from that airport. It's a spectacular drive and is considered one of the best road trips in the world! Of course, you can route from Calgary to Jasper and out of Edmonton.
---
Get a Car Rental for Banff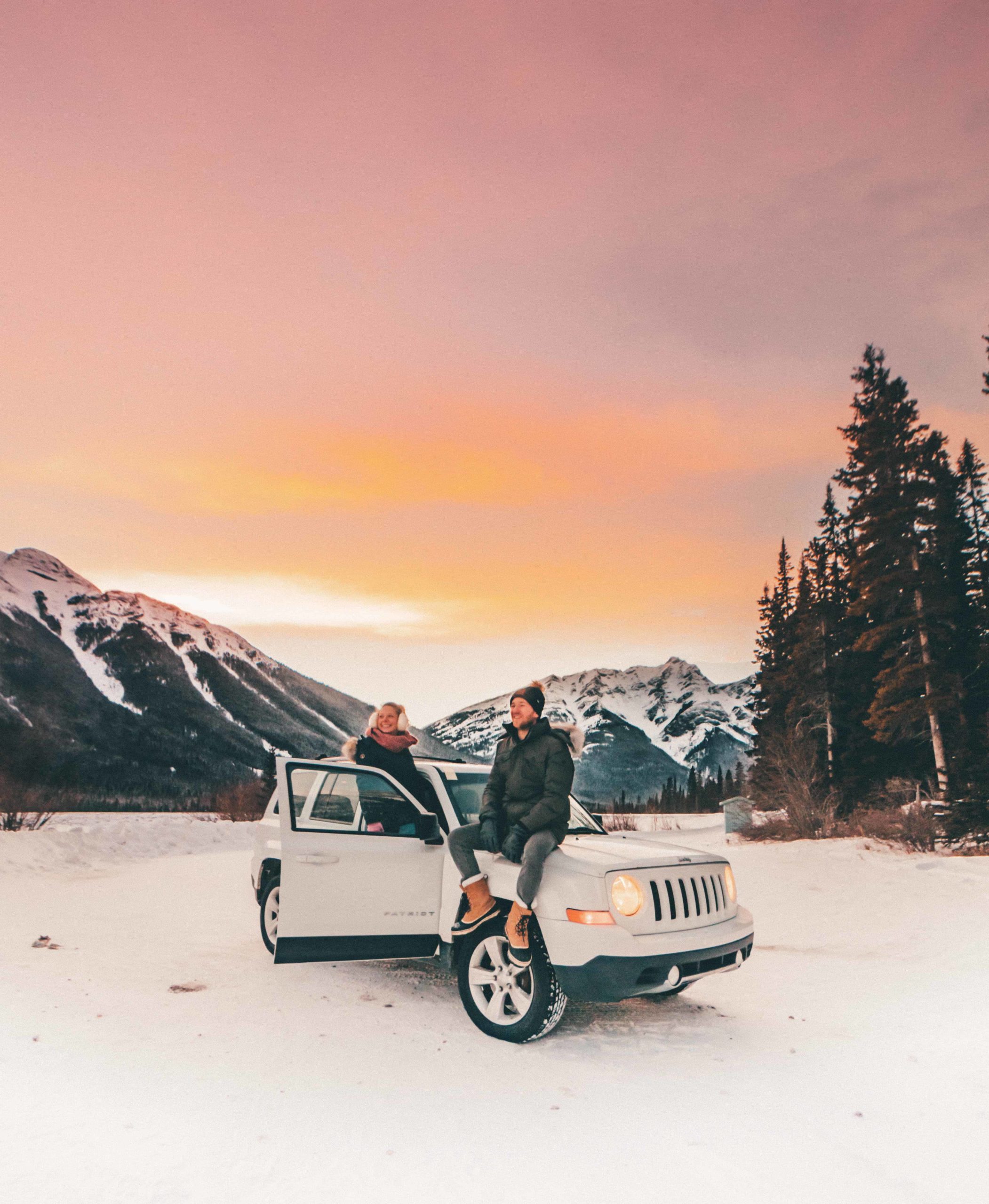 While public transport is significantly improving around the park, it's still tough to explore without your own car. So we recommend you pick up a car rental to best explore Banff National Park and the surrounding area.
---
Public Transportation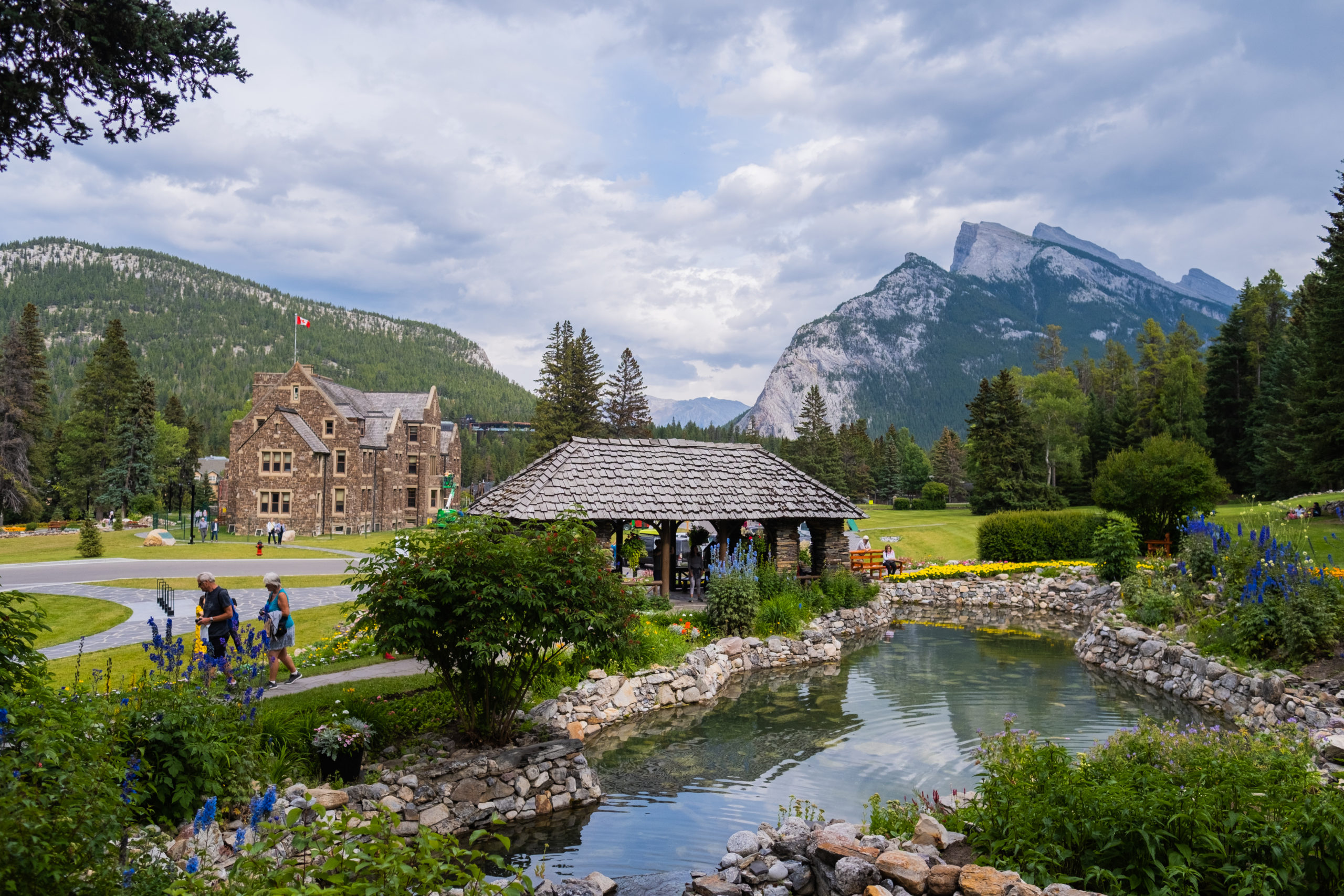 If you do not feel comfortable driving or do not have your license, it is possible to vacation in the Canadian Rockies without driving.
In fact, if you plan to visit the most popular attraction, we even recommend it. Roam Transit offers public bus service around the Bow Valley.
How to Visit Banff Without a Car
---
Banff Airporter
The Banff Airporter offers a shuttle service for visitors to Canmore and Banff. They have multiple daily departures and will deliver you to the Coast Hotel in Canmore or your hotel in Banff.
They drive in modern vans or buses and have prompt, friendly service. Even as locals, we used them to avoid parking our car at the airport and were very happy with the service.
---
Bow Valley Public Transport (Roam)
You'll probably be surprised to learn that despite the fact Banff and Canmore are small towns of 8,000 and 14,000 people, they have a public bus system that runs year-round to many of the most popular attractions around the two towns and connects them.
The Roam Transit runs a direct bus to Lake Louise, Lake Louise Village, and Moraine Lake in the summer months.
---
Private Tour Operators
You also have the option to use one of the countless tour operators in Banff who offer tours that include Moraine Lake. Booking an organized tour like this, an early bird explorer tour, utilize the Banff Hop on Hop Off Bus, or check out the open top tour that ensures you see Moraine Lake.
They also have many activities to test out for whatever suits your fancy. Want to go dog sledding, canoeing, horseback riding, ice walking, climbing, skiing, wildlife photography, hiking, or white water rafting.
---
Gear We Recommend in the Rockies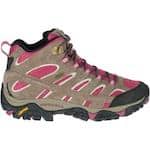 Many hikers will enjoy the security, comfort, and value in the Merrell Moab II. It's a great beginner hiking boot.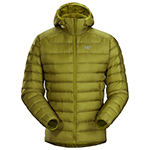 Arc'teryx Cerium is our pick for the best down jacket. It's incredibly light, and we bring it on almost every hike in the Rockies.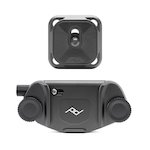 This nifty clip from Peak Design secures a camera to my backpack strap for easy reach. No more digging in the backpack!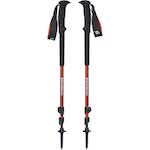 A pair of durable and lightweight hiking poles are a great asset on the hiking trail.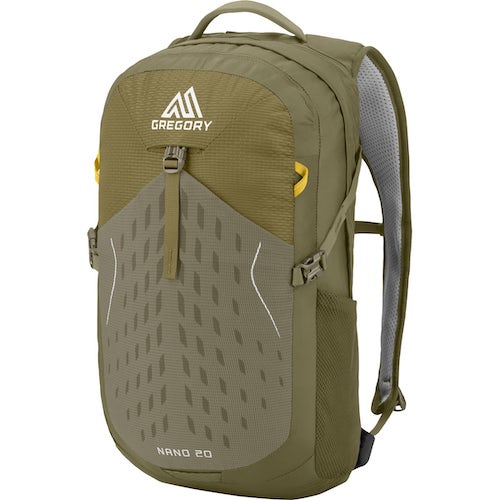 20L feels like the ideal size for quick hikes and scrambles. We love the Nano from Gregory with a hydration reservoir.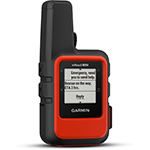 There is not much cell service in the Canadian Rockies. In case of emergencies, we carry an emergency beacon with GPS.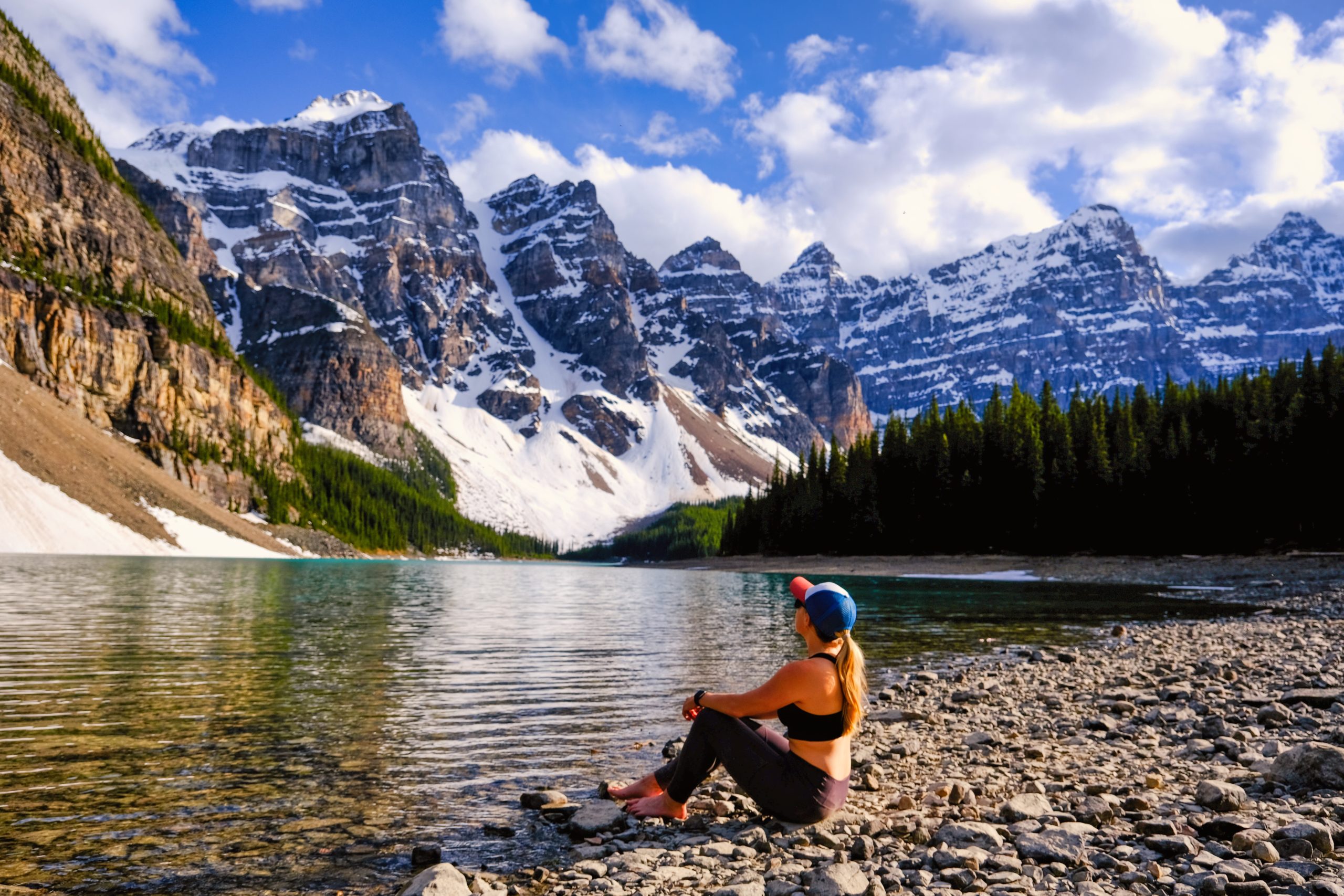 Hopefully, this guide to Moraine Lake will help you plan your trip to Banff. I know that it is A LOT of information and the shuttles are particularly confusing, but it's all worth seeing the most beautiful lake in the world!
---
Where to Stay in Banff
For a small mountain town, Banff has a plethora of accommodation options. Some of our favorites are:
↓ Join the community ↓
The Banff Blog Facebook Group is your headquarters for the Canadian Rockies' travel advice and information. Including hike info and off-season travel information. This is also where you can meet one another when you need adventure buddies. 

Plan Your Trip to the Canadian Rockies