Summer is arguably the best time to visit Lake Louise. It doesn't get much better than a bright blue lake, towering mountains, and an endless amount of things to do.
Lake Louise in the summer is a special time that so many wait the entire year for. Once June hits its full summer mode at Lake Louise. Wondering what to do? Here are the best things to do in Lake Louise in the summer.
---
Lake Louise Summer FAQs
---
When Does a Lake Louise Summer Start?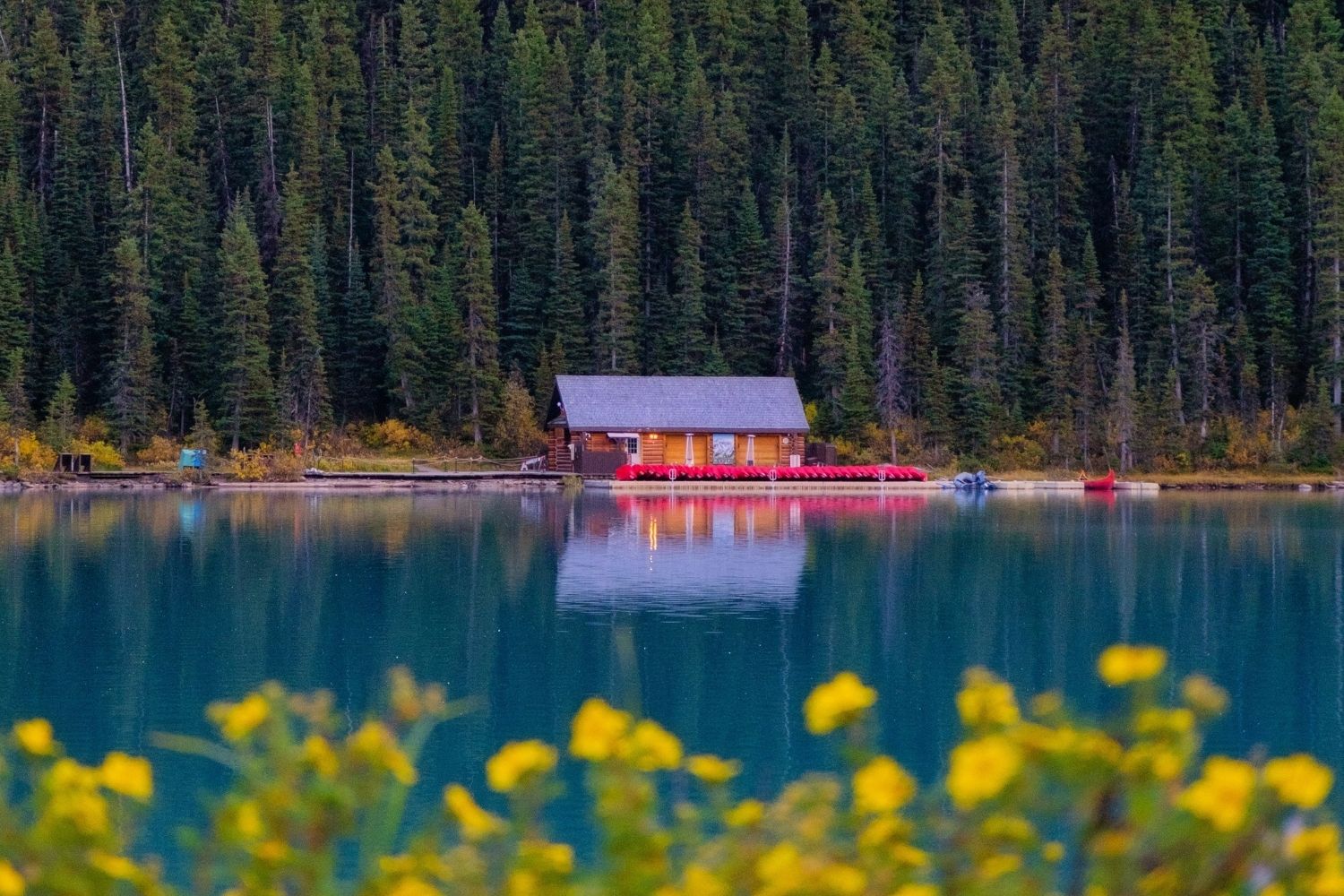 The summer season at Lake Louise typically starts around the beginning of June and ends around the end of September. Though the best summer months are July and August.
---
Is Summer the Best Time at Lake Louise?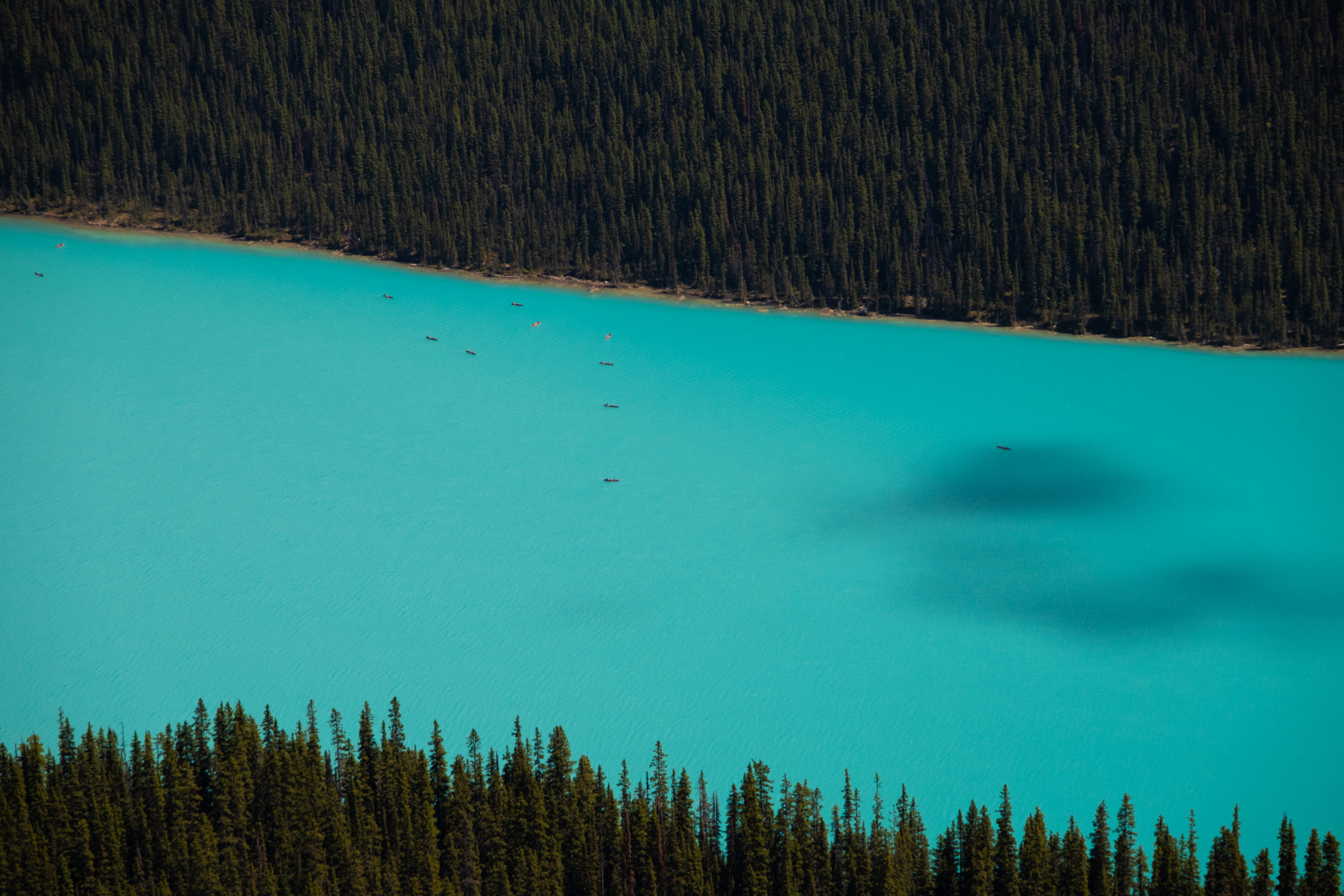 I suppose it depends on who you ask! I love both winter at Lake Louise and summer at Lake Louise. Summer is fantastic for hiking, canoeing, and enjoying the bright blue and brilliant Lake Louise.
While a Lake Louise summer yields a lot more crowds, and parking issues it is for good reason – Lake Louise is one of the most stunning spots in the world.
---
How Warm is Lake Louise in the Summer?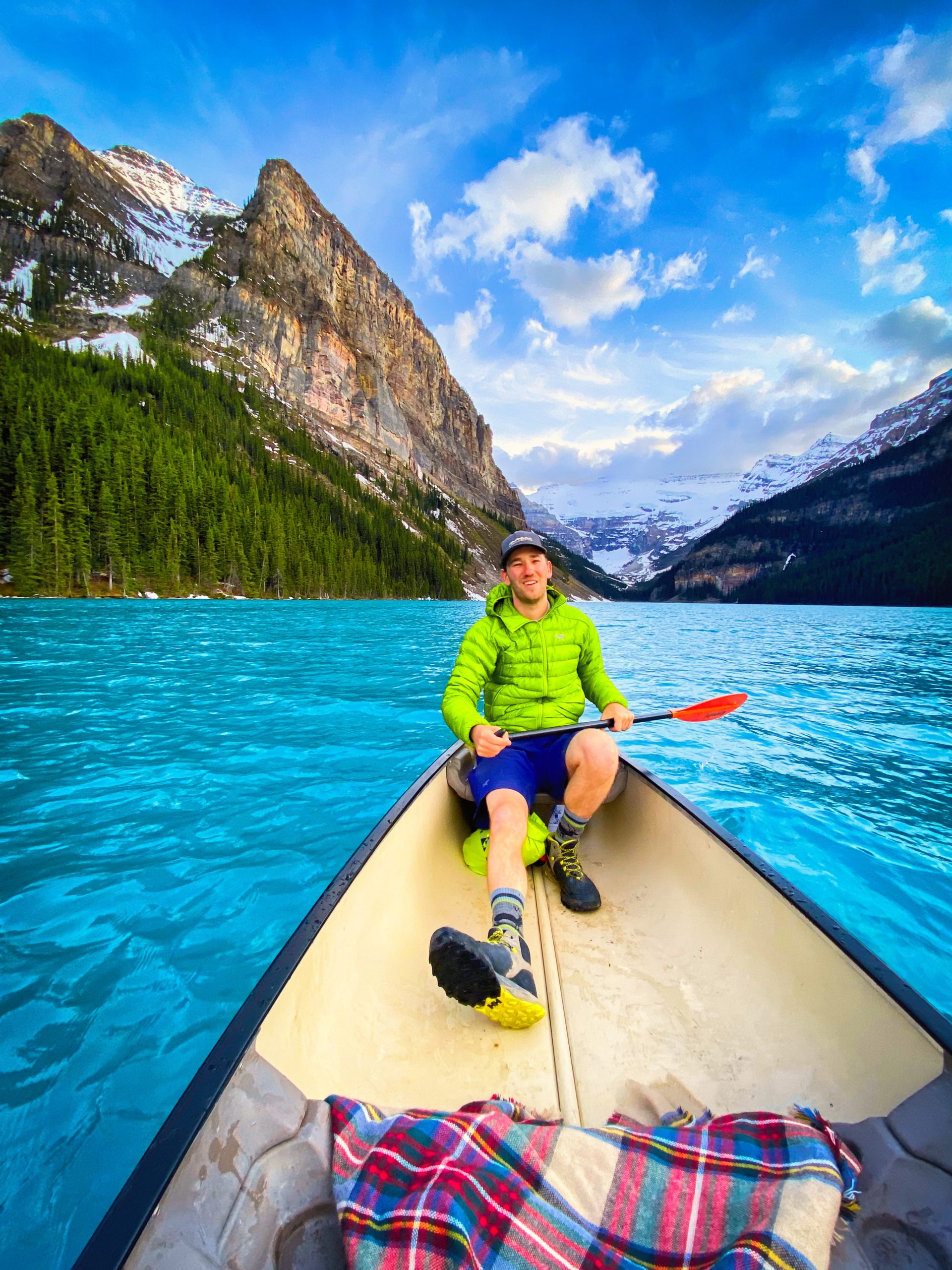 Being over 1400 meters, Lake Louise is always cooler than the Town of Banff. The average temperature at Lake Louise in June is 11.4°C (52.5°F), while July creeps up slightly to 16.1°C (61°F). However the high in July is typically around 22°C – the warmest month of the year!
If these temperatures don't sound that warm to you, it's always best to bring a jacket to Lake Louise in the summer. There's always a down jacket in my backpack in Banff in the summer.
When is the Best Time to Visit Lake Louise?
---
What Time is the Best Time to Visit Lake Louise?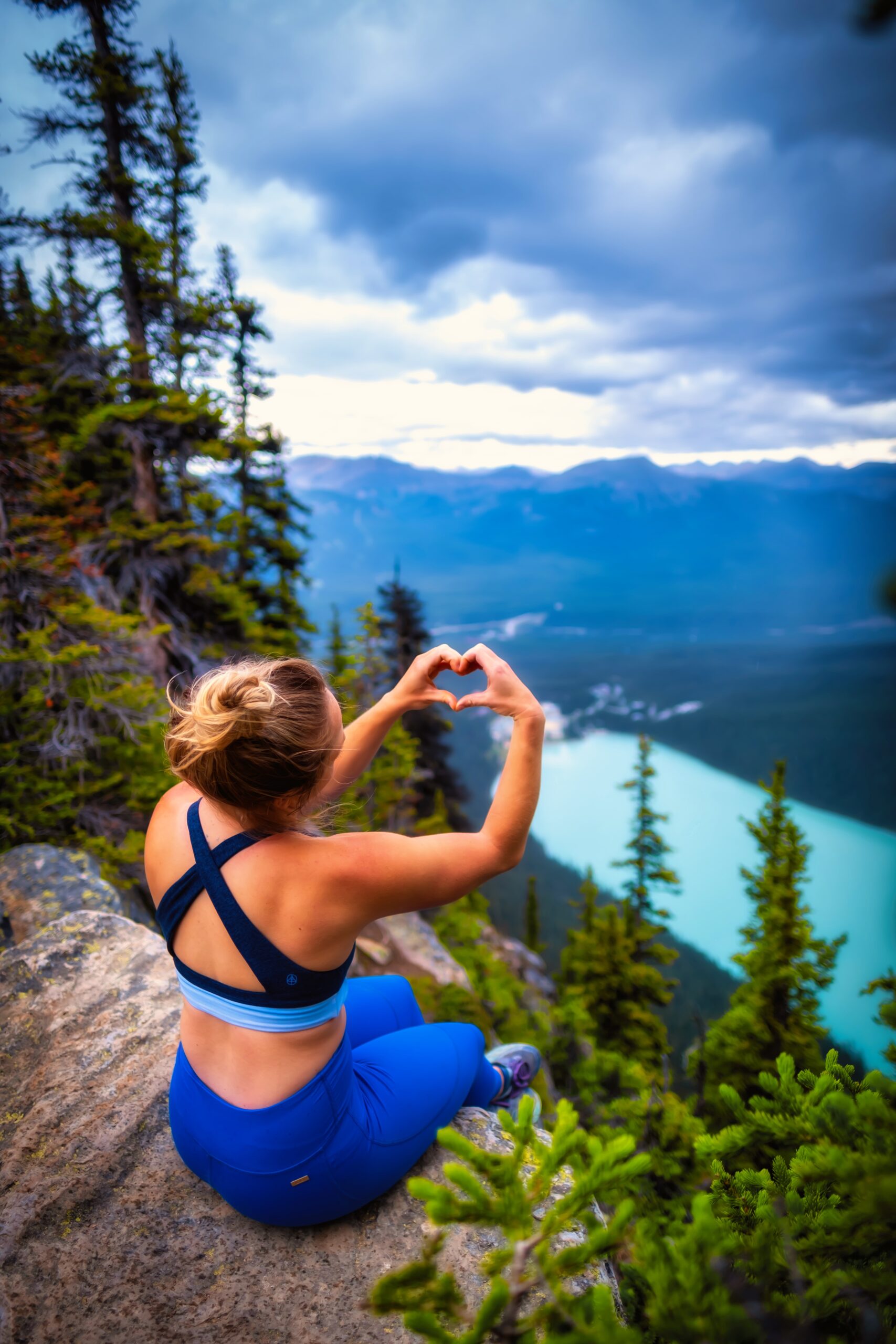 The sun rises as early as 5:30am at Lake Louise in the summer and sets as late as 10pm in June and July. This means there is ample time to visit Lake Louise in the summer.
If you want to get parking at Lake Louise, it's best to arrive early in the morning before 8am. Often, the parking lot fills up early in the morning and stays full until the evening, around 6pm. We particularly love visiting Lake Louise in the summer in the evening time as it is quieter and we can usually get parking. Ensuring that we get to catch the sunset on the lake.
Of course, Lake Louise is always beautiful, and you can visit it at any time of the day. If you are looking to hike around Lake Louise, it's best to start earlier rather than later to make sure you have enough time to complete the hike.
That being said, we start many of our hikes later in the day, around 3pm, when the crowds die down. However, we are fast hikers and know approximately how long a hike should take us based on length and elevation.
---
How to Get to Lake Louise in the Summer?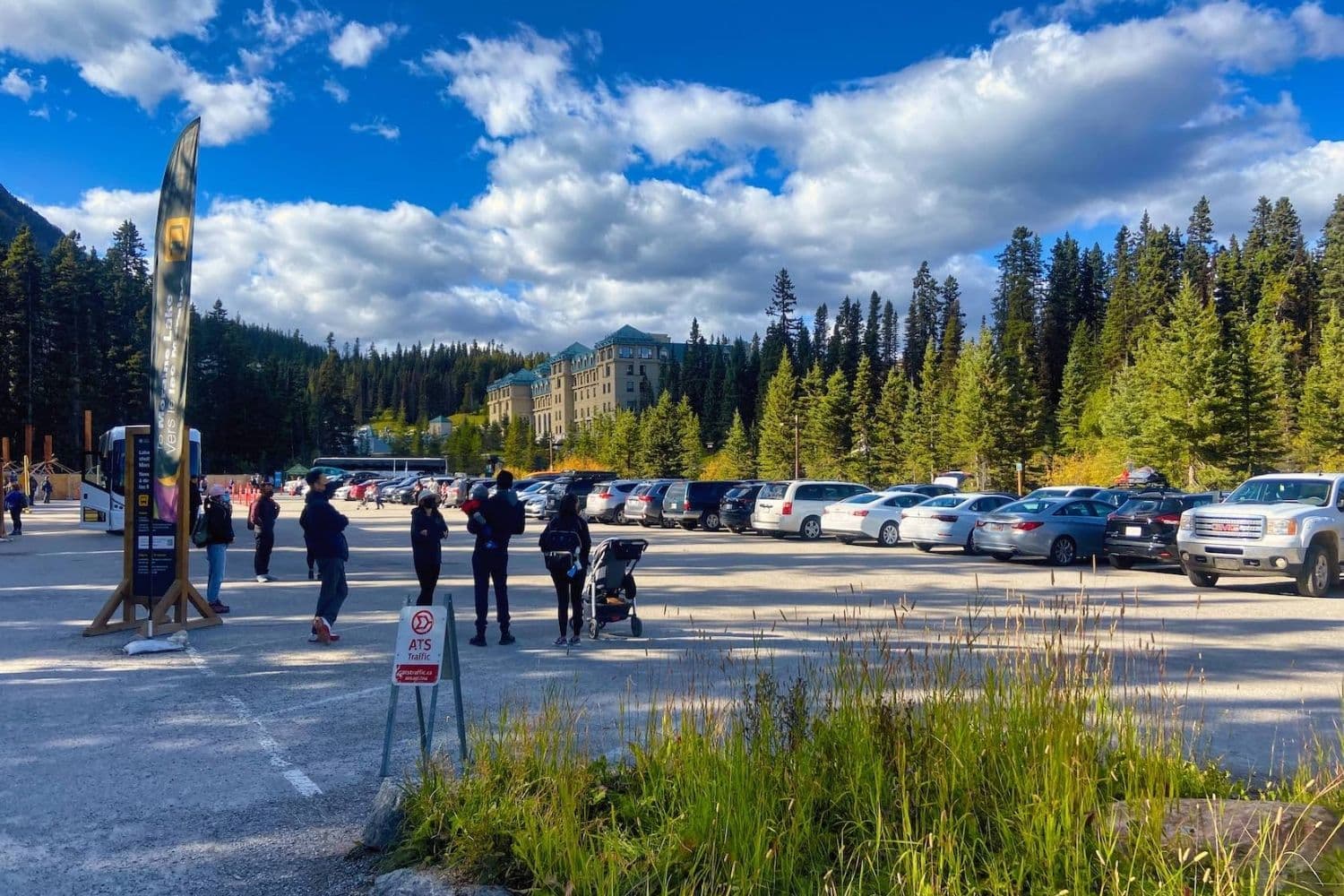 Lake Louise is the most popular place to visit in Banff National Park. There are severe crowding and parking issues at Lake Louise. Besides driving to Lake Louise, you can take the Roam Transit Route 8 or enjoy a private tour.
However the best way to get to Lake Louise is with the Park & Ride shuttle. Parks Canada has implemented the Park and Ride shuttle from Lake Louise Ski Resort to alleviate the parking concerns at Lake Louise, which is our recommended way to get to Lake Louise.
We break down exactly how to get to and park at Lake Louise here. 
---
Things To Do In Lake Louise In The Summer
---
Take in the Stellar Views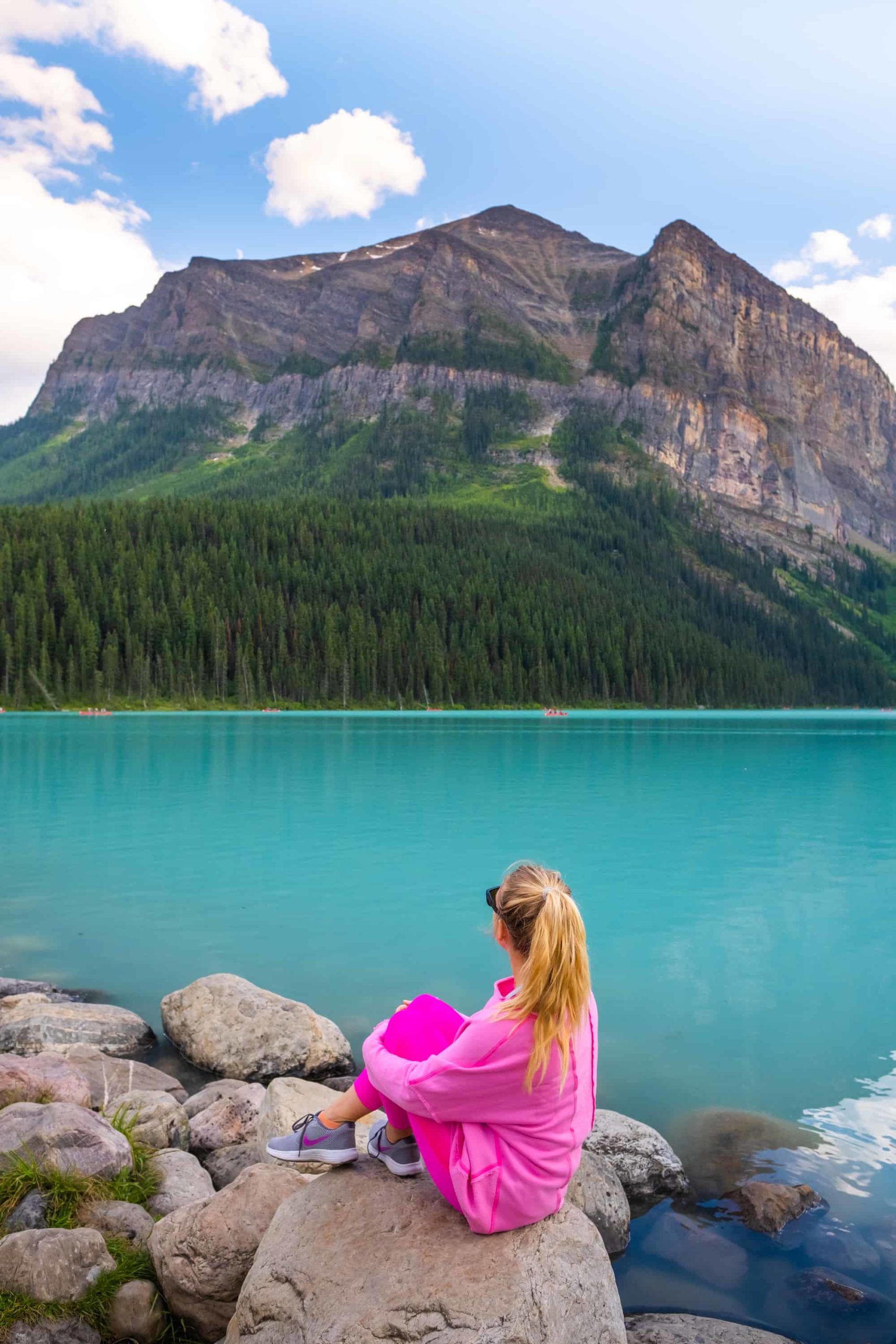 Lake Louise is one of the most stunning places in the world. So it's very possible to visit and not do anything at Lake Louise in the summer besides admire the gorgeous views from the lakeshore.
If you have a full Banff itinerary and don't have a lot of extra time, just stopping by Lake Louise and enjoying the views for an hour or so is one of the best things to do.
My favorite places to take in the view are by the boathouse, on the Lake Louise bridge, and directly in front of the Chateau.
The Best Banff Photography & Picture Spots (and How to Get To Them) 
---
Walk the Lake Louise Lakeshore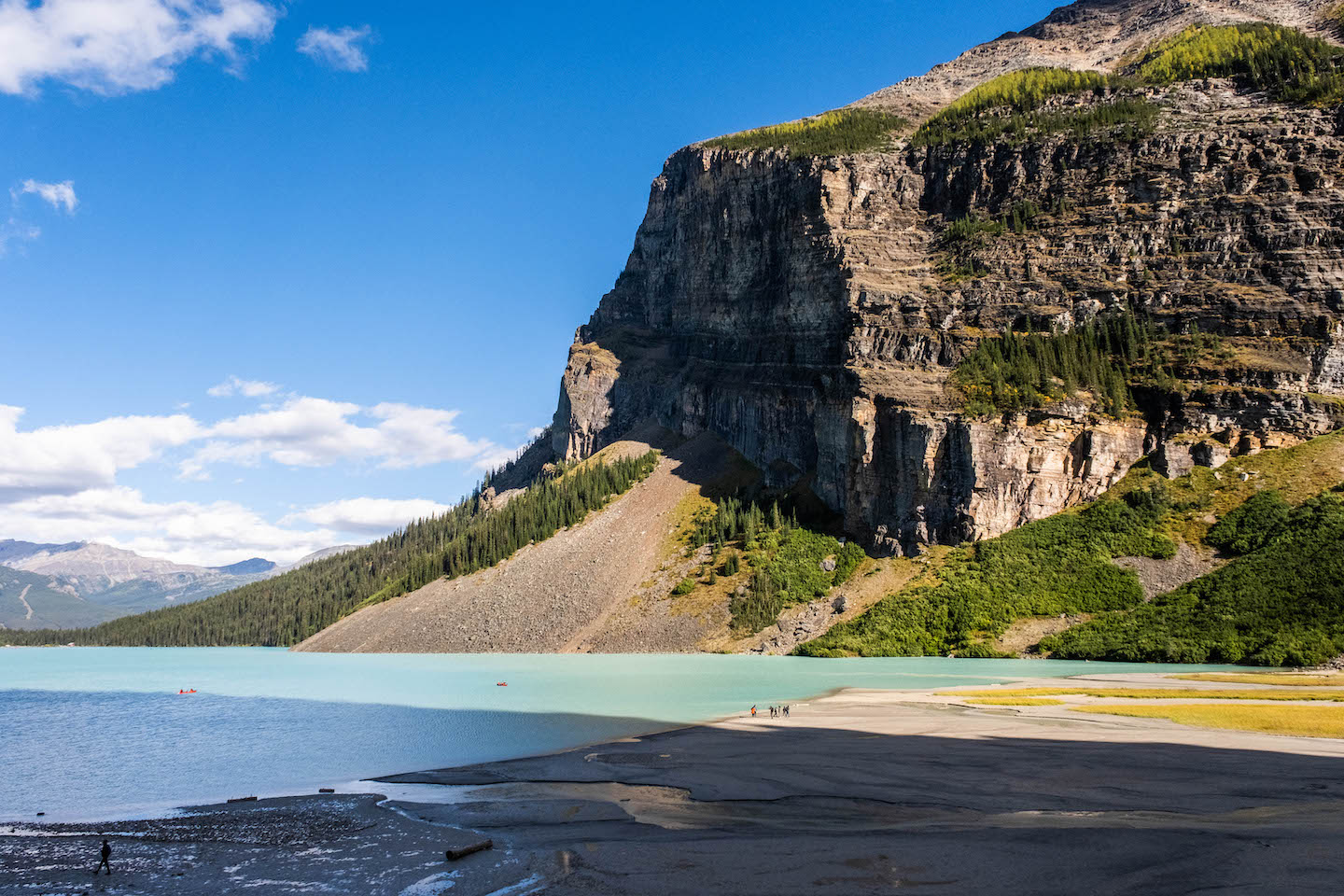 The Lake Louise Lakeshore is the easiest walk you can complete in Lake Louise. This route circles the eastern section of Lake Louise and has no elevation gain. This is a nice easy trail that is well maintained and provides astonishing views at all times.
The trail ends at the start of the Plain of Six Glaciers Trail and is about 2km one way. If you decide to walk the whole trail and back, expect it to take you around 1 hour.
---
Hike to the Fairview Lookout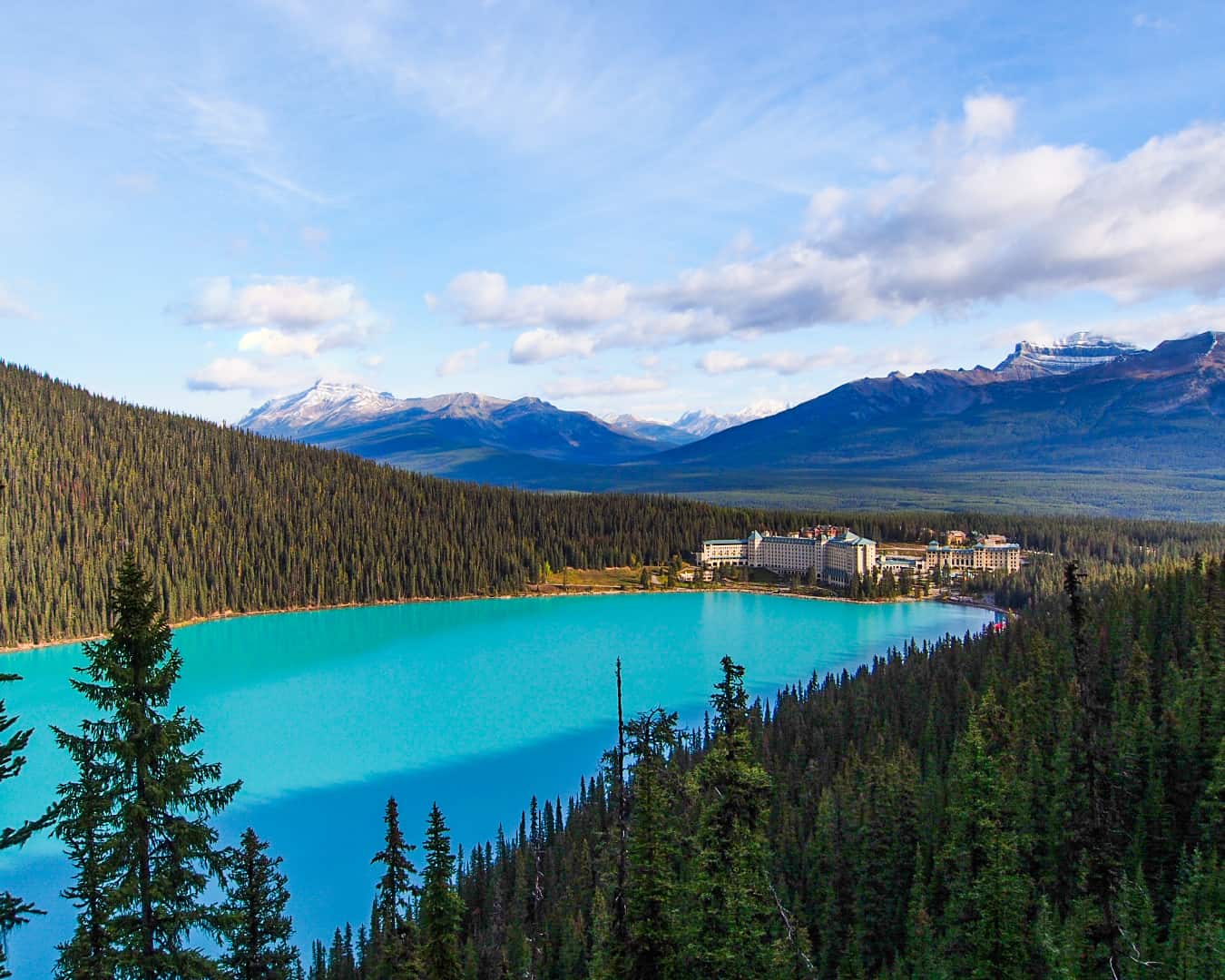 The Fairview Lookout trail is a short, sweet hike that is a step up from Lake Louise Lakeshore. It's best for those who just want a little hiking in their day or don't have much time.
To reach the Fairview Lookout will require you to climb about 100 meters gradually over 1.2 km. The whole trail can easily be completed in less than an hour.
Once at the Fairview Lookout, you'll get great views over Lake Louise and the historic Chateau. In the summer, you'll be able to see all the canoes out on the vibrant blue water.
Don't expect the view on the way up as it's forested, but the lookout platform from the top is a lovely view worth the effort. Great for older visitors and children!
---
Plain of Six Glaciers Hike
This is one of the most incredible Lake Louise hikes that starts out strong with a walk along Lake Louise Lakeshore and finishes in an open plain of glaciers.
So if you are hiking the Lakeshore trail, you can consider adding this to your day. However, it's almost 14km and has nearly 500 meters of elevation gain, so make sure you are prepared! To sweeten the deal, the historic Plain of Six Glaciers teahouse is there to reward hikers with a cup of tea or a fresh-baked goodie.
At one point, this massive valley was the convergence of six glaciers that have all since retreated due to warming temperatures. All that is left now is the monstrous debris field that will leave hikers in all of their earth-shaping capability. It's also possible to combine this hike with the Lake Agnes / Big Beehive hike for an incredible day in the mountains.
Plain of Six Glaciers Hike: All You NEED To Know
---
Hike to Mirror Lake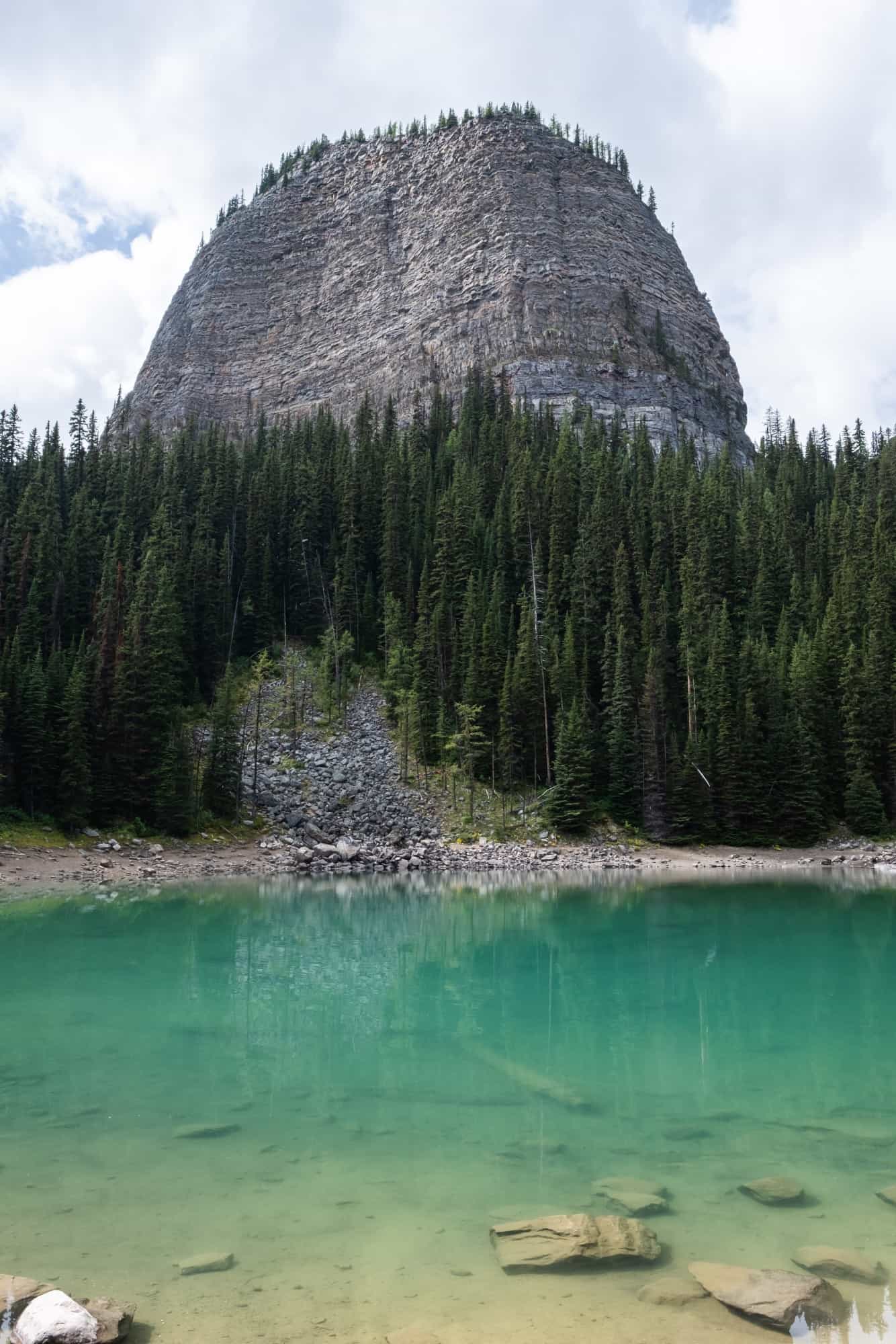 Another fantastic and short hike is up to Mirror Lake. The trail to Mirror Lake is incredibly popular as it is the trail that also leads to Lake Agnes. We highly recommend taking this trail all the way to Lake Agnes, but if you want a shorter one, the hike to Mirror Lake is still very rewarding.
Reaching Mirror Lake will involve hiking a distance of 6 km and over 400 meters. Once you reach Mirror Lake, enjoy a packed lunch with views of the Big Beehive right ahead of you.
---
Continue to Lake Agnes Teahouse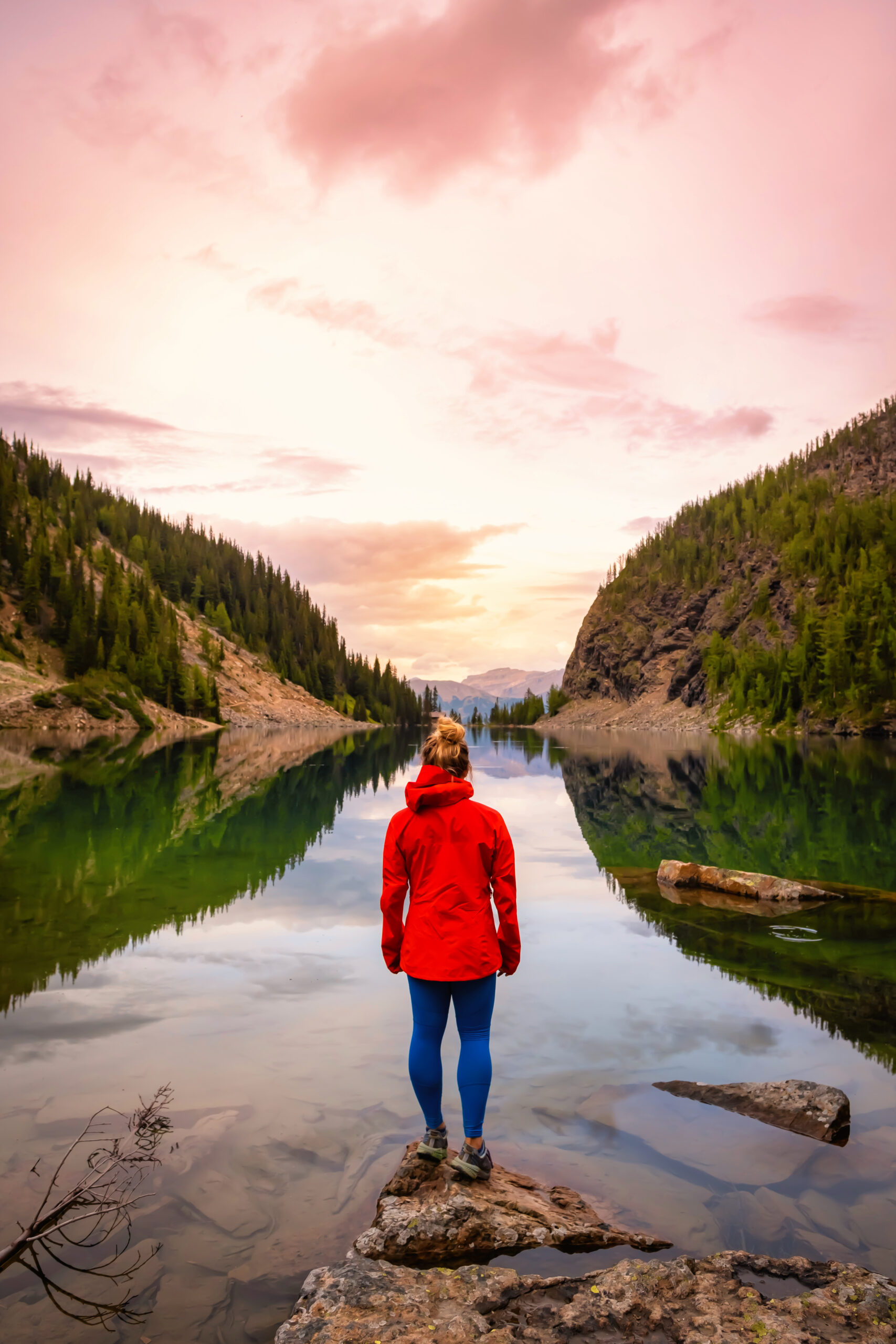 The Lake Agnes Teahouse hike is a popular thing to do in Banff for visitors to Lake Louise. It's also one of the most iconic and popular hikes in Banff National Park and has been enjoyed by visitors for well over a century.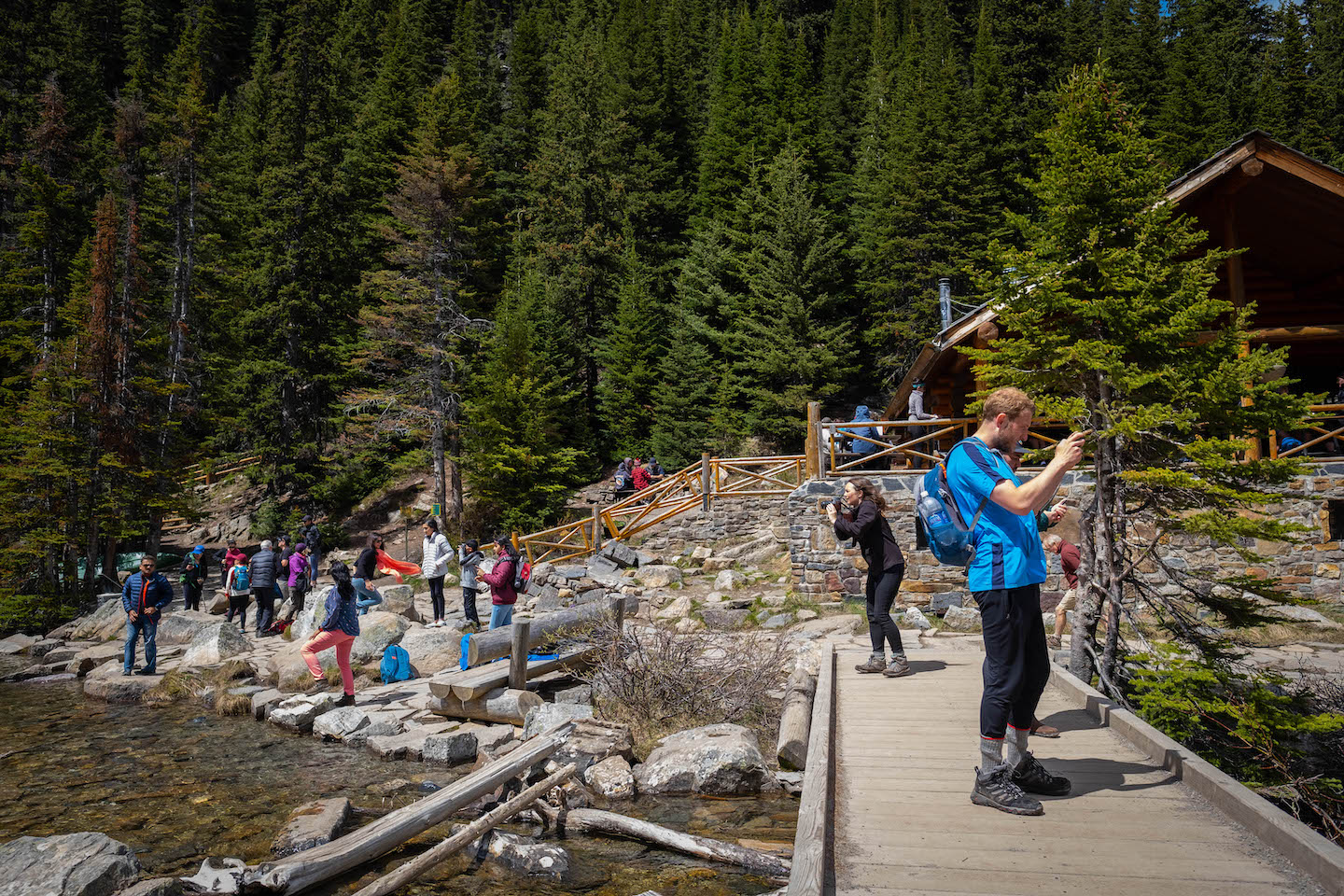 The easy/moderate hike ends at the Lake Agnes Teahouse, a Lake Louise restaurant that has been serving visitors since 1905 when it first opened. Hike here to find a rustic old cabin that sits along the banks of Lake Agnes and over a rushing waterfall.
Its popularity is perhaps its only downfall as the teahouse can attract quite a crowd in the summer months with a line out the door for a pastry and cup of tea. So if you're trying to beat the crowds we recommend timing your visit as soon as they open at 8am. Nevertheless, it is a classic and ends at the lovely Lake Agnes, the perfect spot for a packed lunch.
---
Hike to the Little Beehive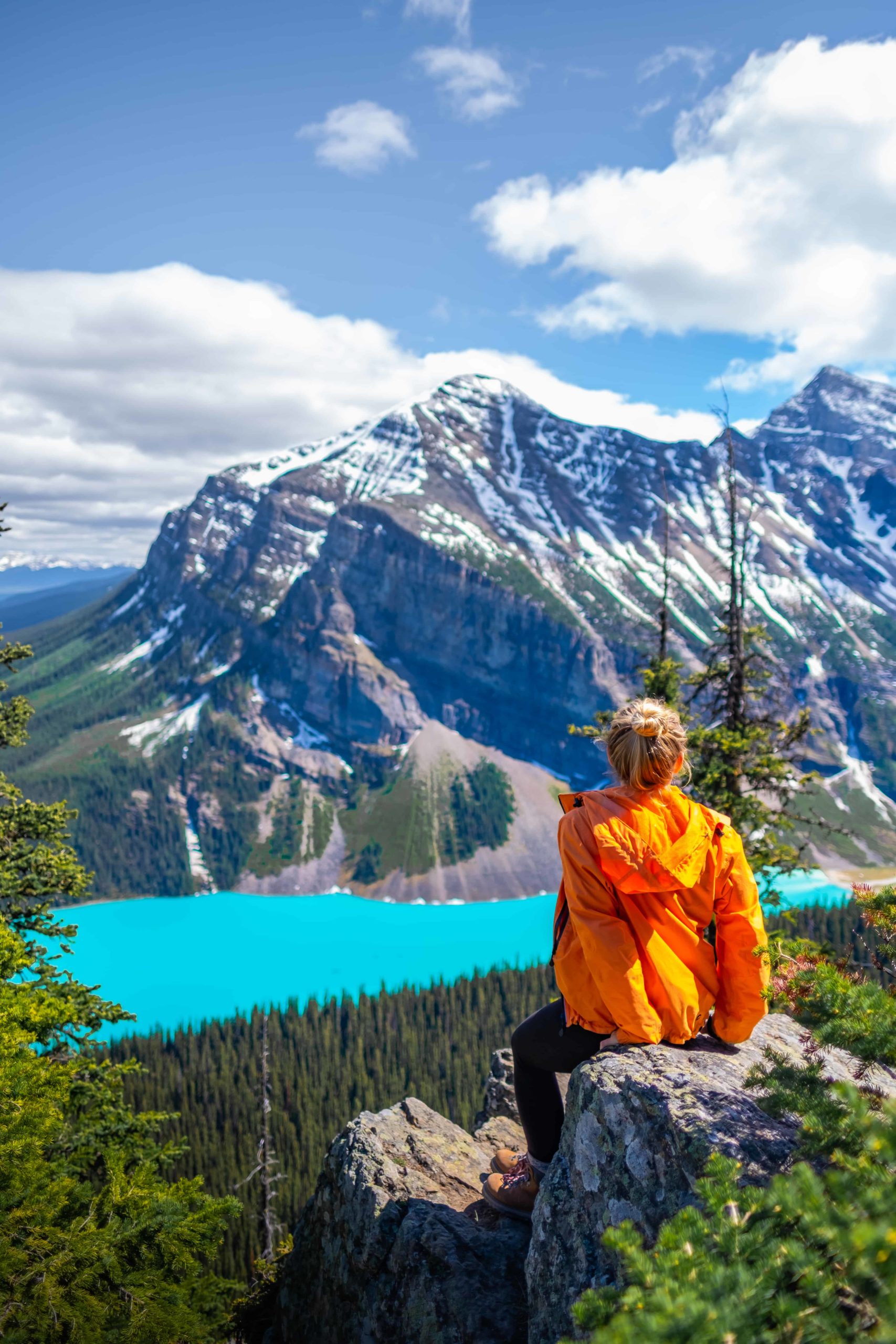 From Lake Agnes, you can continue 1 km (one way) with 105 m elevation gain to reach the Little Beehive. The Little Beehive provides a unique vantage point over Lake Louise and Mount Fairview.
The Little Beehive, despite its name, is not much smaller than the Big Beehive, so I wouldn't base the two hikes on difficulty. That being said, the Little Beehive is slightly easier and sees fewer crowds.
At the end of the Little Beehive hike, it's possible to see the Lake Louise Ski Resort.
---
Hike the Big Beehive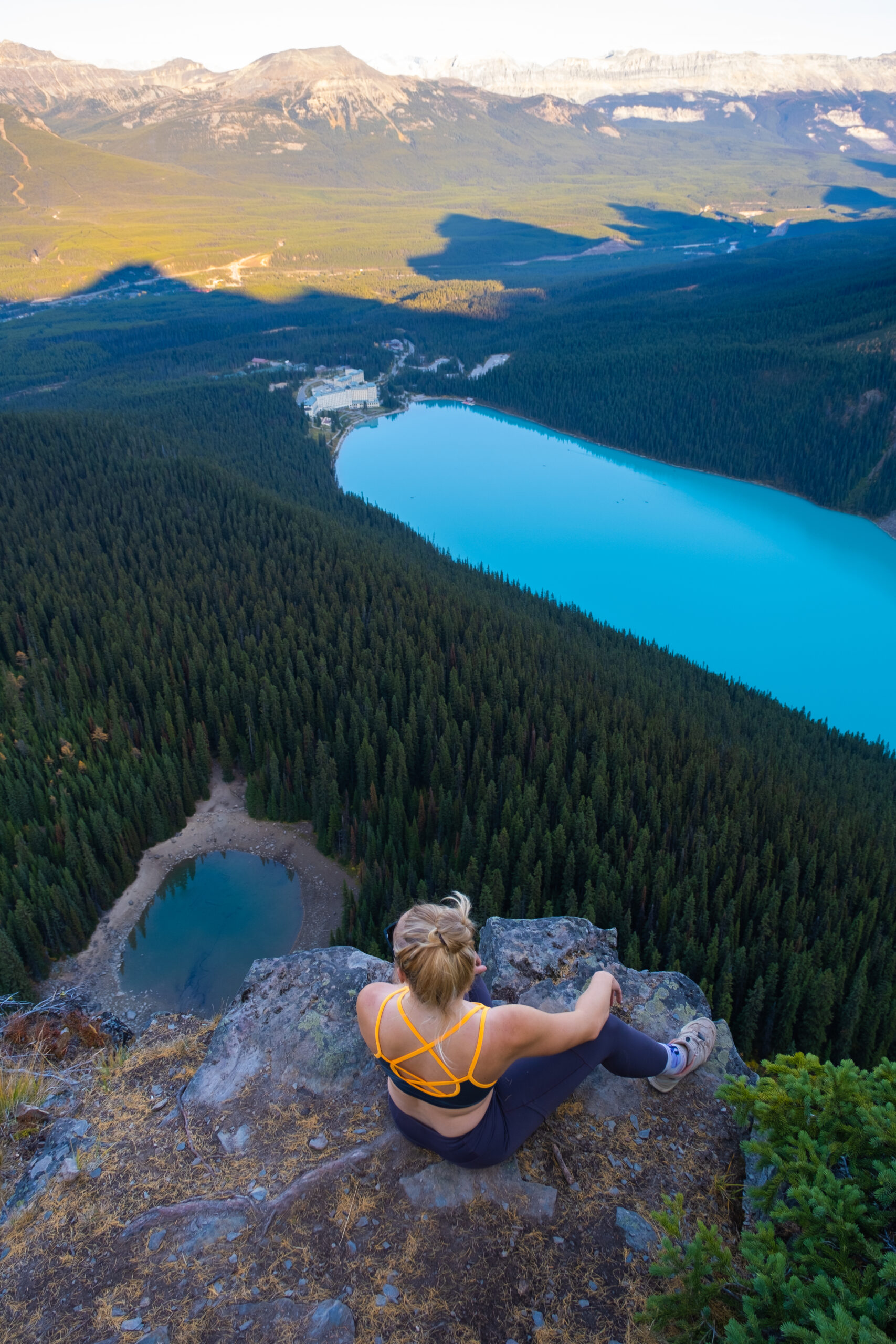 The Big Beehive is a classic addition to the Lake Agnes Teahouse trek and well worth the effort, much like The Little Beehive. To reach the Big Beehive, hike 1.6 km one way with 135 m elevation gain from Lake Agnes.
The trail to the Big Beehive wraps around Lake Agnes and then climbs a ridge through a series of switchbacks.
You have fantastic views over Lake Louise as it's closer to the lake than the Little Beehive. If you find the right spot, it's possible to see Lake Louise and Mirror Lake simultaneously. Make sure to check out the old historic gazebo!
Little Beehive Hike & Big Beehive Hike – Trail Guide to the Epic Beehive Circuit
---
Hike Up Mount Saint Piran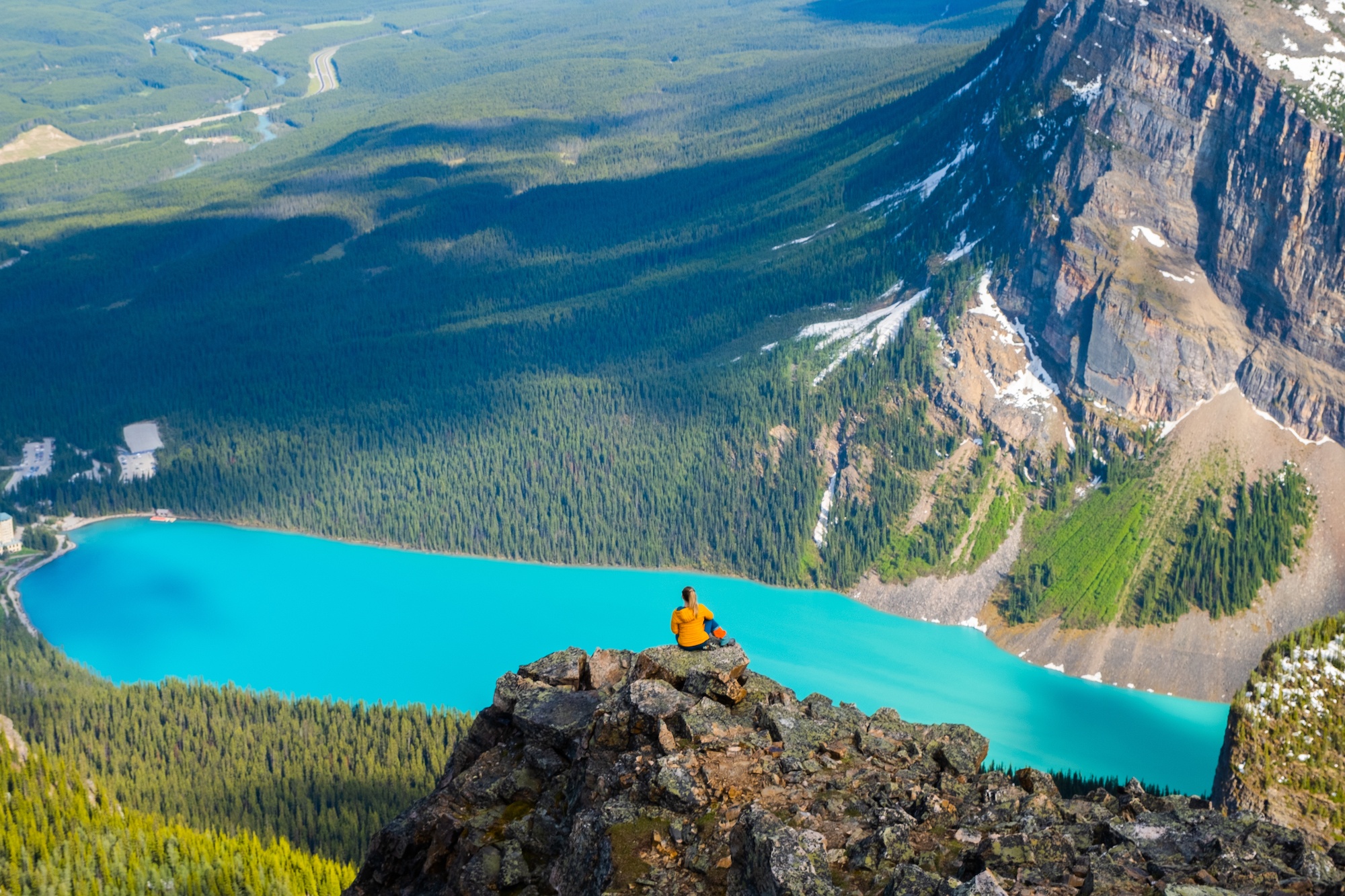 If you want to continue on even further past Lake Agnes and the Little Beehive, head for the summit of Mount Saint Piran. The trail follows along the Little Beehive trail until it veers off 400m from the summit of the Little Beehive. You follow a signed path through the thinning forest until you reach the alpine out of the tree line.
From there, it's a beaten path or cairns through rock fields and scree. It's not a technical challenge, but it does require some solid physical stamina. Once you reach its summit, you're rewarded with some stellar views over the area as you can see the Waputik Icefield to the North.
It's a sharp departure from the busy throngs of crowds down at Lake Louise as only a few complete the hike. You also get to claim you summited a peak in the Canadian Rockies. Out of all the Lake Louise hikes, Mount Saint Piran has the best views, in my opinion.
Mount St. Piran Hike at Lake Louise – All the Info You Need
---
Scramble Devil's Thumb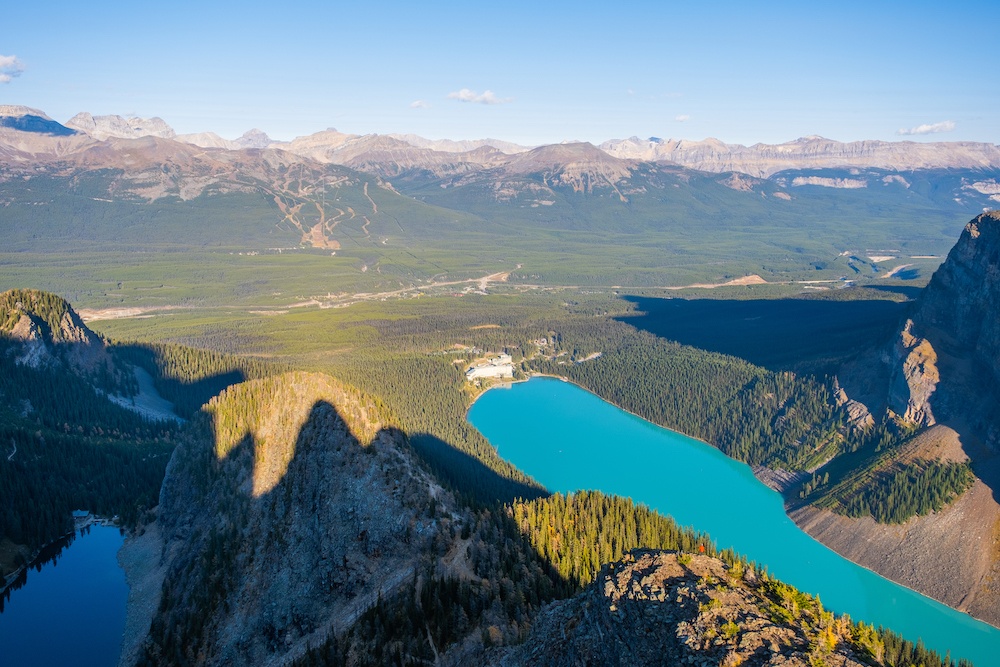 While physically, Devil's Thumb is not much harder than the Big Beehive, the Devil's Thumb is classified as a scramble. Albeit a straightforward one and a great place to start for the adventurous to test their skills.
From the Big Beehive hike, this trail departs from the path to the overlook and heads along the ridge and then up a gully to the top of Devil's Thumb. It's an excellent choice for the adventurous looking for something more out of their Lake Louise hikes.
Keep in mind that in Lake Louise in the summer, the gully up to the top of Devil's Thumb can be busy, steep, and contain loose rock. For this reason, we recommend wearing a helmet. You never know if an inexperienced hiker above you will launch a rock down the gully – hikers have been hurt here, especially on Devi'sThumb! We recommend an early morning approach or late afternoon when it's quieter.
How to Hike Devil's Thumb in Lake Louise
---
Scramble Mount Fairview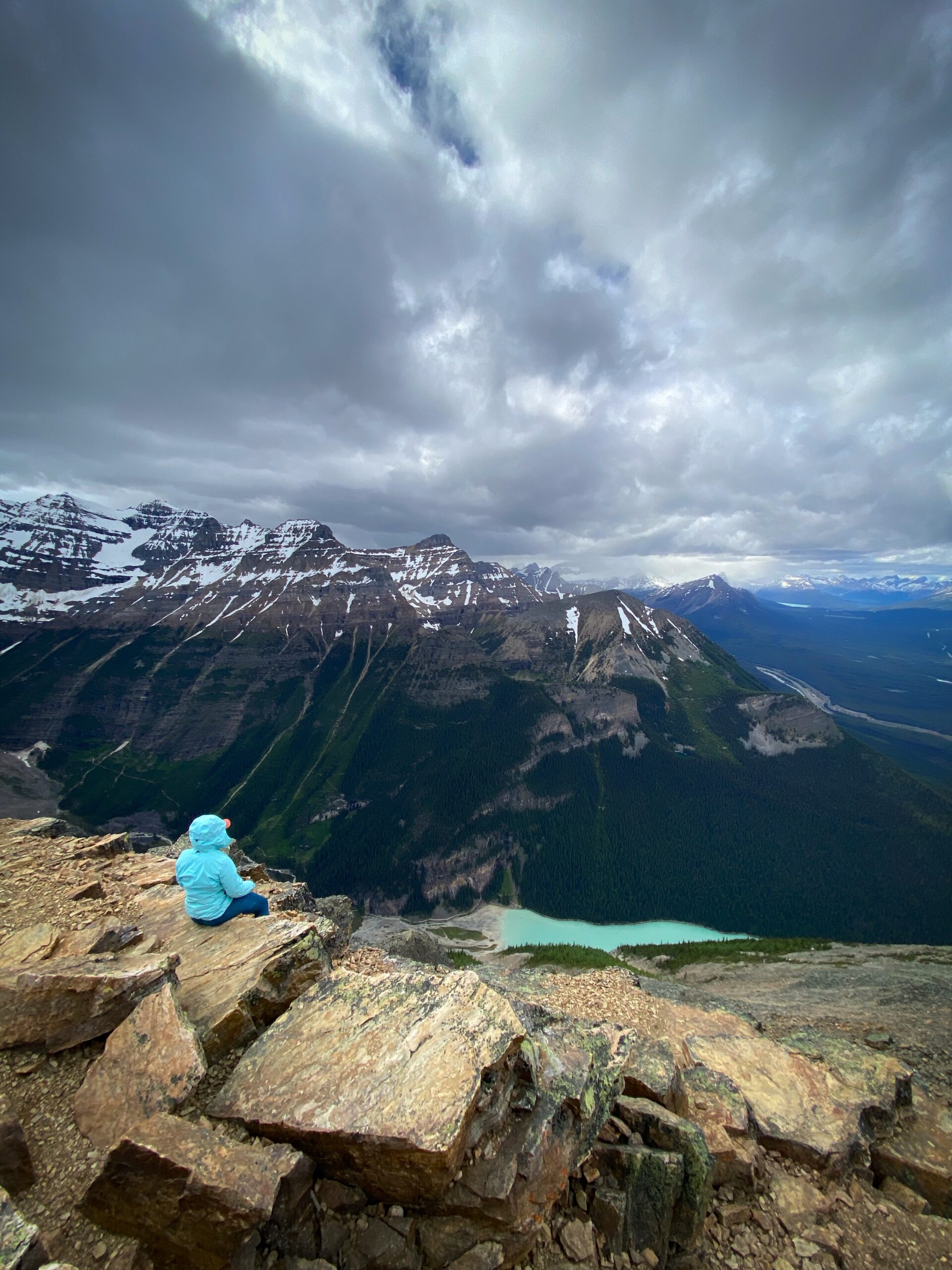 If you want something with some difficulty, consider scrambling up Mount Fairview. You've seen Mount Fairview in thousands of Instagram photos and pictures of Lake Louise. It's recognizable as the triangle-shaped mountain that towers over the Lake Louise boathouse (to your left while looking at Lake Louise).
Though only a few get to experience being at the summit. The trail leaves from Lake Louise and heads up to Saddleback Pass before the summit of Fairview Mountain.
Although Fairview summit looks tall, I didn't find it too difficult. Anyone with decent fitness and adequately prepared with some snacks/lunch, water, and proper clothing should be able to summit Fairview. It gets cold on the mountain summits all year round. When we summited in July, it was freezing at elevation.
The last push to the summit is the hardest as it's very steep and rocky this is where poles come in handy. At the top, you'll get great views of Mount Temple, Mount Sheol, Victoria, Aberdeen, and Haddo Peak. Though the views over Lake Louise aren't as great as Mount Saint Piran.
---
Hike Up Saddle Mountain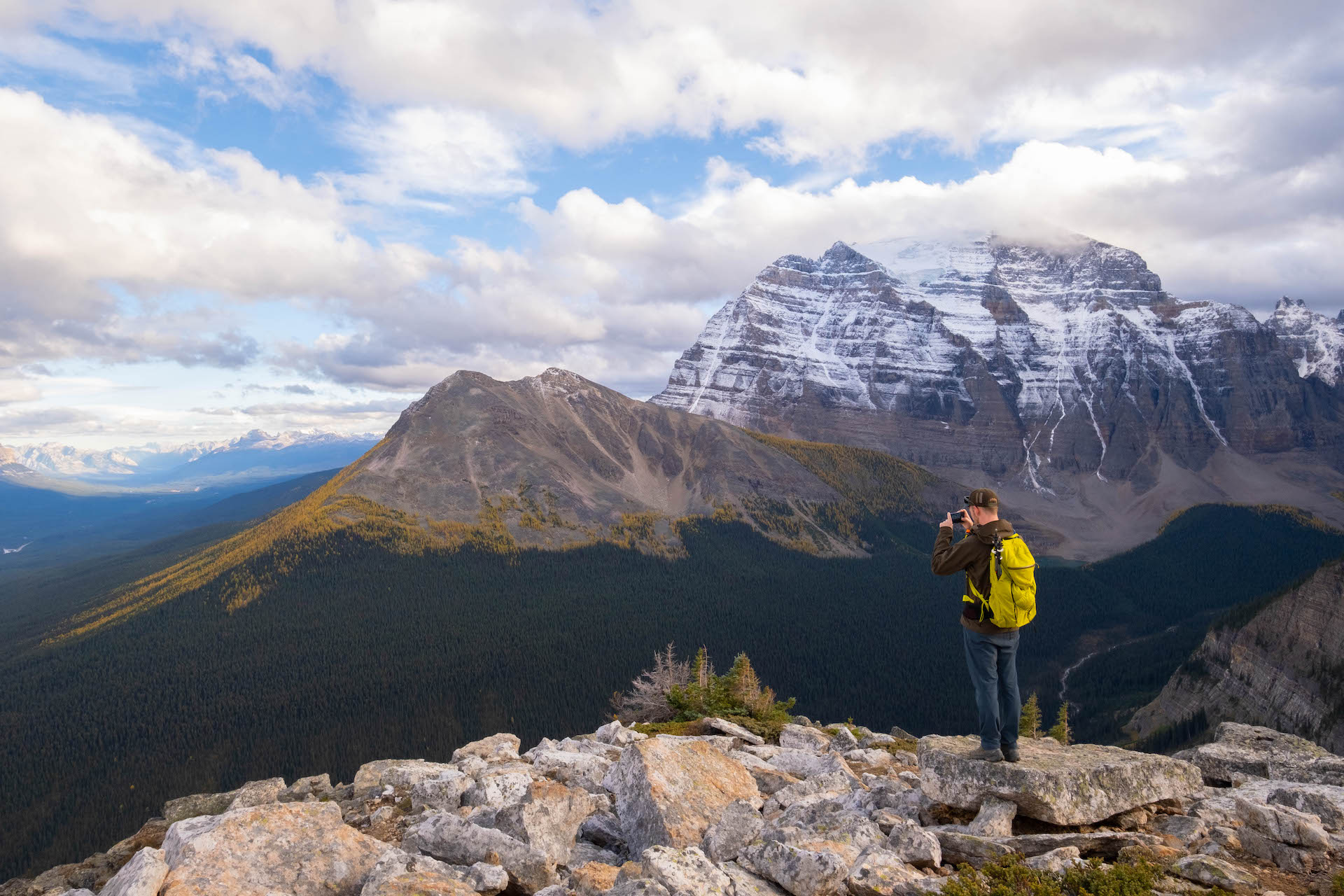 I wanted to list Saddle Mountain as a fun Lake Louise trail right after Mount Fairview. When you get to the top of Saddleback Pass, you have a few options if hiking to Mount Fairview. One is hiking up Fairview Mountain, and the other is continuing onward to summit Saddle Mountain is one of them. (Have you noticed a trend of lots of connecting hikes yet!)
I love Saddleback Mountain as it is one of the most accessible peaks to bag in the Rockies, and if you're already going up Saddleback Pass, it's just an extra 100 meters to the summit of this one, so well worth adding on!
The views from the top are incredible over the valley. You can easily see Mount Temple and Little Temple, and on a clear day, you may even get views of Mount Assiniboine!
---
Canoe at Lake Louise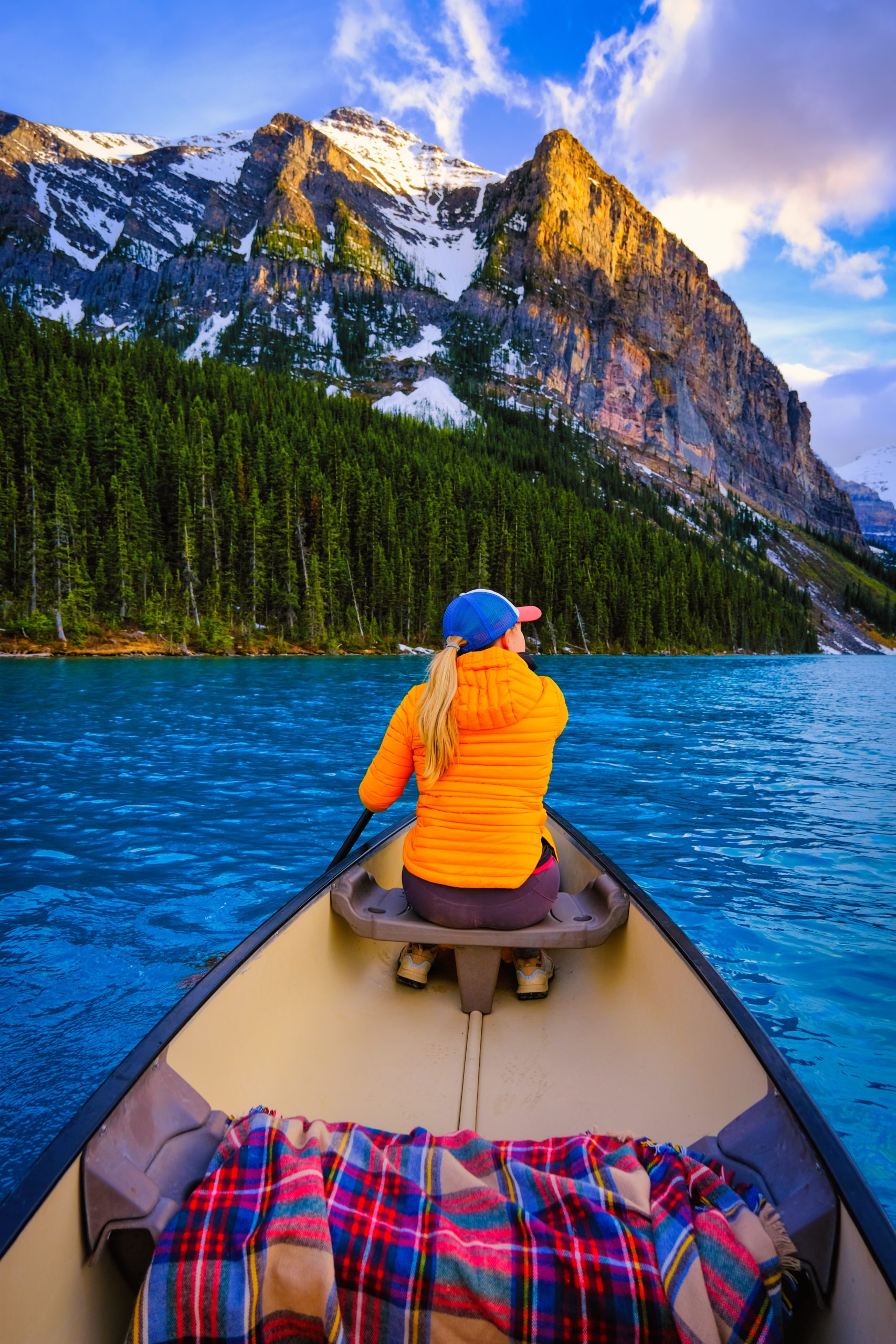 For many, canoeing on Lake Louise is a highlight of their trip to Banff National Park and one of the best things to do at Lake Louise in summer.
There is likely no more of an ideal place to rent a canoe in Banff than Lake Louise. Picture yourself canoeing in front of Mount Victoria on a brilliant blue lake. This is one of the best experiences in Lake Louise in the summer.
You can either bring your own canoe if you have one or rent one from the Lake Louise Boathouse. You'll only be able to find canoes for rent here, but if you have your own stand up paddleboard, kayak, or canoe you can bring your own.
---
Horseback at Lake Louise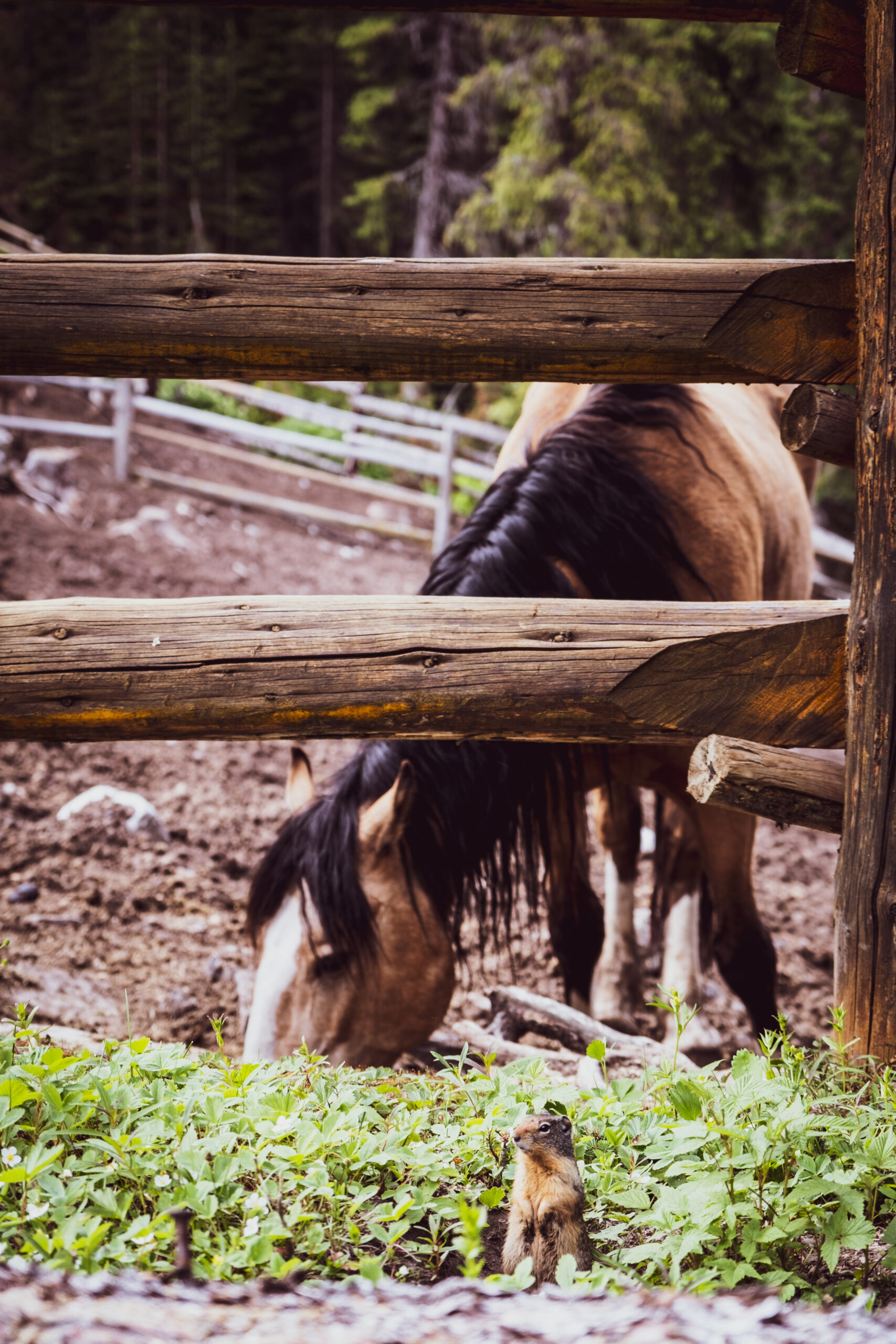 Brewster Adventures runs epic horseback riding trips around Lake Louise in the summer. You can book short tours guided tours that will take you up to Lake Agnes or the Plain of Six Glaciers.
Or consider complete day adventures up the Highline Trail and the Paradise Valley. Tour prices range from $150-$400 depending on the length and leave from the Brewster Lake Louise Stables.
---
Enjoy Alpine Views From the Lake Louise Gondola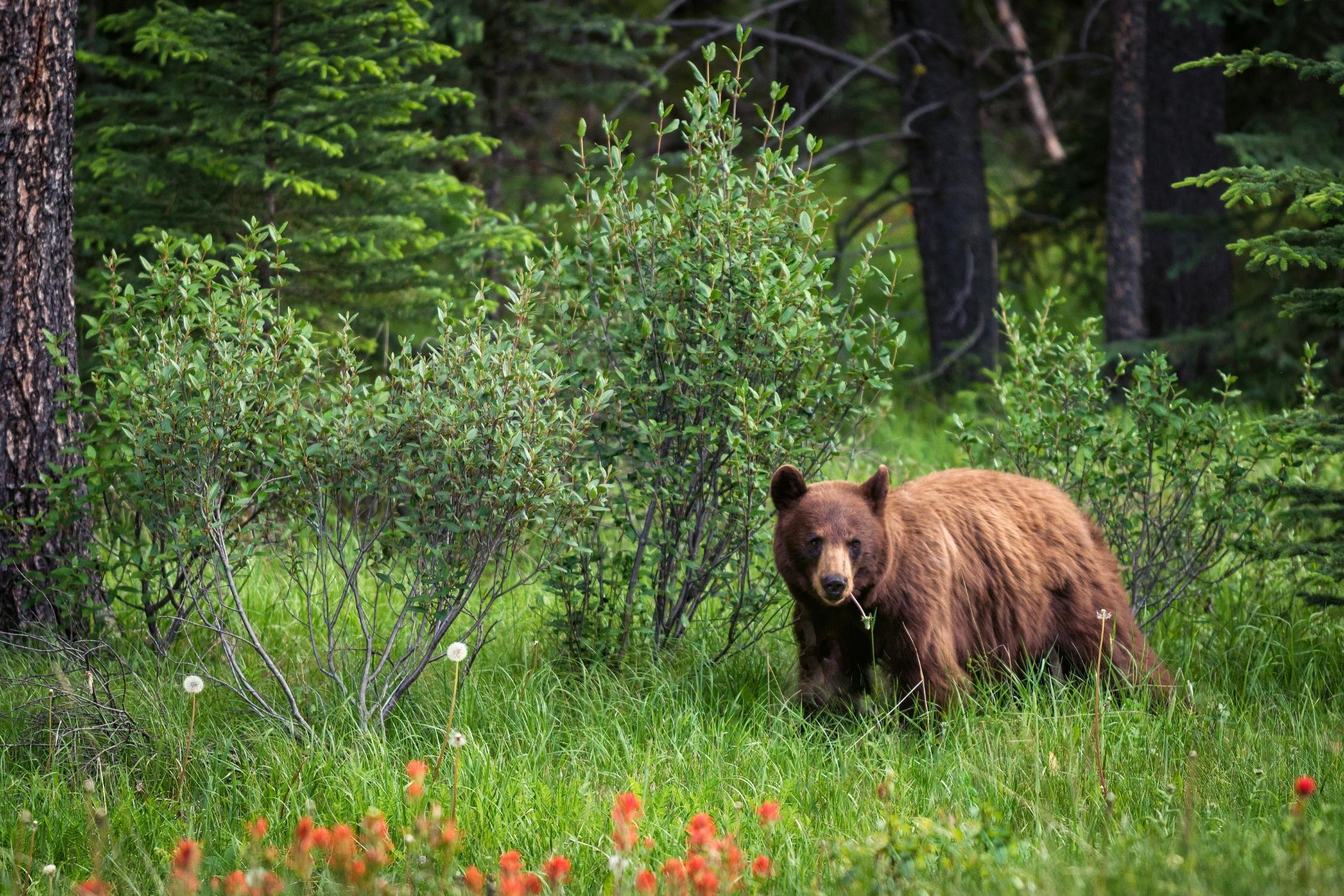 One of the best things to do in Lake Louise is head up the gondola in the summer. The Lake Louise Sightseeing Gondola operates almost all year round.
However, when summer finally rolls around and the snow melts, the Lake Louise Ski Resort transitions to summer operations. Lake Louise takes visitors up their chairs and cable cars for incredible mountain views during this time without all the leg work.
From there, you can explore the mountain on your own, grab a bite to eat at the Whitehorn Restaurant, one of the most scenic restaurants in Banff, or hop on one of their guided hikes to learn more about the flora and fauna of Banff National Park. This is an excellent way for families to safely get the hiking experience and views around Lake Louise.
---
Afternoon Tea at the Fairmont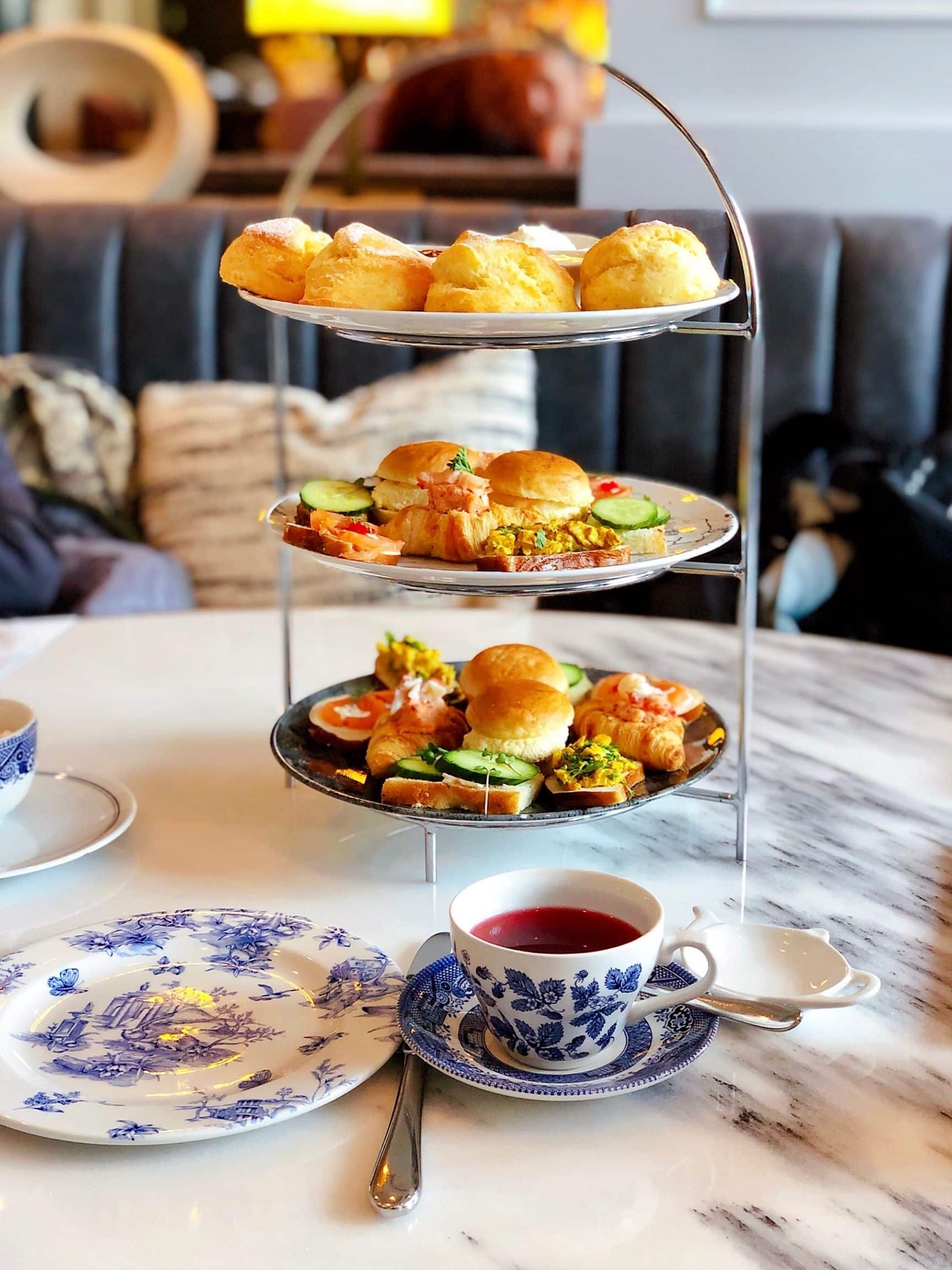 While afternoon tea is not something most of us regularly indulge in, it's hard not to at such an iconic property like the Fairmont Chateau Lake Louise. If you're looking for something romantic in Lake Louise, this is a great option.
Take your choice between 35 teas, prosecco, or champagne to go alongside your tower of sweets, scones, and finger sandwiches. All in front of Lake Louise and Mount Victoria.
Reservations should be made beforehand at the Louise Lounge. Try to score a coveted table by the window for an extraordinary view. Afternoon Tea at the Fairmont Chateau Lake Louise is costly at $75 per person, $90 for prosecco, and $100 for champagne.
It's the priciest afternoon tea in the area, so the value is pretty poor, as should be expected at the Fairmont Chateau Lake Louise. Still, if you're going to have a tea experience, Lake Louise is the place to do it.
---
Get On The Bow Valley Parkway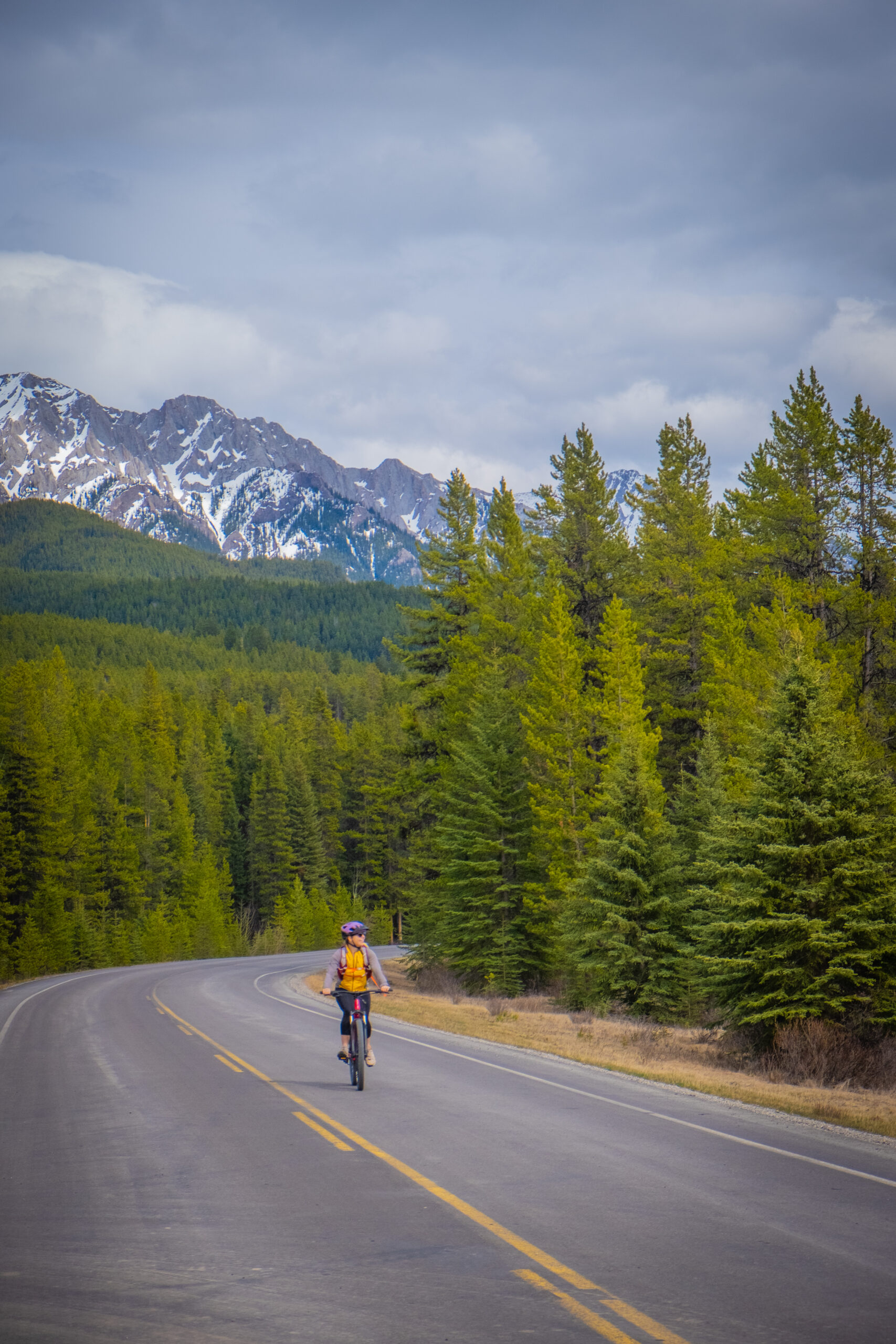 One of the best things to do in Lake Louise in the summer is to take one of the most scenic drives. Visitors from Lake Louise to Banff can drive or ride a bike down the Bow Valley Parkway. While it's far faster to take the four-lane highway to town, the Bow Valley Parkway takes a much more relaxed pace and is even more stunning with plenty of stops.
The road winds through the valley with many scenic viewpoints, picnic areas, and attractions like Johnston Canyon and Castle Mountain. There are some closures to be aware of on the Bow Valley Parkway, specifically in June and September. We break down all the details here.
---
Photograph Morant's Curve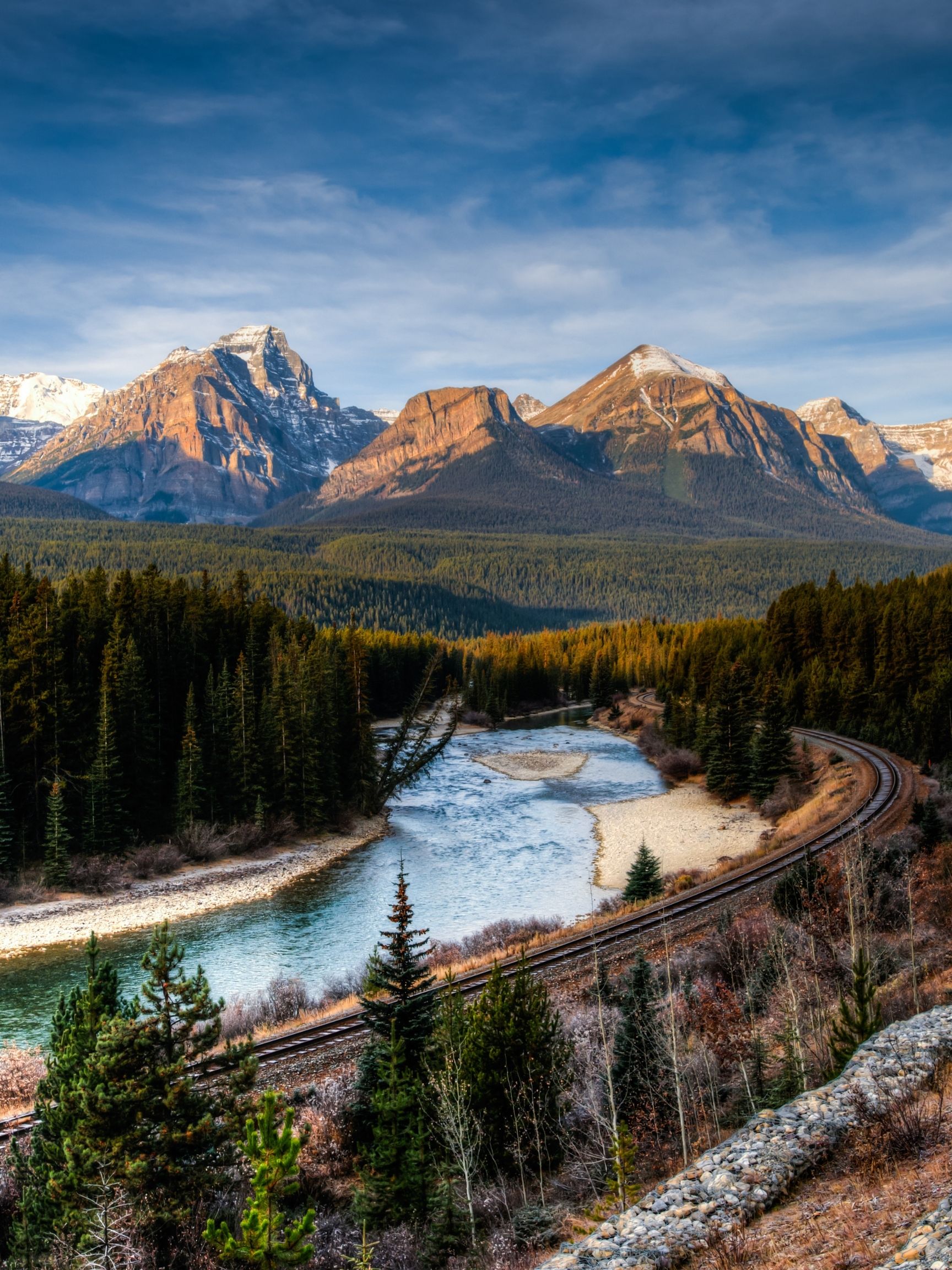 Morant's Curve is a scenic viewpoint near Lake Louise of a dramatic bend along the Bow River where trains pass through the Canadian Rockies. As trains pass around the bend, they have a spectacular backdrop of the Lake Louise mountains and surrounding valley.
The famed photo spot is along the Bow Valley Parkway and is famous for photographers.
The famed photo spot is a short drive from Lake Louise, and you can even see the mountains surrounding the glacial lake.
Photographers must plan their time here strategically, and to catch a shot of a train heading west in the morning, light is sure to be a winner. However, anyone can appreciate the spectacular view, so it's well worth a stop for anyone driving along the parkway.
Although Morant's Curve is most stunning in the winter, the views don't get old in the summer. If you are trying to time your visit with a train passing, you may want to give up. There is no set train schedule, and seeing one while you visit Morant's Curve is complete happenstance. They pass by every 1-2 hours, so you can possibly catch one if you are patient.
How To Visit and Photograph Morant's Curve in Banff
---
Hike to Moraine Lake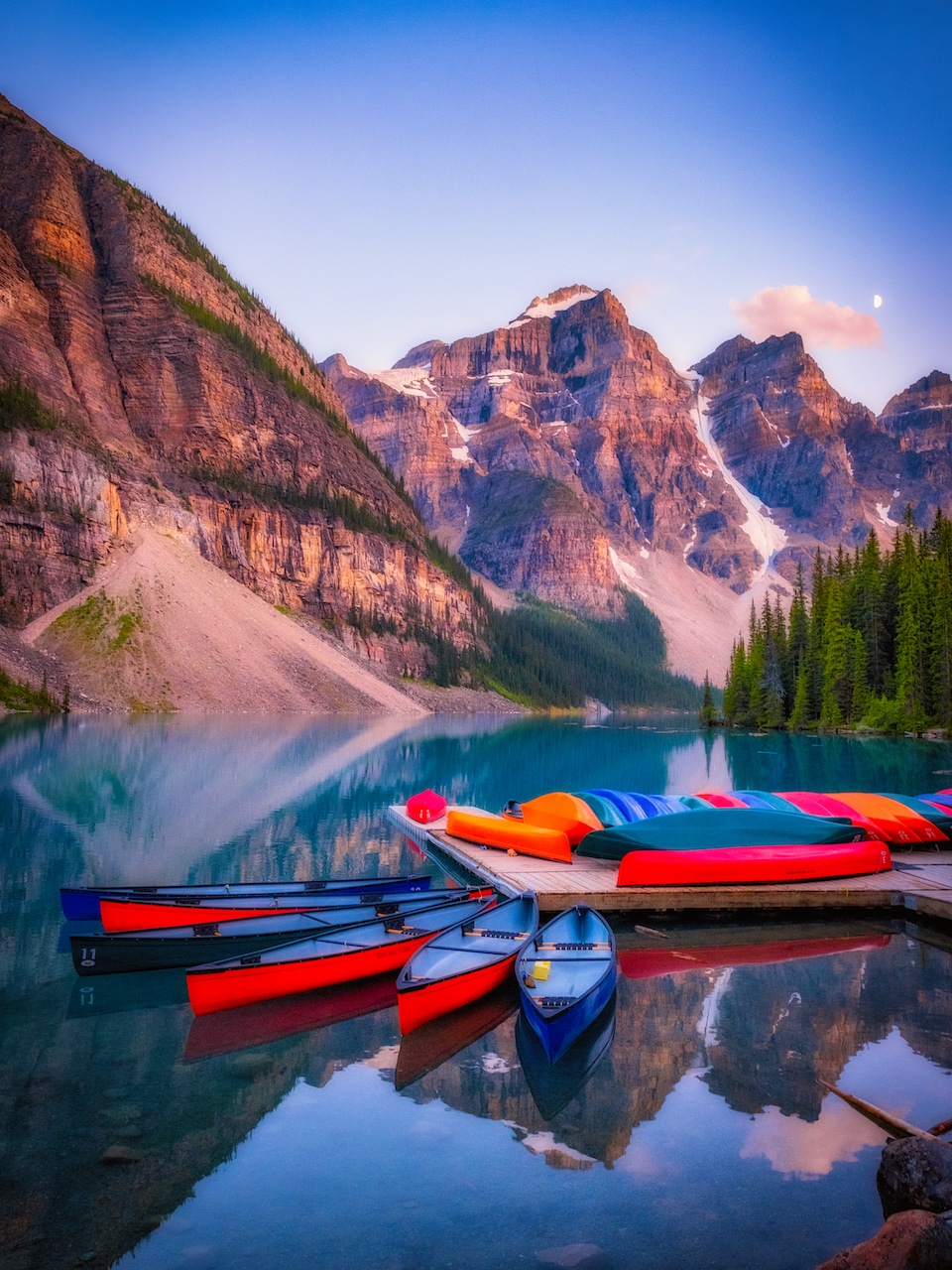 One of the best hiking trails in the area actually connects Lake Louise to Moraine Lake via Sentinel Pass on the Paradise Valley Trail. You can start this hike either at Moraine Lake or Lake Louise.
Starting at Moraine Lake would be the better option so that you climb up to Sentinel Pass and drop down into Paradise Valley rather than climb up to Sentinel Pass, which is a very steep and unmaintained trail.
Nevertheless, both can be done if you seek a long 20km point-to-point hike! (Best to use the Parks Canada Lake Connector shuttle system to do this).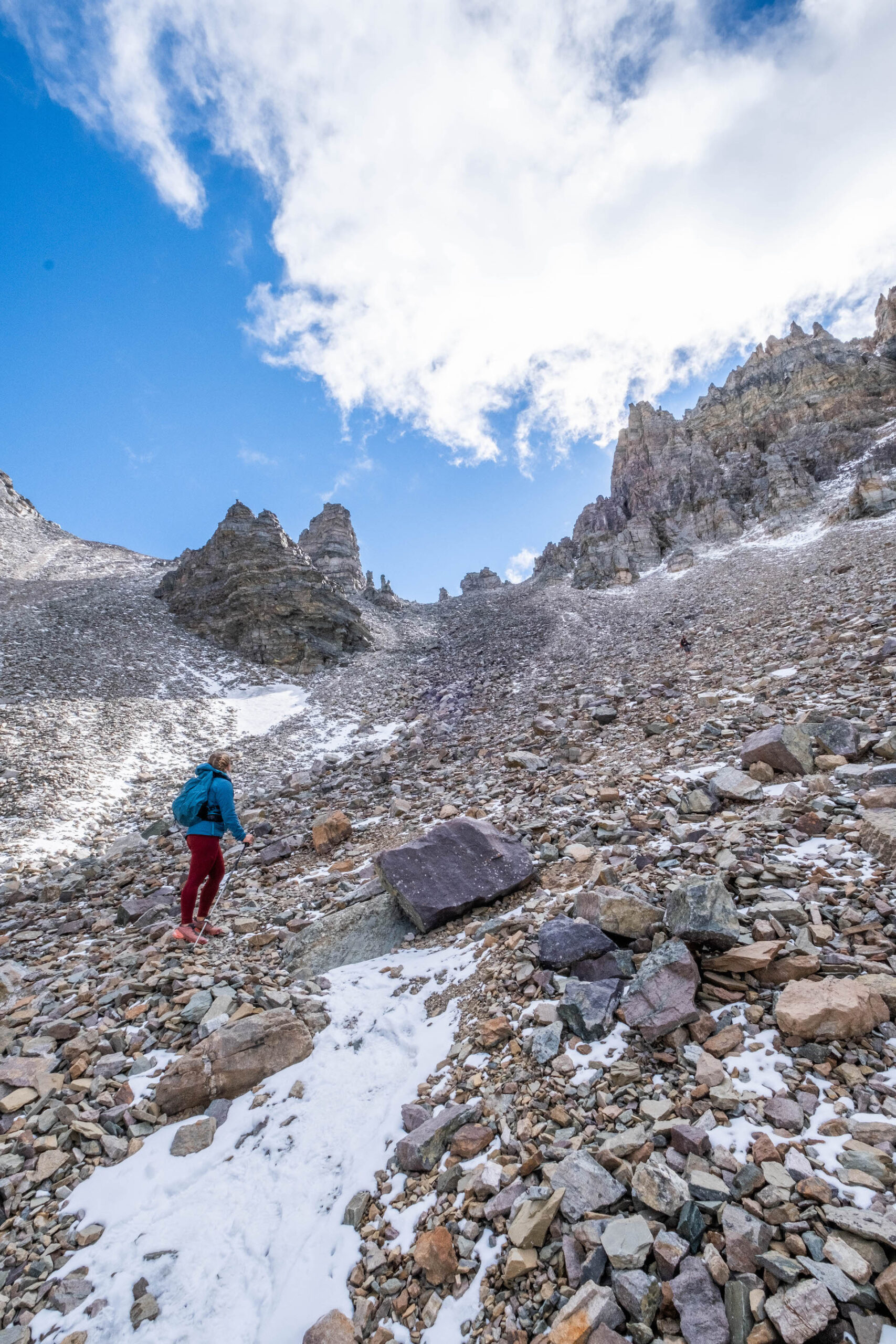 The reward for hiking the entire Paradise Valley trail is to check off Lake Louise, Saddleback Pass, the Sheol Valley, Lake Annette, Sentinel Pass, and Moraine Lake all in one go! Once you drop into the Sheol Valley and get to Lake Annette, you'll unlikely see many people too.
I know this article is about things to do in Lake Louise in the summer, but you won't be disappointed if you can save this hike until the Alberta larch season.
---
Cycle to Moraine Lake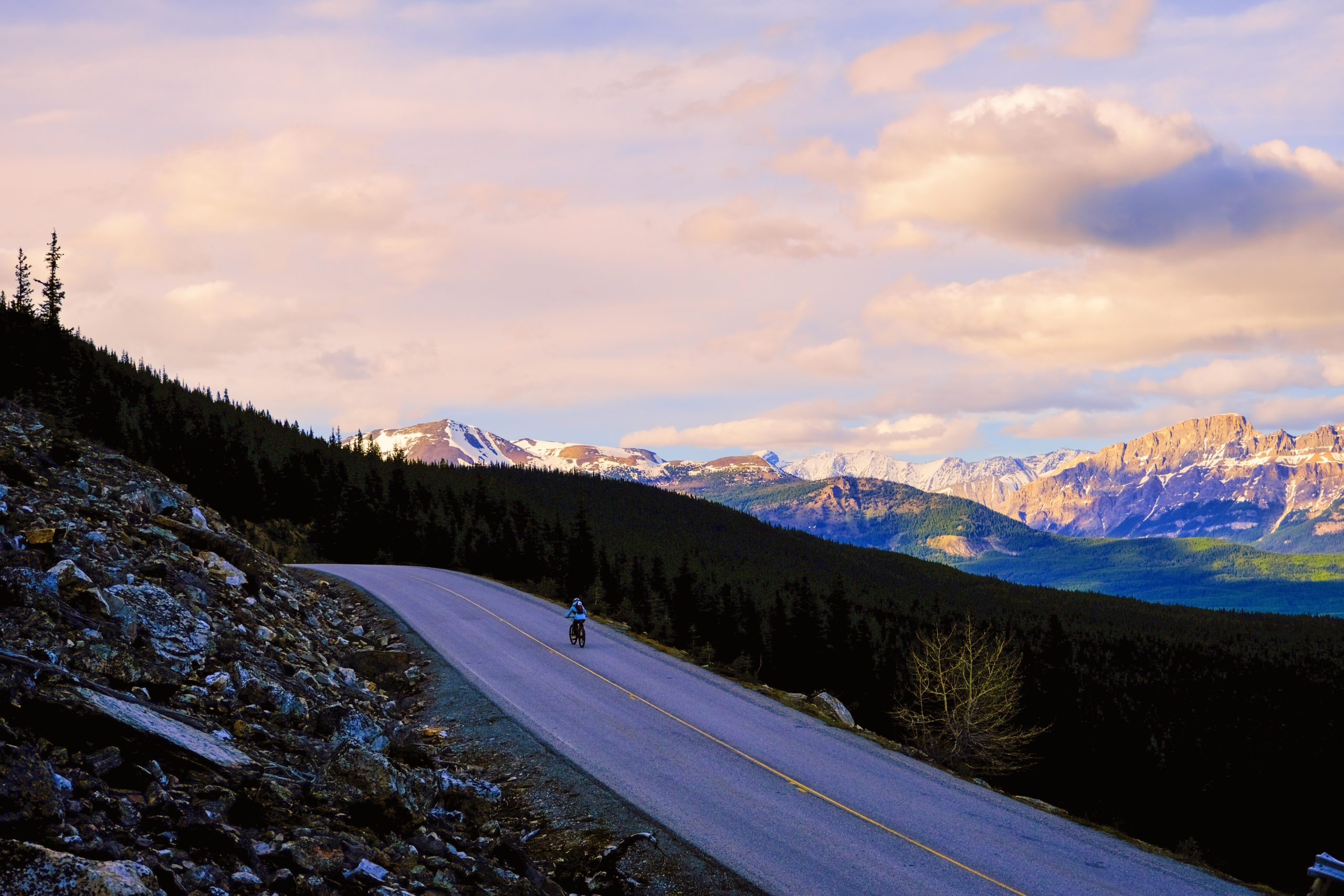 Couldn't book a shuttle to Moraine Lake? Want to stretch your legs? Is the Moraine Lake Road not open to vehicles yet? One of the best things to do in the area is hop on a bike and cycle to Moraine Lake.
The road to Moraine Lake is almost 14km and uphill, but it's all worth the effort to reach the beautiful Ten Peaks with a bright blue lake in the foreground.
Cycling Moraine Lake from Lake Louise is a fun day trip that we highly recommend. If you want to tack some hiking onto the day, consider scrambling the Tower of Babel for epic views when you reach Moraine Lake.
You can cycle to Moraine Lake from June to October, but if you get lucky and can cycle the road after Parks Canada plows before it is open to buses and shuttles, it's one of the best bike rides in Banff!
10 Moraine Lake Hikes With Amazing Views
---
Kayak/Sup on Lake Louise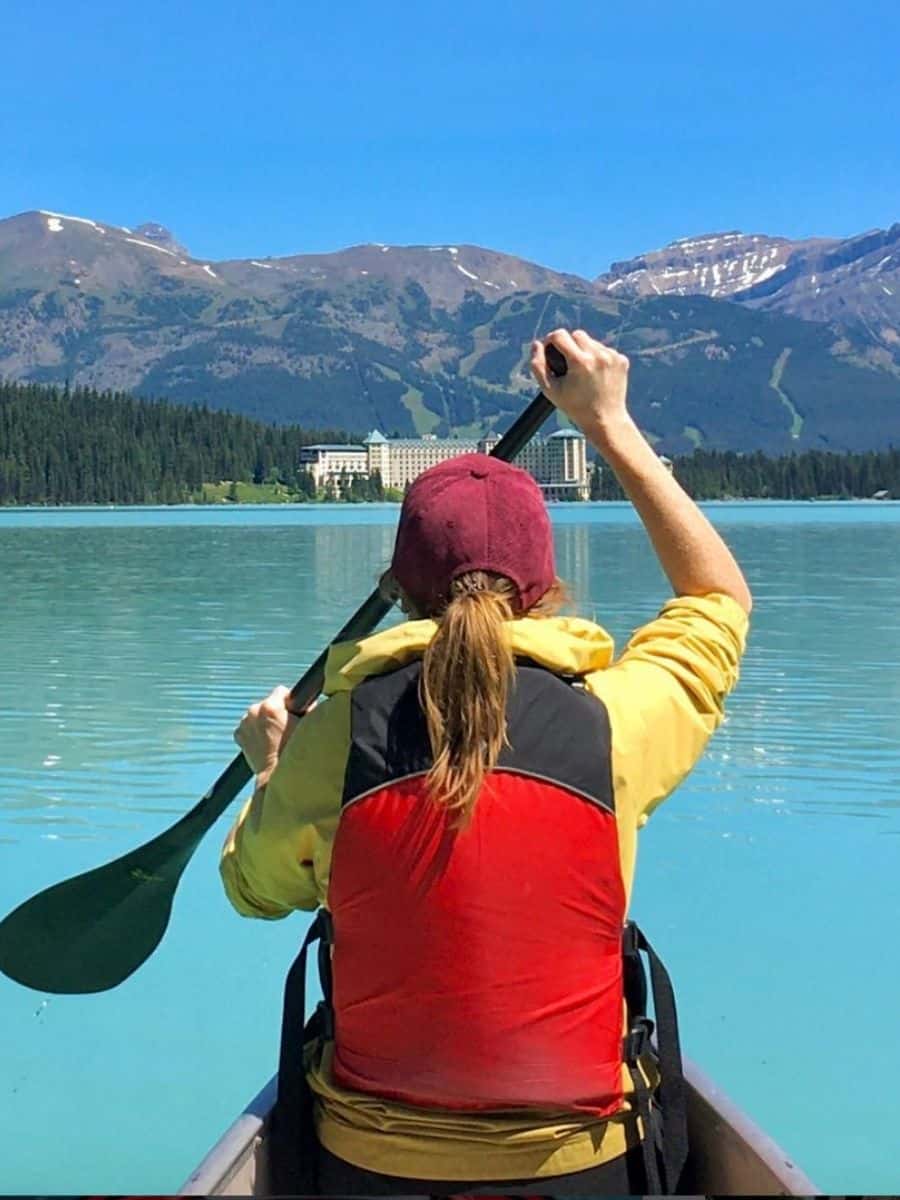 While the Lake Louise boathouse does not have kayaks or stand-up paddleboards to rent, you can bring your own flotation devices to Lake Louise. Kayaking and stand-up paddleboarding on the beautiful lake is just as impressive as a canoe (though not as quintessential).
If you don't have your own, you can rent one for the day from Banff Canoe Club in Banff!
Canoeing in Banff • 20 Amazing Places to Paddle!
---
Cycle the Great Divide Trail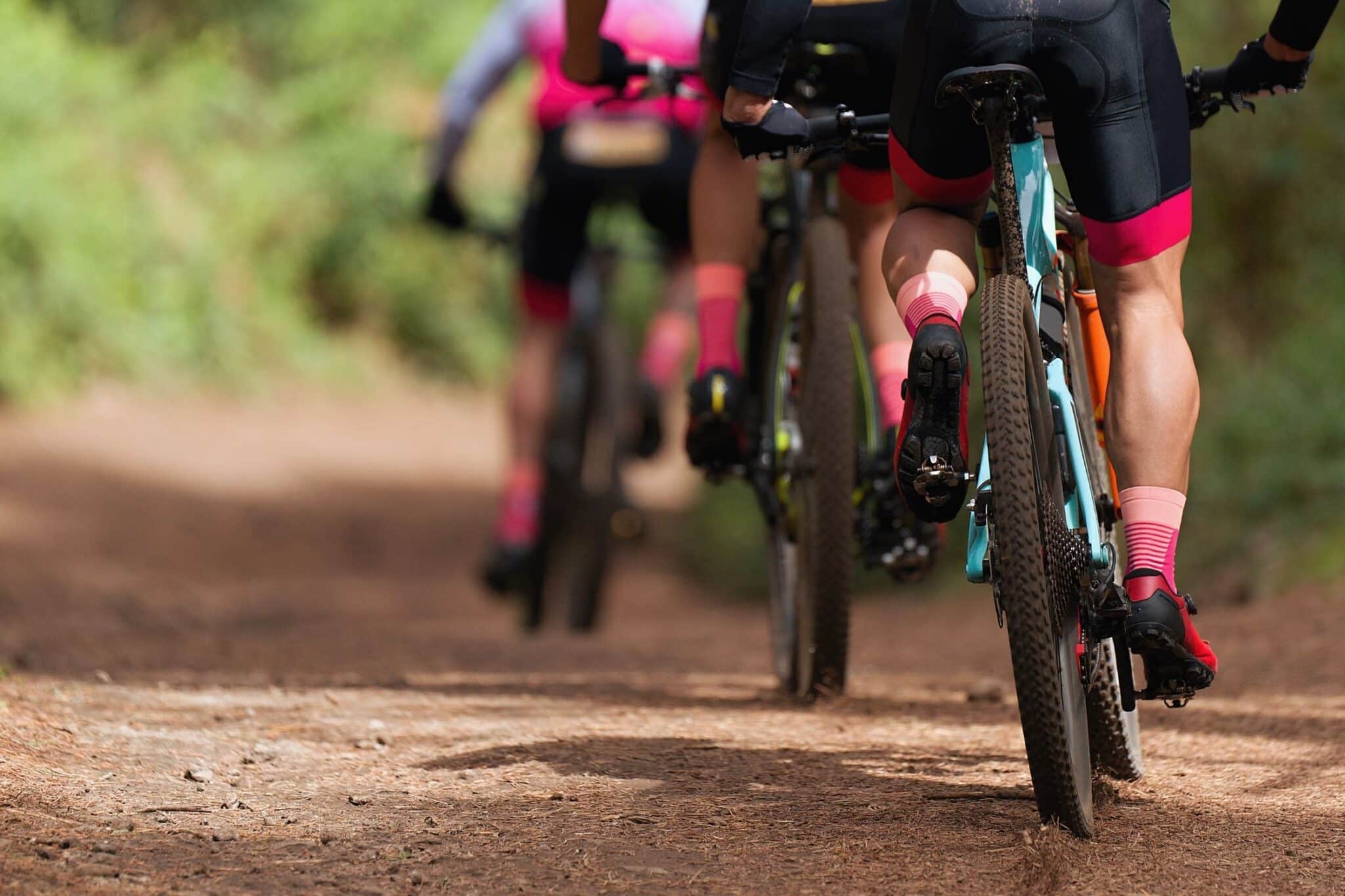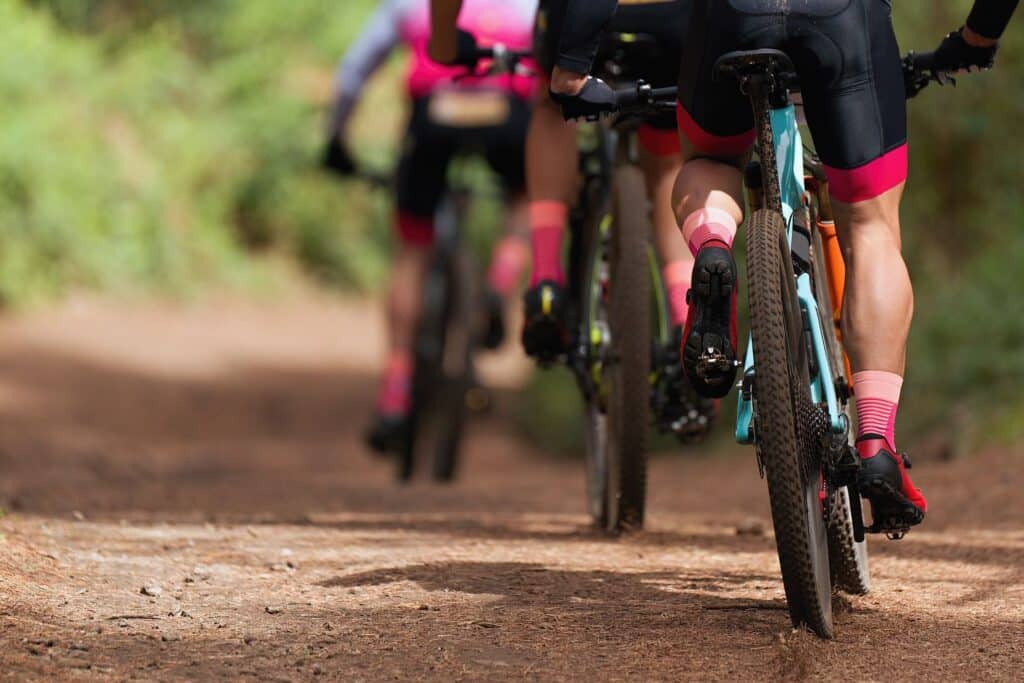 The Great Divide Trail (formerly the 1A Hwy) is a rough road that connects Lake Louise to Lake O Hara and crosses the BC/Alberta border. It's not a popular trail, it's closed to vehicles, and there aren't that many views around it.
However, it is a fun bike ride on gravel in the park! The Great Divide or the "Old 1A" is 10km one way, with minimal elevation gain, and is best done on a mountain bike or gravel bike as the road is not paved.
---
Have Lunch With Bill Peyto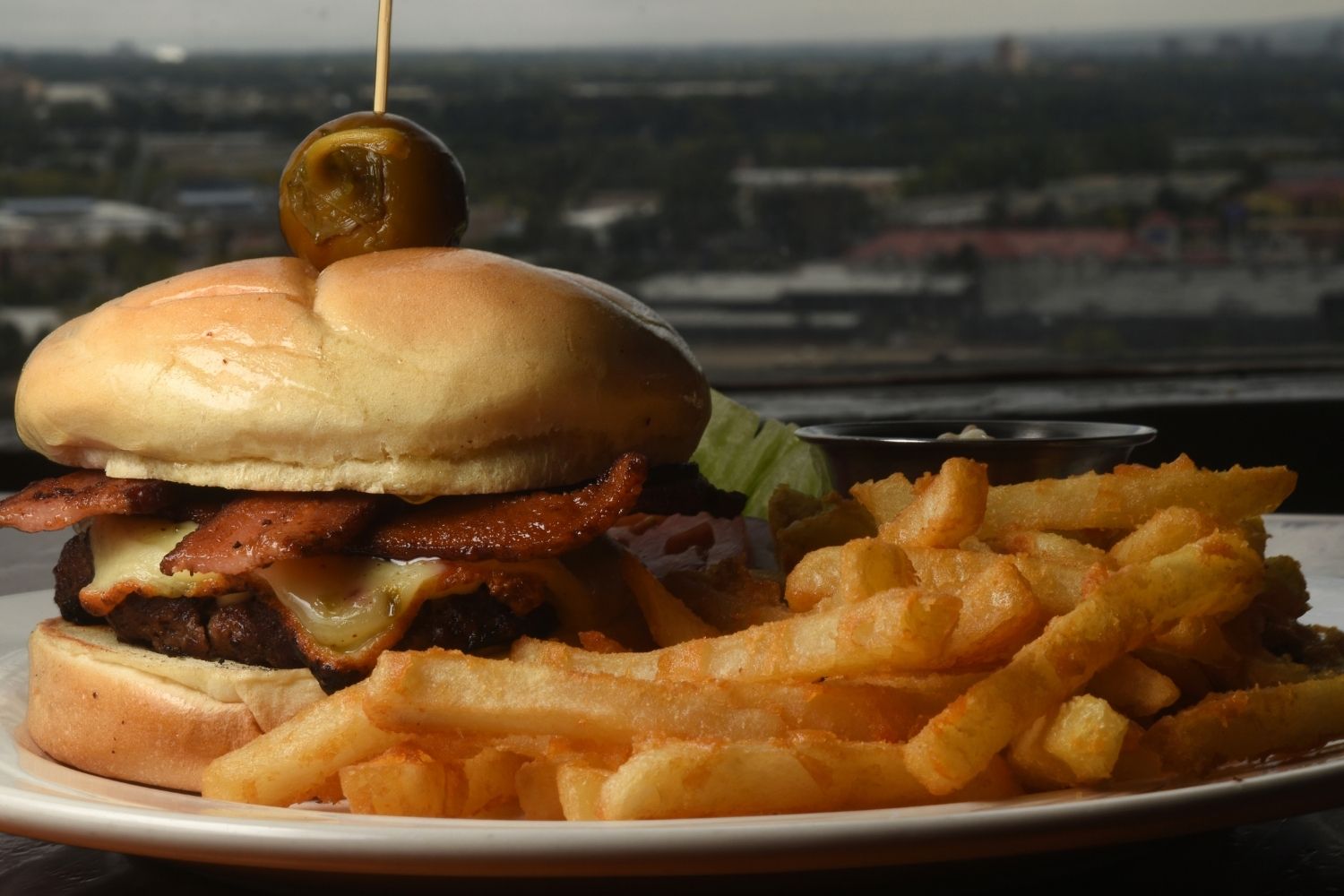 Of course, you may be wondering about the name. Bill Peyto's Cafe is named after Bill Peyto, a pioneer, mountain guide, and early park warden in Banff. Legend says that Bill caught a lynx at the turn of the 20th century, strapped it to his pack, brought it to his favorite bar, and released the cat.
He died about 80 years ago, so you can't have lunch with him. But you can sit inside this cafe! Bill Peyto's Cafe is located inside the HI Lake Louise Hostel and dishes fantastic breakfast and even better burgers.
11 Lake Louise Restaurants You'll Absolutely Love
---
Take a Plunge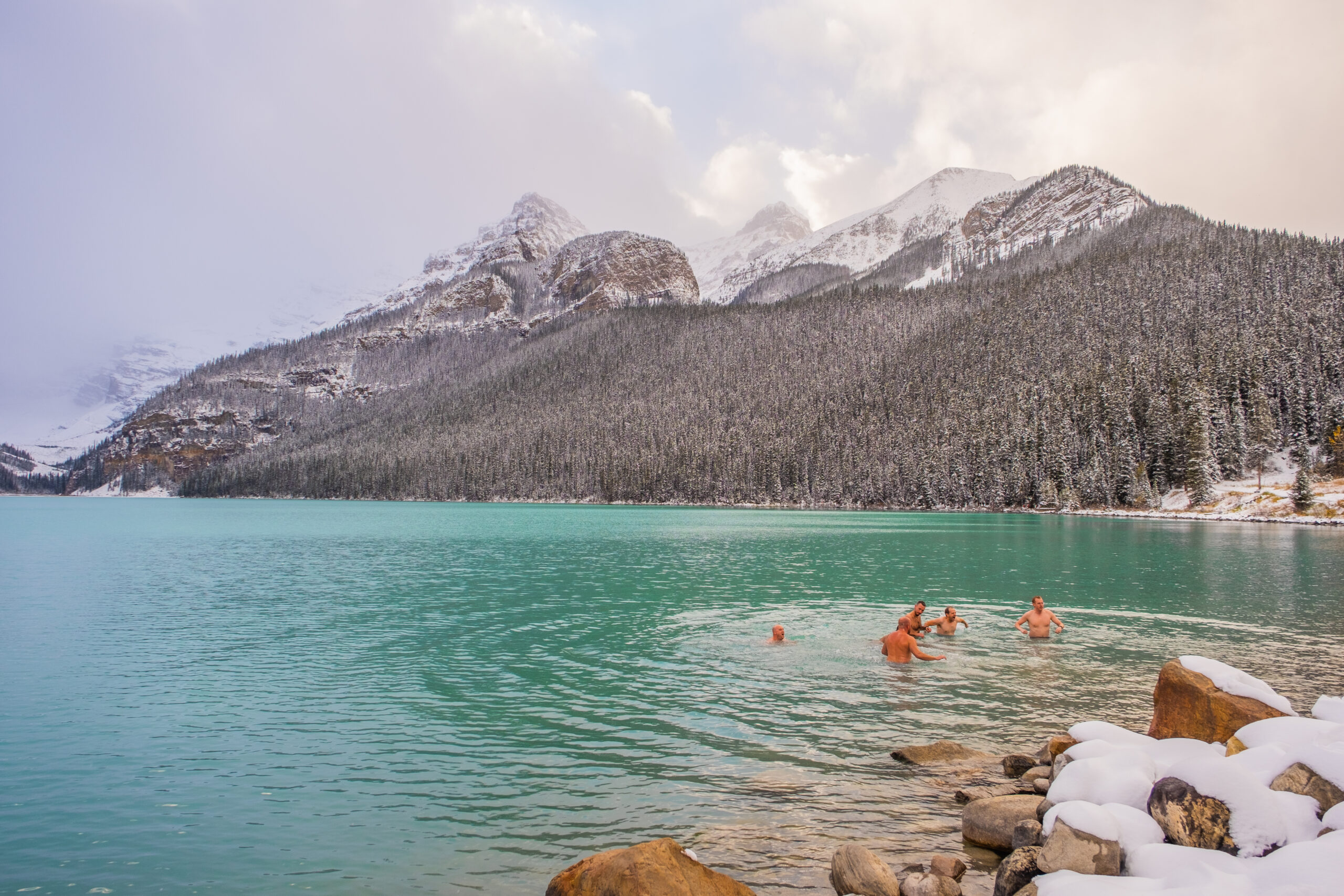 We always get asked if you can swim in Lake Louise. And the answer is, of course you can swim in it! But the question is, do you really want to? Lake Louise rarely gets about 5°C, meaning you only have about 15 minutes before hypothermia sets in. So instead of planning to swim in Lake Louise, it's probably best to plan to just take a quick plunge in the icy cold waters.
If you are dead set on getting in the water, the best time to do it is in Lake Louise in the summer!
---
Stay on the Lake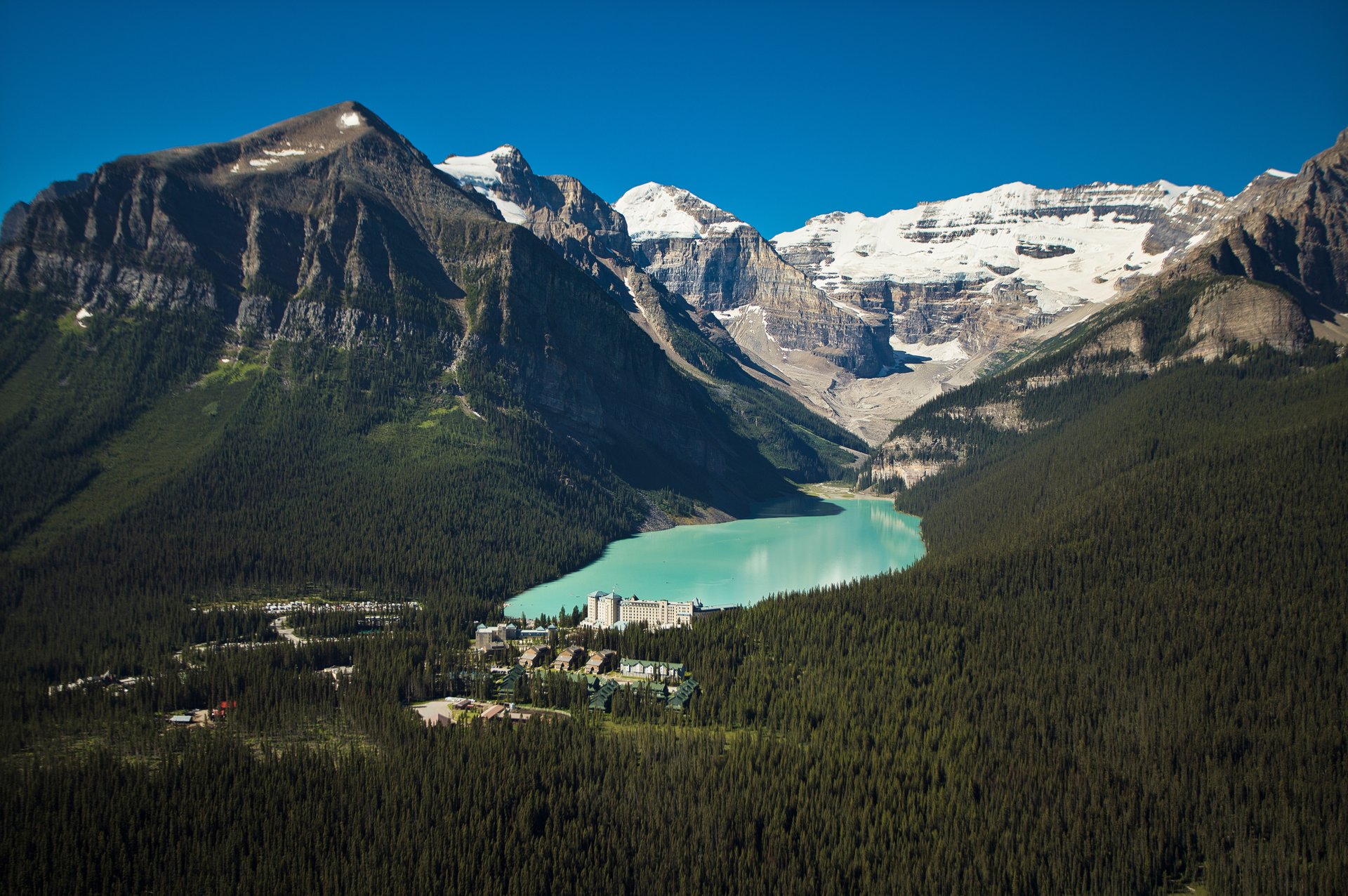 One of the best things to do at Lake Louise is stay on the lake in the summer. The only hotel actually on the lake is the Fairmont Chateau Lake Louise. Be forewarned, it's expensive in the summer, upwards of $1000+ per night (if you can even score a room).
Still, it's a bucket list experience to wake up on Lake Louise and see the sunrise over Mount Victoria before the crowds arrive.
10 Awesome Lake Louise Hotel and Accommodation Options
---
Stay in a Cozy Cabin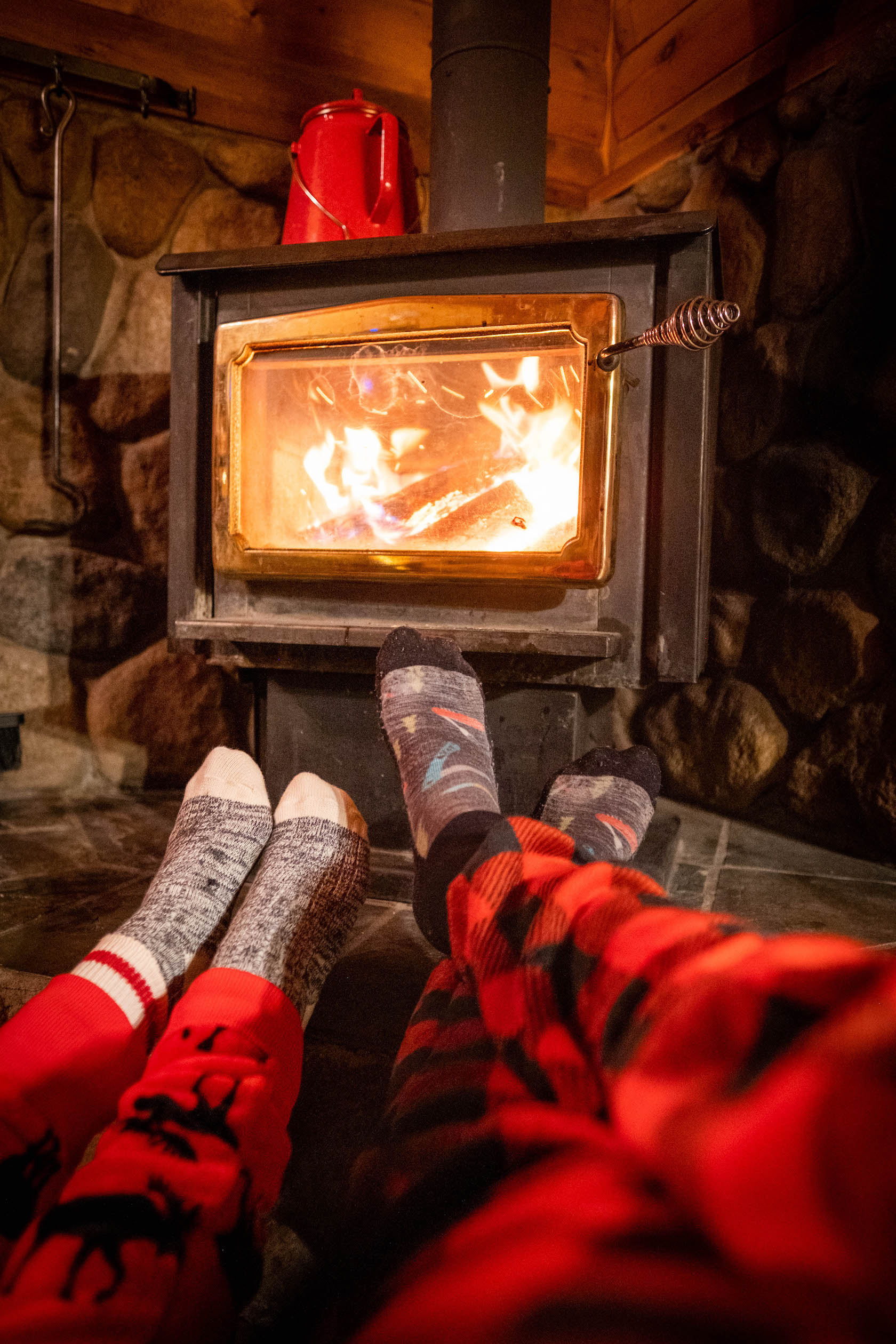 While staying on Lake Louise is fantastic, we prefer to get a bit off the beaten path and stay at a cozy Banff cabin instead. Baker Creek Mountain cabins along the Bow Valley Parkway are our absolute favorite place in Banff.
These Alberta cabins are among the cutest in the park, providing a wood-burning fireplace in many cabins. There are also plenty of places to socialize with others at the communal firepits and BBQs!
Other great cabin accommodation options are Castle Mountain Chalets and Johnston Canyon Bungalows!
Cozy Cabins on the Bow Valley Parkway You'll LOVE
---
Visit Herbert Lake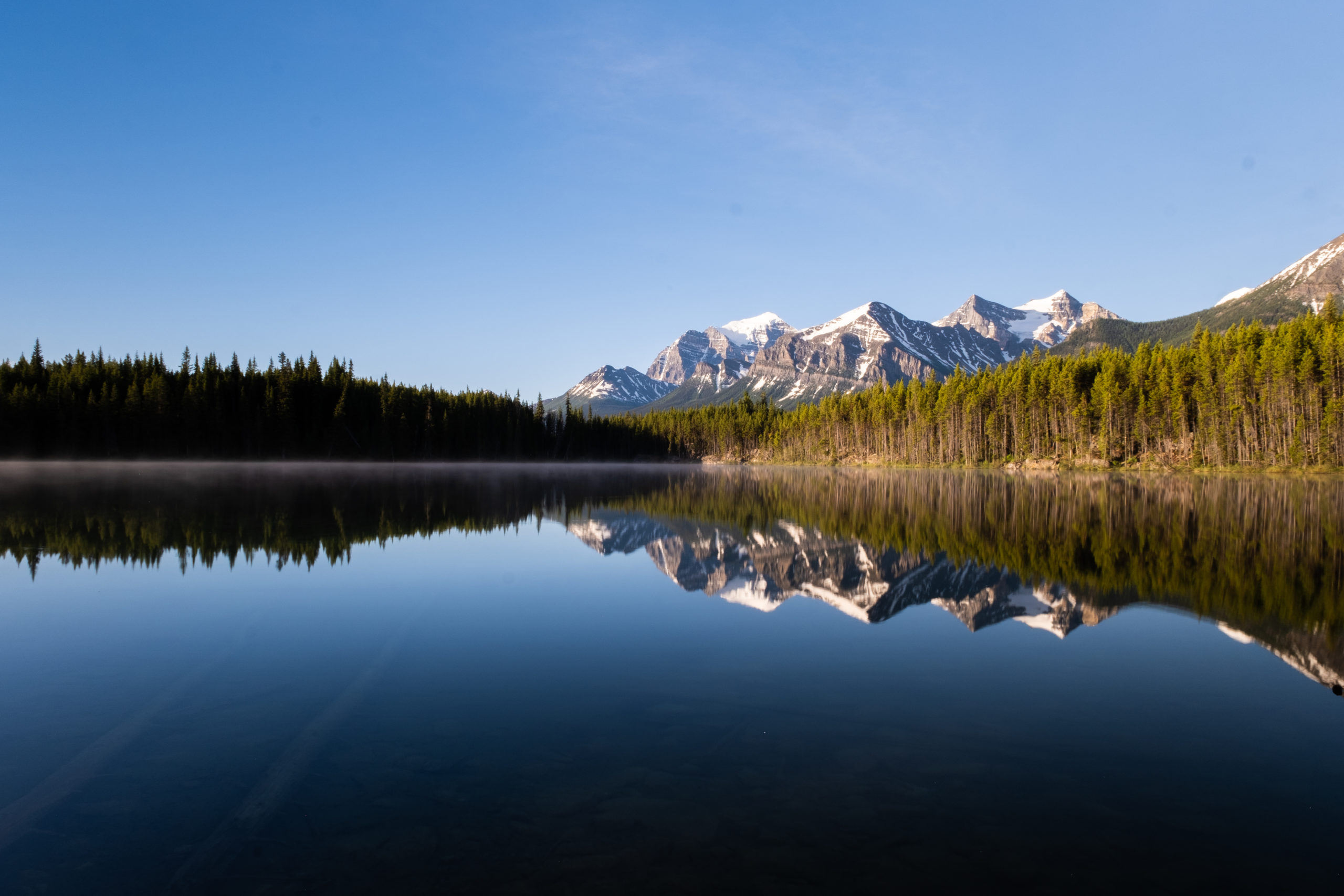 Herbert Lake is a small Banff lake just off the Icefields Parkway not long after you pass the park gates leaving the TransCanada highway. Its location and the fact that it's not considered a highlight in Banff means the lake remains fairly quiet throughout the summer. It is just 7.4 km away from Lake Louise.
If you can't get parking at Lake Louise, we recommend heading here for some downtime and views of Mount Temple.
A picnic area right along the lake shores makes it easy to put a SUP or kayak in the water. While paddling around, keep an eye out as there is a diving board; if you're brave enough to take a dip in the frigid waters.
---
Visit Bow and Peyto Lakes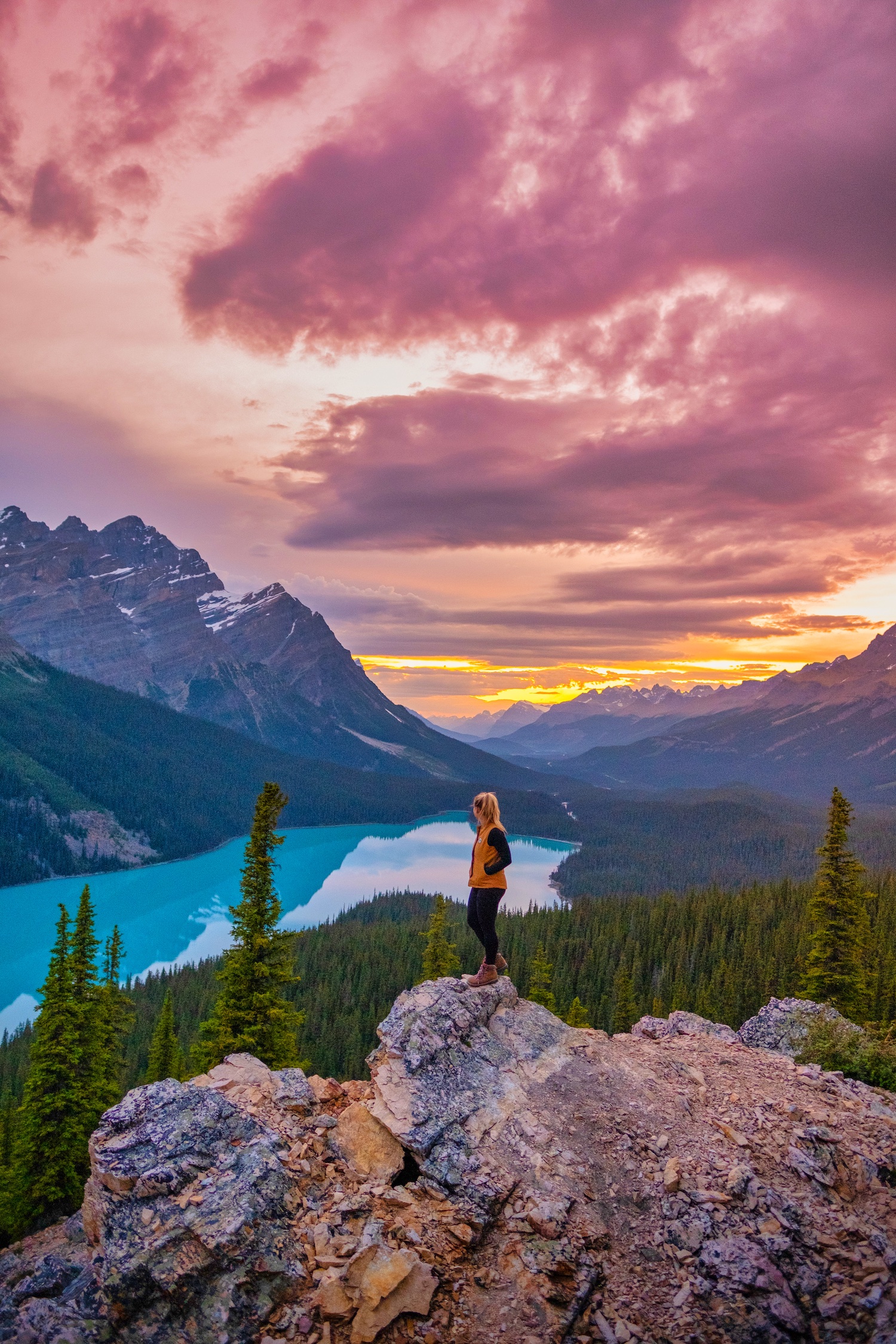 Keep venturing up the Parkway for two more fantastic lakes. Bow Lake is just 38.7 km (30 minutes) away from Lake Louise and is a brilliant blue lake that sees far fewer crowds. You can even hike to Bow Glacier Falls if you are up for an adventure!
Another famous lake is Peyto Lake, 45 km from Lake Louise. It's a short walk up to the viewpoint, and once you reach this area, you will not be disappointed.
Icefields Parkway Guide: Everything You Need to Know
---
Our recommendations for the best place to stay in Lake Louise in summer
Where to Stay in Lake Louise in the Summer?
---
Hope this guide to visiting Lake Louise in summer helps you plan your trip.
If you have any other questions leave a comment or see our Canadian Rockies travel guide for more articles about photography spots, lakes, hikes, and everything else.
---
↓ Join the community ↓
The Banff Blog Facebook Group is your headquarters for the Canadian Rockies' travel advice and information. Including hike info and off-season travel information. This is also where you can meet one another when you need adventure buddies. 

---
Plan Your Trip to the Canadian Rockies