Lake O'Hara is in Yoho National Park in Eastern British Columbia, just across the border from Alberta and only a few kilometers from Lake Louise. The lake and the surrounding valley are some of the most prized areas for natural beauty in the Canadian Rockies, and Lake O Hara herself is an easy contender for the most beautiful lake in B.C.
At an elevation of 2,200 meters, the lake spends most of the year locked away in a sheet of ice. In the summer months, thousands of hopeful campers scramble to secure reservations at the most sought-after campsites in Canada along the lake. Those lucky enough to sleep on the shores of Lake O'Hara are treated to a resplendent landscape full of wildlife, glaciers, larch trees, and alpine lakes.
However, not everyone can get a camping reservation or bus ticket to Lake O'Hara. We will break down all you need to know for visiting Lake O'Hara this summer.
Parks Canada will launch campsite reservations for the 2023 visitor season starting Wednesday, March 28, 2023, at 8 am MT.
---
Introduction to Lake O'Hara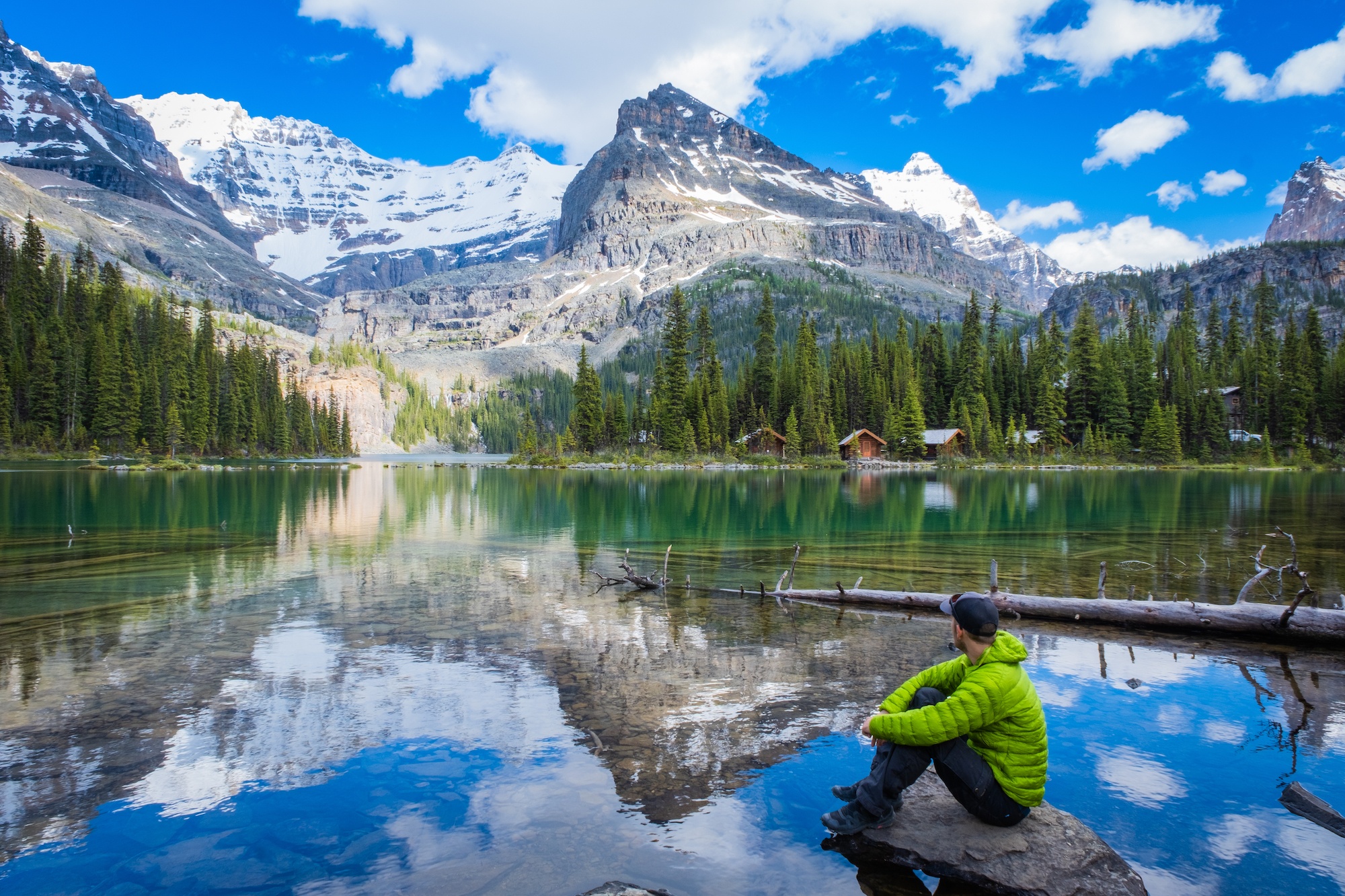 Lake O'Hara most commonly refers to the area around the lake, such as the campground, Elizabeth Parker ACC Hut, and the Lake O'Hara Lodge, 11km down a gravel road. The only way for the public to access the area is by foot or shuttle bus from the Lake O'Hara parking lot, which requires a reservation.
The parking lot for Lake O'Hara sits at the end of the old Great Divide highway, about a 10-minute drive from Lake Louise Village, 15 minutes from Field, and 25 minutes from Emerald Lake. It's a great day or backcountry trip to add to a larger trip to the Canadian Rockies.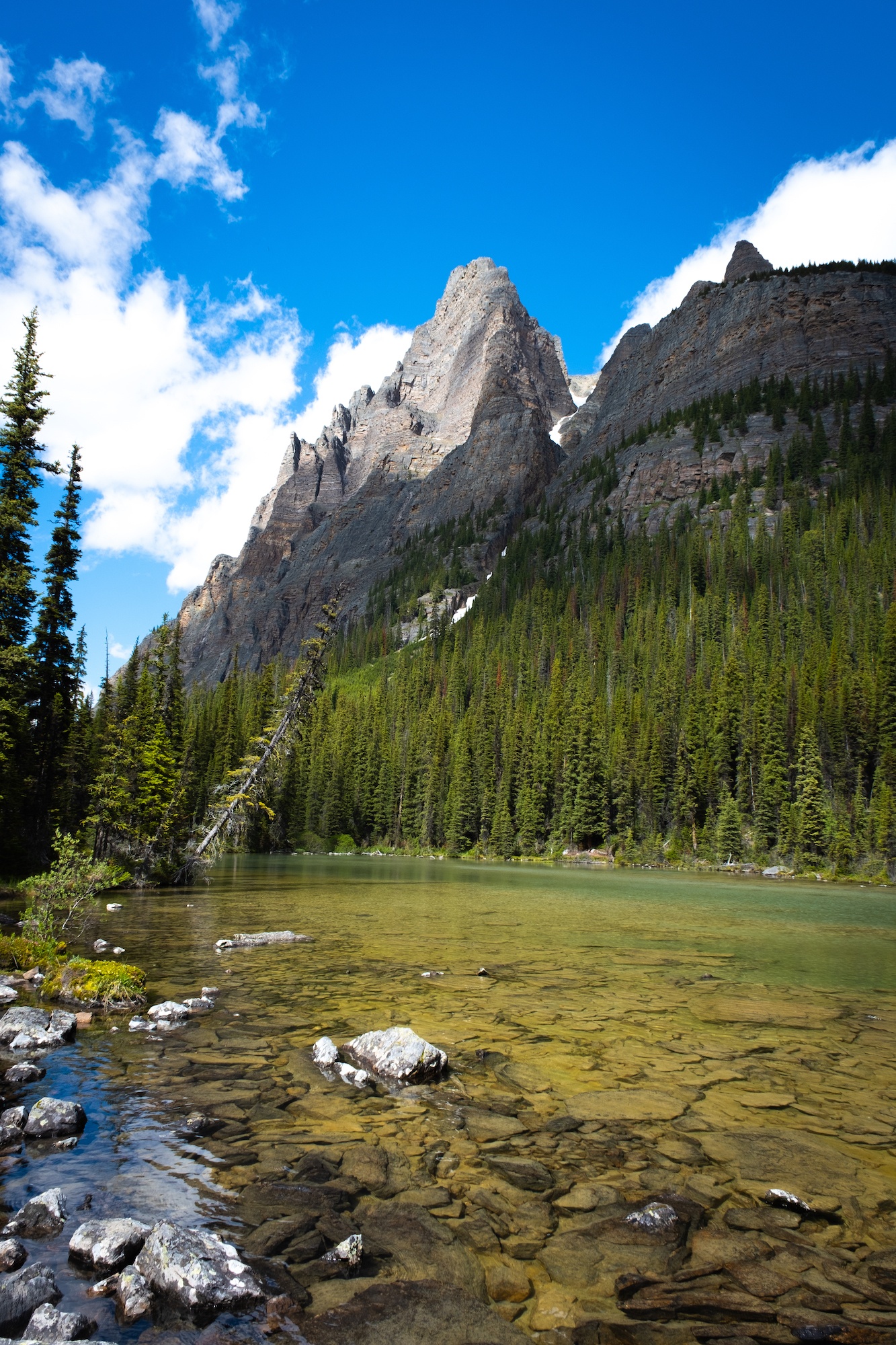 The pristine natural area may take some work, but the effort required and limited numbers ensure that human impact on the region is minimized. In all of the Canadian Rockies, there is hardly a place that competes in natural beauty. Landscape views around Lake O'Hara are sublime and feel like they belong in a dream or movie.
---
How To Visit Lake O'Hara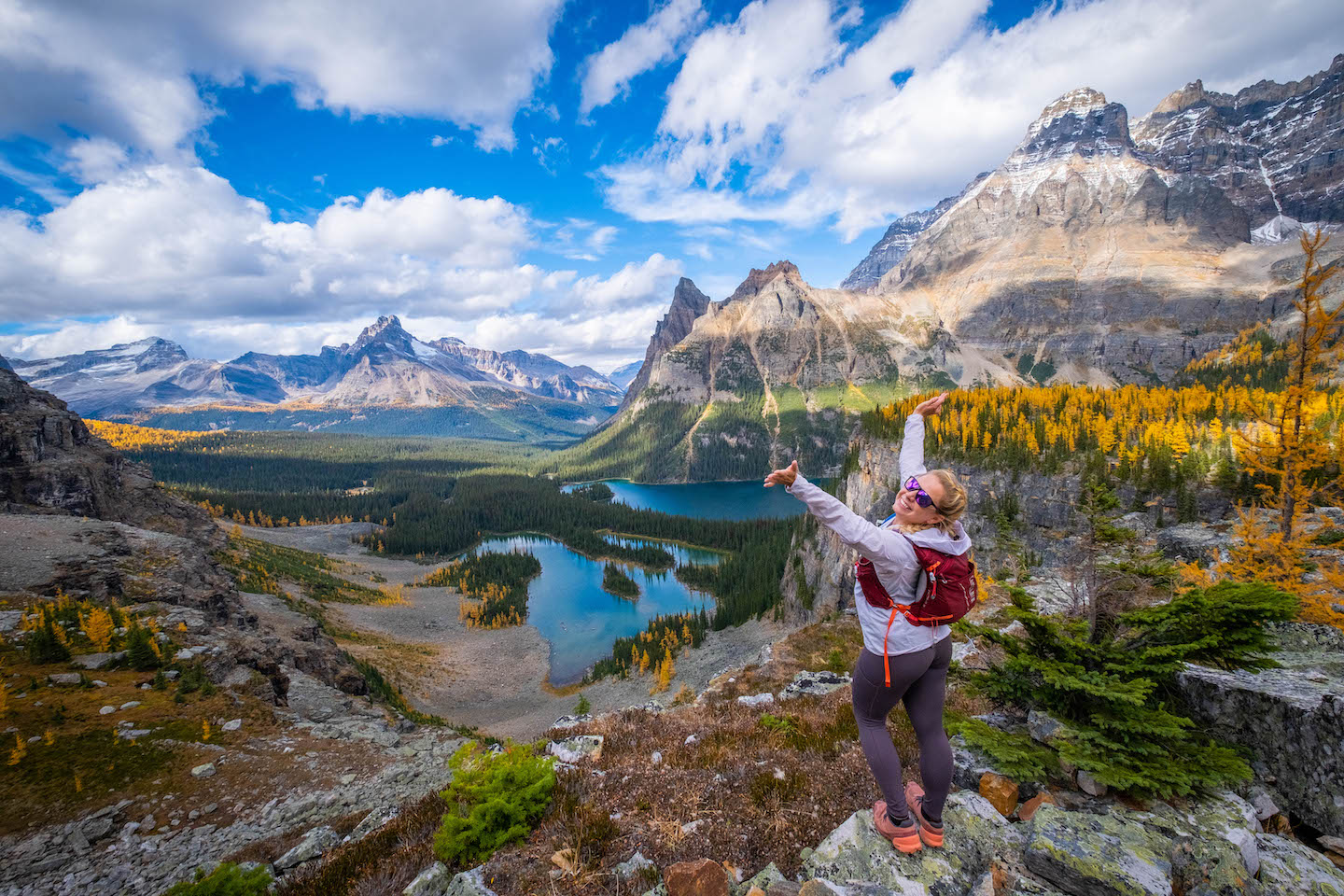 There are a few options for getting to Lake O'Hara and enjoying it to its fullest. We share the full details below. Visitors can access Lake O'Hara in the following ways.
Score a campsite at Lake O'Hara (overnight option)
Get reservations for a seat on the Parks Canada Lake O'Hara Shuttle Bus (for day hikers)
Walk the access road (day hikers)
Shell out for the beautiful Lake O'Hara Lodge (overnight option)
Book the ACC Elizabeth Parker Hut (overnight option)
---
Camping at Lake O'Hara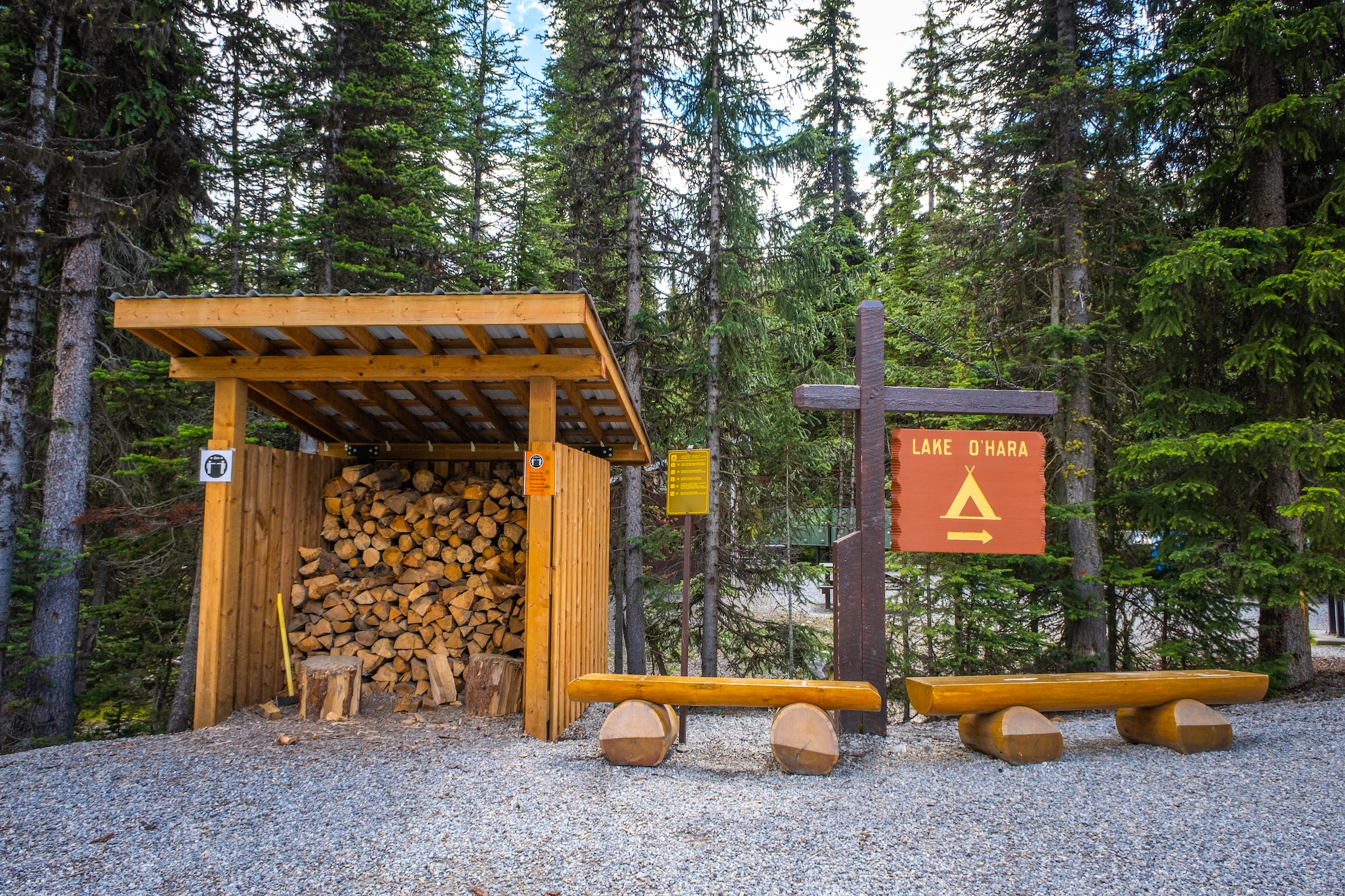 Lake O Hara Campground Fees
Online Reservation Fee: $11.50 (non-refundable)
Telephone Reservation Fee: $13.50 (non-refundable)
Backcountry camping fees (in addition to the reservation fee): $10.50 per person per night*
Lake O'Hara Bus fees: Included with campground reservation
Yoho National Park Park Fee: $10.50 per adult per day. We recommend an annual Parks Canada Discovery Pass if you spend multiple days in Banff and Yoho.
Campsites are extremely limited at Lake O'Hara and are managed by Parks Canada to reduce human impact on the area. There are 30 campsites at the Lake O'Hara Campground, and reservations are highly sought-after. The Lake O'Hara campground will operate from June 18 to October 2, 2023.
It's so competitive that the best chance to secure a reservation is to book on the Parks Canada website as soon as reservations are released. Campsites for the entire summer are gone within minutes. The reservation system for campsites at Lake O'Hara opens every year before the camping season begins.
You can book your reservation here at 8 am on March 28th, 2023. You should visit the Parks Canada website before the release to create an account and be ready to book at the time of release. You can also book by phone by calling 1-877-737-3783, but the phone lines can be more of an issue than booking online.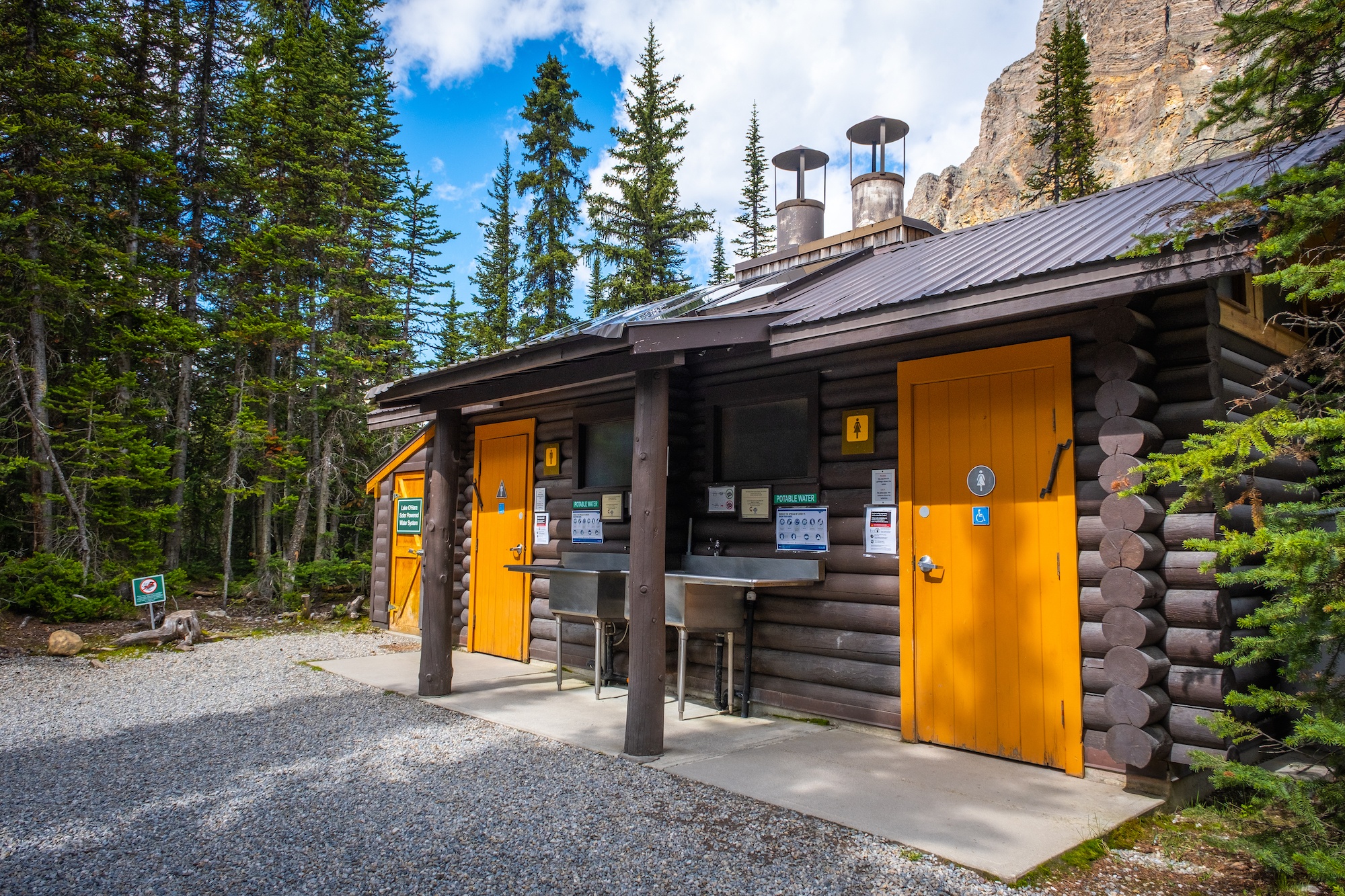 If you book a reservation, you are permitted up to three nights and two campsites at Lake O'Hara. Each campsite can hold one tent and a maximum of six people per party. The campsite reservation includes a spot on the transportation bus that will drive campers 11km down a gravel road to the campsite and back.
Upon booking, campers will need to request their desired bus departure time. The buses for campers depart from the parking lot at 8:30 am, 10:30 am, 3:30 pm, and 5:30 pm. Reservations are only required for the inbound bus when you make your reservation. Bus times are not guaranteed, and you will receive an email to confirm your inbound bus time within two weeks of your booking date.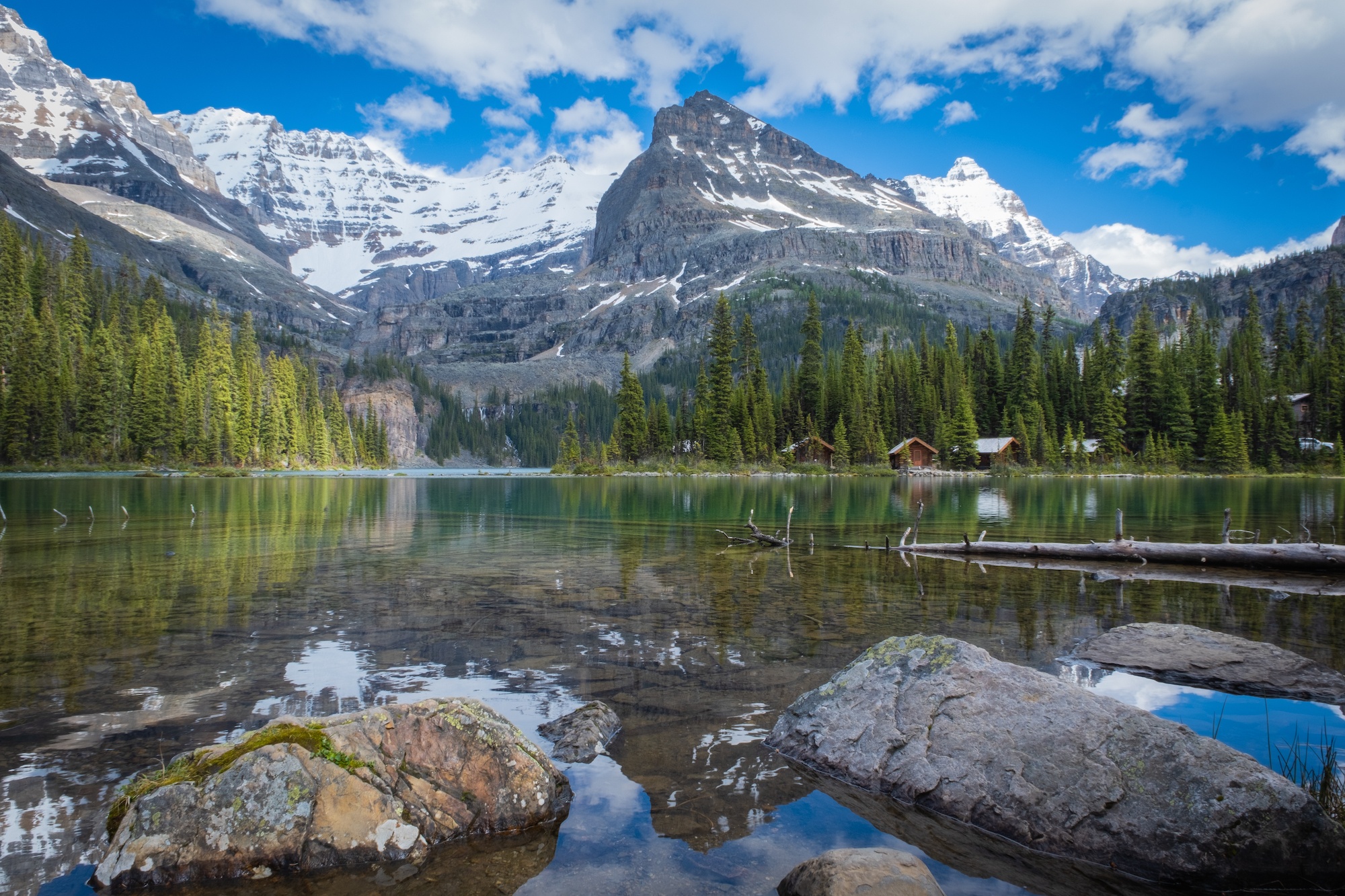 If you miss the chance to book when the reservation system opens, it is possible to score a reservation at any time of year as cancellations occur. Although, people hold on to their Lake O'Hara reservations as they're a coveted prize in the Rockies.
Of course, cancellations mean campers need flexible dates, so it is best suited for locals. Campers are treated to one of the finest backcountry campgrounds operated by Parks Canada.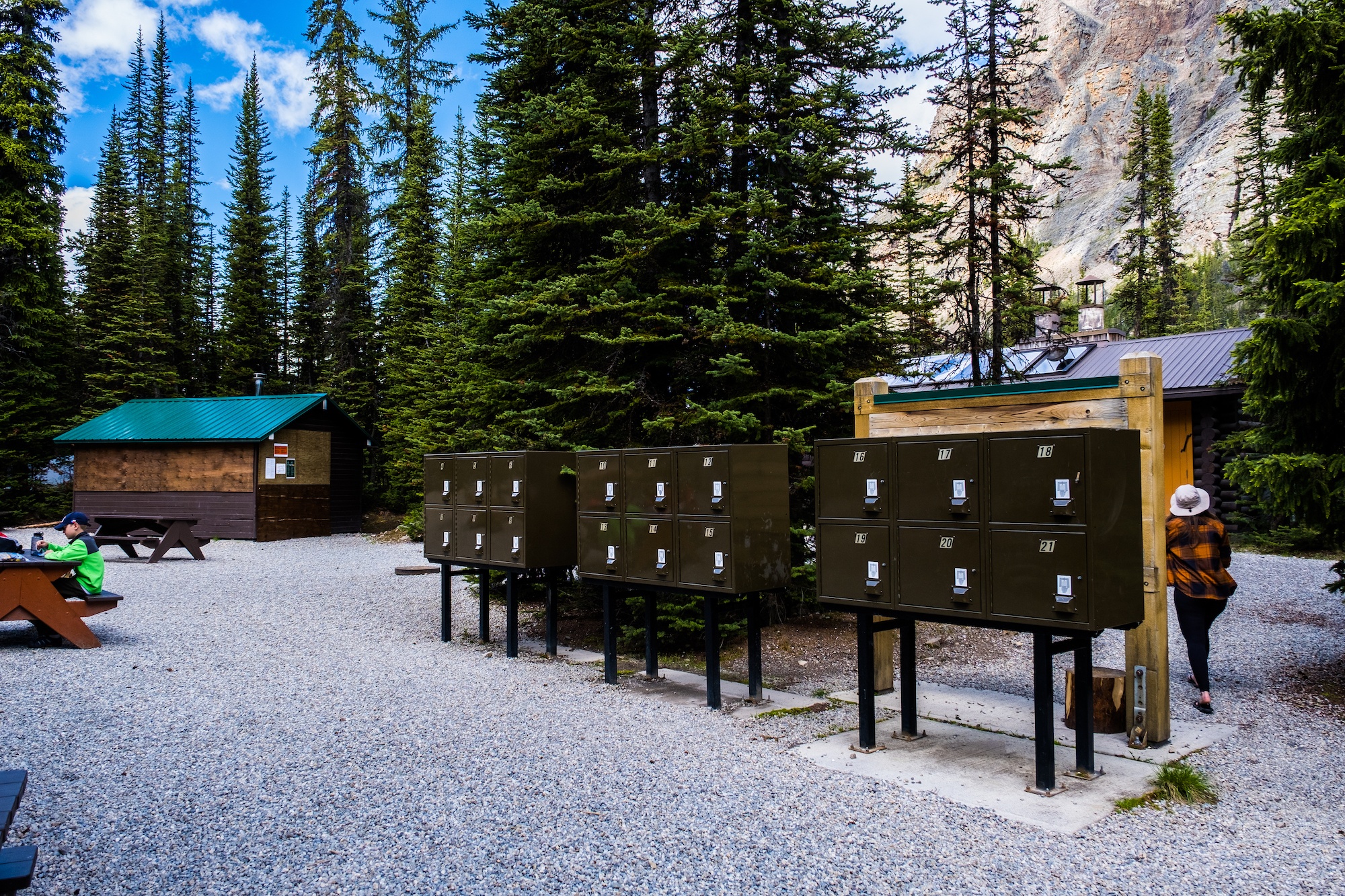 The campsite has communal fire pits, picnic tables, and a kitchen area with sinks to wash dishes. There are also trash cans, long drop toilets, and bear lockers. The trash cans feel particularly luxurious as campers are not required to pack their trash.
Two shelters also provide a dry place to relax, cook, and warm up next to one of the wood stoves. Potable water is also available at the campsite. However, it is not always available early and late season. So it's advisable to pack a water filter during this period.
Lake O'Hara Campground Rules
Maximum stay of three nights
One tent per campsite
Maximum two campsites on the same reservation
One large or two small bags per camper is allowed on the bus. 25 kg max weight per passenger.
No hard-sided cooler or plastic bins allowed
No musical instruments, speakers, chairs, or hammocks are allowed.
Food must be stored in bear lockers.
Be sure to bring a backpacking stove for cooking, as the wood stoves and fire pits are best used for heat.
Tips To Score A Lake O'Hara Campsite Reservation
Ensure you have set up a Parks Canada account ahead of booking time.
Be as flexible as possible when booking and have different dates in mind. Weekends will fill up faster than weekdays, so if you can camp on a weekday, it's best to try and go for that.
Log on to the Parks Canada website an hour before registration opens. We believe this puts you at the front of the queue. However, Parks Canada is using a new system this year with no queues, so we're uncertain how it will operate.
Have multiple people try to get Lake O'Hara camping reservations to improve your group's chances.
---
How To Take A Day Trip To Lake O'Hara
You can visit the lake if you want to day hike around Lake O'Hara. Hikers can secure a reservation on the shuttle bus or hike in on the 11 km long access road.
---
Shuttle Bus To Lake O'Hara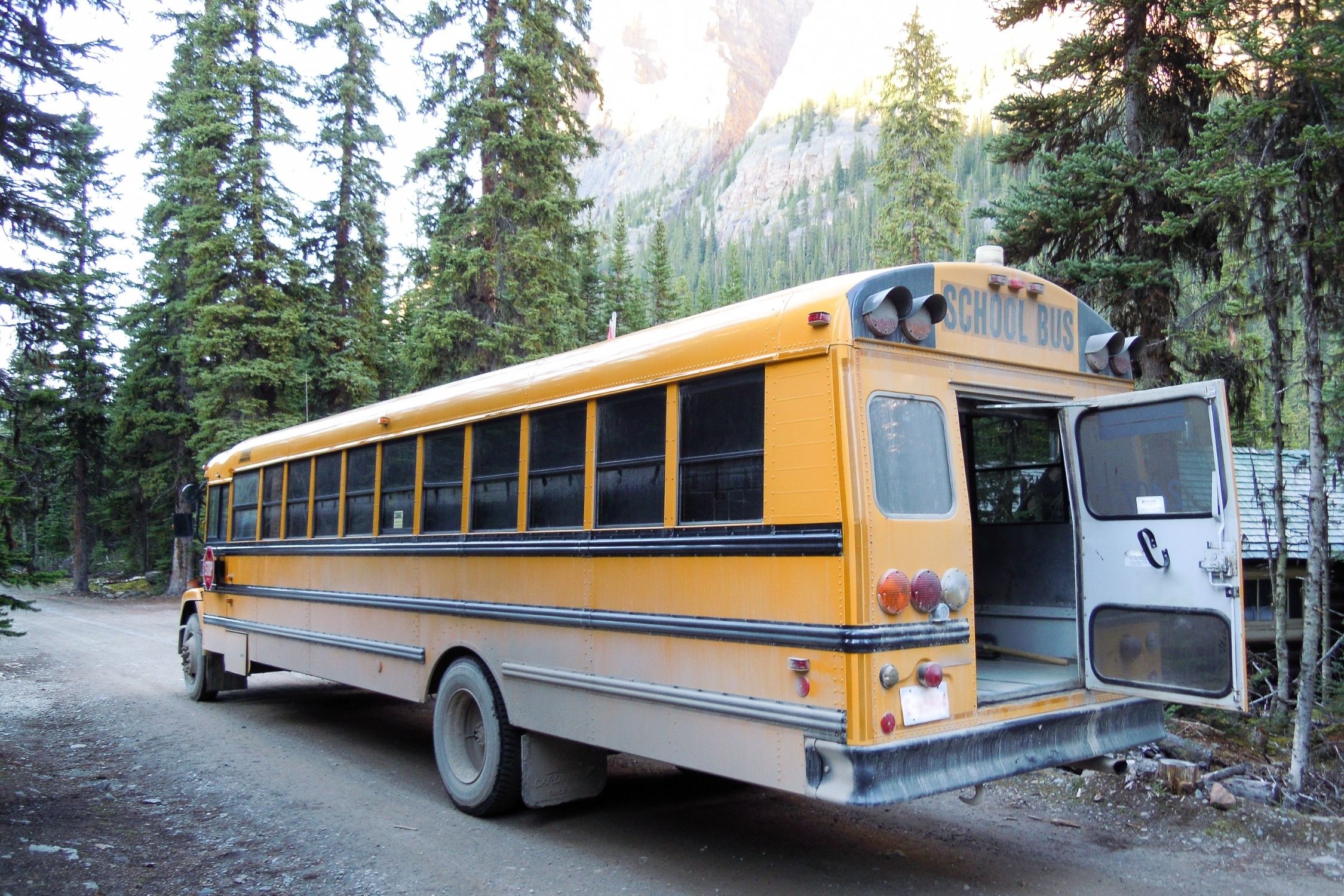 If hikers cannot land a campsite reservation, they have two options to visit Lake O'Hara. The next best option would be to book a reservation on the Parks Canada bus.
Most trails around Lake O'Hara are short, and covering all the highlights in a day or two is possible. If you're a strong hiker, you can cover all the major sights in a long day.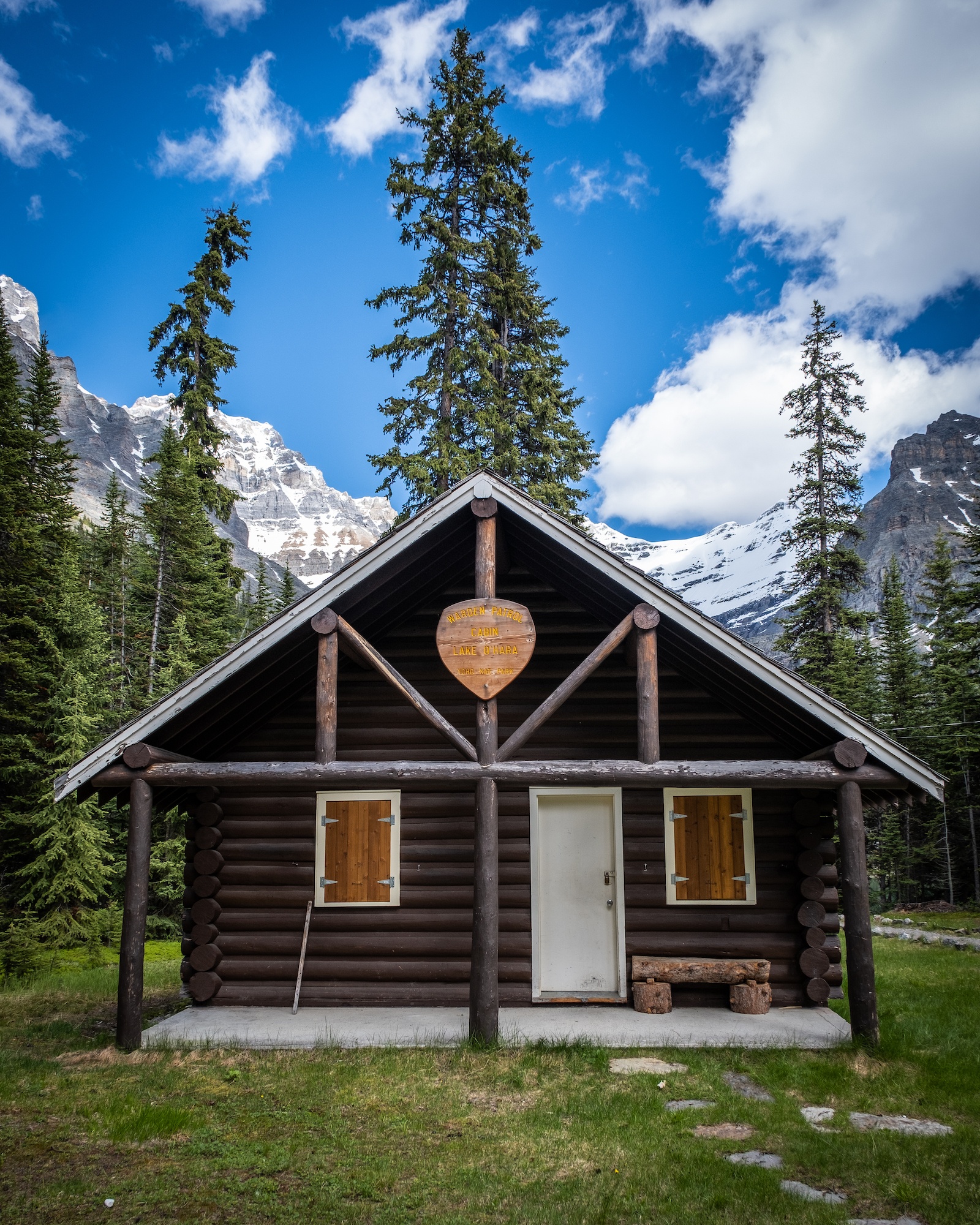 Due to the popularity of the shuttle bus, reservations will likely be booked out at the time of release. Reservations for the shuttle will be available at 8:00 am on April 12, 2023. The shuttle bus schedule is 8:30; 10:30 (ingoing) and 9:30; 11:30; 14:30; 16:30; 18:30 (outgoing).
Reservations earlier in the day are best as they allow ample time to explore the area through many hiking trails. The bus drops off campers at the campground. It's a short 500-meter walk to the Le Relais Day Shelter and Lake O'Hara.
Lake O'Hara Shuttle Info
Shuttle reservations are released at 8:00 am on April 12, 2023
The fee for the shuttle is $17.14 per person roundtrip
Arrive at least 20 minutes before your scheduled departure time.
Reservations no longer operate on a random draw system.
No animals are allowed on the shuttle.
---
How To Hike To Lake O'Hara
If you cannot secure bus reservations or reservations at the campground, the final option would be to hike the access road. From the parking lot to the Lake O'Hara campground, it's around 11km (6.8 miles), gaining 500 meters (1,650 feet) in elevation.
It's a gradual climb up the road, but it does eat at the psyche of hikers as it is extremely boring. The road takes two hours to walk at a constant pace with no breaks. We've done it a few times as we've missed securing camping or bus reservations.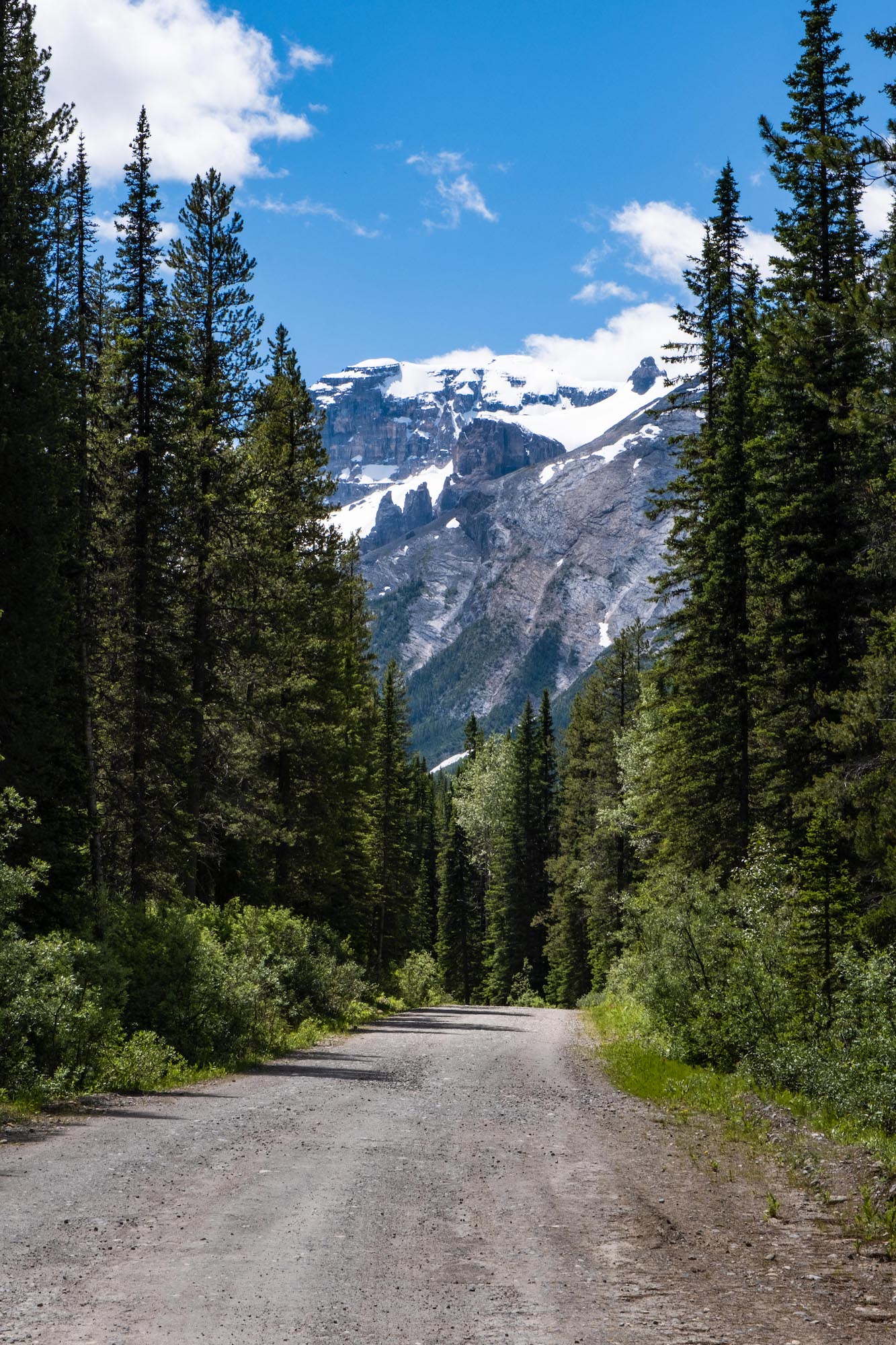 If you are dead set on seeing Lake O Hara, hiking in is not the end of the world, and the effort is well worth the reward. This option is best reserved for experienced hikers comfortable with a 23 km day hike. If there are plans to do the alpine circuit or any of the Lake O Hara day hikes, it is easy to reach a 30+ km day.
It is possible to catch the bus in the evening for departure, but hikers are not guaranteed a spot. The one-way ticket costs $10 and can only be paid in cash. However, with no guarantees, most hikers should be prepared for a long day of hiking.
Our last time at Lake O'Hara, we managed to hike in and get the bus back out. However, the bus driver was very strict with the number of people allowed. If I remember correctly, there are 20 seats on the bus, and they do not allow people to squeeze or sit on the floor.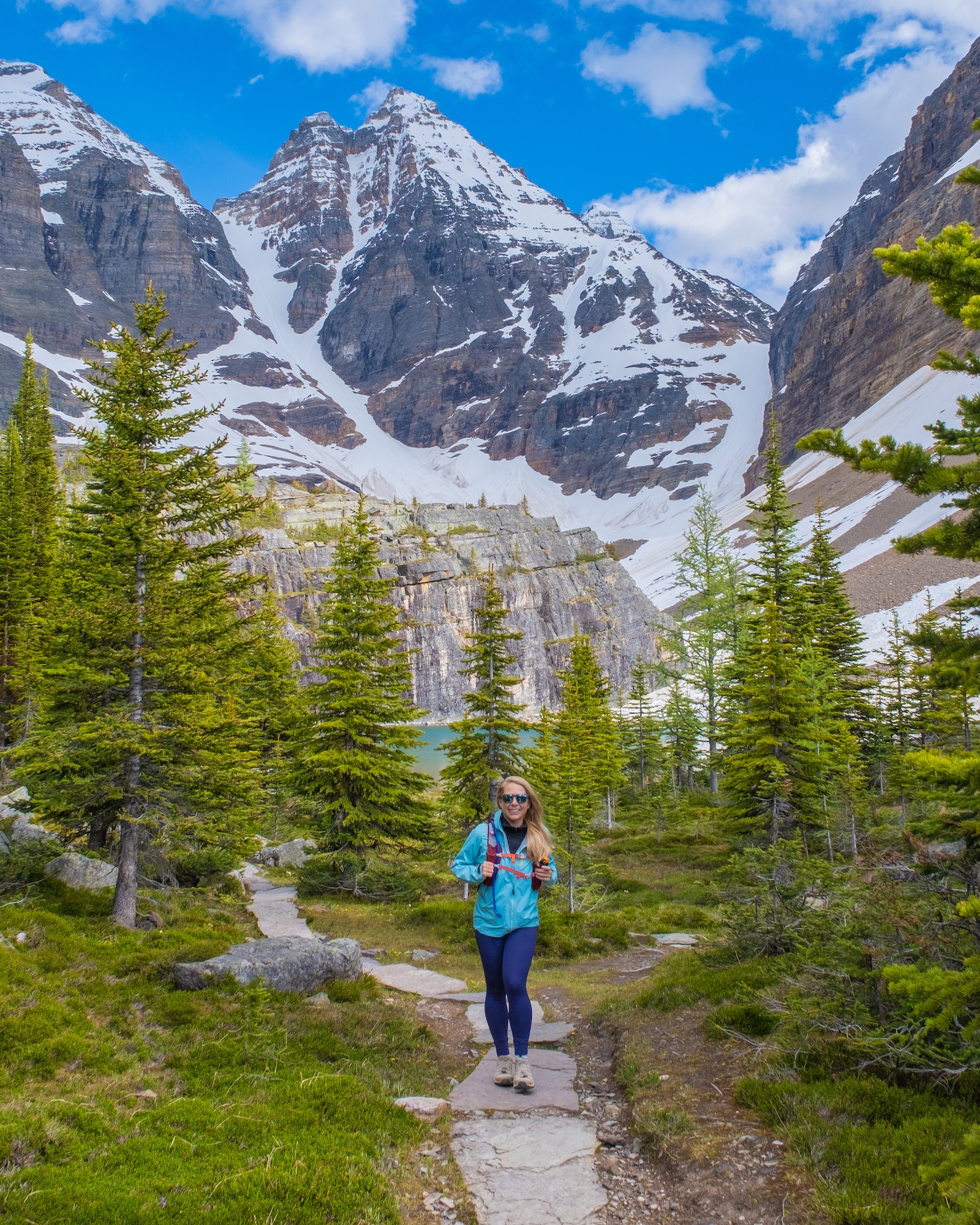 21 people wanted a bus ride out at the end of the day, and he made one person get off the bus and walk out. We all begged him to let that person sit on our laps, but he wasn't having any of it. They are earnest and strict with their rules.
We've done a full loop and hiked the road in one day, granted it was 40 km, and we're very fit local hikers. It comes with a big advantage for photographers. If you hike the road, you can choose the day and time. So, if you're concerned about the weather, you can pick the best weather window. Hiking on your schedule also means you can catch a sunset or sunrise.
Of course, either sunset or sunrise requires walking the road in the dark. The road is easy with no obstacles, so it can be done easily. Pack a headlamp and bear spray, as it can be extremely dark.
Can You Bike The Lake O'Hara Road?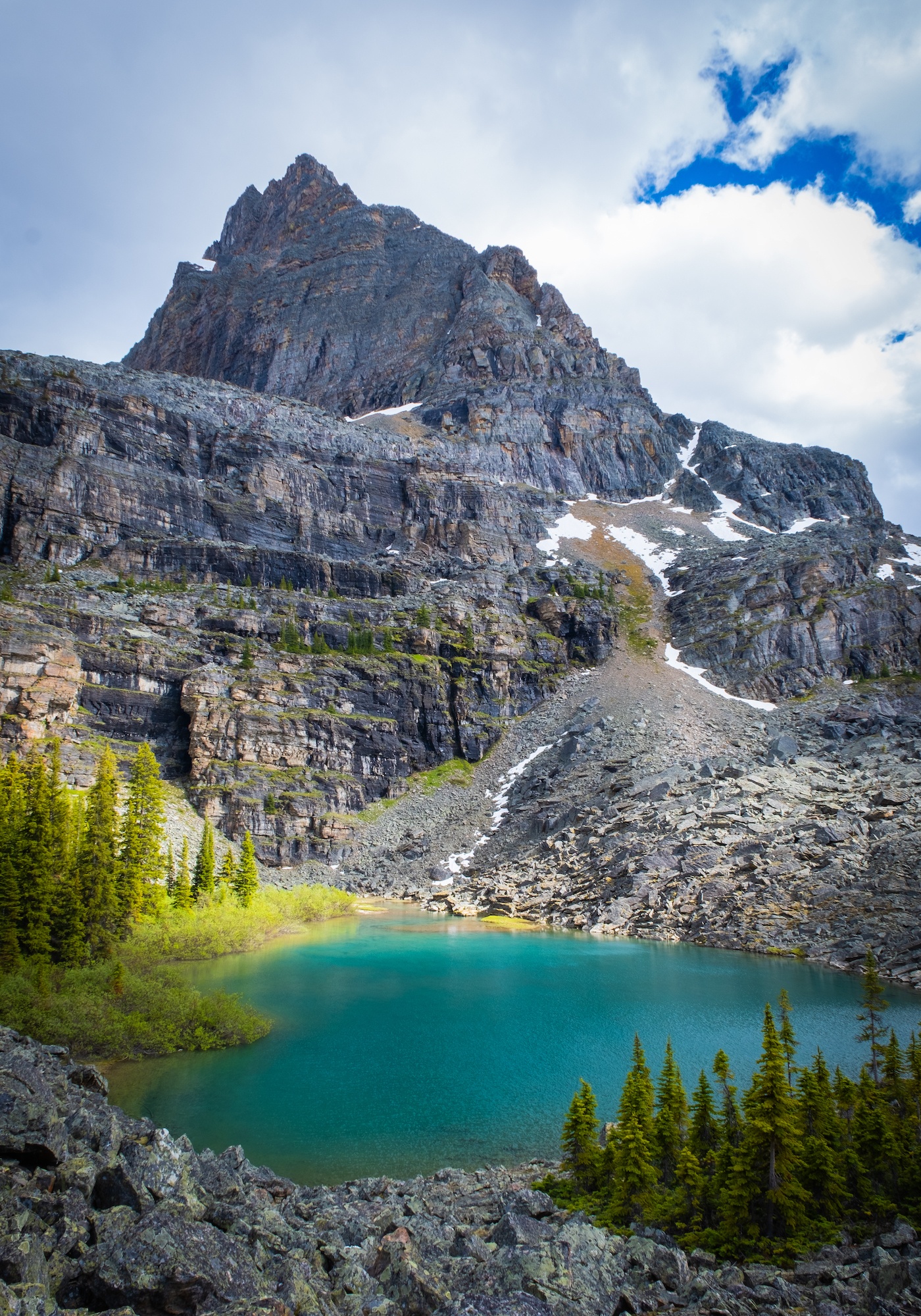 NO BIKING is allowed on the road to Lake Ohara; wardens regularly drive up and down the road and can/will issue fines. We're almost certain there are cameras on the road, as last time we visited Lake O'Hara, the park warden we spoke to knew exactly how many people had hiked in for the day.
Can Dogs Visit Lake O'Hara
Pets are prohibited at the campground, ACC hut, bus, and lodge. However, they can be walked on a leash — the dog must be comfortable covering at least 23 km. It's rare to see an animal in the Lake O'Hara area.
---
Lodging At Lake O'Hara
---
Lake O'Hara Lodge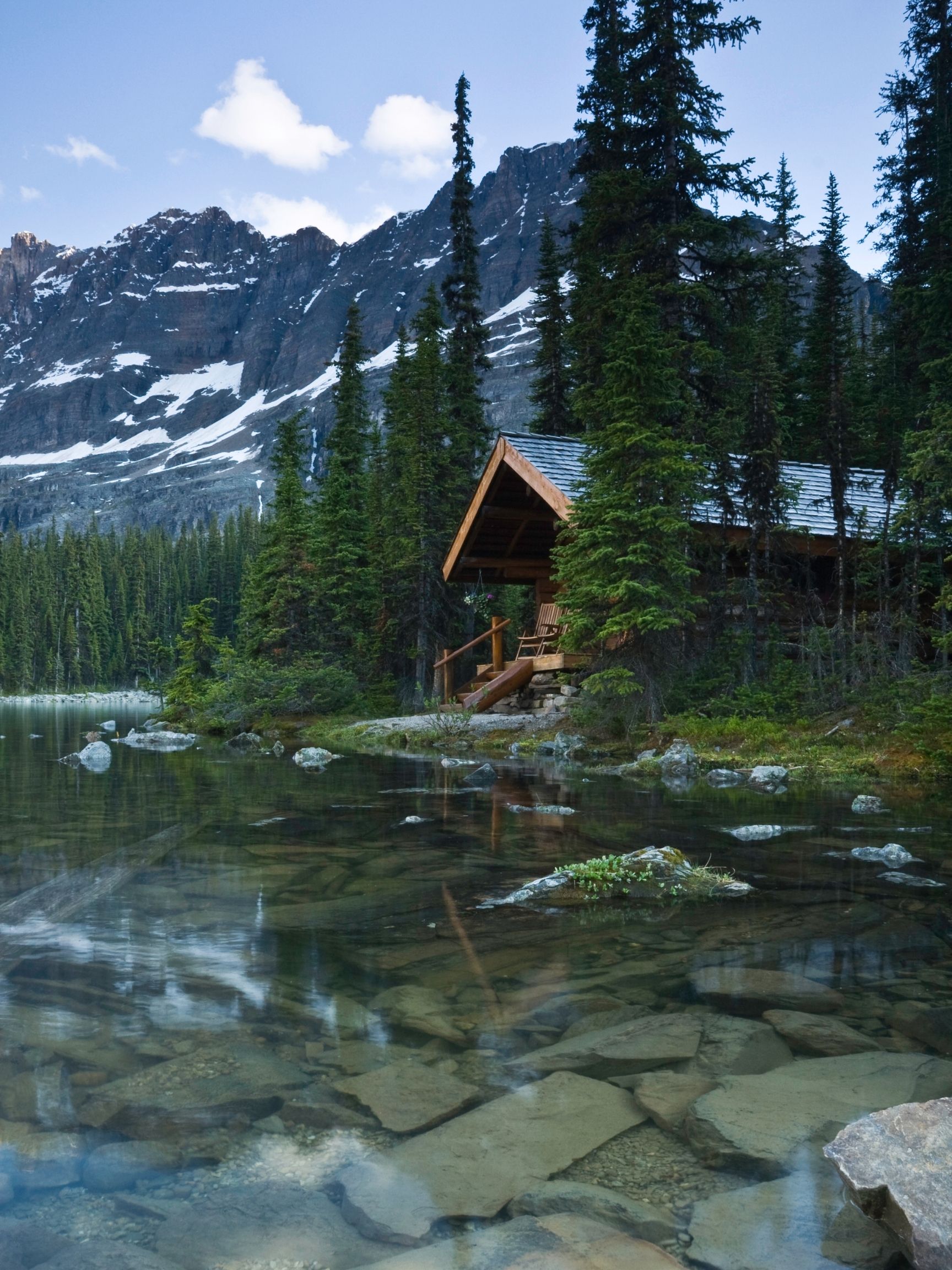 For those who do not feel like pitching a tent or walking down the long gravel road, staying at Lake O'Hara Lodge will be a sublime choice. The historic lodge is luxurious and has lakeside cabins that are beyond enviable.
Quite honestly, they may be some of the most serene cabins in the world. Included in the guest's stay are all meals, a private shuttle bus, and the use of the lodge canoes.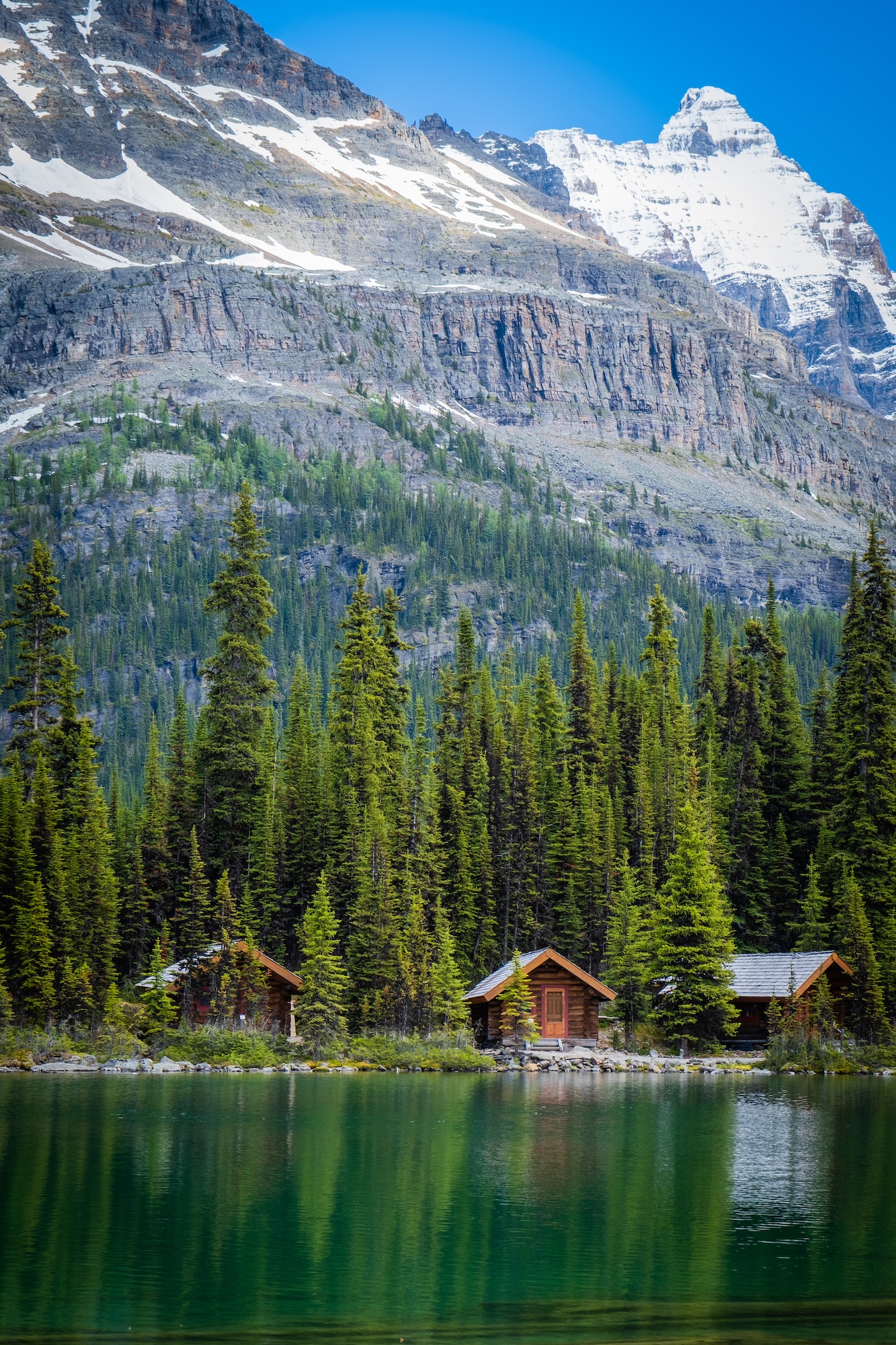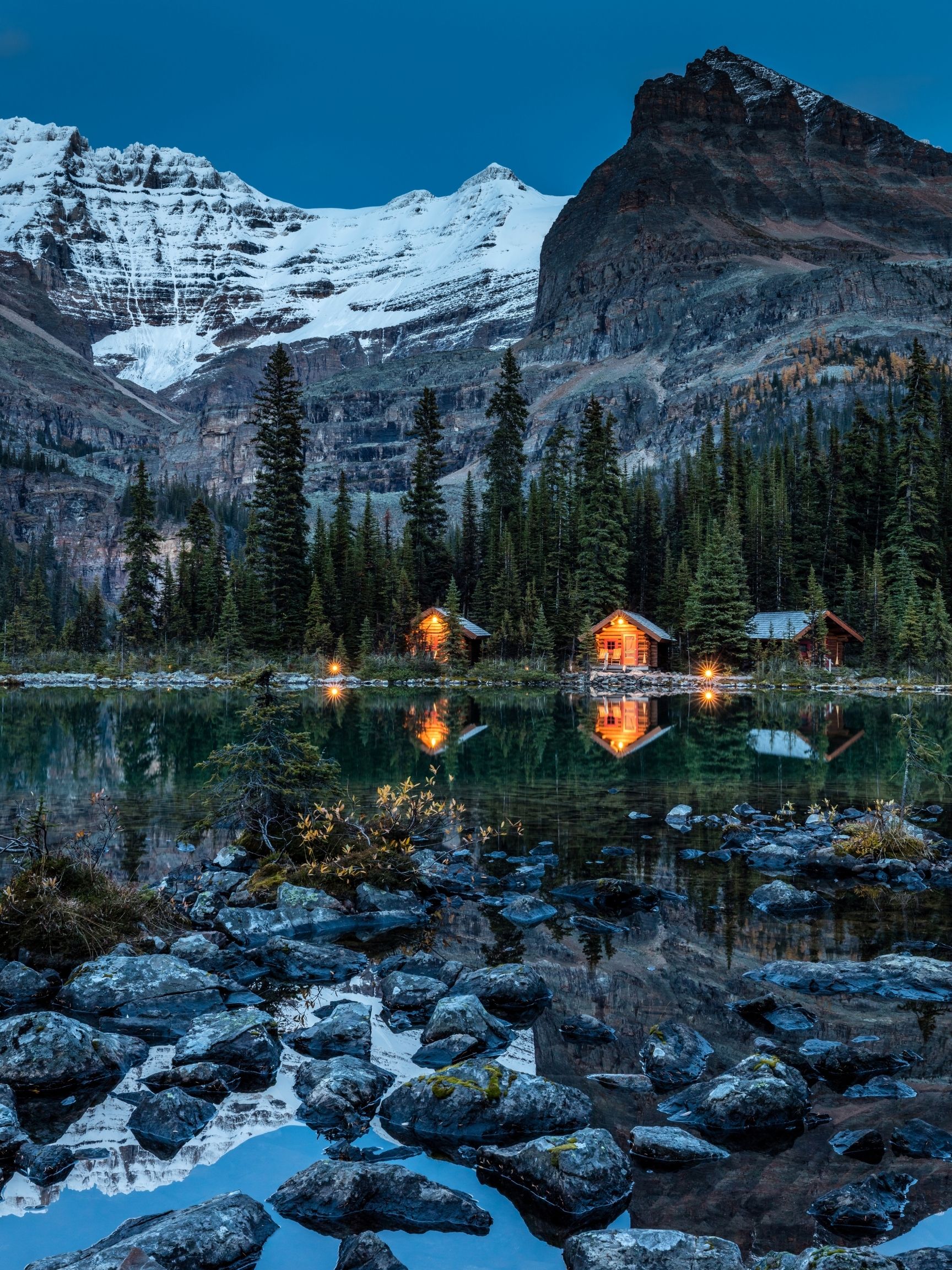 However, all of this comes at a steep price of $1,300 a night in the cabins based on double occupancy, and this price does not deter people. Expect the lodge to book up quickly, often more than a year in advance.
That being said, it is surely a dream-worthy stay that should be envied by all hikers. The lodge is also open in the winter when the area around Lake O'Hara turns backcountry/cross-country skiers' dream.
---
ACC Elizabeth Parker Hut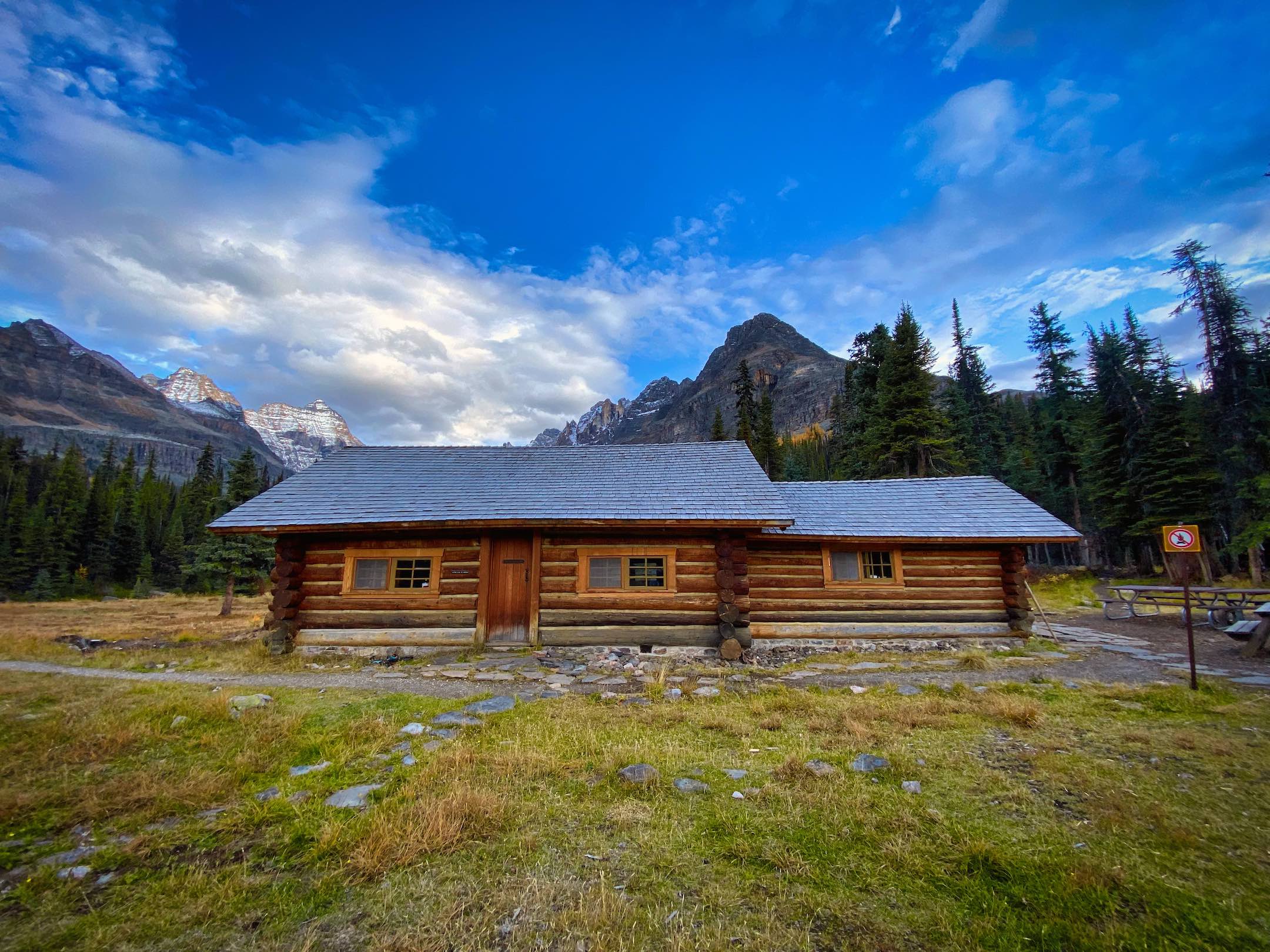 The Elizabeth Parker Hut is one of the most popular options for exploring the Lake O'Hara area. It's arguably the ACC's most popular hut, and in order to secure a summer, booking requires entering a lottery in October. The summer season occurs from mid-June to the first of October.
The hut has enough room for 24 campers with bunk beds, a wood stove, propane cook stoves, kitchen utensils, a communal lounge, and outhouses. The hut is 1 km from the bus stop and 500 meters from Lake O'Hara. If you love to cross-country or backcountry ski, consider visiting the hut in the winter when bookings are relatively easy.
If you can secure a booking, you can book a spot on the shuttle bus with the ACC. Reservations are not transferable, and there is a strict cancellation policy. During the summer, the huts cost $40 per person per night for ACC members and $50 pp/pn for non-members. For exclusive access to the hut, prices are $1000 for members and $1250 for non-members. For more information, check out the ACC's website.
---
Best Day Hikes Around Lake O'Hara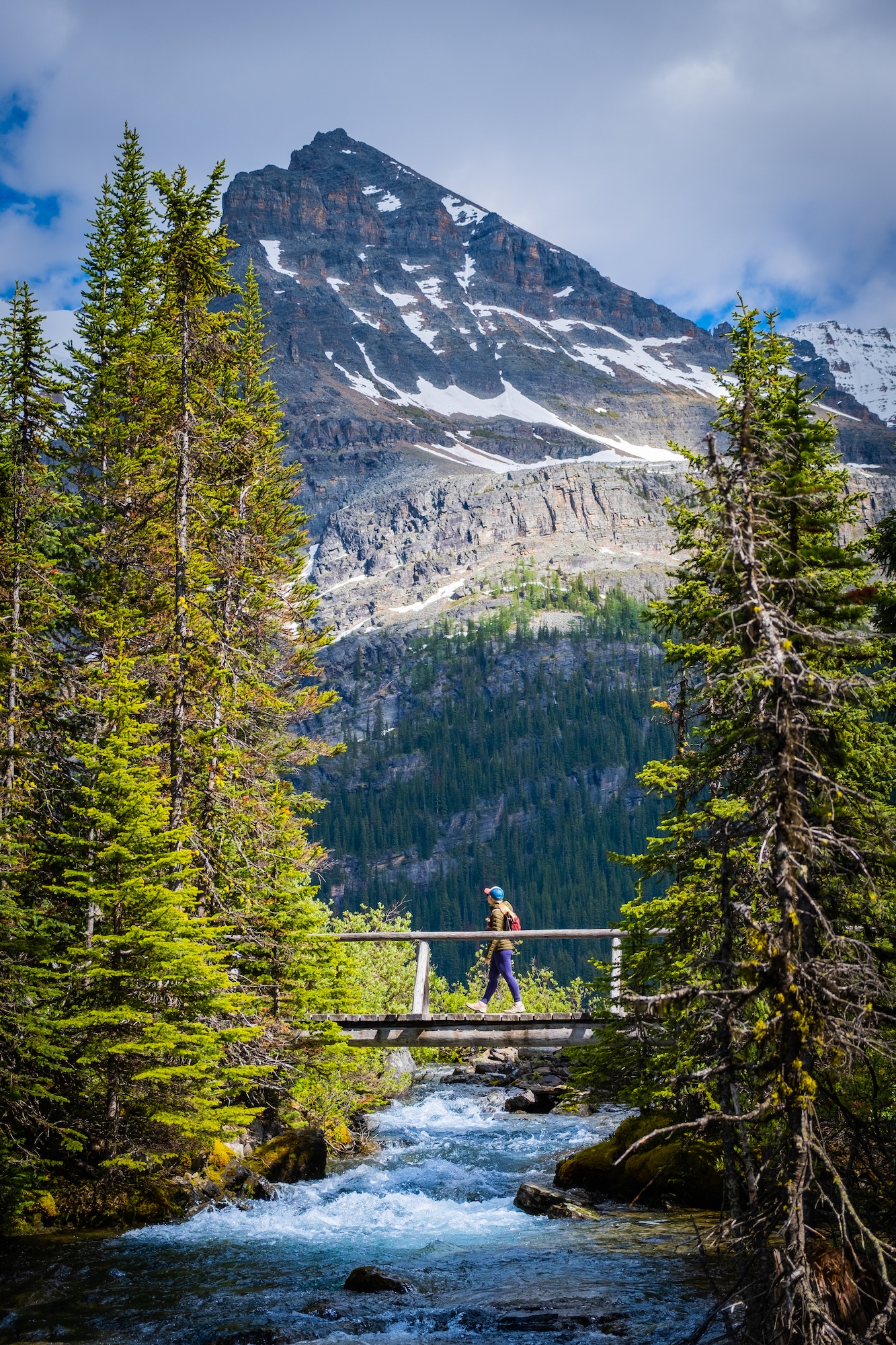 A wonderful network of trails around Lake O'Hara is well-signed. That being said, it's worth investing in some sort of map or GPS map with the trail network before you reach Lake O'Hara.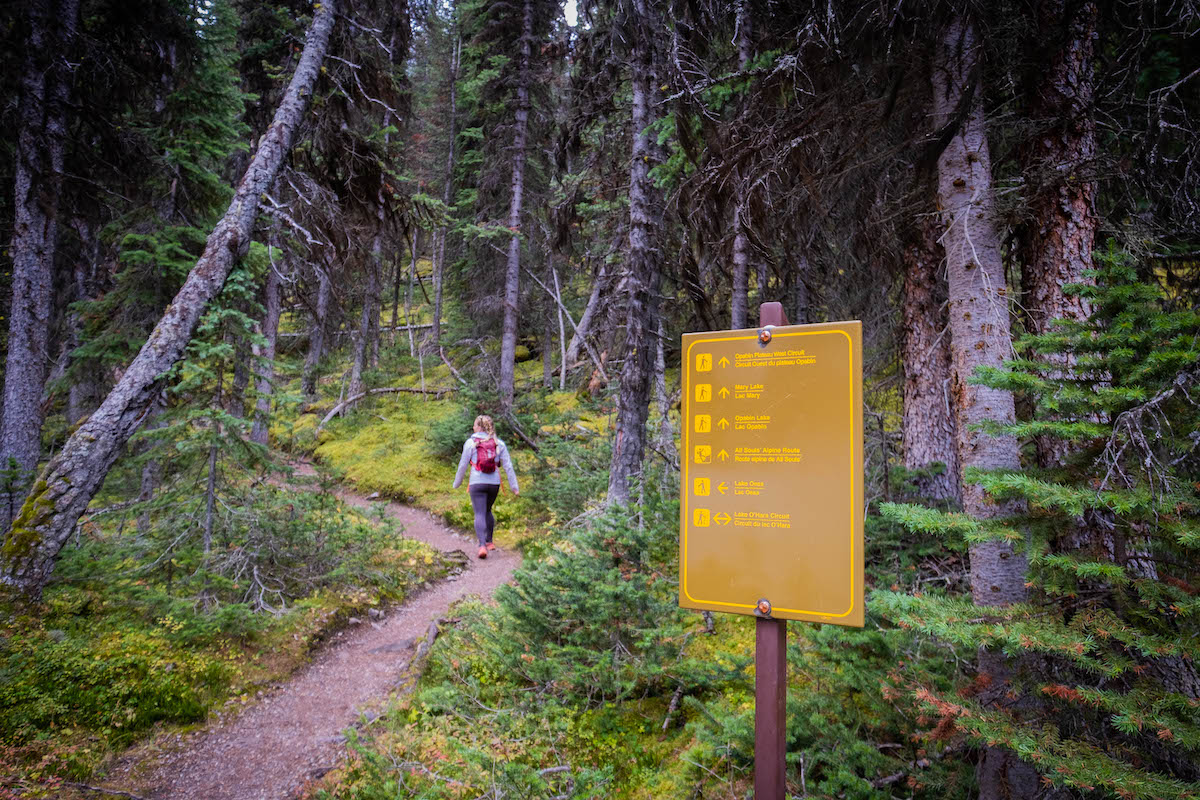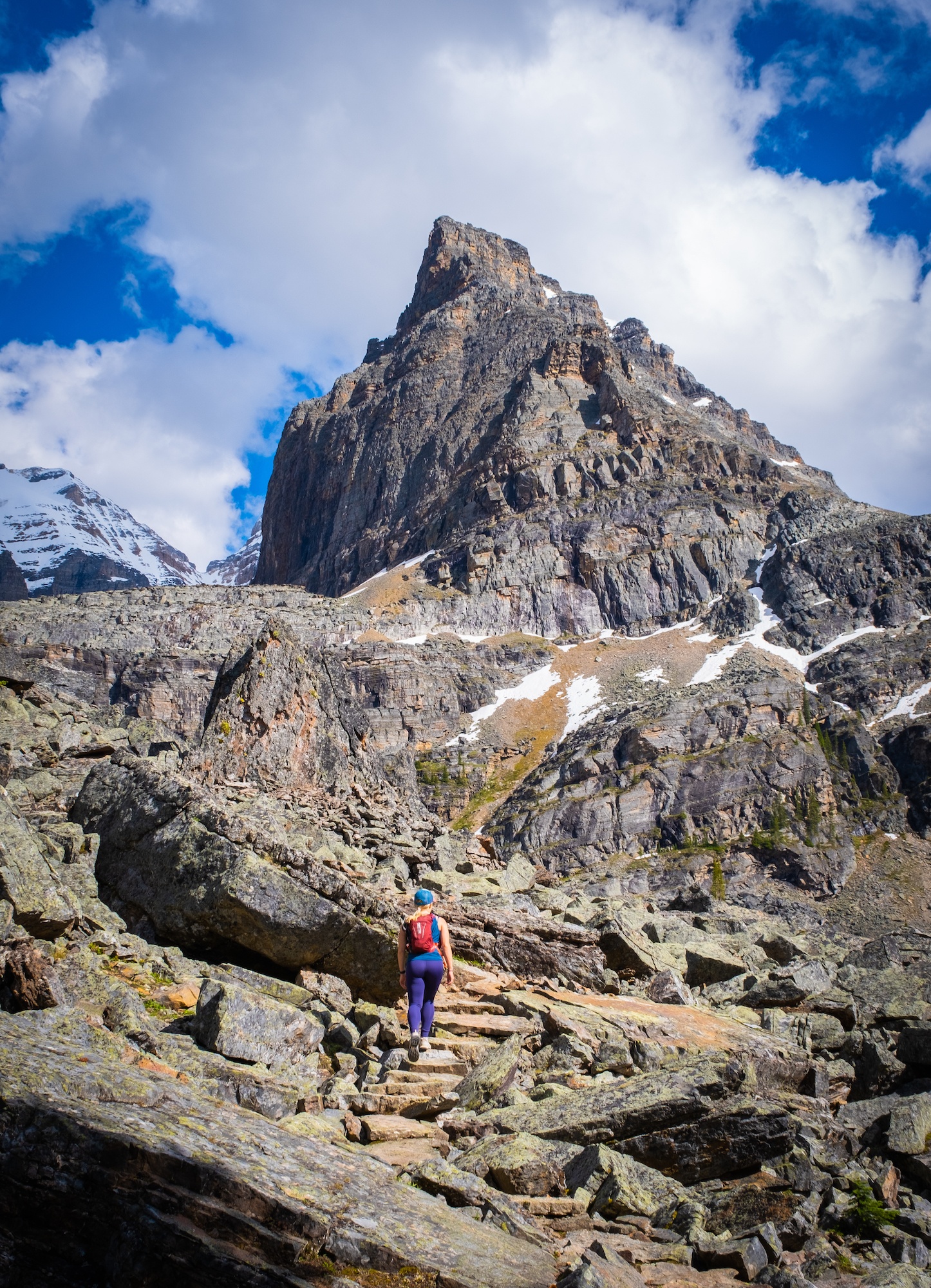 It should go without saying, but there is no cell phone service or internet connection, and a Garmin InReach could save a life. Upon arrival, you can find updated trail conditions posted at the campground and Le Relais Day Shelter, as well as a few snacks, postcards for purchase, and world-famous Carrot Cake.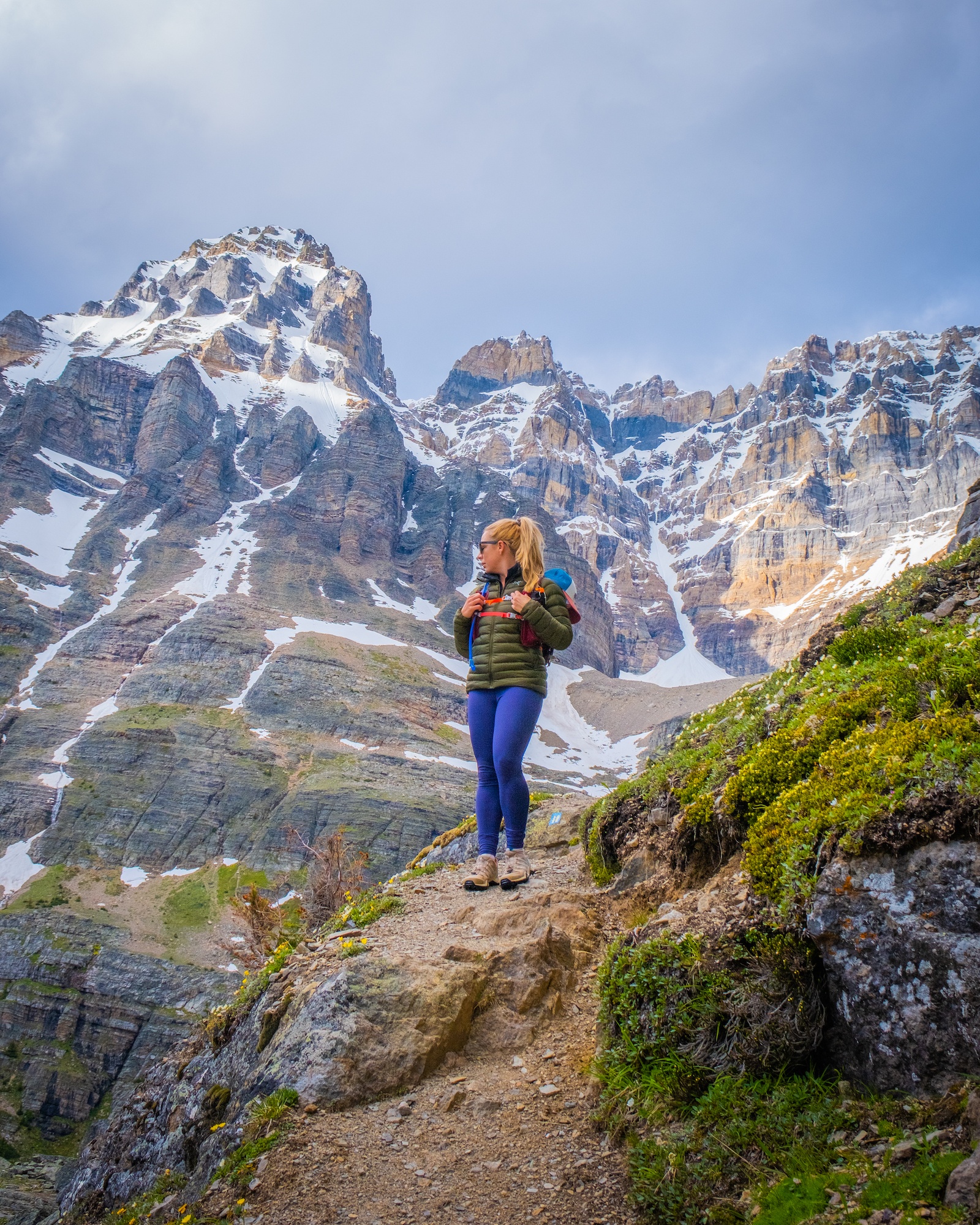 Some of the trail work done by early members of the ACC makes the hikes worthy of visitation alone. A highlight for us is the stonework that leads past Lake Oesa to Abbot Pass. It's possible to combine all of these hikes for large circuits.
---
Best Hikes Around Lake O'Hara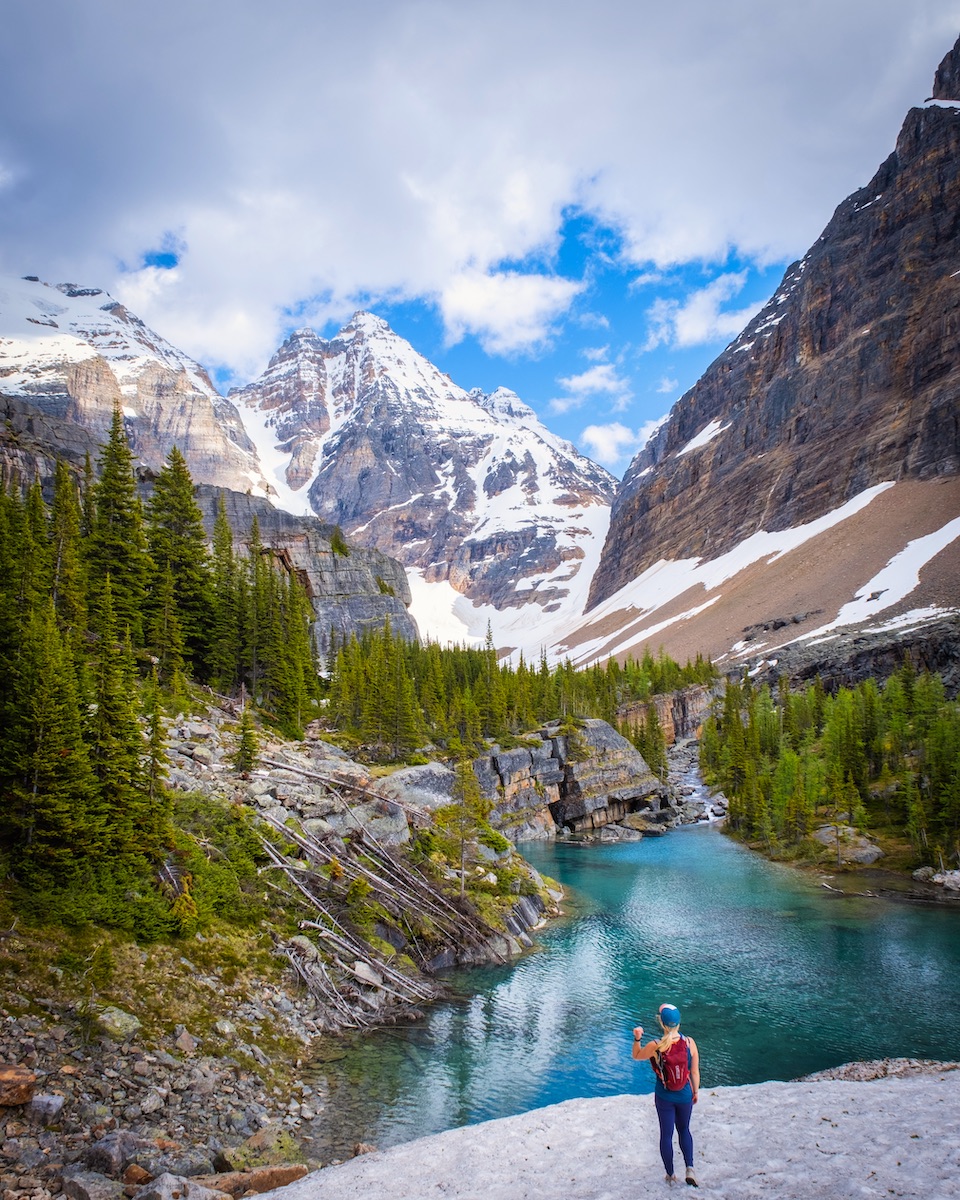 Hiking Trails
Lake McArthur
Lake Oesa
Huber Ledges
Opabin Plateau
Alpine Circuit
Cascade Lakes
Alpine Routes
Wiwaxy Gap / Huber Ledges
Yukness Ledges
All Soul's Prospect
Abbot Pass
Odaray Grandview*
---
Lake O'Hara Alpine Routes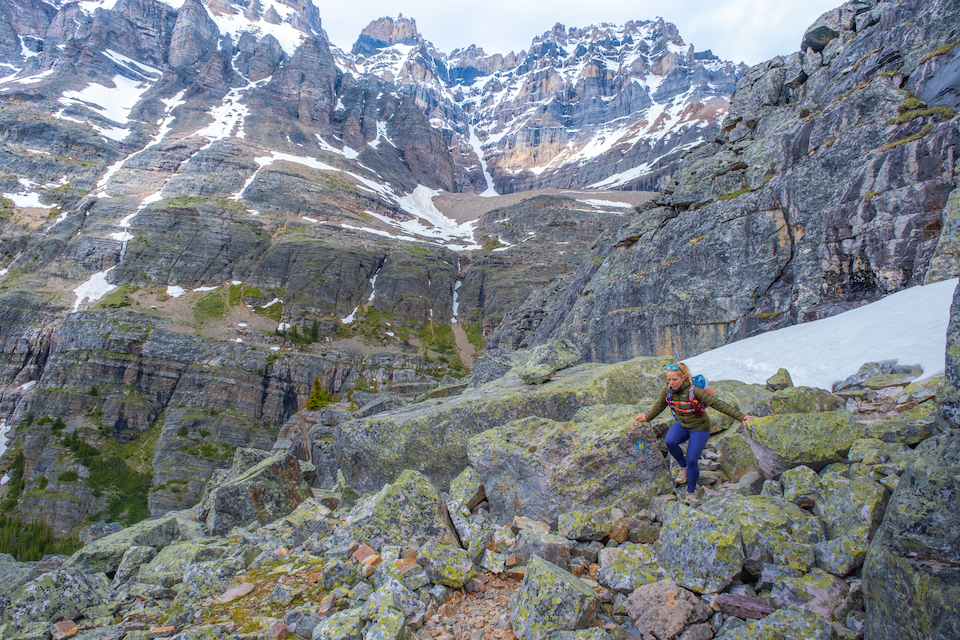 ** Several alpine routes around Lake O'Hara are marked by cairns and painted blue and yellow square symbols. They are harder hikes that involve some scrambling and route finding.
Because they are higher in elevation, some involve hiking near avalanche chutes, which can become dangerous if snow lingers. For instance, we attempted the Yukness Ledges in early July and had to turn around due to snow. Alpine routes should only be attempted by experienced hikers.
---
Lake O'Hara Shoreline Trail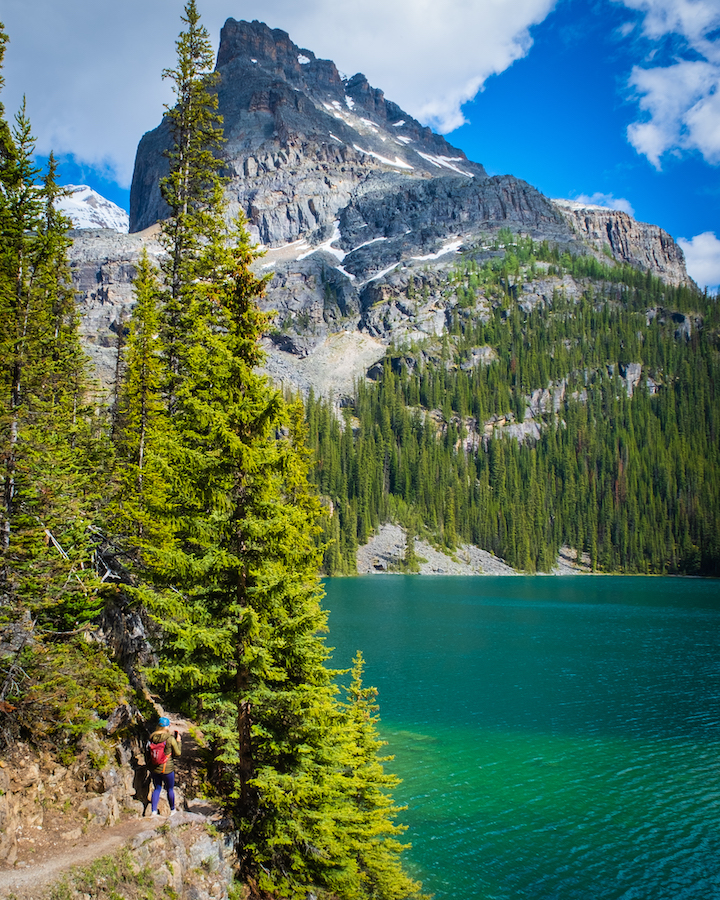 Difficulty: Easy | Length 2.8 km | Elevation Gain: Minor
The Lake O' Hara Shoreline is an easy trail navigating the entire lake. It's best for families and people with limited mobility. The trail gains little to no elevation with minimal up and down.
You can start this shoreline hike at the O'Hara Warden Cabin and cross Cataract Brook via the bridge. Go past the Huber Ledges/Wiwaxy Gap trail sights and continue along the lake.
---
Lake Oesa Trail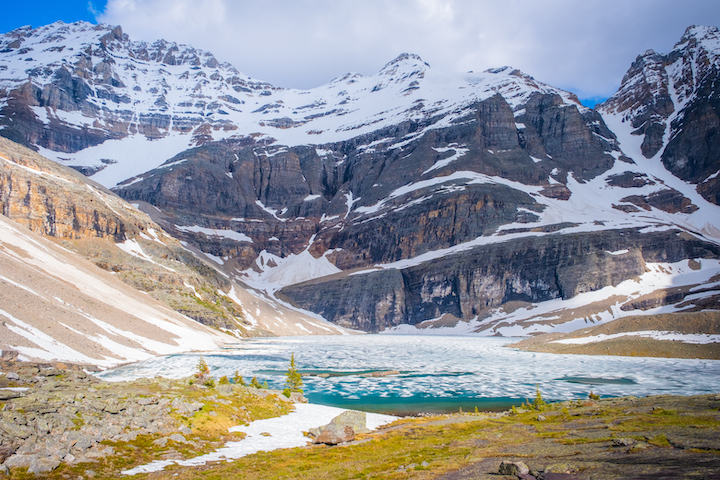 Difficulty: Easy to Moderate | Length 3.2 km | Elevation Gain: 240 meters
This is a quintessential Lake O'Hara hike that really begins near the eastern end of Lake O'Hara. To reach Lake Oesa, ascend the switchbacks to the top of the cliff. Once at the top, there is a wide talus that is pretty straightforward. You'll then get to the stone steps and notice the Lawrence Grassi plaque.
Continue through the meadows and climb the grassy globe. You'll then see a trail leading you to the tilted rock slabs and, in front of you, Lake Oesa. If you can only do one moderate hike near Lake O'Hara, make it this hike.
---
Opabin Plateau Circuit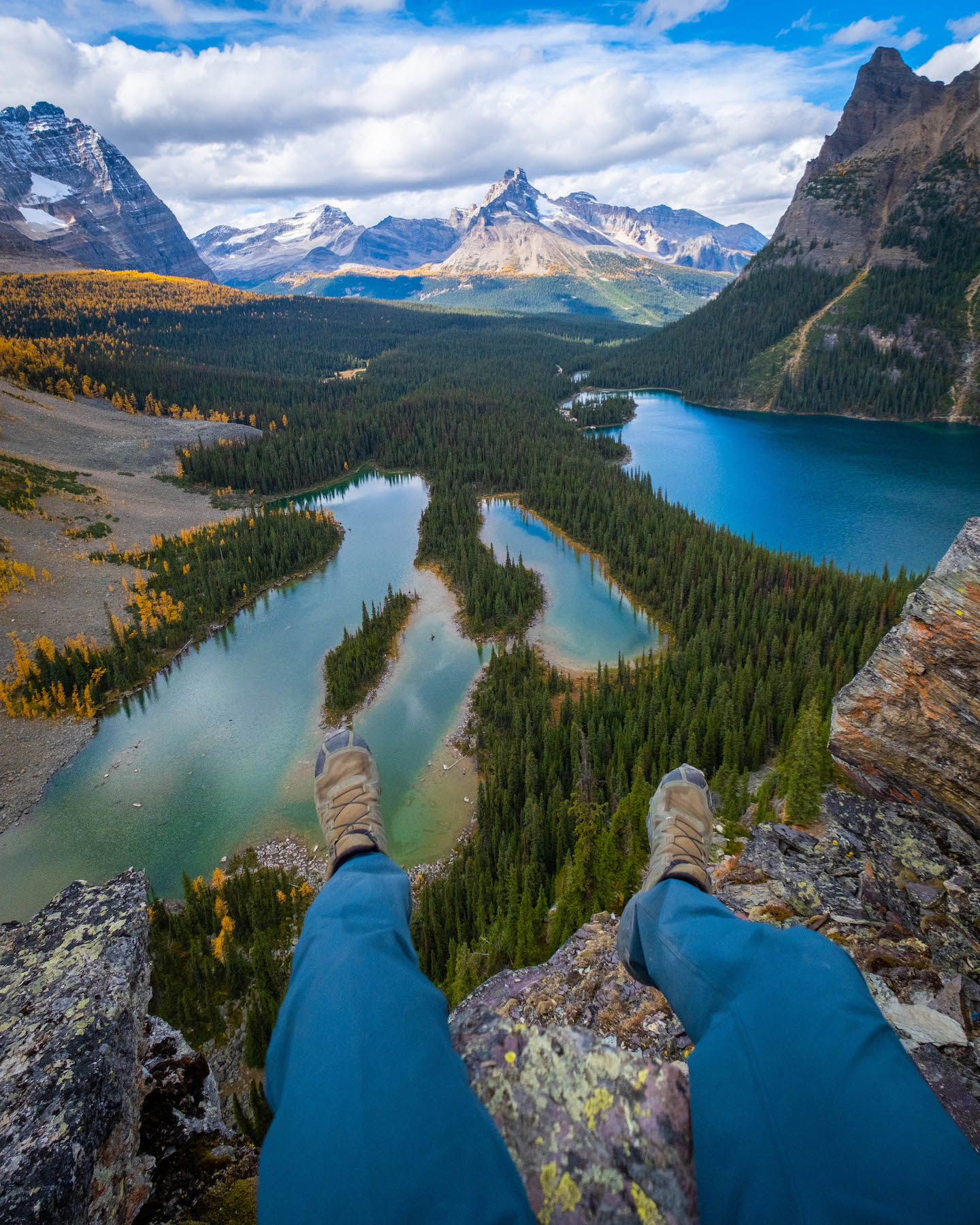 Difficulty: Moderate | Length 5.9 km | Elevation Gain: 250 meters
This is a popular Lake O'Hara hike, as the viewpoint is one of those Instagram photos you'll get lots of likes for. It's also fairly easy and a good short hike with a day of hiking into Lake O'Hara on the access road.
Opabin Plateau is a hanging valley above Lake O Hara. You can start from either West Opabin Trail or East Opabin Trail and end in the opposite, making it a full loop.
---
McArthur Pass and Lake McArthur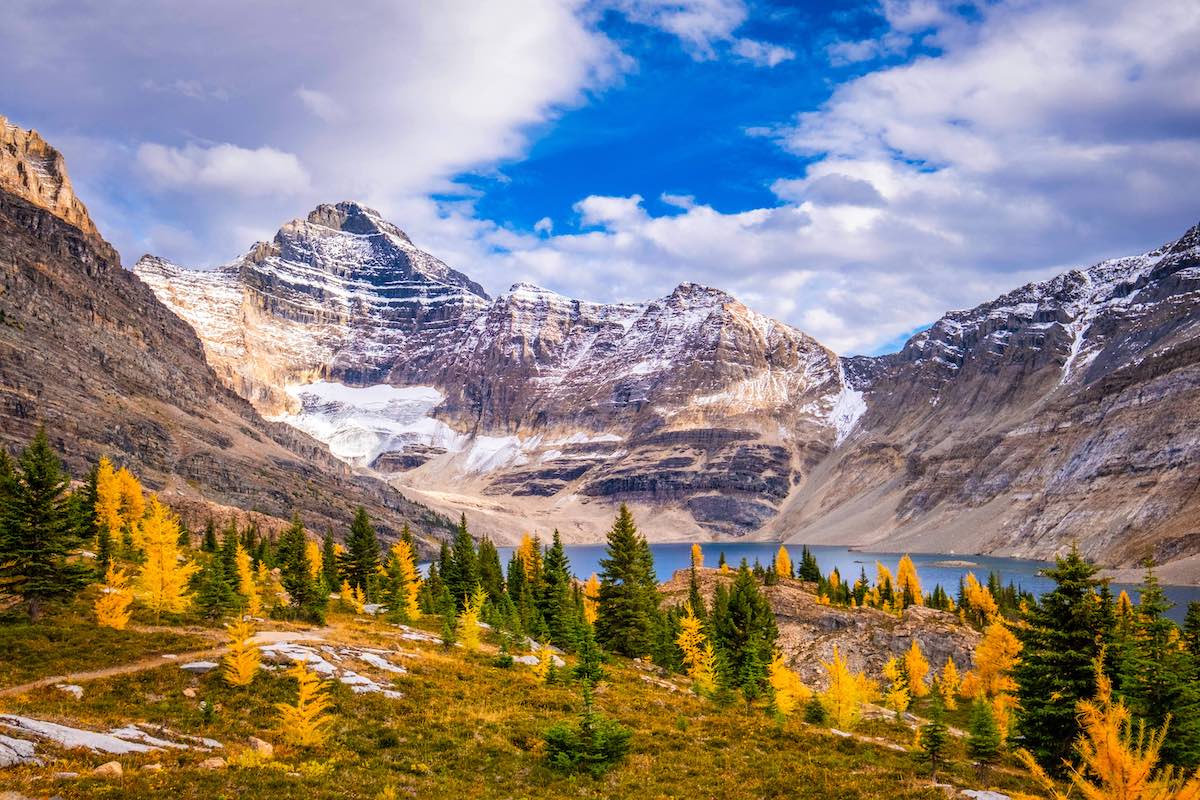 Difficulty: Moderate | Length 8 km | Elevation Gain: 310 meters
Another great trail if you have to day hike in and don't have a ton of extra pep in your step for lots of hiking and elevation gain. This trail passes by Lake McArthur and provides epic vistas. The trail begins at the Relais Day Shelter and heads west past the Elizabeth Parker hut. If you're after larch trees, this is where you'll want to hike.
You'll take that south and continue along the Lake McArthur circuit before reaching the summit of McArthur Pass. The trail forks, and you'll be able to get to Lake McArthur via the Low-Level Trail along a rock ledge. McArthur Lake is among the most beautiful areas we've seen in the Rockies.
---
All Souls Route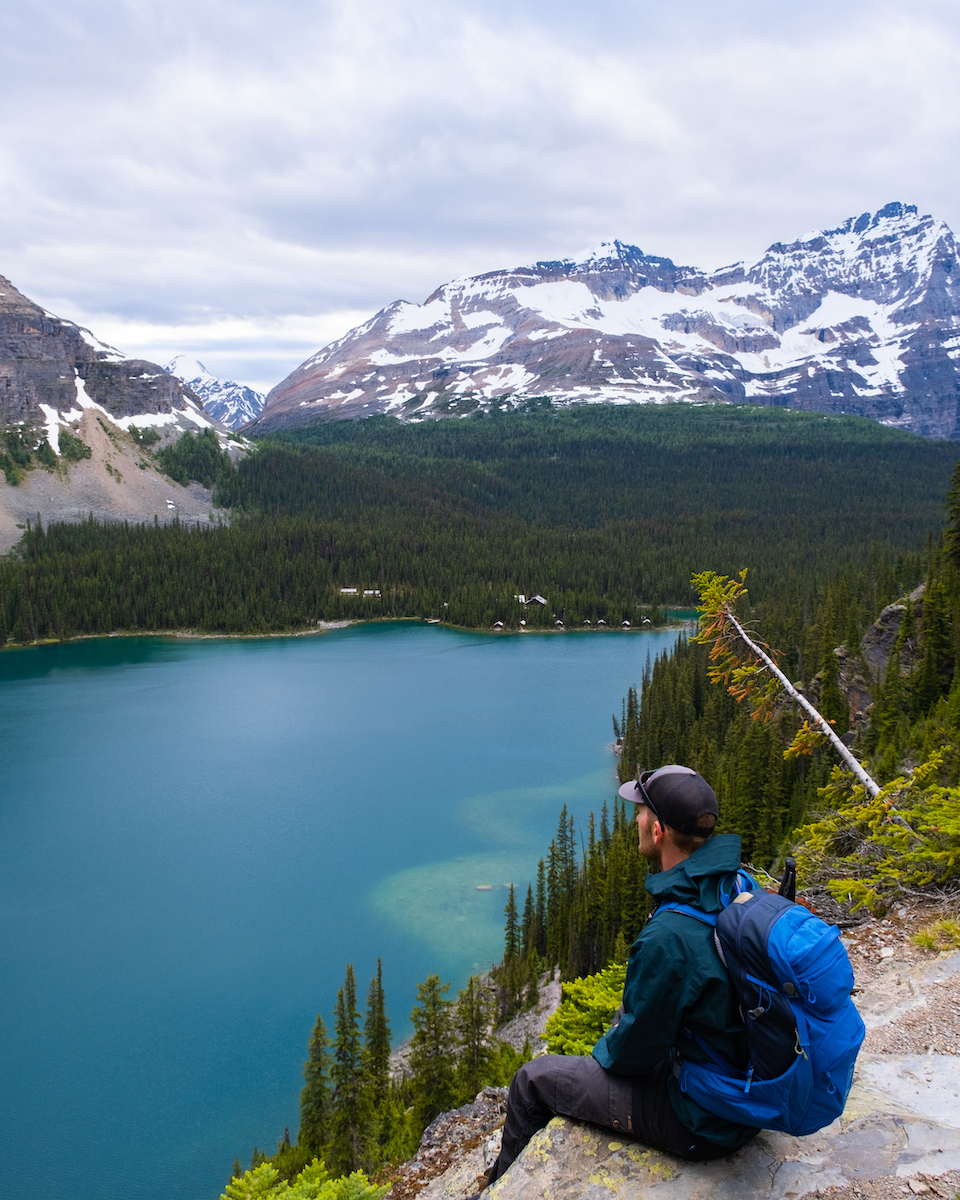 Difficulty: Hard | Length 9.5 km | Elevation Gain: 794 meters
The hike goes along the base of Yukness Mountain and opens up to jaw-dropping vantage points back out over the valley, Lake O'Hara, and Mount Odaray. It is a full look around all the main sights, including Lake Oesa and Opabin Plateau.
It's a long day if you combine that with the hike in and out on the access route, but it's simply amazing and worth the cramped feet. A true highlight is to witness this area in September during the larch season.
---
Things to Know About Lake O'Hara
---
Navigating Around Lake O'Hara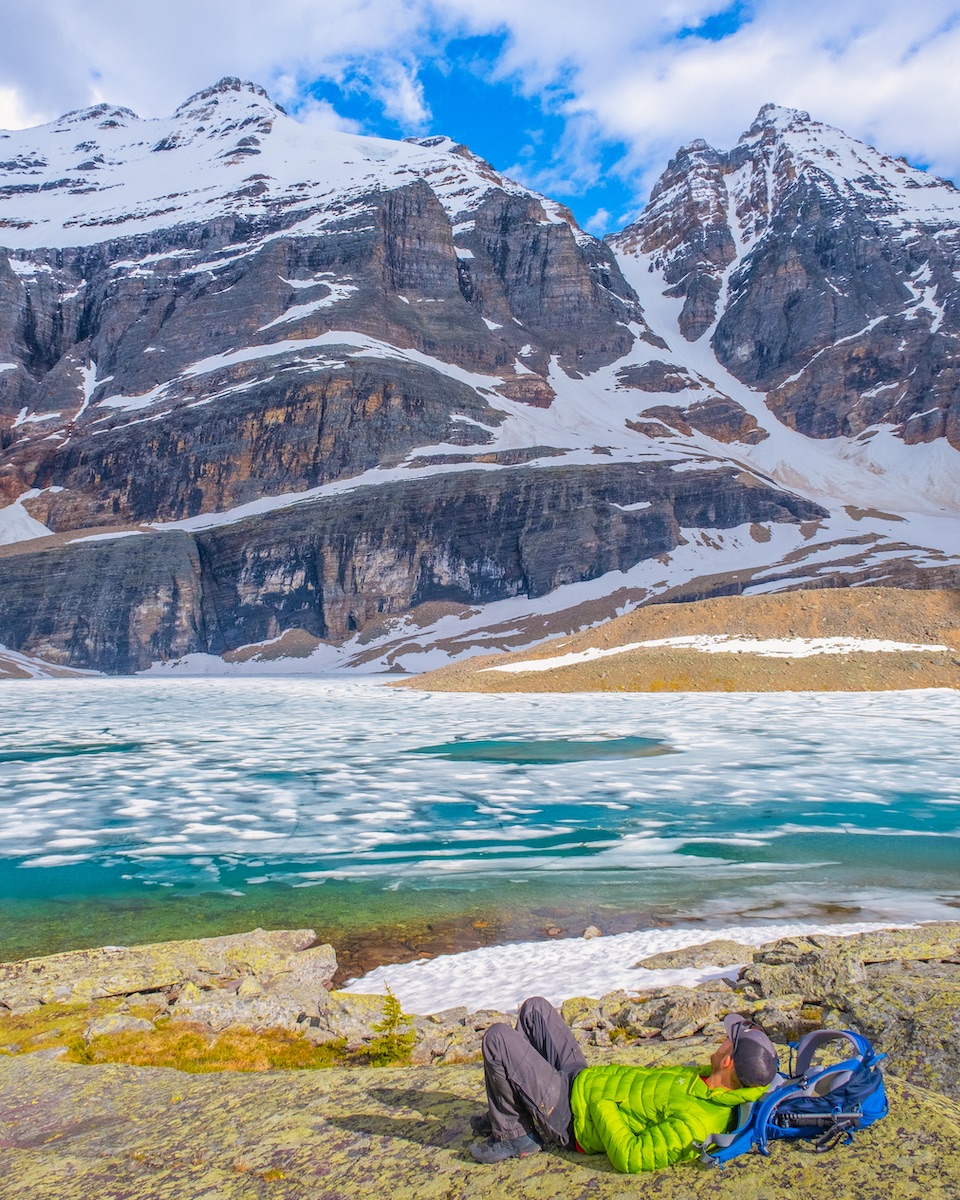 We were pleasantly surprised with how well signposted the Lake O'Hara area was. Make sure to download the Parks Canada map before you venture back.
Having a plan before setting out around Lake O Hara is important. It's not where to get lost, and we recommend planning your trails with a map beforehand.
AllTrails has extensive hiking information for many of the hikes around Lake O'Hara. I would suggest downloading these maps to your phone after studying, as there is no service to do so once at Lake O'Hara.
Relais Shelter and Lake O'Hara Campground also have a map and information about the hikes. Ensure you study it and that your phone is charged so you can take a photo of it and carry it.
---
Lake O'Hara Photo Point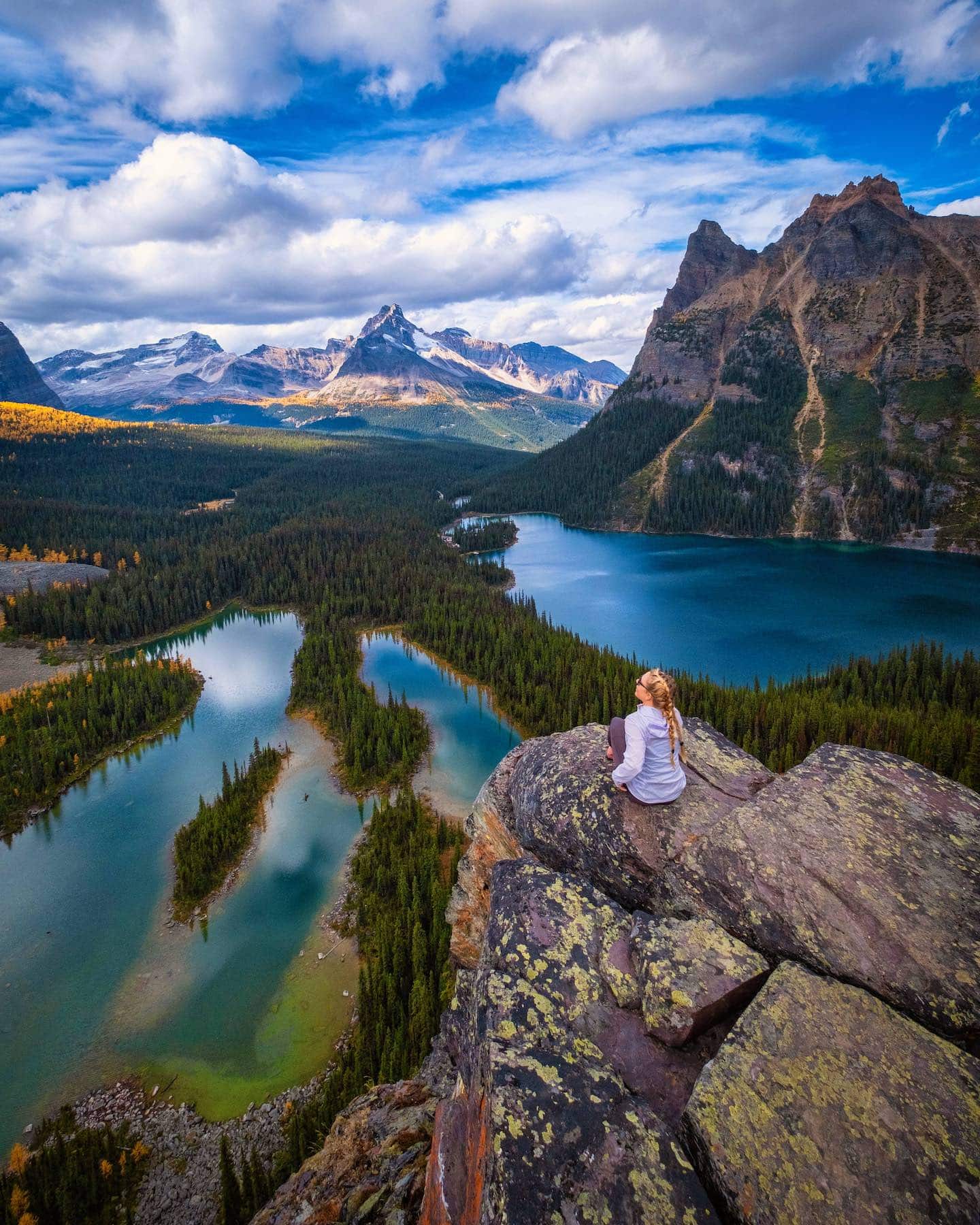 The most well-known photography spot around Lake O'Hara is the Obapin Plateau. It's a viewpoint and photograph that circles the internet and social media. It is one of the most well-known landscapes in the Canadian Rockies. Hiking up to the viewpoint is an easy 4km and 200 meters elevation gain hike.
---
Le Relais Day Shelter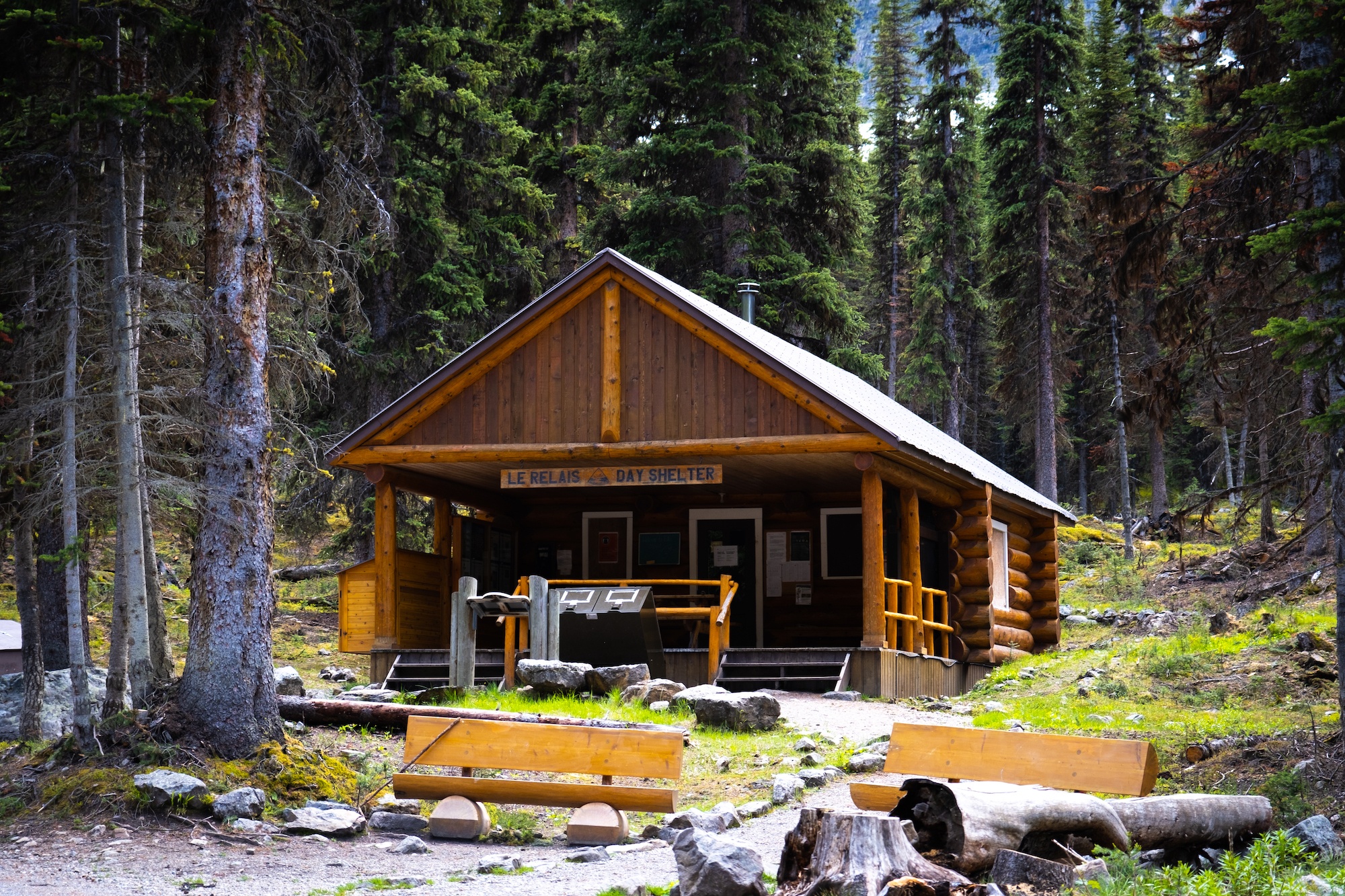 The Le Relais Day Use Shelter is the primary hub at Lake O'Hara. It acts as the information desk, coffee shop, and gift shop. All the proceeds from the day shelter go back to the Lake O'Hara Trail Club, which maintains the trails around the region. Le Relais is open every summer from 8:30 am to 6:30 pm. They only accept cash.
They offer for sale several food and drink options which include coffee, tea, chocolate, ice cream, sandwiches, snacks, and their famous carrot cake. The cake is well sought after, and they regularly sell out every day, so head there early if you have your sights set on the cake. We promise it's worth a whole one to yourself!
---
When is the Best Time To Visit Lake O'Hara?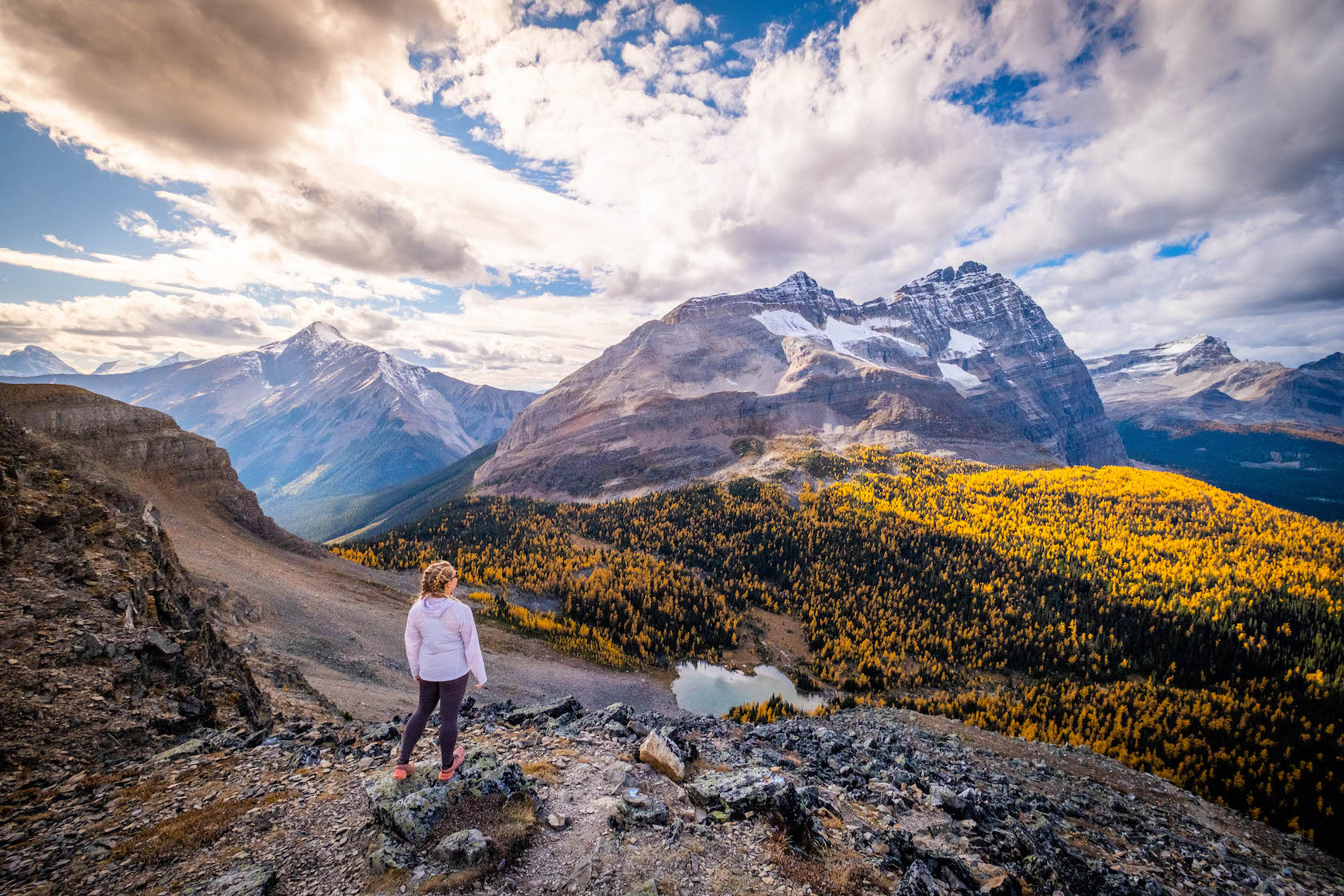 We see it snow every month of the year in the Canadian Rockies, so always be prepared for cold, inclement weather. Be prepared for cold weather if you plan to visit in June or September.
Typically, the lake thaws at the end of June or early July and remains ice-free until the end of September. The best time to visit would be August, when snow is minimal. Mid to late September can also be exceptional when the larch trees turn to gold around Lake McArthur and Schaffer Lake.
No matter the forecast, I suggest coming prepared for snow, rain, sleet, sun, wind, and any combination. Our best advice is to pack proper layers, a tarp, sleeping bag, and do not forget your rainfly if camping!
---
How Long Should You Spend at Lake O Hara?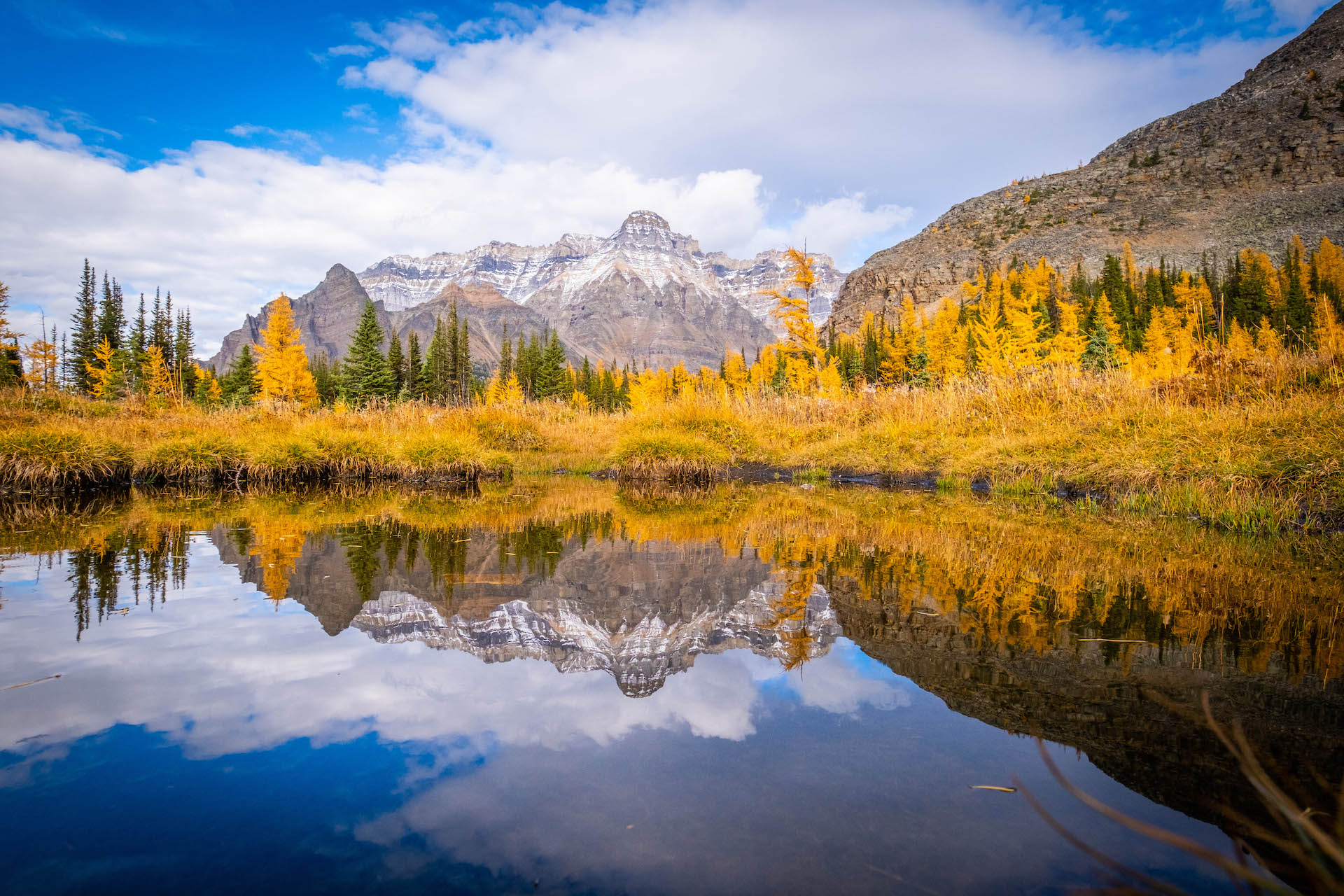 An ideal time to spend around Lake O Hara is three days, the maximum amount you can book a campsite at once. Though be happy with any overnights you can get at the campsite.
If you don't have a camping reservation, don't worry. You'd be surprised by how much you can see and do with a full day at Lake O Hara. Just bring good shoes and be prepared for a lot of hiking.
Some of the best routes to see as much as possible is the All Souls Route and the Opabin Plateau to McArthur Pass and McArthur Lake. There's so much to see here; every sight is amazing.
---
Wildlife Around Lake O' Hara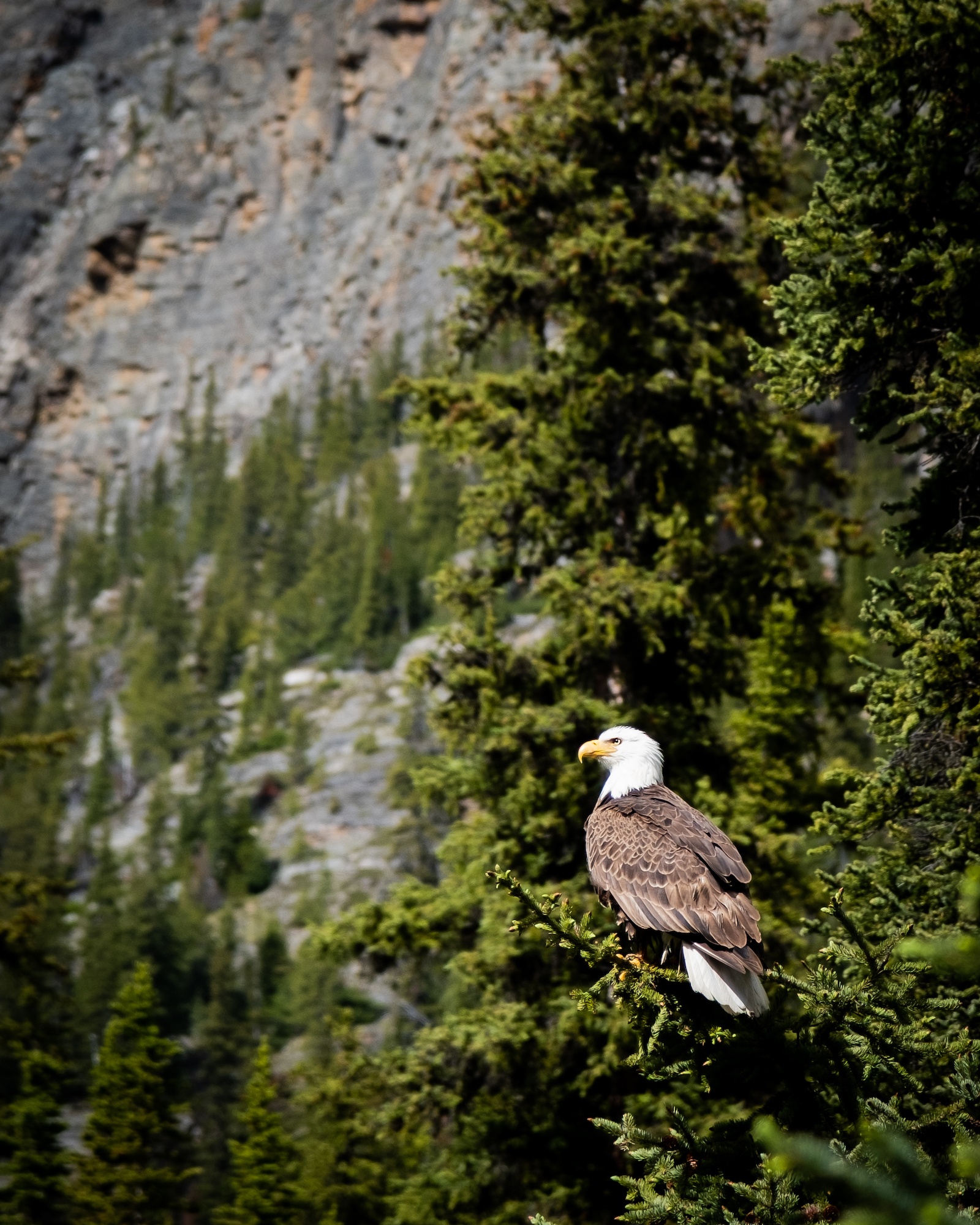 Wildlife encounters are not something only newer hikers have to deal with. Everyone should be prepared to encounter wildlife in the Lake Ohara area. One should never go out without bear spray when hiking in the Rockies. And each person in the group should have their own bear spray. Don't rely on one bear spray for multiple people.
Lake O'Hara is home to elk, deer, moose, lynx, coyotes, marmots, ground squirrels, chipmunks, pikas, black bears, and grizzlies. Always give wildlife space, don't feel them, and leave no trace when eating.
12 Bear Safety Tips • How To Hike In Bear Country
---
Final Thoughts on Visiting Lake O Hara Area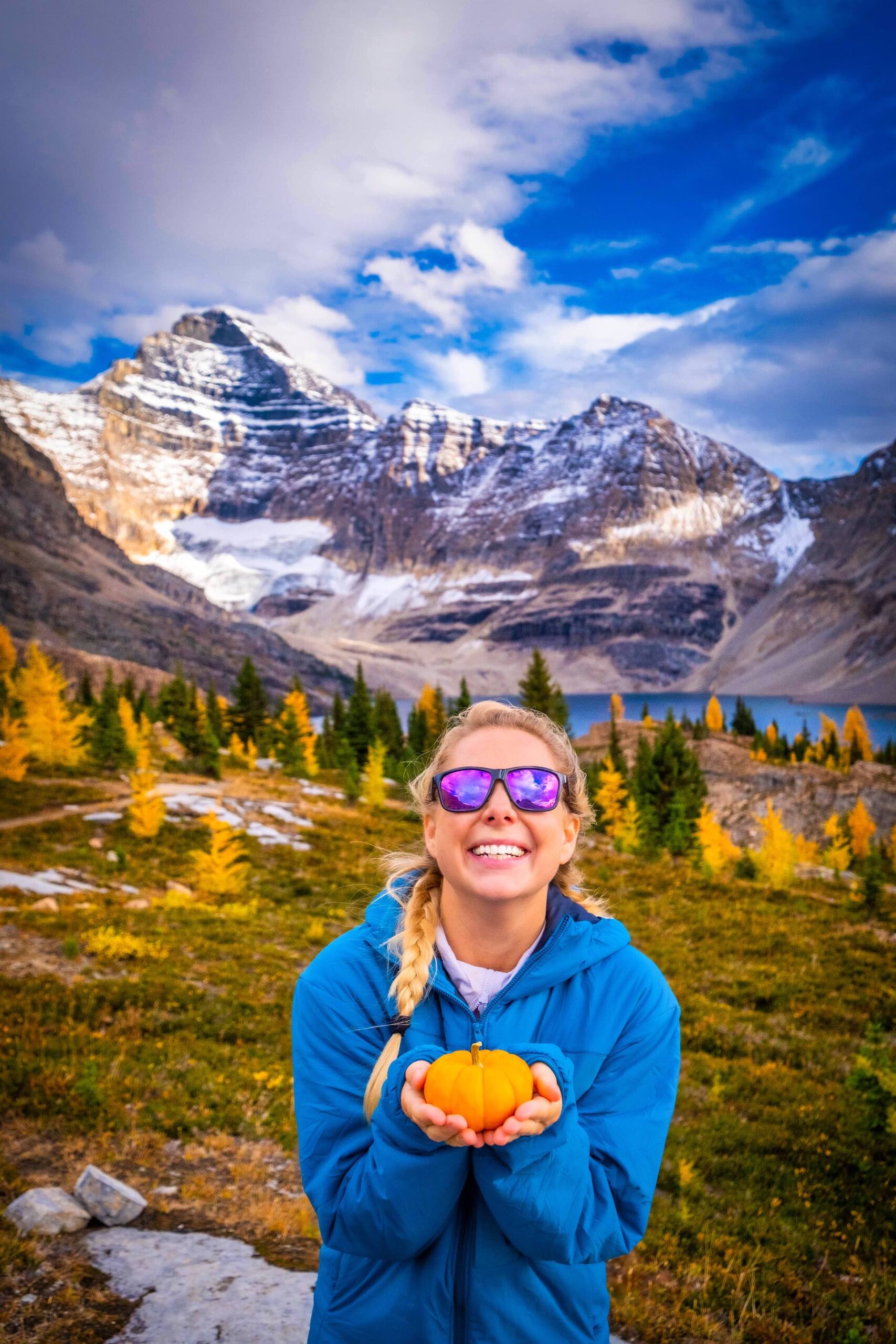 Whether day hiking or backcountry camping, ensure you are prepared for the wilderness. For campers, this means a backpacking stove, a warm sleeping bag, a good tent, and plenty of food. If you are day hiking, ensure you have enough food and water for the day.
It is not permitted to bike down the fire road.
Dogs can be walked into Lake O'Hara on a leash. They are not permitted at the campground or on the shuttle bus.
Bring cash to buy a nice postcard, and of course delicious carrot cake at the Relais Shelter.
There is no cell coverage at Lake O'Hara and poor coverage at the parking lot.
If you need cell phone coverage, it's best to stop in Lake Louise Village before getting to Lake O Hara, as this will be the strongest.
---
↓ Join the community ↓
The Banff Blog Facebook Group is your headquarters for the Canadian Rockies' travel advice and information. Including hike info and off-season travel information. This is also where you can meet one another when you need adventure buddies. 

Plan Your Trip to the Canadian Rockies