Lake O'Hara is located in Yoho National Park in Eastern British Columbia, just over the border from Alberta. The lake and the surrounding valley are one of the most prized areas for natural beauty in the Canadian Rockies. At an elevation of 2,200 meters, the lake spends the majority of the year locked away in a sheet of ice.
In the summer months, thousands of hopeful campers scramble to secure reservations at the much sought-after campsite located near the lake. Those lucky enough to sleep on the shores of Lake O'Hara are treated to a resplendent landscape full of wildlife, glaciers, larch trees, and alpine lakes.
---
Lake O'Hara
Lake O'Hara most commonly refers to the area around the lake such as the campground, Elizabeth Parker ACC hut, and the Lake O'Hara Lodge that are 11km down a gravel road. The only way for the public to gain access to the area is by foot or reservations on the Parks Canada bus from the Lake O'Hara parking lot.
The lot sits at the end of the old Great Divide highway about a 10-minute drive from the Lake Louise village or from Field and Emerald Lake. It's a great day or backcountry trip to combine with a trip to the Canadian Rockies.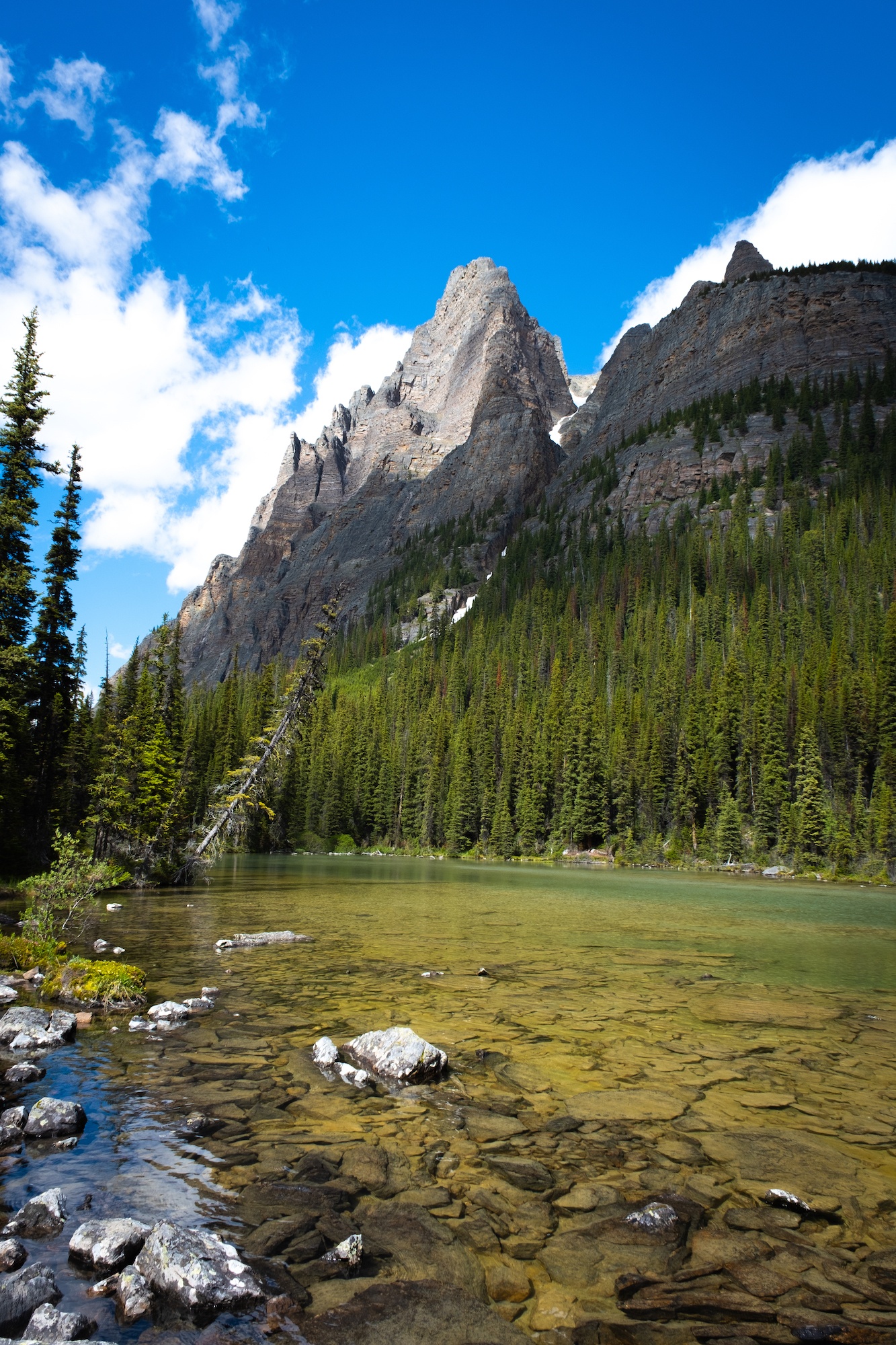 The pristine natural area may take some work to reach, but the effort required and limited numbers ensure that human impact on the region is minimized. In all of our exploration of the Canadian Rockies, there is hardly a place that competes in terms of natural beauty. Landscape views around Lake O'Hara are sublime and feel as if they belong in a dream or movie.
---
How To Visit Lake O'Hara
---
Camping at Lake O'Hara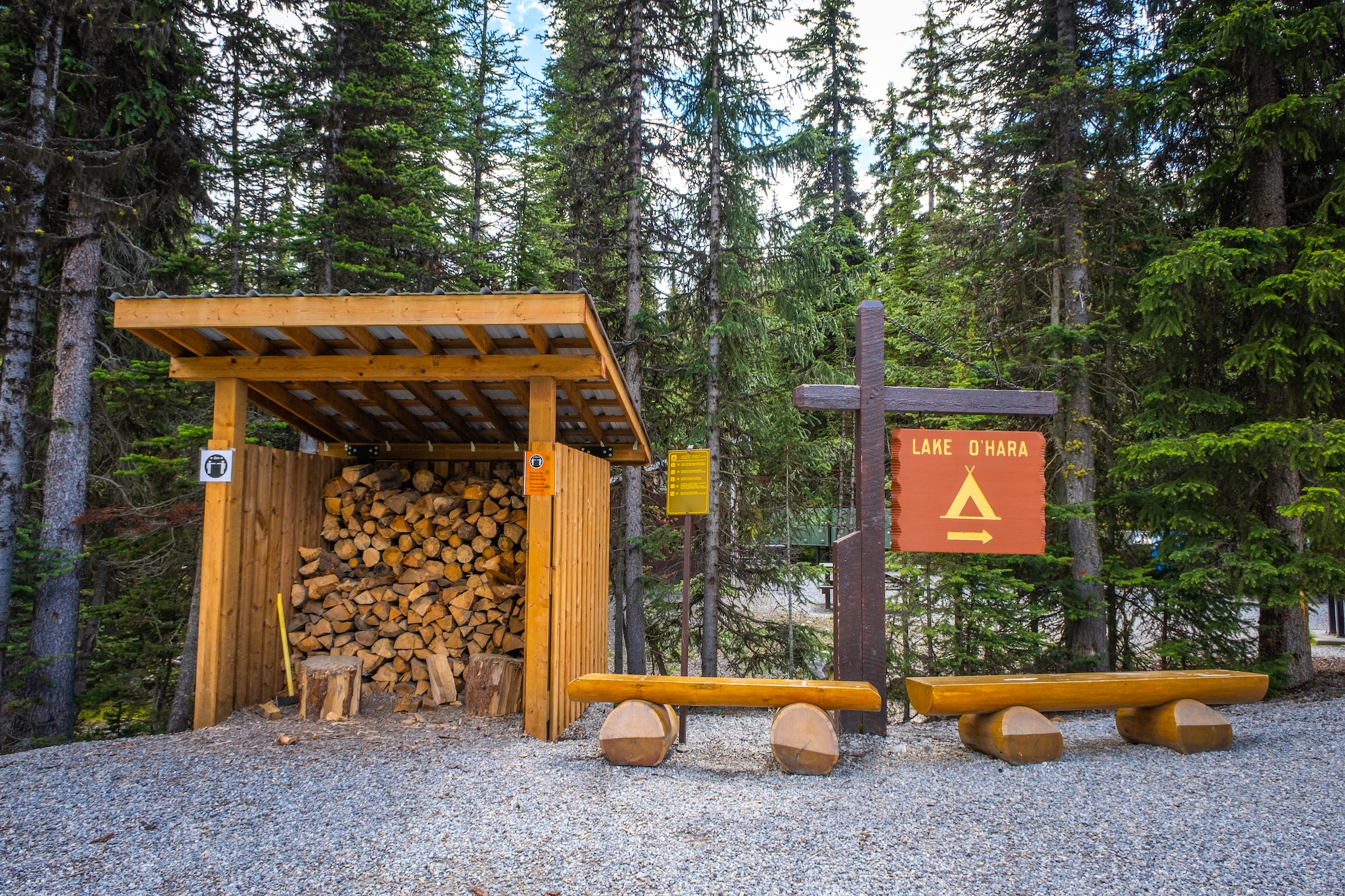 Campsites are very limited at Lake O'Hara and managed by Parks Canada to reduce human impact on the area. There is a total of 30 campsites at the Lake O'Hara Campground and reservations are highly sought-after. It's so competitive that the best chance to secure a reservation is to book on the Parks Canada website as soon as reservations are released.
The reservation system for campsites at Lake O'Hara opens every year in late-January at 8:00 a.m. MST. For the 2020 camping season, the reservation system opened on January 24th. Visit the Parks Canada website early as they have a virtual line for the booking process in order to stop the system from crashing.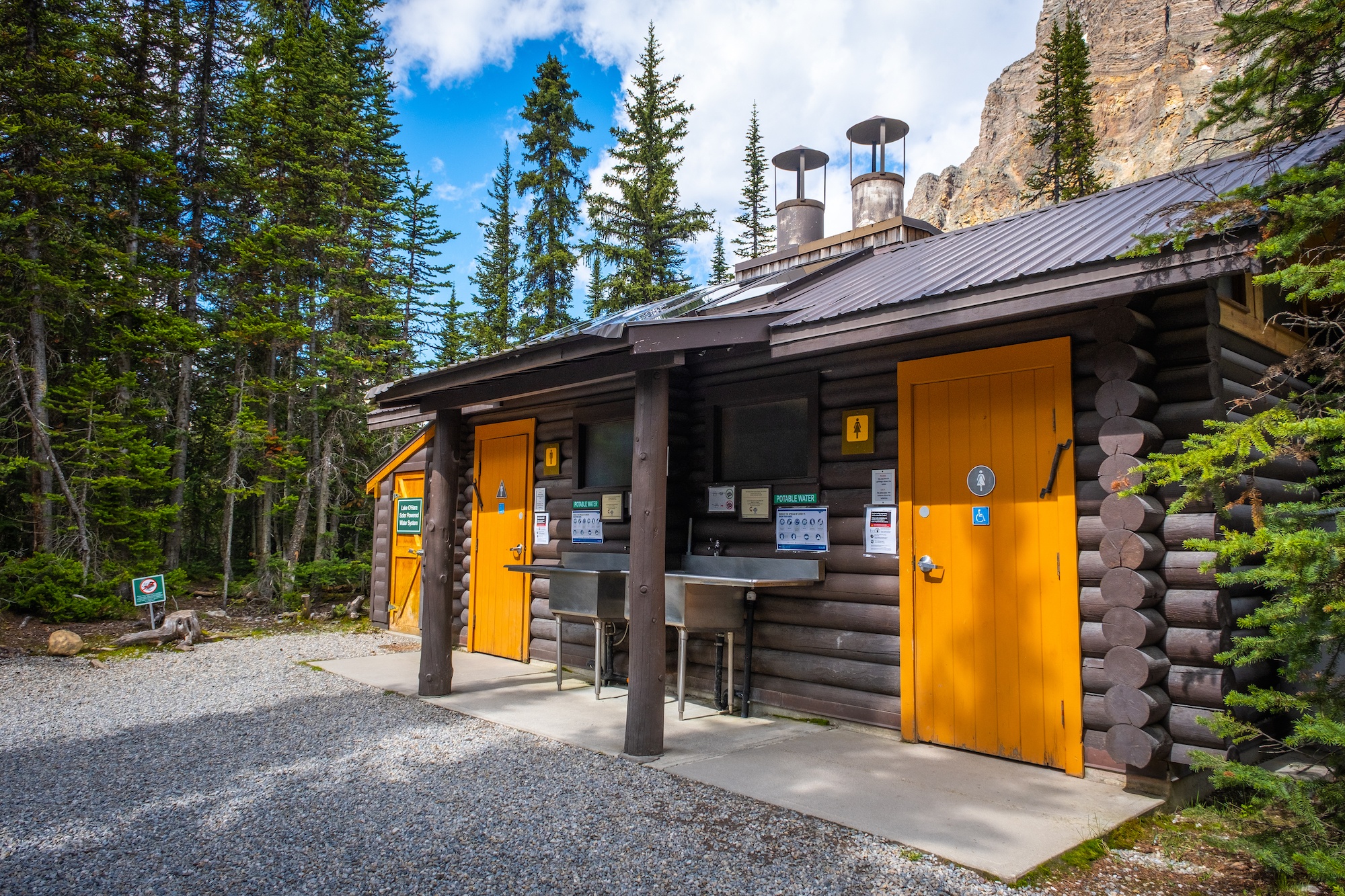 If you are able to book a reservation you are permitted up to three nights and two campsites. Each campsite can hold one tent and a maximum of six people per party. The campsite reservation includes a spot on the transportation bus that will drive campers 11km down a gravel road to the campsite. Upon booking, campers will need to request their desired bus departure time. Buses for campers depart from the parking lot at 8:30 am, 10:30 am, 3:30 pm, and 5:30 pm. Reservations are only required for the inbound bus when you make your reservation.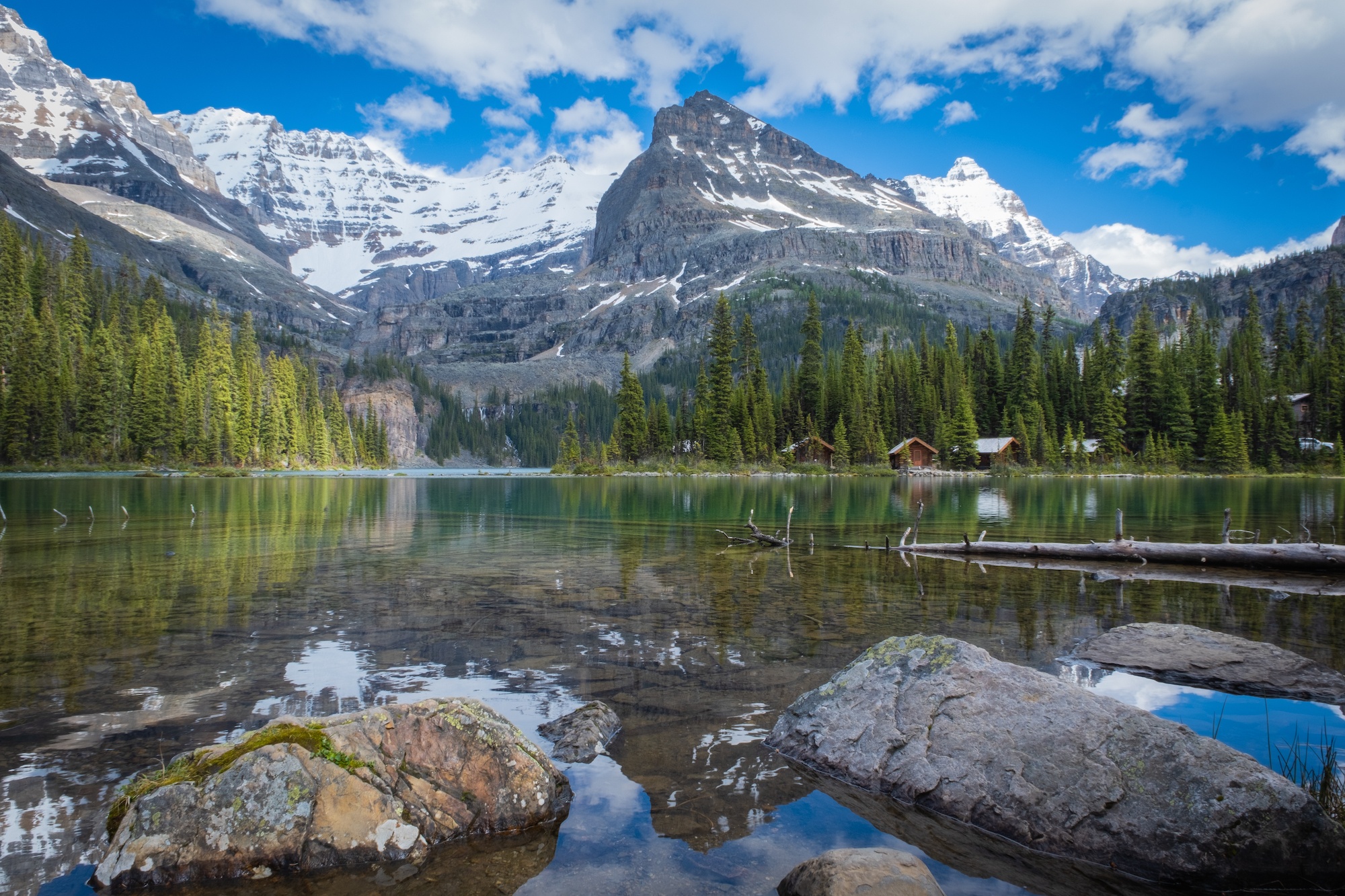 It is possible to score a reservation at any time of year as cancelations do occur. Of course, this means campers need flexible dates so it is best suited for locals to the region. Campers are treated to one of the nicest backcountry campgrounds operated by Parks Canada.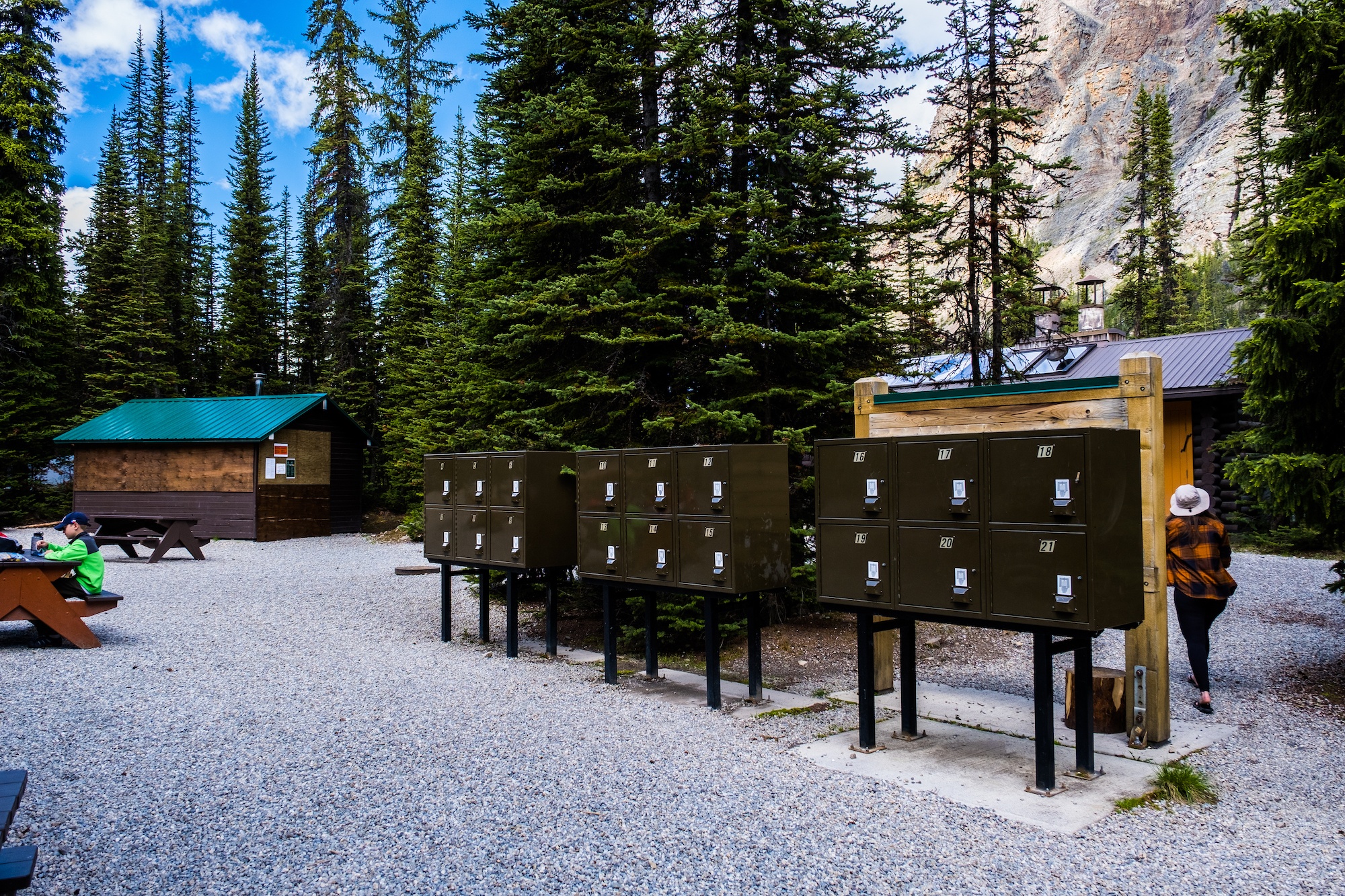 At the campsite, there are communal fire pits, picnic tables, and a kitchen area with sinks to wash dishes. There are also trash cans, long drop toilets, and bear lockers. The trash cans feel particularly luxurious as campers are not required to pack out their trash. Two shelters also provide a dry place to relax, cook, and warm up next to one of the wood stoves. Potable water is also available at the campsite so no need for a water filter unless you need to water from the lakes on hikes.
Lake O'Hara Campground Rules
Maximum stay of three nights
One tent per campsite
Maximum two campsites on the same reservation
One large bag or two small bags per camper allowed on the bus. 25 kg max weight per passenger.
No hard-sided cooler or plastic bins allowed
No musical instruments, speakers, chairs, or hammocks are allowed
Food must be stored in bear lockers
See Also:
---
Day Hiking at Lake O'Hara
Bus Reservations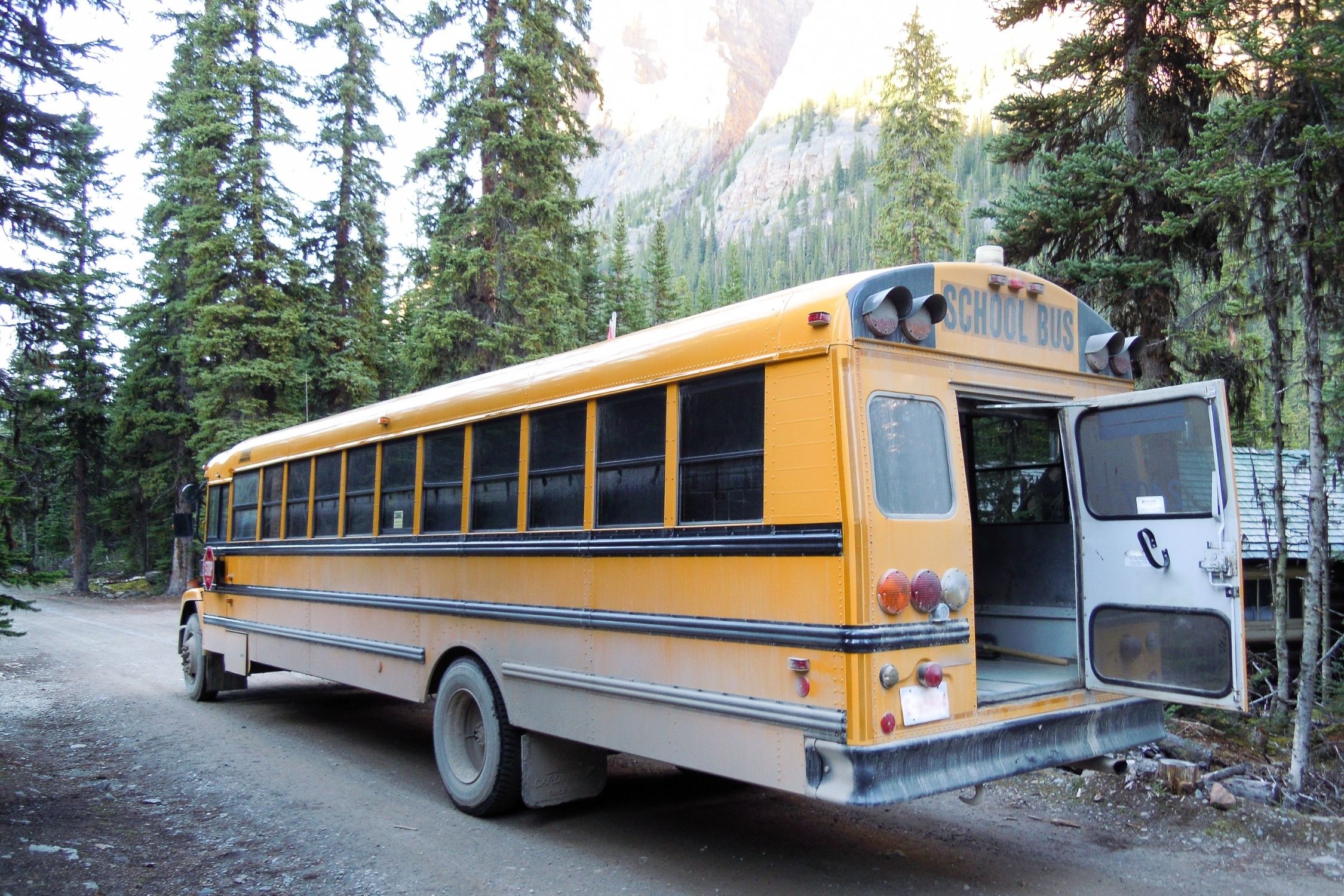 If hikers are not able to land a campsite reservation they are left with two options to visit Lake O'Hara. The next best option would be to book a reservation on the Parks Canada bus. Most of the trails around Lake O'Hara are short and it is possible to cover all of the highlights in a day or two.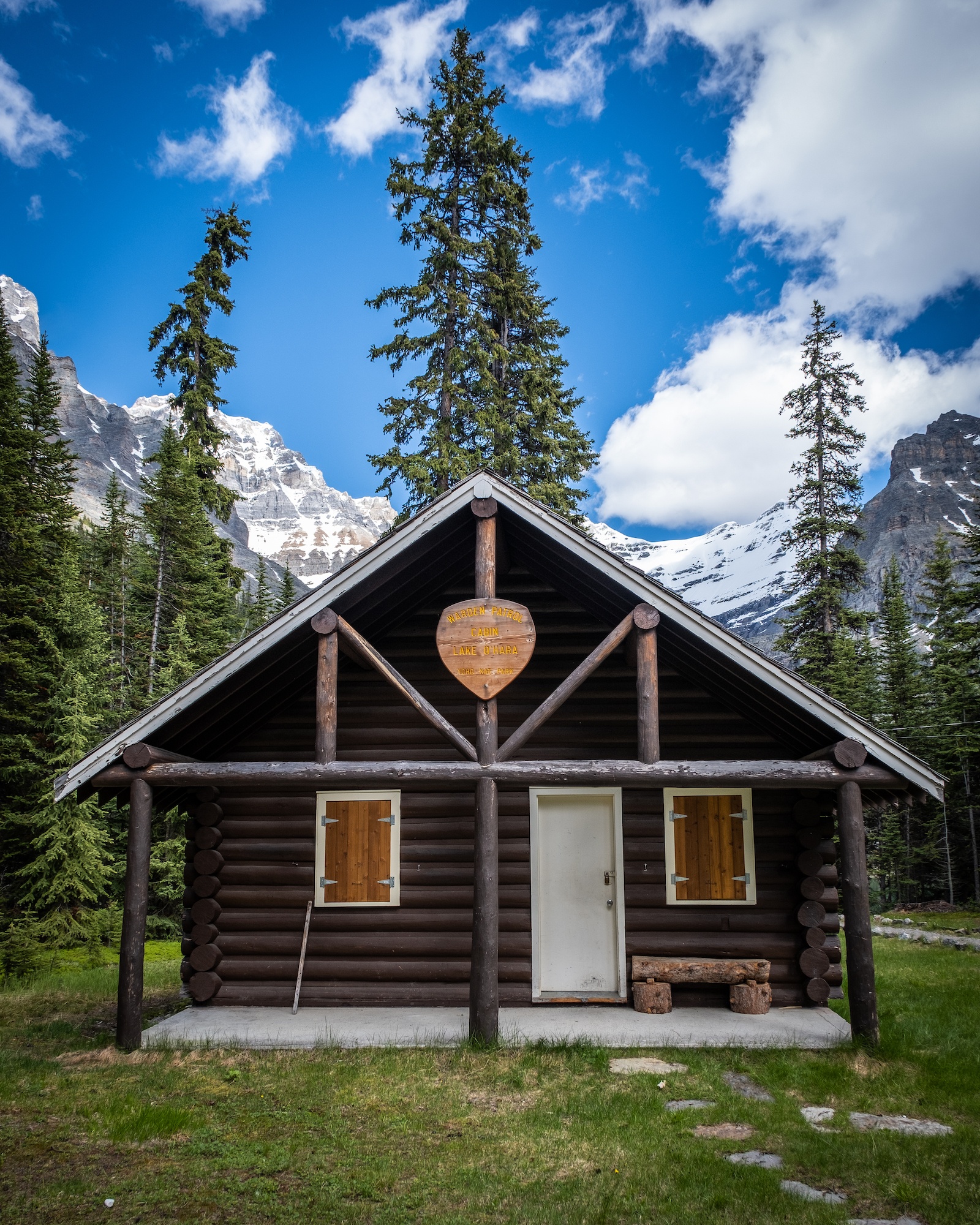 If you are unable to get a camping reservation, then the next best thing is going up for a day trip. Many of the trails around Lake O'Hara are short, and fast hikers could cover a lot of ground in a day. Day hikers who wish to secure a bus reservation will need to submit an application in the month of February. Each application costs $10 CAD and allows for the selection of six different dates and/or times for up to six people. Applications are then drawn at random to fill the spots. If any spots are left unfulfilled the remainder will become available on a first-come-first-serve basis online.
Reservations earlier in the day are best as it allows for ample time to explore the area through the plethora of hiking trails. The bus drops off campers at the campground. It's a short 500 meter walk to the Le Relais Day Shelter and Lake O'Hara.
Lake O'Hara Road Hike
If unable to secure campsite reservations or reservations at the campground the final option would be to hike the access road. From the parking lot to the Lake O'Hara campground it's around 11km (6.8 miles) and gains 500 meters (1,650 feet) in elevation. It's a gradual climb up the road, but it does eat at the psyche of hikers as it is boring. The road takes 2 hours to walk at a constant pace with no breaks.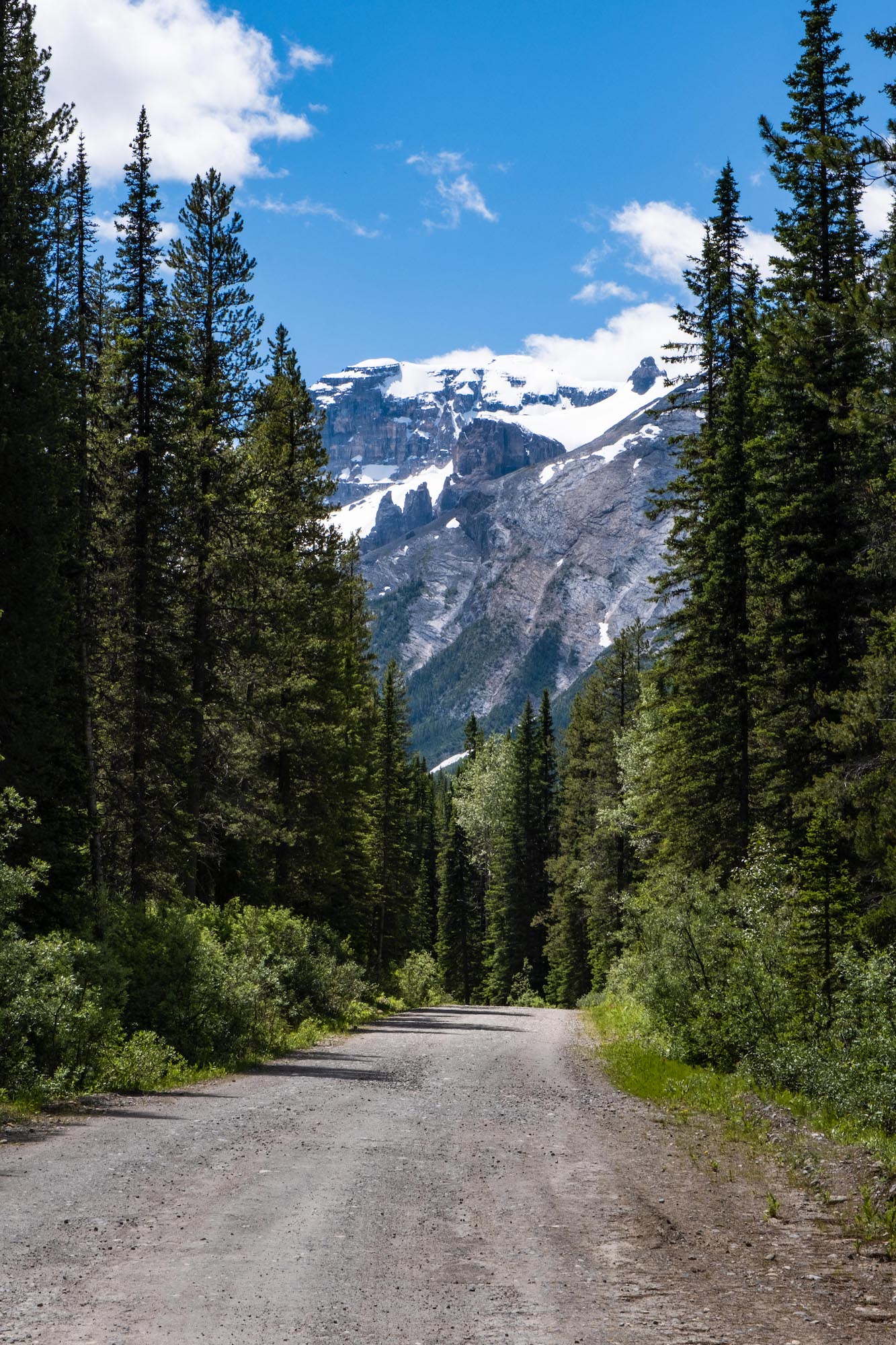 This option is best reserved for experienced hikers as they need to be prepared for a minimum of hiking 23 km that day. If there are plans to do the alpine circuit or any of the day hikes it is easy to reach a 30+ km day. It is possible to catch the bus in the evening for departure, but they are not guaranteed a spot. The one-way ticket costs $9.75 and can only be paid in cash.
NO BIKING is allowed on the road and wardens regularly drive up and down the road and can/will issue fines. Pets are not allowed at the campground, ACC hut, bus, or lodge. However, they are permitted to be walked in on-leash — the dog will need to be comfortable covering at least 23 km.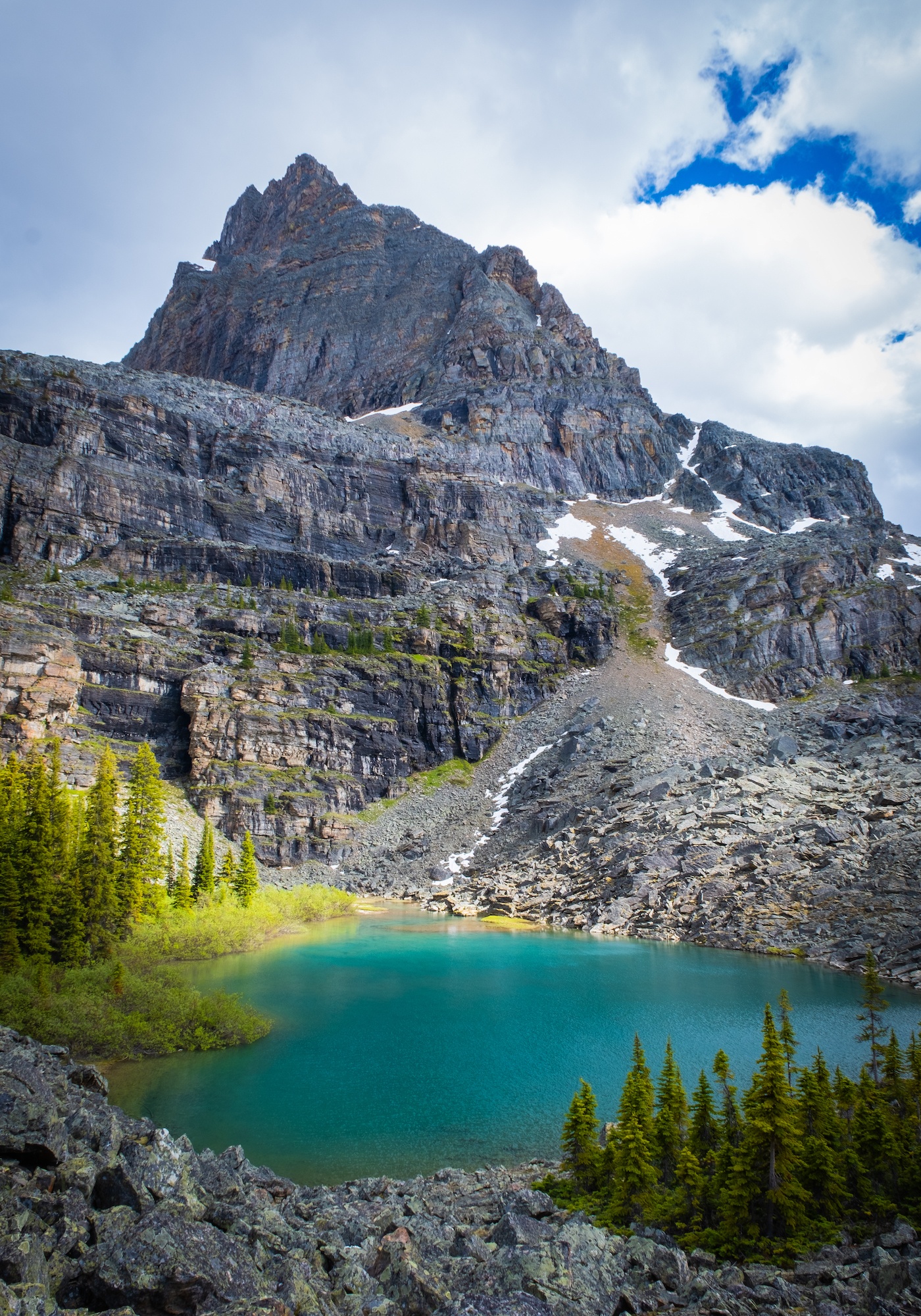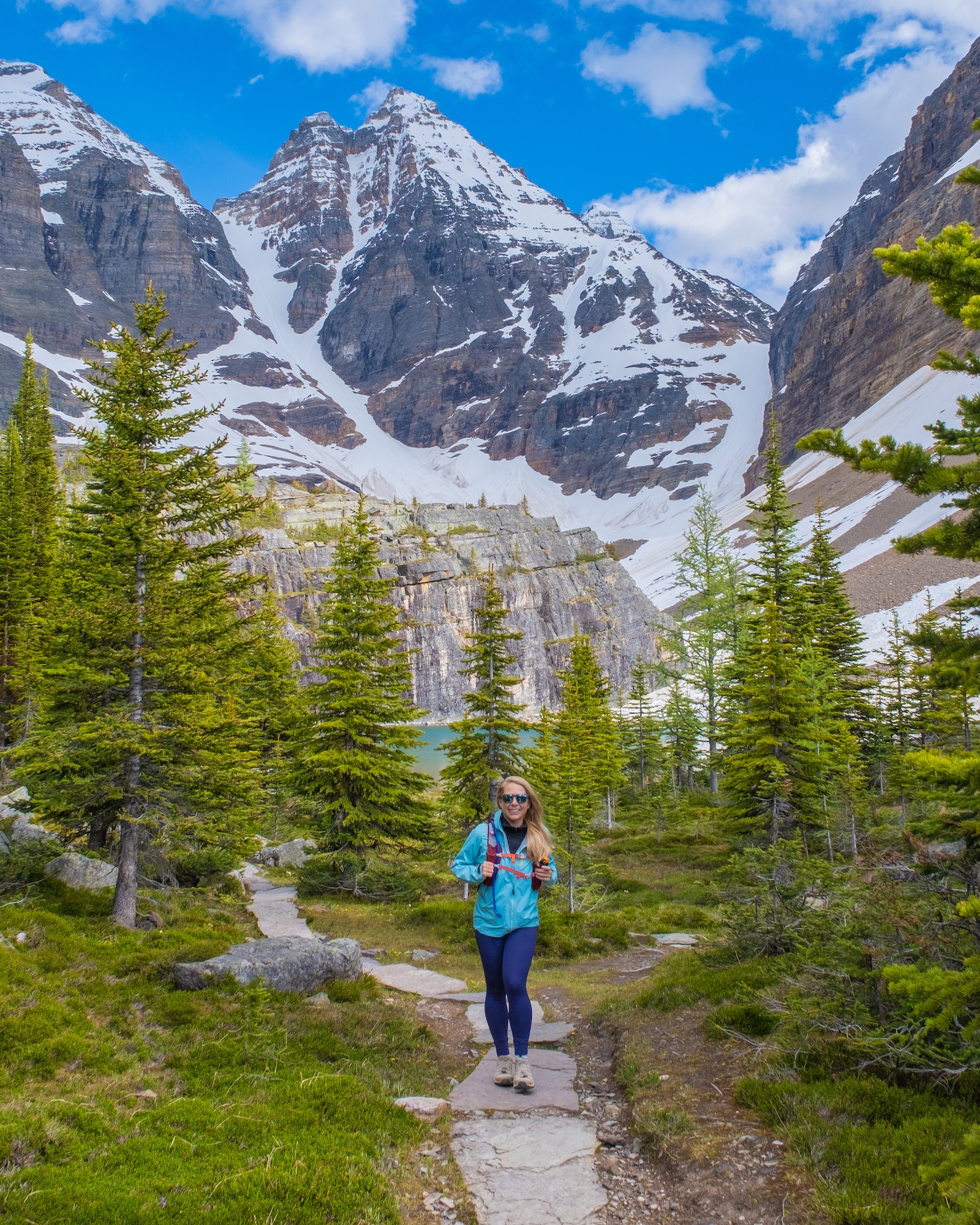 We've done the road a few times and it does come with one big advantage for photographers. If you hike the road it means you can choose the day and time. So if you're concerned about whether you can pick the best window and the bus schedule will not allow for sunset or sunrise. Of course, either sunset or sunrise requires walking the road in the dark early in the morning or late at night.
---
Lake O'Hara Lodge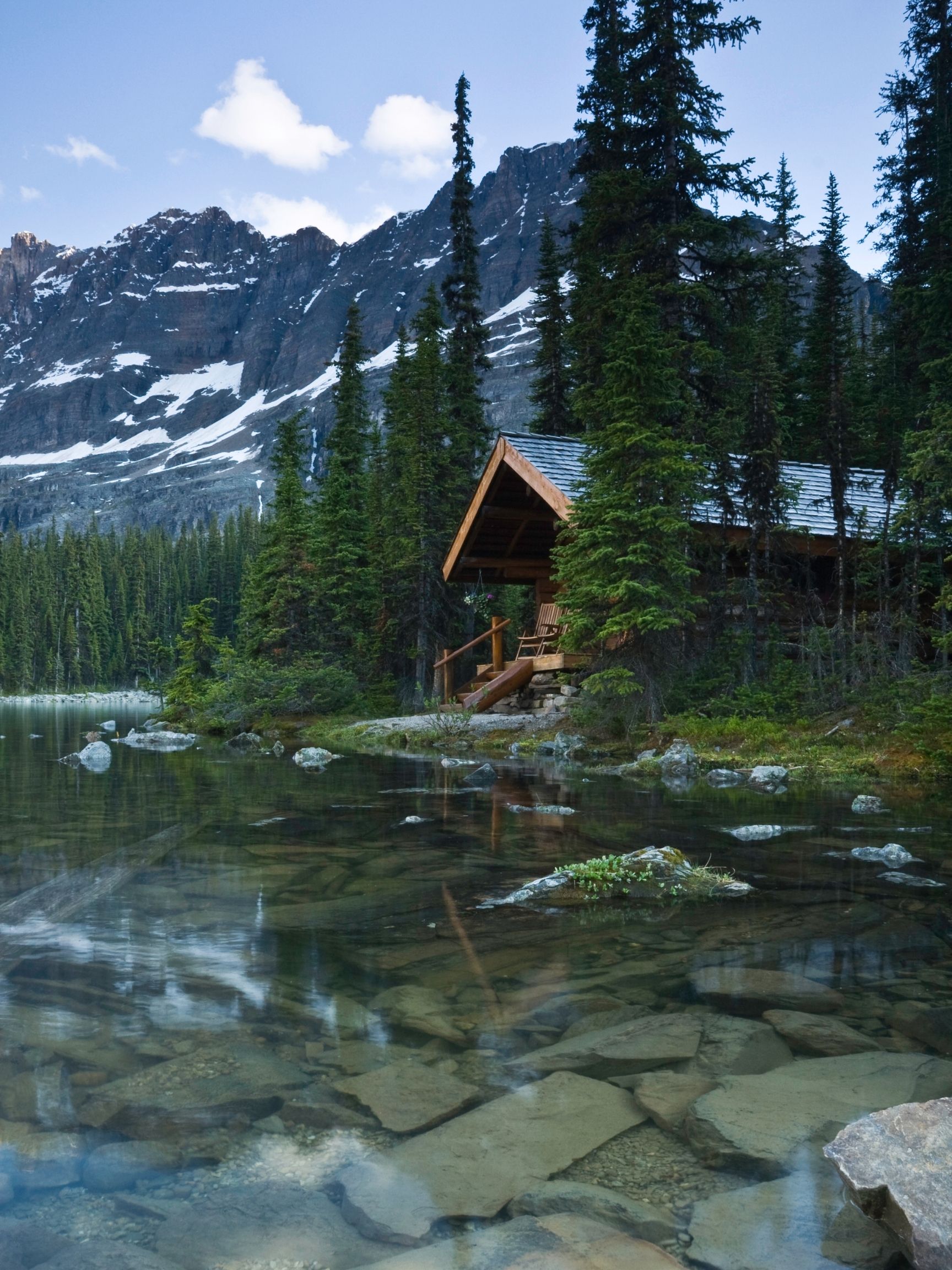 For those who do not feel like pitching a tent or walking down the long gravel road, then a stay at Lake O'Hara Lodge will be a sublime choice. The historic lodge is luxurious and has lakeside cabins that are beyond enviable. Quite honestly they maybe some of the most serene cabins in the world. Included guest's stay are all meals, a private shuttle bus, and use of the lodge canoes.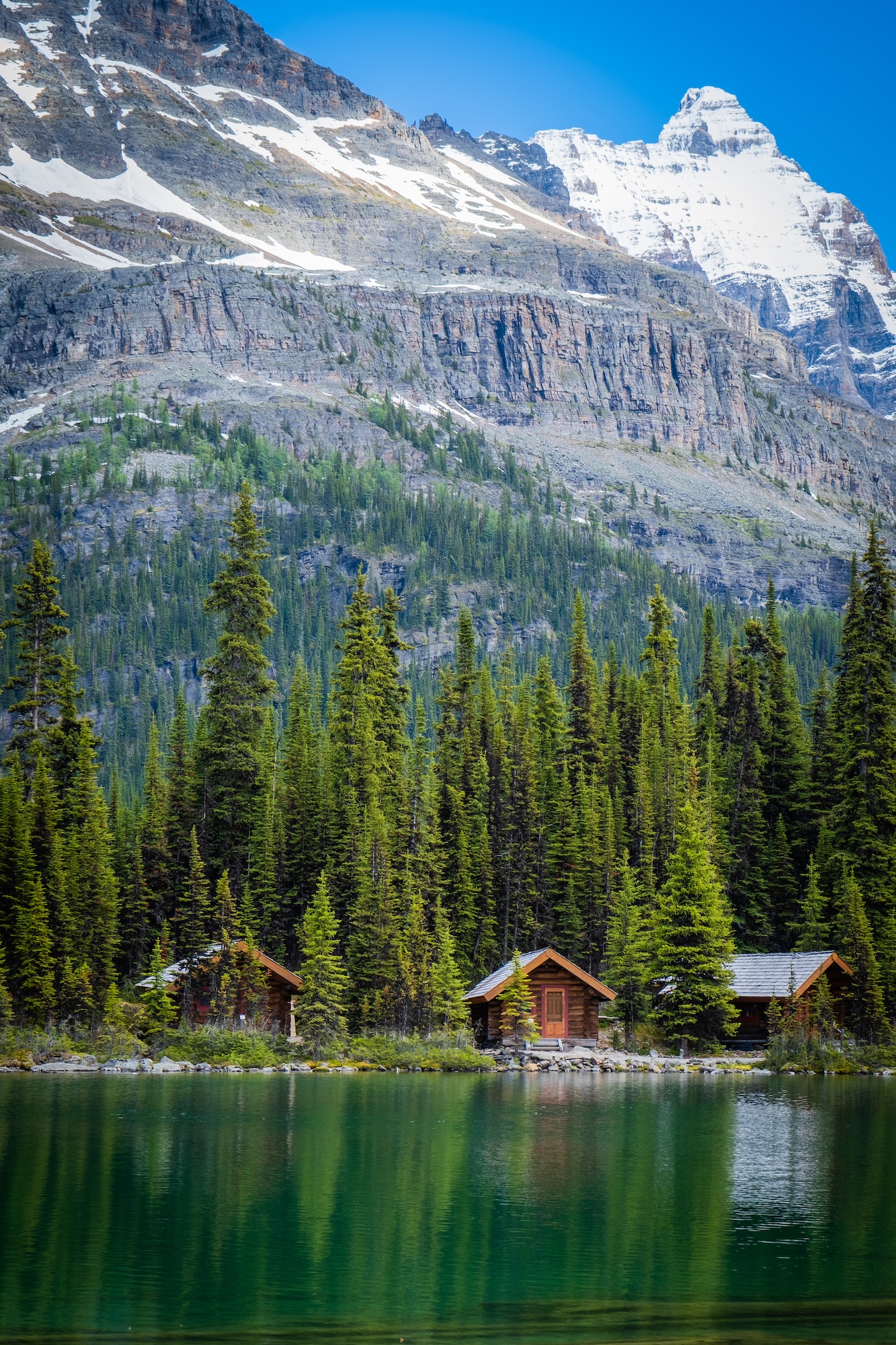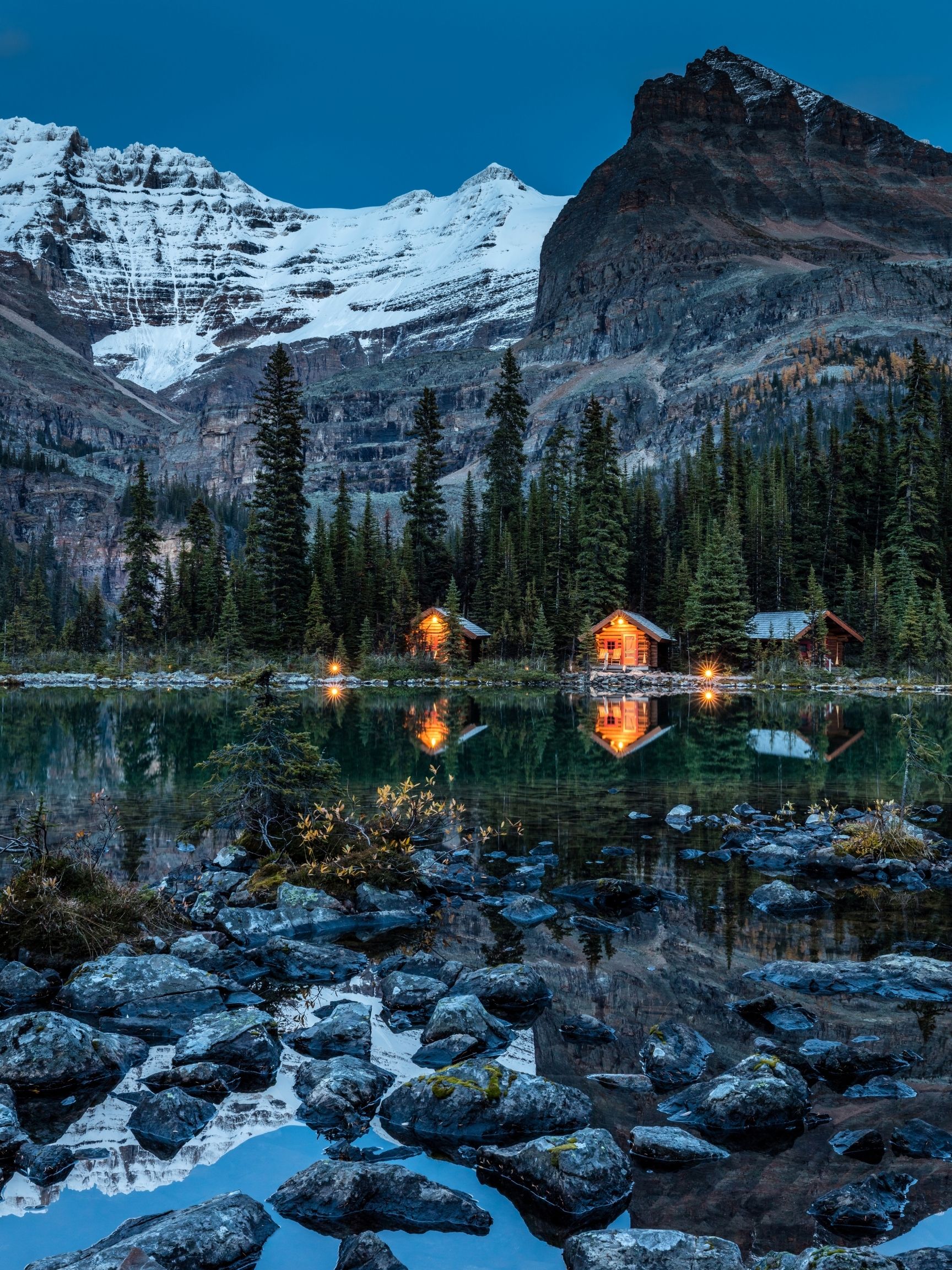 However, all of this comes at a steep price of $1,100 CAD a night in the cabins based on double occupancy. That being said, it surely a dream-worthy stay that should be envied by all hikers. The lodge is also open in winter months when the area around Lake O'Hara turns backcountry/cross country skiers dream.
---
Elizabeth Parker ACC Hut
Elizabeth Parker Hut is one of the most popular options to explore the Lake O'Hara area. It's arguably the ACC's most popular hut and in order to secure a summer, booking requires entering a lottery in October. The summer season occurs from mid-June to the first of October.
Inside the hut is enough room for 24 campers with bunk beds, wood stove, propane cookstoves, kitchen utensils, communal lounge, and outhouses. The hut is located 1 km from the bus stop and 500 meters from Lake O'Hara. If you love to cross country ski or backcountry ski consider making a visit to the hut in the winter when bookings are relatively easy.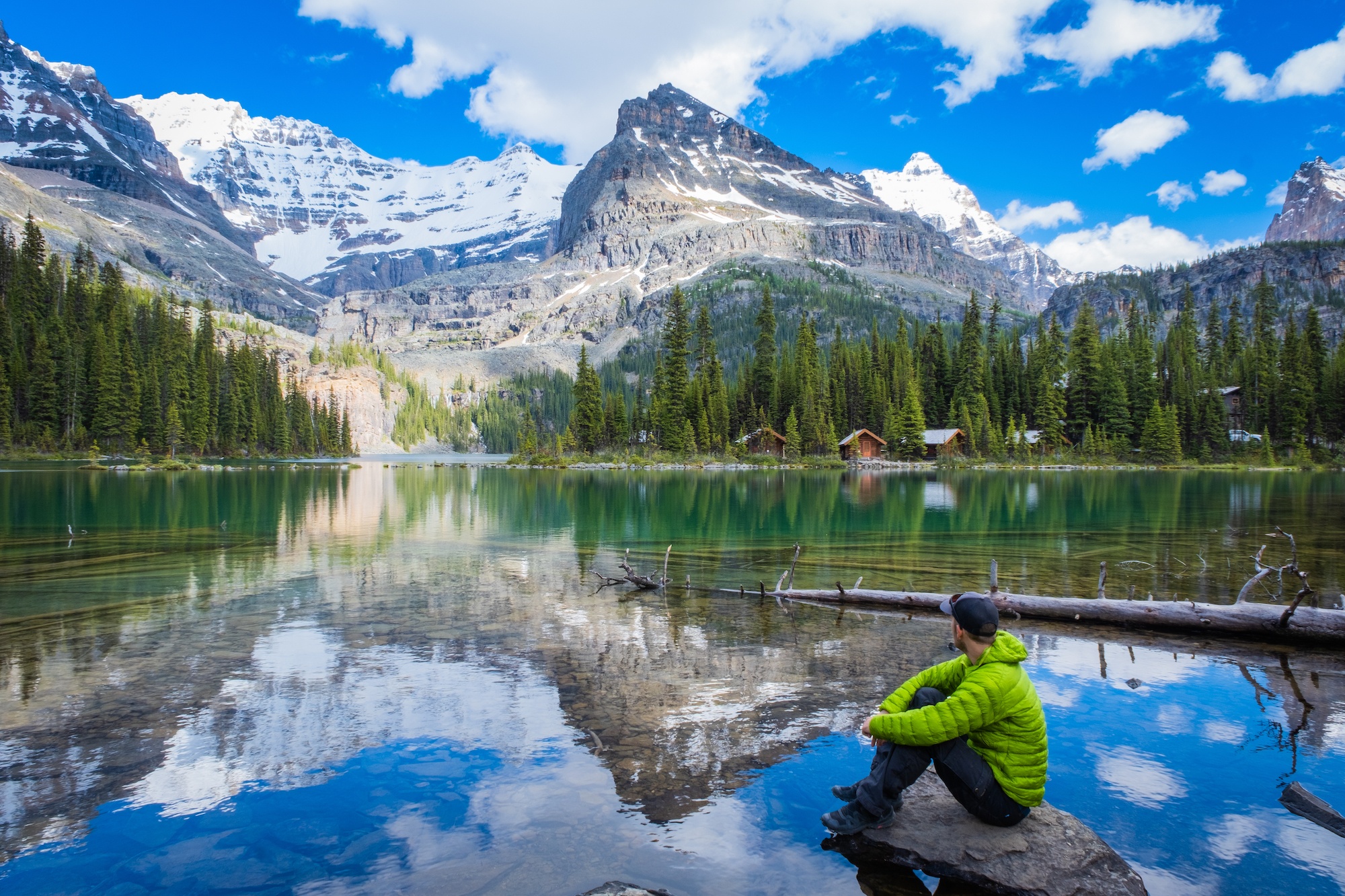 If you're able to secure a booking you're able to book a spot on the shuttle bus with the ACC. Reservations are not transferable and there is a strict cancelation policy. During the summer the huts costs are $35 per person per night for ACC members and $45 pp/pn for non-members. For more information, I'd check out the ACC's website with COVID happening they were forced to change the reservation policy for 2020 and likely 2021.
---
Day Hikes Around Lake O'Hara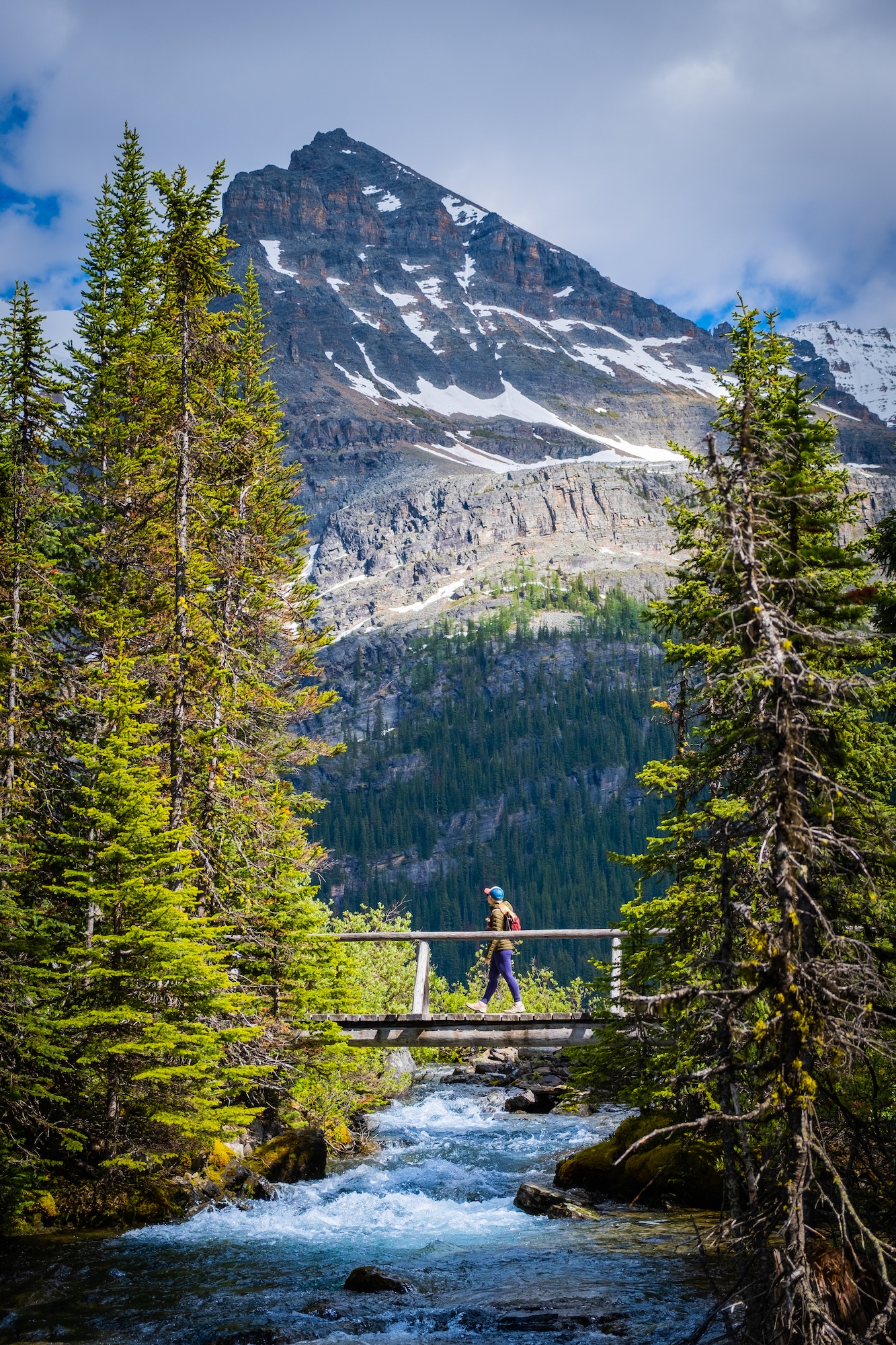 There is a wonderful network of trails around Lake O'Hara that is well signed. That being said, it's a worthy investment in some sort of map or GPS map with the trail network before you reach Lake O'Hara. It should go without saying, but there is no cell phone service or internet connection. Upon arrival, you can find updated trail conditions posted at the campground and Le Relais Day Shelter.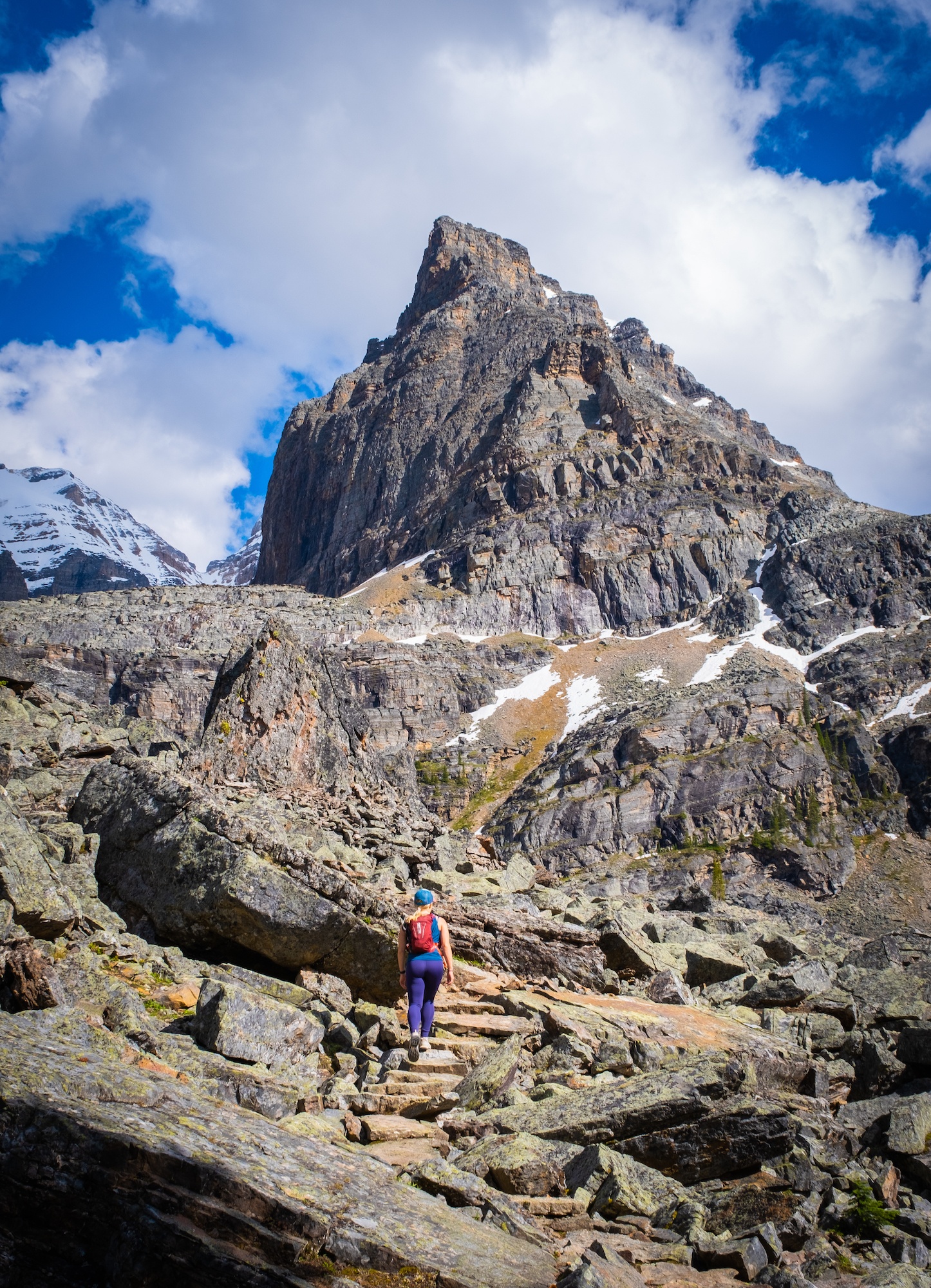 Some of the trail work done by early members of the ACC make the hikes worthy visitations alone. A particular highlight for us is the stonework that leads past Lake Oesa to Abbot Pass. It's possible to combine all of these hikes for large circuits.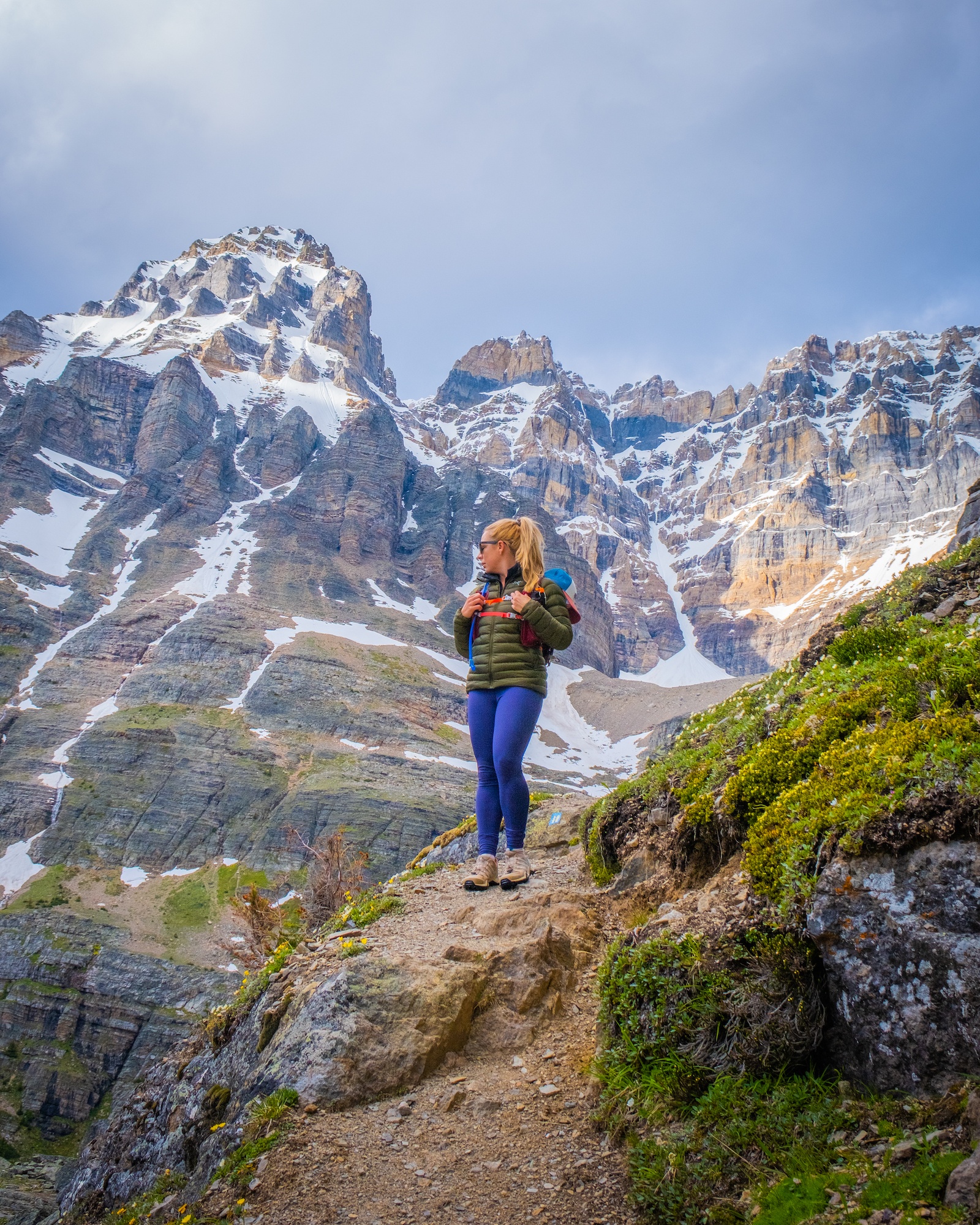 Hikes Around Lake O'Hara
Lake McArthur
Lake Oesa
Huber Ledges
Opabin Plateau
Yukeness Ledges
Cascade Lakes
Wiwaxy Gap
Huber Ledges
Abbot Pass
Alpine Circuit
---
Things to Know About Lake O'Hara
---
Lake O'Hara Photo Point
The most well known photography location around Lake O'Hara is the Obapin Plateau. It's a viewpoint and photograph that widely circles the internet and social media. Which makes it one of the most well known landscapes in the Canadian Rockies. Hiking up to the viewpoint is easy with 4km in distance and 200 meters of elevation gain.
Le Relais Day Shelter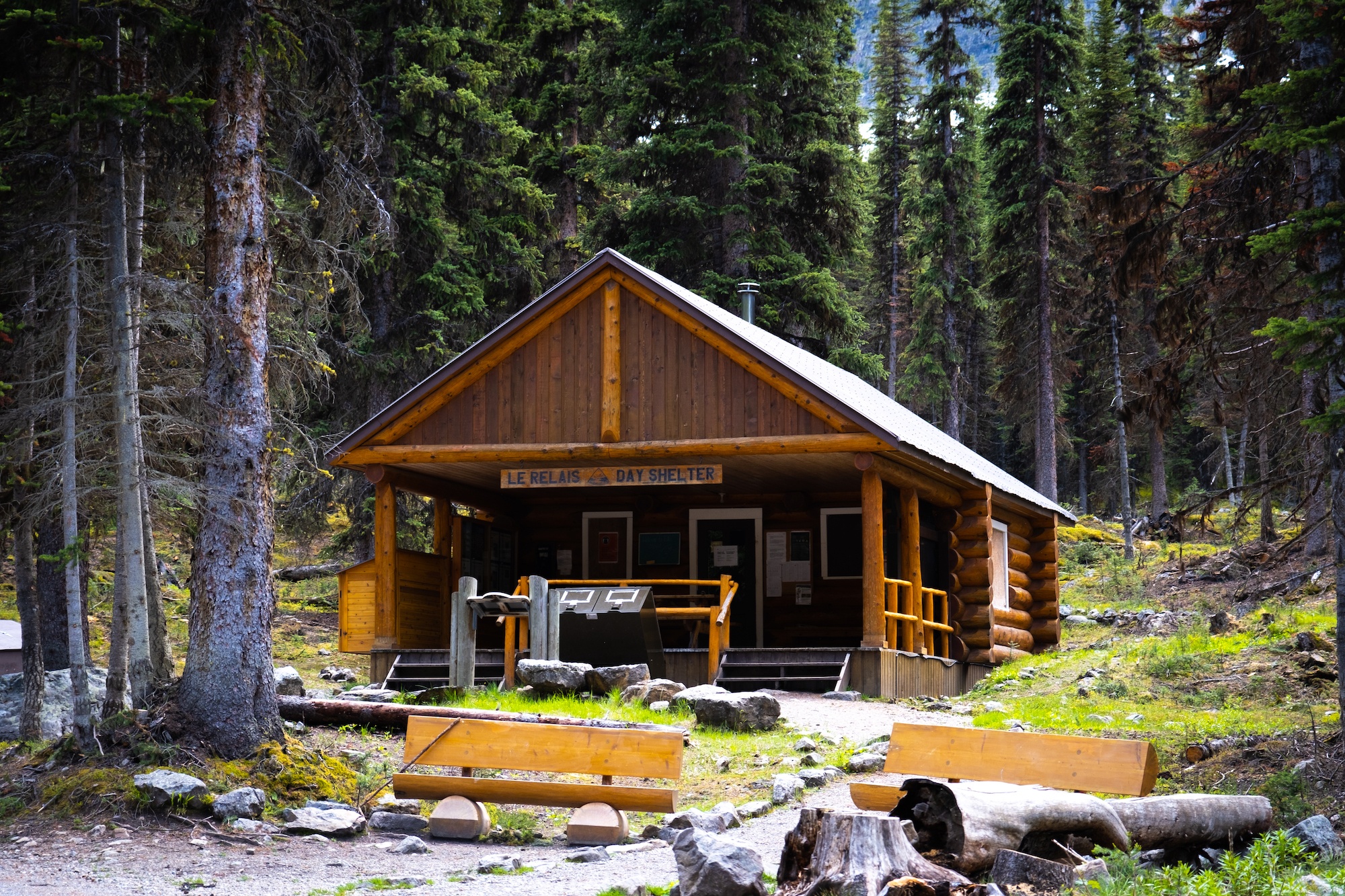 The Le Relais Day Use Shelter is the primary hub at Lake O'Hara. It acts as the information desk, coffee shop, and gift shop. All of the proceeds at the day shelter go back to the Lake O'Hara Trail Club who maintains the trails around the region. Le Relais is open every day in the summer from 8:30 am to 6:30 pm. They only accept cash.
They offer for sale a number of food and drink options which includes coffee, tea, chocolate, ice cream, sandwich, snacks, and their famous carrot cake. The cake is well sought after and they regularly sell out every day so head there early if you have your sights set on the cake.
---
Best Time To Visit Lake O'Hara
We have seen it snow every month of the year in Banff so always be prepared for cold inclement weather. If you plan to visit in the shoulder months June or September be prepared for cold weather. Typically the lake unthaws at the end of June or early July and remains ice-free until the end of September. The best time to visit would be August when snow is at a minimum, mid to late September can also be exceptional when the larch trees turn gold around Lake McArthur.
No matter the forecast I suggest coming prepared for snow, rain, sleet, sun, wind, and any combination of them all. On our first day it poured in the evening then shifted to snow at night as temperatures cooled. Or course, you should still be prepared for heat and sun exposure because hiking with a pack is laborious. Our best advice is to pack proper layers, a tarp, proper sleeping bag, and do not forget your rainfly if camping!
---
Furry Friends
Dogs sadly can not ride on the bus and are not allowed at the campsite or ACC hut. The only way for canines to visit Lake O'Hara is by walking down the gravel access road.
---
Wildlife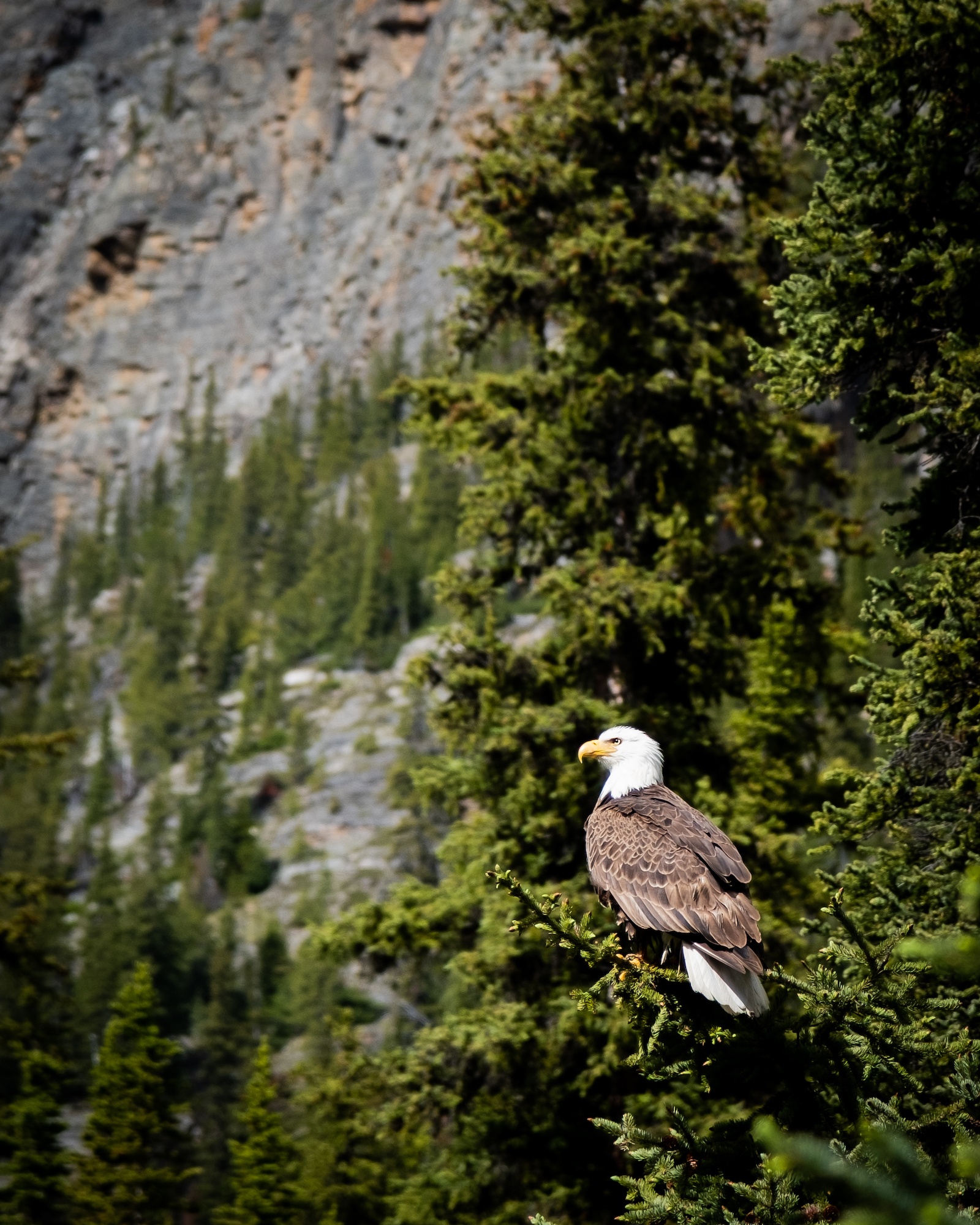 Wildlife encounters are not something only newer hikers have to deal with. Everyone should be prepared to encounter wildlife in Banff. One should never go out without bear spray. And each person in the group should have their own bear spray, don't rely on one bear spray for multiple people.
↓ Join the community ↓
The Banff Blog Facebook Group is your headquarters for the Canadian Rockies travel advice and information. Including hike info and off-season travel information. This is also a place where you can meet one another when you're in need of adventure buddies.