There's really nowhere quite as remarkable as Banff National Park and to travel Banff is a once-in-a-lifetime experience. Whether it's winter or summer in Banff, there is so much to do in Banff it's impossible to get bored.
We visited this little mountain town a few years back and fell in love so much that we decided to move here and eventually start this entire website!
These mountains provide an endless playground bringing in millions of tourists a year. Hopefully, these Banff travel tips will help you plan your ultimate Canadian Rockies trip and let you experience Banff to the fullest.
---
Our Top Banff Travel Tips
---
Start Your Banff Trip in Calgary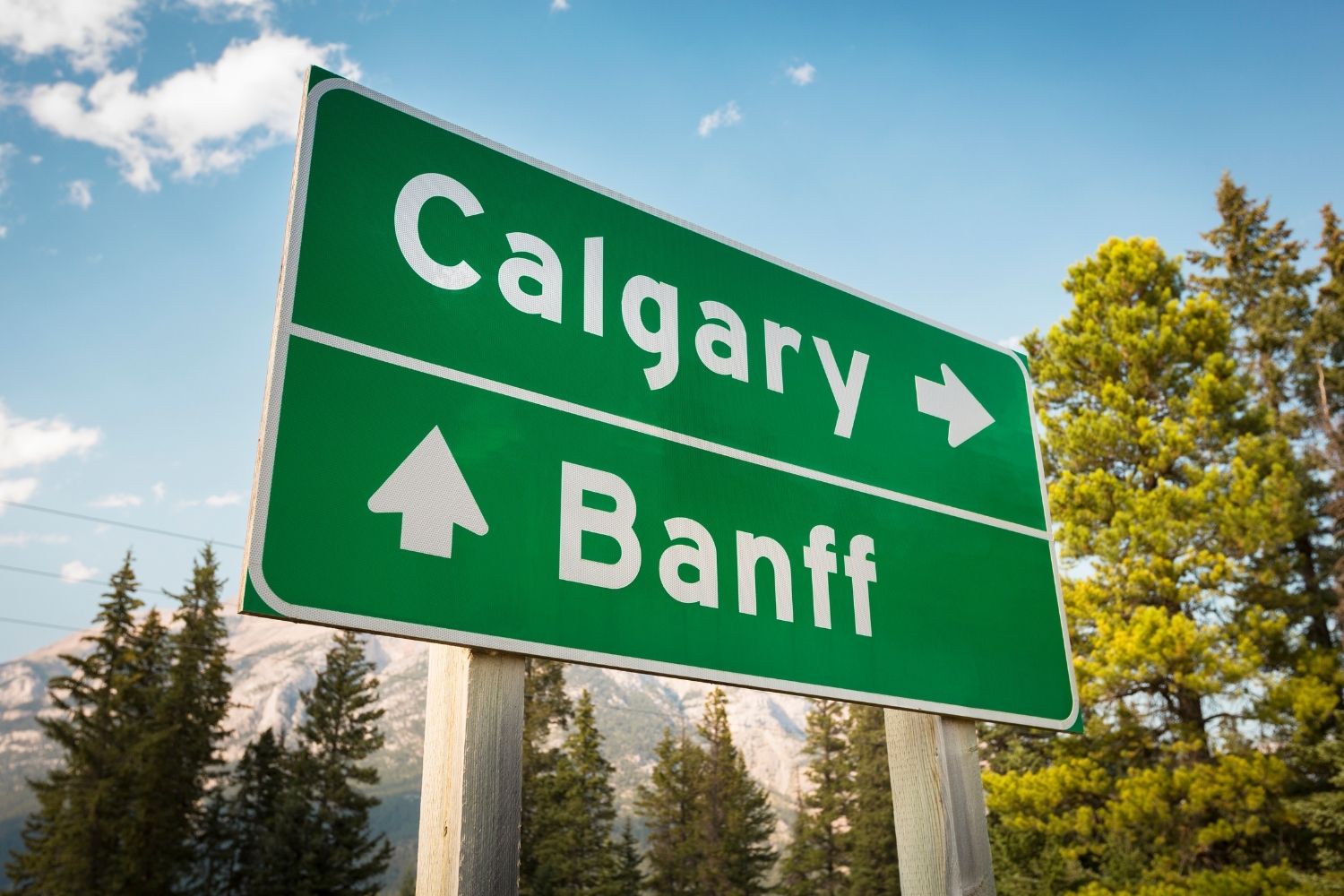 Most visitors traveling to Banff will fly into Calgary International Airport (YYC). You can get to and from YYC to Banff in just an hour and a half, making Calgary the ideal starting point.
I'm thrilled to call Calgary my home airport as I think it's the most chill airport I've ever been in. I've rarely waited in a line for check-in or security, and coming into Calgary on an international flight is exceptionally breezy.
The only other option for travelers coming in via plane is to fly into Edmonton. However, Edmonton International Airport consistently churns out much higher airfare prices than Calgary and is further away from Banff.
I would only recommend flying into Edmonton if you are spending the majority of your time in Jasper National Park or are driving from Banff to Jasper and want to fly one way in and another way out to save time (though one way flights are typically much more expensive).
How to Get from Calgary to Banff
---
Consider Renting A Car for Banff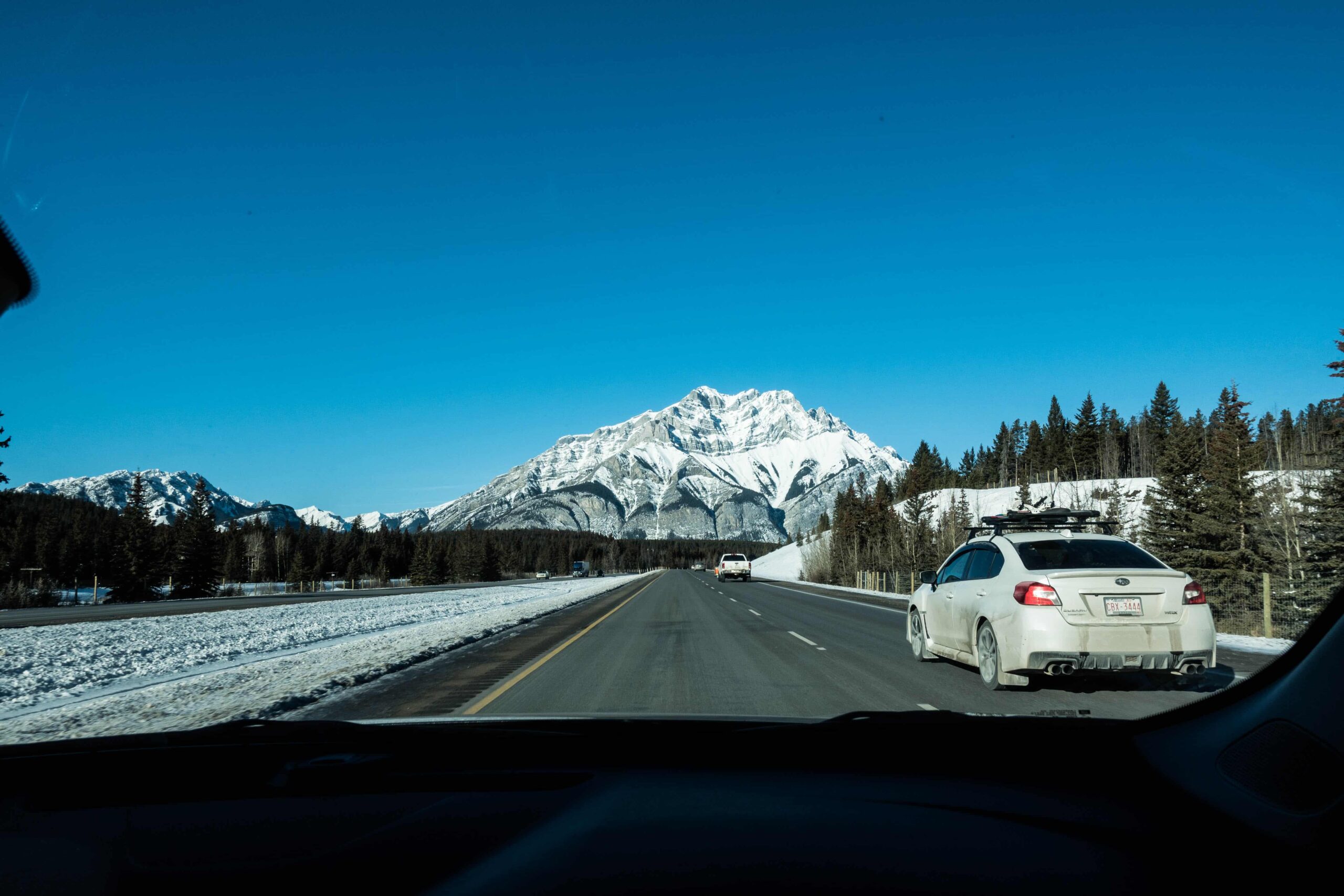 Being in North America, your options for transport are limited. Most visitors to Banff will rent a car in Calgary, which is the easiest way to get around the moutnains. Renting a car for Banff ensures that you can get to where you want to go on your own schedule.
Depending on your travel season, car rentals in Calgary can be pretty affordable. We've rented with Enterprise for less than $30 CAD a day in the winter. However, expect prices to rise quite drastically during the high season (June through end of September, as well as Christmas).
In Banff in the winter, it's best to get a car with winter tires, so make sure to check with your car rental agency. Just because it's winter and you're renting a car in Alberta does not mean that the rental car agency will automatically outfit your rental car with the proper tires you need. If you rent a car in Calgary, they don't know that you are driving into the mountains and need all wheel drive or winter tires.
Snow/winter tires are mandatory if you decide to drive from Alberta into BC or if you are driving the Icefields Parkway between November and April! You can see road conditions here, which are super helpful between November and late April.
How to Rent a Car in Banff
---
Is Driving in Canada Like Driving in the US?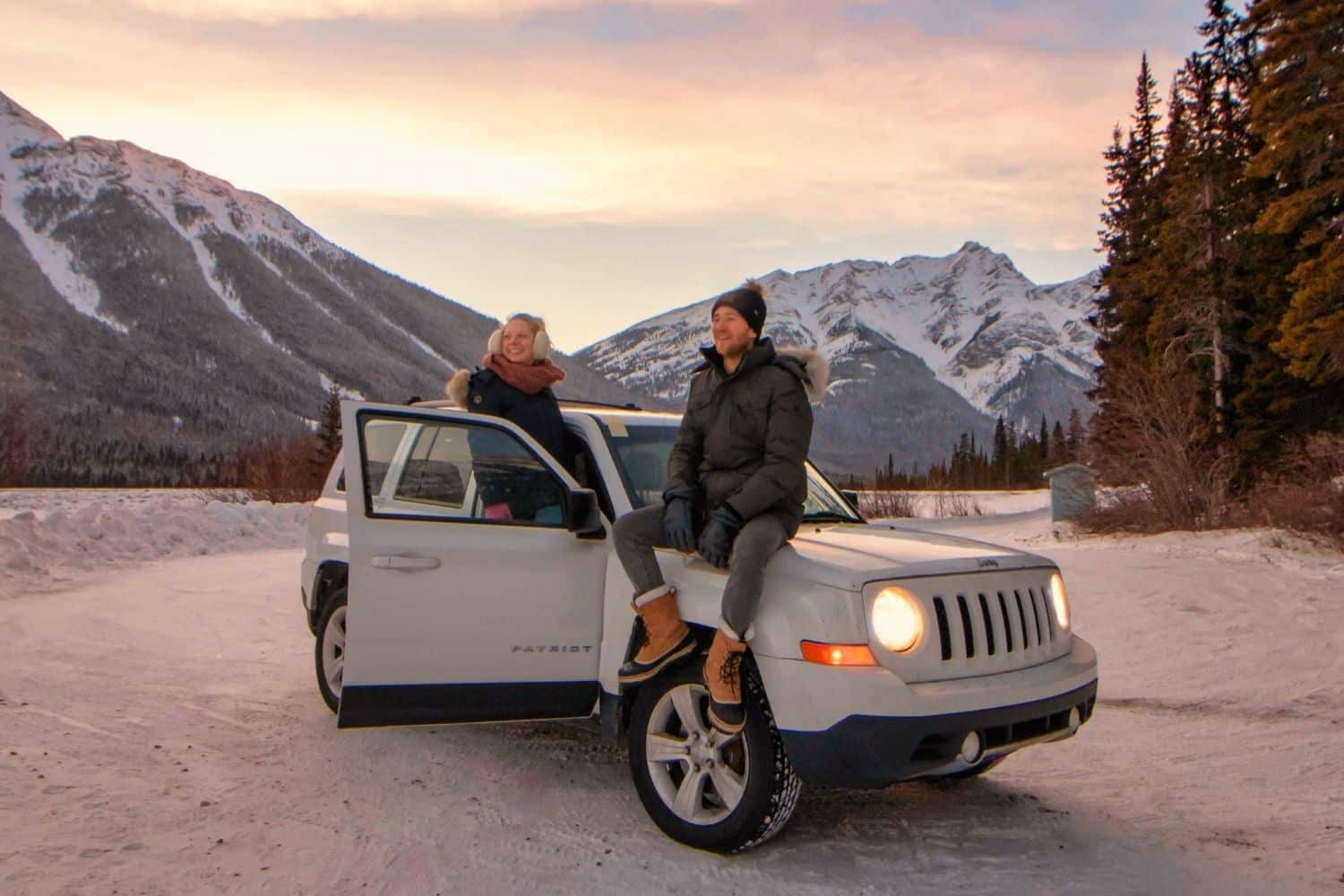 Being an American that moved to Canada, I would say driving in Canada is exactly like driving in the United States. So if you are visiting from the US or have experience driving in America you are in luck. Cars drive on the right side of the road, with the steering wheel on the left side of the vehicle.
All traffic laws and rules are almost identical. So if you are an American visitor, you shouldn't have any trouble renting a car and driving in Canada.
---
There are Other Options Besides Renting A Car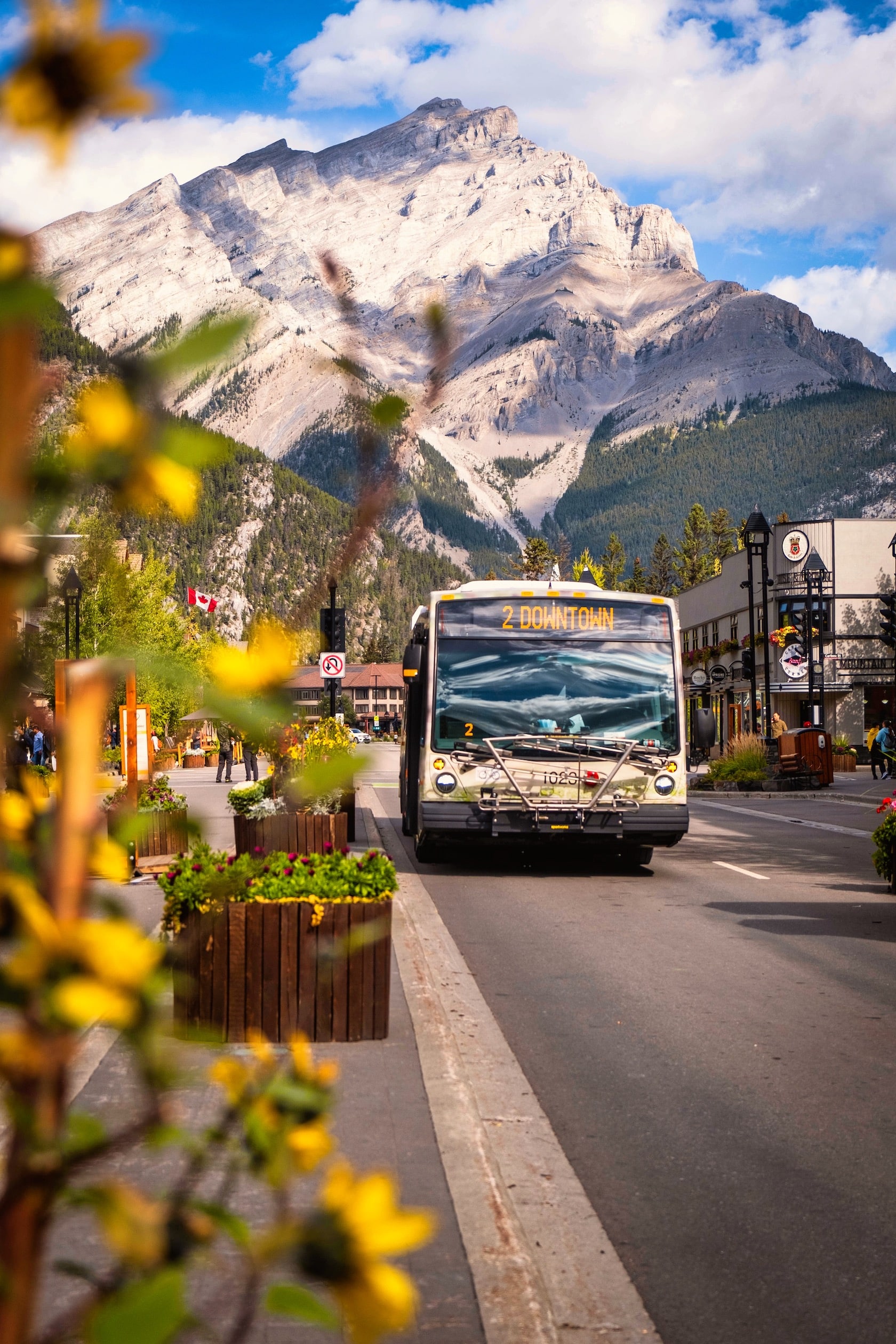 You may not feel comfortable driving in Canada, and that's okay! There are other options to get to and from Banff and around the town. However, they are limited, so keep that in mind.
To get from YYC to Banff without a car, the Banff Airporter is a good option and costs $146 (CAD) round trip.
Once in Banff, there is the Roam bus system to get around town. In the summer, it runs to sights like Lake Minnewanka and Lake Louise. While in the winter, it will quickly get you to Lake Louise Ski Resort and Banff Sunshine Ski Resort. The Roam Transit also easily connects Banff to Canmore.
---
The Canadian Dollar is the Currency to Use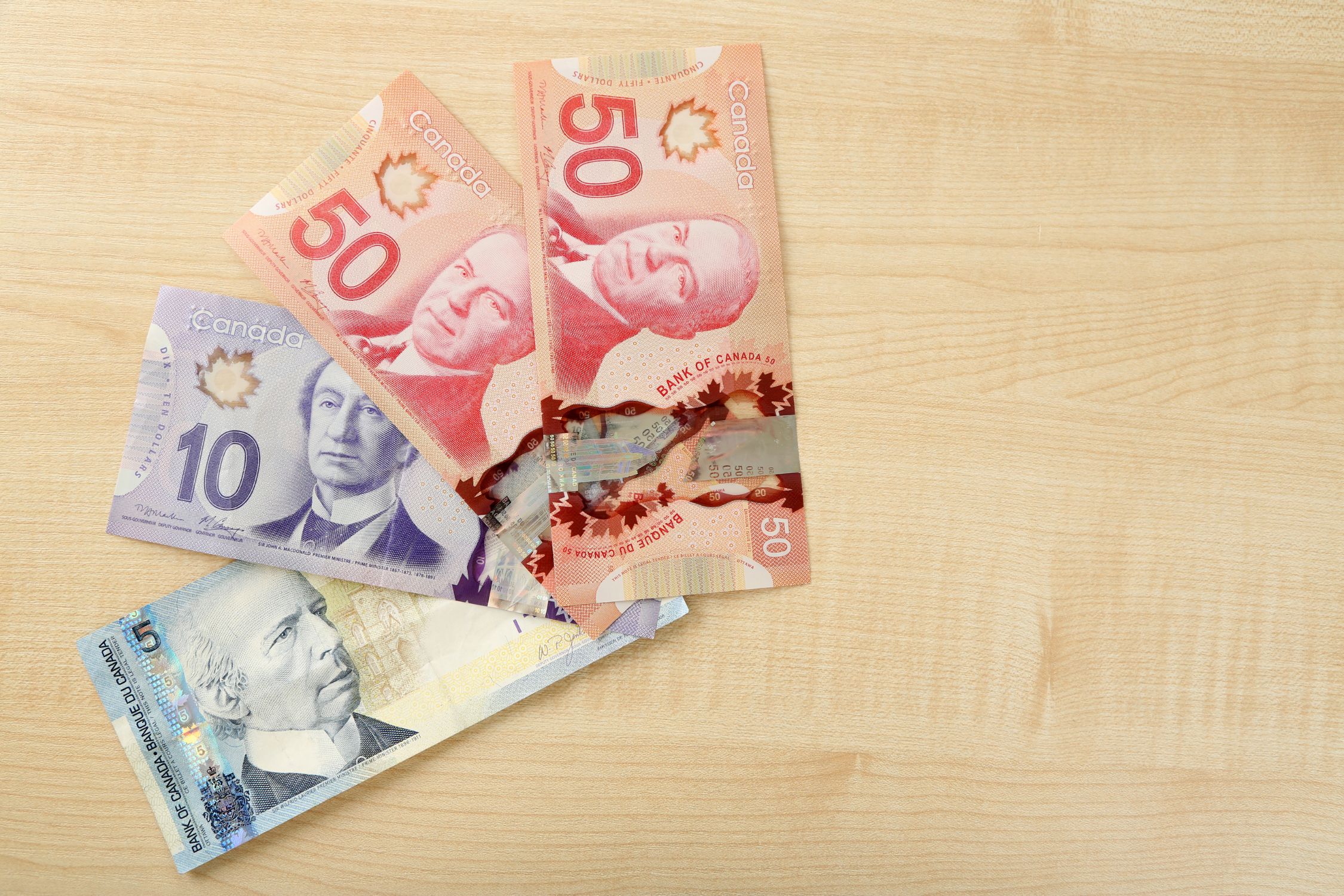 Canada uses the Canadian Dollar and all prices will be in CAD. Though the $ symbol is the same as the USD. It's best to pay for all items with Canadian Dollar and not US Dollar.
At the time of writing 1 United States Dollar equals around 1.30 Canadian Dollar. So if you are an American looking at the prices in Canada, you can think of everything as getting a bit of a discount, though we find prices in general are slightly higher in Canada than in the US. Given the exchange rate, you might find that American pricing and Canadian pricing to be pretty similar.
USD is accepted occasionally at tour operators and restaurants, though we have never tried to pay with USD. Why? Well, you'll be getting a pretty poor exchange rate if you pay with USD. Most Canadians don't have USD to exchange or give you back change, meaning you will often get a 1:1 exchange rate.
We recommend paying for most items with your credit card, Apple Pay, or pulling out CAD from the ATM upon arrival. If you need to exchange currency in Banff, you can do so at the Clock Tower Village Mall on Banff Ave.
---
Cash in Banff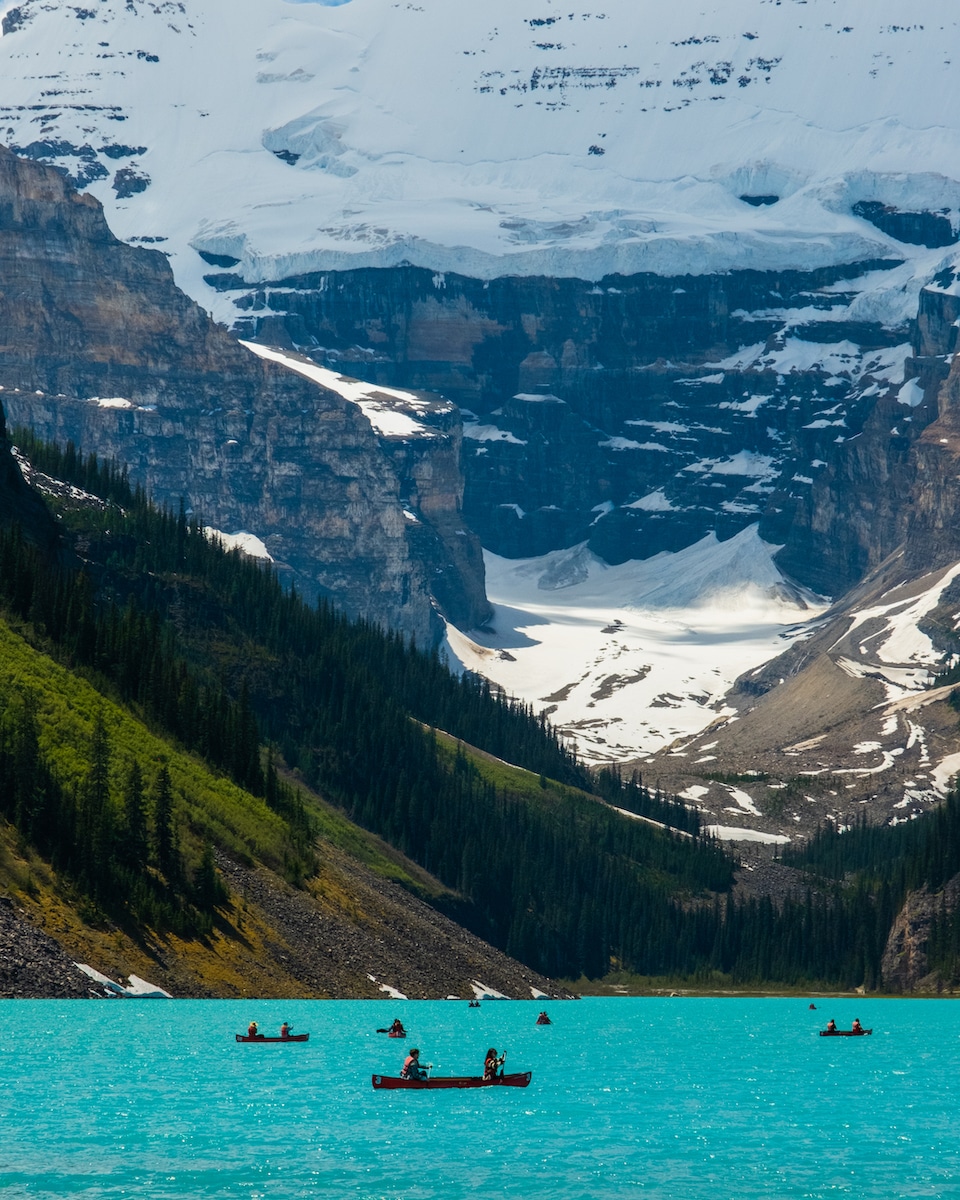 We often get asked how much cash is needed to visit Banff, and the truth is not much. You can pay for almost everything in the Canadian Rockies with your credit card. In fact, we still have a crisp $100 bill that we pulled out over a year ago sitting in our wallet, because there is no need to use much cash.
Not only do we not need cash, but most services in Canmore and Banff can be paid for using tap technology. We often use Apple Pay and just make sure to have our phone on us when paying for things.
I would say one of the only times you absolutely need cash is if you are going camping or hiking and will not be in a serviceable area, or if you have tour guides to tip. Then it never hurts to have cash on you.
---
The Main "Tourist" Sights Are Worth It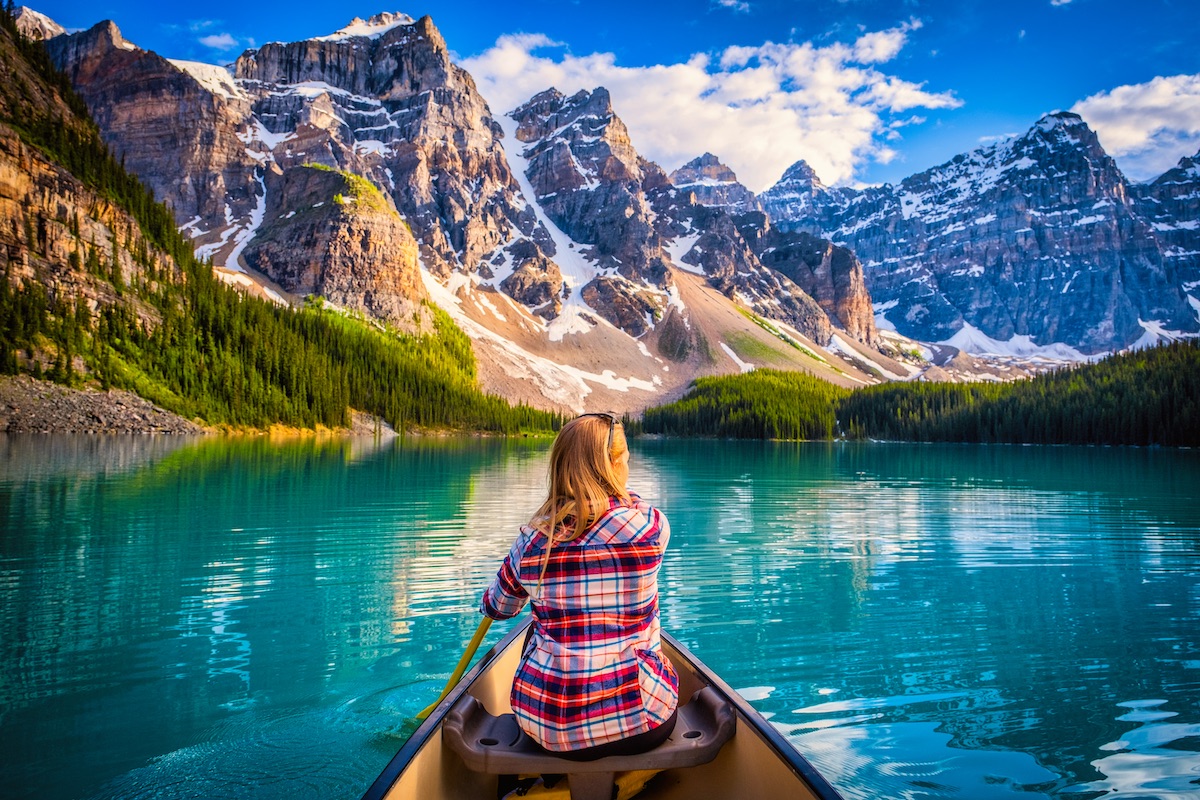 Lake Louise, Moraine Lake, Johnston Canyon, Peyto Lake…these are among some of the most popular spots to visit in Banff National Park. For a good reason too!
Every popular area is popular because they are out of this world beautiful. Everyone loves them, which means that they are swamped during the high season.
However, I wouldn't let that differ you from visiting. Trust me, I absolutely HATE crowds, but Banff National Park's natural spots are so incredible that it's hard to let the crowds deter you. Even with the high numbers I don't think there is anywhere more beautiful than Lake Louise and Moraine Lake.
My advice would be to go see them once and then continue to some of the less popular areas (we're getting to where those are!).
---
How to Avoid the Crowds at the Popular Banff Spots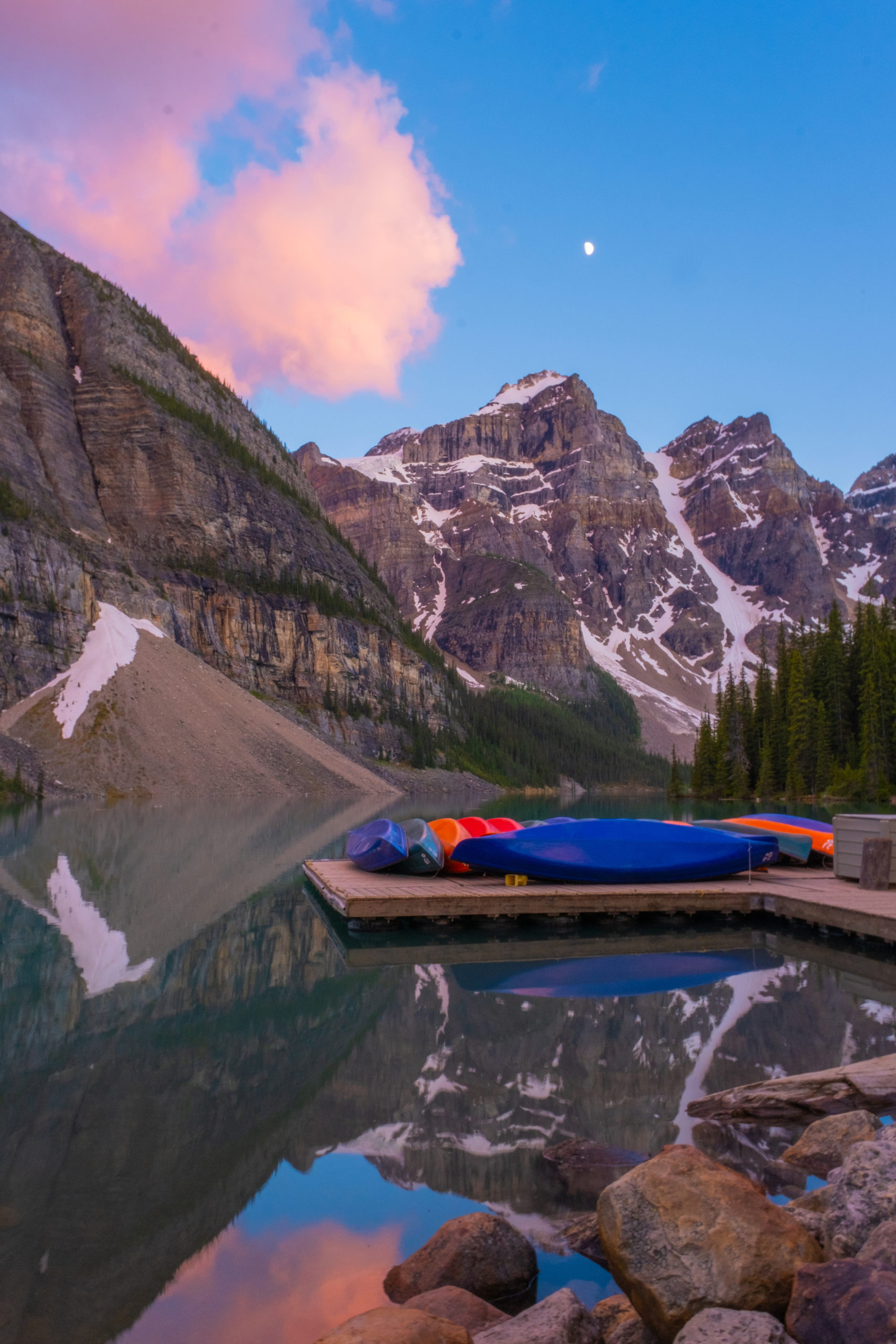 It's hard to avoid the crowds around Banff in the summertime, especially around Downtown Banff and places like Lake Louise, Sulphur Mountain, and Lake Minnewanka.
My best Banff travel tip for avoiding the crowds is to travel outside of July and August, get up as early as possible, and stay out later. You didn't want to sleep on vacation, did you?
Moraine Lake and Lake Louise will get crowded around 6 am-7 am, so set your alarm early! However, you can generally score some solitude if you hang out around until about 9 pm in the summer. I know it sounds late, but the sun sets around 10:30pm in July, leaving plenty of time to explore.
Beyond the popular sights, I can't stress enough to get out on some hikes. This is the best way to avoid crowds in the Rockies. In general, the further and higher you hike, the fewer people you will see. Some of our favorite hikes and scrambles that don't see many people are The Onion, Mist Mountain (Summit – not hot springs), and Arnica Lake.
33 Banff Hikes and Trails to Enjoy This Summer (With Photos)
---
Spread Out The Tourism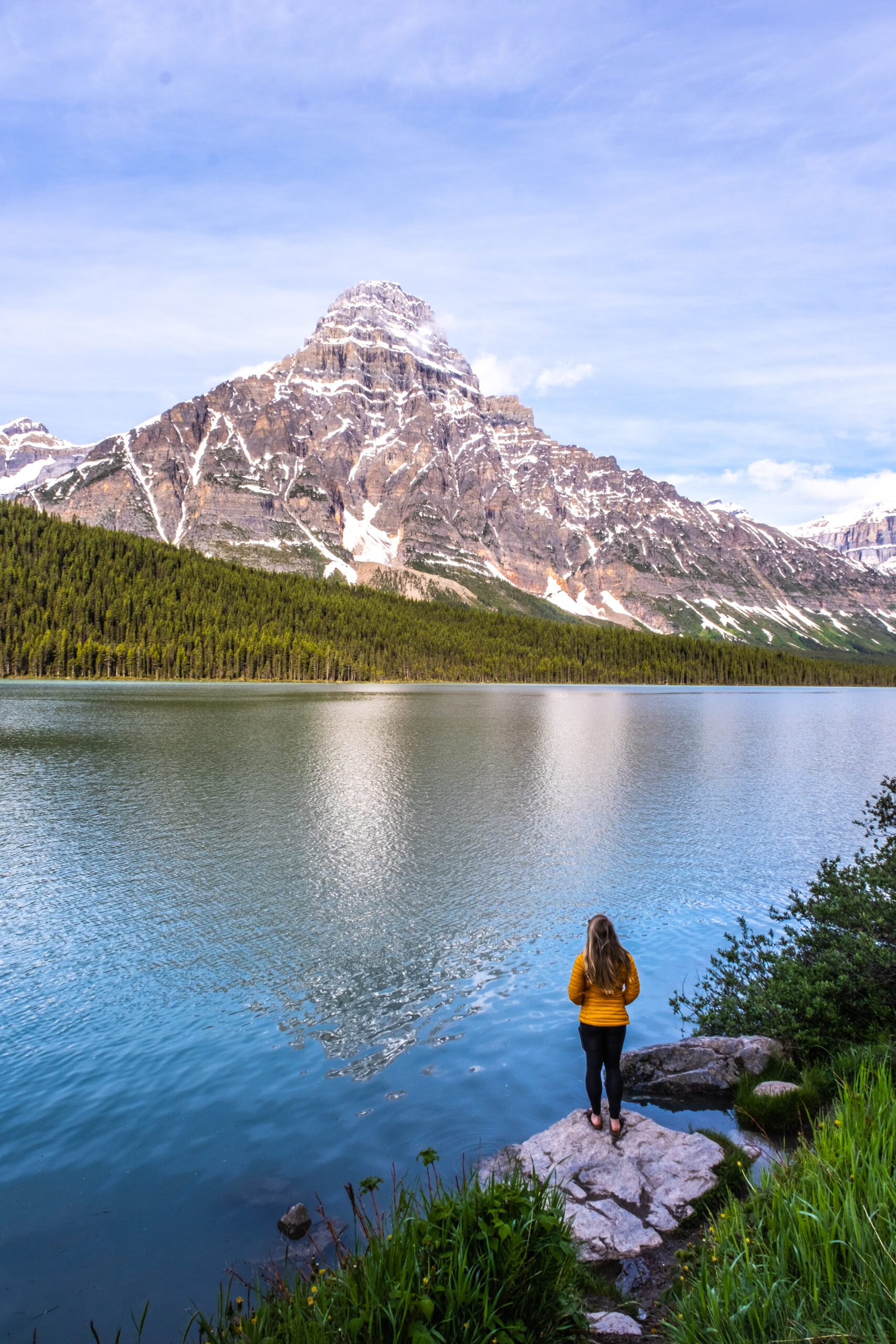 Of course, I don't recommend only going to the well-known sites in Banff. The park is 6,641 km2 (2,564 sq miles), so there are PLENTY places to find some quiet space.
I could go on and on about how to escape the crowds in Banff, or I could tell you to navigate and click around on this site. It has all the resources you need for researching and finding the best places to go in Banff for you!
Banff National Park is larger than some countries, but the reality is most people head to the same spots on their trips. It's been estimated that over 85% of visitors to the park don't venture more than 2 km from the car park.
Obviously, this will create crowding issues. To find yourself in more secluded experiences, hike higher, further, and venture away from the main tourist spots. Here is a post on over 130 things to do in the Canadian Rockies – some are popular things to do, while others are not. I know I said I wouldn't, but here are just a few tips for spreading out:
---
Venture to the Neighboring Mountain Towns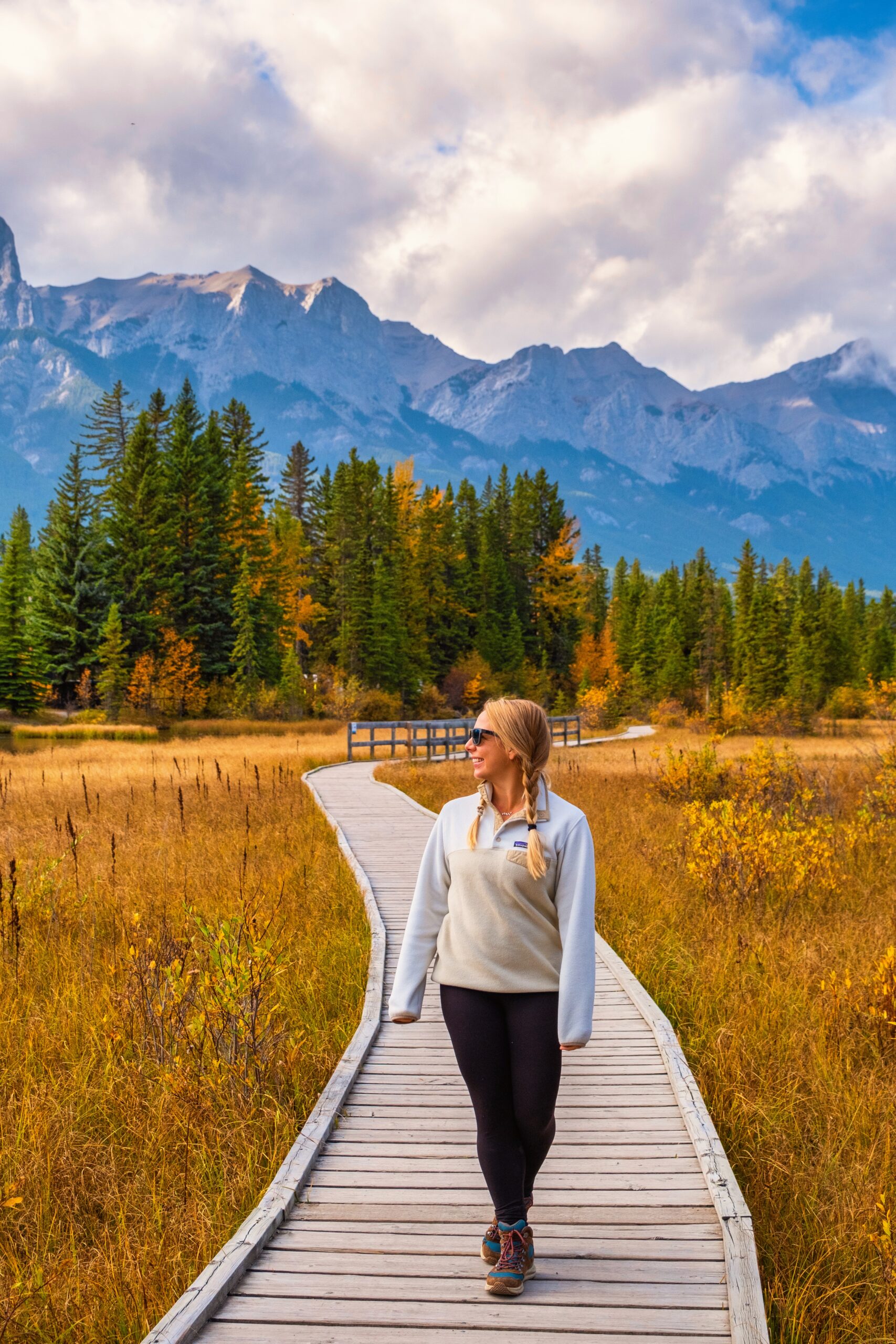 We chose to call Canmore home, so of course, I'm always going to advocate for visiting Canmore. In my opinion, and after much observation, I find Canmore to have a much more local feeling.
Banff is a town built on tourism and is more internationally known, but Canmore is where many of the mountain people really reside and base themselves. That being said with each passing year, Canmore becomes more expensive and busier. Not just for tourists, but sadly for locals as well.
Canmore is closer to Calgary, closer to Kananaskis Country, less crowded, and is slightly more affordable than nearby Banff. Plus, there are plenty of epic things to do in Canmore.
Another great mountain town to visit that sees far fewer numbers of people is Golden, BC. Golden is just one hour away from Lake Louise and provides exceptional access to Glacier National Park and Yoho National Park.
---
Consider Booking Accommodation Outside of Banff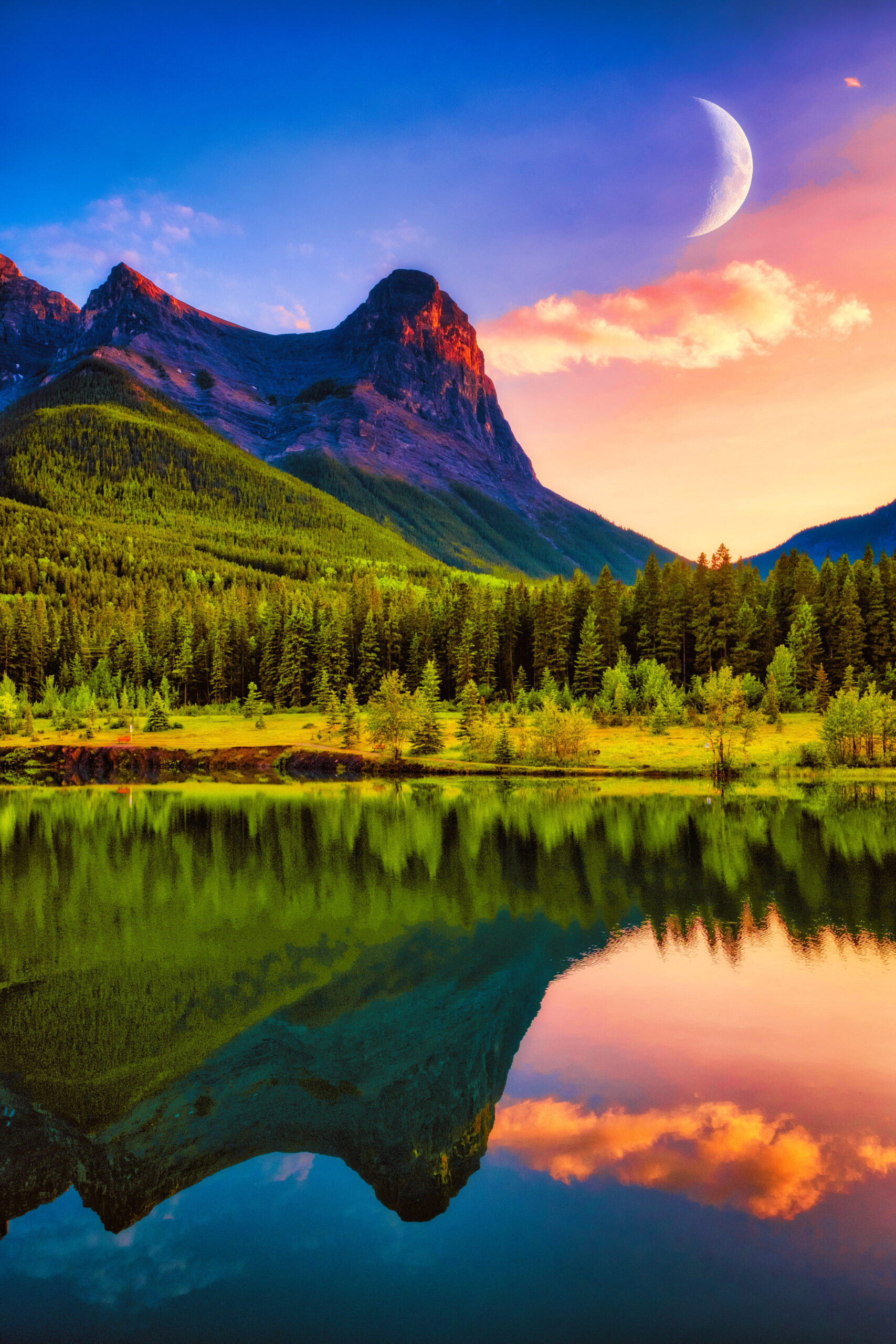 One of my favorite Banff travel tips is to stay in the next door towns to save money. My two suggestions are either Golden or Canmore. Canmore is just a 15 minute drive away from Banff, so it is the more obvious choice while Golden is closer to Yoho National Park.
Don't just head to Canmore for a quick two-hour detour though – come and stay awhile. Canmore has many hotel and guesthouse options in and around town.
Canmore is slightly more affordable than Banff, will provide you with a more local feeling, and is often less crowded. There are things like a normal-priced grocery store and down-to-earth restaurants in Canmore.
I particularly love Canmore's proximity to the Spray Valley and Kananaskis Country, as there are some amazing hiking opportunities in both!
To get more affordable accommodation you can head out of the mountains to Dead Man's Flats, Cochrane, or stay in Calgary and drive to Banff every day.
10 Best Banff and Canmore Brewery Options
---
Do You Tip in Banff?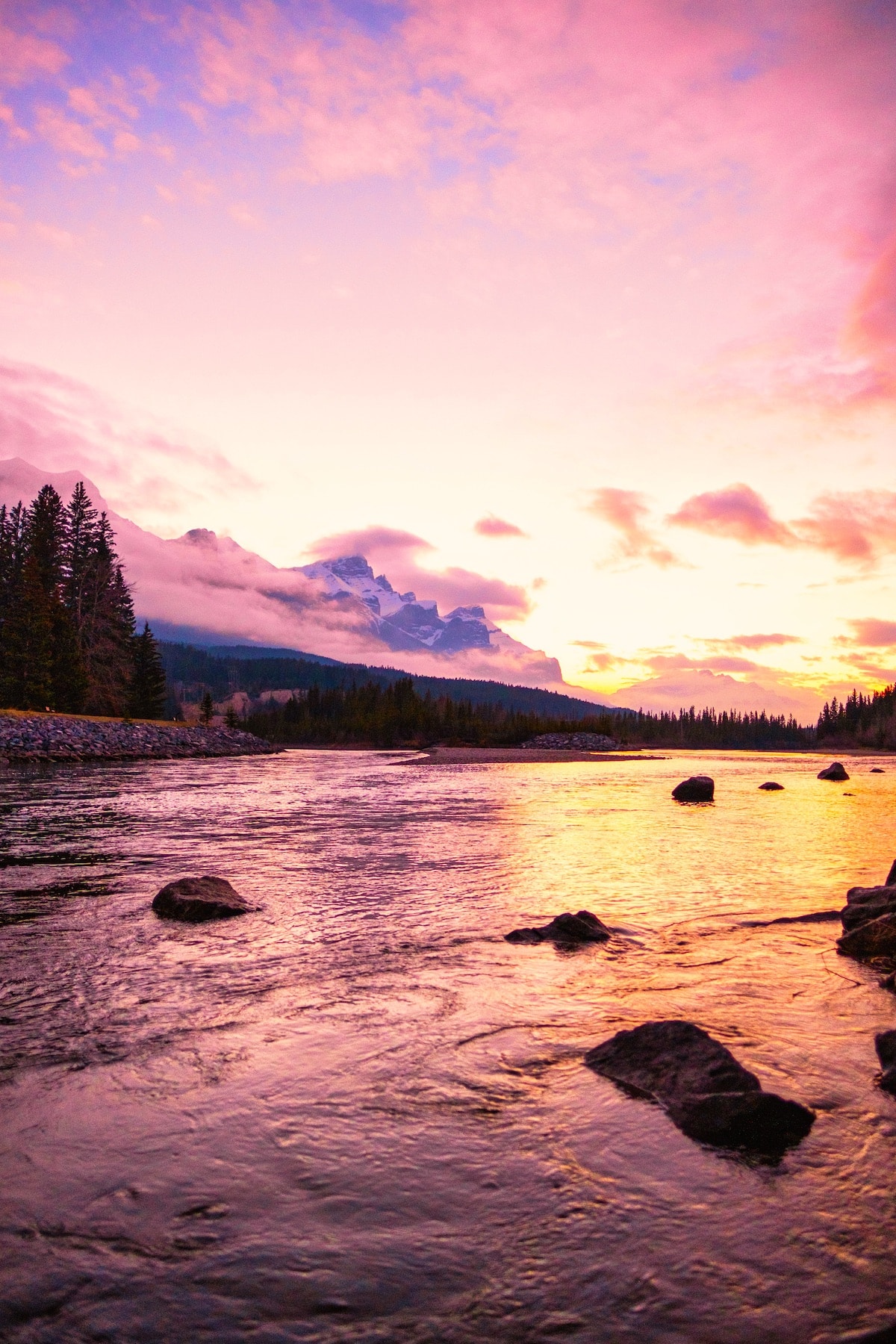 Tipping is common practice in Canada. Service workers in restaurants are often tipped between 15-20% just like in the US. Though, their starting wage is much higher.
The minimum wage in Alberta is $15, and this goes for restaurant and bartenders too. In the US, restaurant workers are paid as little as $2.13 per hour depending on the state (don't ask me how I know 😆).
Still, there will be an option to tip at your restaurant, and 15% is generally the starting percentage to tip.
Hotel bellman can be given $1 to $2 per bag. Tour operators do rely on tips, so whether you are dog sledding, hiking, or enjoying the Mount Norquay Via Ferrata a tip to show appreciation is common practice, but in no way obligatory.
---
Can You Drink the Tap Water?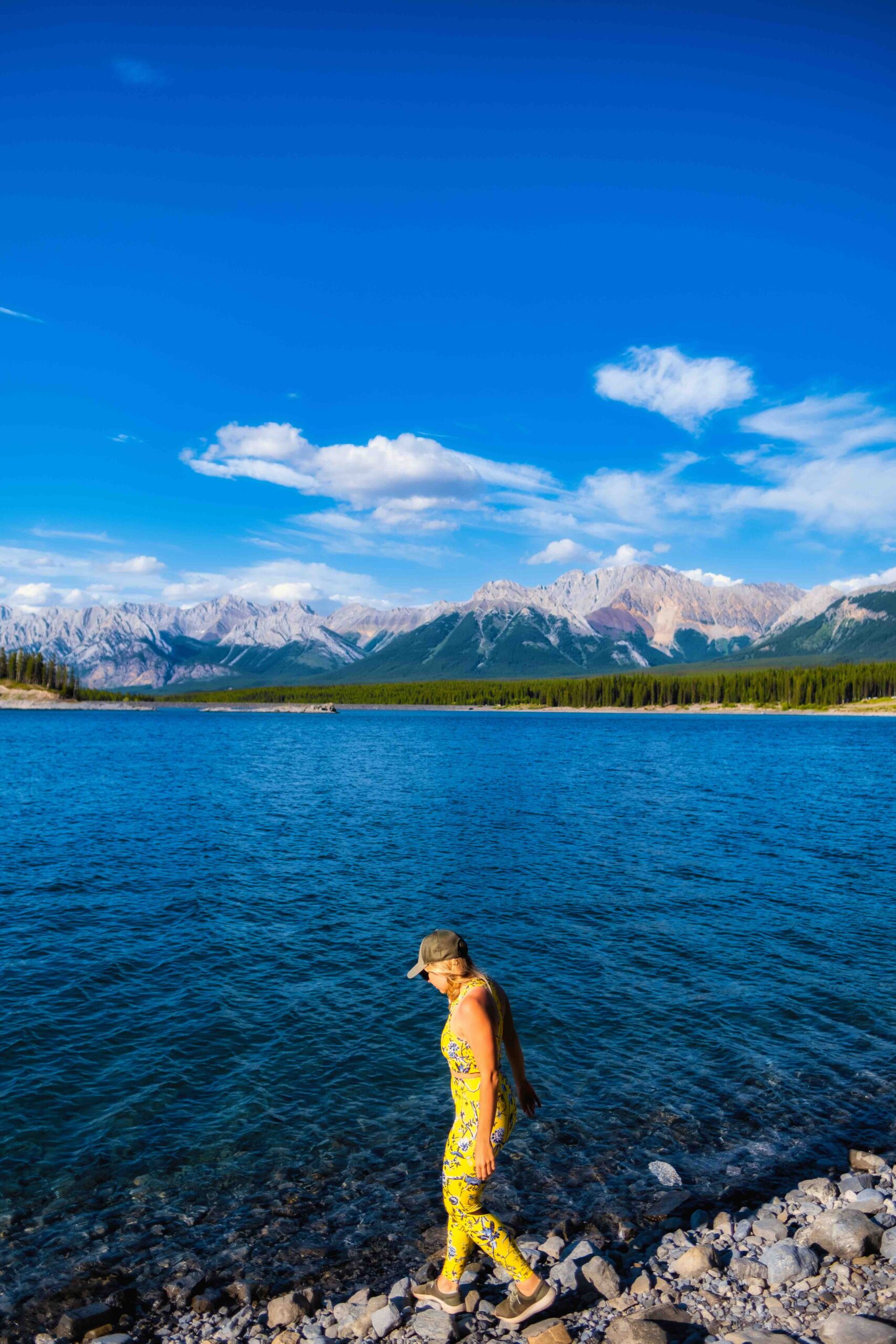 I cringe everytime we see tourists buying cases of bottled water in the stores around Banff, because it is not necessary. The tap water in Banff and Canmore is perfectly safe to drink, and in my opinion, is some of the best tasting tap water out there.
The Town of Canmore produces high quality tap water that exceeds strict provincial and federal operating regulations. While Banff drinking water comes from deep underground wells. Alberta Environment rates Banff's tap water as "High Quality Groundwater."
Banff water is disinfected with chlorine as it is pumped from the wells into a reservoir located on Tunnel Mountain. It is tested daily to make sure it is safe for consumption.
Not only is buying bottled water in Banff a waste of money, but also a waste of plastic. So grab a refillable water bottle and enjoy the delicious and refreshing mountain water.
---
Dress For The Mountains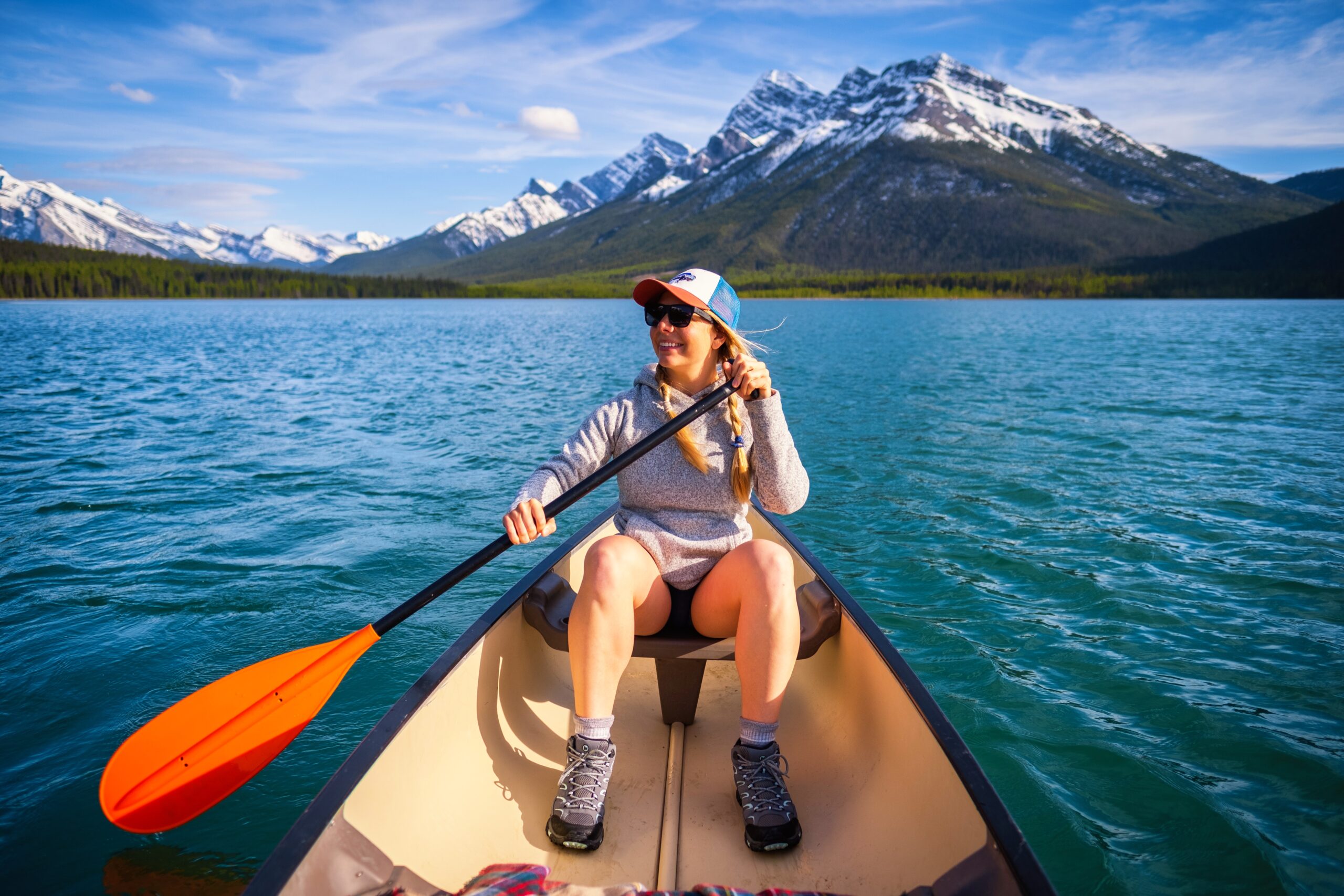 If I had a dollar for every time I saw a visitor wearing skimpy mountain clothes, I would have like $500. No, but seriously it's best to come to Banff dressed for mountain weather. That means packable down jackets and warm hats on hand, even in the summer.
The weather in Banff can change at a moment's notice, and you don't want to be underdressed. It's essential to pack layers, thermals, and hiking boots or shoes for hiking.
Yes, hiking boots or shoes. If you plan to hike while visiting Banff, please do not show up in Converse sneakers. It will not only make you uncomfortable and look like a little out of place, but it can be potentially dangerous if you attempt a mountain hike you are not prepared for. You can find my entire list of what to pack for Banff here.
---
Wear Proper Footwear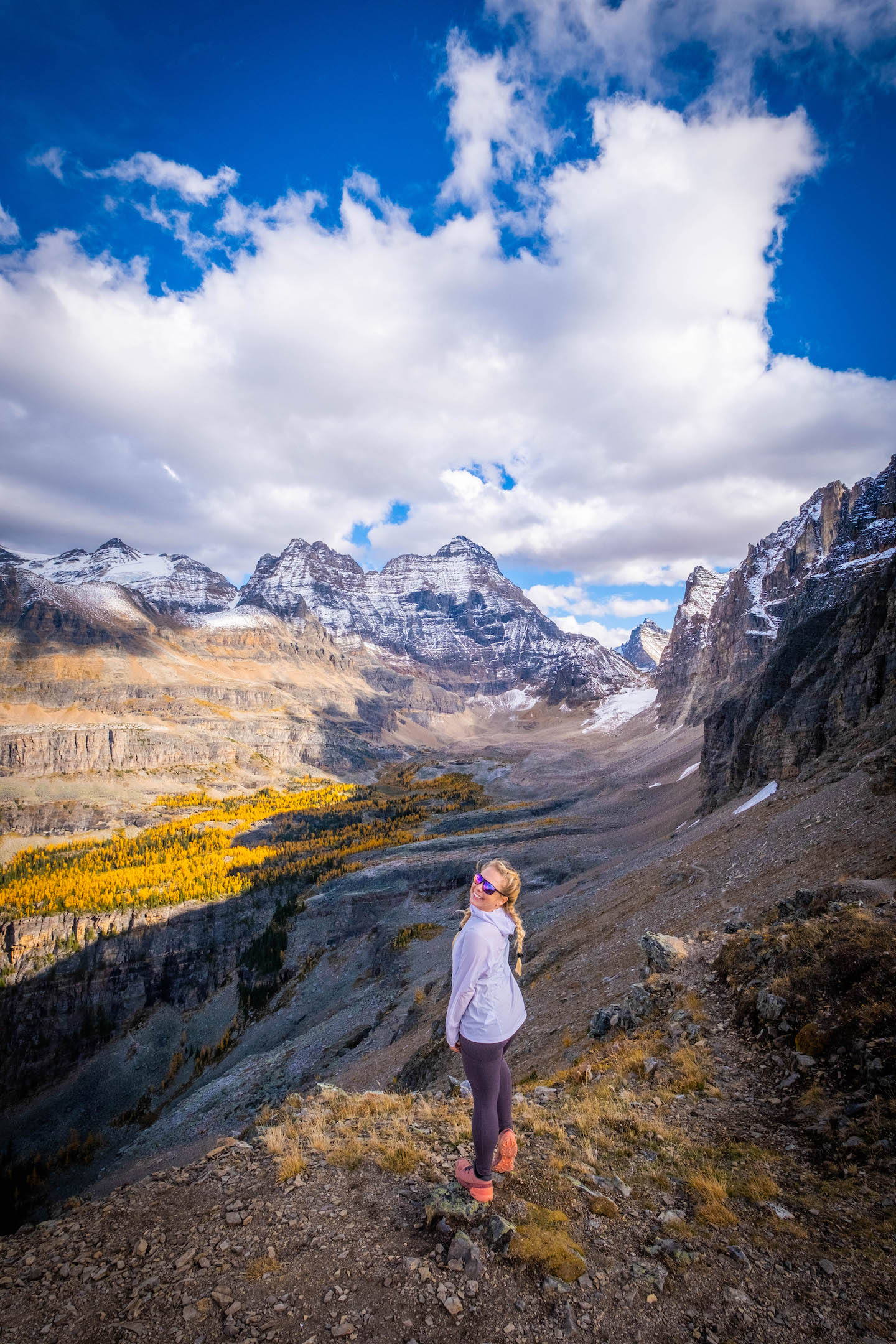 I had to categorize this again because footwear choices in the mountains are crucial. Don't come to Banff with heels; no one wears them here.
We wear our hiking shoes, Salomon Speedcross, Blundstone Shoes, Arcteryx down jackets and Patagonia sweaters everywhere. There are very few places around Banff where this attire isn't acceptable.
You wouldn't even look strange going to the nicest Banff restaurant in it! I'll link to our favorite hiking gear at the bottom of this post.
---
When Is The Best Time To Visit Banff?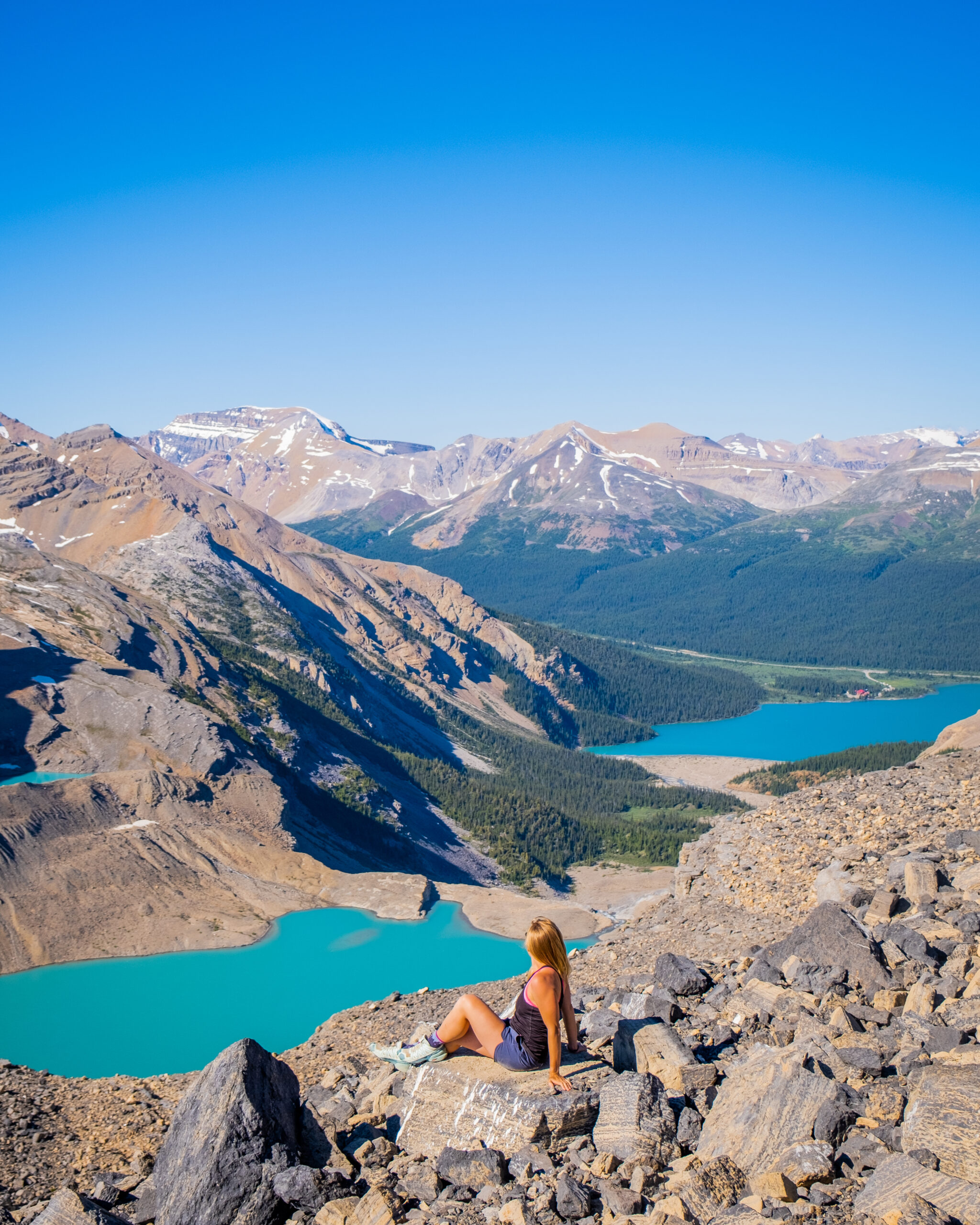 With some stunning scenery to behold all year round, you can't go wrong with a trip to the Canadian Rockies ever. Whether you like skiing and snowboarding or simply want to hike around mountain trails and camp under the stars, Banff is a dreamy destination of imposing mountains, glassy lakes, and storming waterfalls.
So, when is the best time to visit Banff for good weather? It depends. If good weather is a winter wonderland for you, then the best time to visit Banff is between December and February. If good weather means sunshine and long days, the best time to visit Banff is in July and August.
May, June, September, and October are the shoulder seasons, and I would be prepared to see some snow in any of these months. Although come June, the weather will be starting to turn to summer and come late September, you'll be experiencing white fluff again.
March, April, and November are low season months when you find the best rates.
When is the Best Time to Visit Banff National Park?
---
The Weather in the Rockies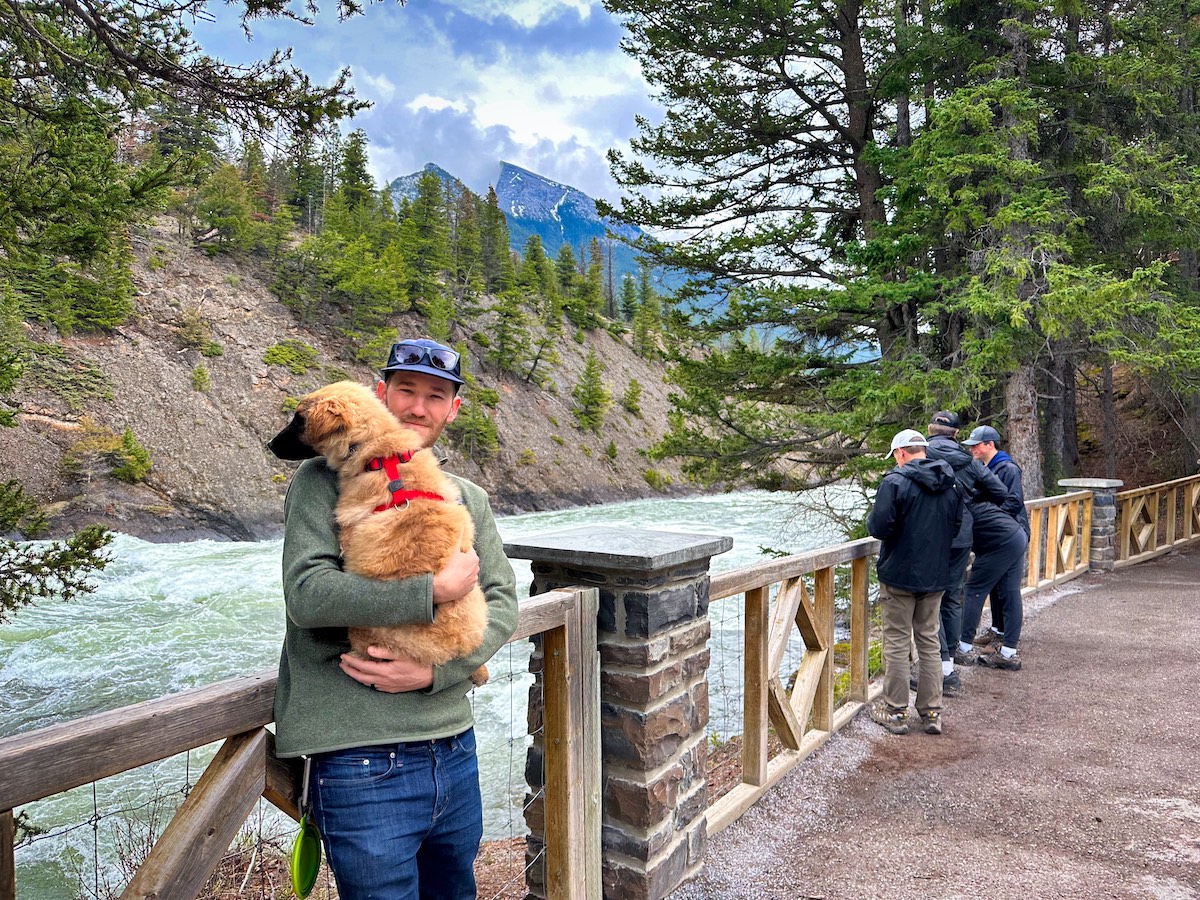 The weather in the Rockies changes all the time. We can get sunshine, snow, and rain all within an hour. If you're looking at your Apple weather app and see that it has a "rain cloud" the entire week of your vacation just relax. It's pretty unlikely it will rain the entire time. Apple Weather will show rain for the entire day, even if it's forecast just to rain for an hour. (Side note – it's also the WORST app to use for the weather here).
We recommend getting to know Windy.com, Environment Canada, and Accuweather. None of them are perfect, but one of them is always the least wrong.
Thankfully the Rockies aren't like the Scotland, Iceland, or the Faroe Islands. It's rare that it rains the entire day, and it's also rare that it's straight downpouring and thunderstorming for hours on end. In the summer pack a rain jacket and a smile and don't let the weather apps get you down.
---
Can You See the Aurora in Banff?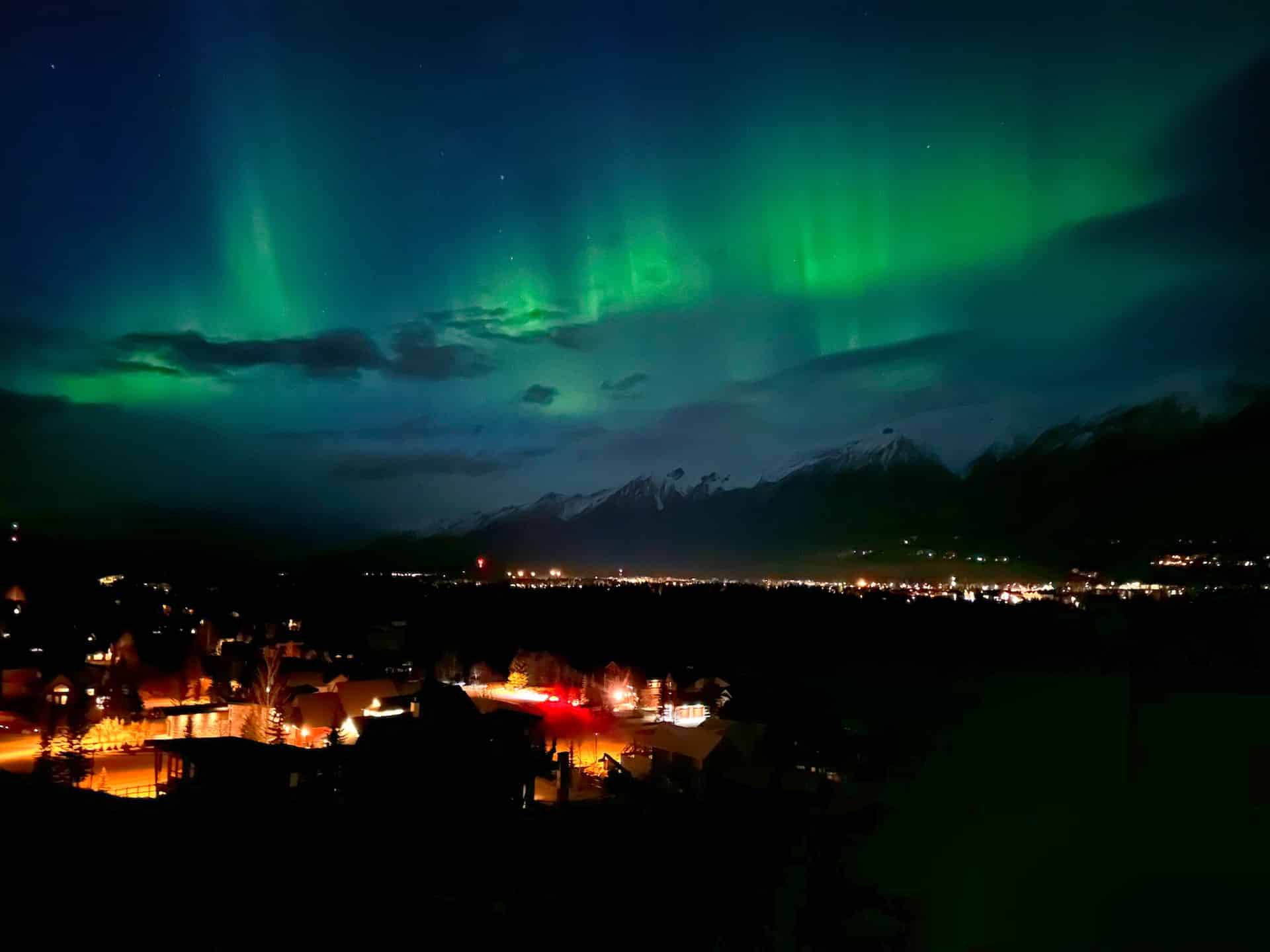 You can see the northern lights in Banff, and we typically get 1-2 good shows every winter. Sometimes it's more, sometimes it's less. When the aurora is strong and the skies are clear, everyone in Banff and Canmore know about it and go out in force to see the lights dance across that sky.
That being said, the Rockies are not like going to Alaska or Scandinavia, where you can almost guarantee seeing them if you visit in the winter months. Relatively we are not that far north here, even though it certainly feels like it if you are coming from Florida.
If the stars align for a clear night and a strong forecast in Alberta while you are visiting, consider yourself very lucky! Here are all our tips for seeing the northern lights in Banff.
---
Make Sure To Do At Least One Hike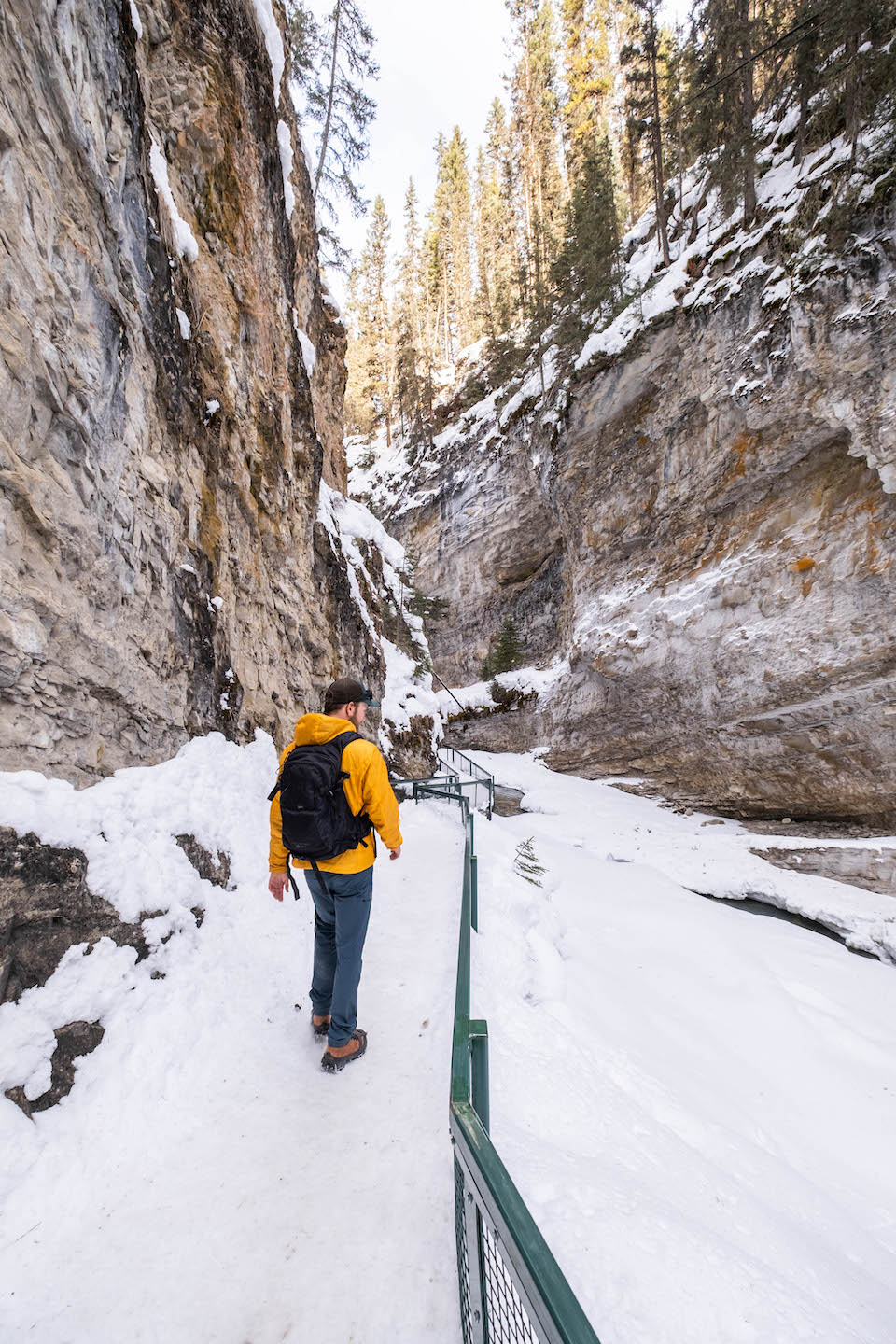 Many people come to Banff with no intention of hiking, and I believe this is a big mistake. To not get out on a hike in one of the most beautiful places on earth would be a great tragedy. Don't worry, you don't have to summit a mountain to feel accomplished in Banff.
There are plenty of easy and attainable hikes for all to enjoy! A few of the more mild, but incredibly scenic hikes are Johnston Canyon, Fenland Trail, and Boom Lake.
30 Easy Hikes In Banff For The Whole Family
---
Don't Bother The Wildlife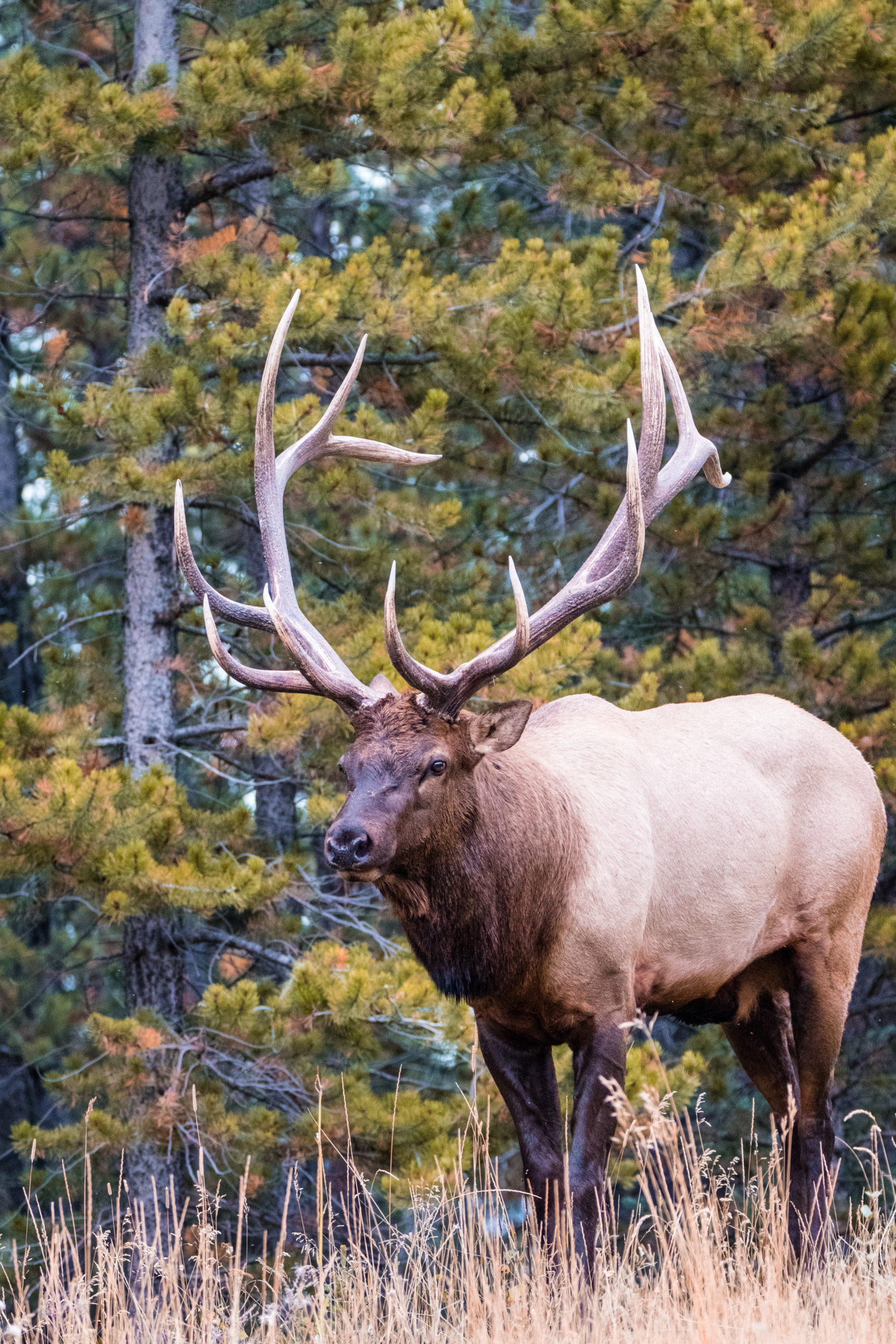 You can find all sorts of wildlife in Banff National Park. If your dream is to see an elk or grizzly bear, you stand a decent chance of seeing these animals in the summer. Coyotes, cougars, moose, black bears…they can all be found in the Canadian Rockies. They are beautiful but should also be respected.
Bears are not cuddly, and your distance should be kept if you see one. Don't try to get a selfie, don't try to feed them, don't try to get closer for an Instagram shot, don't get out of your car when you see one…don't do any of these things. Admire the bear from a safe distance and move on. Don't stop traffic when you visit a grizzly with cubs (it's called a "Bear Jam," and locals do not like them).
Keep your pets on a leash at all times. Please don't feed the chipmunks around Lake Louise and always clean up after yourself. Every trash can in the park is a bear-safe trash can, but if you just leave your food and trash on top of the trash can or don't latch it, it's basically worthless. If I had a dollar for all the times I've seen all of these things, I would have another $1000. So now I'm up to $1500 – yay!
Respect the precious wildlife that is in Banff and avoid human/wildlife encounters. If you don't, it's not only you that could get hurt but the animal too. As soon as a wild animal becomes aggressive towards humans, the animal will likely be put down even if it's the human's fault.
---
Always Be Wildlife Aware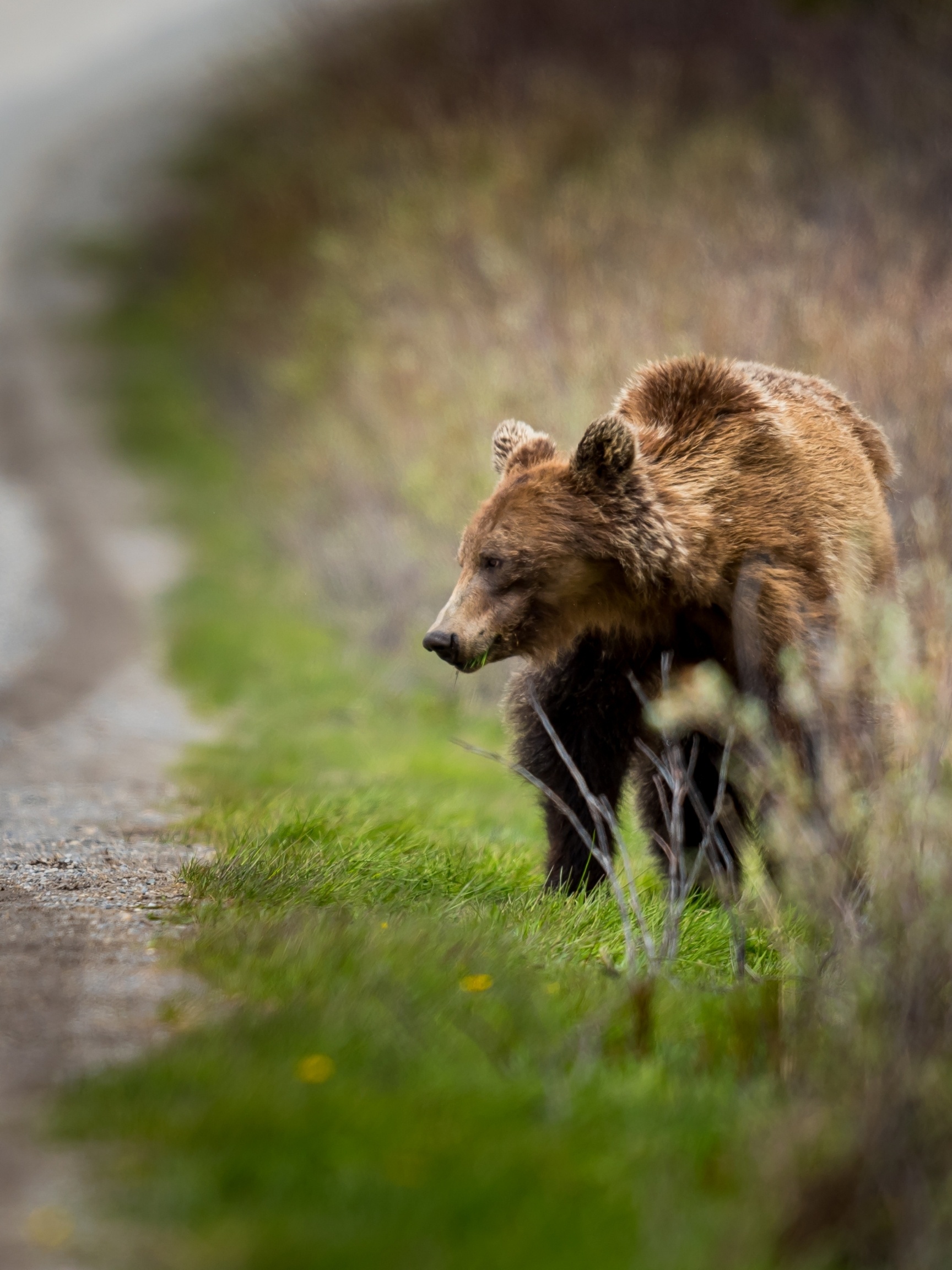 If you plan to hike around Banff, you need to go to the local outdoor store and purchase a canister of bear spray. This will set you back around $35-50 CAD, but it is more than worth it in a bear encounter gone wrong.
Before any hike in Banff National Park, make sure to pack bear spray, check the park websites for wildlife information (Parks Canada and AB Park), and check again for notices at the trailhead.
When you're on the trail, make noise by banging hiking poles, talking, whistling, clapping, or singing. This is particularly important around blind bends and corners. If it's a busy trail, you generally don't need to make too much noise, but always be bear aware.
This means staying alert, traveling in a group if possible, minding children and keeping the pets on a leash, and finally carrying bear spray and knowing how to use it. This means having it easily accessible so you can reach it within seconds in an emergency and not at the bottom of your backpack.
If you are flying to Alberta, bear spray cannot travel on an airplane. So it's best to buy it when you get to Canada. Atmosphere on Banff Ave and Valhalla in Canmore both carry bear spray and are recommended places to buy it.
People are generally surprised that they didn't use their bear spray that they purchased for a trip to the mountains. It's worth noting that we have been out on hundreds of hikes, go biking multiple times a week, and even carry bear spray while walking/running/biking around our neighborhood (so a daily occurrence) and have never once had to use bear spray. It's kinda like a seat belt or insurance – there in an emergency, but most likely will never be used.
12 Bear Safety Tips • How To Hike In Bear Country
---
Check Trail Conditions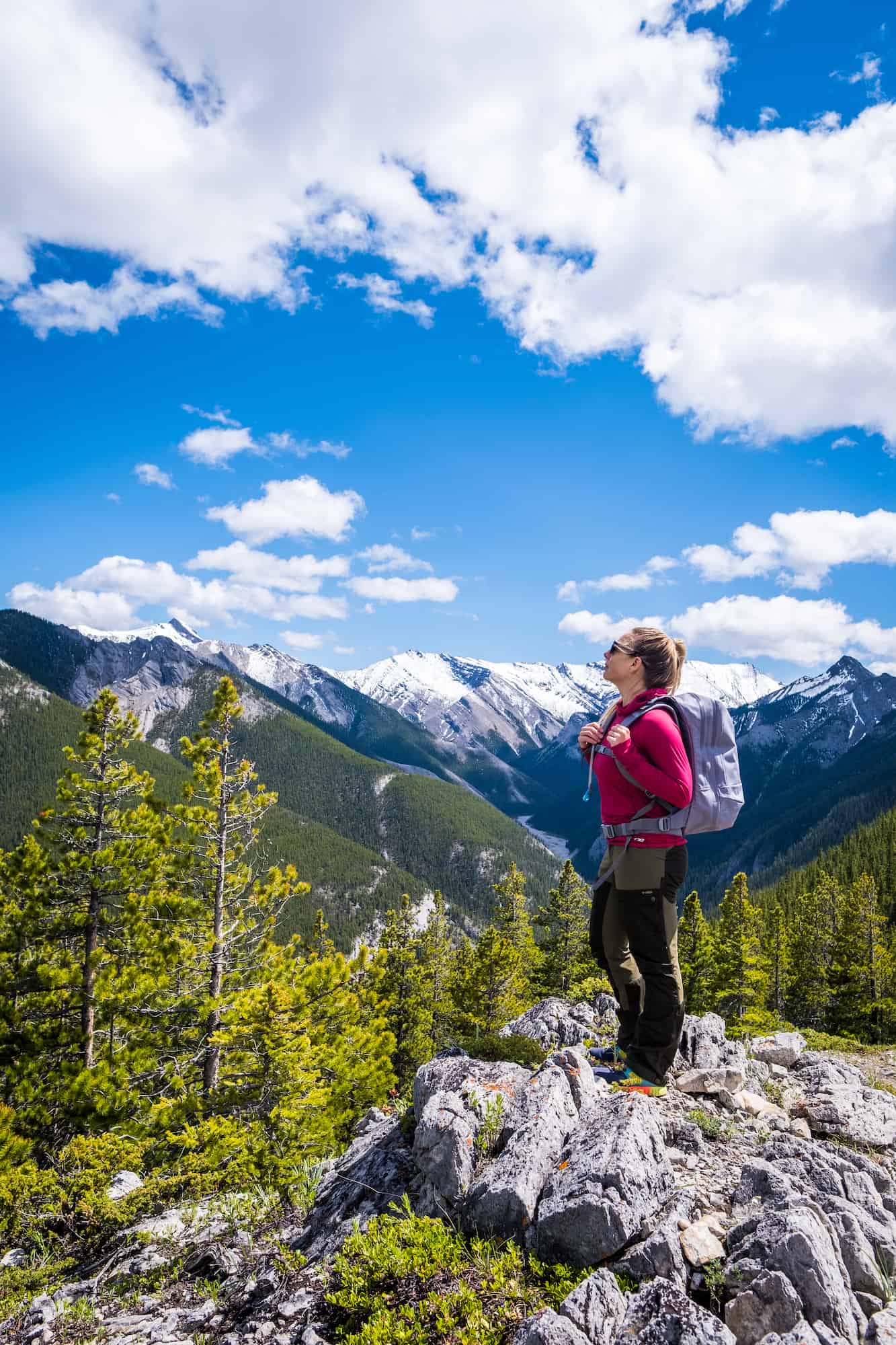 Before heading out on any trail, you should be prepared for the wilderness and trail conditions. My go-to is the app, AllTrails, which reviews many of the current trail conditions. Keep in mind that AllTrails is not the end all be all of hiking, it is a convenient app that gives decent information such as distance and elevation, but it still has plenty of questionable information as well.
It is a starting point for research, so don't treat it like a hiking bible. Reviews are a mixed bag. One persons definition of "hard" or "easy" is different from the next, just keep that in mind.
If there are recent reviews, I study them before picking where I will head off for the day. If someone notes that the trails are icy or that they recently saw a bear on the course, I will likely avoid it and pick another one. You should also check Parks Canada for trail closure notices and any other important information.
---
Purchase a Parks Canada Pass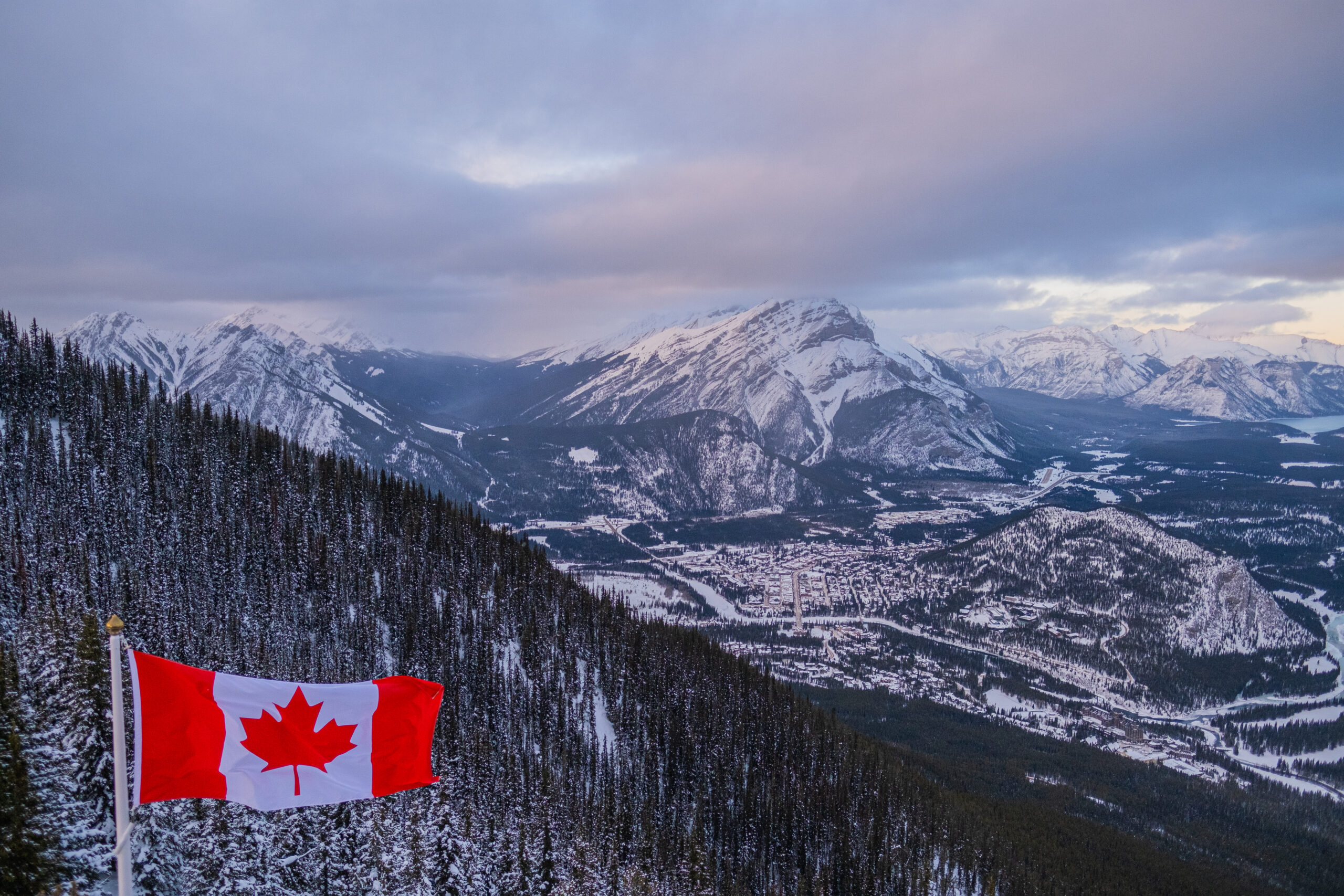 You can purchase a Parks Canada pass at any park gate; you need a Parks Canada pass to visit Banff and all the Canadian National Parks. This includes Jasper National Park, Yoho National Park, and Kootenay National Park.
Yes, Parks Canada employees check, and you can get a ticket. Parks Canada pass prices are as follows:
Adult: $10.50
Senior: $9.00
Youth (up to 17): Free
Family/group of 7 people: $21.00
Day passes expire at 4 pm the following day.
You can buy from Parks Canada in advance online. If you're staying in Banff for more than a few days, I highly recommend a Discovery Pass. A Parks Canada Discovery Pass, which gets you entrance to all Parks Canada destinations for the year, is only $145.25 for a family. Again, day passes are $10 per person, so depending on how many days you are staying and if you have plans to go to Banff, you may want to consider the Discover Pass. Discovery Pass fees are as follows:
Adult: $72.25
Senior: $61.75
Family: $145.25
If you plan to hike in Kananaskis you need a Kananaskis Conservation Pass, which is separate from the Parks Canada Pass.
ULTIMATE Guide To Purchasing A Banff Park Pass (Parks Canada Pass)
---
Altitude In Banff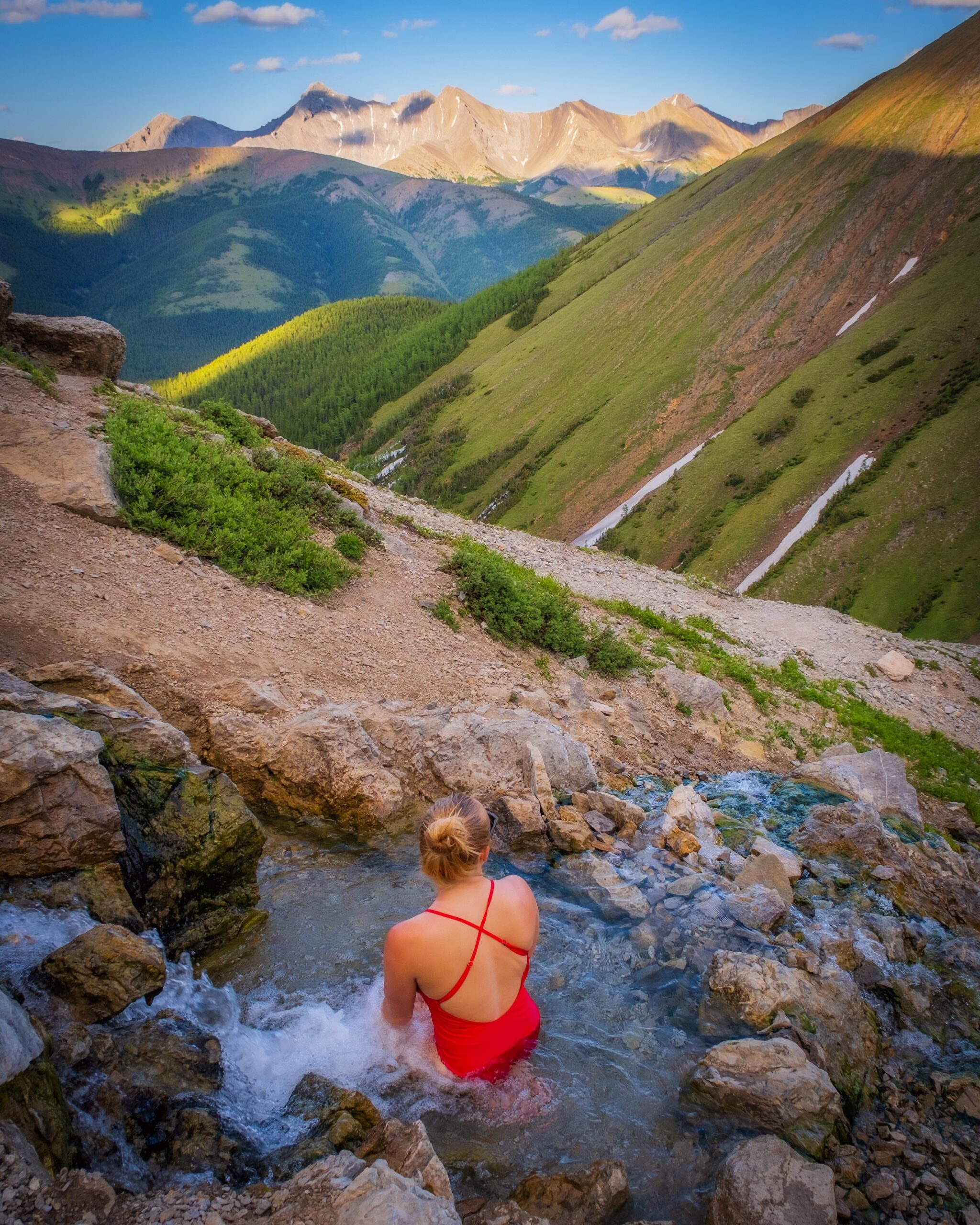 The town of Banff sits at 1,383 meters (4,537 feet), making it the highest town in Canada. If you think you might suffer from altitude sickness from visiting Banff, getting medication may be worth it.
Although, I have never had a problem in the Canadian Rockies, and neither have any friends and family that have visited. So unless you are prone to altitude sickness, you will likely be fine! Just come with lots of lotion and chapstick – it's dry here!
---
Save Money By Eating In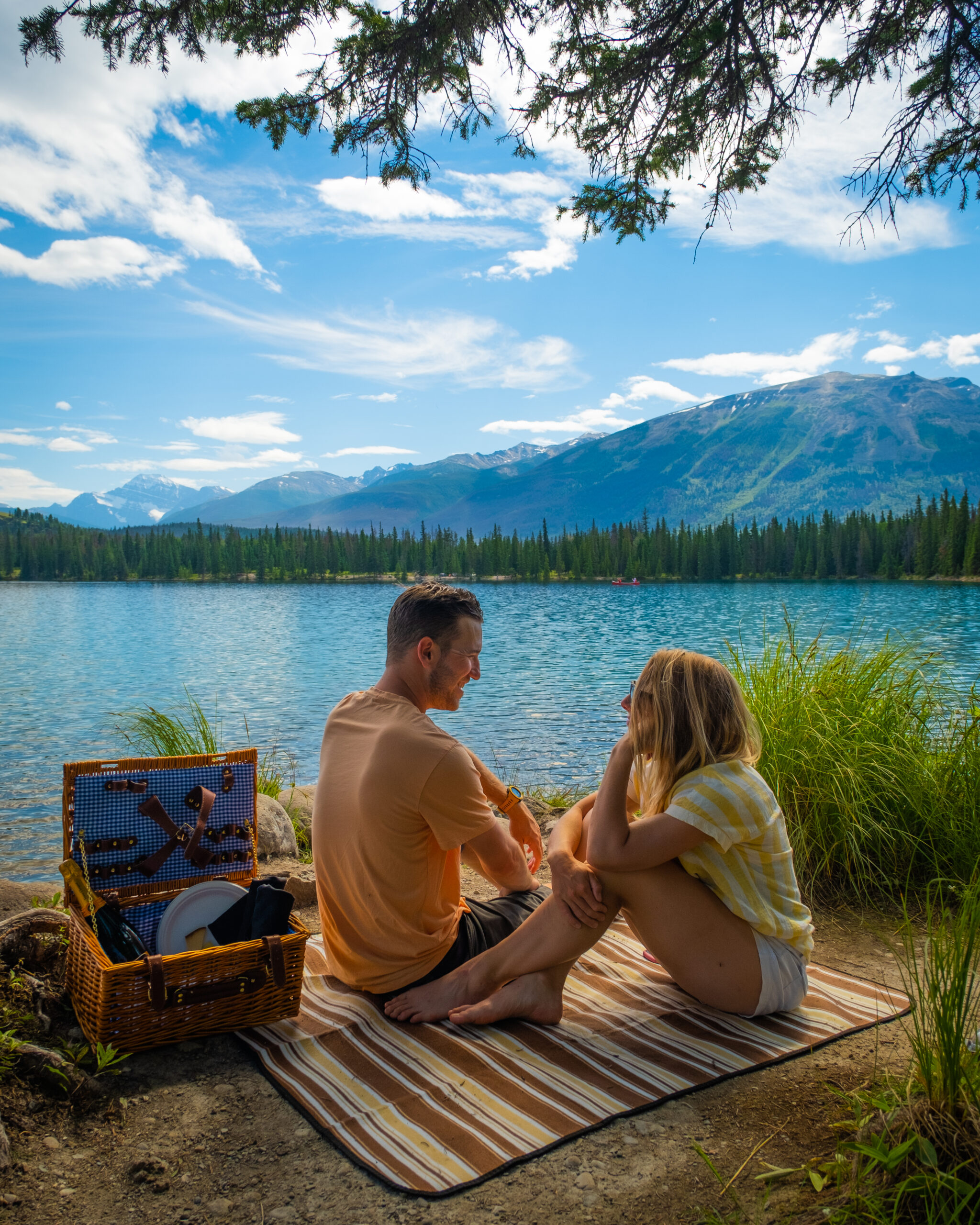 A holiday to Banff is not a cheap one. Banff is a tourist town, and prices are higher than in many other places in Canada. If you go out to eat for every meal, you'll put a massive dent in your wallet.
I recommend booking a VRBO with a kitchen to enjoy some of your meals in. The leading grocery stores in Banff are IGA and Nesters. They are more expensive than your typical Canadian grocery store but still cheaper than eating every meal out. Grab some bread and cheese and a cooler for lunch and enjoy a picnic lunch (just remember to leave no trace).
If you really want to save money on your food, Save On Foods or Safeway in Canmore have everyday grocery store prices that don't gouge tourists.
How to Save Money in Banff
---
Enjoy All The Things To Do in Banff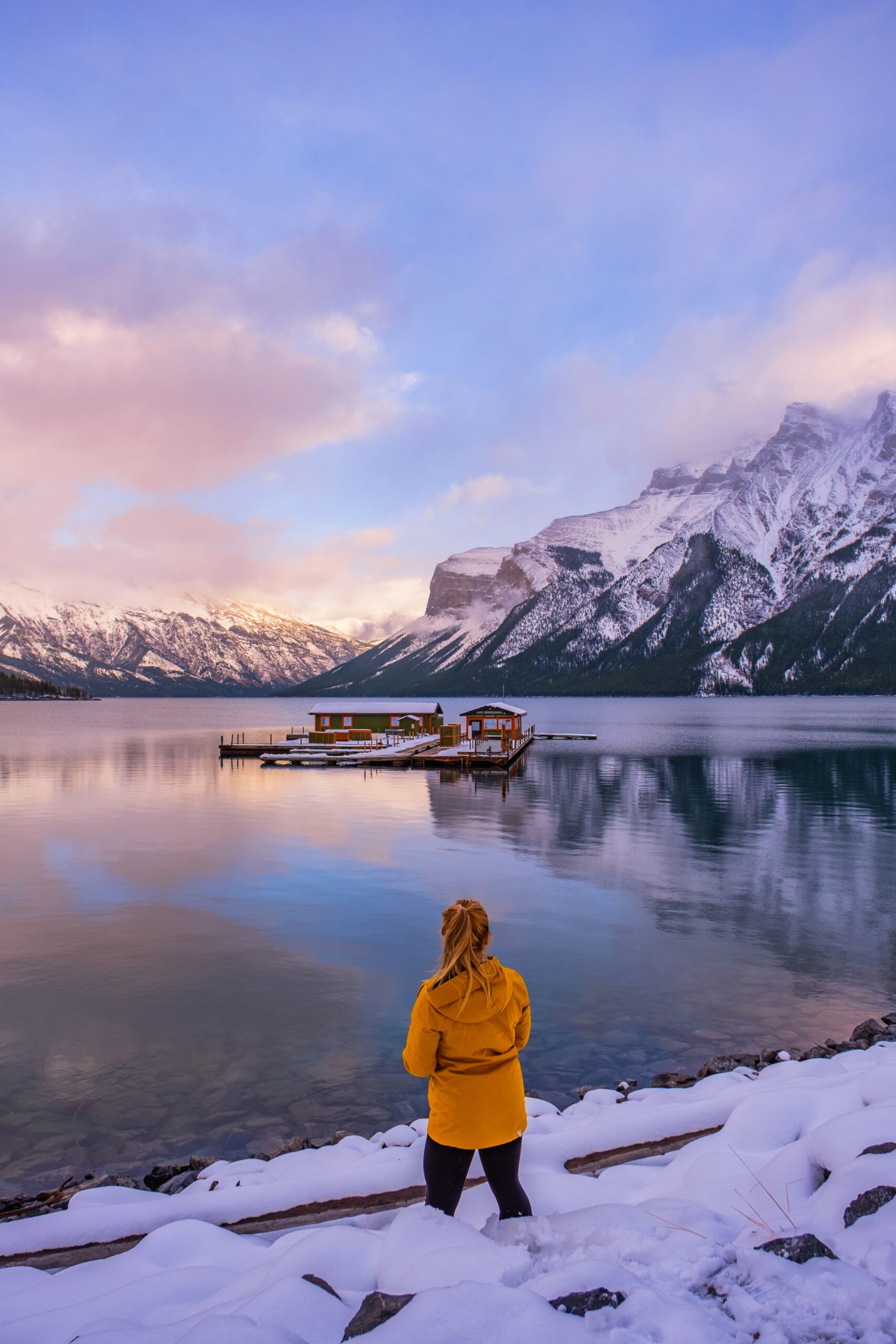 There are SO many amazing things to do in Banff and around Banff it's impossible to ever get bored, and you'll need many trips to Banff to feel fulfilled to the fullest! We get out all the time and know we will never even scratch the surface. You'll love being in Banff as long as you like being outside. Here are just a few things in Banff that I recommend.
Relax at Lake Minnewanka: One of the top things to do in Banff National Park is Lake Minnewanka. Lake Minnewanka is a glacial lake that is just a ten-minute drive away from the town of Banff. This lake is 21 km long and 142 meters deep.
Photograph Two Jack Lake: Two Jack Lake is just a five-minute drive away from Lake Minnewanka. It's another fantastic lake with Mount Rundle Views. Two Jack is one of the most photographed lakes in the Canadian Rockies due to its proximity to Banff. However, it's possible to arrive here with a tripod in the winter and be all by yourself.
Ski/Snowboard: Banff has three ski resorts in the park and a few more if you venture to Kananaskis, Golden, or Jasper. All are fantastic and are the best thing to do in the winter.
Mt Norquay Via Ferrata: Want to get into the mountains, but have the safety of harnesses and a mountain guide? Mt. Norquay's Via Ferrata is the perfect thing to do for those looking for a real adventure in the Canadian Rockies.
Hike to Helen Lake: Helen Lake is a beautiful lake along the Icefields Parkway. It's far less prevalent than nearby Lake Moraine or Lake Louise. While the water is not glacier-fed bright blue, it's a peaceful area.
60+ BEST Things To Do in Banff 
---
Where to Stay in Banff
You have so many options for lodging in Banff. We break down all the best neighborhoods to stay in Banff here, as well as the best hotels in Banff, and the best hotels in Canmore. A few of our favorite places are:
---
Hopefully, these Banff travel tips help you plan your trip to Banff.
If you have any other questions leave a comment or see our Canadian Rockies travel guide for more articles about photography spots, lakes, hikes, and everything else.
---
See All Our Things to do in the Rockies!
Plan Your Trip to the Canadian Rockies
↓ Join the community ↓
The Banff Blog Facebook Group is your headquarters for the Canadian Rockies' travel advice and information. Including hike info and off-season travel information. You can also meet new adventure buddies.