Helen Lake is one of the most popular day hikes in Banff as it provides spectacular views over an Alpine meadow with a lovely lake and stunning views of the Bow Valley and Mount Hector.
It's one best Banff hikes, and in the summer months, you can draw a bit of a crowd to enjoy the wildflowers that line the trail. The hike to Helen Lake also provides the option to scramble to the top of Cirque Peak for stunning views of the Wapta Icefield.
It's one of our favorite hikes and easy to complete in the morning or afternoon. Afterward, drive a little further up the Icefields Parkway and take in the views at Peyto Lake.
---
Helen Lake Hike & Cirque Peak Scramble
---
Key Stats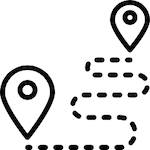 Length
13 km (Helen Lake) 16.1 (Cirque Peak)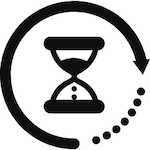 Duration
4 – 8 hours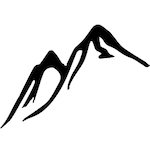 Elevation
585 meters (Helen Lake) 1,129 meters (Cirque Peak)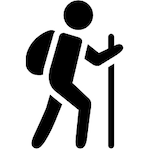 Difficulty
Hard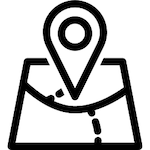 Trailhead
Helen Lake Parking
---
Helen Lake and Cirque Peak Route Description
Across the Bow Lake is a signed parking lot designated for the Helen Lake hike. You can find a limited number of parking spots along with two long-drop toilets that are usually pretty clean.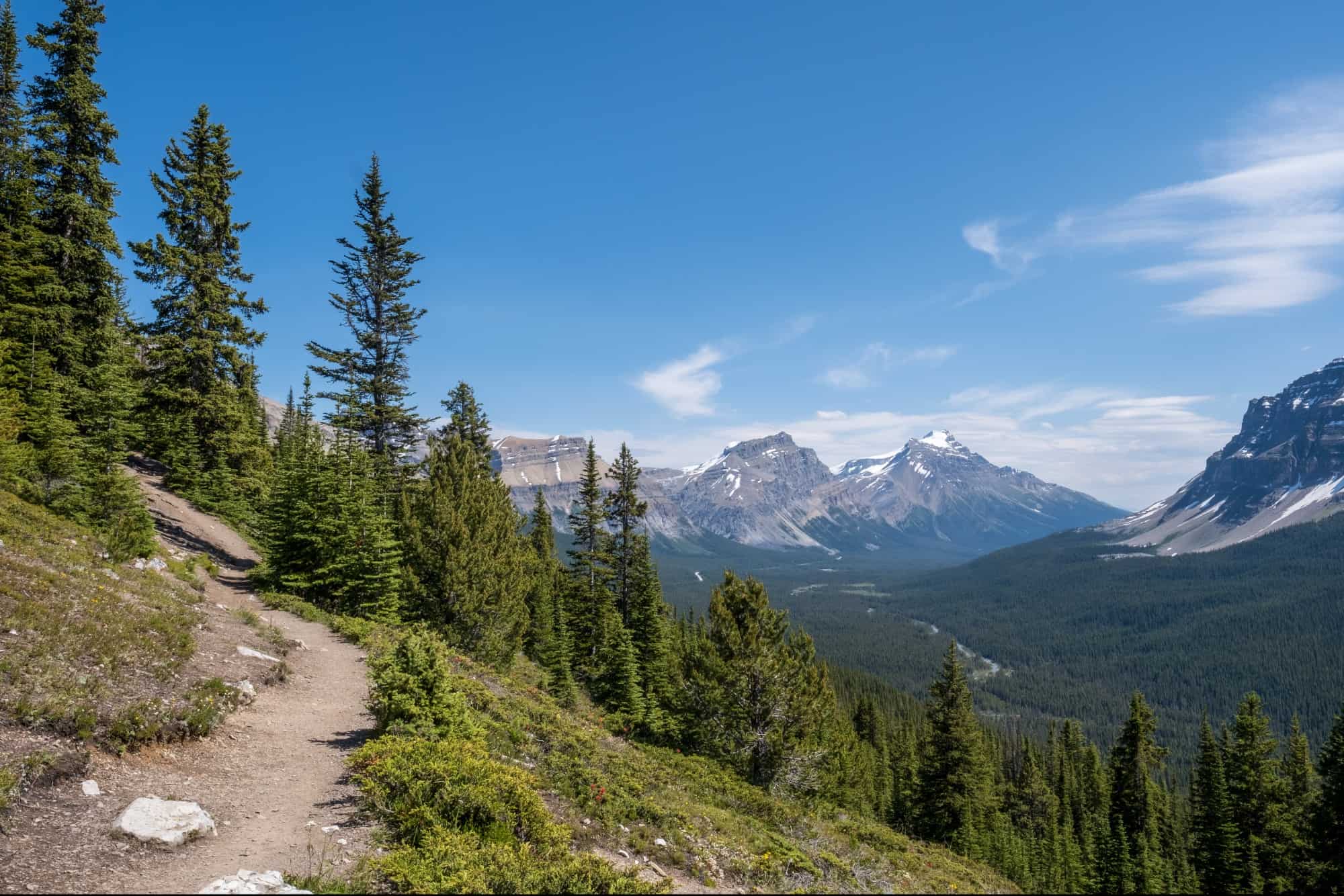 From the parking lot, the well-maintained trail follows through the forest for almost 4.5 km. It's a steady 2 km uphill until a series of switchbacks leads you up to a pass and then another 2 km to reach the alpine meadow. The meadow is truly breathtaking, and the remaining 2km to Helen Lake blows by as the trail is stunning. It's arguably the most beautiful meadow in the park, at least that we have seen thus far.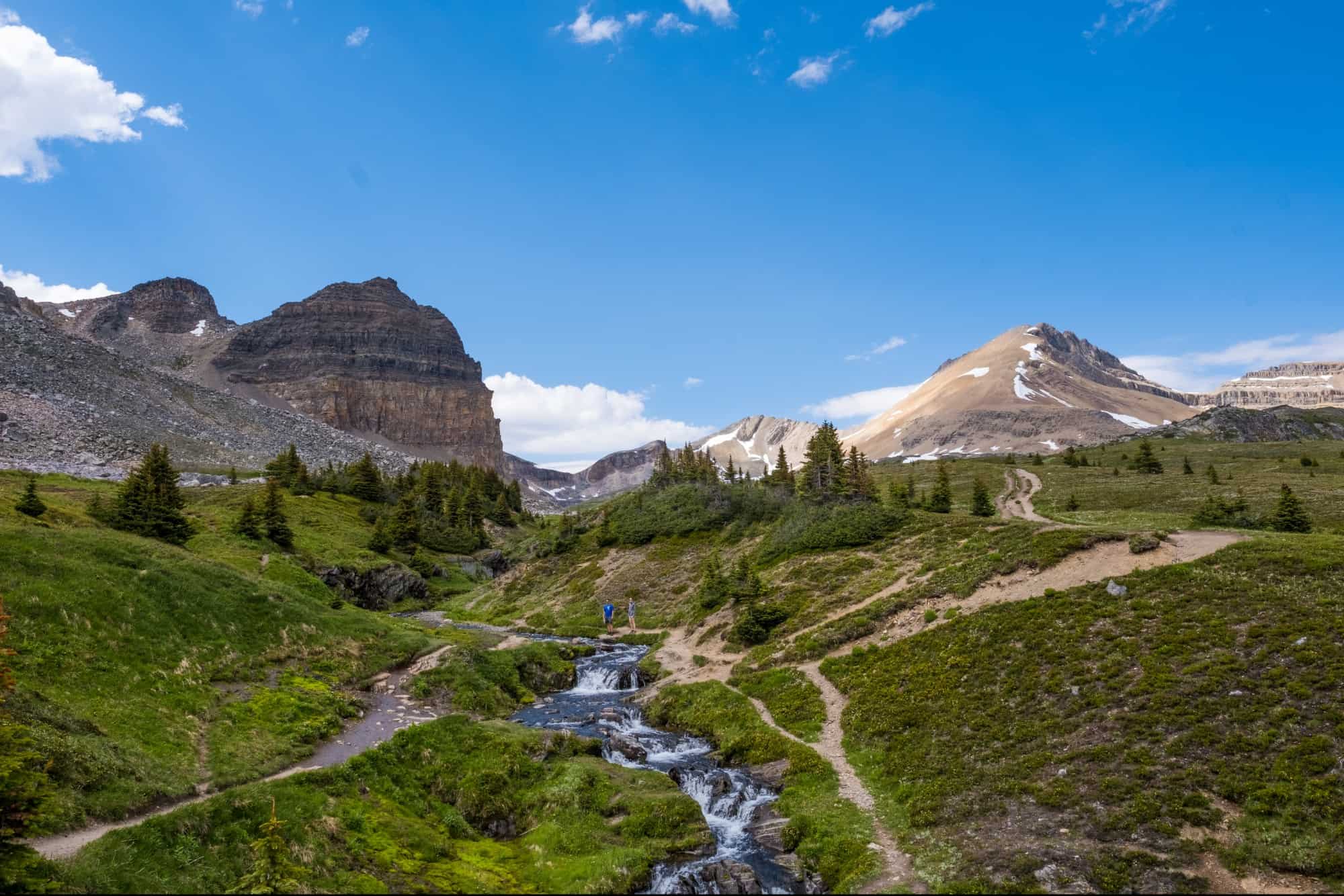 Once you reach Helen Lake, it should be around 400 meters of elevation gain and 6 km. It's a great place to stop and have lunch along a rock, but be mindful of bugs because they can sometimes become bothersome around the lake. They were bad on our last hike here, so we pressed on without stopping at Helen Lake.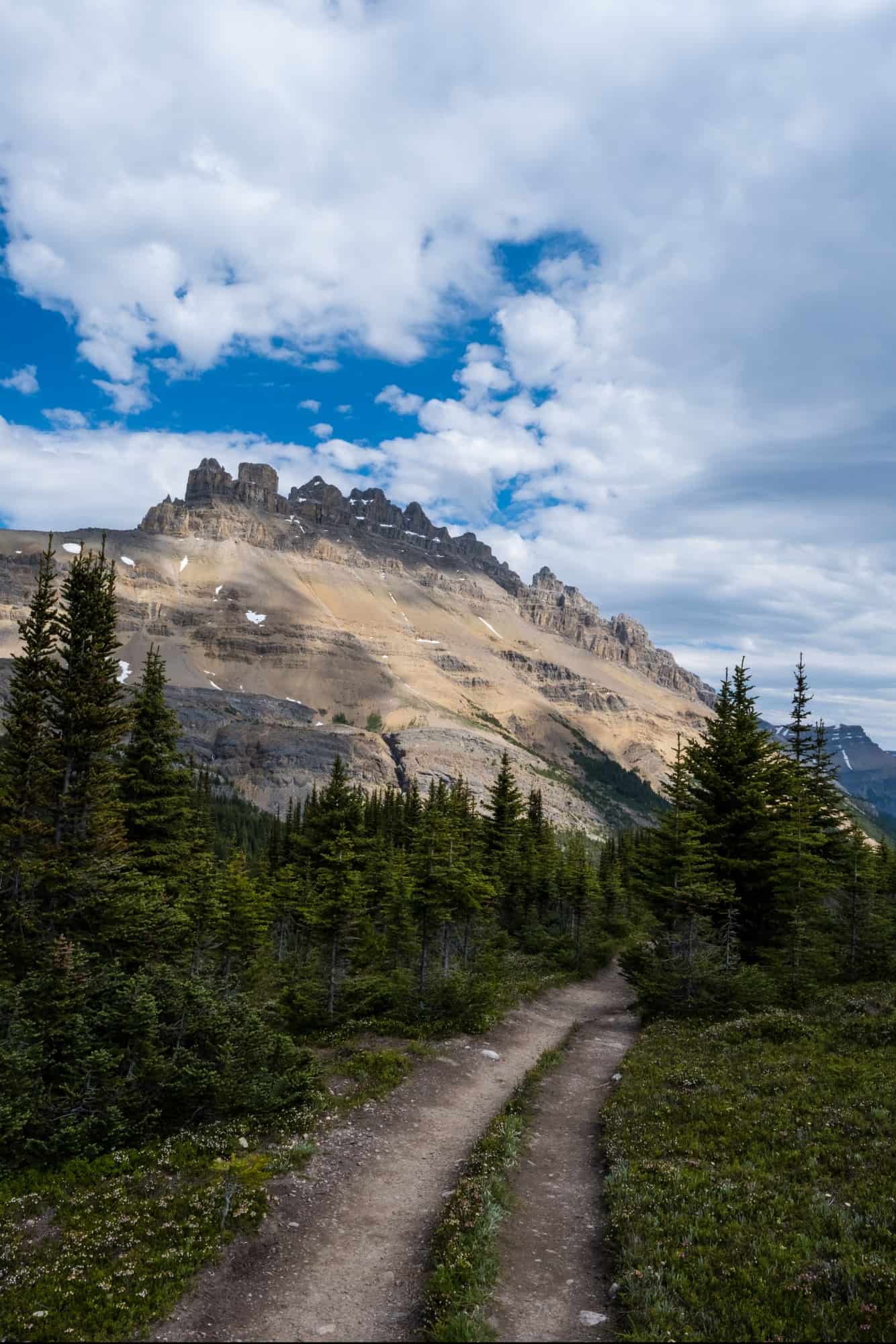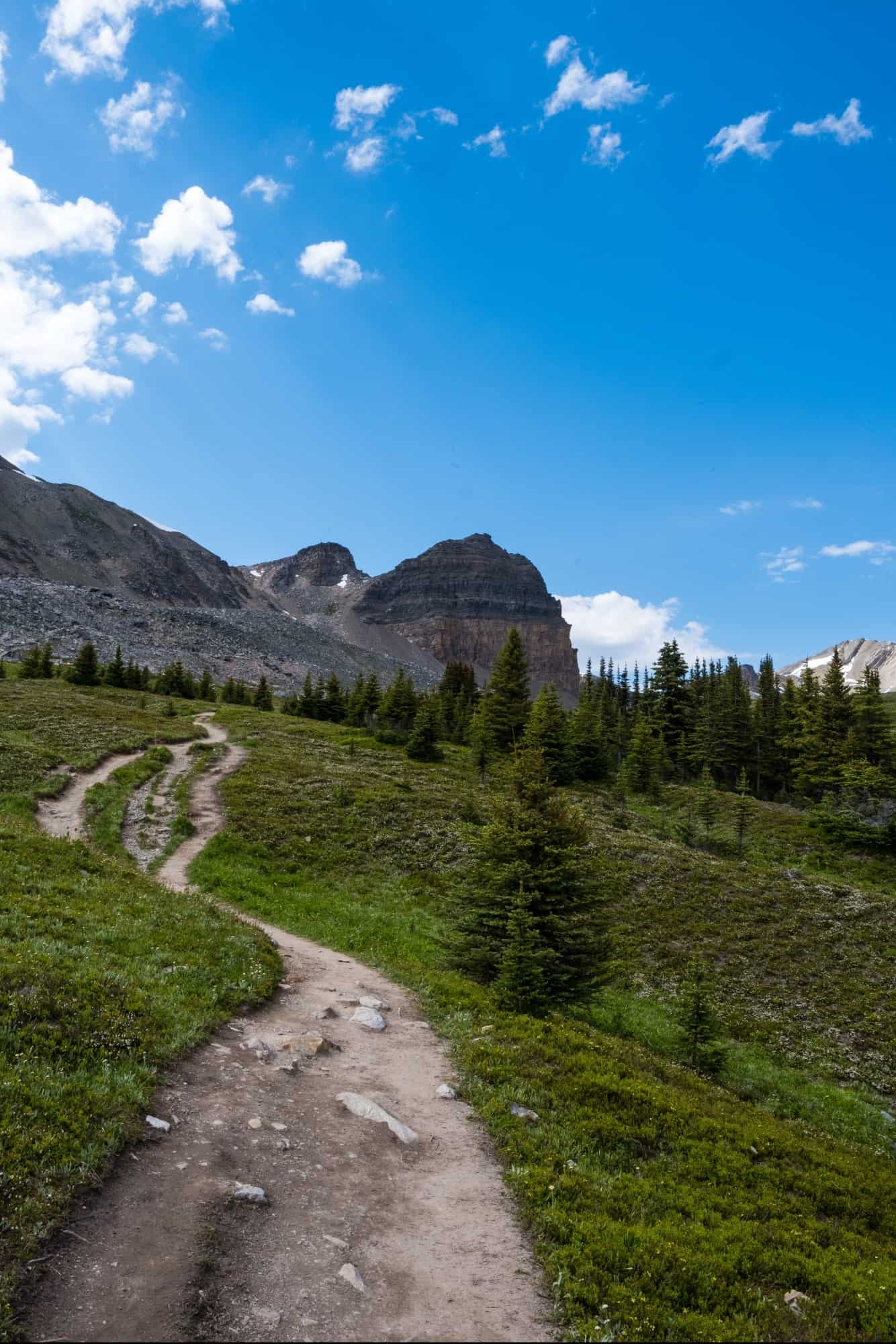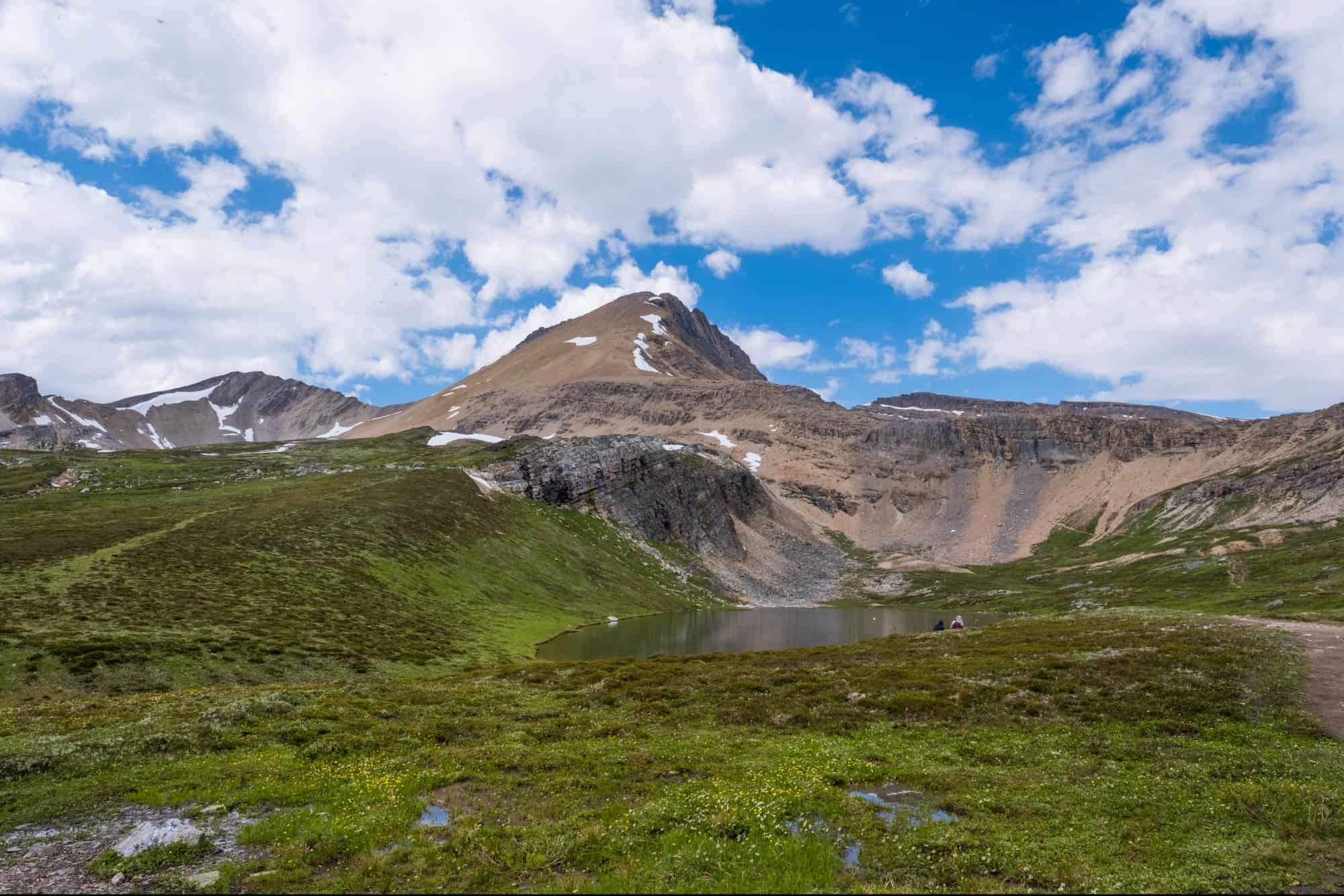 The trail wraps around the Southside of the lake or your right-hand side and moves toward the headwall. It leads right up to the base of the cliffs and then snakes through the rocky outcrop.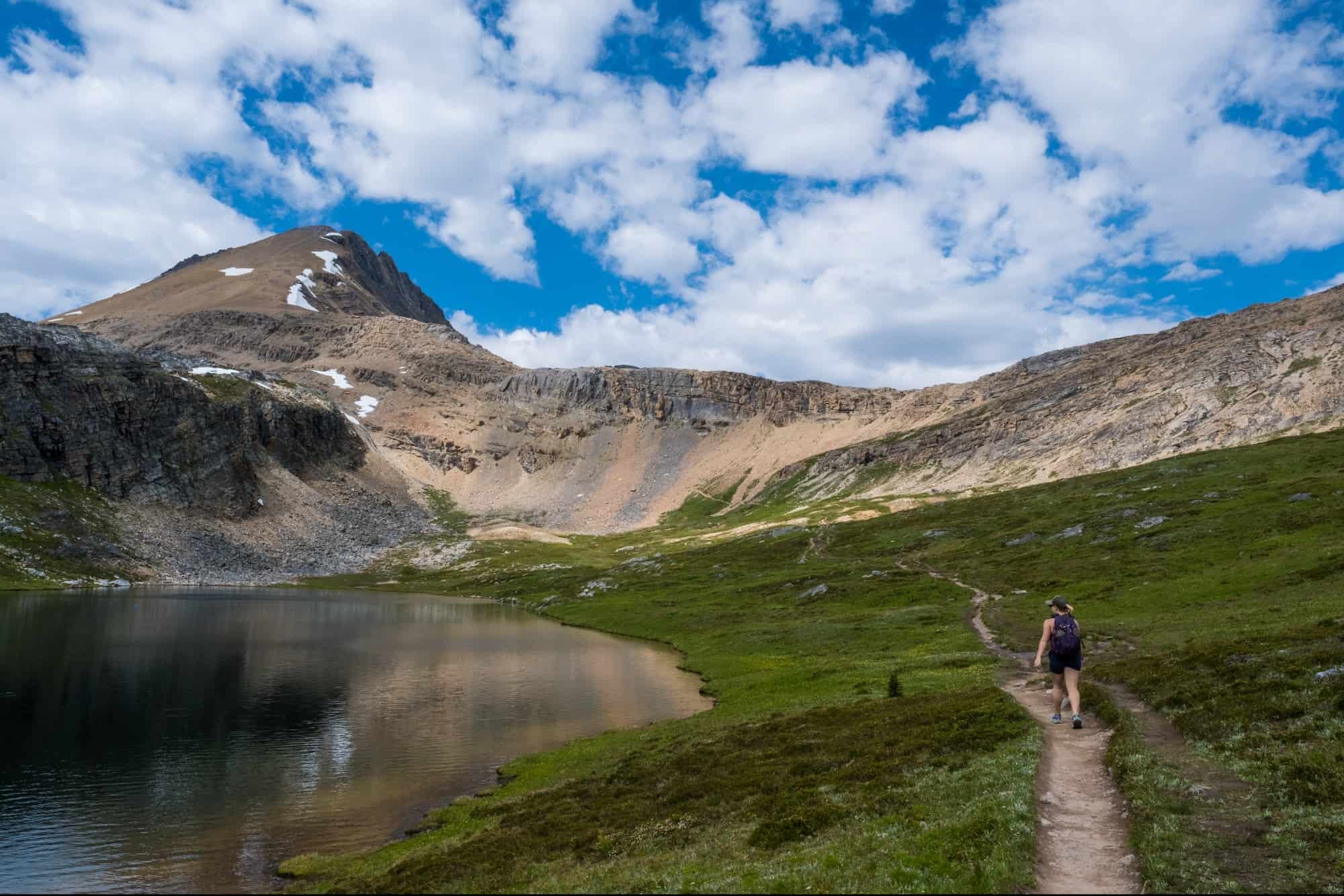 This ends at the top of Dolomite Pass and,rr in our opinion,r a great turnaround point for many or a spot for lunch. Many large flat rocks provide adequate space to relax and enjoy the view while hoary marmots scurry between rocks.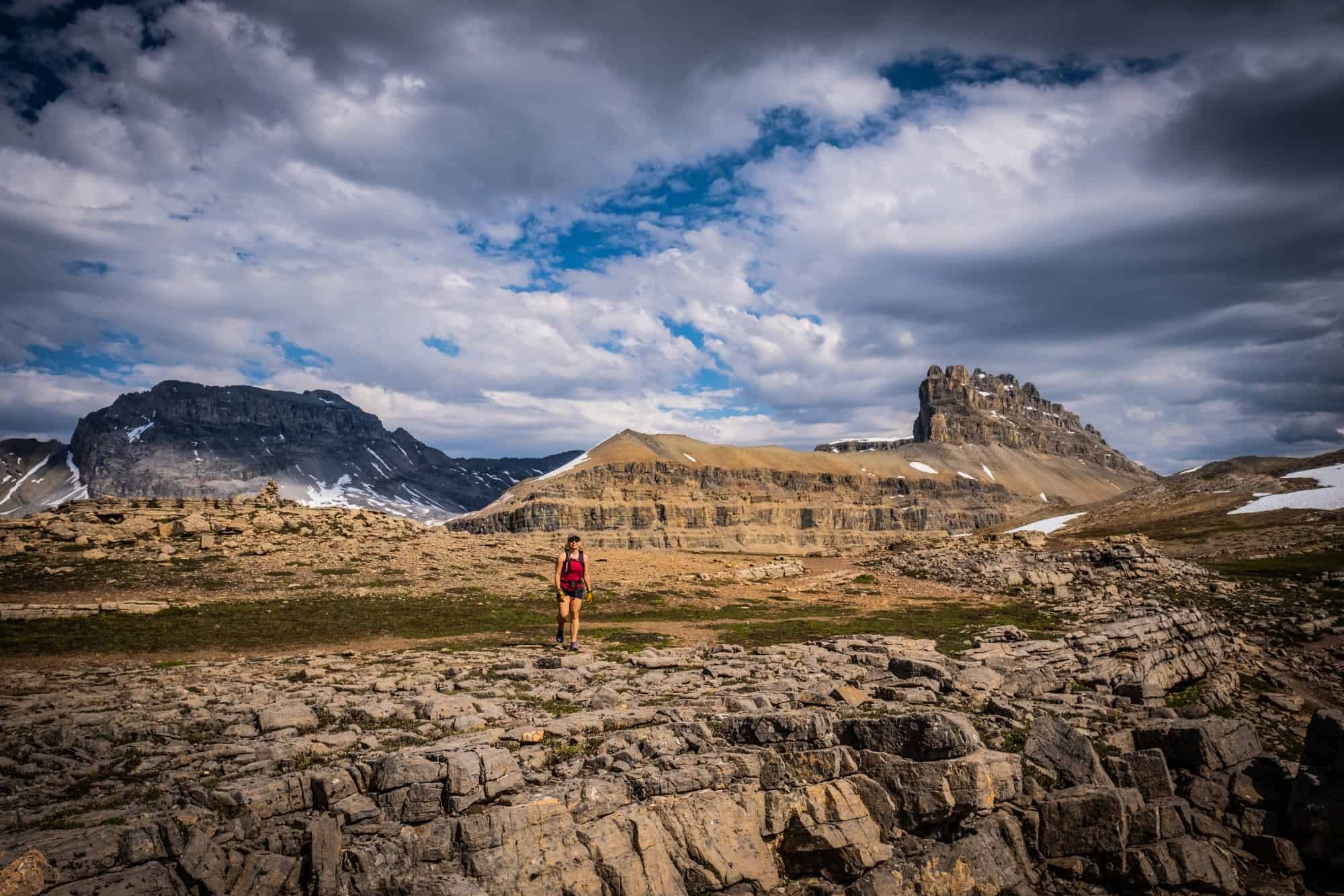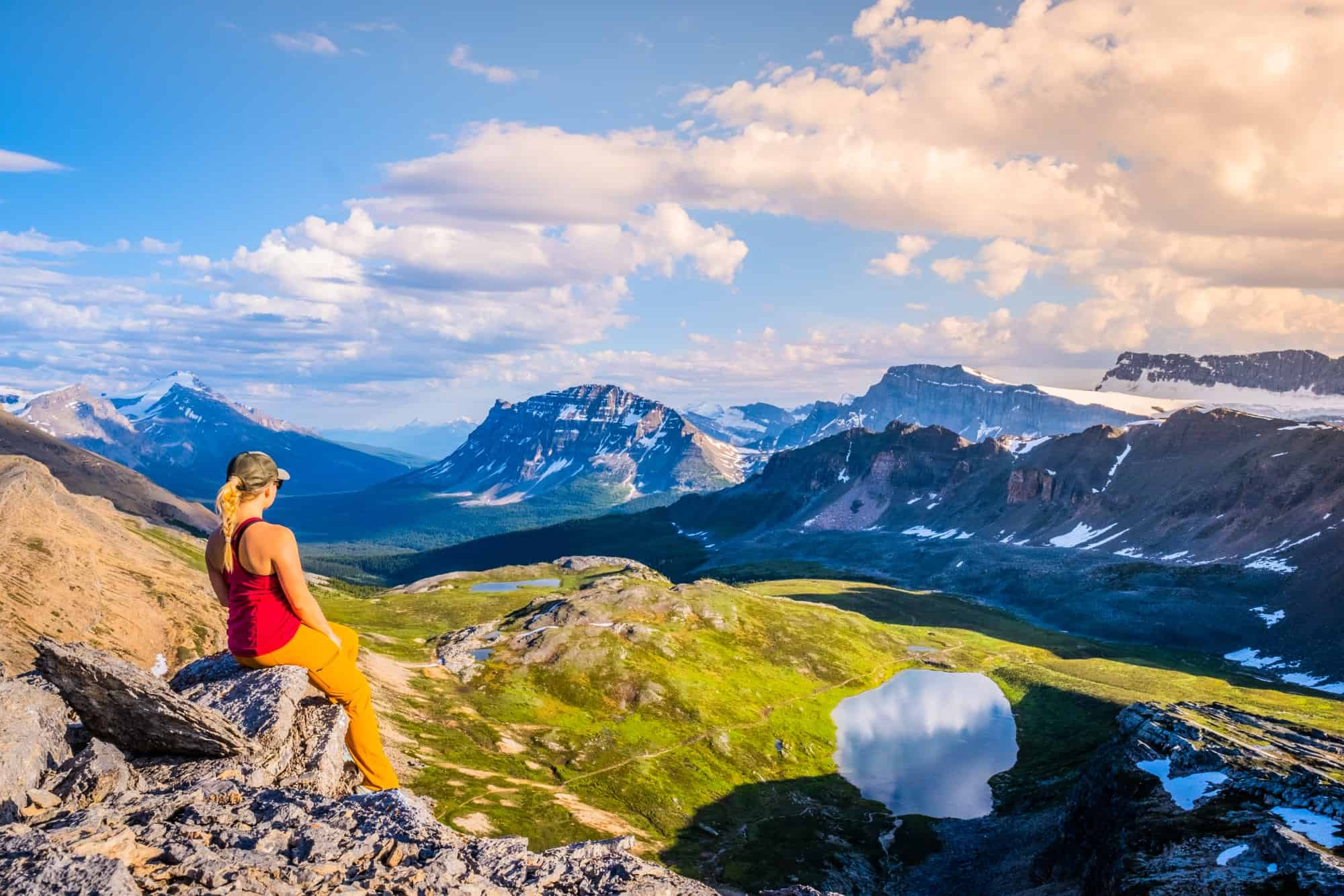 From the pass, the trail moves to the North or hikers left and over several rock bands. Cairns and a fairly well-beaten trail make it pretty easy to follow the route. Once past a series of rock bands, the trail climbs a sandy ridge that gradually turns into loose scree.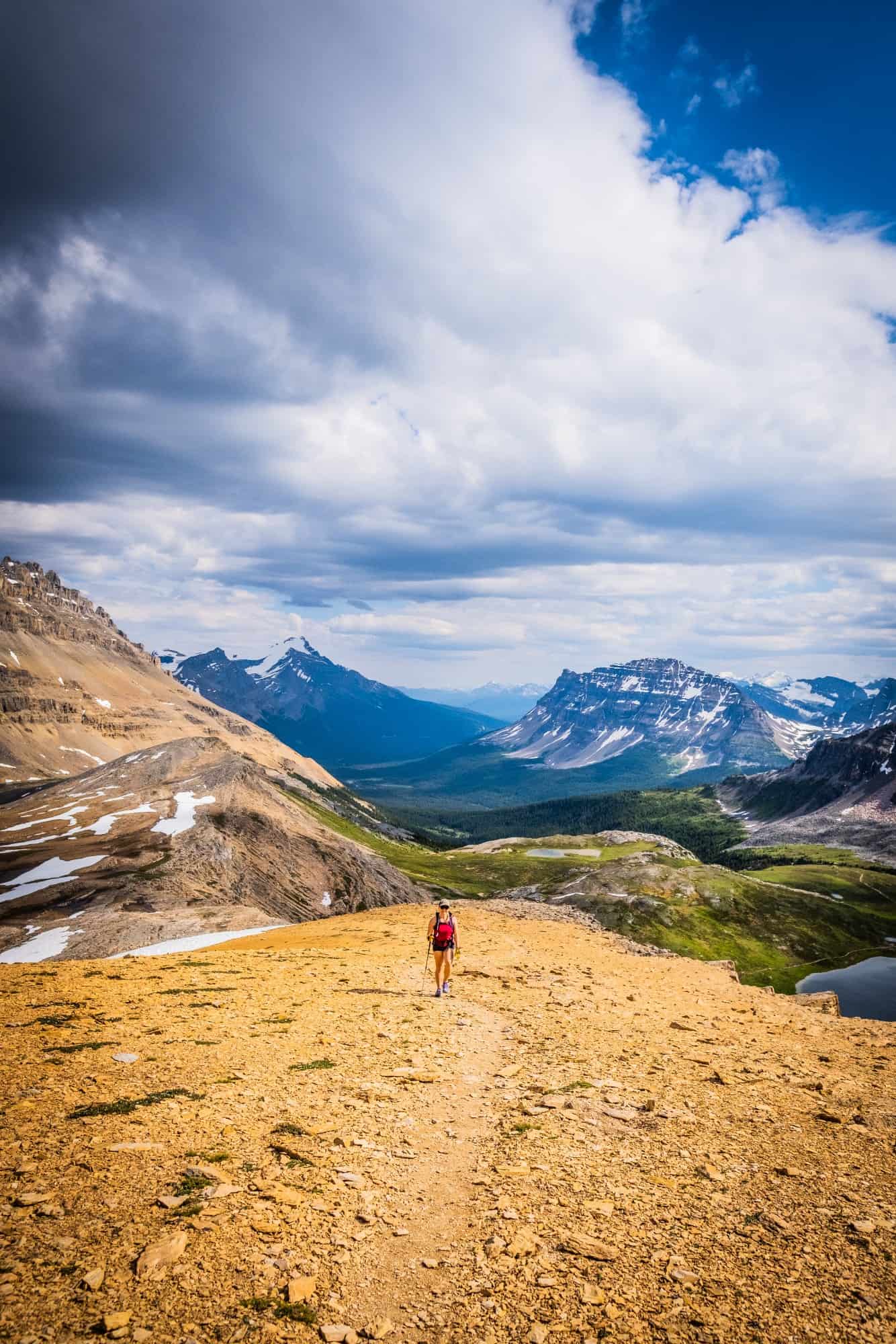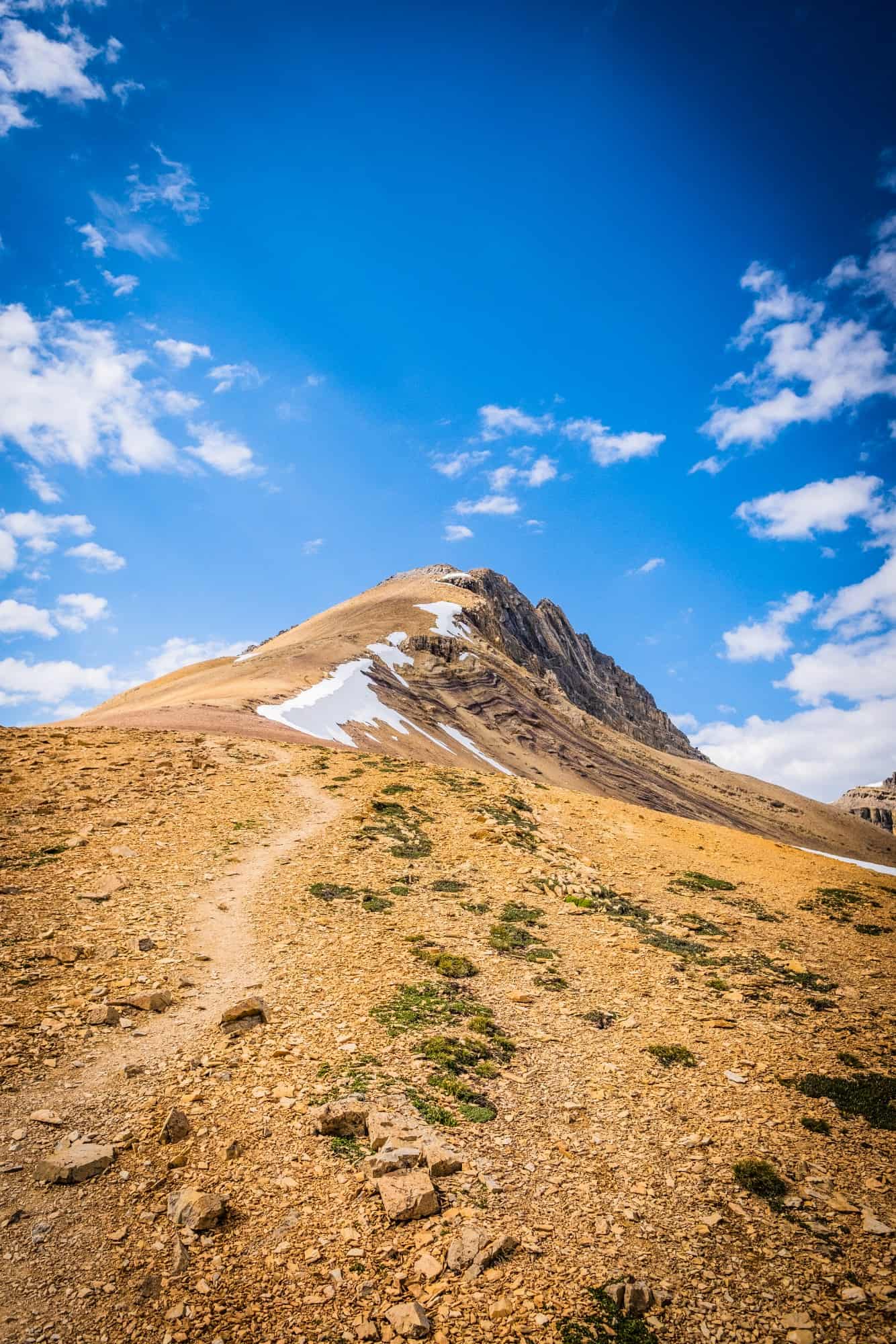 The last 15m or so of the hike arrives at a rock band that requires some light use of your hands to make it to the peak. It's pretty tame as far as scrambles go, but you are at an impressive elevation with several cliffs nearby. It can feel pretty unnerving to those new at scrambling.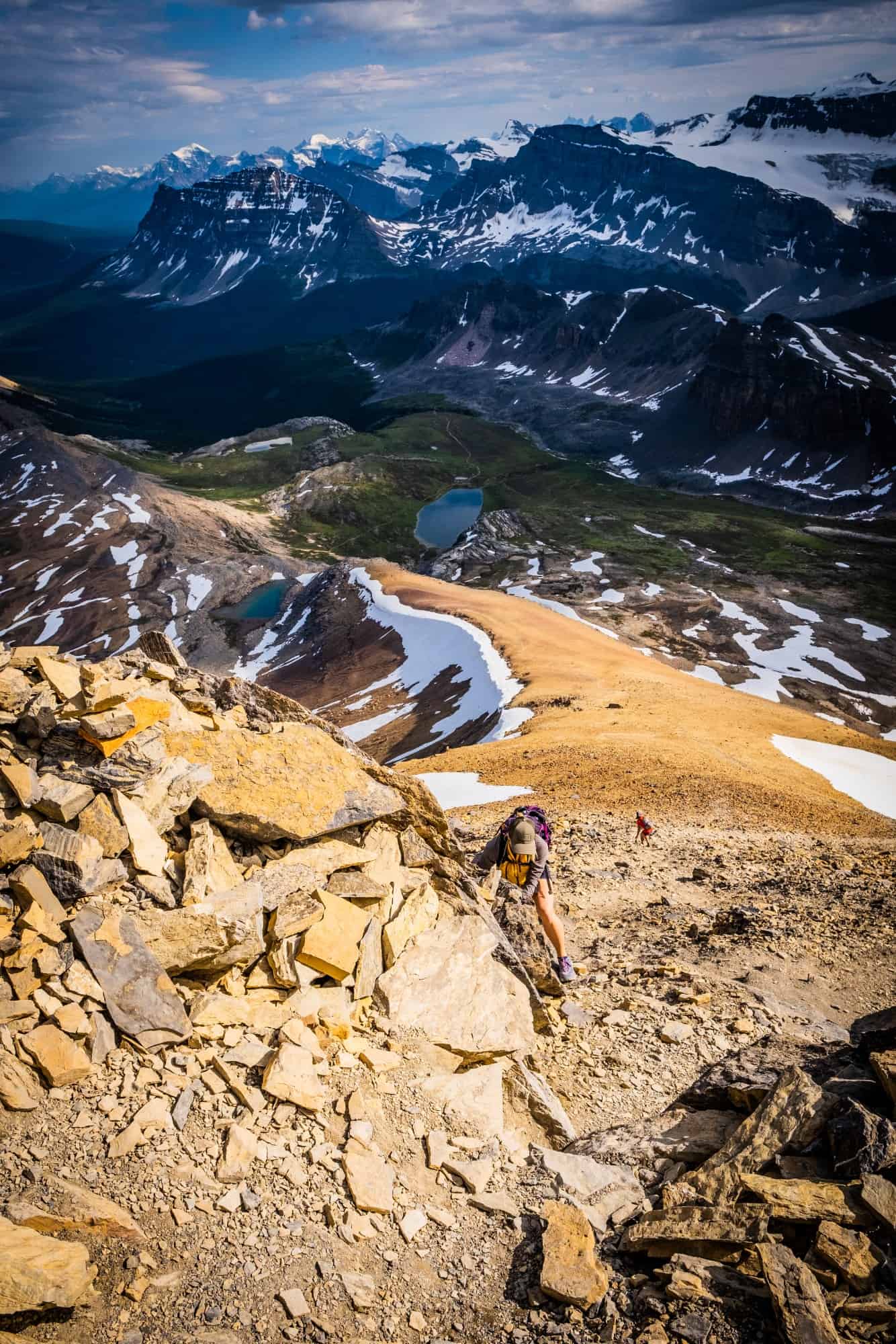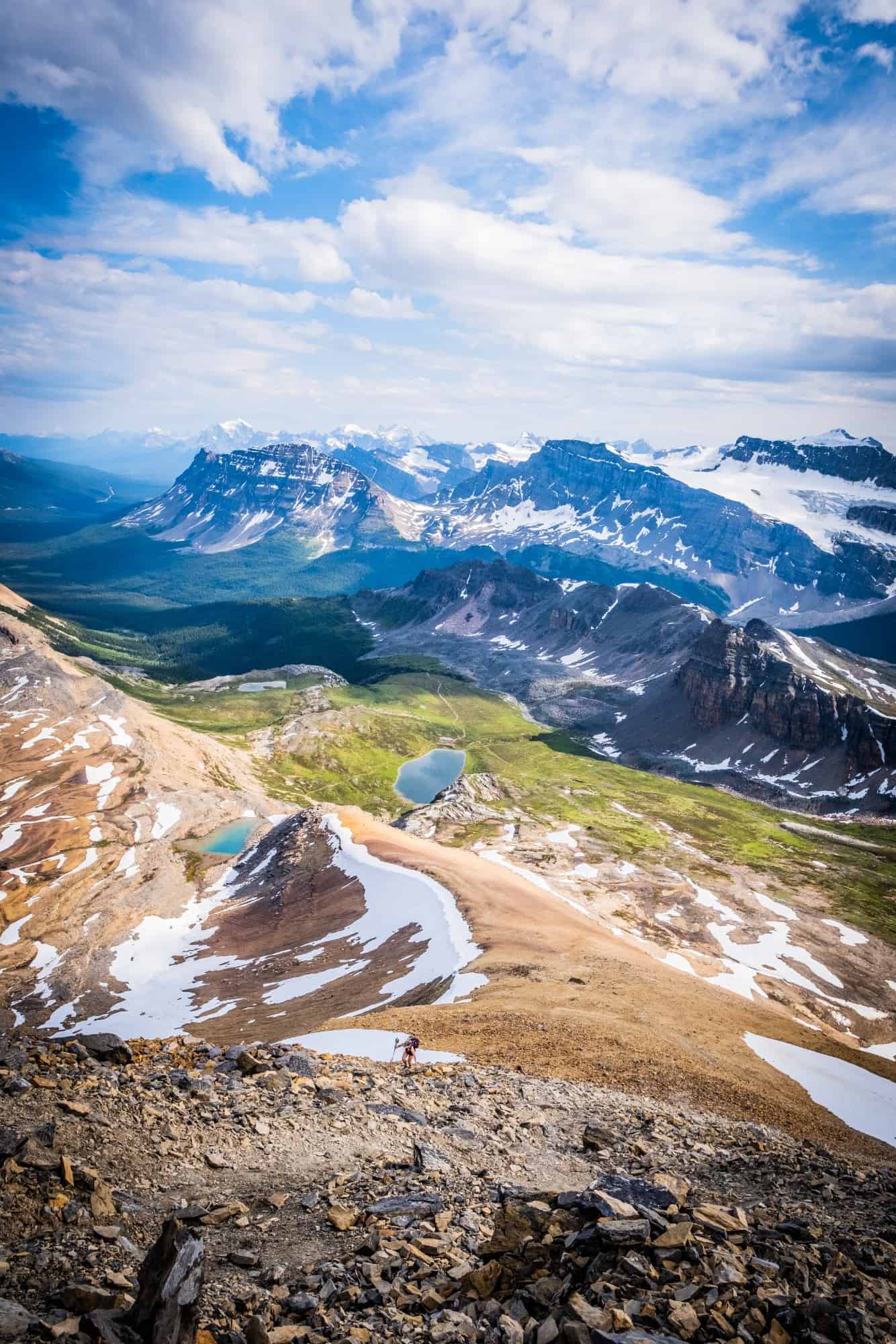 You have stunning views of Helen Lake down below, Bow Lake, The Wapta Icefield, and the Valley from the top. It's a pretty spectacular vista that is tough to beat in Banff.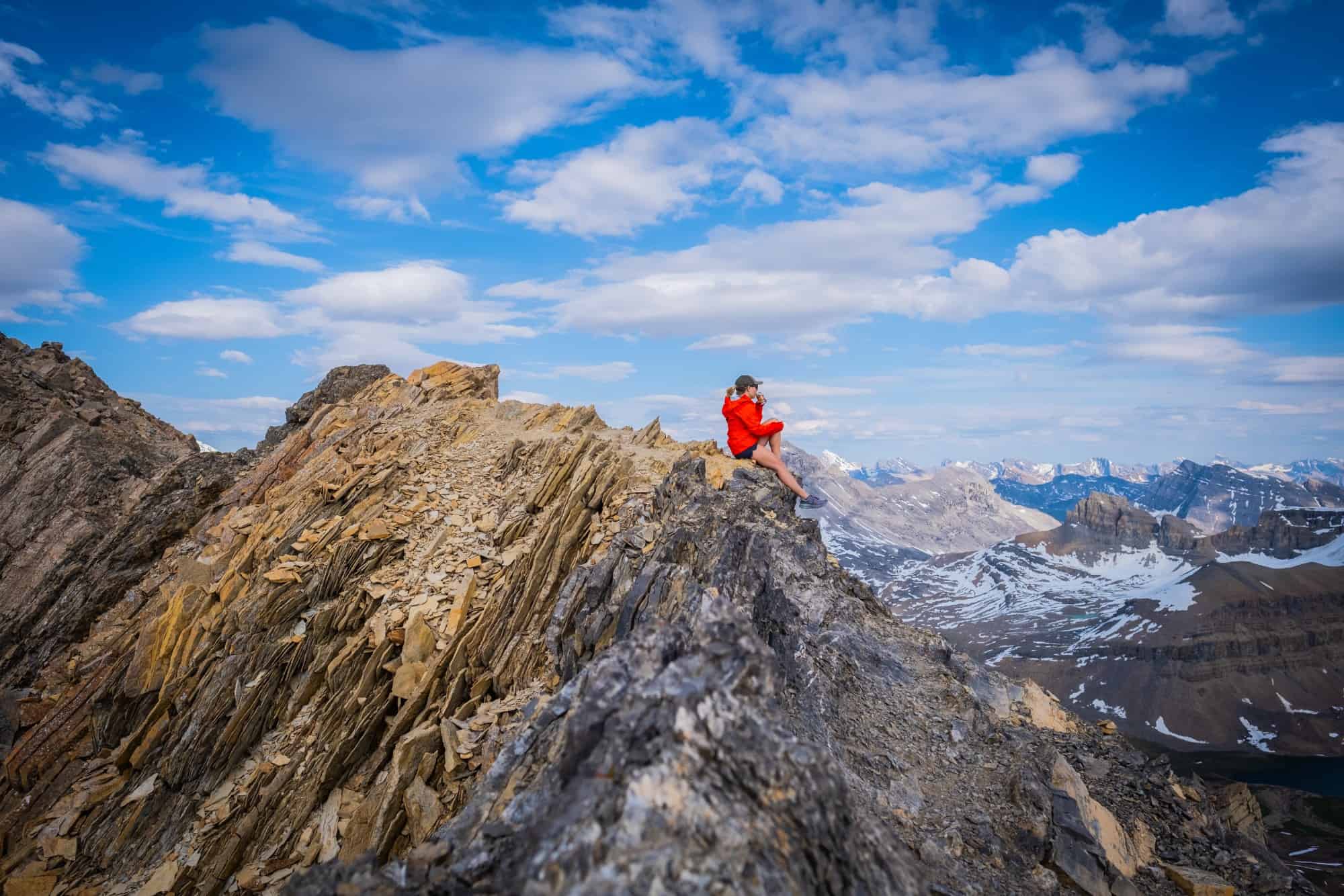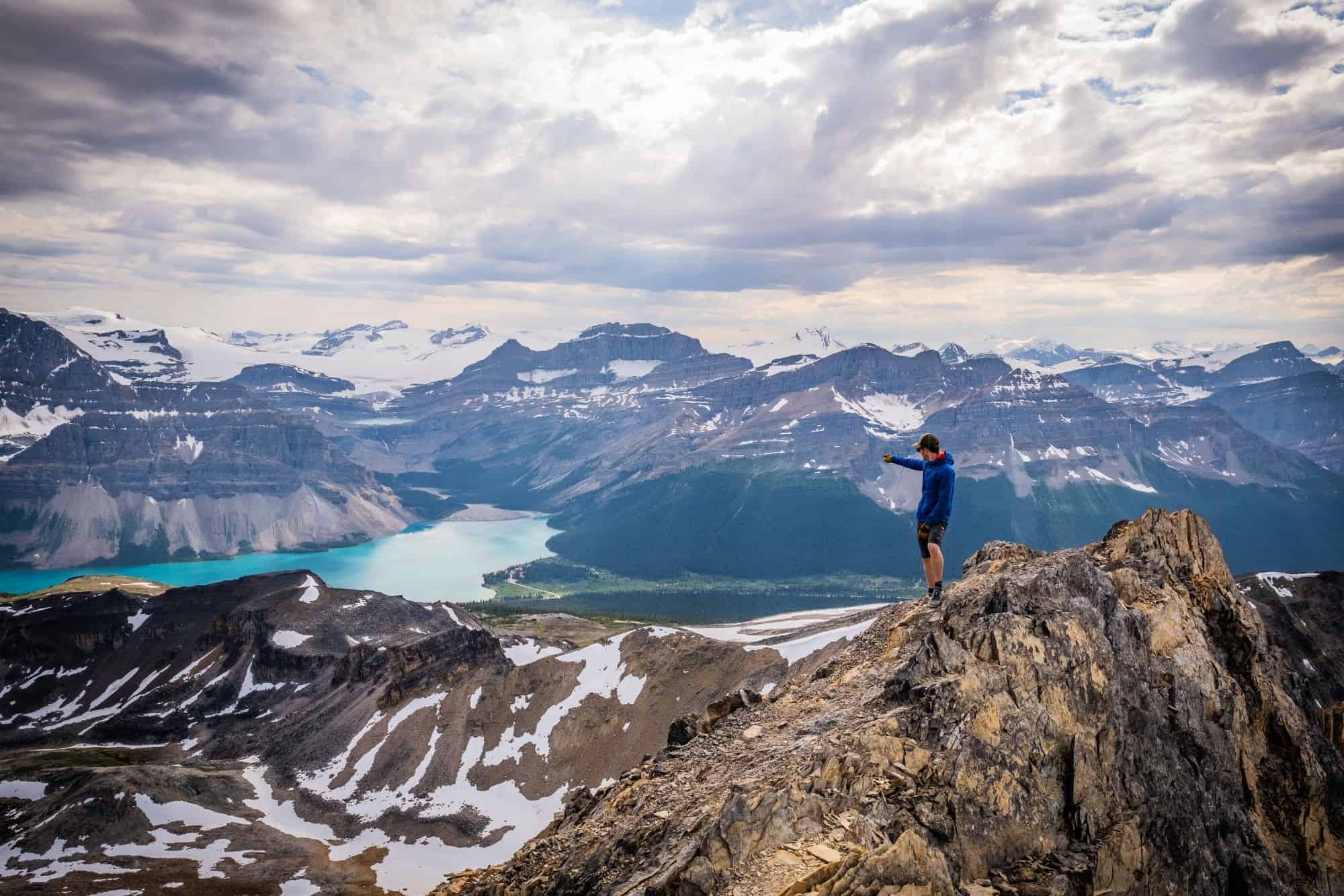 Do take care of the peak and along the ridge, as the cliff drops below are massive and definitely fatal. You can also scramble down the peak and on to the peak next peak. However, one or two moves to the next peak are very exposed. You do get a pretty awesome photo with the peak and the source of the Bow River.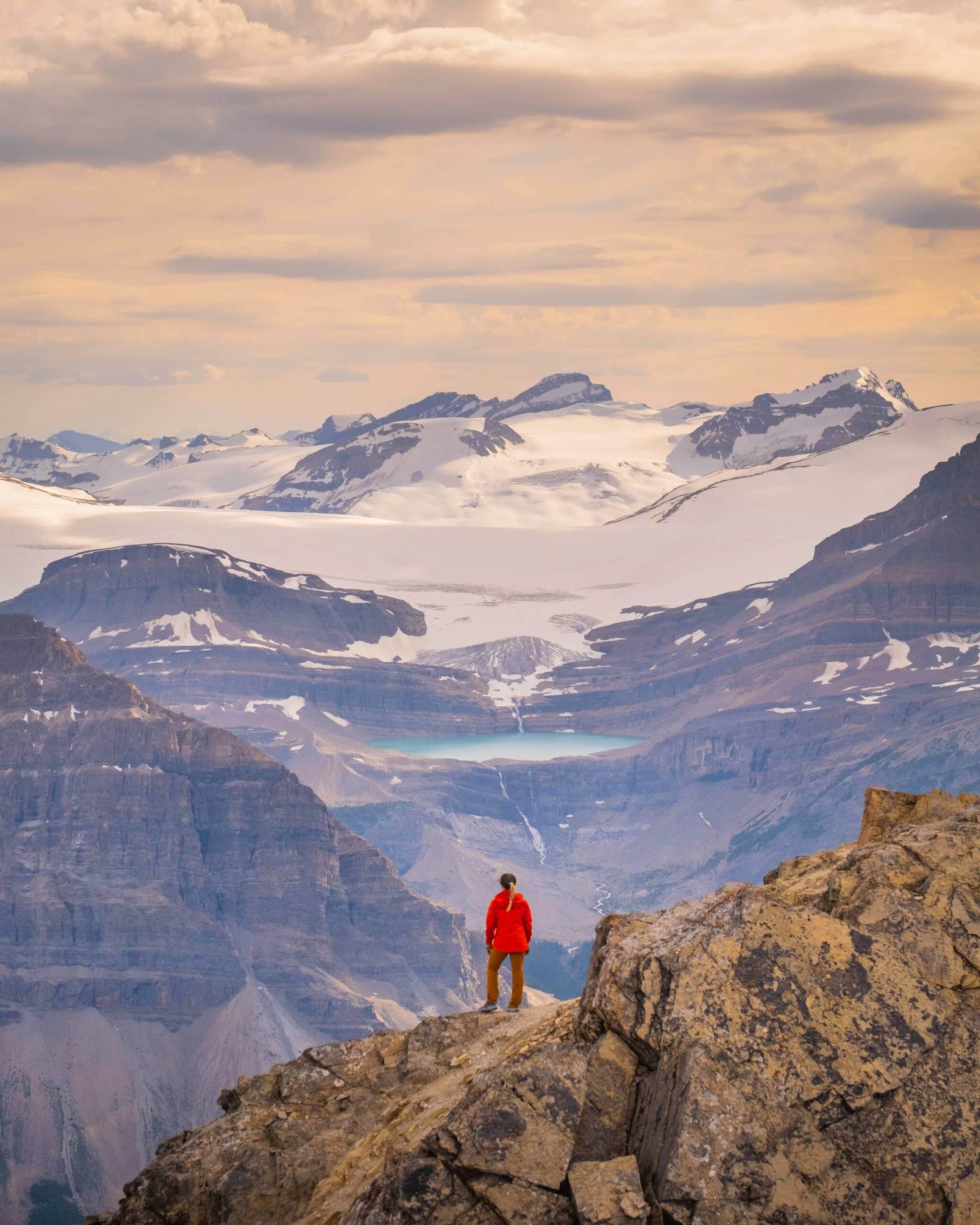 The return is the same route into the hike as it is an out and back hike. Enjoy the scree for the first section down from Cirque Peak, as it's easy to run down. The hike out gets a little boring in the trees as you backtrack, so you'll be pretty happy when you arrive at the parking lot. At least it's downhill.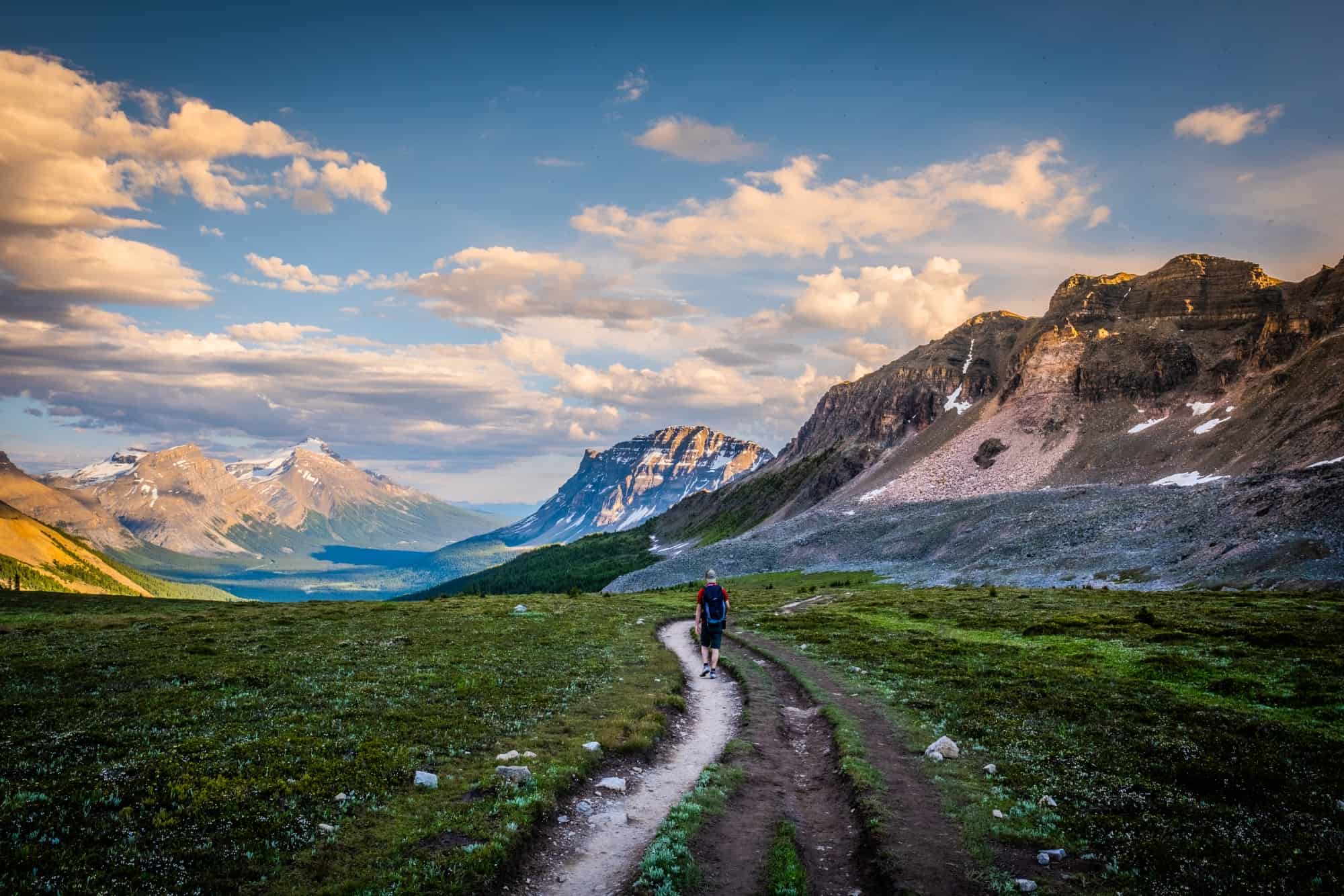 ---
Gear We Recommend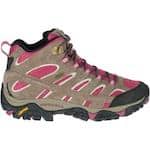 Many hikers will enjoy the security, comfort, and value in the Merrell Moab II. It's a great beginner hiking boot.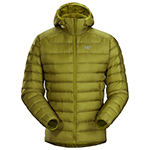 Arc'teryx Cerium is our pick for the best down jacket. It's incredibly light, and we bring it on almost every hike in the Rockies.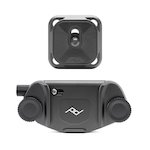 This nifty clip from Peak Design secures a camera to my backpack strap for easy reach. No more digging in the backpack!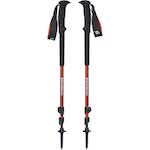 A pair of durable and lightweight hiking poles are a great asset on the hiking trail.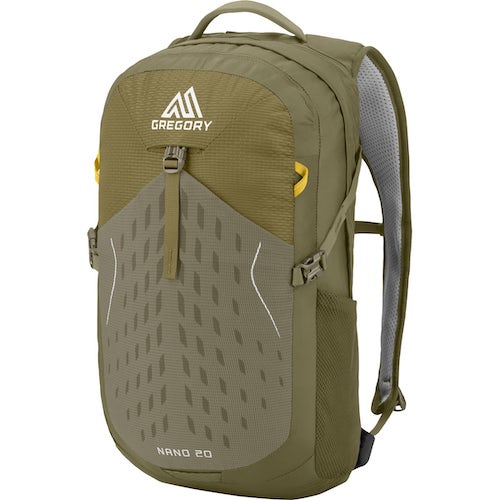 20L feels like the ideal size for quick hikes and scrambles. We love the Nano from Gregory with a hydration reservoir.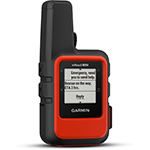 There is not much cell service in the Canadian Rockies. In case of emergencies, we carry an emergency beacon with GPS.
---
How Long Does Hiking Helen Lake Take?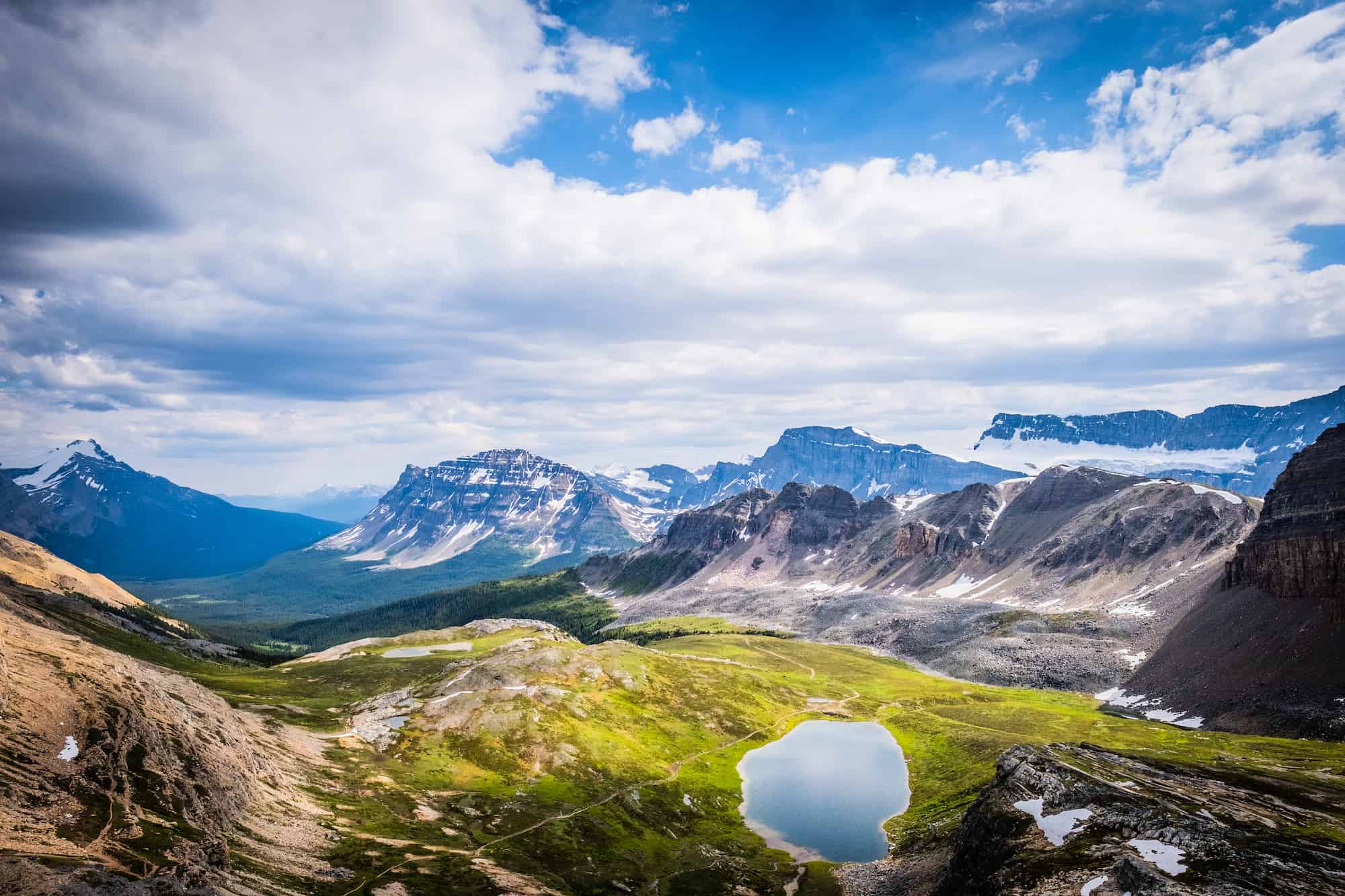 The Helen Lake Trail and the addition of Cirque Peak is a challenging hike at 16.1 km in length and 1,129 meters of elevation gain. If Cirque Peak feels too challenging,r there is also the option to climb the headwall behind Helen Lake and arrive at the Dolomite Pass for views of Katherine Lake down below.
Expect the full hike to take 4 – 7 hours. If you plan to hike to Helen Lake, you can expect 2 – 5 hours which all depends on your fitness. We completed the hike up to Cirque Peak in about 4 hours of hiking time and an hour for lunch and photos.
---
How Hard is Helen Lake Hike?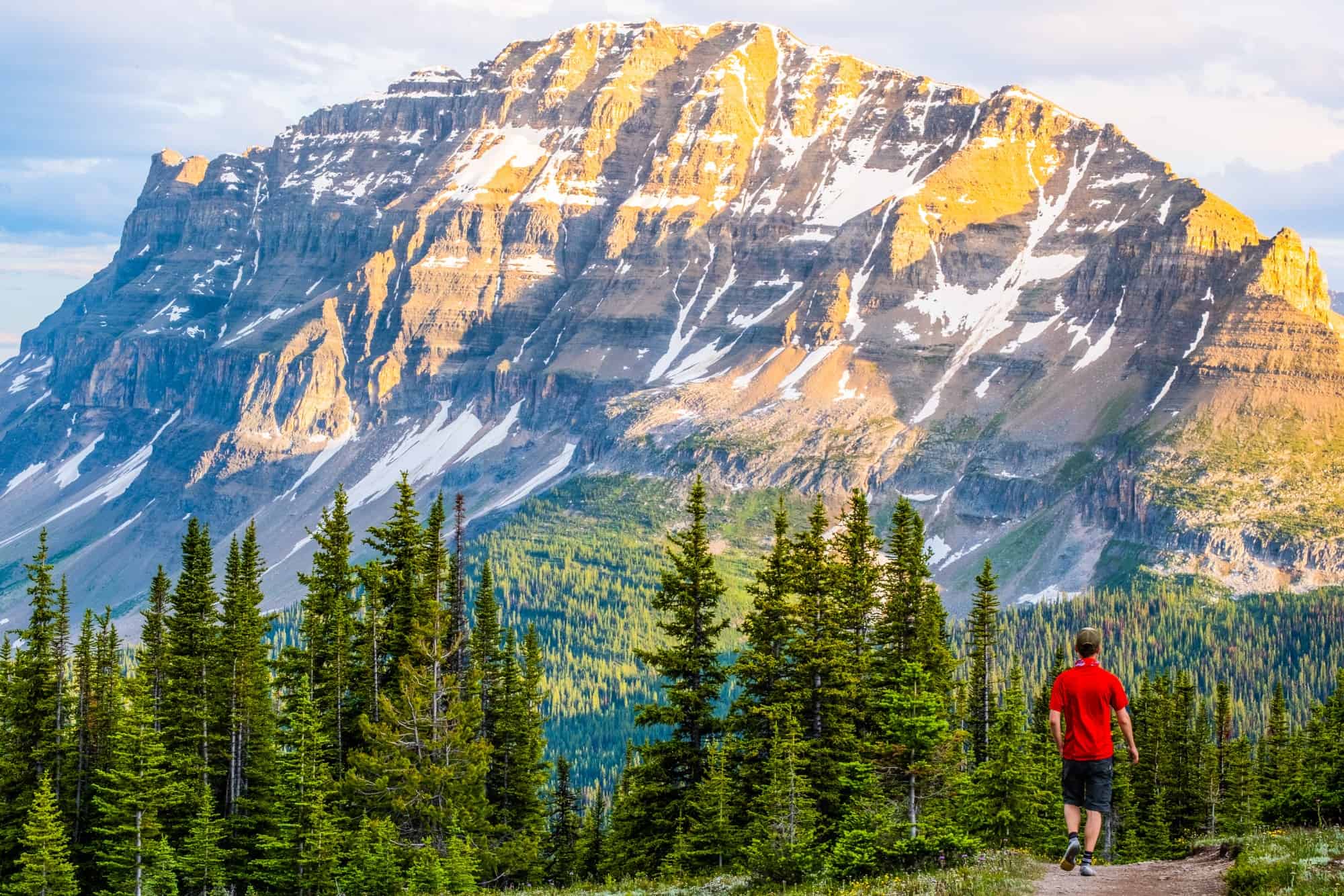 The hike to Helen Lake is a moderate challenge, and the challenge lies more in the distance. It's also a steady uphill climb for most of the hike, which can tire many legs out who do not regularly hike. We saw a wide range of ages on the hike to Helen Lake. That being said, it is a physical challenge, and you should be prepared for such.
---
How Hard is the Cirque Peak Scramble?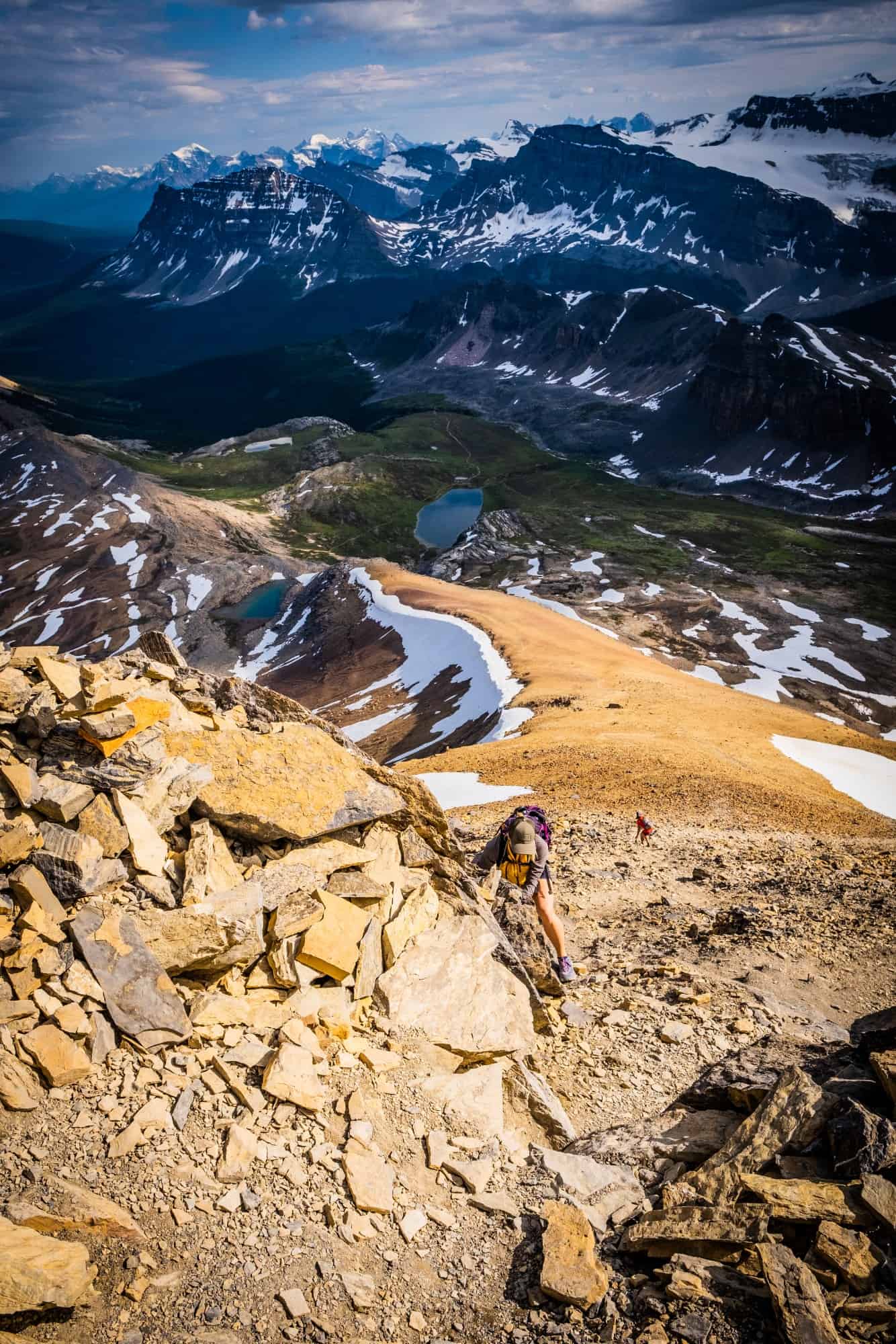 The climb to Cirque Peak should be considered a challenging hike or an easy scramble. Although the distance and elevation gain can make it a more difficult scramble. It's more a physical challenge than a technical one with only a short section that requires the use of hands at the peak with minimal exposure. We rate it as a great introduction to scrambling in Banff National Park.
---
When Can You Hike Helen Lake?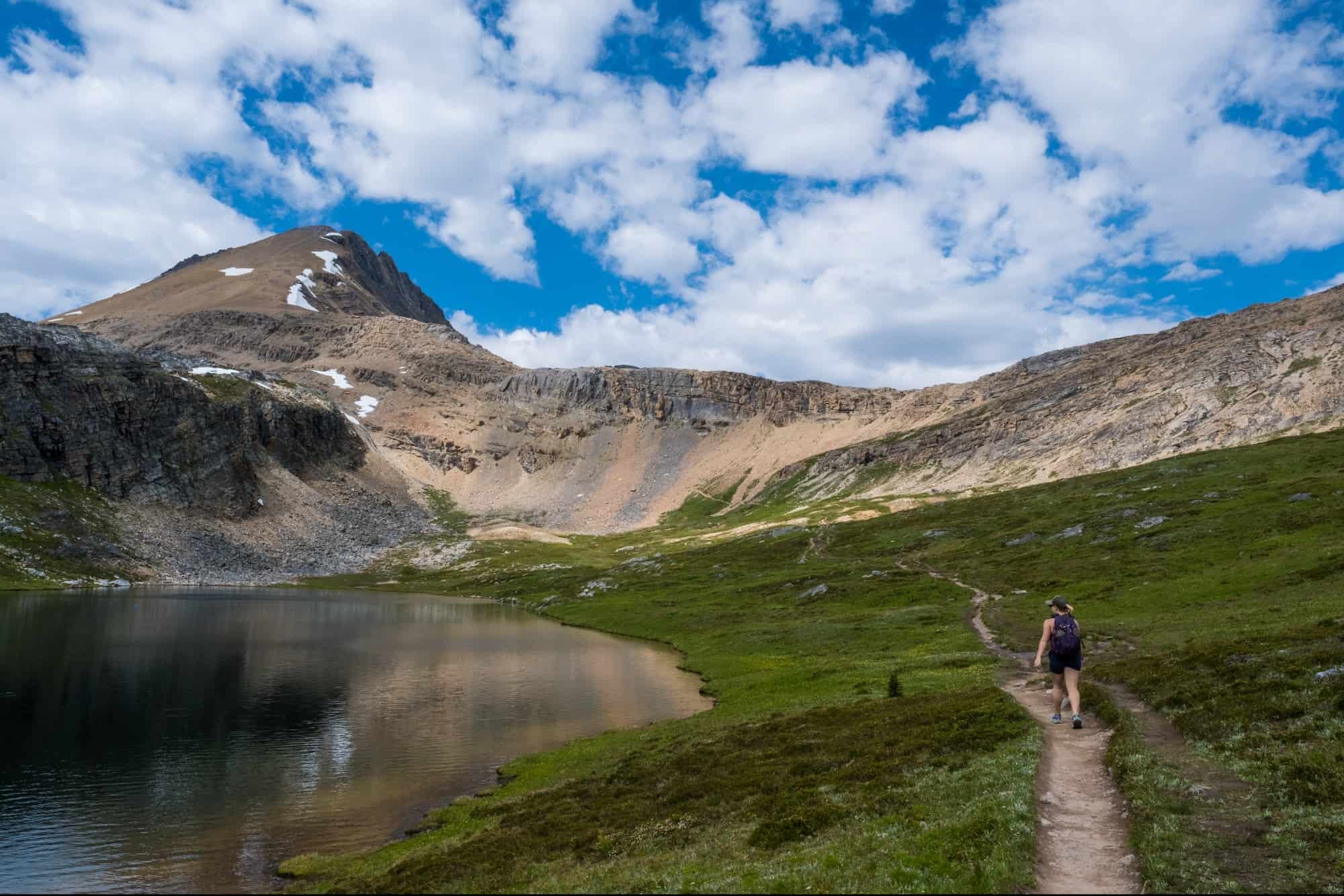 The best time to hike Helen Lake is between June and early October. Cirque peak is a popular ski tour in the winter, but it passes through avalanche terrain. Best for most people to stay away in the winter. We hiked Helen Lake in late June and had great conditions. However, it was one of the busier trails we had tackled in a while.
---
How Busy is the Helen Lake Hike?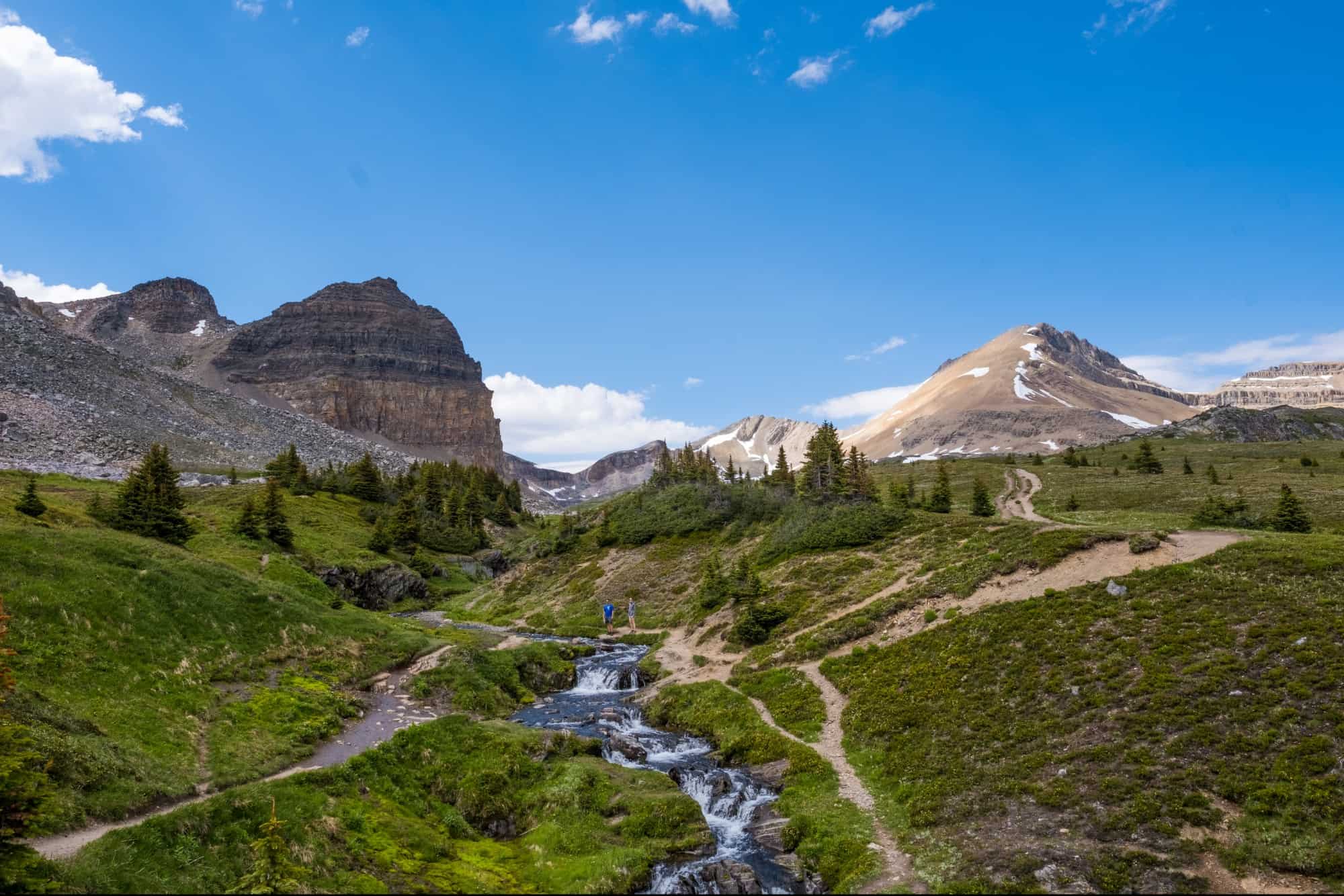 AllTrails rates this as a moderately trafficked trail, and it is. Helen Lake is considered one of the best Banff hikes, and the parking lot can often fill up around midday in the peak summer months.
Don't come here expecting to be alone. Your best bet at having a crowd-free experience is coming mid-week at either sunrise or sunset. We knew this, and with experience at timing, our hikes were able to leave around 3:30 in the afternoon, so we saw people ending their day but were the last to summit Cirque Peak and return to the car park.
---
What About Dogs and Kids on Helen Lake Hike?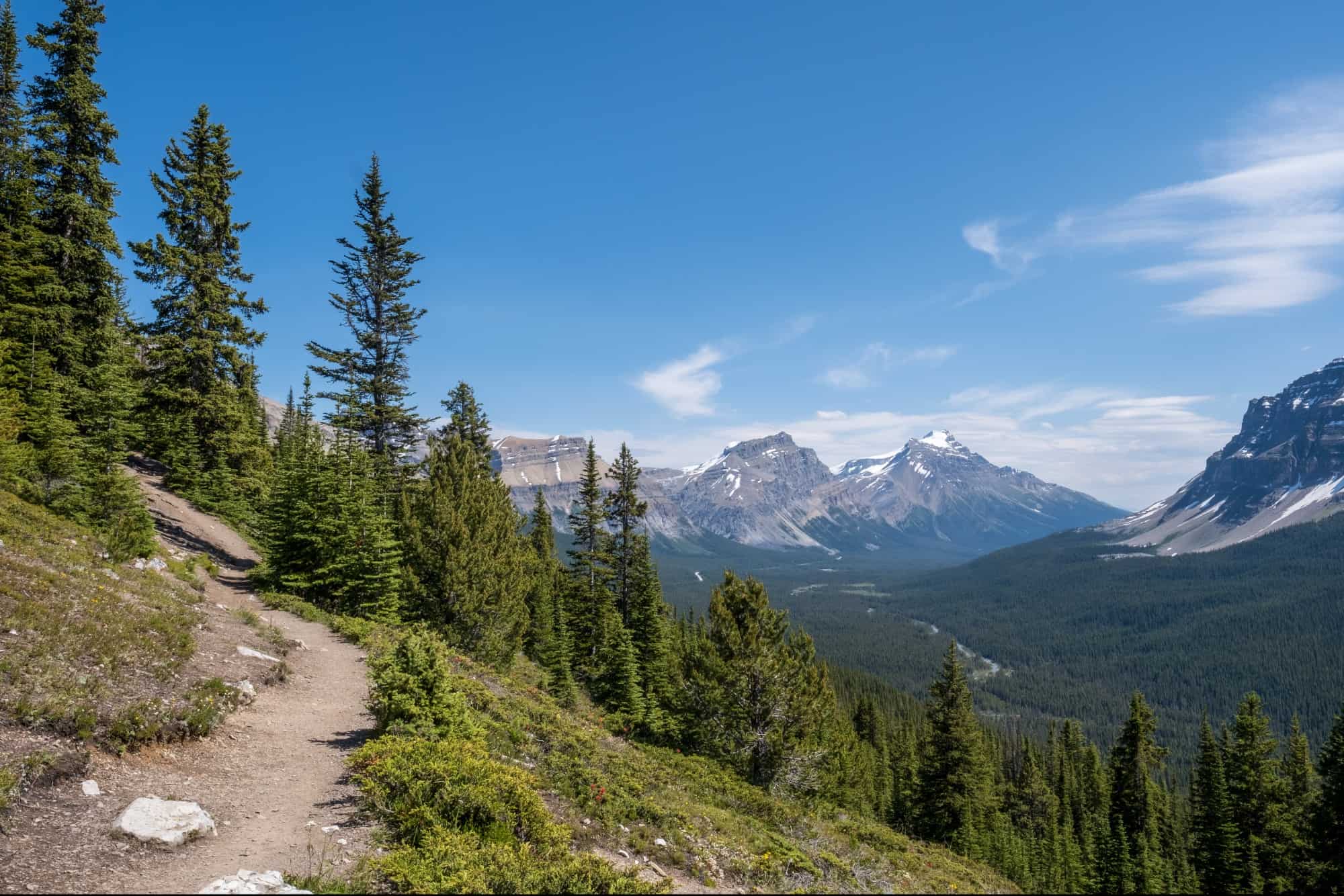 The hike Helen Lake is totally appropriate for medium and large-sized dogs. In fact, it may be one of the best in the park. That being said, you are traveling in prime bear country, so keep your dog on a leash and carry bear spray. You should also be prepared to keep your dog under control should you cross paths with a bear.
We'd say older kids to teenagers should be okay for the hike to Helen Lake and preteens/teenagers to hike up to Dolomite pass. Every kid is different. It's several hours of sustained hiking uphill, so if you think they're up for it, there shouldn't be any issues.
Cirque Peak is more of a scramble and brings about some risk, so it's up to the parent's or dog owner's judgment. However, it is not technically hard, and an active dog or teenager should handle it. Worst case scenario, you turn around at the rock band and still get amazing views in one direction.
---
Is there Parking for Helen Lake?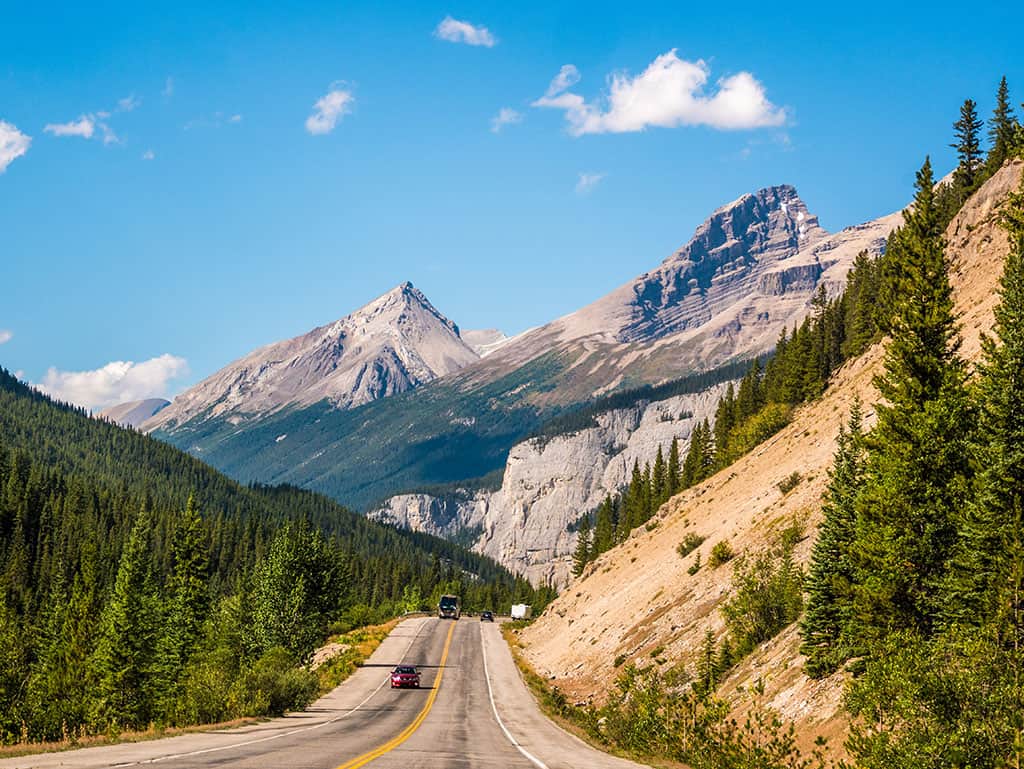 Yes! There is an official parking lot and long drop toilets designated for Helen Lake. As stated earlier, it's a popular hike, and the parking lot does occasionally fill up around mid-morning. As they say, the early bird gets the worm or the late one in our case.
That being said, there is a pull-off area across the Icefields Parkway where you could park should the lot fill up. It's also the most appropriate place for small RVs to park as the lot can be a little tight for large vehicles.
---
Wildlife Awareness on The Hike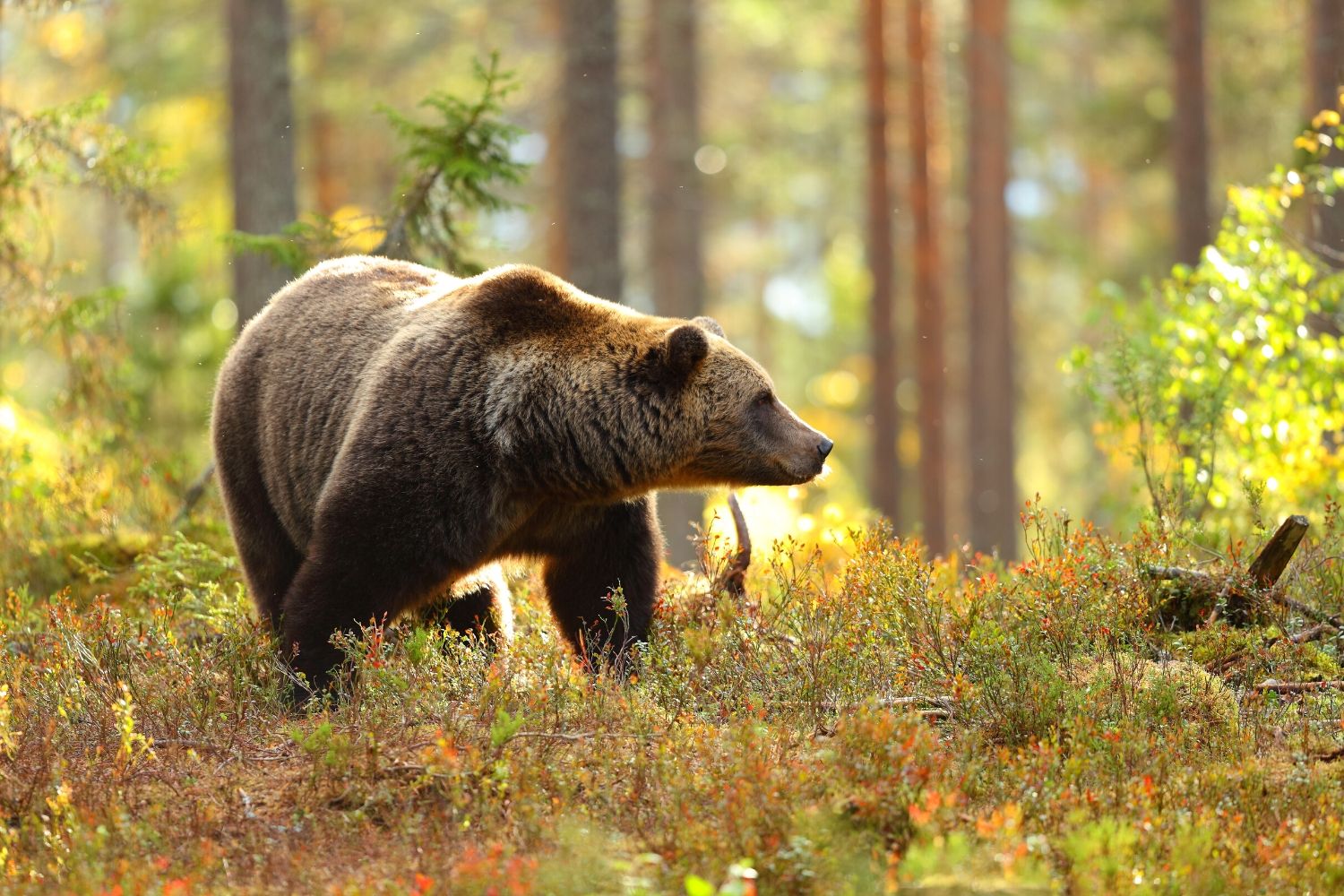 If you're on any hikes in Banff National Park, you should practice proper wildlife awareness. There are frequent sightings of black bears, grizzly bears, moose, coyotes, and cougars in the region. They are all a potential threat to humans, and we should reduce our impact on their natural lives.
Before any hike or walk-in Banff, you need to have bear spray. Remember that the bear spray is worthless if it's in your pack, you'll need to be able to grab this in two seconds or less in an emergency. We wear our bear sprays on our hips.
The likeliness of seeing wildlife on this trail is high. It is a heavily trafficked trail, but bear sightings have occurred. The meadow and valley is prime grizzly habitat, and the trail has been closed in the past due to bear activity.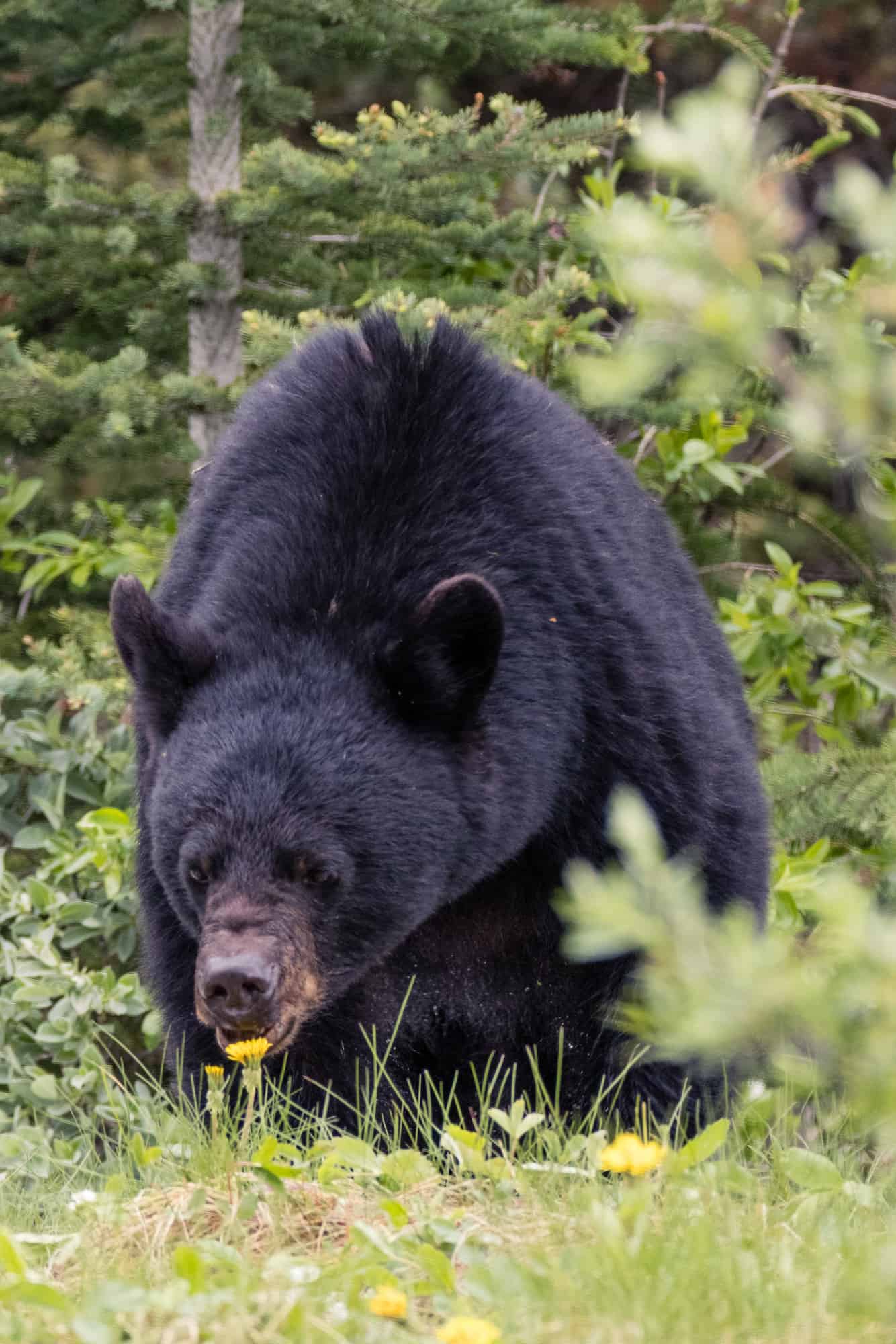 Always check the park websites for wildlife information (Parks Canada) and then check again for notices at the trailhead.
When you're on the trail, make noise by banging hiking poles, talking, whistling, clapping, or singing. This is particularly important around blind bends and corners. You're through the deep woods during these times, and it's prime time to sneak up on a bear. Once you're at the summit, you're safer as you can see wildlife from afar, but still, don't let your guard down and keep the bear spray on you just in case.
As always, while hiking, you need to stay alert, travel in a group, mind children and pets, and finally carrying bear spray and knowing how to use it. If you've come to the park without bear spray, Valhalla Pure Outfitters in town sells spray and holders with employees who will demonstrate how to use them properly.
Besides bears, it's common to see hoary marmots and pika near the rock wall behind Helen Lake. We asked a marmot for directions, but they only gave us a whistle.
---
Advice on Hikes in the Canadian Rockies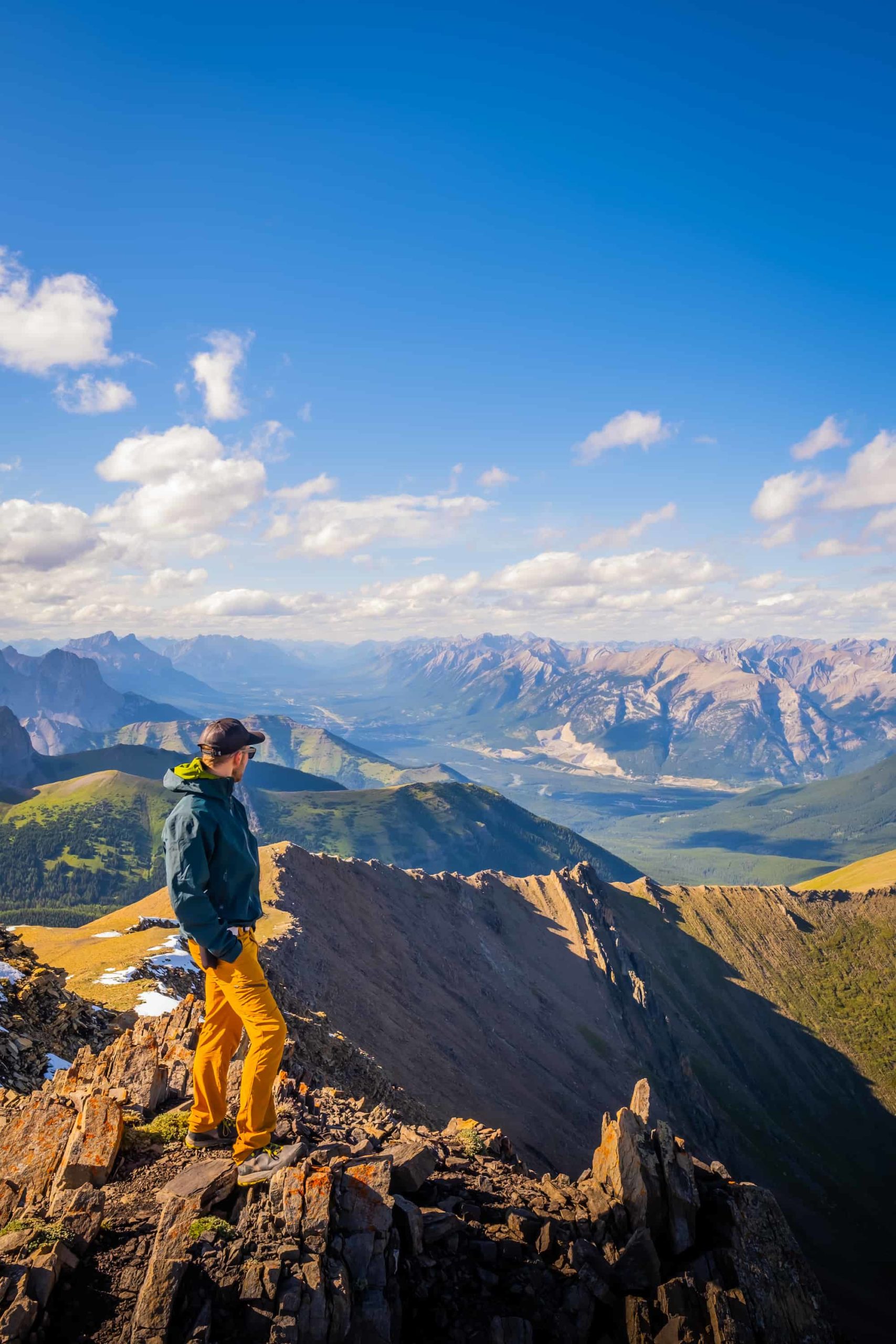 If this is your first time hiking in the Rockies, take a conservative approach. Pick an adequate hike for your fitness, plan for plenty of time, pack water and food, and don't be afraid to turn around. If you want to learn more about what to wear hiking, we have a great post.
For long hikes, set a turnaround time at the departure. Whenever we set out for an objective, I determine a time at which we need to turn around to arrive at the parking lot or campsite by dark. I would recommend not hiking in the dark as it's easy to get lost and it's not fun in bear country.
On that note, always carry bear spray if you plan to hike in the park. We carry ours in the neighborhood, and bears have been known to stroll through town and busy parking lots. Always practice wildlife awareness when you're on a trail, and please give animals space.
In regards to times, keep in mind your mountain fitness — different than the gym. The low end of this post's low end is a constant fast pace uphill with little to no breaks and a brisk pace downhill. Most hikers should plan for a middle-of-the-road time with the estimated duration.
It's also super important to know that there are limitations and to come prepared. These are very serious mountains, and it is easy to get in well over your head with life-threatening consequences.
Lastly, a GPS tracker could save your life – it's one of those backpacking essentials I like to have on me just in case I need to hit SOS.
Alltrails is our favorite app to have on a hike. It shows the correct trail way, elevation, and other hiker reviews. We paid the subscription fee so that we could download all the data we need to our phones. Best $3 (per month) ever spent!
---
What to Wear On a Hike?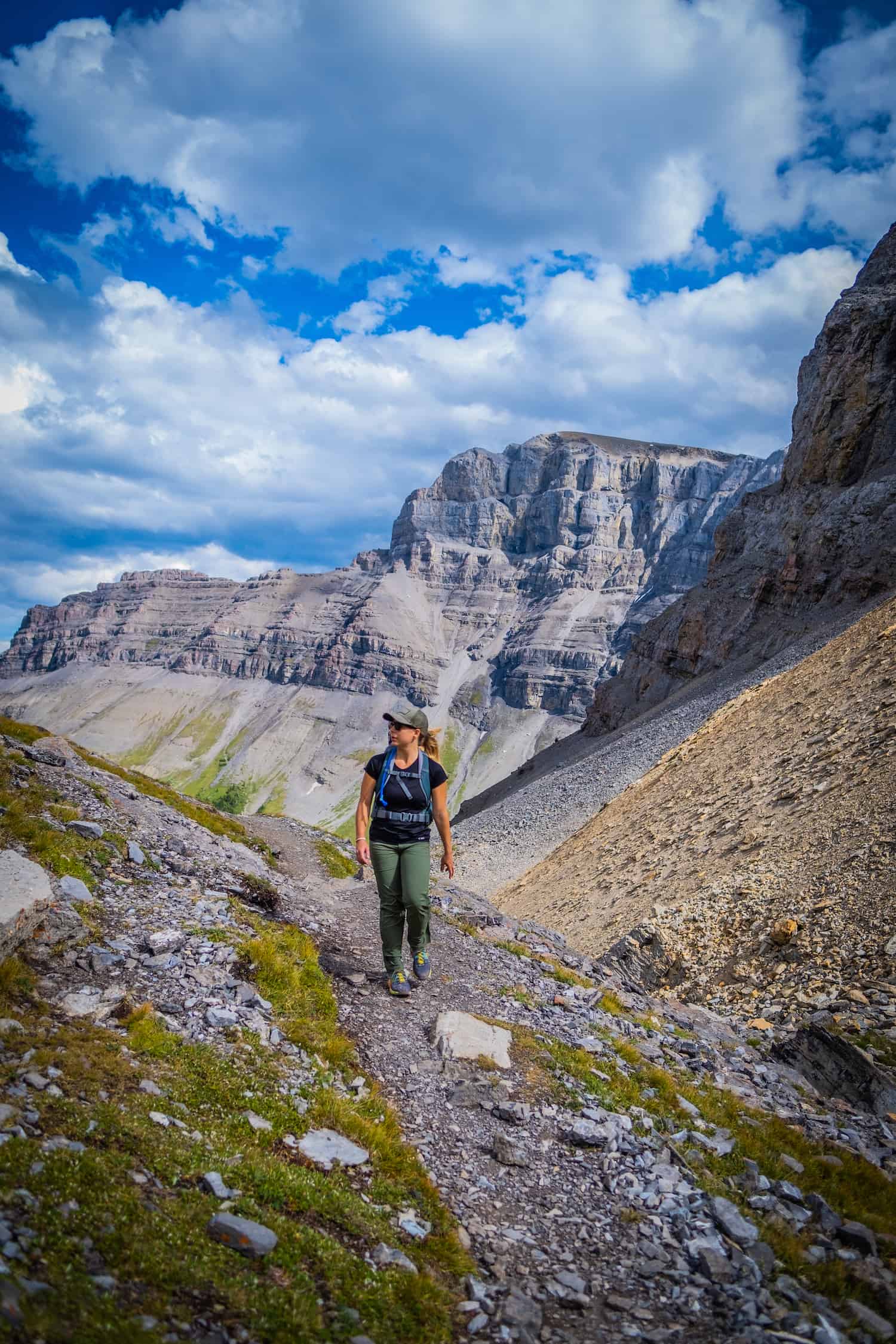 The most basic principle of what to wear hiking is layering. Anyone that has spent time in the wilderness or mountains can speak to the fact your temperature can fluctuate a lot on a hike. You can easily start off cool at the mountain base and get hot as soon as you begin moving.
The goal of hiking clothing is to help regulate your body temperature, element protection, and moisture management. Temperature management is best done through a layering system. If you want to learn more about what to pack for a day hike or what to wear on a hike, you can see our full post! Here are the best hiking clothes for men and the best hiking clothes for women.
---
Hikes in Lake Louise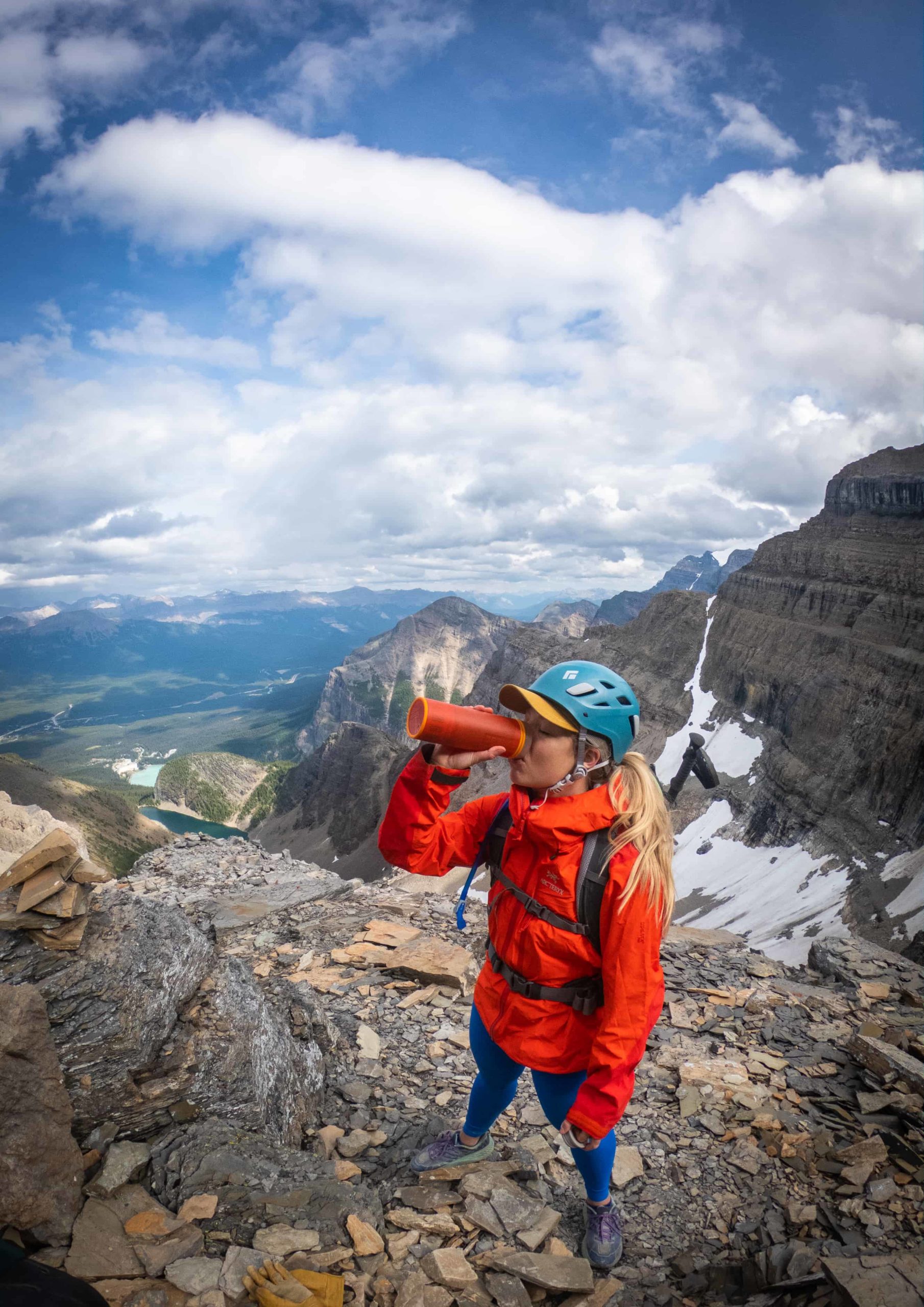 Looking for the best Lake Louise hikes? We share the most popular hikes around the lake and share all of the details in this guide to experience the best hikes around Lake Louise. If you want to add some more hikes to your list, check out our list of the best Banff hikes.
These hikes start from Lake Louise and are certain to have stunning views of the stunning turquoise lake, surrounding mountains, and awe-inspiring glaciers. Any hiker who gets the opportunity to hike around Banff National Park and Lake Louise should consider themself very fortunate.
---
Things to Do in Lake Louise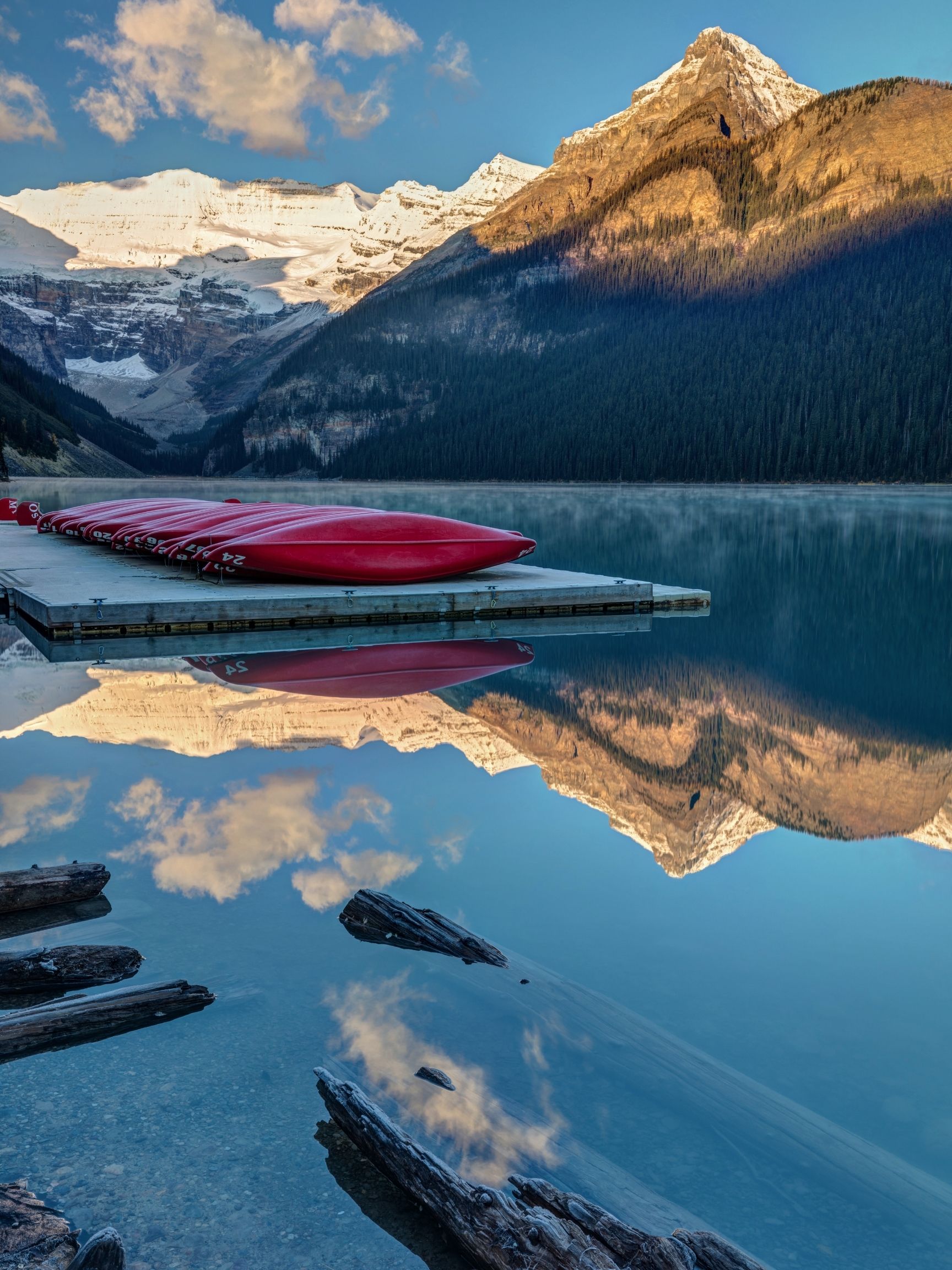 There are a plethora of things to do in Lake Louise. After taking in, the spectacular scene, go for a hike, climb, ski, or canoe in Banff National Park. Lake Louise is an image that will last with you for a lifetime. It's hard to find a more majestic and awe-inspiring place in the world than Lake Louise.