Looking for the best Banff hikes? We share our favorite hikes in Banff and share all of the details in this guide to experience the best in the park. You'll find on these hikes in Banff high alpine passes lined with wildflowers, jagged peaks topped by glaciers, and a healthy dose of turquoise blue lakes.
I tried to keep a good mix of trails that are capable for anyone of reasonable fitness. There are plenty of more challenging Banff hikes, scrambles, climbs, and mountaineering objectives in Banff National Park that offer jaw-dropping views, but they aren't hikes accessible to all and require more experience in the mountains.
The goal of this list of the best Banff hikes is a mix where the amount of work involved vs reward keeps everyone happy! Of course, there are so many more hikes in Banff and tons of exploring. Any one of these Banff hikes is certain to supply plenty of fantastic wilderness landscapes. Plus any hiker who gets the opportunity to hike around Banff National Park should consider themself very fortunate.
Keep an eye out at the bottom for our favorite scrambles in Banff too! The following list of Banff hiking trails is in no particular order.
---
---
The Best Banff Hikes to Tackle
---
1.) Mount Bourgeau & Harvey Pass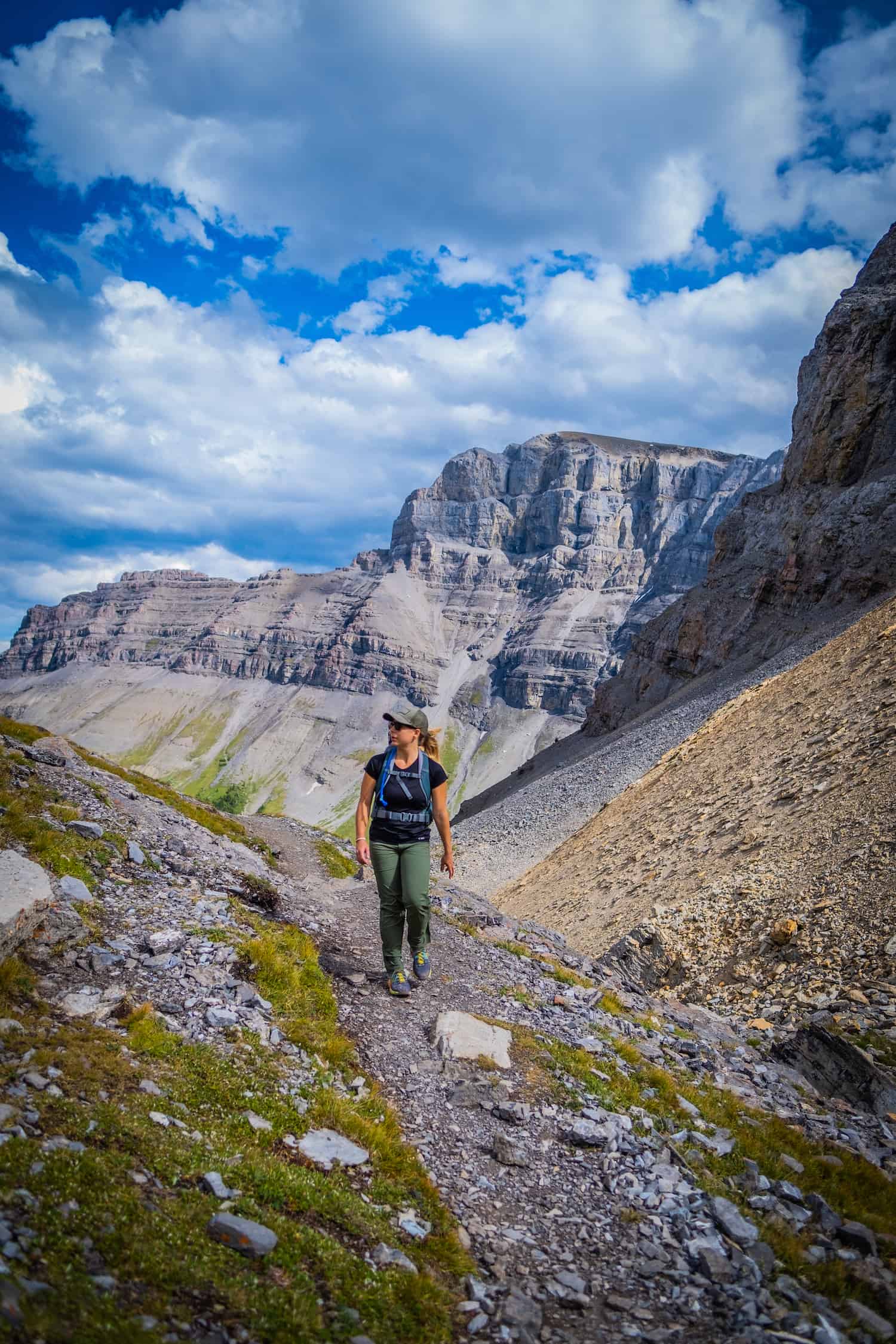 I'm going to start off this list with one of the best hikes in Banff. Mount Bourgeau is a 2,931-metre (9,616 ft) tall mountain in the heart of Banff National Park promises some extraordinary views. It's easily accessible from the town of Banff and Canmore as it's only a 10-15 minute drive to the parking area. This makes it a great hike for those staying in Banff town. While the terrain is not challenging the sheer length and elevation gain requires strong legs.
To reach the peak you climb over 1,700 meters or 5,600 feet and nearly 22km in a day. That being said it's one of the easiest peaks in the Rockies as it requires no scrambling or climbing. However, on the way to the peak you cross the lovely Bourgeau Lake, witness stunning views from Harvey Pass, and then the whole park opens up from the summit. It's an expansive view that never disappoints.
You have a few options for the hike as you can choose to Bourgeau Lake or Harvey Pass each cutting a large chunk of the hike out. This makes it a great hike in Banff for all skill levels as it can be adjusted.
We were able to complete the trip in around six hours with over a half-hour at the summit. Unless you're trail-running don't expect to complete it any sooner as the average time is around eight hours. This is a full day hike so come prepared.
---
2.) Tunnel Mountain
Tunnel Mountain gets the nod for our number two because it's right in the heart of Banff. It's beloved by locals for its accessibility and you can hike it year-round. It may be one of the smallest mountains in Banff National Park, but it still offers tremendous views of the surrounding valleys.
The hike moves slowly up the mountain through a number of switchbacks and offers various viewpoints out into the Bow and Spray Valleys. It's great for sunrise or sunset and it rarely disappoints. If we're ever in need of a workday hike where we just need something short and sweet for fresh air Tunnel Mountain is our go-to Banff hike.
---
3.) Sunshine Meadows
This is a great hike with tremendous views and none of the work because the real leg work is done by the Sunshine Village gondola. From the village, hikers have a plethora of options from the convenient base. Situated in an alpine meadow the trails are flanked by a sea of wildflowers.
The classic hike to Rock Isle Lake follows the shoreline of two lakes, crosses an alpine larch forest, and an amazing viewpoint that provides views out to Kootenay National Park. To walk through these alpine meadows feels like something out of a fairytale, it is sublime.
---
4.) Healy Pass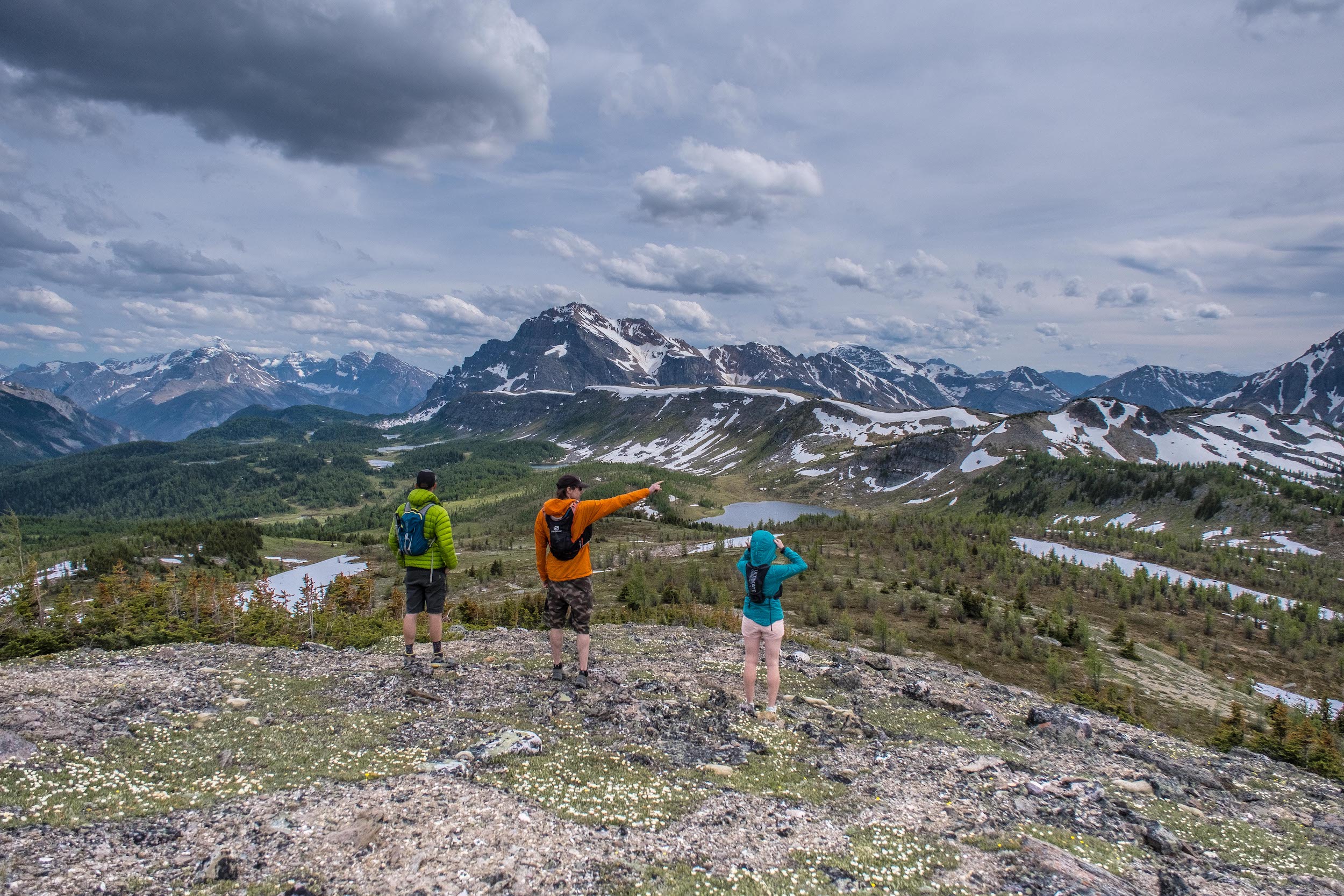 Healy Pass is a tremendous hike that is sure to be loved by all who set out on the journey — easily one of the best hikes in Banff. It peaks twice a year first in the early summer when the valley flooded with millions of wildflowers and again in fall when the larch trees turn gold. Once hikers reach the pass they are afforded stunning views of the surrounding peaks and Egypt Lake.
Parks Canada maintains the trail and it remains one of the most popular hikes in Banff National Park. The trail begins at the Sunshine Village parking lot and the trailhead is located behind the main building.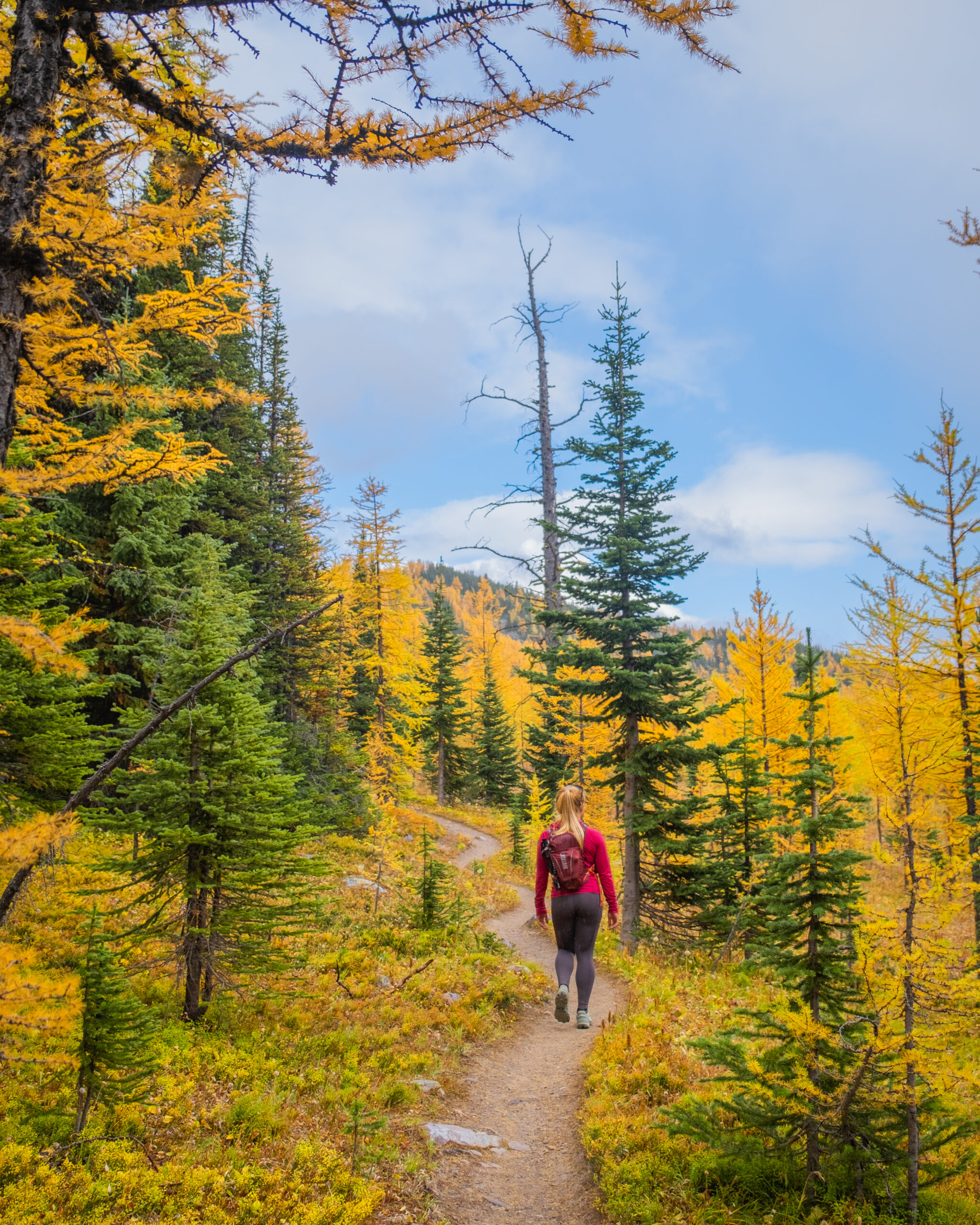 At its start, the trail makes a gradual climb through a shaded lush forest. After 8km the forest gives way to a gorgeous alpine meadow and the wide expanse of wildflowers — it's likely the best place to witness them in the park. Past the meadow is the apex of the trail Healy Pass that provides amazing views out to the surrounding peaks. In the distance, you can see one of the most picturesque peaks in Banff, Mount Assiniboine.
If there is one negative it's the long approach to this hike. As you walk through the forest for nearly 7 km it can feel a bit like a slog. In wet weather, the forest can also be very muddy so be sure to wear high ankle boots.
---
5.) Egypt Lake
I'm noting Egypt Lake as a great Banff hike next, because it is an extension of Healy Pass. To visit Egypt Lake in one day is a long one, but it can be possible if you are a fast hiker. However, there is a campground at Egypt Lake so most people stay overnight and possibly scramble up Pharaoh Peak the next day.
The trail down to Egypt Lake starts from the top of Healy Pass. You'll actually descend about 400 meters to get to the lake, which sounds simple after the climb to Healy Pass, but remember you have to climb it back out. Regardless the whole circuit can be done in a day especially if you are a fast hiker or trail runner. We hiked to Egypt Lake and back in a day and it took us around 7.5 hours, but I would highly suggest camping so that you don't have to be so rushed.
---
6.) Parker Ridge
Parker Ridge is easily one of the best hikes in Banff National Park. For amazing views with relatively easy effort it doesn't get much better than Parker Ridge Trail. We recently completed this hike in late June and it absolutely blew me away. I usually hike a lot longer and harder for views that are half as good, so this is easily one of the best Banff hikes you can do.
The only issue is it's about a two-hour drive from Banff town, so I would recommend this Banff hike when you are already making your way up the Icefields Parkway or on your way to Jasper. It's short and sweet and can easily be incorporated into an Icefields Parkway road trip.
To begin this hike park at the trailhead found on Alltrails – it's a popular hike so expect plenty of cars and people on weekends. It's a pretty clear and well-trodden trail the entire way up. The Parker Ridge hike is a gradual incline the entire 269 meters up. However, there is nothing hard or technical about this Banff hike, and no scrambling involved making it a great hike for newer hikers. It's great for the entire family! We saw older people, young children, and dogs on this hike.
When you reach the ridge you will be blown away by the views over the impressive Saskatchewan Glacier and the beautiful bright blue lake- seriously it doesn't get much better! This trail holds a lot of snow, so either bring gaiters or be prepared to get your feet a little wet. This hike took us two hours round trip with photo stops, but we are relatively fast hikers.
---
7.) Sentinel Pass /Larch Valley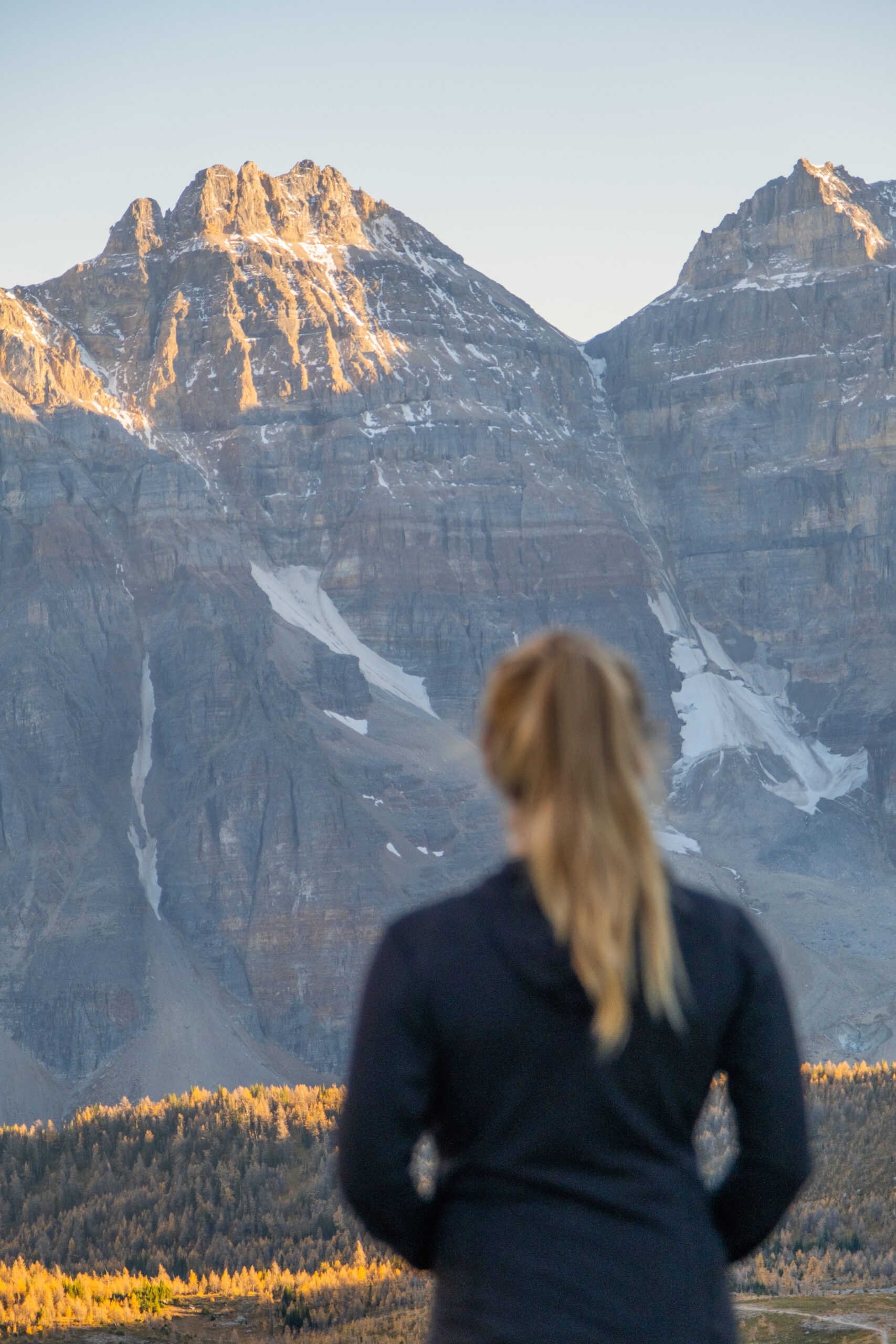 This is the quintessential Canadian Rockies hike. Sentinel Pass is fairly challenging, hugely popular, and offers some of the most stunning natural scenery in Canada.
The pass is most well known and attracts hundreds of photographers and hikers during the larch season in late September. It's during this period the valley trees turn to a bright golden color and the mountains are topped with the first signs of the new season's snow.
It's a soul-stirring scene that can easily be considered one of the best day hikes in the world. The pass ends with access to Mount Temple, but that is a much more daunting task that should be reserved for those who are adequately prepared — it's a very serious mountain.
---
8.) Helen Lake (+Cirque Peak Scramble)
Helen Lake is a beautiful lake along the Icefields Parkway. It's far less popular than nearby Moraine Lake or Lake Louise. While the water is not glacier-fed bright blue it's just as beautiful and quiet.
To get to Helen Lake you must hike in on a moderate trail for 6km (one way). The trail is well maintained and absolutely stunning with views of mountains and blooming wildflowers everywhere! Bring lunch here and enjoy the views.
Due to the stunning alpine meadow views out to Mount Hector the hike can draw a crowd so be prepared for limited parking. From Helen Lake, you can head up to the Dolomite Pass that provides views of Lake Katherine. If you're interested in adding more the climb up to Cirque Peak is great for a first scramble.
---
9.) Lake Agnes / Big Beehive / Little Beehive
The Lake Agnes Teahouse trek is a popular thing to do in Banff for visitors to Lake Louise. This is an easy to moderate hike above Lake Louise that is suitable for all visitors to Banff. When you reach the top of the 7.6 kilometers (round trip) heavily trafficked out and back trail you'll find a teahouse and stunning Lake Agnes.
This is an easy hike that can be done in under two hours and is an iconic thing to do in Banff. However, be warned it is a busy one! To escape the crowds (and get better views) keep climbing to the Little Beehive and then the Big Beehive. Because of their ease and access, these can be some of the best hikes in Banff in October, before it really starts to snow and the trail to the teahouse is closed.
If you're seeking more challenge check out Mt. St. Piran or Devils Thumb scramble. The next step for an experienced scrambler/climber would be to summit Mount Niblock or Mount Whyte (difficult!).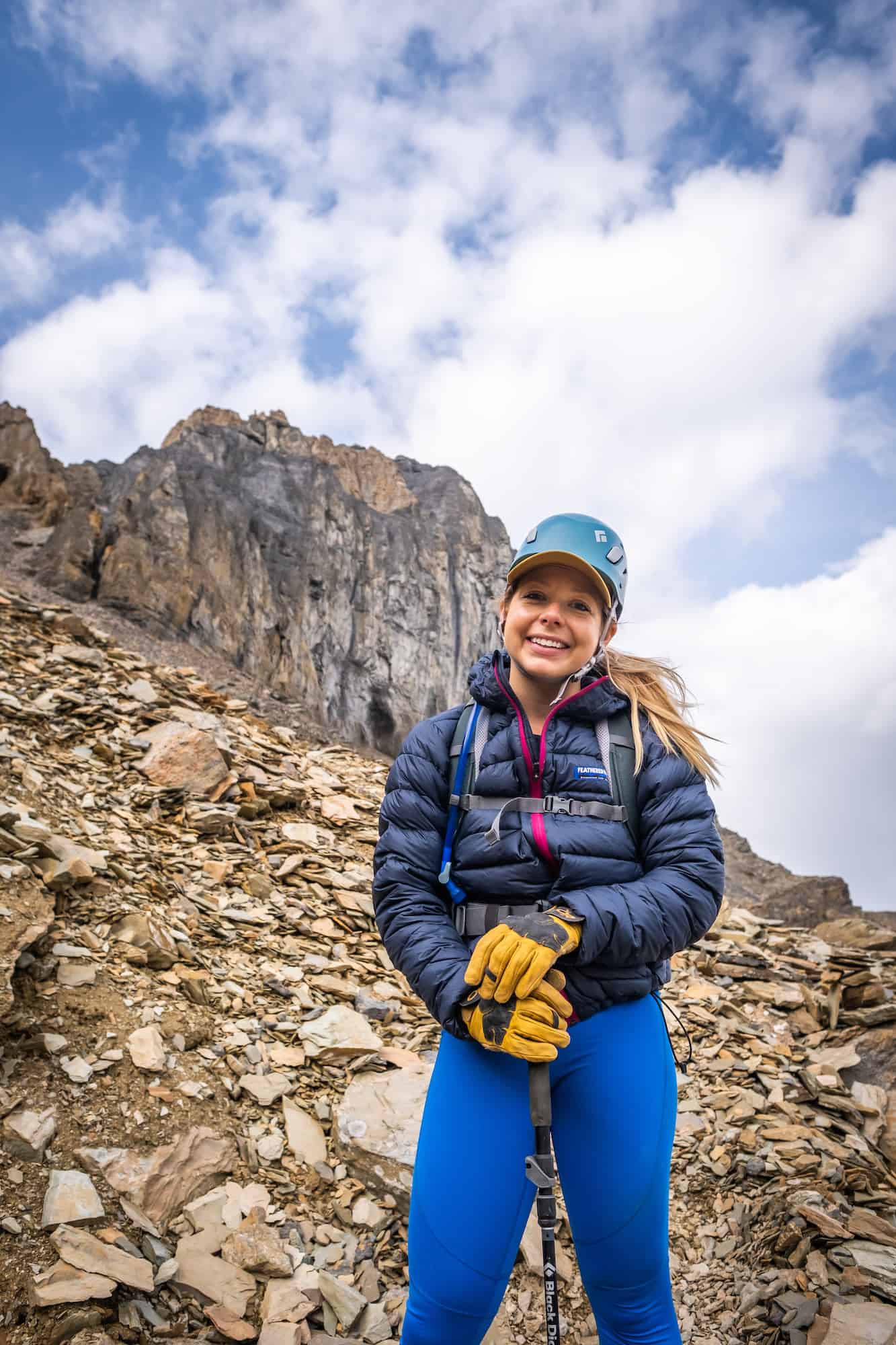 ---
10.) Mount St. Piran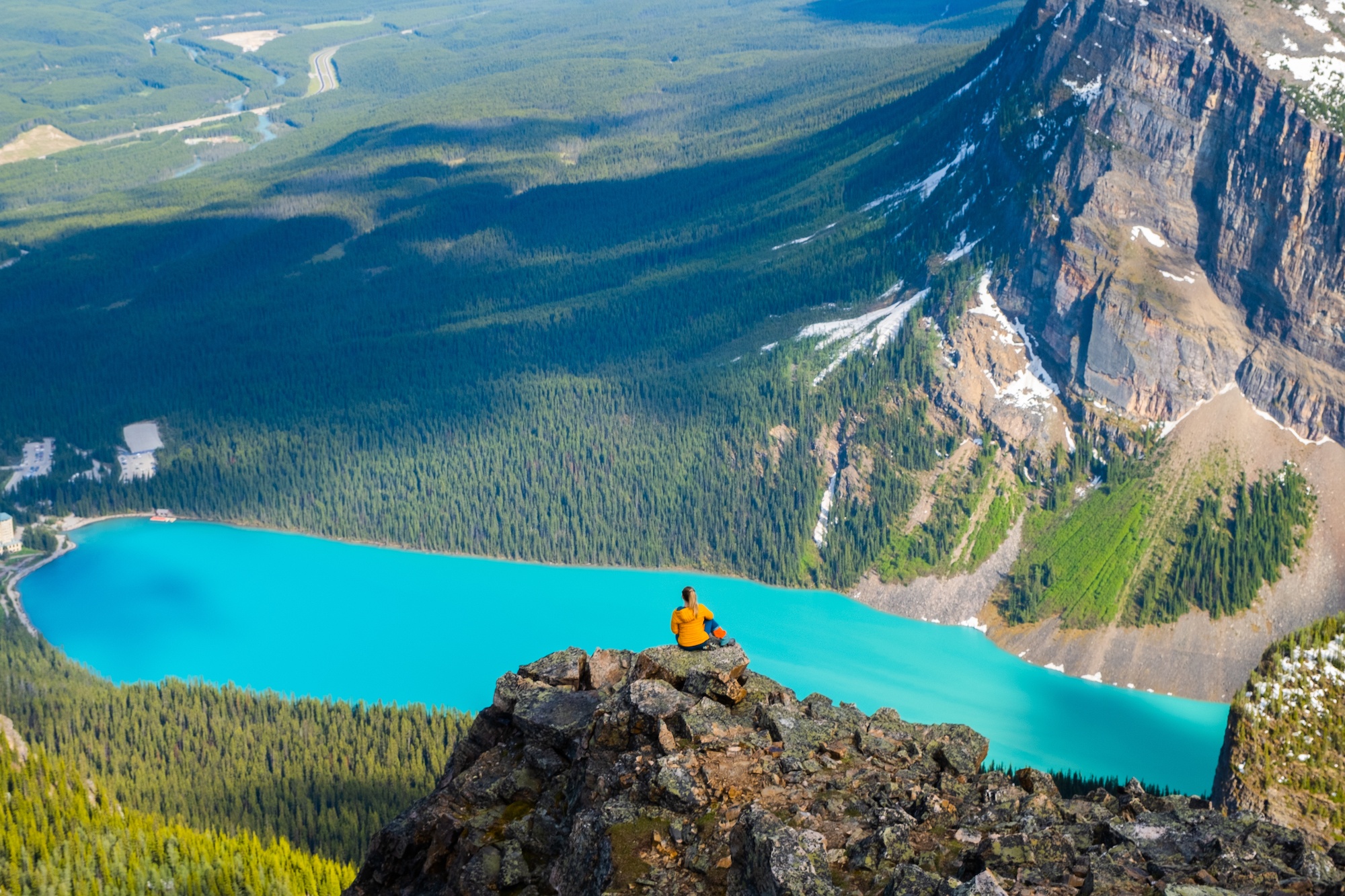 If you've already hiked up the Little Beehive and have time and want a more extensive Banff hike then consider continuing up Mount St. Piran. It's classified as an easy scramble, but there is little hands-on scrambling involved. However, it is steep, but the views are worth it
The route up to Mount St Piran falls between a scramble and hike. It's a good early season objective once the snow melts off the avalanche slopes as there is no exposure to be found on the route. Since the route begins at Lake Louise one of the hardest parts of the day is to secure parking in the morning. There are multiple ways up Mount St. Piran, but the easiest and most straightforward is via Little Beehive.
---
11.) Cory Pass – Mt Edith Circuit
This is one of the more physically demanding hikes on this list Banff hikes, but it very rewarding. You'll need decently strong legs to climb to Cory Pass as it's a bit of a grind up with a quick elevation ascent. Once in the pass, the mountains encompass you and leave you humbled by the scale.
There is an option to scramble to the top of Mt Edith before walking around the mountain and back down. All together this hike offers some promising views and a demanding hike that is just outside of the town of Banff.
---
12.) Wilcox Pass
Wilcox Pass offers mesmerizing glacial views and towering mountains. The hike flank either side of Mount Athabasca and Andromeda two of the tallest mountains in the Canadian Rockies, it is pretty much at the border between Banff National Park and Jasper National Park.
Hikers can also expect a nice smattering of wildflowers or the chance to spot mountain goats and bighorn sheep.
---
13.) Plain of Six Glaciers
This is an incredible hike that starts out strong with a walk along Lake Louise and finishes in an open plain of glaciers. To sweeten the deal the historic Plain of Six Glaciers teahouse is there to reward hikers with a cup of tea or a fresh-baked goodie. It's a stunner of a hike with a whole bunch of reward vs effort.
At one point this massive valley was the convergence of six glaciers that have all since retreated due to warming temperatures. All that is left now is the monstrous debris field that will leave hikers in all of their earth shaping capability. It's also possible to combine this hike with the Lake Agnes / Big Beehive hike for an incredible day in the mountains.
---
14.) Bow Glacier Falls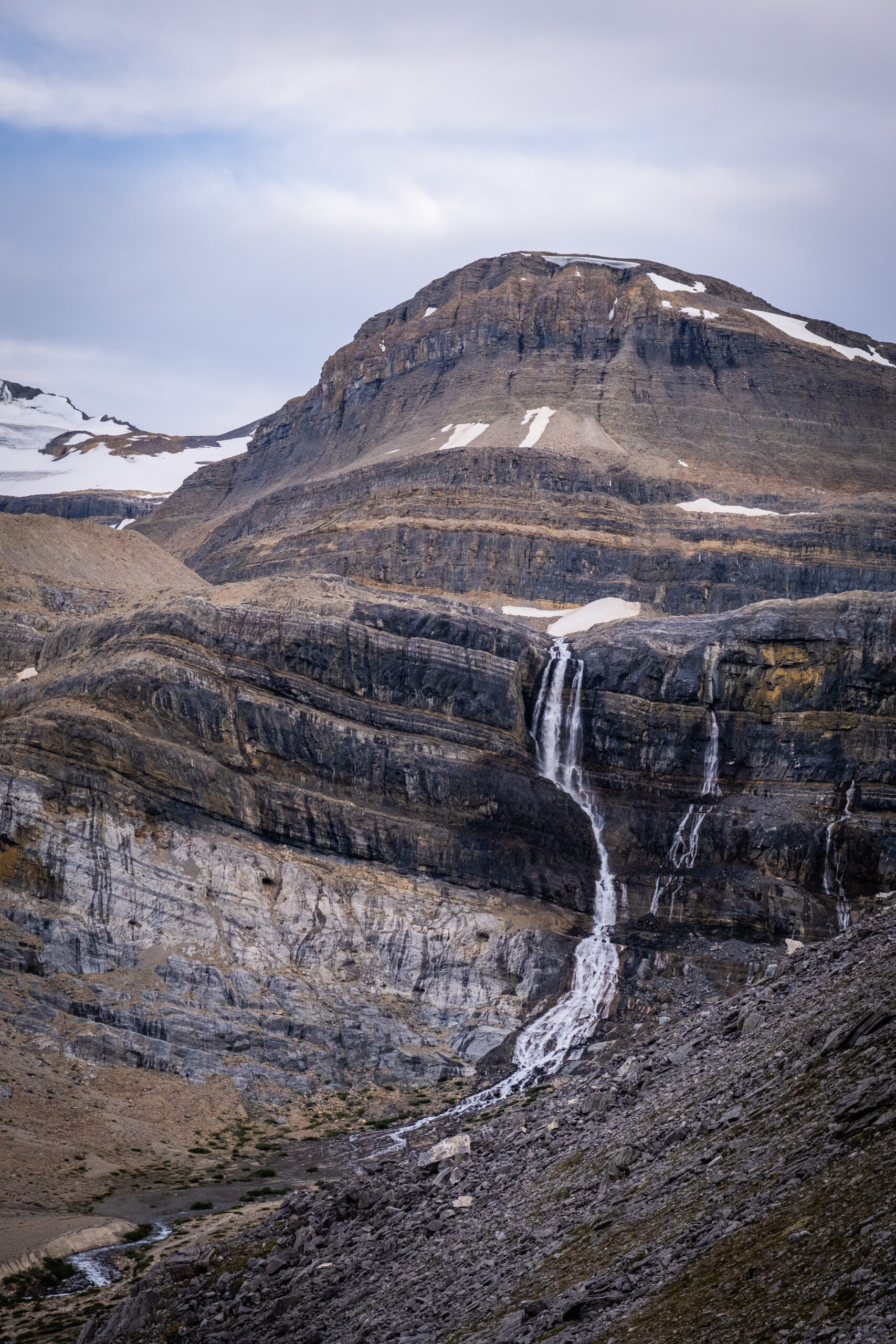 Hike to the origin of the Bow Glacier Falls for some outstanding views and a gorgeous waterfall. It's a pretty relaxed hike that spends the majority of time along the shoreline of Bow Lake.
However, the views from along the Bow Lake are spectacular and at its finish hikers witness the birth of a vital river in Alberta from the Wapta Icefield high above. It's a great hike for those driving the Icefields Parkway as it only requires a few hours and gives a chance to stretch the legs.
---
15. ) Johnston Canyon / Ink Pots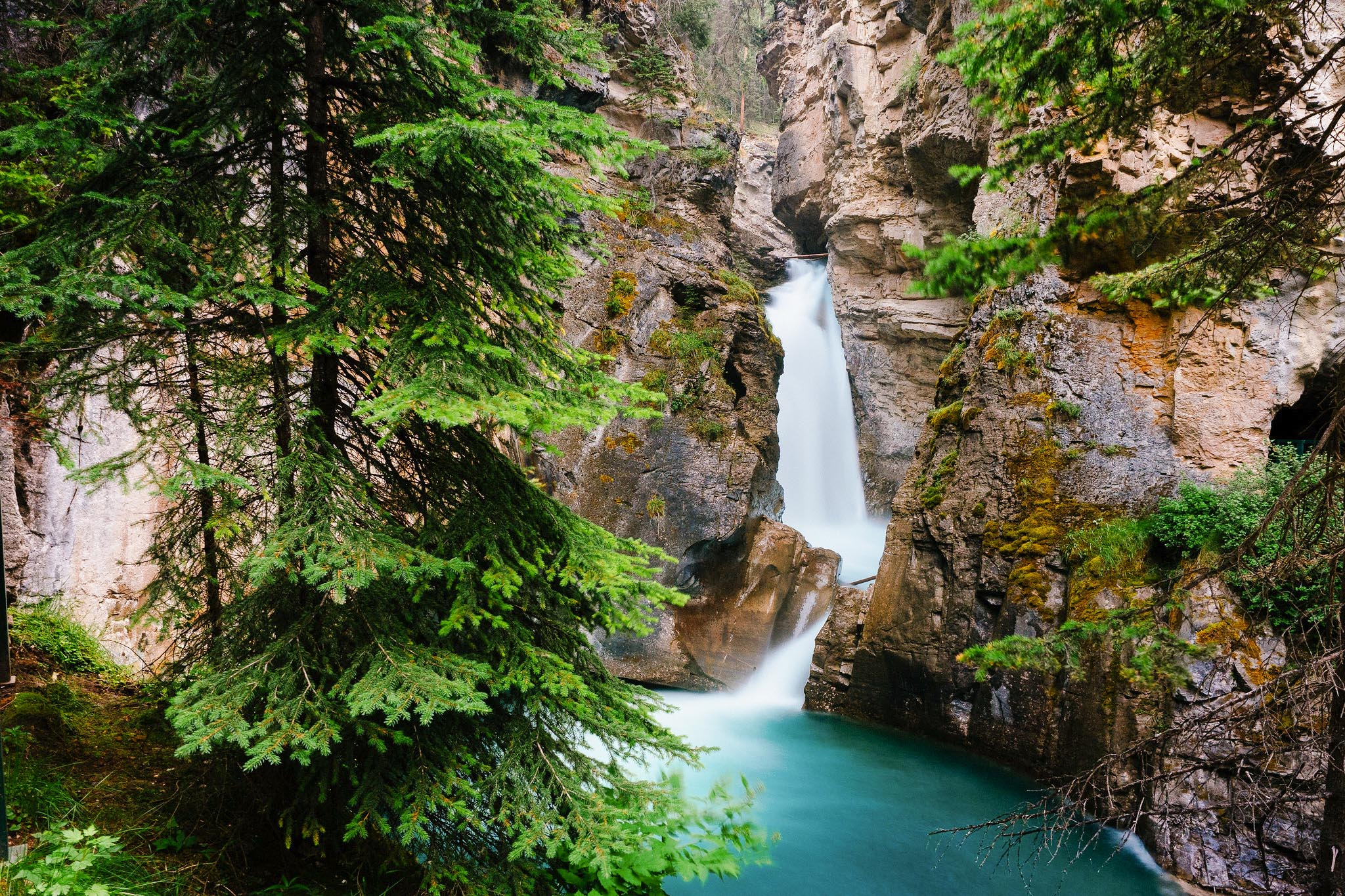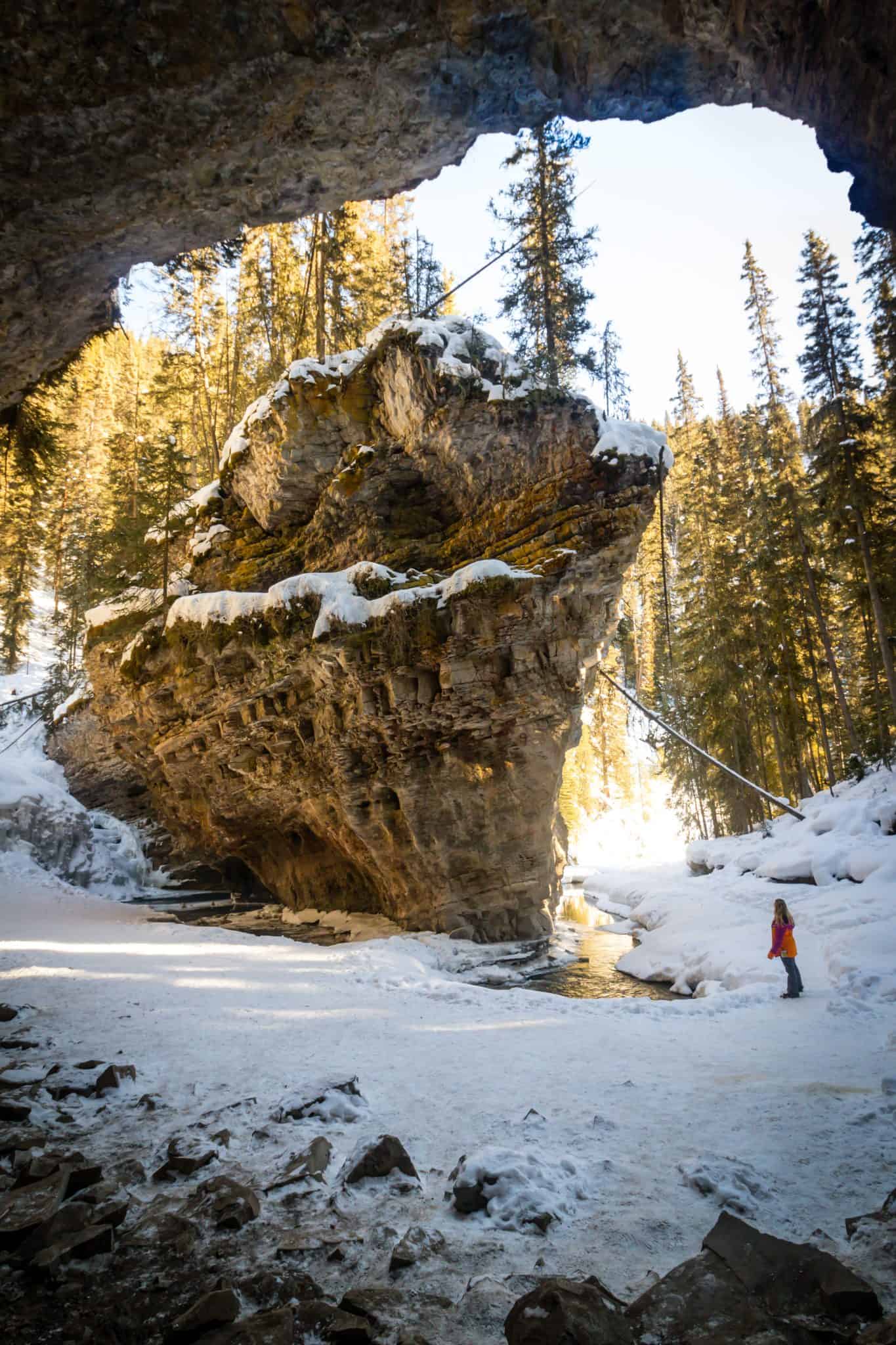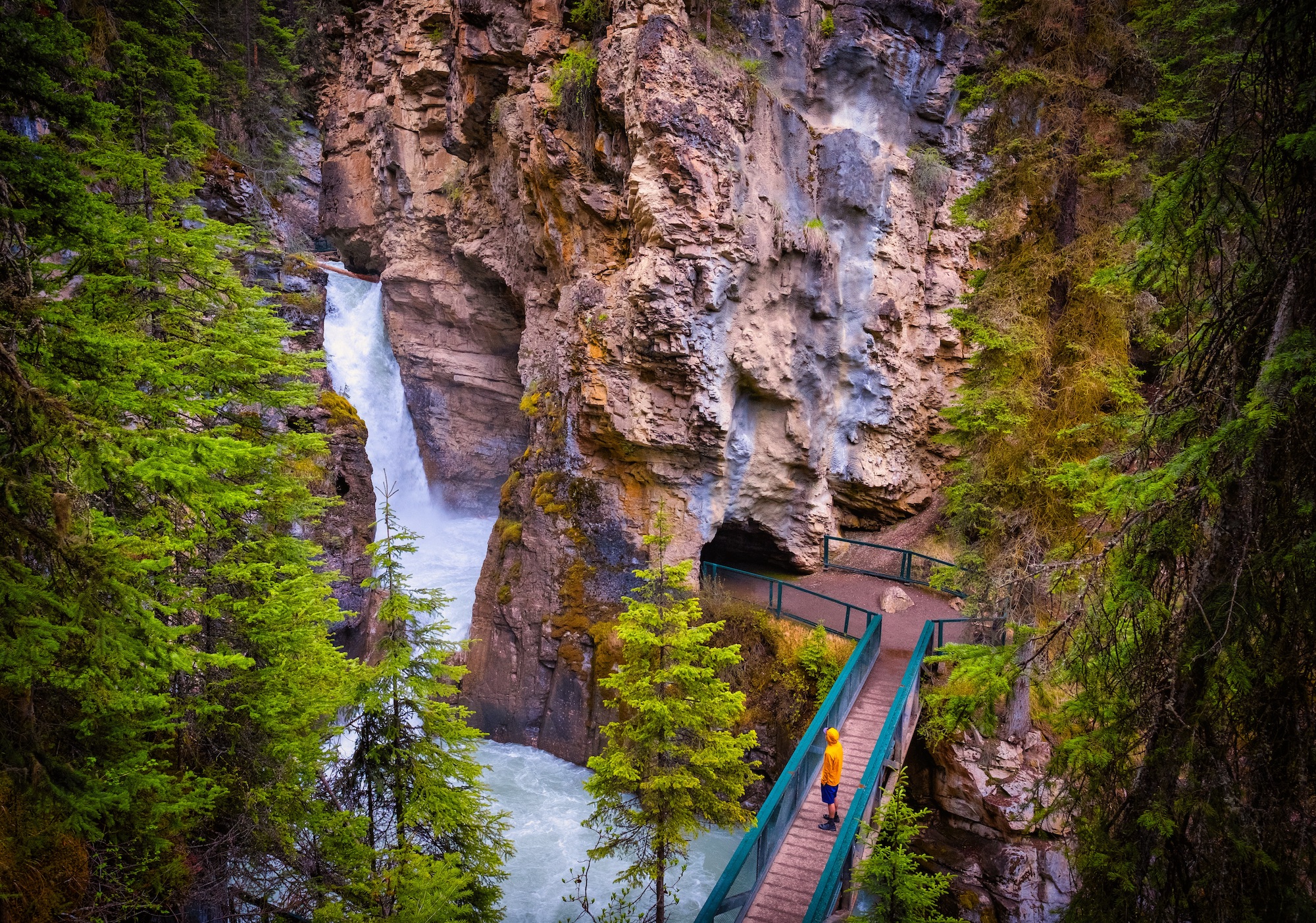 The Johnston Canyon walk is the best thing you can do in Banff in the winter or summer for free. In the winter it's truly magical and has fewer tourists (but still busy). Have you ever stood on a frozen waterfall before? Neither had we until the Johnston Canyon hike. Due to the elevation of the region and the sub-zero temperatures of winter the waterfalls of Johnston Canyon freeze in time. It's a pretty surreal experience and completely accessible for all.
As a tip, we suggest picking up some ice cleats in town if you visit Banff in the winter. Although the trail is well managed it can get icy and it's better to slip everywhere on the trail – ours were very handy! Once you reach the end of the trail and the most impressive frozen fall you'll probably find some ice climbers. If you're feeling adventurous book an ice climbing tour yourself.
The summer is a completely different experience and nice to watch the waterfalls in motion. It is one of the easiest hikes you can do around Banff, with a well-maintained trail that is suitable for all ages. If you want to make a bit more of a day out of the hike make sure to continue on to the Ink Pots. An added journey that is well worth the effort as it separates from more of the crowds and offers amazing views out to the surrounding mountain ranges.
---
16.) Consolation Lakes Trail
This is a family favorite as it can be paired with the Moraine Lake Rockpile and it's pretty easy with a little elevation gain. It's a nice step up from the Lakeshore Trail as it the terrain is more difficult with greater elevation gain and a short section that crosses over a boulder field.
Along the hike, you get views of the scree slopes from the Tower of Babel. The hike passes through the old-growth forest before arriving at an alpine field and wetlands with the consolation lakes at its end. From the lakes, you get tremendous views of the backside of the Ten Peaks Mount Babel and Mount Fay, topped by glaciers.
---
17.) Rockbound Lake
Rockbound Lake is one of our favorite hikes in Banff because it's easy to find some peace and quiet if you climb up past the lake. The views also continue to open up and provide some jaw-dropping views of the Bow Valley.
The trail spends a lot of time in the forest, but once you ascend a series of steep switchbacks you arrive at Tower Lake and the views really open up. Further past another series of switchbacks you arrive at Rockbound Lake that is flanked by steep cliffs and looks out to extraordinary views.
For a truly epic day, you can summit Castle Mountain by continuing past the lake or Helena Peak. That being said it's a demanding day at 27km and 1,540 meters of elevation gain. It also happens to be one of my favorite day trips in the Rockies and an easy scramble.
---
18.) Moraine Lakeshore/ Rockpile
The Rockpile trail brings you to the aptly named "Twenty Dollar View" because it is the scene used on the former twenty dollar bill and shot by almost every photographer. We like to consider it one of the best views in the world. Moraine Lake's deep blue is backed by the famed Ten Peaks, ten towering snow-capped peaks. However, the Rockpile and the lakeshore trail aren't much of a hike.
It's a short walk up to the top of the rockpile a natural dam. The trail switchback along the backside of the rocky moraine. There are a number of stone and log steps that make it accessible to most able-bodied people. Keep an eye out for pikas and chipmunks that are frequently seen darting in and out of the rocks.
While the Lakeshore Trail begins from the Canoe docks, it's a flat trail that works its way along the shoreline of the lake and back. It's a wonderful trail that moves in and out of the forest with great views of the lake and mountains.
You'll be shocked at how few visitors to Moraine Lake go just a little further hike along one the easiest Banff trails in the area. At the end of the hike is a boardwalk near the waters flowing down from Wenkchemna pass.
---
19.) C Level Cirque

A short, but rewarding hike near Banff is C Level Cirque. C Level Cirque starts near Lake Minnewanka and Two Jack Lake, it's a steady incline to the amphitheater which should only take about 45 minutes.
You can stop here, but the views over Lake Minnewanka start when you climb higher. Follow the trail around the amphitheater and up for about 45 more minutes until you reach the rock wall.
We love to do this hike when we're short on time as you can get it done in under three hours and close to town. The perfect way to end a workday in the summer. It's great for families and older visitors to Banff. This is a 9 km out and back trail which can get very busy on weekends in the summer.
---
20.) Banff Bow River Trail
This is a classic walk/hike within the town that highlights the pristine wilderness and natural beauty that surrounds the town of Banff. It's perfect to do in the morning with coffee, after dinner, or if it's raining in the park. It's great for beginners or those who are not as able-bodied — you could even push a stroller or wheelchair along the paved paths.
It starts from the center of town loops through the Cascade of Time Garden and then follows the river to Bow Falls before ending at the Banff Springs Hotel — at least that's our version! The Bow River is gorgeous and it's a good walk any time of the year. The river is also a prime habitat for elk when they birth their young in the early summer as they like to hang around town — less snow and more grass.
---
21.) Chephren Lake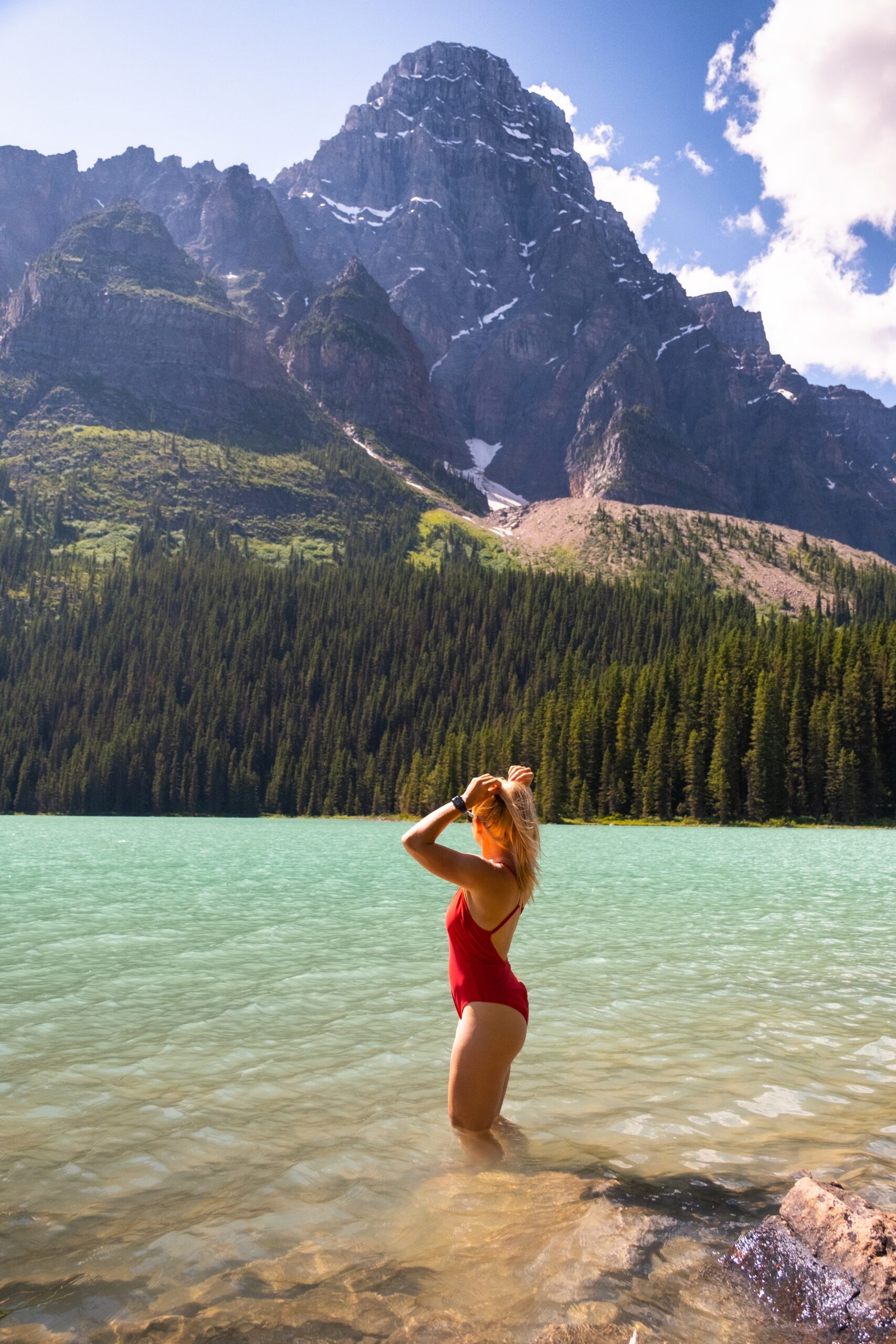 Chephren Lake sits above the Waterfowl Lakes along the Icefields Parkways and offers some stunning views of the glaciated surrounding peaks. Lakes here are also that famous glacier blue without the crowds of Peyto, Louise, or Moraine. The trail weaves through the woods and ascends a couple of hundred meters before opening up the stunning glacier lake. It's an easy and mellow objective the whole family can do, but bring good shoes, the trail can be extremely muddy!
---
22.) Lake Minnewanka Lakeside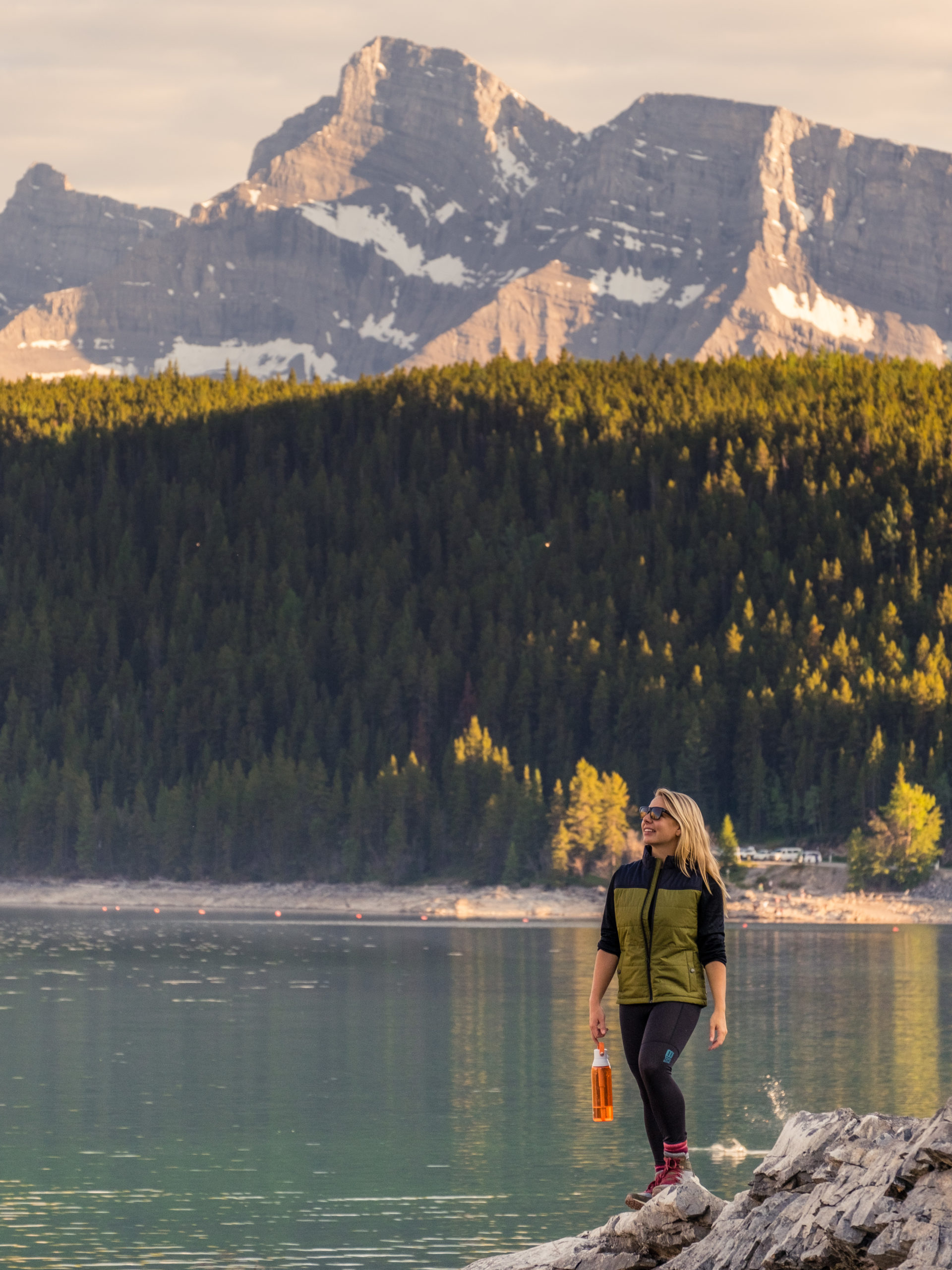 Take a hike along one of Banff's largest lakes. It's one of our favorite places to spend some time. This hike is great for at least three seasons as it stays low in elevation along the lakeside of Lake Minnewanka. The great part about this trail is that it can as challenging or as easy as you'd like since it follows along the lake. Naturally, the further along the lake you hike the more quiet it becomes.
---
23.) Sulphur Mountain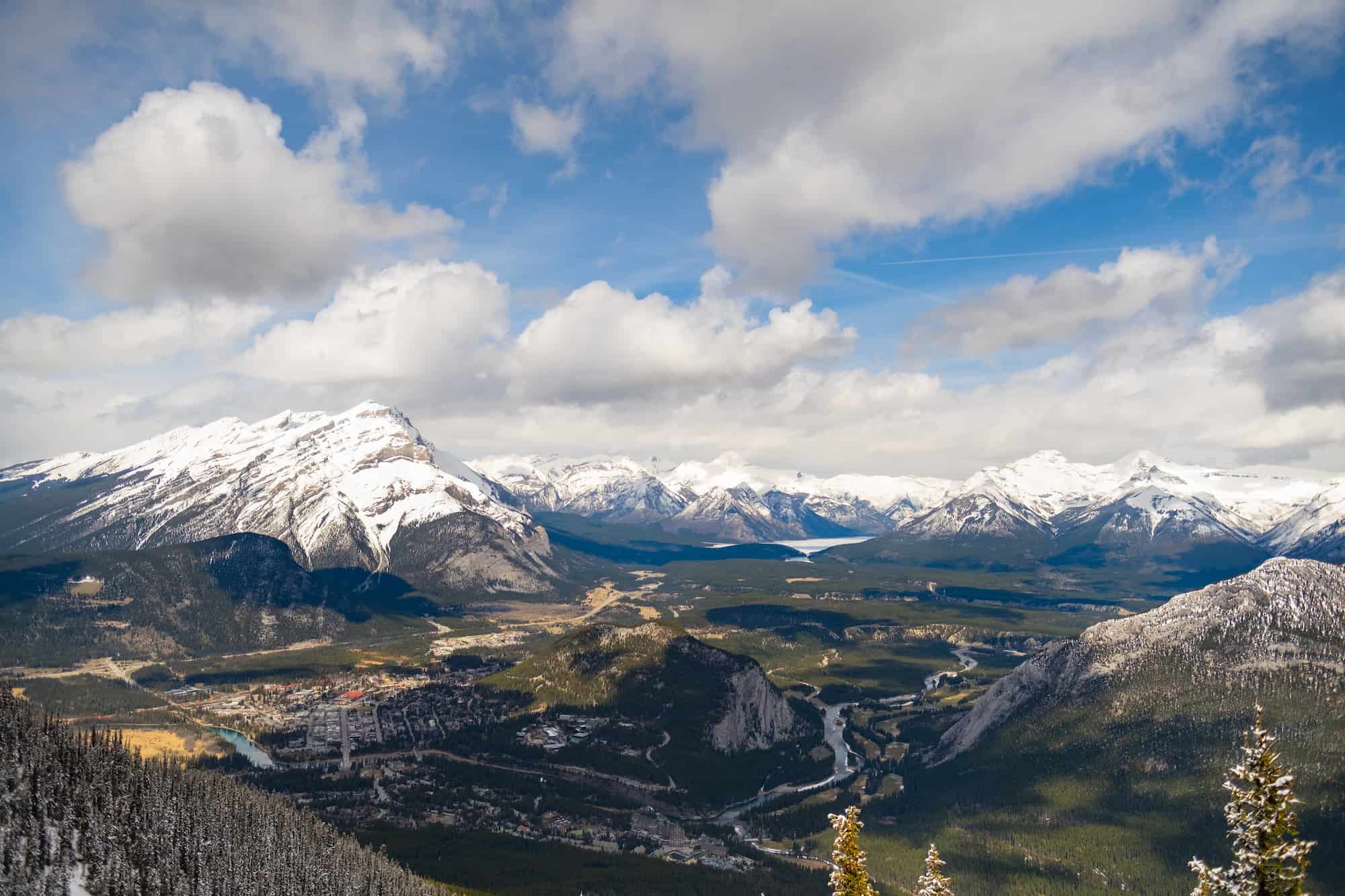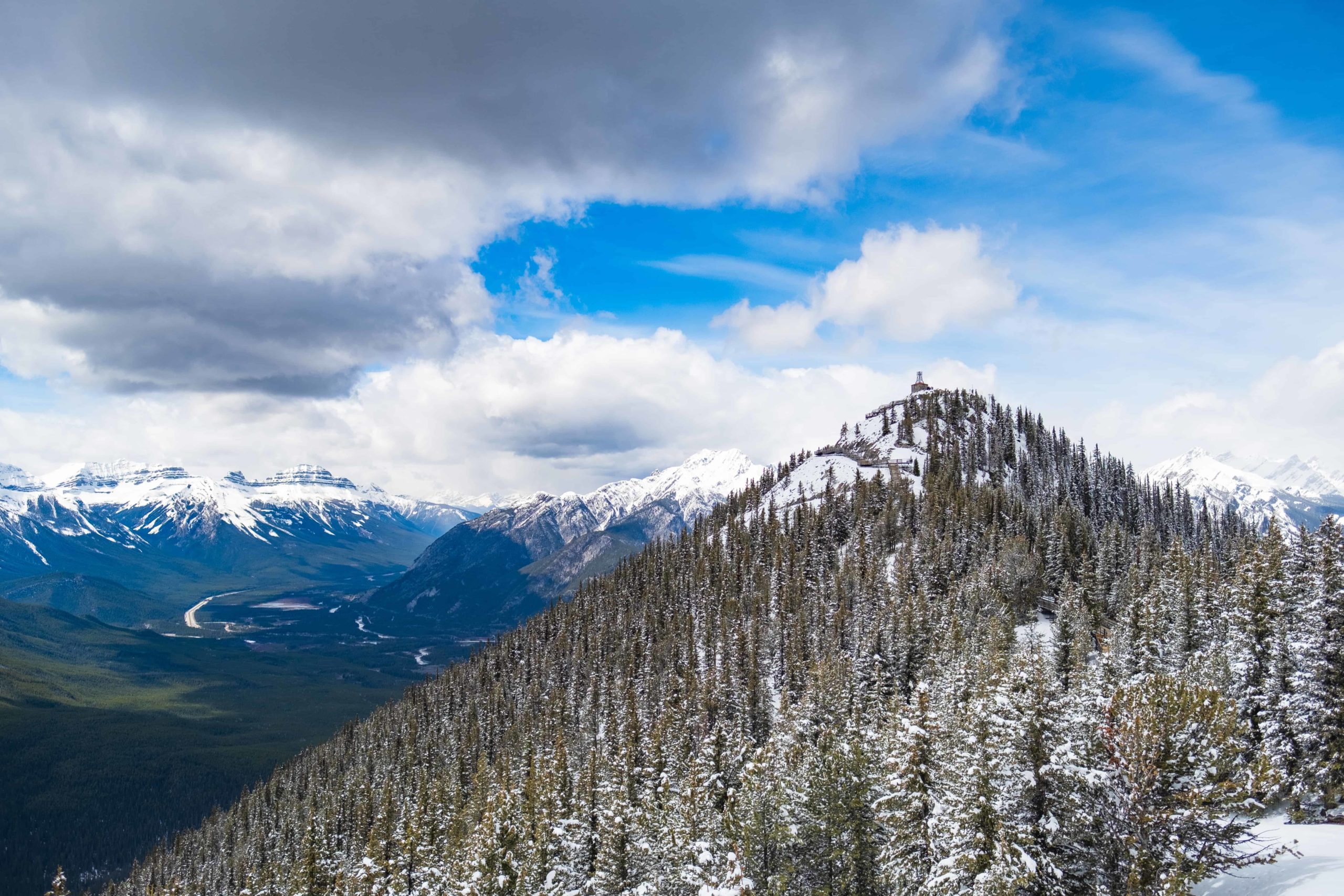 Sulphur Mountain is easily one of the most popular hikes in Banff National Park. It's a beautiful hike up that provides visitors with astonishing views over the Bow Valley and Spray Valley. The trail leaves from the Banff Gondola or Hot Springs parking lots and follows a series of switchbacks up Sulphur Mountain until reaching the Gondola Station. Follow the boardwalk along the ridge to the peak and stunning views out across the valley and Banff.
In the winter it's free to take the Gondola back down so it's a great way to get some exercise without having to walk back out. Due to it's proximity to Banff town, and the fact that you can take the Banff Gondola up to the peak instead of sweating it out on the trail means that Sulphur mountain becomes very busy, particularly the peak.
---
24.) Taylor Lake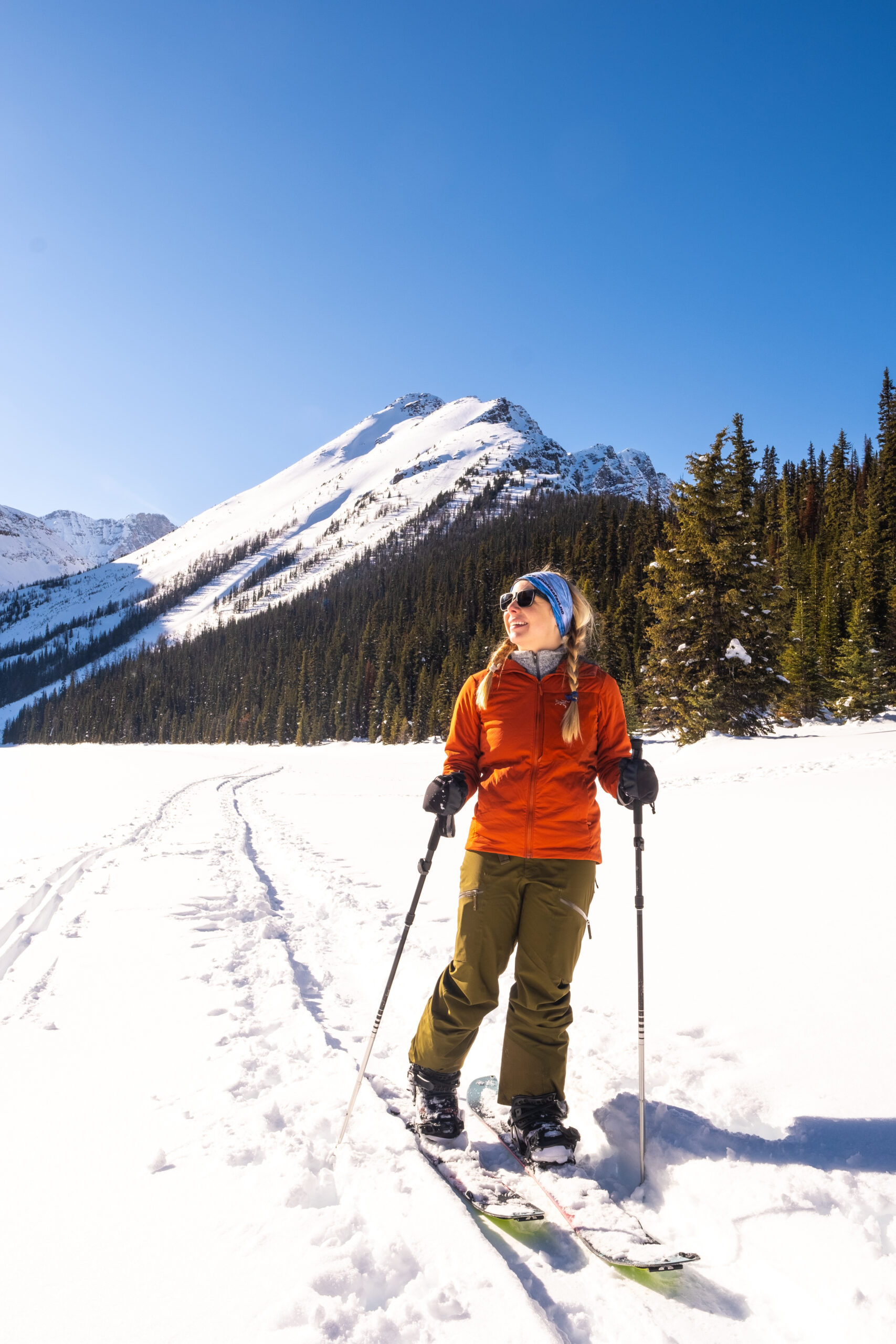 Taylor Lake sits at the base of Mt Bell and opens up to some spectacular views. It's a really serene place and a fantastic day out in the mountains for active visitors who come to Banff. It's a pretty boring hike until you reach the lake itself, but once you get there you'll be surrounded by amazing views, it's especially beautiful during the larch season when the whole area turns yellow.
Continue on the trail and enjoy the nearby Panorama Meadows as the widely spaced trees and elevation provide some great views of the valley down below. During the weekend you may find it hard to get parking as space is limited. As mentioned the other downside to this hike is that the vast majority takes place in the forest so there isn't much for views until the end. It's a great payoff though! Taylor Lake is a great hike year round – the above photo was taken in March!
---
25.) Skoki Area
Although the Skoki area is right next to Lake Louise ski resort and literally across the TransCanada from Lake Louise and Moraine Lake it is far less frequented or even heard about than the other two areas. But if you go on this adventure to hike back to Skoki Lakes and the peaks in the area you will be amazed by the scenery.
Start at the car park area for Skoki Lodge near Lake Louise Ski Resort. The start of the hike is pretty boring as it trails along a ski-out road until you reach the Larch side of Lake Louise. Once you reach the chairlift the real fun begins as you hike along easily trails coming across mind-blowing larches and impressive peaks.
There are tons of Banff hiking trails and mountains to climb once you get back here, including Mount Richardson and Brachiopod Mountain, which are both fantastic. However, I found the most amazing views to be around Myosotis Lake and Zigadenus Lake. This is easily one of the best larch hikes in Banff, and I would highly recommend saving this area until the trees turn yellow in late September.
---

Amazing Banff Scrambles
If you are a good hiker and want to try something more challenging try your hand at scrambling. Scrambling is a walk up steep terrain involving the use of one's hands. Three points of contact with your body is typically needed to classify a hike as a scramble. I love scrambling as it's more challenging than hiking, and it's typically required to access some of the big peaks in the Rockies.
It's a very popular sport in Banff, but it should not be confused with hiking. Some scrambles are dangerous and you should have proper experience with harder hikes and maybe even some beginner scrambling. August is the best time to scramble as most of the snow has melted off the mountain peaks.
When I rate the difficulty of these scrambles, I am referring to how difficult the scramble is as far as scrambling terms. This means is there exposure, and how experienced should you be. The difficulty scale here is not the same as the difficulty on a Banff hike.
---
26.) Devil's Thumb
While physically it's not much harder than the Big Beehive, The Devil's Thumb is classified as a scramble. Albeit a very easy one and a great place to start for the adventurous to test their skills. From the Big Beehive hike (mentioned above), this departs from the trail on the way to the overlook and heads along the ridge and then up a gully to the top of Devil's Thumb. It's a great choice for the adventurous looking for something more out of their Lake Louise hikes.
The gully up to the top of Devil's Thumb can be busy, steep, and contain loose rock, for this reason, we recommend wearing a helmet. You never know if an inexperienced hiker above you is going to launch a rock down the gully – hikers have been hurt here from this! It's also why we would recommend an early morning approach or late afternoon when it's quieter.
---
27.) The Onion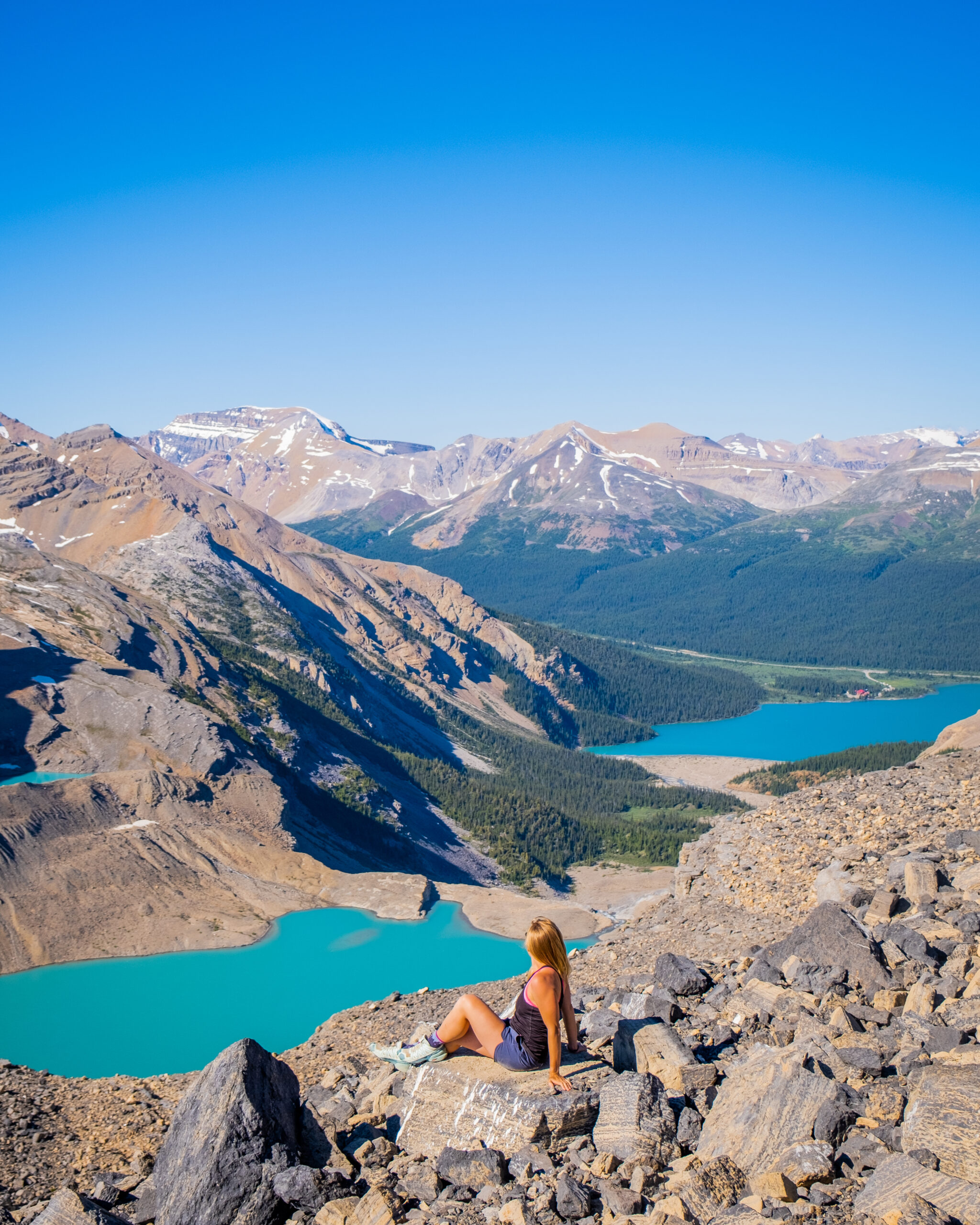 There is no shortage of Banff hikes and scrambles along the Icefields Parkway that offer views of craggy peaks topped by glaciers, and the Onion scramble is no exception. The Onion was one of my favorite days out this past summer as the views are insane. It's also a hike with not a lot of intel and not mentioned in any scrambling books or even on Alltrails.
The scramble up to this unofficial peak places right next to the Wapta Icefield, the source of the Bow River. Expect to see glaciers, waterfalls, lakes, tarns, and unique rock formations. Easily the most varied and awesome scramble on this list, and not technical!
---
28.) Mt. Jimmy Simpson
Right near The Onion scramble at Bow Lake is Mount Jimmy Simpson. This was another one of my favorite scrambles of the entire summer, meaning I'm going to be heading back to Bow Lake a whole lot more next summer.
The scramble up Jimmy Simpson is a long one, and is best left to the more experienced as there is some route finding involved. Nevertheless if you up for the adventure you will be rewarded with some of the best views over the Icefields Parkway, Bow Lake, and even Peyto Lake that you can get.
If Mount Jimmy Simpson is a little too long of a day for you, you can always consider bushwacking up to Jimmy Simpson Jr which has much less elevation gain and distance involved.
---
29.) Mount Little Hector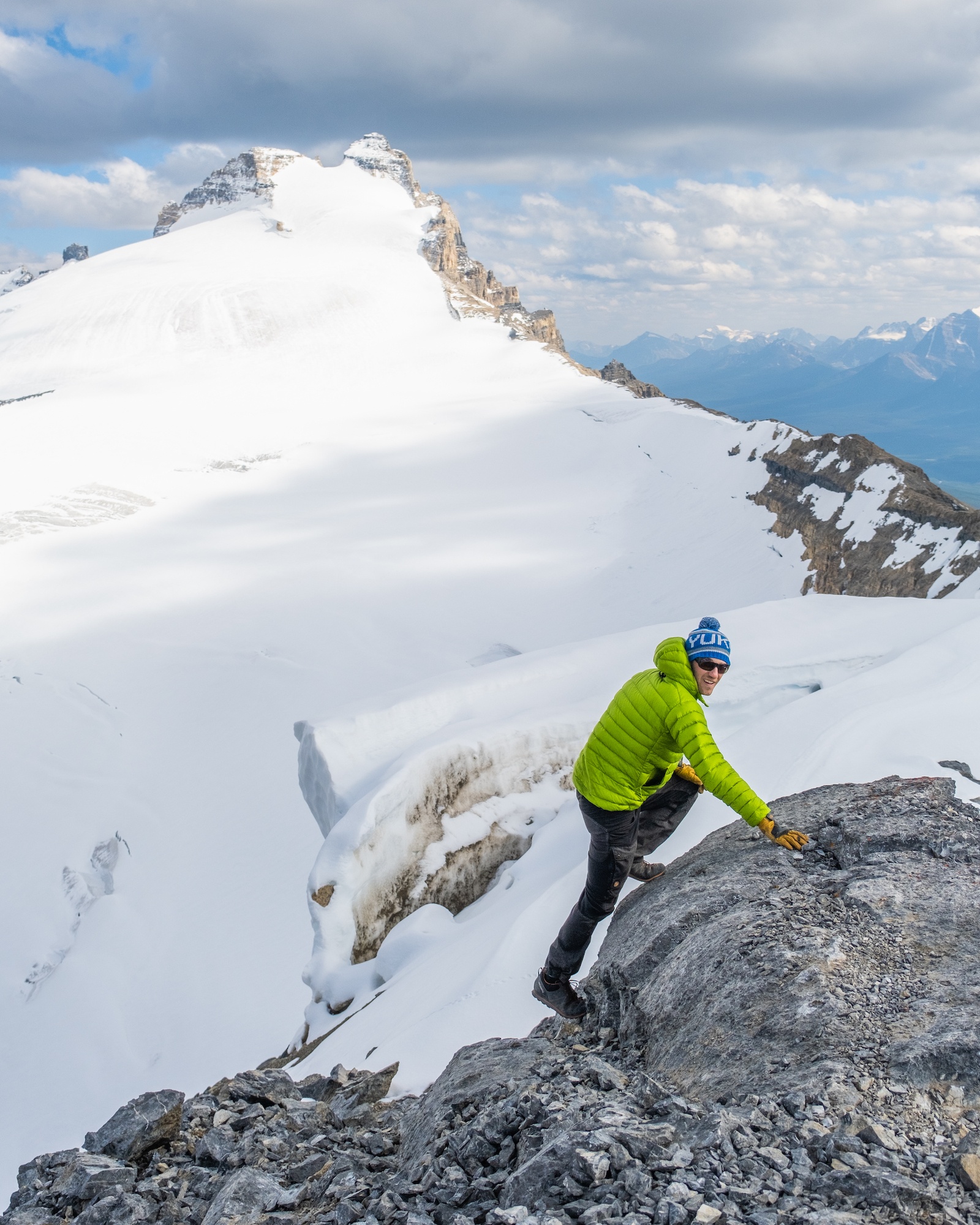 Another fantastic scramble on the Icefields Parkway is Little Hector. However, make no mistake Little Hector is not little at all and will require you to gain almost 1300 meters in less than 5km. That means it is steep, but it's a fun scramble with amazing views at the top.
There is actually view little actual scrambling involved, but the sections that do require at least three points of contact do require some experience as a fall would result in a likely break. That being said there isn't much exposure on the route and looking back at Hector Lake and ahead at Mount Hector sure does take your breath away.
---
30.) Cascade Mountain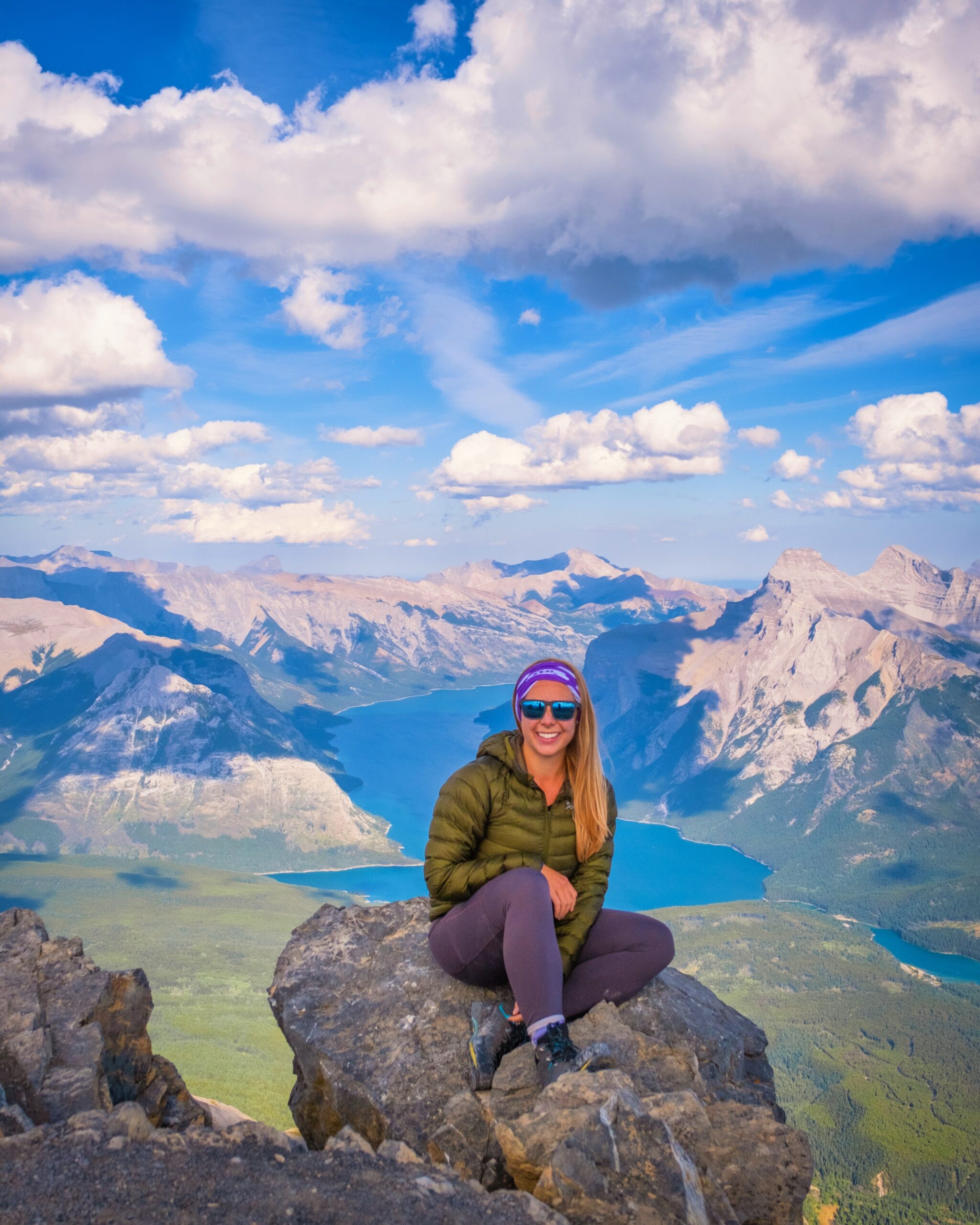 Cascade Mountain towers over the town of Banff and has been on every postcard of Banff National Park for years. It's beautiful to look at, but you don't just have to stop there!
Did you know you can actually climb Cascade Mountain? It will require work and a long 20km day with a lot of elevation gain, but the rewards are fantastic views over Lake Minnewanka and the glory of saying you summited Cascade! It's not the most exciting hike you can do in Banff but it is easily accessible from the town if you don't want to venture far. Plan a full day for Cascade Mountain and pack appropriately, this is a serious mountain and should not be taken lightly.
If it's your first hike in the Canadian Rockies I would not suggest Cascade. It's long, has a lot of elevation gain, and there are a few hands-on scrambling points throughout the hike. We met a lot of people on Cascade that had never hiked before, and don't think that's such a good idea for such a big mountain. However if you've been hiking in the Rockies and are looking for a longer objective Cascade is a good one.
---
31.) Tower of Babel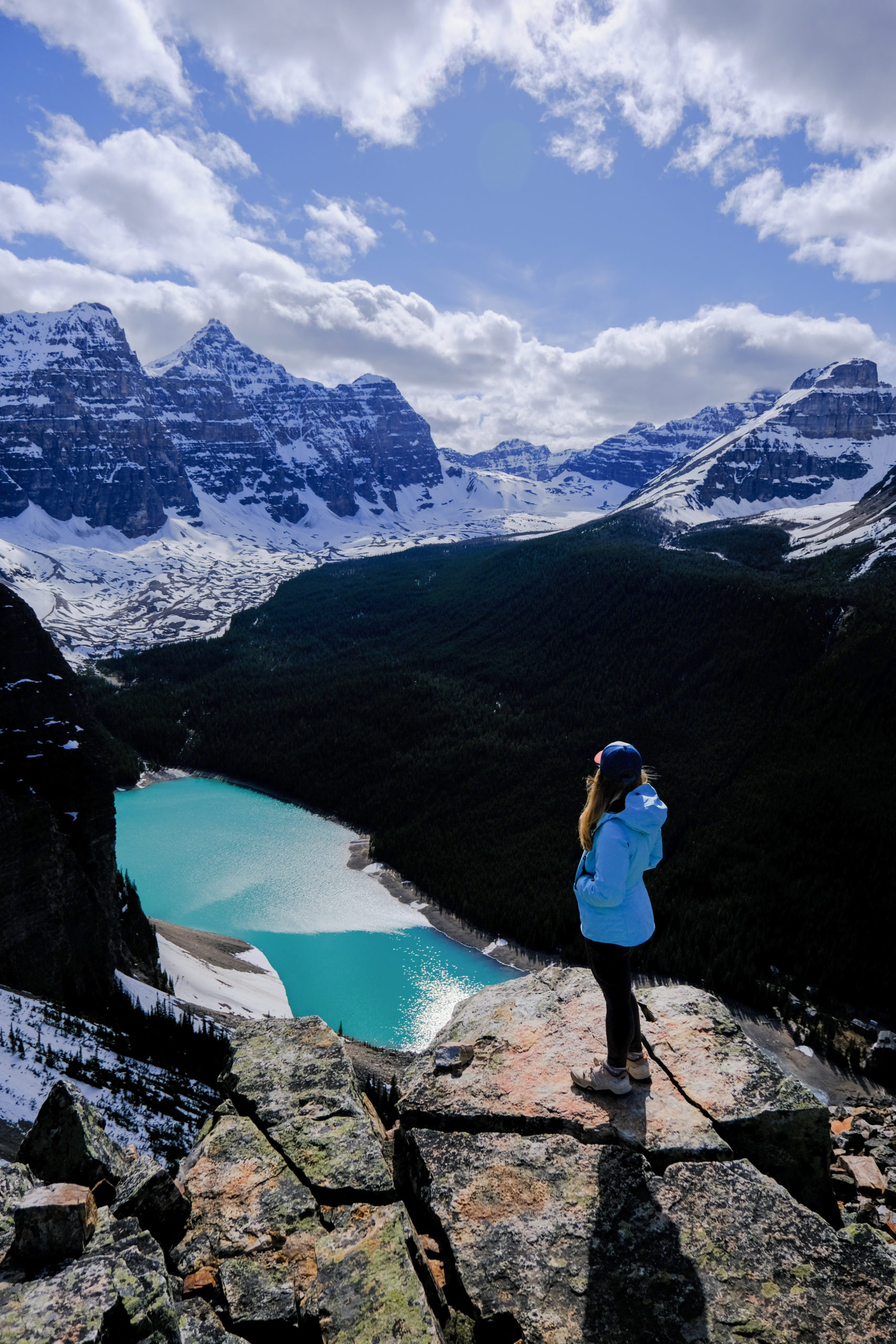 Tower of Babel is perhaps the most well-known scramble around the Lake Moraine and Lake Louise area. It's a quick objective with awesome views too of Moraine Lake, Consolation Valley, and the Bow Valley. Tower of Babel is a sub-peak. However, just because it's a quick one does not mean it is easy – actually, it's quite intimidating, as it's literally almost straight up.
We had Tower of Babel on our objective list last summer, but due to parking struggles at Lake Moraine we were never able to complete it. However, last summer we were finally able to check this Banff scramble off and can say the views of Moraine are impressive.
---
32.) Observation Peak
Have you heard of the Instagram famous Peyto Lake? Most visitors park in the nearby parking lot and walk up an easy 10 minute maintained path to see it in the summer. However, those looking for an alternative more adventurous way to see Peyto Lake and the rest of the beautiful Banff National Park should consider the scramble up to Observation Peak.
Observation Peak is a moderate scramble that can be done in half a day. It is one of our favorite scrambles in the Canadian Rockies as it provided an excellent workout, stunning views, and little to no other visitors. You get unparalleled views over Peyto Lake and the Icefields Parkway, however there are some intimidating scramble sections that require experience scrambling in the Rockies.
---
Then, There's Always Kananaskis!
This list was just Banff hikes, but there is so much more in the area such as Yoho National Park and the Provincial Park Kananaskis Country. Both are home to some of our all-time favorite hikes and scrambles in the region. To learn more, we've got a post on our favorite hikes in Kananaskis Country here. There are so many hikes around Banff to explore.
---
Advice on These Best Banff Hikes
If this is your first time hiking in the Rockies take a conservative approach. Pick an adequate Banff hike for your fitness, plan for plenty of time, pack water and food, and don't be afraid to turn around. If you want to learn more about what to wear hiking we have a great post.
For long Banff hikes, set a turn around time at the departure. Any time we set out for an objective I determine a time at which we need to turn around in order to arrive at the parking lot or campsite by dark. I would recommend not hiking in the dark as it's easy to get lost and it's not fun in bear country. Read up on our best tips for hiking in Banff here.
On that note, always carry bear spray on these Banff hikes. We carry ours in the neighborhood and bears have been known to stroll through town and busy parking lots. Always practice wildlife awareness when you're on a trail, and please give animals space.
In regards to times keep in mind your mountain fitness — different than the gym. The low end of the times in this post is a constant fast pace uphill with little to no breaks and a brisk pace downhill. Most hikers should plan for a middle of the road time with the estimated duration.
It's also super important to know that there are limitations and to come prepared. These are very serious mountains and it easy to get in well over your head with life-threatening consequences. That being said, all of these hikes should pose no risk if you stick to the trail.