Mount Athabasca looms over one of the most popular attractions on the famed Icefields Parkway, but only a few get to see the view from the top. To reach the summit requires a long hike to a technical glacier crossing and then up an exposed face or couloir. The views are breathtaking in more ways than one. From the top, you can spot countless glaciers, icefields, and many of Alberta's highest peaks.
The peak is one of many in the Canadian Rockies famous for reaching an altitude of 11,000 feet. Many climbers in the Rockies have the lifetime goal of summiting all 54 (58) of the peaks, and they are considered classic mountaineering objectives. At 11,453 feet in elevation with a massive glacier and convenient location, Athabasca proves to be a tremendous first "11,000er." With no experience we needed some trusted guide to reach the peak, Yamnuska Mountain Adventures was there to get us to the top.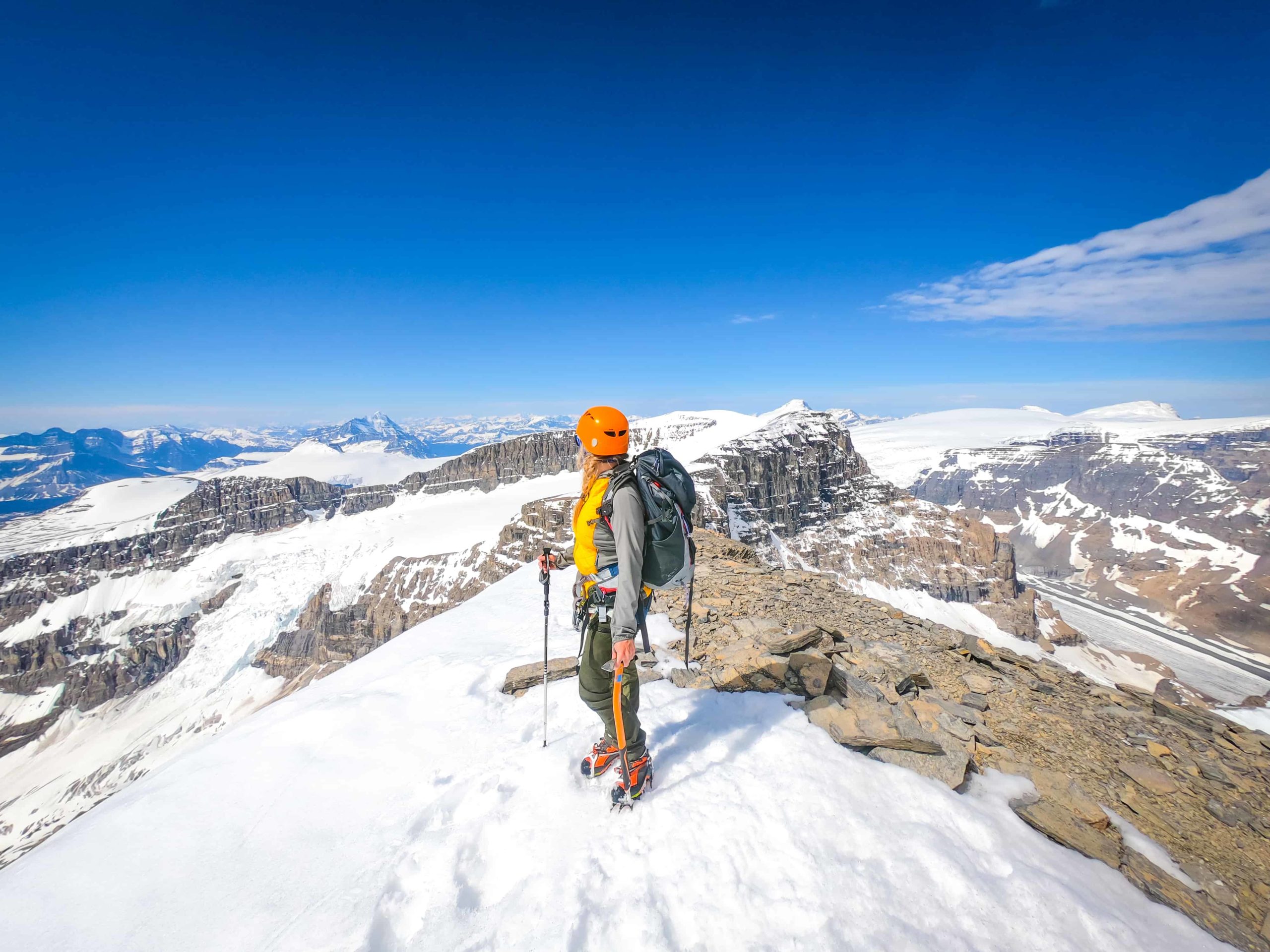 ---
Mountaineering Course: Snow & Ice Long Weekend
Everyone has to start somewhere, and we are not from the mountains and have no prior experience until moving to Canmore. With any sport, especially a sport such as mountaineering with high risks requires training and experience. We turned to the experienced guides of Yamnuska Mountain Adventures who have been guiding clients in the Canadian Mountains for 40 years to learn more about travel in the mountains.
The Snow and Ice Long Weekend is a short intro course meant to lay the foundation for the sport of mountaineering. It takes place along the Icefields Parkway around the popular Athabasca Glacier. On the final day, you make a summit attempt on one of the nearby 11,000 foot mountains, the most common is the classic Mount Athabasca. It's one of the most famous mountains in Banff National Park and photographed by thousands of tourists every day.
---
What Mountaineering Skills Do You Learn?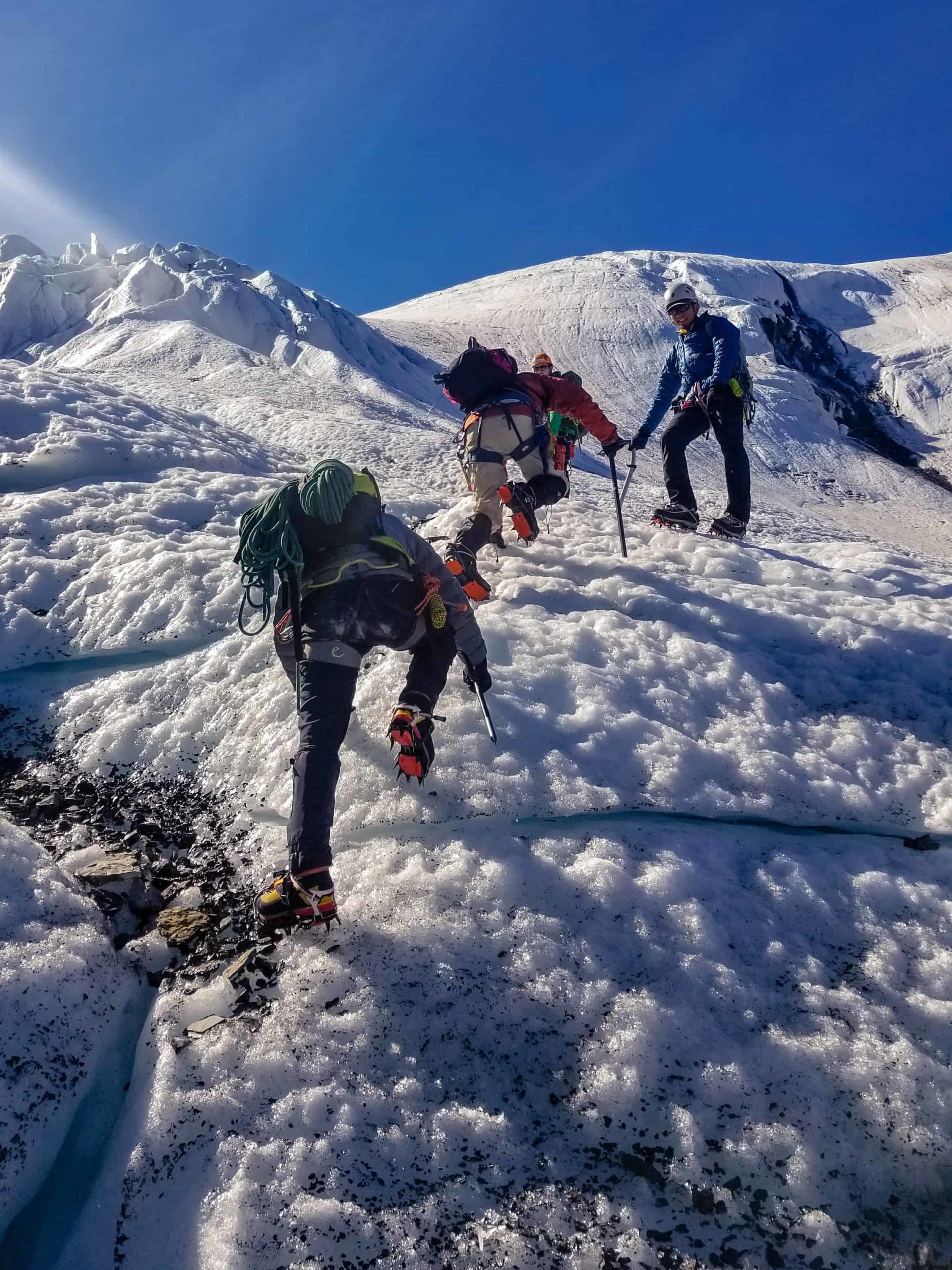 The course takes place over three days, and it is by no means meant to teach you everything about mountaineering. Its purpose is to set a foundation we arrived with no prior experience other than hiking. While we were not in the best shape of our lives, we are young and fit.
That being said, the course would be appropriate for a wide range of people, one of our group members was 58, and he summited Mount Athabasca. Altogether, the curriculum felt well rounded and provided an excellent introduction to the sport without getting lost in too many details.
---
Equipment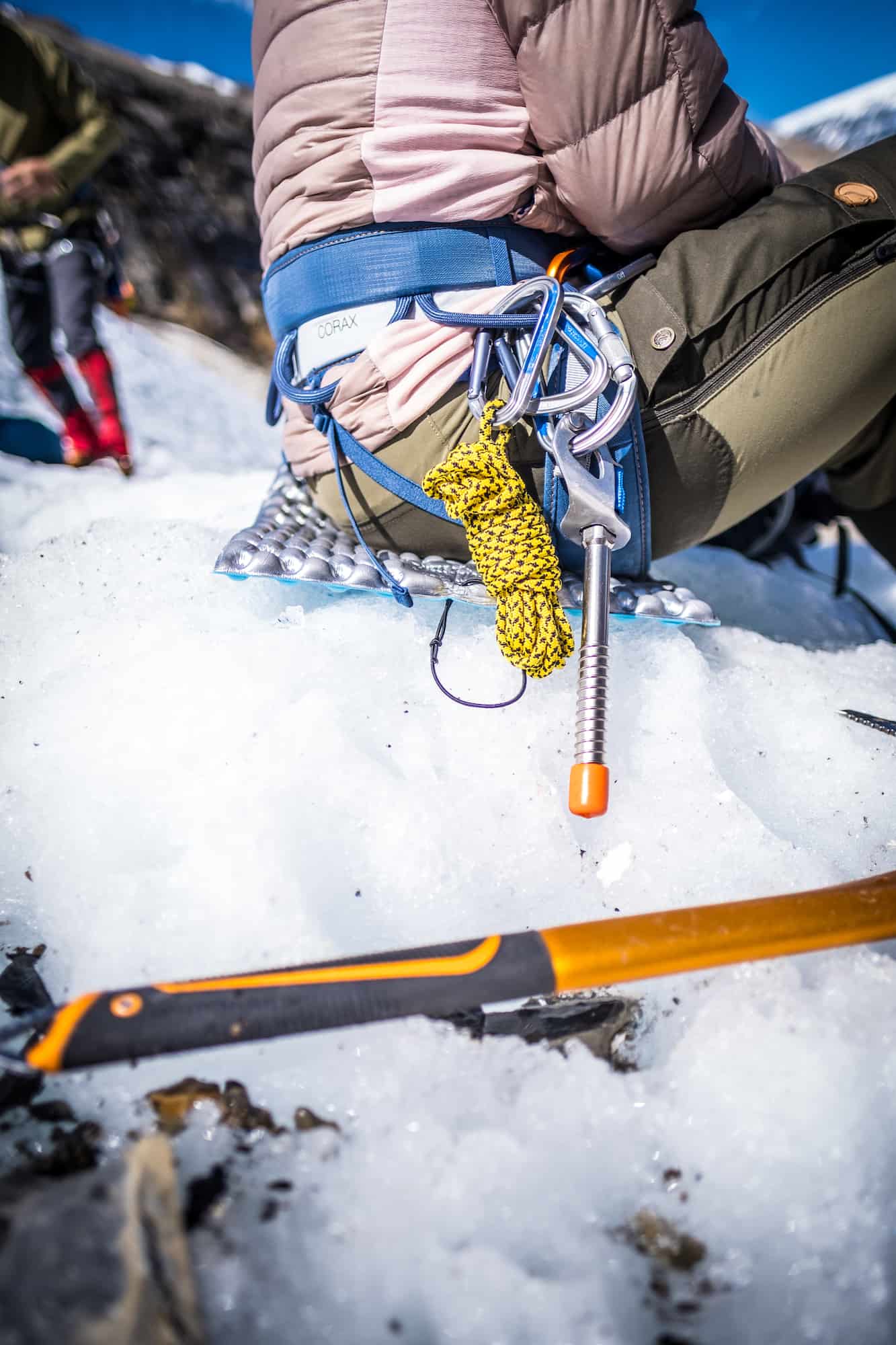 You go over a basic overview of mountaineering equipment used in the course. Ropes, harnesses, ice axe, crampons, helmet, cordelettes, and carabiners.
---
Knots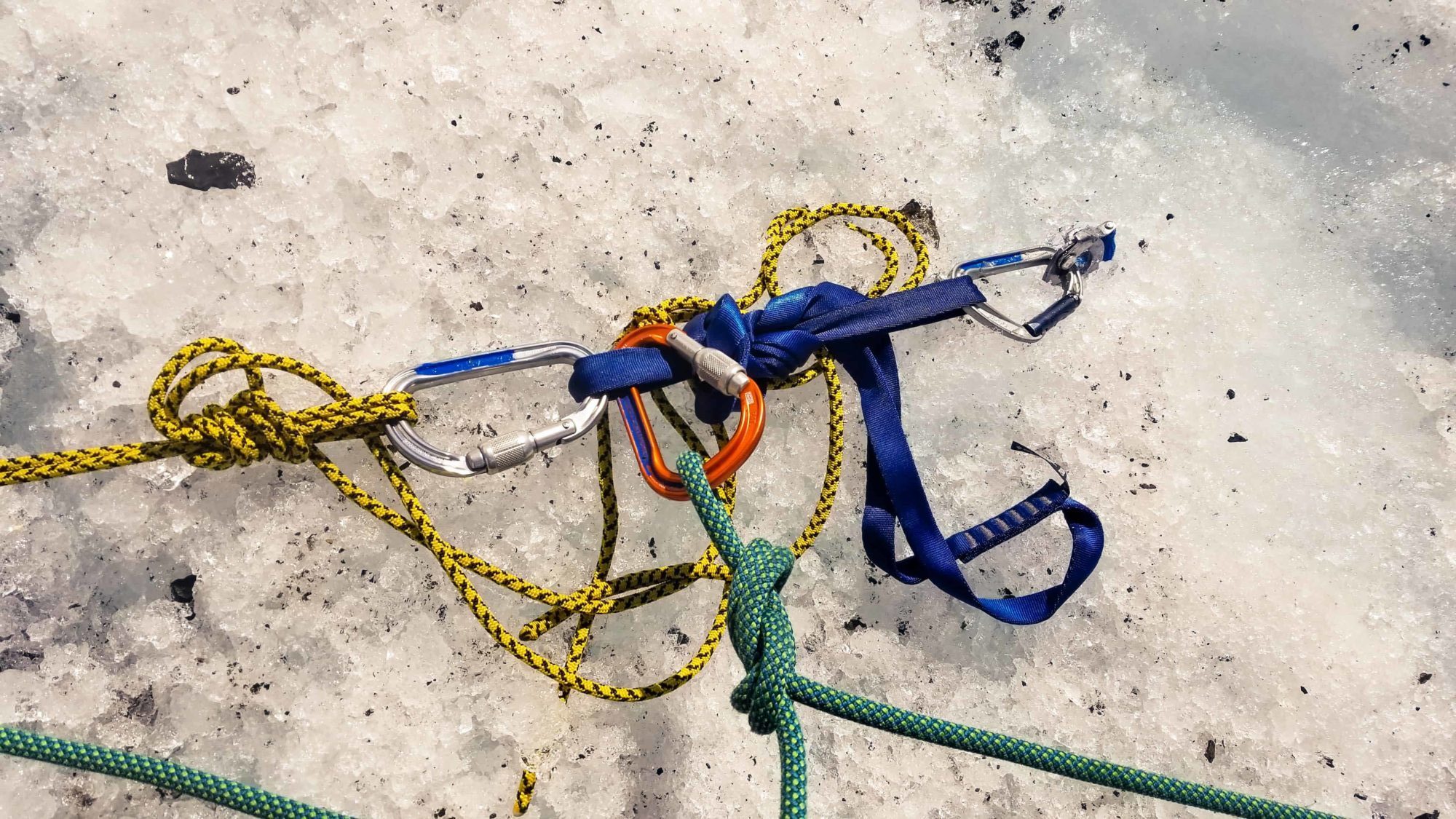 With no prior climbing experience, we were able to learn several critical knots and life-saving knots. Knots we learned are the prusik hitch, figure eight, overhand, and an alpine coil. Figure-eight is a classic mountaineering and rock climbing knot known for its stronghold and reliability. Then the prusik hitch is extraordinarily useful knowledge to have outside of glacier travel.
---
Movement on Snow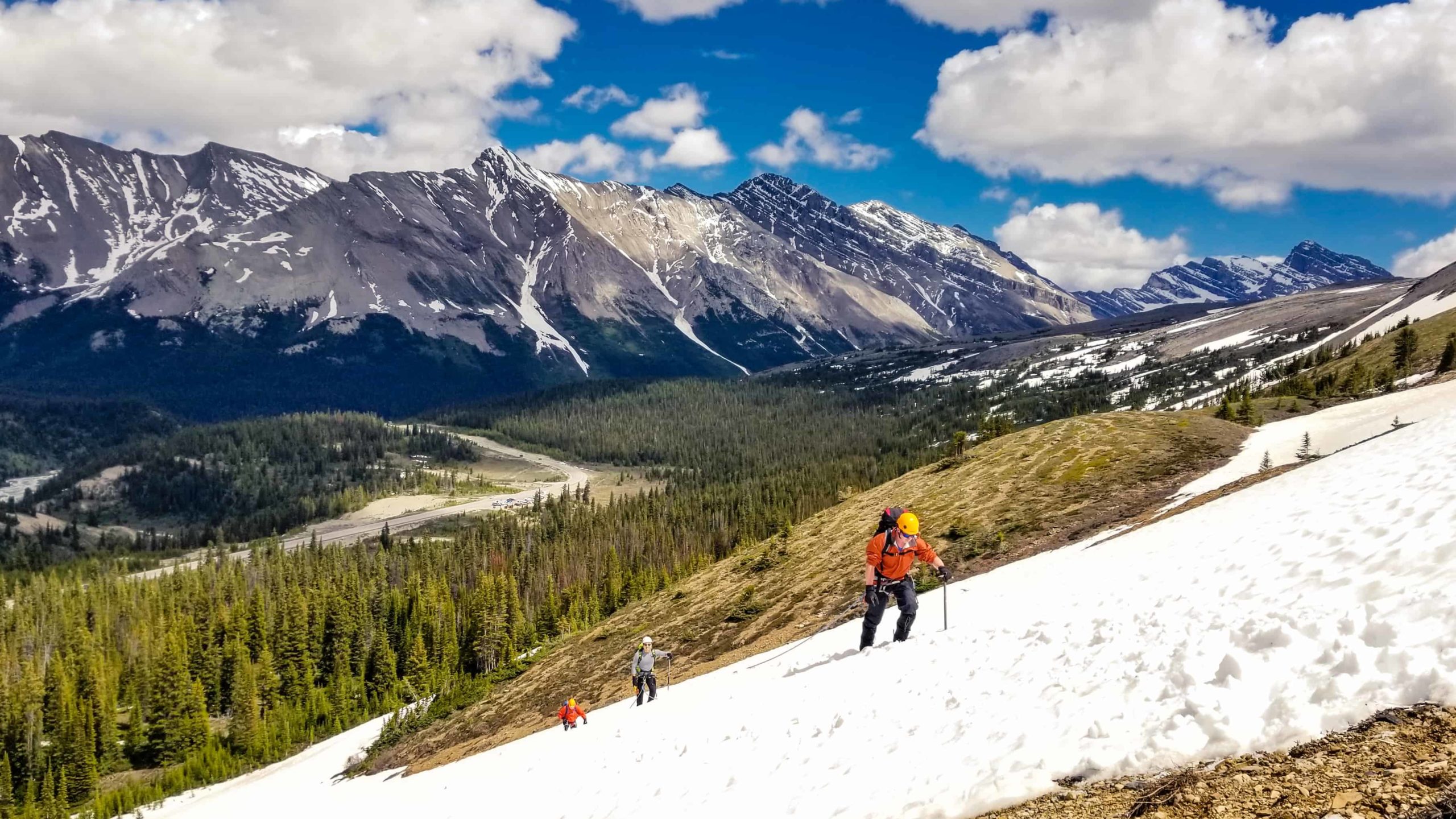 Walking up a hill seems straight forward, but when it's covered in snow and the hill is over a thousand meters it requires some skill. The course covers different footwork, techniques used to conserve energy, and travel in a group.
---
Ice Axe Use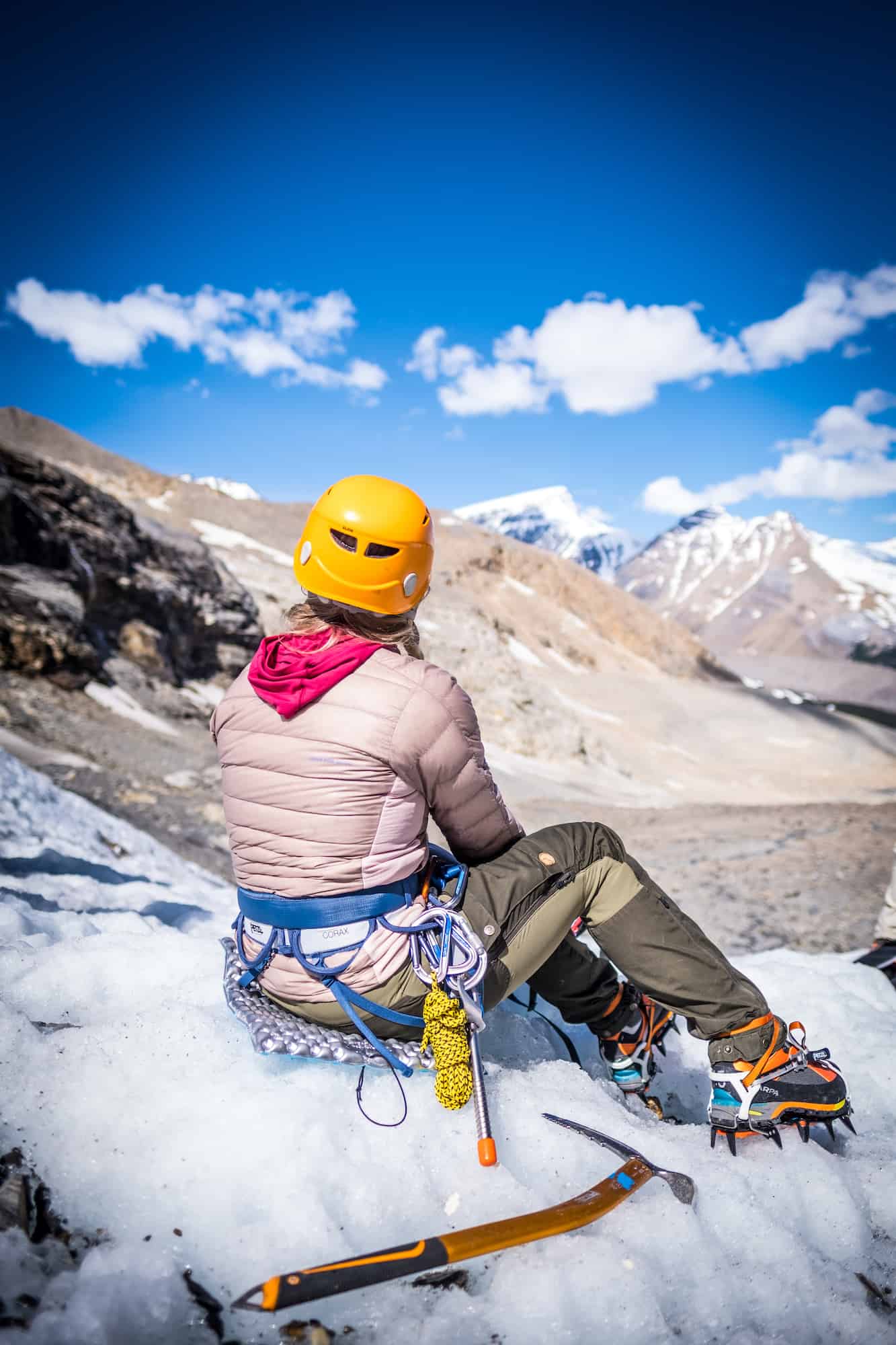 A new tool to us and one that is important for mountain travel in the Canadian Rockies. We learned proper handhold techniques, when to use the ice axe, and how to properly use the ice axe. Long story short I went out and bought an ice axe after the course.
---
Self Arresting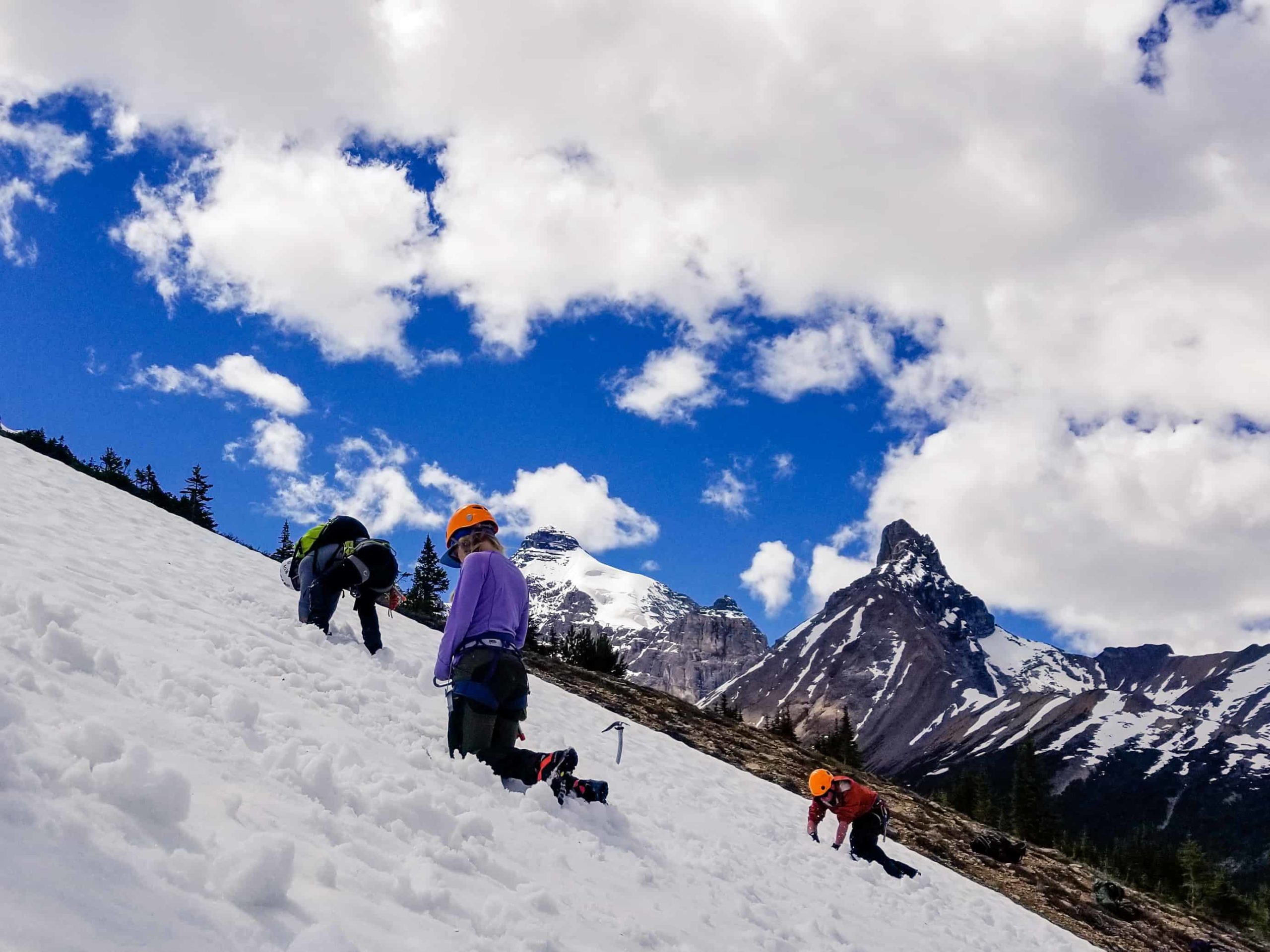 This could be a lifesaver, literally. While we learned there should be very rare circumstances in which you need to self-arrest. The skill is very important to learn and practice. Above all, it's fun as you sling yourself down a snow-covered hill and practice coming to a stop from various angles. (It's not done one handed like in the movies…)
---
Snow Anchor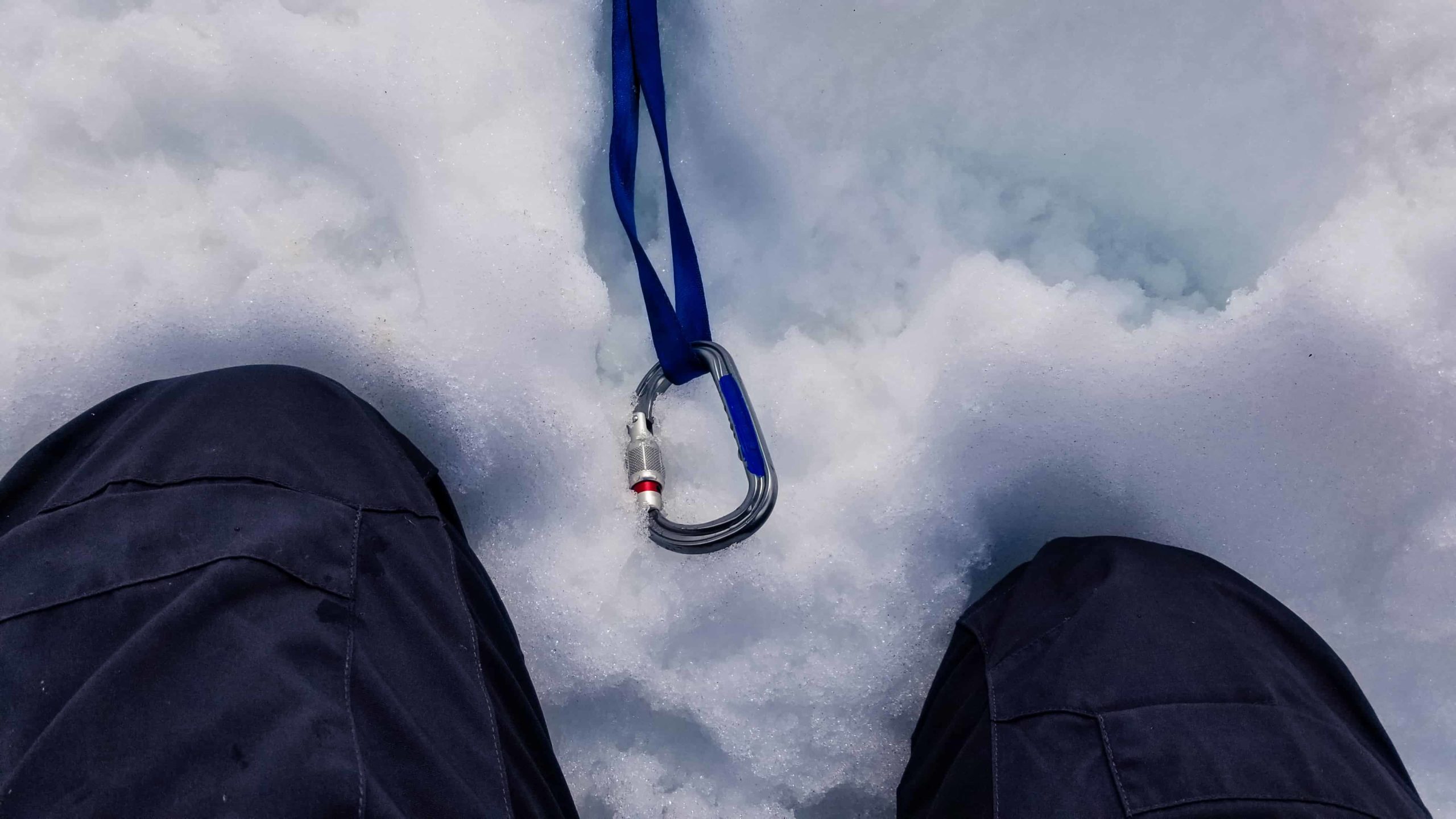 One of my personal favorites from the course is learning how to make a snow anchor. It's a great skill to have, especially as I could see great use should we ever have a problem when snowboarding in the mountains.
---
Crampon Use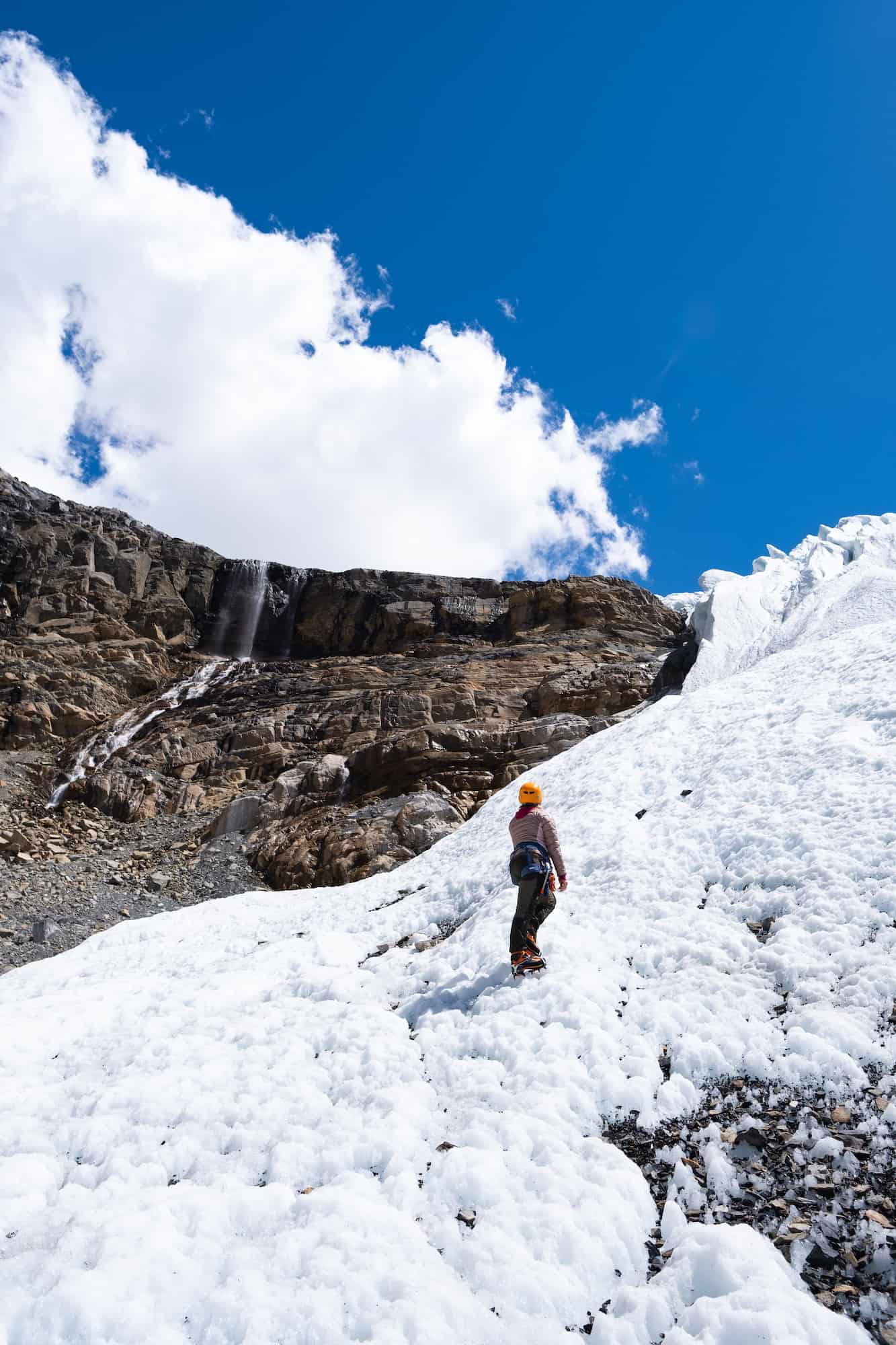 We learned how to properly walk in crampons and practiced various walking techniques on hard ice of varying degrees of steepness.
---
Glacier Travel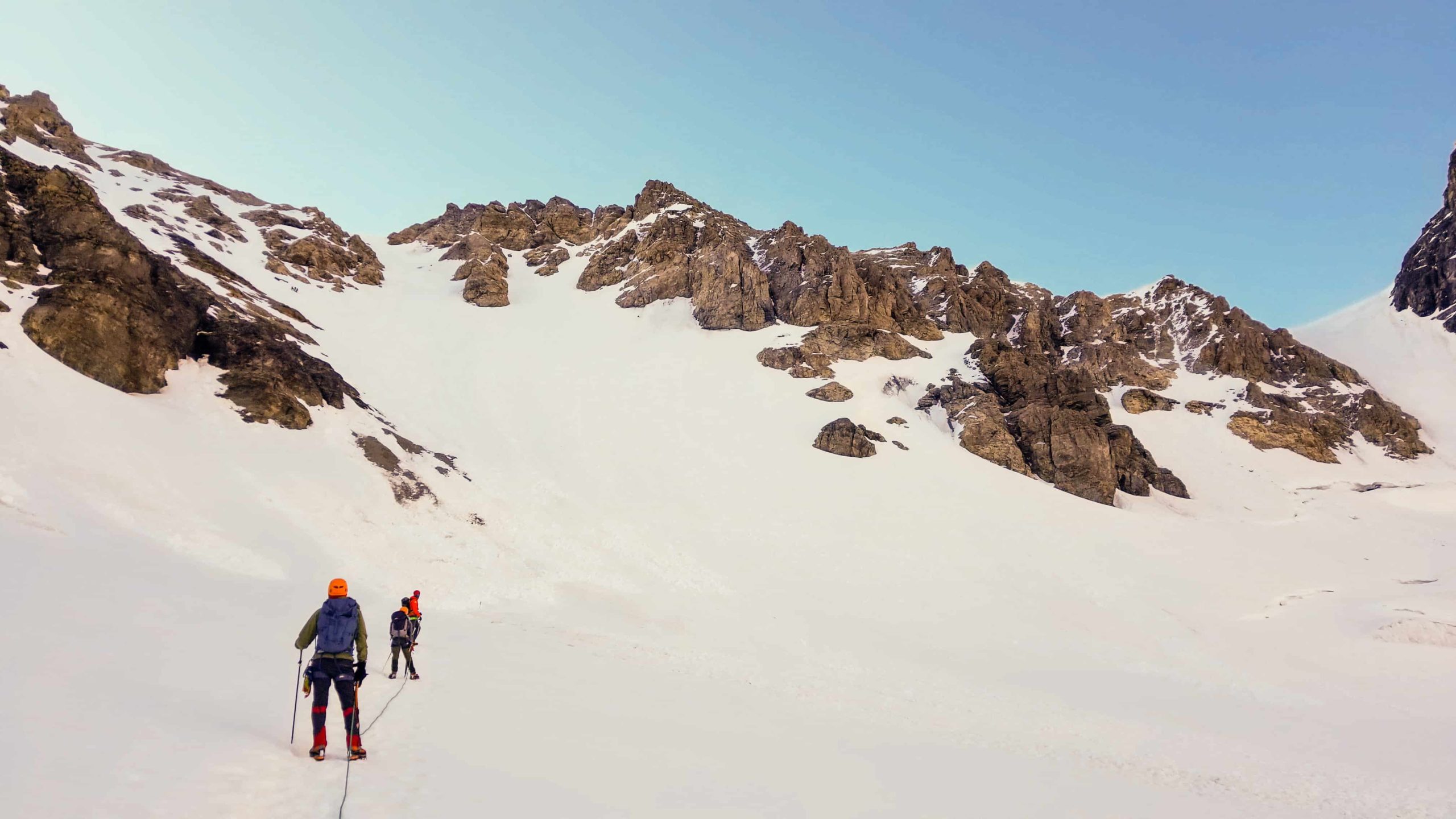 Almost every person has seen the iconic image of climbers roped together as they walk across a snowy plain. In the course, we covered the basics of glacier travel and how to operate as a team traversing glaciers with the potential for crevasses.
---
Ice Anchors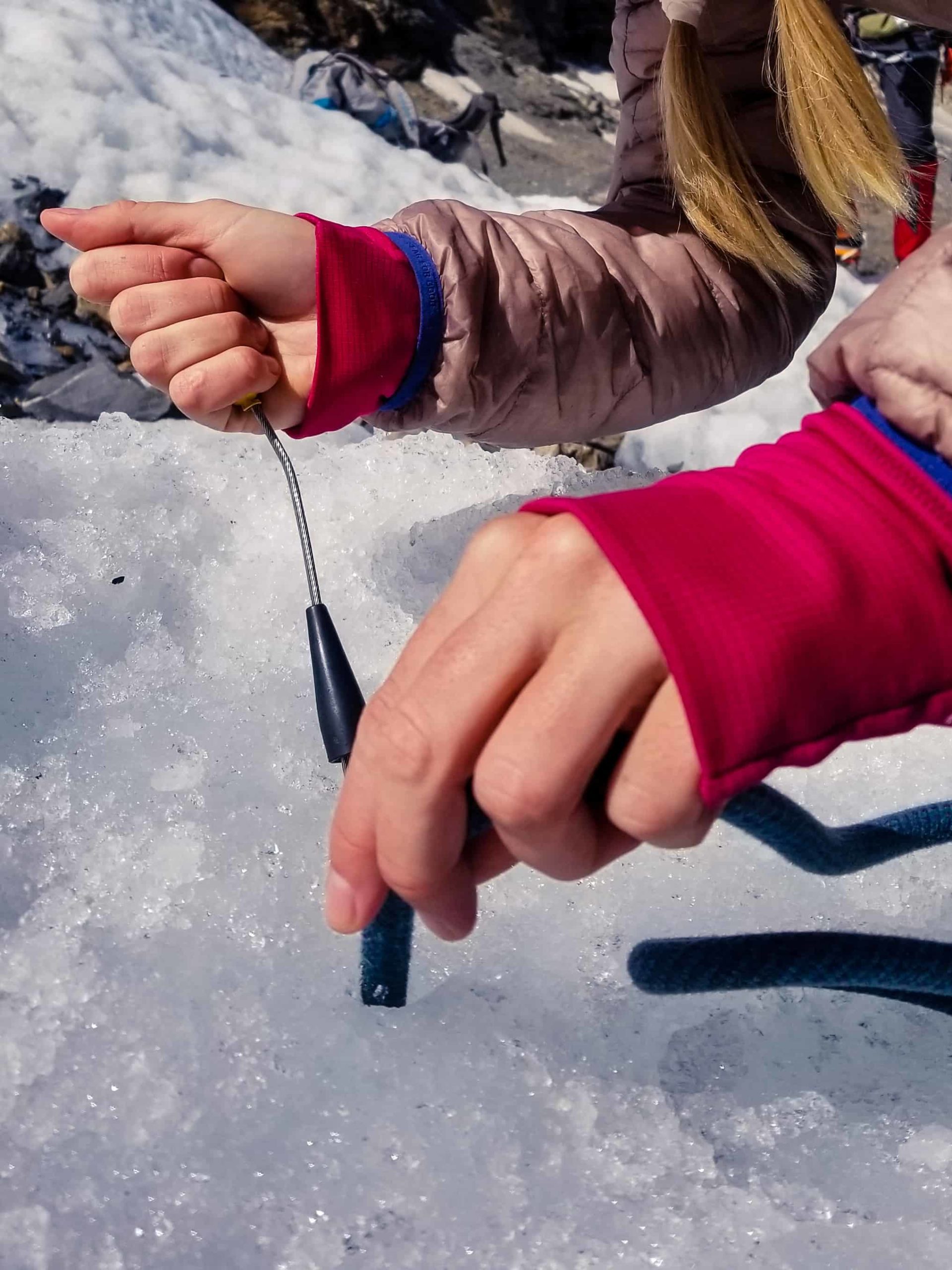 Should there be an emergency on ice you'll need to be able to rescue your partner or off an icy face. We learned how to properly place an ice screw and how to set a v anchor in the ice.
---
Glacier Rescue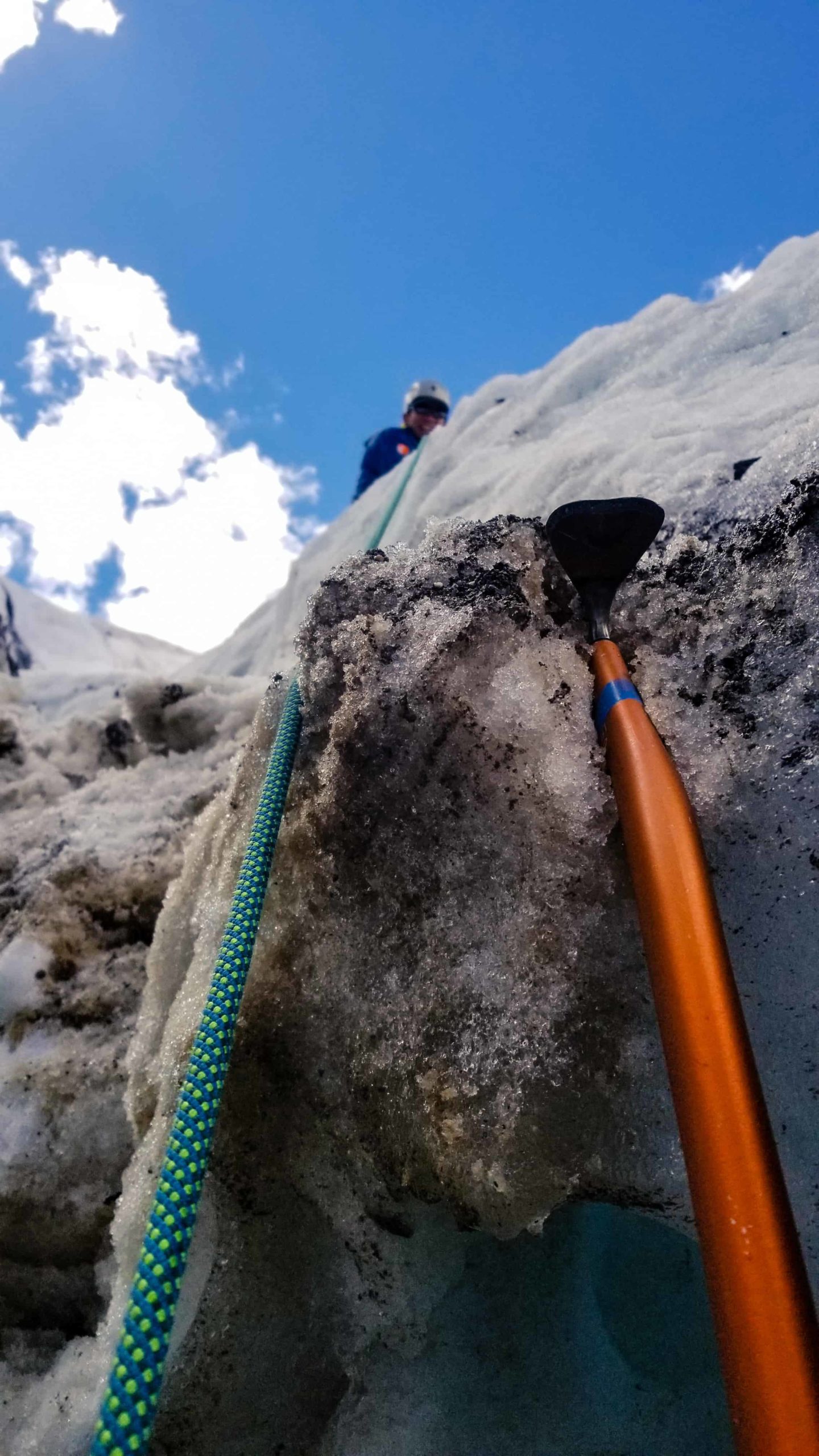 The most difficult skill we covered, but learning how to operate as a team when a party member falls into a glacier is a life-saving skill. The move involves teamwork, knots, ice anchors, rope work, and smart movement to safely rescue from a glacier.
---
Route Planning
This is a skill we touched on and discussed, but route planning takes much more time to learn and accomplish. Our guide explained the reasons for our route selection which was the AA Couloir route up Mount Athabasca.
---
What to expect?
The course takes place over three days and is out of the Icefields Campground. We drove up the first morning then camped two nights in the campground during the course. On the first day, we spent the morning getting acquainted with our gear and learning the basics of ropes and knots. After lunch, we went up to a snow-covered bank to practice movement in snow, travel as a group, and how to self-arrest.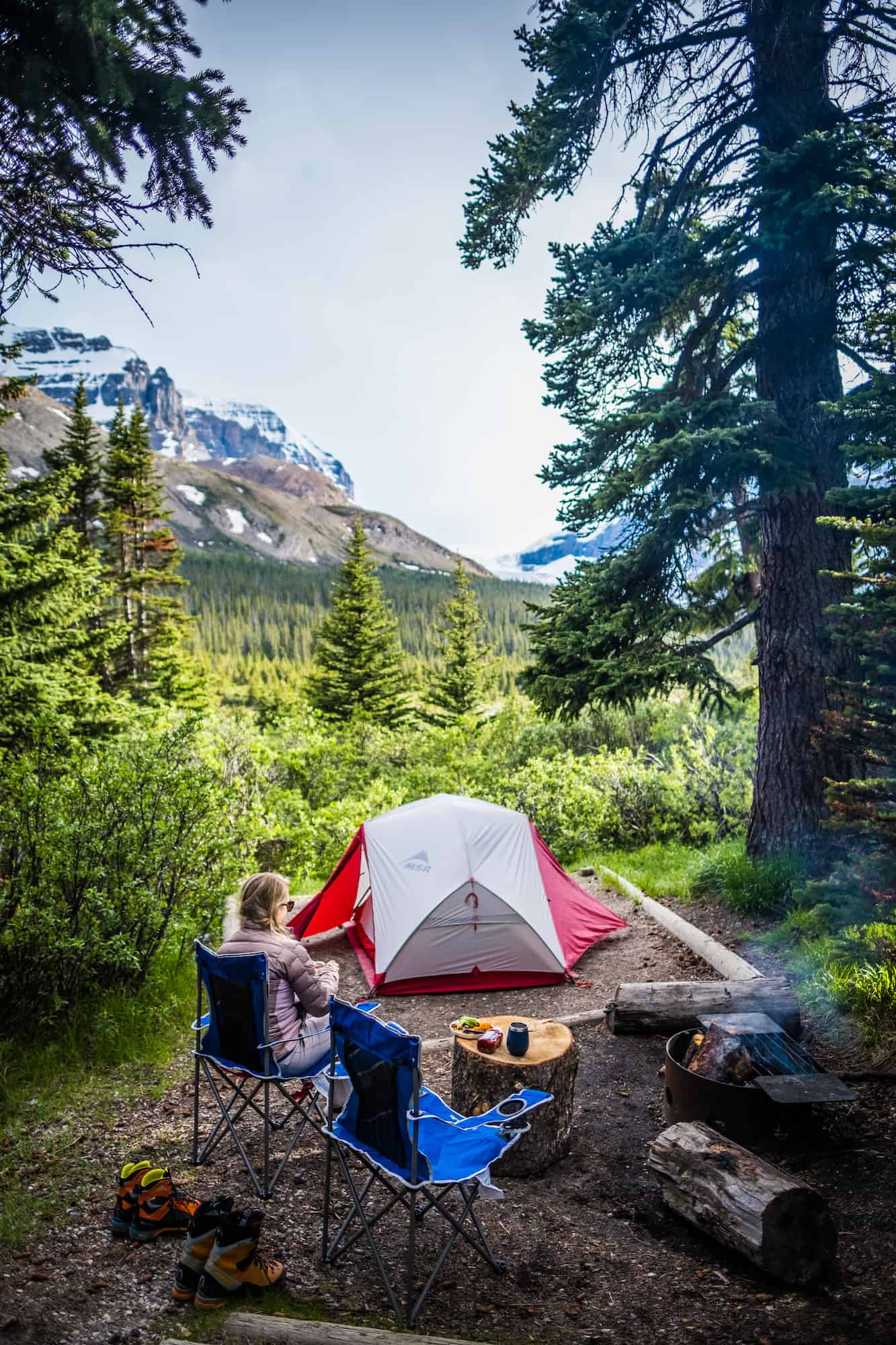 After some well-deserved rest in the campground, we spent the second day on a glacier. Our instructor Tak went over proper movement on ice with crampons and how to use our ice axe.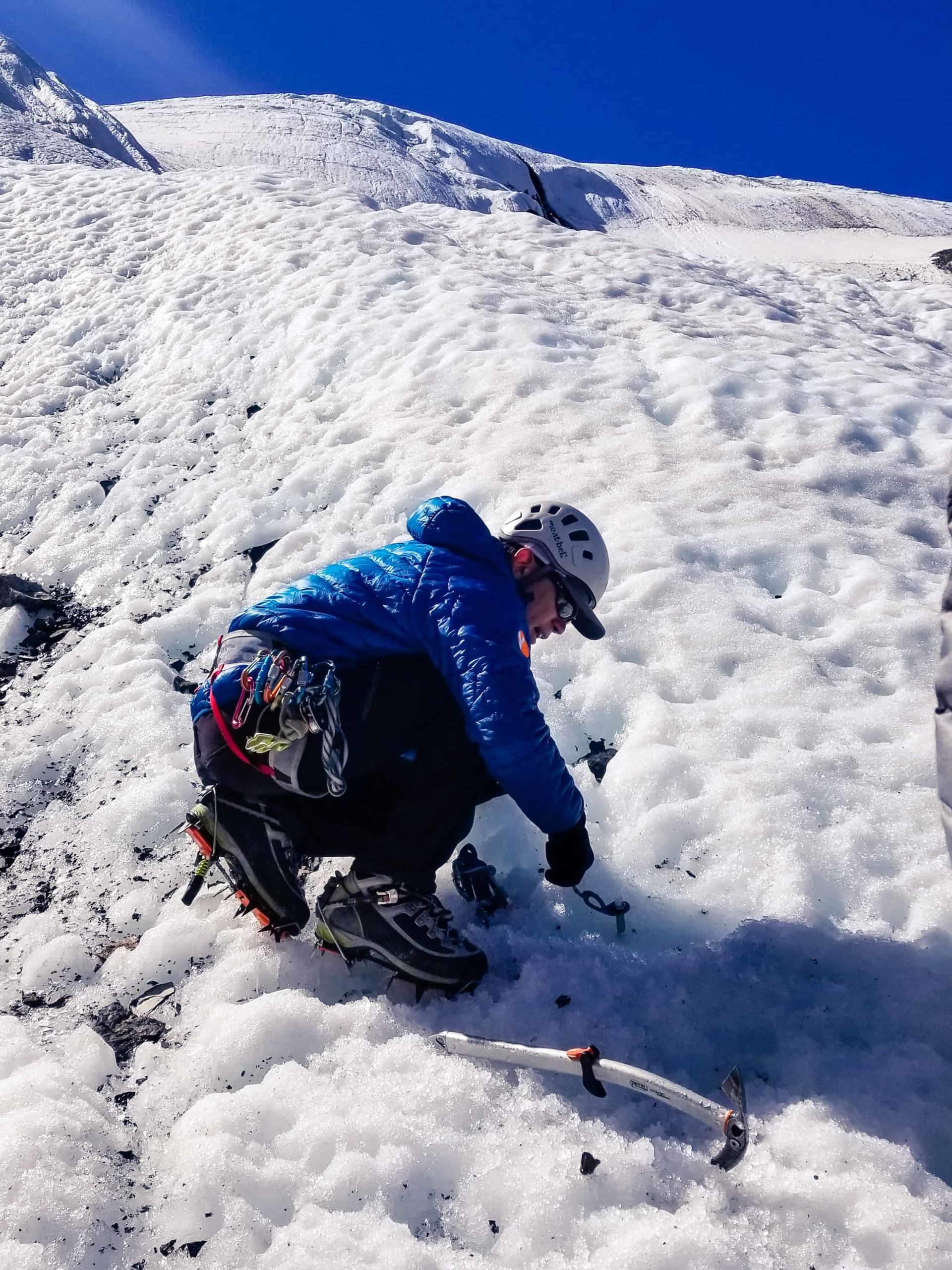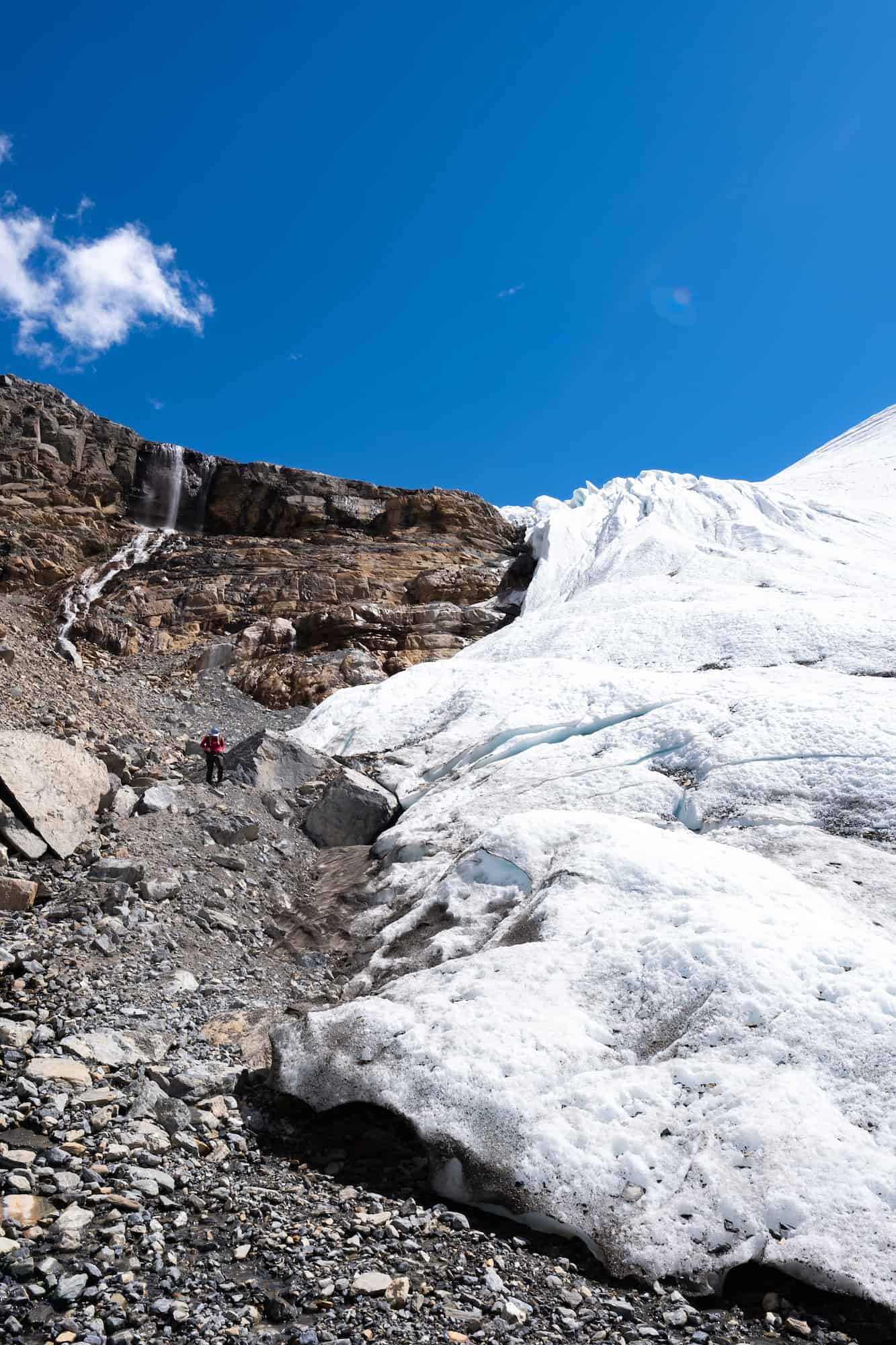 As the day progressed, we practiced more glacier travel skills. Then moved on how to set ice screws and v anchors in the glacier. For the final lesson, we practiced how to rescue a downed climber in a crevasse properly. With an early afternoon finished we set off back to the campground to catch some rest and plan our route up to our objective. With perfect weather on the horizon, the group decided as whole to go for Mount Athabasca.
---
Summiting Mount Athabasca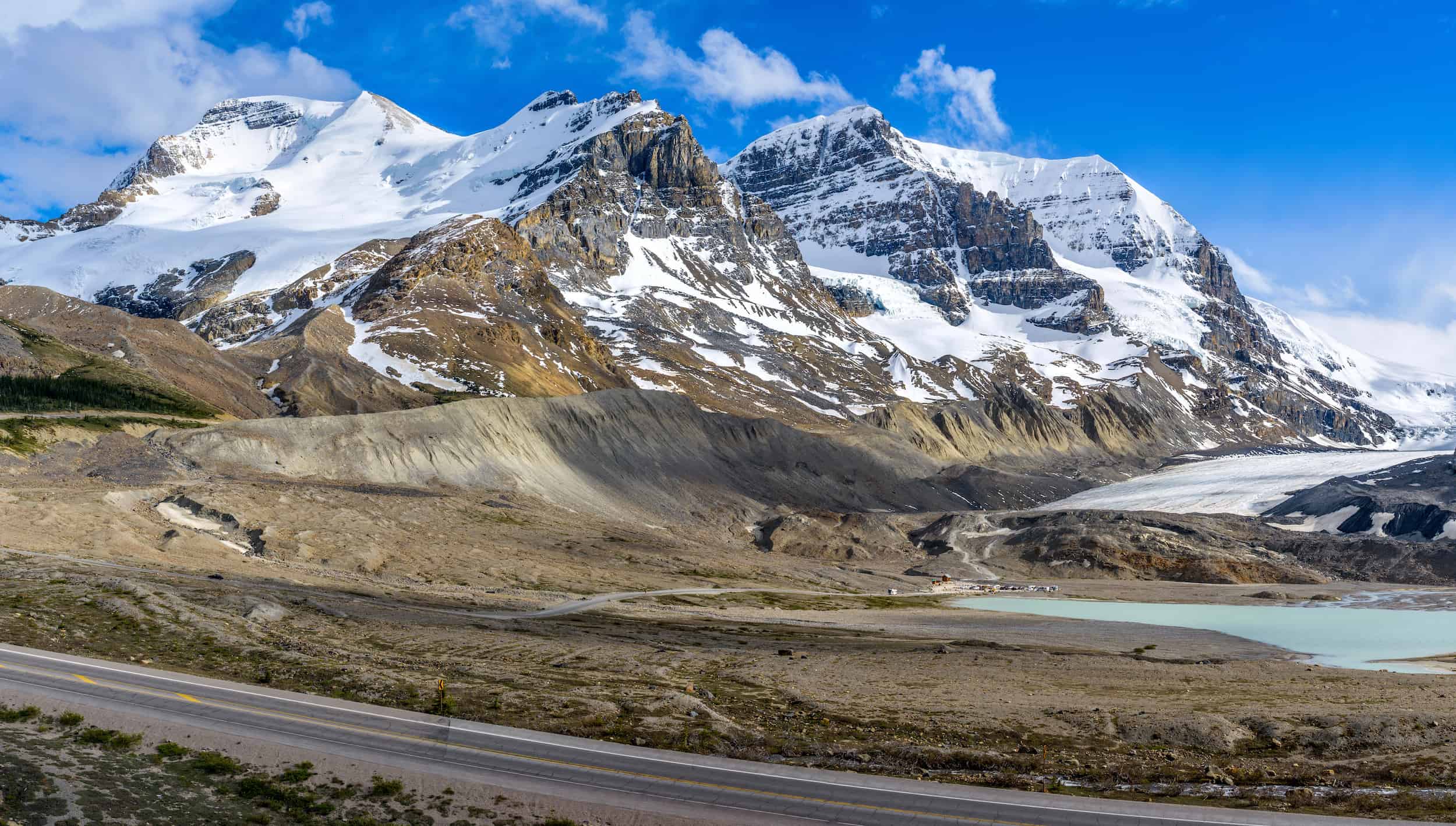 Mount Athabasca Approach
The night before we had a meeting to discuss the big objective which was Mount Athabasca. Our course instructor Tak To summit, Athabasca requires early morning alpine start. So the day of our summit push involved a start time of 3:00 a.m. With the amount of anticipation, we had it's hard to say we slept much the night before.
The approach on Athabasca takes place from the parking lot adjacent to the Icefields Discovery Center. The start follows along the road for the massive glacier tourist trucks before turning off and up the lateral moraine.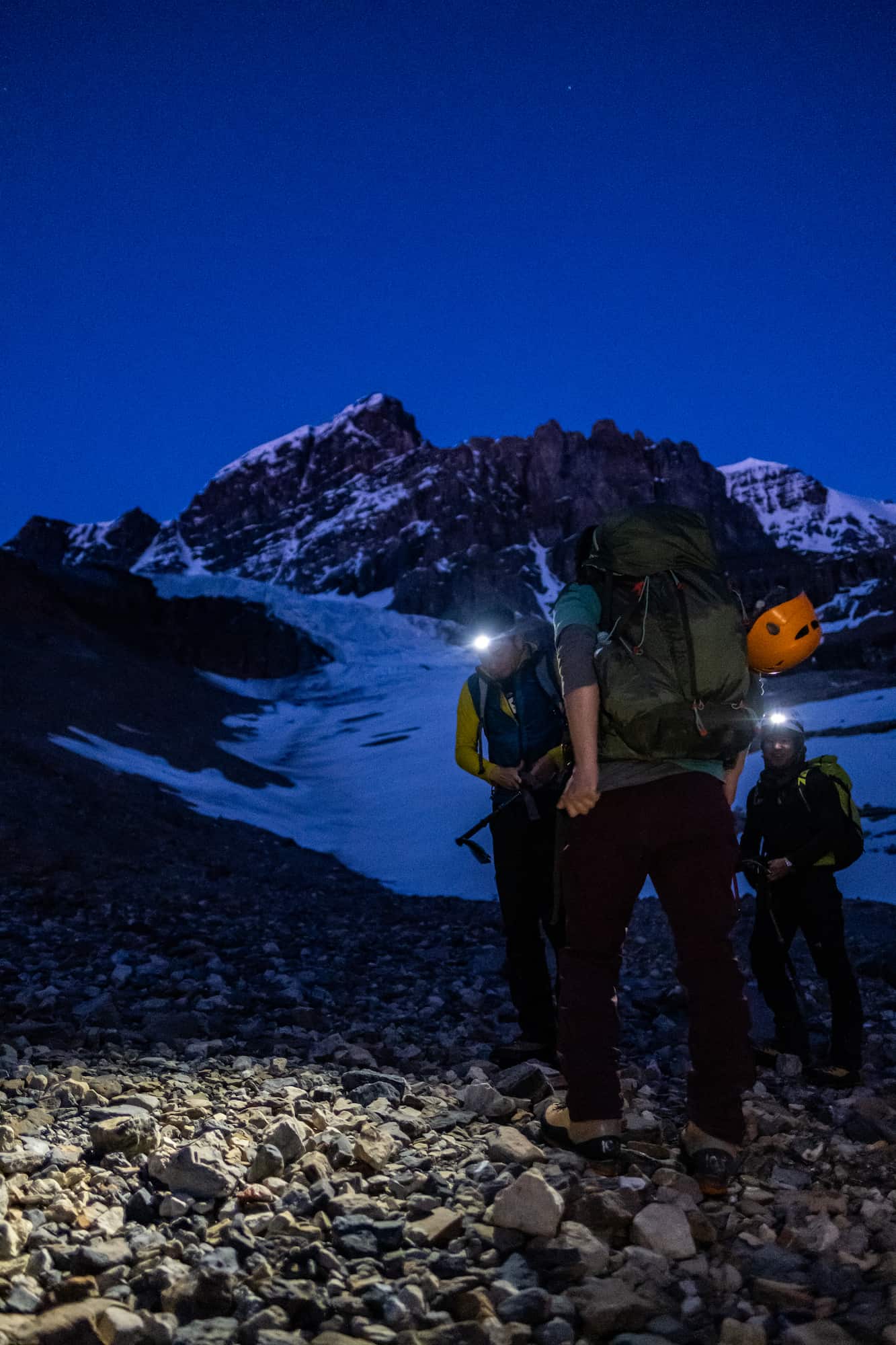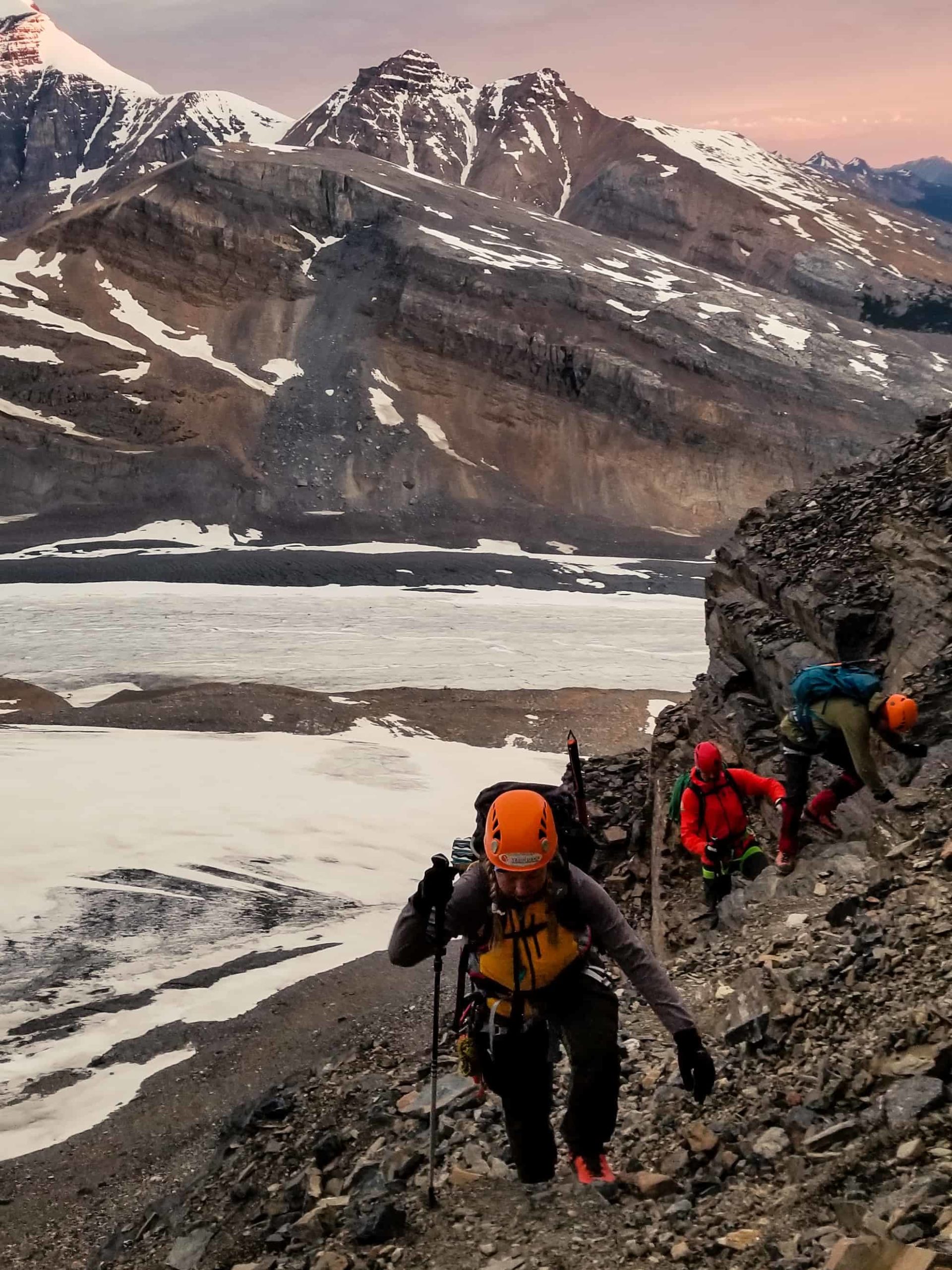 In the dark, we crisscrossed along the loose scree of the moraine following small cairns and the lead of our guides. It's more of a loose trail and general direction that continues to change each year as the moraine continues to collapse from melting permafrost.
The hike along the road and moraine is a long one and climbs about 500m in elevation before finally reaching the headwall where the glacier and snow begins. The headwall has several scramble moves to reach the top with some loose rock, but nothing too technical (our guide, Gene, really made it easy).
---
AA Glacier – Mount Athabasca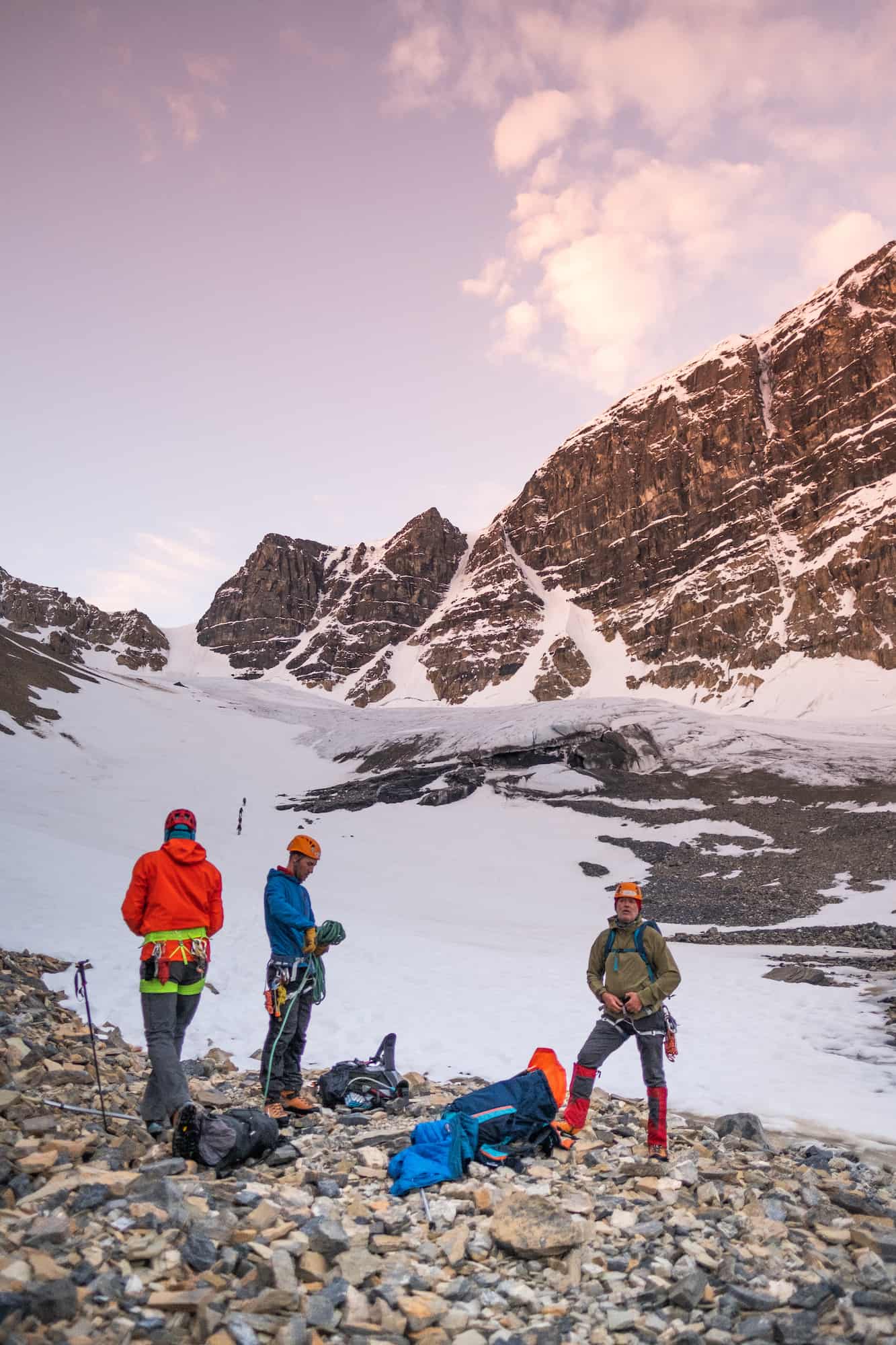 Once over the rock headwall, we came to the AA glacier. The glacier lies in a valley between Mount Andromeda to the West and Mount Athabasca to the East. At the base of the glacier, we took a small break to put on crampons and rope up for travel. As walked across the rock hard glacier the sun came up over the mountains and cast Mount Andromeda in a gorgeous alpenglow. It was the first time either of us had witnessed a sunrise like that on the mountain and it was breathtaking. Travel across the glacier was very straight forward and easy early in the morning with firm conditions and a slight incline.
---
AA Couloir – Mount Athabasca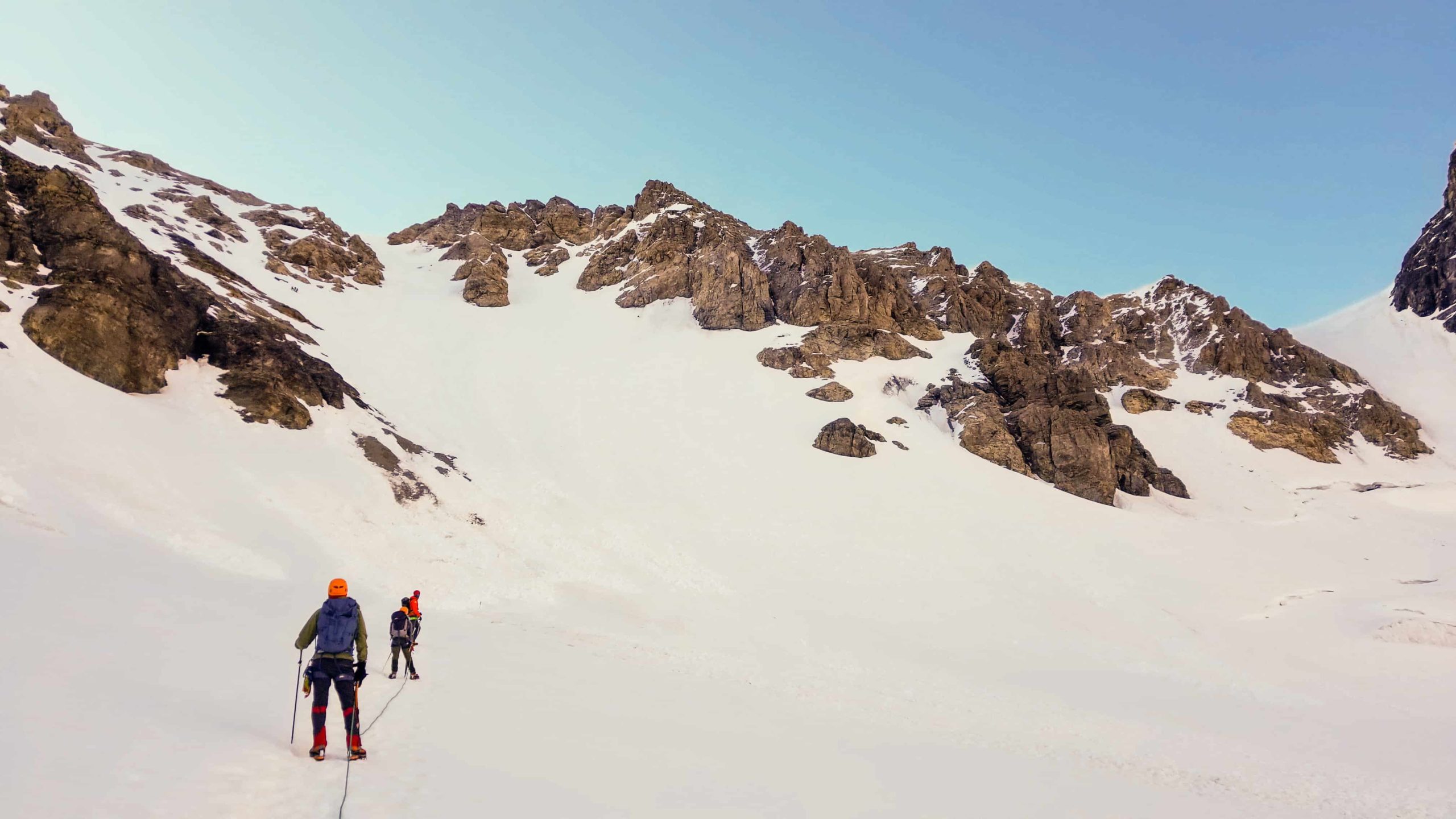 The glacier eventually leads up the AA Couloir and a massive slope. At first glance, the slope does not look that challenging, but with every step, that assessment begins to change. It's a steep slope prime for avalanches and rockfalls. The slope starts out fairly straight forward with a 30-degree grade slope, steep but manageable.
However, as you move further up the slope it becomes increasingly steep and over 45 degrees. To climb up the couloir was extraordinarily challenging and with high-risk terrain unnerving. Climbing up the couloir was extraordinarily challenging.
At the top of the couloir and on the stable ground we were finally able to breathe a sigh of relief after an hour on the slope. The smile on Natasha's face was priceless, total relief.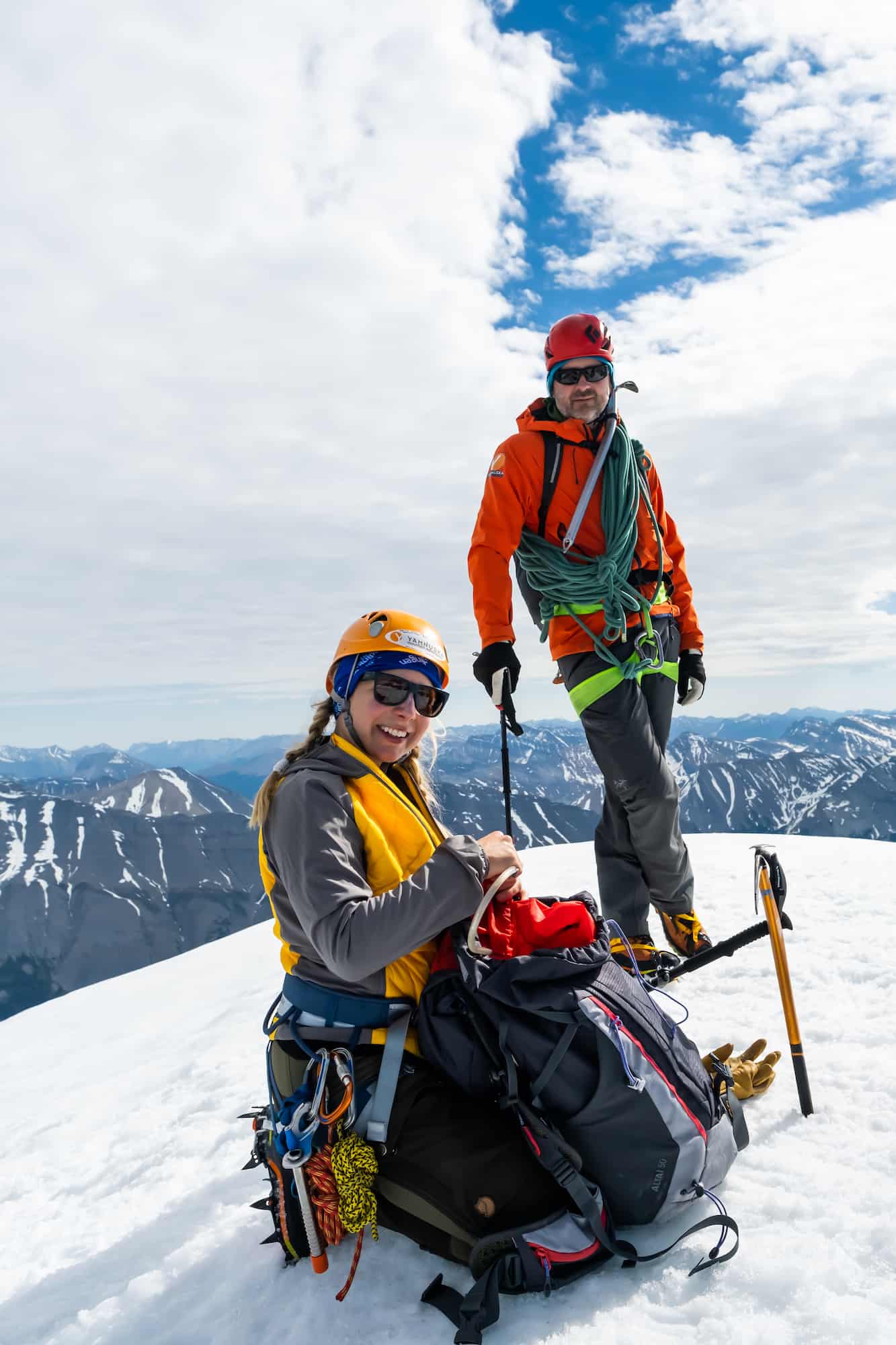 ---
Silverhorn & Mount Athabasca Summit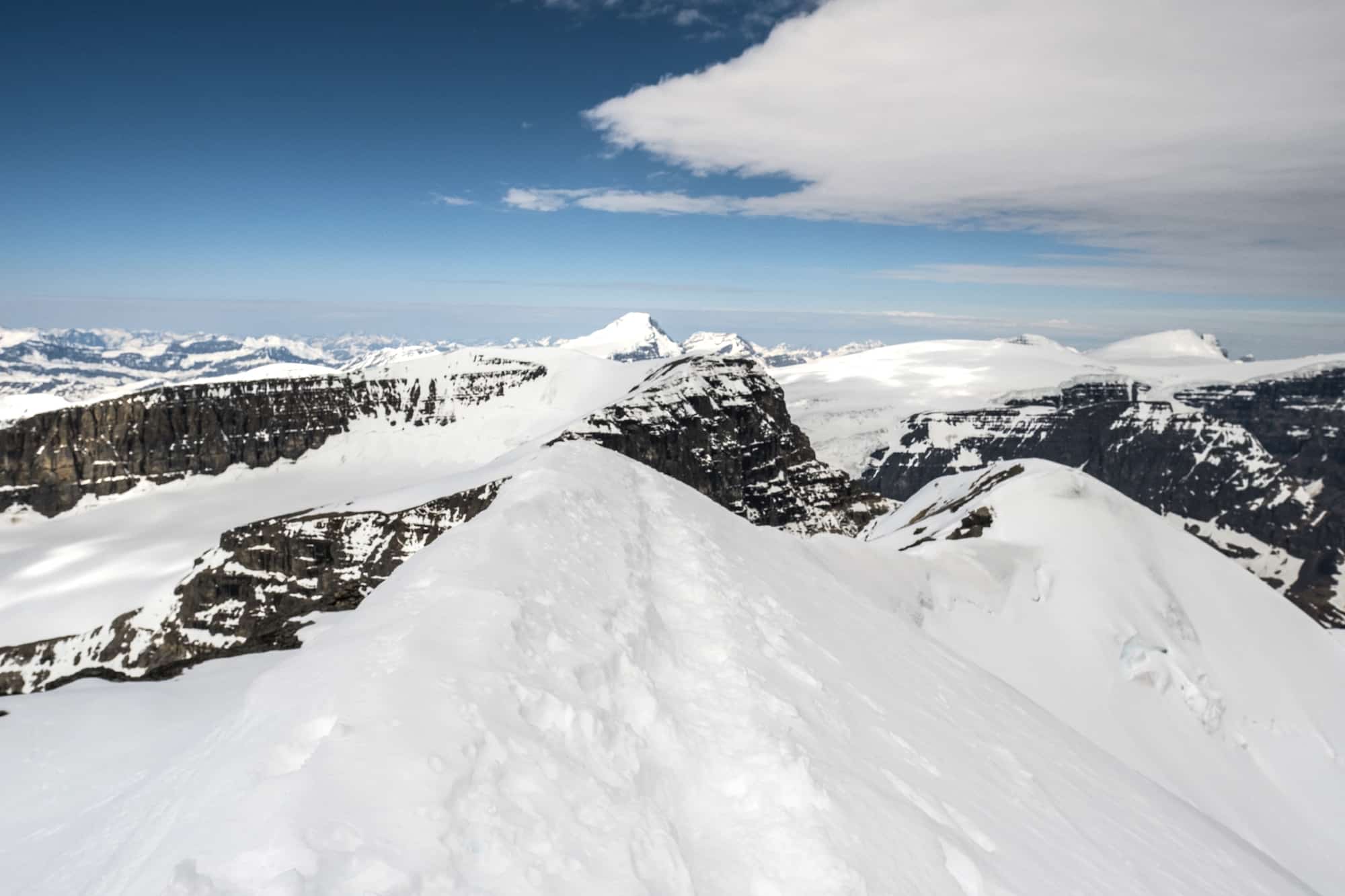 From the top of the couloir, the ascent up the famed Silverhorn peak was straight forward. It moved across several bands of rock and snow and took some work, but with little exposure. It felt like we were still ages away from the peak as we made our way up to Silverhorn and the idea that we may not summit had begun to set. There was a slight feeling of defeat, but once at the top of Silverhorn we saw the short distance left to the true peak.
The last section of the climb along the ridge of Silverhorn was the most enjoyable. It's a narrow ridge covered in snow a few meters wide with massive views in either direction. I could see far across the mountains to distant peaks and glaciers. In all my moments spent in the mountains thus far in life it was by far my favorite.
At the peak, we were all ecstatic. In a small group of four, three clients to one guide, we sat down in the warm sunlight. There was low wind with perfect conditions, and we sat on the peak for a well-deserved lunch.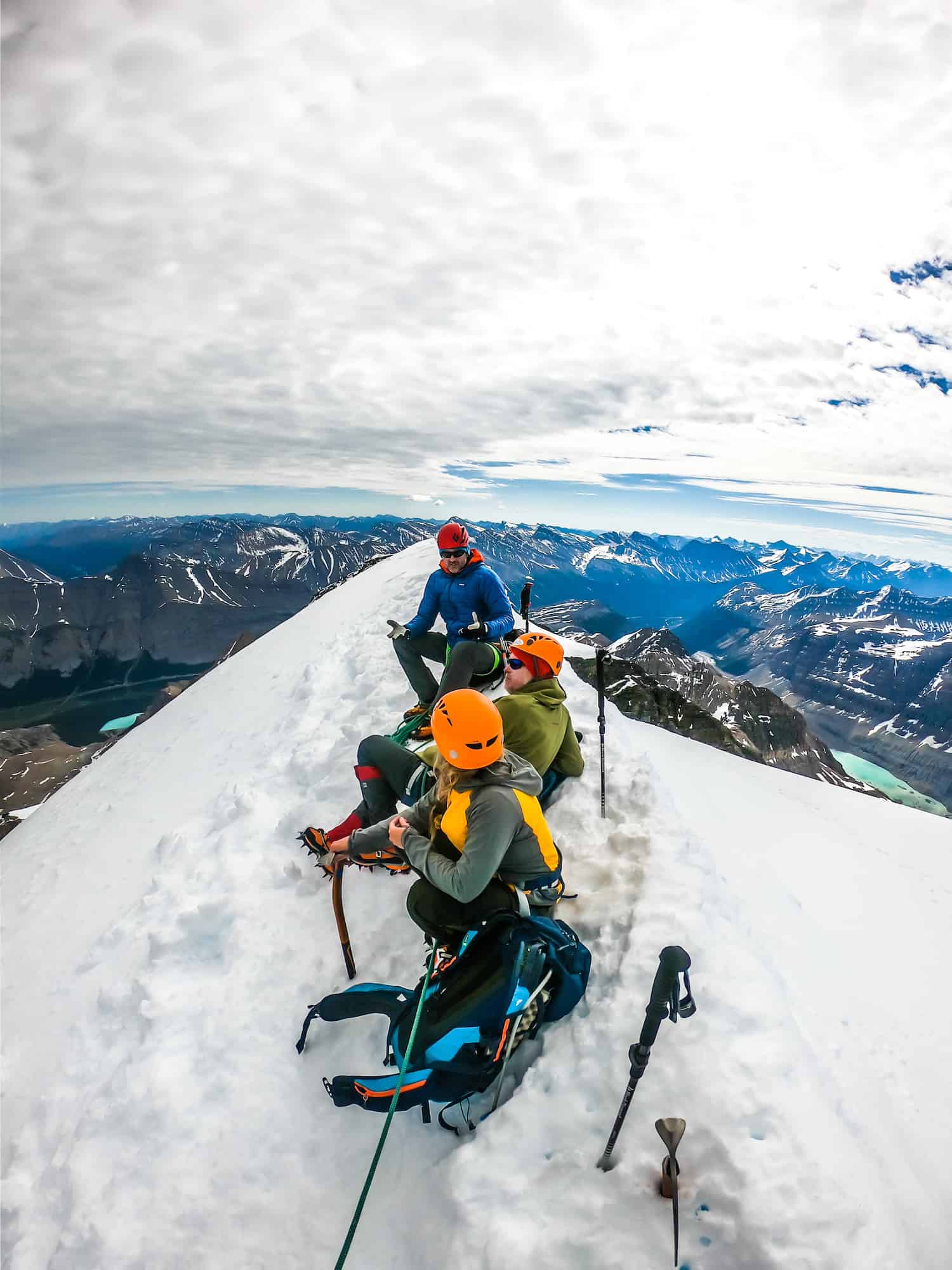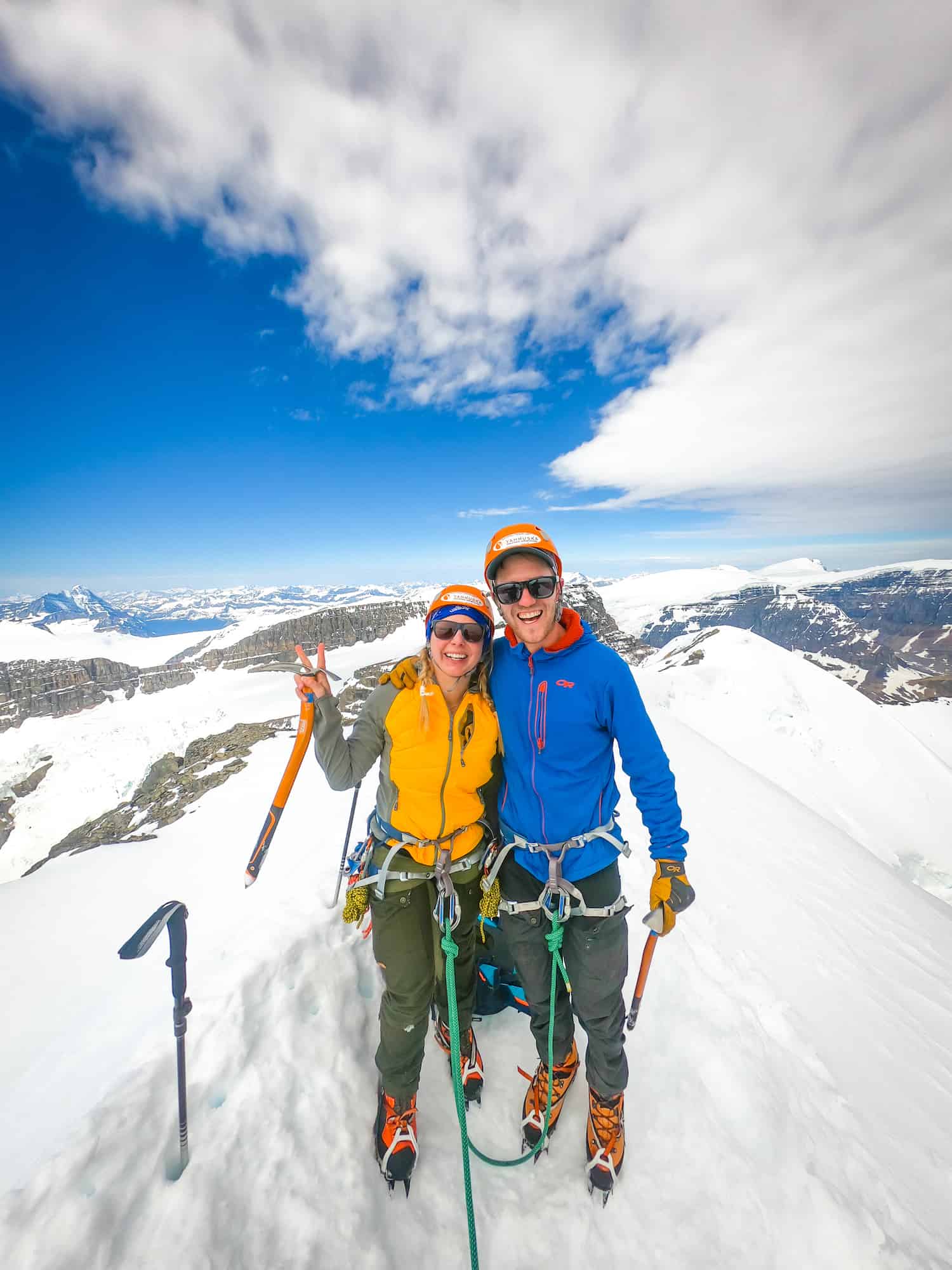 The descent was easy for the most part until reaching the couloir. To descend, we used a straight forward approach. As the strongest in our group, I took the lead down the couloir. Facing outward from the slope is an experience that feels a bit like walking down a cliff (not that extreme).
From there it was a long slog back to the car park. Total time round trip was around 11 hours, we were by no means a fast-moving group, and the average is closer to nine to ten hours. After reaching our car we set off for our home in Canmore. We were exhausted and only made it to Saskatchewan River Crossing before needing a nap and an overpriced coffee.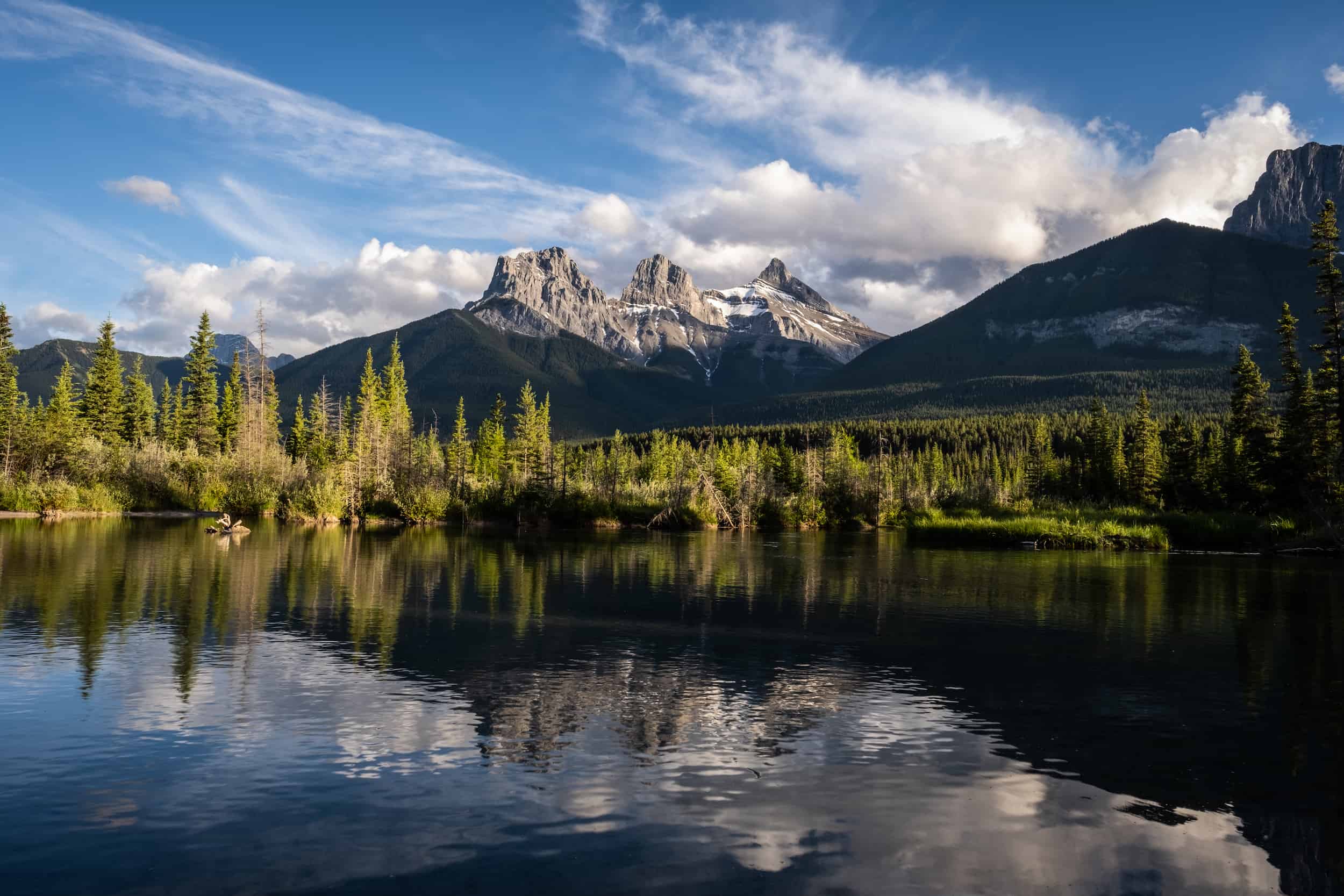 Thoughts on Our Mountaineering Course
We could not have picked a better first for mountaineering. The course was well structured and we feel ready to tackle our next mountain adventure. The next mountaineering objective is best done with another guide, we still have a need for a lot more experience until we feel comfortable tackling objectives on our own. However, Mount Athabasca was a great first objective it was challenging without anything too far over our heads.
Our group was six people and for the first two days it was the perfect number to get individualized training in a group environment. On summit day a second guide arrived so that they maintained a ratio of one guide to three guests and this was reassuring on such a big mountain.
---
Travel Planning Resources
Packing Guide — Check out our Banff packing list to help pack your bags and ensure you don't leave anything at home.
↓ Join the community ↓
The Banff Blog Facebook Group is your headquarters for the Canadian Rockies travel advice and information. Including hike info and off-season travel information. This is also a place where you can meet one another when you're in need of adventure buddies.