Here's our round up of the best hotels in Banff. This is where you can plan to stay on your first trip to the Canadian Rockies. All of these hotels will ensure you have a great time during your trip.
---
Best Hotels in Banff
---
Fairmont Banff Springs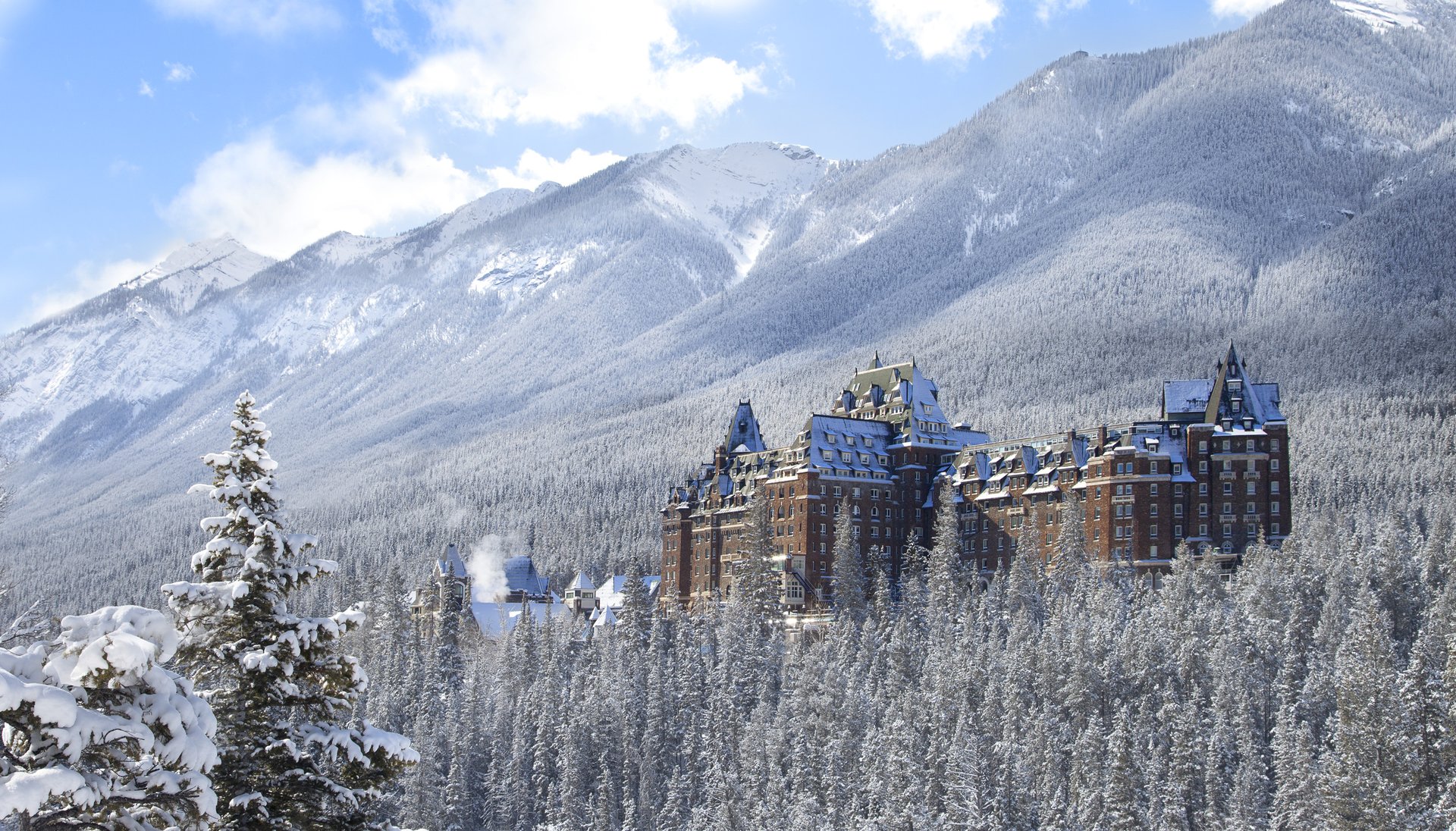 When it comes to luxury hotels in Banff National Park, none are more iconic than the long-standing Banff Springs Hotel. When you glimpse this grand landmark for the first time, you'll see why it's known as The Castle of the Rockies. The hotel has seen guests from all over the world for more than 100 years.
The view, overlooking a stunning vista consisting of a valley and the distant Mount Rundle, is just the beginning. When it comes to amenities, you'll have access to a championship golf course, fitness center, swimming pool, bowling center, and tennis courts.
The Willow Stream Spa offers a variety of treatments, including massages and facials. Each one of the on-site restaurants offers a unique experience. Whether you're seeking a fine dining experience or a cozy family eatery, you'll find every type of food – from world cuisine to local favorites.
There are 757 spacious guest rooms and suites. While there are different categories of rooms, each one has complimentary high-speed internet, cable TV, and a coffeemaker.
A unique feature of this hotel is the variety of cultural programs and organized activities offered to guests. Communal campfires with marshmallow roasting, nature walks, Tunnel Mountain hikes, stargazing outings, guided snowshoeing adventures, and bike tours are just some of the outdoor activities available for all ages. They also decorate the hotel in the most amazing decorations for Banff Christmas.
---
Elk + Avenue Hotel
If you're after great Banff national park lodging look no further. Situated in the town of Banff only minutes away from the services of the town and the remote backcountry of the national park, Elk + Avenue Hotel is a rugged mountain escape with a touch of luxury.
It doesn't matter if you're seeking a cozy respite after a day on the slopes or a relaxing evening soaking in a Jacuzzi after a long day of exploring, this Rocky Mountain escape is an ideal base for your Banff adventures.
On-site amenities include complimentary Wi-Fi, a sauna, lockers for storing ski equipment, and a gift shop. A buffet breakfast is served each morning and features both hot and cold items.
Each of the 162 rooms – which include lofts and junior suites – feature deluxe en-suite bathrooms with luxury toiletries and hair dryers.
---
Banff Park Lodge
If you're looking for a centrally-located hotel surrounded by nature along the mighty Bow River, Banff Park Lodge offers both. This full-service hotel is situated in the town of Banff, but it provides a quiet retreat for when you want to escape the crowds and relax in beautiful mountain surroundings.
The hotel operates in an environmentally-friendly manner for those who are concerned about the footprint they may leave behind.
Kick back in the whirlpool or do some laps in the heated indoor swimming pool. Breathe in the rejuvenating scent of Eucalyptus in the steam room or keep up with your fitness routine in the on-site fitness area. Browse the hotel shops and fashion outlets, and at the end of the day, shield your vehicle from the cold in the heated parking area.
Each of the 211 large guest rooms and suites has Wi-Fi service, cable TV, a full bathroom, a coffeemaker, and mini-fridge. Take in the clean mountain air from your private patio or balcony.
The Banff Park Lodge offers a variety of dining options in several eateries, including La Terrazza, the Terrace Lounge, and Crave Mountain Grill.
---
Storm Mountain Lodge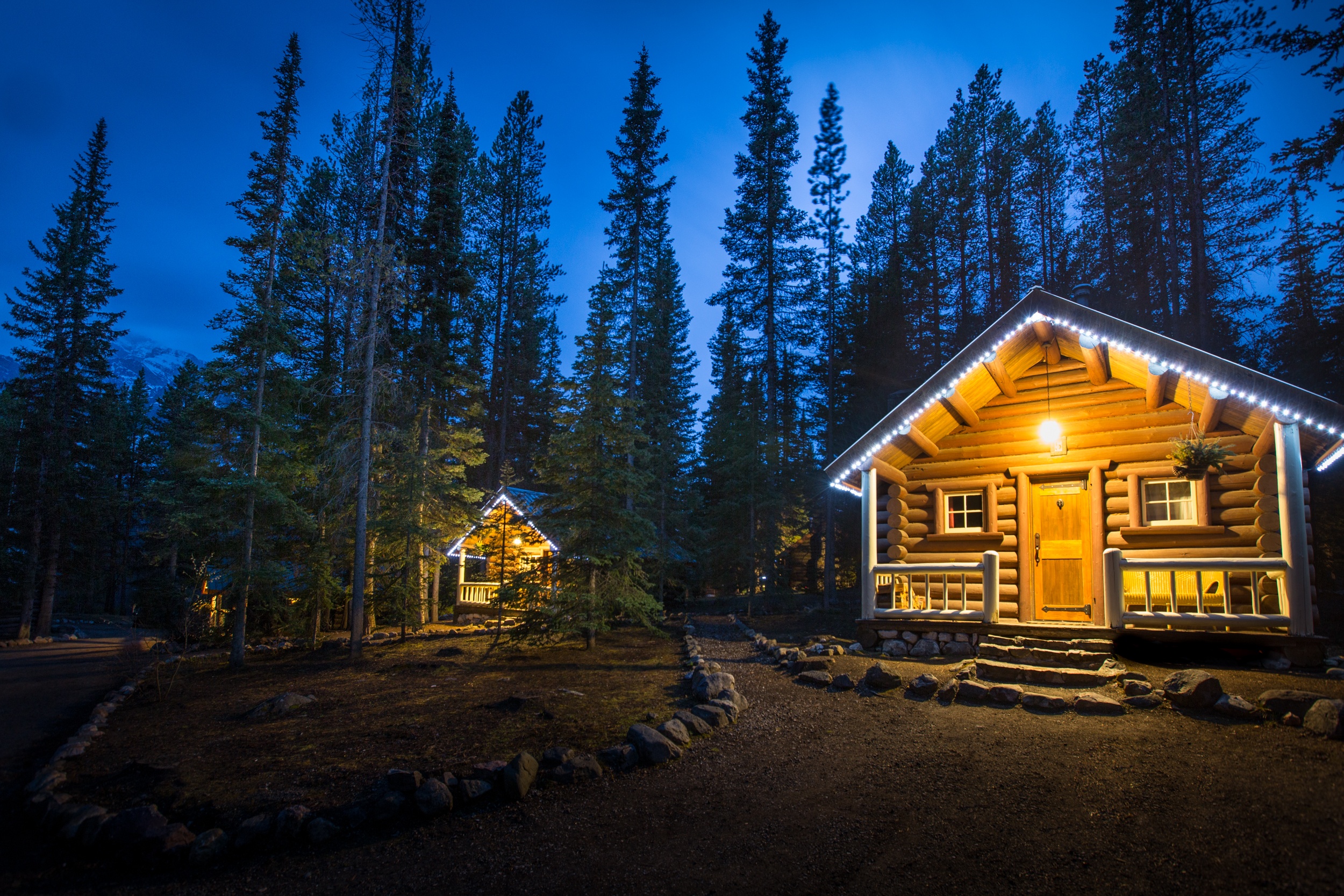 Storm Mountain Lodge has some of the best cabins in Banff National Park. If you're a true outdoor lover who enjoys the experience of removing yourself from everyone and everything, a cabin in the forest offers a true outdoor escape, and Storm Mountain Lodge has one that'll meet all your backcountry needs.
Situated halfway between Banff town and Lake Louise, the remote location of this lodge means you are far from the crowds but close to the things that matter most – mountains, forests, and stunning beauty.
If you expect modern amenities, this might not be the place for you. However, if being disconnected from Wi-Fi, phones, televisions, and all those other modern annoyances is more your style, you won't find any of those things here.
What you'll find are cozy cabins with wood-burning fireplaces and full bathrooms, and a lounge serving authentic Canadian dishes made with organic ingredients, homemade desserts, and Canadian wine.
---
Banff Inn
Banff Inn offers modern accommodations with convenient and luxurious amenities in a central location right on Banff Avenue. However, don't let the central location fool you; the great outdoors and all the fresh air activities you love are only minutes away.
At the end of each day, return to your comfortable room equipped with a mini-fridge, complimentary Wi-Fi, and a coffeemaker. Or you can unwind in the steam room or relax in the Jacuzzi.
Carlito's Pizzaria specializes in delicious pizzas but also serves a variety of other options, such as poutine, hamburgers, and salads.
---
Canalta Lodge
For a rugged experience in any season, outdoor adventurers can find comfortable accommodation with easy backcountry access at Canalta Lodge.
Start each day with a complimentary buffet breakfast followed by a rejuvenating dip in the glacier plunge tub before setting off into the great outdoors to enjoy whatever it is you like to do in the wilderness.
Return each evening to relax in the outdoor sauna or hot tubs, or kick back in front of the cozy fireplace. Also enjoy access to a gym, coffee shop, ski lockers, and bike rental service.
Each modern room offers many amenities, including complimentary Wi-Fi, HDTV, refrigerator, coffeemaker, microwave, and private bathroom.
---
Moose Hotel
The 4-star Moose Hotel is situated only minutes from the center of Banff, so you can easily walk into town and enjoy the services and attractions available.
This charming hotel has an indoor pool, two rooftop hot pools, a fitness room, and a sauna. The on-site Pacini Italian Restaurant serves gourmet cuisine with a cozy ambiance. Meadow Spa offers massages and various body treatments in a relaxing environment with mountain views.
Within its 174 rooms, guests will find many amenities, including air-conditioning, complimentary Wi-Fi, coffeemakers, and safes. Some suites also have kitchenettes and gas fireplaces.
With easy access to the adventures you dream of having in the Canadian Rockies, you'll be able to realize those dreams from this ideal base. Whether it be horseback riding into the foothills, ice climbing in winter, skiing some of the best runs in North America, or white water rafting on the Bow River, a memorable adventure awaits.
---
Banff International Hostel
Budget-conscious travelers who are simply seeking comfort with basic amenities can find affordable accommodation at the Banff International Hostel.
This quiet hostel close to downtown Banff offers a fully-equipped communal kitchen where you can prepare your own meals, two lounges with televisions, and complimentary Wi-Fi and laundry facilities.
If you enjoy a cold one while relaxing after a long day in the backcountry, a liquor store is on-site. There are dorm rooms and private rooms available at this hostel. Each dorm has a bathroom and lockers. Private rooms are equipped with en-suite bathrooms.
---
Baker Creek Mountain Resort
Still wondering where to stay in Banff? If you're seeking accommodation in a location further away from the hustle and bustle of Banff and closer to the natural beauty of Lake Louise, Baker Creek Mountain Resort is a laid-back escape offering comfortable lodge and log cabin accommodations.
You'll get a true Canadian backcountry experience surrounded by stunning mountain scenery and vast wilderness. Enjoy a roaring fire under the night sky with access to outdoor fire pits. Retreat to your cozy room or log cabin, most of which are equipped with a wood-burning stove and kitchenette.
Baker Creek Bistro serves genuine Canadian dishes and local craft beer that you can enjoy inside or on the patio.
---
Fairmont Chateau Lake Louise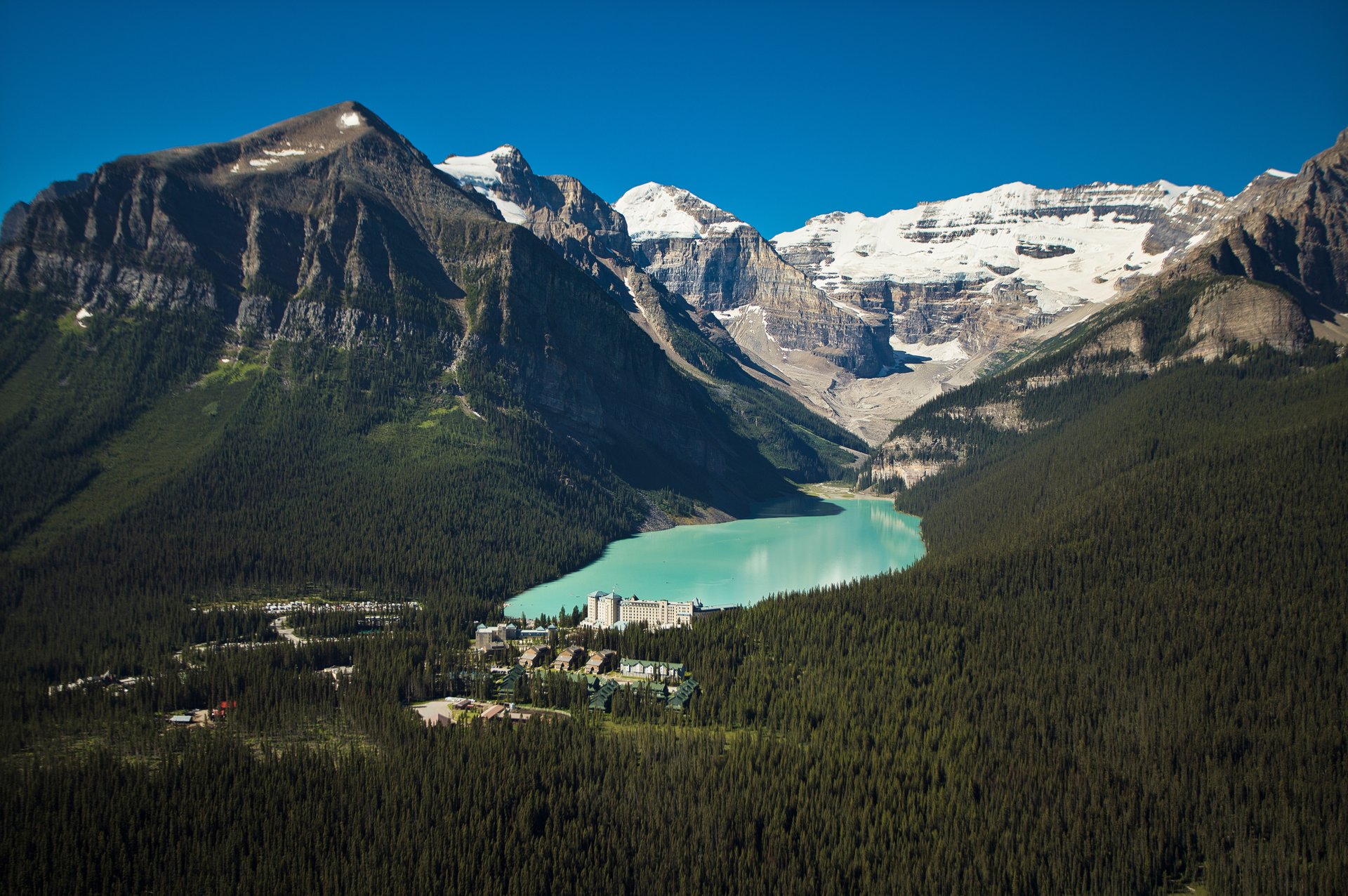 Banff National Park accommodation doesn't get much better than this. The Fairmont Lake Louise is another iconic long-standing resort in Banff National Park. If you're looking for luxury accommodation with luxury amenities in a location surrounded by mountains and remote backcountry, this is the place for you.
This stately resort overlooking stunning Lake Louise has 530 rooms and suites in various sizes. On-site amenities include an indoor pool, hot tub, steam room, and fitness area with a stretching room. The resort spa offers many services, including massages, body scrubs, and facials.
Various activities are also available on-site and nearby, including guided mountain tours, skiing, hiking, canoeing, sleigh rides, snowshoeing, skating, and dog sledding.
Lakeview Lounge, Walliser Stube, Poppy Brasserie, and Fairview Bar and Restaurant are some of the eateries available, offering a variety of dining experiences.
---
The Rundlestone Lodge
When you walk into The Rundlestone Lodge, you walk into a warm and cozy lobby with the fire already going in the fireplace.
Here, you'll enjoy mountainous surroundings close to the town of Banff. Easy access to the national park means you can spend your days exploring trails and backcountry.
There are 98 rooms with more than a dozen styles to choose from, some equipped with kitchenettes or jetted tubs. You'll also enjoy access to a swimming pool, fitness area, and hot tub.
You can rent a bike from this lodge. Traveling by bike is a great way to explore places you wouldn't think of venturing with your car. Trails, back roads and tucked away places around the quaint little town are easily-accessible on two wheels. It's also more fun to zip around with the fresh mountain air in your face.
Patrino's Family Restaurant specializes in pizza, pasta, and steak, among many other items that are suitable for all ages.
---
Banff Caribou Lodge
Situated in an ideal location on Banff Avenue, the Banff Caribou Lodge offers guests easy access to the best of both worlds – the wilderness of Banff National Park and the excitement of downtown Banff.
This mountain lodge property is surrounded by spectacular views of the mountains and has many amenities, including a full-service spa, a jetted hot pool, steam room, fitness room, and bike rental service.
Each guest receives a complimentary Banff Roam Bus Pass, and The Keg Steakhouse and Bar is located on-site.
The 184 mountain-inspired guest rooms feature complimentary Wi-Fi, televisions, coffeemakers, and mini-fridges.
---
Royal Canadian Lodge
One of the best places to stay in Banff is the Royal Canadian Lodge. If you enjoy a side of elegance along with your outdoor adventures in Banff, the Royal Canadian Lodge offers luxury accommodation with many amenities to ensure your comfort and enjoyment.
The boutique hotel is home to the Evergreen Restaurant and Lounge, where you can enjoy fine dining with extensive wine offerings and locally-inspired cuisine.
All rooms have ample natural light along with many amenities, including a flat-screen TV, mini-fridge, complimentary Wi-Fi, coffeemaker, and safe.
Grotto Spa offers various services, including body wraps, hot stone massages, and facials. A fitness area, heated indoor pool, hot tub, and steam room are also on-site.