Looking for the best Banff hotels to stay at? For a small town in the middle of a national park, there are actually some great places to stay and even a few luxury hotels in Banff. So if you're wondering where to stay in Banff National Park, we have you covered.
This is where you can plan to stay on your first trip to the Canadian Rockies. All of these Banff hotels will ensure you have a great time during your trip. Be sure to check out our ultimate guide for planning your trip to Banff.
---
The Best Places to Stay in Banff (Banff Hotels)
Where is the best place to stay in Banff for you? To answer this, it's essential to understand that Banff is a small town in the middle of a national park. Most of the hotels in Downtown Banff are located right on Banff Ave, with the exception of Banff Springs and a few others.
There are also other hotels outside the town and scattered around Banff National Park. About halfway to Lake Louise, you can find Banff cabins at Castle Junction, along the Bow Valley Parkway. Further down the TransCanada, there are a handful of places to stay around Lake Louise.
If you don't actually want to stay in Banff National Park you can also base yourself in the neighboring town of Canmore, at the Emerald Lake Lodge in Yoho, or up in the Spray Valley at Mount Engadine. These will all be mentioned below.
---
Best Hotels in Downtown Banff
---
Fairmont Banff Springs
No luxury hotel in Banff National Park is more iconic than the long-standing Banff Springs Hotel. It's one of the best hotels in Banff, and for a good reason. When you glimpse this grand landmark for the first time, you'll see why it's known as The Castle of the Rockies. The hotel has seen guests from all over the world for more than 100 years.
The view, overlooking a stunning vista consisting of a valley and the distant Mount Rundle, is just the beginning. Regarding amenities, you'll have access to a championship golf course, fitness center, swimming pool, bowling center, and tennis courts.
The Willow Stream Spa offers a variety of treatments, including massages and facials. Each one of the on-site restaurants provides a unique experience. Whether you're seeking a fine dining experience or a cozy family eatery, you'll find every type of food – from world cuisine to local favorites.
There are 757 spacious guest rooms and suites. While there are different categories of rooms, each one has complimentary high-speed internet, cable TV, and a coffeemaker.
A unique feature of this hotel is the variety of cultural programs and organized activities offered to guests. Guests can enjoy communal campfires with marshmallow roasting, nature walks, hikes up Tunnel Mountain, stargazing outings, guided snowshoeing adventures, and bike tours are just some of the outdoor activities available for all ages. They also decorate the hotel with incredible decorations for Christmas in Banff.
---
Mount Royal Hotel
The Mount Royal Hotel is another historic hotel that dates back to 1908 and is located right in the center of Banff. It has an ideal location, so you can easily access anything in Banff.
The historic building has a beautiful exterior that likely makes an appearance in thousands of photographs down Banff Ave of Cascade Mountain. While the building may date back over one hundred years, the rooms certainly do not!
The entire hotel has undergone a recent renovation and rooms are modern, clean, and comfortable. We loved the interiors here! Beds are luxurious and the perfect way to recharge after a day tackling the mountains.
Inside the rooms are a large flat-screen TV, desk, mini-fridge, toiletries, and high-speed internet. We love the stylish rooms and the interiors such as the big cozy fireplace in the lobby and hotel library.
---
The Rimrock Resort Hotel
The Rimrock Resort Hotel is one of the best luxury hotels in Banff. Its interior decor, massive lobby, floor-to-ceiling windows, fantastic views, and wonderful service make the hotel stand out. Facilities at the resort include two restaurants, an indoor heated pool, hot tub, steam room, sauna, and fitness studio.
One of the restaurants, Eden, has the prestigious 5 Diamond Award and serves some of the finest food in Western Canada with a view. Asides from the Banff Springs Hotel this is the nicest hotel in the town of Banff, and provides extremely close access to the Banff Gondola and Banff Hot Springs.
The hotel policy is very pet-friendly. Rooms are prepared with a dog bed, bowls, poop bags, and freshly baked dog biscuits ready for their canine guests. Plus the hotel's location on the outskirts of town means there are nice walking trails for dogs. It's the little touches that can make your vacation so much more enjoyable with your pooch.
---
Elk + Avenue Hotel
If you're after great Banff National Park lodging look no further. Situated in the town of Banff, only minutes away from the town's services and the remote backcountry of the national park, Elk + Avenue Hotel is a rugged mountain escape with a touch of luxury.
It doesn't matter if you're seeking a cozy respite after a day on the slopes or a relaxing evening soaking in a Jacuzzi after a long day of exploring, this Rocky Mountain escape is an ideal base for your Banff adventures. On-site amenities include complimentary Wi-Fi, a sauna, lockers for storing ski equipment, and a gift shop. A buffet breakfast is served each morning and features both hot and cold items.
Each of the 162 rooms – which include lofts and junior suites – feature deluxe en-suite bathrooms with luxury toiletries and hair dryers. This is one of the best hotels on Banff Avenue, with quick access to all the best Banff coffee shops and restaurants.
---
Juniper Hotel and Bistro
Juniper Hotel & Bistro is a beautiful accommodation option located inside Banff National Park. Its selling point is the fine dining experience at their bistro, which is considered one of the prettiest in the park.
This is one of the Banff hotels not located in downtown Banff. Juniper Hotel is about two kilometers from Banff Avenue, and six kilometers from Mount Norquay Ski Resort.
It is set on a hill, perched above the Trans-Canada highway, and surrounded by mountains, particularly the views of Mount Norquay are stunning from the hotel.
---
The Dorothy Motel
The Dorothy Motel is a newly launched and renovated motel just outside of Downtown Banff, but still within walking distance. It's a boutique motel with simple rooms that are well set up to meet travelers' needs. Pets are welcome at the hotel as they are provided a bed, food and water bowls, a take-home toy, and tasty treats.
The location backs right up to the forest so it's quiet, but close enough to enjoy the amenities of downtown Banff. Beds are super comfortable, and modern appliances are included in this brand new hotel.
Room options on offer are two queen beds or a single king bed and each room includes a mini-fridge, microwave, and coffee/tea maker. Fantastic value with this motel!
---
Banff Inn
Banff Inn offers modern accommodations with convenient and luxurious amenities in a central location right on Banff Avenue. However, don't let the central location fool you; the great outdoors and all the fresh air activities you love are only minutes away.
At the end of each day, return to your comfortable room equipped with a mini-fridge, complimentary Wi-Fi, and a coffeemaker. Or you can unwind in the steam room or relax in the Jacuzzi. Carlito's Pizzaria specializes in delicious pizzas but also serves a variety of other options, such as poutine, hamburgers, and salads.
---
Canalta Lodge
For a rugged experience in any season, outdoor adventurers can find comfortable accommodation with easy backcountry access at Canalta Lodge.
Start each day with a complimentary buffet breakfast followed by a rejuvenating dip in the glacier plunge tub before setting off into the great outdoors to enjoy whatever it is you like to do in the wilderness.
Return each evening to relax in the outdoor sauna or hot tubs, or kick back in front of the cozy fireplace. Also enjoy access to a gym, coffee shop, ski lockers, and bike rental service. Each modern room offers many amenities, including complimentary Wi-Fi, HDTV, refrigerator, coffeemaker, microwave, and private bathroom.
---
Moose Hotel & Suites
The 4-star Moose Hotel & Suites is situated only minutes from the center of Banff, so you can easily walk into town and enjoy the services and attractions available. This charming hotel has an indoor pool, two rooftop hot pools with views in all directions, a fitness room, and a sauna.
The on-site Pacini Italian Restaurant serves good Italian food with a cozy ambiance. Meadow Spa offers massages and various body treatments in a relaxing environment with mountain views.
Within its 174 rooms, guests will find many amenities, including air-conditioning (a rarity in Banff), complimentary Wi-Fi, coffeemakers, and safes. Some suites also have kitchenettes and gas fireplaces. With easy access to the adventures you dream of having in the Canadian Rockies, you'll be able to realize those dreams from this ideal base.
Whether it be horseback riding into the foothills, ice climbing in winter, skiing some of the best runs in North America, or rafting on the Bow River, a memorable adventure awaits.
---
Basecamp Suites Banff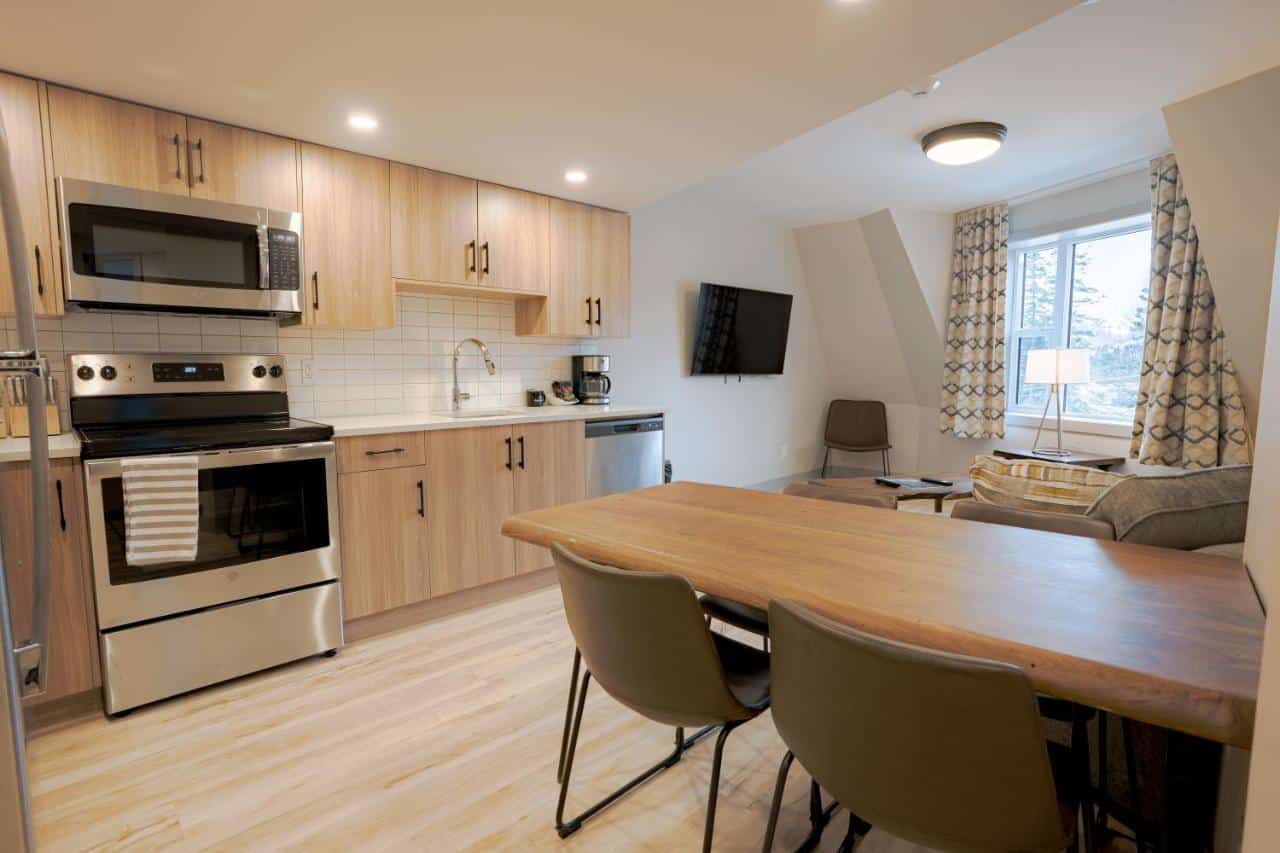 Basecamp Suites Banff is one of the newest properties in Banff, just 500 m away from The Whyte Museum of the Canadian Rockies. The accommodations offer apartment style lodging with air-conditioned rooms with complimentary WiFi, and on-site parking.
Each unit is comprised of a cozy seating area with a sofa, a dining area, and a fully equipped kitchen complete with various cooking facilities, such as a dishwasher, oven, microwave, and toaster. Kitchenware, a fridge, stovetop, coffee machine, and kettle are also provided. Additionally, private bathrooms with a hairdryer and bed linen are included in each unit.
---
Banff International Hostel
While certainly not one of the best hotels in Banff, budget-conscious travelers who are simply seeking comfort with basic amenities can find affordable accommodation at the Banff International Hostel, it's one of the best hostels in the Canadian Rockies to stay at.
This quiet hostel close to Downtown Banff offers a fully-equipped communal kitchen where you can prepare your own meals, two lounges with televisions, and complimentary Wi-Fi and laundry facilities.
If you enjoy a cold one while relaxing after a long day in the backcountry, a liquor store is on-site. There are dorm rooms and private rooms available at this hostel. Each dorm has a bathroom and lockers. Many private rooms are equipped with en-suite bathrooms.
---
Banff Park Lodge
If you're looking for a centrally-located hotel surrounded by nature along the mighty Bow River, Banff Park Lodge offers both. This full-service hotel is situated in the town of Banff, but away from Banff Avenue, providing a quiet retreat for when you want to escape the crowds and relax in beautiful mountain surroundings.
The hotel operates in an environmentally-friendly manner for those who are concerned about the footprint they may leave behind. Kick back in the whirlpool or do some laps in the heated indoor swimming pool. Breathe in the rejuvenating scent of Eucalyptus in the steam room or keep up with your fitness routine in the on-site fitness area. Browse the hotel shops and fashion outlets, and at the end of the day, shield your vehicle from the cold in the heated parking area.
Each of the 211 large guest rooms and suites has Wi-Fi service, cable TV, a full bathroom, a coffeemaker, and mini-fridge. Take in the clean mountain air from your private patio or balcony. The Banff Park Lodge offers a variety of dining options in several eateries, including La Terrazza, the Terrace Lounge, and Crave Mountain Grill.
---
The Rundlestone Lodge
When you walk into The Rundlestone Lodge, you walk into a warm and cozy lobby with the fire already going in the fireplace. Here, you'll enjoy mountainous surroundings right on Banff Avenue. There are 98 rooms with more than a dozen styles to choose from, some equipped with kitchenettes or jetted tubs.
You'll also enjoy access to a swimming pool, fitness area, and hot tub. You can rent a bike from this lodge. Traveling by bike is a great way to explore places you wouldn't think of venturing with your car. Trails, back roads and tucked away places around the quaint little town are easily-accessible on two wheels. Our favorite is a summer bike ride on the Bow Valley Parkway.
---
Banff Caribou Lodge
The Banff Caribou is a great mid-range hotel in Banff. Situated in an ideal location on Banff Avenue, the Banff Caribou Lodge offers guests easy access to the best of both worlds – the wilderness of Banff National Park and the excitement of Downtown Banff.
This mountain lodge property is surrounded by spectacular views of the mountains and has many amenities, including a full-service spa, a jetted hot pool, steam room, fitness room, and bike rental service.
Each guest receives a complimentary Banff Roam Bus Pass, and The Keg Steakhouse and Bar is located on-site. The 184 mountain-inspired guest rooms feature complimentary Wi-Fi, televisions, coffeemakers, and mini-fridges.
---
Royal Canadian Lodge
One of the best places to stay in Banff is the Royal Canadian Lodge. If you enjoy a side of elegance along with your outdoor adventures in Banff, the Royal Canadian Lodge offers luxury accommodation with many amenities to ensure your comfort and enjoyment.
The boutique hotel is home to the Evergreen Restaurant and Lounge, where you can enjoy fine dining with extensive wine offerings and locally-inspired cuisine. All rooms have ample natural light along with many amenities, including a flat-screen TV, mini-fridge, complimentary Wi-Fi, coffeemaker, and safe.
Grotto Spa offers various services, including body wraps, hot stone massages, and facials. A fitness area, heated indoor pool, hot tub, and steam room are also on-site.
---
The Peaks Banff
The Peaks Banff is the newest hotel in Downtown Banff and offers modern accommodation in a great location. It's quickly becoming one of the best places to stay in Banff as word gets out about this amazing place. Situated between Wolf and Caribou Street, just steps away from Bear Street is this upscale hotel.
While many Banff hotels can feel tired and dated, The Peaks feels the opposite. Here there are 71 modern rooms that are incredibly comfortable. While the rooms are nice most guests rave about the impressive location. Away from the noise on Banff Ave, but still close enough to walk everywhere it truly is hard to beat The Peaks.
For those that have driven to Banff, you'll enjoy heated underground parking and a complimentary car wash station.
---
Ski In/ Ski Out Banff Hotels
---
Sunshine Mountain Lodge
There is only one ski-in/ski-out accommodation option in all of Banff National Park. The honor lies at Sunshine Resort in the form of the Sunshine Mountain Lodge.
With its tall windows reflecting the stunning mountain backdrop that it stands against, it's one of those treat yourself hotels in Banff. The woodwork and stone structure are luxurious, yet blend in with the natural landscape looking as though it all formed in unison. This place is the perfect getaway in winter, but it's still available for a stay in the summer as well!
---
Best Banff Hotels – Lake Louise Area
---
Storm Mountain Lodge
Storm Mountain Lodge has some of the best cabins in Banff National Park. If you're a true outdoor lover who enjoys the experience of removing yourself from everyone and everything, a cabin in the forest offers a true outdoor escape, and Storm Mountain Lodge has one that'll meet all your backcountry needs.
Situated halfway between Downtown Banff and Lake Louise on Highway 93 near the entrance to Kootenay National Park and the BC border, the remote location of this lodge means you are far from the crowds but close to the things that matter most – mountains, forests, and stunning beauty.
If you expect modern amenities, this might not be the place for you. However, if being disconnected from Wi-Fi, phones, televisions, and all those other modern annoyances is more your style, you won't find any of those things here.
What you'll find are cozy cabins with wood-burning fireplaces and full bathrooms, and a lounge serving authentic Canadian dishes made with organic ingredients, homemade desserts, and Canadian wine.
---
Baker Creek Mountain Resort
Still wondering where to stay in Banff? If you're seeking accommodation in a location further away from the hustle and bustle of Banff and closer to the natural beauty of Lake Louise, Baker Creek Mountain Resort along the Bow Valley Parkway, is a laid-back escape offering comfortable lodge and log cabin accommodations.
You'll get a true Canadian backcountry experience surrounded by stunning mountain scenery and vast wilderness, it's truly one of the best hotels in Banff. Enjoy a roaring fire under the night sky with access to outdoor fire pits in both the winter and summer. If you're visiting Banff in the winter, you'll enjoy the outdoor ice skating rink and easy access to some Banff winter hikes.
Retreat to your cozy room or log cabin, most of which are equipped with a wood-burning stove and kitchenette so you can dine in, as the closest restaurant is in Lake Louise.
---
Paradise Lodge and Bungalows
Paradise Lodge and Bungalows may be the best hotel near Lake Louise. While not directly on the lake it is only a 500-meter walk from the lake. Only open during the summer season, Paradise Lodge is one of the best Alberta cabins to stay.
Rooms, cabins, and apartments here have character and offer a comfortable stay with kitchens in a number of suites. A nice mixture of cute cabins and lodge buildings are spread across lovely grounds. The main lodge building features a large stone fireplace and cozy seating. Many rooms have magnificent views from private balconies, perfect for a morning coffee.
---
Moraine Lake Lodge
Moraine Lake Lodge may be set in the most scenic setting for a lodge in the entire world on the shores of Moraine Lake. This is the only place to stay on Moraine Lake, so if that is your goal while visiting, you need to book here.
As it's the only lodge in a desirable location you'll have to book well in advance for the summer season. Moraine Lake Lodge is only open from June to October, so you can bet this place books up quickly.
Included in room rates is tea time, breakfast, dinner, wine, and activities such as canoeing and hiking. The free canoe rental at Moraine Lake is a particularly nice perk as it costs $130 an hour for non-guests.
---
Fairmont Chateau Lake Louise
The Fairmont Chateau Lake Louise is another iconic long-standing resort in Banff National Park. Many consider it one of the best hotels in Banff, but personally I just think it has one of the best locations in Banff.
If you're looking for luxury accommodation with luxury amenities in a location surrounded by mountains and remote backcountry, this is the place for you. Although be forewarned this is easily the most expensive place to stay in Banff. You're paying for location here, because the rooms are nothing to write home about, and I've found service rude for the price point.
That being said this stately resort overlooking stunning Lake Louise has 530 rooms and suites in various sizes. On-site amenities include an indoor pool, hot tub, steam room, and fitness area with a stretching room. The resort spa offers many services, including massages, body scrubs, and facials.
The Fairmont plays host to many activities in the summer and winter. Most notable in the winter is the Lake Lousie ice bar, ice castle, ice skating rink, and sleigh rides.
---
Best Hotels Outside of Banff
---
Mount Engadine in Kananaskis
Mount Engadine is not in Banff National Park, but it's one of the most unique places to stay in the Canadian Rockies, so I had to mention it. Set in the heart of the Spray Valley near popular hikes like Tent Ridge and Smutwood this is a fantastic place to stay.
There are four main styles of lodging you can book at Mount Engadine Lodge. Starting with lodge rooms connected to the main lodge. There are also wood cabins and a yurt! We stayed in their newer glamping tents that felt like a home away from home.
There are five glamping tents in total with private decks overlooking the valley. Inside you'll find a comfortable king-size bed, full ensuite bathroom, and a gas fireplace to keep warm at night! You can book stay and dine packages here where the Engadine staff will prepare you breakfast, lunch, afternoon tea, and dinner!
---
Emerald Lake Lodge in Yoho
Emerald Lake Lodge in Yoho National Park is one of the most dream-worthy places to stay in the Canadian Rockies. Whether you know it or not you've likely seen famous photos of a small cabin surrounded by canoes, an "emerald lake" and a distinctly shaped mountain behind it.
This would be Emerald Lake, one of the most photographed sights in the Canadian Rockies and somewhere that is almost too beautiful to be real.
Most visitors to the Yoho stop by Emerald Lake and hang around for an hour or so, but to really get the full immersion I highly recommend staying overnight. The only place you can stay overnight at Emerald Lake is the Emerald Lake Lodge. A scenic, cozy, and comfortable lodge that offers guests tranquility and seclusion. It's one of the best places to stay in the Canadian Rockies, but given its location, it books up fast in the summer, even given the high rates.
---
The Best Places to Stay in Canmore
---
Malcolm Hotel By Clique
One of the newest hotels in Canmore, and it has quickly made a name for itself. The Malcolm Hotel is a luxury hotel situated in the heart of Spring Creek, a desirable neighborhood just steps away from downtown Canmore. The location provides a convenient location to Canmore's restaurants, bars, and shops.
Inside the luxurious rooms are modern TVs, free Wi-Fi, mini-fridges, coffeemakers, and rainfall showers. The hotel facilities include a fitness center, restaurants, concierge service, and free parking. The Malcolm also has one of the best pool views in all the Rockies, and a hot tub that will make you never want to leave the property.
The owners have also provided community support which has sat well with locals.
---
Lamphouse Hotel
My family stayed at The Lamphouse over Christmas and loved it. They remarked multiple times how it was the best hotel in Canmore. The Lamphouse Hotel is a really good value option for exploring Canmore. They offer self check in rooms so you never had to deal with the fuss of getting in late and checking in. On top of self check in, rooms here have air conditioning, which is not common in Canmore, but is a nice luxury during Alberta heat waves.
They have the best location right in the center of downtown and along the Policeman's Boardwalk. It's a converted motel and all of the rooms are modern and up to date with stylish mountain decor. Their rooms have kitchenettes, or if looking to cook most of your meals in you can book their apartment style room that has a full kitchen.
---
Canmore Downtown Hostel
It can be tough to find great hostel accommodation options in North America, but the Canmore Downtown Hostel manages to deliver the goods.
This is a new hostel that is well equipped, comfortable, and clean with friendly staff. Facilities available at the hostel include a shared kitchen, lounge, and washing machines. If you want budget accommodation in Canmore, don't hesitate to book this place.
---
A Word on These Best Hotels in Banff
Book in Advance: If you are planning your trip to Banff between mid-June to late September, and around the holidays you should book your Banff hotels in advance. How far in advance? At least three months, but I would say six months for the more desirable places like the Banff Springs and Emerald Lake Lodge.
Weekends: The mountains are popular with those traveling from the city on weekends, even in the shoulder and off-season. If you are visiting for a weekend trip, even if it's March or April it is best to reserve in advance.
Large Groups: Absolutely need to book well in advance, as many Banff hotels only have so much room to accommodate groups. It's also best to look at some VRBO options in Banff and VRBO options in Canmore. A single traveler, or a couple will have an easier time finding accommodation on short notice.
Shop Around: Unless you are dying to stay at a particular property you should do some price shopping. Many of the hotels on Banff Ave are comparable and competitive with rates, and they all offer that same amazing location.
Consider Staying Outside of Banff: If you are on a budget, you can find better deals outside of Banff. Take a look at nearby Canmore, which is slightly better value, or if you don't mind driving, you can even look in Calgary or Golden, BC.
---
Hopefully this helped you determine which of these Banff hotels is the hotel for you.
If you have any other questions leave a comment or see our Canadian Rockies travel guide for more articles about photography spots, lakes, hikes, and everything else.
---
Best Hotels in Banff Maps
---
---