Juniper Hotel & Bistro is a beautiful accommodation option located inside of Banff National Park. Its selling point is the fine dining experience at their bistro, which is considered one of the prettiest in the park.
We stayed at the Juniper Hotel & Bistro in the summer and loved waking up to beautiful Mount Rundle right from our suite. There are plenty of reasons to book a stay at Juniper Hotel while enjoying your trip to Banff, so here are just a few to help you decide if this is the right Banff hotel for you.
See Also:
---
Quick Details
---
The Juniper Hotel & Bistro
---
Juniper Hotel Has a Great Location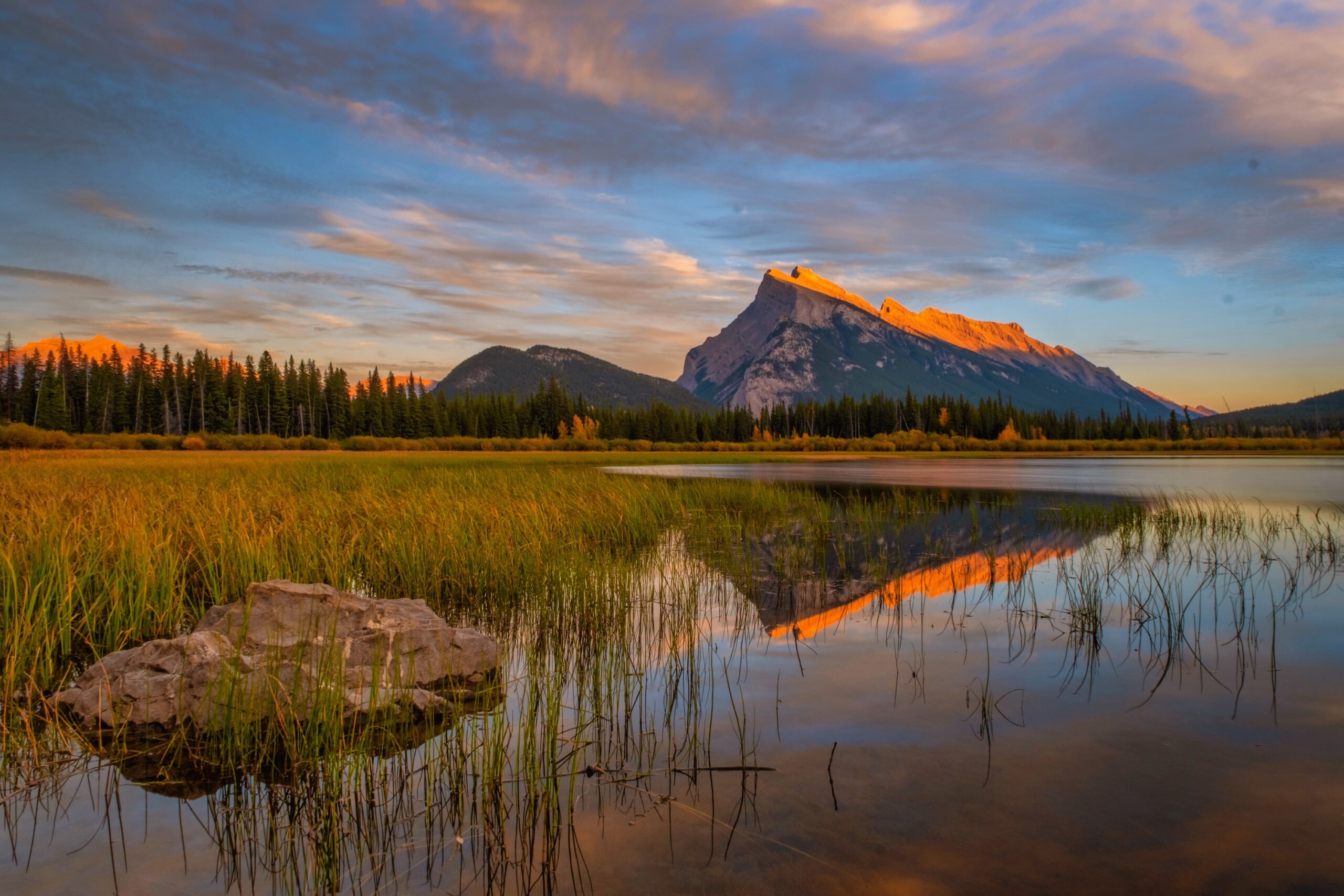 Juniper Hotel & Bistro is located inside of the Banff National Park. It is set on a hill, perched above the Trans-Canada highway, and surrounded by mountains, particularly the views of Mount Norquay are stunning from the hotel. Juniper Hotel is about two kilometers from Banff Avenue, and six kilometers from Mount Norquay Ski Resort.
It is important to note that when you book the hotel, national park fees are not included and you are required to pay for it at the entrance gate (or show off your Discovery Pass). See all our Banff travel tips for the details about Parks Canada passes.
While he Juniper Hotel is not in downtown Banff it's only a short drive away from Banff Avenue. Banff Avenue is the main street in downtown Banff and is where you'll find most of the restaurants, cafes and souvenir shops that make a Banff experience super enjoyable. Any and all gear rentals, and tour agencies can be found here as well.
If you prefer to walk to Banff Ave from the Juniper Hotel, it will take about 20-25 minutes to reach Banff Avenue.
From Juniper Hotel, you can also enjoy walking trails and take photos right from the property. If you are driving to Banff I would highly recommend bringing a bike in the summer and biking to nearby Vermilion Lakes.
---
Juniper Hotel Has Beautiful Room Interiors & Fantastic Room Amenities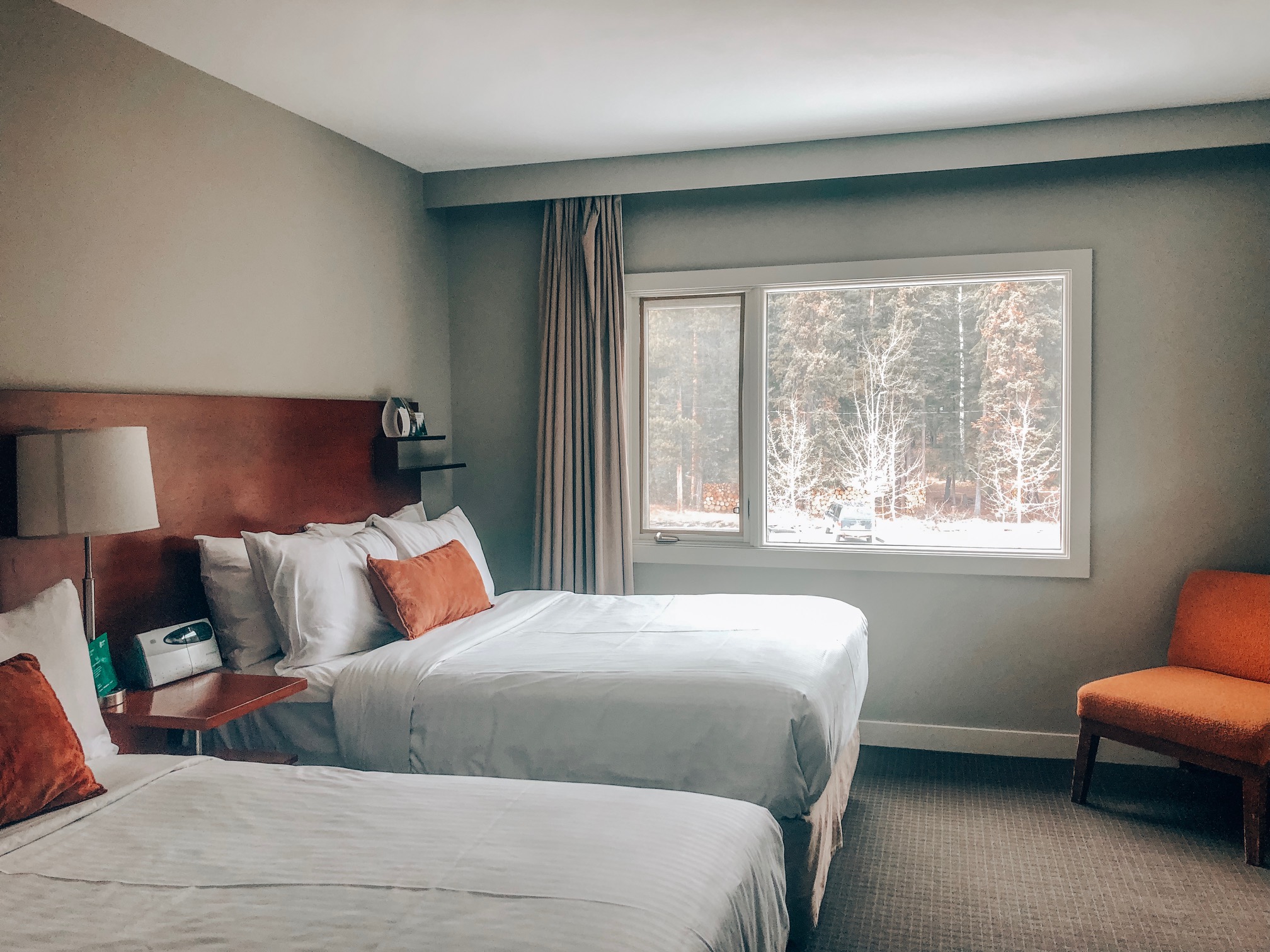 There are a few room/suite options to choose from at Juniper Hotel. It is important to note that this hotel property is 3 star standard with well-maintained interiors, and modern amenities. It is not luxurious like the Banff Springs Hotel, but the rooms overall are quite spacious and comfortable for short or long-term vacation.
During our stay, we opted for a standard room at the Juniper Hotel. Our room faced the forested slopes of Mount Norquay. The room was spacious and clean with air-conditioning (a luxury in the Rockies), a mini-fridge, and complimentary wireless internet.
The standard rooms are great for budget to mid-range travelers at $175 during the peak summer months. If you travel to Banff during the off-season, like April, May, or November, you may be able to score a great deal. Standard rooms are available with one king bed or two double bed options.
---
Juniper Hotel Offers Varying Room Types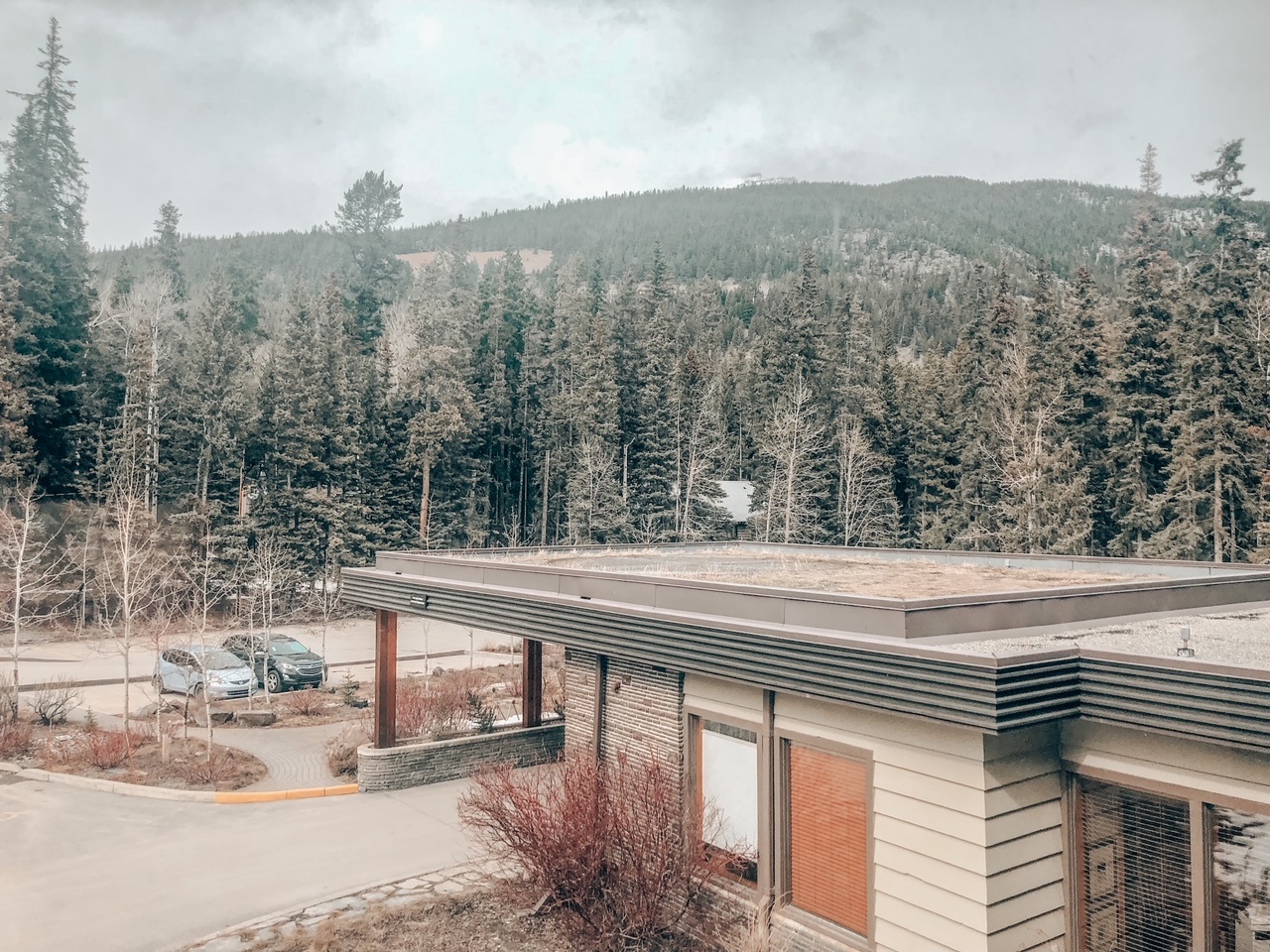 Other than the standard rooms, Juniper Hotel also offers deluxe valley rooms which offer mountain views with a private balcony or deck. They are also available with one king size, or two double beds.
If you're in need of a bit more luxury and space Juniper Hotel & Bistro also has luxury king suites featuring panoramic mountain views, with a comfortable living area to relax. They also have a wet bar with mini-fridge for drinks and snacks.
If traveling with a group, you can opt for the two-bedroom suite. Called the Woodland Suite it has two separate bedrooms with one queen and two double beds to accommodate a family of four. The premiere rooms are the three-bedroom sky view suite, which is what Juniper Hotel calls their "penthouse" suite. The penthouse suite on the property of course has mountain views and has three separate bedrooms with one king, one queen and two double beds.
Perhaps the best "room" at Juniper Hotel is the Cabin. The Cabin is set in the forest at the edge of the property and is the ideal home away from home in Banff. This Banff cabin has a separate closed-off bedroom and upstairs loft, along with a full kitchen for cooking, living area with fireplace and dining table. It's a great option for large groups or families.
---
Juniper Hotel is Pet Friendly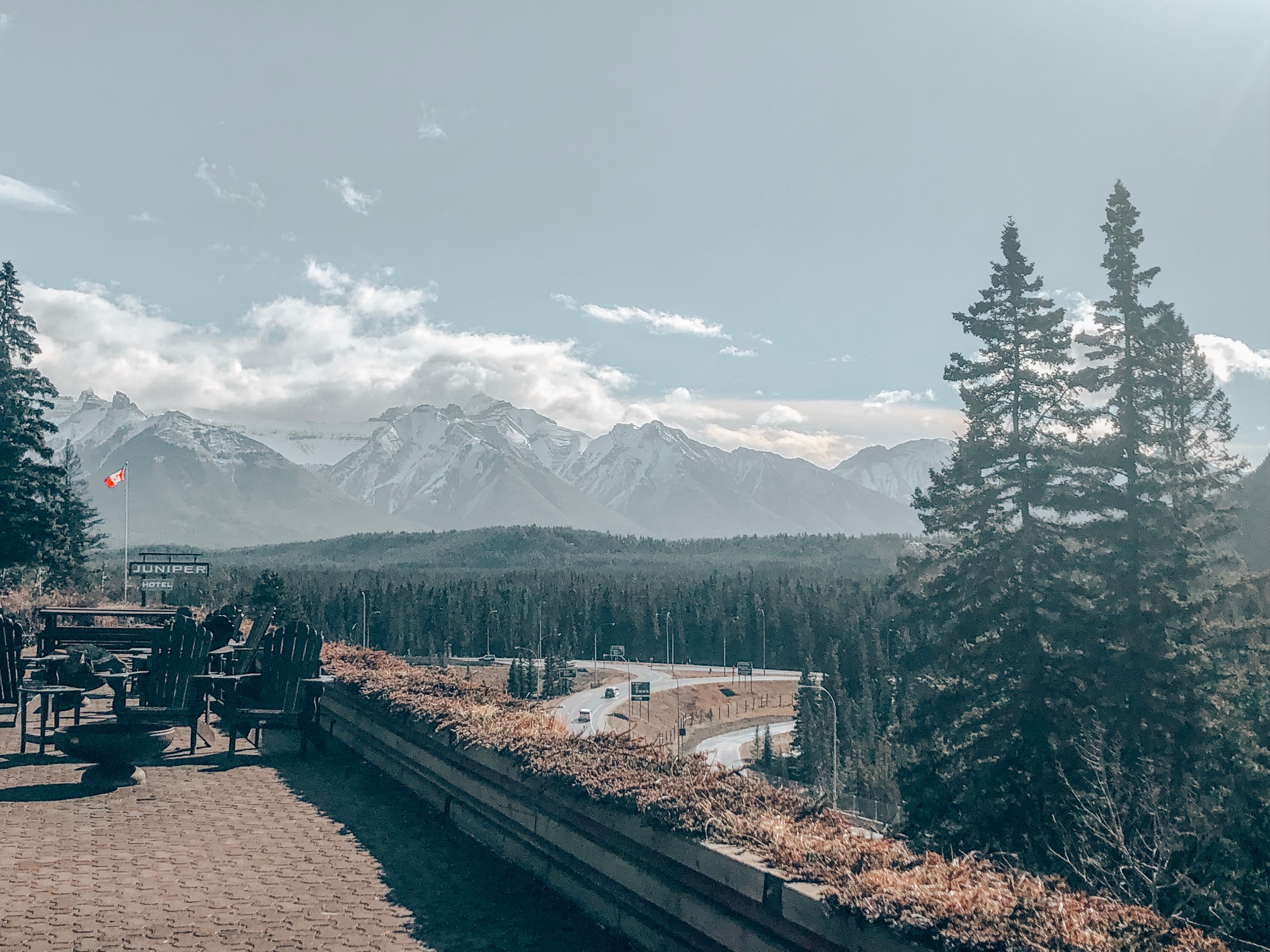 Juniper Hotel & Bistro is one of the best pet-friendly hotels in Banff. You can book pet-friendly rooms in each category of the suite (standard/deluxe/cabin, etc). Pet fees are additional.
---
Juniper Hotel Offers Free Parking and a Free Shuttle Service
Free parking is available on-site. If you don't feel like walking to downtown Banff or driving yourself and fighting fo parking in the summer guests can enjoy the free shuttle to downtown Banff.
---
Enjoy Fantastic Dining at Juniper Bistro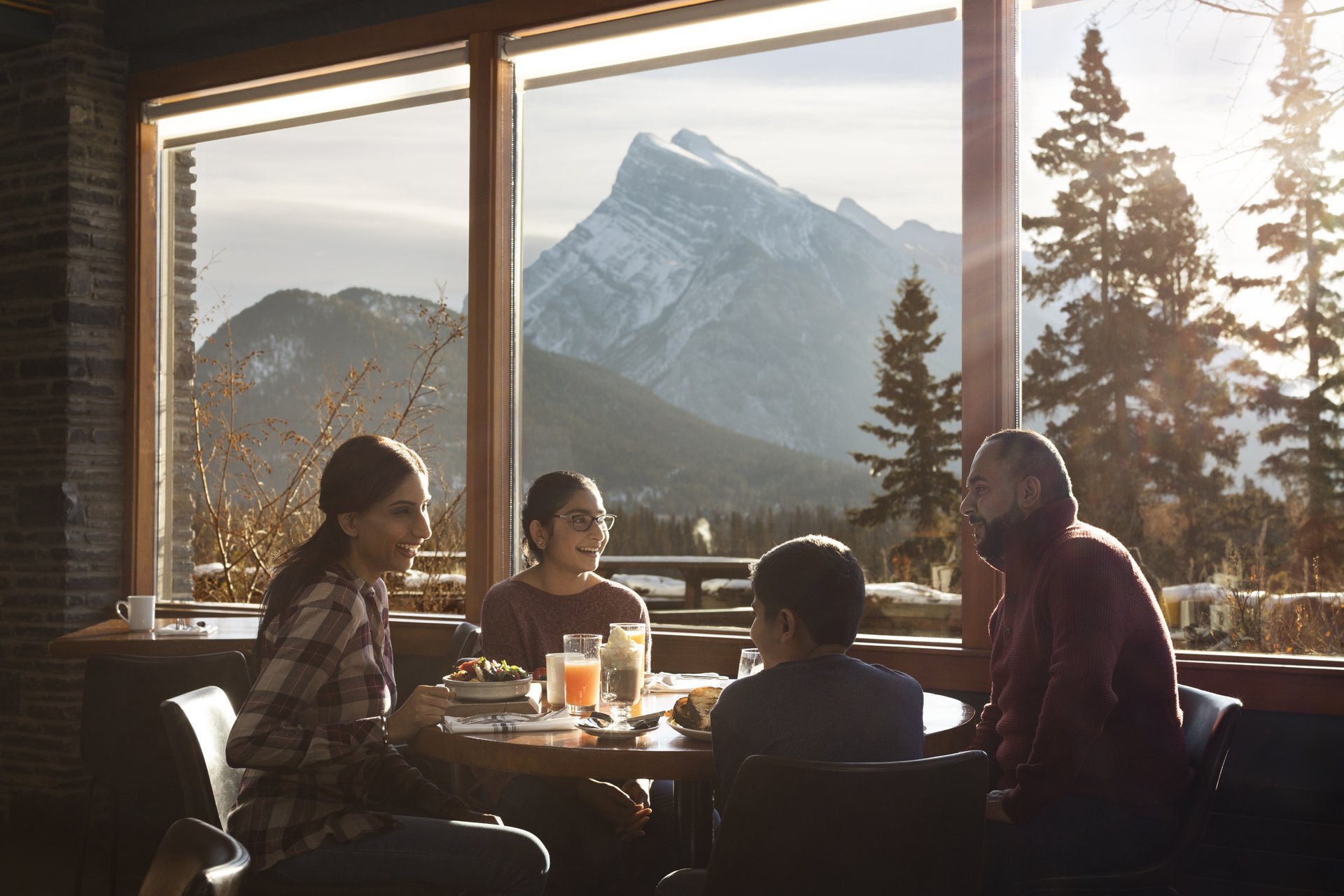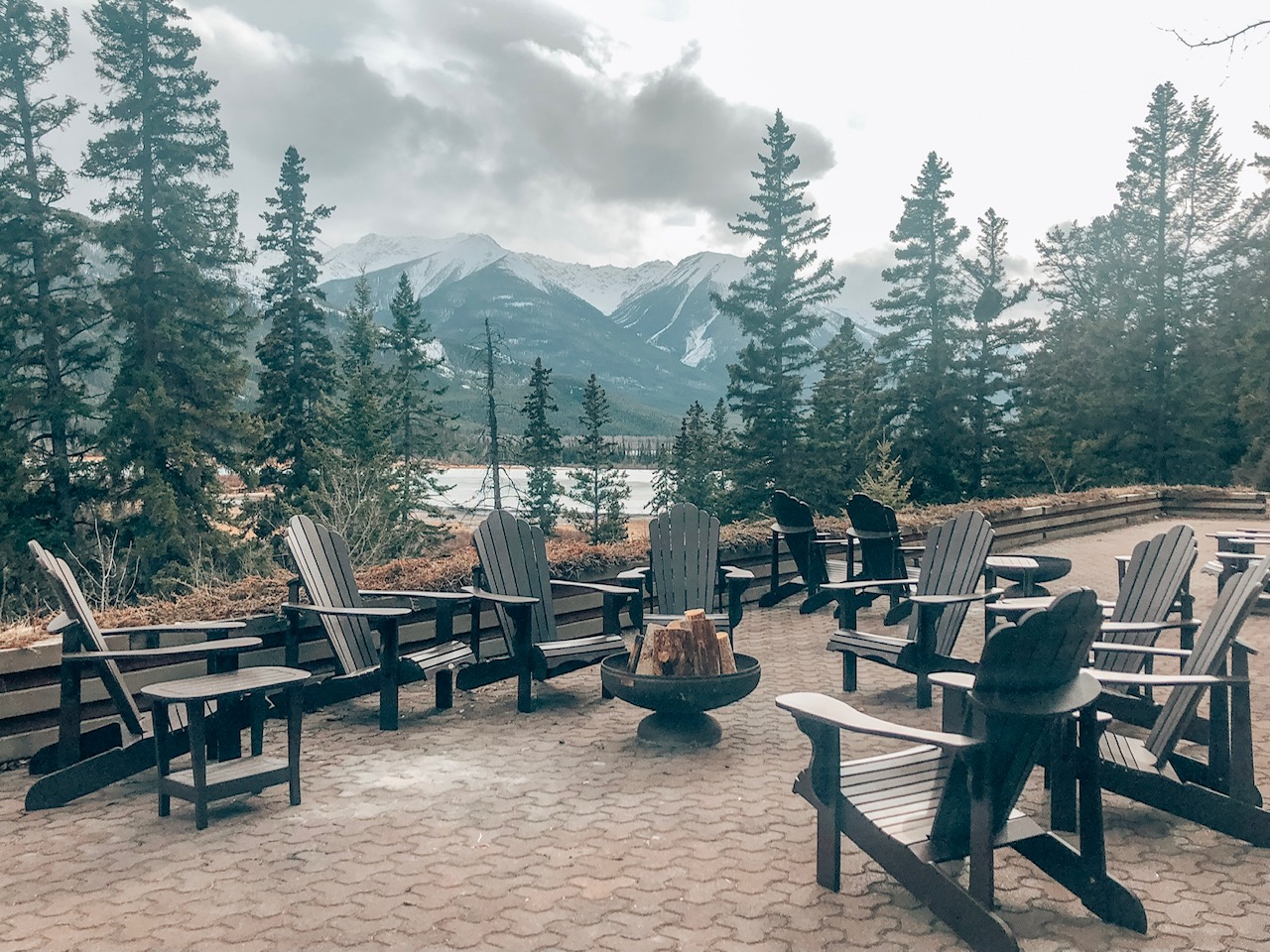 Juniper Hotel is probably the best known for its wall to wall glass at the Bistro. Juniper Bistro looks out over one of the most renowned vistas in the Canadian Rockies. As any visitor to the national park can also enjoy a meal at the Bistro, we recommend making reservations ahead of time for dining. Meals are not included as part of the nightly rate.
At the Juniper Bistro, you can enjoy fantastic cuisine like a warm mushroom salad and spinach and artichoke dip with mesmerizing views of the Bow Vally Valley. In the evening, as long as weather permits, guests can enjoy the pit fire, with cocktails under the starry skies in one of the most beautiful places on earth.
From an in-house bakery to special meals like gluten-free or vegetarian options, you won't be disappointed at the Bistro!
---
Juniper Hotel is an Eco Friendly Hotel
Juniper Hotel & Bistro has partnered with EcoStay to fund environmental projects around the world. You can be a part of this initiative by donating during your stay. A small, optional nightly fee can be included at your request to contribute to EcoStay.
---
There Are Plenty of Things to do Around Juniper Hotel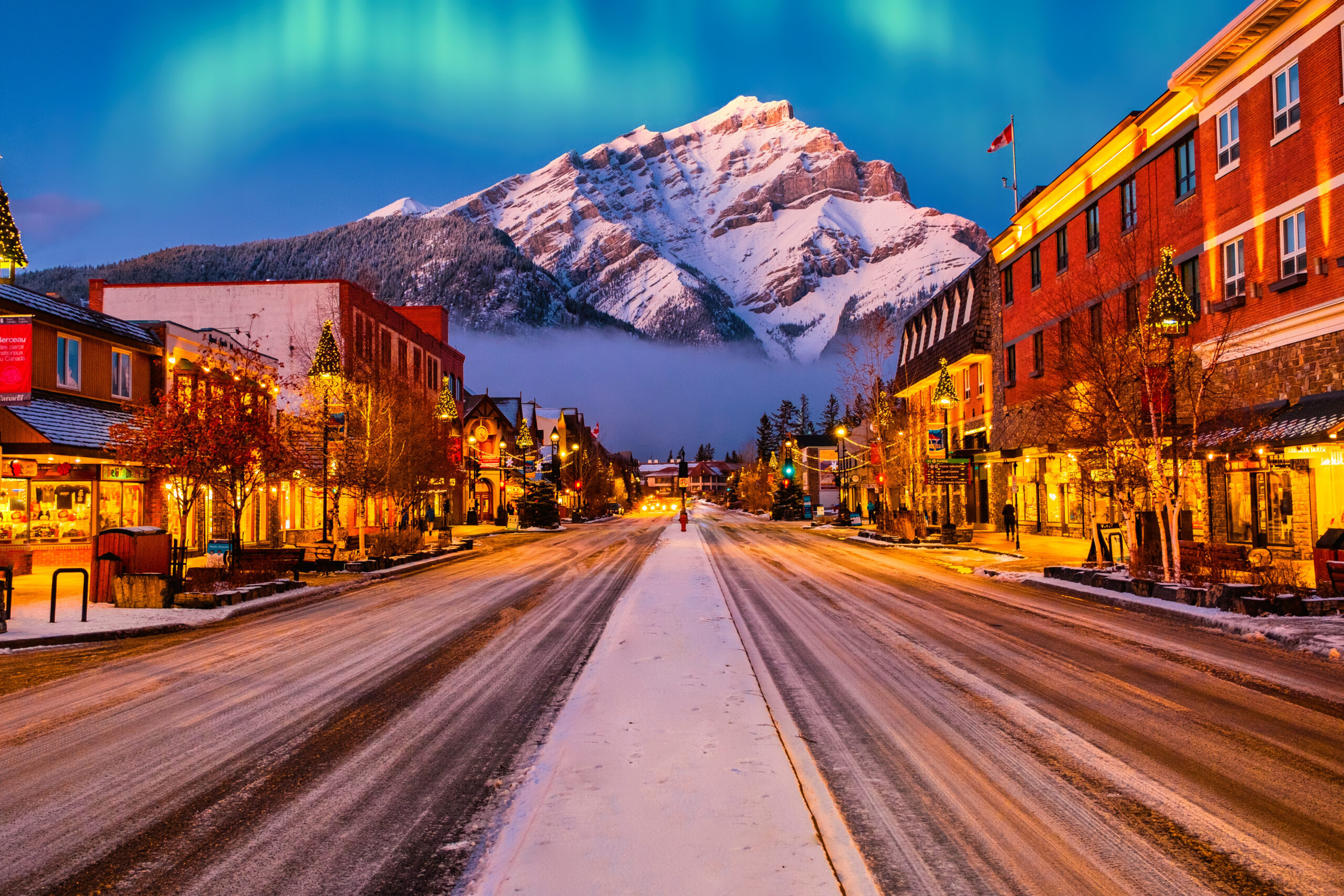 There are a lot of things to do in Banff and Juniper Hotel is at the heart of it. As it is located at an elevation above Trans Canada, you are welcomed to amazing views of the mountains, and the Bow Valley from the hotel.
For those looking for an active outdoorsy vacation, you can enjoy a day of hiking, cycling, or skiing at Mt. Norquay. You can also easily spot wildlife (especially elk and deer) in the forested area near the Juniper hotel.
Juniper also offers a free shuttle service to Banff Avenue. So if you don't want to drive, just ride the shuttle and wander Banff downtown – visit a local cafe, buy souvenirs, enjoy walking trails and museums, before returning to Juniper Hotel & Bistro to enjoy a nice dinner with loved ones!
It is important to note that summer is a peak time to visit Banff National Park, and it is crowded with tourists. If you're visiting between June and September it's best to book well in advance to make sure you get your preferred room type.
---
Book a Stay!