If you have plans to visit Banff in September, you are in for a real big treat. Many refer to September as one of the best times to visit the Canadian Rockies.
While Banff is beautiful year-round, there is something majestic in the air come September. It's honestly one of my favorite times to enjoy Banff.
Summer crowds are dwindling, and hot coffee underneath the mammoth mountains surrounding you in Banff has never tasted so good. Here's what you can expect from Banff in September, including the average Banff September weather, followed by a few great Banff itinerary ideas!
---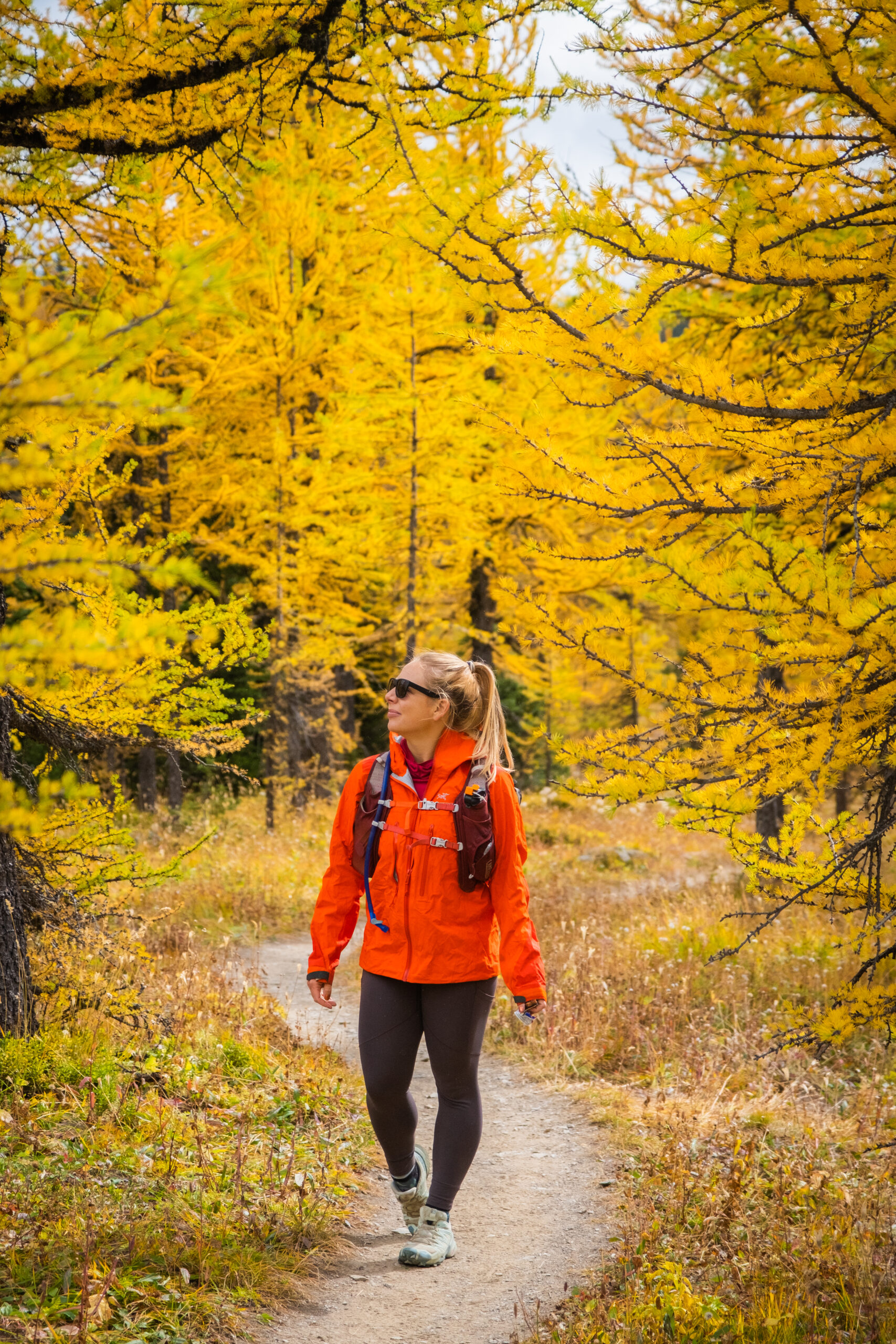 ---
Things to Know Before Visiting Banff in September
---
What's the Weather Like in Banff in September?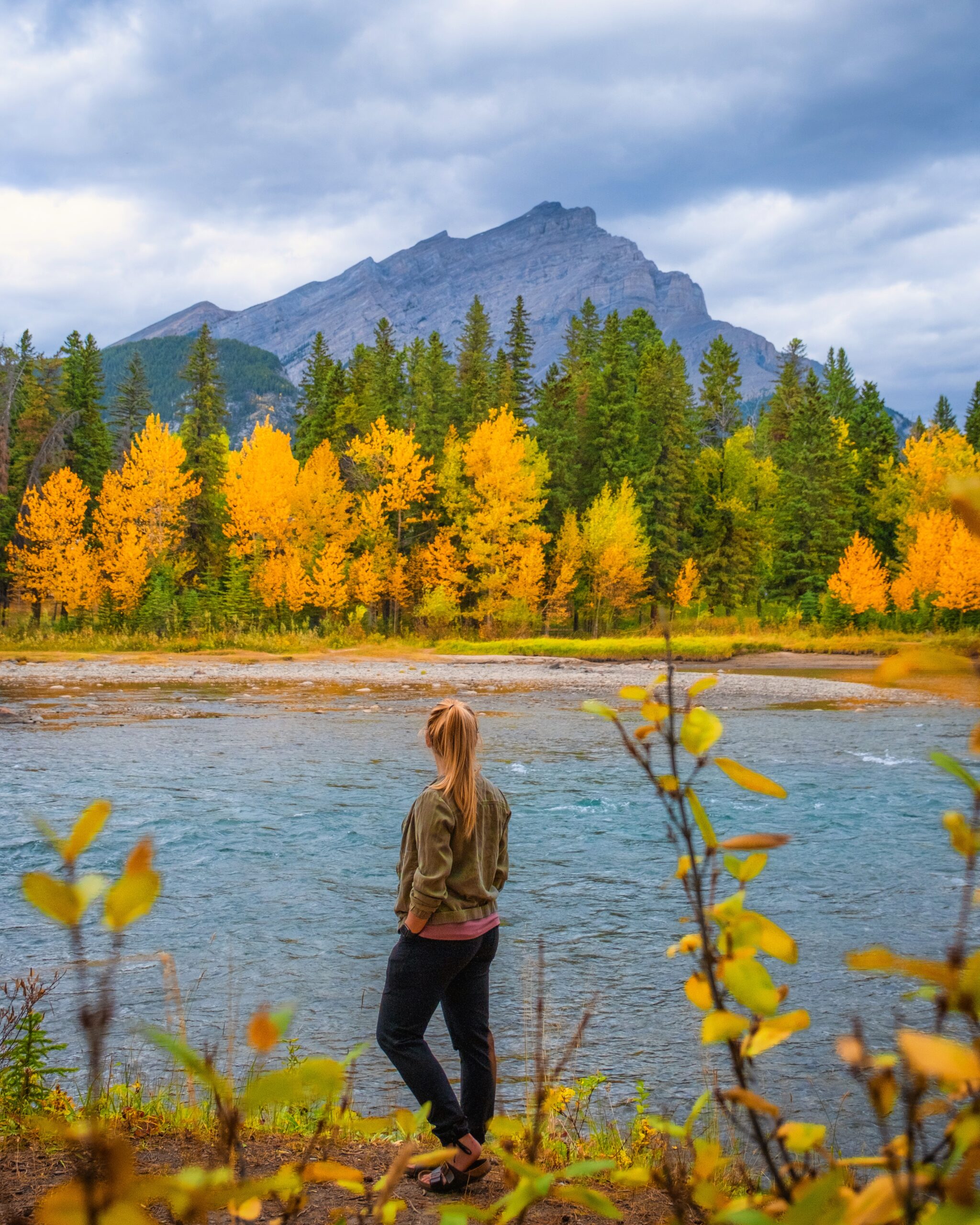 September in Banff is simply one word – amazing! Locals would argue it's easily the best month to visit Banff and the Canadian Rockies in general. Why? Well, things begin to cool off slightly in September, but it's still relatively warm… for Banff, that is. Snow has yet to cover the ground, and there are still plenty of amazing things to do in Banff in the fall.
The average temperature for this month is around 18°C, but nights – as always – can feel quite cold. It's also the start of fall. You know what that means: the town and the park start to change colors to a golden palette, making it a beautiful time of year to visit.
The last two weeks of September typically mean the larch trees are turning. A larch is a conifer tree native to much of the cooler temperate northern hemisphere. They are all over the park and lose their needles in autumn. Before they lose their needles, they turn a fantastic golden color that has just about everyone drooling.
September means kids are also back to school, meaning fewer tourists than in the summer. That doesn't mean it's dead; you will still have people visiting for September Long Weekend (Labor Day) and chasing the larches in late September. Things don't truly die off until October. During larch season, some of the already popular hiking trails become even more popular, so you will still have to venture off the beaten path a bit to get some quiet time, but that's not hard to do in Banff National Park.
Hiking is still in full swing in Banff in September, though you should be prepared for all sorts of weather and pay even more attention to the forecast than you would have to do in the summertime.
---
What to Expect Out of a Banff September Day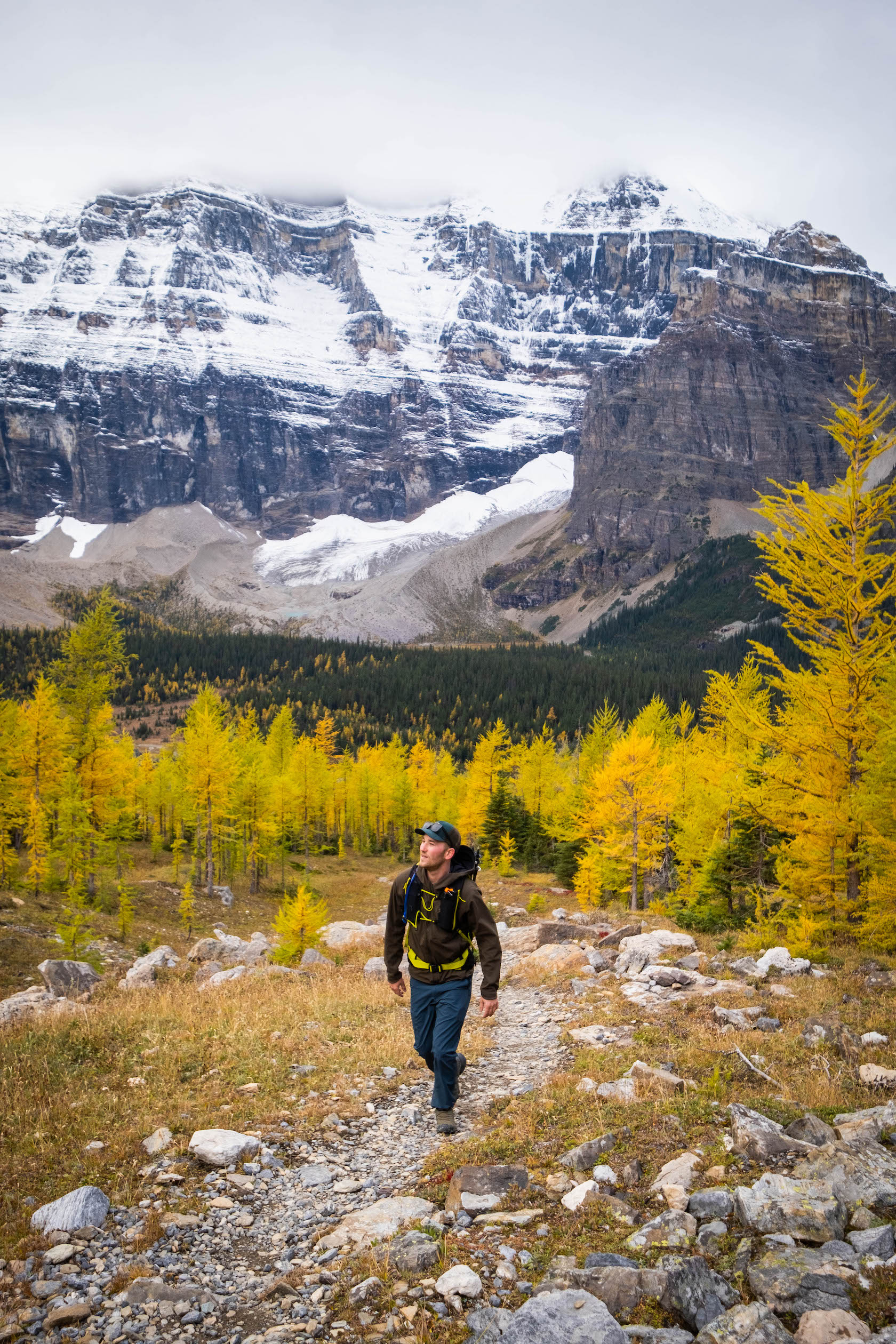 The days are getting shorter in September, but there is still plenty of time to have a very long and fulfilled day in Banff. The sun rises around 7:15am in September and sets between 7:45 and 8:30pm, depending on the month's time.
The average high is 17° while the low is 2°. The earlier in the month it is, the more like summer it will still feel. While late September is very much fall weather.
---
What are the Crowds Like in Banff in September?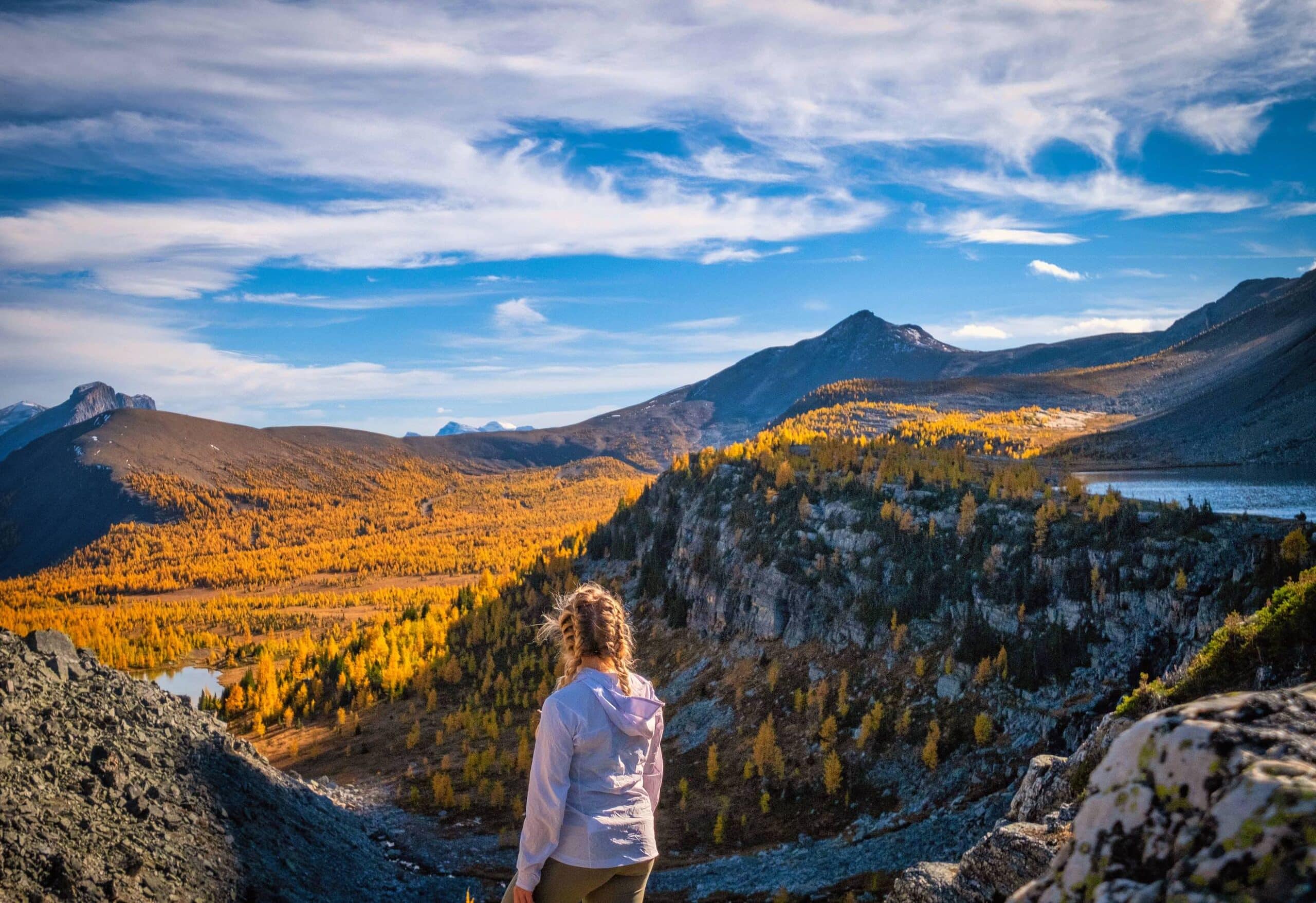 The summer crowds die down slightly after Labor Day, but this is short-lived. You can expect the park to be relatively quiet after Labor Day (first Monday in September) as kids are back in school. However, once the first photos start to pop up on social media of the golden yellow larch trees around the third week of September, it's time to brace for incoming again.
What is a larch tree? Larches are conifers that are native to cooler temperatures. Although they are conifers, they are deciduous and lose their needles in the autumn. Right before they lose their needles, they turn a golden color for a few short weeks creating a fantastic scenic landscape that people flock from around the world to see.
When is the best time to see these larch trees? Every year is different, but typically between September 20th and October 5th is prime time – give or take a few days. Albertans are out in force on all the hiking trails enjoying the larches during these times. To escape the crowds, my best advice is to hike further and higher. See some of our favorite larch hikes in Alberta here.
---
Can you see the Northern Lights in Banff in September?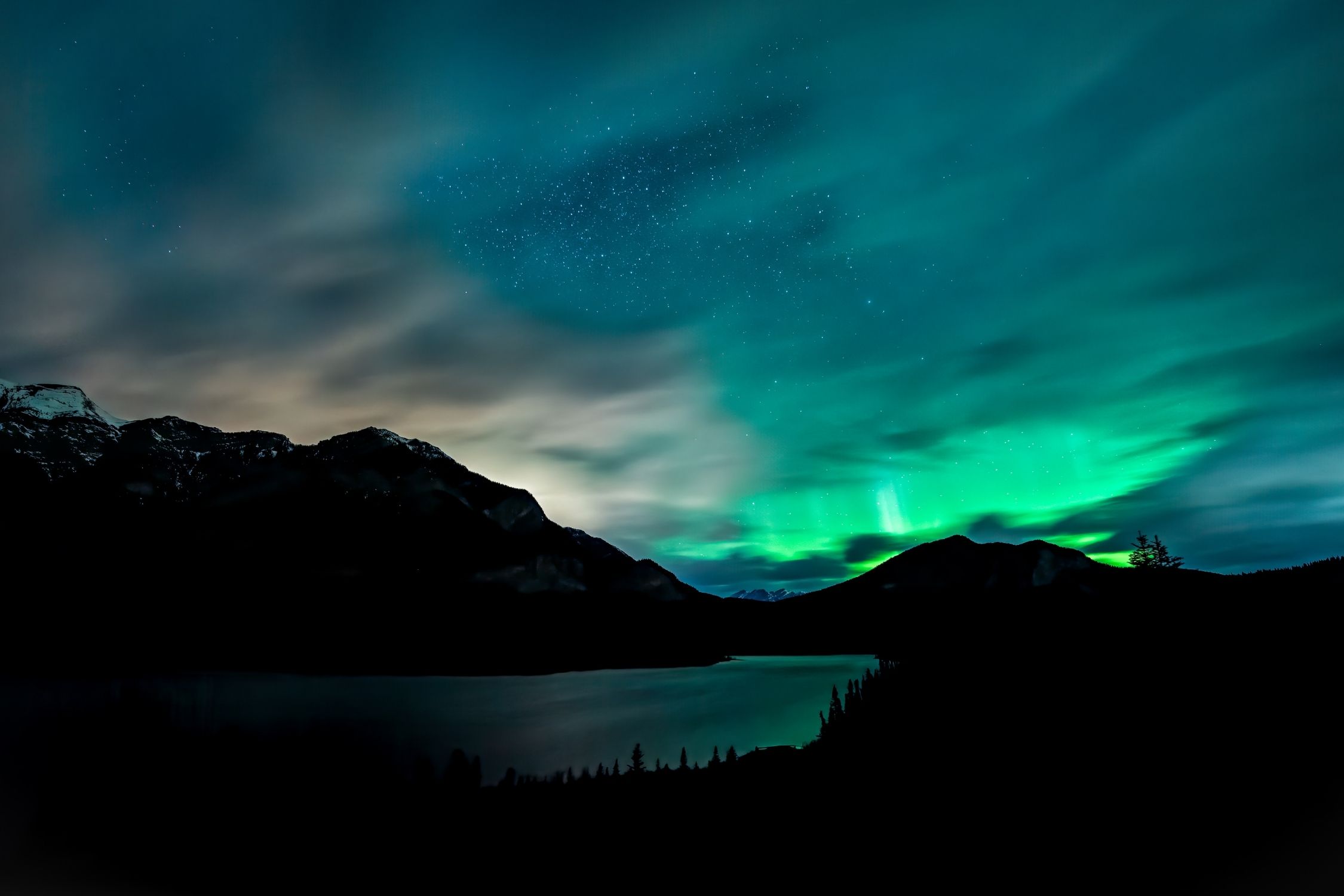 The northern lights are best seen between October and March in Banff; however it is still possible to see the northern lights in September if lady luck is on your side.
How To See The Northern Lights in Banff 
---
What to Pack for Banff in September?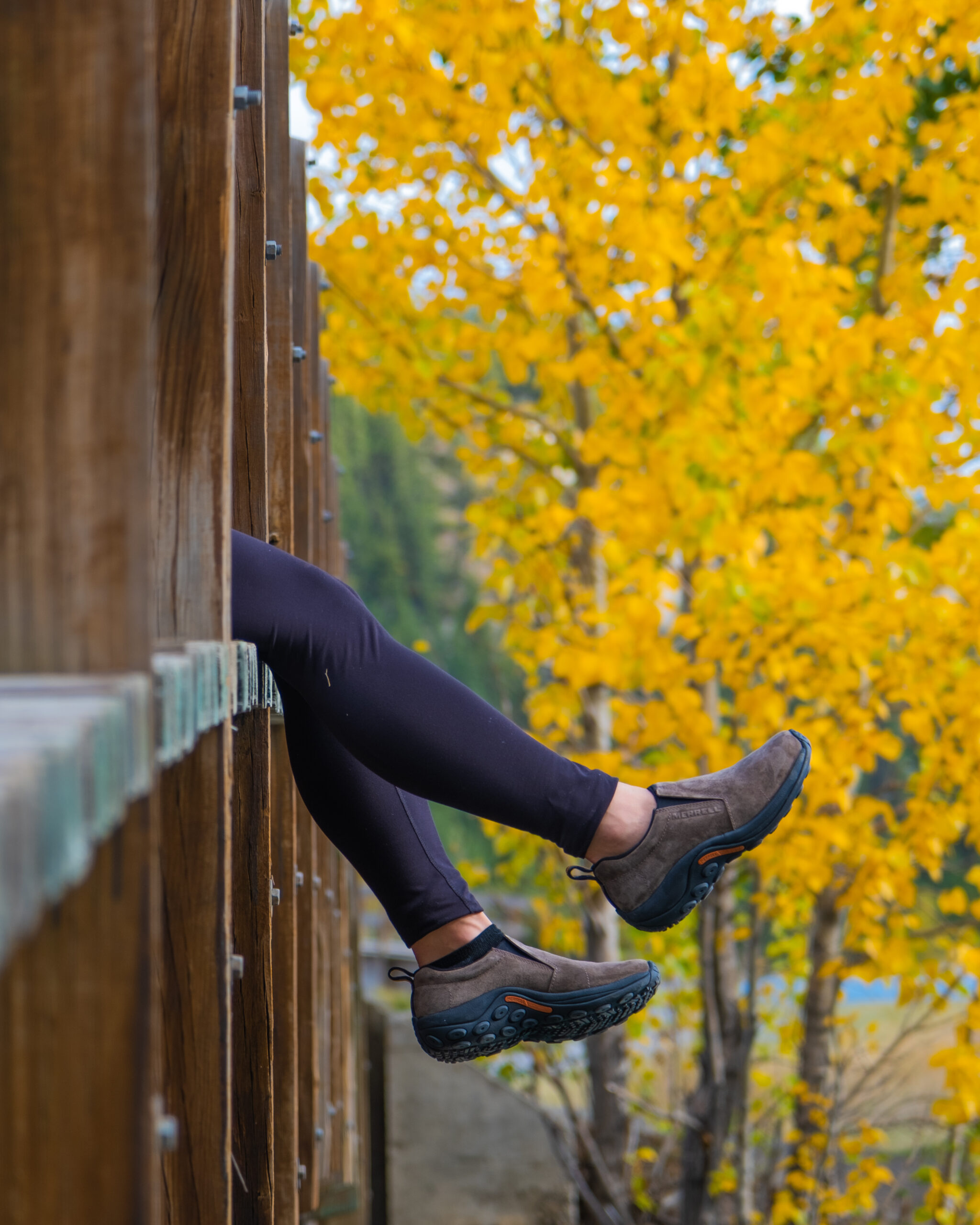 A mix between summer gear and fall gear is what you should pack if you're visiting Banff in September. The first few weeks of September may still feel like summer. You could be wearing shorts and a t-shirt, or you may be bundled up in a down jacket in boots. This is the Rockies, after all, and the mountains promise nothing.
So pack for both instances. I've worn tank tops in September and also been rained and snowed on in September. I know that may not help you pack light for your trip, but it's the truth!
At the very least, plan to visit Banff in September with a packable down jacket, hiking boots, long pants, a sweater, rain jacket, hat, and a buff. But also, don't be afraid to pack lightweight shirts, shorts, and Birkenstocks.
---
Can You Visit Lake Louise in September?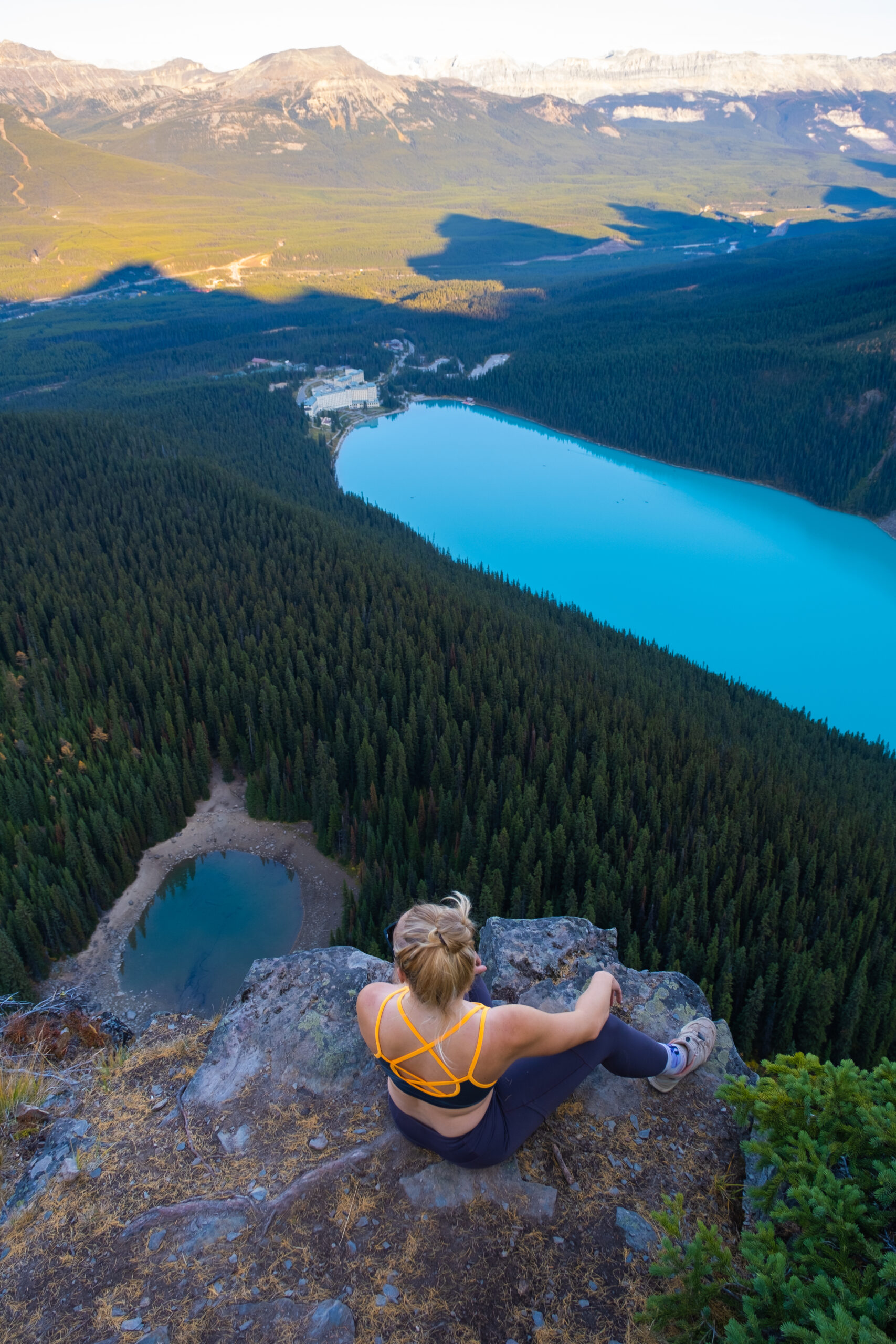 Yes, you can visit Lake Louise in September, and it's a magical time to visit. Lake Louise herself is unfrozen and blue as can be. The summer tourism is starting to dwindle, and you may not need to be there at the crack of dawn to get a parking spot.
Plus – remember what I told you about the larches in late September? Well, Lake Louise has plenty of larches in the area. Hike up high to the Big Beehive, followed by Devils Thumb to get a glimpse of them.
---
Can You Visit Moraine Lake in September?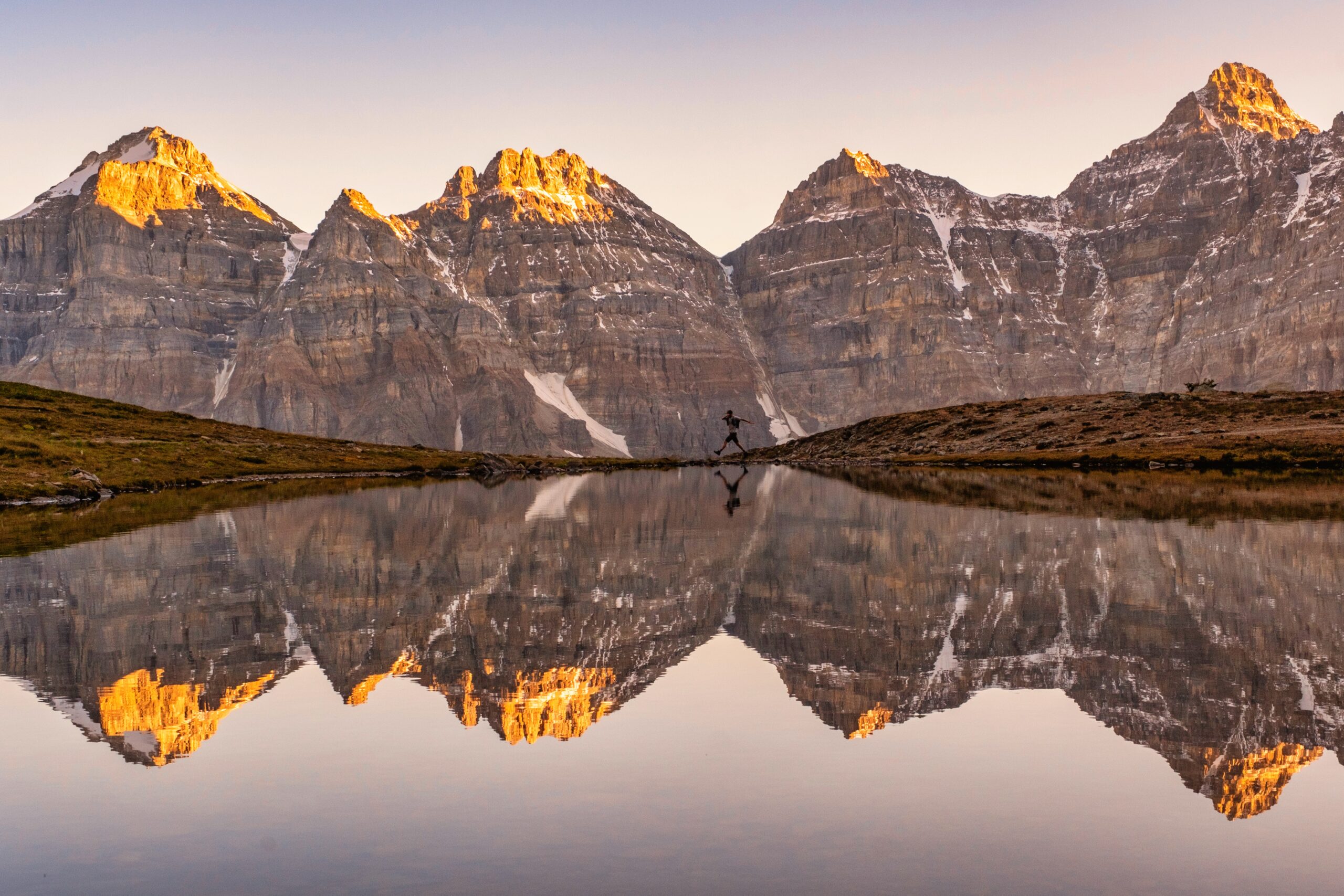 Oh can you ever visit Moraine Lake in September! Some would even say it's the best time to visit Moraine Lake. While crowds are still there and getting to Moraine Lake is still a bit of a pain in the butt, Moraine Lake has tons of larches in the area.
Particularly if you hike the path up to Larch Valley and Sentinel Pass. It's here where there are literally thousands of larches that turn golden yellow at the end of September.
If you're feeling really energetic and are a fit and capable hiker, you can scramble up Eiffel Peak or Mount Temple. If it hasn't snowed yet, these are some of the best Moraine Lake hikes.
Enjoy Moraine Lake now as it's the last whole month Moraine Lake Road is accessible. Come mid-October, Parks Canada shuts the road down for the season due to avalanche risk.
---
Things to do in Banff in September
---
Have a Picnic at Cascade Ponds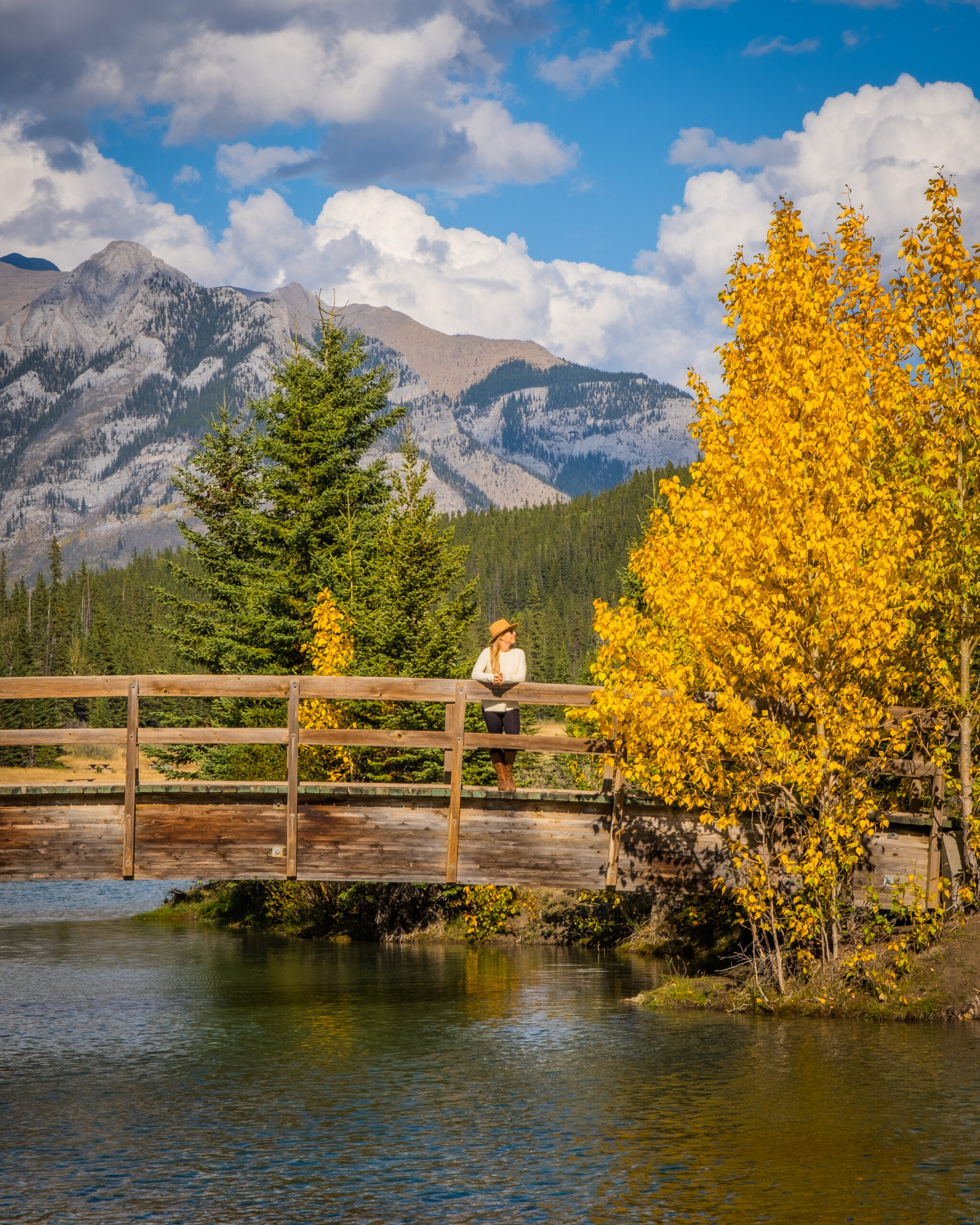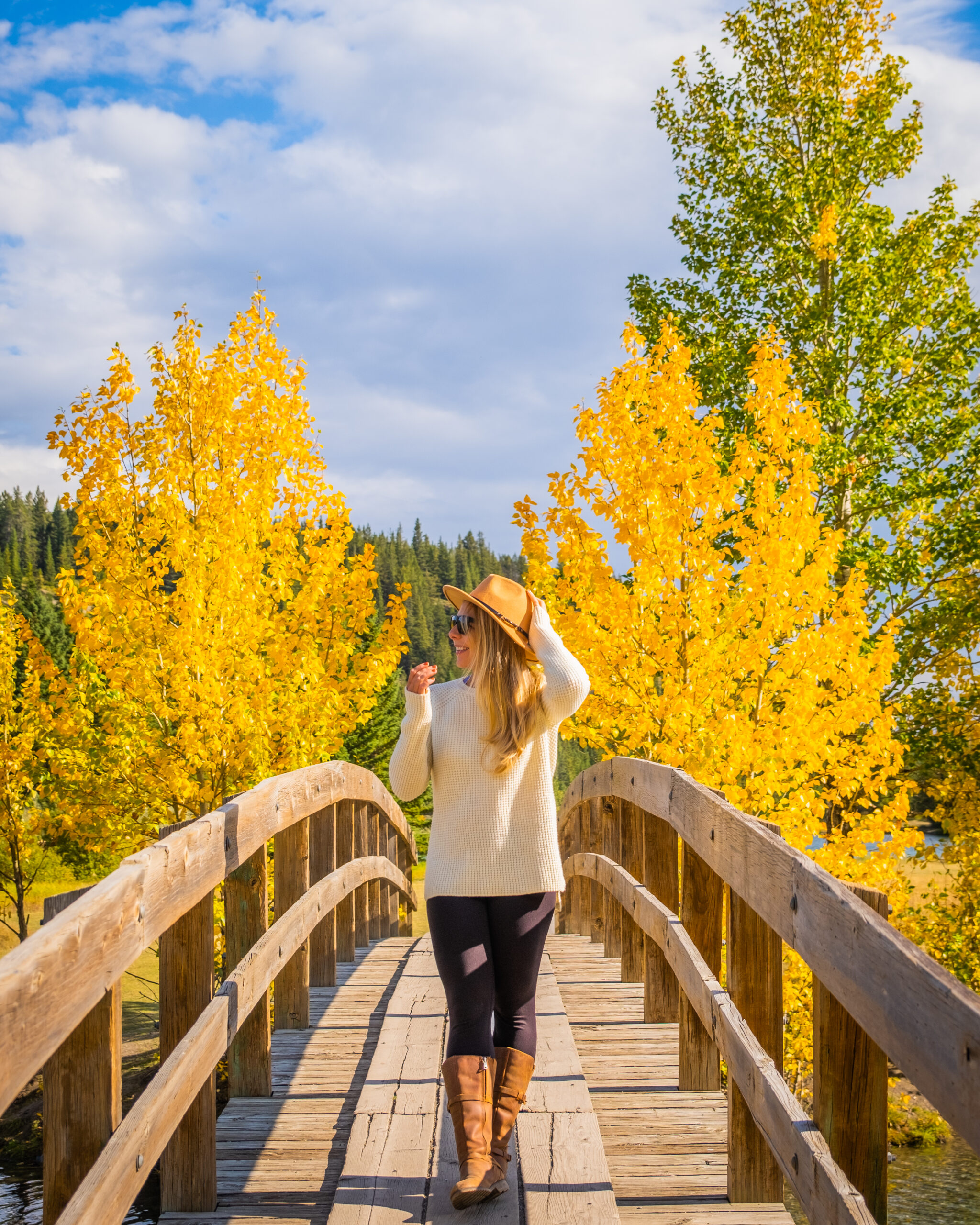 While there aren't many larch trees around Cascade Ponds, there are plenty of Aspen that turn yellow in the fall. Cascade Ponds is a fantastic place to head if you want to enjoy nature around beautiful surroundings.
There are plenty of picnic benches and fire pits to enjoy with friends. We love grabbing a cooler filled with drinks and heading here for a day outside. You can even bring a paddleboard and paddle around the small ponds in between beverages.
---
Hike Healy Pass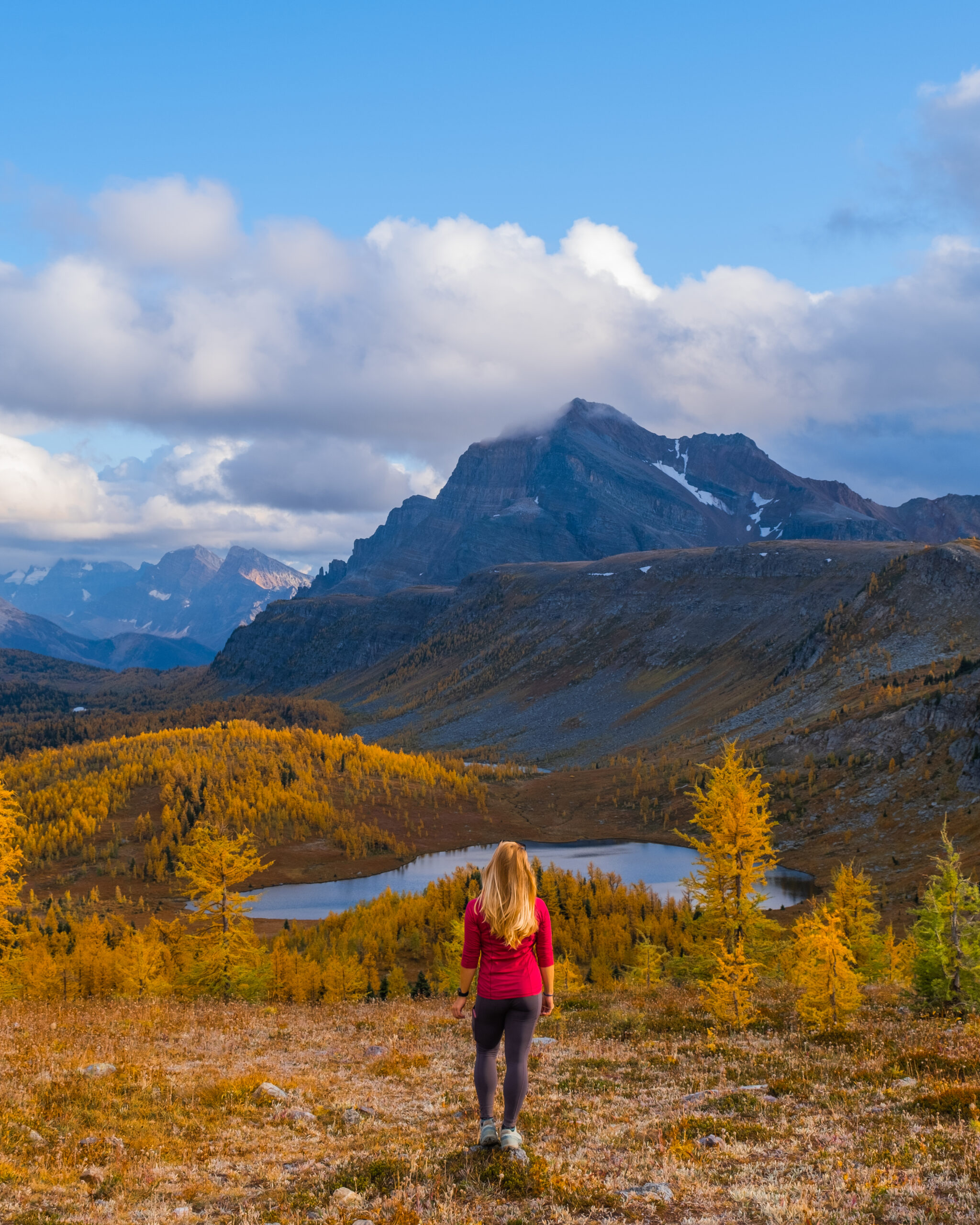 One of the finest hikes in the Banff National Park is Healy Pass. The hike starting point is a short drive from the town of Banff at Sunshine Village and climbs a gradual pass until unveiling a pristine alpine meadow.
The meadow is resplendent for hiking and famed for wildflowers in the summer and larch trees in the fall. There are quite a few storybook vistas in the park, but Healy Pass rivals the best of them.
When the larches start to turn, hike up Healy Pass for the most spectacular of views – and it's far less crowded than Moraine Lake and Lake Louise. If you want a little extra, keep hiking to Egypt Lake.
SEE ALL OUR FAVORITE LARCH HIKES IN BANFF AND BEYOND
---
Read a Book at Vermilion Lakes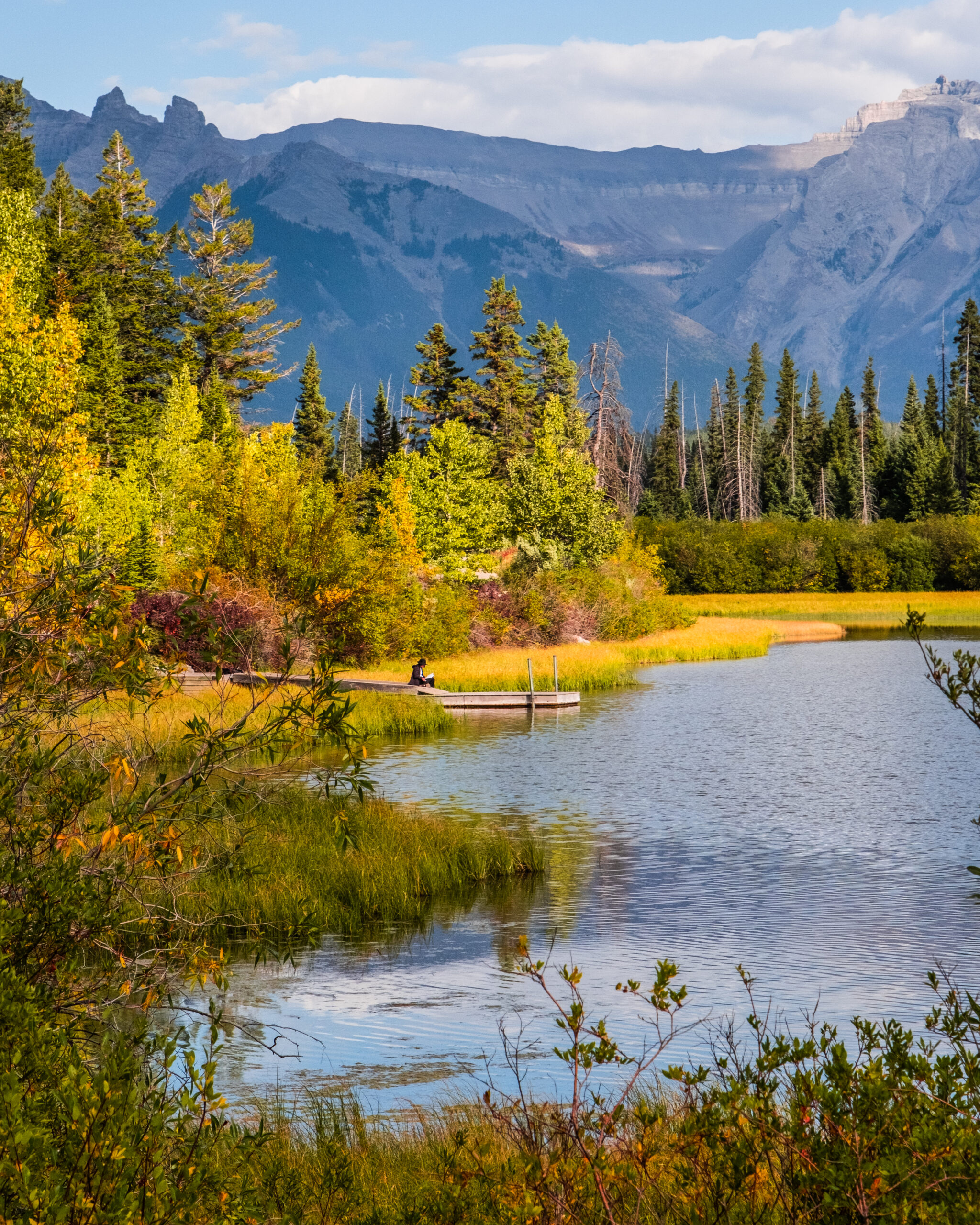 Vermilion Lakes is largely a marsh, so it doesn't hold the brilliant blue waters like many other lakes around Banff, but it still makes for an incredible place to enjoy the park. The lakes are well protected by the winds, and the shallow water means that the waters remain calm on most days, so it's a more accessible place to canoe, kayak, or SUP.
The Vermilion Lakes are prime habitats for wildlife, and it's a well-known spot for birders. We've personally seen beavers, bald eagles, owls, elk, muskrats, buffleheads, and herons. The docks also make it easy to enter the water, and you don't even have to get your feet wet.
We've come here many days to read with Mount Rundle Views ahead. The colors around Vermilion Lakes in September are what fall dreams are made of, making it my favorite time of year to head here.
---
Stroll Through the Cascade Gardens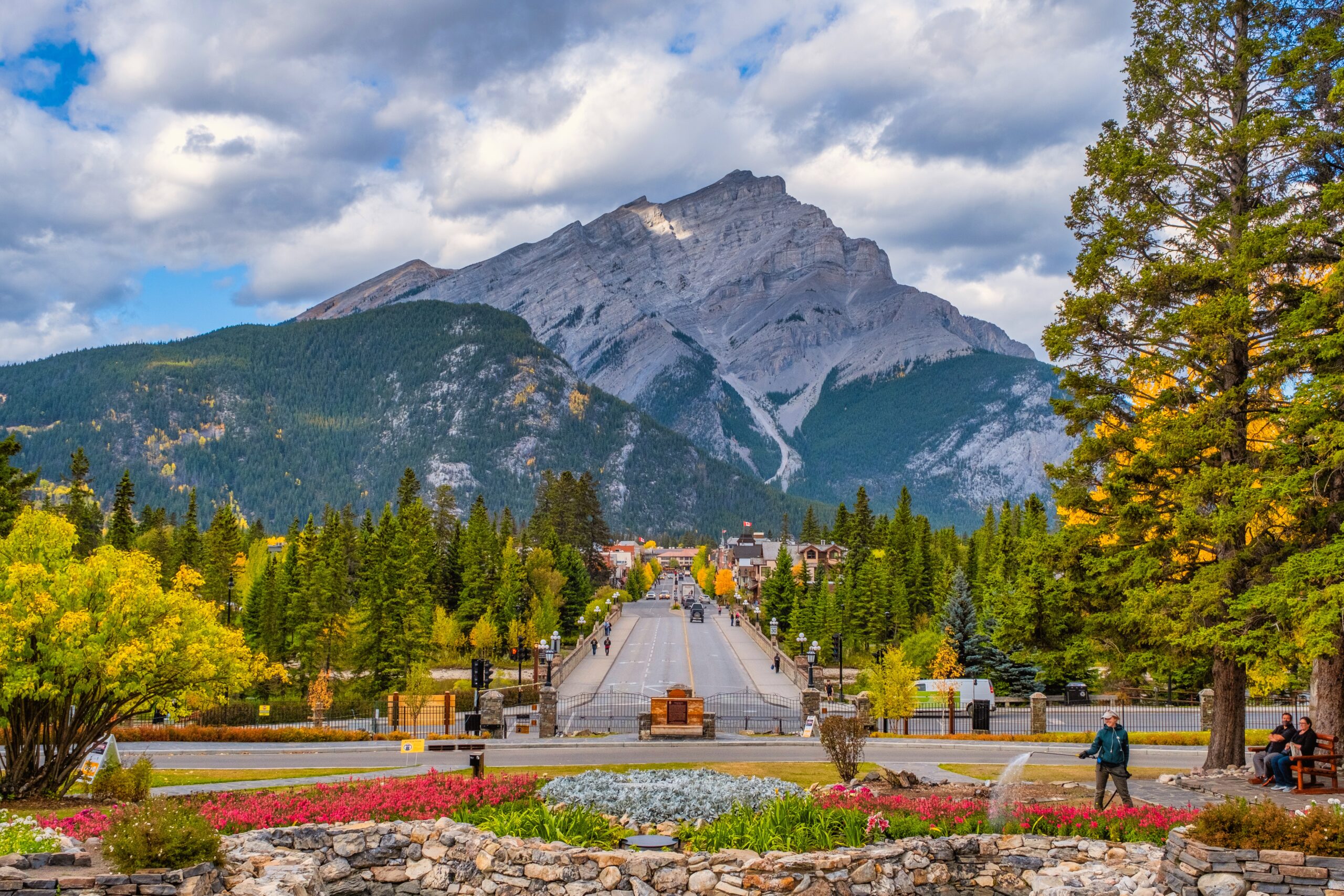 The Cascade Gardens are located at the end of Banff Ave and are definitely worth visiting while you're in Banff. If you are looking for an easy and relaxing thing to do in Banff in September, these gardens are for you.
They are well cared for and enjoyable for all – especially if you are a flower lover. Enjoy them now – as once the cold weather and snow fall you won't be able to enjoy them until next spring!
---
Canoe Around the Canmore Reservoir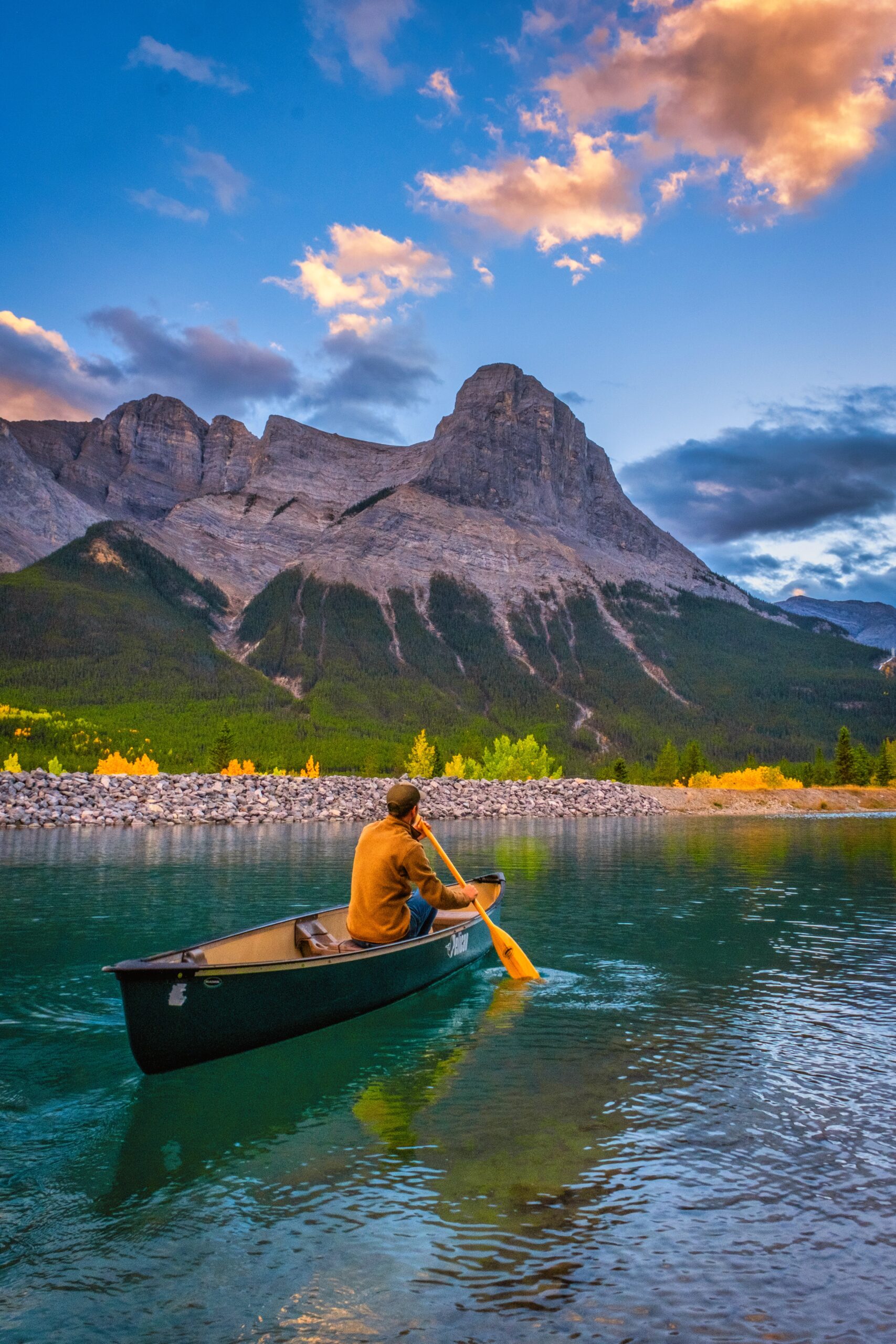 One of my favorite things to do in the Bow Valley is head up to the Canmore Reservoir for a canoe or stand-up paddleboard. It's one of the best places to take a device out on the water in the area as it's incredibly wind protected, making it smooth sailing on a kayak, paddleboard, or canoe.
During September, the aspen trees turn a fantastic yellow color providing an epic water experience under Ha Ling Peak.
---
Go Hiking in Kananaskis Country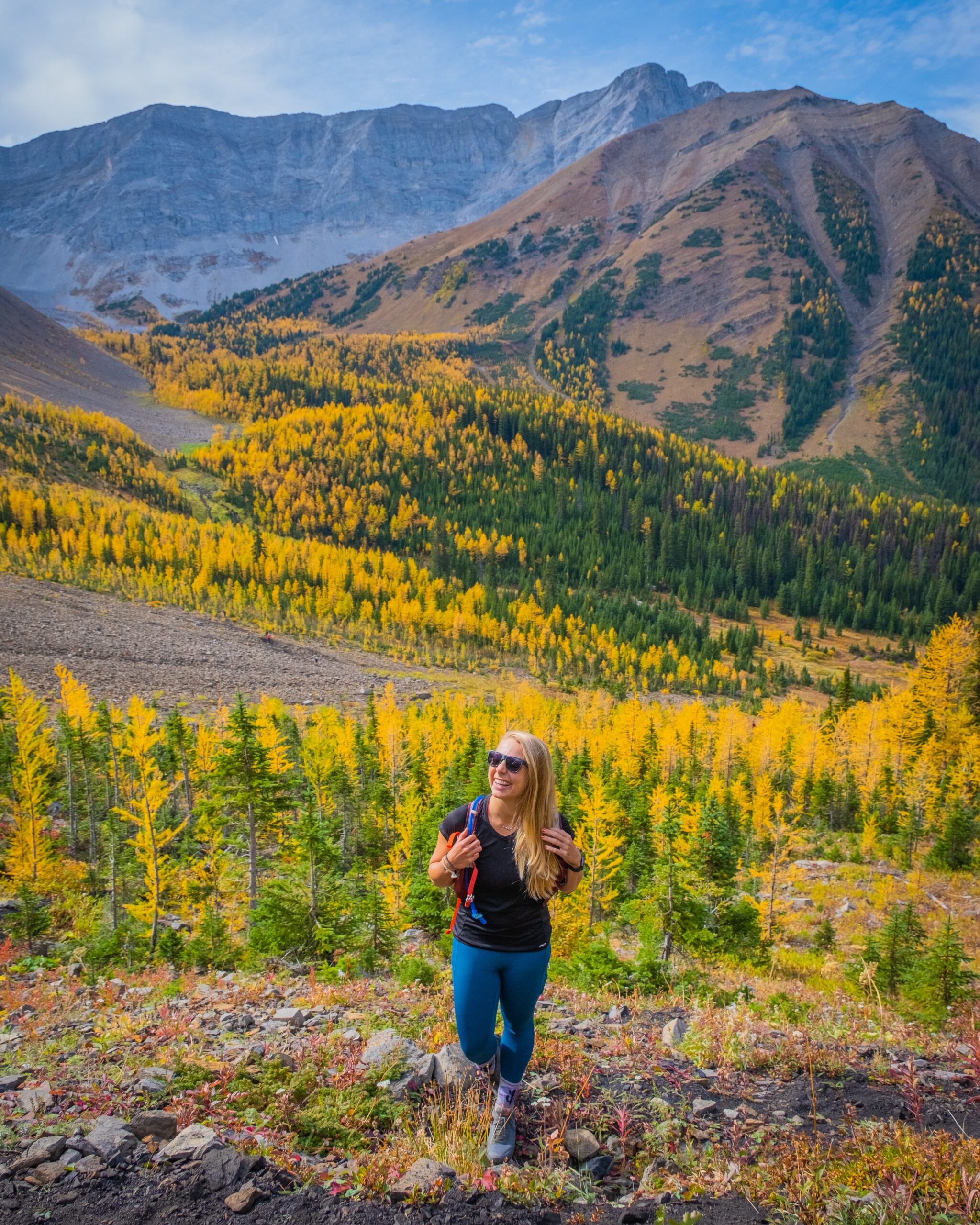 While not technically in Banff, Kananaskis Country is a great place to head in September. The park is filled with larches that all turn – you guessed it – a golden yellow in the last few weeks of September.
Some of my favorite larch hikes in Kananaskis include Pocaterra Ridge and Ptarmigan Cirque. See other great Kananaskis hikes here.
---
Walk Policemen's Boardwalk in Canmore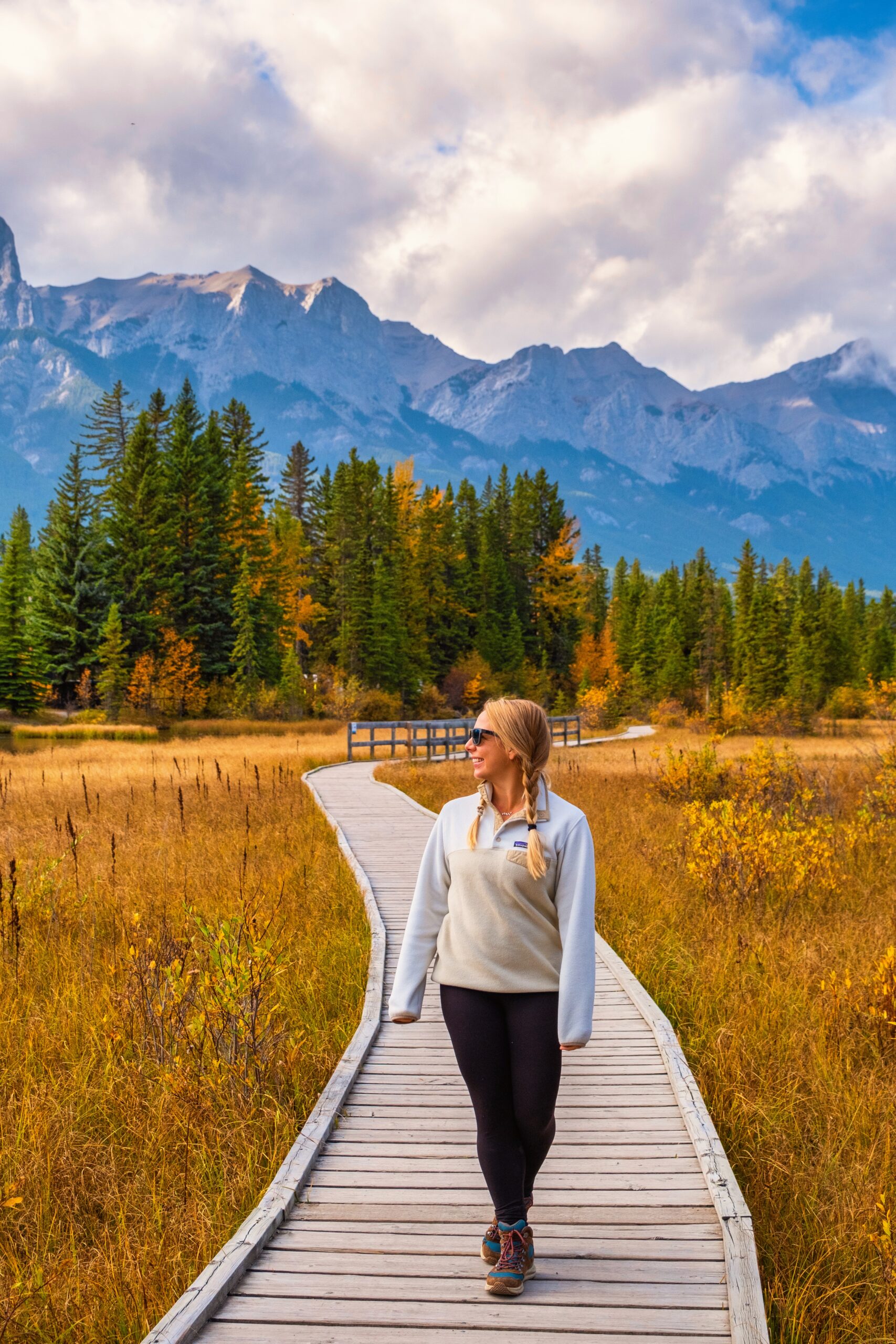 Policemen's Creek Boardwalk is an easy but beautiful walk in Canmore just off Main Street. Walk along this raised boardwalk, and you'll see plenty of hints of color in September.
---
Play a Game of Disc Golf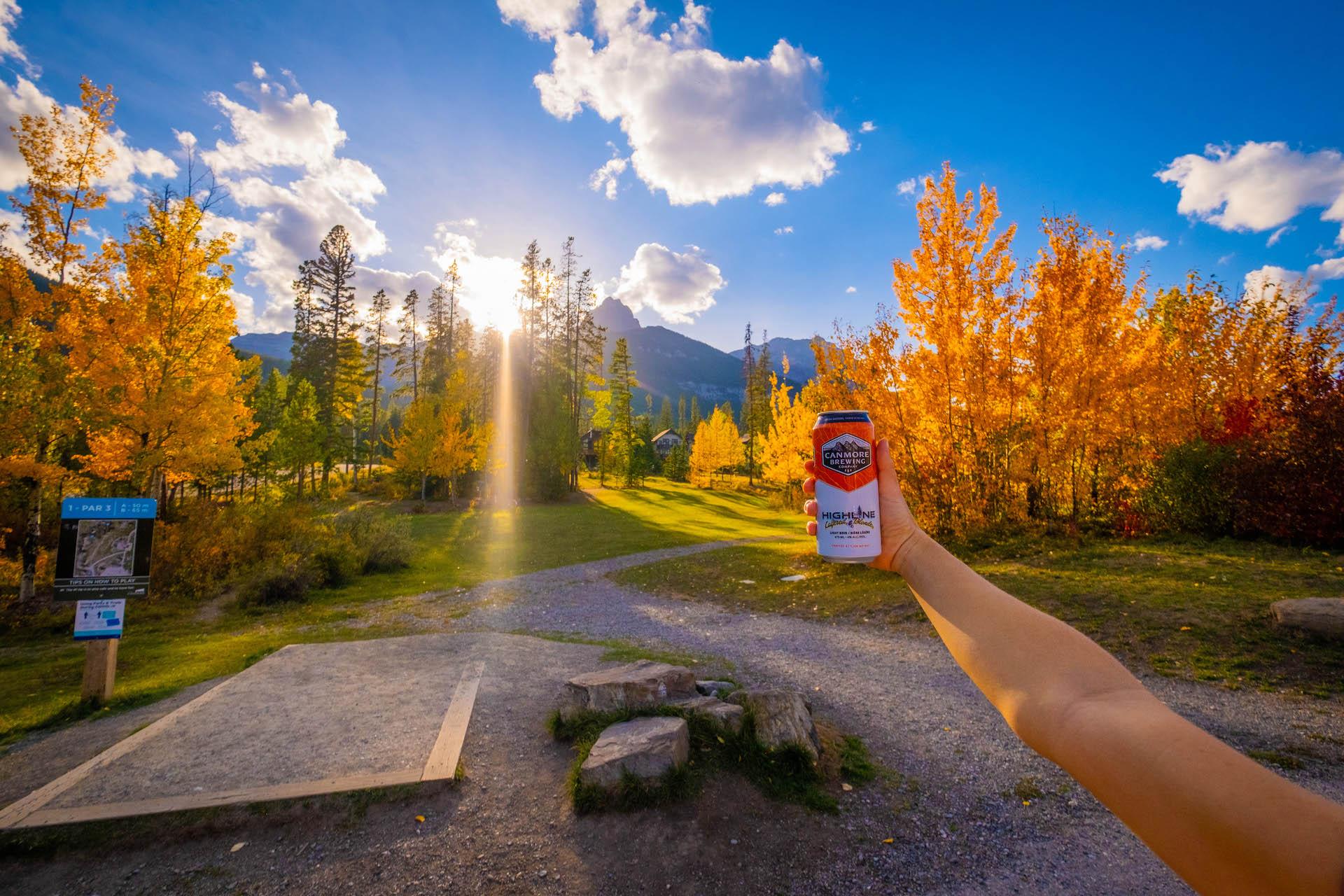 A fun thing to do in September is head to Canmore for a game of disc golf with friends. There are a few disc golf courses around the valley, but two of the best are the Three Sisters disc golf course and at the Nordic Center.
60 UNIQUE Things To Do in Canmore, Alberta (Locals Travel Guide)
---
Hike to Arnica Lake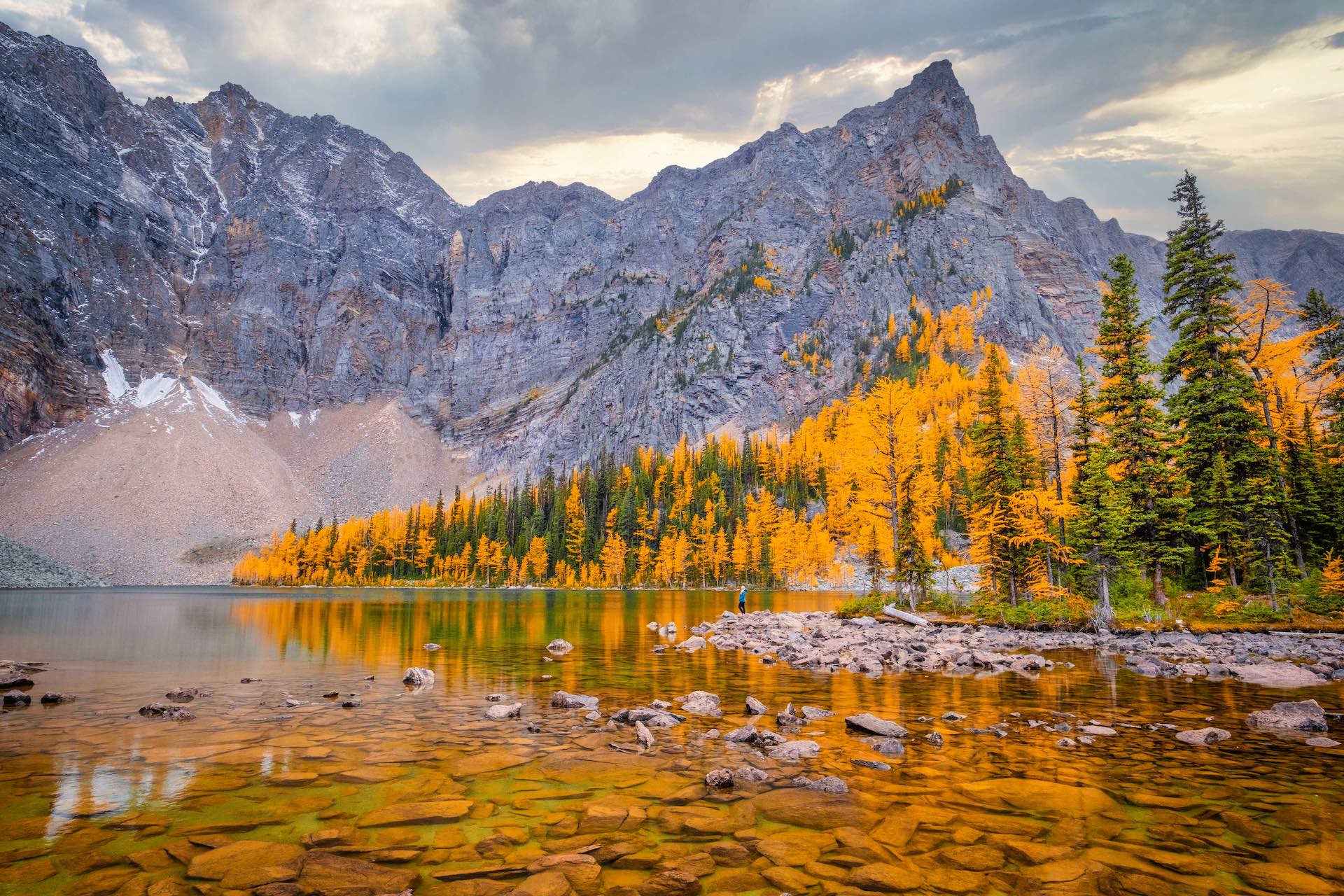 Arnica Lake is a moderate hike in Banff that is less busy than other larch hikes in the area. It climbs 750 meters throughout 5km (10km round trip), with no scrambling involved. Your reward for the hike is a beautiful lake surrounded by larches in late September. Keep going towards Twin Lakes for a bit extra.
---
Enjoy Two Jack Lake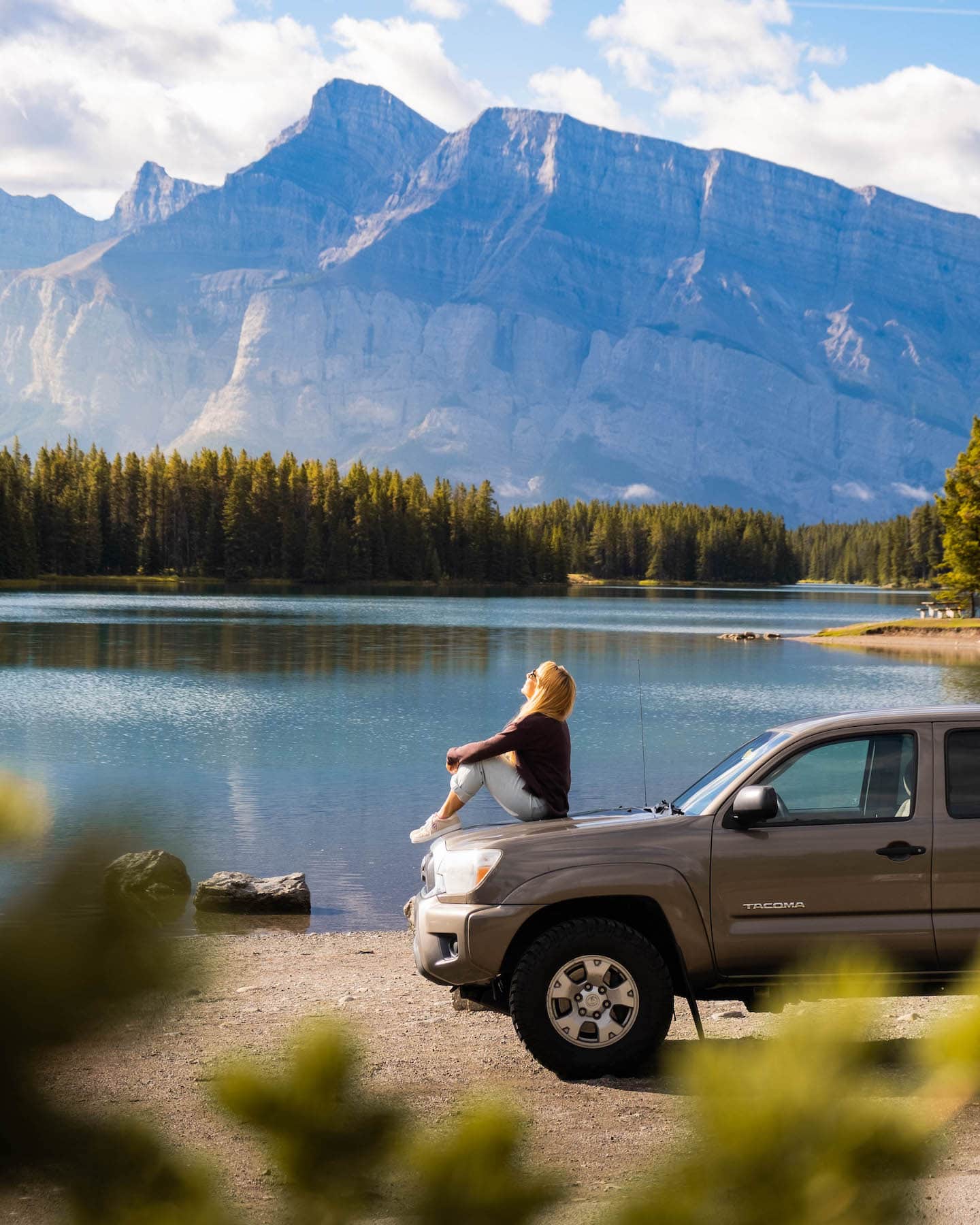 Just past Cascade Ponds is Two Jack Lake, and it's one of our favorite places to head when we want to sit by the lake and enjoy views of Mount Rundle. There are a few picnic tables here, as well as the famous Parks Canada red chairs. It's still possible to paddleboard or kayak out on Two Jack Lake in September as well.
---
Cycle the Bow Valley Parkway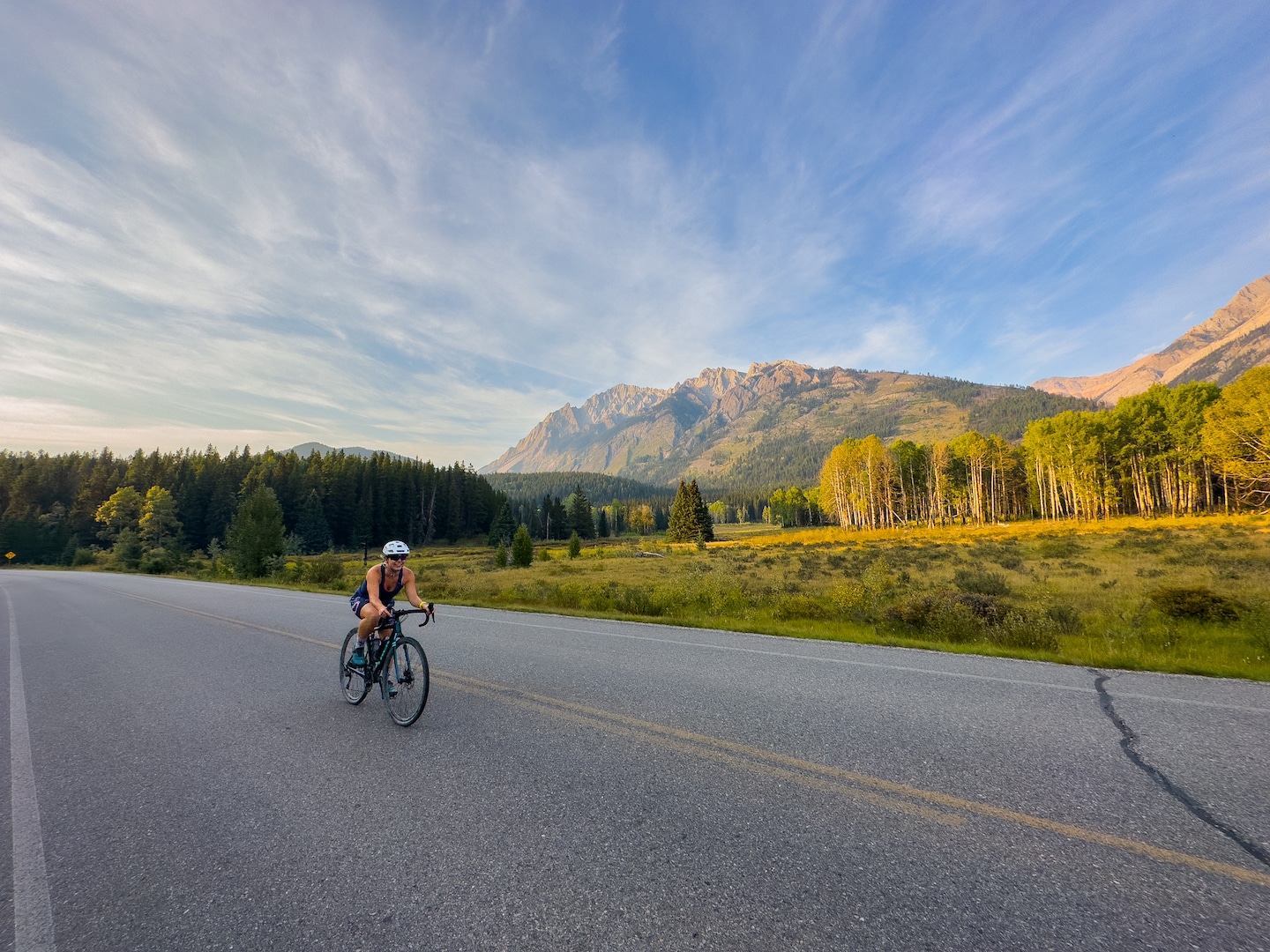 Every year on September 1st, Parks Canada shuts a portion of the Bow Valley Parkway to vehicles. This closure is between the Fireside Day-use Area and Johnston Canyon, meaning you can cycle this part of the road without vehicles!
It's one of the best things to do in Banff in September for everyone. Avid cyclists or casual recreationalists and everyone in between can head out to the Bow Valley Parkway to enjoy the sounds of nature by bike, rollerblades, walking, etc!
---
Enjoy a Banff Brewery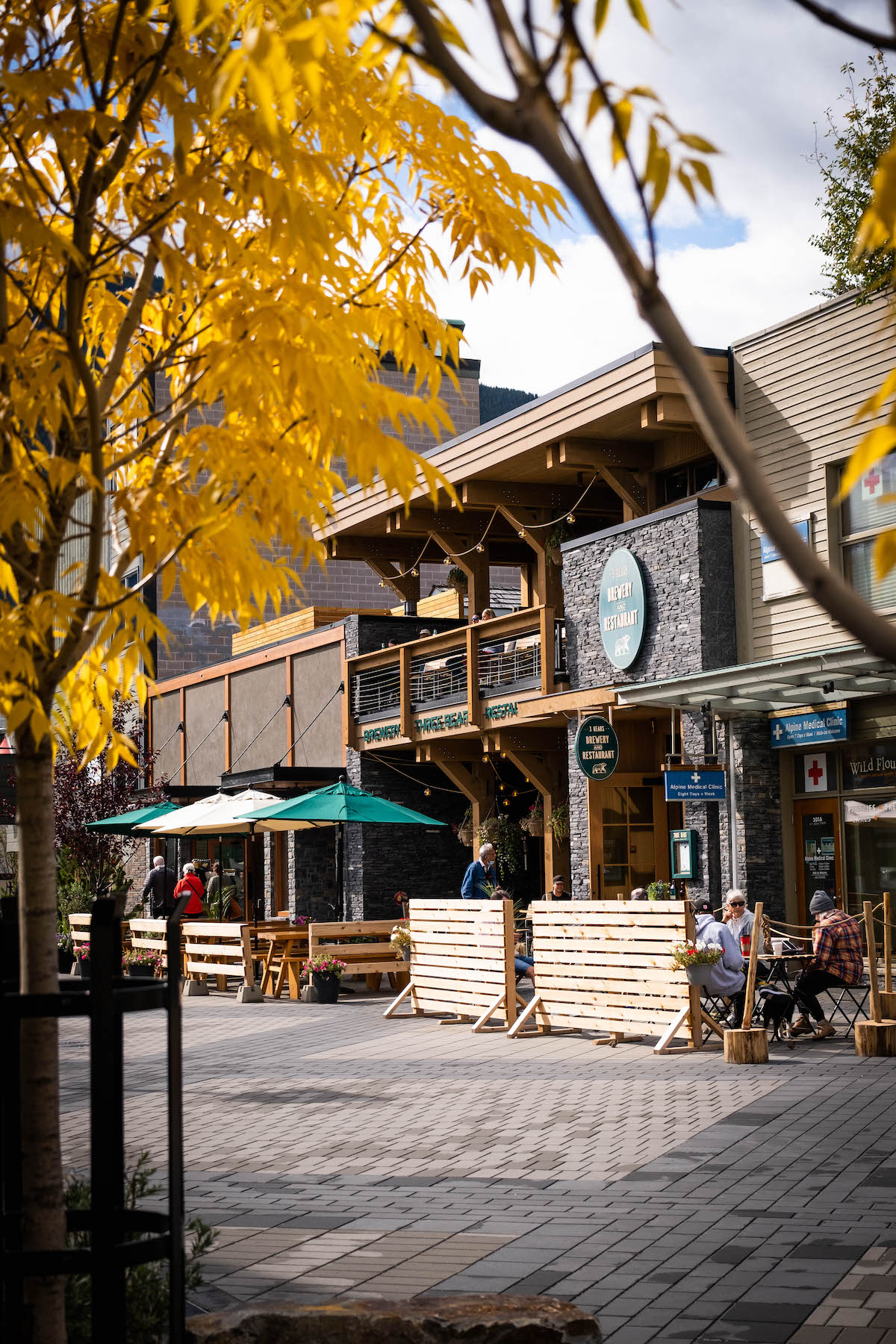 The Canadian Rockies have their fair share of good breweries. I love wearing my sweater and scarf and enjoying a cold beer by the fire at Grizzly Paw in Canmore or the new Three Bears restaurant on Bear Street.
10 Best Banff and Canmore Brewery Options
---
---
Banff Travel Tips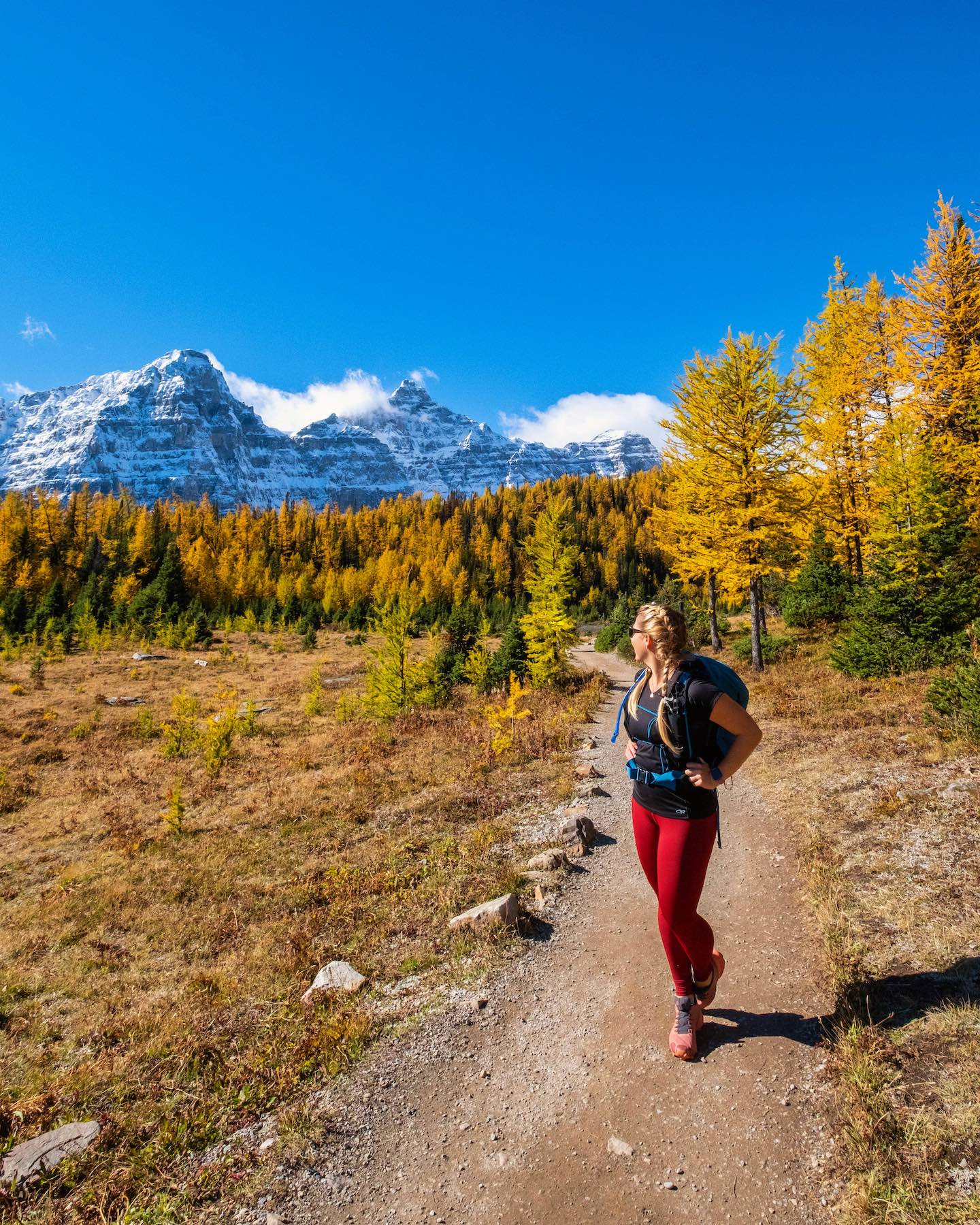 If you plan to do any hiking (including the hikes mentioned on this list), download AllTrails first. Alltrails gives you the latest review of a hike, as well as all the logistical information you may need.
If you pay for AllTrails Pro, you'll also be able to download offline trail maps to your phone. We use AllTrails for every hike as it gives us a good idea of what we are getting into. It's not perfect by any means so don't rely on it 100%, but it's great for getting recent trip reports.
---
Consider Renting a Car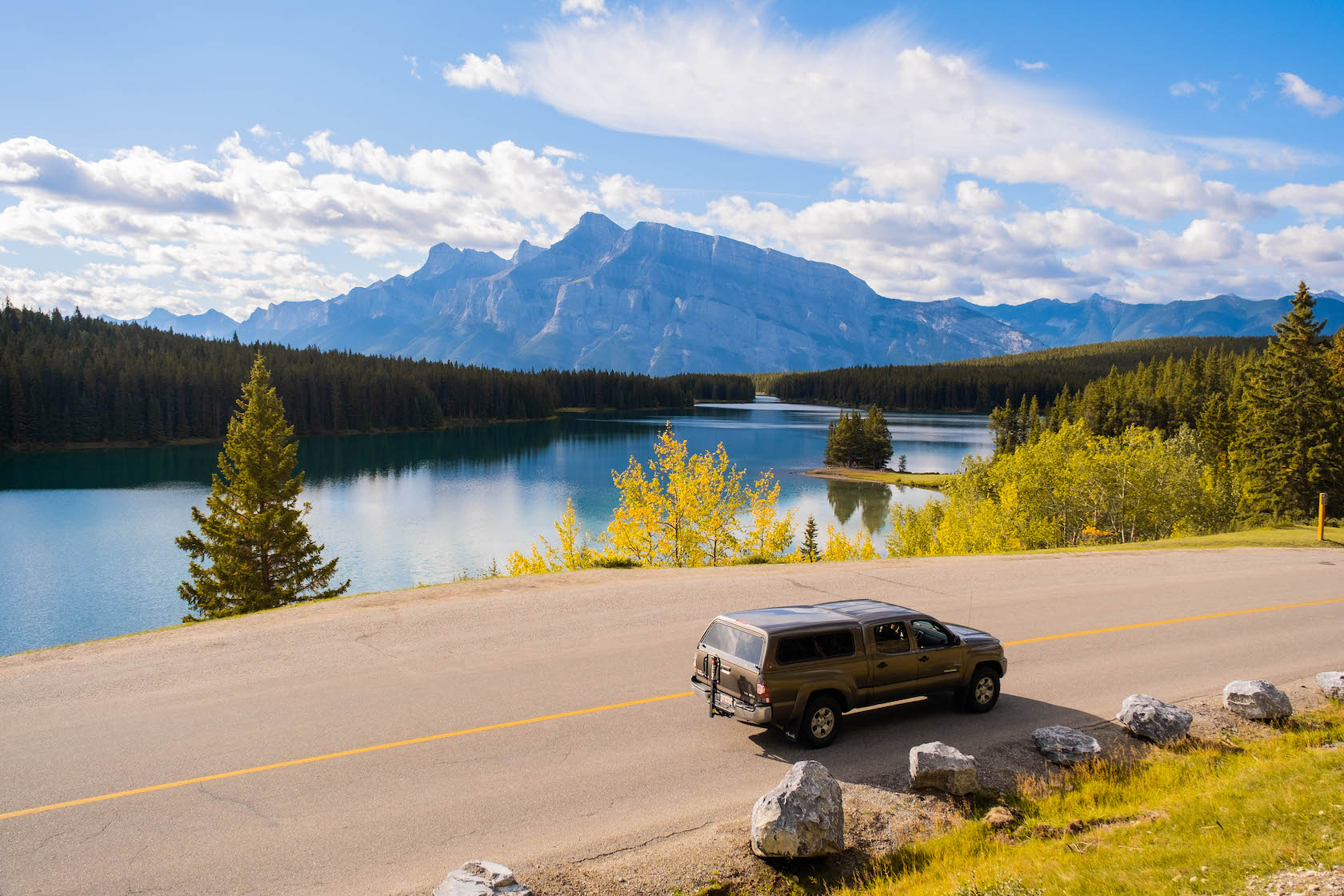 Being in North America, your options for transport are limited. Most visitors to Banff will rent a car in Calgary as this is the easiest way to get around. Renting a car in Banff ensures that you can get to where you want to go on your own schedule.
Depending on your travel season, car rentals in Calgary can be pretty affordable. We've rented with Enterprise for less than 20 CAD a day in the winter. However, expect prices to be higher in September. It's best to book in advance and then cancel if plans change.
Check Car Rental Rates
---
Other Transport Options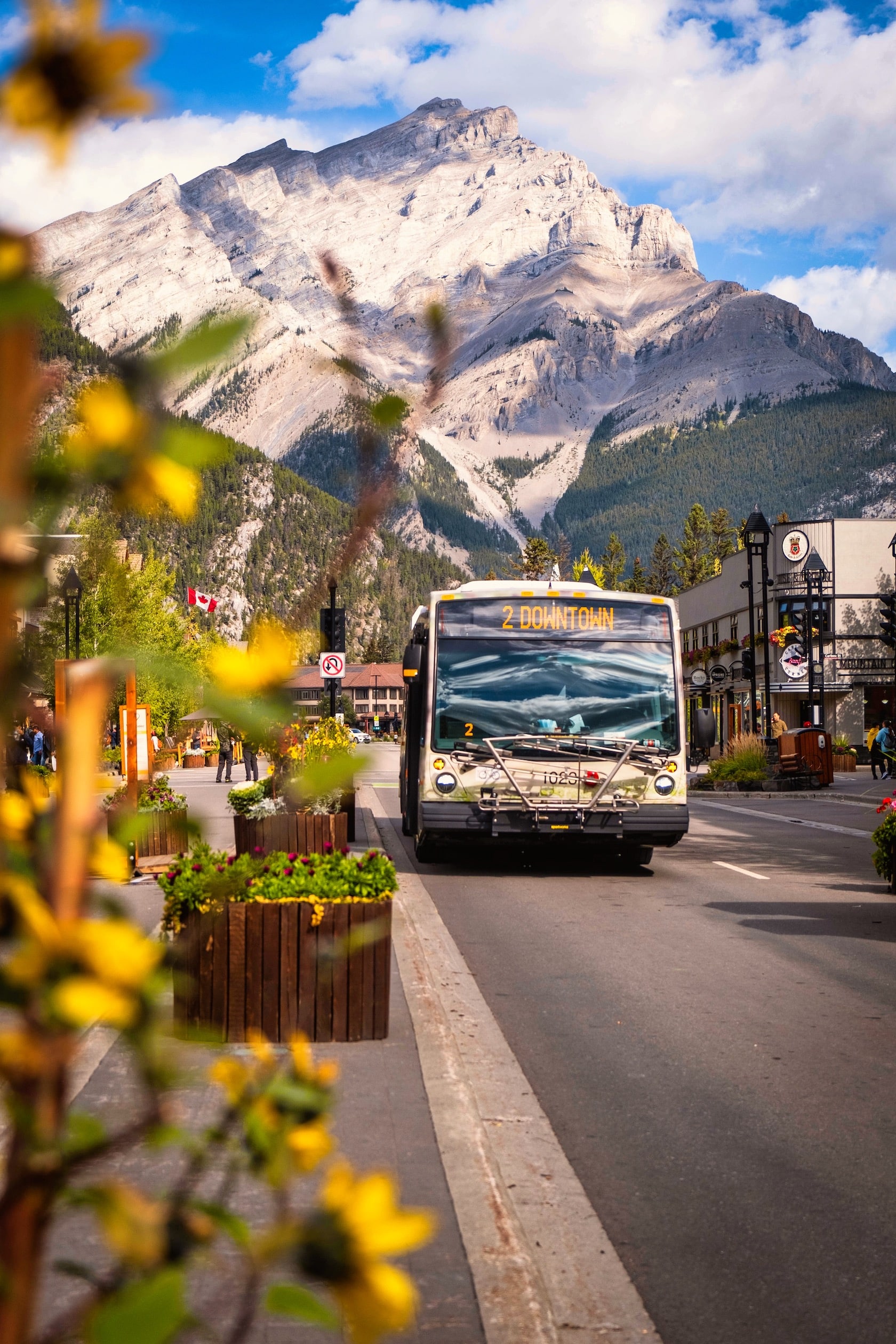 You may not feel comfortable driving in Canada, and that's okay! There are other options to get to and from Banff and around the town. However, they are limited, so keep that in mind.
To get from YYC to Banff, the Banff Airporter is a good option and costs $146 (CAD) round trip.
Once in Banff, there is the Roam bus system to get around town and in the summer it runs to Lake Louise while in the winter it will easily get you to Lake Louise Ski Resort and Banff Sunshine Ski Resort.
More Helpful Banff Travel Tips to Know
---
Where to Stay in Banff in September?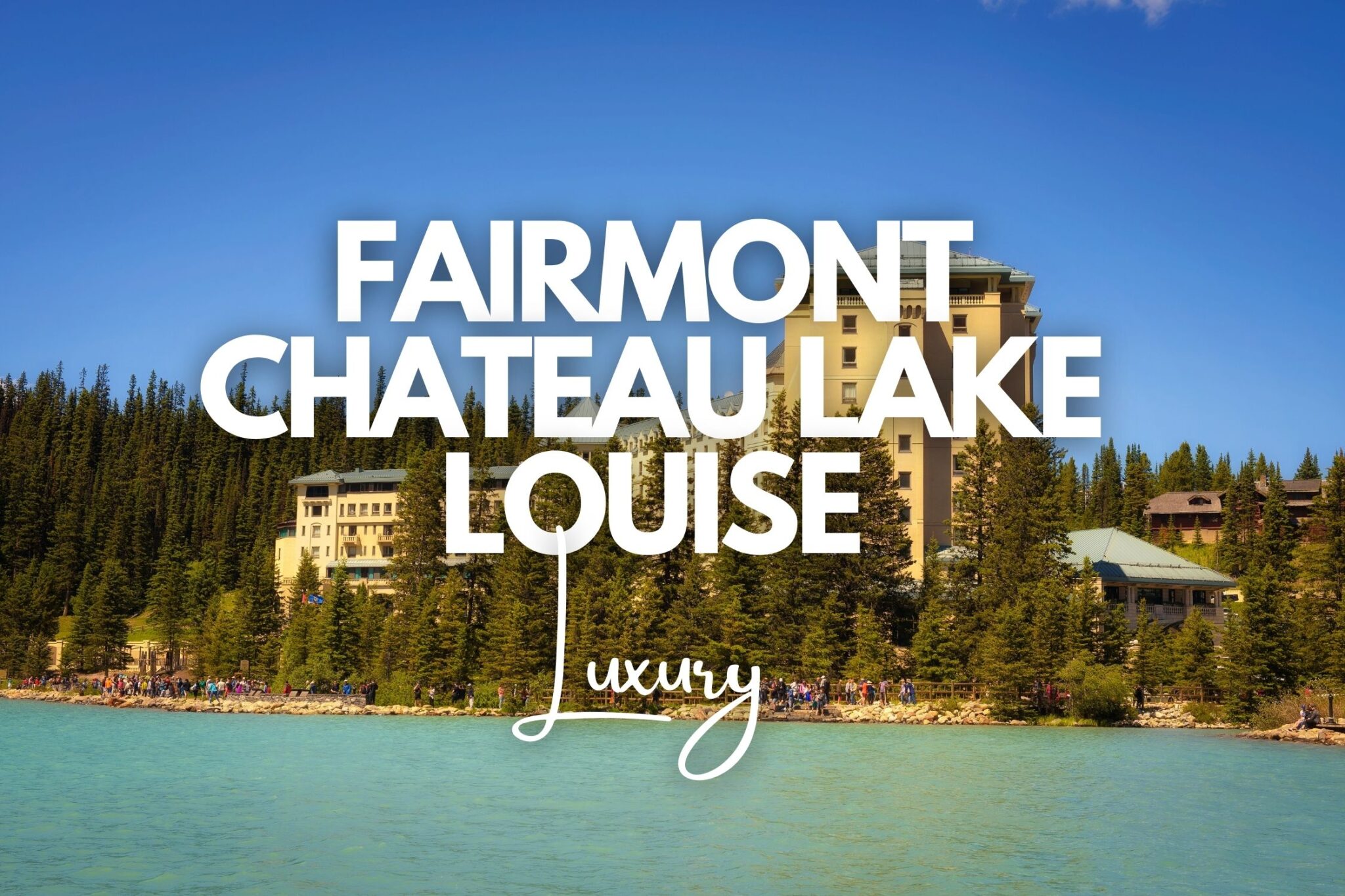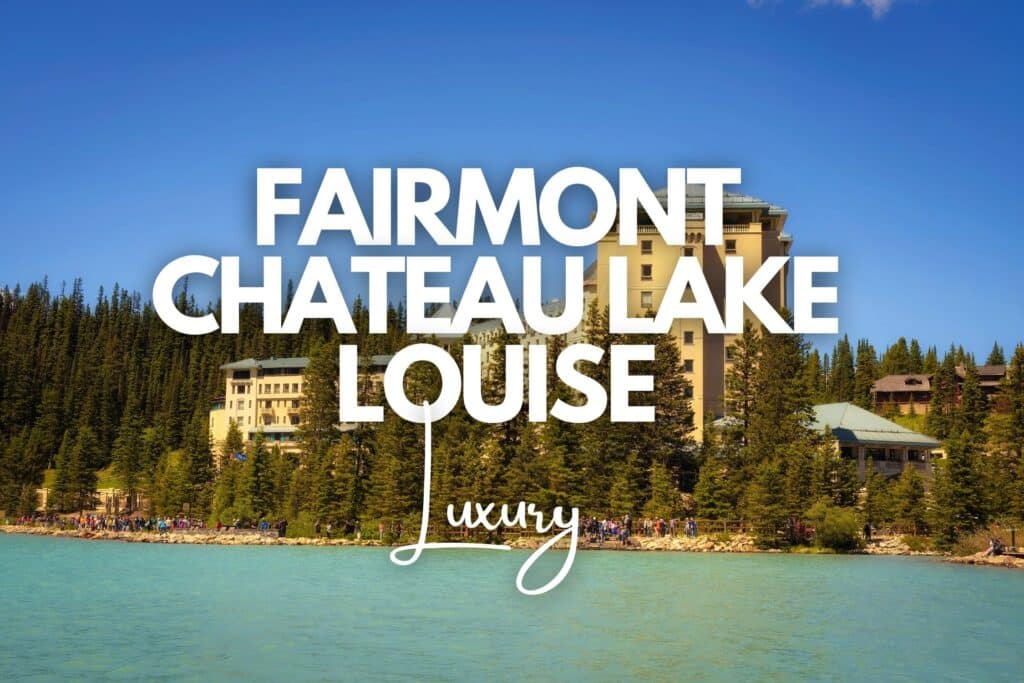 Fairmont Chateau Lake Louise
If you want to stay at Lake Louise and enjoy some great fall hikes around Lake Louise, then the best place to stay is the Chateau. Although this is one of the most expensive places to stay in Banff so save it for one of those once-in-a-lifetime experiences.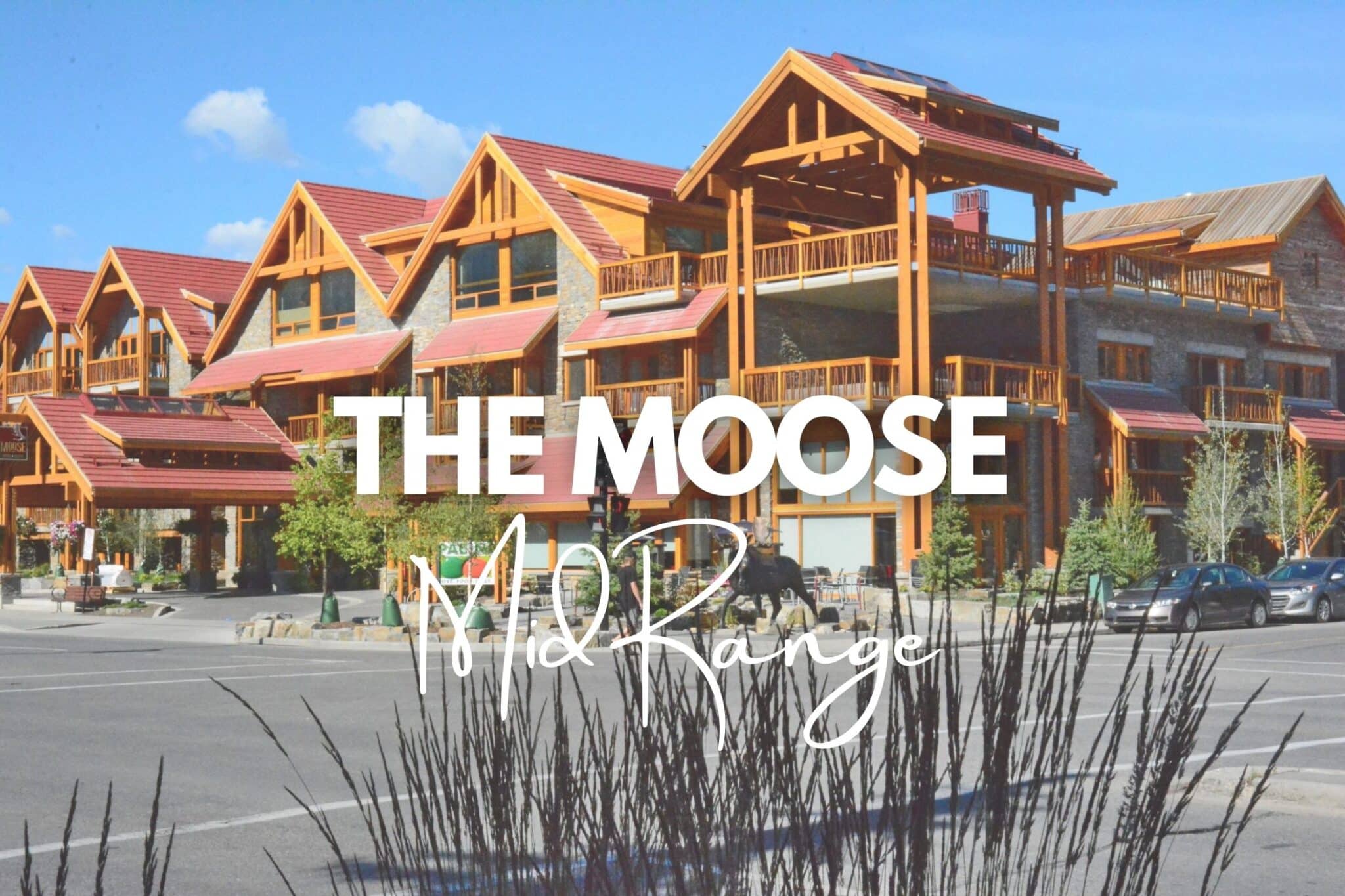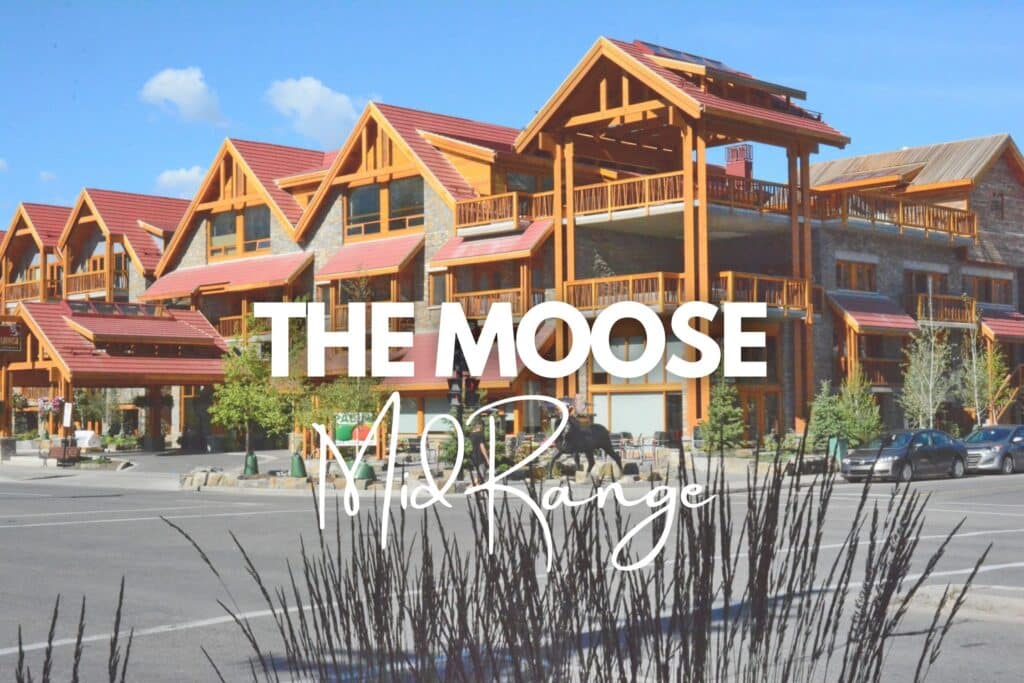 Moose Hotel
One of our favorite hotels on Banff Avenue is The Moose Hotel. Rooms here are incredibly comfortable and you can't beat their rooftop sauna and hot tub.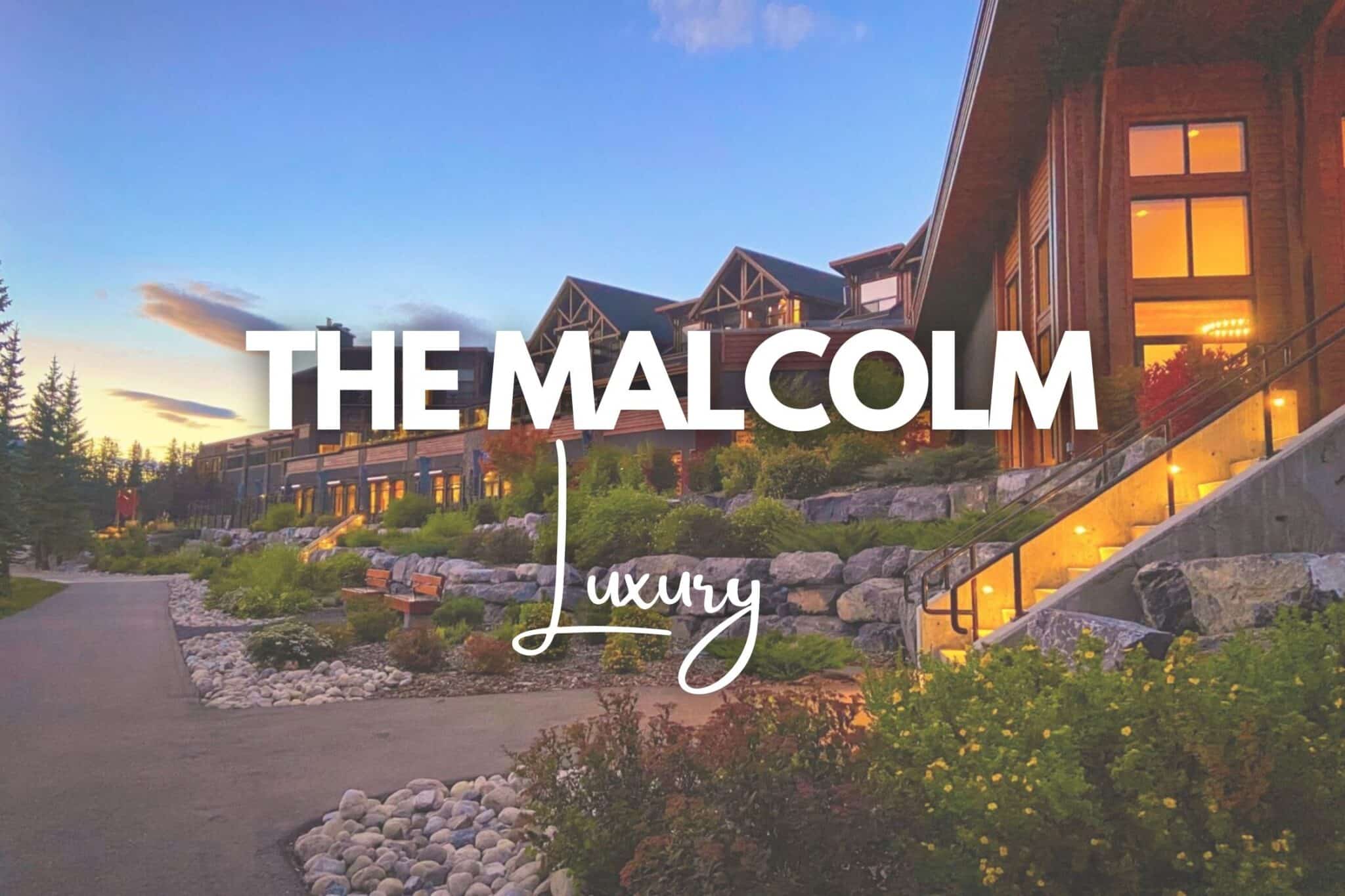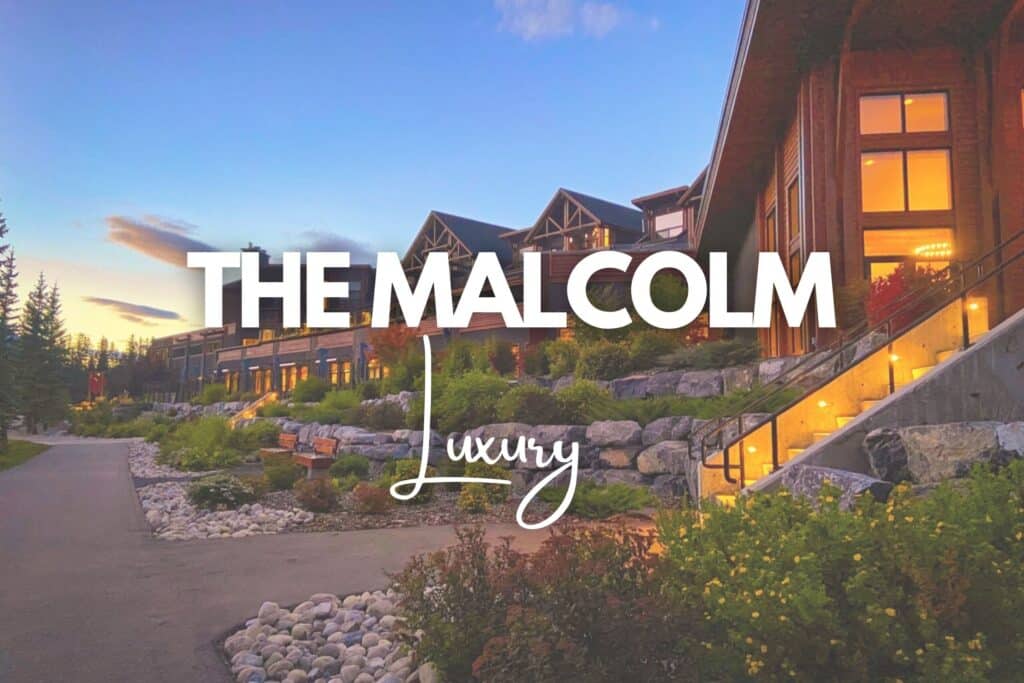 The Malcolm
My favorite place to stay in Canmore is The Malcolm. Easily the most luxurious property in town. It is right off of Policemen's Creek Boardwalk and has an outdoor heated pool looking out to the Three Sisters!
Budget Friendly Places to Stay in Banff
Although summer is winding down, rates stay fairly high on accommodation in Banff through September, especially on weekends.
It's best to book a hotel in Banff well in advance if you know you'll be visiting. Nevertheless, there are still some great budget-friendly accommodations in the Rockies. Those are:
---
Hopefully, this helped you determine what to do in Banff in September.
If you have any other questions leave a comment or see our Canadian Rockies travel guide for more articles about photography spots, lakes, hikes, and everything else.
---
Plan Your Trip to the Canadian Rockies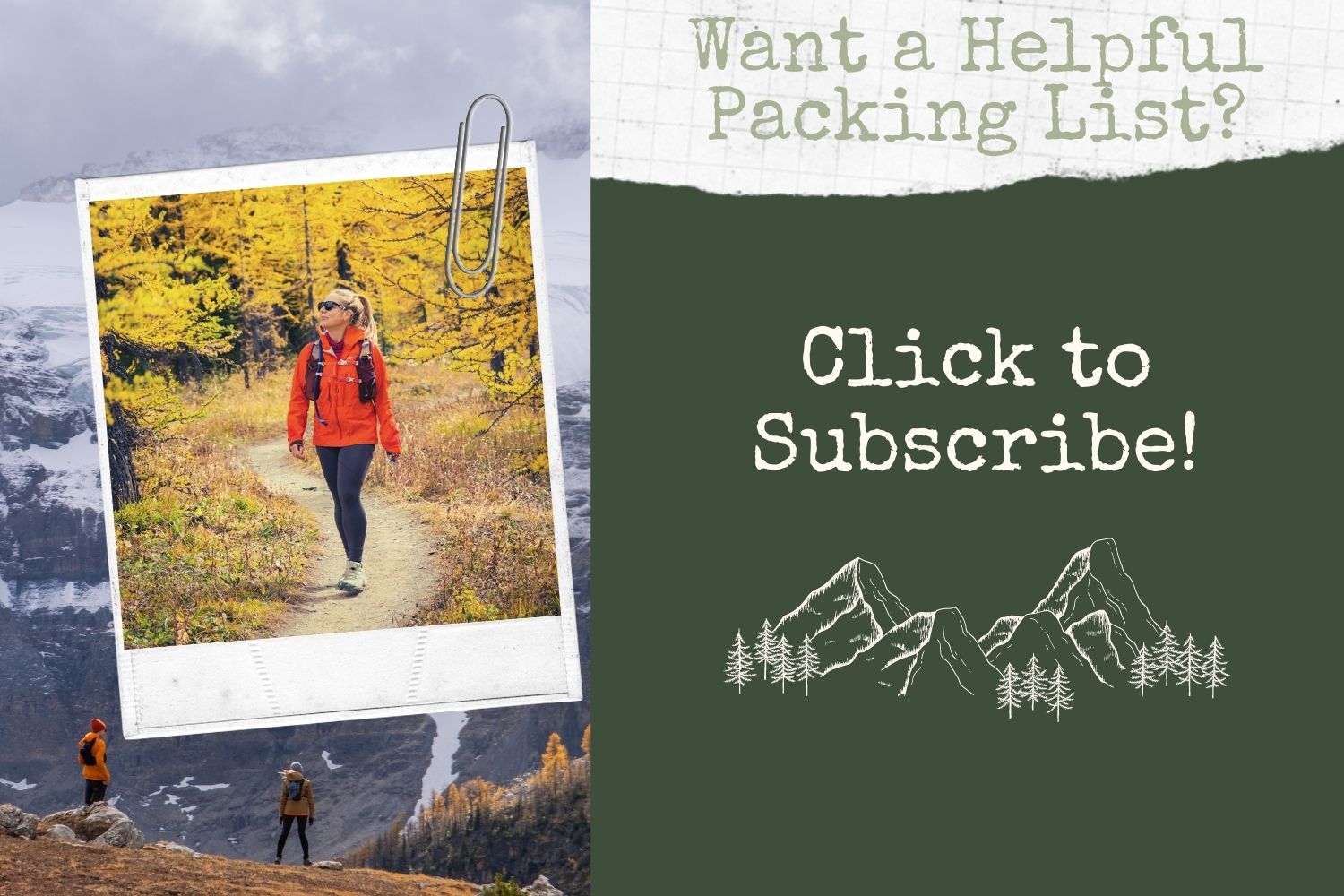 ---
---
↓ Join the community ↓
The Banff Blog Facebook Group is your headquarters for the Canadian Rockies' travel advice and information. Including hike info and off-season travel information. This is also where you can meet one another when you need adventure buddies.