While some may think of Alberta as only plains, oil, and cattle farming, the province has so much more to offer. Especially in terms of hiking. There are so many stunning Alberta hikes it would be near impossible to complete them all, let alone list off of them. However, we still want to try and attempt to showcase as many as we can.
From the Canadian Rockies to the Badlands, here are 20 of the most beautiful hikes in Alberta for you to enjoy.
---
When is the Best Time to Hike in Alberta?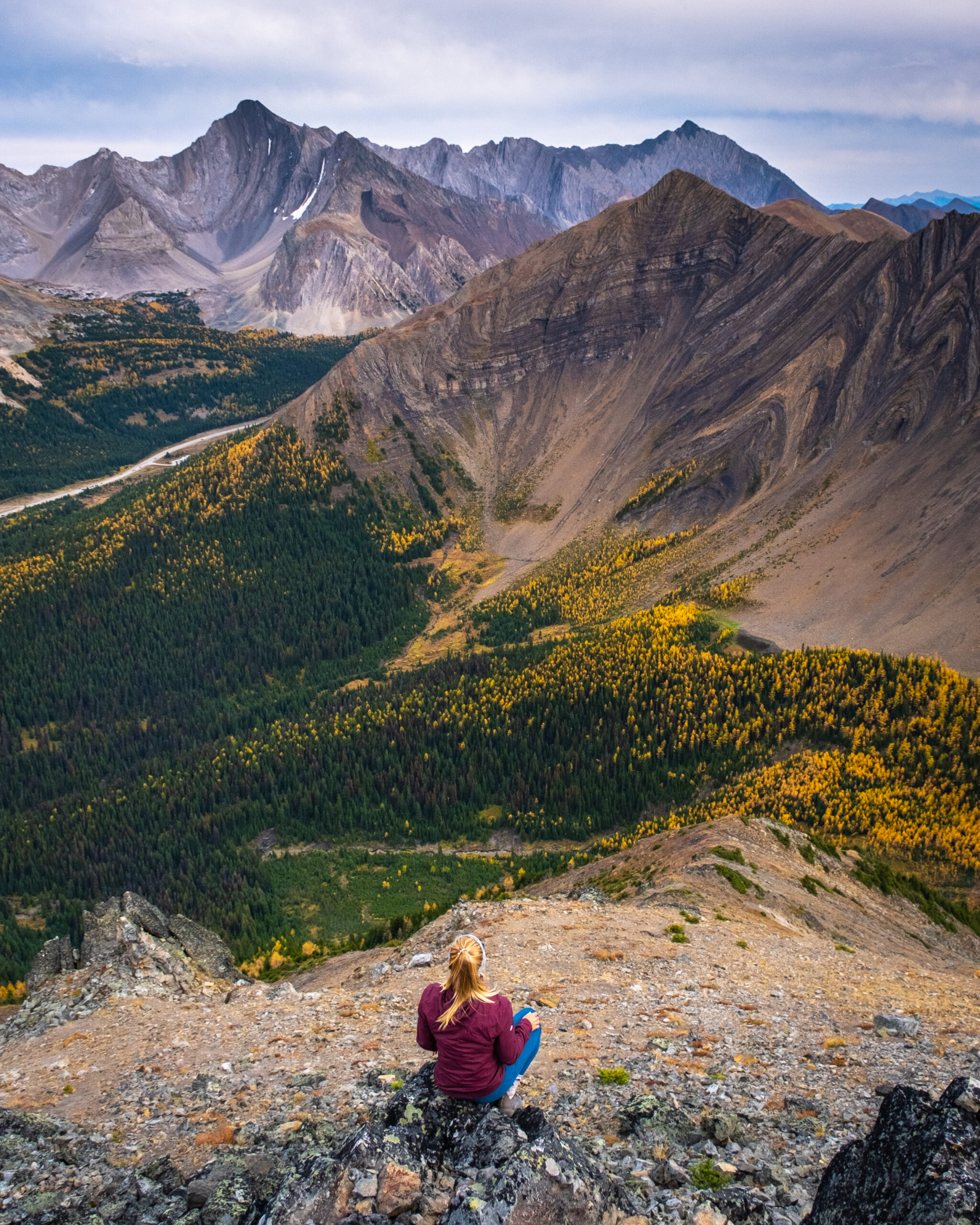 Some of these Alberta hikes can be completed year round. Seeing as Alberta isn't exactly a warm weather destination, and it feels like winter lasts from October to May, the best time to hike in Alberta is the summer.
Many of these hikes are best completed between June and September, with some of the higher elevation hikes that are noted best in July and August.
---
Parks Pass
It's important to note that complete these Alberta hikes you will need a park pass in many of these Canadian Parks.
You can purchase a Parks Canada pass at any park gate; you need a Parks Canada pass to visit any national park in Canada. Day pass start at:
Adult: $10.50
Senior: $9.00
Youth (up to 17): Free
Family/group of 7 people: $21.00
Day passes expire at 4 pm the following day.
Or you can buy them from Parks Canada in advance online. If you're staying in Alberta for more than a few days, I highly recommend a Discovery Pass. A Parks Canada Discovery Pass which gets you entrance to all Parks Canada destinations for the year is only $145.25 for a family.
---
The Best Alberta Hikes: Banff
---
Healy Pass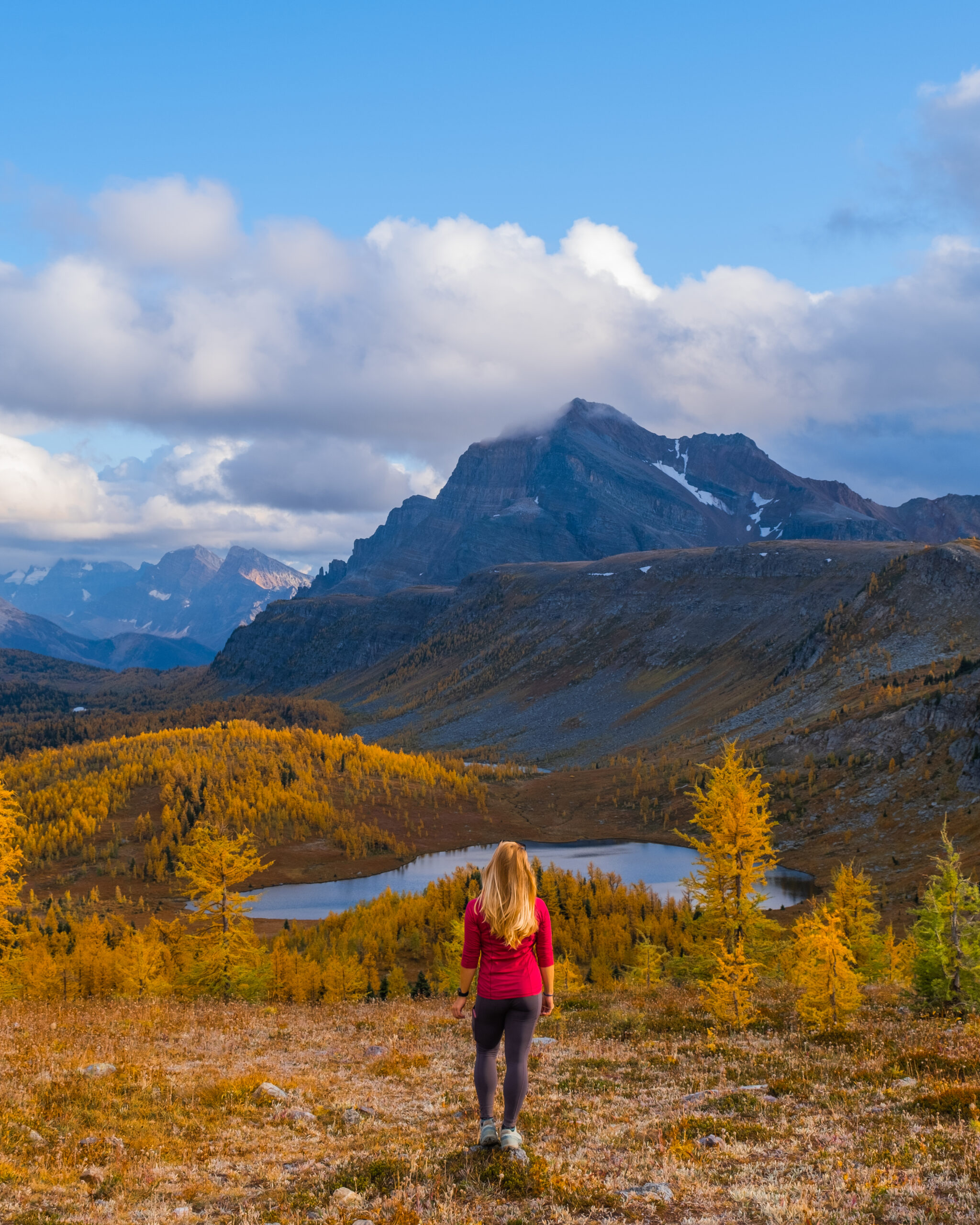 Length: 20.9 km
Duration: 5-7 hrs
Elevation Gain: 890 meters
Difficulty: Moderate
Healy Pass is one of our favorite Alberta hikes – so much that we often enjoy it multiple times a year. This hike is in Banff National Park and can be done as a day hike and a multi-day hike given its length.
Beginning at the Sunshine Village parking lot Healy Pass is one of the best-maintained trails in the entire park.
The trail is a gradual climb through a lush shaded forest at its start. After 8km, the forest gives way to a gorgeous alpine meadow and a vast expanse of wildflowers in the summer and golden larch trees in the fall.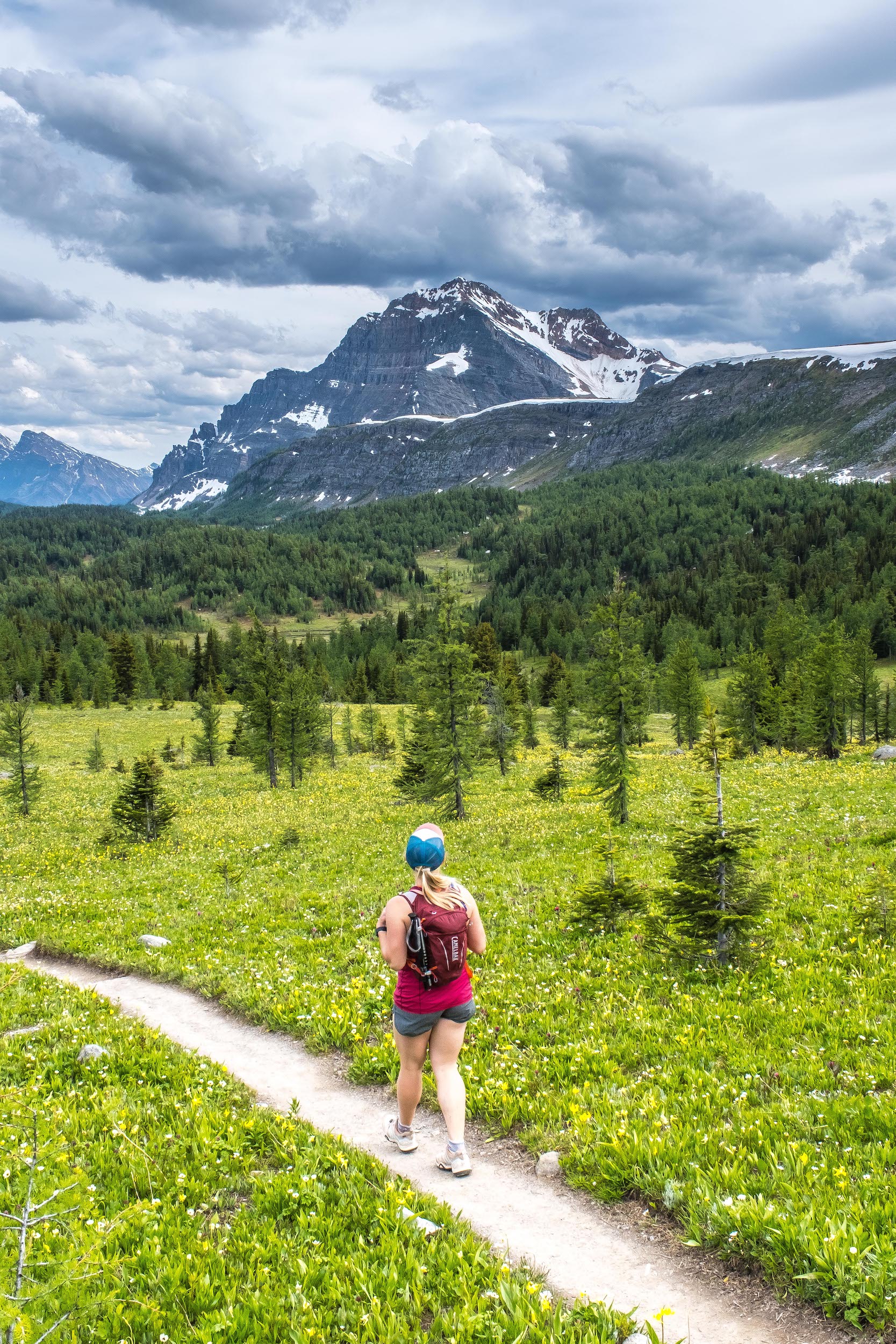 Past the meadow is the apex of the trail that provides fantastic views out to Mount Monarch and the surrounding peaks. In the distance, you can see one of the most picturesque peaks in the Rockies, Mount Assiniboine.
If there is one negative, it's the long approach to this hike. As you walk through the forest for nearly 7 km without many views, it can feel a bit like a slog.
We highly recommend either hiking Healy Pass in July and August when the wildflowers are everywhere or in late September as it's one of the best larch hikes in Alberta!
If you want a little extra and have the energy, you can hike down to Egypt Lake. Or backcountry camp at the Egypt Lake campsite and tackle Phaorah Peak (scramble).
The Healy Pass Trail Hike Guide
---
Mount St. Piran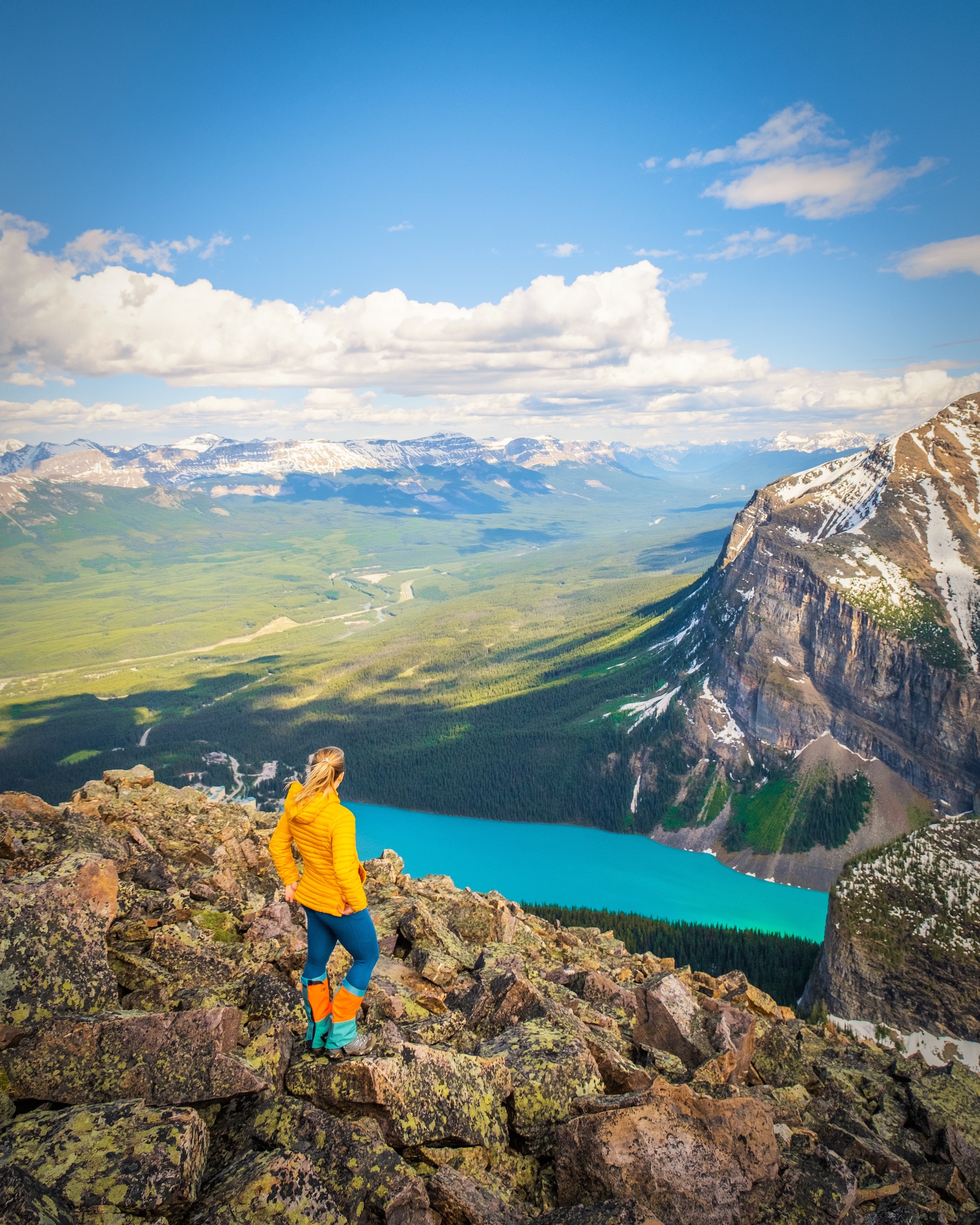 Length

: 12.2 km

Elevation Gain: 918 meters
Duration: 3-6 hours
Difficulty: Hard
Another one of the best hikes in Alberta that often gets overshadowed is Mount St. Piran. Many visitors venture to Lake Louise and opt to do a little hiking. The most popular hike is Lake Agnes Teahouse, followed by the Beehives and often Devils Thumb.
However, many visitors don't attempt Mount St Piran. This is a nice summit to bag if you have a few other Canadian Rockies hikes under your belt.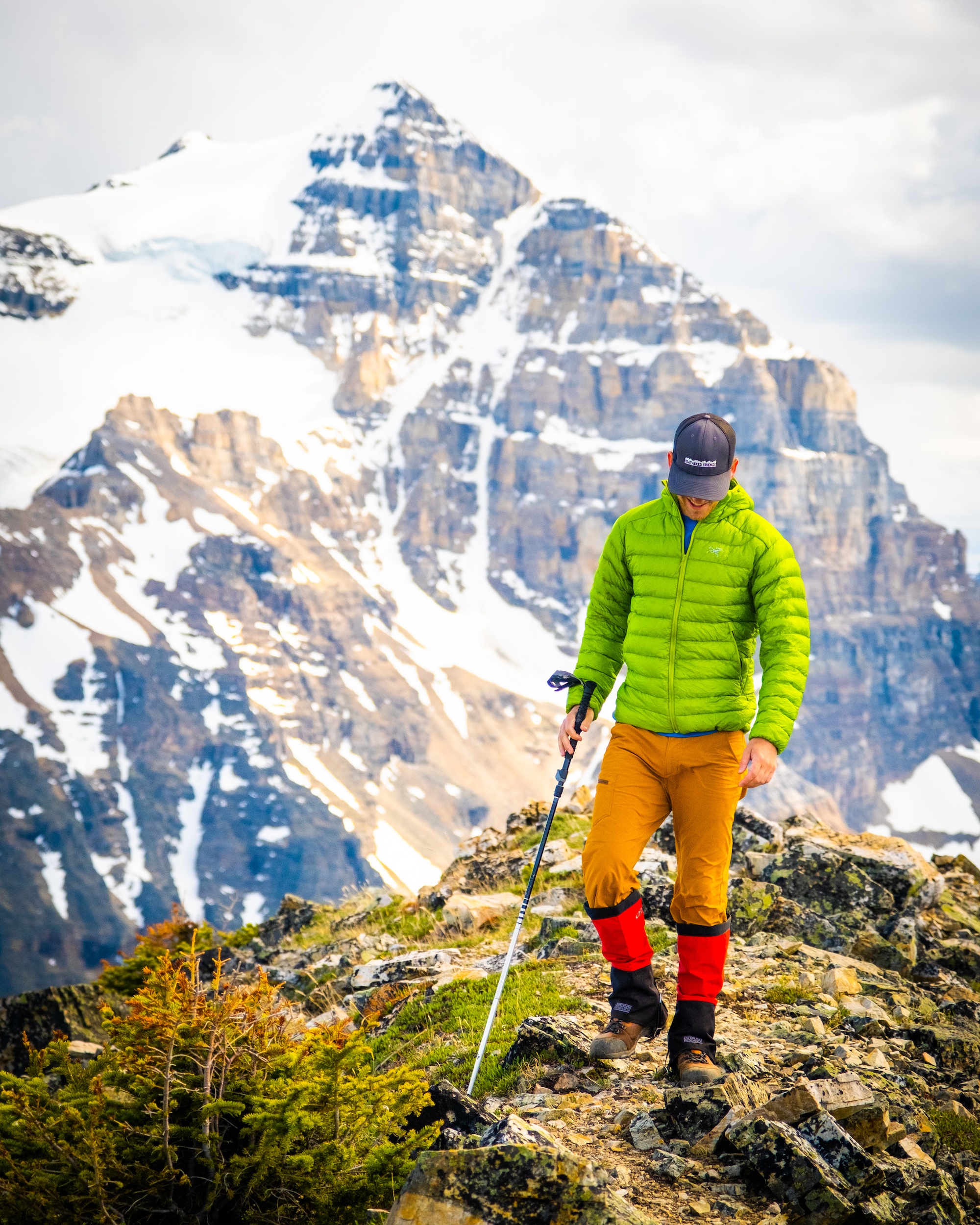 If you've already hiked up to the Lake Agnes Teahouse, consider continuing on to the Little Beehive and then continuing up Mount St. Piran. While the Teahouse and Little Beehive are easy Lake Louise hikes, Mount St Piran is classified as an easy scramble. However, there is little actual hands-on scrambling involved. Though it is steep, but the views over Mount Fairview and Lake Louise are worth the climb.
The route up to Mount St Piran falls between a scramble and hike. It's an excellent early season objective once the snow melts off the avalanche slopes as there is no exposure to be found on the route.
Mount St. Piran Hike at Lake Louise – All the Info You Need
---
Parker Ridge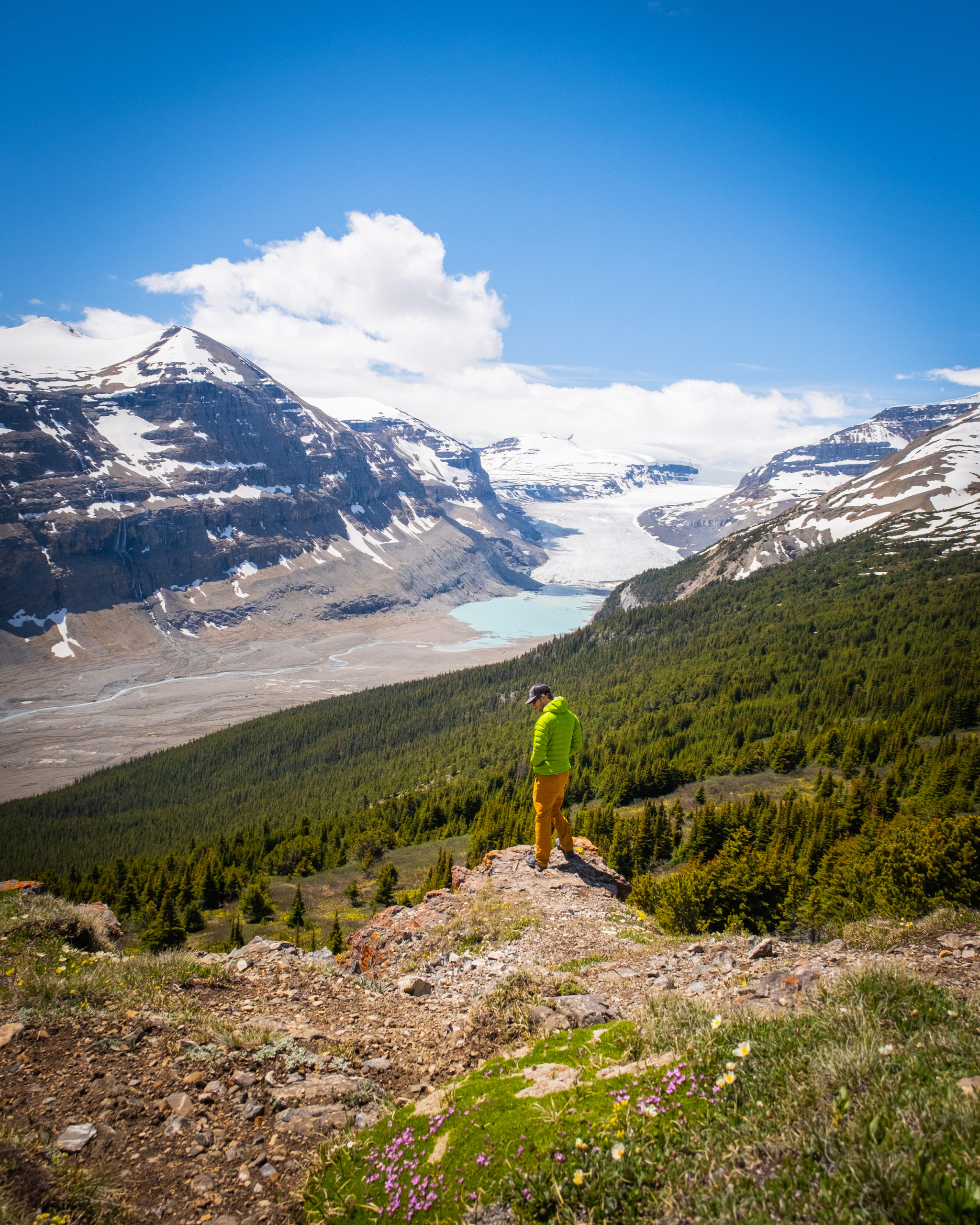 Length: 1.5 km
Elevation Gain: 269 meters
Duration: 2-4 hrs
Difficulty: Easy
After completing Parker Ridge, it shot right up to one of my favorite hikes in all of Banff. It doesn't get much better than Parker Ridge Trail for amazing views for relatively easy effort. Seriously, I usually hike a lot longer and harder for half as good views.
Since this hike is between Banff and Jasper along the Icefields Parkway, I recommend this Alberta hike when you are already making the four-hour drive between the two mountain towns. At under 2km and less than 300 meters of elevation gain Parker ridge can easily be incorporated into an Icefields Parkway road trip itinerary.
The Parker Ridge hike is pretty straightforward on a well-trodden trail the entire 269 meters up. There is nothing complicated or technical about this Banff hike, and no scrambling is involved making it an excellent hike for newer hikers. It's great for the entire family and those with mobility issues or whoever just wants a nice leisurely day out with fantastic glacier views!
The finale of this Alberta hike happens when you reach the ridge and get views over the impressive Saskatchewan Glacier! This hike is best completed in July and August as it holds a lot of snow.
How to Hike Parker Ridge Trail On the Icefields Parkway
---
Mount Bourgeau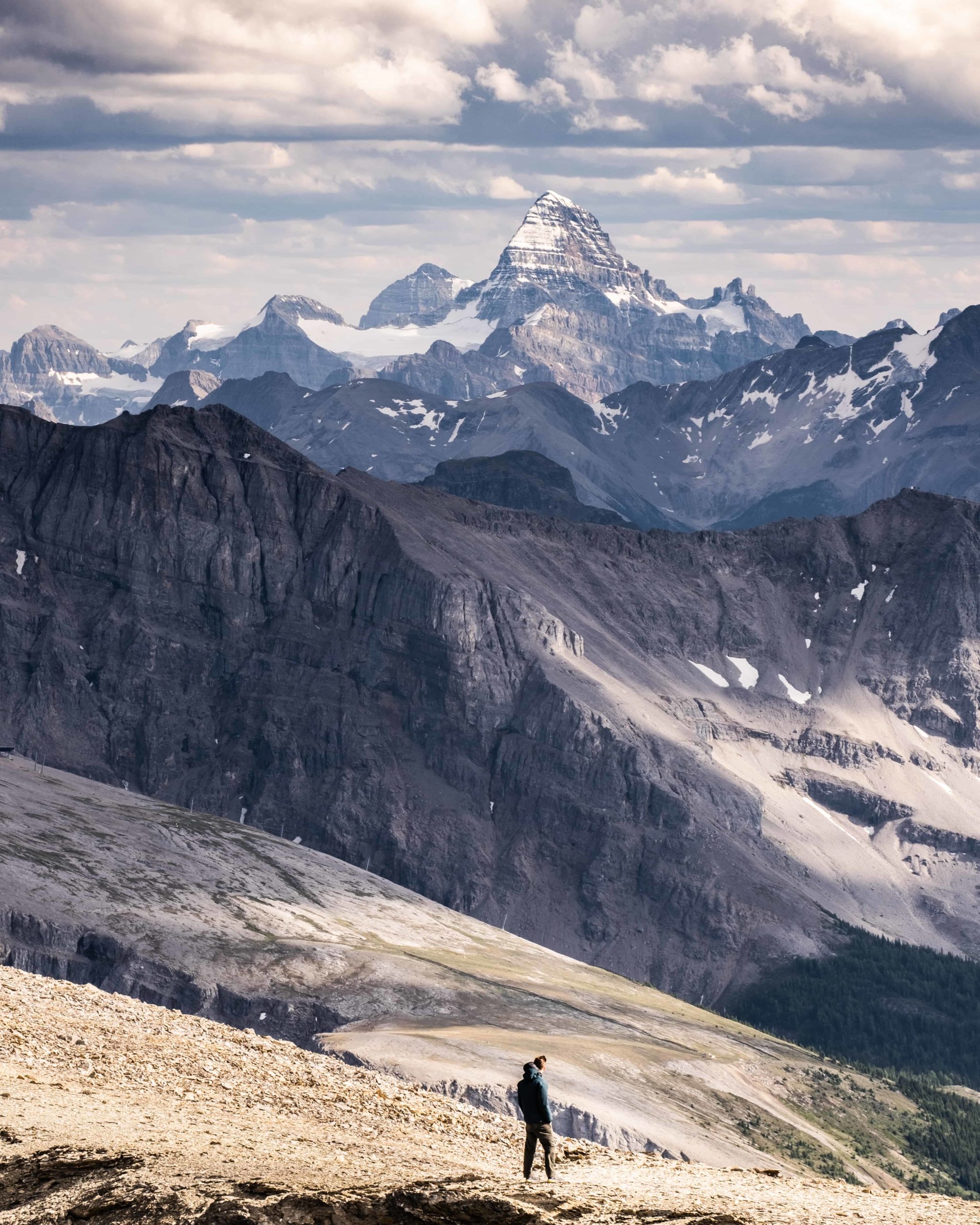 Length: 21.7 km
Elevation Gain: 1,731 meters
Duration: 5 – 10 hours
Difficulty: Difficult
Mount Bourgeau is a 2,931-metre tall mountain not far from Downtown Banff. Sound intimidating? Don't worry! It's one of the more accessible mountain summits in the Canadian Rockies – as long as you don't mind a very long day out!
At 22 km and 1731 meters of elevation gain, the sheer length and elevation gain requires strong legs and stamina. However, it is not technical or physically terrible, and there is no scrambling needed to summit the mountain, a rarity for a lot of peaks in Alberta.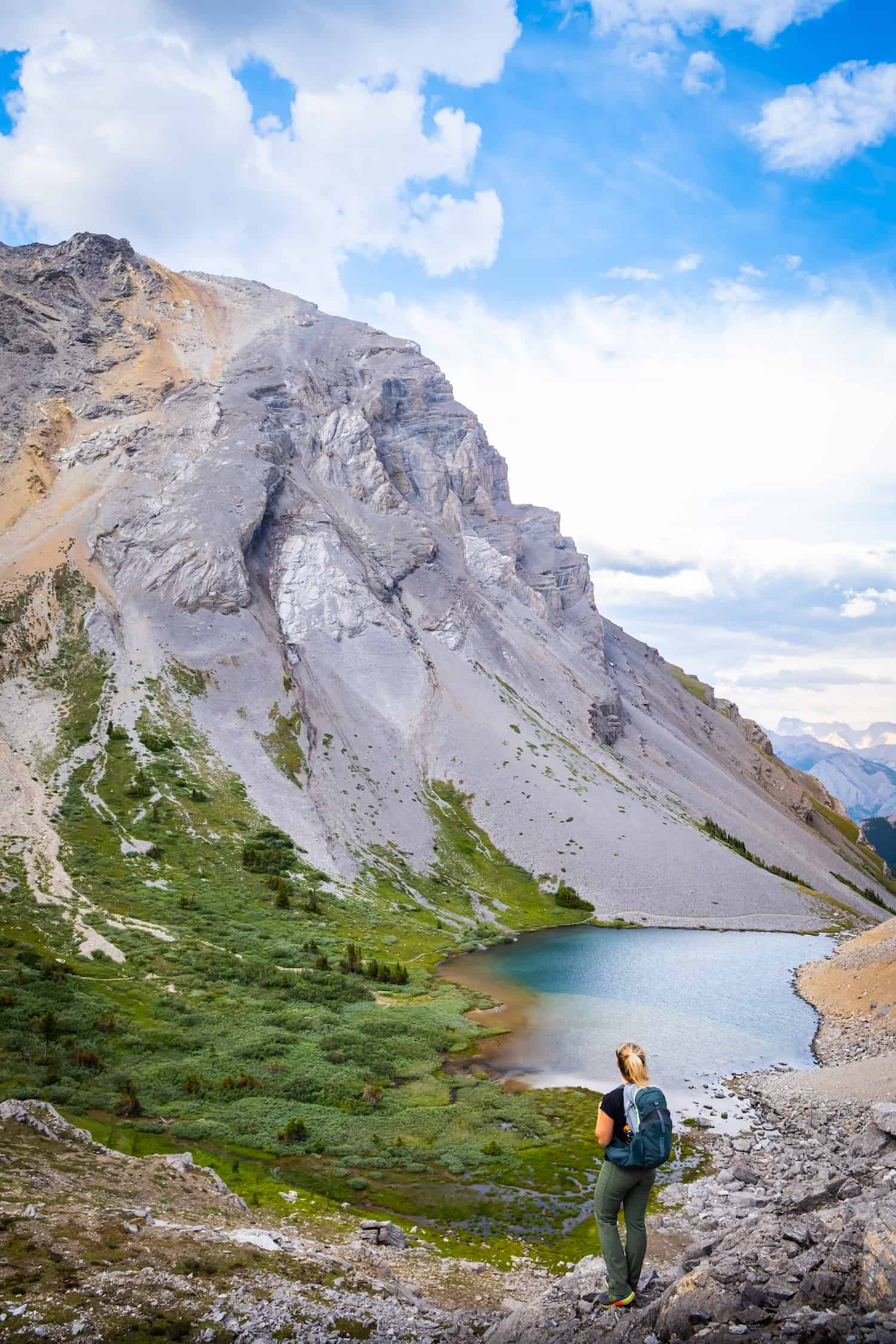 On the way to the peak, you cross the lovely Bourgeau Lake, witness stunning views from Harvey Pass, and on a clear day, you can see Mount Assiniboine.
If summiting Bourgeau sounds like too long of a day, you have other options! You can choose to go just to Bourgeau Lake or Harvey Pass, each cutting a large chunk of the hike out.
We completed the trip up to the summit around six hours with over a half-hour at the summit. Unless you're trail-running, I wouldn't expect to complete it much sooner as the average time is around eight hours. This is a full-day hike, so come prepared with lunch, water, and snacks.
How to Hike Mount Bourgeau in Banff National Park
---
Best Alberta Hikes: Jasper
---
Valley of Five Lakes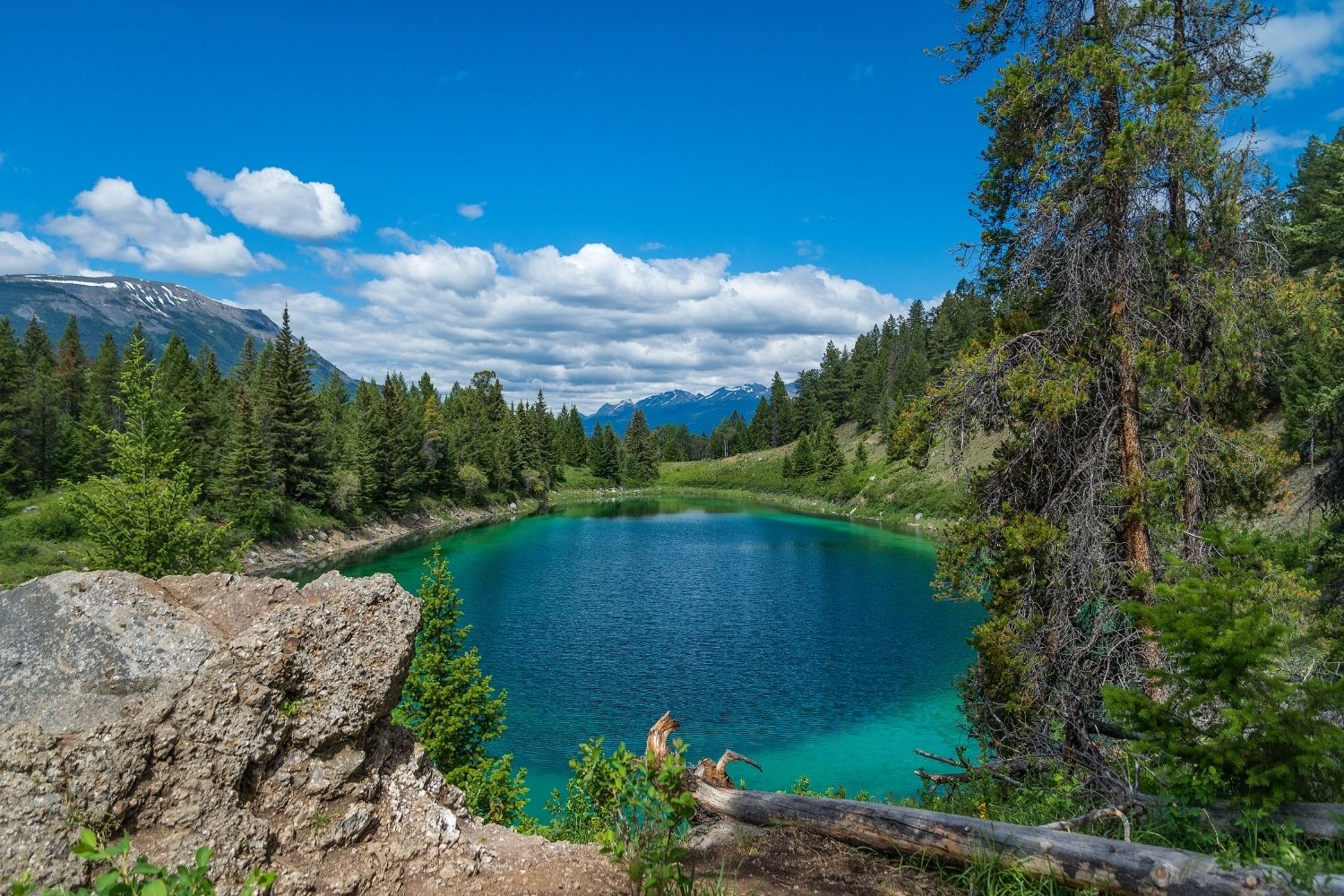 Length: 4.8 km
Elevation Gain: 172 meters
Duration: 1 -2 hours
Difficulty: Easy
The Valley of Five Lakes is a classic Jasper hike that's probably the most popular in the park. And for a good reason! Hikers come to gaze at the five picturesque lakes along the trail. It's a flat trail that's well developed, so it's easy for all ages and abilities to enjoy the lakes and the varying colors of blue and green.
---
Whistler's Summit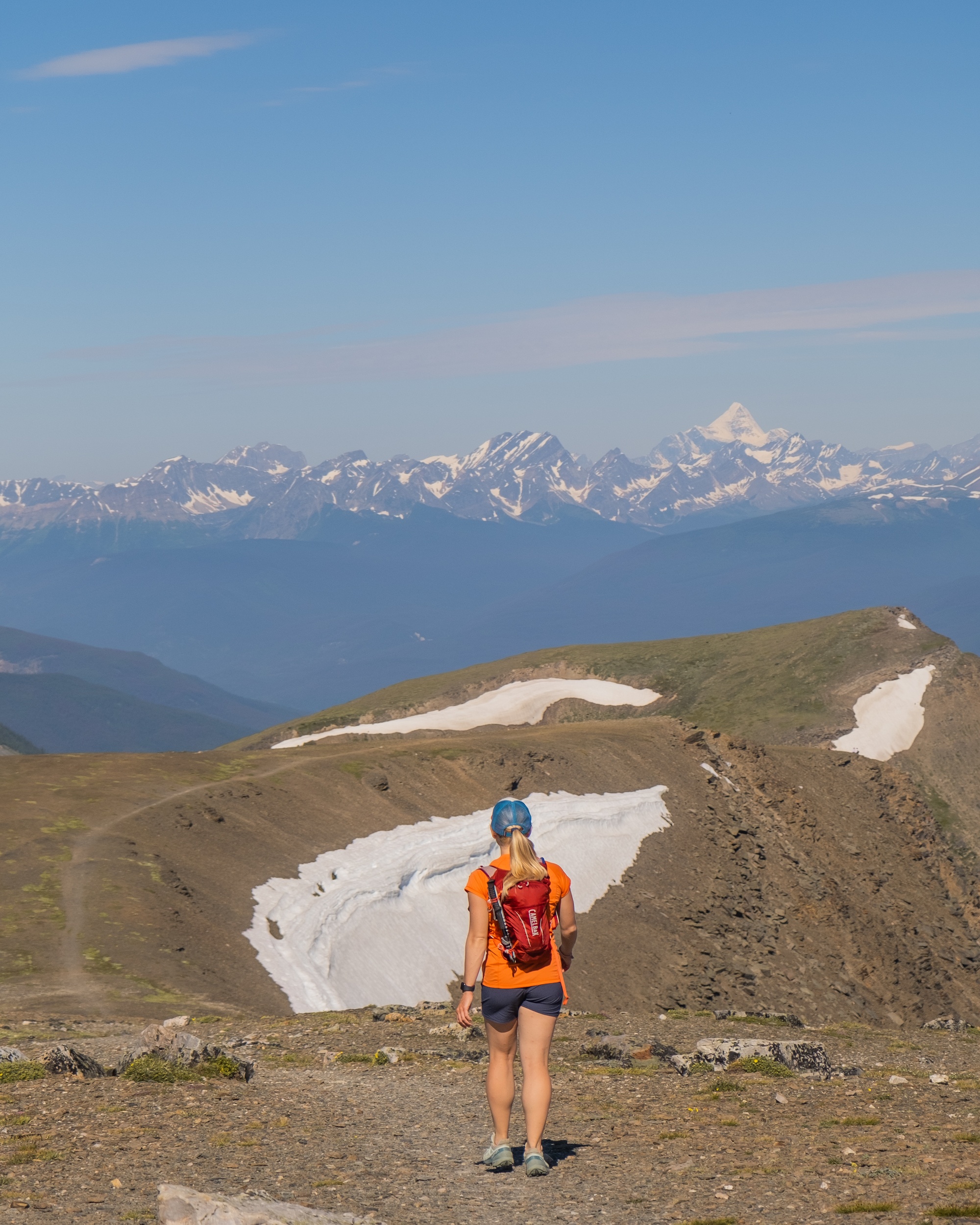 Length: 3.7 km
Elevation Gain: 273 meters
Duration: 1-2 hours
Difficulty: Moderate
From the top of the Jasper Skytram, visitors can enjoy the views over Jasper and continue to summit Whistler's Mountain for those who want a bit of hiking. Quite honestly, unless you hike from the base, the Jasper Skytram assists most of the way up the mountain, but a 20-30 minute hike further will get you to the summit.
It's more or less a must-do in Jasper! On a clear day, you can even see Mount Robson – the highest mountain in the Canadian Rockies.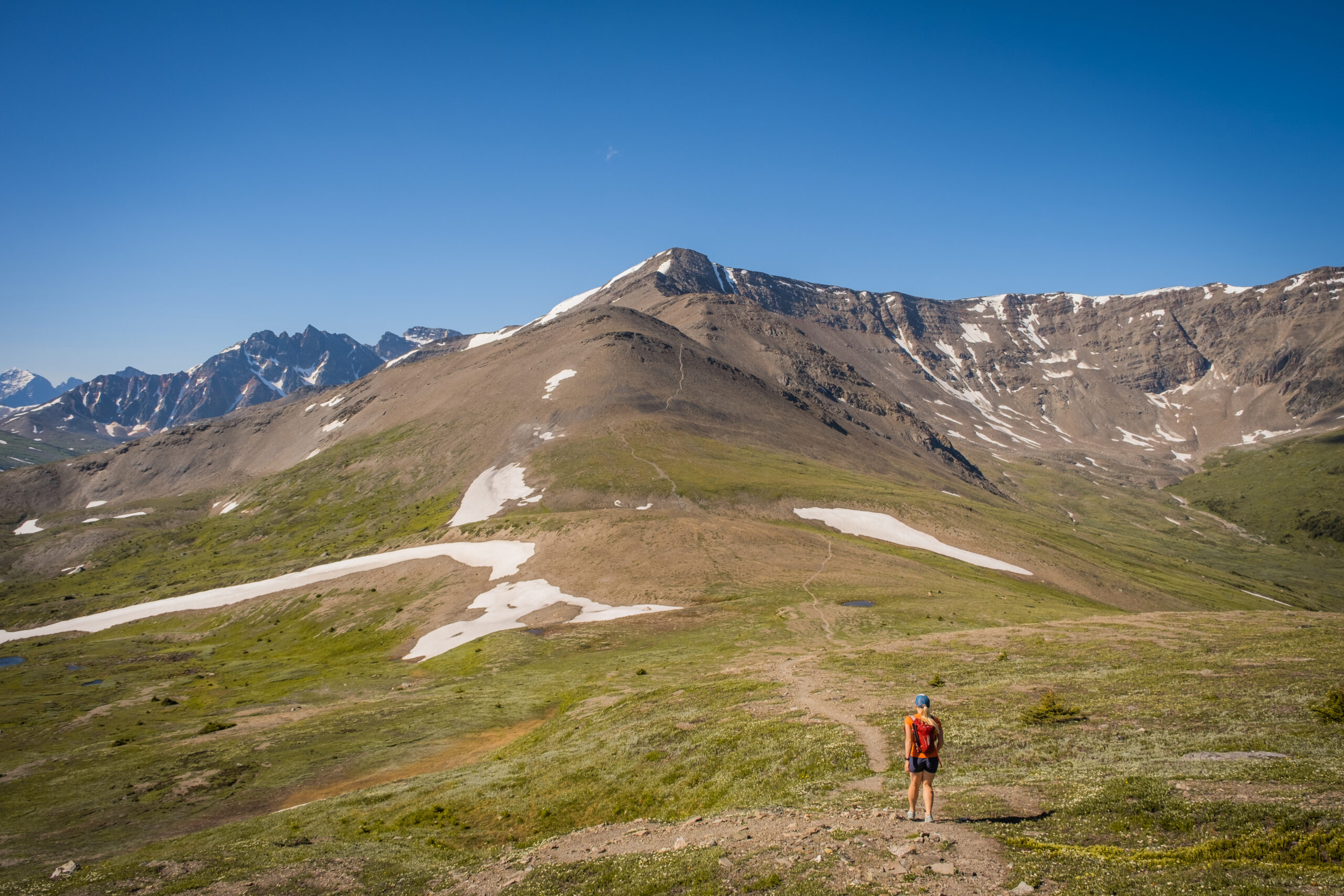 Just because this is an assisted Alberta hike doesn't mean it's completely effortless. At just about 300 meters of elevation gain, it does take some work to reach the summit, and you'll definitely feel accomplished! For those that want a bit more of a challenge and a bit of scrambling, consider continuing on to Indian Ridge!
---
Edith Cavell Meadows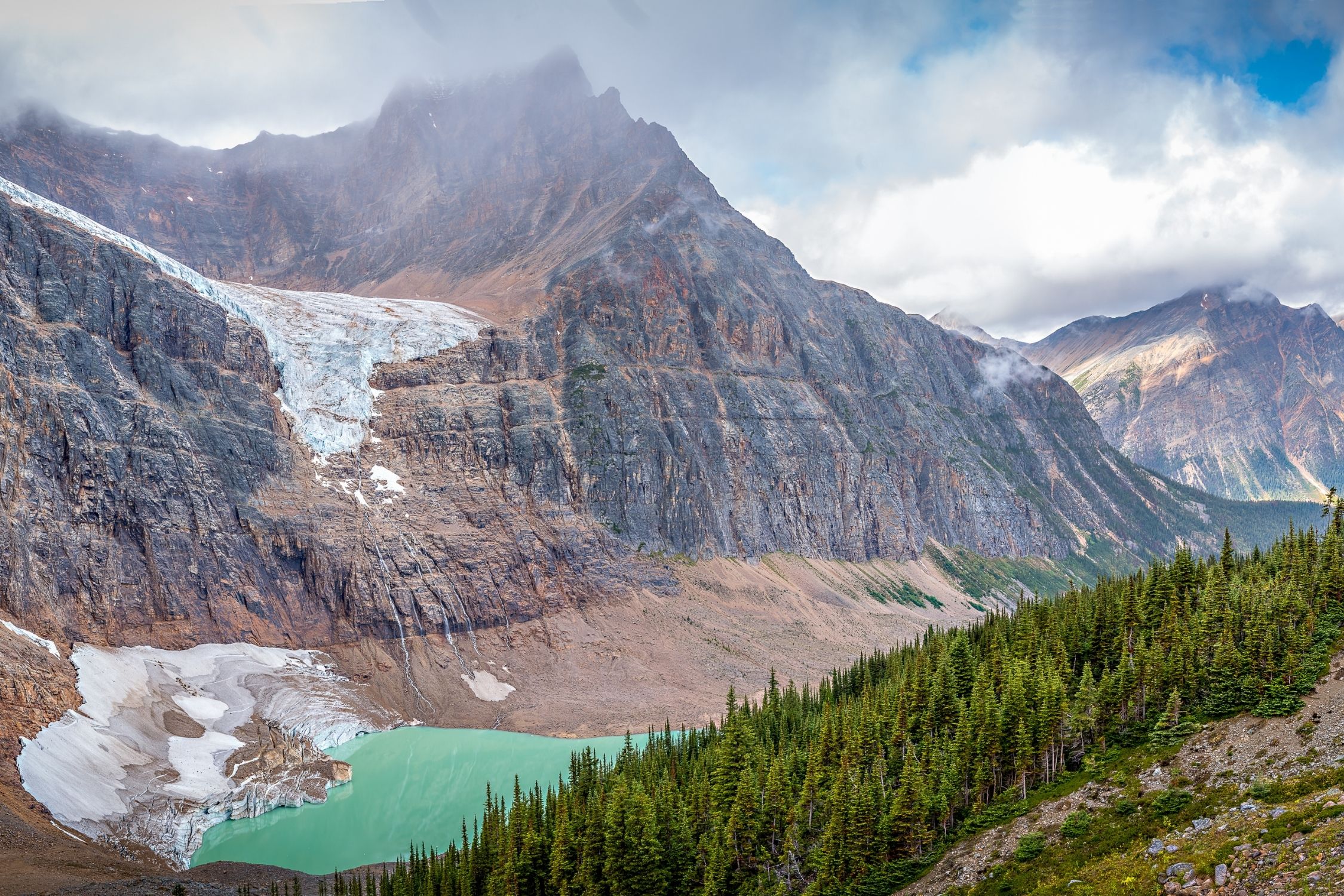 Length: 8.5 km
Elevation Gain: 558 meters
Duration: 3-5 hours
Difficulty: Moderate
One of the most spectacular hikes in Jasper is a climb up to the Edith Cavell Meadows. Expect alpine meadows, glacial lakes, a massive hanging glacier, sweeping views, and the towering Mount Edith Cavell on the hike.
The hike starts with a paved trail called the Path of the Glacier. It brings hikers to a viewpoint of the Cavell Pond and a view of the Cavell Glacier. All while the north face of Mount Edith Cavell towers over the trail.
After the first lookout point, the trail continues upwards through the forest and into the meadows. As you climb, the views of the Angel Glacier, which is a hanging glacier, are striking.
The real highlight is the wildflowers that reach their peak around mid-July. When wildflower season is in full swing, it's hard to spend a day off the trails because it is just breathtaking. Granted, the wildflowers flourish best in the alpine, so it takes some leg work to reach.
---
The Skyline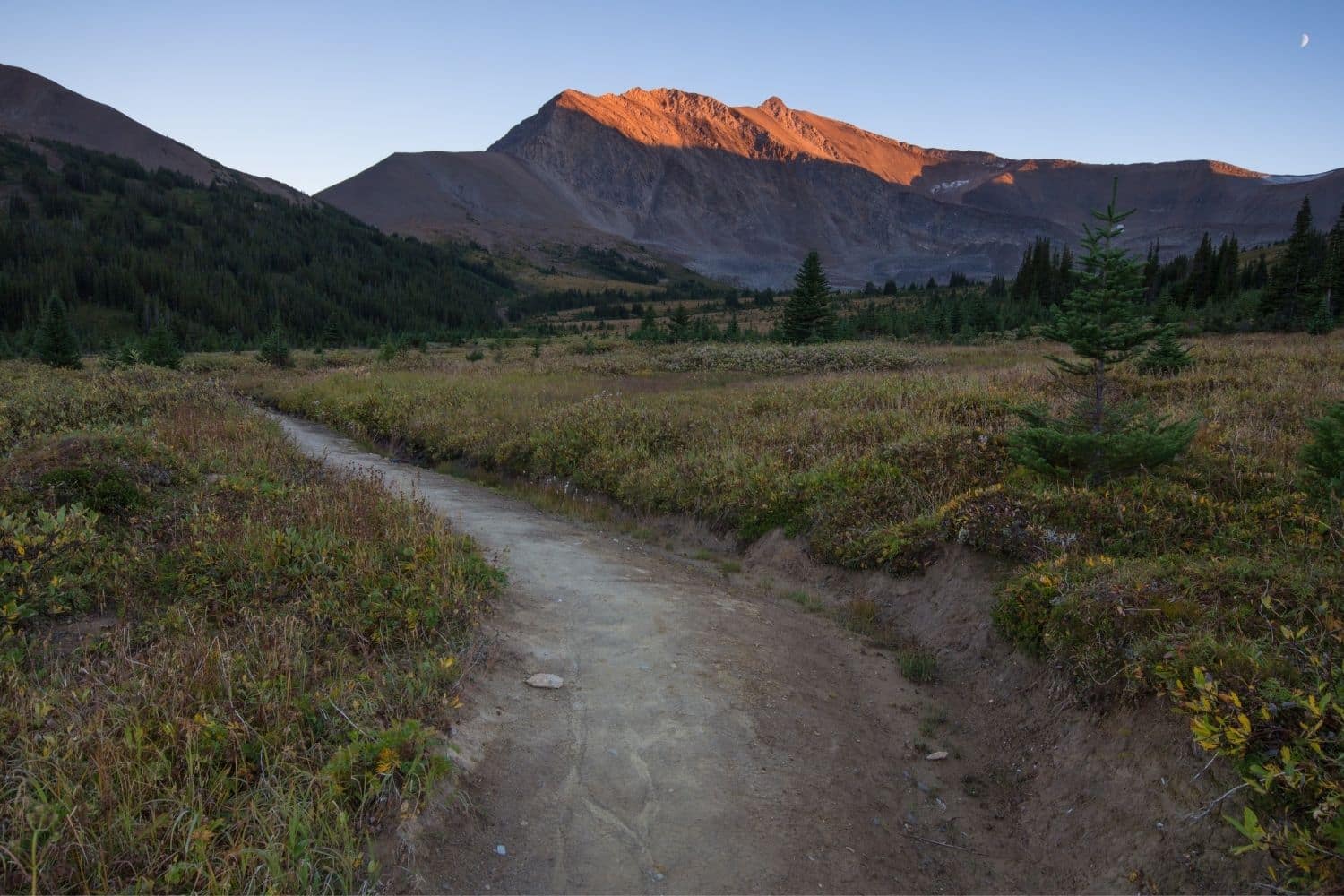 Length: 46 km
Elevation Gain: 1380
Duration: Multiday
Difficulty: Difficult
Not to be confused with the Sulphur Skyline Trail, The Skyline is a highlight in Alberta. However, at nearly 50km, it's best done as an ultra trail run or multiday backpacking trip. On top of that, it's a point-to-point trek, so it requires a bit of planning, but it's such a stunning Alberta hike it had to be mentioned on this list. It's best for those that want to plan something longer than a day hike.
The Skyline is a breathtaking trail that crosses over several mountain passes and stays at an elevation from Maligne Lake to the Maligne Canyon. The views are surreal, and there is little wonder why this is a world-famous backcountry trip.
---
Best Alberta Hikes: Kananaskis Country
---
Arethusa Cirque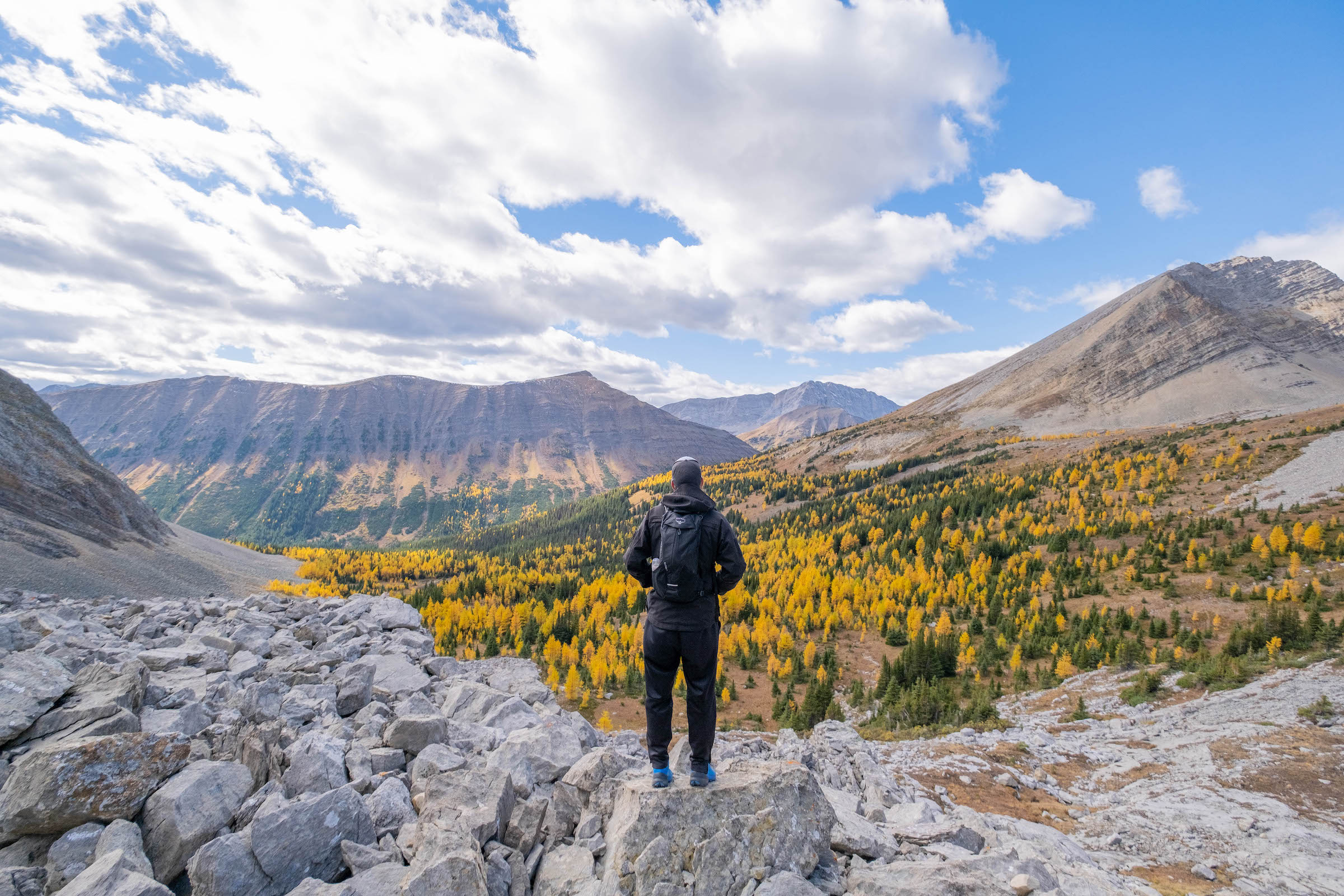 Length: 5 km
Elevation Gain: 350 m
Duration: 2-3 hours
Difficulty: Easy
Arethusa Cirque is a family-friendly hike in Kananaskis Country that we decided to tackle in larch season after completing Pocaterra Ridge and Ptarmigan Cirque nearby. I honestly wasn't expecting much from this hike, but I was absolutely stunned by how beautiful this one was.
This is a simple hike that almost anyone can complete with out-of-this world views of Mount Arethusa, Storm Mountain, and Mount Tyrwhitt. We highly recommend completing this hike in late September when the larches turn golden.
Arethusa Cirque is a loop hike, and I would suggest taking this loop trail clockwise. One very steep and loose section is better to ascend than descend – especially with children or older hikers.
---
Tent Ridge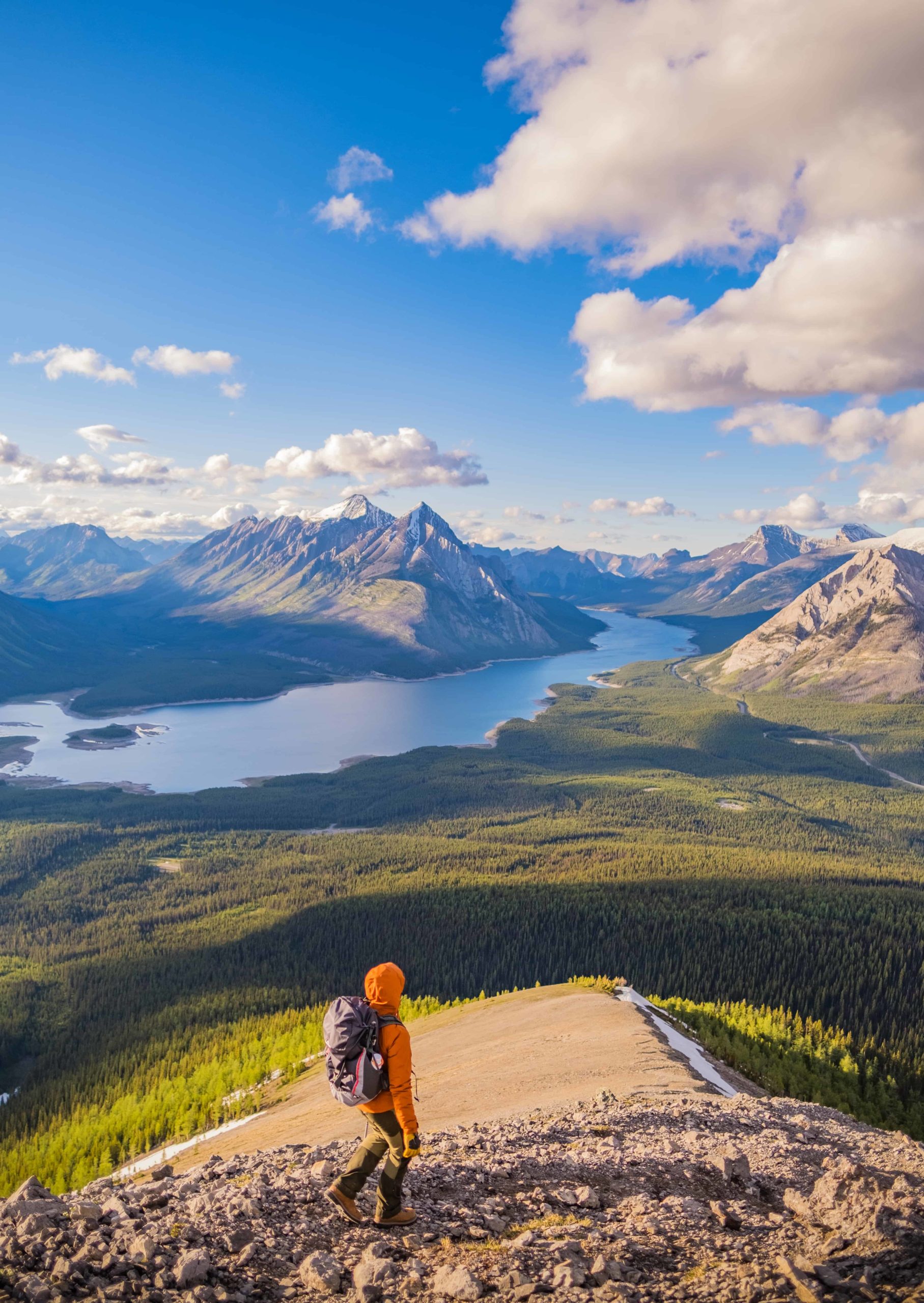 Length: 10.6km
Elevation Gain: 750m (2460ft)
Duration: 3-6 hours
Difficulty: Moderate
Tent Horseshoe Ridge is one of my favorite Alberta hikes. This beautiful loop trail is just an hour's drive from Canmore in the Spray Valley. Thanks to social media, it's become quite popular in recent years, but even with the crowds, it's still a stunner.
Tent Ridge Horseshoe is a 10-kilometer loop trail with one short scramble section. It's not too tricky, and even a newer hiker could complete this hike.
While the whole loop hike is lovely, the real show stopper comes at the end of the loop (if you take the trail clockwise, which we recommend), as you get views of the Spray Lakes with Mount Nester situated perfectly behind them.
 How to Hike Tent Ridge Trail in Kananaskis Country
---
Sarrail Ridge Via Rawson Lake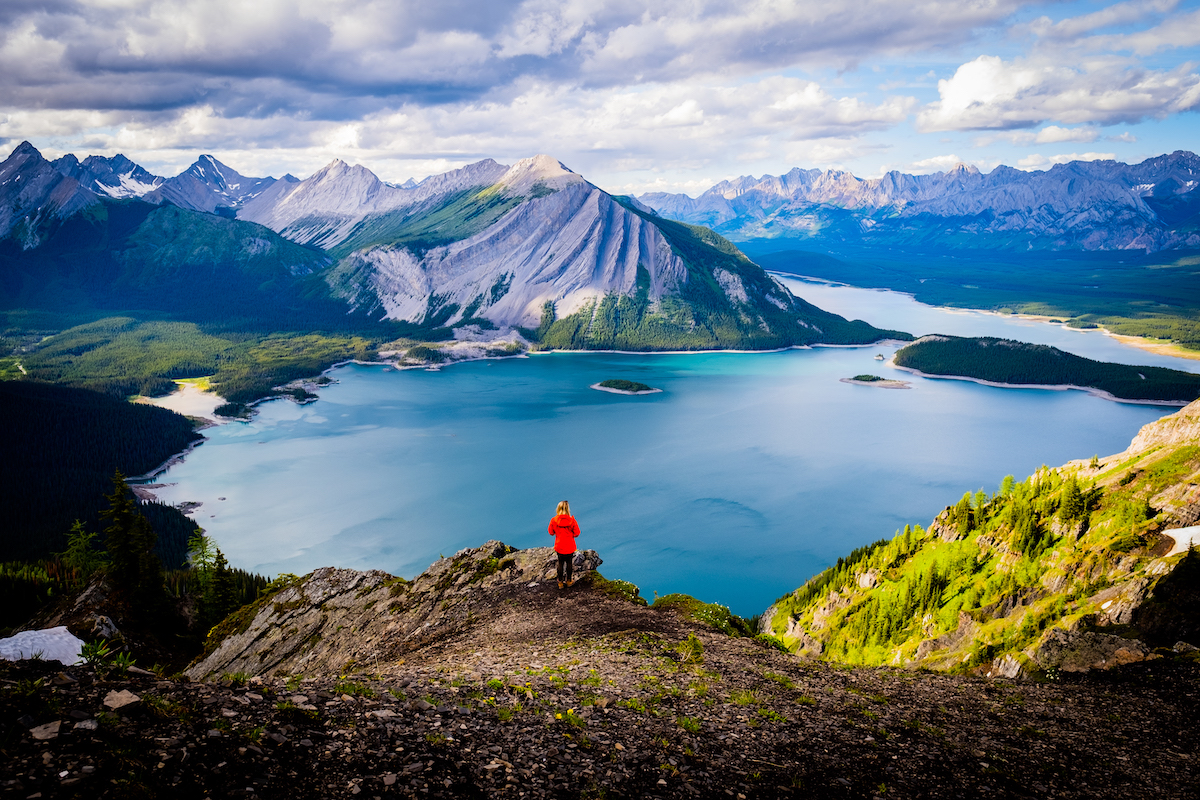 Length: 11.3km
Elevation Gain: 1,066m
Duration: 3-6 hours
Difficulty: Moderate-Difficult
Rawson Lake is a beautiful Alberta lake suitable for a wide range of abilities, and when combined with Sarrail Ridge, it makes for a quick classic hike in the Canadian Rockies. The views, in particular from Sarrail Ridge, are stunning, but you'll have to put in plenty of work to get them.
This Alberta hike starts at the Upper Kananaskis Day Use Parking lot and is one of those perfect Kananaskis day hikes you'll remember forever. Along the trail to Rawson Lake, you'll cross bridges over waterfalls and get beautiful views over Upper Kananaskis Lake.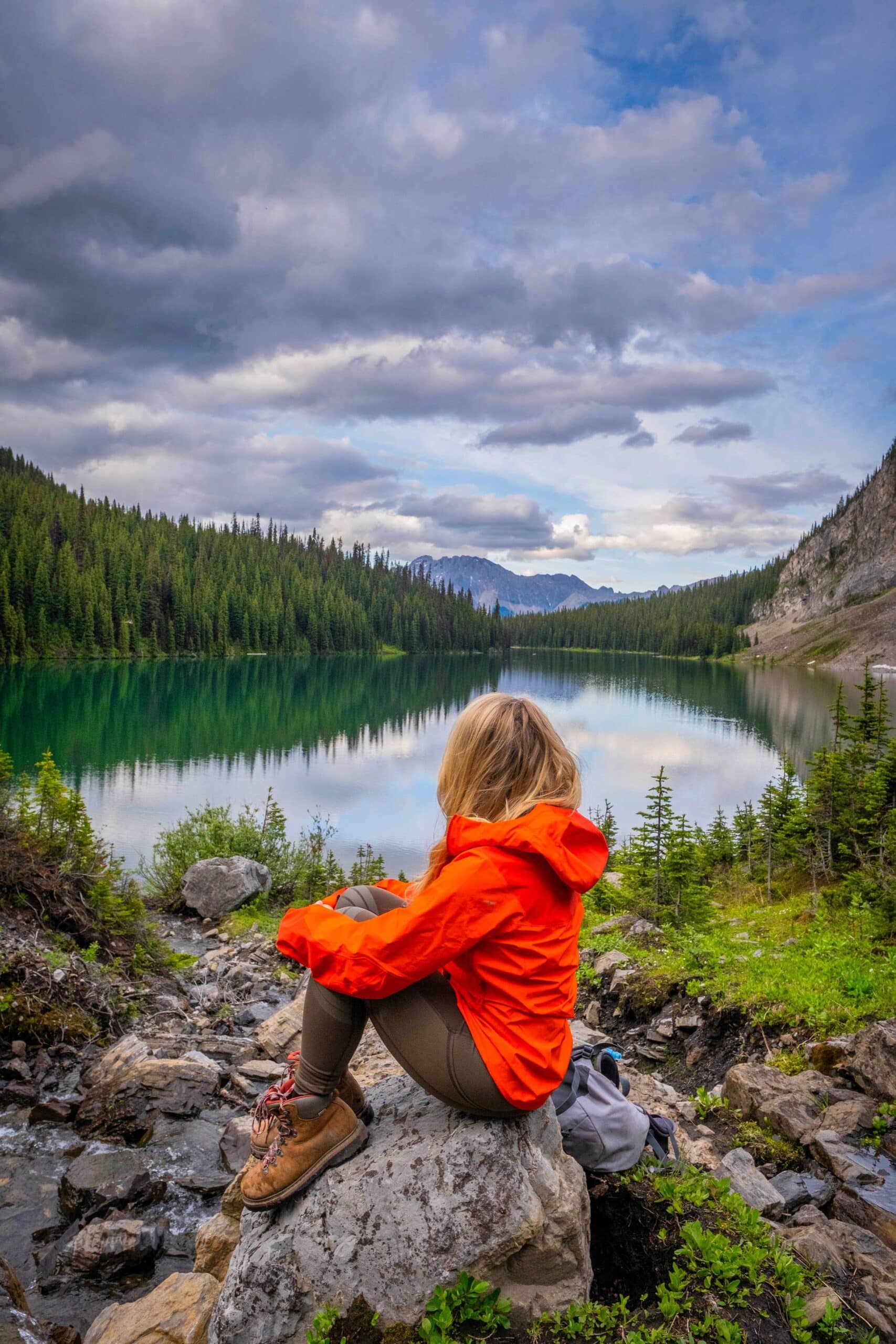 For a mild adventure, the hike up to Rawson lake is a great beginner hike in Peter Lougheed Provincial Park. It's about a 300-meter elevation gain and can be done early or late season, or even in the winter. While you certainly won't be disappointed by the views at Rawson Lake, you can continue hiking for grander views.
Continue up to Sarrail Ridge (summer only), and you'll enjoy views of those sweet baby blue Kananaskis Lakes. Though beware, it's a steep dirt trail all the way up to the ridge. The ridge climb is a bit of a slog and goes straight up avalanche shoot and prime grizzly bear habitat. As always, it's essential to hike with bear spray and proper footwear.
Once you reach the ridge, you can look out over Upper and Lower Kananaskis Lakes and Mount Indefatigable.
How to Hike Sarrail Ridge Via Rawson Lake in Kananaskis
---
Smutwood Peak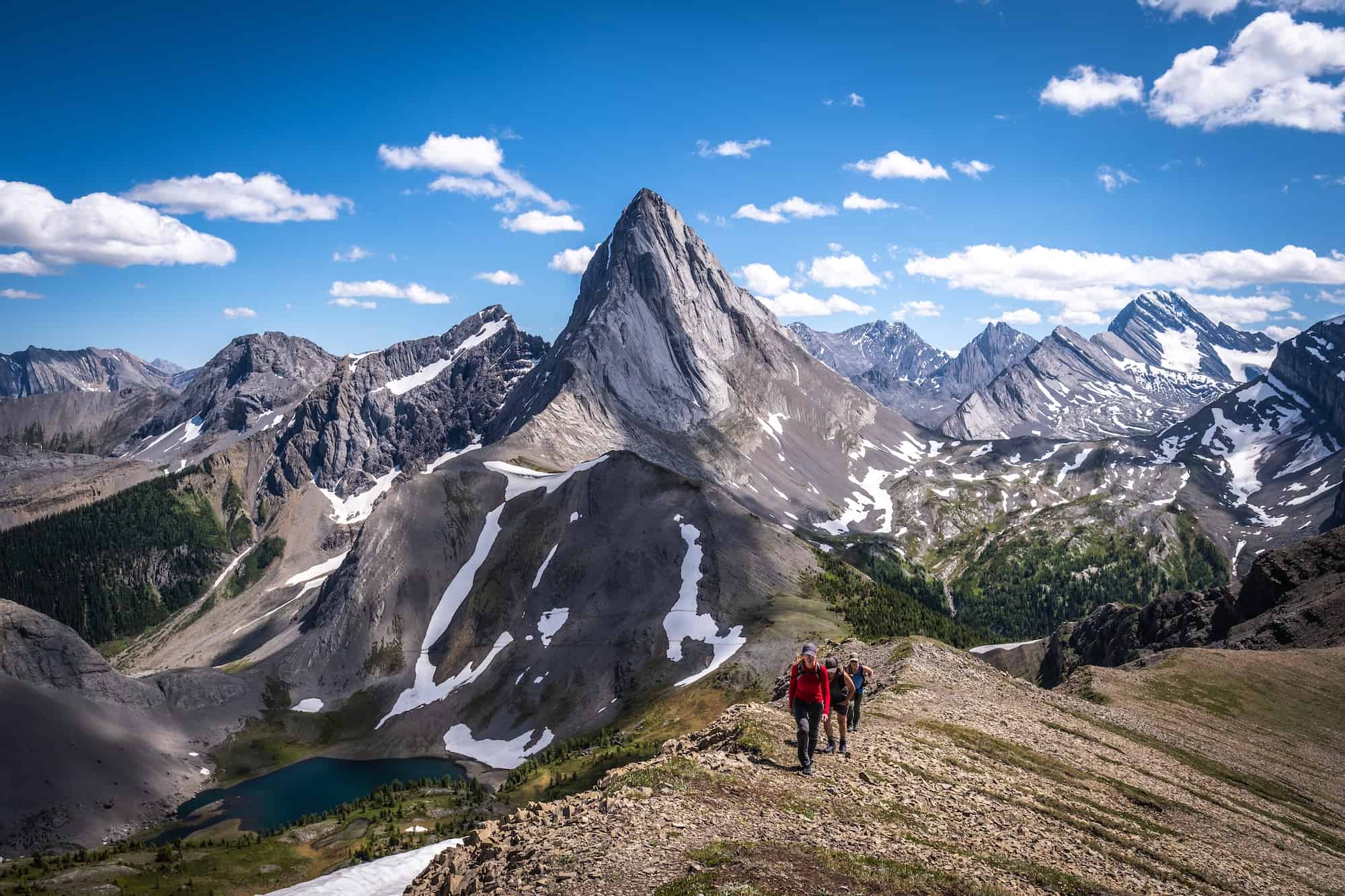 Length: 17.9km
Elevation Gain: 961m
Duration: 5 – 9 hours
Difficulty: Moderate-Difficult, mainly towards the summit.
Smutwood Peak is one of our favorite Kananaskis hikes and definitely one of Alberta's best. This hike is best done with a group as it is in prime grizzly country with plenty of trees in the beginning (and end of the walk).
Along the hike, you'll pass an incredible waterfall, and once you get into the alpine meadow, the views are amazing. Hopefully, you'll get a glimpse of the many whistling marmots! There are some steep sections of this hike. Going up Smuts Pass is relentless for 2 km, but it lightens up again as you come across two alpine lakes at the saddle.
The real challenge is the final push up to the top of Smutwood Peak (not to be confused with Mount Smuts). There is some hands-on scrambling involved to reach the summit of Smutwood Peak, but once you reach the summit, you'll enjoy expansive views of Mount Birdwood.
How to Hike Smutwood Peak in Kananaskis Country
---
Mount Allan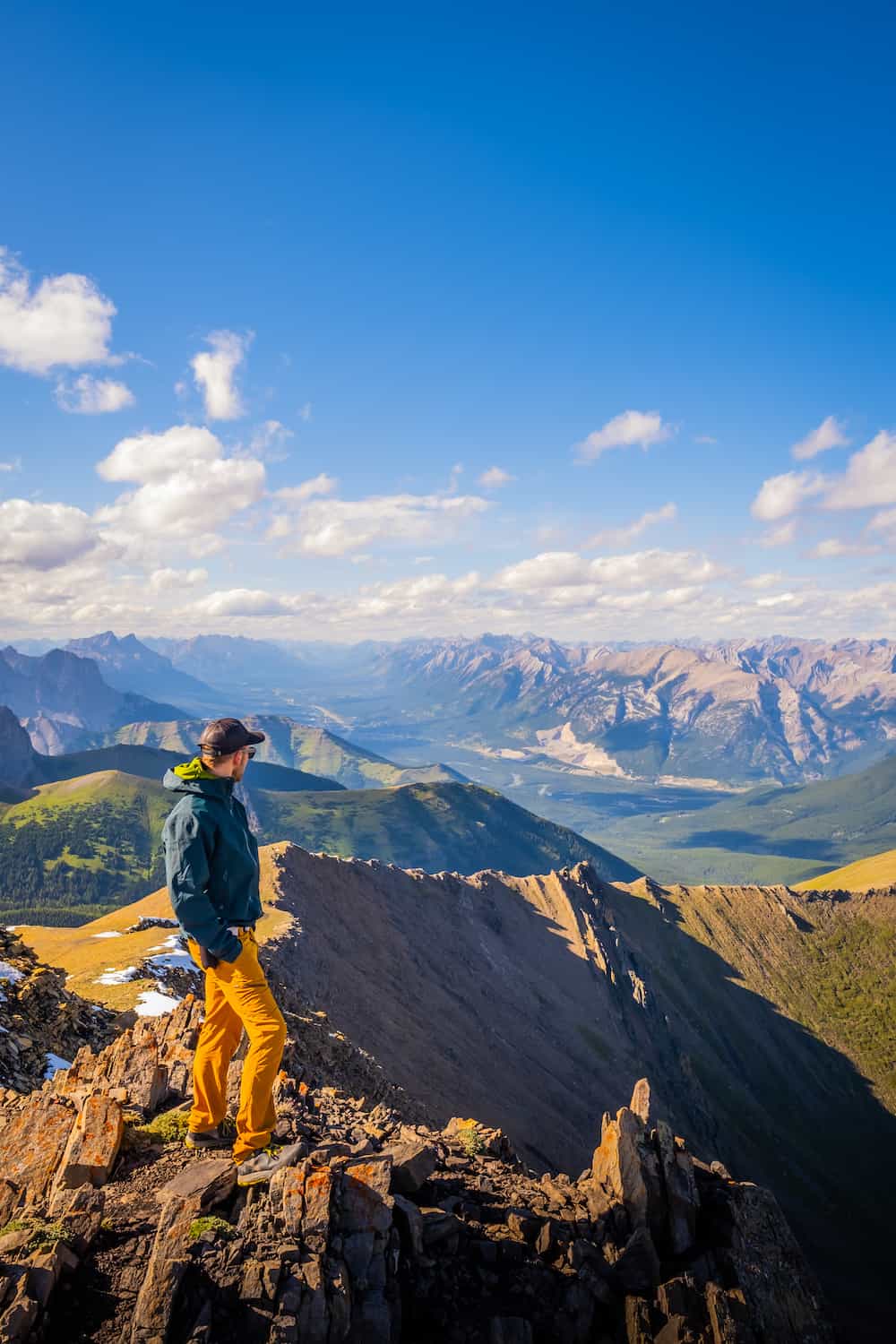 Length: 15.8km
Elevation Gain: 1,485 m
Duration: 6-9 hours
Difficulty: Easy, but long
Mount Allan is a popular hike in Kananaskis, but a long day with significant elevation gain.
With a distance of 15.8 km and an elevation gain of 1,485 meters, Mount Allan is no short hike. This hike takes you to a mountain summit with no scrambling or anything technical involved. I love the hike up Mount Allan as you gain elevation steadily almost the entire time, without any extreme steep sections.
Mount Allan can be a point-to-point hike or an out and back hike. Mount Allan via Centennial Ridge links Ribbon Creek and Dead Man's Flats. For a super long day and those with two cars, you can do the entire traverse. We only had one car and decided to start our journey at Centennial Ridge trailhead, where we had a steady but easy incline up into the valley and would return the same way.
The views start here and never end. From the car park to Centennial Ridge is about 1.5-2 hours. Most people stop when they reach the ridge, but it's worth it to keep pushing and go for the summit of Mount Allan and get views towards Kananaskis Country to the south and Canmore to the Northwest.
Along the hike to the final summit of Mount Allan, you'll see huge pinnacles that look unworldly. These features make this hike one for the books alone. From here, you can keep going on to Dead Man's Flats or turn around for an easy and enjoyable hike down. The summit of Mount Allan sits at 2819 meters, making it the highest maintained trail in the Rockies, and it is very well maintained!
How To Hike Mount Allan in Kananaskis Country
---
Best Alberta Hikes: Waterton
---
Bear's Hump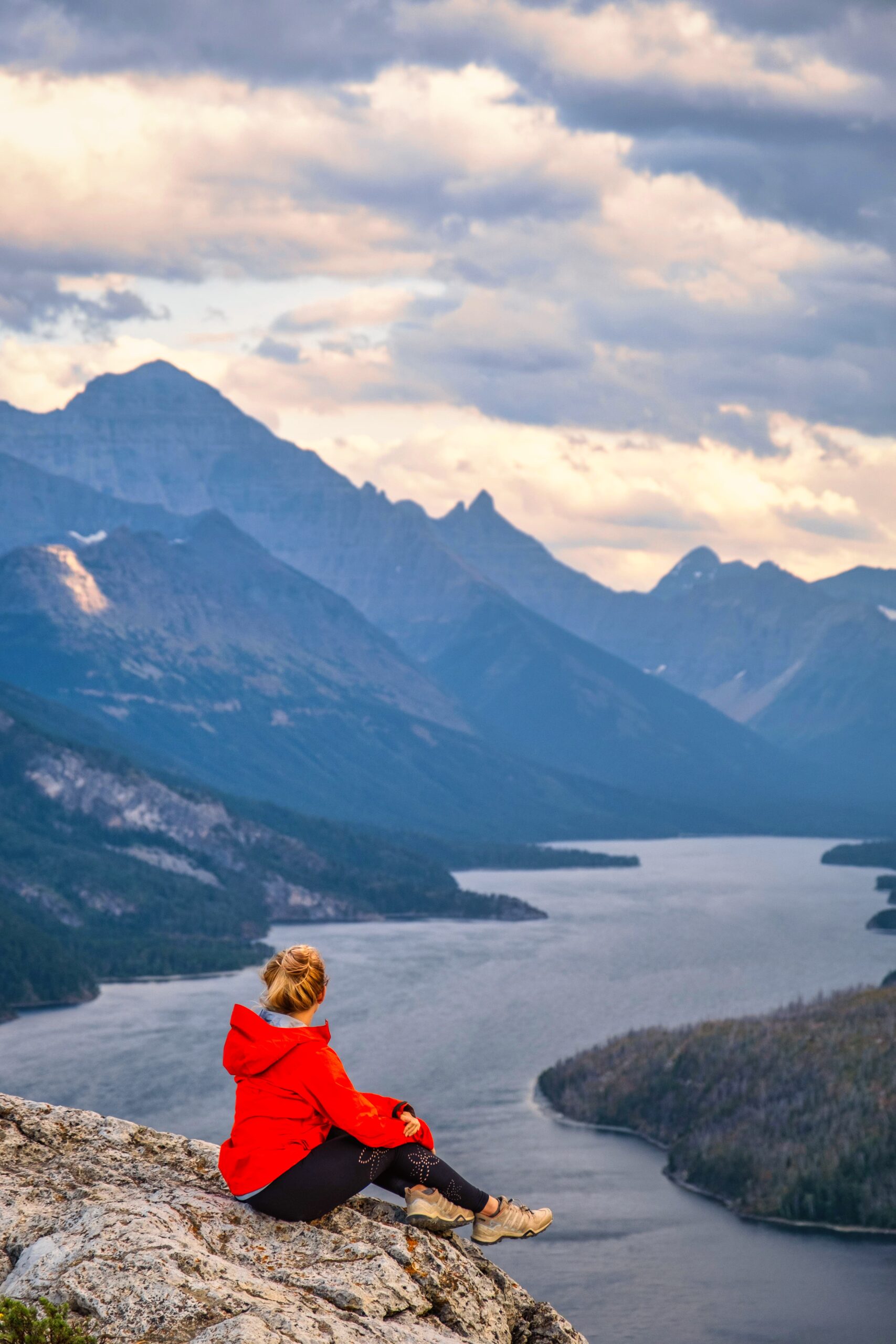 Length: 2.3 km
Elevation Gain: 214 meters
Duration: 30 minutes – 2 hours
Difficulty: Easy
If you want a short and sweet Alberta hike with glorious views, you can't get much better than Bear's Hump in Waterton National Park. It's a great Canadian Rockies hike as any age and ability can make it up to Bear's Hump. At the top of this hike, you get stellar views of Upper Waterton Lake and Glacier National Park in Montana.
This hike is easily accessible right from the town of Waterton and is easily doable in under an hour. That means you can enjoy your entire day in the park and head up here with a few sundowners at sunset.
How to Hike Bear's Hump in Waterton National Park
---
Lower Bertha Falls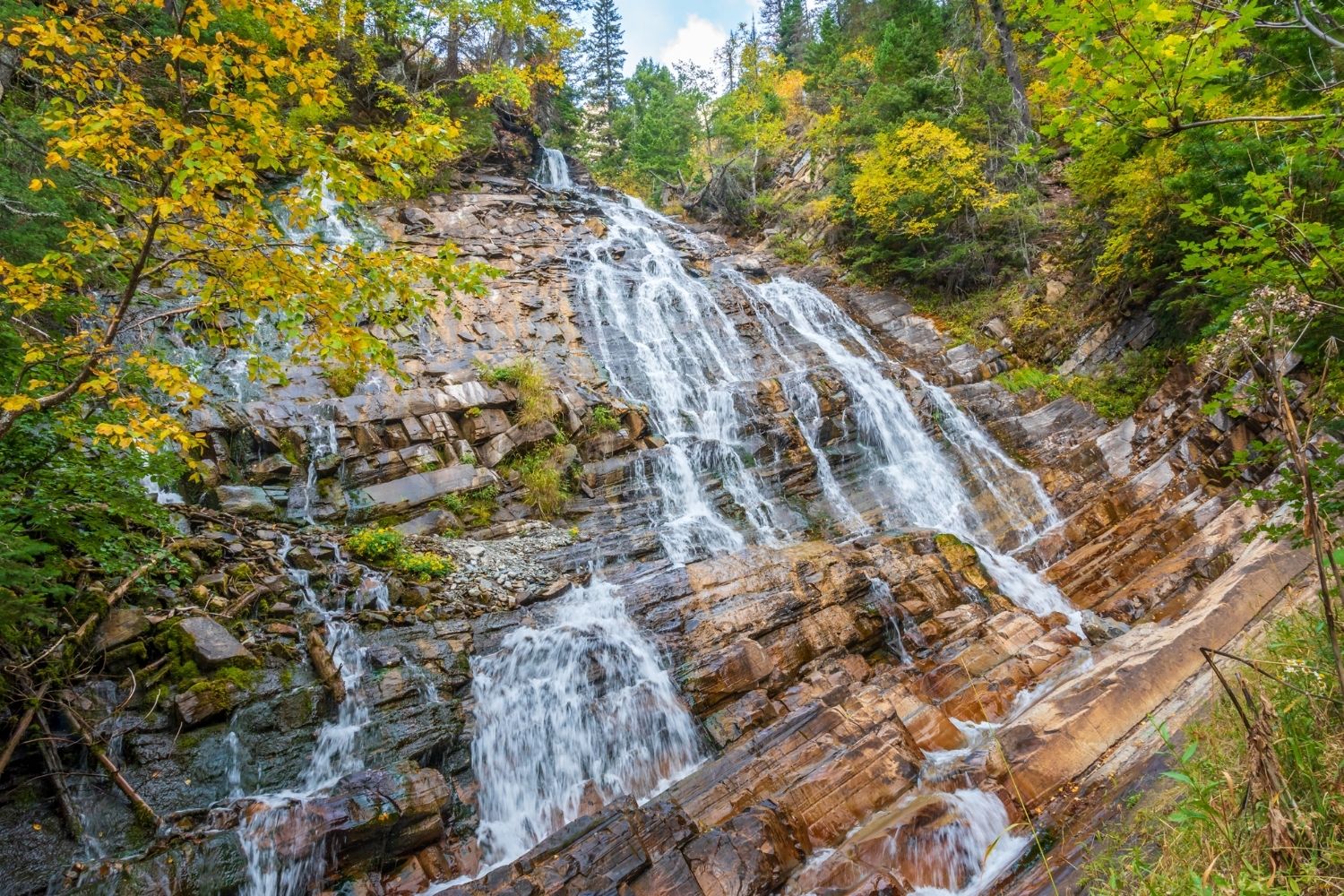 Length: 5.3 km
Elevation Gain: 200 m
Duration: 1-2 hours
Difficulty: Easy
The Bertha Falls hike is similar to Bears Hump in terms of difficulty, but you are rewarded with waterfall sprays instead of views to another country. This is a great kid-friendly hike with easy terrain and minimal elevation gain.
Along the way to the falls, you'll get plenty of views of Waterton Lake. Once you reach the falls, you have the option to turn this into a longer hike and continue to Bertha Lake another 3km, 400 meters, and 21 switchbacks away. The reward is a brilliant green-blue lake!
---
Crypt Lake Trail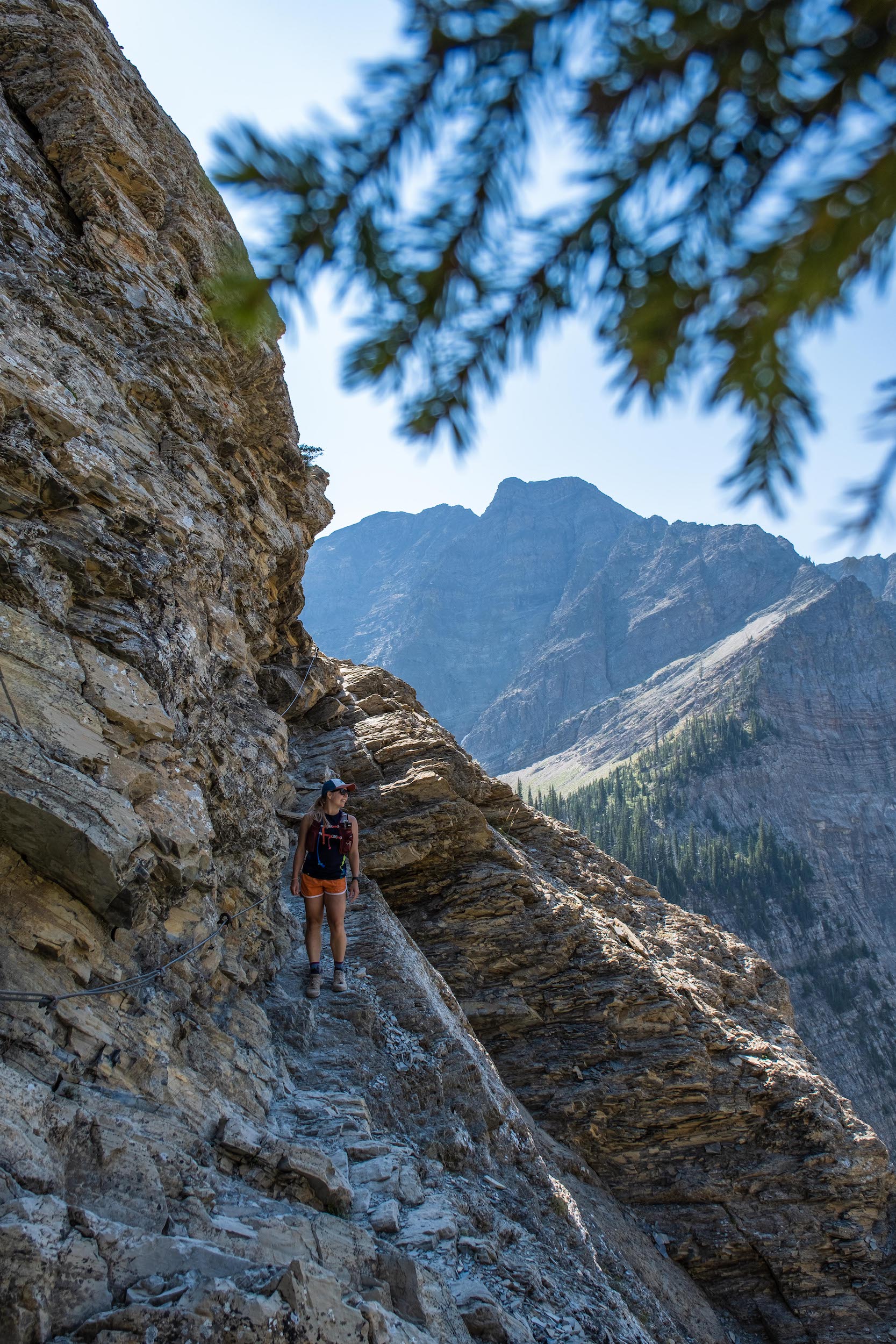 Length: 20km
Elevation Gain: 900 meters
Duration: 4-8 hours
Difficulty: Moderate
The Crypt Lake Trail has been named one of the most thrilling hikes in the world and one of the best trails in all of Canada. Eager hikers reach the trailhead via boat from the Waterton Township every summer. Excited to tackle the trail for a full day out.
The trail climbs 900 meters over 10 kilometers gaining ridges as you get views of Mount Bosworth and Vimy Ridge.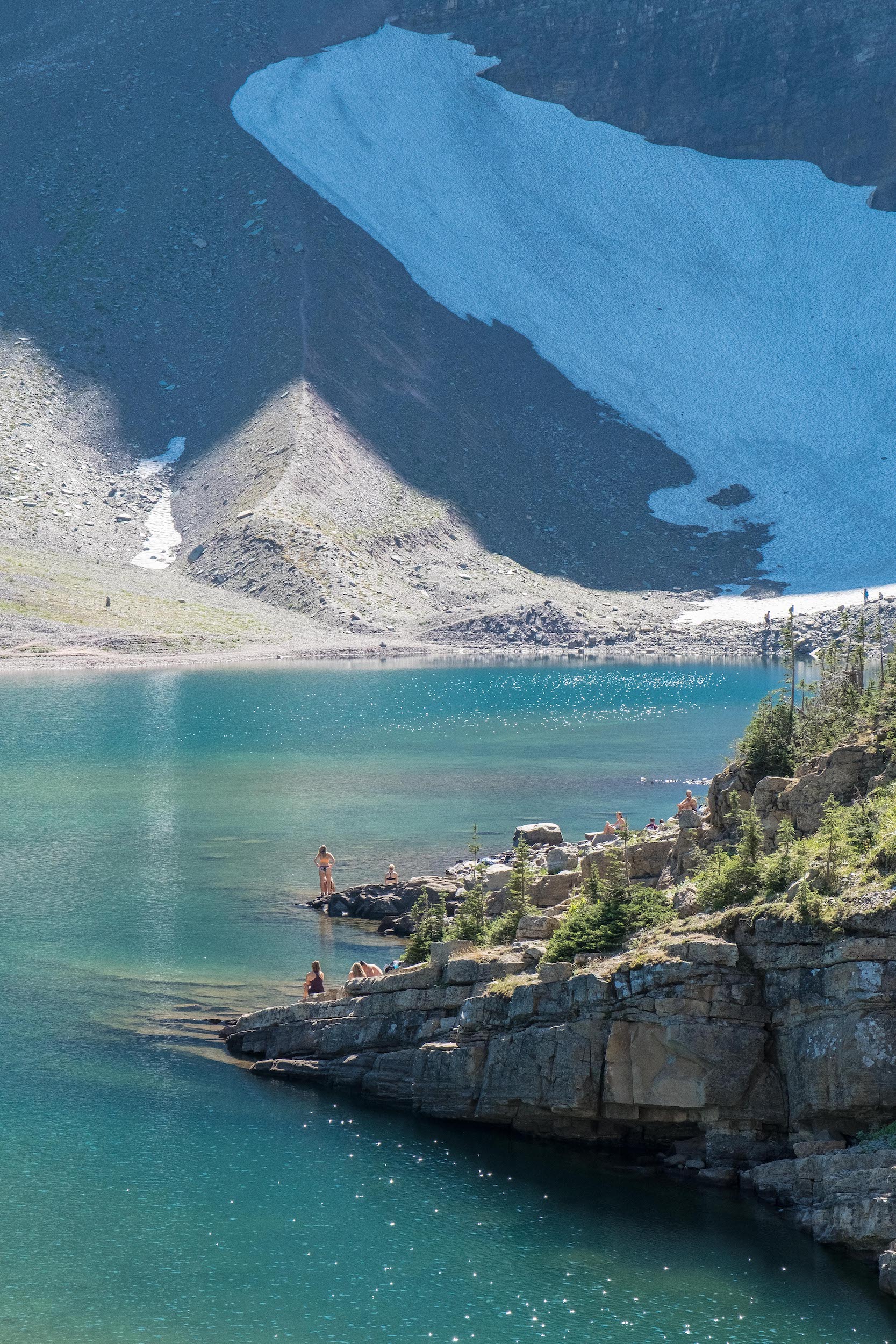 The trail is exciting and requires hikers to climb cliffsides, climb an exposed ladder, and squeeze through a natural tunnel. It sounds scary, but not to worry, it's nothing any mildly experienced hiker can't tackle.
The trail ends at beautiful Crypt Lake, just north of the Montana/Canada border. Make sure to bring a bathing suit so you can cool off after a hard day's work. All in all, this is one of the best things to do in Waterton.
Crypt Lake Hike in Waterton: Everything You Need to Know
---
Best Alberta Hikes: Drumheller
---
Drumheller Hoodoos Trail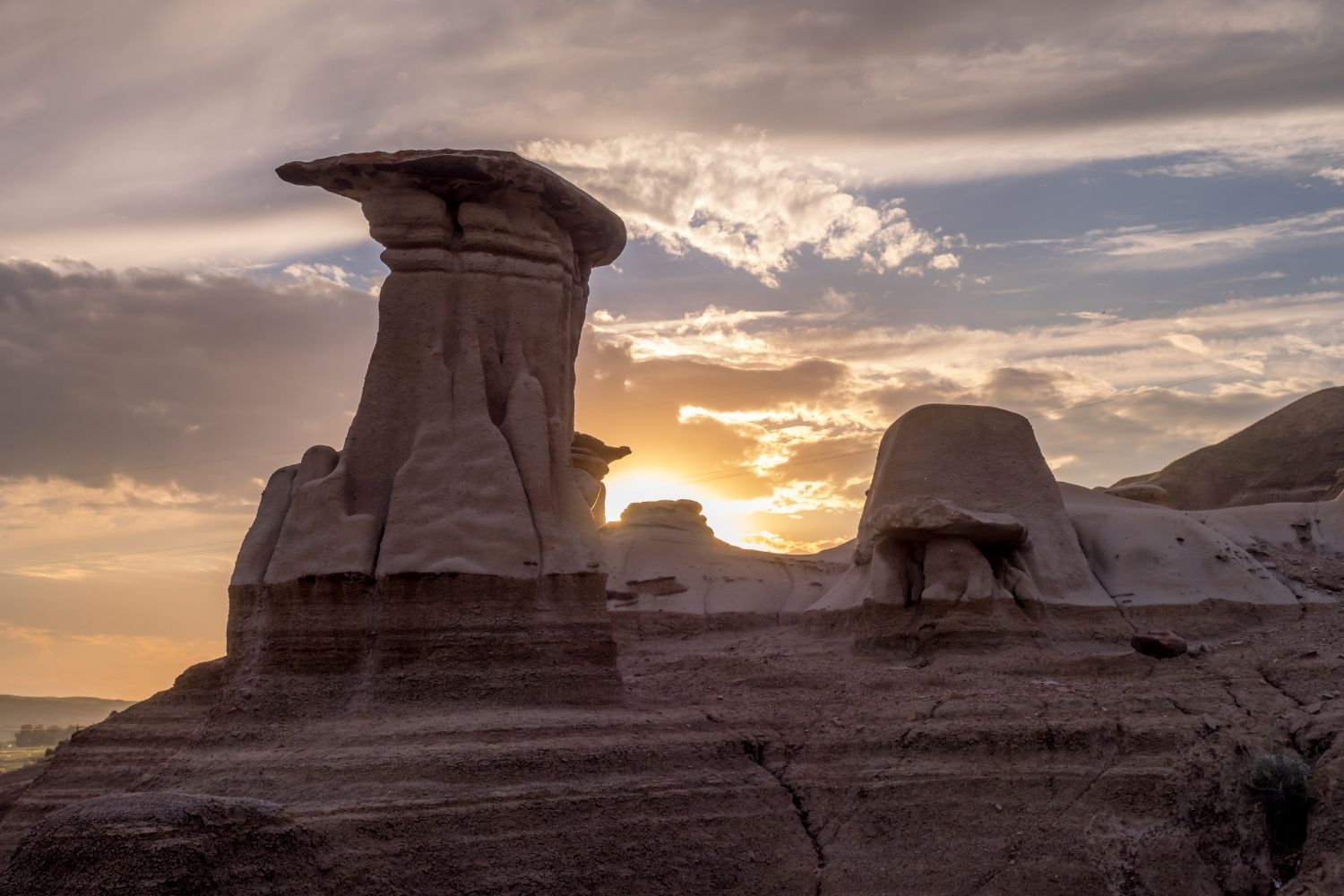 Length: 1.4 km
Elevation Gain: 82 m
Duration: 30 min – 1 hour
Difficulty: Easy
Drumheller is one of the best spots for hiking in Western Canada. It's famous for its Badlands terrain and for its abundance of hoodoos. What is a "hoodoo," you ask? They are geological formations of craggy columns carefully sculpted by the feats of nature and indeed a sight to behold. These tall, thin rock pillars are created by wind erosion, giving them the unique shape of a wide, flat top and stunning striation.
The column is often made of softer stone which is shaped by the elements over millions of years, topped with the much harder stone which keeps the structure intact. Also referred to as fairy chimneys or earth pyramids, they have been compared to giant stone mushrooms or mars monuments made by aliens.
The best place to see the hoodoos up close is on the 'Hoodoos Trail," which is an easy 1.4-kilometer loop trail near Drumheller! It's great for kids and families and will definitely leave any hiker with a smile on their face.
---
Horsethief Canyon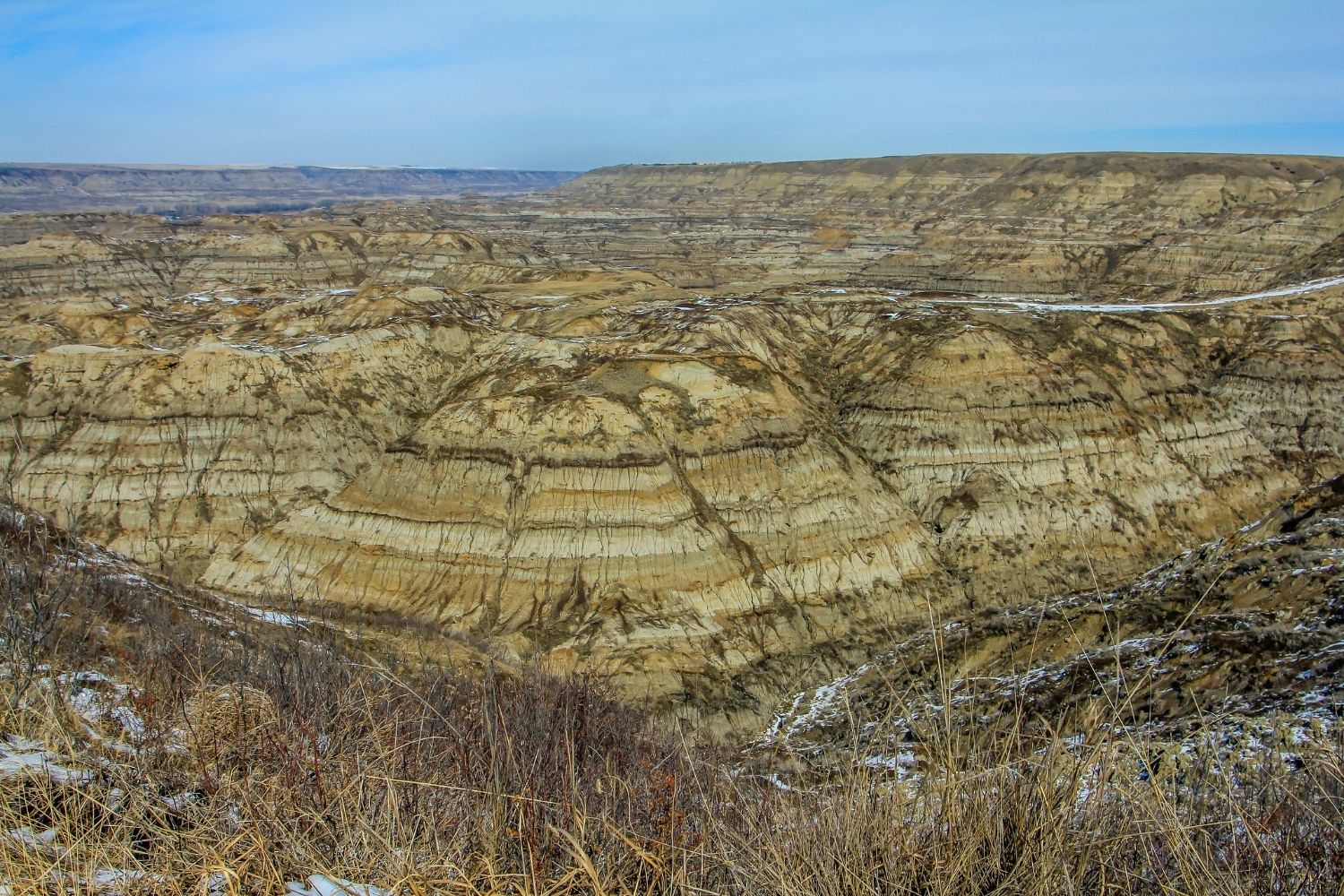 Length: .8 km
Elevation Gain: 22 m
Duration: 30 minutes
Difficulty: Easy
Horsethief Canyon is named for the nomadic horse thieves who once tucked away their stolen livestock here. Hiking here will quickly take you back to a lost world that will make you feel as though you are in a wild west movie.
Horsethief Canyon is located on the Dinosaur Trail. It's not much of a defined trail and more of a go wherever the view takes you type of hike!
---
Horseshoe Canyon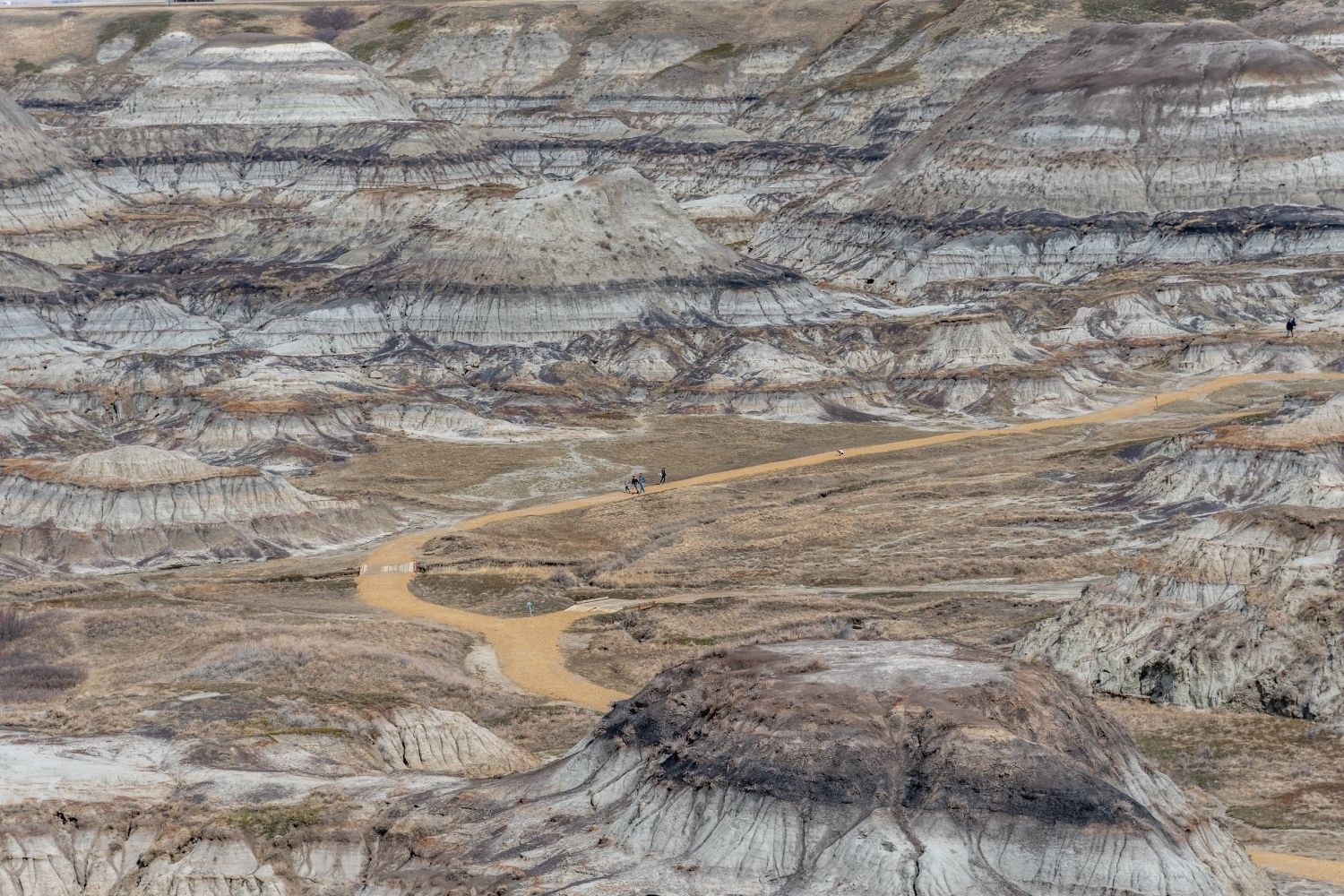 Length: 3.9 km
Elevation Gain:

113 meters
Duration: 1-2 hours
Difficulty: Easy
Horseshoe Canyon is similar to Horsethief canyon with unworldly views but has a defined trail to follow! This huge u shaped canyon gives you a true sense of the beauty of the badlands. The maroon striped canyon walls reveal layers from when the dinosaurs roamed this earth in the Cretaceous period.
---
Other Best Alberta Hikes
---
Vision Quest
Length: 6.4 km
Elevation Gain: 856 m
Duration: 4-6 hours
Difficulty: Difficult
If you are enjoying a Western Canada road trip, I can't recommend venturing into David Thompson Country enough! One of the main highlights here is Abraham Lake, and Albertans head here year-round to take note of its wonders. In the winter, it's made Instagram famous for its frozen methane bubbles.
While in the summer, people head to Abraham Lake to camp, paddle, and hike. The most popular hike in the area is Vision Quest; I know, I know, it sounds like an 80s video game. Not virtual reality, though, but instead a hike that provides absolutely astonishing views over Abraham.
Hiking/scrambling Vision Quest involves climbing 850 meters of elevation gain and 6.3 km and is a great day out for those looking to get away from the crowds in Banff!
---
Hiking Gear We Recommend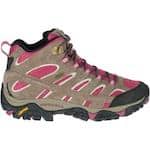 Many hikers will enjoy the security, comfort, and value in the Merrell Moab II. It's a great beginner hiking boot.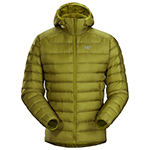 Arc'teryx Cerium is our pick for the best down jacket. It's incredibly light, and we bring it on almost every hike in the Rockies.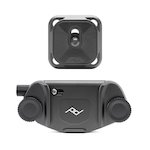 This nifty clip from Peak Design secures a camera to my backpack strap for easy reach. No more digging in the backpack!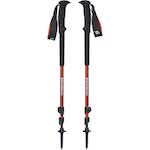 A pair of durable and lightweight hiking poles are a great asset on the hiking trail.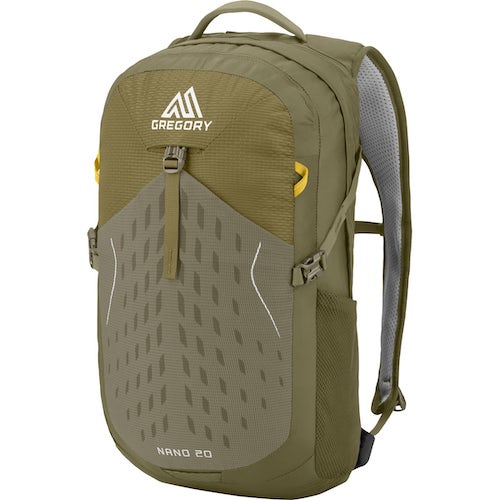 20L feels like the ideal size for quick hikes and scrambles. We love the Nano from Gregory with a hydration reservoir.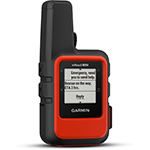 There is not much cell service in the Canadian Rockies. In case of emergencies, we carry an emergency beacon with GPS.
---
Advice On These Hikes in Alberta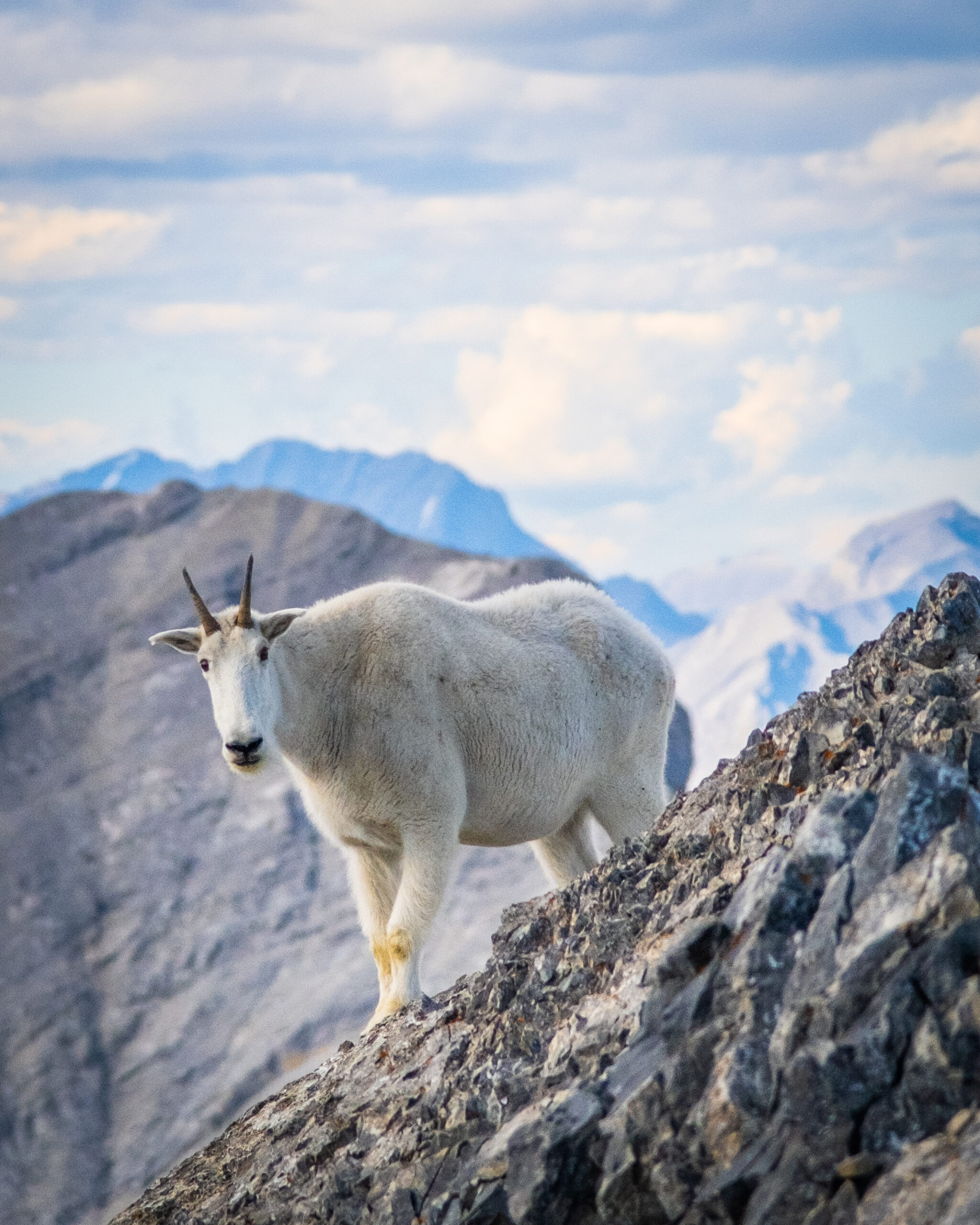 If it's your first time on these hikes take a conservative approach – read our post for beginner hikers in the Canadian Rockies too. Pick an adequate hike for your fitness, plan for plenty of time, pack water and food, and don't be afraid to turn around. If you want to learn more about what to wear hiking we have a great post.
Always carry bear spray if you plan to hike in Alberta. Always practice wildlife awareness when you're on a trail, and please give animals space.
Leash your dogs. Dogs must be kept on a leash at all times while hiking in National Parks.
There is no cell service for many of these hikes, a Garmin Inreach, or something similar could save your life!
---
Hope you enjoyed this list of our favorite Alberta hikes!
If you have any other questions leave a comment or see our Canadian Rockies travel guide for more articles about photography spots, lakes, hikes, and everything else.
---
---
↓ Join the community ↓
The Banff Blog Facebook Group is your headquarters for the Canadian Rockies' travel advice and information. Including hike info and off-season travel information. You can also meet new adventure buddies.



Plan Your Trip to the Canadian Rockies