August is easily one of the best times to visit Banff National Park. Tied only with July as the best summer month and easily your best bet for getting warm weather and sunshine in the Canadian Rockies.
I love Banff in August and make a point to stay in the Rockies throughout the entire summer because it is so amazing. Summer is great everywhere, but I'm not sure it gets much better than in Banff.
So what can you expect from a visit to Banff in August and what all is there to do in Banff in August? Let's dig in.
---
Things to Know Before Visiting Banff in August
---
What's the Weather Like in Banff in August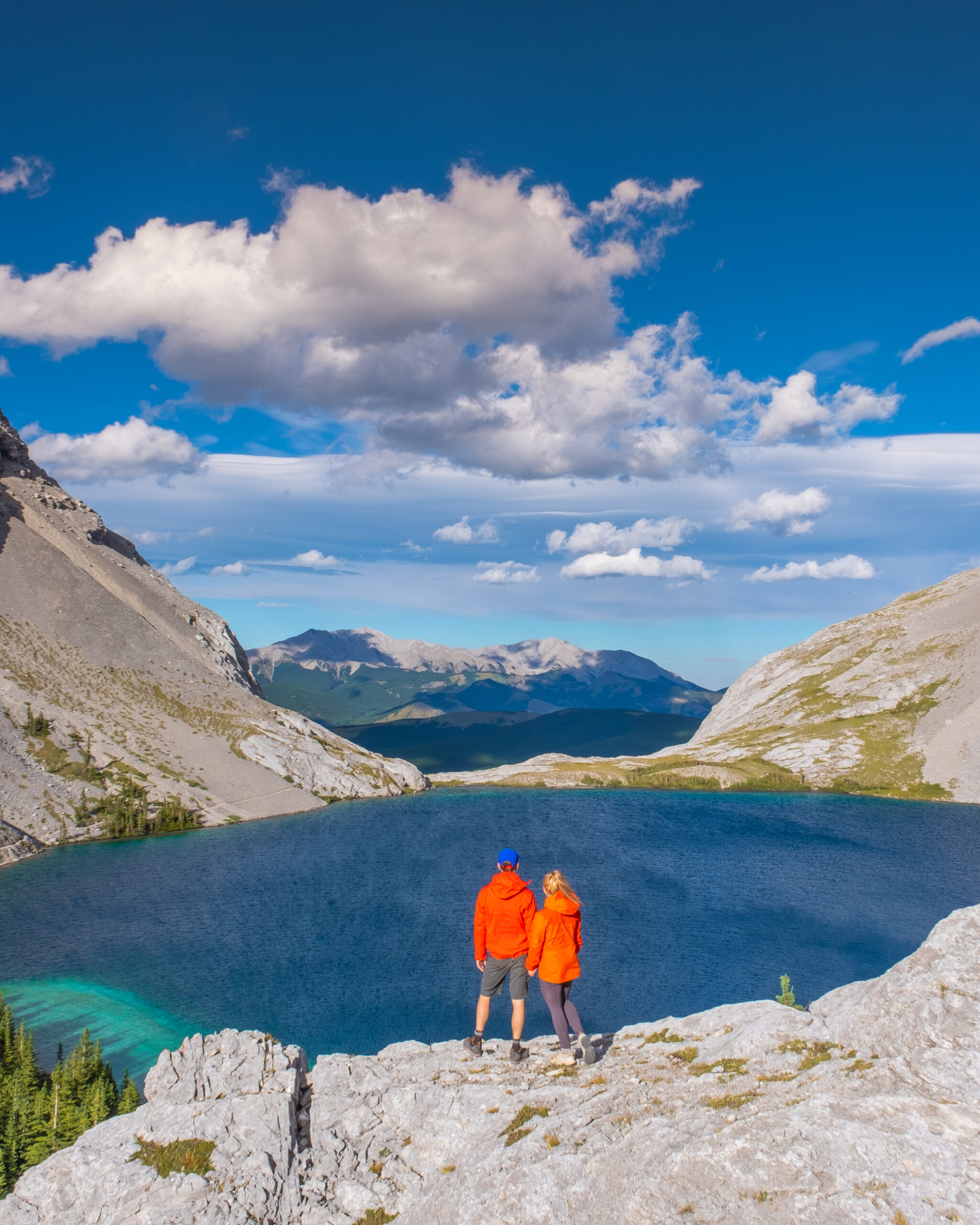 The warmest weather of the year in Banff is definitely in August. So if you're looking for the best time to visit Banff, it's likely going to be August. The Canadian Rockies are alive with wildflowers, green grass, and sunshine. Daily temperatures float between 20°C and 25°C unless you get to experience an Alberta heatwave where temperatures get close to 30°C.
Most, if not all, of the snow has melted off most of the big peaks meaning hiking and scrambling is in full swing in August.
If you're a fan of mountain biking and climbing, you'll have an enjoyable time in August. Long, warm days are what await you. The visibility of August is typically free of heavy clouds, and you can expect mostly sunshine. Just hope that wildfires haven't started and that it's a smoke-free summer. If there have been fires out west, even in the US, it will affect Banff, and the air will be hazy.
We've been through a few Augusts now without any smoke, and the days have sure been memorable. Just because it's the warmest month of the year doesn't mean you shouldn't still pack some warm weather clothes. It gets cold in Banff at night and you'll definitely want at least a packable down jacket and long pants. A sweater is never a bad idea either.
If Banff in August sounds like heaven, that's because it is. Except for one thing – the crowds. August in Banff is the busiest the park will get. With school holidays and everyone having summer off the park is loaded with Canadians and international travelers.
Yes, even more than July. That being said, if you get away from Moraine Lake, Lake Louise, and the other busy Banff spots, you'll definitely be able to escape the crowds. Remember Banff National Park is a huge park, the size of small countries, and there are plenty of places to explore without tons of people. In general the further and higher you hike, the fewer people you see.
---
What to Pack for Banff in August?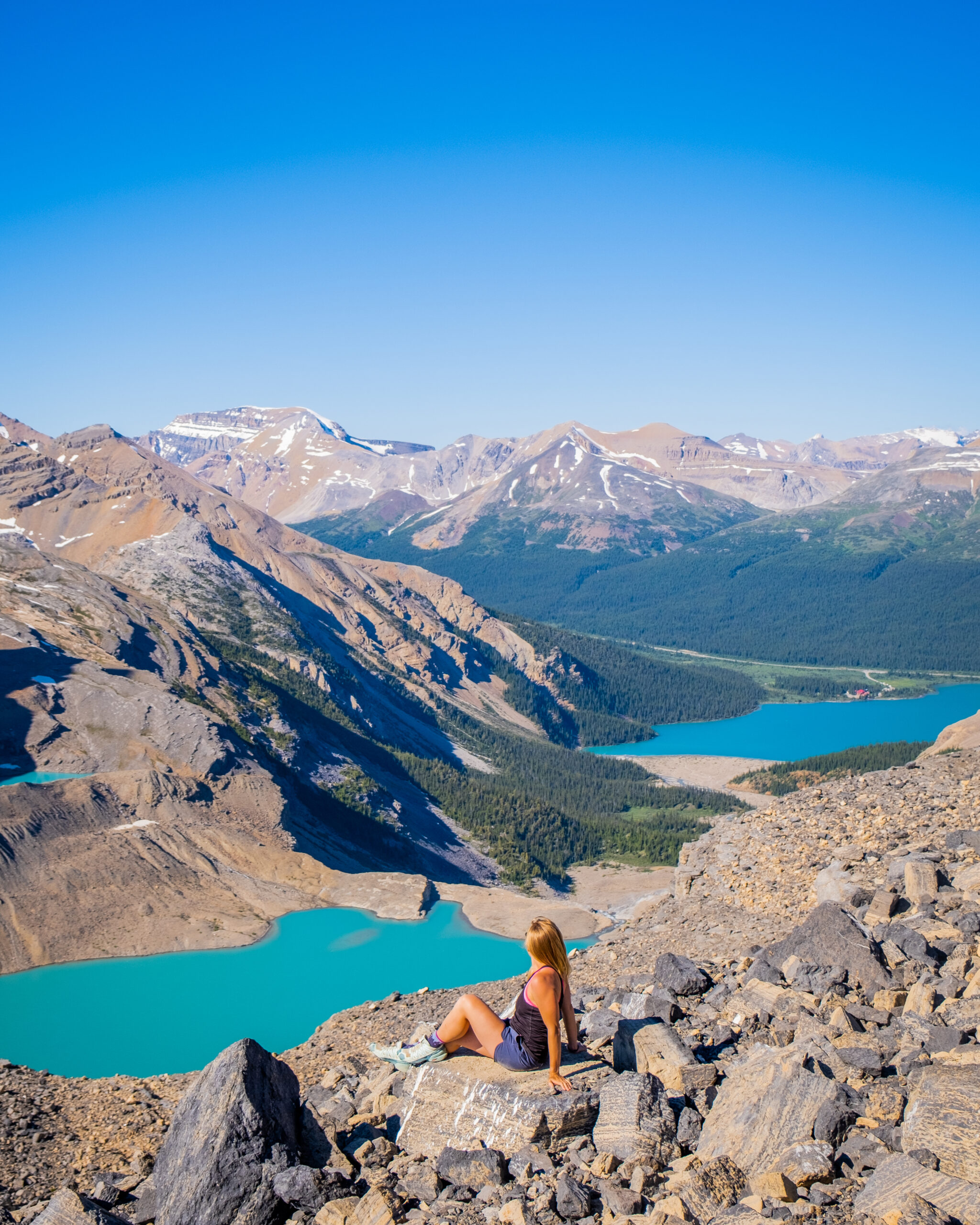 A whole lot of everything! August is the warmest month in Banff National Park, but that doesn't exactly make it Maldives warm or anything. So while you will probably be comfortable in shorts and a tank top throughout the day, it's best to come prepared with a jacket and pants for nighttime.
Don't forget to bring your hiking shoes and poles if you want to do any hiking in the park. Also, a good daypack will come in incredibly useful. If you have nice dinner plans, don't forget to bring a few nicer outfits for a night out on Banff Ave, but don't bother with heels or a suit – you will look out of place in Banff.
---
Can You Visit Lake Louise in August?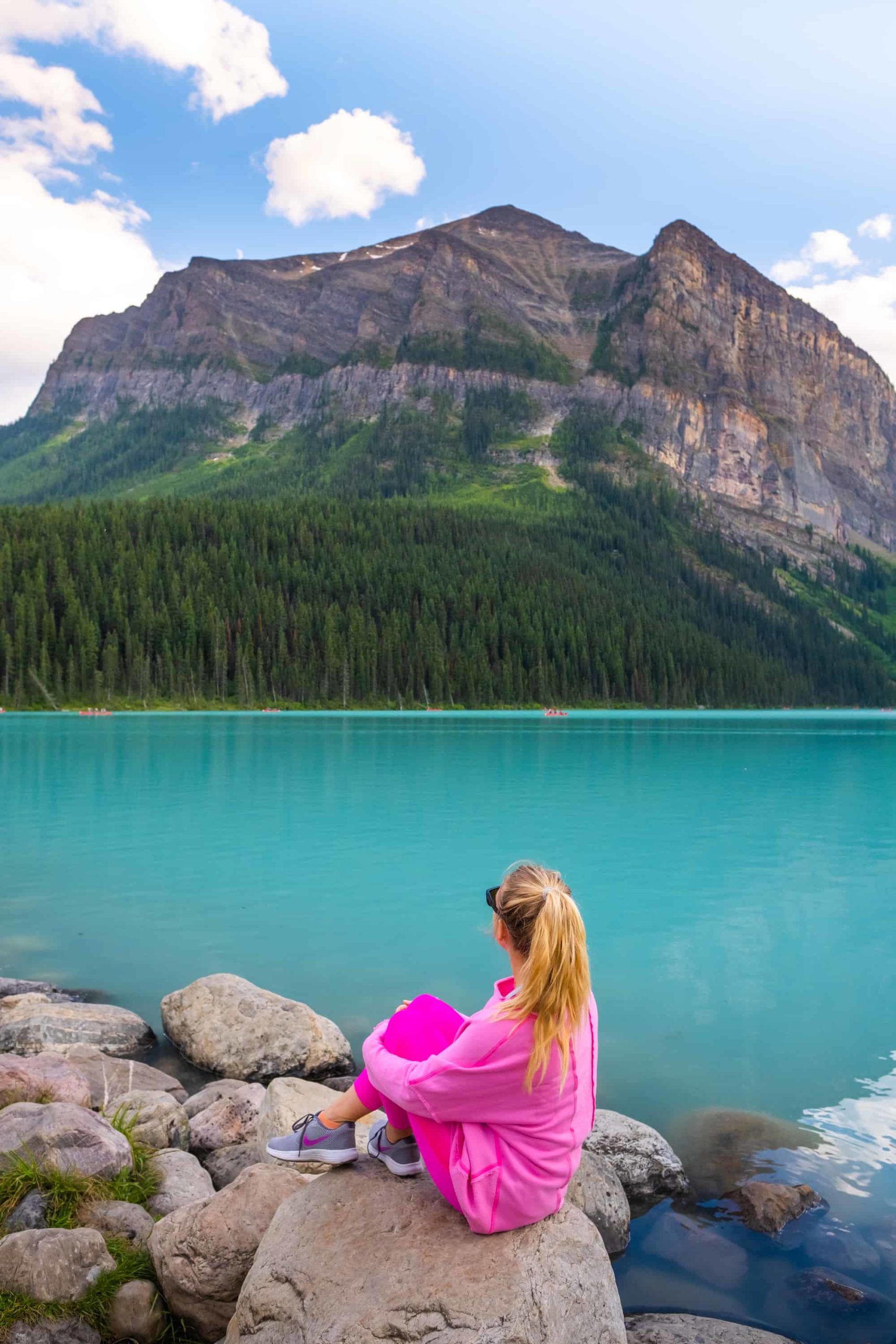 Yes, you can visit Lake Louise in August, and it is beautiful. However, remember what I said about August crowds? Well those especially turn up for Lake Louise.
Expect Lake Louise to be busy during August, even during the week. You'll need to arrive at the parking area early, around sunrise, to score a parking spot. Though we highly recommend using the reservable Park and Ride shuttle to guarantee you get to see Lake Louise.
Once at Lake Louise, you'll notice how incredibly blue the water is. The color at Lake Louise is so vibrant because of the rock flour from the Glacial melt, and you can't help but want to fight the urge to drink it (but don't!)
At Lake Louise, you have a ton of options for things to do. You can rent a canoe and take a paddle around or go for a hike on one of the many Lake Louise hiking trails.
20 Things to Know Before Visiting Lake Louise (Alberta)
---
Can You Visit Moraine Lake in August?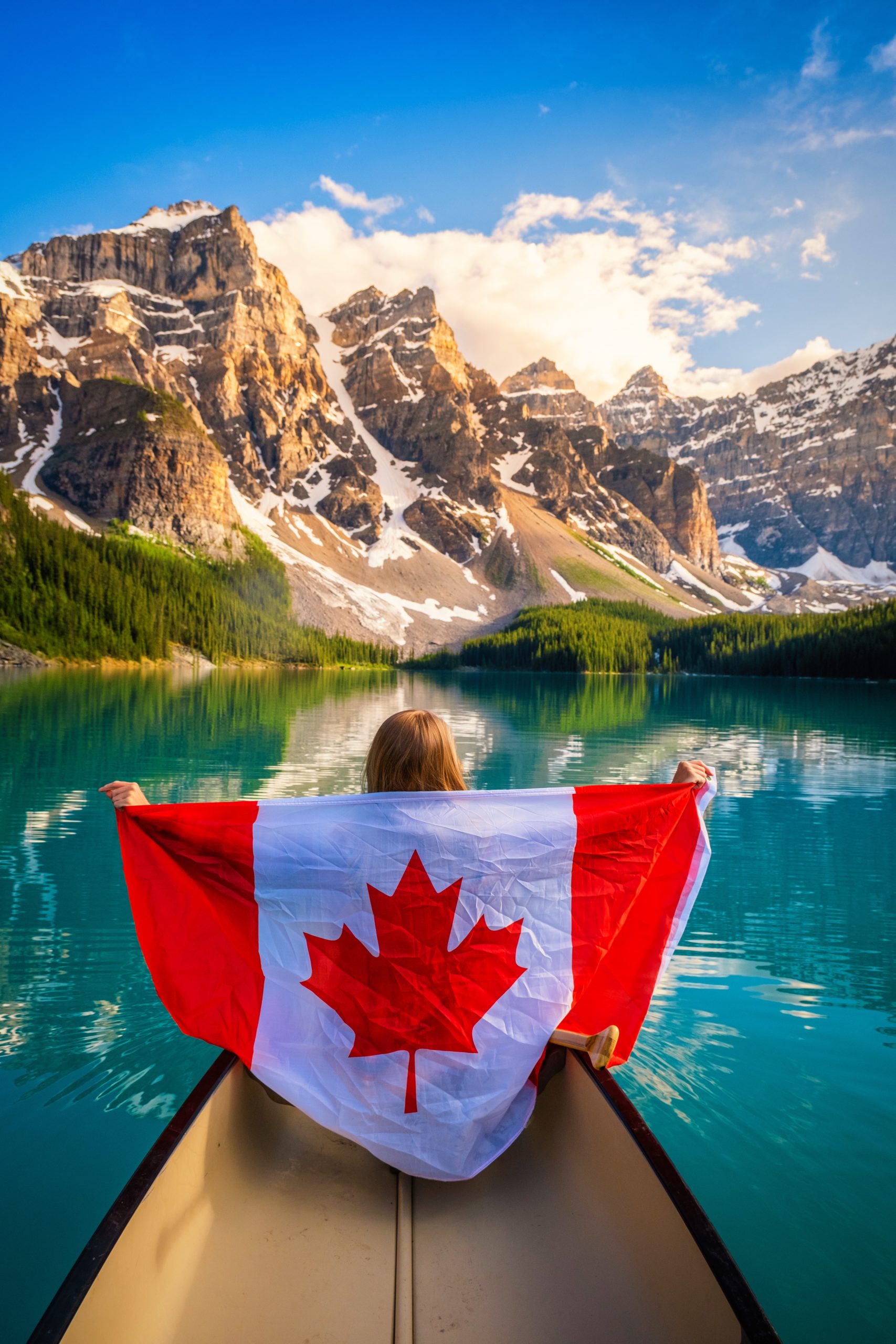 If you thought July at Moraine Lake was busy, it's not going to get much better in August. By August, Moraine Lake is totally thawed, and the color of the lake is incredible.
Most of the Moraine Lake hikes and scrambles are good to go. Late August is even a great time to summit Mount Temple, if that's an objective of yours.
Parking is a major issue in August at Lake Moraine. To get a parking spot in the morning, you should plan on being at Lake Moraine well before sunrise. In August, that means 5am.
For most of the day, weekend and weekday parking at Lake Moraine will be tough to score unless you grabbed a parking spot early. However, you may get lucky if you show up later in the day or for sunset and get a parking spot. There are new parking restrictions for Moraine Lake implemented by Parks Canada; you can check them here.
---
Things to do in Banff in August
---
Stand Up Paddleboard on Two Jack Lake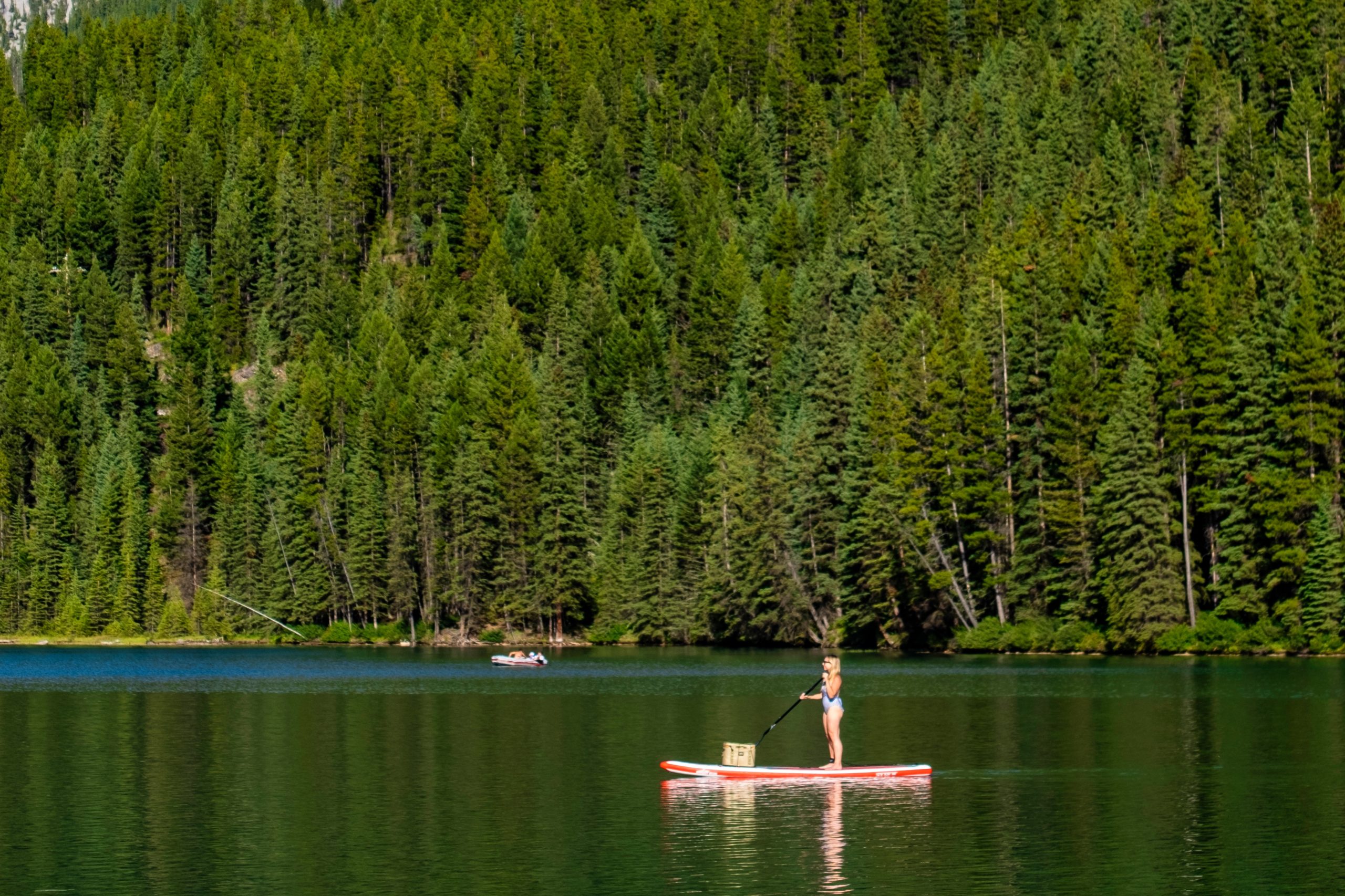 There are so many lakes in Banff to enjoy! I love taking the paddleboard or canoe out on them on a hot summer day. One of my favorite lakes in Banff to Stand Up Paddleboard on is Two Jack Lake. It's located just outside of town and isn't as wind-affected as nearby Lake Minnewanka.
11 Amazing Paddle Boarding Locations in Banff
---
Go Hiking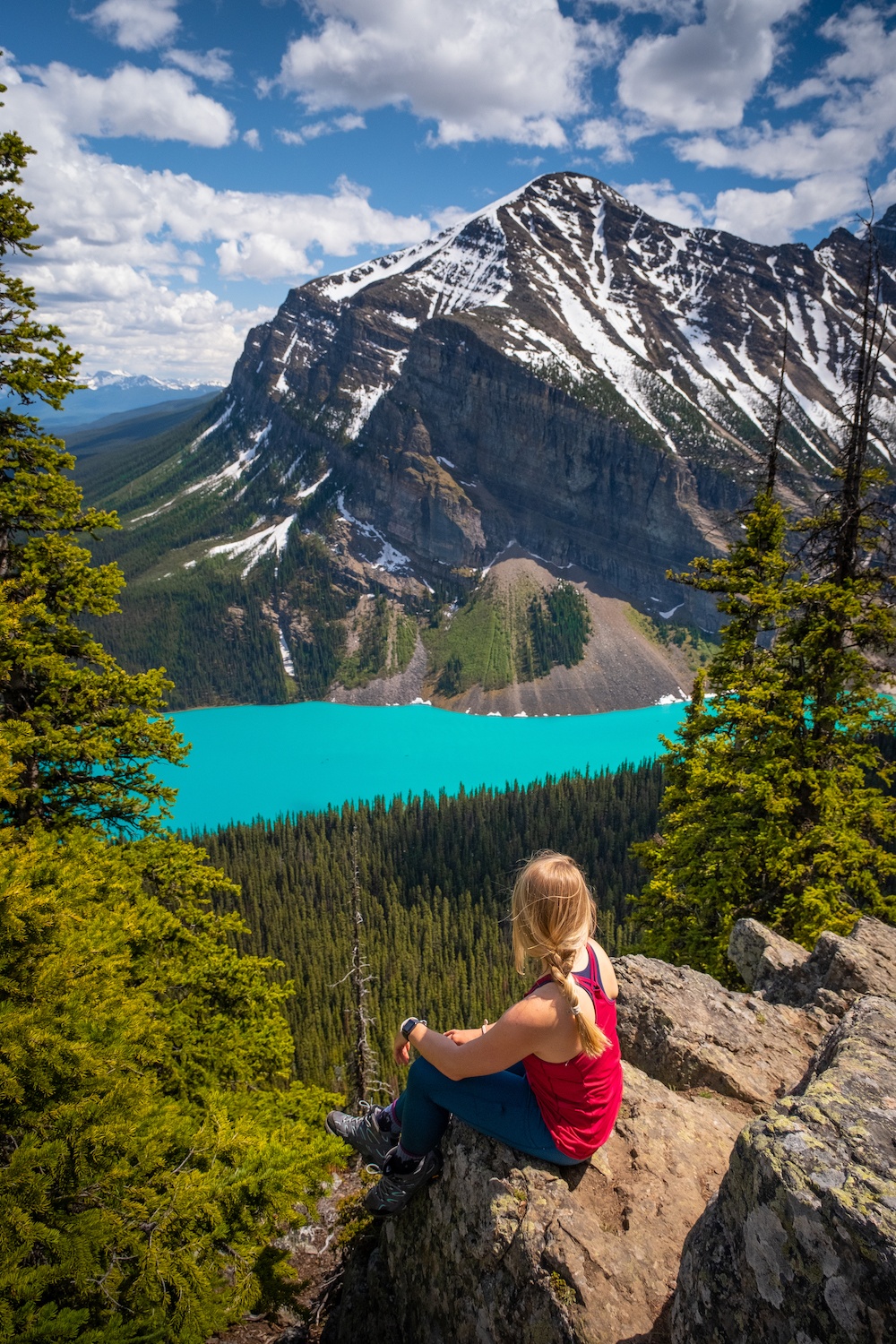 Banff National Park and the Canadian Rockies are the hiking mecca of Canada. You can't visit Banff and not go hiking at least once. Seriously it's one of the best things to do in Banff!
There are some great hikes in Canmore, or close to Downtown Banff, and upwards towards Lake Louise and even in Yoho National Park too. Here are a few of my favorite hikes in Banff and hikes in Kananaskis.
---
Try Scrambling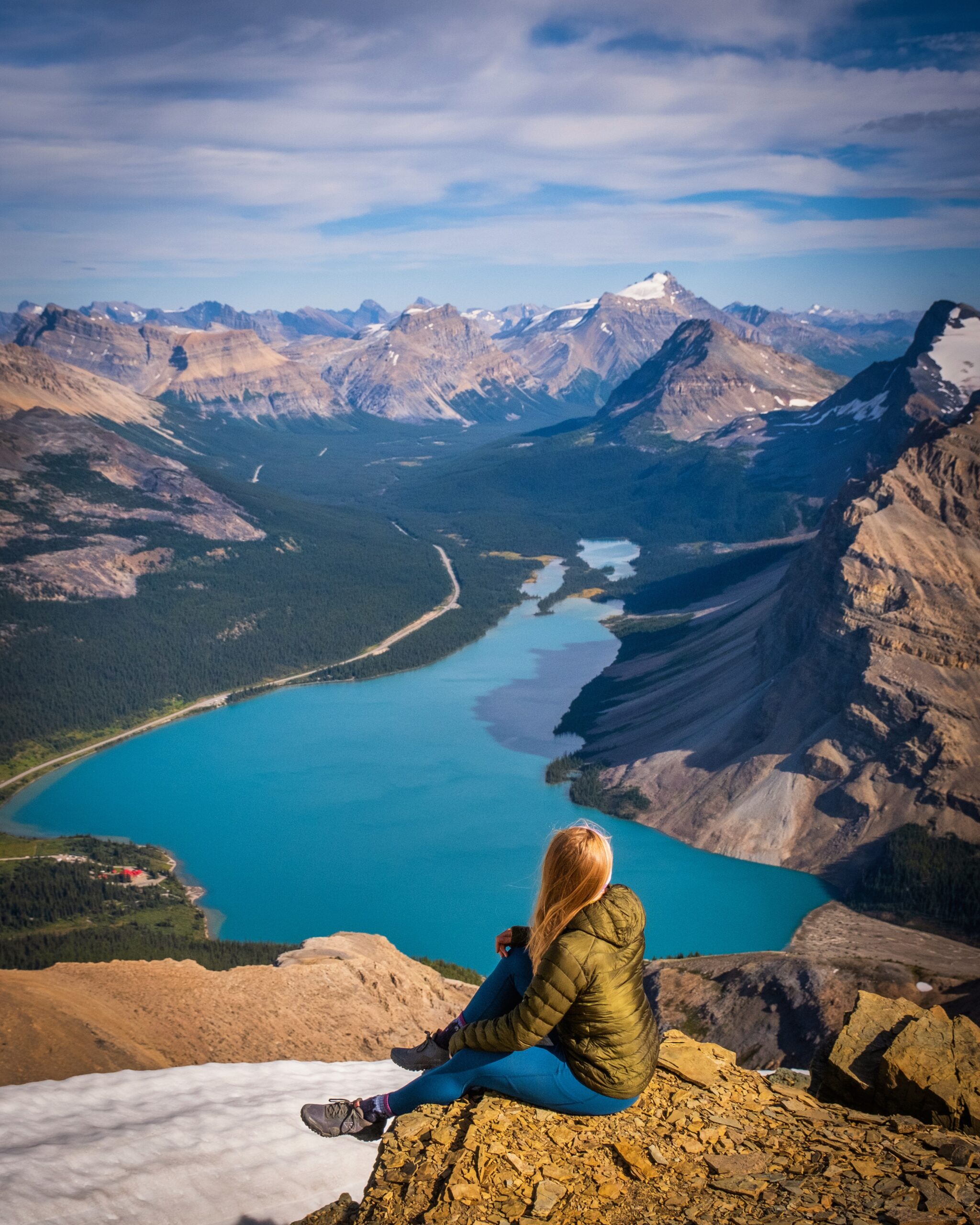 If you are a good hiker and want to try something more challenging, try your hand at scrambling when visiting Banff in August. Scrambling is a walk up steep terrain involving the use of one's hands. Three points of contact with your body are typically needed to classify a hike as a scramble.
I love scrambling as it's more challenging than hiking, and it's typically required to access some of the big peaks in the Rockies. August is the best time to scramble as most of the snow has melted off the mountain peaks.
My favorite scrambles in the Canadian Rockies are Jimmy Simpson, The Onion, EEOR, and Mist Mountain.
---
Stroll Through Cascade Gardens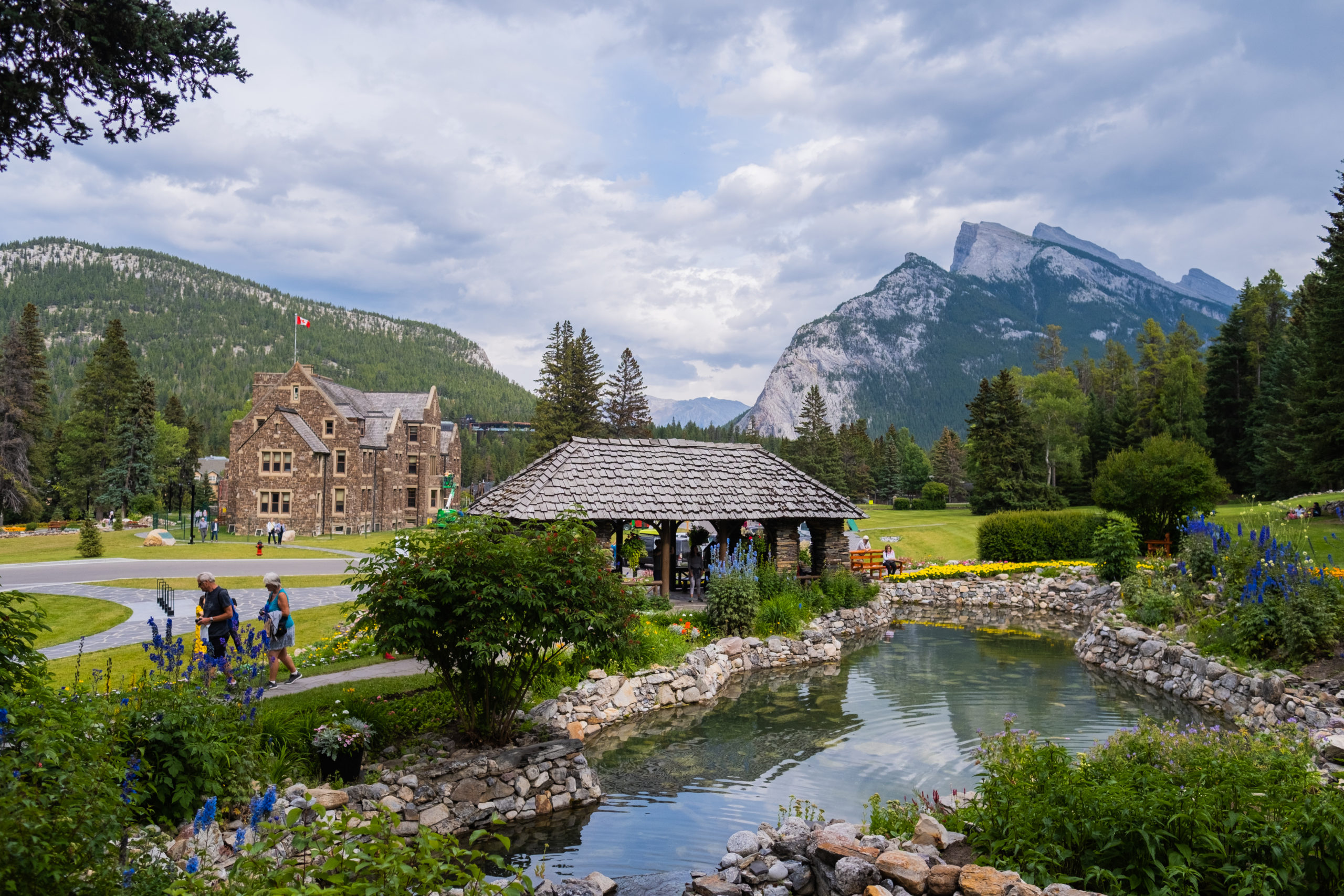 The Cascade Gardens are located at the end of Banff Ave and make for a great family-friendly activity to go do while strolling Banff Ave.
These gardens are beautifully maintained and easy to walk around. If you have older people in your party, this is a great activity to do in Banff.
The ULTIMATE Banff Itinerary You Should Follow
---
Hike Cascade Mountain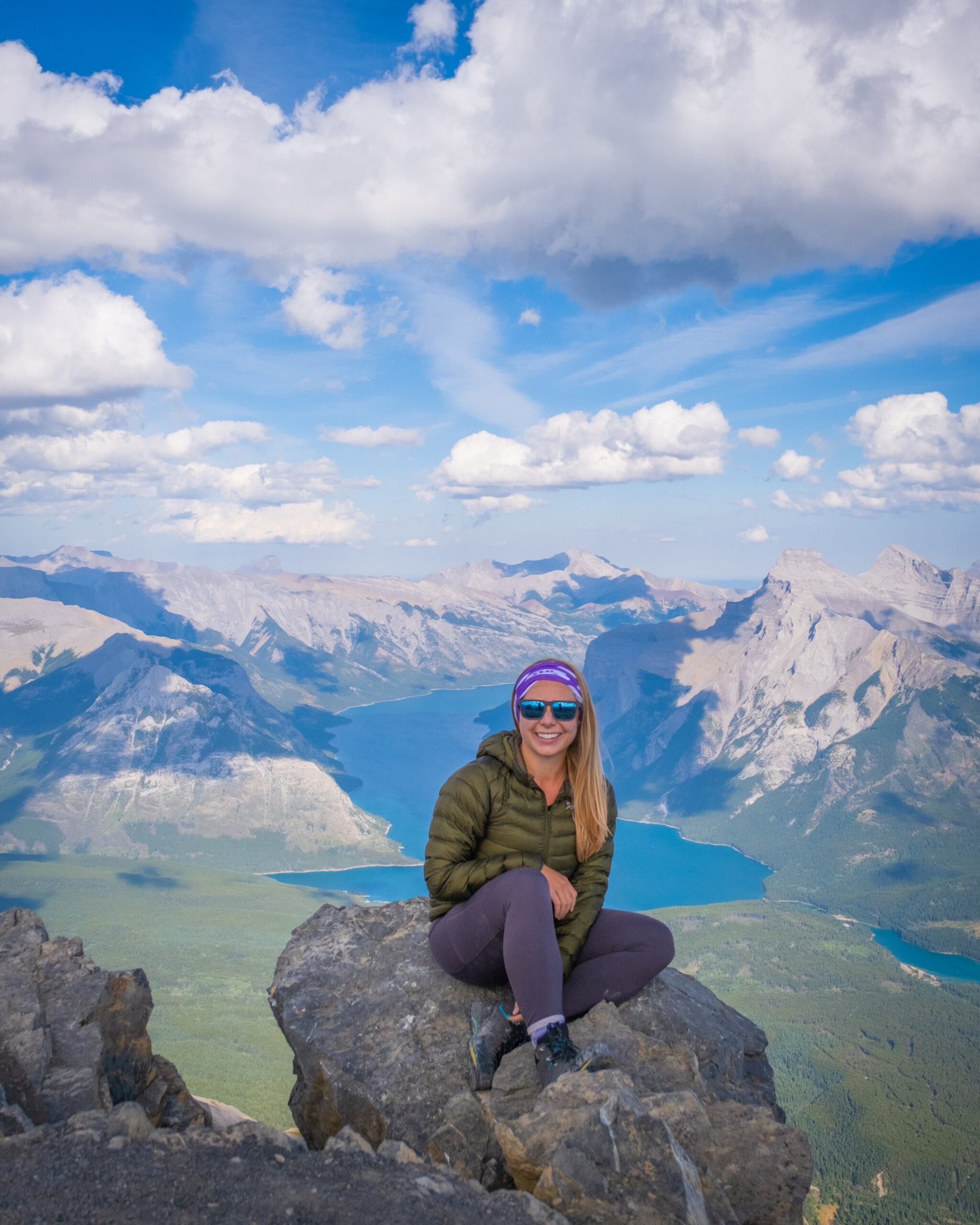 Cascade Mountain towers over Banff and is impossible to miss. Those who are after a long adventurous day outside may try their hands and climb it. The best month to summit Cascade Mountain is in August, when all the snow is melted.
It may look appealing, but keep in mind summiting Cascade Mountain is a very long day. You can expect it to take up to 9-10 hours as it's 20.3km and almost 1600 meters of elevation gain. I wouldn't suggest it as your first hike in Banff, but one to try after you have a few hikes under your belt.
---
Go for a Dip in a Glacier Fed Lake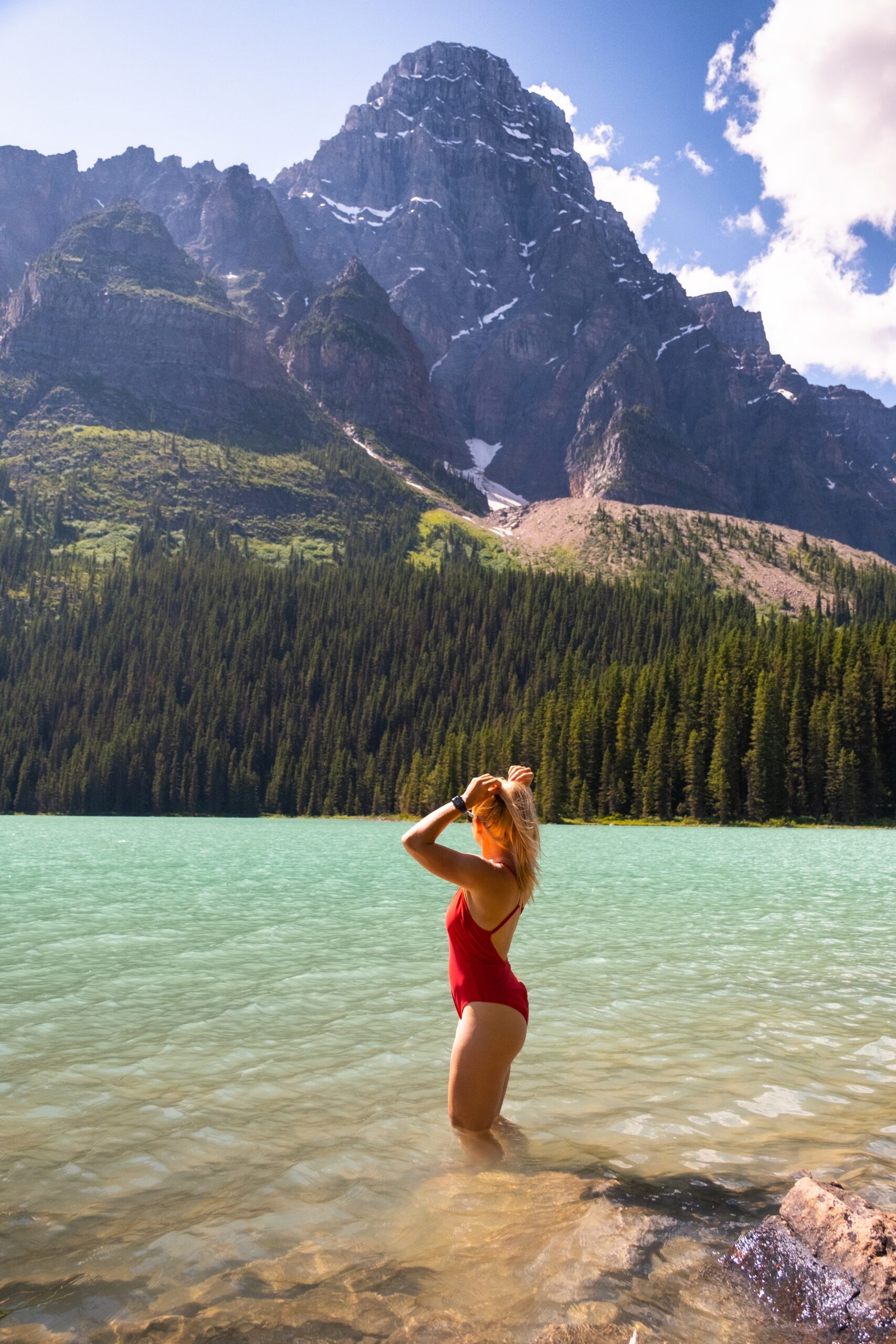 If you're gonna go for a swim in one of the Canadian Rockies lakes, August is the time to do it. As mentioned, it's the warmest month, and getting in the water will take your breath away only slightly less than it would other months.
But it's still the Canadian Rockies and submerging yourself in the water is still incredibly cold. I wouldn't plan to spend too long in the water or go for a long swim. The lake above is Chephren Lake; I got in about waist deep and couldn't go any further.
30 Best Banff Lakes You Have To Visit
---
Drive the Icefields Parkway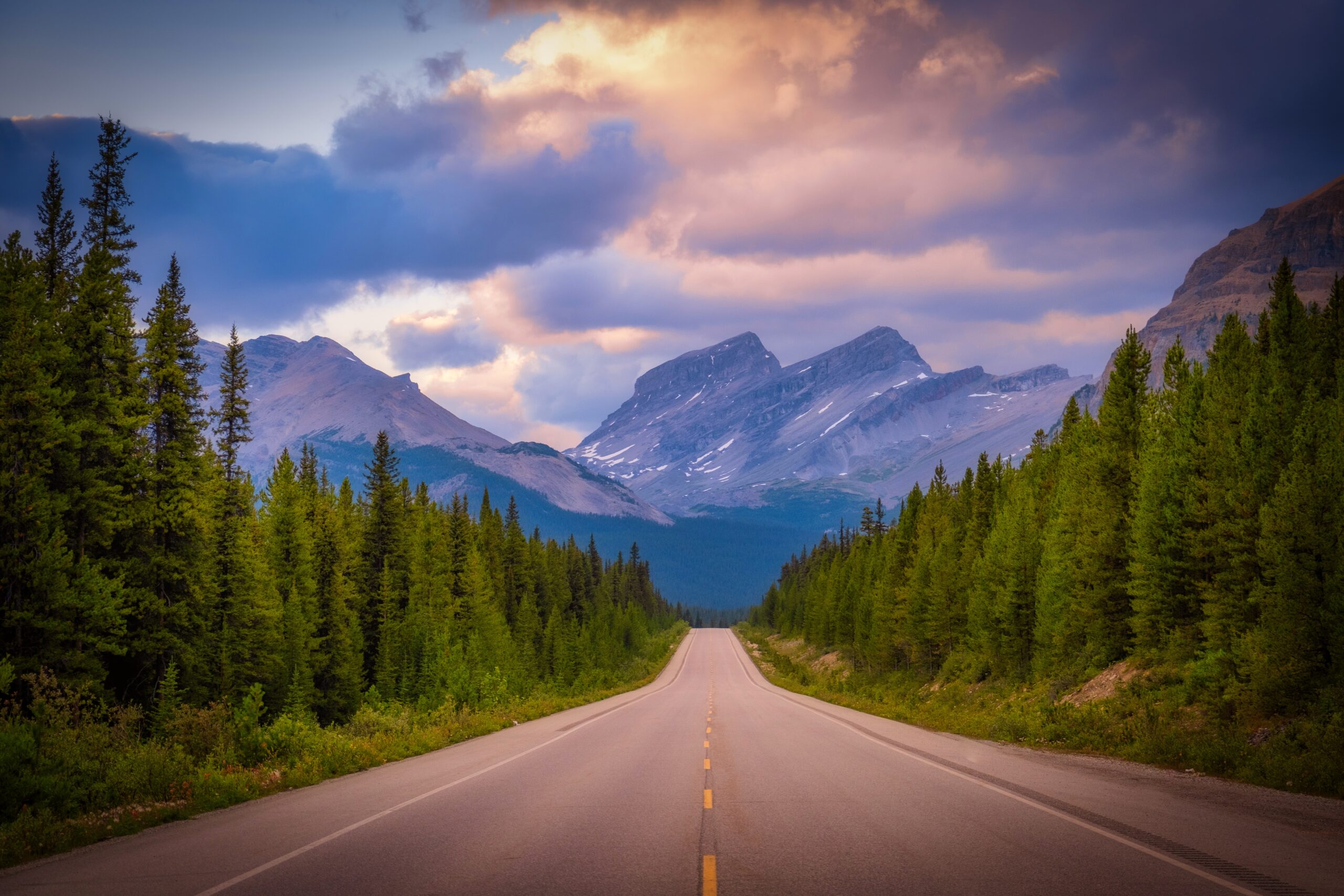 The Icefields Parkway runs from Lake Louise to Jasper and is said to be one of the most beautiful road trips in the entire world. A beautiful time to drive it is during the summer months when the wildflowers are in full bloom.
You can make plenty of stops along the way, including Herbert Lake, Bow Lake, and Sunwapta Falls. Though the road can get busy in August. To make the most of your time I would recommend starting the drive early around sunrise.
---
Peyto Lake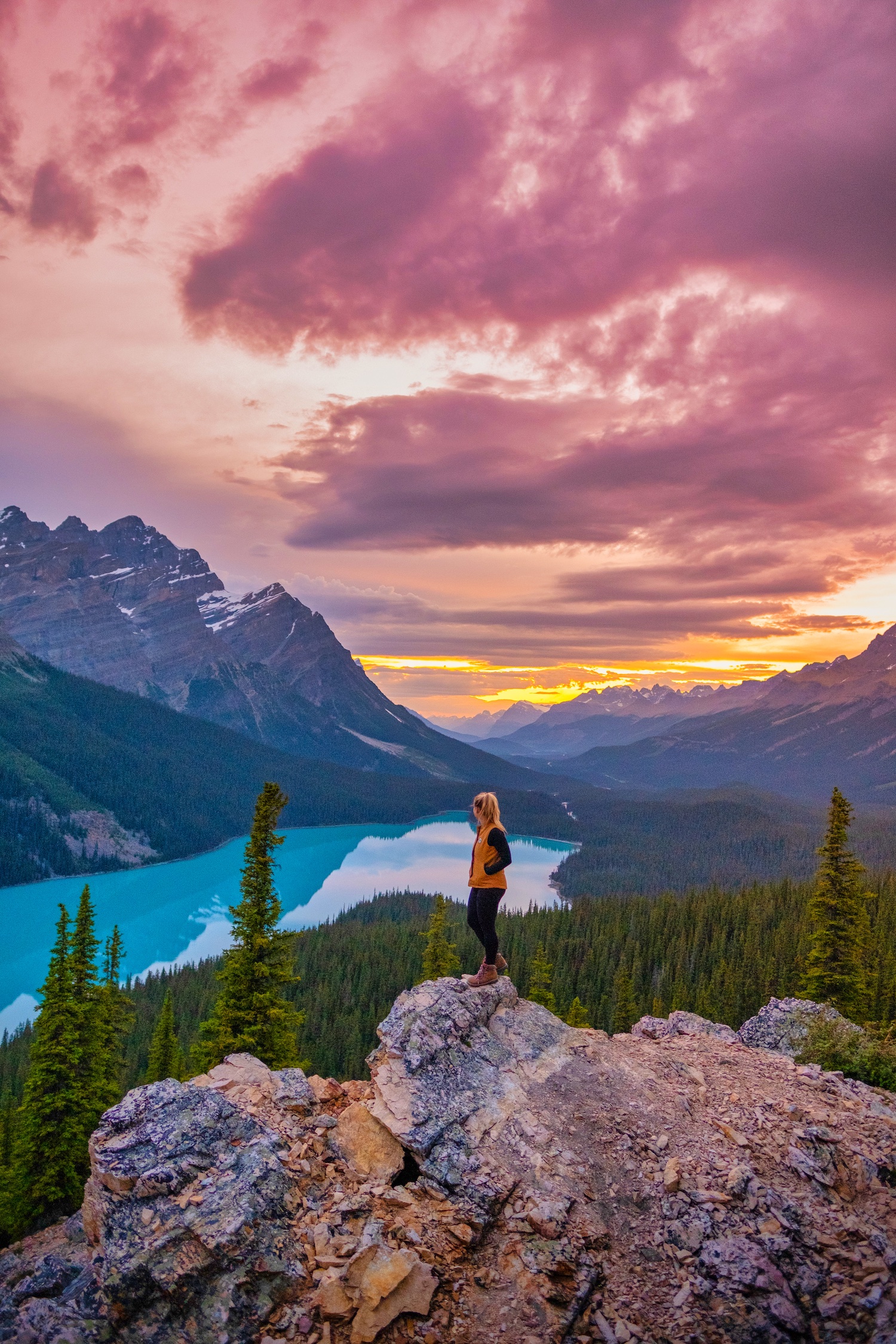 Peyto Lake (PEE-toh) is another glacier-fed lake in Banff National Park. This is probably the third most popular lake to visit in Banff, after Lake Louise and Moraine Lake.
Peyto Lake has a very unique shape, absolutely mind-blowingly blue water, and a scenic overlook that is easily accessible from the parking lot in under 10 minutes.
Peyto Lake is right off the Icefields Parkway and a must-stop along the famed highway.
---
Bow Lake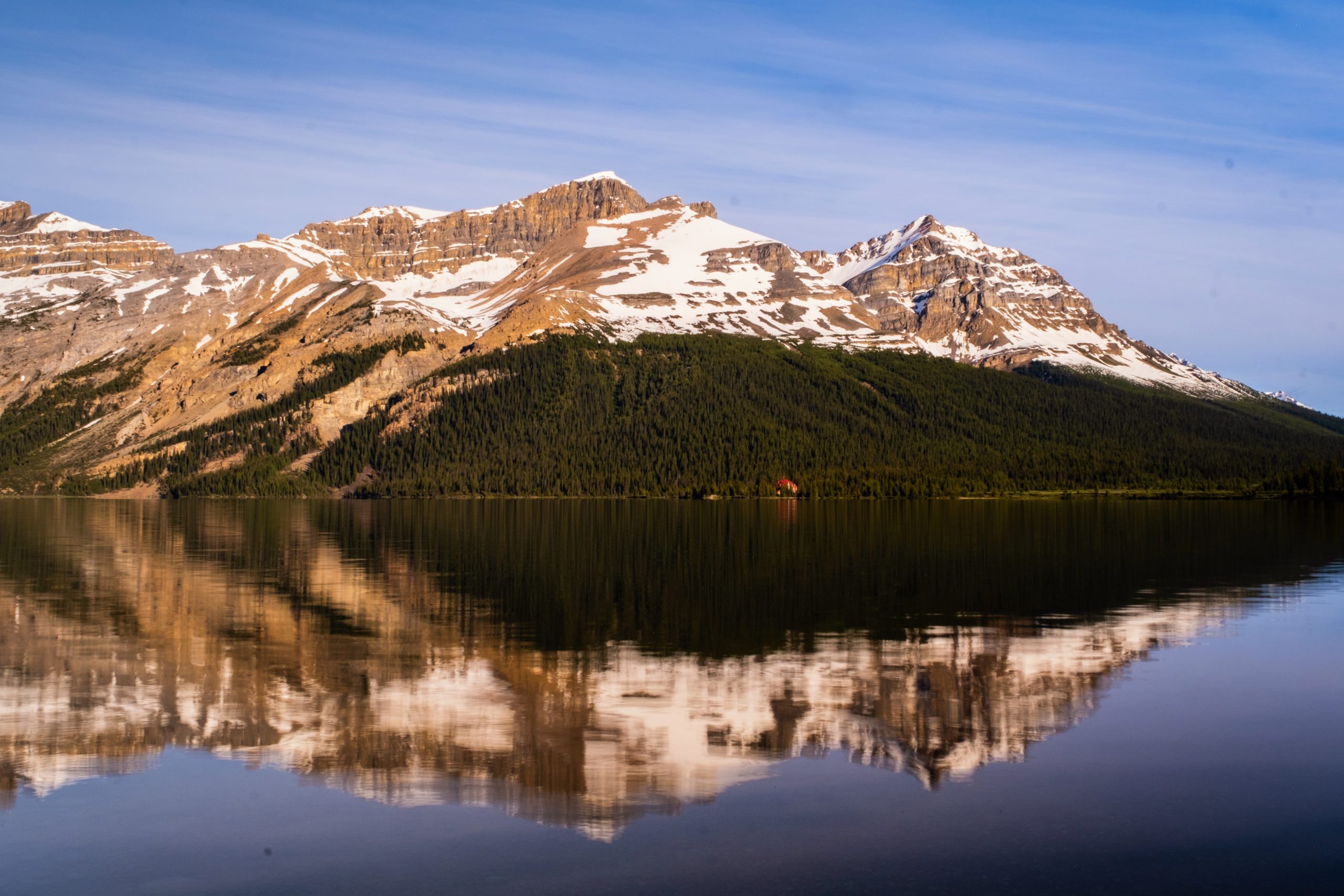 Bow Lake is another stunner that's a brilliant aquamarine color on a summer day. The scale of the lake is impressive as it's one of the largest in the park and the giant mountains surrounding the lake humble visitors with scale.
It makes a great place for a nice picnic, canoe, stand up paddleboard, or you can hike to wonderful Bow Glacier Falls – one of our favorite waterfalls in Banff.
Bow Lake has a pull-off lookout point on the side of the road, with picnic benches nearby. Or you can pull into Num Ti Jah Lodge to get different views of the lake.
---
Bow Glacier Falls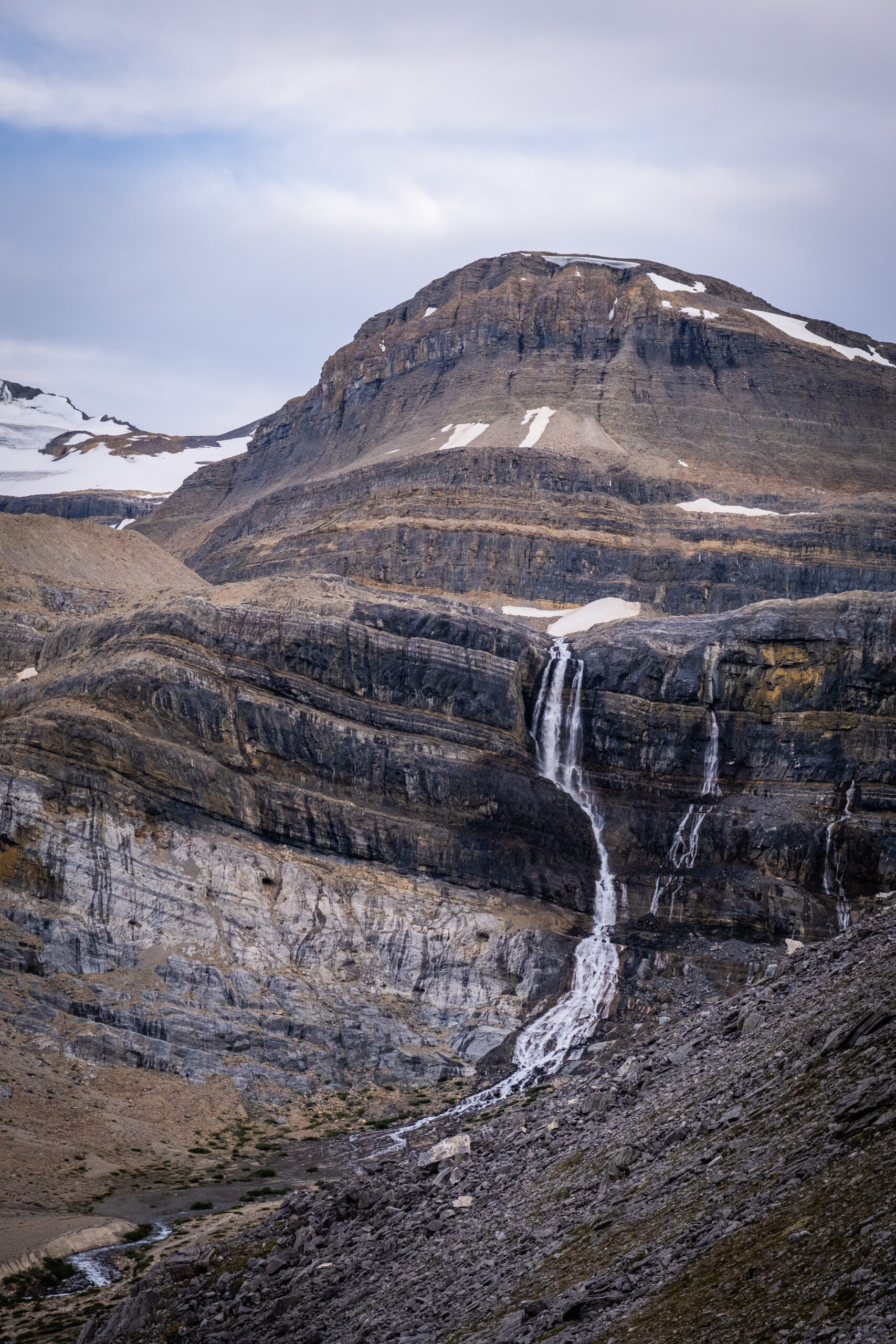 If you have the time while at Bow Lake, consider hiking to Bow Glacier Falls, which is 4.6 km from the parking lot and one of the best Banff waterfalls. With little elevation gain and steller views it's a fun half day out. Plus you skirt Bow Lake almost the entire time – it's well worth it.
---
Hike Parker Ridge
If you plan to drive between Banff to Jasper, it's well worth it to leave a few extra hours open in your schedule to hike Parker Ridge.
Parker Ridge is an easy hike in Banff that provides stunning views of the Saskatchewan Glacier. Seriously, it's rare that I am rewarded with such beautiful views for low effort, and August is the perfect time to complete this easy Banff hike.
---
Is August a Good Time to Visit Banff?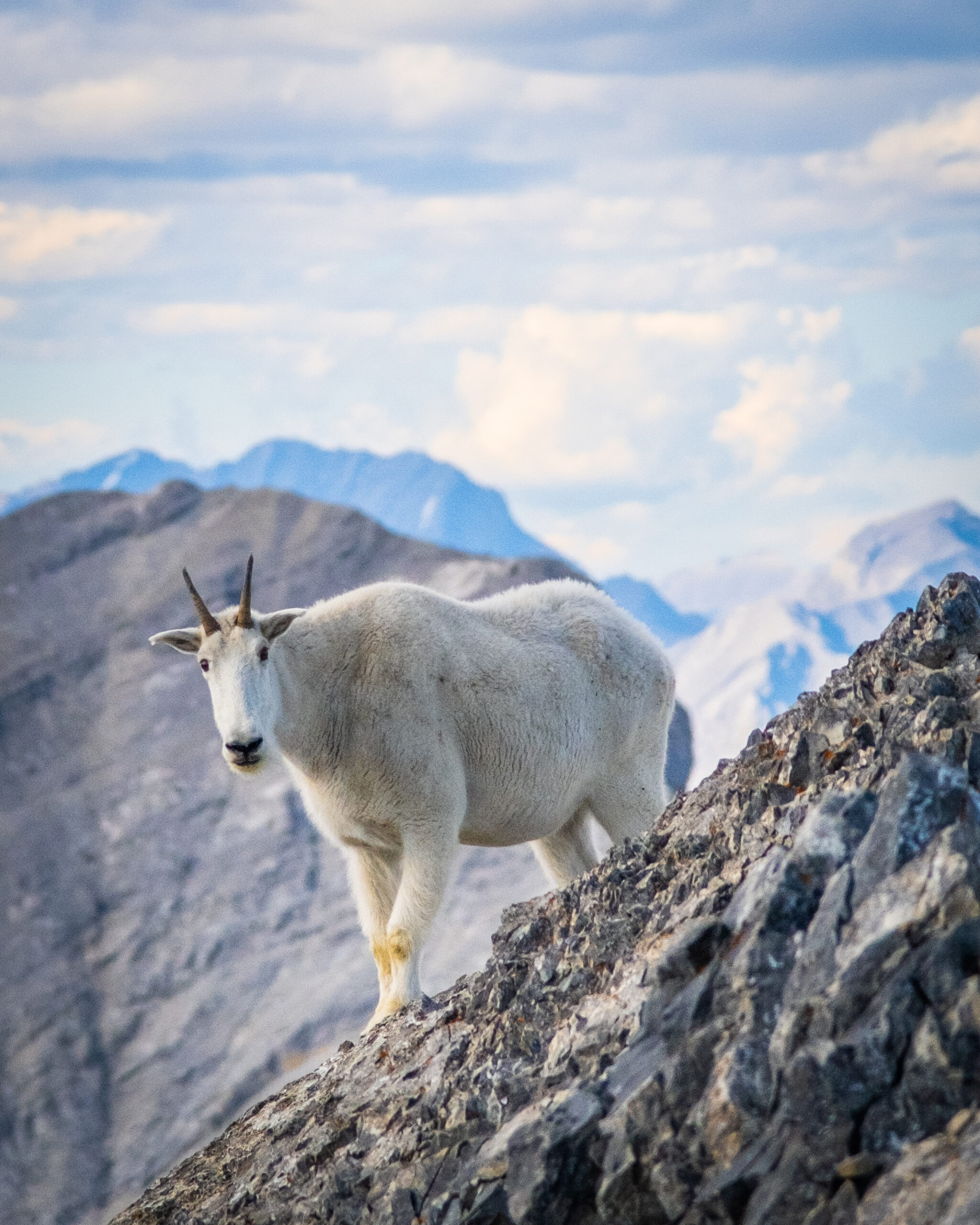 If you love hiking, canoeing, mountain biking, cycling, and bright blue lakes, August in Banff is the perfect time for you. You can't go wrong with the warm weather you will experience in one of the most beautiful parks in the world.
13 Amazing Banff Patios to Enjoy this Summer
---
Is Banff Crowded in August?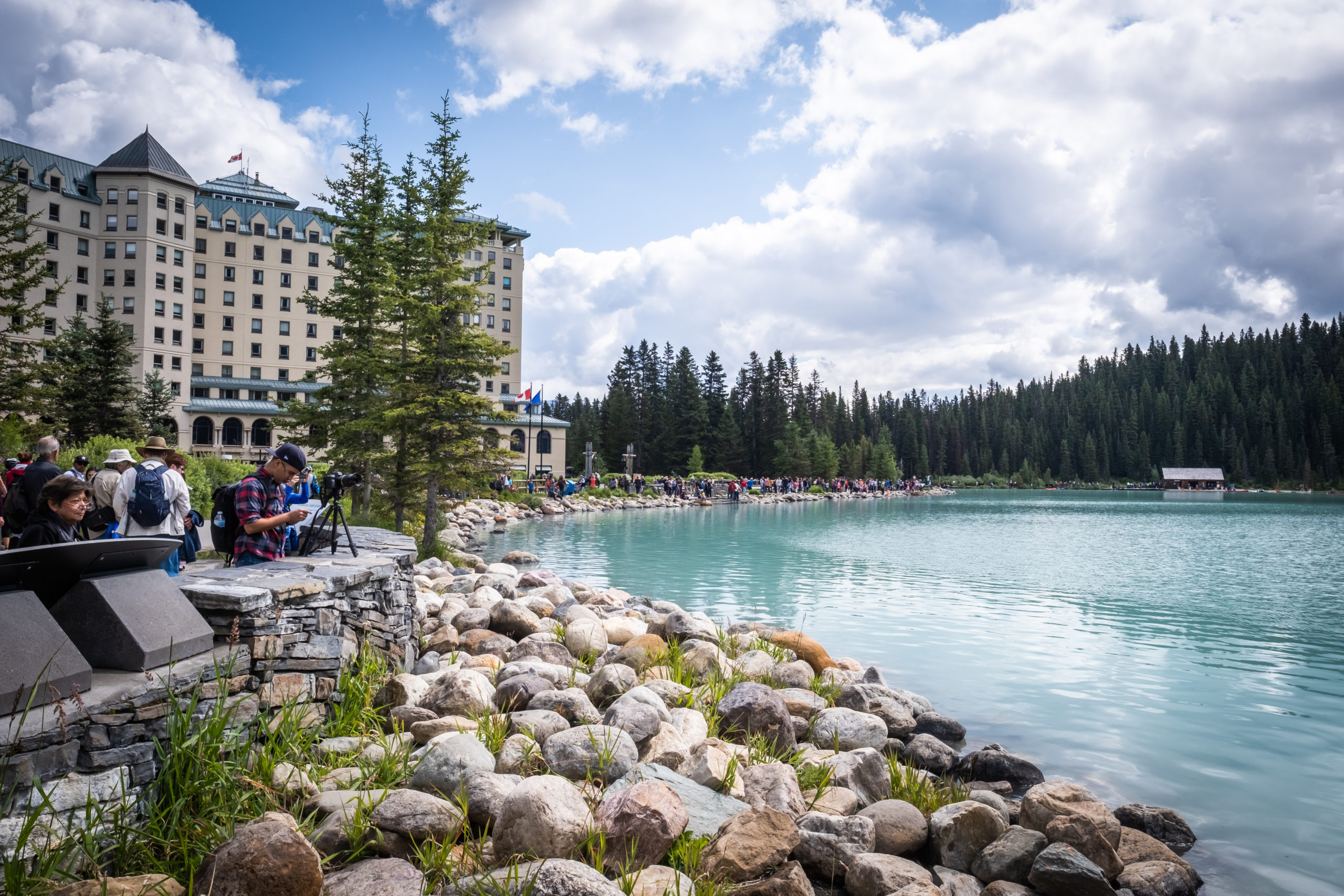 August is the busiest time of the year in Banff National Park. To escape the crowds, you'll have to stay away from the shores of Moraine Lake, Lake Louise, Two Jack Lake, and other hotspots like Johnston Canyon and the Banff Gondola.
In general, the further and higher you hike, the fewer people you will see. If you are concerned about crowds consider exploring Yoho National Park, Kootenay National Park, or head to the Town of Golden.
---
---
Where to Stay in Banff in August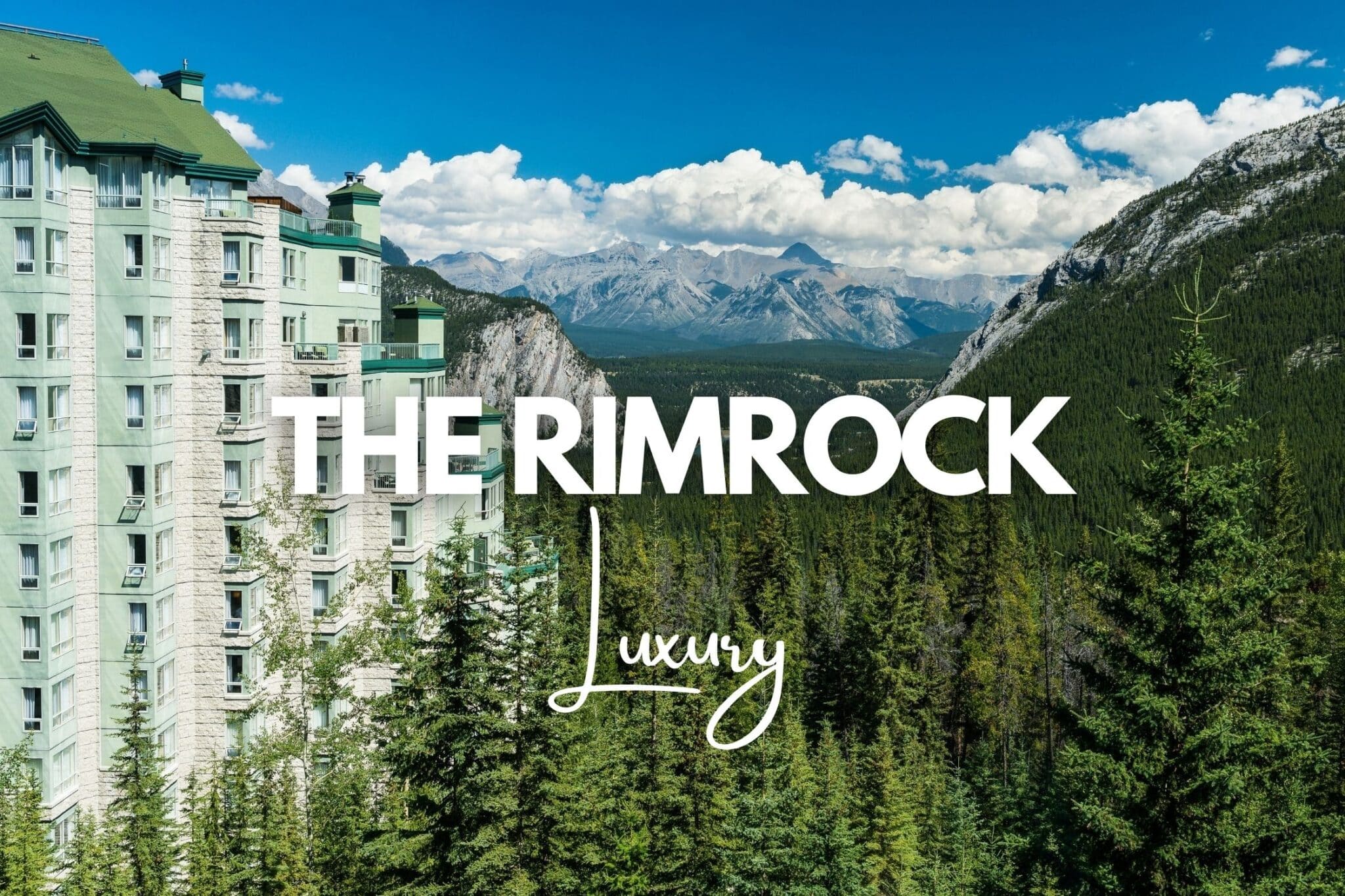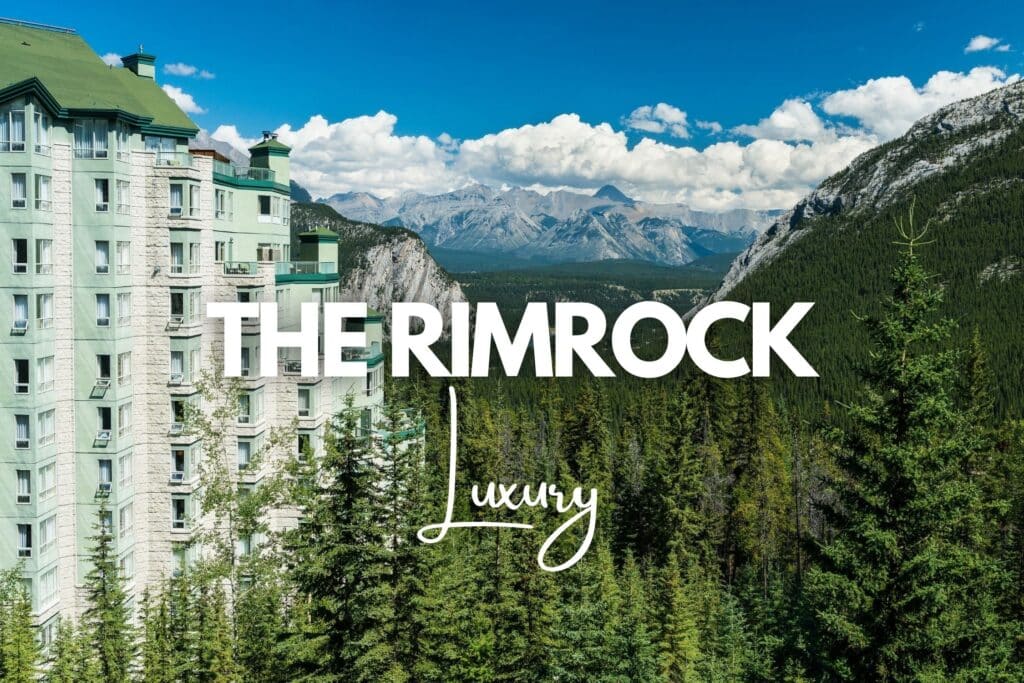 Is a super great pet-friendly option in Banff. It's close to Sulphur Mountain and the Banff Hot Springs. It's one of the most popular places to stay in Banff, so book it in advance.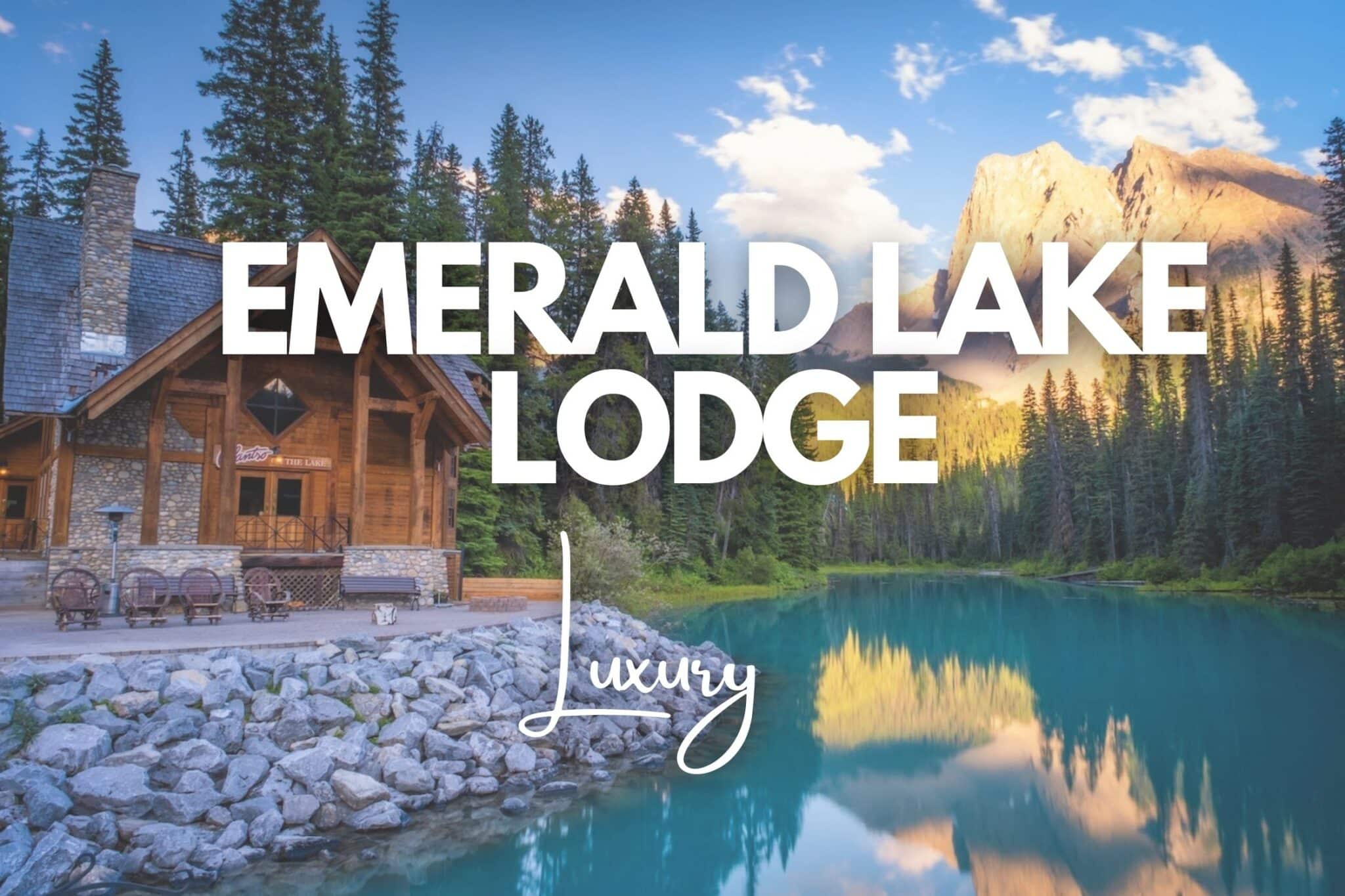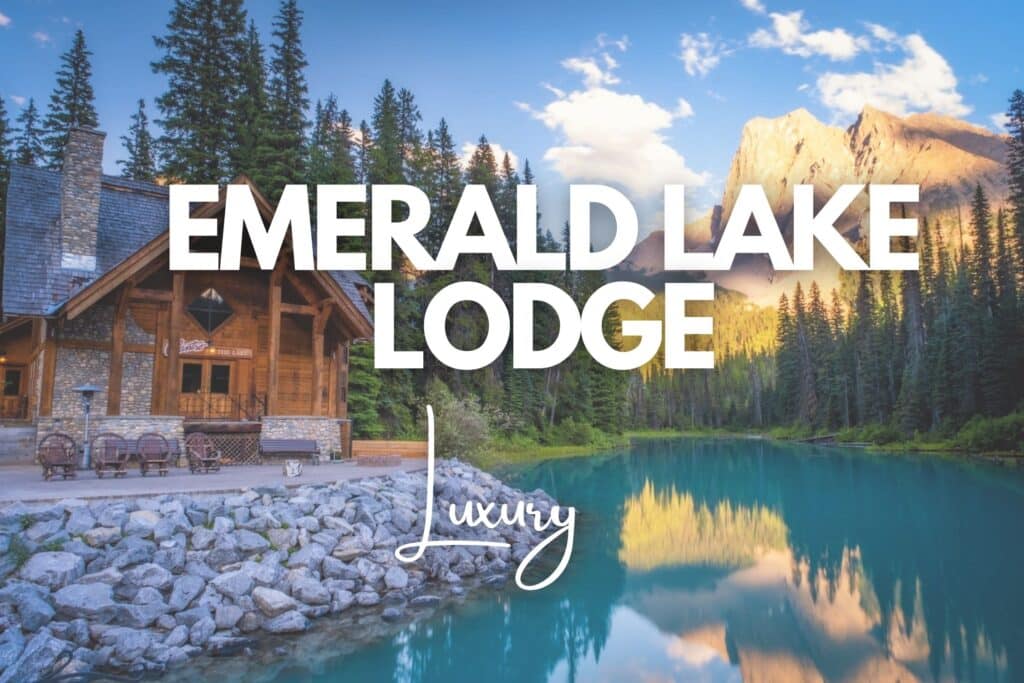 One of the most sought after places to stay is Emerald Lake Lodge on Emerald Lake. It's the only place to stay in the area and will provide stunning views of Emerald Lake at sunrise and sunset!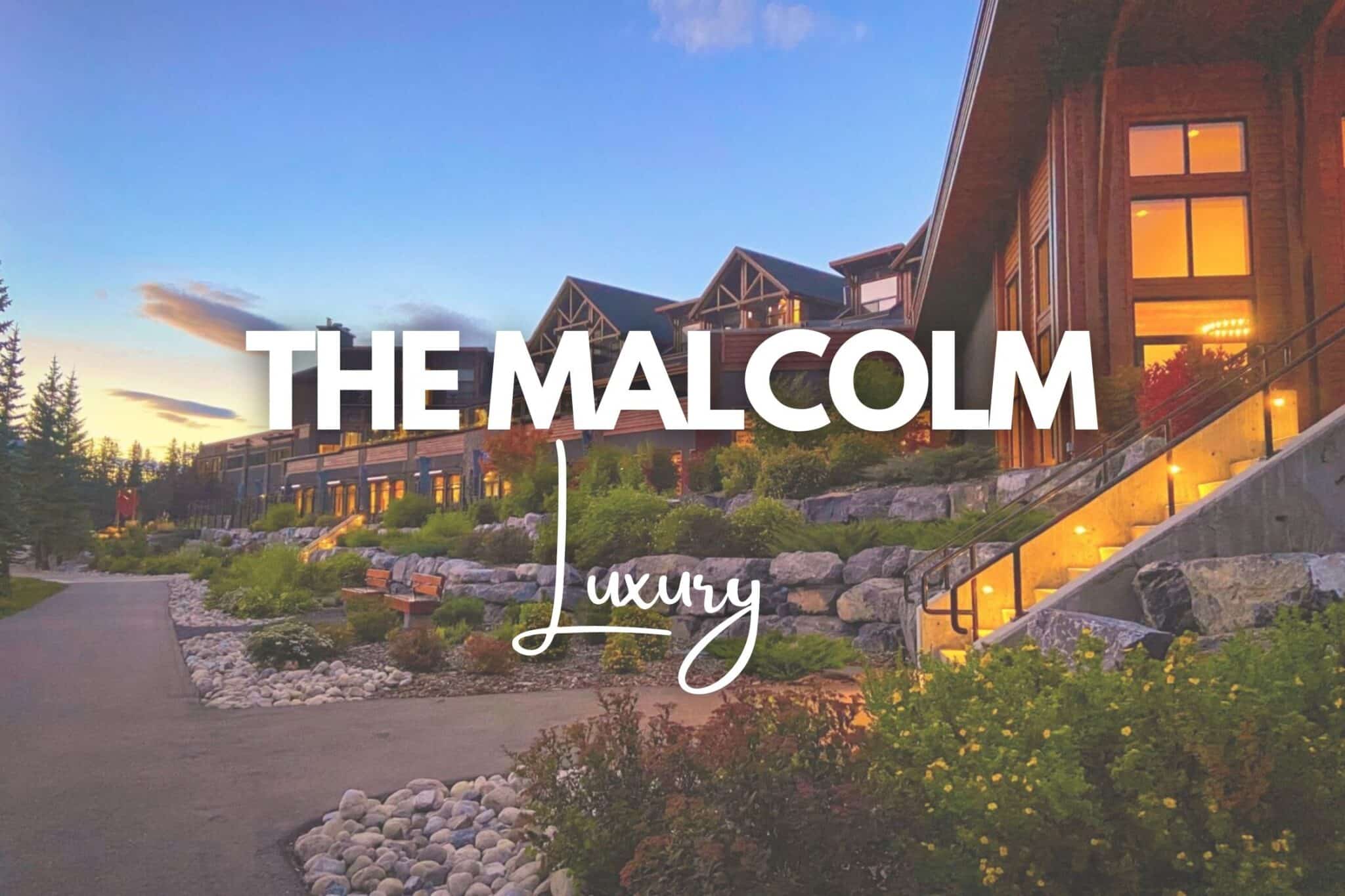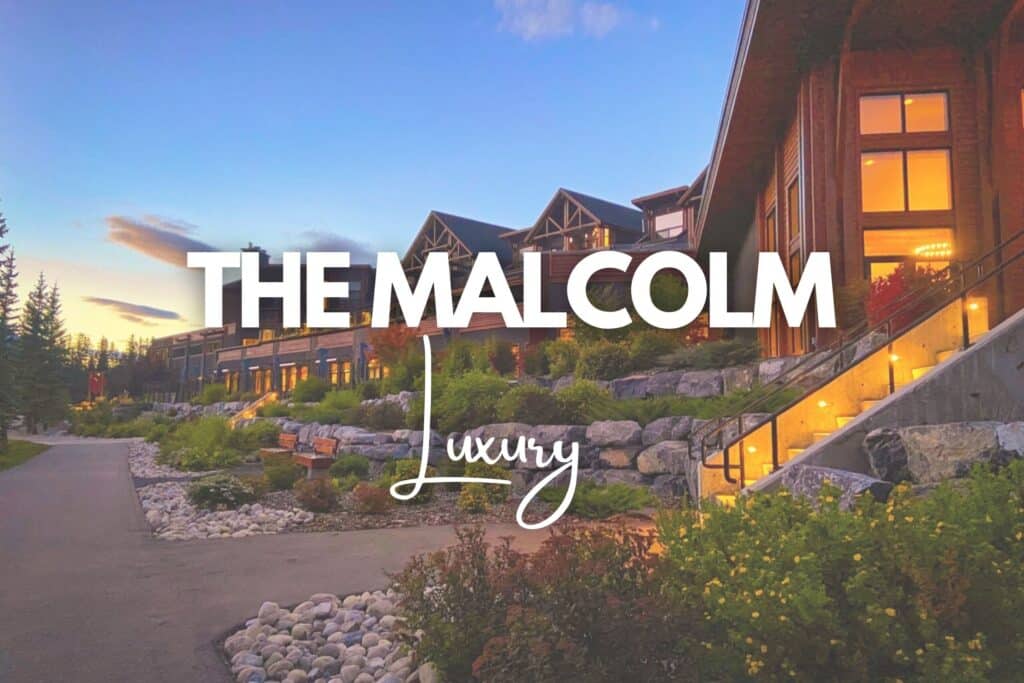 If you opt to stay in Canmore, you can stay at one of the most amazing hotels in the Rockies for less than you would pay in Banff. Their pool views of the Three Sisters is worth the stay alone.
26 Best Hotels in Banff (Downtown Banff Hotels & Surrounding)
---
Hopefully, this helped you determine if you want to visit Banff in August.
If you have any other questions leave a comment or see our Canadian Rockies travel guide for more articles about photography spots, lakes, hikes, and everything else.
---
Plan Your Trip to the Canadian Rockies
↓ Join the community ↓
The Banff Blog Facebook Group is your headquarters for the Canadian Rockies' travel advice and information. Including hike info and off-season travel information. You can also meet new adventure buddies.