Lake Louise has drawn visitors to the Canadian Rockies for over a century. The alpine lake in Banff National Park is a wild turquoise blue color fed by glacier melt and set by a backdrop of Mount Victoria and a hanging glacier. This pristine piece of wilderness draws in millions of visitors a year.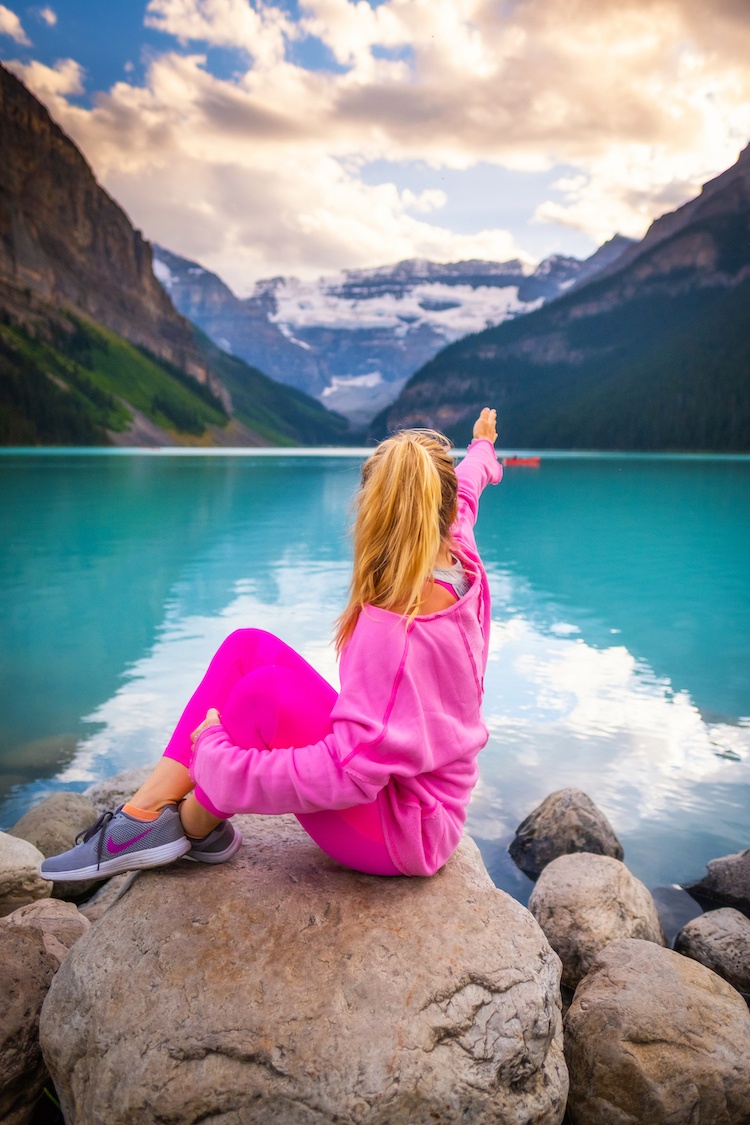 It's hard to find a more majestic and awe-inspiring place in the world than Lake Louise. After taking in the spectacular scenery, go for a hike, climb, ski, or canoe in the area. Lake Louise is an image that will last with you for a lifetime. Here's all you need to know before visiting Canada's famous lake.
---
Tips for Visiting Lake Louise (Lac Louise)
---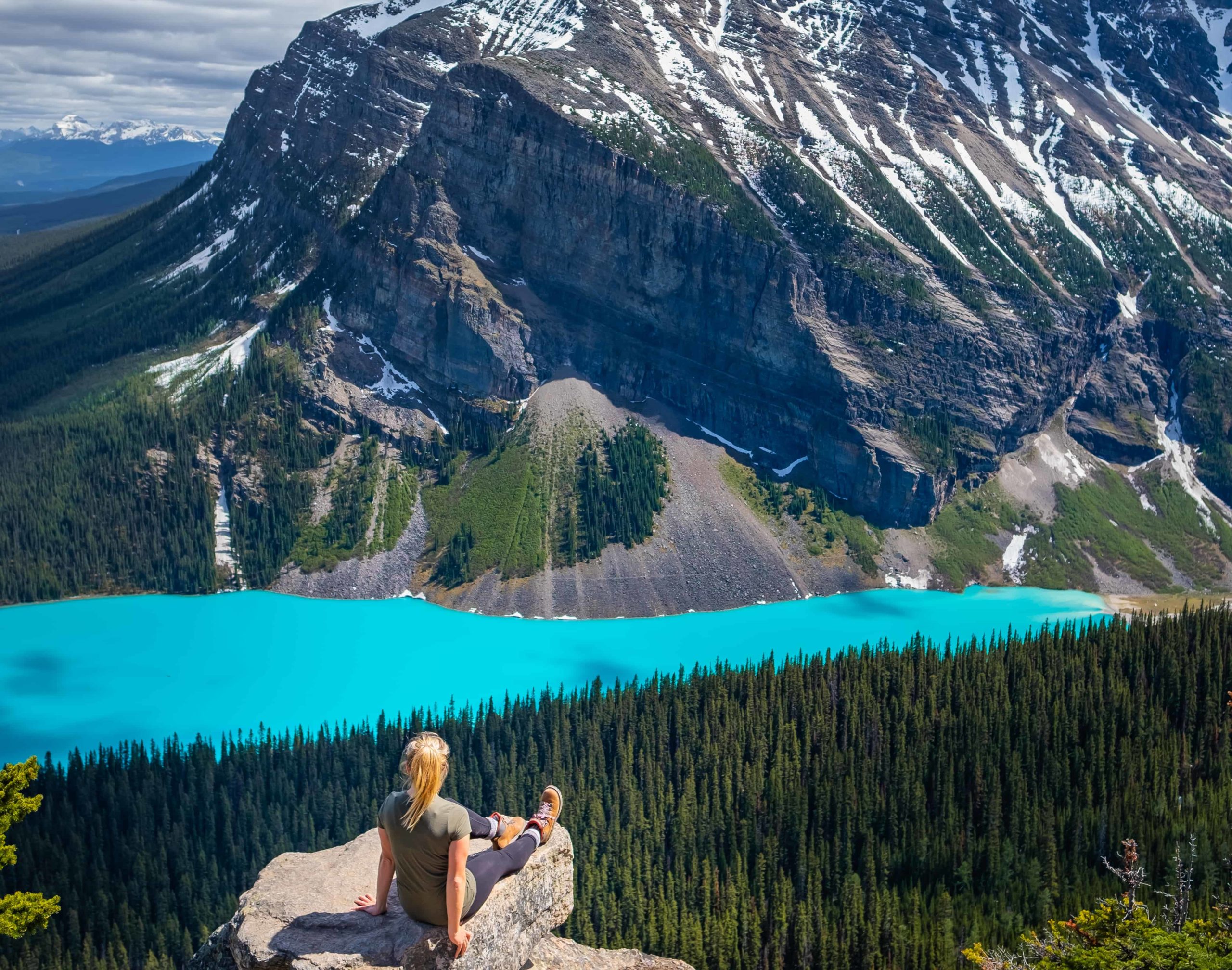 Lake Louise is the crown jewel of Banff National Park and has been drawing visitors to the Canadian Rockies for over a century. The large lake is flanked by large mountains and has a spectacular backdrop, with Mount Victoria topped by a massive glacier. If I were to name 50 places you have to see before you die, Lake Louise easily gets a top spot.
Its natural beauty is soul-stirring and, at times, standing on the lakeshore borders on a religious experience. It draws large crowds during the summer months as millions of people visit the alpine lake each year. On my first visit to Lake Louise in the summer, the landscape took my breath away. It's a sight that lives up to the hype.
The lake can attribute its brilliant blue color to glacier waters full of rock flour (fine particle of rock) that refracts the light. The time to witness this brilliant color is relatively short-lived as the majority of the year, the lake is frozen. For all of its fame, the lake is not very large at only 2 km in length and .5km wide.
Louise Louise reaches a depth of more than 220 feet (70 meters). Many visitors can choose to walk the length of the lake with ease.
It's a stunning natural area with a plethora of things to do outdoors. Visitors can partake in the fantastic hiking trails, canoeing or kayaking the lake, alpine mountaineering, rock climbing, ski, ice climbing, ice skating, or scrambling. It's almost tough to find something you can't do around Lake Louise.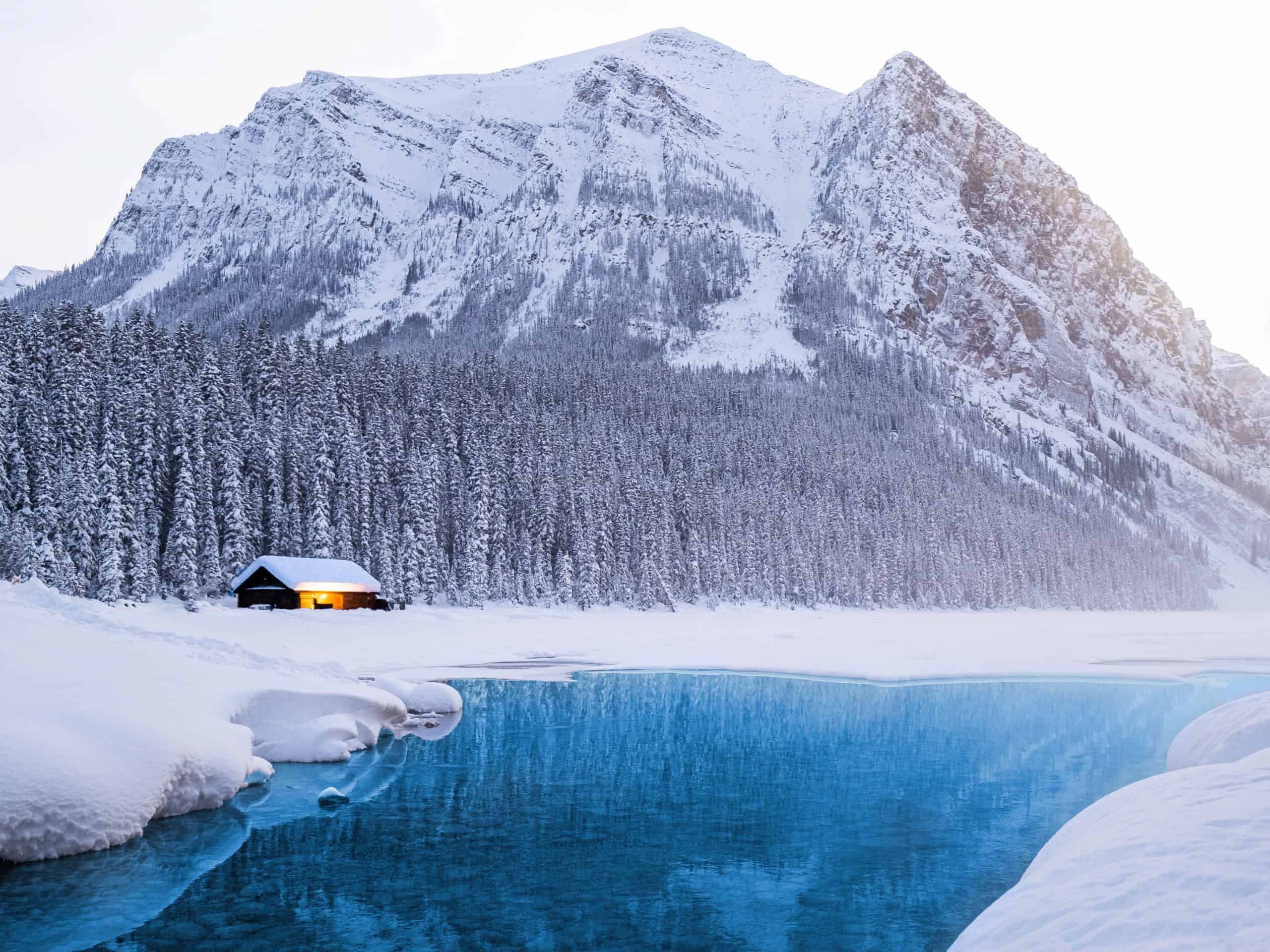 Most of the activities are out of visitors' skill set and interest, but there are several fantastic hikes around Lake Louise. Also, the canoe rentals at the boat dock make it easy for visitors to canoe on Lake Louise. Lake Louise is frozen over half the year, so naturally, ice skating is a popular activity in the winter months.
---
Where is Lake Louise?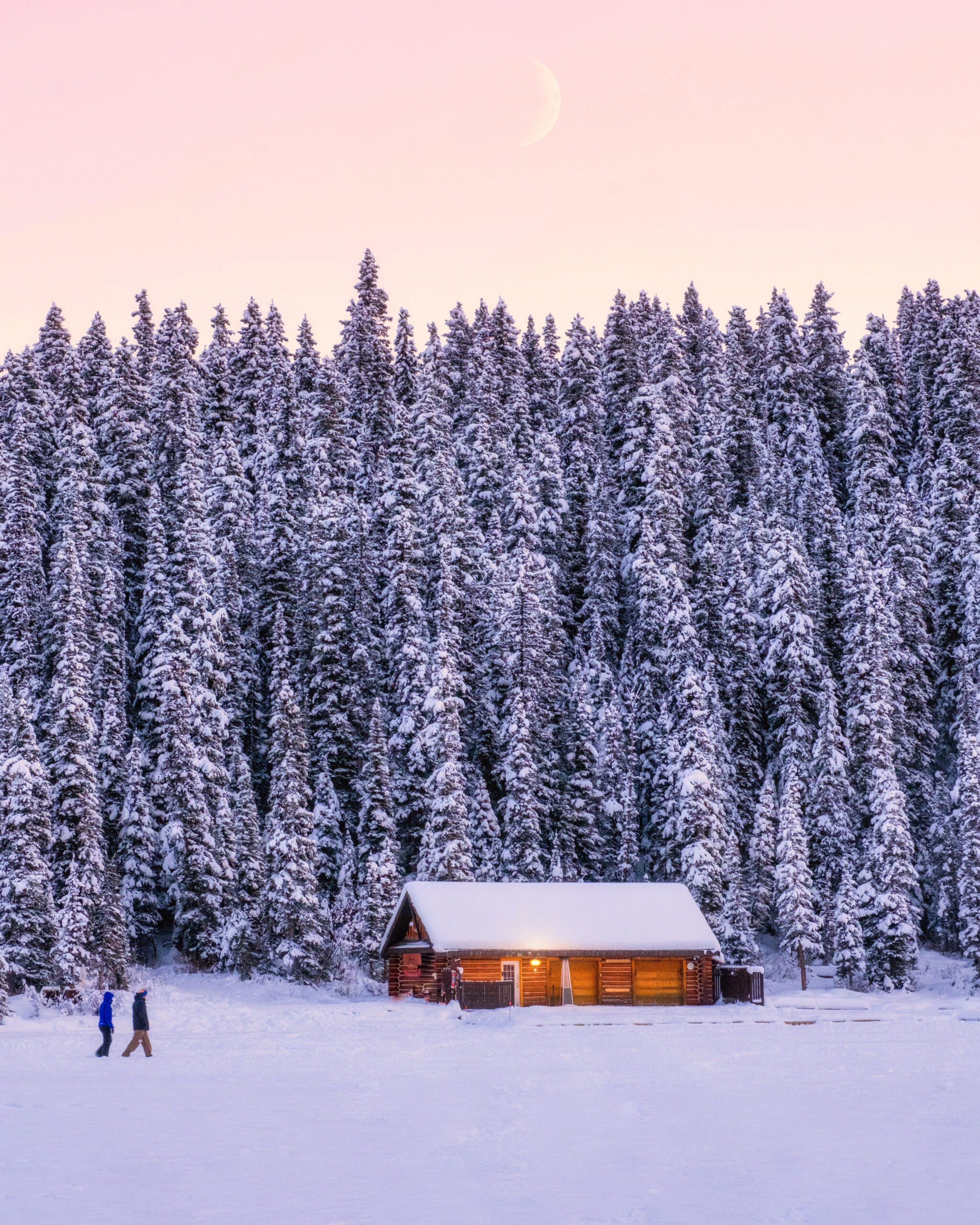 Lake Louise is located 60 km northwest of the town of Banff. It will take you about 40 minutes to get there from the town of Banff, 60 minutes from the town of Golden, 20 minutes from the town of Field, and 50 minutes from Canmore. Lake Louise sits at an elevation of 1600 meters.
---
The History of Lake Louise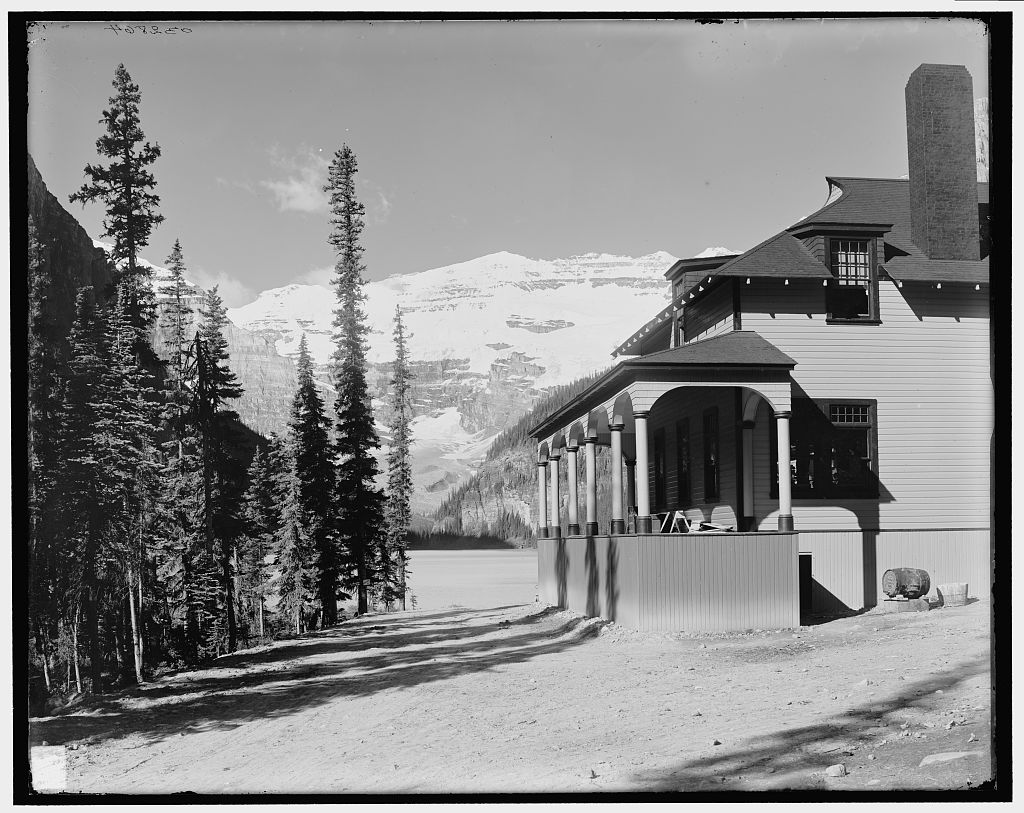 Quick Facts
Lake Louise was first named "Ho-Run-Num-Nay, which means the Lake of Little Fishes, by Stoney natives that had settled in the area.
The first accommodation on Lake Louise was built in 1890 and was a simple log cabin.
The Fairmont Chateau began operating year-round in 1982.
Interestingly enough, Lake Louise was originally named Emerald Lake by Tom Wilson, leading an early survey party in 1882. The name didn't last long because, in 1884, it was named after Alberta's Governor General's wife, Princess Louise, Duchess of Argyll. The name Emerald Lake then shifted to the nearby lake of Emerald Lake 39 km away from Lake Louise, where the name did stick.
In 1890, Cornelius Van Horne a Canadian Pacific Railway manager, built a sizeable one-story log cabin on the shore of the lake. The small cabin was called the Chalet Lake Louise, and he would accommodate just 50 guests in its first year. Over the next two decades, the hotel saw several upgrades, and by 1912 it had drawn in 50,000 visitors.
The beauty was drawing in prominent public figures, and the hotel quickly expanded to a luxury property by 1920, earning the name of Hollywood of the North.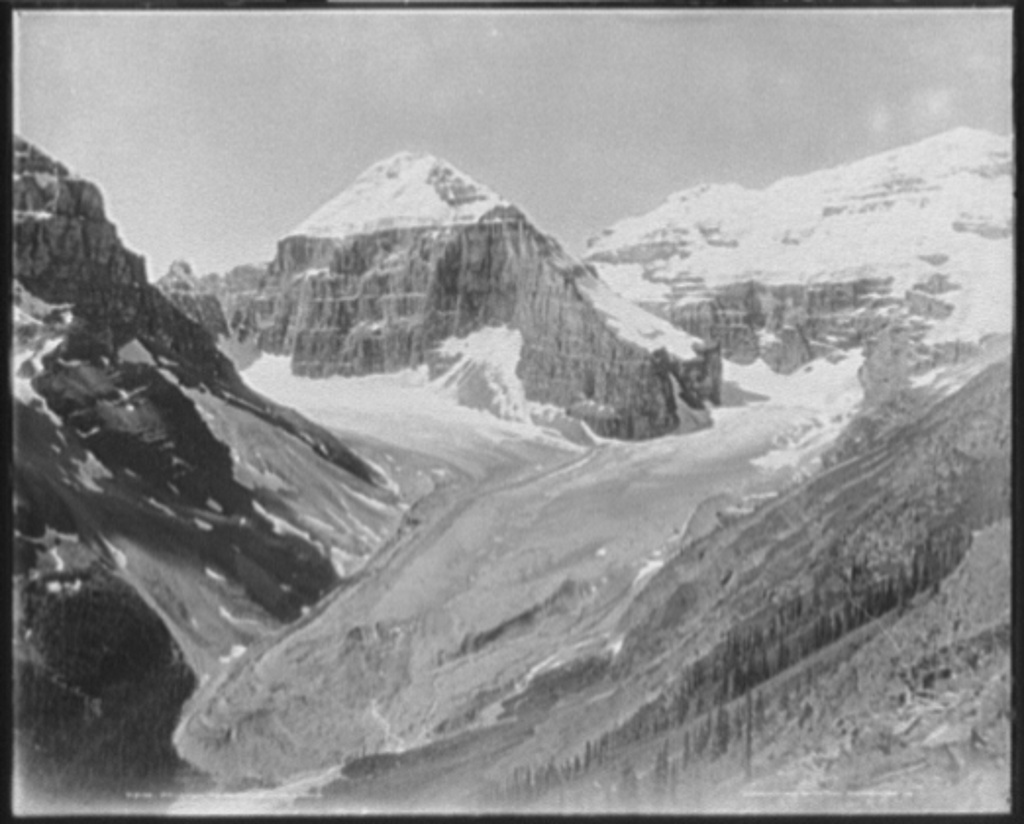 Mountaineering in North America and Canada, for that matter, is closely tied with Lake Louise and Banff National Park. In fact, in 1897, the first mountaineering death in North America occurred on Mount Lefroy.
You can get great views of this mountain on the Plain of Six Glaciers hike. The mountaineering death spurred the Canadian Pacific Railroad to hire Swiss mountaineers to help with the safety of visitors hoping to mountaineer in the park.
Over the years, more mountaineers would follow, and the Swiss impact on the Canadian Rockies can be seen today. Many restaurants around Banff serve up fondue, mountaineering is a popular hobby for locals; two teahouses serve hikers around Lake Louise, and a series of alpine huts are managed by the Alpine Club of Canada.
The Swiss mountaineers would also have a significant impact on bringing the sport of skiing to the forefront in the Canadian Rockies, which eventually opened up Lake Louise to winter tourism and a year-round destination.
---
When Is The Best Time To Visit Lake Louise?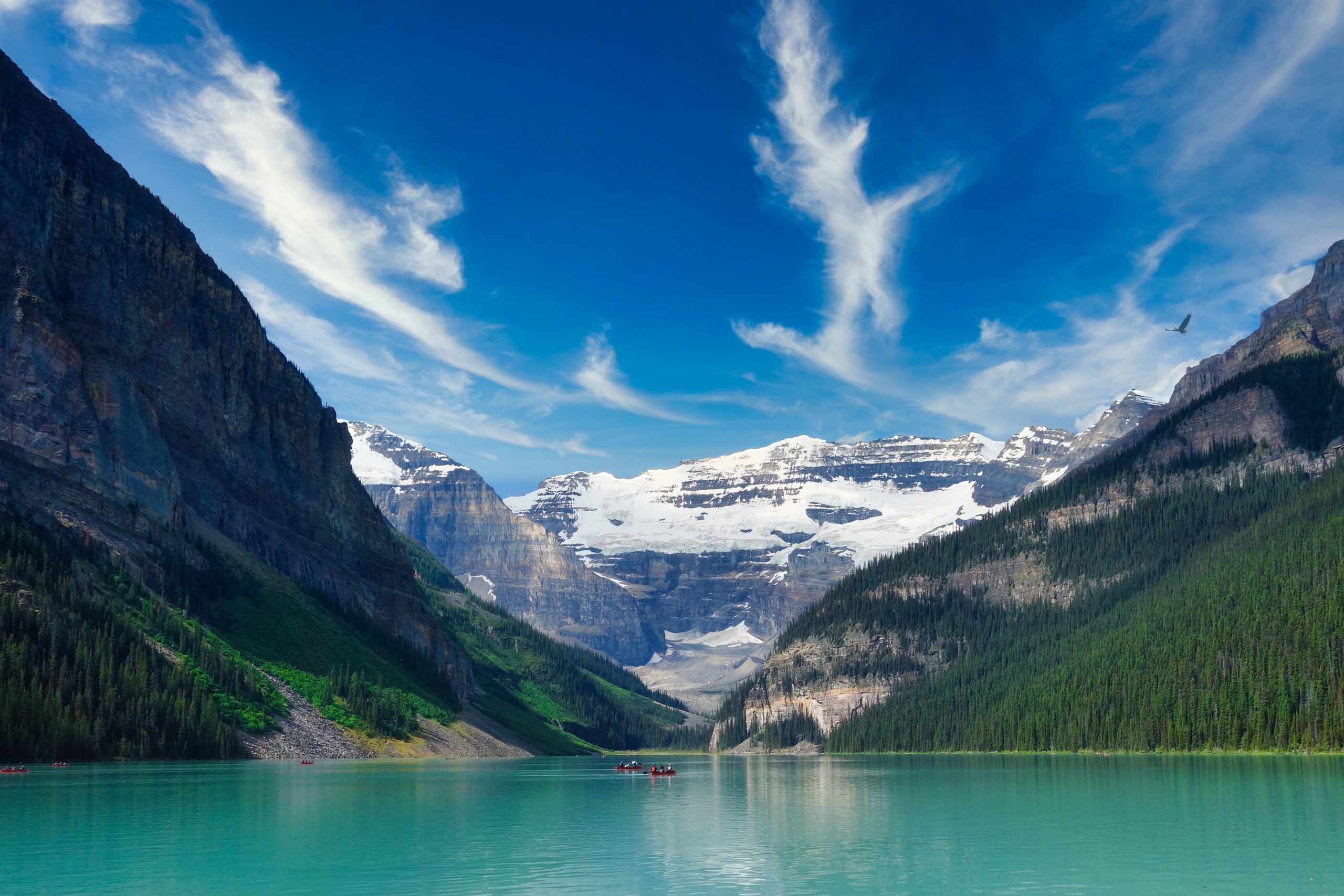 Lake Louise is a year-round destination outside of the shoulder months of October/May, and even then, certain points in those months can be great. It's such a spectacular part of the world that it's never a bad idea to visit. You can enjoy sleigh rides, ice skating, ice climbing, skiing, and snowshoeing in the winter months.
While during the summer you're spoilt for activities and the views are spectacular. Since the lake is fed by Glacial melt, its water level and color change based on temperatures.
To ensure warmer weather and an excellent chance to witness the most vivid turquoise water, the best time to visit Lake Louise is in July and August. That being said, the color never leaves, and you can witness the lake thawed until late October/early November when the lake freezes over. Every few years, the lake freezes over enough to skate on before receiving significant snowfall.
When is the Best Time to Visit Lake Louise?
---
Is Lake Louise Busy?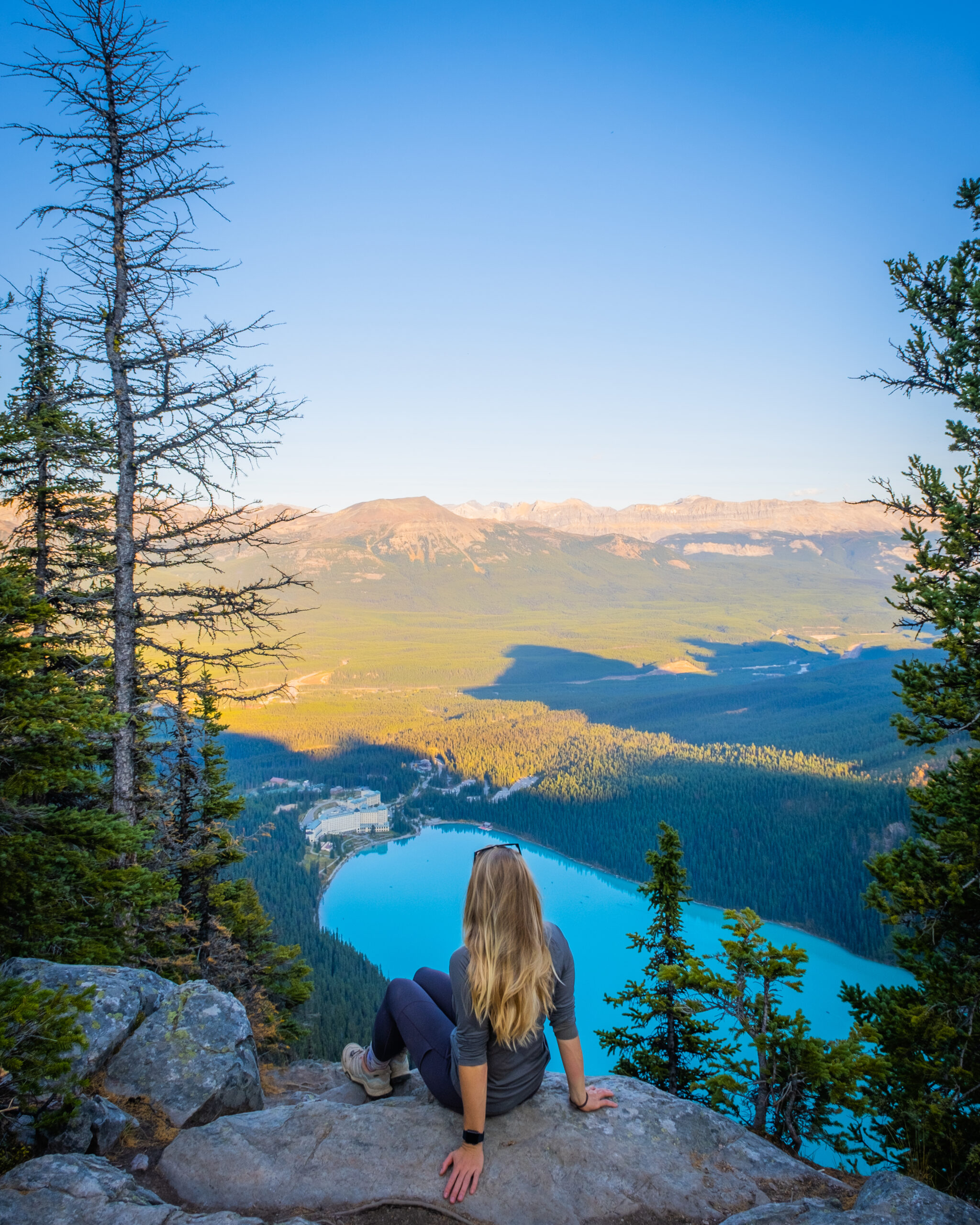 Sadly, Lake Louise is almost always busy. Especially in the summer and winter months, which is when the lake is at its prettiest. To avoid crowds at Lake Louise you can visit in the off-season months or at off-peak times in the summer months.
That means before sunrise and in the evenings on weekdays. Don't worry, a Lake Louise sunrise is always worth the early wake-up call.
---
When Does Lake Louise Melt?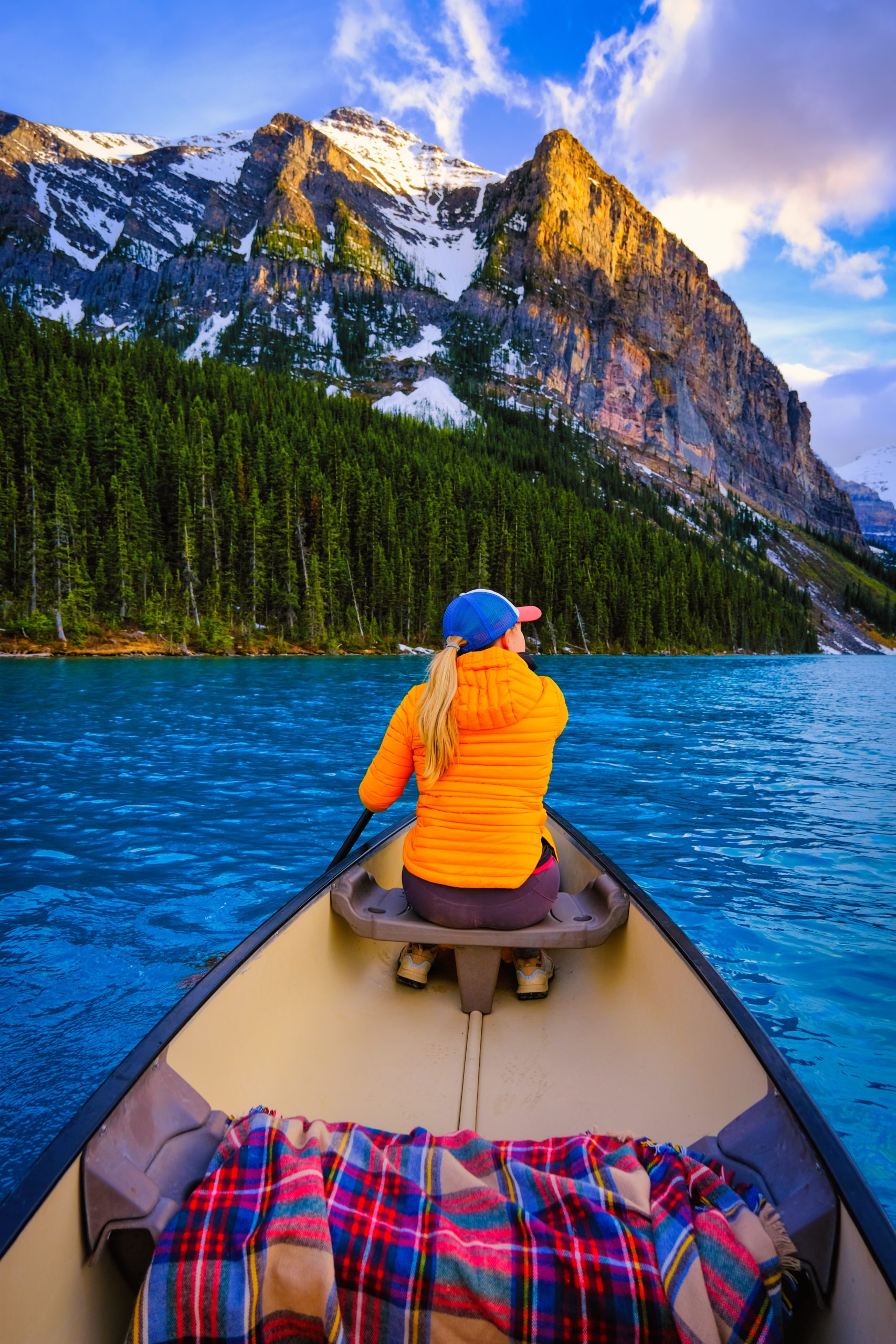 The ice on Lake Louise usually melts the first week of June. This is season-dependent, so it has occasionally thawed earlier and a little later. That being said, it's safe to assume the lake will be unfrozen by June.
---
When Does Lake Louise Freeze?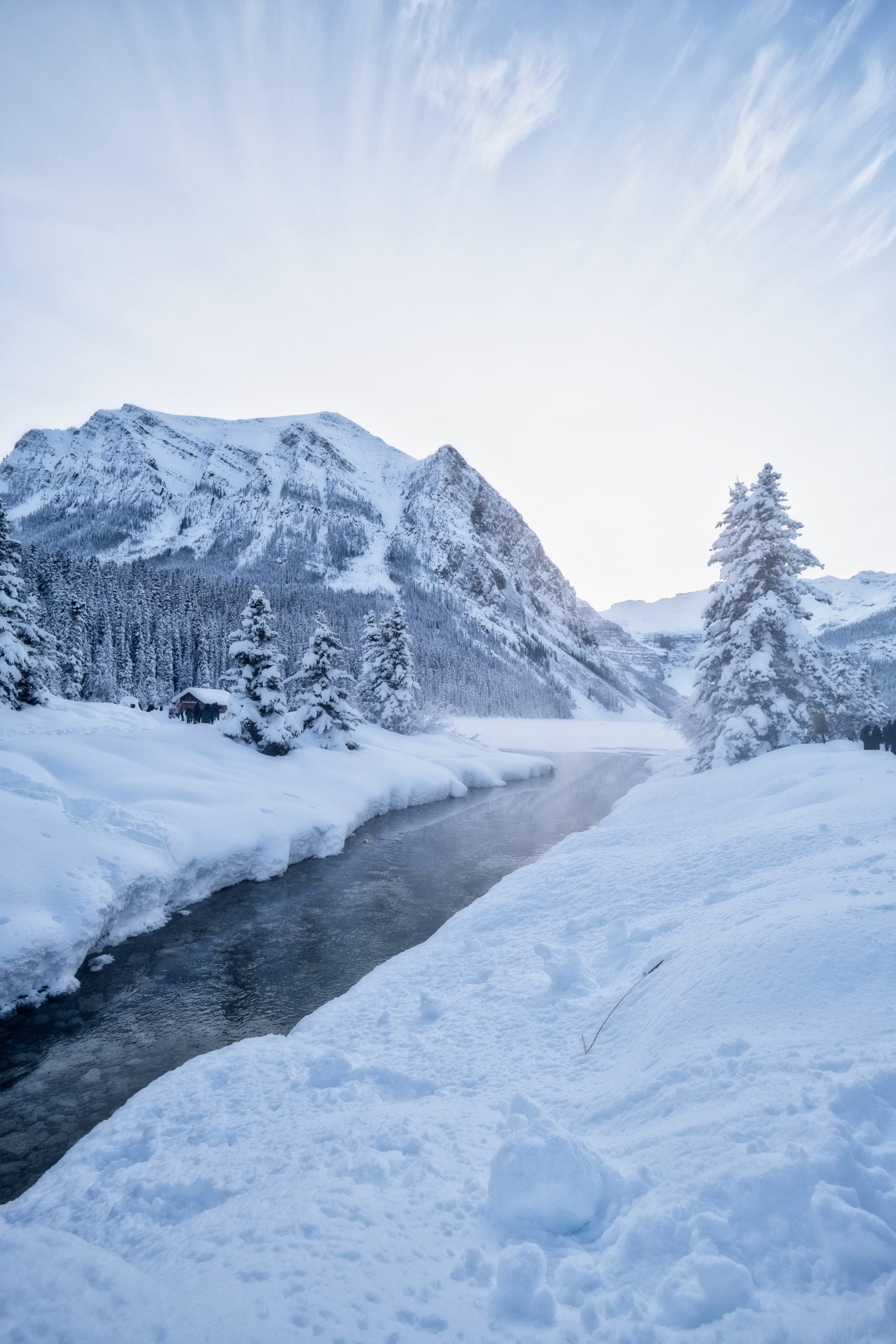 Lake Louise usually begins to freeze in November. The month of October usually brings heavy snowfall in the area, and the Lake Louise Ski Resort usually opens up the first week of November around the same time the lake freezes.
---
Lake Louise Hours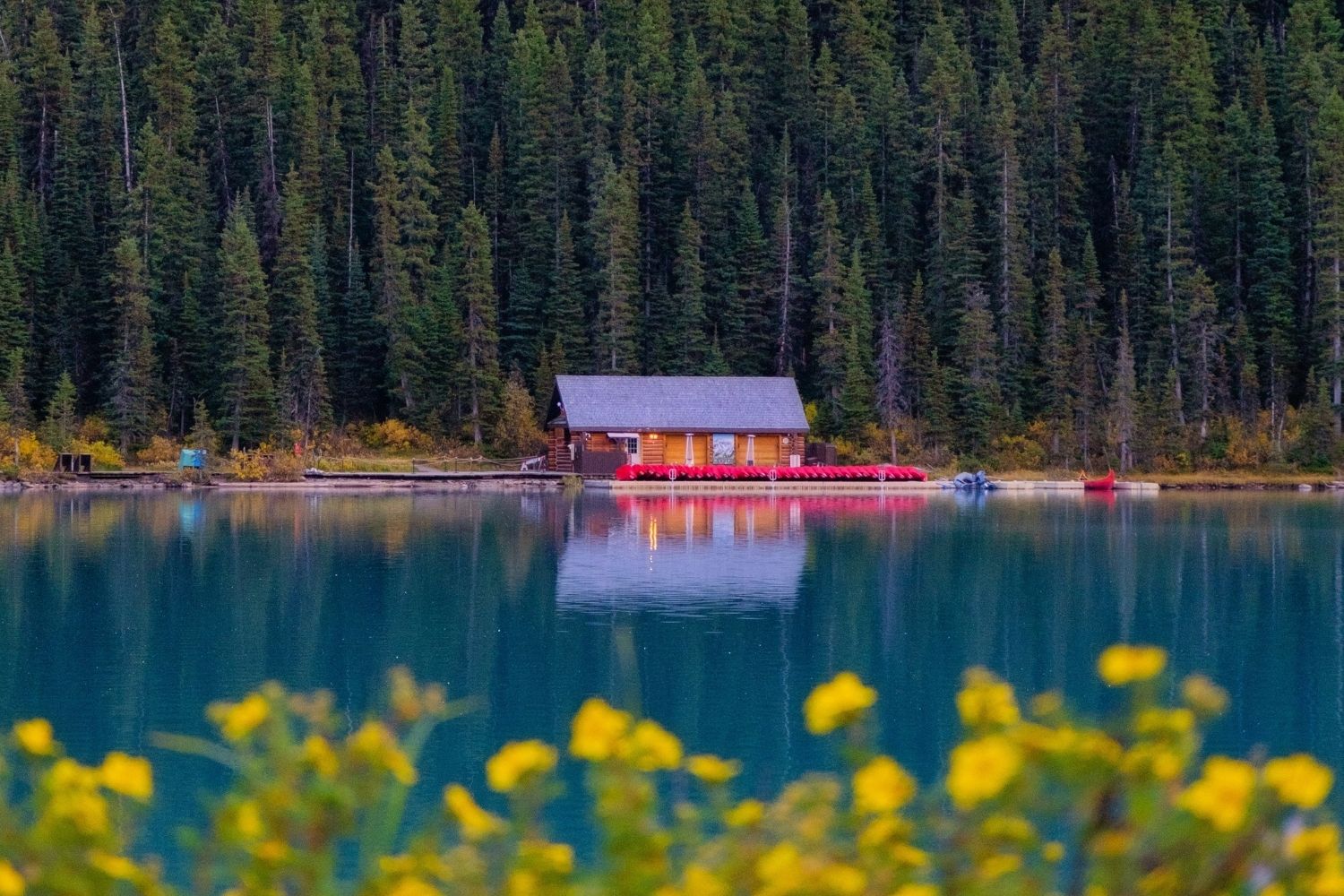 Lake Louise is a natural area in a National Park, so it is always "open." If you want to show up at midnight and stargaze, that is entirely possible. If you want to start hiking up Mount Fairview at 4am, that's possible too. The only thing that is prohibited is sleeping in the parking lot overnight. The only place to camp is the Lake Louise Campground.
---
What Time of Day Should I Visit Lake Louise?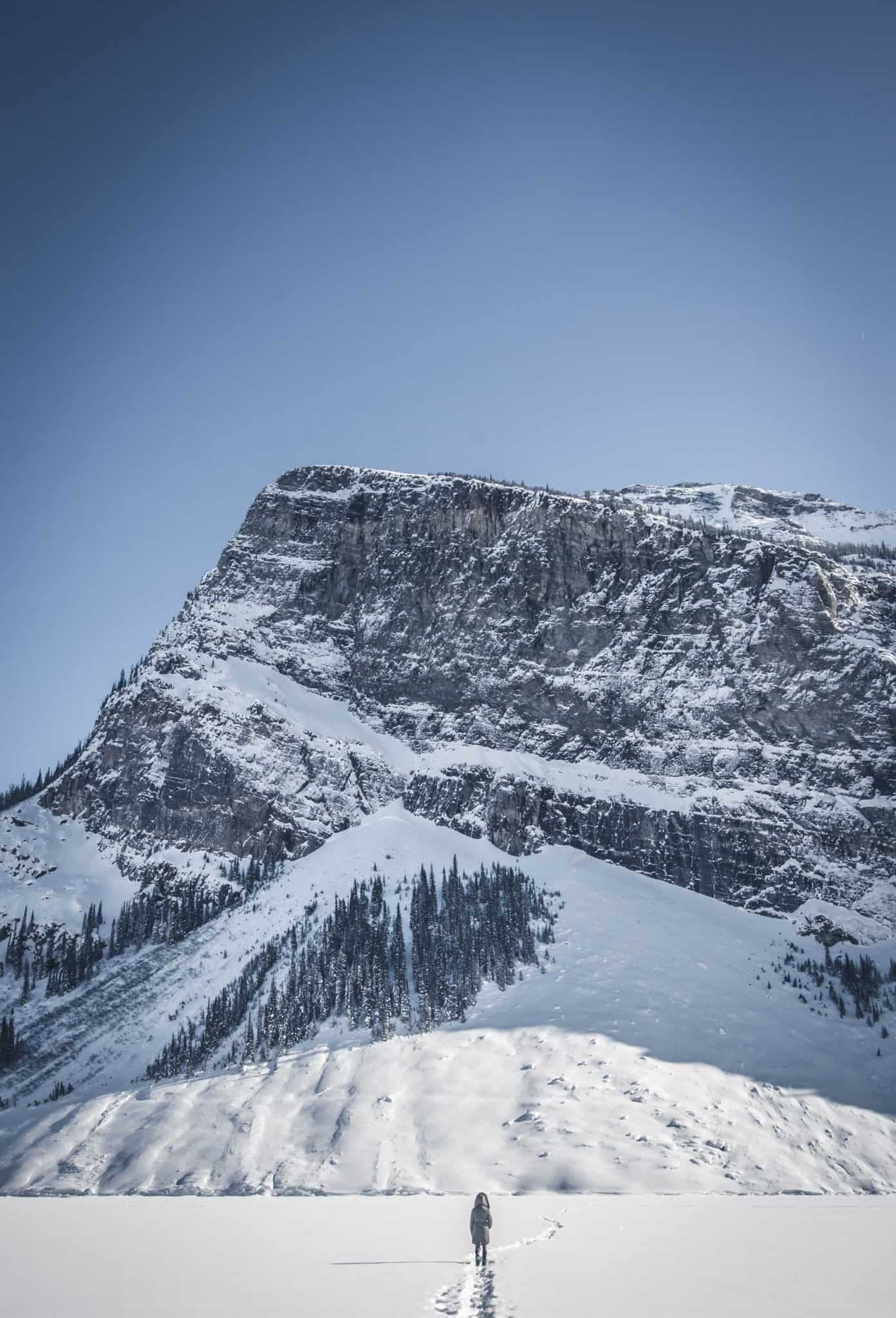 We're pretty sad to say that Lake Louise's beauty and popularity are also its downfalls. The demand to see the lake by almost every visitor to the park on a narrow mountain road with a limited parking lot means the lot fills up by 8 am on most days in the summer.
Don't fret too much if you don't feel like waking up before dawn to see the lake. Parks Canada has a bus service available from the Lake Louise Park and Ride lot at the Lake Louise Ski Resort. This is only 7km away (10 minute drive) from Lake Louise. The Park & Ride must be reserved in advance. You can see the full details of this process here.
You can also choose to stay at Fairmont Chateau Lake Louise on the lake, or many of the hotels in Lake Louise offer shuttles, so you don't have to deal with parking. As it gets late in the evening, the crowds do thin out, and you can usually get a parking spot in the evenings when everyone else is having dinner. We've never struggled to get parking at Lake Louise in the winter months.
---
Parking at Lake Louise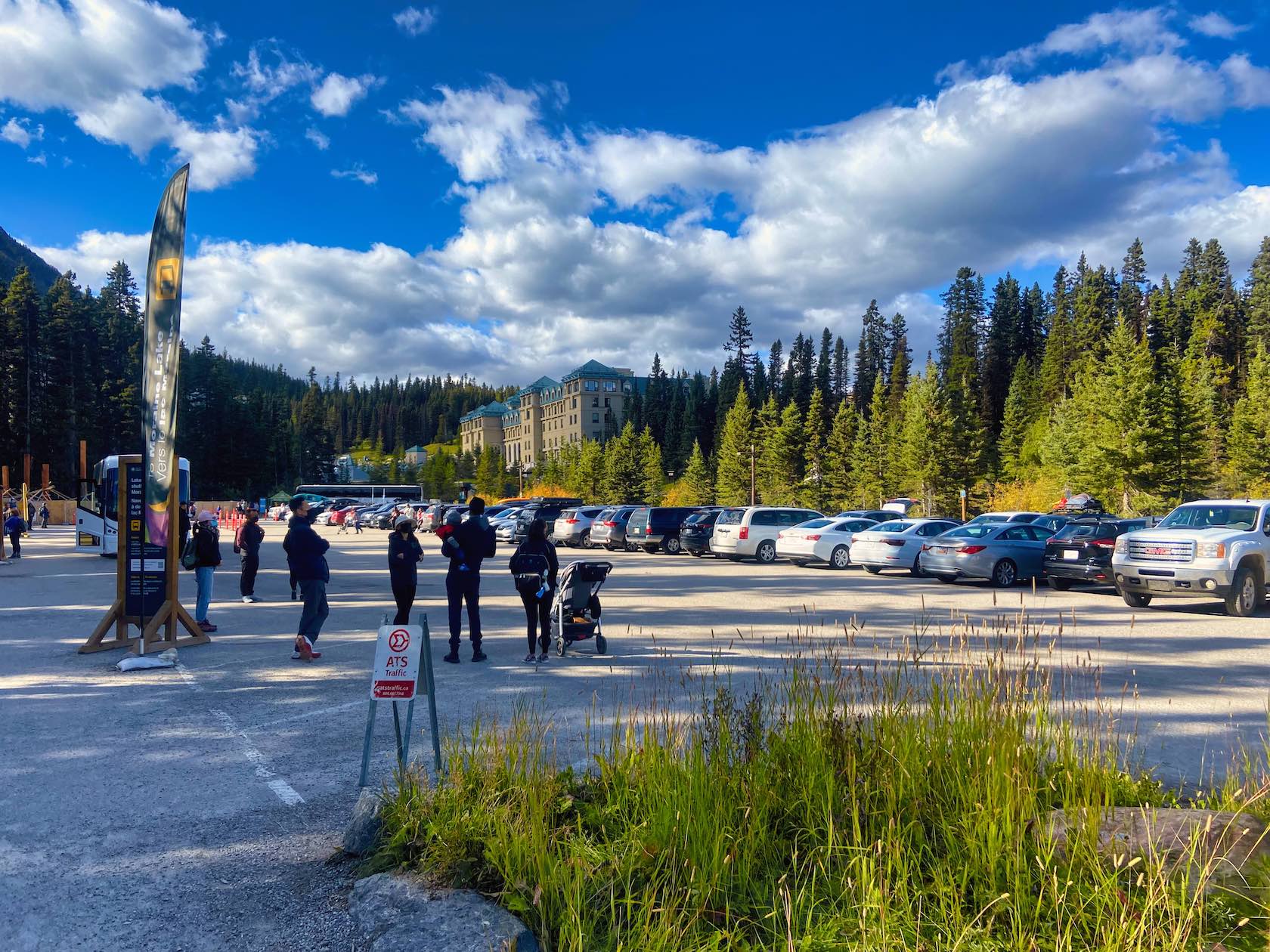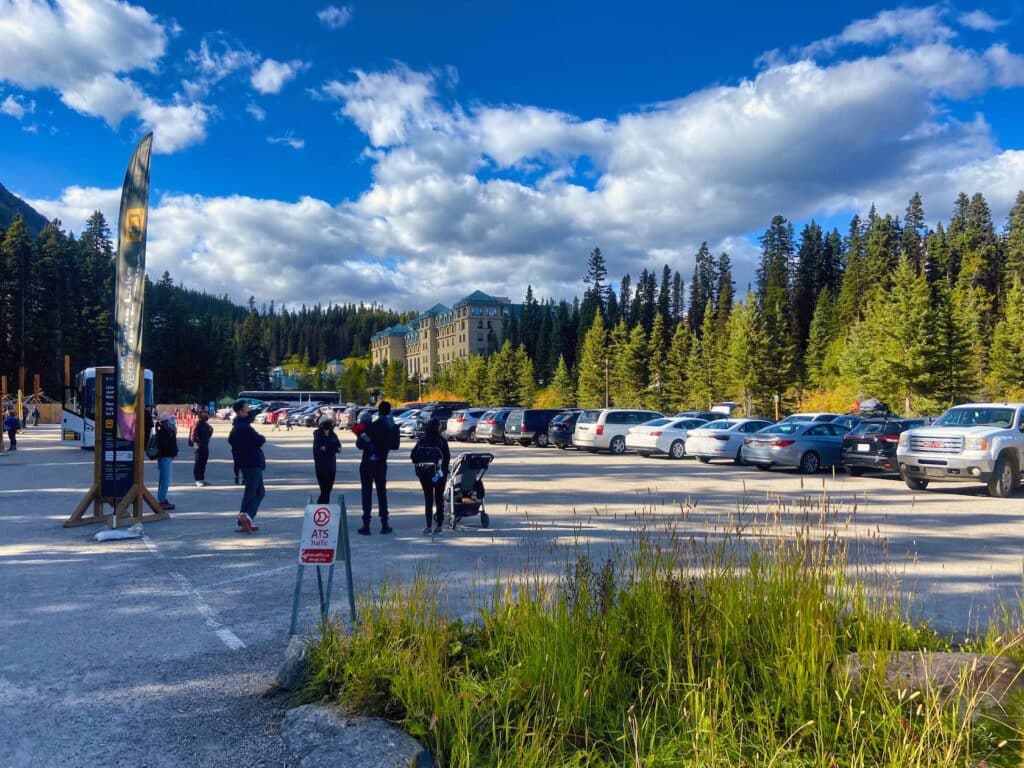 You have a few options for parking at Lake Louise, but there are really two viable options for most visitors. Obviously, if you're a hotel guest, you have that as an option. However, be forewarned the Fairmont charges an additional $30 per day for parking, although if you're paying their summer rates, it's unlikely to faze you.
Many of the other hotels in the village offer a shuttle, or you can take advantage of the public shuttle bus for those staying at the Lake Louise Campground.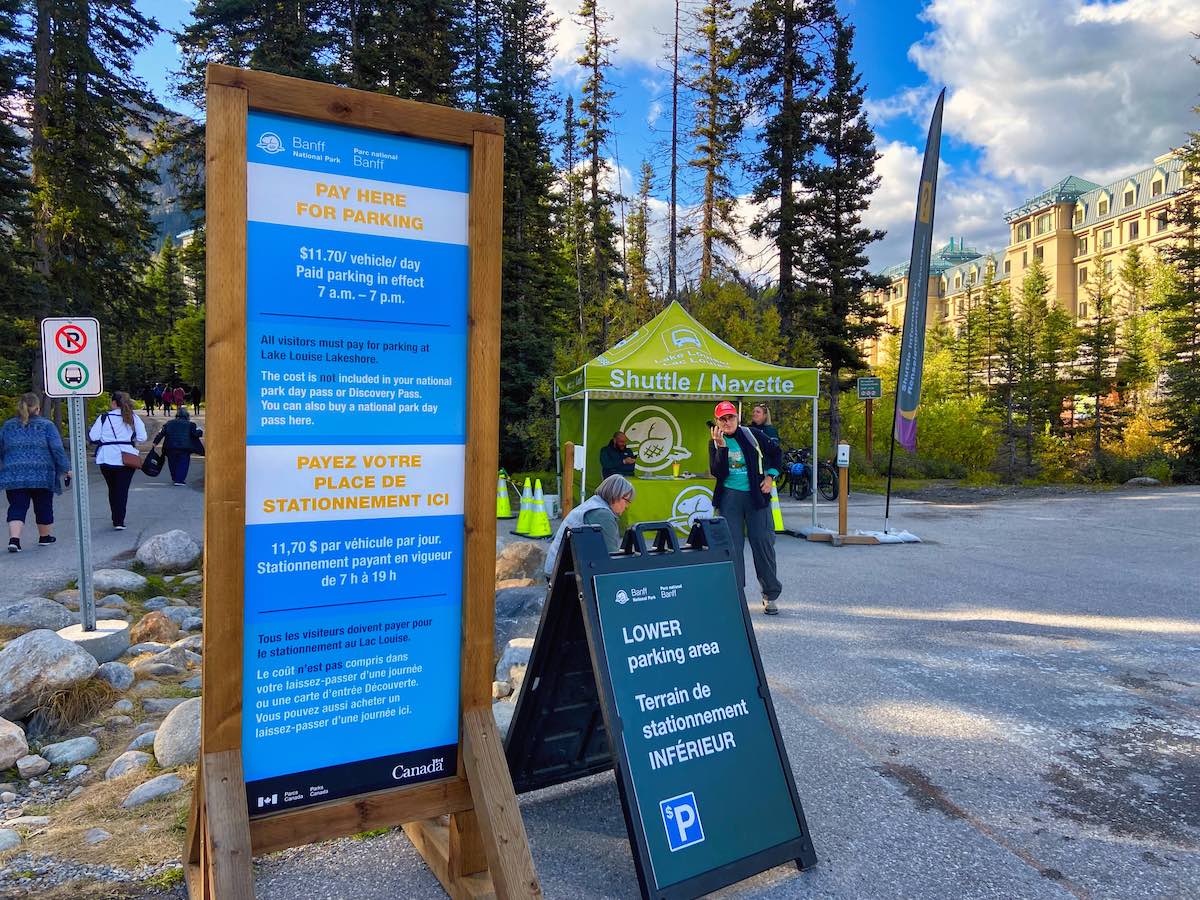 *New* Paid parking will be in effect for Lake Louise from 7am-7pm between mid-May and mid-October. This is in addition to your Parks Canada Pass needed for all of Banff National Park.
Look for pay stations when you arrive at Lake Louise; the fee is $21 per vehicle per day. You'll need to input your license plate number into the pay kiosk. You cannot park overnight at Lake Louise lakeshore.
Lake Louise Parking: Everything You Need to Know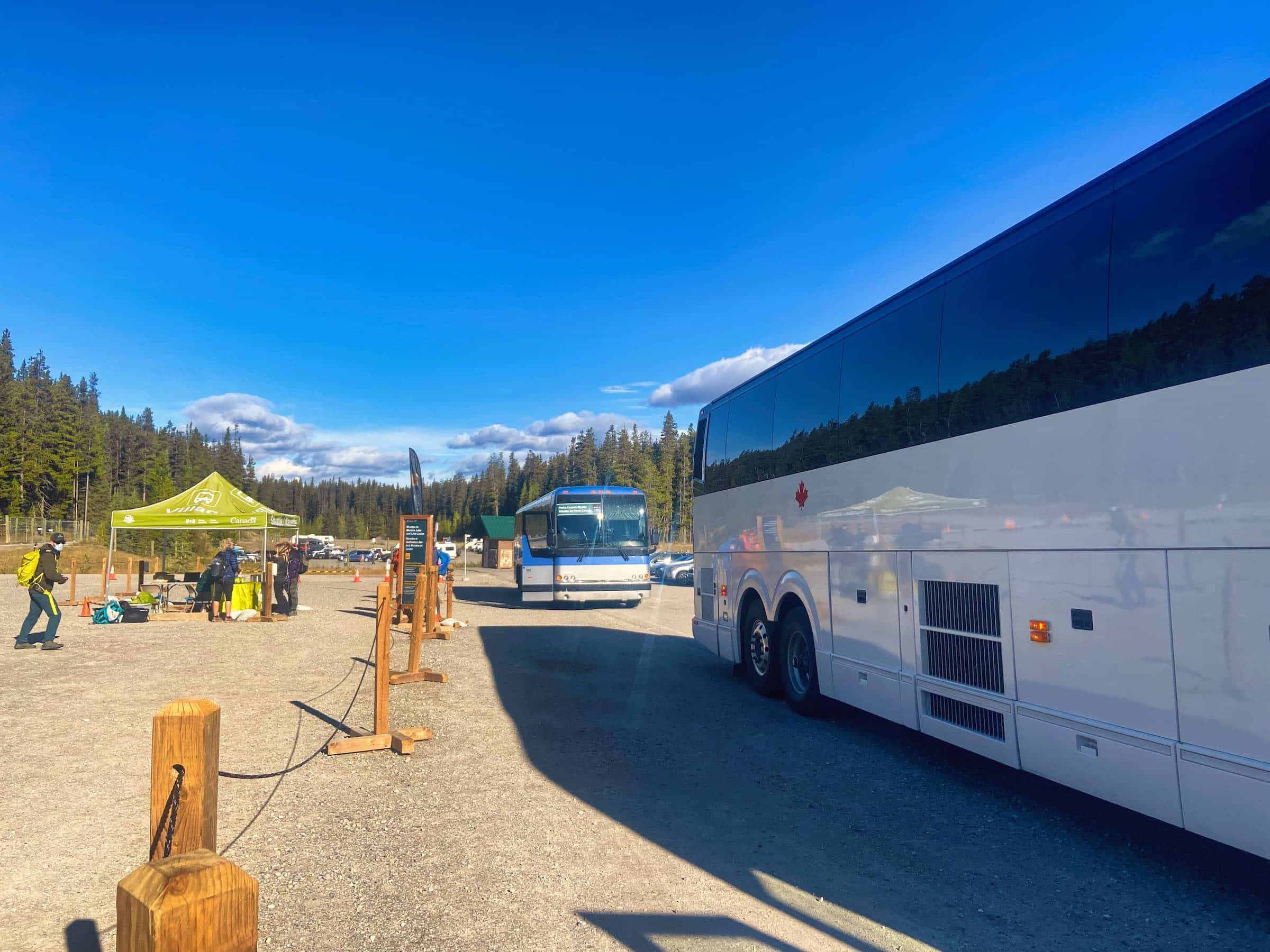 Also new is the need for a reservation if you intend to ride the summer shuttle to Lake Louise from the Lake Louise Park and Ride. Reservations open on May 4th, 2022 at 8am MST, on the Parks Canada website. This option guarantees you will get to Lake Louise, while the paid parking is on a first-come/first-serve basis.
Once at the Lake Louise Lakeshore, you can connect between Lake Louise and Moraine Lake on a first-come, first-serve basis via the Lake Connector shuttle (free with shuttle reservation); they run every 15 minutes.
There will also be a portion of seats released on a rolling basis for the Lake Louise shuttle, 48 hours prior to departure day at 8 am MST. Walk up seat sales are possible if there is space on the shuttle. You'll be able to book your seat reservation on the Parks Canada website.
Shuttle Prices (Return Fare)
Adult (18 to 64): $8
Senior (65+): $4
Youth (6 to 17): $2
Child (under 6 years) – free
Reservation Fee: $3
---
Can You Swim at Lake Louise?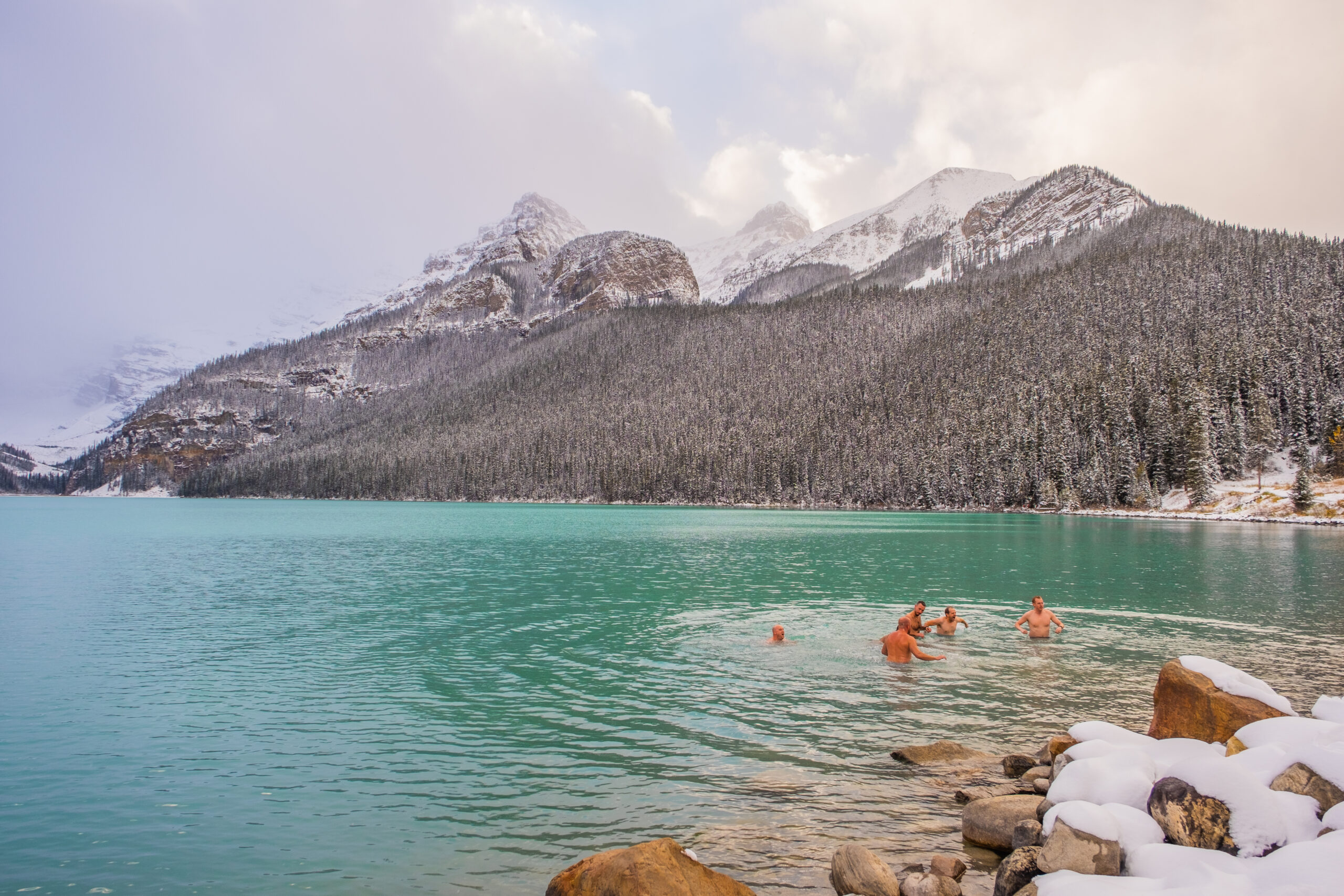 Technically yes, you can swim at Lake Louise, but it probably won't be for long. The water temperature rarely gets above 4°C, meaning you only have about 15 minutes or so until you become hypothermic. So the question should be, "Can you take a dip in Lake Louise?" Which absolutely you can if you feel like icing those bones!
---
Canoeing at Lake Louise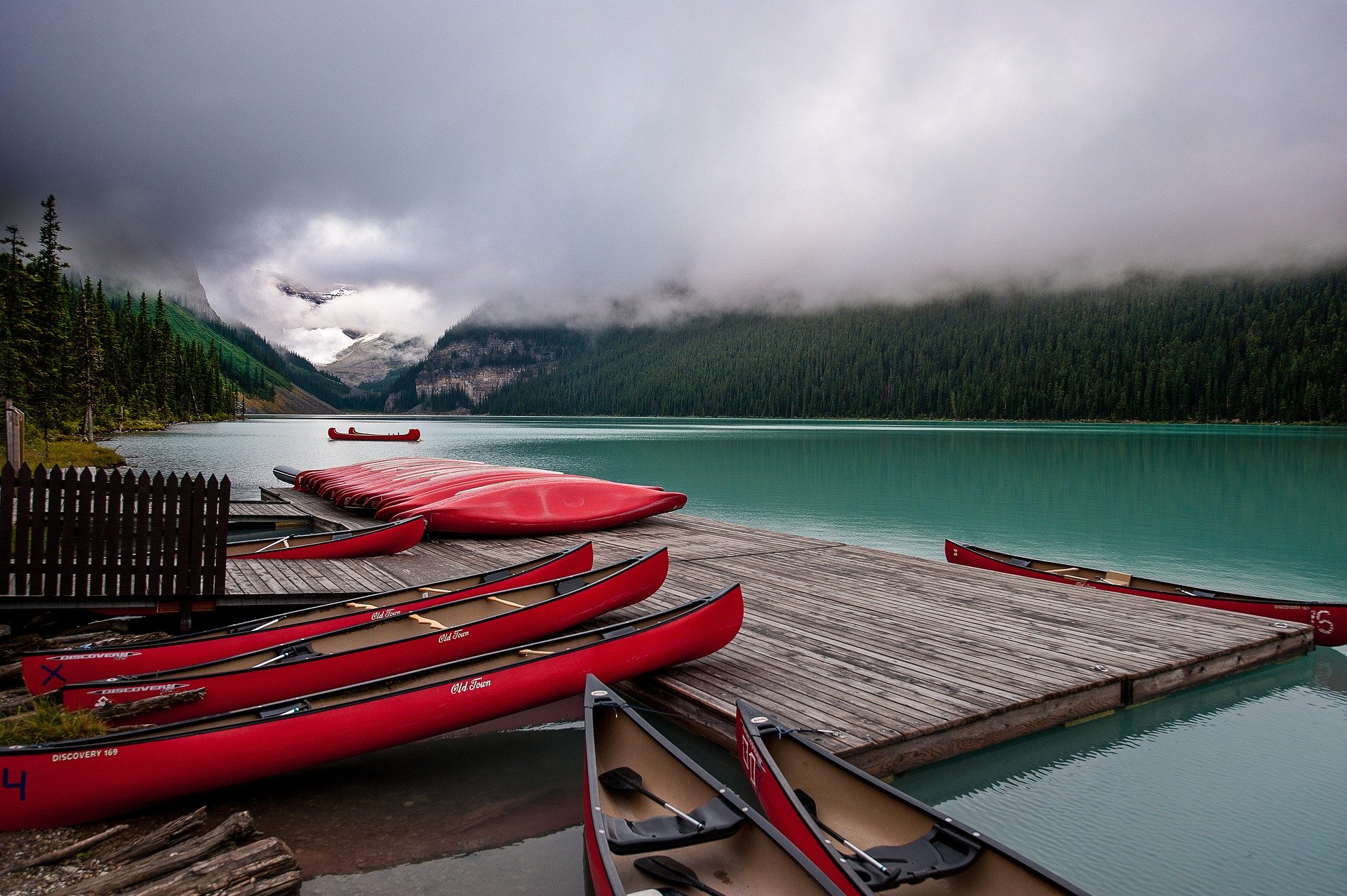 There is likely no more of a quintessential place to rent a canoe in Banff than Lake Louise. It's one of the most spectacular scenes in the world. It's tough to find a more stunning scene to paddle through as you look out to Mount Victoria and the hanging Victoria glacier. There is no need for fancy edits on your photographs the water in Lake Louise, like Moraine Lake, is truly that radiant turquoise blue.
You can pick up canoe rentals at the Lake Louise boathouse because even if you have your own, you'd have to arrive very early in the morning to secure a close parking spot to carry the canoe to the lakeshore.
| Fairmont Lake Louise Boathouse | Price |
| --- | --- |
| Canoe Rental For Public | $155 per hour / $145 per half hour (+tax) |
| Canoe Rental For Hotel Guests | $95 per hour / $85 per half hour (+tax) |
| Voyageur Canoe Experience For Hotel Guests | $60 per adult / $30 for youth |
| Voyageur Canoe Experience For Non Hotel Guests | $75 per adult / $40 for youth |
2023 HOURS OF OPERATION:
Friday, June 23 – Onwards: 8:30 a.m. – 9:00 p.m.* (last boat out at 8:00 p.m.)
---
Can you bring a private canoe, kayak, or SUP to Lake Louise?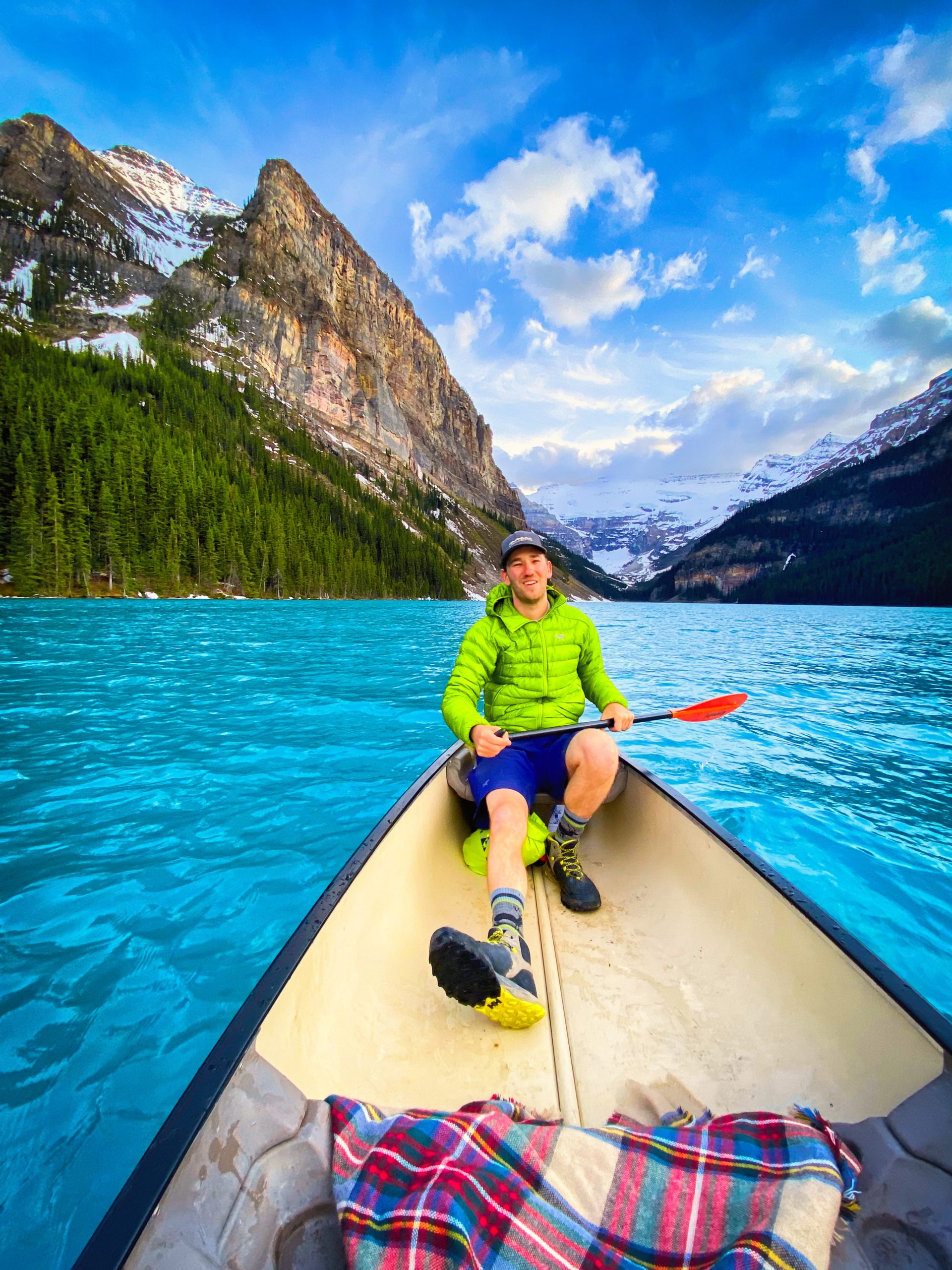 Visitors can bring their own personal watercraft to any lakes or rivers within Banff National Park. The tricky part with Lake Louise is acquiring a parking spot to carry you canoe or kayak from and then launching from the lakeshore in the crowds, but it can be done if you time it correctly! We have and have found there's a nice spot to launch a canoe from right after you cross the bridge, to the left, right before you walk past the hotel.
Of course, you can get inflatable SUPs which would make it easier.
Keep in mind, to prevent the spread of Aquatic invasive species visitors must now fill out a Self Certification Permit with Parks Canada for any nonmotorized watercraft entering the water. This includes kayaks, canoes, and paddleboards. The Self Certification Permits and full rules can be found online.
---
Lake Louise Tours
If you don't want to deal with the headache of parking or dealing with the shuttles there are a few tours that operate at Lake Louise. Many of these also include Moraine Lake, which is great if you are dying to see both lakes (which you likely are!)
---
The Best Hikes Around Lake Louise
---
These are some recommended hikes around Lake Louise. I've ranked them in difficulty.
Fairview Lookout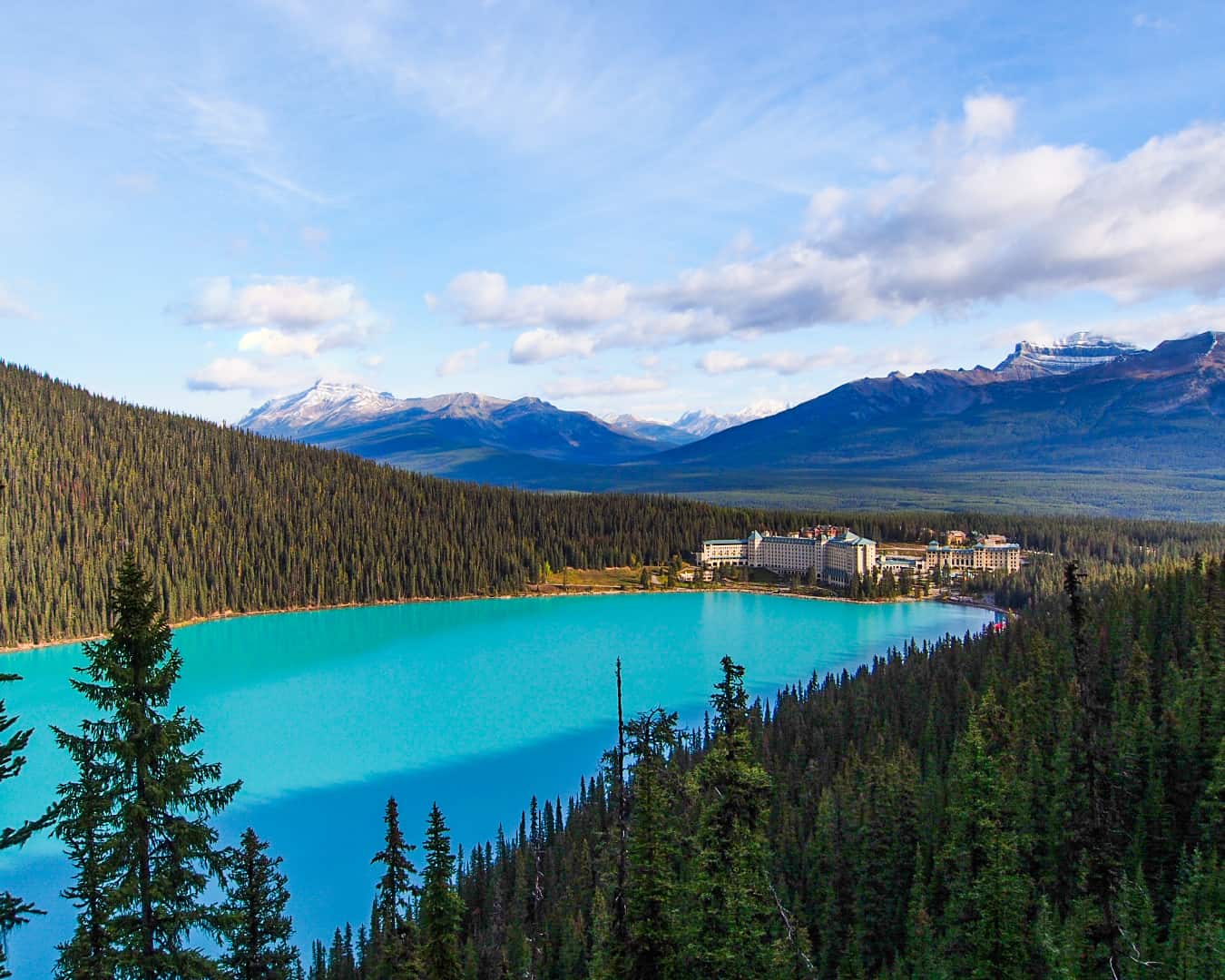 Length: 2.4 km
Duration: 1 hour
Elevation Gain: 165 meters
Difficulty: Easy/Moderate
Best Time To Go: Year Round
Gear Needed: Hiking Shoes, Water, Bear Spray
The Fairview Lookout trail is a short, sweet hike that provides excellent views over Lake Louise from some elevation. It's quieter and less strenuous than the classic Lake Agnes Teahouse hike below, so it's a good option if you're not up the elevation gain required for Lake Anges or just want a quick jaunt in the area.
An excellent platform also provides views back out to the impressive and historic Chateau Lake Louise Hotel. Don't expect the view on the way up as it's forested, but the lookout platform from the top is a lovely view worth the effort.
---
Lake Agnes Teahouse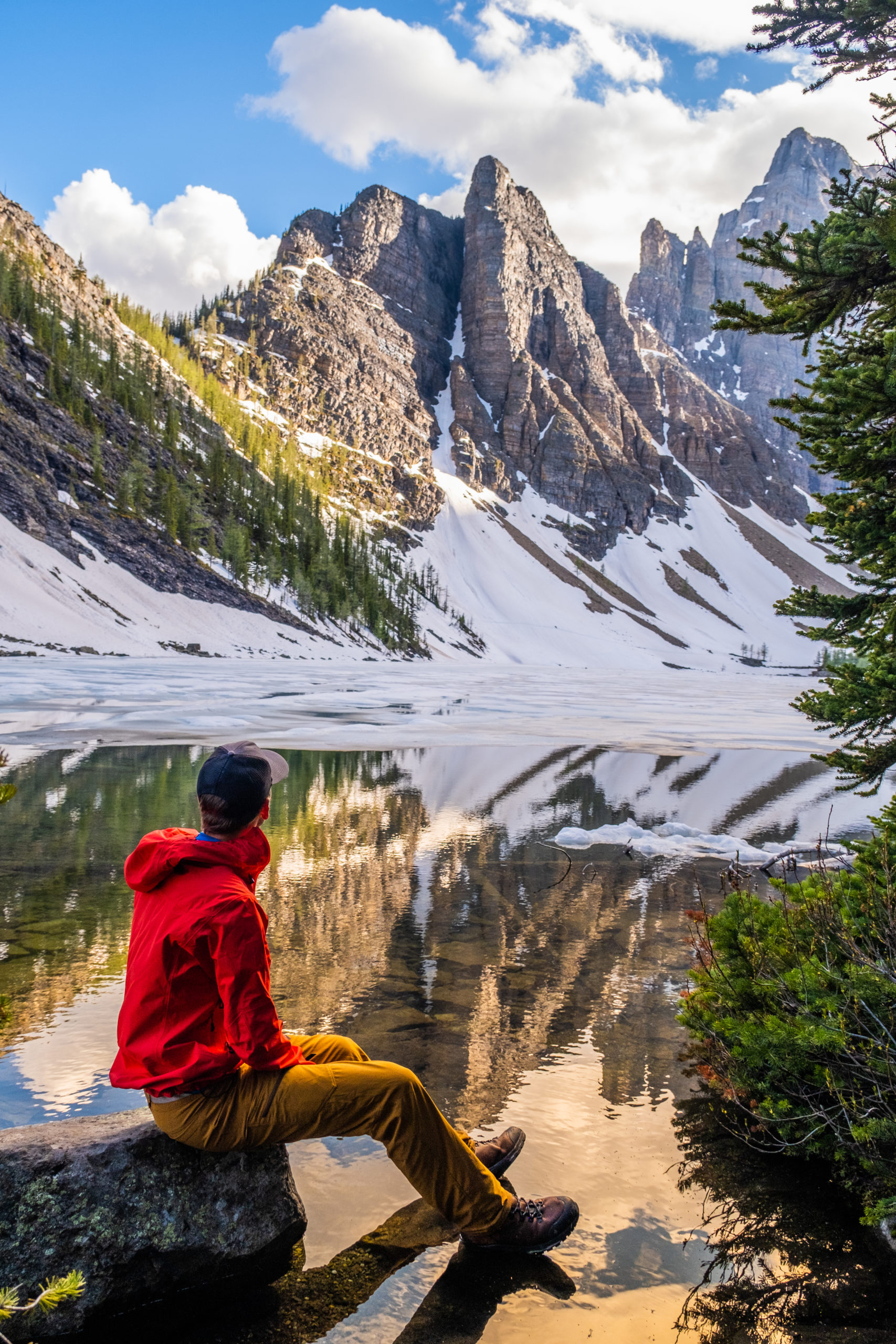 Length: 7.6 km
Duration: 2 – 3 hours
Elevation Gain: 433 meters
Difficulty: Easy/Moderate
Best Time To Go: June-October
The Lake Agnes Teahouse hike is a popular thing to do in Banff for visitors to Lake Louise. It's also one of the most iconic and popular hikes in Banff National Park and has been enjoyed by visitors for well over a century. It ends at the Lake Agnes Teahouse, serving visitors since 1905, when it first opened. A rustic old cabin that sits along the banks of Lake Agnes and over a rushing waterfall.
Its popularity is perhaps its only downfall as the teahouse can attract a crowd in the summer months with a line out the door. Nevertheless it is a classic and ends at the lovely Lake Agnes, the perfect spot for lunch. This is an easy to moderate hike above Lake Louise that is suitable for all visitors to Banff.
This easy hike can be done in under two hours and is an iconic thing to do in Banff. However, be warned it is a busy one! To escape the crowds (and get better views), keep climbing to the Big or Little Beehive.
---
The Plain of Six Glaciers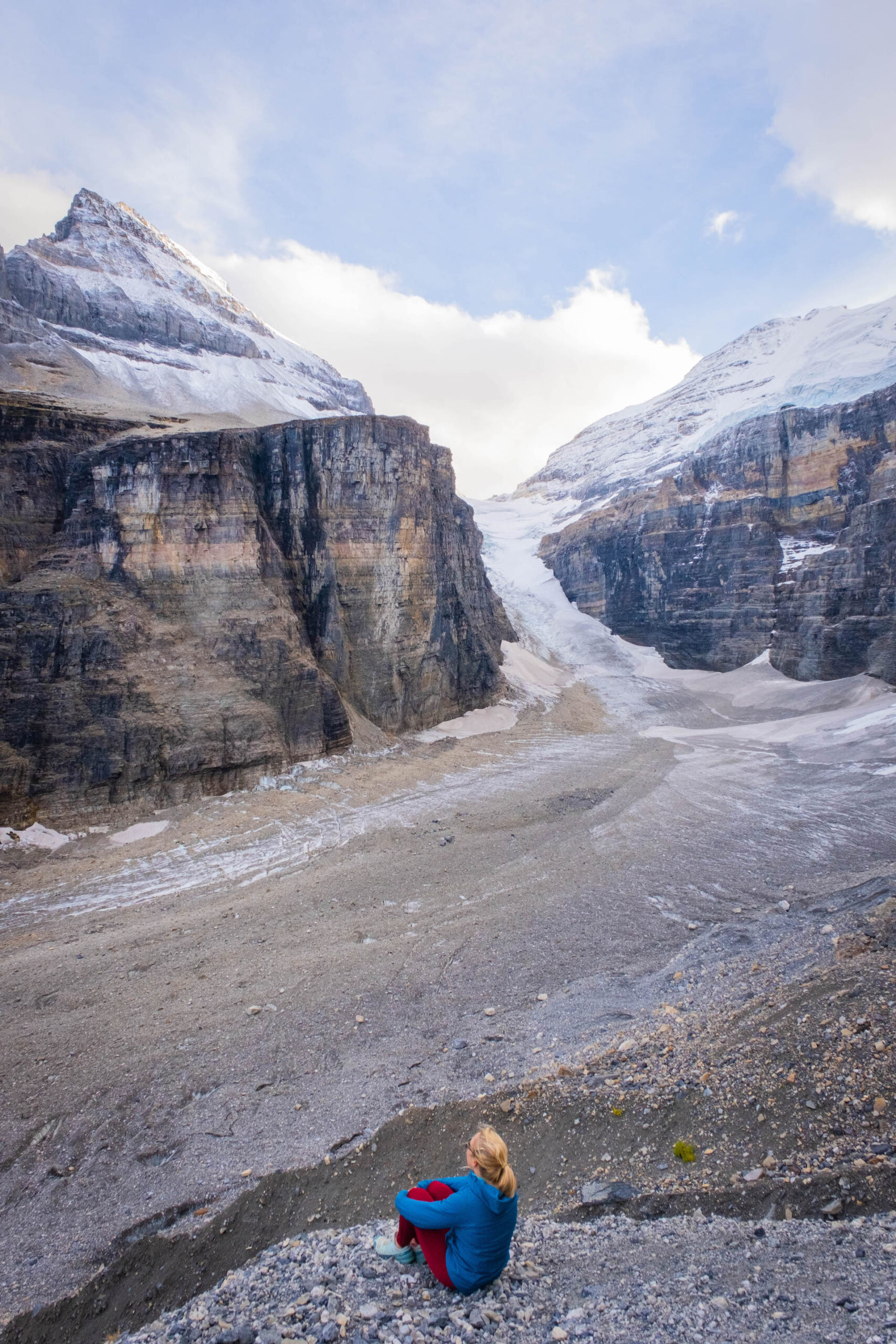 Length: 13.8 km
Duration: 3 – 5 hours
Elevation Gain: 587 meters
Difficulty: Moderate
Best Time To Go: June – October
This incredible hike starts out strong with a walk along Lake Louise and finishes in an open plain of glaciers. To sweeten the deal, the historic Plain of Six Glaciers teahouse is there to reward hikers with a cup of tea or a fresh-baked goodie. It's a stunner of a hike with a whole bunch of reward vs. effort.
At one point, this massive valley was the convergence of six glaciers that have all since retreated due to warming temperatures. All that is left now is the monstrous debris field that will leave hikers in all of their earth-shaping capability. It's also possible to combine this hike with the Lake Agnes / Big Beehive hike for an incredible day in the mountains.
---
The Little Beehive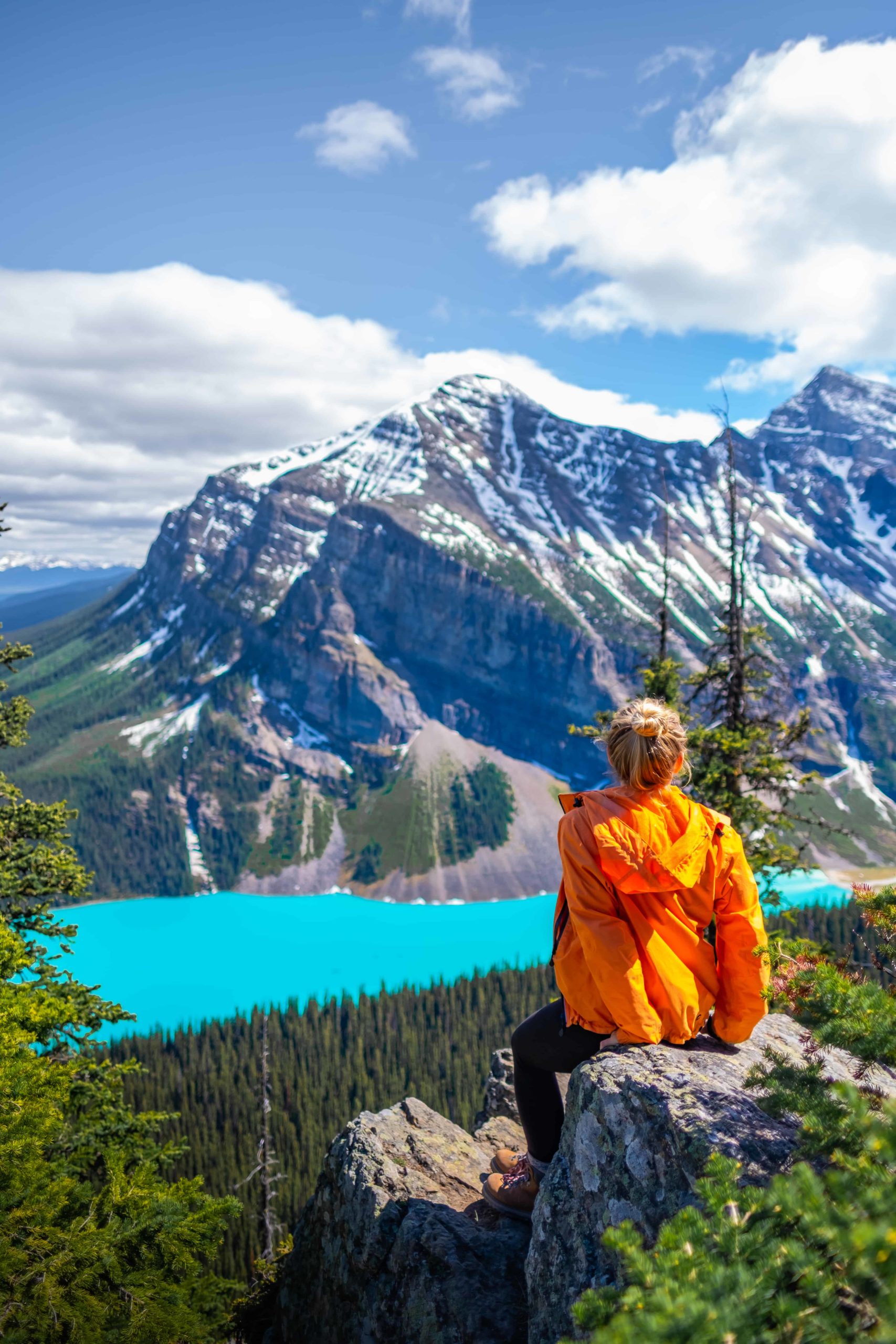 Length: 9.0 km
Duration: 2 – 4 hours
Elevation Gain: 535 meters
Difficulty: Moderate
Best Time To Go: June – October
From Lake Agnes, you have two popular additions to continue your hike and gain some of the best views of Lake Louise from above. The Little Beehive, despite its name, is not much smaller than the Big Beehive, so I wouldn't base the two hikes on difficulty. That being said, the Little Beehive is slightly easier.
The real difference lies in how busy and the view from these two hikes. The Little Beehive sees fewer hikers and offers views over Lake Agnes and Lake Louise, along with Mount Whyte and Mount Niblock. It's a really nice hike, and I'd recommend it for anyone with the energy to escape the crowds at the Lake Agnes Teahouse.
---
The Big Beehive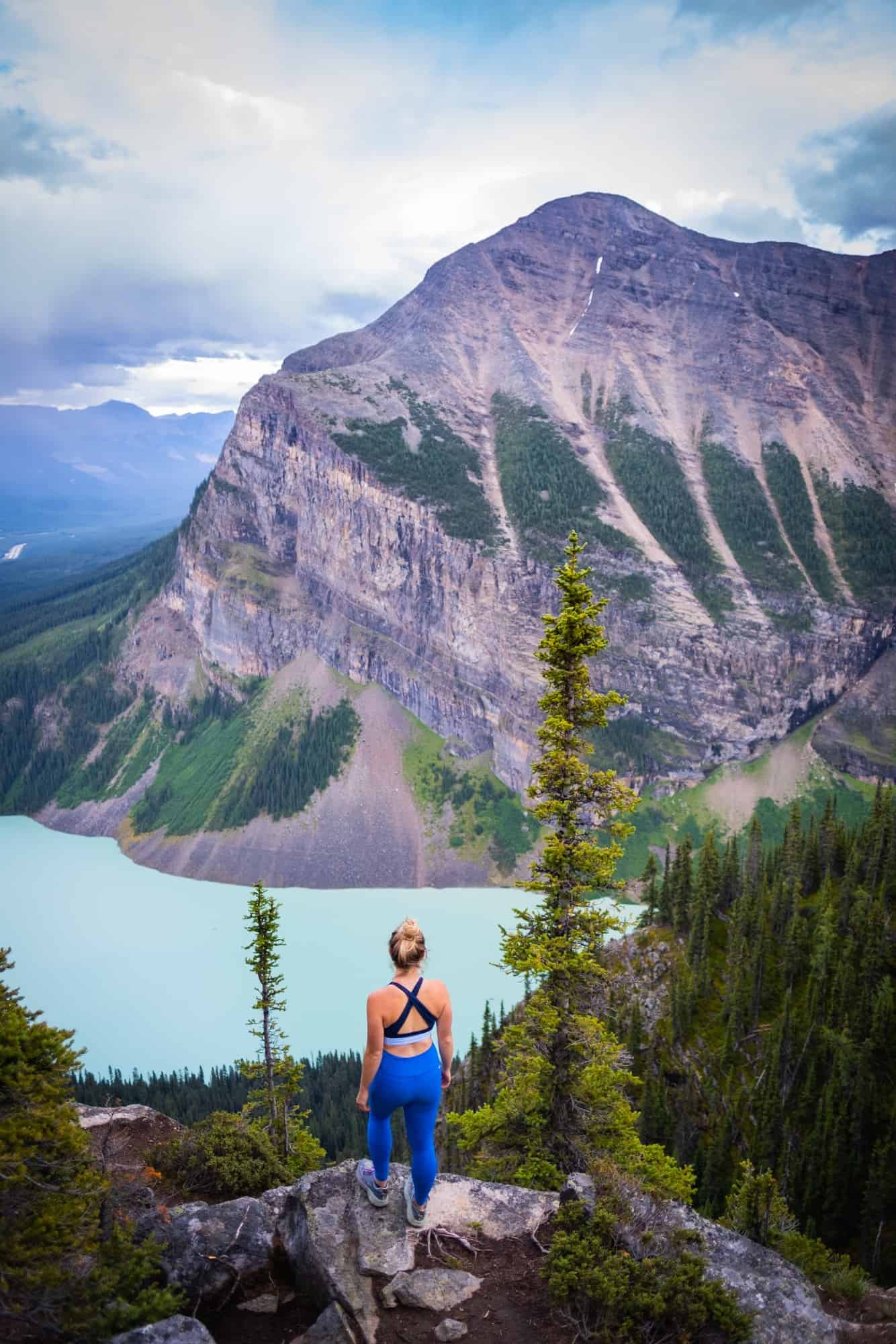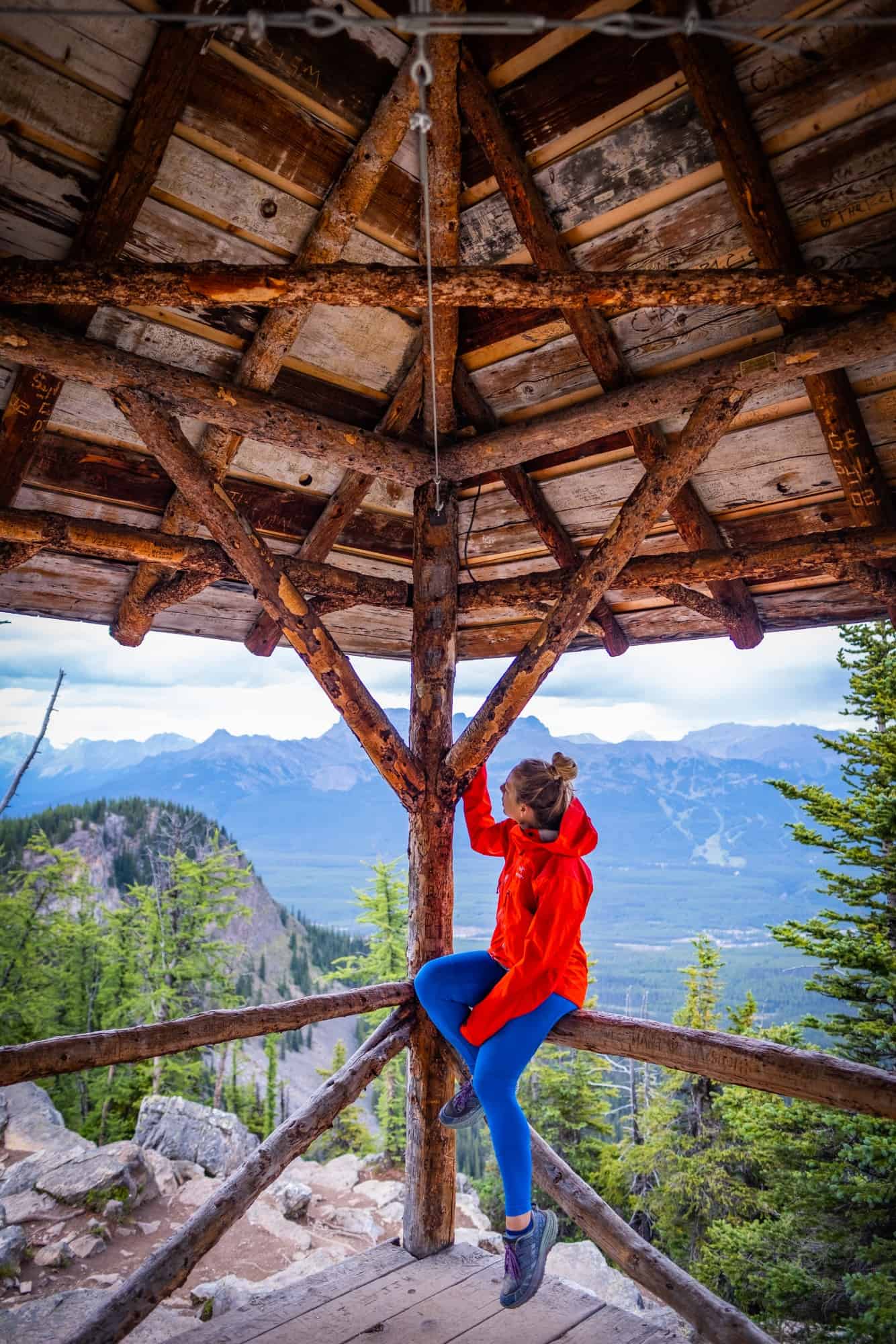 Length: 10.3 km
Duration: 2 – 4 hours
Elevation Gain: 647 meters
Difficulty: Moderate
Best Time To Go: June – October
The Big Beehive is a classic addition to the Lake Agnes Teahouse trek and well worth the effort, much like The Little Beehive. The trail to the Big Beehive extends past Lake Agnes and then climbs a ridge through a series of switchbacks to reach the top of the Big Beehive.
From there, you have terrific views over Lake Louise as it's closer to the Lake than the Little Beehive. It's also the most popular photo spot of Lake Louise for social media, similar to the rocks as Peyto Lake. If you want a fantastic day out I would suggest the Beehive Circuit which is Lake Agnes, Little Big Beehive, and the Big Beehive.
---
Mount Saint Piran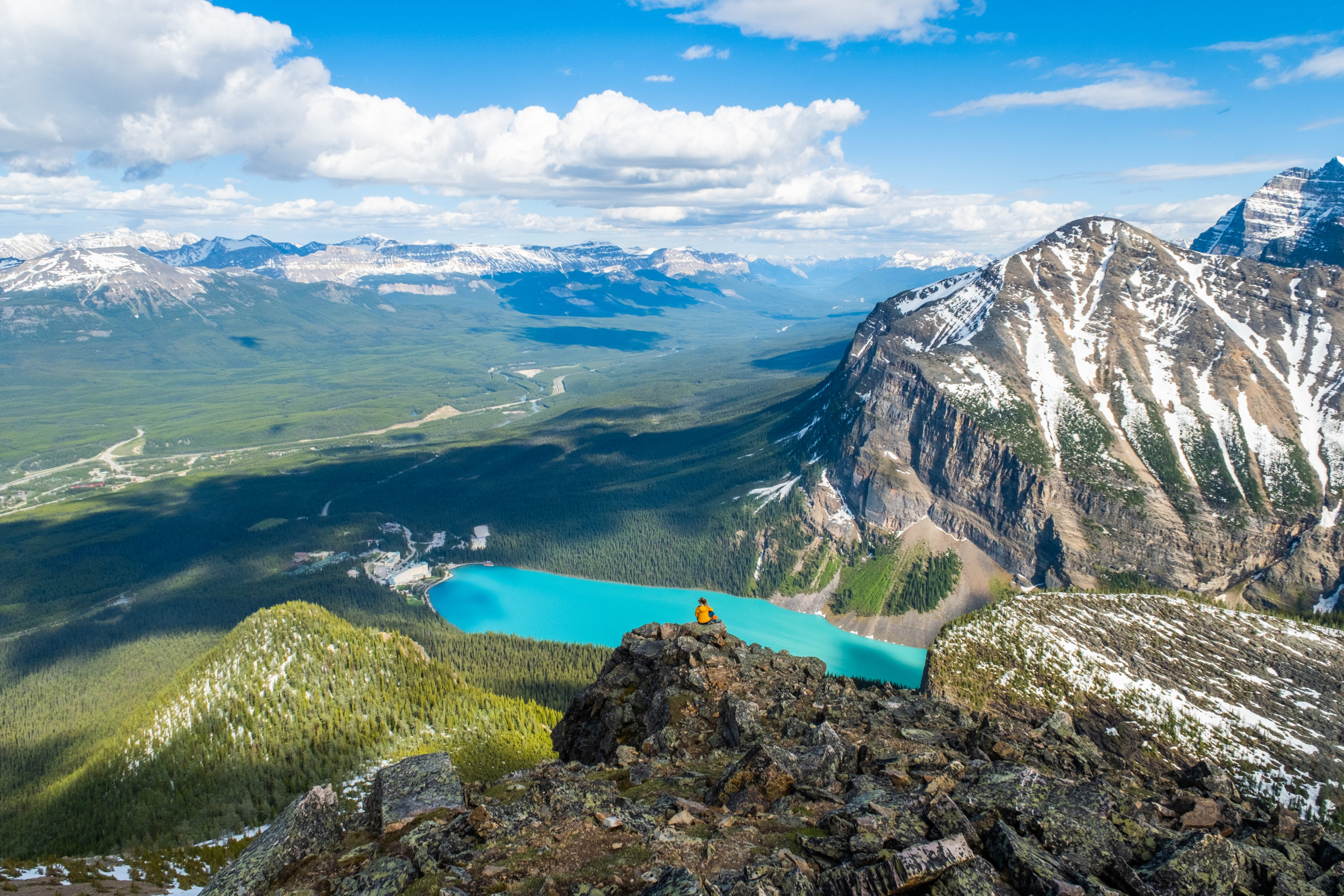 Length: 12.2 km
Duration: 3 – 6 hours
Elevation Gain: 918 meters
Difficulty: Difficult
Best Time To Go: June – October
If you want to continue on even further past Lake Agnes and the Little Beehive, head for the summit of Mount Saint Piran. The trail follows along the Little Beehive trail until it veers off 400m from the summit of the Little Beehive. You follow a signed path through the thinning forest until you reach the alpine out of the tree line.
From there, it's a beaten path or cairns through rock fields and scree. It's not a technical challenge, but it does require some solid physical stamina. Once you reach, its summit though, you're rewarded with some stellar views over the area as you can see the Waputik Icefield to the North. It's a sharp departure from the busy throngs of crowds down at Lake Louise as only a few complete the hike. You also get to claim you summited another peak in the Canadian Rockies.
---
Mount Fairview & Saddleback Pass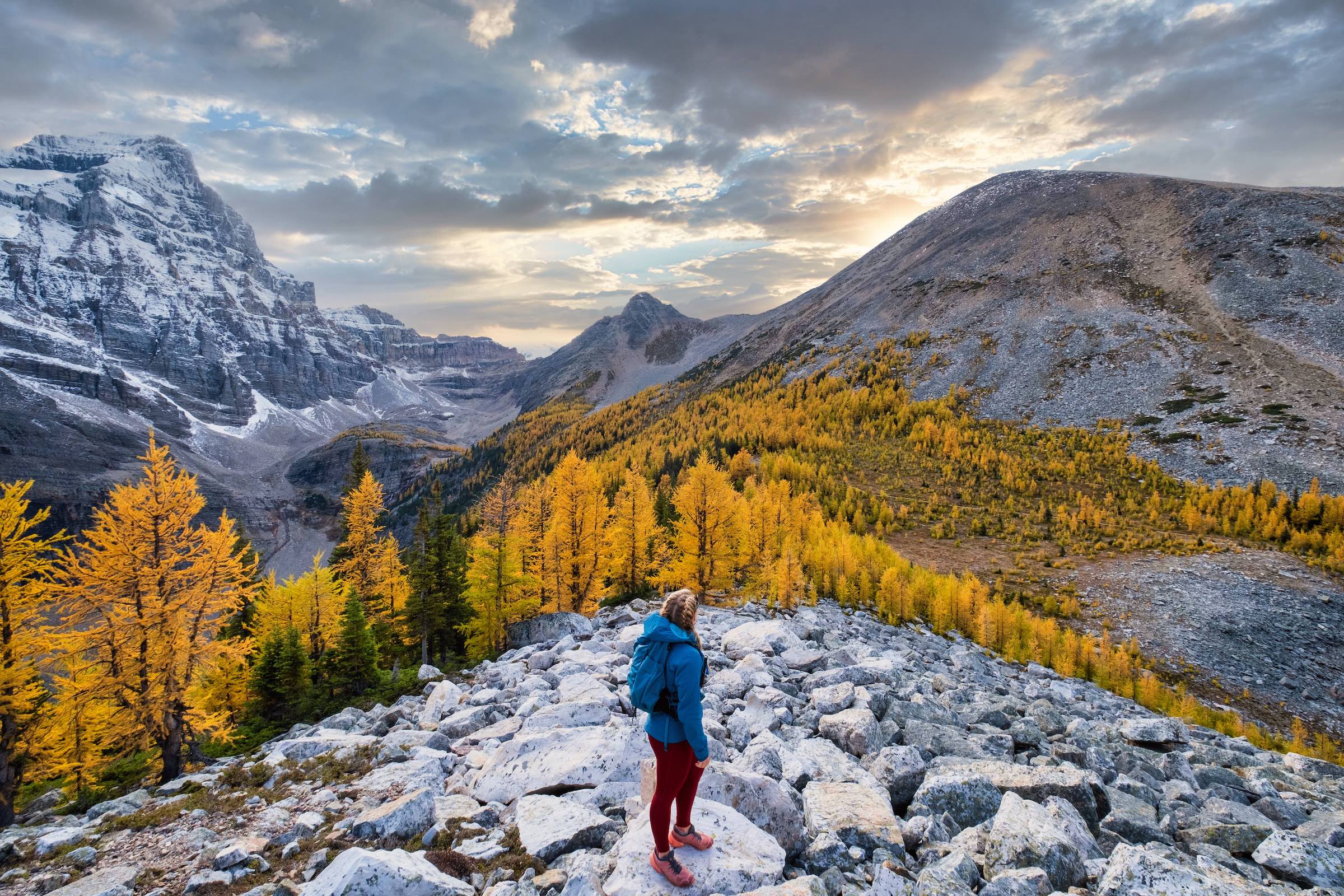 Length: 9.2 km
Duration: 3 – 6 hours
Elevation Gain: 1012 meters.
Difficulty: Difficult
Best Time To Go: June – October (Late September for Larch Season)
This is a really great day out in the mountains for active hikers and a real gem in the Lake Louise area. You're guaranteed stunning views on a quiet trail and if it's late September, this is one of the best Alberta larch hikes. The trail leaves from Lake Louise and heads up to Paradise Valley, onto Saddleback Pass, before the summit of Fairview Mountain.
You'll be surrounded by staggering peaks, larch trees, gain a high mountain pass, and summit a mountain that rewards you with stunning views of Lake Louise down below. Altogether, it's probably one of the best Lake Louise hikes.
I wouldn't let Fairview or St Piran detract anyone from attempting the hikes. They're really not that difficult for anyone with decent fitness and adequately prepared with some snacks/lunch, water, and proper clothing. It gets cold on the mount summits all year round. When we summited in August, it was freezing at elevation.
This hike is also a tremendous one in the larch season as the valley is full of larch trees. A great alternative, although still busy, to the famous Sentinel Pass hike. Plus the mountain is photographed by almost every visitor to Lake Louise, which makes it a nice one to cross off the list and say "I climbed that."
---
Scrambles Around Lake Louise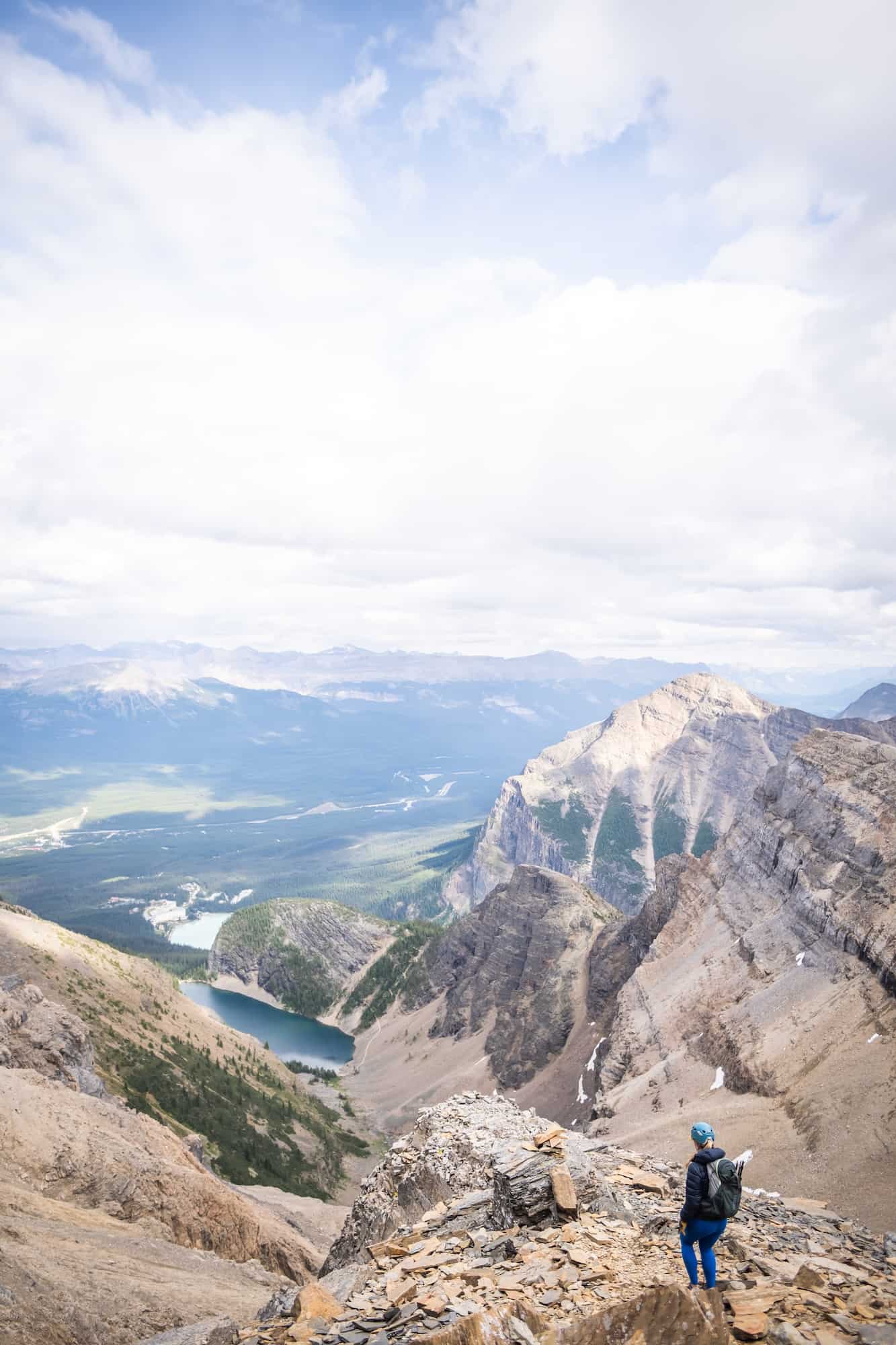 This is for experienced hikers and people who have spent their fair share of time in the outdoors. These scrambles occur in very serious mountains with real hazards that can result in death. Every year tourists are evacuated by Search and Rescue on one if not all of these hikes/routes.
If you plan to tackle any of these, please plan accordingly and be prepared for the elements — also wear a helmet. The most approachable is The Devil's Thumb, and it's popular with tourists looking for a thrill. However, the other mountains see maybe one or two summits a day by experienced climbers in the
Mount Niblock
Mount Whyte
---
What to Wear Hiking in the Rockies
What To Wear Hiking in The Canadian Rockies
---
Lake Louise Lodge Accommodation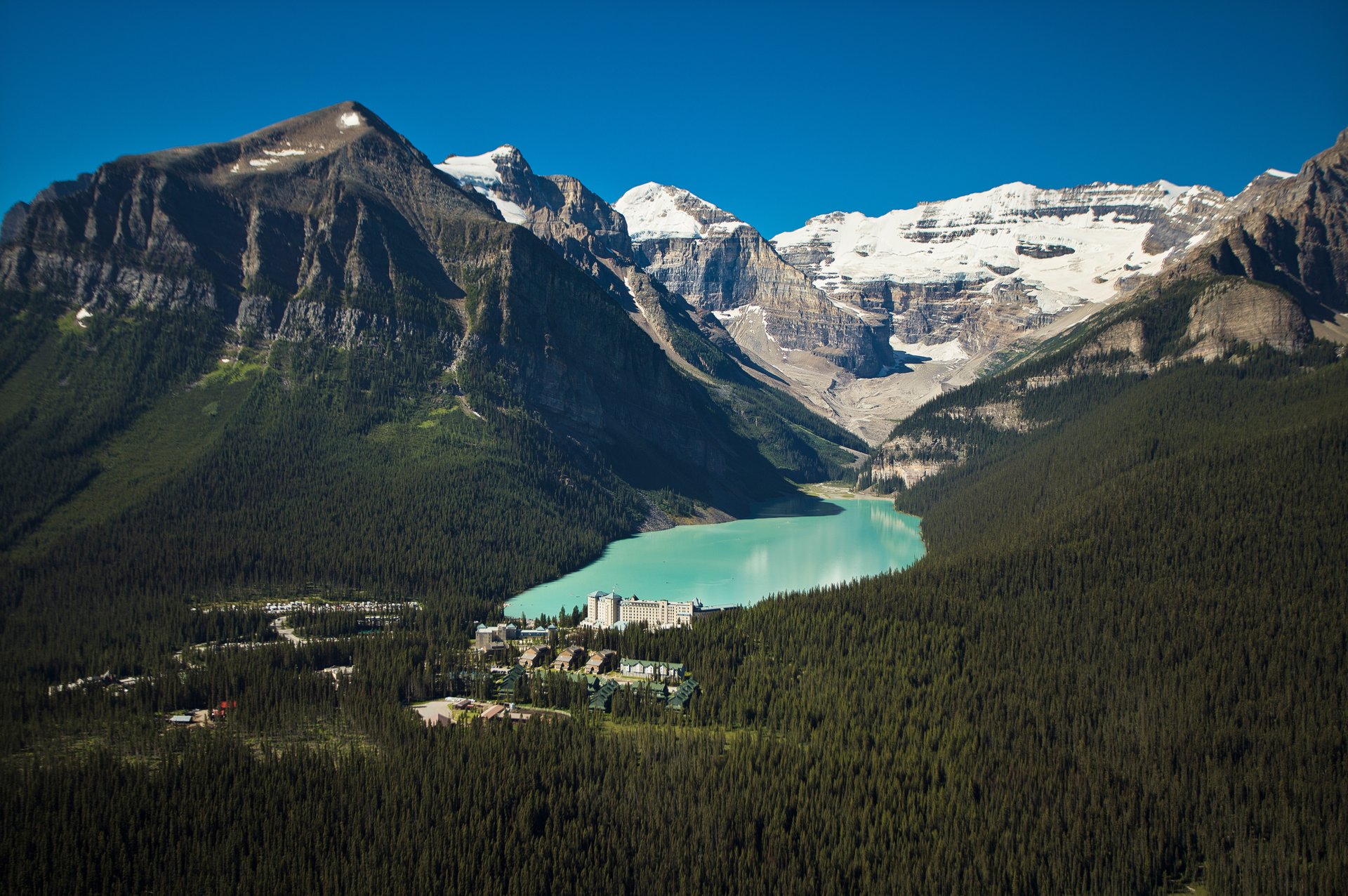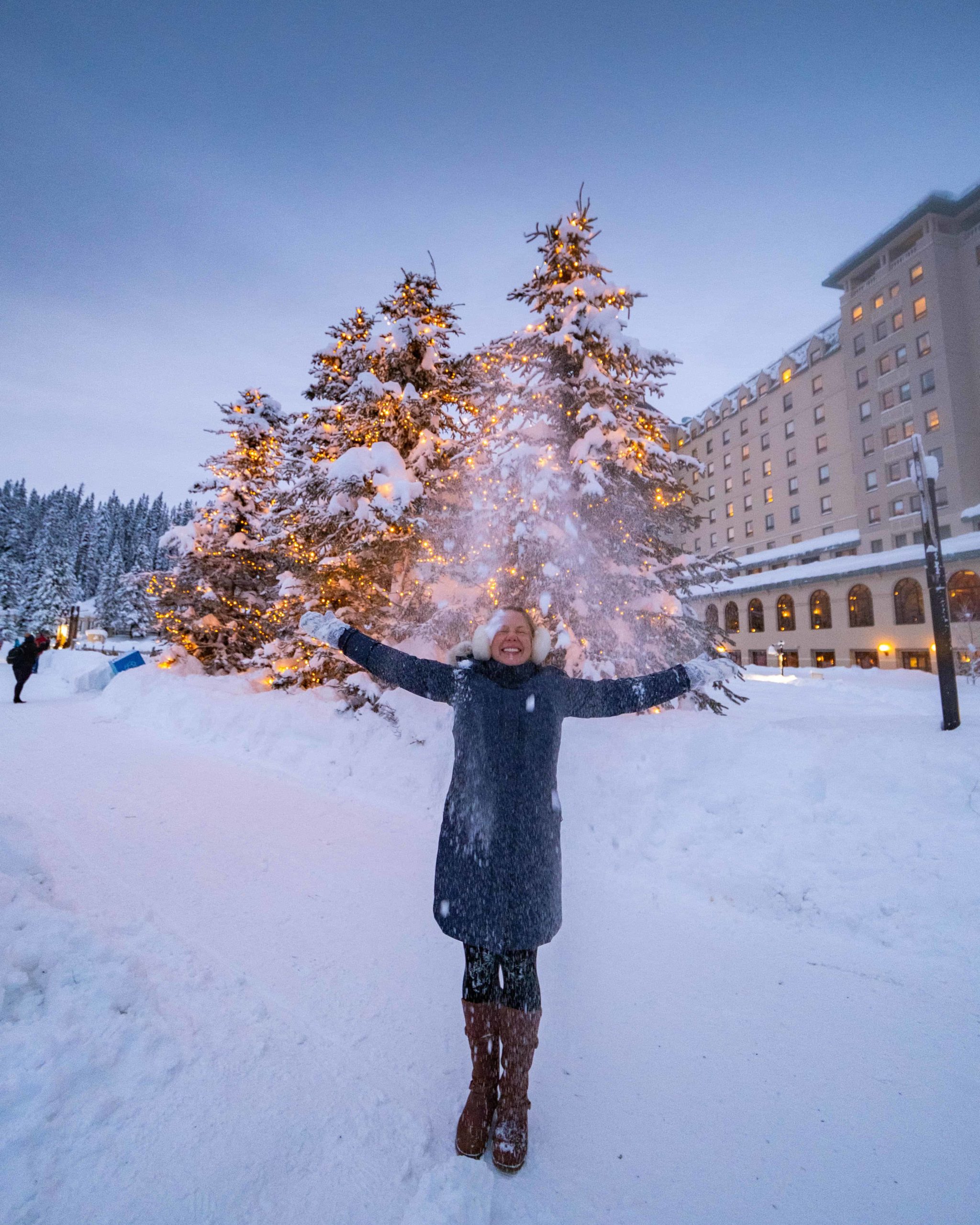 There is only one place to stay on Lake Louise: the famous Fairmont Chateau Lake Louise. Staying at the lake allows you to take advantage of the lake at all times of the day, and they have a private parking lot, so you're guaranteed a spot to park. If you don't care about actually staying on the lake, but want to be nearby, see the best Lake Louise hotels here.
Book a Stay at The Fairmont Chateau Lake Louise
Check Rates at The Best Hotels Around Lake Louise
---
How Far is Banff from Lake Louise?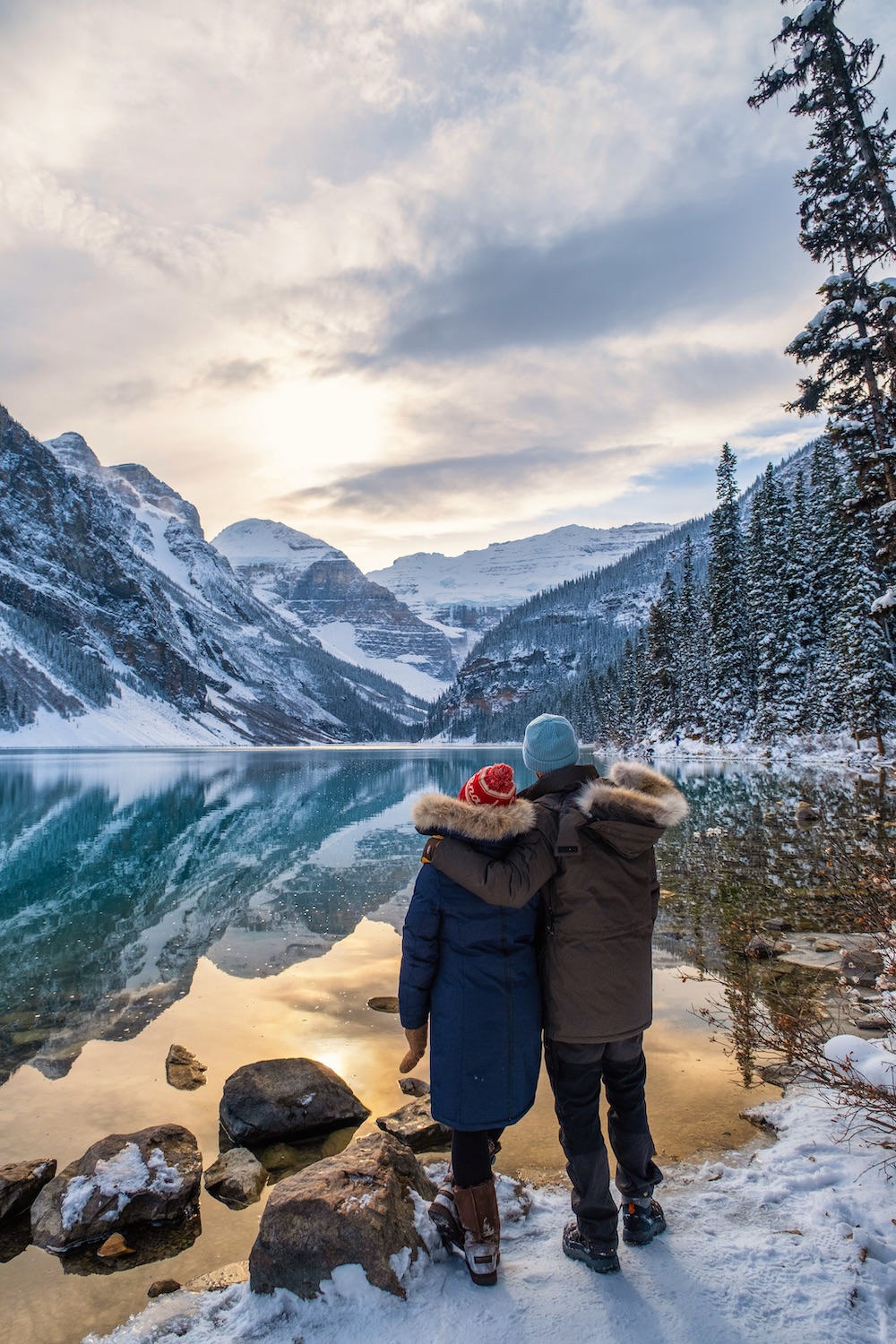 It will take about 45 minutes to drive from Banff to Lake Louise Village on the Trans-Canada. Expect it to take over an hour if you drive the scenic Bow Valley Parkway instead. It takes about 5-10 more minutes to get from the Lake Louise Village to Lake Louise herself.
---
What Are the Holidays Like at Lake Louise?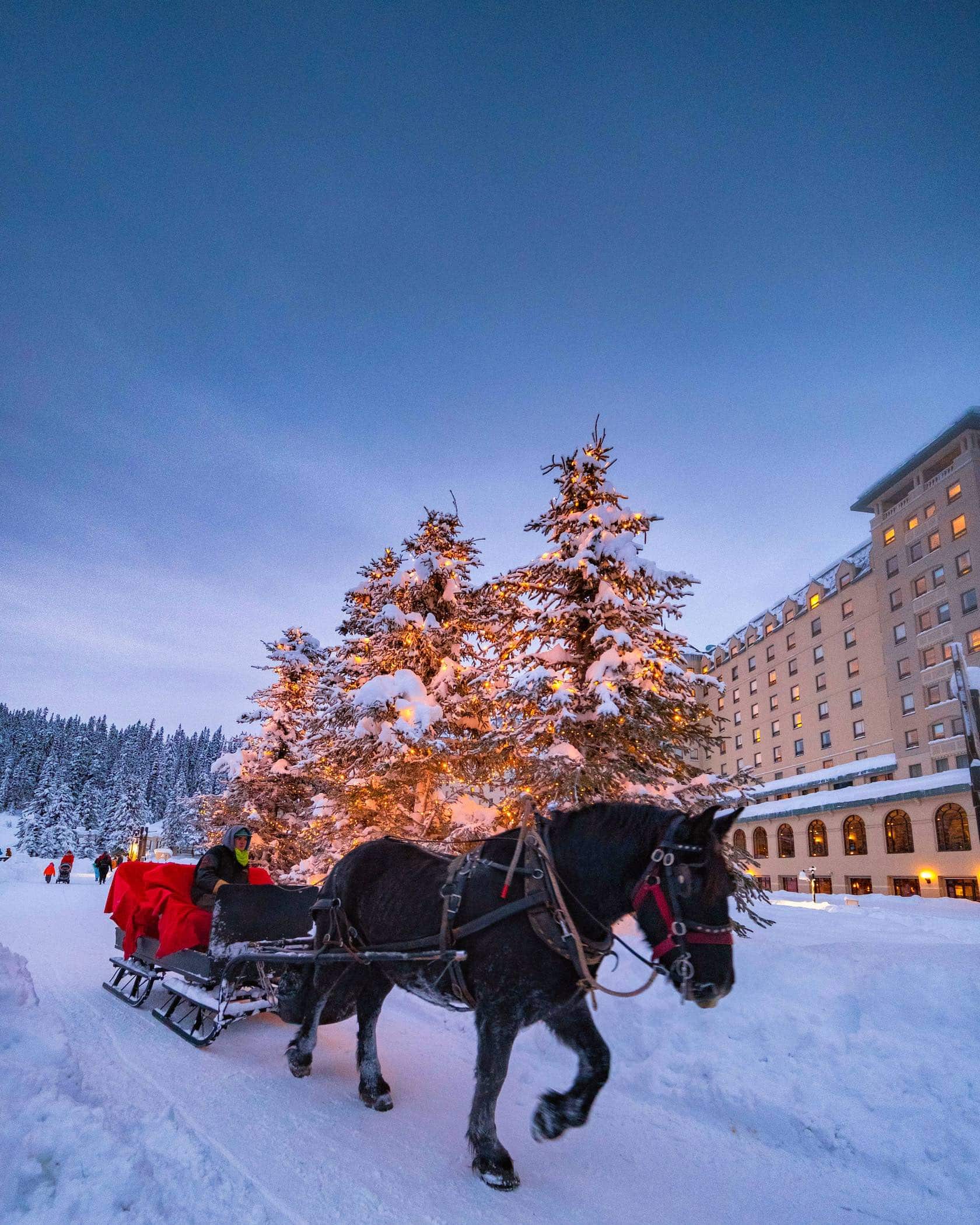 The Lake is always busy in the summer, but you should take note of the following holidays as it's even busier.
Victoria Day Long Weekend – Last Monday Preceding May 25
Canada Day – July 1st
Heritage Day Weekend – 1st Monday of August.
Labour Day Weekend – 1st Monday of September.
---
Where to Stay at Lake Louise
---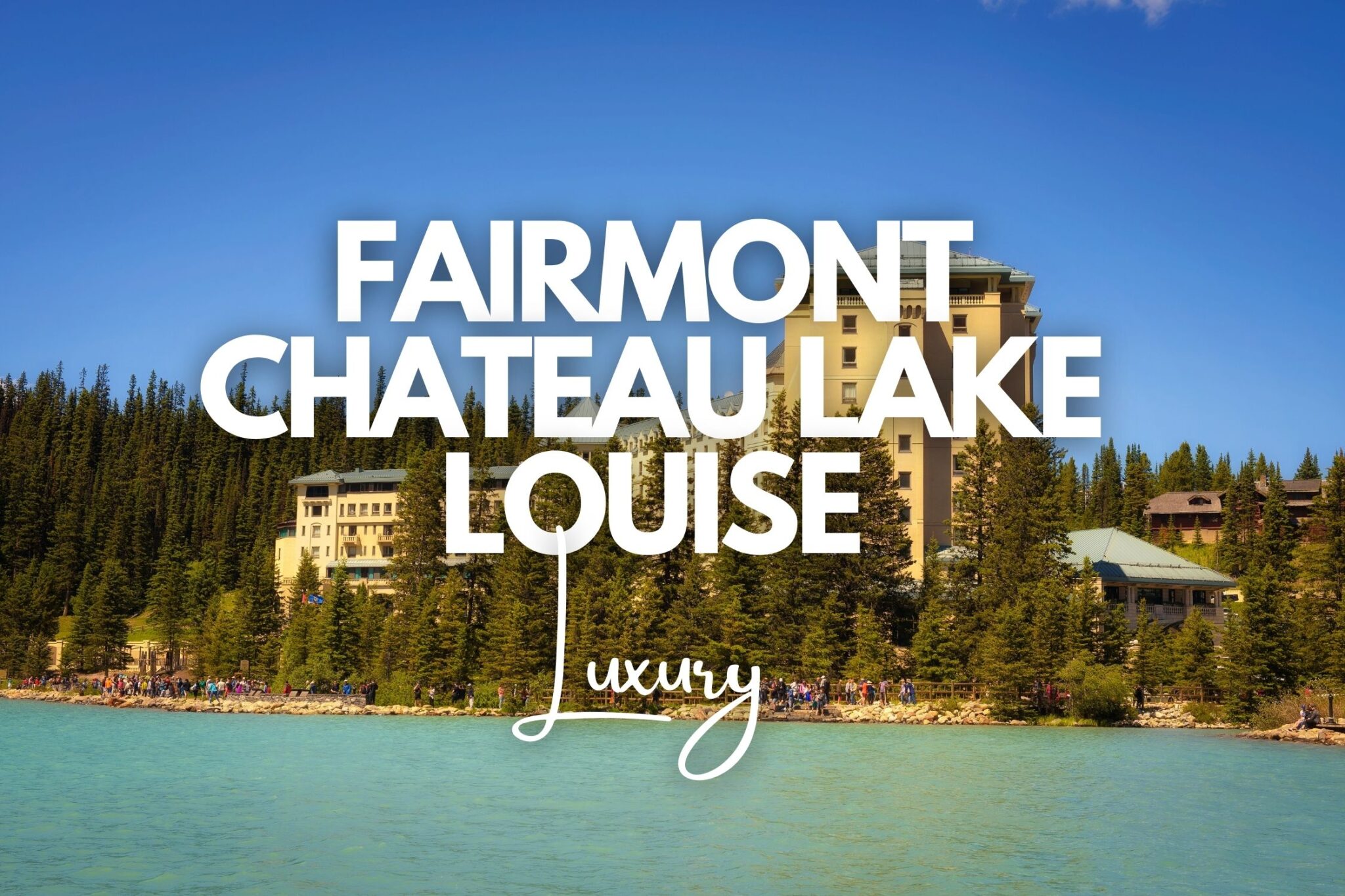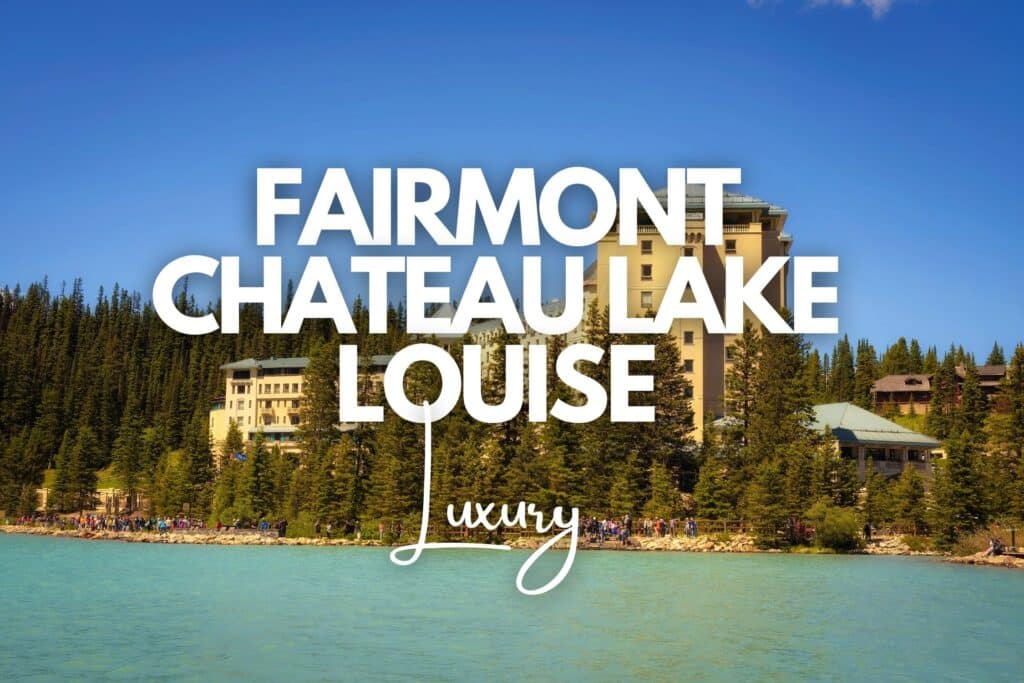 Fairmont Lake Louise
The most expensive place to stay in the park and the most sought after. "The Chateau" is the only hotel actually on the lake, so if you want to wake up Lake Louise for sunrise this place is for you.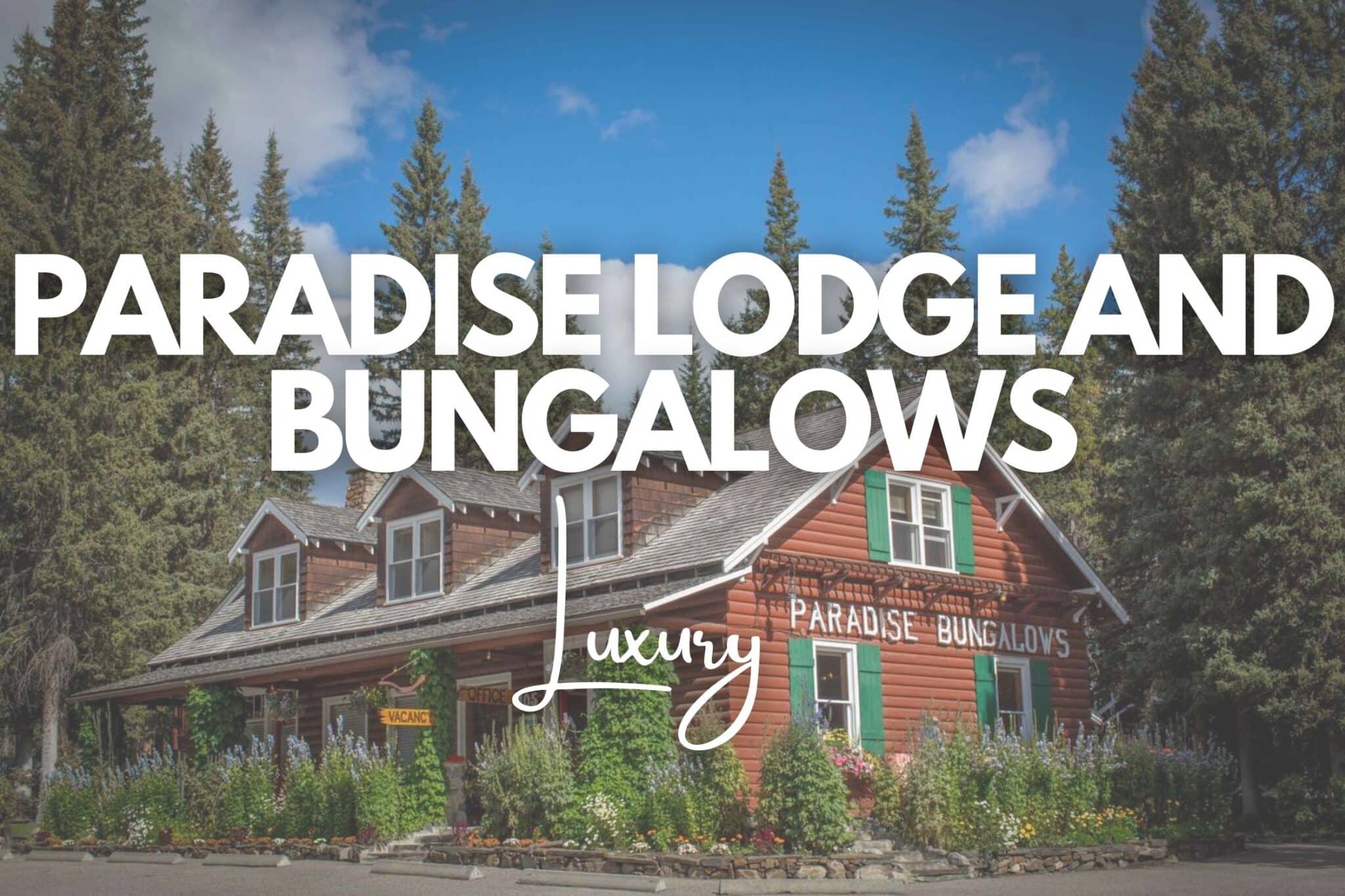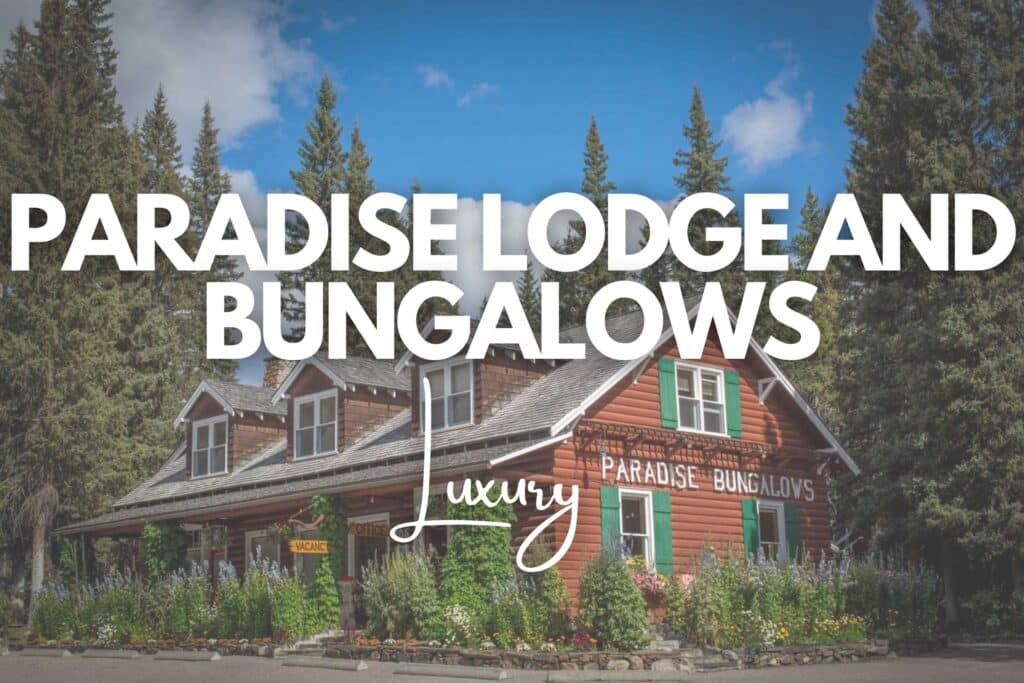 Paradise Bungalows
These aren't far from Lake Louise and provide that cozy cabin feeling you may want when you visit the Rockies!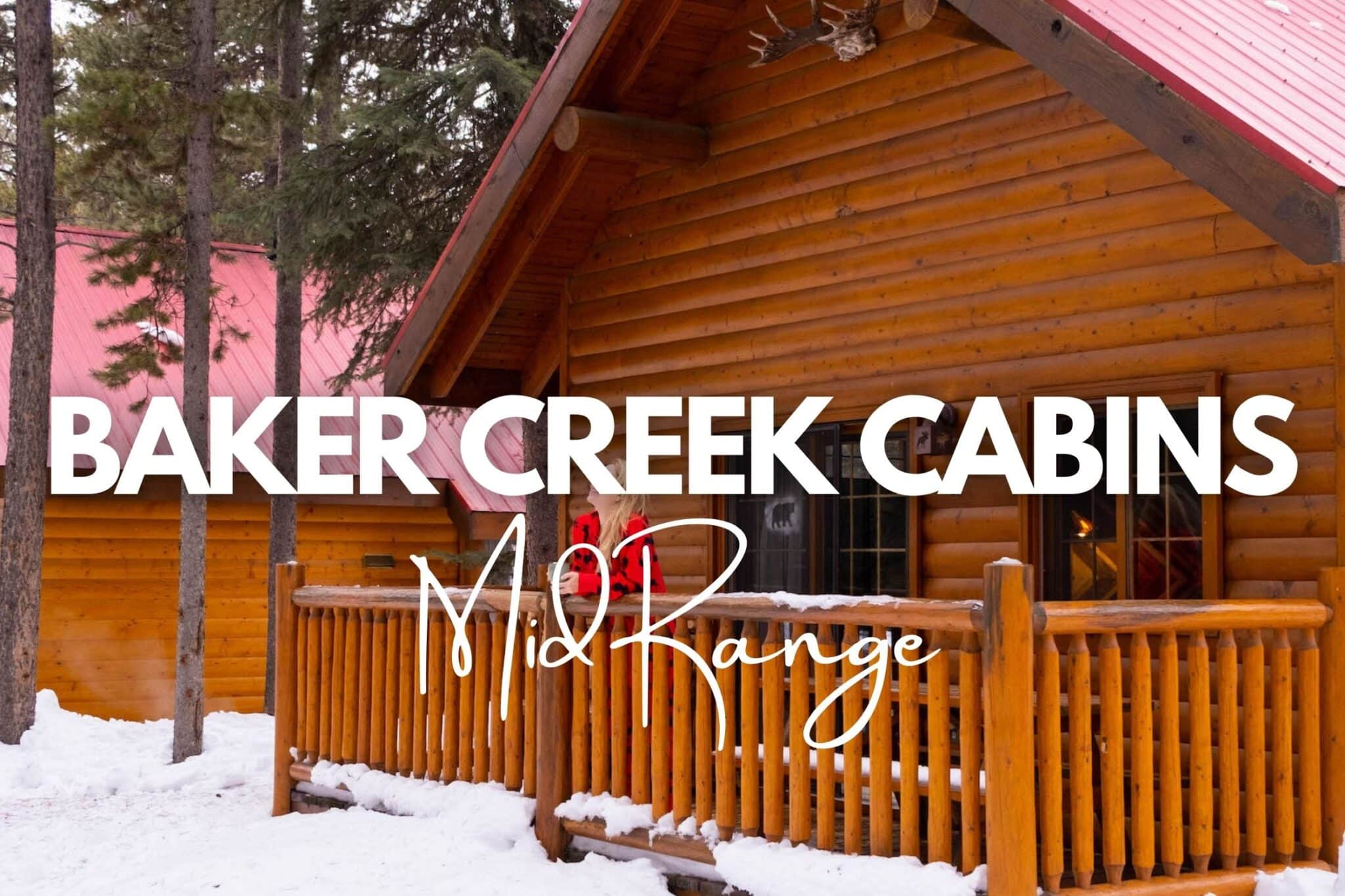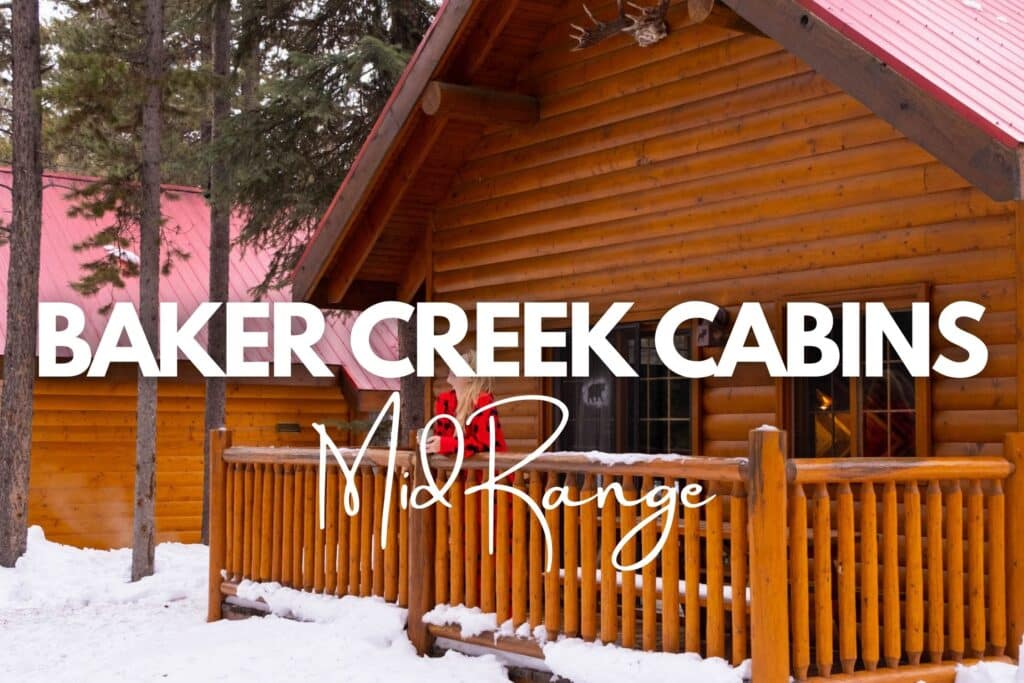 Baker Creek
On the Bow Valley Parkway, Baker Creek is just a short drive away from Lake Louise. It's a romantic place to stay and far away from the crowds!
---
Other Banff National Park Hikes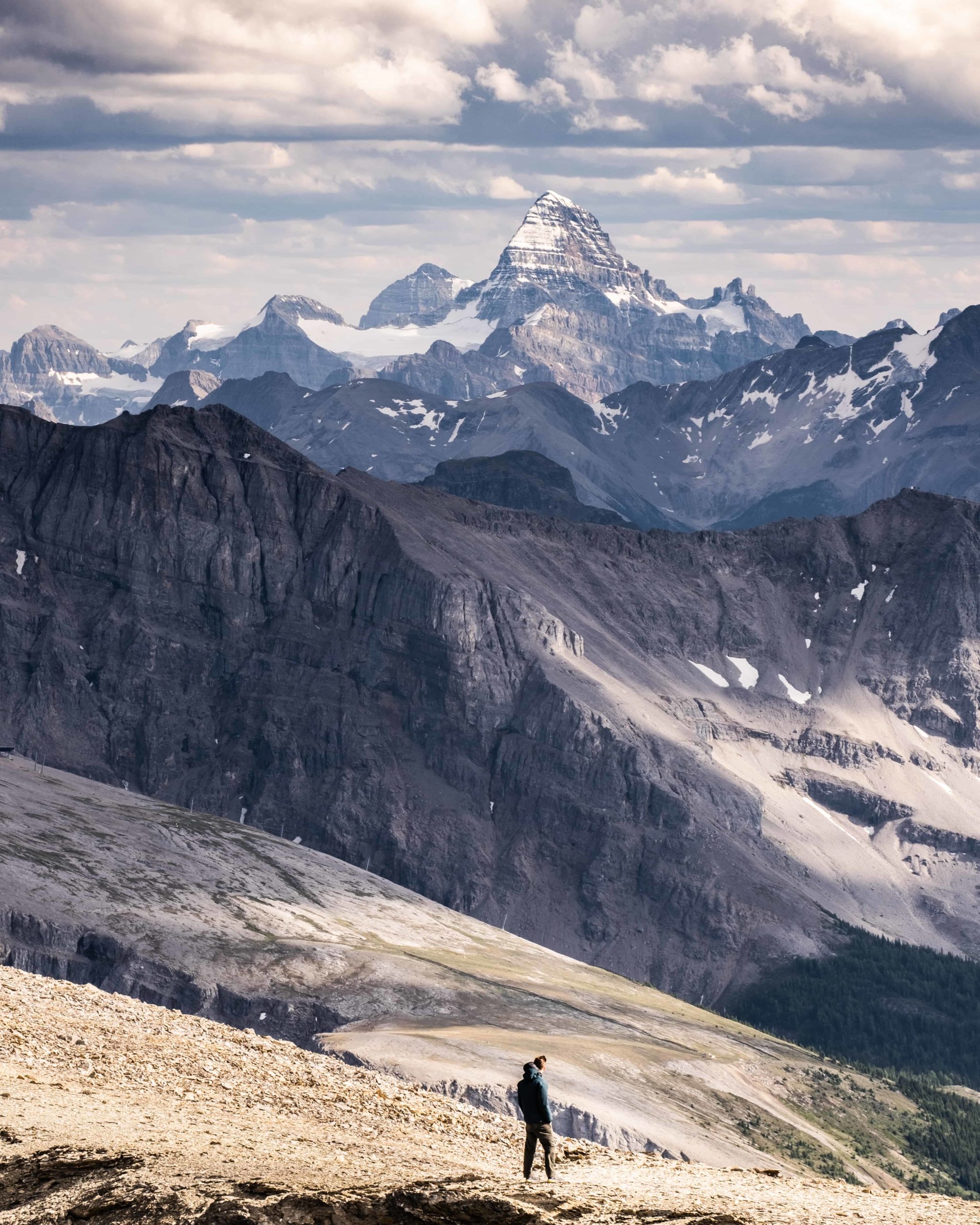 Of course, there are so many more hikes in Banff and tons of exploring. Looking for the best Banff hikes? We rank our favorite hikes around the park and share all of the details in this guide to experience the best in the park.
You'll find on these hikes in Banff high alpine passes lined with wildflowers, jagged peaks topped by glaciers, and a healthy dose of turquoise blue lakes.
Our Favorite Tours and Excursions in Banff
---
↓ Join the community ↓
The Banff Blog Facebook Group is your headquarters for the Canadian Rockies' travel advice and information. Including hike info and off-season travel information. This is also where you can meet one another when you need adventure buddies. 

---
Plan Your Trip to the Canadian Rockies