So you're looking for some cute cabins in Lake Louise? While there aren't many accommodation options at Lake Louise, there are a few Lake Louise cabins to always consider!
Lake Louise is a special place, and it's located inside a national park. This means there aren't any Airbnbs around Lake Louise or many small cozy cabins. The only accommodation actually on the lake is the Fairmont Château Lake Louise.
However, there are some great places to stay in Lake Louise and around the area that will make you feel like you're living out those old mountain cabin dreams. Here are a few of our favorite Lake Louise cabins.
---
Click on the hotel name or the Booking.com links to check the latest rates for these Lake Louise cabins. For the best rates on your hotel reservation, we recommend booking 6-8 months in advance.
---
The Best Lake Louise Cabins
---
Paradise Lodge & Bungalows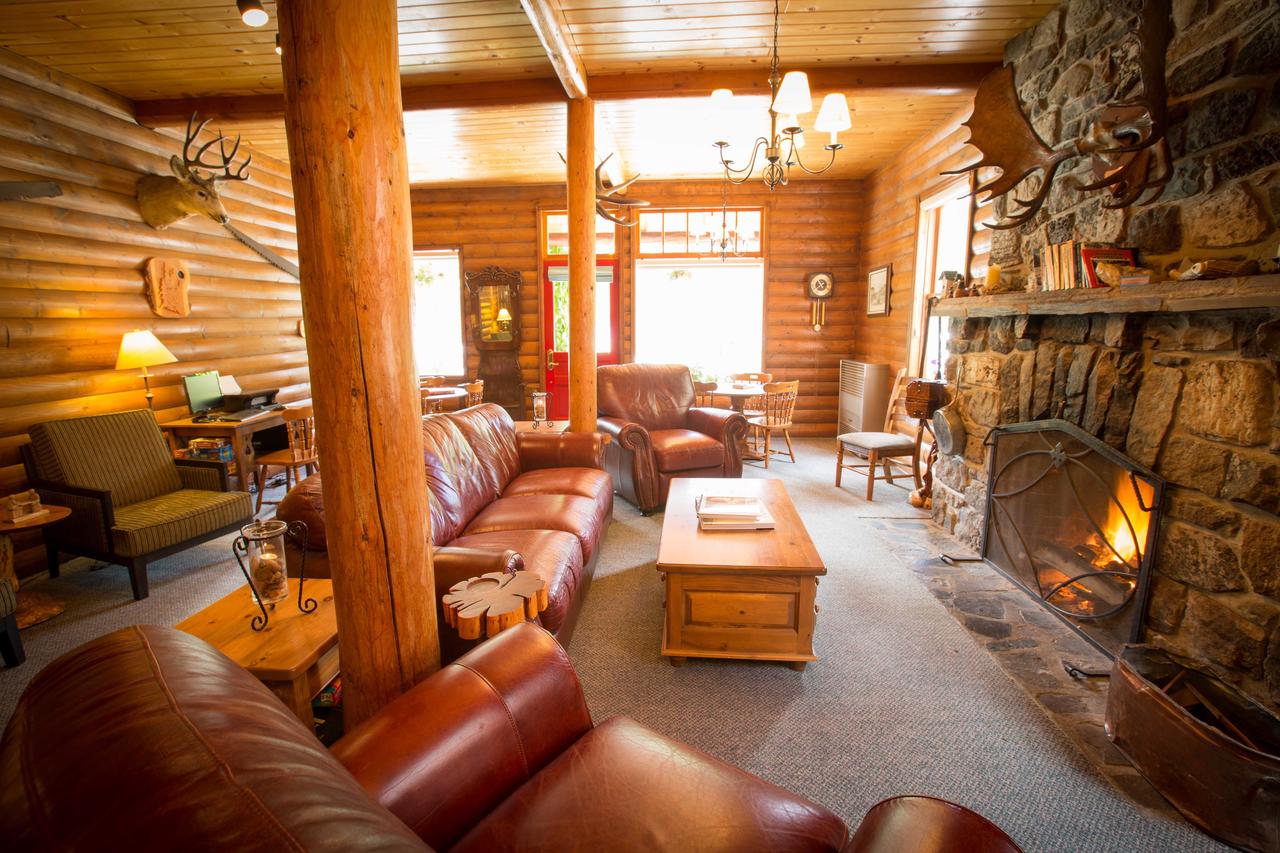 One of the best Lake Louise cabin rentals you can find is Paradise Bungalows. Paradise Bungalows are located at Lake Louise. They aren't right at the lake like the Fairmont, but only a short distance away. While they have more standard-style rooms you can stay at, they have some of the cutest Lake Louise cabins there are.
The cabins have all been modernized even though they were built in the 1930s. They are cute and perfect for anyone wanting to live out their mountain fantasies. Although they are modern with kitchens, mini-fridges, microwaves, and coffee makers, they are rustic and charming. Each of their cabins has a cozy fireplace to hang out on those chilly nights.
While most people prefer to stay at the Fairmont on Lake Louise, I think the Paradise Lake Louise Cabins are a much better value, more down to earth, and a lot cheaper. The Chateau is, quite frankly, the most overpriced and overrated place to stay in Banff.
---
Storm Mountain Lodge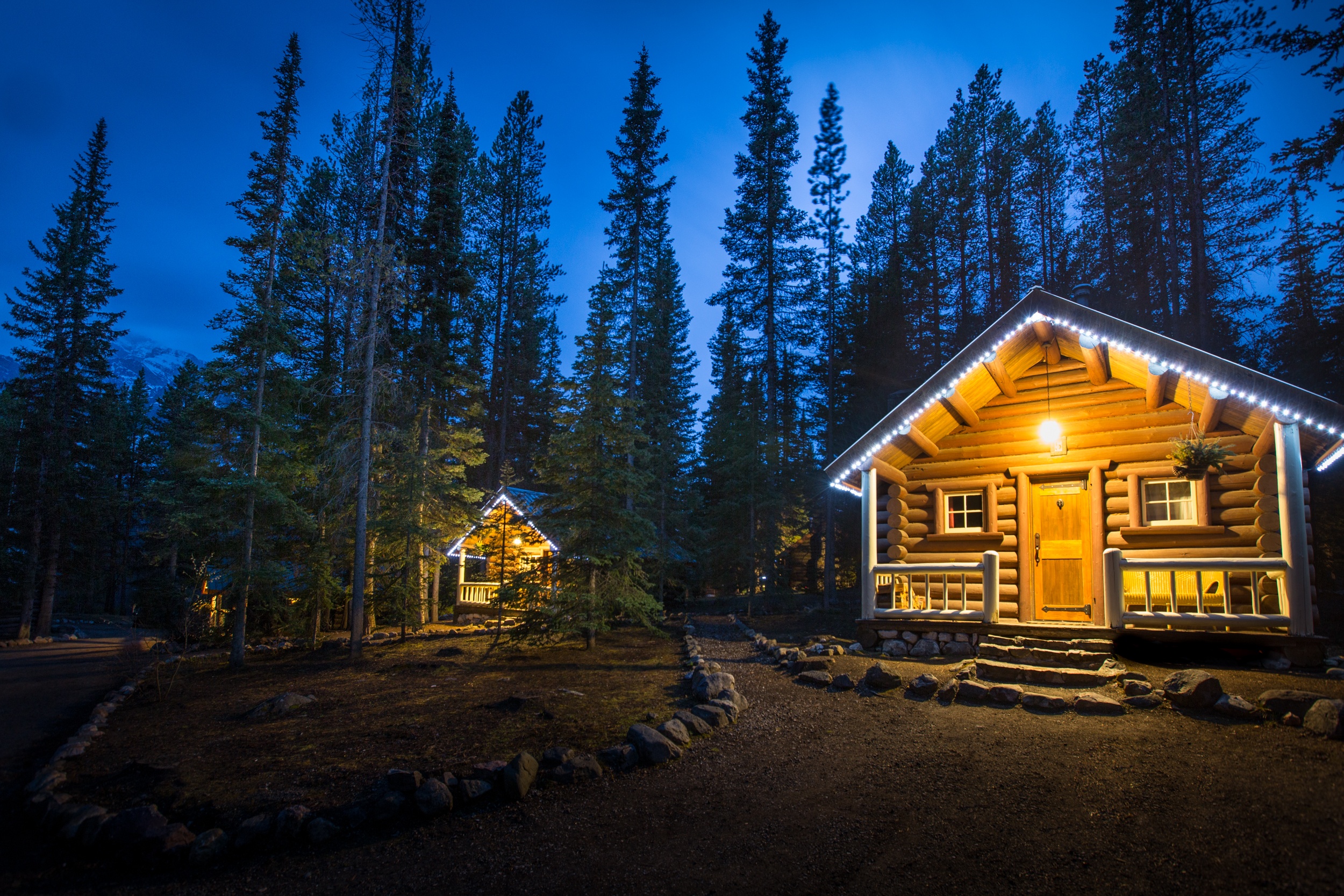 Storm Mountain Lodge has some of the best cabins in Banff National Park and is the best cabins near Lake Louise. If you're a true outdoor lover who enjoys the experience of removing yourself from everyone and everything, a cabin in the forest offers a true outdoor escape, and Storm Mountain Lodge has one that'll meet all your backcountry needs.
Situated halfway between Banff town and Lake Louise, the remote location on HWY 93 means you are far from the crowds but close to the things that matter most – mountains, forests, and stunning beauty. Although it's not right at Lake Louise, you can easily get there in just a short drive.
If you expect modern amenities, this might not be your place. However, if being disconnected from WiFi, phones, televisions, and other everyday annoyances are more your style, you won't find any of those things here.
You'll find cozy Lake Louise cabins with wood-burning fireplaces and full bathrooms and a lounge serving authentic Canadian dishes made with organic ingredients, homemade desserts, and Canadian wine.
If staying here make sure to check out Vista Lake, hike to Arnica Lake, or enjoy Marble Canyon nearby.
---
Baker Creek Mountain Resort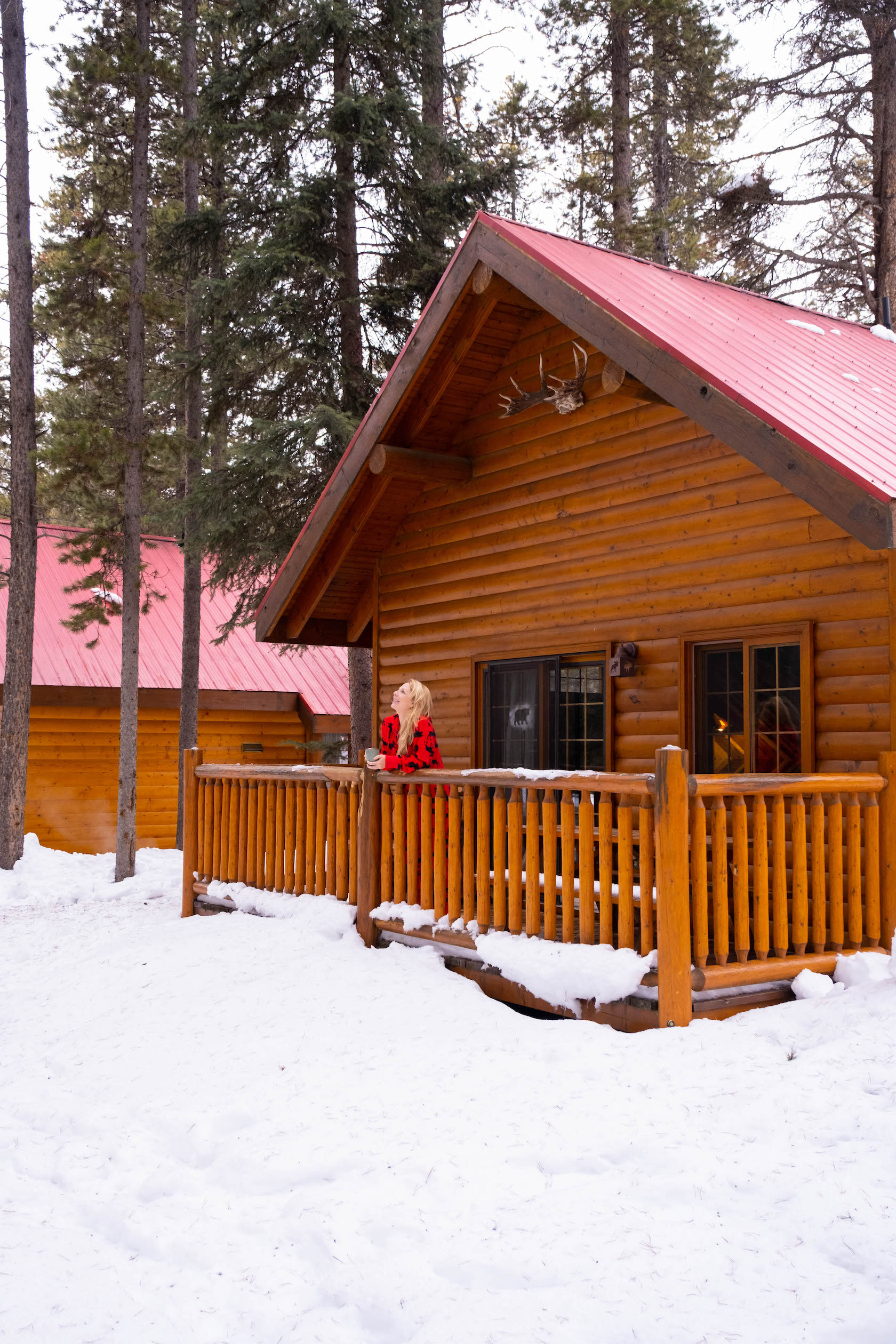 Baker Creek Mountain Resort is a laid-back escape offering comfortable lodge and log cabin accommodations on the Bow Valley Parkway. They have some of the best cabins at Lake Louise, and all of Alberta, and I can't recommend them enough.
You'll get an authentic Canadian backcountry experience surrounded by stunning mountain scenery and vast wilderness. Enjoy a roaring fire under the night sky with access to outdoor fire pits. Retreat to your cozy room or log cabin, most of which are equipped with a wood-burning stove and kitchenette.
Baker Creek Bistro (currently closed) serves genuine Canadian dishes and local craft beer that you can enjoy inside or on the patio.
---
Moraine Lake Lodge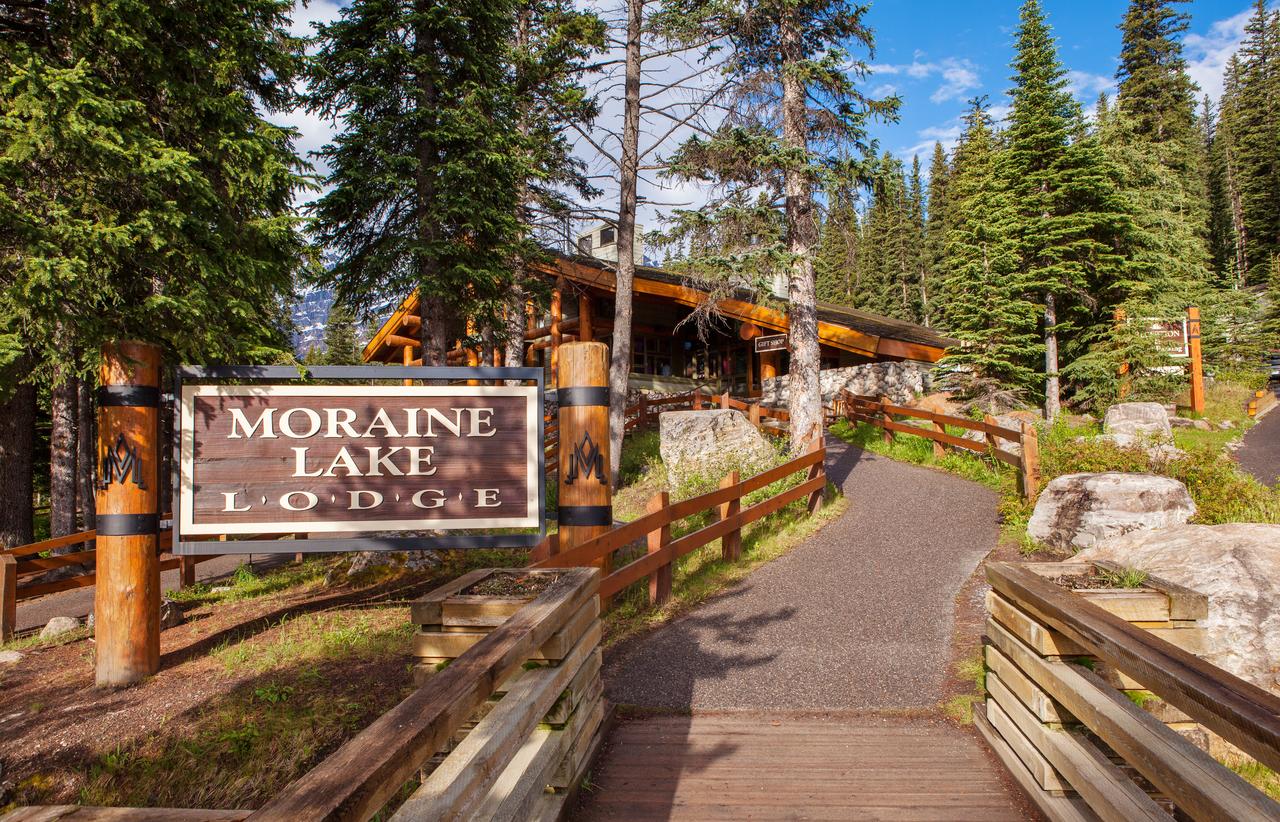 Moraine Lake Lodge may be set in the most scenic setting for a lodge in the entire world on the shores of Moraine Lake. It's an incredible location for a lodge that delivers high service levels. Rooms are a series of cabins spread across grounds set along the Lake.
Inside each room is tasteful mountain decor, such as pinewood beds and a wood fireplace. Coffee and tea inside the room are charming for mornings on private balconies offering mountain and lake views. Room rates include tea time, breakfast, dinner, wine, and activities such as canoeing and hiking. The free canoe rental is a particularly nice perk, as it costs nearly $150 an hour for non-guests.
Of course, the hotel regularly sells out as it's at Moraine Lake. The level of service, quality of accommodation, including food and free activities are all wonderful.
This means that room rates can be very high in peak summer months. Those summer months are the only operating months as the road to Moraine Lake closes in October. So, if you're looking for a Lake Louise cabin for the winter, this one is not for you.
---
Mountaineer Lodge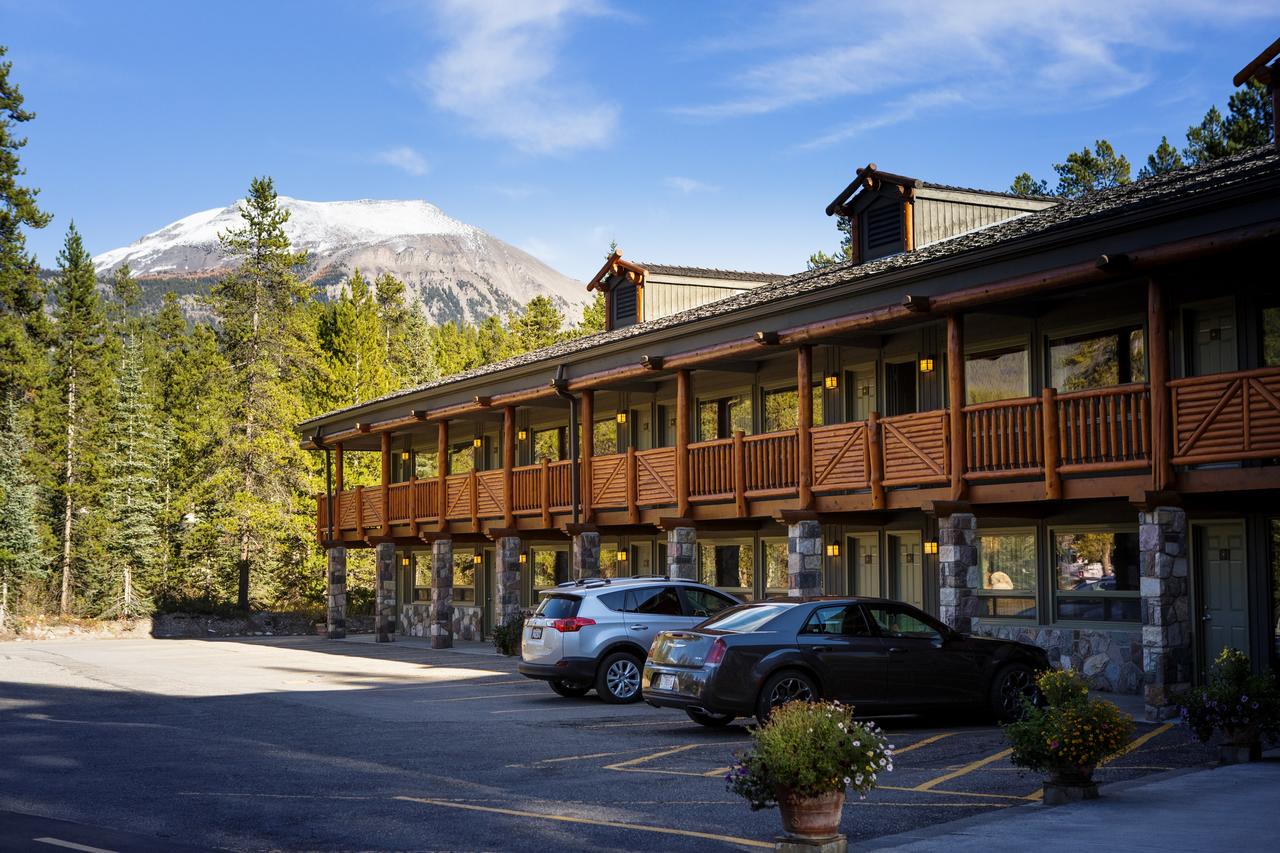 Situated in Lake Louise Village, the Mountaineer Lodge provides convenient Lake and ski resort access. The room rate includes a complimentary continental breakfast buffet, WiFi, and parking. Various rooms are available, including standard rooms with king/queen or two queen beds.
A couple of suites are well suited for families as they have enough room to sleep six. The hotel rooms include a mini-fridge, microwave, coffee/tea station, toiletries, and a flat-screen TV. Facilities at the lodge include a hot tub, steam room, coin-operated laundry facilities, ski storage, and a ski shuttle.
---
Skoki Lodge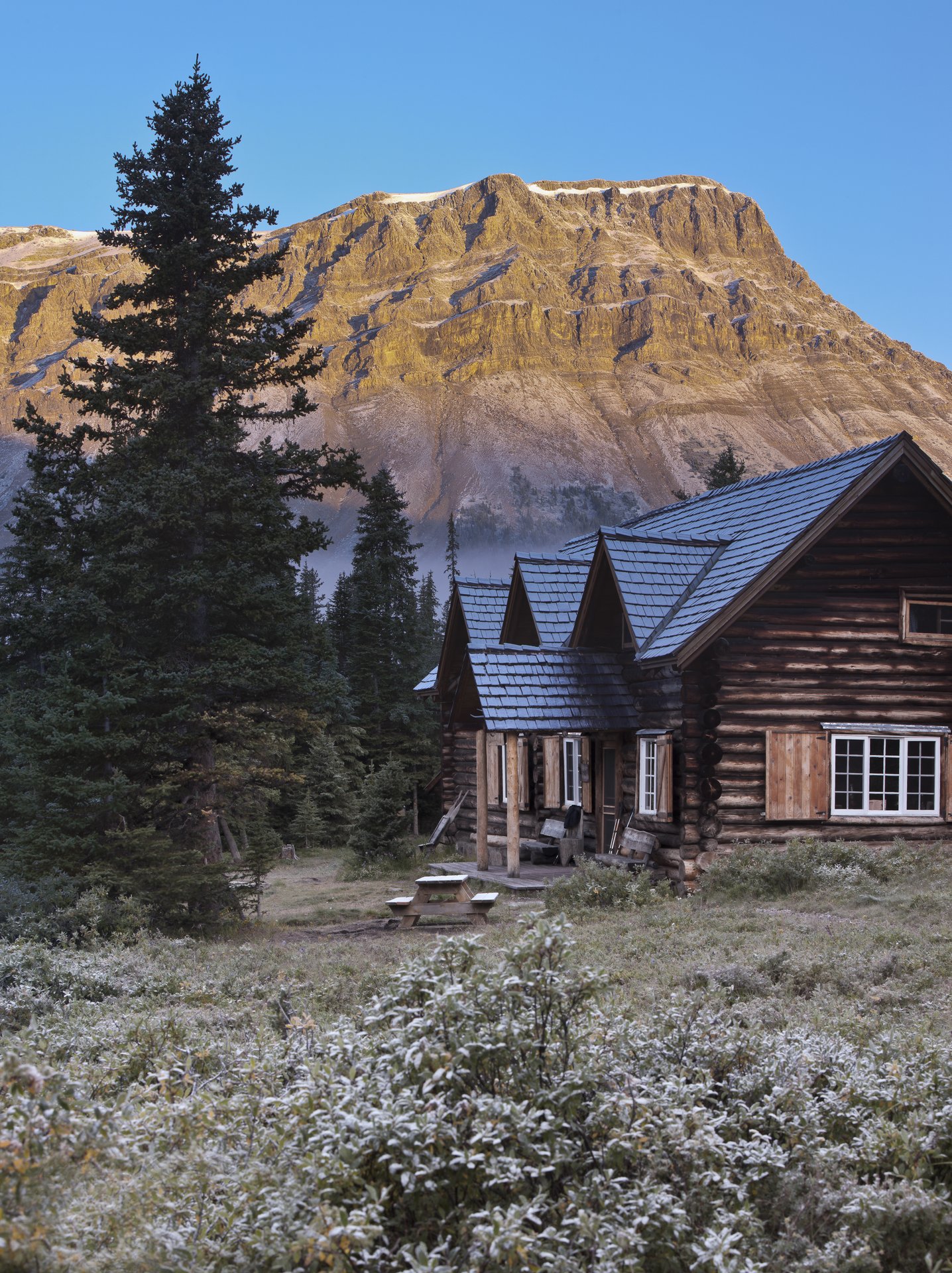 The historic Skoki Lodge is a lodge located in the backcountry of Banff National Park. The lodge can only be reached by hiking or skiing 11km from the Lake Louise Ski Resort.
It's one of North America's first backcountry ski lodges, dating back to 1930. During the fall, it's one of the best areas to see the beautiful larch trees. In the winter, activities include ski touring, cross-country skiing, and telemark skiing.
You can hike, climb, fish, or ride horseback during the Banff summer months. It's well known as one of the best backcountry lodges in the world, and nights are in high demand.
Even if you can't score a night in the lodge, you can still make the gorgeous hike out to the lodge and back and camp nearby. You'll need to book Skoki Lodge well in advance in both winter and summer.
---
For more cabin style accommodation in Banff and beyond, see our other favorite cabin recommendations:
---
Hopefully, this helped you determine which Lake Louise cabin rental is right for you!
If you have any other questions leave a comment or see our Canadian Rockies travel guide for more articles about photography spots, lakes, hikes, and everything else.
---
↓ Join the community ↓
The Banff Blog Facebook Group is your headquarters for the Canadian Rockies' travel advice and information. Including hike info and off-season travel information. You can also meet new adventure buddies.

Plan Your Trip to the Canadian Rockies