If you're searching for all the cutest Banff cabin rentals rounded up we have you covered. The truth is, Banff National Park has a lot of amazing things. Beautiful mountains, serene lakes, and neverending forests, to name a few.
Those together would make for a pretty epic destination, but the fact that there are some fantastic Banff cabins to cozy in to make this area of the world even better. Here are some of the best cabins in Banff to enjoy on your trip.
---
Cozy Banff Cabin Rentals
---
Castle Mountain Chalets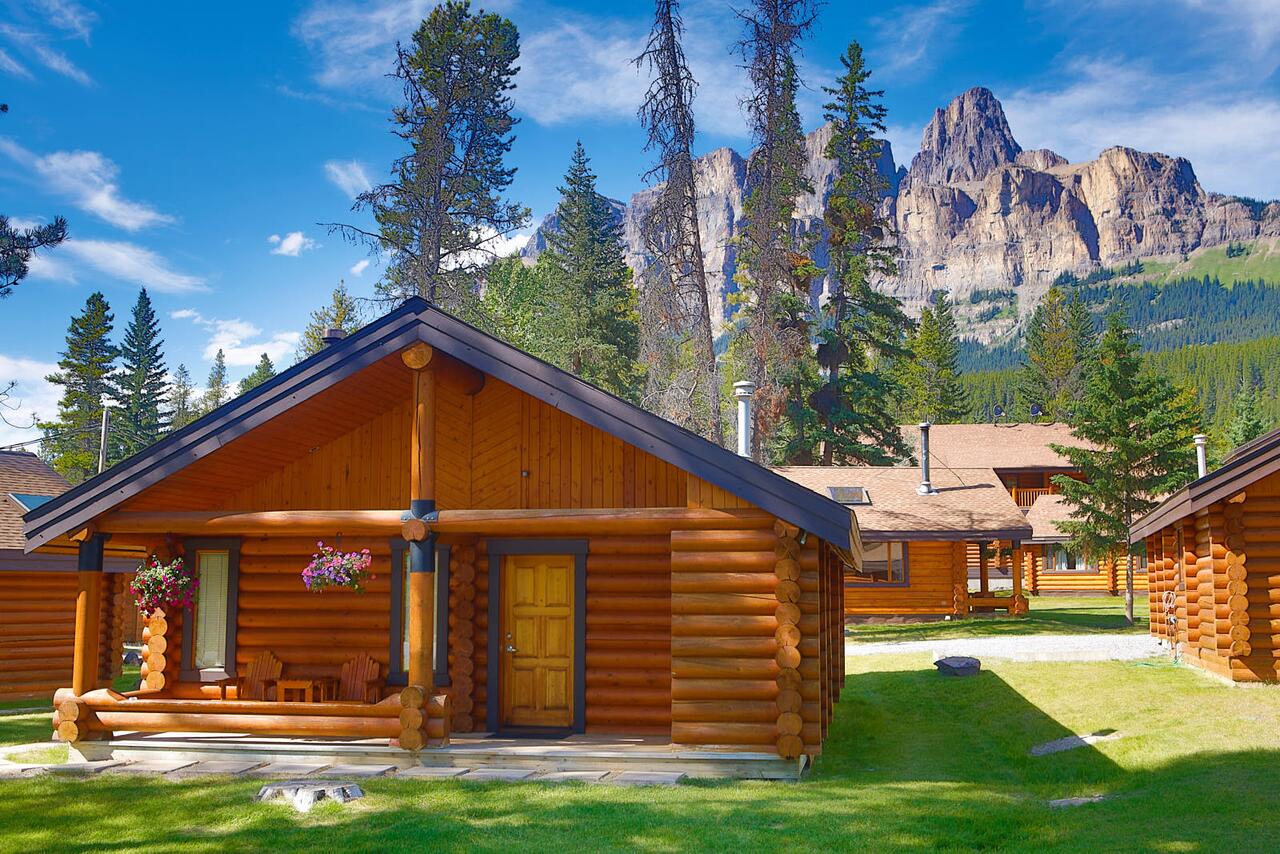 Located in Castle Junction, Castle Mountain Chalets have some of the best cabins in Banff you can stay at; well I guess they would call them "Banff chalets." They have six different types of Banff Chalets to stay at, and all are amazing and will make you feel all cozy inside.
Castle Mountain Chalets have been in operation for over 81 years, and operate 22 chalets. They were built in 1939 by Grandfather Yerxa, with his wife and six children. They really liked the location as it was at the road's intersection to Radium Hot Springs and the highway. To this day, it's well-loved for its location on the Bow Valley Parkway. It's conveniently located halfway between Banff and Lake Louise and the entrance to the Kootenays.
Each Banff cabin has a gas fireplace, queen pull-out sofa bed, and flat-screen TV. There are also full kitchens and WiFi. Meaning it truly is a home away from home here.
---
Paradise Lodge & Bungalows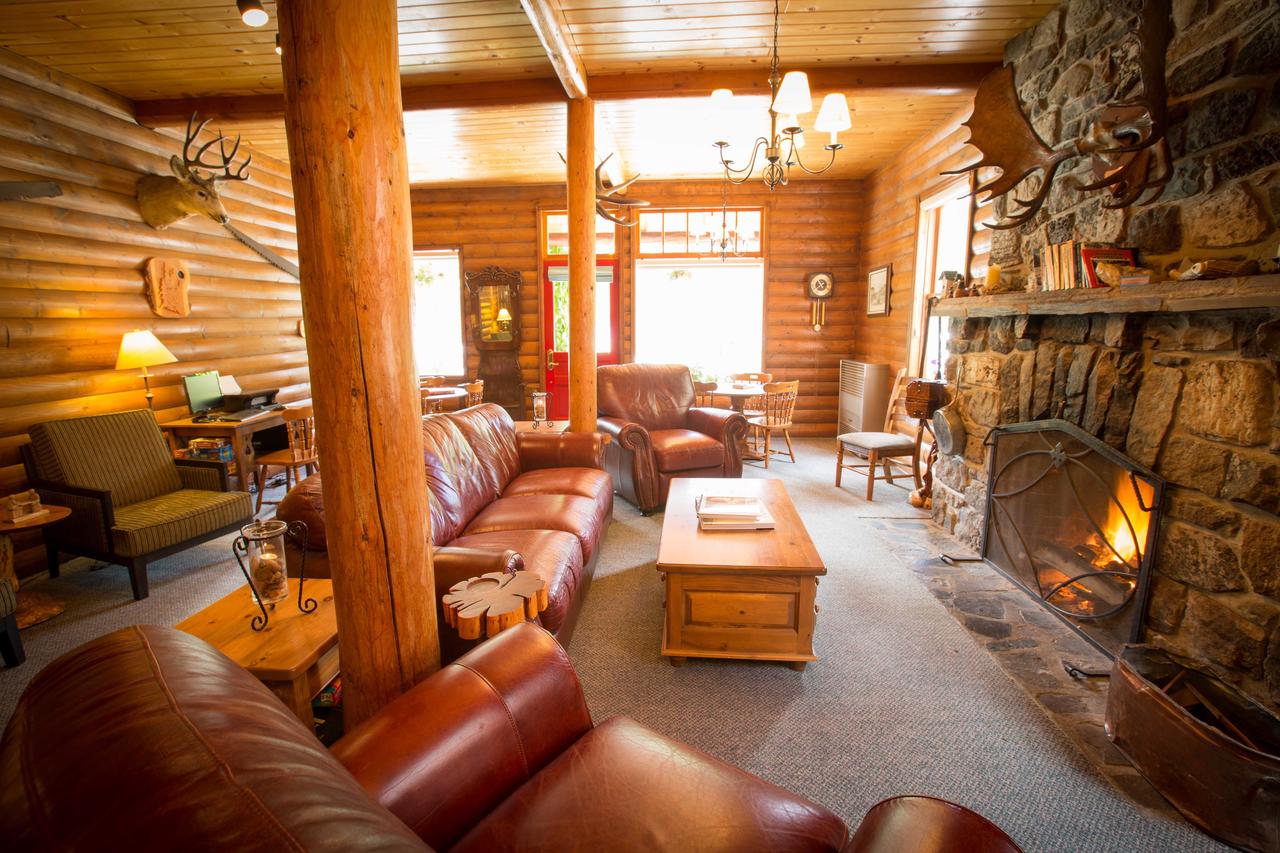 Paradise Bungalows are located at Lake Louise and are one of the best Lake Louise accommodation options. They aren't right at the lake like the Fairmont Lake Louise, but only a short distance away. While they have more standard-style rooms you can stay at, they have some of the cutest Banff cabins there are.
The cabins have all been modernized even though they were built in the 1930s. They are cute and perfect for anyone wanting to live out their mountain fantasies. Although they are modern with kitchens, mini-fridges, microwaves, and coffee makers, they are rustic and charming. Each cabin has a cozy fireplace to hang out on those chilly winter nights.
While most people prefer to stay at the Fairmont on Lake Louise, I actually think the Paradise cabins are a much better value, more down to earth, and a whole lot cheaper. The Chateau is, quite frankly, the most overpriced and overrated place to stay in Banff.
---
Johnston Canyon Bungalows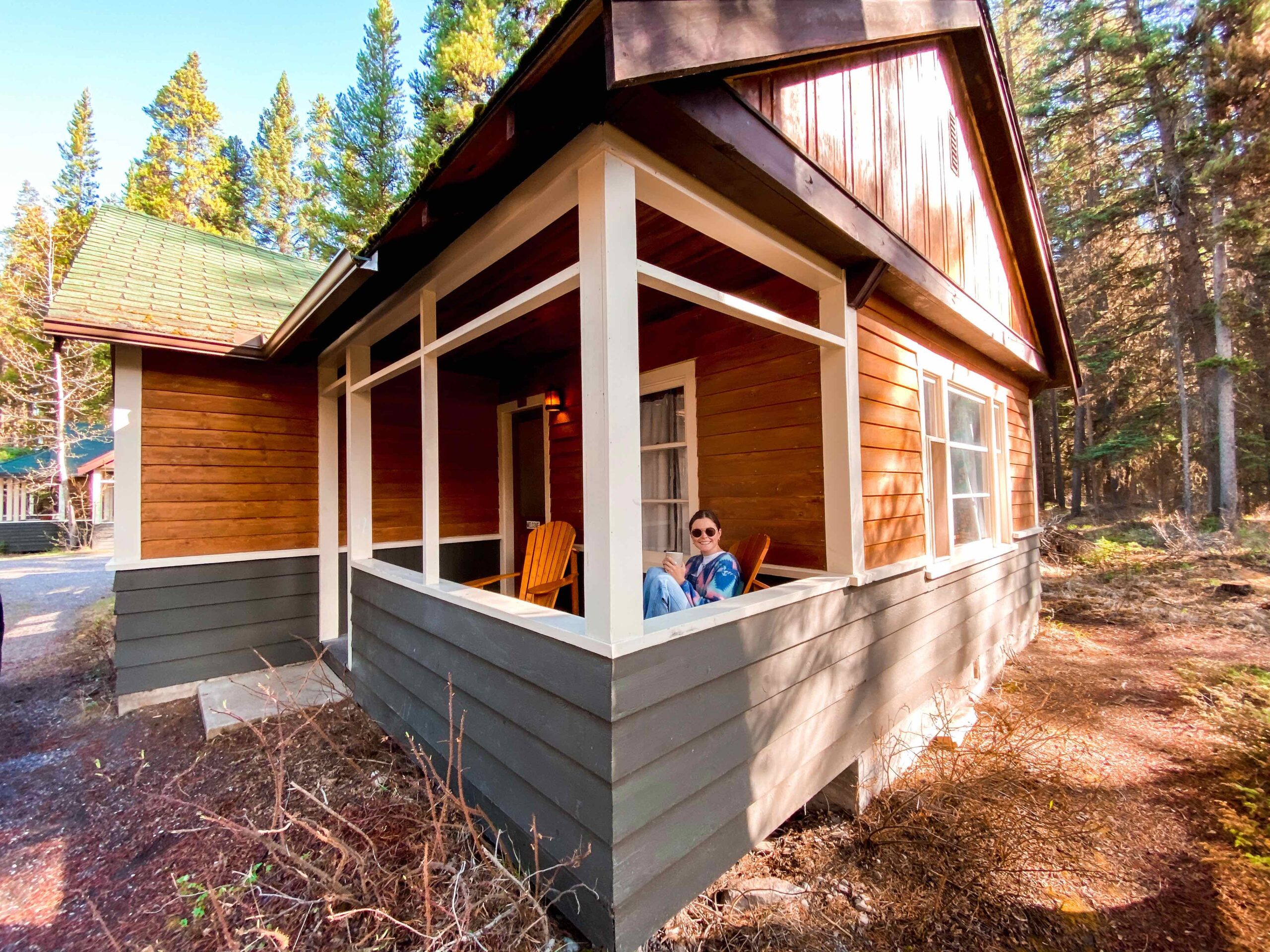 For a really cozy Banff cottage rental, you should consider the Johnston Canyon Bungalows. This is the only place to stay at the famous Johnston Canyon. They are one of the best (and only) places to stay on the Bow Valley Parkway and offer the most charming cabins to enjoy.
Johnston Canyon Bungalows has been family-owned since 1926 and is conveniently located right at the start of Johnston Canyon. They have 42 cabin-style accommodation that varies in size and room amenities. Most of the bungalows have a large open bedroom, porch area, wood-burning fireplace, as well as luxury amenities like a flat-screen tv, bridge, and bathrobes. They are some of the most romantic places you can stay in Banff.
They also operate the Black Swift Bistro and the Market Cafe – some of the only places you can find food on the Bow Valley Parkway. It's a great Banff cabin to stay not only on the entire parkway but all of Banff!
---
Storm Mountain Lodge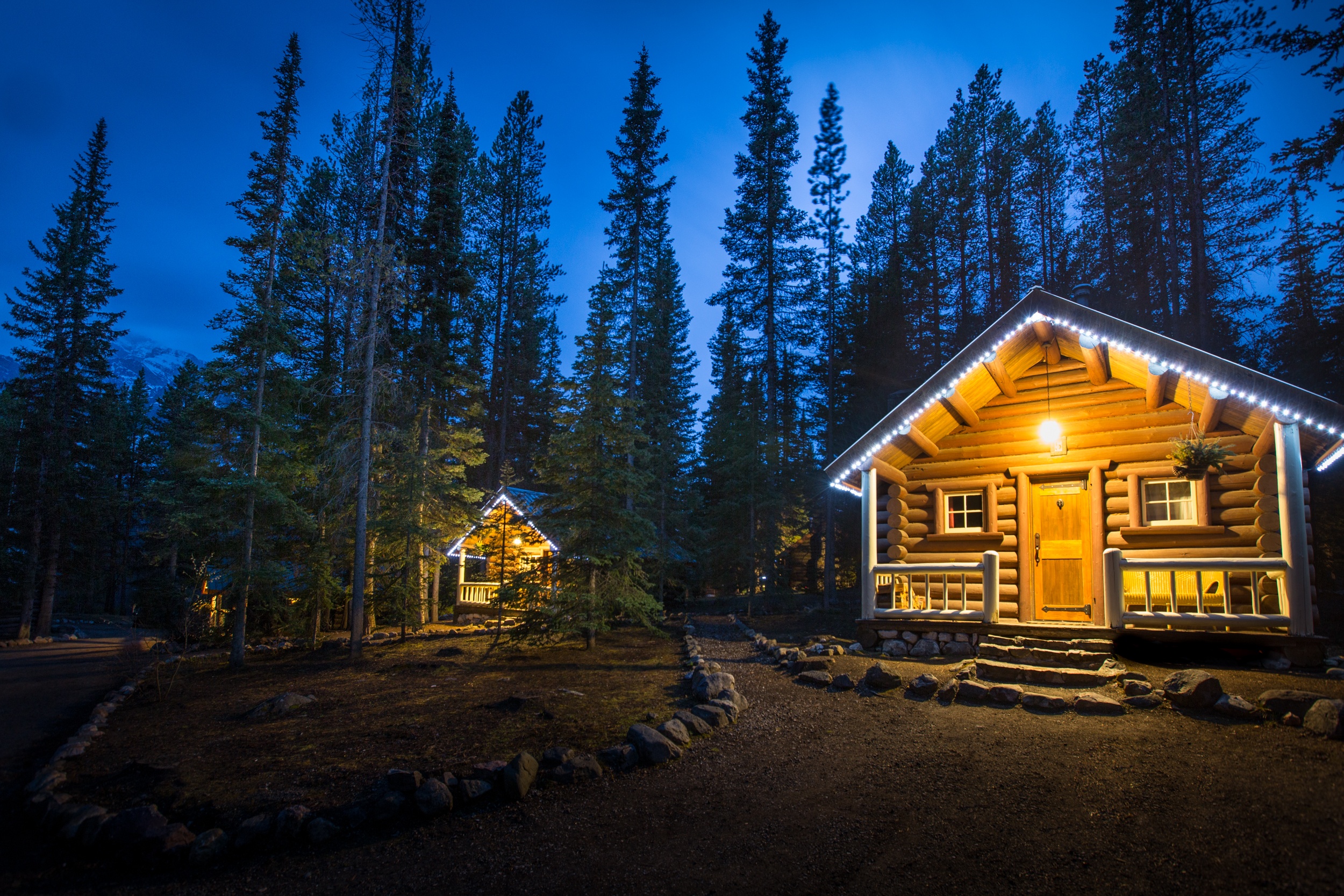 Storm Mountain Lodge has some of the best cabins in Banff National Park. If you're a true outdoor lover who enjoys the experience of removing yourself from everyone and everything, a cabin in the forest offers a true outdoor escape, and Storm Mountain Lodge has one that'll meet all your backcountry needs.  
Situated halfway between Banff town and Lake Louise, the remote location of this lodge means you are far from the crowds but close to the things that matter most – mountains, forests, and stunning beauty.
If you expect modern amenities, this might not be the place for you. However, if being disconnected from WiFi, phones, televisions, and all those other everyday annoyances is more your style, you won't find any of those things here.  
What you'll find are cozy cabins with wood-burning fireplaces and full bathrooms and a lounge serving authentic Canadian dishes made with organic ingredients, homemade desserts, and Canadian wine. This is one of the best restaurants in the Lake Louise area so make sure to make reservations!
---
Baker Creek Mountain Resort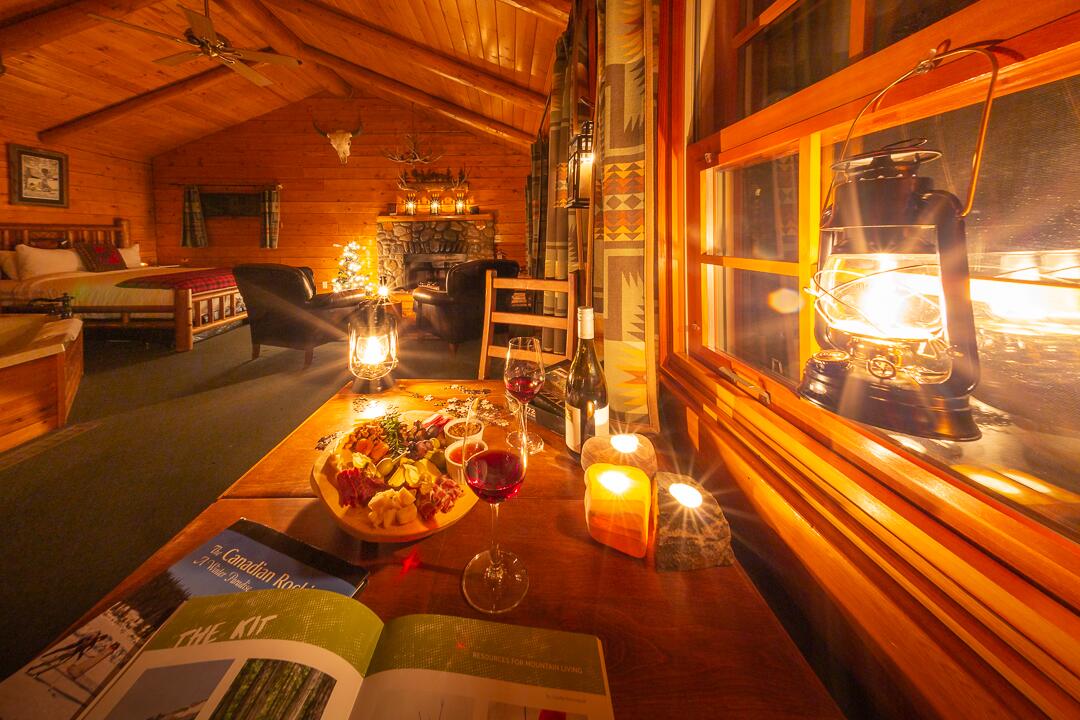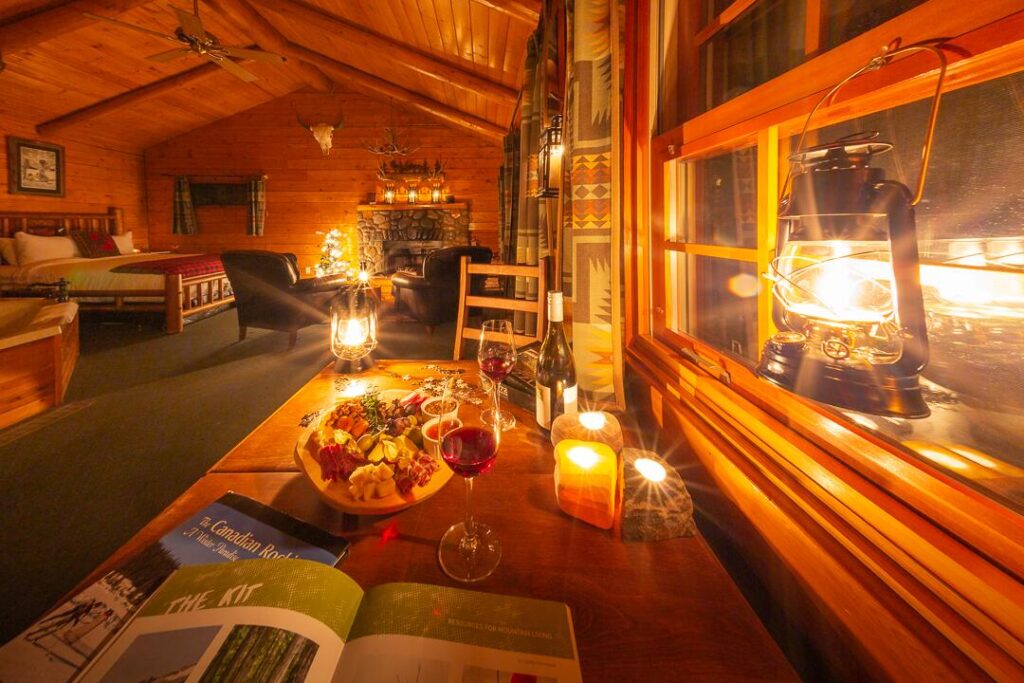 Still wondering where to stay in Banff? If you're seeking accommodation in a location further away from the hustle and bustle of Banff and closer to the natural beauty of Lake Louise, Baker Creek Mountain Resort is a laid-back escape offering comfortable lodge and log cabin accommodations.  
You'll get an authentic Canadian backcountry experience surrounded by stunning mountain scenery and vast wilderness. Enjoy a roaring fire under the night sky with access to outdoor fire pits. Retreat to your cozy room or log cabin, most of which are equipped with a wood-burning stove and kitchenette.  
Baker Creek Bistro serves genuine Canadian dishes and local craft beer that you can enjoy inside or on the patio.
---
Mount Engadine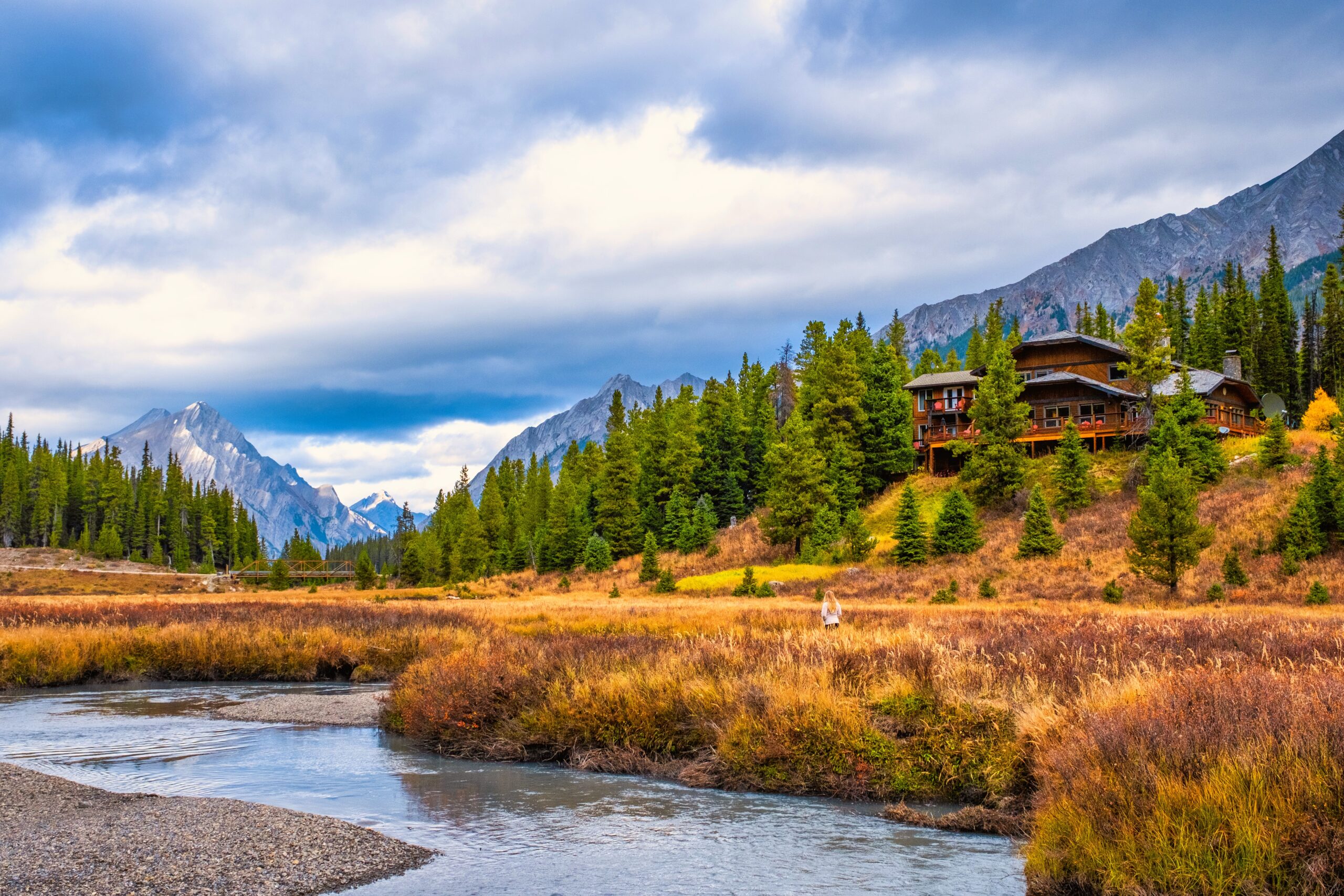 Mount Engadine is not in Banff National Park but is one of the most unique cabins near Banff to stay. Set in the heart of the Spray Valley near popular Kananaskis hikes like Tent Ridge and Smutwood this is a fantastic place to stay.
There are four main styles of lodging you can book at Mount Engadine Lodge. Starting with lodge rooms connected to the main lodge. There are also wood cabins and a yurt! We stayed in their newer glamping tents that felt like a home away from home.
There are five glamping tents in total with private decks overlooking the valley. Inside you'll find a comfortable king-size bed, full ensuite bathroom, and a gas fireplace to keep warm at night!
---
Emerald Lake Lodge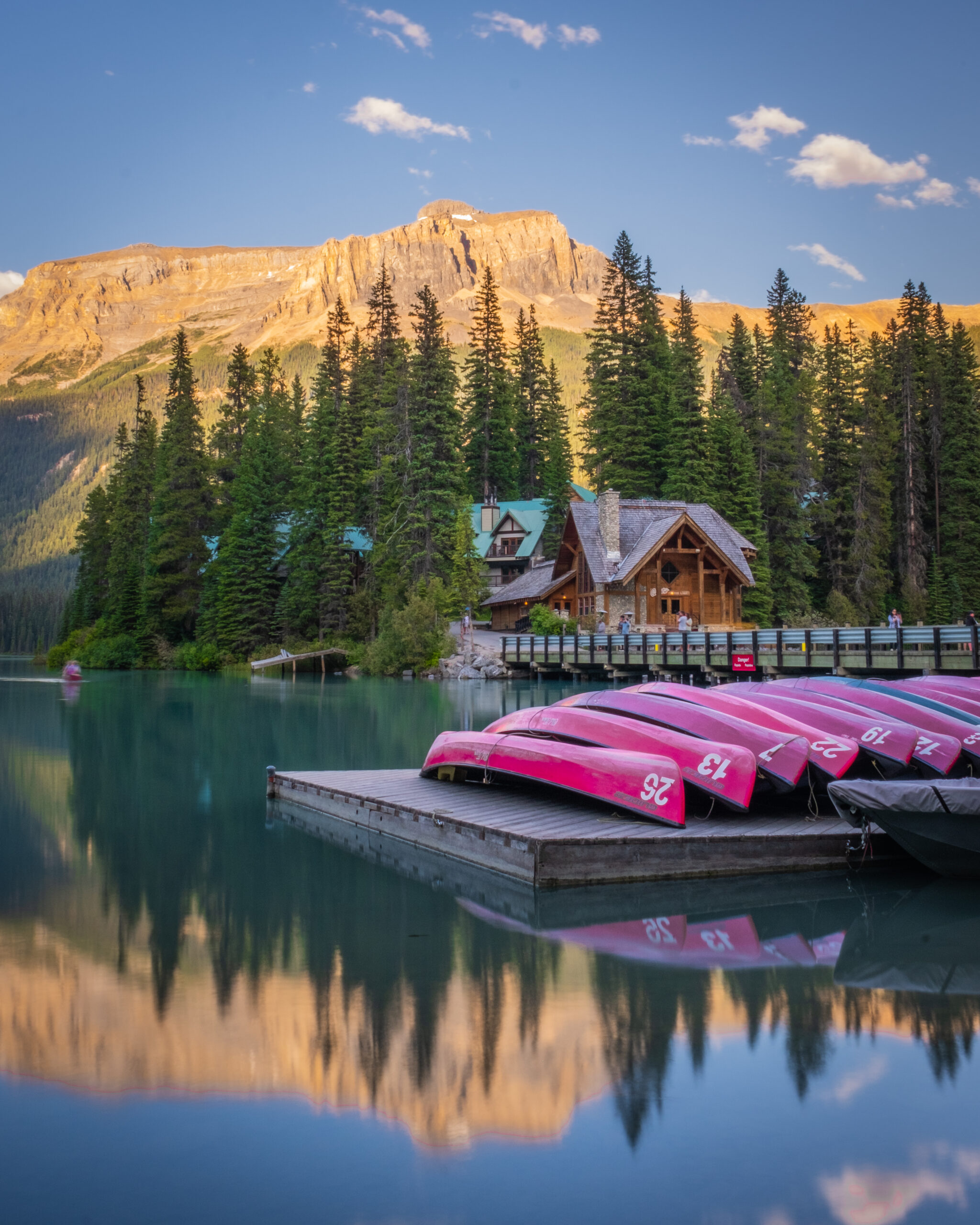 Another one of the best cabins near Banff is in the park right next to Lake Louise. Emerald Lake Lodge is a famous establishment in the Yoho National Park and, for that matter the Canadian Rockies. The historic lodge dates back to 1902 and was built by the Canadian Pacific Railway. There are 24 cabins for rent and the lodge has an outdoor hot tub, two restaurants, a kayak/canoe rental dock, and a gift shop.
The lodge is all about nature and a tremendous place to disconnect as they offer no TVs or WiFi in the rooms and there is no cell phone signal. So bring a nice book to read in the evenings. It's a secluded lodge in the wilderness that offers sublime views of the lake. The lodge is open year-round, but rates in the summer are far higher than in the winter.
---
Rustic Chic Banff Chalet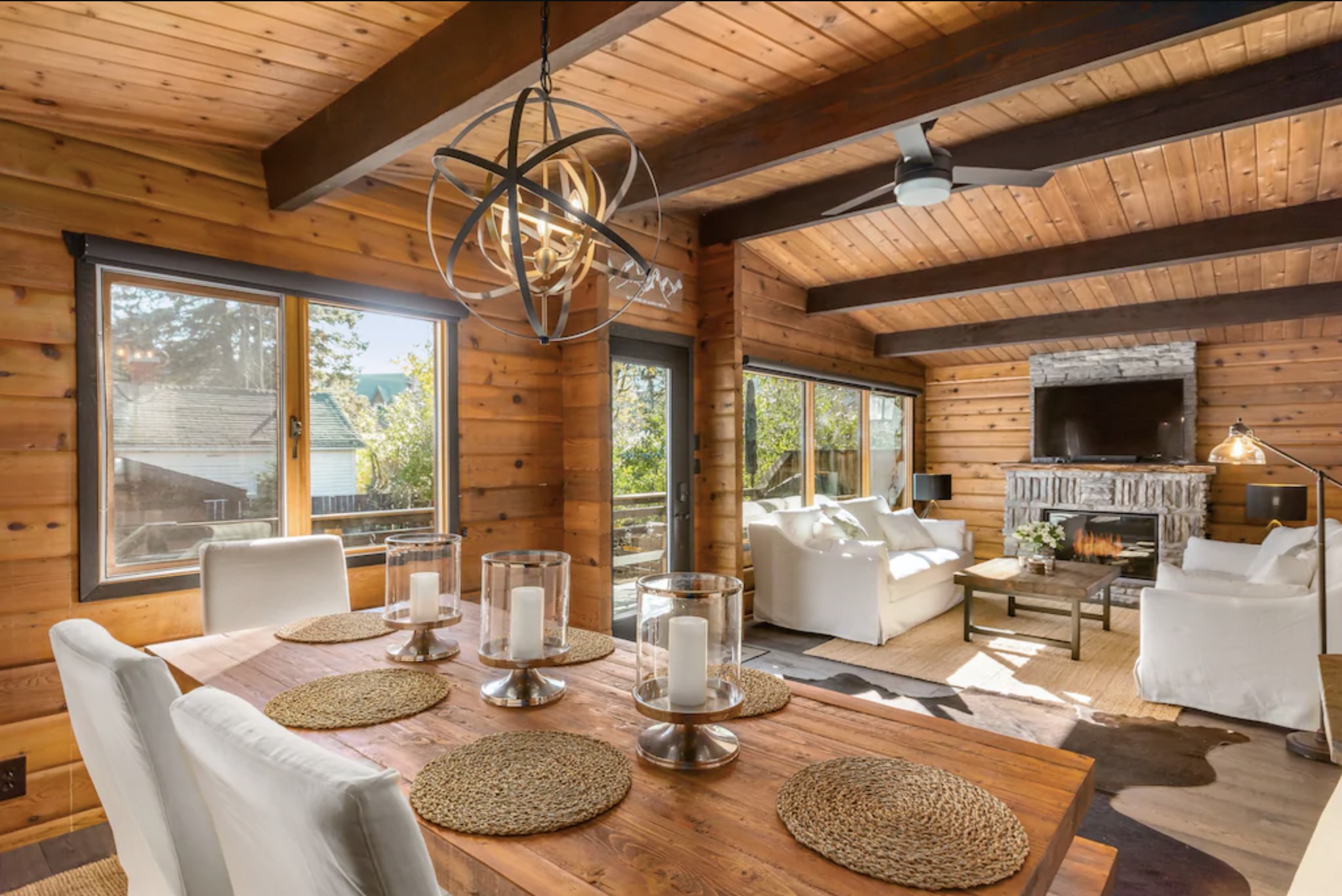 This two-bedroom Banff Chalet sleeps up to eight people and is located just two blocks away from Banff Ave in downtown Banff.
From the back deck you can watch the sunset over Mount Rundle which is one of the best things to do in Banff.
All the beds here are Tempurpedic with high-quality linens in addition to luxurious cotton towels and Rocky Mountain Soap (a local favorite) in the bathroom.
The kitchen is fully stocked so you can cook with the family right at home. At night you can enjoy grilling on the patio, or cozying up next to the gas fireplace. There is parking on the property so you're never too far away from your car.
---
Banff Log Cabin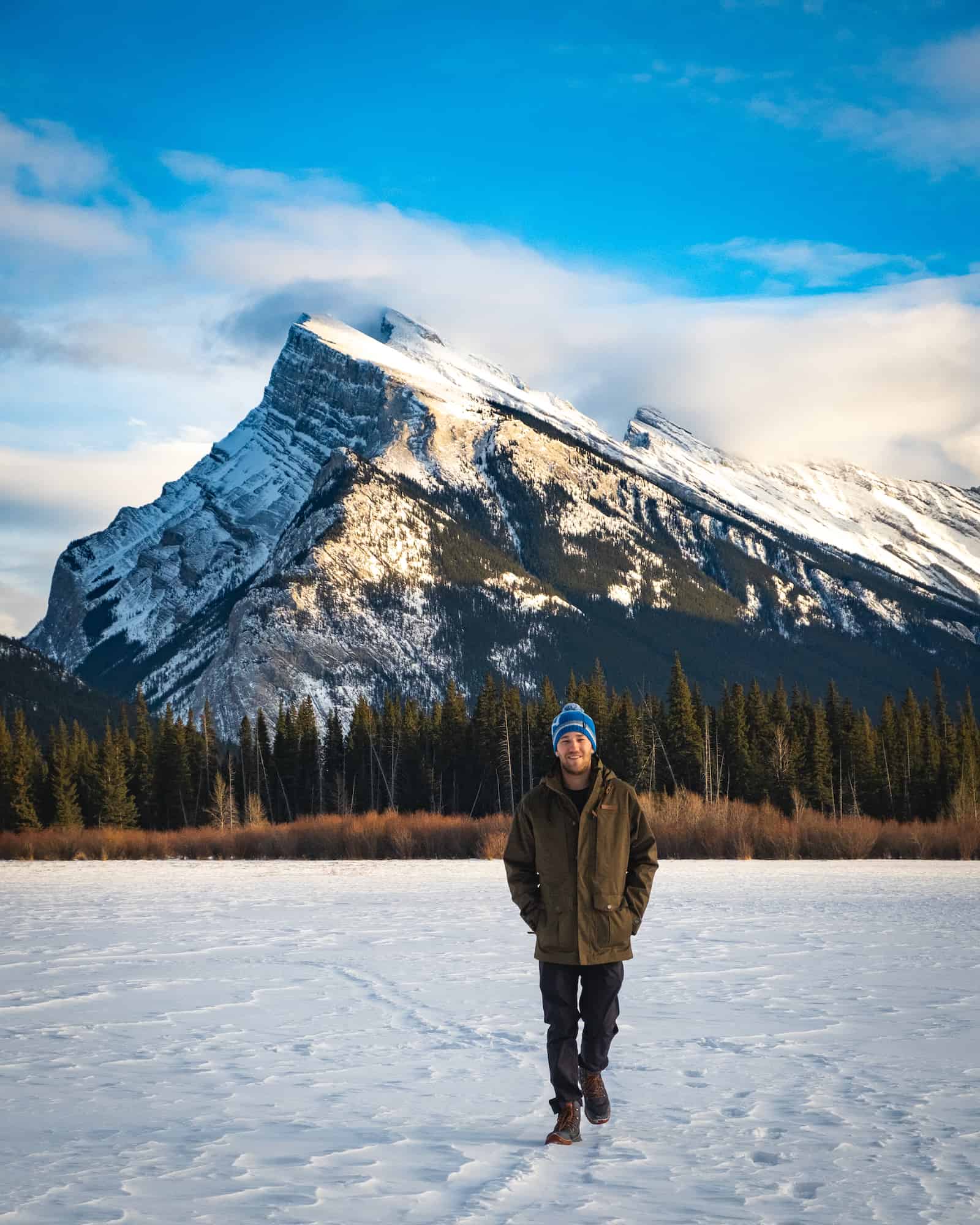 The Banff Log Cabin is a special one, because there is only one of them, and is frequently the site of photoshoots. Seriously, this is one of the best Banff cabin rentals you could score. It's located right in Downtown Banff and is walkable to Banff Ave. The Banff Log Cabin was built in 1974 and over the years fell into disrepair, until some care went into it in the 2000s. It's easily one of the best Airbnbs in Banff.
Now it's locally owned and operated in a quiet residential area. It's separated from the owner's main house and is an ultra-romantic getaway for anyone on their Banff honeymoon. There's a cast iron gas stove, as well as WiFi and a flat-screen TV. A delicious breakfast is served every morning. And there is a kitchenette in here in case you want to save money in Banff and eat in.
---
Banff Bear Chalet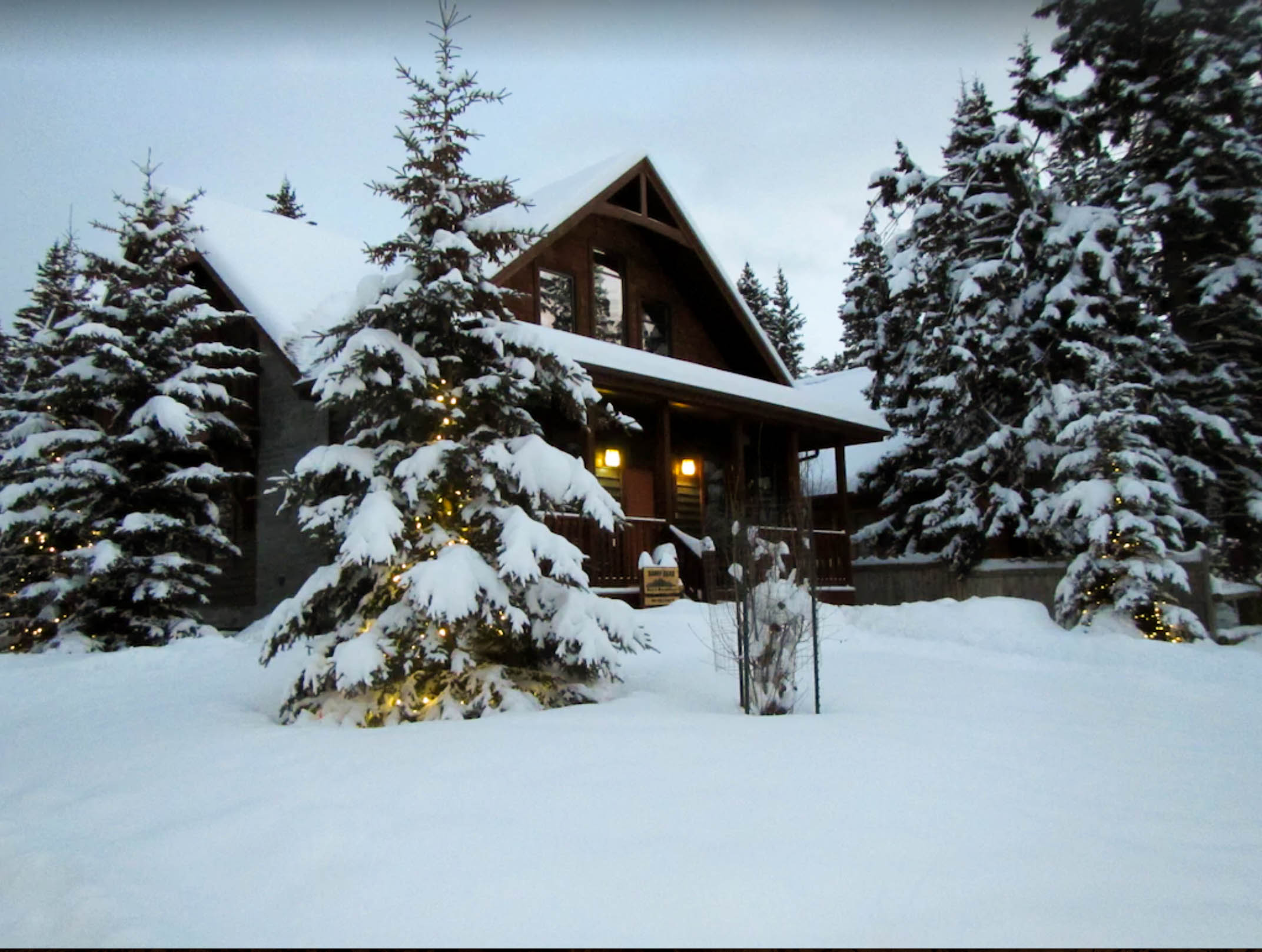 Another awesome Banff chalet mountain home with absolutely superb reviews! This mountain home sleeps four and is great for couples or small families to enjoy.
It's located right at the base of Tunnel Mountain and is only a five-minute walk to Banff Ave where you can enjoy the Bow River and Cascade Gardens.
With this chalet comes a private deck where wildlife frequently wanders. As well as a private entrance, free parking, and helpful amenities like Netflix and fast WiFi.
There is no full kitchen but there is a dining area with a kitchenette ready to use!
---
Luxurious Private Mountain Banff Chalet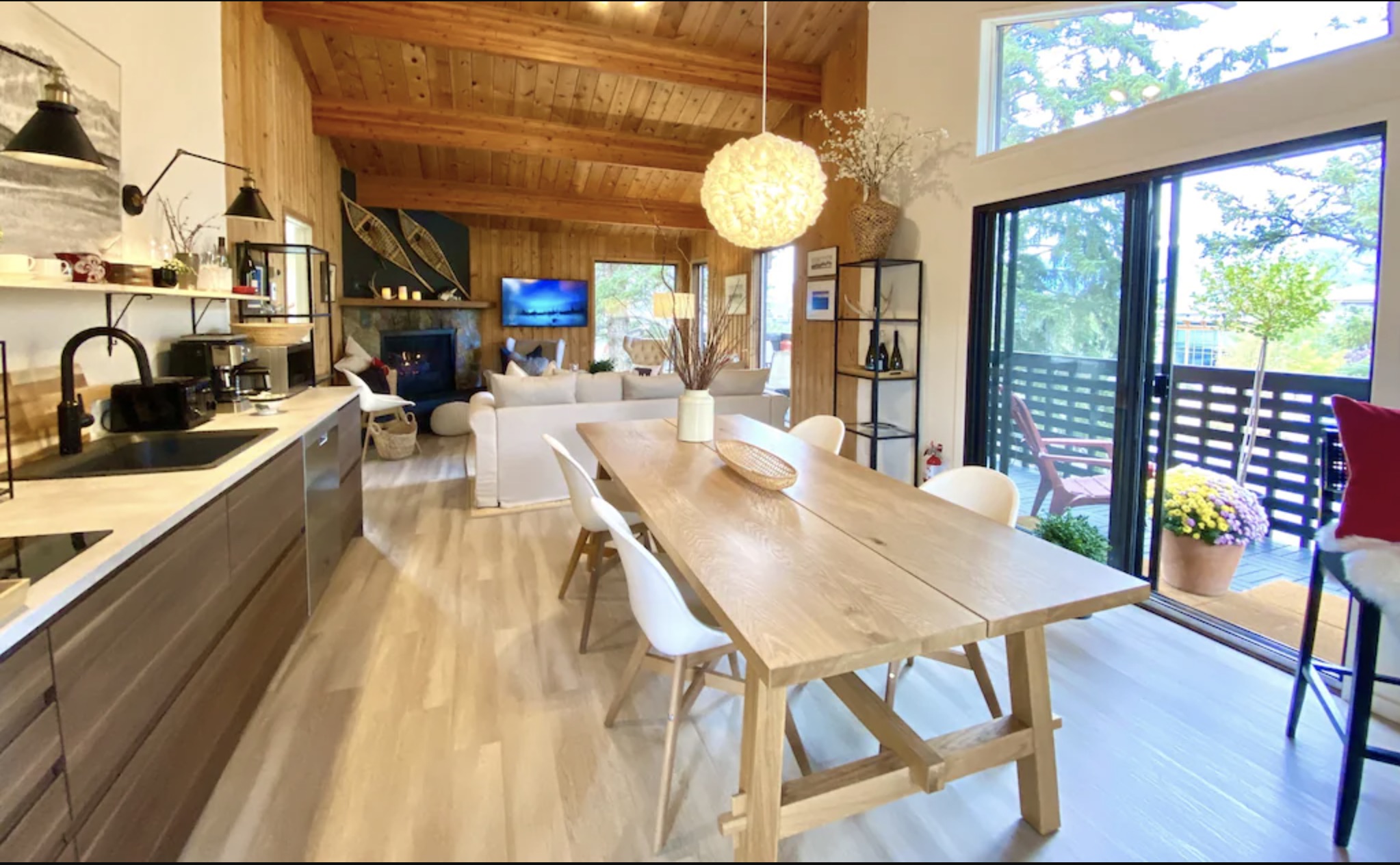 Located just STEPS away from Banff Ave is this modern and luxurious rental. It's been newly renovated as you can see from the photos and has amazing vaulted ceilings, a modern kitchen, a gas fireplace, and an upper balcony.
It's a great place for six people to stay as there are three separate bedrooms spread across multiple floors. The living area has a 4K TV with Netflix, which is where you can unwind after a day out exploring the mountains.
---
Juniper Hotel Cabin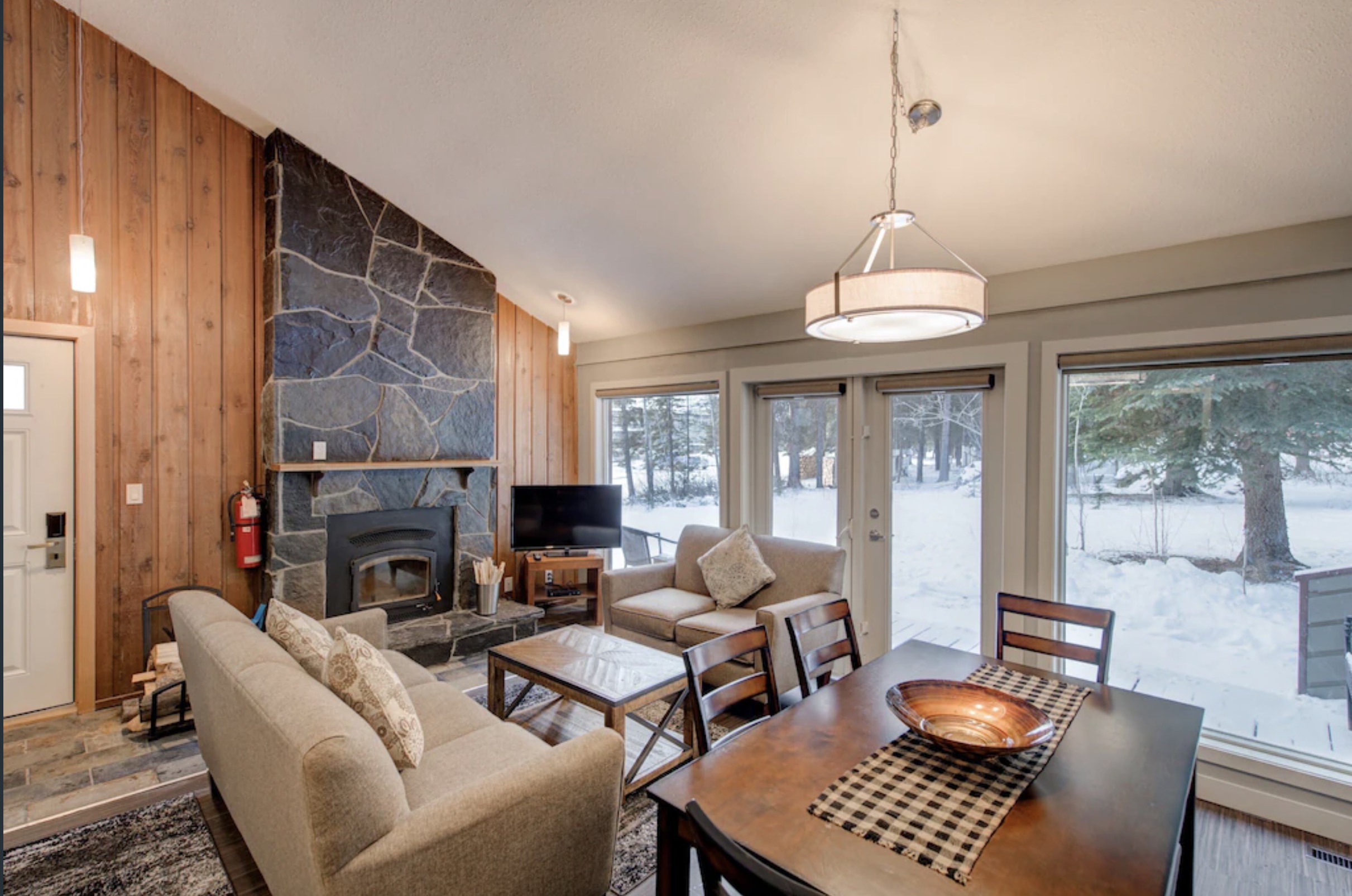 This is a one-of-a-kind Banff cabin rental that is part of the Juniper Hotel complex (though this is the only full chalet like this). Juniper Hotel is situated across the TransCanada highway from the Town of Banff and close to sights like Mt. Norquay.
This loft-style chalet sleeps up to six people and comes with a private terrace, a wood-burning fireplace to enjoy in the winter, and Air conditioning (a rarity in the Rockies) to enjoy in the summer.
If you are visited in the winter you'll enjoy the ski storage area as well as the shared outdoor hot tub and fire pit.
If you are worried about being too far from Banff Ave not to worry, there is a free shuttle that will take you downtown in minutes.
---
Cathedral Mountain Lodge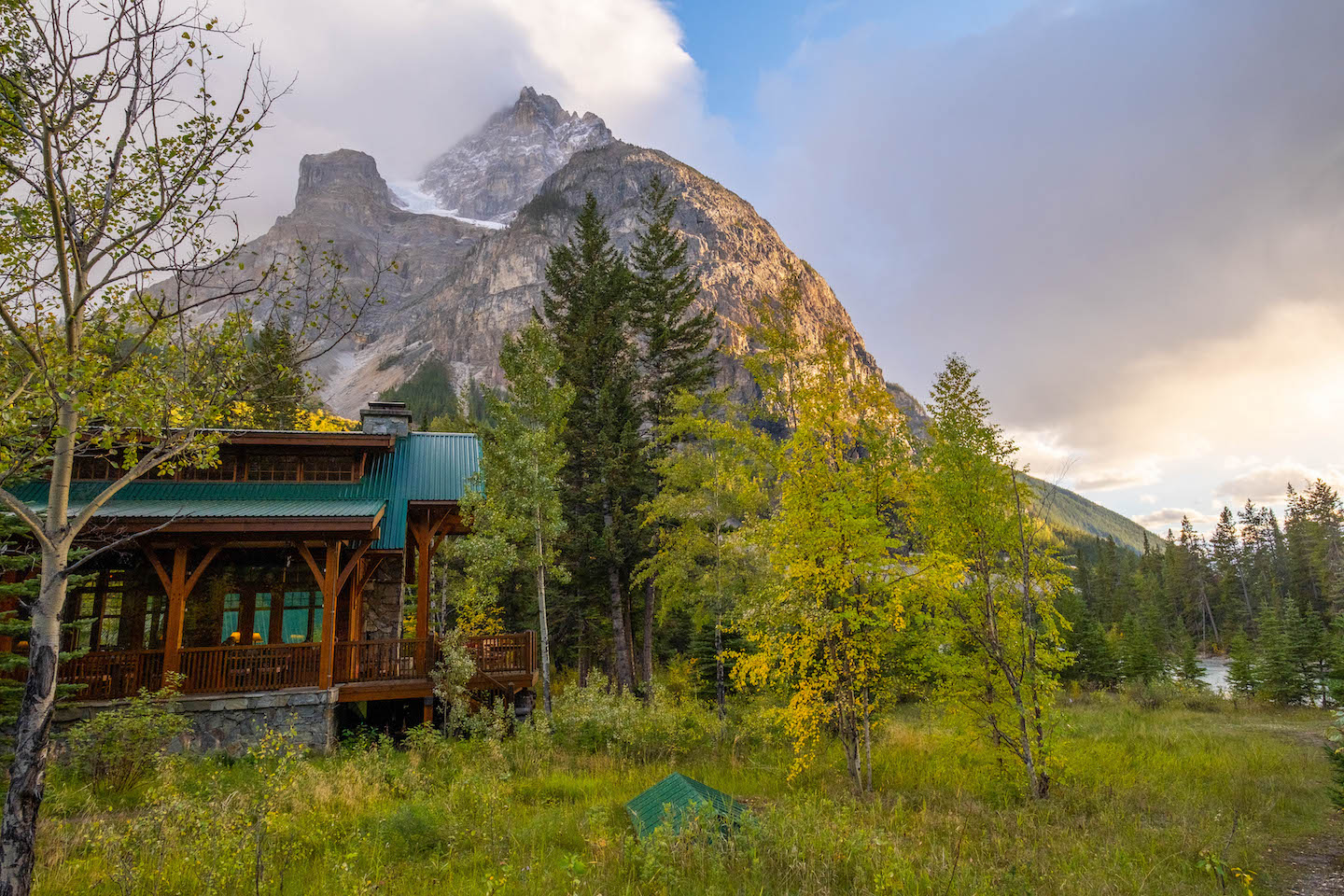 Not in Banff, but just 20 minutes away from Lake Louise is Cathedral Mountain Lodge in Yoho National Park. It's near the small town of Field, and certainly one of the best places to stay in the area.
This is a luxury mountain lodge, that books up fast in the summer. It's easy to see why as they truly bring log cabin mountain living home.

This timber frame structure is located right on the banks of Kicking Horse River; you can truly feel at home in the mountains here. There are no modern-day distractions here. TVs and phones are replaced with Canadian cultural timepieces encouraging guests to always get out in the wilderness. This is one of the most romantic places to stay in the region, and there are plenty of beautiful rooms to choose from.
Their Riverside Dining Room is a fantastic place to dine in the area. Reservations are highly recommended. The Cathedral Mountain Lodge is operated by the same folks who run Moraine Lake Lodge, meaning that guests staying here get complimentary canoeing on Moraine Lake.
Cathedral Mountain Lodge is next to Takakkaw Falls and has plenty of hiking opportunities in the Yoho Valley, like the Iceline Trail. Note that Cathedral Lodge is closed during the winter season.
---
Backcountry Banff Cabins

These Banff cabins will take some work to get to and require either a horseback ride, snowshoe, ski, or hike in. However, I promise you their location in the backcountry is so worth the effort.
---
Skoki Lodge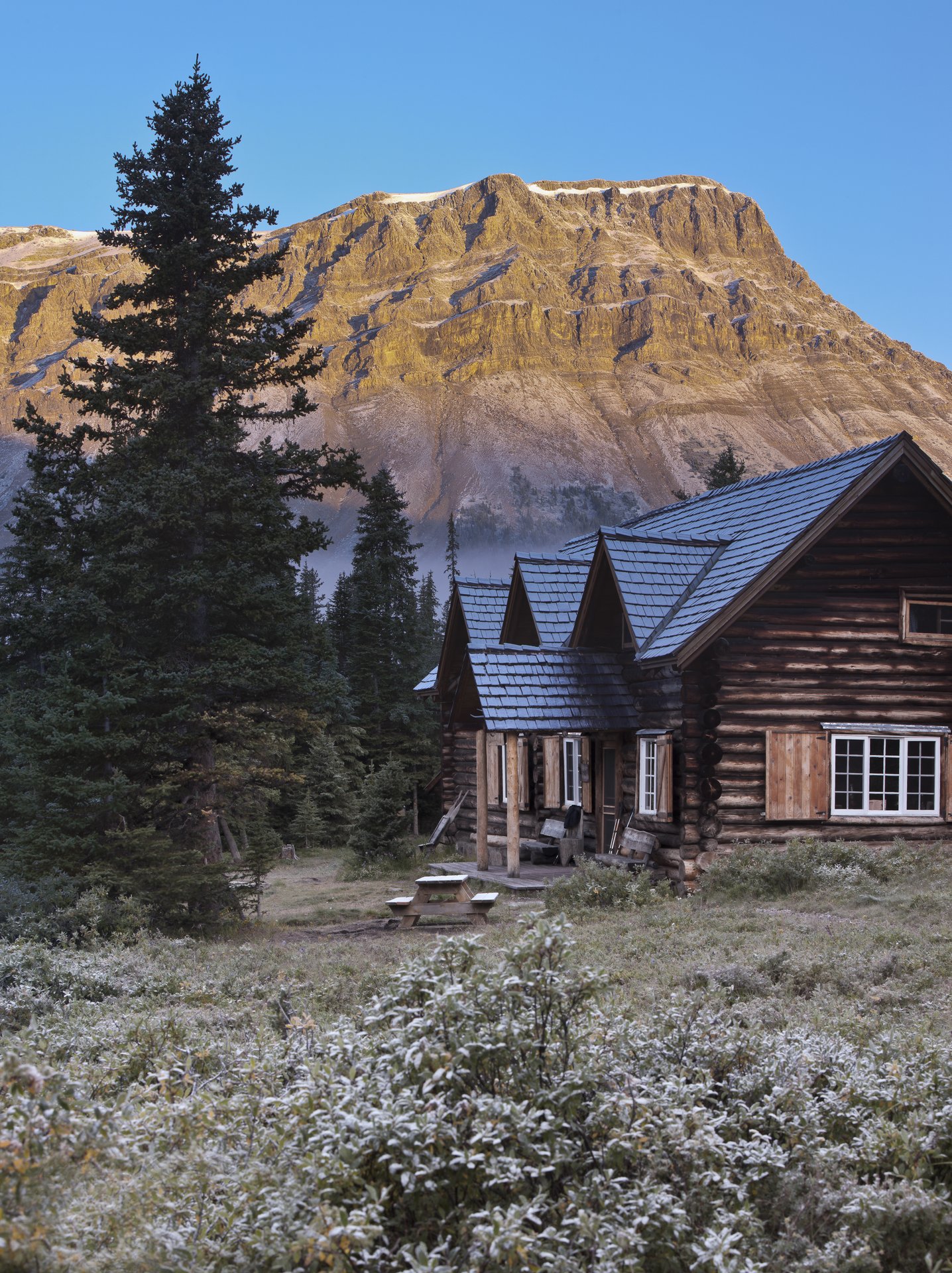 The historic Skoki Lodge is a lodge located in the backcountry of Banff National Park. The lodge can only be reached by hiking or skiing in 11km from the Lake Louise Ski Resort. It's one of the first backcountry ski lodges in North America, dating back to 1930. In the winter, activities include ski touring, cross country skiing, and telemark skiing.
During the summer months, you can hike, climb, fish, or go horseback riding. It's well known as one of the best backcountry lodges in the world, and nights are in high demand. Even if you can't score a night in the lodge you can still make the gorgeous hike out to the lodge and back.
---
Sundance Lodge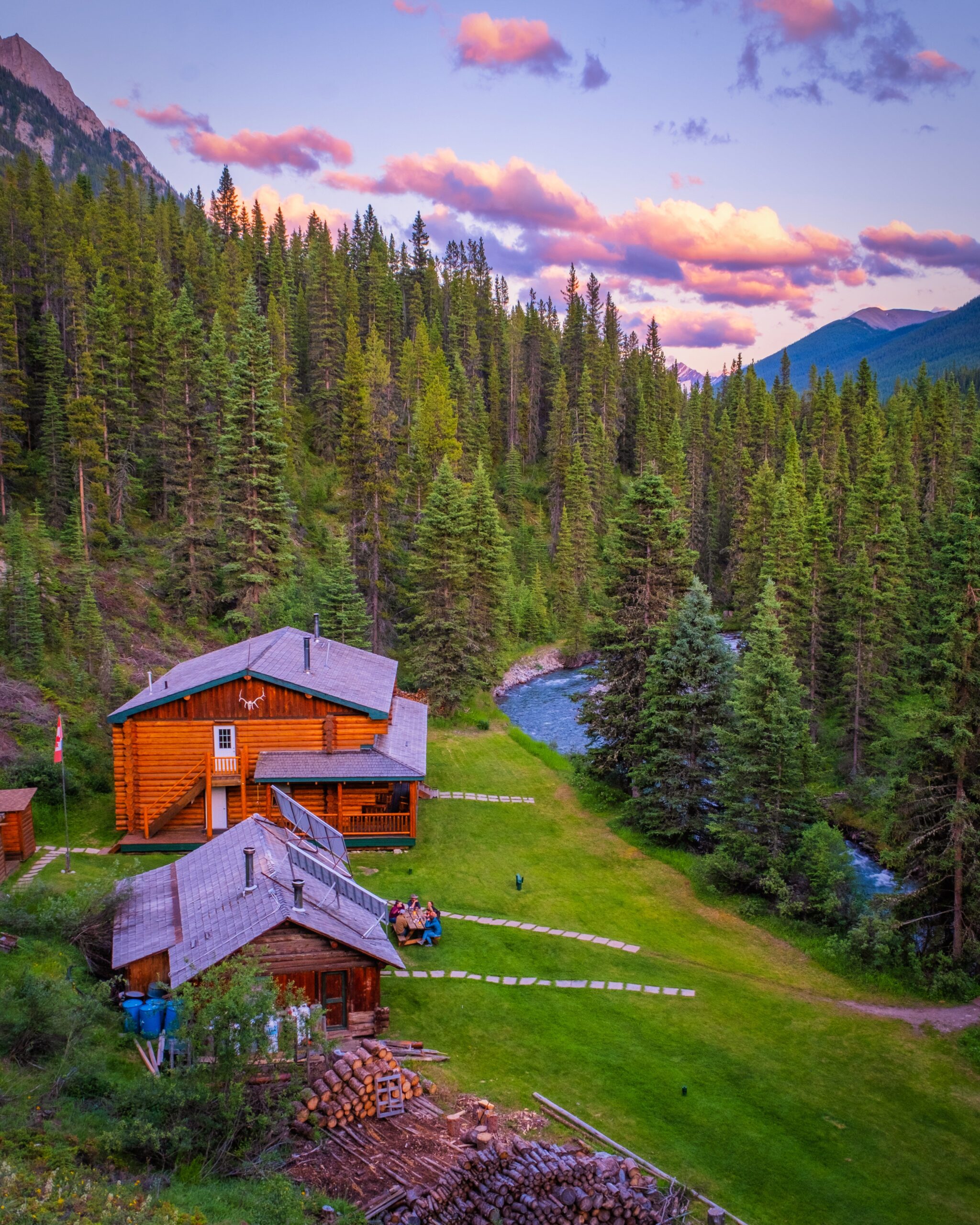 If I were to build a cabin in the middle of the mountains, Sundance Lodge is exactly what I would model it after. It's no basic lodge, but rather a cozy log cabin that brings you back to the early days on the Western Frontier.
Decked out in western memorabilia and with a front porch overlooking the glorious river, you can relax as the sun sets over Banff National Park. You can book this trip with Discover Banff Tours or take a horseback trip back here.
---
Halfway Lodge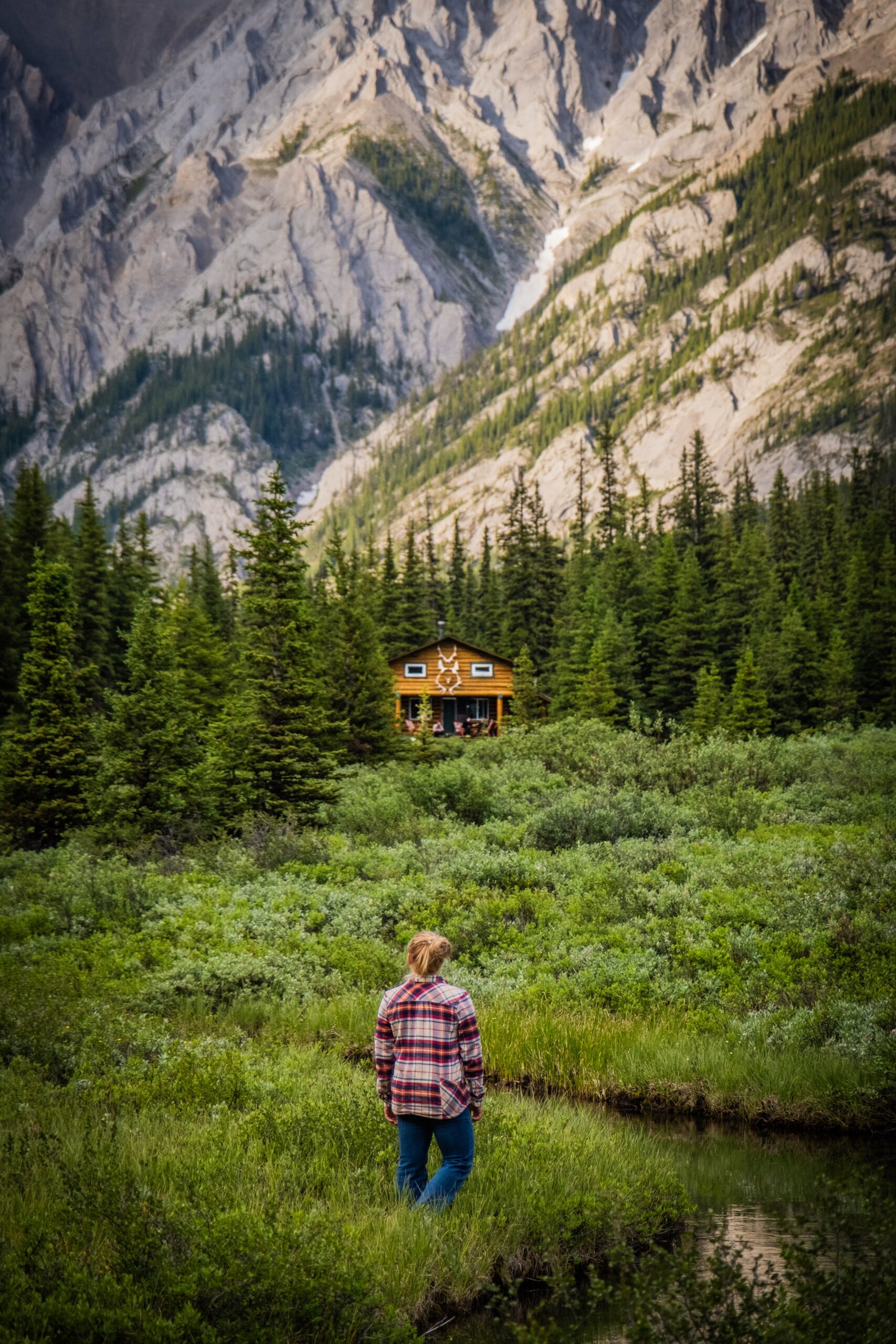 The views from Halfway are ones I don't often get, even with all the hiking we enjoy in the Canadian Rockies. Halfway Lodge itself is a tiny and intimate cabin built in the 1920s. Although now it is two stories, it used to only be one.
A second story was added when a curious bear fell through the roof in the 1960s (yes, you read that right). Now there are four rooms on the second story and a cozy kitchen, fireplace, and dining area on the first story.
---
Whatever one of these Banff cabins you choose, we wish you a beautiful stay!
Plan Your Trip to the Canadian Rockies
↓ Join the community ↓
The Banff Blog Facebook Group is your headquarters for the Canadian Rockies travel advice and information. Including hike info and off-season travel information. This is also a place where you can meet one another when you need adventure buddies.