If you have chosen Banff for your honeymoon, you have made a good choice. It may not seem like the honeymoon destination you have pictured without sand and warm beaches, but there are so many amazing mountains, lakes, and endless nature here you won't regret it here.
While there isn't a blue ocean, there are plenty of turquoise-blue glacier-fed lakes and many hiking trails. Here's how to enjoy a Banff honeymoon properly!
---
The Ultimate Banff Honeymoon Planning Guide
---
When Should You Plan a Banff Honeymoon?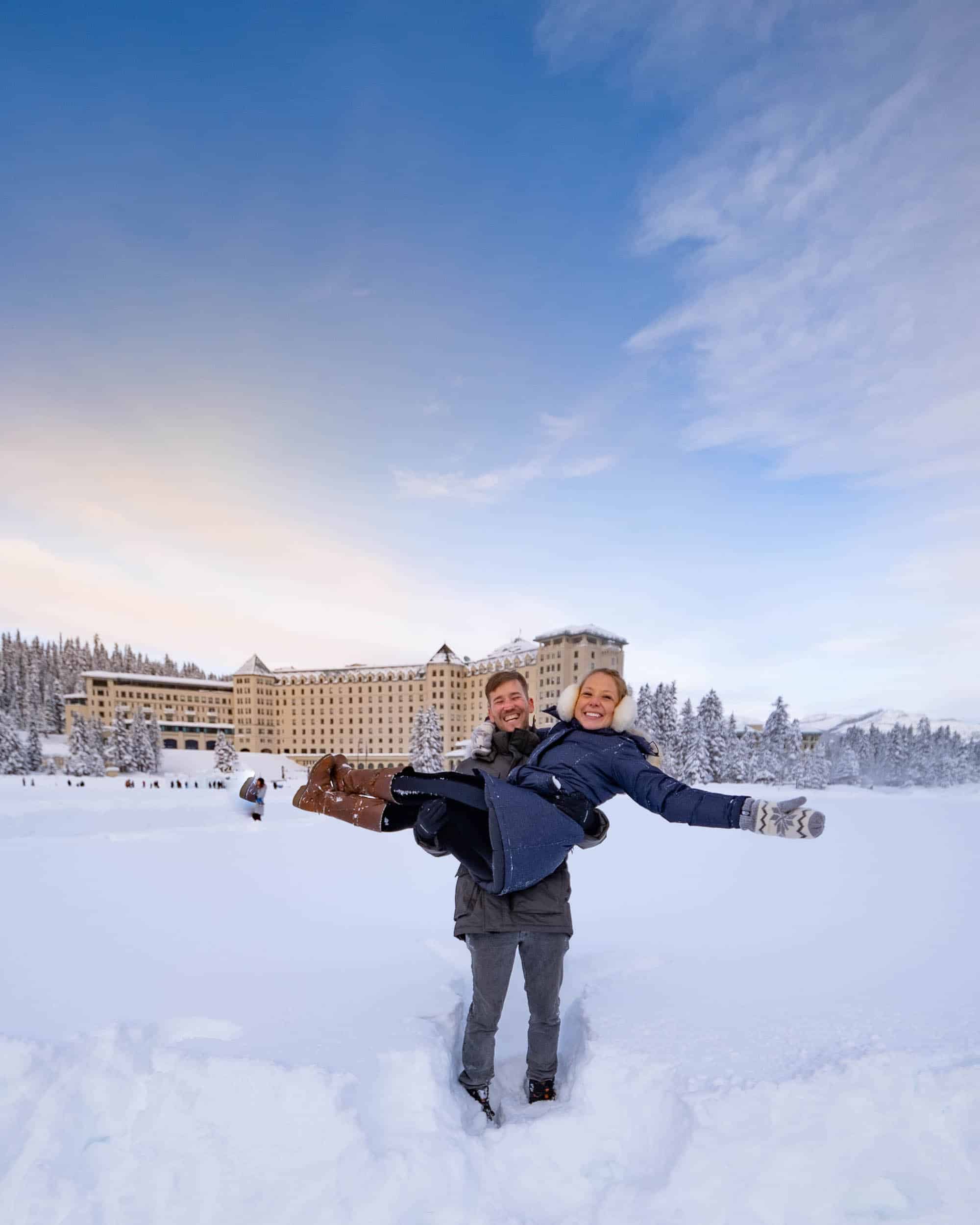 That depends on if you want a winter Banff honeymoon or a summer Banff honeymoon. If you are seeking a honeymoon filled with fluffy snow and frosted mountains, you should honeymoon in Banff between December and February – though you'll want to dress warmly.
If you seek a summer in the mountains kind of honeymoon, plan to travel to Banff between late June and September. For a honeymoon in the fall, with golden larch leaves all around you, the last two weeks of September will be your best bet for getting those fall vibes.
---
The Most Romantic Places to Stay on a Banff Honeymoon
Being a small town in a national park, Banff doesn't have a crazy number of hotels. But there are some romantic places to stay in Banff on your honeymoon.
---
---
---
---
See other Hotels and Airbnbs in Banff here
---
Romantic Things to do on Your Banff Honeymoon
---
Summer Banff Honeymoon Activities
Stroll Through Cascade Gardens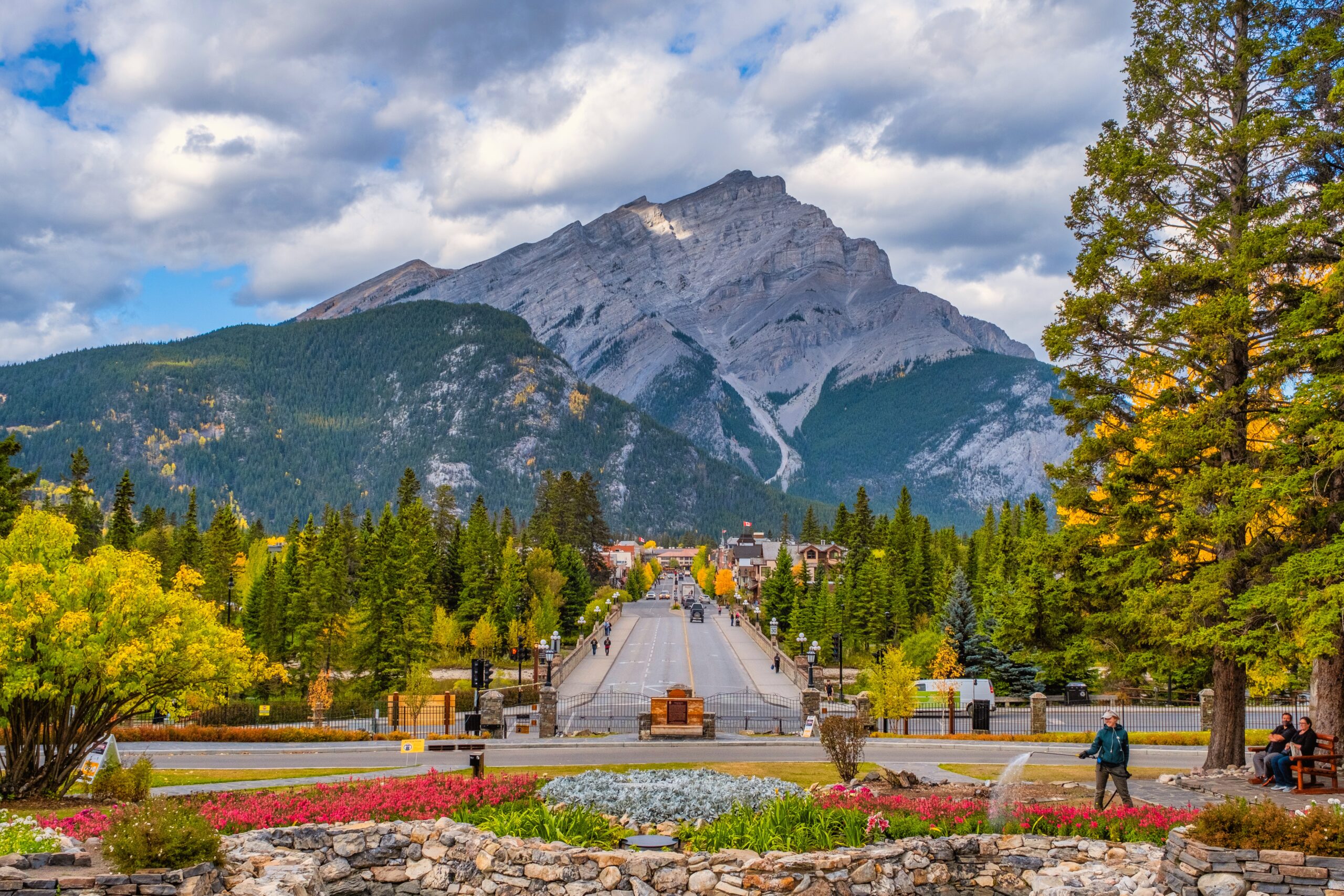 One of the most romantic and simple things you can do with your sweetheart is take a stroll around Downtown Banff. Make sure to head to the end of Banff Ave and take a walk through the beautiful Cascade Gardens.
---
Ride a Horse Through Canada's First Park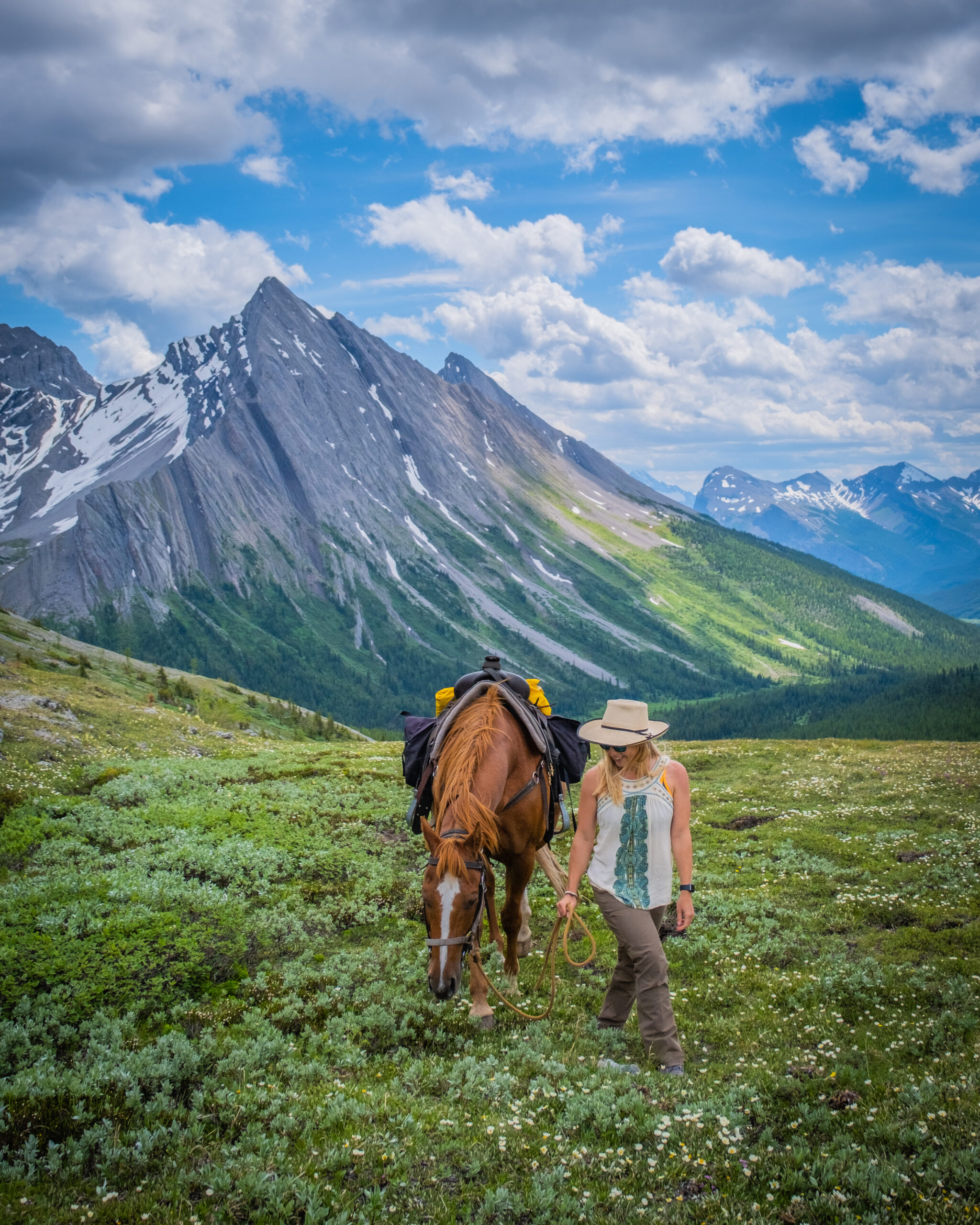 One of the best things to do in Banff in the summer is hop on a horseback and get deep into Banff. It's a huge park that very few people get out to; most stick to the main sites. But having a horse will help you get far back into some unknown passes. Now you can either book an hour or some sort of half-day adventure, but for something truly unique that you can't do anywhere else in the world, you should really try and get on an overnight trip with Banff Trail Riders.
We embarked on a 5 night trip with Banff Trail Riders last summer. They took us deep into the backcountry where hardly anyone gets to. It's one of those truly romantic bucket list experiences you'll remember for the rest of your life. Read all about that experience here.
---
Enjoy a Spa Treatment
Even a small mountain town like Banff has places to get a nice spa treatment. Treat one another on your Banff honeymoon to a day of indulgence. Red Earth Spa and Meadow Spa both have spa packages for couples.
---
Hike to the Lake Agnes Teahouse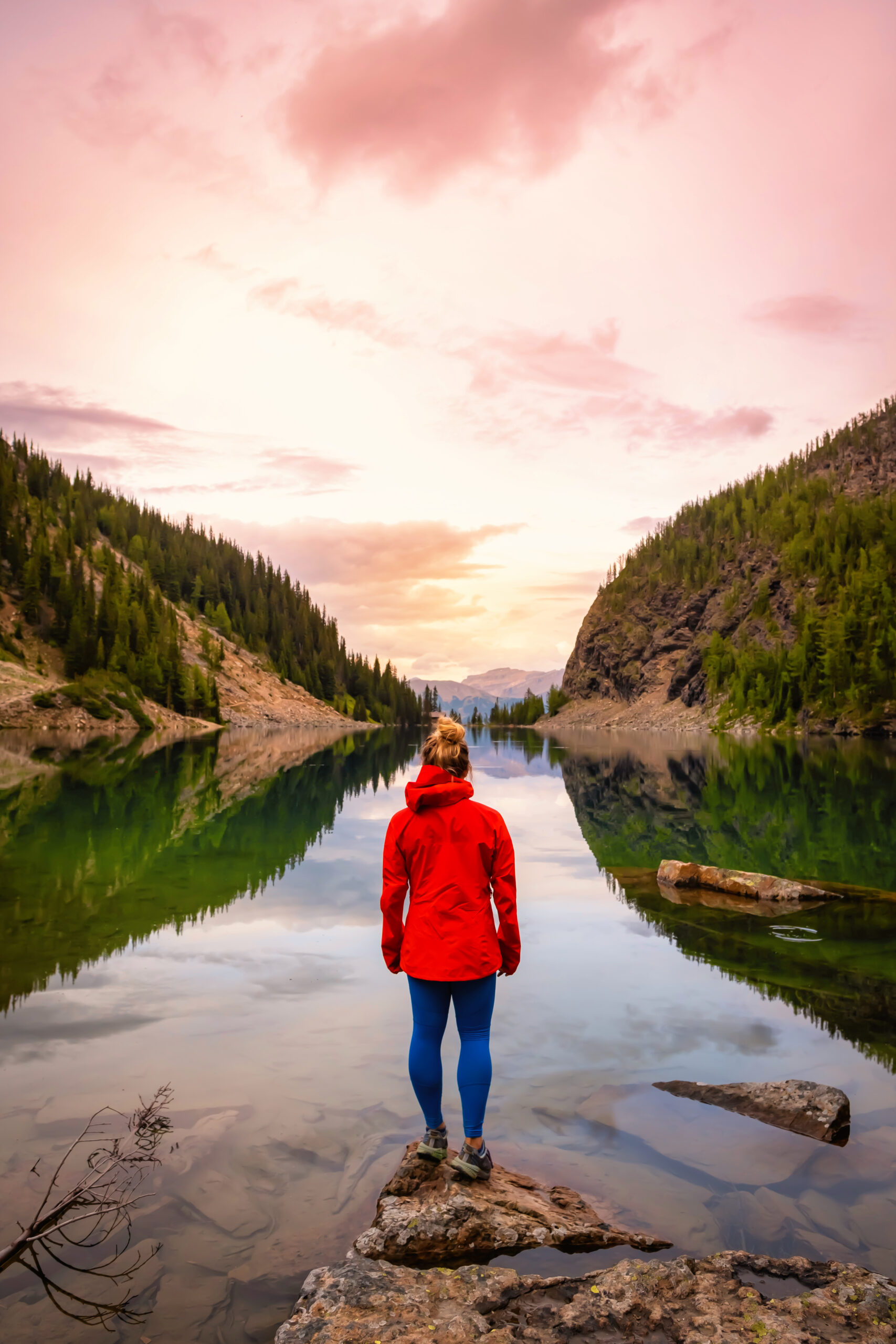 The Lake Agnes Teahouse trek is one of the best easy hikes you can do in Banff. After visiting Lake Louise take the trail to the teahouse. It's an easy and gradual climb up to one of the oldest teahouses in the park situated on beautiful Lake Ages. If you're the adventurous kind, continue hiking to the Little Beehive, Big Beehive, or Devils Thumb.
---
Catch Sunset at Vermilion Lakes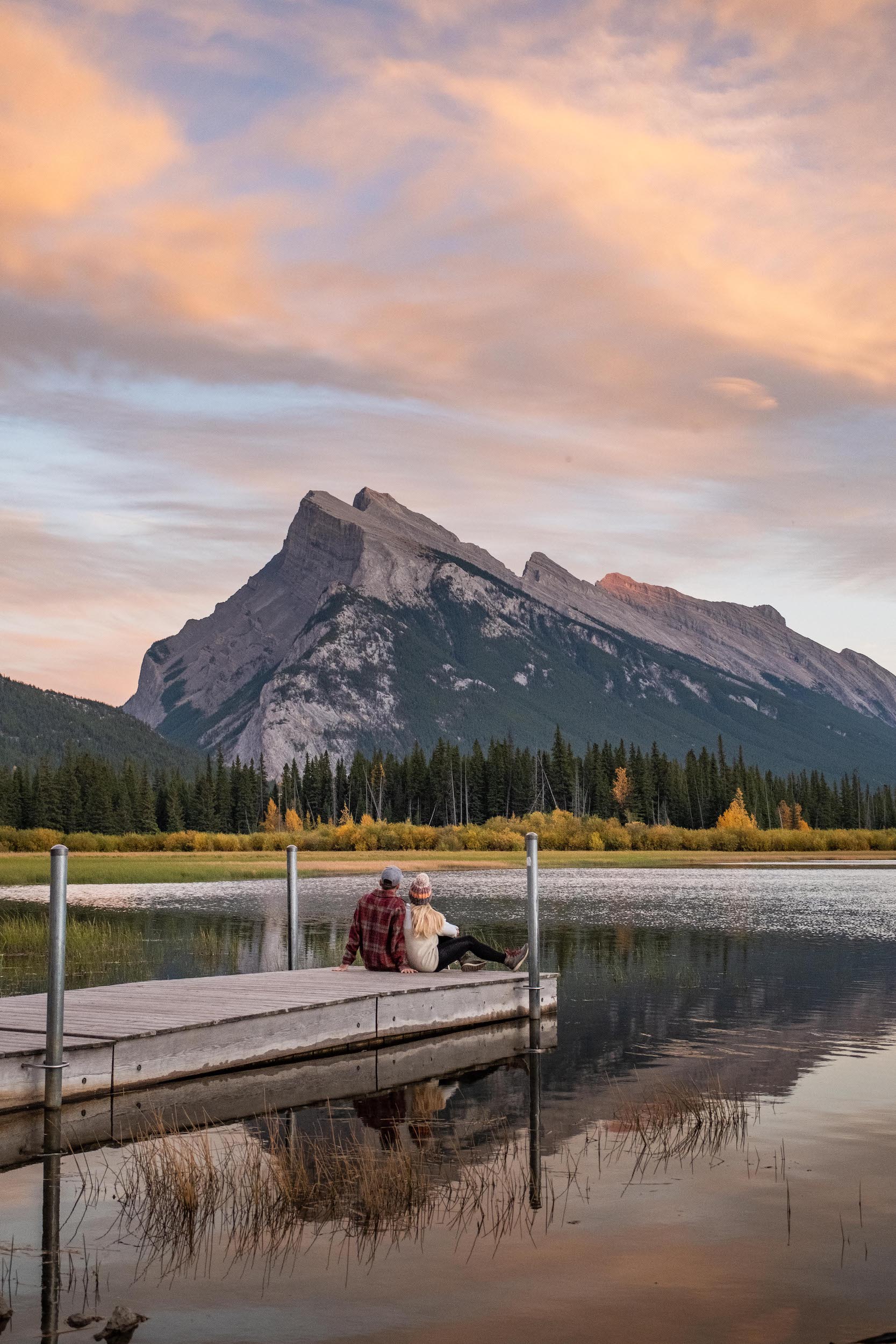 One of my favorite places to catch the sunset in Banff is on the dock at Vermilion Lakes. You'll get the best views of the famous Mount Rundle here, and if you're lucky, the colors of the clouds might really give you something special.
---
Winter Banff Honeymoon Activities
Go Dog Sledding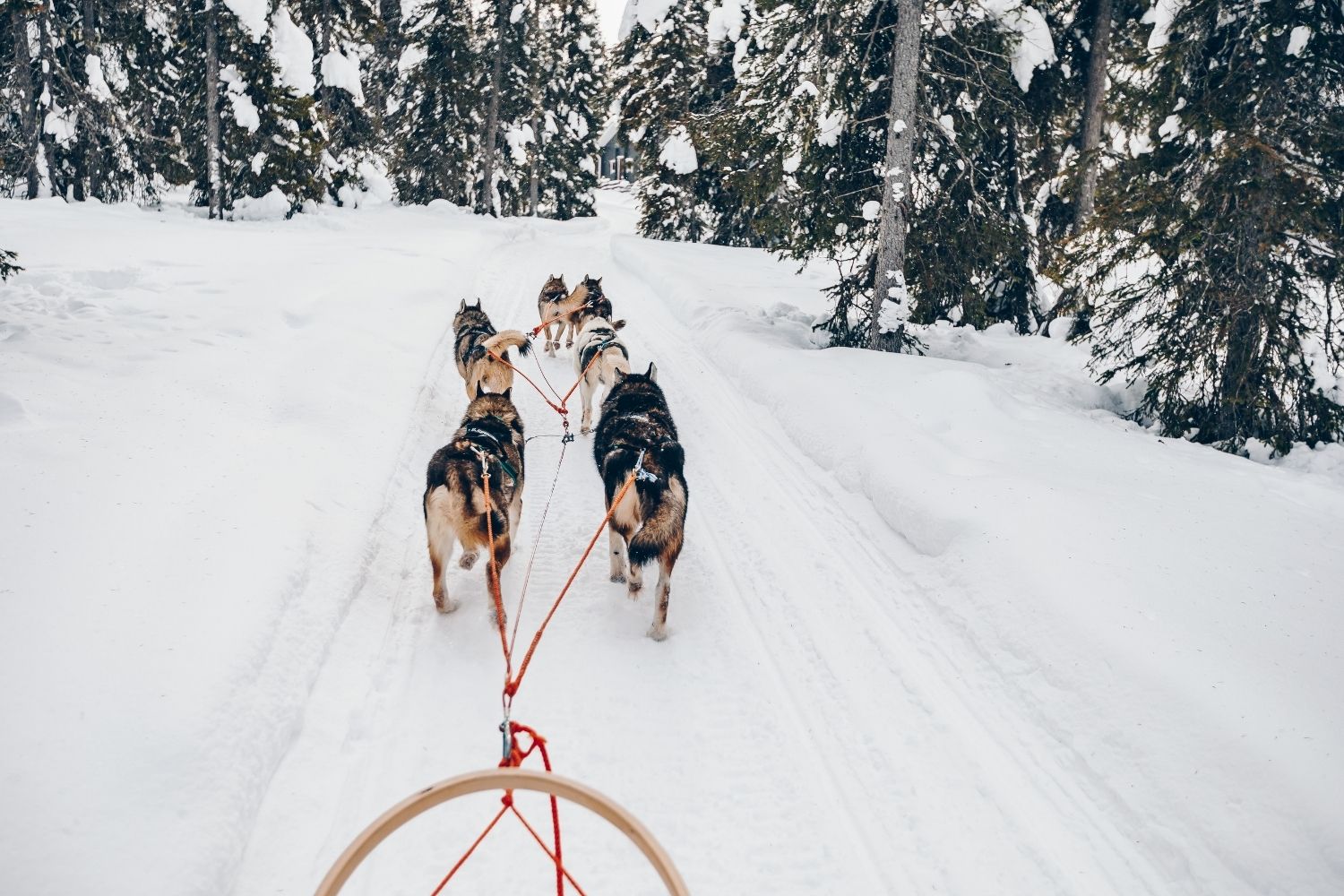 Discover Banff Tours runs dog sledding adventures at Lake Louise and in Canmore. We've done this four separate times, and it's always an amazing experience. I particularly love how quiet the ride is, with only the sound of the dog team's steps against the snow.
---
Ice Skate on Lake Louise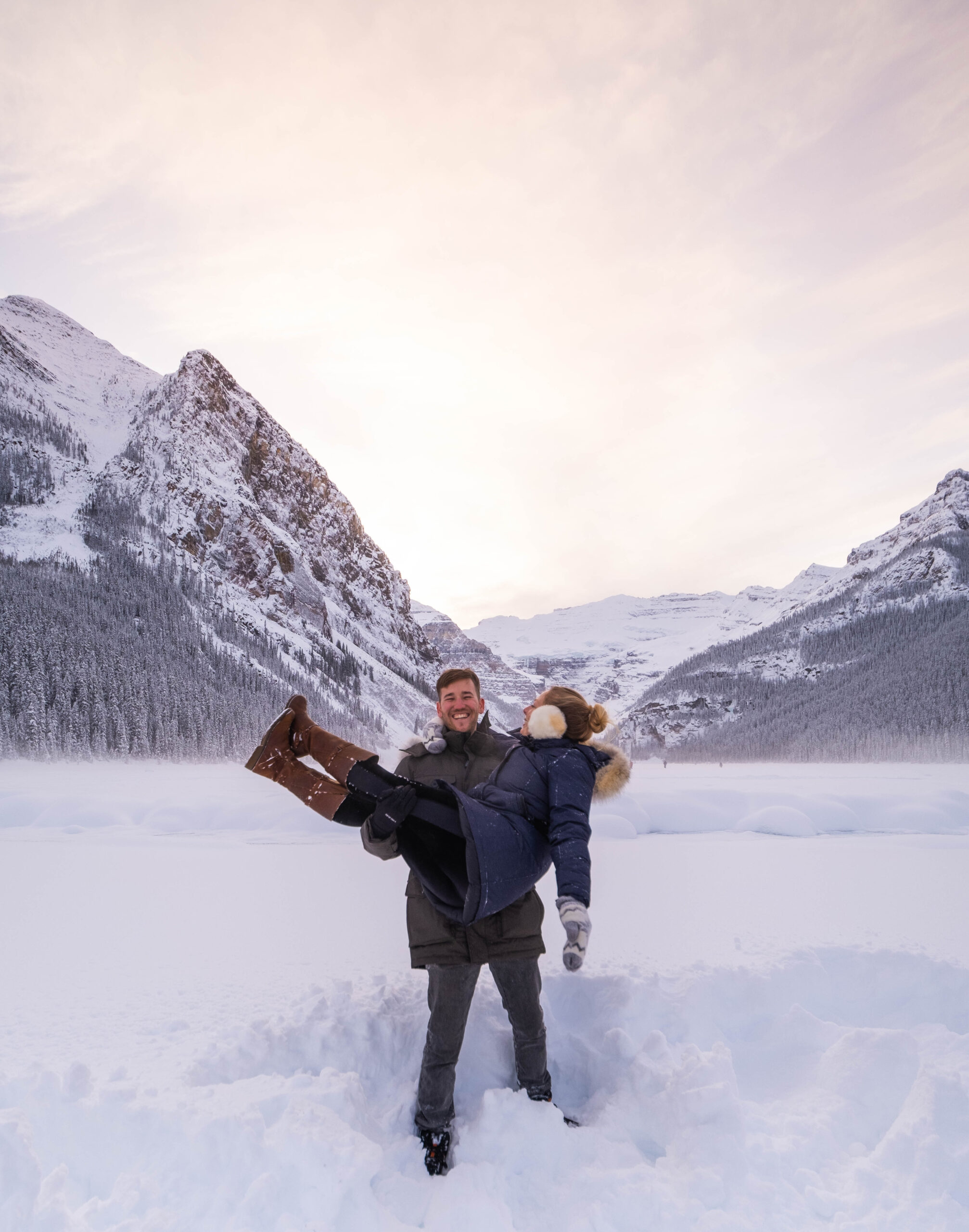 You'll be hard-pressed to find a more scenic ice rink than Lake Louise. Every year the lake freezes over, and the Chateau Lake Louise marks out multiple ice rinks made for families, figure skating, and hockey. Take a skate around this beautiful area and then enjoy some hot chocolate together.
---
Go Skiing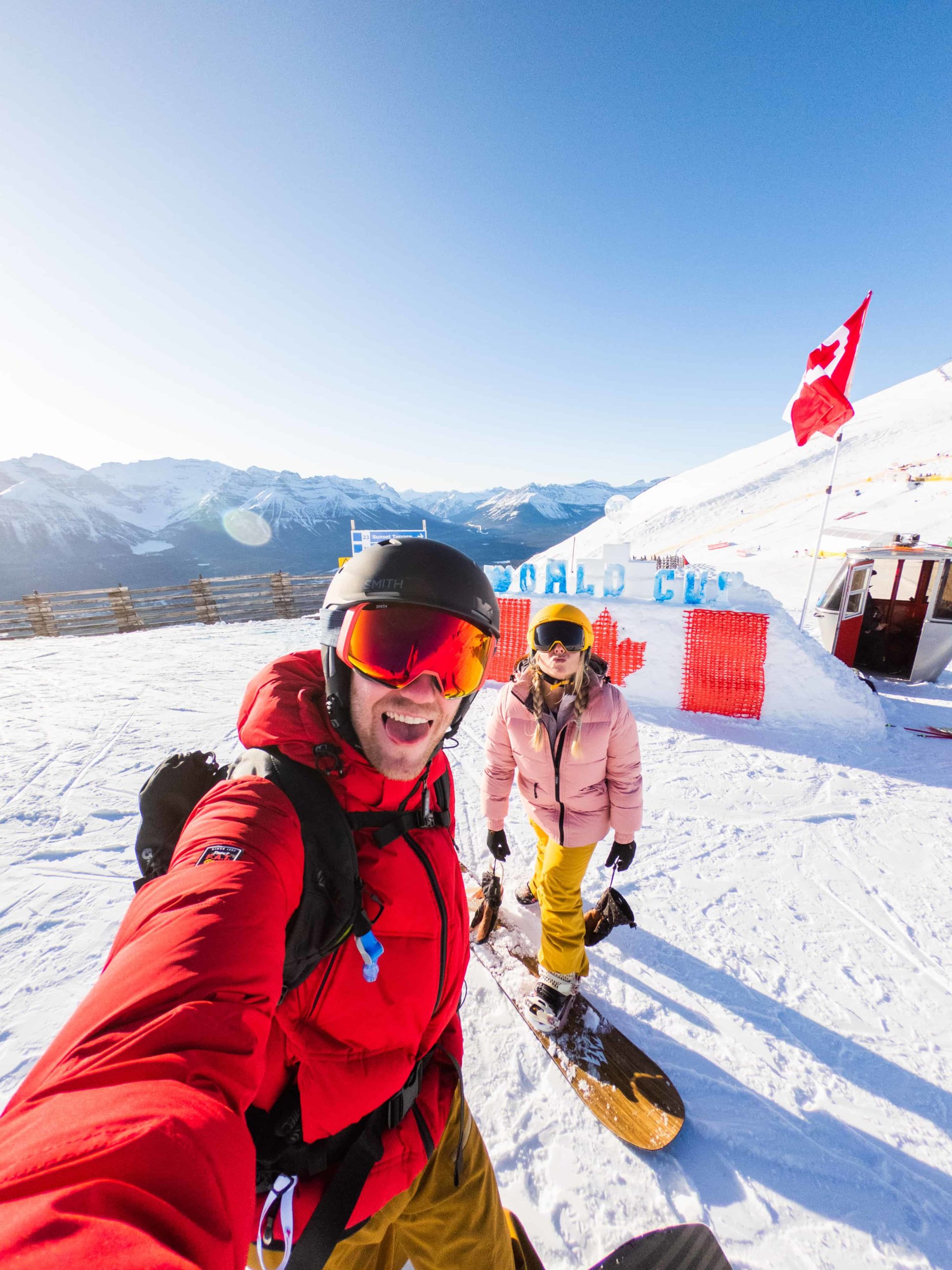 Snowboarding at all of the SkiBig3 resorts was our primary reason for heading to Banff in the winter before we moved here. SkiBig3 is a collection of three mountain resorts, all within Banff National Park.
You have Lake Louise Ski Resort, Banff Sunshine, and Mt. Norquay, all fantastic and unique ski resorts. Skiing or snowboarding here is one of the best things to do in Banff in the winter. Even if you're not a pro, there are plenty of beginner hills to learn on together!
---
Go on a Romantic Sleigh Ride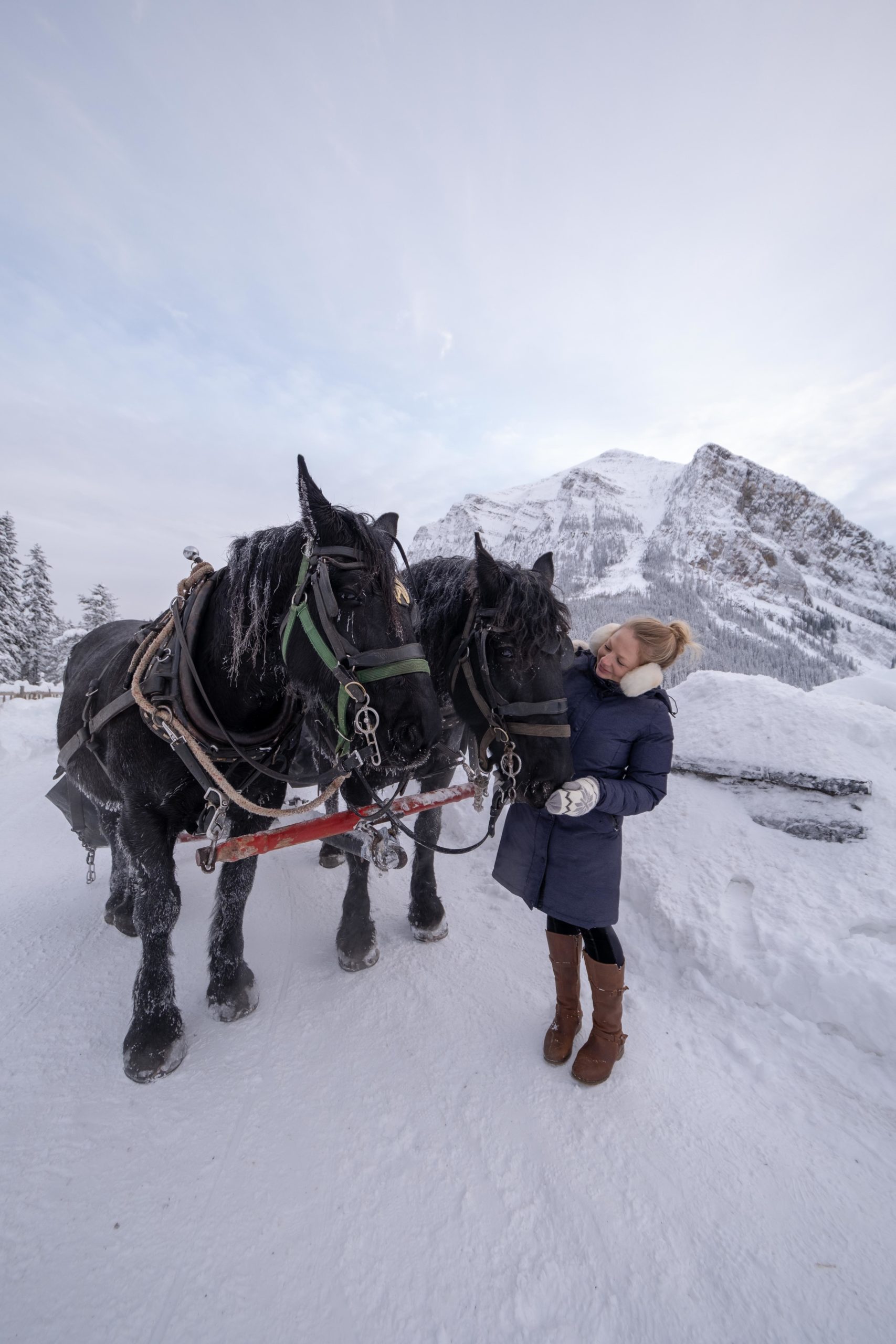 In the wintertime, you might not be able to take to the trails on horseback, but you can ride on a horse-drawn sleigh at Lake Louise or around Downtown Banff. There aren't many places you can still ride on a real sleigh through a winter snowglobe, and that's what makes it such a fantastic thing to do in Banff in the winter.
Check out Banff Trail Riders for magical rides around Downtown Banff!
---
Romantic Places to Eat in Banff
---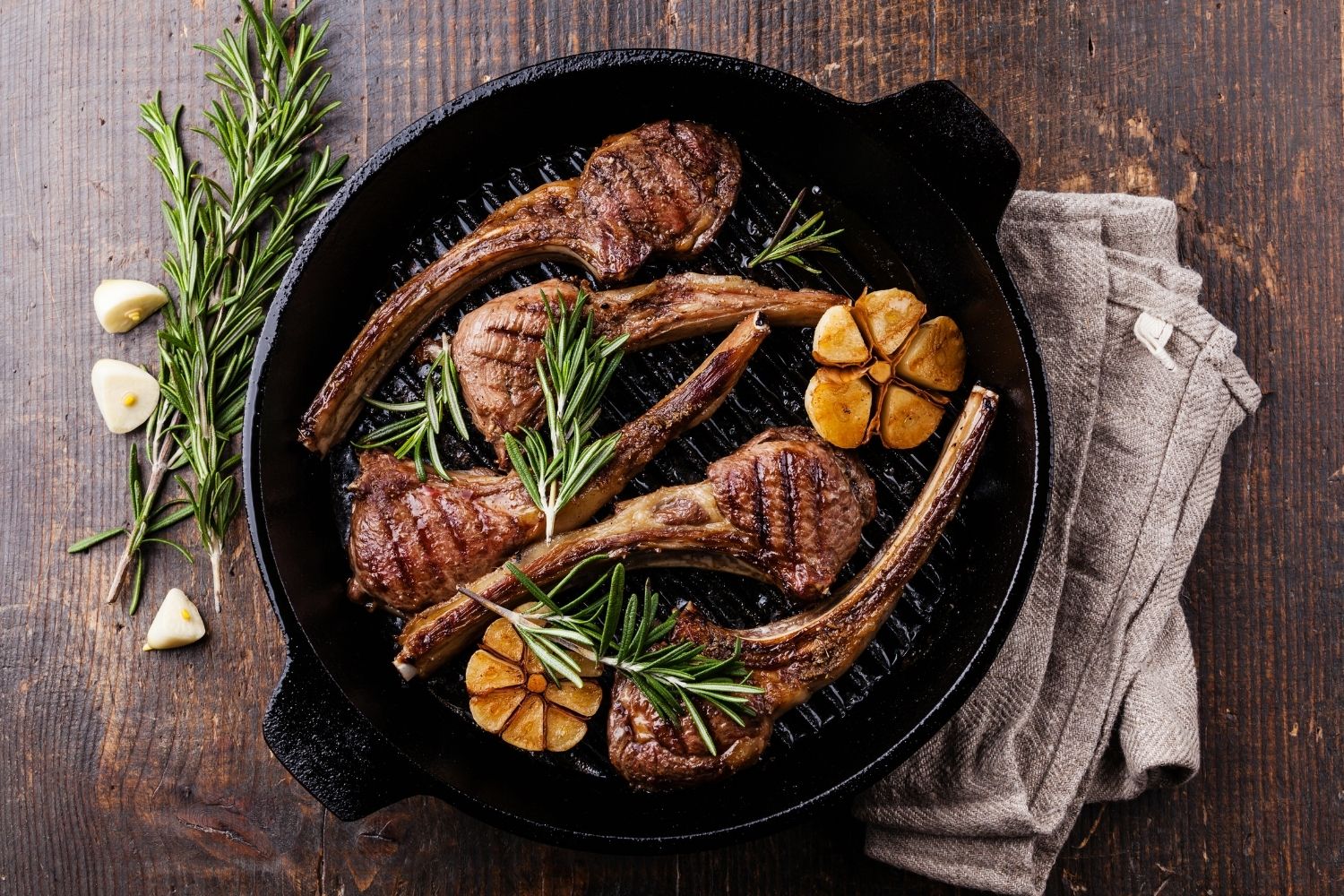 Eden
Experience fine dining with incredible views at Eden in the Rimrock Hotel. This Banff restaurant serves up some of the best food in the province, let alone Banff, as it is the only Five-Diamond Restaurant in Western Canada. The modern French restaurant serves playful and delicious dishes that leave a lasting impact, much like the views. If you guys are really in the mood for a special evening in Banff, this is the restaurant to go to.
---
Storm Mountain Lodge
Location: Highway 93 South, Banff National Park
Cuisine: Americana/Canadian
Price: $$$
Not inside the town of Banff, but a half-hour away from town is the Storm Mountain Lodge. The lodge restaurant serves up meals with freshly baked sourdough bread, braised short ribs, and fondue. A great menu that changes seasonally, so check their website for the latest offerings. It's the perfect spot to go have a meal in a quiet, cozy setting amongst nature.
---
Park Distillery
Location: 219 Banff Ave
Cuisine: Modern Camp Food / Canadian / Distillery
Price: $$
With a prime location on Banff Ave, it's tough to miss the local distillery. Park Distillery is where we take friends and family and head to ourselves when we are in the mood for a date night. Park Distillery has quickly made a name for itself in town for their spirits, such as Gin and Vodka distilled with Rocky Mountain water. We love the modern mountain interior, and they have large garage doors to open up the restaurant to fresh mountain air in the summer months.
---
How to Get to Banff
---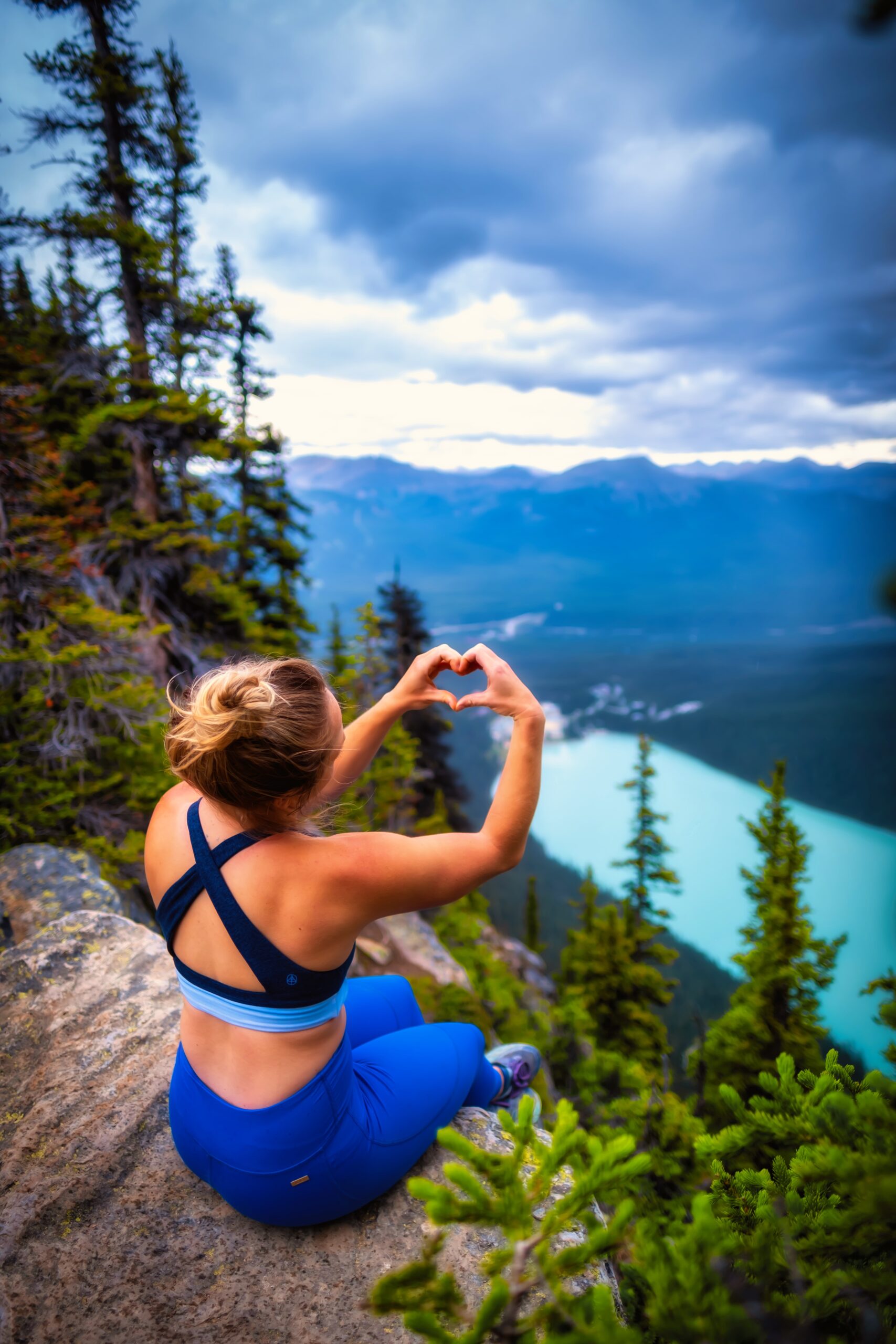 Most people visiting Banff will fly into Calgary International Airport (YYC). YYC is about 1.5 hours away from Downtown Banff, which is crazy that a major city has such close access to the mountains! To get to Banff from Calgary, you'll either have to rent a car and drive, or take the Banff Airporter. Read more about how to get from Calgary to Banff here.
The other option is to fly into Edmonton. Edmonton is the bigger city, but the airport isn't as well connected. It will also take you four hours of driving from Edmonton to Banff.
---
Getting Around Banff Honeymoon
---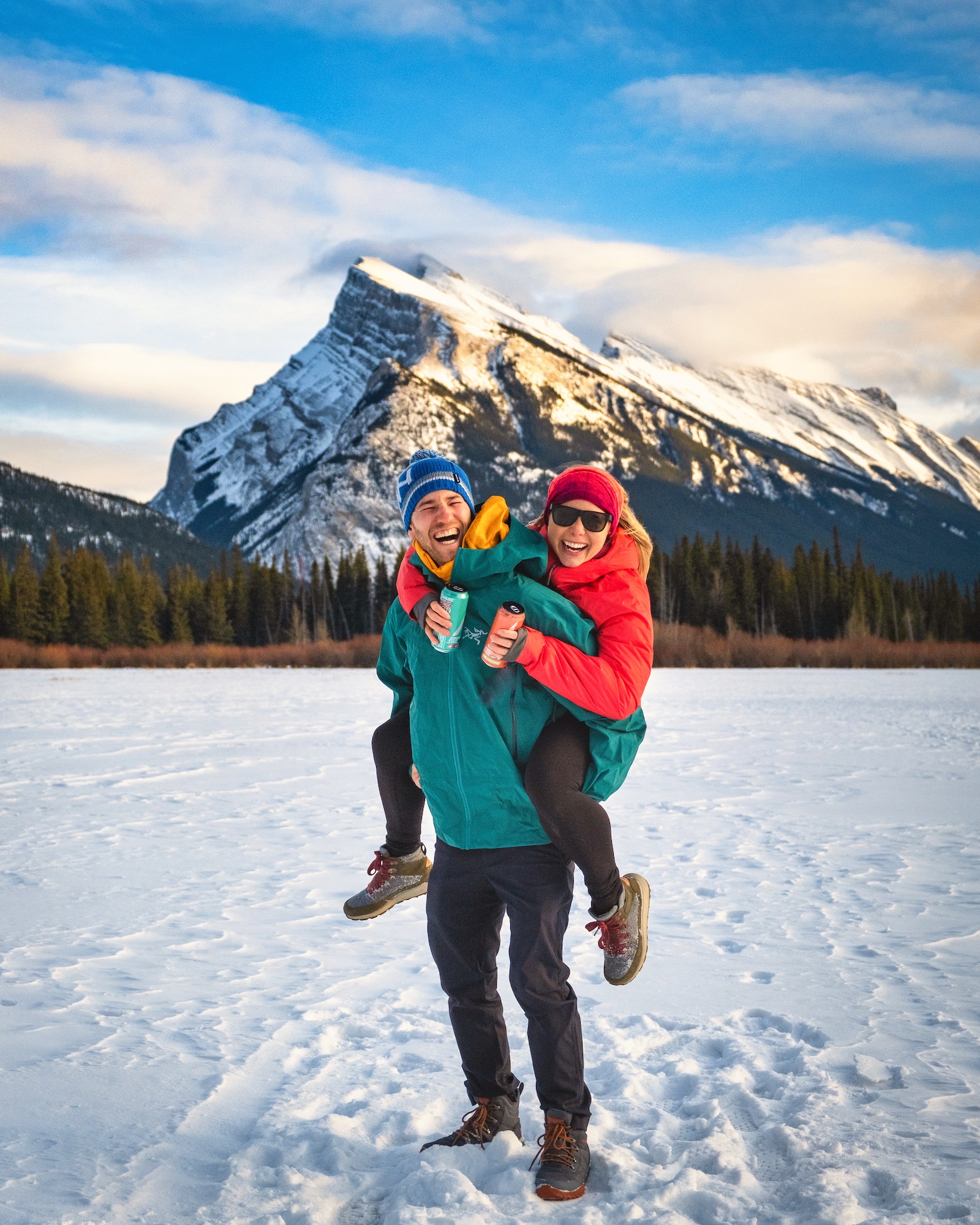 The best way to get around Banff and explore all that the park has to offer is with your own car. Depending on the season, car rentals can be hired for between $30-$50 a day.
There is a public bus system in Banff, the Roam Transit, that can get you to some of the main sites like Lake Louise and Moraine Lake in the summer, but it is limited. So unless you plan on spending most of your time in Downtown Banff I would go the car rental route. Read all about renting a car for Banff here.
---
What to Pack for Your Banff Honeymoon
---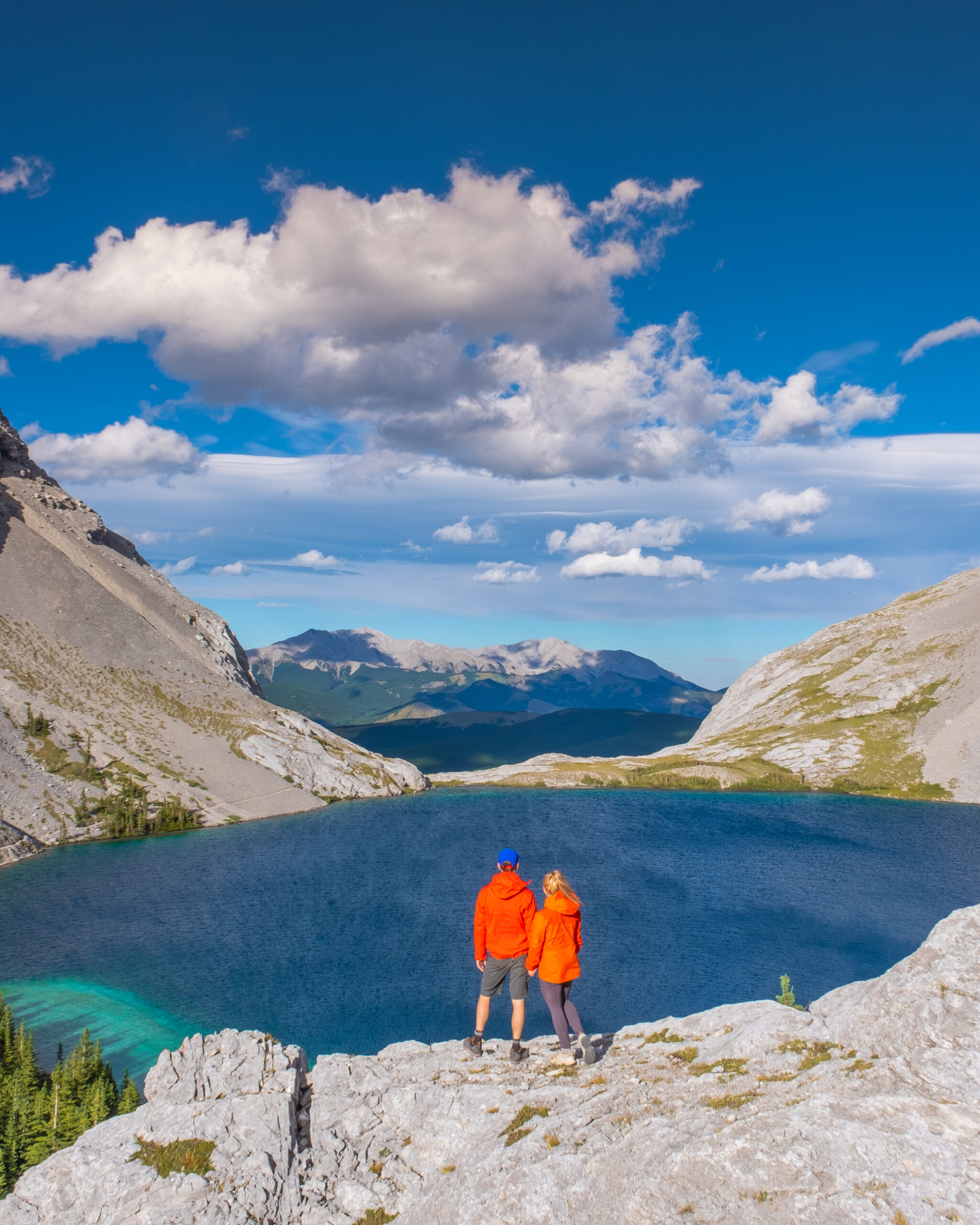 Waterbottle: Please don't buy bottled water while in the Canadian Rockies. The water from the taps is perfectly fine and delicious to drink. Bring a reusable water bottle to keep your water in!
Daypack: You'll definitely want a daypack while in Banff, that is if you plan on hiking. Which I highly recommend doing!
Down Jacket: Even in the summer the weather in Banff can turn at any second and become very cold. Bring at least a down jacket!
Sweater: If you're visiting in the winter bring some cute sweaters!
One nice outfit: Since it's your honeymoon and you'll be doing a few nice things (presumably a nice dinner) you should bring at least one nice outfit.
Hiking Shoes: You definitely want a pair or outdoor shoes, or hiking shoes for your trip to Banff. They are essential!
---
Hopefully, this helped you determine what to do on your Banff honeymoon
If you have any other questions leave a comment or see our Canadian Rockies travel guide for more articles about photography spots, lakes, hikes, and everything else.
---