Alberta's capital city is a far north haven of heritage. A sprawling metropolis with a strong industrial history and cultural identity within Canada, there are so many fun things to do in Edmonton.
Many mistake Calgary as Alberta's capital, and are usually shocked to find out that Edmonton actually holds the title.
Full of warmth and wonder, this charming city has something in store for everyone along the banks of the Saskatchewan River. Here are the best things to do in Edmonton in winter and summer!
---
Where is Edmonton?
Edmonton is the capital city of Alberta. With a population of 1.5 million, it's a sprawling city with plenty of things to do in the summer and winter.
Edmonton is on the North Saskatchewan River and is about three hours (300 km) north of Calgary and 365 km east of Jasper National Park.
---
Best Things to do in Edmonton
---
Visit the Royal Alberta Museum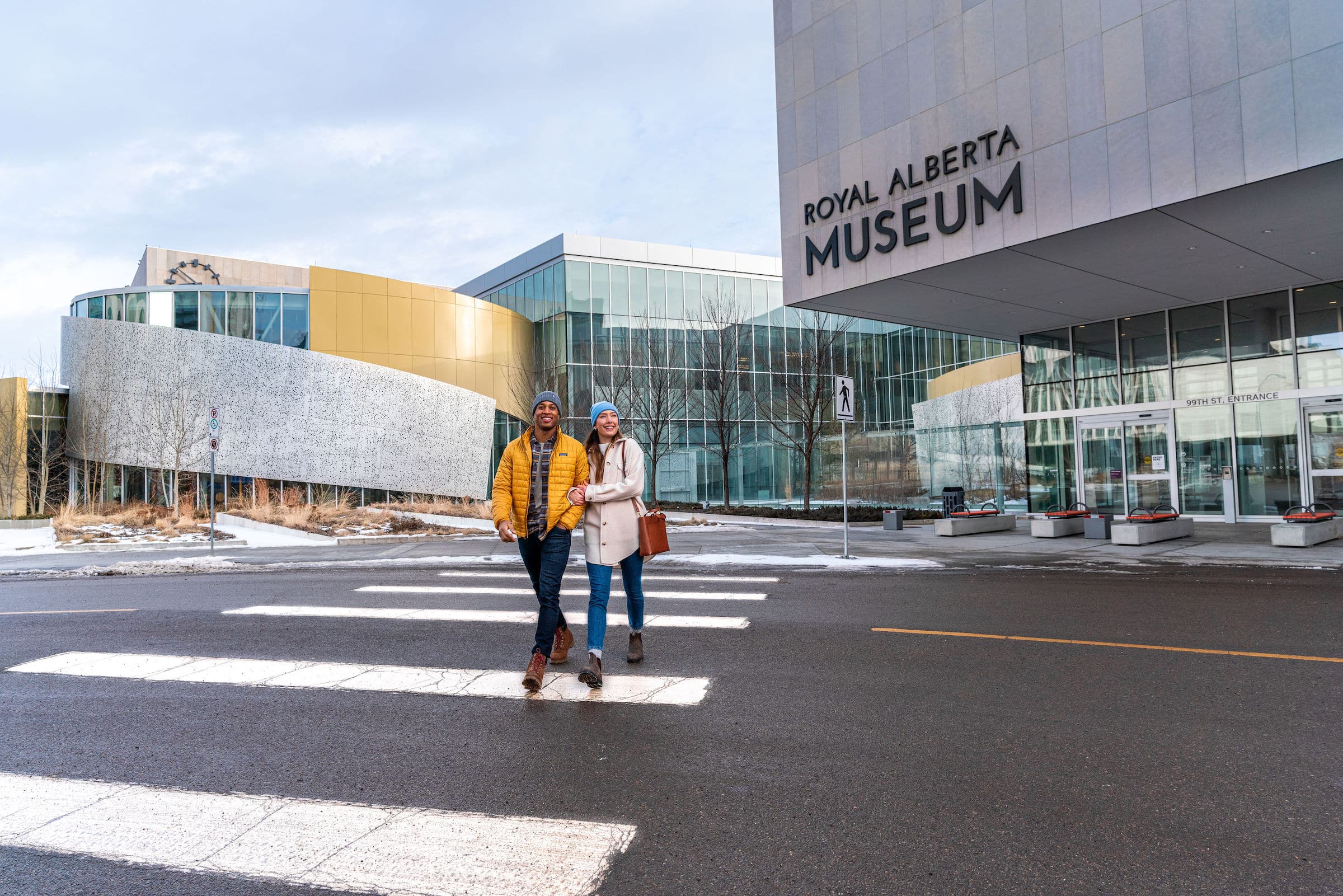 The Royal Alberta Museum is the largest museum in the western part of Canada. It's home to permanent collections and rotating installations that focus on a variety of natural history heritages. Many exhibits explore fossils and skeletons, from the dinosaurs to the ice age, as well as artifacts from indigenous tribes of the area.
The bug room is an exciting feature with exotic and enormous species. It's a great place to play with many interactive spaces as well.
---
Muttart Conservatory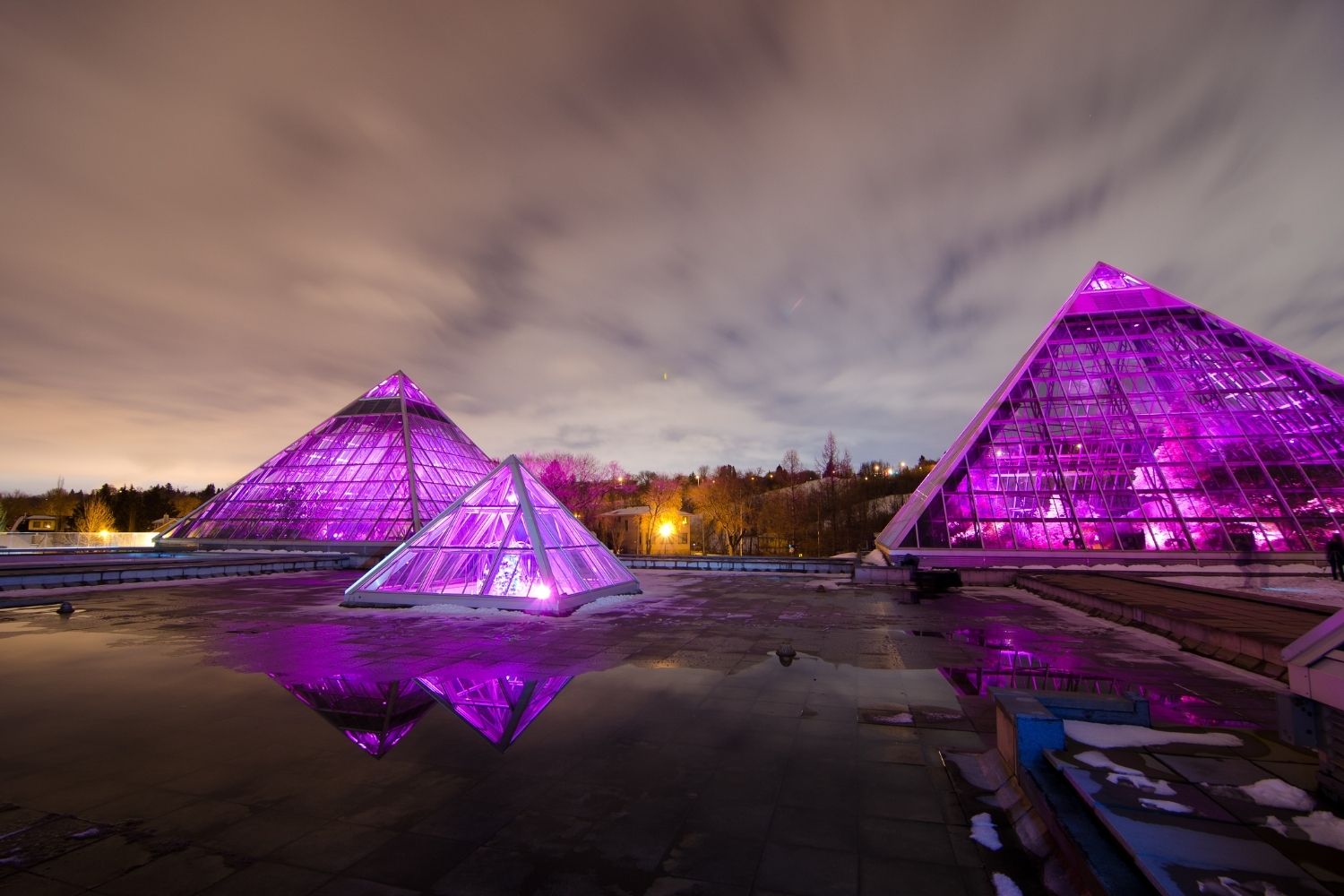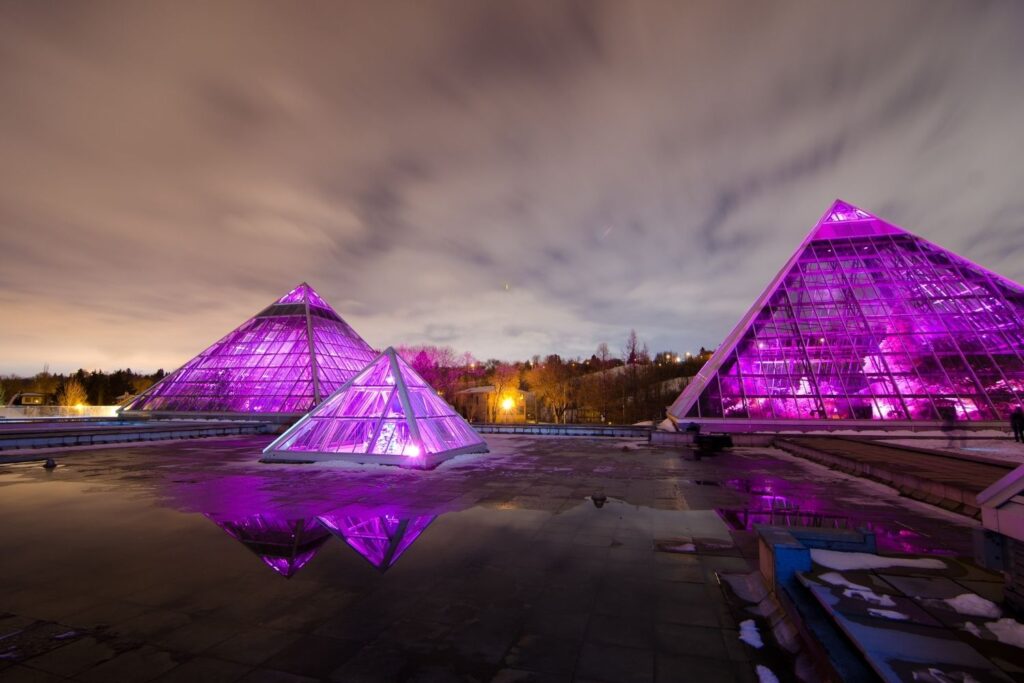 Settled on the banks of the North Saskatchewan River are four greenhouses in stunning pyramid configurations. Seeing them, especially lit up at night, is one of the best things to do in Edmonton. Each structure at Muttart Conservatory represents a different earthly biome, and inside, you will find a plethora of rare and exotic plants from that distinct climate and terrain.
From tropical to temperate, there is a vast variety to be discovered here. This is one of the most unique things to do in Edmonton.
---
Elk Island National Park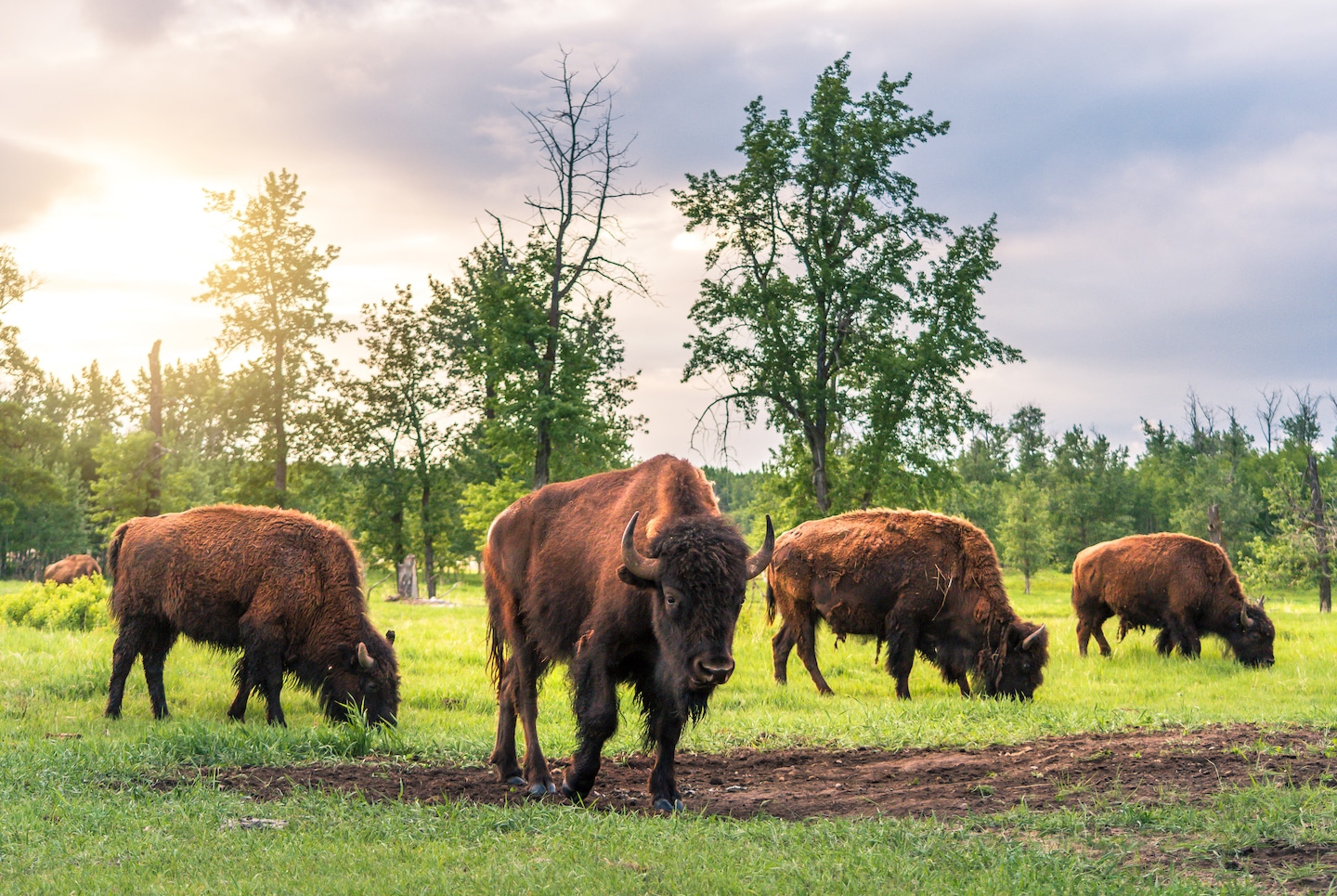 Elk Island National Park is the largest fully enclosed park in the whole country. It's an expansive and protected conservation preserve of 75 square miles. You will find a diverse array of habitats and ecosystems within this lush landscape. Grasslands, wetlands, prairies, and forests are a haven for many species of wildlife here.
Keep your eyes peeled for both large creatures like native bison and tiny inhabitants like the pygmy shrew. Hike the nature trails to take in the beautiful bounty of local wilderness.
---
Ukrainian Cultural Heritage Village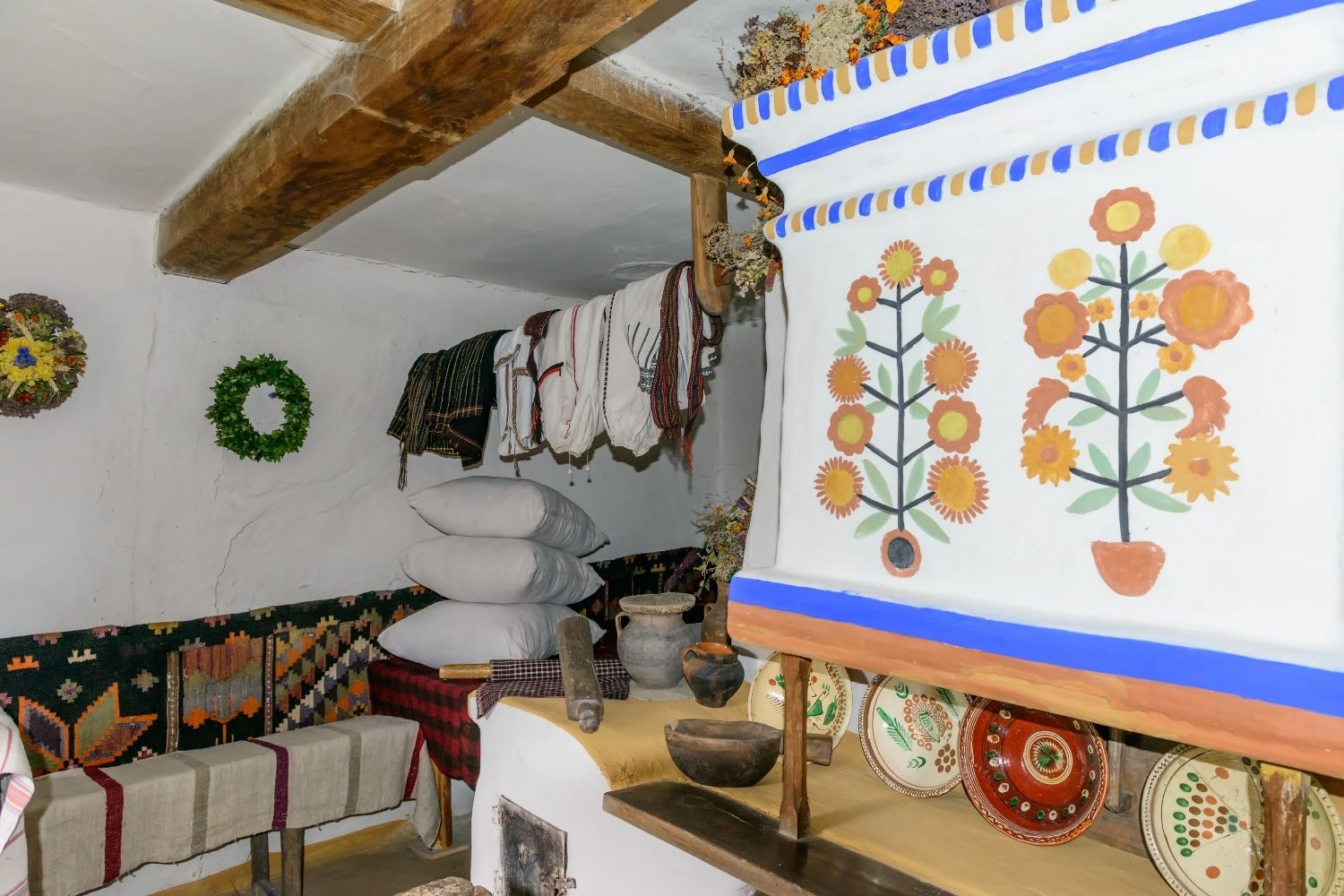 The Ukrainian Cultural Heritage Village is an open-air museum is a cultural preservation site for Ukrainian immigrants who came to Canada in the 1890s. It showcases many stories of survival and features historical buildings which have since been reconstructed.
You can explore a blacksmith, a market, and a general store to experience what life was like in this settler site way back when. There are many special events held as well, such as harvest celebrations or cooking demonstrations. The authentic fares available here are as tasty as they are traditional.
---
Alberta Aviation Museum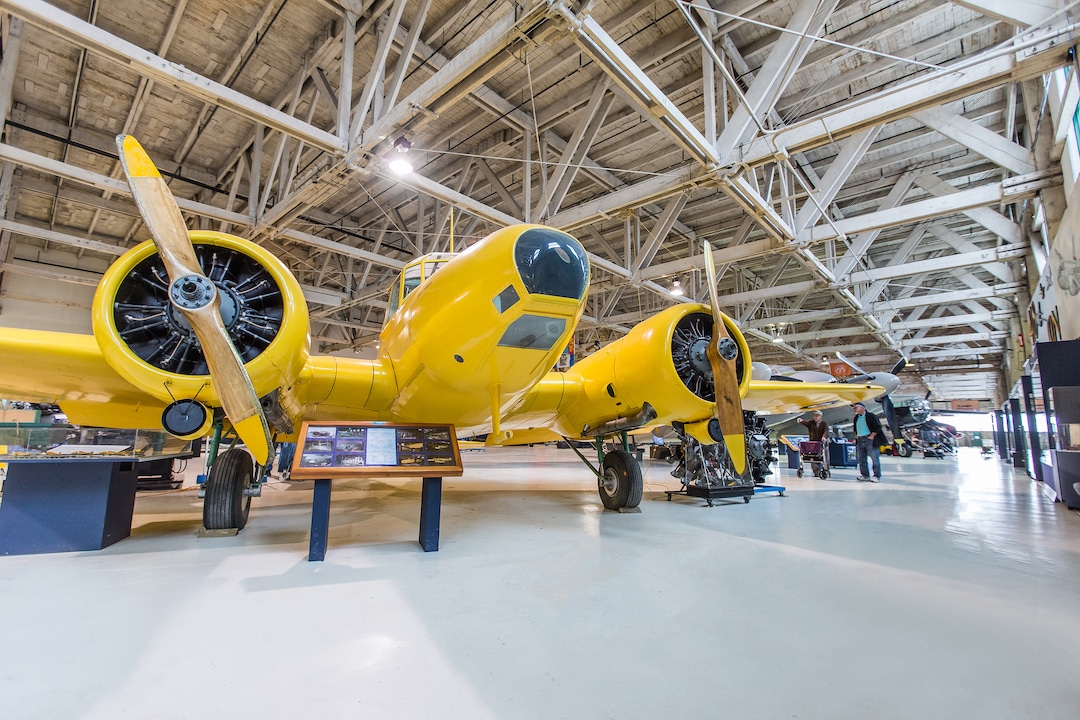 Founded in a former airport, the Alberta Aviation Museum is a celebration of all things flight-related. It investigates the significance of Edmonton's role in aviation's technical advancement and evolution as the Gateway to the North, where countless pioneers paved the way for flight.
There are over 40 aircraft of many makes and models on display to learn about, some dating as far back as the 1920s. You can even try out the state-of-the-art flight simulator to experience the cockpit of a Cold War jet fighter.
---
Fort Edmonton Park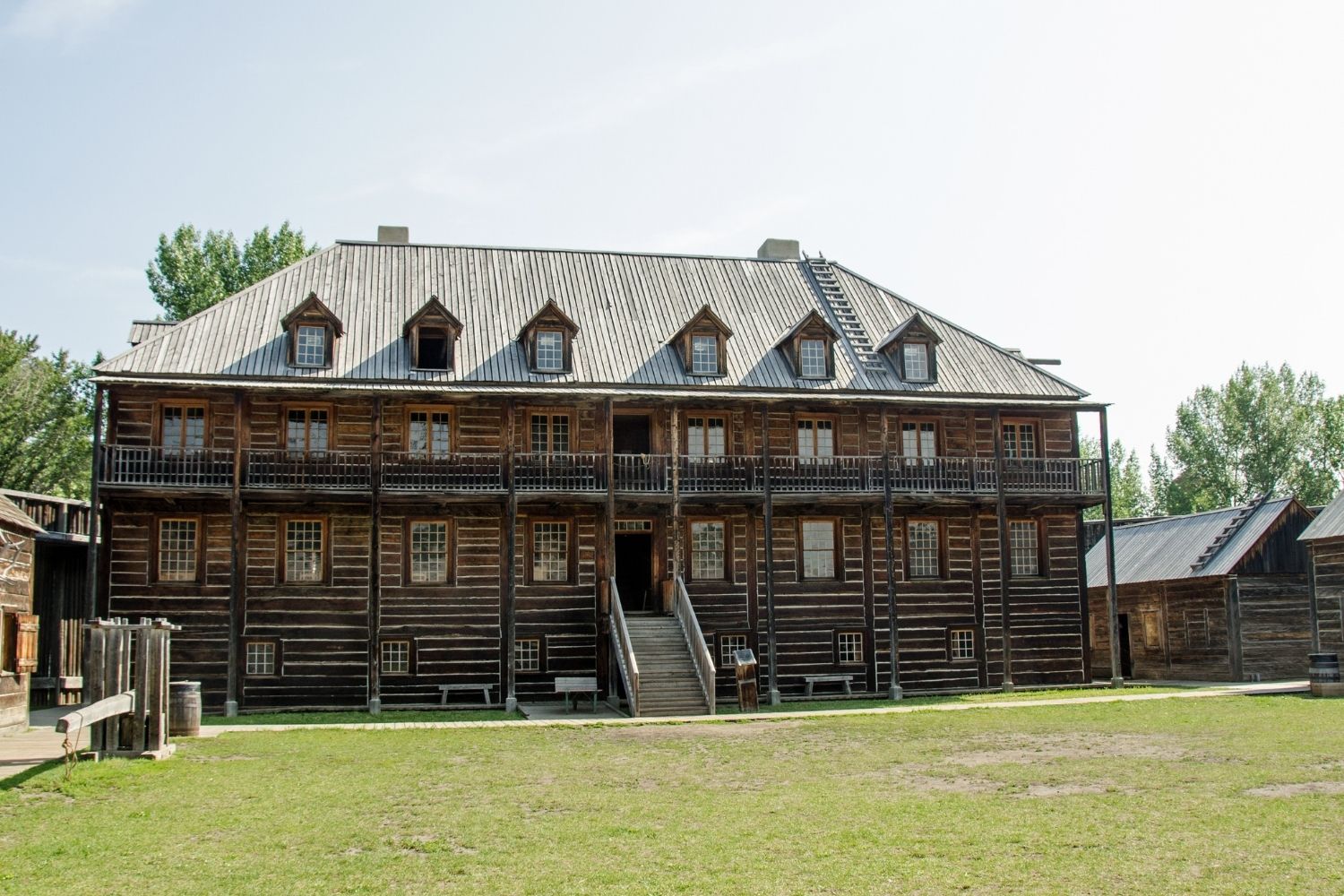 Fort Edmonton Park is the largest living history museum in Canada and visiting is one of the best things to do in Edmonton with the family. Take a trip back in time to experience life in the first enduring European outpost in Alberta. Set within a beautiful, wooded landscape, you can discover many historical structures refurbished to their former glory.
There are four sections, each representative of a different era in Edmonton's past. Travel to the years 1846, 1885, 1905, and 1920. Compare, contrast, and get carried away in one of the many traditional modes of transportation available, such as a horse-drawn carriage, street-car, steamer train, or antique automobile.
---
Art Gallery of Alberta
You can't miss this modernist structure smack dab in the heart of Edmonton in Churchill Square. It's the oldest cultural institution in the region, and it boasts one of the best art collections around, alongside exciting rotating installations.
Over 6,000 objects are exhibited to explore, engage, and preserve both local and global visual culture. It houses a comprehensive collection of contemporary Canadian artists.
---
TELUS World of Science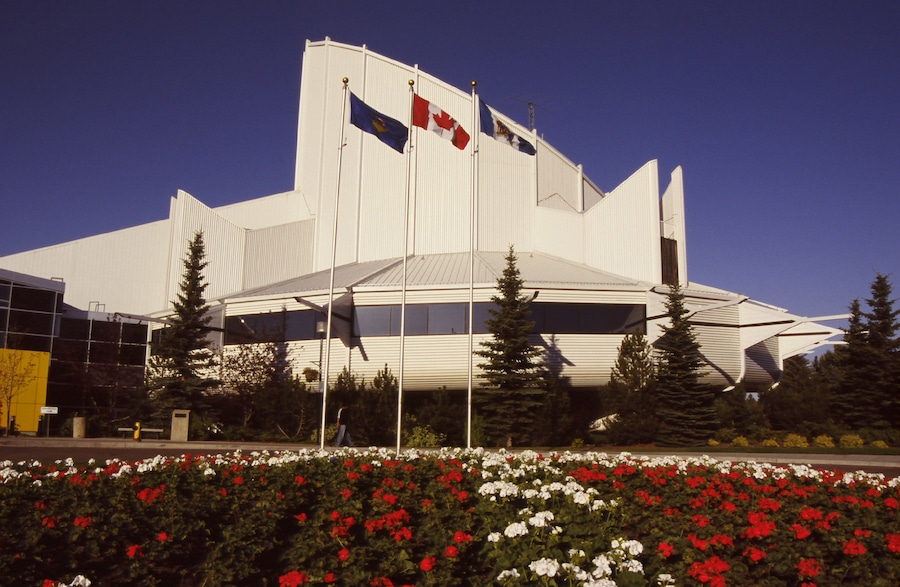 The TELUS World of Science museum is a hands-on haven for learning more about the world around us. The permanent exhibits are fun for everyone, and they include a life-size robot and an interactive space gallery.
There are also temporary works with more modern themes relating to pop culture, such as Star Wars or Harry Potter. Let a sense of wonderment wash over you as you engage in play with the exciting elements of the universe.
---
Enjoy all the Fabulous Restaurants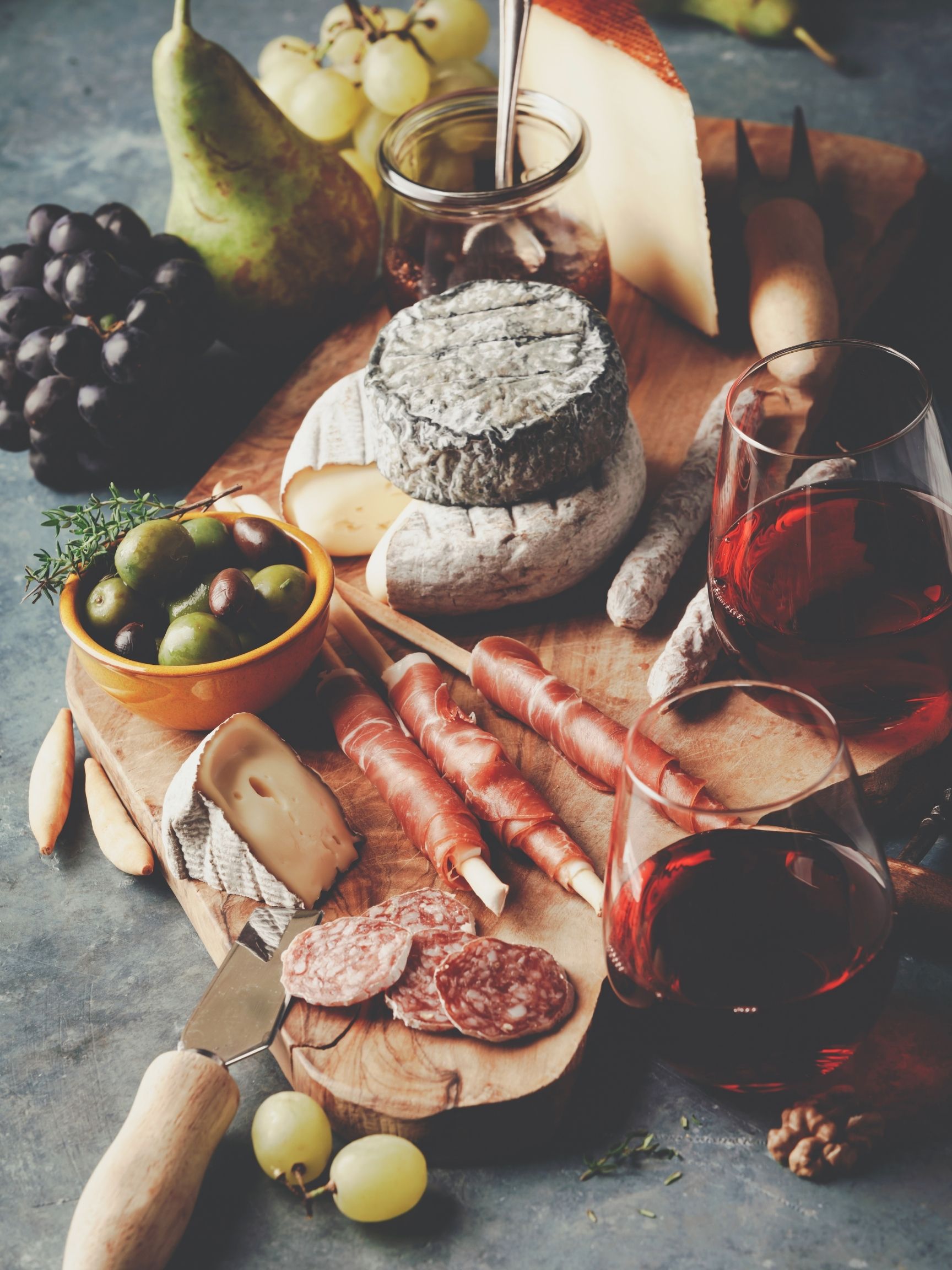 Find your favorite foodie fares by exploring the emerging culinary scene of Edmonton. For tasty farm-to-table treats, try RDG RD. For authentic Italian in an intimate setting, Corso 32 is the certain choice. Tres Carnales is a treasure trove of classic Mexican street eats with a modern twist.
Little Brick is the quaint and cozy country cafe that is sure to steal your heart. You'll find the best slice at Sepp's and the best burger at YEG. If it's a beautiful breakfast or a boozy brunch your after, look no further than OEB.
---
High Level Bridge Streetcar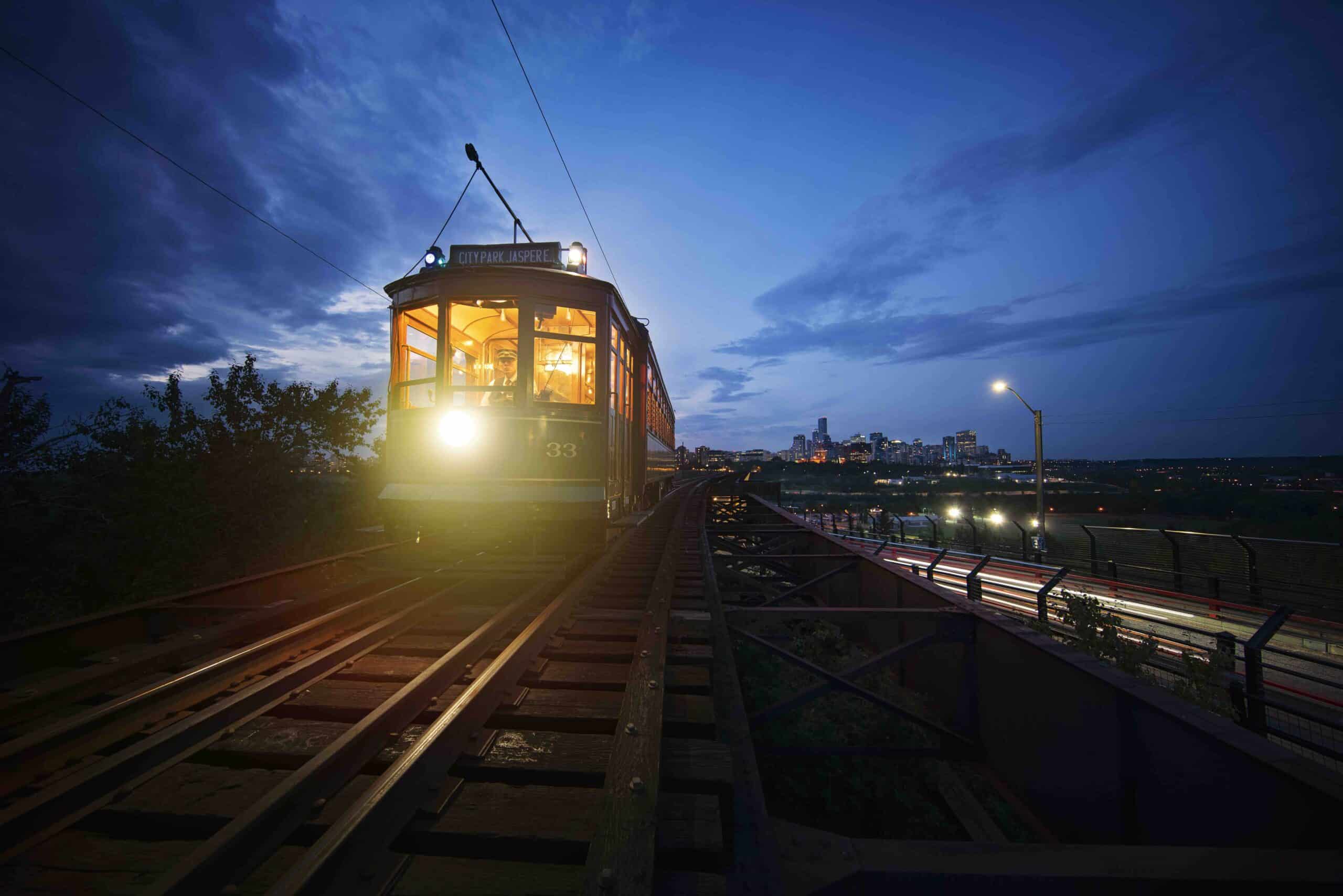 Streetcars were first introduced to Edmonton in 1908 and were an integral part of the city's heritage. It became known for its scenic streetcar ride over the iconic Saskatchewan River, as it was once one of the highest crossings in the world.
You can visit the small streetcar museum, which displays photographs and artifacts from its heyday. The main attraction is to take in the picturesque panoramas from this fully restored ride at High Level Bridge.
---
William Hawrelak Park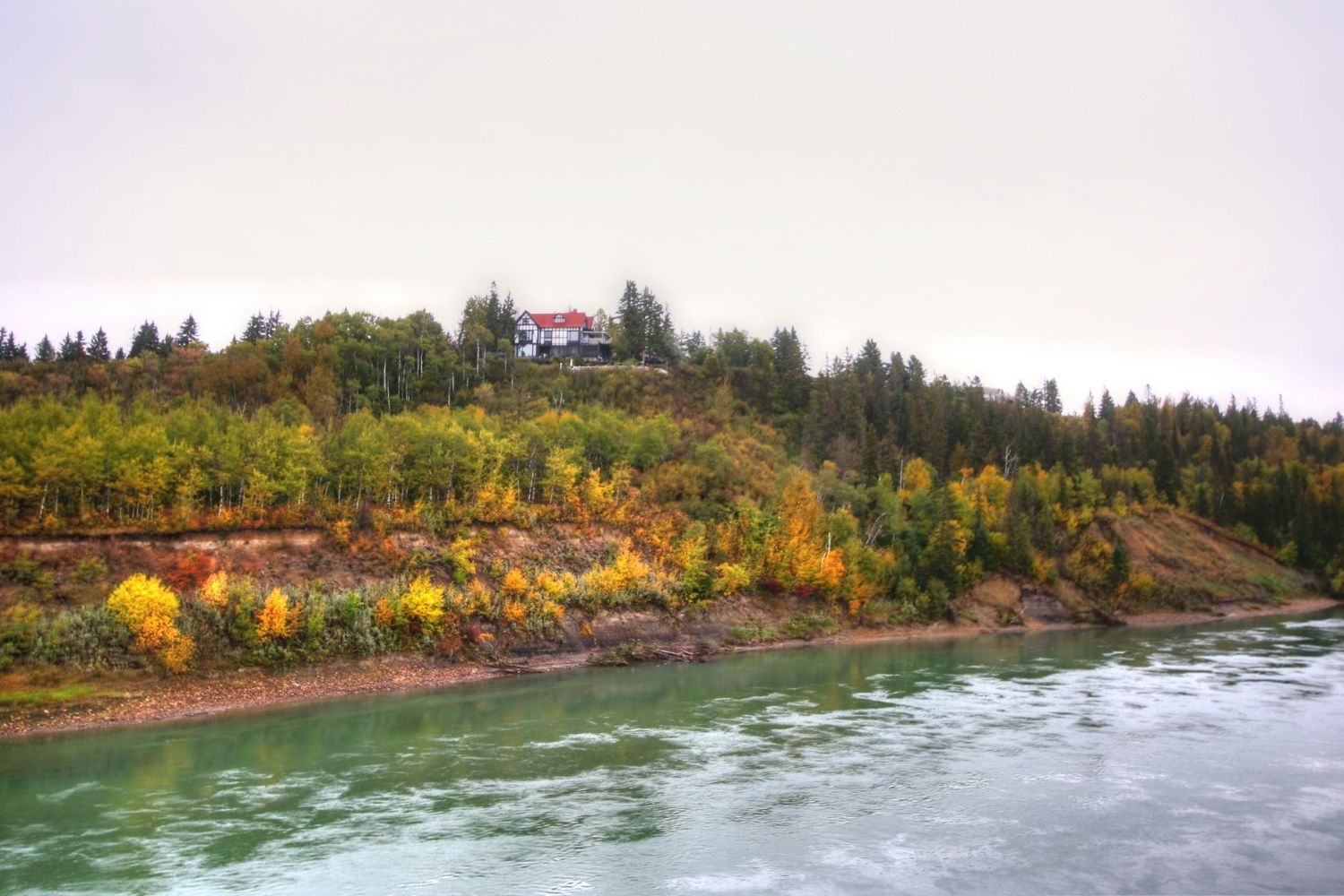 Located in the spectacularly scenic river valley, William Hawrelak Park is a respite for peace and nature. It's perfectly manicured for idyllic strolls through the grounds.
Soak up the tranquil, sparkling lake and rolling grassy hillsides. There are spots to swim and partake in other outdoor activities such as kayaking, hiking, or picnicking. With a sprawling 68 hectares, there is plenty of pastoral beauty to see here.
---
Old Strathcona Antique Mall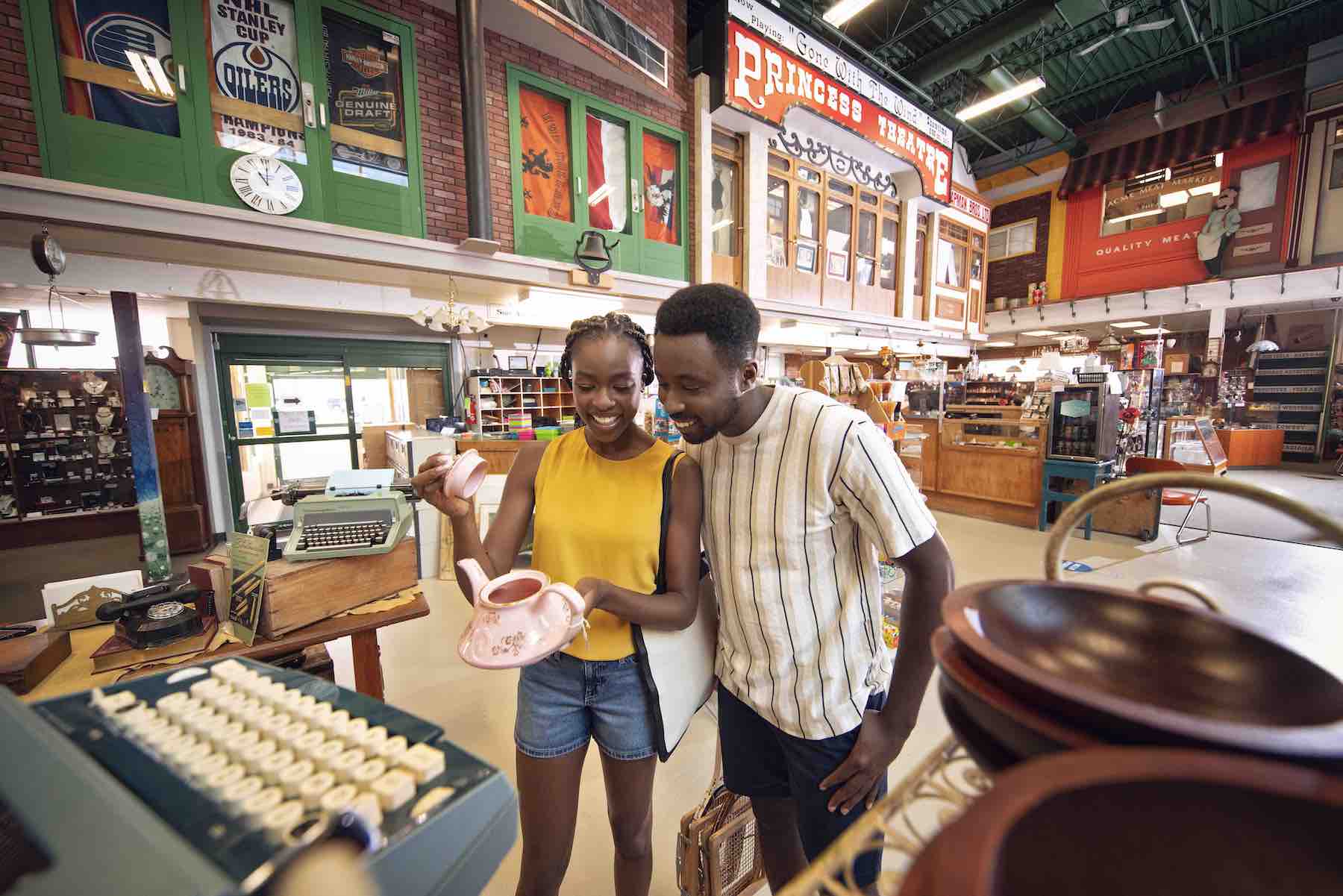 Old Strathcona Antique Mall is a veritable treasure trove and one of the most popular things to do in Edmonton. It's an institution among vintage lovers and memorabilia collectors. There are 300 booths, each with their own unique style of selection.
You can dig to discover vintage clothing and jewelry, retro furniture, antique decor, and so much more. Hit up the old-fashioned cafe inside if you need a refuel before diving back into goodies galore.
---
Grab a Brew at the Breweries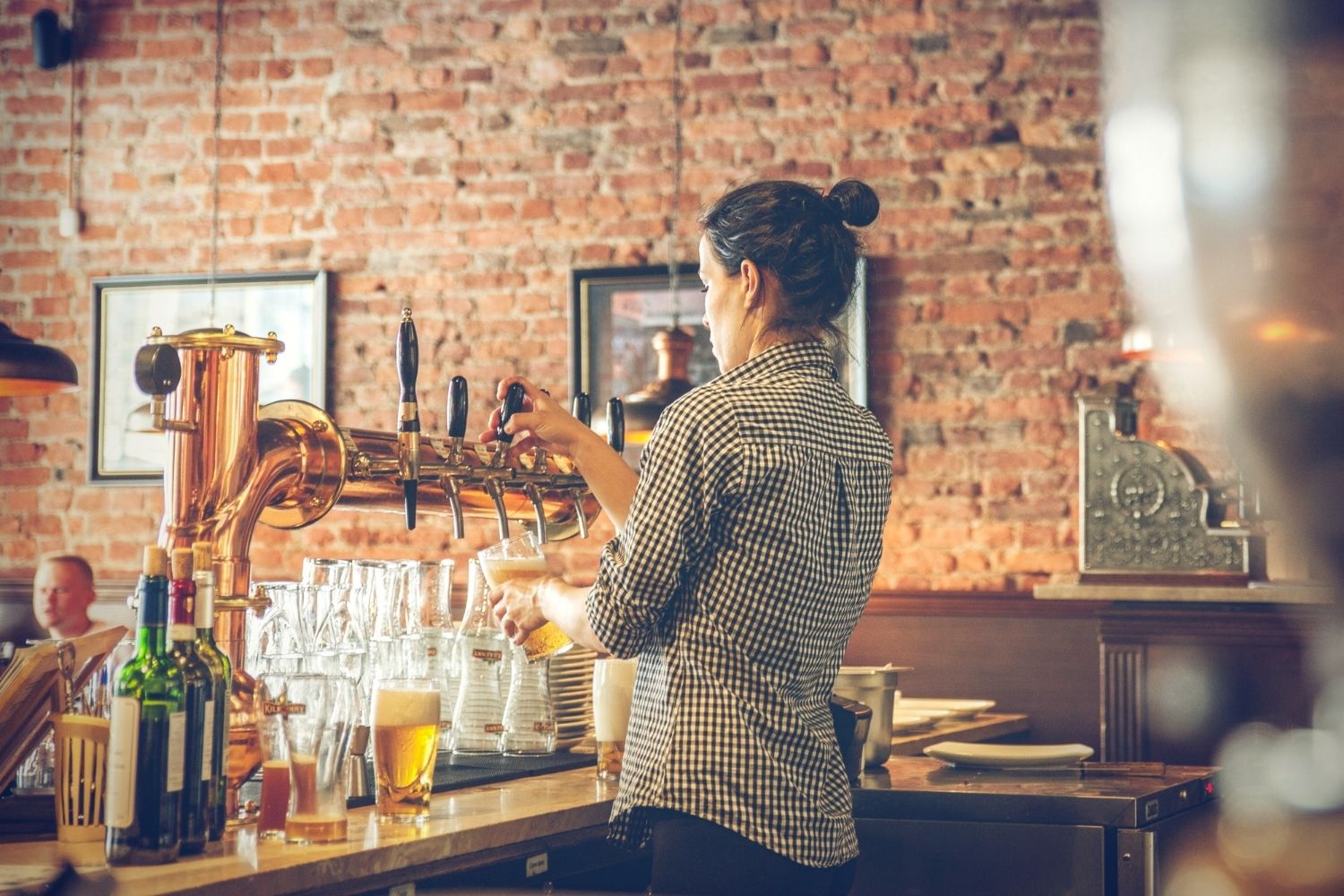 SYC brewing is a staple of the craft beer scene in the city and one of the best Edmonton breweries. They use traditional methods with their own twist to create truly unique pints for every palette. They've created an array of tasty taps with such simple ingredients like the Curiosity Killed the Cat DIPA.
They even curate their own playlists to pair with each beer. Alley Kat is the oldest and arguably most sustainable brewery in Edmonton. Their brews are beloved amongst every beer drinker. There are 14 taps to taste, but their seasonal collections always bring something special to the drafts. They also boast one of the best brewery tours around town.
---
Galaxyland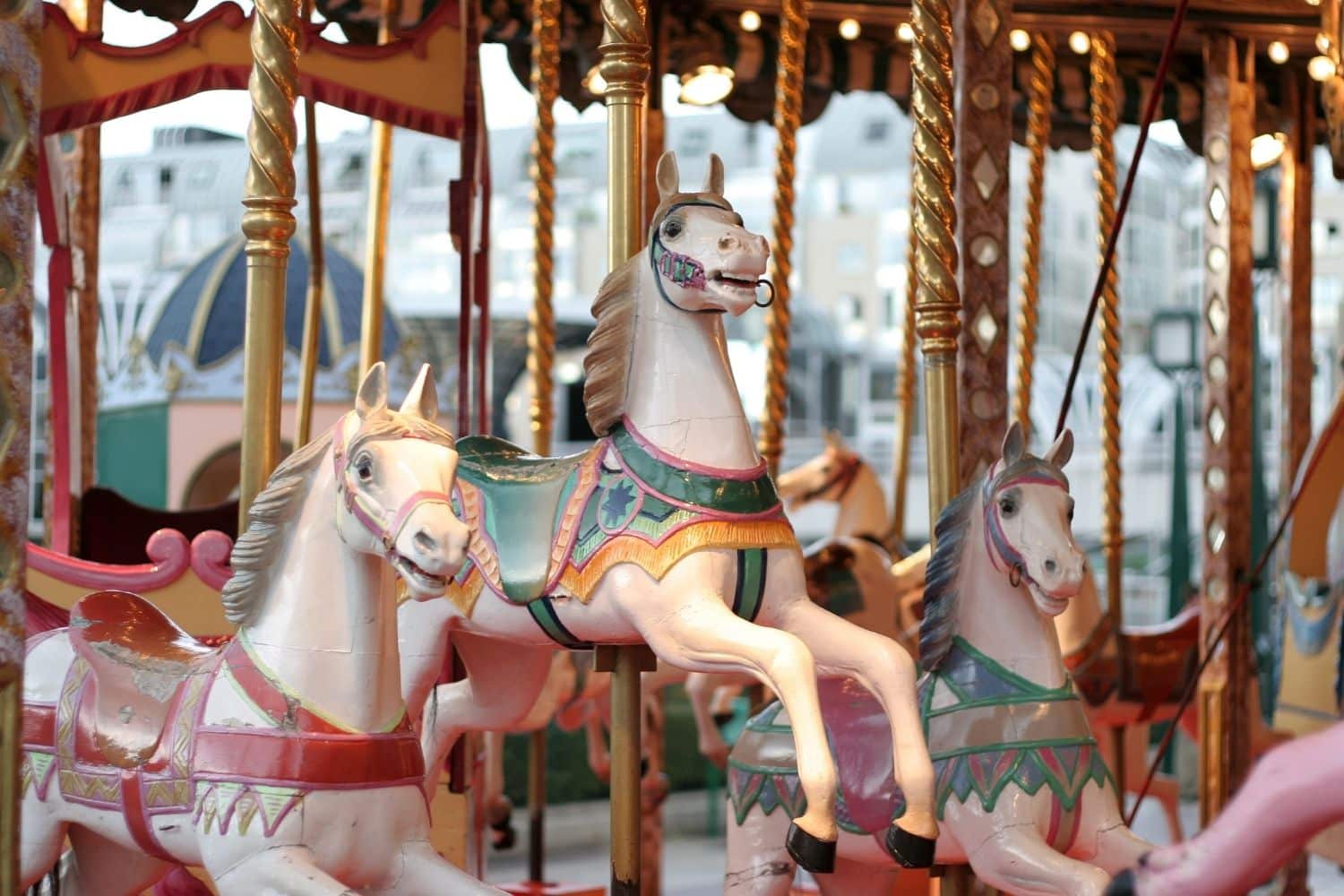 Galaxyland is the world's largest indoor amusement park. It's chock full of rides for thrill-seekers and fun lovers alike. There are plenty of carnival-style games to play and activities to enjoy, such as paddle boats and balloon rides. If you're seeking adrenaline, this is the place for just such an adventure.
The Mindbender is one of the tallest coasters anywhere, and the Space Shot is one of the tallest tower rides, shooting you off at a whopping and wild 34 miles per hour.
---
Shop at the Farmers Markets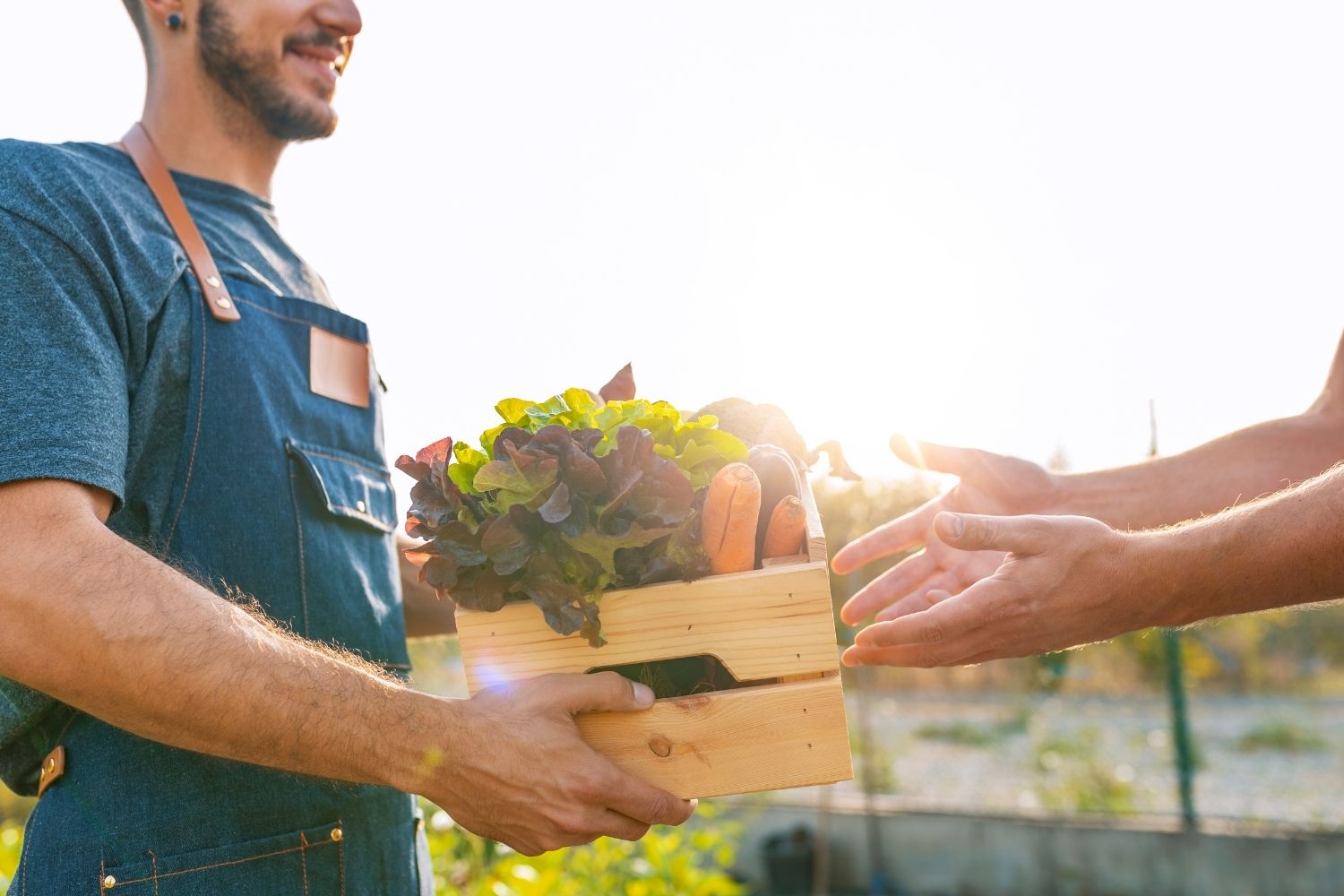 The Southwest Edmonton Farmers Market is home to an array of artisans offering everything under the sun. Find fresh foods, from produce to baked goods to cheeses and meats. Old Scrathcona's Farmers' Market is an indoor year-round affair.
Located right off the bustling Whyte Ave, it's full of the finest vendors in the city. Everything is locally grown or handmade. Browse booths booming with fresh fruits, vegetables, and flowers from farmers, and encounter carefully curated arts and crafts.
---
Catch a Show at the Capitol Theater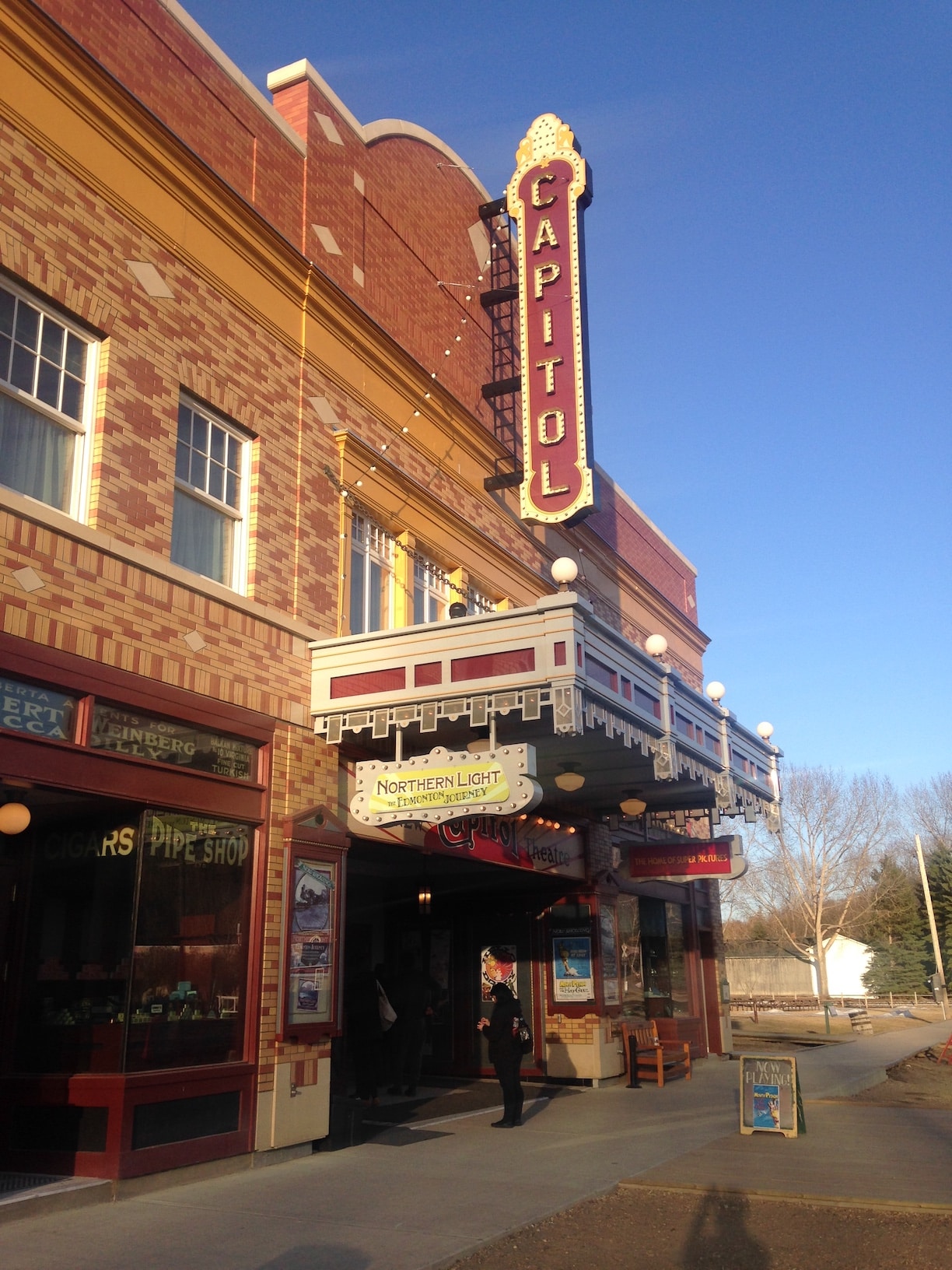 The Capitol Theater was Edmonton's first dedicated movie house in 1929 and now serves as a premiere performing arts destination. Since restoration, it has maintained much of its original charms, with classical stylings like its old-fashioned ticket booth.
You can find a wide range of events happening here, from magic to drama to comedy to music. They also offer movie screenings pertaining to the history of the city alongside classic films through the ages.
---
Edmonton Ice Castles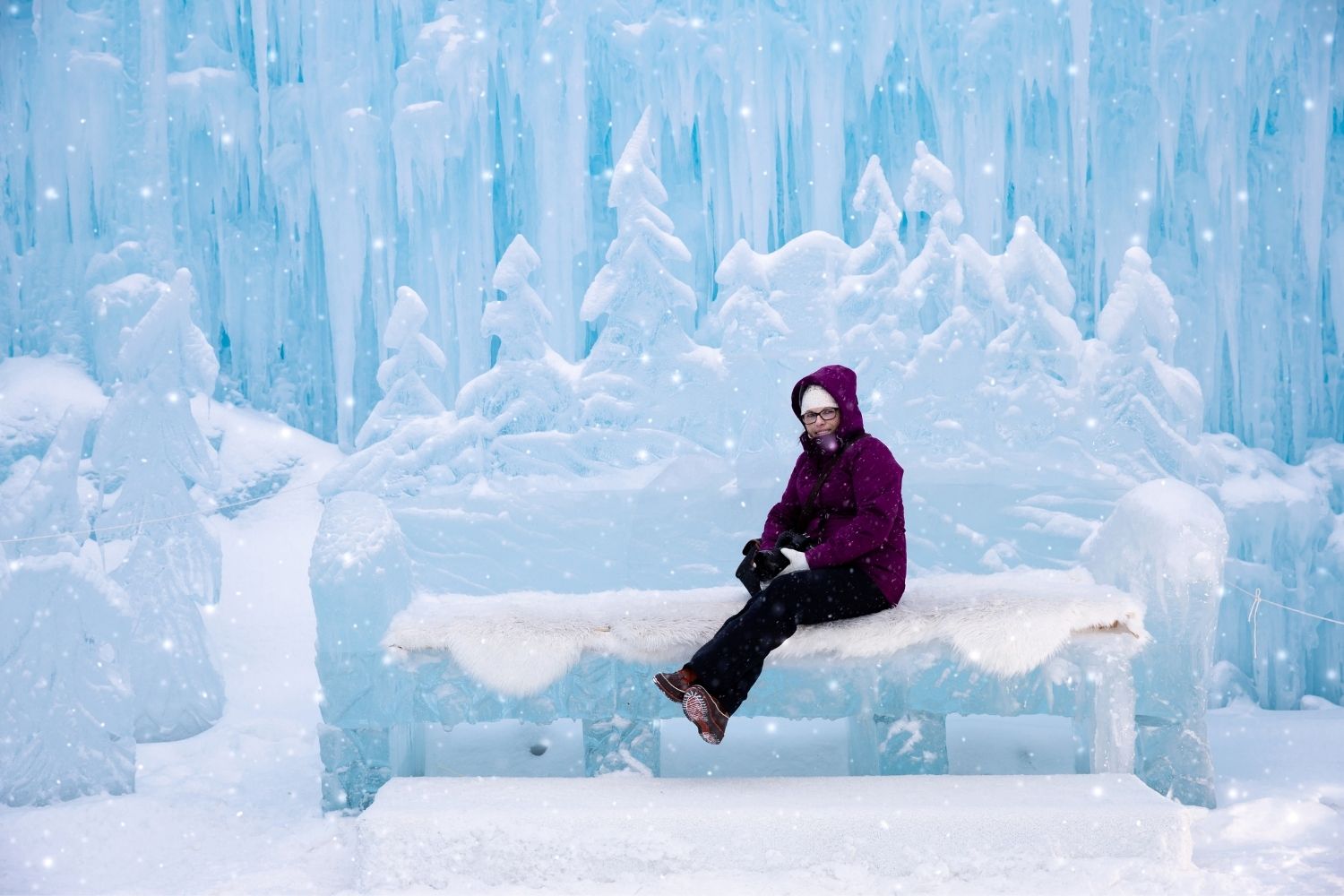 These fantastical frosty creations are an "Insta-worthy" wonderland. Set inside Hawrelak Park during the colder season, it's an awe-inspiring Alberta attraction of must-see masterpieces.
The winter works of art are made by hand using hundreds of thousands of icicles. You will find LED ice sculptures, caves, thrones, tunnels, slides, and fountains. This is hands down one of the best things to do in Edmonton in the winter.
---
Enjoy all the Festivals
Edmonton is known for its yearly staging of festive events ranging from all kinds of cultural celebrations, which is how it acquired the moniker "Festival City." There is always a party to partake in with over fifty annual events. The Edmonton Heritage Festival and the Cariwest Caribbean Arts Festival are some fun ones.
K Day is a popular pick with over a week of street parties, parades, dancing, performances, and of course, gold panning, as it honors the Klondike Gold Rush of 1890.
---
University of Alberta Botanic Garden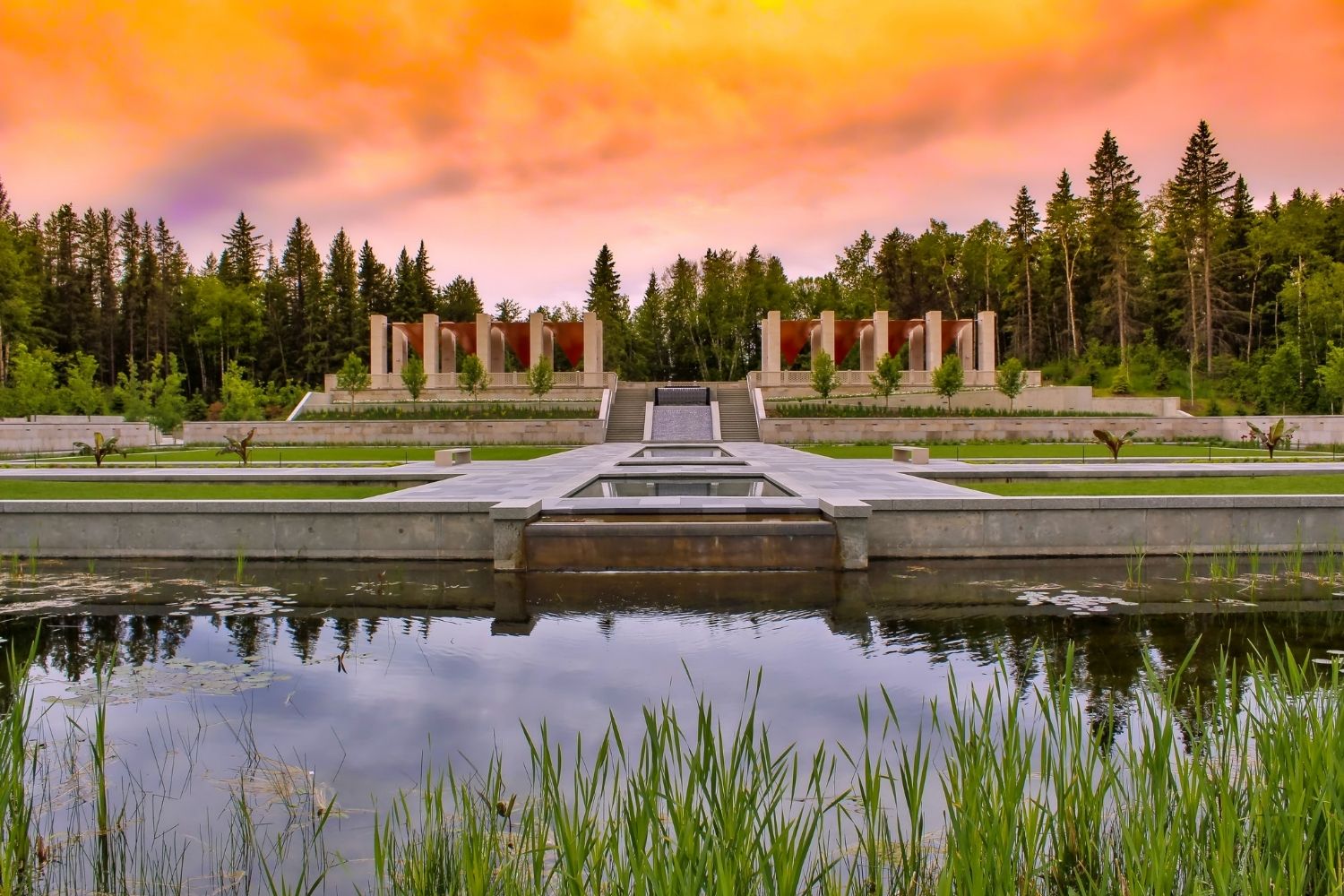 If you're a fan of flowers, this is an alluring attraction for you. At 250 acres, it's the largest garden of its kind in Alberta. 160 of those are allowed to exist in their natural stunning state. The rest are carefully cultivated and manicured into impressive and elaborate floral feats.
There is a Japanese garden, a tropical greenhouse, an indigenous garden, and even Aga Khan Garden, inspired by Islamic landscapes and architecture. It's truly an abundant paradise in Edmonton.
---
Edmonton River Valley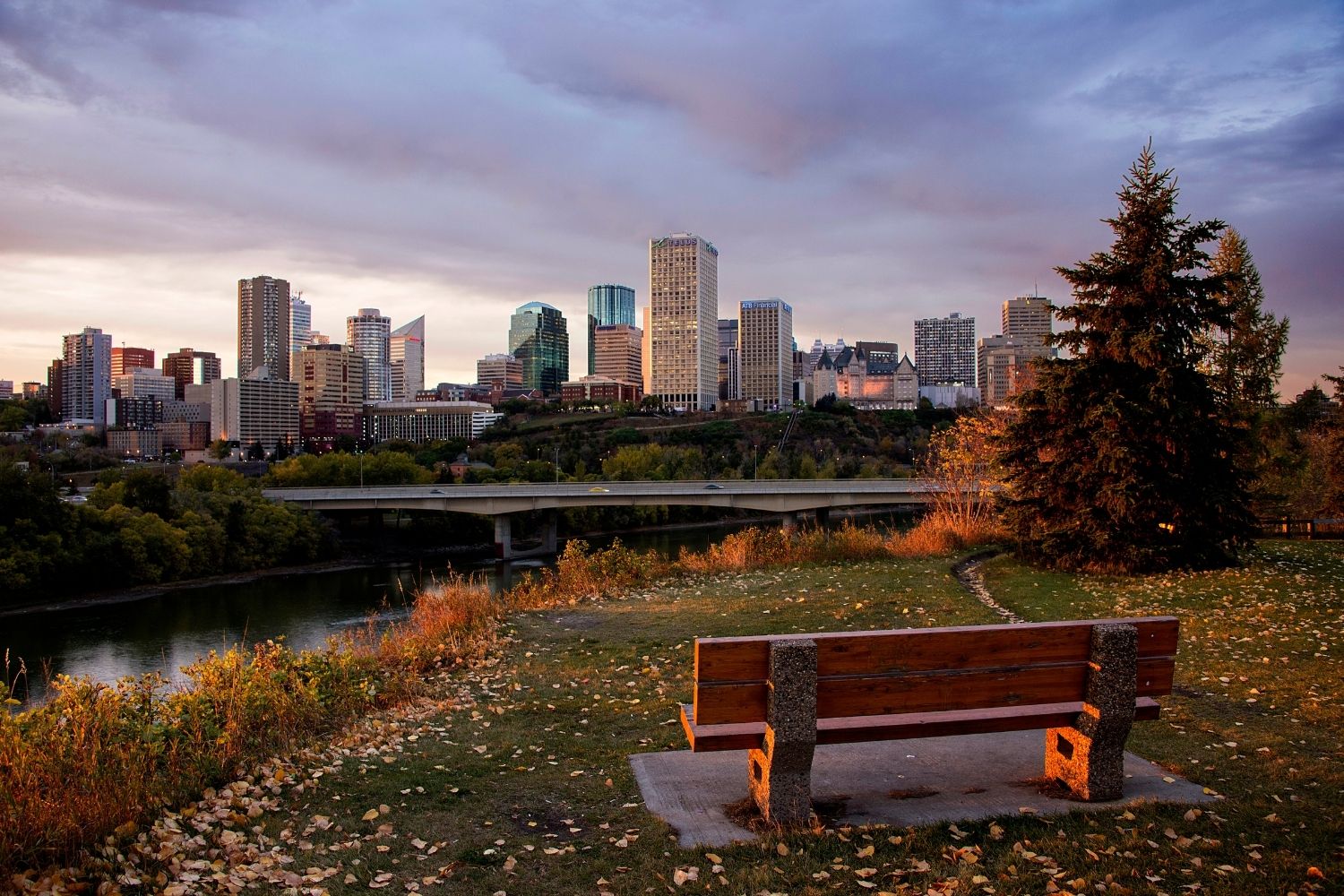 Edmonton is home to the biggest collection of urban parks in all of Canada. There are too many to mention individually, with 20 parks here full of natural landscape and wonder to explore. Countless hiking trails and opportunities to experience the wilderness of Alberta abound.
The river itself is an iconic and idyllic setting to traverse through boating and canoeing at many of the designated park points. Victoria Park, Mill Creek River Park, Rundle Park, and Terwilliger Park are just a few of the stand-out sceneries to set your sights on.
---
Edmonton Neon Sign Museum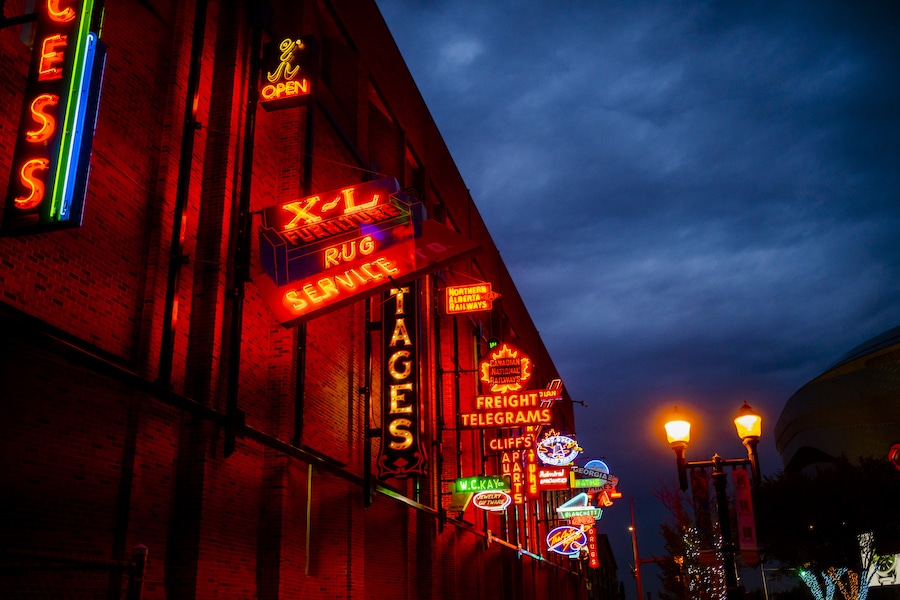 The Edmonton Neon Sign Museum is a shining site is a literal and figurative bright spot of Edmonton attractions. There are a total of 20 historical signs, all in one setting to tell the story of Edmonton's past. It's available to see at all hours, lined up on the east wall of the TELUS building and adorning the south side of the Mercer Warehouse structure.
This outdoor installation is a unique homage to once significant storefronts of the city. It's a colorful collection of neon designs rediscovered and restored and the first site of its kind in Canada.
---
World Waterpark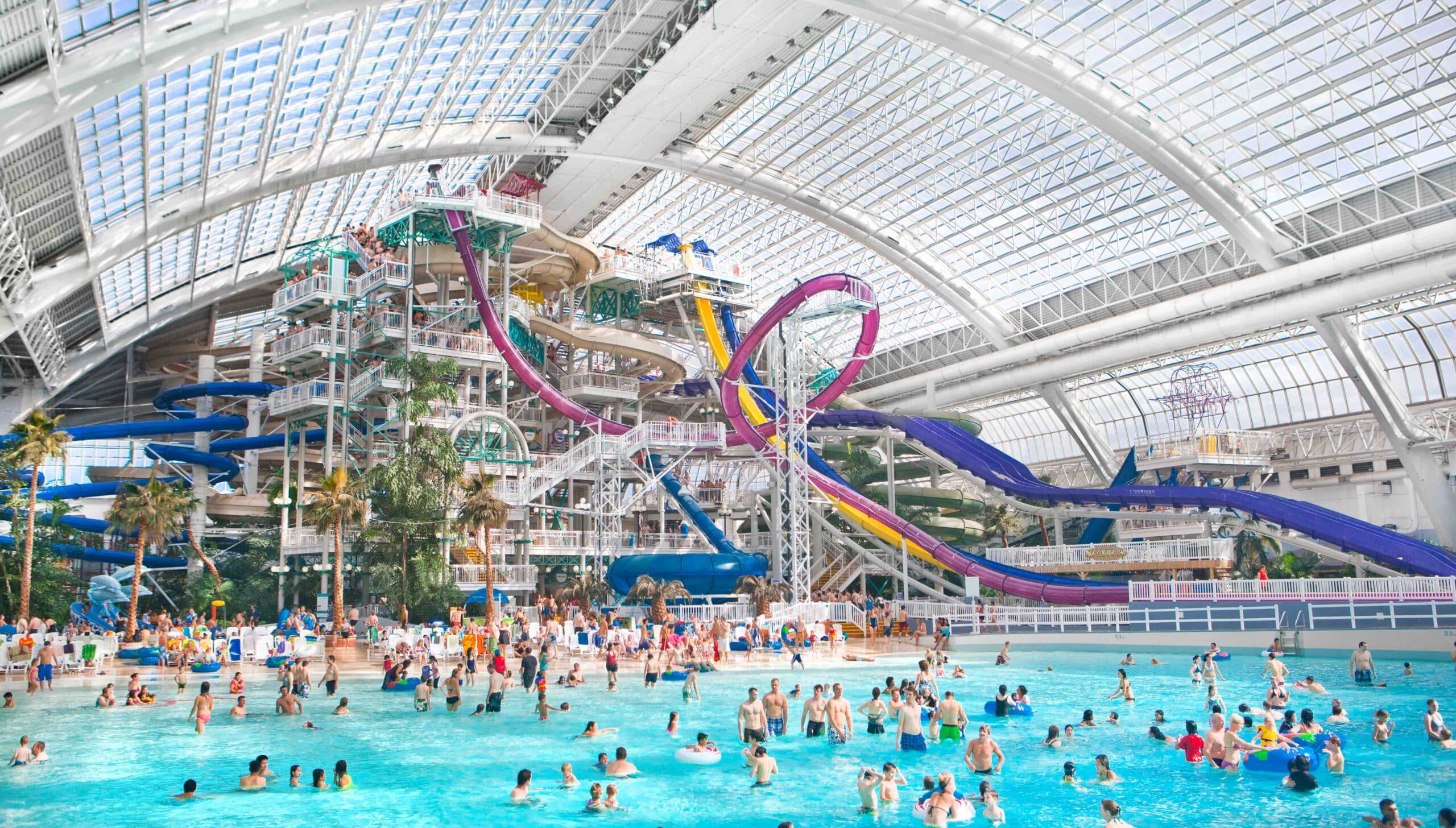 Set inside the expansive West Edmonton Mall, World Waterpark is a wet and wild indoor amusement mecca. There are massive wave machines and themed pools to play in.
Take a thrill ride down one of the seventeen slippery slides, such as Cyclone, Blue Bullet, or Twister. This place is ripe for a rollicking day of fun for the whole family inside a warm and waterfall oasis.
---
Stroll the Alberta Legislature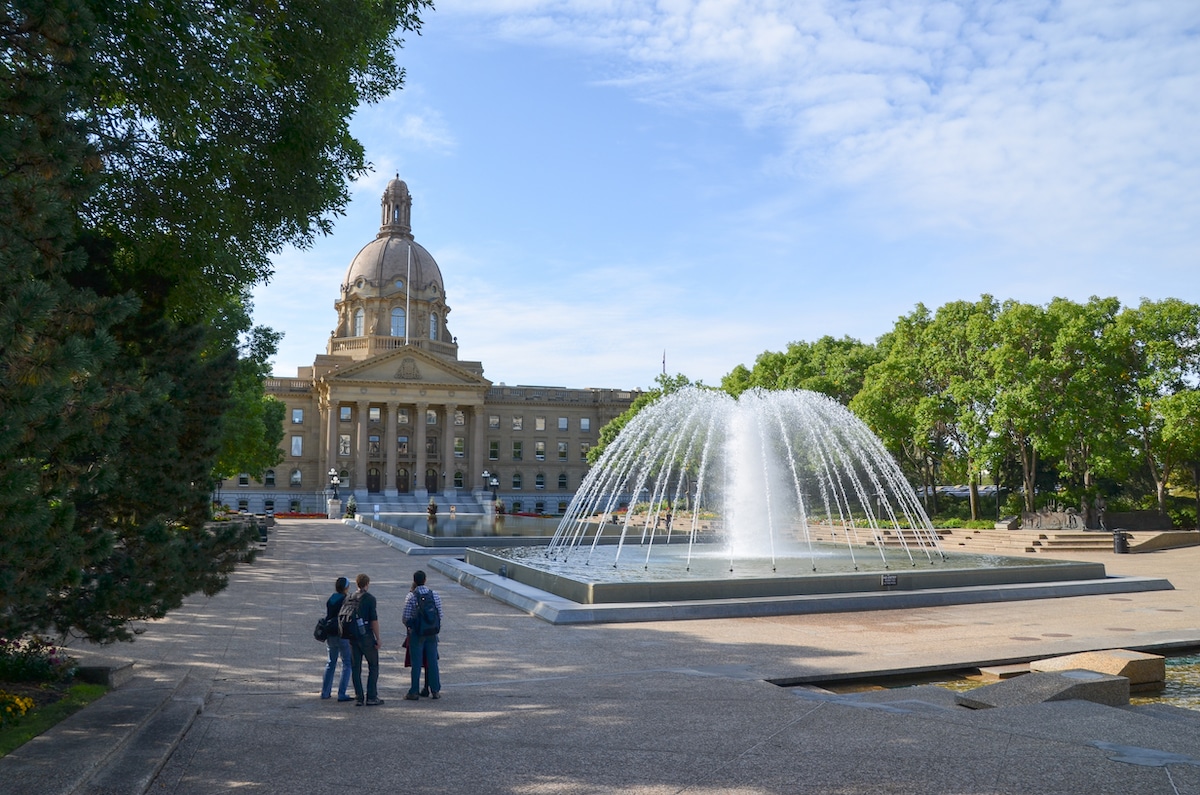 The Alberta Legislature building was constructed in 1913, and it's set amongst the grounds of a serene and stunning garden. The imposing structure boasts a terrace with panoramic views of the Saskatchewan River.
Commonly called the Ledge among locals in the know, you can take a guided tour of the historical facade and learn all about its architecture and cultural heritage. The on-site museum and 4D theater offer an immersive visual representation of the province and its people.
---
Alberta Railway Museum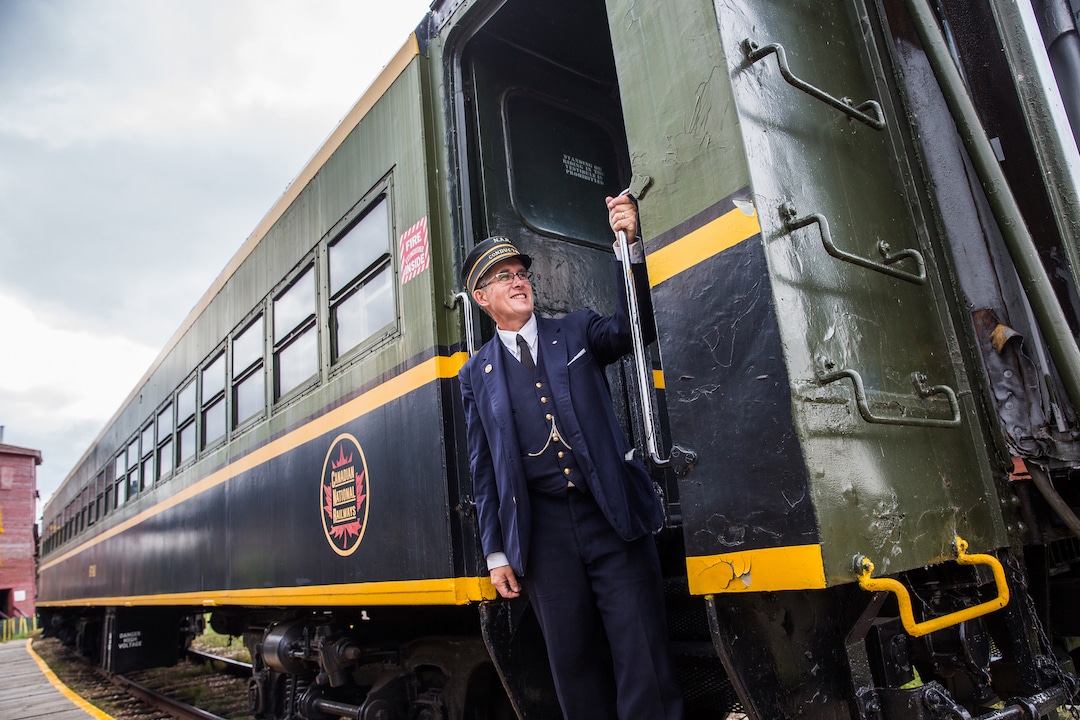 The Alberta Railway Museum was made in 1936 to preserve and protect the area's rich history of locomotion. There are over 75 engines and railcars, some still operating, some static, and some rolling stock.
There are many related artifacts on display to educate patrons on the past of railway heritage. Depending on the season, you can even take a ride on one of these traditional and charming trains.
---
Shop at the West Edmonton Mall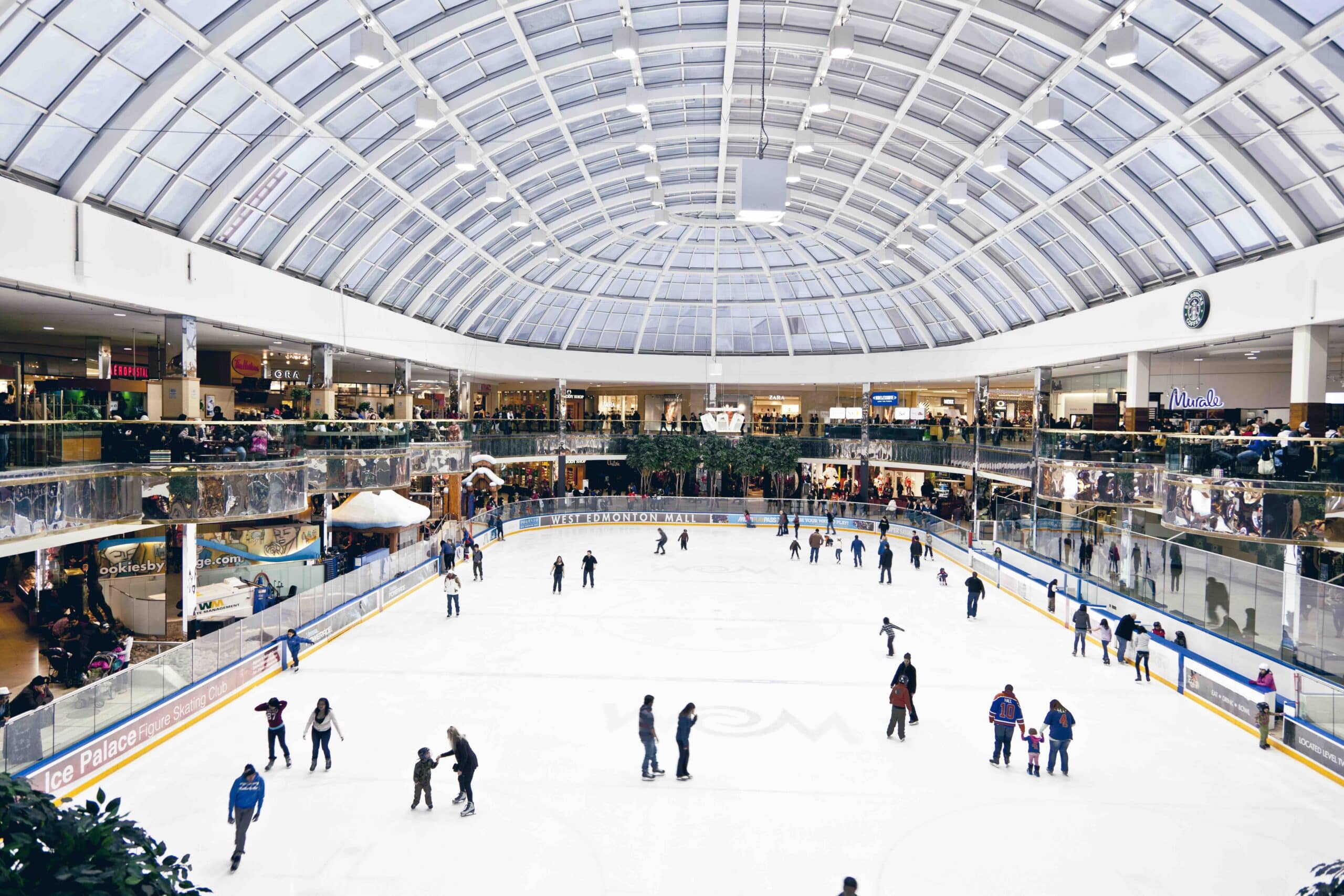 Canada's largest shopping center and one of the most popular stops in Edmonton, this is the mall to shop until you drop. Full of stores and restaurants for an indoor day of buying bliss, you will also find a swarm of surprises, such as a hotel, an ice rink, a movie theater, and an aquarium.
The shopping section themes are inspired by different tourist destinations, such as Europa Boulevard for boutiques or Bourbon Street for Creole crafts and treats. It's everything you could want in one massive and magnificent mall.
---
Relax on Sylvan Lake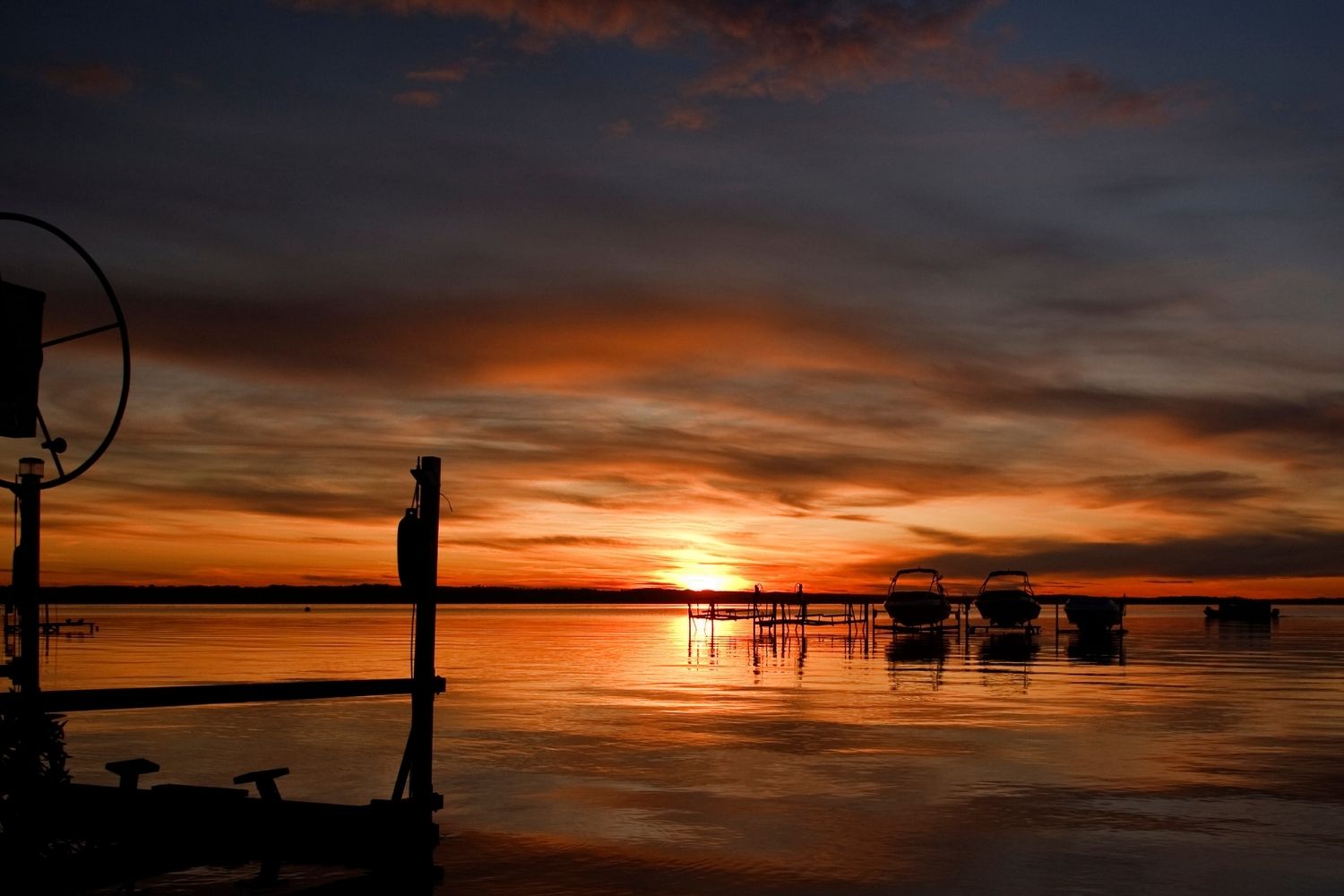 Sylvan Lake is one of the most beautiful lakes in Alberta. Sadly it's about a two hour drive from Edmonton and is much closer to Red Deer. However it still makes for a great day out if you are looking for a great beach day out.
There are some really great Alberta cabin rentals here, so heading to Sylvan Lake is a popular extension to an Edmonton trip. Bring your watercraft and bathing suit, there is plenty of fun to be had on this 15 km long lake.
---
Where to Stay in Edmonton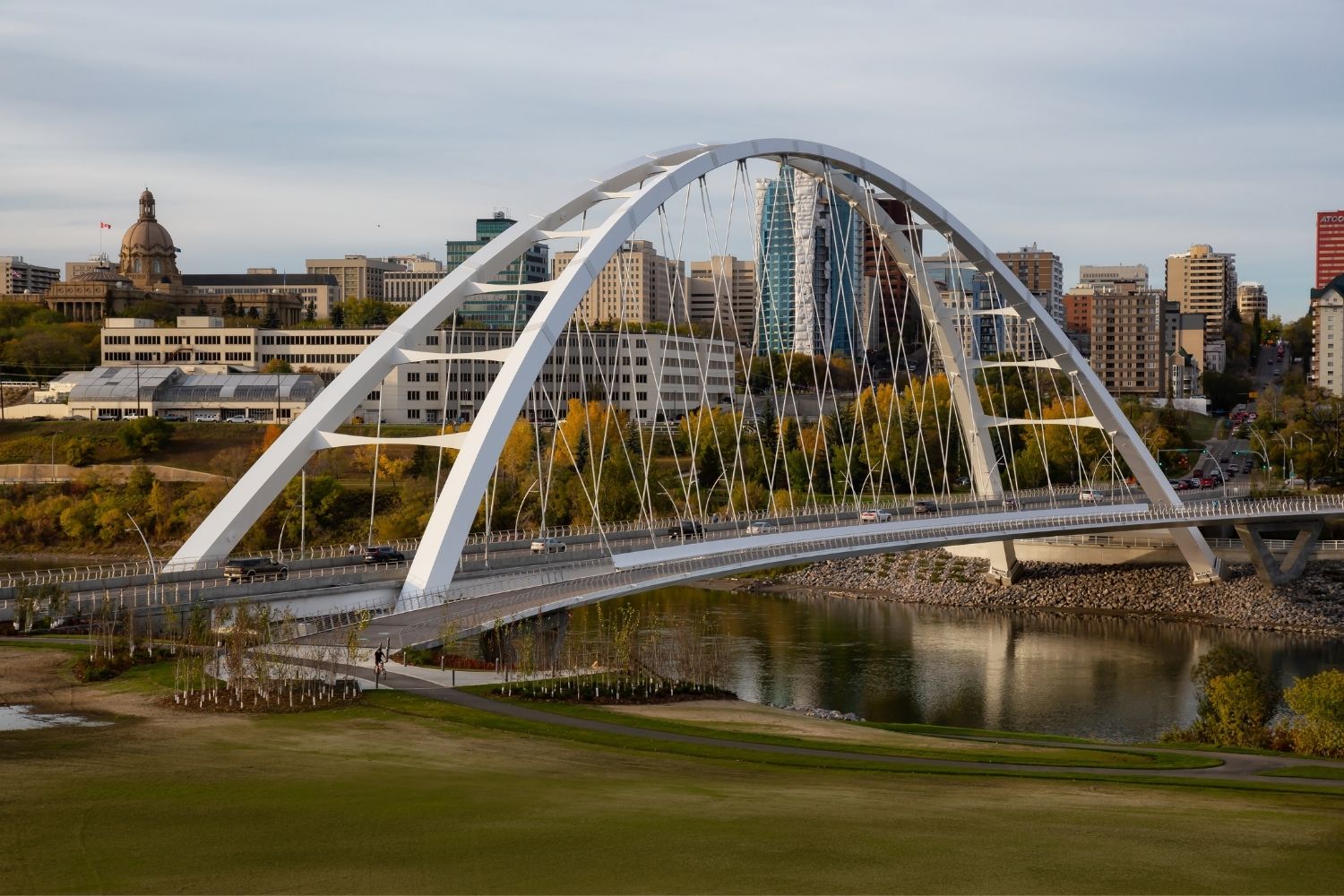 ---
See Our Other Guides
---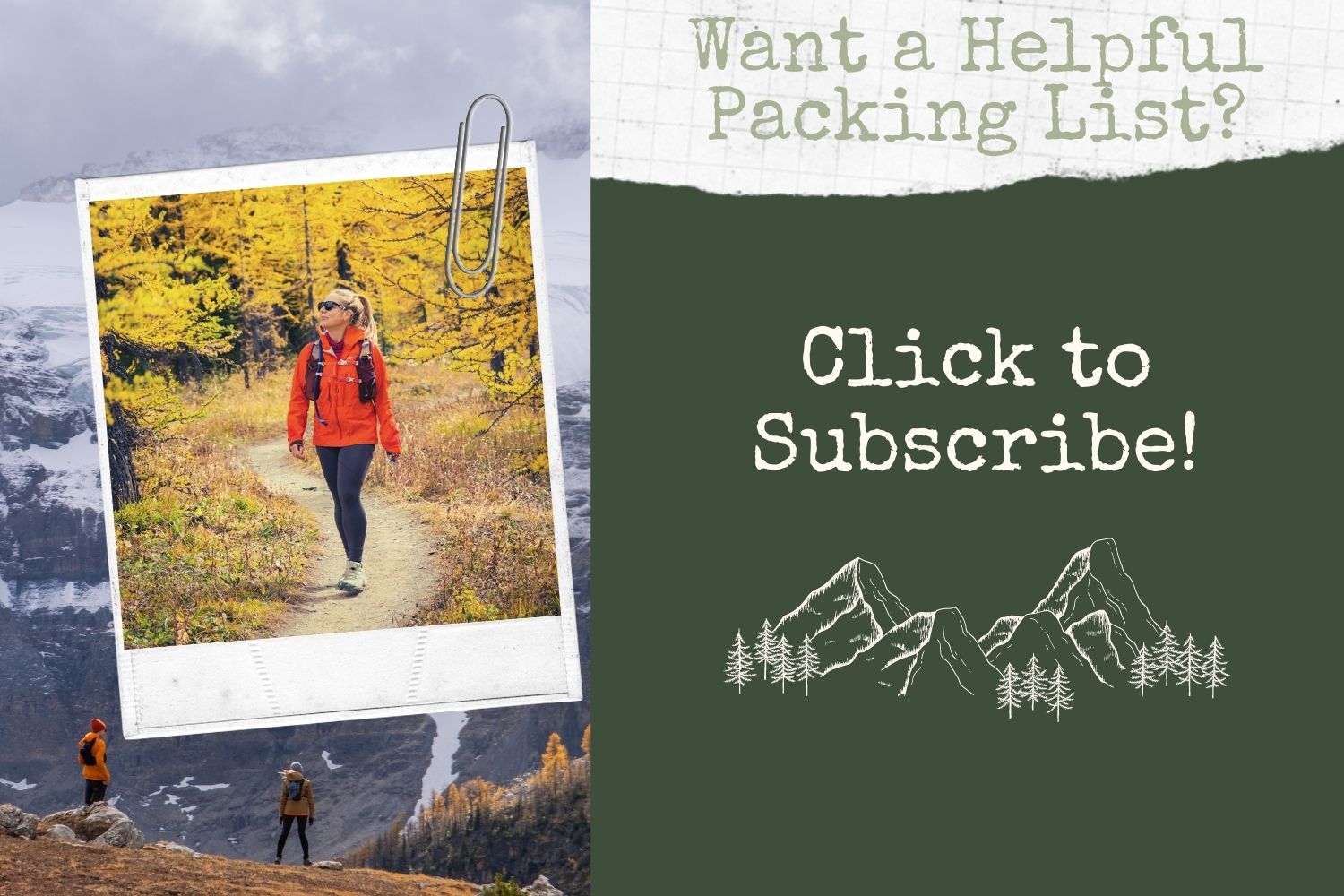 ↓ Join the community ↓
The Banff Blog Facebook Group is your headquarters for the Canadian Rockies' travel advice and information. Including hike info and off-season travel information. This is also where you can meet one another when you need adventure buddies. 

Plan Your Trip to the Canadian Rockies