If you're looking for the best Edmonton breweries, I don't blame you! Beer has been a part of Canadian culture since the 1600s when brought over by the European settlers. The country is now on the cutting edge of the craft world, creating bolder beers than ever before.
The brewery scene has enjoyed a boom, making Alberta a top destination for tasty taps, especially in recent years. Edmonton is in close competition for the title of microbrewery mecca, with many new establishments emphasizing local small-batch brews. After eating at one of the fabulous Edmonton restaurants, it's the perfect time to head out for a drink!
Each brewery boasts a wide range of creative crafts while sporting its unique style and flair. It's become a haven for all arrays of ales, lagers, sours, or stouts. Here are the best Edmonton breweries that cannot be missed.
---
The Best Edmonton Breweries
---
Sea Change Brewing Co.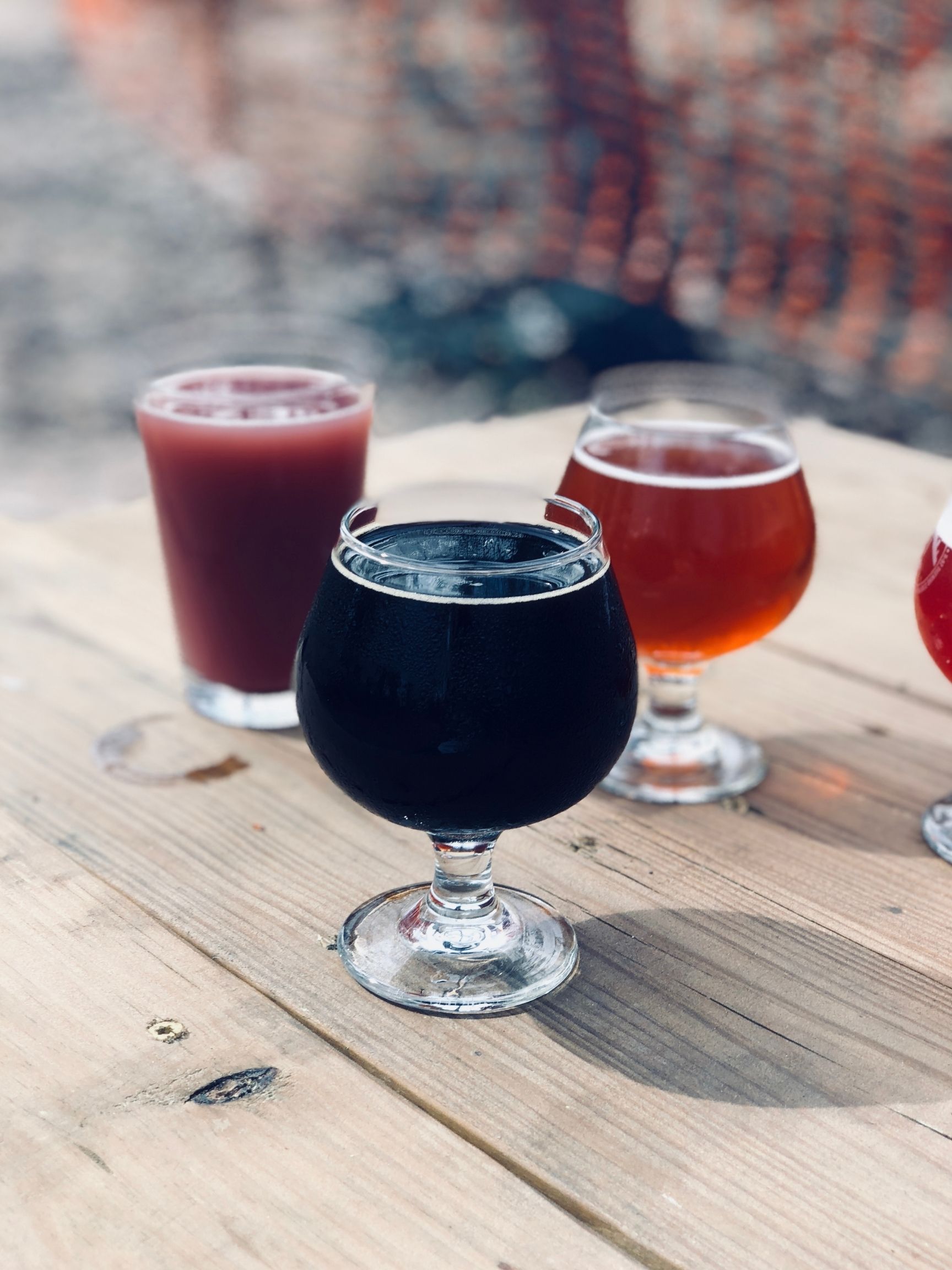 Come for the great beverages but stay for the delicious selection of sandwiches, such as Bahn Mih. They serve up to five fantastic flagships and always have a rotating seasonal available. Thanks to its tropical fruit and citrus notes, the Wolf is a refreshing and popular IPA.
They also offer a unique selection of beer cocktails, each made with a beer from their permanent roster. It's a great place to try something new that you won't find anywhere else, such as the Pinky Drinky made with their Prairie Fairy Sour, bourbon, lemon juice, raspberry vanilla syrup, and fresh mint.
The space is always upbeat and full of energy; the mural adorned walls bring a hip and fun feel to the joint. True to their name, they love to collaborate with community efforts like the ALS Society of Alberta.
Signature Beers of this Edmonton Brewery
The Wolf – Hazy Pale Ale | Prairie Fairy – Wheat Beer
---
Situation Brewing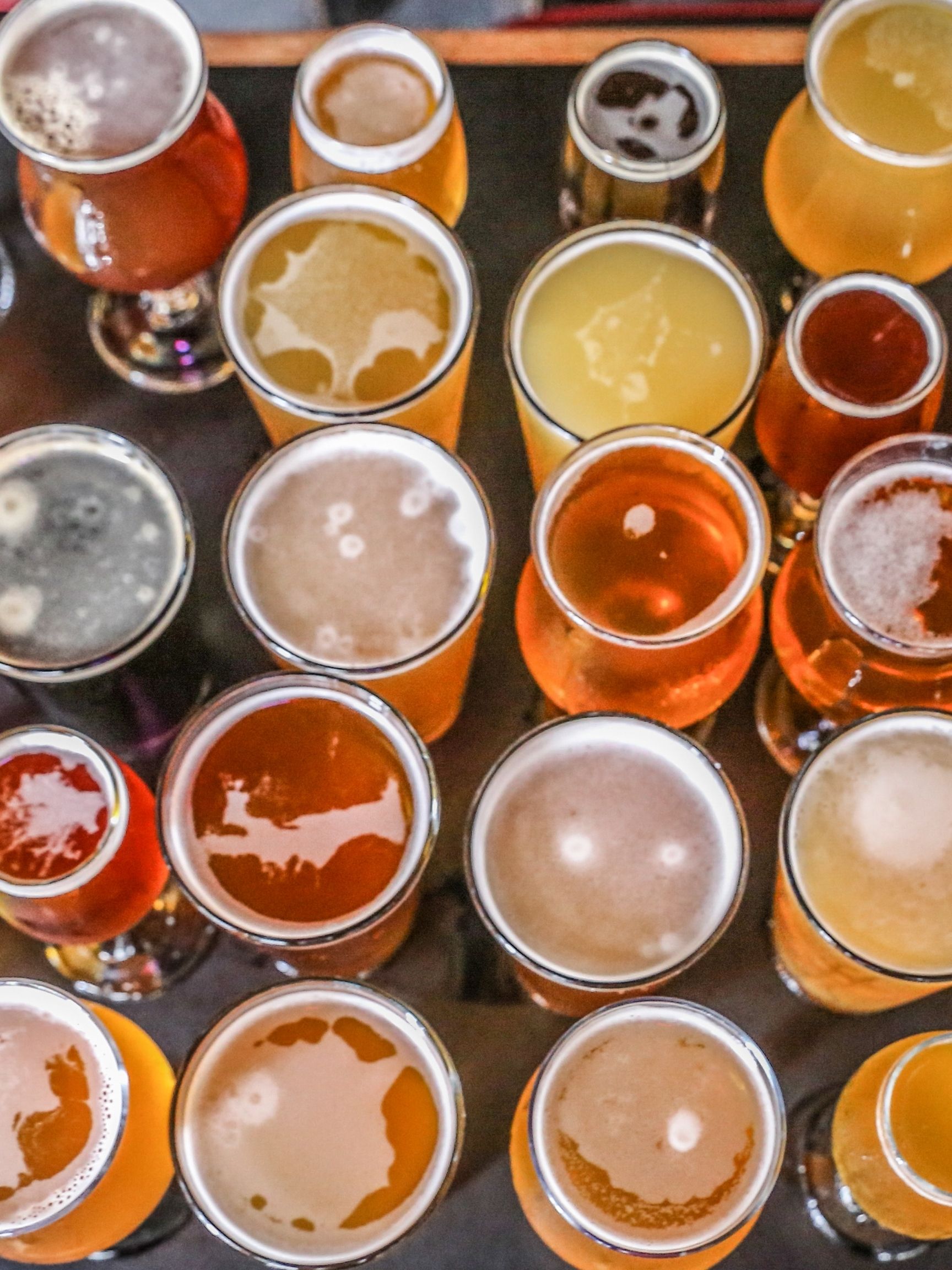 Situation Brewing is Edmonton's go-to brewpub for great beers and bites, and heading here is one of the best things to do in Edmonton. Their approach to brewing is simple yet refined, with uncomplicated crafts that still maintain an attention to detail without being pretentious. Whether you're a casual beer indulger or a dedicated aficionado, it's a perfect spot for a pint.
The Page Turner IPA and Afternoon Tea Saison are minimalistic masterpieces that will have your mouth watering for more. The Sex Palace Imperial Stout is no joke at 10% ABV. Tour their microbrewery to get a behind-the-scenes peek at their unique process.
The menu offers small, shareable plates for superb snacking, with choices like poutine, mussels, or steak tartare. If you've worked up a hardier hankering, try the pizzas or borscht sandwich.
The atmosphere is industrial chic, with floor-to-ceiling windows for a bright and airy feel, perfect for people watching on Whyte Avenue. There is an idyllic patio as well for some outdoor sunshine sipping.
Signature Beers at this Brewery in Edmonton
Page Turner – American IPA | Afternooner Tea Saison – Farmhouse Ale
---
Bent Stick Brewing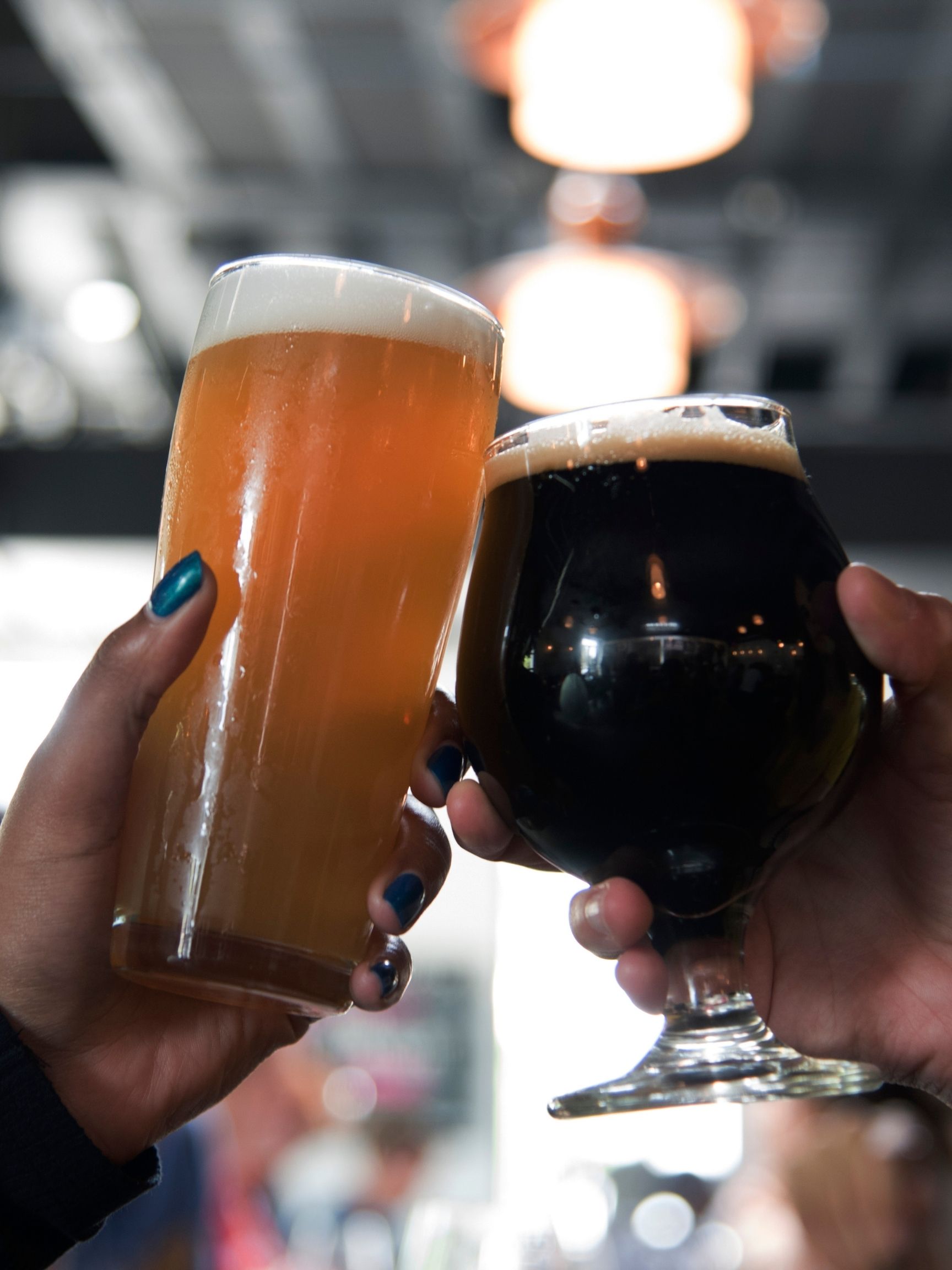 This nano Edmonton brewery began as a DIY operation and boasts a highly rotational lineup of legendary libations. They're brewed all in small batches of up to 400 liters at a time.
The Electric Boogaloo Hazy IPA and the Hay-Maker Wheated Pilsner are just two of their showstopping selections. Each pint feels carefully created and lovingly handcrafted.
Tucked away in a little industrial area, Bent Stick is a hidden gem of Edmonton, and a stop here will definitely feel as if you've discovered something special. Check the schedule or ask some locals in the know when they're open for pints, growlers, tours, and tastings as the private facility isn't always available or can be by appointment.
Signature Beers of this Brewery in Edmonton
Electric Boogaloo – Hazy IPA | There Will Be Blood Orange – Shandy
---
SYC Brewing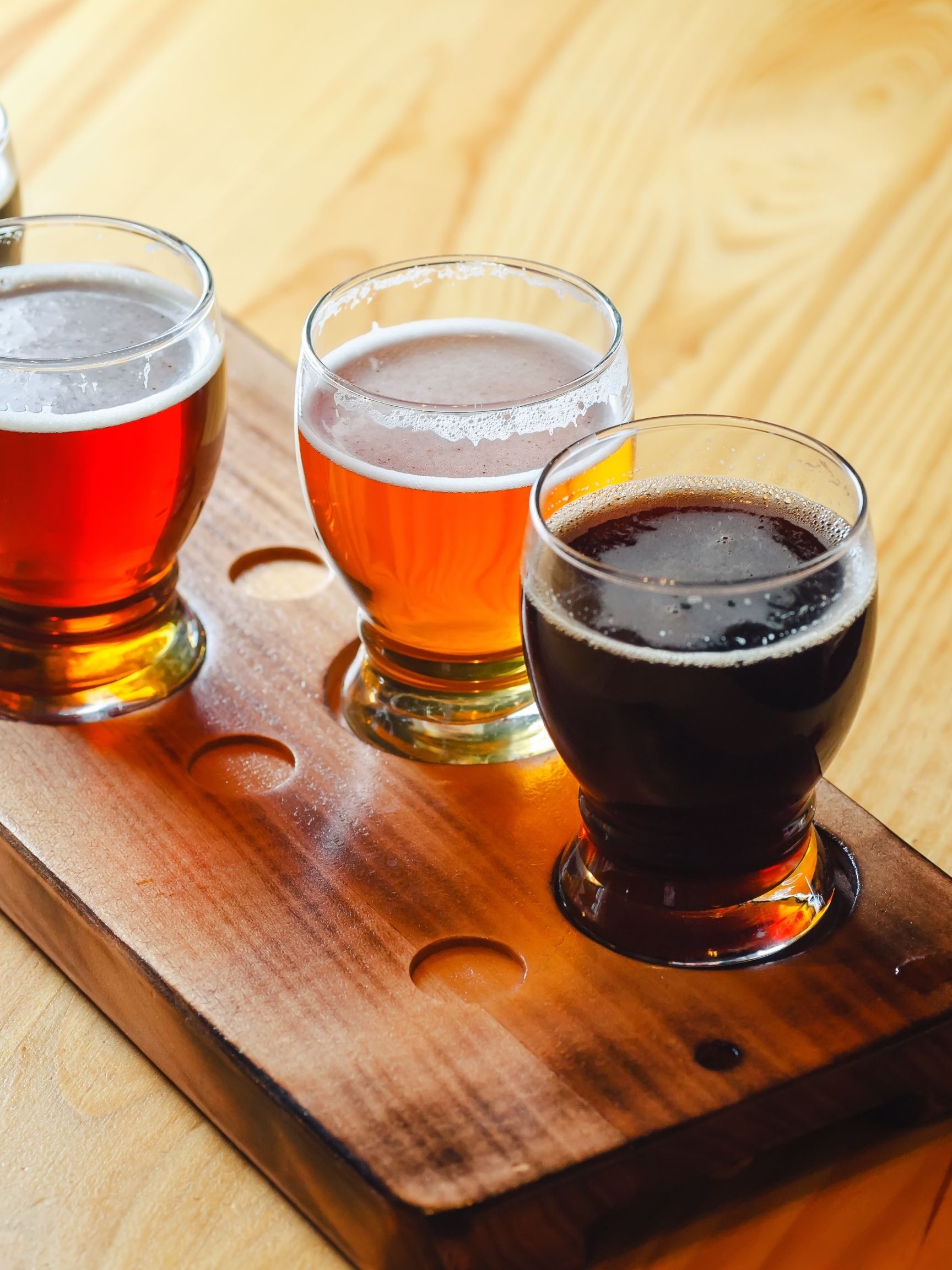 One of my favorite Edmonton craft breweries of all time! SYC stands for share your craft, a motto this brewery lives and breathes. They use traditional methods made over millennia that they believe are fundamental in conjunction with those four magical ingredients: barley, hops, yeast, and water. However, they've put their own twist on many of the ratios to create brews that are truly unique to them.
Each beer brewed is based on its six key characteristics; familiarity, surprise, taste, quality, consistency, and craftsmanship. This is apparent in such craft creations as Curiosity Killed the Cat DIPA, the Lunar Phase Farmhouse Pale Ale, and the Salud Tropical Wheat Ale.
Check out their curated in-house playlists to enjoy some beats explicitly designed to go with each of their beers for a truly tailored experience.
Feel free to bring your own food in or have anything you wish delivered to the taproom. SYC is a crowd favorite and one of the best Edmonton breweries.
Signature Beers of this Brewery in Edmonton
Fjord – Hazy IPA | Pineapple FOMO – Sour
---
Analog Brewing Company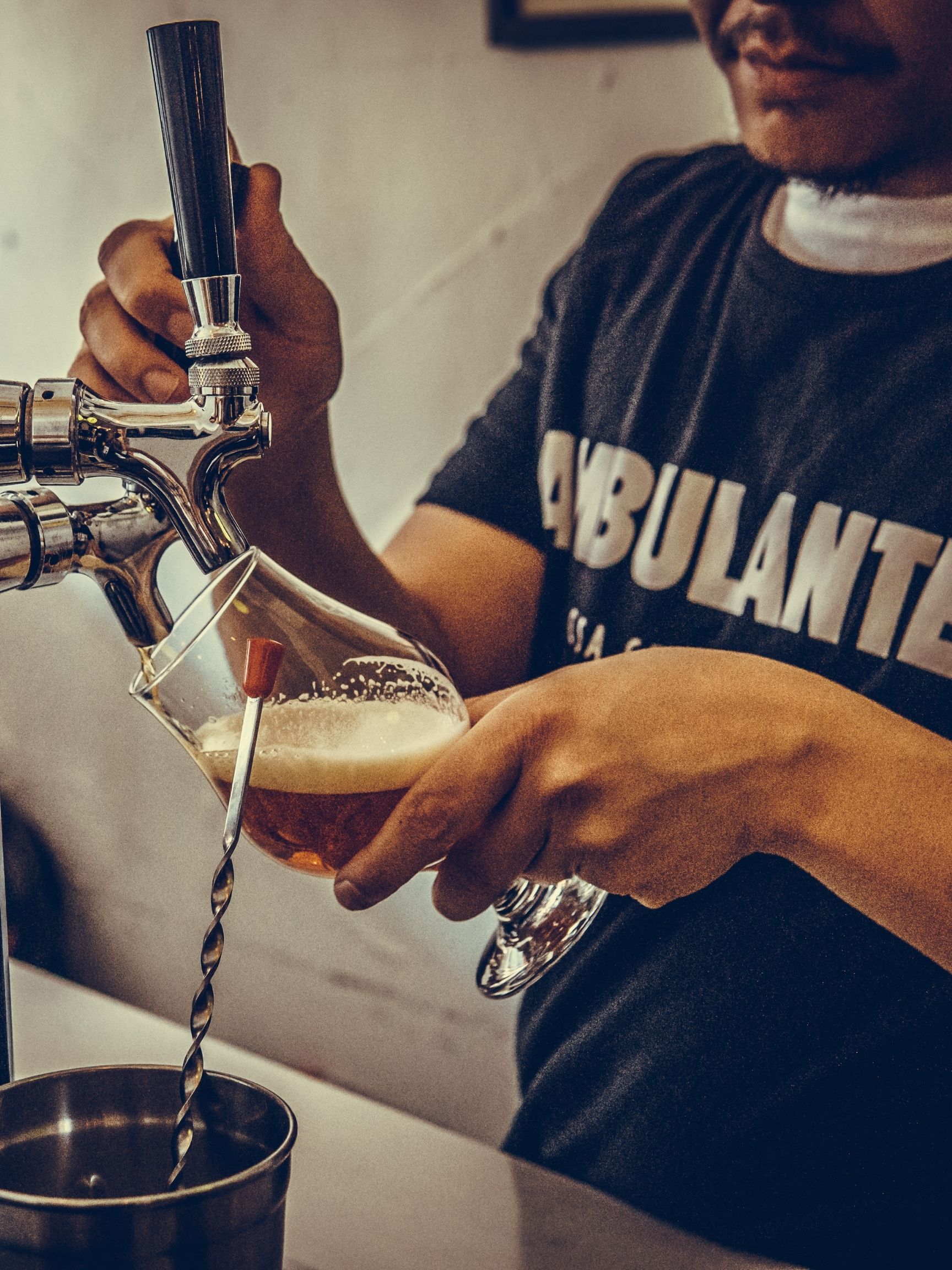 Analog is the self-proclaimed nerdiest brewery in Alberta. It was started by two best friends who shared a passion for craft beer and video games. They've been able to combine these areas of interest for a fun and funky microbrewery that brings out the beer-loving geek in all of us.
Vintage arcade games, board games, and sci-fi themes abound at this brewpub, encouraging all who enter to eat local, drink local, and let their freak flag fly. The beers are easy-drinking, delicious, and sessionable.
They offer several year-round staples like the Ready Paler One Session IPA or the Power Up Porter. In addition, you can always find something seasonal on their taps, like the Goses' n Goblins Blood Orange Gose or the Brew Squared Cold Brew Coffee Kolsch. Check their calendar for significant geeky in-house events, such as D&D night.
Signature Beers of this Brewery in Edmonton
In Another Castle – IPA | Power Up Porter – Porter
---
Omen Brewing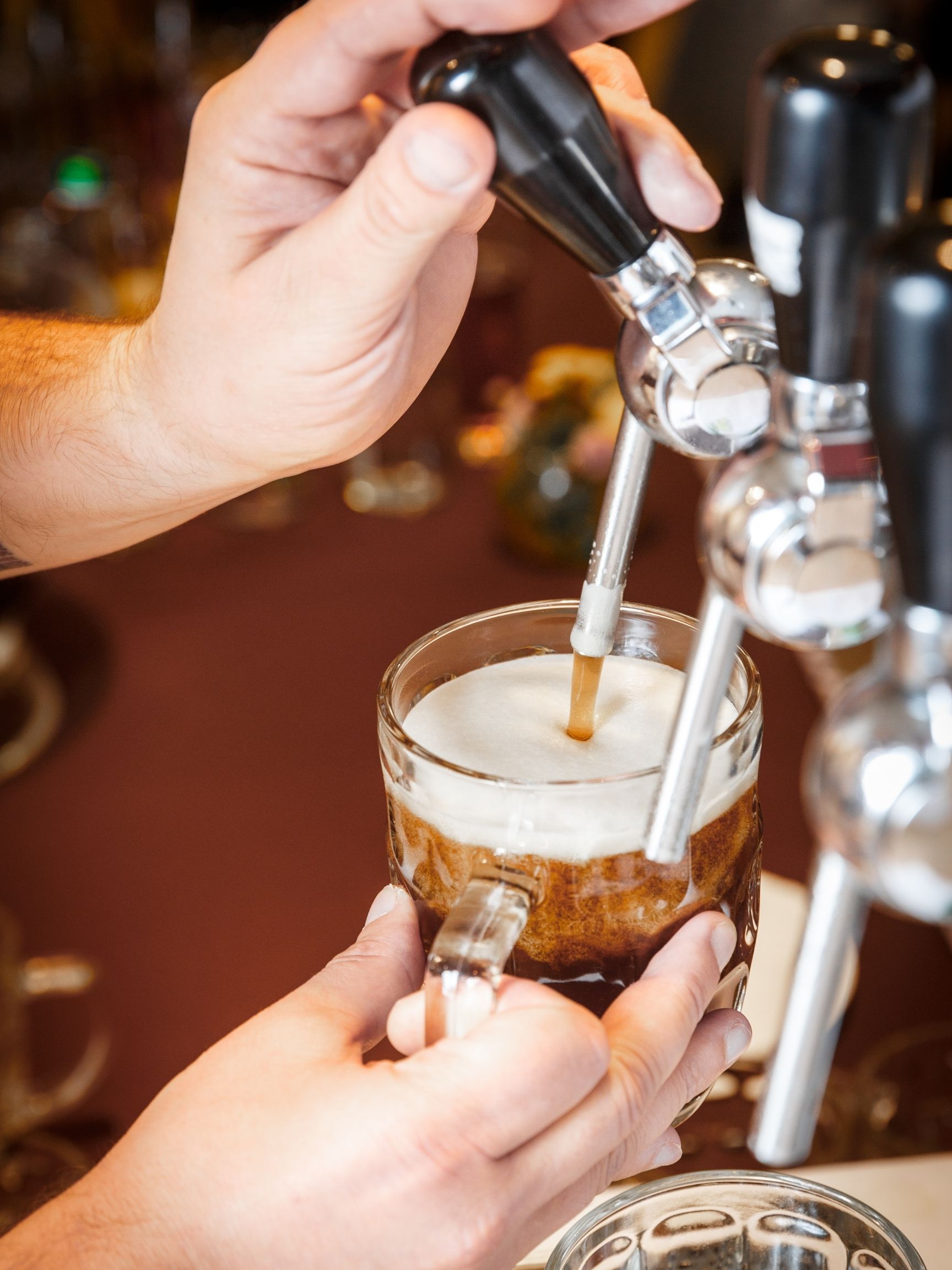 Omen is family-owned and operated and the renowned dark beer specialist of Edmonton. If you require a full-bodied and malty beverage, this is the brewery for you. They do have a few options for those afraid of dark beers; they prefer to cater mainly to the enthusiasts of these heavier styles.
They make high-quality and well-balanced beer that is always fresh and inventive. Everything is created and packaged right on-site. The Spilt Milk Milk Stout has made converts out of the most dedicated hop heads, and the Knight Rye-der Roggenbeir has been a revelation of taste for many.
Order the coveted Cruise Ship, which holds a flight of ten different taps to try. They offer some light snack options in the taproom and allow outside food in, so you pack your own picnic to pair with your pints.
Signature Beers of this Brewery in Edmonton
Spilt Milk – Stout | Claustrophobic – Black IPA
---
Odd Company Brewing
Odd Company creates a culture around the credo of good cheer and better beer through chemistry. The brewers here are chemists who love to experiment and hone their technical craft carefully. Every small batch brew will be different each time you visit for an always-exciting experience.
What started out as a home brewery in someone's garage has since become a bustling brewpub for all to enjoy. It's all a mad science and fine art at this brewhouse. Some all-time slam dunks have been the Passionfruit Coconut Sour and the Zesty Grisette, a dry, funky, wheaty Saison.
They also offer a variety of other beverages, including cute premixed craft cocktails in small bottles. The taproom is trendy yet chill and set in a 106-year-old building. The outdoor patio is spacious and serene for any season, with several fire pits to cozy up to. There is a pint for every palate at Odd Company.
Signature Beers of this Brewery in Edmonton
Good Chemistry IPA – IPA | Mandarina Sour – Sour
---
Alley Kat Brewing Company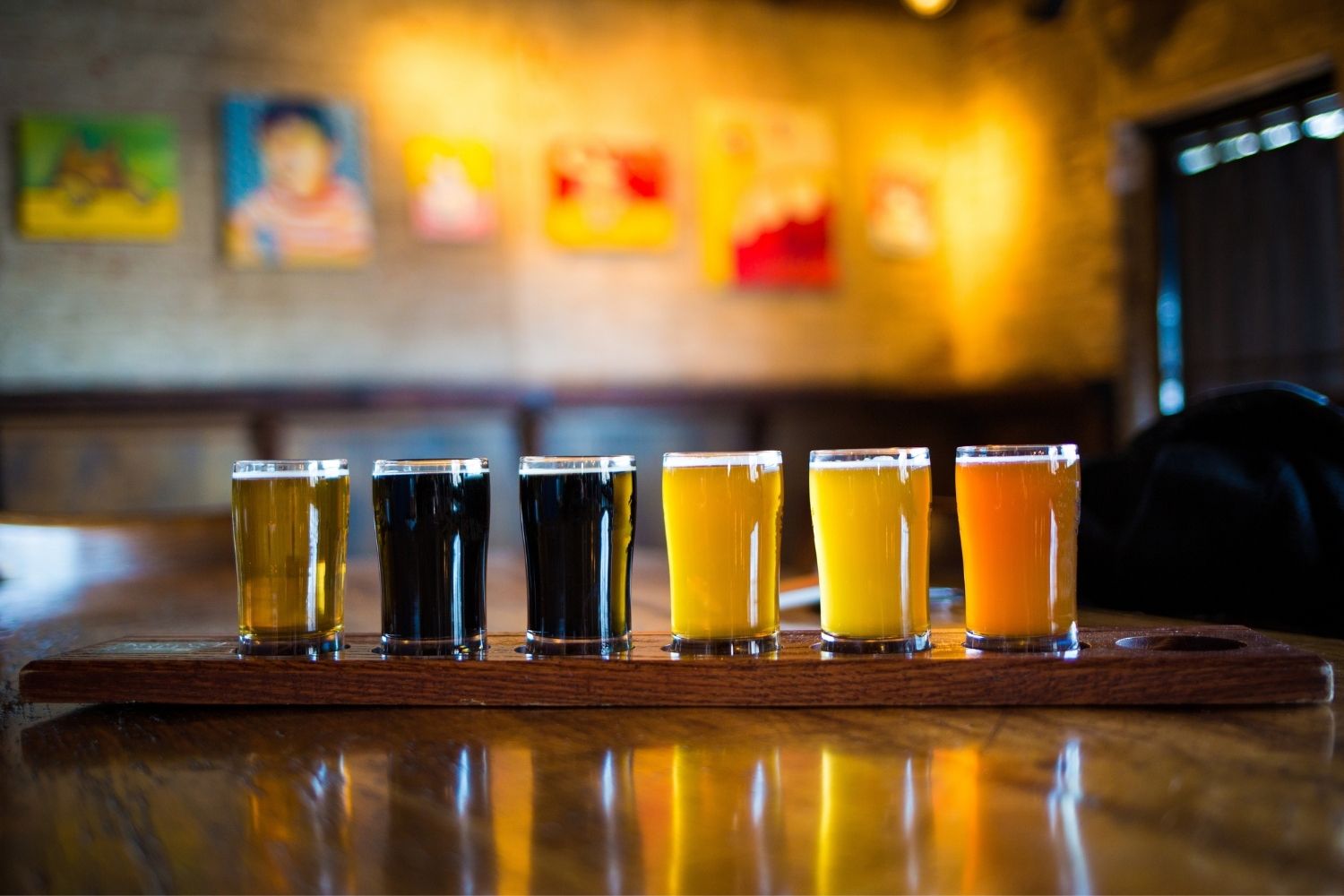 Alley Kat is Edmonton's oldest craft brewery, as they've been churning out tasty creations since the mid-1990s. Like the Fish Bone New England IPA and Buena Vista Brown Ale, they have many beloved standard beers. However, the several series of rotating drafts are especially remarkable. This includes the Dragon Series, Back Alley Brews, Seasonal Collections, and Special Editions.
The locally and independently owned brewery focuses on community care and environmental impact. Their practice is to eliminate as much waste as possible from the beer-making process by donating their spent grain to local farms, limiting water usage, recycling, and using bullfrog energy. They also sponsor local groups and nonprofits such as the Edmonton Pride Festival and MS Society.
The extensive brewery tour is one of the best in the area and involves tasting the newest brew upon arrival, an in-depth look at each part of the brewing process, a pint or flight post-tour, and an Alley Kat tote bag. Check out their many events for taproom tastings and cask nights. There are always 14 taps ready to try at Alley Kat.
Signature Beers of this Brewery in Edmonton

Aprikat Apricot Wheat Ale | RazzyKat Raspberry Sour
---
Polar Park Brewing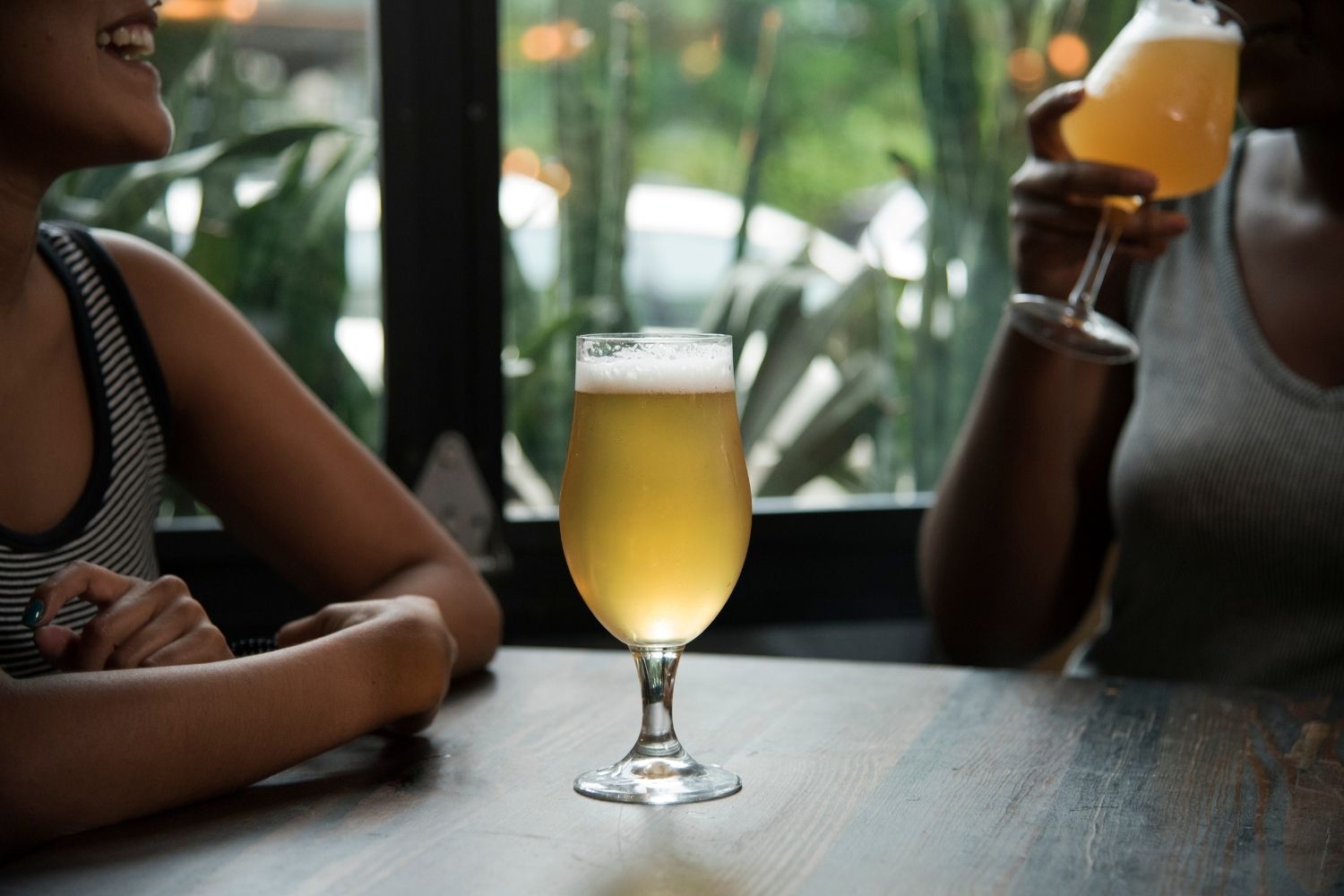 Newer to the craft scene of Edmonton, there is always a new and exciting draft on deck at Polar Park. The Archipelago Candian Pale Ale was an instant cult classic. While the Pink Panther Raspberry Belgian Wit and the Kodak Island Chocolate Oatmeal Stout are available for the more adventurous. We are, of course, big fans of the cute polar bear adorning the pints too.
The rooftop patio is an idyllic space to sip on some cold beers basking in the sunshine or the lights of the city skyline. They offer gourmet pub grub, like the Cauliflower Wings, the Herbed Pretzel, and the Polar Burger. They have a live music venue and host a variety of musical performances.
Signature Beers of this Edmonton Brewery
Archipelago – Pale Ale |Tropic Tundra – American IPA
---
Town Square Brewing Co.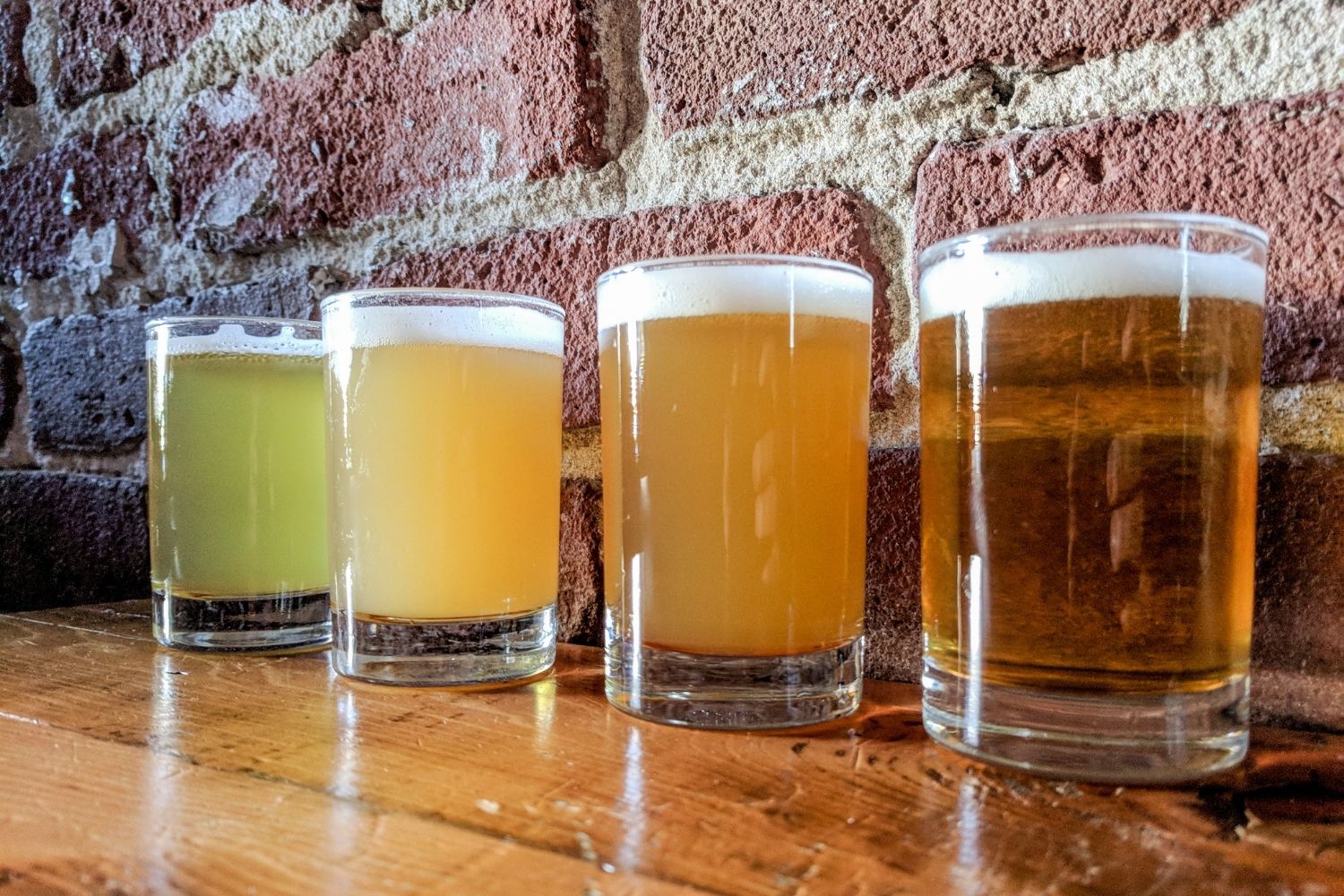 Town Square is a rustic and chic establishment creating artisanal beverages in a curated space. This Edmonton brewery may be small, but the brewing flavors here are immense.
Each draft has its own bright and vibrant design, which fits in with the brewery's spirit. They source everything locally and believe in giving back to the community. Check out their dedicated charity tap. They donate 10% of all their proceeds as well.
They're not afraid to brew outside the box. Traditional recipes have their own twist on them for a one-of-a-kind pint experience. The taps are constantly rotating, meaning there is always a delicious draft surprise awaiting you at Town Square. The Sour NEIPA, the Chiquita Cerveza, Chainsaws for Hands Rye, and Ginger Sour have made quite a splash in the craft scene.
Even their pizzas prefer the wild side, with pies like Soul Food, featuring fried chicken, waffle bites, mozza, goat cheese, maple butter, and chili honey. This is all around one of the best Edmonton breweries.
Signature Beers of this Brewery in Edmonton
Megawatt NEIPA – Hazy IPA | 2D Sour NEIPA – Sour IPA
---
Endeavor Brewing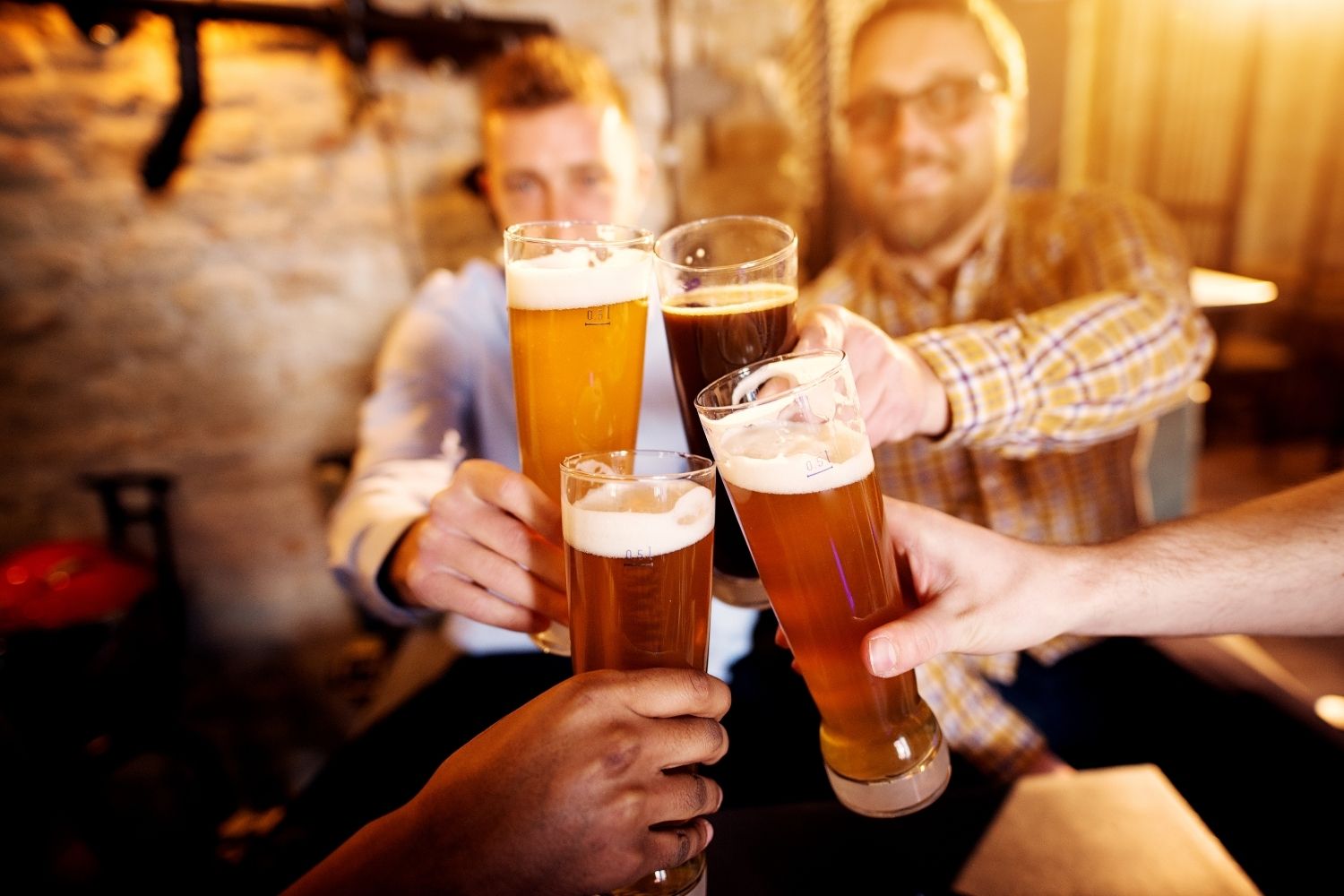 This family-friendly Edmonton brewery is a gathering space for all ages. They strive for consistent quality and the freshest ingredients. They make beers inspired by the great outdoors, where they hope loved ones will take time to share them together. The warm and inviting space makes you feel like a regular, and the patio is perfect for relaxing, even with a furry friend if you wish.
The Sudden Draft IPA and Lost Flip Flop Saison are as drinkable as flavorful. They offer a small selection of made-to-order tacos and quesadillas to cure any cravings that may arise. They have many events like trivia, yoga, or live music.
The space is open, so it's easy to sneak a peek at the facility as it's making all the delicious drafts. Be sure to take a growler to go.
Signature Beers of this Edmonton Brewery
Sudden Draft – American IPA | Lost Flip Flop – Farmhouse Ale
---
Blind Enthusiasm Brewing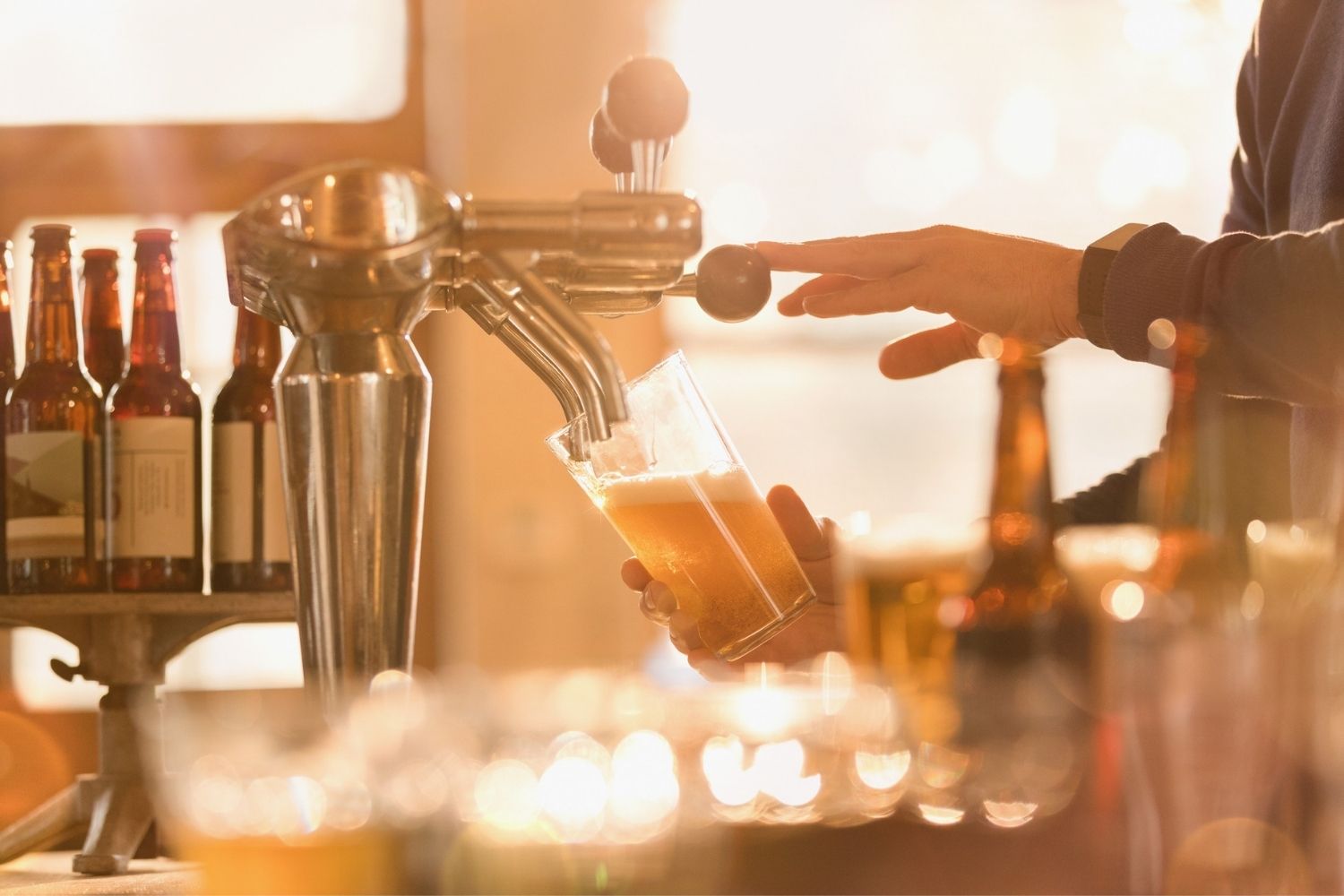 Blind Enthusiasm is one of the more unique breweries serving a stellar food menu alongside their craft creations. They run one of Canada's largest barrel fermenting programs, focusing on two distinct types of brews, crisp ales and lagers, and barrel-aged beers.
Their market location is Biera, which offers in-house drafts paired with elevated eats, and the Monolith, the taproom, and barrelhouse designed to create complex beers through fermentation. It's both an art and science to make beers that can sometimes age for years and compete on the level of fine wines.
The beers aren't filtered, allowing them time to clarify and mature naturally, and their range of offerings is quite varied, with some flavors or styles you may not have tried before. The OKT is a copper lager with stone fruit notes, herbal hoppiness, balanced bitterness, and a dry yet fruity finish.
The commitment to quality and exploration comes across in all they do here. The menu is derived from European bistro bites, balanced perfectly with the beer pairings.
Signature Beers of this Edmonton Brewery
ZestyZee – Wheat Beer | BRO – Brown Ale
---
Other Edmonton Breweries: Honorable Mentions
The Growlery Beer Co.
Arcadia
Yellowhead Brewery
Campio Brewing Co.
---
Best Edmonton Breweries Map!