Looking for the best Jasper restaurants to enjoy on a trip to the quaint mountain town? For an alpine town of only 5,000 residents, there are some wonderful restaurants in Jasper and Jasper food items.
Finding a wide selection of restaurants and cuisines in most towns can be a struggle. However, in Jasper, you can find a variety of cuisines, restaurants, and price points. This means there are plenty of tasty places to eat in Jasper. We break down some of the best restaurants in Jasper below!
---
The Best Jasper Restaurants to Try!
---
Sunhouse Cafe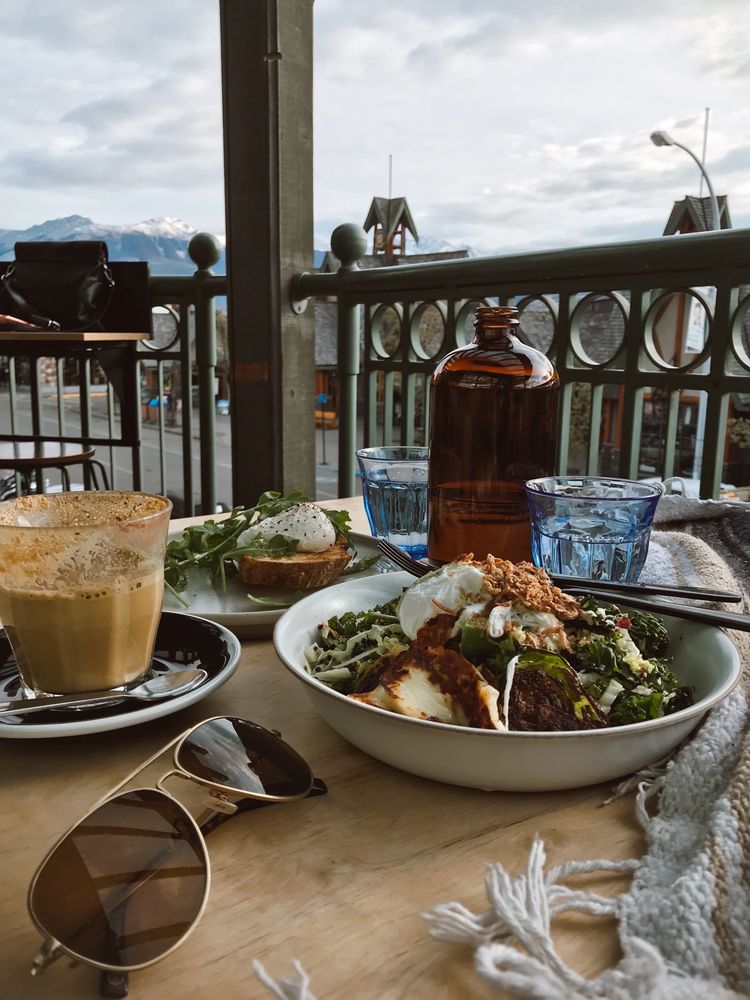 Location: 610 Patricia St, Jasper (GPS)
Hours: 8:00 a.m. — 2:00 p.m.
Cuisine: Australian Coffee House
Price: $$
Website: Link
Sunhouse Cafe gets our nod for the best spot to grab brunch in Jasper. The airy cafe has modern decor that overlooks Patricia Street and serves some mouth-watering coffee and food.
Coffee is a strong focus here, so even if you're not looking to get a big meal, you should at least stop by for a latte. Drinks don't stop there, though, as several organic teas, kombucha drinks, and smoothies are on offer too.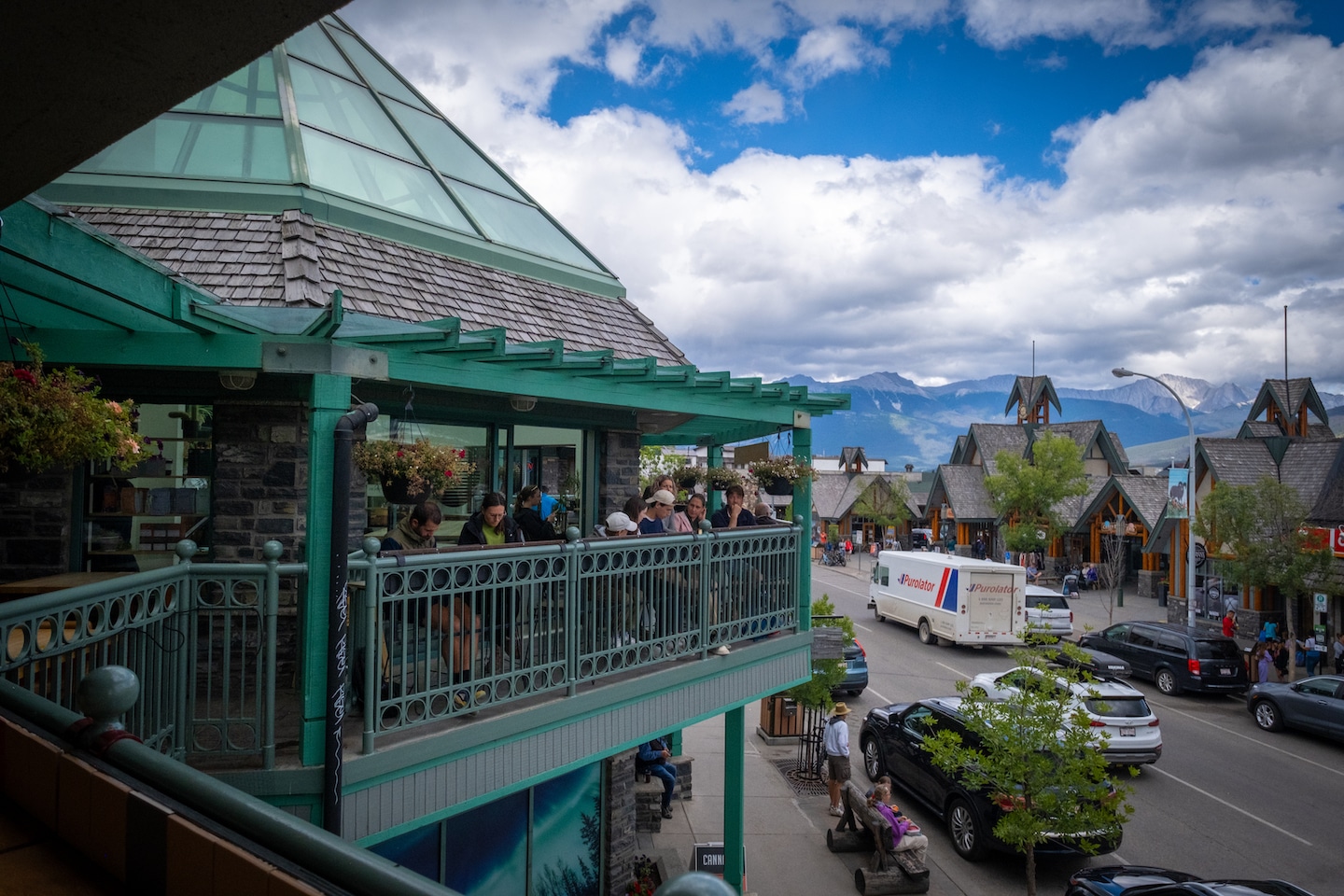 The Jasper food here is excellent and original, with fresh ingredients and healthy options. This is the kind of place you'll find fancy avocado toast — and I mean that in a nice way.
It's located on the second floor of a small mall, and the outdoor patio provides a pleasing view over Patricia Street.
---
Wicked Cup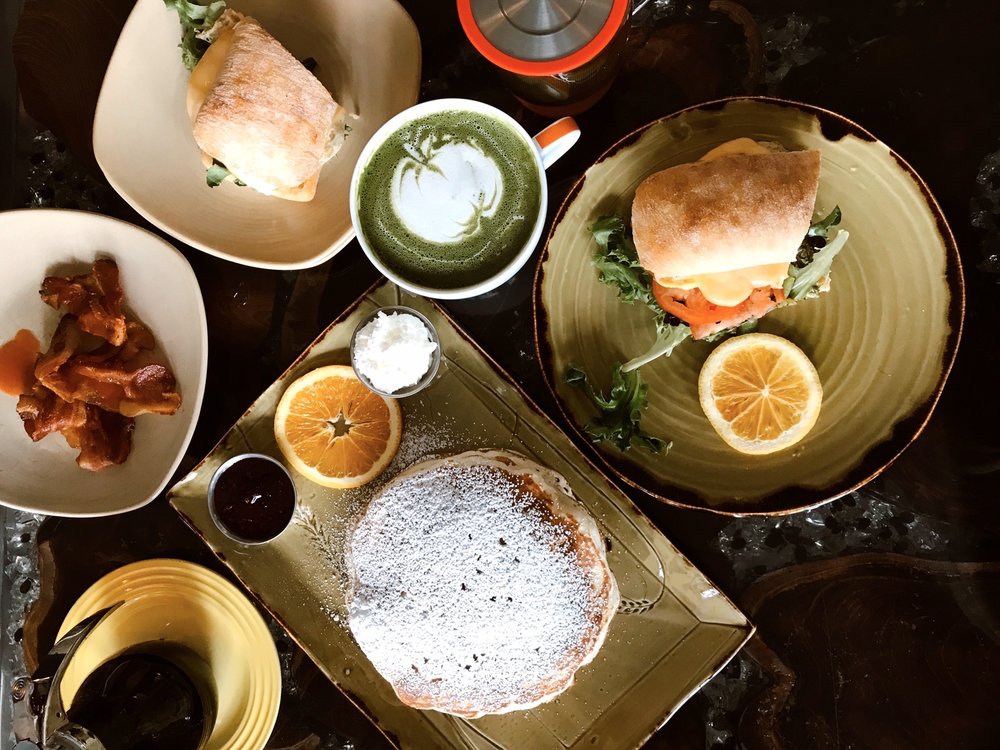 Location: 912 Connaught Dr, Jasper (GPS)
Hours: 7:00 — 2:30 a.m. (varies by season)
Cuisine: Canadian
Price: $$
Website: Link
Wicked Cup starts serving coffee early at 7:00 a.m. and is one of the best breakfast spots in Jasper. There is plenty of seating, and the interior is eclectic with a small gift shop inside. An outdoor patio with plenty of seating means you can enjoy mountain views while you have your morning coffee.
Breakfast is served all day with staples such as a lox bagel, breakfast burrito, pancakes, and yogurt parfaits. They also have a children's breakfast menu, which is a big win for families.
After breakfast, they serve food all day and have a full bar for when you're ready to have a stronger drink. Nothing is exceptional here, but they definitely serve some good coffee in Jasper.
---
Harvest Food & Drink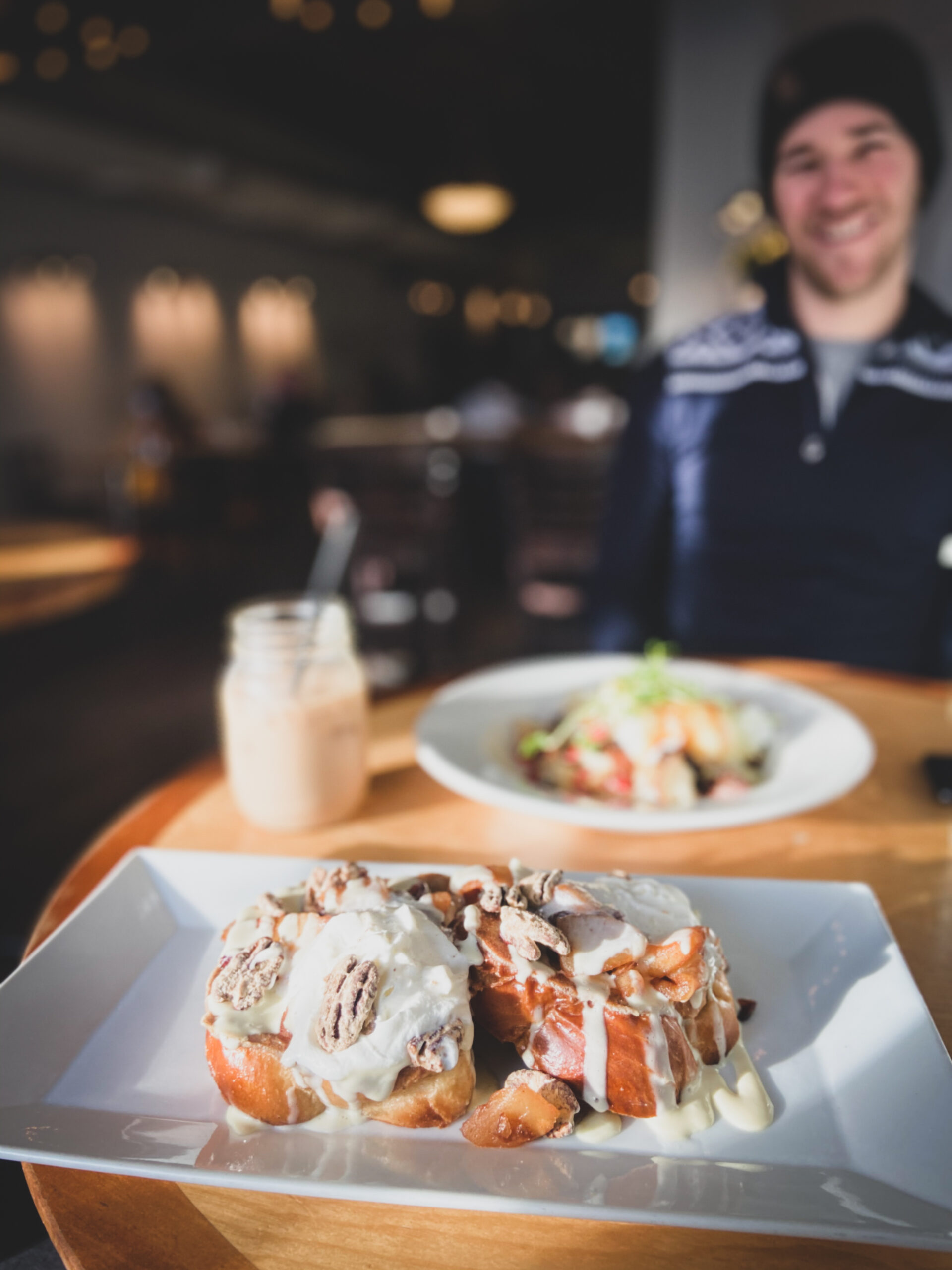 Location: 616 Patricia St, Jasper (GPS)
Hours: 9:00 a.m. — 2:00 p.m.
Cuisine: Canadian
Price: $$
Website: Link
One of the better Jasper restaurants in town is Harvest Food & Drink. Harvest serves breakfast, brunch, lunch, and dinner — so it's open all day. It's one of the newer restaurants in Jasper with a healthy menu (although it's definitely not all healthy!).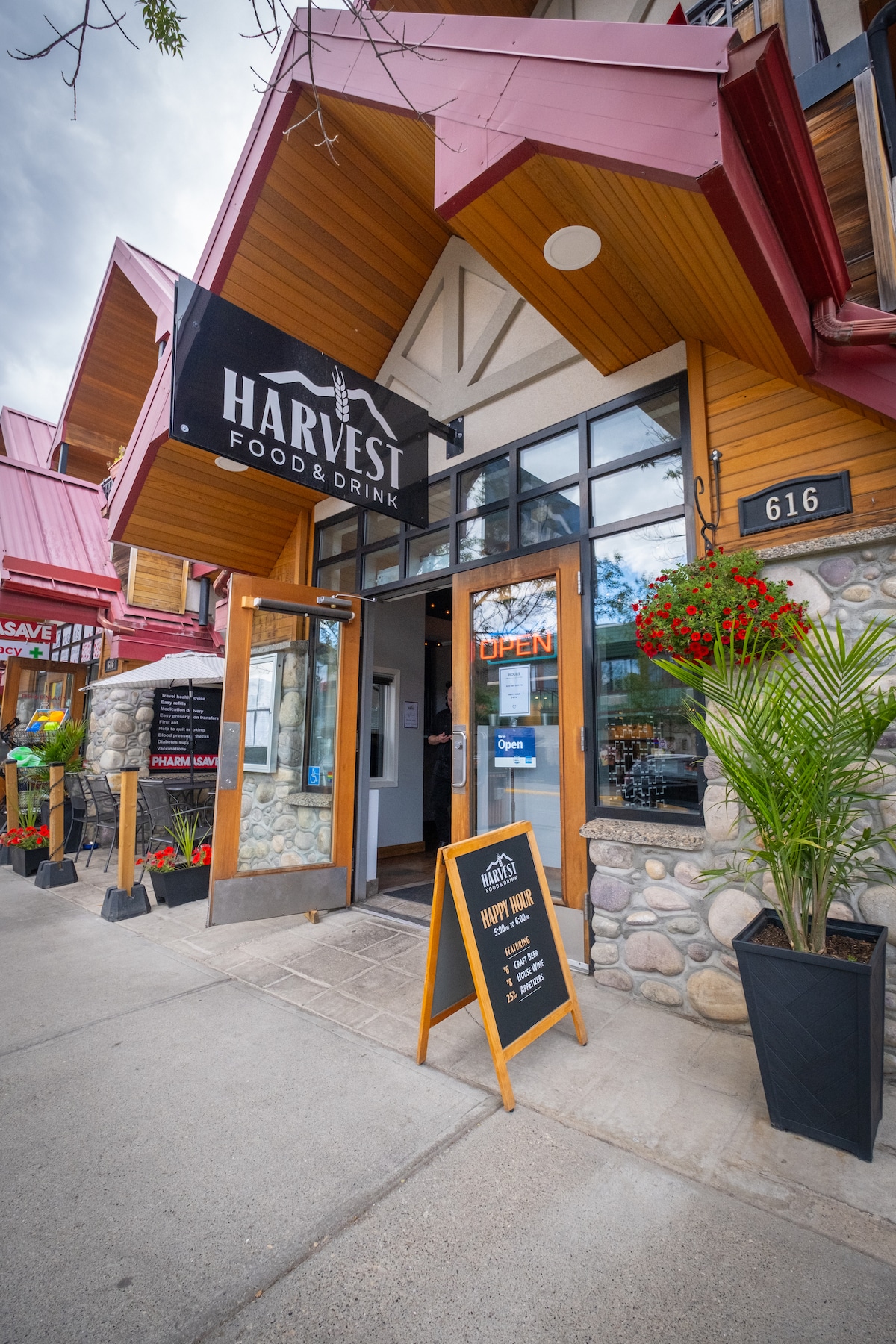 For breakfast, diners can choose from a classic egg breakfast, apple pie french toast, avocado toast, kale & potato hash, eggs benny, or Belgian waffles. We went with the french toast (photo above), and it was amazing. There are also several tasty smoothie options if that's how you like to start your day.
Later in the day, they have a more varied menu with a selection of American staples. You can choose from a charcuterie board, burger, steak, smoked fish, salads, and even fondue! Food is really great here, and prices feel reasonable for the quality.
---
Terra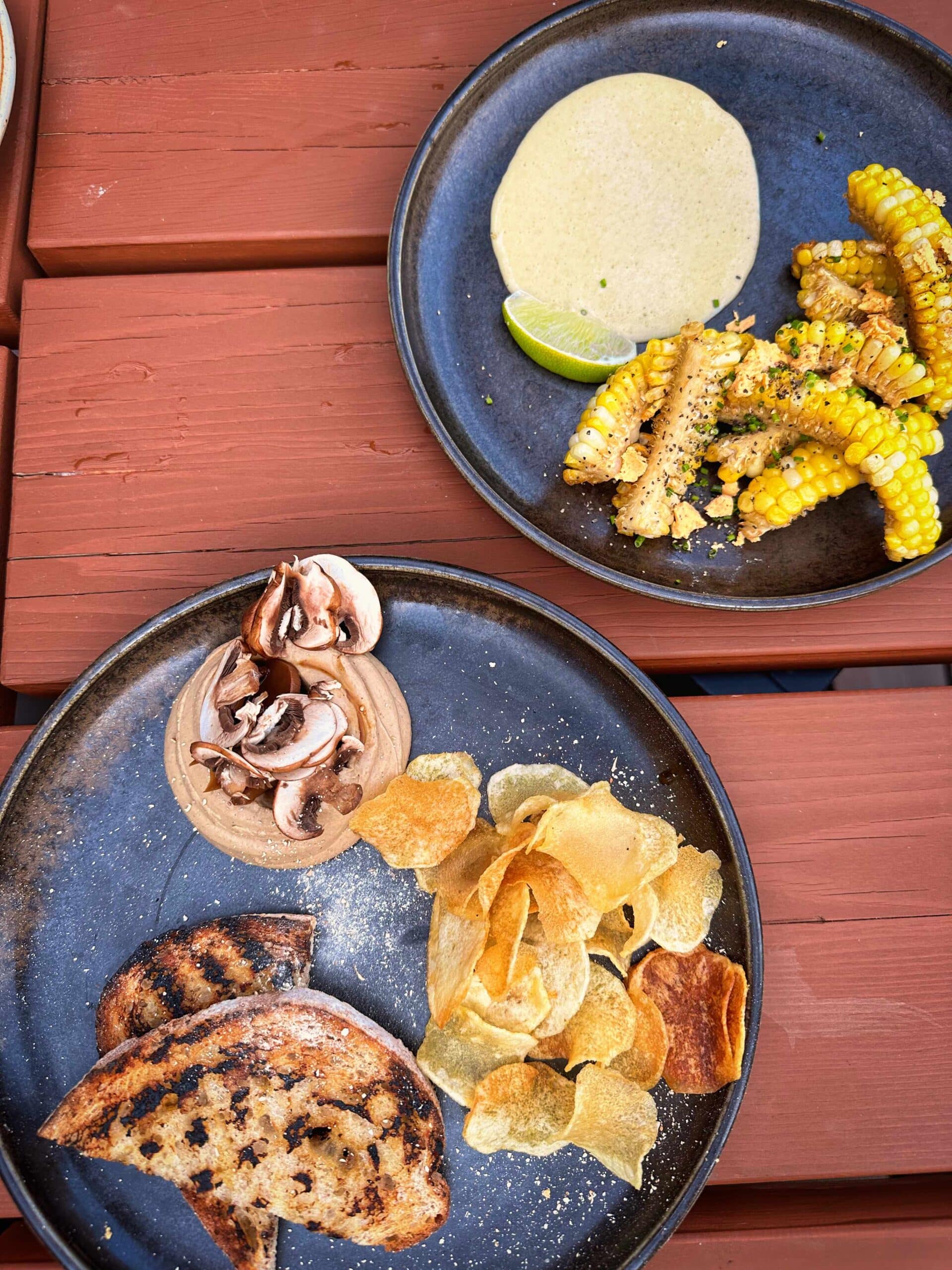 Location: 200 Connaught Dr, Jasper (GPS)
Hours: 7 a.m.–12 p.m. // 4–10:30 p.m.
Cuisine: Local Fusion
Price: $$$
Website: Link
Embark on a remarkable culinary journey that pays homage to the wild beauty of Jasper. Channeling the rugged essence of this breathtaking destination, Terra's essence lies in the art of seamlessly blending locally sourced and foraged ingredients. This craft results in a dining encounter that authentically captures the very essence of the land it thrives upon.
At the heart of Terra's ethos lies an unwavering commitment to the rhythm of the seasons, echoing the dynamic vistas of Jasper. As nature's canvas evolves, so do their menus, always changing with the seasons and artfully incorporating the treasures of the earth and the region.
When dining, don't miss their corn ribs or mushroom parfait!
---
Orso Trattoria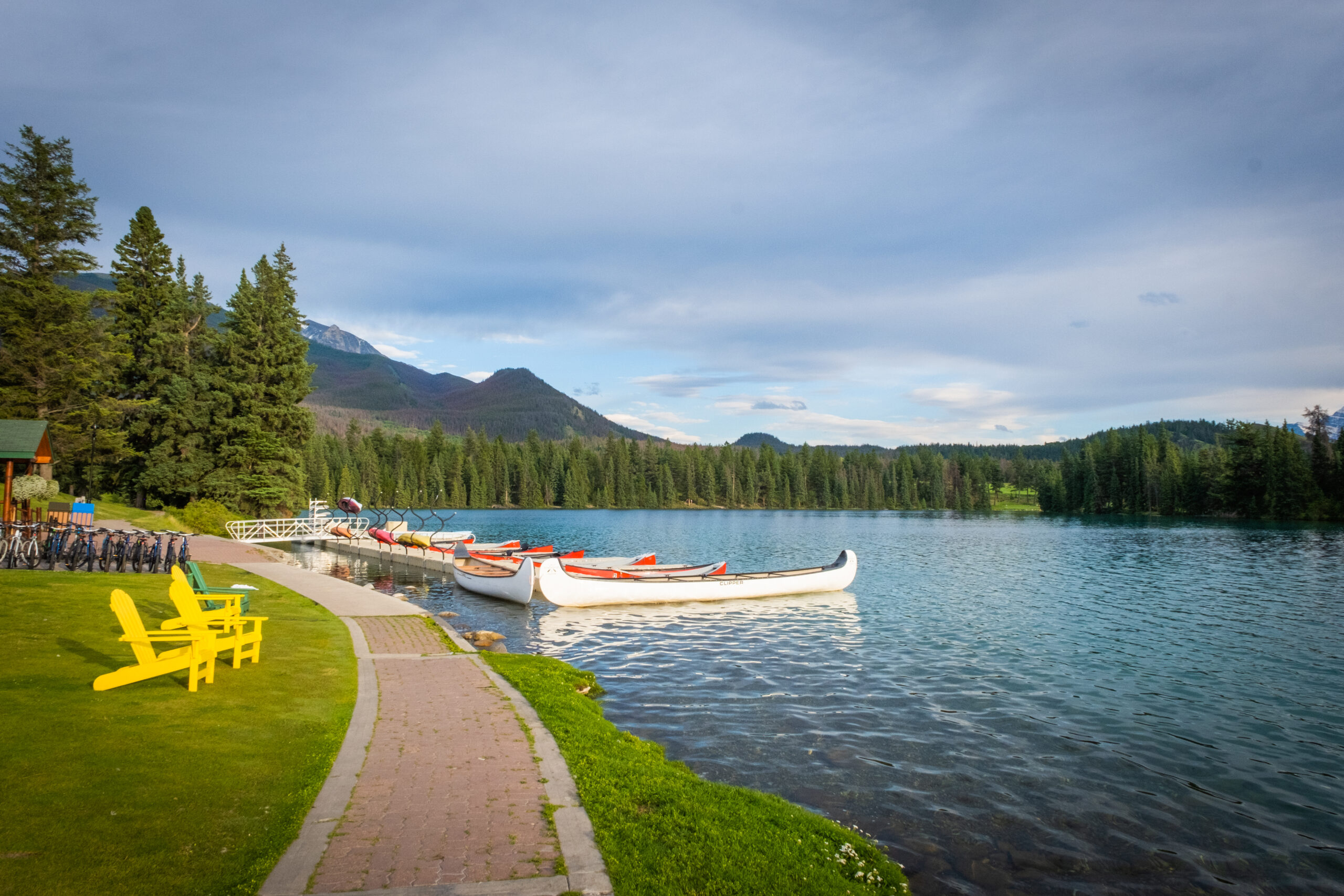 Location: 1 Old Lodge Rd, Jasper (GPS)
Hours:

Orso Trattoria Dinner: Thursday – Saturday | 5:30 PM – 9:30 PM
Orso Trattoria Brunch: Sunday | 9:00 AM – 1:00 PM

Cuisine: Italian
Price: $$$$
Orso Trattoria is set inside the Jasper Park Lodge, which sits on Lake Beauvert and is one of the best Jasper hotels. The resort's grounds are superb and a delightful place to spend an evening if you're not staying at the lodge.
It's an Italian fine dining restaurant in Jasper with an extensive wine menu to pair with dinner. Menu items include burrata, duck leg, ravioli, braised leeks, ragu, and a selection of grilled meats. The menu can be ordered ala carte or as a prix fixe 3-course menu.
In the summer, you can sit outside and enjoy the atmosphere with a delicious tapas-inspired menu. They also have a wide wine selection and great main course pairings. It's also a great place to head for breakfast in Jasper, definitely one of those mimosas on Sunday types of places. Reservations recommended.
---
Raven Bistro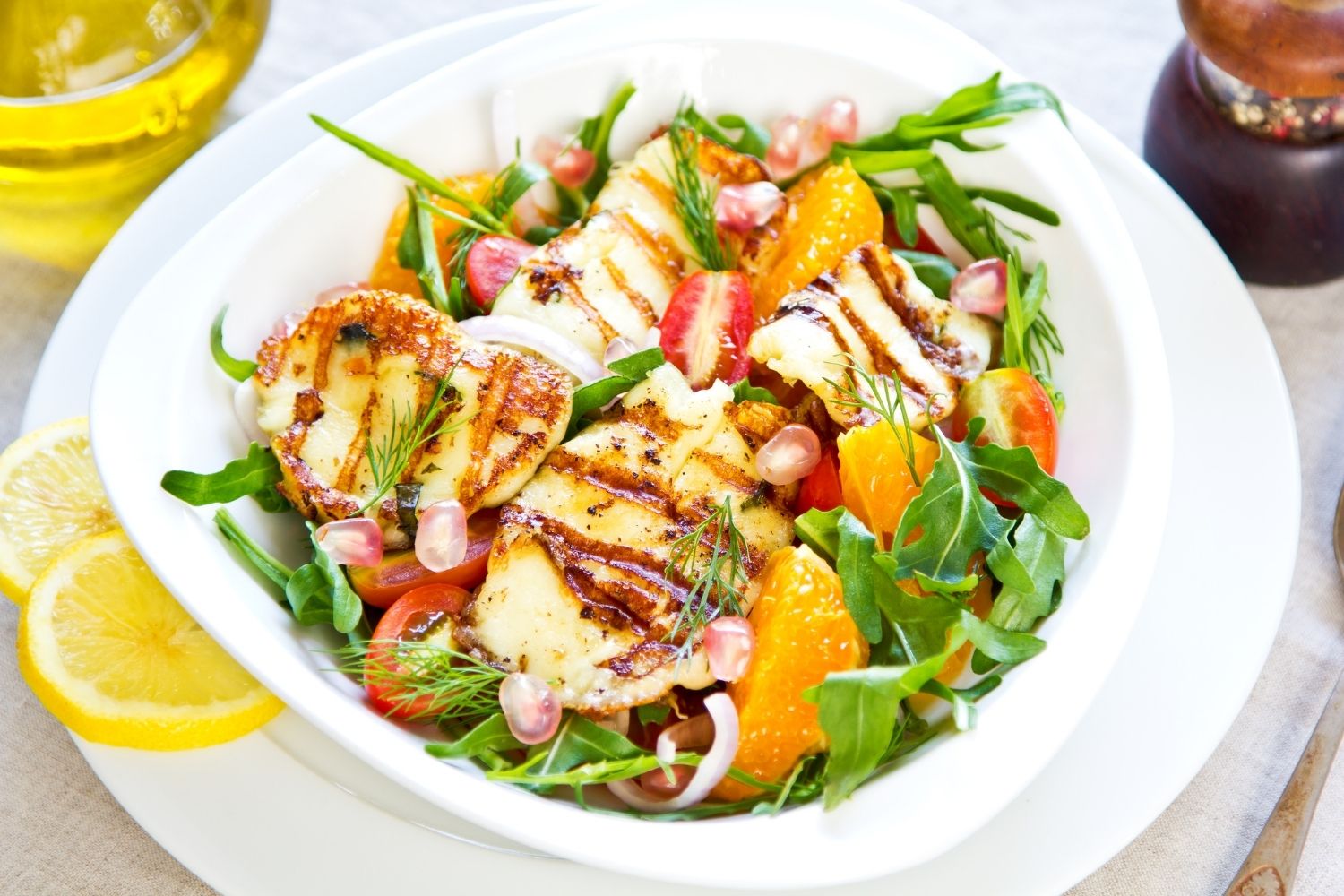 Location: 504 Patricia St, Jasper (GPS)
Hours: 11:00 a.m. – 10:00 p.m.
Cuisine: Mediterranean
Price: $$$
Website: Website
Raven Bistro is a small and intimate bistro in downtown Jasper that offers something a little different for Jasper. Here you can expect Mediterranean-inspired cuisines like Za'atar Spiced Halloumi, Feta Stuffed Falafels, and Mediterranean Mussels.
They also have a fantastic wine selection. As mentioned this is a small seating area, so reservations are recommended – especially in the summer.
---
Aalto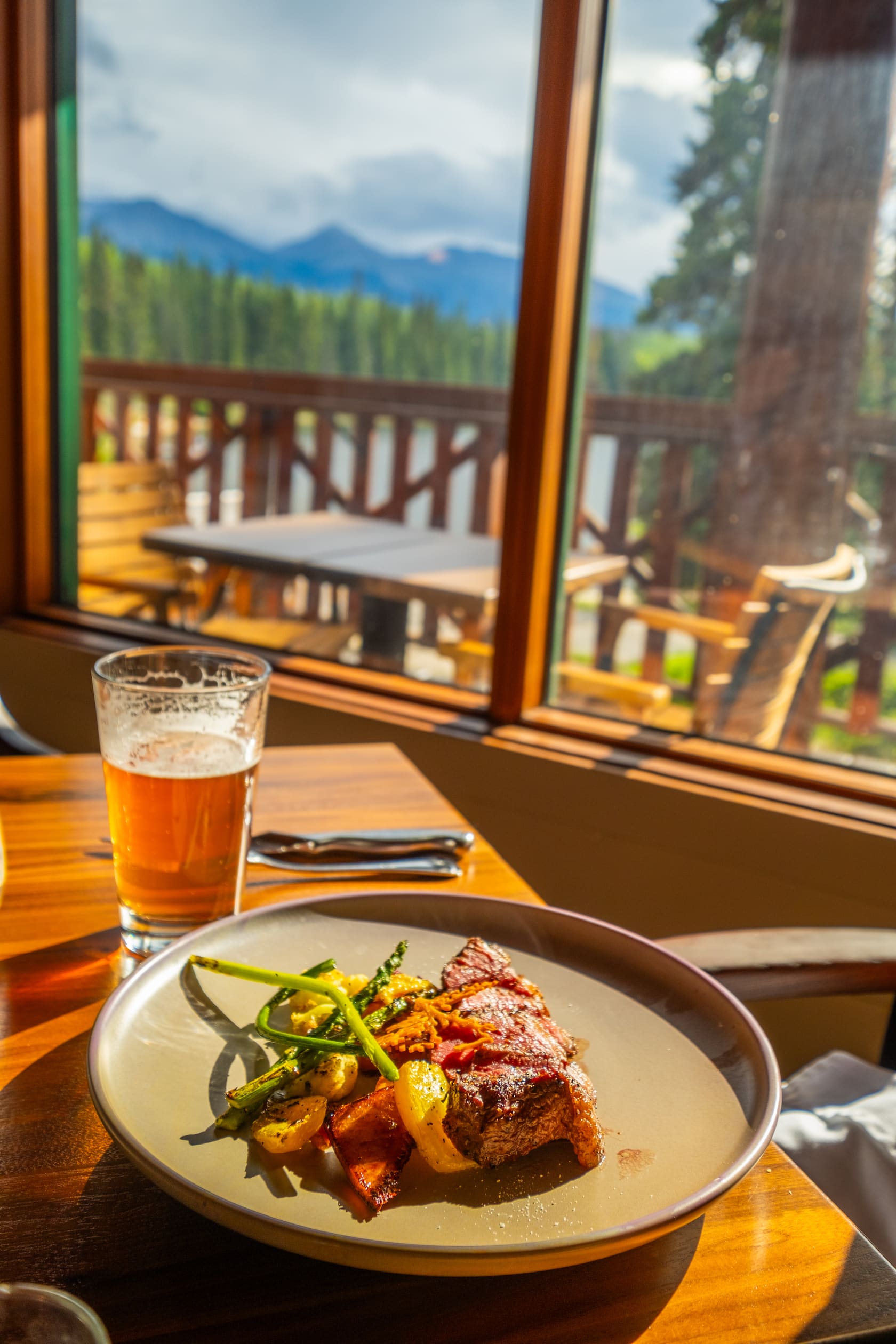 Location: Pyramid Lake Resort (GPS)
Hours: Breakfast 8 AM – 11:30 AM, Dinner on Friday–Saturday, 5 PM – 9 PM
Cuisine: Canadian
Price: $$$
Website: Link
Aalto is one of the only Jasper restaurants on this list that is not in downtown Jasper. Instead of staying downtown for a night, you should head up to Pyramid Lake and enjoy the views from the Pyramid Lake Lodge. Aalto is part of the lodge and is easily one of the most romantic places to eat in Jasper.
Serving up breakfast, lunch (take away), and dinner you can expect an intimate setting complete with dishes like Wilde Boar Pâté, Duck Confit, and Braised Alberta Venison. Reservations are recommended here!
Learn More About Pyramid Lake Lodge
---
Coco's Cafe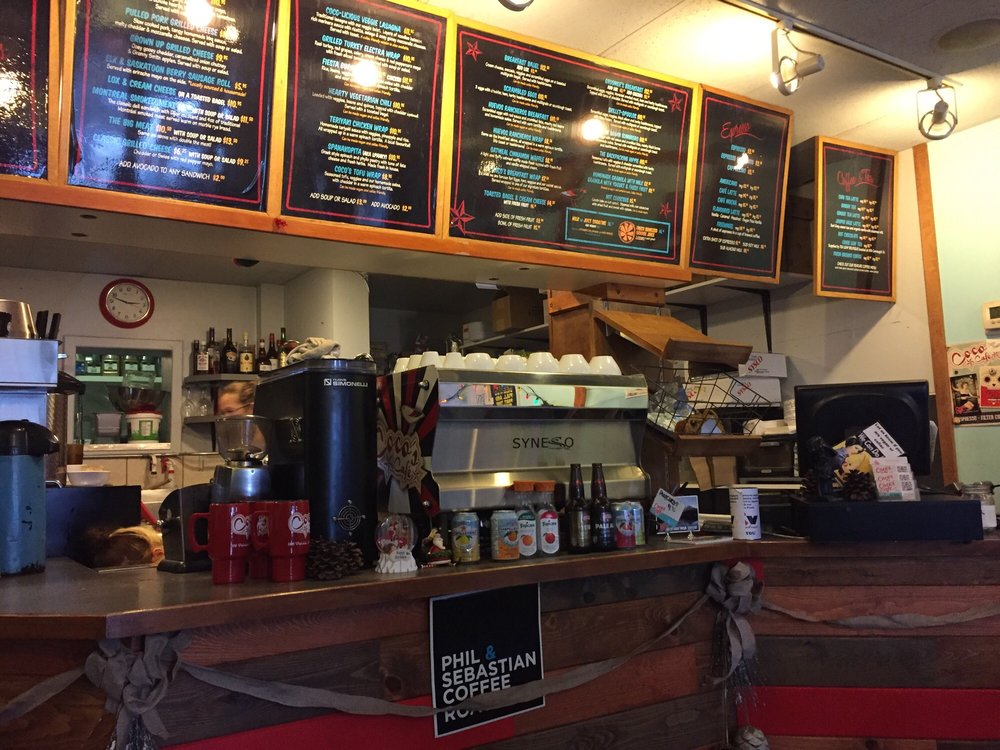 Location: 608-B Patricia St, Jasper (GPS)
Hours: 6:00 a.m. — 3:00 p.m.
Cuisine: Canadian
Price: $
Website: Link
Coco's Cafe is a beloved local spot that's cozy and delicious for breakfast and lunch. They've got all of the classics of a relaxed cafe, such as bagels, oatmeal cinnamon waffles, breakfast burritos, breakfast bowls, and huevos rancheros.
A standout dish is the Breakfast Bagel, a tummy-filling Montreal style bagel with cream cheese, avocado, and veggies. You can choose from a nice range of coffee and tea drinks like a cappuccino or London fog (The Jasper Haze). It's all pretty decent and can hit the spot if you're hungry in the early morning as they're one of the first breakfast spots to open in Jasper.
---
Jasper Brewing Company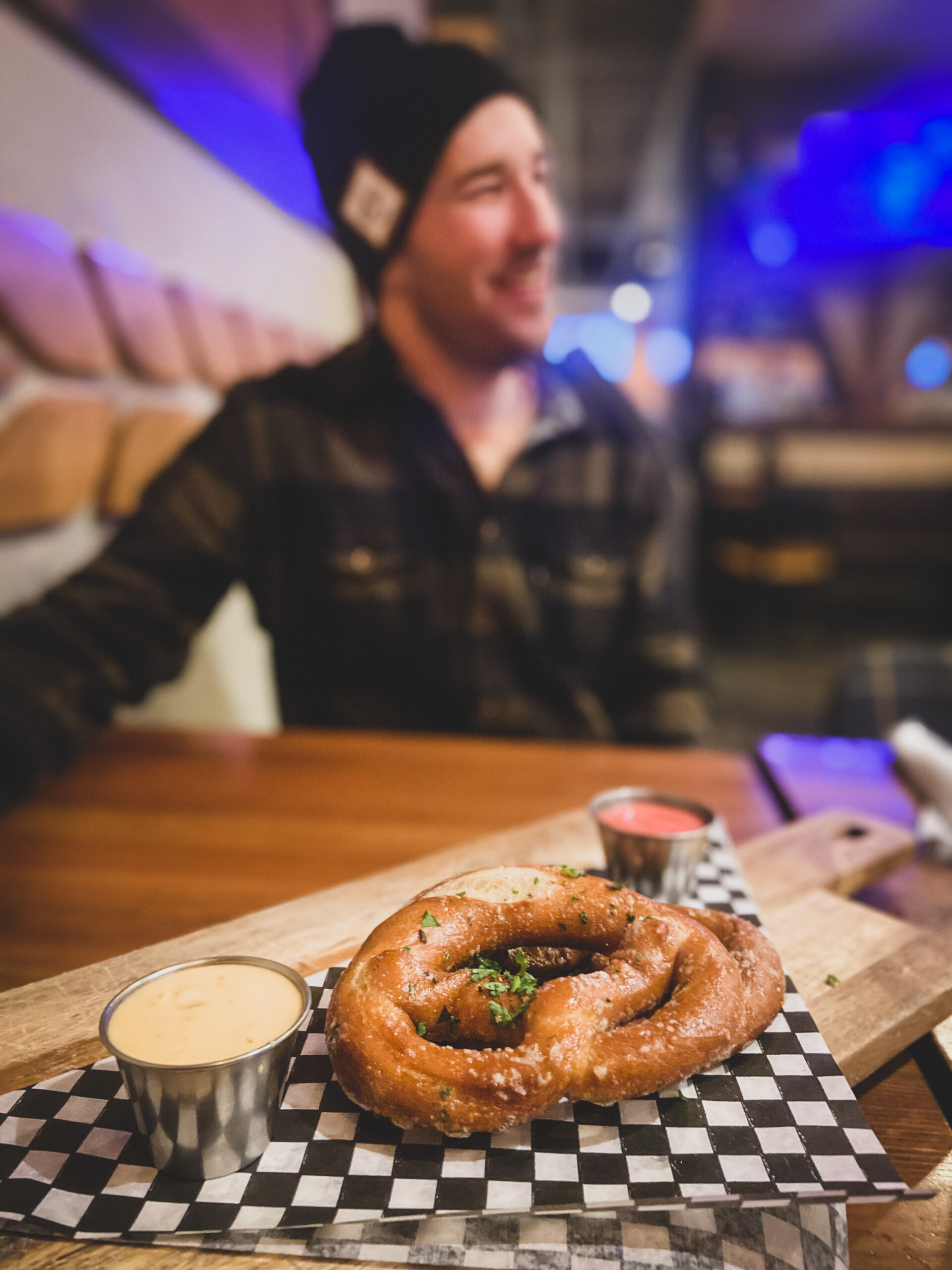 Location: 624 Connaught Dr (GPS)
Hours: Sunday to Friday: 4:00pm – 9:00pm, Saturday: 2:00pm – 9:00pm
Cuisine: Brewpub/Canadian
Price: $$
Website: Link
If you're really wondering where to eat in Jasper and haven't tried the brewery yet, you need to go tonight! Hands down, our favorite place to eat when in Jasper is the Jasper Brewing Company and visiting is one of the best things to do in Jasper.
Jasper Brewing Company was the first National Park Brewery in Canada. It opened in 2005, and after they are responsible for opening Banff Ave Brewing in Downtown Banff.
Three founders were born and raised Jasper locals and created the space as a great community hub. It's one of the best breweries in the Canadian Rockies, and while their beers are delicious, I love their food! Everything here has been delicious. I highly recommend trying their Halloumi Bowl! Also, don't be afraid to purchase one of their awesome shirts that are great to wear in Alberta.
---
Syrahs of Jasper
Location: 606 Patricia St. (GPS)
Hours: Open nightly at 5:30pm
Cuisine: Canadian
Price: $$$
Website: Link
One of the most well-reviewed Jasper restaurants is Syrahs of Jasper. To start Syrahs of Jasper has an extensive cocktail menu. Perfect for pre-dinner with cocktails with friends. Don't be afraid to order their awesome Boar Bacon Caesar!
Every night their chef prepares a few amazing dishes that rotate. They offer fresh seafood as well – a rarity in the Canadian Rockies. Besides their nightly dishes, they have other delicious offerings like Alberta Boar Chop and Alberta Elk Striploin. Reservations are recommended in the summer.
---
The Spice Joint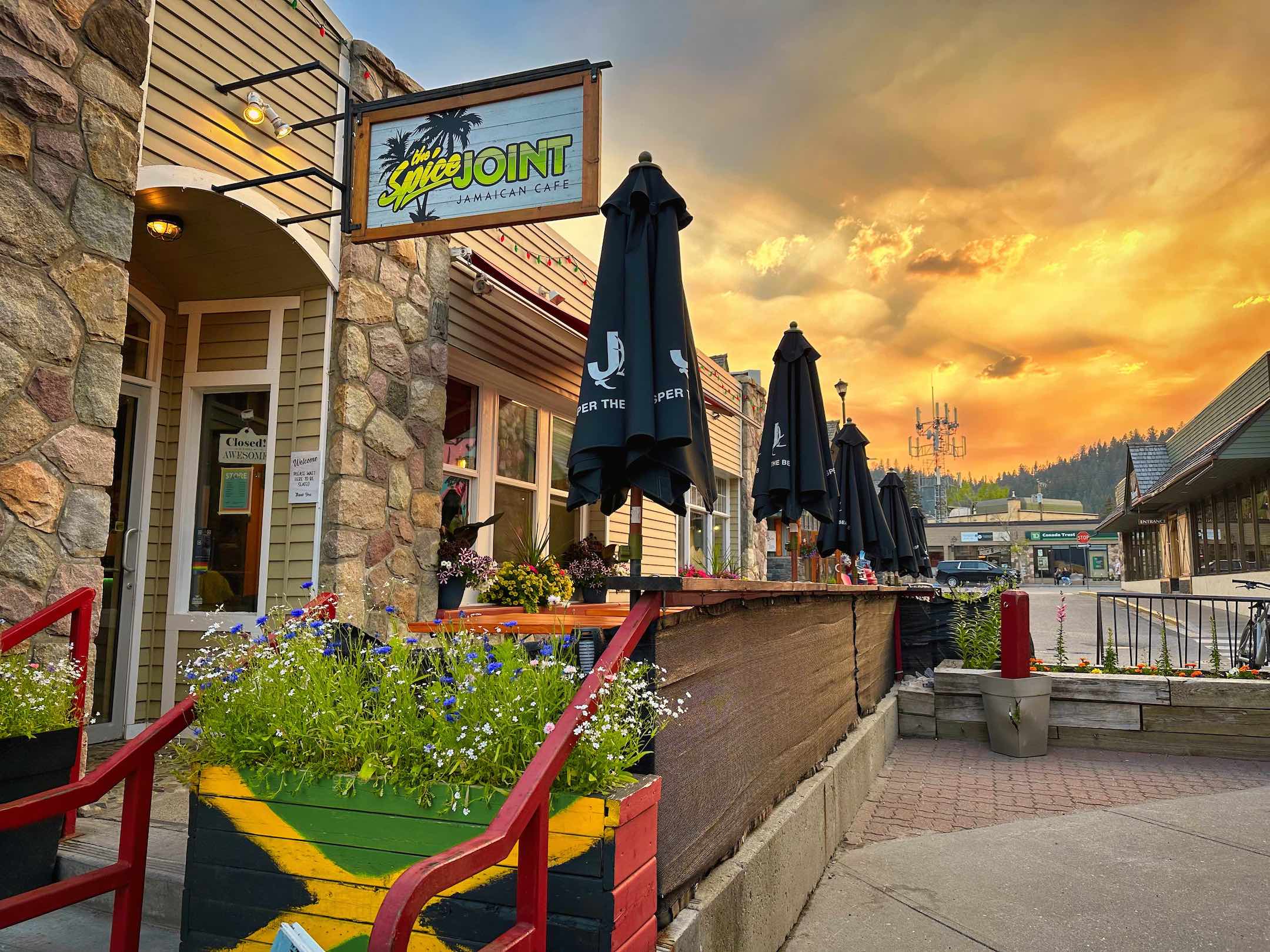 Location: 614 Connaught Drive (GPS)
Hours: 11 AM-5PM
Cuisine: Jamaican
Price: $
The Spice Joint is a small Jasper Restaurant that dishes up Jamaican-inspired cuisine. It's a great lunch spot and a great place to head if you want sandwiches and salads. Their jerk chicken sandwich is probably the best sandwich in the whole province!
It's set in a laidback colorful restaurant with super friendly Jamaican staff and owners. We've only been twice, but both times the service was excellent. Can not recommend this spot for a meal in Jasper enough!
---
Andaaz Jasper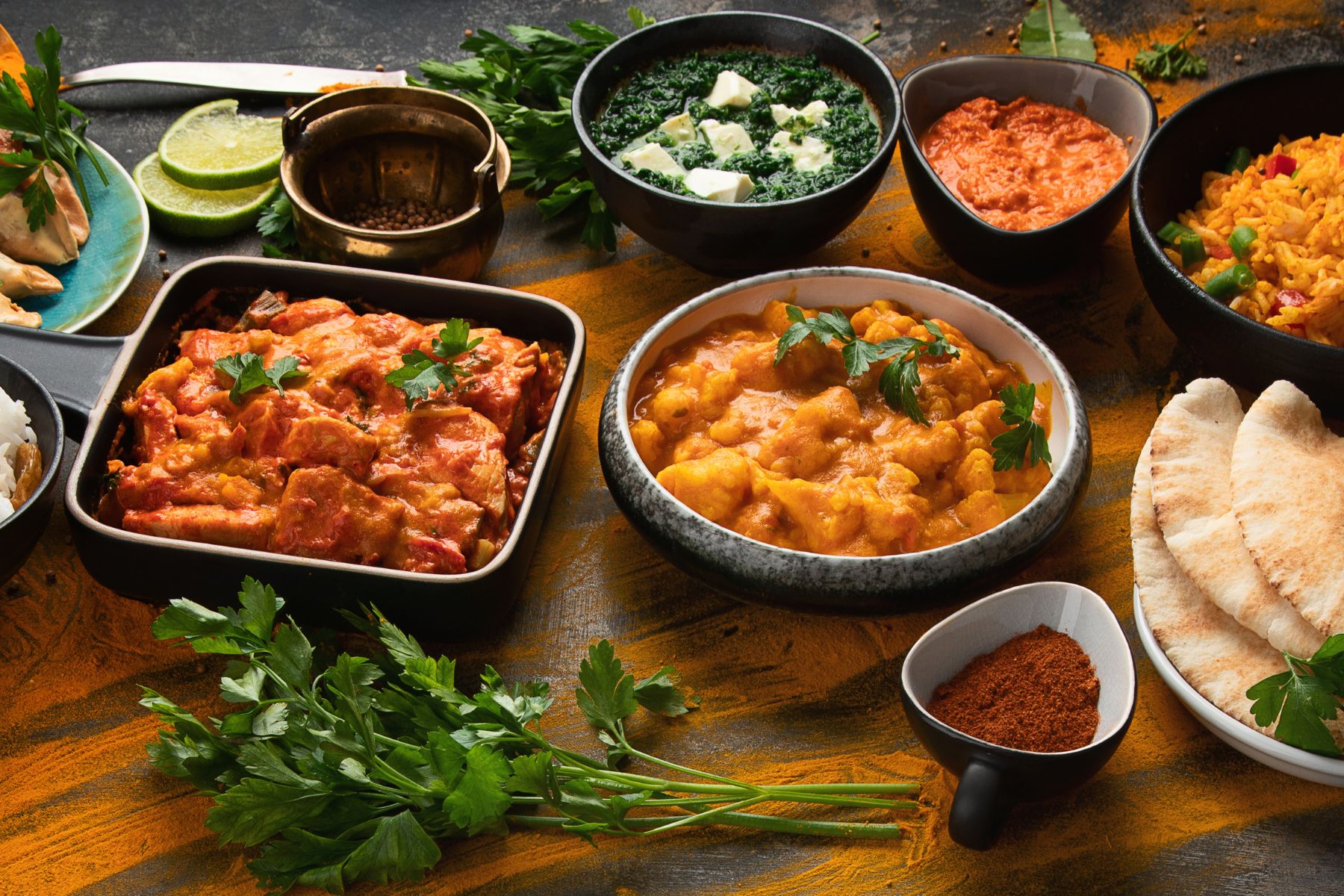 For the best Indian restaurant in Jasper, you cannot miss Andaaz Jasper.
Andaaz is a restaurant owned and operated by three friends who came up with the concept while working together and sharing their dream of opening an ideal restaurant. Together, they began to cultivate a unique style of restaurant and ultimately chose the name ANDAAZ (meaning 'Unique Style').
Their mission is to bring the diversity of Indian cuisine to the table, featuring Chef Vipin's blend of distinctive spices and inventive flair, accompanied by attentive and charming service to offer an exceptional dining experience for both locals and tourists visiting the stunning Rockies. You cannot leave the restaurant without ordering some of their famous garlic naan!
---
The Fiddle River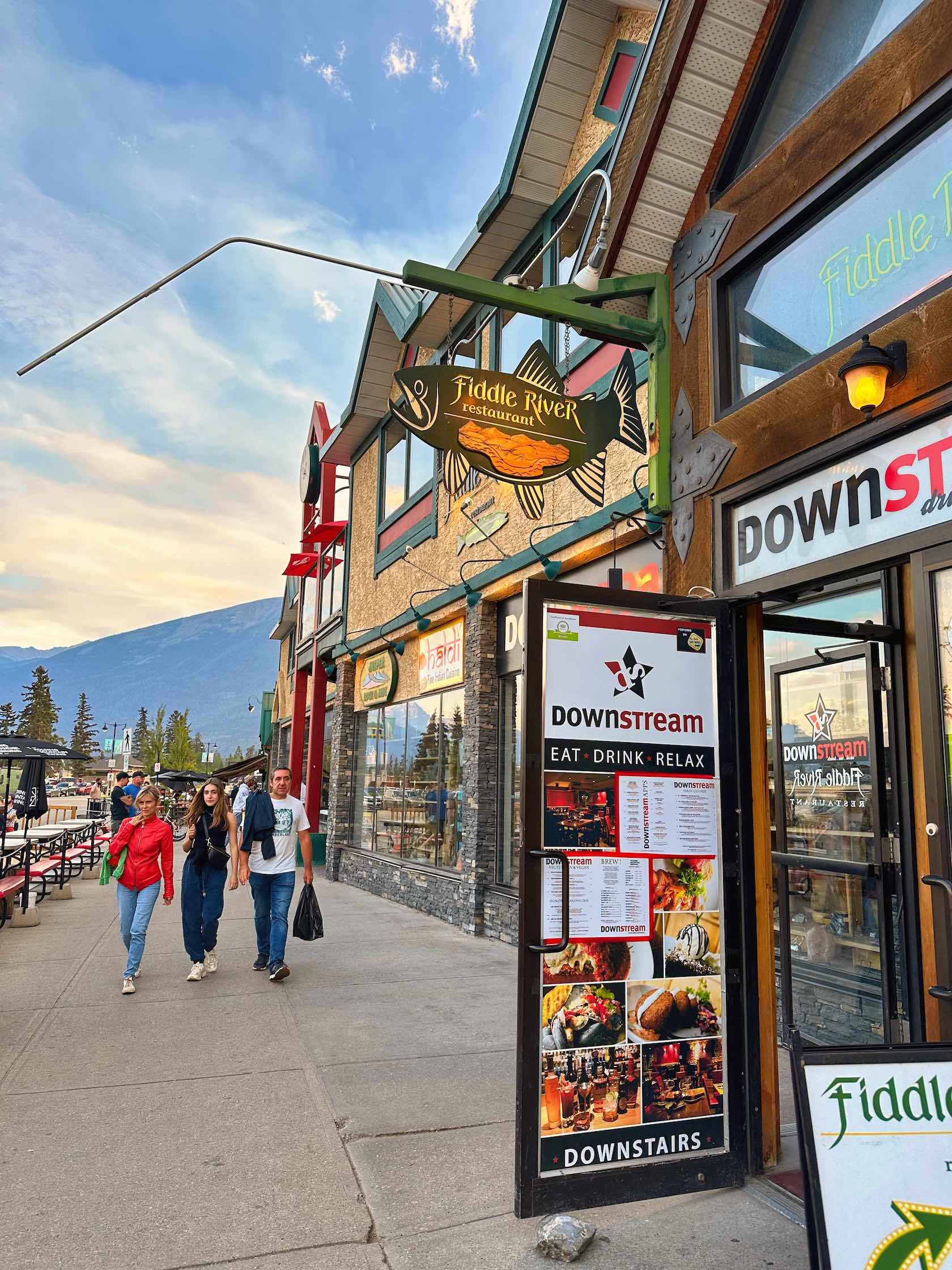 If you're in the mood for seafood head to Fiddle River for a warm atmosphere, great staff, and some delicious food. The menu has a lot of variety to choose from such as wild game and seafood options of arctic char, salmon, and even crab legs. They have an outdoor patio that's wonderful to enjoy a meal on a nice summer evening.
Prices are a little on the high side, but it is a seafood restaurant in the mountains! It's a favorite spot for locals and we highly recommend it.
---
De'd Dog Bar & Grill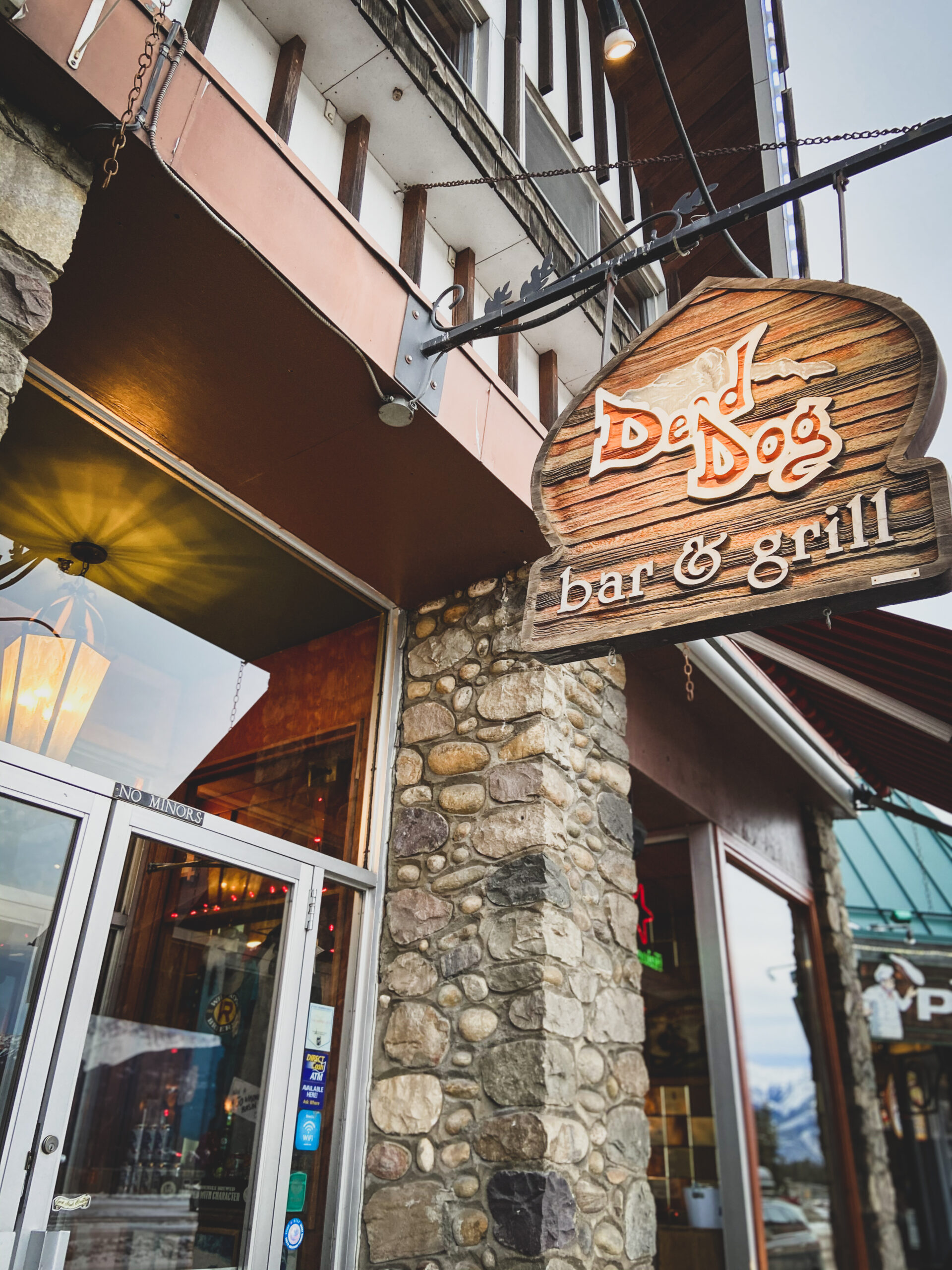 Location: 404 Connaught Drive (GPS)
Hours: 3:00 PM – 9:30 PM
Cuisine: Bar Food
Price: $
Website: Link
De'd Dog Bar, or "Dead Dog," is an institution in the Town of Jasper. It's a dive bar that locals always head to, but tourists will love it as well! There's ample seating in here and a long bar to enjoy late into the night in the summer.
While it may only look like a dive bar, De'd Dog actually has some great bar food to enjoy. Their ribs and poutine are their most famous meals, and the portions are huge. Almost enough for two people to enjoy – so come hungry and enjoy with a cold beer!
---
Olive Bistro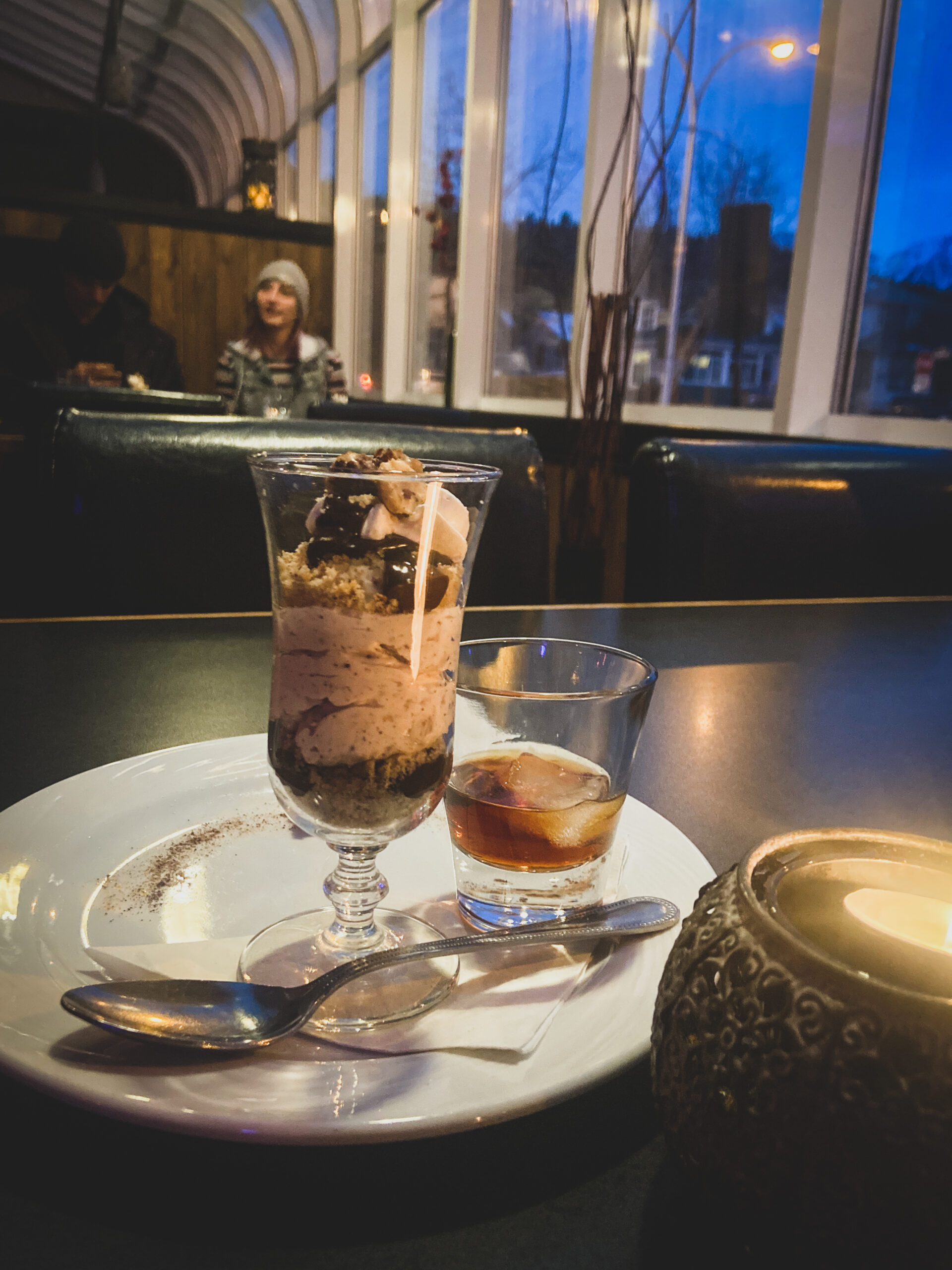 Location: Pyramid Lake Rd (GPS)
Hours: 4 PM – 9:30 PM
Cuisine: Mediterranean
Price: $$$
Website: Link
Olive Bistro and Lounge is another intimate Jasper restaurant that is casual yet classy. They offer a selection of small plates to pair with delicious cocktails and wine.
If you want to share a selection of tapas inspired by the Mediterranean (with Canadian twists), you will absolutely love heading to Olive Bistro. They have wide-open windows and a heated outdoor patio! On some evenings, you may even get lucky with live music.
---
Bear's Paw Jasper Bakery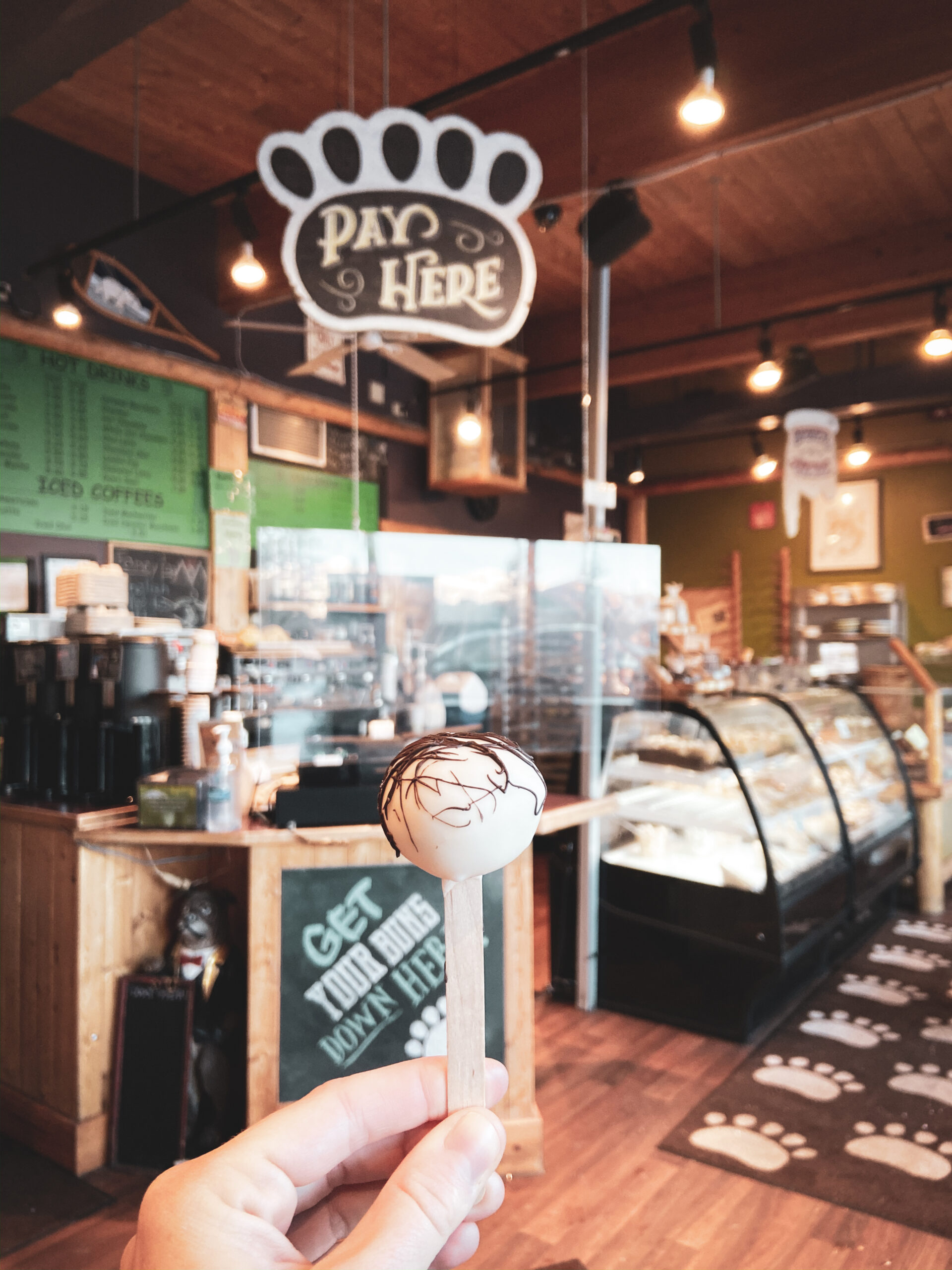 Location: 4 Pyramid Lake Rd (GPS)
Hours: 6:00 a.m. — 6:00 p.m.
Cuisine: Coffee and Pastries
Price: $
Website: Link
Bear's Paw Bakery is an institution in Jasper and just about every visitor to Jasper should pay the bakery a visit. Everything is baked from scratch in house, and they have a wide variety of Canadian and European pastries.
The signature baked good is a bear paw or one of their massive scones. Baked goods are bountiful at the Bear's Paw Bakery, such as cookies, muffins, apple pie, pumpkin tarts, sticky cinnamon buns, brownies, rhubarb squares, and fresh bread loaves.
They also serve some decent coffee with espresso-based drinks. There are two locations the original, Bear's Paw Bakery, and the second location, the Other Bear Paw. Ice cream is also available for an afternoon treat, but we've never had the pleasure to try it.
It's also nice to note that they open early at 6:00 a.m. for the early risers. This is great if you plan to have a big day out!
---
Patricia Street Deli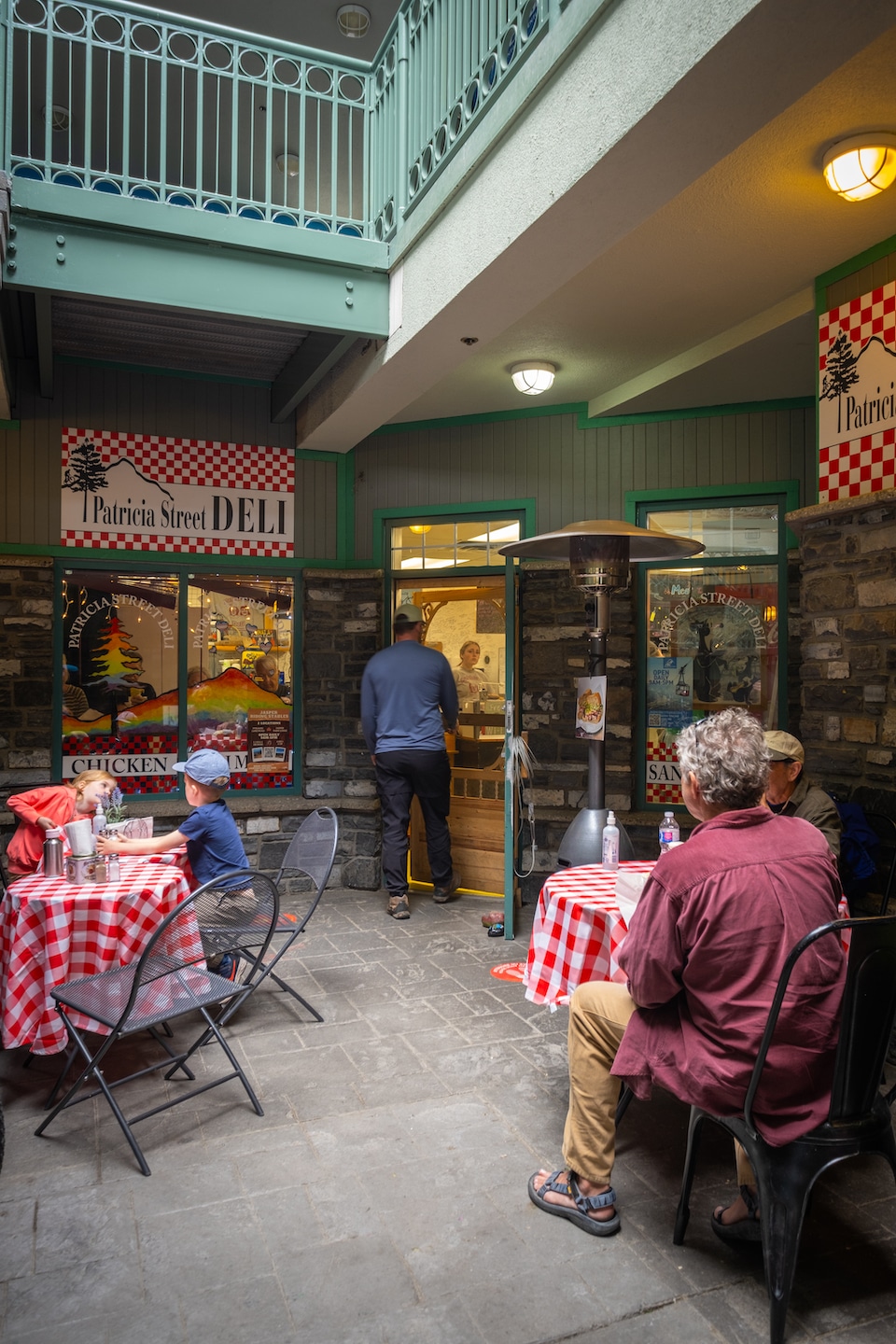 With the word "deli" in the name, it may not seem like it would be one of the best Jasper restaurants, but trust us. If you are looking for something quick and easy for lunch, check out this tiny little establishment, run by two very enthusiast and long time friendly locals.
Patricia Street Deli does roasted chicken sandwiches and wraps that are fresh and healthy. The sandwiches are made to order like Subway, but about 100x better. Seriously, do not visit Subway in Jasper – head to Patricia Street Deli.
We personally like to grab them to go to bring on a long Jasper hike or before we set out to drive between Jasper and Banff on the Icefields Parkway. There's nothing better than having one of these sandwiches for lunch while looking out from a mountain summit. Last time we brought our sandwiches out on the Berg Lake Trail and enjoyed our food under Mount Robson.
---
Famoso Neapolitan Pizza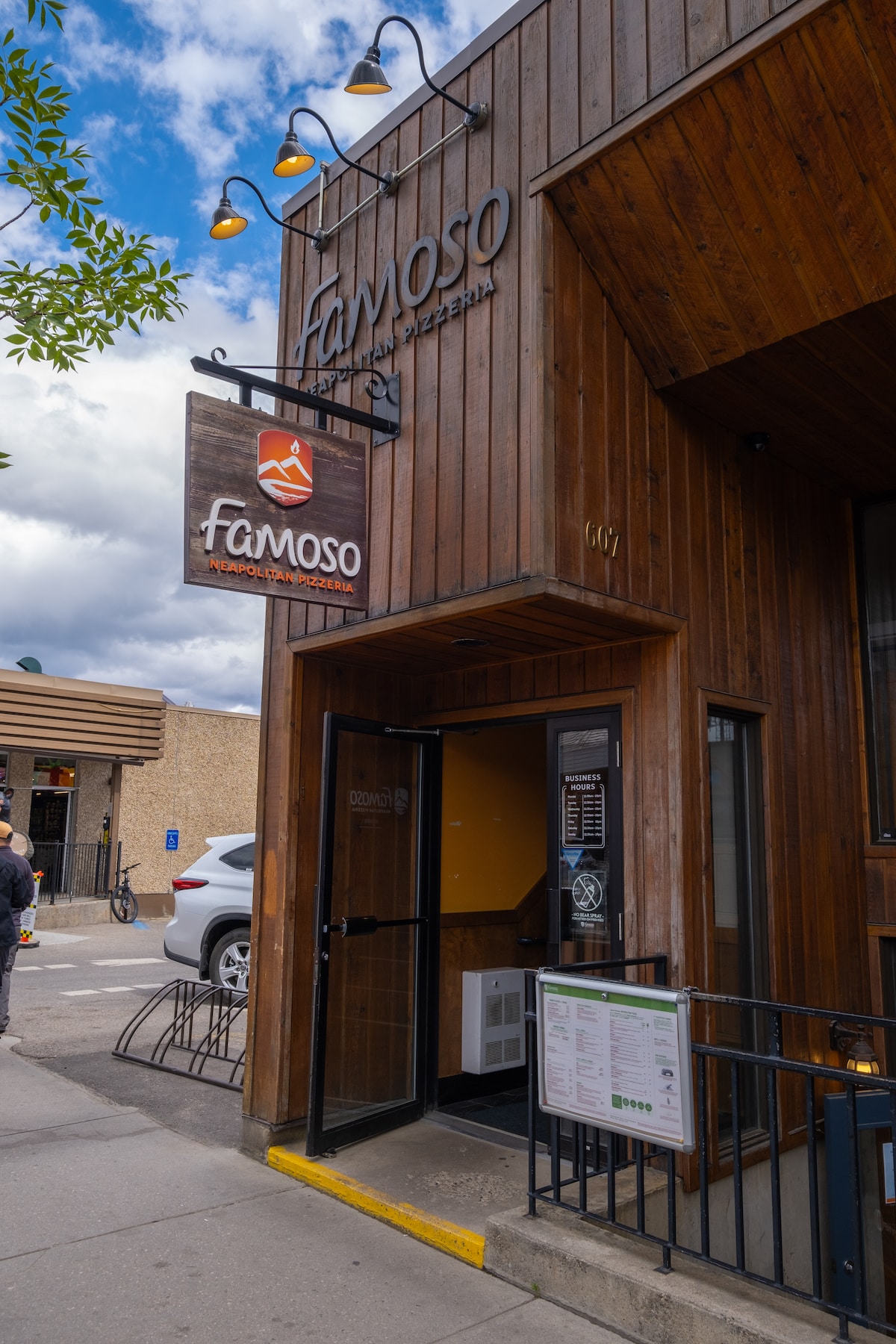 Location: 607 Patricia St (GPS)
Hours: 12PM – 9 or 10PM
Cuisine: Pizza/Takeaway
Price: $
Website: Link
Looking for a late-night option in Jasper? Try Famosa Pizza, which is always busy on a nice summer day. Famosa is a Canadian chain pizza restaurant. Although we typically don't recommend chain restaurants, we were seriously impressed with the pizza.
We love getting a pizza to go and enjoying it on one of the beautiful Jasper lakes (always remember to leave no trace). Famosa is one of the best takeout restaurants in Jasper.
---
Try a Jasper Food Tour!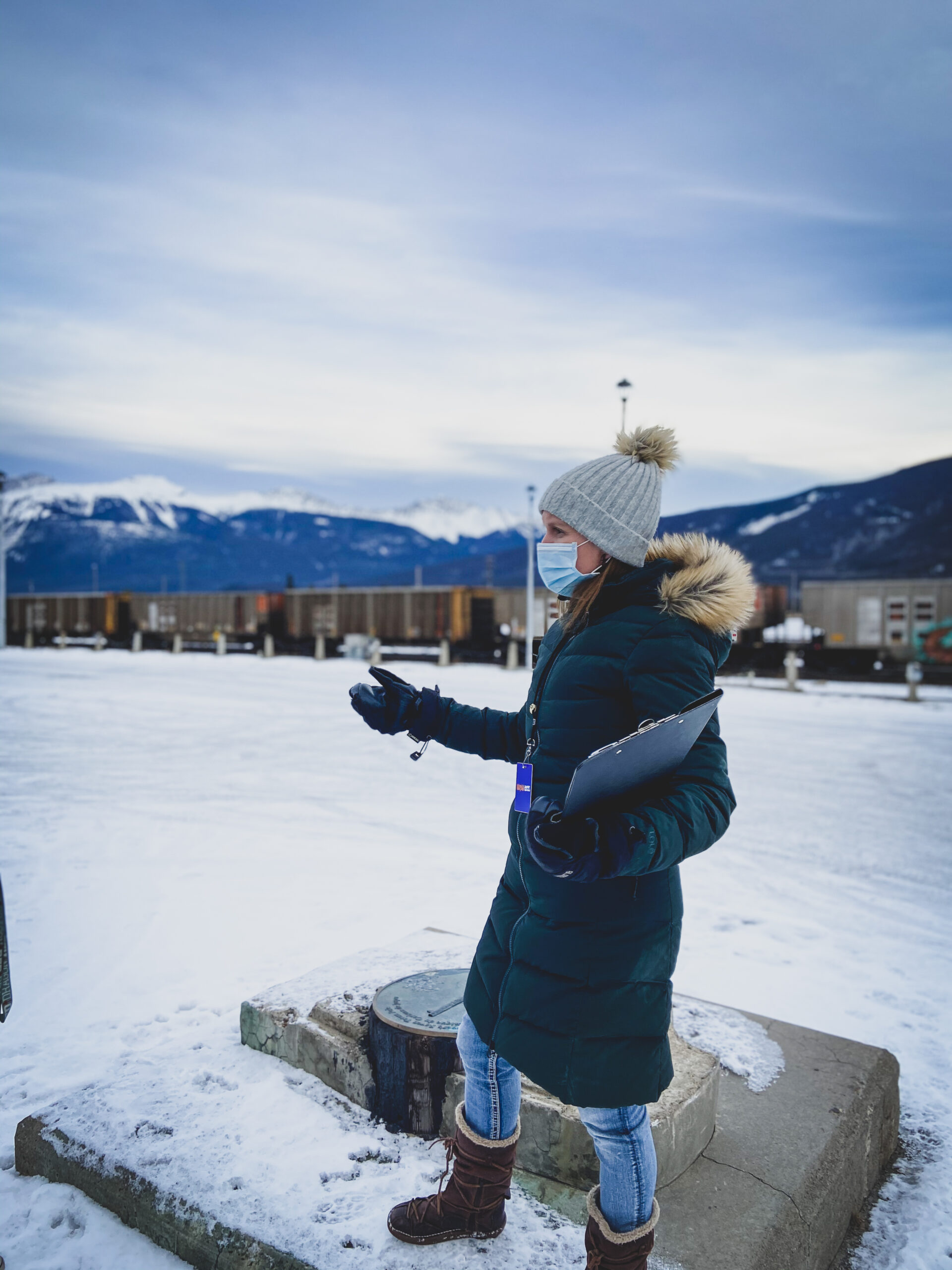 Wondering how we made it to all these Jasper, Alberta restaurants? Well, on our last trip, we enjoyed a food tour with Jasper Food Tours that brought us all around the town and dished up fabulous meals.
I highly recommend joining Estelle on her local tour that will give you a mixture of everything in Jasper as well as some history about the area!
Try Some Amazing Restaurants in Jasper with Jasper Food Tours
---
Peak Nic!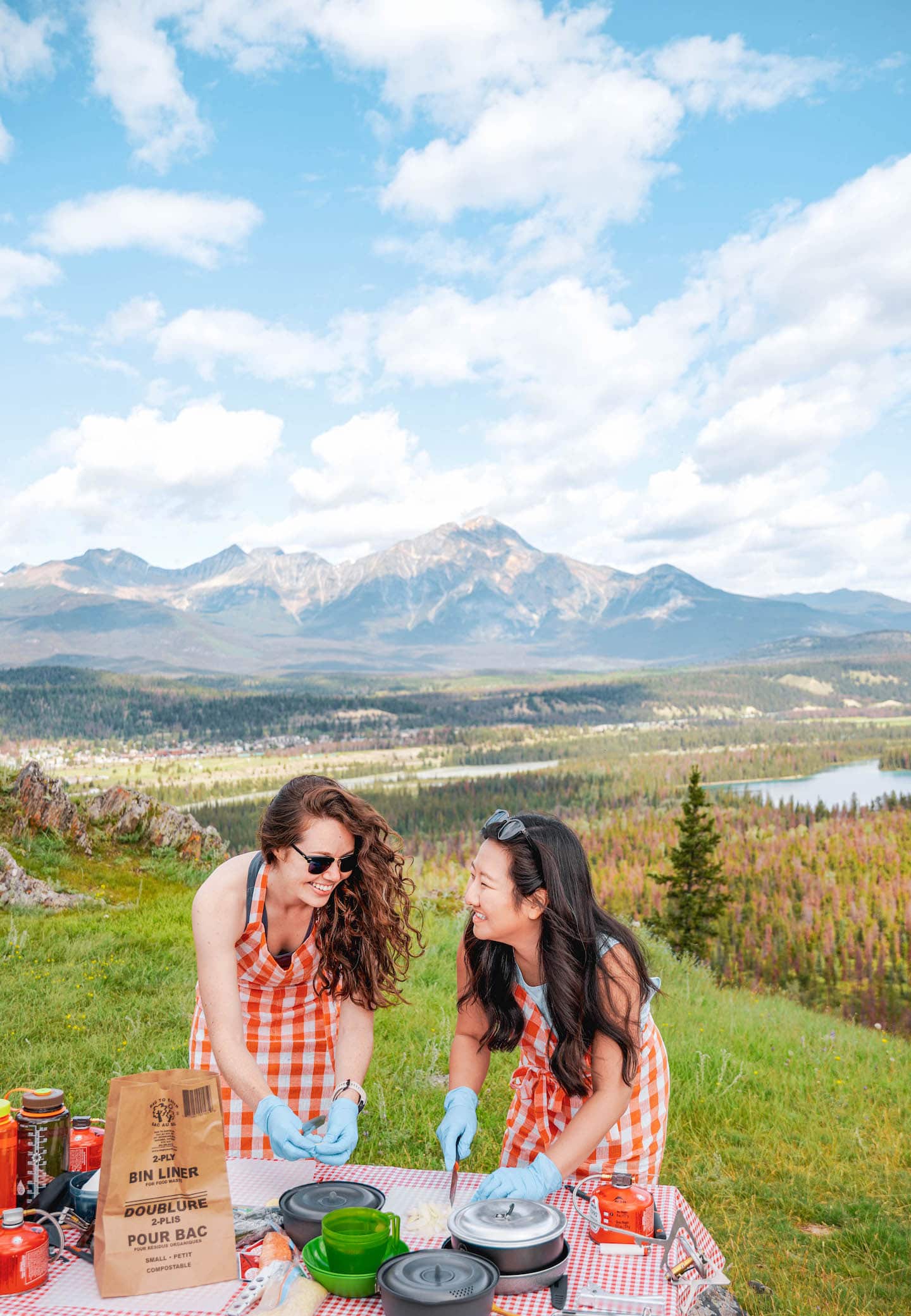 Food tours are fun, but you know what's even more fun? Peak Nic! This is a 4km intermediate hike up to a mountain summit in Jasper, followed by a backcountry cooking lesson.
You'll learn how to prepare beautiful gourmet meals in one of the prettiest areas of the world! Afterward you get to eat it all up before heading back down. You can book this once-in-a-lifetime experience with Jasper Food Tours.
---
Bites and Bikes E-Bike Tour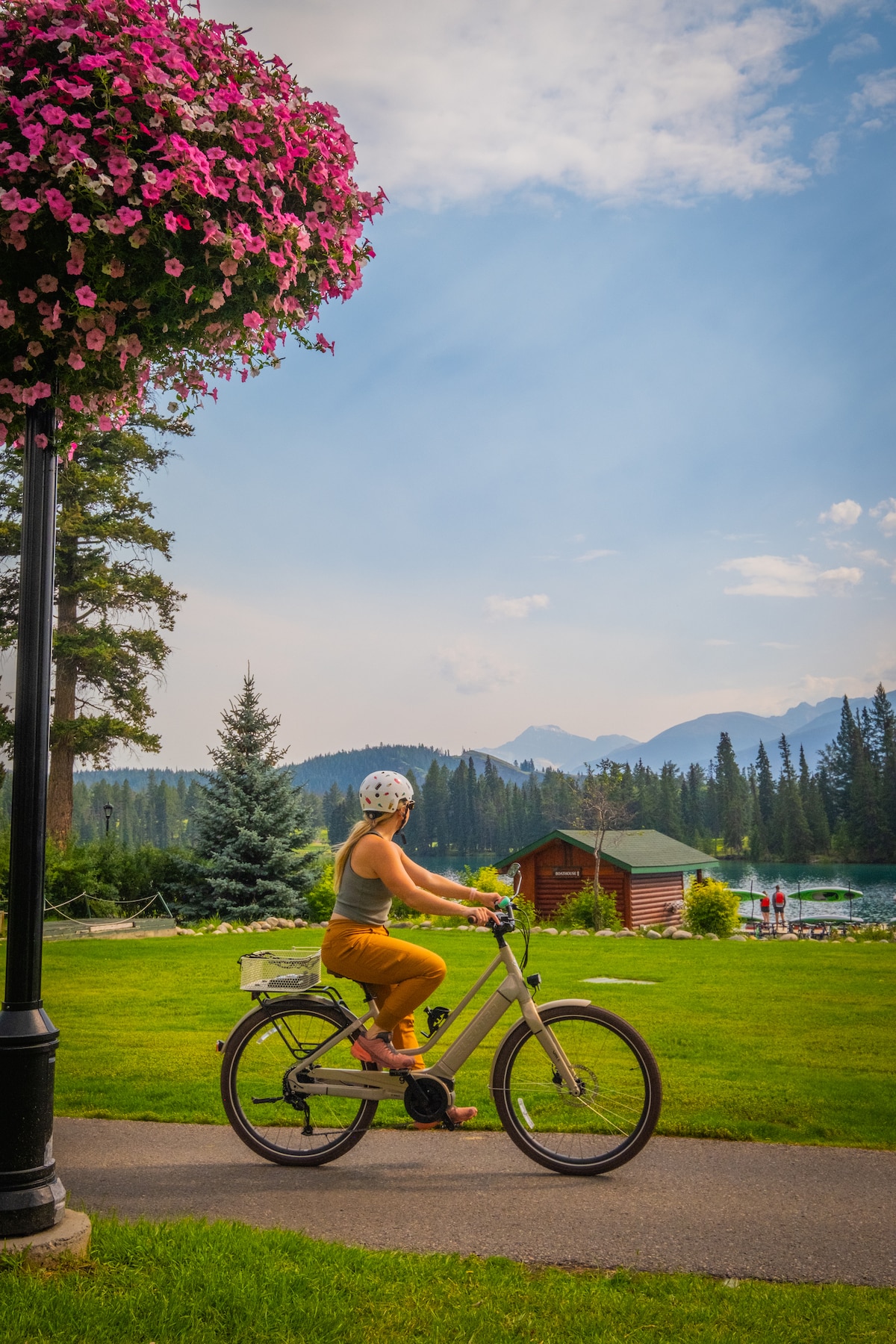 Looking to work up an appetite and then dine? The all new Bites and Bikes e-bike tour with Jasper Food Tours is sure to do that. Have a 3 course meal at different locations around the park, made easier with a little boost.
We won't spoil any details, but on this tour you'll get to some sights and locations that is made possible with the assistance of an e bike! Enjoying this half day food tour was one of our favorite things to do in Jasper!
Try More Amazing Restaurants in Jasper with This Jasper Food Tours
---
The Best Jasper Restaurants Map
---
The Best Things To Do In Jasper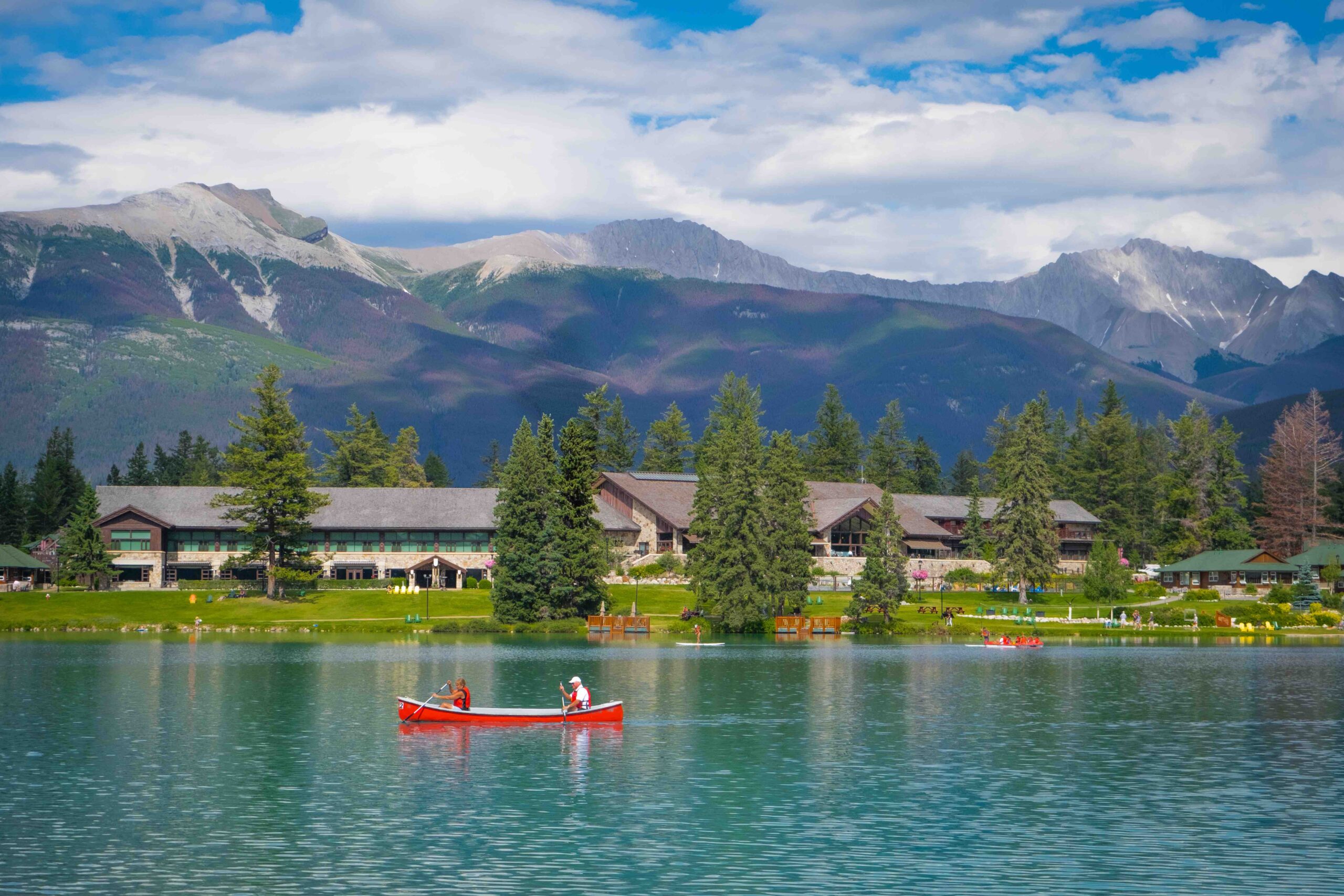 There are many things to do in Jasper, so many we wrote an entire guide to the area! Some of our favorite things to do are:
Paddle on Lake Edith, Lake Annette, or Lac Beauvert.
Take the Jasper SkyTram and hike up to the summit of Whistlers Peak
Drive Maligne Lake Rd and stop at Medicine Lake on the way.
Hike Maligne Canyon.
Stargaze at the Jasper Planetarium.
Go on a Jasper Food Tour!
---
Where to Stay in Jasper?
---
Hopefully, this helped determine which one of these Jasper restaurants sounds delicious to you.
If you have any other questions leave a comment or see our Canadian Rockies travel guide for more articles about photography spots, lakes, hikes, and everything else.
---
↓ Join the community ↓
The Banff Blog Facebook Group is your headquarters for the Canadian Rockies' travel advice and information. Including hike info and off-season travel information. You can also meet new adventure buddies.

Plan Your Trip to the Canadian Rockies