At the beautiful Lake Louise and feeling peckish? While it may seem like a small off the beaten path area in the Rockies, there are surprisingly a good number of Lake Louise restaurants to try (for being in the middle of the mountains, that is).
Whether we're freezing our butts off at Lake Louise in February or just getting in off a fun hike in the area, we are almost always in the food for some good Banff eats. Here are our favorite Lake Louise restaurants to enjoy!
---
The Best Lake Louise Restaurants
---
Mount Fairview Dining Room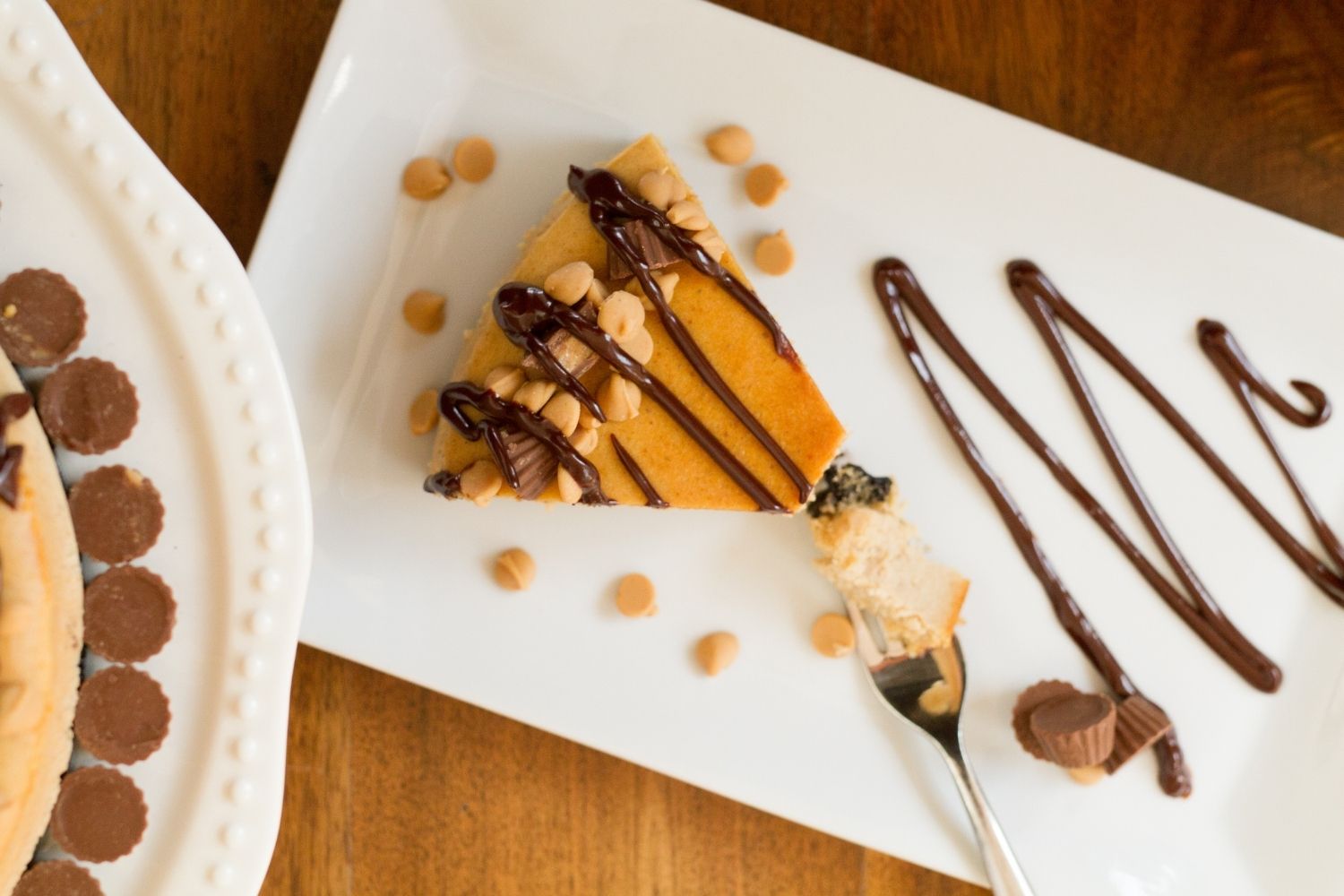 Price: $$
Address: 109 Lake Louise Dr
This notable dining room is situated in the Deer Lodge, an excellent Lake Louise cabin hotel. You can enjoy breakfast, lunch, and dinner here under the iconic Mount Fairview.
Here you can enjoy the best of Rocky Mountain Cuisine! Enjoy hearty meals before heading out on one of the best hikes in Lake Louise. Fuel up with a Bison and Beef Burger and finish with Peanut Butter Cheesecake – don't worry, you'll work it off later when you go hike to the Big Beehive!
There aren't many restaurants in Banff with views like this, so make sure to stop by when you are in the area.
---
Post Hotel Dining Room Lake Louise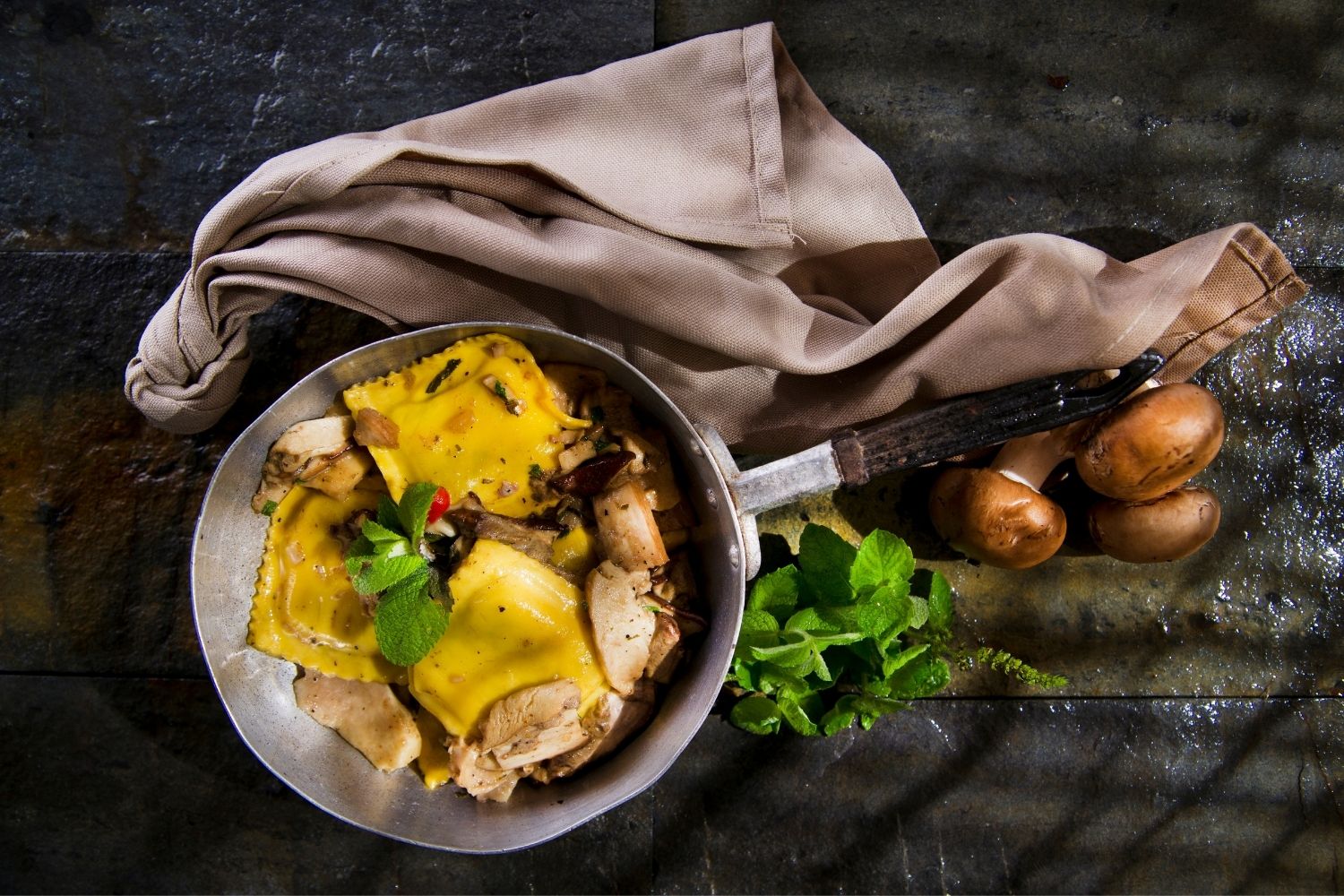 Price: $$-$$$
Address: 200 Pipestone Rd
The Post Hotel is a fantastic hotel in Lake Louise, but they also have a great dining room for an elegant night out. Conde Nast has even named their dishes the "Best Food in the Americas." If you reserve a table here, I'm sure you'll quickly see why!
The whole dining room gives off the ideal Canadian Rockies vibe as you are surrounded by Canadian Pine, flowers, a grand fireplace, and crystal to give it that warm and inviting feel.
If you are a wine connoisseur, you will want to head here. Their cellar holds over 25,500 bottles and 2300 selections!
When you're visiting Lake Louise in the winter, I would suggest ordering their fondue sampler! You won't regret it!
---
Louiza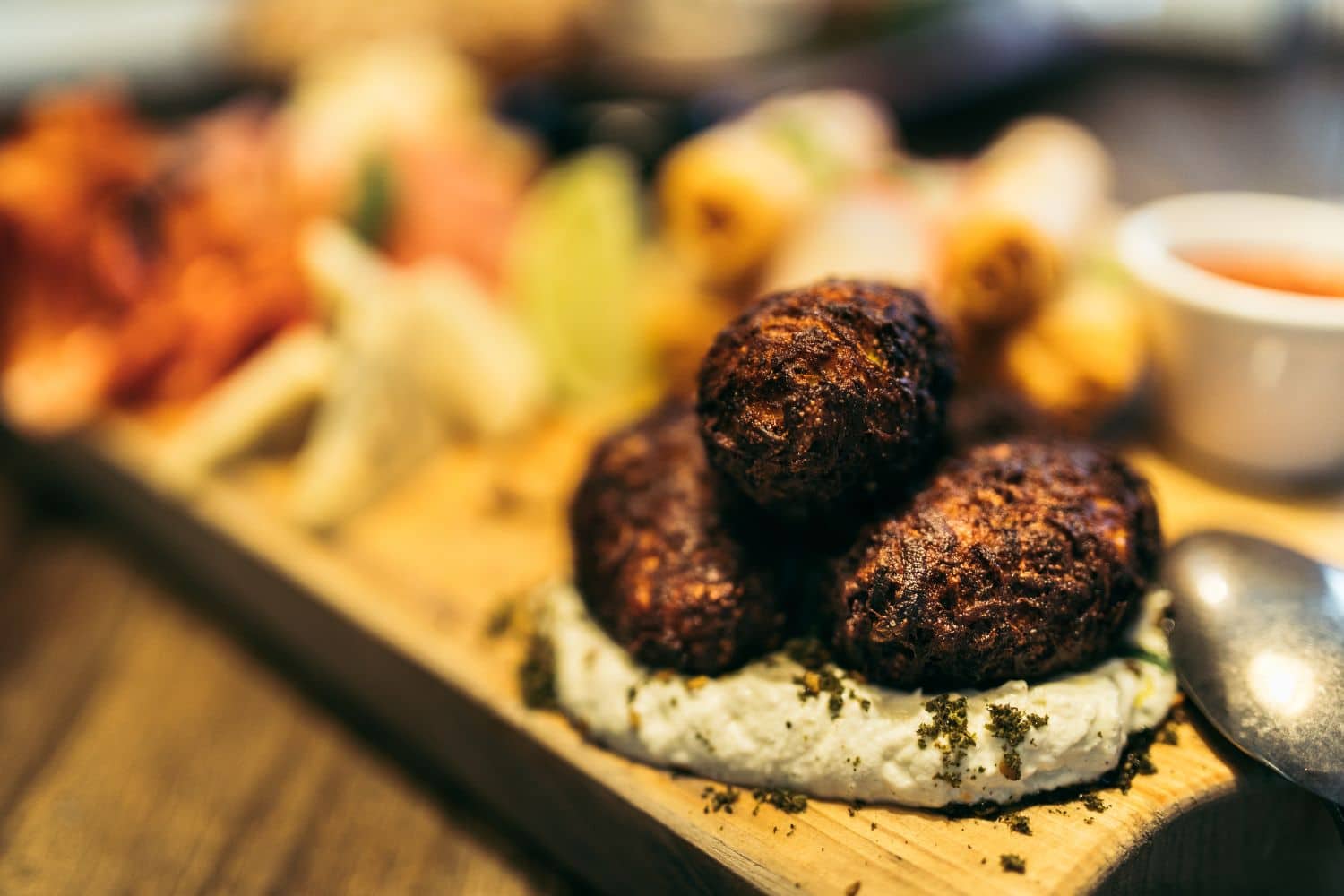 Price: $$$
Address: 111 Lake Louise Drive
The newest restaurant in Lake Louise is situated at the Fairmont at comes inspired by the Mediterreanean. It's an upscale restaurant that would be great to save for those special days out in the Rockies.
mmerse yourself in an exquisite dining atmosphere and experience a menu that evolves with the changing seasons of the mountains, showcasing locally sourced ingredients. Delight in the taste and aroma of handcrafted cocktails, expertly crafted using wild-grown local ingredients.
Whether it's the break of dawn or the fall of dusk, Louiza warmly embraces you, providing unparalleled hospitality for your luxurious getaway in the breathtaking landscapes of Lake Louise.
---
Walliser Stube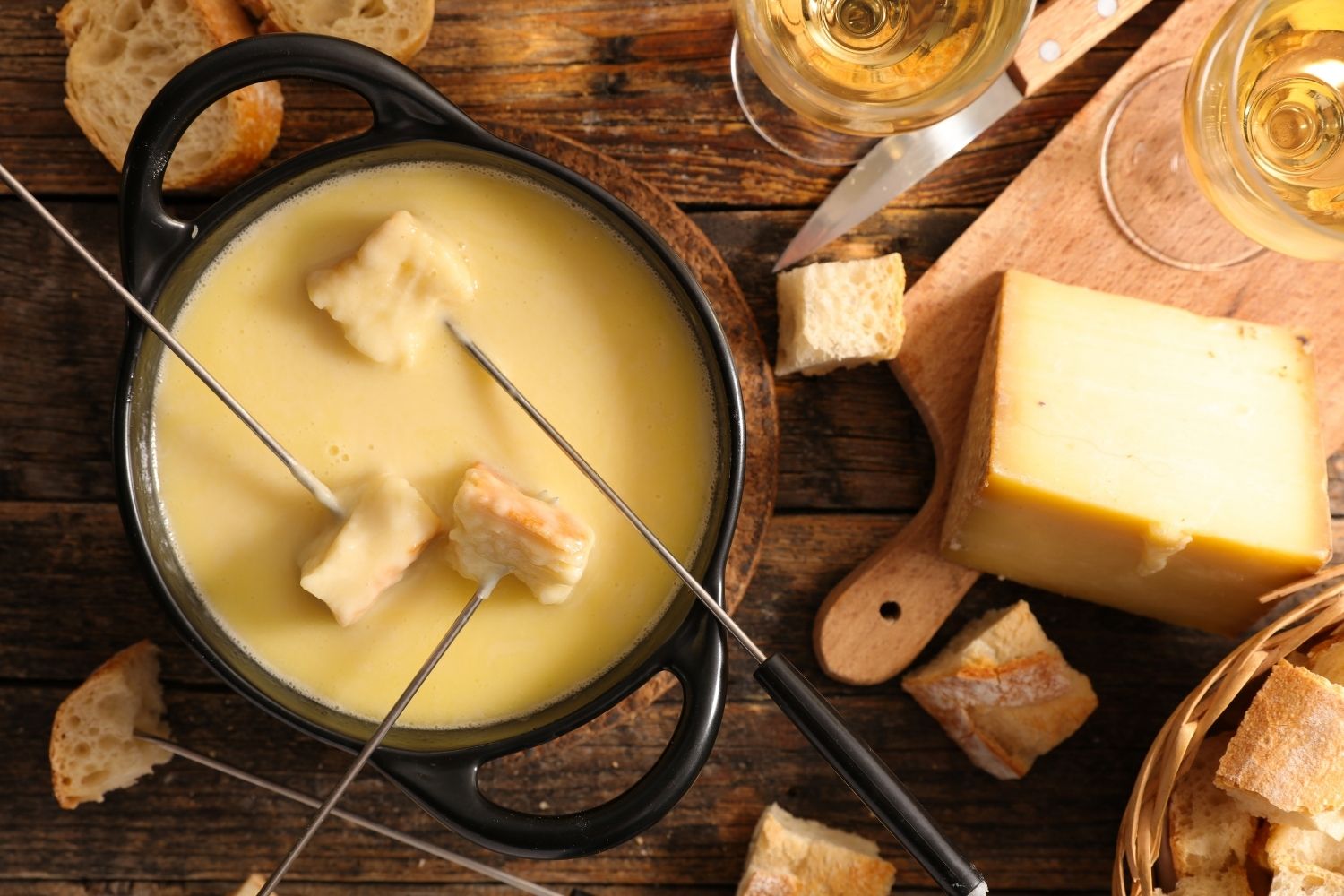 Price: $$$
Address: 111 Lake Louise Dr
Walliser Stube is a European restaurant at the Fairmont Chateau Lake Louise. It's an upscale affair perfect for when you want to celebrate a special occasion, like a Banff honeymoon.
You'll enter and find vast views of Lake Louise, but feel like you are in Switzerland when you try the food.
They are only open at night from 5:30 pm – 9:30 pm, and reservations are highly recommended. Especially around Christmas in Banff or in the peak summer months. Go ahead and add on the wine pairing; it's likely the best you'll find outside of the Alps!
---
Lake Louise Railway Station & Restaurant
Price: $$
Address: 200 Sentinel Rd
If you want a unique restaurant experience around Lake Louise, head to the Railway station! Wondering why you would go to a train station for a meal? Well, this is no ordinary train station. This former train station serves Canadian cuisine in multiple areas, including in an old dining car!
You'll be able to get some classic Canadian staples here and enjoy food items like the Paradise Bowl (soba noodle dish) and a Spinach Herb Lasagna.
Because of their not-so-obvious location, they often get overlooked. You have to know this Lake Louise restaurant is even there to really enjoy it, but once you experience dining in a historic rail cart, you may not want to go anywhere else!
---
Storm Mountain Lodge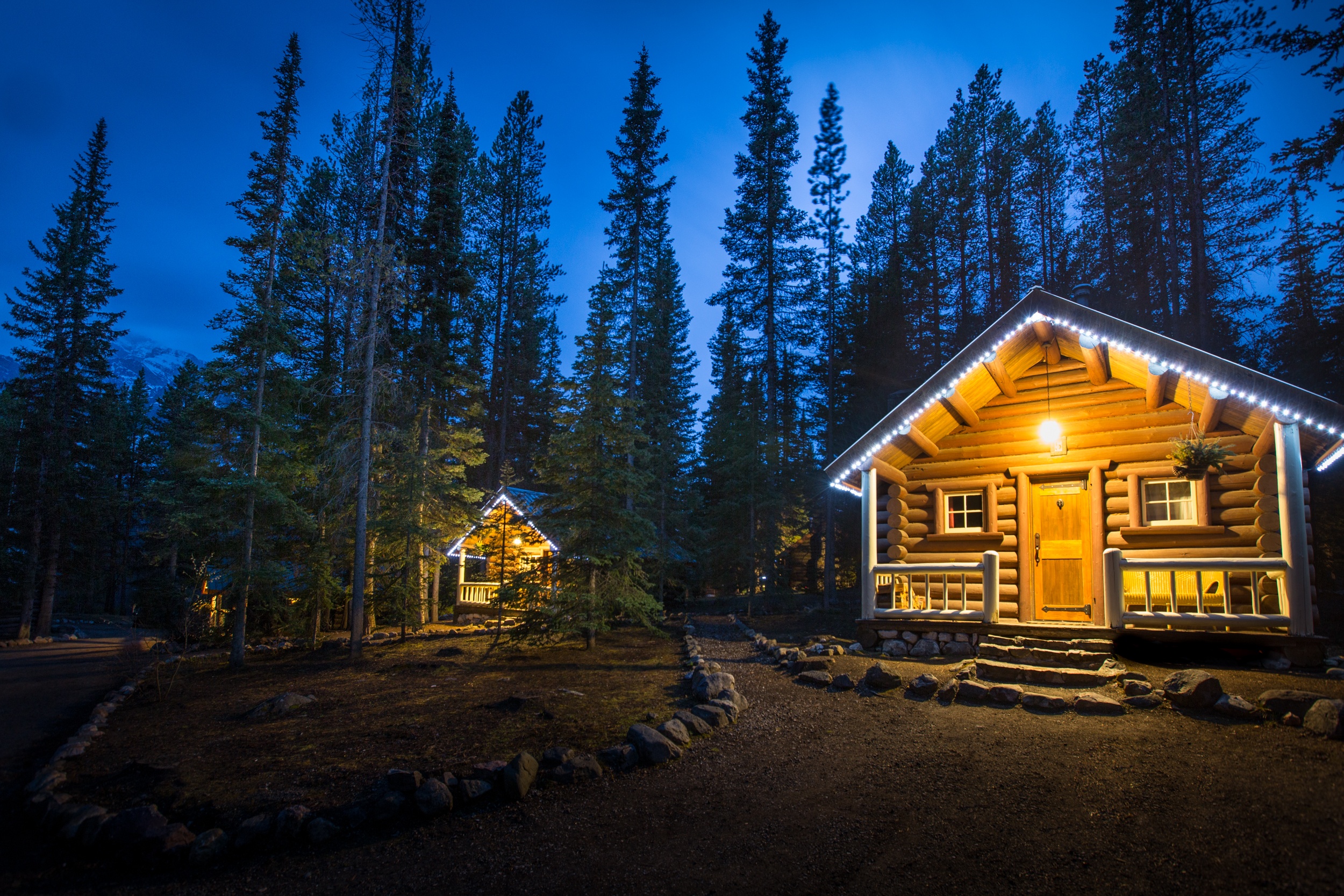 Price: $$-$$$
Address: Highway 93 South
Not only is Storm Mountain Lodge one of the most romantic cabins in Banff, but they have a delicious restaurant that is one of the most beautiful places to dine in the Lake Louise area.
Guests to the lodge and non-guests are free to make reservations here. Come hungry, as Storm Mountain Lodge does Canadian cuisine right. Expect organic ingredients and naturally raised Alberta meat and wild fish.
All bread and desserts are baked daily on-site. You'll be able to taste the freshness every day at their deli that offers gourmet sandwiches for lunch. It's a fantastic place to stop if you have forgotten your lunch on the way to hike Arnica Lake or Taylor Lake.
If you want to dine for dinner, pay attention to their hours, as they are only open on select nights for dinner. I would highly recommend trying the wild boar or bison!
---
Bill Peyto's Cafe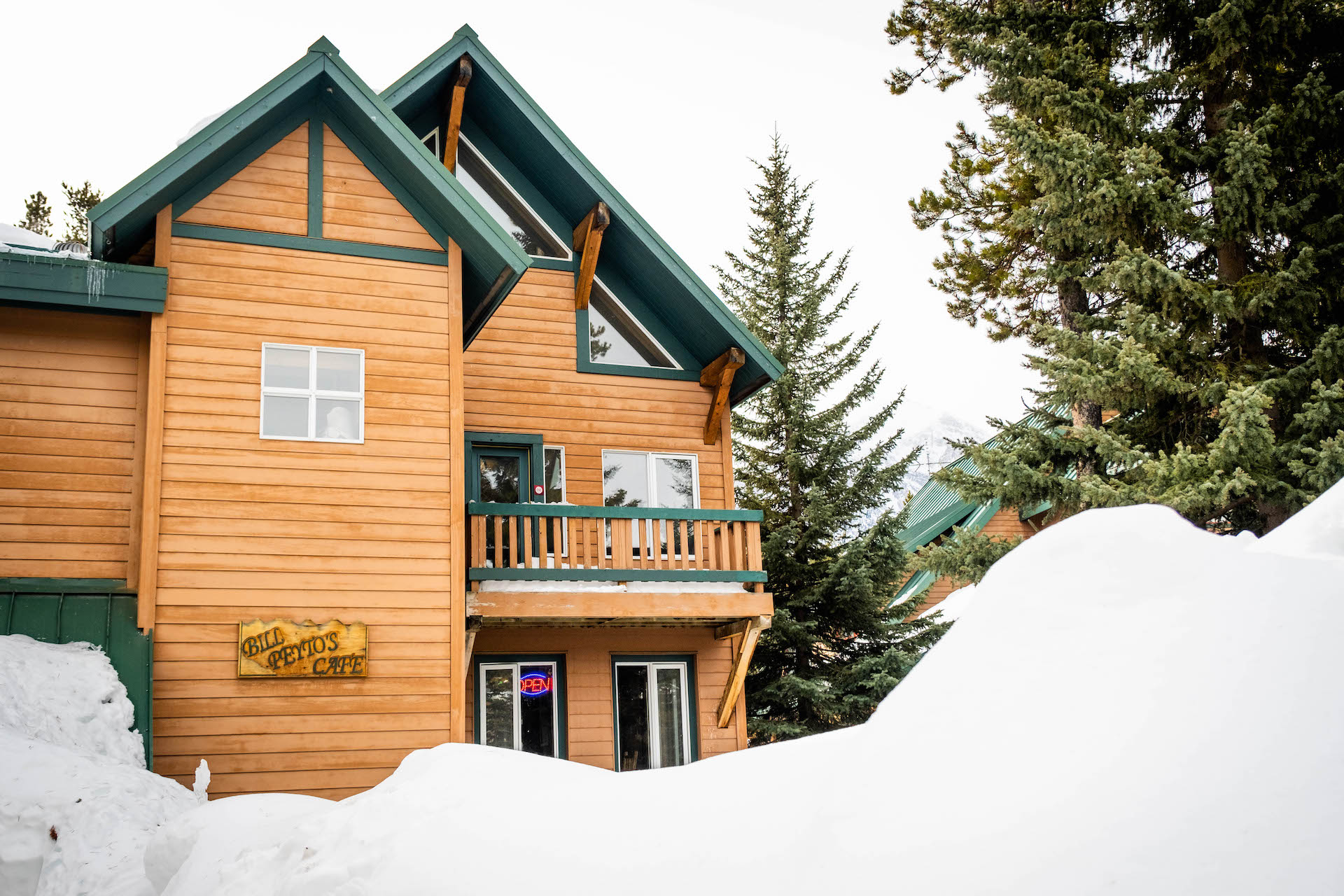 Price: $$
Address: 203 Village Rd
This is one of the most laid-back Lake Louise restaurants you can find. Bill Peyto's Cafe is located inside the HI Lake Louise Hostel and dishes up fantastic breakfast and even better burgers.
Of course, you may be wondering about the name. Bill Peyto's Cafe is named after Bill Peyto, a pioneer, mountain guide, and early park warden in Banff. It's said that at the turn of the 20th century, Bill caught a lynx, strapped to his pack, brought it to his favorite bar, and released the cat.
The place emptied immediately, just what Mr. Peyto wanted as he was quite an introvert. He then enjoyed his drink alone and sold the animal to the Banff Park Museum. Is the story true? Well, after hearing many stories about Bill Peyto, I would say probably, but even if it isn't, we now have this great cafe to tell the tale at!
---
Trailhead Cafe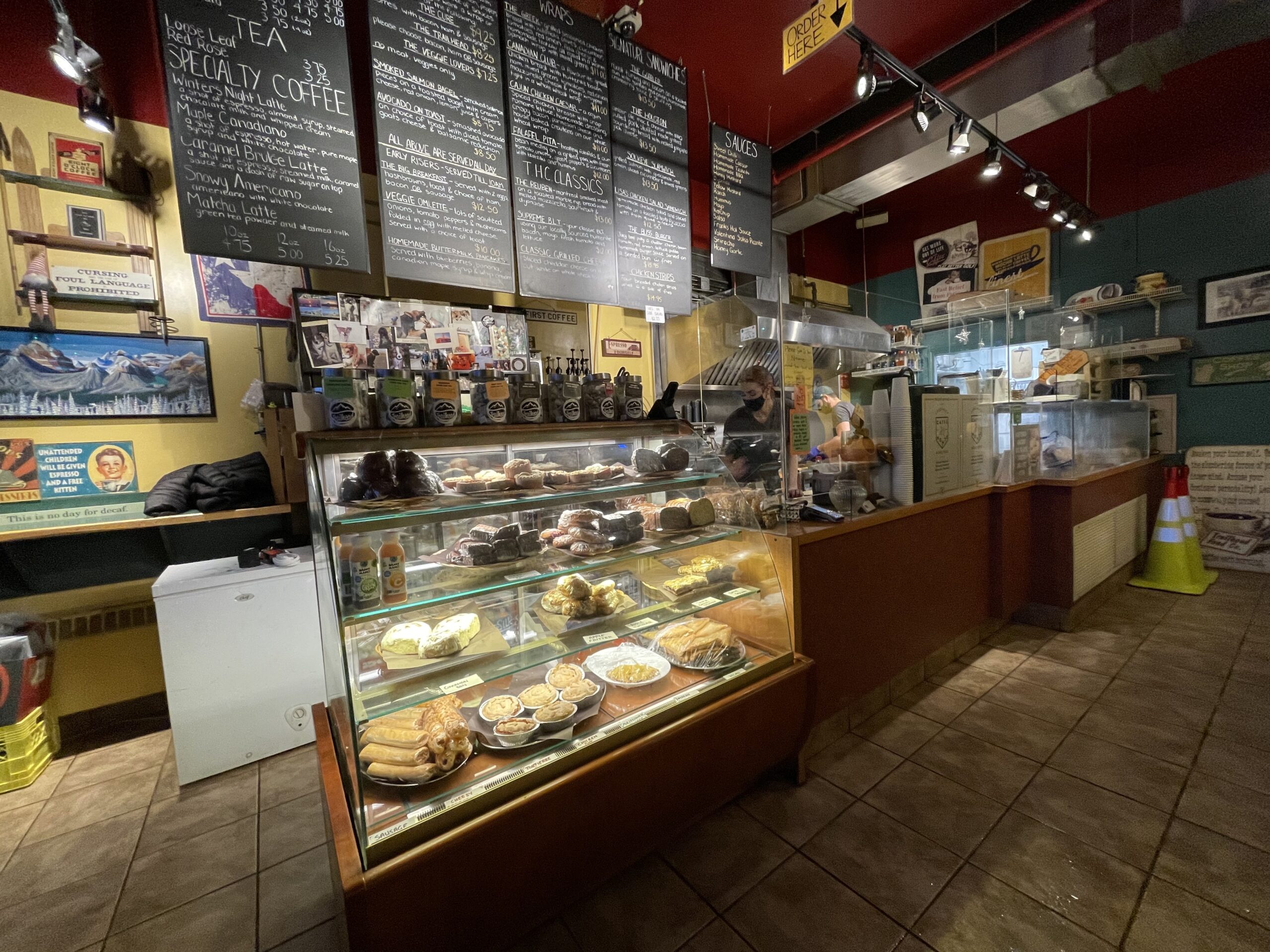 Price: $
Address: 101 Lake Louise Dr
Not so much a Lake Louise restaurant, but a small cafe good for takeaway sandwiches and coffee drinks. The Trailhead Cafe is where we usually stop for a warm-up after a long day out at Lake Louise Ski Resort.
This is a great stop if you just want something short and sweet before heading to do your activity at Lake Louise or Moraine Lake. Like most coffee shops, they close at 5pm, so if you're craving a latte, get here before then (there aren't any other proper coffee shops until you get to Field or the town of Banff).
---
Lakeview Lounge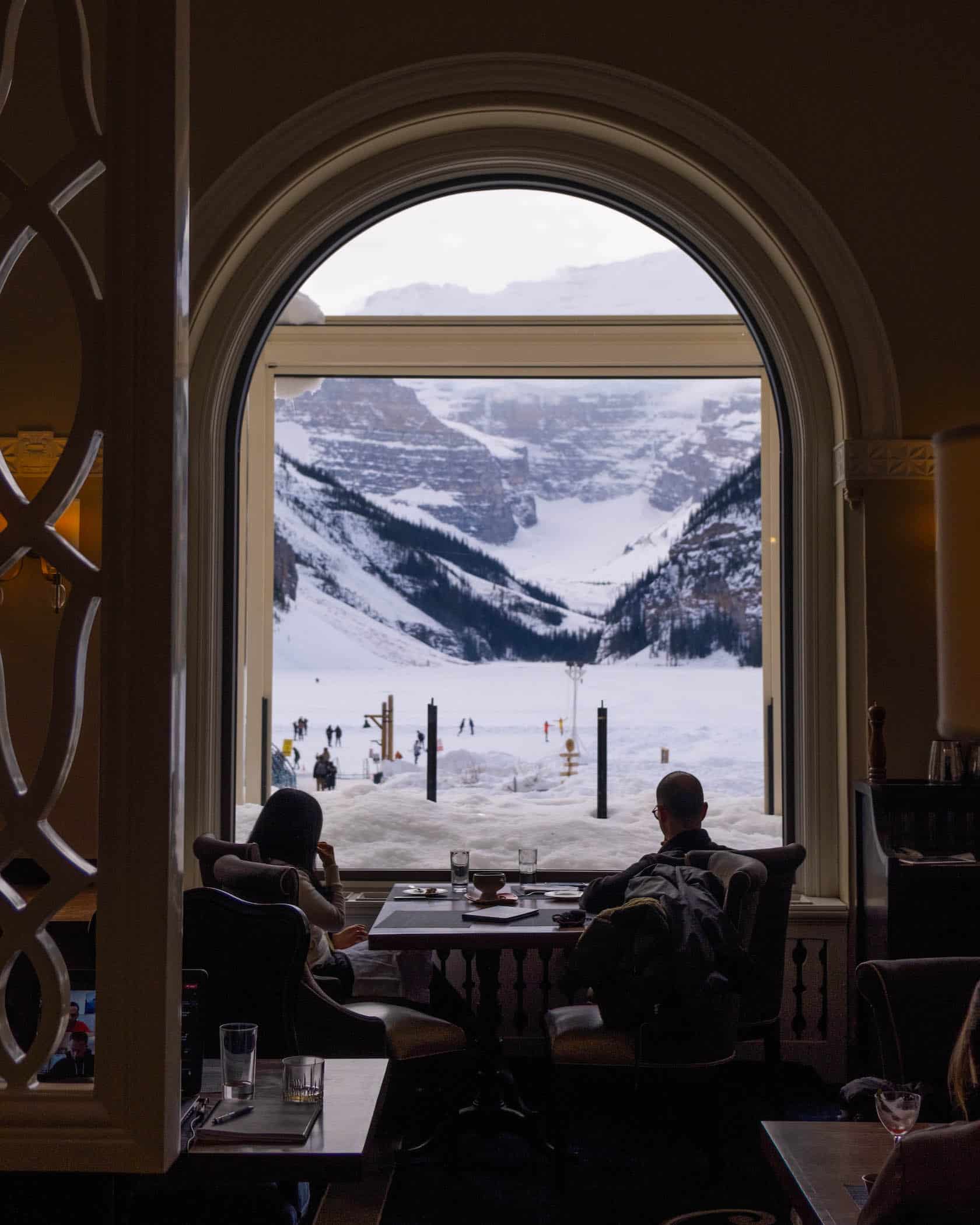 Price: $$$
Address: 111 Lake Louise Dr
The Lakeview Lounge is another great Lake Louise restaurant at The Fairmont, great for guests staying at the Lake or non-guests who just want to enjoy the views of Victoria Glacier.
For those who wish to dine outside in the summer, you can take a seat on the stunning outdoor patio.
The Lakeview Lounge has various dishes, although my absolute go-to is the Apple Smoked Chicken on Butterfly Pea Sourdough Sandwich. If you can, get a seat next to the big oval windows, though you may have to wait extra long to get this seat, it's beyond worth it.
---
Lake Agnes Tea House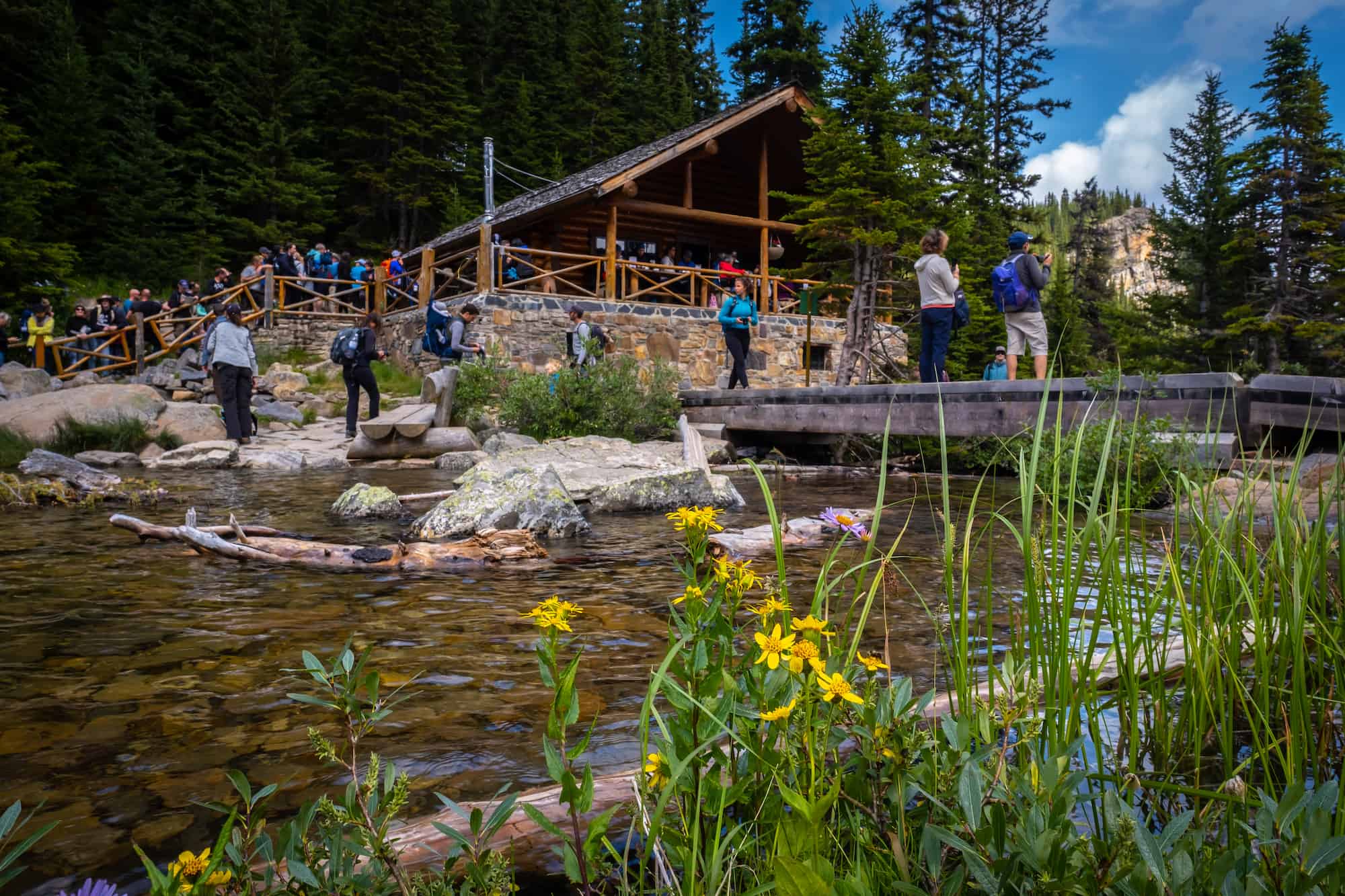 Price: $-$$
Address: Lake Agnes
The Lake Agnes Tea House is an icon of Lake Louise and all of Banff National Park, for that matter. It's not so much as a Lake Louise restaurant as it is well, a tea house! To get to the Lake Agnes Tea House, you'll have to put some work in and hike up to Lake Agnes.
Once you are there, you won't be able to miss the tea house directly in front of this amazing Banff lake. The Lake Agnes Tea House serves up expensive English tea and pastries. A visit here isn't for the super hungry, but rather for the Banff tourists that want to check this awesome spot off their Canadian Rockies bucket list.
The Lake Agnes Tea House is only open during the summer months during the day. It's often hectic, especially on holidays and weekends July and August. Unless you visit outside of peak hours, you'll probably have to wait to get inside and order a $5 cup of tea, but the setting around you is heavenly.
---
Laggan's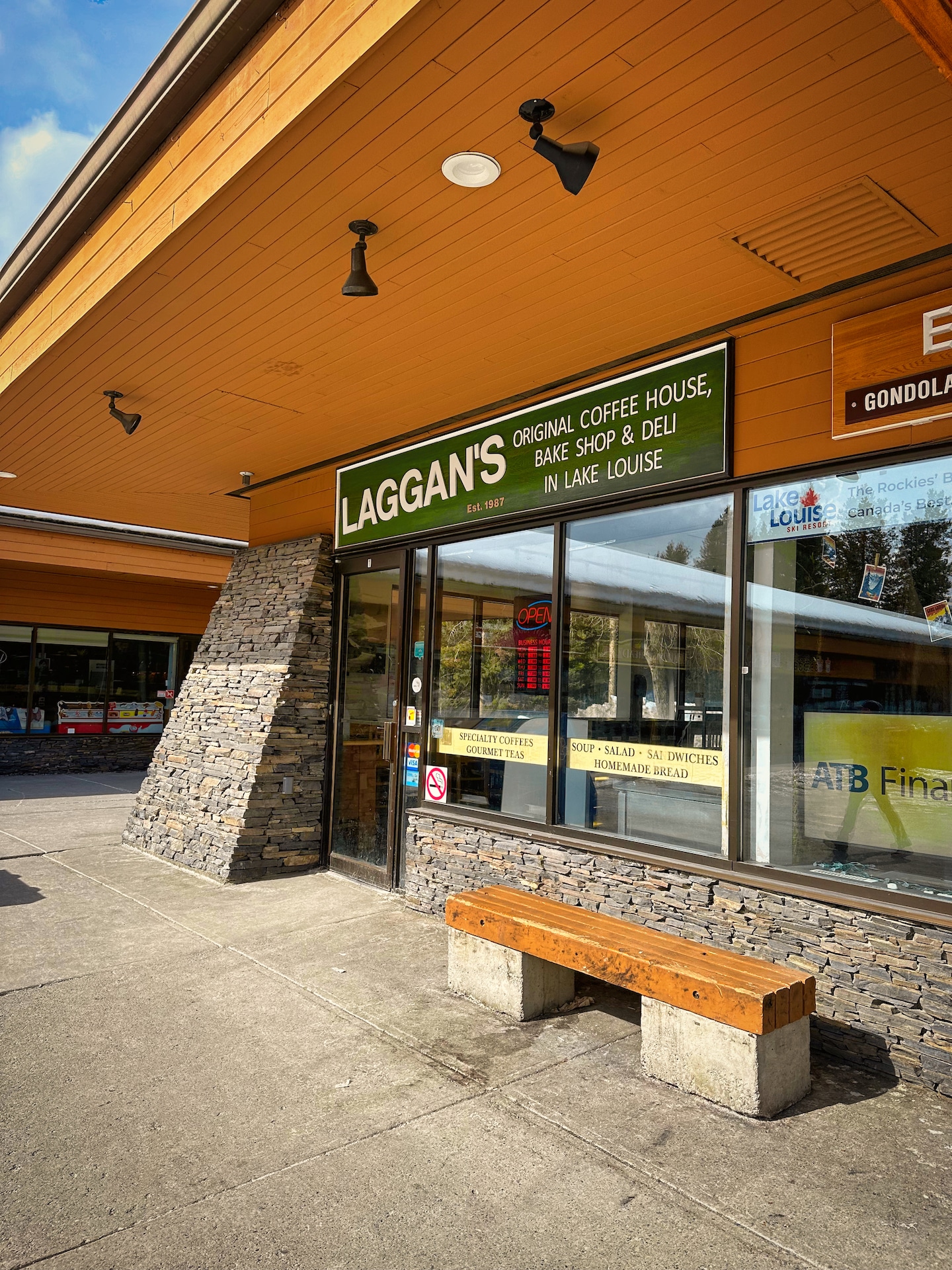 Price: $
Address:

101 Village Rd Building B
Laggan's is a counter-serve cafe and deli in Lake Louise village. It's right next to the Trailhouse Cafe (but in my opinion, the Trailhouse Cafe holds a better vibe).
If you need something quick and easy, a stop here is essential. We've visited Laggan's before having a big day out, like biking and hiking at Moraine Lake or continuing to Lake O Hara.
---
Whitehorn Bistro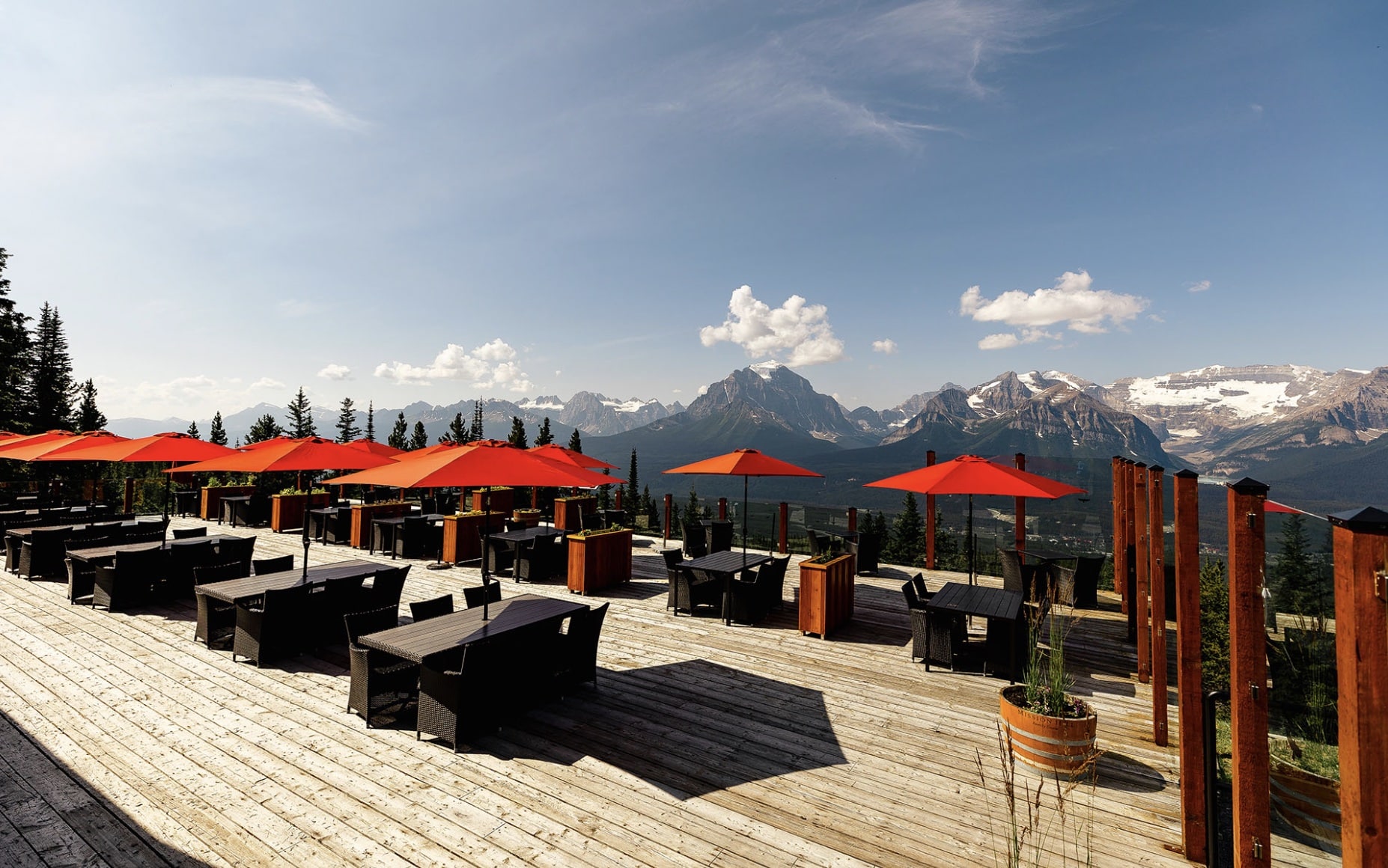 Price: $$
Address: 1 Whitehorn Rd
There aren't many restaurants on Lake Louise Ski Resort, but Whitehorn Bistro is the absolute best out of the ones that are there! It's where you'll head on a winter day in Banff when the sun is shining, and snow is glistening.
You can enjoy a light meal here like Cauliflower Wings with King Mushrooms or an Alberta Whitehorn Burger! We've only eaten here once on an exceptional day while skiing in Banff and can assure you, the views of Mount Temple never get old.
Whitehorn Bistro is also open in the summer during lunch hours, though you'll need to hike to it or take the Lake Louise Gondola. Consider purchasing a Gondola and Gourmet ticket which gets you a discount on the combination.
---
More Lake Louise Travel Articles
---
Hopefully, this helped you determine the best Lake Louise restaurant for your taste buds.
If you have any other questions leave a comment or see our Canadian Rockies travel guide for more articles about photography spots, lakes, hikes, and everything else.
---
Plan Your Trip to the Canadian Rockies
↓ Join the community ↓
The Banff Blog Facebook Group is your headquarters for the Canadian Rockies' travel advice and information. Including hike info and off-season travel information. This is also where you can meet one another when you need adventure buddies.