Christmas is one of the best times to visit Banff National Park. There is nowhere better than Christmas in Banff, and we'll share with you all the magical things to do on a Banff Christmas holiday.
Sure, December is cold in Banff, but who cares when it looks like the inside of a snow globe! From ice skating and skiing to cozy fireside dinners and holiday markets, there is something for everyone to enjoy in Banff. And with the charming mountain town filled with festive lights and decorations, it's easy to get into the holiday spirit.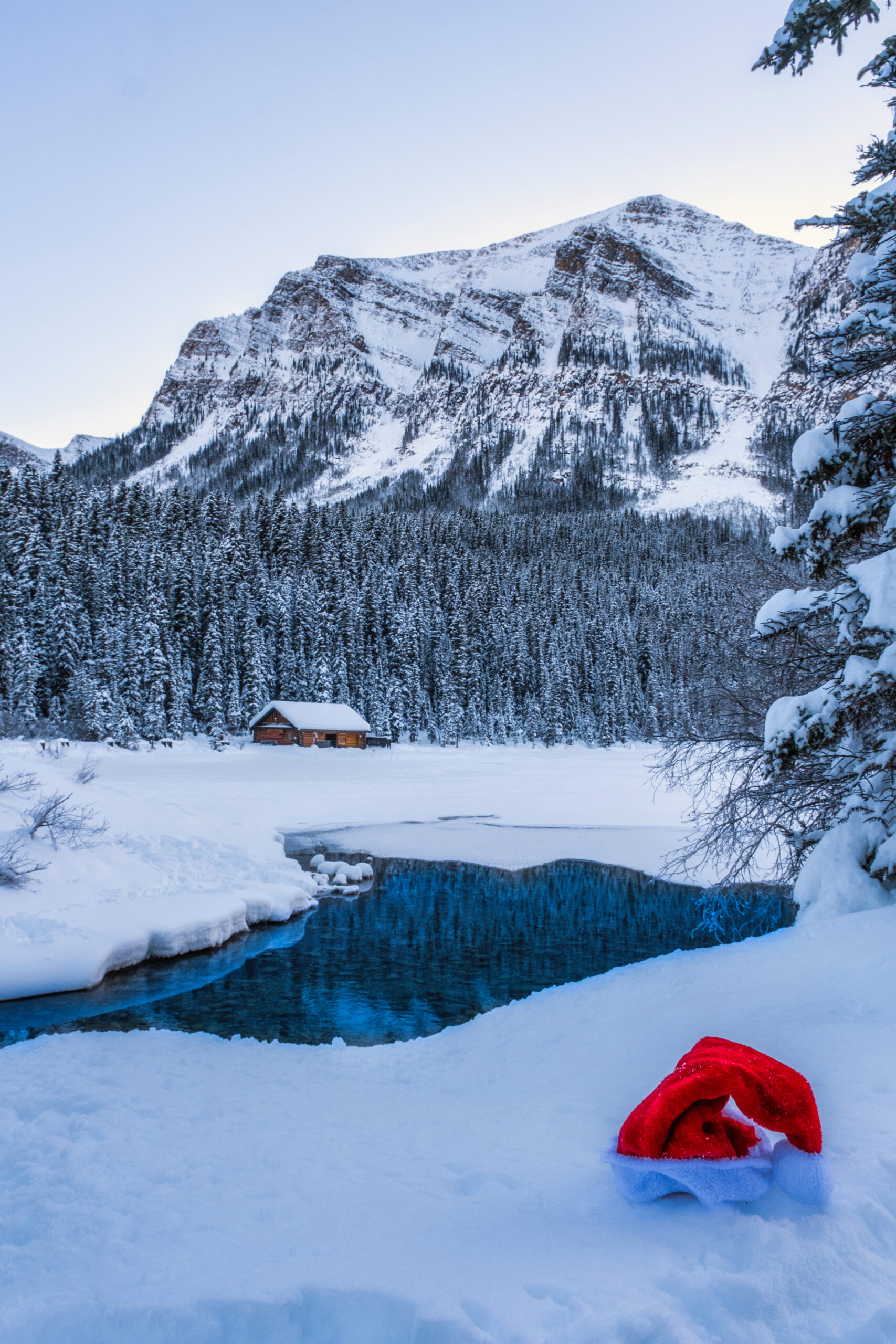 Visitors flock to Banff every year to take part in the magic. There are so many things to do in Banff around Christmas, so pack a warm jacket and boots and settle in for these ideas of Banff Christmas activities. Let's start planning your Banff Christmas holiday today so you can experience the magic of the season in one of the most beautiful places on earth.
---
Things To Do Around Christmas in Banff
---
Ski and Snowboard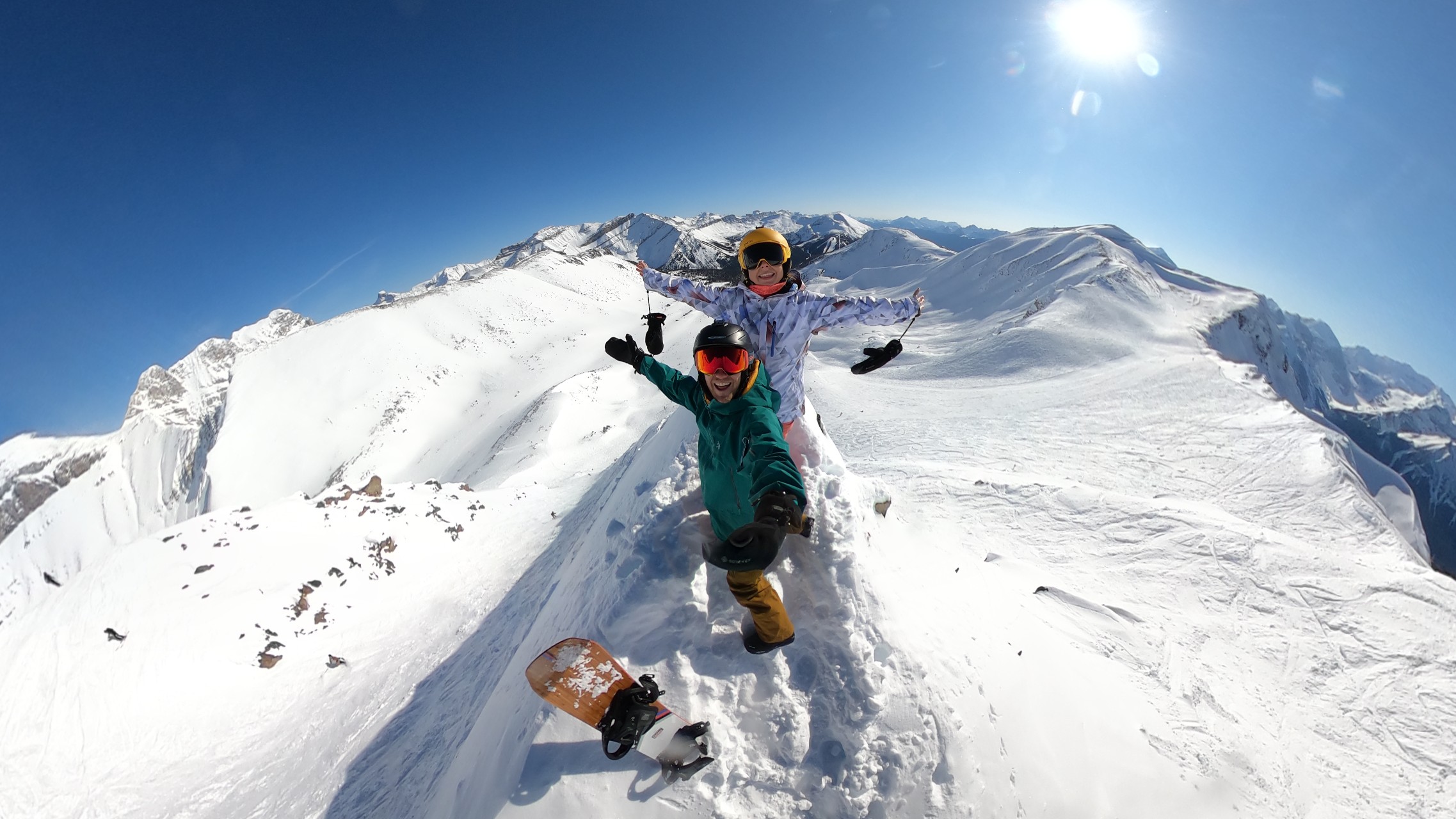 Our favorite thing to do in the winter around Banff is go snowboarding or skiing. Banff has three ski resorts and even more within a few hours' drive. SkiBig3 is a collection of three mountain resorts within Banff National Park.
Lake Louise Ski Resort, Banff Sunshine, and Mt. Norquay are all fantastic and unique ski resorts. Skiing or snowboarding here is one of the best things to do in Banff in the winter. If you are into skiing and snowboarding, then December is one of the best times to head here.
If you are lucky enough to come to Banff before December 23rd, you'll likely end up on the mountain with no crowds and only a handful of locals – especially during the weekdays. December is our favorite time to snowboard in the Rockies, before the large groups arrive and the powder stays untouched just a little longer.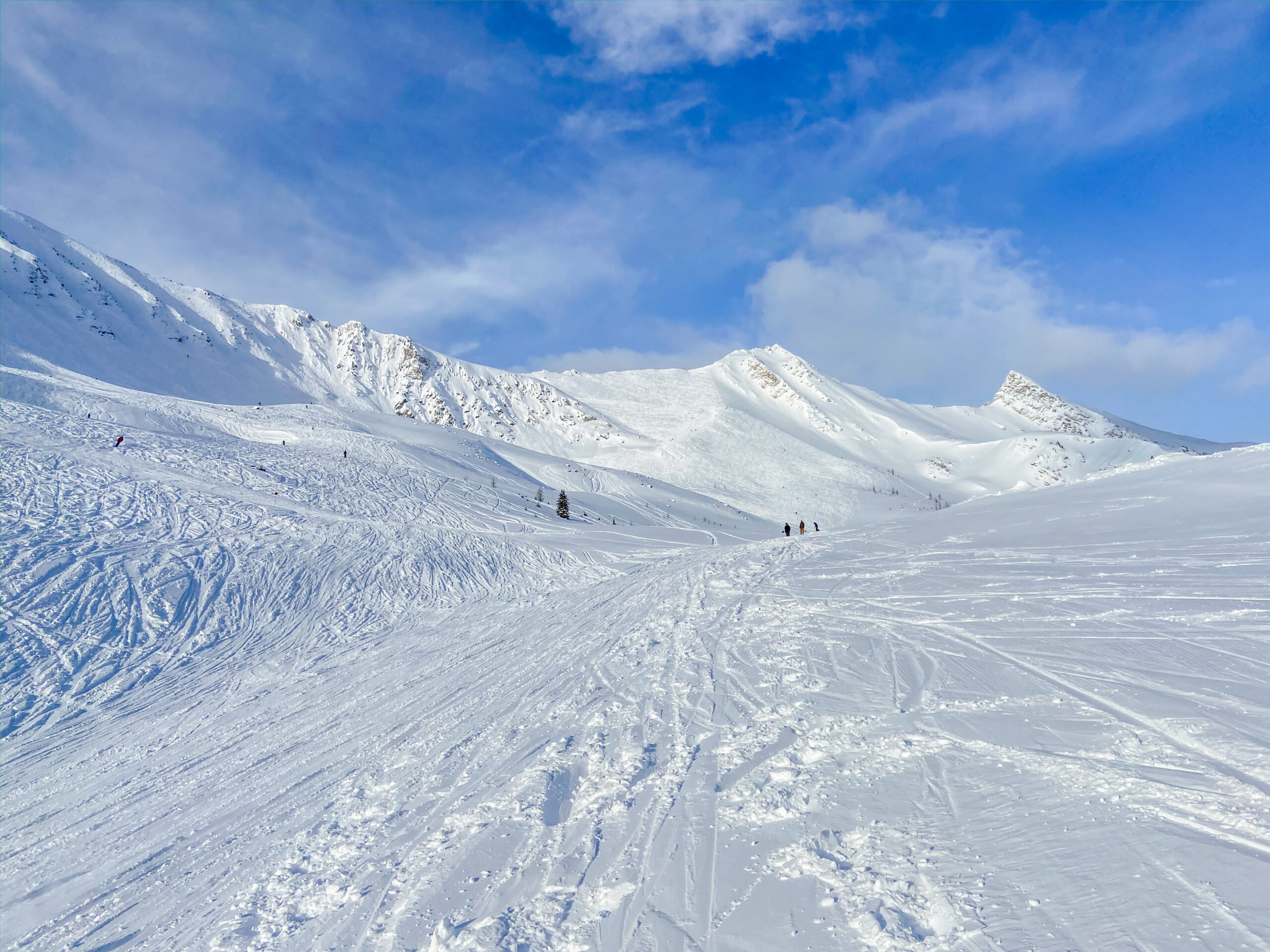 There is arguably no ski resort in the world with a better view than Lake Louise Ski Resort; that photo above is what we're talking about. So much beauty and so much snow it's hard to have a bad day here, especially when you drop off the backside.
We've visited almost 100 different ski resorts and the views from Lake Louise are hands down some of the best in the world. In our opinion, Lake Louise beats out Banff Sunshine and Mt Norquay by leaps and bounds.
---
Santa on the Slopes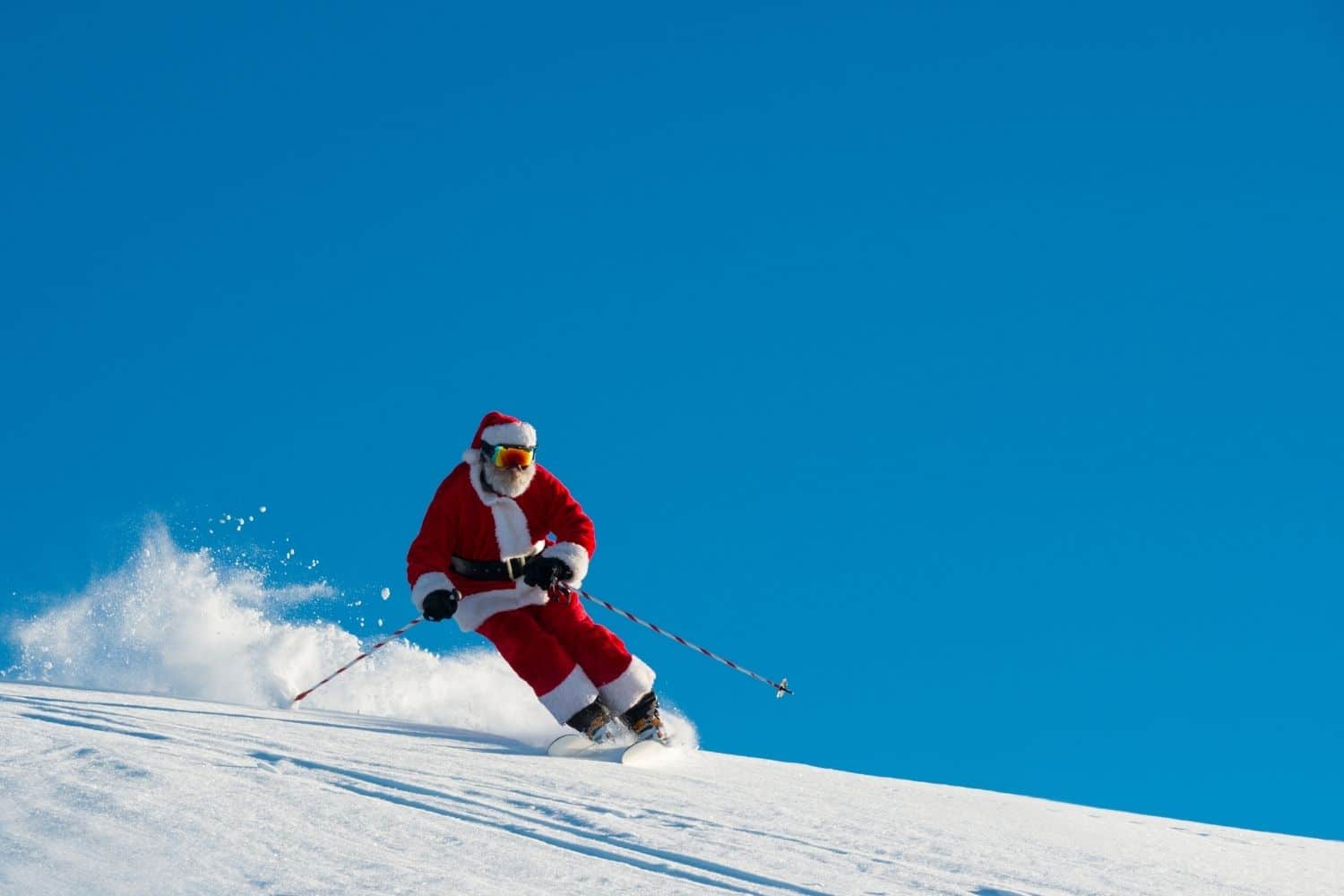 Head to the SkiBig3 resorts any day five days before Christmas and be on the lookout for Mr. and Mrs. Claus. They are frequently seen shredding on the days leading up to Christmas.
You can also find Santa on the Mountain at Banff Sunshine December 9 and 10, 2023 between 9 am - 2:30 pm and at Lake Louise Ski Resort from 10:00am - 1:00pm between December 23-25.
---
In Search of Christmas Spirit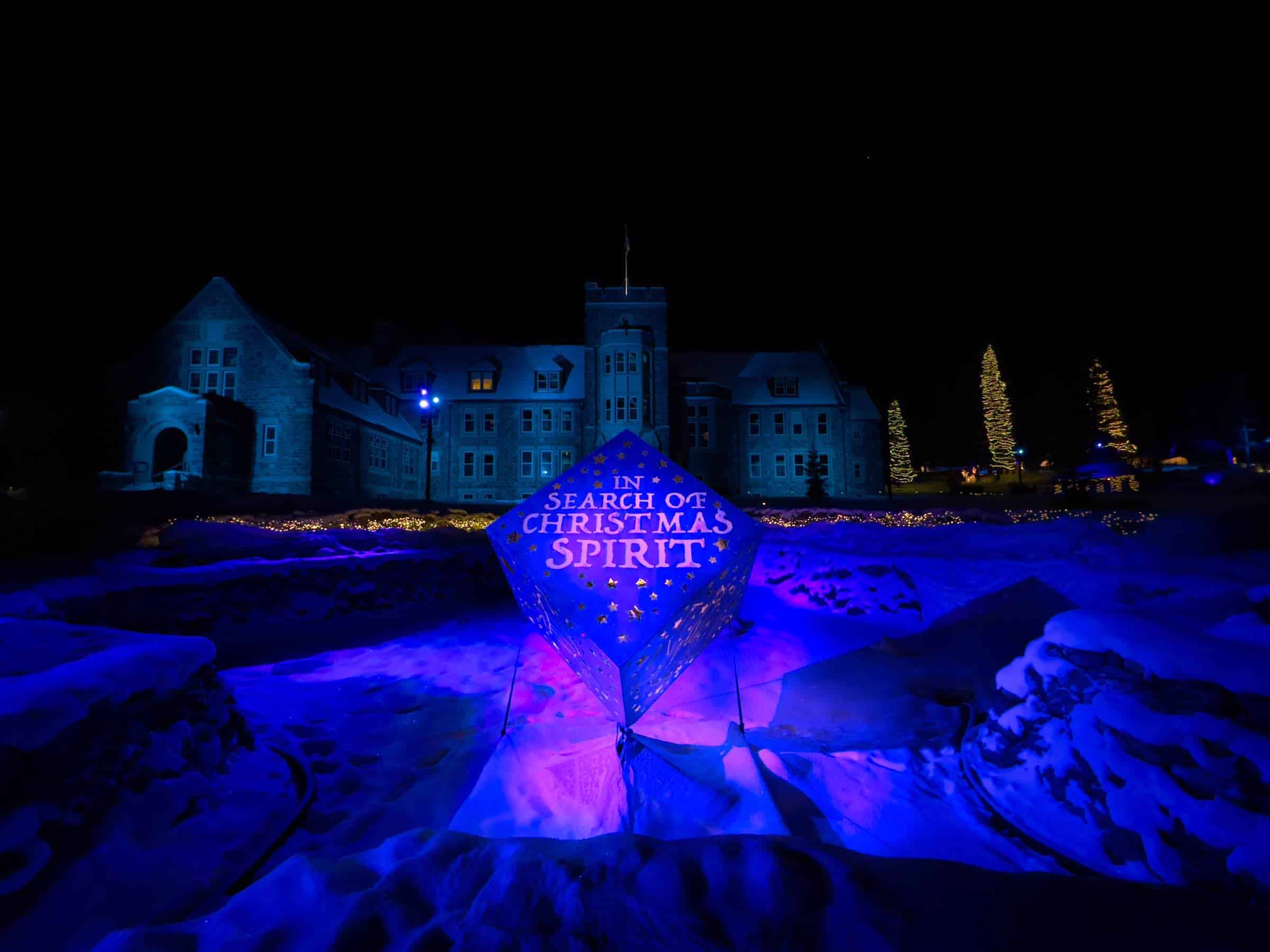 In Search of Christmas Spirit is a newish event in Downtown Banff that locals and tourists alike will enjoy! This is a walking light experience show that tells a Christmas story.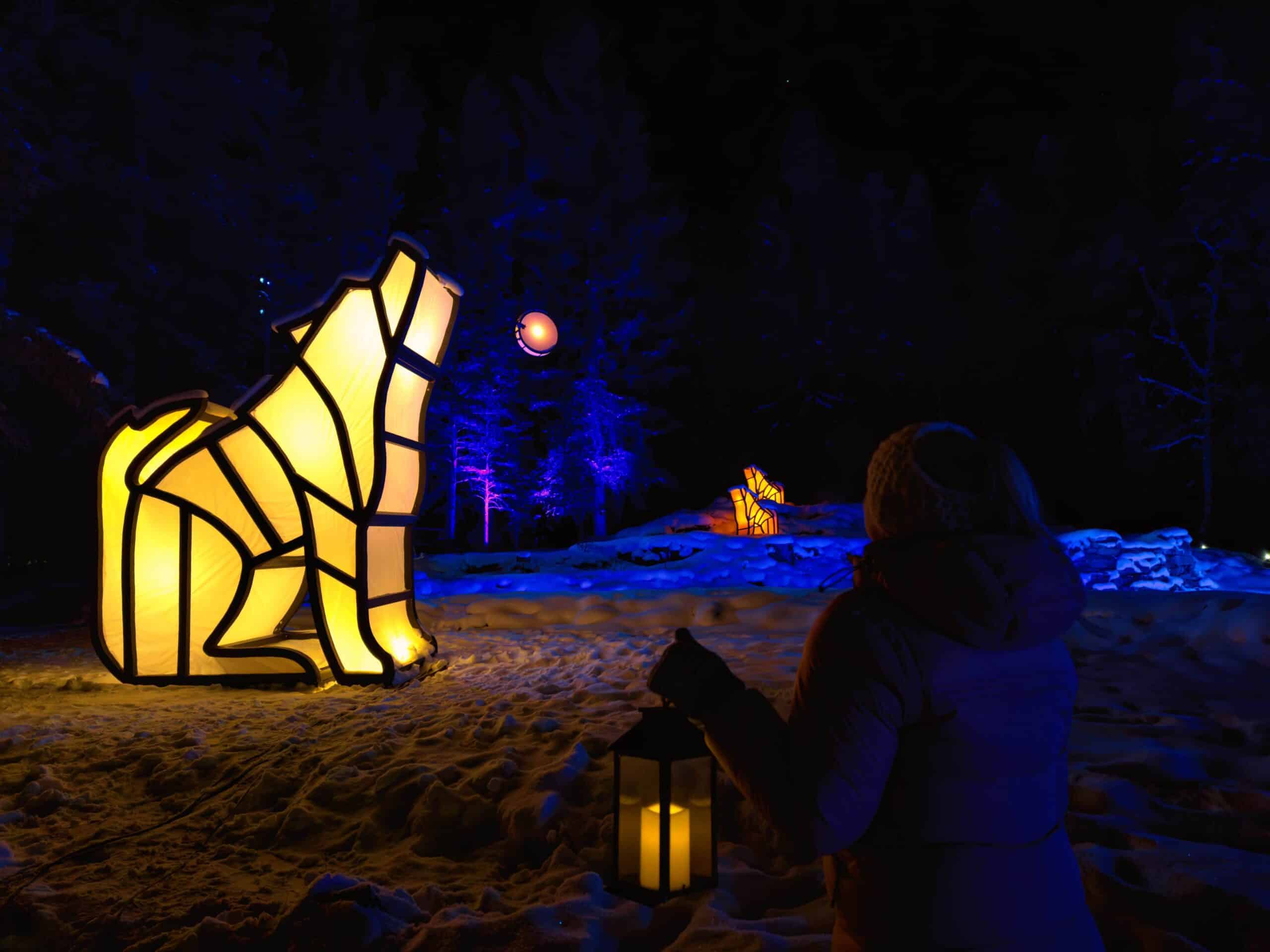 The walking tour starts at Banff Avenue Square and typically takes about 45 minutes; the event runs on select dates from Nov 17 – Dec 31, 2023. Although it is a free walking tour, you need tickets to enjoy it. You can book your tickets here. Make sure to do so well in advance, as they do sell out quickly. This is an entirely outdoor event, so dress warm!
In Search of Christmas Spirit happens at the Cascade of Time Garden at the end of Banff Avenue from 4:30pm – 9:30pm on select dates from Nov 17 – Dec 31, 2023
---
Banff Craft Beer Festival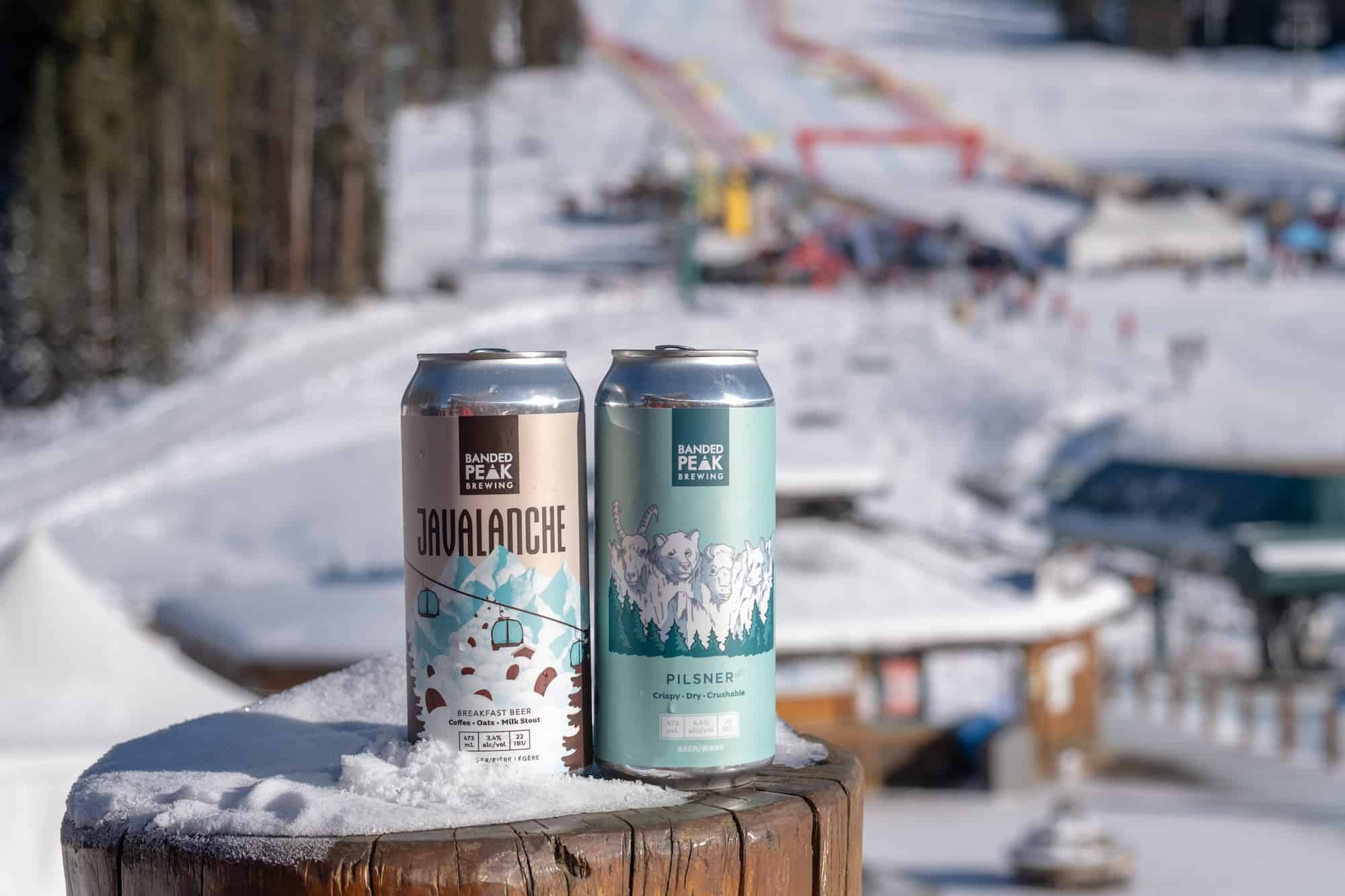 The Banff Craft Beer Fest takes place at Cave and Basin this year from November 23-25, 2023. This sampling event is held partially outdoors and has been dubbed "The most beautiful beer festival in the world."
The Craft Beer Fest is a yearly event where you can try all of Alberta's unique craft beers. Tickets start at $25 at Alberta Beer Festivals. Although you can try many at all the Banff and Canmore breweries, it's best to get a sampler of all the breweries in the region if you are around!
---
Santa Claus Celebration of Lights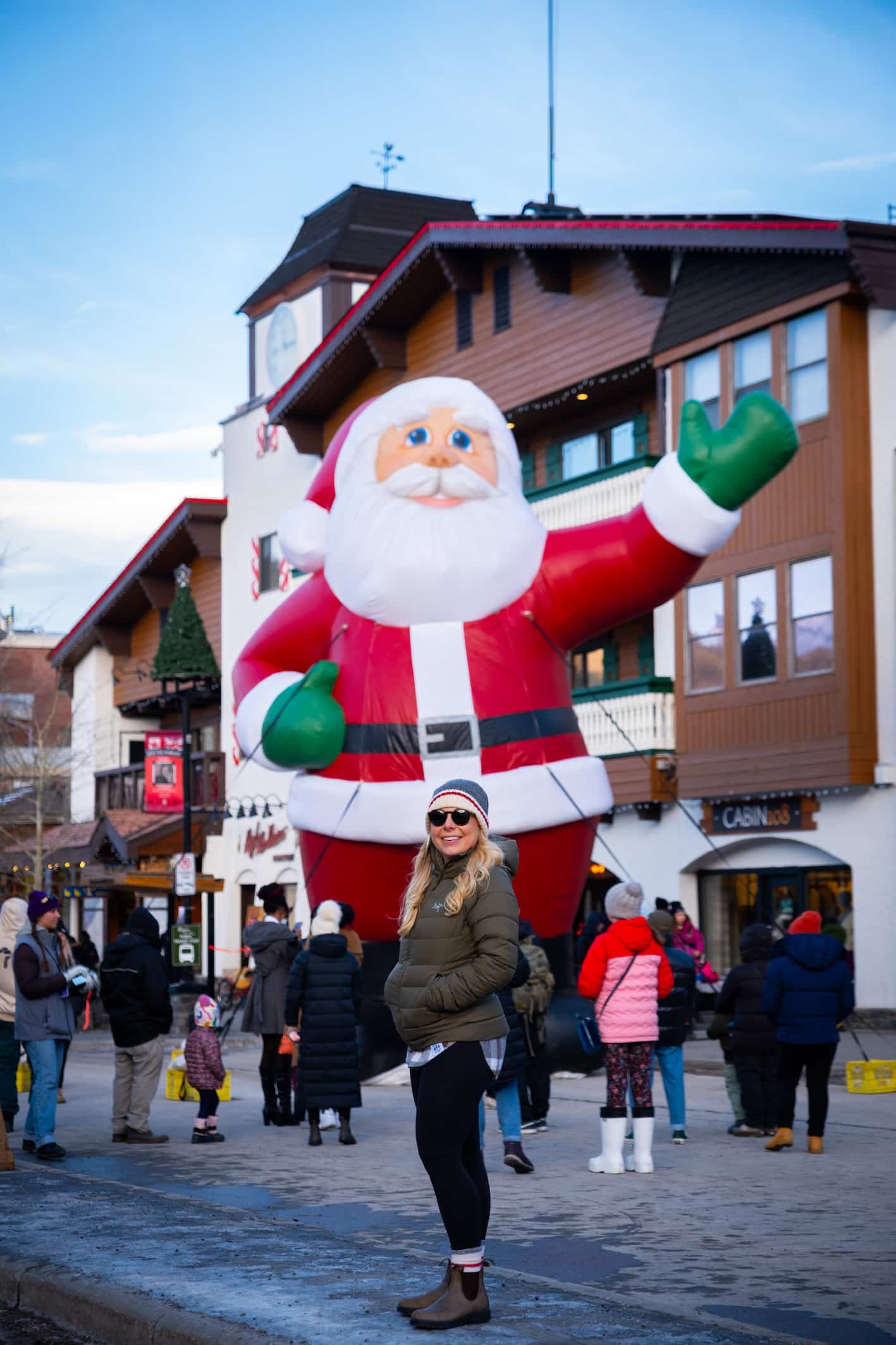 Celebrate the start of the Christmas season in Downtown Banff with a lively and full day filled with holiday activities and entertainment. The Santa Claus Celebration of Lights returns for the first time since 2019, so if you're visiting Banff in November, you won't want to miss this.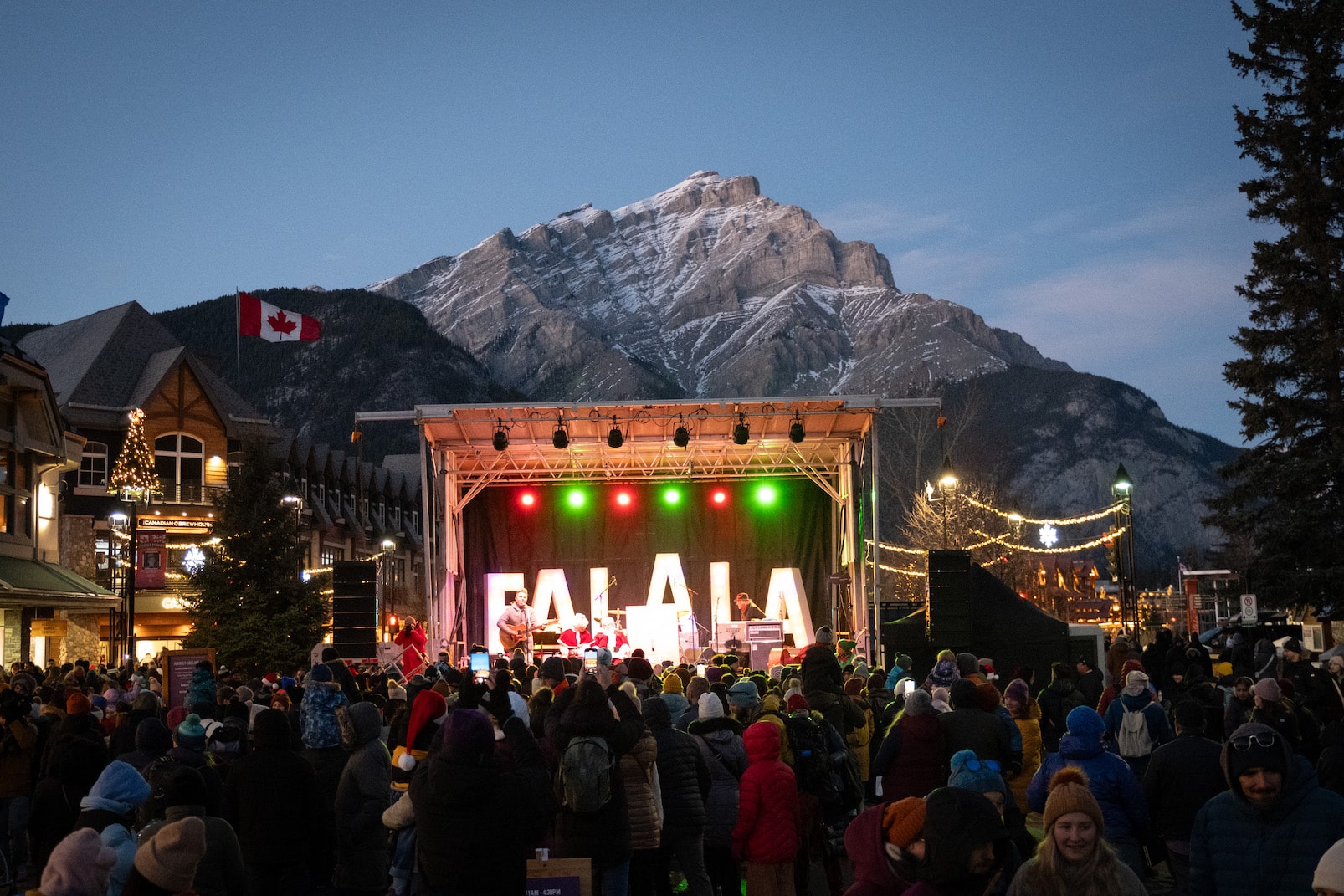 This is not only a parade, but a full day of festive celebrations along Banff Ave. Immerse yourself in the talent of local and Albertan artists on the main stage, accompanied by whimsical street performers. Bring the kids so they can enjoy "Santa's Workshop" and enjoy The Big Santa Show from 4:30pm – 7pm.
This free event happens on one day only, Nov 18, 2023 from 11am - 7pm on 100-200 Block Banff Ave.
---
Christmas Eve Torch Light Parade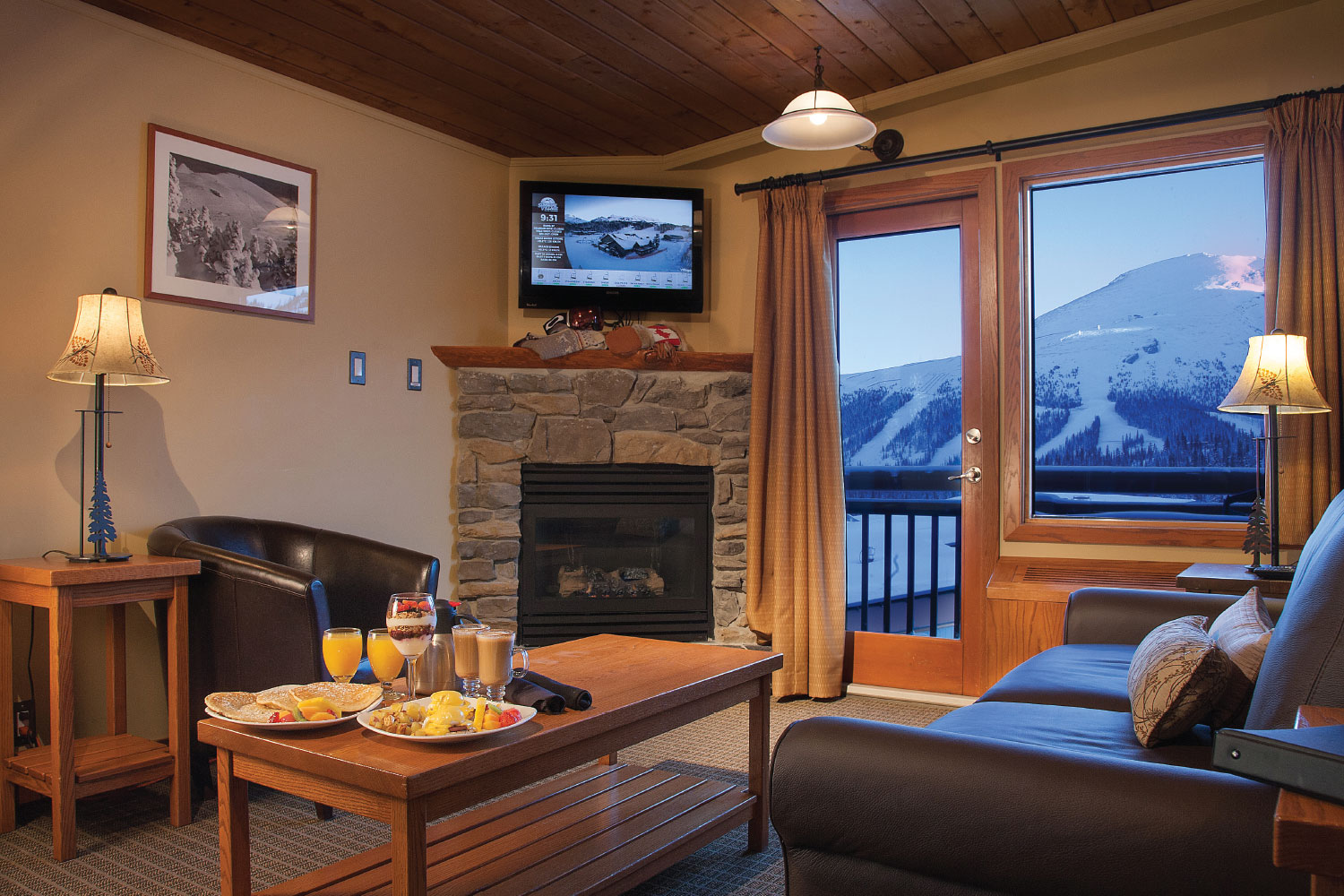 If you are looking for a special place to book for Christmas Eve, you may want to add the Sunshine Mountain Lodge to your list.
Witness the captivating spectacle as skilled torchbearers from Banff Sunshine illuminate the night with a special show for Sunshine Mountain Lodge guests on Christmas Eve. The Christmas Eve Torchlight Parade commences at 7:00 pm, inviting you to gaze up the mountain and marvel at the enchanting trail of red lights descending the snowy, dark slopes.
---
Bear Street Holiday Market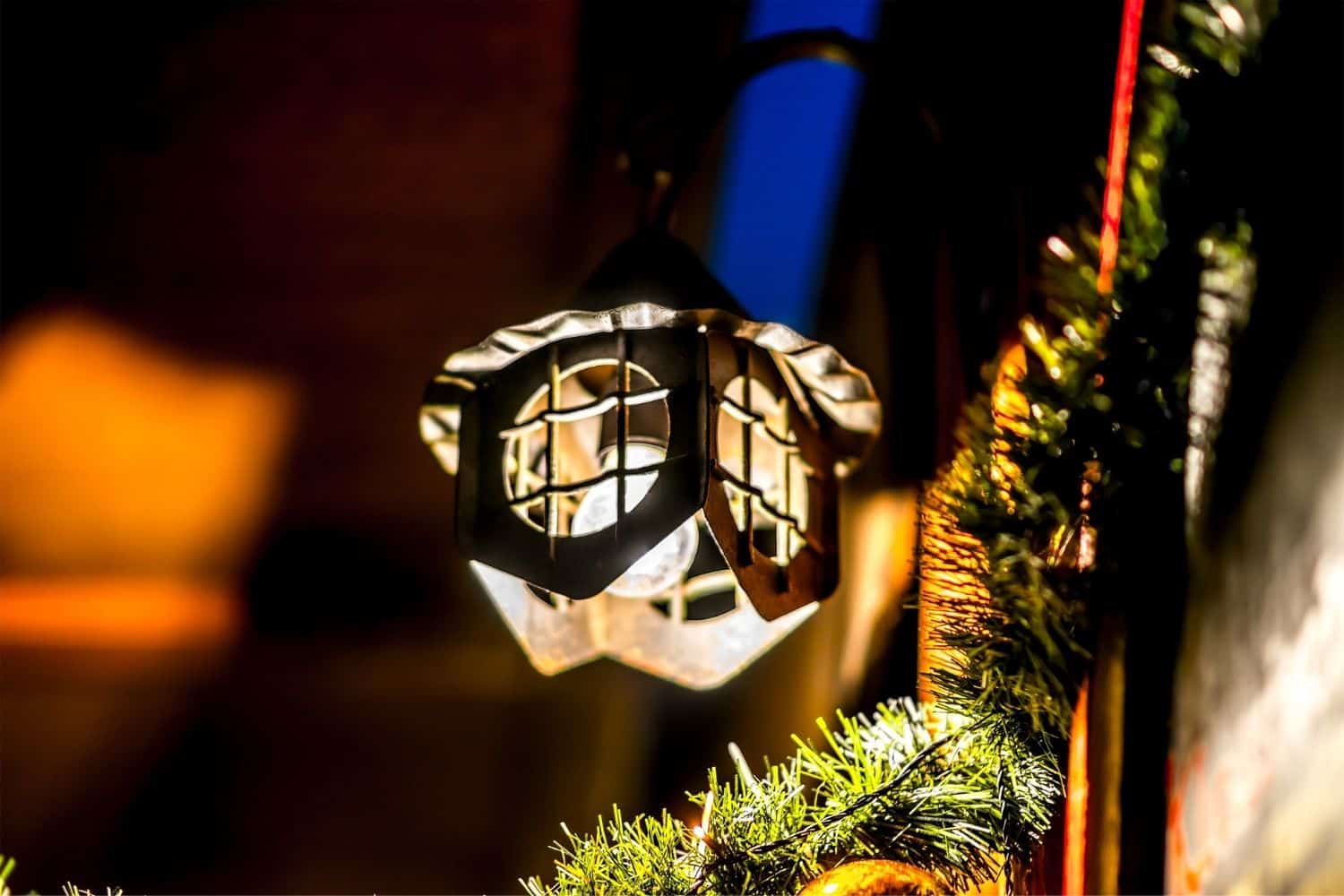 2023 Dates TBD. Take a stroll down with your hot chocolate in hand and enjoy the Holiday Market. The Bear Street Holiday Market features local artisans, retailers, and food stalls to enjoy! The holiday market runs on select dates and hours.
---
Spend an Evening at Lake Louise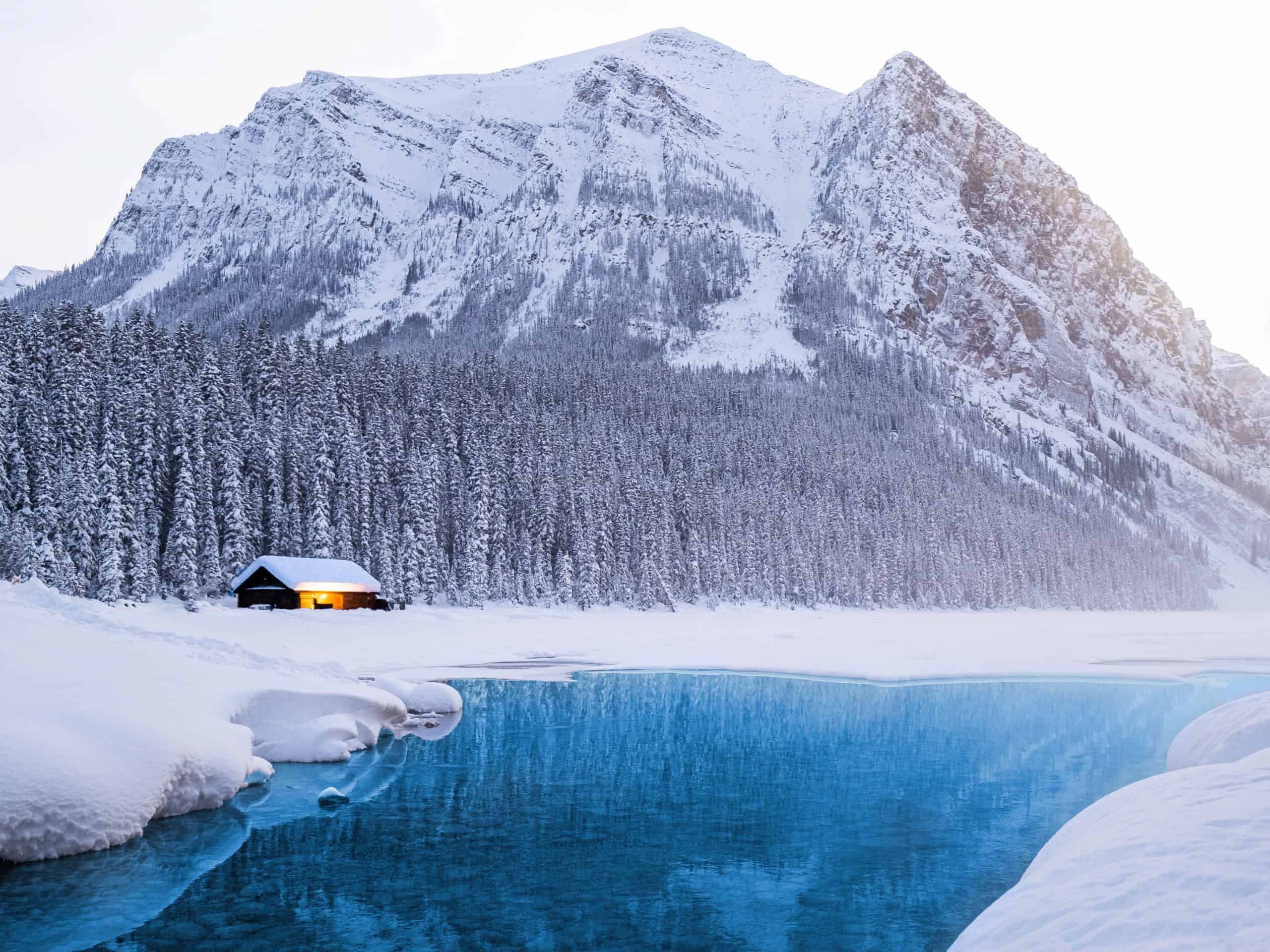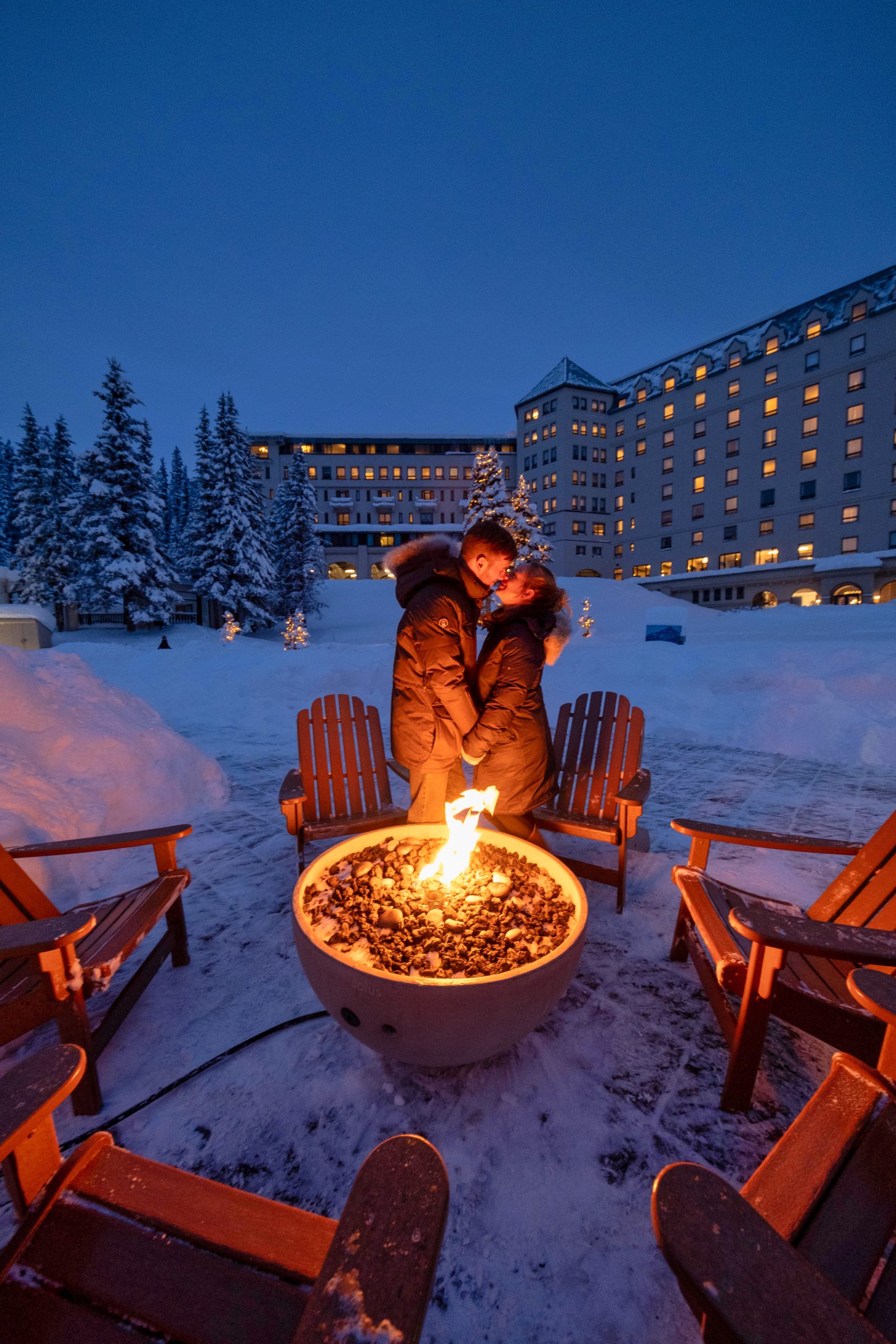 While Lake Louise is one of the most popular destinations for its turquoise waters in the summer, it's also an excellent spot to spend Christmas in Banff. Around Christmas time, Lake Louise is covered in a fresh blanket of snow.
The Fairmont goes all out with Christmas decorations, an ice bar, Christmas lights, an ice castle, a skating rink, and sleigh rides. I've broken down some of the Lake Louise Christmas festivities below:
Have a Hot Drink at the Ice Bar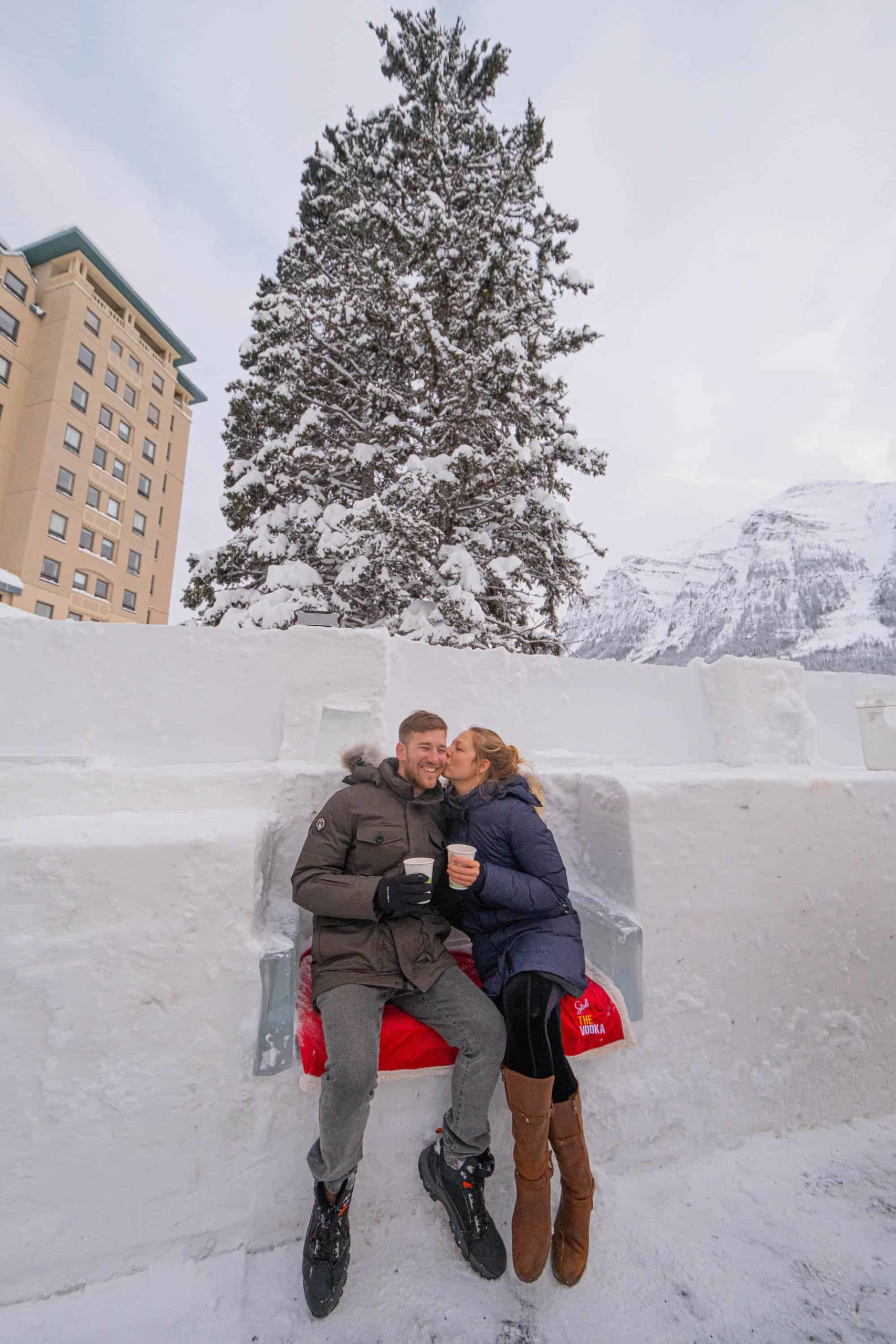 It is, in every sense, a winter wonderland. During weekends at Lake Louise, you can enjoy mulled wine at the Fairmont Ice Bar! The Ice Bar is open from around December 20th to mid-April.
They dish up all kinds of hot chocolate goodness and even have special treats for the kids. 20 blocks of ice, each weighing 300 lbs are used to make the bar, so it's truly a special place to visit in Banff in the winter.
Enjoy a Horse Drawn Sleigh Ride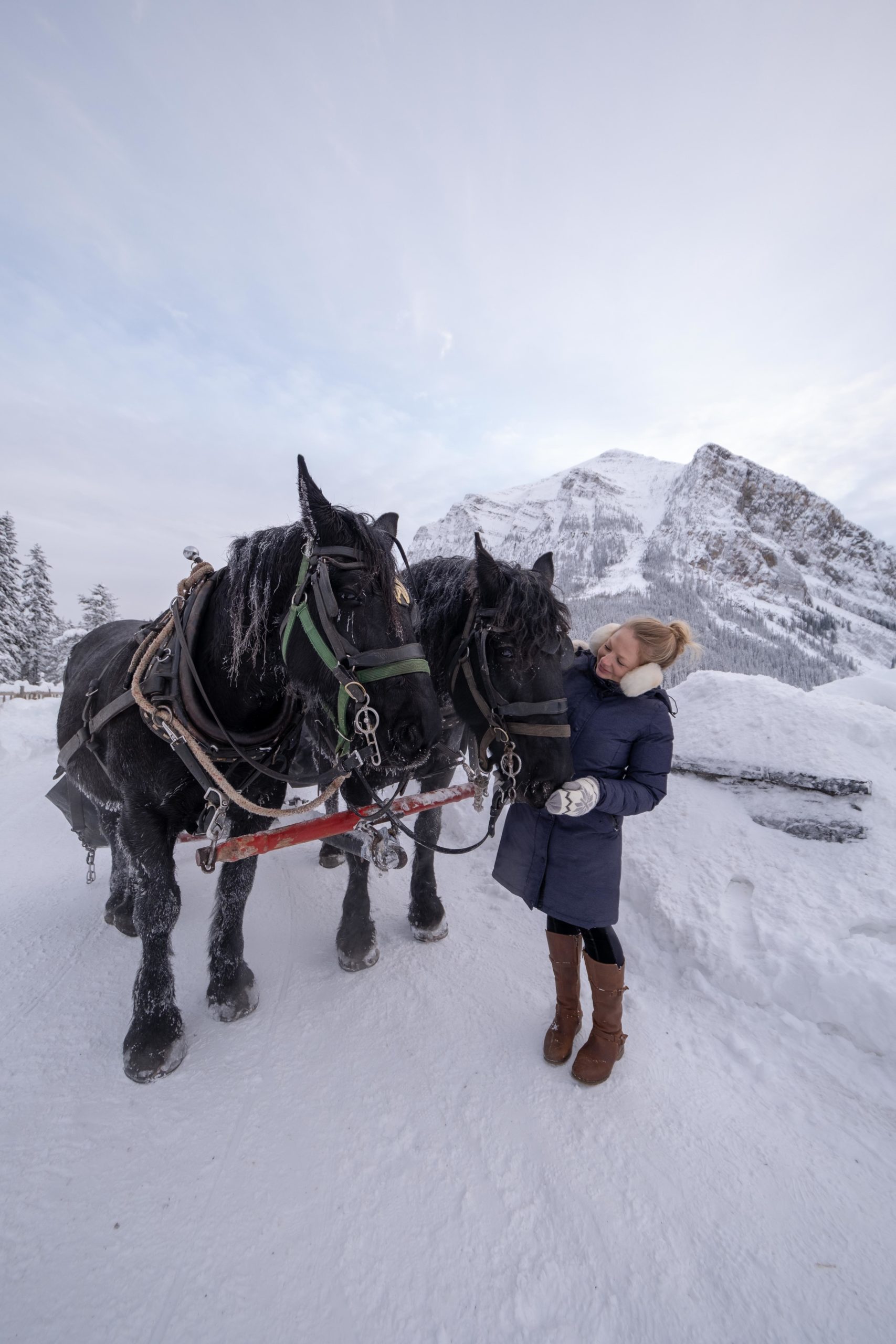 There aren't many places left in the world where you can ride on a horse-drawn sleigh with snow-capped mountains all around you while next to one of the most beautiful lakes in the world. However, at Lake Louise, you can! You can book private, or group sleigh rides through the Chateau – both will make you feel as if you stepped in a fairytale.
Sleigh ride season starts mid-December and runs all the way to April, so if you miss this opportunity around Christmas in Banff, you still have plenty of time. Rides last 45 minutes to one hour! Make sure to dress warm.
Ice Skate on Lake Louise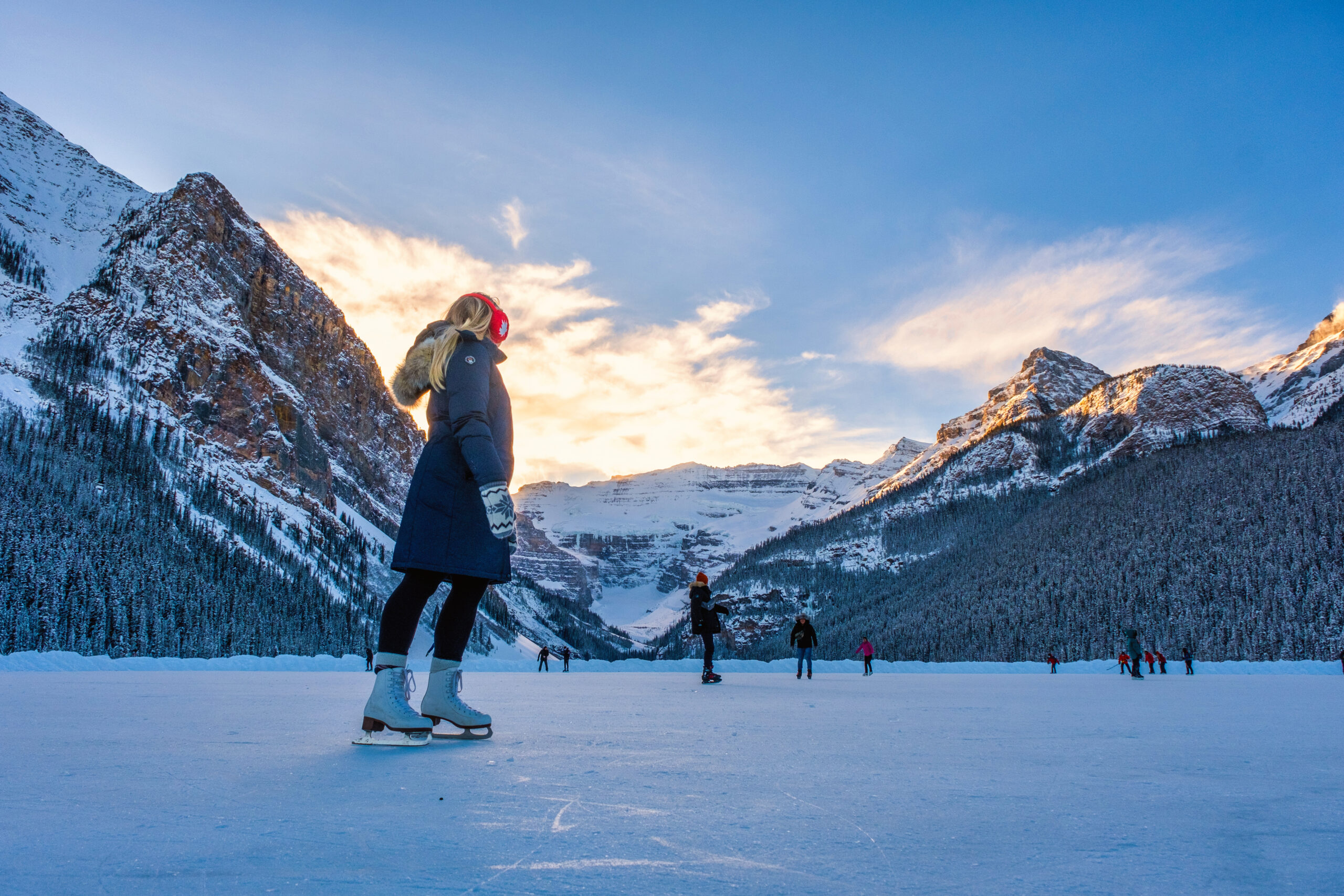 Lake Louise has been dubbed the most beautiful ice skating rink in the world. While you can ice skate on many lakes in the Rockies, what sets Lake Louise apart is, of course, the holiday atmosphere and the fact that the Chateau manages and creates the "rink."
Their set rinks are resurfaced every night and make for a fantastic place to bring the family to enjoy Christmas in Banff. You can rent ice skate at the Chateau or at Wilson Sports in Lake Louise Village.
9 Reasons to Go Ice Skating on Lake Louise
---
Snowshoe on Lake Louise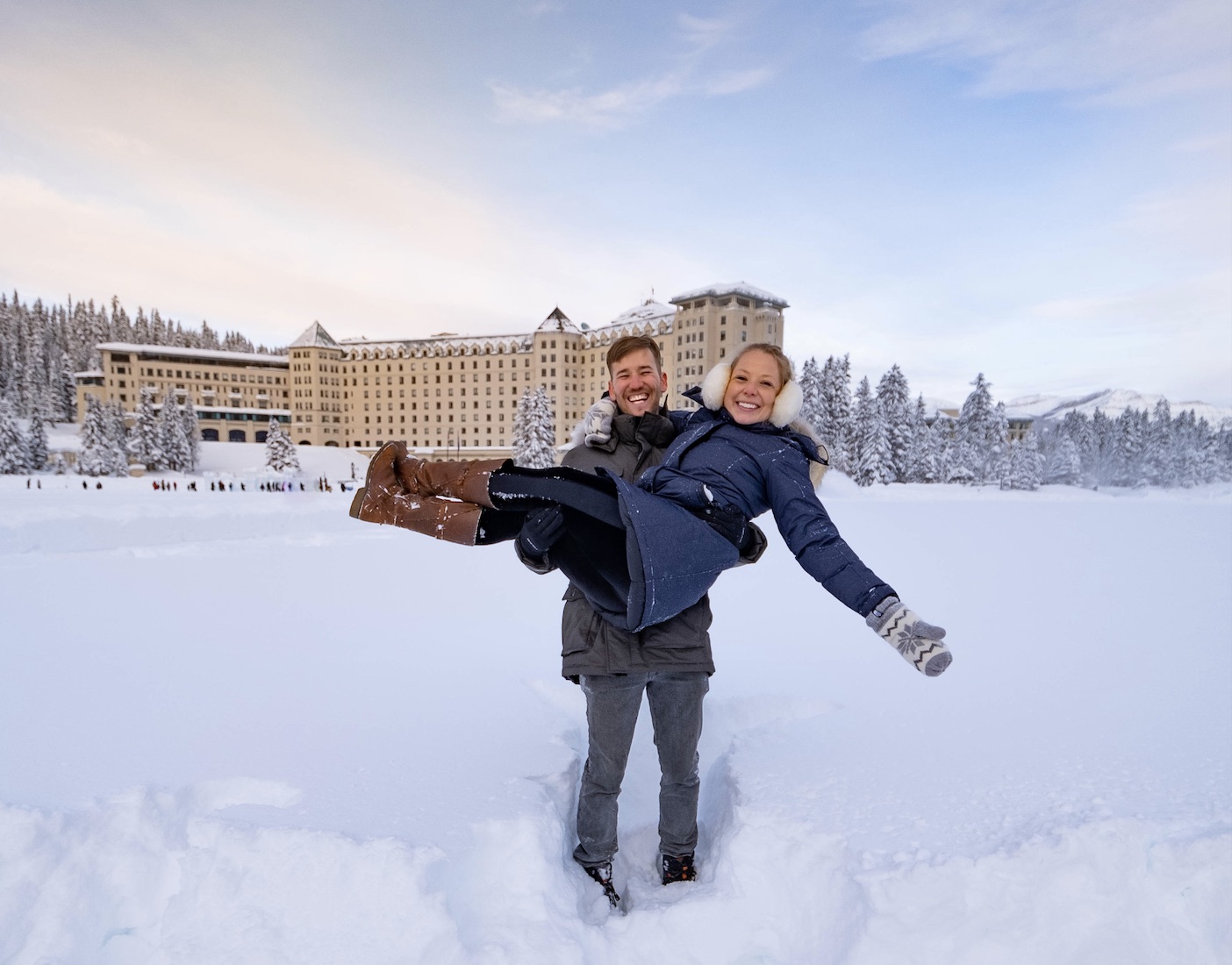 If you're not up for ice skating, another fun winter activity in Banff is snowshoeing around Lake Louise. It's best to snowshoe around the lake; please don't go back into the Plain of Six Glaciers or up to the Lake Agnes Teahouse, as this is dangerous avalanche territory in December.
---
Brewster Country Christmas Dinner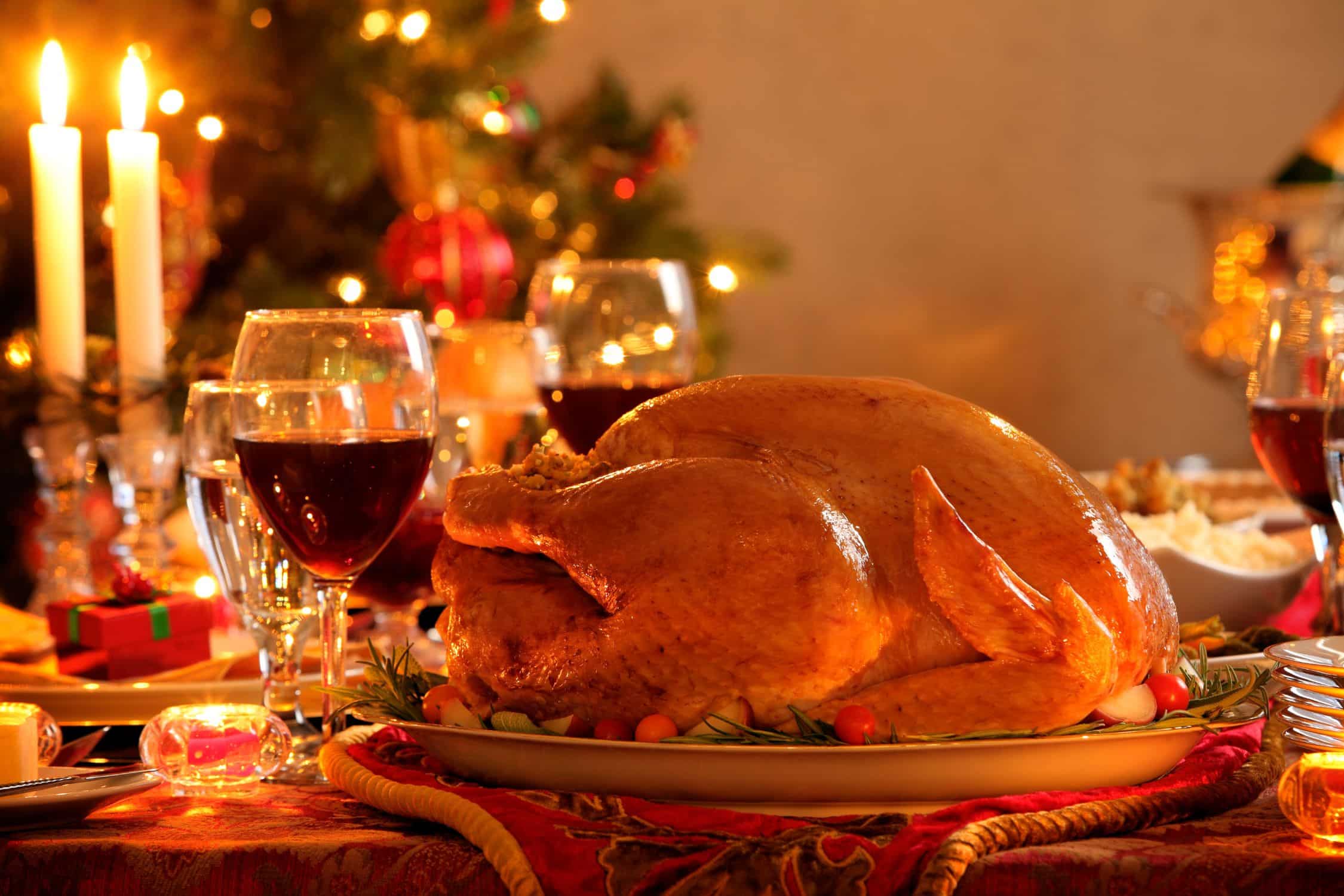 Ready for a Christmas dinner in a dance barn with the family? The Brewster Country Christmas Dinner only happens a few nights a year and will fill you up on a home-cooked hearty meal. Arrive by sleigh from the Fairmont Chateau to a band playing and line dancing.
The Country Christmas Dinner is only on  December 23, 27, 30,  2023
and can be booked here. The cost is $120 for adults and $80 for children 6-12 (Children 5 and under free). Sleighs depart the Chateau at 6pm and 6:30pm.  
---
Warm Up with Fondue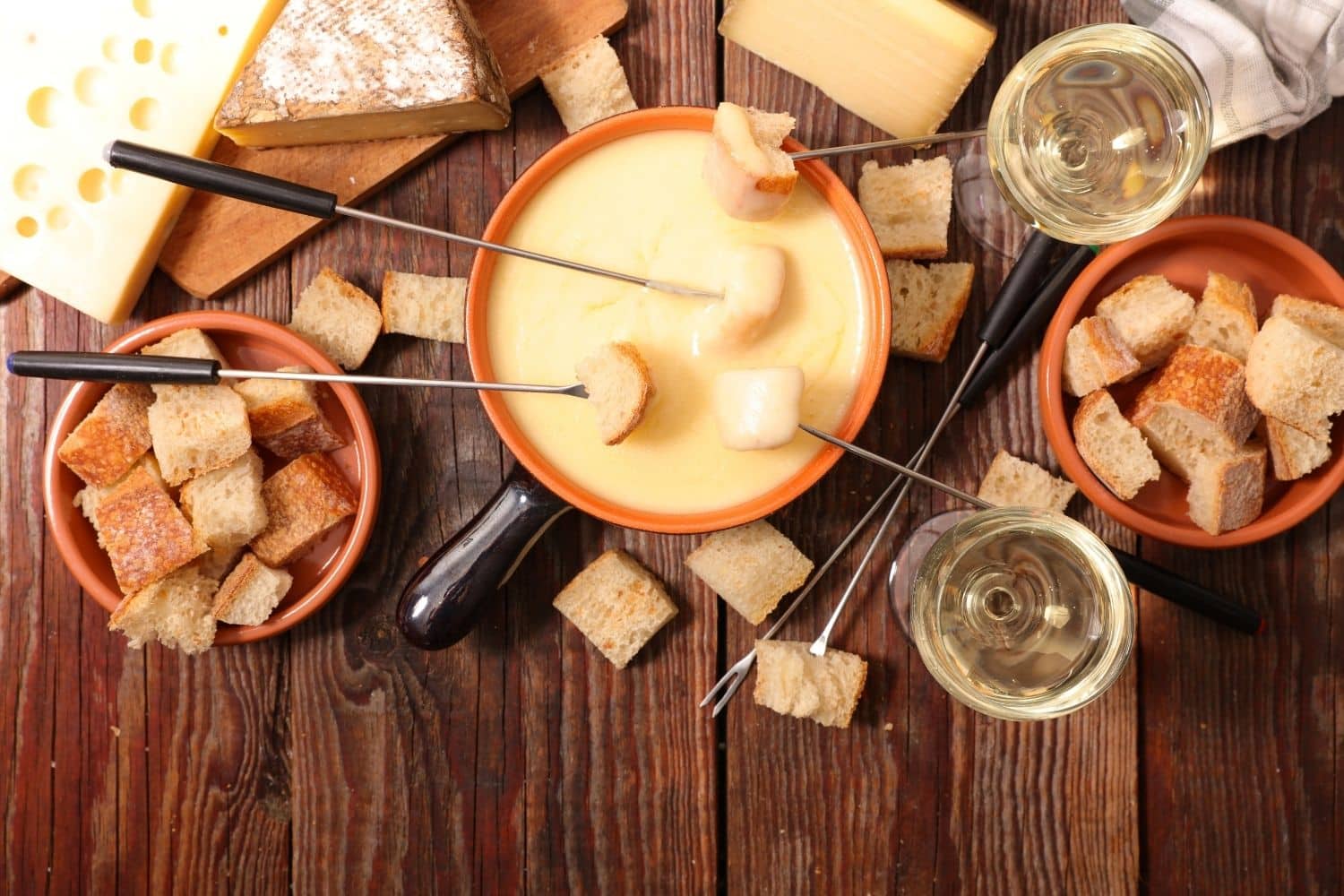 There are a plethora of restaurants around Banff that serve up this classic mountain dish originating from Switzerland. There is heavy Swiss influence in the Canadian Rockies, so of course, this influence translates to the food too.
One of the most well-known places to enjoy fondue in the winter is at Walliser Stube, which is one of the best restaurants in Lake Louise, but you can also find it at the Post Hotel and at the Grizzly House in Downtown Banff.
---
Relax at Banff Hot Springs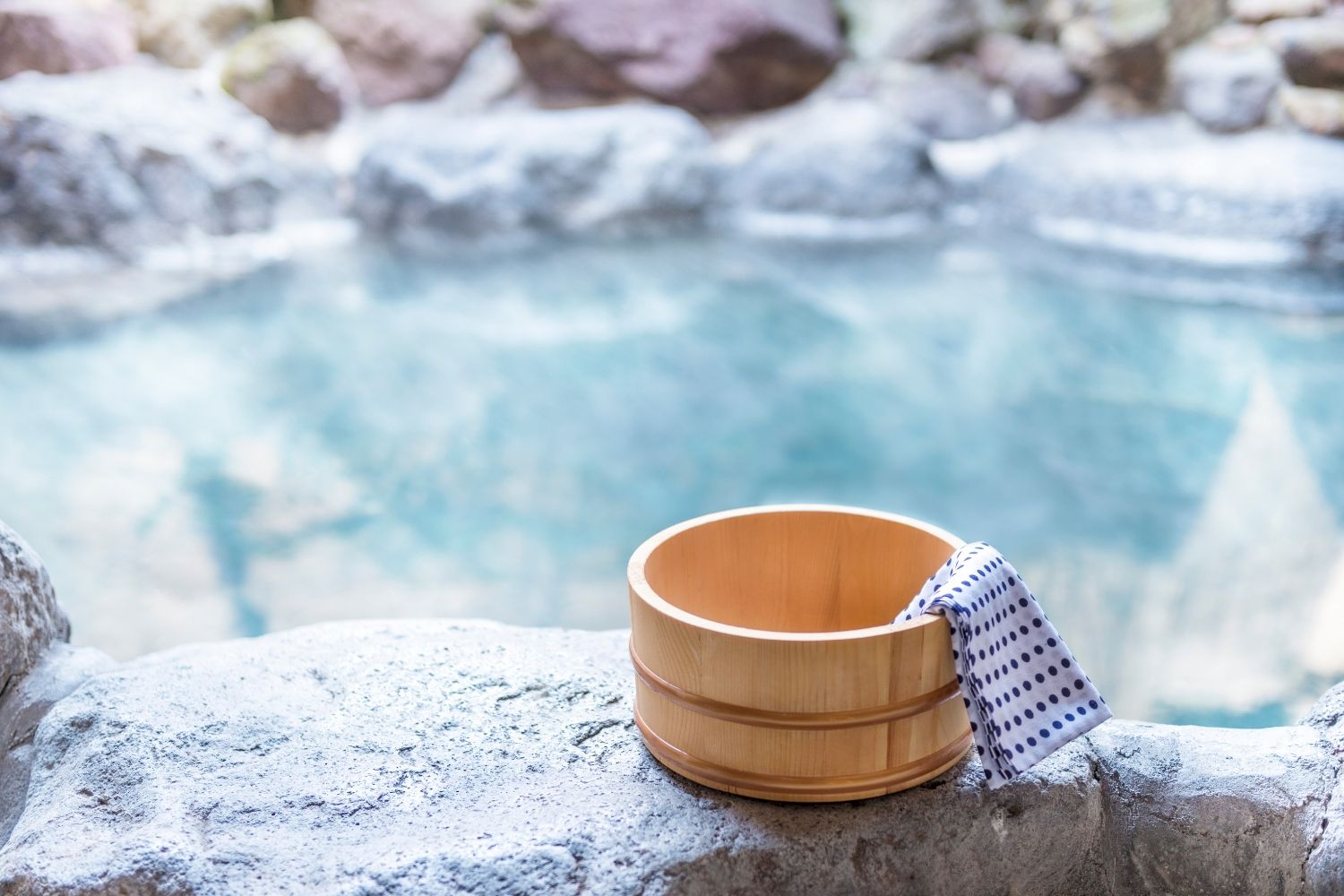 Another great way to spend Christmas in Banff is at the Banff Hot Springs. Enjoying hot water in the cool air is one of the top Banff winter activities to enjoy. Don't let the frigid Canadian temperatures detract you because there are plenty of ways to warm up around Banff.
These hot springs make for one of the best places to relax those stiff muscles after a ski day. Just be warned, afternoons can draw a crowd, so head there in the morning for a more quiet experience.
---
Mountaintop Christmas on Sulphur Mountain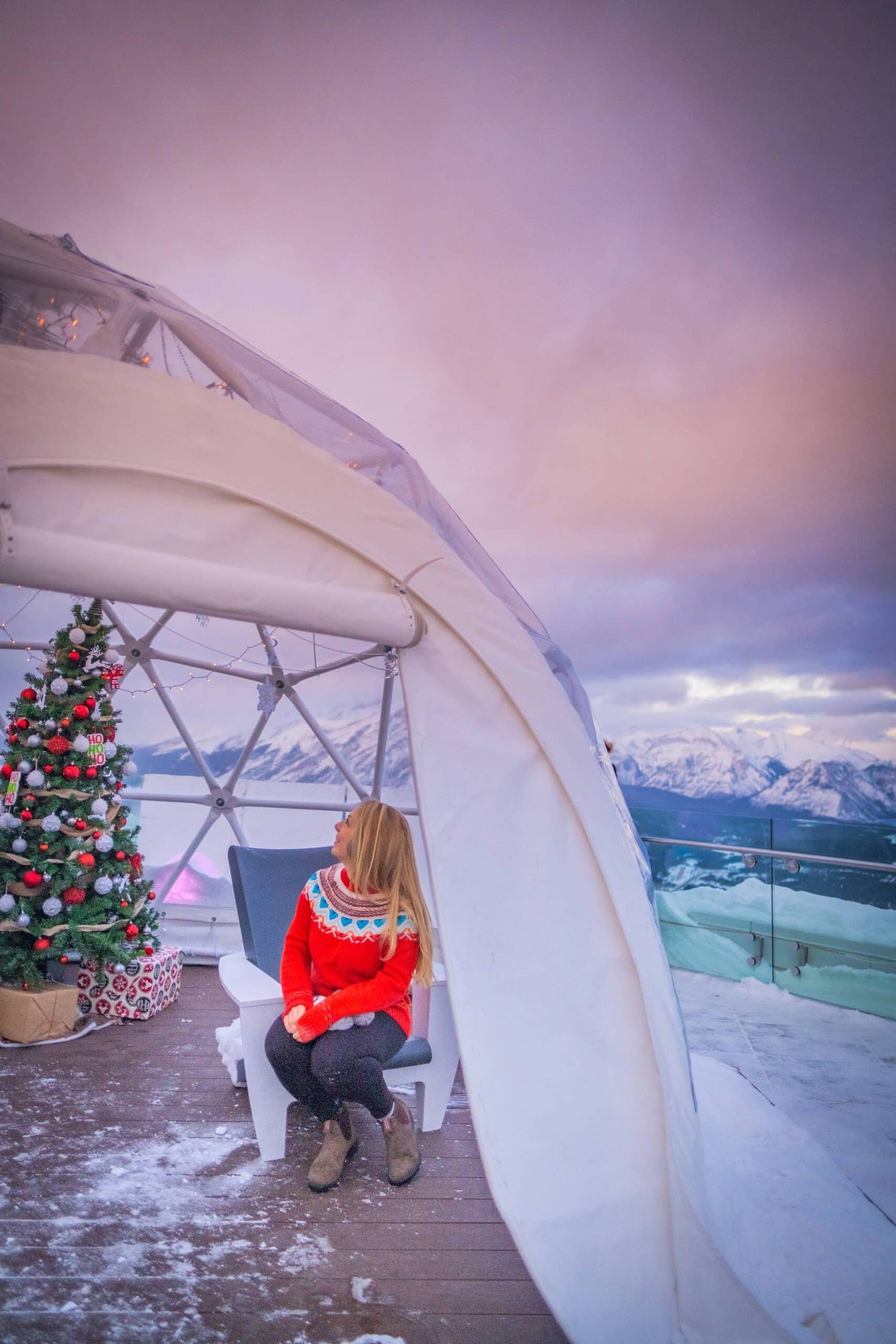 Still wondering what to do in Banff around Christmas? How about you climb a mountain! What? Just because it's winter, you think you can't climb a mountain?
Sulphur Mountain is easily one of the most popular hikes in Banff National Park. It's a beautiful hike up that provides visitors with astonishing views over the Bow Valley.
Due to its proximity to Banff Town, and the fact that you can take the Banff Gondola up the mountain instead of sweating it out on the trail means that Sulphur mountain becomes very busy – but not in the winter! With a pair of microspikes and some hiking poles, you'll be able to tackle the trail up in no time.
Once at the top is a "Mountaintop Christmas Wonderland." You'll find Christmas cheer, Santa's bakeshop, Santa photo ops, adult Christmas cocktails for the adults, and other jingle bells and whistles, all in the most magical setting. (Psst – kids in Banff go free every day before noon!)
Mountaintop Christmas on the Banff Gondola runs on Saturdays & Sundays only from December 2 to 24 and runs daily (no Santa) from December 25 to 30.
---
Banff Nightrise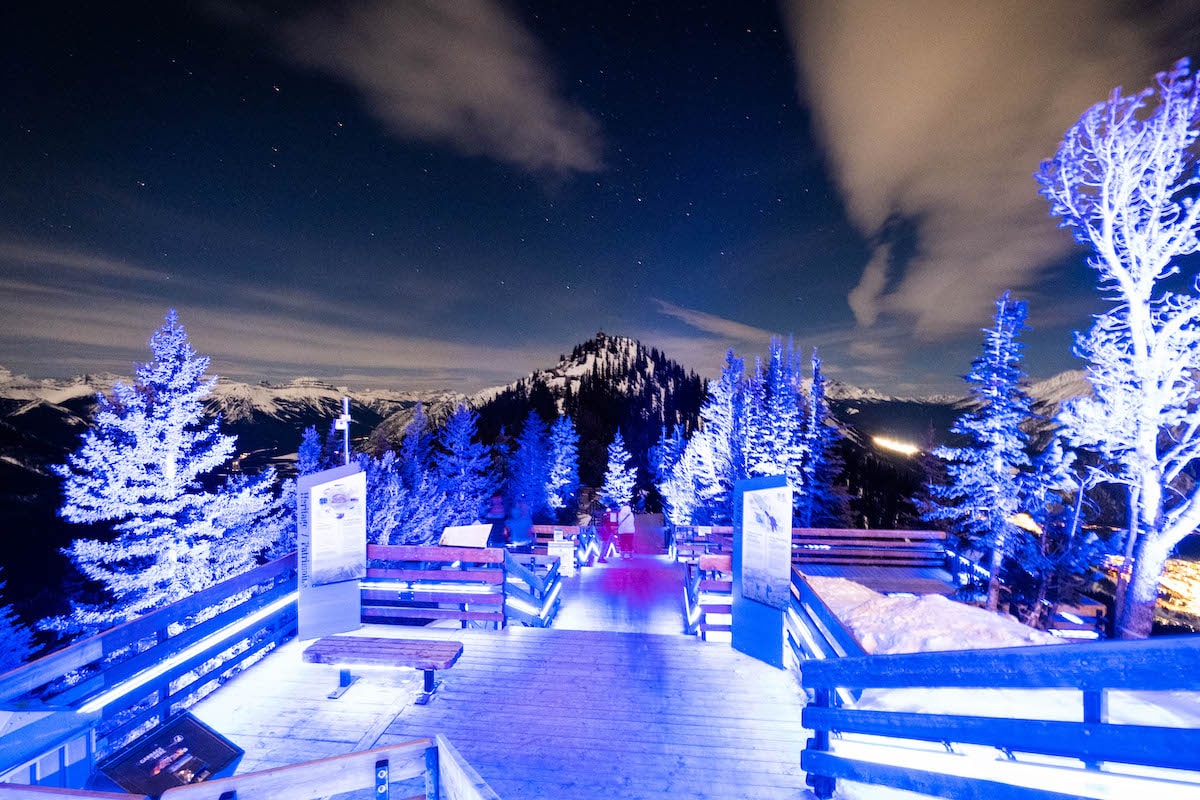 New in 2021 was the Banff Nightrise Experience, which will run this season from November 18, 2023 to March 30, 2024. What is Nightrise? The Banff Nightrise is an interactive experience created by multimedia studio Moment Factory and is in partnership with the Stoney Nakoda Nation. Nightrise is an immersive and interactive journey that transforms Sulphur Mountain after dark with lights, projections, and riveting soundscapes.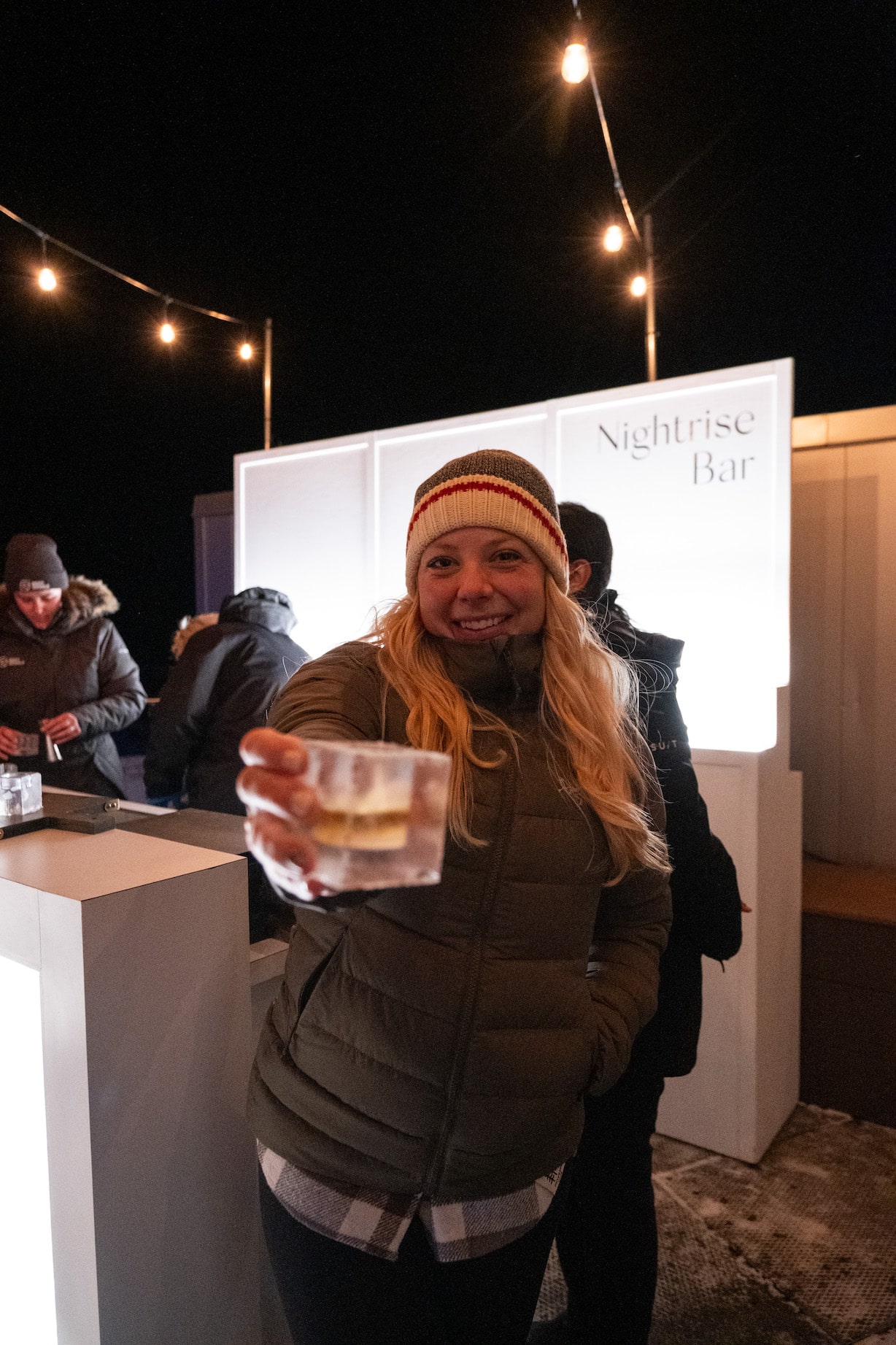 It allows visitors to "listen to the view," and each level of the complex is transformed, with the viewing deck allowing visitors to view Banff in a new way.
It's a beautiful experience, especially since it is partnered with the Indigenous peoples who contribute music, words, and stories. You can purchase Nightrise tickets on Pursuits webpage.
---
Enjoy Christmas at The Castle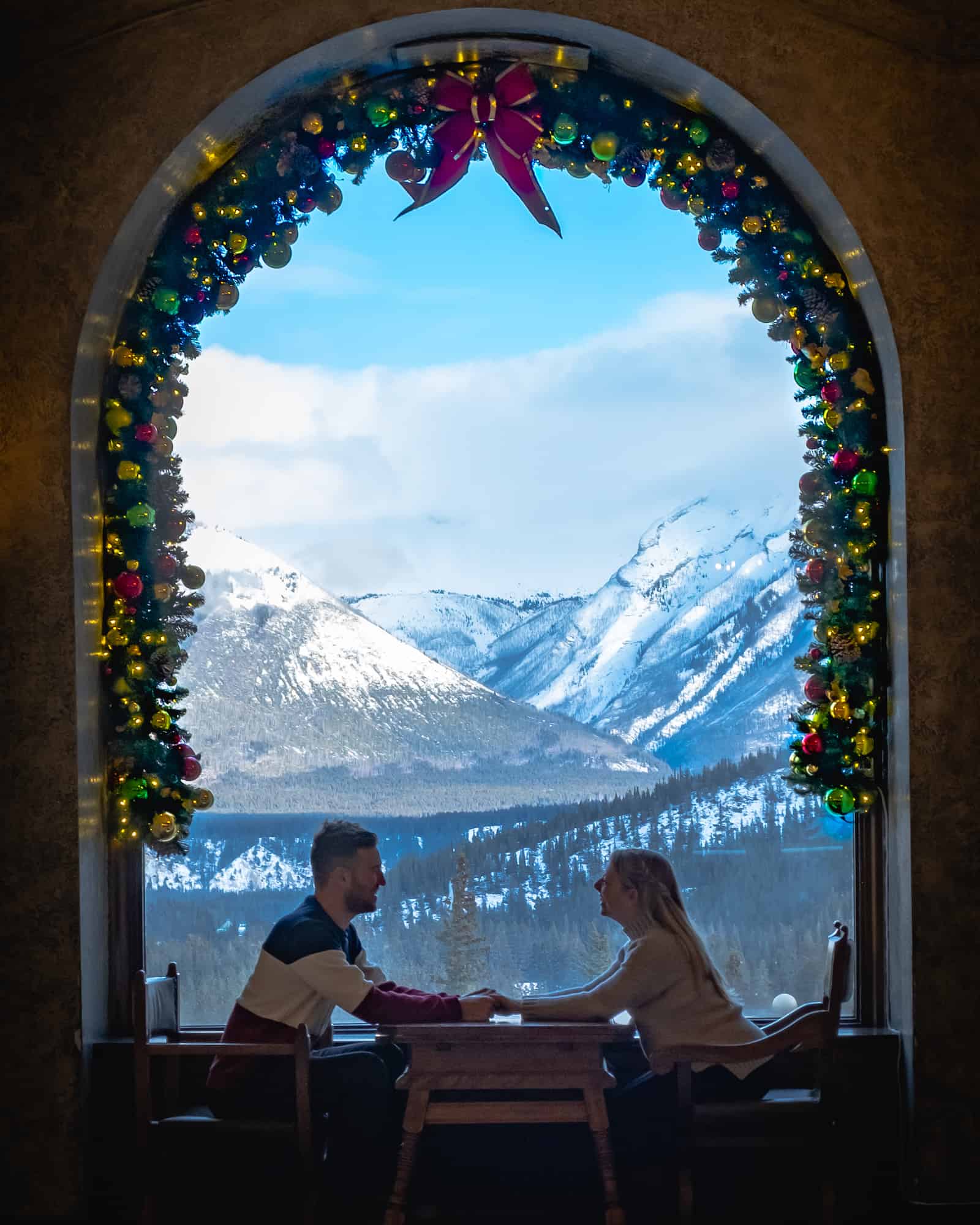 If there's a Banff hotel that screams Christmas, it's the Banff Springs Hotel in Banff, and heading here is one of the best ways to spend Christmas in Banff. This hotel is downright gorgeous and sits perfectly in the park. If you are lucky enough to stay here and enjoy all the amenities here, then I am super jealous.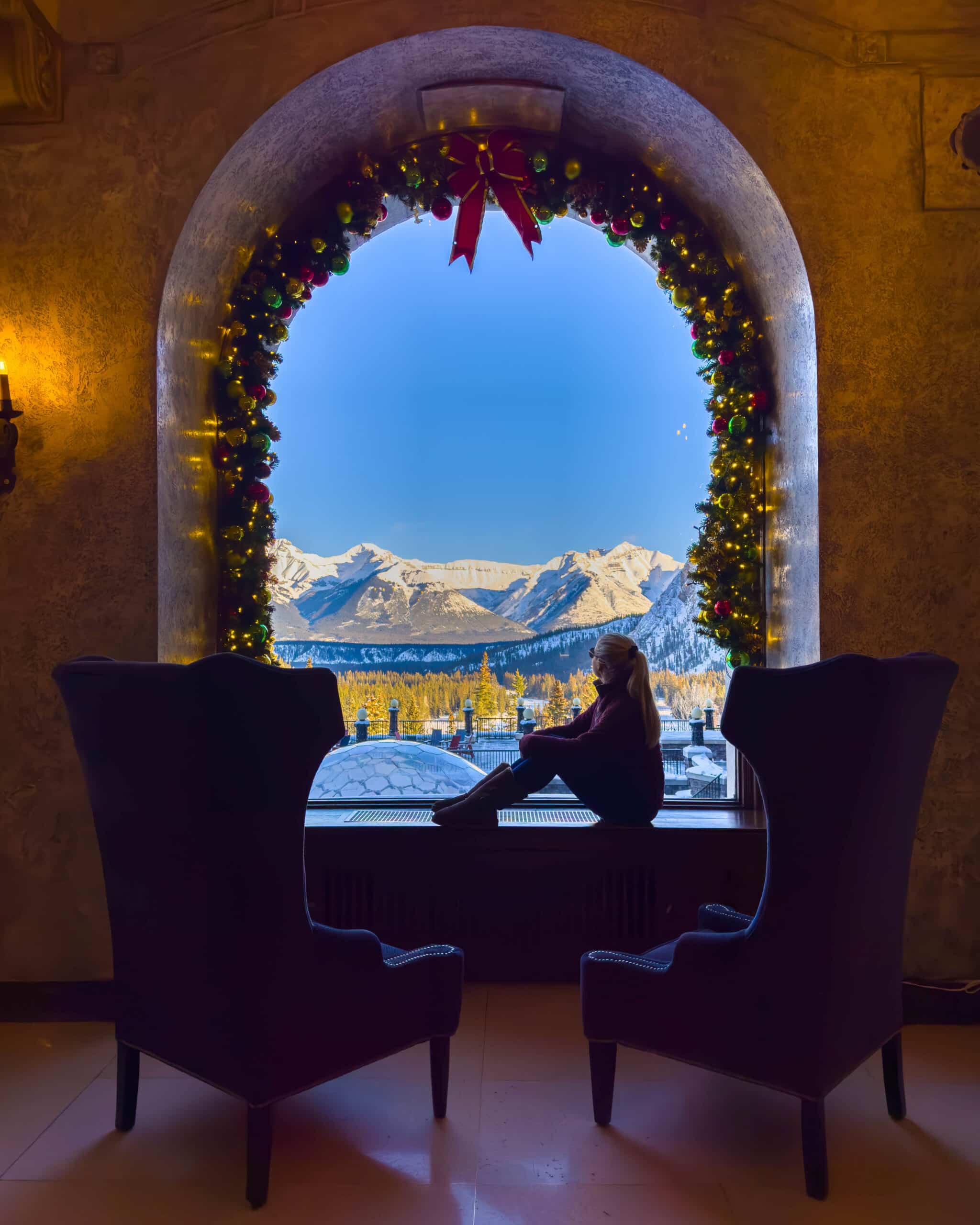 Prior to 2020, even if you were not staying at Banff Springs, you could still freely walk in and see all the beautiful Christmas decorations and festivities here. However, now only guests are permitted to enter most of the hotel premises. So if it's in your budget, we highly recommend booking a stay here for the holidays.
From late November to January, "Christmas at the Castle" takes place here with different events happening the entire season.
Christmas at the Castle Events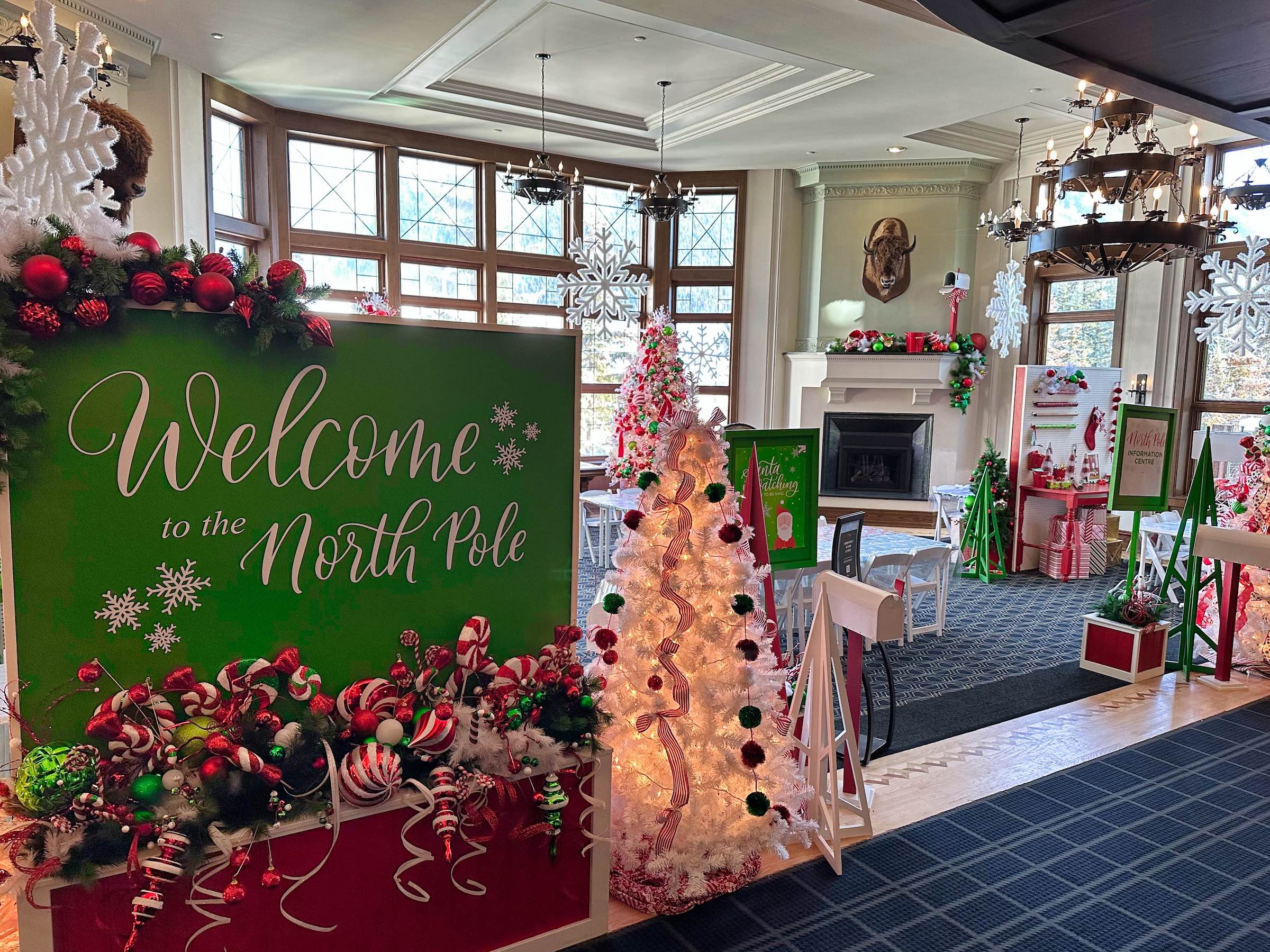 Christmas at the Castle takes place at the Banff Springs Hotel, aka "The Castle." Each year they host a ton of fun holiday events.
Their North Pole is where you can bring the kids to enjoy crafts like building a Gingerbread House. They also have the Christmas Concert Series featuring various Canadian musicians performing on different dates throughout December.
New this year is the fantastic outdoor space with a skating rink, fire pits with s'mores, and even a curling rink. There will be beer and wine served for the adults! Stay up to date with all their events here.
You can book a Christmas at the Castle package that runs between Saturday, December 16, 2023 and Wednesday, January 3, 2024. The package includes luxury accommodation, in-room decorated Christmas Tree, and complimentary self parking.
---
Have a Special Christmas Dinner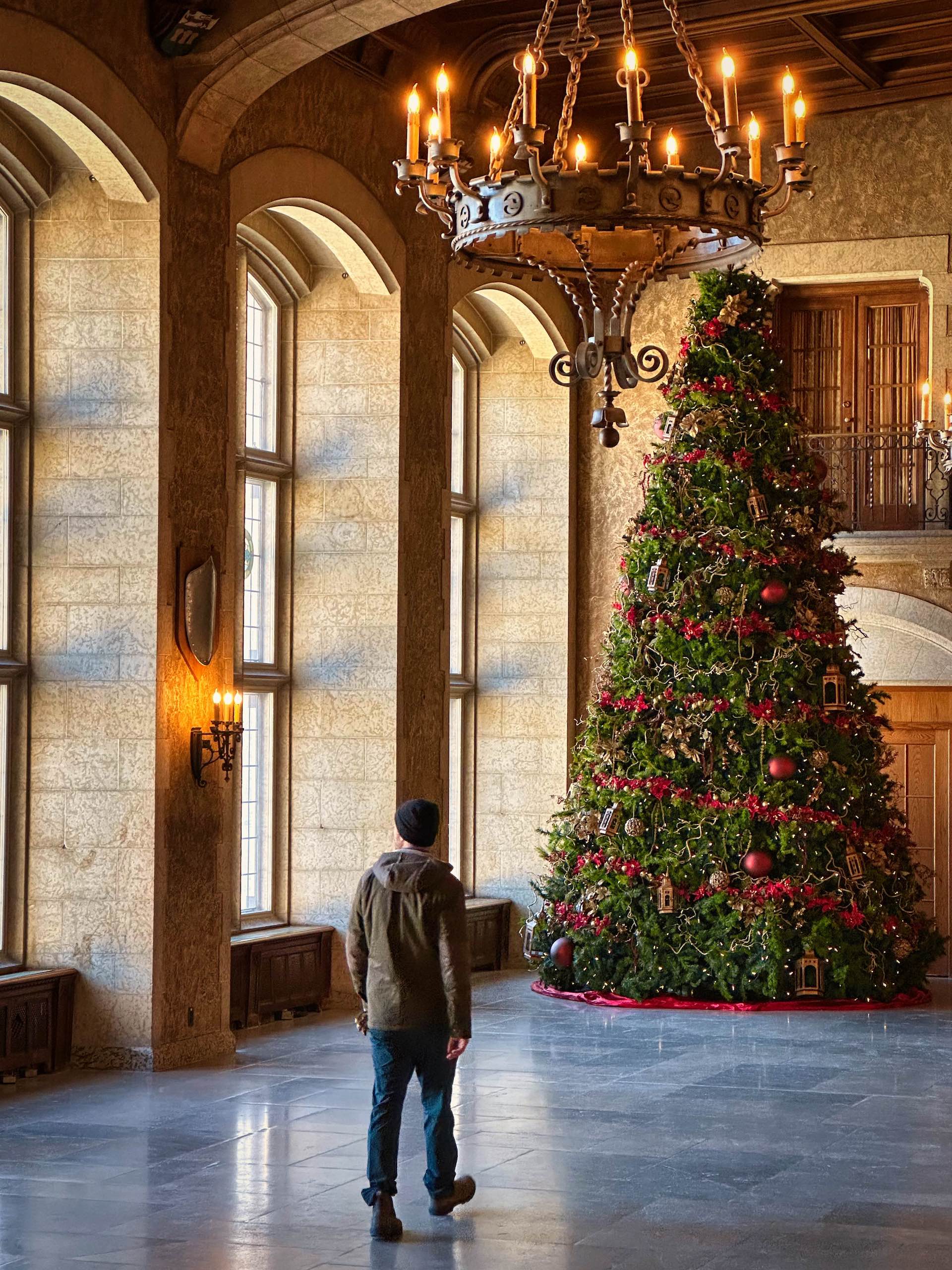 There are plenty of Banff restaurants to enjoy a Christmas dinner, but Banff Springs has some of the most special and memorable. Many experiences and restaurants require reservations, especially on Christmas Eve, Christmas Day, and New Years. See the information below:
360 Dome Festive Dinner: December 15, 2023 – January 1, 2024
The Thirsty Reindeer (Cocktail Immersion): Daily from Dec 22 to Jan 1 from 3:00pm to 11:00pm. No reservations are needed.
Festive Brunch: November 19 & 26. December 3,10,17,24 & 31 from 11:30am – 2:30pm
Festive Afternoon Tea: November 17, 2023 to January 1, 2024 from 11:00am – 3:00pm
Christmas Eve Dinner Buffet: December 24, 2023 from 5:00pm – 9:00pm
Christmas Day Brunch: December 25, 2023 from 10am – 2:30pm
Chrismas Day Dinner: December 25, 2023 from 5:00pm – 9:00pm
---
Banff Christmas Market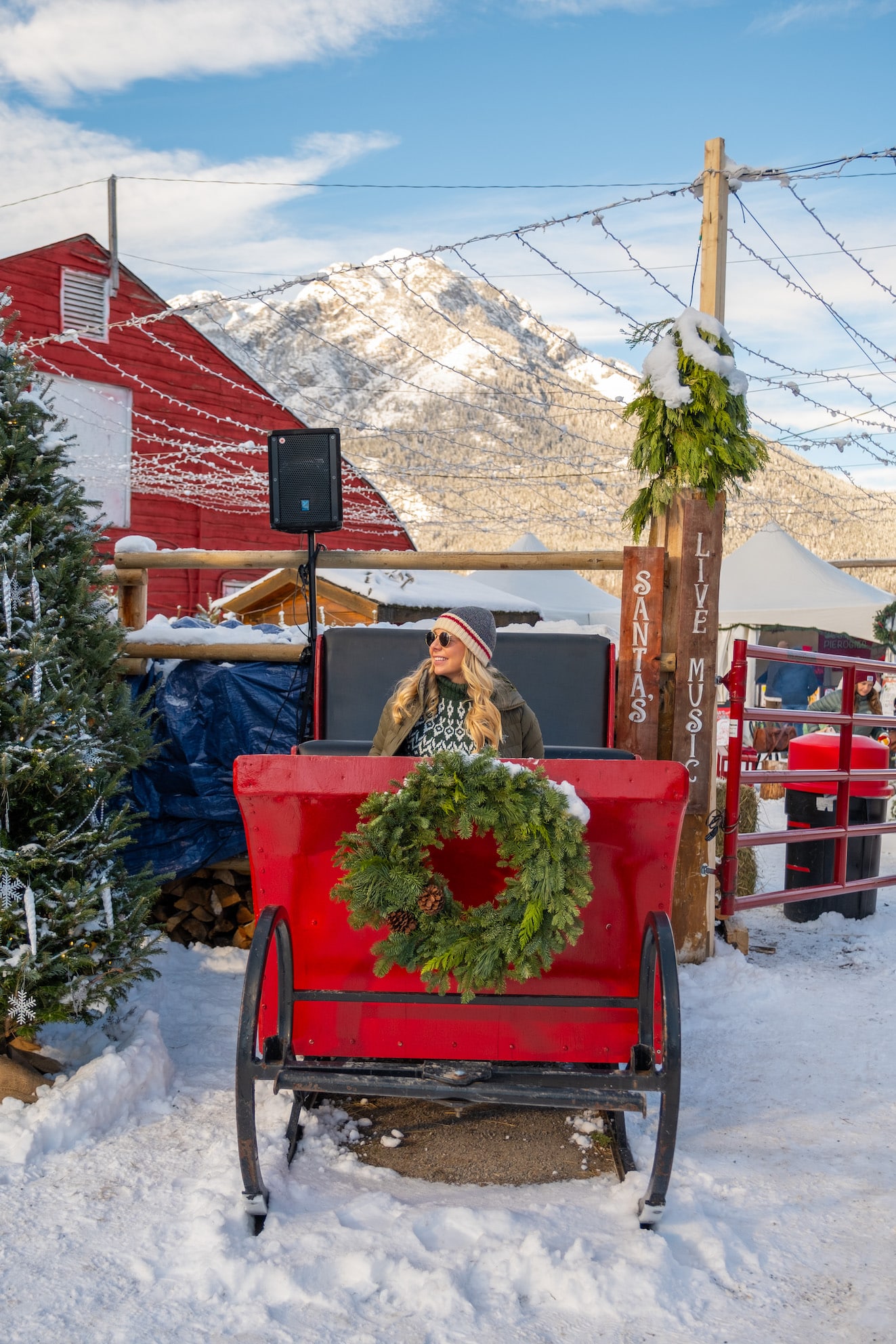 The Banff Christmas Market is a super fun event held the last two weeks of November before the holiday craze really starts. It's located at Warner Stables, the headquarters for Banff Trail Riders. Very close to the center of downtown Banff and is another perfect way to spend Christmas in Banff if you are here in late November.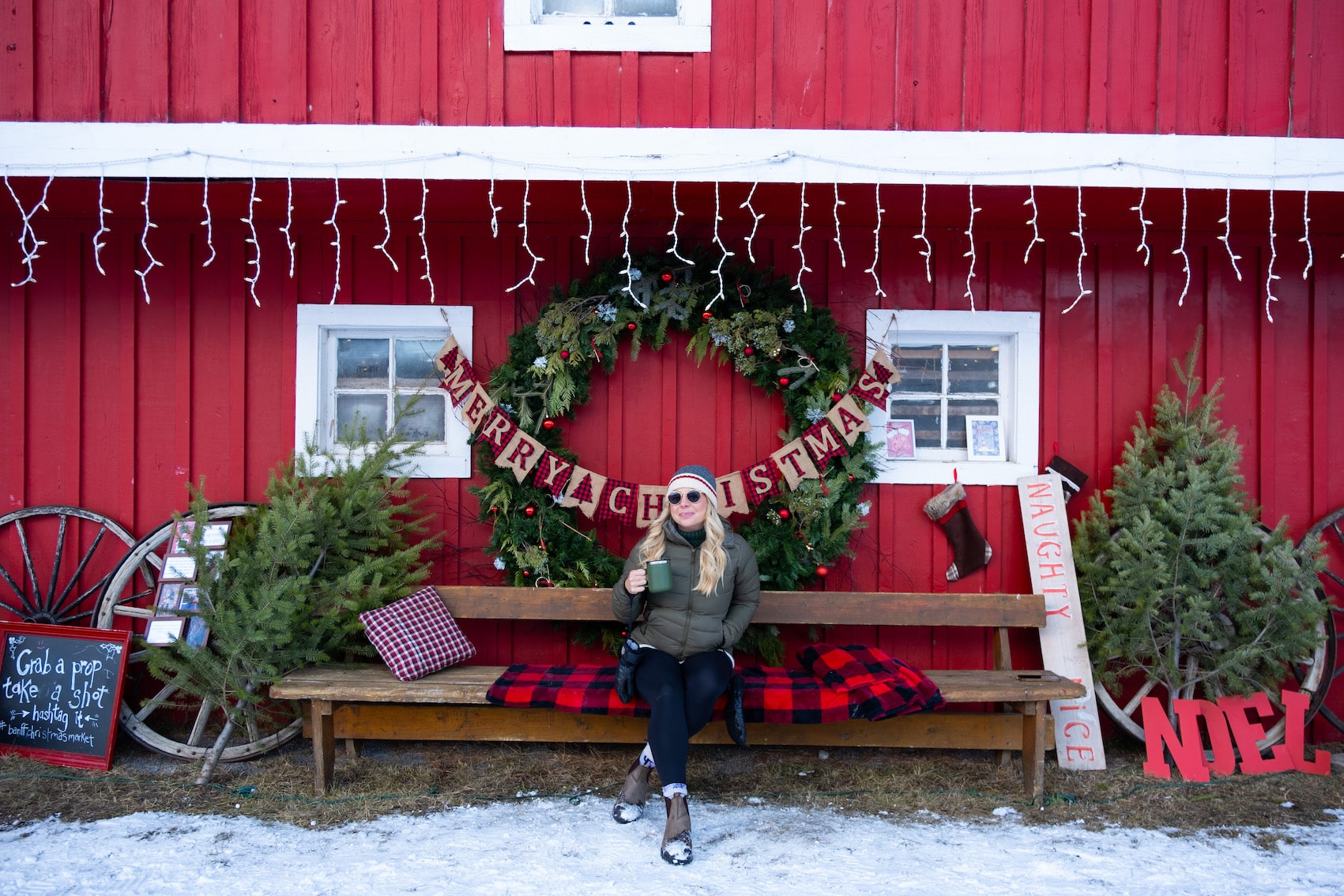 Yes, you read that right. The Banff Christmas Market takes place in late November instead of in December as the town of Banff and the beautiful horses get too busy to hold it in the peak holiday season. Because of the timing, the event has a much more "local" feel. So if you are in town, make sure to stop by!
It's the perfect spot to head with friends and family to be merry. Expect Santa, his reindeer, plenty of horses to take photos with, food vendors, drink vendors, and boutique artisan pop-ups. It's a great way to start getting into the holiday cheer in the early season.
Entry is $15 a person, with events taking place on November 17-19, 24-26, and December 1-3. at 100 Sundance Rd. Tickets must be pre purchased. 
---
Ice Skate the Canadian Way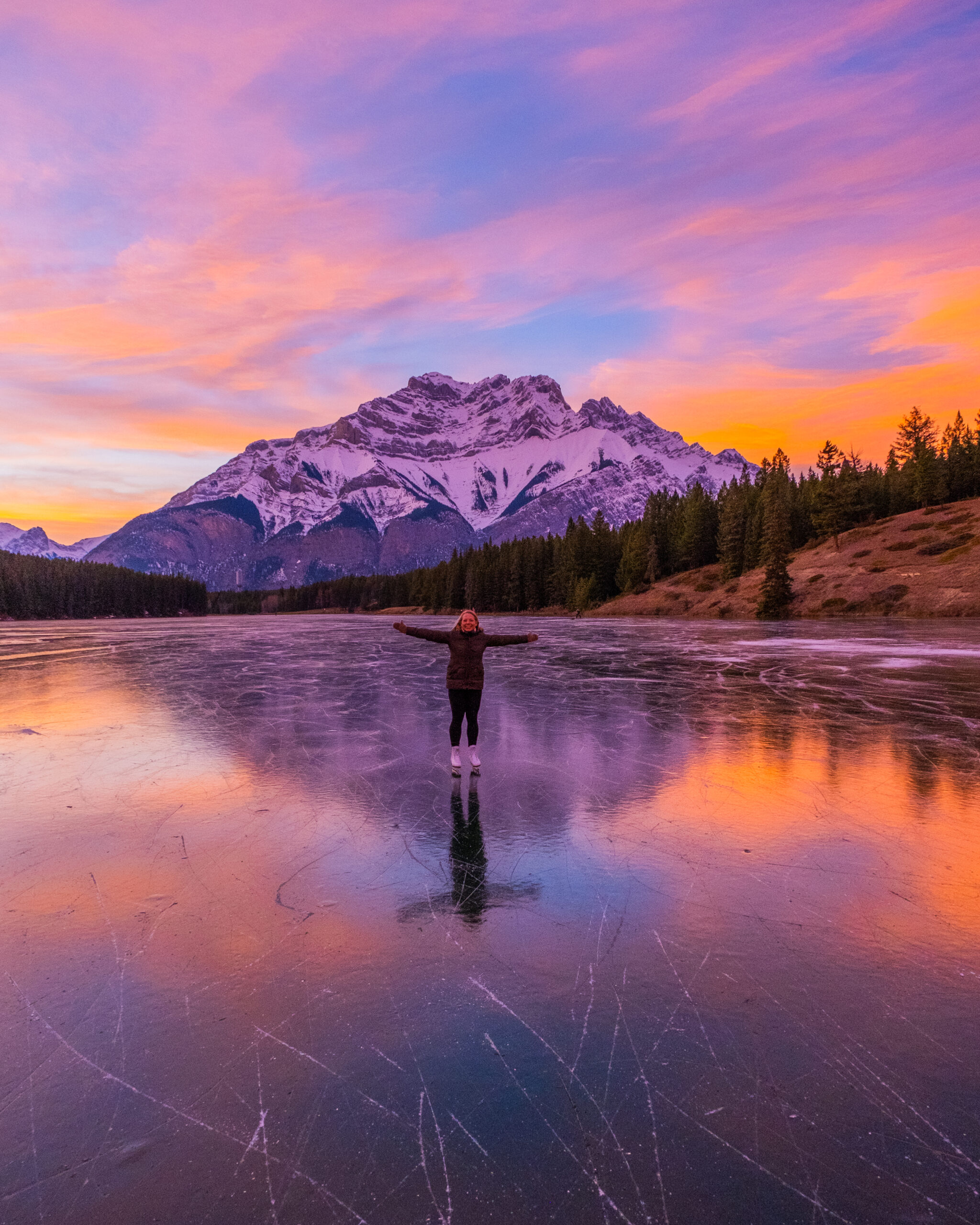 You'll be hard-pressed to find a more scenic ice rink than in the Canadian Rockies. Every year in November, the lakes of Banff start to freeze over for the winter.
If you can catch them after they freeze, but before a significant snowfall comes and covers the ice, grab a pair of ice skates and get out there! Some of our favorite places to ice skate are Lake Minnewanka, Goat Pond, and Johnson Lake.
---
Carols in the Park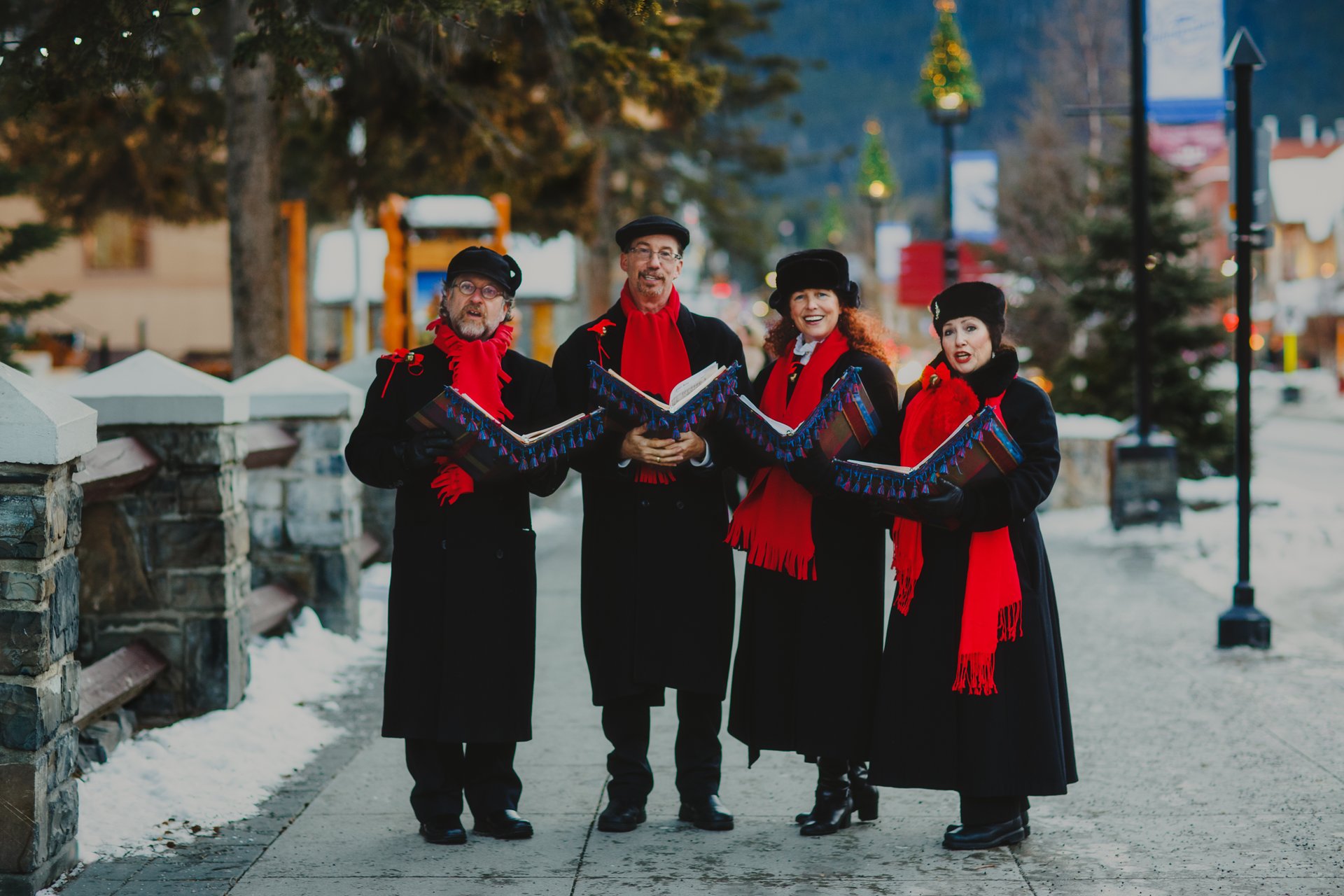 This mountain Canadian Christmas concert in Banff Avenue Square is held multiple times in November and December. It is where you can come with family and be merry while listening to Christmas music. The concerts are all free, but dress warmly as it will be chilly!
---
Christmas Carol at The Castle
The Tale of Scrooge returns at the Castle through puppets, beautiful singing and soundscape, and special performances on Christmas Eve and Christmas Day. Seeing A Christmas Carol in Banff is one of the best things to do for families in Banff.
A Christmas Carol runs from December 7 - 31, 2023 from 7:30 - 9 pm. Prices are $38 for adults and $26 for students and children. Tickets can be purchased here. 
---
Go Dog Sledding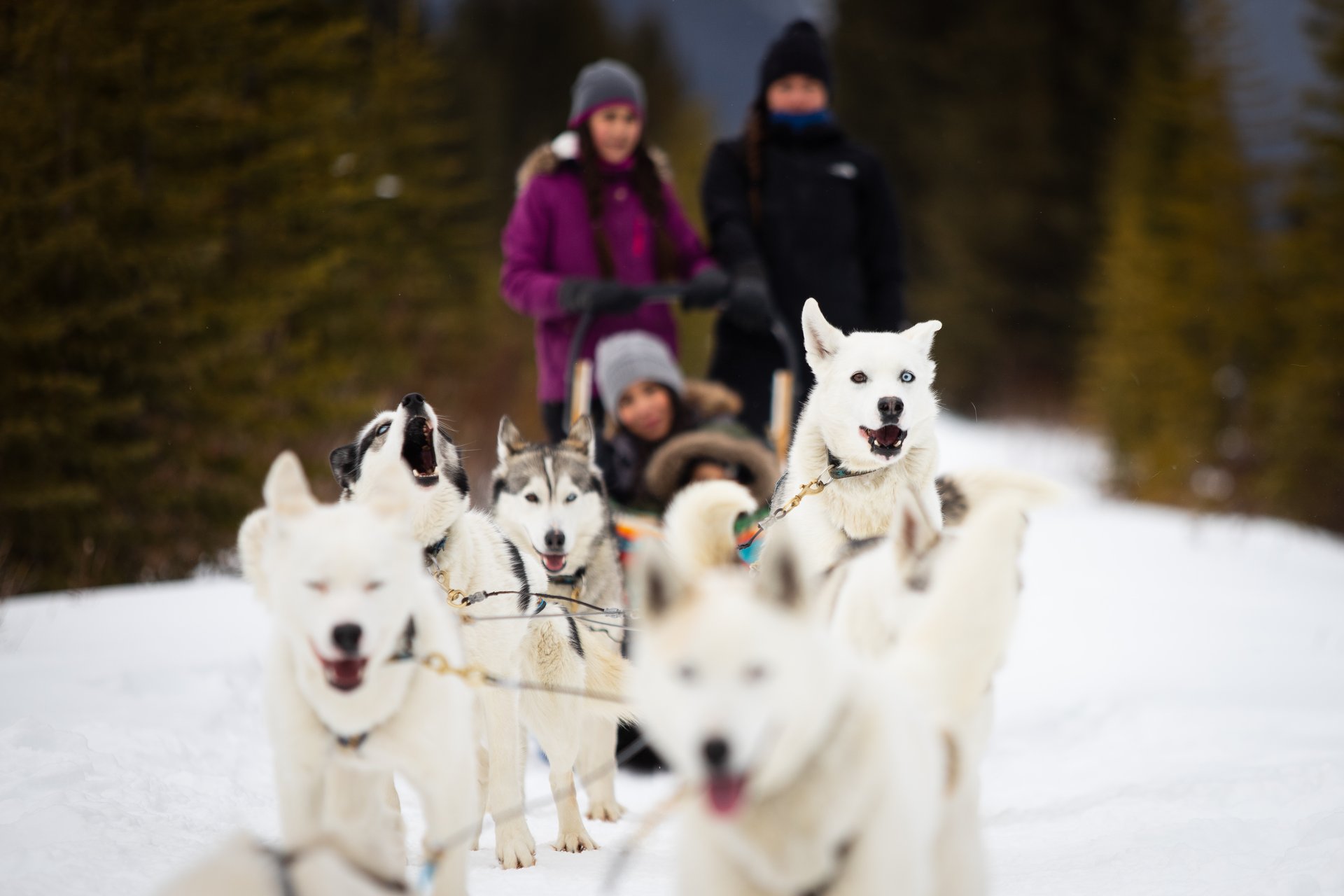 Another great way to spend Christmas in Banff is to go dog sledding! Discover Banff Tours runs dog sledding adventures at Lake Louise and in Canmore.
We've done this four separate times, and it's always a fantastic experience. What I particularly love is how quiet the ride is, with only the sound of the dog teams steps against the snow
---
Snowshoe Around Banff National Park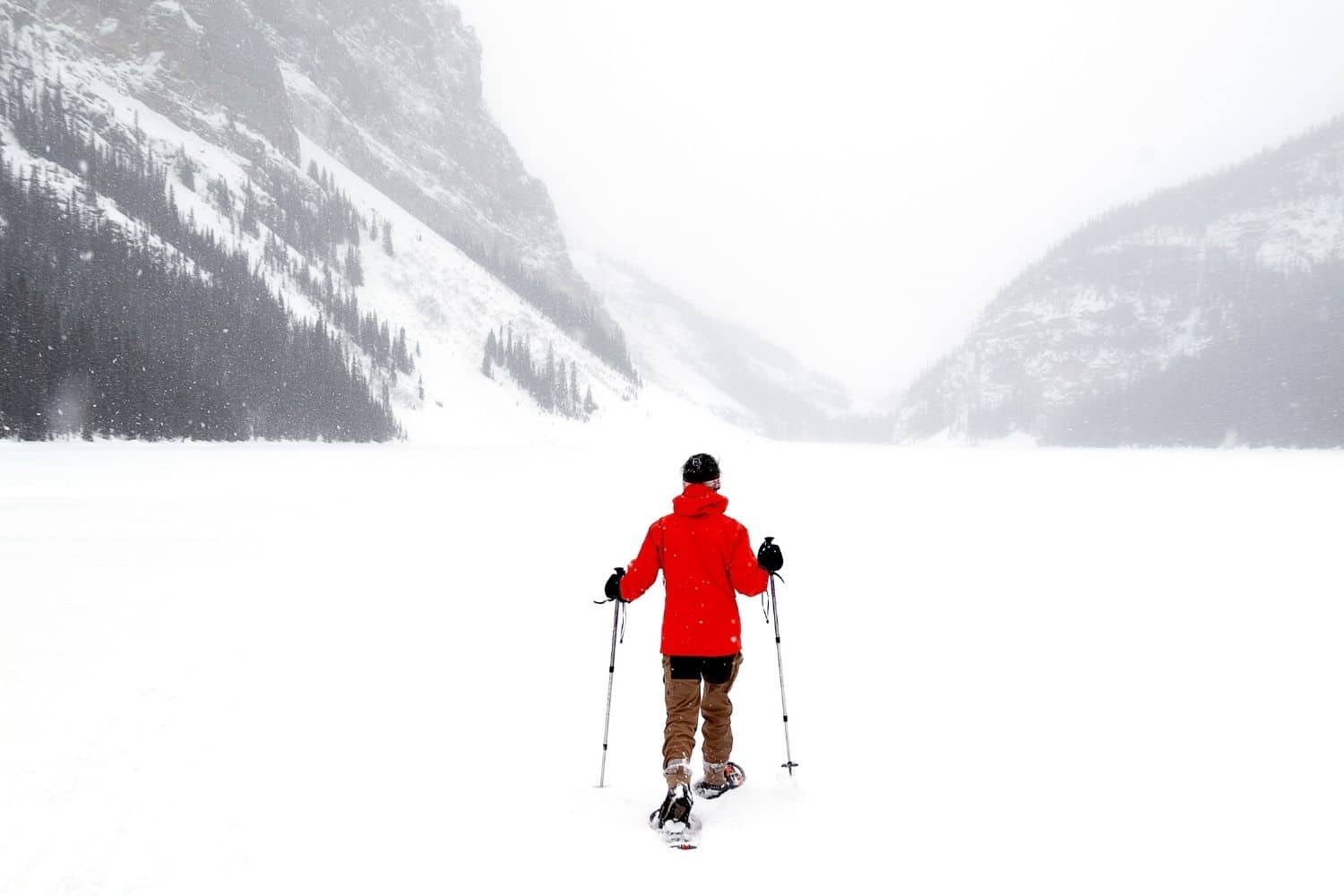 A great thing to do for families visiting Banff around Christmas is snowshoe! Just because there is snow on the ground doesn't mean you can't leave the well-trodden path. You might not be able to walk through the snow on foot, but a quality pair of snow shoes allow you to float across the snow.
They're super easy to get the hang of, and you'll be moving along in no time. Two popular snowshoe hikes are to the Paint Pots or Marble Canyon, but you're free to explore the wilderness on your own if you rent a pair and are confident!
If you decide to venture into avalanche terrain, you must have proper avalanche safety training. Avalanches are a common occurrence in the Rockies, and people die in them every year. You can rent snowshoes at Snowtips Bactrax on Bear Street.
---
See the CP Holiday Train at Morant's Curve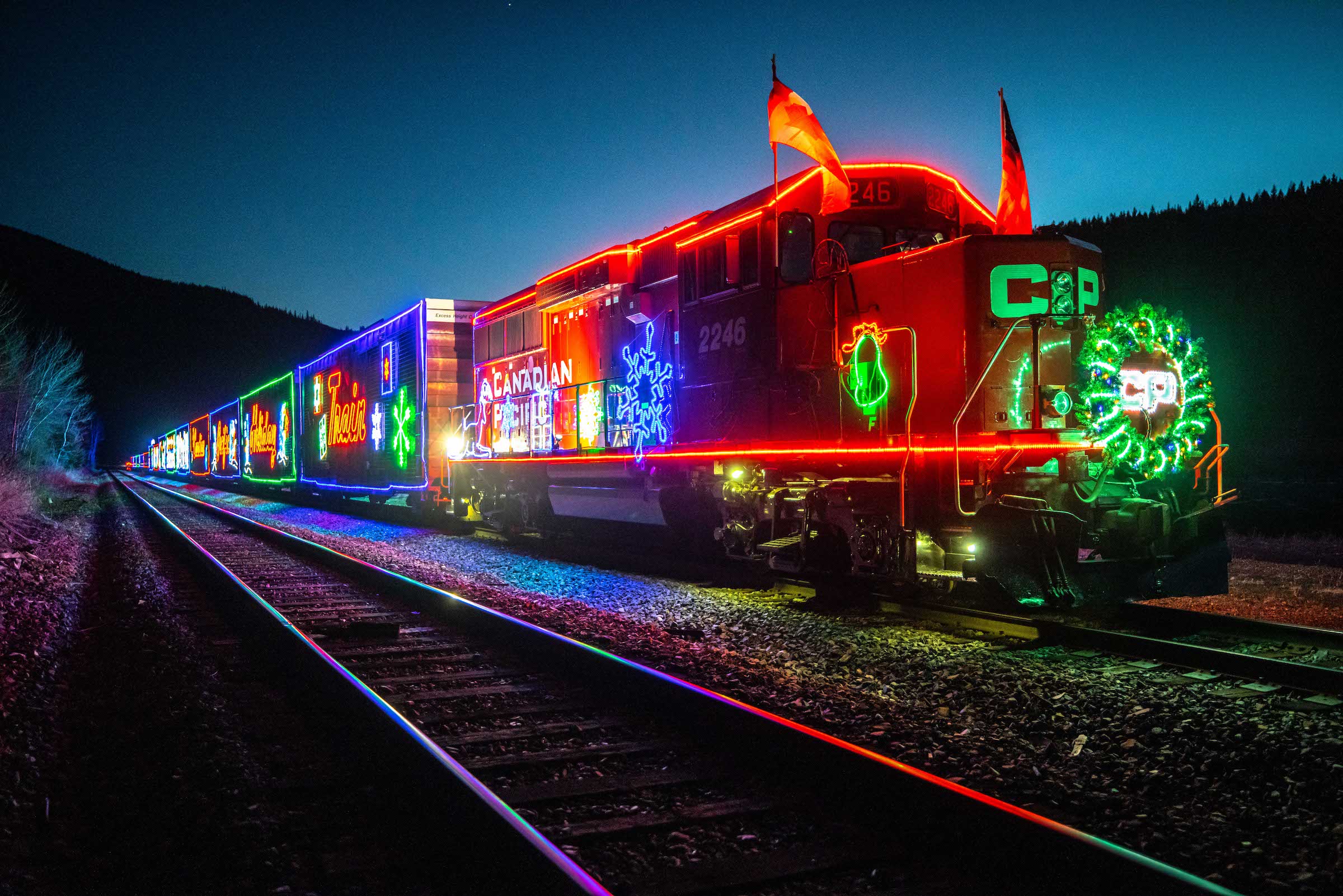 After a few year hiatus, the famous CP Holiday Train is back for its 25th year.
The Canadian Pacific Holiday Train is a whole experience where the train is decorated in Christmas lights and makes its way across Canada. Along the way, there are Holiday Train shows for free, but attendees are asked to bring cash or nonperishable food donations for local food banks and shelters.
Live music is essential to the CP Holiday Train experience. Last year's performers included Alan Doyle, Tenille Townes, Mackenzie Porter and Lindsay Ell with a show in both Banff and Canmore. Details about this year's artists and which performers will play which shows are available here.
You can also see the Holiday Train tracker to see when the train will be near you. If you can time it right, I recommend trying to catch the train as it passes Morant's Curve. There is no concert here, but it's a stunning sight to see.
Unfortunately, the CP Holiday Train will not pass through Banff this year. If you want to see it it's best to head to Calgary on December 9 as the train arrives at 5:45 pm. You can still head to Morant's Curve and see plenty of red Canadian Pacific trains pass through the famous bend.
---
Fat Tire Bike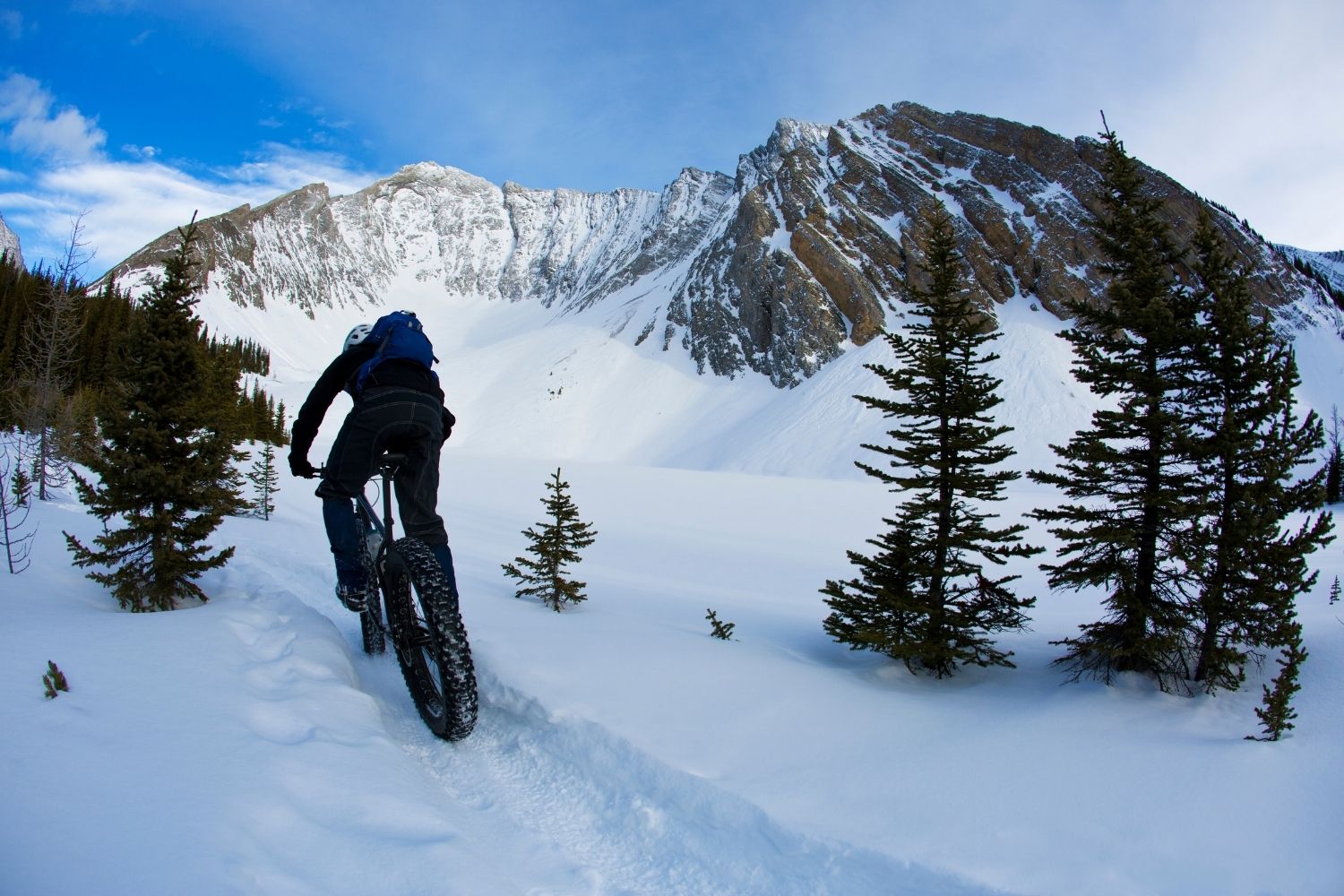 Fatbiking is a fun activity to enjoy in Banff in the winter. You can rent fat bikes at Snowtips Bactrax and hit the trails.
The best fat bike trails are the Goat Creek Trail, the Lake Minnewanka Cascade Trail, and cycle the Moraine Lake Access Rd (this road ends at a viewpoint overlooking Moraine Lake, any further is avalanche terrain).
---
Catch the Northern Lights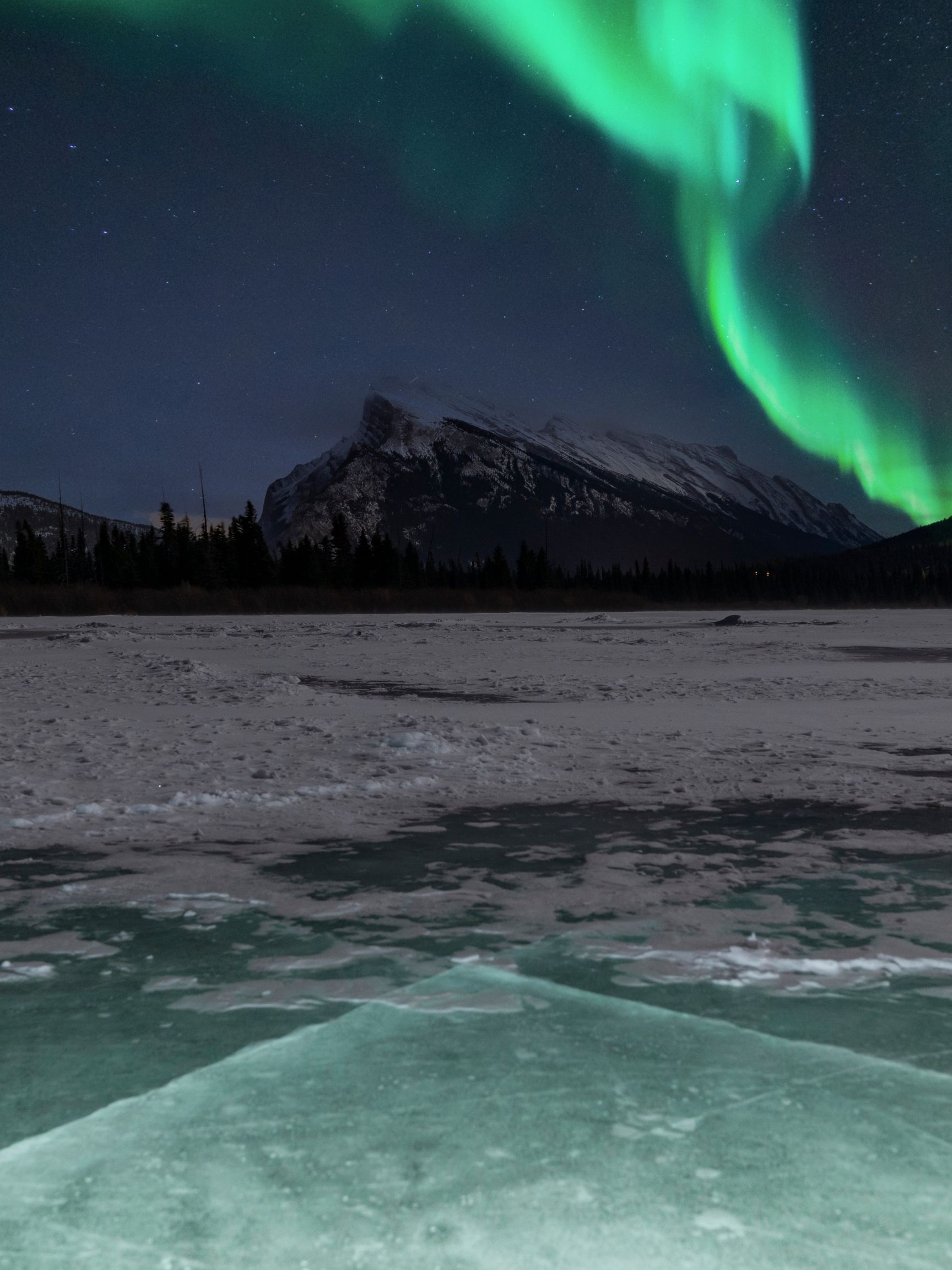 Thanks to the short days, December is one of the best times to catch the northern lights. With the sun setting at 4:30pm, there is plenty of nighttime to see the aurora.
The northern lights aren't on display every night in Banff in the winter. You'll have to be pretty lucky to catch them. Look for a clear night with the Kp index is high. See all our tips for capturing the Northern Lights in Banff here.
---
Hike Tunnel Mountain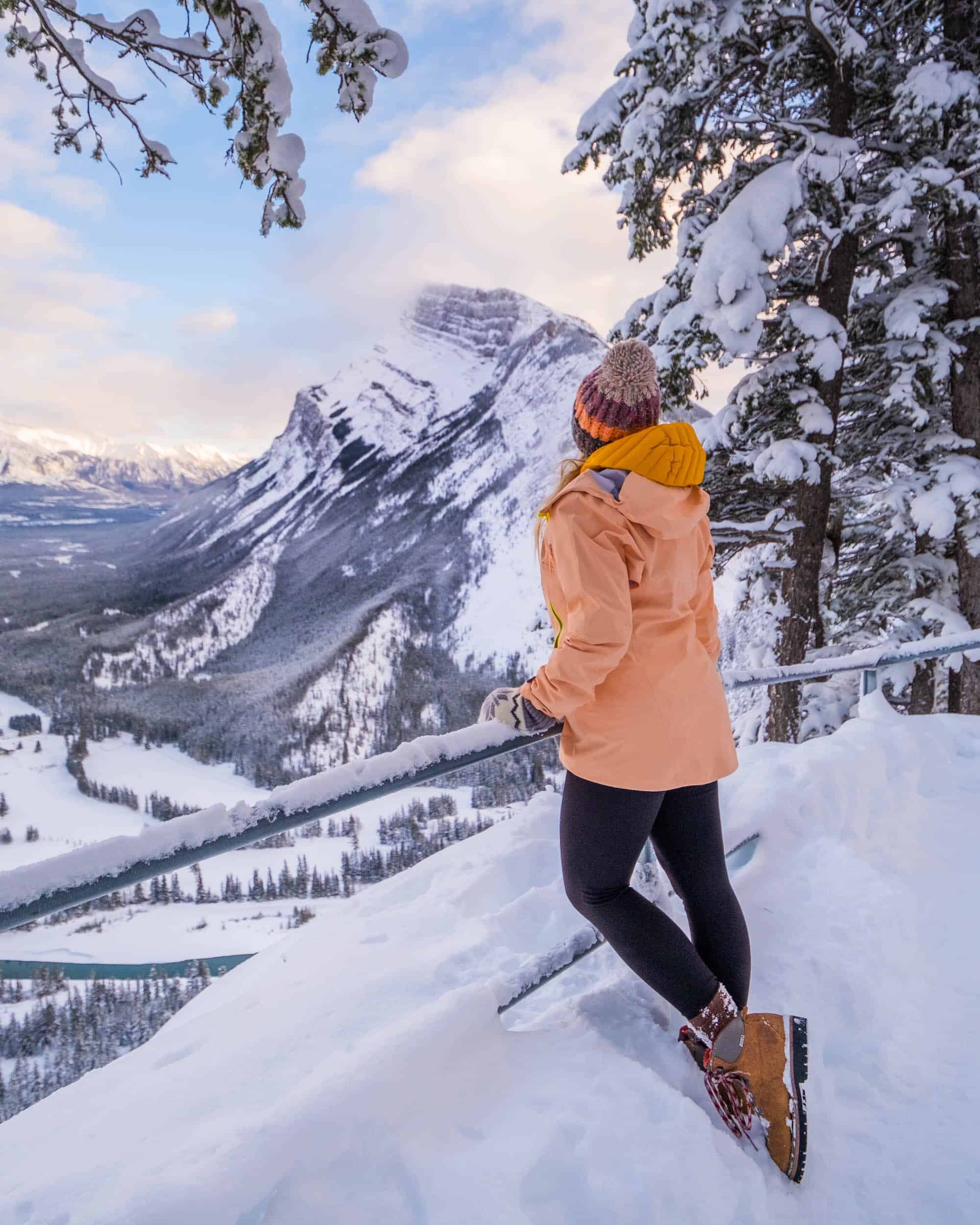 I recommend Tunnel Mountain on every Banff itinerary. Tunnel Mountain is right in the heart of Banff and a fun family-friendly hike in Banff. It's beloved by locals for its accessibility, and you can hike it year-round. It may be one of the smallest mountains in Banff National Park, but it still offers tremendous views of the surrounding valleys and Mount Rundle.
The hike moves slowly up the mountain through several switchbacks and offers various viewpoints into the Bow and Spray Valleys. It's great for sunrise or sunset, and it rarely disappoints. The best part is it's only 4.5 km round trip and shouldn't take more than one hour up. It's one of the most leisurely winter hikes you can do with only 266 meters of elevation gain.
We did this last Christmas Eve before the festivities began, and it was a great short hike to get in before we gained a bunch of Christmas weight. The whole family was able to join as it's a pretty tame hike! You can read more about the Tunnel Mountain hike here.
---
Head to Canmore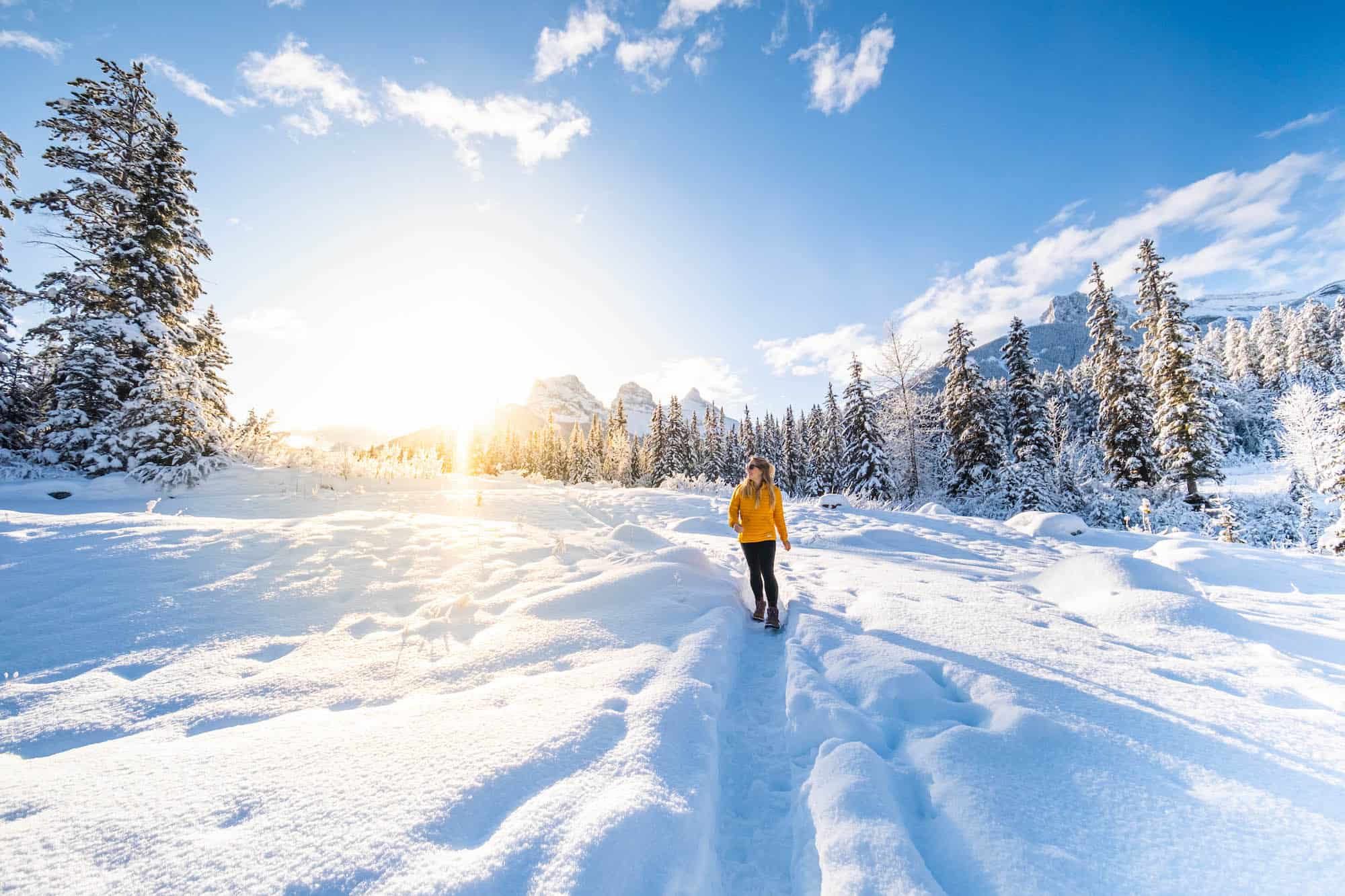 Okay, this isn't really a thing to do in Banff, as it's a 15-minute drive away. We may be biased to our home base, but we think Canmore is the bee's knees. Canmore is another mountain town just outside of Banff National Park. It's not nearly as touristy or popular as Banff, meaning it's much more enjoyable.
You can walk down the main street here without fighting through crowds, and there are plenty of great restaurants, bars, and shops to venture into.
The views are just as impressive as well, and Christmas in Canmore here is still on point. Make sure to check out The Three Sisters and enjoy the Canmore town pond around the holidays – two of the best things to do in Canmore in the winter!
The 2023 Canmore Christmas Artisans Market runs from November 18 & 19, 2023 (10am to 4pm) at the Canmore Recreation Centre (1900 8th Avenue, Canmore). Admission is $5 and all proceeds going to the Canmore Preschool Society

---
Canmore Festival of Trees
During the first week of December, the local Canmore businesses and community organizations come together to compete for the top spot in Christmas tree decor. During this time, you'll find beautifully decorated trees that line the hall of the Malcolm Hotel. From December 2nd to December 31st, anyone can enter The Malcolm and admire the decor, with a hot cup of coffee from Pulse Coffee (inside The Malcolm) in hand.
The Festival of Trees serves as the Rotary Club of Canmore's primary fundraiser, with last year's event raising nearly $100,000!
---
Browse the Storefronts Around Banff Ave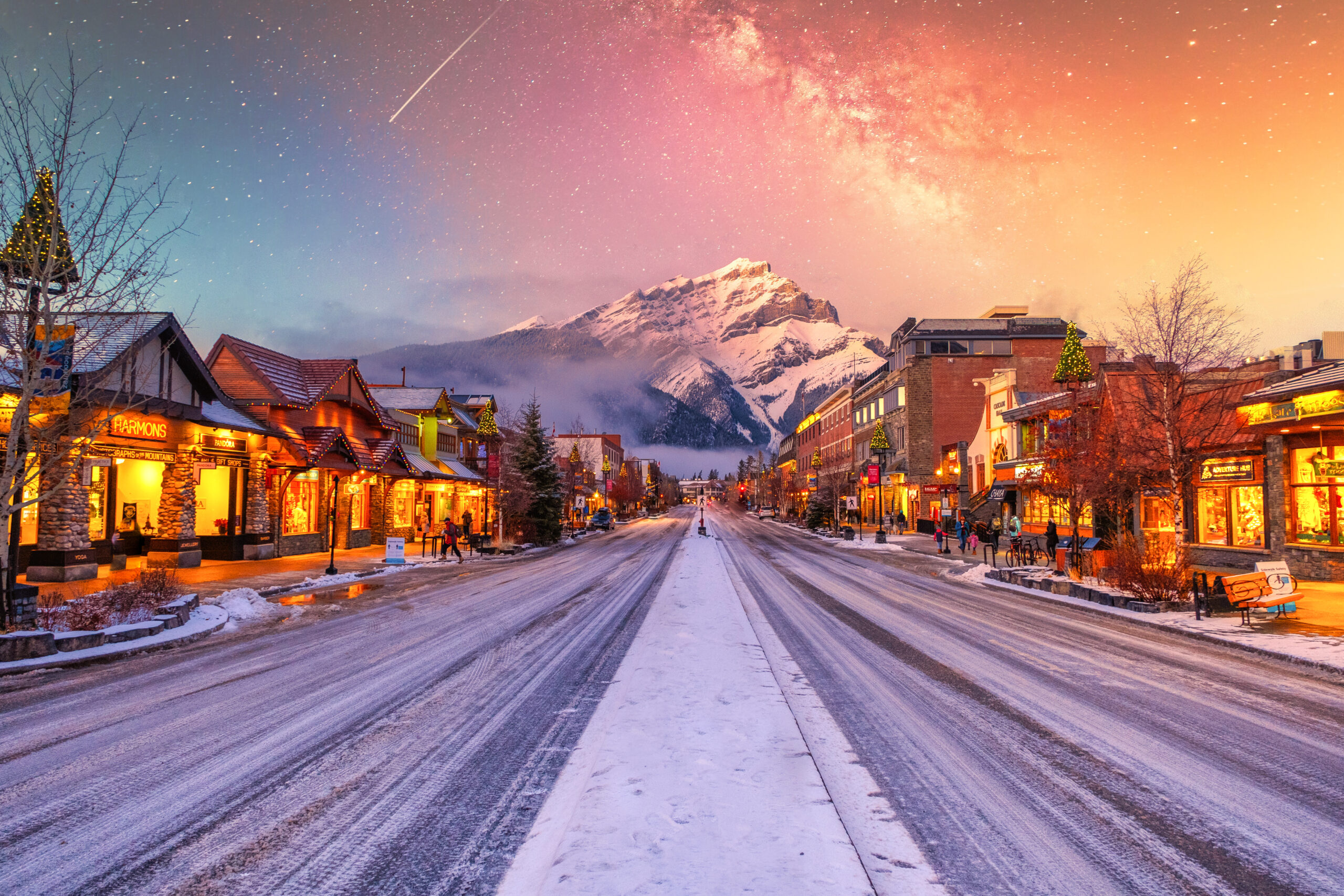 Late November marks the beginning of Christmas time in Downtown Banff. From now until Christmas, Banff Ave is lined with cheer, and it's full-on shopping time.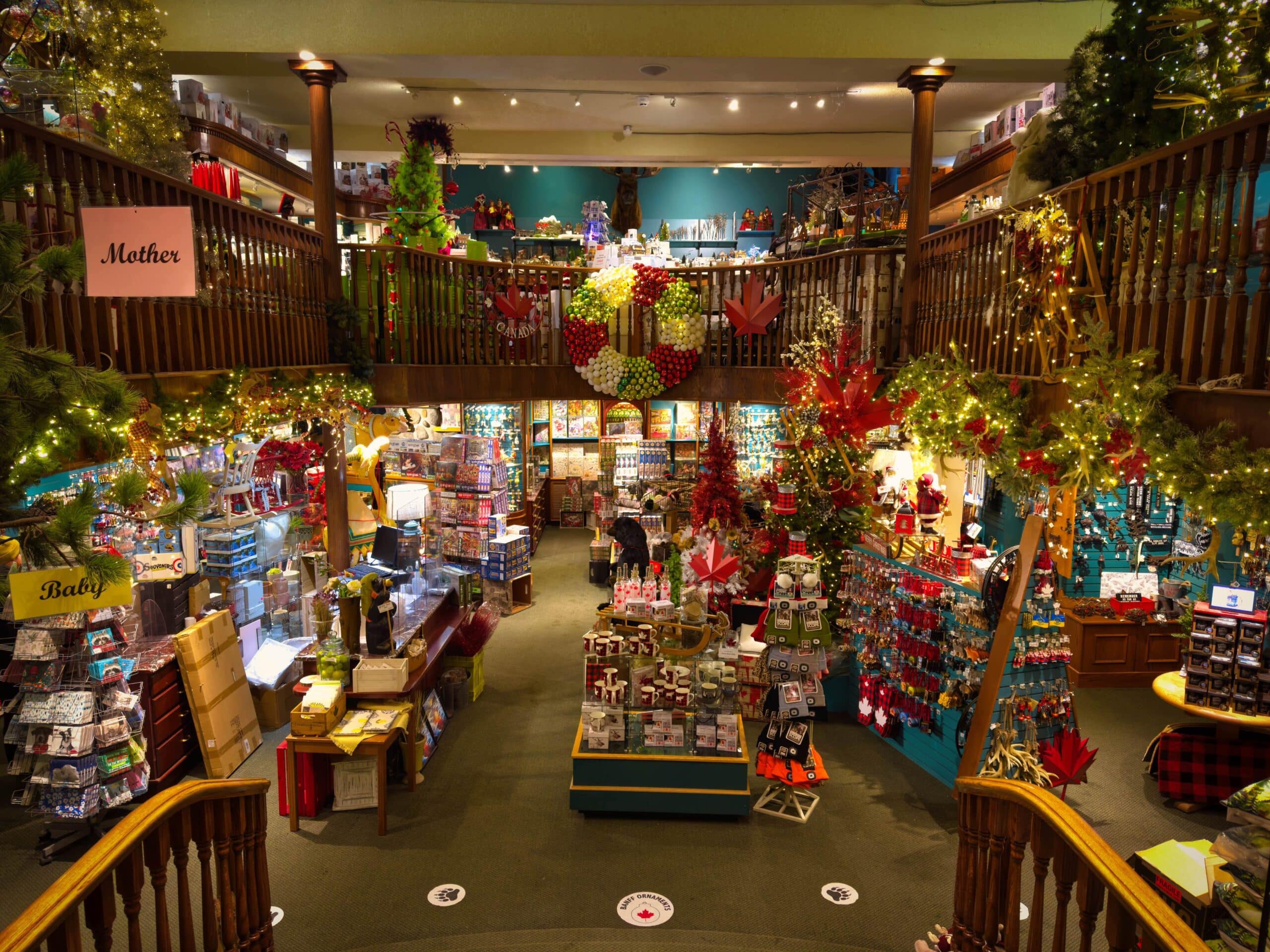 I love cruising in and out of the stores even if I'm not buying anything. There is a special feeling in the air in the mountains around Christmas that nothing can replace. Make sure to check out The Spirit of Christmas store for all things Banff Christmas!
---
Banff Hot Chocolate Trail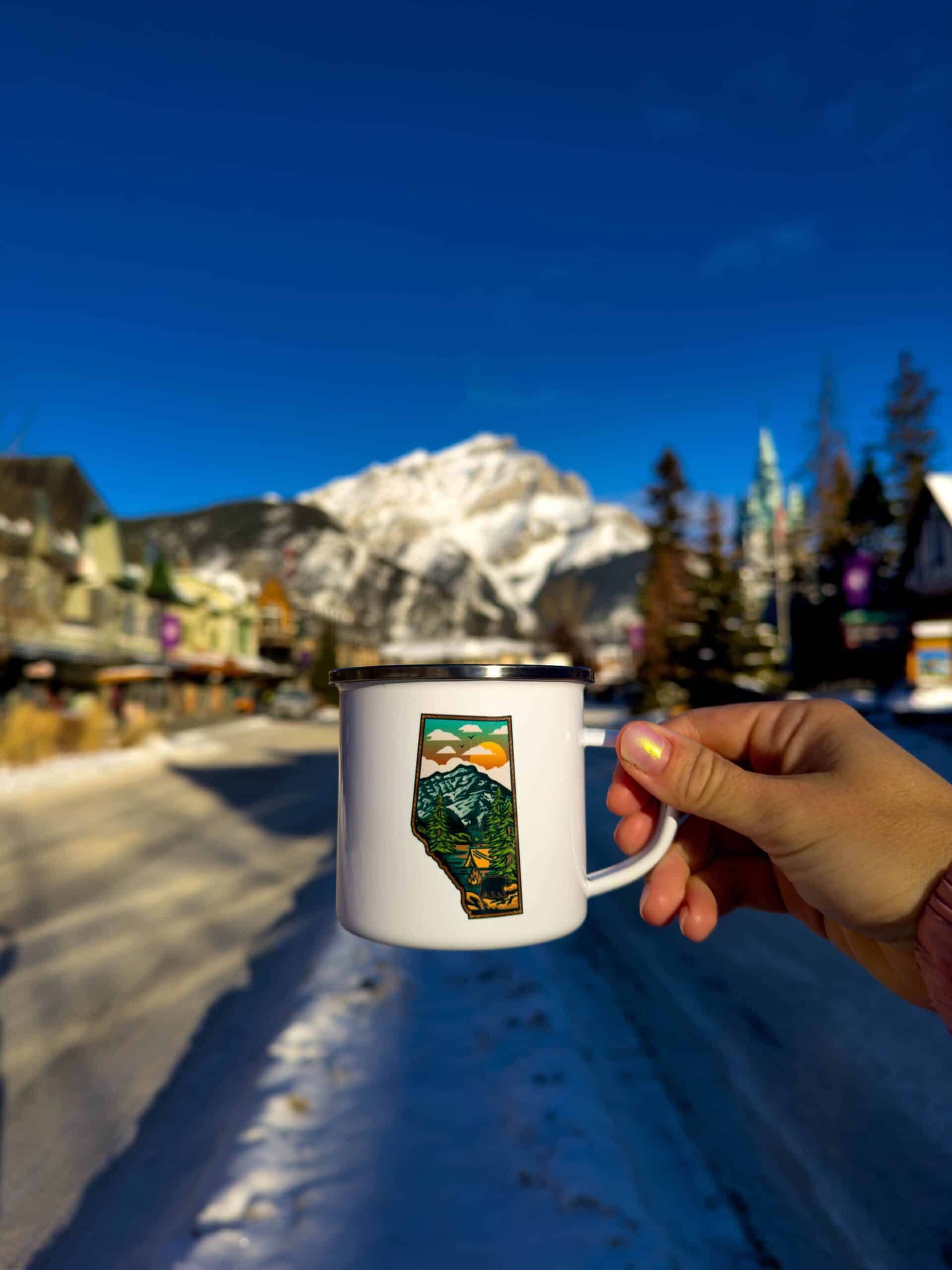 Around Christmas time (Nov 17 – Dec 31, 2023), all the best cafes in Banff come together to create the "Hot Chocolate Trail." Cafes like Whitebark, Wild Flour, Stock, Park Disterilly, Good Earth, and many more all make their own signature hot chocolates to try – yes some of them are alcoholic drinks for the adults too! Try the Boozy Hot Chocolate at the Balkan Restaurant, Chimney Corner, or Bear Street Tavern!
---
Kananaskis Nordic Spa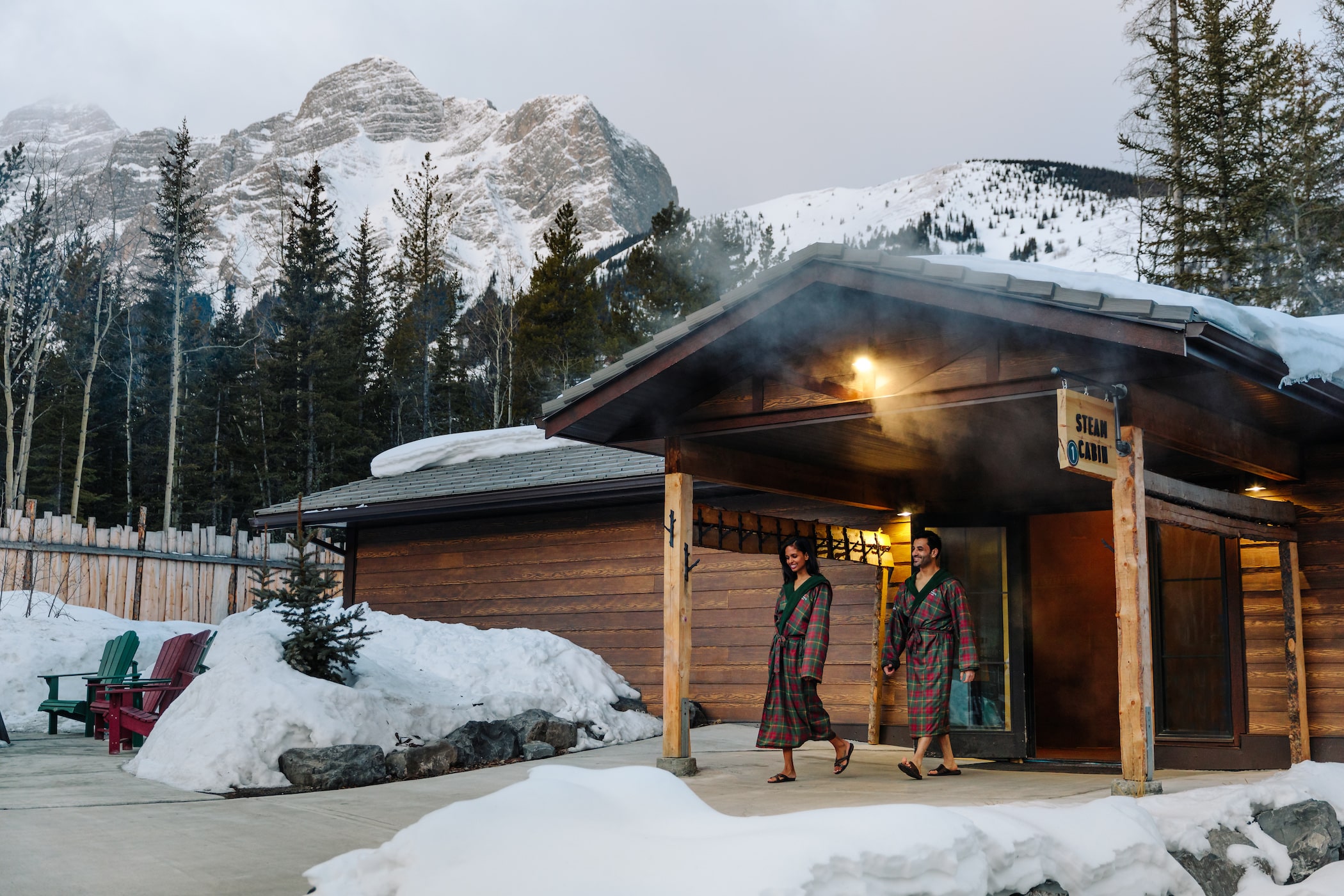 The Kananaskis Nordic Spa is in the Kananaskis Mountain Lodge in Kananaskis Country. It's right at the base of Nakiska Ski Resort, so if you plan on doing any family-friendly skiing at Nakiska, consider booking a stay here.
The Kananaskis Mountain Lodge is a beautiful place to stay in the Rockies, and their new Nordic Spa has a complete relaxation package. You could spend a whole day here with your spouse or friends, enjoying the steam rooms and saunas. If you're having a romantic holiday in the Rockies, you'll love this spot!
---
Nordic Ski/Cross Country Ski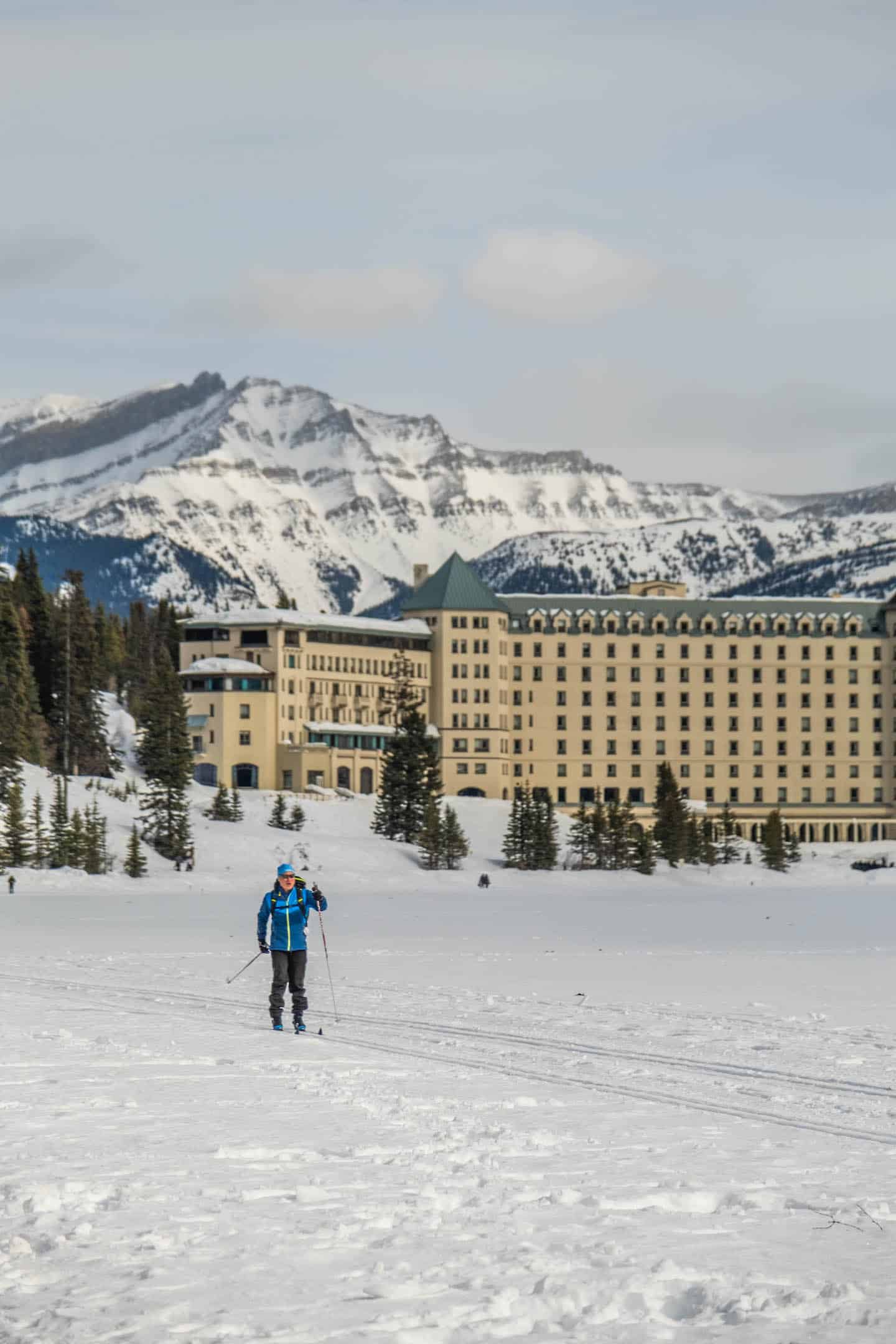 Nordic skiing is a low-impact sport that gets your heart racing and allows you to slide across the snow. It's trendy in Banff, and locals love to enjoy the sport in the winter. One thing you can't argue against is the pristine wilderness beauty nordic skiers will find themselves in, especially in Banff.
Cross country skiing is a serious hobby here, and plenty of people get out there and stretch their legs. The Nordic Center near Canmore is a popular place to go cross country skiing and great for visitors who wish to try the sport.
10 Best Banff Cross Country Skiing Trails
---
Take a Banff Wildlife Tour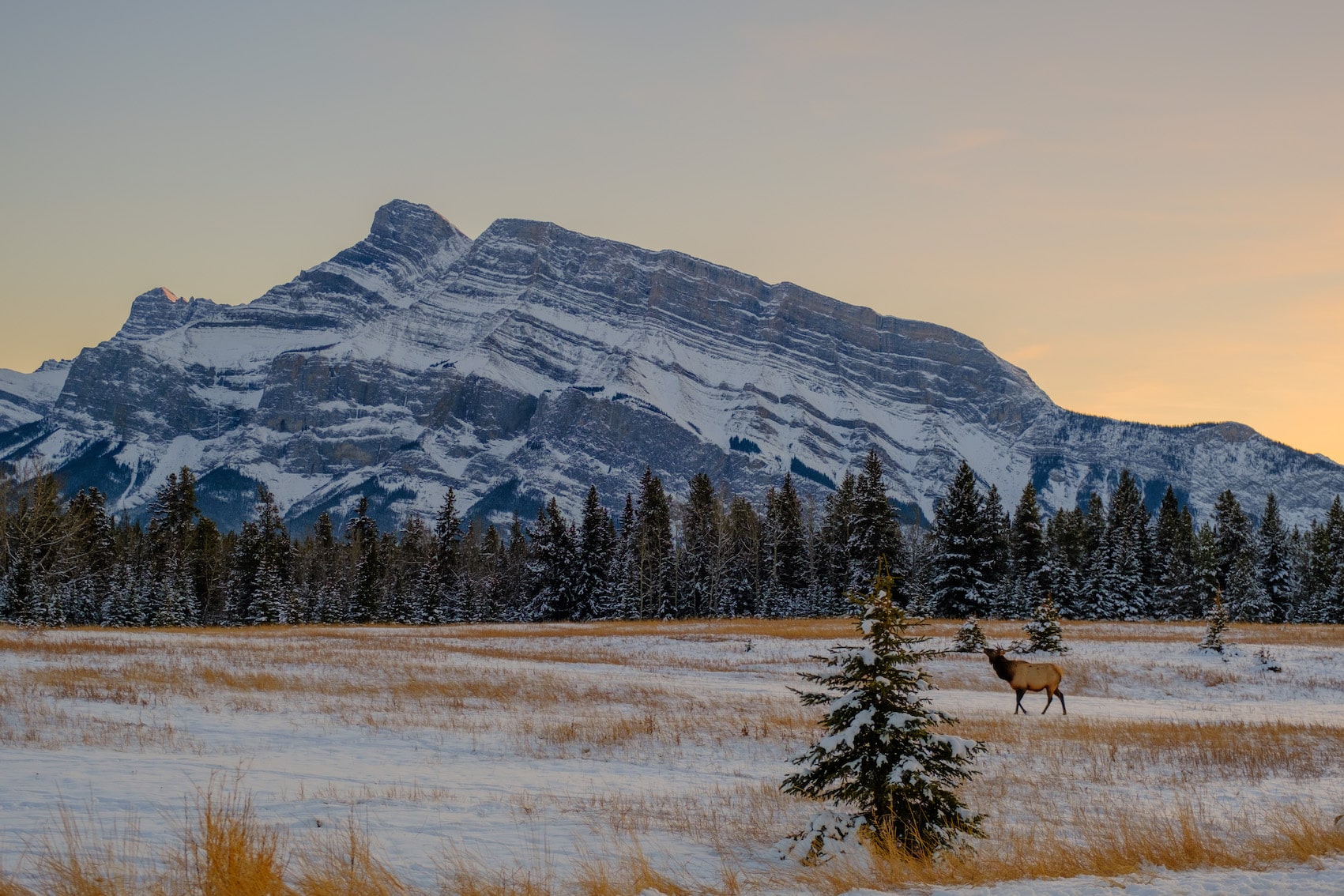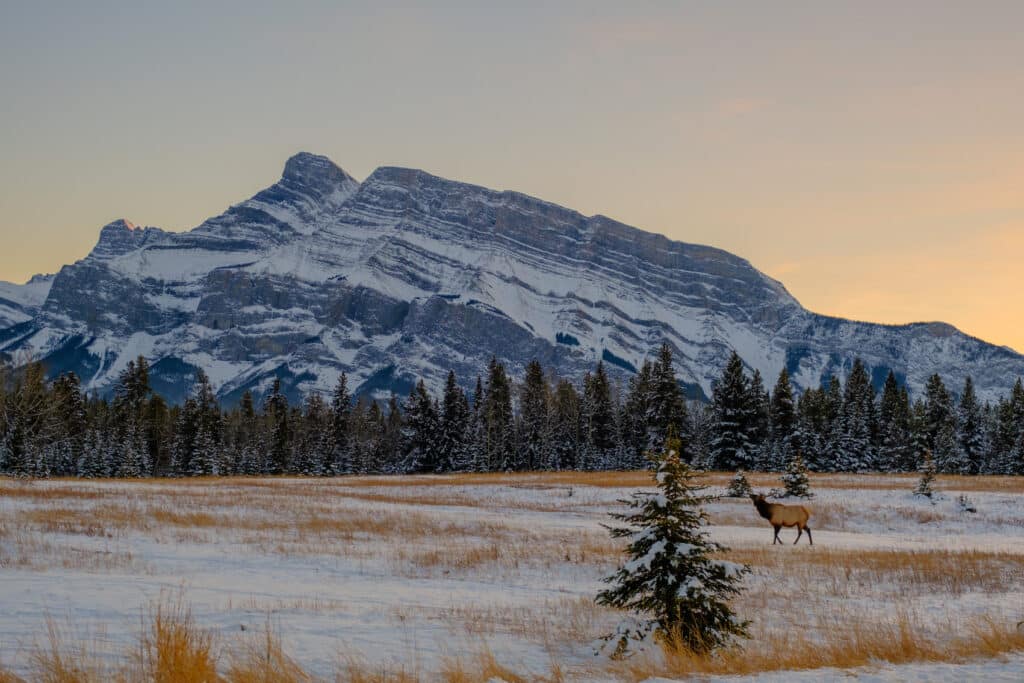 You won't find many bears in Banff in the winter, but there is still plenty of wildlife to be seen! Elk, sheep, owls, coyotes, and lynx are just a few of the animals we've spotted around the area.
Of course, you could keep an eye out for the wildlife yourself, but if you want a better chance at seeing the Rockies wildlife, it's best to book a tour.
---
Visit the Yamnuska Wolfdog Sanctuary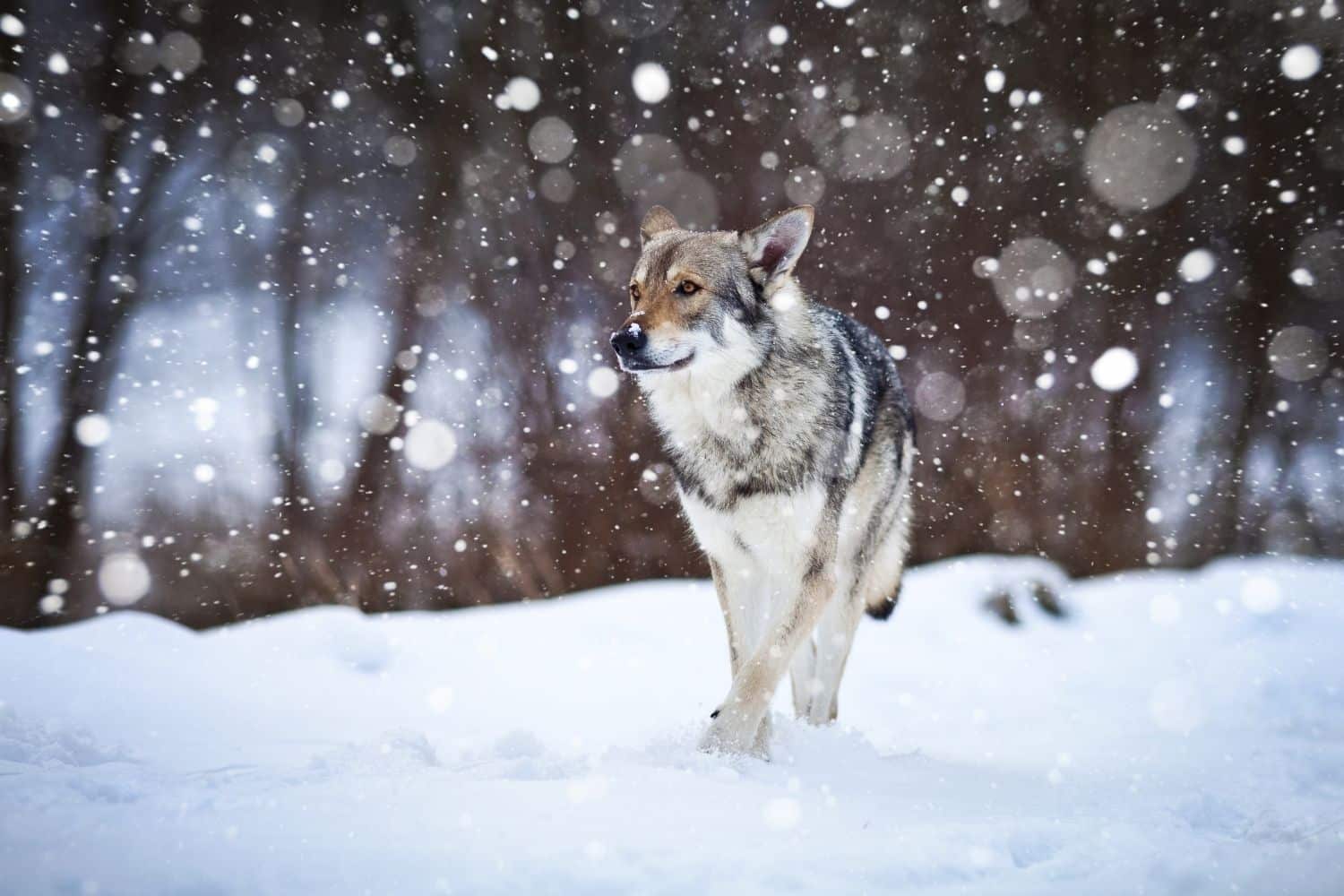 The Yamnuska Wolfdog Sanctuary, home to more than 35 wonderous wolfdogs, is located in Cochrane, at the foothills of the Canadian Rocky Mountains, and is just a quick drive from Banff National Park.
This sanctuary allows you to learn about and observe wolfdogs and even interact with them by sharing treats and pats. They provide a safe haven for displaced wolfdogs and do a great job of spreading awareness for the species.
The Yamnuska Wolfdog Sanctuary goes beyond providing a safe haven for displaced wolfdogs, with a focus on spreading awareness and knowledge about the canine. It's a fun thing to do around the holidays with the family!
---
Take the Kids Tubing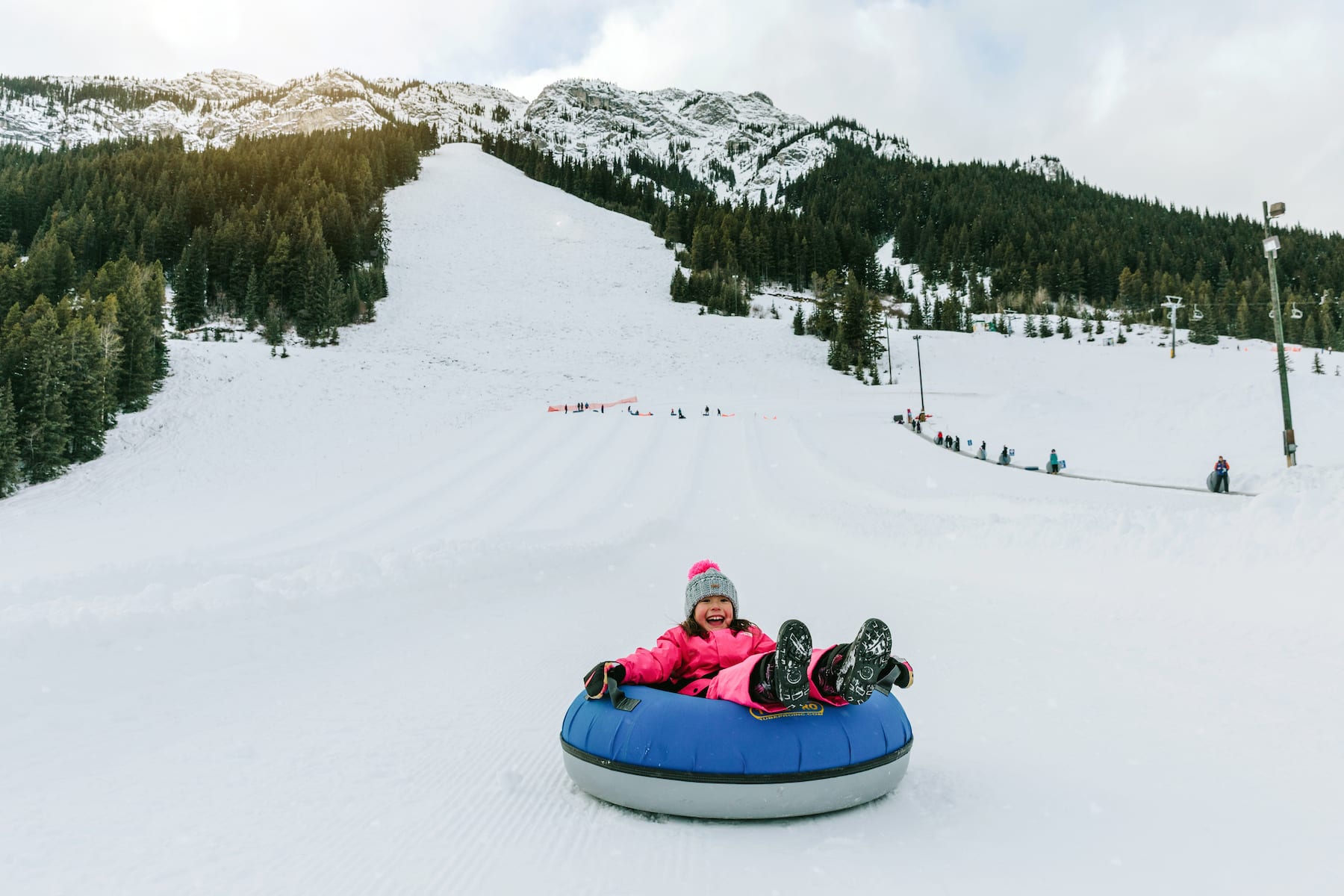 An enjoyable activity to partake in with family or friends in Banff is tubing at Mt. Norquay or Lake Louise Ski Resort. The tubing park offers two daily time slots, and on weekends, there's often night tubing—just be sure to check the schedule in advance.
The tube parks at Mount Norquay are notably extensive, ranking as the longest in Alberta, and they provide an exhilarating, high-speed experience. Tickets are priced at $45 for adults, inclusive of the tube, which makes it a much more affordable alternative to skiing with the family.
Tube sessions are scheduled for Fridays and Saturdays, from December 29, 2023, and to March 16, 2024 with extra night sessions on December 26th to 28th, 2023, as well as February 18th and 19th, 2024. 
Morning Session: 9:00 am to 12:00 pm
Afternoon Session: 1:00 pm to 4:00 pm
Night Session: 5:00 pm to 8:00 pm
---
What To Do On a Banff Christmas Day?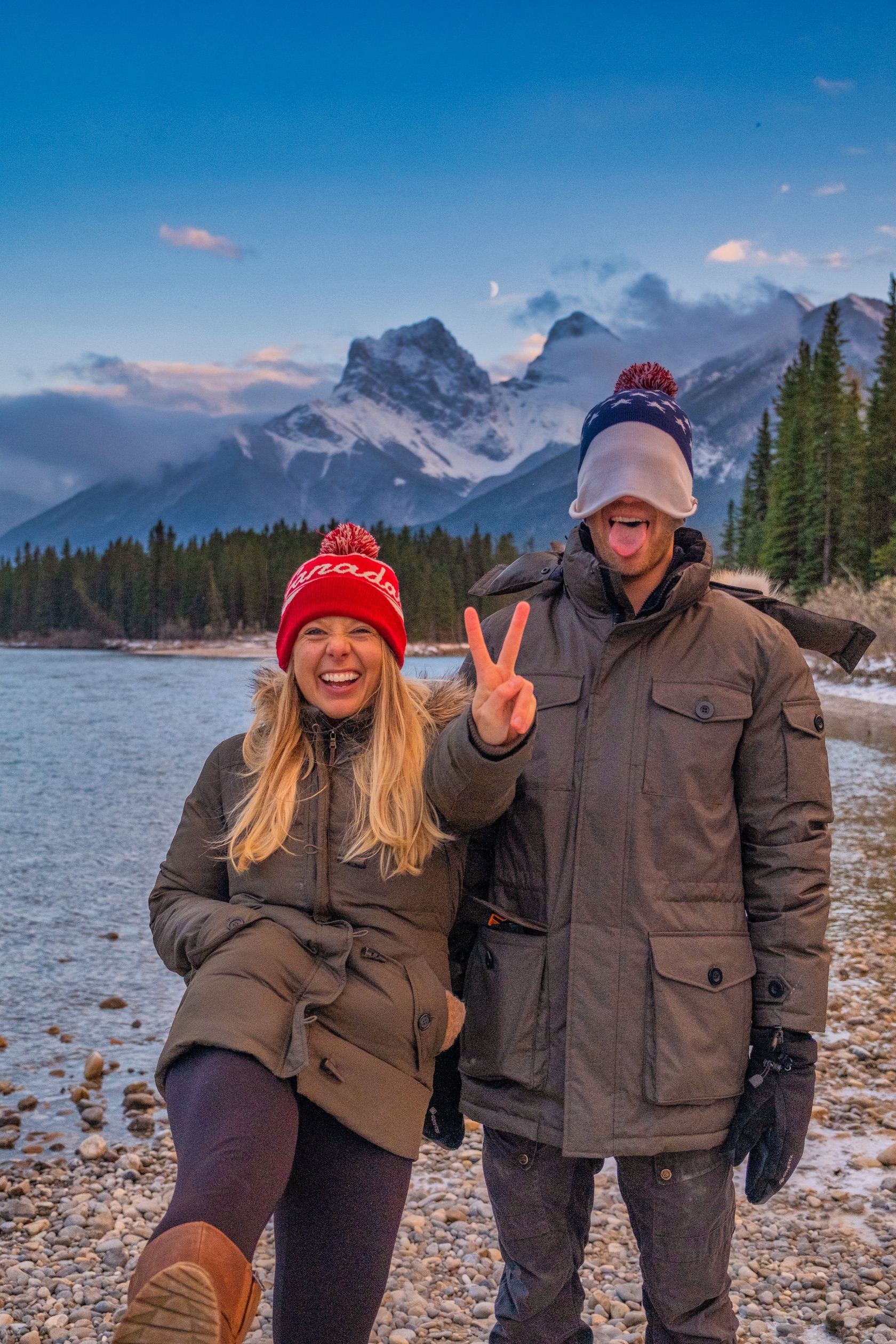 Well you are asking two people who absolutely love to snowboard. So, if you were to ask us what the perfect Banff Christmas day is, it would go something like this.
Breakfast, Presents With Family, Snowboard at Lake Louise, Stroll Banff Avenue, Christmas Dinner.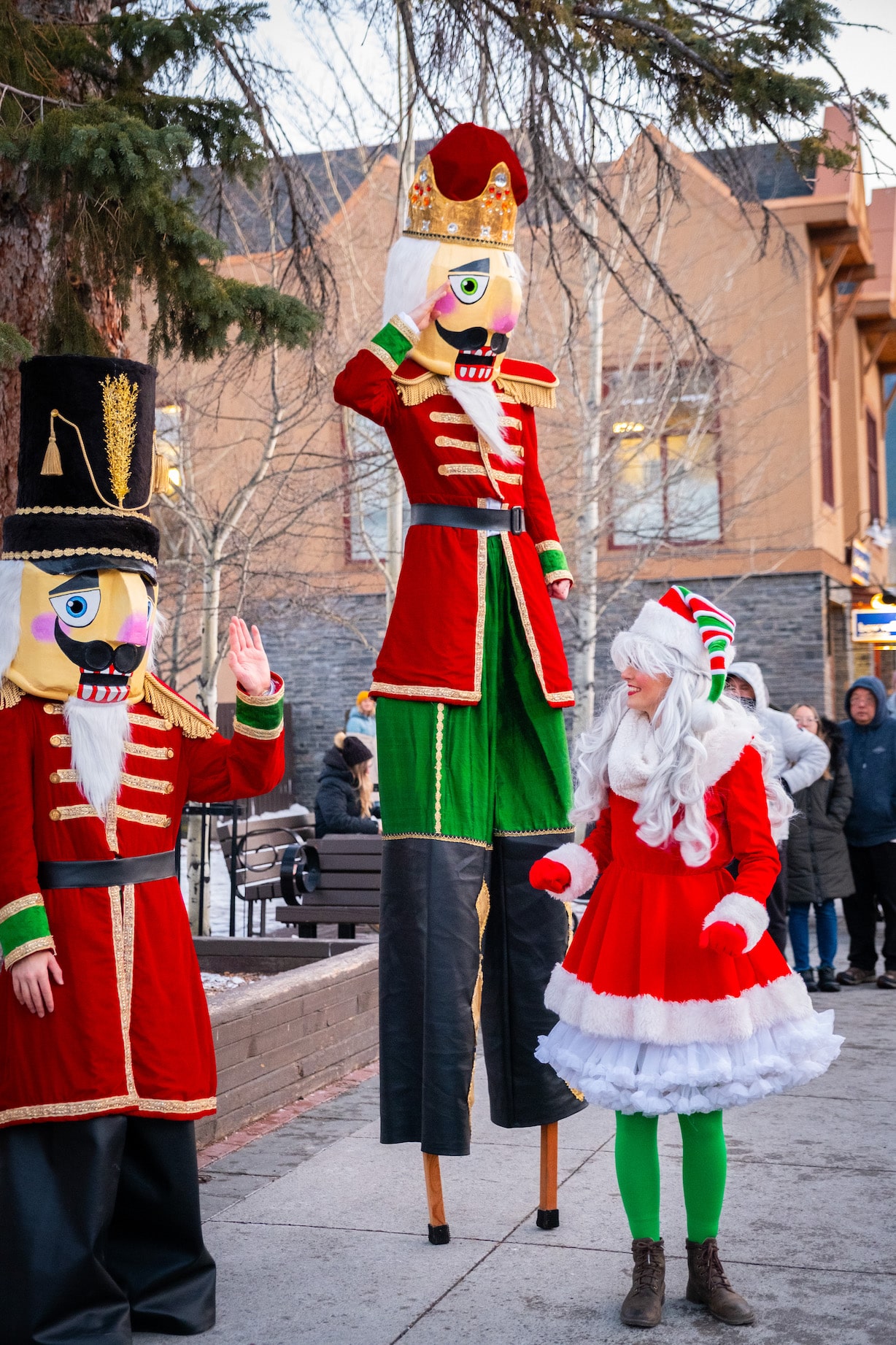 Not every business in Banff is open on Christmas Day, but plenty of restaurants are. However, all the ski resorts are open, as well as the Banff Springs Hotel and the Fairmont Château Lake Louise. Many of these hotels offer a pre-booked Christmas dinner. Other fun things to do are ice skate at Lake Louise, snowshoe, cross-country ski, and enjoy all the Banff winter hiking trails.
---
Booking Hotels for a Banff Christmas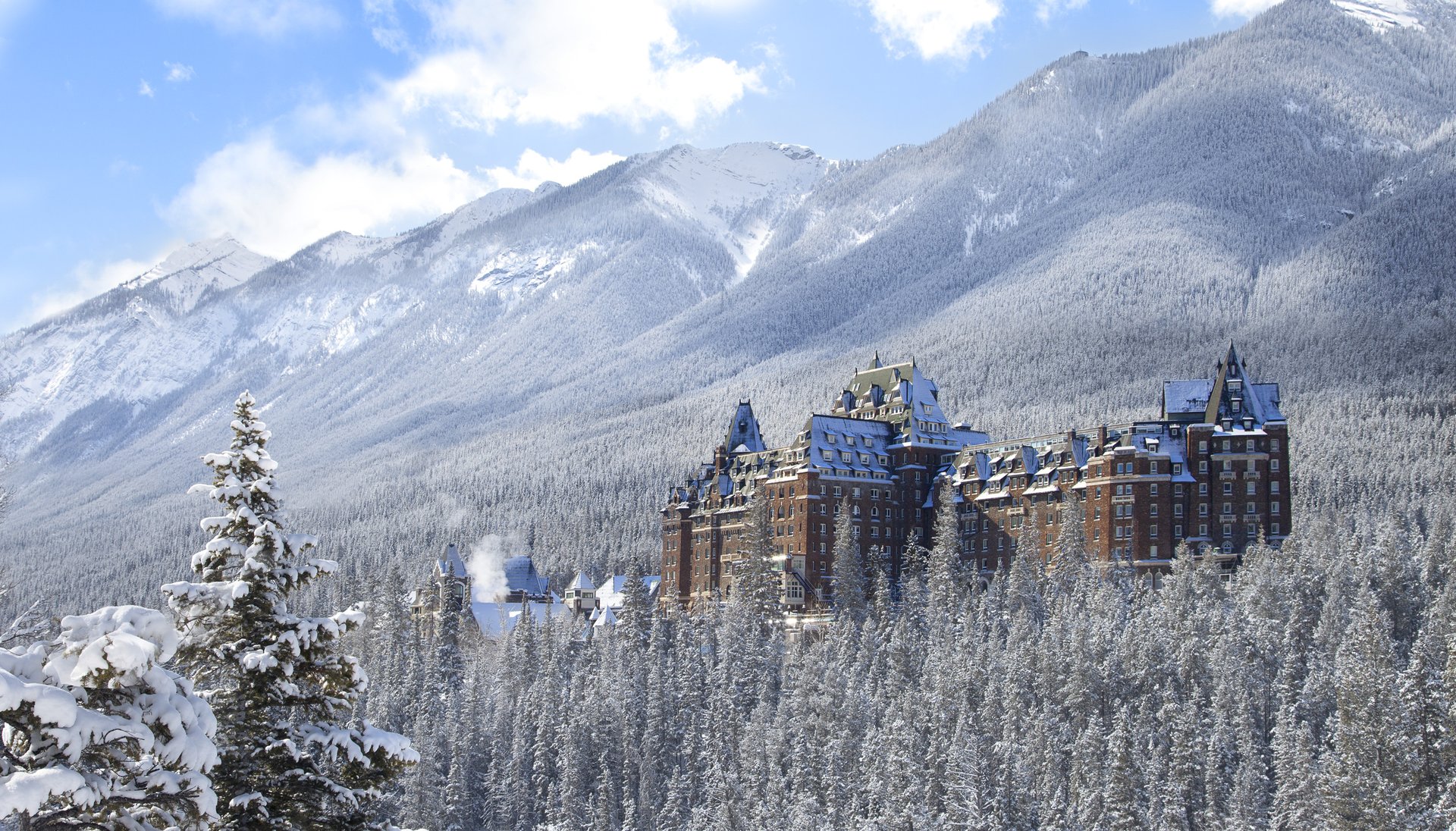 I highly recommend booking your hotels well in advance around the holidays, you can see a few of our favorite Banff Christmas hotels here. Banff is a popular destination, even in the winter. For the best deals and options, you should start looking at Banff hotels during the Fall or before.
If you find yourself priced out of options in Banff, don't forget to start checking around Canmore! Below are some of our favorite places to stay in the Canadian Rockies around the holidays.
---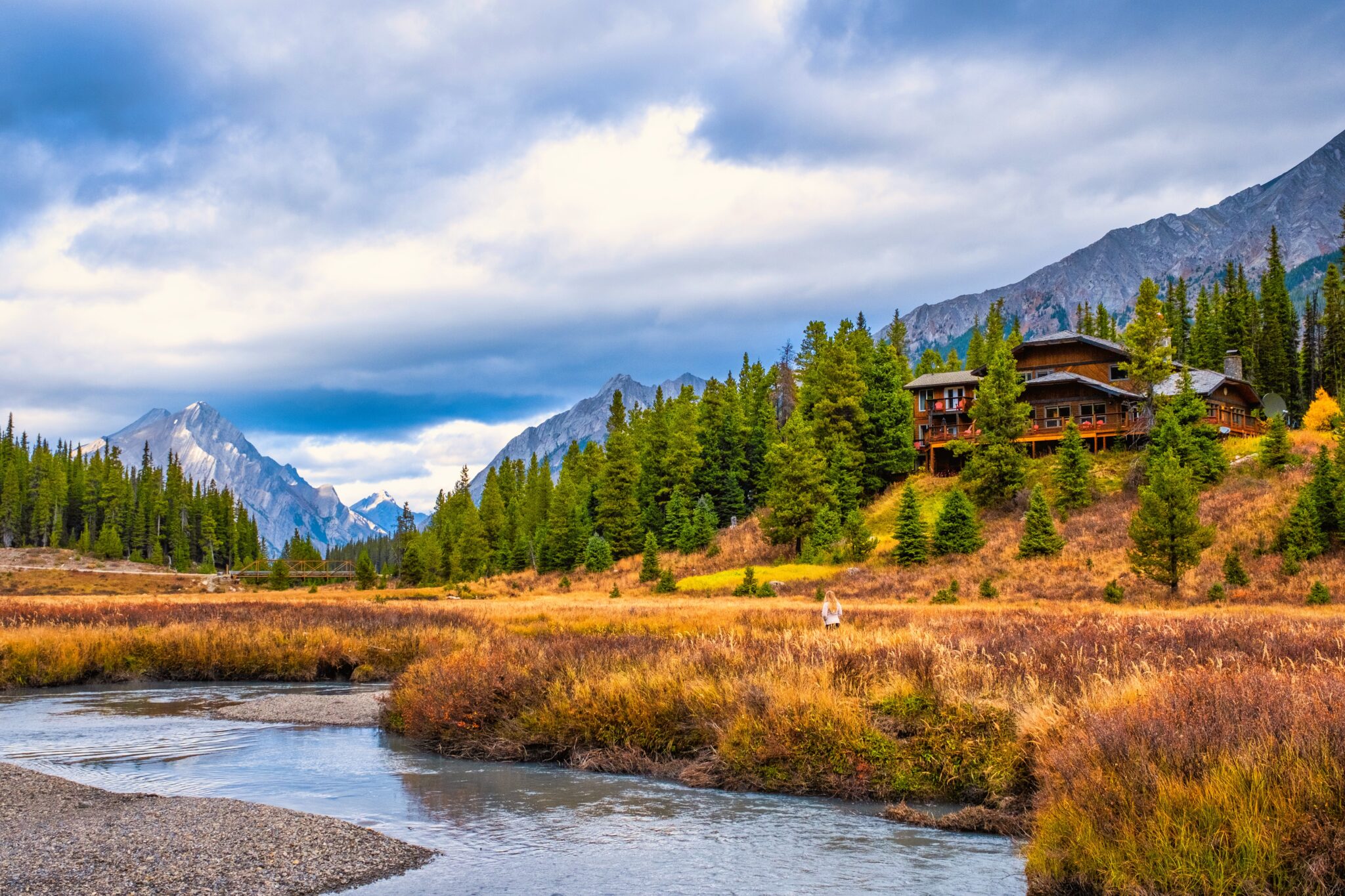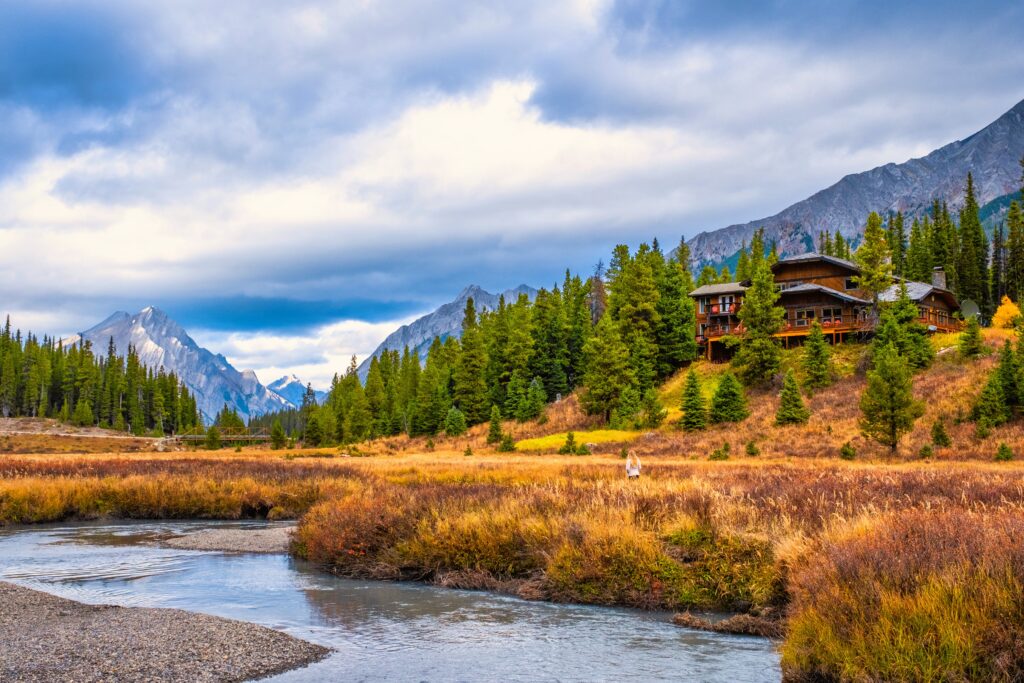 Mount Engadine Lodge
If you want to stay in a cabin in the middle of the wilderness, consider booking Mount Engadine Lodge. This special lodge isn't actually in Banff, but rather in Kananaskis away from the crowds of Downtown Banff. It's an intimate and cozy place to stay if you don't mind being a bit out there!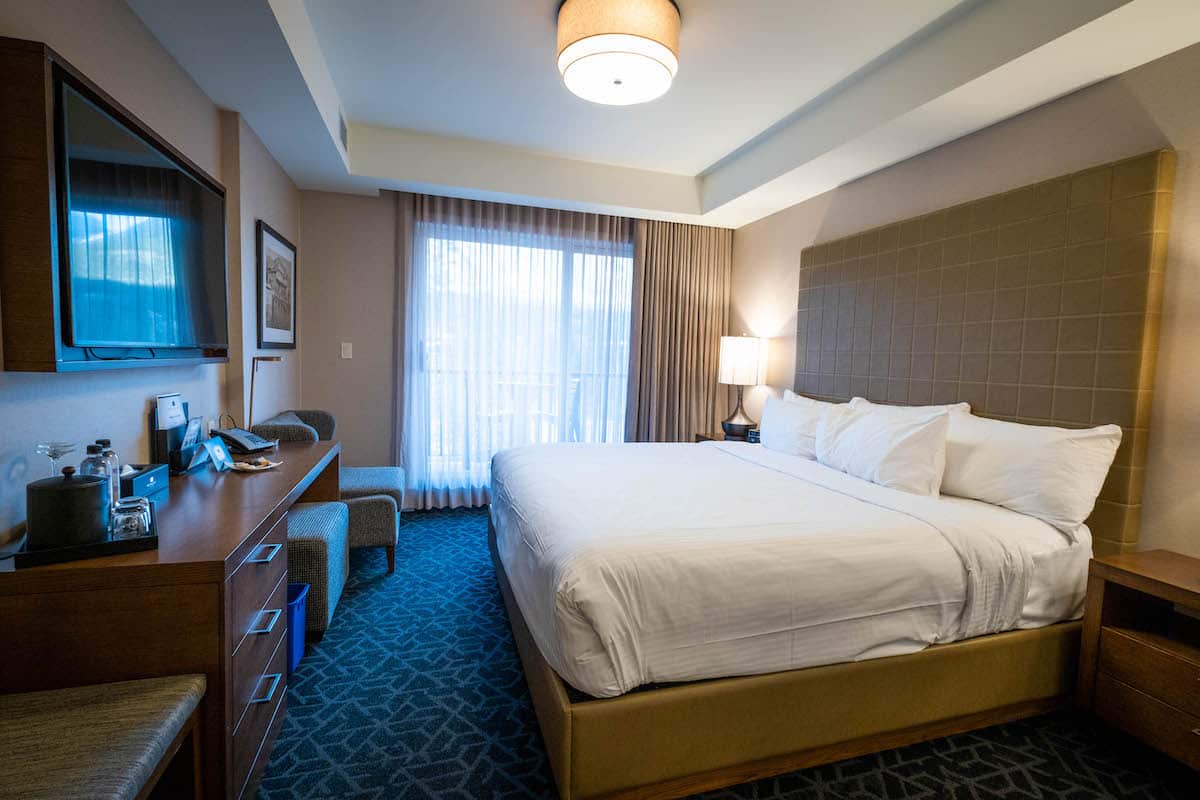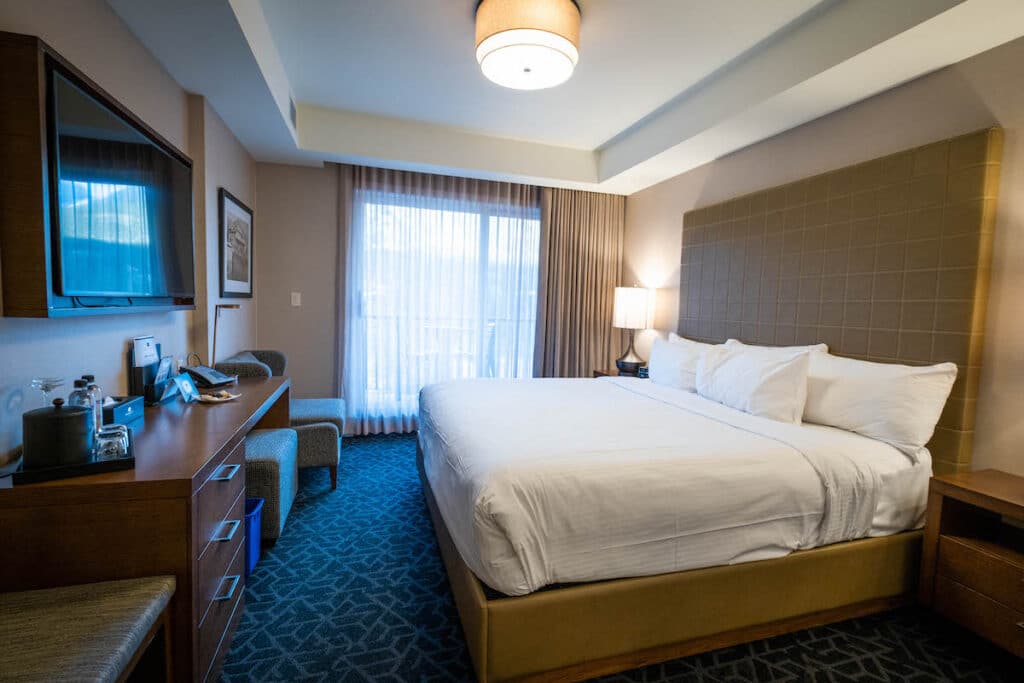 The Malcolm Canmore
The Malcolm is the nicest hotel in Canmore and during the holiday season, they really go all out. Expect the whole hotel to be decorated with a massive tree to welcome guests. They host events for the whole family during the holidays and have the best views of the Three Sisters!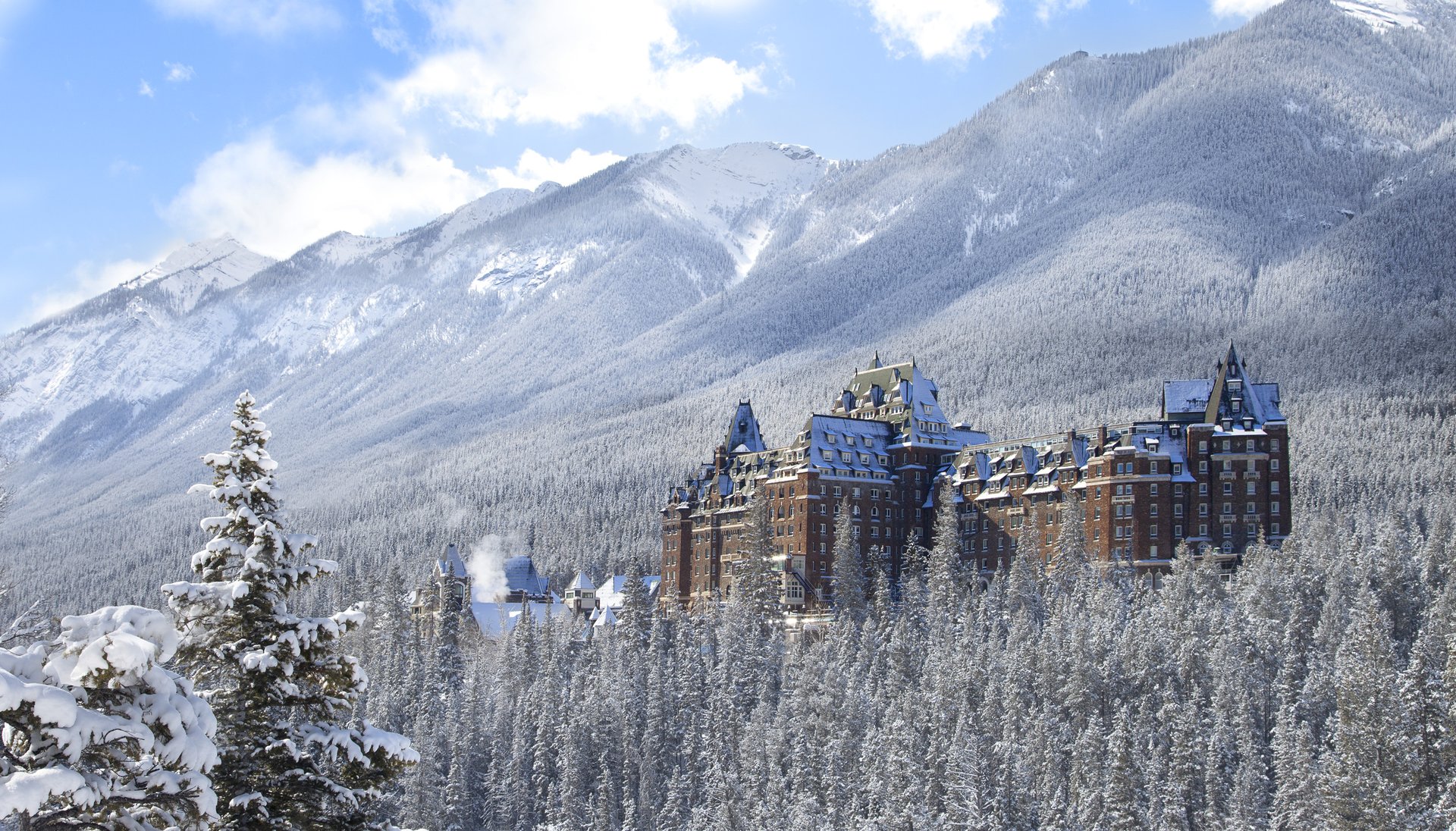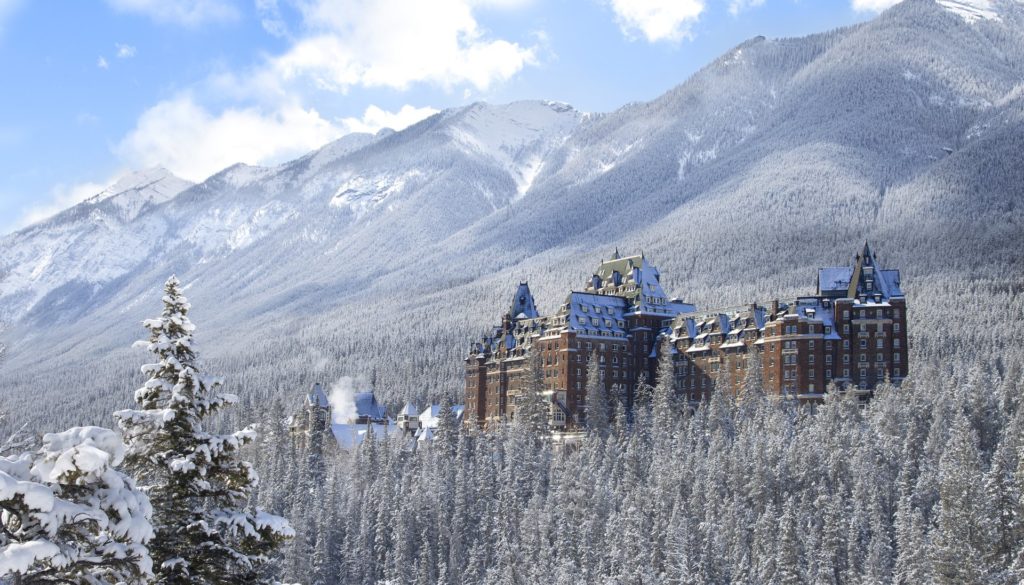 Banff Springs Hotel
One of the nicest hotels to stay in Banff around Christmas is of course The Castle herself. Staying here doesn't come cheap, but it gives you the best access to the amazing events happening around the hotel!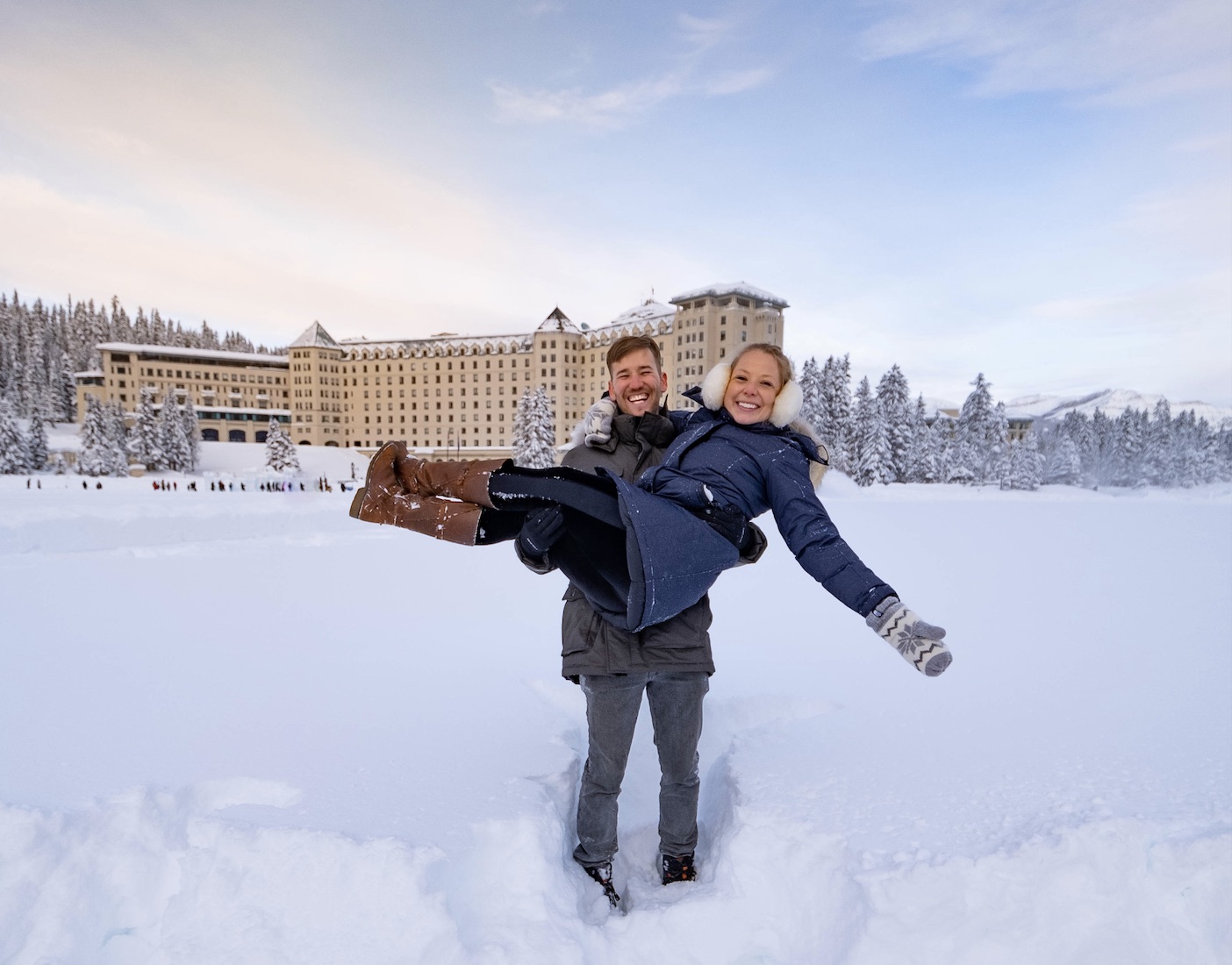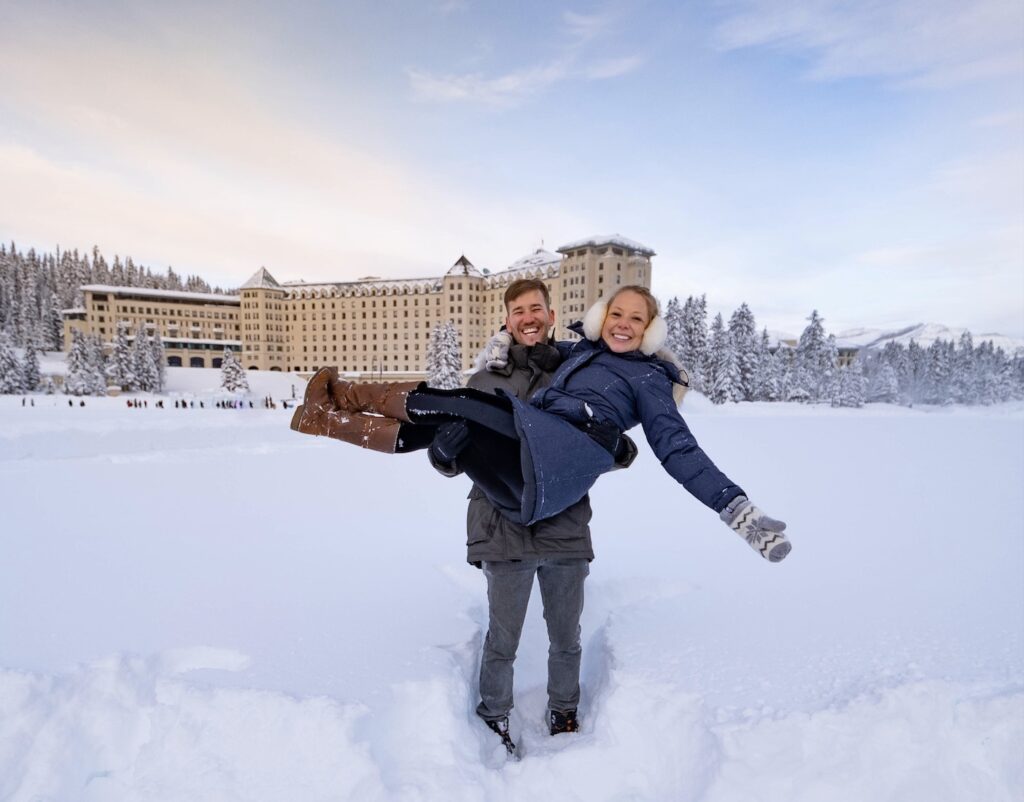 Fairmont Chateau Lake Louise
I wrote plenty about the things to do at Lake Louise during the winter, so if you have a large holiday budget you should consider staying right at the heart of all the action at the Chateau Lake Louise. There's no better view in the world to wake up to!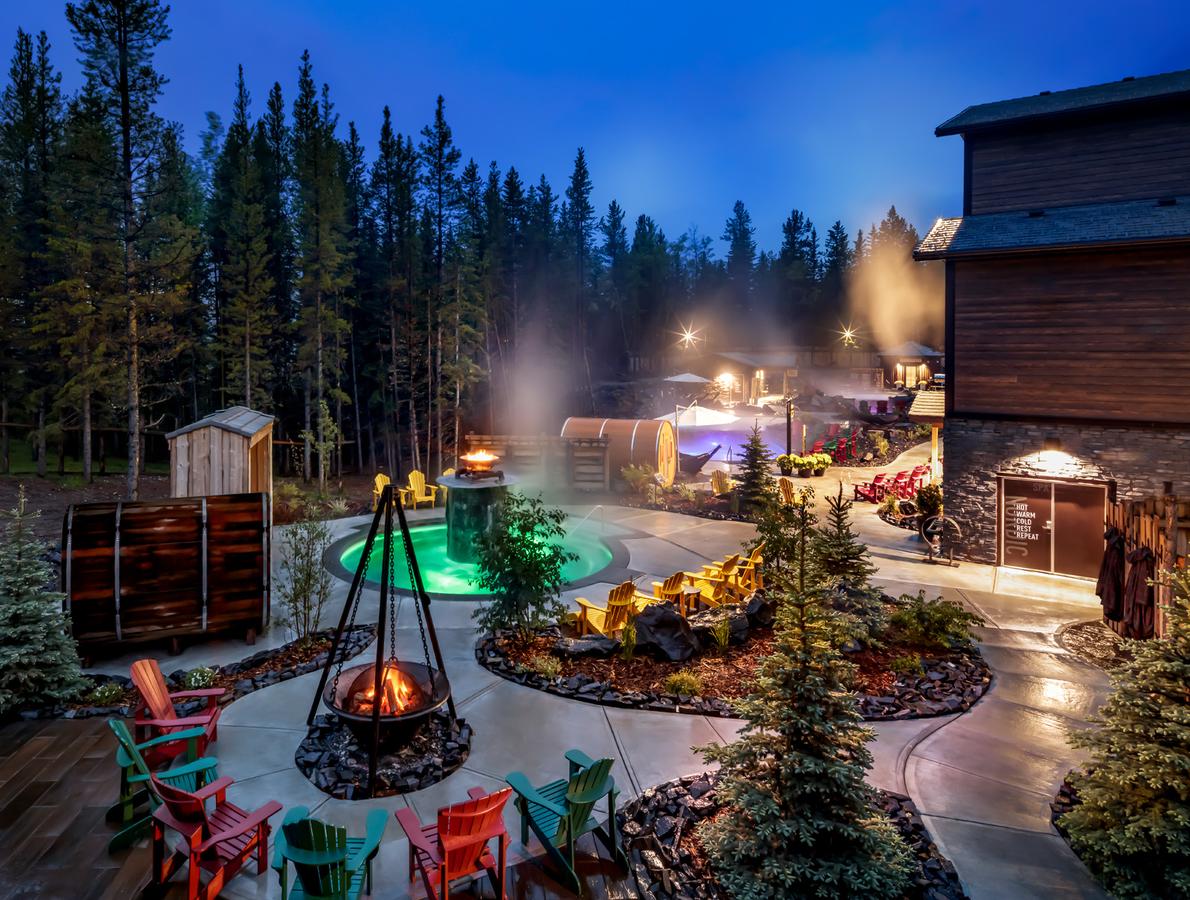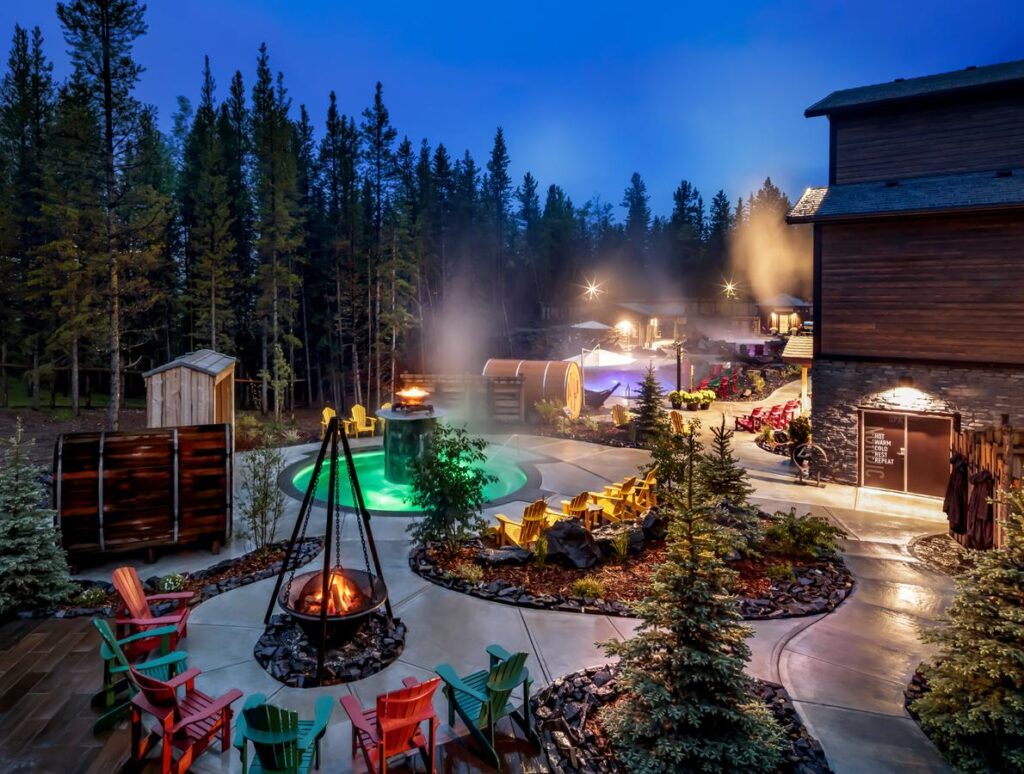 Kananaskis Mountain Lodge
Kananaskis Mountain Lodge creates fun for all during this festive season. Expect bonfires, smores, and holiday events while staying at the base of Nakiska. Nearby you have great access to Troll Falls which is a fun winter hike in Alberta.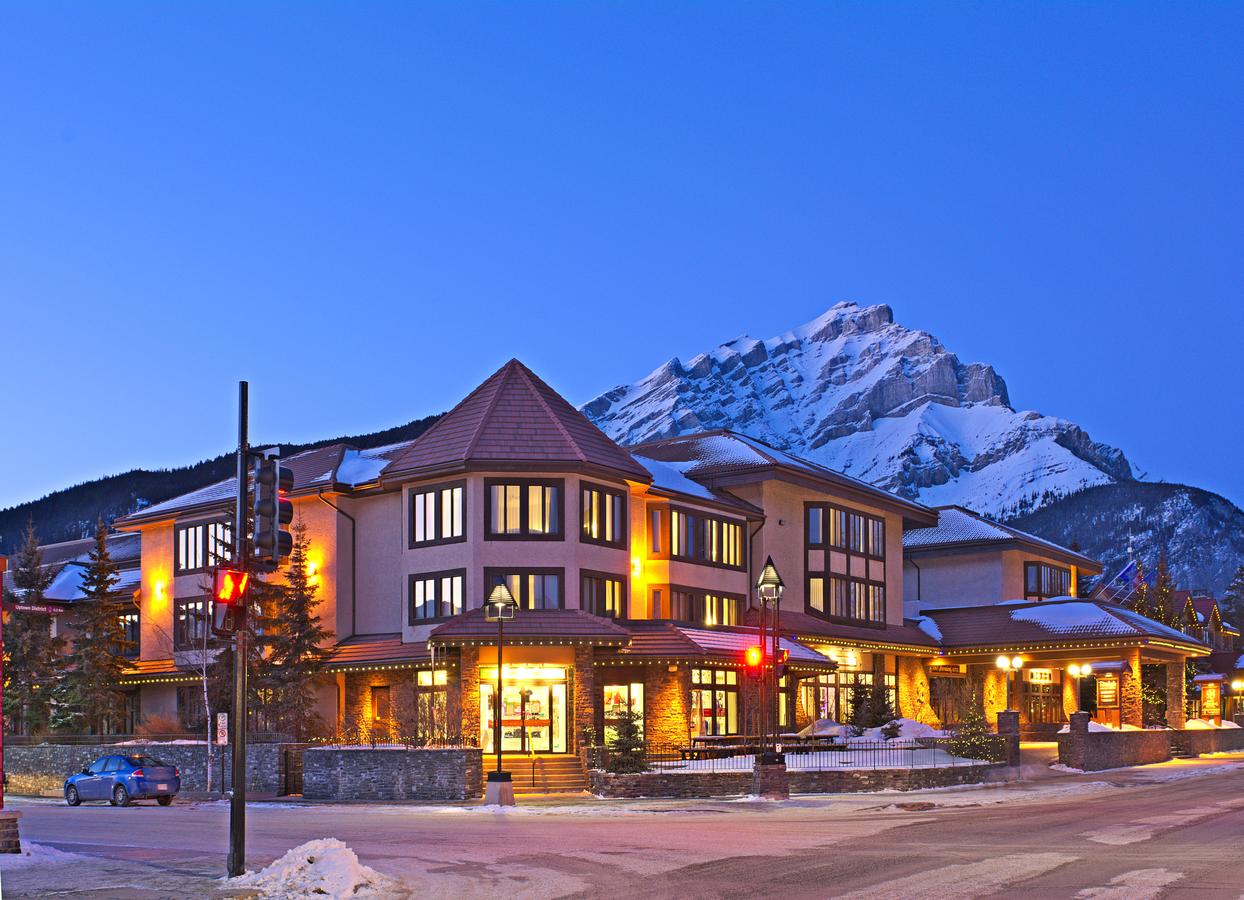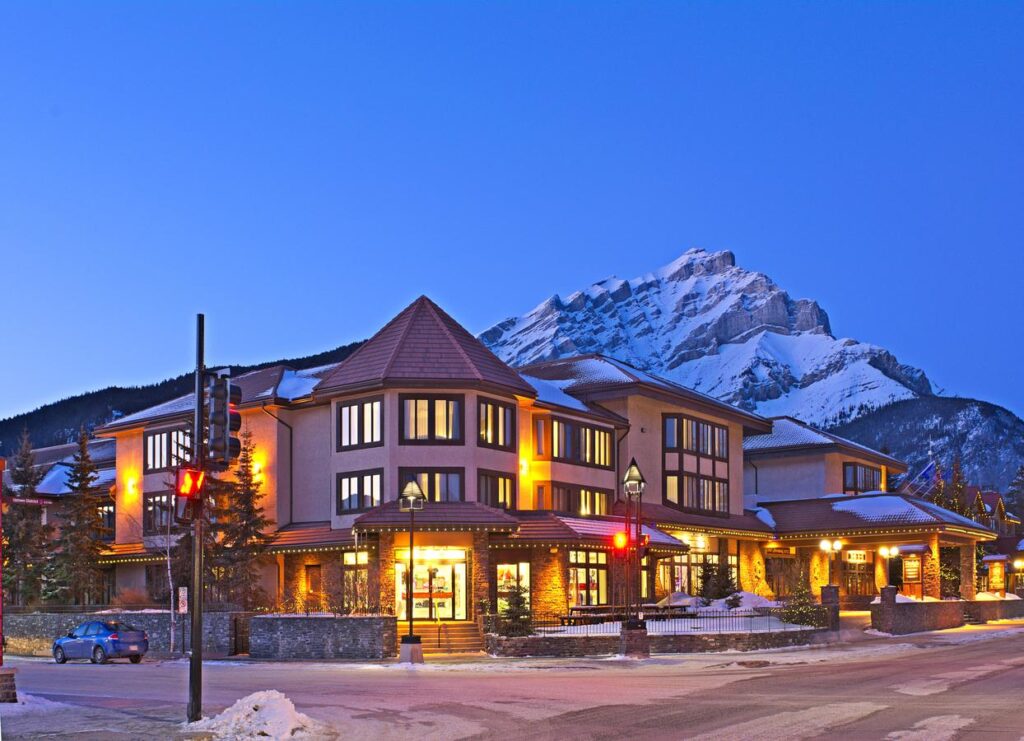 Elk+Avenue
For a more affordable option in Banff during Christmas Elk+Avenue does the job. It's located right on Banff Avenue close to all the best restaurants and shops in Banff!
Where to Stay in Banff at Christmas Time
---
What to Wear Around Banff at Christmastime?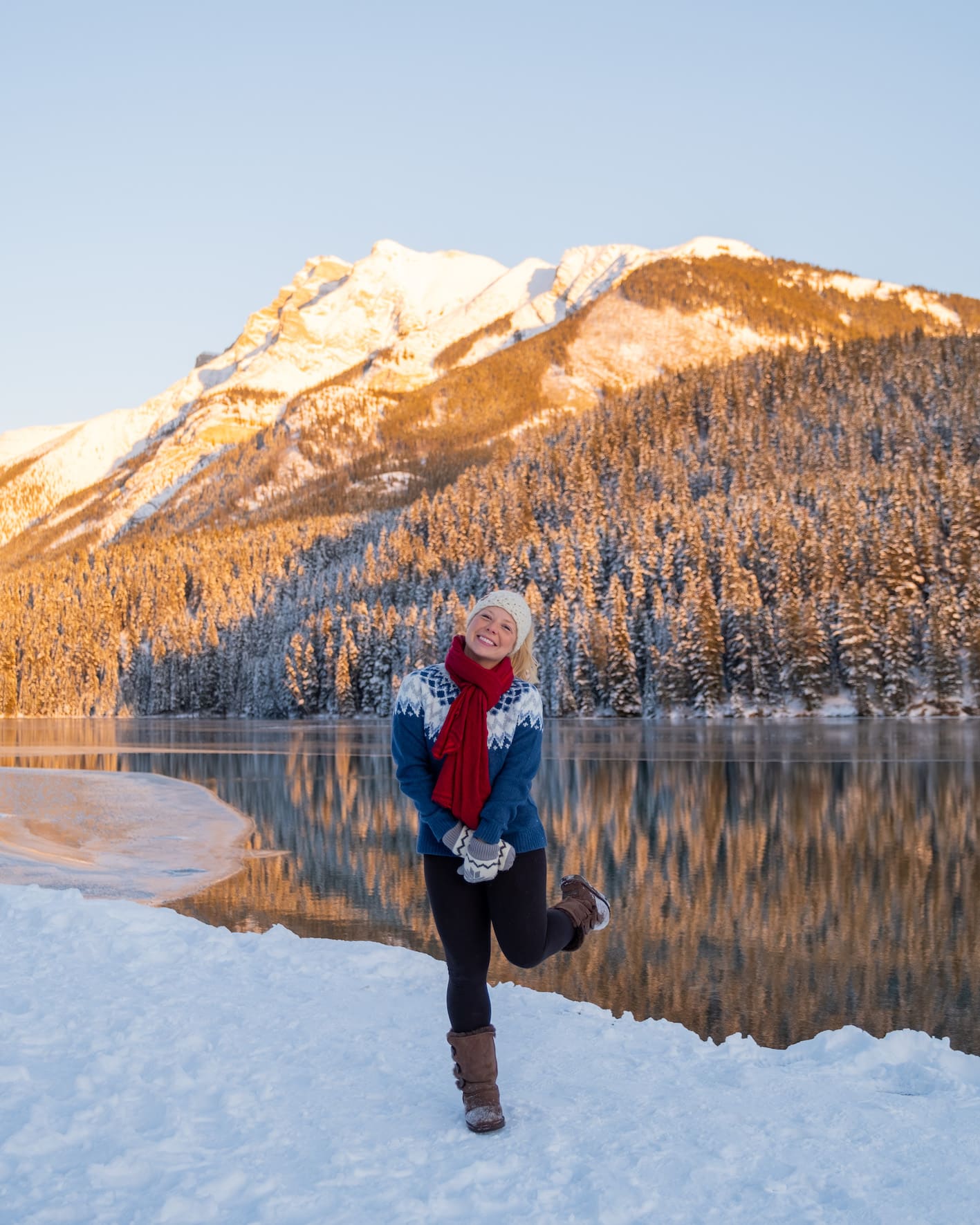 Layers, layers, and layers. December in Banff is one of the coldest months of the year, and the closer you get to Lake Louise, the more frigid you can expect the temperature to be.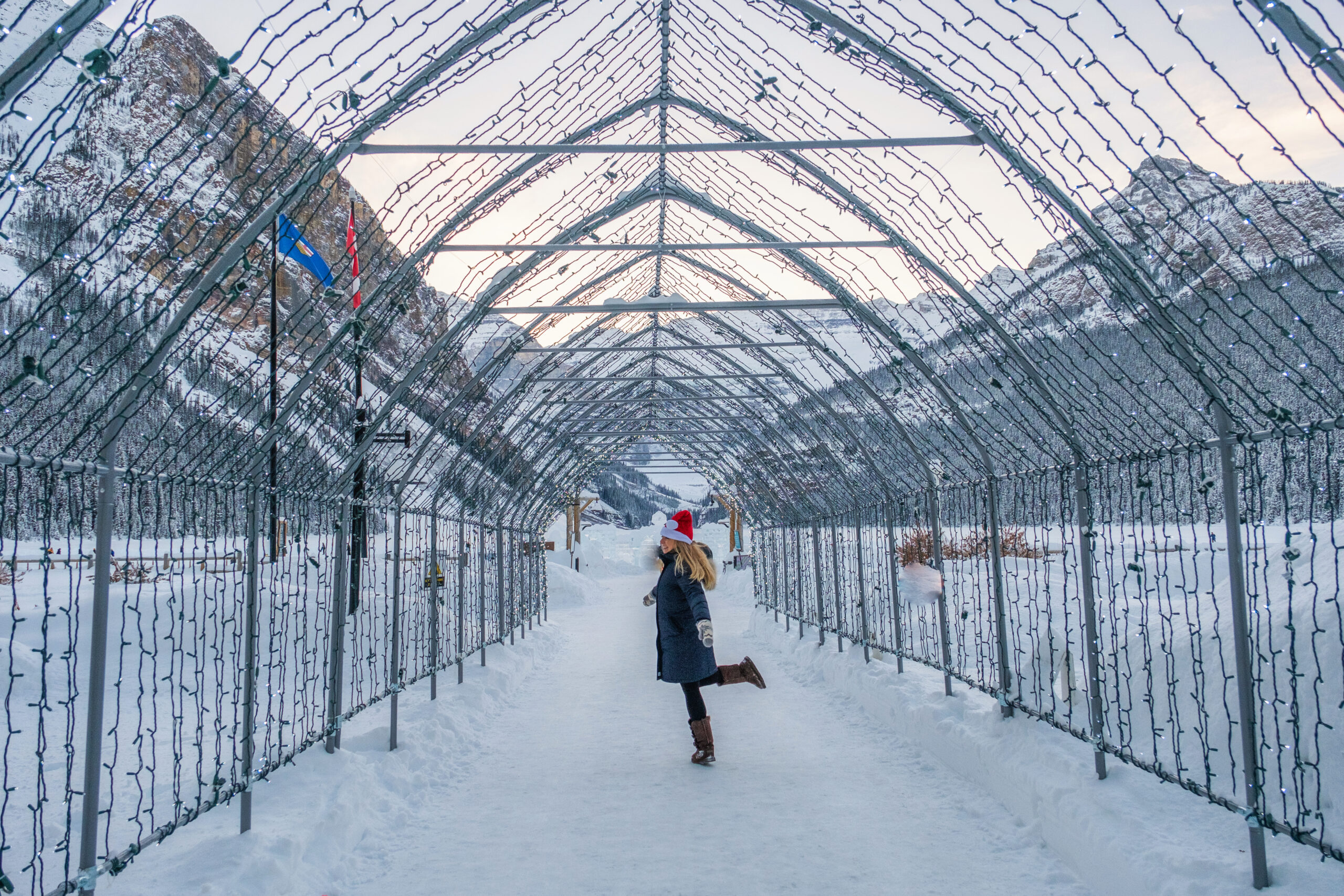 That means to come with a proper winter jacket, thermal underwear, merino wool socks, winter boots, gloves, and a hat, at the very least.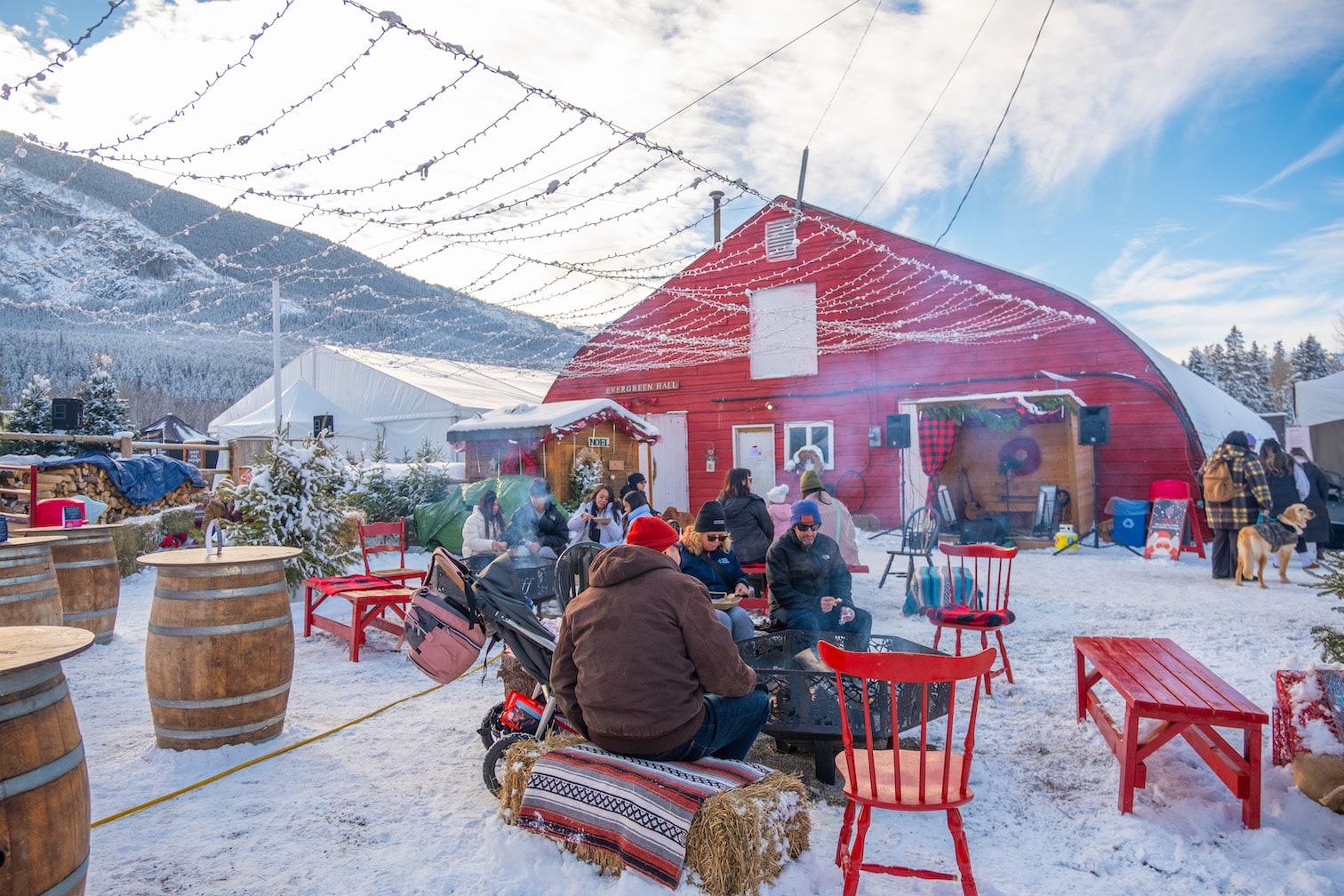 For the indoor time you'll want to pack things like a sweater and comfortable pants. Formal evening wear isn't needed unless you plan on having an extravagant meal out. In December, you can typically find me in thermal leggings, boots, and a sweater.
Here's an essential list to go off. The left column is for general winter packing, and the right is if partaking in snow sports.
Sweater
Flannel
Casual Pants
1 x Top Base Layer
1 x Bottom Base Layer
2-3 x Wool Sports Bra
2-3 x Wool Ski Socks
Mittens
Warm Hat
Winter Boots
1 x Mid-Layer Jacket
1 x Shell Jacket
1 x Shell Pants
1 x Insulated Jacket*
1 x Snow Pants*
1 x Mitts or Gloves
1 x Balaclava
1 x Buff Headwear
1 x Helmet* (if skiing or snowboarding)
A Complete Guide to Packing for Banff in the Winter
---
Driving in Banff in the Winter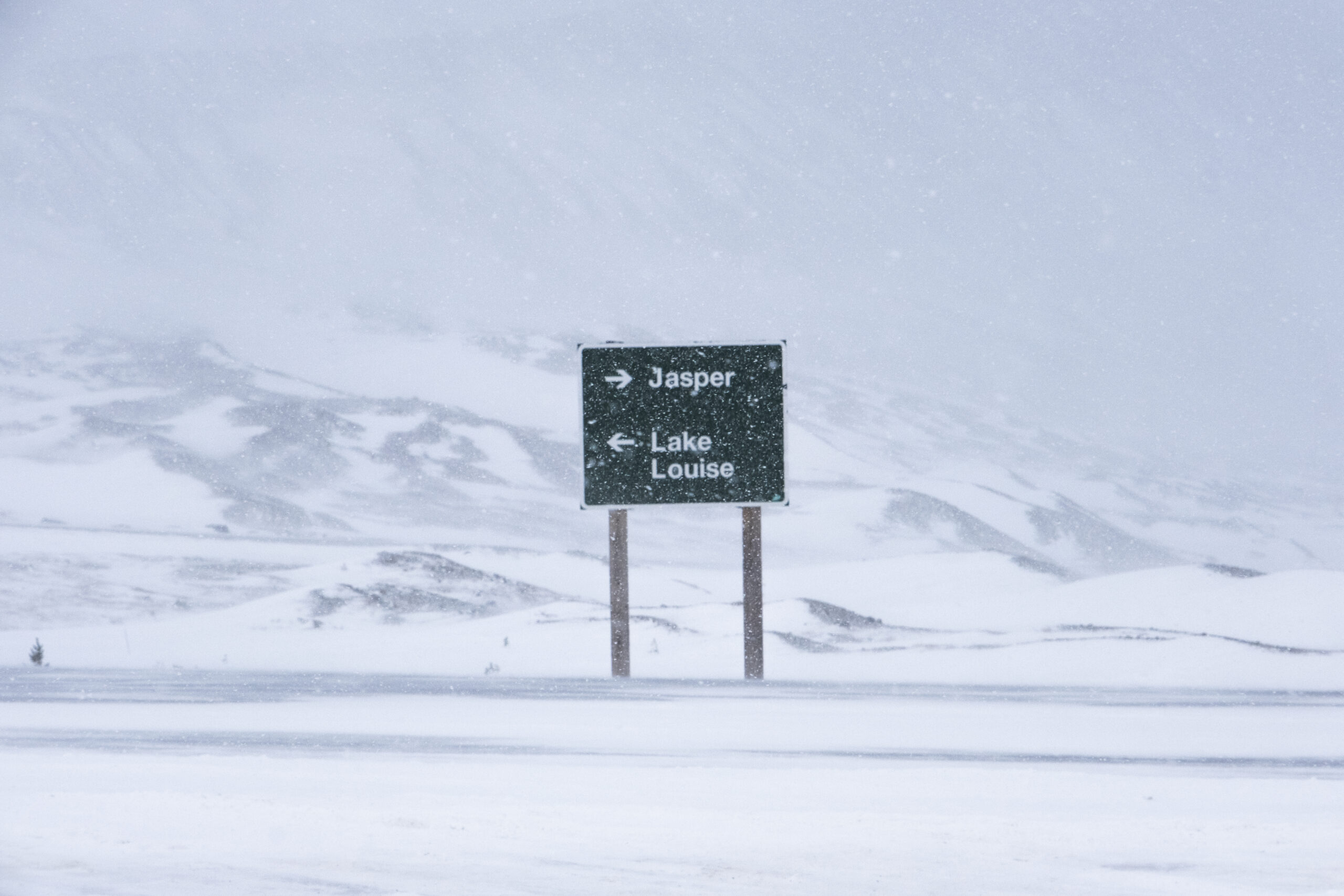 If your plans involve renting a car and driving around Banff during the holidays, it's imperative you rent a car with snow tires. Bonus points if you have experience with winter driving, as the roads can get very treacherous here in the winter, especially after a big snowstorm.
If you have any plans to drive into British Columbia, it is a law that you have winter tires on the car. Please take this seriously, as going into a ditch (or worse) will certainly put a damper on your winter vacation.
We find it best to rent cars in Calgary. You can check car rental prices here! Stay up to date with road conditions on 5.11 Alberta
 Important Things to Know about Renting a Car in Banff
---
Hopefully, this helped you determine what to do in Banff for Christmas!
If you have any other questions leave a comment or see our Canadian Rockies travel guide for more articles about photography spots, lakes, hikes, and everything else.
Plan Your Trip to the Canadian Rockies
↓ Join the community ↓
The Banff Blog Facebook Group is your headquarters for the Canadian Rockies' travel advice and information. Including hike info and off-season travel information. You can also meet new adventure buddies.