Christmas is one of the best times to visit Banff National Park. There is truly nowhere better than Christmas in Banff, and we'll share with you all the magical things to do on a Banff Christmas holiday.
Sure December is cold in Banff, but who cares when it literally looks like the inside of a snowglobe! I love Banff around the holidays, I don't think I've ever spent Christmas somewhere more scenic. Think snow, mountains, and a whole lot of Christmas cheer.
Visitors flock to Banff every year to take part in the magic. There are so many things to do in Banff around Christmas so pack a warm jacket and boots and settle in for these ideas of Banff Christmas activities.
---
Things to do Around Christmas in Banff
---
Ski and Snowboard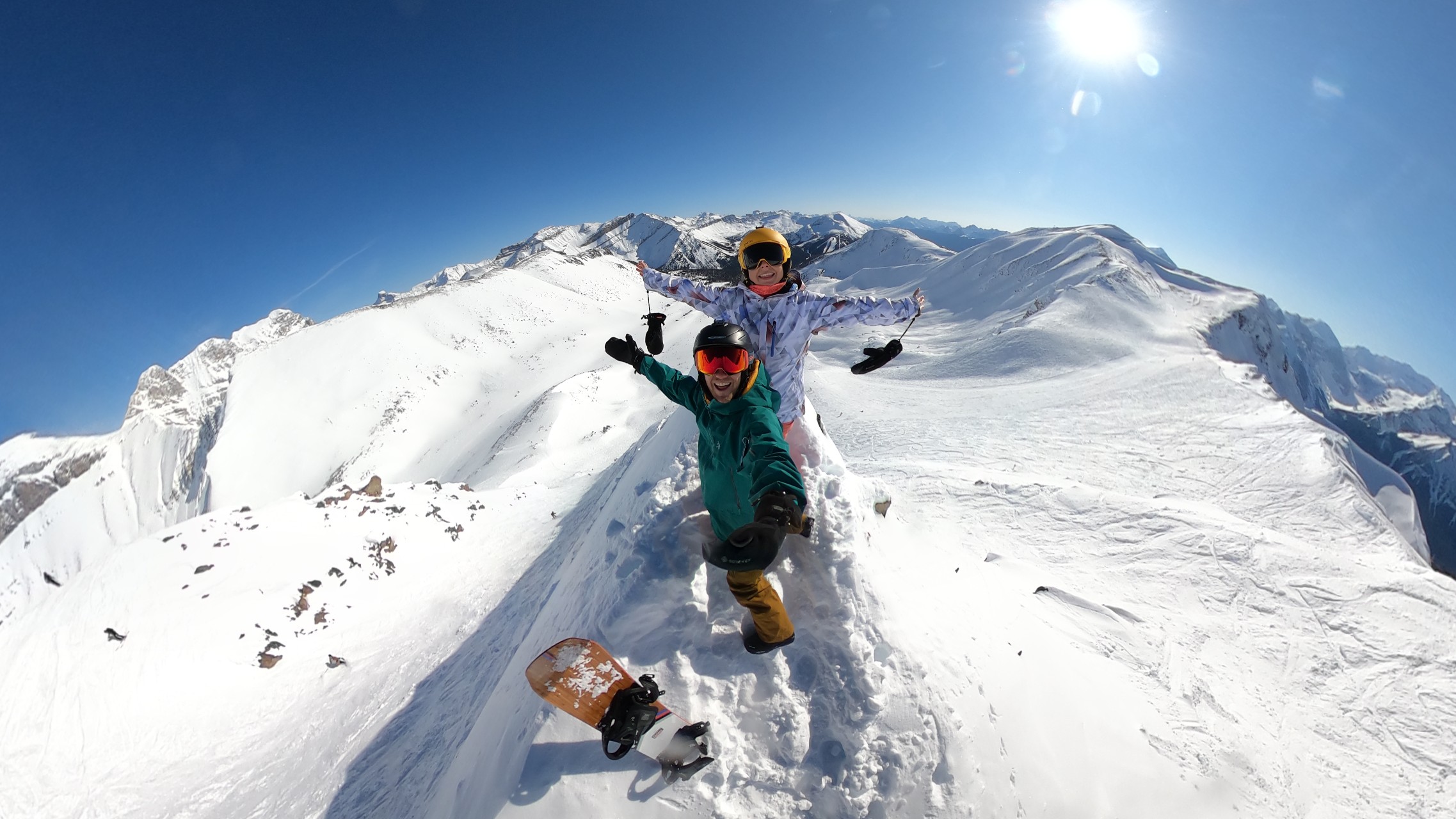 Our favorite thing to do in the winter around Banff is to snowboard or ski. Luckily Banff has three ski resorts and even more that are within a few hours' drive. SkiBig3 is a collection of three mountain resorts all within Banff National Park. You have Lake Louise, Banff Sunshine, and Mt. Norquay which are all fantastic and unique ski resorts. Skiing or snowboarding here is one of the best things to do in Banff in the winter. If you are into skiing and snowboarding then December is one of the best times to head here.
If you are lucky enough to come to Banff before December 23rd you'll likely end up on the mountain with no crowds and only a handful of locals – especially during the weekdays. December is our favorite time to snowboard in the Rockies, before the crowds and the powder is pristine. There's nothing better than skiing or snowboarding around Christmas time in Banff.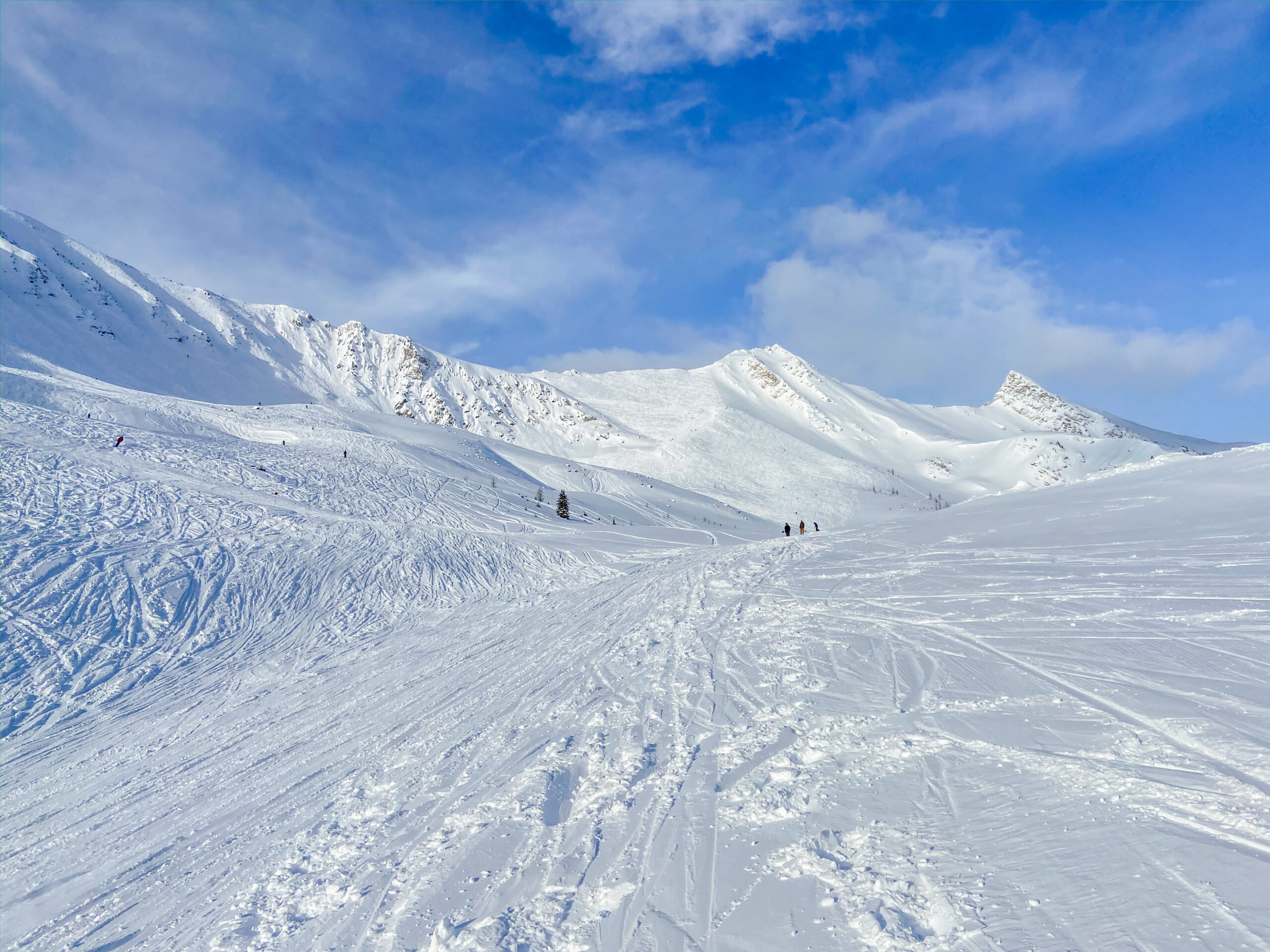 There is arguably no ski resort in the world with a better view than Lake Louise Ski Resort, that photo above is what we're talking about. In between runs screaming down groomers or tackling a bowl Banff National Park provides you some fresh air and stunning landscapes.
We visited thirty resorts in one season and the views from Lake Louise are hands down some of the best in the world. In our opinion, Lake Louise beats out Banff Sunshine and Mt Norquay by leaps and bounds.
---
Spend an Evening at Lake Louise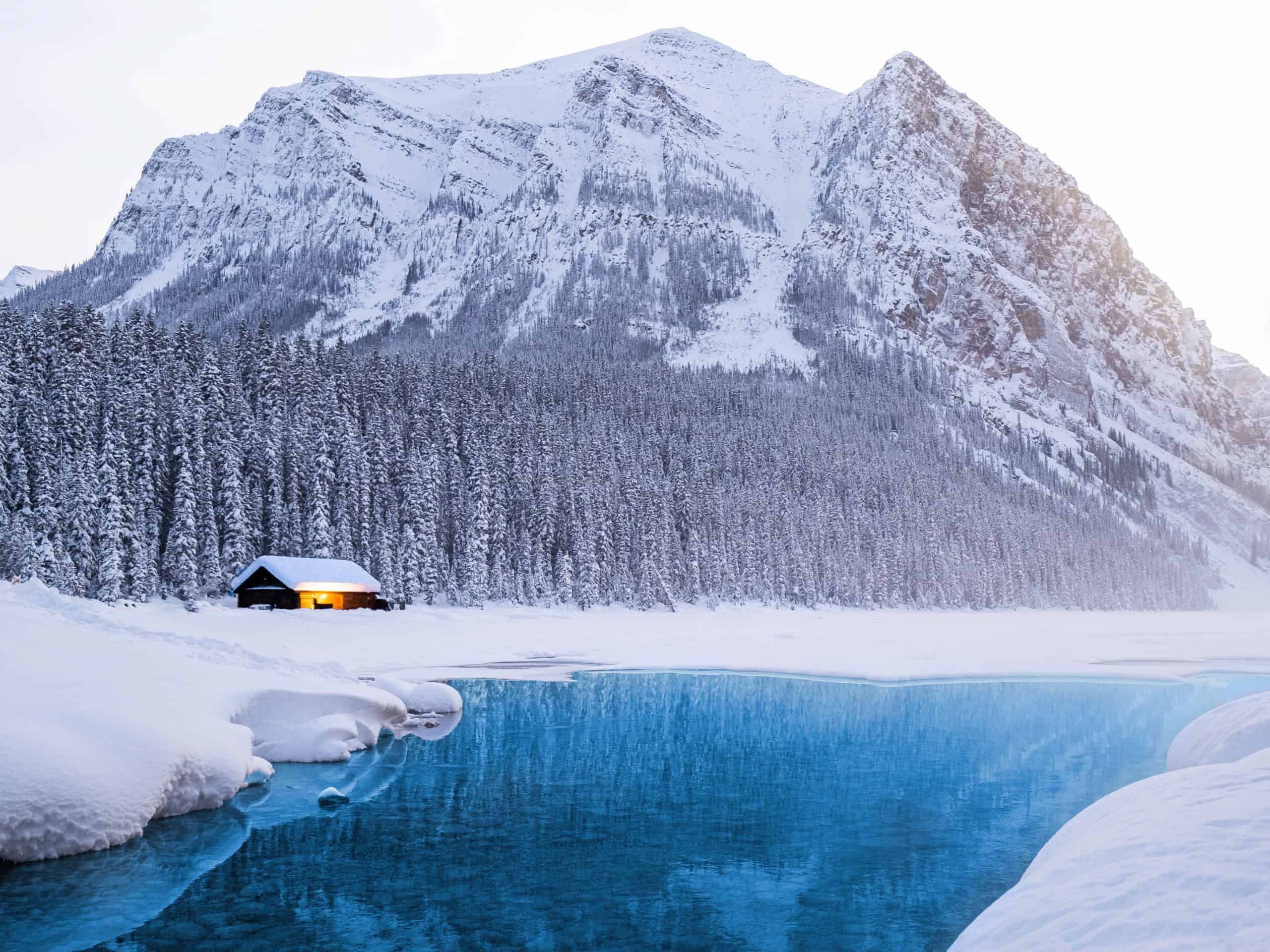 While Lake Louise is one of the most popular destinations in the summer for its turquoise waters, it's also a wonderful spot to spend Christmas in Banff. Around Christmas time the Lake Louise is covered in a fresh blanket of snow. The Fairmont goes all out with Christmas decorations, ice bar, Christmas lights, ice castle, skating rink, and sleigh rides.
It is in every sense a winter wonderland. During weekends at Lake Louise, you can enjoy a mulled wine at the Banff Ice Bar! The Ice Bar is open from around December 20th to mid-April. They dish up all kinds of hot chocolate goodness and even have special treats for the kids. Oh, yea and 20 blocks of ice, each weighing 300 lbs, are used to make the bar, so it's truly a special place to visit in Banff in the winter.
---
Relax at Banff Hot Springs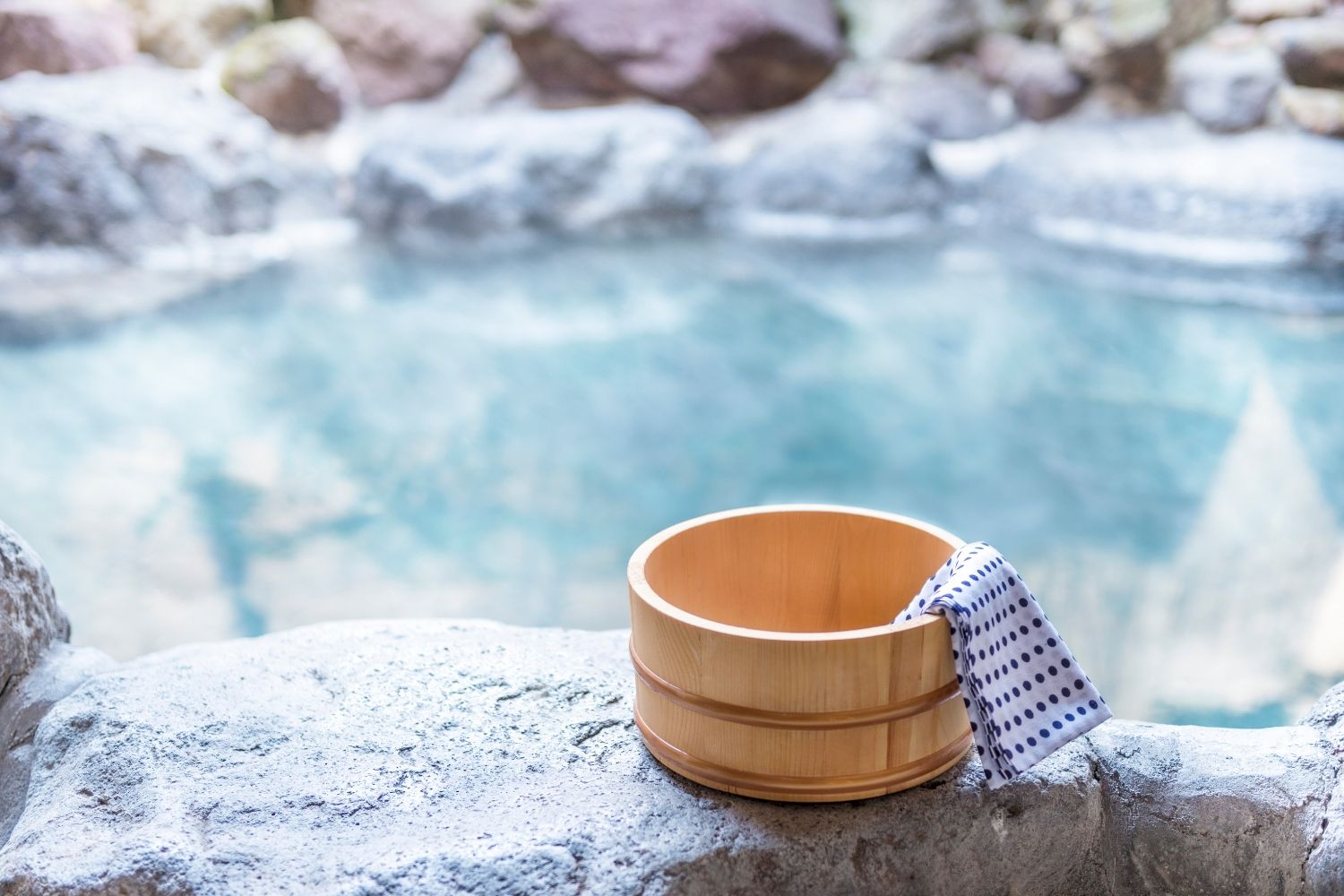 Another great way to spend Christmas in Banff is at the Banff Hot Springs. Enjoying hot water in the cool air is one of the top Banff winter activities to enjoy. Don't let the frigid Canadian temperatures detract you because there are plenty of ways to warm up around the Banff.
Just outside of the Banff town lies the Banff Upper Hot Springs. These hot springs make for one of the best places to relax those stiff muscles after a ski day. Just be warned afternoons can draw a crowd so head there in the morning for a more quiet experience.
---
Enjoy the Festivities On Sulphur Mountain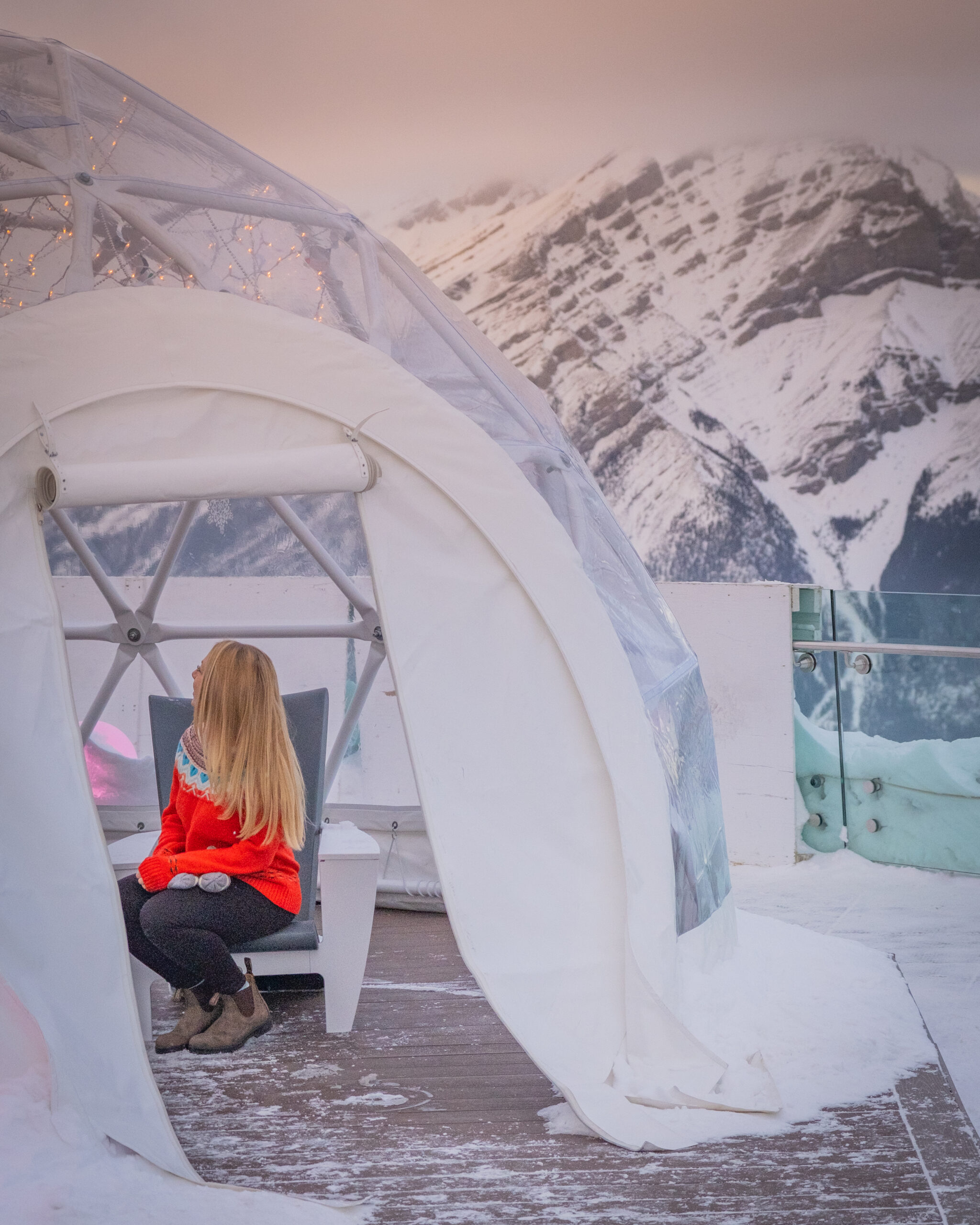 Still, wondering what to do in Banff around Christmas? How about you climb a mountain! What? Just because it's winter you think you can't climb a mountain?
Sulphur Mountain is easily one of the most popular hikes in Banff National Park. It's a beautiful hike up that provides visitors with astonishing views over the Bow Valley.
Due to its proximity to Banff town, and the fact that you can take the Banff Gondola up to the peak instead of sweating it out on the trail means that Sulphur mountain becomes very busy – but not in the winter! With a pair of crampons and some hiking poles, you'll be able to tackle the trail up in no time.
Once at the top is a "Mountaintop Christmas Wonderland." You'll find Christmas cheer, Santa's bakeshop, Santa, and other jingle bells and whistles all in the most magical setting. Also – whether you take the gondola up or hike up, the gondola down is free in the winter!
---
Enjoy Christmas at Banff Springs Hotel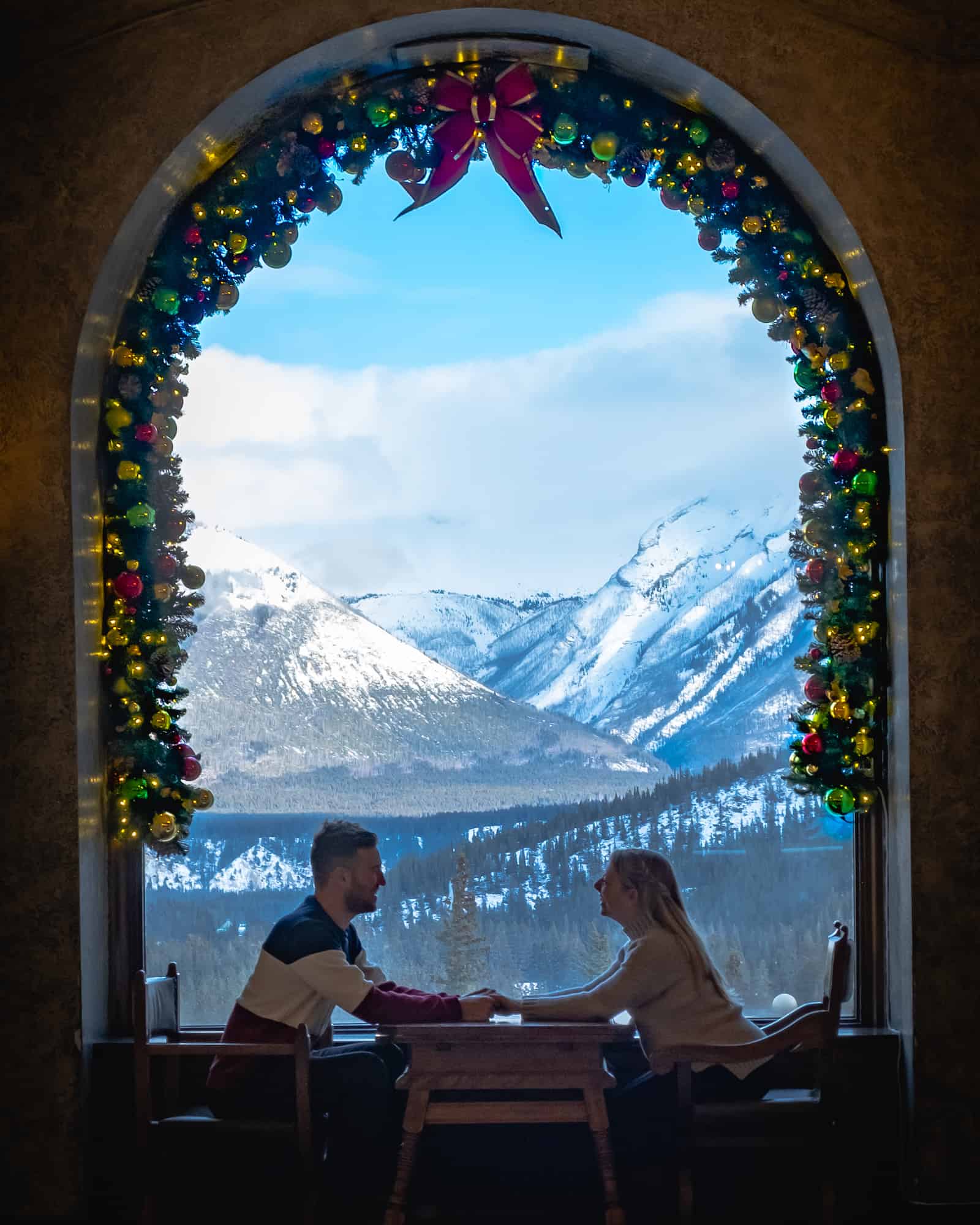 If there's a hotel that screams Christmas it's the Banff Springs Hotel in Banff and heading here is one of the best ways to spend Christmas in Banff. This hotel is downright gorgeous and sits perfectly in the park. If you are lucky enough to stay here and enjoy all the amenities here then I am super jealous.
However, even if you are not staying at Banff Springs you can still freely walk in and see all the beautiful Christmas decorations and festivities here. It's called Christmas at the Castle and last from late November to January, with different events happening the entire season.
---
Banff Christmas Market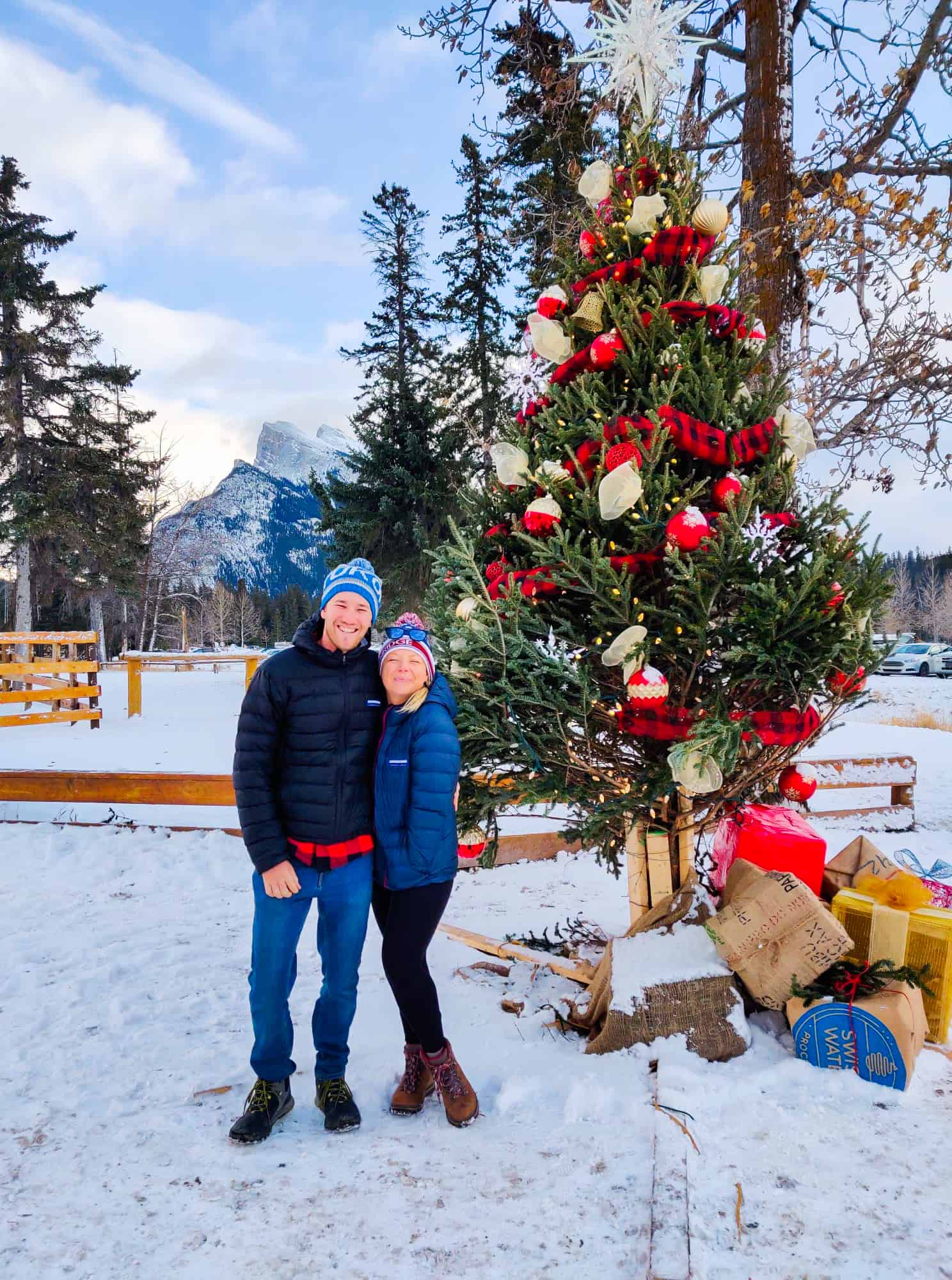 The Banff Christmas Market is a super fun event held the last two weeks of November before the holiday craze really starts. It's located at Banff Trail Riders close to the center of downtown Banff and is another perfect way to spend Christmas in Banff if you are here in late November.
It's the perfect spot to head with friends and family to be merry. Expect Santa, his reindeer, plenty of horses, food vendors, drink vendors, and boutique artisan pop-ups. It's a great way to start getting into the holiday cheer in November!
---
Ice Skate the Canadian Way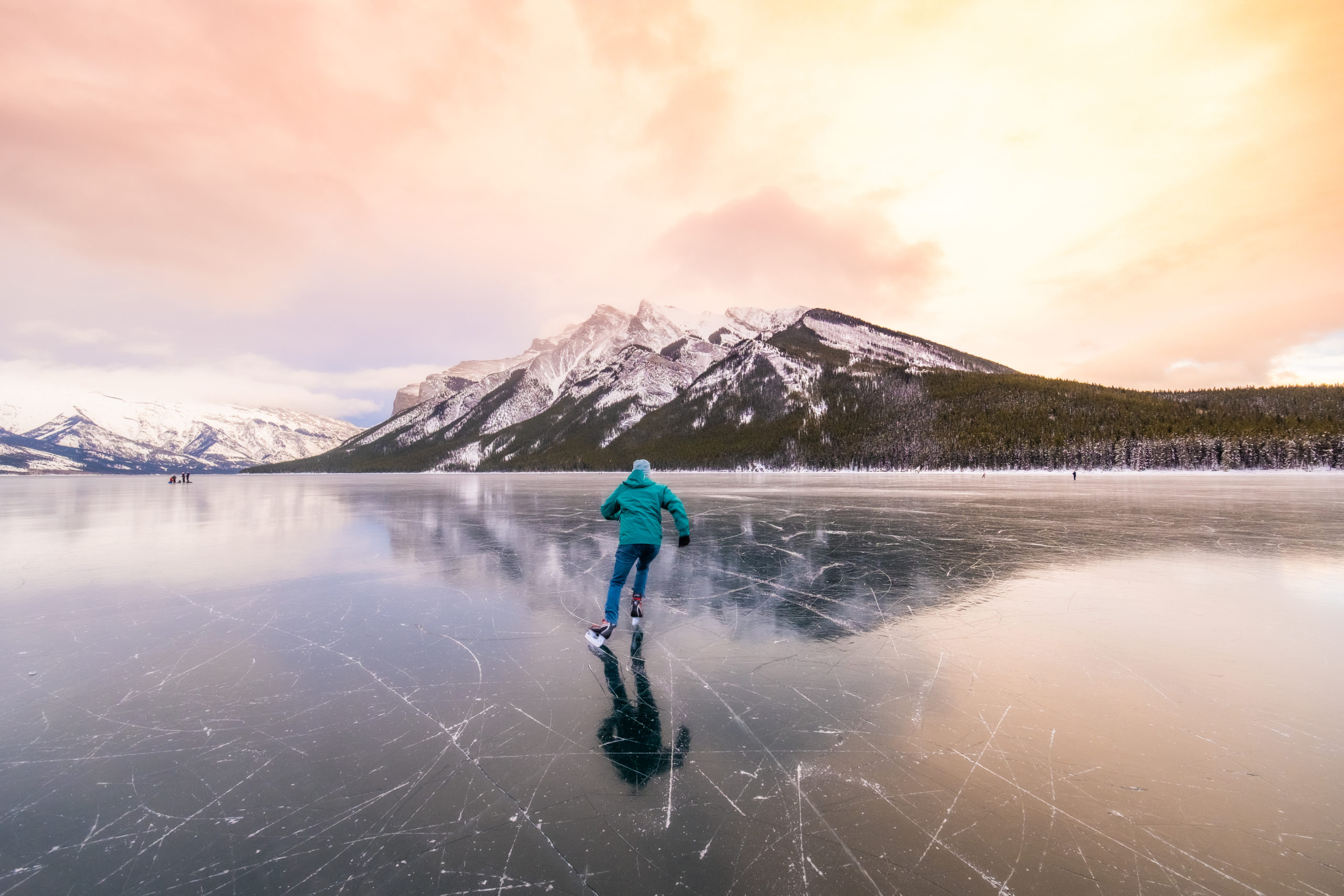 You'll be hard-pressed to find a more scenic ice rink than in the Canadian Rockies. Every year at Lake Louise the lake freezes over and the Chateau Lake Louise marks out multiple ice rinks made for families, figure skating, and hockey. Nothing is more Canadian than playing hockey on a frozen lake. There are a number of places around that offer ice skates for rent in Banff, including Chateau Lake Louise.
Another option is Lake Minnewanka if it's early season and you get lucky with a clear lake you can also skate here! This is one of the best things to do in Banff!
---
Carols in the Park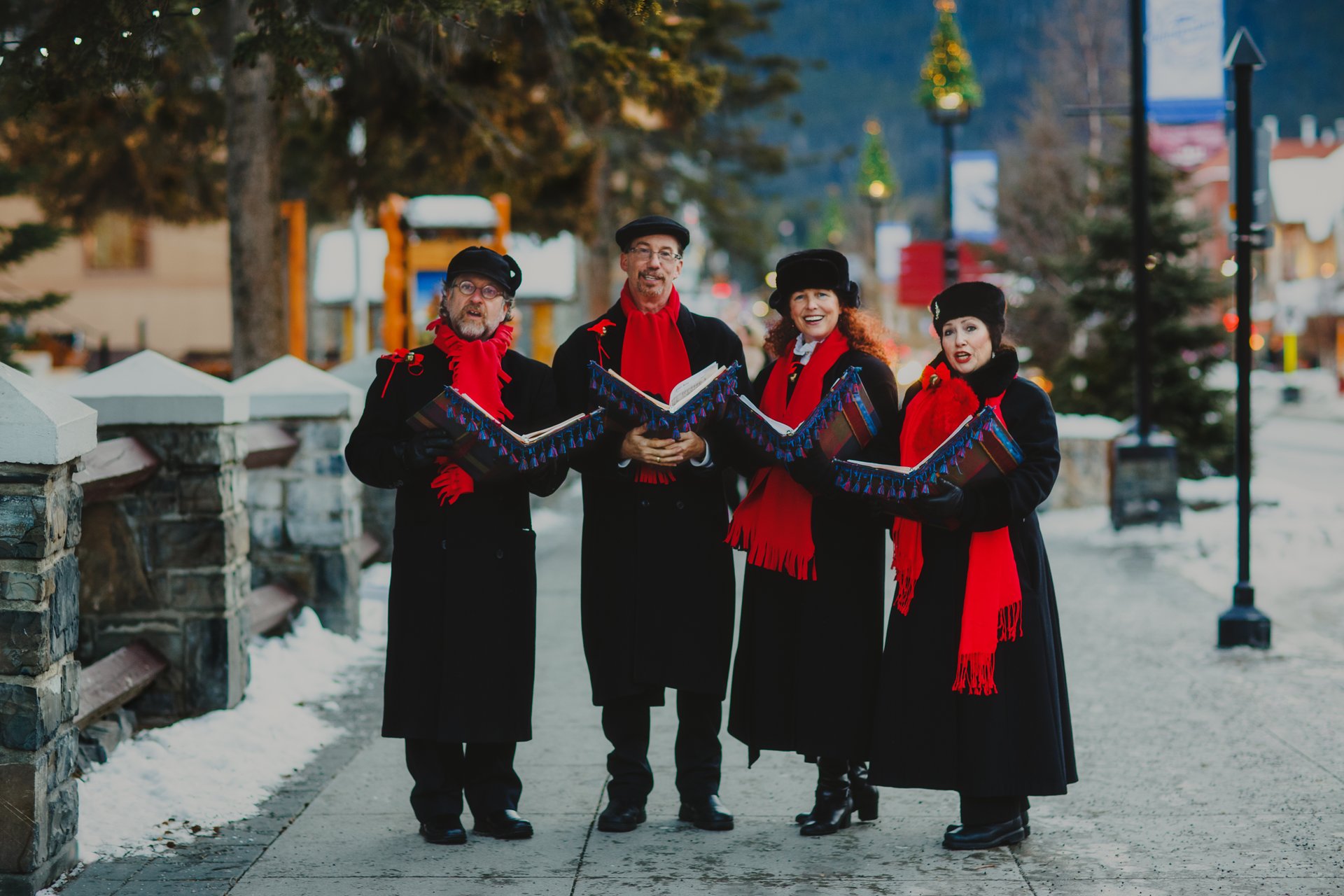 This mountain Canadian Christmas concert in Banff Avenue Square is held multiple times in November and December and is where you can come with family and be merry while listening to Christmas music. The concerts are all free, but dress warmly as it will be chilly!
---
Go Dog Sledding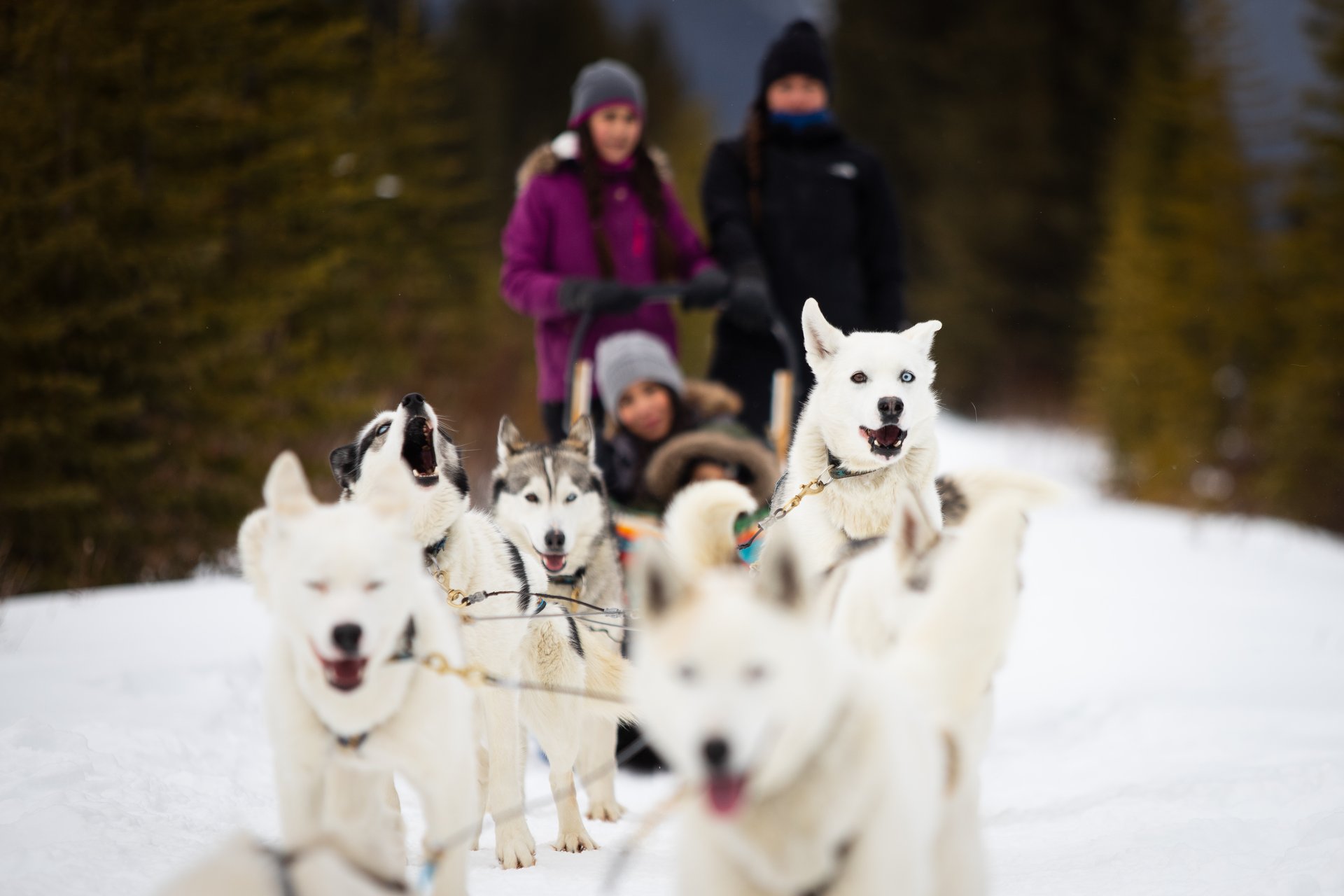 Another great way to spend Christmas in Banff is to go dog sledding! Discover Banff Tours runs dog sledding adventures at Lake Louise and in Canmore.
We've done this four separate times and it's always an amazing experience. What I particularly love is how quiet the ride is with only the sound of the dog teams steps against the snow
---
Snowshoe Around Banff National Park
A great thing to do for families visiting Banff around Christmas is snowshoe! Just because there is snow on the ground doesn't mean you can't leave the well-trodden path. You might not be able to walk through the snow on foot, but a quality pair of snowshoes allow you to float across the snow.
They're super easy to get the hang of and you'll be moving along in no time. Two popular snowshoe hikes are to the Paint Pots or Marble Canyon, but you're free to explore the wilderness on your own if you rent a pair and are confident!
---
Hike Tunnel Mountain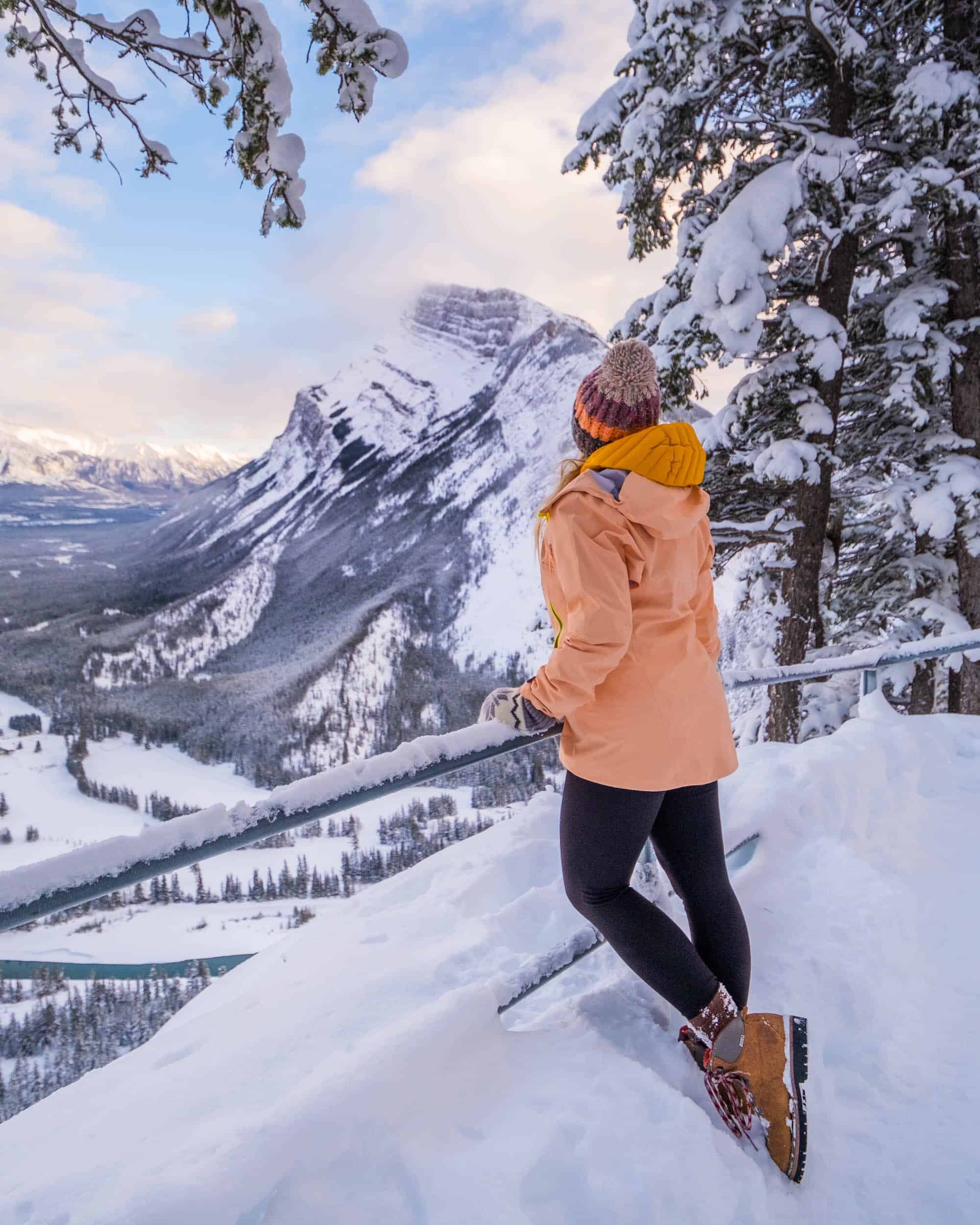 I recommend Tunnel Mountain on every Banff itinerary. Tunnel Mountain is right in the heart of Banff. It's beloved by locals for its accessibility and you can hike it year-round. It may be one of the smallest mountains in Banff National Park, but it still offers tremendous views of the surrounding valleys and Mount Rundle.
The hike moves slowly up the mountain through a number of switchbacks and offers various viewpoints out into the Bow and Spray Valleys. It's great for sunrise or sunset and it rarely disappoints. The best part is it's only 4.5 km round trip and shouldn't take more than one hour up. It's one of the easiest winter hikes you can do with only 266 meters of elevation gain.
We did this last Christmas Eve before the festivities began and it was a great short hike to get in before we gained a bunch of Christmas weight. The whole family was able to join as it's a pretty tame hike! You can read more about the Tunnel Mountain hike here.
---
Head to Canmore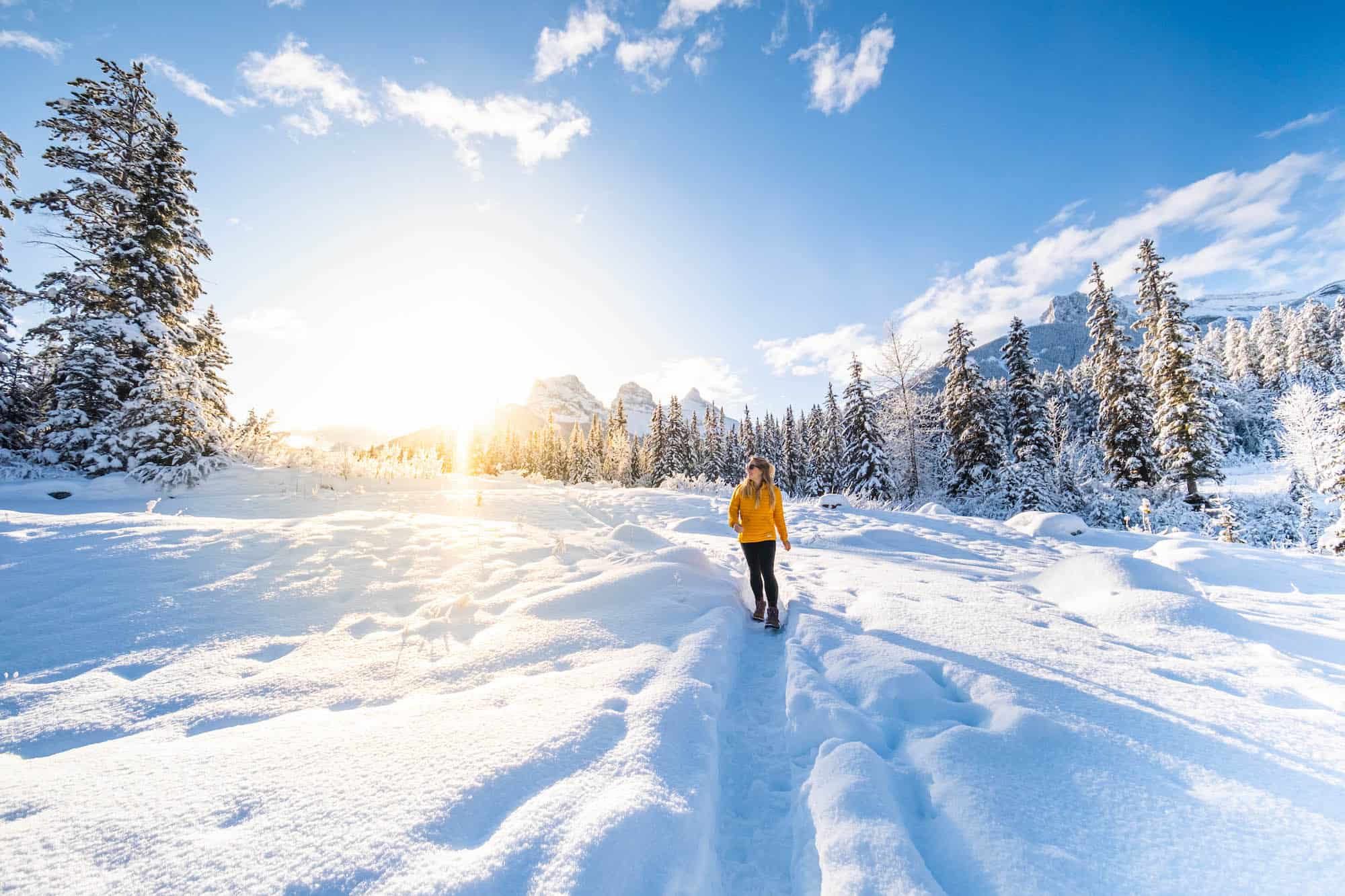 Okay, this isn't really a thing to do in Banff as it's a 15-minute drive away. We may be biased to our home base, but we think Canmore is the bee's knees. Canmore is another mountain town just outside of Banff National Park. It's not nearly as touristy or popular as Banff meaning it's much more enjoyable.
You can walk down the main street here without fighting through crowds and there are plenty of great restaurants, bars, and shops to venture into. The views are just as amazing as well, and Christmas time here is still on point. Make sure to check out The Three Sisters!
---
Browse the Storefronts Around Banff Ave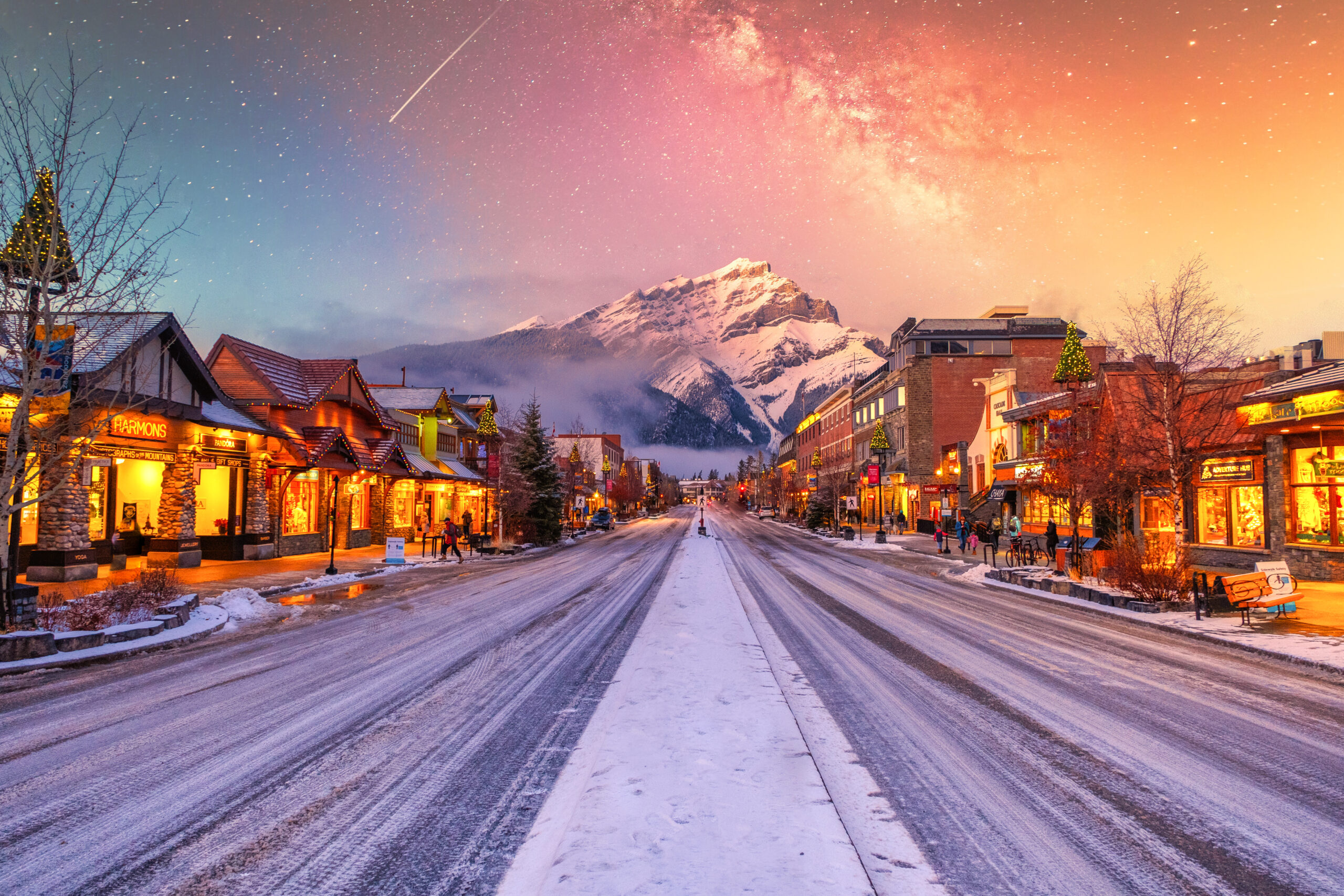 Late November marks the beginning of Christmas time in Banff town. From now until Christmas Banff Ave is lined with cheer and it's full-on shopping time.
I love cruising in and out of the stores even if I'm not buying anything. There is a special feeling in the air in the mountains around Christmas that nothing can replace. Make sure to check out The Spirit of Christmas store for all things Banff Christmas!
---
Banff Hot Chocolate Trail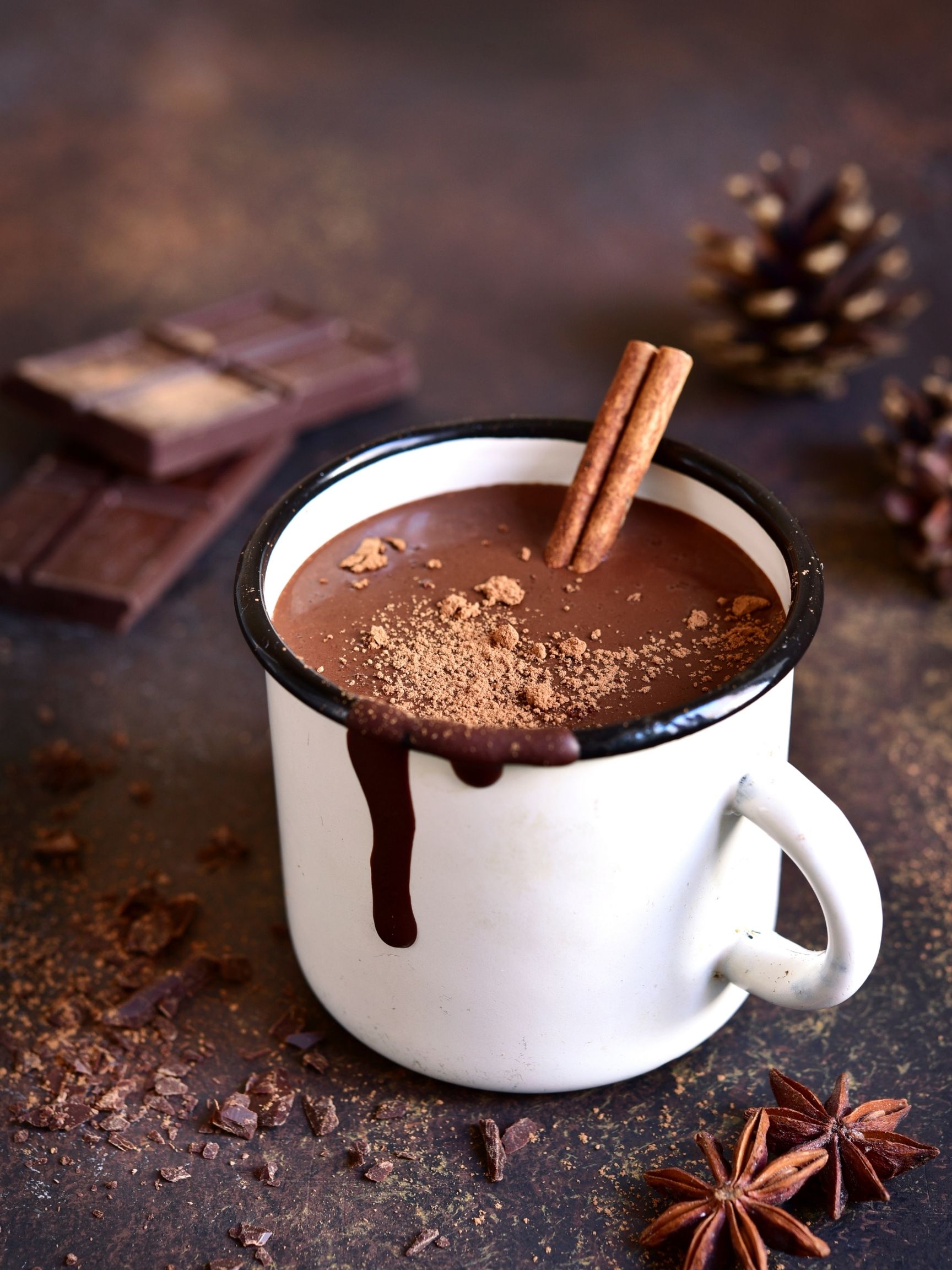 Around Christmas times all the best cafes in Banff come together to create the "Hot Chocolate Trail." Cafes like Wild Flour, Stock, Park Disterilly, Good Earth and many more all make their own signature hot chocolates to try – yes some of them are alcoholic drinks for the adults.
---
Booking Hotels Around the Holidays
---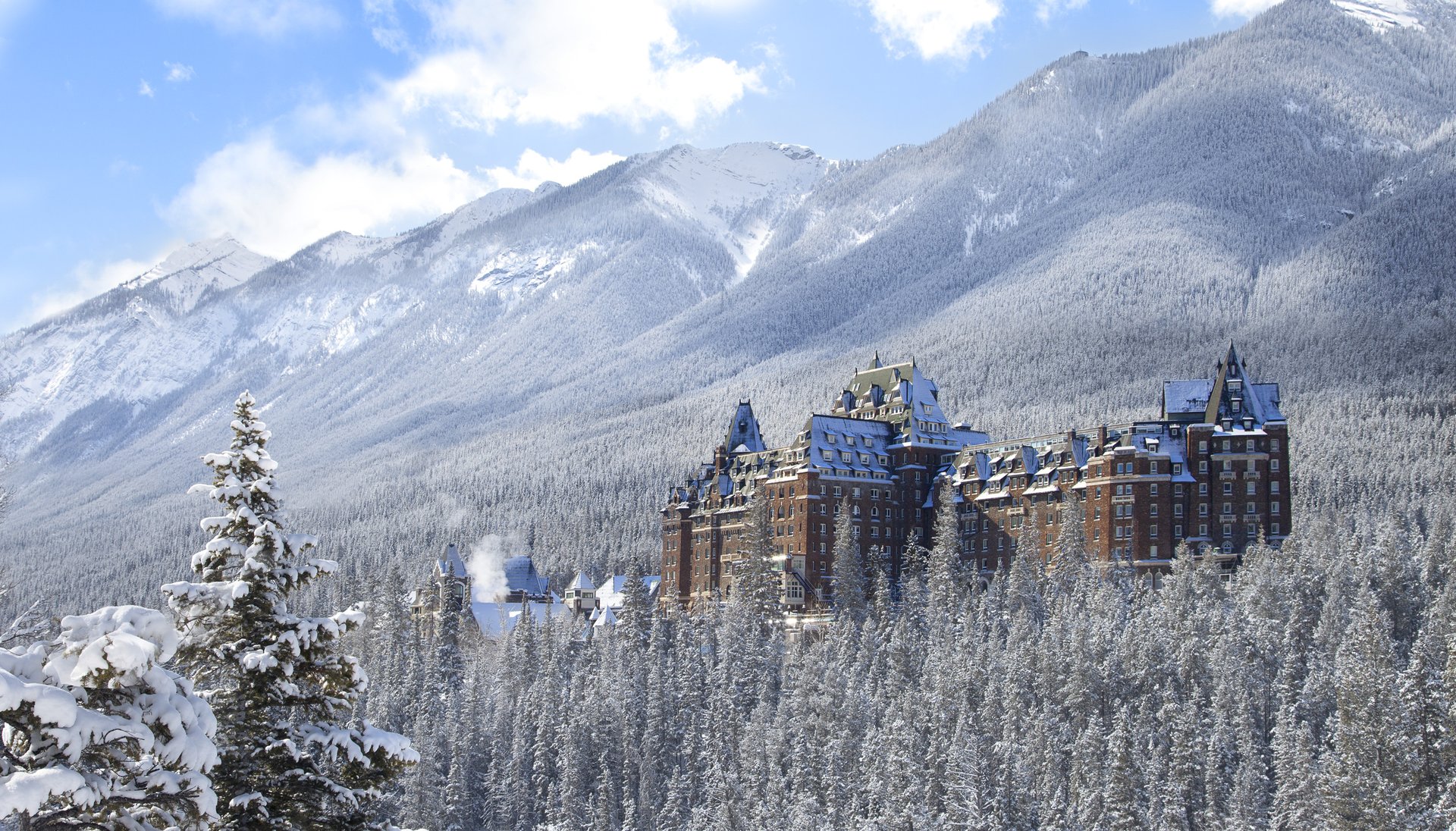 I highly recommend booking your hotels well in advance around the holidays. Banff is a popular destination, even in the winter. For the best deals and options, you should start looking at hotels during the Fall or before that.
If you do find yourself priced out of options in Banff don't forget to start checking around Canmore!