Johnson Lake is one of our favorite lakes in Banff because it's often overlooked by the more popular Two Jack Lake and Lake Minnewanka. It's known as a local's favorite for various reasons, but in general, it is one of my favorite lakes in Banff.
Heading to Johnson Lake is one of the best things to do in Banff on a sunny summer day. There's great swimming, hiking, and paddling at this stunning lake. There are so many interesting things to know about Johnson Lake and surprisingly many things to do at Johnson Lake!
---
All About Johnson Lake in Banff
---
Johnson Lake is Not As Wind Affected as Other Lakes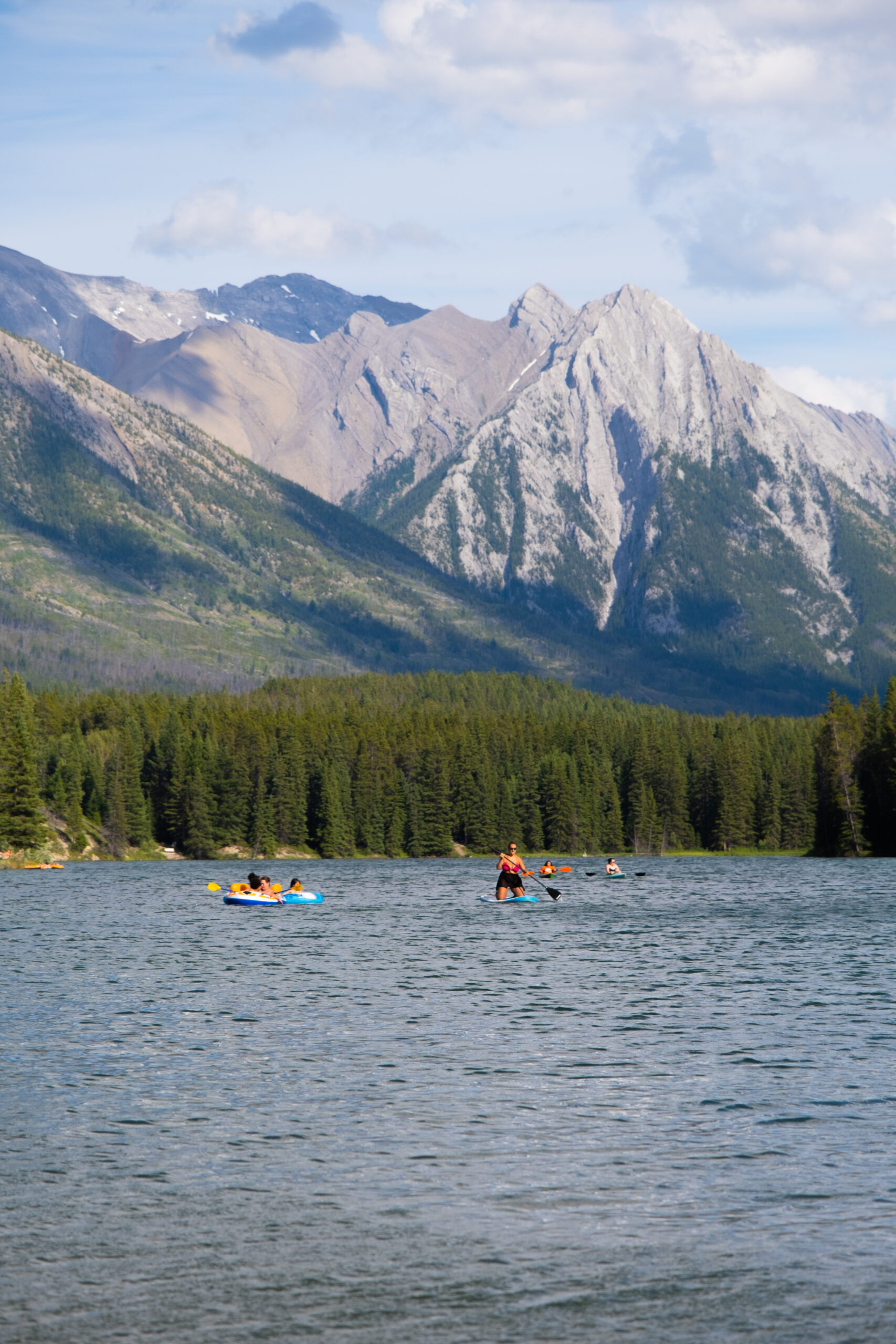 The first thing I love to mention about Johnson Lake (not to be confused with Johnston Lake or Johnston Canyon) is that it's well protected from the wind. Much more protected than nearby Vermilion Lakes or Lake Minnewanka. You may think this doesn't sound like a big deal, but once you are out on the water and experience the wind the Canadian Rockies have in store, you may think differently.
Unless it's a near-perfect day, there is almost always heavy wind in Banff National Park. This makes paddling on a canoe, kayak, or stand-up paddleboard tough. So when you get a smooth and calm lake like Johnson Lake, you enjoy it to the fullest!
---
You Can Swim in Johnson Lake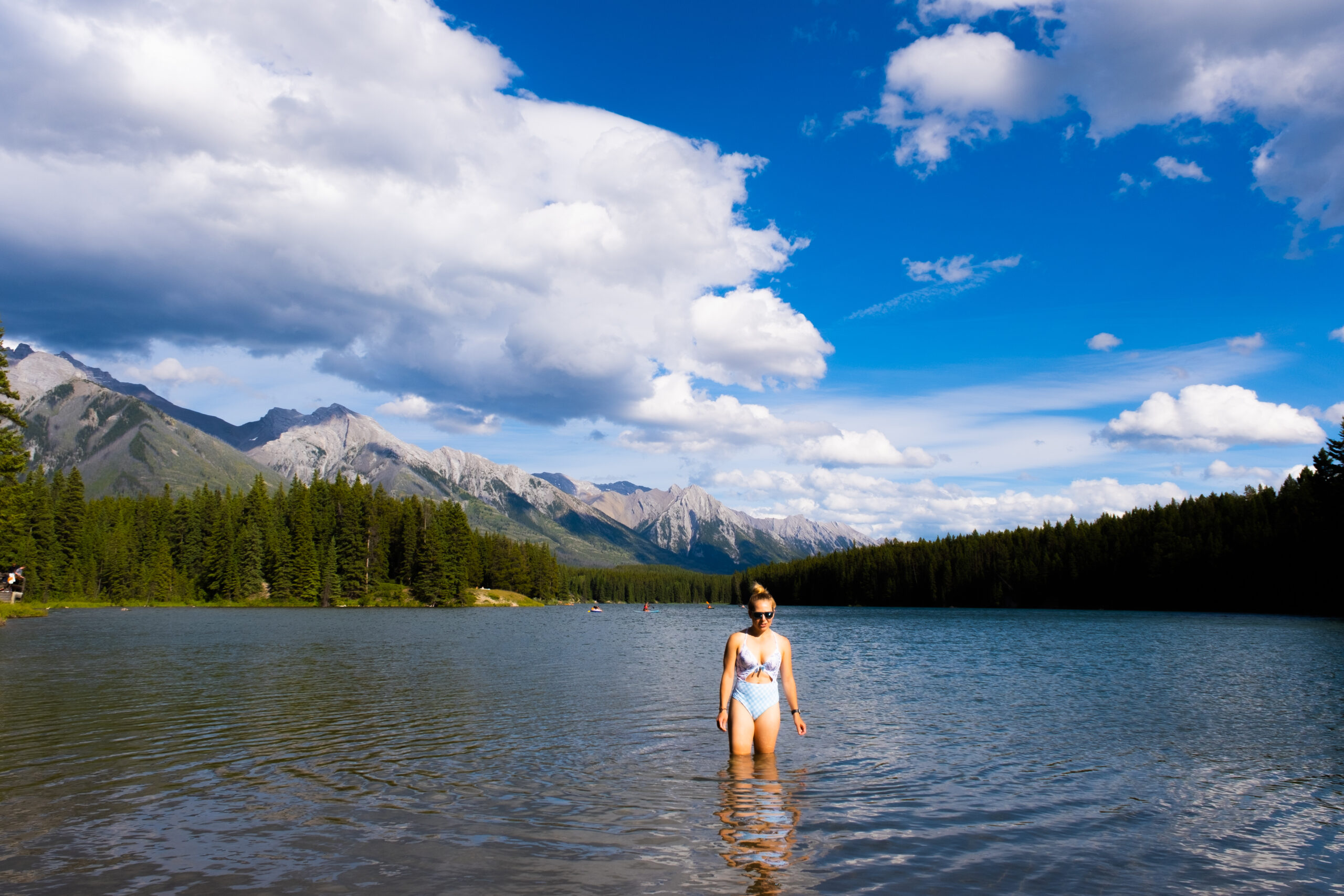 With all that talk about the wind, I guess I should also mention that Johnson Lake is one of the few lakes in Banff National Park that you can comfortably swim in. Sure, you can swim in any of the lakes – technically, but they won't be enjoyable for more than 10 seconds.
Johnson Lake is typically much warmer than the other big lakes in Banff, including nearby Two Jack Lake and Lake Minnewanka. So don't forget your swimsuit when you head to Johnson Lake.
There's also a big open area for sunbathing and picnic benches to enjoy lunch at.
---
Ice Skate on Johnson Lake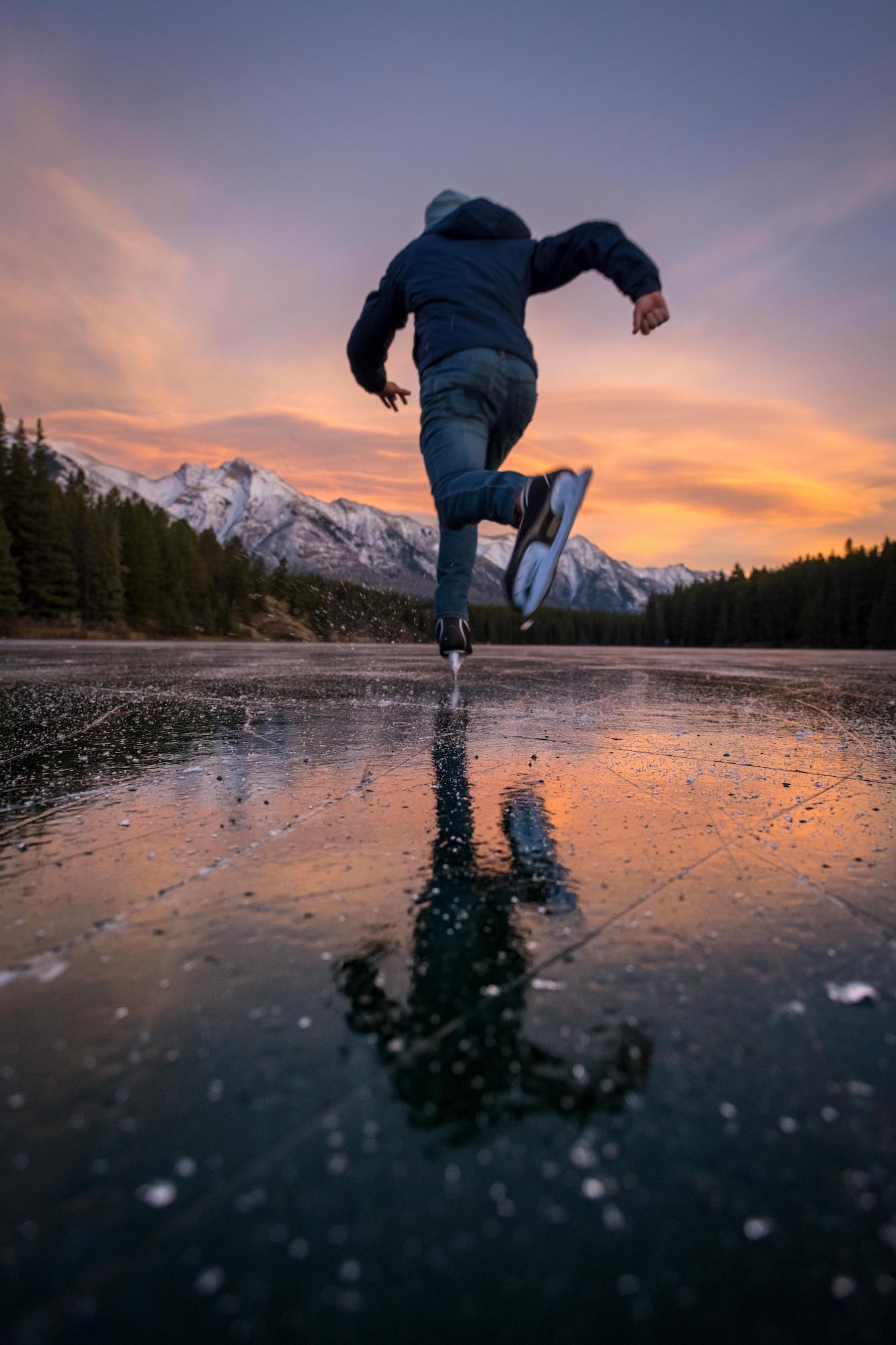 Johnson Lake isn't just good for swimming in the summer, but you can also enjoy it in the winter. If you time it just right, Johnson Lake is one of the best places in Banff to ice skate. The key to ideal conditions on Johnson Lake is to hit the lake right after it fully freezes, but before it snows again and the snow sits on the lake.
Like most of the lakes in Banff, the ice skating window is small, but it will be an amazing day if you catch it. Just make sure to check the ice and make sure it's safe to skate on first.
Where to Go Ice Skating in Banff and Canmore
---
Johnson Lake is a Local's Favorite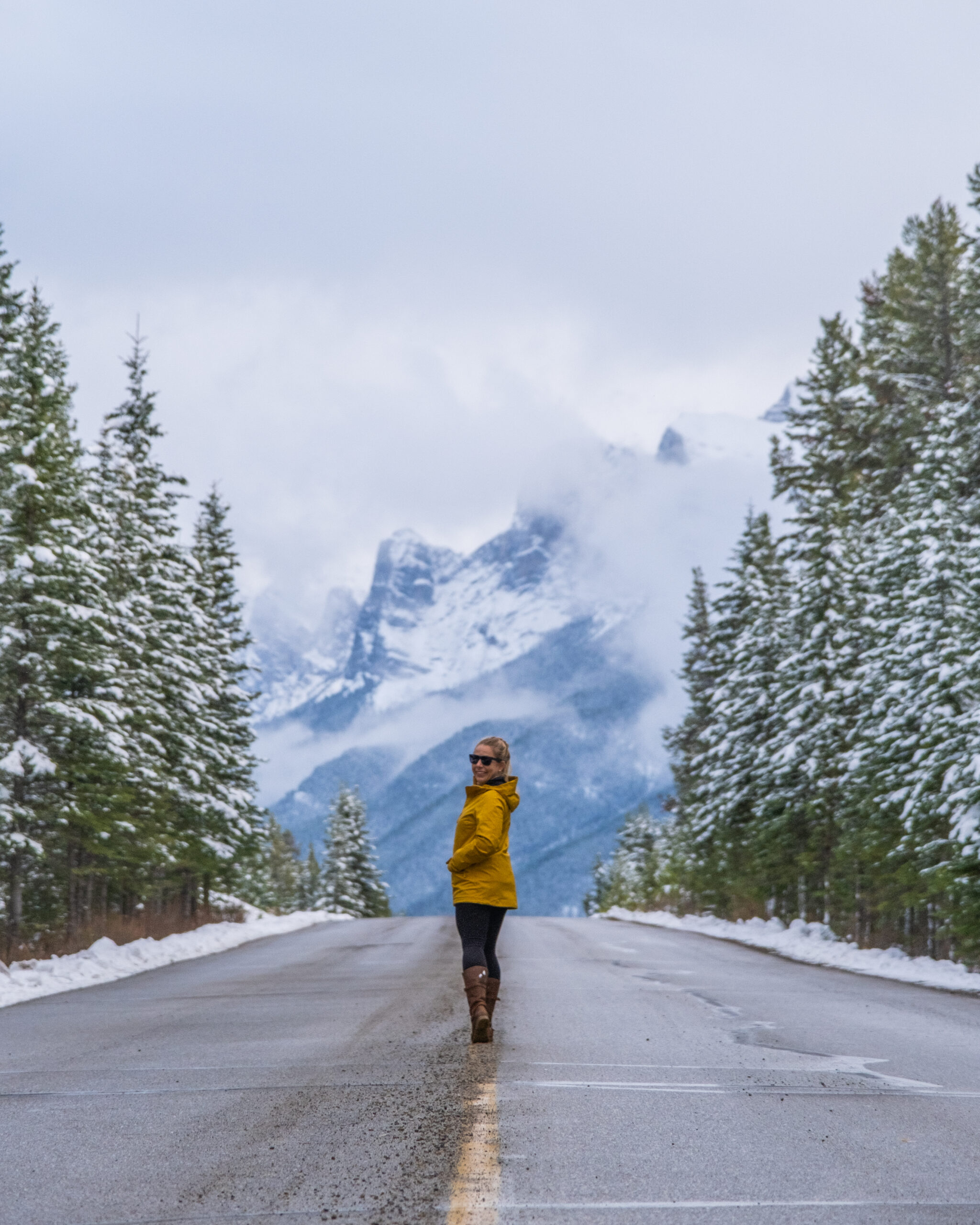 Most of the lakes in Banff are well frequented by tourists and for a good reason! Moraine Lake, Lake Louise, and Emerald Lake are all stunning, and everyone knows it. Johnson Lake, while beautiful, is not as well known as the other famous lakes in Banff and therefore is much quieter than other lakes.
Few visitors venture to it even though it's right next to Lake Minnewanka and Two Jack Lake. It's known as a local's lake and the one place locals can head to right from town and soak in the sun and go for a leisurely dip or walk.
---
Johnson Lake is Close to Lake Minnewanka and Two Jack Lake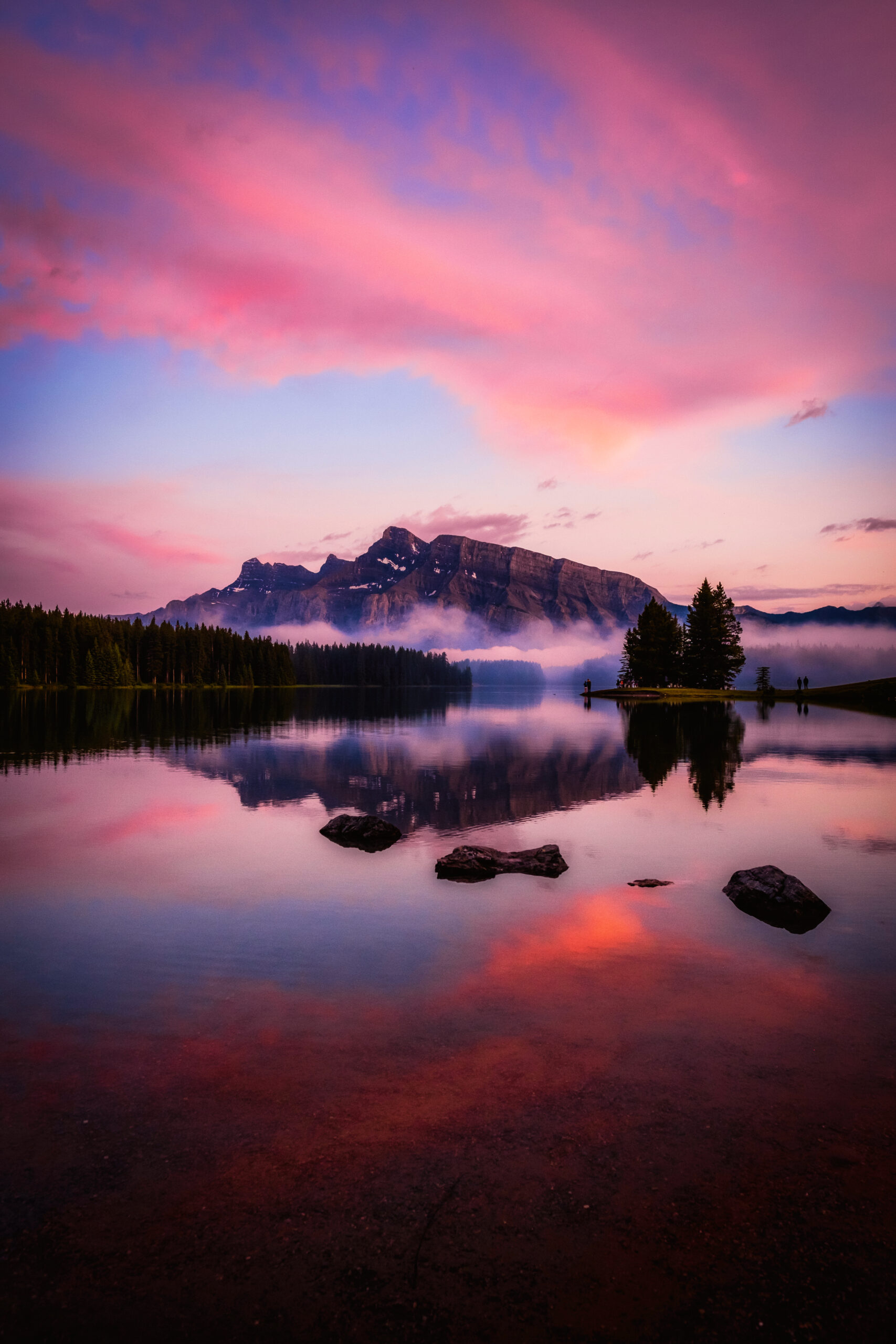 Johnson Lake is located at the end of Johnson Lake Road, right off Lake Minnewanka Loop Road. The turn-off to Johnson Lake is right before Two Jack Lake and Lake Minnewanka, meaning you should definitely make a stop if you're heading to either of these two lakes.
One of the best "water" days you can have out in Banff is along Lake Minnewanka Loop Road. First stop at Cascade Ponds, followed by Johnson, Two Jack, and then Minnewanka. They are accessible in both the winter and summer, and the drive is stunning!
---
Johnson Lake is Great for Relaxation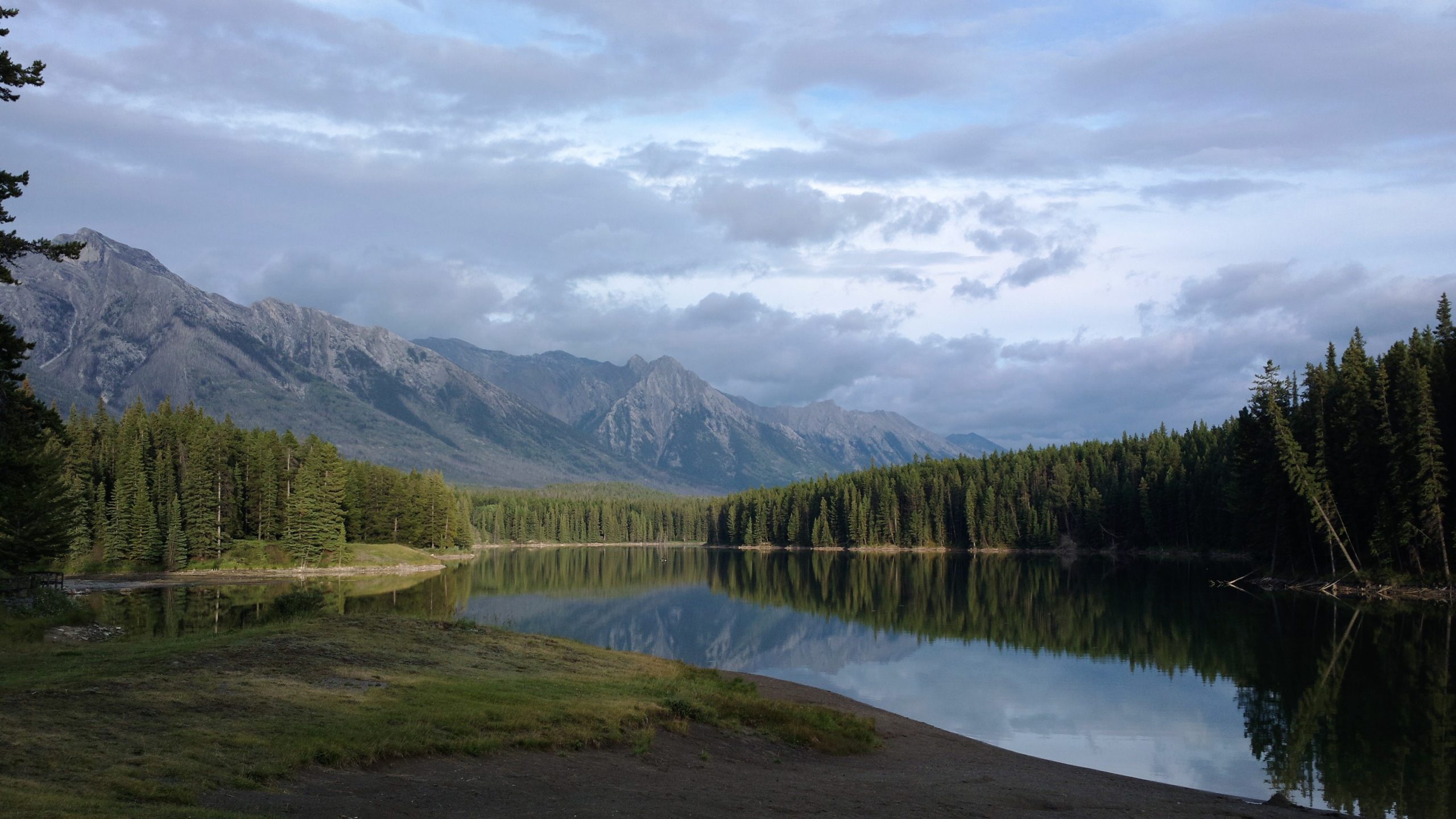 One of the main reasons to Iove Johnson Lake is it's just great relaxation. As mentioned, it's the perfect spot to sunbathe on a warm summer day. There's ample space to spread out a towel with friends and plenty of picnic tables to enjoy lunch at.
Johnson Lake is a relaxing spot for any type of paddle, and there is a walking trail around the entire lake. It's where many Banff locals come for a morning walk with their coffee or an afternoon dog walk around the lake.
The loop is a straightforward Banff hike that is an even elevation and makes for a great evening or morning walk as it's not too far from Banff town and very close to Two Jack Lake campsite.
The trail works its way through the forest and offers some astounding views out over the lake back to Cascade Mountain looming high above.
---
Johnson Lake has a Rope Swing!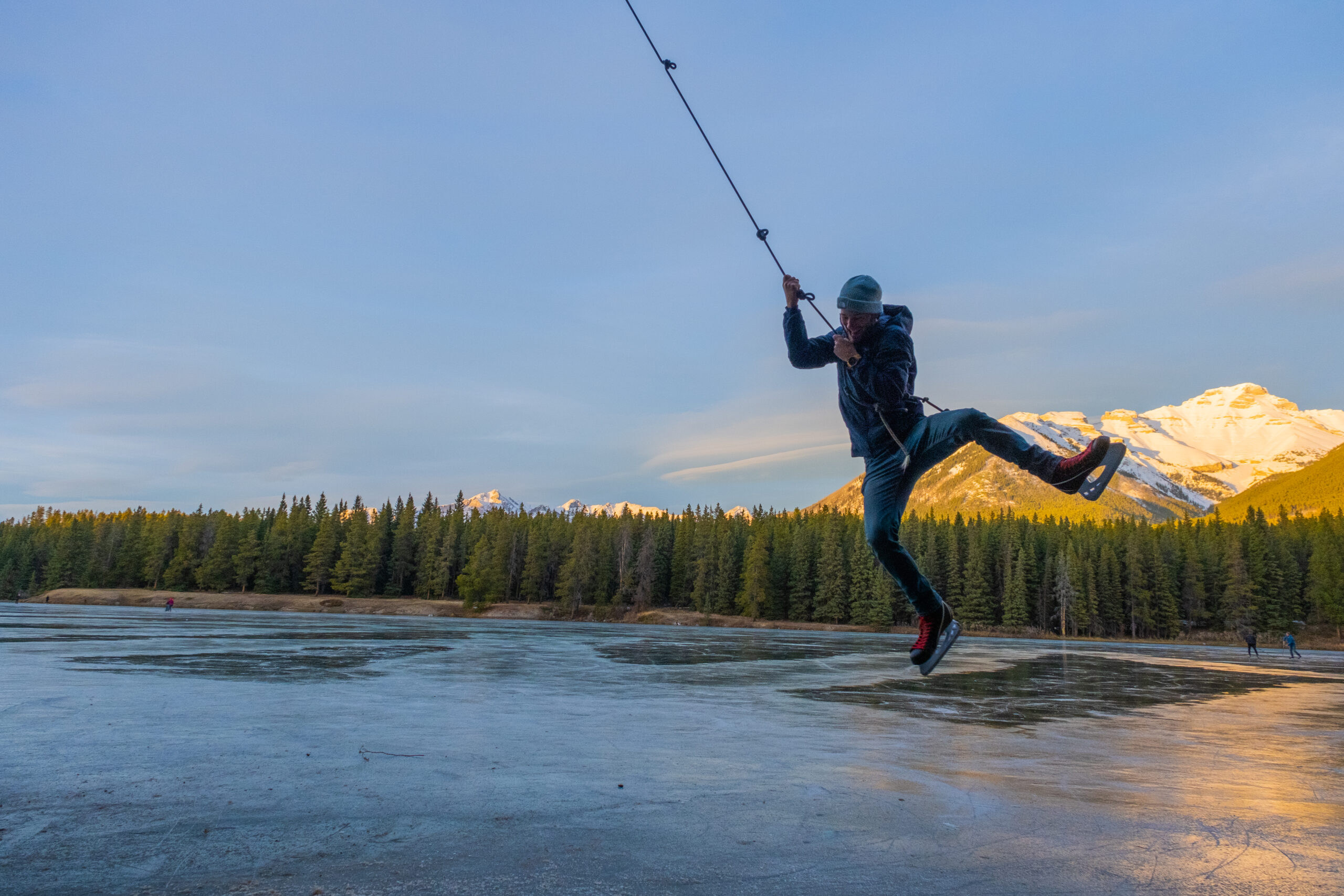 I won't say much more than this because you'll have to do a little exploration on your own to find it, but there is a rope swing on Johnson Lake, and it is enjoyable in the summer and winter!
---
Things to do in at Johnson Lake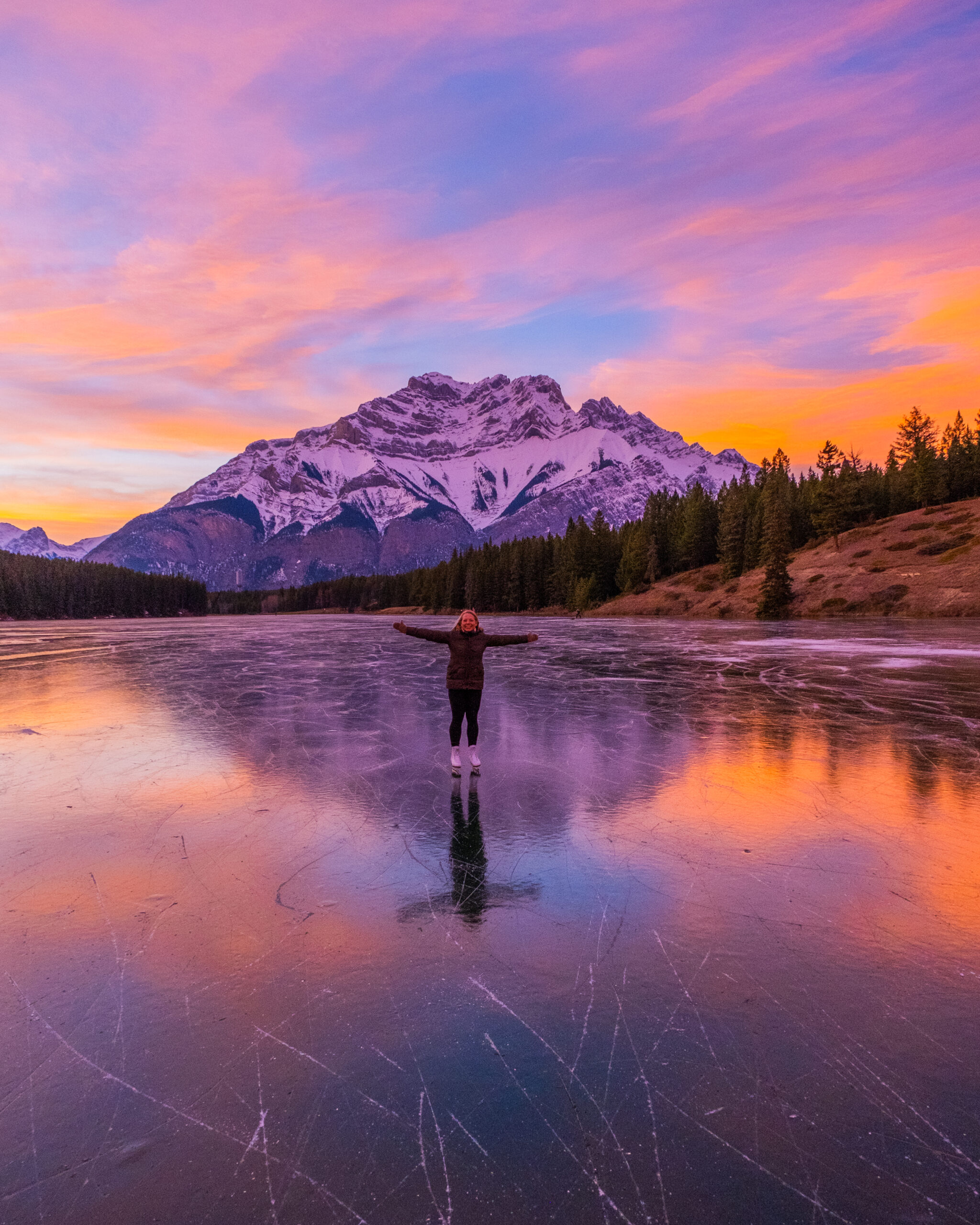 There are many things to do at Johnson Lake. You can easily spend the entire day here and never get bored. Just pack a lunch and some drinks for an epic time.
Cycle Lake Minnewanka Loop Road: Starting in May you can cycle Lake Minnewanka Loop road. It's a fabulous cycle that will take you to Cascade Ponds, Johnson Lake, Two Jack Lake, and Lake Minnewanka!
Have a Picnic at Johnson Lake: Johnson Lake has some picnic benches for all to enjoy. Bring a lunch here and have a picnic. Or grab takeout from one of the Banff restaurants nearby. Please don't forget to throw away your garbage in the bear safe bins and always Leave No Trace.
Stand Up Paddleboard: Since Johnson Lake is one of the most wind protected lakes in Banff it's a fabulous place to stand up paddleboard.
Kayak at Johnson Lake: It's easy to launch a kayak or even a canoe into Johnson Lake right from the lakeshore.
Swim at Johnson Lake: As mentioned Johnson Lake is one of the "warmer" lakes in Banff, so if you are up for swimming in one of the Canadian Rockies lakes this is a great option.
Hike Around Johnson Lake: The Johnson Lake Lakeshore trail is a popular 3km hike around the lake. It doesn't have much elevation gain and is great for children.
Ice Skate on Johnson Lake: In November Johnson Lake freezes over enough to ice skate on it. If you hit the lake when it's completely frozen over, but before a big snowfall you'll have a fantastic time skating under Cascade Mountain.
---
Watercraft at Johnson Lake
Although Johnson Lake is one of the best places in Banff to paddle, there is nowhere to rent canoes, paddleboards, or kayaks at Johnson Lake. You can rent equipment at the Banff Canoe Club or the Adventure Club on Banff Ave. They offer half-day and full-day rentals.
New to prevent the spread of Aquatic invasive species visitors must now fill out a Self Certification Permit with Parks Canada for any nonmotorized watercraft entering the water. This includes kayaks, canoes, and paddleboards. The Self Certification Permits can be found online.
---
How to Get to Johnston Lake in Banff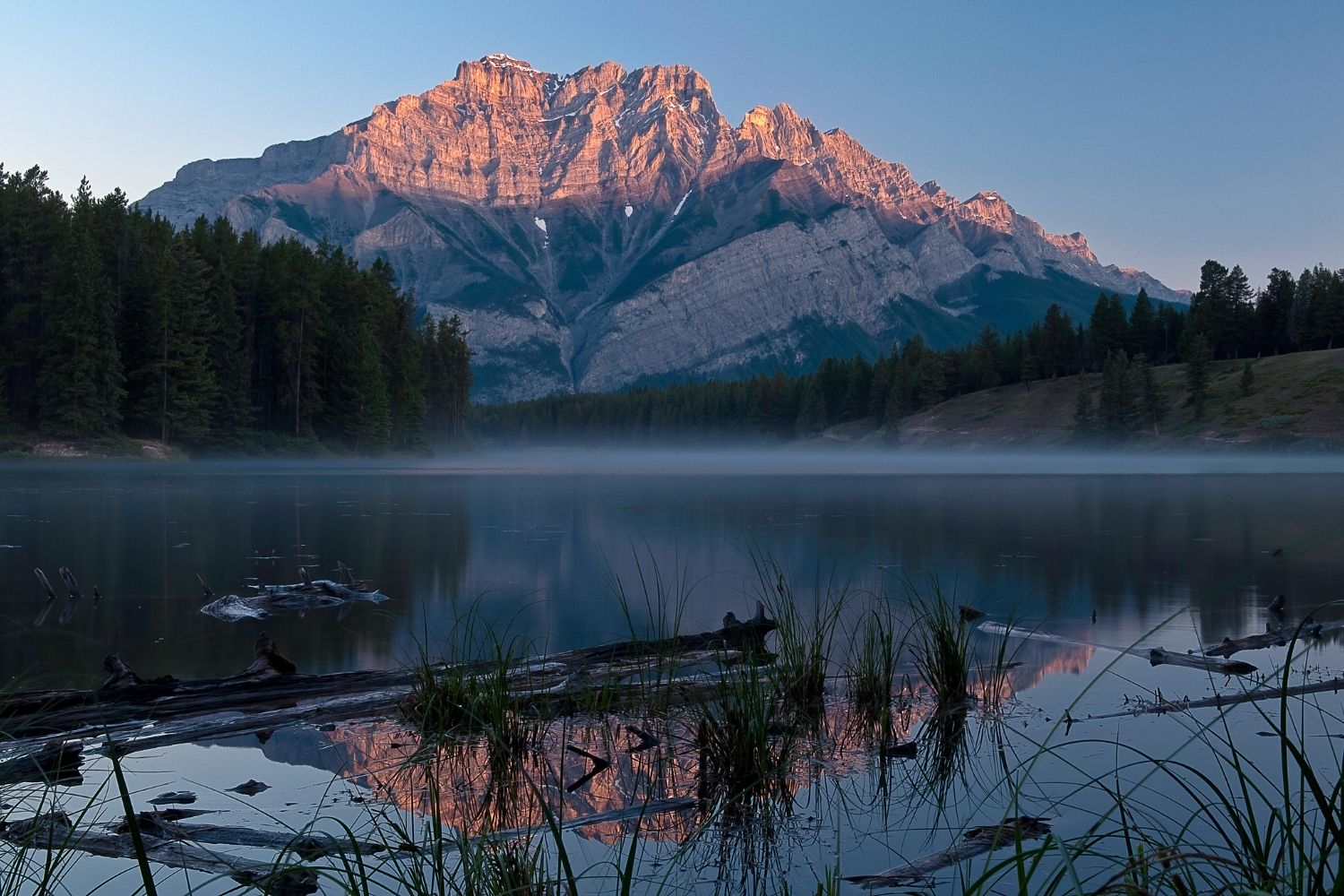 Johnson Lake is super easy to get to. Located off of Lake Minnewanka Loop Road is Johnson Lake Rd, which you will turn off to access Johnson Lake. There is a large parking area at Johnson Lake with bathrooms and trash bins; however, the lot can fill up quickly on weekends in the summer. Then people will start to park on the road, which is subject to ticketing.
From the Town of Banff to Johnson Lake, it will take you about 15 minutes to drive. The drive to Johnson Lake will take about 1.5 hours from Calgary, so if you are making the drive, it's best to see Lake Minnewanka, Two Jack Lake, and Cascade Ponds for the day also.
Rent a Car in Banff: One of the best ways to get around Banff is to rent a car. This ensures you see everything you want on your Banff itinerary. It will give you flexibility to do what you want, when you want.
Take Public Transport: Roam Route 6 services Lake Minnewanka Loop road. The service operates 7 days a week, and the first bus departs at 8AM.
Cycle: Park at Cascade Ponds or leave right from the town of Banff and cycle to Johnson Lake. During May 1 – 20, Parks Canada has the Lake Minnewanka Loop road closed to vehicles which is the best time to cycle to the lakes, although you can cycle them year round as Minnewaka Loop road isn't crazy busy.
---
Get a Parks Pass for Johnson Lake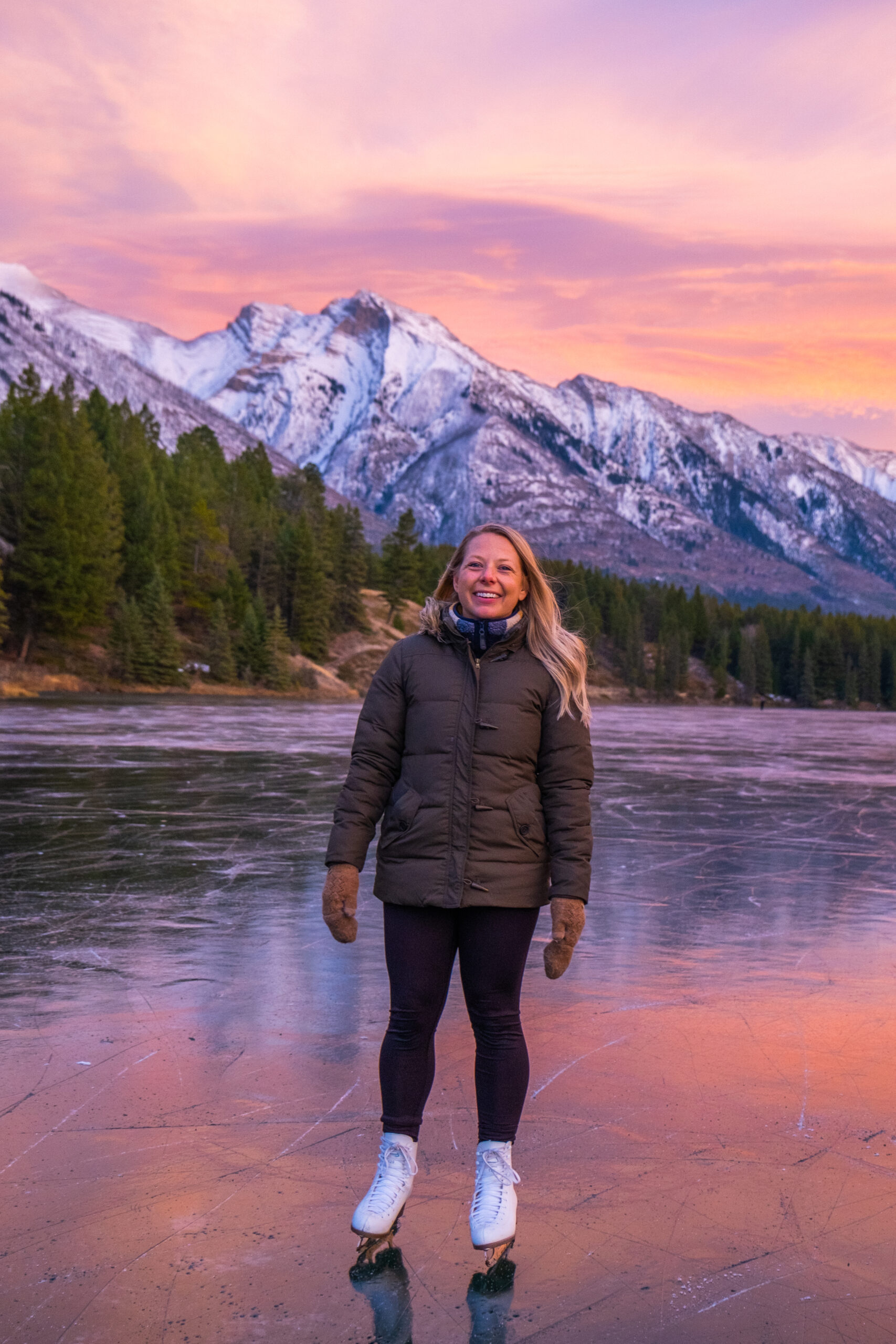 You need a Parks Canada pass to visit Johnson Lake as it is located within Banff National Park.
You can purchase a Parks Canada pass at any park gate right before Johnson Lake. Or you can buy them in advance online. A Parks Canada Discovery Pass, which gets you entrance to all Parks Canada destinations for the year, is only $145.25 for a family.
Day passes are $10.50 per person, so depending on how many days you are staying and if you have plans to go to Banff, you may want to consider the Discover Pass.
Parks Canada Day Passes
Adult: $10.50
Senior: $9
Youth (up to 17): Free
Family/group of 7 people: $21.00
Day passes expire at 4 pm the following day.
ULTIMATE Guide To Purchasing A Banff Park Pass (Parks Canada Pass)
---
Facilities at Johnson Lake
Unlike many Alberta lakes, Johnson Lake actually has some very great amenities and facilities. These include:
Public (clean!) bathrooms
15 Picnic Tables
Trash bins
Watercraft washing station
Bike racks
---
Where to Stay Near Johnson Lake
The best place to stay near Johnson Lake is in either Banff or Canmore. The town of Banff is closer, but honestly, Canmore is not much further and can often provide better value. The closest hotel to the lakes on Lake Minnewanka Loop road is the Juniper Hotel and Bistro by Mt. Norquay.
Check Rates on the Juniper Hotel
---
Other Lakes We Love
---
---
Plan Your Trip to the Canadian Rockies
↓ Join the community ↓
The Banff Blog Facebook Group is your headquarters for the Canadian Rockies' travel advice and information. Including hike info and off-season travel information. This is also where you can meet one another when you need adventure buddies.