Bow Lake is one of the many lakes that line the Icefields Parkway and a popular stop for visitors to Banff National Park in Alberta, Canada. It's no secret that the Canadian Rockies are not short of spectacular vistas and lakes.
Bow Lake is one of our top recommendations for a stop to stretch the legs on the Icefields Parkway. A short walk along the lakeshore trail is a family-friendly hike, or you can enjoy longer hikes around Bow Lake for a more complete day. Whatever you decide to do, make sure you don't miss Bow Lake. Here's all you need to know about this beautiful Banff lake.
---
Visiting Bow Lake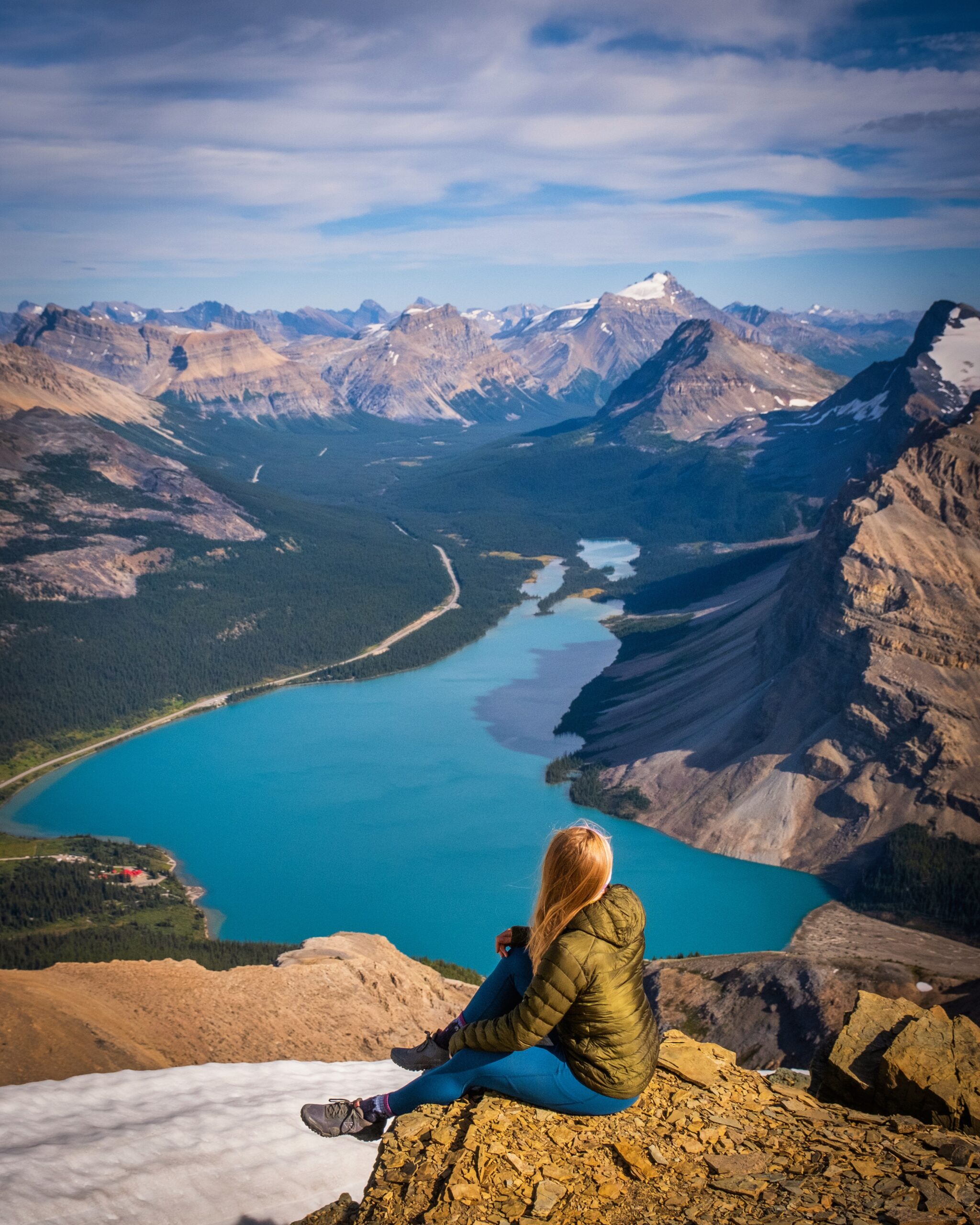 Bow Lake is a tremendous stop on the Icefields Parkway and one of our favorite Banff lakes to enjoy. While it's not a large lake in the scope of the world, it is big for the Canadian Rockies.
In the Banff summer months, when the lake thaws, it turns a dizzying blue from the glacier melt of the Crowfoot Glacier and Wapta Icefield.
The sheer rock wall of Crowfoot Mountain, the hanging glacier, and the expansive Wapta Icefield provide an innate way of humbling all who gaze on the landscape.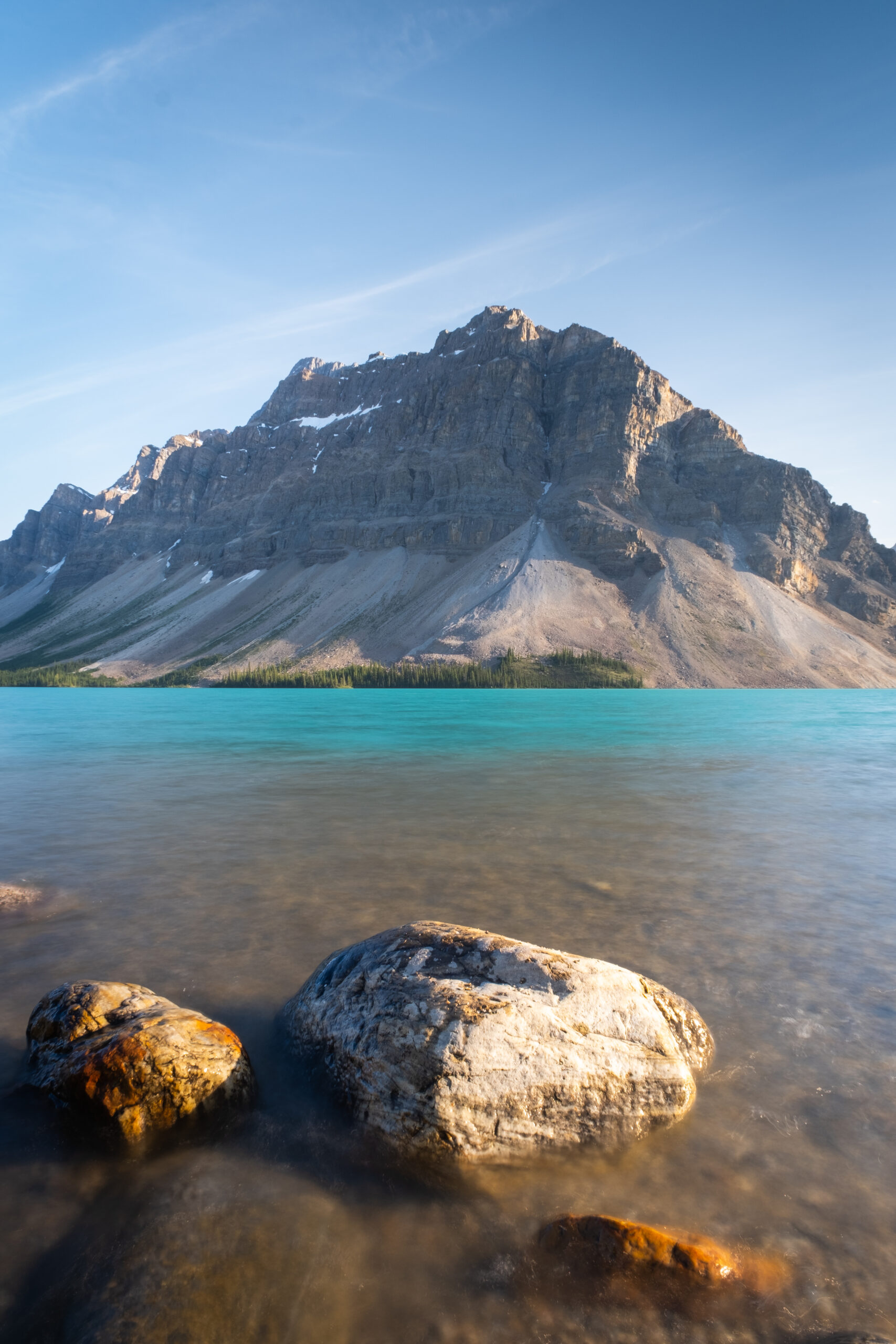 Bow Lake sits at an elevation of 1920 meters and spends most of the year locked away in ice. This makes it a popular spot for winter activities like snowshoeing and ski touring. The lake acts as the source of the Bow River, a notable river in Banff National Park that flows through Banff, Canmore, and Calgary.
We love Bow Lake in the summer and have spent a lot of time exploring the area as there are several peaks and hikes. There are a plethora of options for hikers, scramblers, and mountaineers around Bow Lake.
Bow Lake also has an excellent picnic site with picnic benches along the shoreline just off the Icefields Parkway (Hwy 93), the perfect stop for lunch. It's also an awesome spot to hang a hammock and relax along the shoreline.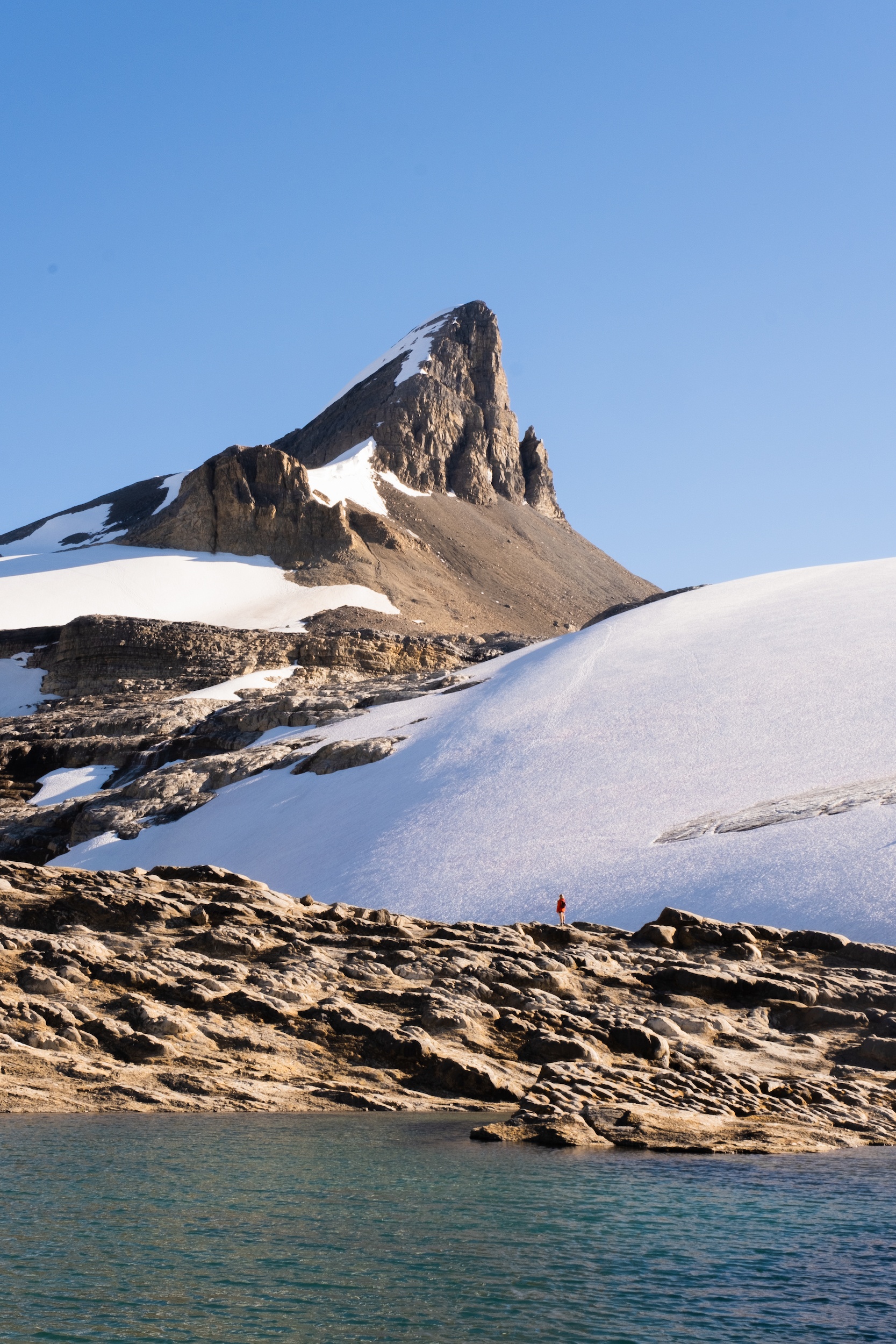 Along its shore lies The Lodge (previously called Num-Ti-Jah), a historic site built by one of Banff's early mountain guides, Jimmy Simpson. The mountain above the lodge that sits at the North end of the Lake is also named after the man, Mount Jimmy Simpson.
Mount Jimmy Simpson is a wonderful objective for rock climbers or scramblers as there are multiple routes, and views from the summit are sublime.
---
Directions to Bow Lake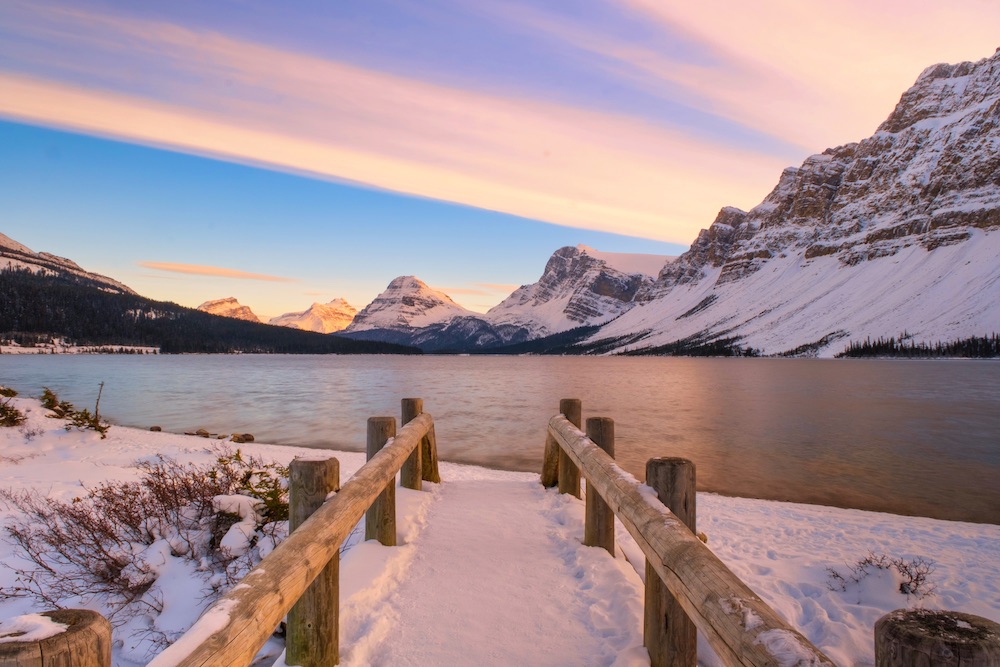 Bow Lake is located off the Icefields Parkway or 93N. The highway begins just off the Trans-Canada Highway #1, a few minutes West of Lake Louise. From there, it's another 35 km to Bow Lake. You can find the exact location on Google here.
Watch for signs for Num Ti Jah Lodge (The Lodge) off the Icefields Parkway, and the turn off will be on your left coming from the Trans-Canada or on the right from Jasper.
Bow Lake is nearby Peyto Lake, so if you are heading to Peyto Lake it's best to combine the two!
---
When is the Best Time To Visit Bow Lake?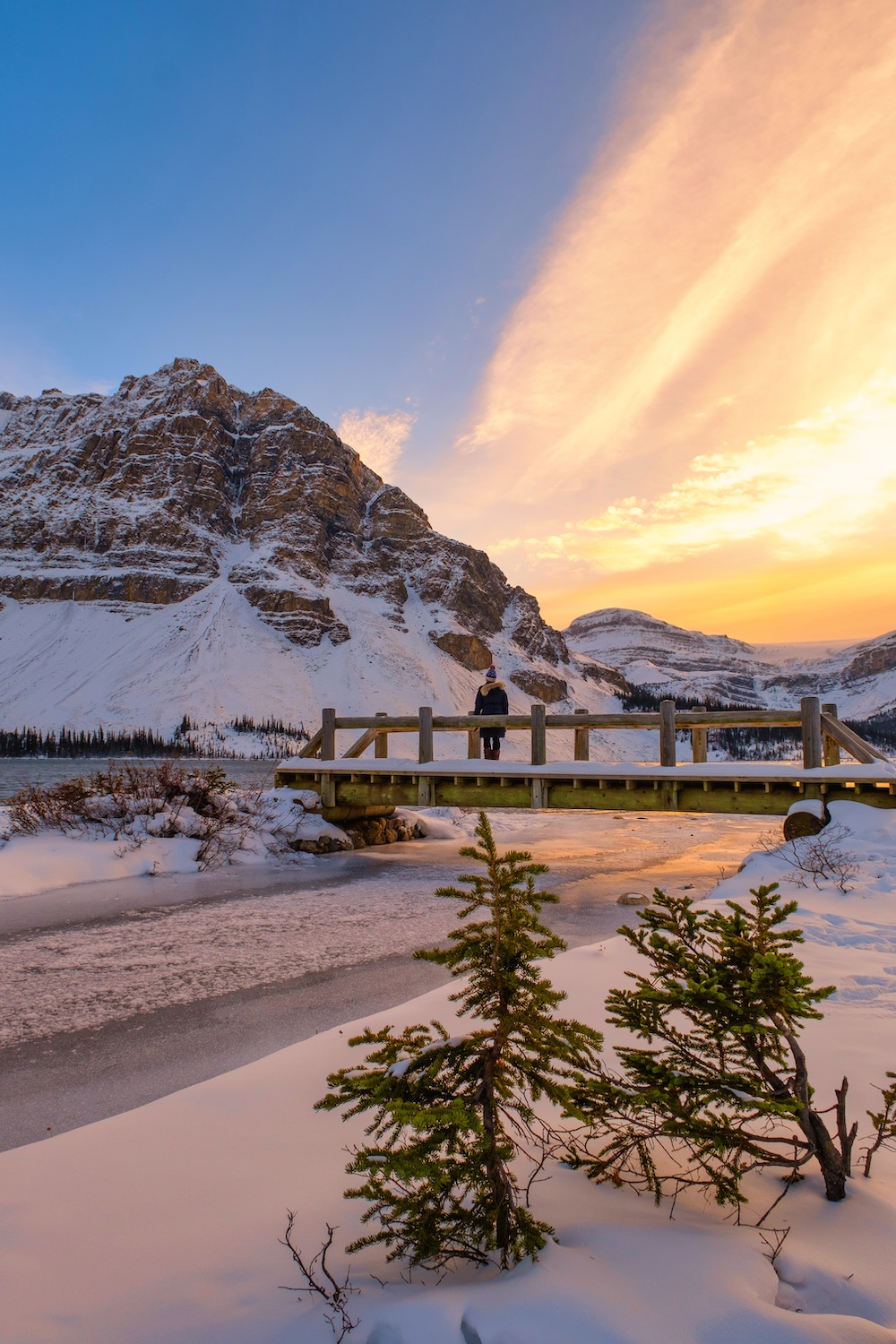 The best time to visit Bow Lake in Banff is from June to September. Spring arrives around June and is a tremendous time as the lake melts. You can witness tons of wildflowers and a brilliant blue lake.
In summer the lake remains full and is always a great visit. In the Fall, late September to October, there are almost no larch trees, so fall colors are not present. If you plan to go hiking around the lake, the best time is from July to mid-September.
Once the lake locks into the winter come November, it can make for a fantastic place to snowshoe along the lake surface. The lake will be frozen and covered in snow, so you can not witness the gorgeous blue. Be cognizant to not approach the slopes of Crowfoot Mountain or any steep slopes as avalanches in the area are very common.
Bow Lake makes for a great photo stop along the highway in the winter, there's an amazing bridge there that gives picture perfect photos. Otherwise, wintertime access is limited to the more adventurous and experienced on skis or split boards.
---
Things To Do at Bow Lake
---
Photography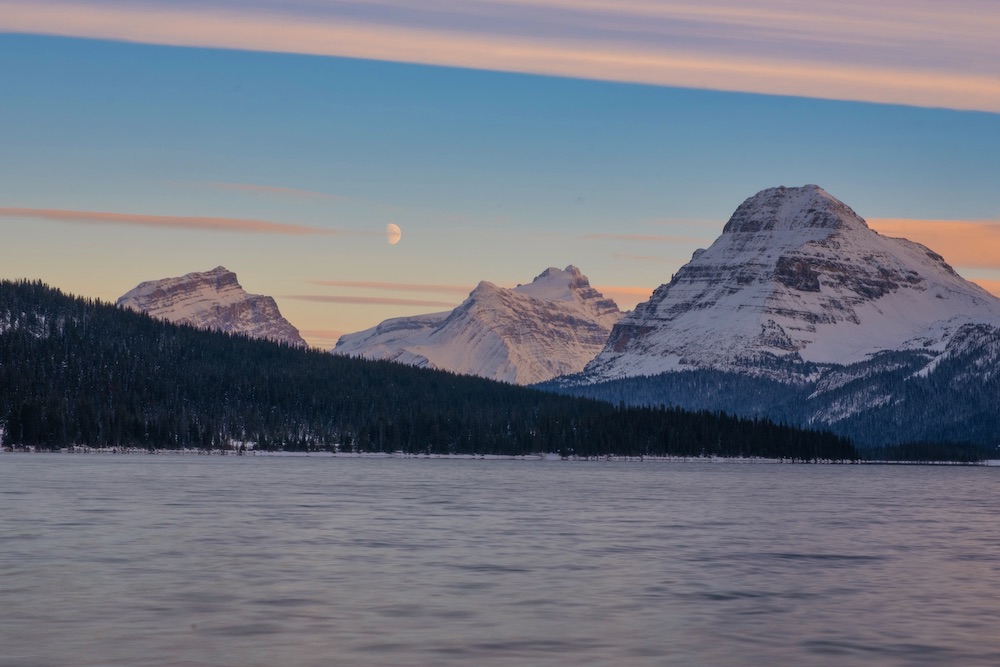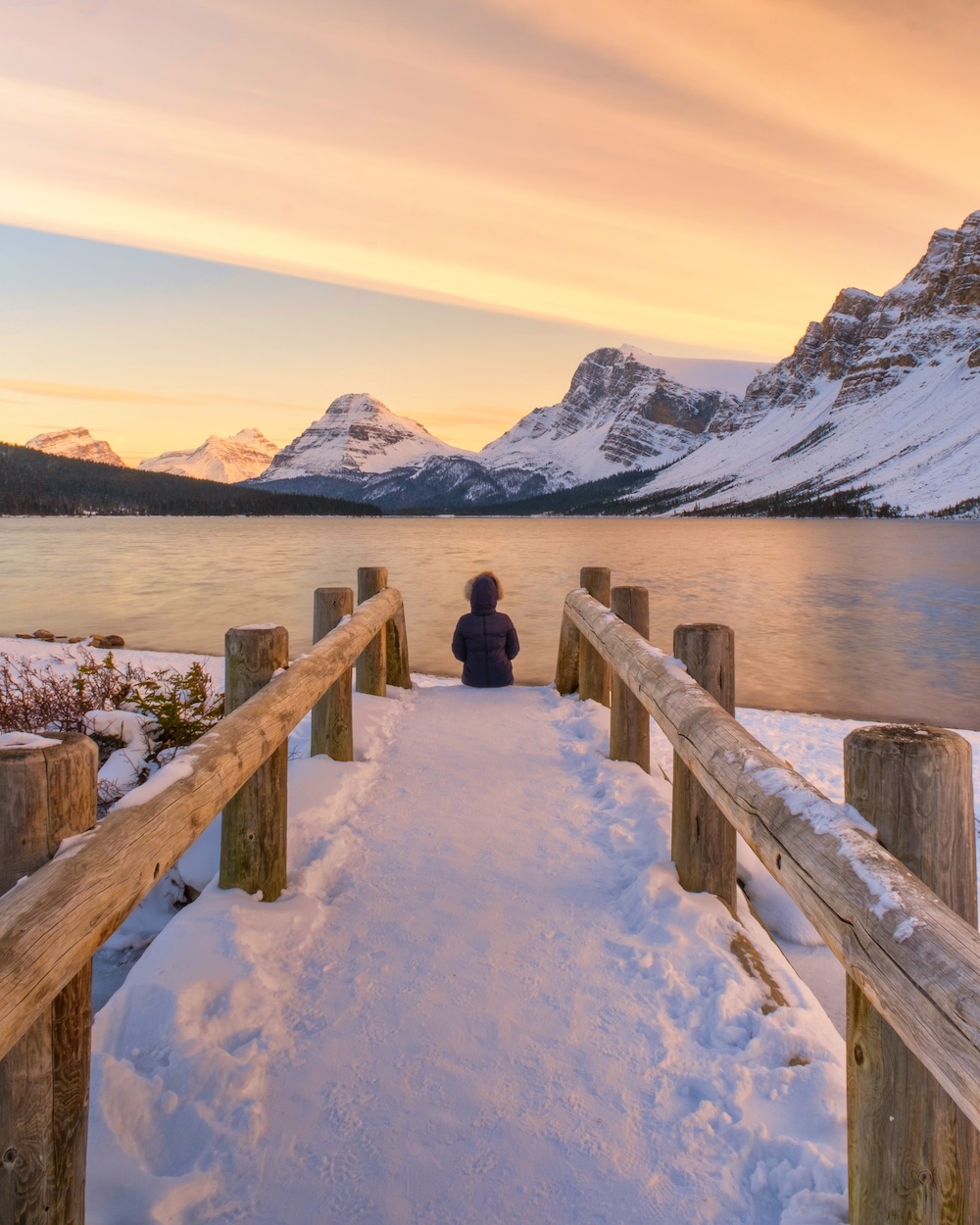 With the dramatic rock wall face of Crowfoot Mountain, hanging glaciers, and the vivid blue, Bow Lake it's one of the most popular stops for photographers to Banff National Park.
The classic shot is to park near the Num Ti Jah Lodge and take photos near the small footbridges at the water's edge. It's a stunning Alberta lakes scene. We think evening light is best if you're a photographer planning out your photographs; the photo above was taken about an hour before sunset.
---
Hike
There are several tremendous hikes around Bow Lake. We'll get more into the hikes further on in the post. The parking lot also provides access to the ACC Bow hut for backcountry and mountaineering trips.
---
Scramble
Many mountains around Bow Lake make for a great scramble for those who like to conquer some peaks. The views around Bow Lake are some of the best in all of Banff National Park, at least for day objectives!
---
Fish
You are permitted to fish in almost all water bodies in Banff National Park, including Bow Lake. The lake is stunning, so for anglers who want to spend some time with a great view, you can fish in Bow Lake. It requires a permit and license. Fishing here is open from July 1st to October 31st and is catch & release only.
---
Canoe/Kayak
A paddle around the waters of Bow Lake is a fantastic experience. We recommend a canoe or kayak over a SUP as the large body of water can receive winds that make the surface a little too rough. There are no rental facilities at Bow Lake so you'll need to have your own watercraft.
New in 2021, to prevent the spread of Aquatic invasive species visitors must now fill out a Self Certification Permit with Parks Canada for any nonmotorized watercraft entering the water. This includes kayaks, canoes, and paddleboards. The Self Certification Permits can be found online.
---
Wapta Traverse
There are several slopes for backcountry skiing, but most notable is the Wapta Traverse. The famous mountaineering and ski tour is widely considered one of the greatest adventures in North America.
It's a hut-based trip that traverses the large icefield that sits above Bow Lake. The most common route is from Peyto Lake into the Yoho Valley.
---
Hikes Around Bow Lake
---
Bow Lakeshore
The Bow Lakeshore is a great family-friendly hike. If you're looking to stretch your legs and enjoy the sublime nature along the shoreline, it's the perfect stop and one of the easiest hikes in Banff. The trail is a nice mellow grade and gains no elevation. It does move over some large sections of roots, so a stroller would not work on the lakeshore trail.
Difficulty: Easy
Elevation: 5 meters
Distance: 3.5 km
Time: 30 minutes
---
Bow Glacier Falls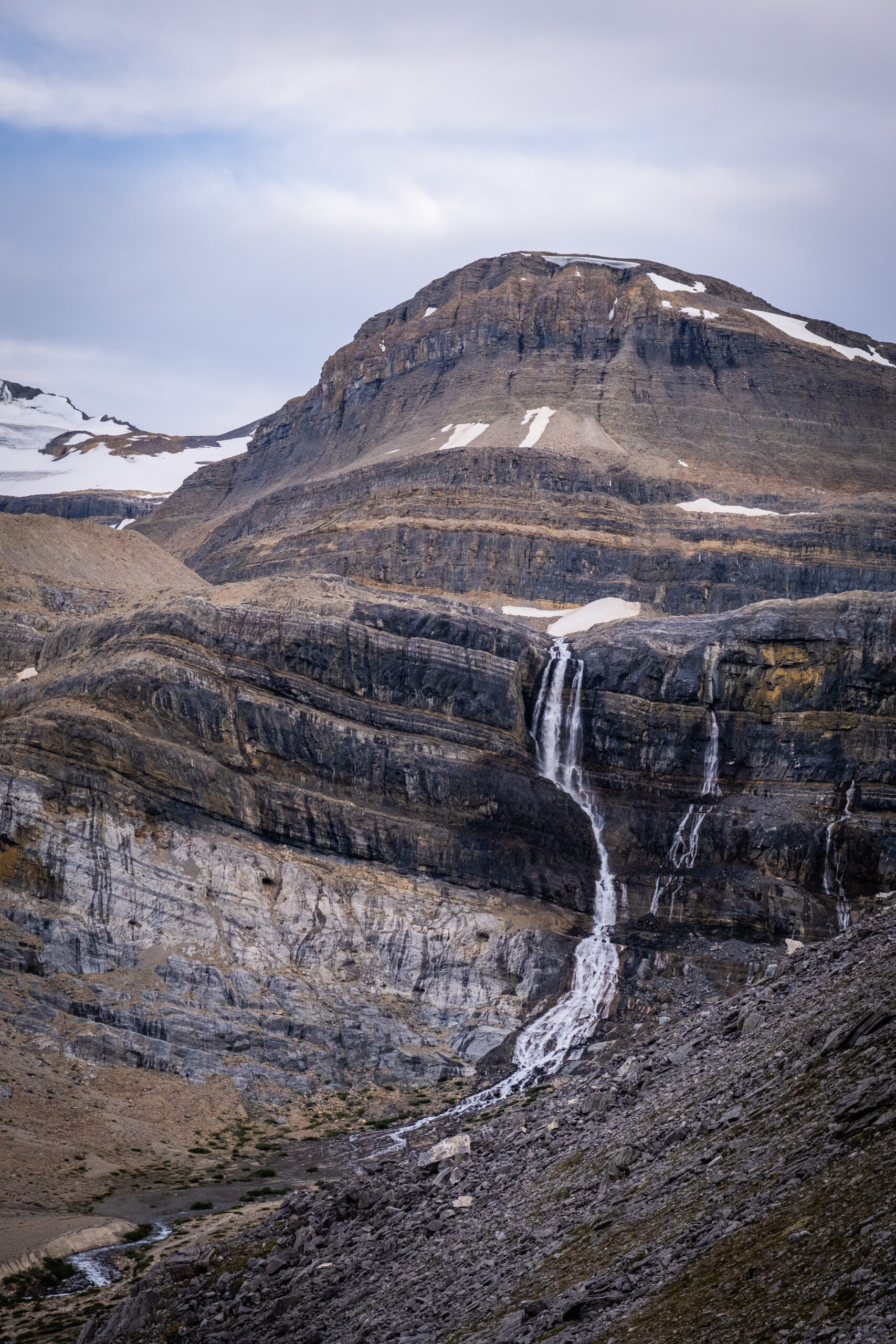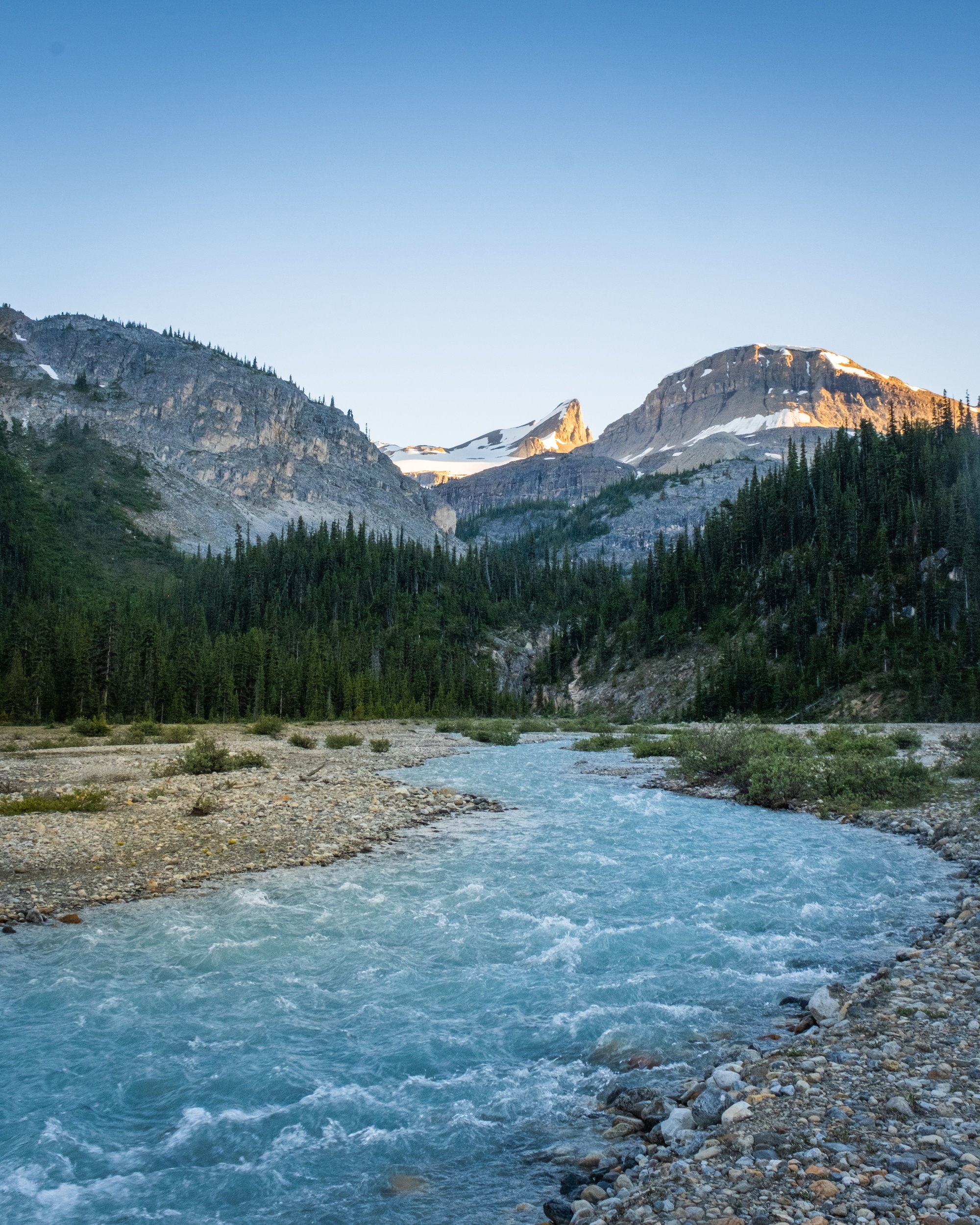 Hike to the origin of the Bow Glacier Falls (not to be confused with Bow Falls) for some outstanding views and a gorgeous Banff waterfall. It's a pretty relaxed hike that spends the majority of time along the shoreline of Bow Lake.
However, the views from along the Bow Lake are spectacular, and at its finish, hikers witness the birth of a vital river in Alberta from the Wapta Icefield high above. It's a great hike for those driving the Icefields Parkway as it only requires a few hours and gives a chance to stretch the legs.
Difficulty: Moderate
Elevation: 266 meters
Distance: 8.7 km
Time: 2 – 4 hours
---
Helen Lake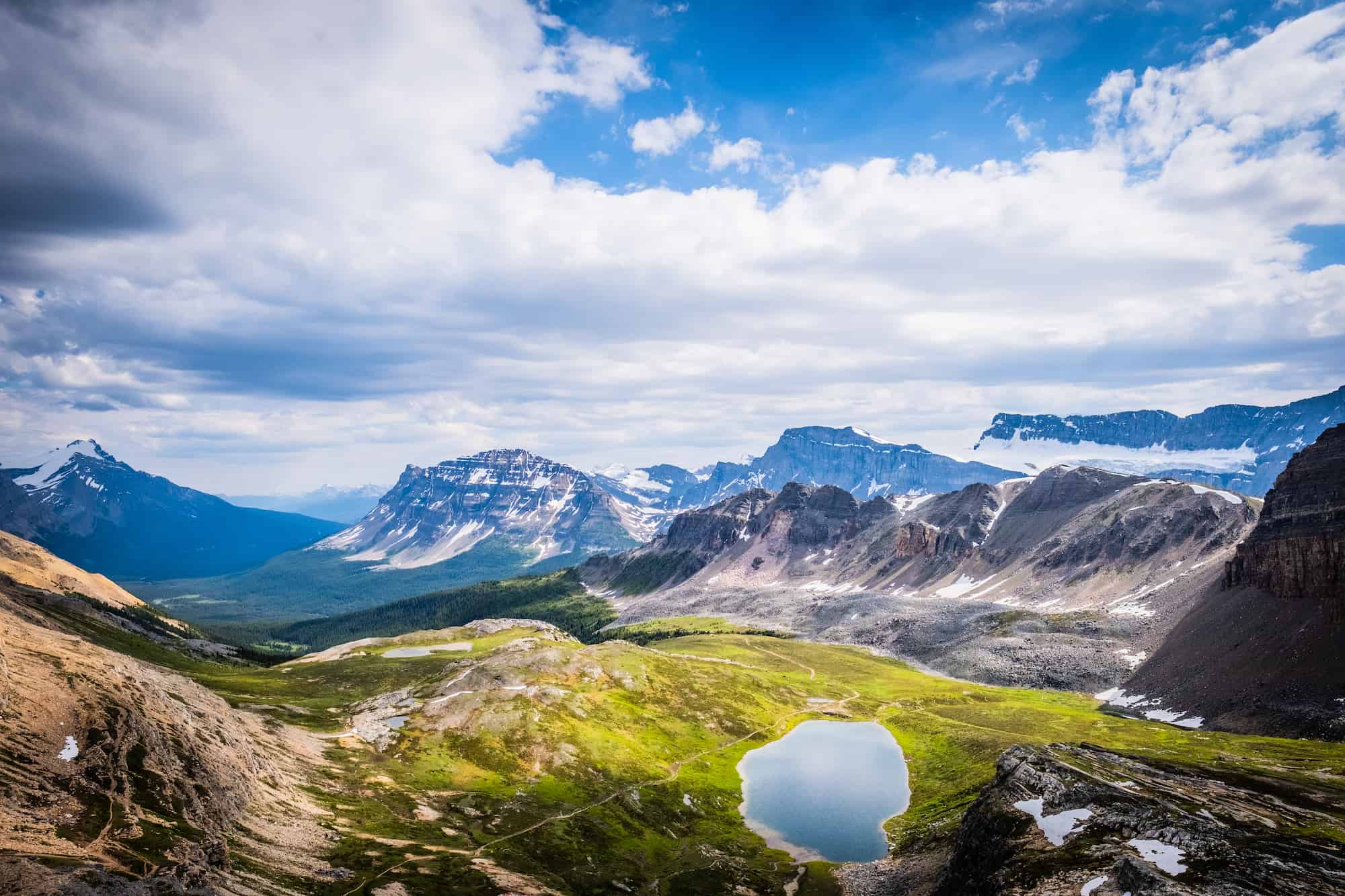 Helen Lake is a beautiful lake along the Icefields Parkway, and the hike starts across the road from Bow Lake. To get to Helen Lake, you must hike in on a moderate trail for 6km (one way). The trail is well maintained and absolutely stunning, with views of mountains and blooming wildflowers everywhere!
Bring lunch here, enjoy the views, and keep an eye out for hoary marmots. Due to the stunning alpine meadow views out to Mount Hector, the hike can draw a crowd, so be prepared for limited parking. All together, it makes for a great day in the mountains and one of the best hikes in Banff.
Difficulty: Moderate
Elevation: 559 meters
Distance: 12.6 km
Time: 3 – 6 hours
---
Cirque Peak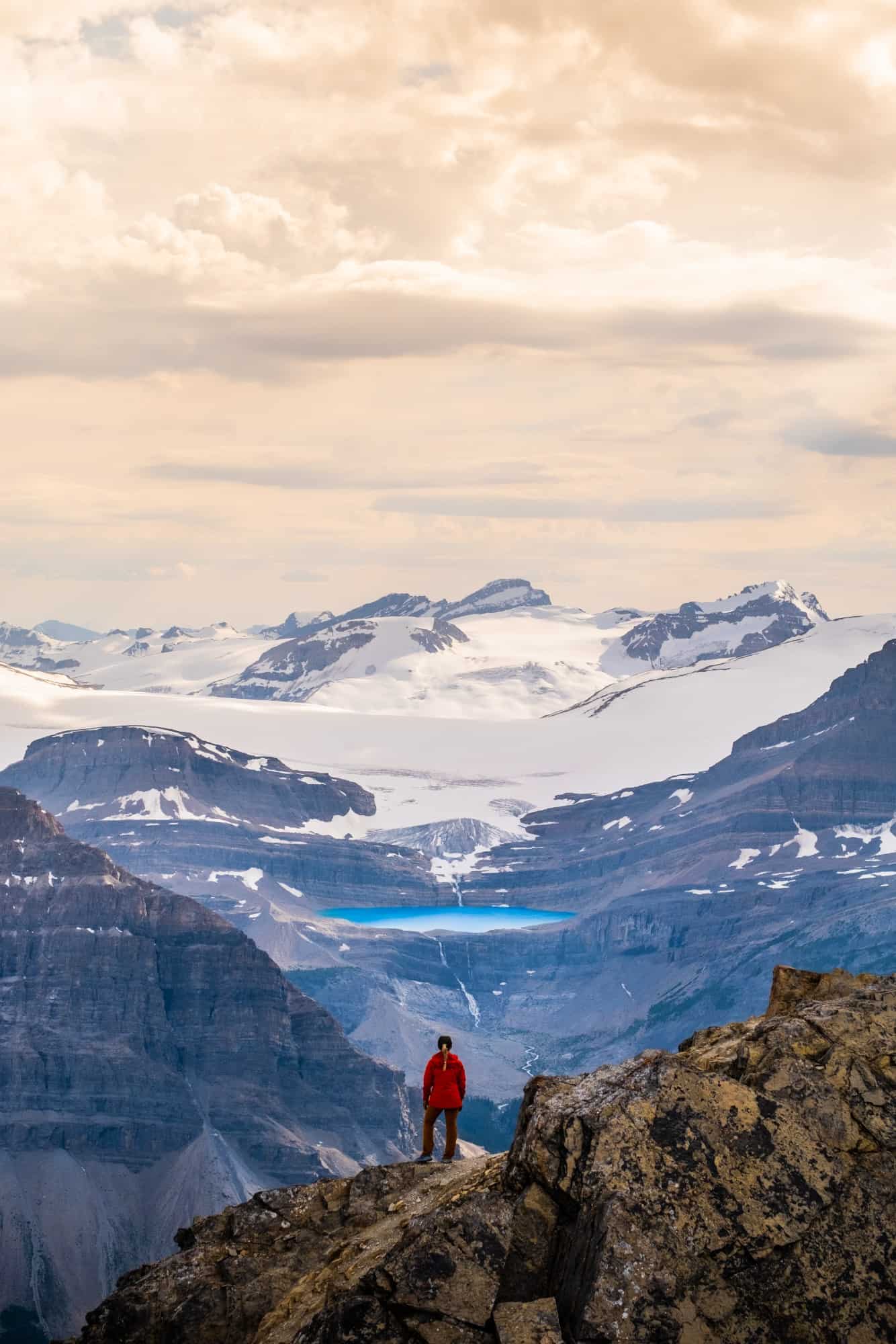 From Helen Lake, you can head up to the Dolomite Pass that provides views of Lake Katherine. If you're interested in adding more, the climb up to Cirque Peak is great for a first scramble and gives outstanding views towards Iceberg Lake and the Wapta Icefield.
Difficulty: Difficult / Easy Scramble
Elevation: 1,135 meters
Distance: 15.9 km
Time: 4- 8 hours
---
Bow Hut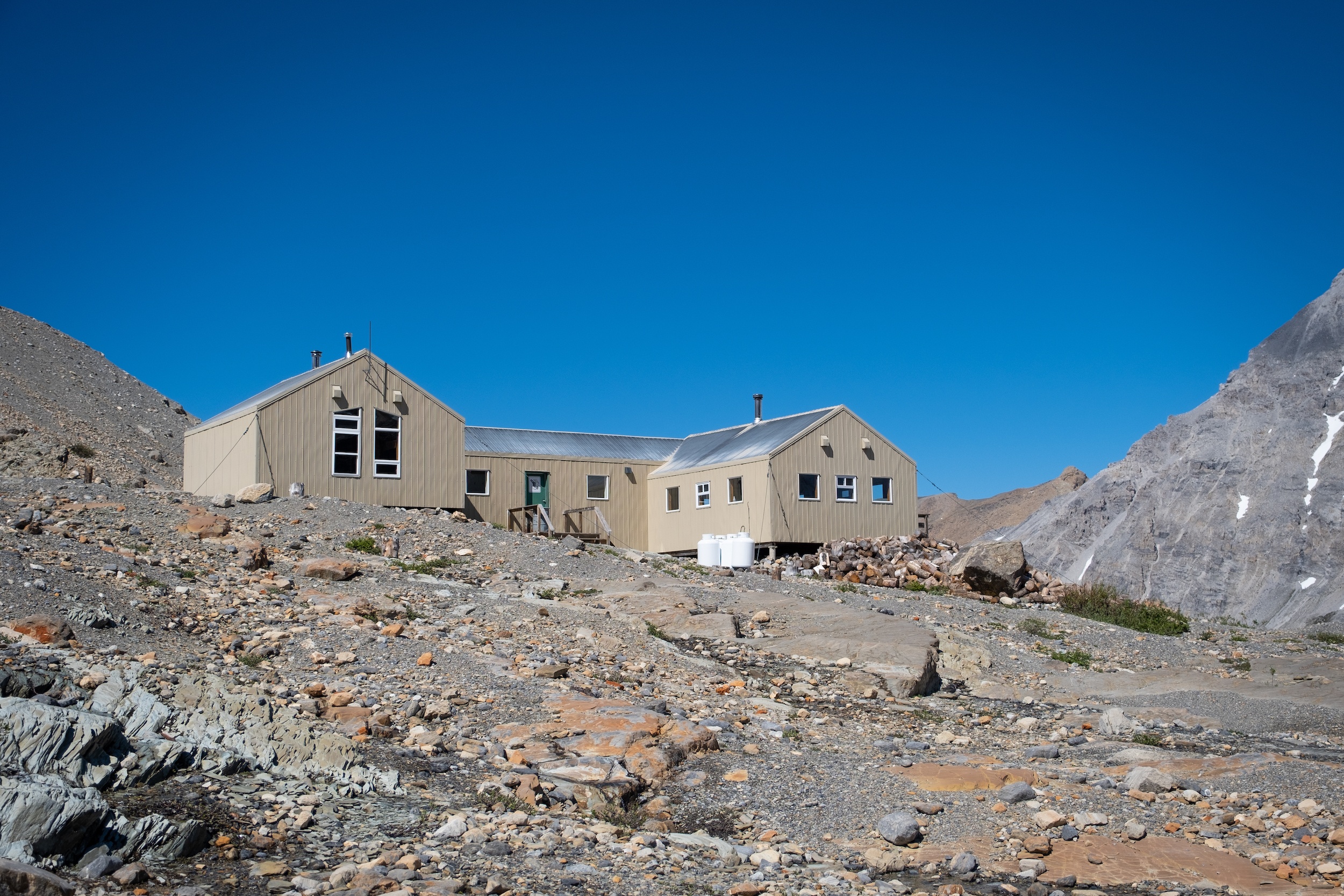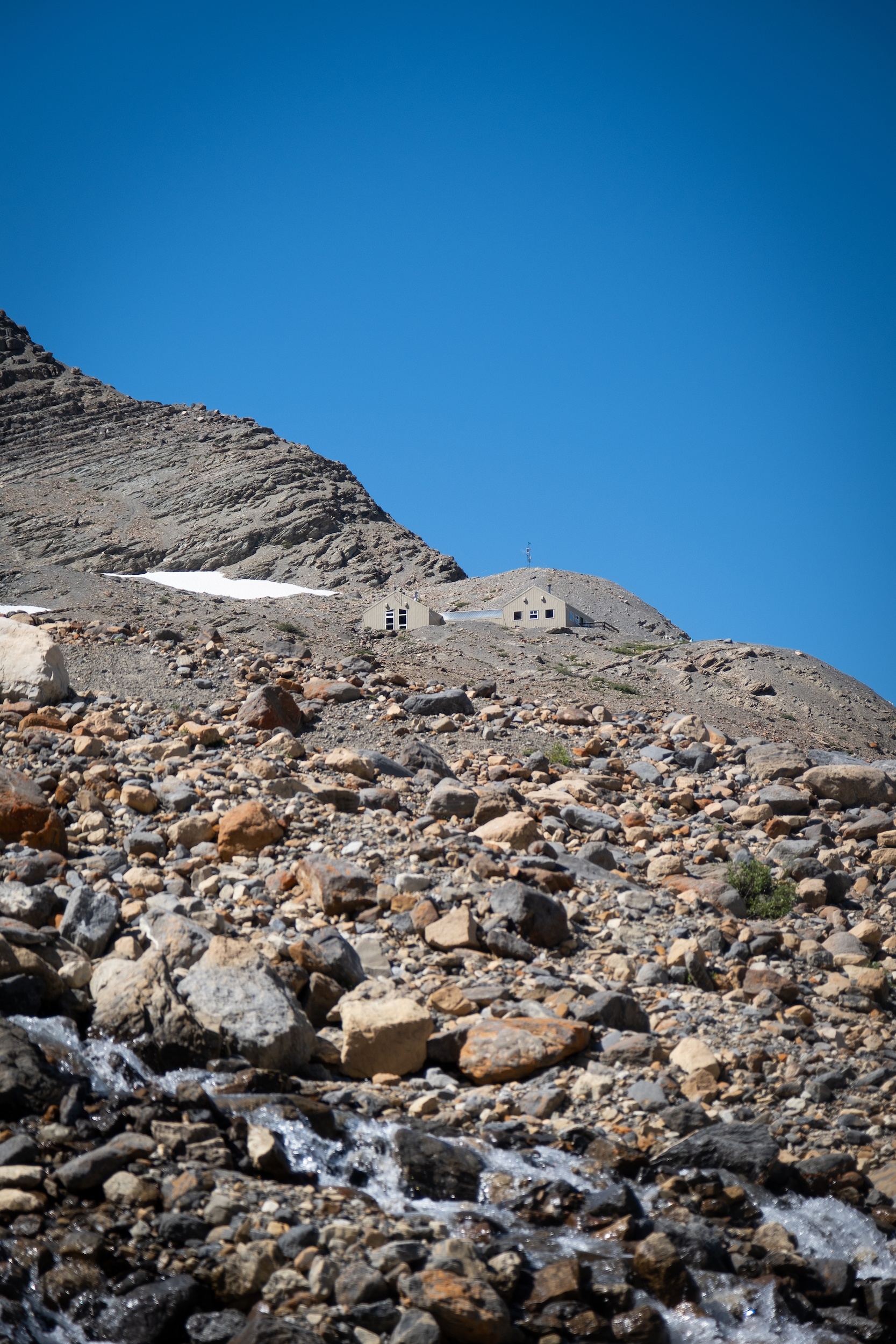 The hike up to Bow Hut is a bit of a grind, but it is not overly challenging or in poor condition for a trail in the Rockies. The hike climbs through a large cirque, and once at the hut, hikers can enjoy great views of the Wapta Icefield.
Once above the slope, you'll find yourself at the Bow Hut. It's one of the most well-known and frequented huts in the ACC collection used as a stop for the famous Wapta Icefield ski traverse.
Difficulty: Difficult
Elevation: 714 meters
Distance: 15.8 km
Time: 4- 8 hours
---
Bow Peak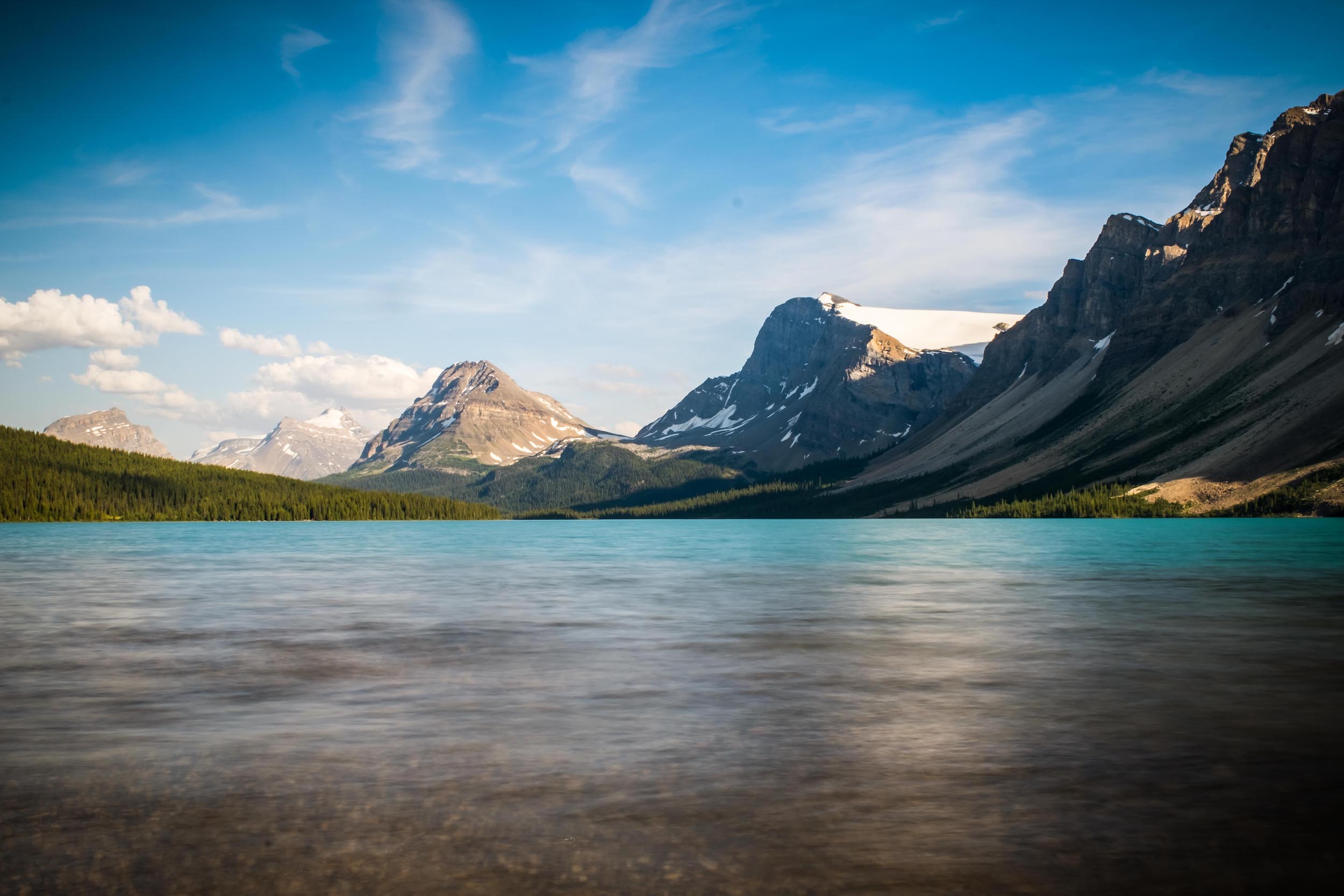 Bow Peak is a great scramble that starts off with a chilling river crossing. What follows is a wonderful walk through the forest to a seldom-visited alpine pass. Once at the summit, views up and down the Icefields Parkway are breathtaking. A classic scramble objective in the Canadian Rockies.
Difficulty: Difficult / Easy Scramble
Elevation: 1,055 meters
Distance: 12.1 km
Time: 4- 7 hours
---
The Onion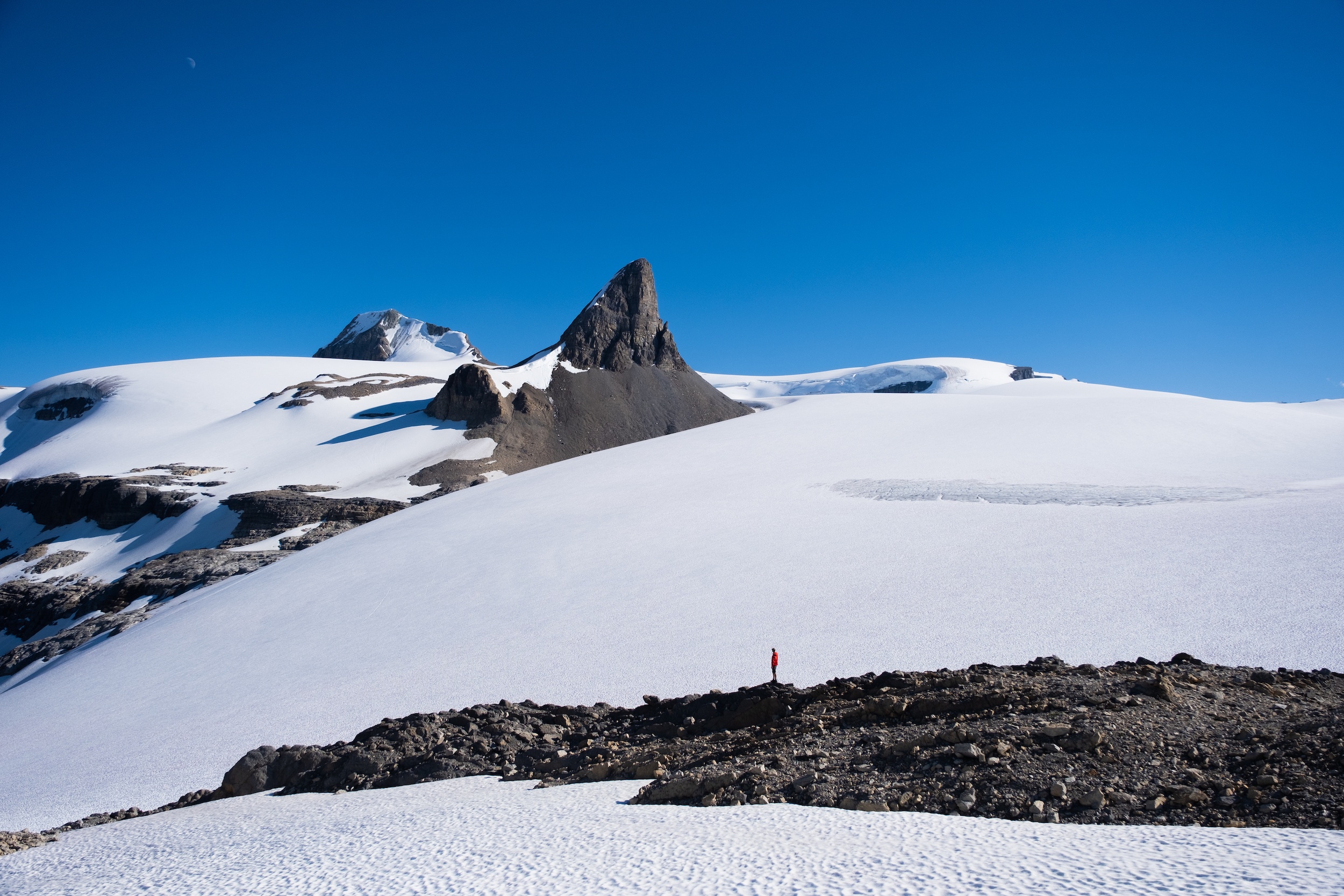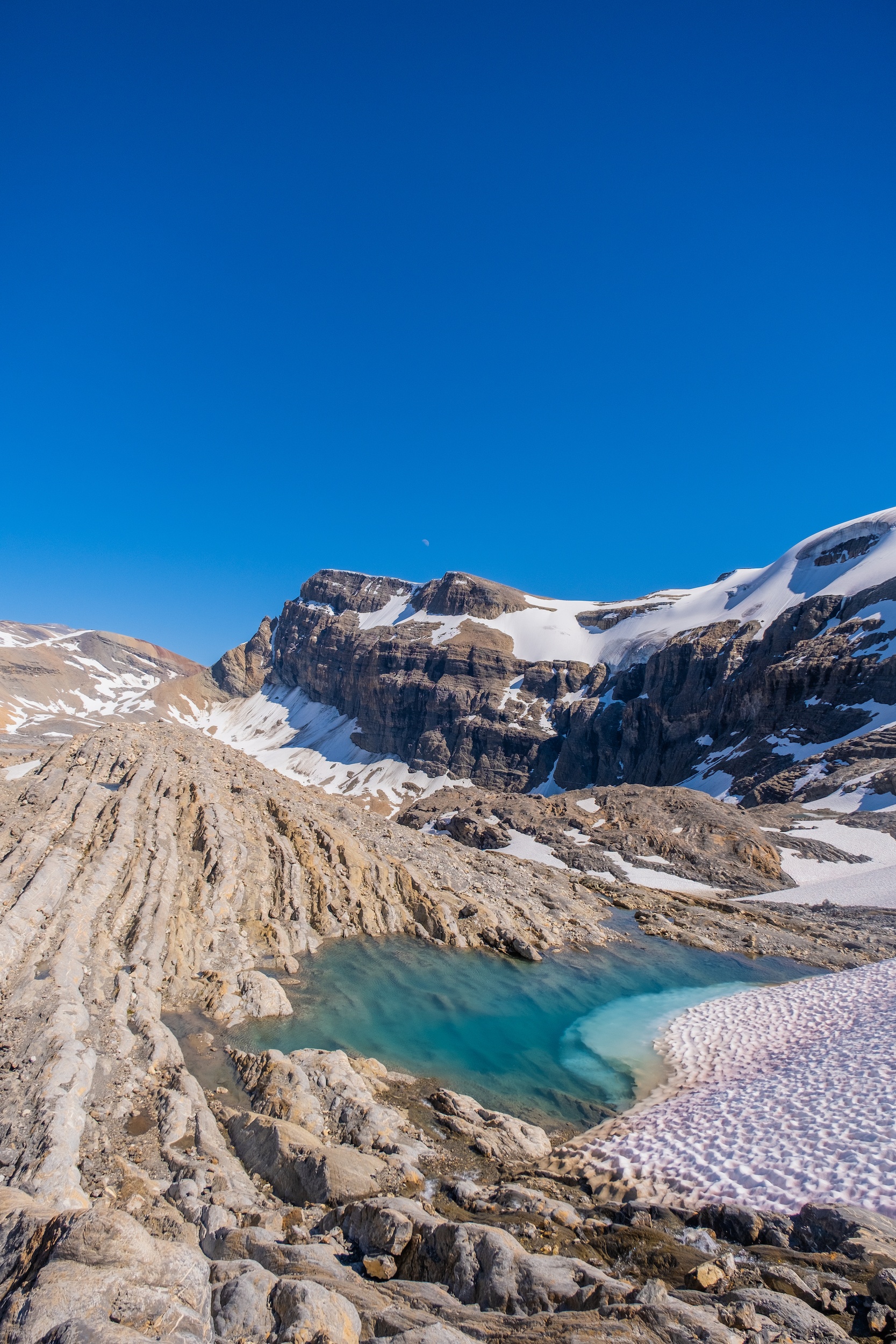 There is no shortage of hikes and scrambles along the Icefields Parkway that offer views of craggy peaks topped by glaciers, and the Onion scramble is no exception. The scramble up to this unofficial peak places right next to the Wapta Icefield, the source of the Bow River.
Expect to see glaciers, waterfalls, lakes, tarns, and unique rock formations. It all adds up to a glorious day in the mountains. Plan for a lot of time at the summit as there is so much to explore.
Difficulty: Difficult / Easy Scramble
Elevation: 840 meters
Distance: 19.7 km
Time: 5 – 8 hours
---
Mount Jimmy Simpson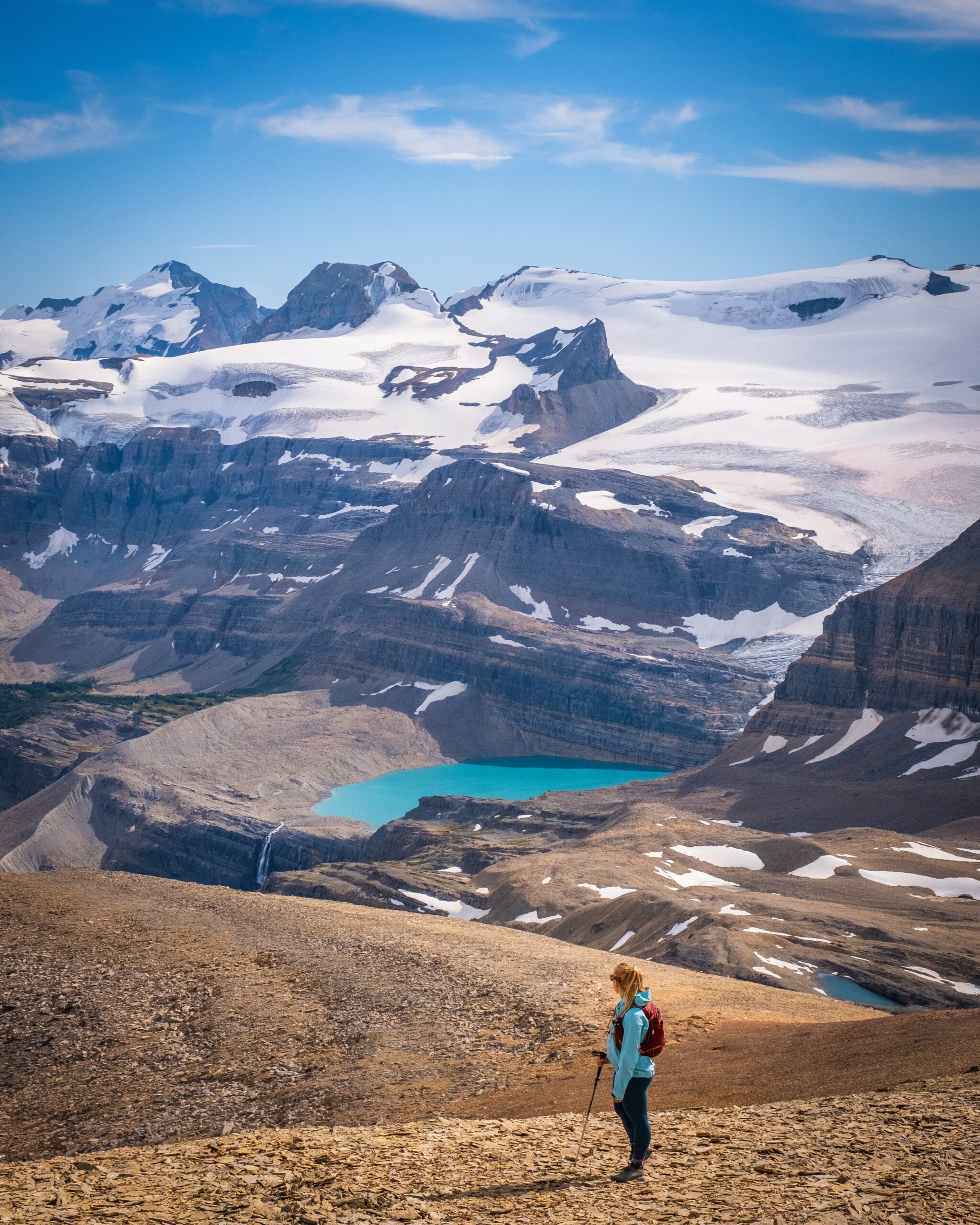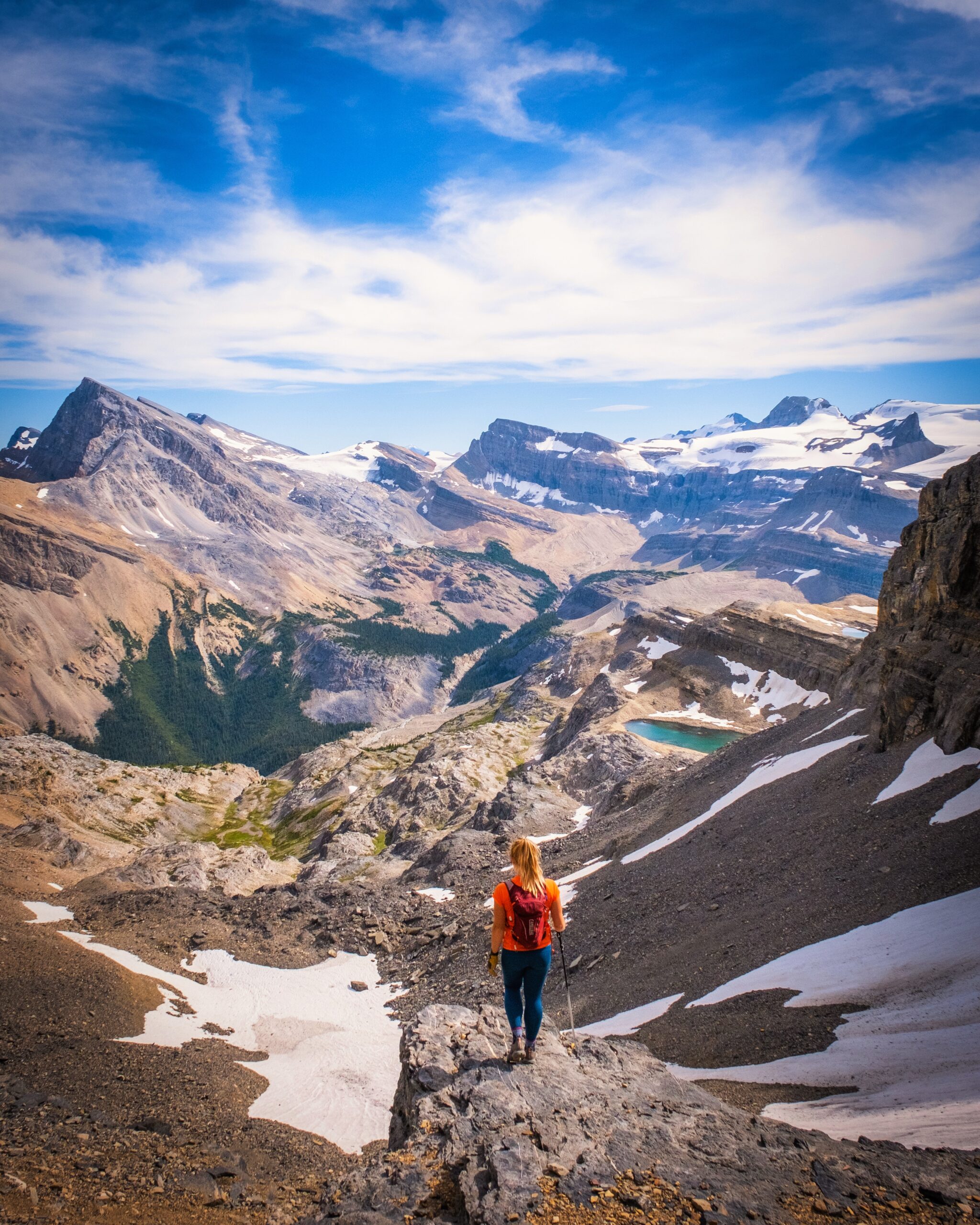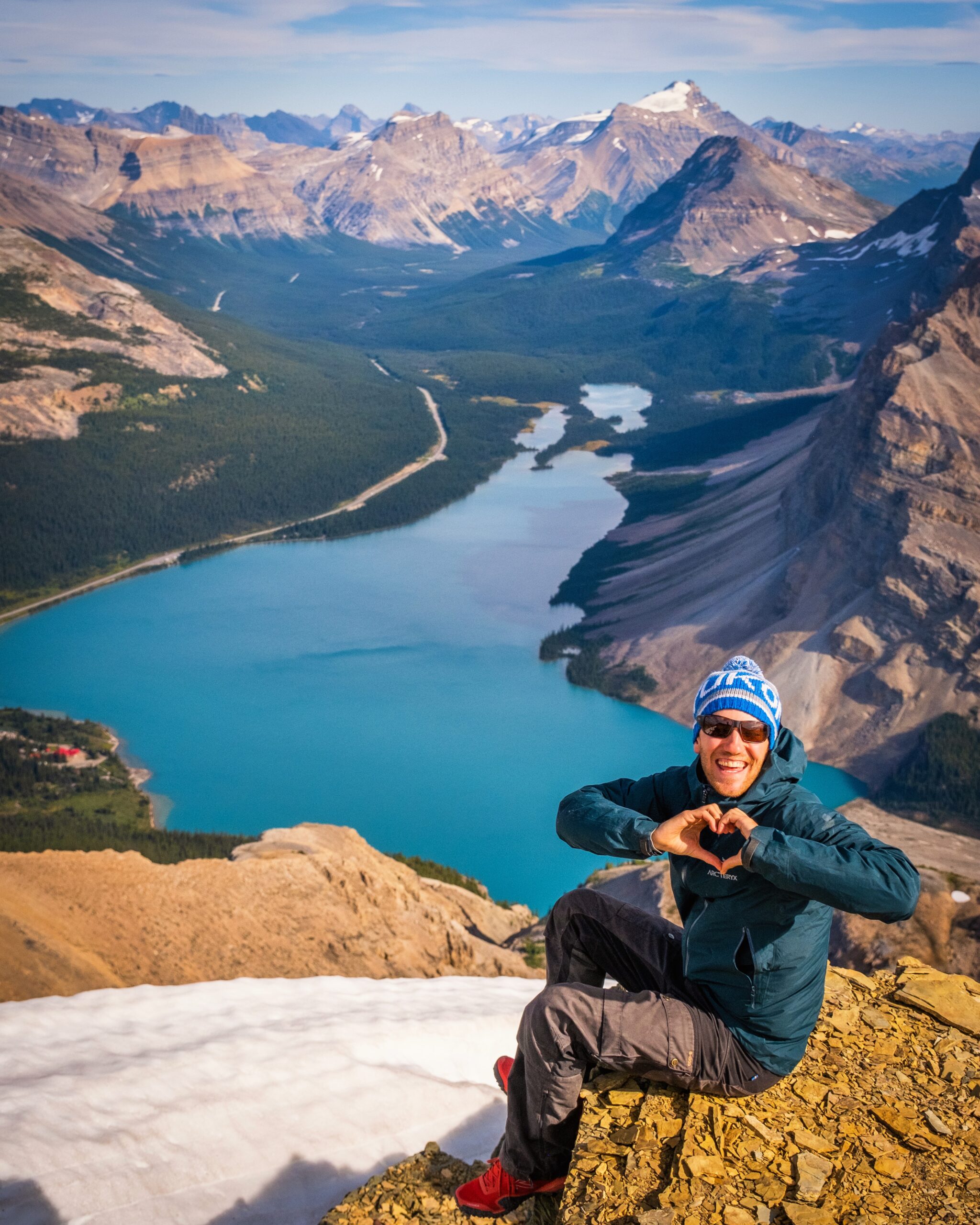 While Jimmy Simpson is far from a popular objective for scrambles, it's one of the finest views in the Canadian Rockies. The route can be a bit of a grind at moments and has a very mild taste of exposure.
This is not one we'd recommend for first-time scramblers, let alone hikers. However, if you have some experience under your belt, you'll have a hard time doing better than Jimmy Simpson for a day out in the mountains.
Difficulty: Difficult / Easy-Moderate Scramble
Elevation: 1,097 meters
Distance: 16 km
Time: 5 – 8 hours
---
Holidays at Bow Lake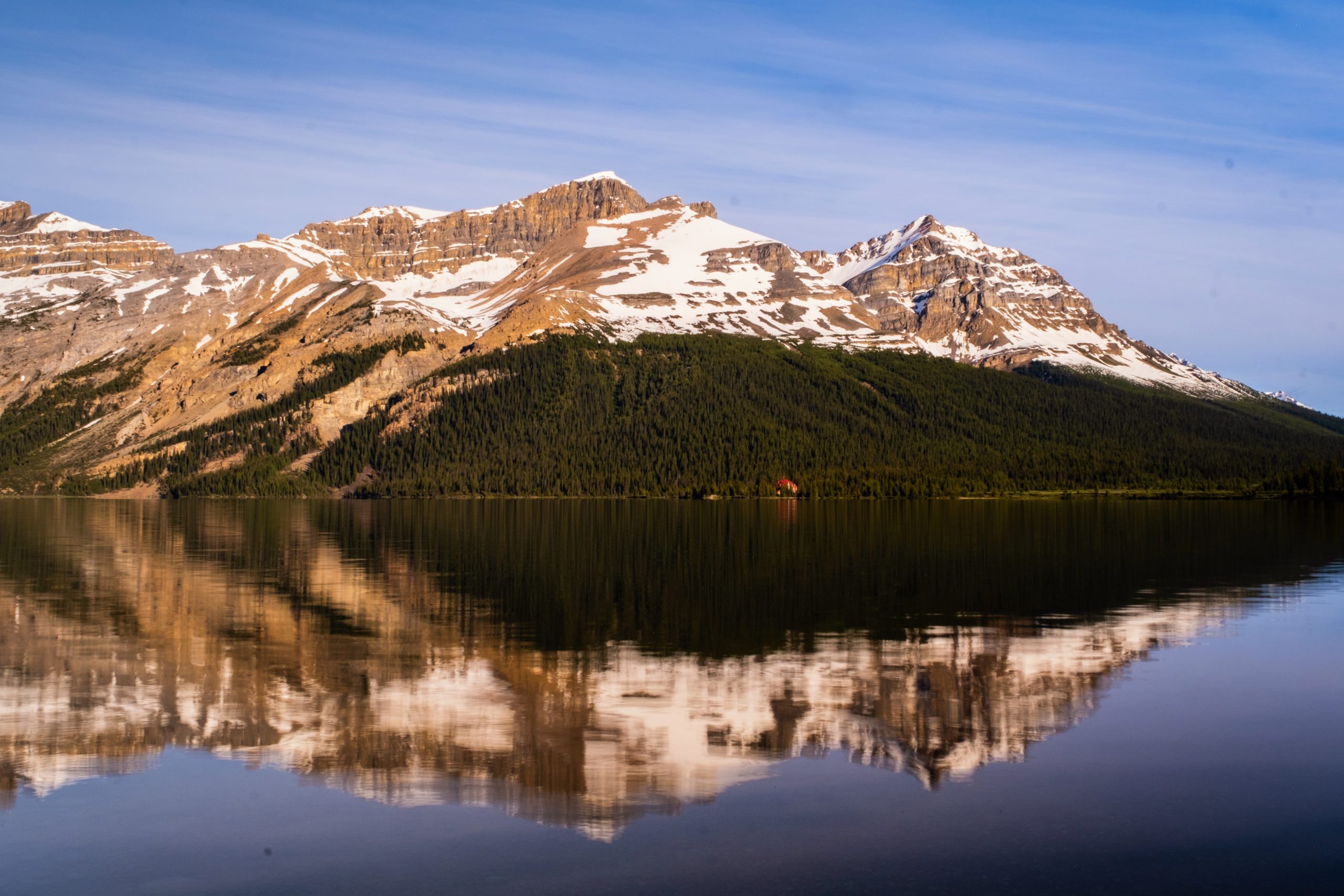 Bow Lake is always busy in the summer, but you should take note of the following holidays as it's even busier.
Victoria Day Long Weekend (May Long Weekend) – Last Monday Preceding May 25
Canada Day – July 1st
Heritage Day Weekend – 1st Monday of August.
Labour Day Weekend – 1st Monday of September.
---
Camping Near Bow Lake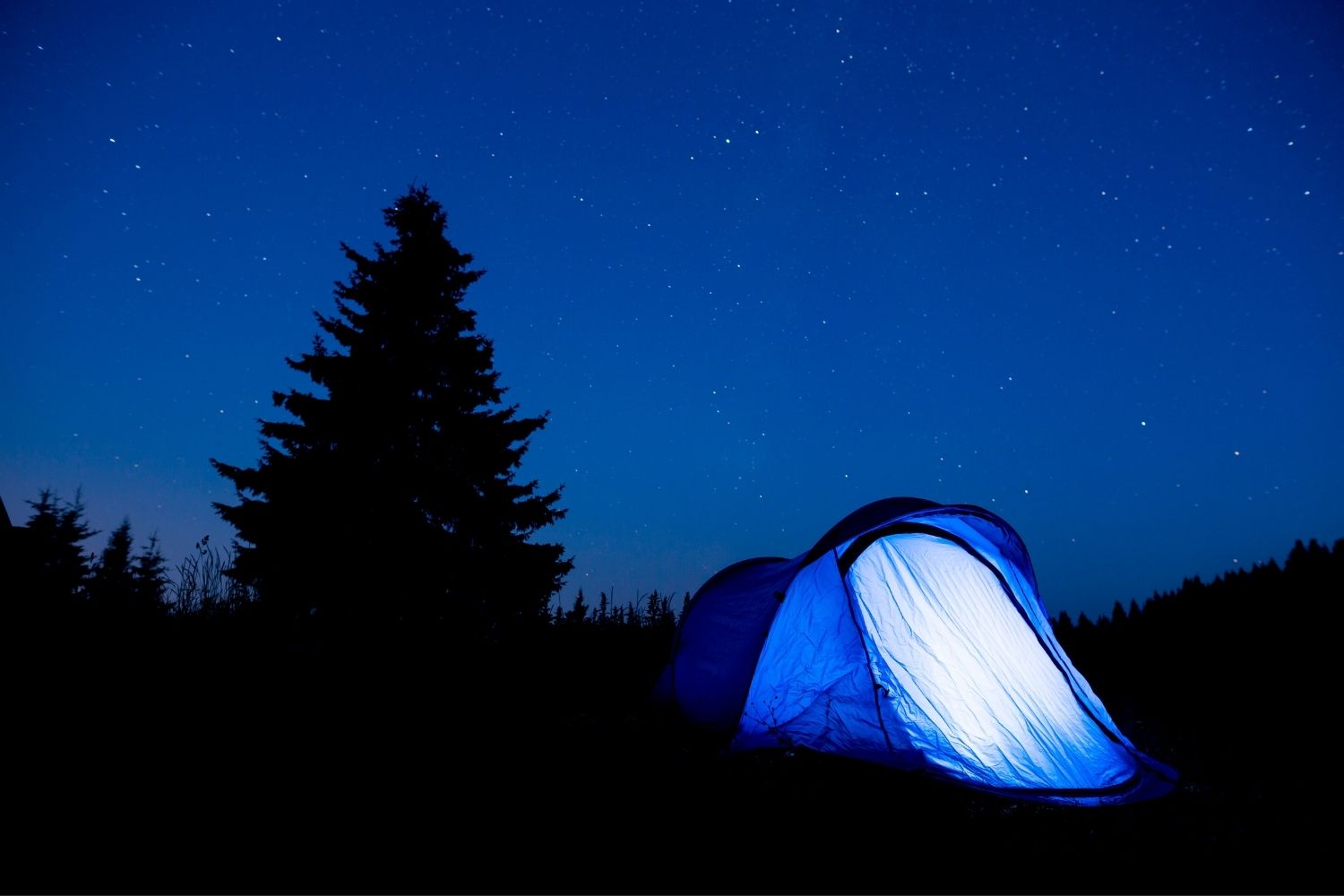 Mosquito Creek is the closest Banff campsite and backcountry hostel to Bow Lake. From the campsite, it is just over a five-minute drive to the shore of Bow Lake. It is an affordable campground that often doesn't get too busy in the summer months.
It's a great base if you're going to explore sights on the Icefields Parkway. If you're not equipped for camping, consider staying at the HI-Mosquito Creek Hostel, but keep in mind it is very basic accommodation and requires some self-reliance.
Operating dates: June 12 – September 7
Reservation: First-come-first-serve
Amenities: Solar treated potable water, greywater sinks are available, one picnic shelter, dry toilet, food lockers
Fees: $17.99 / $8.80 fire permit
Number of sites: 32
---
Tips For Visiting Bow Lake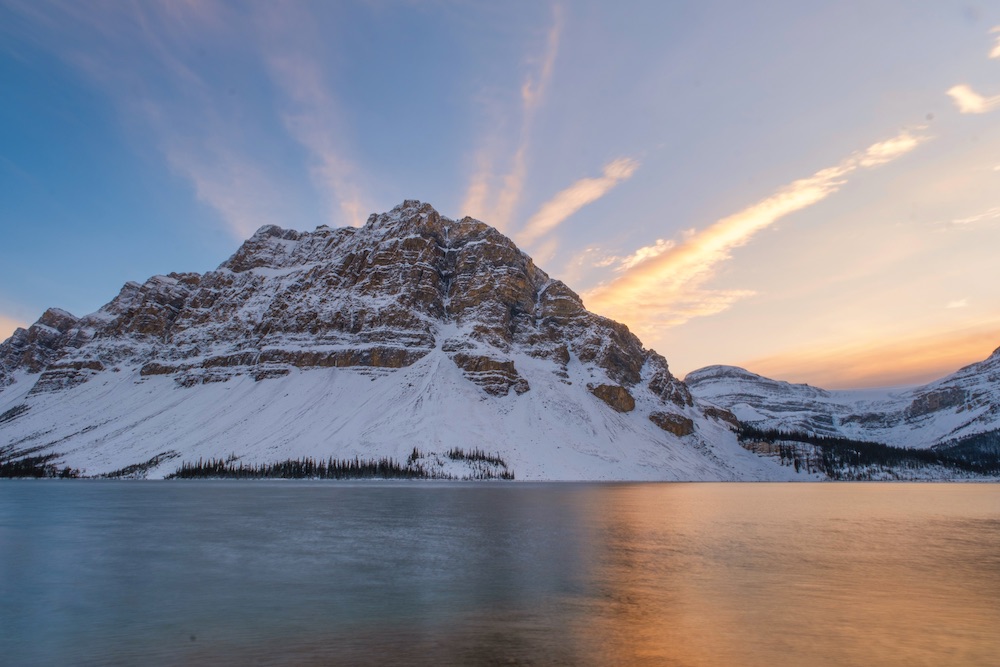 Arrive early to avoid the crowds. Grab a thermos and enjoy the stunning views in the fresh morning air and some coffee.
Always make sure to bring appropriate clothing. It's cold year-round and the mountain peaks often see temperatures below zero even in August.
Watch out for bugs and mosquitos as they can come out in hordes during the peak of summer.
It's worth venturing just a little past the overlook to escape the crowds even if you do not plan to hike.
If you have plans to hike in the area bring a GPS or download a map to your phone as there is no signage or signal.
---
Frequently Asked Questions
Can You Swim in Bow Lake?
Yes, you can swim in Bow Lake, but you will not want to for very long. The average temperature of the lake rarely gets above 5C or 41F. It's best done on a hot sunny day after a hike!
How to Get to Bow Lake?
To reach Bow Lake requires driving 37km north of Lake Louise village along the Icefields Parkway (93N).
Where is Bow Lake?
Bow Lake is in Banff National Park, 37km north of Lake Louise along the Icefields Parkway (93N). It sits about a kilometer north of the Crowfoot Glacier and at an elevation of 1,920 m.
How Large is Bow Lake?
Bow Lake is one of the largest lakes in Banff National Park with a surface area of 3.21 km2. It is 3.2 km long and 1.2 km wide.
Are There Visitor Services Around Bow Lake?
There are no visitor centers at Bow Lake. However, there are nice restrooms at the parking area near Num Ti Jah Lodge. While there are fantastic places to picnic around the lake. There is a small cafe called The Paintbrush Gallery with snacks and coffee in the summer, however it's still best to grab snacks in Banff or Lake Louise Village before you drive the Icefield Parkway. These towns will be your last option for food until you reach the Saskatchewan River Crossing.
Where Can I Stay Around Bow Lake?
Is There Parking at Bow Lake?
There are two parking areas at Bow Lake. Off the Icefields Parkway there is a small pull off area for short (5-10 minute) parking overlooking Crowfoot mountain and Bow Peak. This parking area is more of an overlook at best for those that just want to stop for a quick photo.
The other parking area is near Num Ti Jah Lodge, where there is space for 100 or so vehicles. Parking is free at Bow Lake, though you will need a Parks Canada pass to enjoy Banff National Park.
Plan Your Trip to the Canadian Rockies
↓ Join the community ↓
The Banff Blog Facebook Group is your headquarters for the Canadian Rockies' travel advice and information. Including hike info and off-season travel information. This is also where you can meet one another when you need adventure buddies.