As one of the only ski resorts in Banff National Park, Banff Sunshine Village offers excellent snow and terrain for skiers. Any ski trip to Banff is an incredible experience and one that is likely to not be forgotten.
Thanks to the resort's location high in the alpine of the Canadian Rockies it is afforded sweeping vistas and reliable snow quality. The snow is billed as the "best snow in Canada" which is subjective. While the quality of the snow is superb the quantity is far from the best. Nevertheless, Sunshine Ski Resort receives more snowfall than other SkiBig3 Resorts and Rockies hills.
Sunshine Village Ski Resort is easily accessible from the resort town of Banff. It runs regular free shuttle services to and from town, and it has a luxurious yet rustic mountain lodge on the mountain. We recommend any visitor to Banff ski both Banff Sunshine and Lake Louise Ski Resort. Pass holders of an Ikon Pass or Mountain Collective Pass can also enjoy skiing at Sunshine Village. Let's dig into the specifics of skiing or snowboarding at Sunshine Village.
See More:
---
Sunshine Village Ski Resort Guide
---
Key Facts
Summit Elevation: 9000 ft
Vertical: 3514 feet
Acres: 3,500 acres, 137 marked trails, longest run 8 kilometers
Lifts: 12 Lifts: 1 Gondola, 9 Lifts, 2 Carpets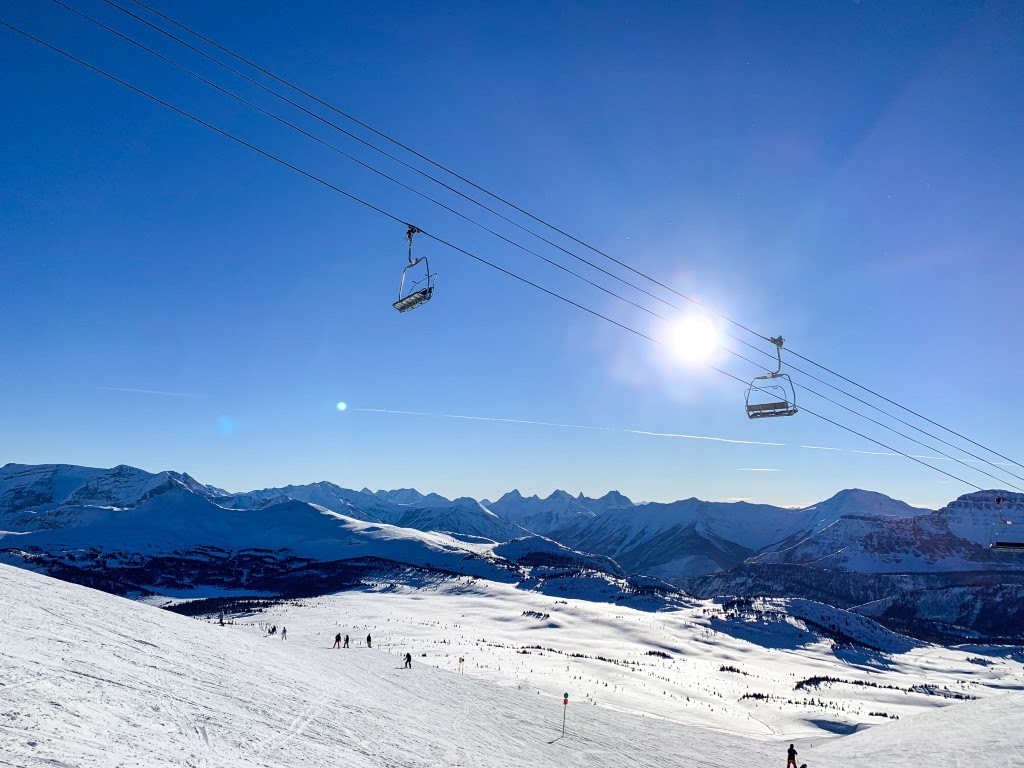 Sunshine has terrain for everyone to enjoy – from long and cruisy groomers to the gnarliest chutes, every skier and rider will satisfy their desire for adventure on these slopes. Its base is a 15 minutes drive from the town of Banff, and 90 minutes from Calgary.
Sunshine easily offers some of the best skiing in Banff and we would consider it one of the greatest ski resorts in Canada. It also has the longest non-glacial ski season in Canada! The three mountains at this resort are skiable for seven months of the year: from early November until late May.
Each month offers unique snow conditions as the weather cools and slowly warms again, ensuring no day is like any other. With a season this long, there is no excuse to miss out on a ski day here – from American Thanksgiving, to Christmas, to Easter and beyond, this resort is a must-visit for any holiday.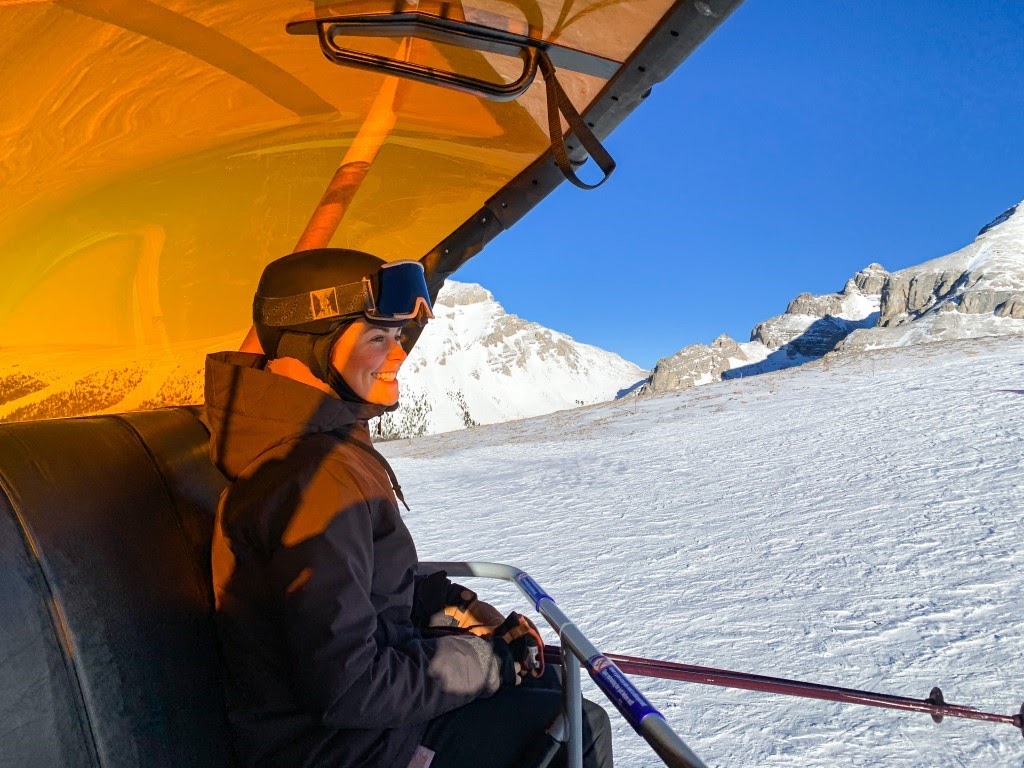 Sunshine's extra-long season is made possible by its incomparable location – straddling the Continental Divide. I briefly gave praise to the Great Divide for providing Sunshine with its unbeatable snow, but if you are a nerd like me, you will love to hear why that is.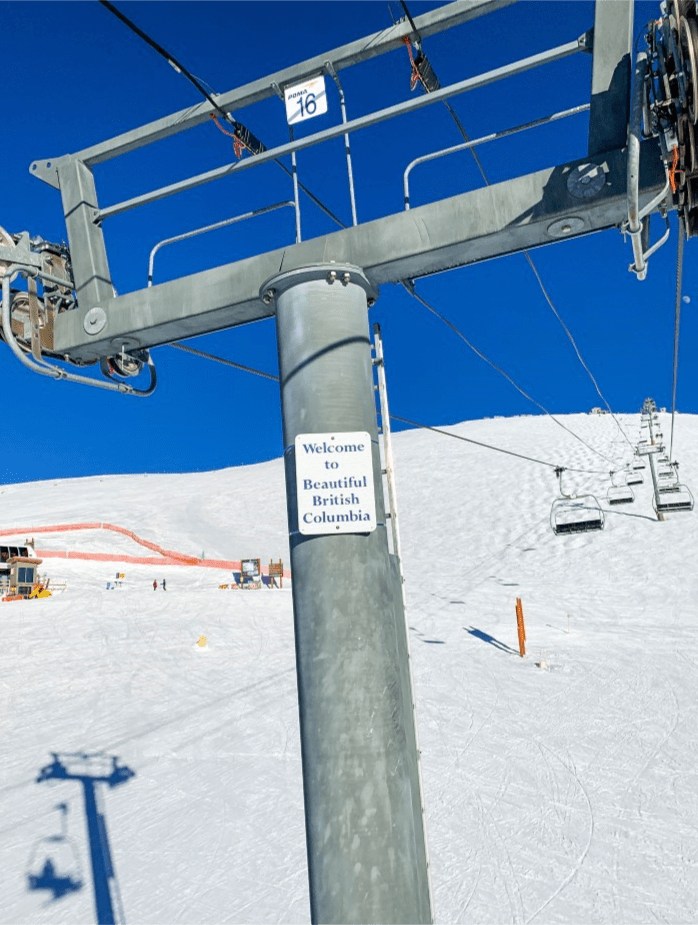 The Great Divide separates the watersheds of the Pacific Ocean from the watersheds of the Atlantic Ocean, meaning all the water on one side of this Divide drains into an entirely different ocean than the water on the opposite side.
Despite this being an utterly cool geological feature, it also means Sunshine Village Ski Resort gets the lightest, fluffiest, softest powder you could ever imagine.
All the moisture is squeezed out over the mountains, so by the time it reaches this resort, the snow is every powderhound's dream. Thanks to this Divide, you can also ski two provinces in one single run, both Alberta and B.C. – I don't think this resort could get any more interesting.
If the snow doesn't draw you in, surely the 360-degree views from every point of the resort will put this ski hill at the top of your list. Though the base of the resort is just a short 10-minute drive from the highway, the 5-kilometer gondola ride places Sunshine Village in the middle of vast, never-ending, mountains.
No matter where you look, there is no sign of civilization beyond the cozy little village nestled in amongst the chair lifts.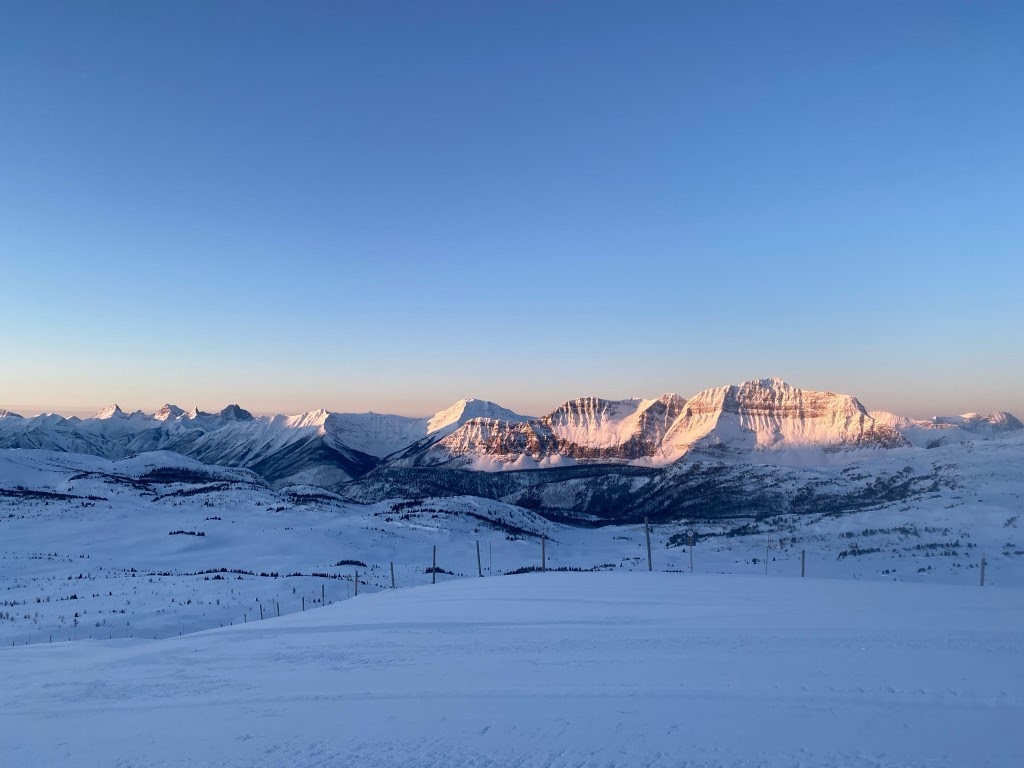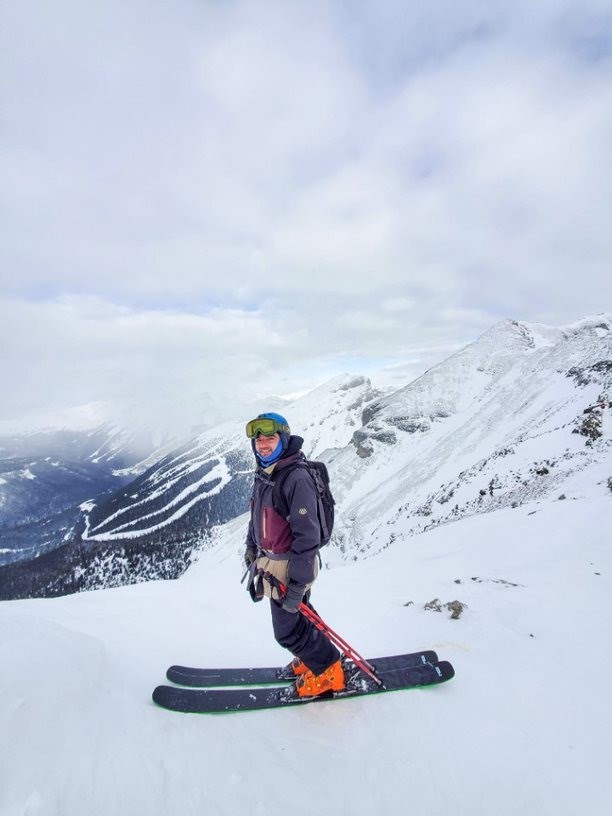 One of the most remarkable sights is the infamous Mt. Assiniboine, which stands loud and proud above the other peaks. Mt. Assiniboine is the highest peak of the Canadian Rockies and, unless you are willing to make the 25-kilometer hike to see it, Sunshine Village gives you incomparable viewings of the mountain all season long.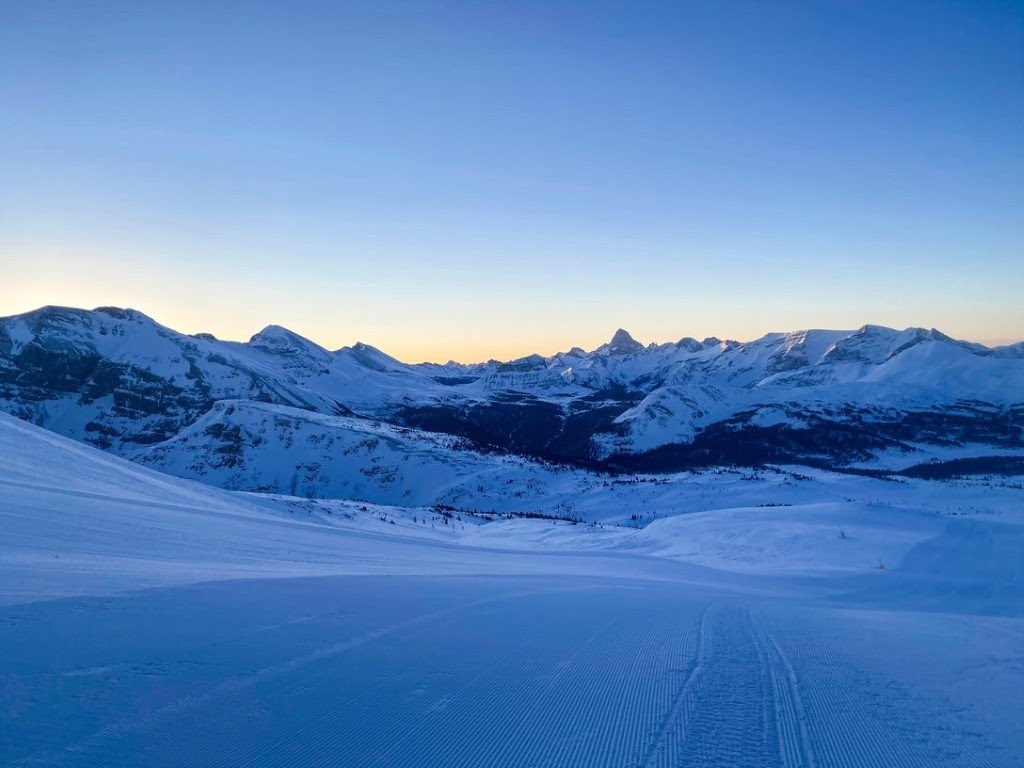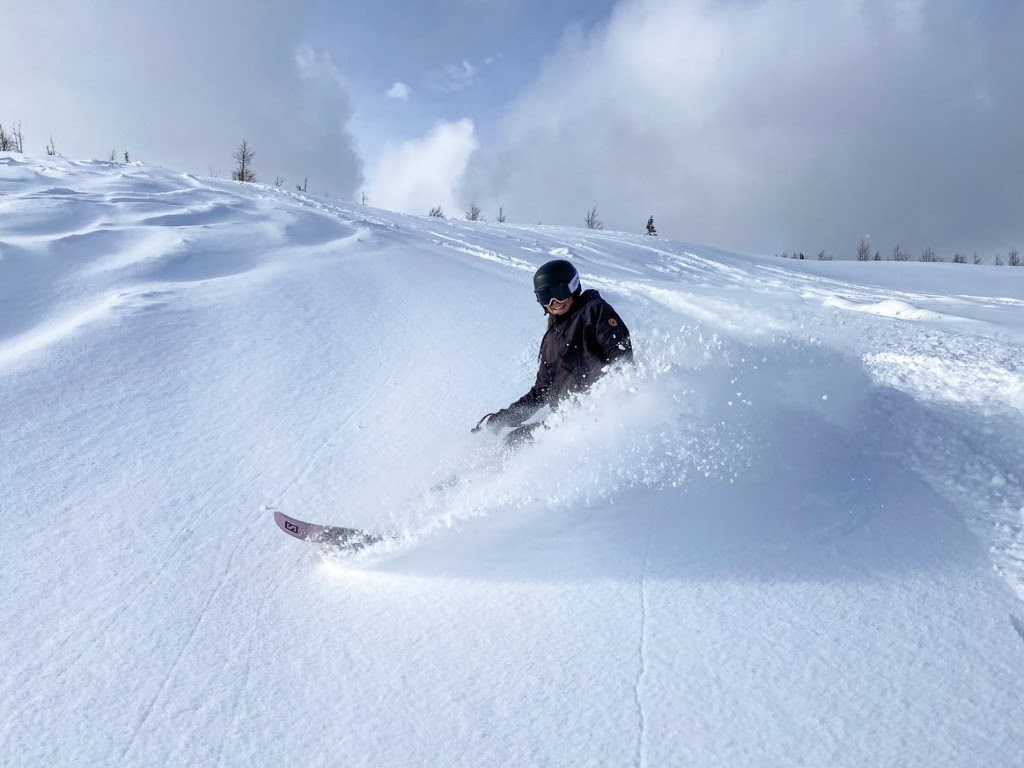 Claiming that Sunshine Village "has terrain for everyone!" seems to be an understatement… this resort has been given 5 stars for their beginner-friendly runs, yet is also home to what is known as one of the most extreme ski runs in North America.
The Delirium Dive is an expert-only freeride zone that challenges even the best riders – from across the country and around the world. With over 60 different combinations of runs – chutes, steeps, cliffs, frozen waterfalls, and everything in-between – this zone can give you hair-raising thrills season, after season, after season.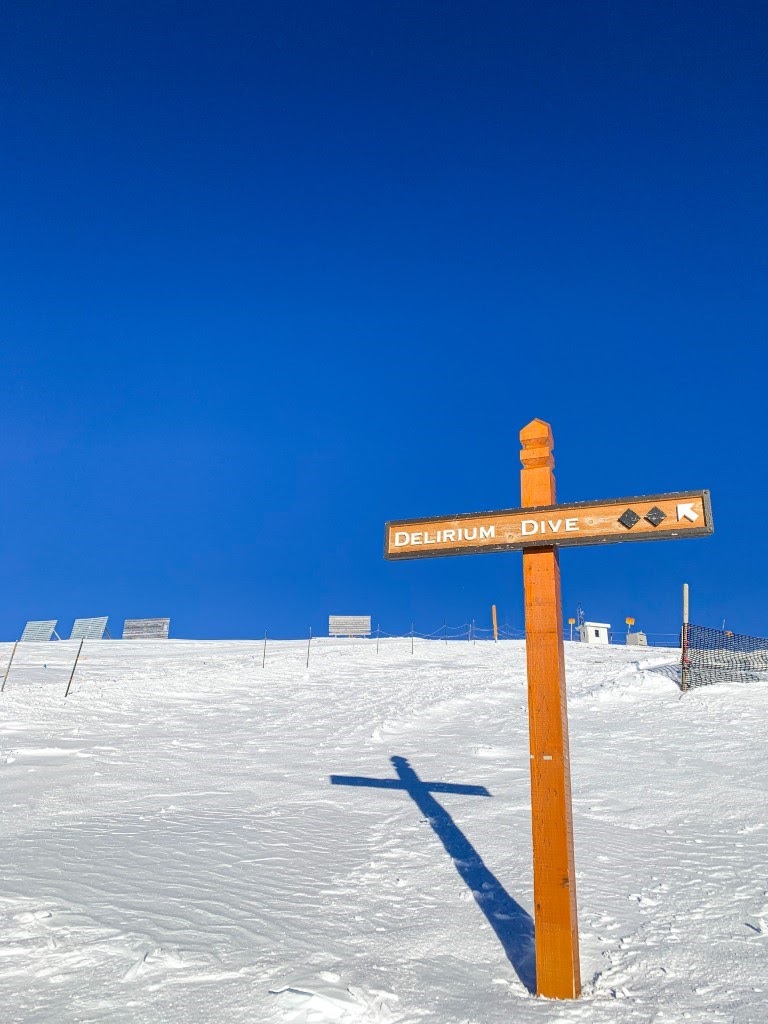 As you reach the top of the Divide Chairlift, the frost covered gate marking the entrance to the Delirium Dive stands dauntingly to your left. Here you must present your Avi gear (transceiver, probe, shovel) to unlock all that's waiting for you beyond the barred entrance.
The Ski Patrol are waiting nearby to ensure that, along with your transceiver, you have your probe, shovel, and avalanche safety knowledge ready for immediate use if necessary.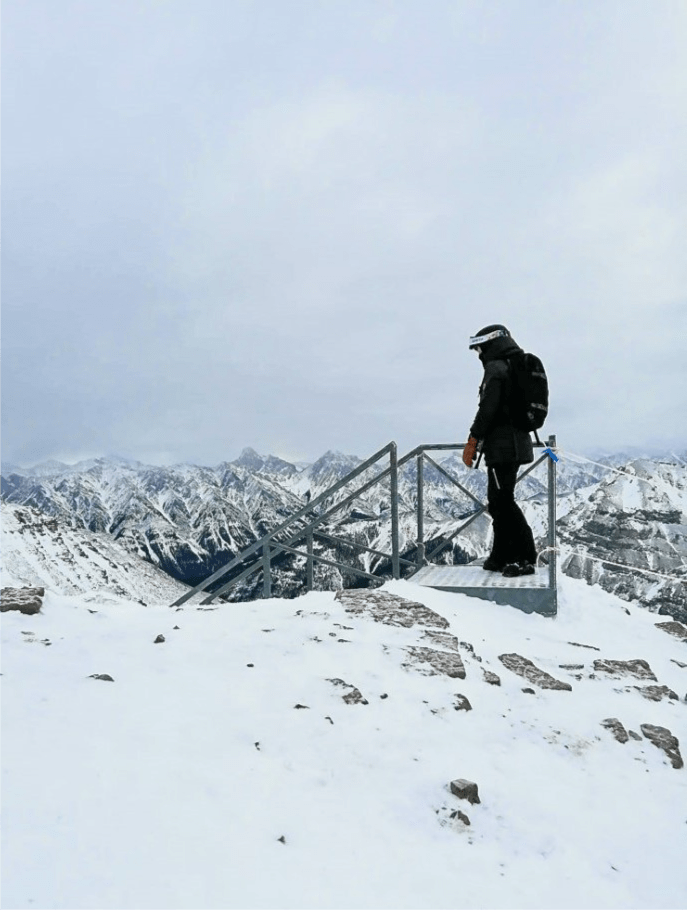 Once you reach the very summit of Lookout Mountain, skis or board in hand, you descend the steep, bone-shaking staircase that leads you to the starting point of the Delirium Dive freeride zone. From here, you can click into your skis or strap on your bindings and begin exploring the gnarliest ski zone.
---
Tips for Visiting Sunshine Village Ski Resort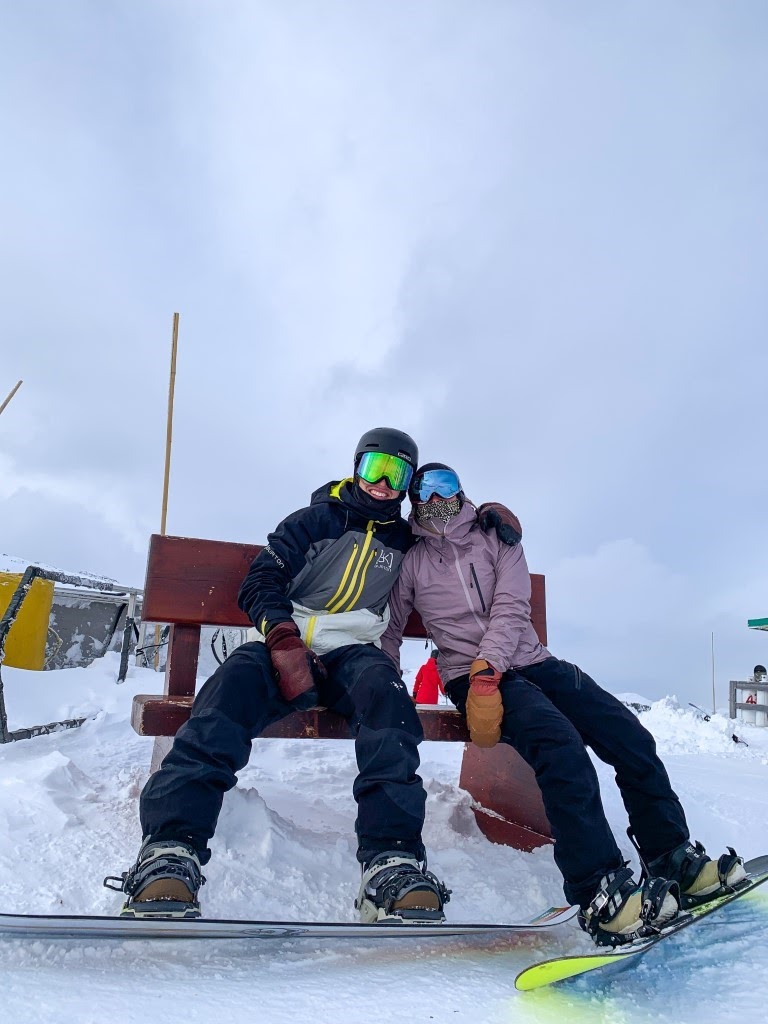 When visiting, be sure to take advantage of all the deals Sunshine offers to help keep both you and your bank account happy! The resort offers the following options to ensure the most value in your visit:
One day, and one day only: if you are skiing at Sunshine for just one day, I recommend their new Mobile Lift Ticket. These tickets are sent straight to an app on your phone, helping you avoid the ticket window line-up to get those powder turns in quicker. These tickets are also slightly discounted compared to their regular tickets – talk about savings, on both time and money!
Multi-day, but not quite committed to that season pass: if you plan on shredding Sunshine for at least 2 days, the Sunshine Super Card is a must-have. This pass provides you with instant savings the second time you use it. The Super Card is the price of a single day ticket but scores you 3 days of free skiing, with many other discounts valid for all the days in between. You would be losing money by not getting this card.
Got the ski bug AND the travel bug?! I have three words that will leave you wishing away the summer season: Mountain Collective Pass. This pass will grant you access to 26 unique resorts all over the map, all while ensuring irresistible savings. If you are traveling western Canada, heading down under to stunning Australia, or going anywhere in between, this pass will bring you to some of the best resorts worldwide!
Commit to a Season Pass: If you think you'll be doing a lot of riding at Sunshine Village it may be worth it to go ahead and commit to a season pass. There are plenty on offer. The mid-week, which allows you to ride the whole season Monday through Thursday is the cheapest. Then there's the full Sunshine pass which lets you ride any day of the week. If you want to ski all of the resorts in Banff (Sunshine, Lake Louise, and Mt. Norquay) you'll want a SkiBig3 Pass. This is the most expensive, but may be worth it depending on how much you want to ski. The earlier the buy the more you save. Early bird prices are in effect until October 15th before the ski season starts.
When you choose to visit Sunshine Village, do not forget your Parks Canada National Park Pass. This pass is necessary when enjoying any part of Banff, and with Sunshine Village sitting in the heart of Canada's oldest park, Banff National Park, a park pass is a must.
These can be bought online or at the gate when entering the Park. Don't try to skip out on buying a park pass. Parks Canada patrols the parking lot and will not hesitate to write you a ticket, especially on weekends and pow days.
If your family and friends enjoy sliding, but your idea of the perfect day is with your feet more firmly planted, don't miss out on the opportunity to explore the beauty of the Sunshine Village off skis. For the price of $45, you can get yourself a Sightseeing Pass which grants you access to the gondola, two of Sunshine's best lifts, and all that the Village has to offer. You can spend the day riding the lifts, soaking up the views, exploring the Sunshine meadows on foot, and cozying up with a hot chocolate by the fireplace.
---
Navigating Sunshine Village Ski Resort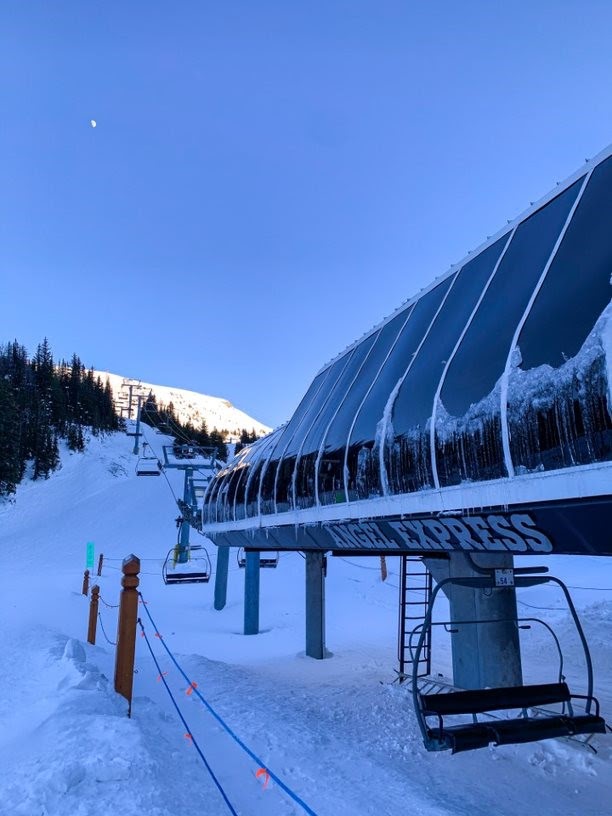 Sunshine Village has 3 skiable mountains and 12 unique lifts running amongst them. With over 3500 acres of terrain, it is easy to miss important parts of the mountain. Don't forget to grab a trail map to ensure you spend at least part of the day on each mountain: Goat's Eye, Look Out Mountain, and Mt. Standish.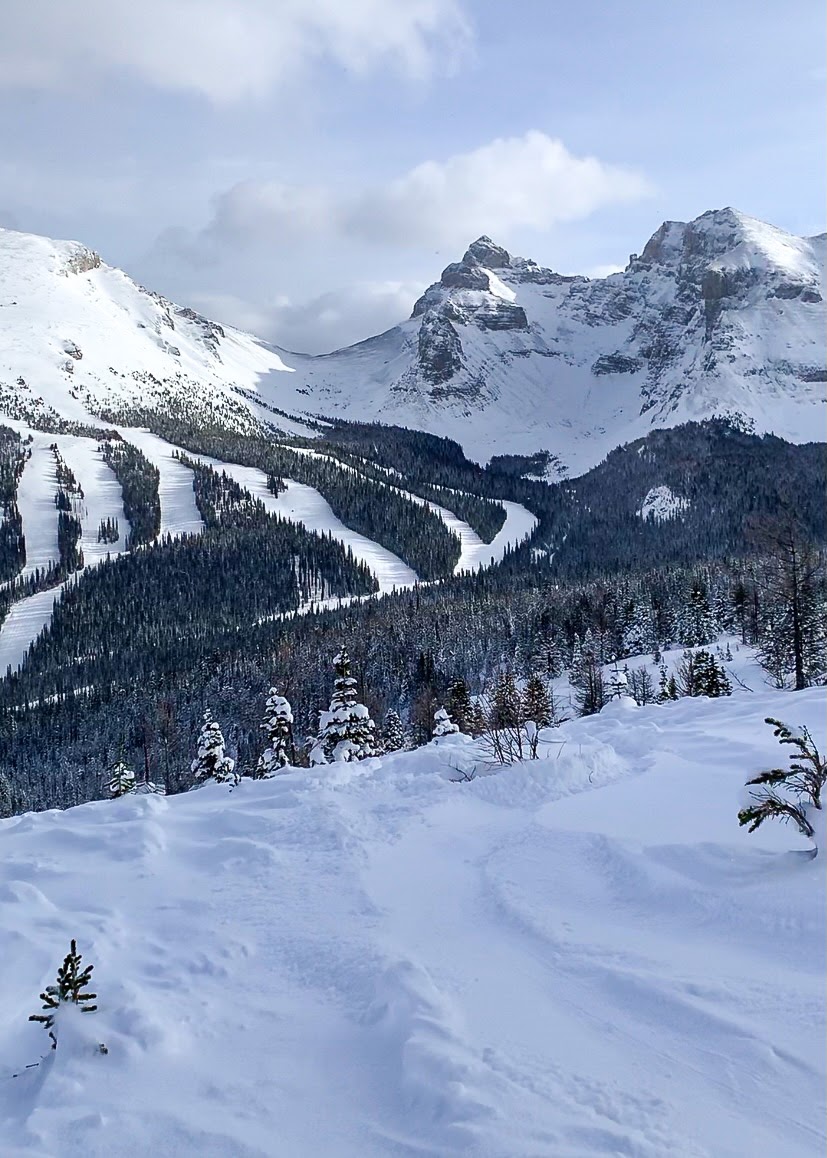 The Look Out Mountain is the highest mountain at Sunshine, and is home to the infamous Divide Chairlift. This mountain has everything from the longest, cruisiest green run at Sunshine to the bold, expert-only Delirium Dive Freeride zone.
Everyone should be sure to check out this mountain for its stunning views, as the Angel Express and TeePee Town chairlifts have terrain suitable for all ability levels; however, it is the intermediate and advanced riders that will have the most variety of terrain on this mountain.
Mt. Standish is the best place for beginners to get a feel for sliding, and for intermediate riders to warm up and gain confidence on the mountain. The Strawberry chairlift is ideal for beginners to enjoy some short, comfortable green runs and progress into some gentle blue runs.
It is also beneath this chairlift that the magic carpets can be found for any first timers or lesson takers! The Standish and Wawa chairs offer tons of fun tree runs and short groomers that are ideal for intermediate riders. If you are on the hunt for fresh snow, even on the bluebird days, this mountain always has hidden fresh patches ready for any rider to enjoy.
Goat's Eye Mountain is an easy part of the resort to miss, as it is tucked away in what locals call the 'lower mountain'. The brand-new views, lengthy tree runs, and challenging terrain offered by this mountain should not be missed.
The Goat's Eye Express chairlift is only suitable for intermediate riders and beyond, as the runs range from blue squares to double-black diamonds. This chairlift is where advanced and expert riders will find the most suitable terrain to get that adrenaline rush. The Wolverine and Jack Rabbit chairlifts are both family-friendly, with runs suitable to all ability levels.
---
---
A perfect way to ensure you don't miss out on epic runs during a trip to Sunshine is by joining one of their FREE Snow Host Tours. These tours are run by kind, fun-loving volunteers who know these mountains like the back of their hand. Not only does this help you make the most out of your time at Sunshine, but it introduces you to a new group of like-minded people with who you can enjoy the slopes.
Beginning your day with a 17-minute gondola ride as you approach the Village hub, gaining a bird's eye view of the countless runs you are soon to conquer, is a bonus unique to Sunshine Village. Once you have gotten your fair share of riding in for the day, you can hop right back on the gondola to head down.
Or, if you are like me and can never get enough of cruisy turns and perfect snow, then head down the winding 5-kilometer ski-out that leads you directly to your car. The ski-out is best accessed by the Jack Rabbit chairlift as you follow the signs for Banff Ave. and has both green and blue run options making it the perfect way to end the day for all ability levels.
---
Good to Know About Skiing at Sunshine Village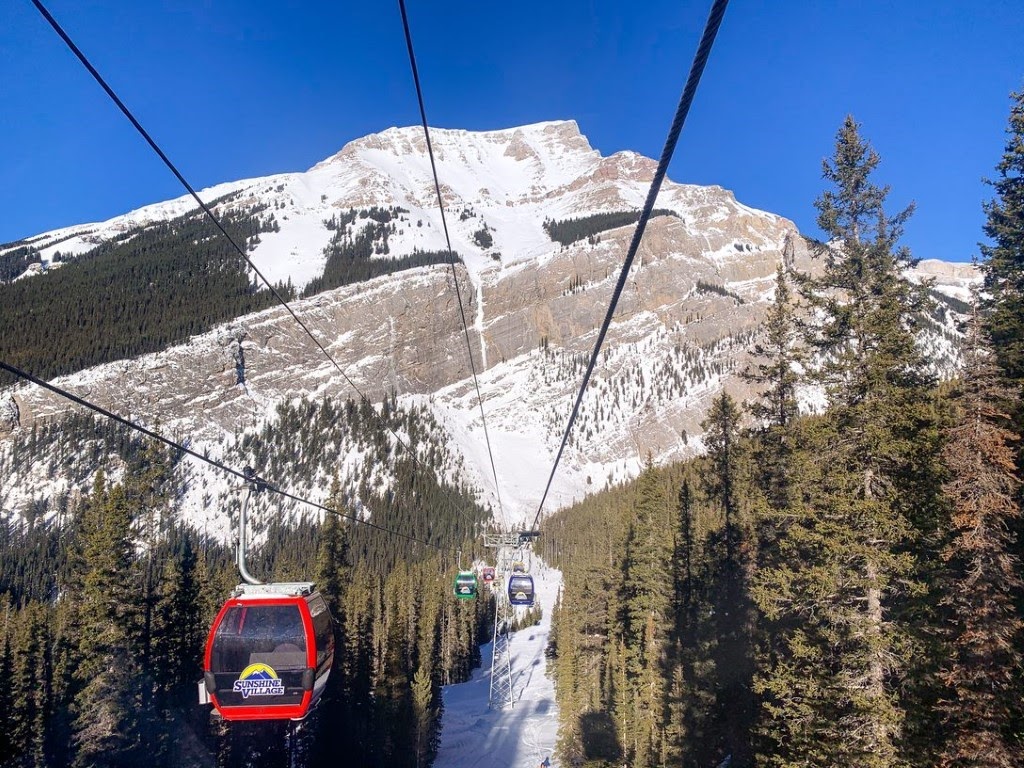 Though the access road leading to the base of the resort, combined with the 5-kilometer gondola ride, are what allow you to ski such remarkable snow and terrain, these can also be major causes of delay on busy days.
During holidays, weekends, and highly anticipated powder days, the access road and gondola line can be major bottlenecks when trying to get up the mountain. It is required that you have suitable winter tires if visiting Sunshine, as the access road on snowy days can be quite intimidating – with proper tires, this is nothing to worry about.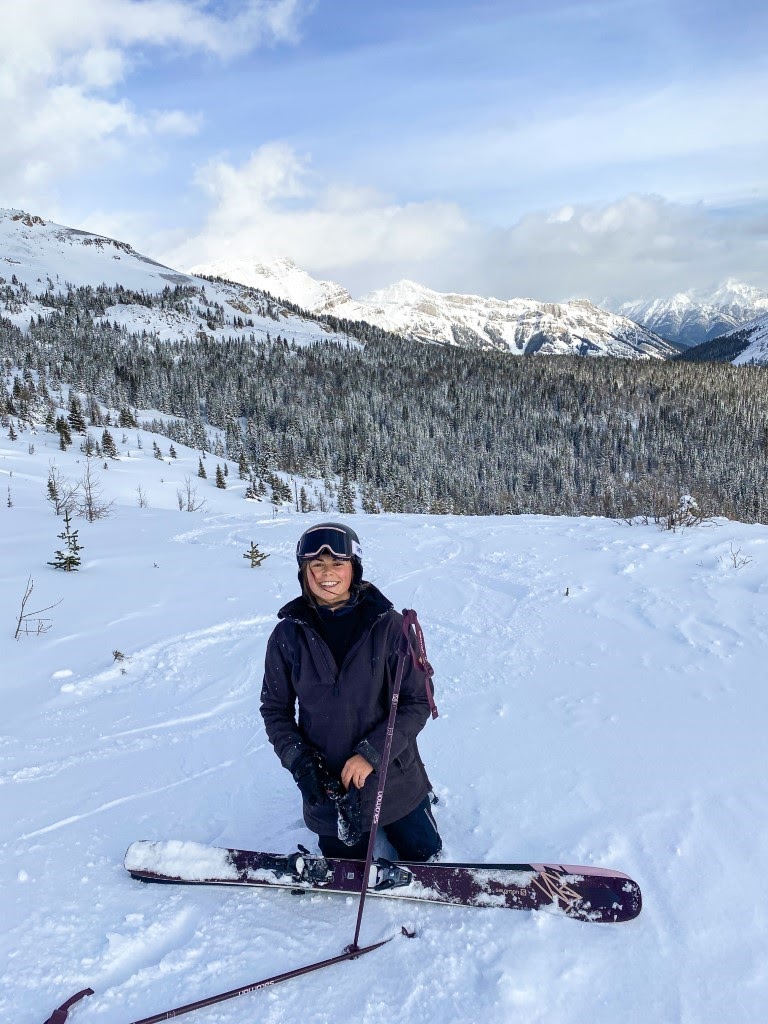 I also recommend visiting on weekdays to avoid the gondola line. During the week, the gondola line is typically non-existent; however, seeing as gondola cabins can only be filled with so many people, the line becomes extremely lengthy on busier days.
This sometimes means a 1-2 hour wait to get on the gondola. Though the terrain on the mountain is so vast that the mountain itself and the various lift lines do not reflect the busyness of the gondola line. If you have the patience for the gondola line, or arrive bright and early to beat the line (between 7-7:30am), I can assure you that the rest of the day will be totally worth it.
If you are a snowboarder, beware of the flat sections found throughout sections of Sunshine. On Goat's Eye Mountain and the Standish and Wawa lifts on Mt. Standish, this is nothing to worry about! But if you are an experienced rider enjoying Look Out Mountain, don't go too far to skiers left as the green runs may leave you undoing your bindings.
If you stay skiers right or in the middle of the mountain, this isn't an issue. Similarly on the Strawberry lift, though great for beginners, some green runs on skiers' right may also leave you pushing your way out.
---
My Favorite Runs at Sunshine Village Ski Resort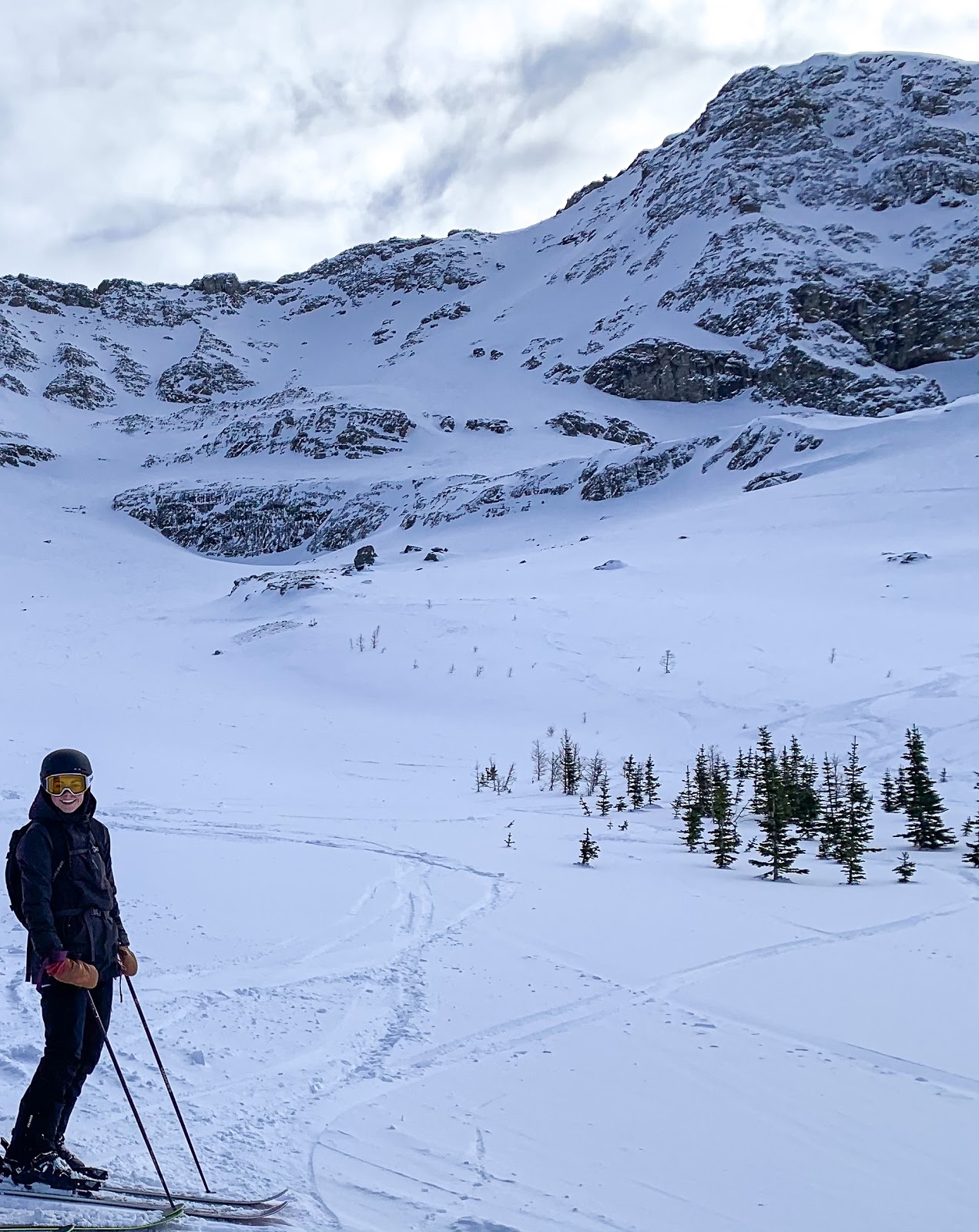 With the incredibly vast variety of runs at Sunshine Village, it seems impossible to provide a summary that will do them justice! Instead, you simply need to check them out for yourself. To help you get started, here is a list of must-do ski runs at Sunshine Village:
Green Circles – Beginner
Banff Avenue
Green Run
Forget me Knot
Miss Gratz
Blue Squares – Intermediate
Sunshine Coast
World Cup Downhill
Rollercoaster
Tincan Alley
Wawa Bowl
Black Diamond – Advanced
Eagle Creek
The Big Woody
Virgin Chutes
Head Wall
Bye Bye Bowl
Double Black Diamond – Expert
Delirium Dive
The Wild West
The South Side Chutes
Terrain parks
At Sunshine Village, the terrain parks are every park-rat's (and wanna be park-rat's) dream! From entry-level to pro, every park rider can find features for them in at least 1 of the 5 parks at Sunshine!
The Terrain Parks at Sunshine Village Ski Resort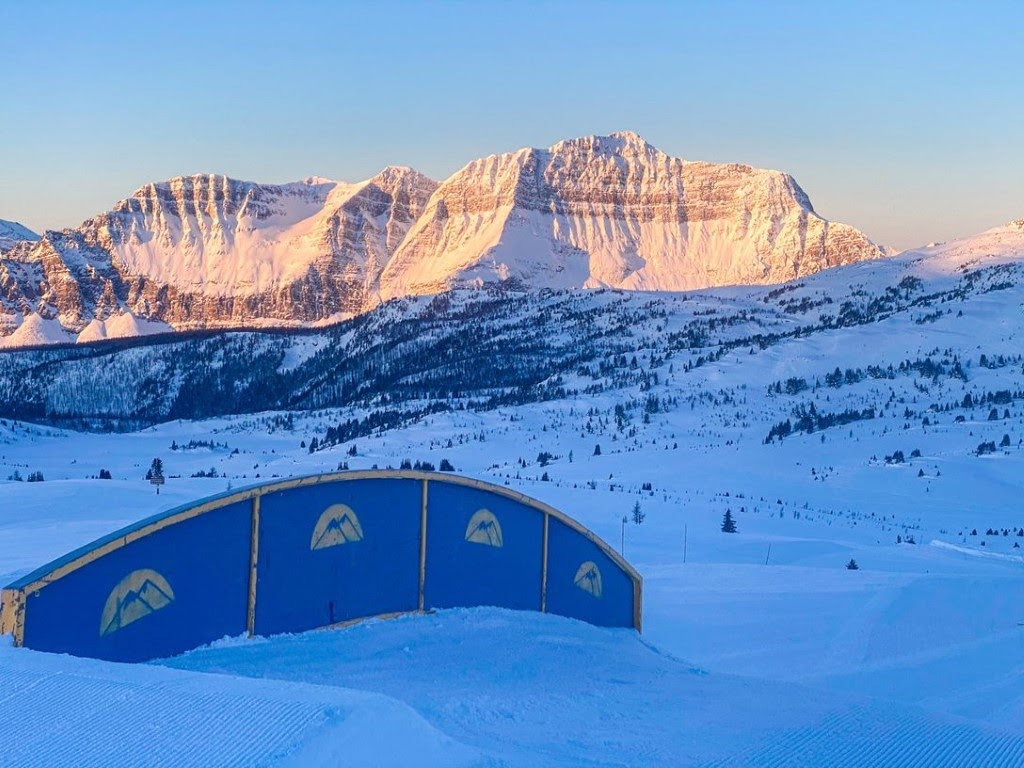 The Kids Play Park is found under the Wolverine chairlift and is perfect for anyone looking to develop their park skills. With plenty of small-rated boxes, rails, and jumps, this is the park for beginners to try their hand at park riding!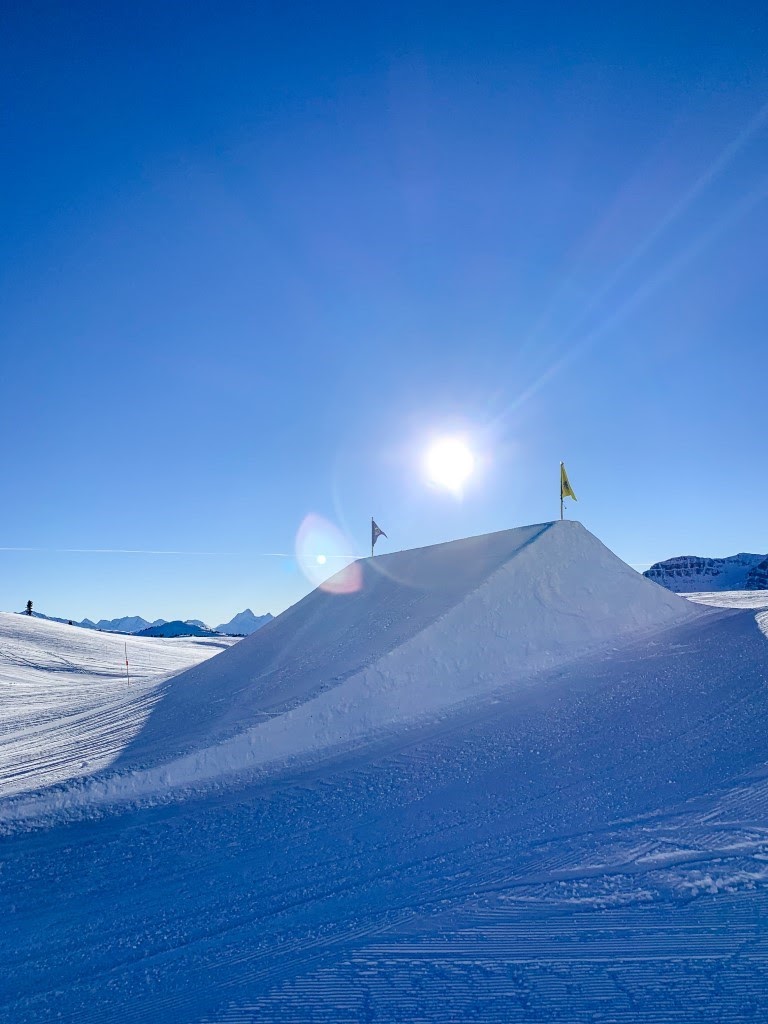 The Strawberry, Divide, and Spring Hill parks have something for everyone! From small features to XL jumps, these parks can challenge all ability levels. Even if park riding isn't for you, don't miss the cross course that winds along beside the Divide Park!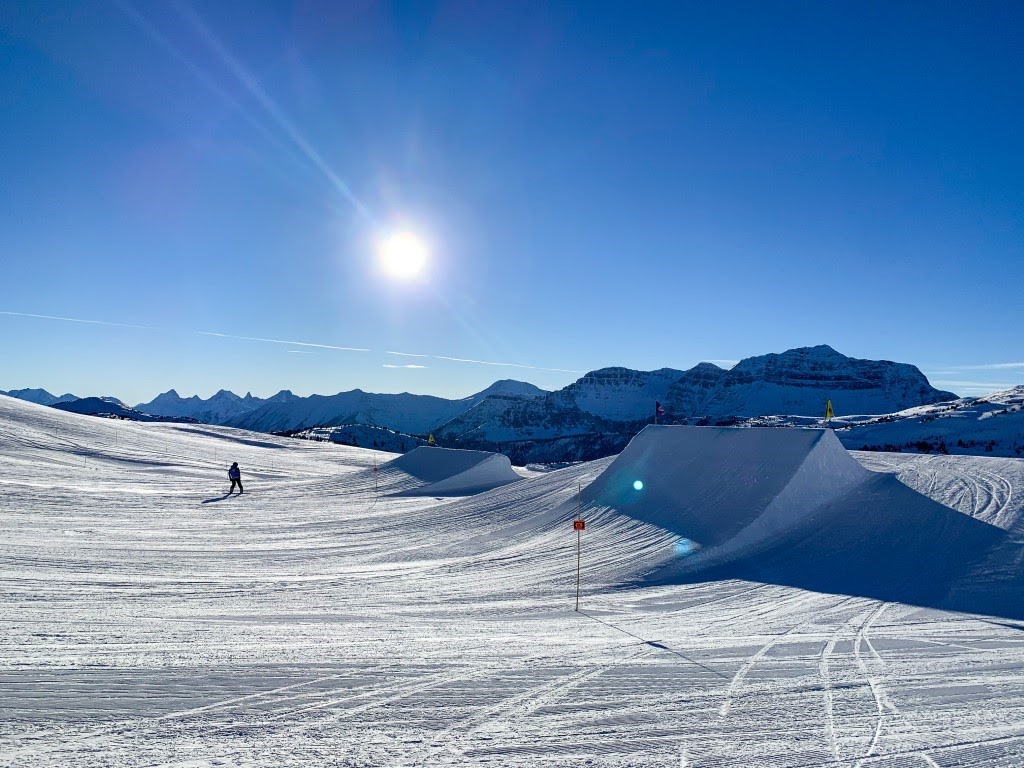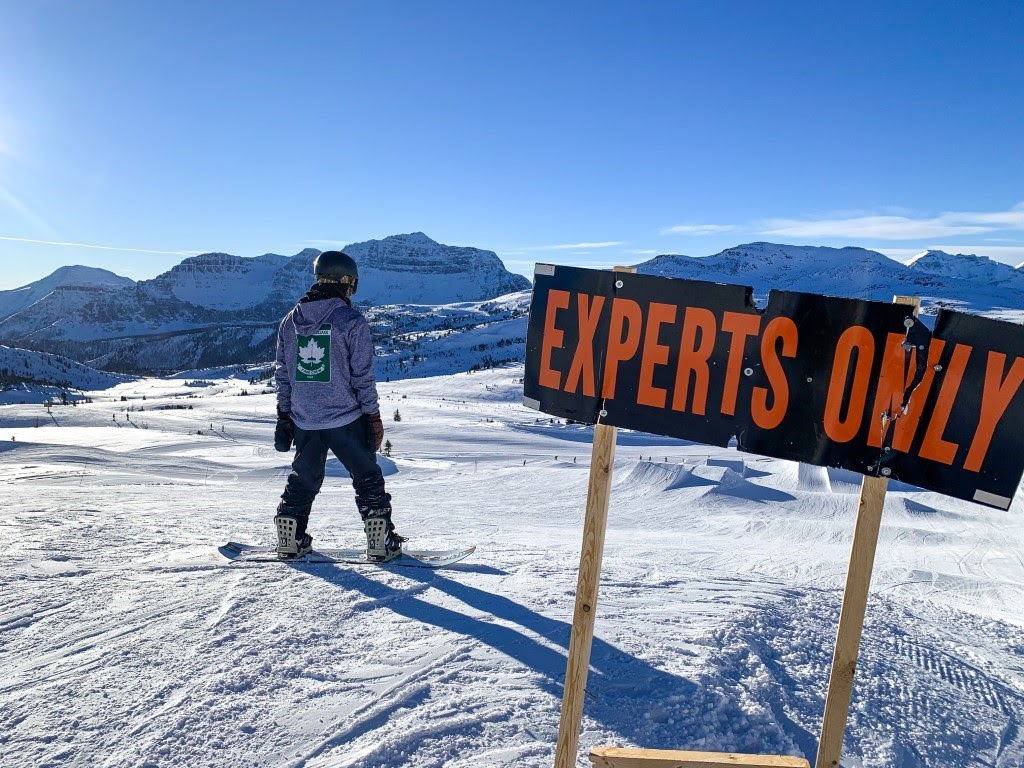 Last but certainly not least, the Grizzly Park. This park sure does live up to its name – the biggest, boldest terrain park that Sunshine has to offer. This park is for experts only, with nothing but XL features and jumps that can challenge even the best riders.
If you have not quite mastered your park game, this is an awesome place to sit in the sun and watch the pros fly, flip, and spin past the gorgeous mountain landscape that lies all around you.
---
Day Lodges at Sunshine Village Ski Resort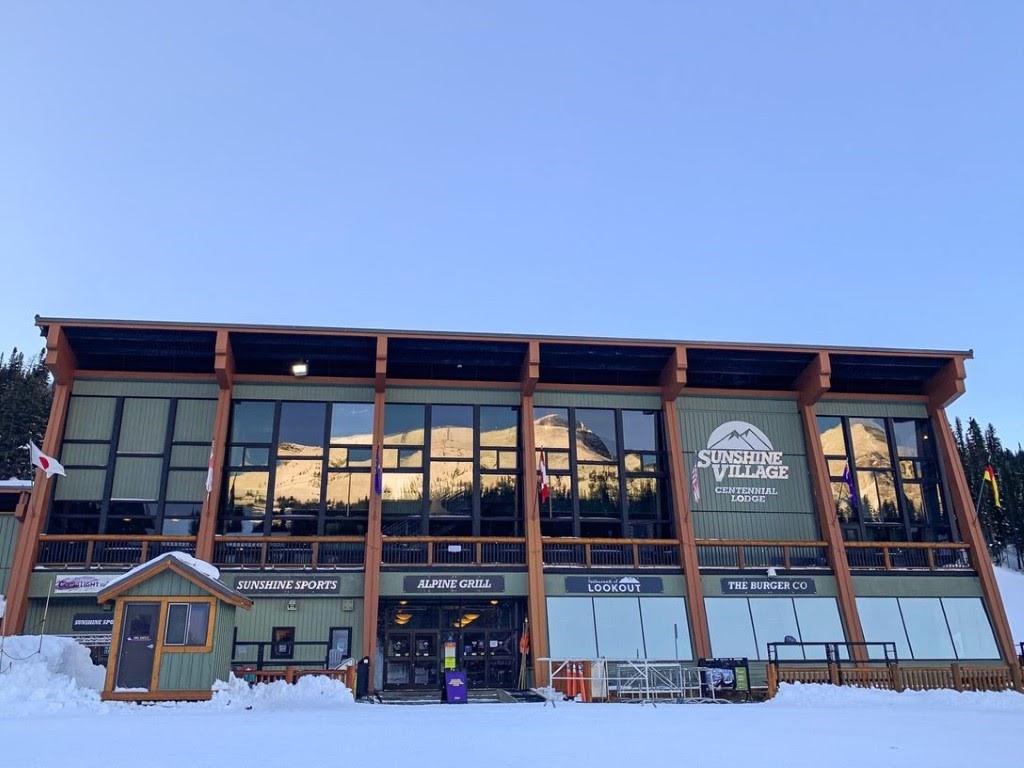 Sunshine Village has 5 different lodges throughout their resort, spread out between the resort base, Goat's Eye Mountain, and the main Village. No matter where you are on the resort, there is somewhere nearby to grab a warm drink or tasty meal!
The Creekside Lodge is found at the base of the gondola and its tall, impressive windows and stone structure is the first glimpse of Sunshine as you pull into the parking lot. This lodge has a fully stocked retail shop, the Java Station café for all your coffee or breakfast needs, and the Creekside Bar + Grill if you just can't wait to grab a bite to eat.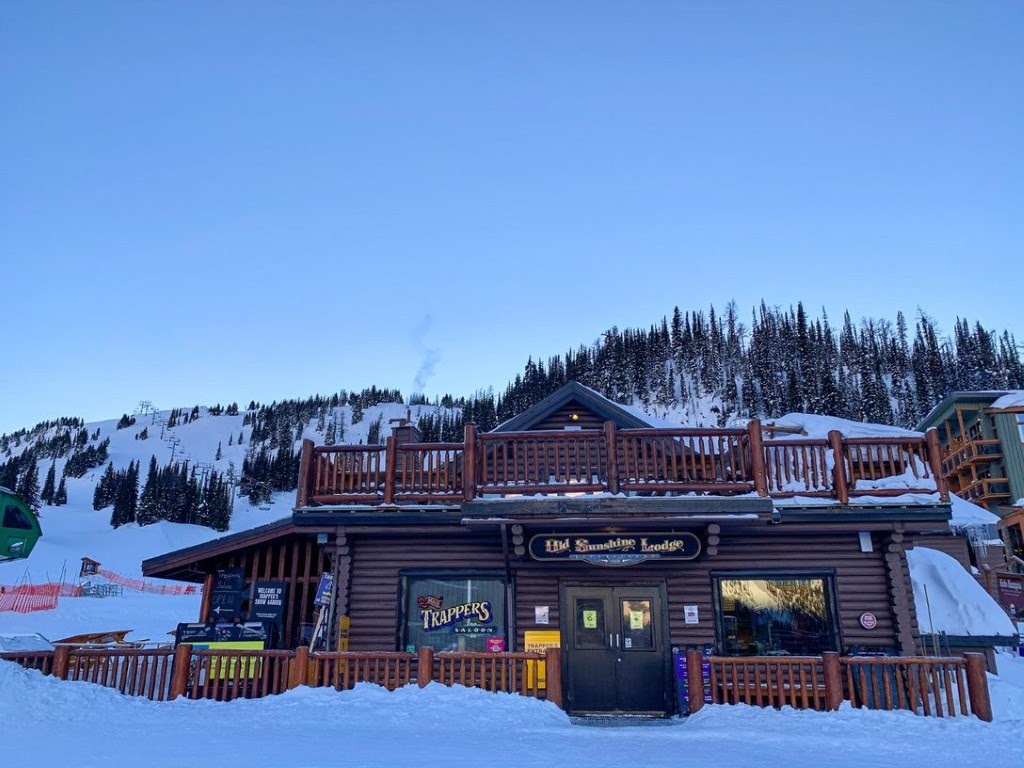 The Village is fully loaded with cafes, restaurants, retail shops, and their newest addition – a Taco Truck! The Look Out Lodge is the main lodge and offers the Java Express café and three unique restaurants: The Sunshine Burger Company, The Alpine Grill, and The Restaurante El Lookout. Whether you are looking for a classic Canadian poutine or a gourmet pizza, these eateries have every foodie coming back for more!
If you are like me and enjoy the atmosphere of the apres-ski almost as much as the actual skiing, Mad Trapper's is where you will want to be! This western style bar was established in 1928 and has only gotten better with age. With all the ski hill classics done to perfection and plenty of beer on tap, this is the spot to be after a rowdy day on the slopes!
For those looking for a quieter, cozy escape for lunch or dinner, be sure to check out the Sunshine Mountain Lodge. This lodge has two restaurants – The Chimney Corner and Eagle's Nest – both of which host remarkable stone fireplaces and stunning views of Look Out Mountain. This is the perfect place to unwind and cozy-up while enjoying the Village's most extensive menus.
If you're skiing down at Goat's Eye mountain when your stomach starts rumbling, there is no need to make the trek back to the Village; simply enjoy the offerings of the Goat's Eye Grill! Sitting right at the base of the Goat's Eye lift, this is the perfect place to grab a quick bite without wasting a moment of precious skiing time.
---
Where to Stay at Sunshine Village Ski Resort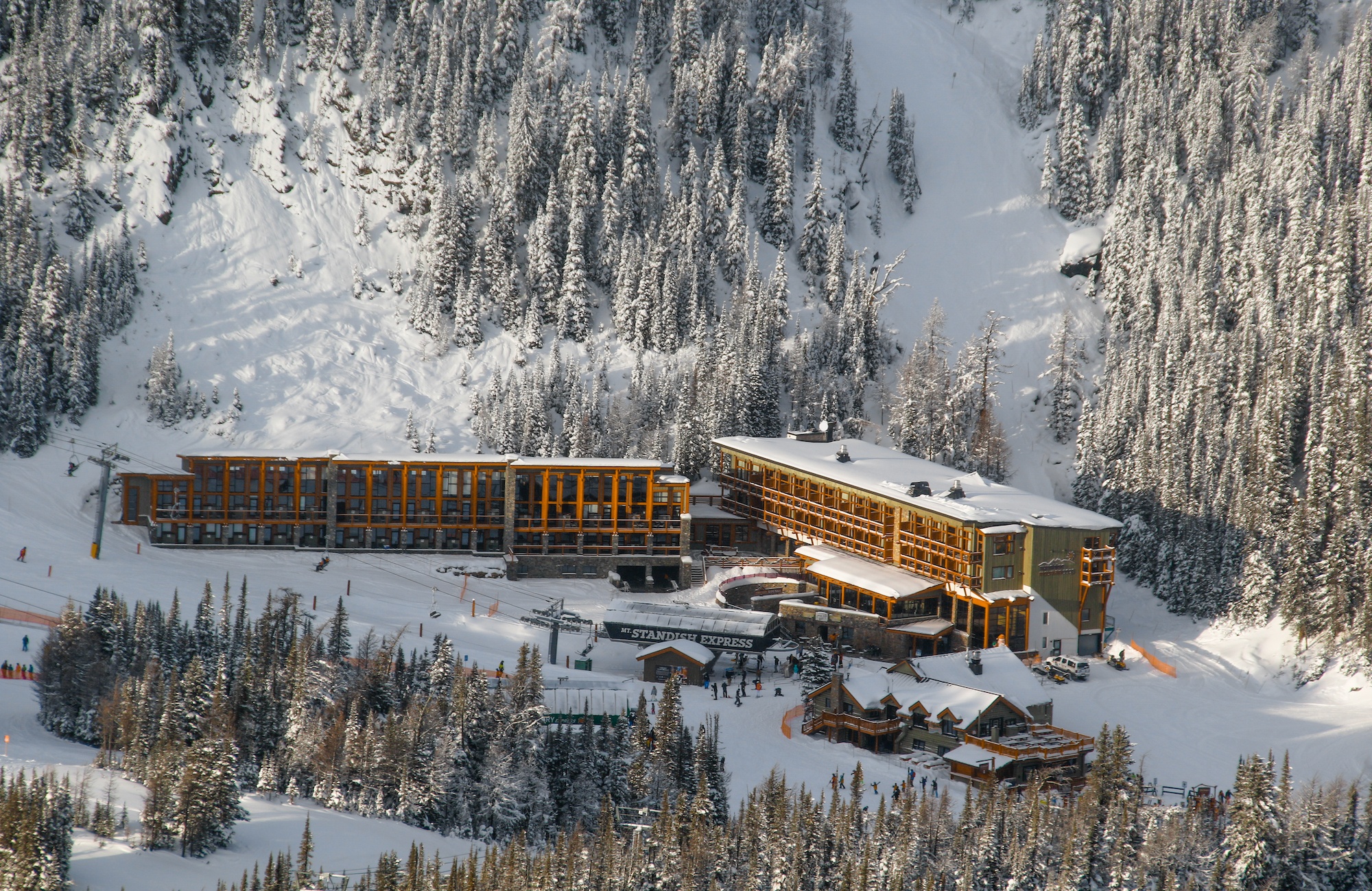 If you are visiting from outside of town and looking to make this a multi-day ski trip, be sure to check out the Sunshine Mountain Lodge. Located right in the Village, this Lodge provides you with the only ski-in/ski-out experience in all of Banff National Park.
The next best option is to stay in the town of Banff. The town of Banff has some awesome hotels, Airbnbs, and cabins varying in price ranges and location!
---
Where Else Should You Ski in Banff?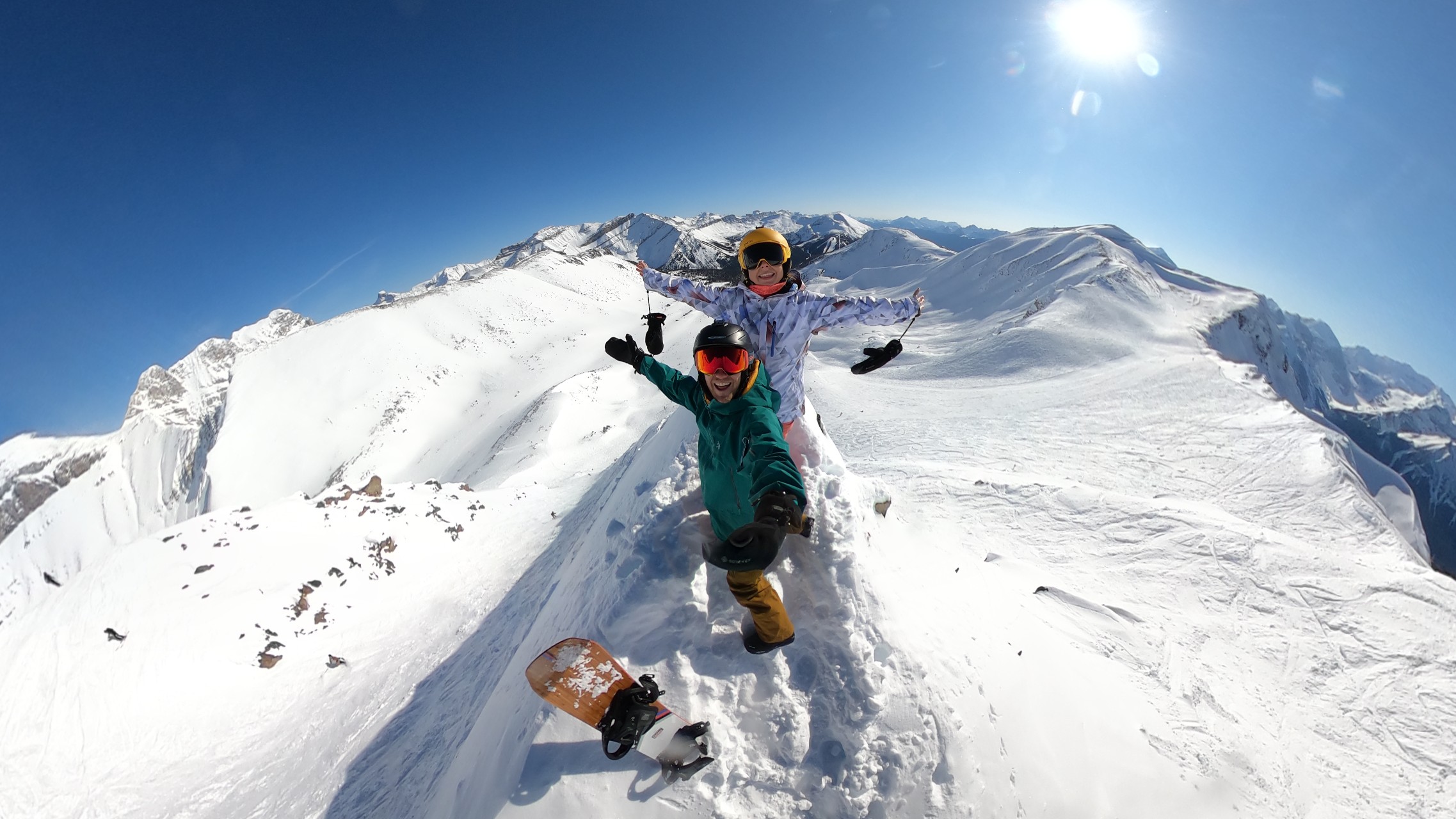 ---
Plan Your Trip to the Canadian Rockies
↓ Join the community ↓
The Banff Blog Facebook Group is your headquarters for the Canadian Rockies' travel advice and information. Including hike info and off-season travel information. This is also where you can meet one another when you need adventure buddies.