Looking for the best Airbnbs in Banff? Nestled in the middle of the Canadian Rockies, Banff National Park is a premier outdoor destination in Canada. There are so many great things to do and see in Banff.
In between these activities, you'll want somewhere comfortable and cozy to stay, and there's no better way of staying in Banff than at one of these awesome Airbnb rentals!
We've narrowed down some of the best Banff Airbnbs on offer. Most are actually in the Town of Banff, but some are more tucked away in the park, in surrounding towns, or even in beautiful Kananaskis Country.
Banff has strict zoning laws when it comes to short-term rentals, so there are not that many Airbnbs on offer. Choices get limited outside of the town as well. However, if you dig deep enough, you'll be able to find a great Banff Airbnb for you and your travel companions!
See Also:
---
Airbnbs in Banff – Quick View
---
---
But First, Why Should You Stay in an Airbnb in Banff?
---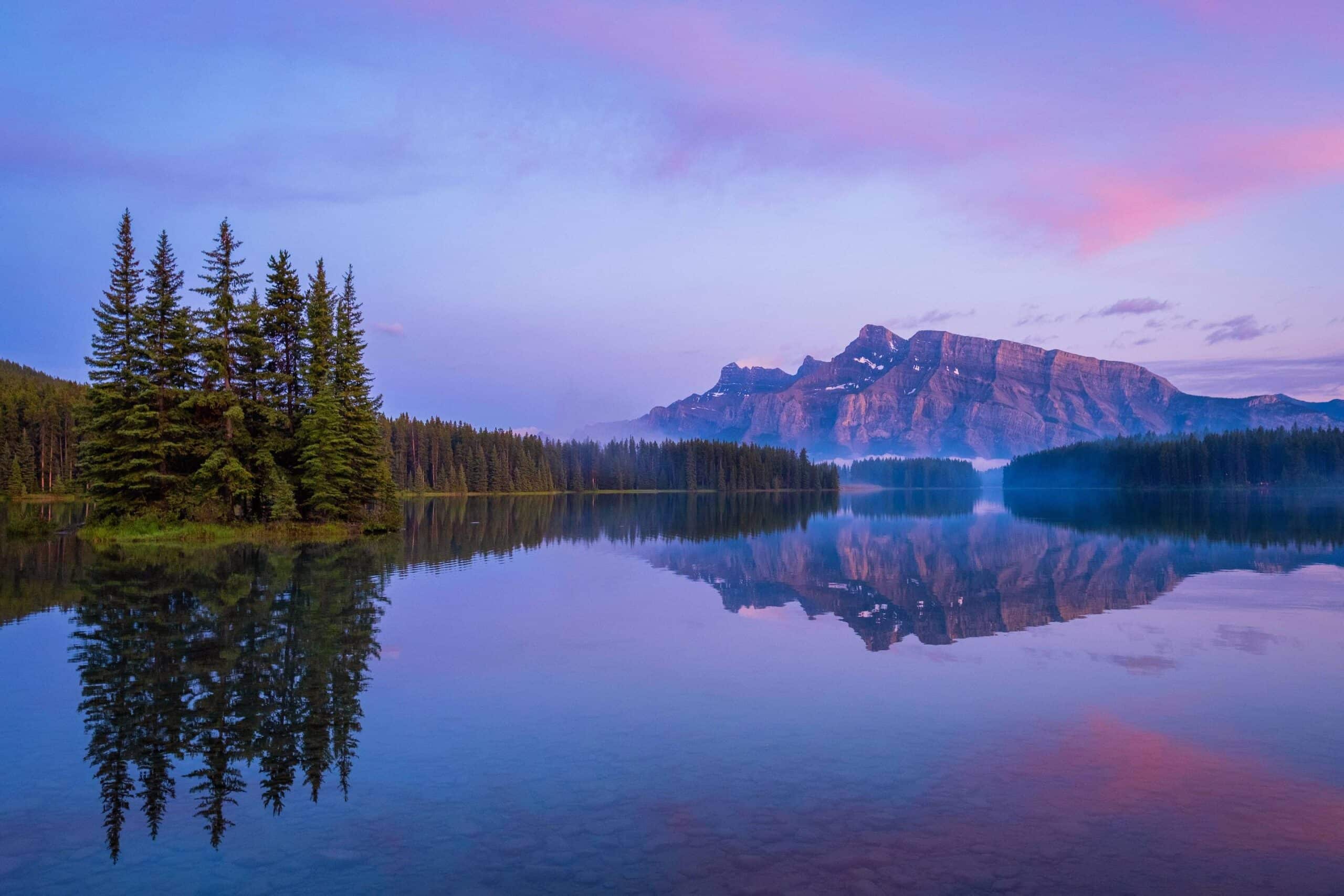 Unique Stays: Don't get me wrong. I love the Banff hotels, but staying in Airbnb gives you the chance to find more unique property. We do our hardest to show you the best townhouses, lofts, cottages, and cabins. Not just standard hotel rooms so that your stay is extra special.
Stay Local: By staying with a local host you are choosing local businesses. This is not only great for them, but it gives you the chance to get the lowdown on the best things to do, where to eat, etc. No one knows best besides a local.
Affordable: Airbnbs range in price and can be found all over Banff, not just in one area (like a downtown area). You can stay in local neighborhoods away from Banff Ave which typically mean cheaper.
Flexibility: What I love about Airbnbs is that you can choose places that are fit for not just two people, but four, six, and so on making them great for families and even more cost-effective.
Privacy: Most Airbnbs now let you check-in and check out without any human interaction if you don't want to. Keypads, lock boxes, and door codes make this all possible.
---
The Best Airbnbs in Banff and Banff VRBOS
**Please note that Airbnb has discontinued its partnership with bloggers and online publishers. As a result, many of these properties are linked to Banff VRBOs and Booking.com, which are great alternatives with lower service fees for guests.
---
Mountain View Suite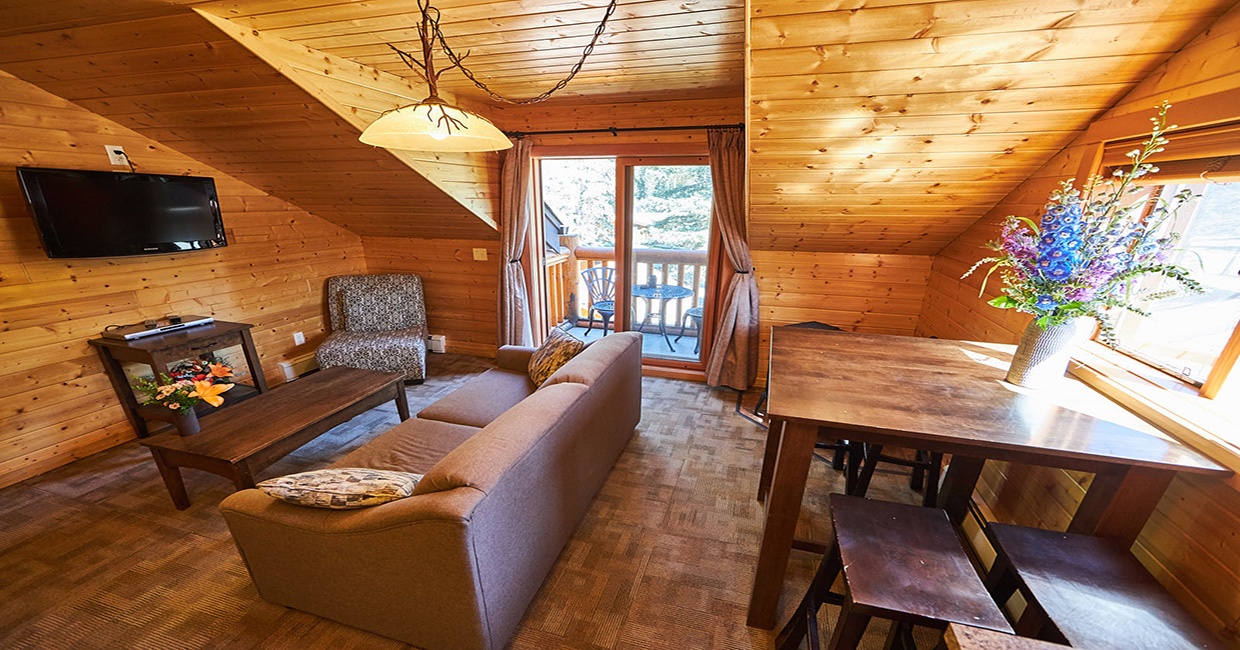 Location: Castle Junction
Superhost: Yes
Price: $250+
Guests: 4
Beds: 2
This Airbnb in Banff is an entire mountain apartment catering up to four guests. It's small with only one bedroom and one bathroom, so it's best for a family or group of friends that feel cozy together. This Airbnb in Banff is part of Castle Mountain Chalets near the beautiful Castle Mountain, about a 20-minute drive away from Downtown Banff.
So if you want to get away from the crowds and town, this Banff Airbnb is the perfect place for you. It's closer to destinations like Lake Louise and Moraine Lake and offers incredible views of Castle Mountain. It's also very close to popular sites like Johnston Canyon, so it's a great option if you want to drive the Bow Valley Parkway.
Their suites come with creature comforts like an electric stove, full-size refrigerator dishwasher, kettle, coffee maker, and all cookware that you would need to make a meal. The living room has a pull-out sofa bed near the gas fireplace, and the bedroom has a queen bed. The living room has a dining table set for four, or you can head outside to one of the many picnic areas for an evening cookout.
Guest Review: We had the BEST girls get-a-way to Castle Mountain Resort. The area is absolutely stunning, close to everything, and the perfect spot if you're looking to spend some cozy time in the outdoors. Adrian was quick and great to communicate with, check in and out was a breeze, and the place has everything you need. We're missing it already! Hoping to be back soon.
---
*Banff Mountain Home*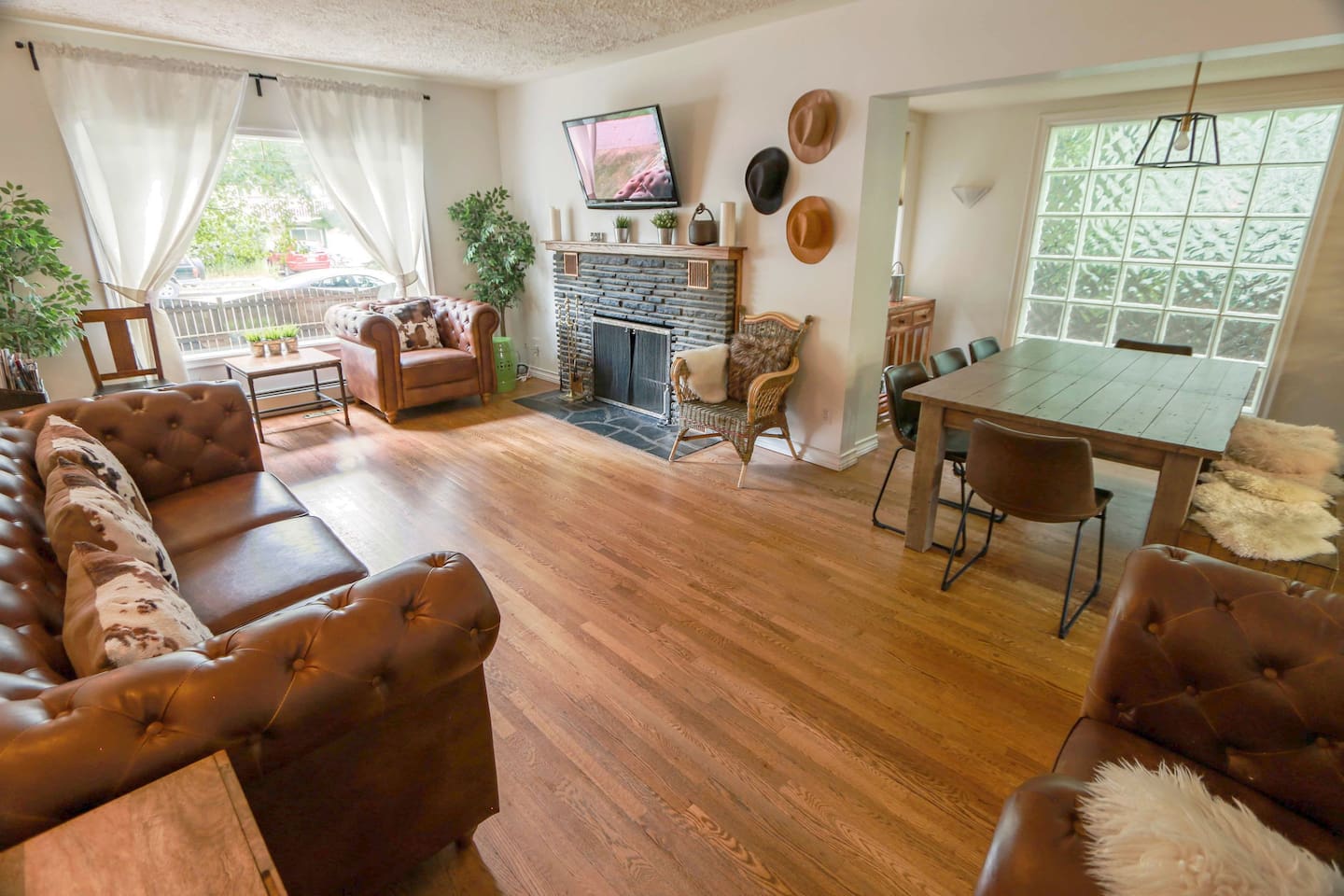 Location: Downtown Banff (This is our Featured Banff Airbnb listing!)
Superhost: No
Price: $750+
Guests: 11
Beds: 4
This basement suite is one of the best Airbnbs in Banff and sleeps 11 guests across 4 bedrooms and 5 beds. Situated in the heart of Downtown this suite offers families a chance a place to stay in the heart of Banff.
It's a comfortable place to head in the dead of winter or the heat of summer. With a cozy living area to relax in the winter and an outdoor deck for the summer group accommodation doesn't get much better than this.
This Banff Airbnb is well decorated and kitted out with everything you could need! Though it's one of the higher-priced accommodations on this list, keep in mind the number of people it caters to. It's ideal for large families or groups of friends!
Guest Review: This house is great – the location is perfect (less than a block from Banff Avenue), and each bedroom has a huge, comfortable bed and its own bathroom. Great spot for large groups visiting Banff!
---
Feel at Home in the Rockies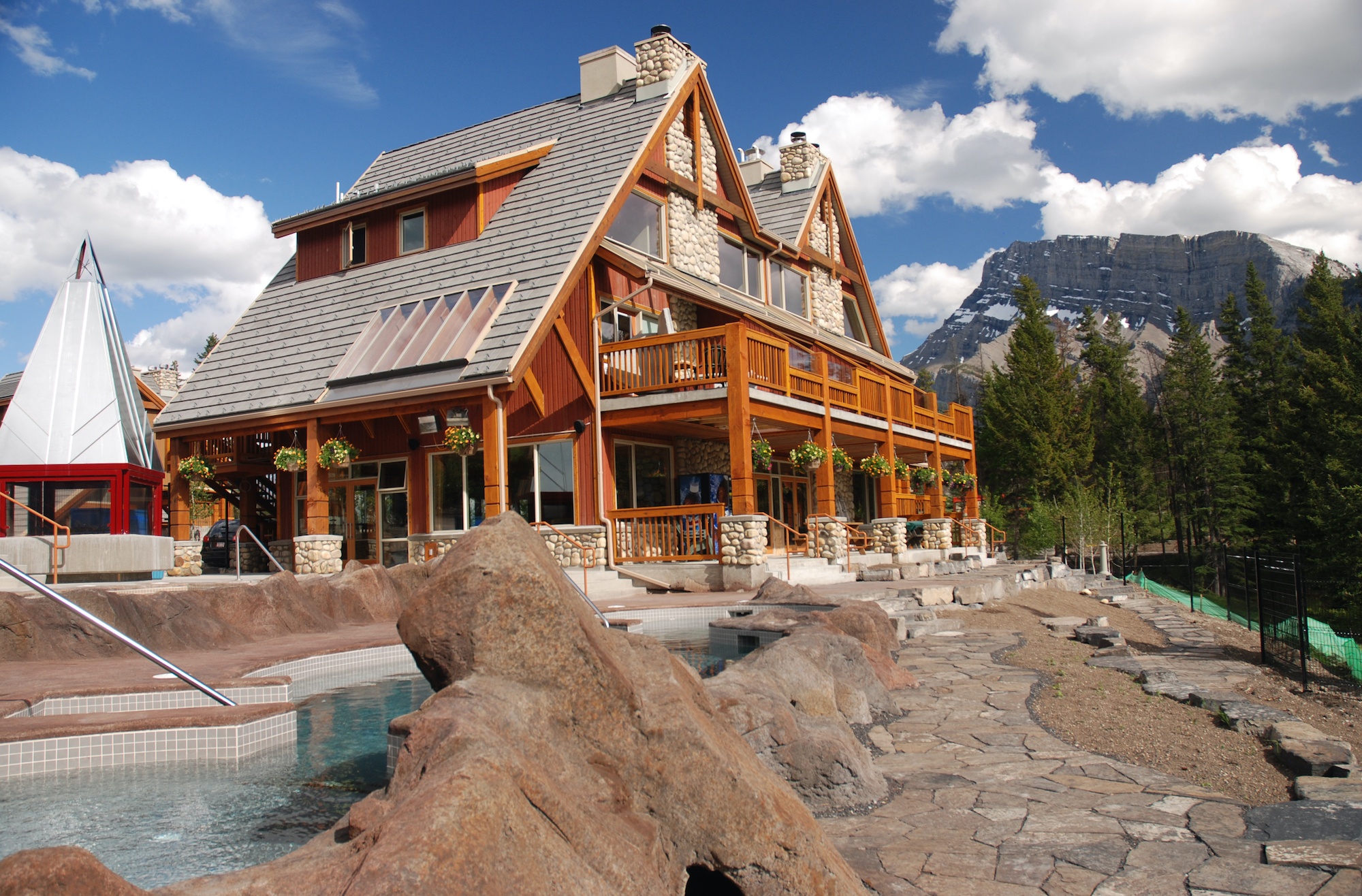 If you're looking for a comfortable, cozy, and classic cottage style in the Rockies, you can't go wrong with this Airbnb. I love the location on this one that sits along Tunnel Mountain.
This cottage is one bedroom but can sleep up to three with a sofa bed in the living room. There are NO cleaning fees which is hard to find on Airbnb nowadays, and there is even a concierge service available here. The big draw here though is honestly the hot tubs with mountain views and the wood-burning fireplace which you will LOVE in the winter.
This Airbnb in Banff also has underground parking, which is a massive plus if booking in the winter, and if you are a skier, there is ski storage here!
Guest Review: This place was incredibly comfortable to stay in, and the views from the hot tub made the chilly temperatures outside something to enjoy!
---
Original Cowboy Bed and Breakfast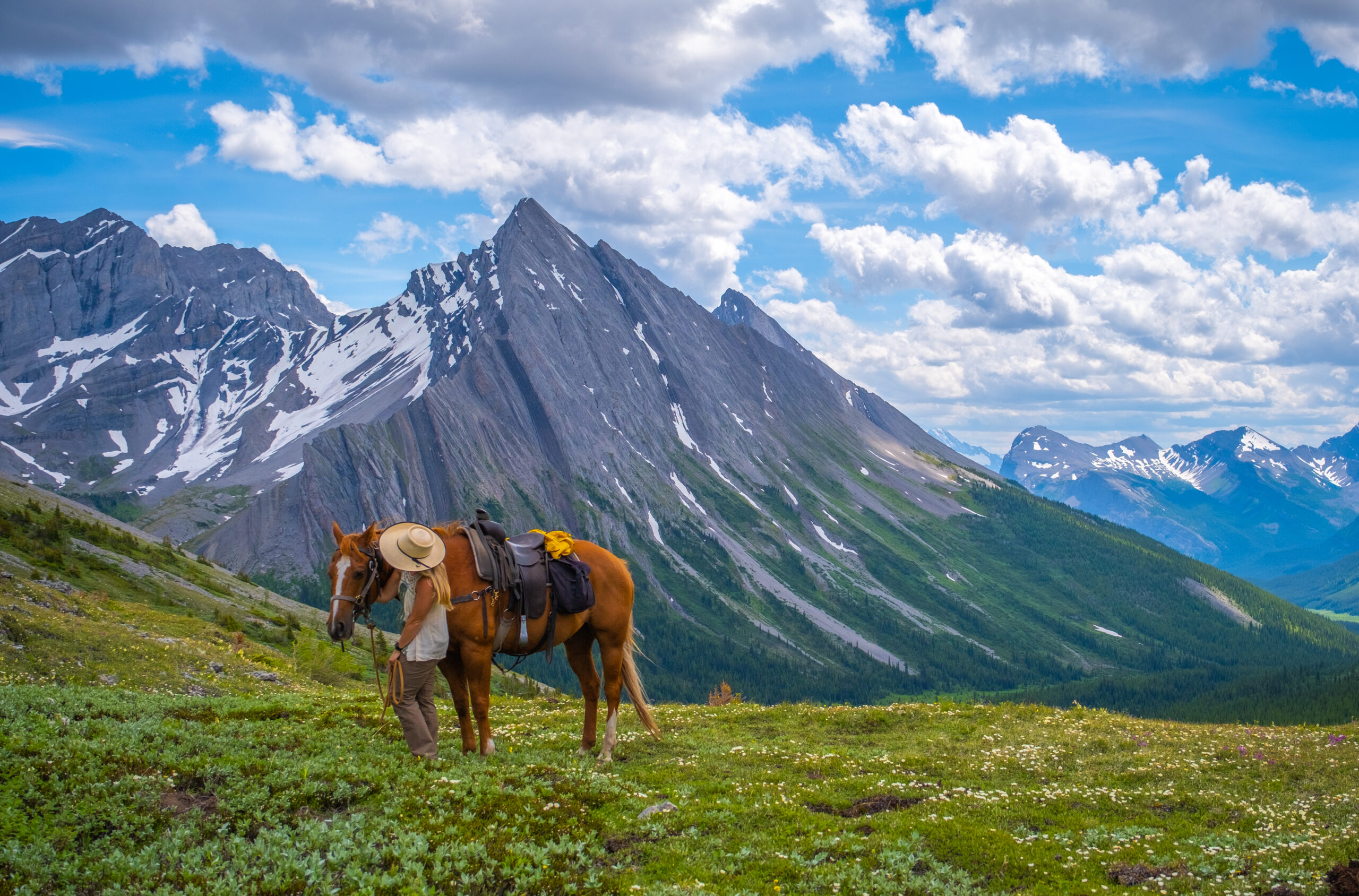 Location: Downtown Banff
Superhost: Yes
Price: $160+
Guests: 2
Beds: 1
This is one of the most beautiful Airbnbs in Banff that will take you back to those Western Cowboy days. Situated close to Downtown, this is a family-friendly apartment great for two guests. If you want to cook on your trip to Banff, this Airbnb has all the essentials. The lovely couple who runs this Banff Airbnb also serves up a delicious continental breakfast.
Around the apartment, you have great views of Banff in all directions!
Guest Review: Definitely the most welcoming hosts I've had with a very good location. 10/10
---
Banff Bear B&B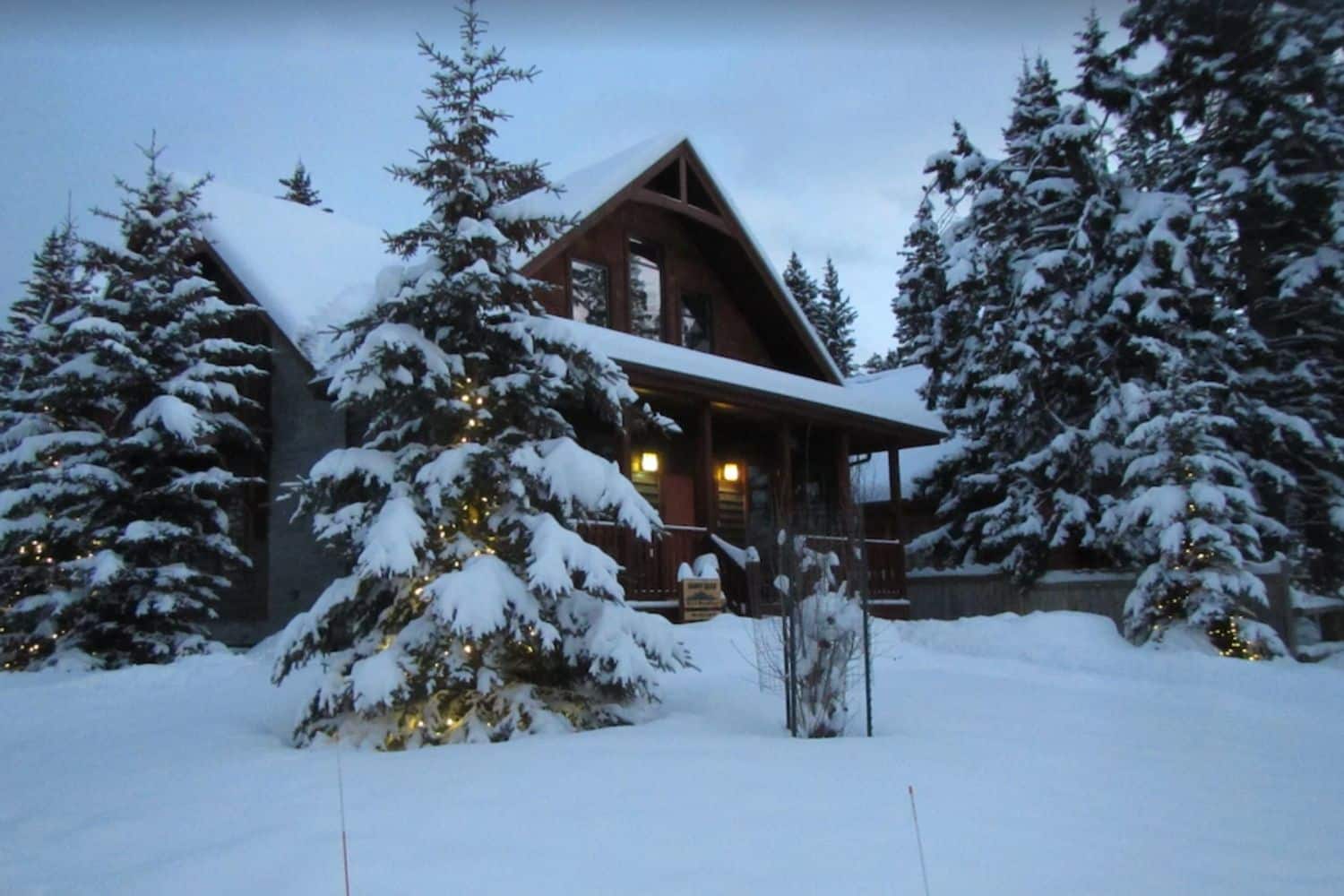 Location: Tunnel Mountain
Superhost: Yes
Price: $300+
Guests: 4
Beds: 2
This cute and cozy b&b is right at the base of Tunnel Mountain, just steps away from the Bow River and five minutes away from Downtown. It's one of the best Airbnbs in Banff for 4 guests. Everyone loves their stay at this mountain suite as you can step right outside, relax on the private patio and get views of Cascade mountain and Mt. Norquay.
This Banff cabin is ideal for four guests and has two bedrooms, a dining area and a kitchenette with bar fridge / freezer. Rest assured with free parking, ski and bike storage and complimentary breakfast items.
Guest Review: This is an excellent property in Banff. We enjoyed the two bedrooms with the common area to share. Every detail was thought of including great breakfast provisions. Very convenient to the river trail and the Main Street in Banff.
---
Banff Log Cabin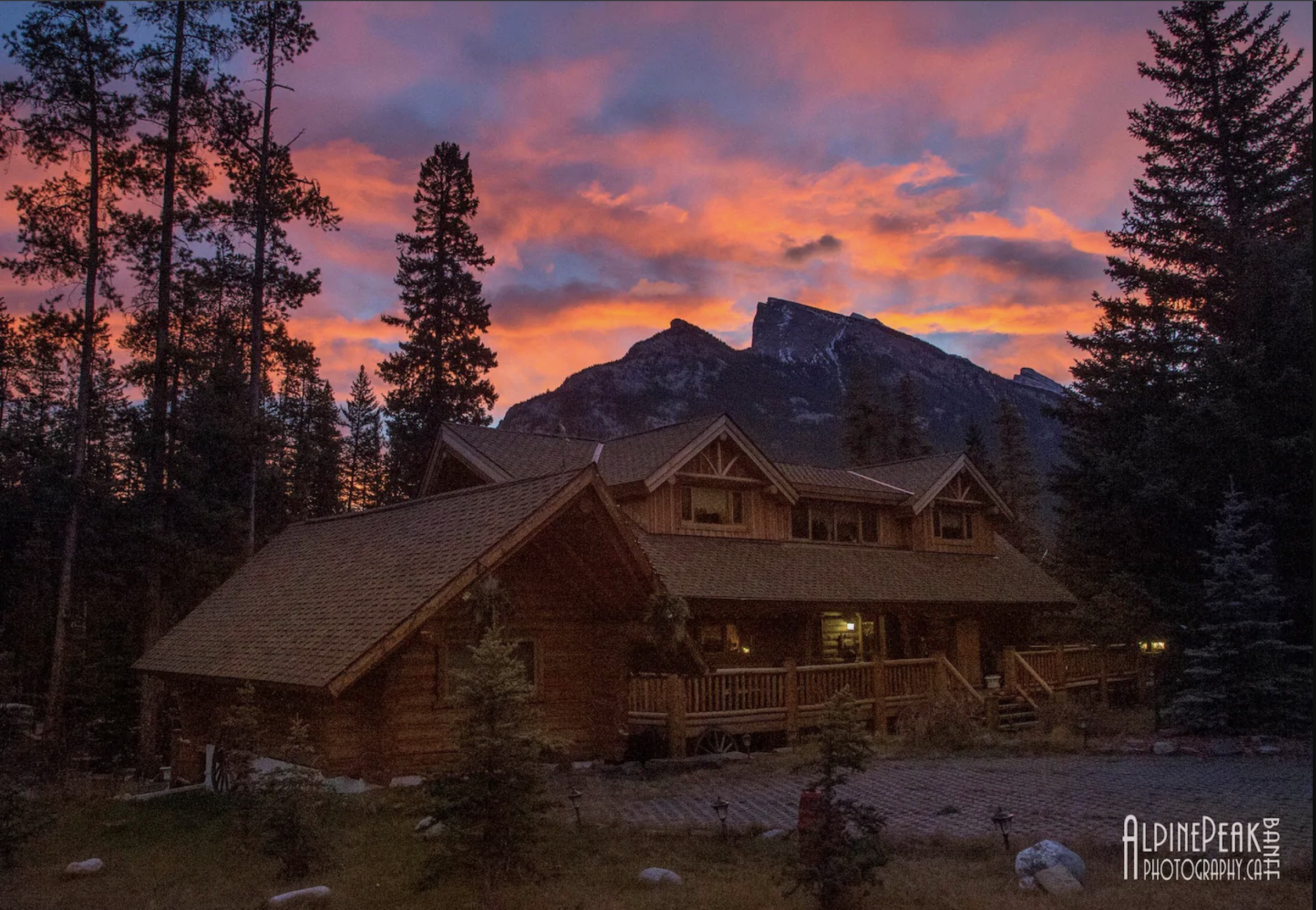 Location: Downtown Banff
Superhost: Yes
Price: $300+
Guests: 2
Beds: 1
The Banff Log Cabin is a special one, because there is only one of them and is frequently the site of photoshoots. Seriously, this is one of the best Banff cabin rentals you could score. It's located right in Downtown Banff and is walkable to Banff Ave. The Banff Log Cabin was built in 1974 and over the years fell into disrepair until some care went into it in the 2000s.
Now it's locally owned and operated in a quiet residential area. It's separated from the owner's main house and is an ultra-romantic getaway for anyone on their Banff honeymoon. There's a cast iron gas stove, as well as WiFi and a flat-screen TV. A delicious breakfast is served every morning. And there is a kitchenette in here in case you want to save money in Banff and eat in.
Guest Review: Excellent place to get away into the mountains. Highly recommend for any couple. We went in the middle of winter, but would love to come back in the Summer!
---
Black Bear Mountain Chalet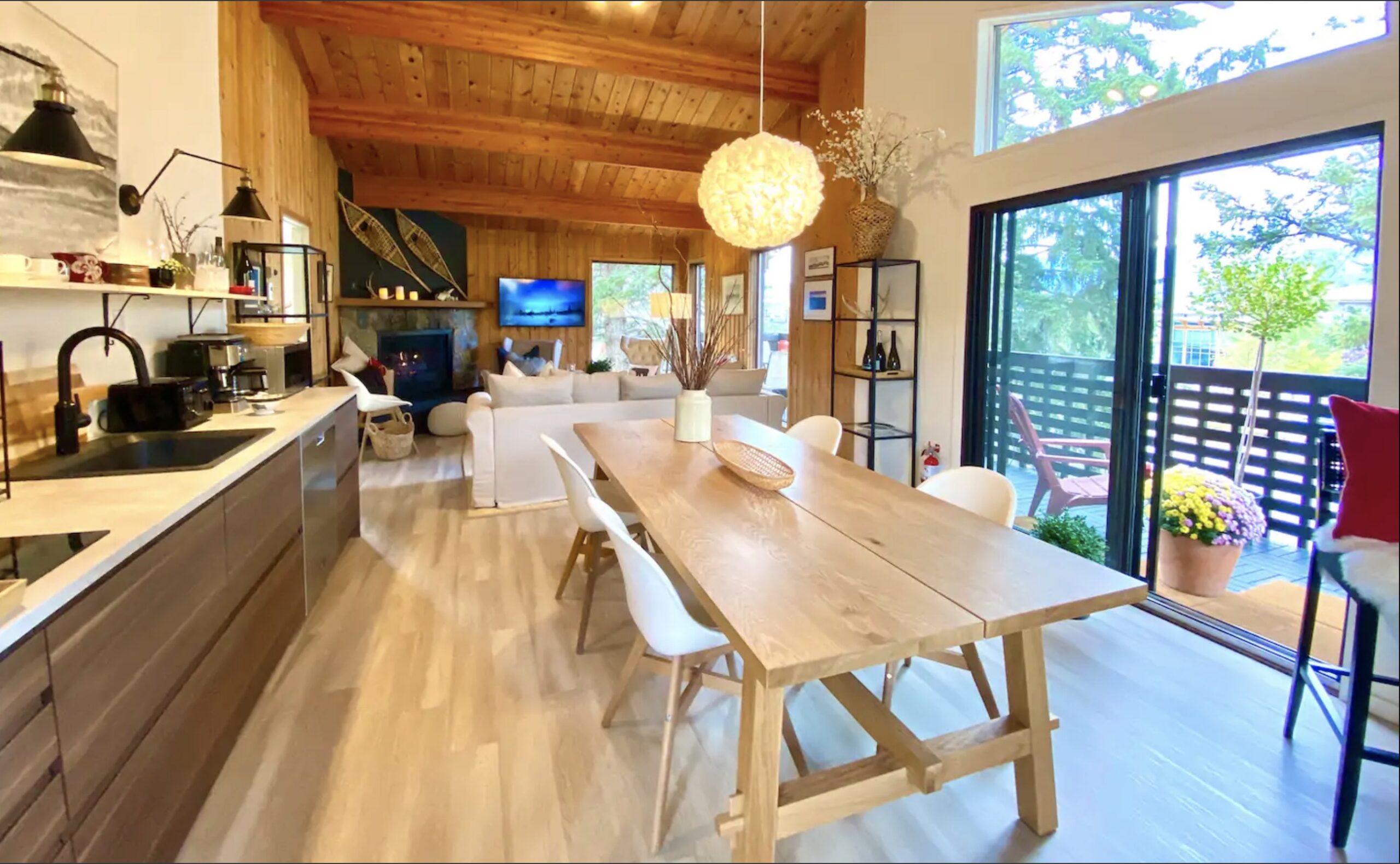 Location: Downtown Banff
Superhost: Yes
Price: $500+
Guests: 6
Beds: 3
If you have a larger group of six this is the perfect Banff Airbnb for you. It's hard to find Airbnbs in Banff that are enough for larger groups, so if the Black Bear Chalet is available, I would recommend booking!
This is a private two-story home with mountain views all around. The inside is newly renovated with vaulted ceilings, a gas fireplace, and quality bedding. You have three separate bedrooms here with three separate bathrooms!
Other amenities include a 4K Smart TV with Netflix, Fast WiFi, a working area, and a kitchenette with drip, espresso and Keurig coffee making facilities. My favorite thing about this Banff Airbnb is the mountain-view balcony.
Guest Review: Expectations will certainly be surpassed by this stunning property! Thanks so much for our spectacular experience; we hope to be back soon!
---
Rocky Mountain Retreat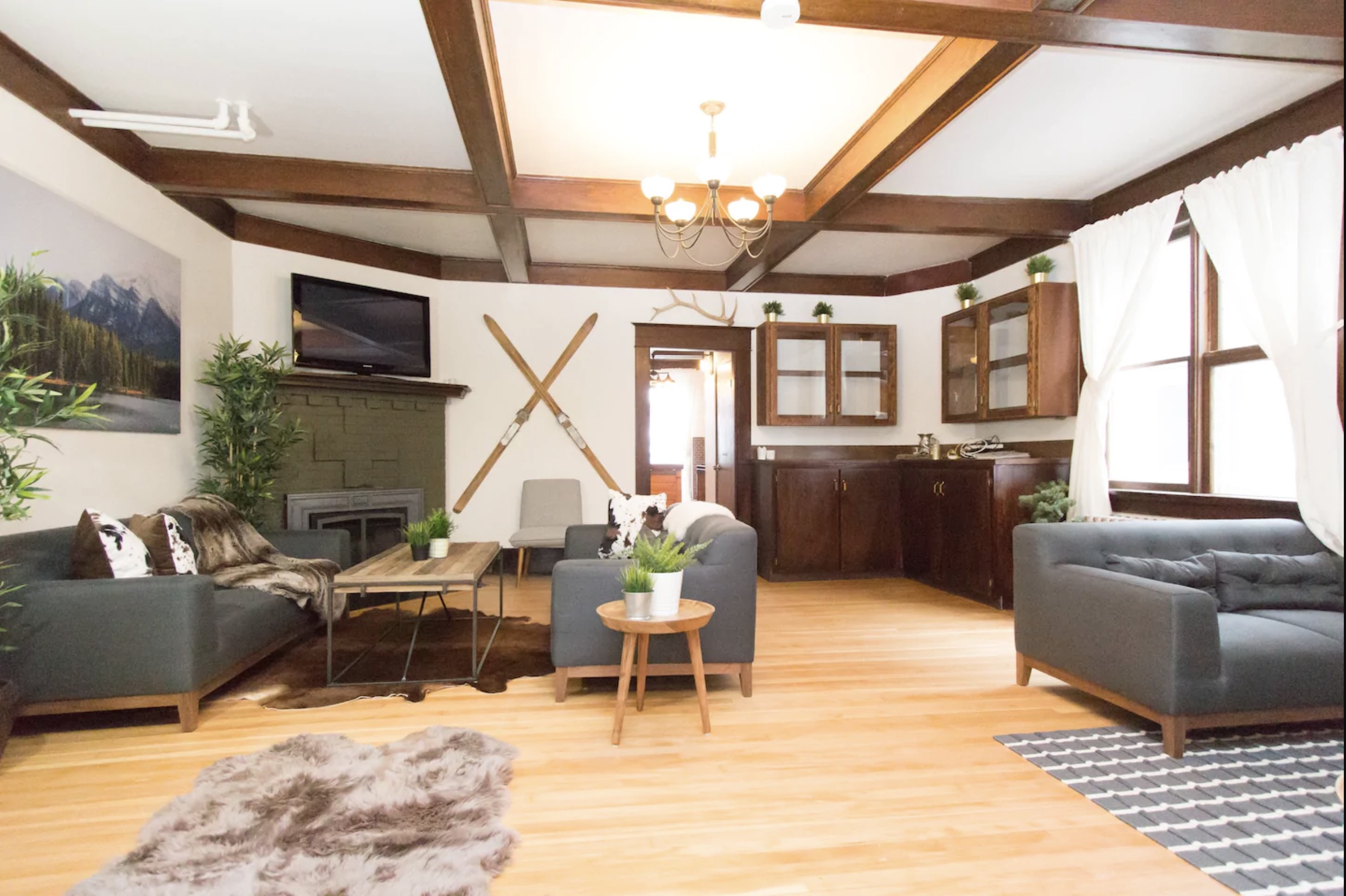 Location: Downtown Banff
Superhost: No
Price: $700+
Guests: 23
Beds: 13
This enormous 10 bedroom home sleeps more than 20 guests across four floors. Let me tell you, as someone that has searched for years for housing in the Canadian Rockies, such a large house rental is hard to come by! If you have a large group and need one main place to stay, book this while you can.
Located steps away from the shops and cafes of Downtown Banff this Banff Airbnb has a large outdoor deck for groups. There is plenty of parking, a chef's kitchen, and a large dining room. There are laundry facilities and a games room with TV/game consoles as well as a foosball table, dartboard and arcade for kids (or adults) to have fun at.
I love the interior of this house and the cute mountain decorations everywhere. If you want that mountain feel in Banff this beautiful property is for you.
Guest Review: Great location walking distance to downtown Banff. The house sets up well for large parties and has a warm ski lodge feel to it. Our group of 12 had a great winter visit.
---
Private Hot Tub Banff Airbnb With Views!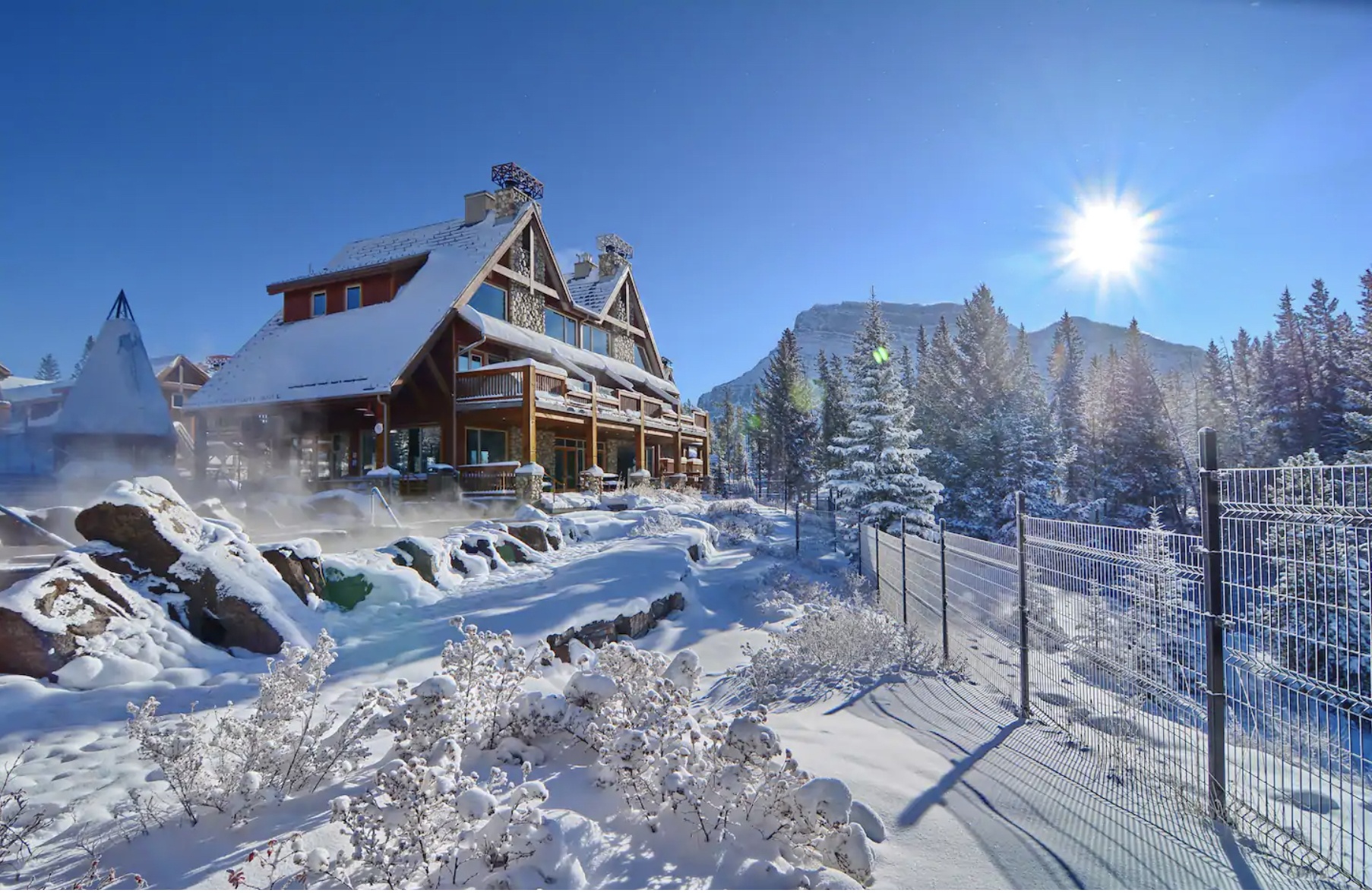 Location: Tunnel Mountain Road
Superhost: No
Price: $400+
Guests: 3 (+ 1 child)
Beds: 2
A private hot tub is tough to come by in Banff, so if you see this available for the dates you want on Airbnb – book it! This comfortable Airbnb comes with a cozy king-size bed, a double sofa bed in the living room, a wood-burning fireplace with free firewood. There's free underground parking (another luxury in Banff) as well as a front desk with concierge service.
In the summer, the Hidden Ridge Resort offers bike rentals, and in the winter, there is ski storage. Toiletries are all Rocky Mountain Soap products, the best skin products in the Bow Valley!
Of course, we are not forgetting about the private hot tub on the deck with Mount Bourgeau views. I would love to enjoy a glass of wine here after a long day out hiking. Speaking of hikes, the easy Tunnel Mountain hike is just steps away – I highly recommend it!
Guest Review: Welp, you cannot beat the private hot tub with this view, you just can't. And waking up to that view, as you can see it right out the windows from the bed
---
Beaujolais Boutique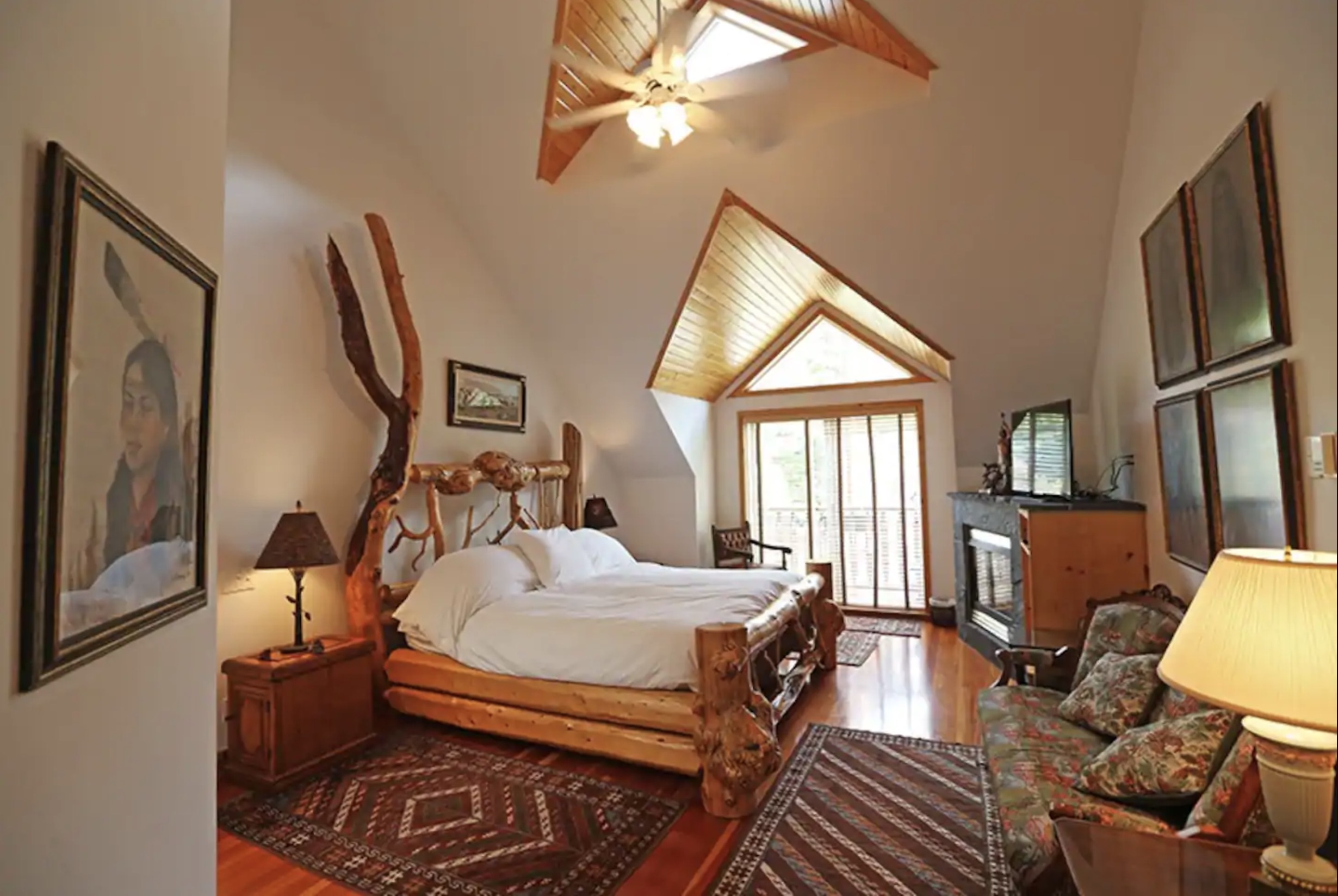 Location: Downtown Banff
Superhost: Yes
Price: $250+
Guests: 2
Beds: 1
A true bed and breakfast – what Airbnb used to be! This Airbnb in Banff offers a private room and bathroom rather than a whole apartment. It's a great option if you want a traditional b&b experience. In this room is a comfortable king bed, with vaulted pine ceilings, antique furniture, and of course, amazing Canadian Rockies views. There's also a gas fireplace, Smart TV with Netflix, and a bar fridge.
In the morning, wake up to a beautiful breakfast before heading out to explore the Rockies.
Guest Review: This is a special home with special hosts in Esther and Albert. I recommend this AirBnB to the world.
---
Rustic Chic Banff Mountain Home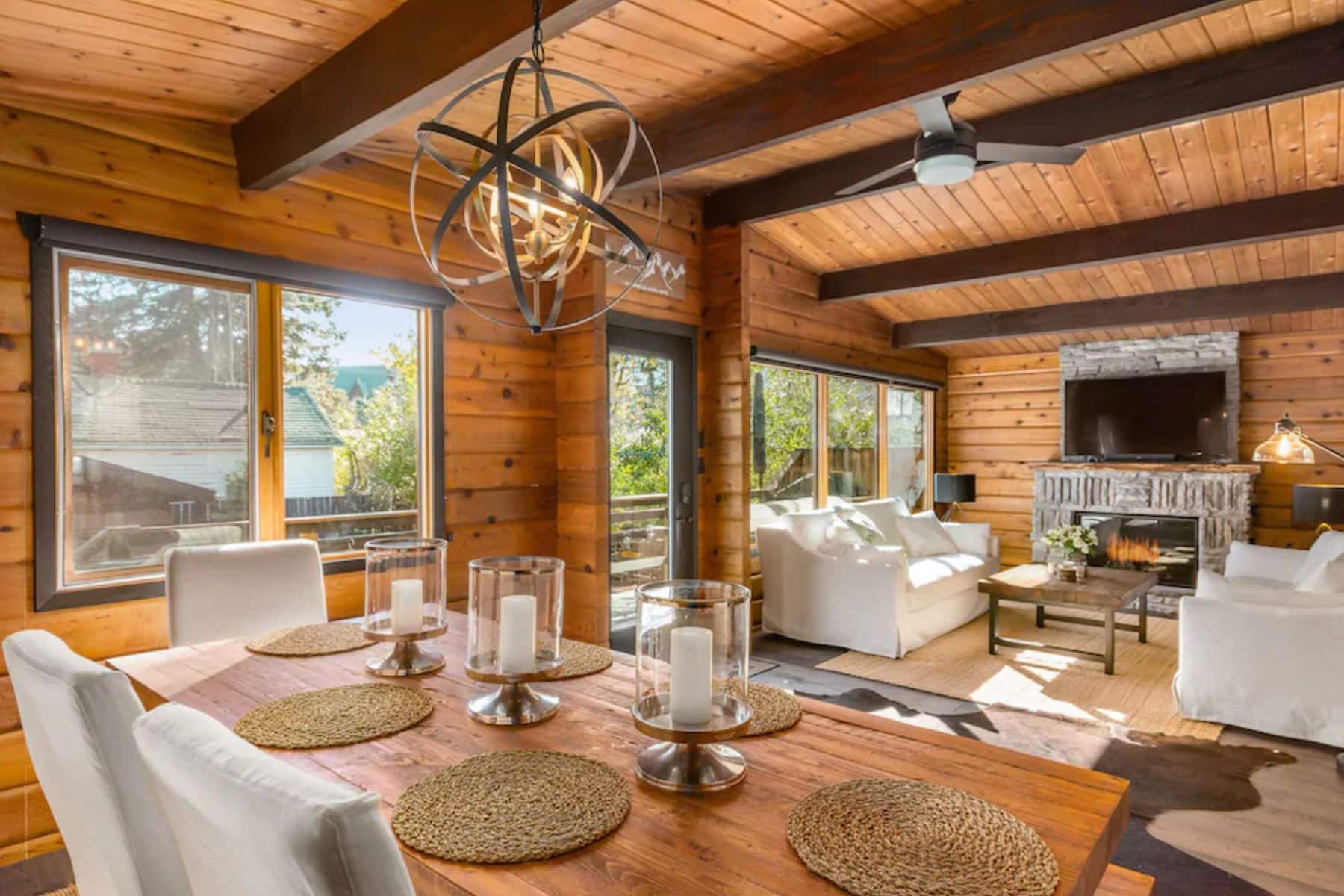 Location: Downtown Banff
Superhost: Yes
Price: $1000
Guests: 8
Beds: 5
This mountain home seamlessly blends rustic and modern elements and is conveniently located just two blocks away from Banff Avenue. Savor a cup of coffee while admiring the sunrise or prepare a barbecue dinner while relishing the sunset against the stunning backdrop of Mount Rundle from your deck.
Each bed is furnished with a comfortable Tempur-Pedic mattress and high-quality linens, while the bathrooms feature fluffy cotton towels and local Rocky Mountain soaps.
The kitchen is fully stocked with coffee, tea, sugar, oil, vinegar, salt, pepper, spices, and condiments, with a Weber grill available for outdoor cooking. Stay warm and cozy with a gas fireplace while you enjoy entertainment on three flat-screen TVs that come with an ample HDTV cable package, including free Wi-Fi and high-speed wireless internet. You will have the entire place to yourself, along with a grassy backyard that provides a serene environment for relaxation!
Guest Review: Couldn't have asked for a more beautiful property to stay at. Everything was immaculate and well cared for. Furnishings were perfect. Jackie was very responsive with any questions. Would absolutely recommend staying at this property since it is also only minutes away from downtown Banff.
---
Banff Rocky Mountain Resort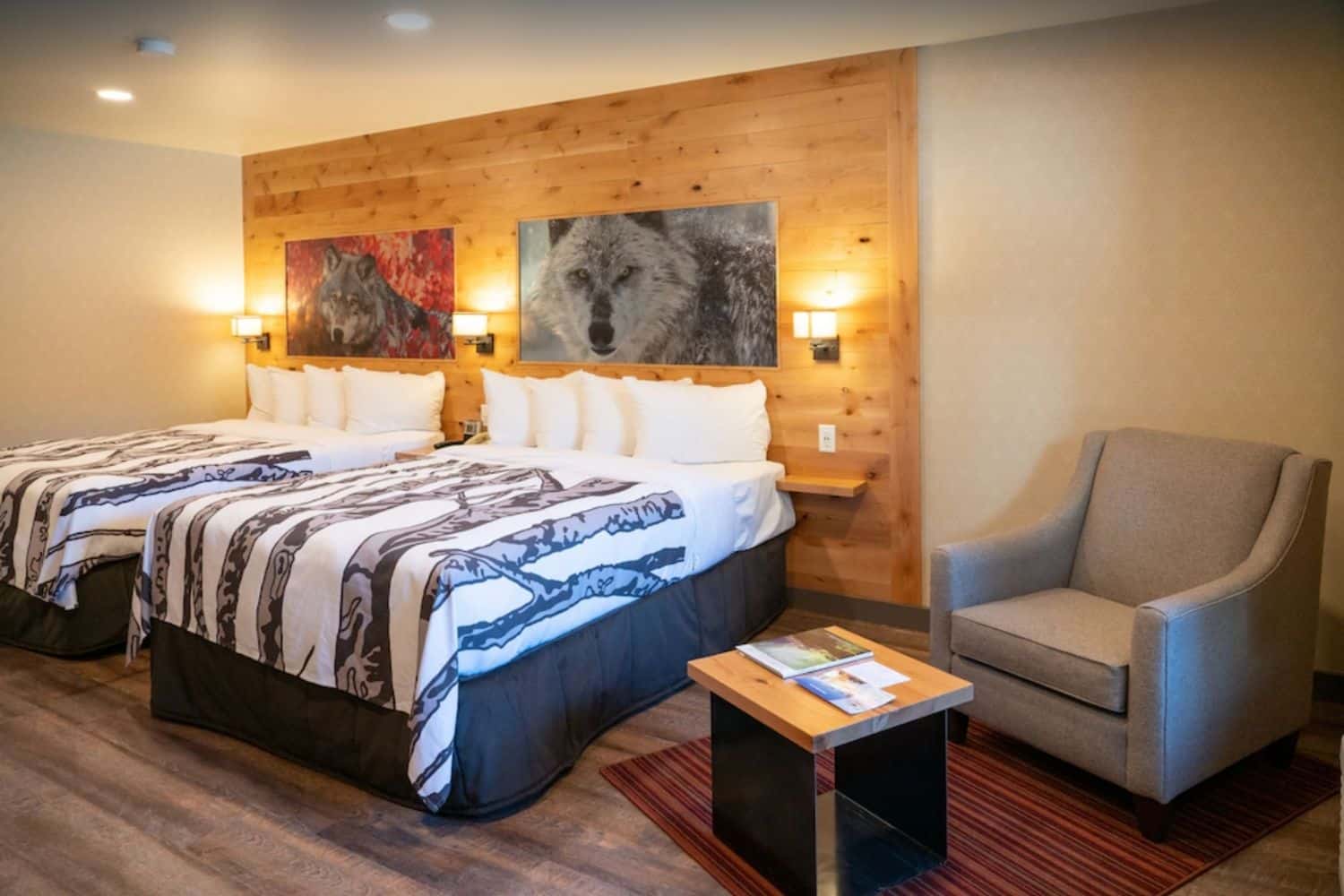 Location: Near Tunnel Mountain Campground
Superhost: No
Price: $130+
Guests: 4
Beds: 2
Ideal for 2-4 guests, the Banff Rocky Mountain Resort is the perfect Airbnb in Banff. It comes in at a cheaper price point because it is near Tunnel Mountain Campground, a short a drive away from downtown Banff.
Recently renovated rooms create an inviting atmosphere in the mountains with a plethora of room options for all.
If you are looking for a Unique Airbnb in Banff, this place is for you!
Guest Review: Amazing place to stay! The room was spotless. I love the Rocky Mountain vibes with all of the wood. Nice updated bathroom while still keeping it cozy and mountainy. Front desk staff were super friendly and helpful. The breakfast from the restaurant was delicious and the service there was amazing. Overall we had a great stay and would highly recommend staying here!
---
Grand Rockies Resort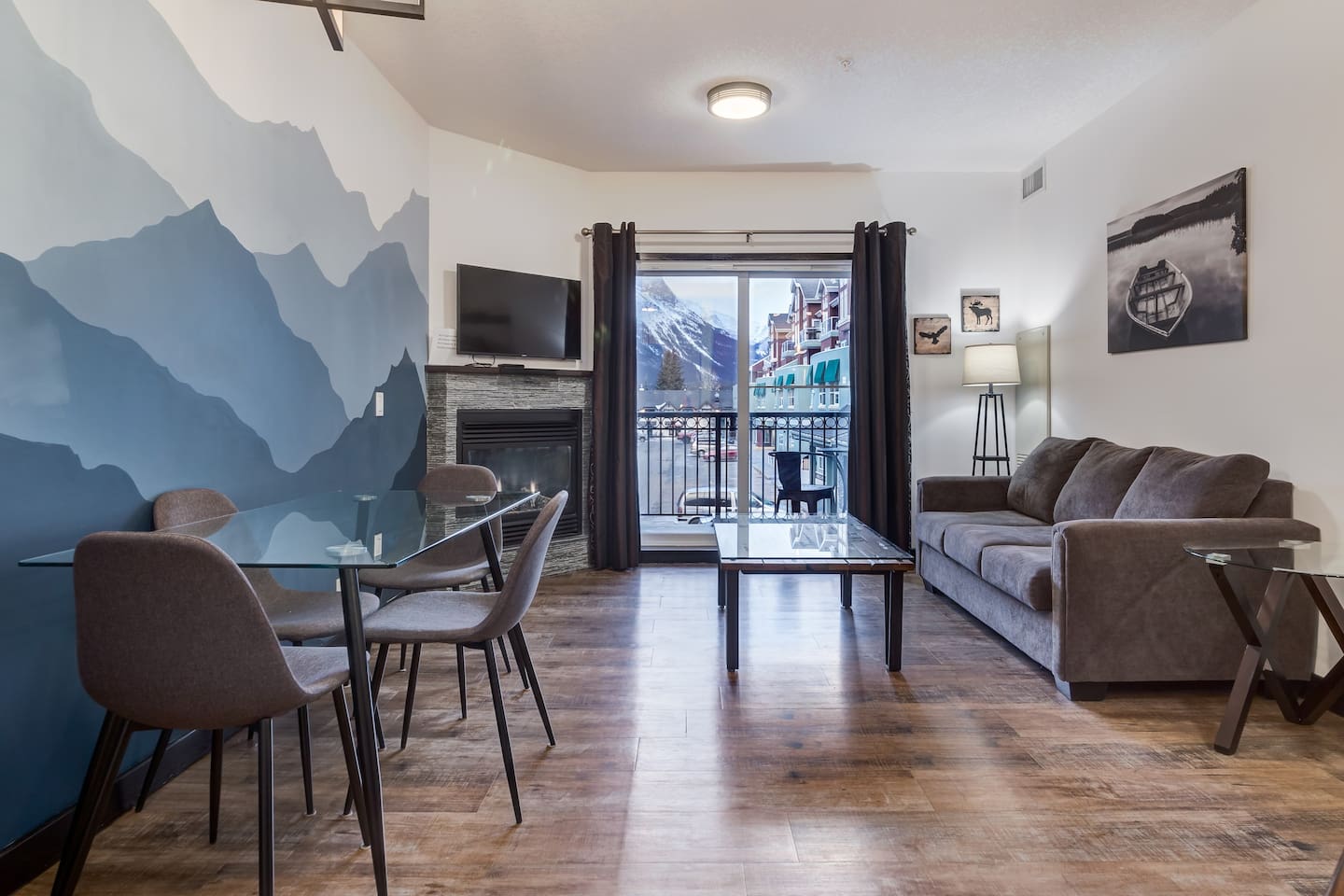 Location: Canmore
Superhost: Yes
Price: $100+
Guests: 6
Beds: 3
If Banff is proving to be a bit above your budget or you want a change of scenery head to Canmore. Canmore is one of my favorite places in the world, and that's not just because I live there. There are a lot of amazing things to do in Canmore in the winter and summer. It makes a great base and is often a bit cheaper than Banff – and honestly, the views are just as good.
If you plan on venturing into Kananaskis a bit, then staying at Canmore might make more sense as it is a lot closer. This beautiful Airbnb is close to town, coffee shops, bars, restaurants, and art galleries. It also provides access to a waterslide, restaurant, gym, and pool area.
Guest Review: Cozy condo in a convenient location close to restaurants and shops. Loved staring at the fireplace with mountain views in the background! The perfect place for my pre-wedding stay.
---
Airbnbs in Lake Louise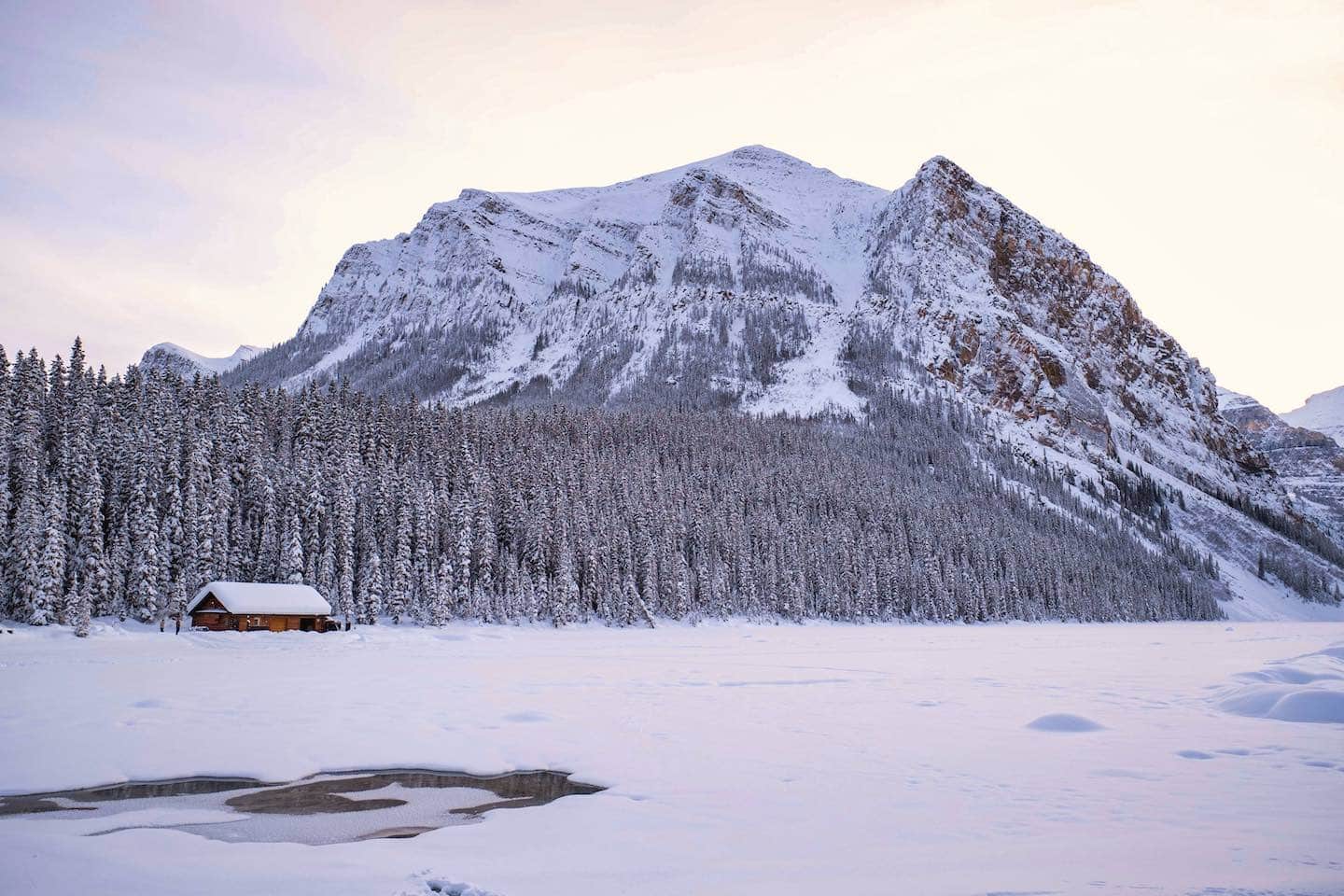 Unfortunately there aren't any true Airbnbs in Lake Louise. There are a few options nearby though. Johnston Canyon Bungalows, Baker Creek Cabins, Castle Mountain Chalets and a few options in the town of Field.
All of these cabins are about 30 minutes away from Lake Louise. If you are looking to stay close to Lake Louise your best bet is to go with one of these Lake Louise hotels.
---
Johnston Canyon Bungalows (Bow Valley Parkway)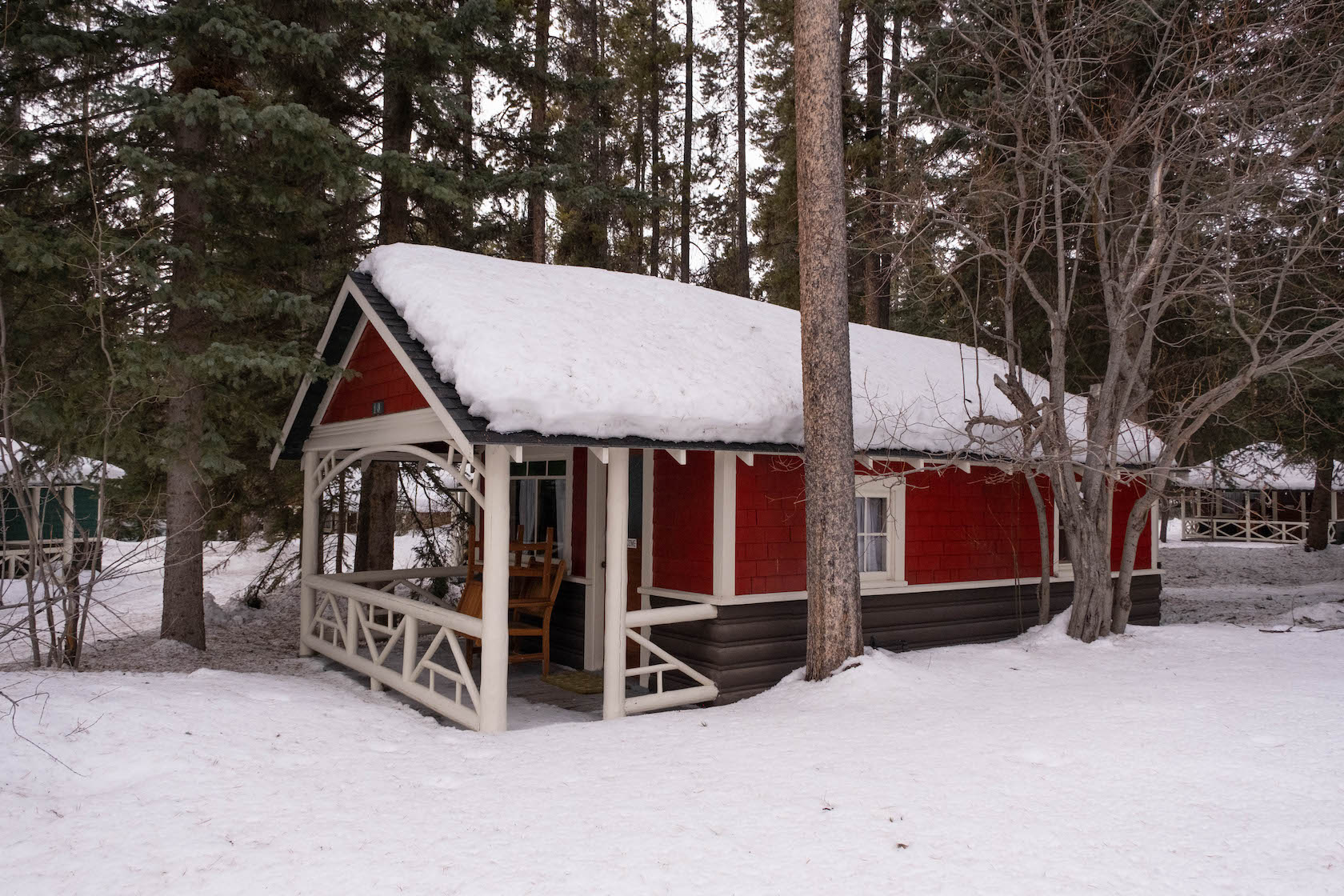 Location: Bow Valley Parkway
Superhost: Yes
Price: $200+
Guests: Varies by cabin
Beds: Varies by cabin
Johnston Canyon Bungalows is one of the best cabins on the Bow Valley Parkway. They have been family-owned since 1926 and is located right at the start of Johnston Canyon. They have 42 cabin-style accommodations that vary in size and room amenities.
Most of the bungalows have a large open bedroom, porch area, wood-burning fireplace, as well as luxury amenities like a flat-screen tv, bridge, and bathrobes.
---
Mount Stephen Guesthouse (Field)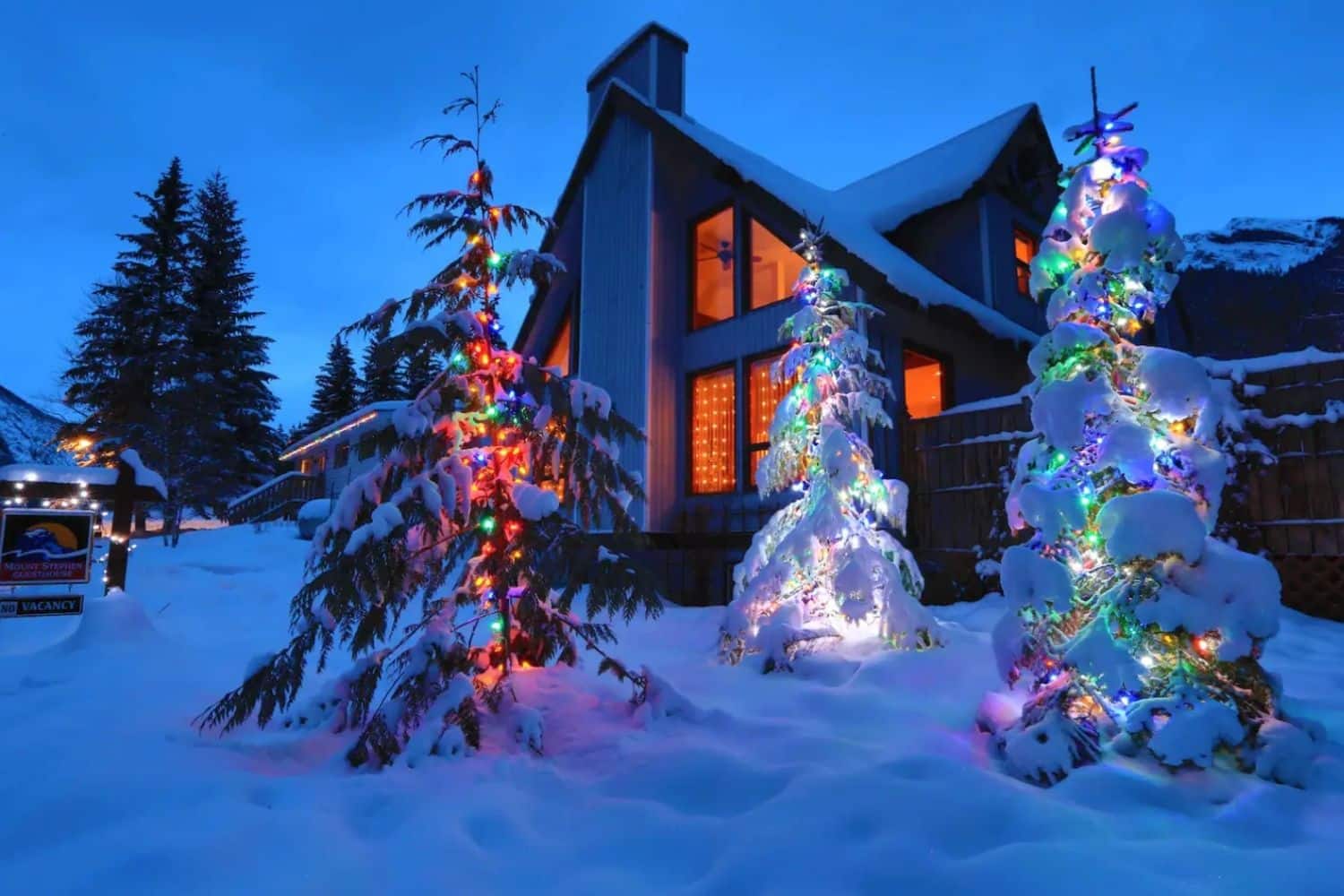 Location: Field
Superhost: Yes
Price: $99+
Guests: 4
Beds: 1 + hideaway bed
Located in Field, British Columbia, which is about 30 minutes away from Lake Louise is Mount Stephen Guesthouse. Here you can enjoy incredibly close access to sights like Emerald Lake, the Iceline Trail, and Tak Falls. While at the same time being a short drive away from Lake Louise
It's a cozy space that often sees its fair share of elk and bears strolling by. This has a fully furnished with cozy duvets on the beds, and a complete kitchen so you don't have to eat out at a Lake Louise restaurant every night.
---
Plan Your Trip to the Canadian Rockies
---
↓ Join the community ↓
The Banff Blog Facebook Group is your headquarters for the Canadian Rockies' travel advice and information. Including hike info and off-season travel information. This is also where you can meet one another when you need adventure buddies.