Wondering where to stay on the Bow Valley Parkway in Banff? There are three wonderful spots to rent a cabin in Banff National Park along the historic Bow Valley Parkway. We highly recommend visitors who want to escape the crowds in the town rent a cozy cabin and disconnect.
The newly formed Parkway Cabin Collection consists of Johnston Canyon Lodge & Bungalows, Castle Mountain Chalets, and Baker Creek Mountain Resort. We're fortunate to have personal experience with all of the properties and think they make for a wonderful retreat.
---
The Bow Valley Parkway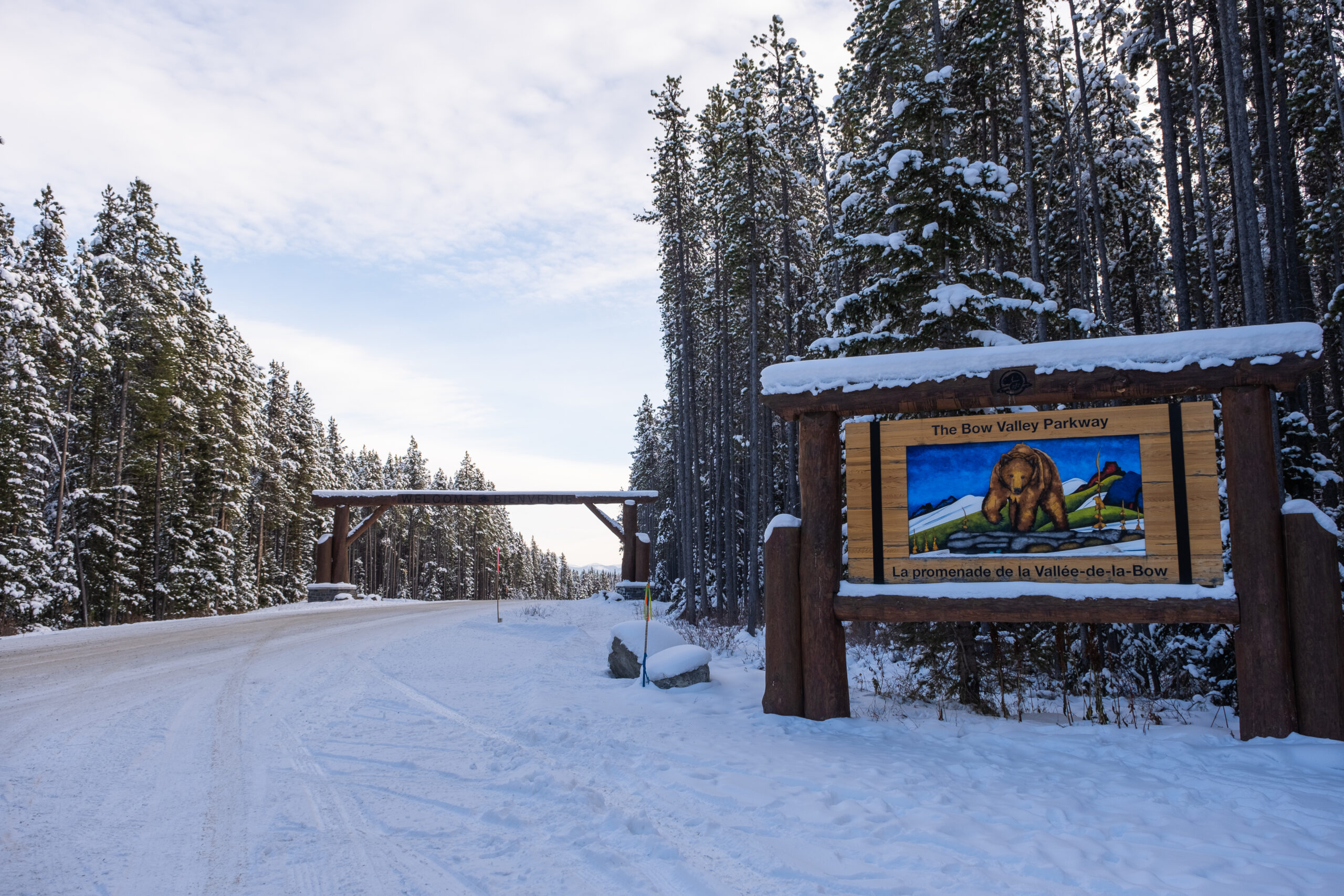 The lodges along the Bow Valley Parkway all offer cabin and bungalow rentals that are an amazing way to experience Banff National Park. The Bow Valley Parkway (1A) was the original roadway built through the park before the large TransCanada project.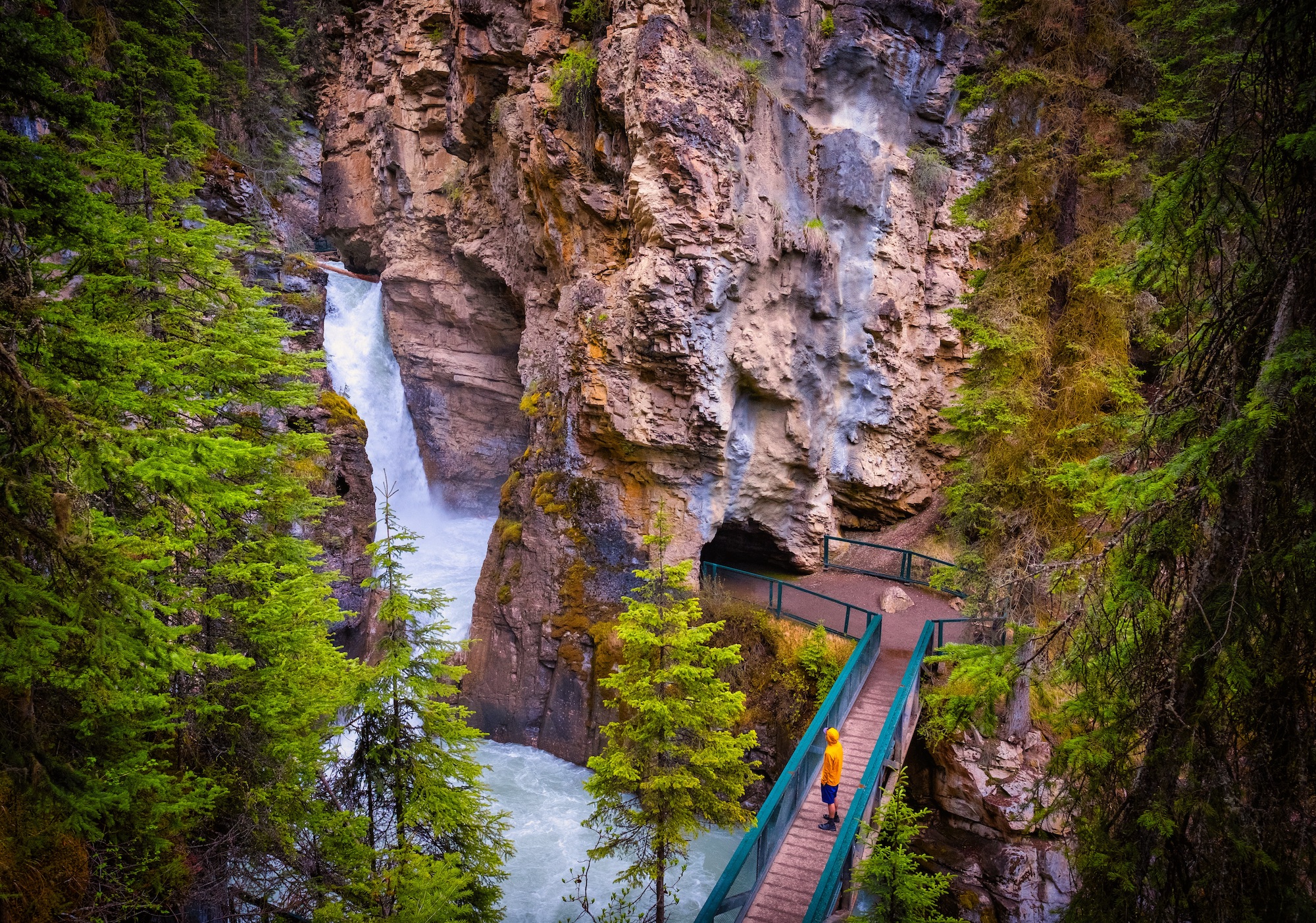 The Bow Valley Parkway runs parallel to the TransCanada with the Bow River separating the two roadways. While both routes are scenic the Parkway offers much more for visitors, and that includes unique accommodation.
The route provides access to a number of hikes, snowshoes, bike rides, wildlife encounters, and cross-country ski tracks. It's open year-round and a highlight for any trip to Banff. If you'd like to learn more we have a post about the stops along the Bow Valley Parkway.
---
Bow Valley Parkway Cabins
---
Johnston Canyon Lodge & Bungalows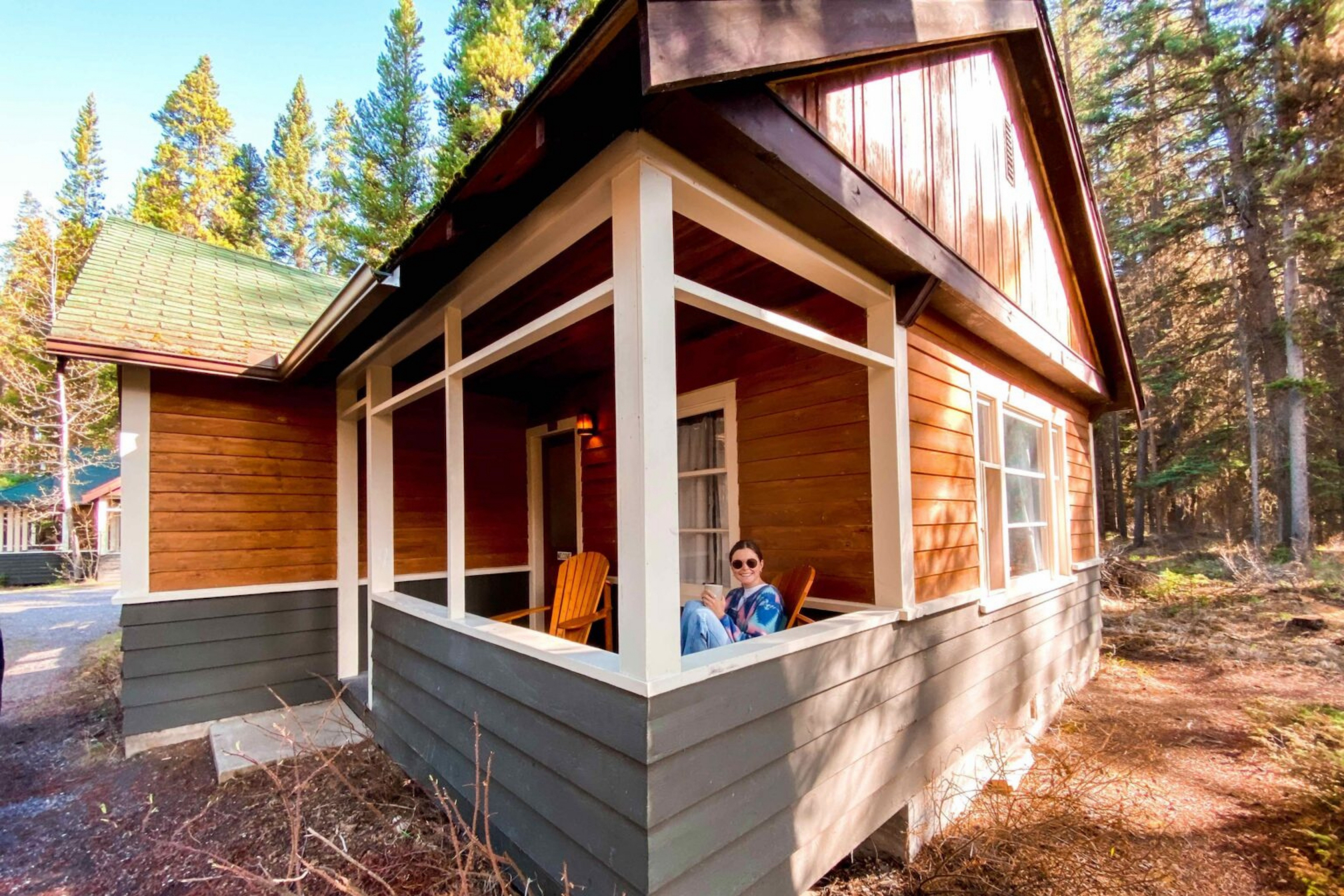 The first stop along the Bow Valley Parkway leaving from Banff is Johnston Canyon Lodge & Bungalows. They offer awesome bungalows and cabins for a home away from home along the Parkway. It's the only place to stay at the famous Johnston Canyon — a must in Banff for first-time visitors.
Johnston Canyon can attract huge crowds in the peak summer months that detract from the short hike. However, guests at the lodge have the advantage of visiting the canyon in the morning or evening to avoid the crowds—we love it for this! Not to mention how cozy and romantic the Bow Valley Parkway cabins are themselves!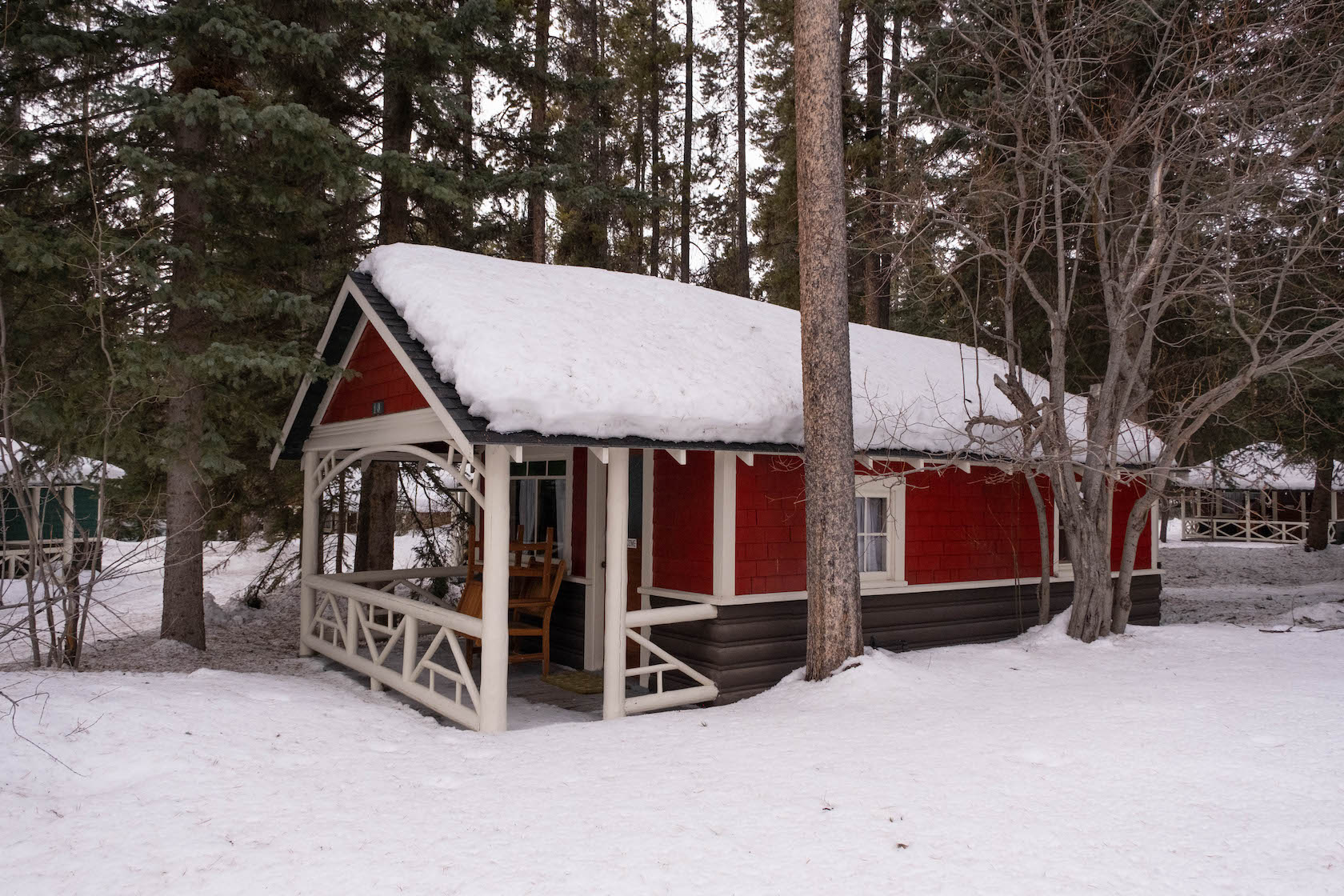 Johnston Canyon Bungalows has been family-owned since 1926 and is located right at the start of Johnston Canyon. They have 42 cabin-style accommodations that vary in size and room amenities. Most of the bungalows have a large open bedroom, porch area, wood-burning fireplace, as well as luxury amenities like a flat-screen tv, bridge, and bathrobes.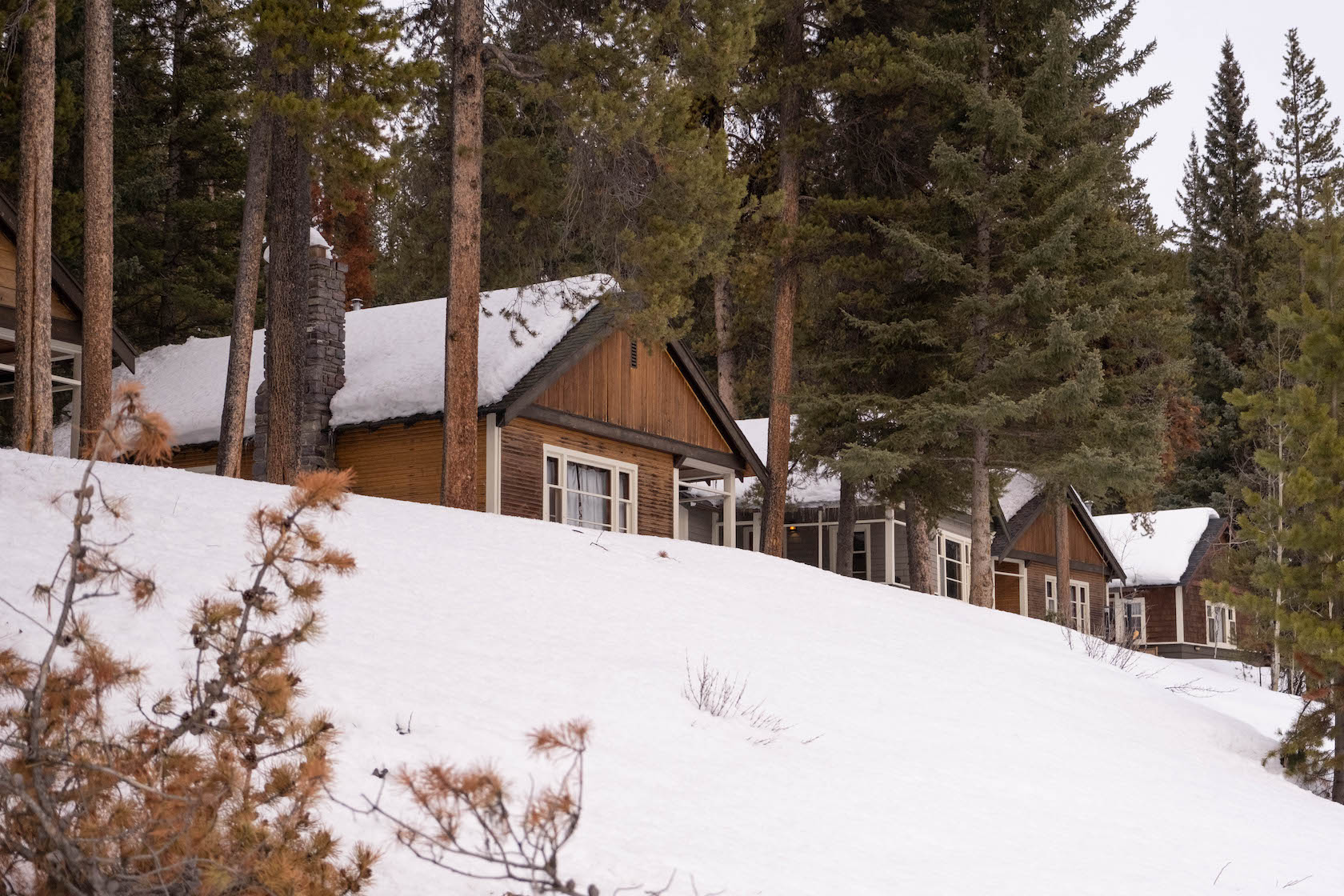 The property operates the Black Swift Bistro and the Market Cafe – some of the only places you can find food on the Bow Valley Parkway. It's a tremendous place to stay on the Bow Valley Parkway.
---
Castle Mountain Chalets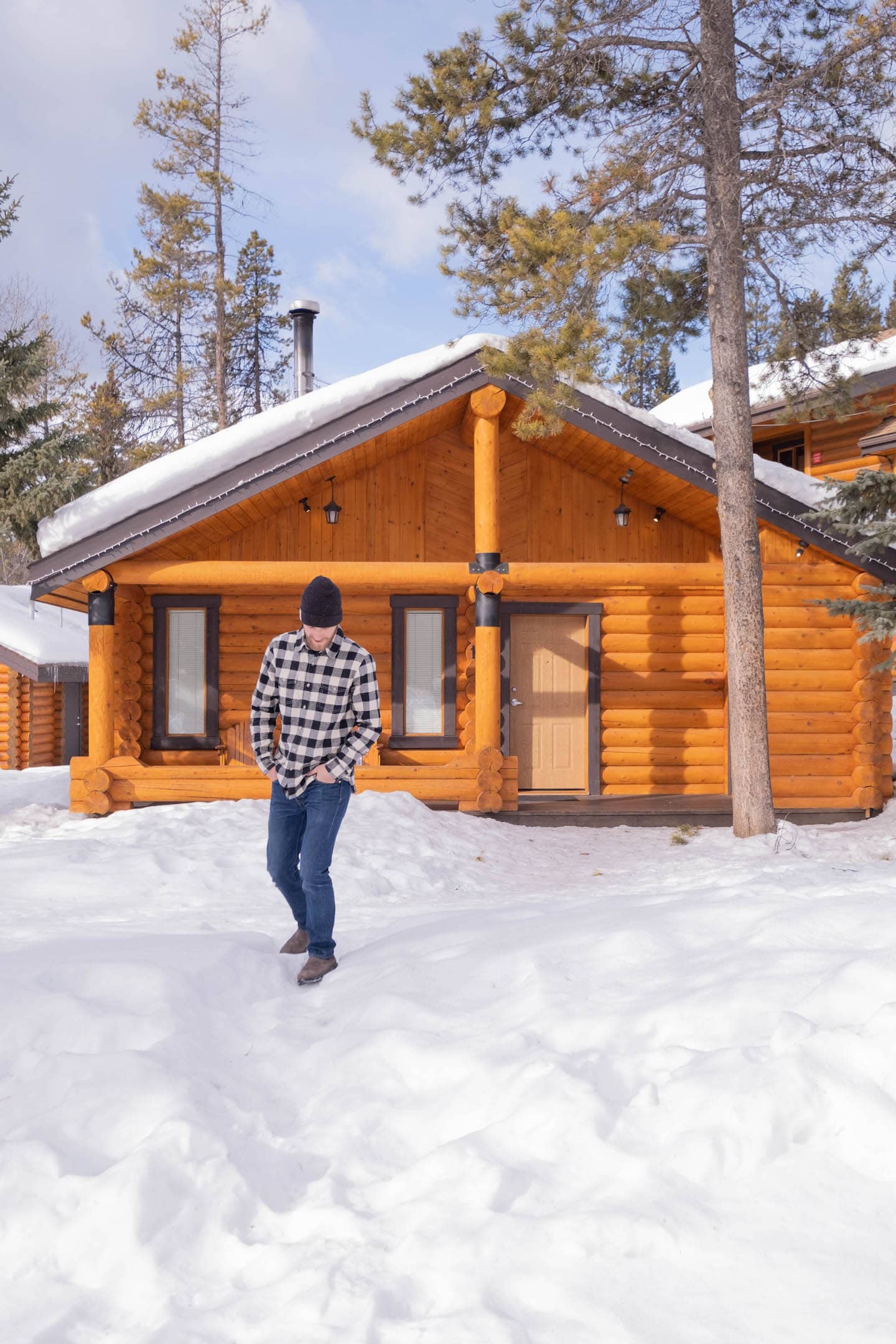 Next up along the Bow Valley Parkway are the Castle Mountain Chalets. They sit near the base of Castle Mountain and are convenient to reach from the interchange at Castle Mountain Junction.
They have six different types of Banff Chalets to stay at, and all are amazing and will make you feel all cozy inside.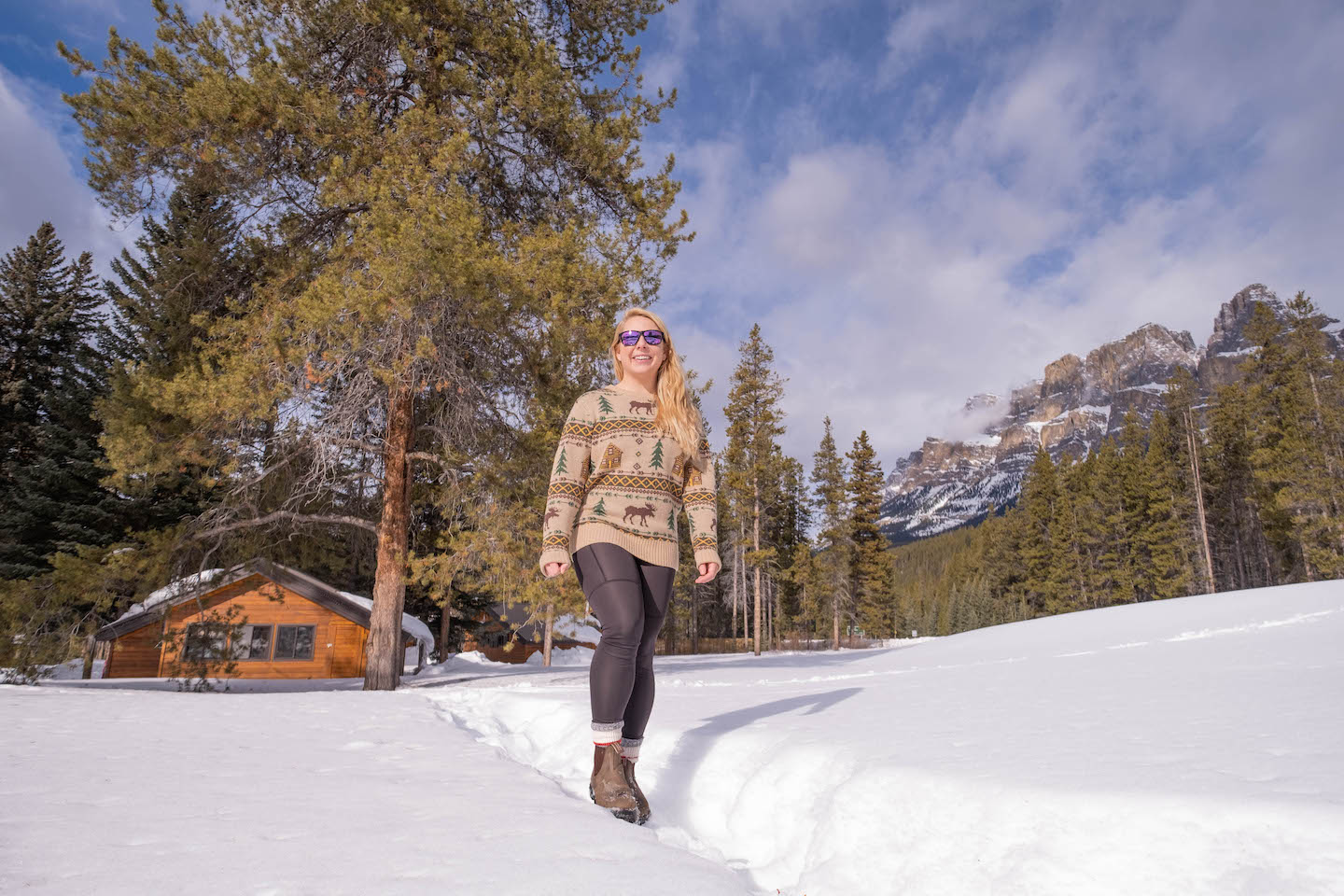 Castle Mountain Chalets have been in operation for over 81 years, and operate 22 chalets. They were built in 1939 by Grandfather Yerxa, with his wife and six children. They really liked the location as it was at the road's intersection to Radium Hot Springs and the highway. To this day, it's well-loved for its location near the base of Castle Mountain on the Bow Valley Parkway.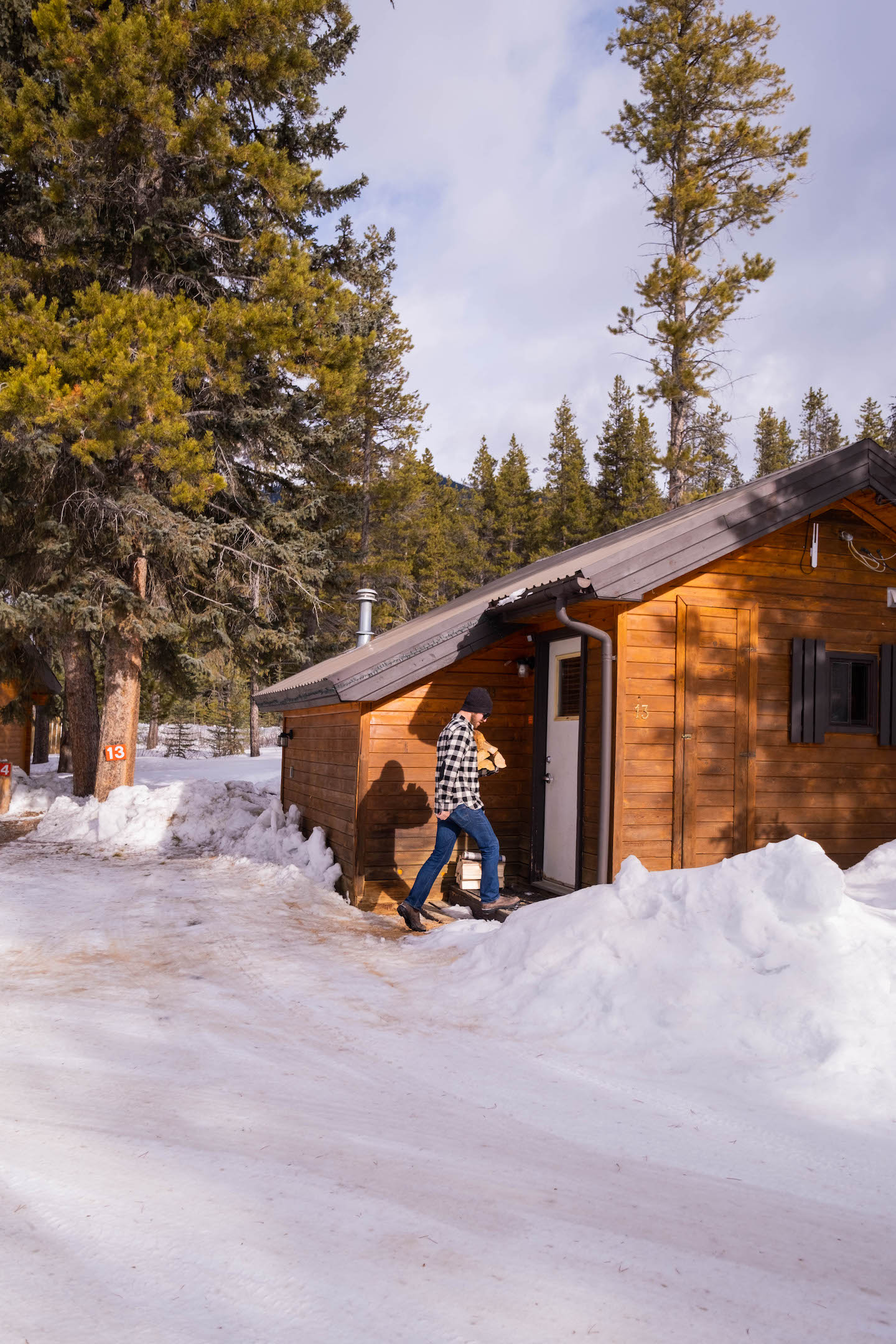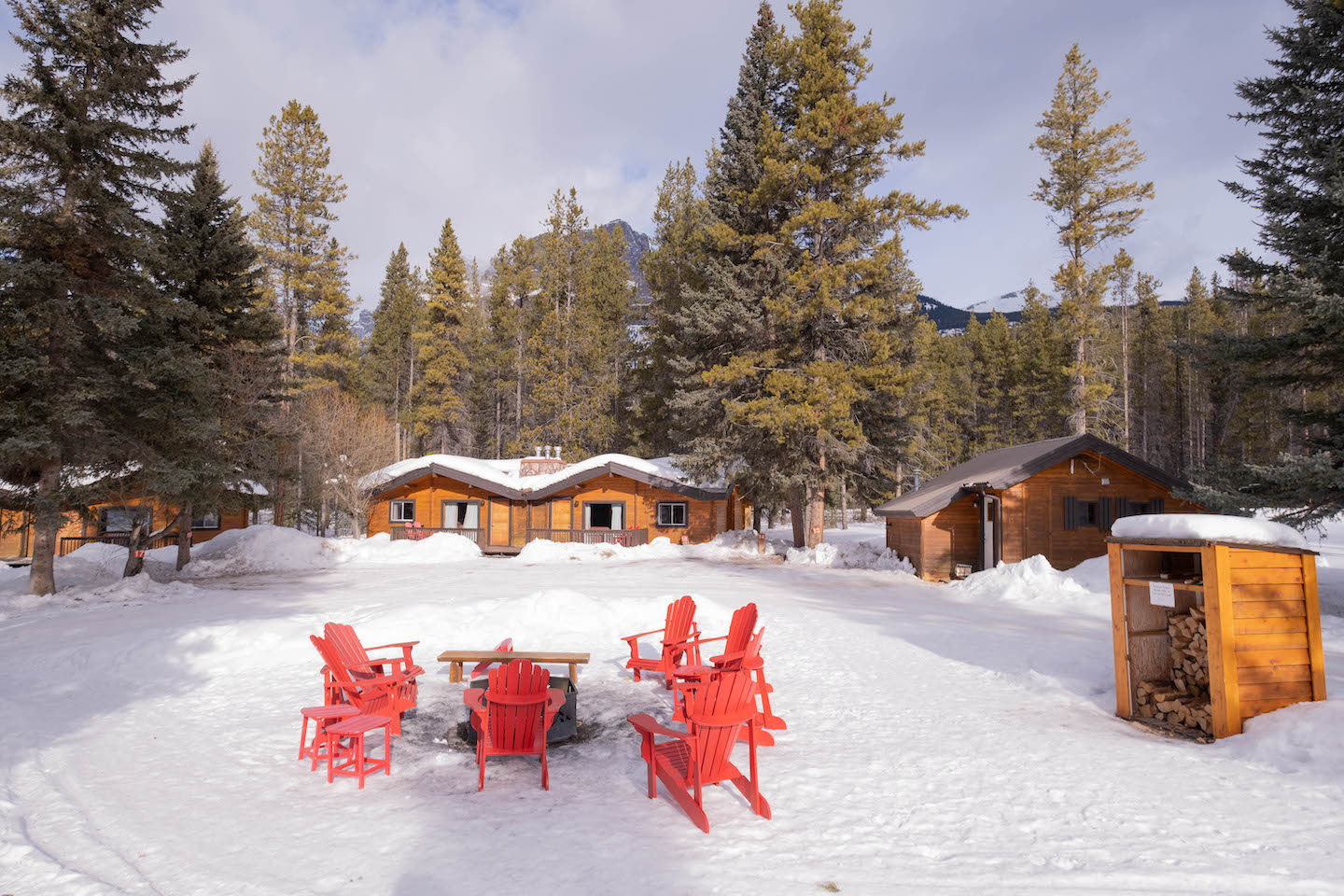 It's conveniently located halfway between Banff and Lake Louise and the entrance to the Kootenays. Guests have an endless amount of adventures right at their doorstep.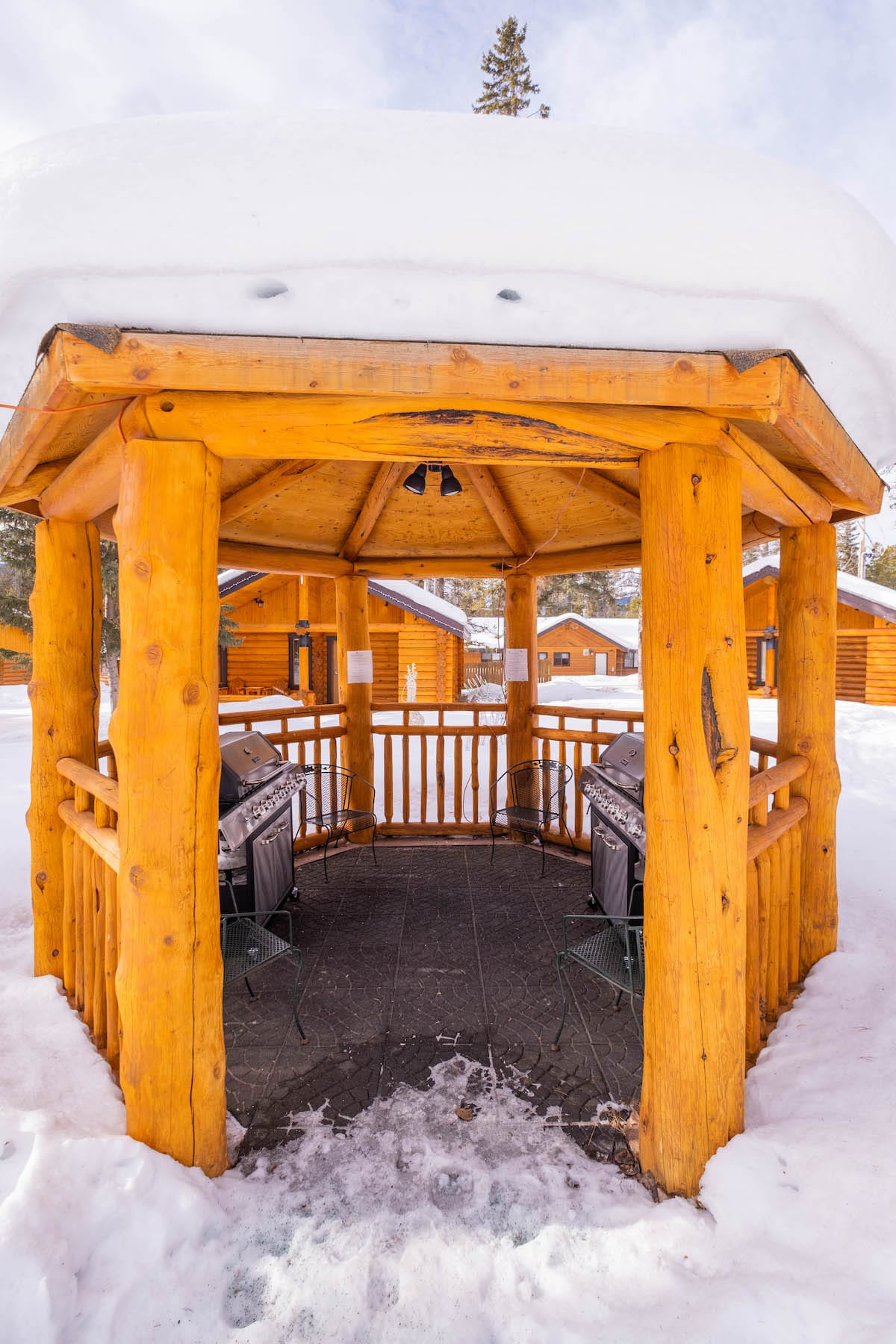 All accommodation here has a gas fireplace, queen pull-out sofa bed, flat-screen TV, full kitchen, and WiFi so they feel like a home away from home.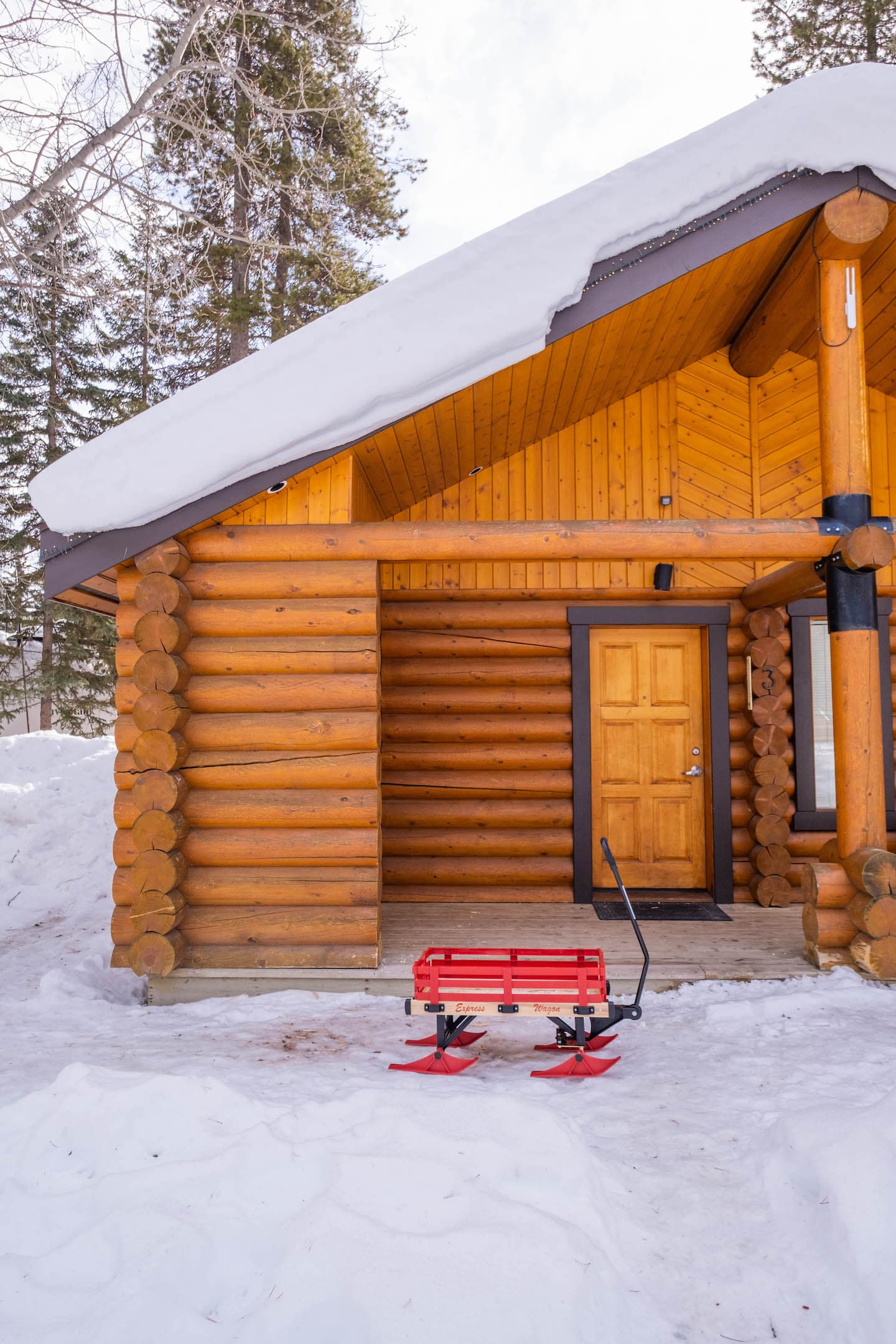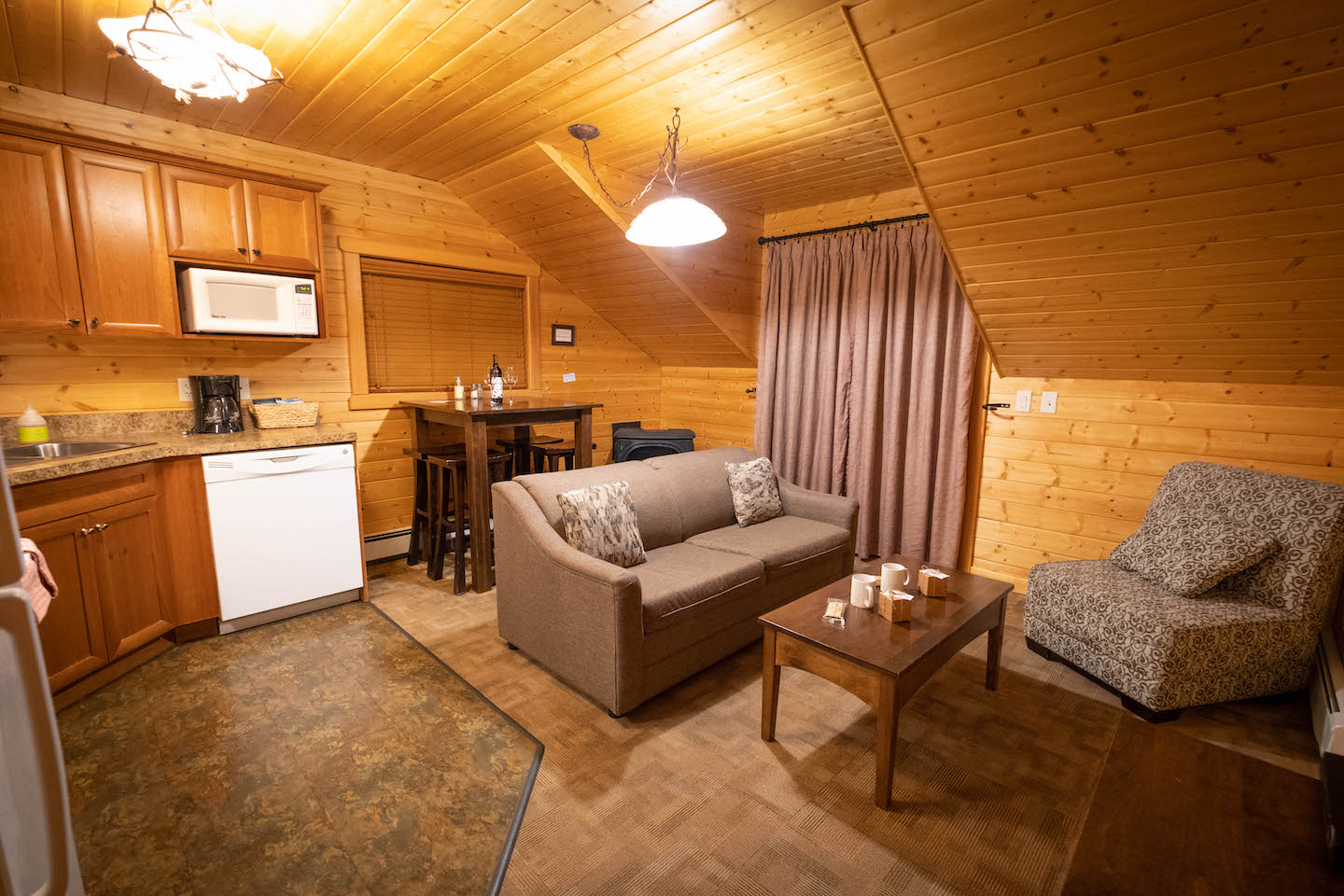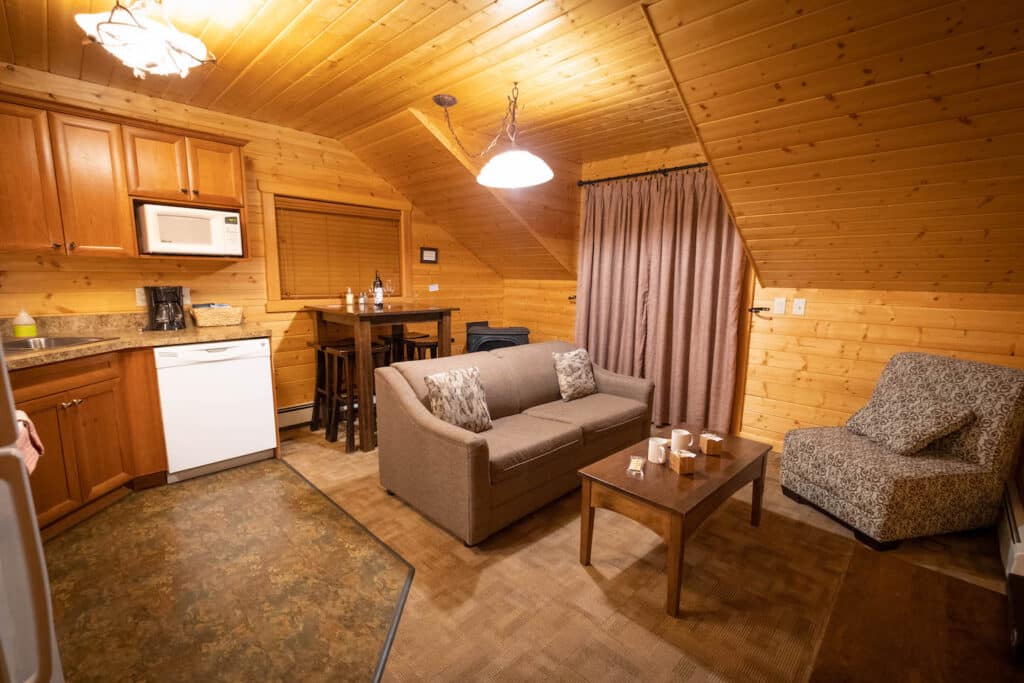 ---
Baker Creek Mountain Resort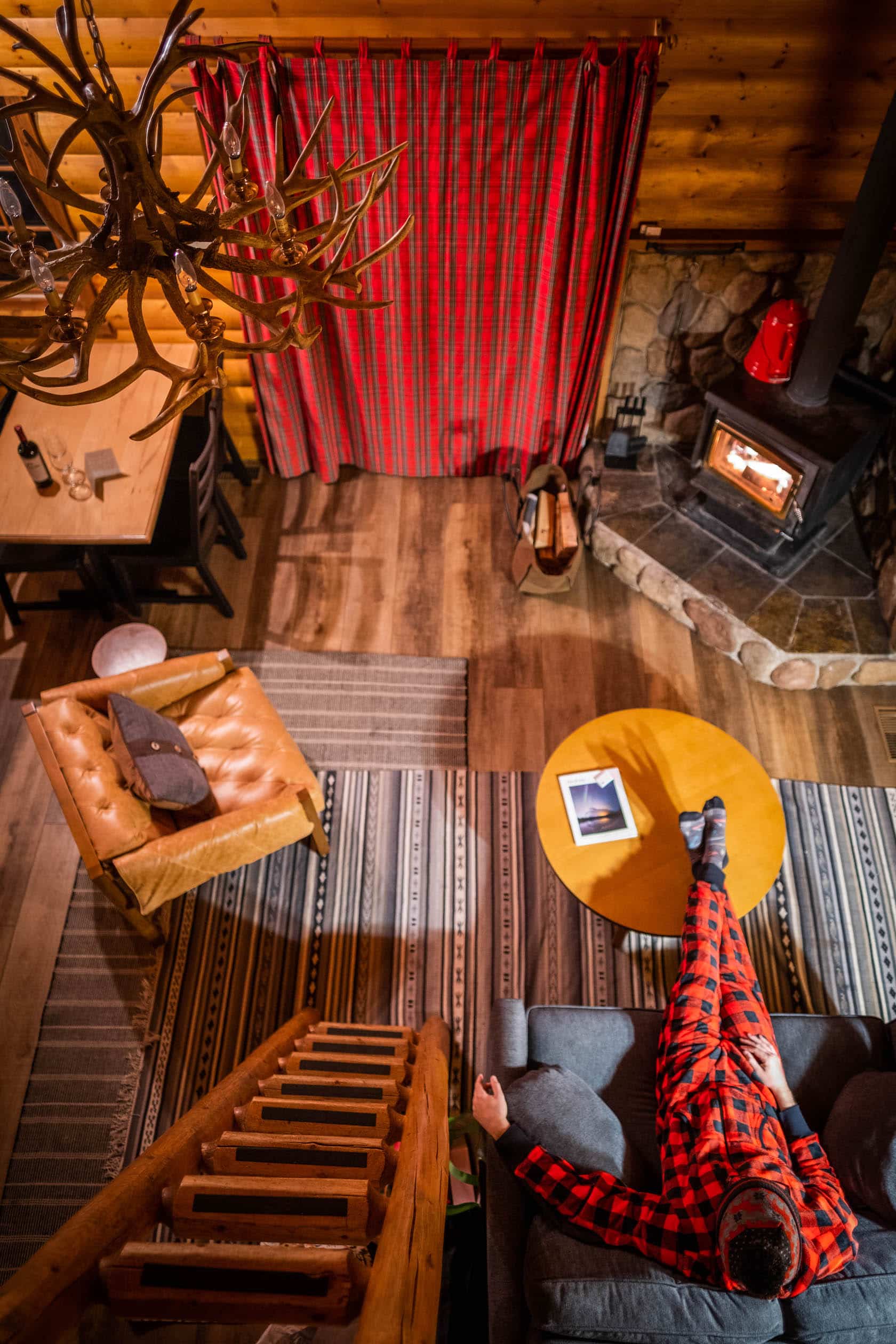 These are easily some of the best cabins in all of Alberta! They are the closest of the cabins to Lake Louise and sit on the quieter half of the Bow Valley Parkway. These Bow Valley Parkway Cabins are tucked along the babbling Baker Creek and make for the perfect mountain retreat.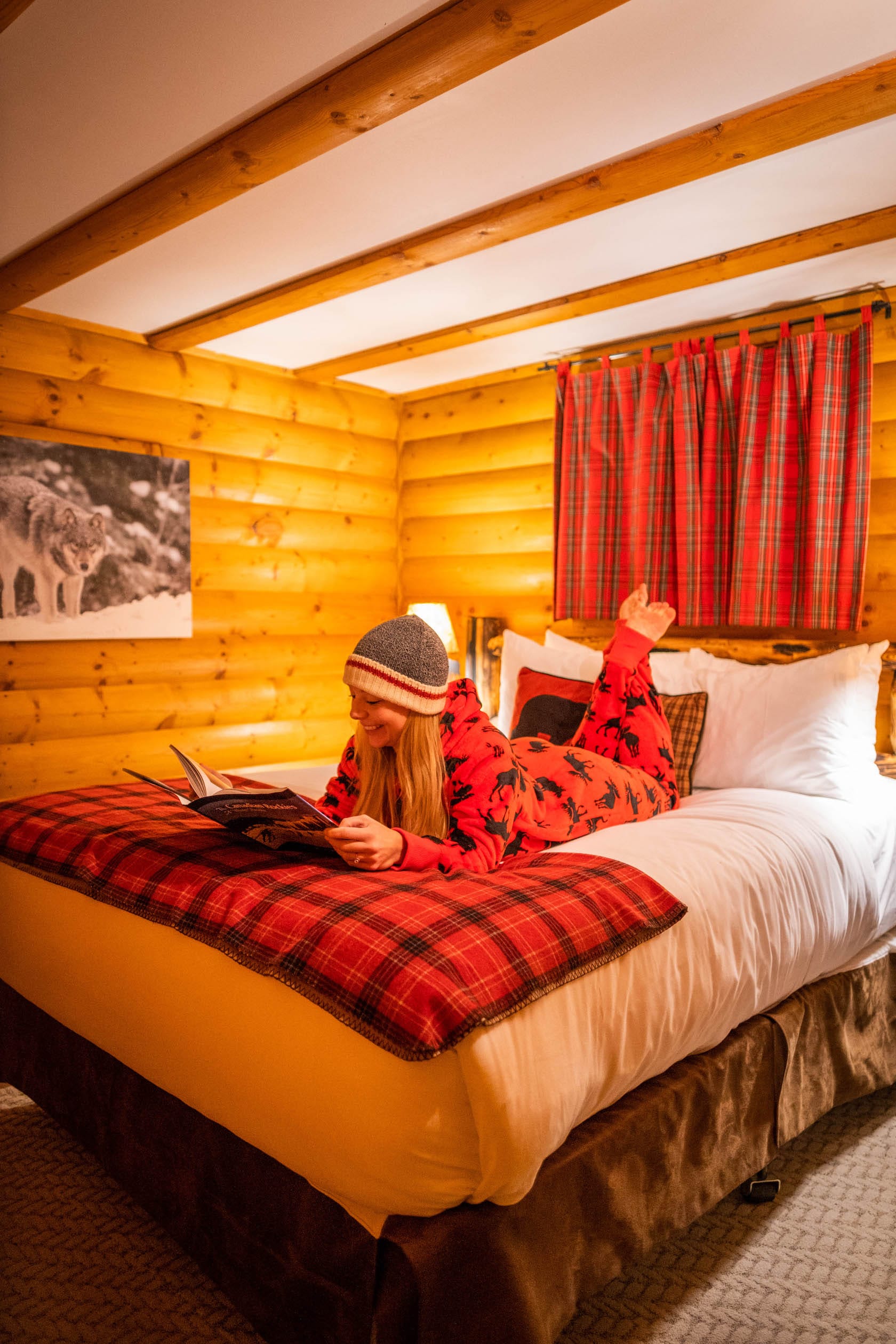 You'll get an authentic Canadian backcountry experience surrounded by stunning mountain scenery and vast wilderness. Enjoy a roaring fire under the night sky with access to outdoor fire pits. Or play hockey or ice skate on their small maintained rink. Afterward, retreat to your cozy room or log cabin and cozy up to a fire.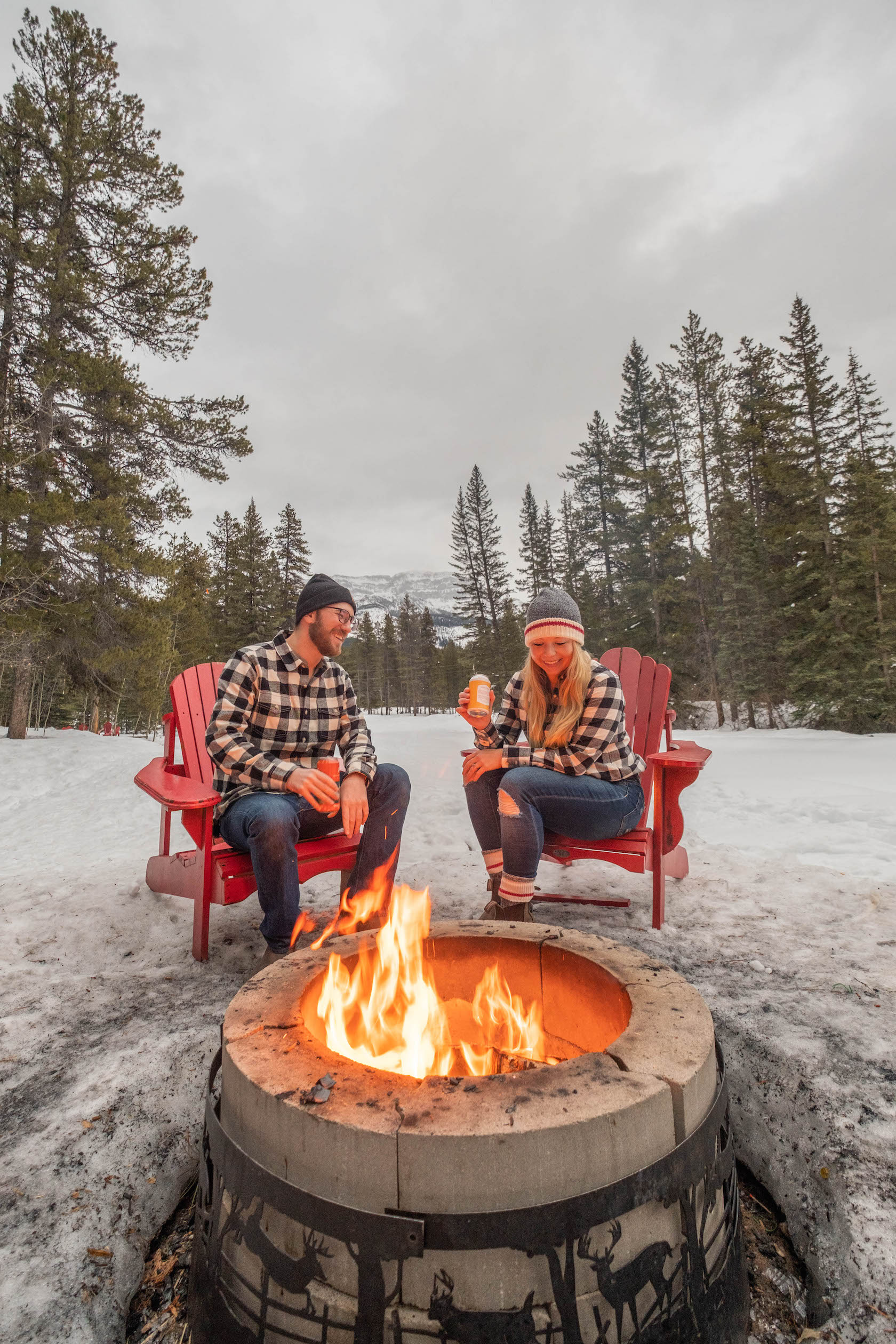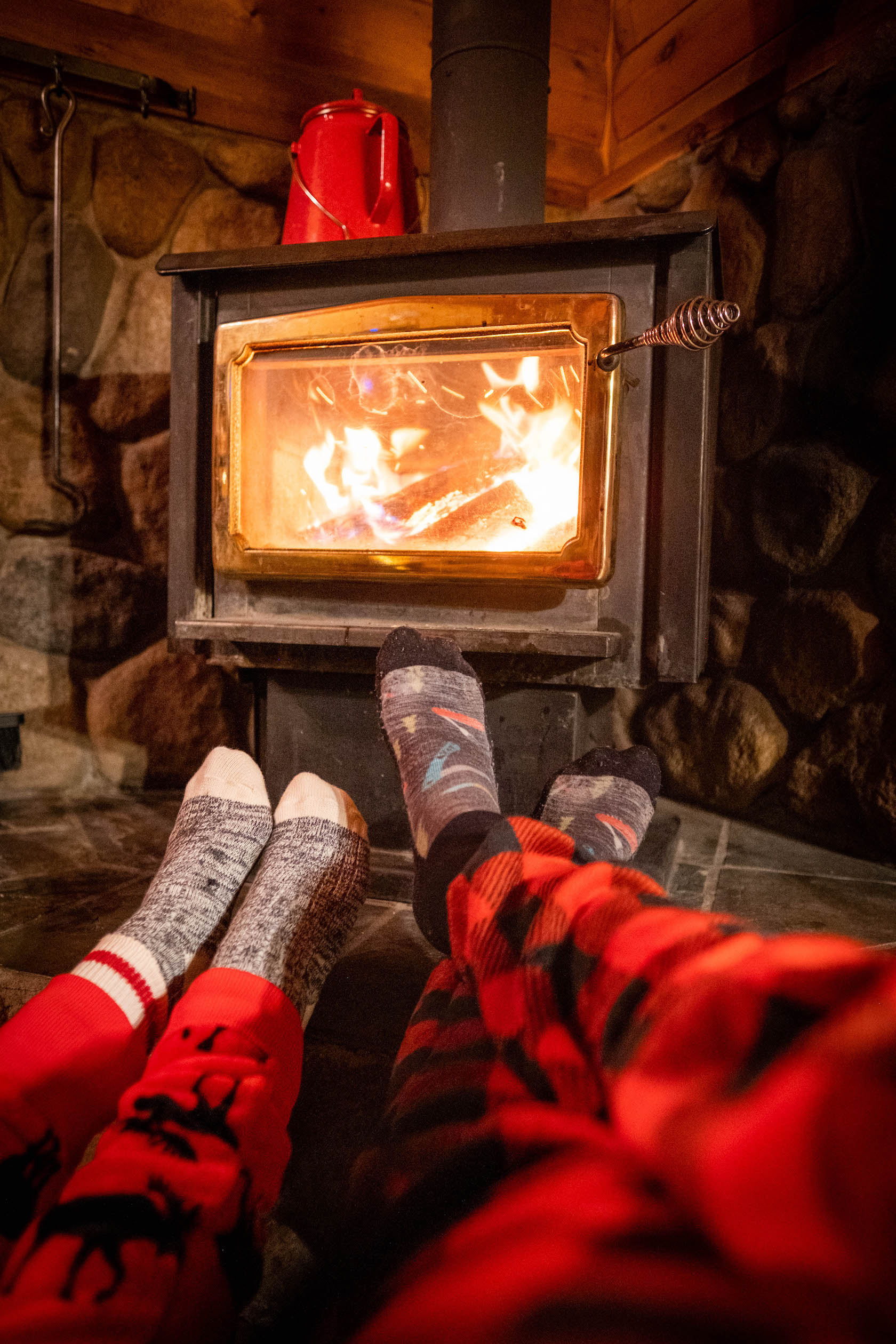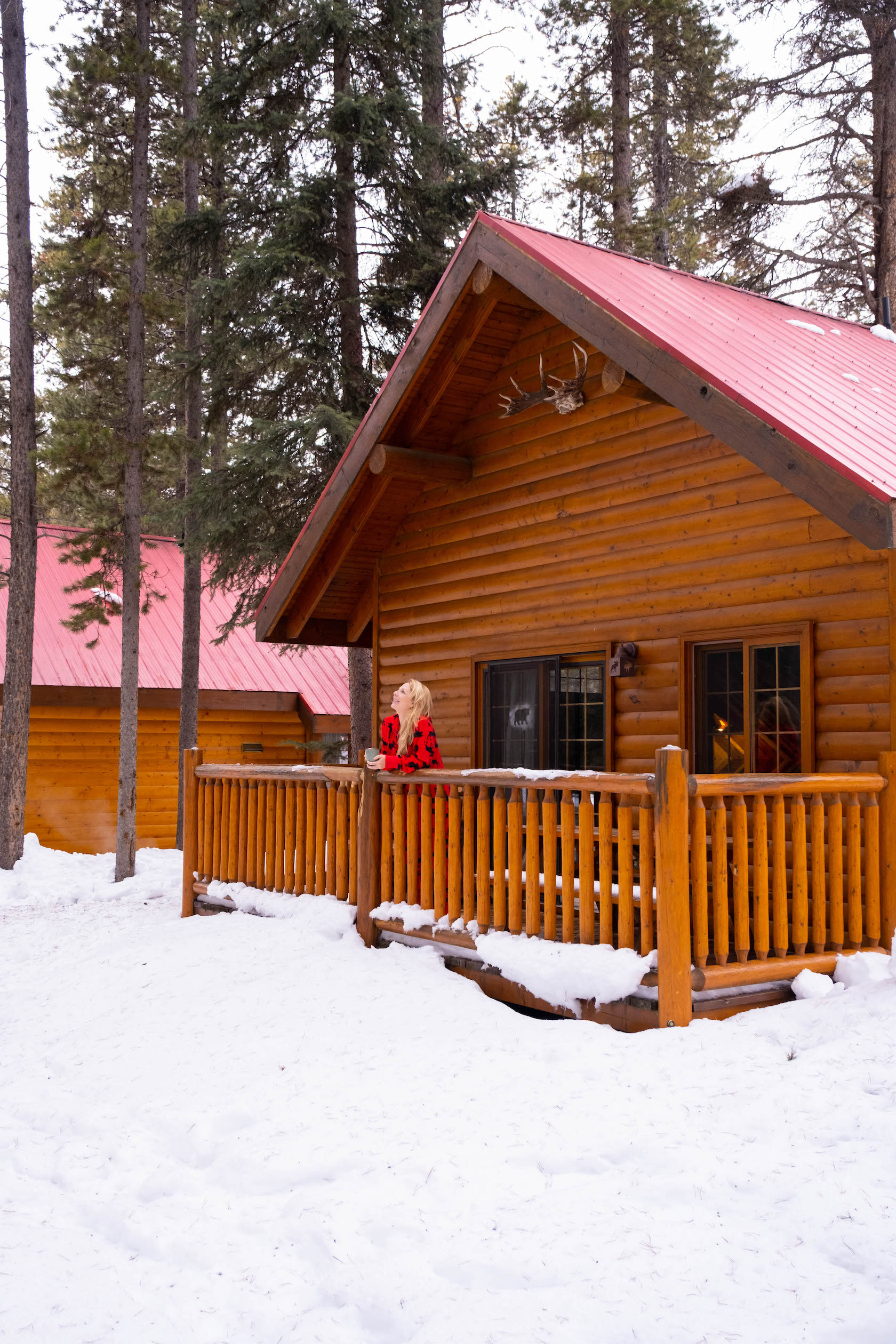 There are a lot of amazing elements to Baker Creek that make for an enjoyable stay. A number of the cabins come with a wood-burning stove, record player, board games, and comfy robes. It feels like a real retreat in the mountain.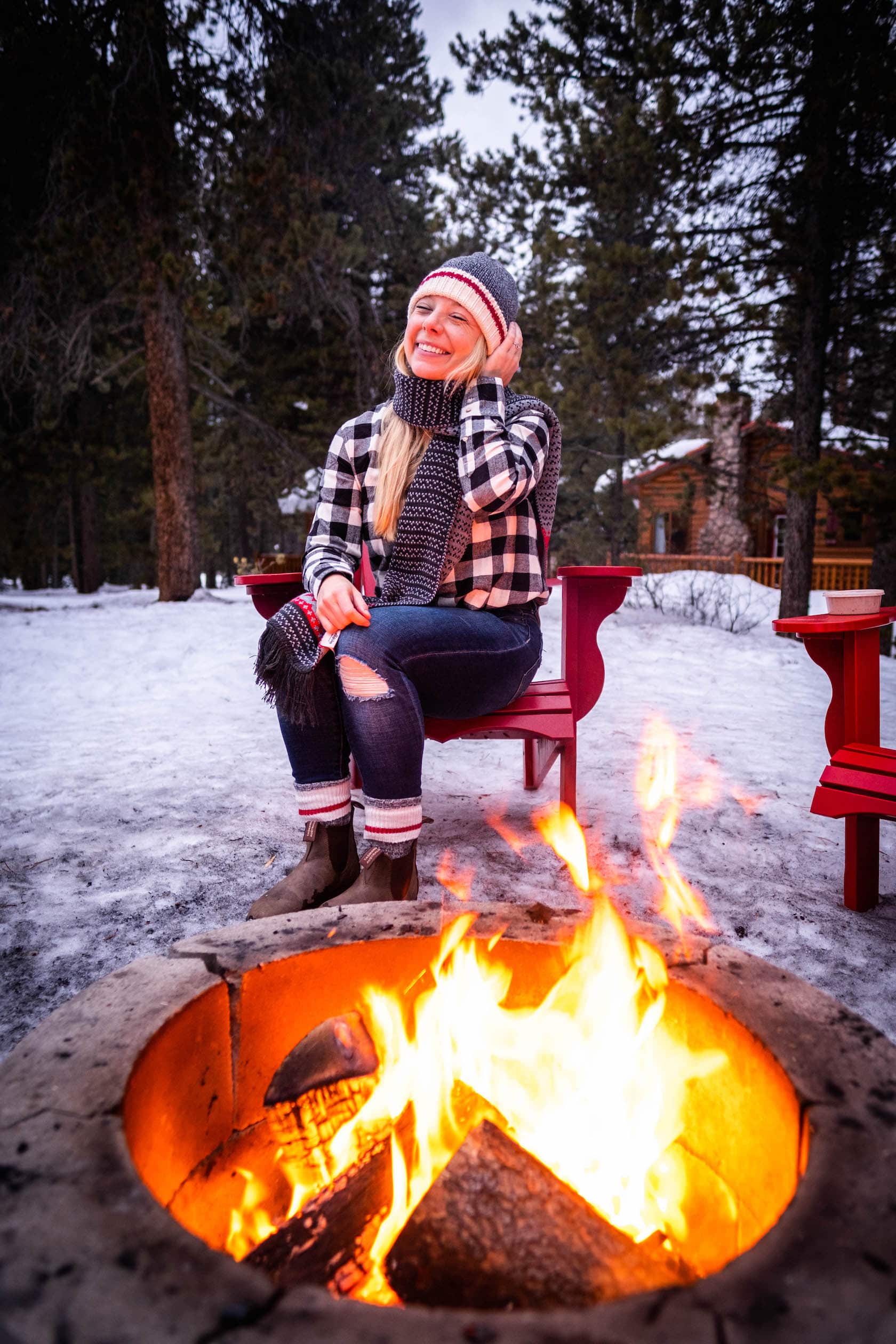 ---
What To Do On The Bow Valley Parkway
There are a wealth of activities and things to do along the Bow Valley Parkway. The most classic is a drive along the Parkway itself and to stop at several famous viewpoints. However, there is a lot more to the Parkway and Banff than a few stops accessible via car.
---
Go For A Hike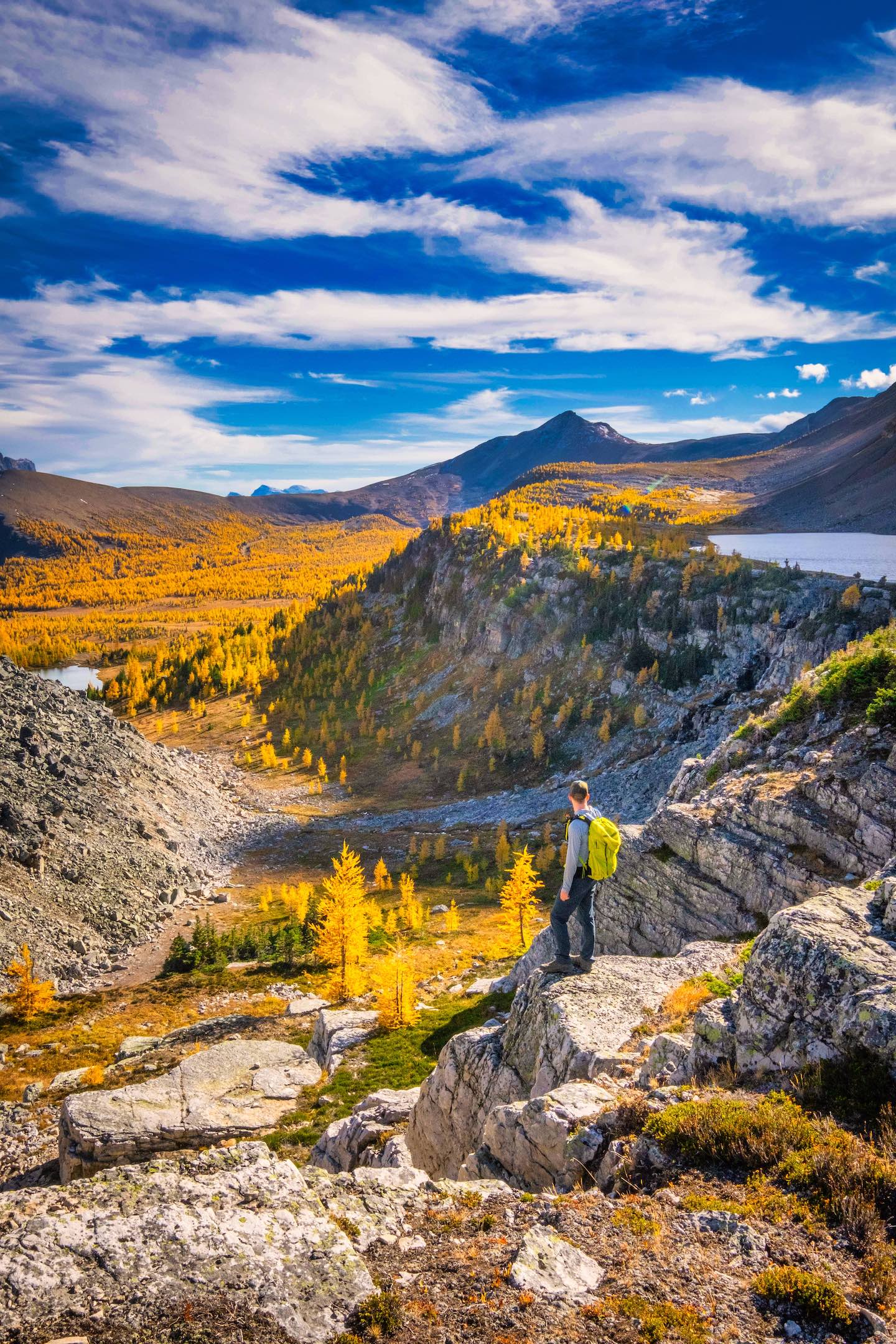 There is no better way to enjoy nature than on foot. Once the summer rolls around, the snow melts and the trails dry out, it's time to explore some gorgeous nature. There is nothing more quintessential to a Banff trip than a hike!
You can't go wrong with the classic Johnston Canyon hike and if you want more continue up to the Ink Pots. However, there are a ton of gems along the way and we're huge fans of the Skoki region accessed from the end of Bow Valley Parkway in Lake Louise.
33 Banff Hikes and Trails to Enjoy This Summer (With Photos)
---
Snowshoe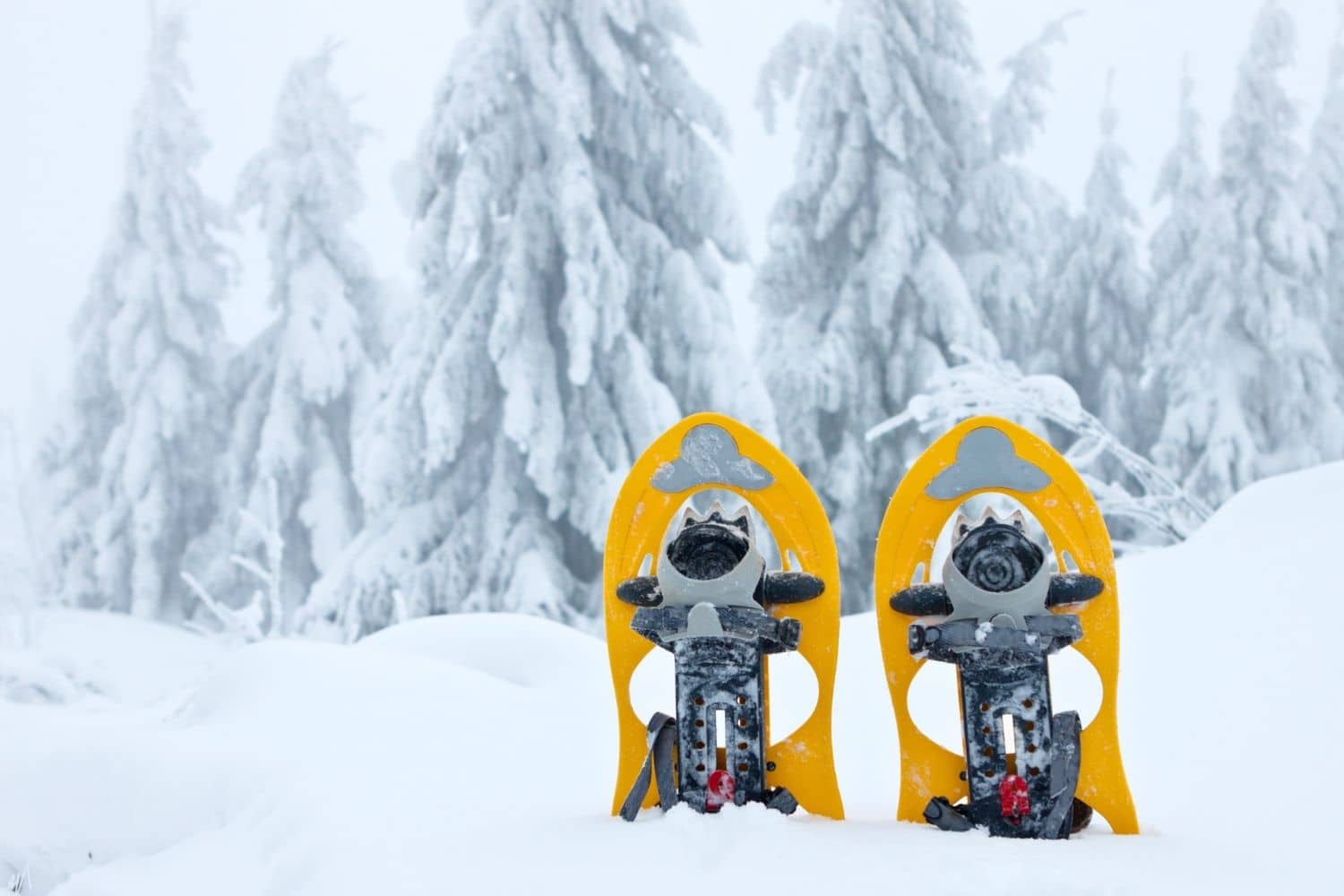 When the snow piles up you can still explore nature and the surrounding. We love the winter months as the crowds dissipate and the snow absorbs most of the sounds. The experience of a leisurely snowshoe through the pine forests of Banff is wonderful and family-friendly.
Snowshoeing in Banff: 18 BEST Places to Go
---
Play Hockey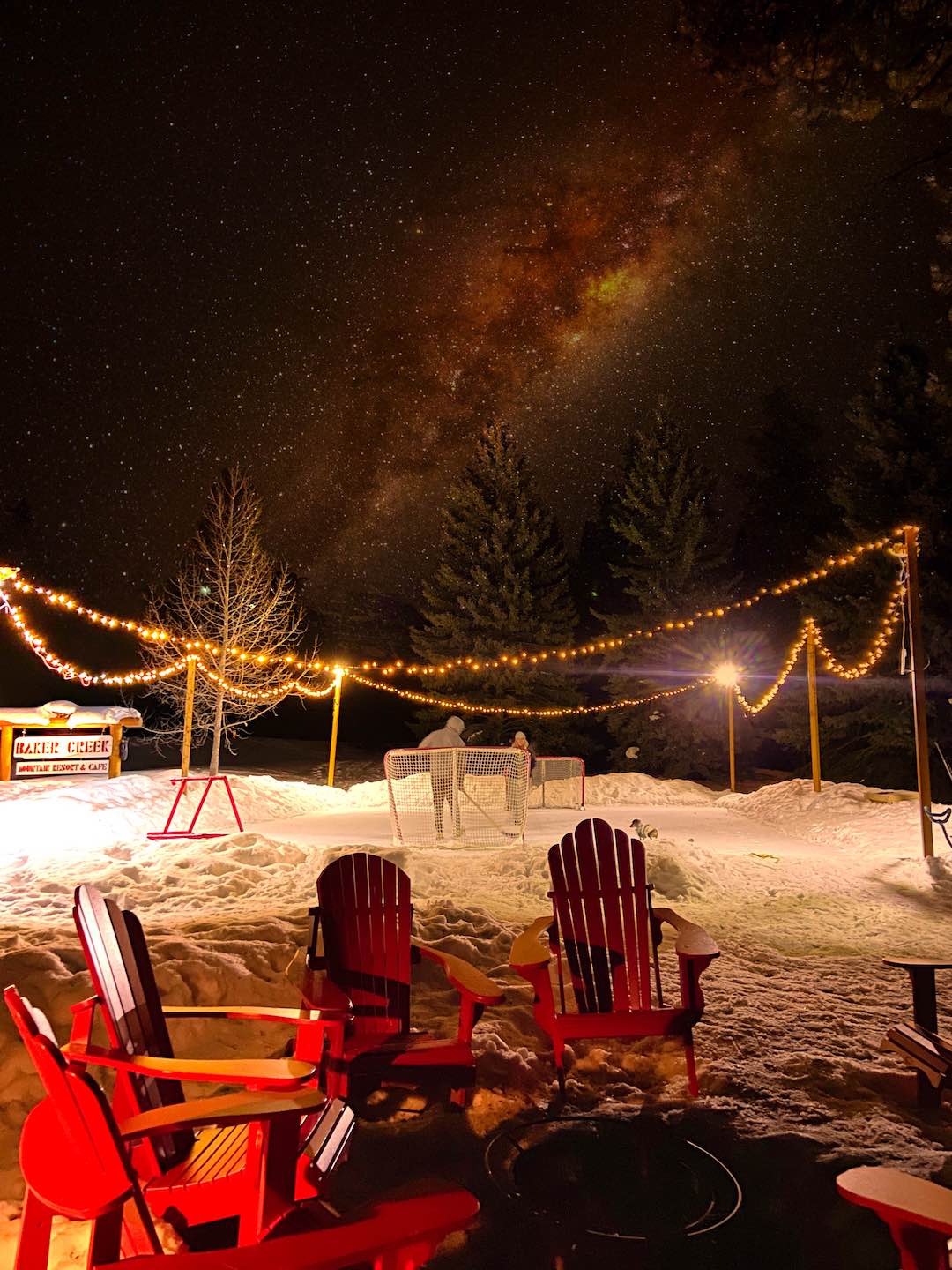 Baker Creek Mountain resort has ice skates, hockey sticks, and goals set up on their small rink. It's the perfect way to spend an hour on the ice. Plus, it doesn't get much more Canadian than hockey.
---
Scramble To The Top Of A Mountain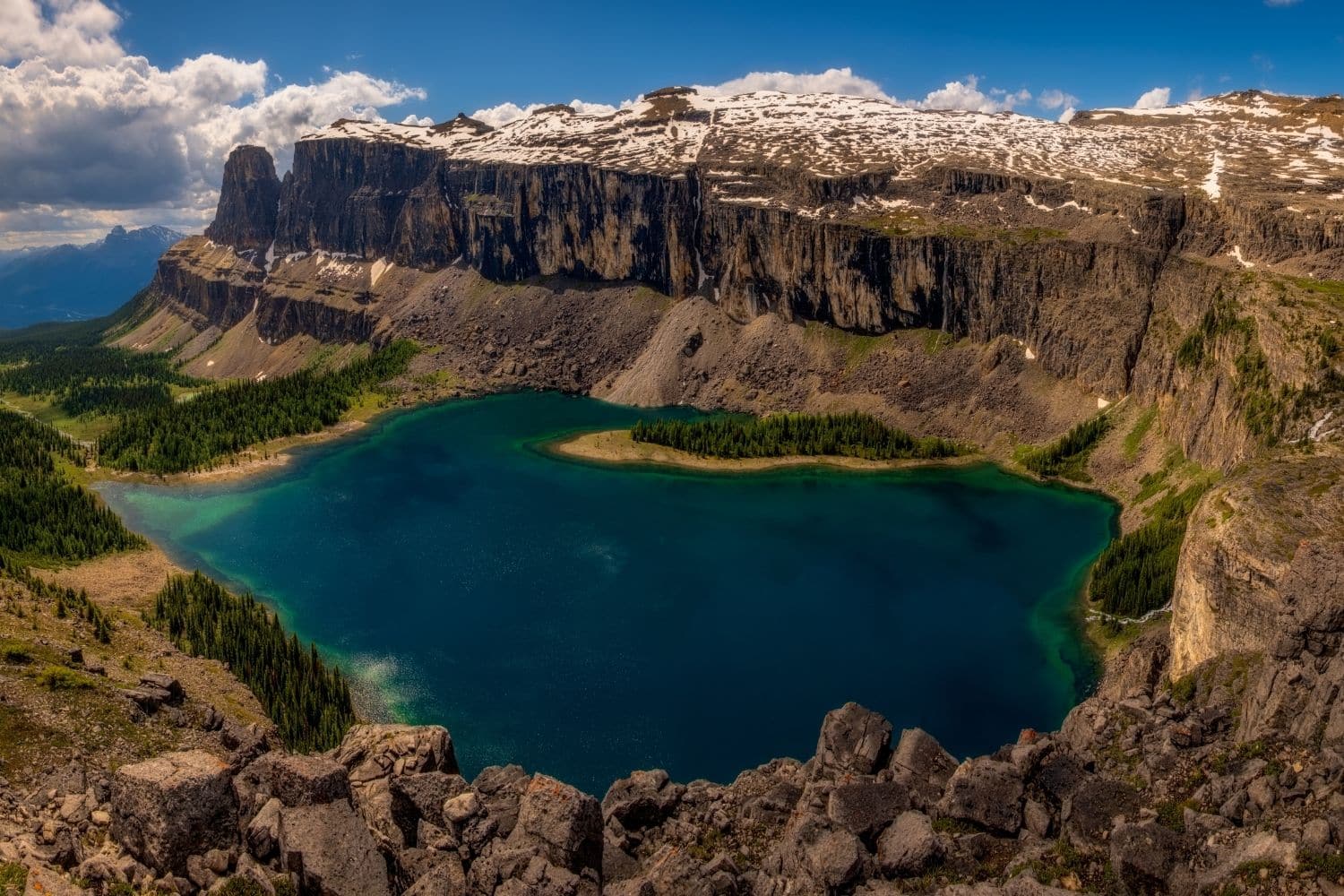 In the summer months, one of our favorite things is to gain the summits of Banff's majestic peaks. The views from the top are often surreal and the effort to reach them is rewarding.
There are several mountains along the Parkway, but the most prominent would have to be Castle Mountain. It's a technically easy mountain, but to reach its summit is a huge day that involves 26km and 1,500m of elevation gain. If you want to shorten that consider hiking to Rockbound Lake in the summer.
This is still a long day at 18 km and 1000 meters of gain, but you'll be well rewarded with epic views of the lake.
---
Enjoy The Views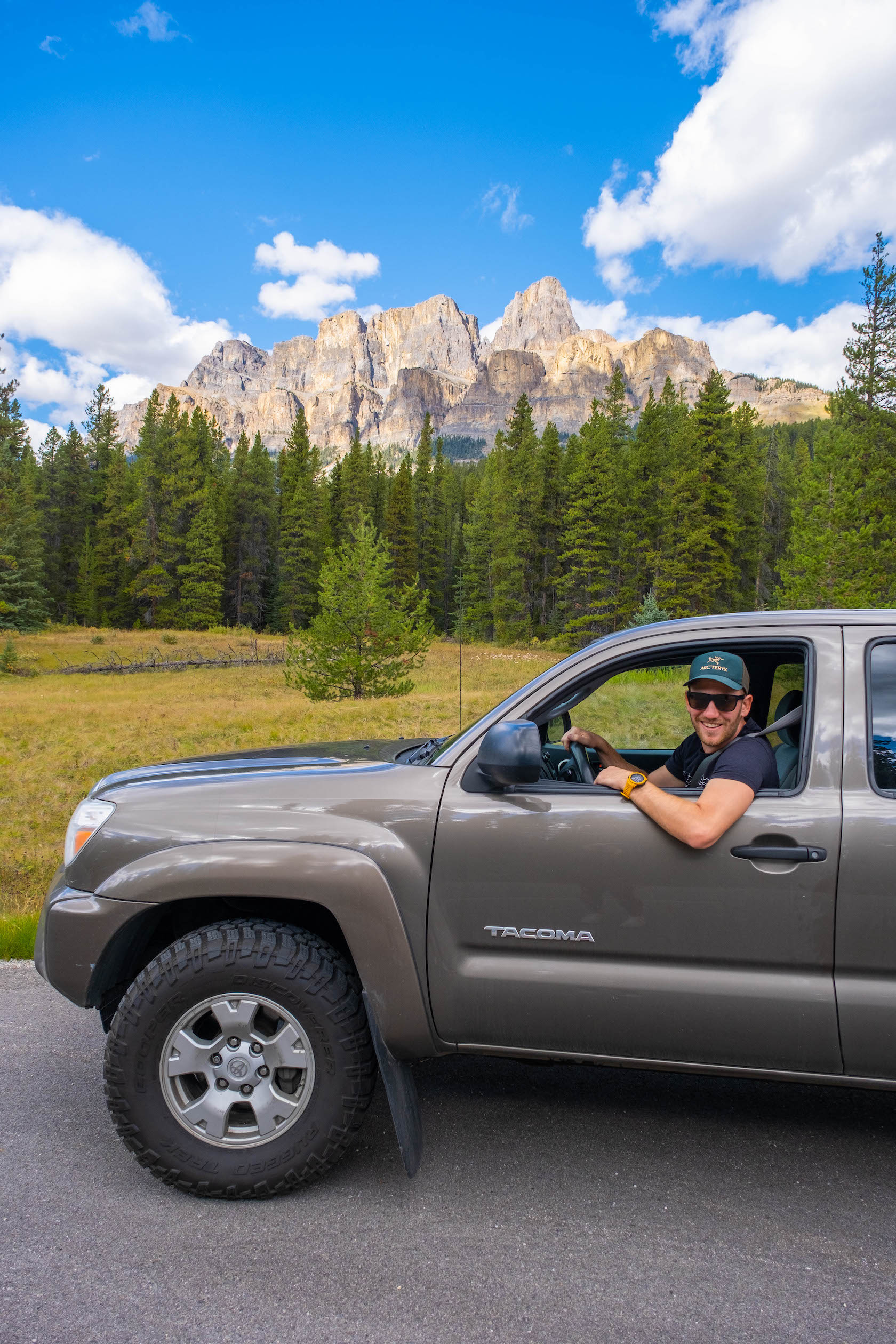 There is no shortage of views along the Bow Valley Parkway. We love to take the drive and make several stops along the way for scenic views. It's far more relaxed and enjoyable than the neighboring highway. There are also picnic facilities along the drive!
---
Go Cross Country Skiing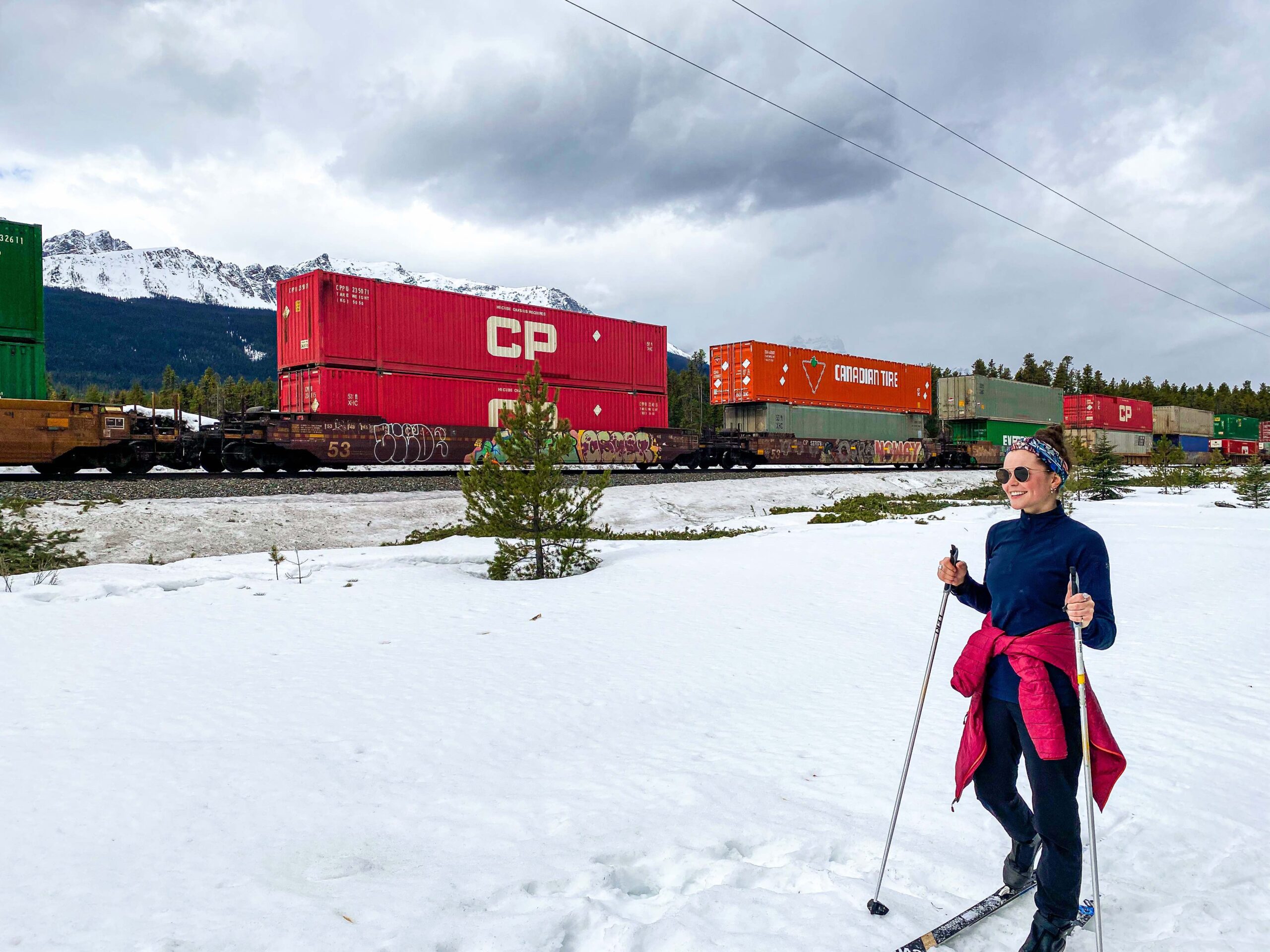 There are single trackset cross-country ski trails along the Bow Valley Parkway at Baker Creek, Protection Mountain, and Castle Junction. This is great if you're staying at Baker Creek Mountain Resort or Castle Mountain Chalets.
Castle Mountain Chalets maintain 20km of groomed trails for snowshoers and cross country skiers to enjoy. The nearby village of Lake Louise also has a wonderful network of cross-country ski trails. You can find rentals in Lake Louise, Banff, or Canmore.
---
Go Fat Biking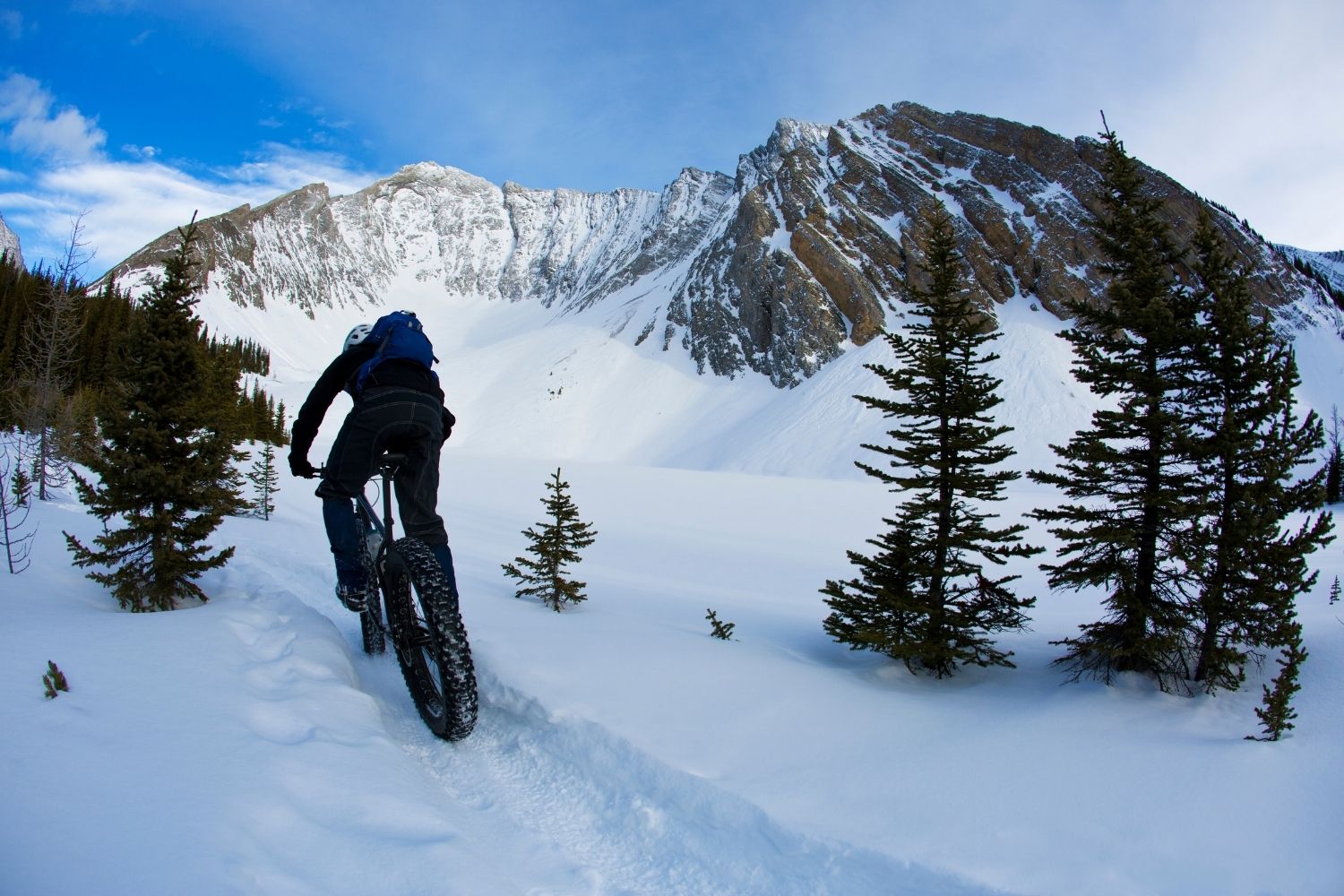 Baker Creek Mountain Resort offers fat bike rentals if you'd like to try your hand at some winter biking. I'm a firm believer that it's impossible to have a bad time on two wheels.
---
Go Ice Climbing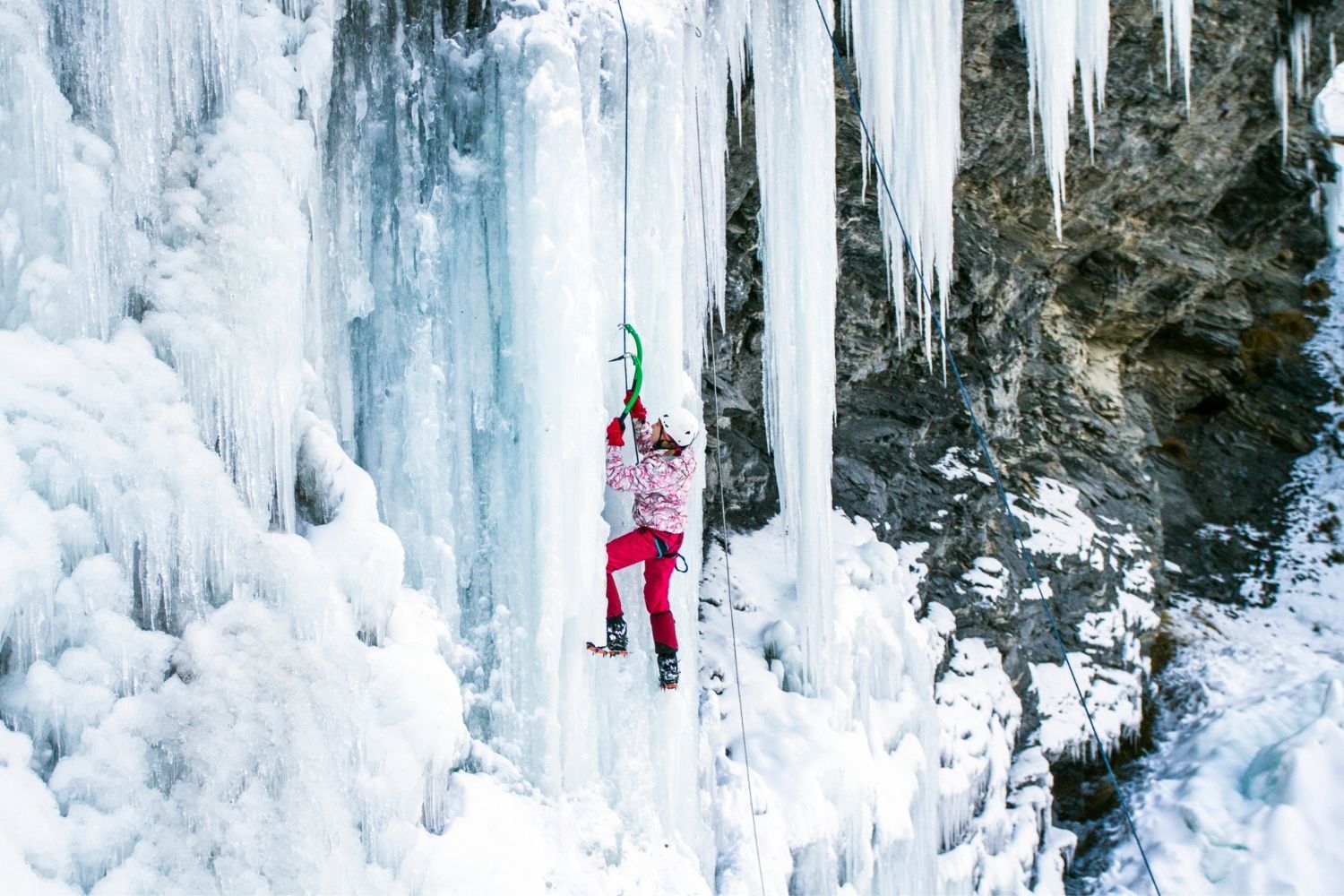 Banff National Park draws in lots of ice climbers with a plethora of routes and mixed winter climbs. Most notable in the Lake Louise area is the Louise Falls, a frozen waterfall that allows for a solid ice climb. It's a popular route in the park so expect to share the climb with others on the weekend. Even if you're not interested in climbing, and can still be fun to watch the ice climbers.
If you've never gone ice climbing, it's best to book a beginner experience with Yamnuska Mountain Adventures, who will meet you at Johnston Canyon.
It's a great beginner area and the guides at Yamnuska are some of the best in all of North America. If you're more interested in the sport consider one of their courses or camps on ice climbing.
---
Ski at Lake Louise Ski Resort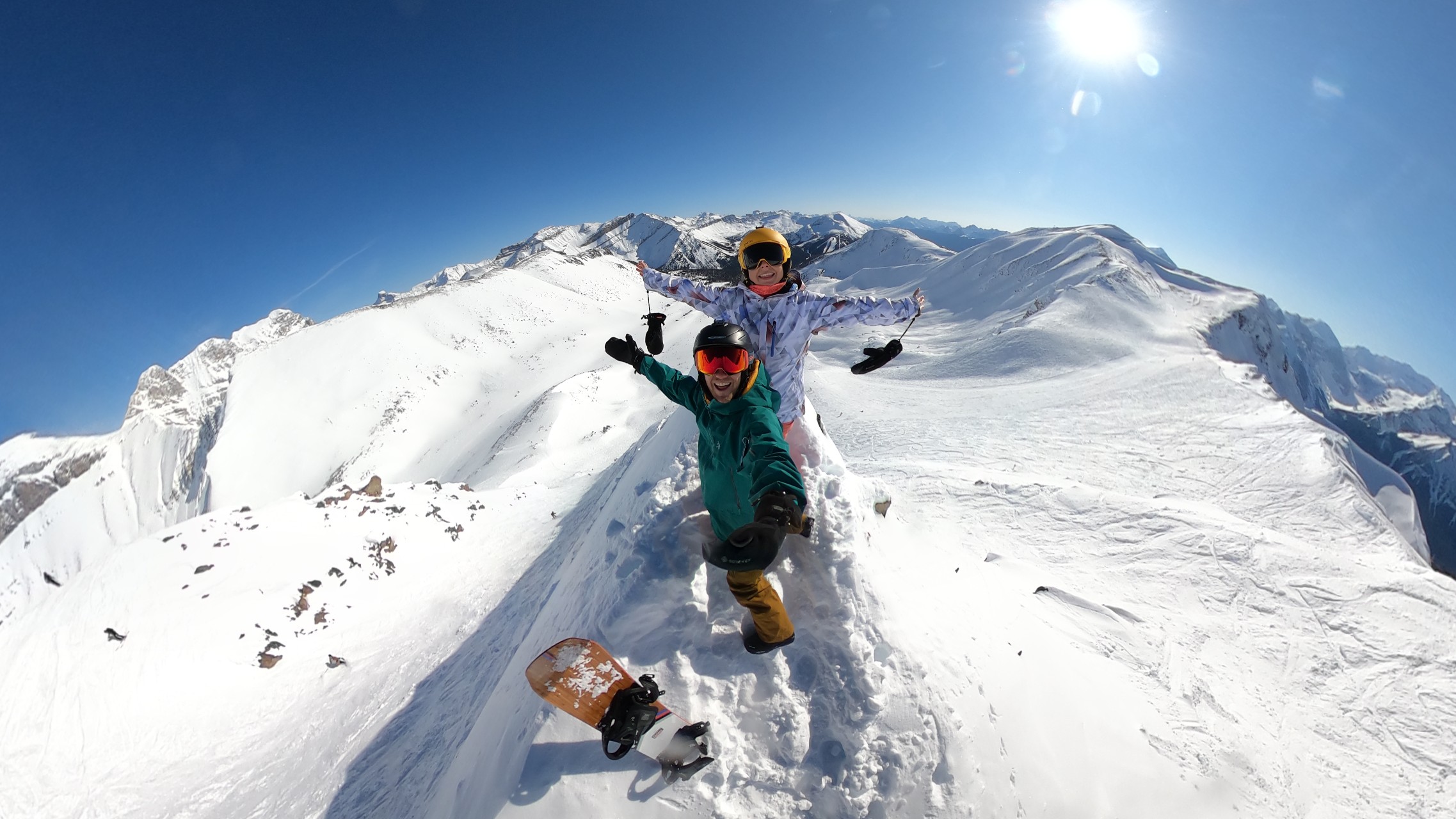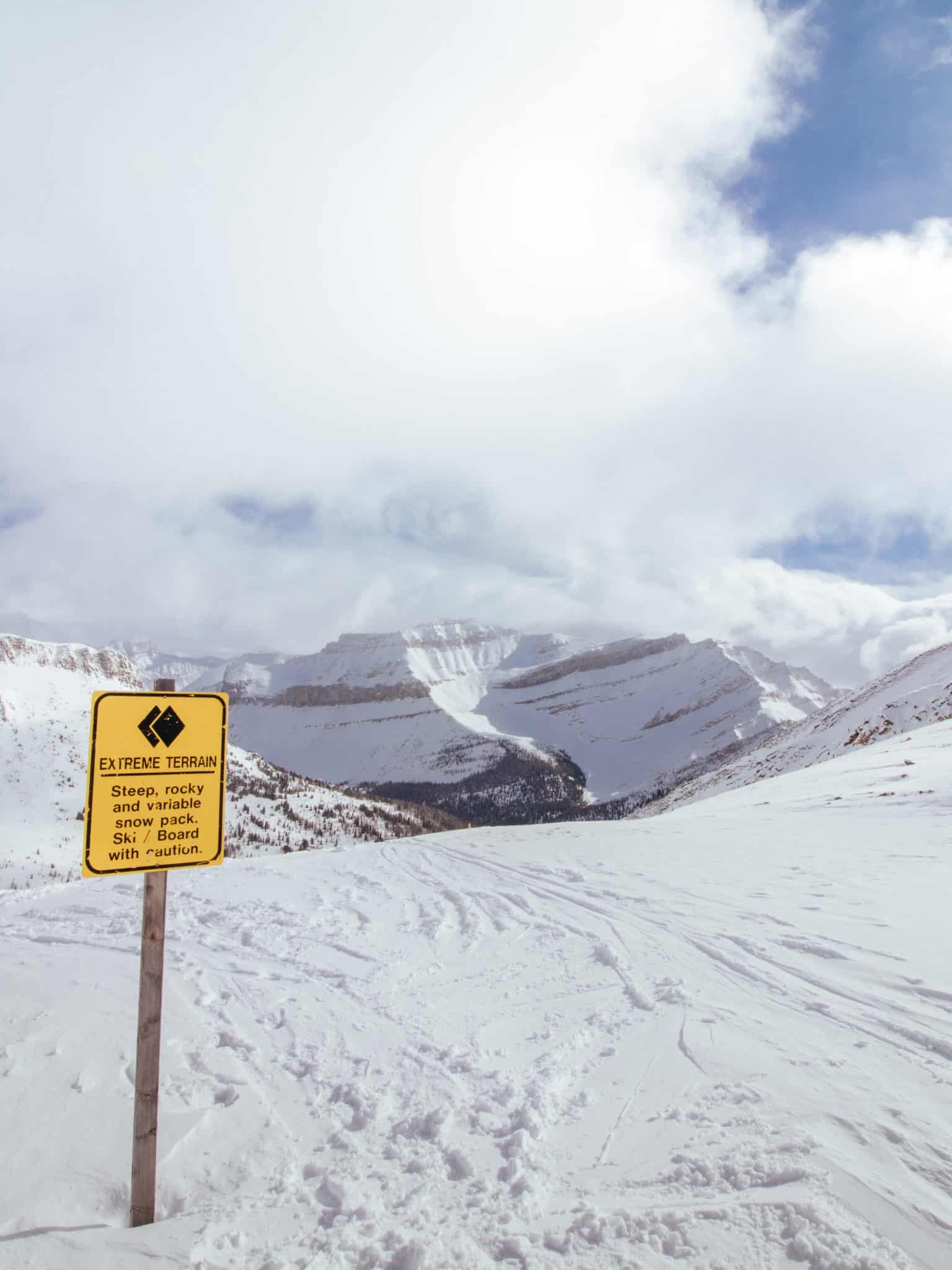 One of the best things to do in Lake Louise in the winter is go skiing or snowboarding! There is arguably no ski resort in the world with a better view than the Lake Louise Ski Resort. Located in Canada's oldest and first national park, the resort has an ample supply of natural scenery.
In between runs screaming down groomers, tackling a bowl, or defying death in a steep chute Banff National Park provides you some fresh air and stunning landscapes. There is something for everyone here with terrain that will thrill even expert skiers. They also kick off the FIS Alpine Ski World Cup season!
A Local's Guide To The Lake Louise Ski Resort
---
Take A Bike Ride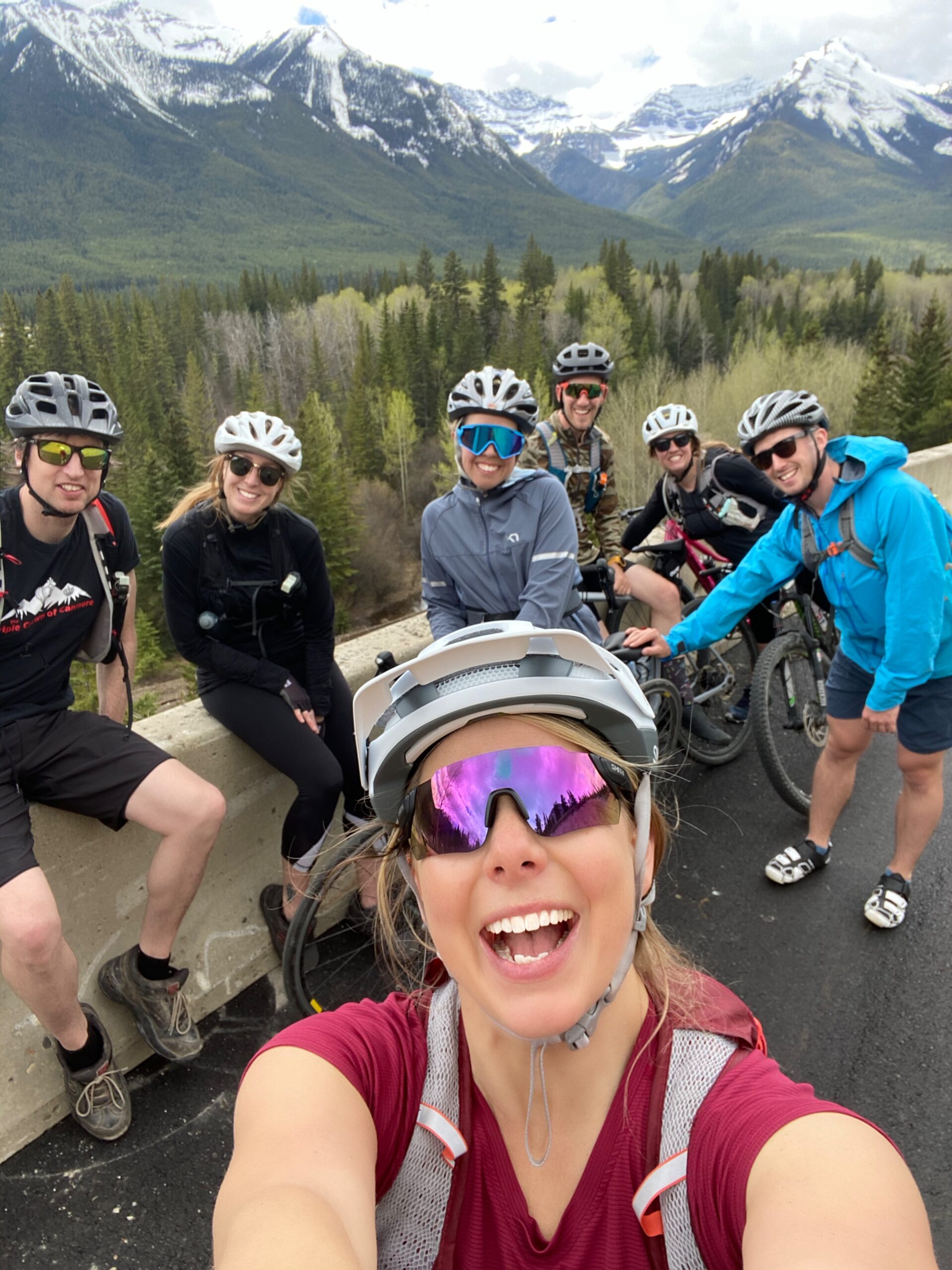 With its slower speed limits, bike lanes, and seasonal closures the summer months are a fantastic time to bike along the Bow Valley Parkway. It's the best cycle route in Banff and promises a long ride as the distance to Lake Louise from Banff is 61 km.
If you can ride all the way to Lake Louise — you should! This makes the roundtrip journey around 120+ km a solid Gran Fondo. It's possible to shorten the route in a few different ways by starting at Castle Junction or the gates to the Bow Valley Parkway off the TransCanada.
---
Watch For Wildlife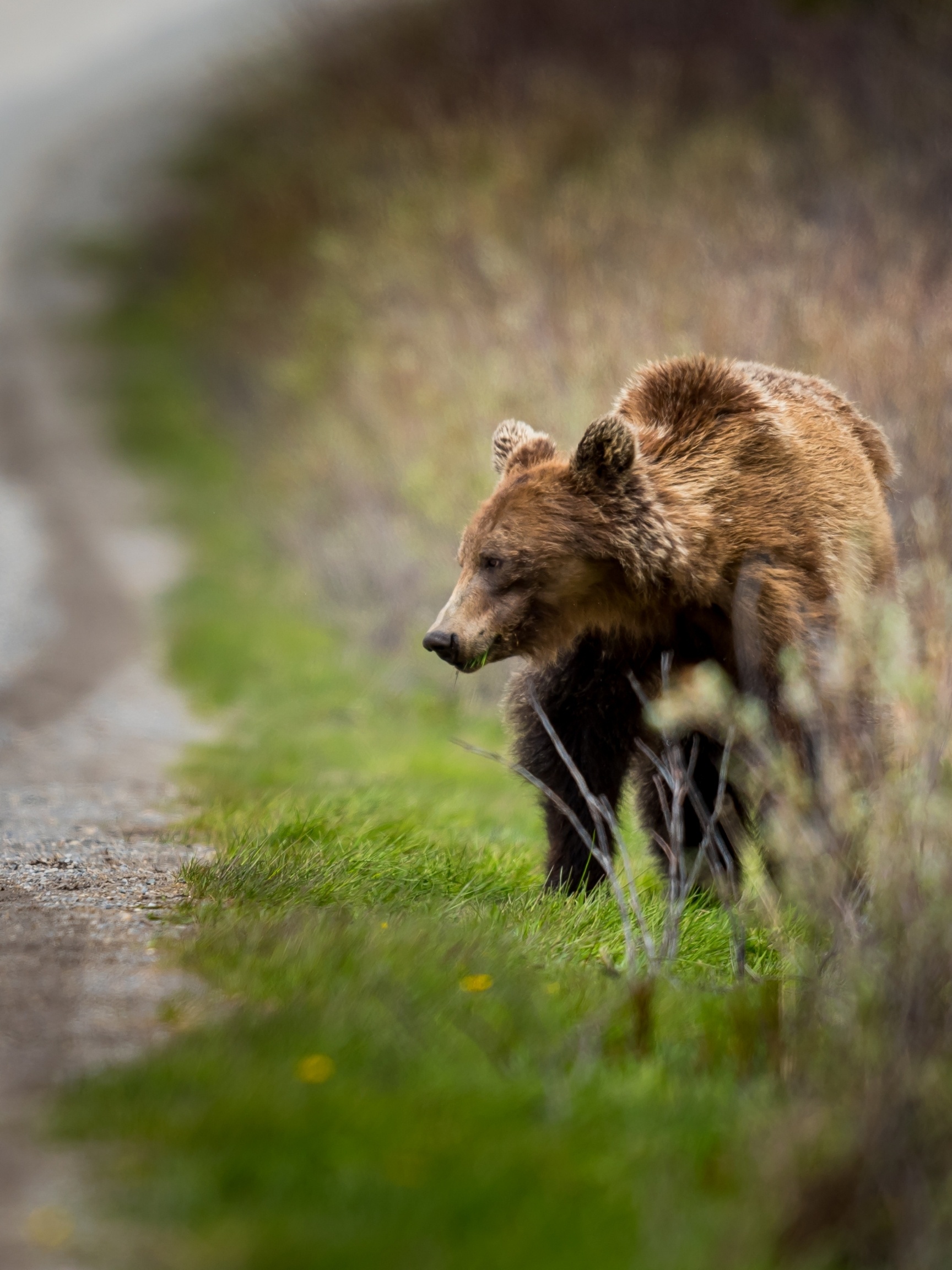 You're bound to see some Canadian Rockies wildlife while driving on the Bow Valley Parkway. The most common animals you will see are Bighorn sheep, deer, and elk. If you're visiting in the winter, you stand a good chance at seeing a bear; I've seen a few while riding my bike on the Bow Valley Parkway before.
Other animals we've spotted on the Parkway are foxes and moose. I also had a close encounter with a wolf; if this happens to you, consider yourself lucky. If you spot a wolf, let a Parks Canada staff know by calling when you get service.
When you see these animals, you'll probably be mesmerized by their beauty and want to stop for a photo. If you are going to pull over do so safely and briefly, do not get out of your car, and do not stop traffic. Also, don't hog the sighting; stay for a few moments and move on to let others enjoy.
---
Hopefully, this helped you determine where to stay on the Bow Valley Parkway.
If you have any other questions leave a comment or see our Canadian Rockies travel guide for more articles about photography spots, lakes, hikes, and everything else.
---
Plan Your Trip to the Canadian Rockies
↓ Join the community ↓
The Banff Blog Facebook Group is your headquarters for the Canadian Rockies' travel advice and information. Including hike info and off-season travel information. This is also where you can meet one another when you need adventure buddies.