One of the main questions you may ask yourself when planning your trip to Banff is whether you should stay in Banff or Lake Louise. It's a tricky question, especially for those who haven't visited the Canadian Rockies before and don't know what to expect.
Banff National Park is a vast park that needs a lot of time to explore properly. Both the Town of Banff and Lake Louise are located within Banff National Park. Both Lake Louise and Banff are right off the Trans Canada Highway and easily accessible from Calgary. Though Banff is much closer to Calgary than Lake Louise.
Both Banff and Lake Louise are fantastic places to stay, but if you are only looking for one over the other, we hope to make that choice easier for you. So which is better, Banff vs. Lake Louise?
---
Banff vs Lake Louise – Where Should You Base Yourself?
---
Staying in Banff Over Lake Louise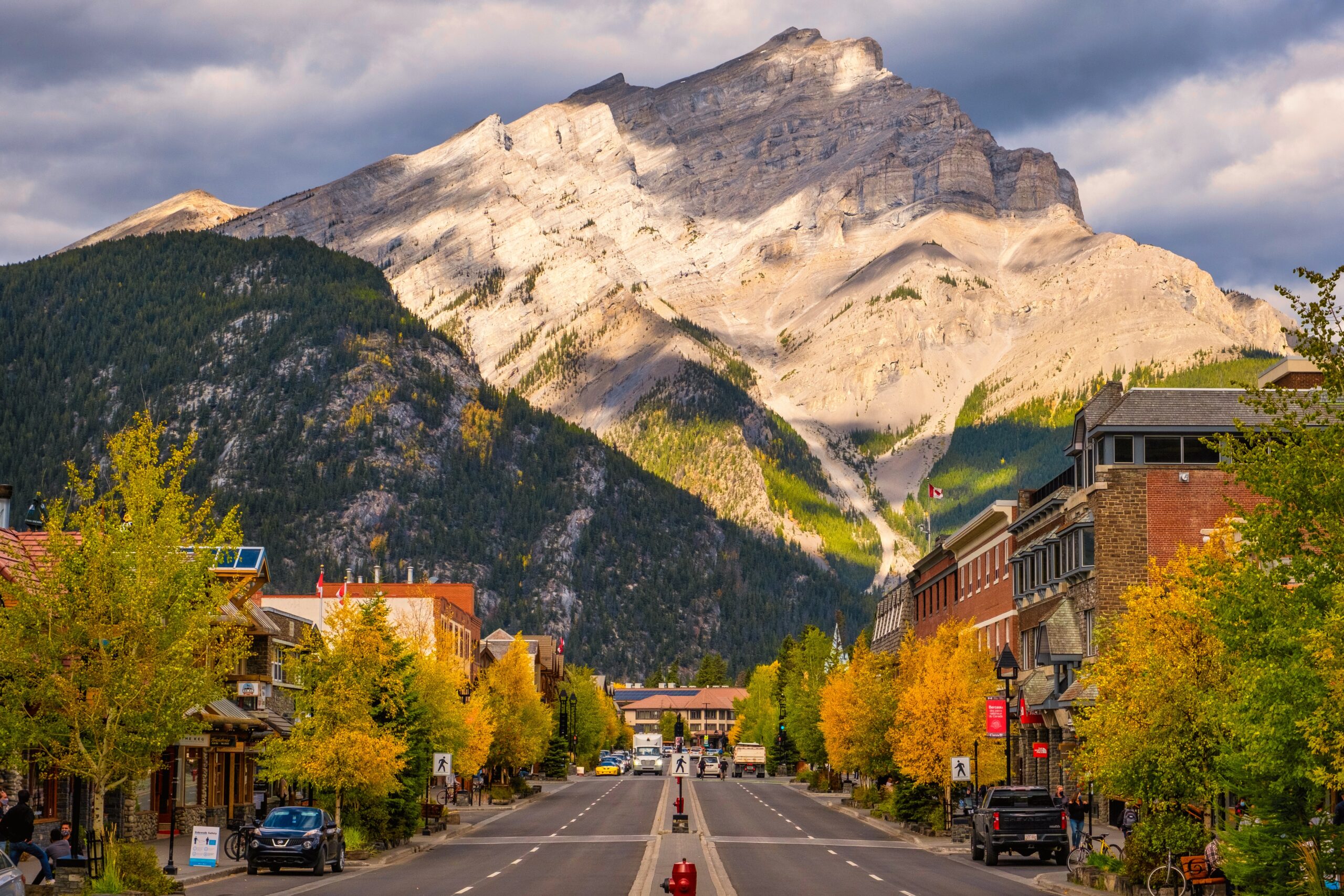 We'll start with the more popular option, which is staying in Banff over Lake Louise. There are many reasons one would choose to stay in Banff over Lake Louise, but the main is likely the location and more accommodation options.
Advantages of Staying in Banff Over Lake Louise
While the town of Banff is physically further away from sights like Moraine Lake, Lake Louise, and Lake Louise Ski Resort, it is a town of almost 9000, with most living in Downtown Banff. That means you'll have facilities that you won't have in Lake Louise. Things like excellent restaurants, bars and nightlife, a movie theater, a bowling alley, and museums all exist in Banff.
If you don't want to go out on a hike or venture far from Banff for a day, there are plenty of things to do in the actual town.
First, we'll start with the Banff restaurants – there's a lot of them, and of every cuisine too. We head to Banff to enjoy Japanese, Vietnamese, Italian, Balkan cuisine, etc. There are nice restaurants for a fancy date or casual places to hang out with friends.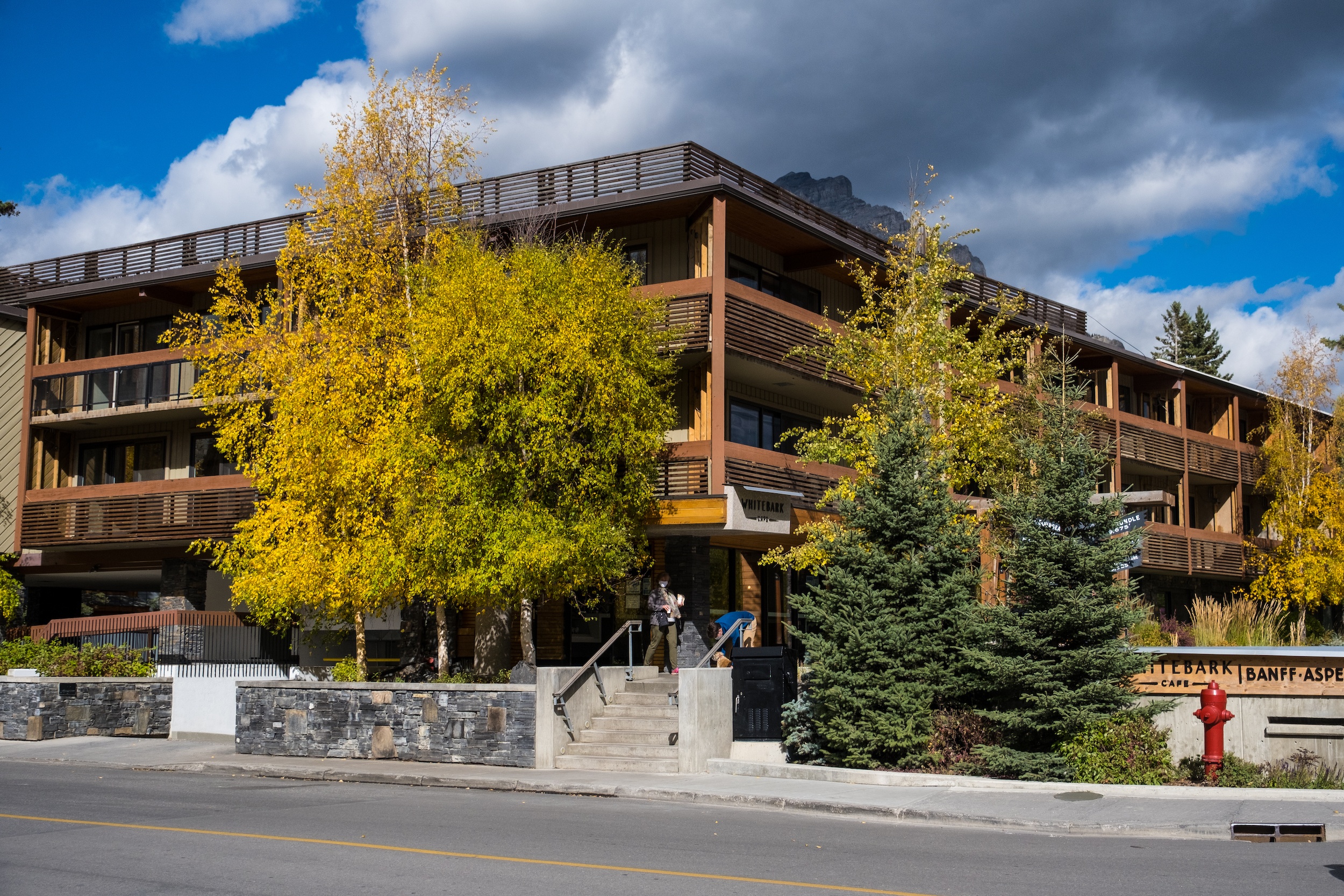 There are also coffee shops like Whitebark, Evelyns, Wildflour, and even a Starbucks to enjoy. And if your group wants to split up with some going shopping and some hiking, this is a possibility in Banff.
There are plenty of stores, from high-end outdoor wear to cheap souvenir shops. See our favorite Banff restaurants and our favorite Banff coffee shops.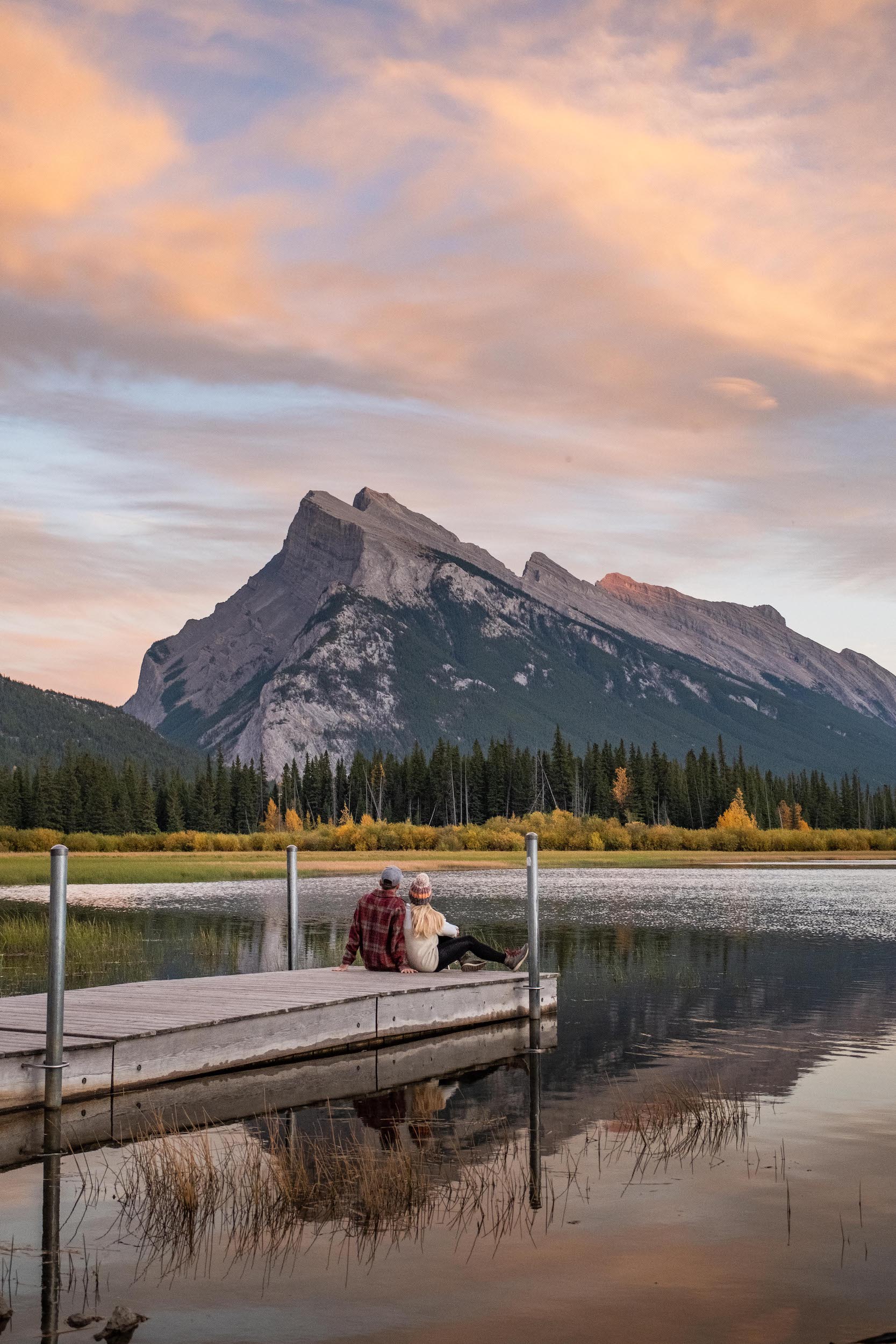 During the holidays or other popular times, you can always count on the Town of Banff to put on a fun event. Our favorite is around Christmas when the whole town comes alive with Christmas cheer.
Banff is closer to Calgary, close to Canmore, and conveniently located near sights like Lake Minnewanka, Two Jack Lake, and Vermilion Lakes.
If you plan to go hiking in Kananaskis Country, you'll want to stay in Banff over Lake Louise. Or better yet, head to Canmore and stay there, which is almost as close to Kananaskis as you can get.
If it's wintertime and you want to go skiing, you'll be able to enjoy Mt. Norquay, which is just minutes away or drive to Banff Sunshine which is less than a 20-minute drive.
Banff also has a much better nightlife scene. There's quite a young Australian crowd residing in Banff, a town that runs with the help of seasonal workers. Bars like Wild Bills see people partying on into the night.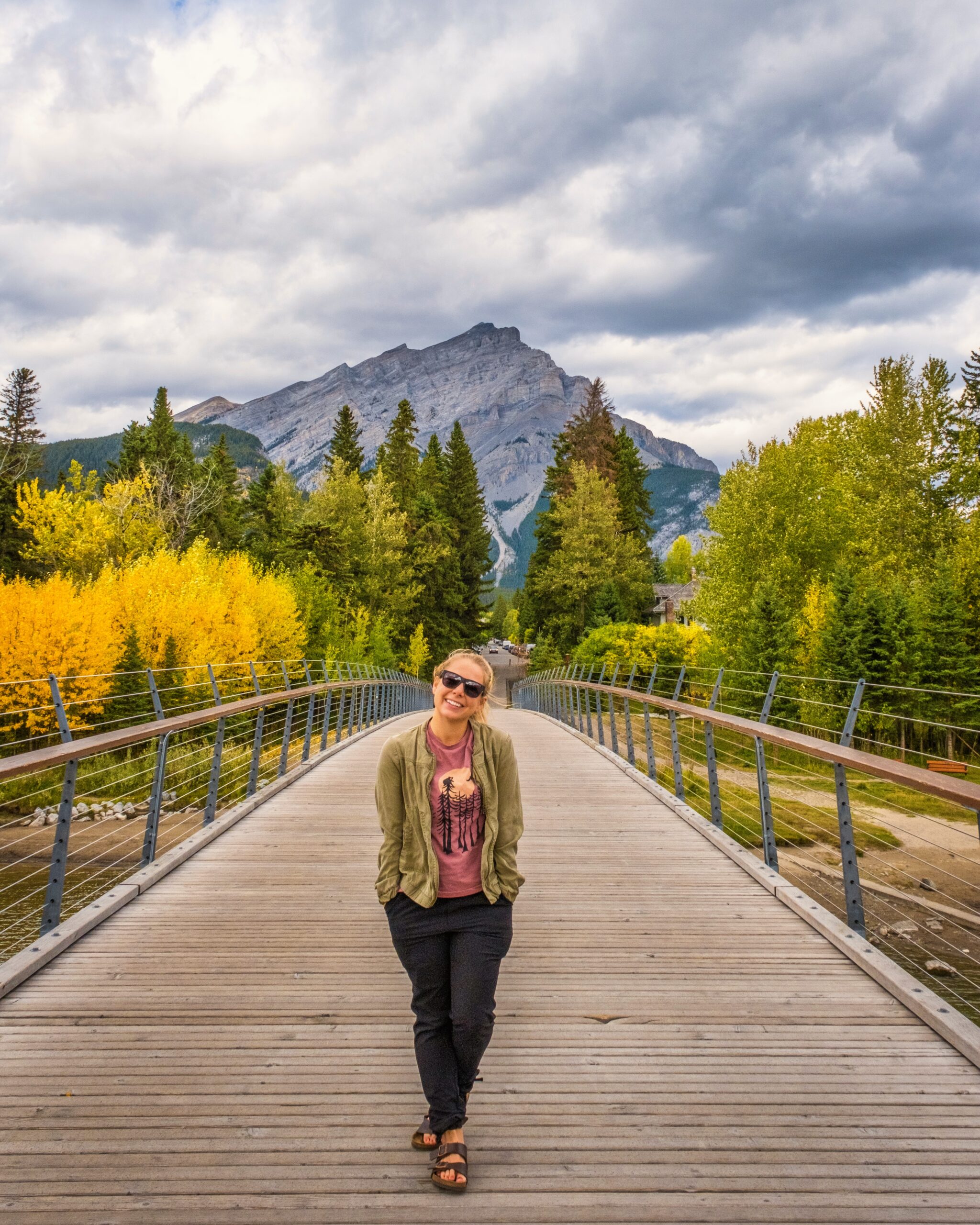 Drawbacks of Staying in Banff over Lake Louise
The main downside to staying in Banff over Lake Louise in the summer are the crowds, which don't disappear in the summer, especially on weekends in town. If you are after a quieter experience in the park away from the hustle and bustle of a lively mountain town, you may want to consider one of these charming Banff cabins.
Hotels in Banff
Restaurants in Banff
Magpie and Stump
The Bison
To Recap – Staying in Banff Over Lake Louise
Advantages
More Accommodation Options
Better Restaurants
Nightlife Scene
Lively Town
Good Shopping
Proximity to Calgary
Closer to Kananaskis, Canmore, and Downtown Banff Sights
Disadvantages
Busier
Less Remote
Further from the Icefields Parkway, Lake Louise Ski Resort, Yoho, and other fantastic Banff sights.
---
Staying in Lake Louise Over Banff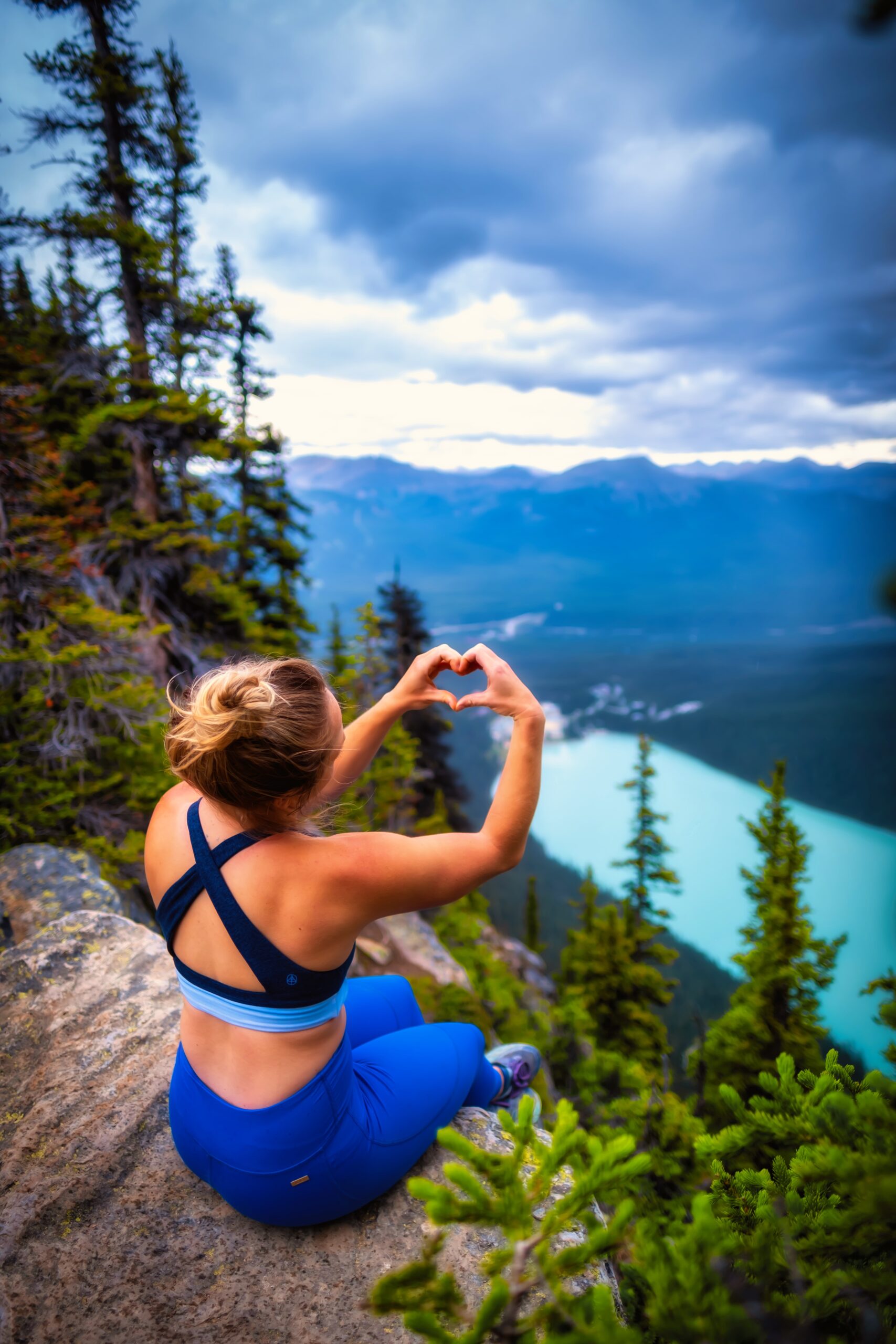 Lake Louise is about 60 km from the town of Banff. Most people think of Lake Louise as just the lake itself, but there is actually a little village there, called Lake Louise Village.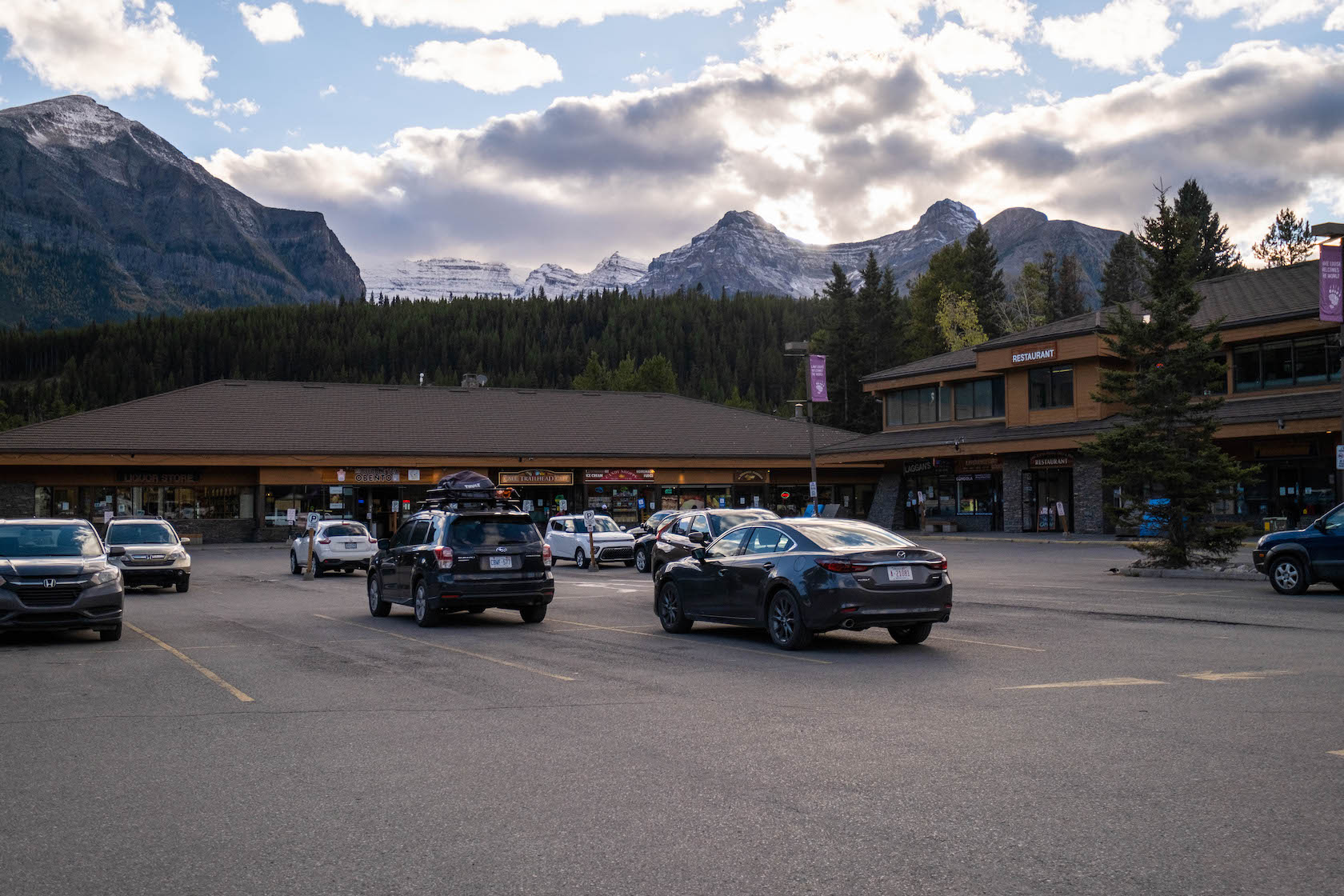 When I'm referring to Lake Louise in this post, I'm talking about all of the Lake Louise area itself, not just the lake. This includes the ski resort, village, and lake.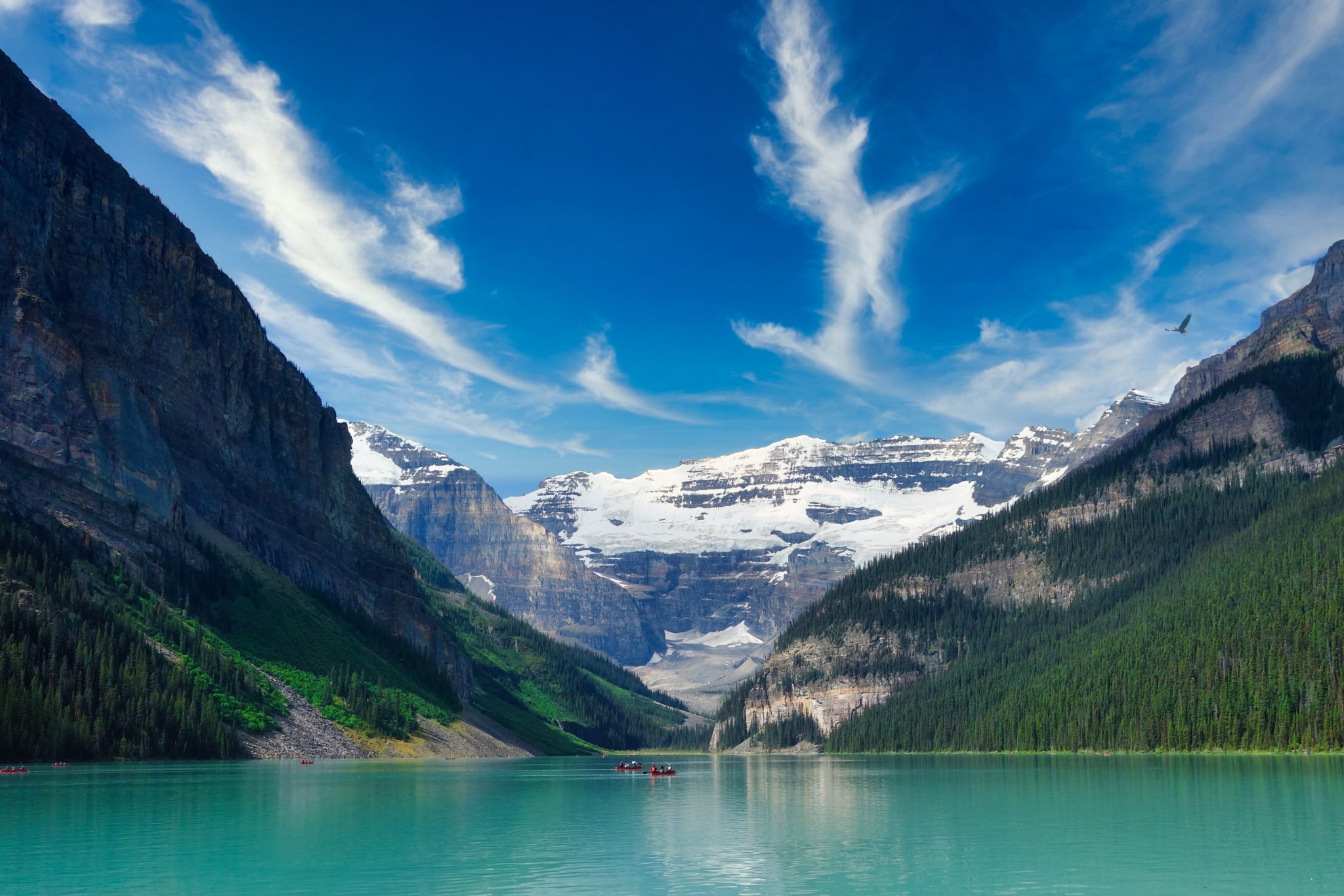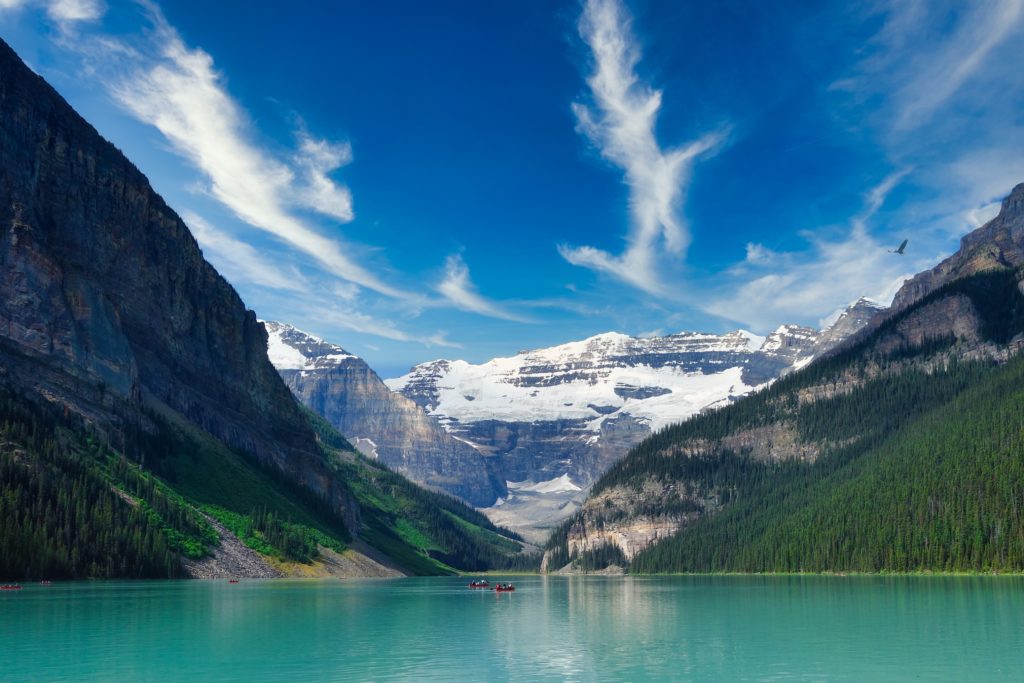 There aren't many people living in Lake Louise as full-time residents. Most of the occupants here are seasonal employees at the ski resort or some of the Lake Louise hotels in the area. There are about 1000 of these people here at any given time.
While Lake Louise is more remote than Banff, it is still a great place to stay on your vacation in Banff.
Advantages of Staying in Lake Louise Over Banff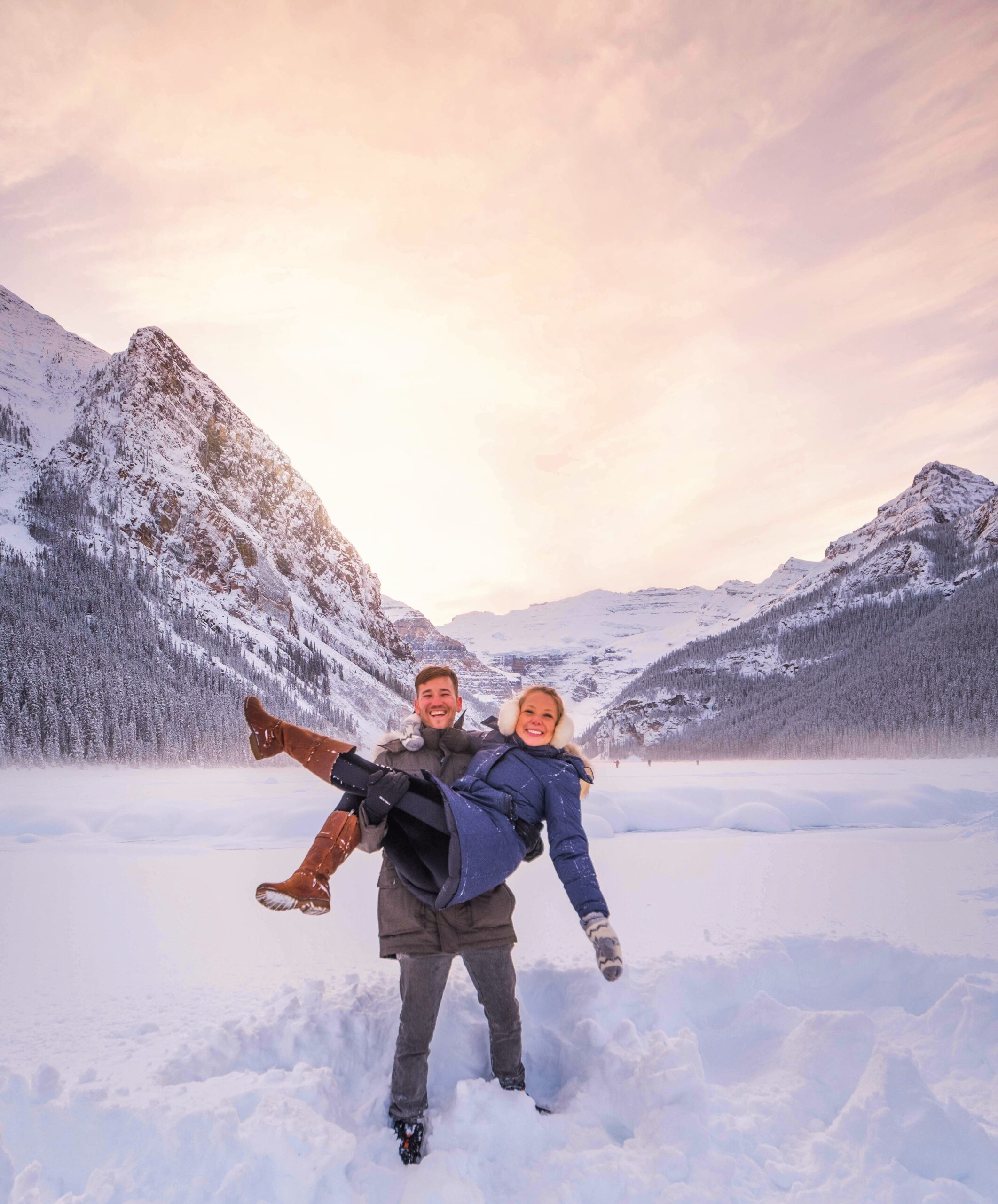 First, the upsides of staying in Lake Louise over Banff. Lake Louise is much quieter than the town of Banff, though, during the day in the summer, Lake Louise (the lake itself) is actually very busy. But at night, it's going to be extremely mellow.
Lake Louise is much further into Banff National Park. Using Lake Louise as your base means you're much closer to Lake Louise Ski Resort, Lake Moraine, the start of the Icefields Parkway, Yoho National Park, The Kootenays, and about an hour closer to the town of Jasper.
Although Lake Louise still sees crowds at the lake itself, the rest of the area isn't explored so much. There are some fantastic hikes and scrambles around the Lake Louise and Moraine Lake areas (see our suggestions here and here). And even more, as you travel the Icefields Parkway towards Bow Lake and Peyto Lake.
If it's wintertime at Lake Louise, you have easy access to ice skating on Lake Louise, snowshoeing, dog sledding, and a sleigh ride without the drive from Banff. You're only 5 minutes away from Lake Louise Ski Resort, which is exceptionally convenient on an epic powder day, if you are a skier.
You are less than 20 km away from Yoho National Park and very close to sights like Emerald Lake. If you plan to drive some of the Icefields Parkway and drive onto Jasper, you are only a few km away from the entrance.
Downsides of Staying in Lake Louise Over Banff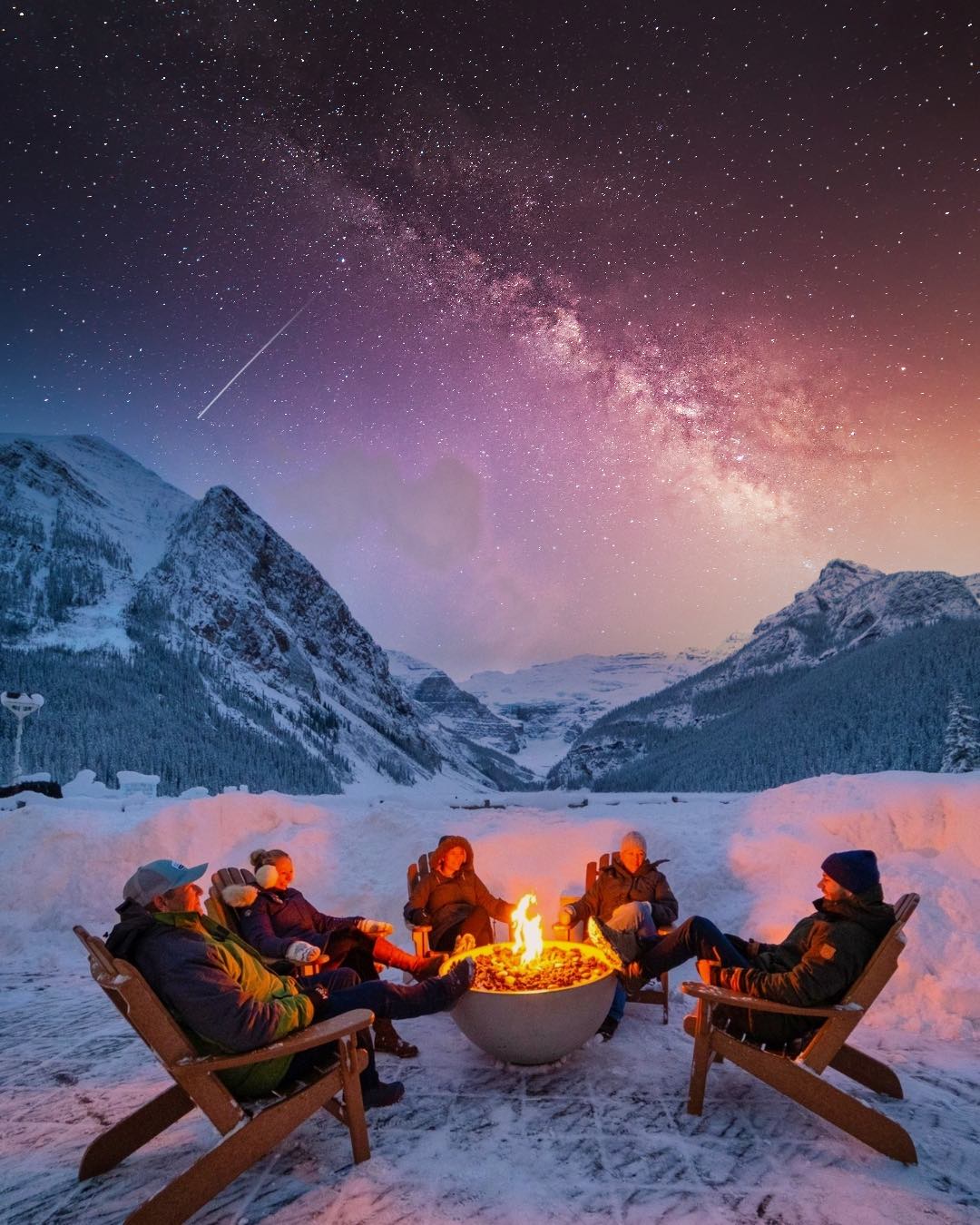 Its remoteness means that accommodation is much more limited. There are only a handful of hotels servicing the Lake Louise area. Meaning they are slightly more expensive and quite honestly not as lovely as the Downtown Banff hotels. They get by mainly on their location and proximity to Lake Louise.
The only hotel at Lake Louise itself is the Fairmont, which is very expensive and overpriced. The few others are along Lake Louise Dr, but they book up fast in the summer, so you'll have to book in advance. There is no accommodation at Lake Louise Ski Resort.
Lake Louise Restaurants? Well, there aren't many. There are a few places to eat in the Samson Mall (the Lake Louise village), including Lagaans and the Trailhead Cafe, but they close around 5pm after most tourists have gone.
The cheapest place to grab a burger is Bill Peyto's Cafe in the HI Hostel. If you miss those options, your best bet is to head up the Chateau Lake Louise for an expensive meal in their fancy restaurant.
There's one grocery store in Lake Louise, The Village Market. It's pretty well stocked for a small-town grocery store, but don't come expecting a lot or for it to be inexpensive.
You won't find much nightlife here either, besides the Explorers Lounge in the Lake Louise Inn, which is full of young workers. So plan on drinking your wine at your accommodation. Don't try venturing too far in search of food or drinks either. You won't find it. The next town over is Field at 27 km away – and trust me, there's not much there either.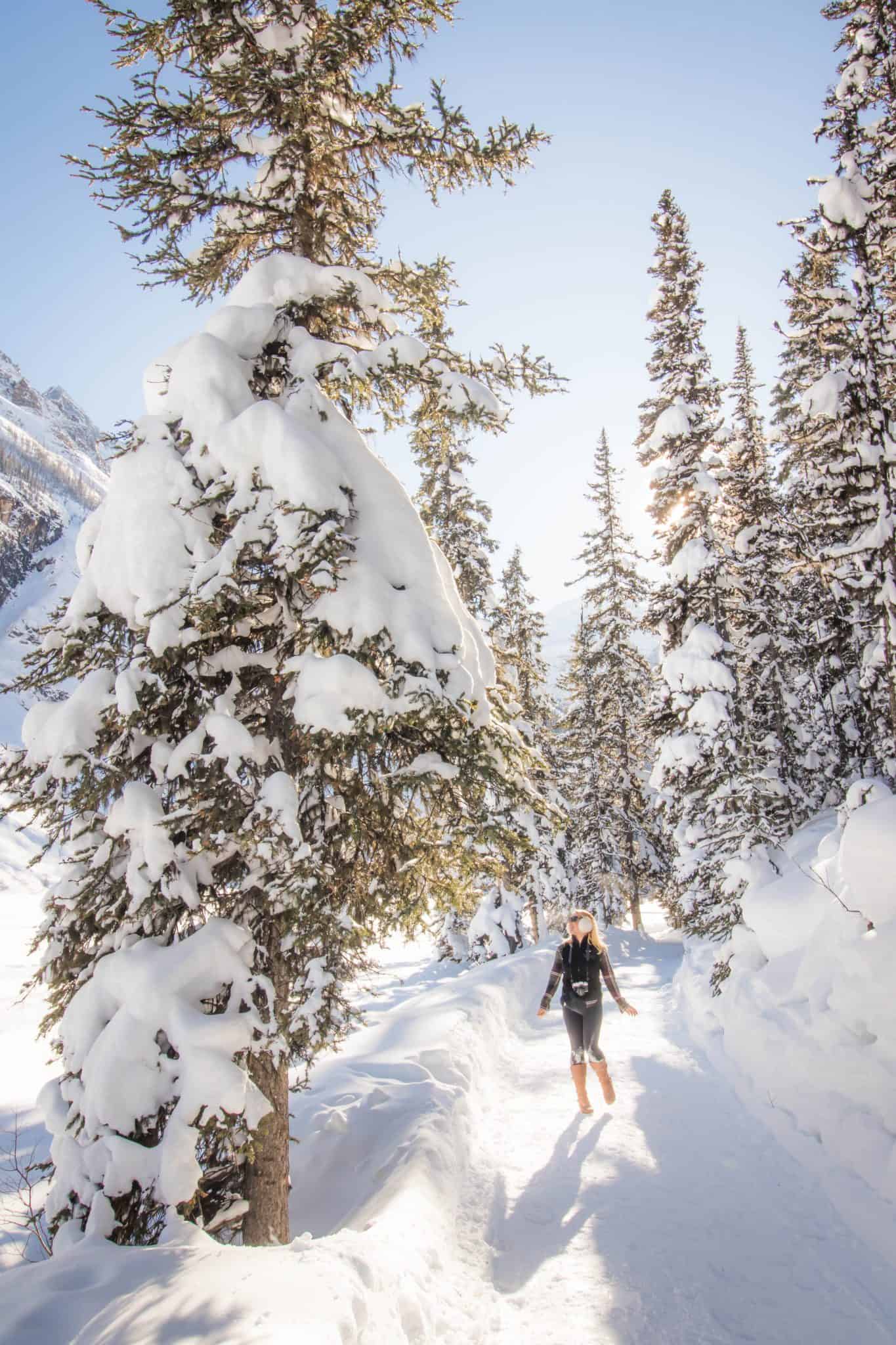 Remember, just because you're staying at a Lake Louise hotel, you don't get special access to either Lake Louise or Moraine Lake, and you're still going to be fighting for space while seeing these two beauties.
The advantage is you won't have to fight for parking at Lake Louise in the summer mornings and be one of the first to see Lake Louise at sunrise. You will still have to make a plan to get parking at Moraine Lake before the lot fills up before 6am.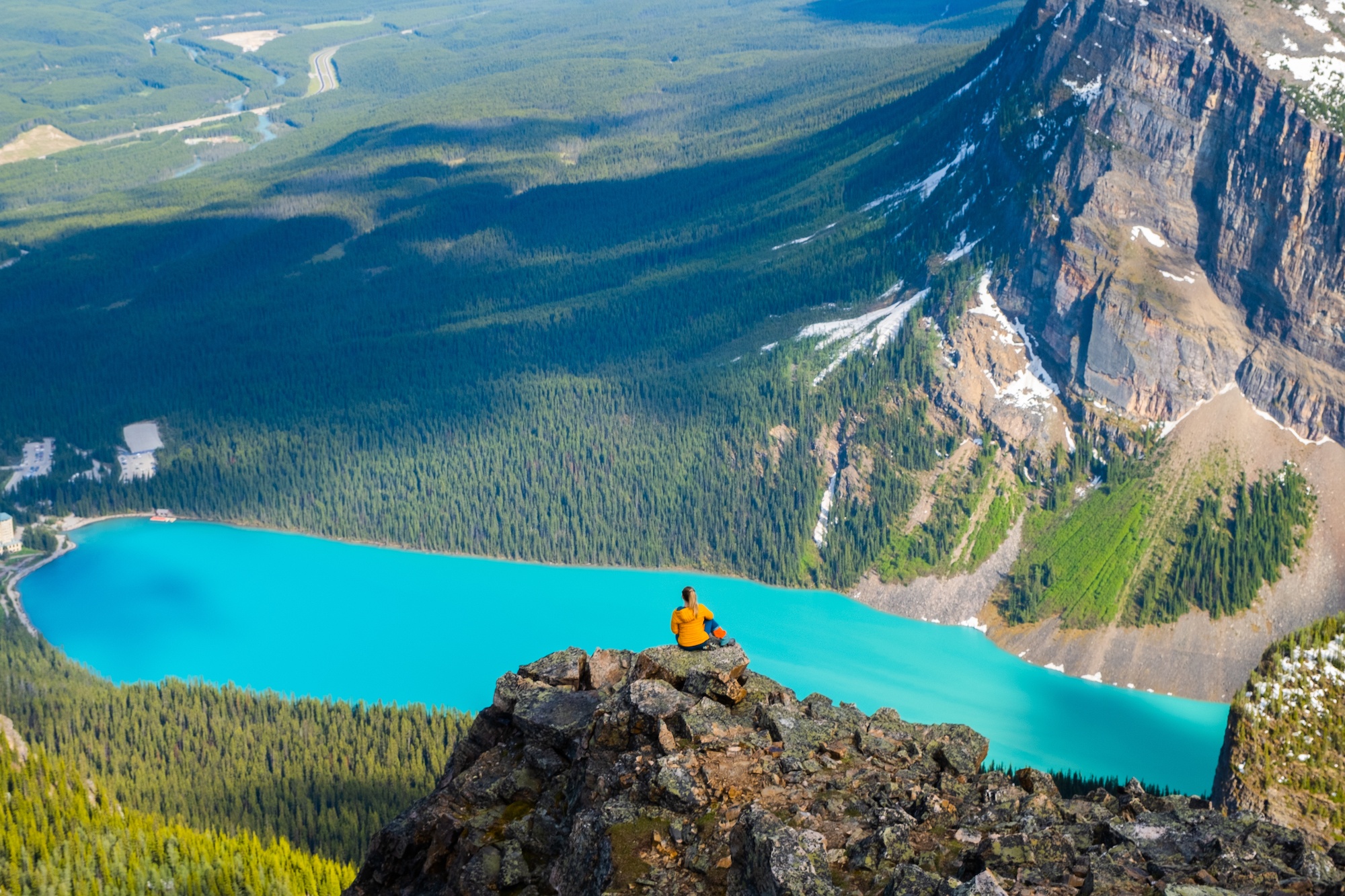 Hotels in Lake Louise
Restaurants in Lake Louise
---
---
To Recap – Staying in Lake Louise Over Banff
Advantages
More exclusive accommodation options/more special
Quieter, especially at night and the further away you get from the lake
Easy parking near Lake Louise
Closer to Moraine Lake
Closer to the Icefields Parkway, Lake Louise Ski Resort, Bow Lake, Peyto Lake
Disadvantages
Slightly more expensive and books up faster.
No exclusive Lake Louise access
Few restaurant options
Few hotel options
Non-existent nightlife and shopping
---
How Far is Lake Louise From Banff?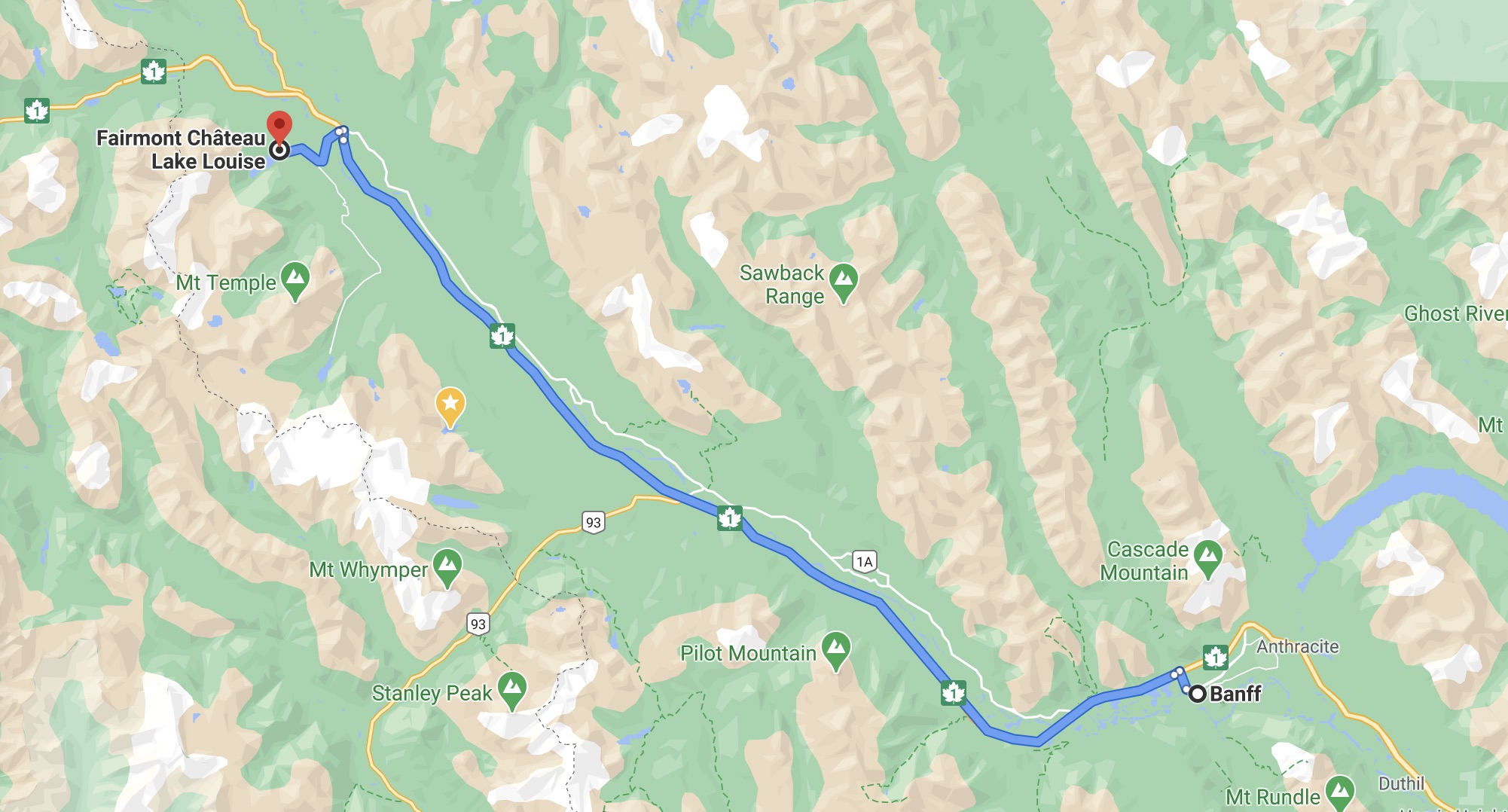 Lake Louise itself is 61 km from the Town of Banff. The drive takes about 45 minutes along the TransCanada or an hour if you drive the scenic Bow Valley Parkway.
Other Notable Distances:
Canmore to Lake Louise: The town of Canmore is about 20 km further than the town of Banff. Canmore to Lake Louise is 83 km and will take just about an hour to travel between the two.
Calgary to Lake Louise: Depending on where you traveling from in Calgary you can expect the journey to take about 2 hours and 186.5 km via Trans-Canada Hwy/AB-1 W.
Jasper to Lake Louise: It is 240 km and will take about three hours to drive from Jasper to Lake Louise along the Icefields Parkway.
Golden to Lake Louise: The town of Golden in BC is just an hour away from Lake Louise.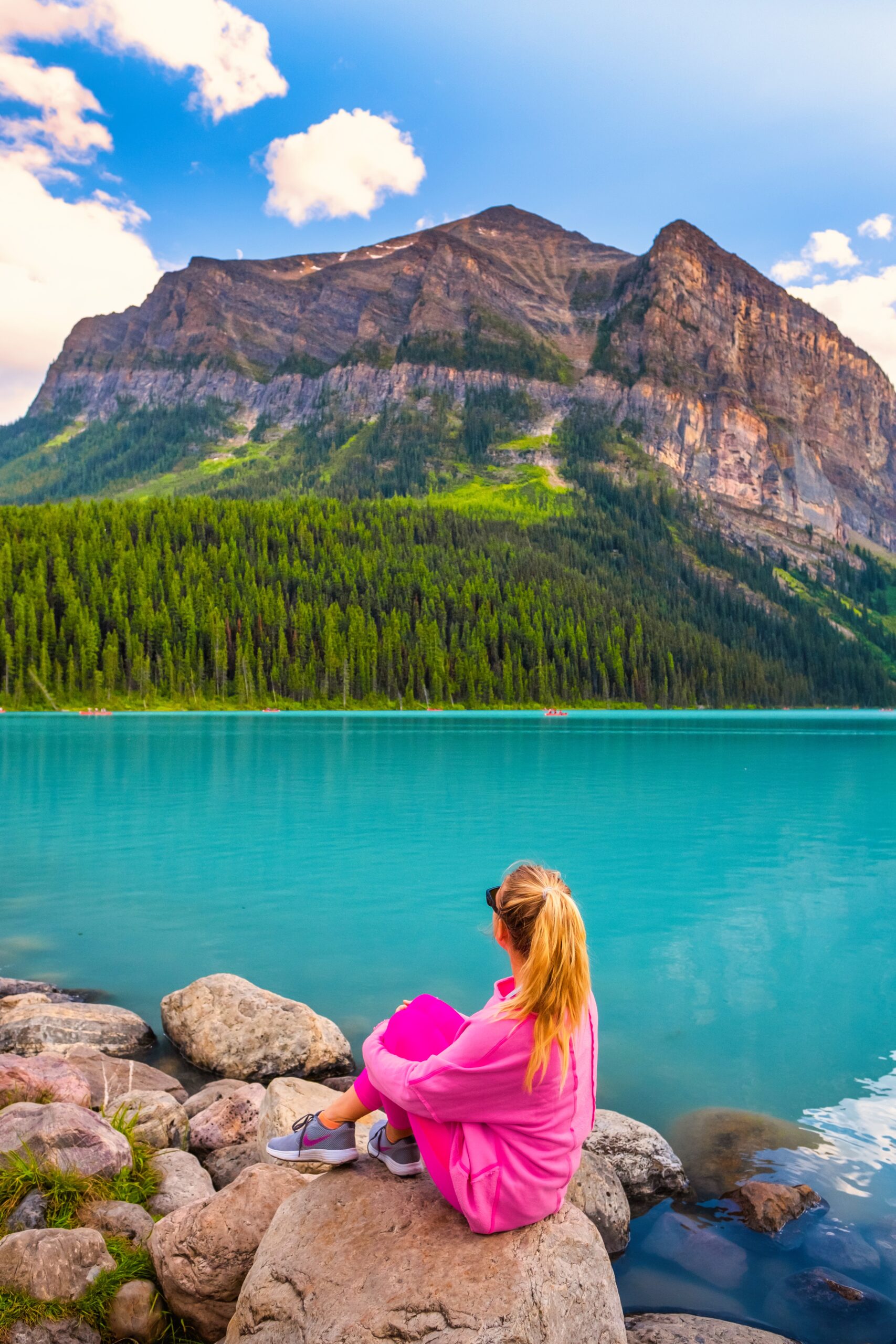 ---
Where to Stay in Banff
---
Where to Stay in Lake Louise
---
Hopefully, this helped you determine if you want to stay in Banff or Lake Louise. Whatever choice you make you won't be disappointed.
If you have any other questions leave a comment or see our Canadian Rockies travel guide for more articles about photography spots, lakes, hikes, and everything else.
Plan Your Trip to the Canadian Rockies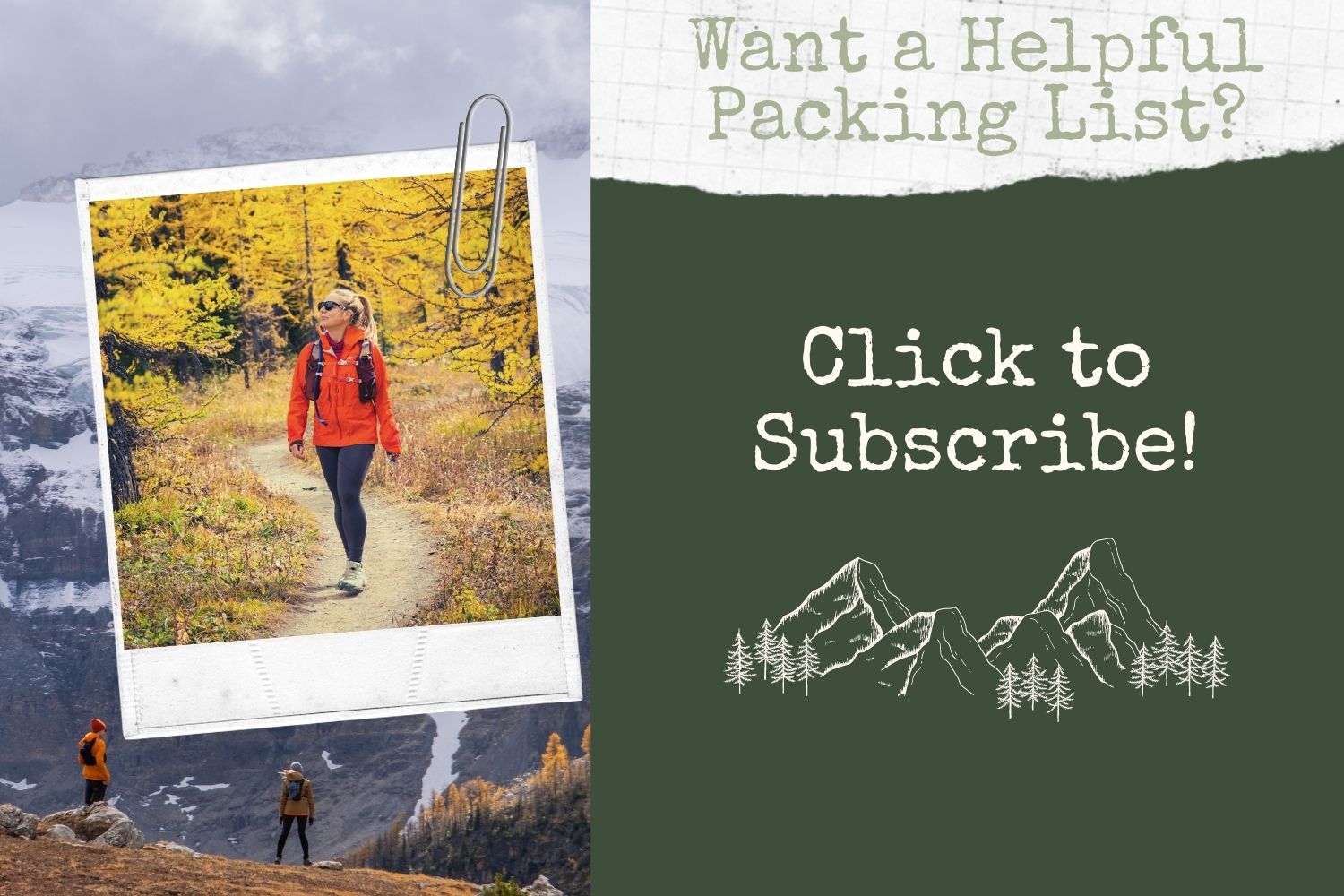 ↓ Join the community ↓
The Banff Blog Facebook Group is your headquarters for the Canadian Rockies' travel advice and information. Including hike info and off-season travel information. This is also where you can meet one another when you need adventure buddies.