If you have plans to visit Banff National Park and the Canadian Rockies, you're probably considering whether to stay in Banff vs. Canmore. It's a valid question, and there are a lot of pros and cons to both towns. I like to think that one town is not better than the other much like any travel destination, but it all depends on what you're seeking.
We love Canmore, and it's where we live; however, we certainly see the appeal of Banff, a town that many love. Let's compare the two towns so that you can decide which town is best for your vacation in the Canadian Rockies, whether that's Canmore or Banff.
See Also:
---
Is it Better to Stay in Canmore or Banff?
---
Banff vs Canmore: Town Atmosphere
---
Banff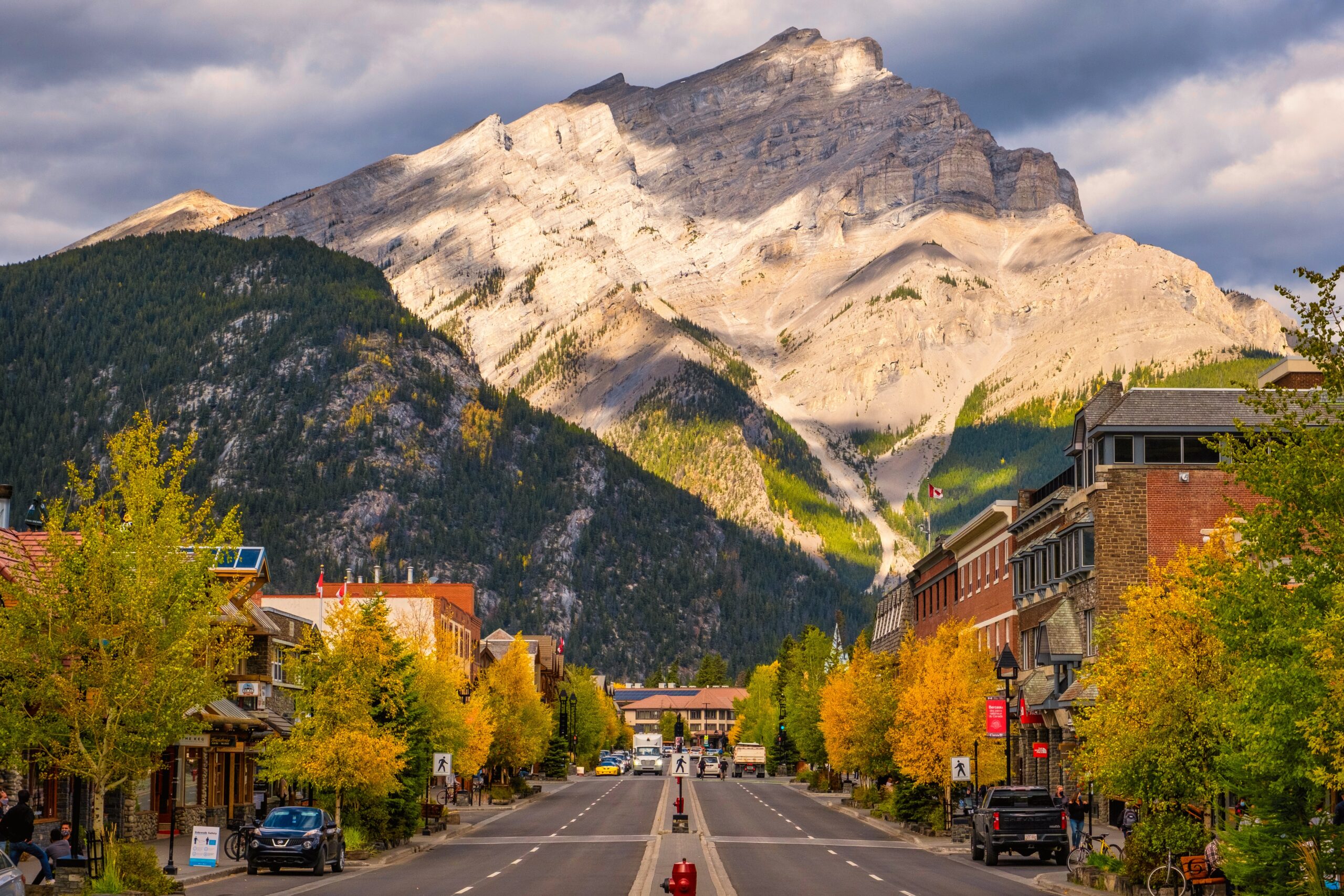 Banff is a resort town with a population of around 8,000 people. It's situated in a beautiful setting with the iconic Cascade Mountain and Mount Rundle visible from most of the town. The setting arguably is one of the most beautiful in the world. In all our travels, it's tough to argue otherwise.
Due to its location inside the park, a pass is required to visit. Of course, if you plan to visit the park anyways, you'll have to buy a pass. Since its location is within the park, Banff has operated under strict laws to minimize the town's footprint on the wilderness.
That being said, Banff has still become very commercial over the years with a Chilis, Mcdonalds, Starbucks, Lululemon, and name brand outdoor stores. There are also a large number of Knick-Knack shops selling cheap souvenirs. With 8,000 residents, the town also has several facilities like a hospital, multiple churches, schools, and one large grocery store (IGA).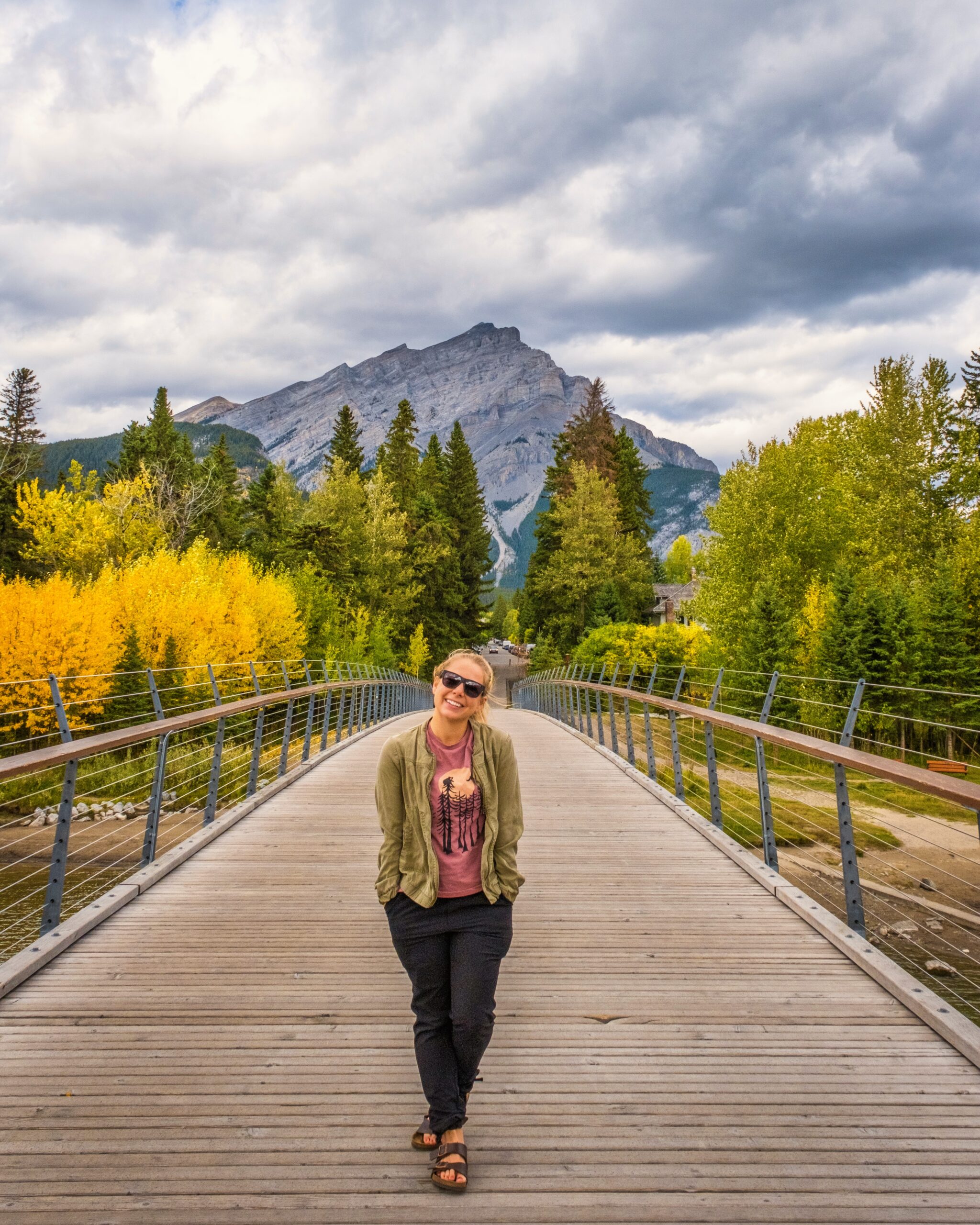 Banff is far more popular compared to Canmore, and the sidewalks are crowded in the high season. It can almost feel like a big city street when walking on the sidewalk, but this is also because it is easy to walk around Banff. The town has also turned Banff Ave into a pedestrian-only street the past few summers, and we hope this continues.
The strict laws have created a compact town with a clear downtown area full of shops, restaurants, and Banff bars. When combined with Roam Public Transportation it means it is entirely possible to enjoy a holiday in Banff without a vehicle.
The town itself is still very charming and you won't find any large commercial buildings. Banff has tons of options for accommodation, and you can find a wide range of places to stay. Most notable is the famous Fairmont Banff Springs, a historic hotel that resembles a castle built by the Canadian Railroad Company.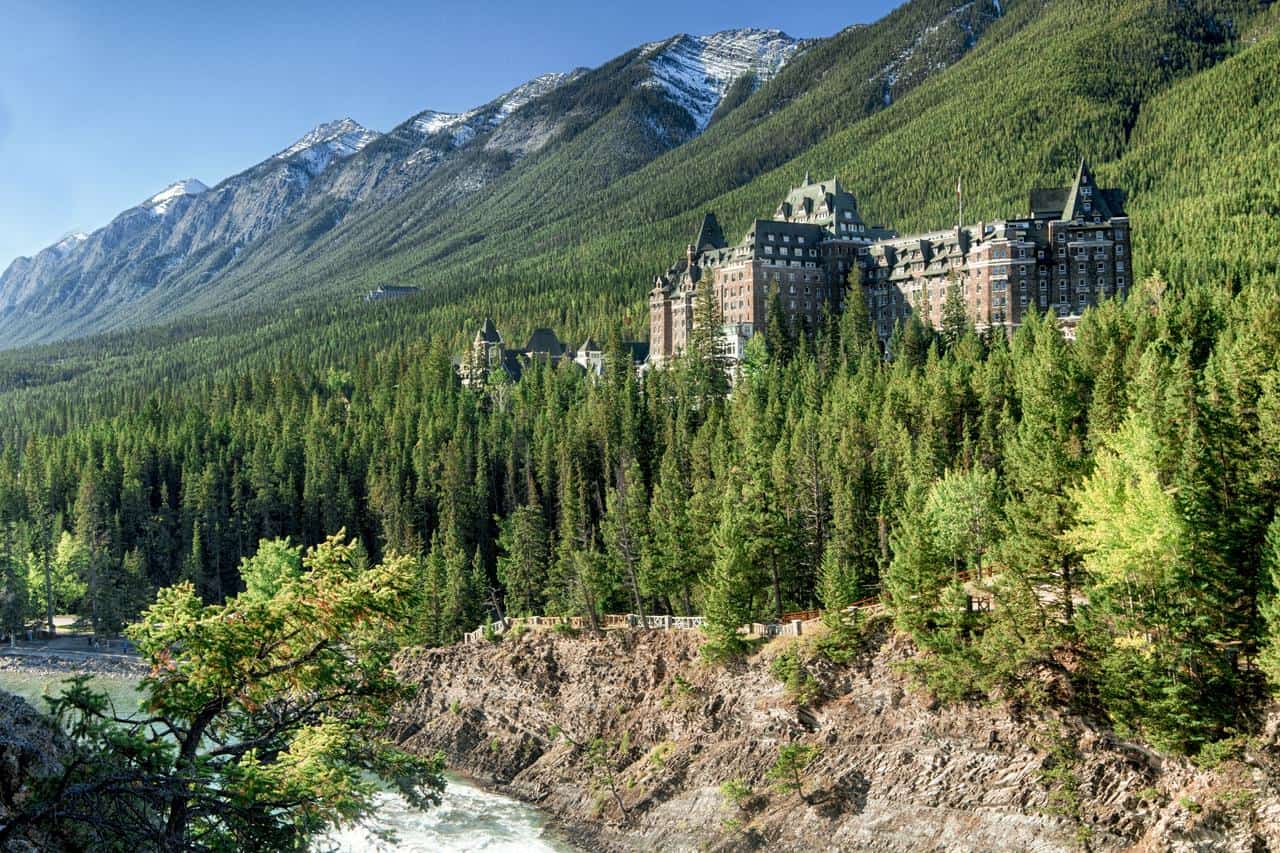 Despite the millions of visitors to the town each year, it still retains the sense of a compact mountain town surrounded by the wilderness. That wilderness very much still exists with frequent sightings of bears, elk, and deer around town. If you're fortunate you may spot a cougar or wolf, but even most residents who live here all year have never seen one.
Banff is the center of tourism in the Canadian Rockies, but that means it's very popular. In the summer months, the crowds can put some people off, but then again, the lively atmosphere may be a draw for some.
---
Canmore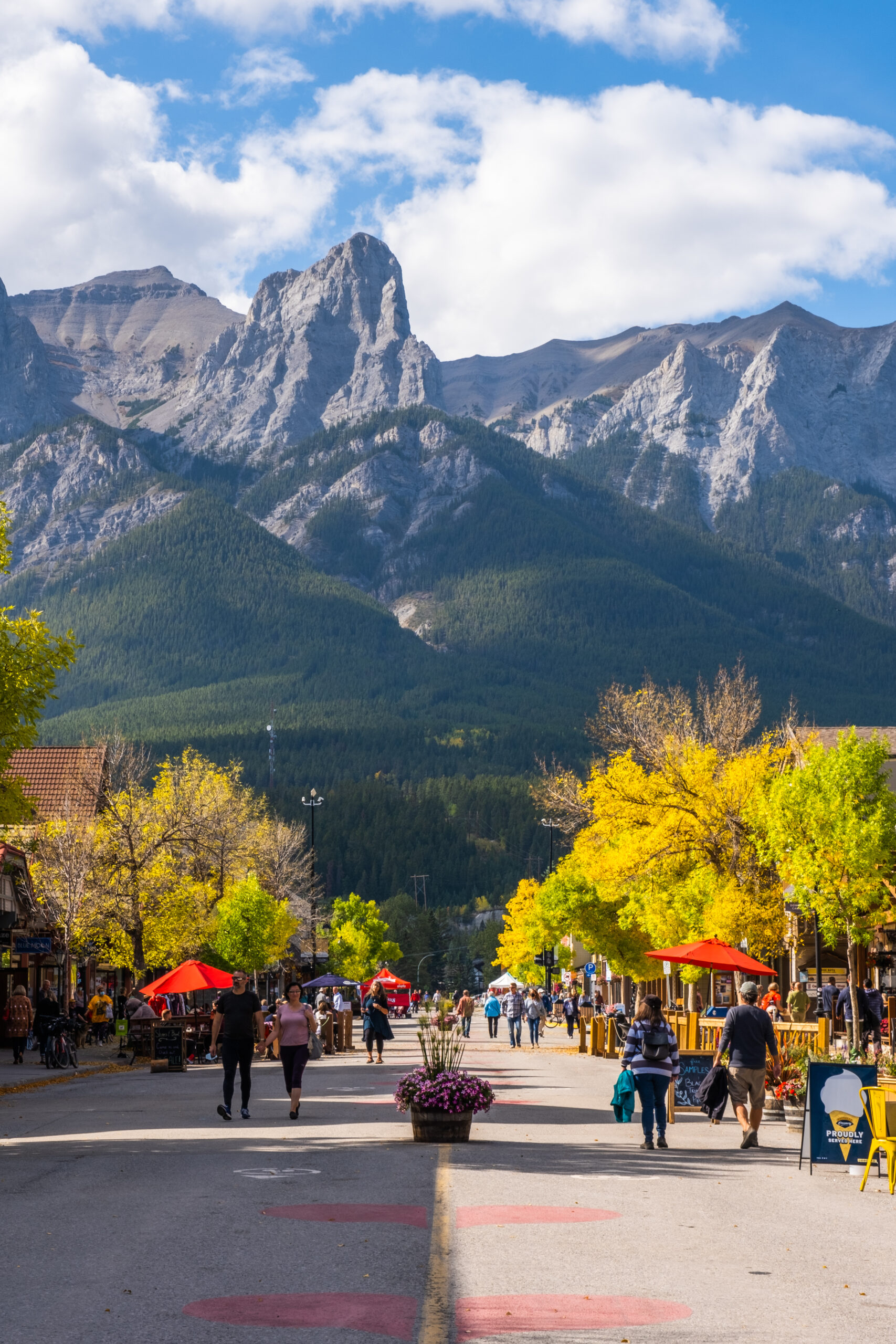 Canmore sits just outside the gates to Banff National Park and is surrounded by the National Park to the West and Provincial Park to the Southeast. It's a larger town than Banff with around 14,000 people that call it home, including ourselves.
The setting is a bit different than Banff, and the town sprawls out through the narrow Bow Valley. It has gorgeous mountains that surround the town, including the iconic Three Sisters. That being said, the sprawl of the town, narrow valley, and proximity to the Trans Canada Highway means it doesn't feel quite the same as Banff.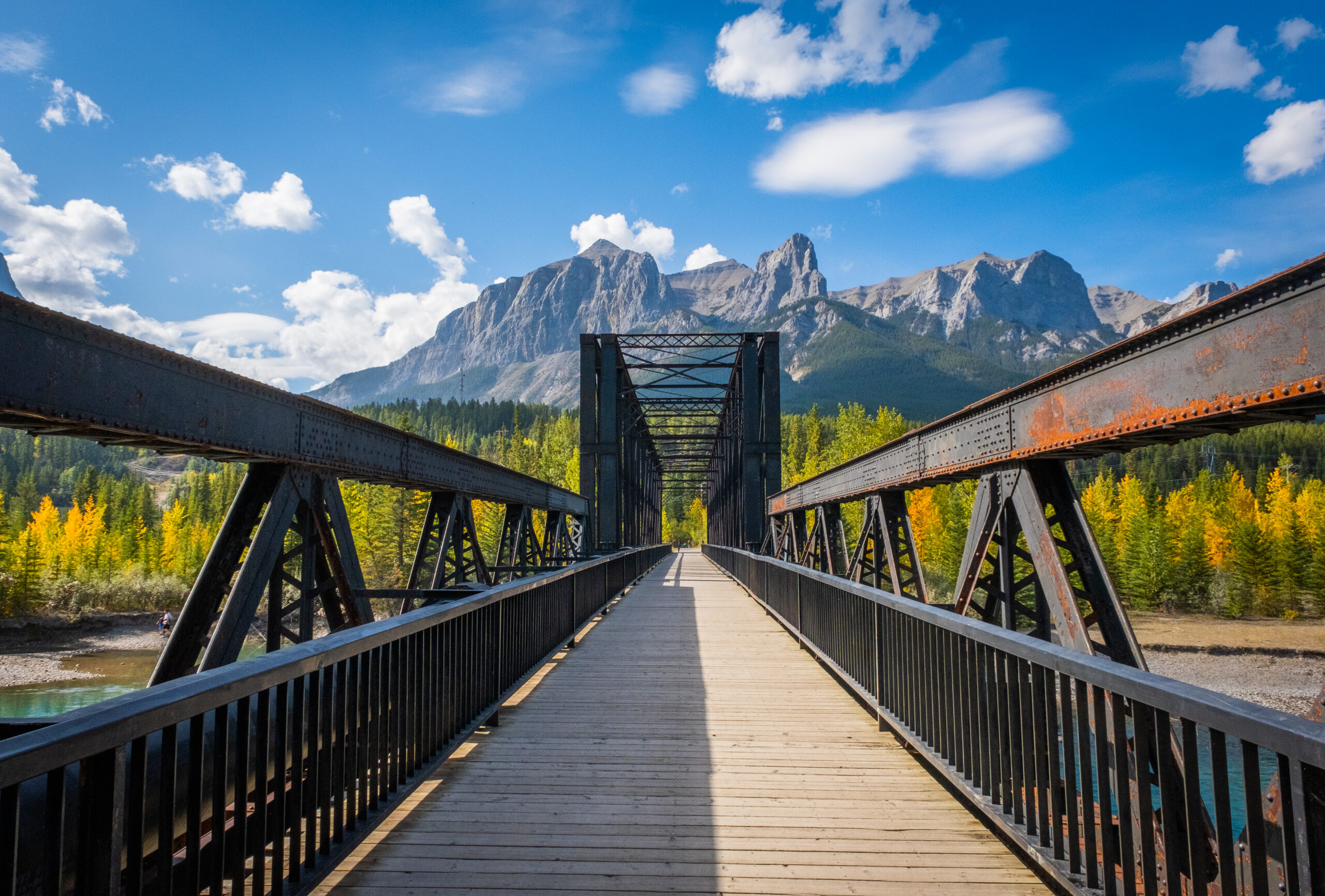 Canmore was a coal-mining town until the 1970s, when the mines shut down. Afterward, the town struggled for decades and wasn't much more than a few extra beds when Banff filled up.
However, this changed during the 1988 Calgary Winter Olympics when the Nordic Center was built in Canmore to host the cross-country ski events. With the international community in Canmore, the town's secret got out, and the town has been growing ever since.
Canmore has a nice downtown area, but overall, the town's amenities, including the accommodation, are much more spread out, which makes it not as good for walking. However if you stay anywhere downtown, you'll be able to walk to Main Street in Canmore.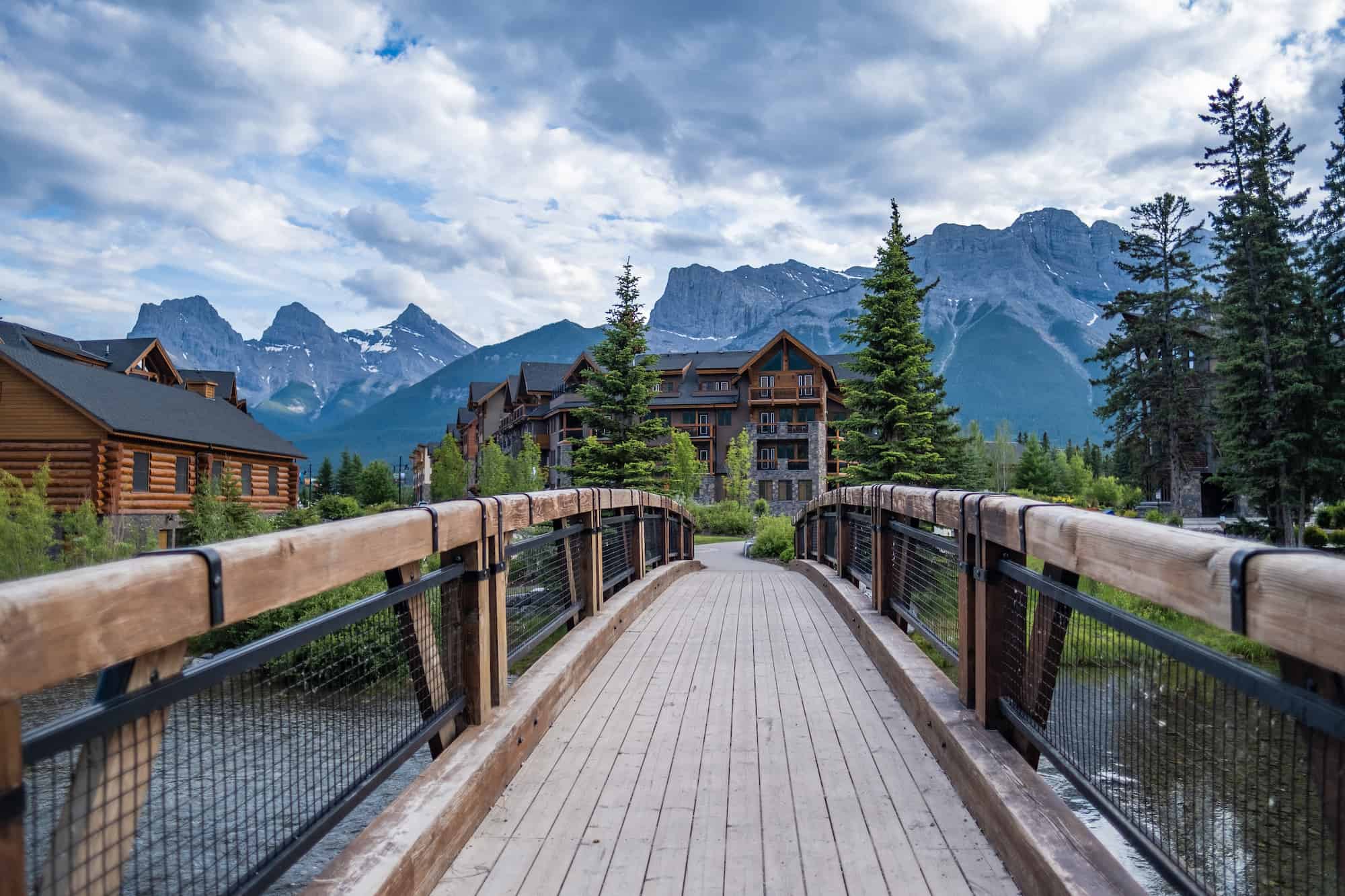 Canmore is a more livable town. Buildings, homes, hotels, and apartments all tend to be more modern and up to date. It also has two large grocery stores, a Canadian Tire, Hardware Store, a large community center (Elevation Place has two pools, a rock climbing gym, a fitness center, and a public library), several liquor stores, and a good health food store. There are also some great restaurants and bars in Canmore along with a few great breweries. Canmore also has a lot less of the chain restaurants, stores, and tacky tourist shops.
Despite being much larger than Banff the wilderness still lies at its doorstep. Animals make frequent appearances in and around town, and during the winter, herds of elk live in town and its neighborhoods.
In comparison to Banff, Canmore is more relaxed with fewer crowds. However, it's still quite lively in the busy summer months, and gets more popular every year, but you won't get the city feeling on the sidewalks quite like in Banff.
---
Banff vs Canmore: Drive Times
---
Banff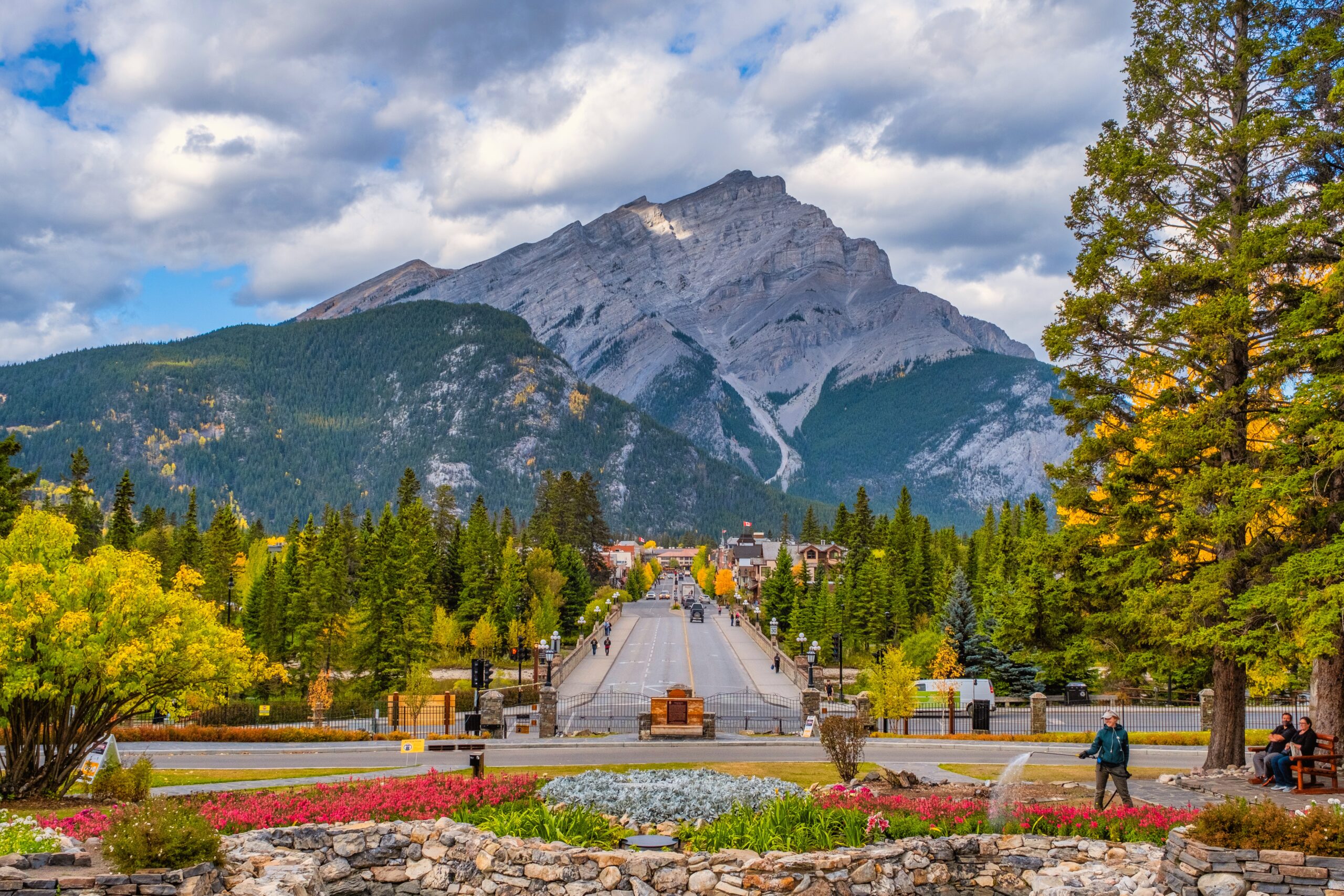 Banff has a clear advantage over Canmore in terms of drive times and access to the main tourist attractions. Banff is straightforward to walk around and has incredible sights to see just outside of the town center.
You have attractions such as Bow Falls, Vermilion Lakes, Banff Gondola, Sulphur Mountain, Tunnel Mountain, Banff Hot Springs, Cave and Basin Historical Site, and a lot more. All of this is walkable from the town center or easy to access via the Roam Transit. In addition to the tourist attractions, the restaurants and bars are all within walking distance around town.
The biggest draws lie in Banff National Park to the West and North of Banff, such as Lake Louise, Moraine Lake, The Icefields Parkway, Peyto Lake, Jasper, and Yoho National Park. Yoho National Park is just fifteen minutes West of Lake Louise and has some tremendous highlights, such as Takakkaw Falls and Emerald Lake.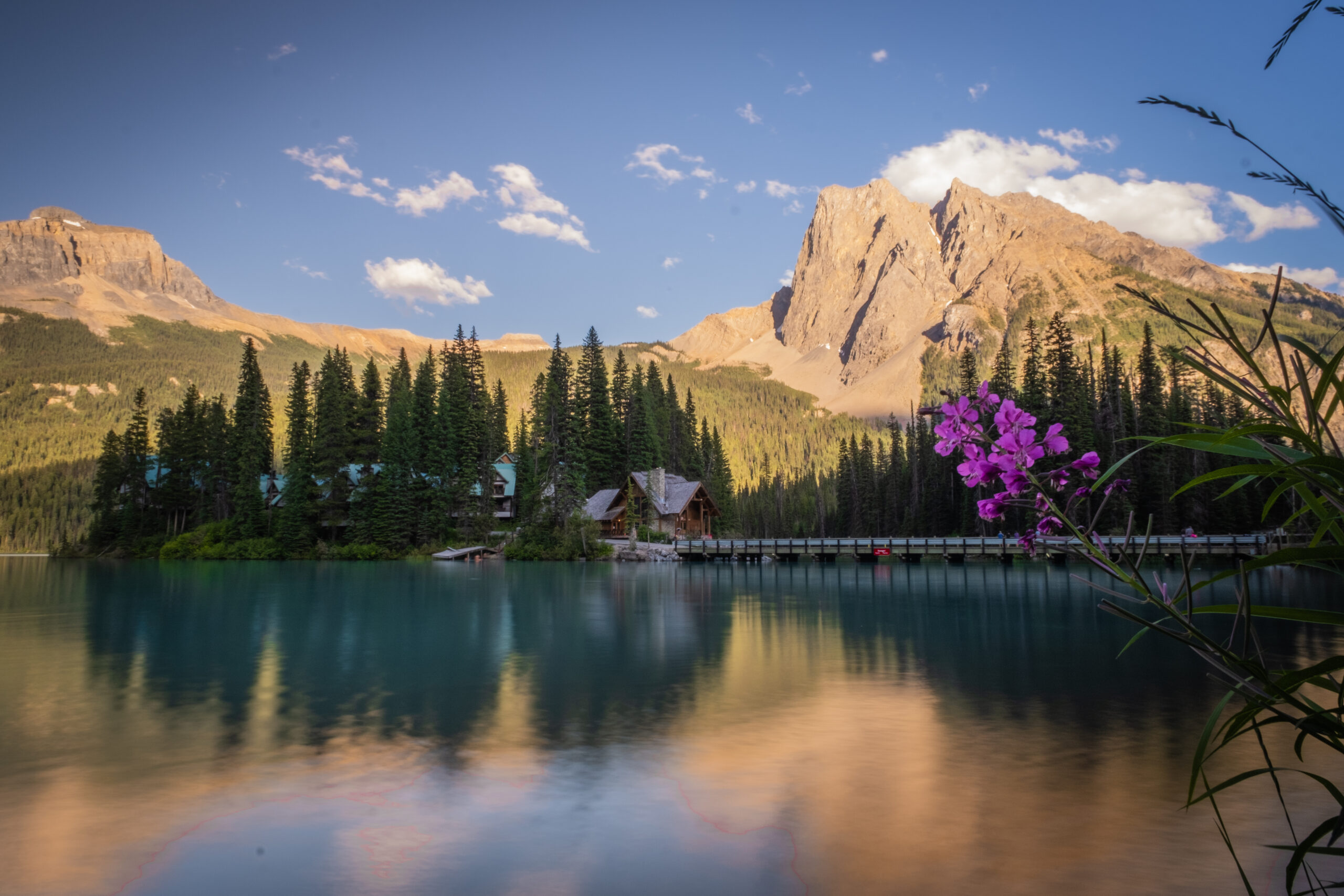 If you have plans to ski in the area, Banff is in a much better location. Mt Norquay is just outside of town. Banff Sunshine Village is a twenty-minute drive from Banff, and Lake Louise is around forty minutes.
Then Nakiska Resort is around an hour's drive. If you don't mind a bit of a drive, it's also possible to make a visit to Golden and Kicking Horse, which is one of the best ski resorts in Western Canada, and about a two-hour drive from Banff. There are also convenient shuttles that run from Banff to ski resorts in the winter that can save you a drive.
---
Canmore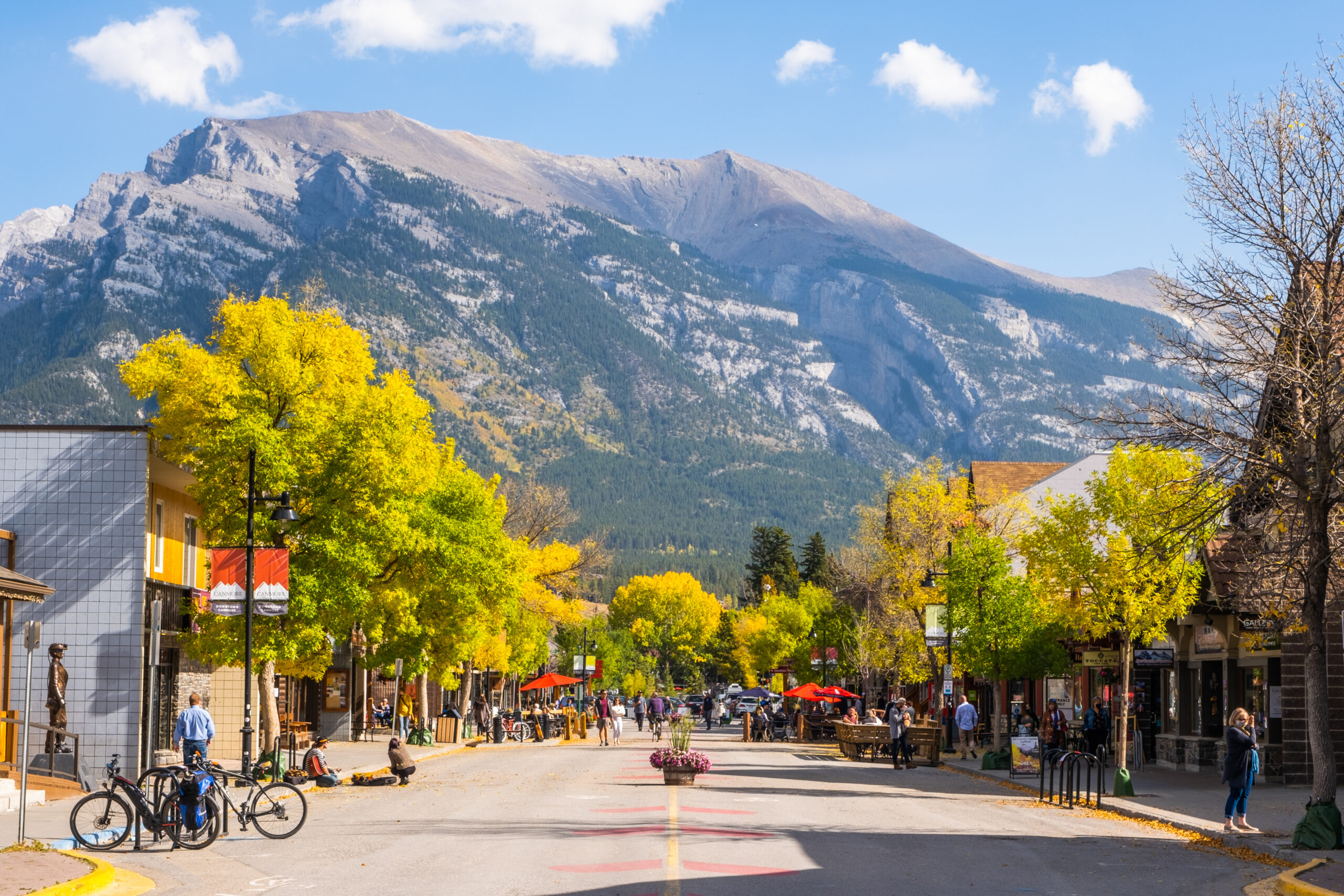 Canmore is a 15-20 minute drive east of Banff. To visit most of the attractions in Banff National Park, you'll find yourself driving an additional fifteen minutes there and then back. However, the extra drive time does ensure a more relaxed mountain town atmosphere and it is probably unlikely to phase you on vacation.
Canmore does have the advantage of being closer to Calgary and the provincial park, Kananaskis Country. Kananaskis Country is a fantastic park and has some true hidden gems that are well worth exploring.
On weekdays the region sees far fewer visitors than Banff National Park, and it's easy to find yourself alone in the wilderness. However, on a lovely summer weekend, Calgarians head to Kananaskis, and it can be just as busy as Banff National Park. Read more about some fantastic hikes in Kananaskis.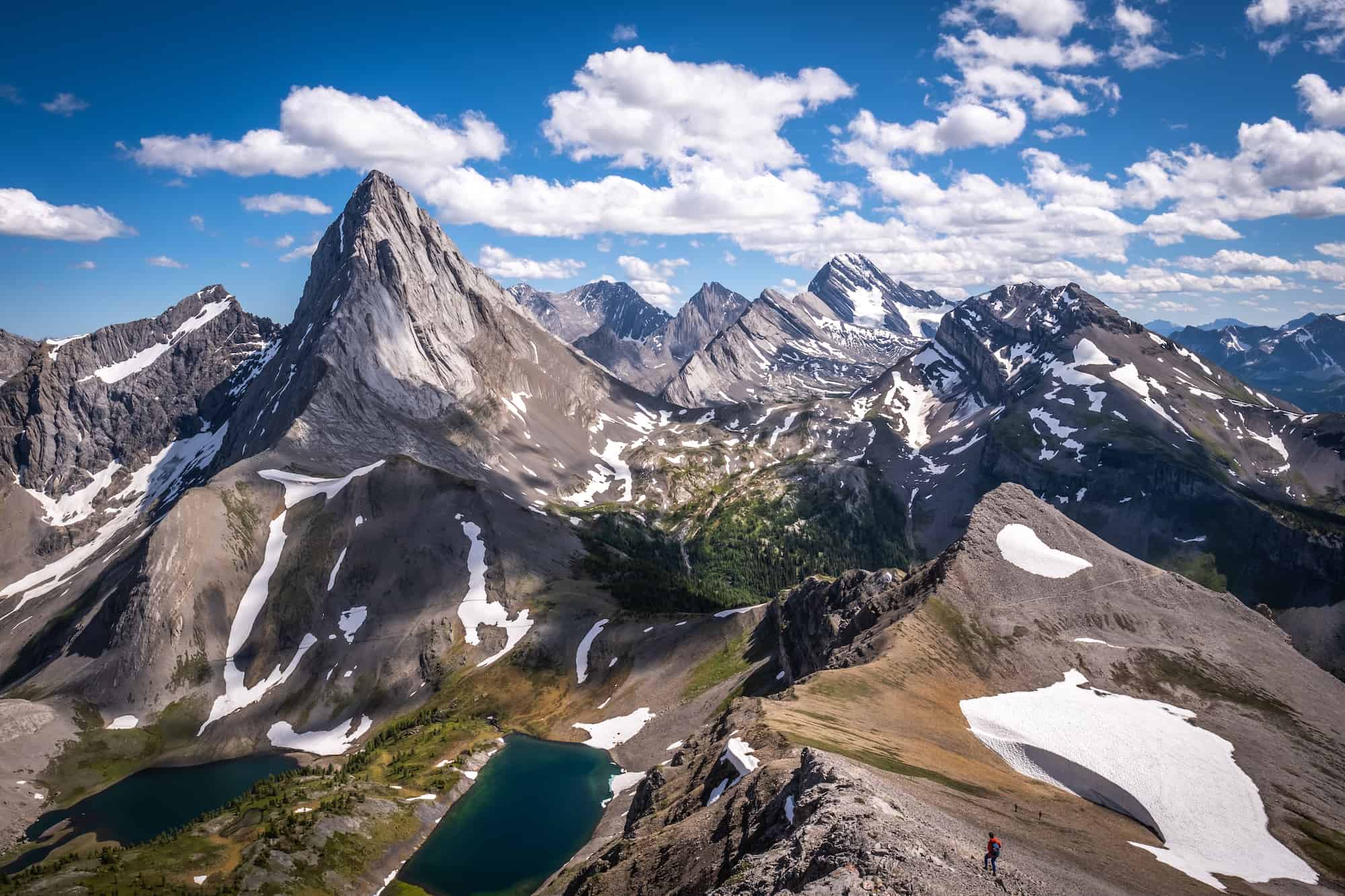 If you're looking to ski, Mt. Norquay is a twenty-minute drive, Banff Sunshine is 30 minutes, and Lake Louise is around 50 minutes. Nakiska Ski Resort is the only resort closer to Canmore at a forty-minute drive. Similar to Banff, you can take a long drive to Kicking Horse for the day.
---
Banff vs Canmore: Activities
---
Banff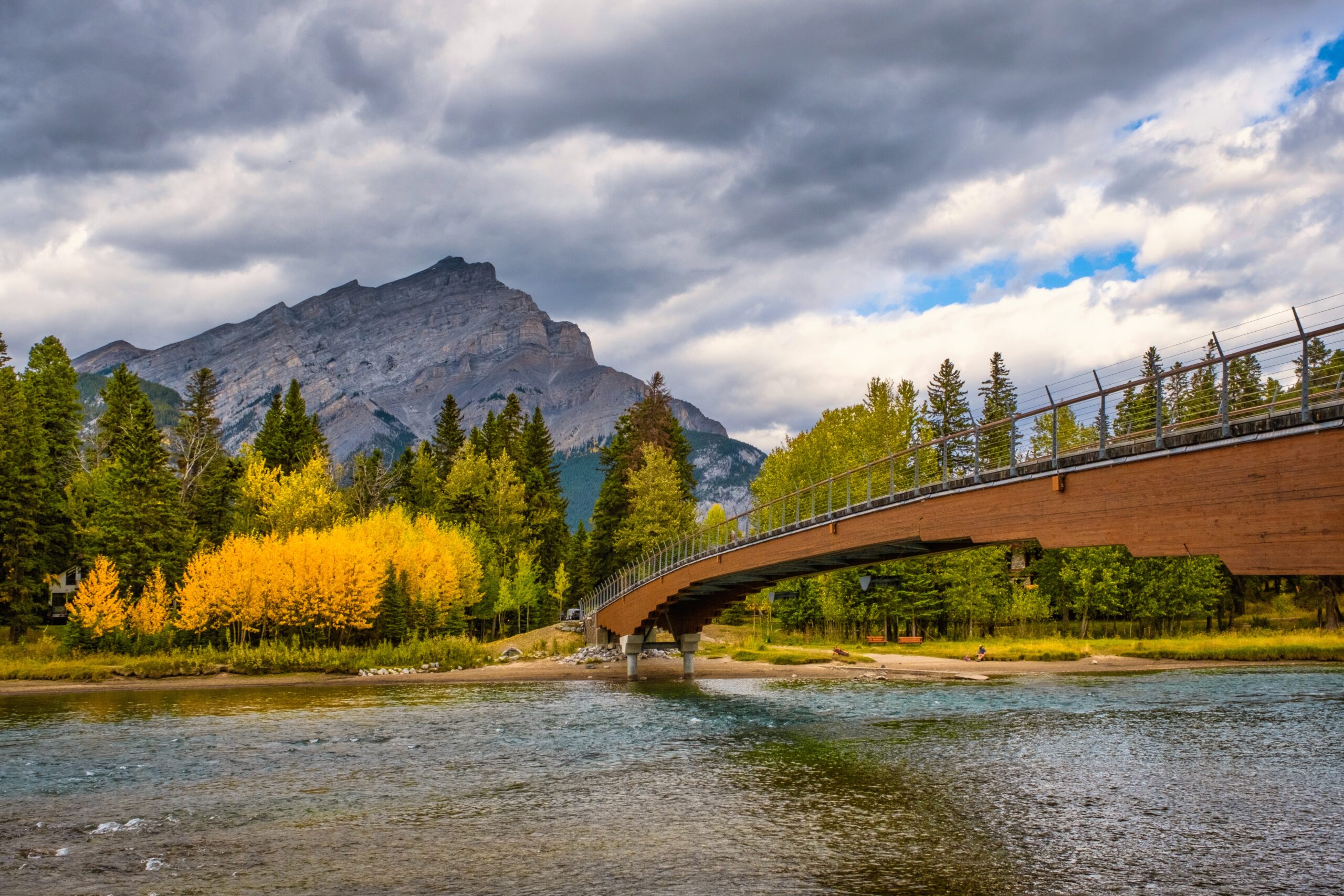 As far as mountain towns go, there are many things to do in Banff outside of spending time in the mountains. Banff has a movie theatre, bowling alley, a few museums, and plenty of shops if you end up with bad weather. Of course, Banff has better access to all of its sights and attractions around town.
On a nice day or even a bad one with the right clothes, you're spoilt for choice with the things to do in Banff. Banff has one wonderful golf course at the Banff Spring Hotel, designed by Stanley Thompson.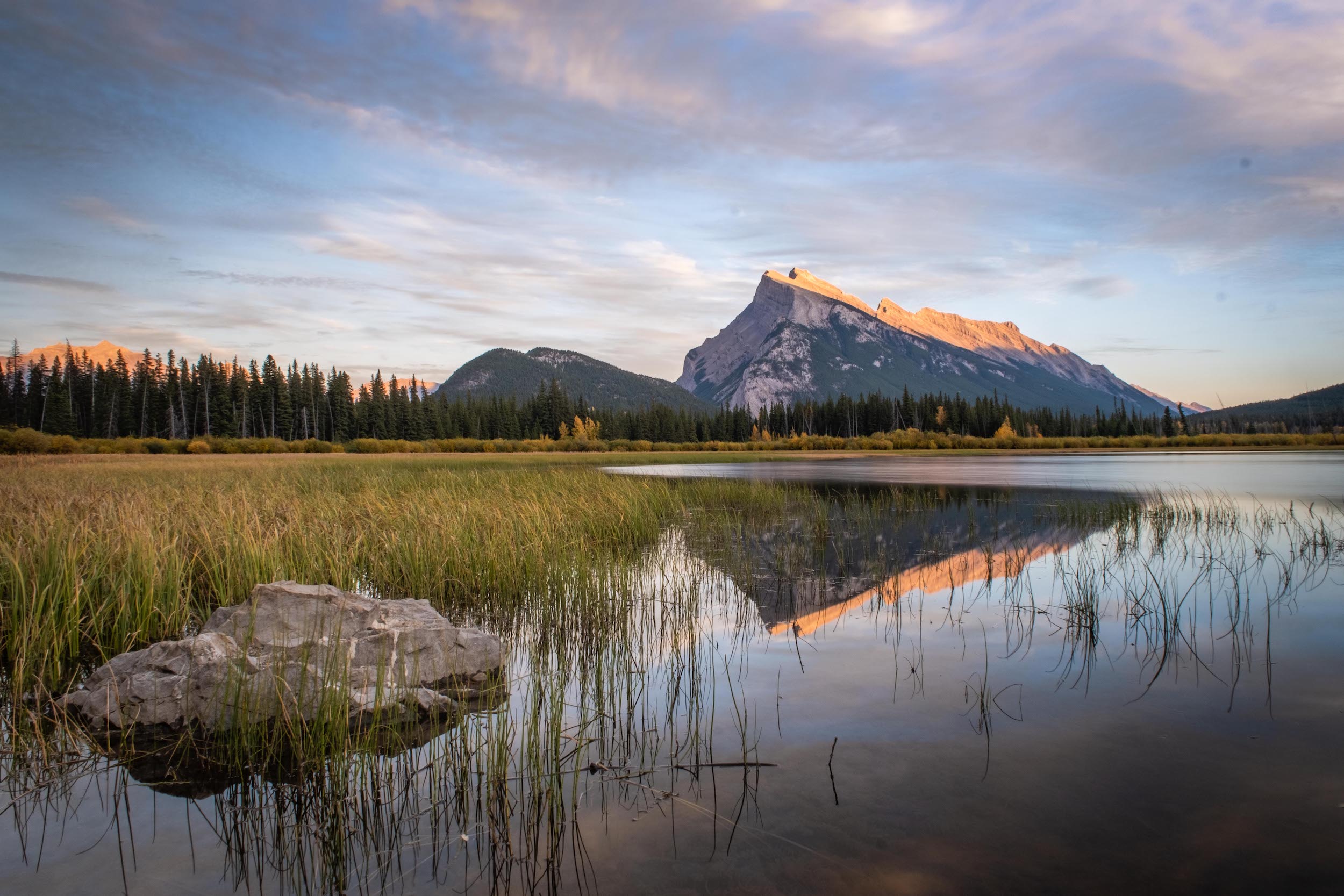 If you're looking for a hike that's easy to access outside of town, you have several great options around Banff. The highlights for hiking close to town would be Tunnel Mountain, Sulphur Mountain, Sundance Canyon Trail, Cory Pass, The Cascade Amphitheater, and C-Level Cirque.
Lake Minnewanka, Two Jack Lake, Johnson Lake, and Cascade Ponds are also just a 5-10 minute drive (or bike ride) away from Downtown Banff.
---
Canmore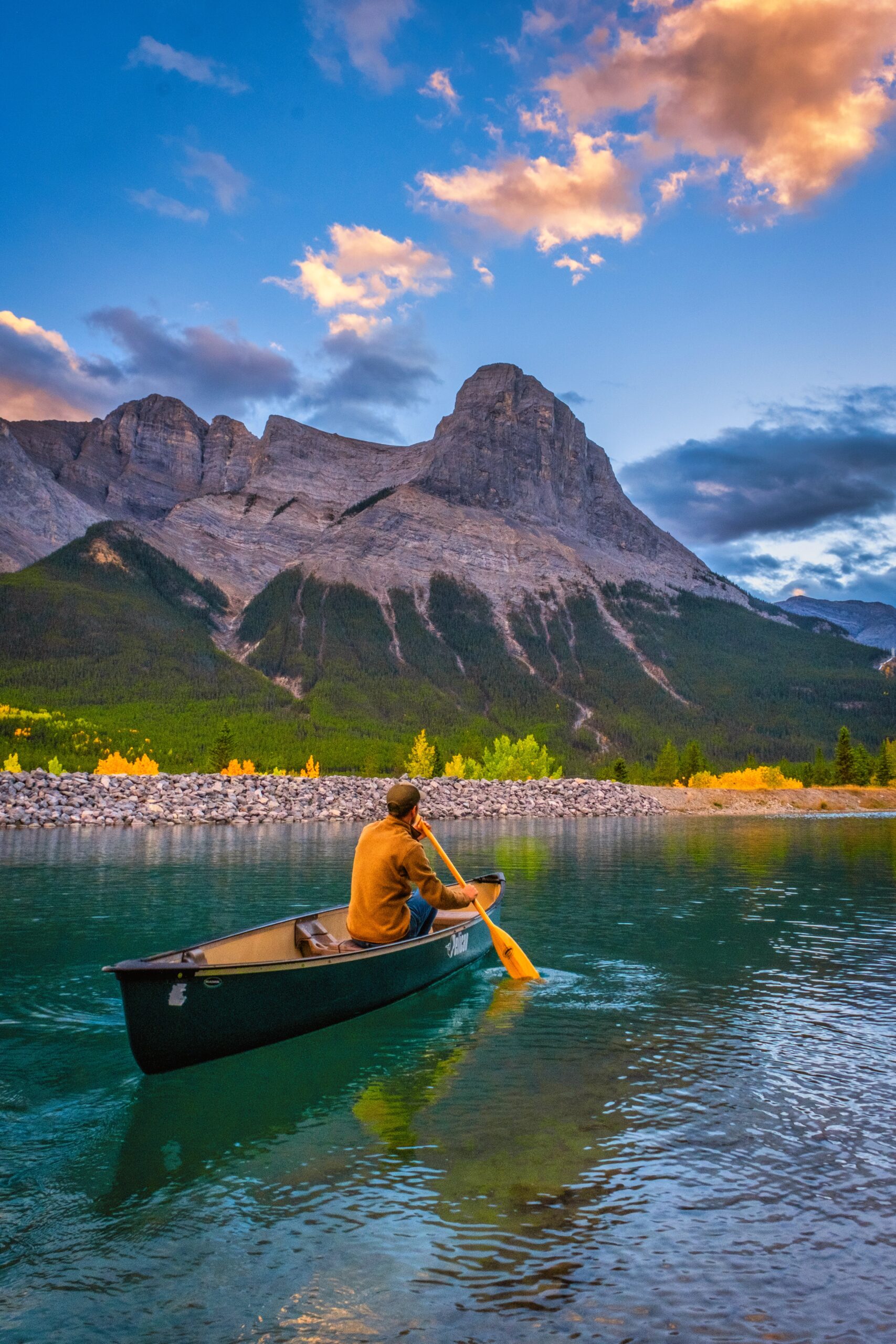 Canmore has a little less to do if you're looking to spend the day indoors. However, they do have Elevation Place, a community center with two indoor pools, a lazy river, slides, a rock climbing gym, and a fitness center.
There are also many shops and restaurants, but nowhere near as many in Banff. Canmore also has more golf courses with the Silvertip Golf and Country Club, Canmore Golf and Curling Club, and Stewart Creek Golf and Country Club.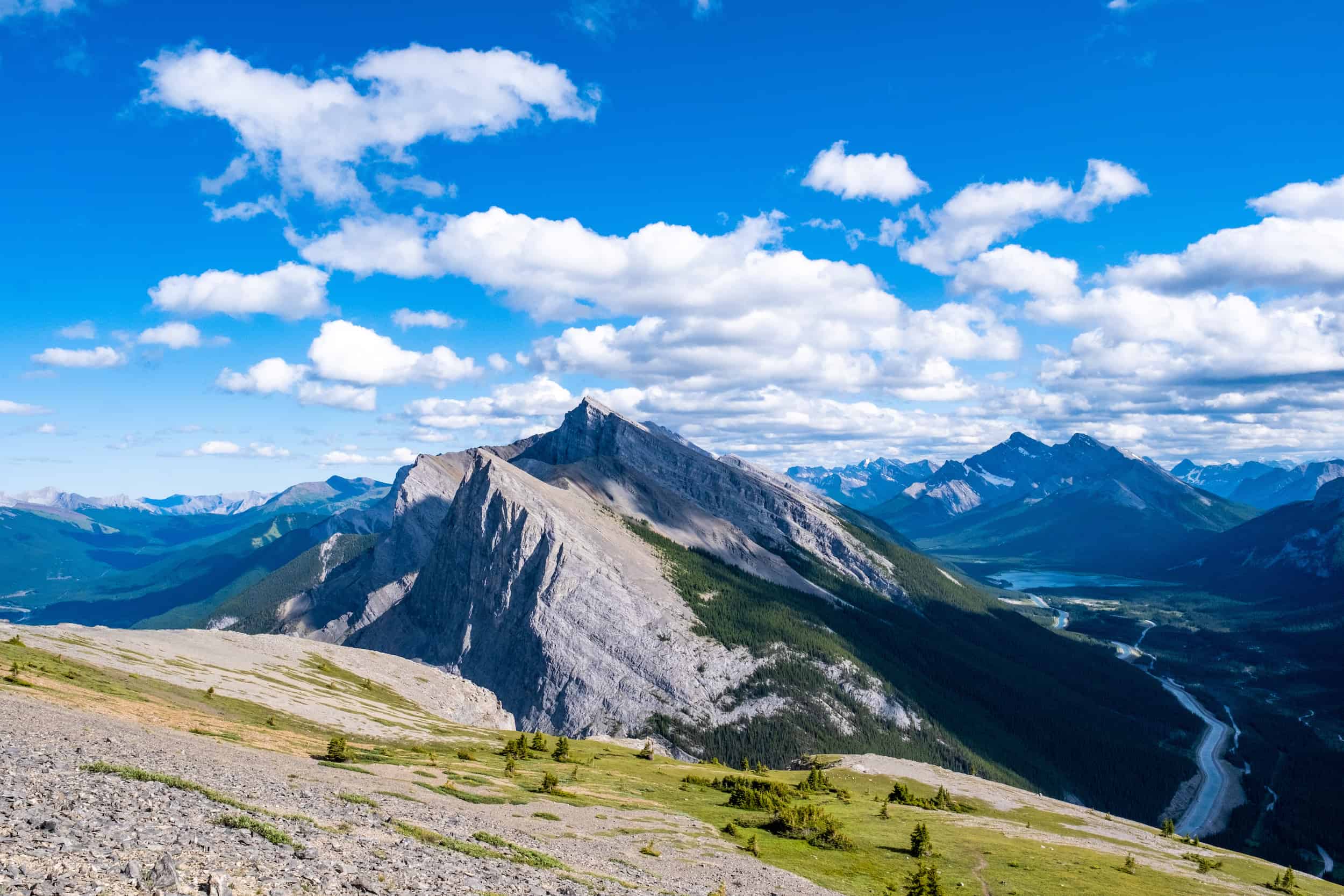 Canmore has many great hikes that are not within walking distance outside of the center of town, but they are close. The popular trails include Grassi Lakes, Grotto Canyon, Ha Ling Peak, Lady Macdonald, East End of Rundle, Grotto Mountain, and Policemans Creek Boardwalk in the center of town.
You also have some excellent mountain biking opportunities around the Canmore Nordic Center and various sections of the town. If you like to mountain bike, there is no comparison between Banff and Canmore, as there is a lot more to Canmore and several options for rentals in town.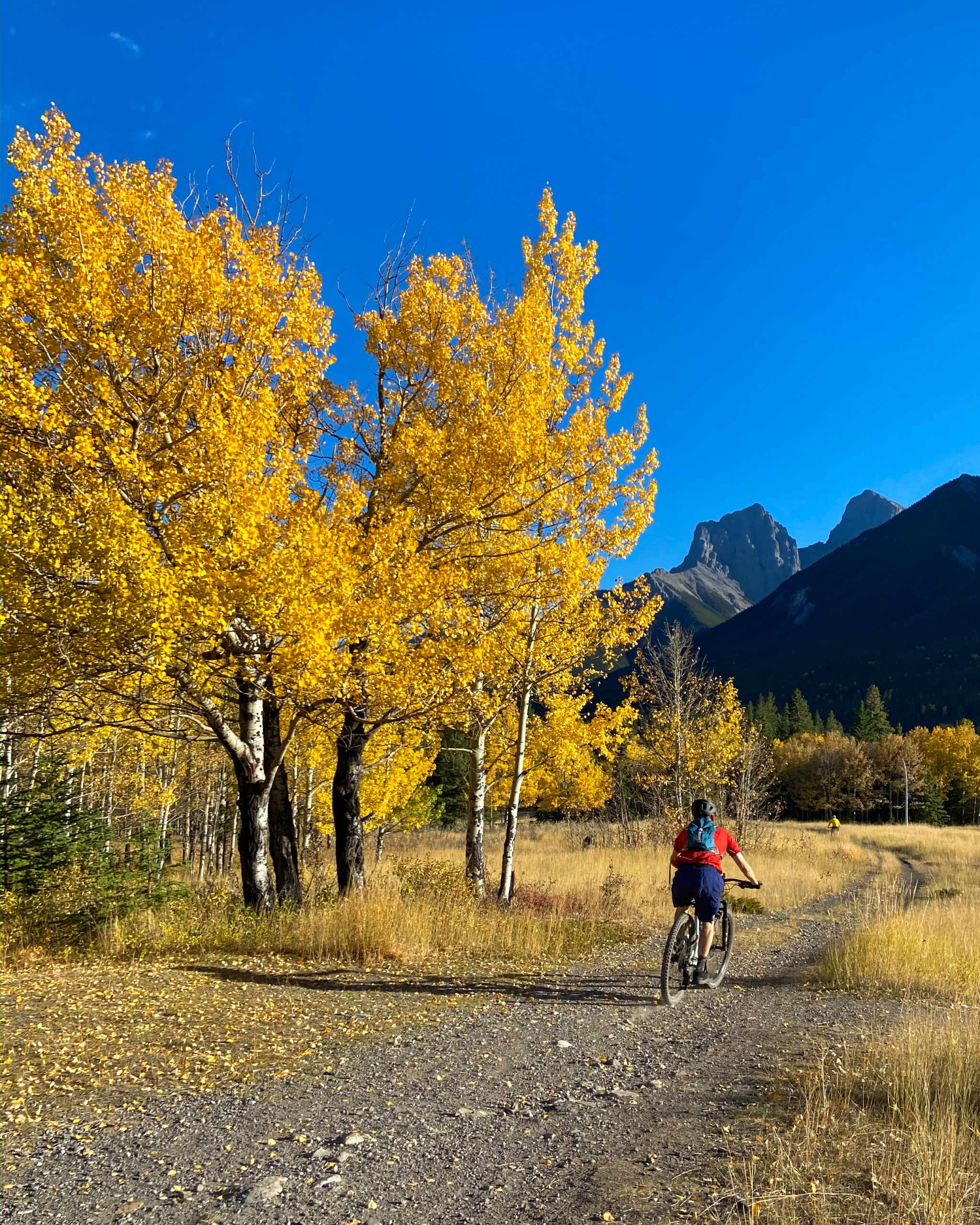 Of course, for those who love to cross country ski, there are dozens of maintained trails around Banff National Park in addition to the Canmore Nordic Center. The Canmore Nordic Center has 65 km of trails and 20 km of which are supported with snowmaking capabilities. It is where many teams, including the Canadian Olympic team train. We love Canmore, and think there are plenty of things to do in Canmore.
---
Banff vs Canmore: Accommodation
---
Banff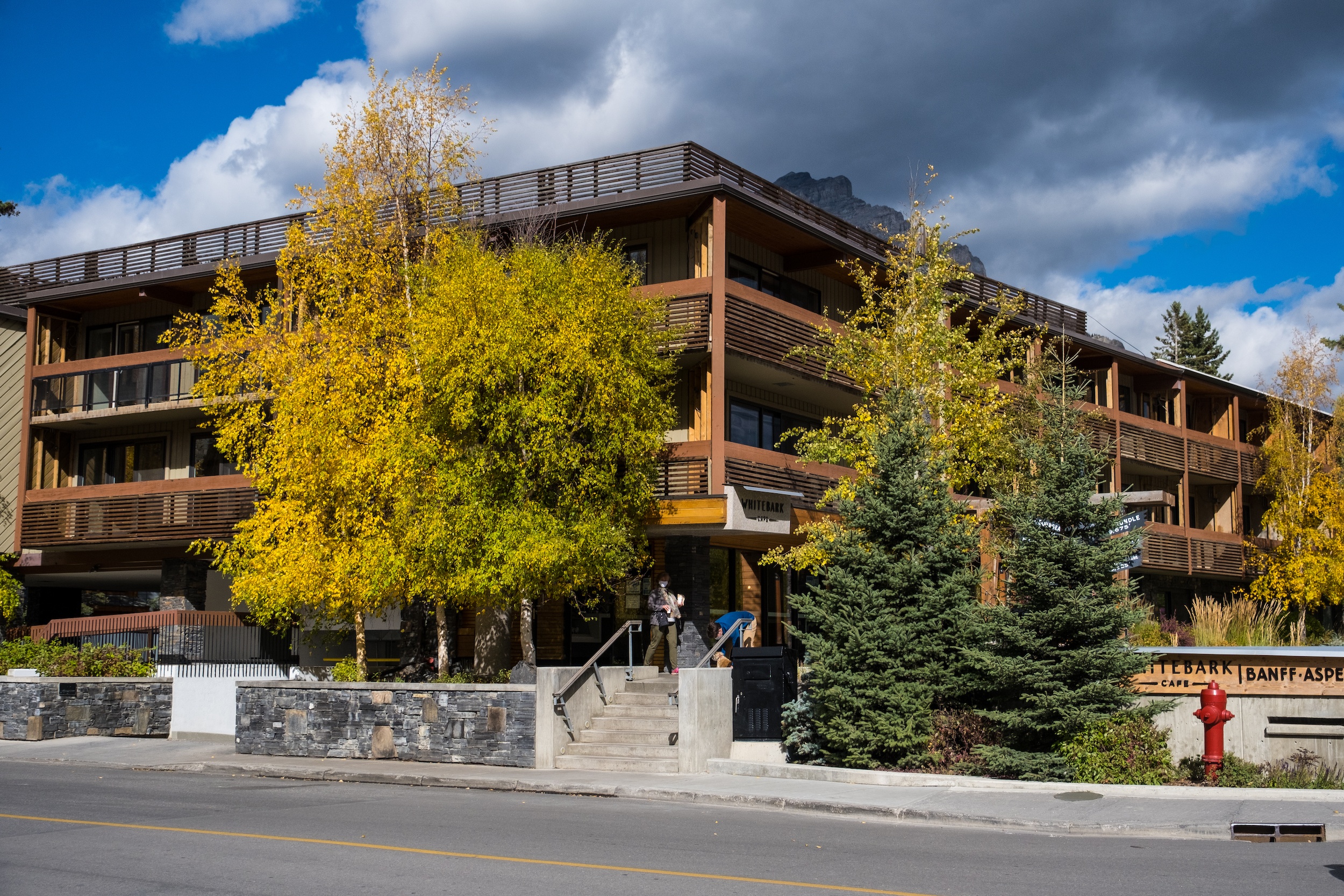 There are a wide variety of hotels, lodges, and even hostels in Banff. Prices in town tend to be higher and of lesser value. This is due to the higher demand and strict laws that leave many buildings more dated, and the fact hotels are older in Banff.
That being said, there are tons of properties in Banff with lots to offer visitors. Most of the accommodation in Banff is in the center of town on Banff Avenue, which makes walking to restaurants, bars, and shops very easy.
If you'd like a vacation rental in Banff, you are more limited, and only a number of self-contained units with kitchens are available for rent on sites like Airbnb. Short-term rentals that are available are around Tunnel Mountain and a little way outside of town.
If you have a car and don't mind driving, Banff has more options for log cabin rentals. Our favorites are Storm Mountain Lodge and Baker Creek near Castle Junction.
---
Canmore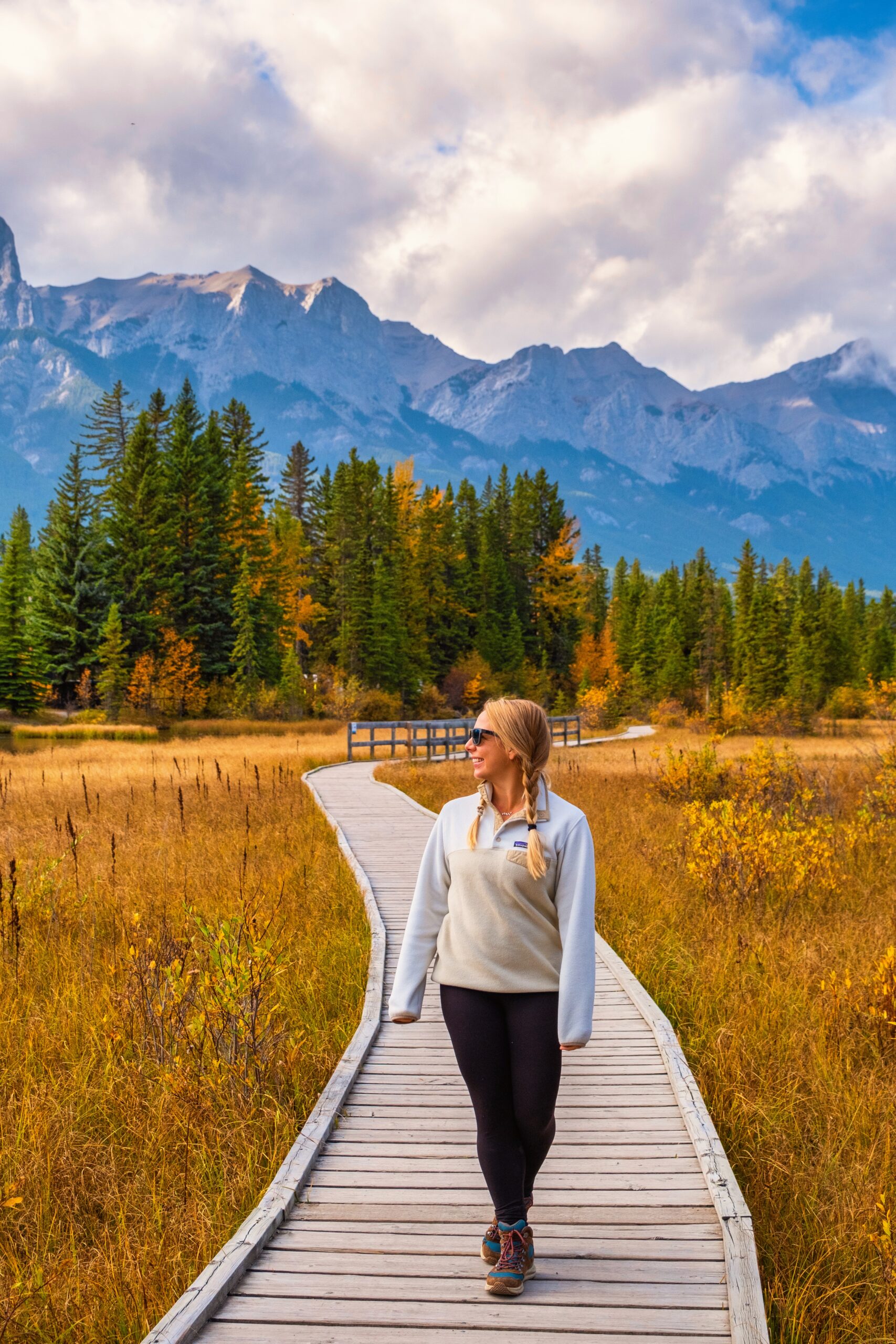 Accommodation in Canmore is often a slightly better value with larger and more modern rooms. Canmore also has a wide variety of properties and short-term rentals. If you're a family or like to cook your own meals, then there are some great rentals in Canmore. Many rentals include a large kitchen, washer and dryer, a living room, and a fireplace.
In addition, there are a number of great hotels and resort-style properties in Canmore, although less than in Banff. Our absolute favorite is The Malcolm! There is one disadvantage to the properties, and that is their location. The majority of short-term rentals are limited to less desirable locations due to strict zoning.
They're on a busy street not far from the highway and train tracks and a fifteen-minute walk or more to downtown. Canmore is far quieter than Banff, but it is possible to be in an area of Canmore that is not.
---
The Final Verdict – Banff vs Canmore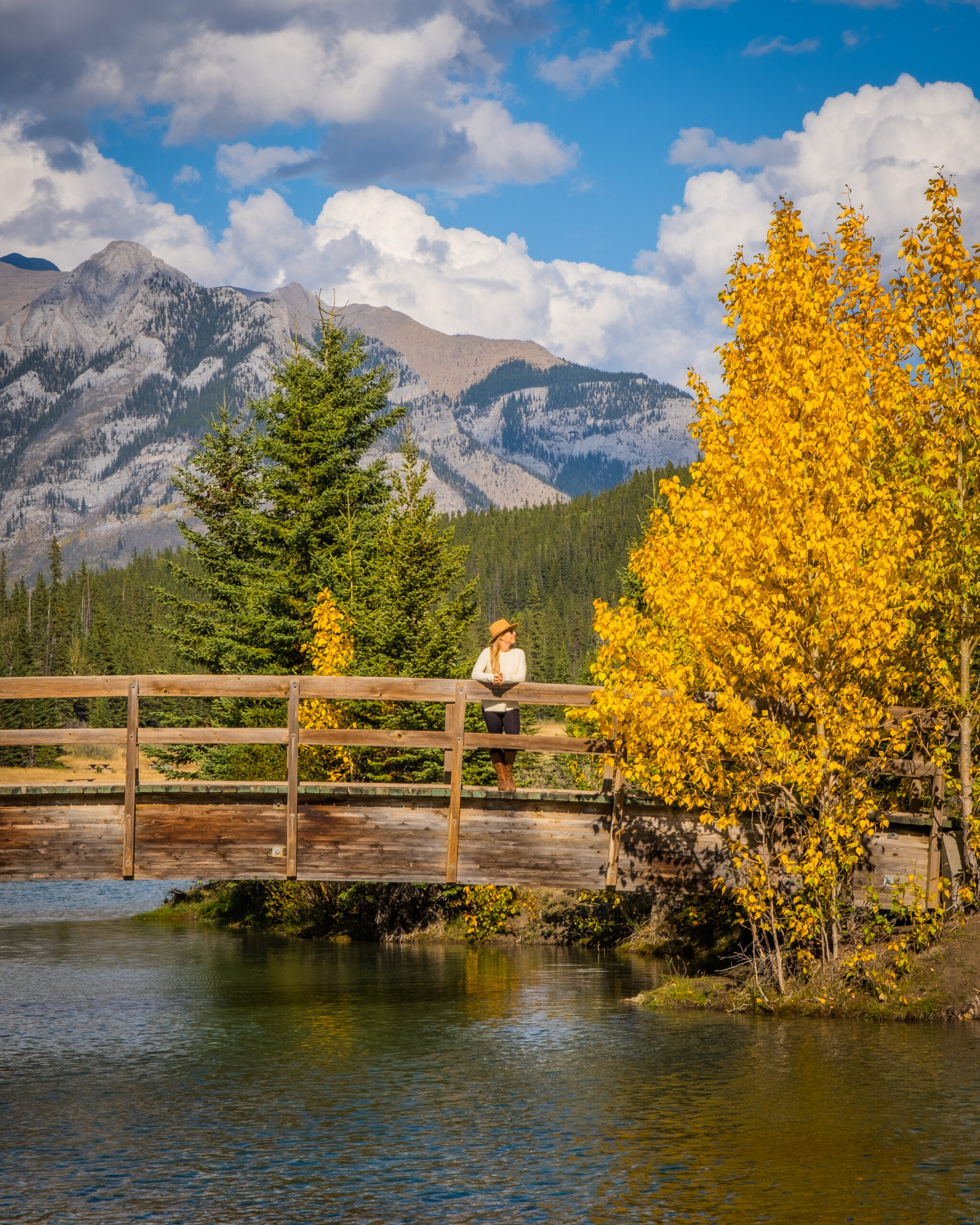 Banff is geared more towards tourism with more shops, hotels, activities, and sights. The town is surrounded by the National Park and provides amazing access to outdoor activities. Of course, all of this draws in a massive crowd, and there are several kitschy things like cheap souvenir shops, Chilis, cheesy candy shops, you get the idea.
There are also some great independent retailers, restaurants, and they have some big brand name outdoor shops hard to find like Fjallraven, Patagonia, The North Face, and Helly Hansen.
Canmore is the more liveable town with two large grocery stores, drug stores, Canadian Tire, and independent retailers. Many also prefer the food scene in Canmore as it is geared more towards locals and Calgarians.
Downtown Canmore is popular on summer weekends, but it's more manageable than Downtown Banff with fewer crowds. If you want a low-key vibe, then Canmore is a great choice. Also if you like to self-cater, Canmore is where you can find a number of apartment rentals, check out some Airbnbs in Canmore.
With all that in mind, Banff serves many first-time visitors wonderfully for a short stay. However, if you want a longer or more relaxed holiday, Canmore is a great choice.
We hope that helps make your decision between Canmore vs. Banff, but no matter what you choose we are sure you will enjoy it!
---
How Far is Canmore From Banff?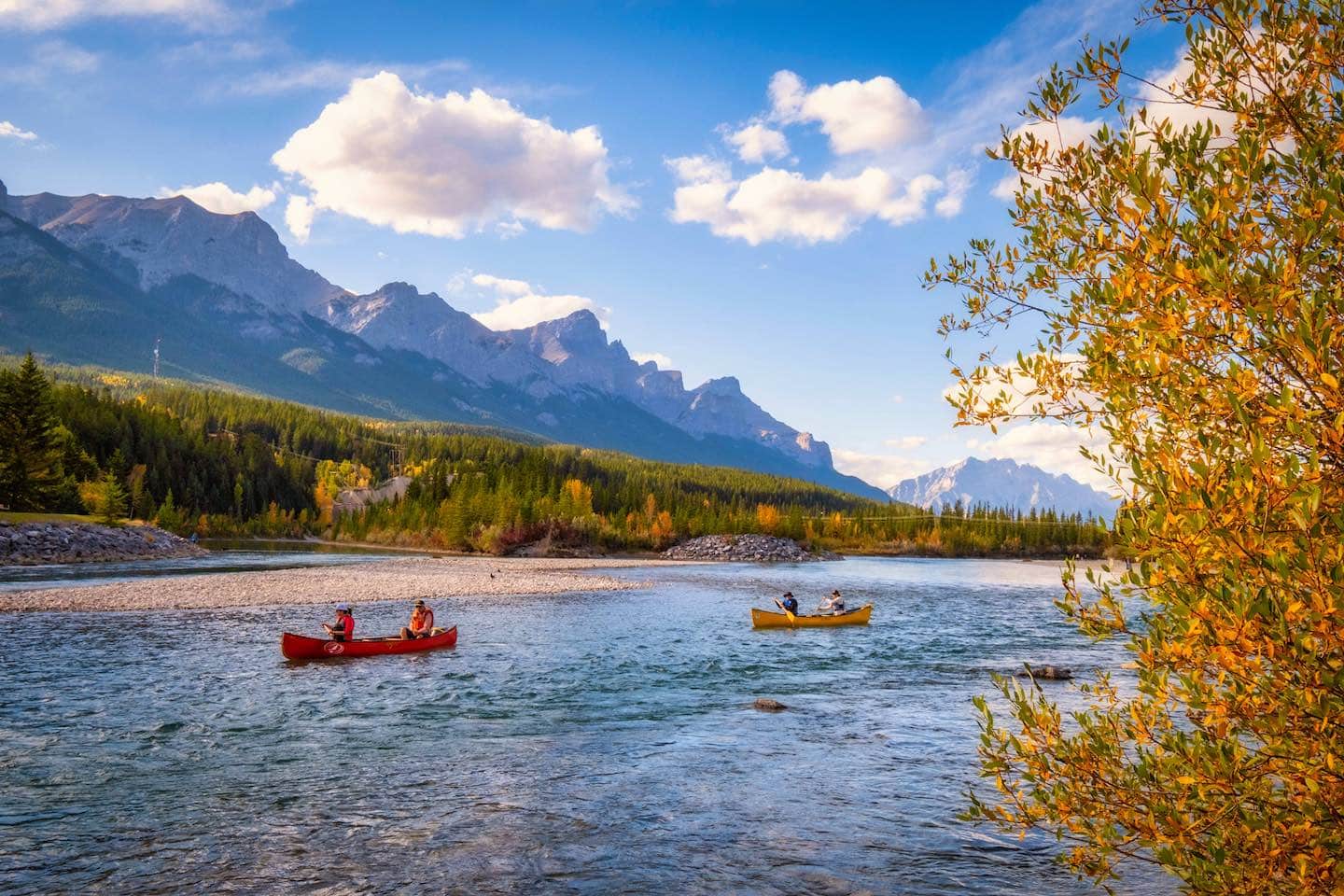 It will take you about 15-20 minutes to drive from Canmore to Banff as it's 25 km via Trans-Canada Hwy/AB-1 W. We make the drive frequently when heading to Banff for some awesome hikes, however that extra 20 minutes can really add up if you are driving it a lot.
---
Banff to Canmore – No Driving Option!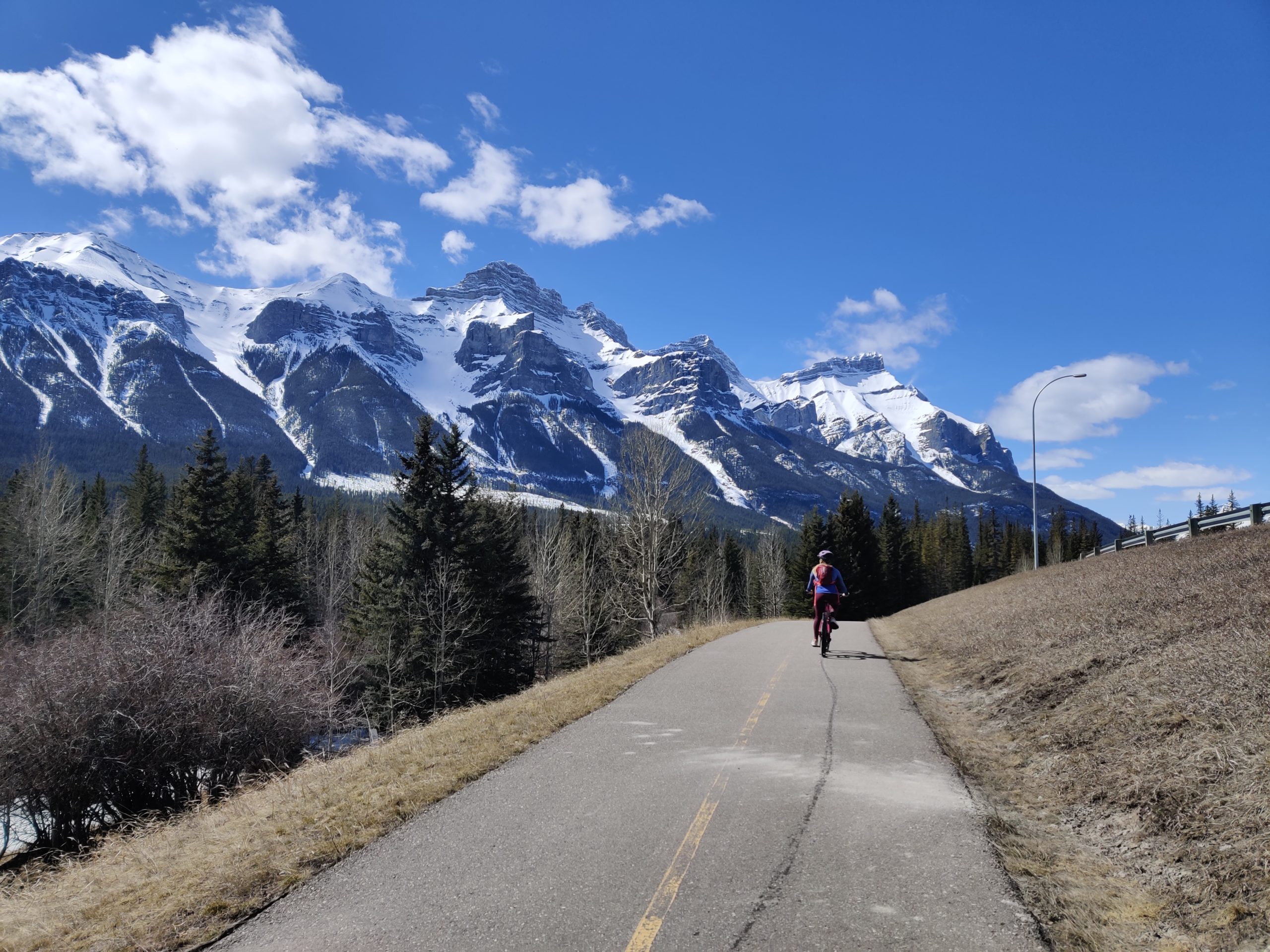 Our favorite way to get from Banff to Canmore or Canmore to Banff isn't with a car – it's with a bike! The Legacy Trail is a paved path dedicated to bikes that connects the two towns. It's typically snow-free come May and a fantastic way to get the heart pumping.
Depending on what kind of bike you are on and how experienced you are cycling you can cycle one way in 1-2 hours, have a beer in town, and cycle back! You can rent bikes at Rebound Cycle in Canmore or Banff Cycle in Banff!
---
---
↓ Join the community ↓
The Banff Blog Facebook Group is your headquarters for the Canadian Rockies' travel advice and information. Including hike info and off-season travel information. You can also meet new adventure buddies.

Plan Your Trip to the Canadian Rockies