If you're in search of the best hotels in Canmore and Canmore accommodation, we have you covered. Canmore is a stunning resort town nestled in the Bow Valley that is sure to provide visitors a lovely stay any time of year.
Flanked by dramatic mountains and surrounded by no shortage of things to do, Canmore has a lot to offer visitors. All of these Canmore hotels will ensure you have a great time during your trip.
Canmore Hotels Quick Tips
Where to Stay in Canmore, Our Top Picks:
Booking.com — The best site for booking hotels in Canmore.
Best Luxury Hotel in Canmore:
Best New Hotel in Canmore: Basecamp Suites — Brand new with rooftop hot tub with views.
Best Value Hotel in Canmore: Lamphouse Hotel — Renovated modern motel in the heart of downtown Canmore.
Best Hotels for Families in Canmore:

Pocaterra Inn — Pet-friendly accommodation with a waterslide and free breakfast.
Stoneridge Mountain Resort — Luxurious apartment-style accommodation with fireplaces, full kitchens, and a heated outdoor pool/hot tub.
---
Where to Stay in Canmore?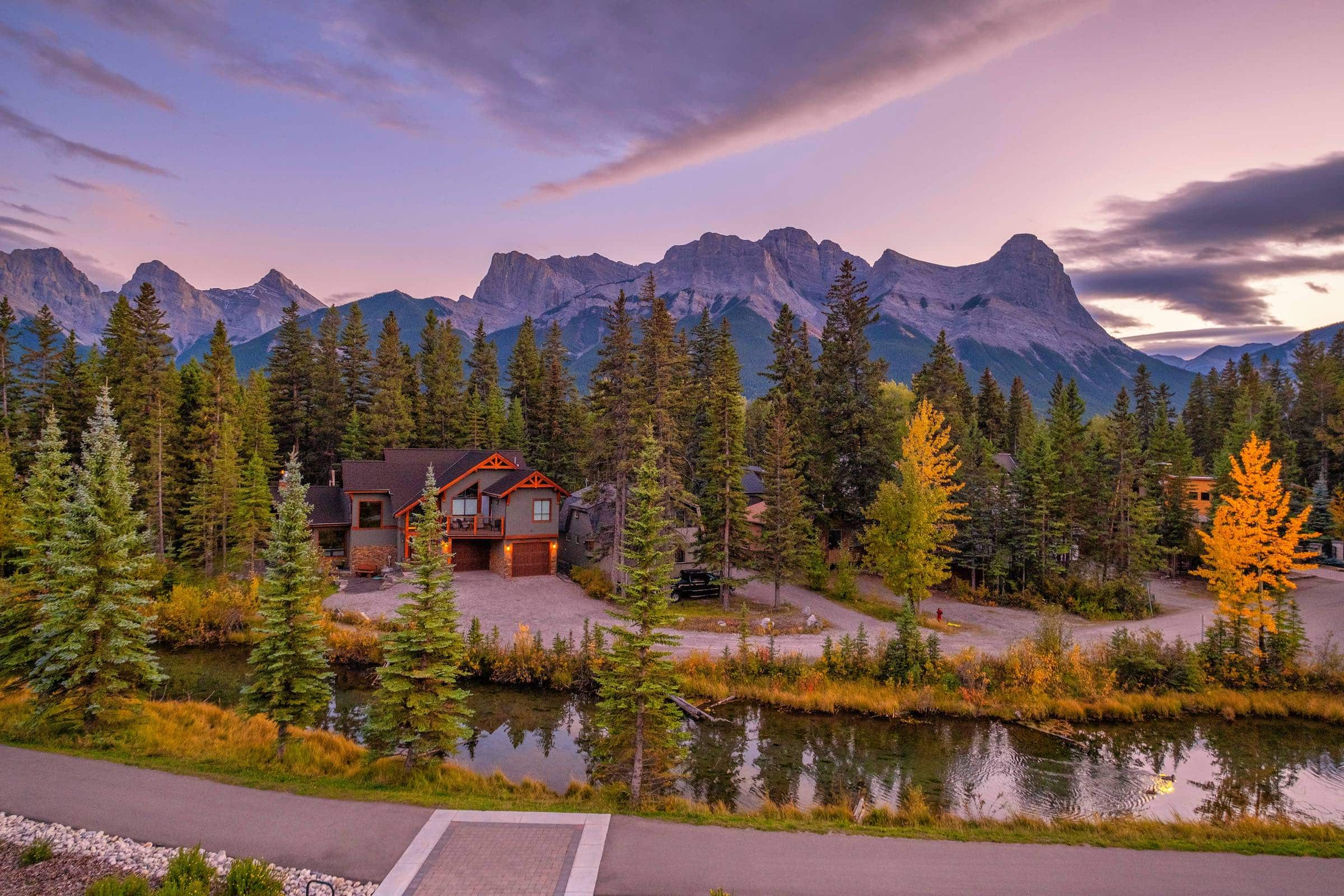 Before we dig into this best Canmore accommodation post, we should discuss what "neighborhoods" you'll likely be staying at in Canmore. Canmore is a small mountain town with many zoning restrictions; therefore, only three distinct areas make up where Canmore hotels can be located.
Downtown Canmore: The primary choice is Downtown Canmore near Main street. Any hotel in Downtown Canmore is easily walkable to the restaurants, bars, and boutique shops of Canmore. Including the lovely Policemen's Creek Boardwalk.
Bow Valley Trail: The Bow Valley Tail area is still close to Downtown but will require you to cross the busy street to reach Main Street. While having a car isn't necessary for staying in this area, it is more helpful. Bow Valley Trail Canmore accommodation is more affordable accommodation with easy access to the highway.
Kananaskis Country: This is the provincial park close to Canmore. So any hotel in Kananaskis is actually not in the town, but it is a hotel near Canmore nestled in the park. Because these Canmore accommodation options are few and far between and are more unique, they fetch a higher price tag in the high season.
---
The Best Hotels in Canmore – Downtown Area
---
Coast Canmore Hotel & Conference Center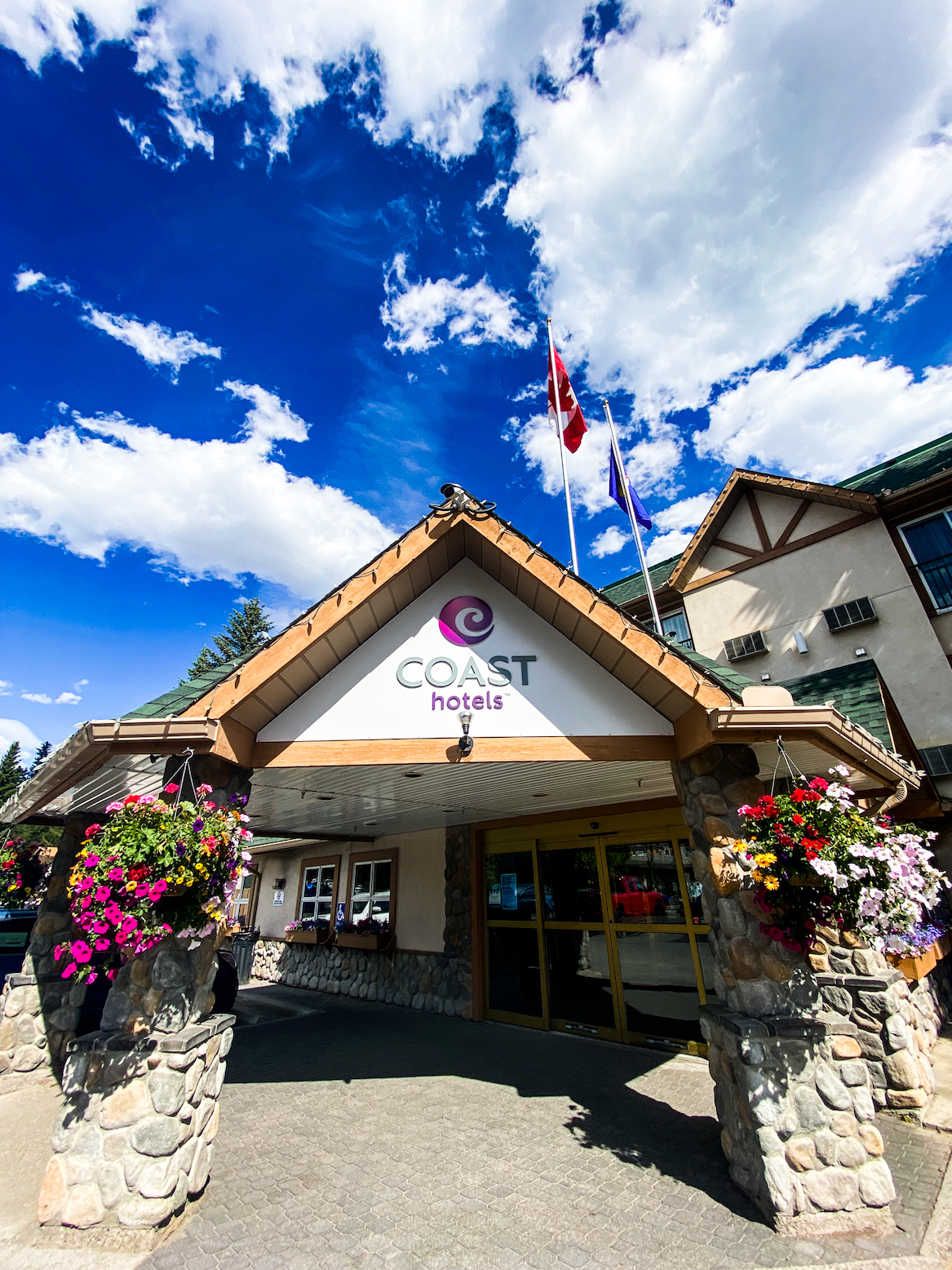 Coast Canmore Hotel & Conference Center makes for a great hotel stay with modern rooms and solid value in Canmore. The location provides excellent access to walk downtown or access the highway via car.
It's a reliable choice as a dog-friendly hotel in Canmore. With a name brand like Coast, guests know that they're guaranteed a certain level of service. The hotel is pet-friendly, and its convenient location is right at the primary intersection from the highway into town.
The Table Food + Drink restaurant is attached to the hotel and makes for a great spot to eat close to your room in case you don't want to venture too far downtown.
Coast Canmore Hotel is also great for business travelers as it has all the amenities you could need to work well. There's also a spacious gym on-site in case you want to get a little more of a workout in after a fantastic Canmore hike.
---
Malcolm Hotel By Clique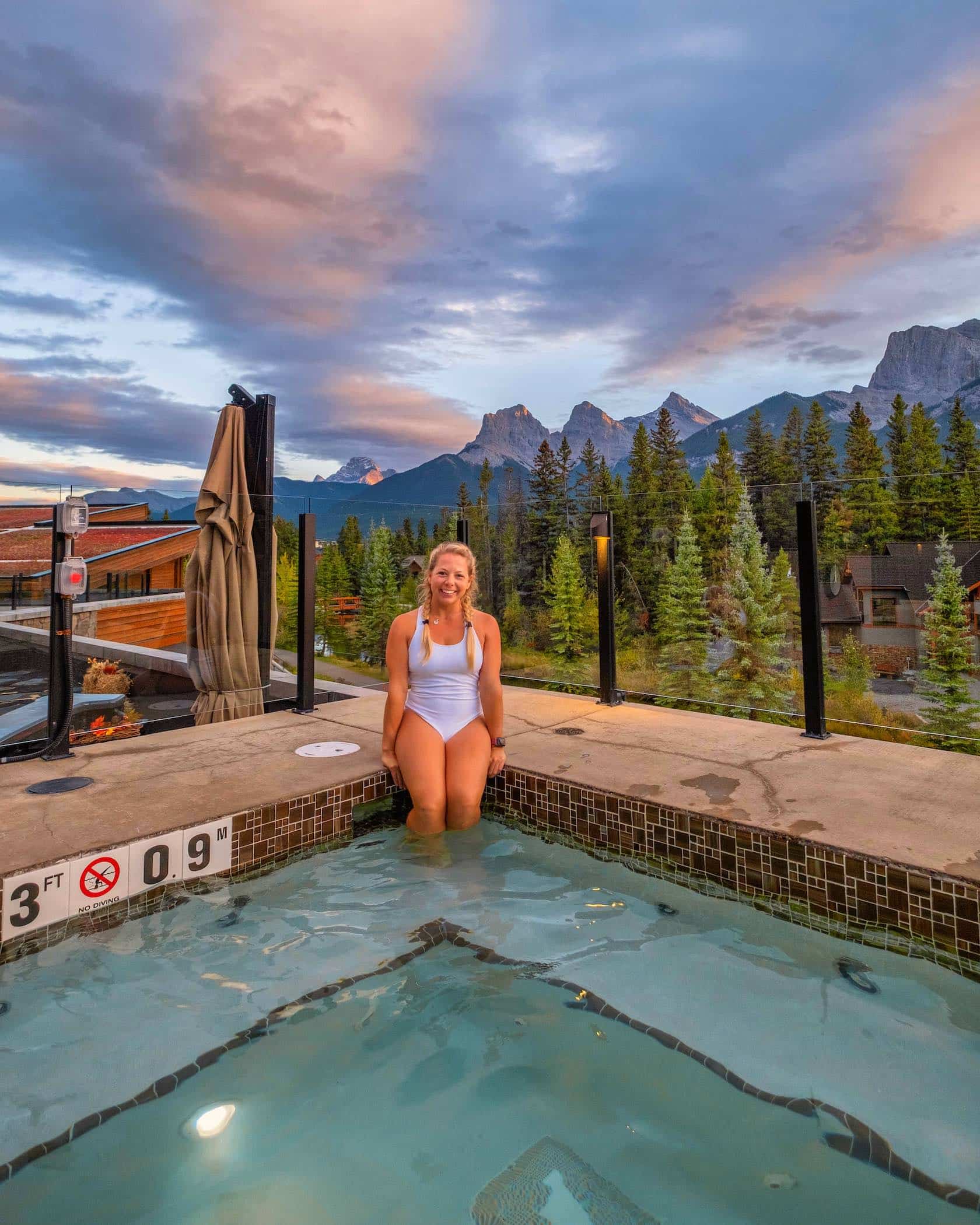 One of the newest hotels in Canmore, and it quickly made a name for itself. The Malcolm Hotel is a luxury hotel situated in the heart of Spring Creek, a desirable neighborhood just steps away from downtown Canmore. The location provides a convenient place for Canmore's restaurants, bars, and shops.
It also sits conveniently across from the Policeman's Boardwalk, one of the best walks in Canmore. A series of rooftop decks make for a great place to take the views in from the hot tubs, heated pool, or in the resort restaurant. Rooms similarly offer good views of the mountains and provide everything guests could desire.
The luxurious rooms are modern TVs, free Wi-Fi, mini-fridges, coffeemakers, and rainfall showers. The hotel facilities include a fitness center, restaurants, concierge service, and free parking. The owners have also provided community support which has sat well with locals.
---
Stoneridge Mountain Resort by CLIQUE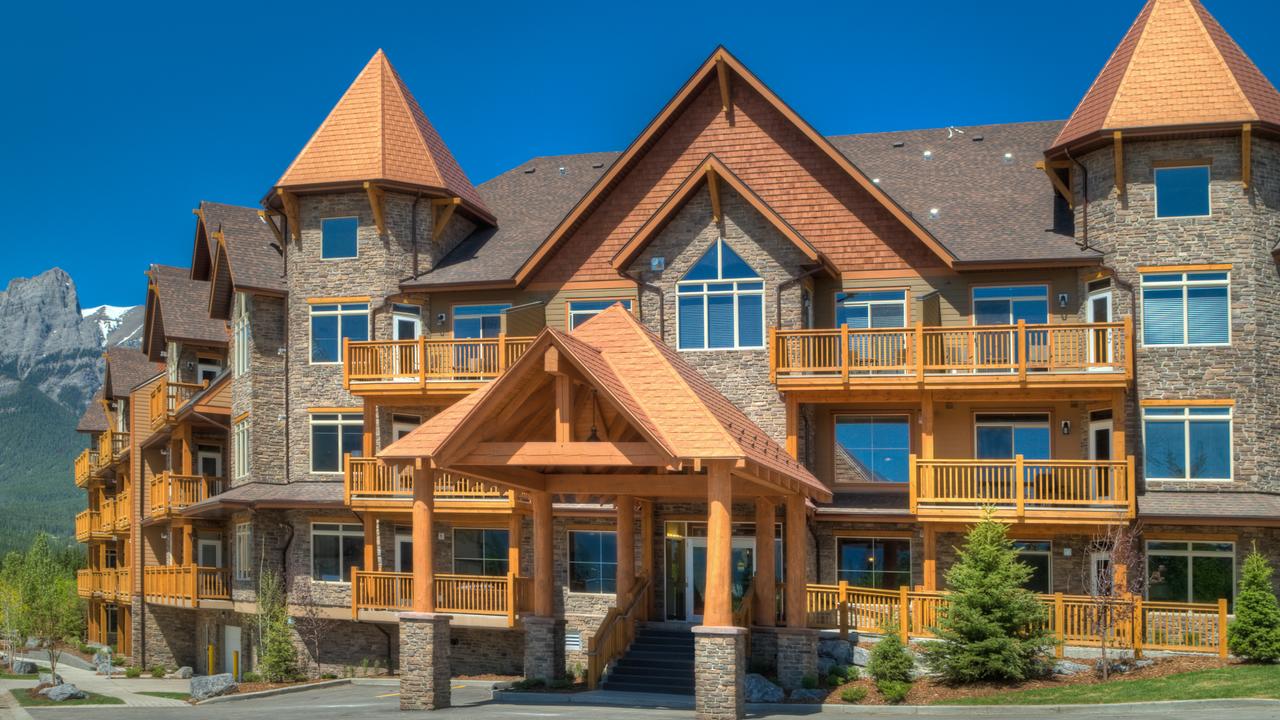 The Stoneridge Mountain Resort is a great luxury property with apartment-style accommodation. Stoneridge Mountain Resort is a great place to stay for couples, families, and groups. Guests can choose from one, two, or three-bedroom condo suites with fully equipped kitchens.
For those looking to explore the Canadian Rockies, it's likely one of the best options for self-catering. However, it's still within walking distance of the cafes and restaurants in downtown Canmore.
One of the many standout features is the large patios with a barbecue. Facilities on the property include underground parking, a fitness center, an indoor/outdoor pool, and a hot tub.
---
Georgetown Inn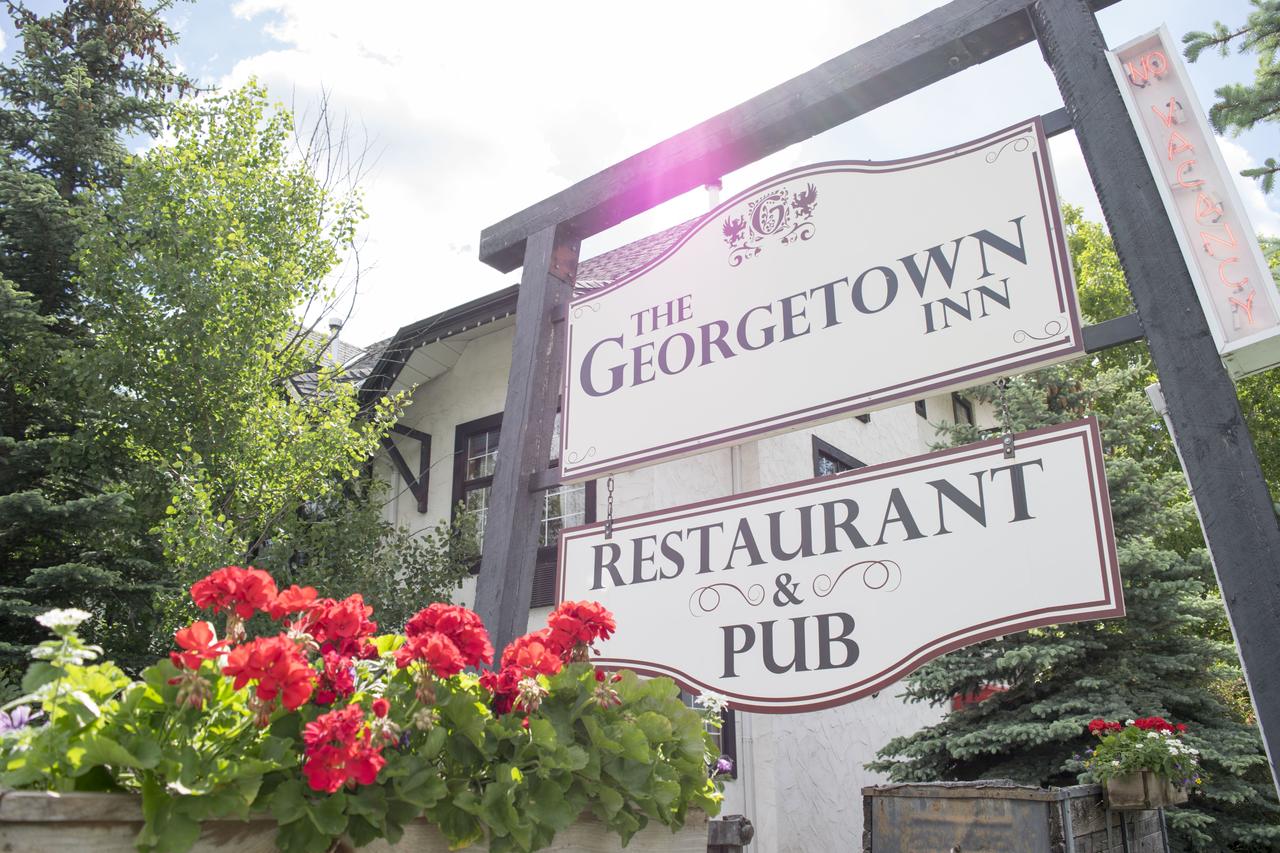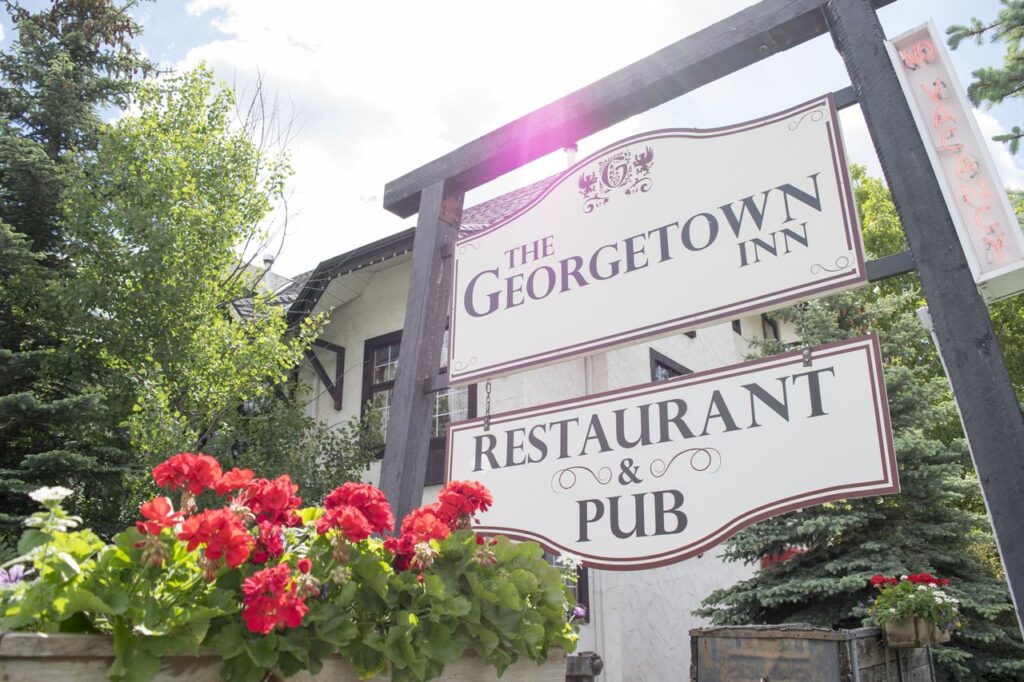 The Georgetown Inn has been a popular establishment in Canmore for decades that is an excellent option for those seeking some charming character. Georgetown is easily one of the best hotels in Canmore for a fantastic stay.
Hotel decoration is based around an Old English theme with an English Tudor exterior, eclectic interior, and a charming pub with great food. The location is off the Bow Valley Trail, which is still within walking distance of downtown Canmore but has quick driving access to the TransCanada.
Several rooms feature a fireplace and seating area. All rooms feature a small fridge, coffee maker, kettle, and TV. For pet owners, the Georgetown In is pet-friendly and has elevator access to rooms. Fresh baked shortbread and tea are provided in rooms daily complimentary, and a hearty cooked breakfast is included in the room rate. Free on-site parking is available.
---
Falcon Crest Lodge by CLIQUE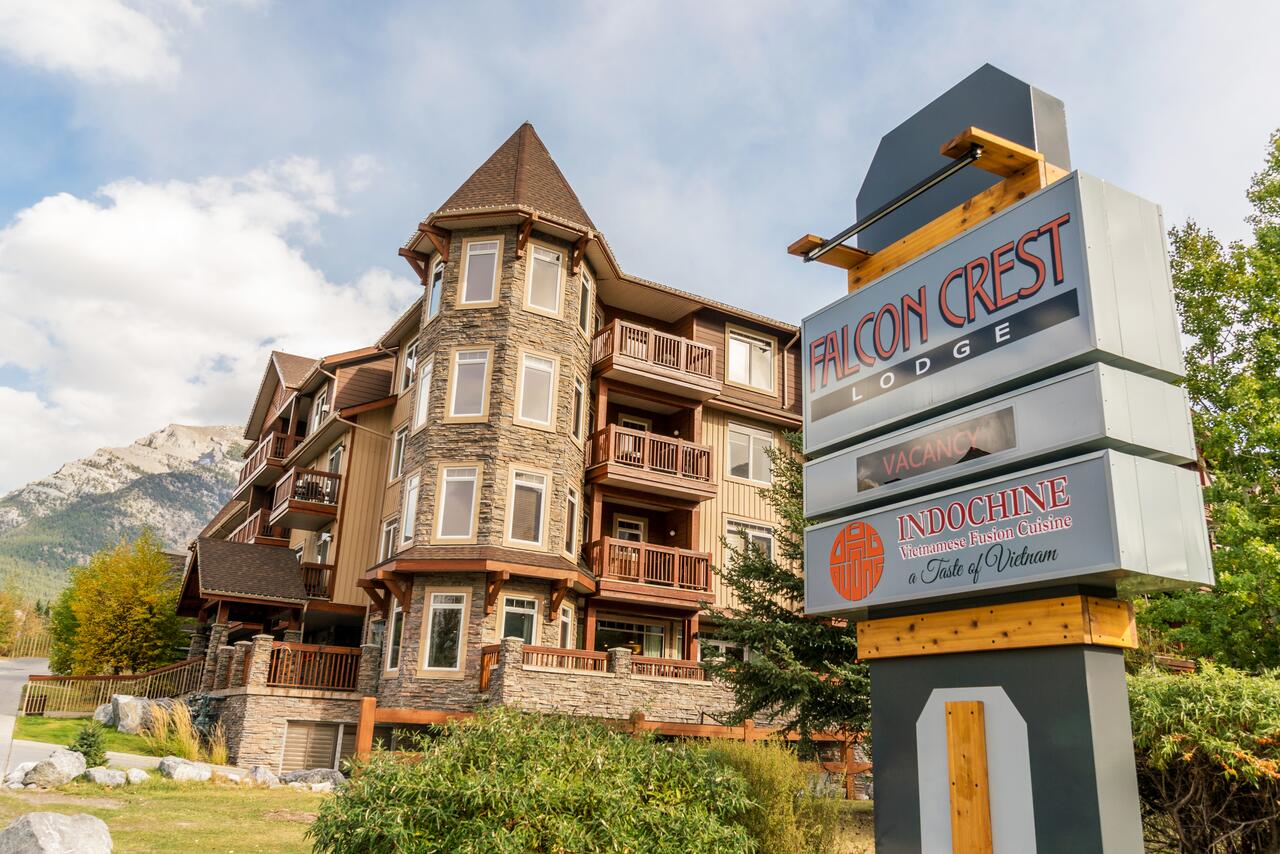 Canmore's accommodation options really shine with the multitude of options for self-catering in the Canadian Rockies. The Falcon Crest Lodge has several options for one and two-bedroom suites that are great for families. Suites here are not quite as well-decorated as the more luxurious Stoneridge Mountain Resort. That also means it's well suited for couples seeking a deal in comfortable accommodation.
All units have free Wi-Fi, flat-screen TVs, kitchens or kitchenettes, fireplaces, and private balconies or patios. Comfortable bathrooms have tubs, walk-in showers, nice toiletries, and bathrobes. The property has underground parking, a self-service car wash, two outdoor hot tubs, a fitness room, and games/puzzles available for guests.
---
Lamphouse Hotel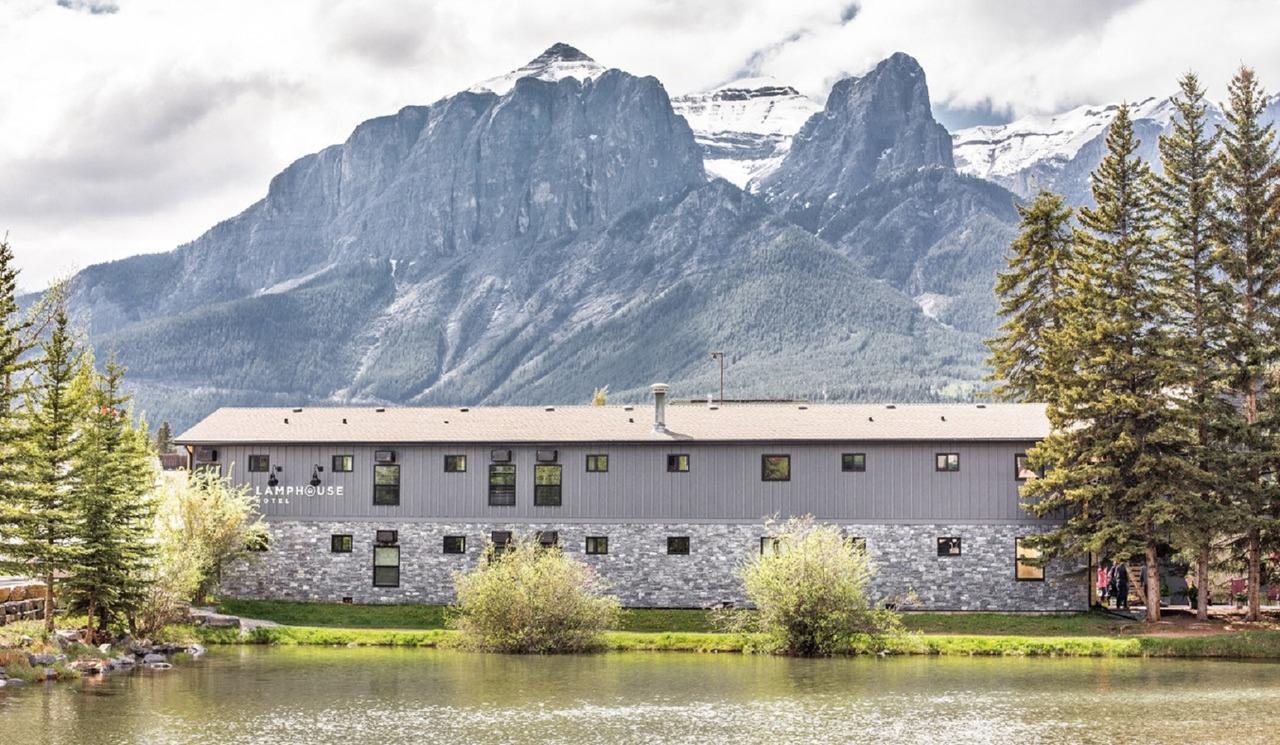 One of the best downtown Canmore hotels! My family stayed at The Lamphouse over Christmas and loved it. They remarked multiple times how it was the best hotel in Canmore. The Lamphouse Hotel is a perfect value option for exploring Canmore.
Also, each booking offers a complimentary breakfast in bed! They have the best location right in the center of downtown and along the Policeman's Boardwalk. It's a converted motel, and all of the rooms are modern and up to date with stylish mountain decor.
Each room has free Wi-Fi, 55″ flat-screen TVs, desk, coffee-making facilities, and mini-fridge. Luxury bath products are carried in the room from Rocky Mountain Soap, a local company. If you're lucky enough to score a booking, there is also a well-appointed three-bedroom apartment. The Lamphouse Hotel is one of our favorite options for accommodations in Canmore.
---
Canmore Downtown Hostel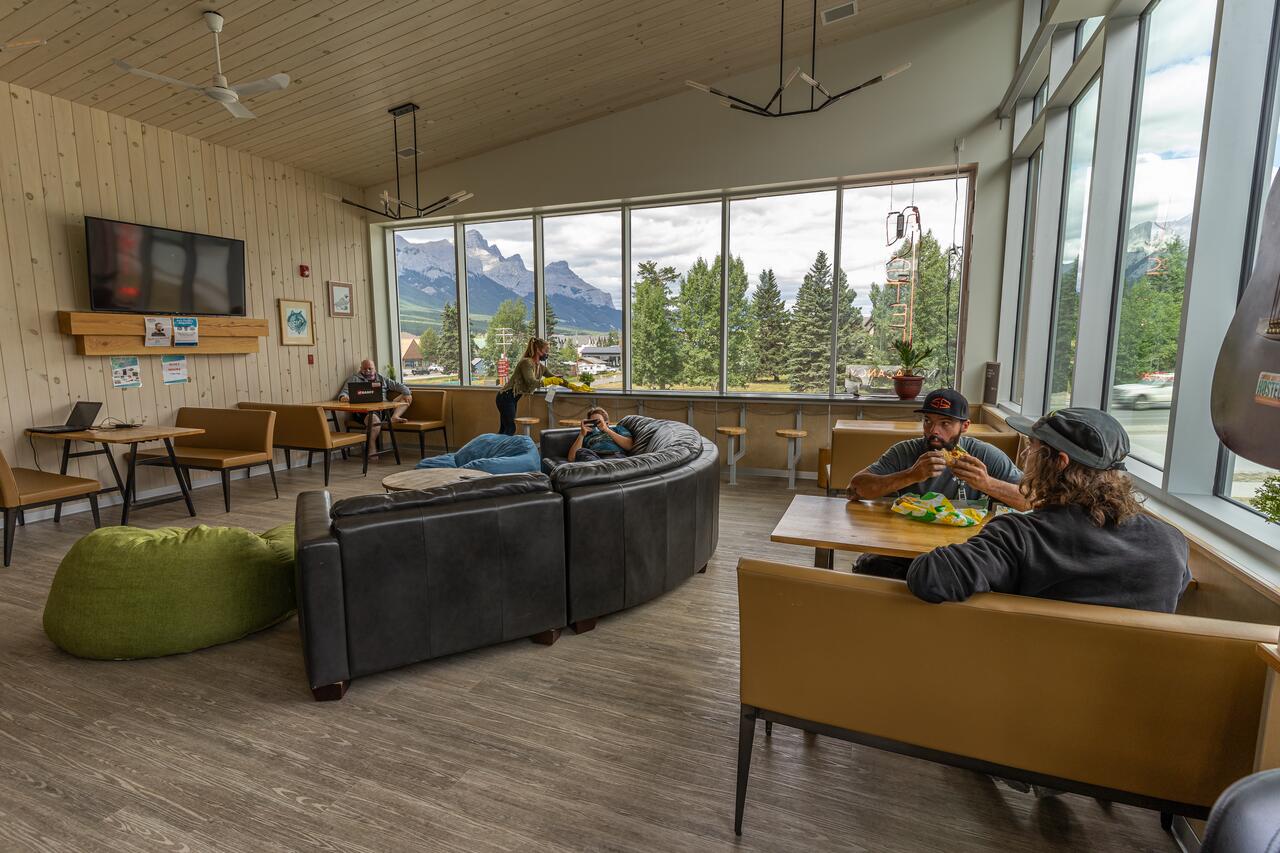 It can be tough to find excellent hostel accommodation options in North America, but the Canmore Downtown Hostel manages to deliver the goods. Private rooms and shared hotel dorm rooms are available for booking. Dorm beds are still very comfortable with large bunk beds, drapes, and clean, modern washrooms.
The new hostel is well equipped, comfortable, and clean with friendly staff. Facilities available at the hostel include a shared kitchen, lounge, and washing machines. Private rooms are without frills but comfortable and have a private bathroom. This is an excellent option for solo travelers, couples, or young travelers on a budget!
---
Solara Resort – Bellstar Hotels & Resorts
Solara Resort is one of the top reviewed hotels in Canmore. Each unit comes with a fully equipped kitchen and fireplace. Also included in the suites are dining areas, fireplaces, washing machines, and flat-screen TVs. The property has an on-site spa, hot tub, and fitness center.
Several units feature mountain views, but most units face the complex or adjacent property. Units are very comfortable with granite countertops, leather furniture, and hardwood floors. Bathrooms are similarly luxurious with quality toiletries. The clean and modern suites are great for couples, families, and groups.
---
Lady MacDonald Country Inn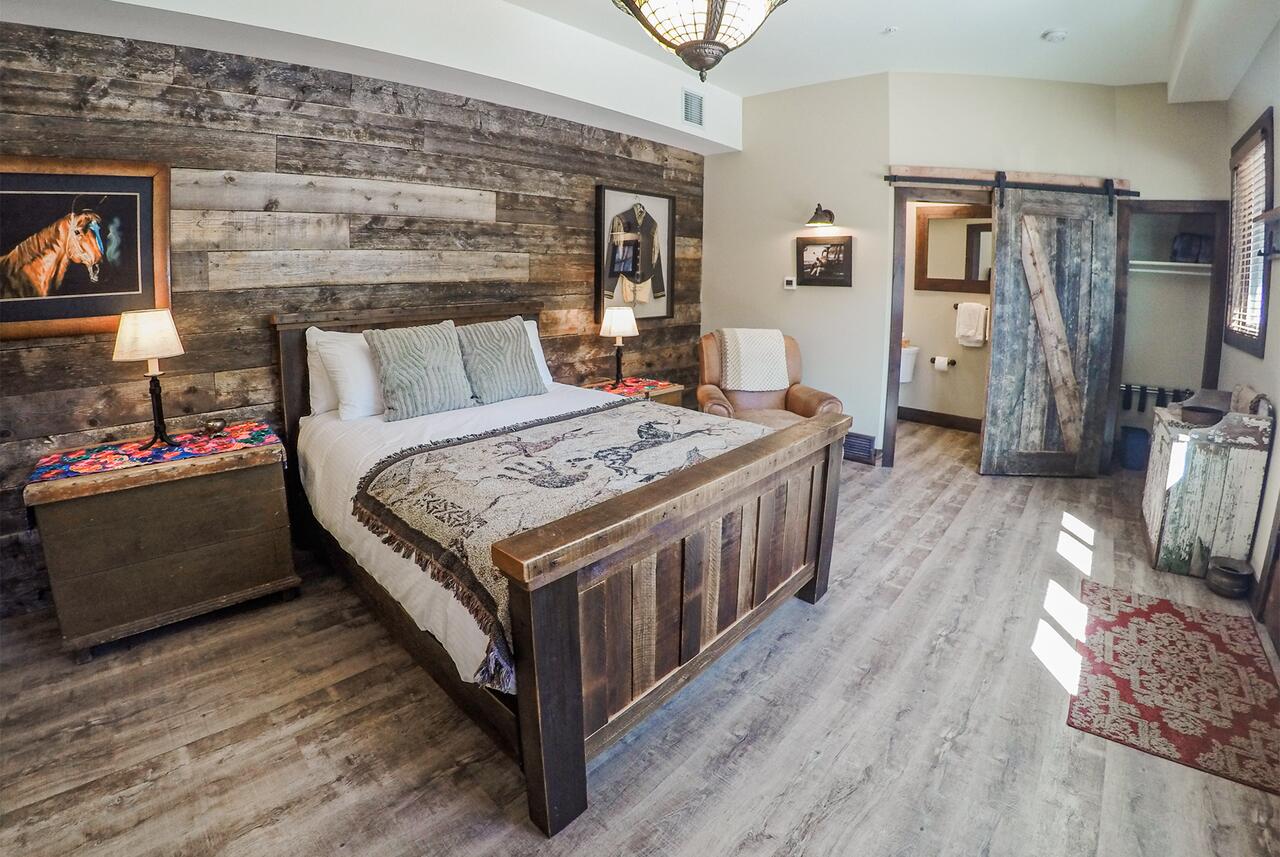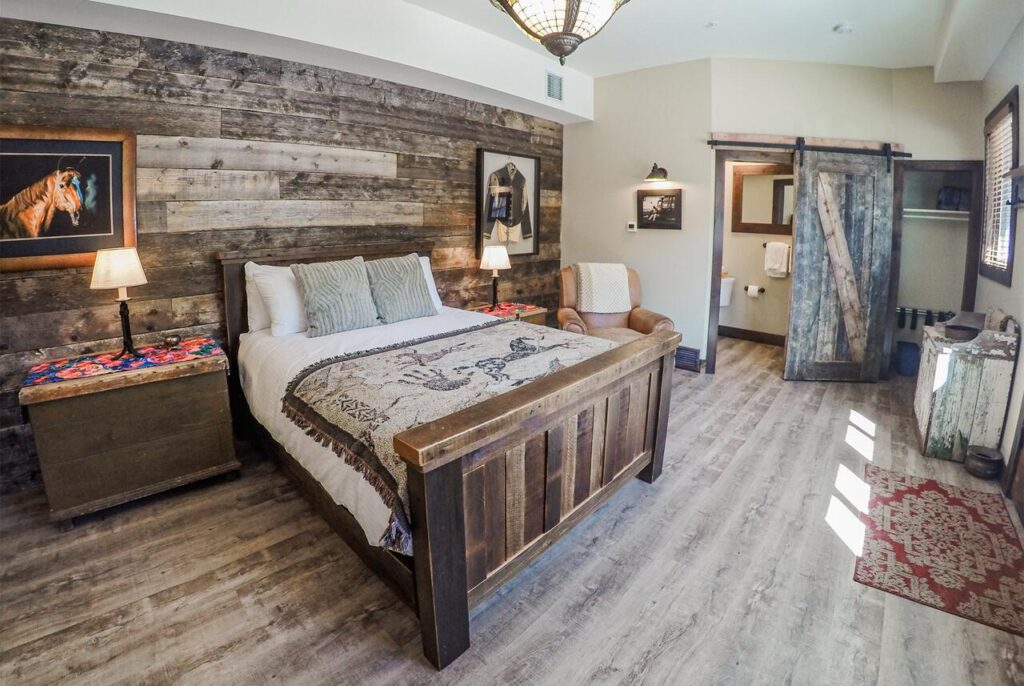 Lady MacDonald Country Inn is a bed and breakfast that sits in the Silvertip neighborhood at the base of Mount Lady MacDonald. Guests can expect a charming stay with the guest service expected from bed and breakfast. Of course, homemade breakfast is served each morning in the solarium.
Rooms have unique decorations, private bathrooms, a fireplace, and cable TV. Free Wi-Fi can be found throughout the property. A communal parlor has a wood fireplace and presents a cozy location to relax. Bed and Breakfast staff are a standout feature and provide excellent service.
---
Canmore Accommodation Options – Bow Valley Trail Area
---
Pocaterra Inn & Waterslide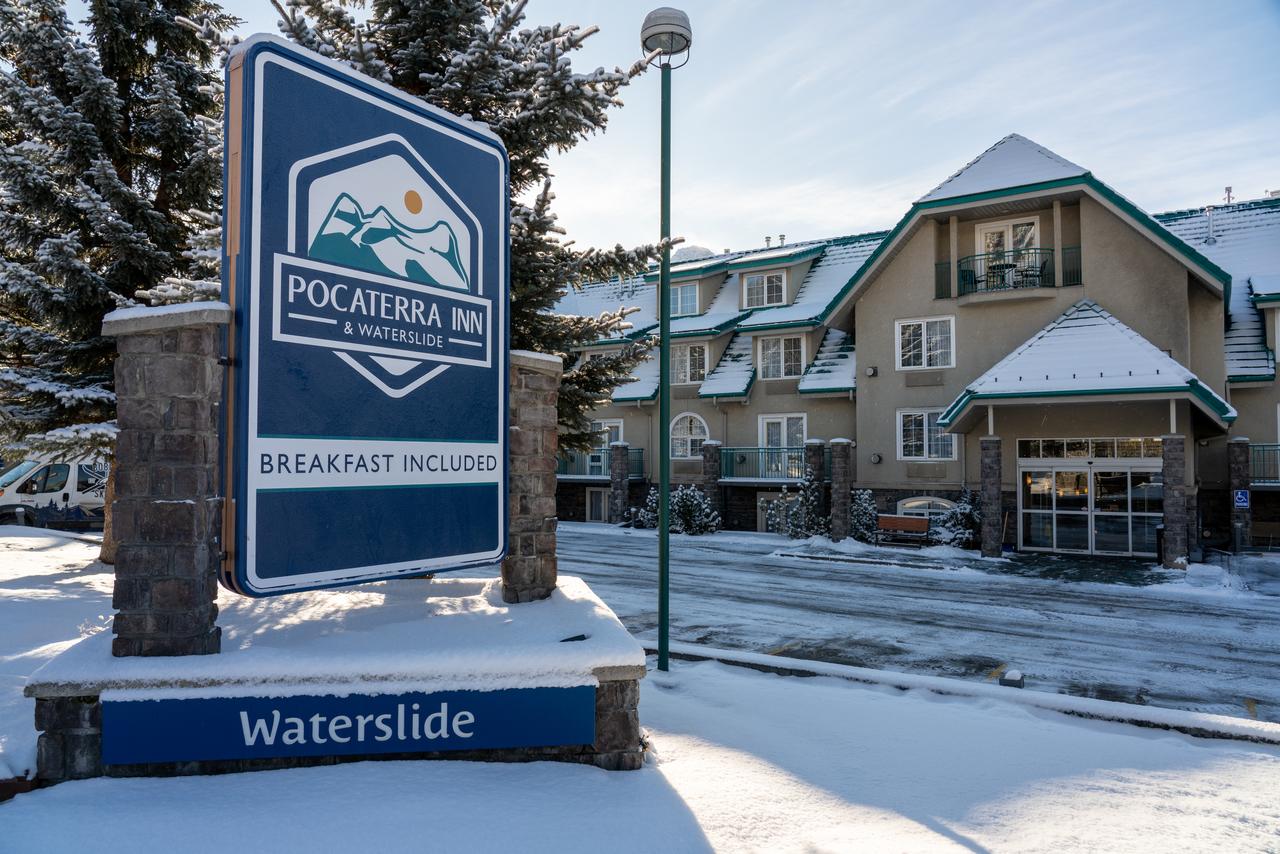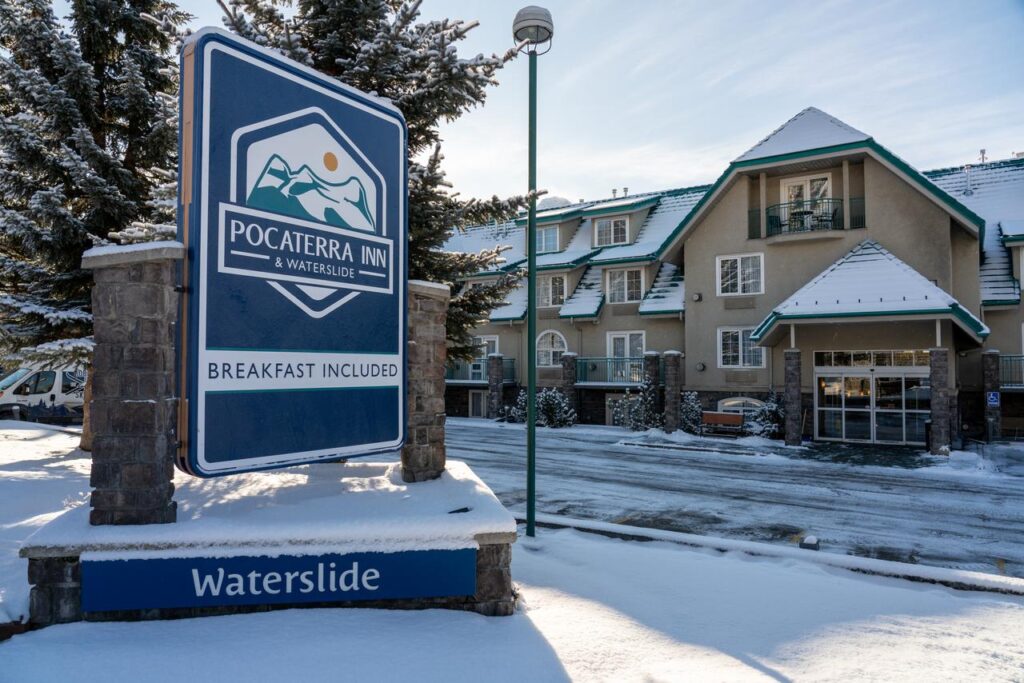 An excellent option for families seeking value is Pocaterra Inna & Waterslide. The property features a giant waterslide popular with children and a sauna for adults to relax. It is off Bow Valley Trail with easy access to the highway and an extended walk to downtown Canmore.
All rooms have a seating area, desk, coffee maker, microwave, and mini-fridge. Included in the rate is a complimentary breakfast buffet. Rooms are basic, comfortable, clean, and present good value. On the property is a fitness center.
---
Silver Creek Lodge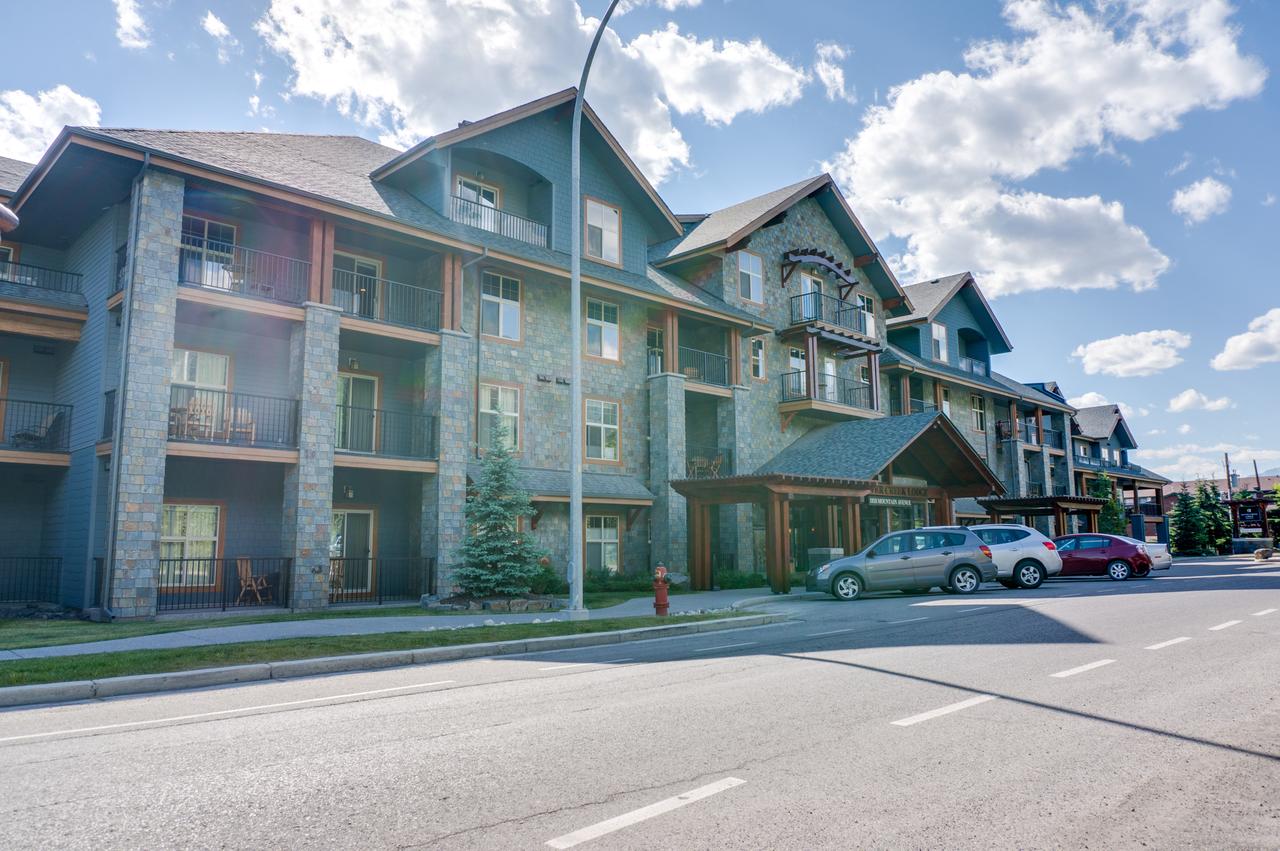 Silver Creek Lodge is a pet-friendly Canmore accommodation that offers self-catered apartments. It provides amenities like laundry facilities for long-term guests and fireplaces, and full kitchens in units.
It's close to the Sage Bistro and is even attached to the Wild Orchid Asian Bistro, where you can get your sushi fix in Canmore. If you happen to bring your bikes to Canmore, this is one of the best Canmore hotels with close access to the famed Legacy Trail.
---
Hotels Near Canmore – Kananaskis Country
---
Mount Engadine Lodge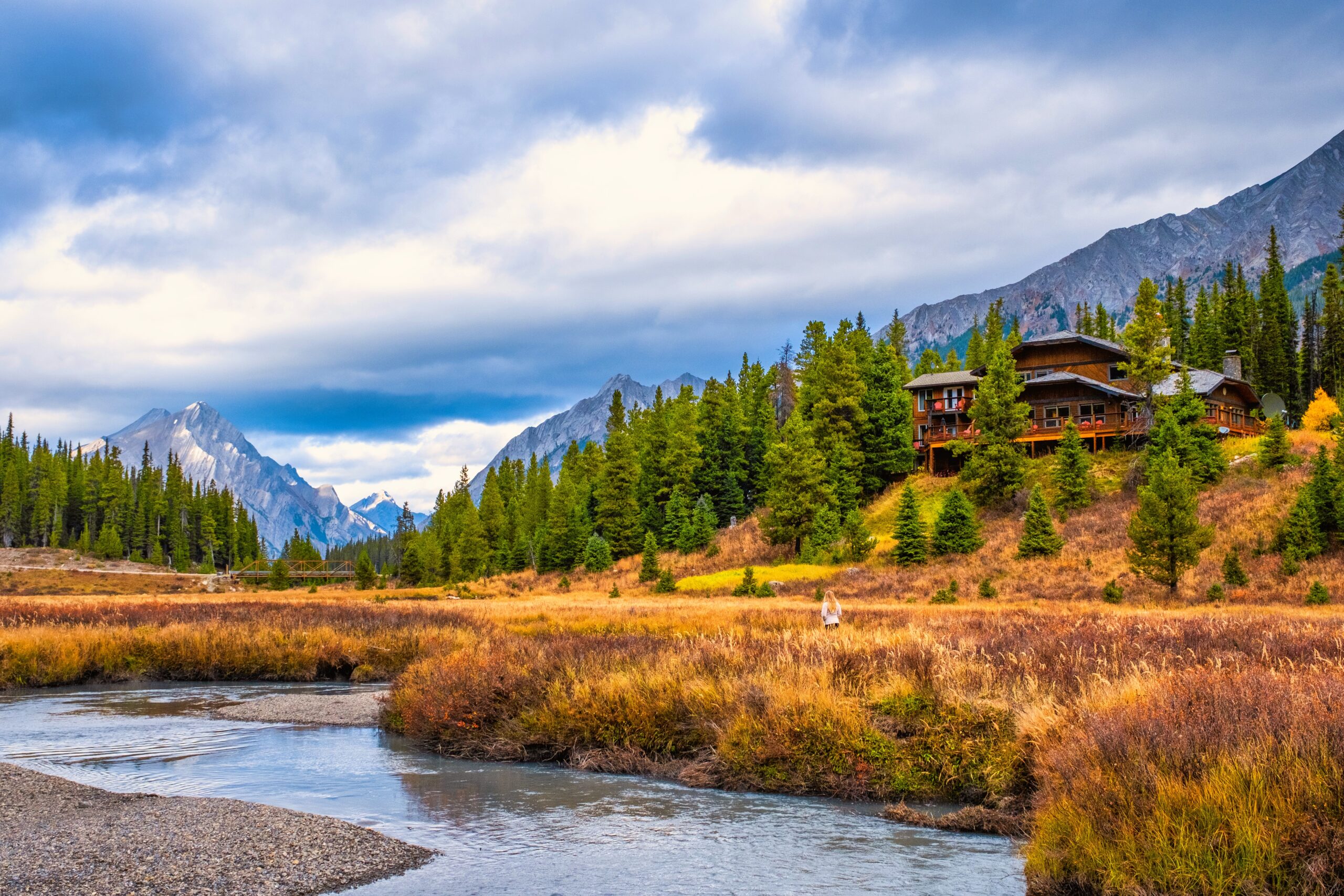 Mount Engadine Lodge is located along the Smith Dorrian Road/Spray Lakes Road, about one hour away from Canmore. Although it's not technically in the town, I wanted to include it in this list of Canmore hotels as it's genuinely the most unique and "cabin feely." We include it as our top recommendation for Kananaskis cabins!
Besides mountains, valleys, trees, and some moose in the wilderness, there isn't much else around. In other words, Mount Engadine is located in a highly remote section of Kananaskis. A wide variety of room options includes private lodge rooms, cabins, glamping tents, and a yurt.
There is no cell service and no televisions. It's back to wilderness here – precisely like what you may after with a trip to the Canadian Rockies. If you're eager to have that backcountry wilderness experience without roughing it in a tent and eating dehydrated meals, you seriously can't get much better than a stay here. Instead, bookings include breakfast, packed lunch, afternoon tea, and dinner. In between delicious meals, go for hikes or relax by one of the many wood-burning fireplaces.
Address — 1 Mount Shark Rd, Canmore (GPS)
---
Kananaskis Mountain Lodge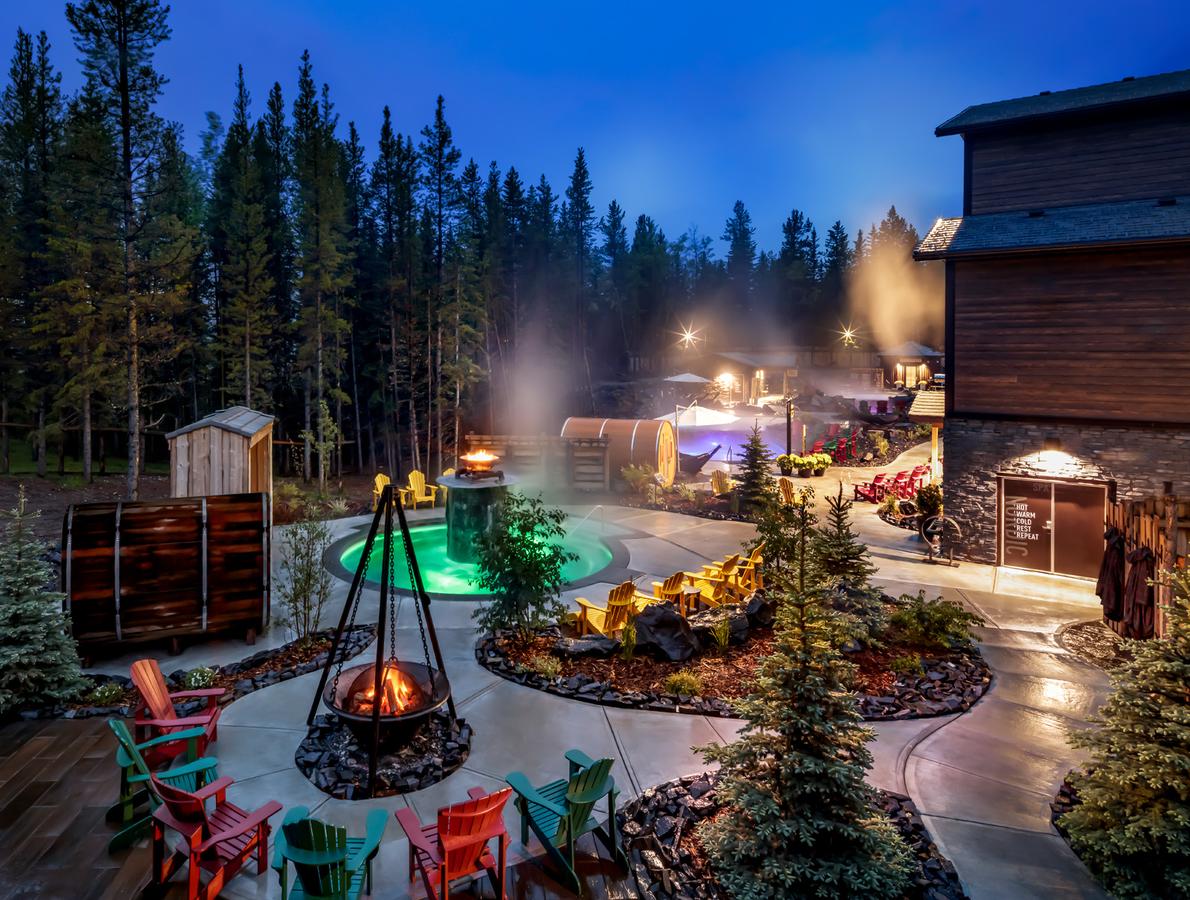 This is easily one of the most excellent places to stay in the Canadian Rockies. Located just 40 minutes from the Town of Canmore near Nakiska Ski Resort and some great Kananakis Hikes is the Kananaskis Mountain Lodge.
If you are looking for a luxurious family-friendly stay in the park, don't hesitate to book this modern and new Canmore accommodation. It's one of the best places to stay in Canmore in the winter as it's just a five-minute drive away from Nakiska Ski Resort.
It has fantastic amenities like outdoor fire pits and an indoor heated pool. Its best "attraction" is the Kananaskis Nordic Spa, which is one of the best things to do in Kananaskis!
---
Hope this article helped you choose the best Canmore hotels and Canmore accommodation for your stay!
If you have any other questions leave a comment or see our Canadian Rockies travel guide for more articles about photography spots, lakes, hikes, and everything else.
---
↓ Join the community ↓
The Banff Blog Facebook Group is your headquarters for the Canadian Rockies' travel advice and information. Including hike info and off-season travel information. You can also meet new adventure buddies.

Plan Your Trip to the Canadian Rockies