There are so many mountains in Banff that you'll never be able to see them all; however, visitors may want to be aware of some notable ones in the Canadian Rockies. This is a list of some of the most famous mountains not just in Banff but in all the Canadian Rockies and Alberta.
You'll be able to impress locals with your knowledge of some of the most iconic Banff mountains. They are not just normal mountains but somewhat "celebrities" in the world of Alberta mountains. So without further adieu, here are some of the most notable mountains in Banff, Jasper, Canmore, and even a few in British Columbia.
---
Amazing Mountains in Banff (Alberta Mountains)
---
Mount Yamnuska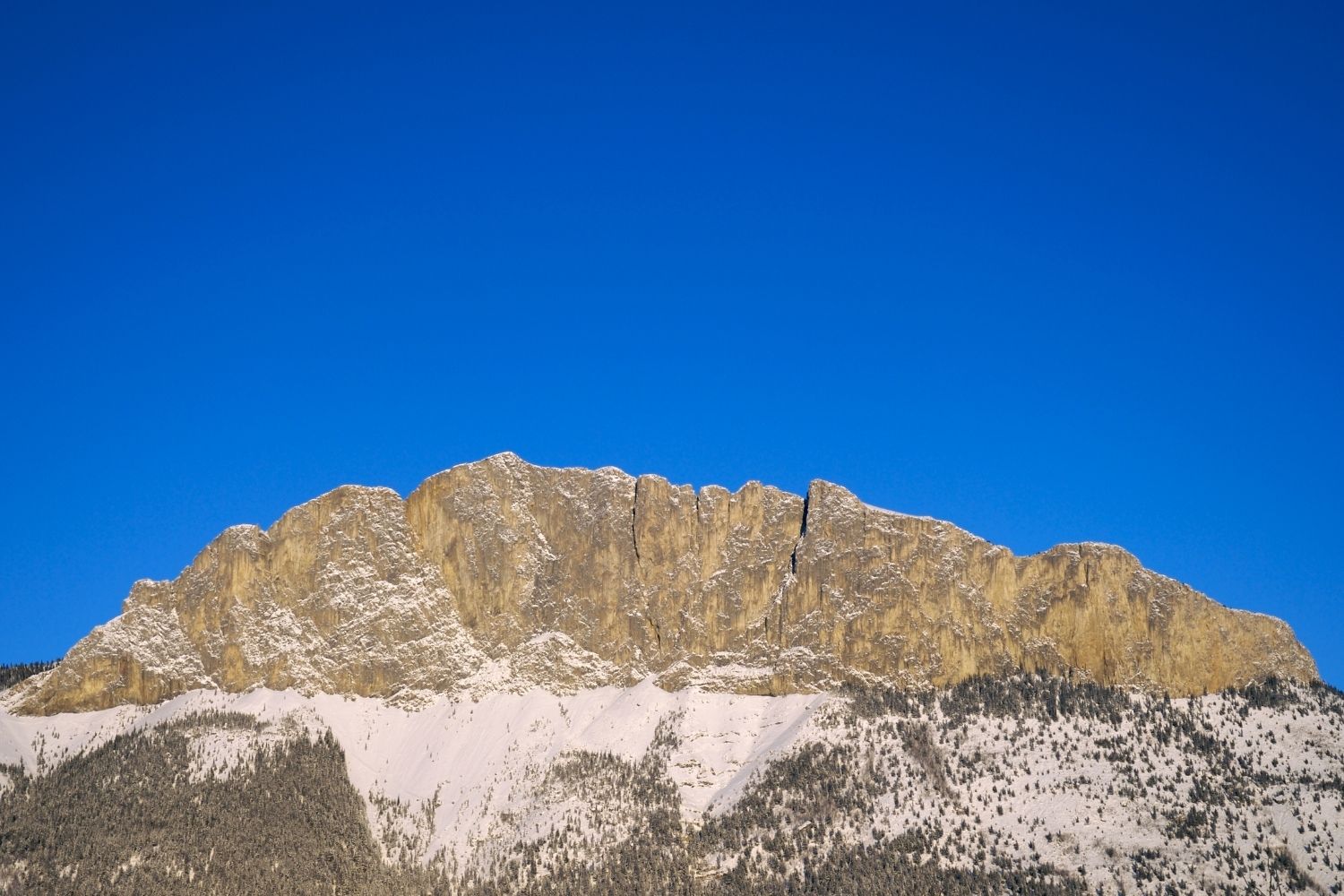 Elevation: Elevation 2,240 m (7,350 ft)
Yamnuska is far from the tallest mountain on this list, nor is it a mountain in Banff, but it's well known by just about everybody in the Bow Valley and Calgary, for that matter. It's one of the first mountains you see as you enter the Rockies from Calgary, between the prairies and mountains. Yamnuska is an extremely popular scramble and rock climbing destination, though sadly, many have perished on it due to its perceived ease and accessibility.
Yamnuska is the First Nations name, derived from the Stoney Nakoda people, for the mountain and translates to "wall of stone" because it looks exactly like a wall of stone.
---
Mount Temple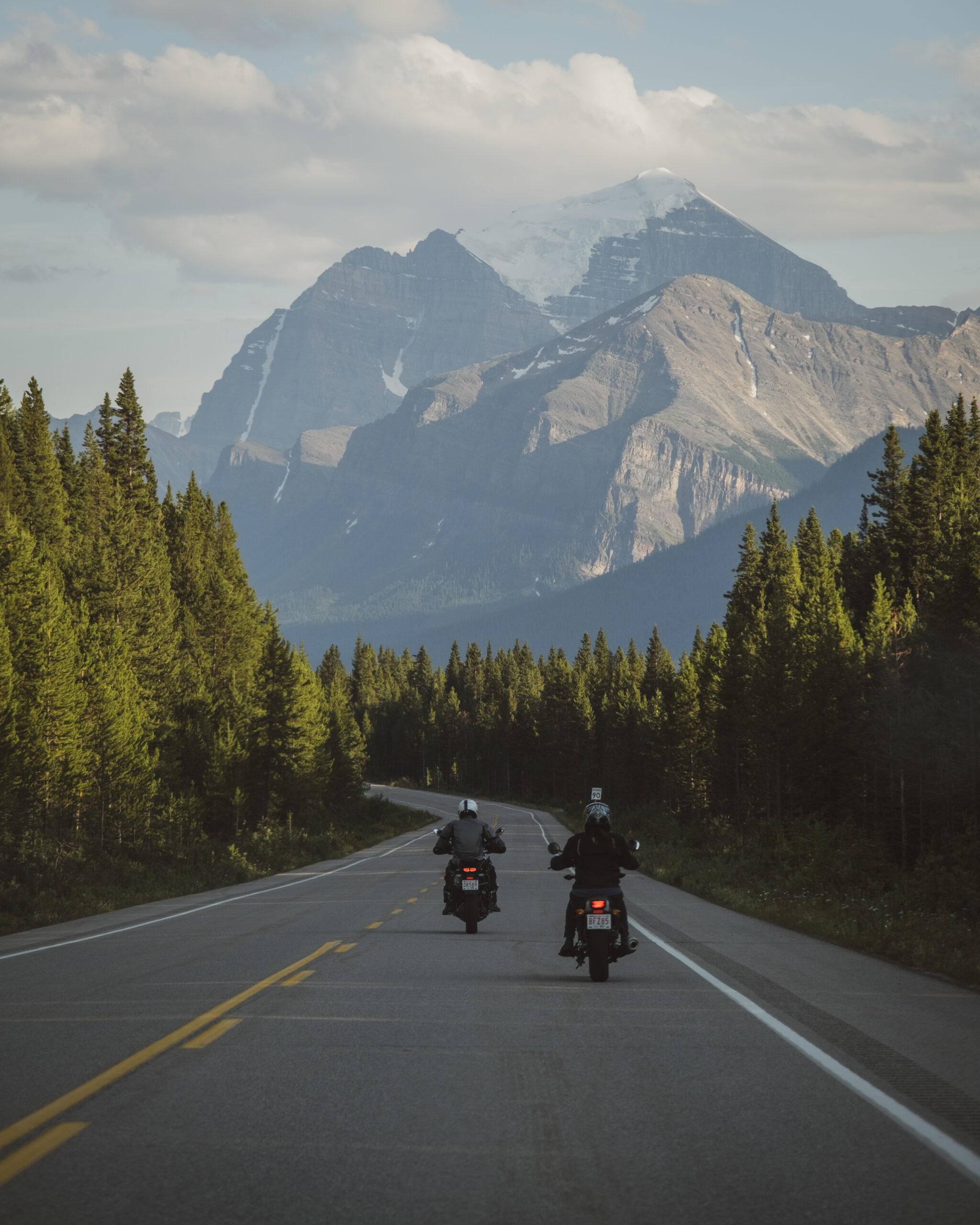 Elevation: 3,544 m (11,627 ft)
Mount Temple is a famous mountain in the Canadian Rockies as it's over 3000 meters, and you can summit it without having mountaineering experience. For many hikers and scramblers who enjoy the Canadian Rockies, Mount Temple is a source of accomplishment. It's a gorgeous Banff mountain and an endless source of inspiration in the Canadian Rockies. At 11,627 ft in elevation, it's one of the highest mountains in Alberta.
It's well known as a proving ground for various sports, whether that's a hike/scramble to the summit, ski descent of the Aemmer Couloir, or climb up the East face. The scramble is a gorgeous day out in the mountains near Moraine Lake, and at 1,682 meters in elevation gain along with altitude make this a very serious mountain. Though you don't have to scramble it to enjoy this mountain in Banff.
Mount Temple can be seen while driving along the Icefields Parkway or the Trans Canada and towers over you while you're hiking around many places in Banff.
---
Mount Rundle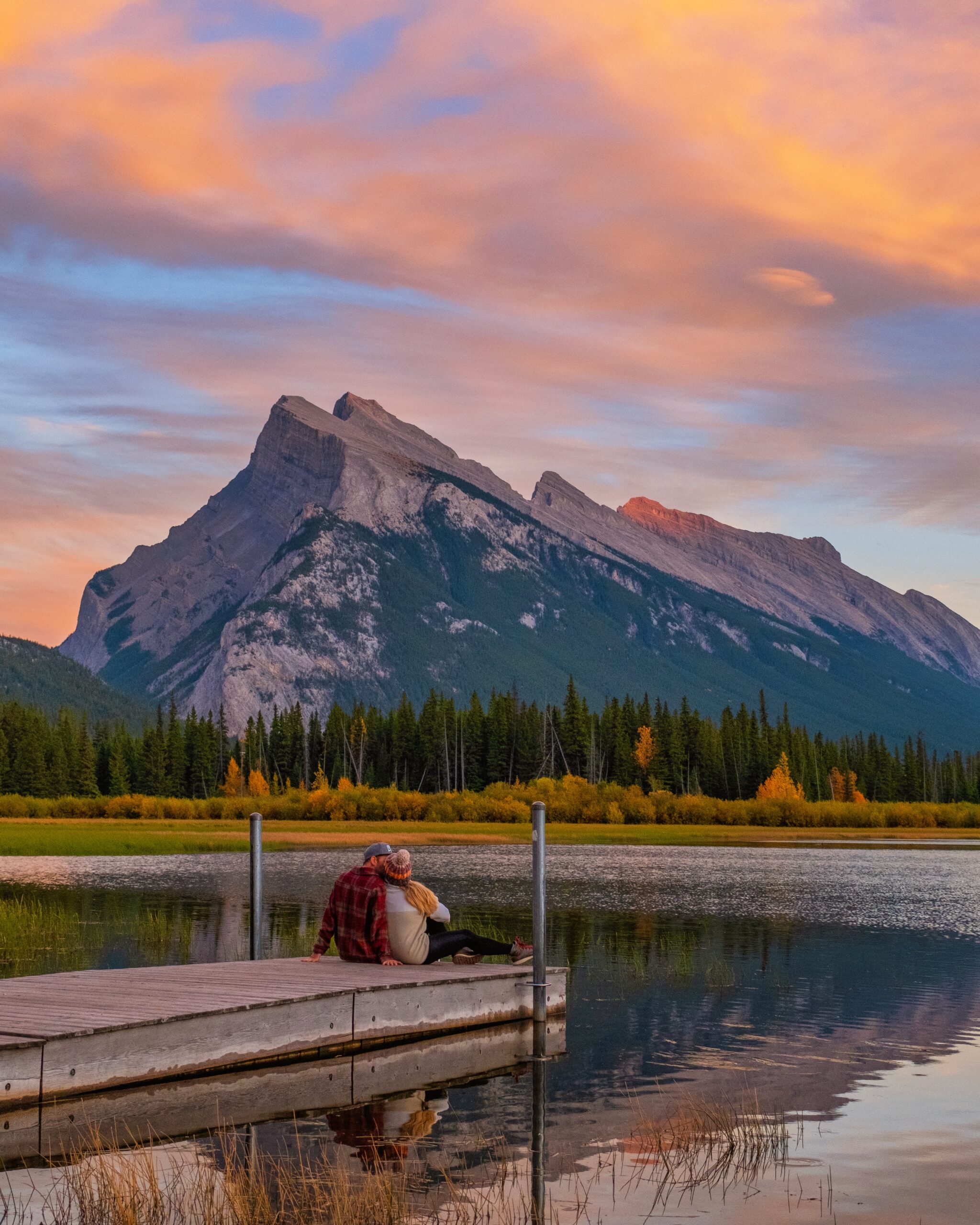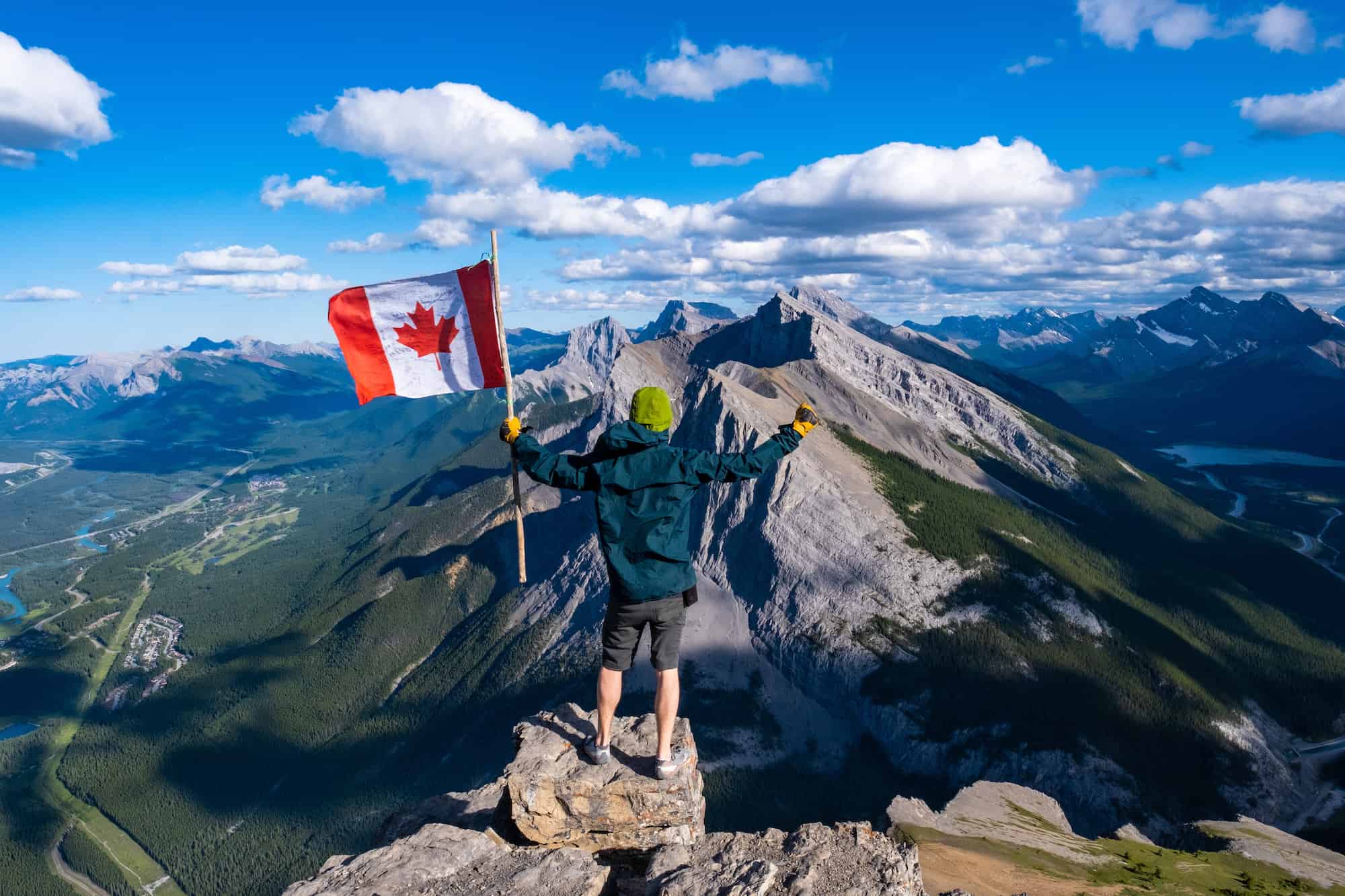 Elevation: 2,948 m (9,672 ft)
No list of Banff mountains is complete without mentioning the glorious Mount Rundle. Mount Rundle is a long massive mountain that overlooks both Banff and Canmore. It could be argued that it is an entire range as it spans over 12 kilometers, with several distinct peaks along the way. My favorite spot to see Mount Rundle is from Vermilion Lakes (photo above), where you can sit, kayak, canoe, or paddleboard under the West end of Rundle.
If you're in Canmore, a popular and easy scramble to complete is the East End of Rundle (locally called EEOR).
---
Tunnel Mountain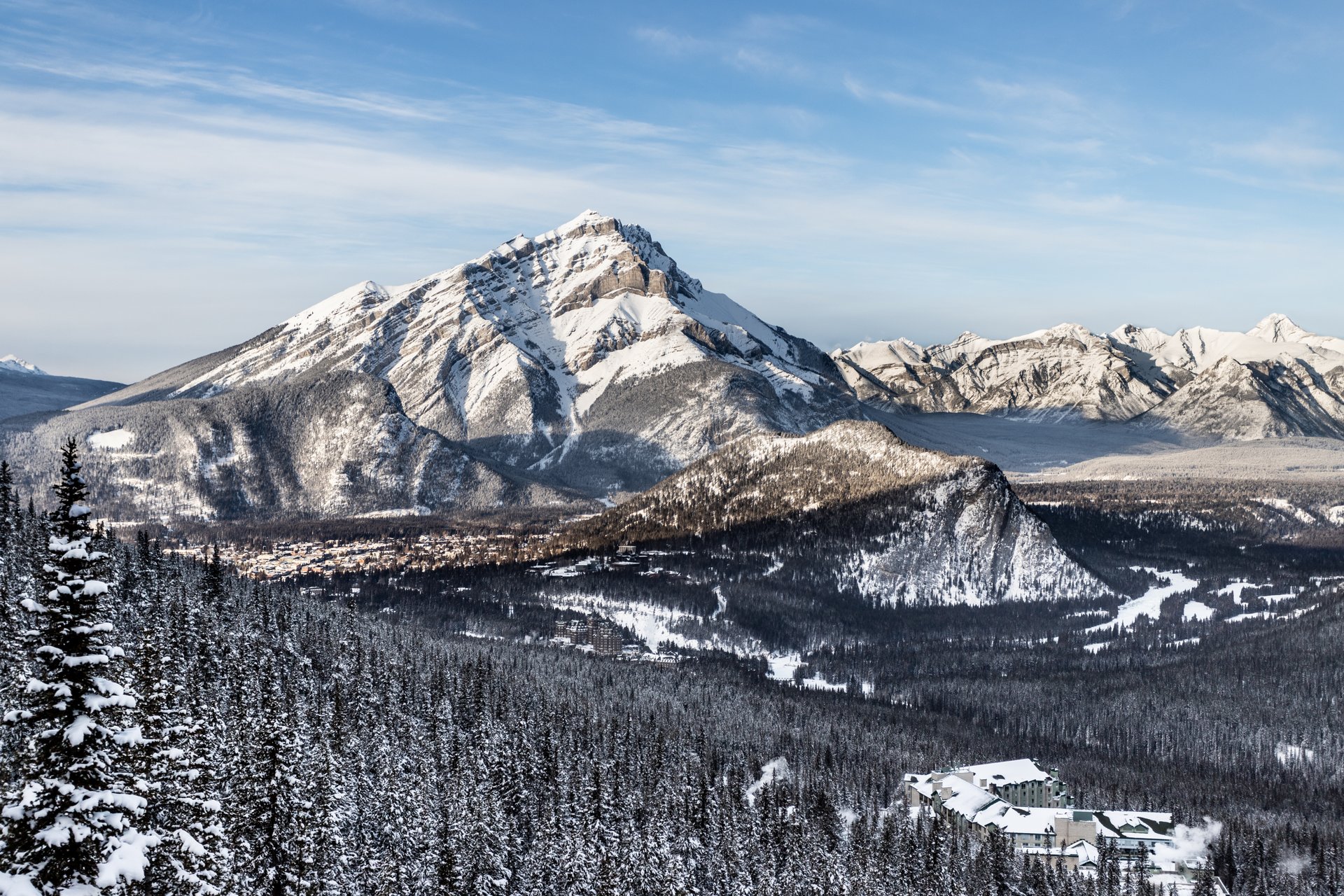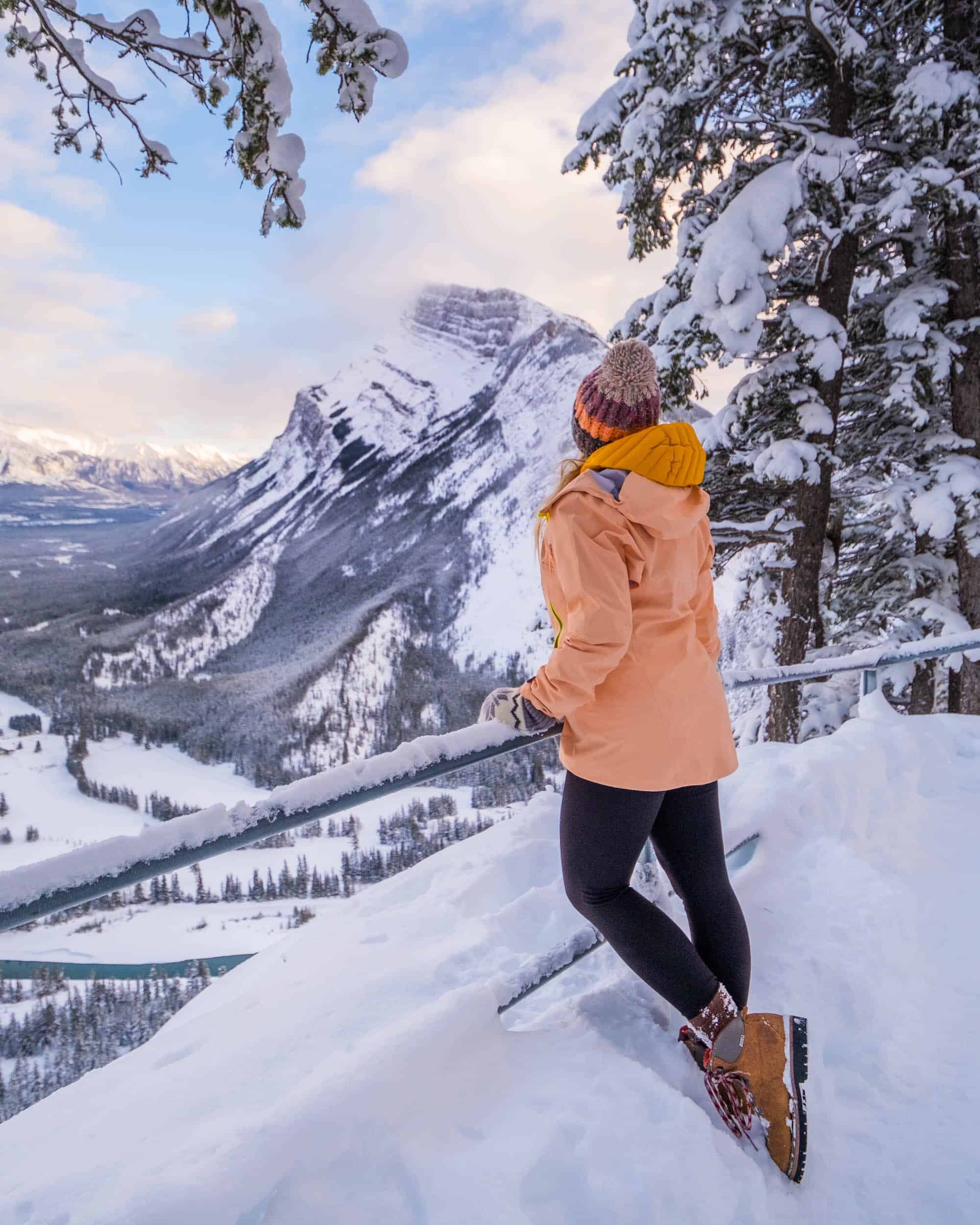 Elevation: 1,692 m (5,551 ft)
Tunnel Mountain is one of the smaller Banff mountains. Actually, when you look at it compared to Mount Rundle next door, it really looks more like a hill. That being said, Tunnel Mountain is indeed a mountain, and it's a classic that is beloved by Banff locals.
People love it for its accessibility, and you can hike it year-round. It may be one of the smallest mountains in Banff National Park, but it still offers tremendous views of the surrounding valleys and the town of Banff. It's great for families and people with mobility issues to hike as it's short and not too steep.
---
Mount Assiniboine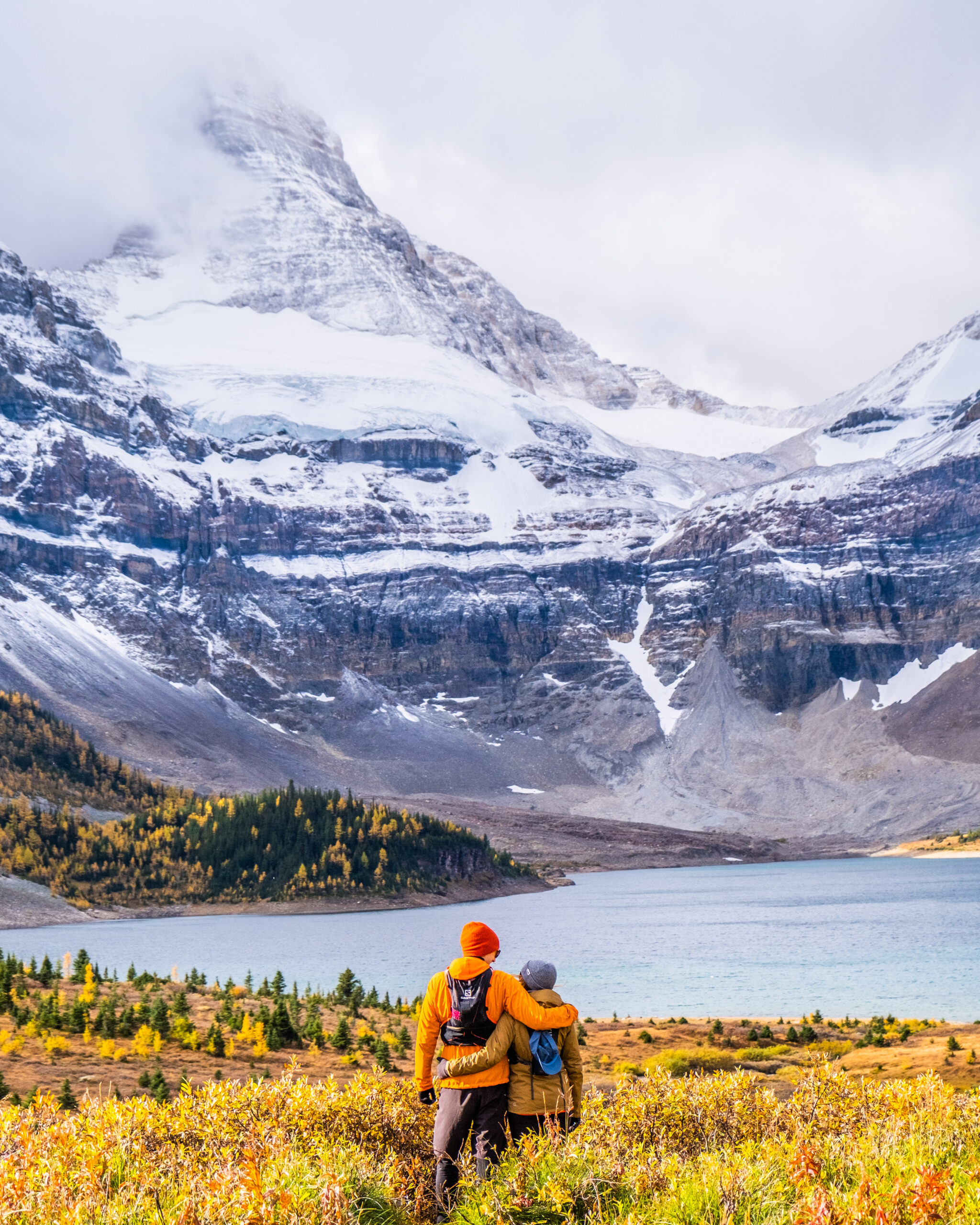 Elevation: 3,618 m (11,870 ft)
Mount Assiniboine, aka named the "Matterhorn of the Rockies" for its pyramid shape, draws in visitors and mountain enthusiasts from around the world. Located on the Great Divide, on the British Columbia/Alberta border, Mount Assiniboine is another sight to behold at 3,618 meters.
The best way to see this famous Canada mountain up close is to venture back into Mount Assiniboine Provincial Park on a multi-day trip. You can either hike back here or take a chopper operated by Assiniboine Lodge. However, it's worth noting you don't have to get back in the park to see Assiniboine. On a clear day, we've been able to see the famous peak from the summits of Cascade Mountain and Mount Beaugeau.
---
Sulphur Mountain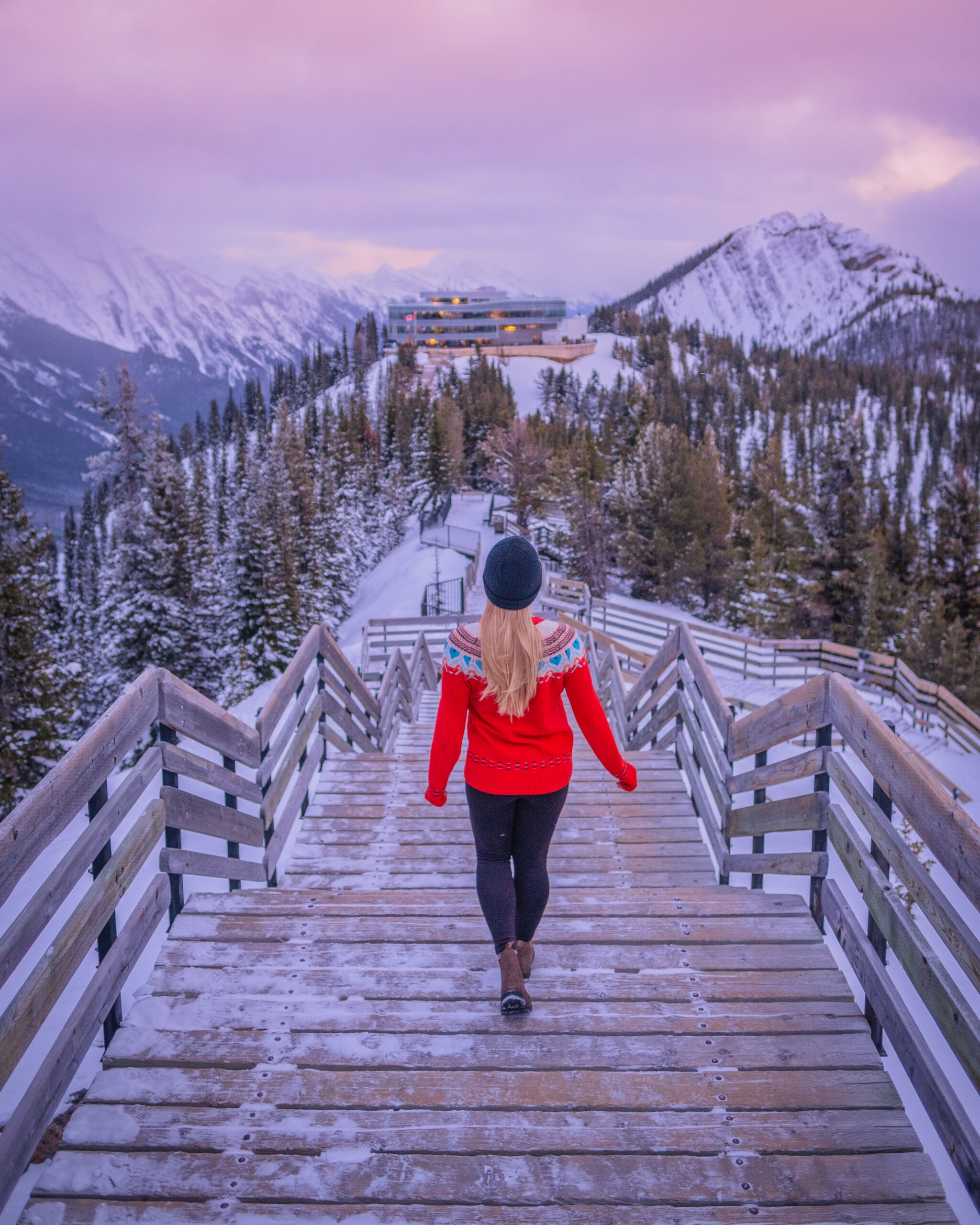 Elevation: 2,451 m (8,041 ft)
Sulphur Mountain is another Banff mountain favorite that is located just right outside of downtown Banff. It's named for its two sulfurous hot springs but is perhaps most well known as the site of the Banff Gondola. It's this mountain that you can get to the top of without having to put a lot of work in.
The Banff Gondola will take you to 2281 meters in a matter of minutes, giving you amazing views over Banff. Up here, there is a Cosmic Ray Station, an old weather station, and even a cafe and restaurant. You don't have to take the gondola up, though – there are easy switchback trails that will get you to the top in under two hours!
---
Mount Bourgeau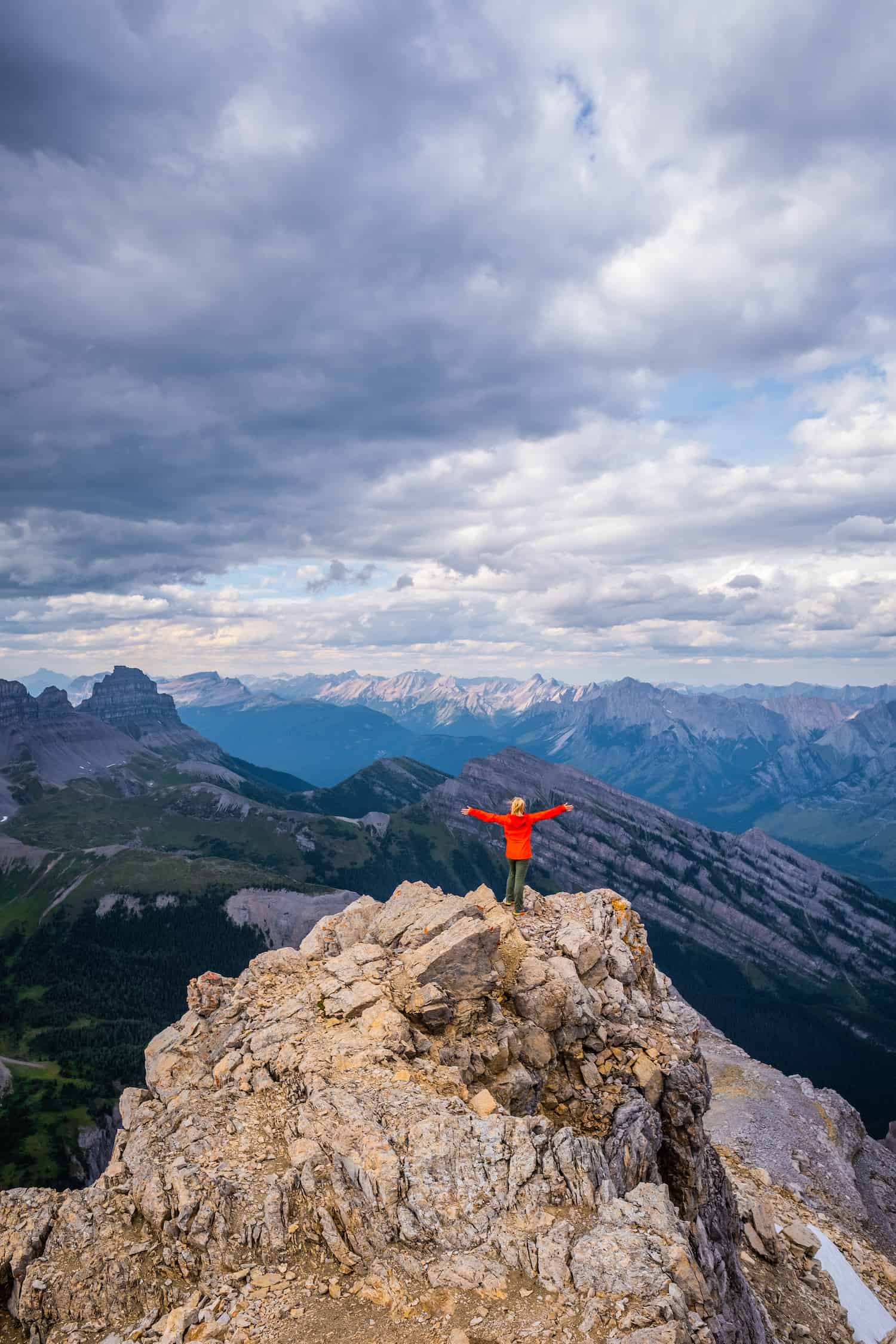 Elevation: 2,931 m (9,616 ft)
Mount Bourgeau is a 2,931-metre tall mountain in the heart of Banff National Park promises some extraordinary views. It's easily accessible from the town of Banff and Canmore as it's only a 10-15 minute drive to the parking area. This makes it a great hike for those staying in Banff town as you can see the colossal mountain from the center of town, and it's a short drive. While the terrain is not challenging, the sheer length and elevation gain requires strong legs.
To reach the peak, you climb over 1,700 meters or 5,600 feet and nearly 22km in a day. That being said, it's one of the easiest peaks in the Rockies as it requires no scrambling or climbing, so I wanted to mention it on this list in case you wanted to hike a Canadian Rockies classic.
---
Ha Ling Peak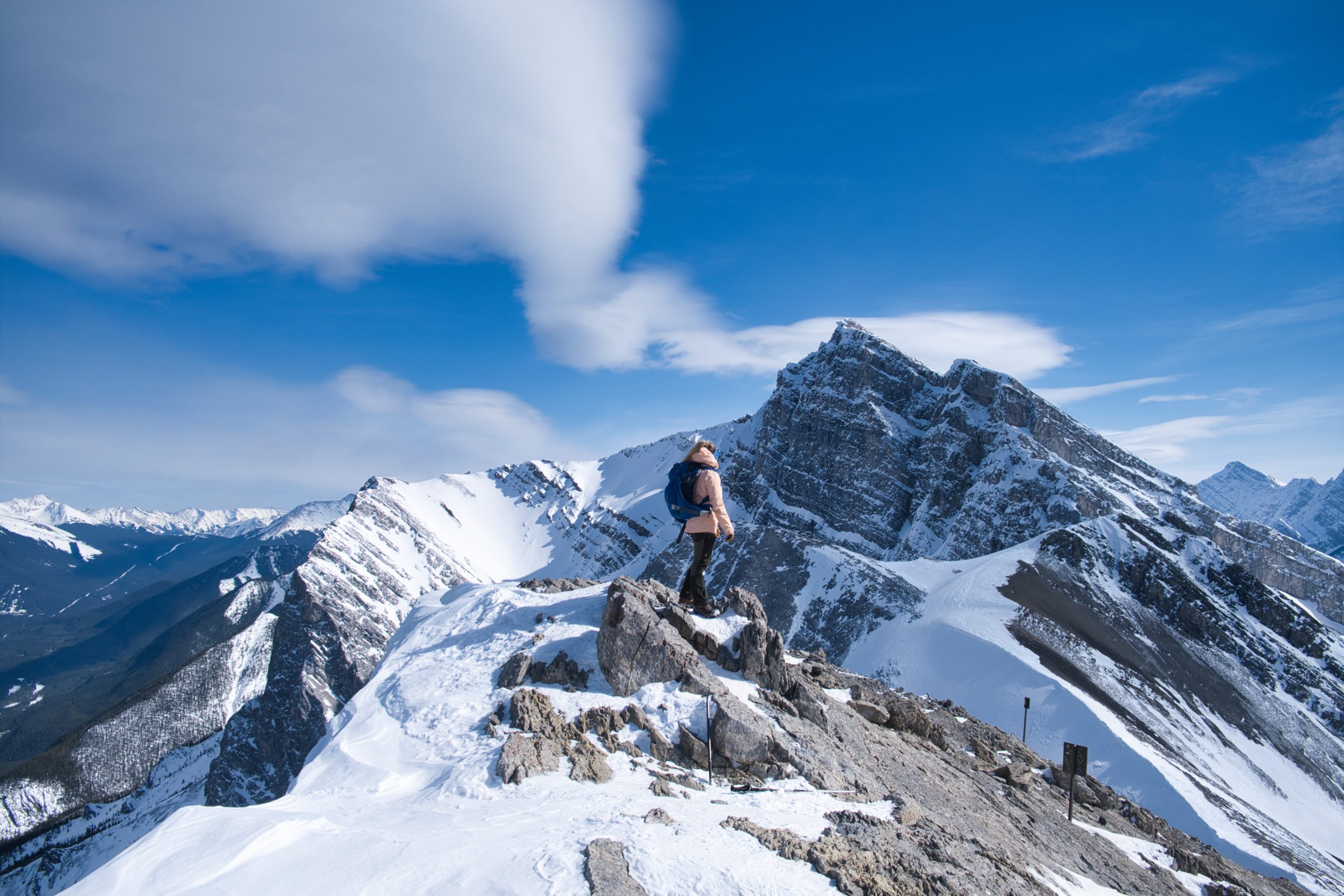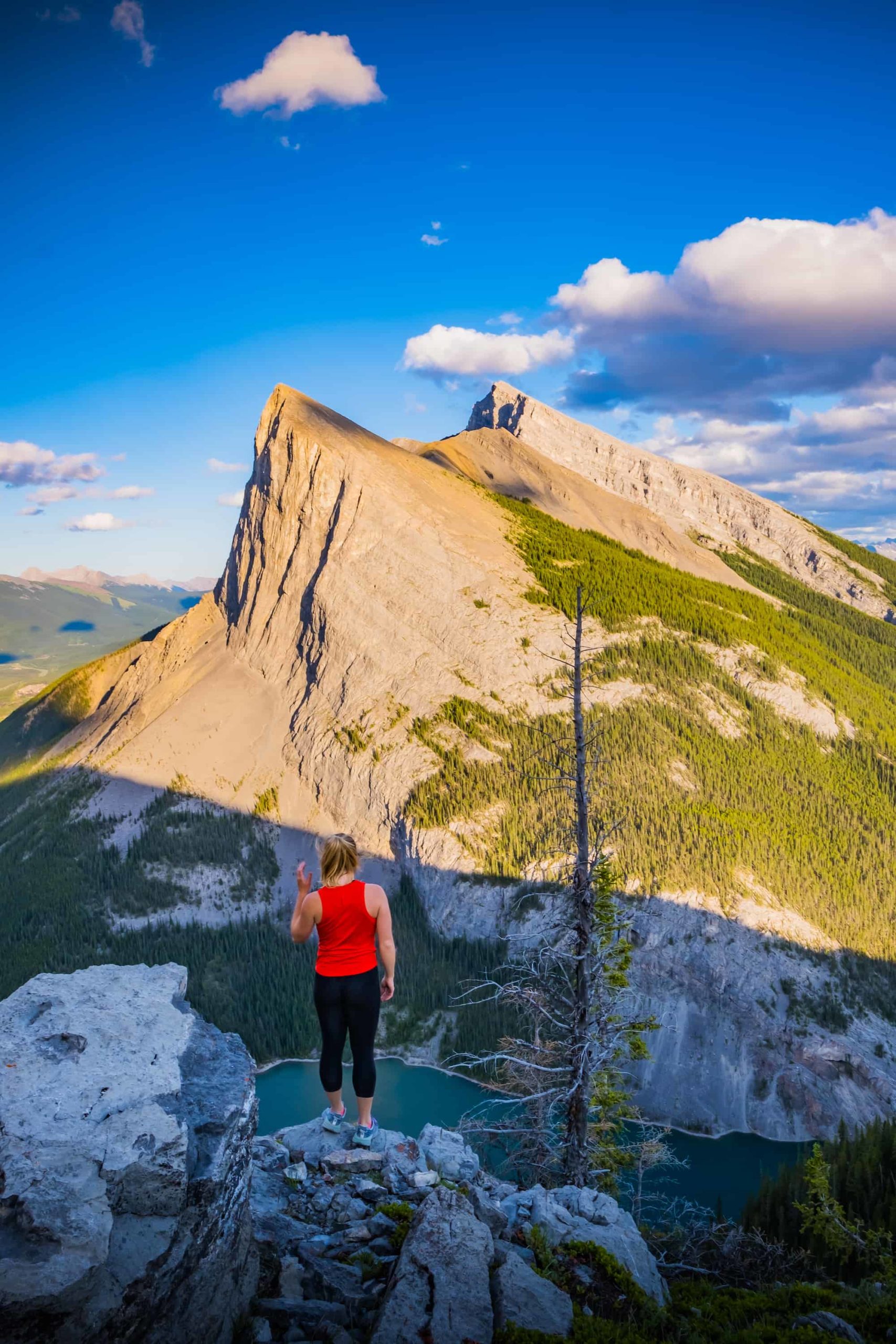 Elevation: 2,407 m (7,897 ft)
Ha Ling Peak is impossible to miss from downtown Canmore and is the most popular peak in the area to climb. Nearly every local in town has likely clambered up to its peak, and over the years, it has grown to be one of the most popular hikes in the Canadian Rockies.
While Ha Ling peak may look daunting from Canmore, the hike up the backside is not much more than a physical challenge. The peak is likely the most popular in all of the Canadian Rockies, which may detract some, but if you're not comfortable in a wilderness setting on your own, there is some assurance in numbers.
The name Ha Ling Peak certainly stands out in the Canadian Rockies. Naturally, with a name like that, there is a story to the origin. Back in 1896, a Chinese cook working for the Canadian Pacific Railroad Company was bet $50 he could make it to the summit of the nearby mountain in under 10 hours.
To everyone's surprise, he not only succeeded but, after setting out in the morning, was back in time for lunch. After the feat, the peak was referred to as Chinaman's Peak until 1980, when it officially received the name. Chinaman's Peak did not last long as in 1997, the name was changed to Ha Ling Peak to be obviously less derogatory.
---
Three Sisters (Faith, Hope, and Charity)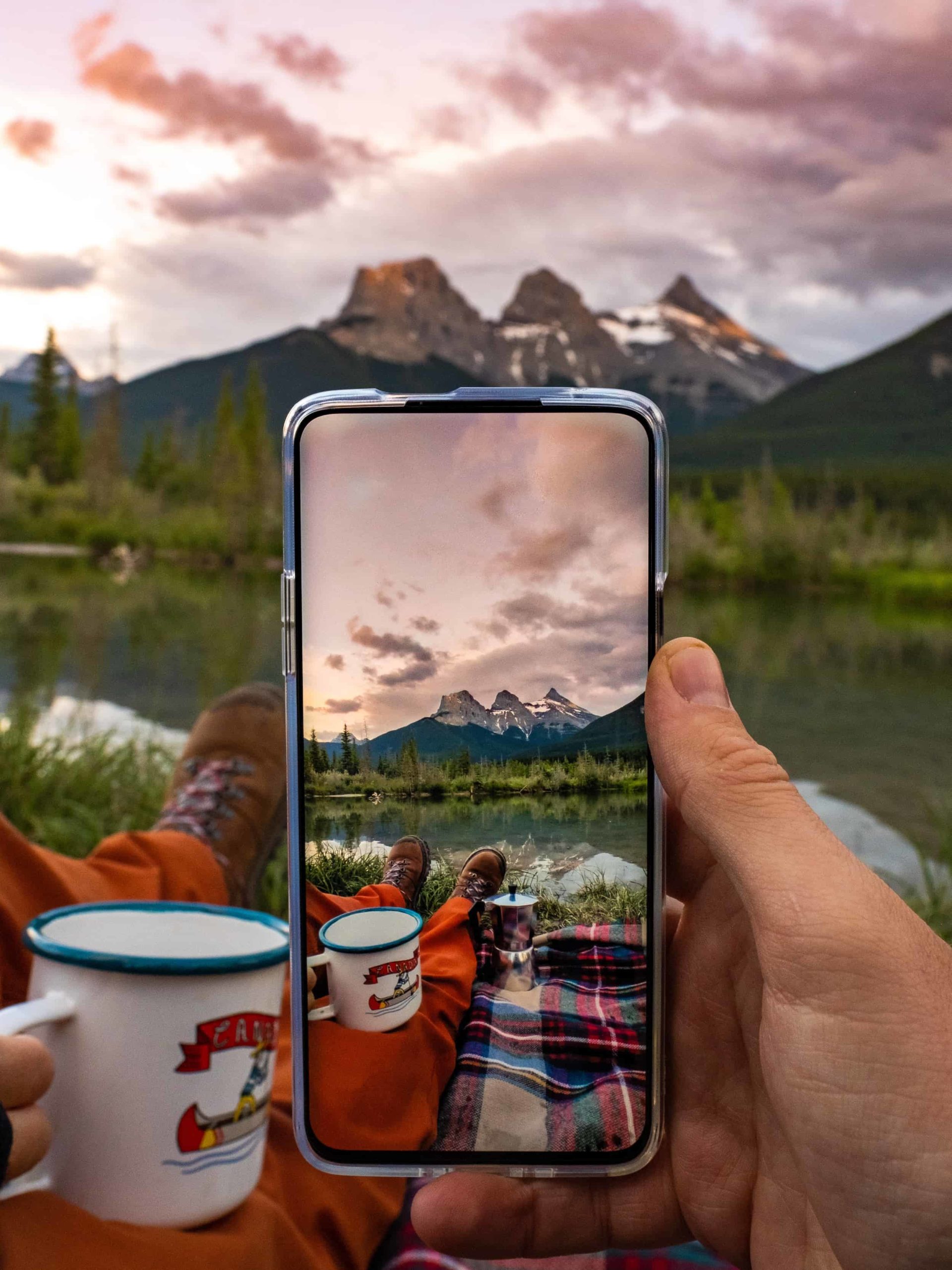 Elevation: Big Sister – 2,936 m, Middle Sister – 2,769 m, Little Sister – 2,694 m
Faith, Hope, and Charity, the individual mountains that make up the Three Sisters Mountain, visible almost everywhere in Canmore. These Canmore mountains are revered by all locals and are the town's majestic and easily recognizable icons.
At nearly 10,000 feet, they're hard to miss, and that's a good thing because experiencing these stalwart giants is one of the best things to do in Canmore, Alberta, that you won't want to pass up. The mountain's bare, rocky peaks make a dramatic contrast with the lush, green pine forests that envelope them at lower elevations.
You'll be able to get great views of them from the bridge in Downtown Canmore or just about anywhere else in Canmore. If you want to scramble up them, it is possible on the Middle Sister and Big Sister. The Little Sister is for experienced rock climbers only.
---
Cascade Mountain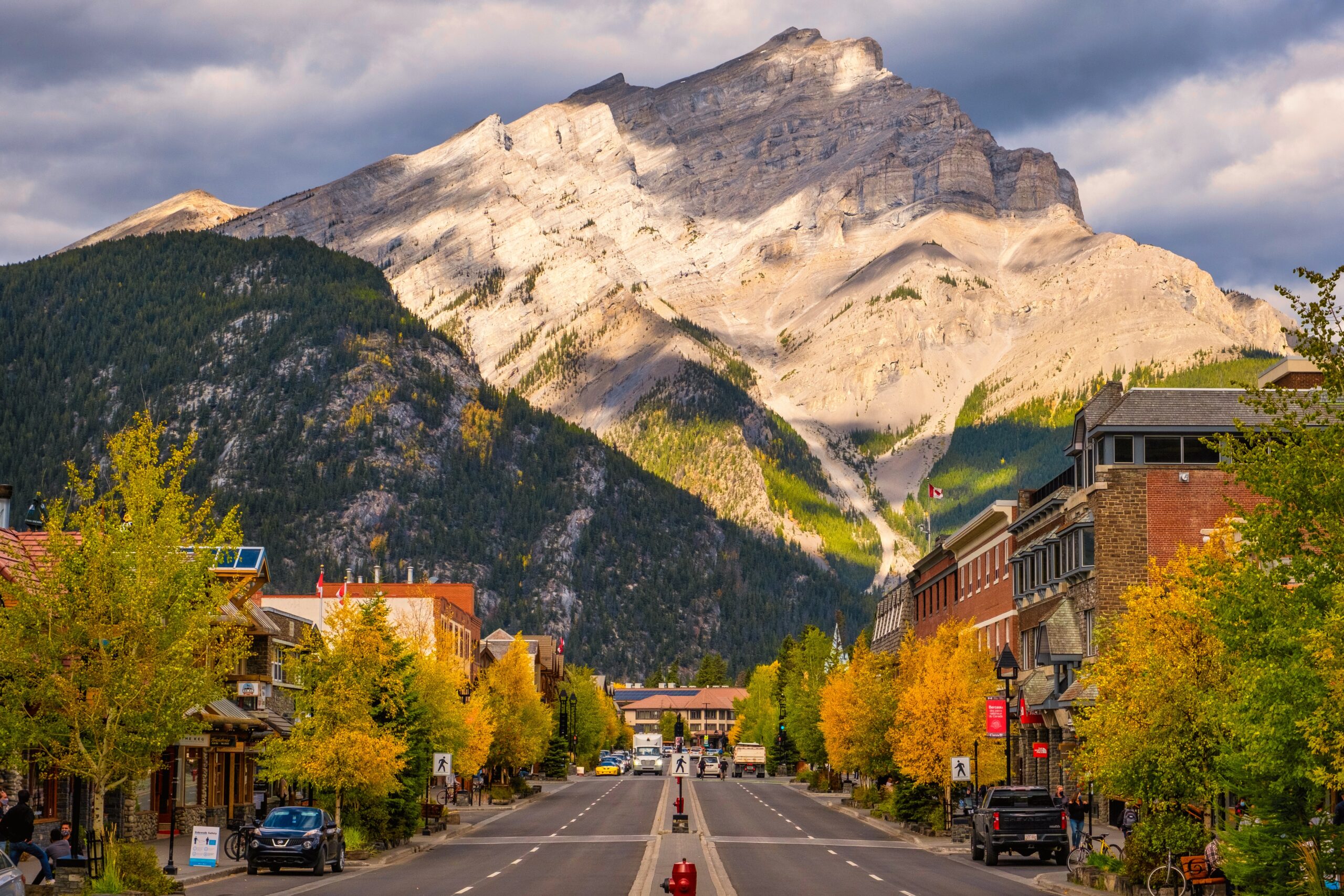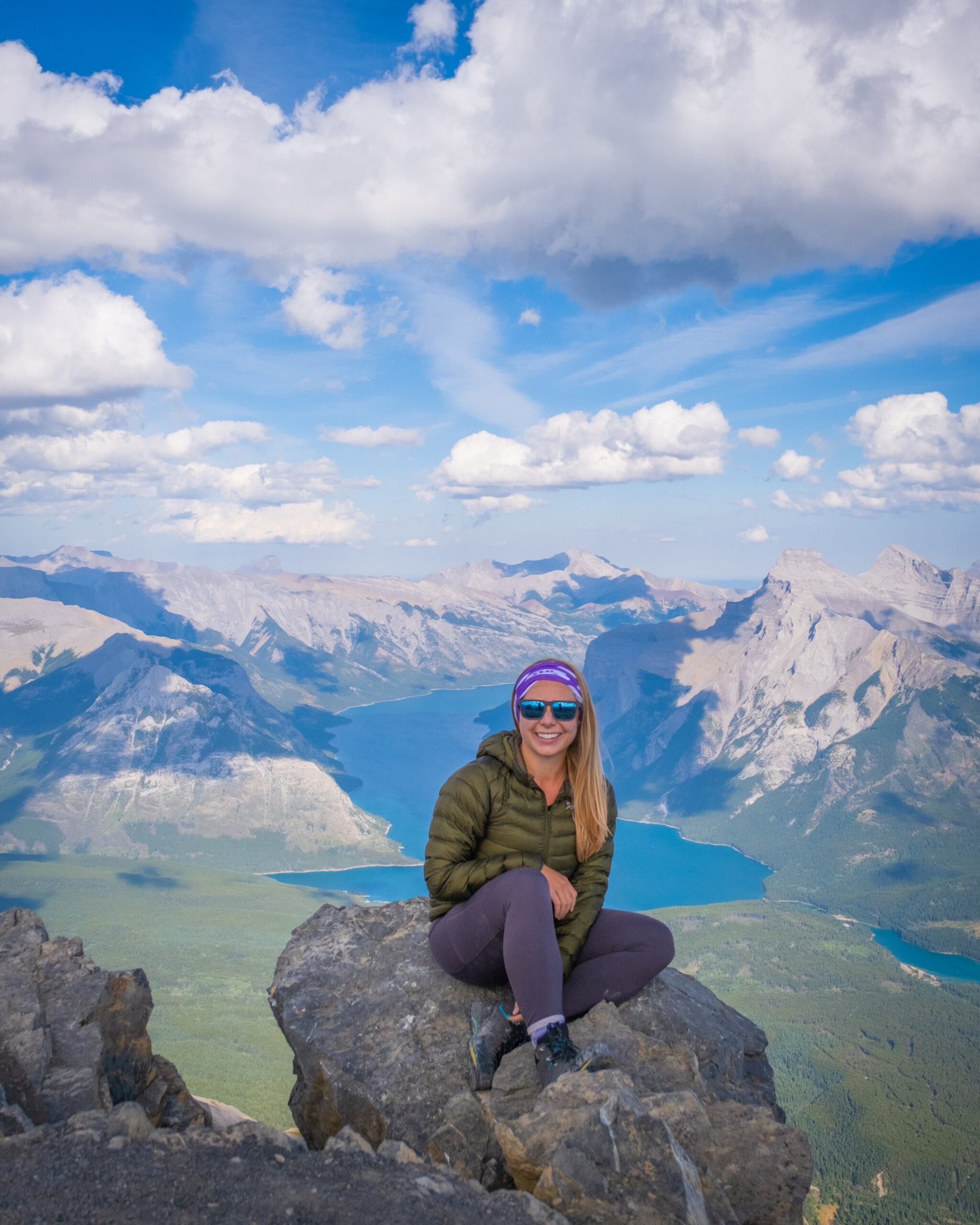 Elevation: 2,998 m (9,836 ft)
Cascade Mountain is the iconic Mountain in Banff you literally cannot miss (no matter how hard you try!) Cascade Mountain towers over Banff like a giant. It's the most prominent mountain near Downtown Banff and is beautiful from all angles.
This Banff mountain was named in 1858 by James Hector after the waterfall or "cascade" on the southern side of the peak (seen from Lake Minnewanka scenic drive road). The iconic mountain can also be referred to as "Stoney Chief" after the neighboring and smaller mountain, Stoney Squaw.
---
Mount Victoria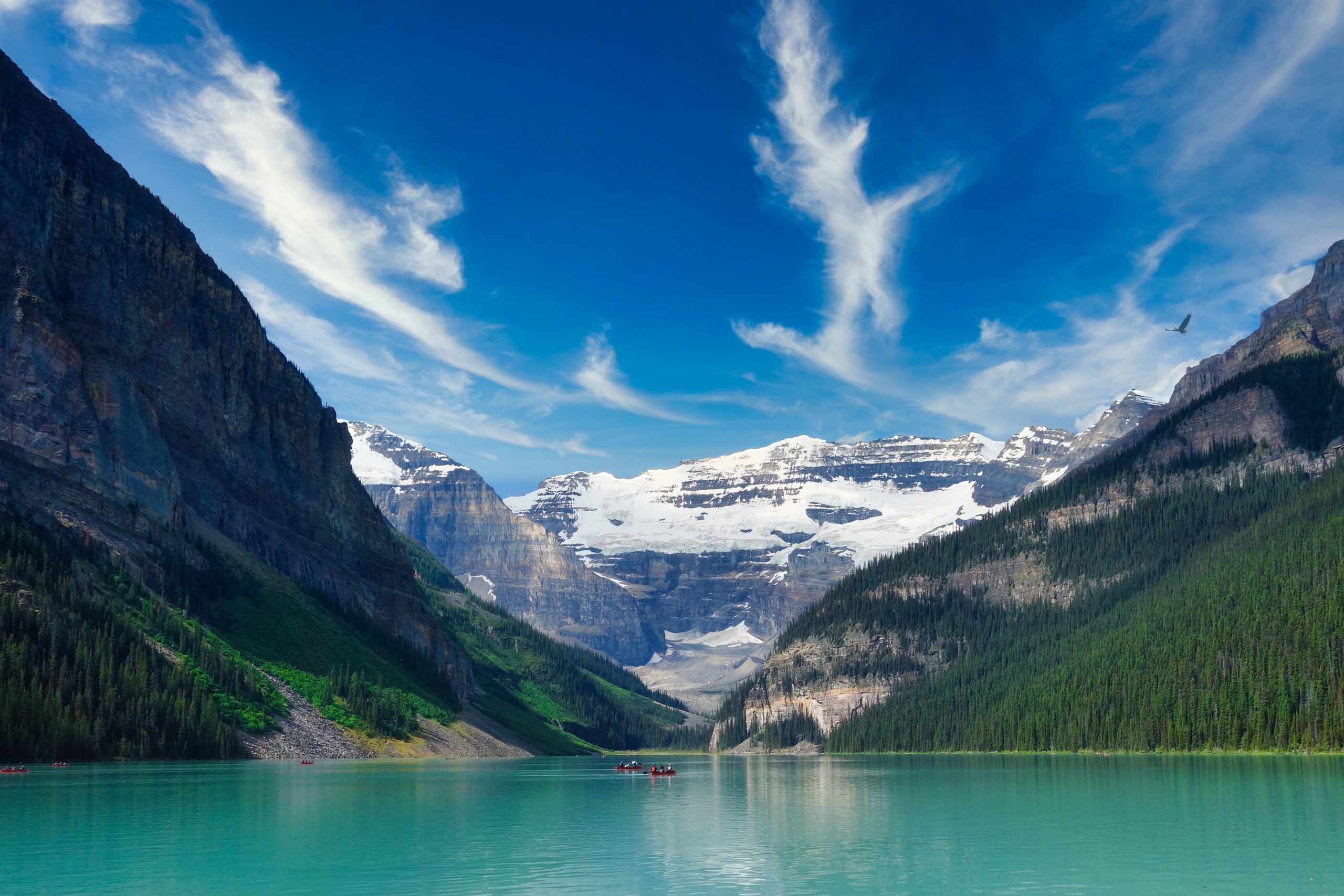 Elevation: 3,464 m (11,365 ft)
Mount Victoria may be unknowingly the most photographed mountain in Banff National Park as it serves as the backdrop to Lake Louise. With a massive hanging glacier, dramatic cliffs, and the sparkling blue Lake Louise at its footstep, there is no shortage of splendor when it comes to the mountain.
It's a popular objective for mountaineers who hope to summit one of the many 11,000ers of the Canadian Rockies.
---
Castle Mountain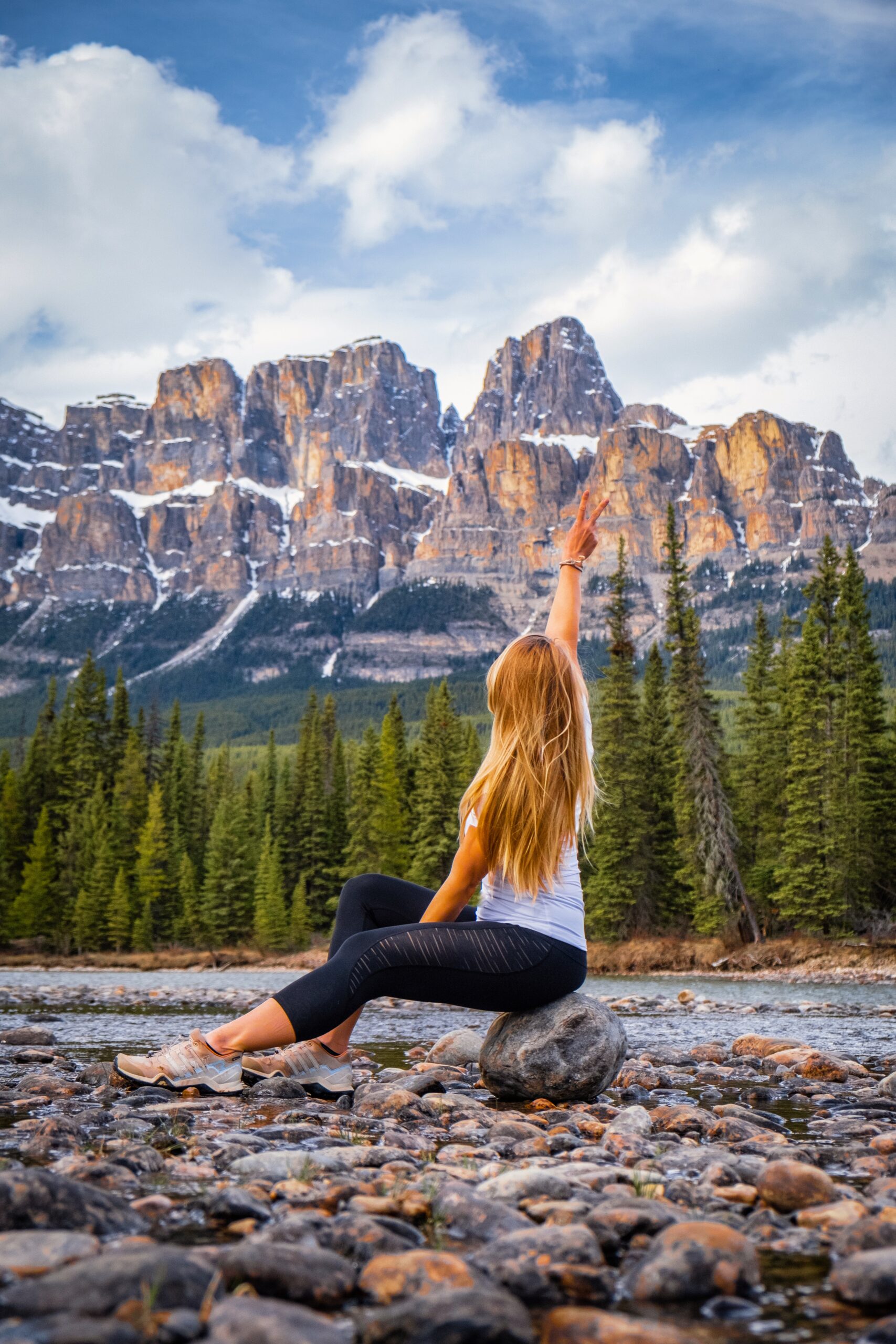 Elevation: 2,766 m (9,075 ft)
You cannot miss Castle Mountain whether you're traveling down the Bow Valley Parkway or the Trans-Canada. It's a unique mountain in Banff with an awesome shape and features that set it apart from the rest of the Banff mountains.
The mountain was named for its castle-like features, but for over 30 years, it was referred to as "Mount Eisenhower" after Dwight D Eisenhower. After some pressure, the name was restored back to Castle Mountain, but the pinnacle you can see in the photo on the southeastern side is named Eisenhower Tower.
---
Mount Athabasca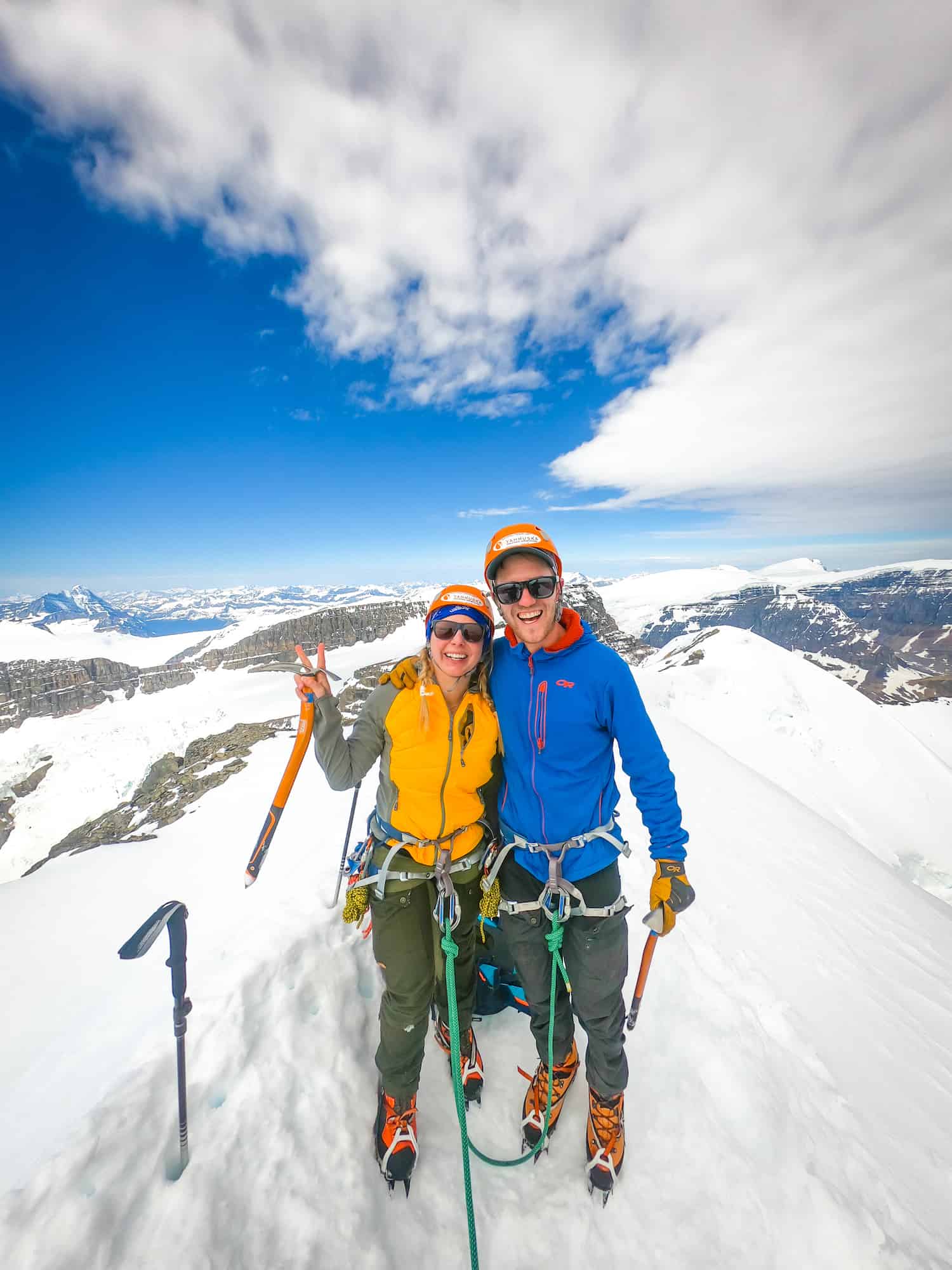 Elevation: 3,491 m (11,453 ft)
Mount Athabasca looms over one of the most popular attractions on the famed Icefields Parkway, the Columbia Icefield Center. The peak is one of many in the Canadian Rockies, famous for reaching an altitude of 11,000 feet. Many climbers in the Rockies have the lifetime goal of summiting all 54 (58) of the peaks, and they are considered classic mountaineering objectives.
At 11,453 feet in elevation with a massive glacier and convenient location, Athabasca proves to be a tremendous "11,000er," and one of the most jaw-dropping Alberta mountains. One of the most prominent features of Mount Athabasca is a horned-shaped tip near the top called the "Silverhorn," which can be seen from the Columbia Icefield Center.
Most visitors to Banff can get comfortable with Mount Athabasca as you can take tours to walk on the Athabasca Glacier at the base. However, as mentioned, it's a popular mountaineering objective. To reach the summit requires a long hike to a technical glacier crossing and then up an exposed face or couloir. The views are breathtaking in more ways than one. You can spot countless glaciers, icefields, and many of Alberta's highest peaks from the top. Read all about how we summitted it.
---
Mount Columbia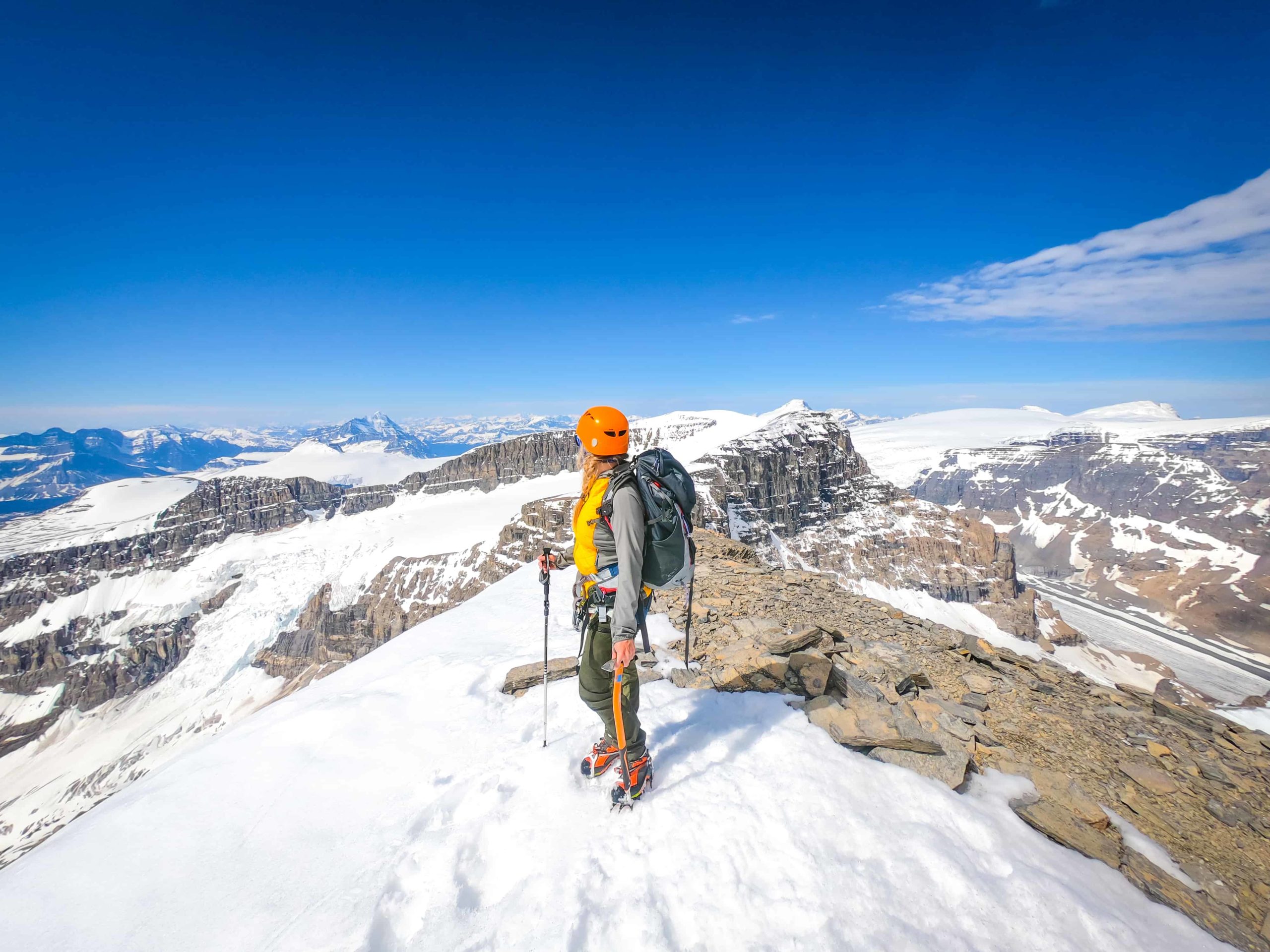 Elevation: 3,747 m (12,293 ft)
Of course, I have to mention Mount Columbia on this list as it is the highest point in Alberta at 3,747 m. Which makes it the second-highest in the Canadian Rockies after Mount Robson!
---
Mount Robson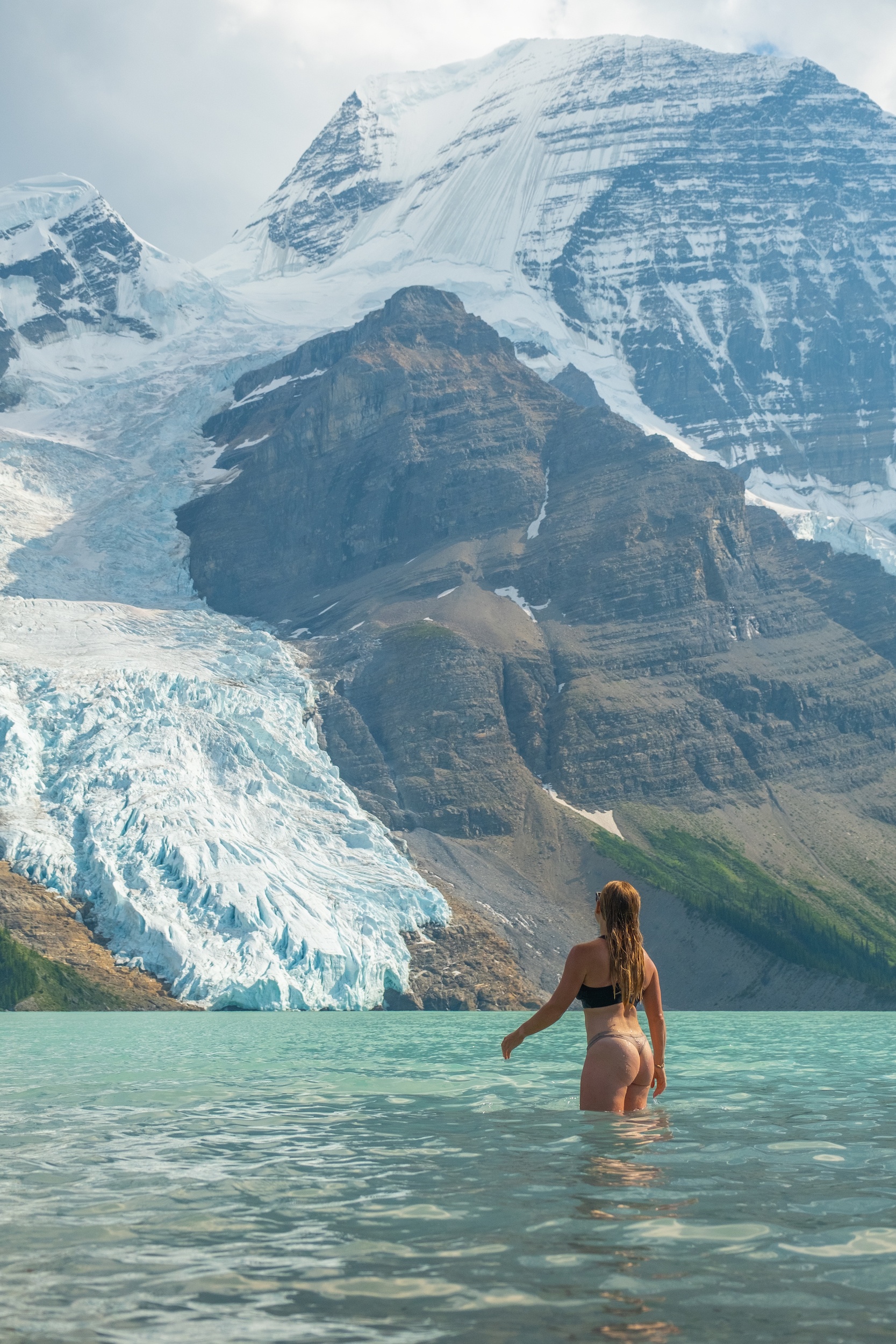 Elevation: 3,954 m (12,972 ft)
As far as Canada mountains go, it's hard to beat Mount Robson. At 3,954 meters, Mount Robson is the highest peak in the Canadian Rockies and the second highest peak entirely in British Columbia, behind Mount Waddington. It's a stunner of a peak that can be seen at various points in Jasper National Park (including Whistlers Peak, which is easily accessible via the Jasper Skytram).
However, to really get up close and personal to Mount Robson without having to climb it (requires skilled mountaineering experience), I would suggest hiking the Berg Lake Trail and staying overnight at Berg Lake in Mount Robson Provincial Park.
---
Mount Edith Cavell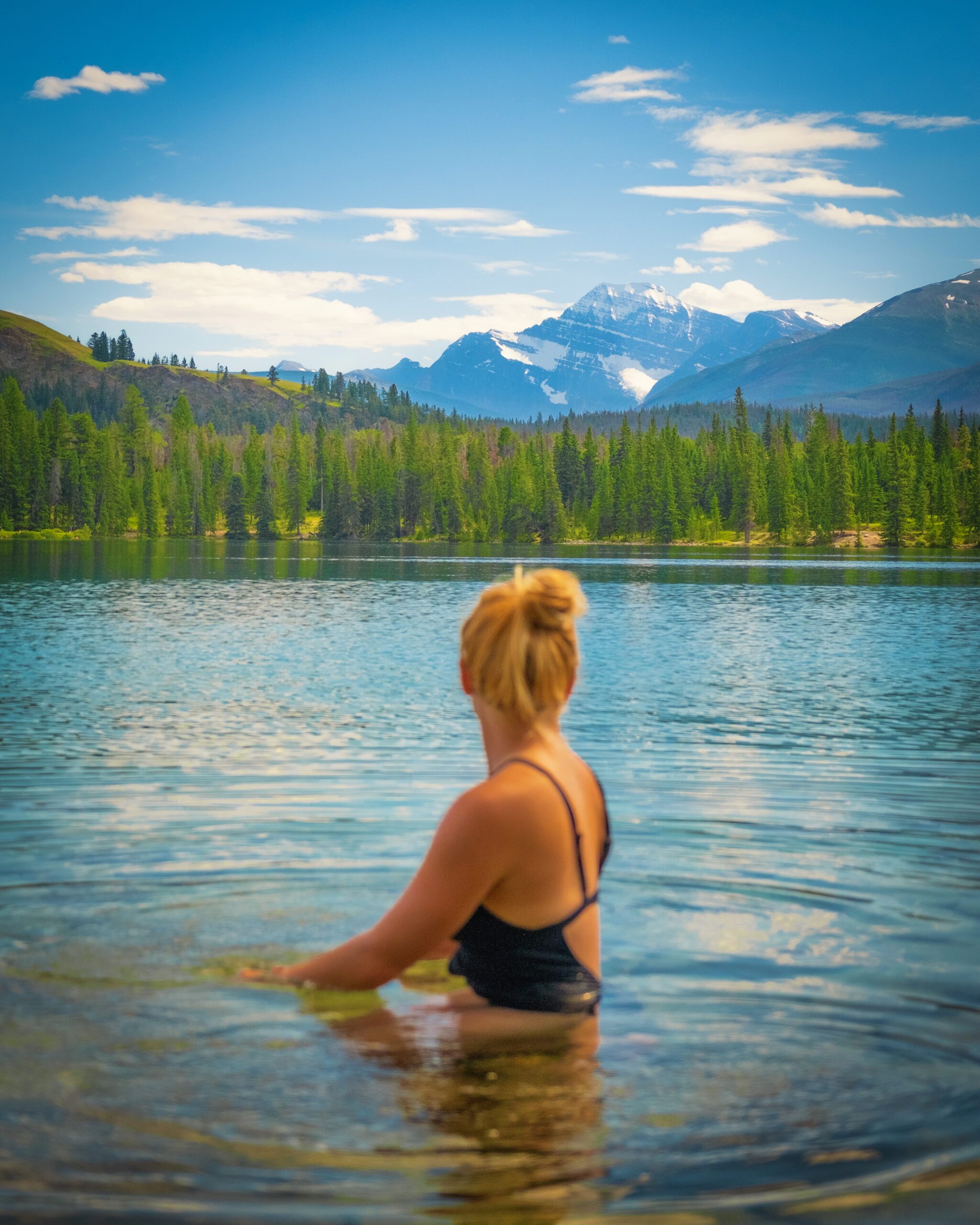 Elevation: 3,363 m (11,033 ft)
Mount Edith Cavell is one of the most prominent Alberta mountains located in Jasper National Park in the Athabasca River and Astoria river valleys. It has a prominent peak recognized by many and is a mountaineer's favorite objective in the Canadian Rockies.
Edith Cavell is also named after a woman, which is really cool among many male named mountains in the Rockies. Cavell, was a celebrated British nurse who saved the lives of hundreds of soldiers during WWII.
---
Pyramid Mountain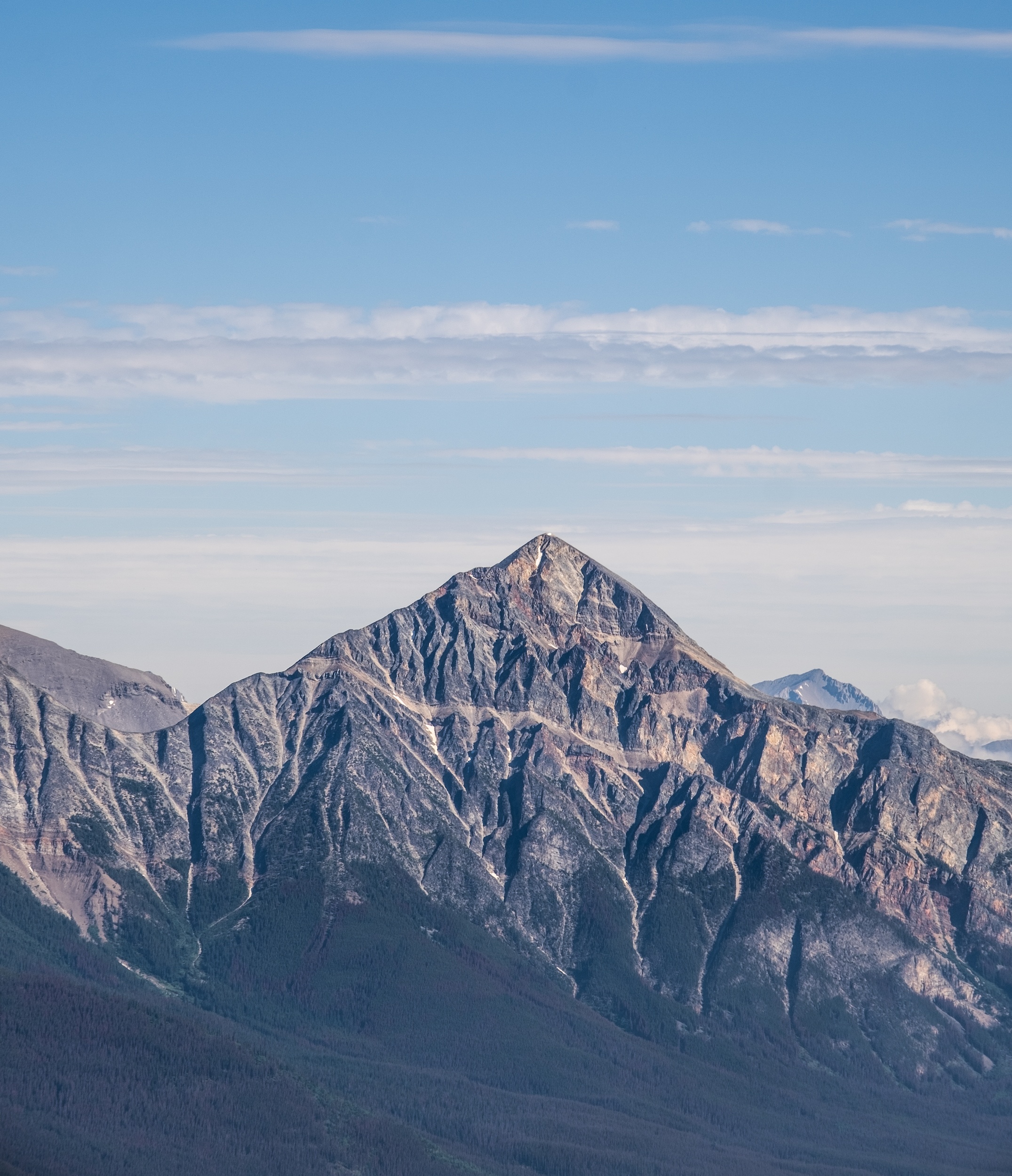 Elevation: 2,766 m (9,075 ft)
Pyramid Mountain deserves to be mentioned on this list as it towers over Jasper town and is well known for its – you guessed it – pyramid shape! Not only is the shape impressive, but it has a unique red color to is that is different than any other mountain I've seen in the Rockies.
My favorite spots to see Pyramid Mountain are Pyramid Lake and Lake Edith.
---
Mount Hector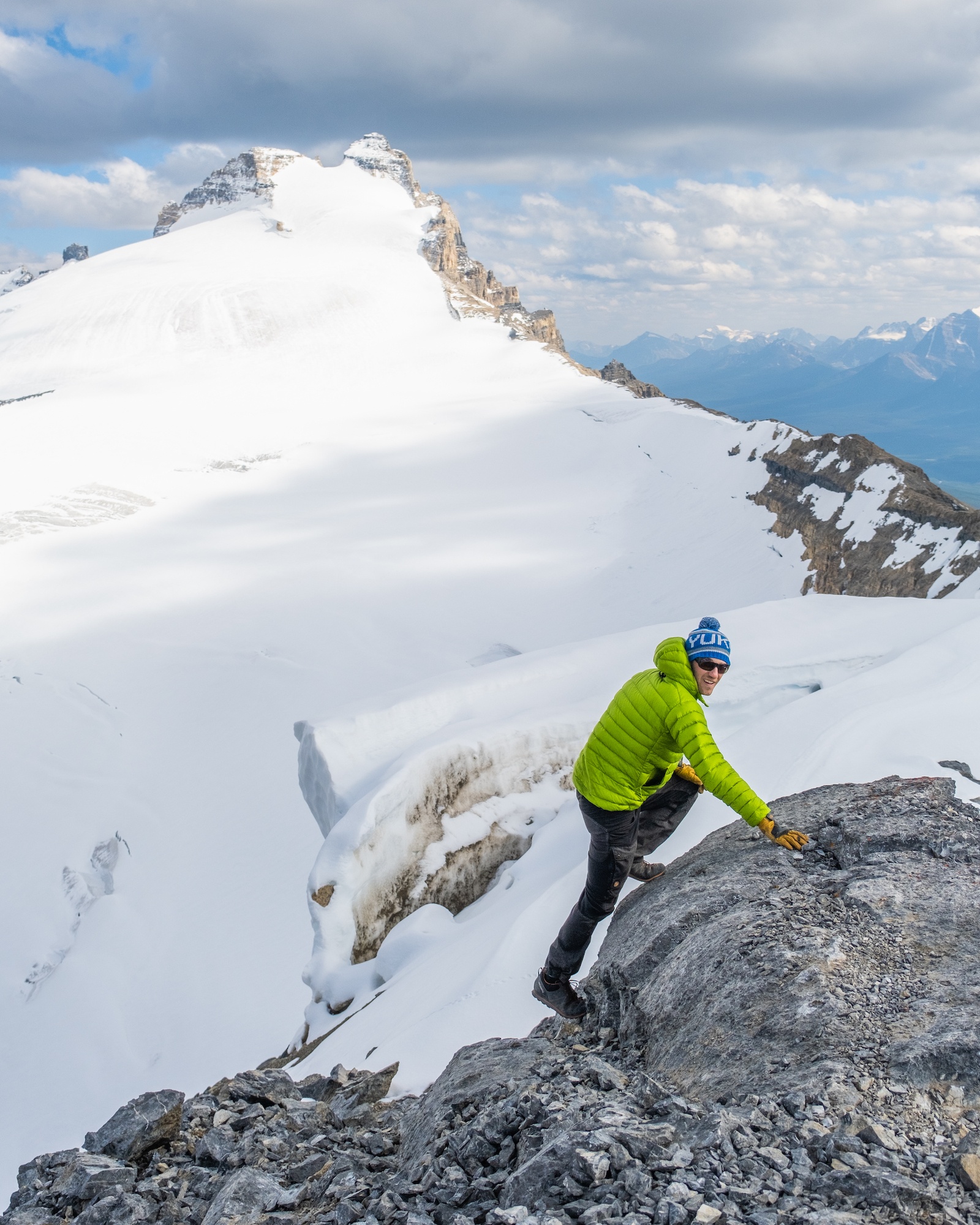 Elevation: 3,394 m (11,135 ft)
Mount Hector is a 3,394-meter on the Icefields Parkway. It's across the Icefields Parkway from Hector Lake and is a popular mountaineering objective for those with glacial travel experience, and is a popular backcountry ski spot in the winter.
Due to its sheer size, it's hard to see from up close on the road, but it's a beautiful mountain in Banff. We had probably the best views you can get of it atop Little Hector this summer (moderate Banff scramble).
---
Where is the Highest Mountain in Canada?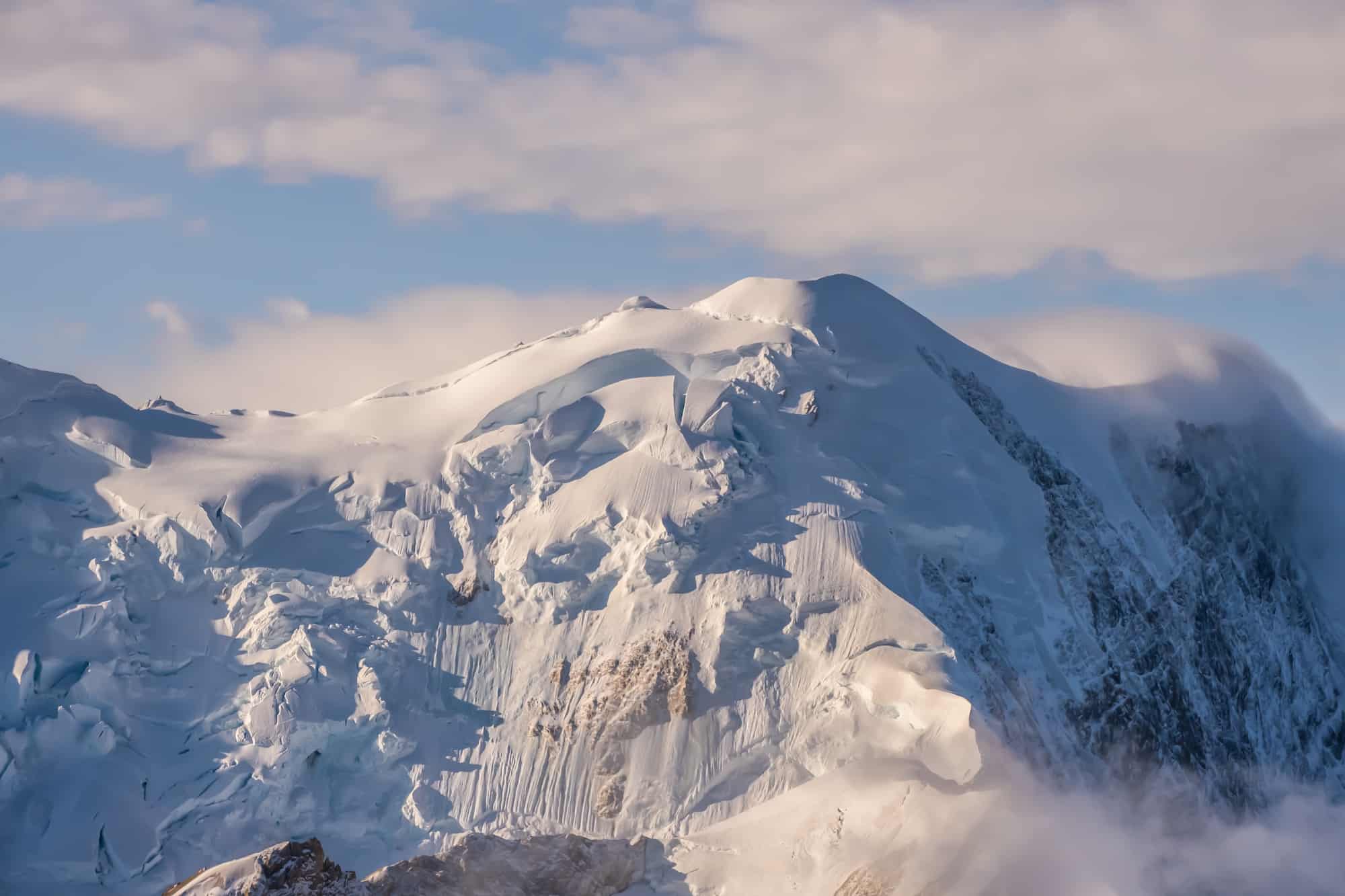 Okay, I know this is not a Banff mountain, or even an Alberta mountain – far from it, actually. But we get asked frequently what the highest mountain in Canada is, as people think it is in the Canadian Rockies. So we figured we would mention that the tallest mountain in Canada is not in Banff, but is actually in the Yukon.
In the Saint Elias Mountain range is Mount Logan that sits at 5,959 meters! Mount Logan is the tallest mountain in Canada and the second tallest in North America. We haven't climbed Mount Logan, but we did get to take a pretty sweet airplane ride over it when we visited Kluane National Park. If you haven't been to the Yukon yet, it's well worth the journey!
Hopefully, this gave you a fun rundown of all the fantastic Alberta Mountains.
If you have any other questions leave a comment or see our Canadian Rockies travel guide for more articles about photography spots, lakes, hikes, and everything else.
Plan Your Trip to the Canadian Rockies
↓ Join the community ↓
The Banff Blog Facebook Group is your headquarters for the Canadian Rockies' travel advice and information. Including hike info and off-season travel information. You can also meet new adventure buddies.