**Due to extreme flooding in 2021, the Berg Lake Trail closed for all of 2022, opened for winter 2023 and we are waiting for updates for summer 2023, as far as we know, BC Parks announced that the Berg Lake Trail will be open as far as Kinney Lake this summer. As of now The Berg Lake Trail, trailhead, and parking lot are currently closed to accommodate upcoming works on the parking lot and trail until June 27, 2023. The full Berg Lake Trail is not will not open past Kinney Lake Campground in 2023. Stay updated on BC Parks website.
We finally checked off the Berg Lake Trail in Mount Robson Provincial Park this summer, and all I can say is – wow. It truly blew my socks off more than I thought it would. This 42 km hike is what Canadian dreams are made of. Along the route, you'll find cascading waterfalls pouring into the valley, turquoise blue lakes, glaciers, and of course, the highest peak in the Canadian Rockies – Mt. Robson.
It's a great multi-day hike to complete if you visit Jasper, as it's less than an hour from the town. Or if you want to complete it as a trail run or one massive long day, this is possible.
I would try and compare it to other multi-day hikes in the Rockies, but honestly, it's so different and unique from other trails and hikes we have been on it's impossible to do that.
All I can say is to make room on your schedule for the Berg Lake Trail; it's one of the best places in BC and well worth all the planning and effort you can put in.
---
How to Hike the Berg Lake Trail in Mount Robson Provincial Park
---
Berg Lake Trail Key Facts and Intro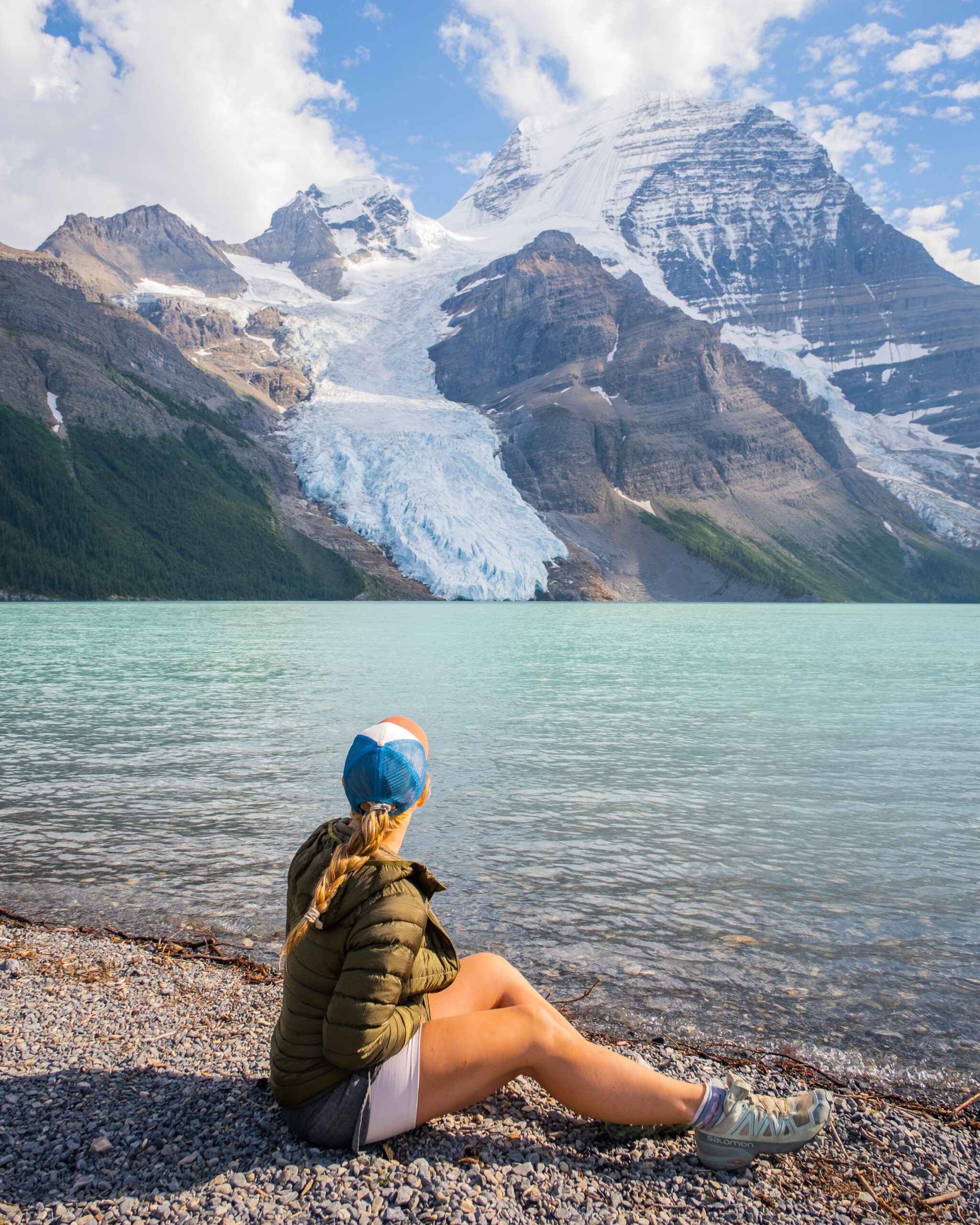 Length: 41.5 km
Duration: 8-14 hours as a day hike. 2-4 days as a multi day
Elevation Gain: 800 meters
Difficulty: Difficult because of length
Best Time To Go: July – September
Parking: Kinney Lake Road
The beginning of the Berg Lake trailhead is only a short drive away from the Mount Robson visitor center and just 87 km away from the town of Jasper. We based ourselves in Jasper for six days, and after having some fun with all the things to do there, we decided we wanted to tackle the Berg Lake Trail.
We had no camping reservations and none of our camping equipment with us, so we decided to do the trail in one day.
Doing the Berg Lake Trail in a day is definitely doable, and if you only have a short amount of time I would encourage any experienced hiker or trail runner to do so.
However, I had wished we stayed at least one night at Berg Lake so that we could do some day hikes around Mount Robson, and of course catch sunrise or sunset at the beautiful Berg Lake.
But camping reservations are first-come, first-serve, and getting one at Berg Lake itself is a hard feat to accomplish. I would highly recommend booking your Berg Lake campsites as soon as camping reservations open up for the year. You can do so at the BC Parks Discover Camping Reservation Centre.
BC Parks also introduced a reservation system in 2020 for day hikers. At 7am local time, day hiking permits are issued to a limited number of people one day before you're intended hiking day. So if you want to tackle the Berg Lake Trail on June 30th, you'll need to secure day passes on June 29th.
These passes are free, but they "sell out" fast, especially on weekends. We were up at 7am on the dot to get our day permits for Berg Lake, and by 7:10am, they were gone. That being said, we were never asked to show these once we got to Mount Robson Provincial Park.
After we parked near the trailhead, we began our 42 km day to Berg Lake and back. Round trip, we completed this journey in about 8 hours of moving time, with a 1 hour stop at Berg Lake and 30 minutes at Emperor Falls. We trail ran until Kinney Lake and then kept a swift pace up until we hit Berg Lake and took a dip in before heading back down in the evening.
Here's how the Berg Lake Trail breaks down.
---
Kinney Lake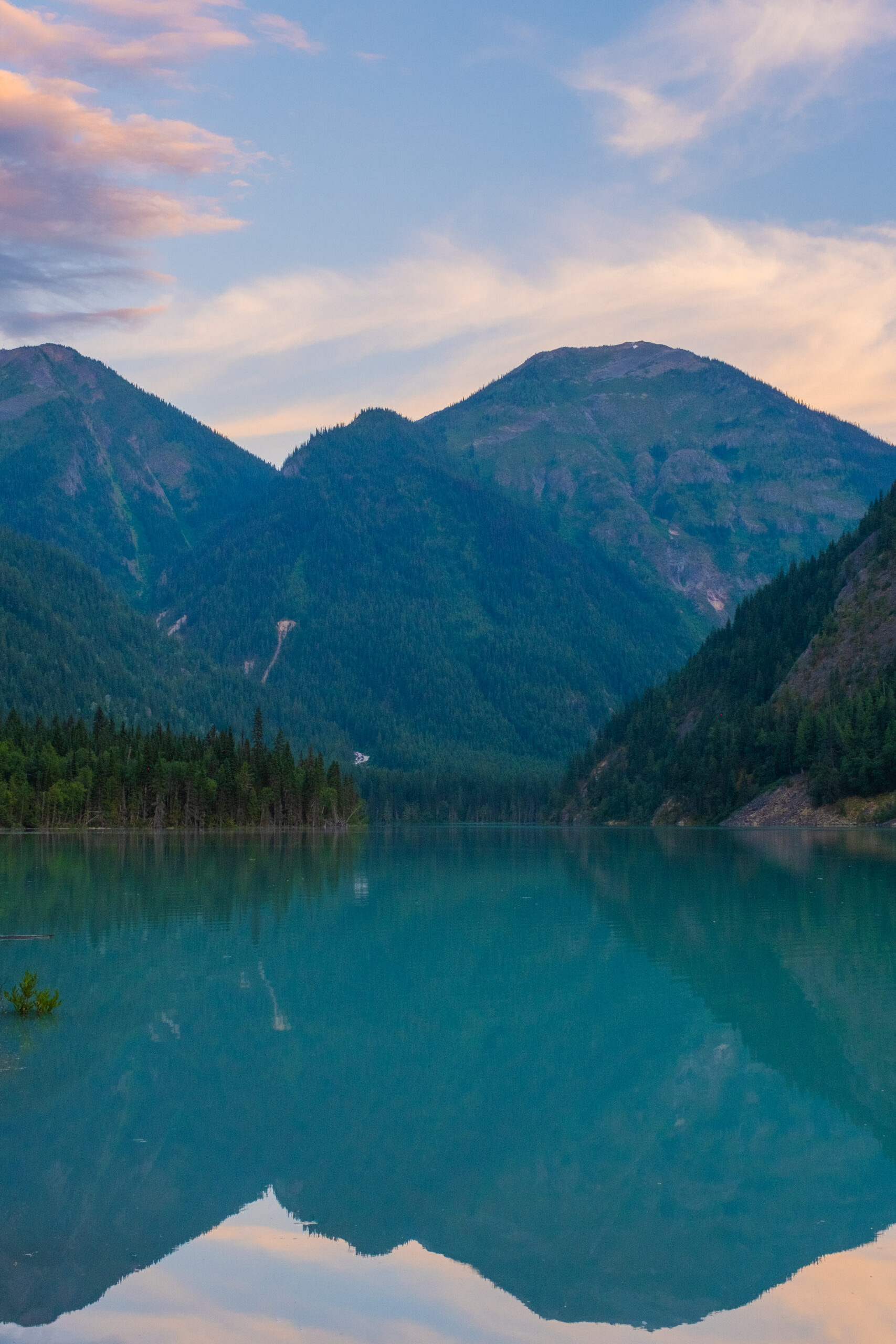 Making it to Kinney Lake from the trailhead is the first milestone on the trail. Kinney Lake is a gorgeous blue lake about 7 km from the trailhead. With an elevation gain of fewer than 300 meters, it's easy to make it to quickly.
There is a campsite here if you want to break up your trek, but I don't think it's really far enough to put a dent in your day. Plus, as pretty as it is, the views get much better the further you go in. I wouldn't recommend camping here unless you absolutely have to or have smaller children, are older, and want to break the trip up.
It's also possible to bike part of the Berg Lake Trail to cut back on walking time. Bikes are allowed up until Kinney Lake, where you must stop biking. This is something I didn't know about until we got to Jasper but wish I had.
There is a place where you can lock your bike here for a few days while you continue the rest of the trail. If I were to do this trip over again, I would 100% bring the bike to eliminate walking 14 km of this trail.
---
Valley of a Thousand Falls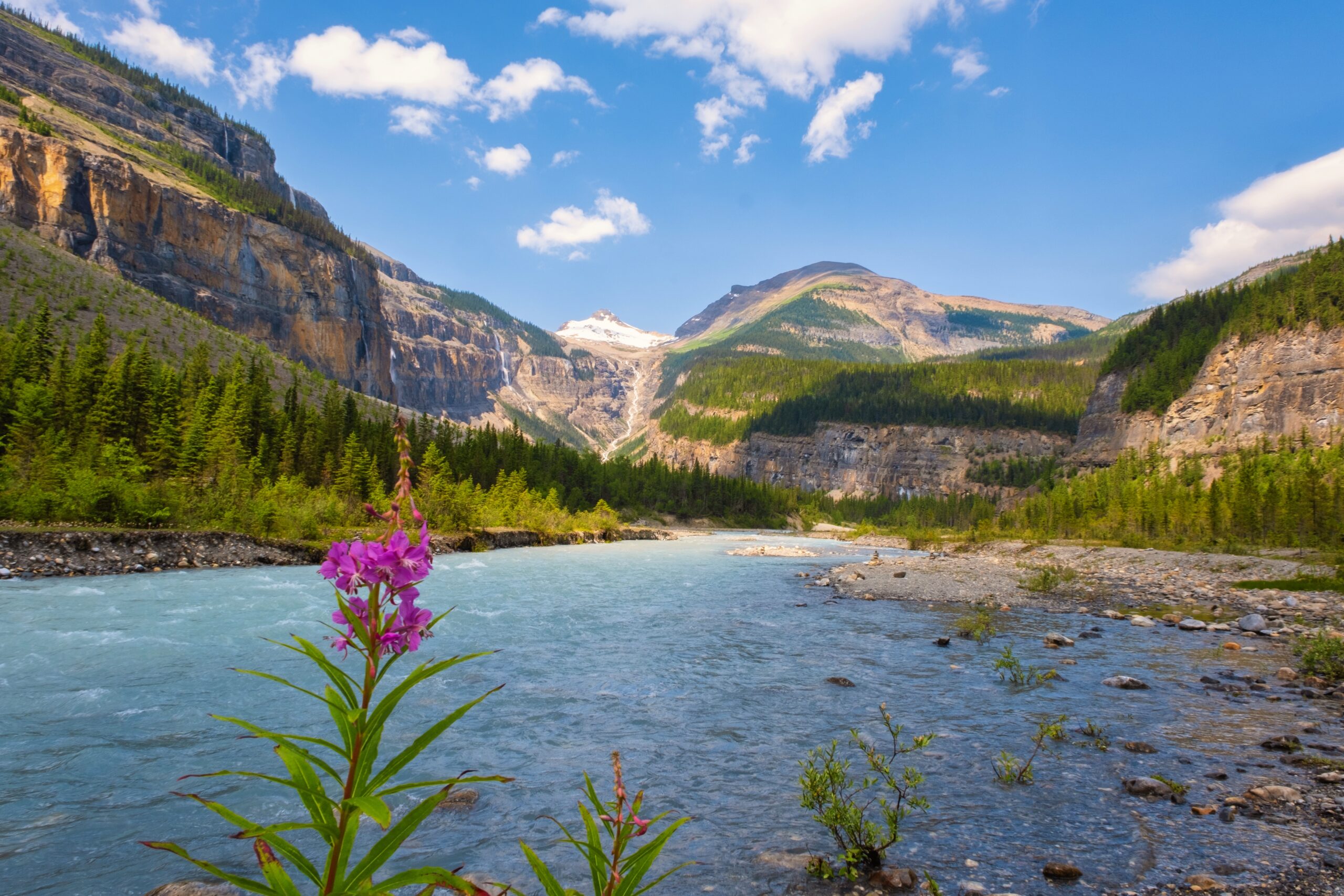 After Kinney Lake, the views get better and better, and you'll quickly find yourself in an expansive valley. You'll hike through this valley with minimal elevation, thinking about how easy and marvelous it is.
You'll gain gradual elevation until you reach the suspension bridge and Whitehorn campground around 11 km in until you get to The Valley of a Thousand Falls, to be exact, and you'll quickly know why it's named this (pictured above).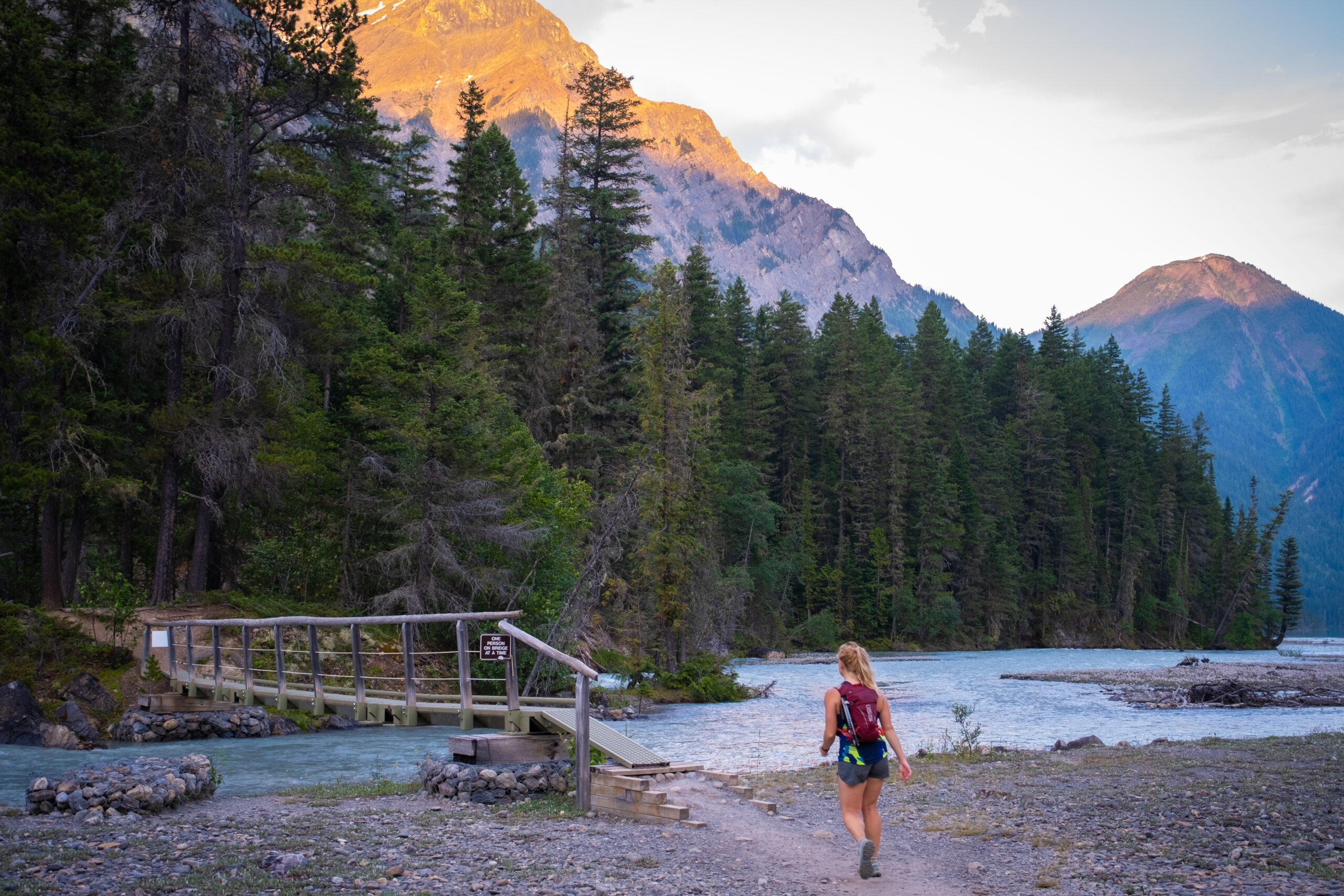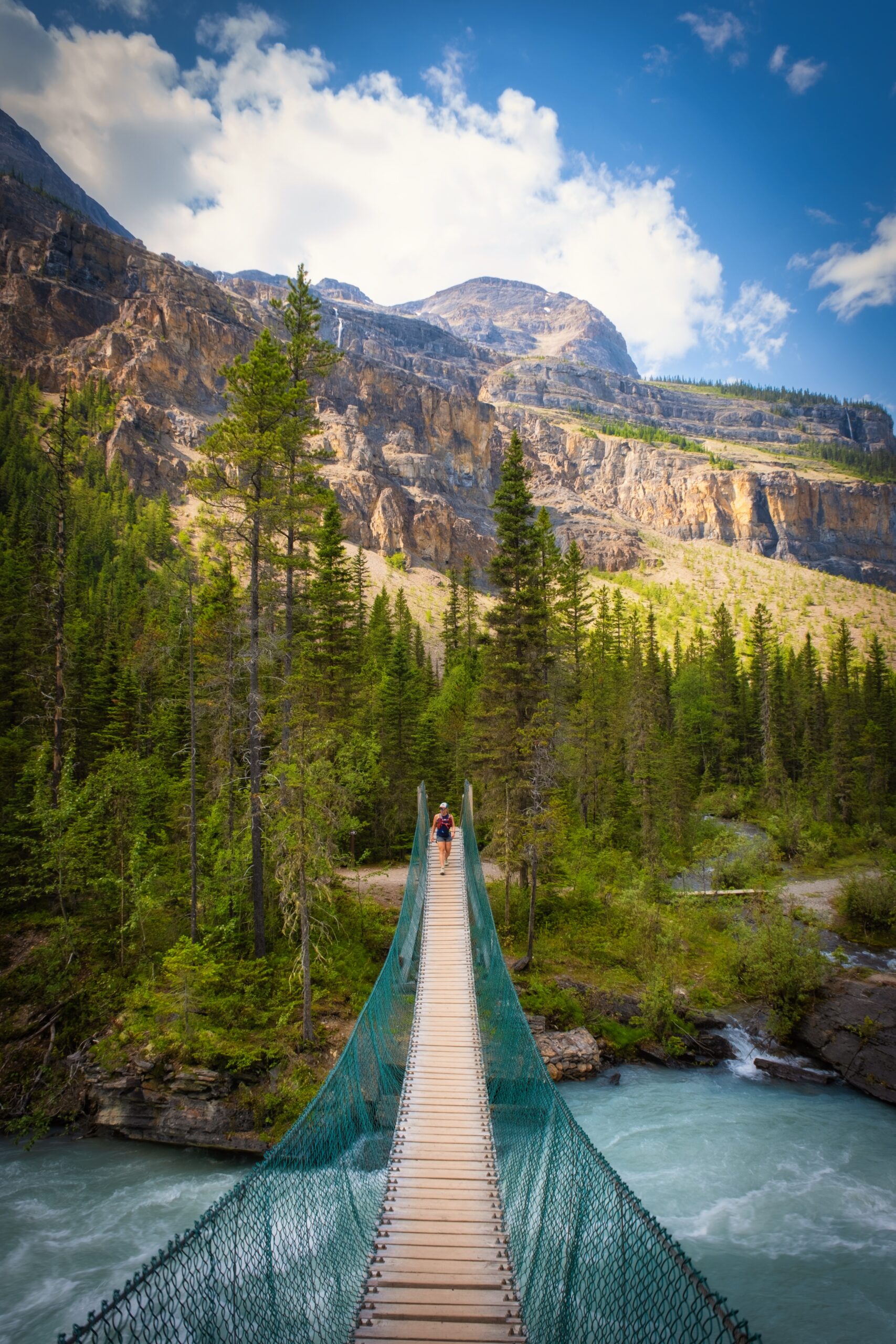 All surrounding you are lush waterfalls cascading down. Take some time to take photos and enjoy the peacefulness of the area with a snack. Up until this point, the hike has been pretty easy and straightforward, but you're about to gain all your elevation as you make it to Emperor Falls, so scarf down an energy bar and keep going.
You're about to gain almost 500 meters of elevation in 5 km. It was here that I was happy I only had a trail running pack on; with a big backpack, it would have been killer, but of course, doable, just much slower.
---
Emperor Falls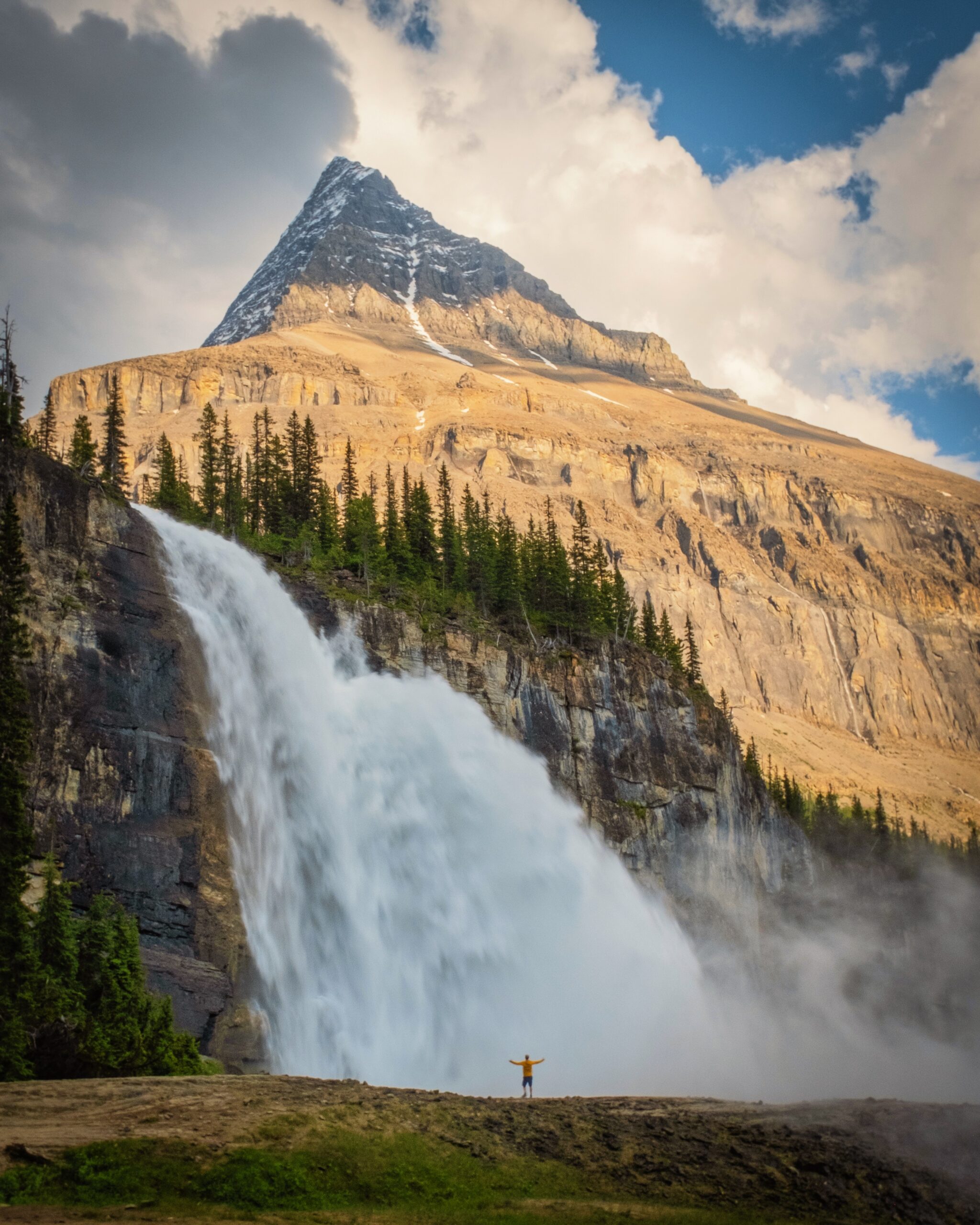 Once you reach the top of the seemingly neverending switchbacks, the trail keeps going, with a detour to Emperor Falls. At some point in the hike, you have to go check out Emperor Falls; it is seriously the most impressive waterfall I've seen in Canada.
The detour is about .2 km and 50 meters or so. We hit it on the way back, so we had something to look forward to after Berg Lake. It's up to you when you want to pay the impressive falls a visit, but don't miss it.
You have about 100 more meters of elevation and 1 more km to go until you reach Emperor Falls Camp.
---
Emperor Falls Camp to Marmot Campground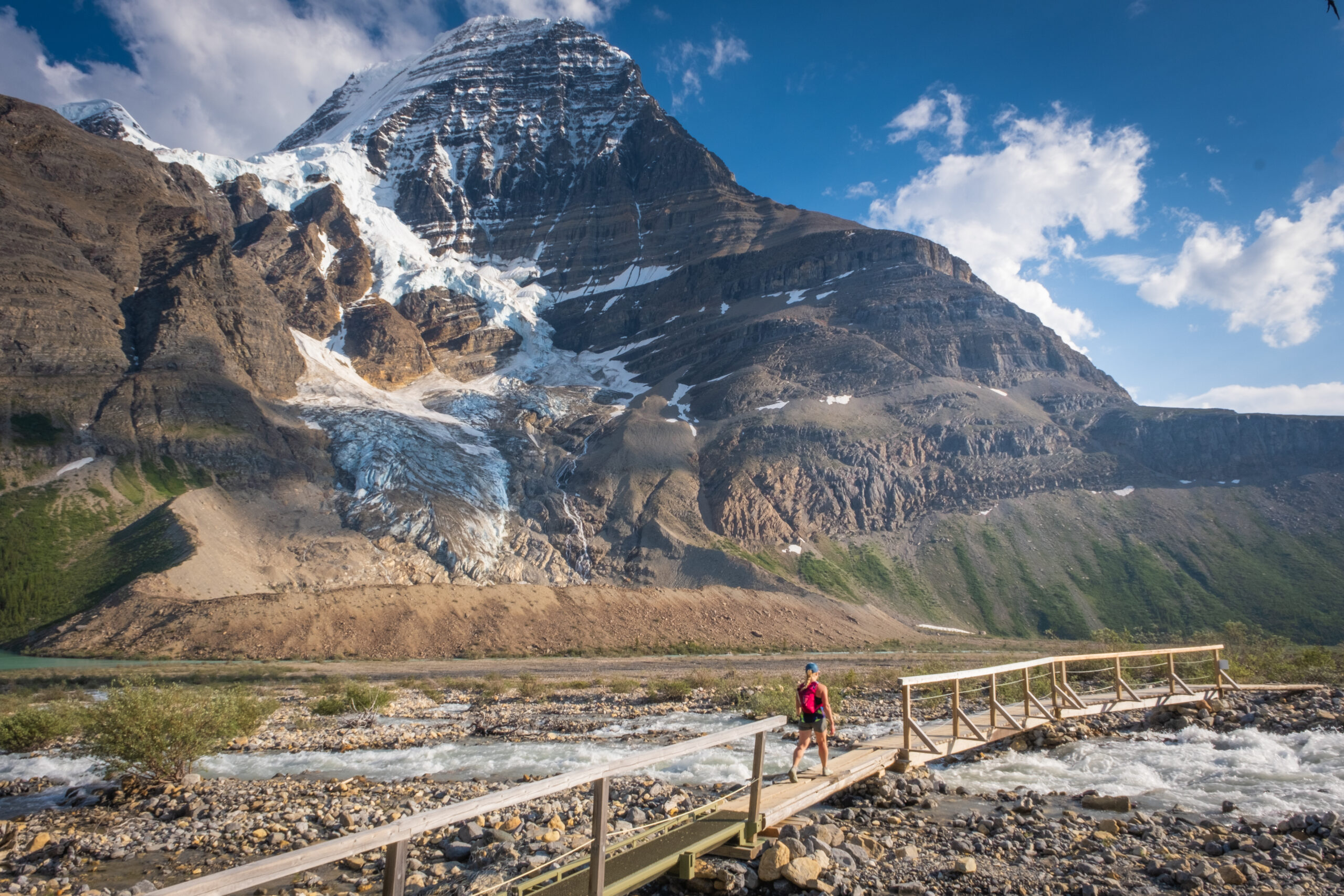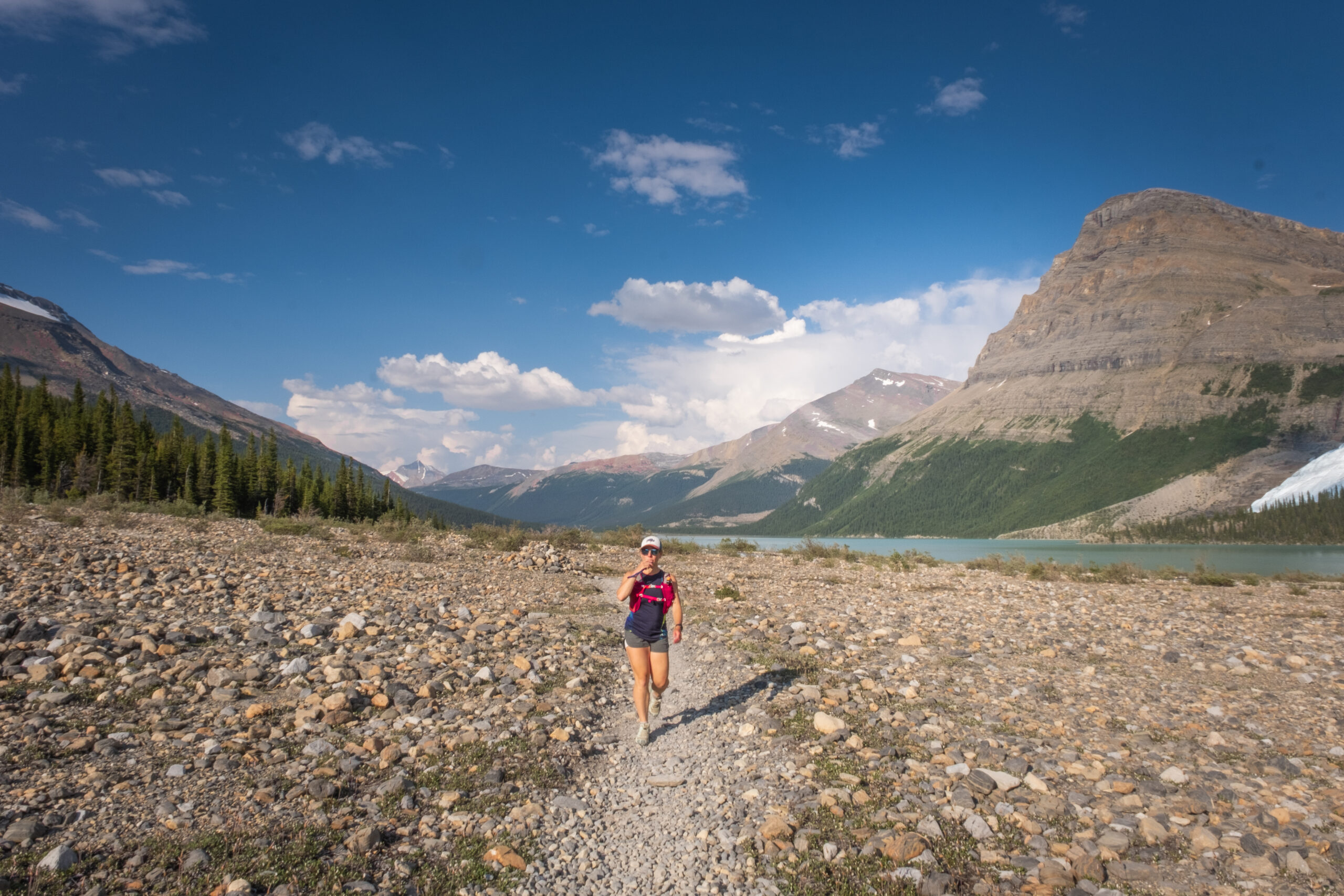 I was seriously impressed by Emperor Falls Camp, and if I had to have a second choice in campgrounds to stay while on the Berg Lake Trail, I would stay here after the Berg Lake campground.
Once you pass the campground, the trail flattens out until you reach Berg Lake. You only have 2 more km to go until you reach the mesmerizing lake herself, though you'll be getting views of Mount Robson much earlier than that.
There's a campground here that you can choose to stay at. It's a great alternative if you can't score a spot at Berg Lake campground or Emperor Falls campground, but when I book this trip next year, I'm going for Berg Lake Campground, if that doesn't work out, I'll choose Emperor Falls Camp, and then Marmot Camp.
It's not much further and gets you even more astonishing views.
---
Berg Lake Campground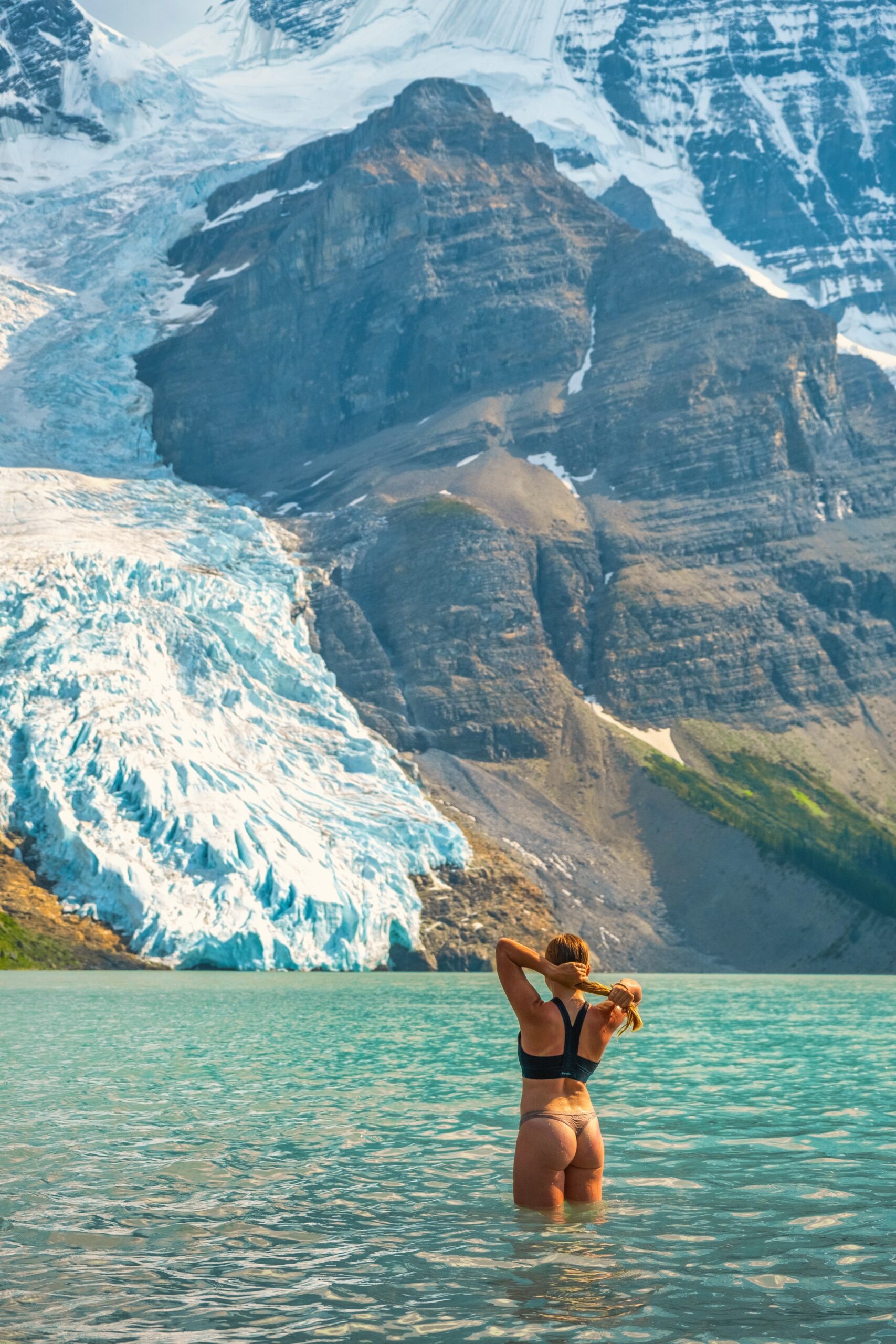 Continue on to the Berg Lake Campground, which is an easy-breezy beautiful walk along the lakeshore. There's no elevation gain, but the last 3 km feel like they go on forever after a long day. Once you reach the campground, you'll see a small beach area for sunbathing and swimming.
If you're brave, you can go for a dip under the impressive Mount Robson and all the glaciers. It was a nice refresher after a long day in the hot sun in August, but I didn't stay in for long!
Settle in here for an epic few days under a 3,954 m mountain, or if you've chosen to do this as a day trip, allow yourself 2-5 hours for the return depending on your pace, and be on your way.
---
Day Hikes from Berg Lake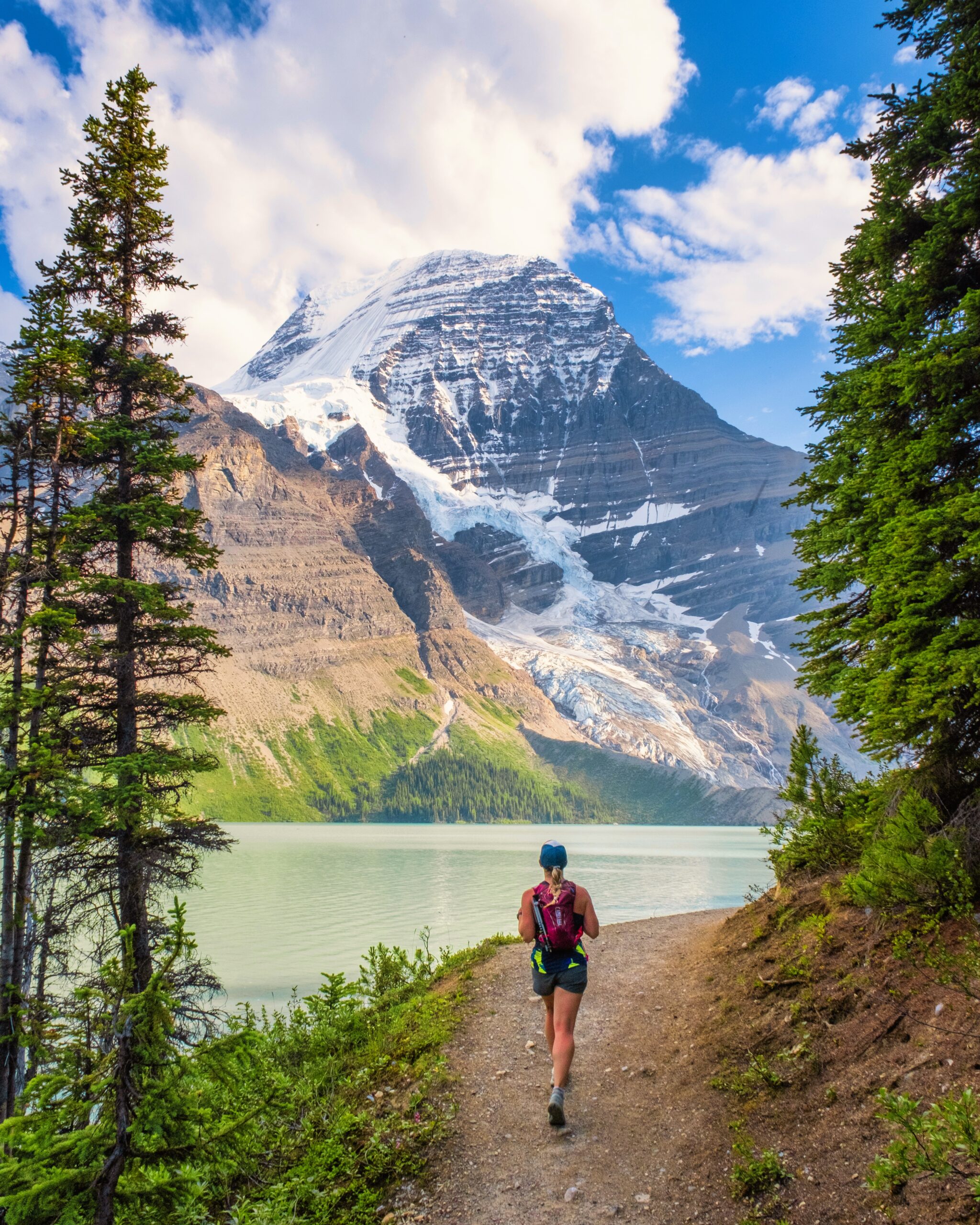 If I had a bit more time in the day or stayed overnight, I definitely would have enjoyed all the hiking that the area has to offer. It was a shame making it to Berg Lake and then turning around at such a beautiful area to head back. We quickly contemplated running up the Toboggan Falls viewpoint but determined we didn't want to hike out completely in the dark.
Some of the best hikes are listed below. All leave from Berg Lake area.
Toboggan Falls Route: This trail starts at the trailhead at the Toboggan Creek Bridge and climbs to Toboggan Falls. At under 2 hours, this is the shortest day hike you can do. It also provides amazing views of Mount Robson. If you are fast and left early enough you could tack this on to your day if you are doing Berg Lake in one day.
Hargreaves Lake Route: This is a half-day hike that leaves from Marmot campsite and climbs to Hargreaves Lake and Glacier.
Mumm Basin Route: Another 1/2 day trip that is steep but gives you amazing views of your surroundings. Leaves from Berg Lake.
Snowbird Pass Route: A full day hike that is challenging and requires route-finding skills, but provides amazing views of Mount Robson. From the Berg Lake Campsite it's 22 km return, so it's for those prepared for long days.
Serious alpinists and mountaineers travel from around Canada and the world to climb Mount Robson. So if you are one of those, do your research and consider adding Mount Robson to your list of objectives.
---
How Long Do You Need to Complete the Berg Lake Trail?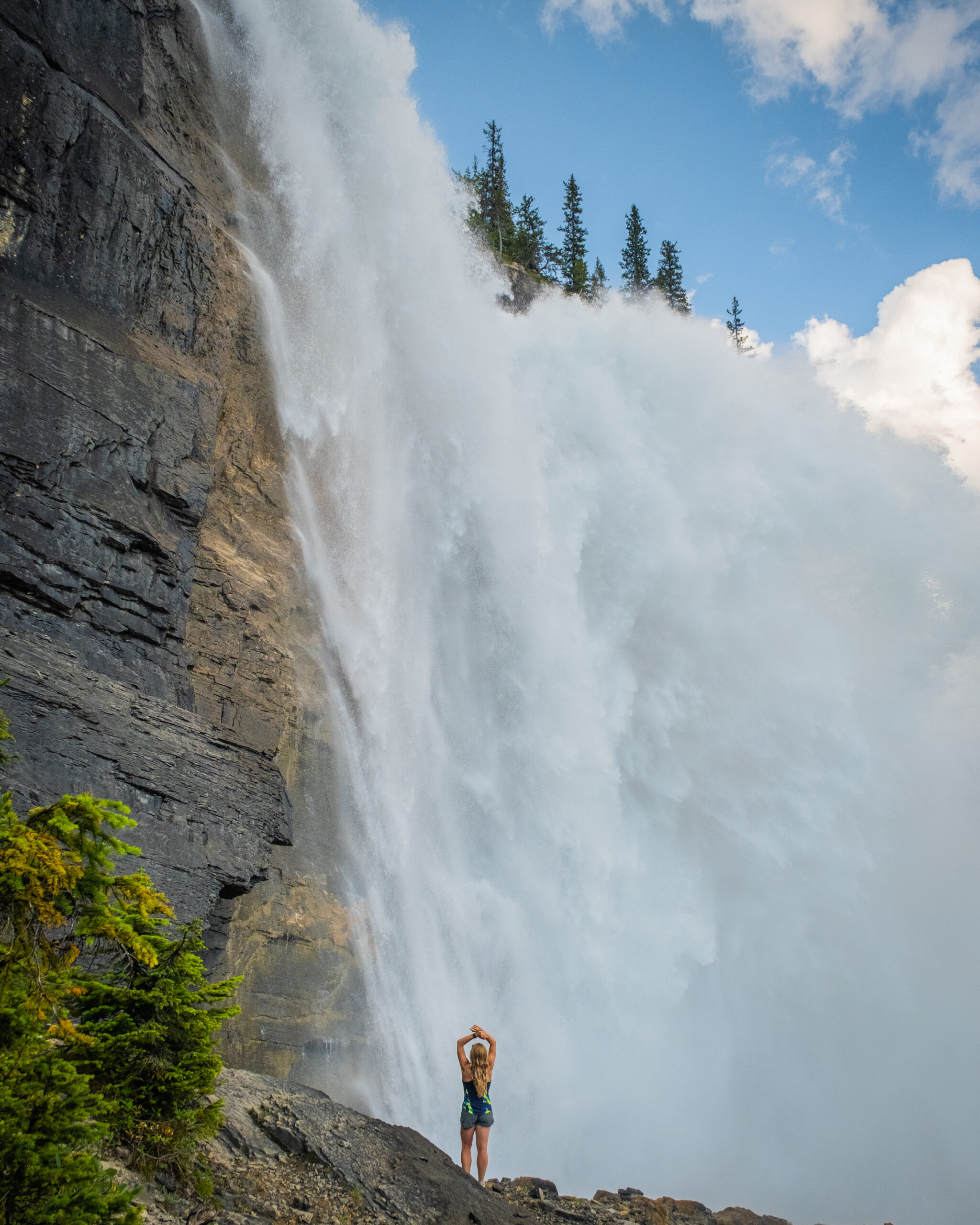 Well, that all depends on how much time you have and what kind of hiker you are. As mentioned, it's definitely possible to do it in a day. If you're a trail runner, you could definitely make it to Berg Lake and back in under 5 hours, or faster if you're ultra-intense. We ran some of the trail, but hiked at a fast pace for most of it and completed the trail in just about 8 hours of moving time, with an additional 2 hours of rest stops.
Without a big backpack on, you certainly move faster and can do this trail in one full day. After looking at reviews, it seems the average day pace is between 10-12 hours. While you may not be carrying a huge load on your back, you are sacrificing your time at Berg Lake to be able to make it back to the trailhead before dark.
When we return to do the Berg Lake Trail again, I am booking at least two nights at Berg Lake to give us some time to do day hikes around the area. I would suggest others book at least 2-3 nights if possible. You'll need a full day to hike to Berg Lake with a large backpack and a full day to hike out, leaving the in-between for exciting day hikes.
---
What to Bring on the Berg Lake Trail?
If you are doing a one-day hike like we did, you'll need a full 2-3 L of water or a filter to fill up along the trail. As well as snacks and a big lunch to get you through the day. We hiked the Berg Lake Trail during a heatwave, so I knew I could get away with shorts, but I brought a packable down jacket and windbreaker, which came in especially handy after I got out of Berg Lake and was chilled for a minute.
If doing a multi-day hike, you want to make sure you have all lightweight gear. Everything you bring, you'll be carrying on your pack across 42 km and 800 meters or so meters of elevation.
Lightweight gear is almost always more expensive, but it lasts years, and I always find it worth it. My sleeping bag is a Vesper Therm-A-Rest Down Quilt, and my pad is the NeoAir Uber Lite, which are great for all seasons in the Rockies. Cameron and I use the MSR Hubba Hubba tent for our multi-day adventures, which is extremely lightweight and durable, which you will need while camping next to a glacier.
The most important thing you need on your backpacking checklist is a hiking backpack. A proper hiking backpack supports the weight of your load and should hold everything you need for a trip in the great outdoors. A good hiking backpack should be comfortable, have a nice design, have proper material, and be the correct volume and weight for your trip. We break down all the best hiking backpacks here. But we both use Gregory backpacks. I have the Women's Gregory Deva and Men's Gregory Baltoro.
I break down the rest of our overnight backpacking essentials in this post here! As always, don't forget about bear spray when hiking in the Rockies!