Emerald Lake in Yoho National Park is one of the Canadian Rockies' finest lakes and a resplendent place to visit in British Columbia. It's the largest lake in Yoho National Park, one of the most stunning BC Lakes, and surrounded by President Mountain Range.
Visiting the lake on a summer day is one of the finest natural scenes in all Canadian Rockies, a mountain range far from being short of incredible vistas. Access to the lake is surprisingly easy as it's just a few kilometers off of the TransCanada highway that sees thousands drive past Emerald Lake every day.
See Also: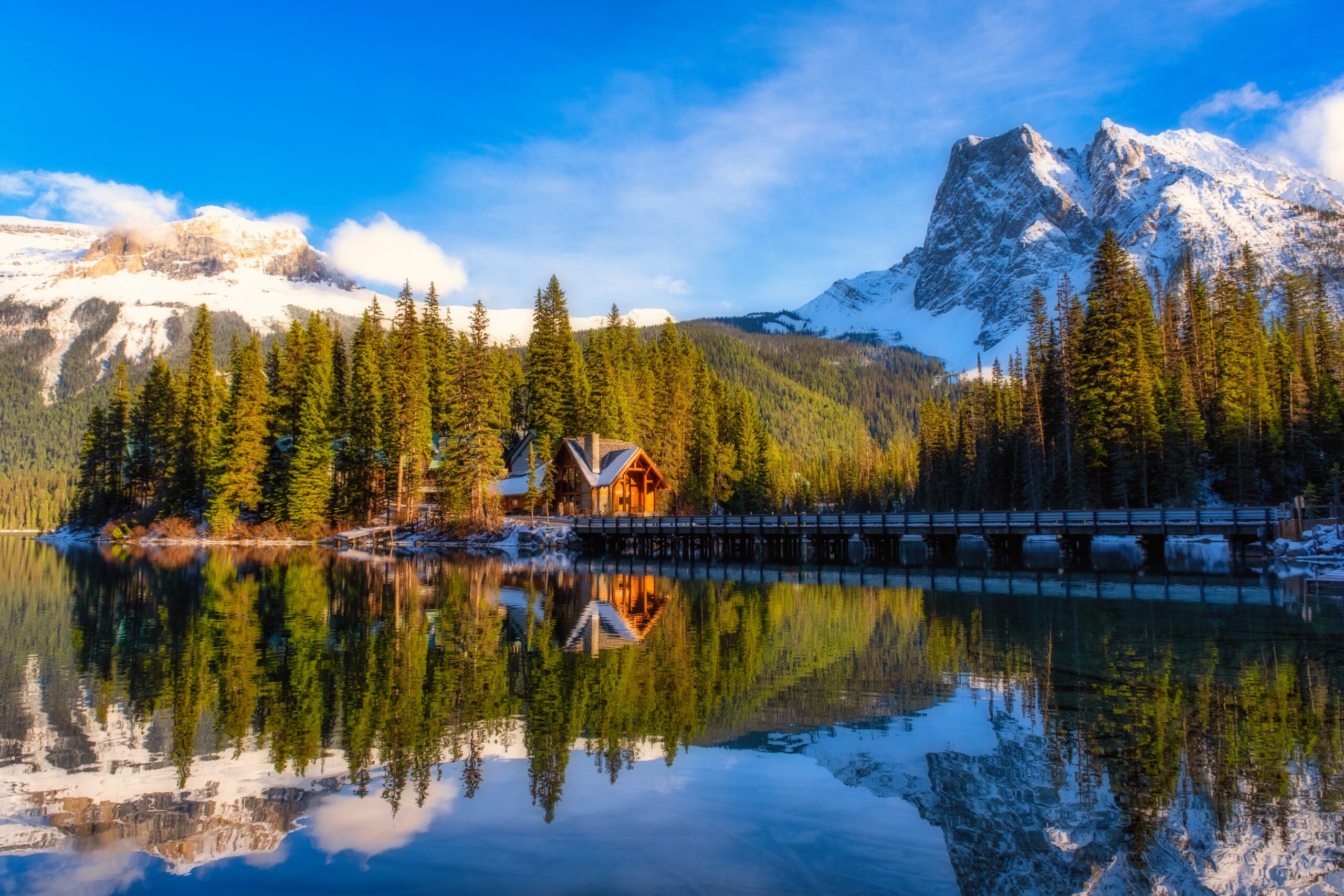 ---
Why is Emerald Lake So Blue/Teal?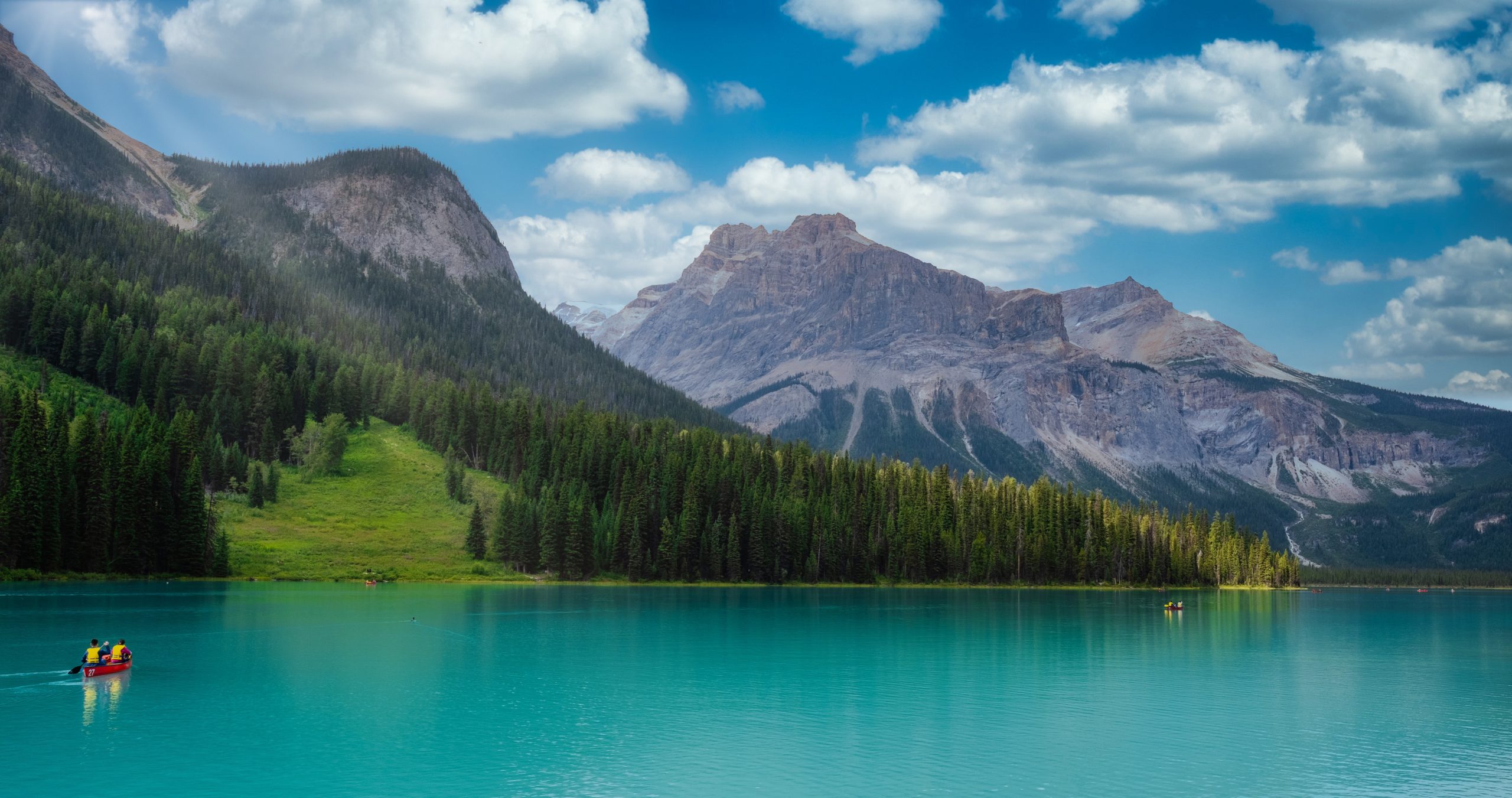 It's pretty easy to figure out where Emerald Lake gets its name as the glacial waters refract light in a vibrant display of color. The color alone would be enough to move you, but the surrounding landscape leaves you speechless. The President Range mountains surround the lake and form a natural amphitheater of the grandest scale with towering peaks and forested banks.
To see the color at its peak, you'll have to arrive in summer as the melting glaciers high above the lake deposit a rock flour (fine rock ground by moving glaciers) into the lake, which causes the lake to refract light in the brilliant color.
---
Is the Road to Emerald Lake Open?
There are no seasonal closures on Emerald Lake Road, meaning you can access Emerald Lake year round. The Trans-Canada Highway is also open through Yoho National Park.
---
Things to do at Emerald Lake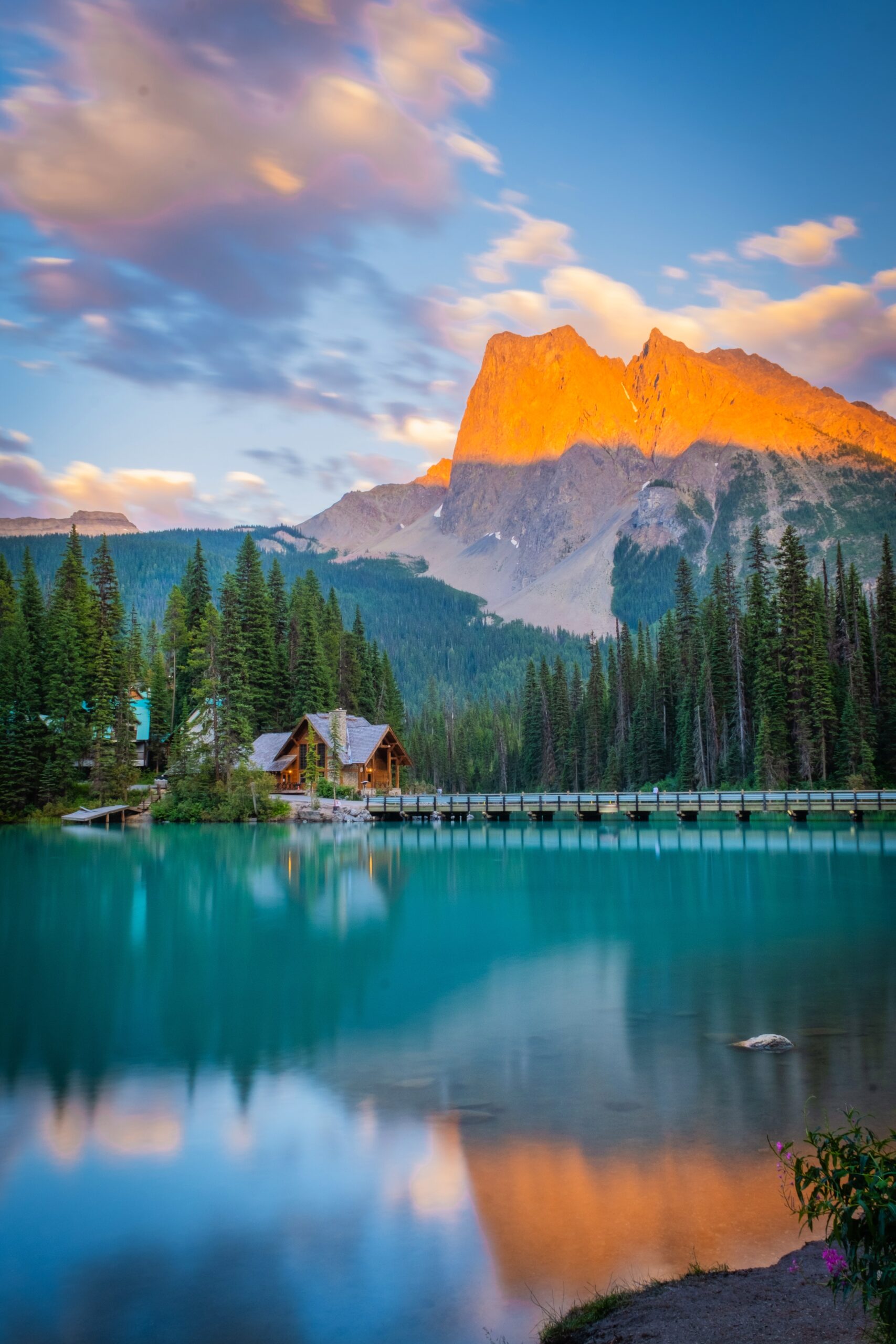 You have a plethora of activities to enjoy the lake, but the two most popular are leisurely hikes along the shoreline or a gentle canoe across the surface of the lake. If you already have plans to travel around Banff and the Canadian Rockies, this is a stop well worth the visit and only twenty minutes away from the more famous Lake Louise.
An easy walking trail that is 5.2 km (3.2 mi) around the lake is a gentle grade-appropriate for families and those looking for an easy hike. Emerald Lake is a popular destination for snowshoeing, cross country skiing, and backcountry ski during the winter. It also happens to be a stunning sight in the winter months, almost equal to the summer.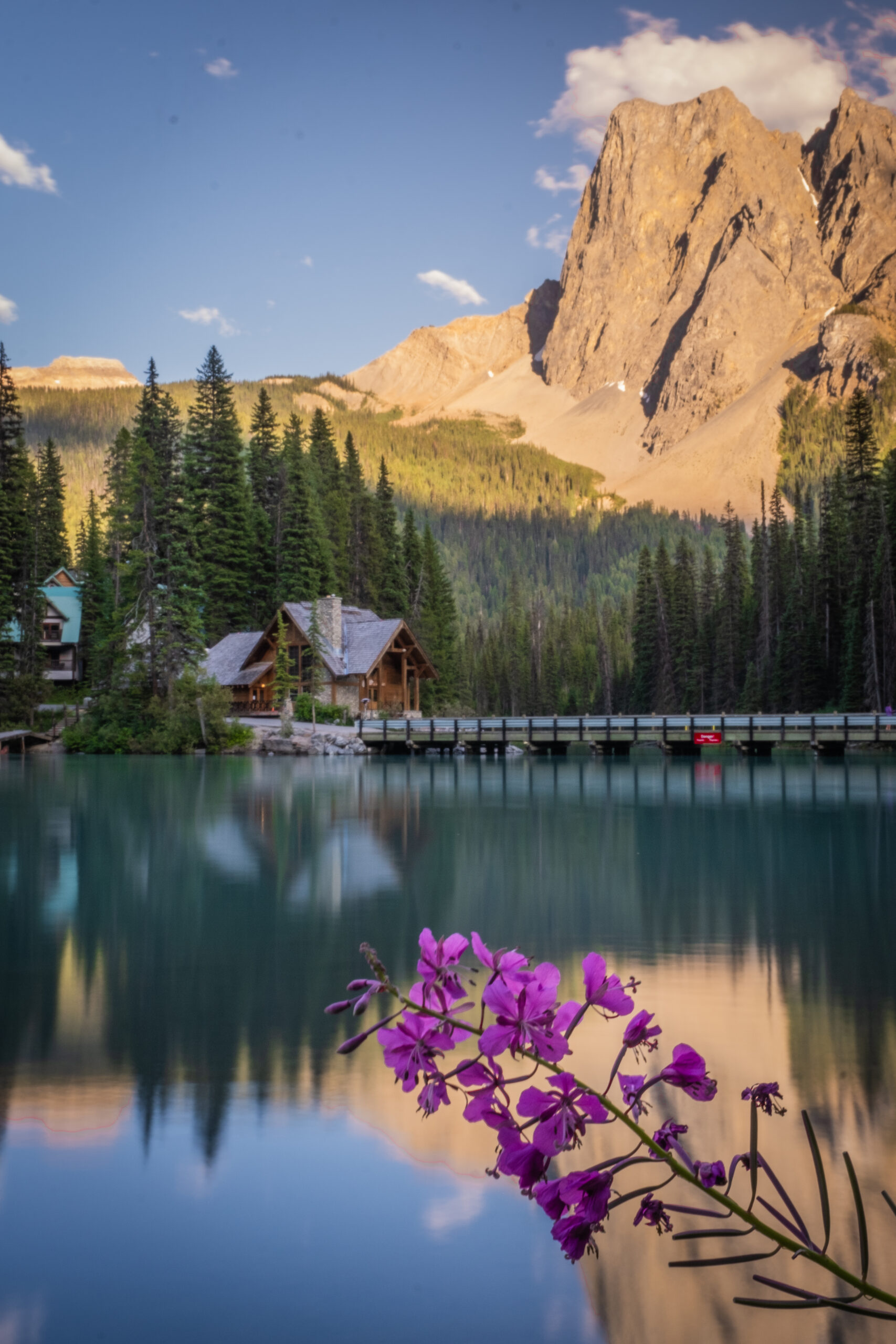 A walk through the forest here is well worth it as the lake holds a small microclimate more indicative of a rainforest found on the coast. This is due to the natural amphitheater that traps moisture, causing heavy rain and snow, so don't be surprised to catch the lake on a cloudy day.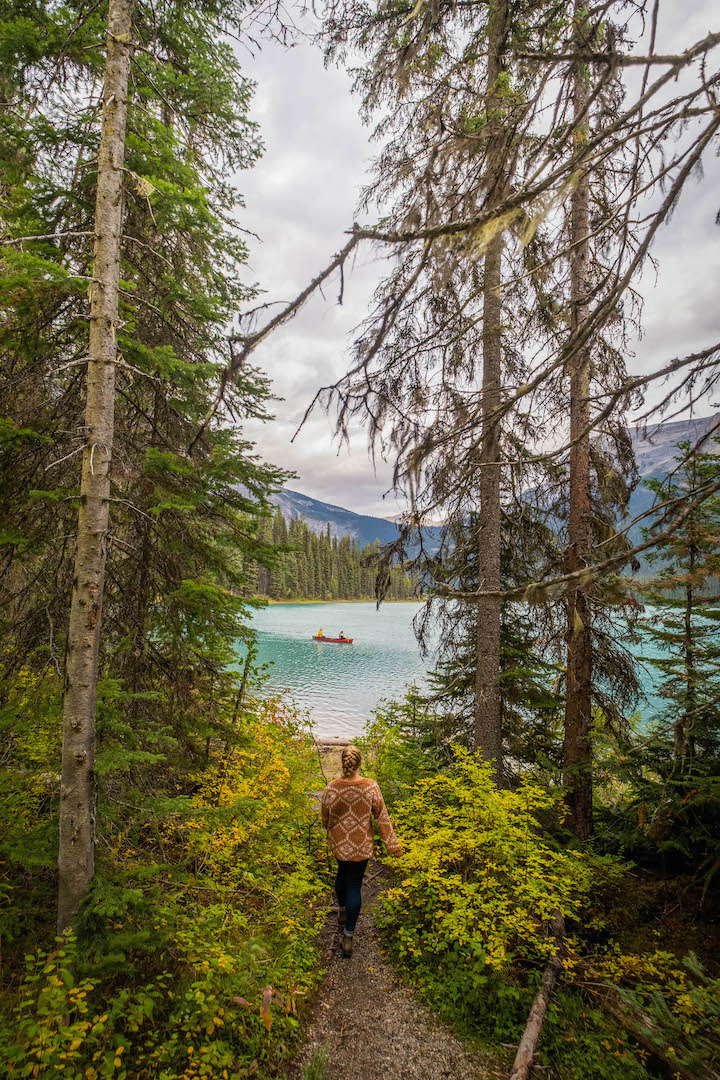 Pristine natural wilderness surrounds the mountain, and visitors regularly spot ground squirrels, marmot, bald eagles, bears, loons, and the occasional moose. Visiting the lake is far less of an ordeal than visiting Moraine Lake or Lake Louise, but it can still get hectic in the summer months.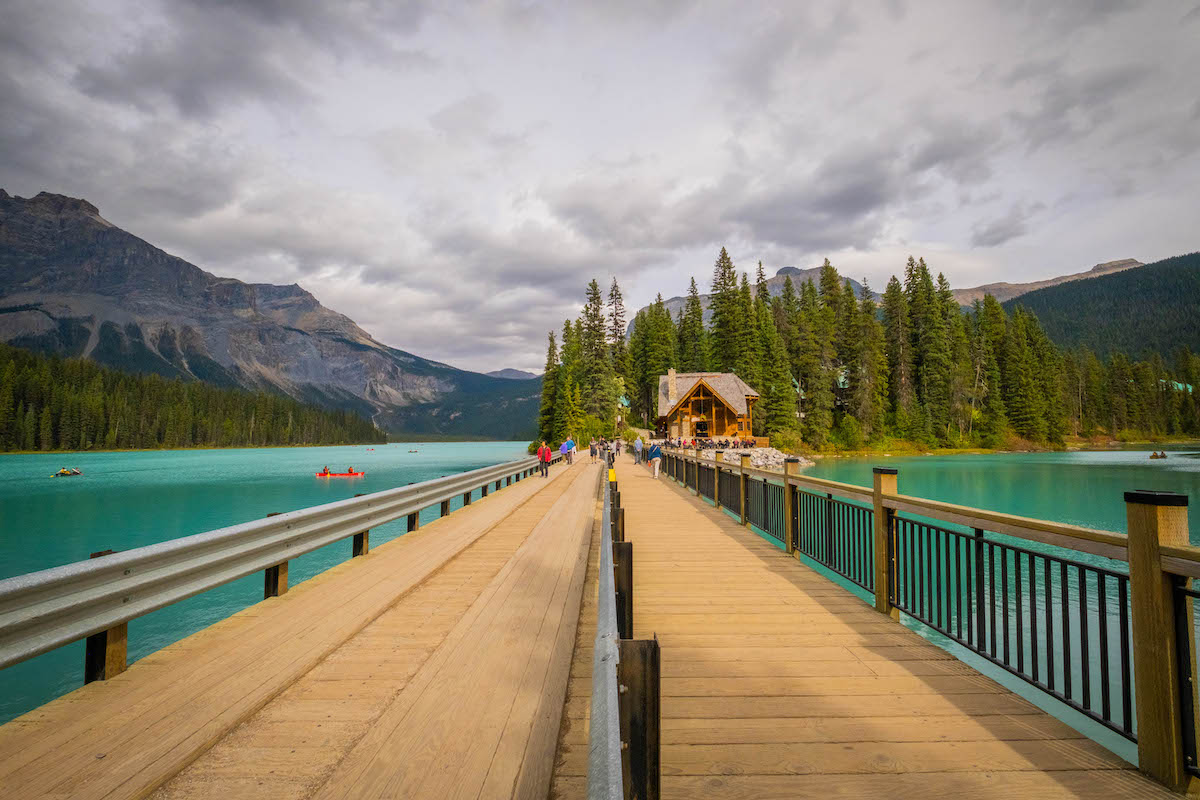 However, the crowds can be easy to escape if you go on a short walk. Most visitors congregate around the bridge near the parking lot that leads to the Emerald Lake Lodge.
Early morning and late evening are particularly magical on Emerald Lake as few days visitors hang around. This is a great advantage to staying at the Emerald Lake Lodge.
---
When Is The Best Time To Visit Emerald Lake?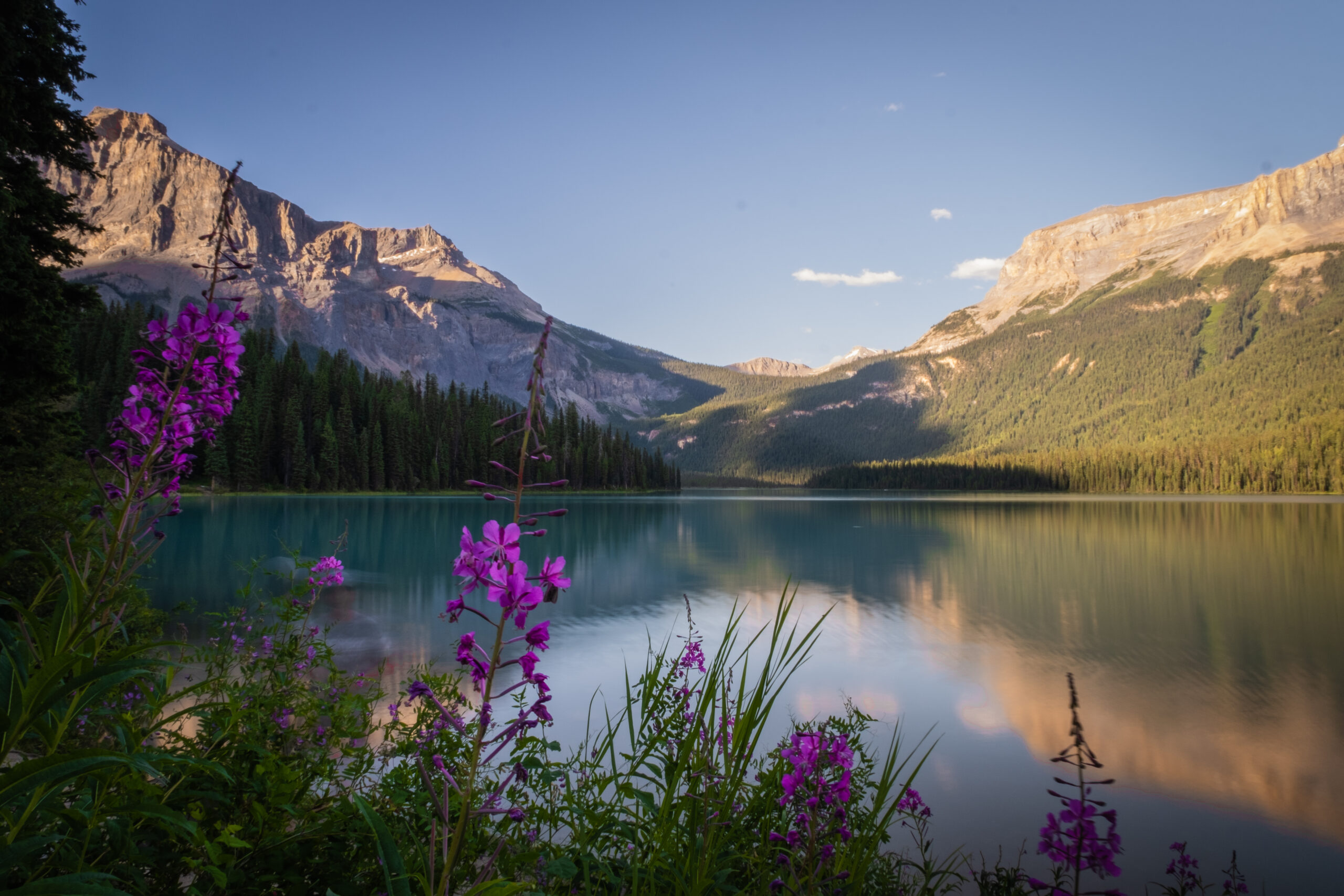 You can visit Emerald Lake in British Columbia at any time of the year as it operates as a year-round destination. The winter months feel at times like a storybook and carry plenty of beauty.
However, the summer months are by far the most popular, and when the vast majority of visitors will want to time their visit to Emerald Lake and the Canadian Rockies.
To better understand the seasonal weather, read our post on the best time to visit nearby Banff National Park.
---
Summer at Emerald Lake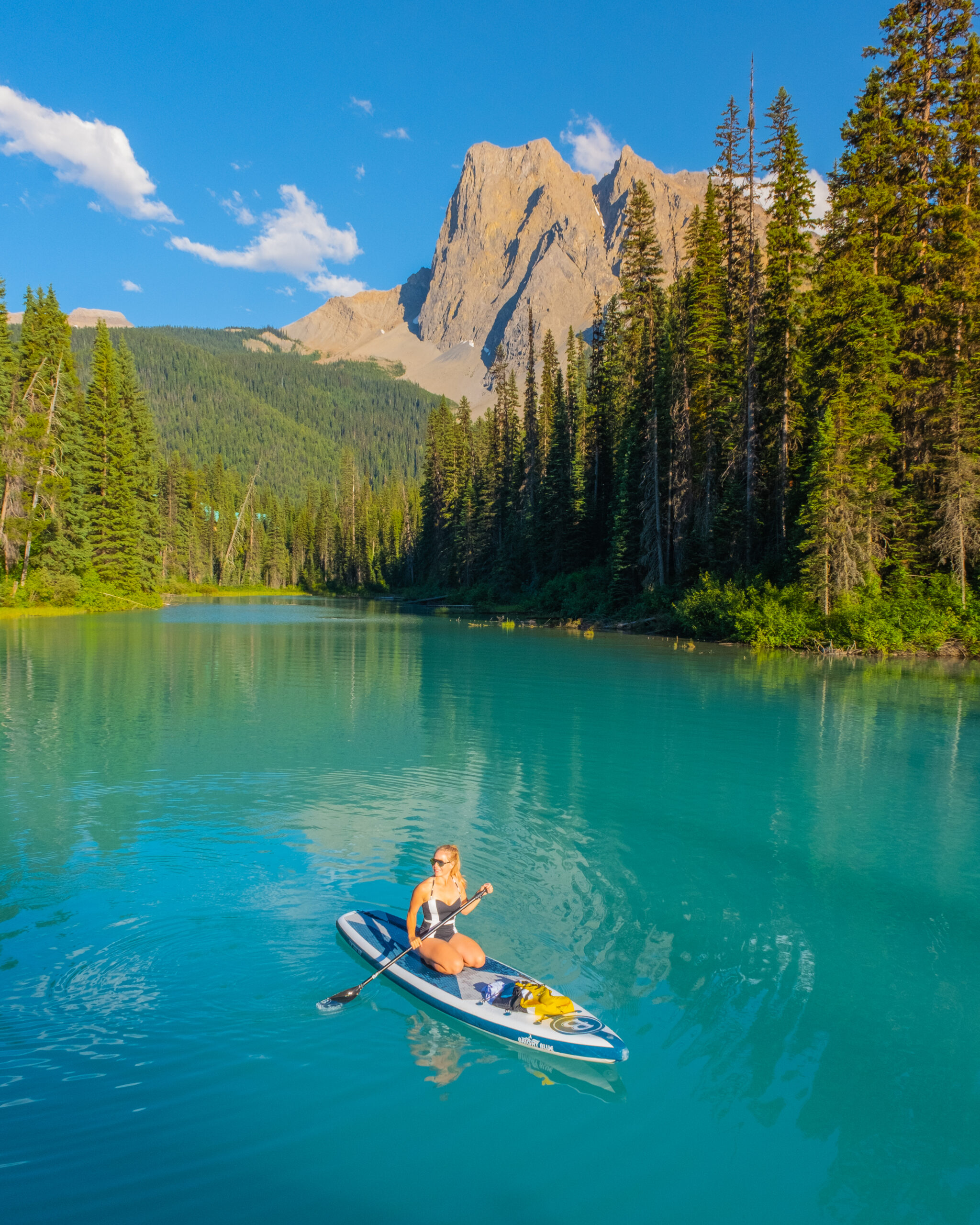 Emerald Lake remains frozen for around half the year from November to June, slightly shorter than other Canadian Rockies lakes. If you have plans to see the lake unfrozen at the most vibrant color, plan to visit around July and August.
As it gets later in the season, the rock flour from the glacial melt falls to the bottom of the lake, so the color in the lake is less vibrant. In addition to the season, sunlight plays a large factor in the vibrance of the lake visit on a sunny day for peak color.
Early morning around sunrise or in the evening around sunset is the most magical time to visit Emerald Lake in the summer.
---
Winter at Emerald Lake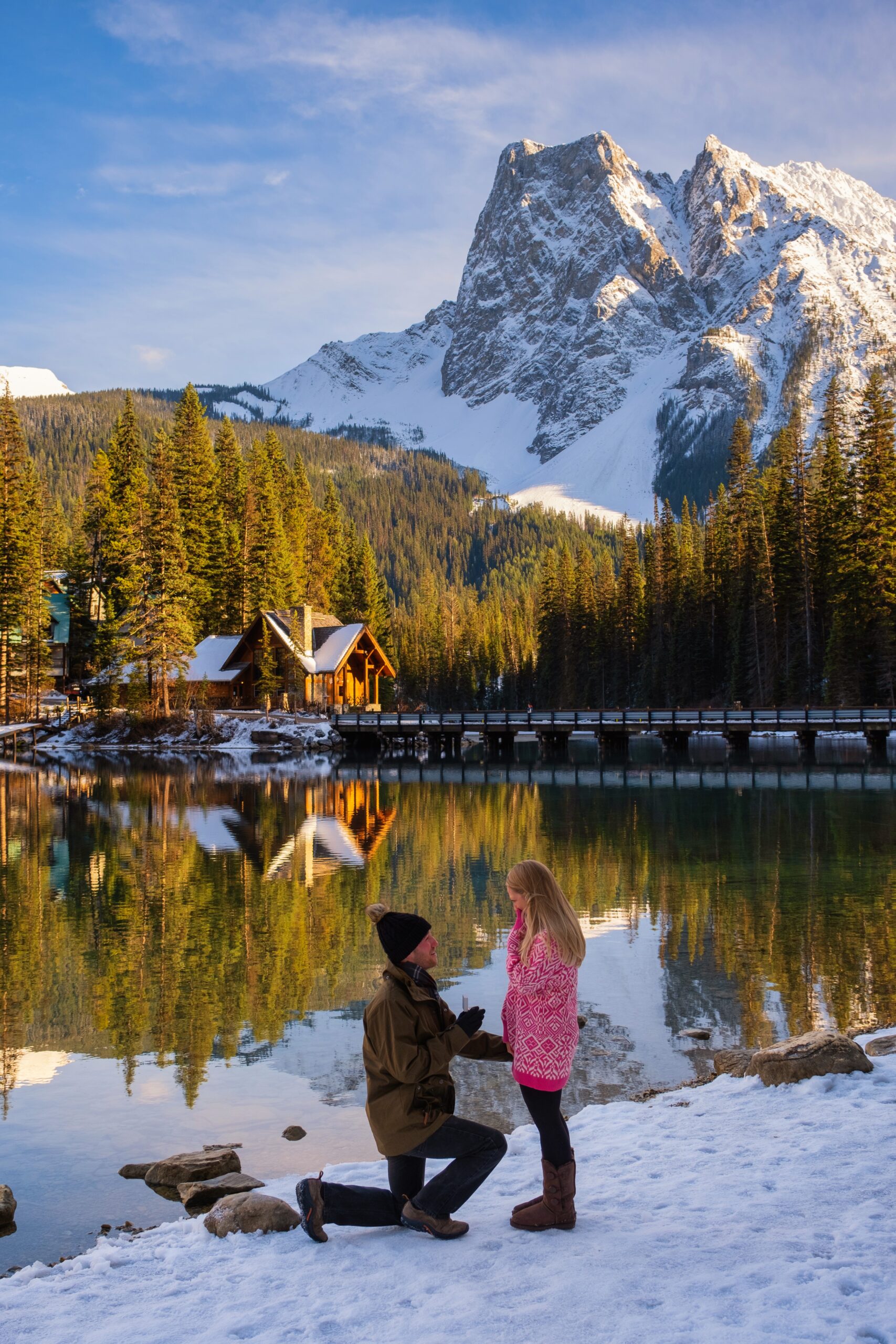 If you're seeking a quiet spot to snowshoe or cross-country ski, a visit to Emerald Lake in the winter is extraordinary. The small micro-climate means there is an abundance of snow from December to March. With Emerald Lake Lodge in the center of the lake, the whole scene reminds you of the inside of a snowglobe.
While the lake does freeze over, the heavy snow levels make it almost impossible to ice skate, so you'll need to head to nearby Lake Louise if you want to ice skate. If you're into backcountry skiing, the Emerald Lake Slide Path is one of the most famous runs in Yoho National Park.
---
Parking at Emerald Lake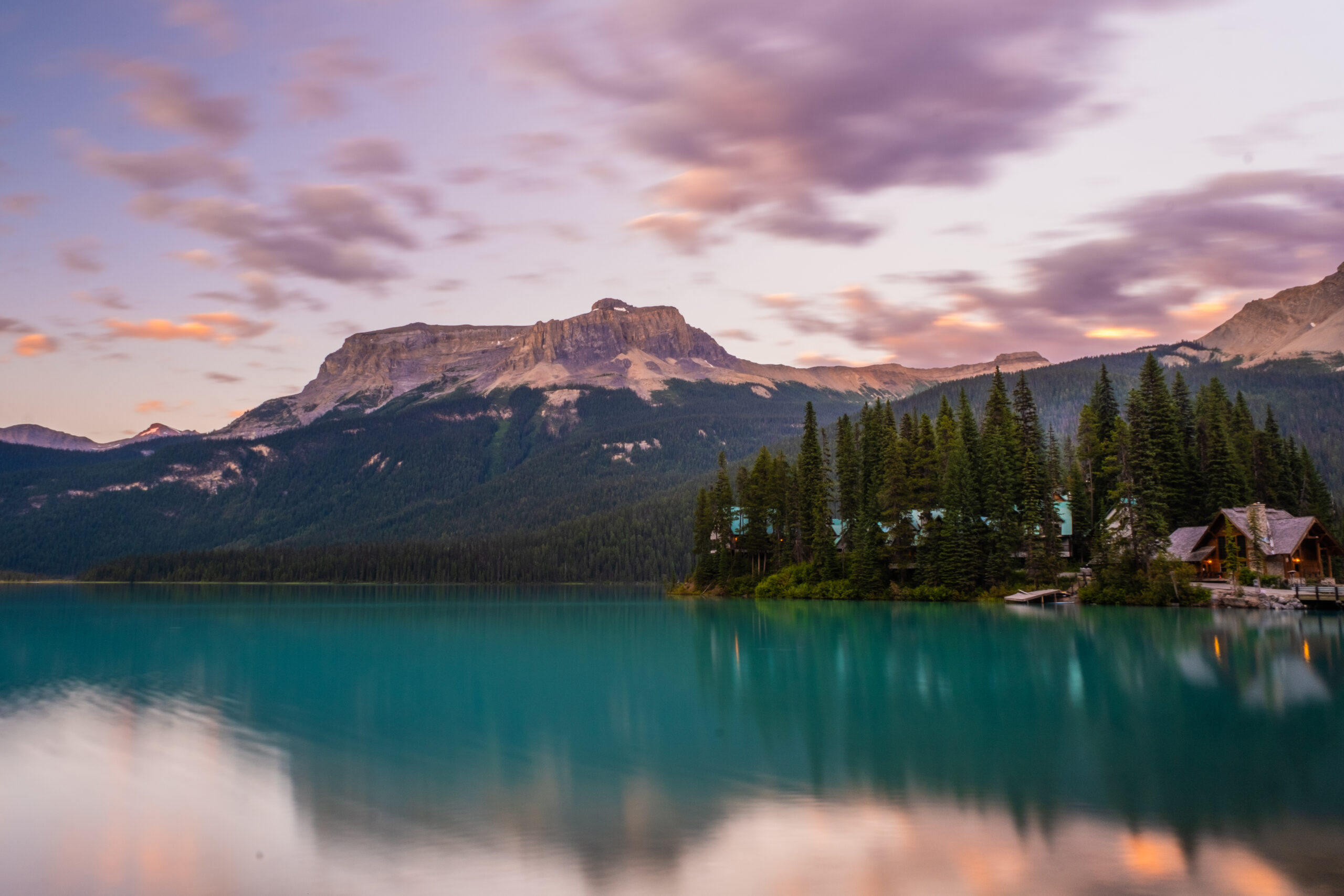 There is one public parking lot at Emerald Lake that fills up very fast in the summer months. While it's nowhere near as bad as the nearby Lake Louise, parking can be a problem around midday. By mid-morning, the parking lot is full in the summer, and you can park along the road that leads up to the lake.
At times this line of cars can stretch back as far as a kilometer which adds some walking and time to the visit. As of now, Parks Canada has not limited the parking situation, but if it gets much worse, they may take similar measures as other lakes in the Rockies.
Emerald Lake Lodge has a private parking lot that is around a kilometer before the lake. At the parking lot for the lodge, there is a telephone to call the lodge and request a pickup.
---
Canoeing At Emerald Lake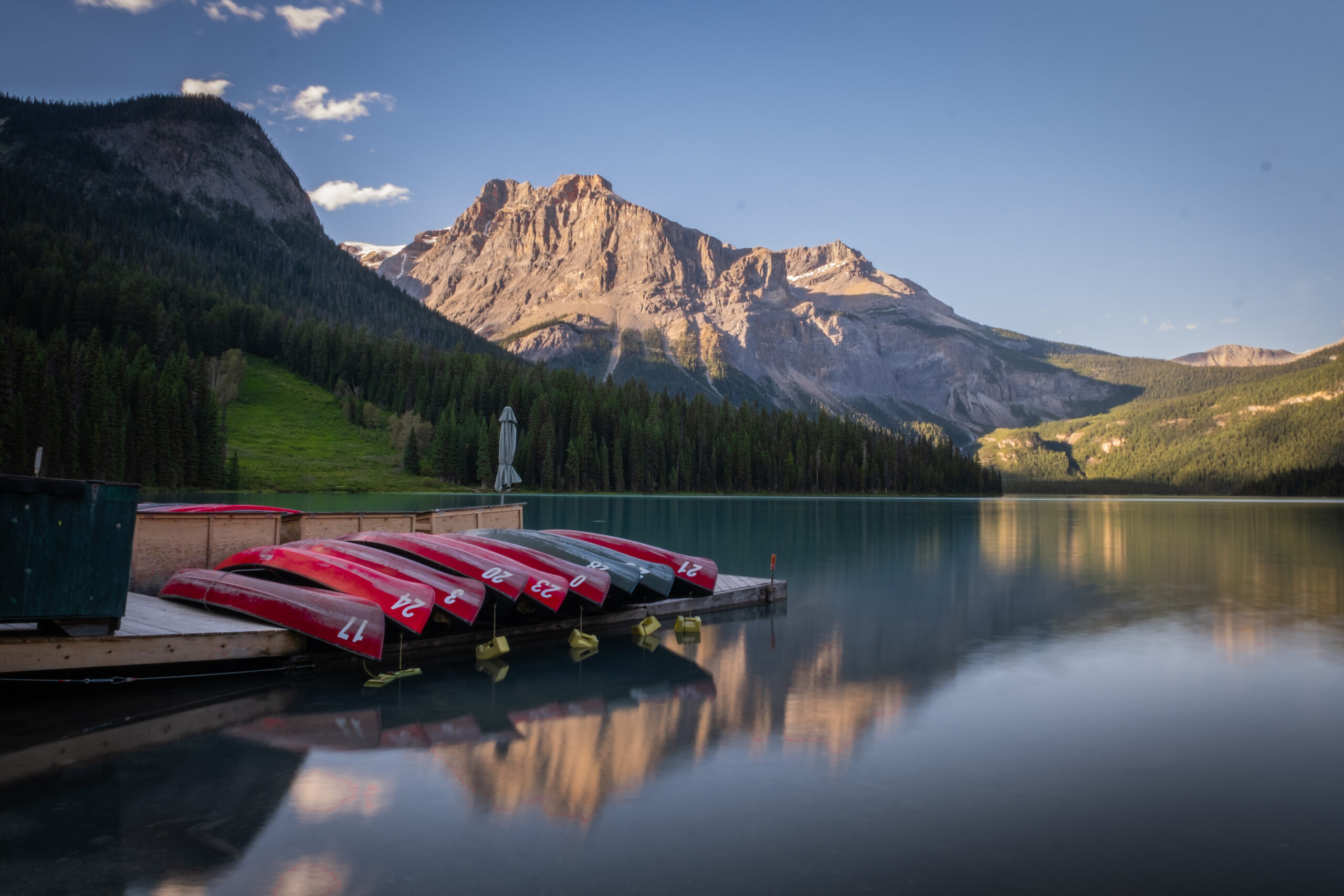 It's tough to find a more spectacular scene to paddle through as you look out to the surrounding mountains and forests around Emerald Lake. No need for fancy edits on your photographs the water in Emerald Lake, like Moraine Lake, is truly that radiant turquoise blue.
Canoe rentals are charged by the hour and allow three people per canoe. For most, an hour provides sufficient time to paddle to the middle of the lake and grab a few photographs along the way. If you have hopes to paddle the breadth of the lake, plan for around two hours.
Emerald Lake Canoe Rental: Everything You NEED to Know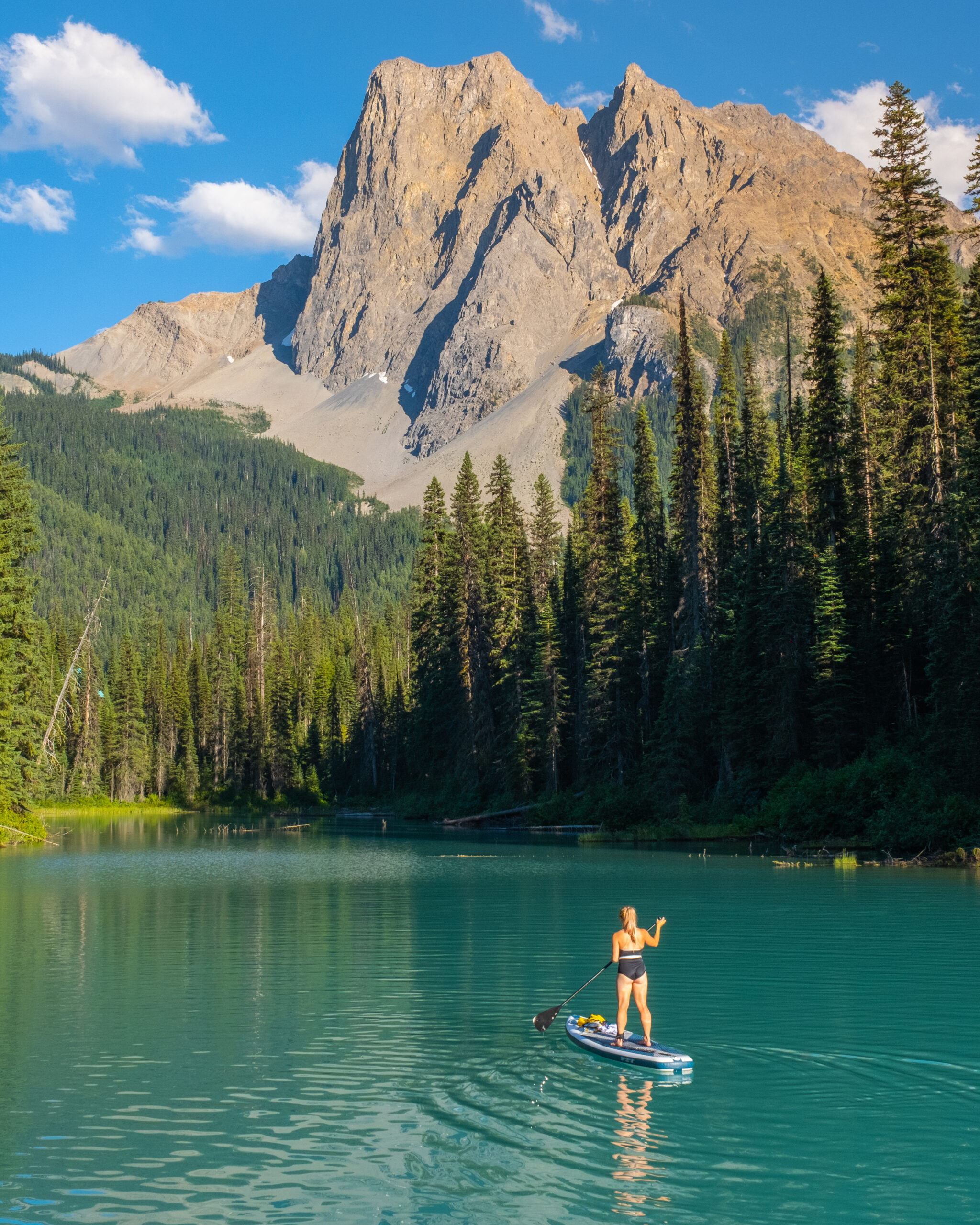 You can pick up canoe rentals at the Emerald Sports Boathouse. It's one of the best spots in the region as it's one of the most affordable rates compared to canoeing on Moraine Lake or Lake Louise. You can also bring your own floatation device to Emerald Lake.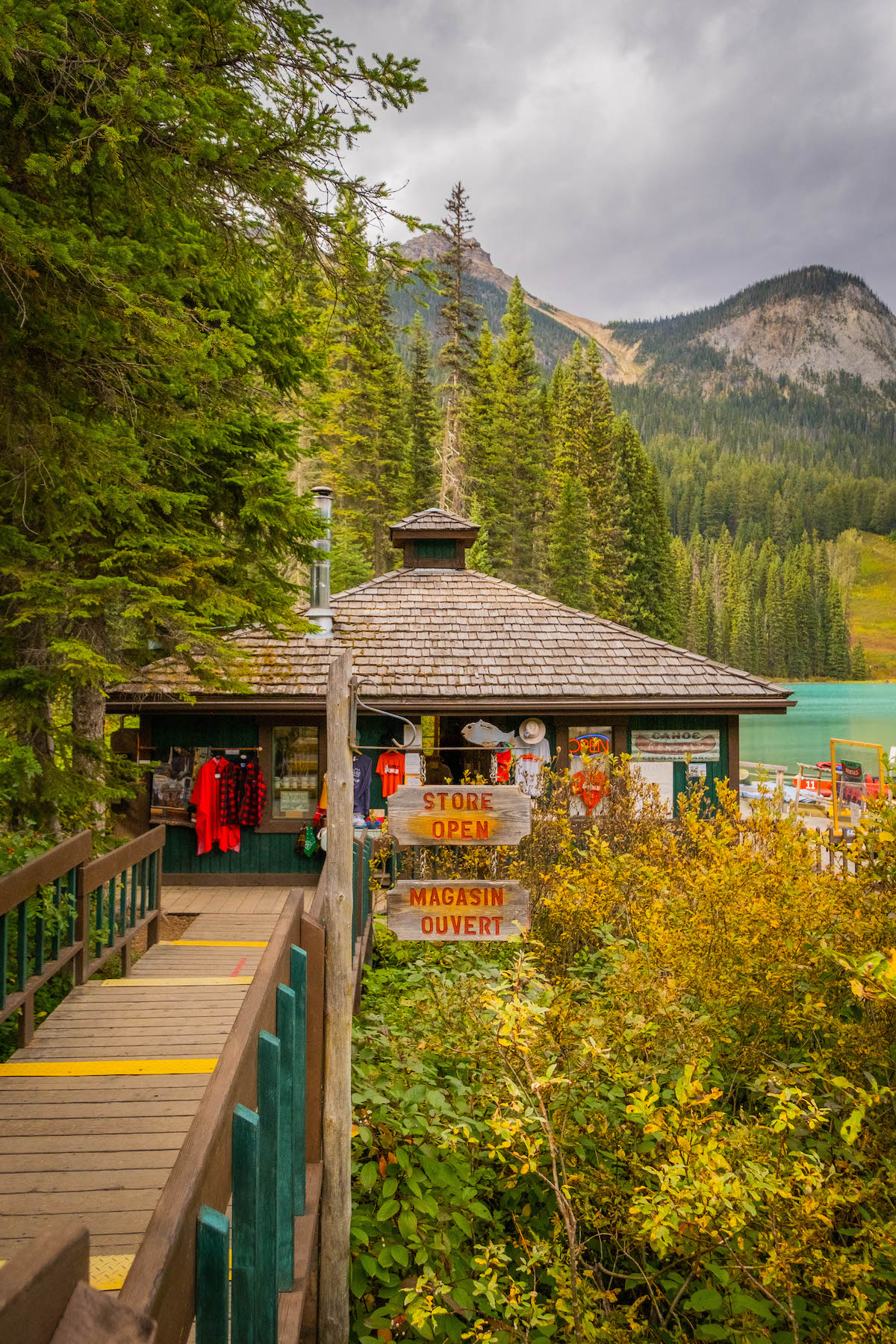 Canoe Rental Costs
Location: Emerald Lake Dock
Canoe Cost: $90 first hour (there is no 30-minute rate)
There are no

reservations for the canoes

. They are on a first come first serve basis.

Dogs are allowed in the canoes
3 People MAX per canoe
Canoe Rental Times
The last canoe out is one hour before close. Arrive well before the close time to ensure you will be able to rent a canoe.
7 days/week 10am-6pm (Last canoe out at 4:45 for one hr)
---
A Stay at Emerald Lake Lodge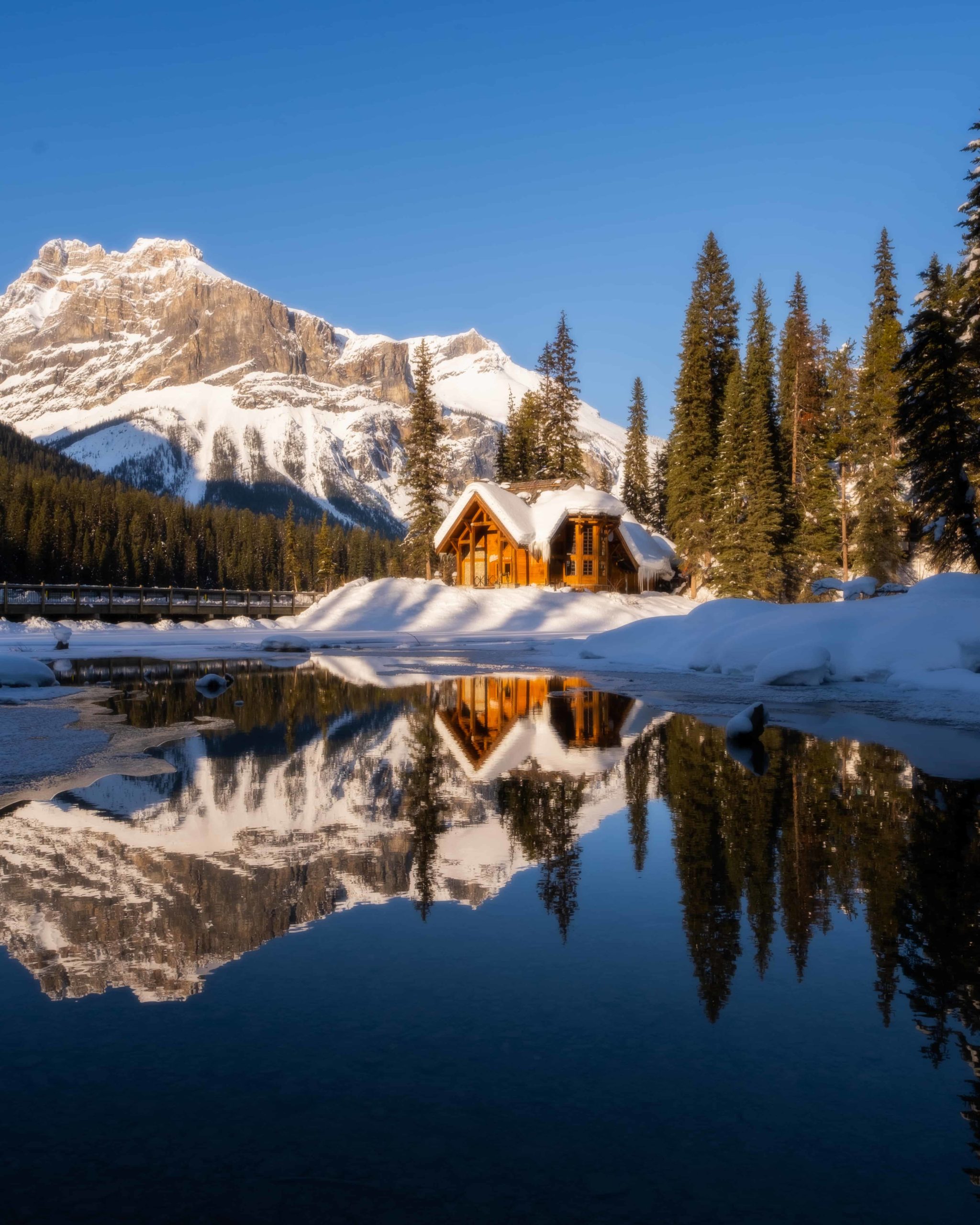 Emerald Lake Lodge is a famous establishment in the Yoho National Park and, for that matter, all the Canadian Rockies. The historic lodge dated back to 1902 and was built by the Canadian Pacific Railway.
There are 24 cabins for rent, and the lodge has an outdoor hot tub, two restaurants, a kayak/canoe rental dock, and a gift shop. It's the only lodge in the area, with the next closest accommodation options being in nearby Field, Golden, and Lake Louise.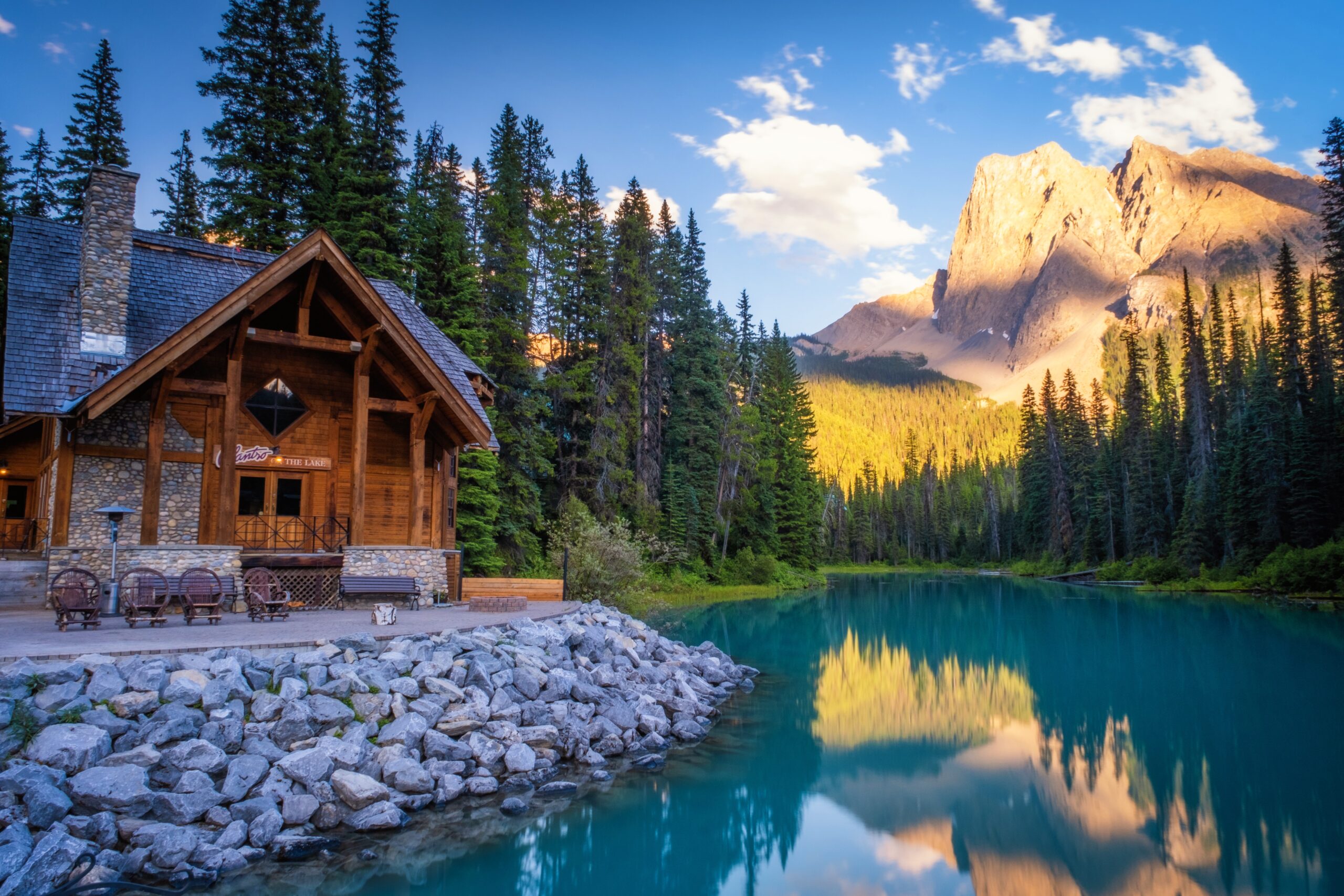 Emerald Lake Lodge is all about nature and a tremendous place to disconnect as they offer no TVs or WiFi in the rooms, and there is no cell phone signal. So bring a nice book to read in the evenings.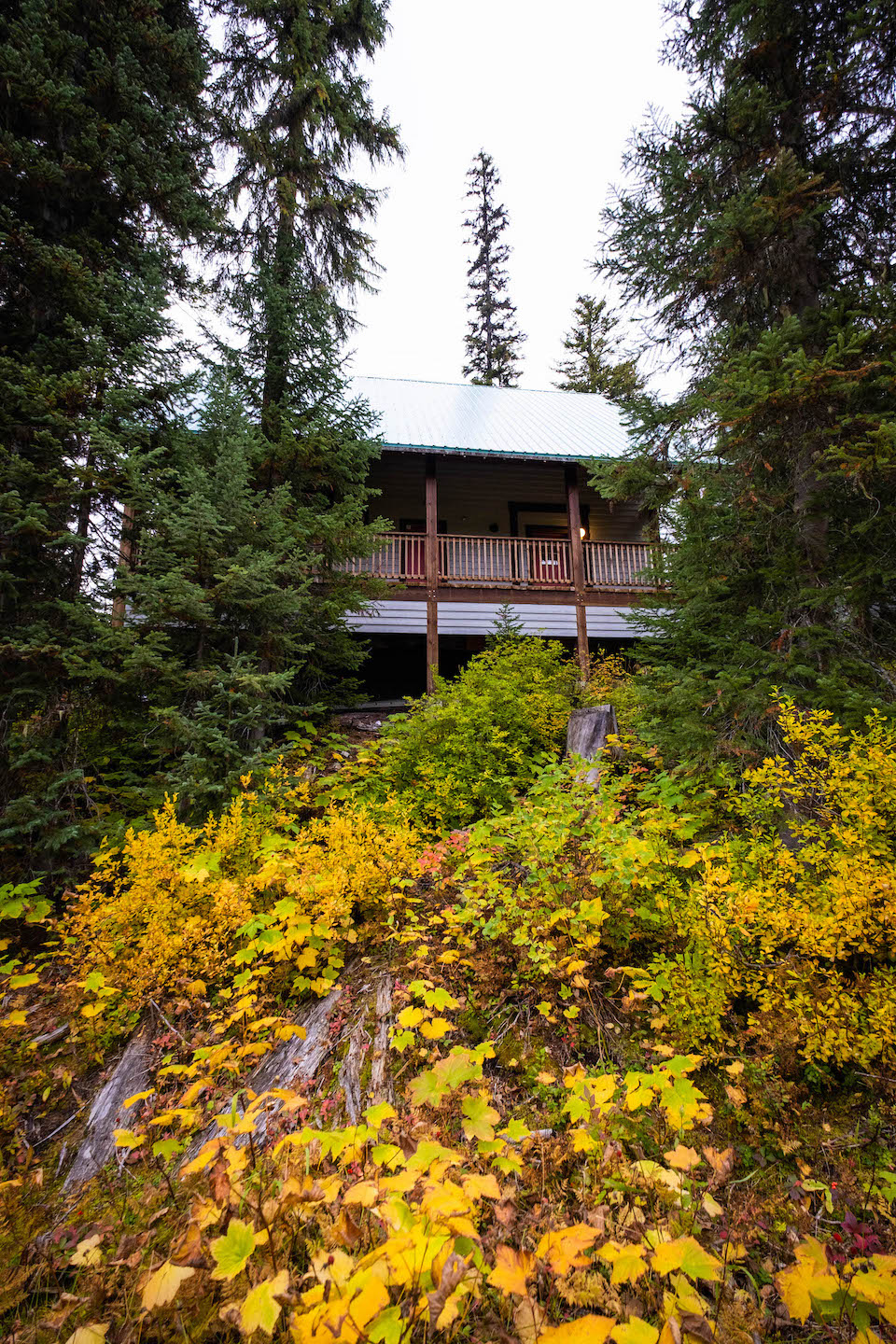 It's a secluded lodge in the wilderness that offers sublime views of the lake. The lodge is open year-round, but rates in the summer are far higher than in the winter.
In all honestly, the lodge itself needs quite a bit of maintenance and care for the summer rates they charge, but if you are dead set on waking up Emerald Lake it is your only option.
---
Food at Emerald Lake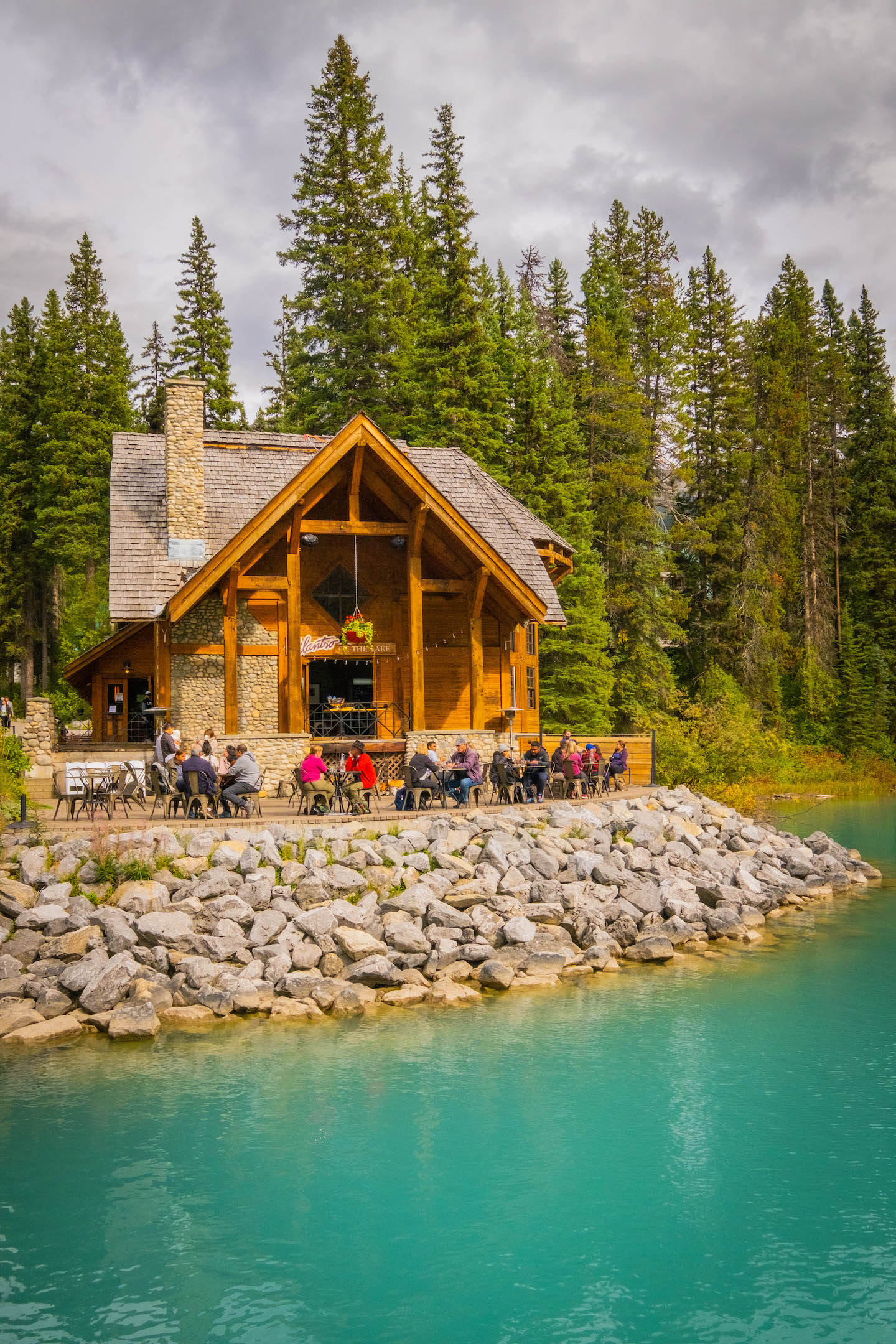 There's one main restaurant for visitors to enjoy at Emerald Lake during the day. Cilantro is a small cafe serving up sandwiches, coffee, and pastries. Though you are really paying to eat in one of the most spectacular lakes in the world here.
There's also dining available at the Mount Burgess restaurants at Emerald Lake Lodge. It's open for breakfast and dinner and reservations are recommended.
---
Camping Near Emerald Lake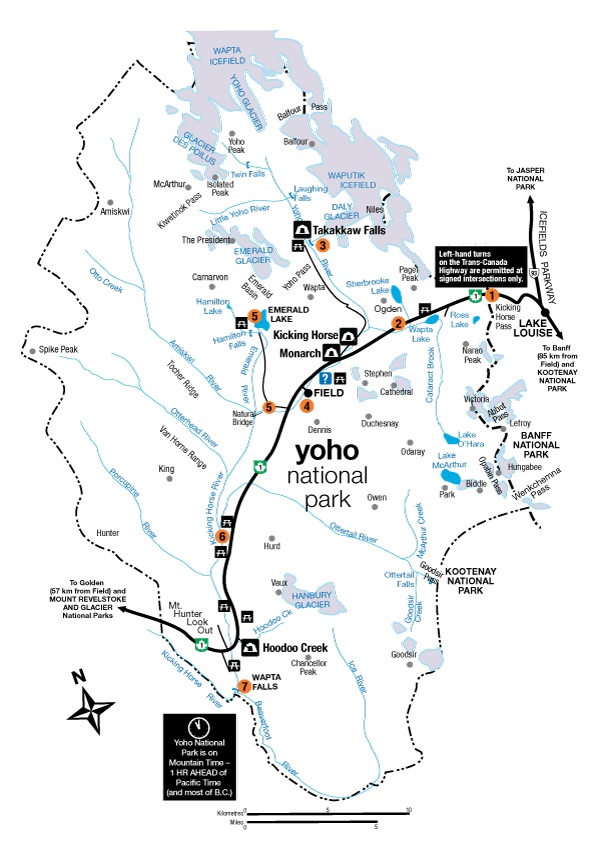 There is no camping around Emerald Lake. However, there are several nearby front country and backcountry campgrounds in Yoho National Park. You can also book three ACC huts or stay at the HI Whiskey Jack Wilderness Hostel.
The hike from Takakkaw Falls to the Stanley Mitchell Hut is considered a classic, and it's a popular spot for members to take their families. The closest campgrounds to Emerald Lake are the Kicking Horse and Monarch campgrounds located directly off the TransCanada.
The Kicking Horse Campground is the nicest campground, with hot showers, flush toilets, fire pits, and a sanitation dump. Reservations are required for the Kicking Horse Campground from May 19 to October 9. However, there is not much privacy at the campsite asides from a few, so it's best for RVs and Campervans.
There is an overflow campground, Monarch Campground, next to the Kicking Horse that does not require reservations, but it is limited on facilities and right next to the highway. We would not recommend either campground for tents unless you're in a pinch.
If you're tent camping, opt for the campsite at Takakkaw Falls, which operates on a first-come-first-serve basis walk-in campsite. You'll have to make a short walk into the campsite, but they have several carts that can carry your camp gear.
Not far from the Takakkaw Falls campsite is the backcountry campsite at Laughing Falls, which could be a good option if you're looking for a wilderness campsite without too much work to reach. From Takakkaw Falls, you can hike over the Yoho Pass to Emerald Lake, arriving at the lake on foot, but plan your return to camp.
Front Country Campsites in Yoho
| Campground | Reservations | Facilities | Price |
| --- | --- | --- | --- |
| Kicking Horse | Yes, (May 19 to October 9) | Water, flush toilets, Showers, firepits, sani dump | $29.25 |
| Monarch | No | Overflow camping, potable water, sry toilets, sani dump | $18.75 |
| Takakkaw Falls | No | Potable water, dry toilets, bear bins, firepits | $18.75 |
| Hoodoo Creek | No | Potable water, dry toilets, bear bins, firepits | $16.75 |
---
Fishing on Emerald Lake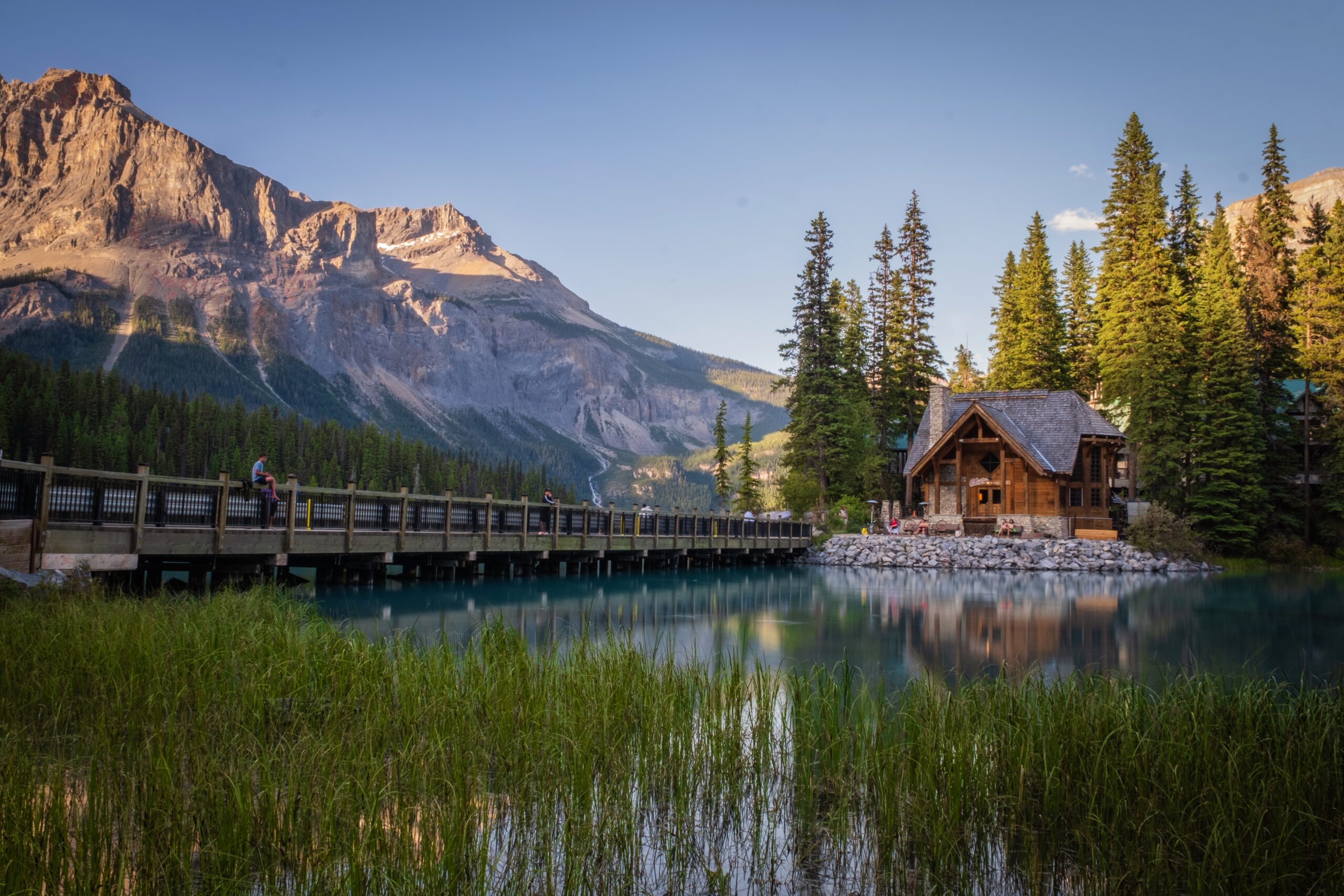 You're permitted to fish on Emerald Lake on your own, or you can hire out a guide out of nearby Golden. Fishing is popular in the region as you can fish on the Kicking Horse River and Lake O'Hara. Emerald Lake is a fantastic lake for scenery to fish, and the most frequent fish caught are Brook Char and Rainbow Trout.
To fish in the park, you must have a Park pass, fishing permit and be aware of current regulations. This means you know fishing limits and can identify the various fish within the park. No live bait fishing is allowed in the park.
Kids under 16 are allowed to fish on their accompanied pass, but their catch is included within the permit holders' daily limit. For the most up-to-date fishing information, please reference Park Canada's website as it changes seasonally.
Fishing Permit Price:
Daily – $ 9.80
Annual – $ 34.30
---
Can You Swim in Emerald Lake?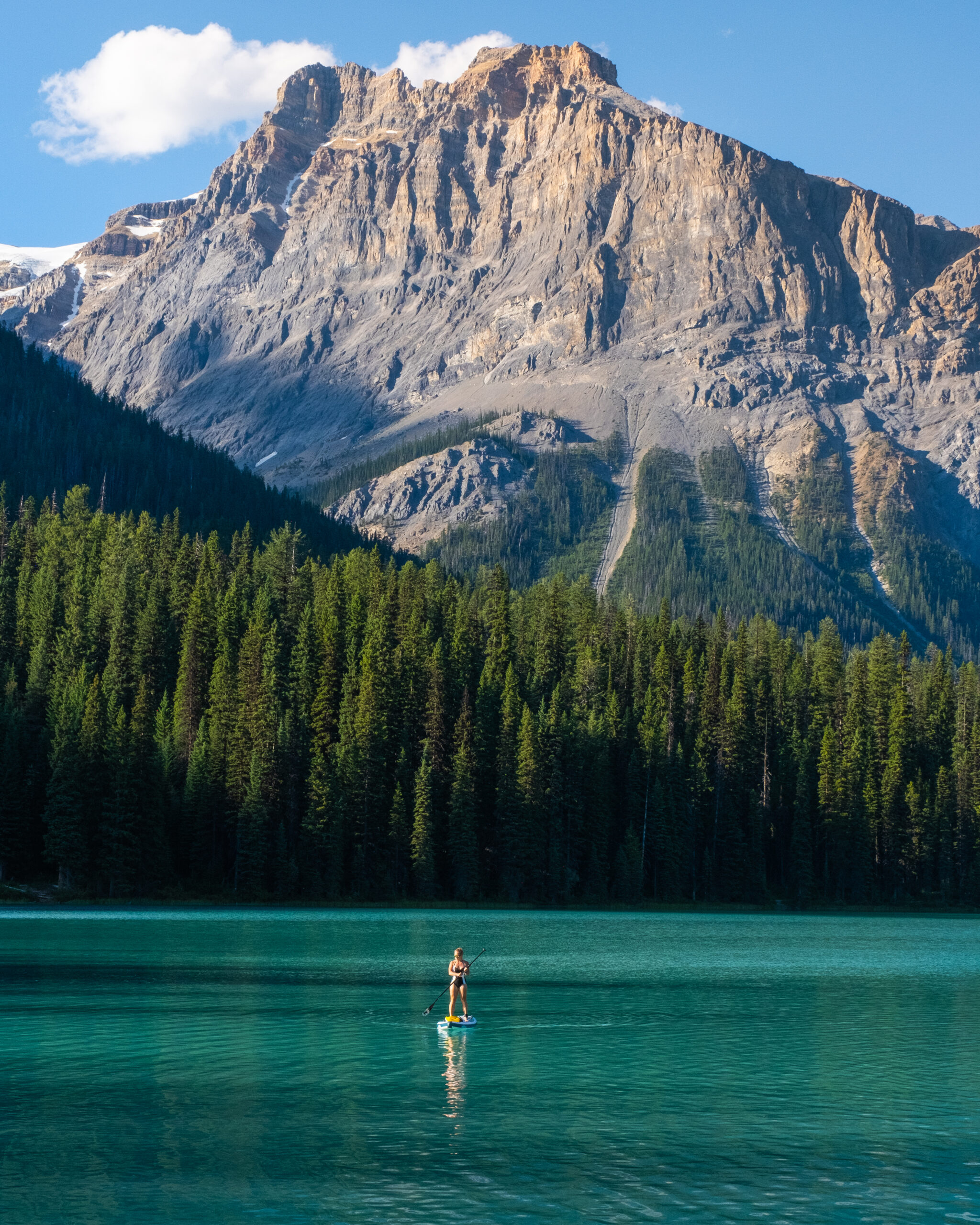 Technically you can swim in Emerald Lake, however the water is freezing even during peak summer and you probably won't last very long in the water. The water temperature in the Canadian Rockies lakes rarely gets warmer than 4-5° C.
---
Emerald Lake Hikes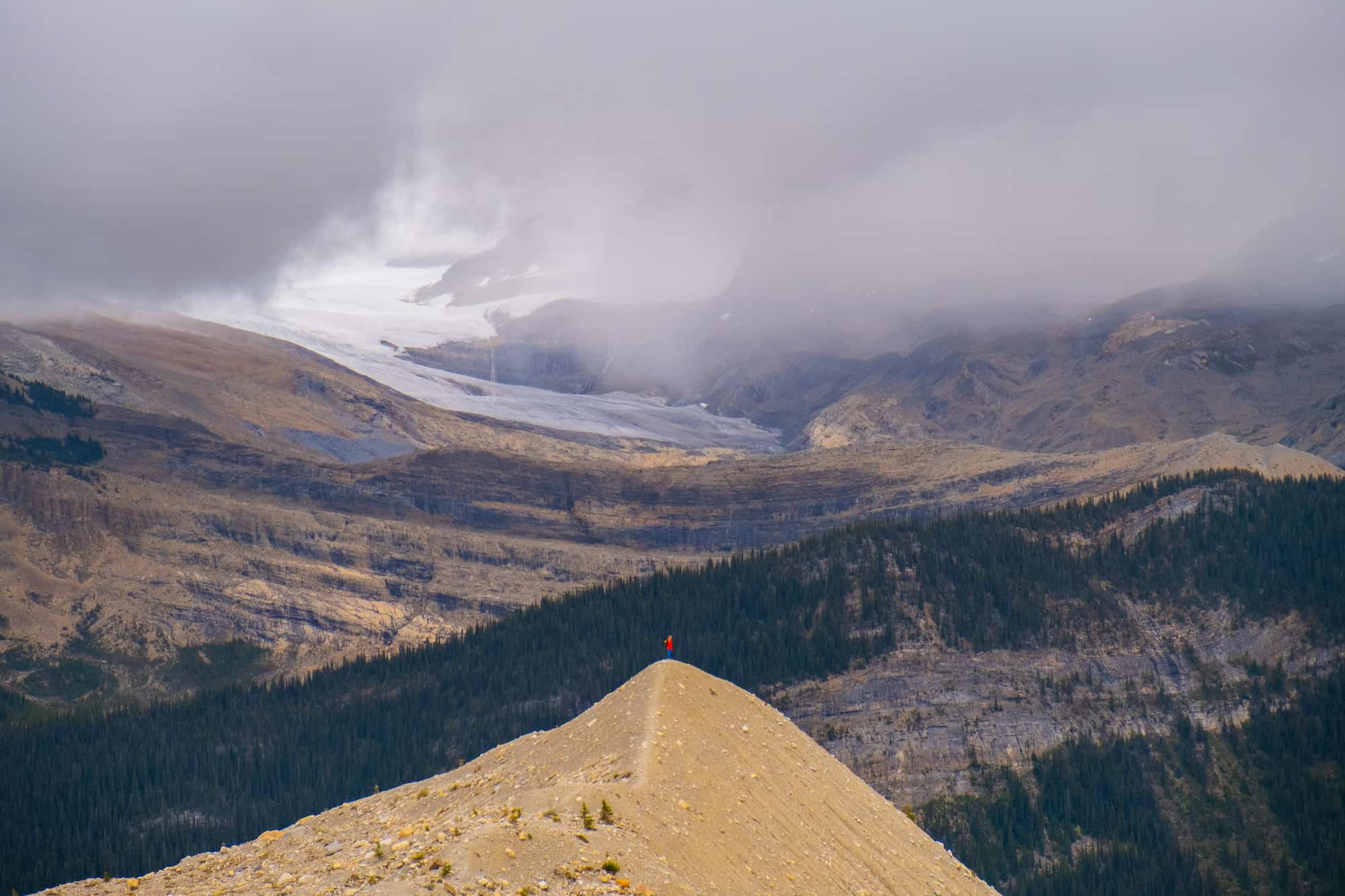 There are several great hikes and scrambles around Emerald Lake. It's a really wonderful area to take to the trails and enjoy stunning views of glaciers, craggy peaks, wildlife, rainforest, and waterfalls. The weather can be a bit unpredictable, so come prepared for a wet hike with hiking boots and a shell jacket. There are also many great scrambles in the area.
Popular Emerald Lake Hikes
Emerald Lake Loop – An easy hike that goes around the lake shoreline that is appropriate for families.
Emerald Lake Trail / Emerald Basin – Similar to the loop trail, but it makes a detour up the Emerald Basin where the lake's water source originates from glaciers high above. The trail can be a little muddy and full of roots so it's good to wear boots. Moderate difficulty.
Emerald Triangle – Jaw-dropping hike that climbs up to Yoho Pass. Then travels along the ridge below the peaks of Wapta and Mount Field. Difficult hike.
Iceline Trail – This hike is in the neighboring Yoho Valley, but is one of the most popular hikes in all of Yoho National Park. It offers some stunning views of waterfalls and you can come up close to the terminals of glaciers. Difficult hike.
Emerald Peak – Moderate scramble that has an elevation gain of 1300 meters, but gives impressive views of Emerald Lake from above. Best reserved for those with scrambling and route finding experience.
---
Holidays at Emerald Lake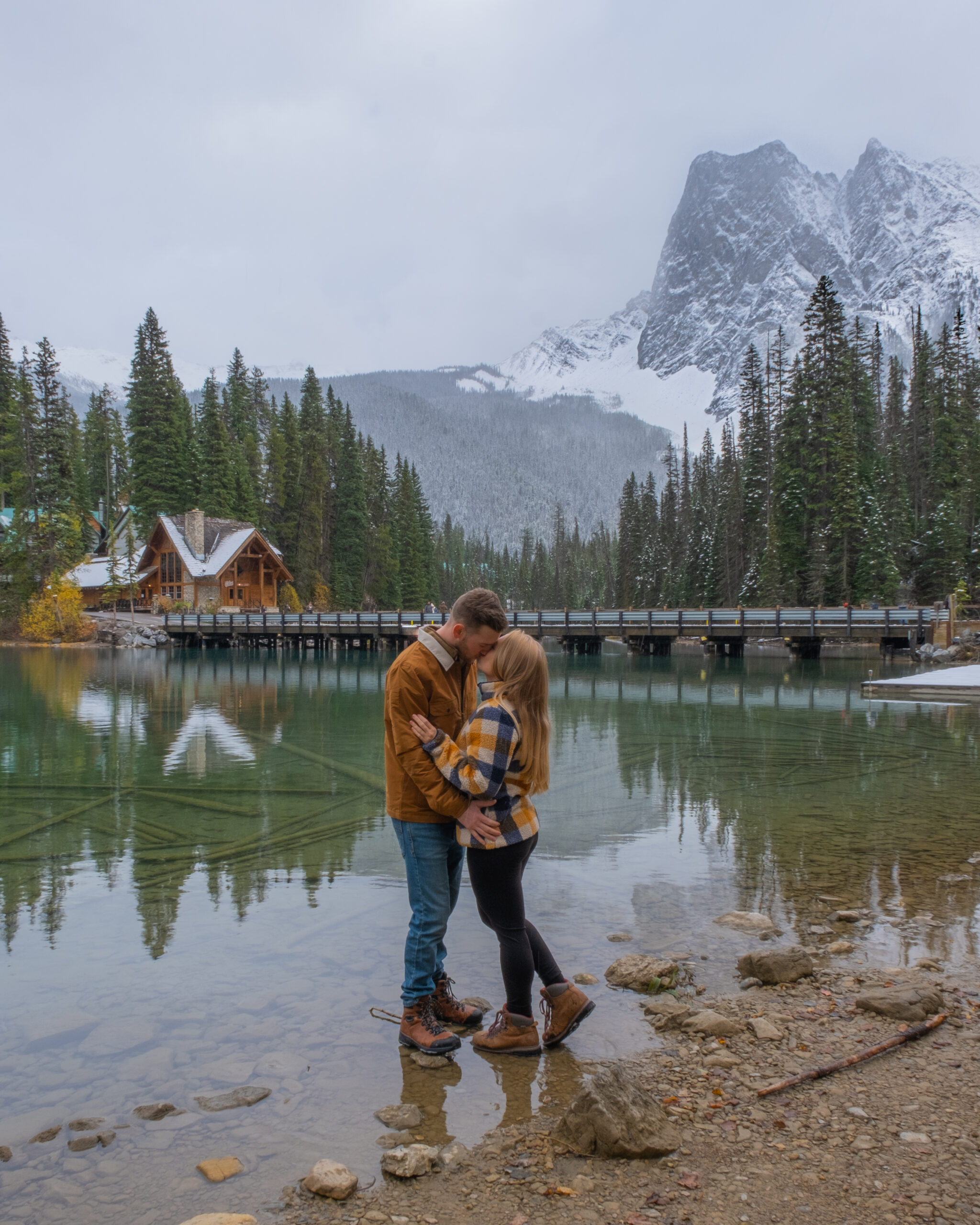 Emerald Lake is always busy in the summer, but you should note the following holidays as it's even busier. It's really packed on Canada day when everyone heads to the picnic area for a BBQ in the park.
Victoria Day Long Weekend – Last Monday preceding May 25
Canada Day – July 1st
Heritage Day Weekend – 1st Monday of August.
Labour Day Weekend – 1st Monday of September.
---
Is There Cell Coverage at Emerald Lake?
There is no cell coverage at Emerald Lake. So put the work away and enjoy the beautiful surroundings.
---
Other Yoho National Park Hikes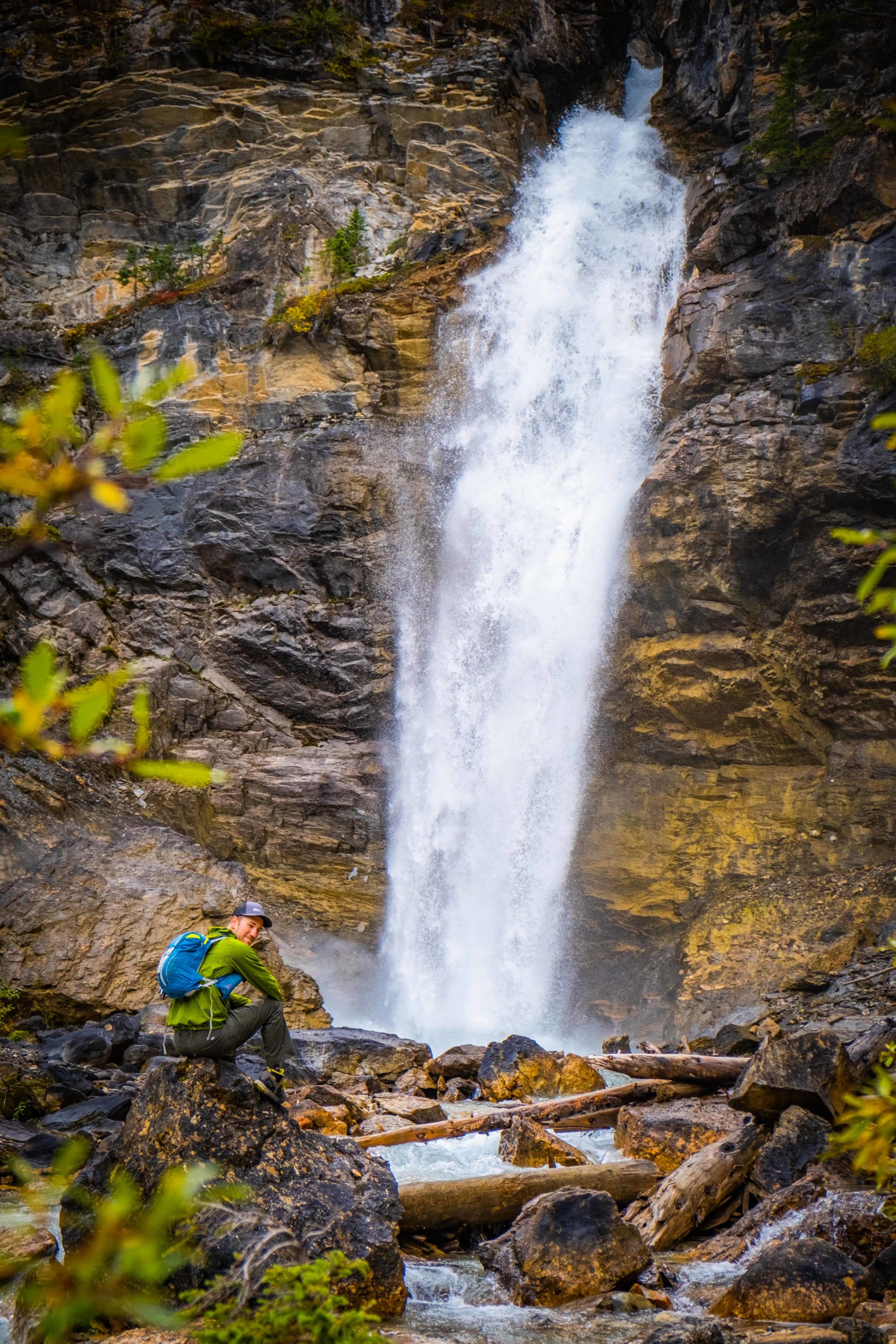 Of course, there are so many hikes in Banff and tons of exploring. Looking for the best Yoho hikes? We rank our favorite hikes around the park and share all of the details in this guide to experience the best in the park. You'll find on these hikes in Banff high alpine passes lined with wildflowers, jagged peaks topped by glaciers, and a healthy dose of turquoise blue lakes.
---
Do You Need a Parks Pass to Visit Emerald Lake?
You need a National Parks Pass to visit Yoho National Park. You can purchase a Parks Canada pass at any park gate. Yes, Parks Canada employees do check, and you can get a ticket if you don't have one. You'll hit a Parks Canada gate right after Canmore along the Trans-Canada Highway if coming from Calgary before entering Banff. Parks Canada pass prices are as follows:
Adult: $10.50
Senior: $9.00
Youth (up to 17): Free
Family/group of 7 people: $21.00
Day passes expire at 4 pm the following day.
Or you can buy them from Parks Canada in advance online. If you're staying in the Rockies for more than a few days, I highly recommend a Discovery Pass. A Parks Canada Discovery Pass, which gets you entrance to all Parks Canada destinations for the year, is only $145.25 for a family.
Again, day passes are $10.50 per person, so depending on how many days you are staying and if you have plans to go elsewhere like Banff, Waterton, or Jasper, you may want to consider the Discover Pass. Discovery Pass fees are as follows:
Adult: $72.25
Senior: $61.75
Family: $145.25
ULTIMATE Guide To Purchasing A Banff Park Pass (Parks Canada Pass)
---
How to Get to Emerald Lake?
Emerald Lake is only accessible by vehicle by taking one road, Emerald Lake Road. The only other options to get to Emerald Lake involve long point to point day hikes or backcountry trips over mountain passes.
Banff to Emerald Lake: From Downtown Banff it will take just over an hour to reach Emerald Lake via Trans-Canada Hwy/AB-1 W
Field to Emerald Lake: Field is the closest town to Emerald Lake at just a 15 min drive via Emerald Lake Rd.
Golden to Emerald Lake: Golden is 56 min (64.9 km) via Trans-Canada Hwy/BC-1 E.
Lake Louise to Emerald Lake: Lake Louise is just 30 minutes away via Trans-Canada Hwy/BC-1 W. You can easily combine Emerald Lake, Moraine Lake, and Lake Louise in one day.
There is no public transport to Emerald Lake. You will need a personal car to explore Yoho, or join a tour that includes Emerald Lake in the itinerary like this one.
---
Plan Your Trip to the Canadian Rockies
---
↓ Join the community ↓
The Banff Blog Facebook Group is your headquarters for the Canadian Rockies' travel advice and information. Including hike info and off-season travel information. This is also where you can meet one another when you need adventure buddies.