Golden is one of our favorite places to visit in British Columbia. There are so many things to do in Golden from skiing at Kicking Horse to horseback riding in the Blaeberry Valley it's hard to ever get bored.
You'll be happy to know there are plenty of Golden, BC cabins, Golden Airbnbs, and VRBOS to choose from during your stay. We're breaking down the best below!
---
Best Cabins in Golden, BC
---
Getaway Cabin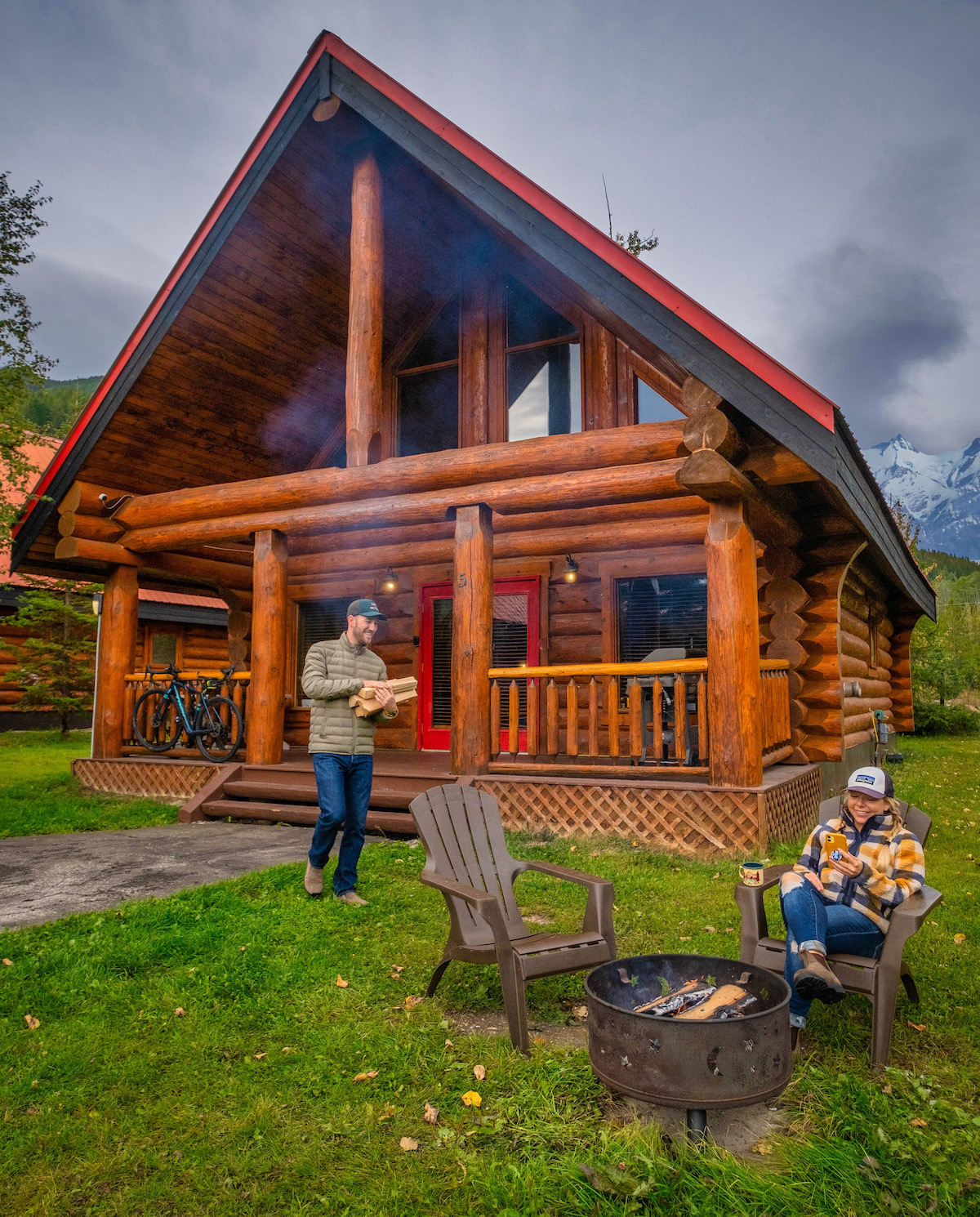 Beds: 5
Guests: 8
Superhost: Yes
Price: $99 CAD/night
You'd be hard pressed to find a cozier cabin in Golden. This timber-framed log cabin is your ticket to a true Rockies experience. The interior has two floors – the upstairs loft has a queen bed and two twins, while the downstairs has a second queen bedroom and a living room with a comfortable pull-out. Pets are welcome for an additional fee.
This BC cabin is located just off the river and backed by beautiful forest. It's about a 30 minute drive from Downtown Golden so it's for those who don't mind being away from town and would rather find themselves surrounded by wilderness. The cabin is perfect for staying in – pour a drink while you curl up by the indoor fireplace or the outside fire pit.
There's a full kitchen for all your meals. It's best to do all your grocery shopping at the IGA in Golden as that is the closest grocery store to the cabin.
This cabin is a cabin community, so look around at the different cabin options and choose which one is right for you.
---
Eco Chalet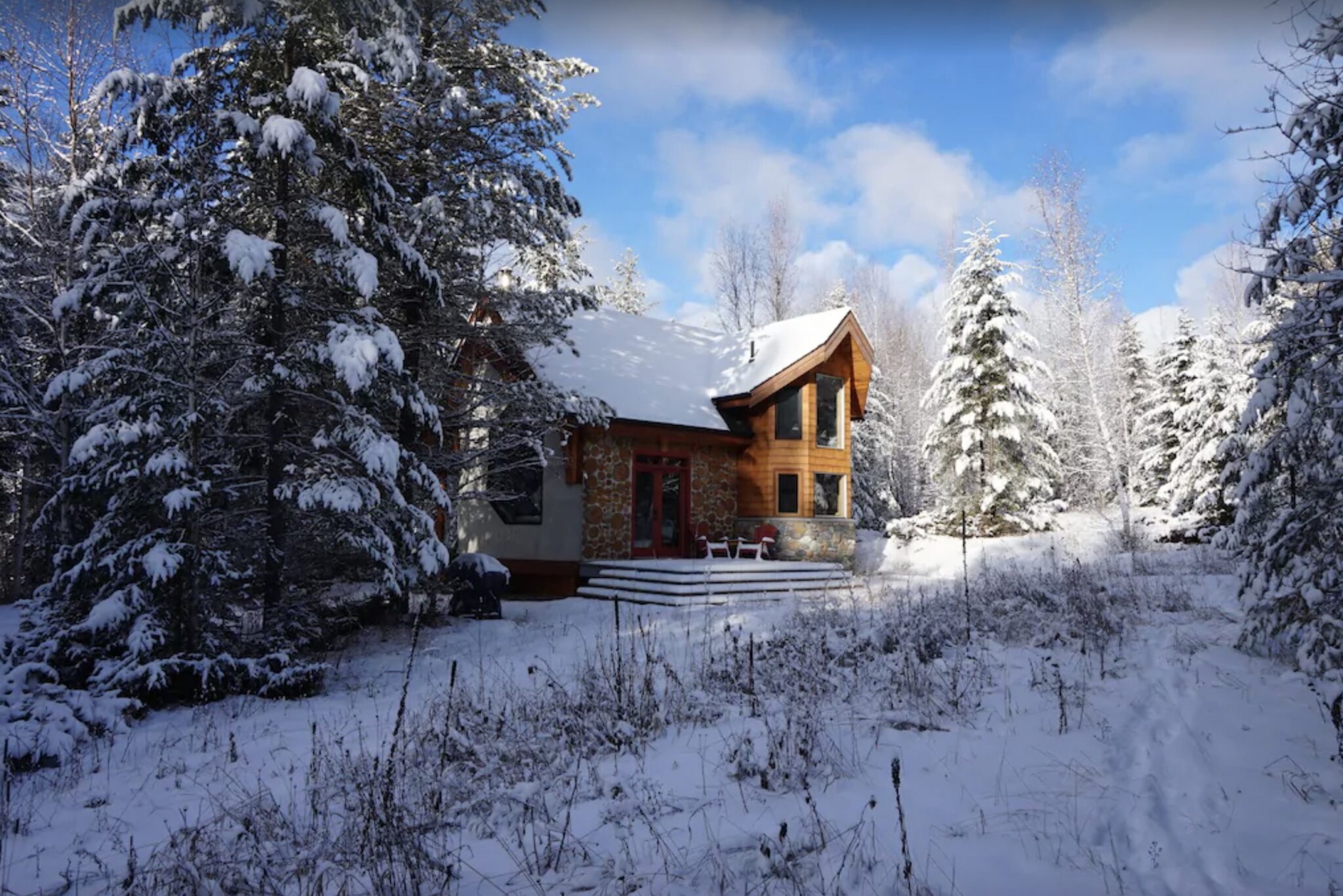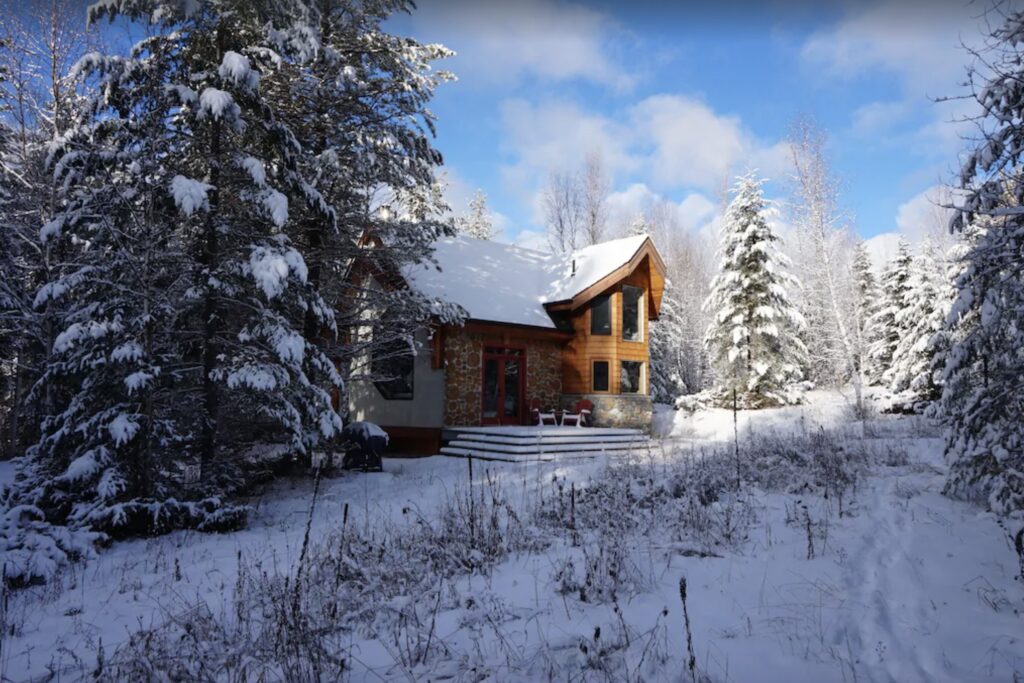 Location: 15 minutes outside of Golden
Beds: 1
Guests: 4
Superhost: Yes
Price: $215 CAD
This cozy little eco building is ideal for a couple or two friends traveling together. While the cabin technically allows three guests thanks to a pull-out couch, the unit is fairly small and better suited to two people. The cabin is rustic and set into the woods, just outside the main town of Golden. It includes two covered decks and an outdoor fire pit, perfect for nighttime stargazing with a glass of wine.
The local ski hill, Kicking Horse, is a 20-minute drive away. If you are visiting in the summer you can take advantage of mountain biking trails, and nearby there is also whitewater rafting if you're looking for a little adventure.
---
Golden Base Camp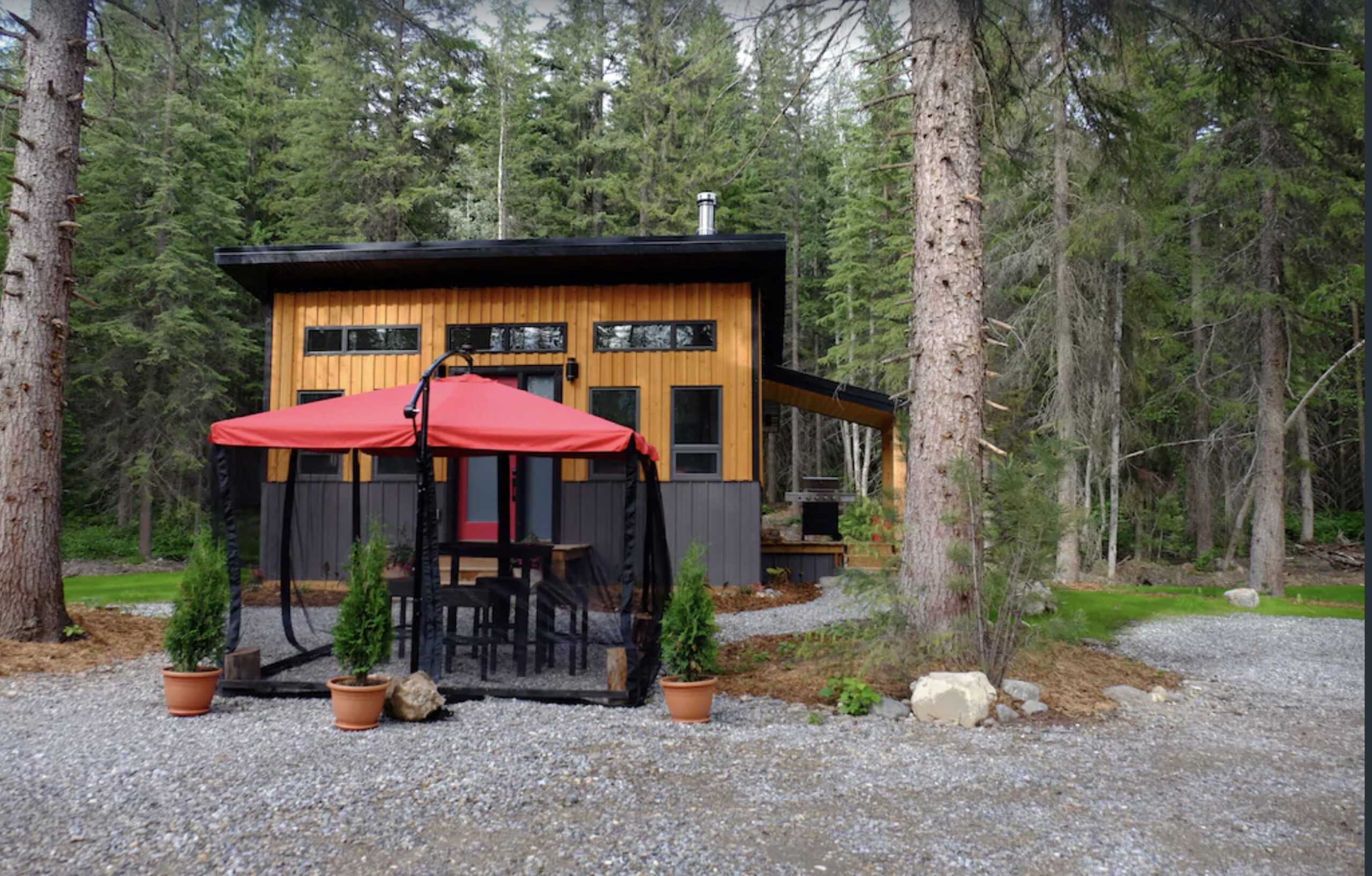 Beds: 2
Guests: 4
Superhost: Yes
Price: $261 CAD/night
This little cabin nestled in the woods is perfect for families of four or friends adventuring together. The cabin is set directly between two creeks for incredibly relaxing ambient sounds. For cozy evenings in, there is a Smart TV, and a fully-equipped kitchen. There are also laundry facilities if you need to wash your clothes after a messy day of outdoor adventuring.
When your getaway cabin is this comfortable, you'll never want to leave, so be sure to check this one out if you're looking for a VRBO in Golden.
---
Gudjonson Getaway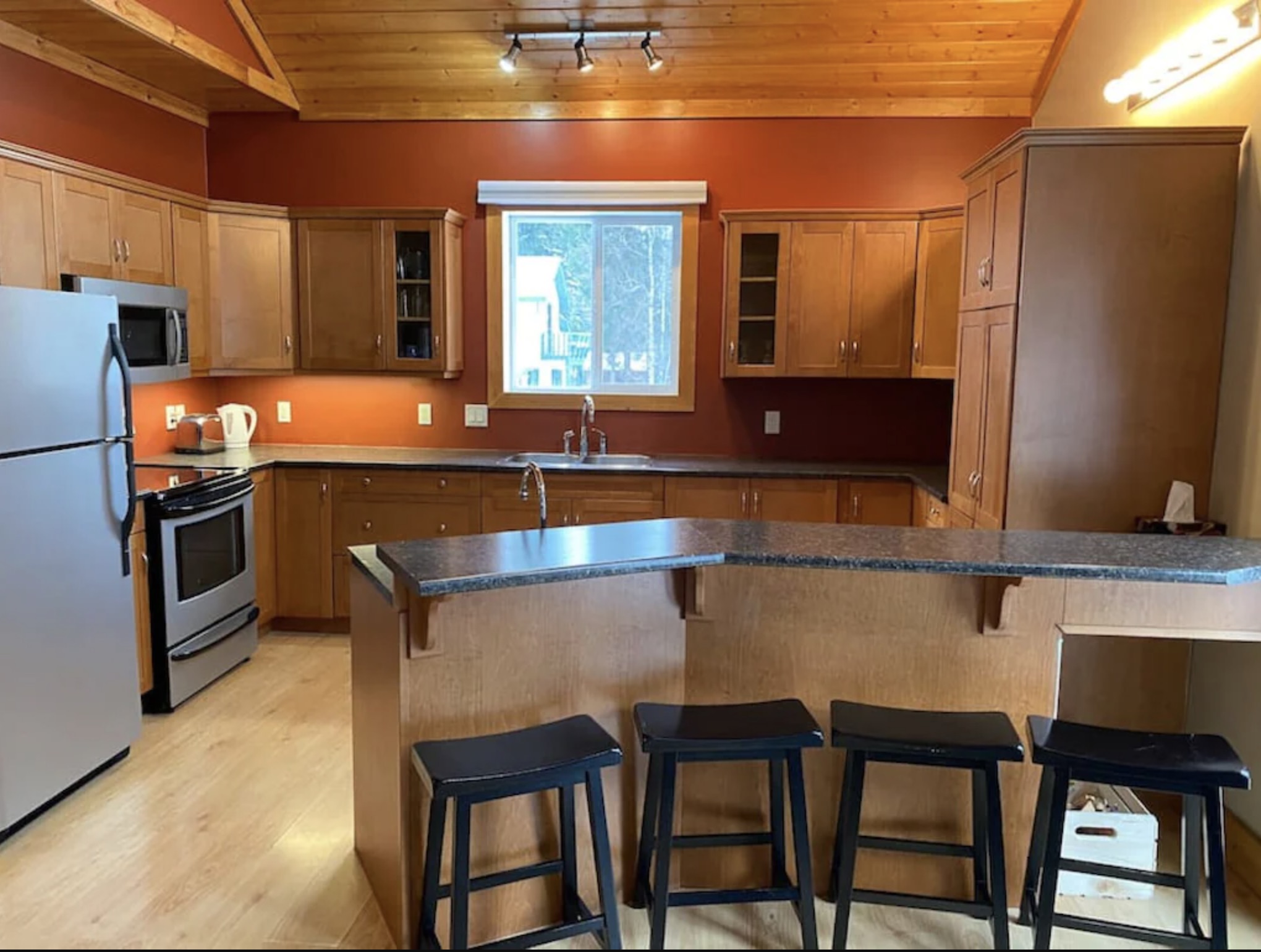 Location: Nicholson
Beds: 3
Guests: 6
Superhost: Yes
Price: $149 CAD/night
This is a cozy two-bed (plus pull-out couch), two-bath cabin in a small commune called Nicholson, only a short drive from the heart of Golden. In the immediate area is the trailhead to the Moonraker mountain biking trail, and both Dawn Mountain cross country ski area and Kicking Horse ski resort are a few minutes away by car.
The interior offers rustic decor, with a wood-burning stove, large open kitchen, and a living room area ideal for hanging out, thanks to a board game collection and large entertainment TV system. The backyard also has a large raised deck with a BBQ, outdoor fire pit, and (of course) stunning views of the nearby mountain range.
---
Log Dovetail Bison Cabin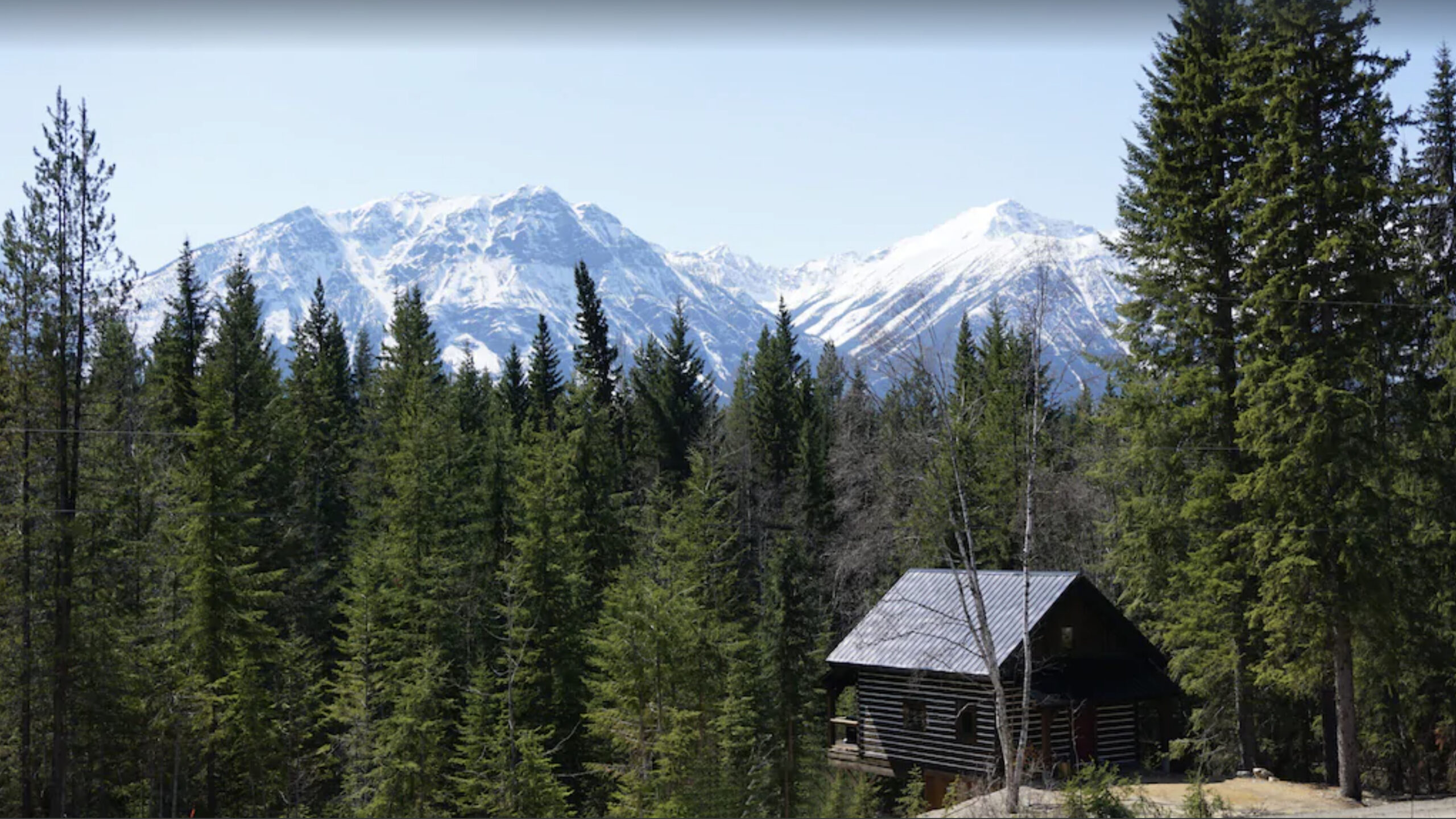 Beds: 2
Guests: 5
Superhost: Yes
Price: $240 CAD/night
The cutest little cabin you will ever stay in! The Bison Cabin is a small and ultra-cozy cabin located only 10 minutes from the city center of Golden. It's a small and intimate space perfect for a couple or a small group of friends.
The property is set in the woods, in a beautifully quiet area rich with forest life, from owls to elk to even the occasional bear. There is a full outdoor deck at your disposal with a grill and in the winter the space is especially cozy, thanks to the wood-burning stove.
---
The Whisky Jack Creek Lodge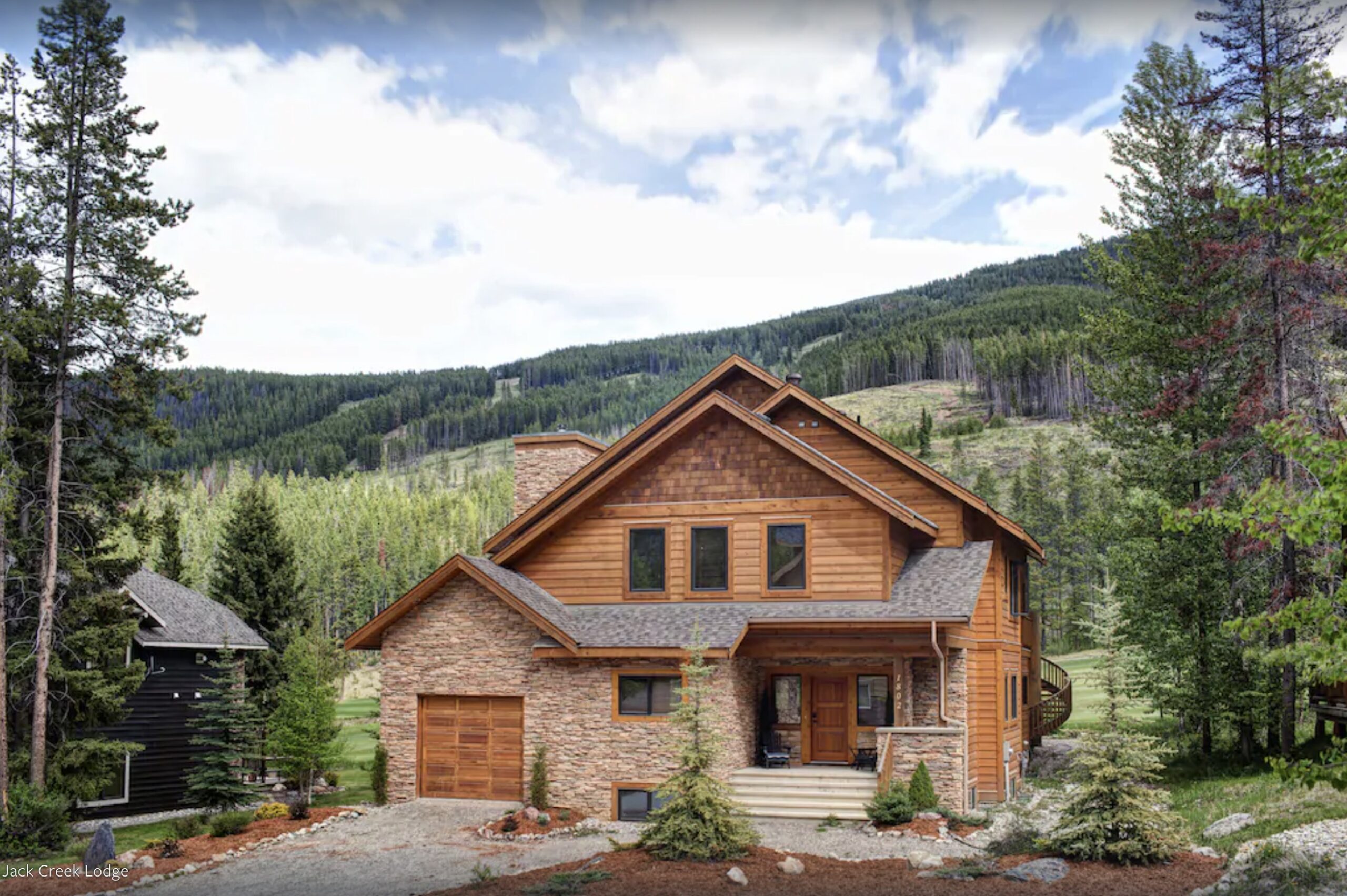 Beds: 8
Guests: 19
Superhost: Yes
Price: $1700 CAD/night
This is a newly-built unit at the northern tip of Golden, only a few minutes' drive from the city. The property spans almost two acres, in an area filled with beautiful fir trees and views of the nearby mountain ranges. There are beautiful hiking trails practically in the backyard, but if you're here to ski, Kicking Horse mountain resort is a 25-minute drive from the site.
The kitchen is fully-equipped, there's a storage room for any luggage, and if you're staying longer than a week there is laundry room access. The outside has a fire pit with a seating area, and you'll arrive with a fully stocked shed of firewood. With everything you need within arm's reach (except perhaps for the ski slopes) you'll be all set to hunker down for a tranquil getaway in this beautiful forested haven.
---
Rockies Escape, with Hiking, Skiing, and Private Hot Tub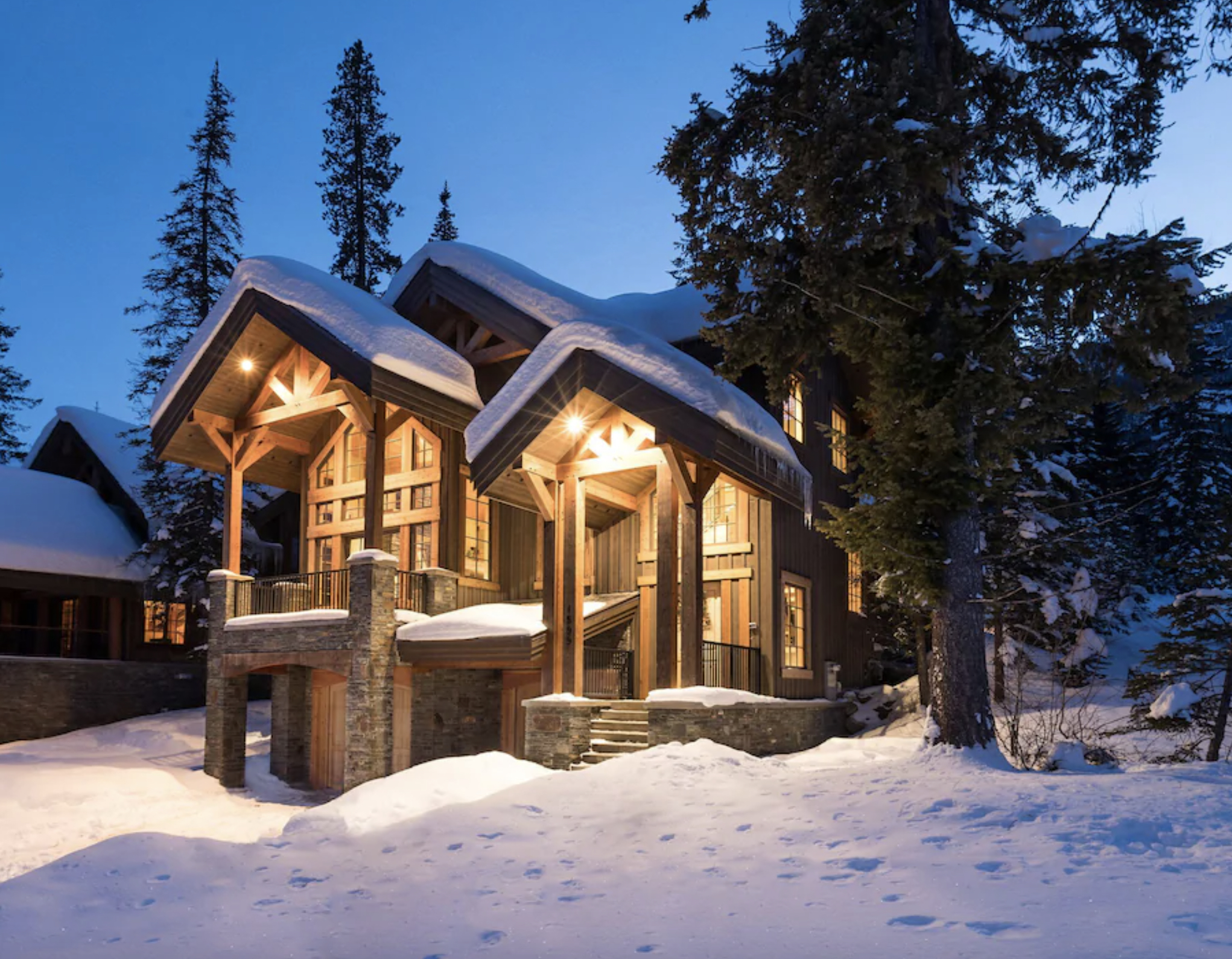 Beds: 5
Guests: 13
Superhost: Yes
Price: $550 CAD/night
If you were ever going to splurge on your vacation, do it for this incredible cabin. Located right at the base of the Kicking Horse Ski Resort, this large townhouse sleeps up to 13, perfect for you and all your friends looking to get away from the city. Even if you only plan to stay a few days, this is an ideal Rental in Golden.
After a day on the slopes, come back to a private hot tub (on the large outdoor deck), indoor fireplace, and heated bathroom flooring. There's plenty of room for groups of 13, so you can come with your whole crew. And if you're really up for an adventure, try out the paragliding or skydiving tours nearby.
---
Peaceful, Off-Grid Cabin Nestled in the Wilderness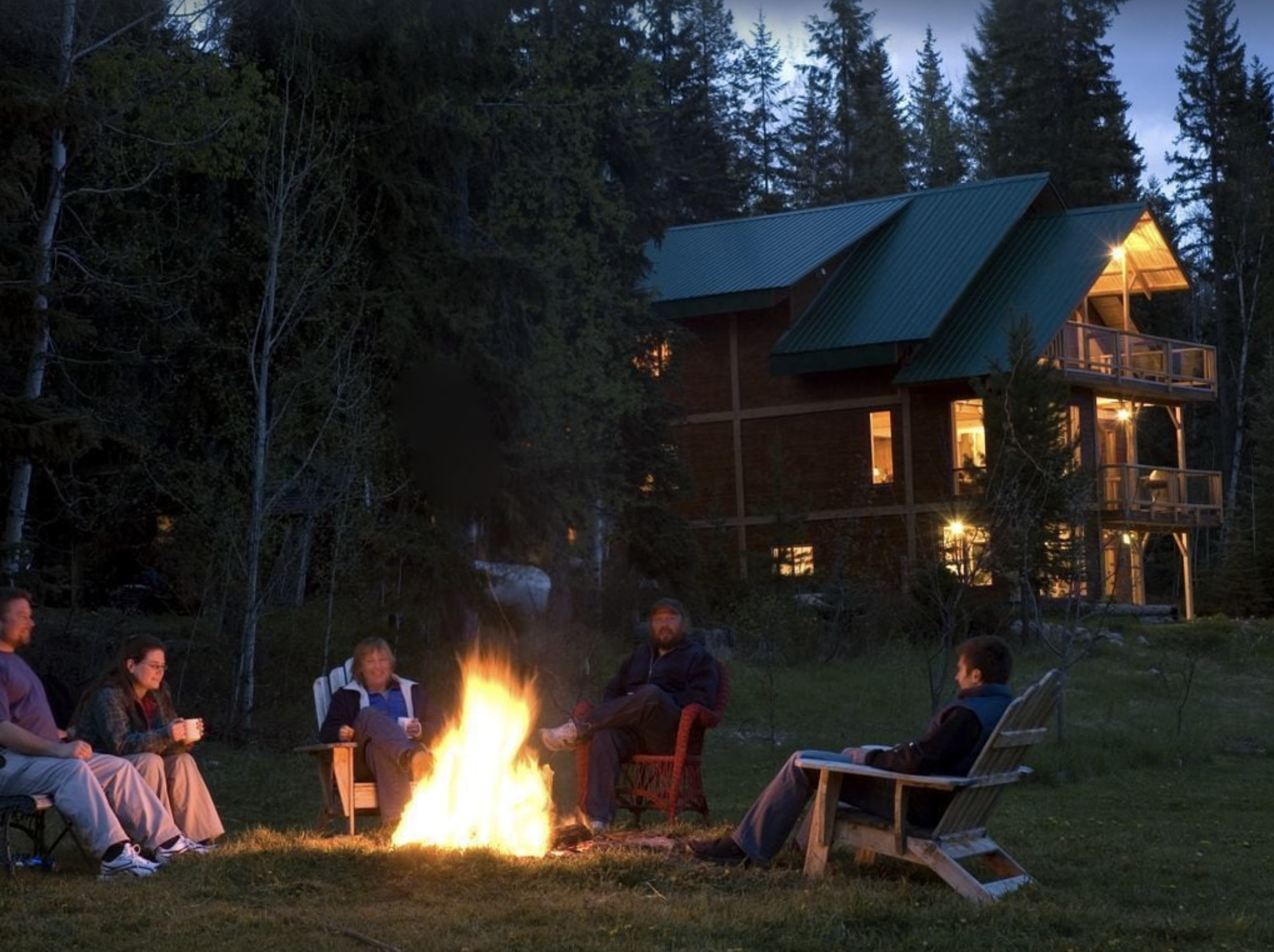 Beds: 5
Guests: 20
Superhost: Yes
Price: $350
This family sized cabin is perfect for those who are seeking a getaway and want to immerse themselves in nature with large groups. This is a very cozy cabin, with a full kitchen (so you can be self-sufficient) and a large living area. The kitchen has a lot of staple basics to make cooking easier and is even equipped with new appliances.
The cabin is located near Forde, about a 20-minute drive north of Golden. The area has several kilometers of nature trails, as well as wetland and creeks. Summer hiking is great in this area, with places like Beaver Point nearby to watch for wildlife. If you're visiting in the winter, it's equally beautiful but a bit harder to navigate. Trails aren't cleared as this area is truly off-grid, so be sure to bring snowshoes for walking.
---
Goat Mountain Cabin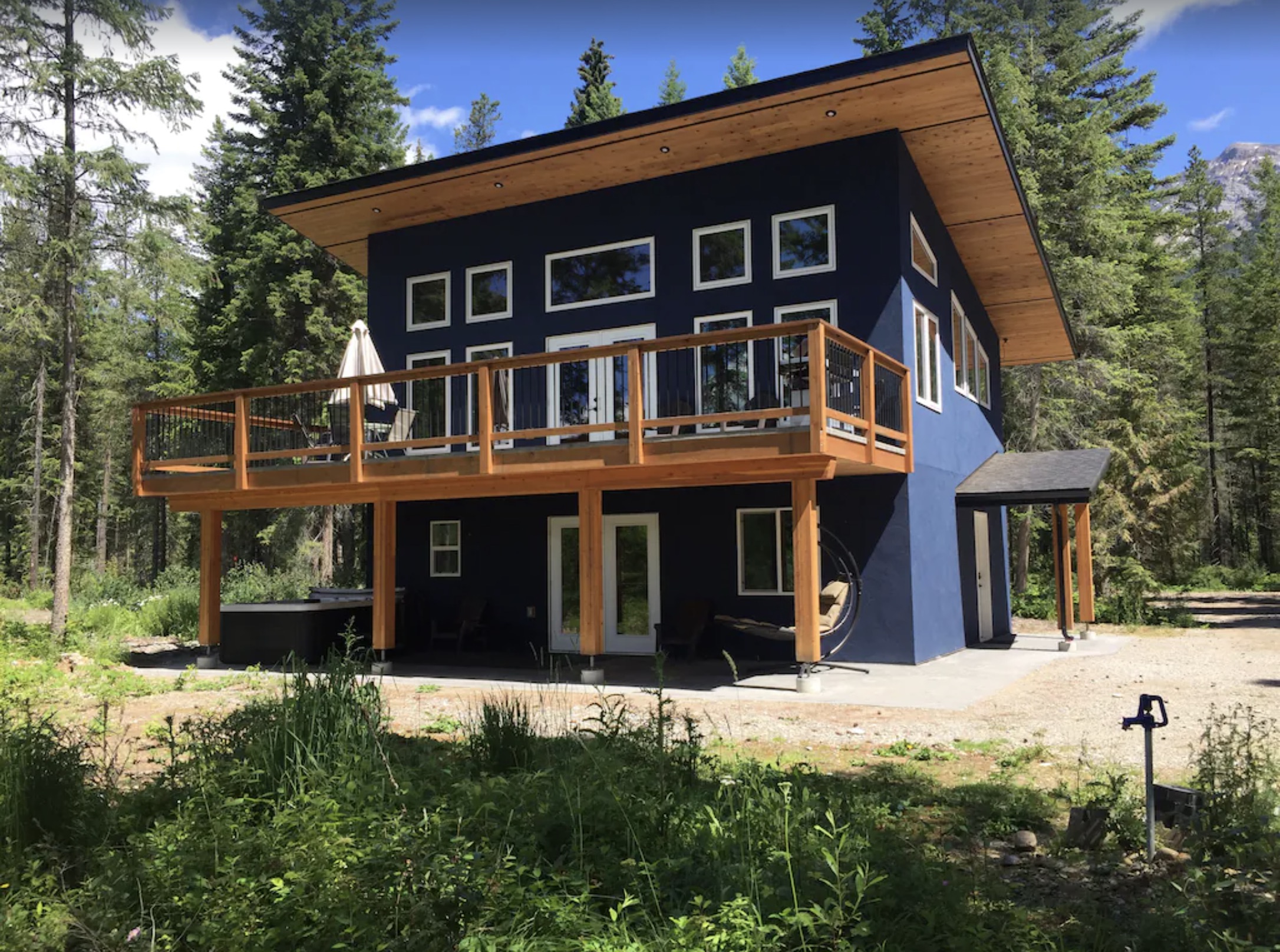 Location: Blaeberry Valley
Beds: 2
Guests: 5
Superhost: Yes
Price: $300 CAD/night
You couldn't ask for a more fairytale mountain cabin in Golden, British Columbia. This beautiful cabin is only a 20-minute drive from Golden, located on a huge plot of meadowland. The cabin has eco-friendly practices, like compost bins and an eco-friendly showerhead, and while the water is safe for bathing and cooking.
The cabin has an outdoor fire pit, BBQ, and seating area. One word of caution from the hosts – while bear incidents are incredibly rare, this is bear country and grizzlies and black bears are known to wander through the property like most of this area of Canada, so it's important to walk in groups, carry bear spray, and not leave food around overnight.
---
Journey's End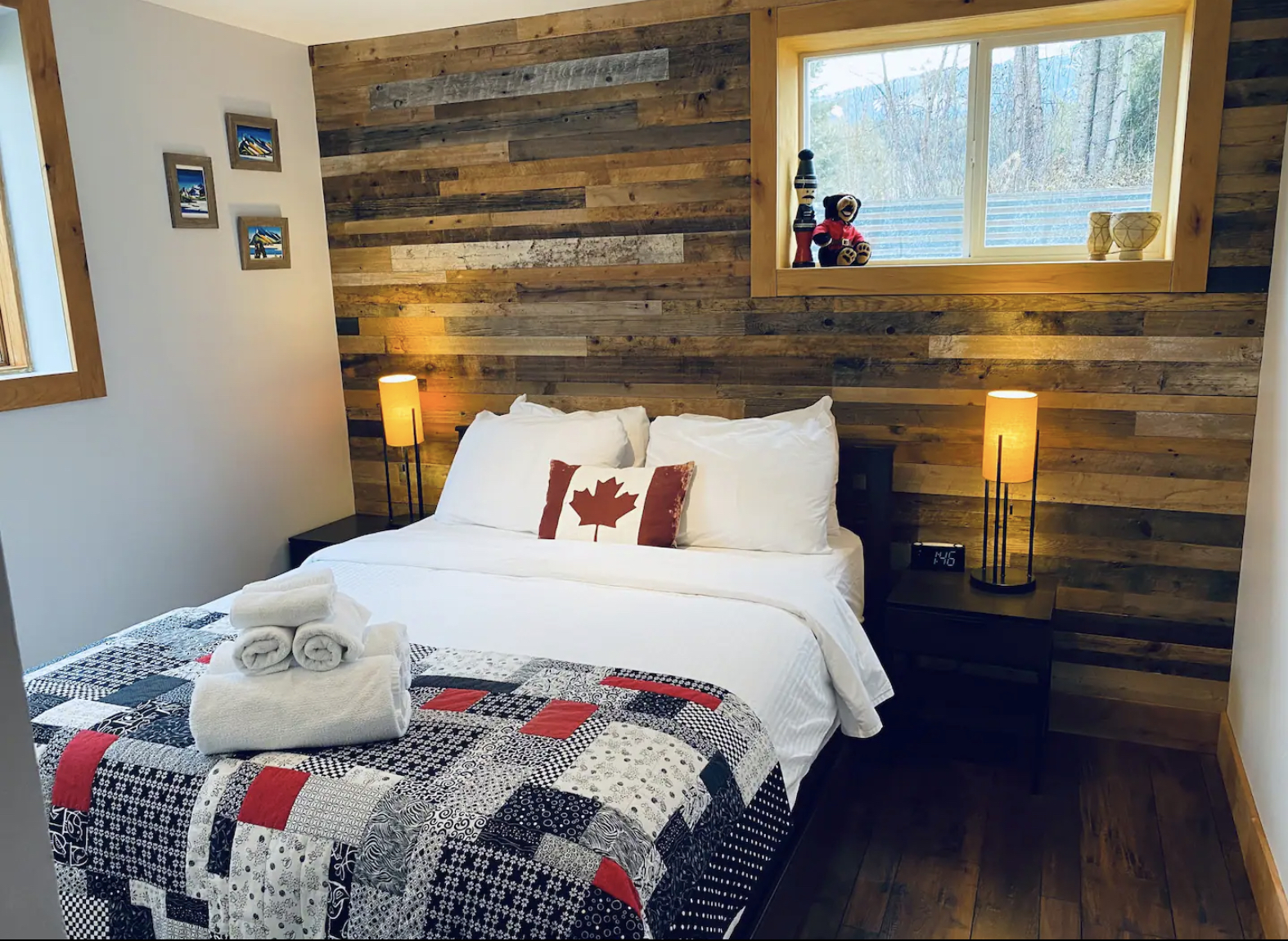 Beds: 3
Guests: 6
Superhost: Yes
Price: $149 CAD/night
All the creature comforts from home make this Airbnb in Golden is a great pick for places to stay in Golden. Located just north of the city, this 1600-square-foot condo sleeps up to six adults and is optimally located in an area ideal for peace and quiet, while never being too far from the main attractions in and around Golden.
The unit has two full bedrooms plus a pull out couch, and the large living room has an indoor fireplace. Another fun bonus is the quintessentially Canadian interior decor: plenty of plaid, red & white, and maple leaf decor!
From the property, you have beautiful views of the Kicking Horse resort and the nearby mountain ranges. Relax in the evenings from the comfort of the on-site hot tub or outdoor seating area and fire pit. After spending the day in Yoho National Park, you'll absolutely love hanging out at this Golden Airbnb.
---
The Aspens at Kicking Horse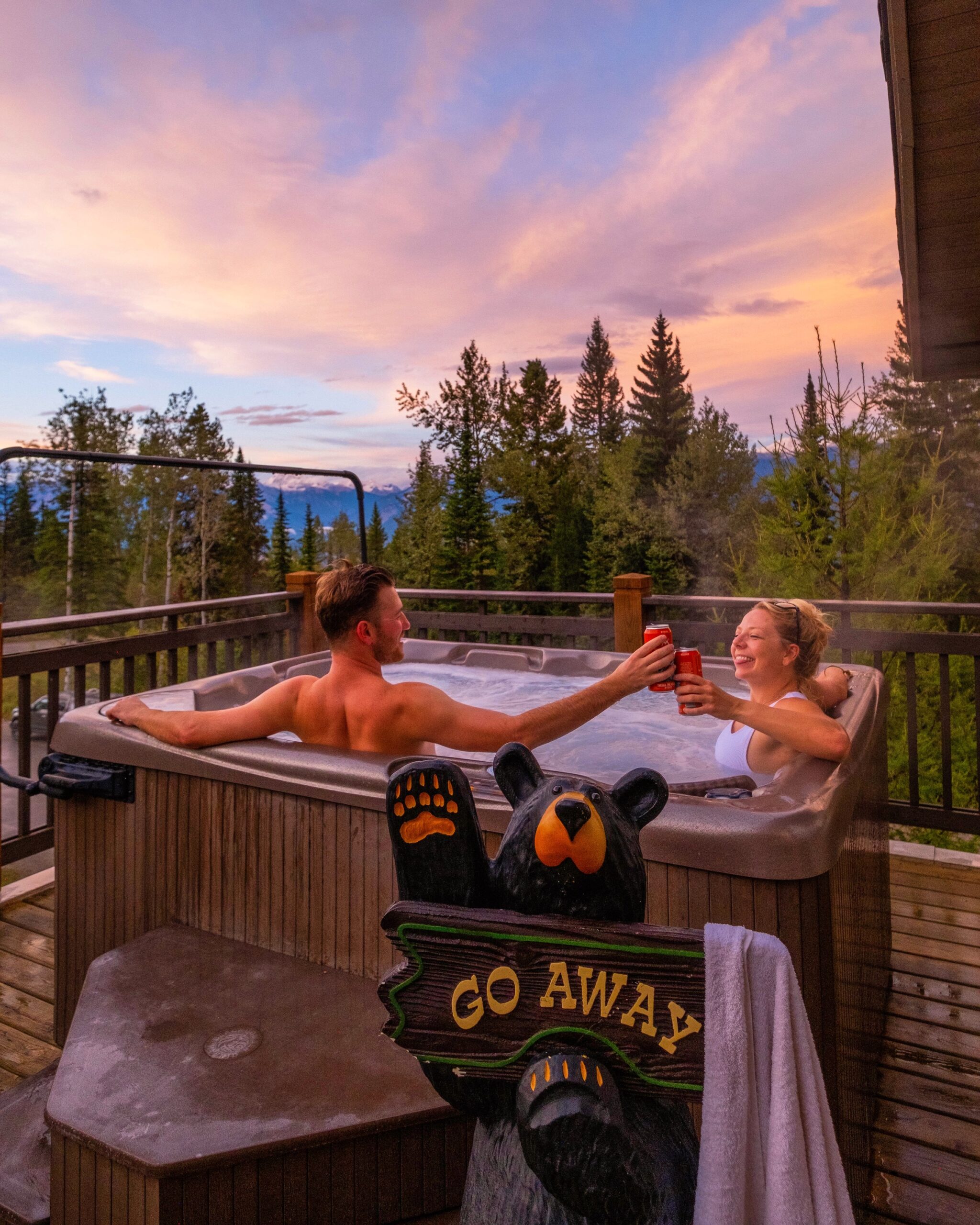 Beds: 2
Guests: 5
Superhost: Yes
Price: $350 CAD/night
This private and sheltered little cabin is just far enough outside of the hustle and bustle for peace and quiet, yet close enough that you're never too far from the action. Kicking Horse ski resort is just steps away from the cabin.
This ski chalet has fully equipped kitchen, living area, and hot tub. The property also has a small deck with a BBQ, great for outdoor cooking in the summer, or having your morning coffee as you observe the beautiful natural environment.
---
The Forest Cabin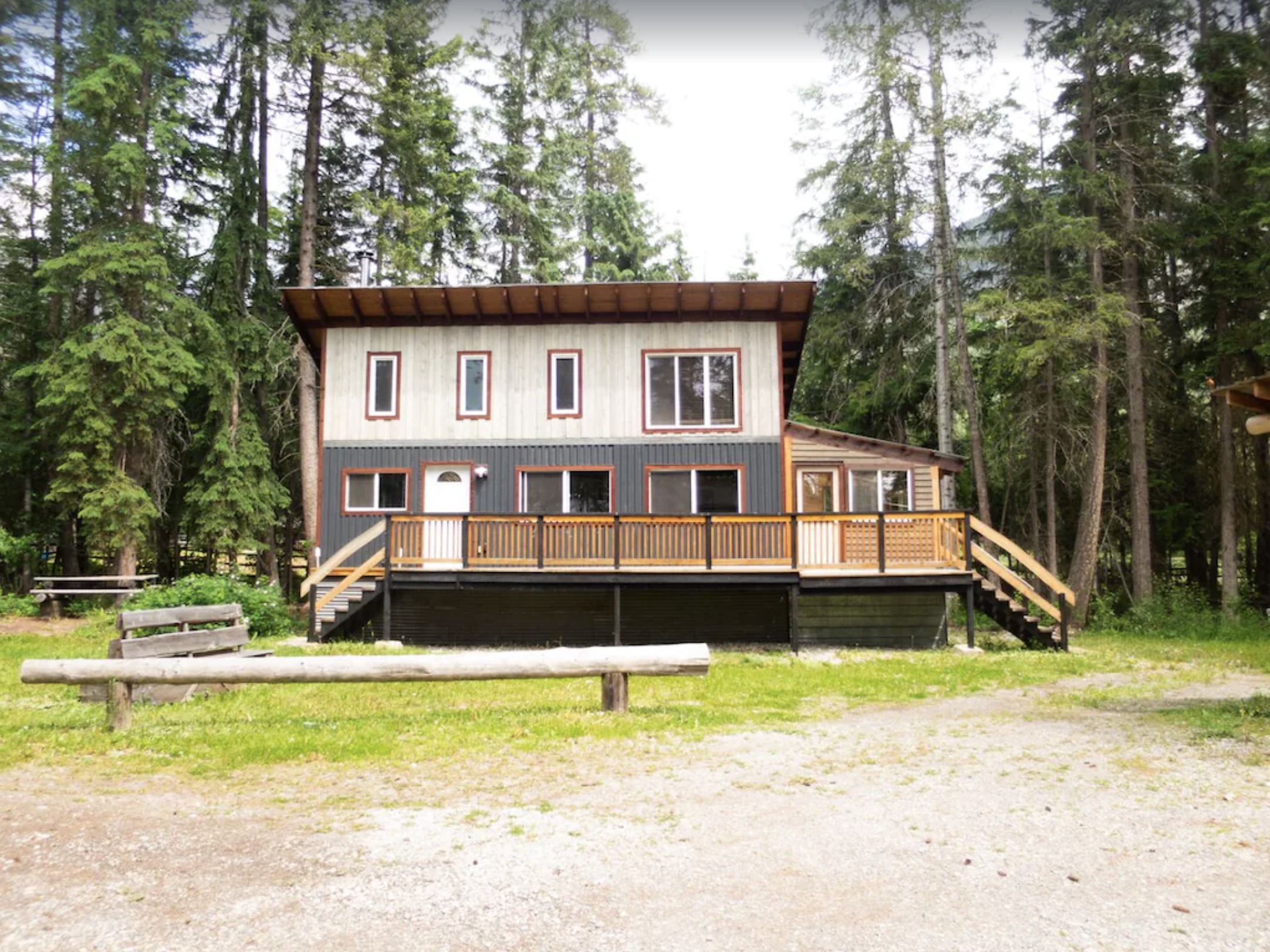 Beds: 2
Guests: 5
Superhost: Yes
Price: $250 CAD/night
This cabin has a distinctly modern interior but still delivers on the woodsy atmosphere without sacrificing the creature comforts of a home. The property is rural, spanning three acres of woods with mountain views. The cabin is recently renovated but retains its rustic charm thanks to the wood-burning stove and outdoor fire pit.
Downtown Golden, as well as the ski hills, are only a 10-minute drive from the cabin, so you can spend the day on the slopes and come home to an inviting slice of paradise in the evening.
---
Ski Chalet at Kicking Horse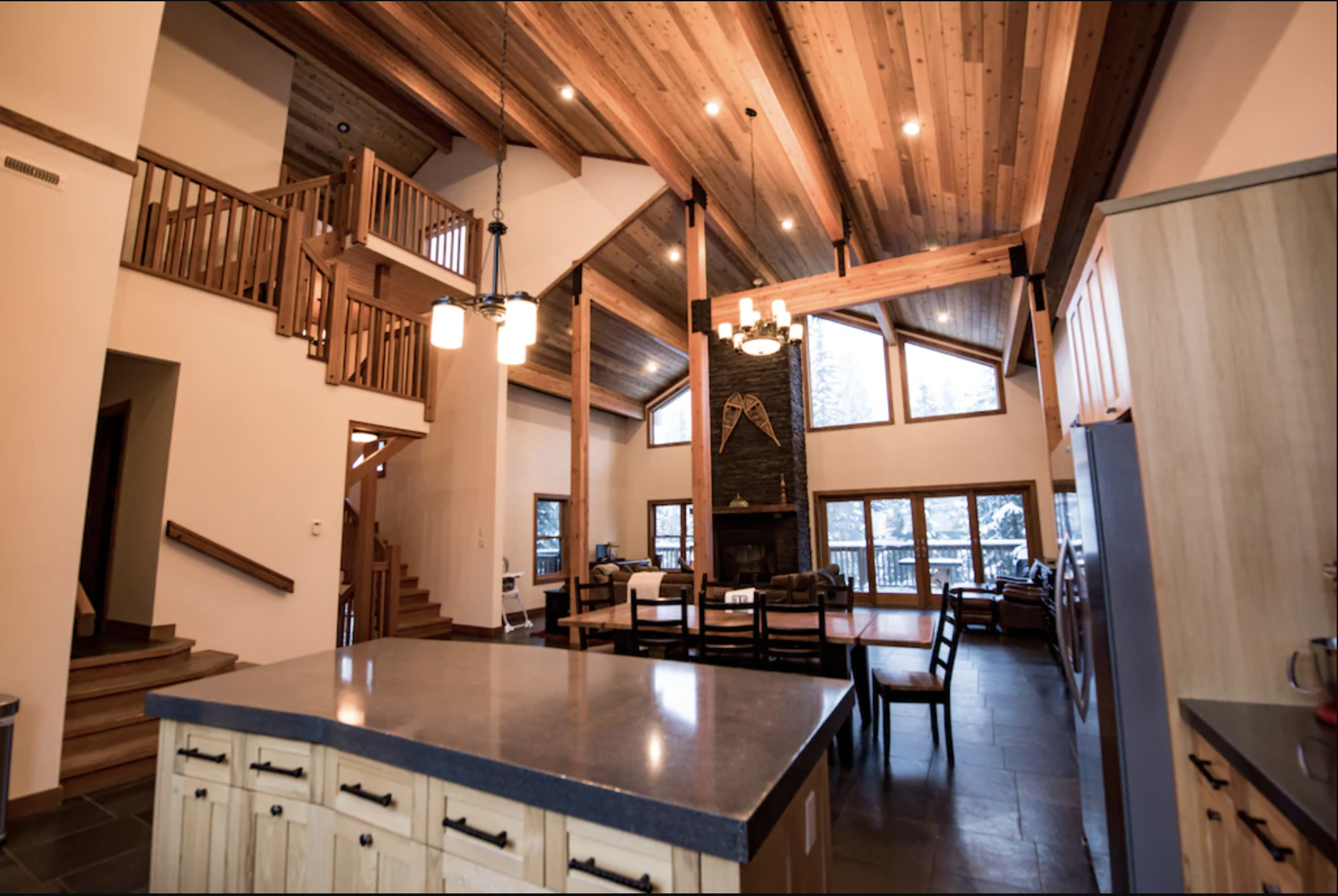 Beds: 5
Guests: up to 14
Superhost: Yes
Price: $460 CAD/night
If you are a big group looking for something a little more luxurious, look no further. Of all the VRBOs and Airbnbs in Golden, this one is something else. This is an entire house and sleeps up to 14 people, so it's perfect for a group of friends looking for a fun getaway for everyone. There are five bedrooms, a fully equipped kitchen, an indoor fireplace, and beautiful interior decor.
The house is located near the Kicking Horse River. It's close to the Kicking Horse resort, and all sorts of hiking trails in the area too. Plus, central Golden is only a few minutes away by car for those who want to experience the city's pub and restaurant scene.
---
Purcell Cabin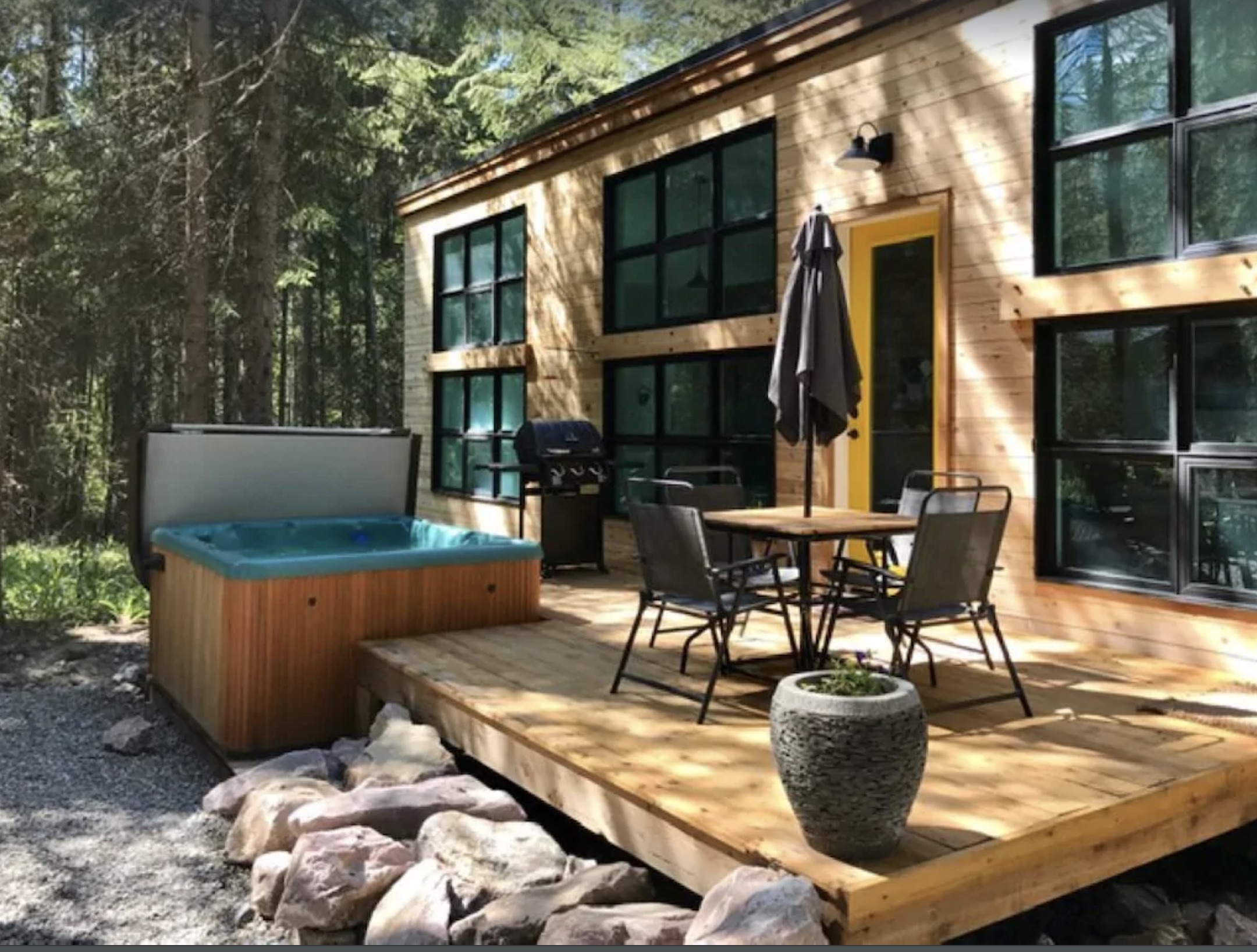 Beds: 1
Guests: 2
Superhost: Yes
Price: $250 CAD/night
This bright, cute little condo is perfect for a couple. The unit is located between the Kicking Horse and Columbia rivers, and only a short walk or bike ride into the city center. It's been newly renovated, with exposed wood beams and a large outdoor hot tub.
Additional features include keyless entry, bike/ski storage, and a large outdoor yard with a seating area.
---
Adventure Chalet at Cedar House Chalets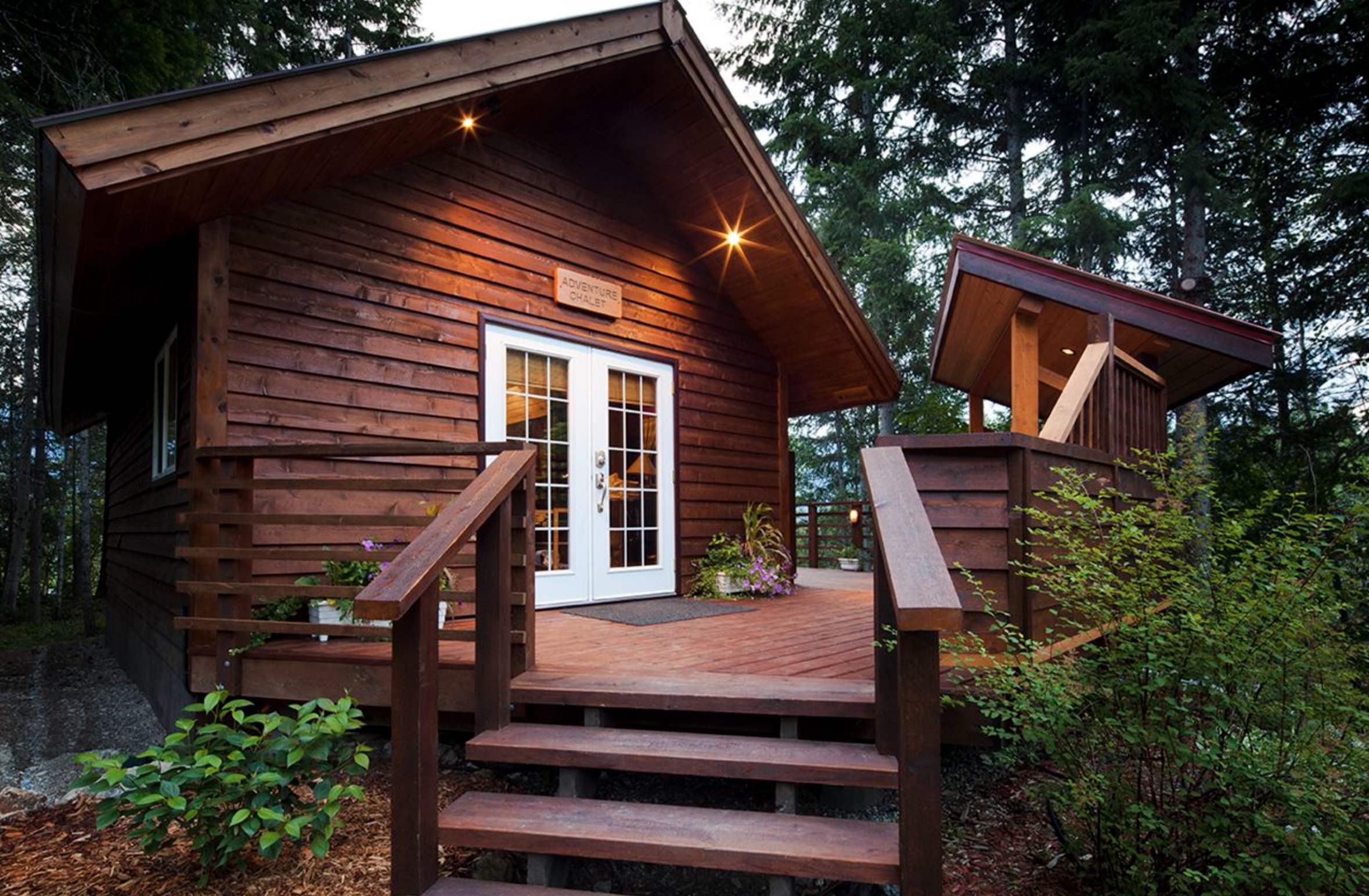 Beds: 1
Guests: 2
Superhost: Yes
Price: $282 CAD/night
The coziest little chalet for two. The Adventure Chalet is a prime example of a rustic mountain cottage experience, with rustic wood interiors and a large wood-burning stove. The queen-sized bed is located in the upper loft (there is a small ladder climb required to get up there), and outside there is a large deck complete with BBQ and a private hot tub so you can relax while you take in the views.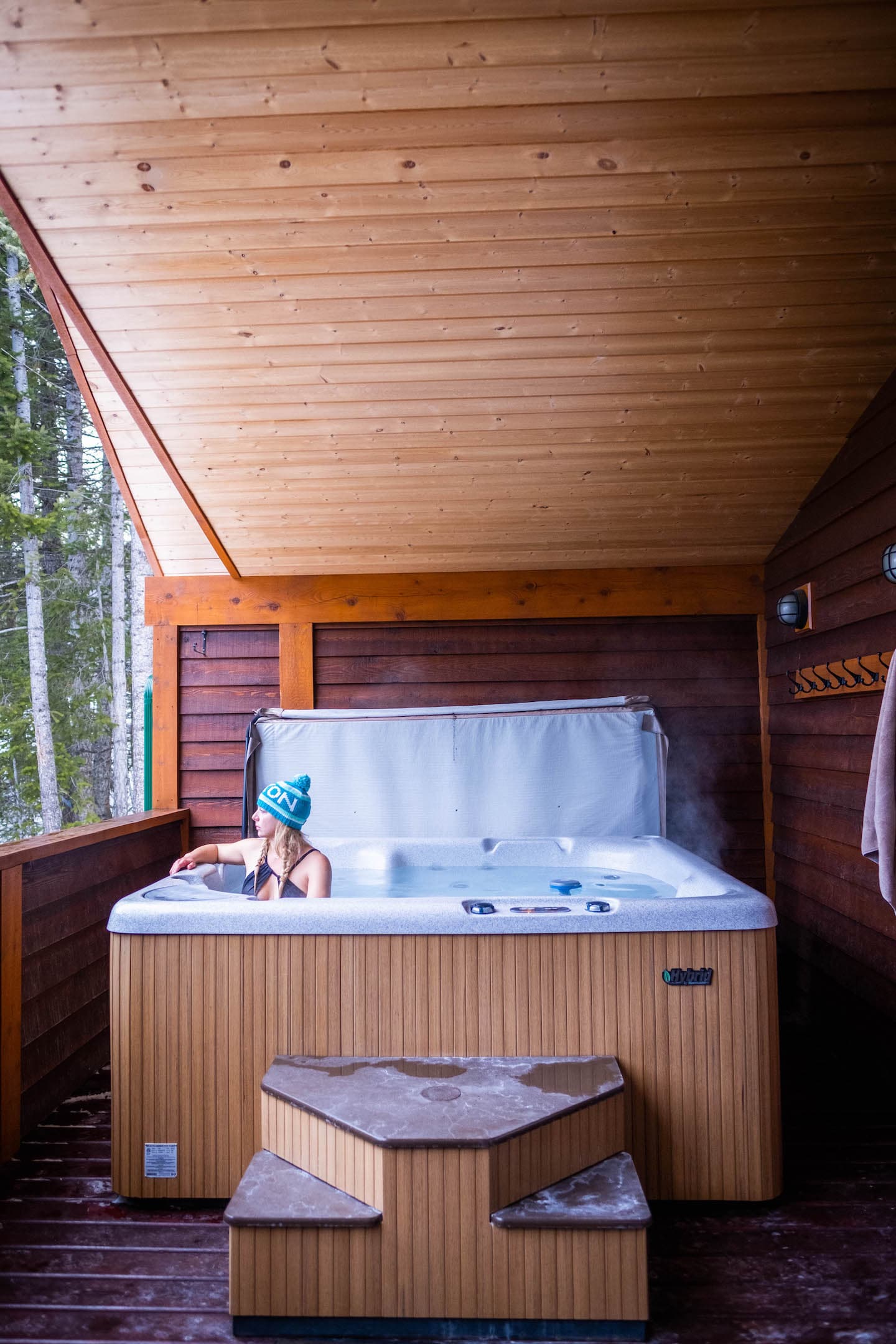 The downtown core is only a seven-minute drive away, so you're not far from pubs, restaurants, or the ski hills. The chalet is also located in an area with 10 acres of woods to explore, including hiking trails.