A trip to Jasper really isn't complete until you've stayed at one of these cozy Jasper cabins. Whether it's the winter or summer season one of the best things to do while in the Canadian Rockies is enjoy a fireplace, tucked away in the mountains. There aren't a plethora of Jasper cabin rentals, but the cabins in Jasper that are set up are like something out of a dream.
We've narrowed down our favorite Jasper cabin rentals below. Each are unique and scattered throughout the park and provides visitors with a once in a lifetime to experience the Rockies like never before.
---
Click on the hotel name or Booking.com to check the latest rates. For the best rates on your hotel reservation, we recommend booking 6-8 months in advance.
---
See Also:
---
The Coziest Jasper Cabins
---
Bear Hill Lodge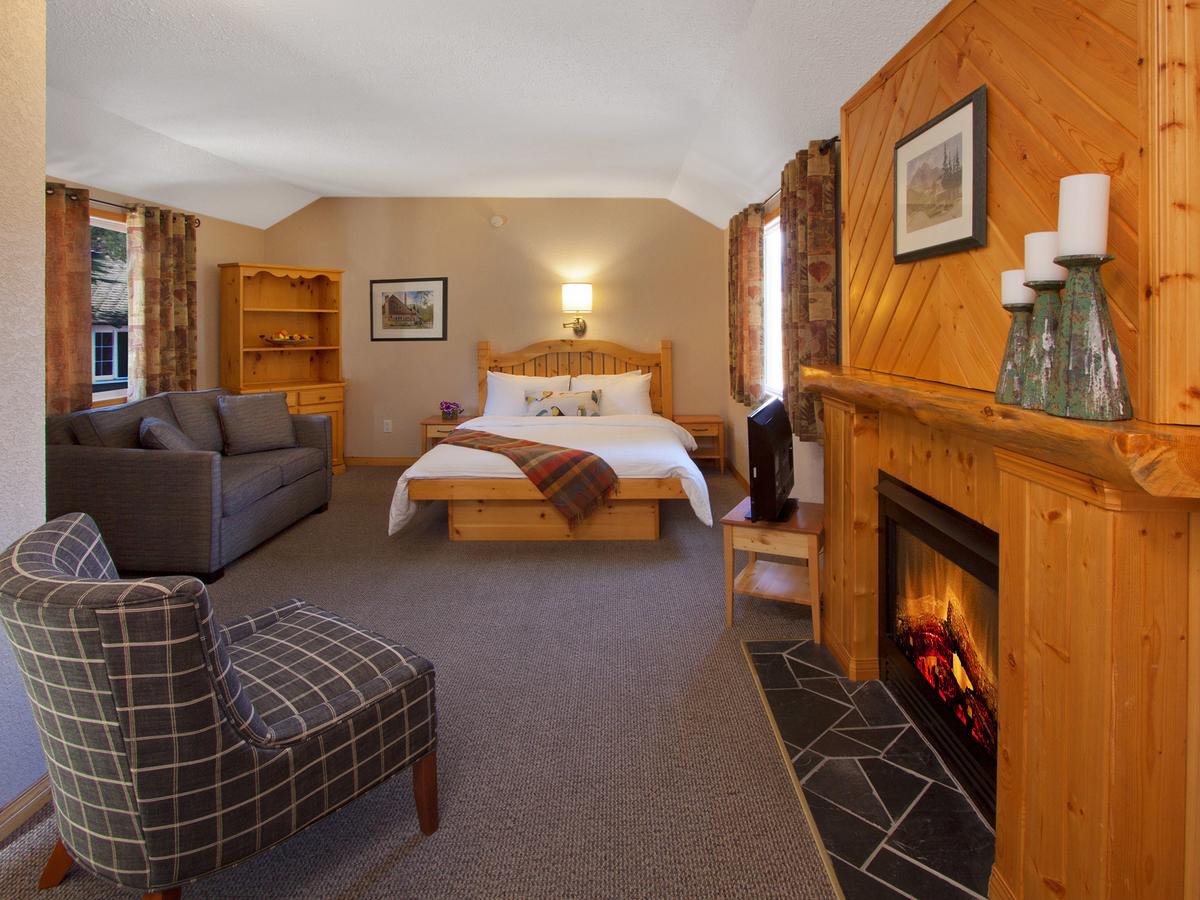 Bear Hill Lodge has the only cabins in Jasper that are actually in town. They have a variety of cabin types available for any type of guest. Some are for smaller groups, and some for large. Some of these Jasper cabins are simple and some are grand. I love how cozy these Jasper cabins are. All complete with a fireplace which is definitely needed in the winter in Alberta.
Some of the units also have a kitchen set up so you can make all your own food if you would like, but in the units without kitchens, breakfast will be provided. I also love that you can opt to have dinner delivered to your cabin from the Fiddle River's kitchen. Lastly, these cabins near Jasper are pet friendly!
Address — 100 Bonhomme St (GPS)
---
Tekarra Lodge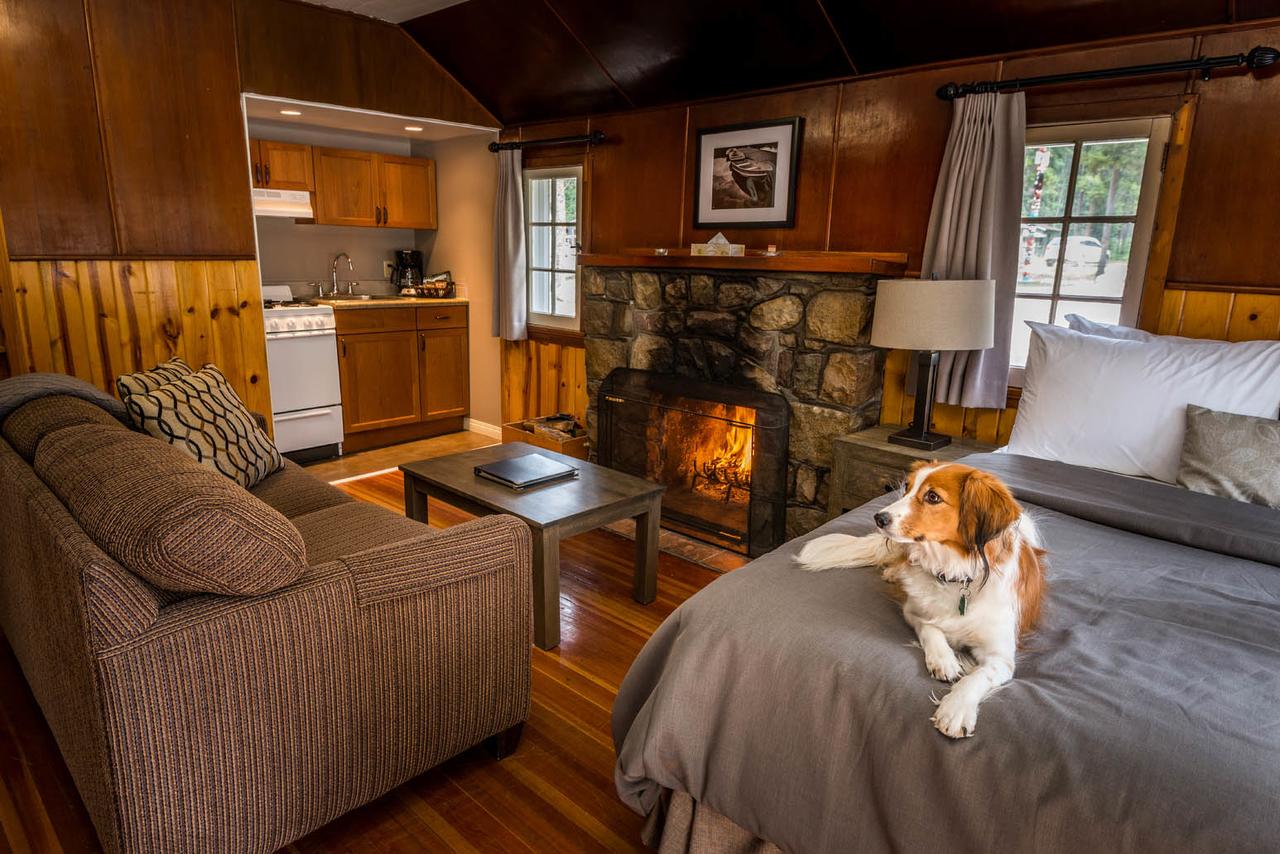 If you want rustic cabins in Jasper National Park you have to check out Tekarra Lodge. Located just on the other side of Yellowhead Highway these Jasper cabins are super charming and quiet. It's the perfect place to come and enjoy a peaceful setting in the mountains.
While these cabins don't have televisions they are all fully equipped with utensils, plates, pots, and everything else you need to cook a full meal. The cabins have fireplaces to cozy up at. The lodge also has activities for guests like a s'more and fire night outside, interpretive talks, and music nights. What I also love about this Jasper cabin is that it is pet friendly!
Address — Highway 93A South (GPS)
---
Pocahontas Cabins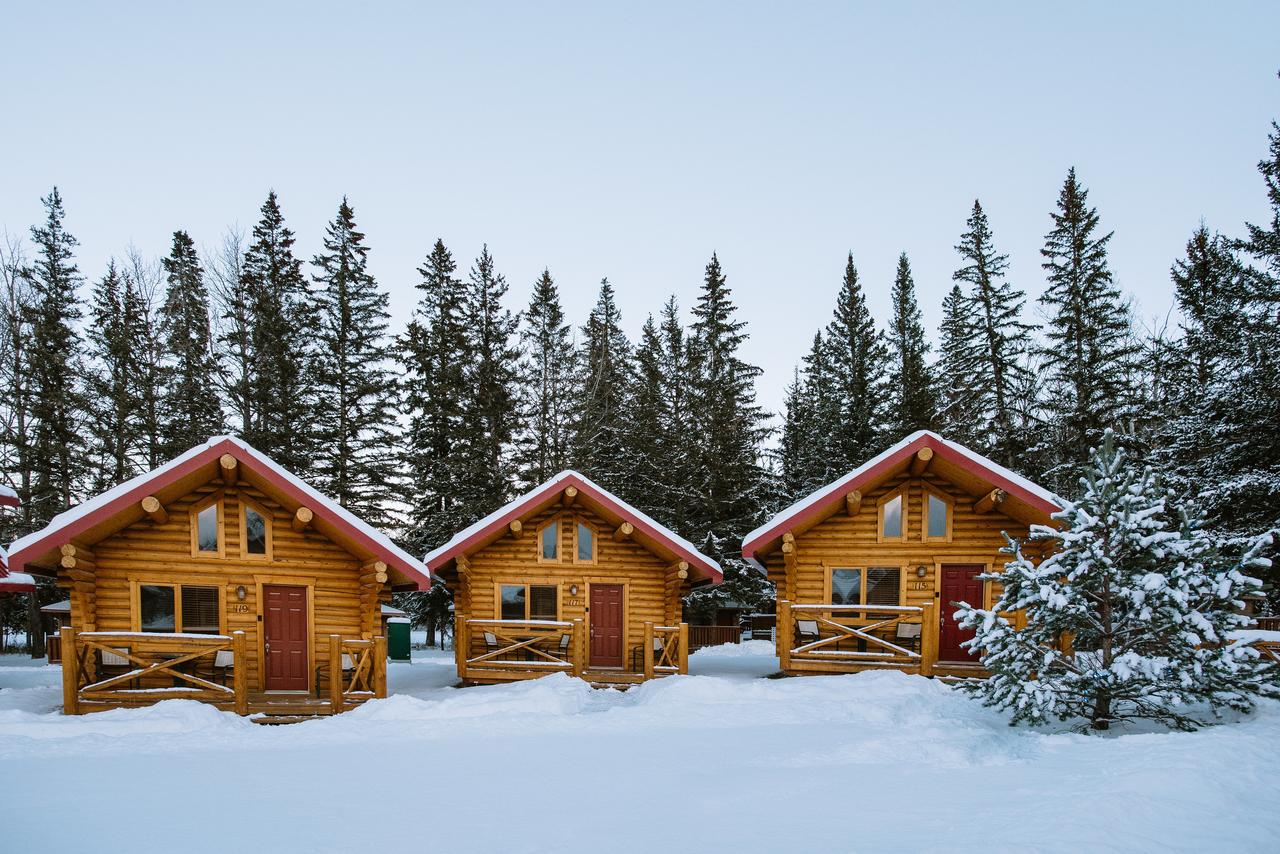 Pocahontas Cabins are located at the intersection of Miette Road and Highway 16, with Miette Hot Springs being only a 25-minute drive away. The town of Jasper is just a 30-minute drive away, perfect for getting more into nature. Pocahontas Cabins offer free WiFi, a satellite TV, and a kitchen. So it's the perfect place for those that want to get away, but also have the creature comforts of home.
Every unit also has a cozy sofa and a gas fireplace to enjoy at night – even in the summer! When you get back from your day exploring Jasper National Park you can always relax in their outdoor heated pool! If you forget something in town you don't have to worry either as Pocahontas cabins offer an on-site mini-market with prepackaged meals as well. In the summer there are BBQ facilities available.
Address — Highway 16 East (GPS)
---
Patricia Lake Bungalows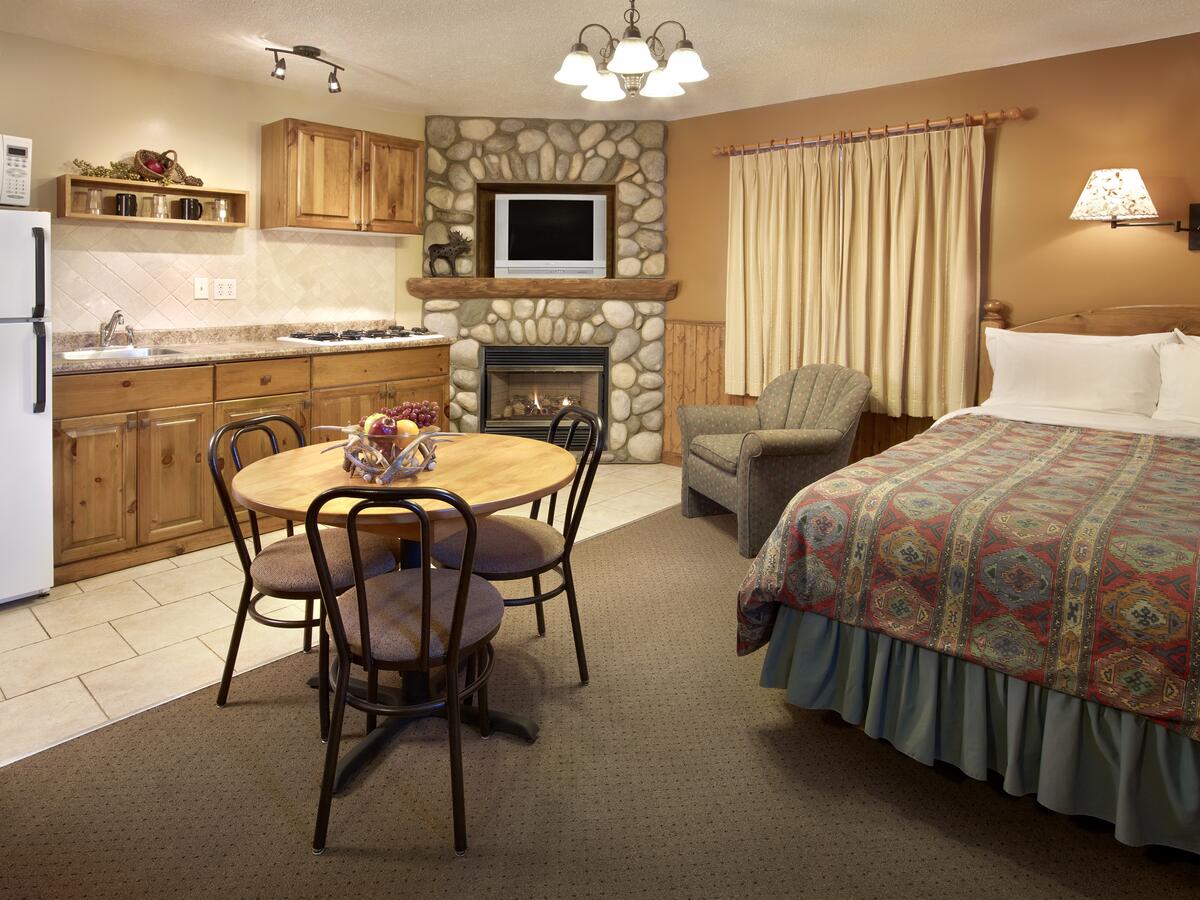 Patricia Lake is one of my favorite places to visit in all of Jasper. It's a wonderful place to head in the summer and winter, but even a better place to stay. Situated under Pyramid Mountain you can stay at Patricia Lake Bungalows and enjoy surrounding mountain views.
They have been in operation since 1966 and have a great reputation in the park. Patricia Lake is close enough to the town of Jasper so you can get anything you need, but also far enough away to enjoy the serenity of the mountains.
Some of the in-room amenities are in-room coffee, fully equipped kitchens, free WiFi, TV, and gas fireplaces. Other property amenities are a playground and playhouse for the families, BBQ area, 10 person lake view hot tub, boat dock, outdoor fire pit, indoor games, library, and complimentary DVD movies available. There's always, of course, Patricia Lake to swim, canoe, and kayak in the summer.
Address — 1 Pyramid Lake Rd (GPS)
---
Jasper East Cabins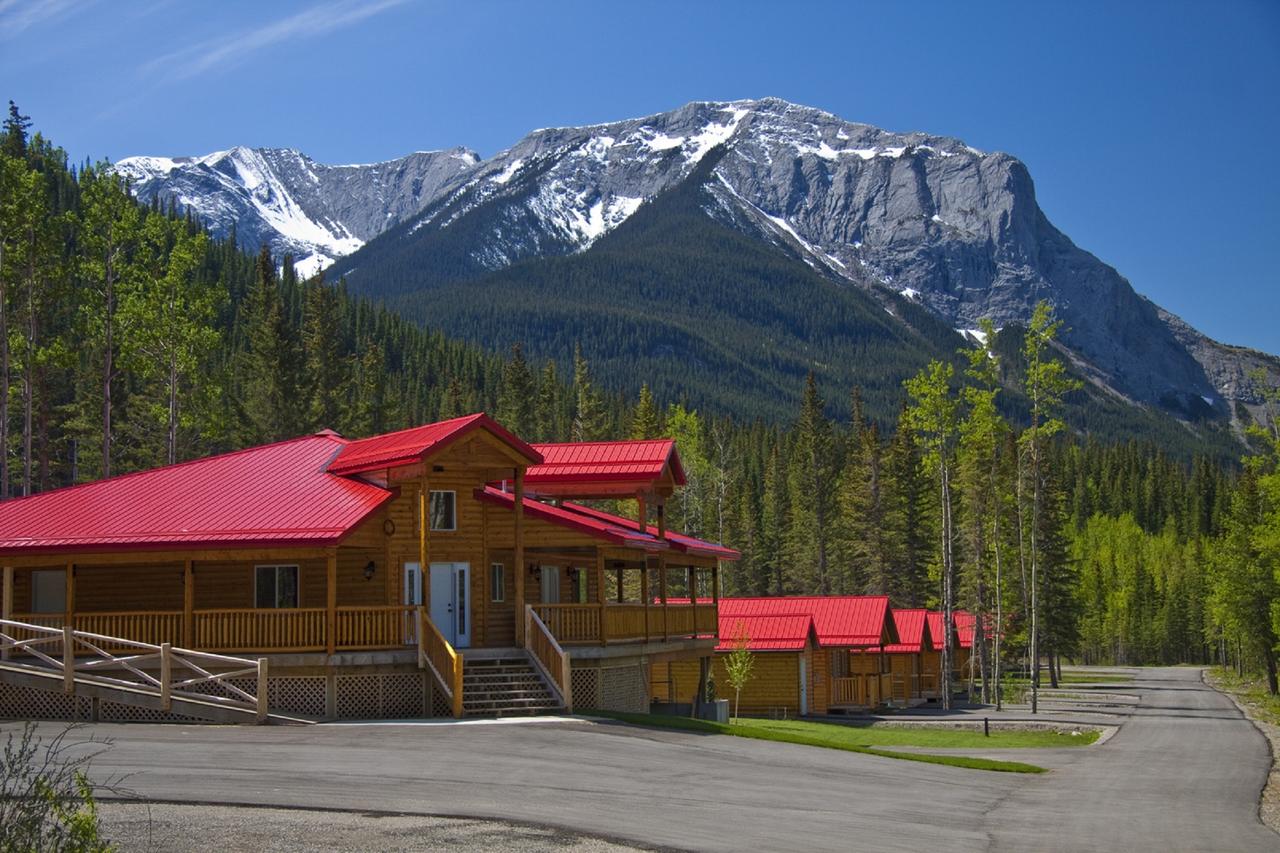 Jasper East Cabins are located on the edge of Jasper National Park, about 35 minutes from the town of Jasper. Although they are outside of town they are closer to sites like Miette Hott Springs and the Jasper Hinton Airport.
Here at Jasper East Cabins visitors are offered cozy cabins with a fireplace, kitchenette, and private bathrooms. The cabins are super cute and offer things like volleyball, horseshoes, badminton, and croquet on site. If you are looking for a cute Jasper cabin slightly out of town and more in the wilderness this one is for you.
Address — 49321 AB-16, Jasper East (GPS)
---
Overlander Mountain Lodge
Right near the Jasper East Cabins is Overlander Mountain Lodge, which offers visitors beautiful chalets in Jasper to call home for a bit. Nestled away in nature are these beautiful log cabin homes that offer kitchens, fireplaces, and a comfortable bed.
They are great for groups as they offer chalets fit for 8 people. Most units also have a beautiful deck to enjoy a BBQ on in the summer.
Address — 27010 Highway 16 west (GPS)
---
Fairmont Jasper Park Lodge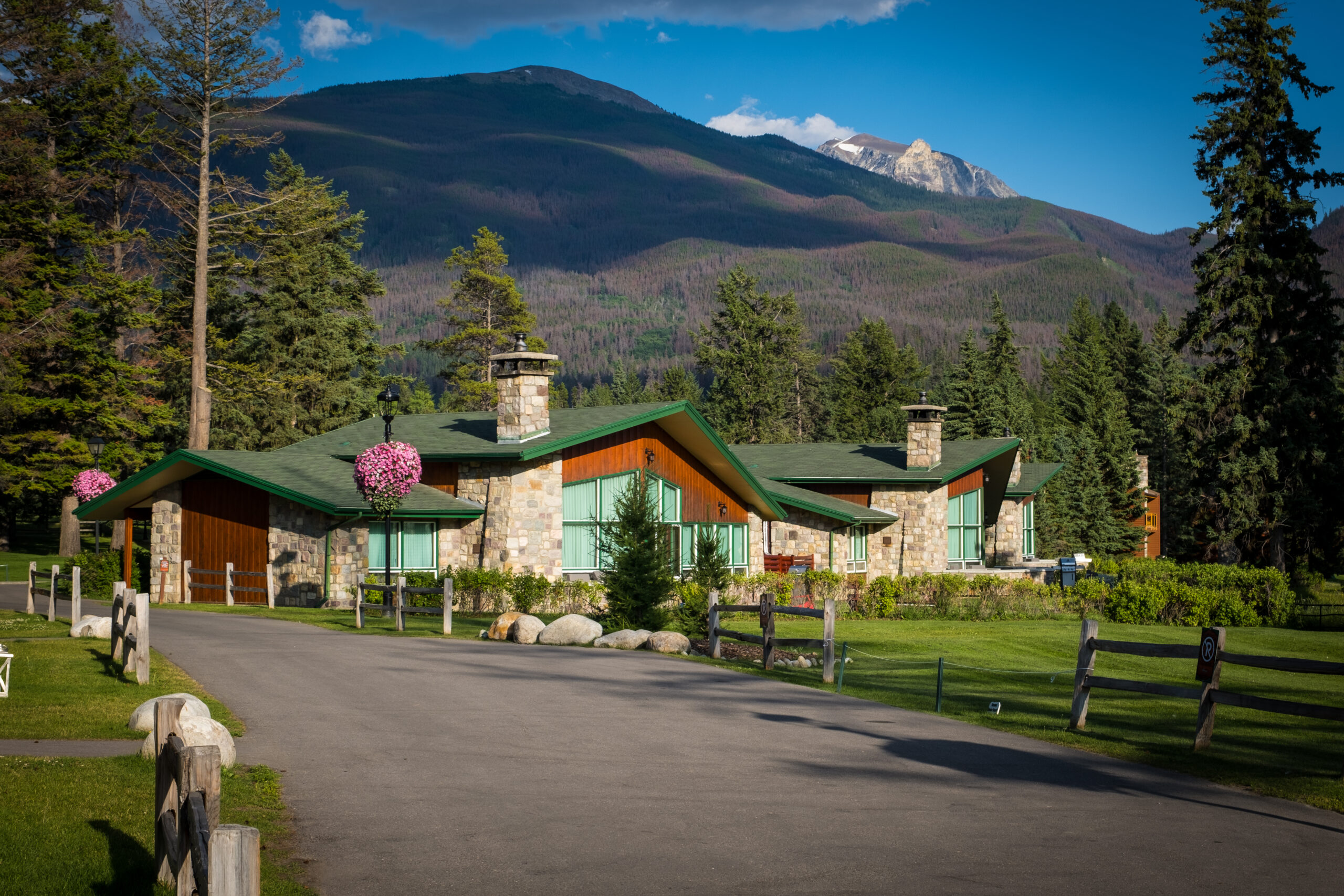 The Fairmont Jasper Park Lodge is easily the best place to stay in Jasper. We enjoyed one of their Lakeview rooms for three nights and had a fantastic time. The Fairmont sits right on Lake Beauvert, which in my opinion, is one of the most stunning lakes I saw in Jasper.
The Fairmont is comfortable and spread out. It's not your standard hotel, but instead, there are plenty of individual cabins, so you can easily keep your distance from other guests. There's a heated pool to enjoy in the winter and summer. They also have a boathouse where you can rent kayaks, canoes, and paddleboards.
There are a few restaurants on site, which are all delicious! Make sure to try Orso Trattoria for a nice night out.
Address — 1 Old Lodge Rd (GPS)
---
Pyramid Lake Resort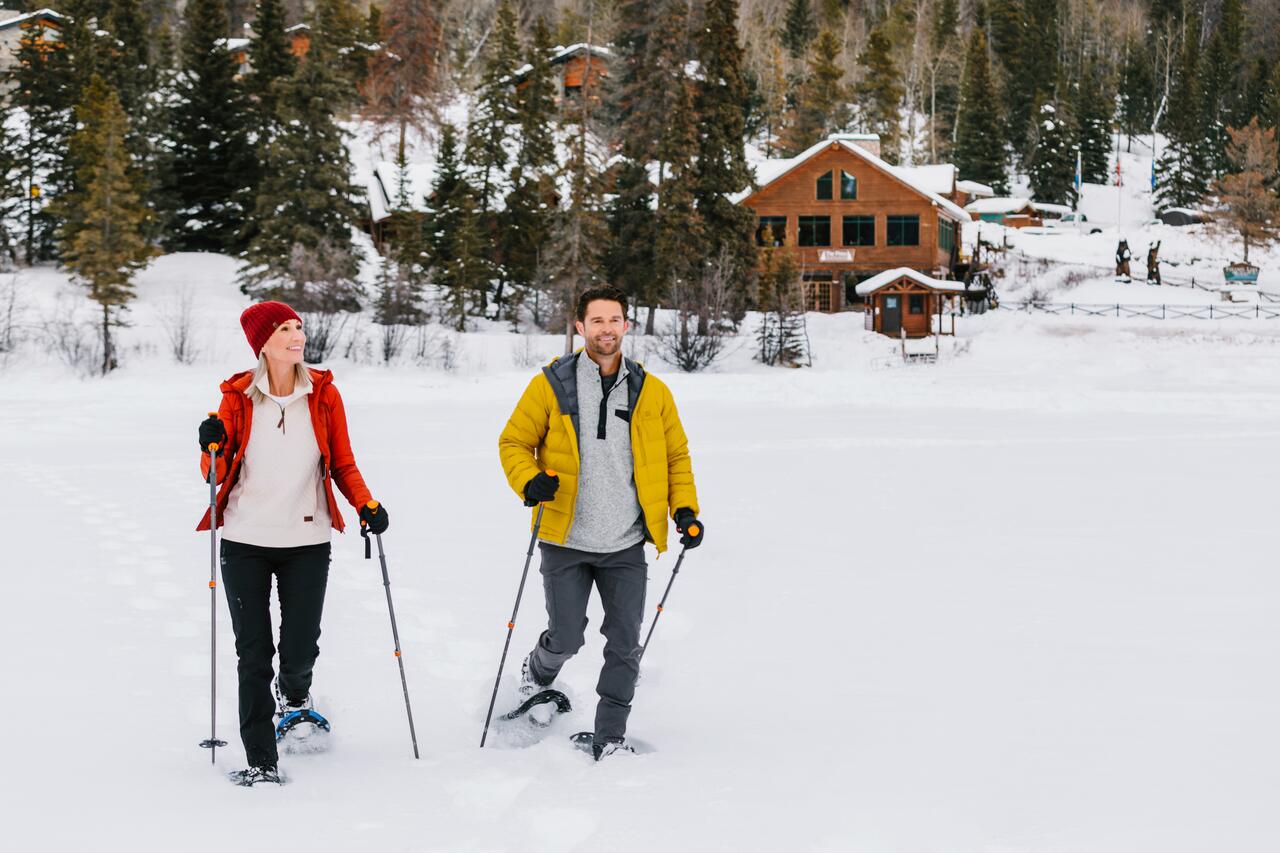 Pyramid Lake Resort is another amazing property in Jasper. Sitting right on Pyramid Lake its location in the park cannot be beaten. These are chalet-style Alpine rooms with 62 guest rooms in total. The resort is just 6 km from the townsite, but obviously right next to Pyramid Lake and Pyramid Island.
In the summer this means you are steps away from enjoying a paddle on Pyramid Lake and in the winter it means your steps away from snowshoeing across the lake. No matter what season, there's no shortage of things to do in Jasper.
All rooms come with a gas fireplace and most have a beautiful deck overlooking the lake.
Address — 6 Km North On, Pyramid Lake Rd (GPS)
Read Our Full Review! Why You Should Stay at Pyramid Lake Resort
---
Sunwapta Falls Rocky Mountain Lodge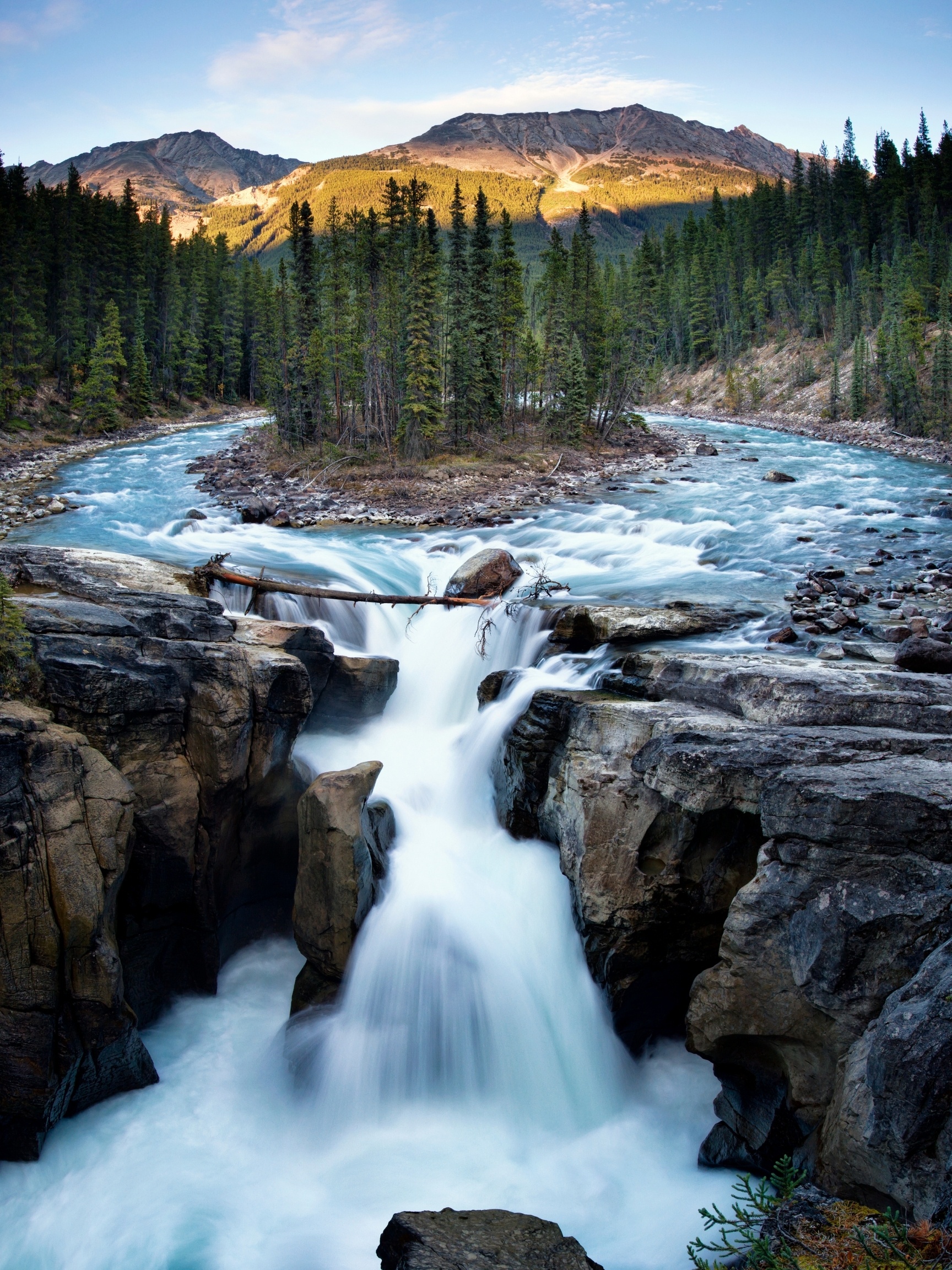 Sunwapta Falls Rocky Mountain Lodge is located at Sunwapta Falls, about 40 minutes from the town of Jasper. These are cute and cozy little Jasper cabins that are perfect if you want to stay along the Icefields Parkway, but still have easy access to the town of Jasper.
Rooms are romantic with a fireplace, kitchenette, and free firewood. There's also a restaurant on-site should you want to not venture too far for dinner.
Address — 53km South of Downtown Jasper (GPS)
---
Pine Bungalows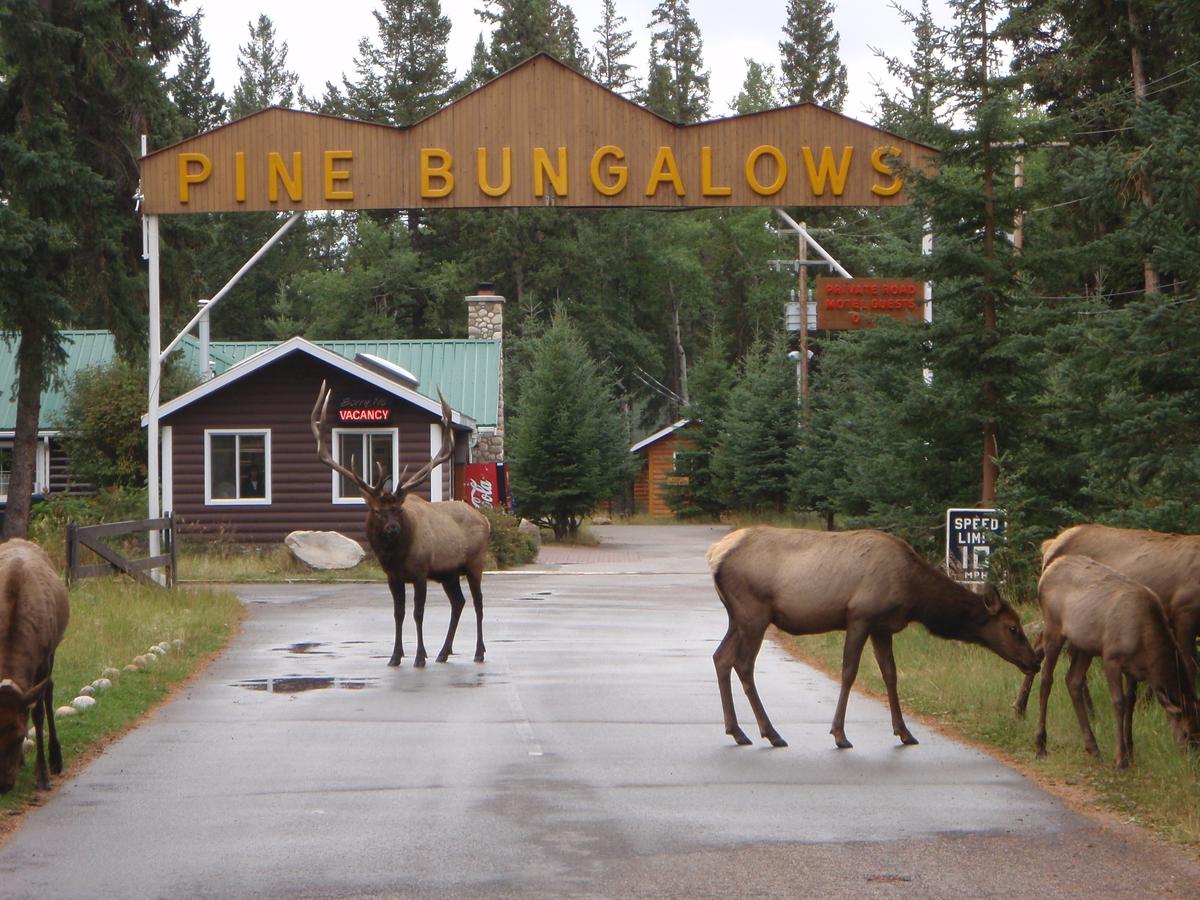 Pine Bungalows have cabins that sit right along the Athabasca River and is a stunning place to hide away in the woods and forget about the hustle and bustle for a bit. Pine Bungalows are close to Beauvert Lake and Maligne Canyon and offer the essential amenities you may have come to expect from a Jasper cabin. That means wood cabins, gas fireplaces, and heated bathroom floors.
Built-in 1936, Pine Bungalows are about historic as they come and have been family-owned and cared for throughout the years. They are one of the most classic places to stay not only in Jasper but all of the Canadian Rockies.
Address — 2 Cottonwood Creek Rd (GPS)
---
Jasper East Mountain Home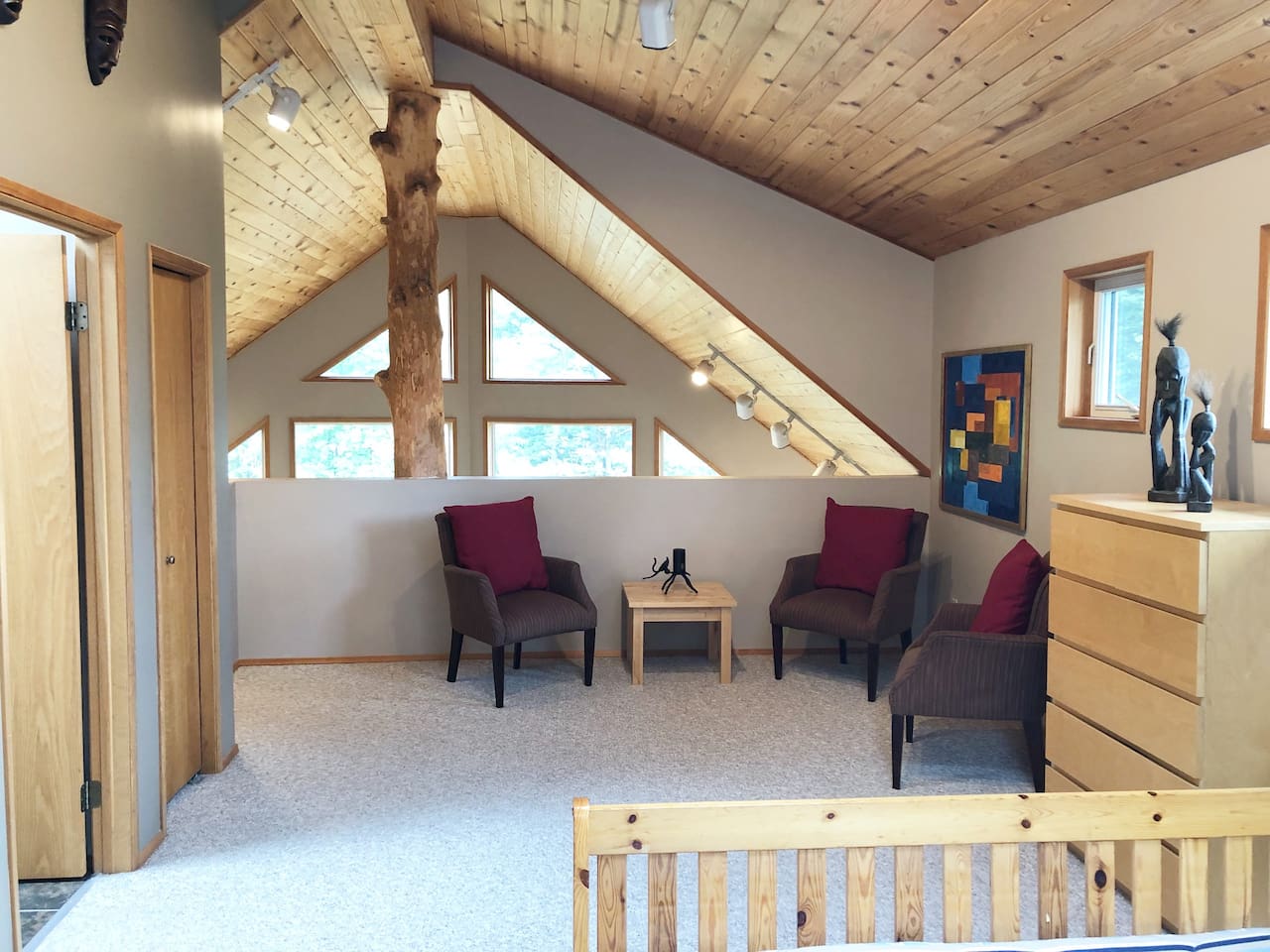 Location: Jasper East
Superhost: Yes
Price: 225+
This is a 3 bedroom Airbnb set up for 6 people. You get the entire house, unlike most of the other Airbnbs on this list. This home is just outside the park, just 4 km to the Jasper National Park gate and a 35-minute drive to downtown Jasper. It's in a community called, Folding Mountain Village right next to the Folding Mountain Brewery and Restaurant, one of the best breweries in Jasper.
It's a nice and modern home, that is a treat to stay at while in Jasper. It's actually the closest entire mountain house you can get while visiting Jasper due to the zoning laws mentioned at the beginning. The house is over 2500 square feet and sits on a private lot overlooking the mountains.
Address — Yellowhead County
---
↓ Join the community ↓
The Banff Blog Facebook Group is your headquarters for the Canadian Rockies travel advice and information. Including hike info and off-season travel information. This is also a place where you can meet one another when you need adventure buddies.