Canmore is one of the most charming mountain towns I've ever been in. If you're like me you'll want to stay in one of these Canmore cabins to make your trip to the Canadian Rockies more special.
Canmore is one of my favorite places in the entire world, and it's not just because we live here. There is so much to do in this small mountain town that it's hard to ever get bored.
Canmore serves as a great alternative to Banff and somewhere to base yourself while exploring the Rockies. If you plan to do any hiking in Kananaskis, being based in Canmore is a closer option than Banff.
One of the best places to stay while in the Canadian Rockies is in a mountain-style cabin. Unfortunately, there aren't a plethora of cabins in Canmore, due to strict house zoning laws, however, rest assured there are some Canmore cabins to consider. We're breaking down the best cabins in Canmore for varying group sizes to stay in on your trip to the Rockies here.
---
Click on the Booking.com or Hotels.com links to check the latest rates on these Canmore cabin rentals. For the best rates on your hotel reservation, we recommend booking 6-8 months in advance.
---
See Also:
---
The Cutest Cabins in Canmore
---
Lady MacDonald Country Inn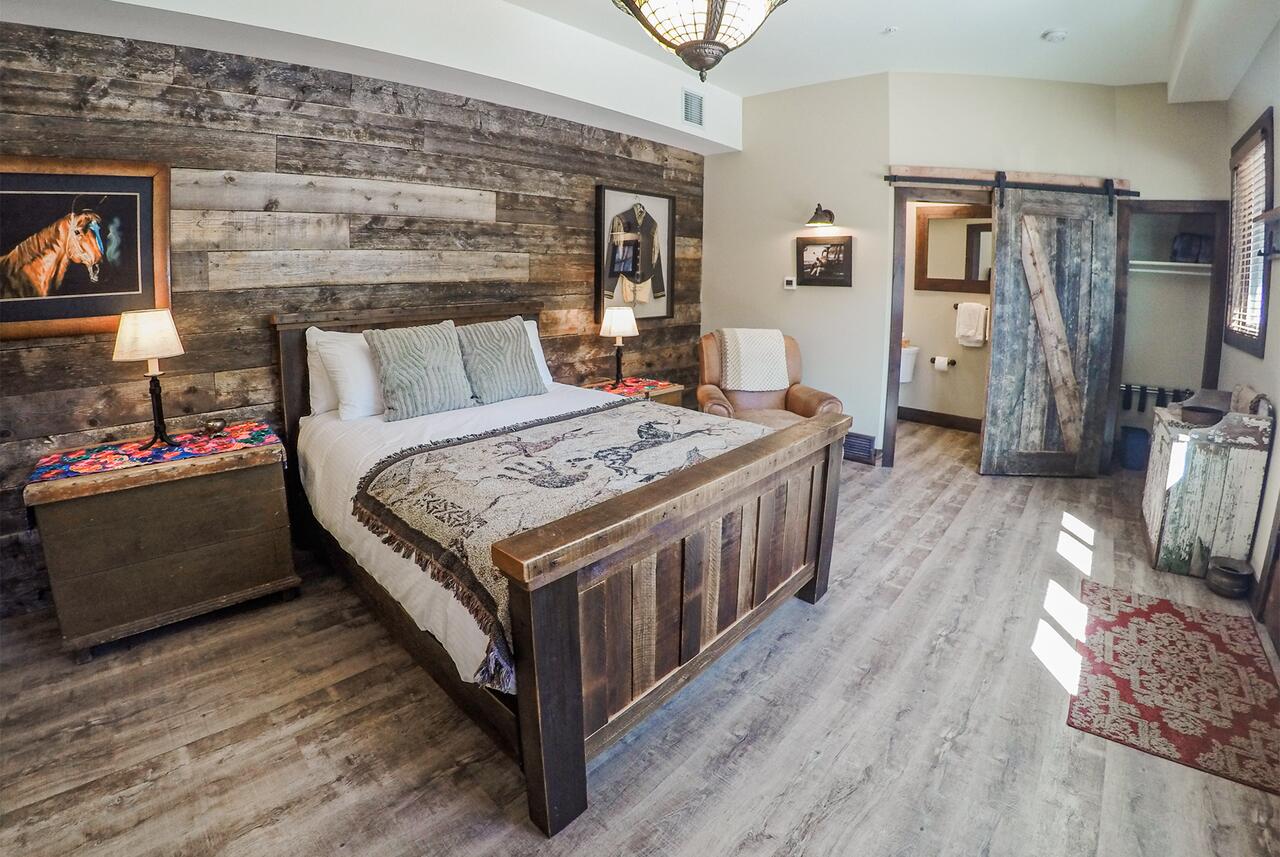 Lady MacDonald Country Inn is a bed and breakfast that sits in the Silvertip neighborhood at the base of Mount Lady MacDonald. Guests can expect a charming stay with the guest service expected from a bed and breakfast. Of course, homemade breakfast is served each morning in the solarium.
Cabins have unique decorations, private bathrooms, fireplace, and cable TV. Free Wi-Fi can be found throughout the property. A communal parlor has a wood fireplace and presents a cozy location to relax. Bed and Breakfast staff are a standout feature and provide excellent service.
---
Rundle Chalets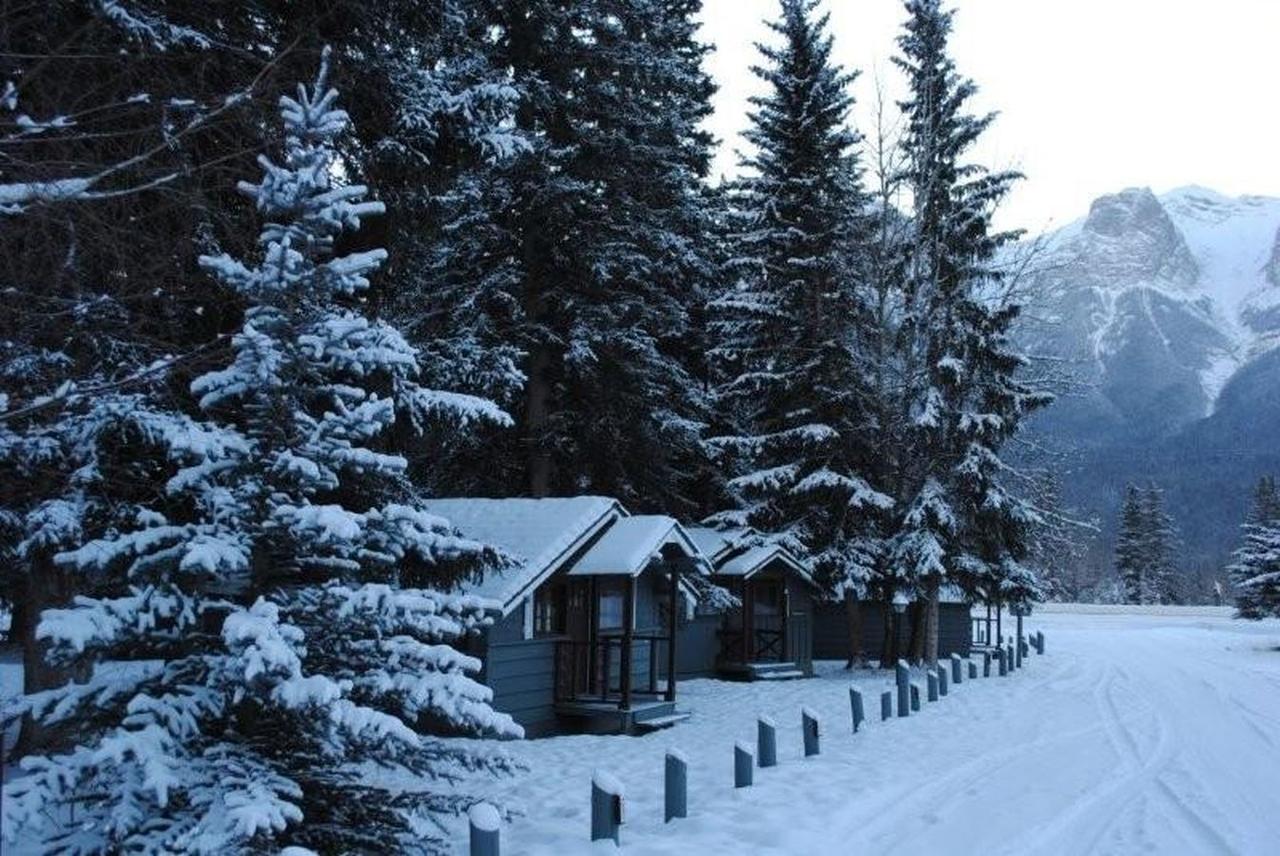 The Rundle Chalets are located in Harvey Heights, which are just a five-minute drive away from downtown Canmore and easily accessible by bike or car. The Rundle Chalets are cute and cozy and feature amazing views of the beautiful Mount Rundle. All of these Canmore cabins have WiFi, heat, seating area, and a fully equipped kitchen.
While they may not look like much, they are some of the only true cabins in all of Canmore and may even take you back to the western frontier days.
---
The Canmore Cabin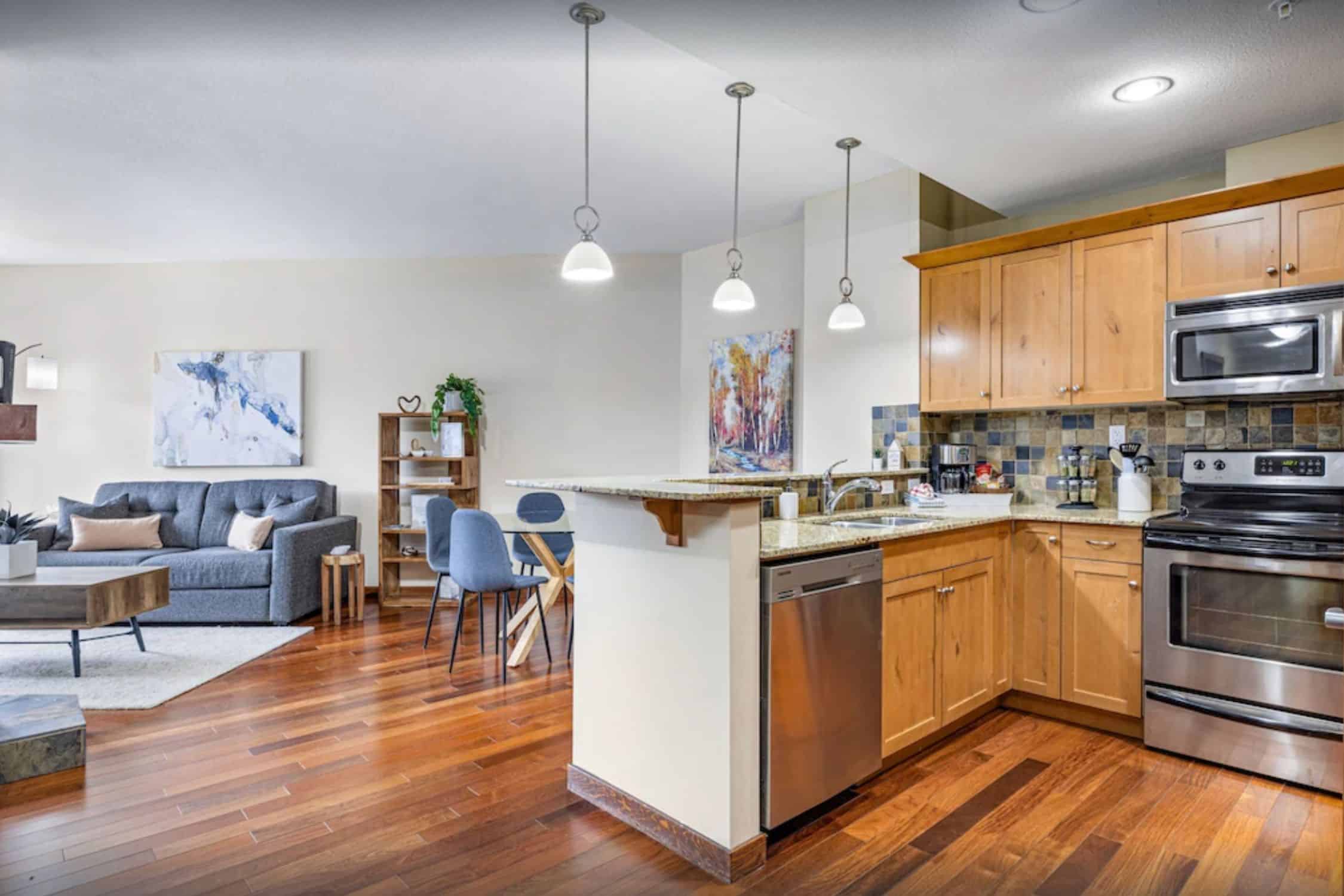 This cabin in Canmore is an Airbnb rental in Downtown Canmore. This one isn't a "cabin" persay, but honestly there aren't a whole lot of cabins in the town in general. This one, at least feels like your own little cabin getaway in the mountains.
It fits up to six people making it the ideal place for friends and family to enjoy together. I highly suggest booking this Canmore cabin around Christmastime when the whole area is covered with snow. It's tastefully decorated and is easily one of the best Airbnbs in all of Canmore to call home.
---
Georgetown Inn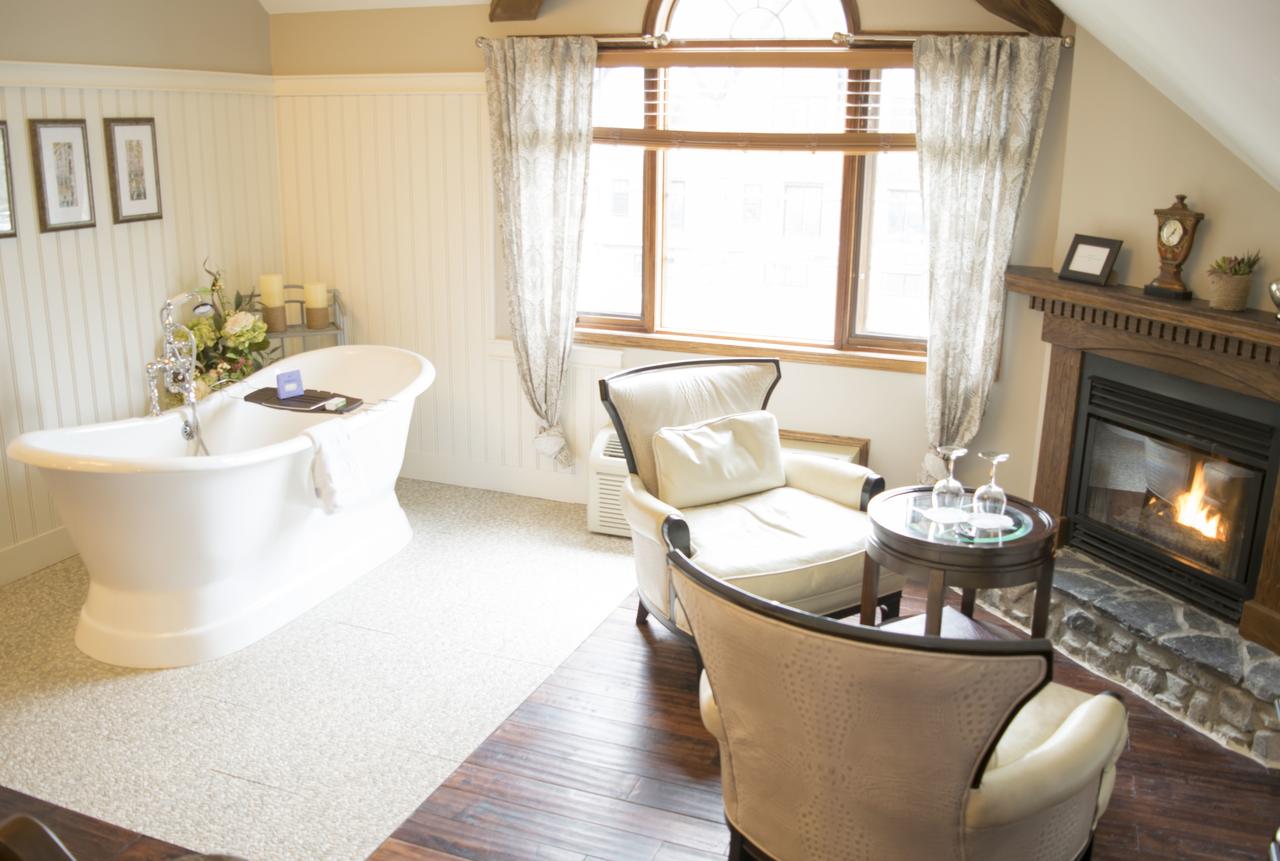 The Georgetown Inn has been a popular establishment in Canmore for decades that is a great option for those seeking a pet-friendly cabin in Canmore with some character. Hotel decoration is based around an Old English theme with an English Tudor exterior, and eclectic interior. There's also a charming pub with great food – one of the best breakfast spots in Canmore!
Location is off the Bow Valley Trail which is still within walking distance of downtown Canmore, but quick driving access to the TransCanada.
Several rooms feature a fireplace and seating area. All rooms feature a small fridge, coffee maker, kettle, and TV. For pet owners, the Georgetown Inn is pet-friendly and has elevator access to rooms. Fresh baked shortbread and tea are provided in rooms daily complimentary and a hearty cooked breakfast is included in the room rate. Free on-site parking is available. Rooms are cozy and a little on the smaller side of things so it's best suited for smaller dogs.
---
Mount Engadine Lodge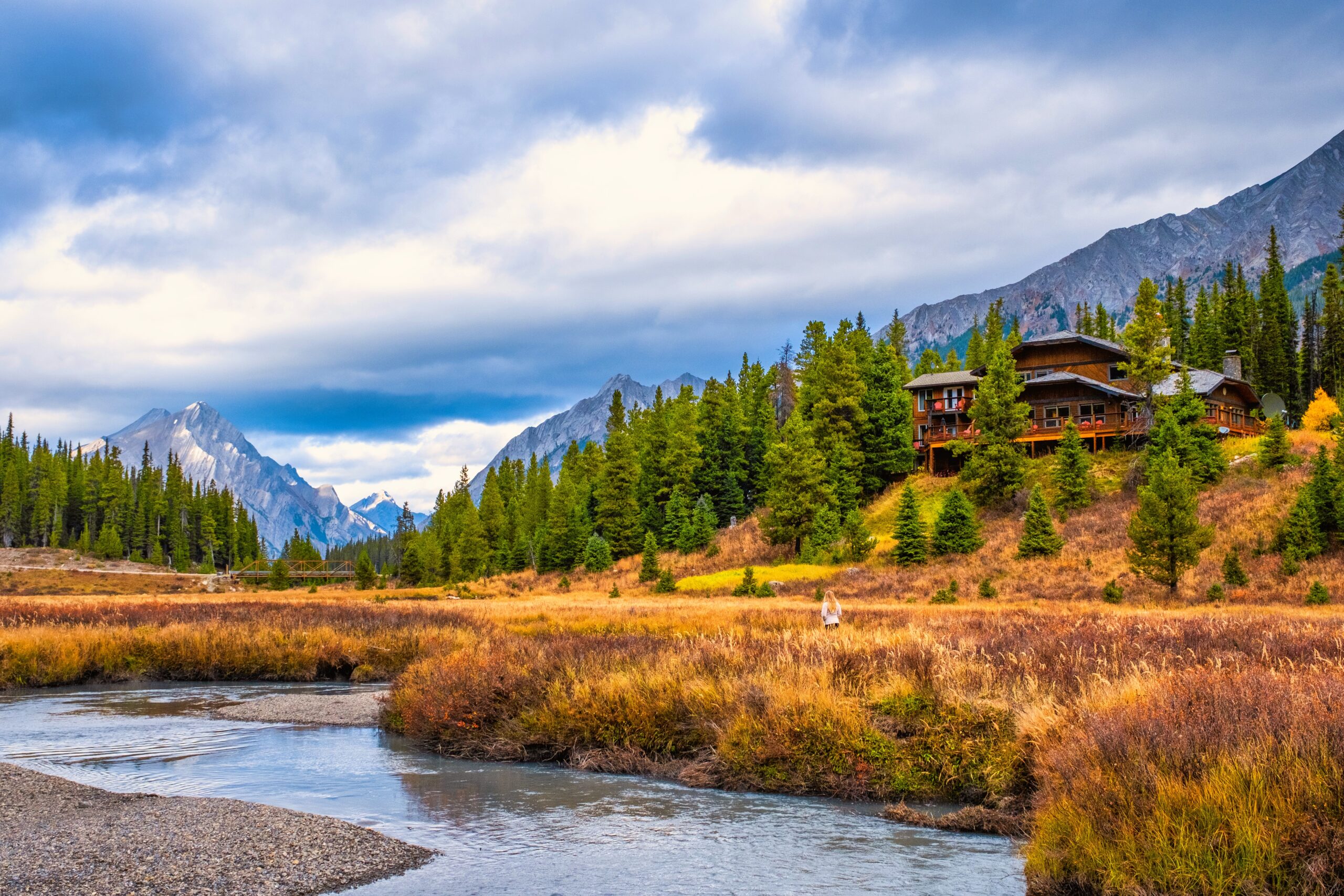 Mount Engadine Lodge is located along the Smith Dorrian Road/Spray Lakes Road about one hour away from Canmore. It's one of those Kananaskis cabin rentals you'll love staying at. There isn't much else around in the wilderness besides mountains, valleys, trees, and some moose.
In other words, Mount Engadine is located in an extremely remote section of Kananaskis and is truly a cozy Canmore cabin at its finest. A wide variety of room options are on offer that includes private lodge rooms, cabins, glamping tents, and a yurt.
There is no cell service, and no televisions. It's back to wilderness here – exactly like what you may after with a trip to the Canadian Rockies. If you're eager to have that backcountry wilderness experience without roughing it in a tent and eating dehydrated meals you seriously can't get much better than a stay here.
Instead, bookings include breakfast, packed lunch, afternoon tea, and dinner. In between delicious meals go for hikes or relax by one of the many wood-burning fireplaces. It's certainly more a better option for couples, but it's an amazing stay for the right family. There are not many Kananaskis cabins on offer, so Mt. Engadine is truly one of the best and only!
---
Baker Creek Mountain Resort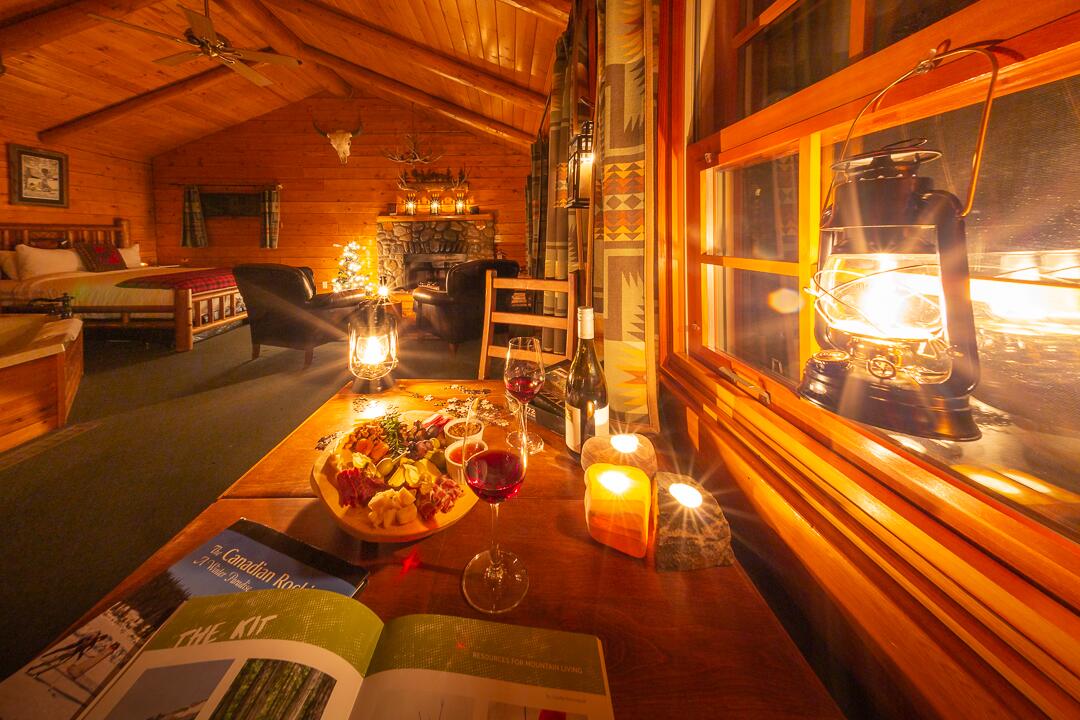 Okay, this isn't exactly a cabin in Canmore, but what can I say? Because of town guidelines and limitations, Canmore doesn't have that many cabins to choose from. So this is one of the best cabins near Canmore.
The good news is that Canmore is only a short drive away from Banff, and there are a lot of wonderful cabins in Banff. Baker Creek has the best cabins in the Canadian Rockies.
Here you'll get a true Canadian backcountry experience surrounded by stunning mountain scenery and vast wilderness. Enjoy a roaring fire under the night sky with access to outdoor fire pits. Retreat to your cozy room or log cabin, most of which are equipped with a wood-burning stove and kitchenette.
Baker Creek Bistro serves genuine Canadian dishes and local craft beer that you can enjoy inside or on the patio.
---
7 Bedroom Mountain Home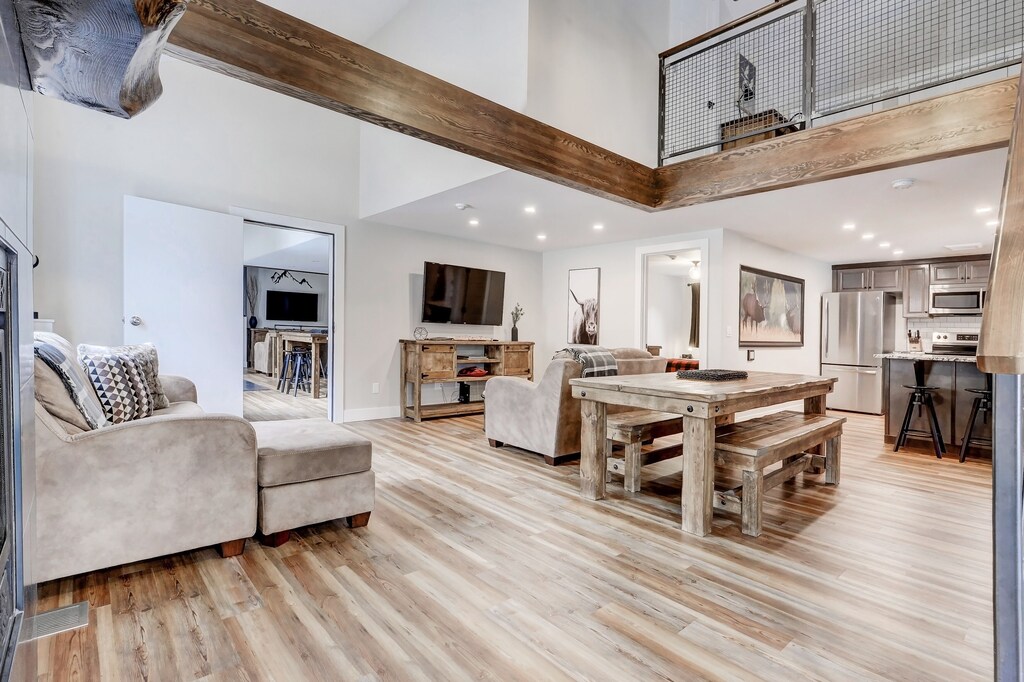 This is one of the most beautiful, stunning, and most expensive Canmore cabins on this list. That being said it's one of the most expensive because up to 20 people can stay here. This amazing mountain home has 10 beds, seven bedrooms, (shared) a heated pool, and a heated hot tub. On top of all that all finishes are brand new and space is decorated with what I like to call "mountain modern" decor.
It's a cozy space great for multiple families planning to visit Canmore. With two fully equipped kitchens, a gas fireplace, two 55″ televisions, with new leather chairs and chic bean bags to relax on.
This building is one of the few standalone properties available for rent in Canmore (Canmore has strict rental laws). It's located inside the Mystic Springs Chalets & Hot Pools complex which is conveniently located near downtown Canmore. Easily walkable to all the best restaurants and things to do in Canmore.
---
5 Bedroom Townhome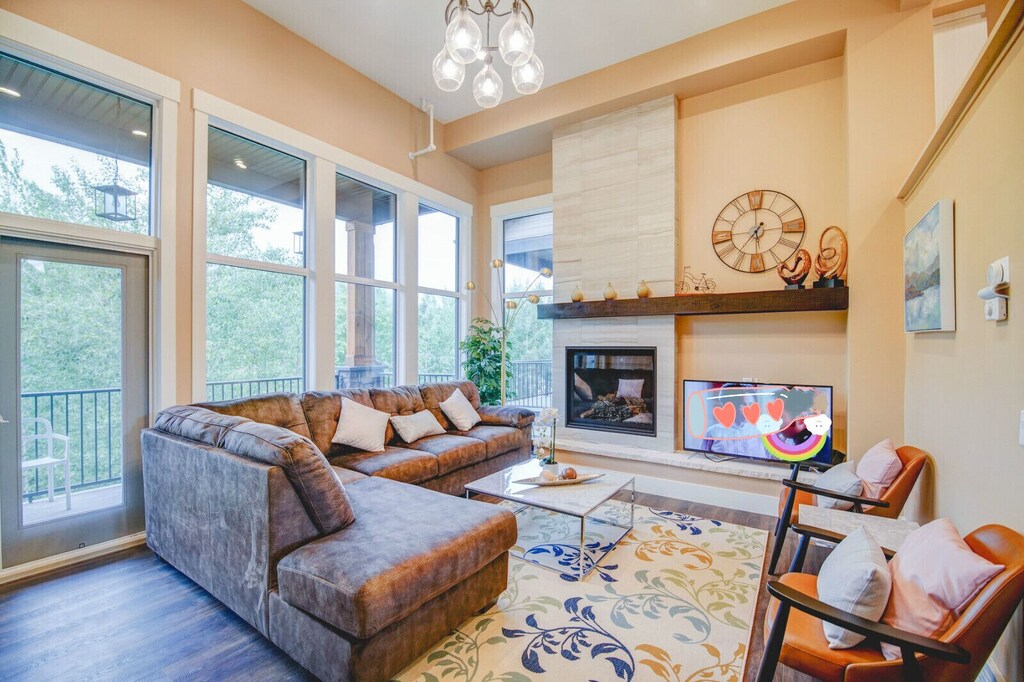 If you want a bright and airy place to stay in Canmore this is a fabulous townhome for larger groups. No, it's not exactly one of those Canmore cabins you might be thinking of, but remember what I said about Canmore's strict zoning and accommodation laws? This five-bedroom home sleeps up to 12 people with four separate bathrooms.
You'll have over 2500 sq ft of living space in this stylish space with top-end furniture, two large balconies, including a BBQ, and a huge dining table to share with your loved ones.
What I love most about this property is how bright and open it is and that it receives direct sunlight (this can be hard to come by in Canmore because of the grand mountains). You'll also get fiber internet here and underground parking, which is something to be grateful for in the winter!
---
A Bear & Bison Inn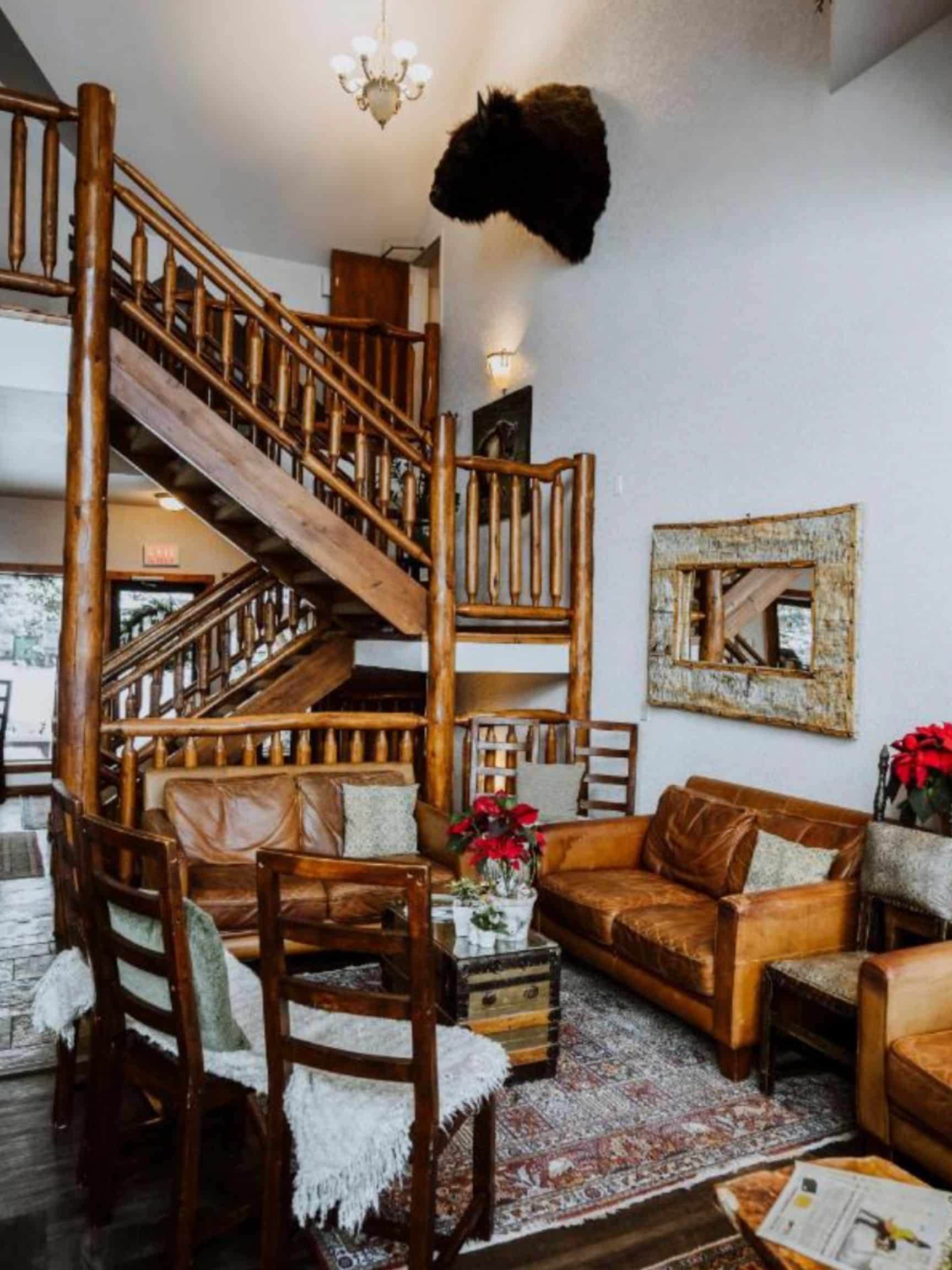 Bear & Bison Inn sits at the foot of Lady McDonald, one of the most well-known mountains in Canmore, and is one of the best Canmore vacation rentals. This is a country inn with a homey feel. All the rooms have a fireplace and all-mountain views from the balcony.
Bear & Bison Inn is run like a traditional bed, and breakfast with a three-course breakfast served every morning. The food here is made from seasonal produce and awesome dishes like Swiss-style rosti and potato, and white chocolate scones!
---
Want More Canadian Rockies Cabins and Chalets?
The Best Cabins in Lake Louise
---
What Should You Do While in Canmore?
You've got booked one of these Canmore chalets, now it's time to do something! There's no shortage of things to do in Canmore. Some of my favorite things to do include hike EEOR, Ha Ling, or Grassi Lakes. Grab a beer at Grizzly Pub Brewing, or go stand up paddleboarding on the Canmore Reservoir.
---