No matter where you are in Alberta, you don't have to venture far to have a romantic getaway. The province is full of beautiful destinations to explore.
Whether you are searching for outdoor adventures or a little R&R in a spa, we've narrowed down some of our favorite romantic getaways in Alberta.
These trips are great for a one-night adventure or an entire week if you have the time!
---
Romantic Alberta Getaway Ideas
---
Travel Back in Time at the Prince of Wales Hotel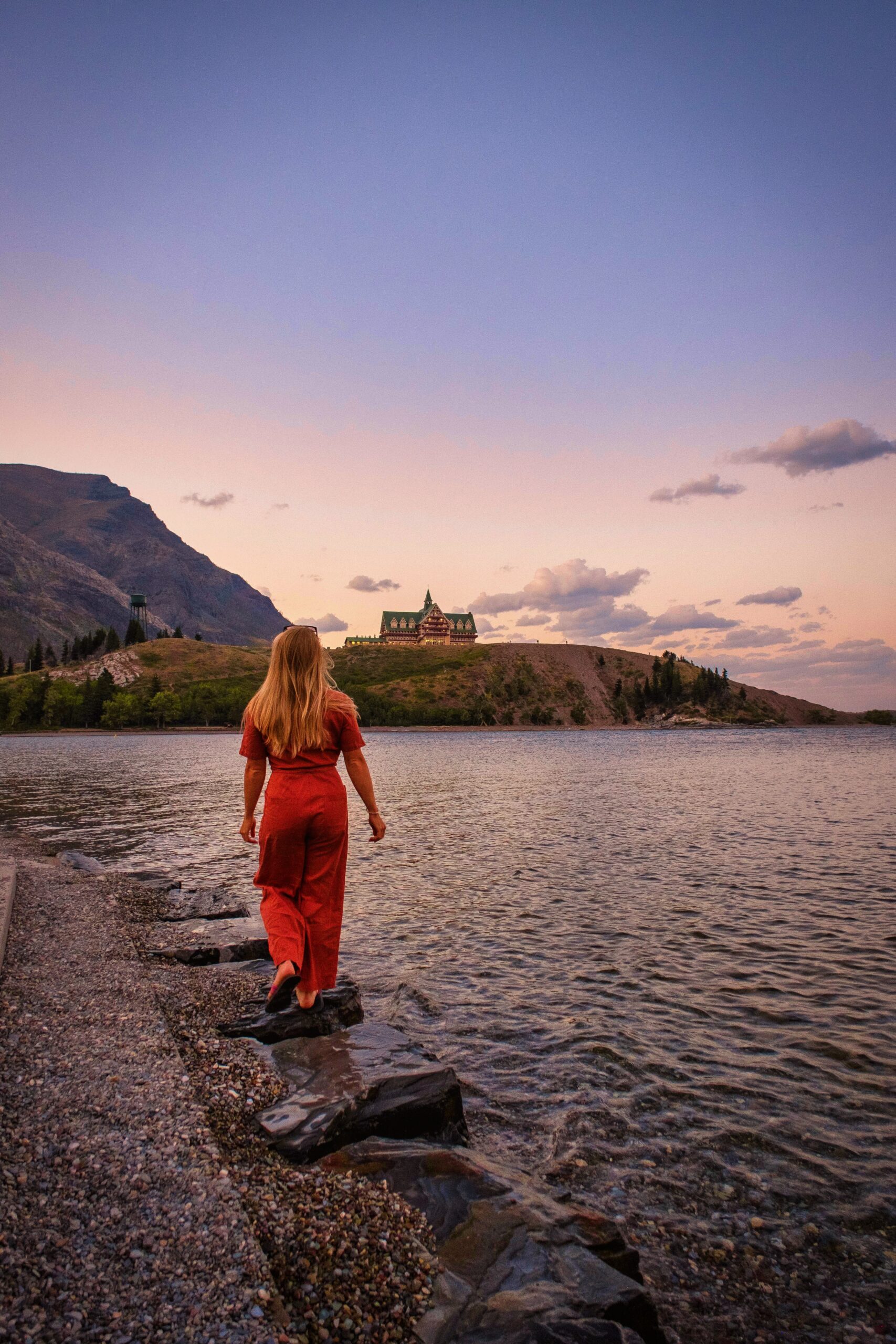 The Prince of Wales Hotel is one of the most iconic hotels in all of Canada. It's located right above Waterton Lakes in Waterton National Park, and provides simply beautiful views of the Rocky mountains.
This National Historic Site of Canada has 86 rooms and is a great place to have a romantic weekend in Alberta. Staying here is like stepping back in history. Built in 1927, the famous Prince of Wales Hotel was built for the Great Nothern Railway company and connected Waterton National Park and Glacier National Park in Montana. It is considered one of the best railway hotels in the world.
After hearing stories, we learned that the hotel was built in an attempt to lure American tourists to Canada during the prohibition era when drinking alcohol was prohibited in the United States. All Americans had to do was cross the border from Montana for a drink! The hotel is named after the Prince of Wales, although neither the Prince nor the Queen of England stayed overnight.
Between relaxing at the hotel, there are plenty of things to do in Waterton National Park, from hiking up Bears Hump right around the corner, eating at a restaurant downtown, or venturing out on the thrilling Crypt Lake Trail you will never get bored here!
---
Cozy Up at Mount Engadine Lodge in Kananaskis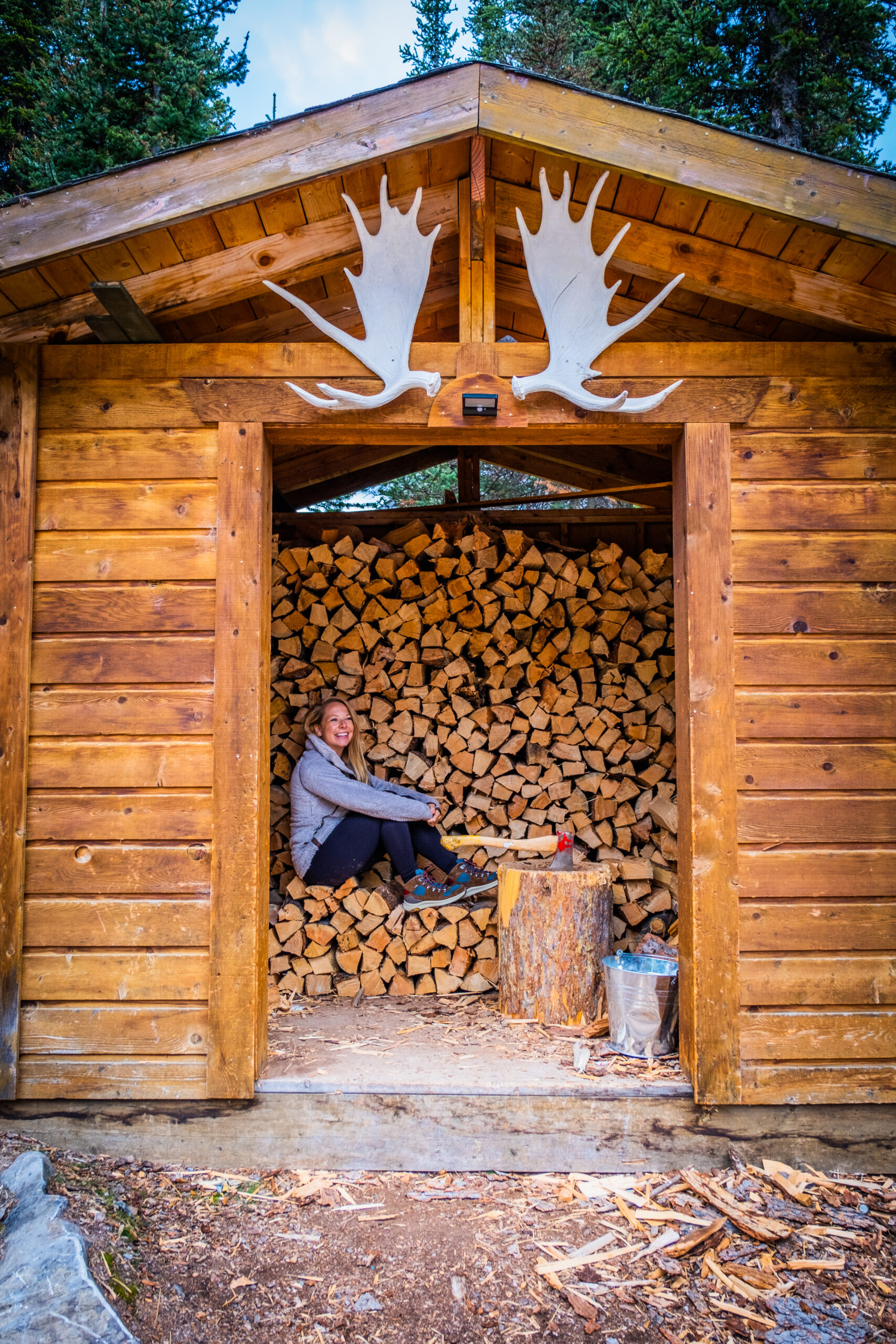 Mount Engadine Lodge is located along the Smith Dorrian Road/Spray Lakes Road, about one hour away from Canmore. During our first year living in the Rockies, we would always drive past Mount Engadine while on our way to a Kananaskis hike dreaming about staying and having the ultimate romantic getaways in Alberta. Finally, we quit dreaming about it and booked a romantic Alberta weekend at Mount Engadine and fell in love.
There isn't much else around Mount Engadine besides mountains, valleys, trees, and moose. Mount Engadine is in an extremely remote section of Kananaskis and one of the best all-around Alberta cabins.
There's no cell service and no televisions. It's back to wilderness here – precisely like what you may after with a trip to the Canadian Rockies. If you're eager to have that backcountry wilderness experience without roughing it in a tent and eating dehydrated meals, you seriously can't get much better than a stay here. When you are ready to go hiking, it's only a 5-minute drive away from the tailheads to Smutwood Peak and Tent Ridge!
---
Wake Up to Views of Lake Louise in Banff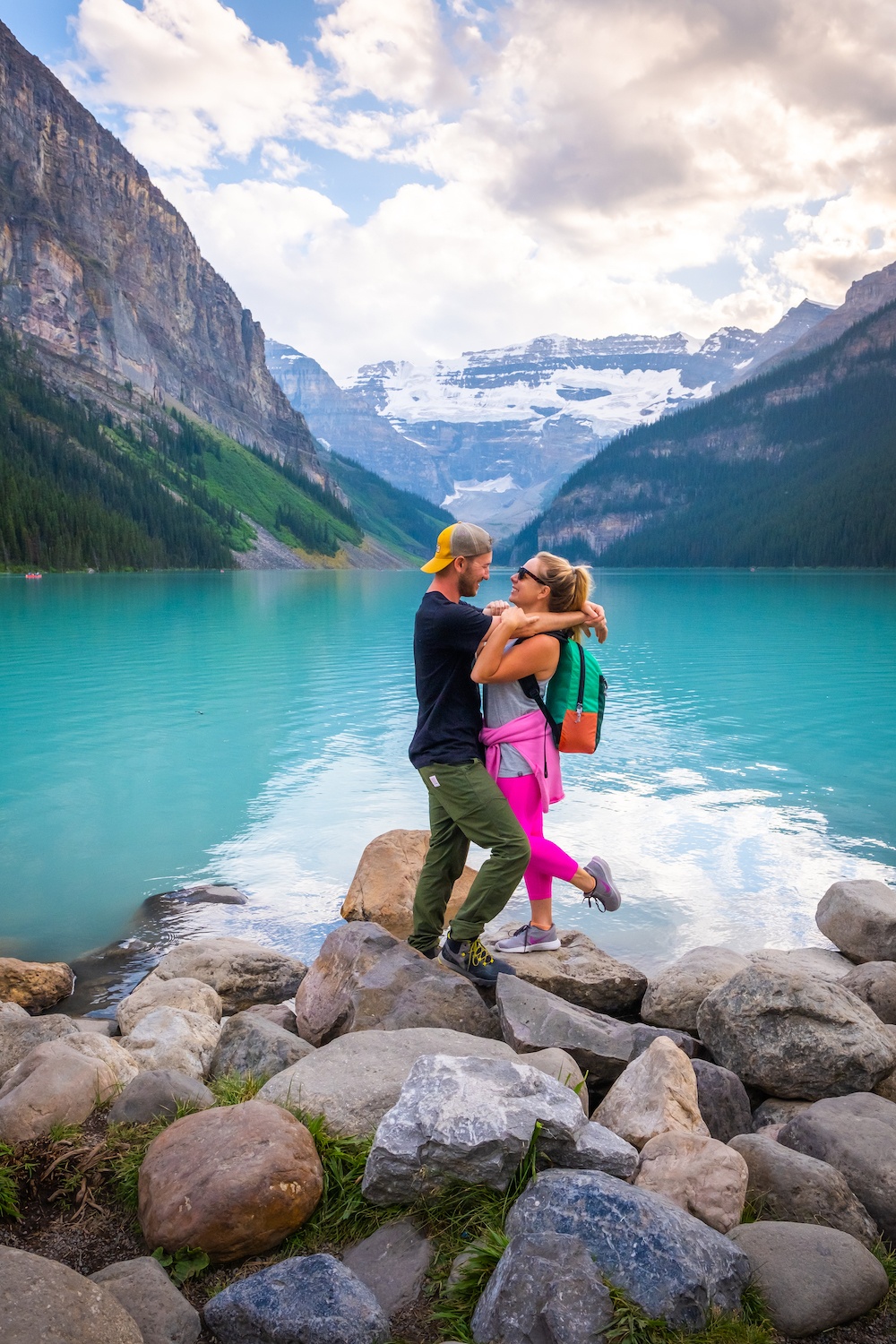 You have likely seen many photos of the beautiful Lake Louise, whether you know it or not. Picture a lake, the brightest of blues, with a gorgeous glacier behind it. This is Lake Louise, and one of the most romantic things you can do is spend a night on it.
Okay, not actually on the lake, but as close as you can get at the Fairmont Château Lake Louise. The Château is the only hotel directly on Lake Louise, and be it winter or summer, it's possible to wake up and have the most gorgeous lake views before setting out on an epic Lake Louise hike.
Lake Louise is magical in the winter when they have horse-drawn carriages around the lake and a magical ice bar. While in the summer, you can sit outside with a cocktail and take in views of Mount Fairview.
---
Hike Like You're in the Prehistoric Times in Drumheller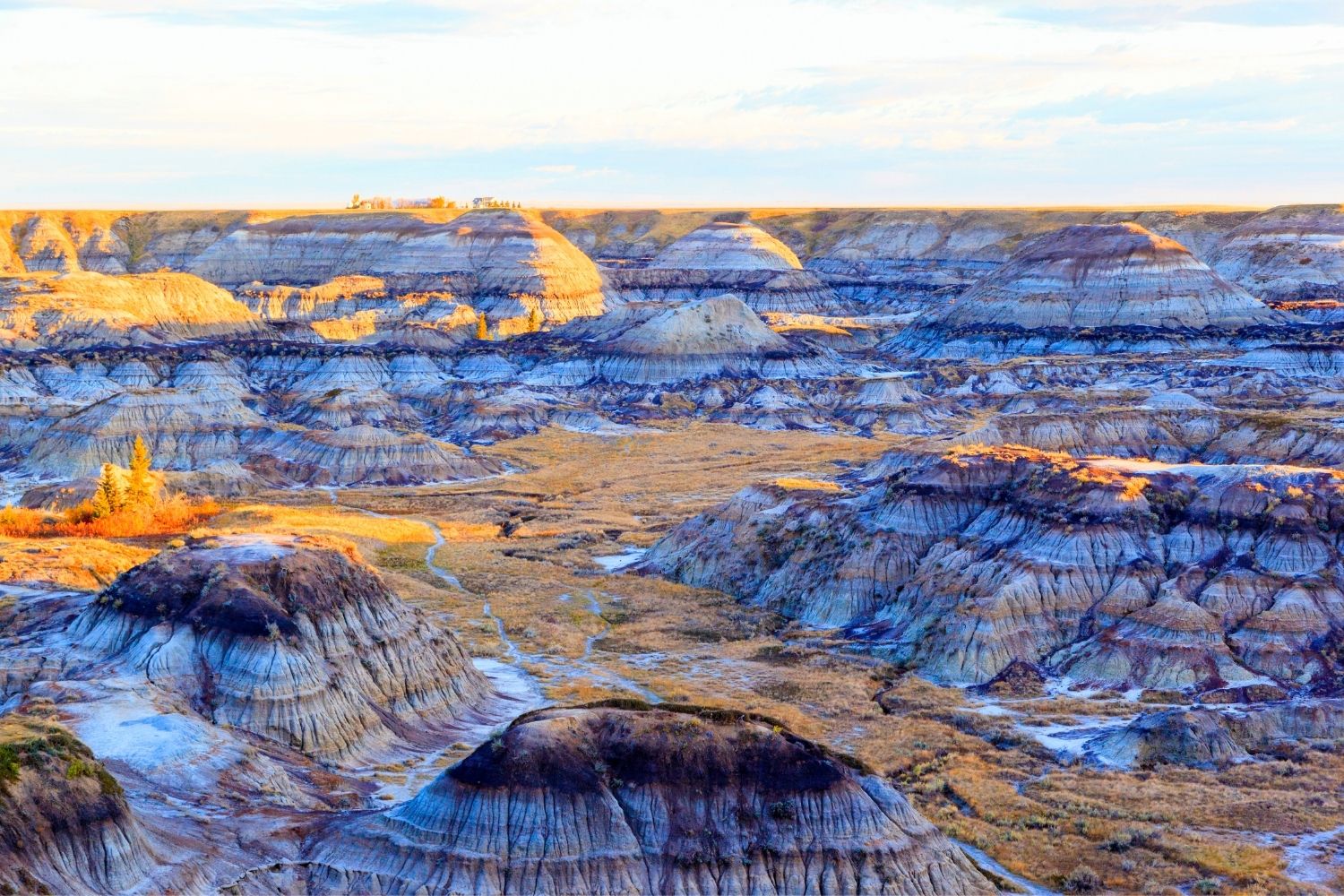 Drumheller is a hidden gem of Alberta and a delightful destination for all weird and wonderful. It's also known as the dinosaur capital of the world, a nickname you need to experience firsthand to fully understand.
Drumheller's kitschy character is surpassed only by its natural beauty. If you are looking for a nice outdoor adventure with your loved one, Drumheller has some fantastic hiking opportunities.
The nearby badlands are iconic for their spectacular scenery and for being one of the foremost fossil-bearing regions.
---
Enjoy the Kananaskis Nordic Spa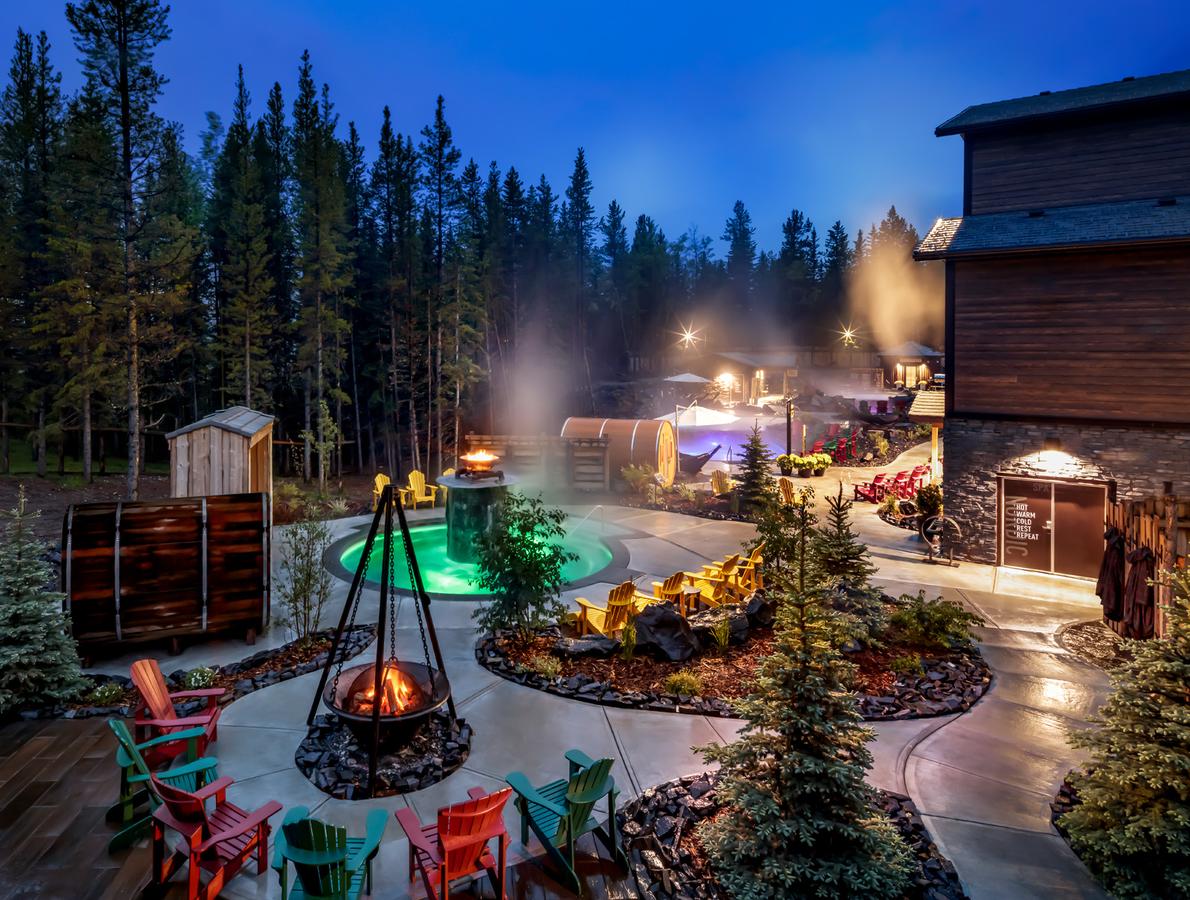 The Nordic Spa at Kananaskis Mountain Lodge is easily one of the best places to spend a romantic weekend away in Alberta. Located just 40 minutes from the Town of Canmore near Nakiska Ski Resort, this beautiful outdoor spa sees visitors from all over year-round.
While you can soak in the hot tubs throughout the year, my personal favorite is in the winter when the surroundings are covered in a fresh layer of white, and you genuinely feel the need for jumping between hot tubs and saunas.
---
Stay Inside a Christmas Movie at the Banff Springs Hotel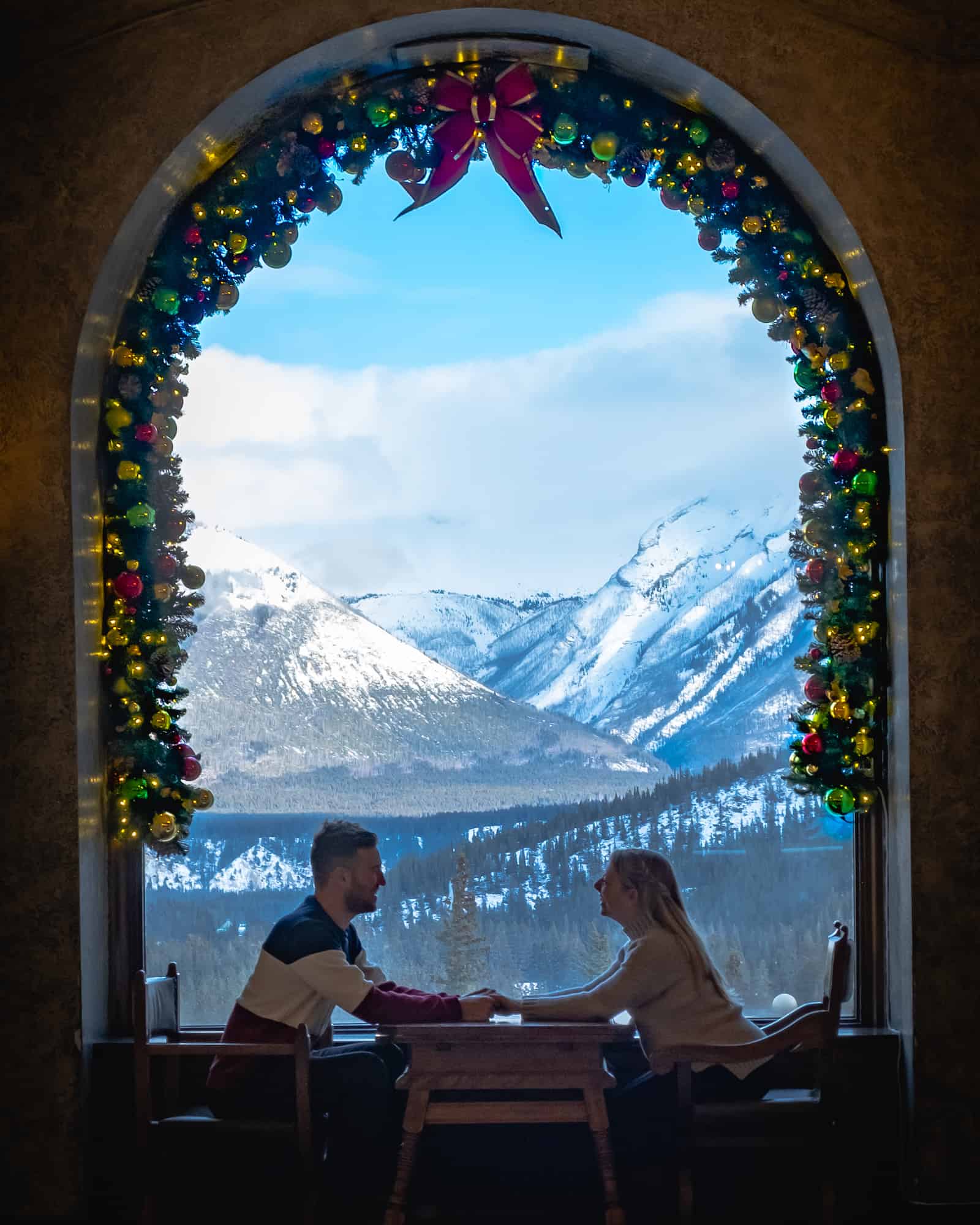 When it comes to staying at hotels in Banff, you really can't beat the majestic Fairmont Banff Springs Hotel, often referred to as "The Castle."
Stepping inside this iconic and historic hotel will take you back in time. Sophistication oozes from every stone in this hundred-year-old building whose famous guests include dignitaries, movie stars, and royalty. If you are searching for a luxurious Alberta getaway, you really can't go wrong by treating yourself to a stay here.
Head here around Christmas in Banff, and you can take part in "Christmas at the Castle," where the whole hotel is decorated and holds numerous holiday events.
---
Sleep at the Foot of a Glacier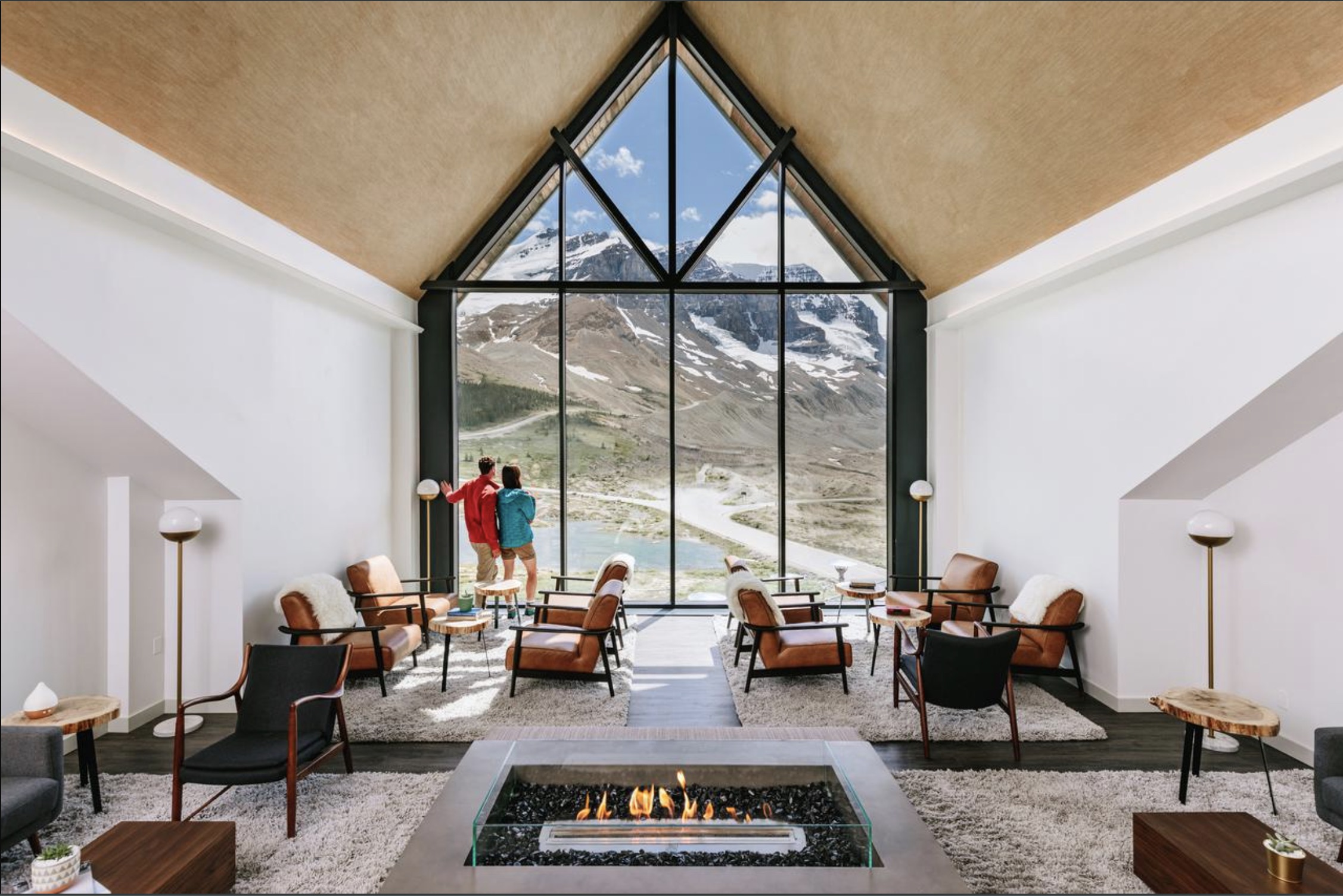 One of the best hotels in Jasper is right at the foot of the Columbia Icefield. The Glacier View Lodge is the only hotel in the area and is where you can stay if you want to wake up to views of the Athabasca Glacier.
If you don't mind being a few hours from Downtown Banff, the Town of Jasper, or really anywhere else, I highly recommend booking a night here. Better yet, make the drive along the Icefields Parkway and stop here when driving between Banff and Jasper! *Hotel only operates in the summer.
---
Stay Lakefront at the Jasper Park Lodge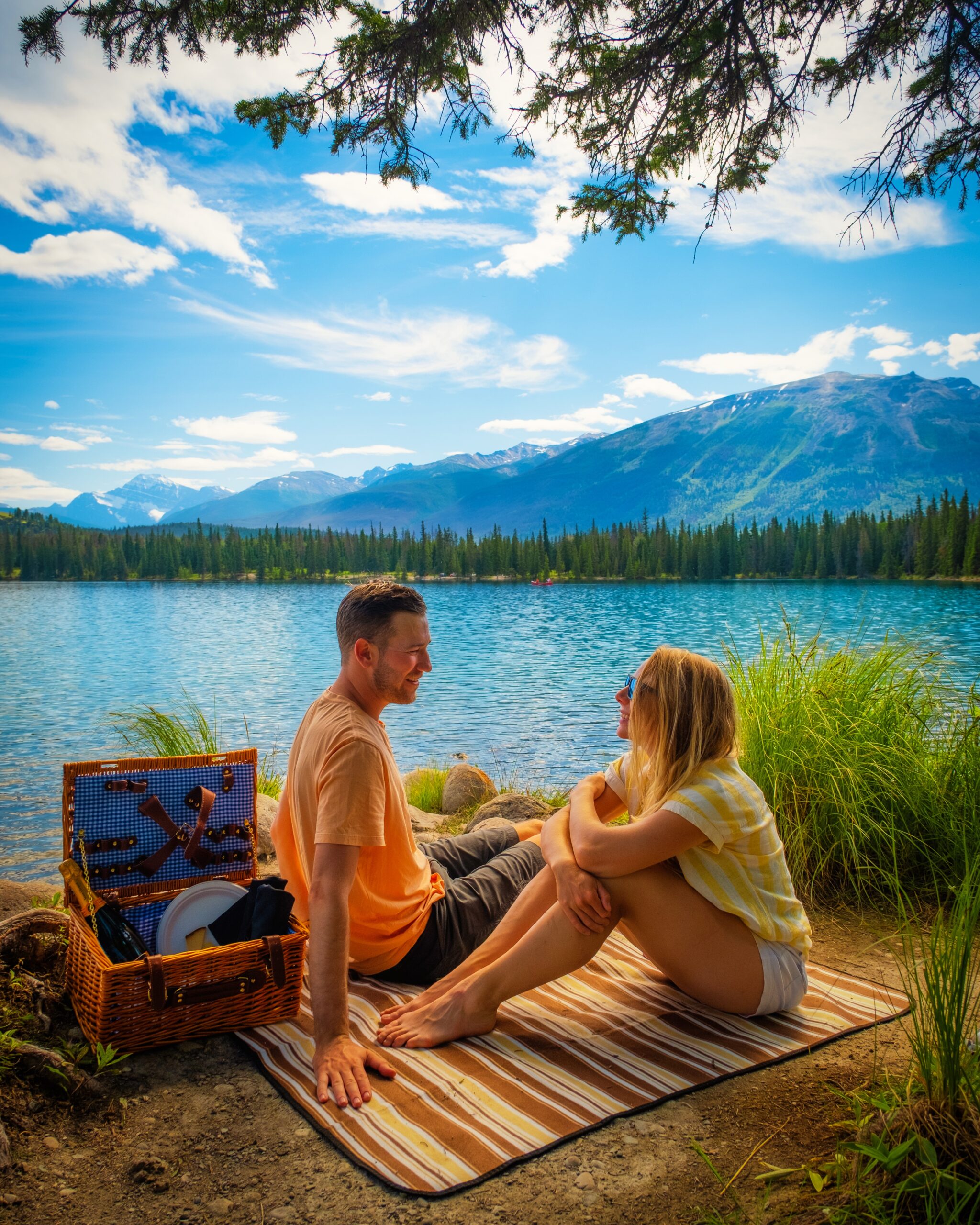 One of my favorite lakes in all of Jasper is Lac Beauvert. Easily one of the clearest and bluest lakes I have ever seen. Taking a paddle on it is one of the best things to do in Jasper in the summer as you get unparalleled views of Mount Edith Cavell.
If you are brave enough, you can even take a dip in the icy lake. There's one property on Lac Beauvert, and that is the Jasper Park Lodge. Unlike many hotels, the Jasper Park Lodge operates more like an upscale summer camp. There aren't many traditional hotel rooms, but rather lakefront cabins that make you feel like you are on a true mountain vacation.
The location is secluded and away from the hustle and bustle of Downton Jasper, with fabulous Jasper restaurants onsite and a canoe and kayak rental center on the lakeshore.
---
Folk Tree Lodge (Bragg Creek)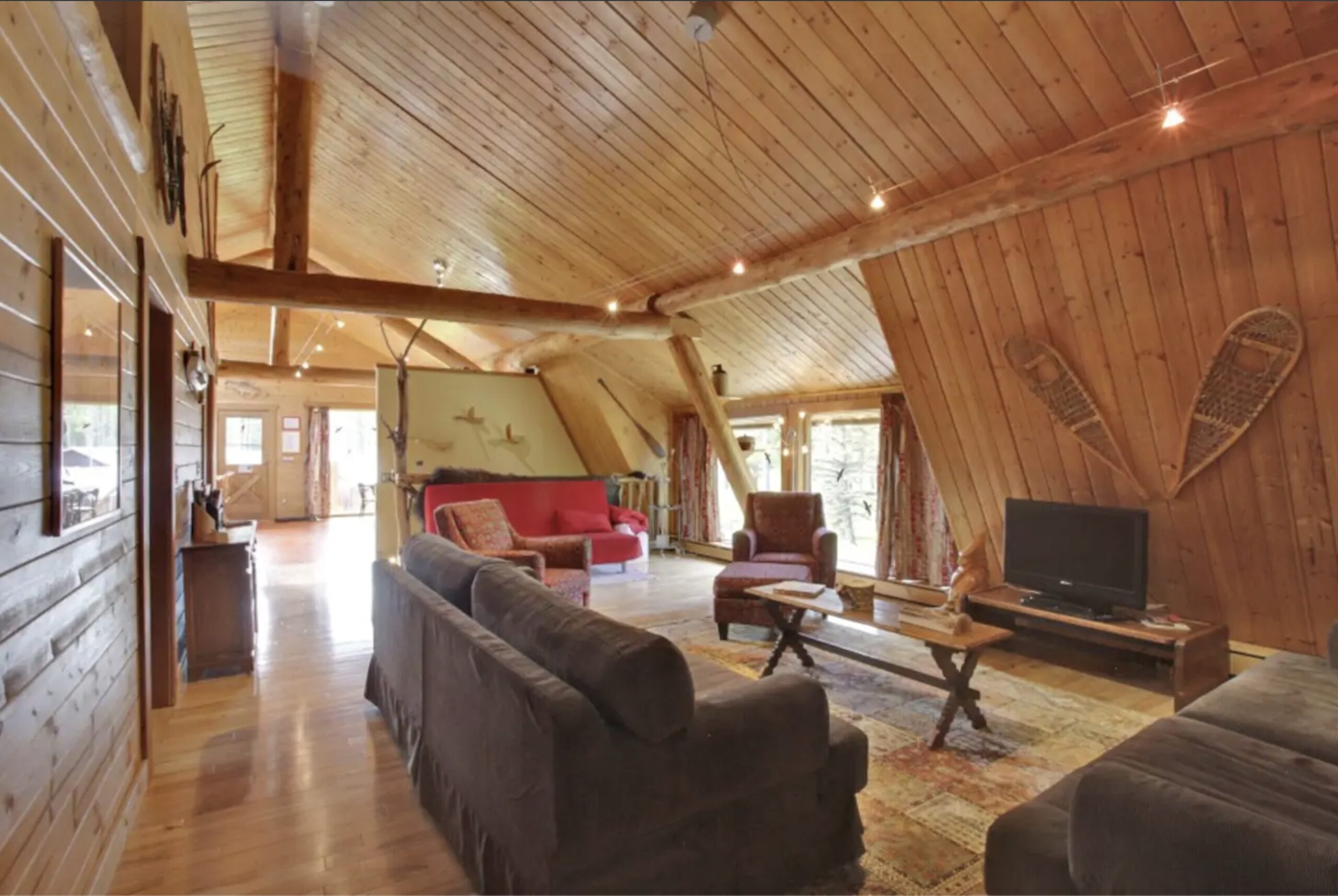 Marketed as the coolest cabins closest to Calgary, Folk Tree Lodge offers guests all you could ever need. These cabins in Alberta are located in a beautiful forested setting just five minutes from the main part of Bragg Creek.
These Alberta cabins sit on 30 acres of beauty and are one of the best places to head to when you want to unwind away from the city. I love that these cabins are traditional log cabins with modern amenities. Fold Tree Lodge is also eco-friendly and uses biodegradable cleaning products, compost food scraps, harvest their rainwater, and engage in their own food production.
---
Backcountry Horseback Trip in Banff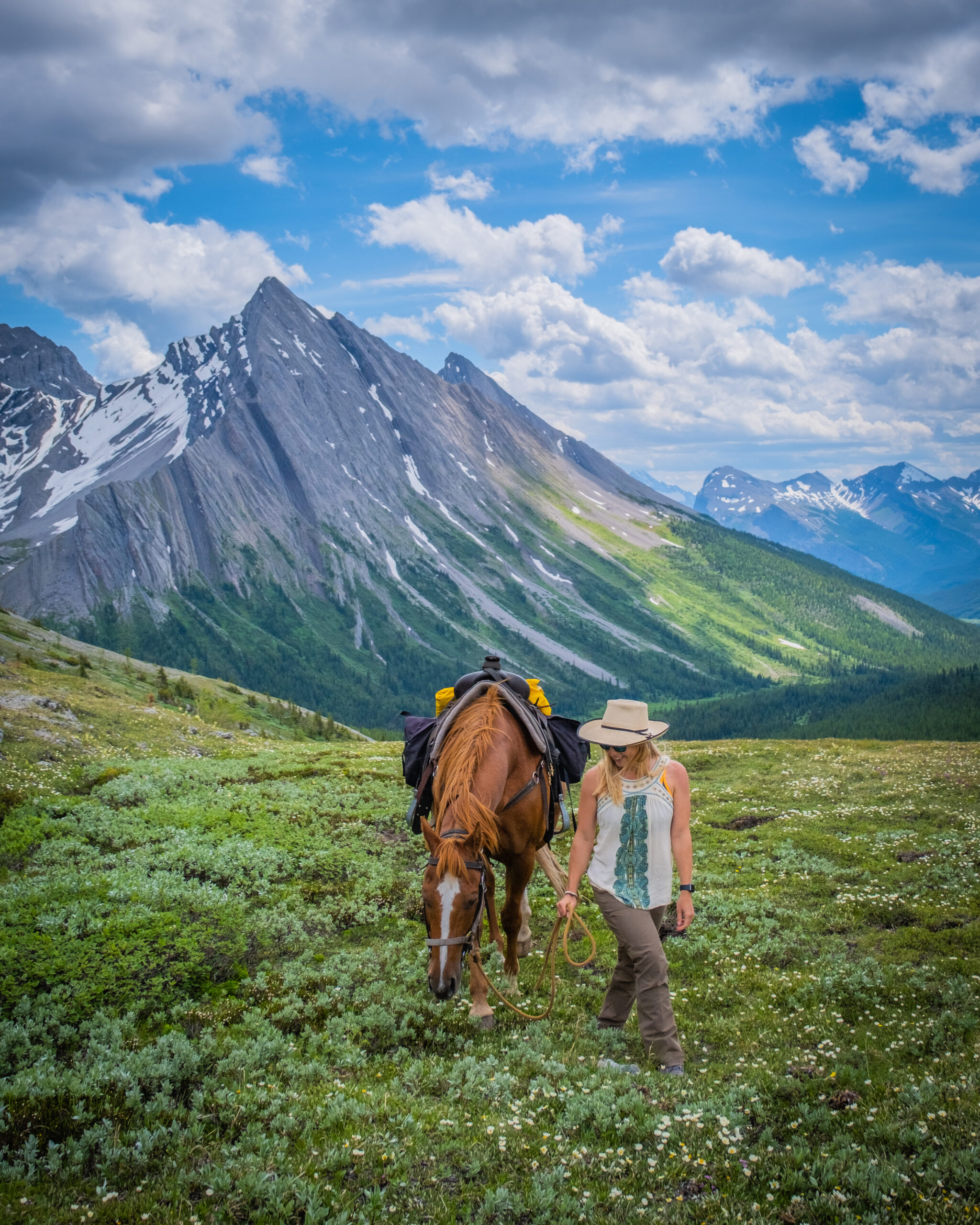 One of my fondest memories of our entire time in Banff is when we hopped on a horse and ventured into the Banff backcountry for almost a week!
If you have ever dreamed of living out your own western dream in the mountains, booking a trip with Banff Trail Riders should be at the top of your Banff bucket list! They run multi-day trips to some beautiful Banff cabins. During the day, you'll ride with your trusty steed and get to see views not many get to witness in the park. At night enjoy a Cowboy cookout with a fire under the stars!
Even if you are a Bow Valley local, you won't be disappointed with this trip (we sure weren't!).
---
Log Cabin Stay in the Mountains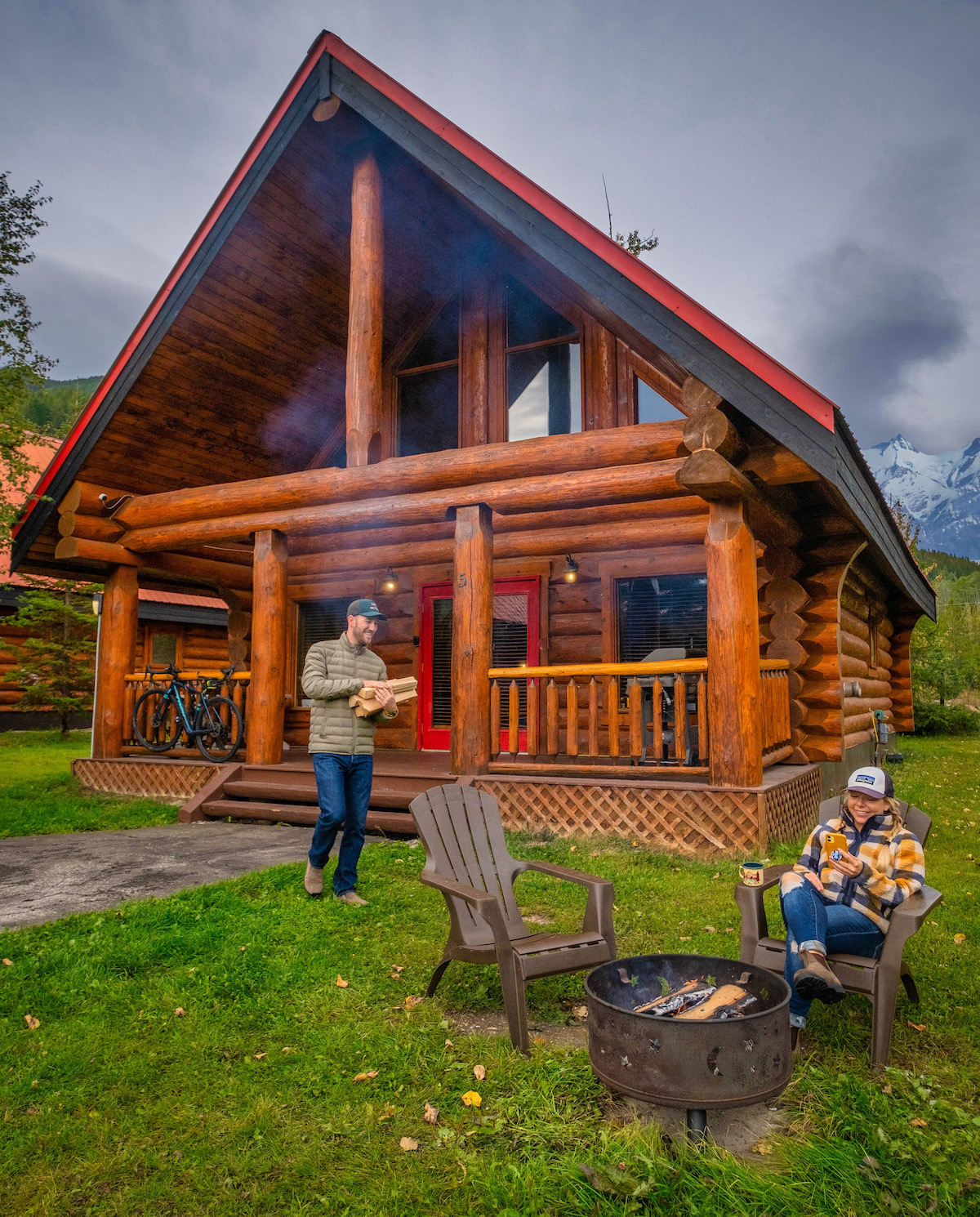 Alberta is full of cozy mountain cabins to enjoy a warm trip away in. Snuggle up with your loved ones by the fire in one of the best Banff cabins. Our favorites are Baker Creek Mountain Lodge and Storm Mountain Lodge! Alternatively, cross the provincial borders into Golden, BC, for a plethora of privately run cabin options!
We love to take weekend trips away in a traditional log cabin. The cabins provide an excellent base as you spend your vacation time hiking, biking, and swimming among the beautiful Rockies.
---
Hopefully, this helped give you some inspiration for epic Romantic Getaways in Alberta!
If you have any other questions leave a comment or see our Canadian Rockies travel guide for more articles about photography spots, lakes, hikes, and everything else.
---
Plan Your Trip to the Canadian Rockies
↓ Join the community ↓
The Banff Blog Facebook Group is your headquarters for the Canadian Rockies' travel advice and information. Including hike info and off-season travel information. You can also meet new adventure buddies.