Have you ever dreamed of horseback riding in Banff after ever watching City Slickers, Yellowstone, Heartland, or any western movie? Have you seen a scene where cowboys and cowgirls saddle up their horses and ride deep into the wilderness and longed for that to be you? I can tell you I sure have. That's why when we received an invite to go on a backcountry horseback trip in Banff National Park, I knew we couldn't say no.
Living in the Bow Valley, we are out exploring the Canadian Rockies almost every day. However, never on a stealthy horse deep in the park. Little did I know that Banff Trail Riders offer this experience every summer and it's one of the best horseback riding Banff trips you can have.
Curious what it's like to access the backcountry of Banff National Park via horseback? Read on!
---
What is Horseback Riding in Banff Really Like?
This is a recap of our 6 day/5 night backcountry trip to Halfway Lodge and Sundance Lodge. This is one of the most extended trips you can take, but there are shorter renditions of this trip as well. It's best to check out the options on Banff Trail Riders as they have many horseback riding Banff trips for everyone!
---
Arrival Day and Ride to Sundance Lodge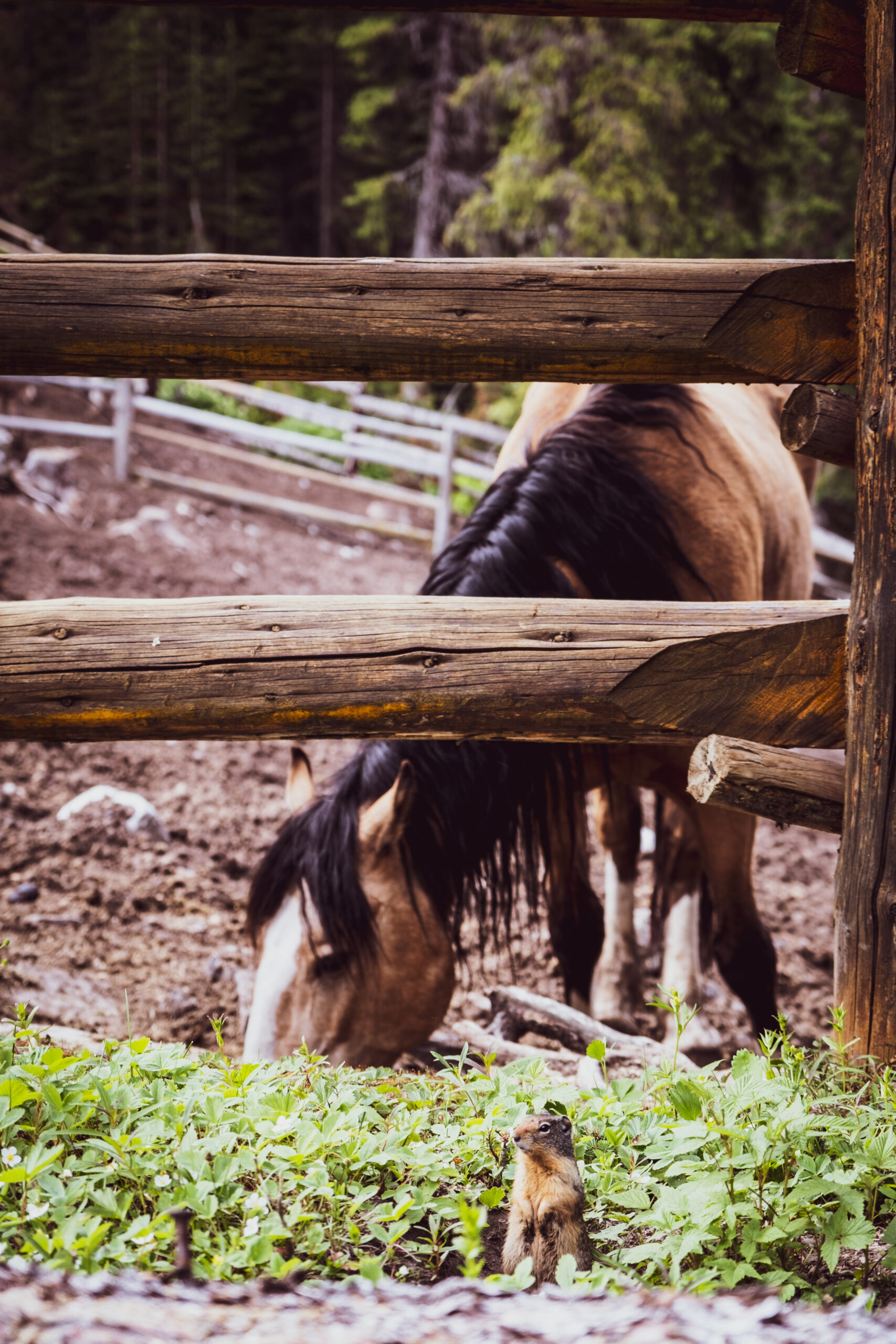 We arrived at 9am at Warner Stables right outside of the town of Banff. Thankfully, we were coming from our home in Canmore so we didn't have to wake up too early as we are not early risers.
We met Julie, who I later found out was the powerhouse woman boss behind all of Banff Trail Riders. The first thing she told us was that "we are not in a rush" which is always music to our ears as we consider ourselves some of the most relaxed and untimely people ever.
Julie introduced us to the stable, the business, Erica – our guide for the trip, and of course all the horses that would be joining us for our five-night/six-day trip into the Banff backcountry.
This is where I would meet Tumbleweed, my heroic horse for the trip and Cameron met Archer, with who he felt an instant connection. We mounted our horses and set out for Sundance Lodge deep in the park.
It took us about 1.5 hours to get out of the town of Banff and away from the crowds, but once we left the town, we truly left it all. It would be days before we would see other people outside our group, or have a cell phone signal, and it felt amazing to feel even closer to nature. We stopped for a cowboy bbq along Healy Creek and got acquainted with our group before continuing onto Sundance Lodge.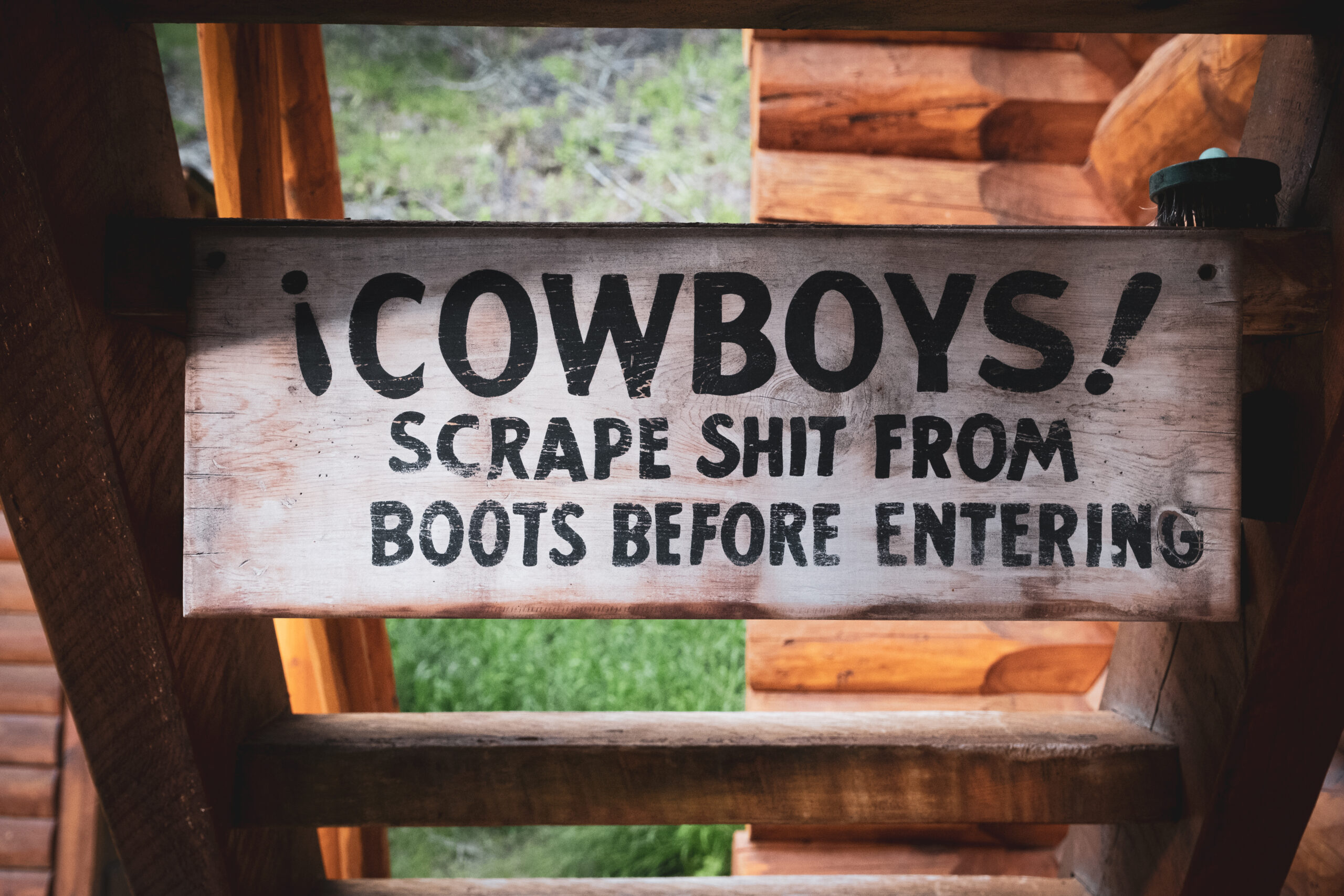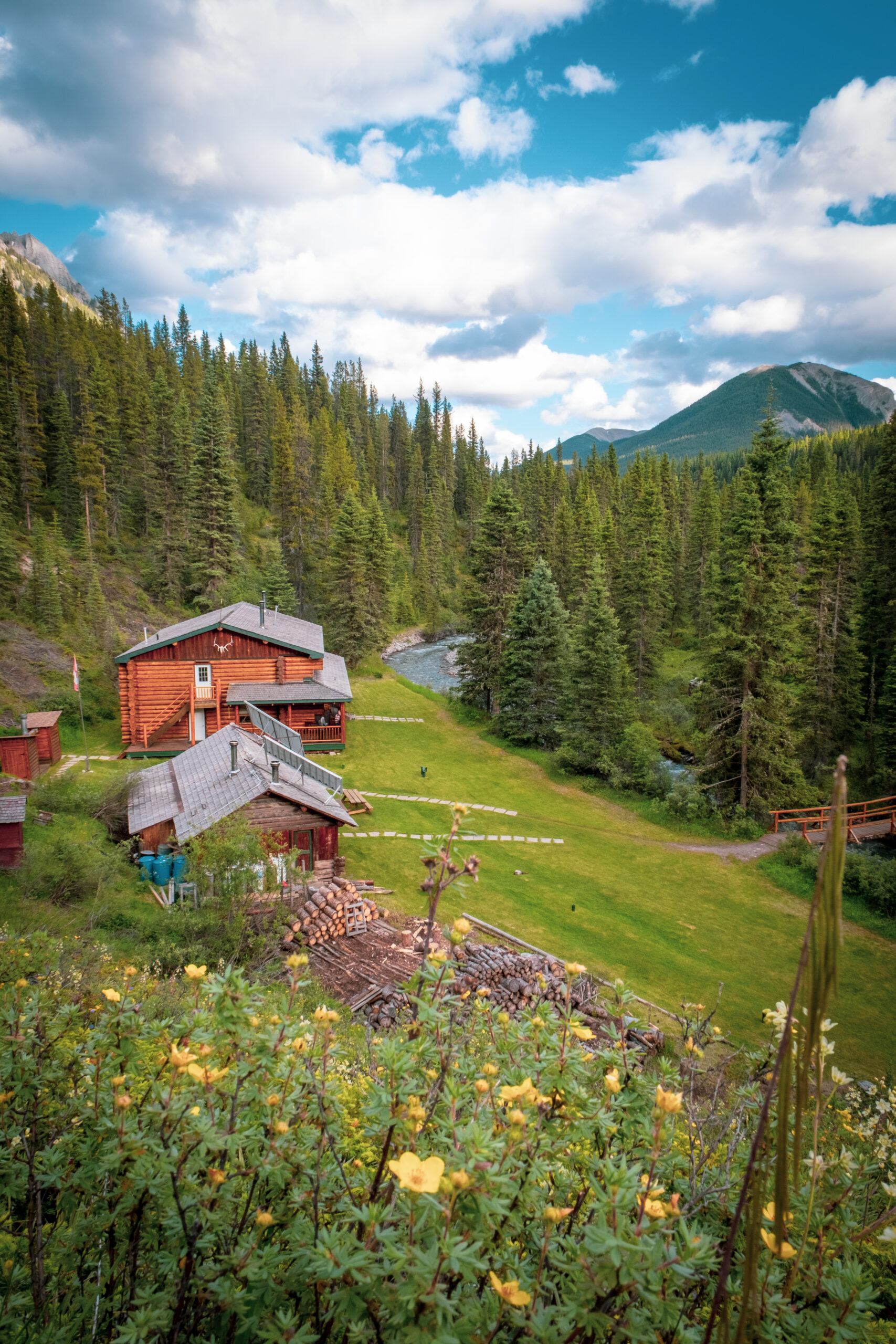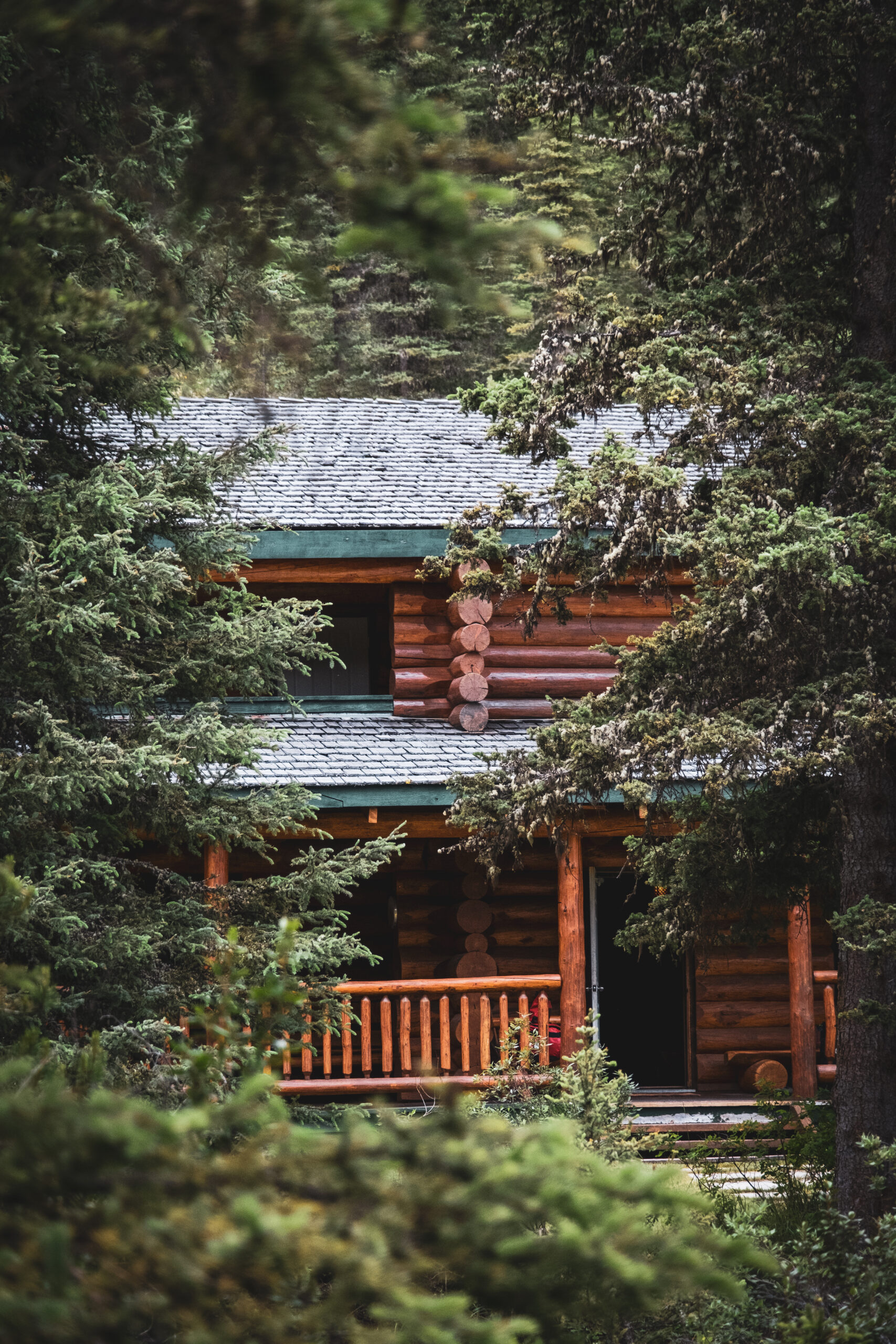 After about 10 miles of backcountry horseback riding in Banff we reached the lodge, and we were in complete heaven. If I were to build a cabin in the middle of the mountains, Sundance Lodge is exactly what I would model it after.
It's no basic lodge, but rather a cozy log cabin that brings you back to the early days on the Western Frontier. Decked out in western memorabilia and with a front porch overlooking the glorious river, we could now relax as the sun set over Banff National Park. A three course dinner and a fire under the stars were awaiting us.
---
Day 2 – Off to Halfway Lodge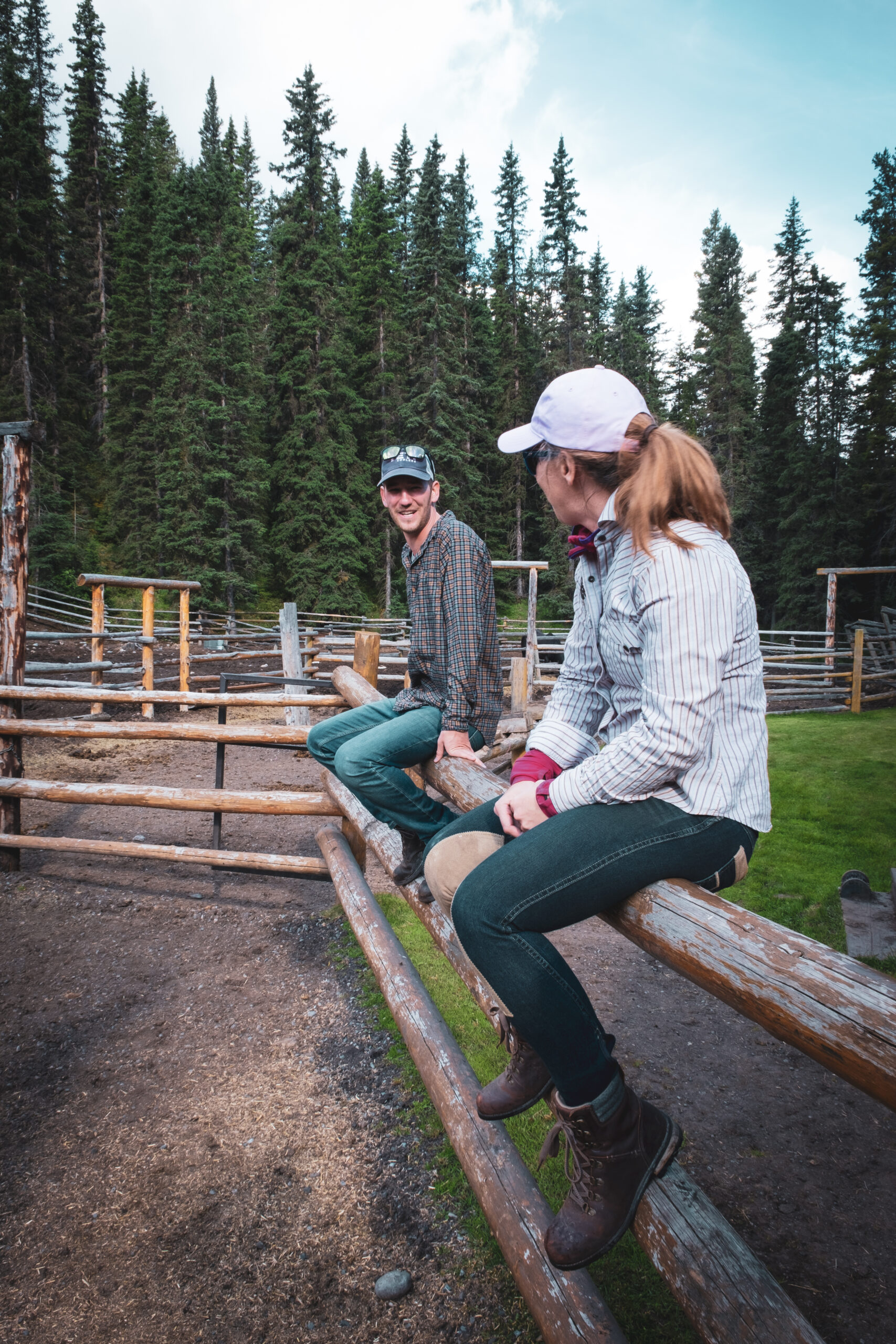 After waking up to the smell of eggs and bacon at Sundance Lodge we enjoyed a leisurely morning before packing up and leaving for Halfway Lodge around 10am. We would then ride 9 miles southward to Halfway Lodge on the Erling Strom Trail. Very few people in the park get to enjoy this trail, given its remote location.
The trail winds through beautiful settings, including a wide-open valley to enjoy all the fresh air and views. After another picnic lunch, we would continue on to reach the Sawback Mountain Range.
This mountain range truly took my breath away and will have any rider looking up in awe the entire time – good thing the horses know where they are going! After about nine miles of riding, we strolled into Halfway Lodge. I initially thought Sundance Lodge was remote, but after our arrival at Halfway Lodge, I knew we were truly deep into the park.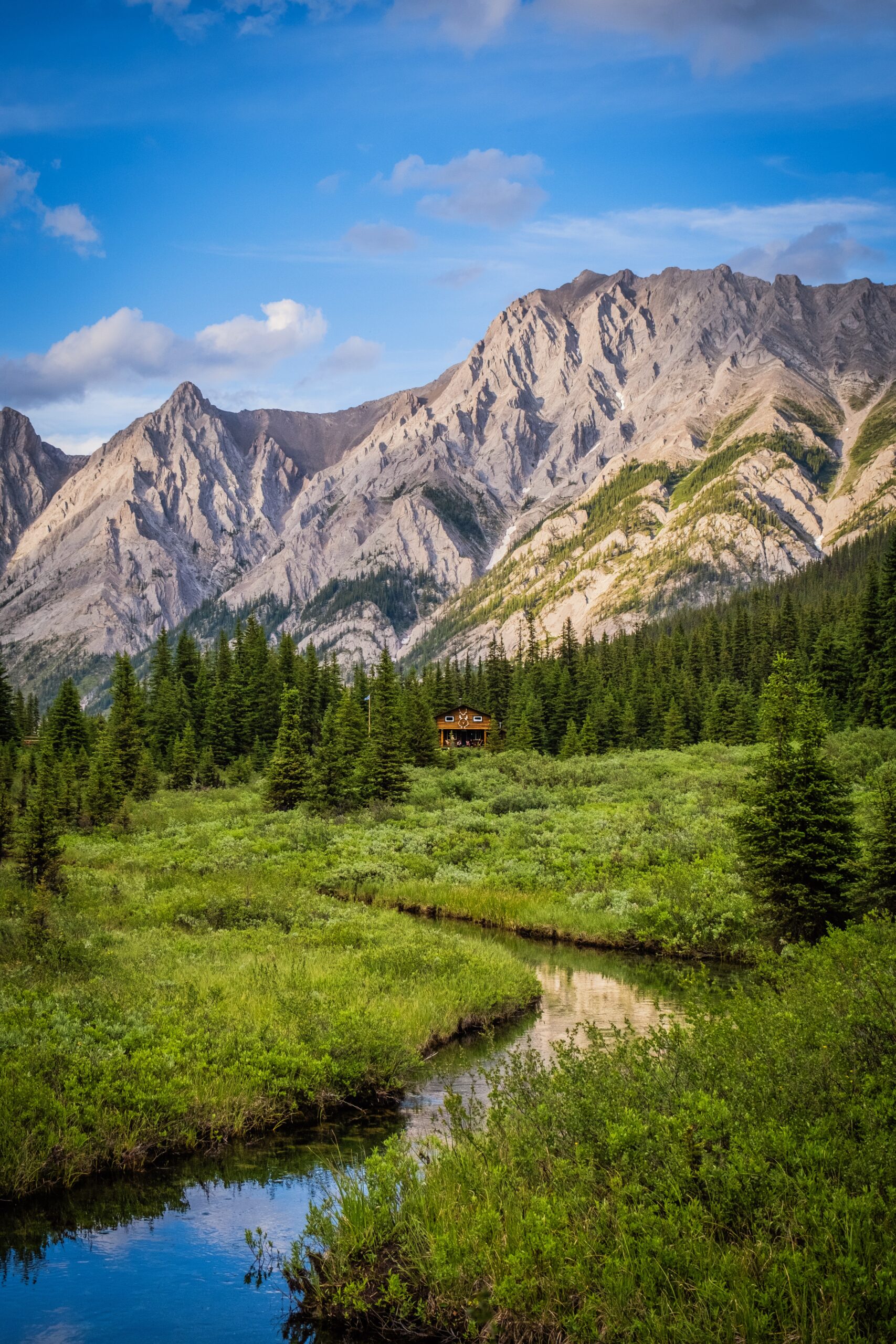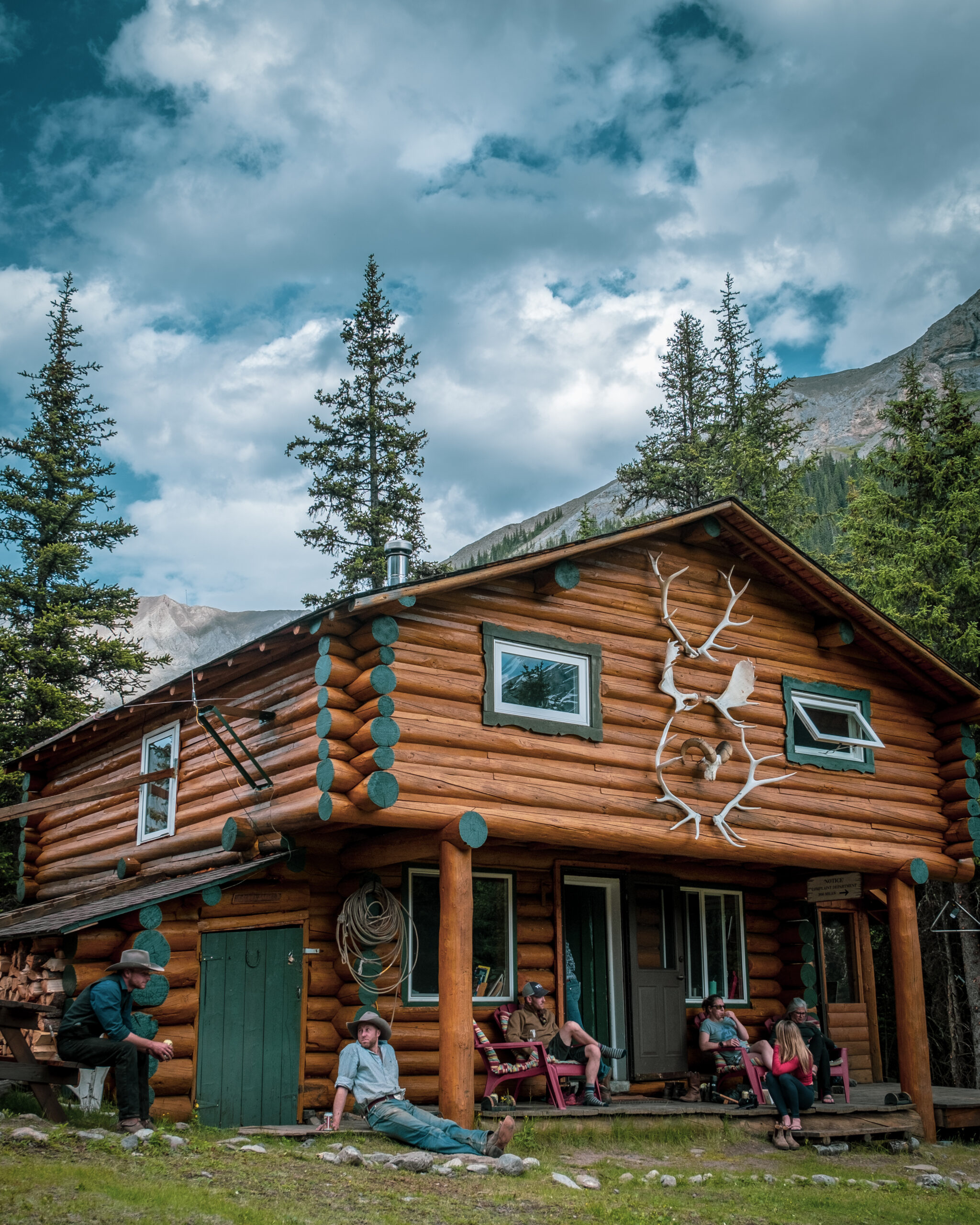 The views from Halfway are ones I don't often get, even with all the hiking we enjoy in the Canadian Rockies. Halfway Lodge itself is a very small and intimate cabin built in the 1920s, and you would never even know it was here unless you completed a trip similar to this or have done a lot of backcountry hikes in the park.
Although now it is two stories, it used to only be one. A second story was added when a curious bear fell through the roof in the 1960s (yes, you read that right). Now there are four rooms on the second story and a cozy kitchen, fireplace, and dining area on the first story.
However, we spent most of our waking hours outside, enjoying the front porch views and hanging with the horses.
---
Day 3 – Hike to Waterfall and Unnamed Lake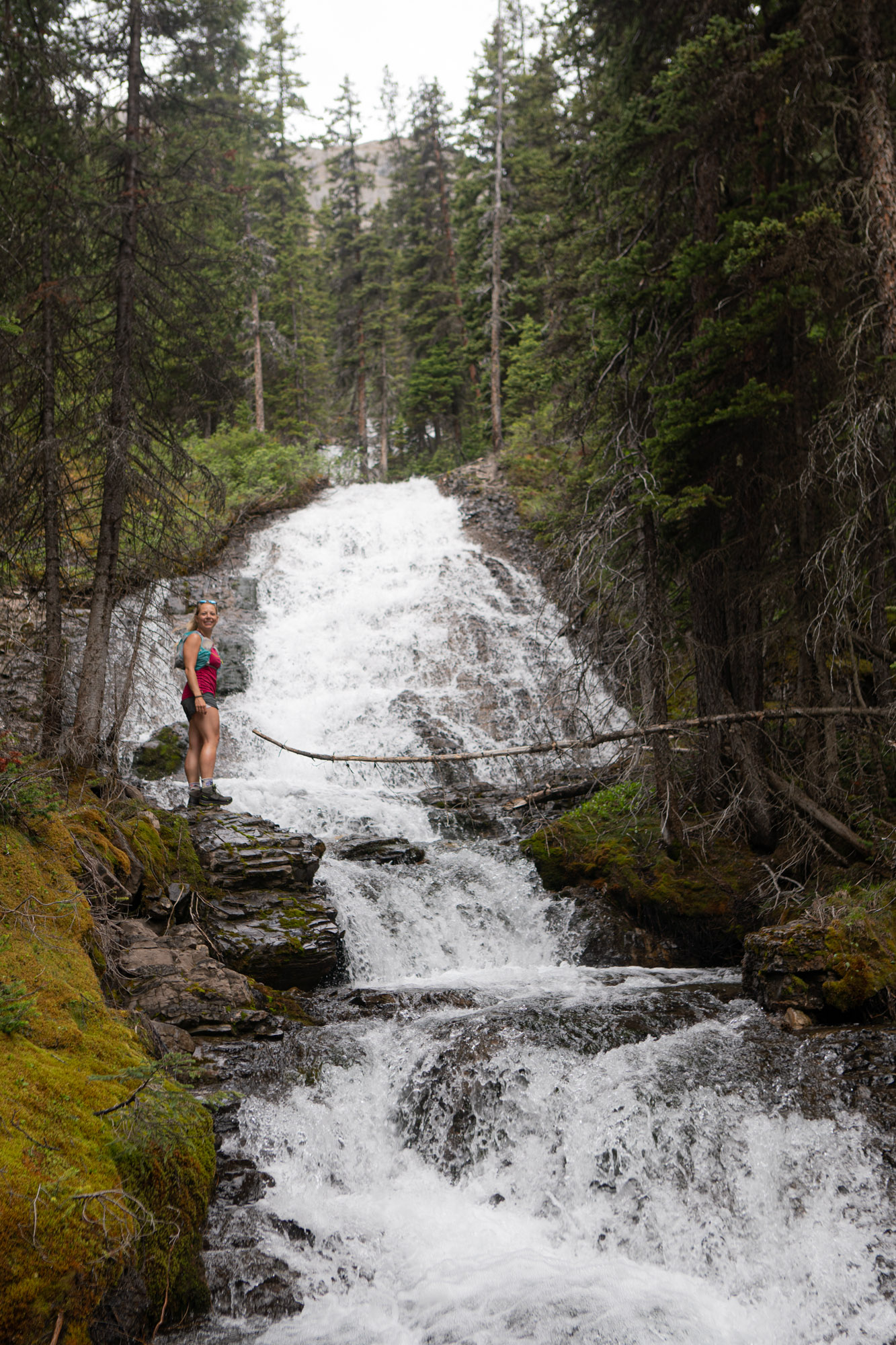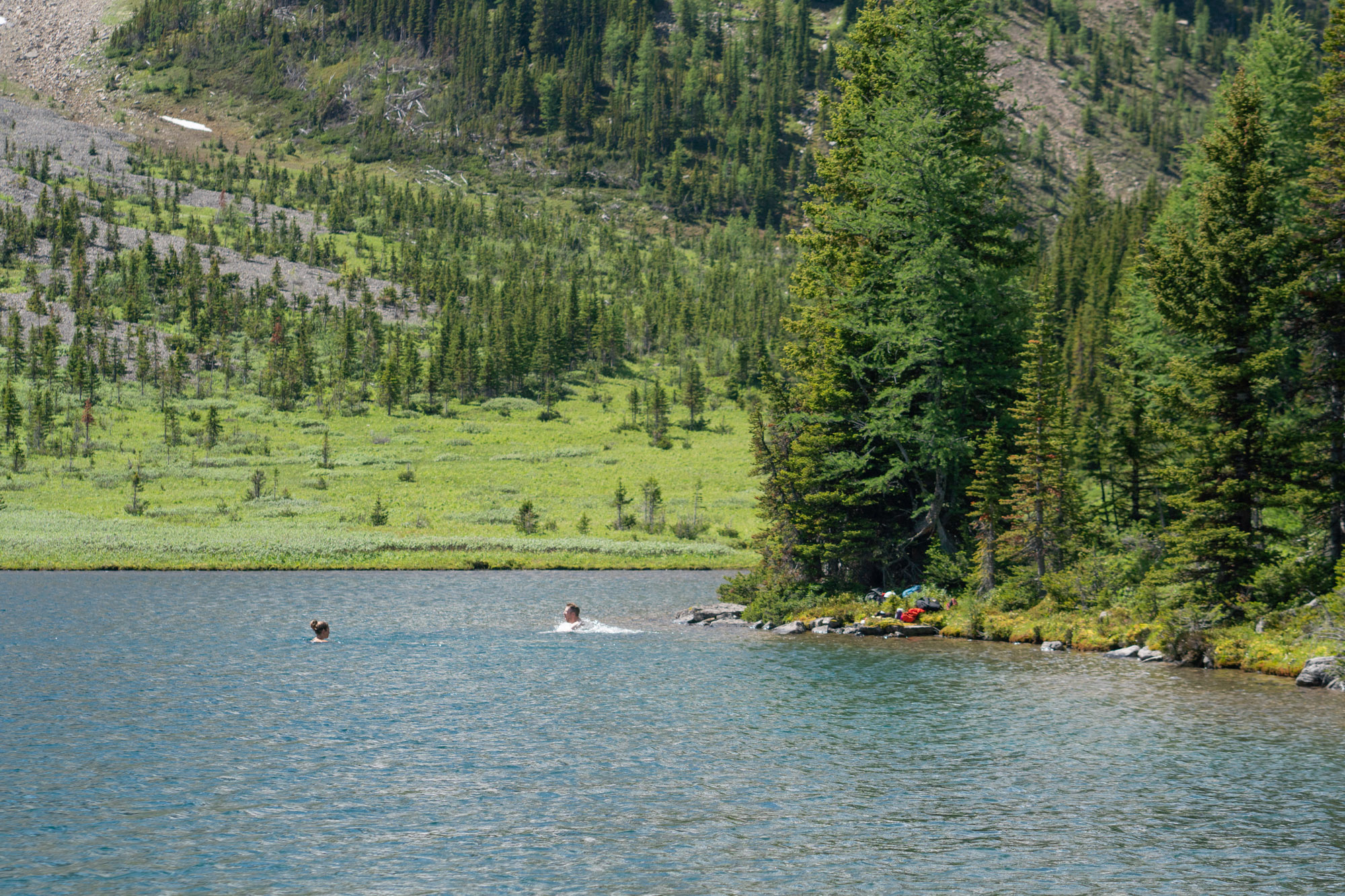 Day three of our horseback riding Banff trip was a rest day for the horses, which meant a hike day for the humans. We love to hike so we were very excited about this adventure. A couple km from Halfway Lodge is a stunning waterfall and hike to a crystal clear unnamed lake.
Most of our group decided to get some exercise and enjoy a hike that not many get to experience. However, if you're feeling more chill you can also hang out at Halfway with a book for a quiet afternoon spent in the backcountry.
I highly recommend venturing out on this hike if you are up for it. It's not too long or difficult, although to reach the lake is quite steep in some sections. Don't worry though – once you reach the water you can enjoy a refreshing dip!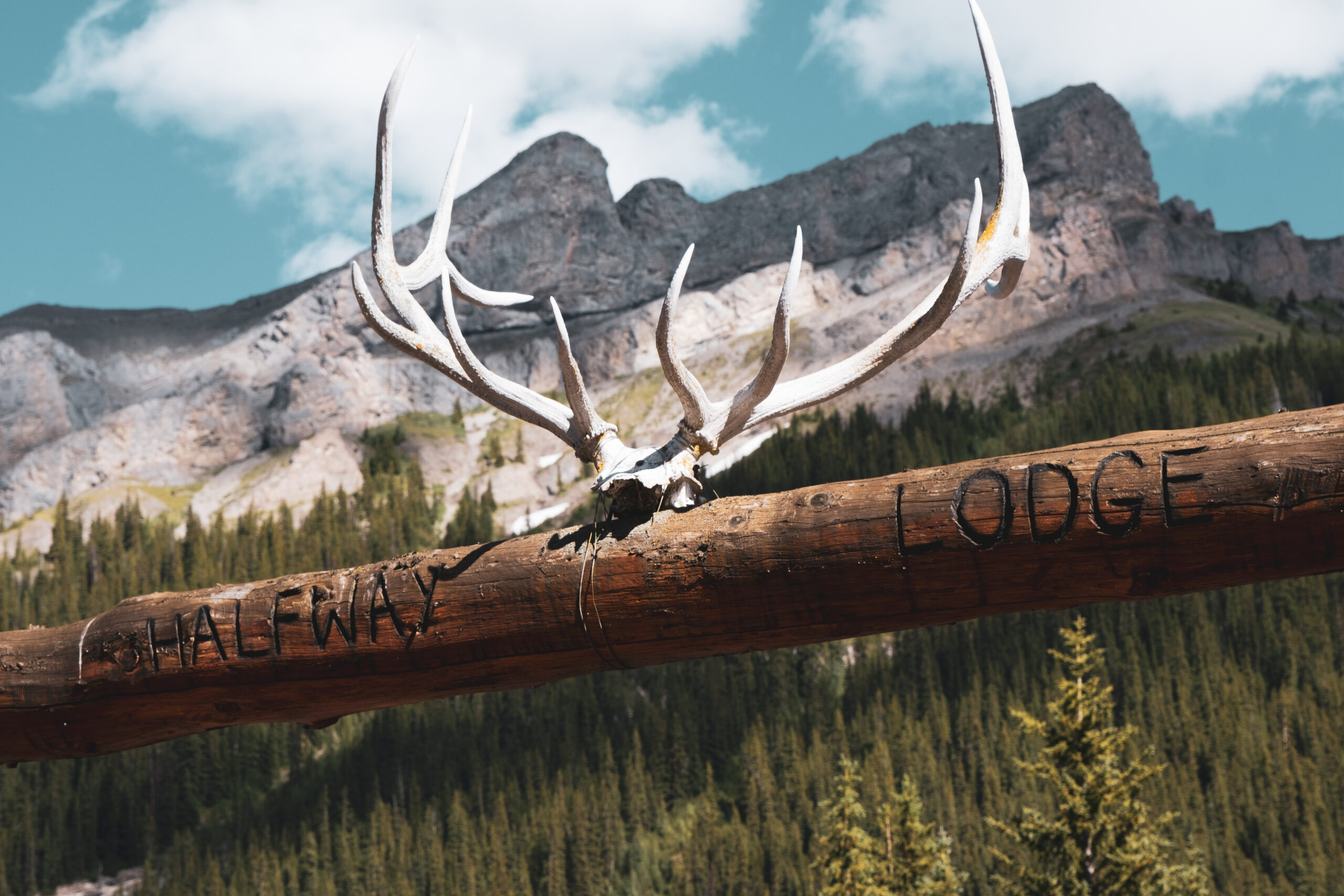 ---
Day 4 – Allenby Pass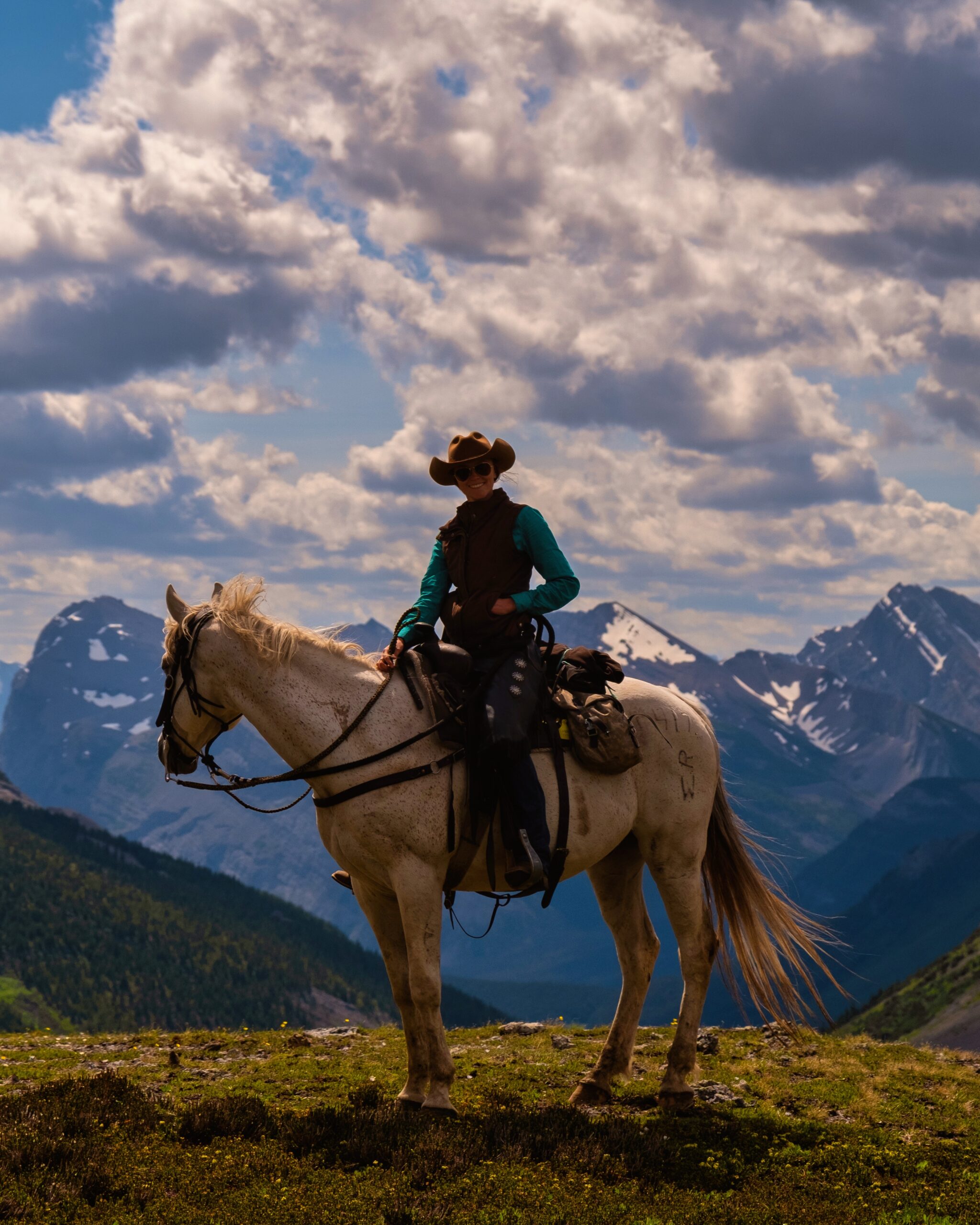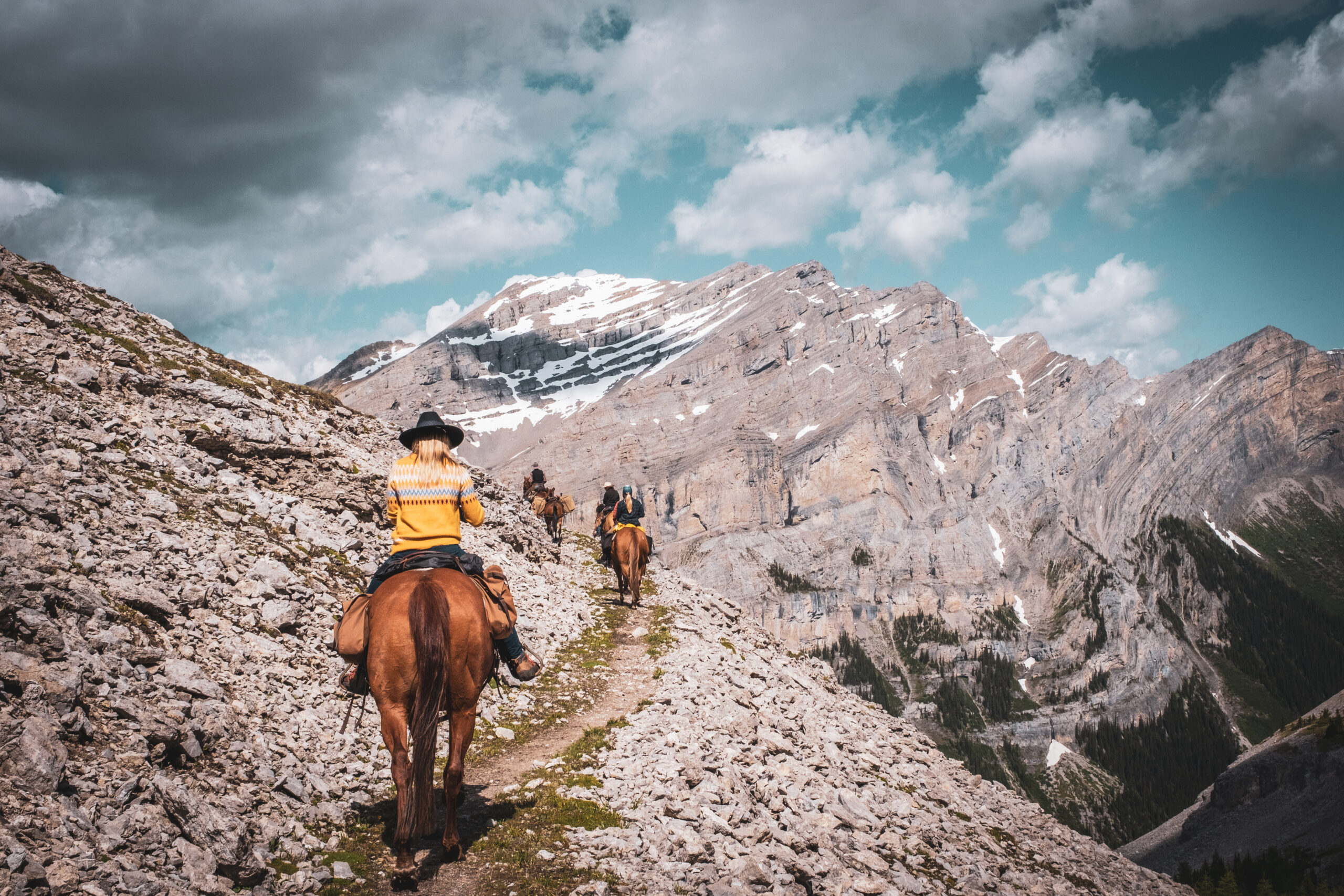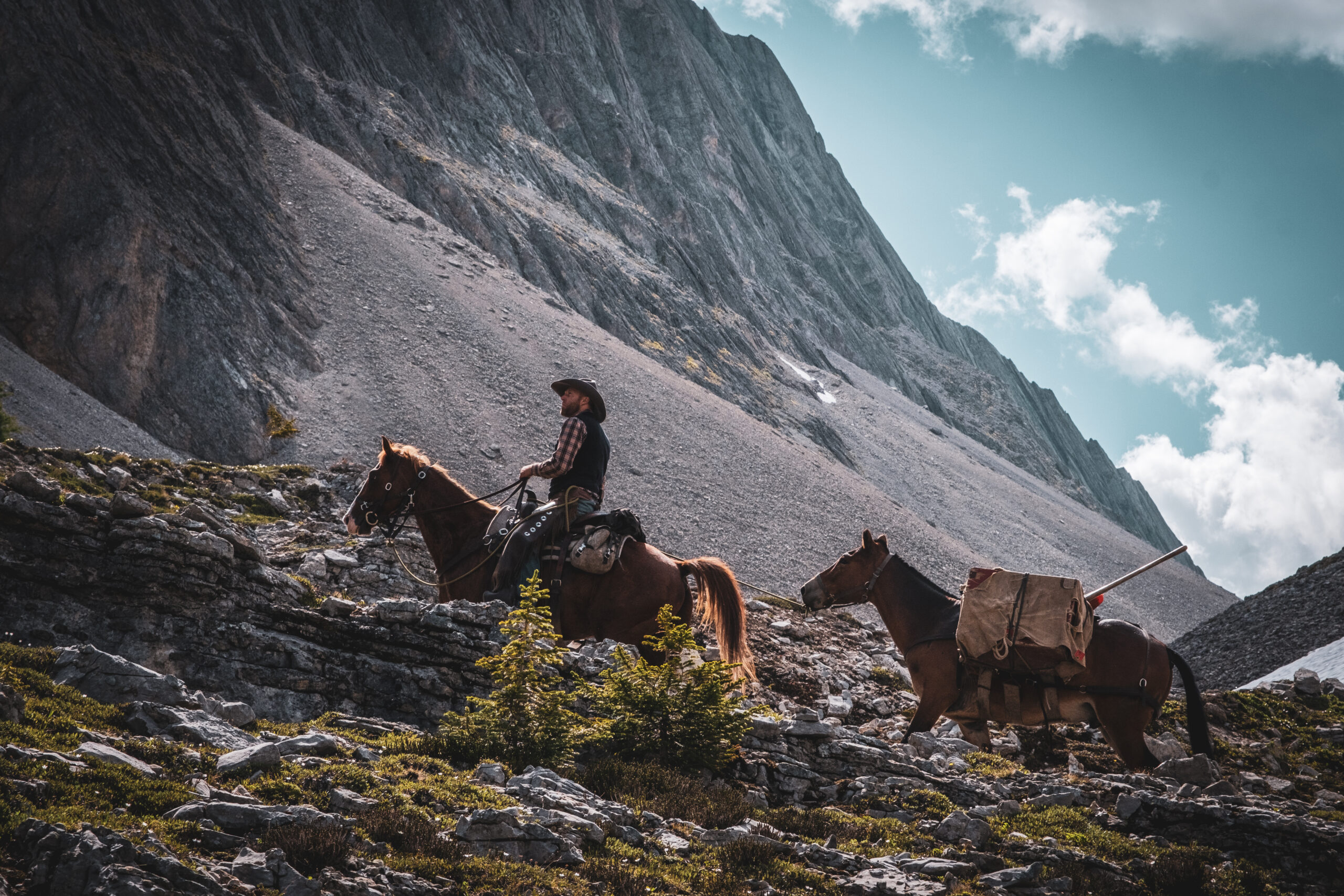 Today is the day we have all been waiting for on our horseback riding Banff trip. Although the whole horseback backcountry trip in Banff has been a highlight, the Allenby Pass day is what dreams are made of and why many people book a horseback riding Banff trip like this to begin with.
Allenby Pass is a less explored area of the park, typically only seen by thru hikers and intense trail runners. After visiting we can say it is definitely one of the most beautiful parts of Banff. Sitting at 2468 meters is a gorgeous stretch of mountains and a deep valley to enjoy.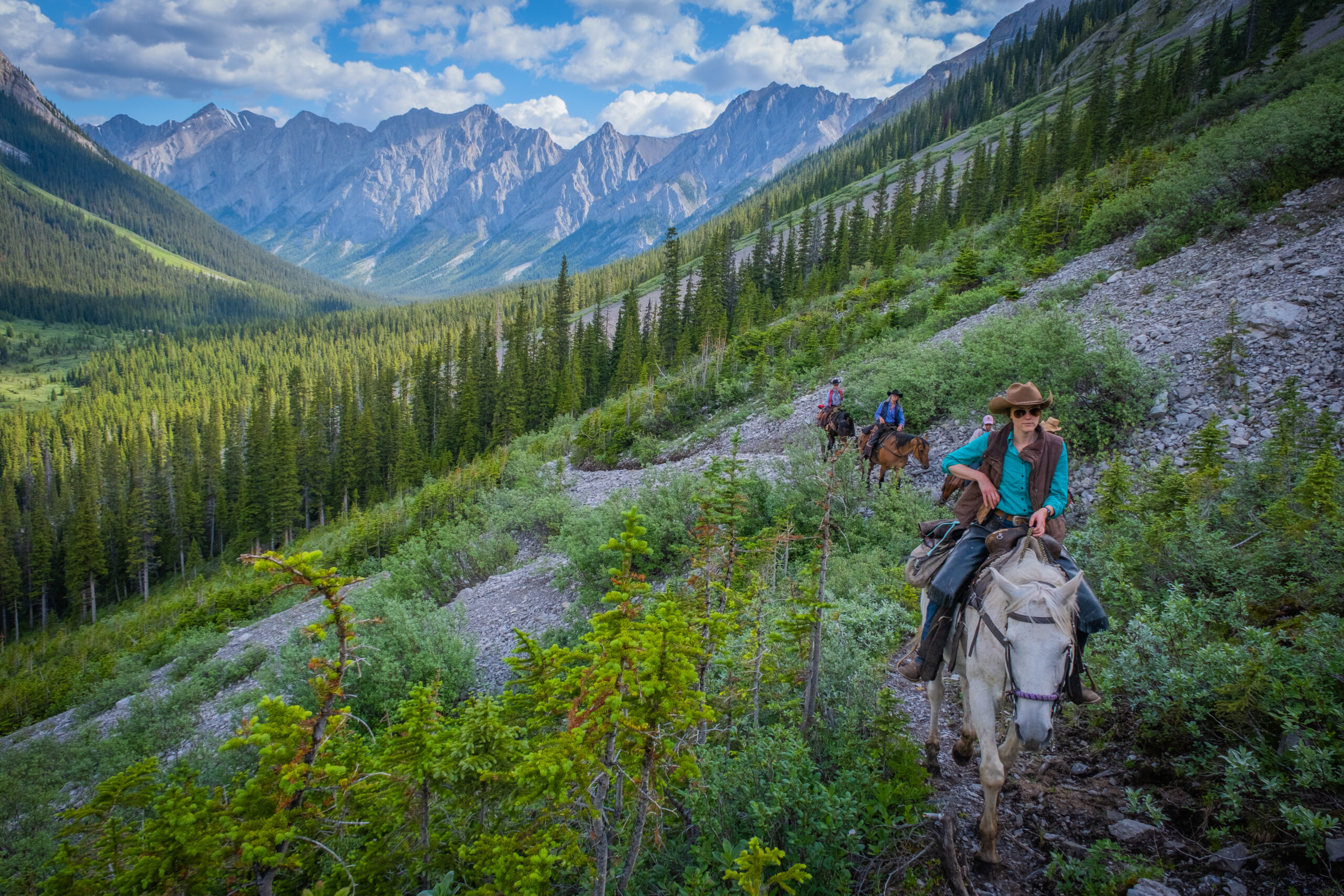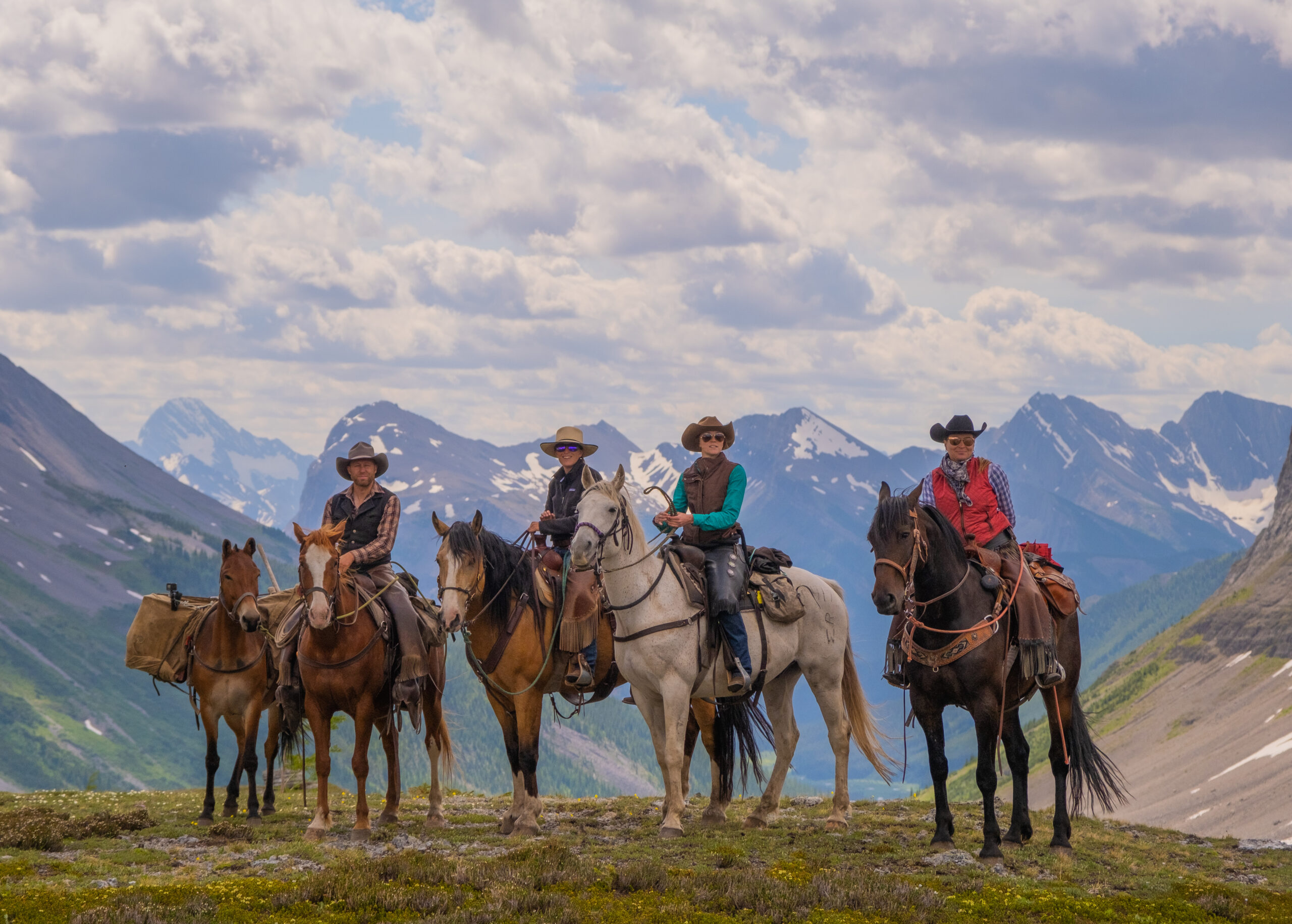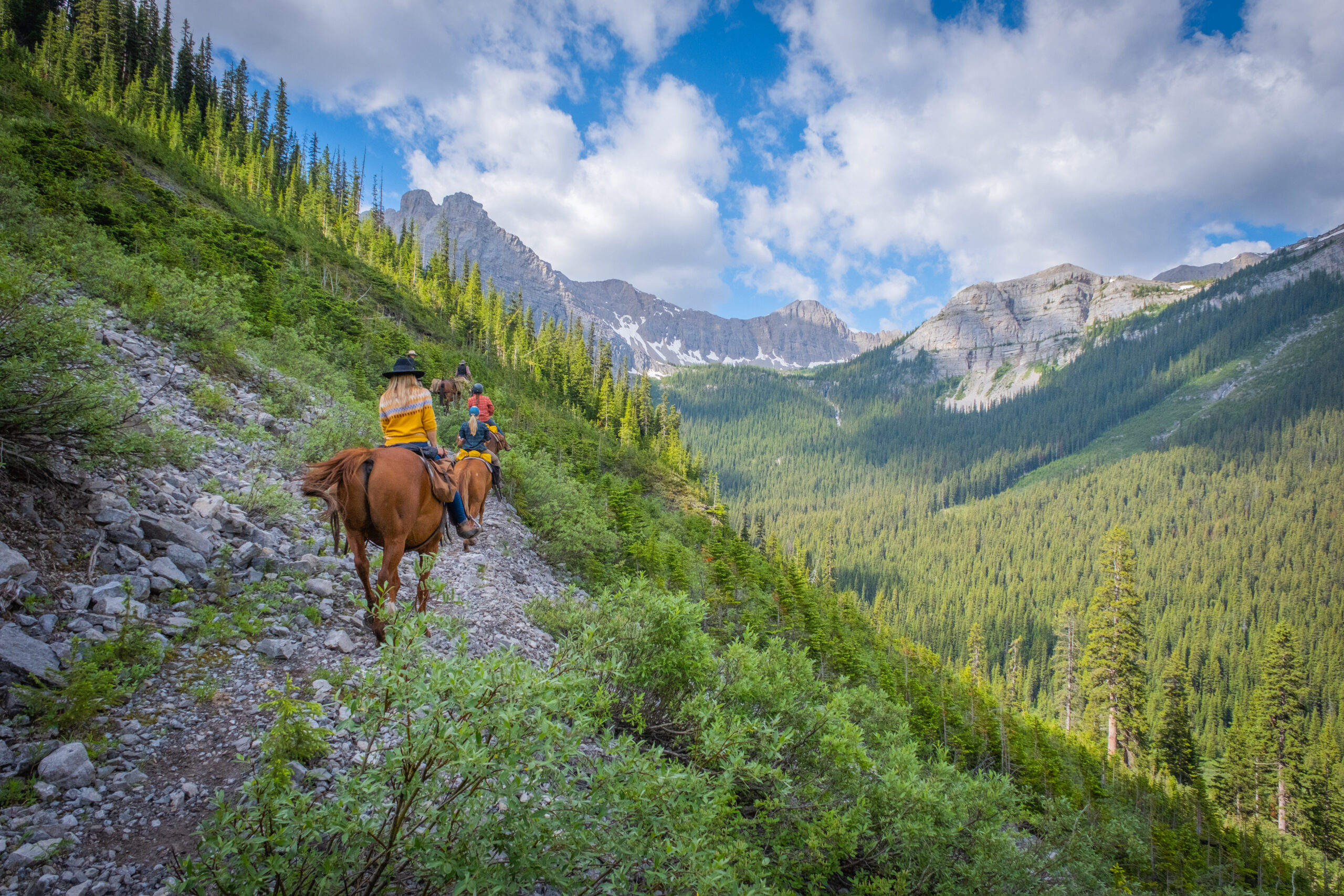 The horses allow you to gain elevation almost effortlessly. If you feel nervous from gaining elevation on horseback, that's completely natural, but I encourage you to keep going up the pass – you won't be disappointed!
When you reach the top of Allenby Pass enjoy the views, take photos, and fuel your hunger with a delicious packed lunch from the team at Halfway Lodge before heading back down.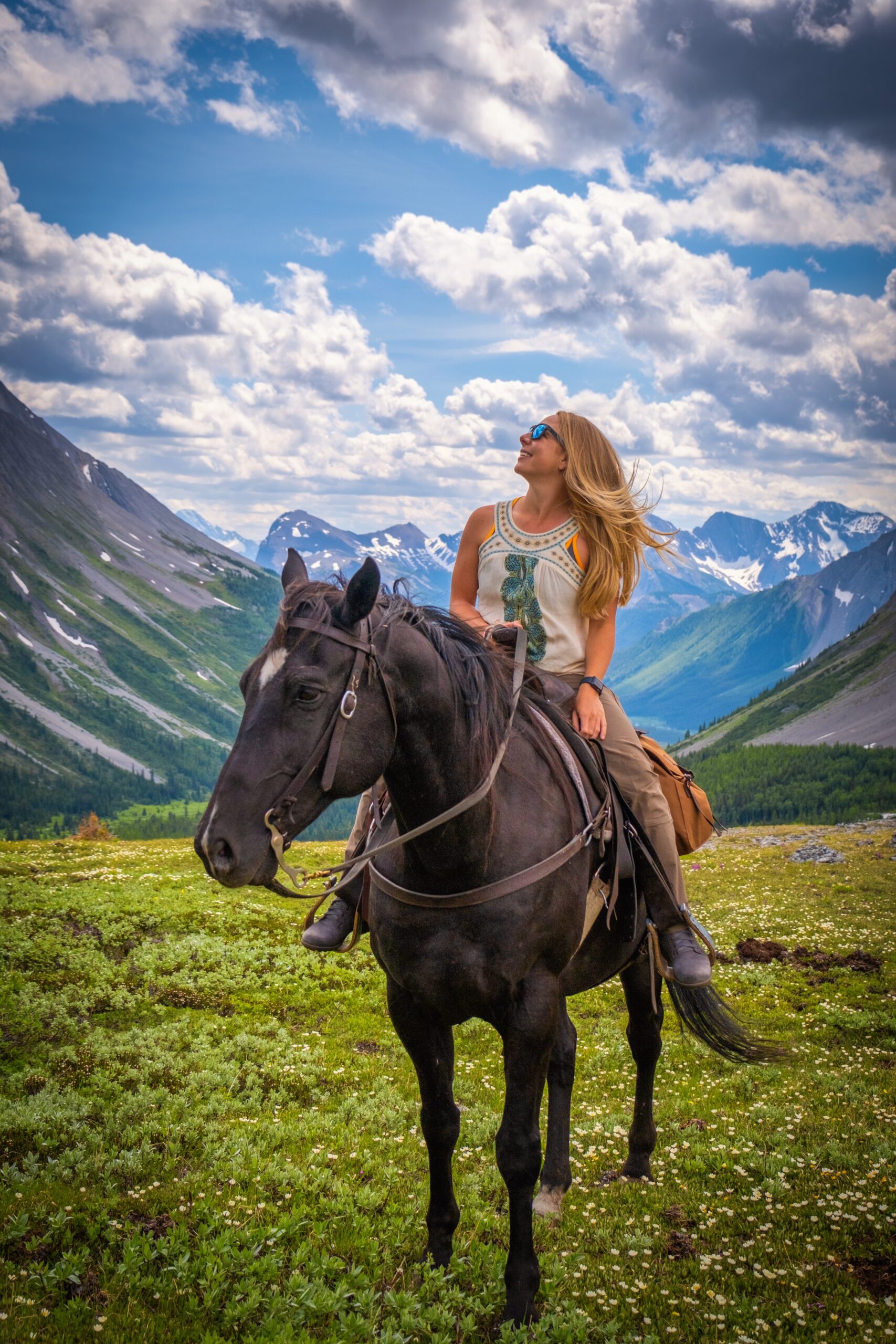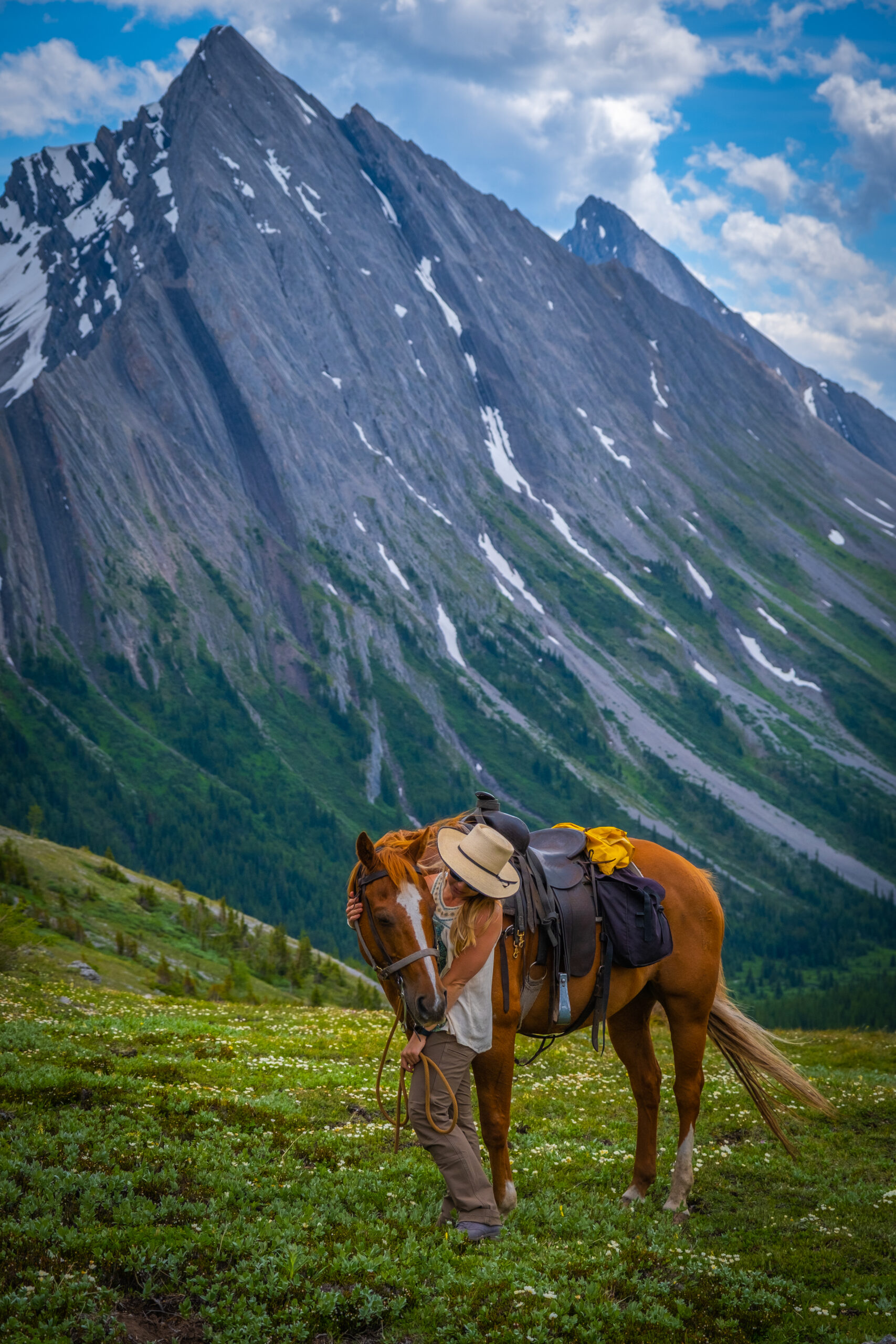 ---
Day 5 – Ride Back to Sundance Lodge from Halfway Lodge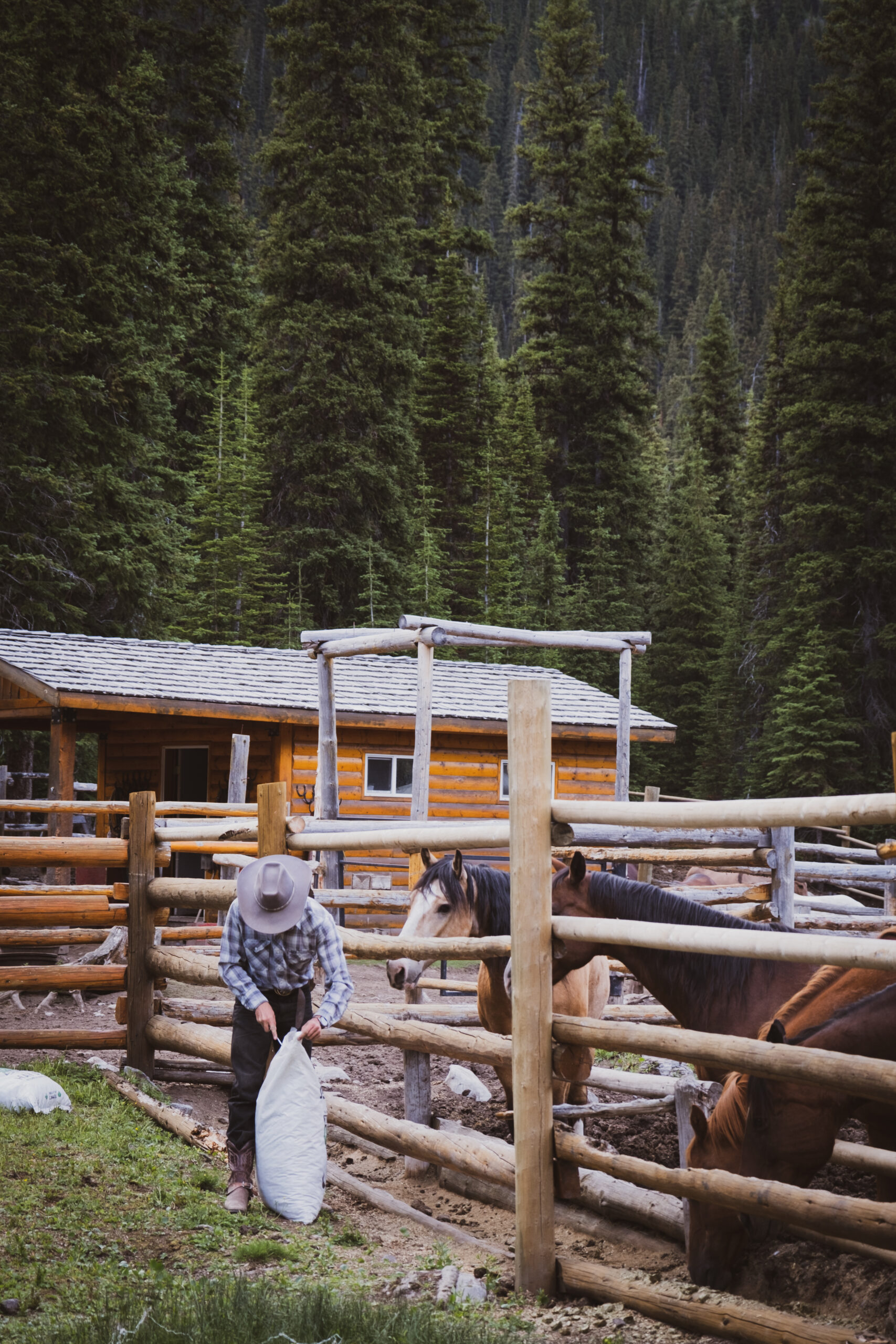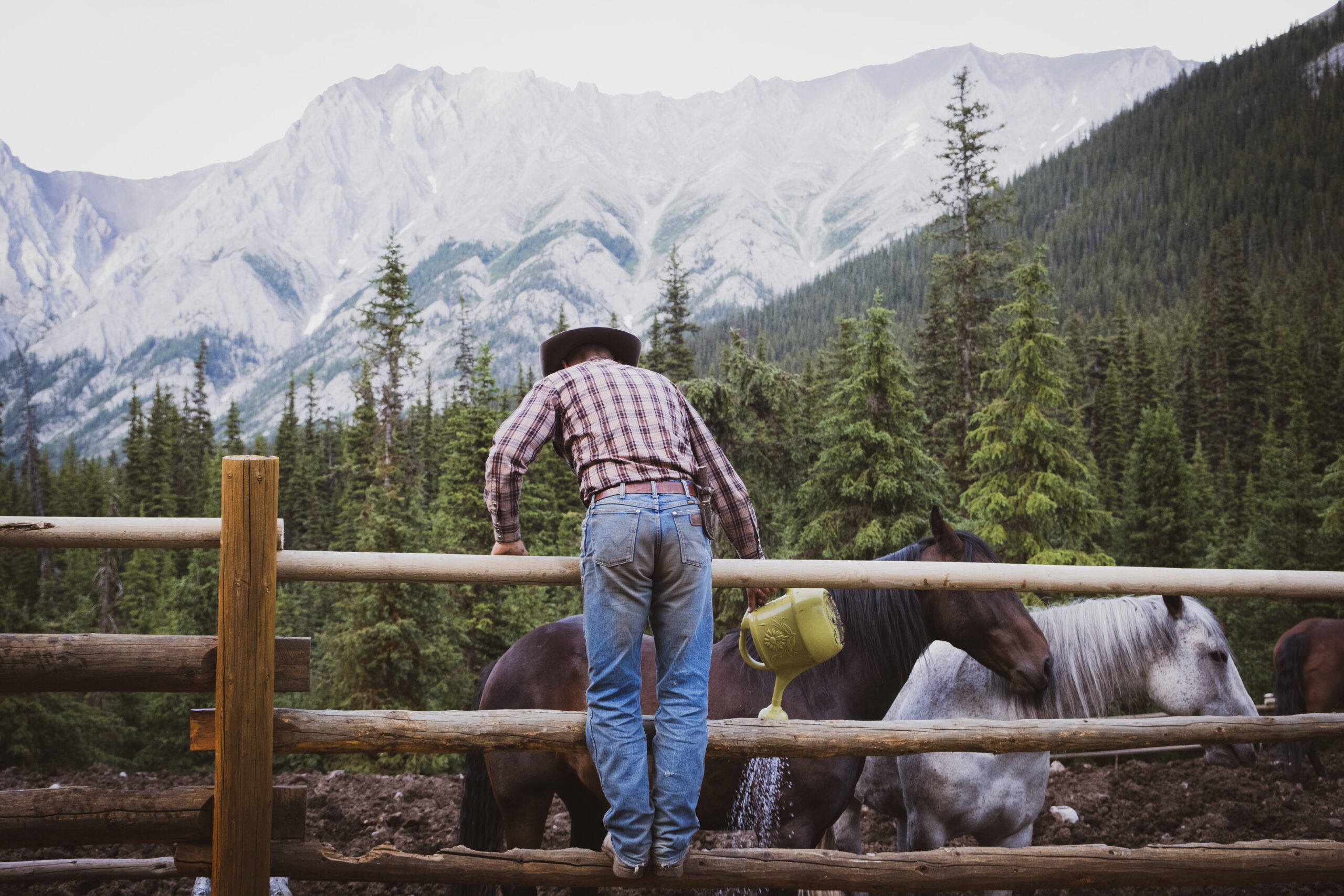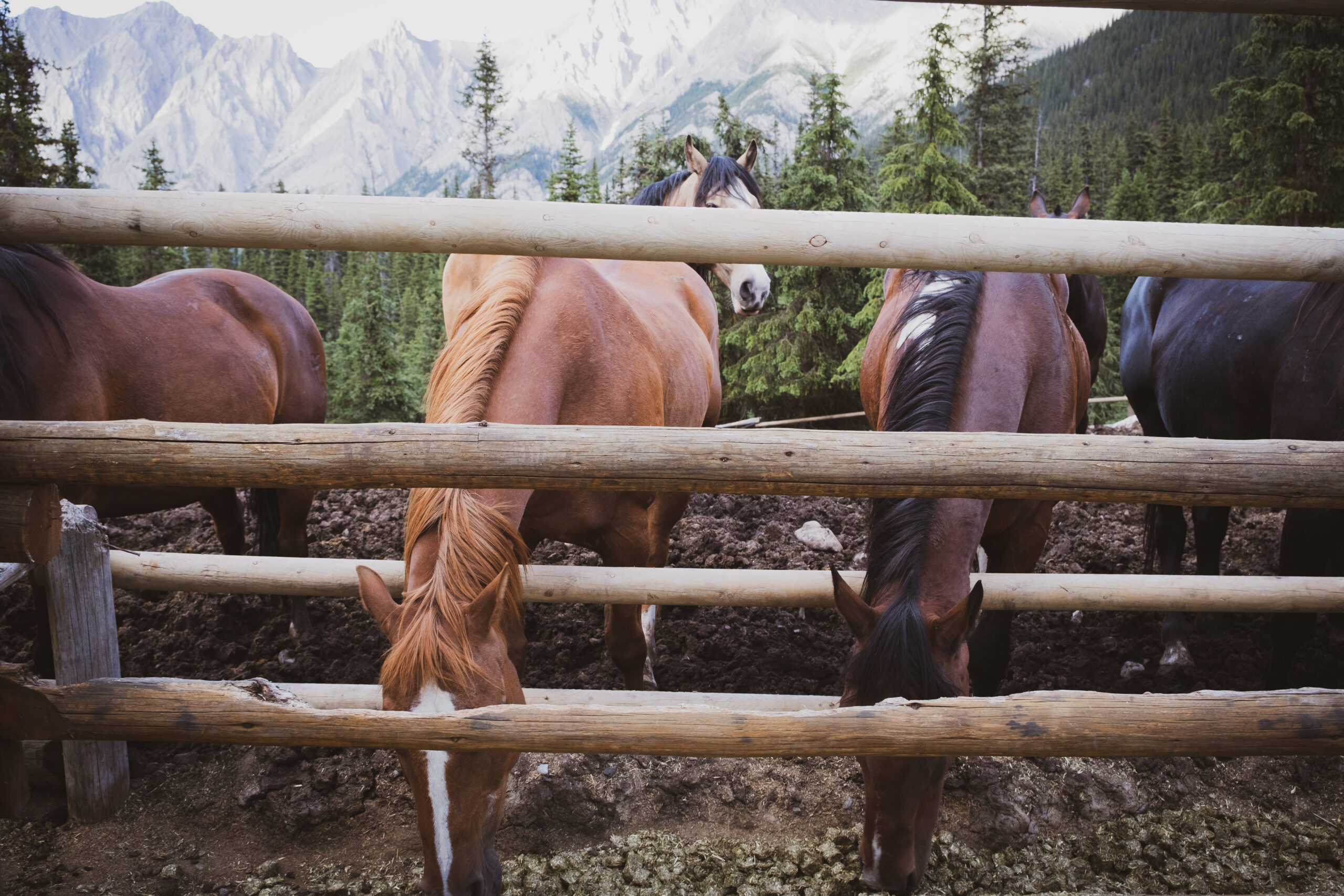 Although the highlight of the trip may be behind the fun on this backcountry horseback trip is far from over. After leaving Halfway Lodge, you'll make your way back to Sundance Lodge.
By now you and your horse will hopefully be best buds and your riding skills have improved. Don't forget to take in all the views that you may have missed on the way in!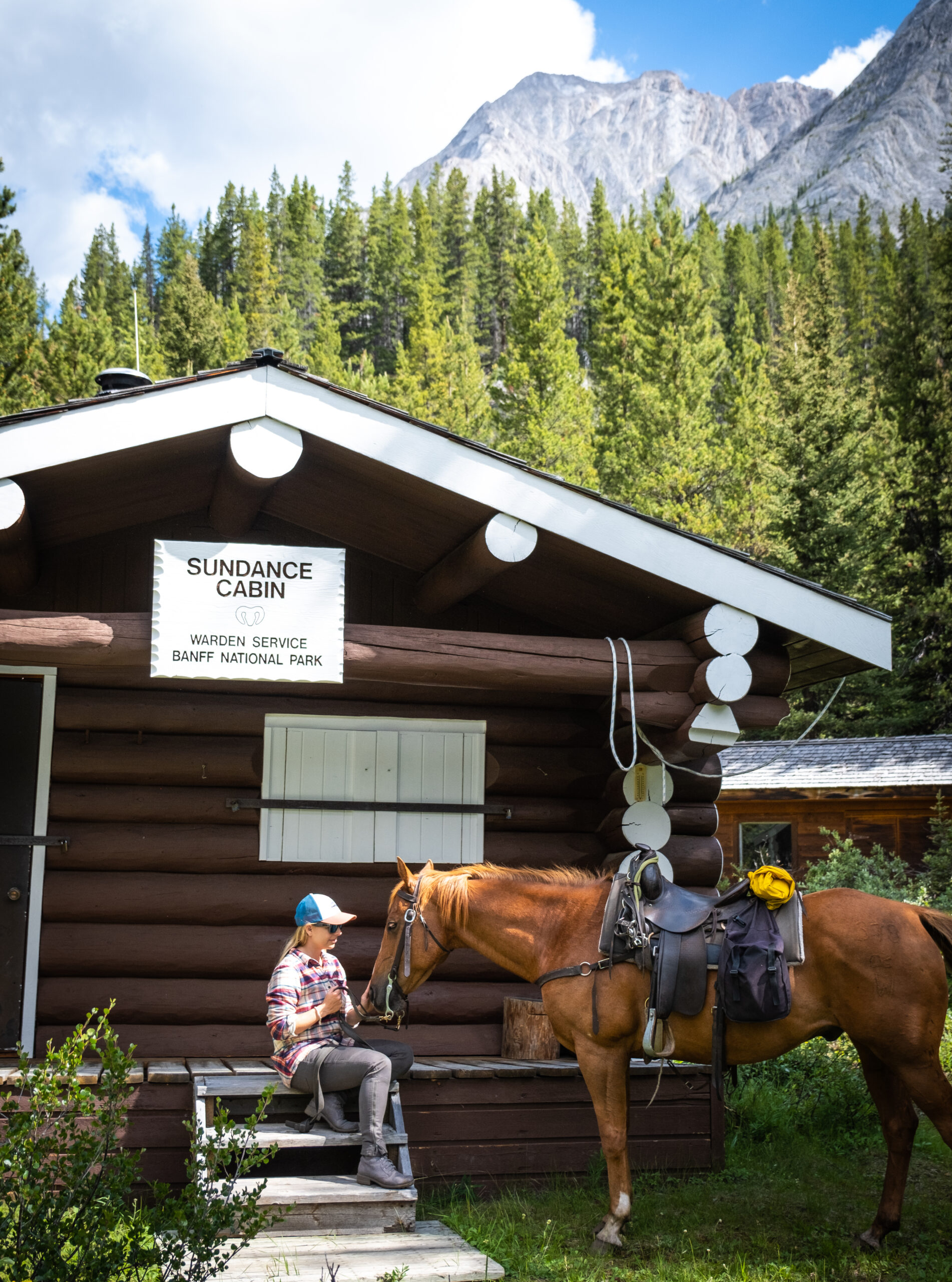 When we reached Sundance Lodge around 5pm we felt more than at home with our surroundings and our amazing travel group. This is where we all enjoyed the company and enjoyed our tales from the previous days while the sun set.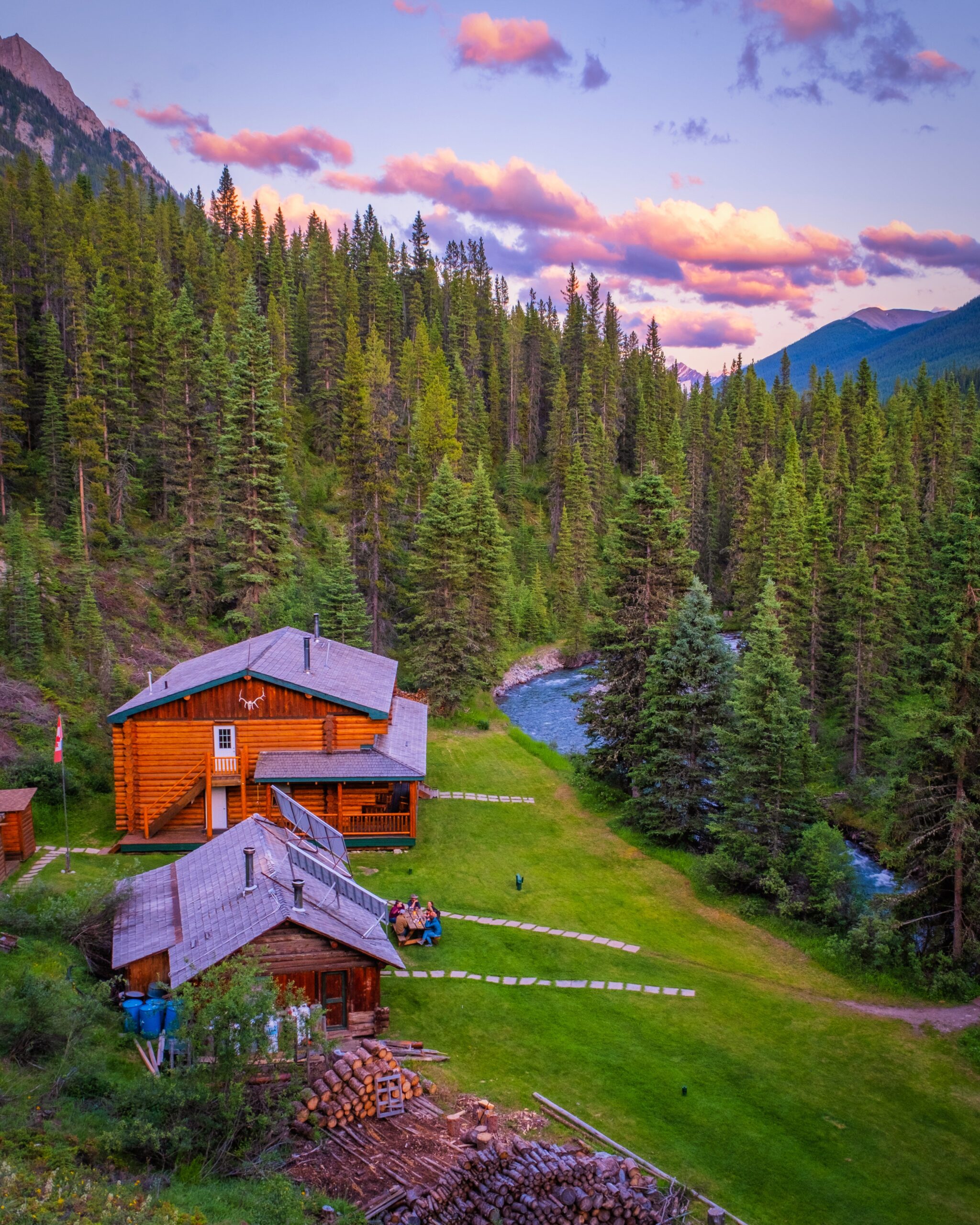 ---
Day 6 – Sad Farewalls (Back to Banff)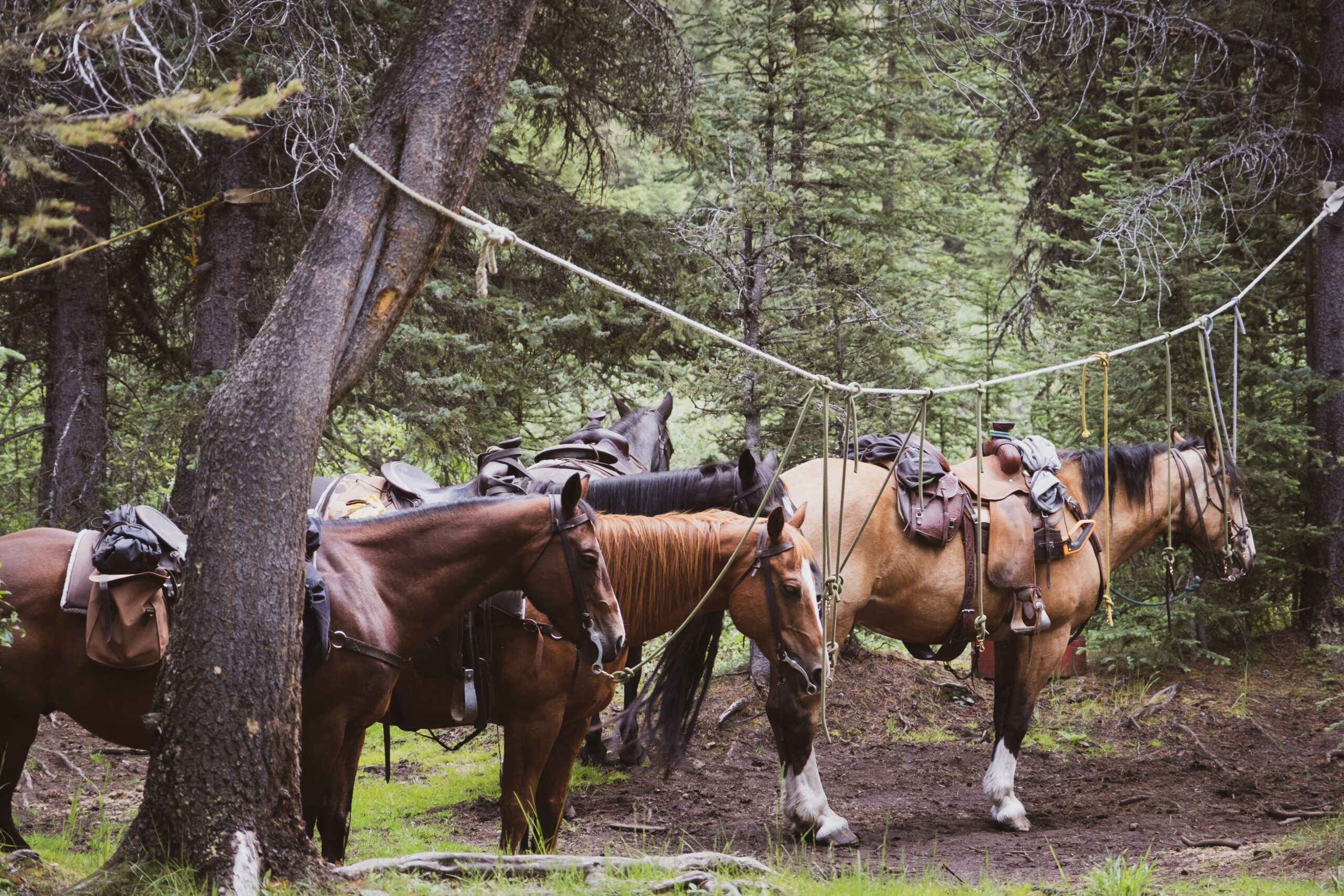 Our last day was a sad one for us as it meant our fantastic Backcountry on Horseback in Banff was coming to an end. After a few hours of riding, we stopped for one last lunch with our horses and group along Healy Creek before continuing along the winding river trails and thick pine forests.
We reached Warner Stables just before 5pm and said our teary goodbyes, wishing we could return to the backcountry immediately. While our horses were excited to be back home I know deep down they miss us dearly.

---
Things To Know About A Backcountry on Horseback in Banff
---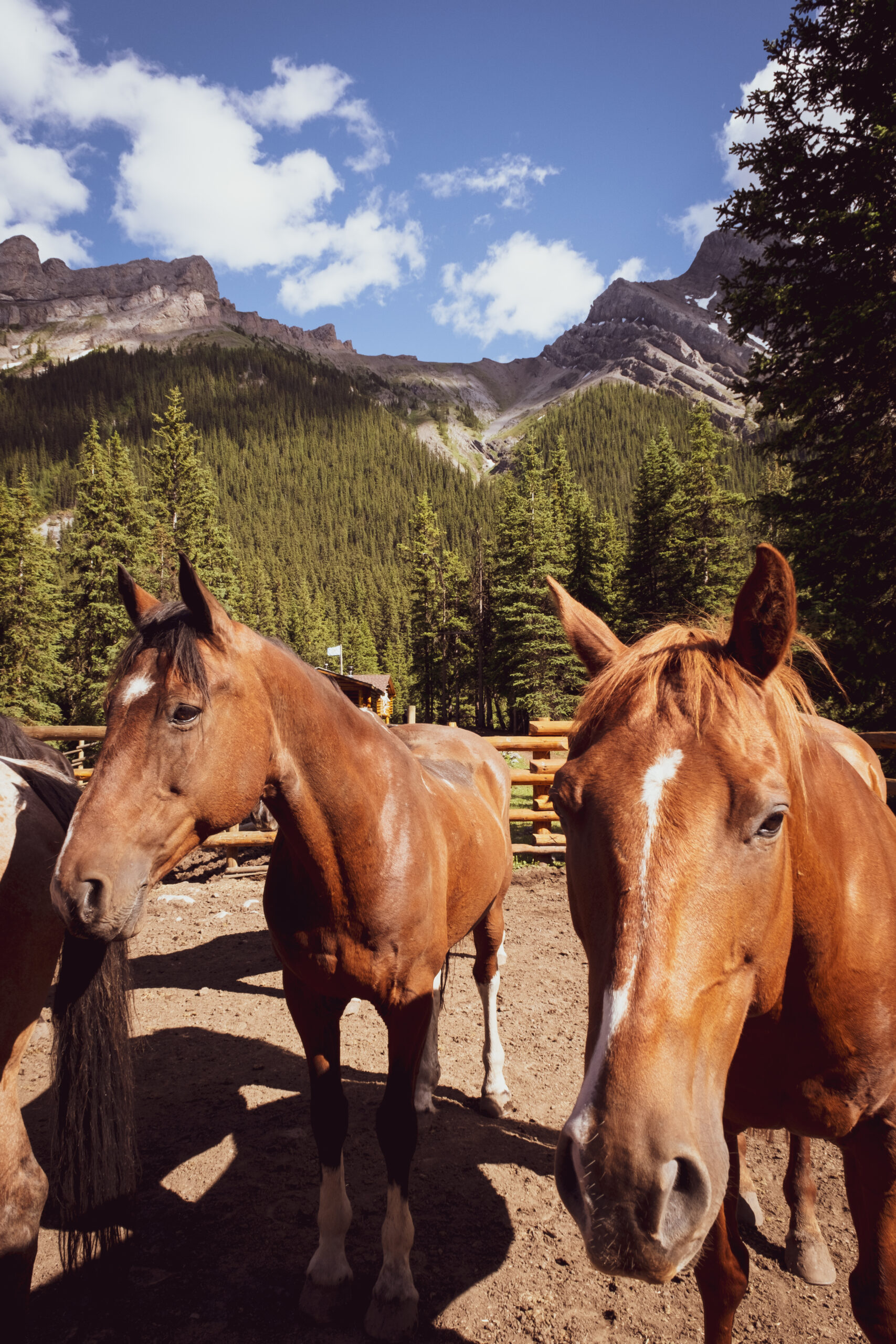 Is Experience for a Horseback Riding Banff Trip Necessary?
Experience on a horse never hurts, but it is not necessary for this trip. There is no galloping or trotting, and the horse maintains a mellow walk for the majority of the journey.
As long as you are comfortable actually on a horse, you will enjoy this trip. If you are a complete newbie or an experienced rider, make sure to tell Banff Trail Riders so they can match you to the perfect horse for you.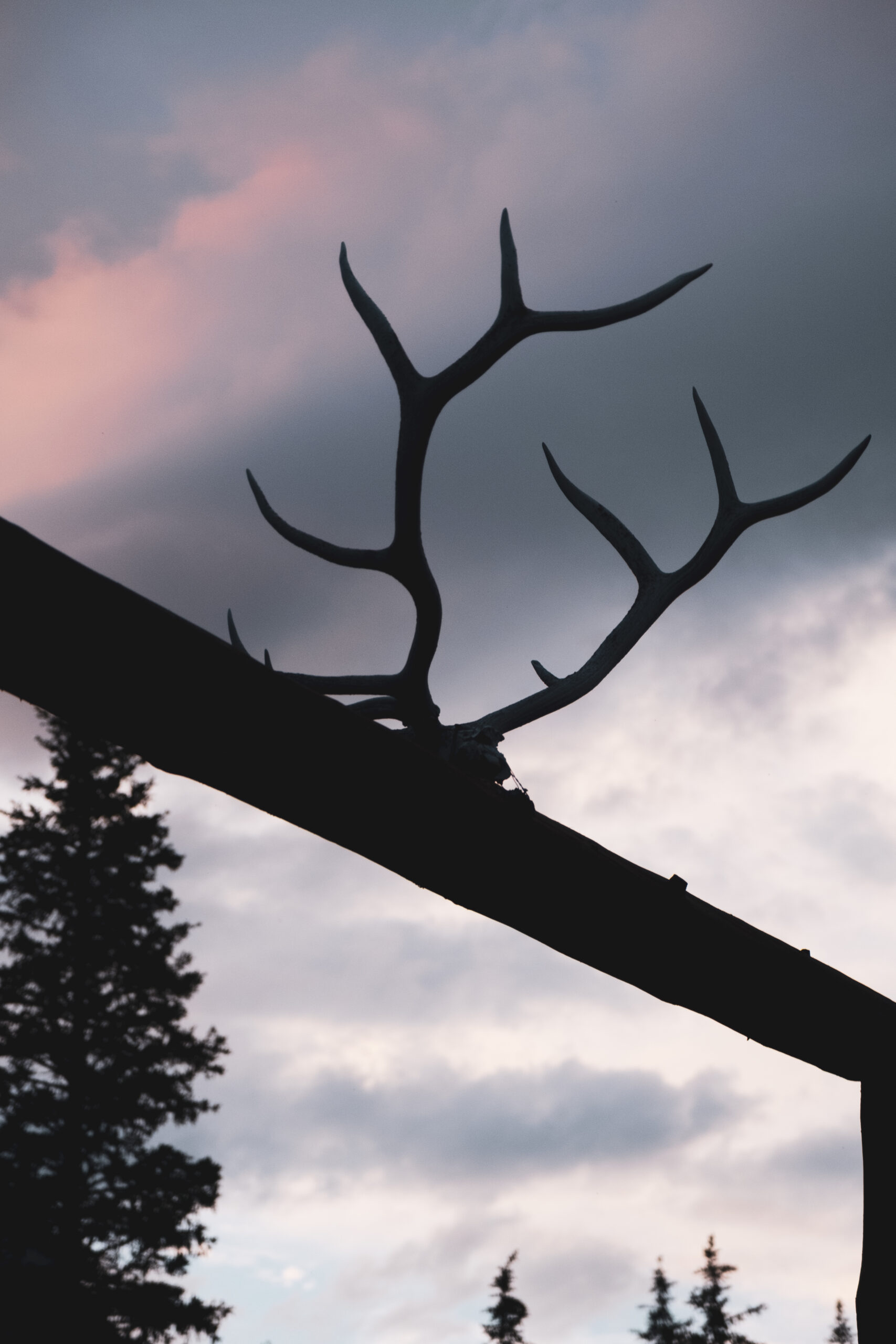 What all is covered on a horseback riding trip in Banff with Banff Trail Riders?
Pretty much everything except alcohol and gratuities. All meals, riding, activities, and lodging are covered in the rate!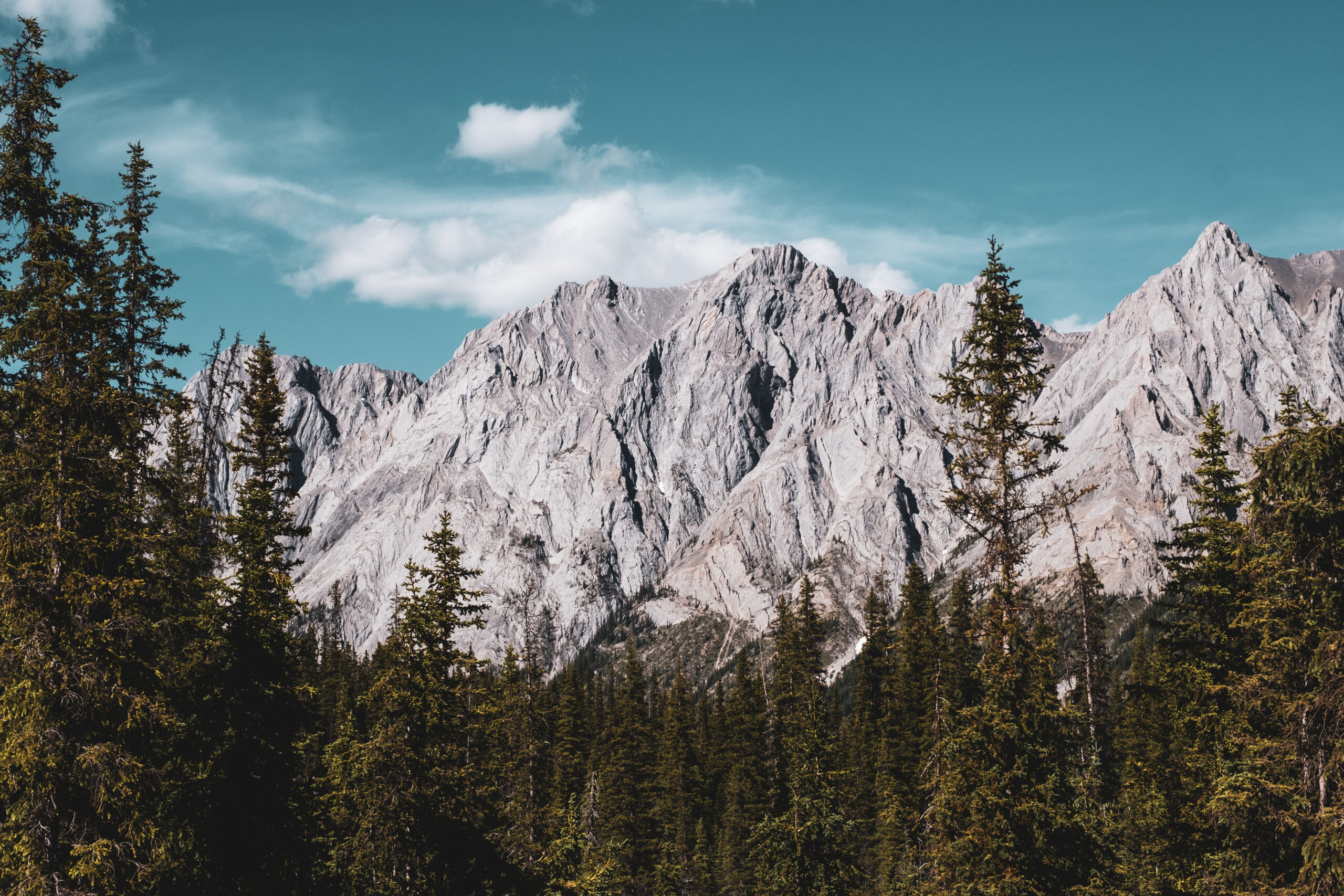 Are there showers on this trip?

There are showers at both Sundance and Halfway Lodge! Sundance is a typical shower, while Halfway is an outdoor backcountry shower with the most amazing mountain views. Both have hot water.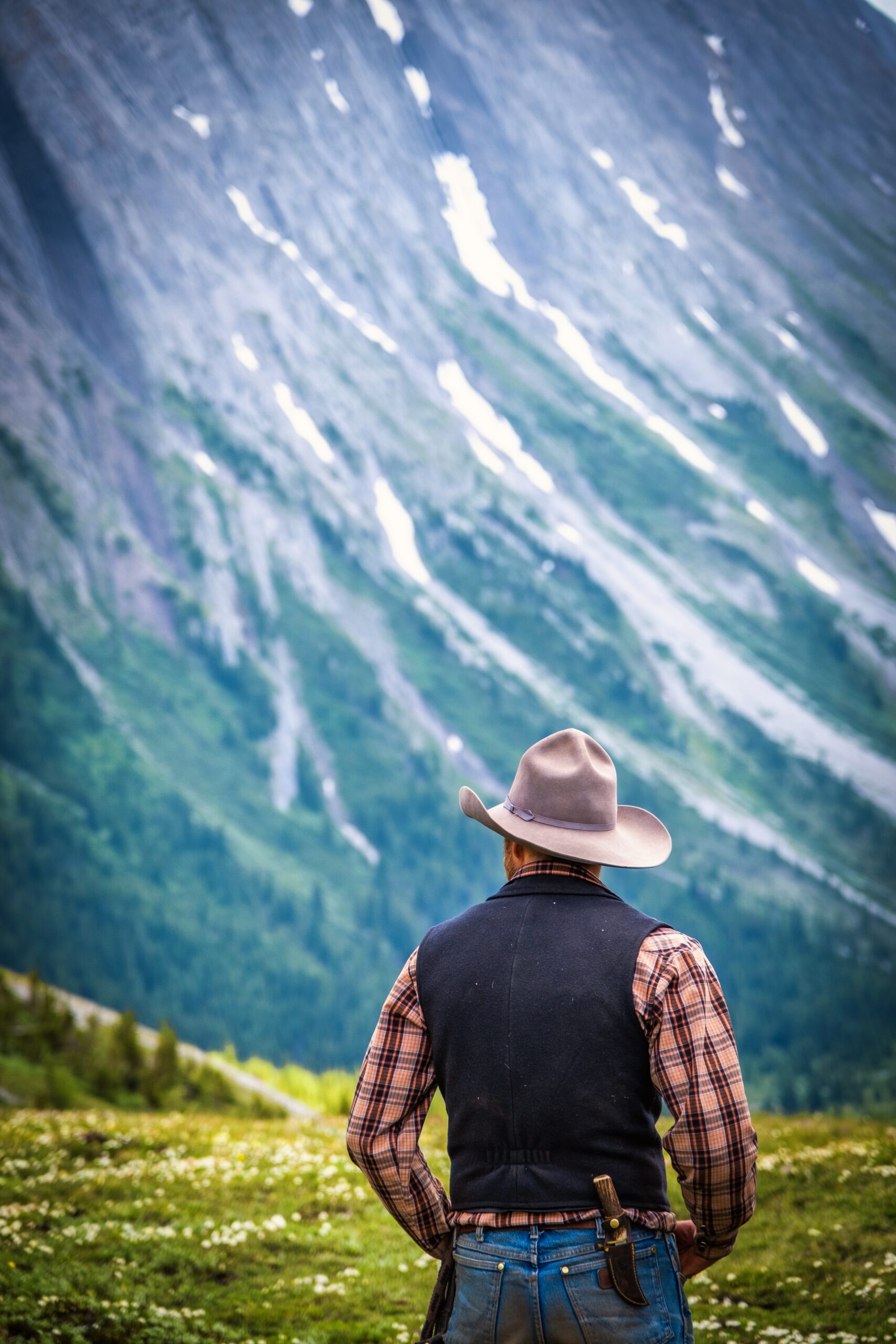 Is there WiFi?
Don't expect WiFi on this trip. You'll also want to bring portable chargers so you can keep your phone and camera charged for all the amazing photos you'll want to take on this backcountry horseback trip. There is nowhere to charge your belongings on this trip.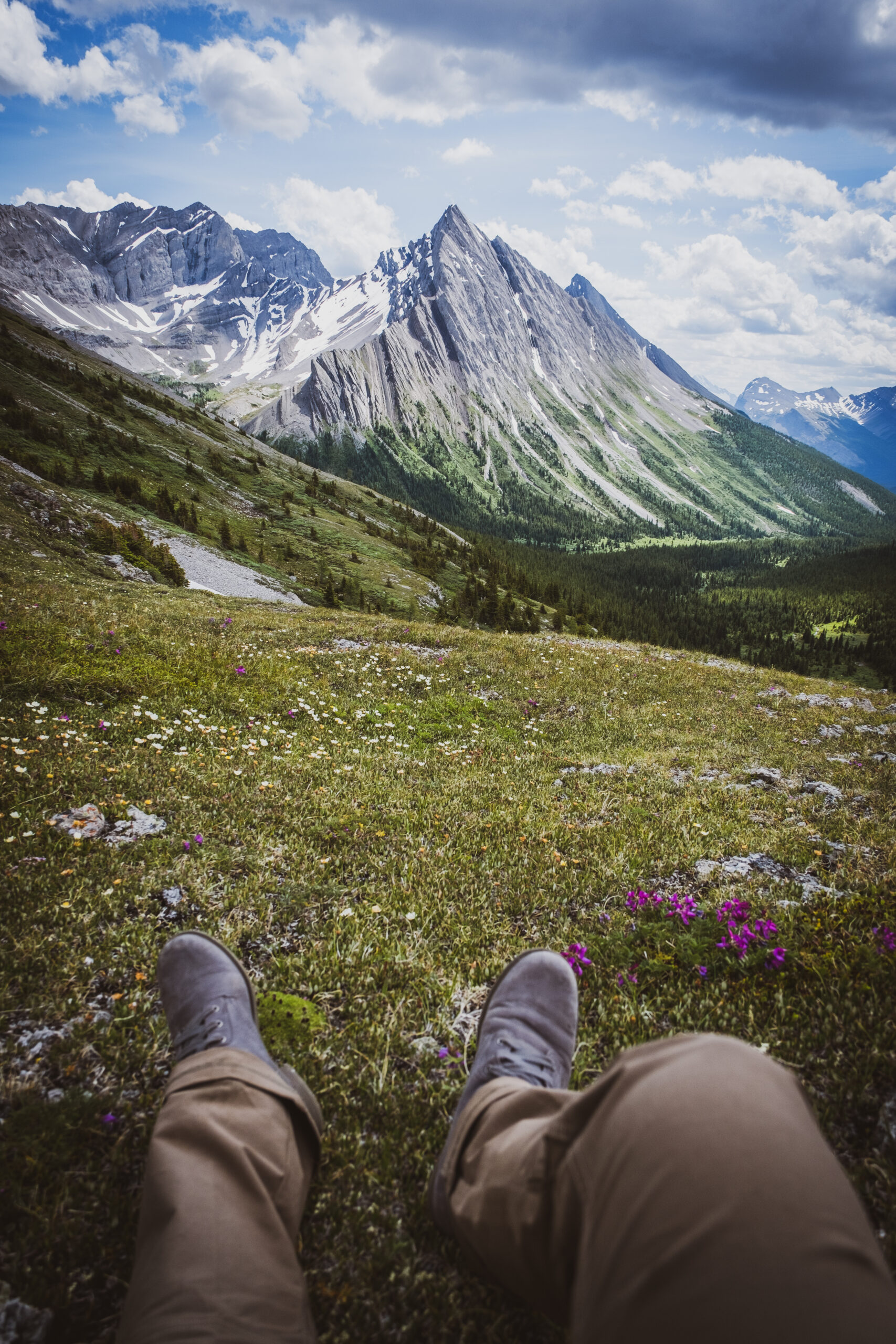 How old do you have to be?
Children 9 and up can enjoy this trip!
Should I be concerned about bears?
Bears tend to stay away from big groups that make a lot of noise, so the chance that you'll see one up close on your trip is pretty slim. Nevertheless, it's best to have bear spray for the hike portion of this trip. The staff have a few extra canisters of bear spray, but it won't hurt to bring your own. Especially if you decide to do any hiking.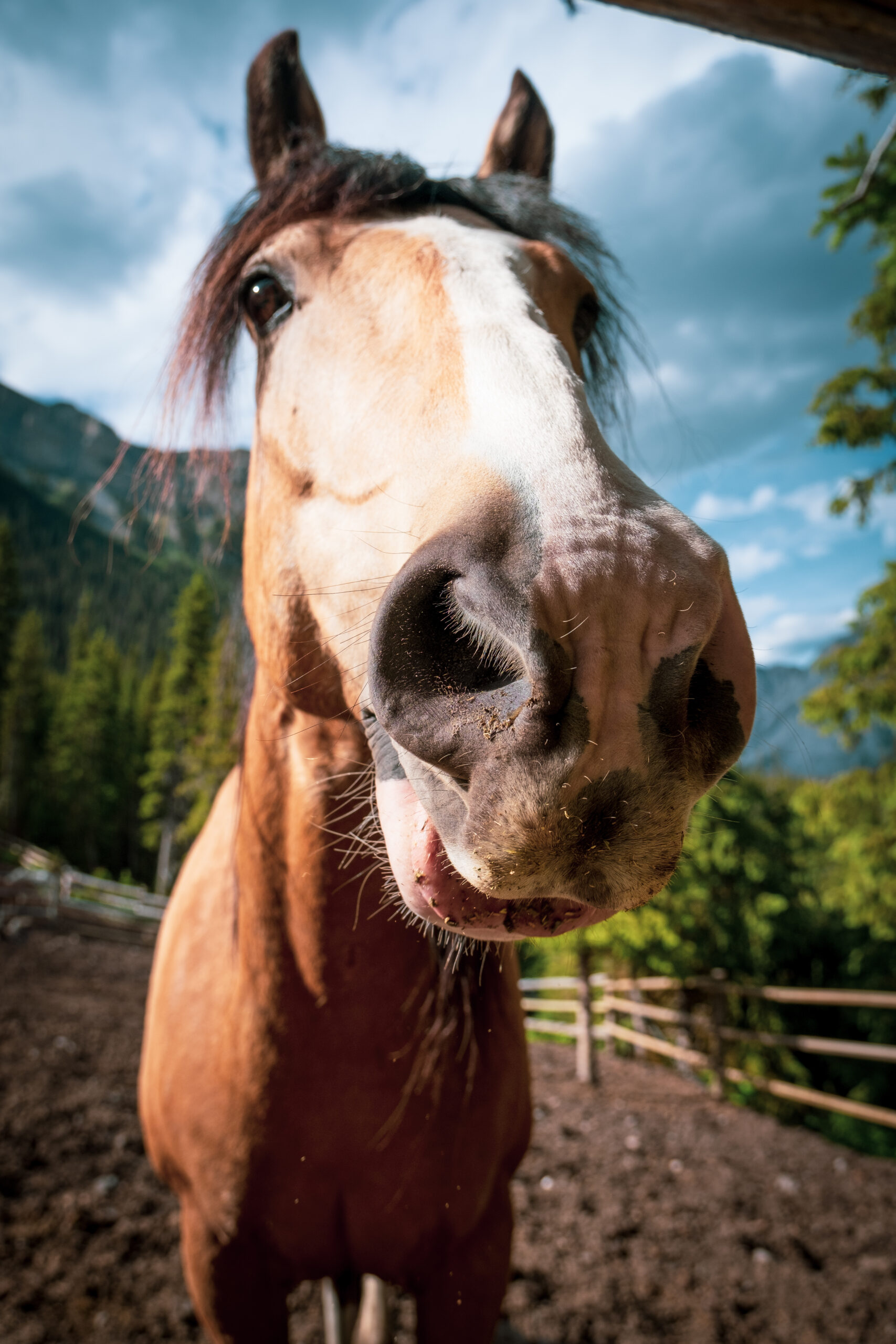 What kind of food is served?
Honestly, the meals are pretty hearty. Breakfast typically consists of oatmeal, eggs, and bacon. Lunches are either sandwiches or wraps (but you might get a steak or burger thrown in too!), while dinners are three courses.
We had chicken, beef, salmon, and pasta on our trip. However Banff Trail Riders caters to all diets (even vegetarians and vegans) – just let them know in advance!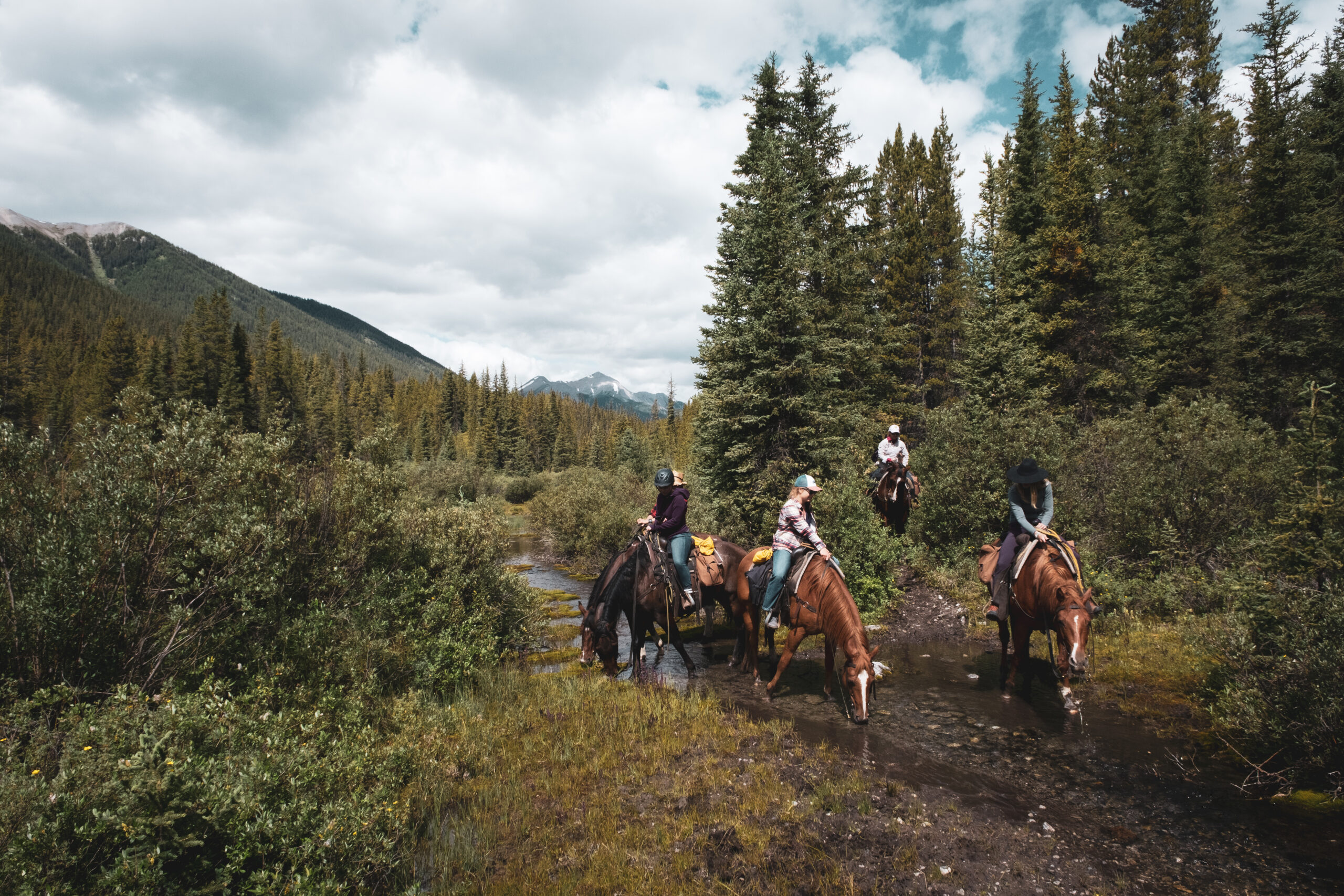 Are the horses well kept for?
I've been on a few horseback trips in my days and I can say without a doubt that these horses are living the high life. Banff Trail Riders has over 300 horses at their stables and each one has seen the horse doctor and dentist about ten times more frequently than I have.
They are fed regularly and drink from the streams and ponds that we cross on the trail. Although it may seem like they are ridden from sun up to sundown they actually only ride with humans on their back for about 2 hours at a time before resting.
When is the best time to go on this horseback backcountry trip?
Banff Trail Riders operates this trip from June to September, however the warmest weather will be in July and August. Make sure to check out the best time to visit Banff to see what the weather will be like.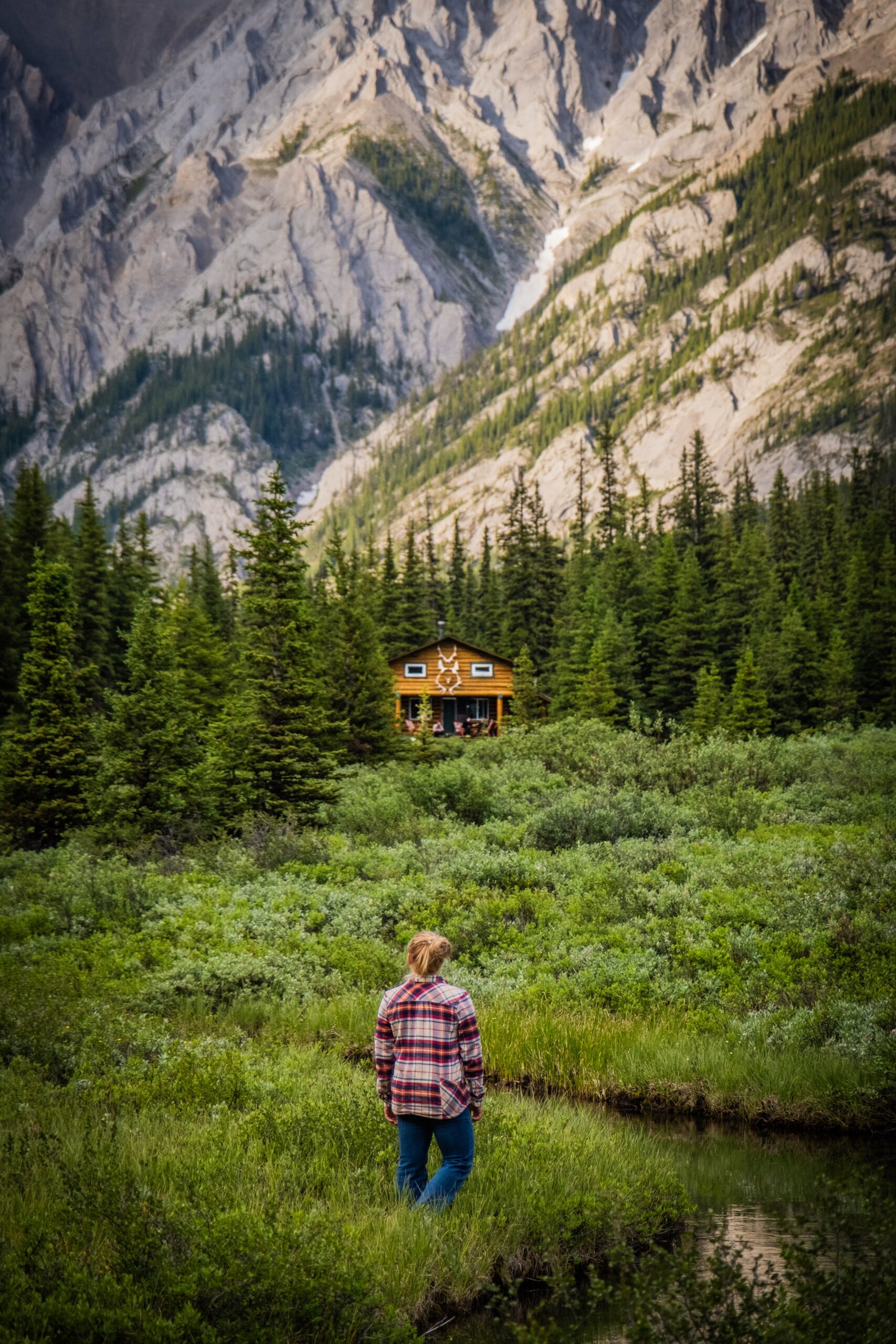 Do I have to go for five nights?
Banff Trail Riders operates backcountry trips that range from one night to five nights. However if you have the time I would highly suggest the five-night trip. I can say with confidence that one night would be way too short and will leave you wanting more.
If you're going for three nights you may as well just extend, spend more time off the grid and enjoy five nights in the backcountry. Trust me time will go by quickly! Although I'm typically ready for civilization after camping, I truly didn't want the trip to end after five nights!
What if I want something a little more rustic?
While the lodge stays are still pretty rustic, it is possible to get even more into nature. Banff Trail Riders operate tented camps in the summertime in the Cascade Valley.
Is this horseback riding Banff trip crowded?
Groups are limited to low numbers and once you leave the Town of Banff it's unlikely you'll see anyone else outside of your group. Perhaps a random hiker every now and then, but that.is.it! It's the perfect trip to social distance yourself and get back to nature.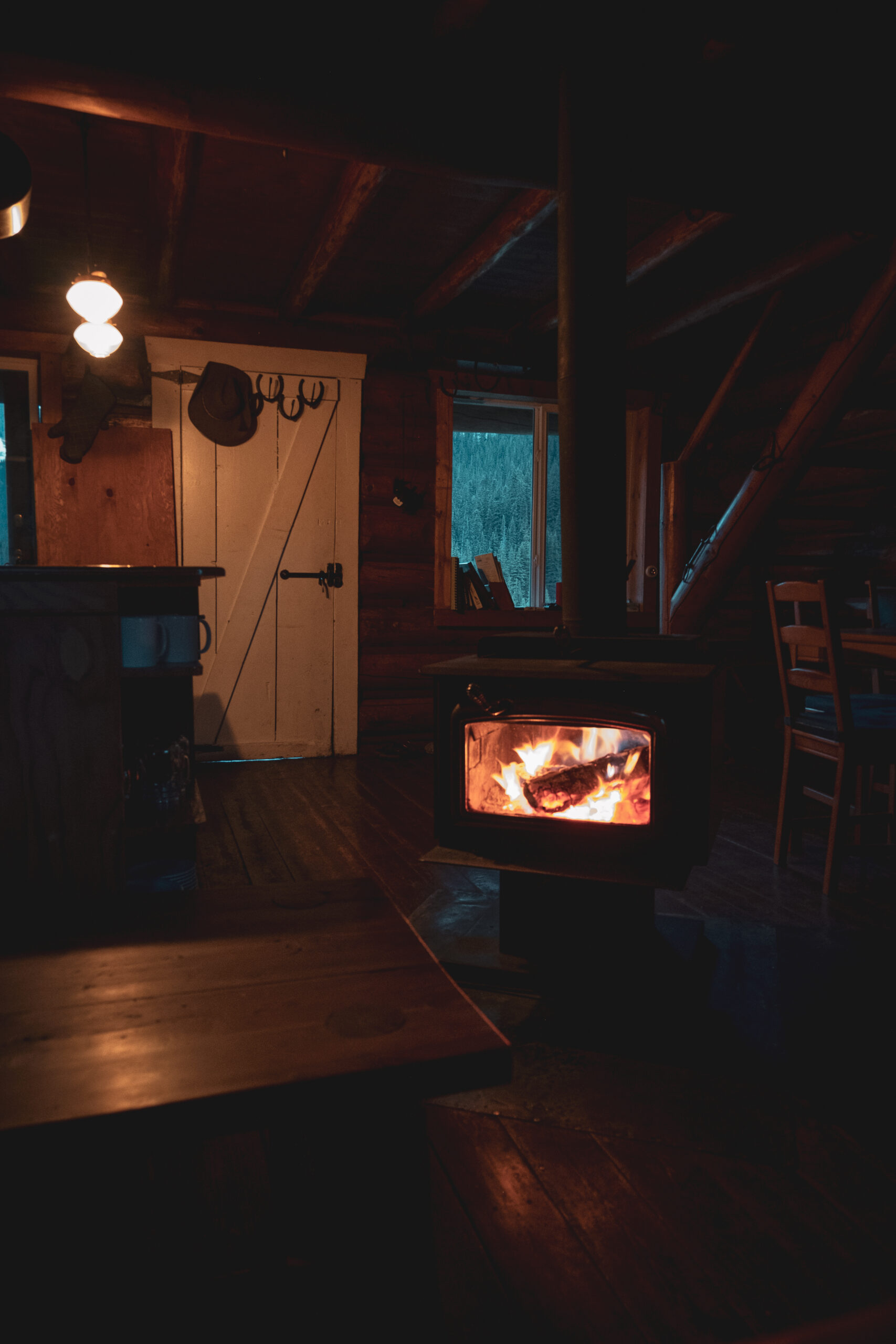 What should I bring on this Backcountry on Horseback in Banff?
Some staple items I would suggest bringing are jeans, boots with a heel, sandals or slippers for downtime at the lodge, a flannel, jacket, and a cowboy hat. If you plan to go hiking make sure to bring your hiking shoes, shorts or leggings, a lightweight shirt, and a small hiking backpack.
Of course, don't forget your waterbottle and a camera with plenty of batteries. You'll also find a nice book helpful as there is plenty of downtime with no WiFi.
Remember that all your belongings need to be packed in a 30 lb duffle bag. No suitcases are hardside bags are allowed as literally everything transported to the lodges is done on the backs of mules.
---
More About Horseback Riding With Banff Trail Riders
---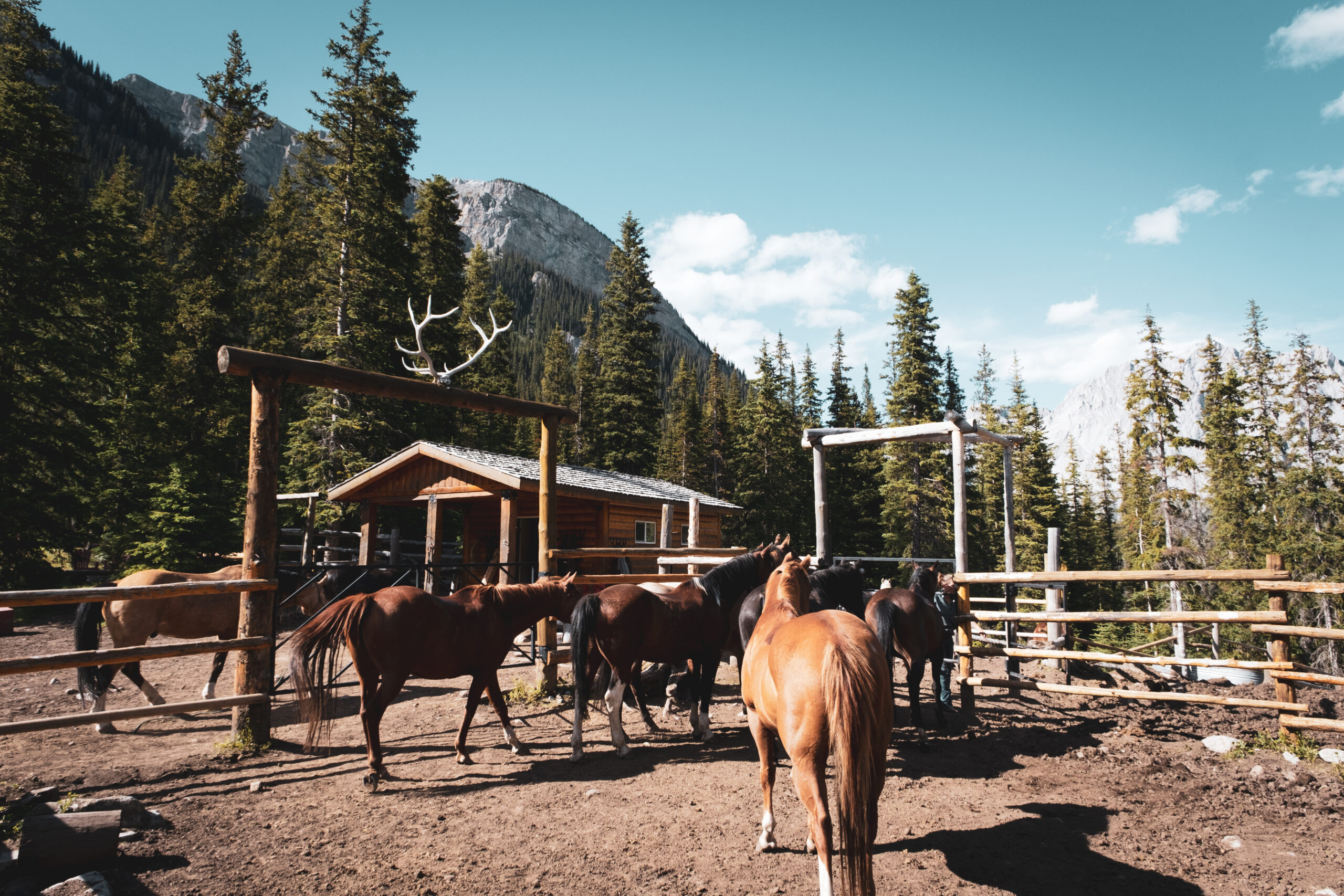 Living in Canmore, I knew there were stables in Banff that would take tourists out on horseback riding trips around town. Particularly in the winter when the draft horses bring visitors around Banff in a romantic sleigh. I had been to Warner Stables before for their Christmas celebrations, but I honestly knew very little about the company.
After this trip, I realized that the operations at Banff Trail Riders is the real deal. What you see at the stables is real life, not just a tourist gimmick. Employees wear cowboy hats, boots, and chaps, and the packers that pack all the mules are strong as can be. Every employee knows how to properly ride a horse, and most of the guides grew up on ranches of their own.
Banff Trail Riders have over 300 horses they look after and is the largest operation of its kind in Canada. What's really cool is that the company is run by a woman. Julie, is the ultimate girl boss here and an expert at running an awesome local company.
Many of the guides are women too, including ours, Erica, who told us tough cowgirl stories of past broken bones and injuries from her horse years that make me feel like a complete wussy.
What I loved most about this whole trip is that we were experiencing Western Canada the way pioneers used to in the 1800s. We navigated the same trails through the wilderness and rode up the same steep terrain that mountain guides like Bill Peyto took. It's truly a trip that takes you back in history through one of the world's most beautiful areas.
---
---
↓ Join the community ↓
The Banff Blog Facebook Group is your headquarters for the Canadian Rockies' travel advice and information. Including hike info and off-season travel information. You can also meet new adventure buddies.

---
Plan Your Trip to the Canadian Rockies