So you are planning a fantastic trip to Banff National Park and now wondering when the best time to visit Lake Louise is and what the Lake Louise weather is like? Well, that question is entirely subjective to what you want to do. Though, in general, the best time to visit Lake Louise is between June and September. If you want to ice skate on Lake Louise and feel like you have stepped inside a snow globe, the best time to visit Lake Louise is the winter, between December and April.
I love visiting Lake Louise in both the winter and summer. Unlike nearby Lake Moraine, Lake Louise is open and accessible year-round and fantastic most of the time.
I've visited Lake Louise every month, usually multiple times, and the experience during each one is entirely different. Let's dig into the best time to visit Lake Louise, with the Lake Louise weather every month accompanied by photos taken during that month.
---
When is the Best Time to Visit Lake Louise?
---
Lake Louise Weather in January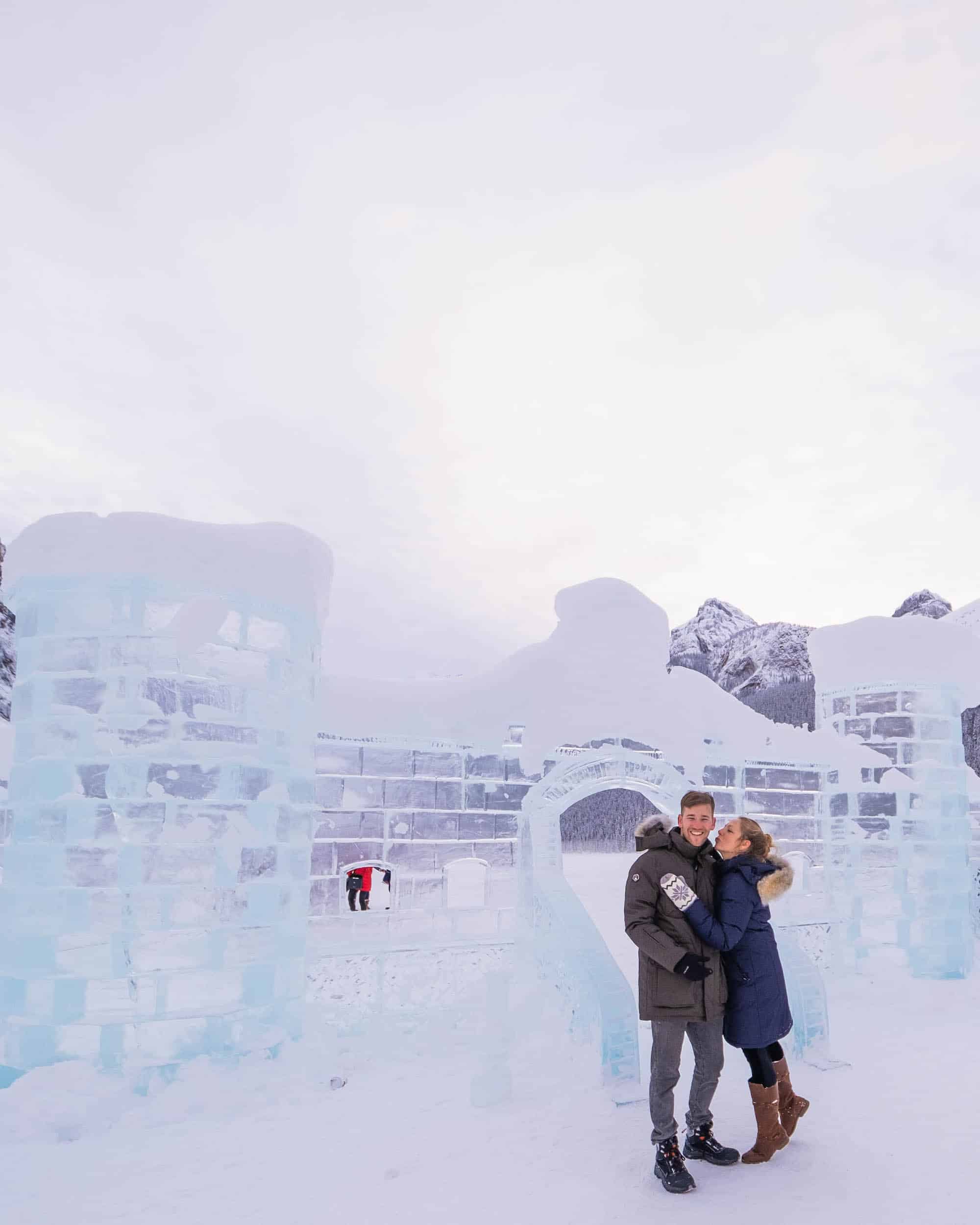 Expect Lake Louise to be cold and have a lot of snow in January. The average Lake Louise temperature is -5°C, but you will likely get some beautiful sunny days in the winter. Because of its location in the mountains, you'll want to get to Lake Louise earlier in the day rather than later. Sometime around 10 a.m. will give you optimal sunshine on the lake.
It's a great time to bring or rent ice skates or walk on the frozen lake. Thankfully, when you're feeling cold, you can duck into the Fairmont Château Lake Louise and warm up with hot chocolate.
Also, make sure to check out the Ice Magic International Ice Carving Competition that happens every January – it's one of the best Banff festivals! If you're a skier or snowboarder, now is a great time to head to Lake Louise Ski Resort for some turns too!
---
Lake Louise Weather in February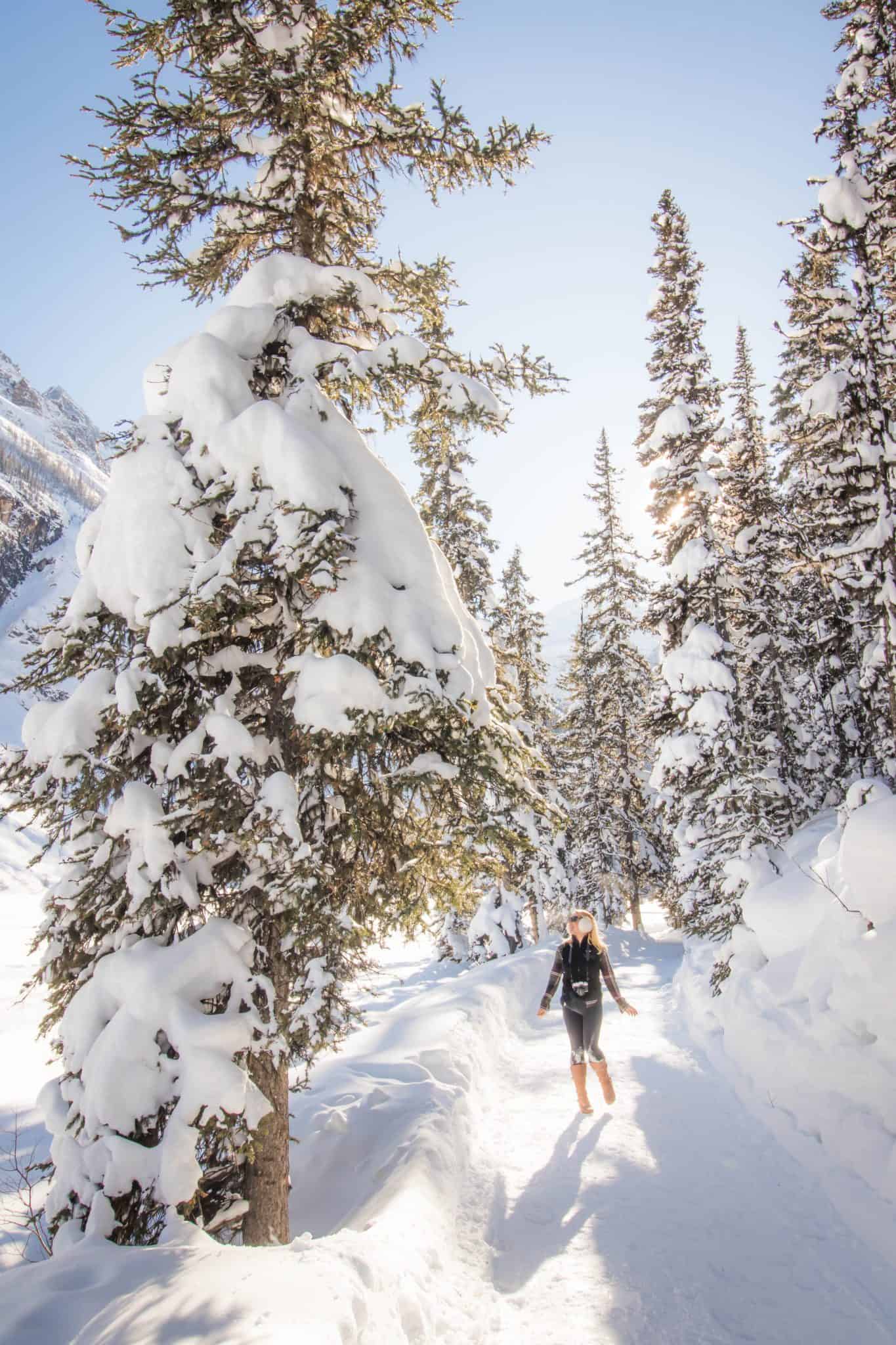 There's very little change between January and February at Lake Louise. It's still cold, and it's still very much winter. Lake Louise will remain frozen for another few months. It's an excellent time to walk around the lake, ice skate, and drink hot chocolate at the Fairmont. The days are still short, but they are getting longer, so you can maximize your time at Lake Louise.
Temperatures are still low – very low. It's one of the coldest times to visit Banff and Lake Louise, but it's one of the best times to visit Lake Louise if you want to ski epic powder at Lake Louise Ski Resort!
It's still a great time of year to spend days on the slopes and nights back at the lodge warming up.
---
Lake Louise Weather in March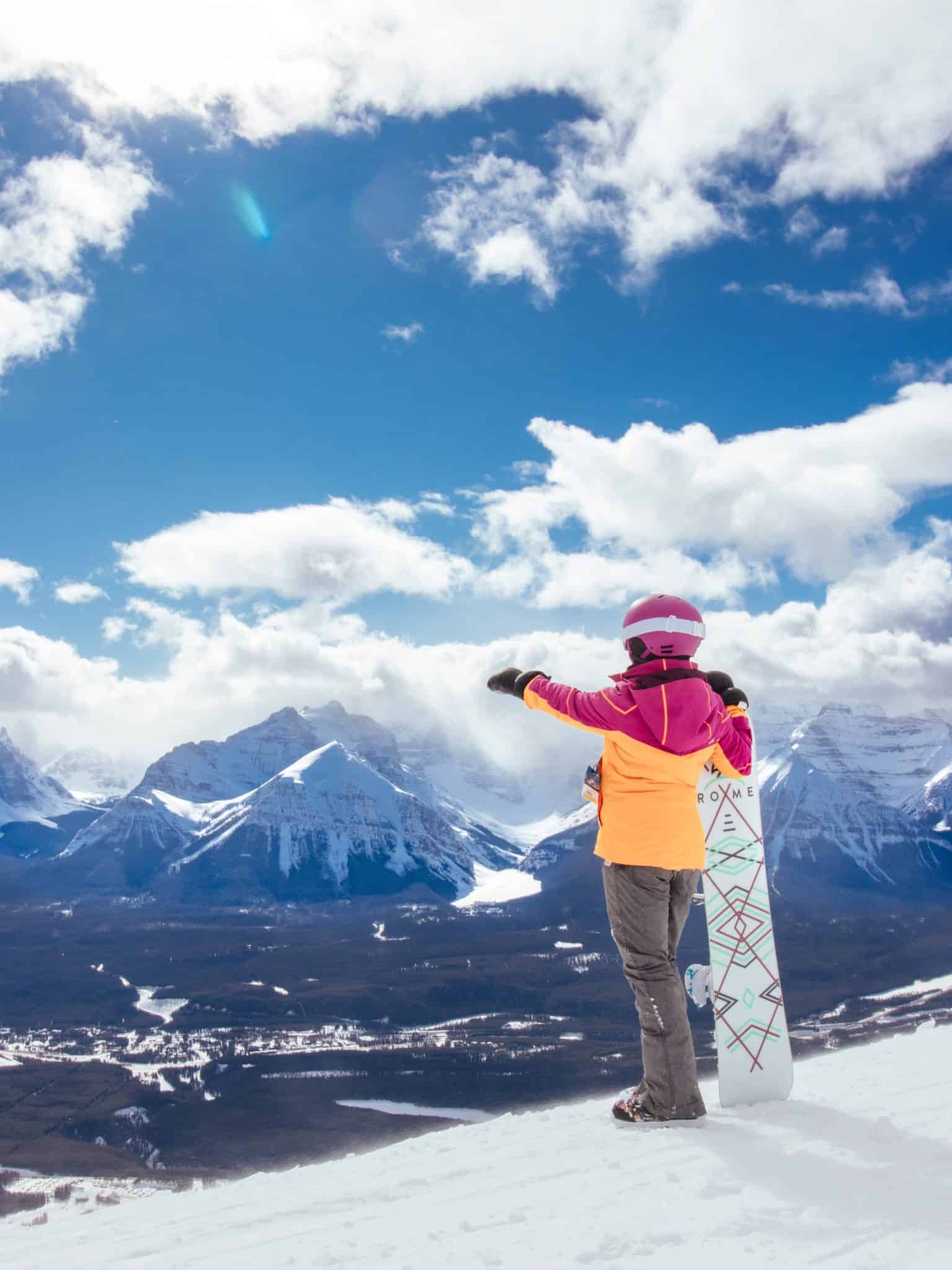 The average temperature in March creeps above freezing (finally) up to around 4°C. The sun shines over the mountains this time of year (almost 12 hours a day), and the snow glistens, but it is still very much winter at Lake Louise. Ski season is still in full swing; you'll probably still get some epic powder days if you go skiing at Lake Louise Ski Resort.
You can still skate on Lake Louise, snowshoe around the lake, or enjoy a dog sled ride like January and February. A great winter hike in Banff is up to the Fairview Lookout, which looks over Lake Louise.
If you like the snow and the feeling like you are inside a snow globe, March is an excellent time to visit Lake Louise. It's definitely not a bad time to travel to Lake Louise if you're a powder hound, either.
---
Lake Louise Weather in April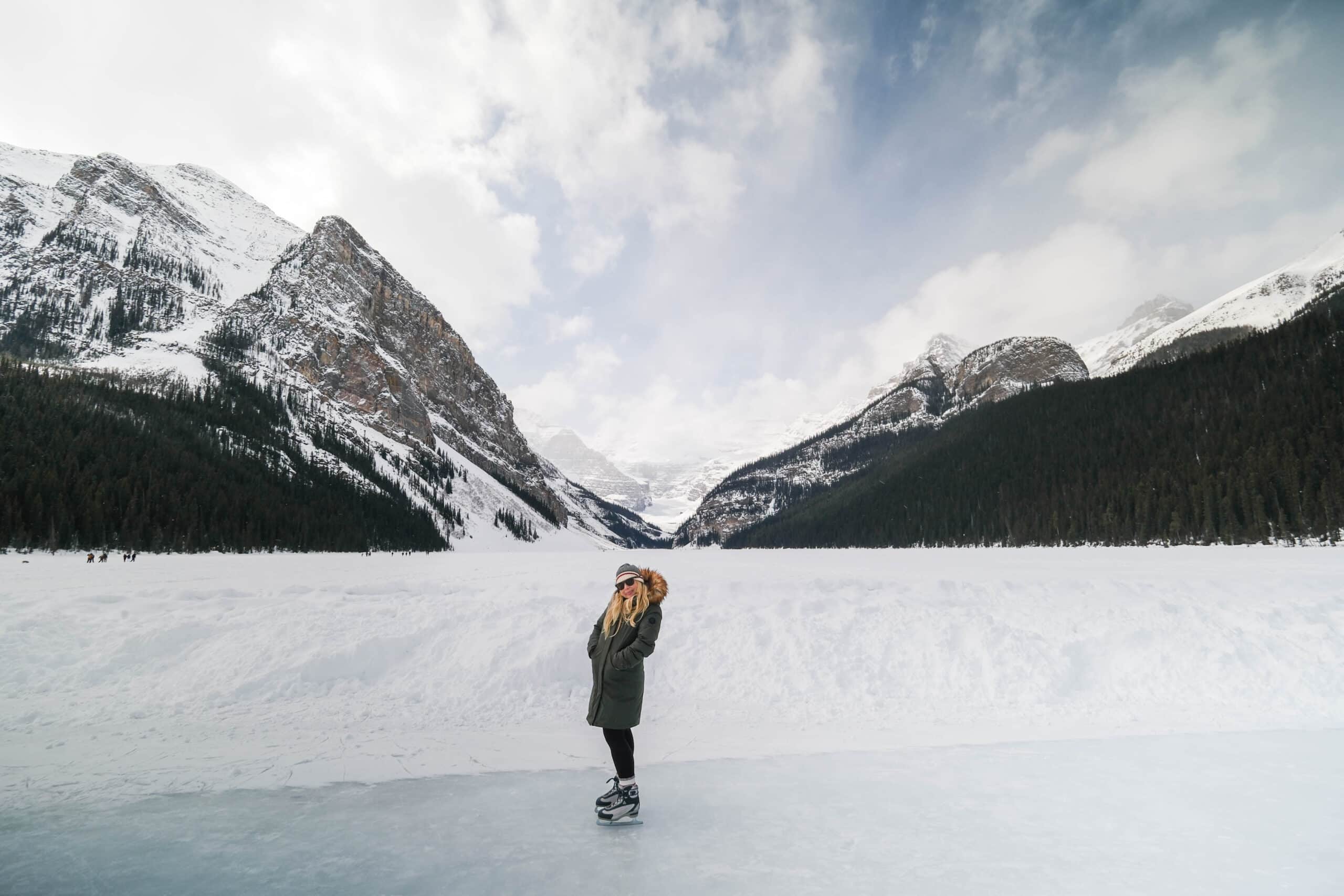 Sadly, I'm here to report that the weather in April in Banff is still very much wintery, especially in higher-up elevation places like Lake Louise. Overall, it's not the best time to visit Banff.
That being said, Spring is starting to show up, especially towards the end of the month. The average temperature is 11°C, and the snow is beginning to become slushy and spring-like. You can still walk on the frozen lake and skate.
Although in your heart and mind you expect the weather to be warm in April, you have to remember you're in the Canadian Rockies, and it's winter for what seems like nine months out of the year. Remember to pack warm clothes. A down jacket, gloves, hats, and boots, can make all the difference.
---
Lake Louise Weather in May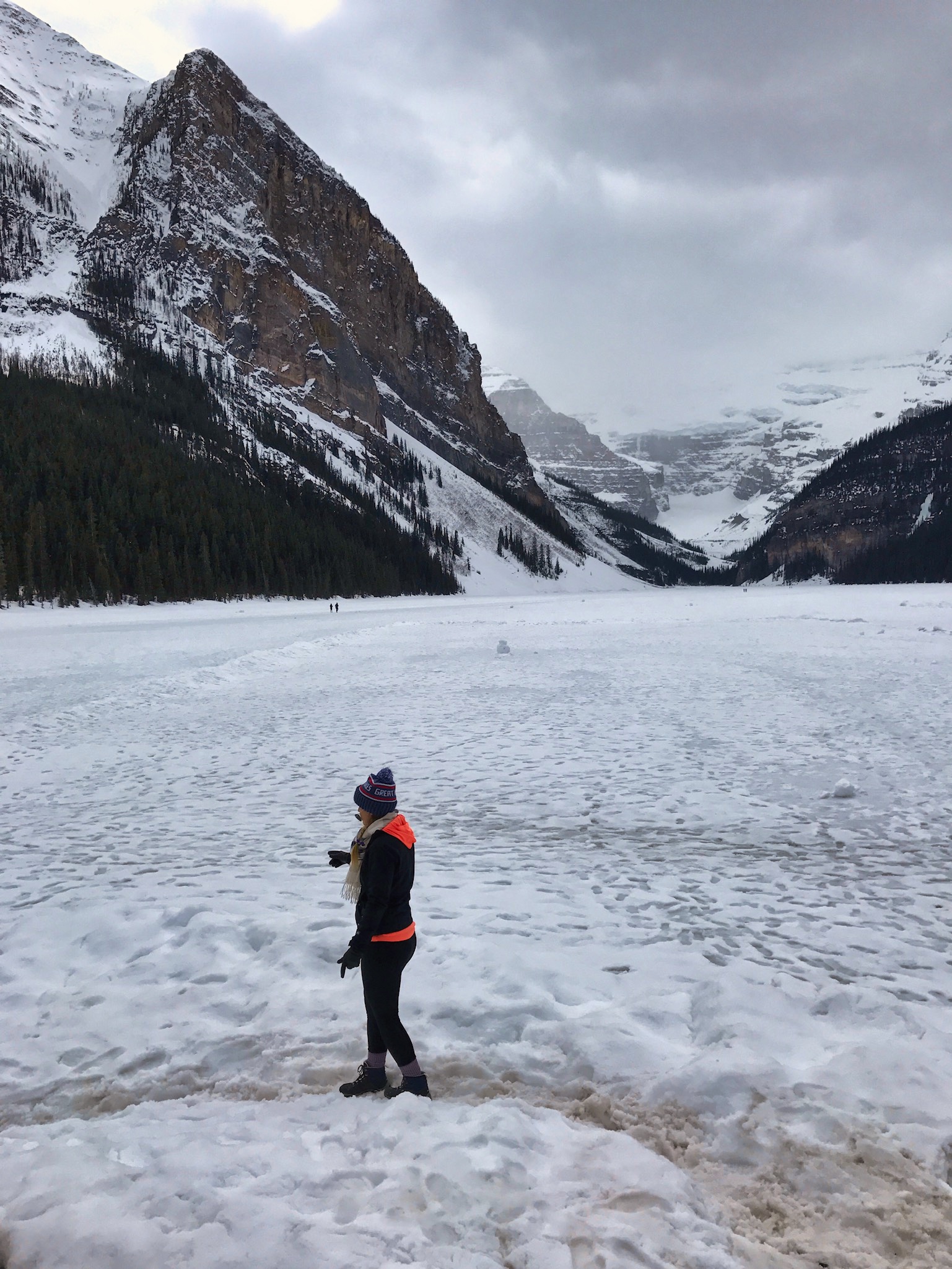 It's almost full spring in the Canadian Rockies. Temperatures are creeping up, and there are a few excellent and warm days in Banff in May. Lake Louise, at the earliest, will be completely thawed by the last week of May. However, it really all depends on the year and you shouldn't expect it to be anywhere near its brilliant blue even if it is thawed in May. In 2020, Lake Louise did not melt until June.
If you're visiting Lake Louise in early May and wondering if Lake Louise is frozen, it is – with lots of snow in the surroundings. It's also the last month of the season for the ski resorts, so if you want some excellent spring conditions, head to Lake Louise Ski Resort the first week of May.
Hiking up the Lake Agnes Teahouse or the Little Beehive won't be ready until the last week of May, but you might have to wait until June, depending on the year.
I've gone the first week of June, and it's been a glorious hike and gone the second week of June and had to battle snow. Good alternatives are the hike up to Mirror Lake and the hike to Fairview Lookout.
---
Lake Louise in June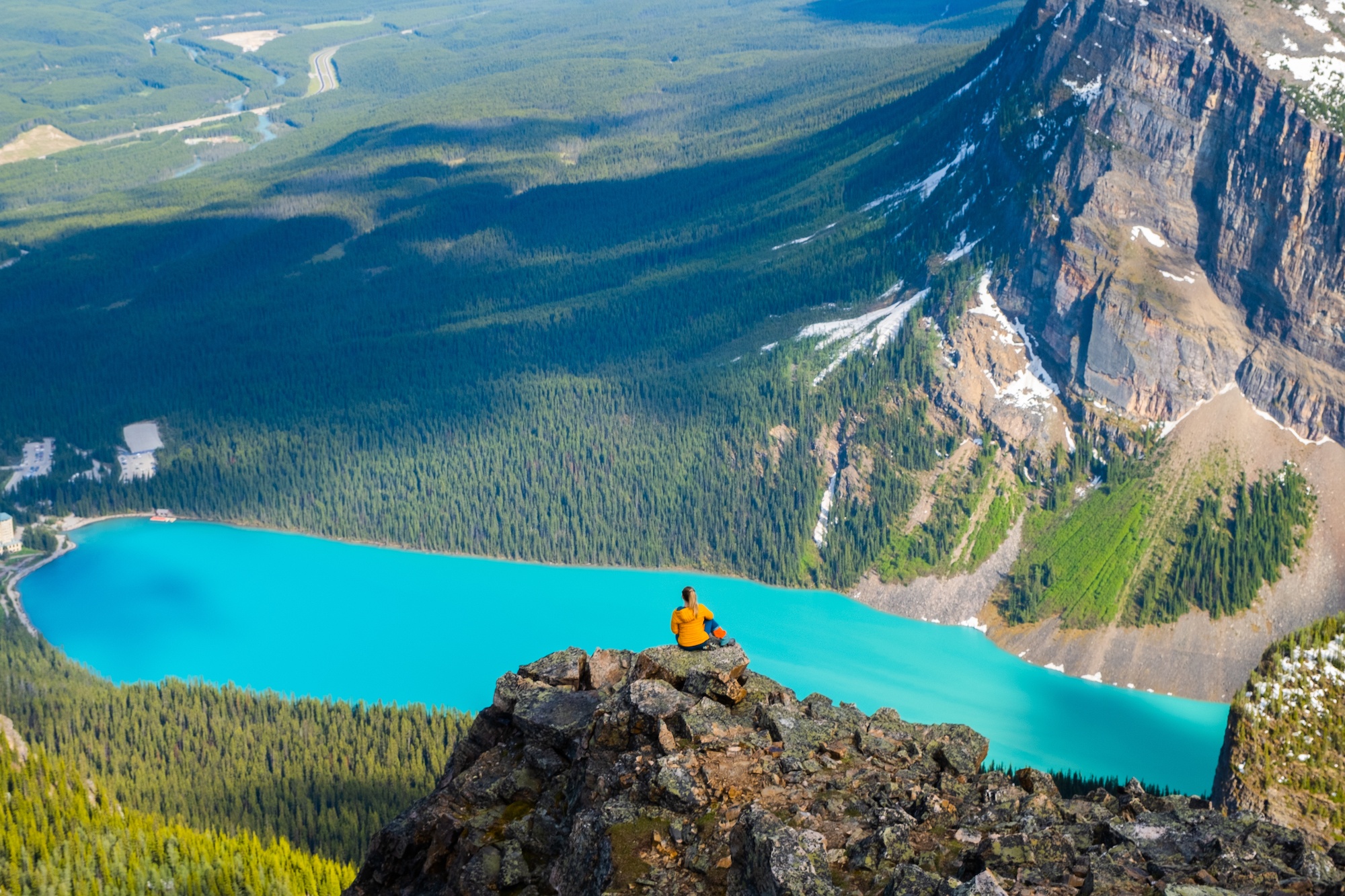 Yay! Summer is finally here at Lake Louise. June is one of the best times to visit Lake Louise, in my opinion. Lake Louise should be thawed entirely now, and the water will be so blue your eyes may hurt!
Heading to the Fairview Lookout, Lake Agnes Teahouse, and even the Beehives are attainable now as the snow has melted in most of the higher elevation places. Although attempting summits like Devils Thumb, Mount Niblock, Fairview Summit, and Mount Whyte will need a few more weeks, but it all depends on the snowpack and the year!
I love visiting Lake Louise in June because it's summer, the weather is terrific, the water is Kool-Aid blue, and the crowds aren't at their peak…yet.
It's possible to rent a canoe now and hit up the water. Moraine Lake Road will be open by now, and a fun thing to do while visiting Lake Louise is head up to Moraine Lake.
---
Lake Louise Weather in July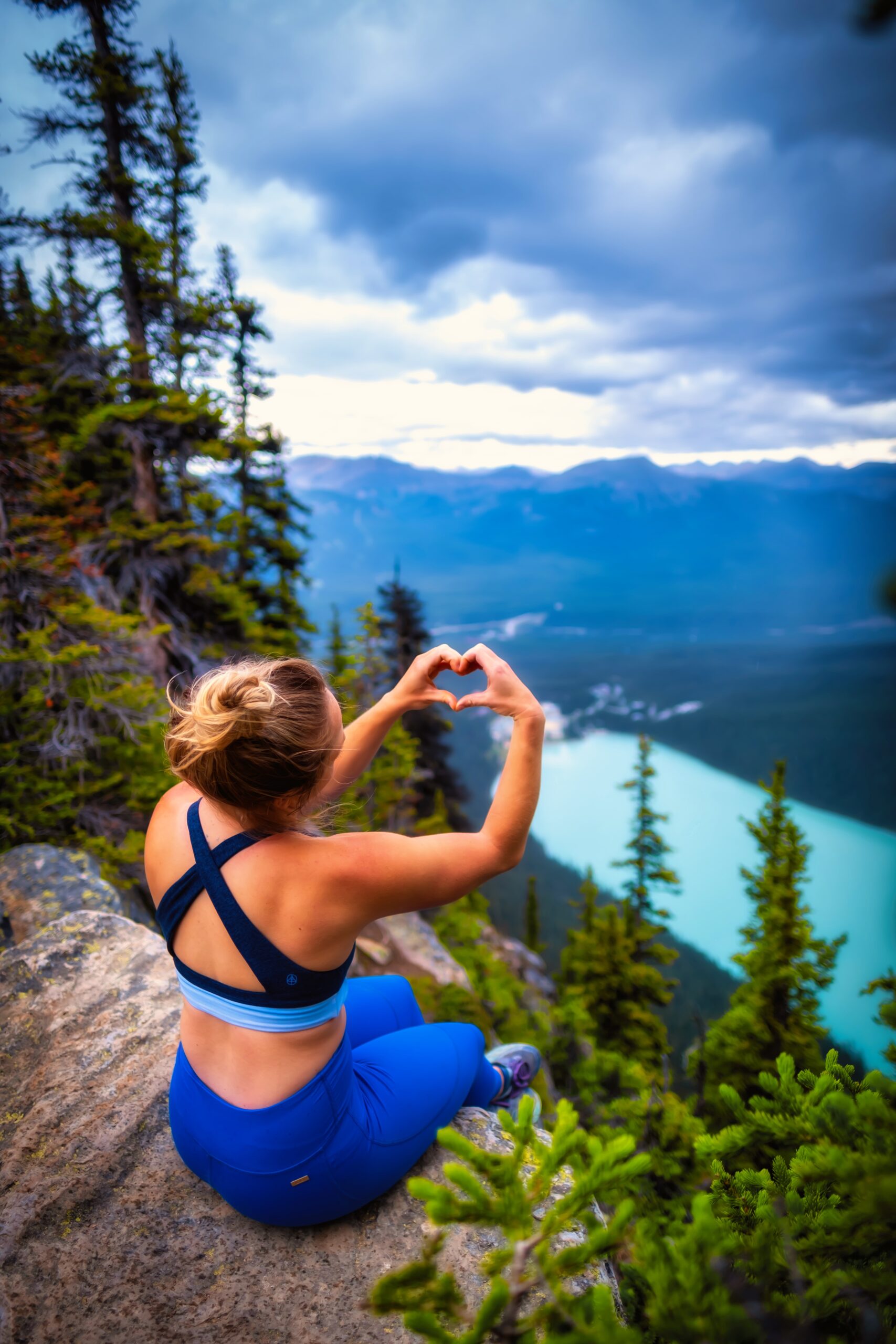 July is, without a doubt, the best time to visit Lake Louise. It is a beautiful summer month in Banff. Rainfall is low, and if you're lucky, your vacation will be filled with sunshine and long days. The snow is melting up high, and the average temperature is 24°C, but you will still need a jacket at night, especially if you are doing mountain hikes.
However, July means crowds and lots of them. One of the first places these crowds head is Lake Louise, so you can expect to have lots of people surrounding you when you visit. To avoid the crowds, aim to visit Lake Louise at sunrise or in the evening. Midday is the worst time to visit Lake Louise, and you will have a very tough time parking at the Lake Louise Lakeshore (more on that later).
All that being said, it really is beautiful in Banff National Park in July and cannot be beaten.
---
Lake Louise Weather in August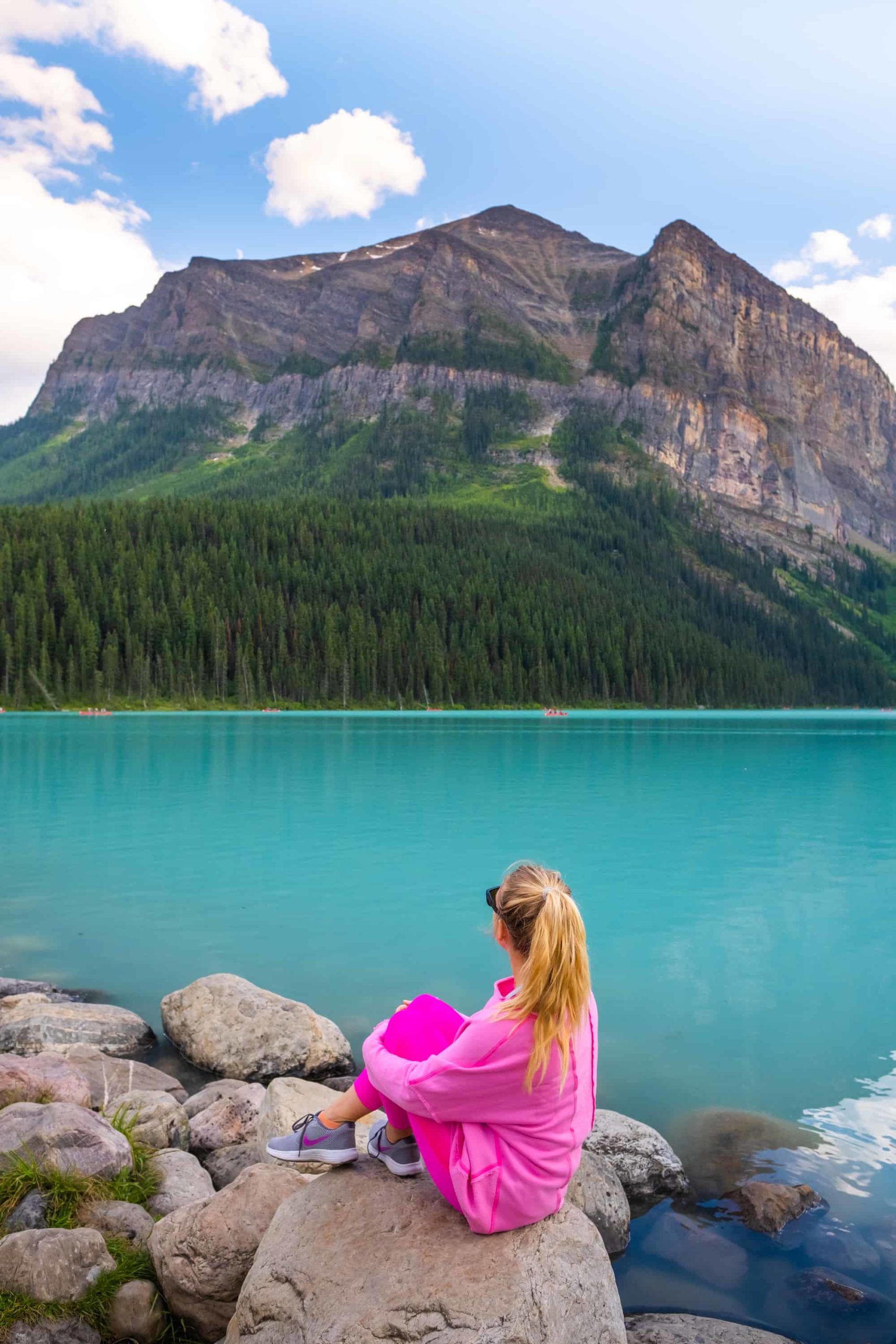 Lake Louise in August is just as good, if not better, than July. I really consider August the best time to visit Banff. Long days and warm weather are what you can expect at Lake Louise.
The good news is that most of the snow should be melted off the higher peaks as well. Meaning if you wanted to scramble Devil's Thumb or Mount Niblock, it should be almost totally snow-free.
Crowds are still here, and you'll be hard-pressed to find a parking spot if you arrive after 8am or before 6 p.m.
One of the best things to do at Lake Louise during this time is hire a canoe, bring your own canoe, or stand-up paddleboard! Hiking the Plain of Six Glaciers will also prove to be beautiful.
When you are done at Lake Louise, make sure you save time to head up to Lake Moraine or cross the highway and venture up the Lake Louise Gondola for some absolutely incredible views! August is just another fantastic time to visit Lake Louise and Banff National Park.
That being said, if you thought July was busy, you haven't seen August. With school holidays and everyone getting their summer on, you'll still see lots of people around the town of Banff and at the main sites.
30 AWESOME Things To Do In Lake Louise in Summer
---
Lake Louise Weather in September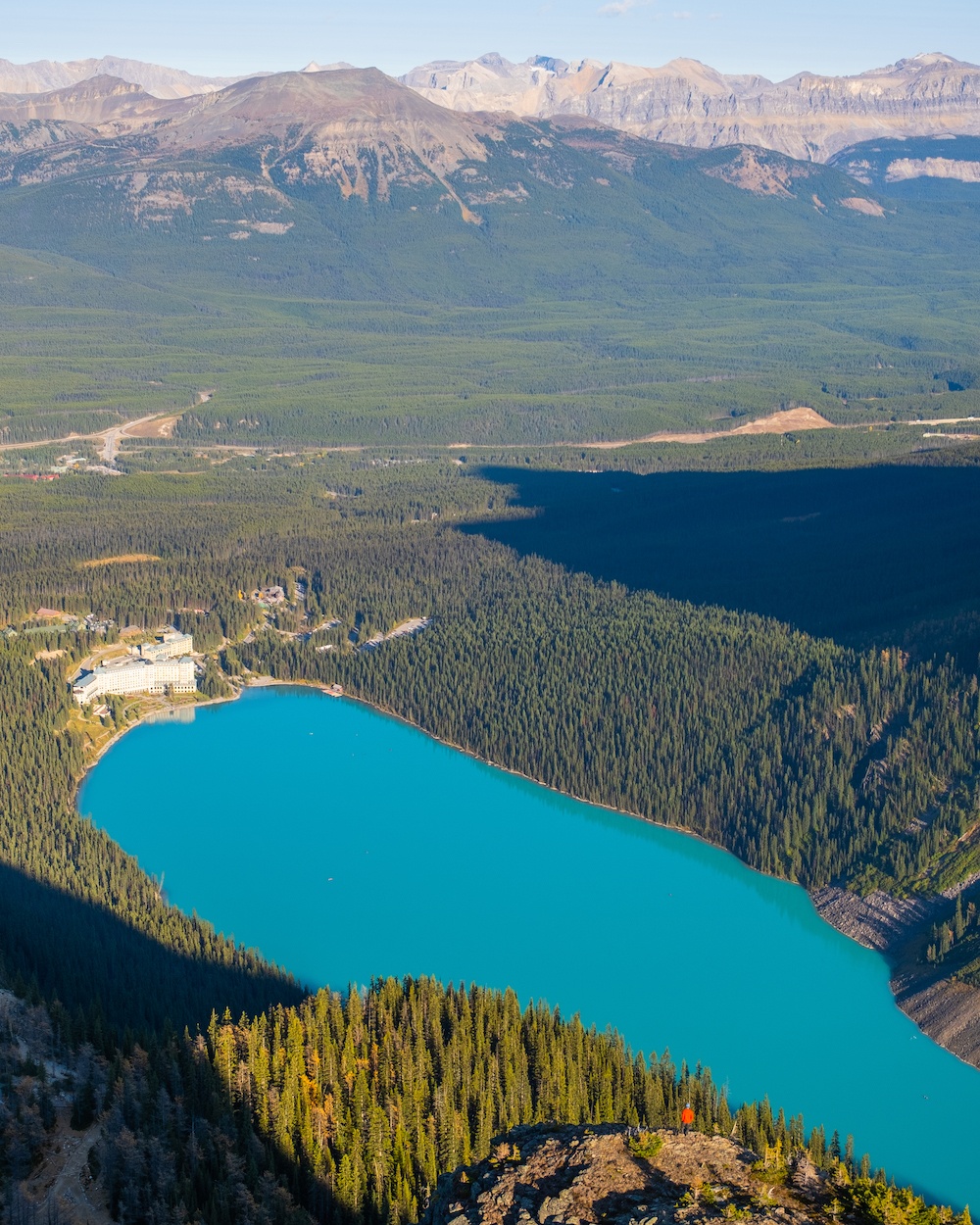 Things begin to cool off slightly in Banff in September, but it's still relatively warm… for Banff National Park, that is. The average temperature is around 18°C, but nights – as always – can feel quite cold.
It's the proper start of fall, making it one of the best times to visit Lake Louise. There are generally fewer tourists than during the summer months, but you will still have people visiting for Labor Day and in late September chasing the larches and fall colors. There are plenty of larch trees around Lake Louise.
For the best views of golden larches, head up Saddleback Pass. It's still possible to canoe out on the lake, and there's plenty of hiking at Lake Louise to be had.
Just keep in mind that it is September, and the weather can be changeable, so check the forecast before you head out on an adventure (and be prepared with waterproofs).
---
Lake Louise Weather in October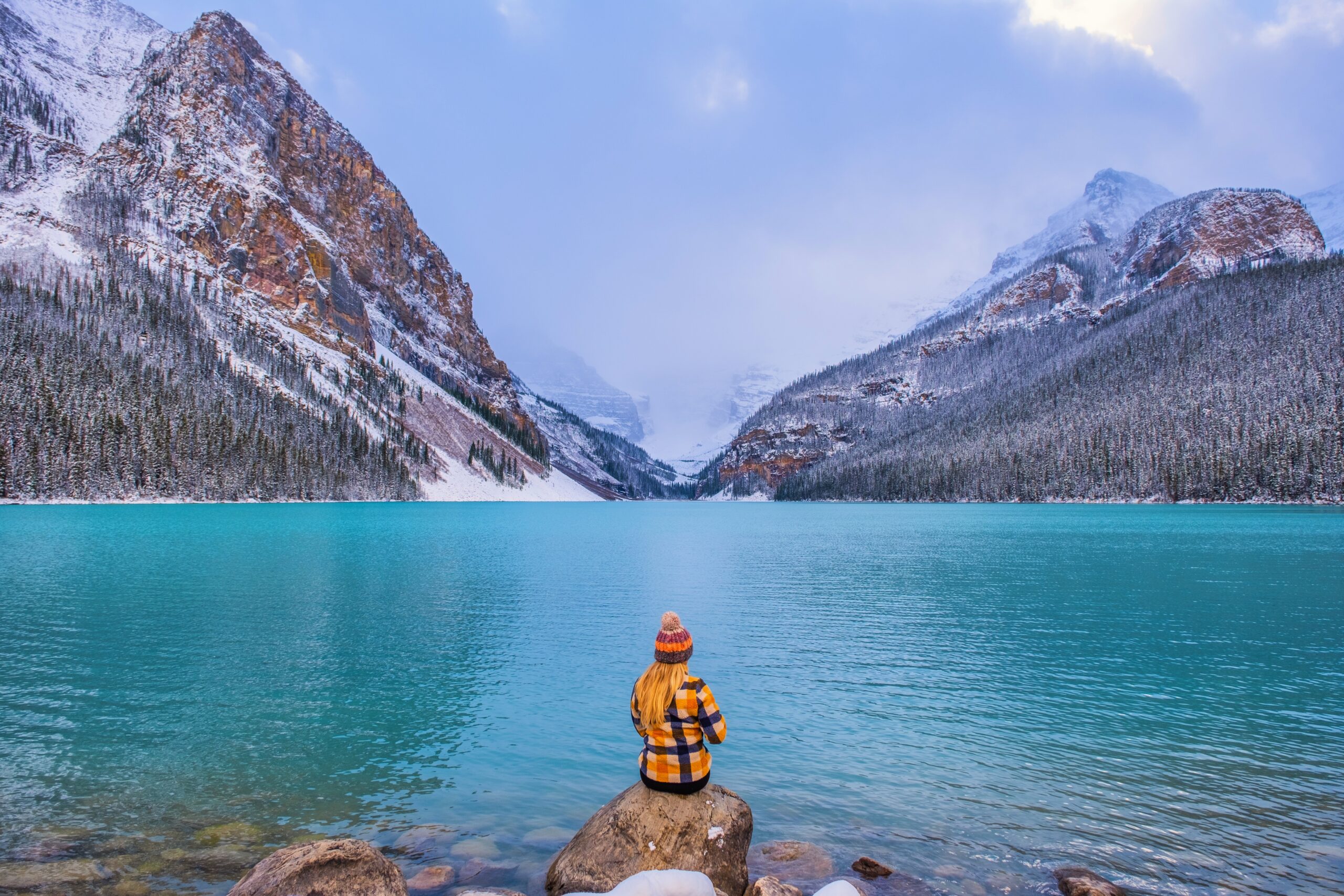 There's still plenty of sunshine in Banff in October, but it's most definitely fall weather, and you should plan your trip to Lake Louise accordingly. Early October means it might still be larch season and a good time to go hiking, so it's not a bad time to visit Lake Louise!
The temperature, on average, is about 10°C, and after dark, it can drop below freezing. All I can say is layers, layers, and layers. This is pretty much your last month to enjoy Lake Louise before it is frozen.
So get out on that canoe, but wear a life jacket; falling in would surely shock you to hypothermia quickly. By mid-October, the first snow of the season will begin to fall (if it hasn't already in September), making it a beautiful time to visit Lake Louise. I love seeing the trees dusted in the snow while Lake Louise is still thawed.
If you want to head to Moraine Lake, this is your last month to do it. By mid-October, Moraine Lake Road will close for the season.
---
Lake Louise in November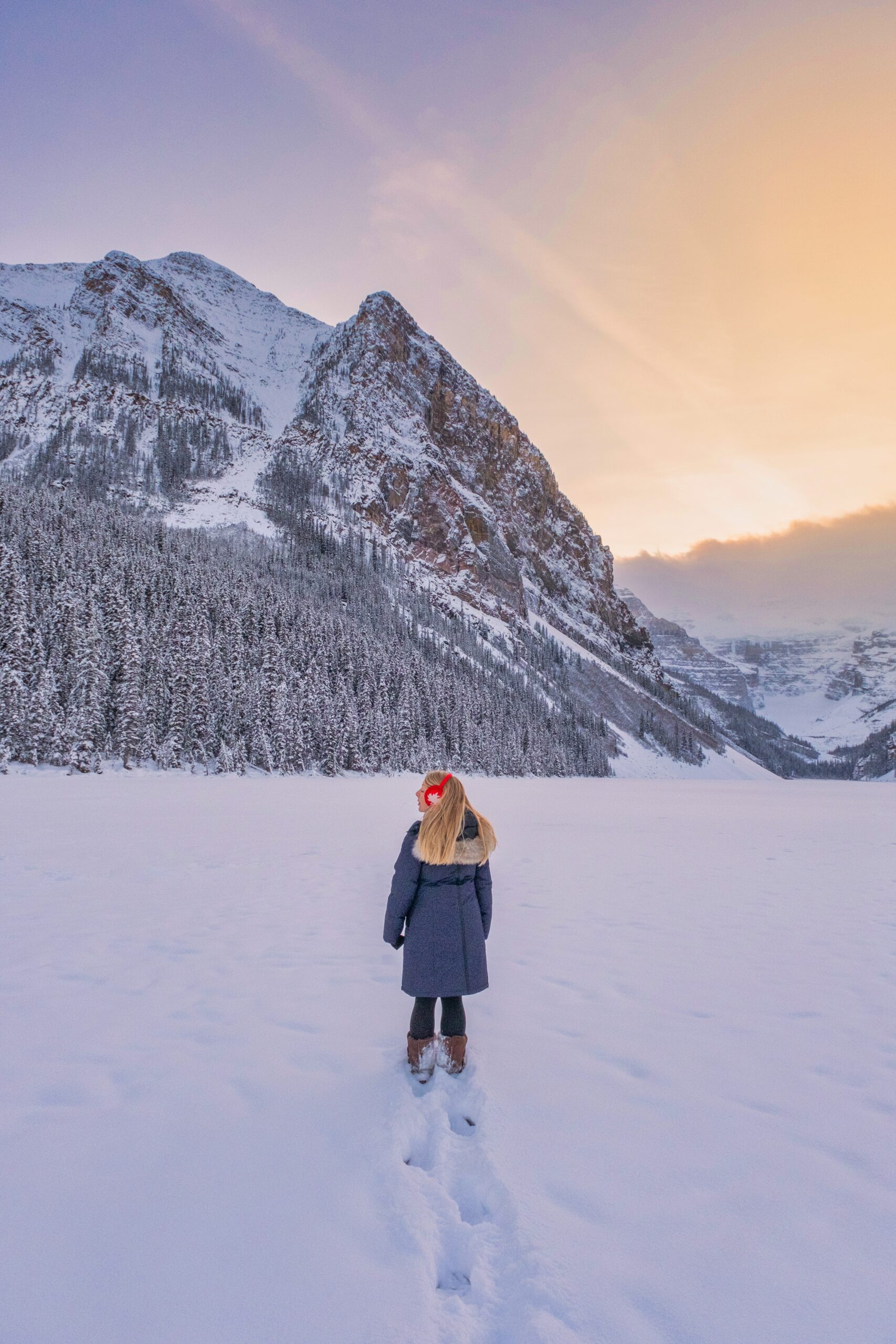 If you're lucky, and I mean really lucky, you might be able to ice skate on Lake Louise before the snow falls onto the frozen lake, it happens every few years, but it's only for a concise window (think one to two days).
If you catch it right, you'll be skating on frozen blue Kool-Aid. Yup, November at Lake Louise means that it's winter again, and you can expect to find Lake Louise frozen.
The good news? Lake Louise Ski Resort opens up in Mid-November and there is plenty of early-season skiing fun to be had. The other good news? It's the locals season in Banff National Park. The summer tourists are gone and the holiday tourists have yet to arrive, so it's a tranquil time to visit Lake Louise.
Don't forget to check out the Lake Louise Alpine Ski World Cup, which happens the last weekend of November and the first weekend of December!
---
Lake Louise in December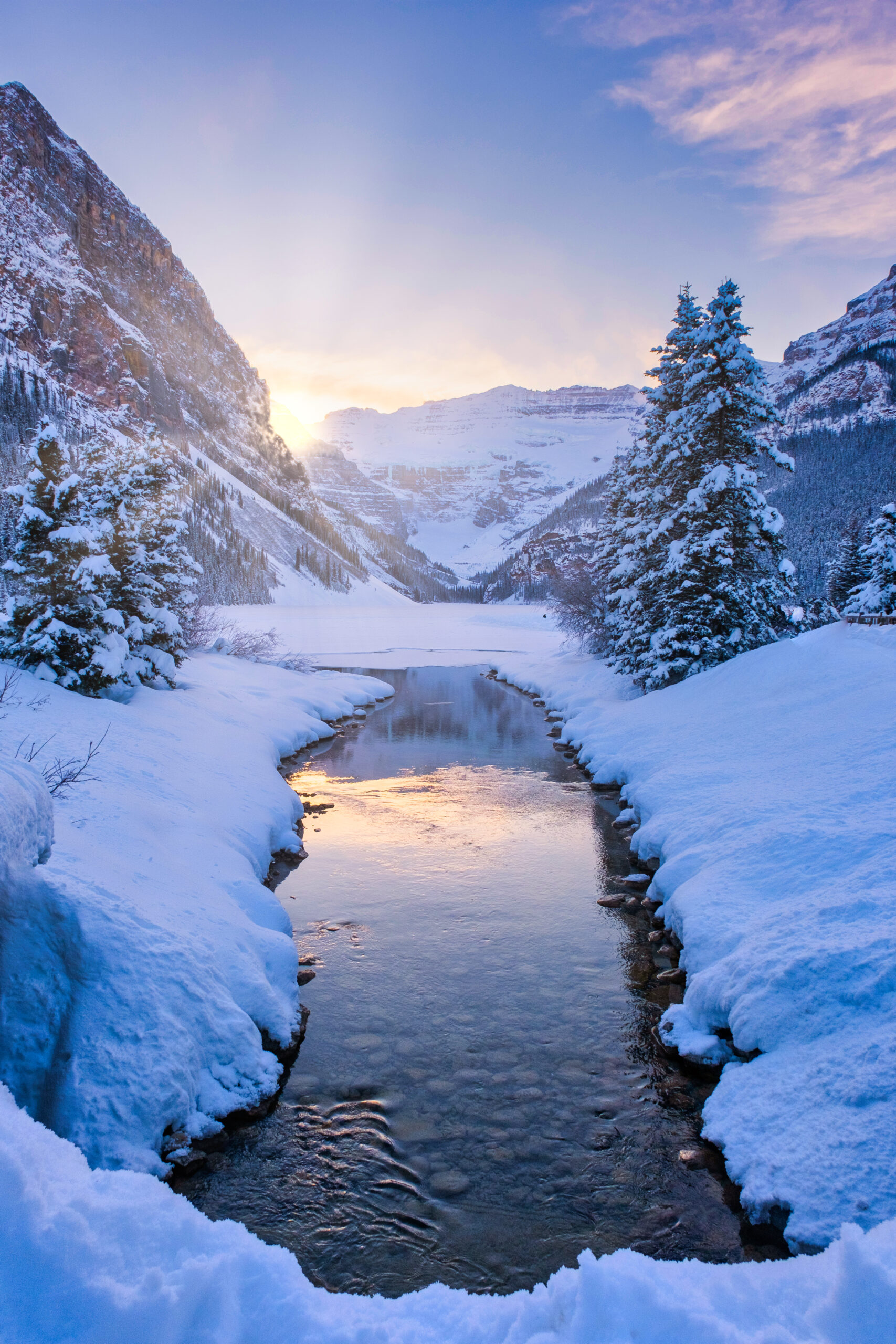 December is one of the best times to visit Lake Louise! Truly, few places are as remarkable for the holidays as Banff National Park. The holiday cheer is in the air, and it's wonderful.
The Fairmont's Ice Castle is built by mid-December, as well as the famous ice bar. Head here with family and friends to feel merry and cherry. It's the perfect time to enjoy a horse-drawn carriage around the lake.
Another fun thing to do is ski or snowboard at Lake Louise. It's also a fun Banff Christmas Day activity once the presents are unwrapped. The Holidays are a busy time to visit Banff National Park, but not nearly as busy as the summer.
So it's still easy to get parking and enjoy Lake Louise to the fullest. Just dress warm and get to Lake Louise early. It's the shortest month of the year, and you can expect the sun to be set by 5 p.m.!
---
How Late is Lake Louise Open?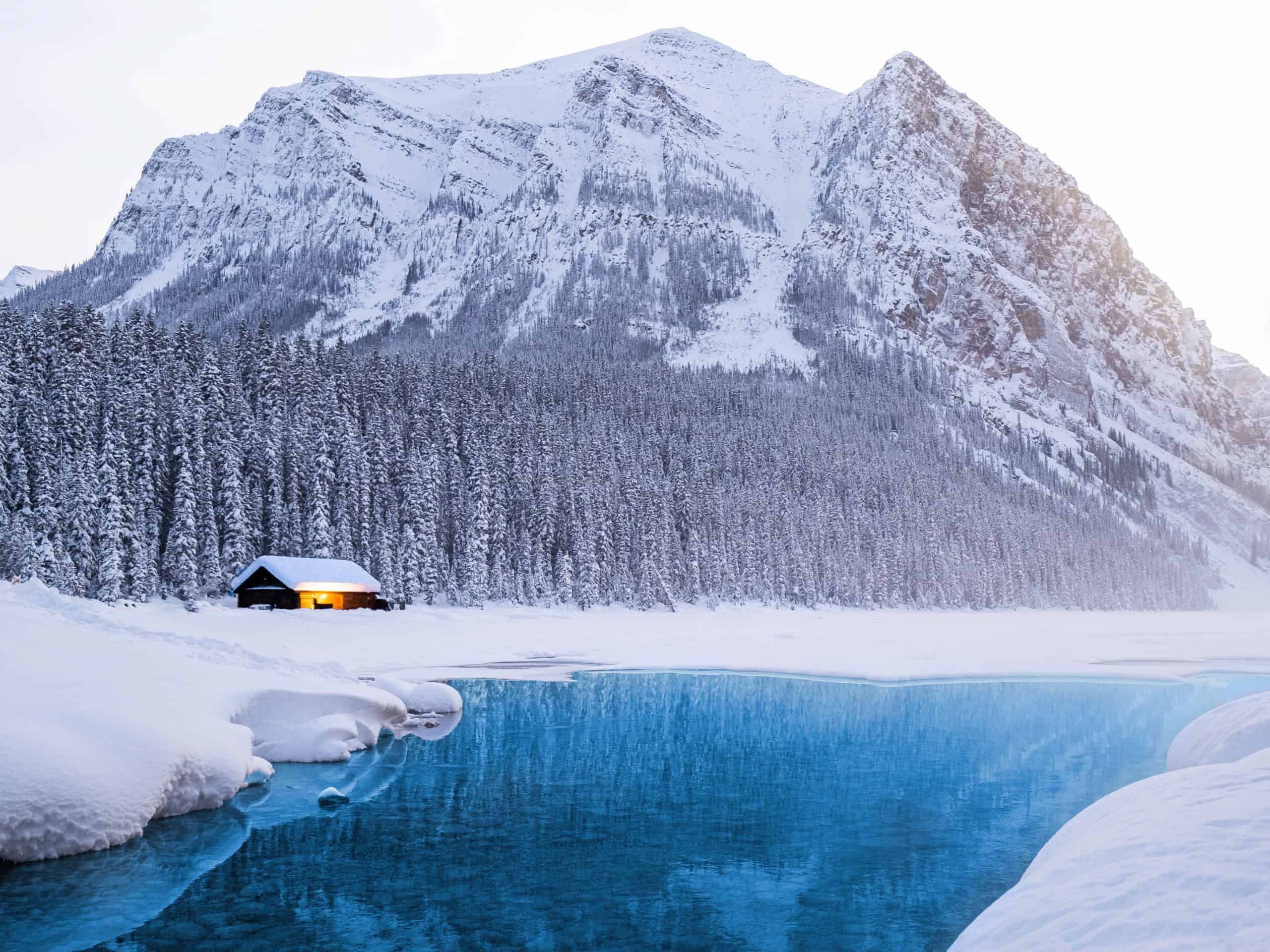 Lake Louise is a natural setting and doesn't have set open and closing hours. The lake is accessible all day and night, though it's best to visit during the day.
It's worth noting that attractions and things like the Icebar and canoe docks at the Fairmont will close down come nighttime. There is paid parking in effect at Lake Louise during the summer months between the hours of 7 a.m. and 7 p.m.
---
History of Lake Louise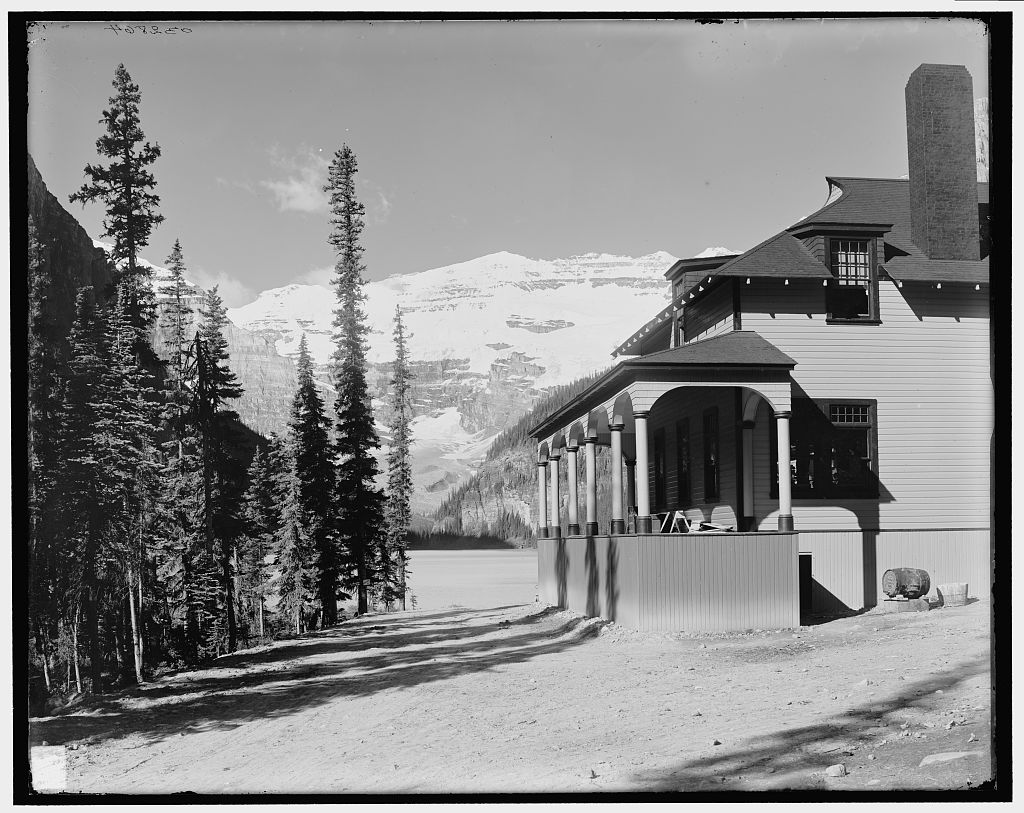 Interestingly enough, Lake Louise was originally named Emerald Lake by Tom Wilson, leading an early survey party in 1882. The name didn't last long because in 1884, it was named after Alberta's Governor General's wife, Princess Louise, Duchess of Argyll. The name Emerald Lake then shifted to the nearby lake of Emerald Lake, 39 km away from Lake Louise, where the name did stick.
In 1890, Cornelius Van Horne, a Canadian Pacific Railway manager, built a sizeable one-story log cabin on the shore of the lake. The small cabin was called the Chalet Lake Louise and he would accommodate just 50 guests in its first year. Over the next two decades, the hotel saw several upgrades, and by 1912, it had drawn in 50,000 visitors.
The beauty was drawing in major public figures and the hotel quickly expanded to a luxury property by 1920, earning the name of Hollywood of the North.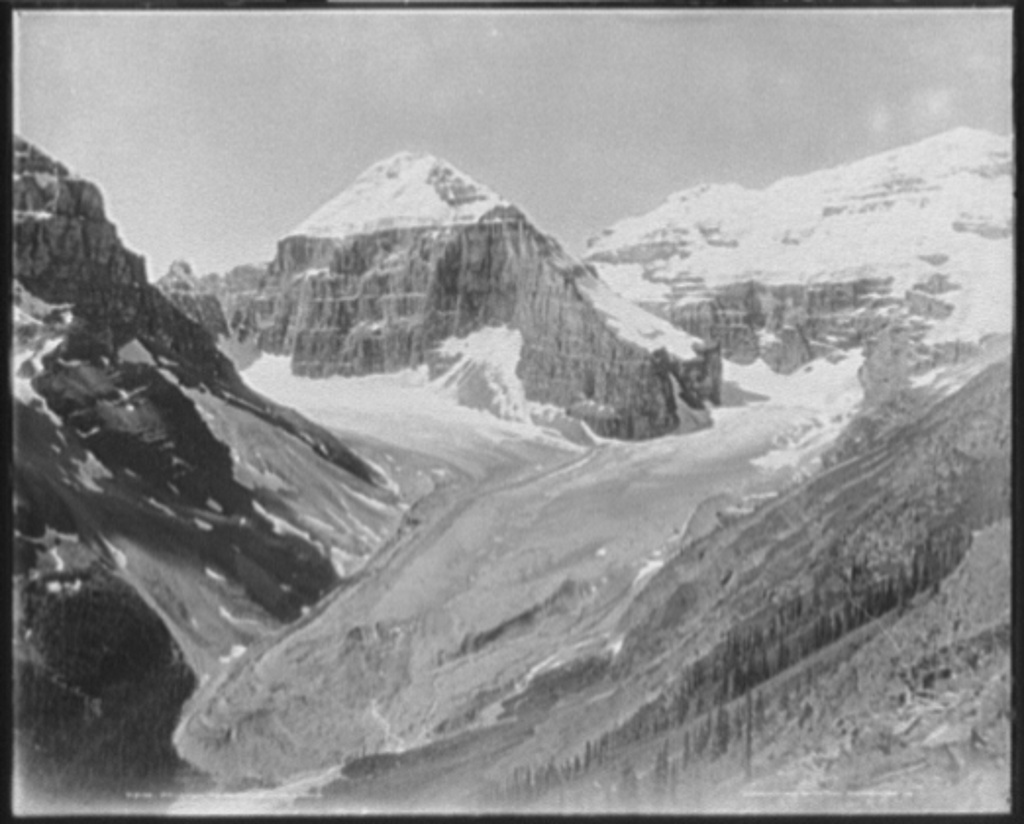 Mountaineering in North America and Canada for that matter, is closely tied with Lake Louise, and Banff National Park. In fact, in 1897 the first mountaineering death in North America occurred on Mount Lefroy.
You can get great views of this mountain on the Plain of Six Glaciers hike. The mountaineering death spurred the Canadian Pacific Railroad to hire Swiss mountaineers to help with the safety of visitors hoping to mountaineer in the park.
Over the years more mountaineers would follow and the Swiss impact on the Canadian Rockies can be seen to this day. Many restaurants around Banff serve up fondue, mountaineering is a popular hobby for locals, there are two teahouses that serve hikers around Lake Louise, and a series of alpine huts are managed by the Alpine Club of Canada.
The Swiss mountaineers would also have a major impact on bringing the sport of skiing to the forefront in the Canadian Rockies, which eventually opened up Lake Louise to winter tourism and a year-round destination.
---
So Then, When Is The BEST Time To Visit Lake Louise?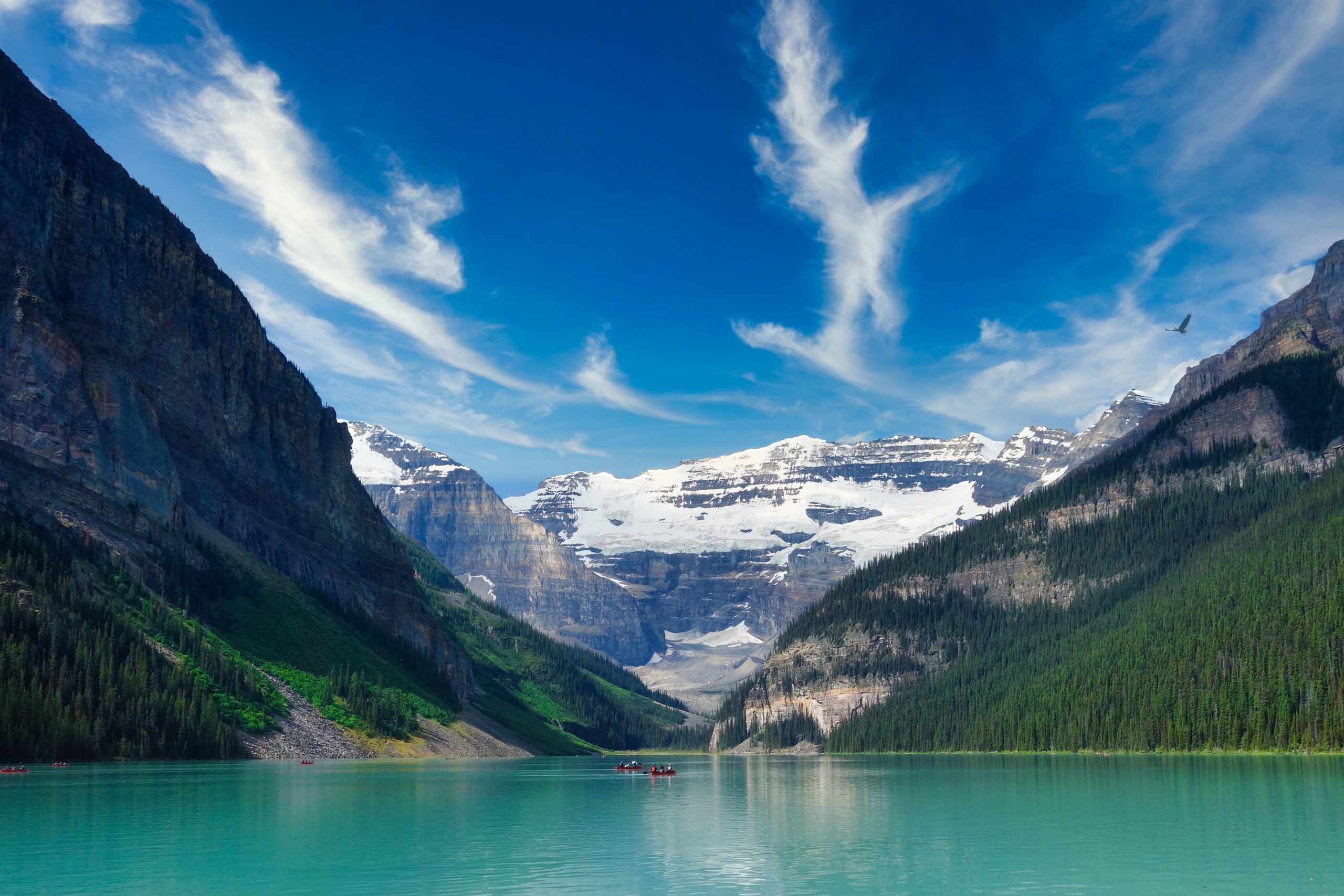 As you can see, Lake Louise is a year-round destination. It's such a spectacular part of the world that it's never a bad idea to visit. You can enjoy sleigh rides, ice skating, ice climbing, skiing, and snowshoeing in the winter months.
While during the summer you're spoilt for activities and the views are spectacular. Since the lake is fed by Glacier melt, its water level and color change based on temperatures.
To ensure warmer weather, and a good chance to witness the most vivid turquoise water – visit Lake Louise from late June to August. That being said, the color never leaves and you can witness the melted lake until October, when the lake freezes over.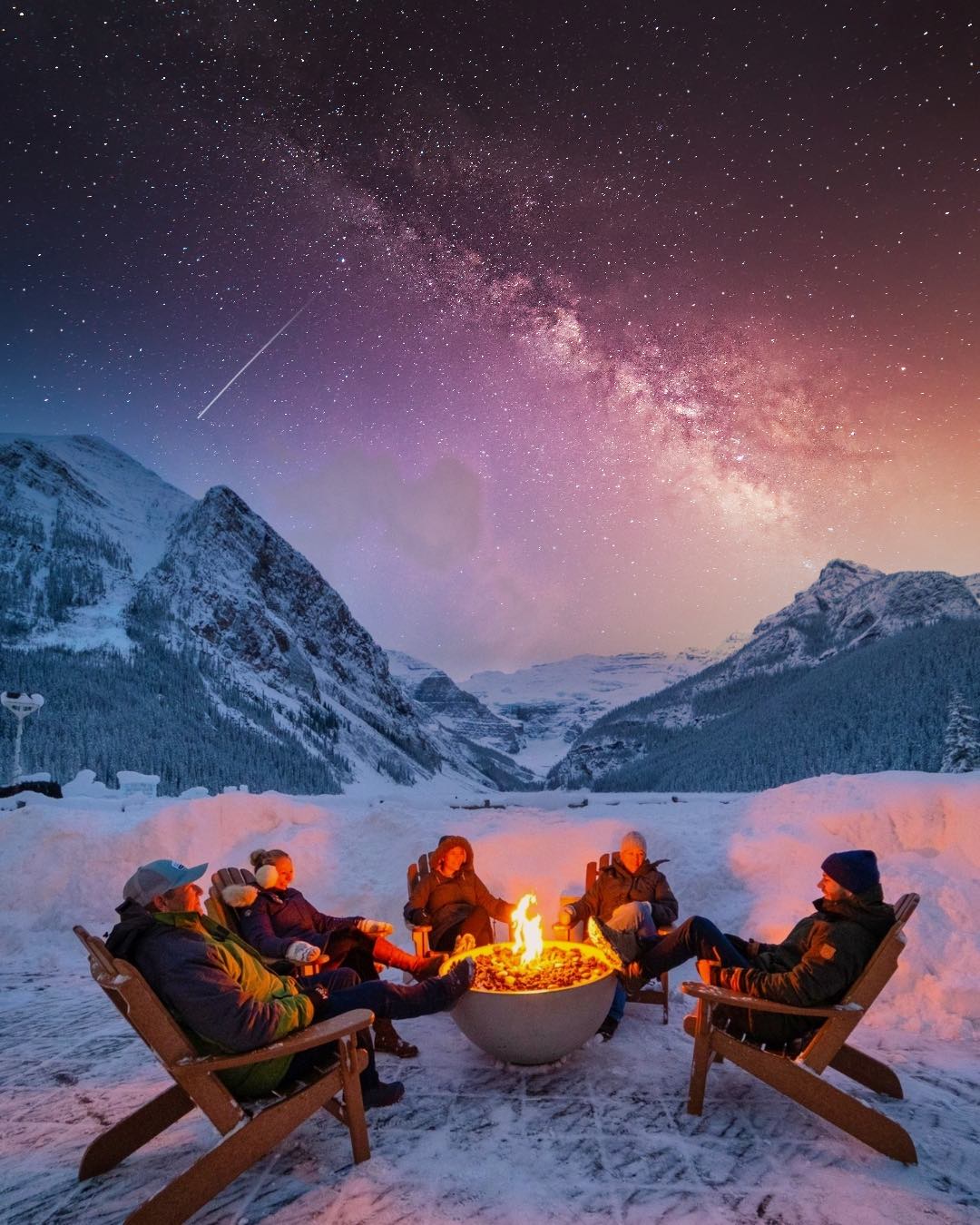 Every few years, the lake freezes over enough to skate on before receiving significant snowfall. This means you can ice skate on a frozen ice surface that is the same dizzying turquoise blue. This typically happens in early November.
If you want to vacation in a winter wonderland, the best time to visit Lake Louise is between December and March.
My least favorite time to visit Lake Louise would have to be May, when the lake is not fully unfrozen yet, but things are warming up. So all the elements come together to form a bit of a giant gloomy mess. However, if you're visiting Banff in May and can only see Lake Louise during this month, it's still worth it to visit!
---
When Does Lake Louise Melt?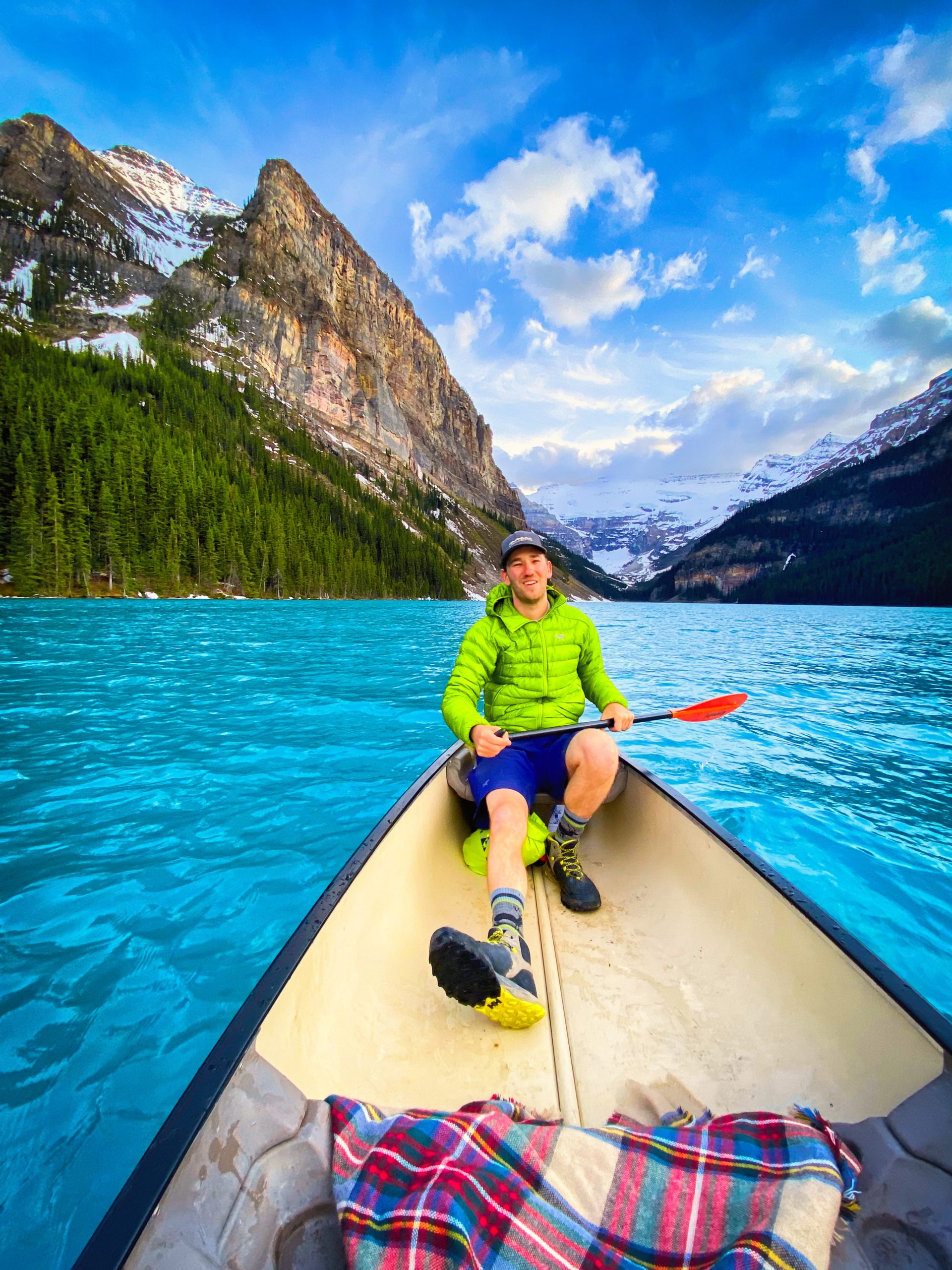 The ice usually melts the first week of June. This is season-dependent, so it has occasionally thawed earlier and a little later. That being said, it's safe to assume the lake will be unfrozen by June.
---
When is Lake Louise Frozen?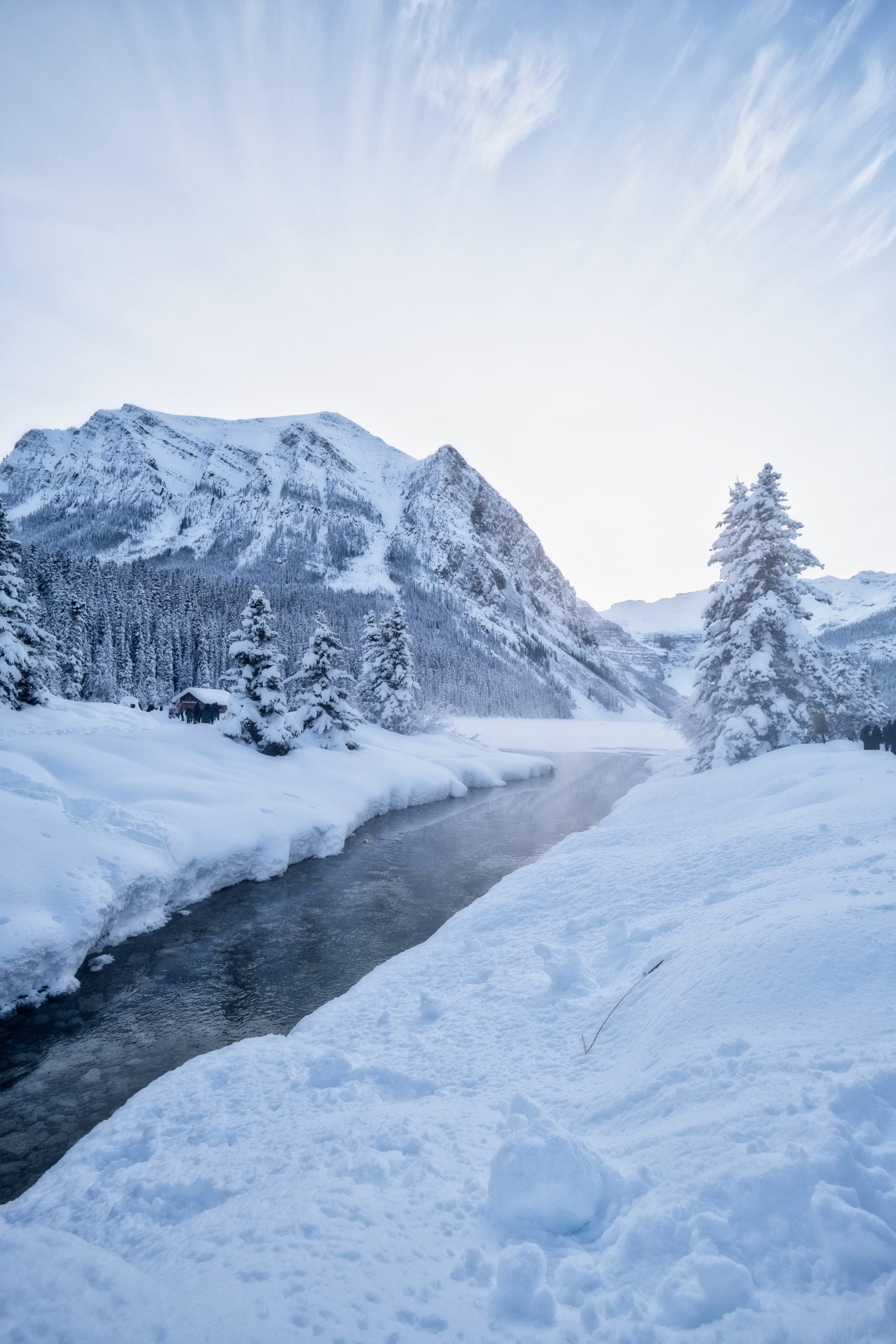 Lake Louise usually begins to freeze in November. The month of October usually brings heavy snowfall in the area, and the Lake Louise Ski Resort usually opens up the first week of November around the same time the lake freezes.
---
What Time of Day is Best to Visit Lake Louise?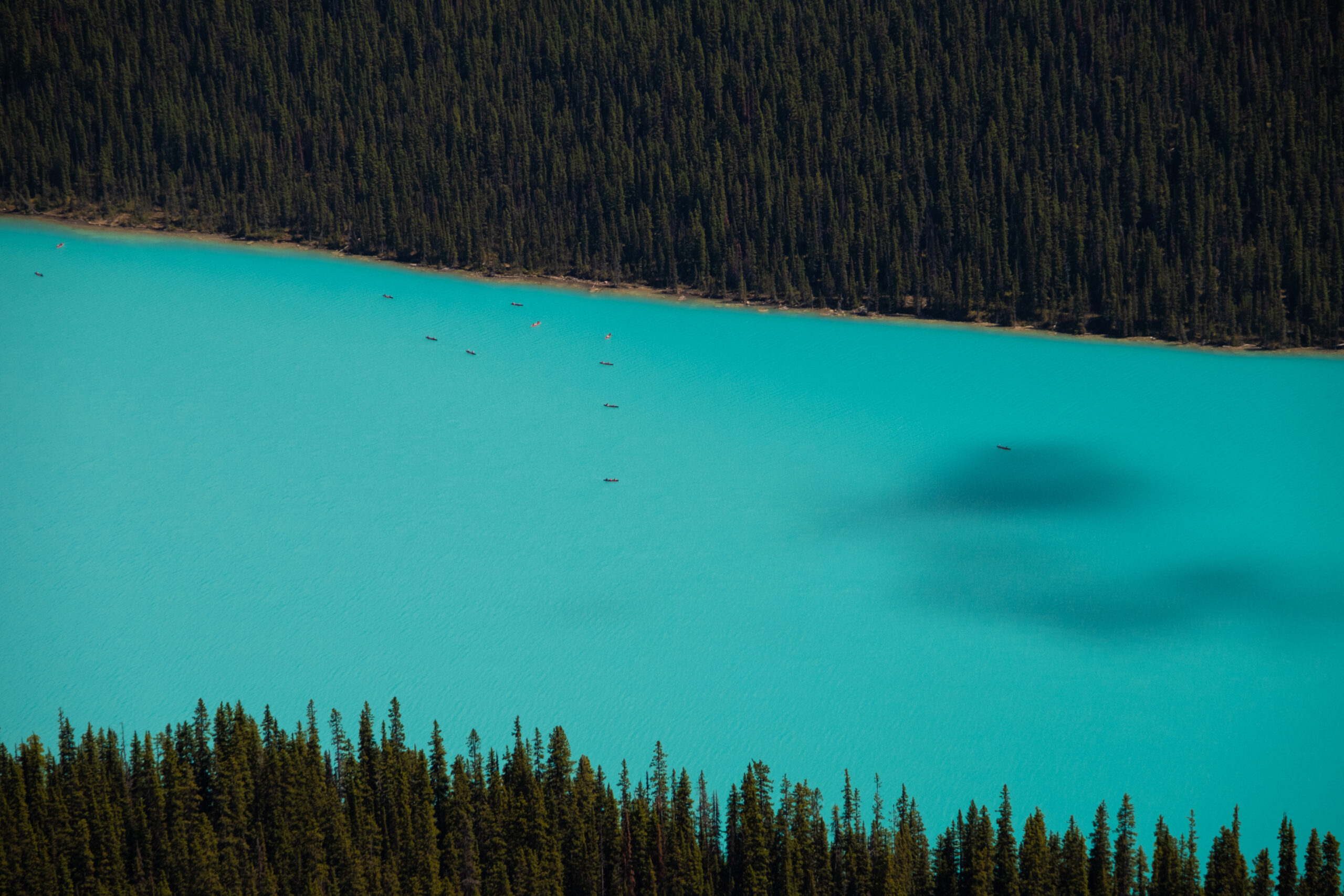 We're pretty sad to say that Lake Louise's beauty and popularity are also its downfalls. The demand to see the lake by almost every visitor to the park means you'll need to be there by about 7am in the summer. On weekends, even earlier.
If you don't feel like waking up early to see the lake, don't fret too much. Parks Canada has a bus service available from the Lake Louise Park and Ride, located at the Lake Louise Ski Resort. You'll need to make reservations beforehand to secure a spot on the Lake Louise shuttle.
Lake Louise has updated parking policies - see them here. 
You can also choose to stay at Fairmont Chateau Lake Louise on the lake or many of the Lake Louise hotels in the village offer shuttles so you don't have to deal with parking.
As it gets late in the evening, the crowds do thin out and you can usually get a parking spot after 7 p.m. when everyone else is having dinner at a Lake Louise restaurant. We've never struggled to get parking at Lake Louise in the winter months.
If you are feeling active, we've also parked at the Lake Louise village and rode our bikes up to Lake Louise before, although it's all uphill, nevertheless a fantastic workout!
---
Canoeing on Lake Louise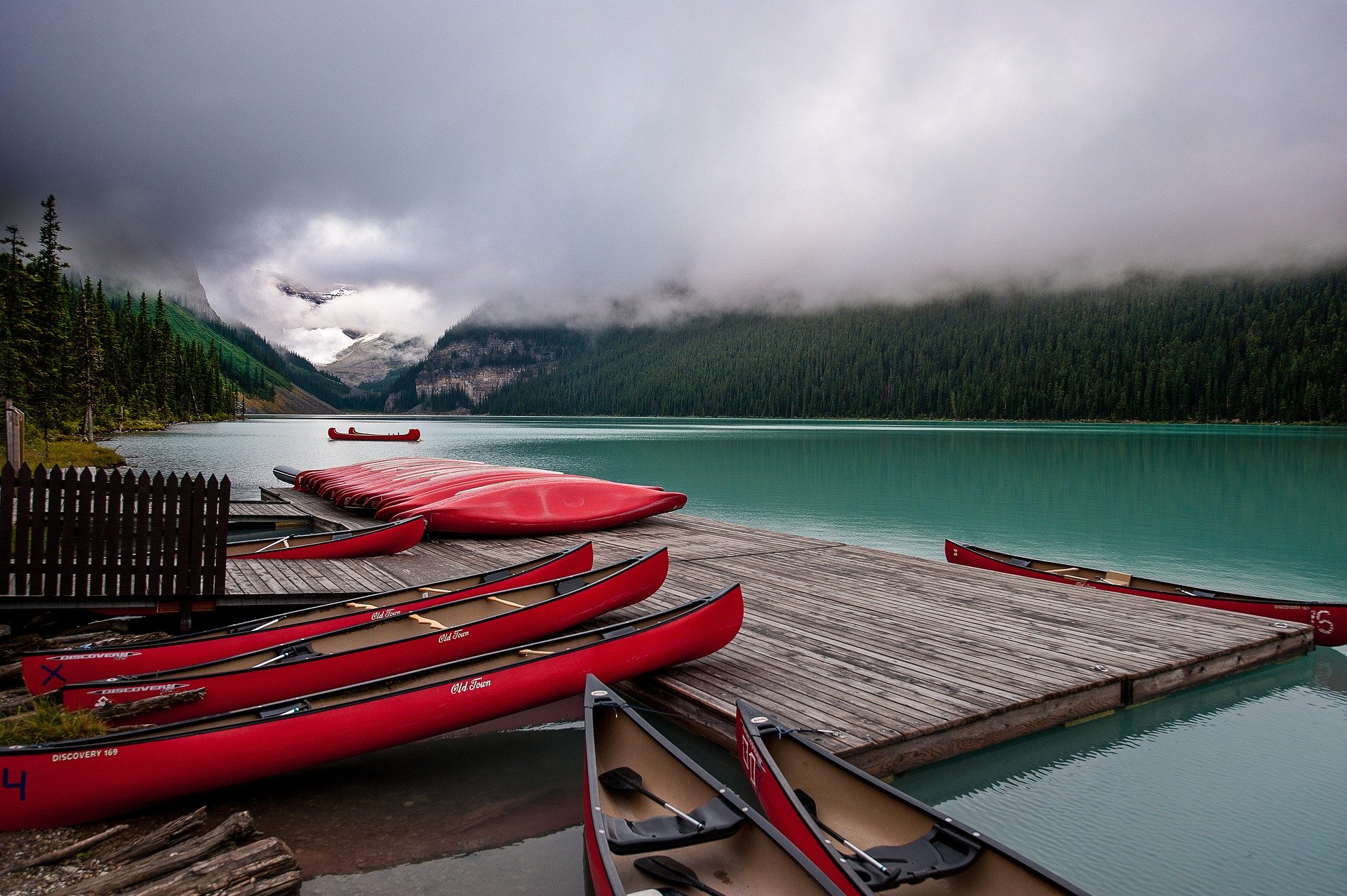 There is likely no place more quintessential to rent a canoe in Banff than Lake Louise. It's one of the most spectacular scenes in the world. It's tough to find a more stunning scene to paddle through as you look out to Mount Victoria and the hanging Victoria glacier. There is no need for fancy edits on your photographs; the water in Lake Louise, like Moraine Lake, is indeed that radiant turquoise blue.
You can pick up canoe rentals at the Lake Louise boathouse because even if you have your own, you'd have to arrive very early in the morning to secure a close parking spot to carry the canoe.
Location: Fairmont Lake Louise Boathouse
Canoe Cost: $155 per hour / $145 per half hour (+tax)
Season: Mid-June to Mid-October
Can you bring a private canoe, kayak, or SUP to Lake Louise?
Visitors can bring their own personal watercraft to any of the lakes or rivers within Banff National Park. The tricky part with Lake Louise is acquiring a parking spot and then launching from the lakeshore. Of course, you can get inflatable SUPs like us and pack them up a lot smaller than a canoe.
Keep in mind, to prevent the spread of Aquatic invasive species visitors must now fill out a Self Certification Permit with Parks Canada for any nonmotorized watercraft entering the water. This includes kayaks, canoes, and paddleboards. The Self Certification Permits can be found online.
---
Lake Louise Lodge Accommodation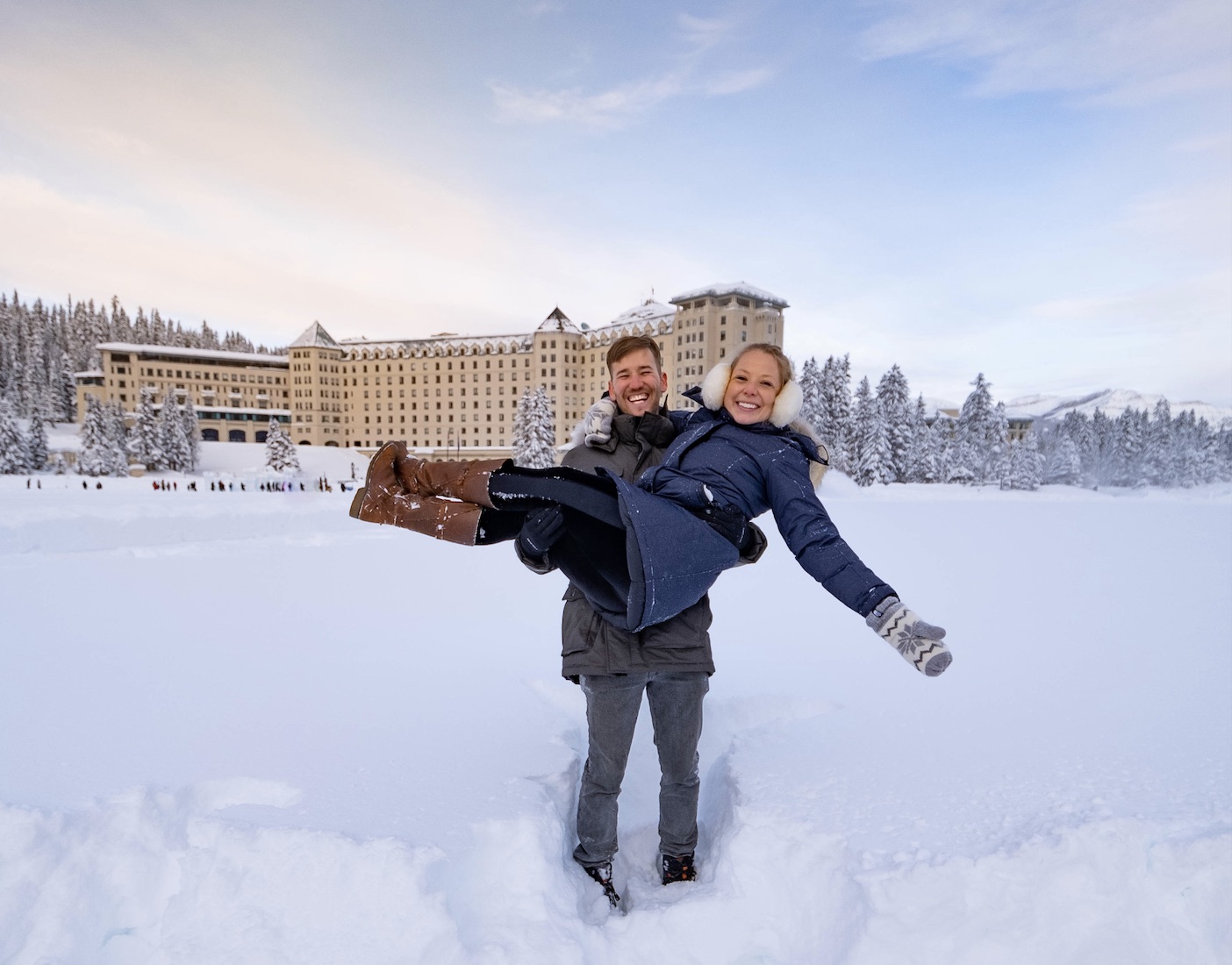 There is only one place to stay on Lake Louise: the famous Fairmont Chateau Lake Louise. Staying at the lake allows you to take advantage of the lake at all times of the day, and they have a private parking lot, so you're guaranteed a spot to park. However it is the most expensive place to stay in all of Banff.
There are plenty of places to stay in the area of Lake Louise; see our posts below.
---
When Are Holidays at Lake Louise?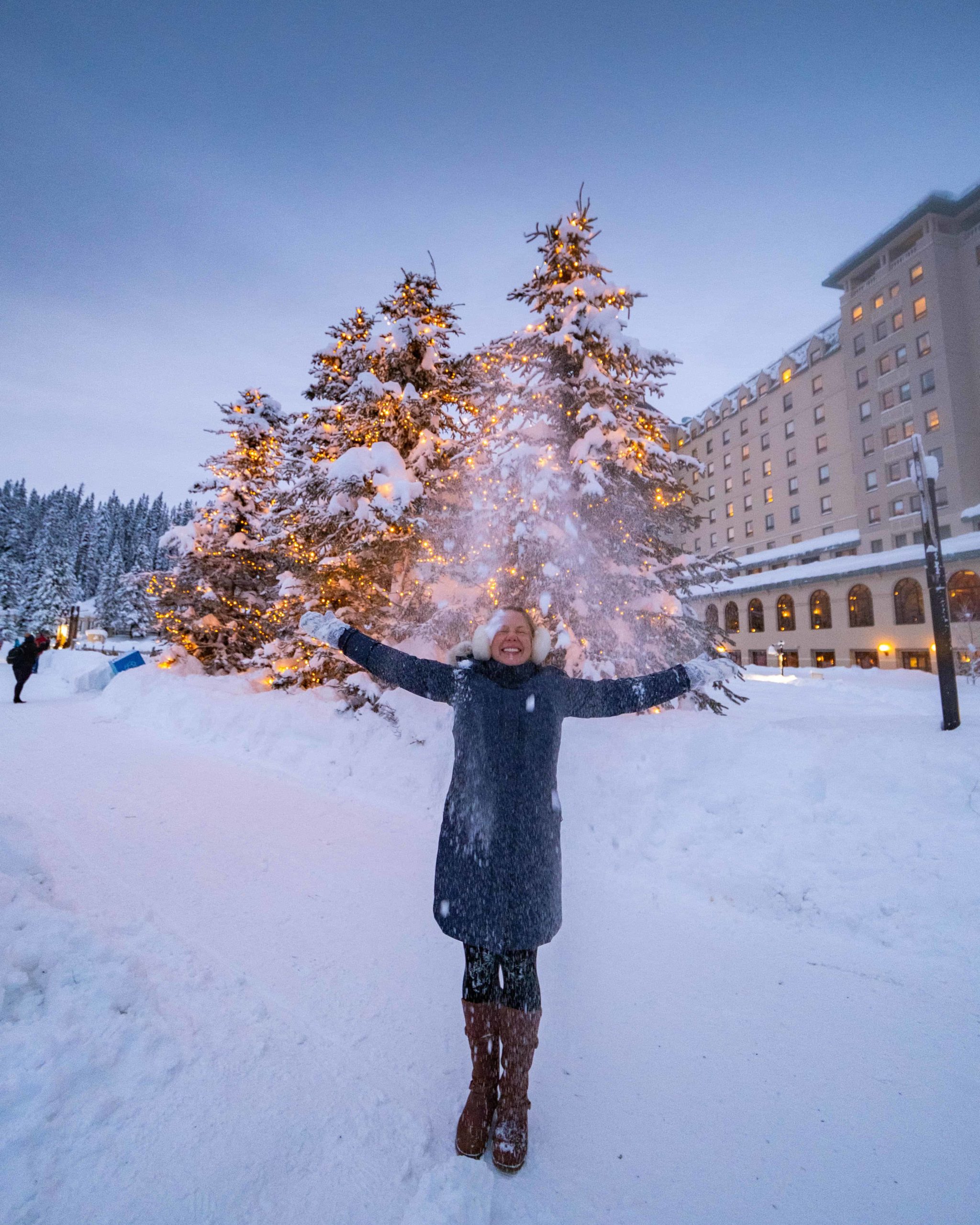 Lake Louise is almost always busy in the summer, but you should take note of the following holidays as they are also busy times.
Victoria Day Long Weekend (May Long Weekend) – Last Monday Preceding May 25
Canada Day – July 1st
Heritage Day Weekend – 1st Monday of August.
Labour Day Weekend – 1st Monday of September.
Christmas – December 24th and 25th
---
Where to Stay at Lake Louise
---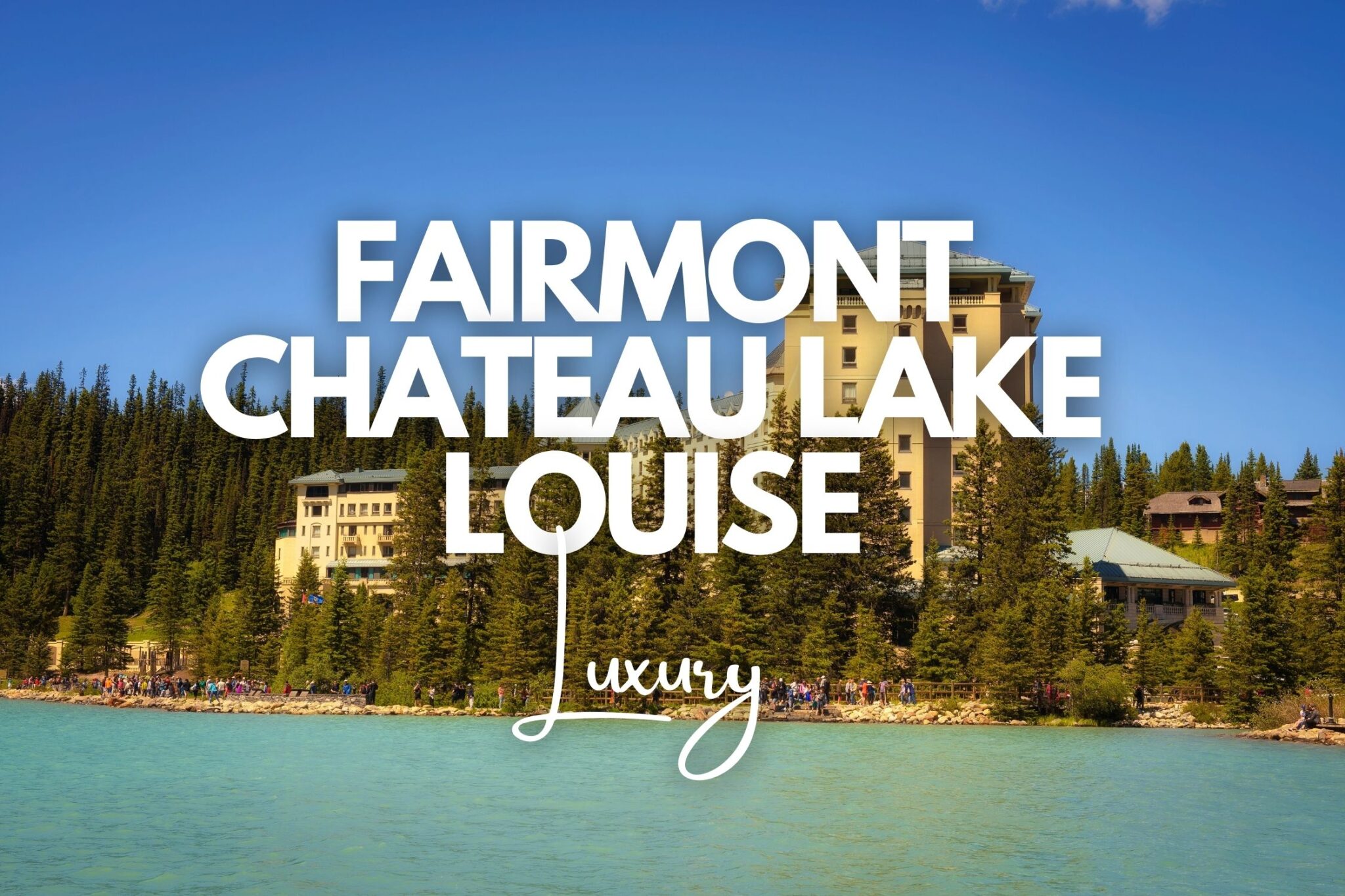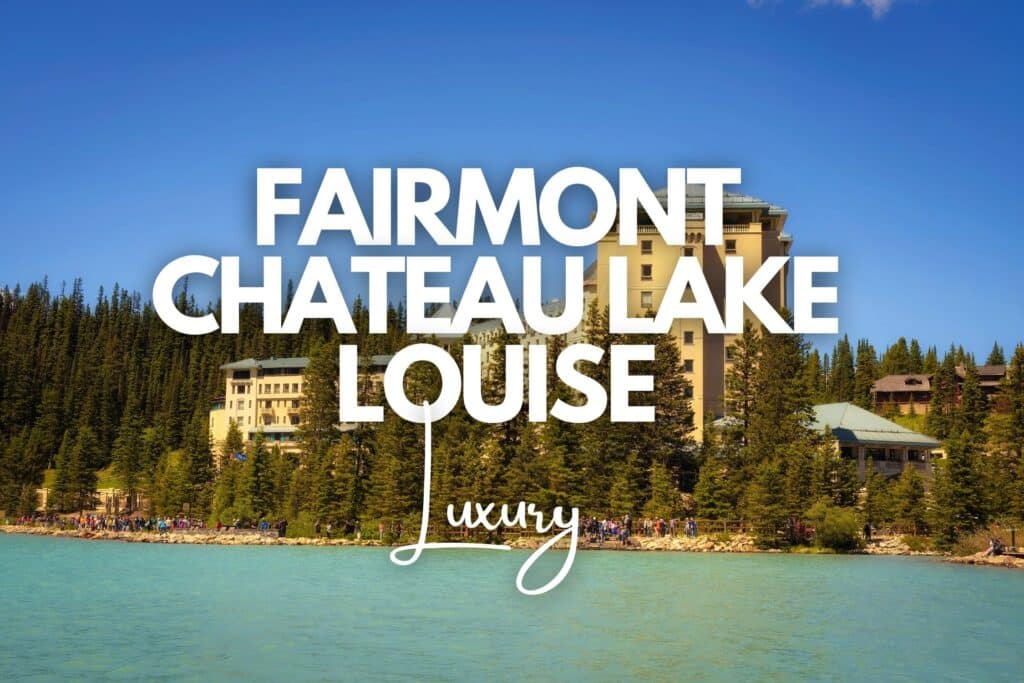 Fairmont Lake Louise
The most expensive place to stay in the park and the most sought-after. "The Chateau" is the only hotel actually on the lake, so if you want to wake up Lake Louise for sunrise this place is for you.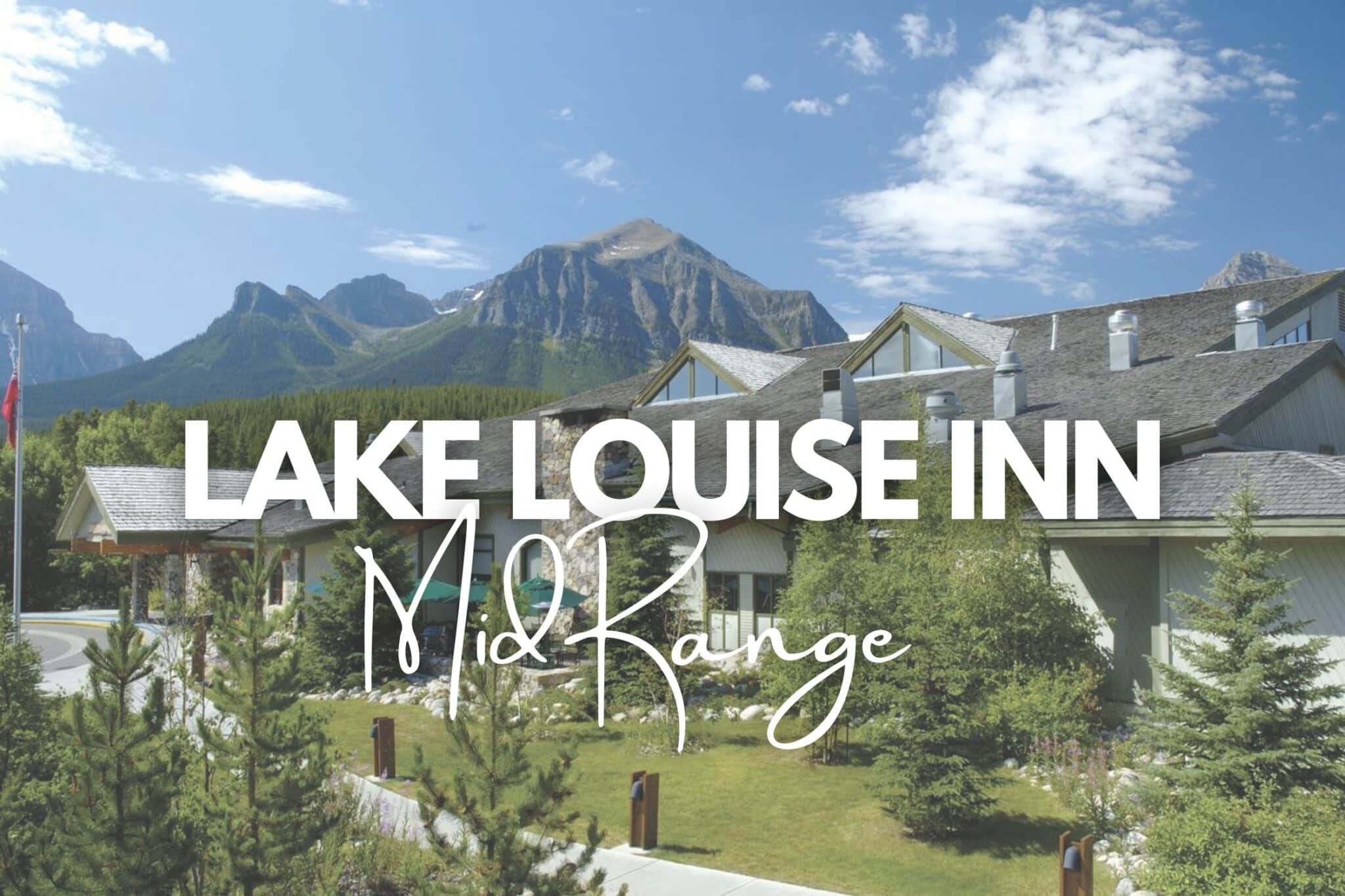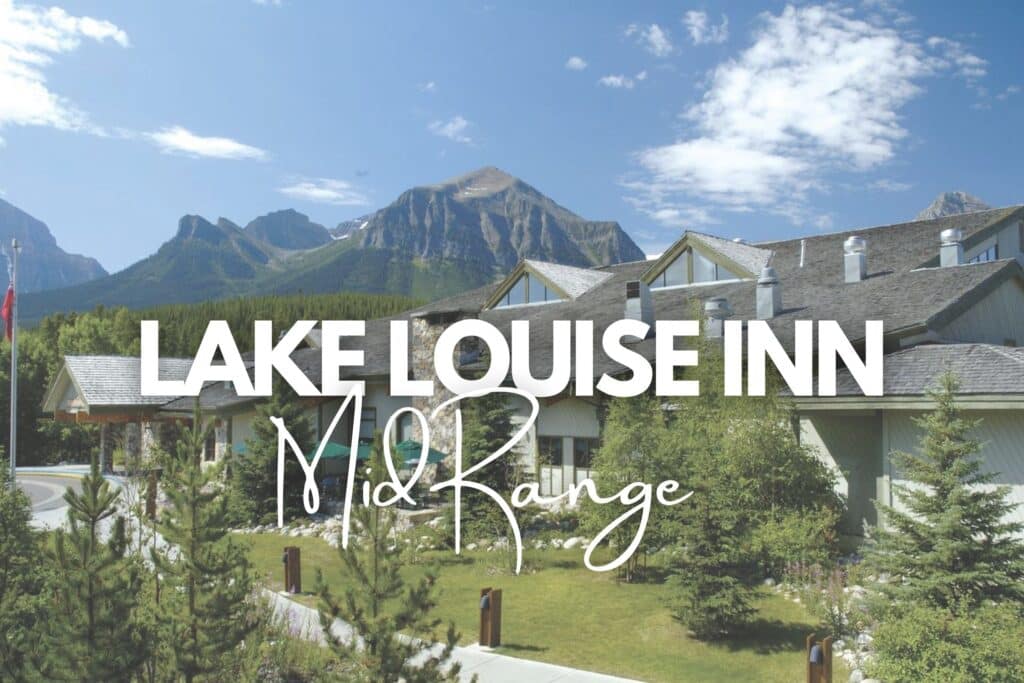 Lake Louise Inn
Located near the Lake Louise Village, the Lake Louise Inn offers affordable rooms to stay.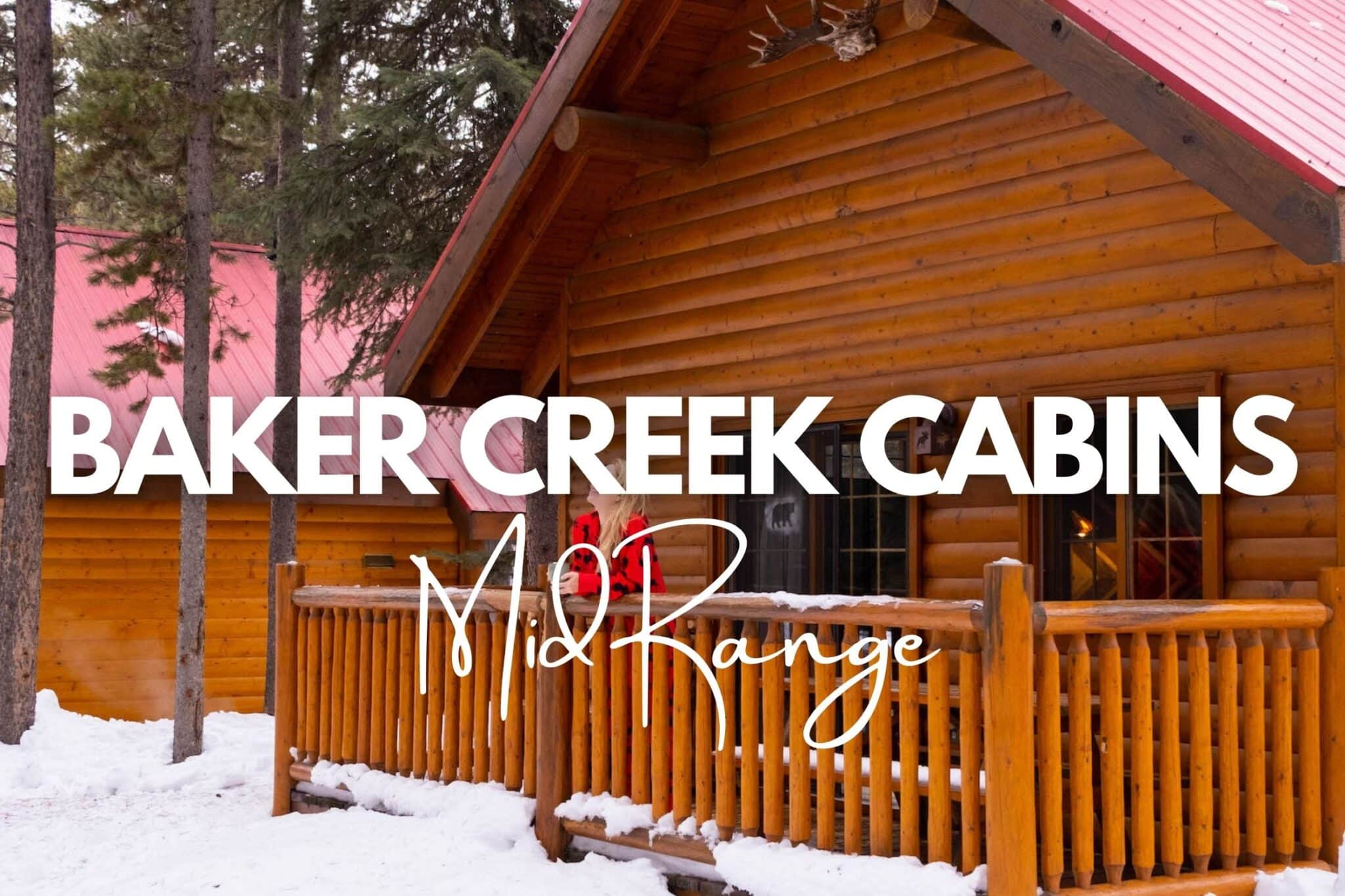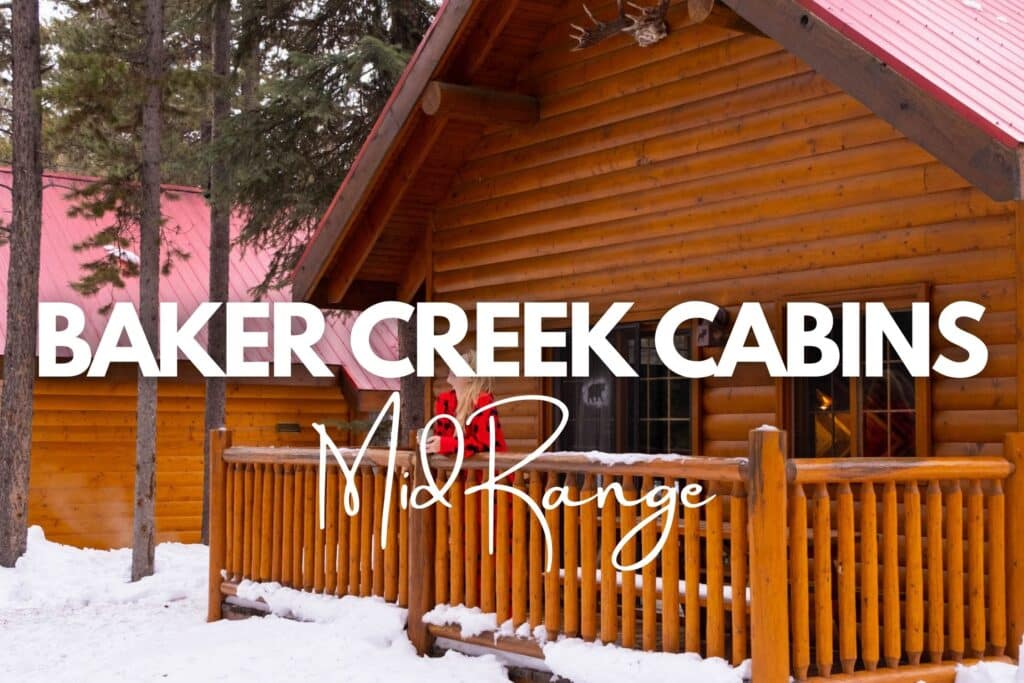 Baker Creek
On the Bow Valley Parkway, Baker Creek is just a short drive away from Lake Louise. It's a romantic place to stay and far away from the crowds!
---
Plan Your Trip to the Canadian Rockies
↓ Join the community ↓
The Banff Blog Facebook Group is your headquarters for the Canadian Rockies' travel advice and information. Including hike info and off-season travel information. You can also meet new adventure buddies.