There is no place to ice skate in Banff that is more iconic or scenic than the famous Lake Louise. Not much of a surprise, but it's regularly been considered one of the world's best ice skating rinks, and if you are able to enjoy Lake Louise skating in the winter consider yourself fortunate.
Lake Louise ice skating is also tremendous as the frozen lake is maintained by the Fairmont Chateau Lake Louise. The lake is regularly cleared of snow and resurfaced, so visitors can enjoy Lake Louise ice skating during the winter despite conditions on other natural lakes.
What really sets ice skating at Lake Louise apart from the other lakes is the lake's atmosphere. Around the lakeshore, you can find cozy fires, an ice bar, a horse drawn sleigh that you can ride, and even an ice castle. It's one of the best reasons to come to Banff in winter, and it's always a treat.
**The Lake Louise Ice Skating Rink is now closed for the 2023 skating season. We can expect it to open again in December 2023.
---
Why Will You Love Lake Louise Ice Skating?
---
Lake Louise is Stunning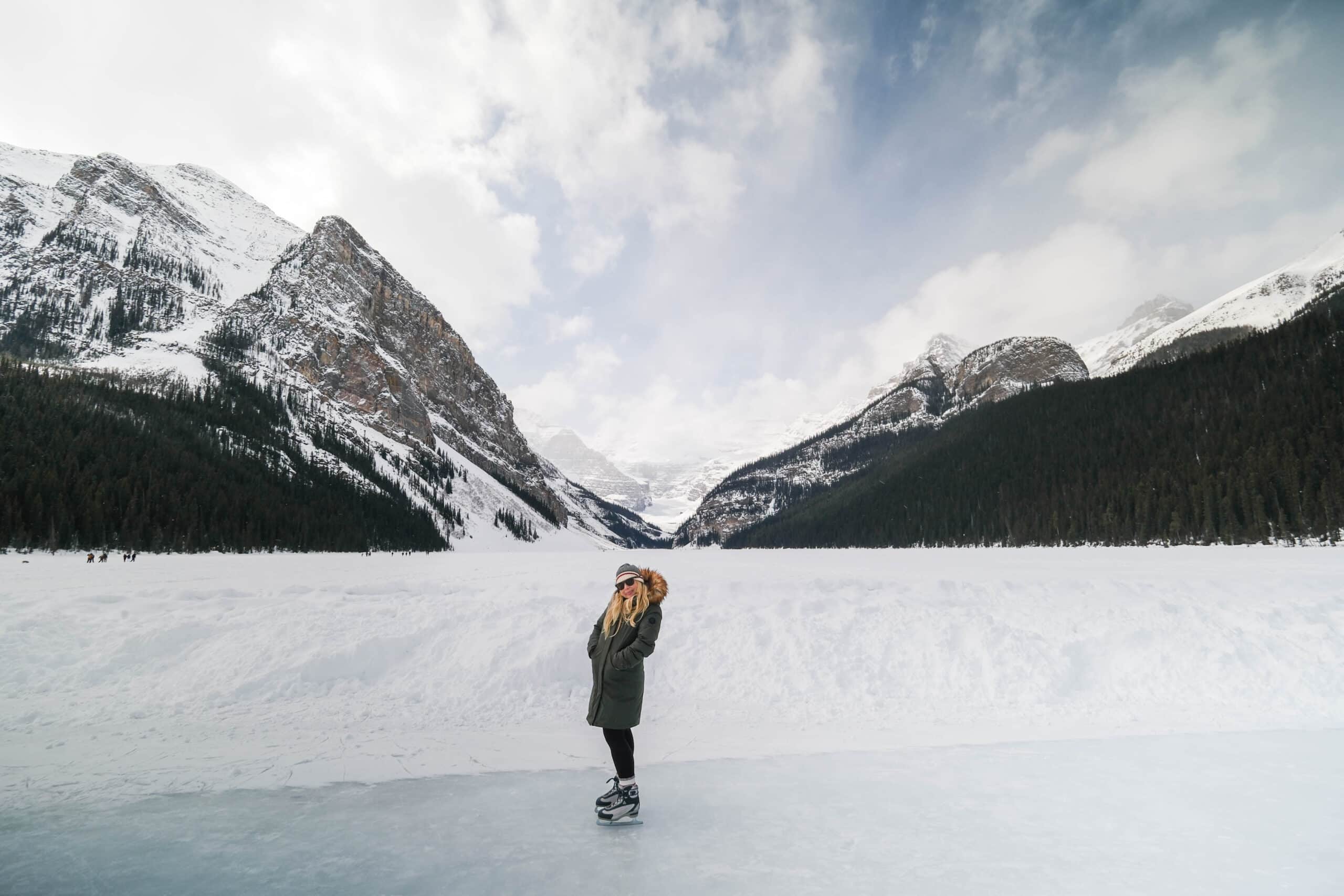 Lake Louise is excellent no matter what time of year you visit. There is something magical about this fantastic lake with Mount Victoria in the background even in the winter.
Lake Louise has even been named by CNN Travel as "one of the most beautiful ice skating rinks in the world." And with a mention like that, you can't miss ice skating on Lake Louise while you visit Banff.
---
Lake Louise is an All Natural Rink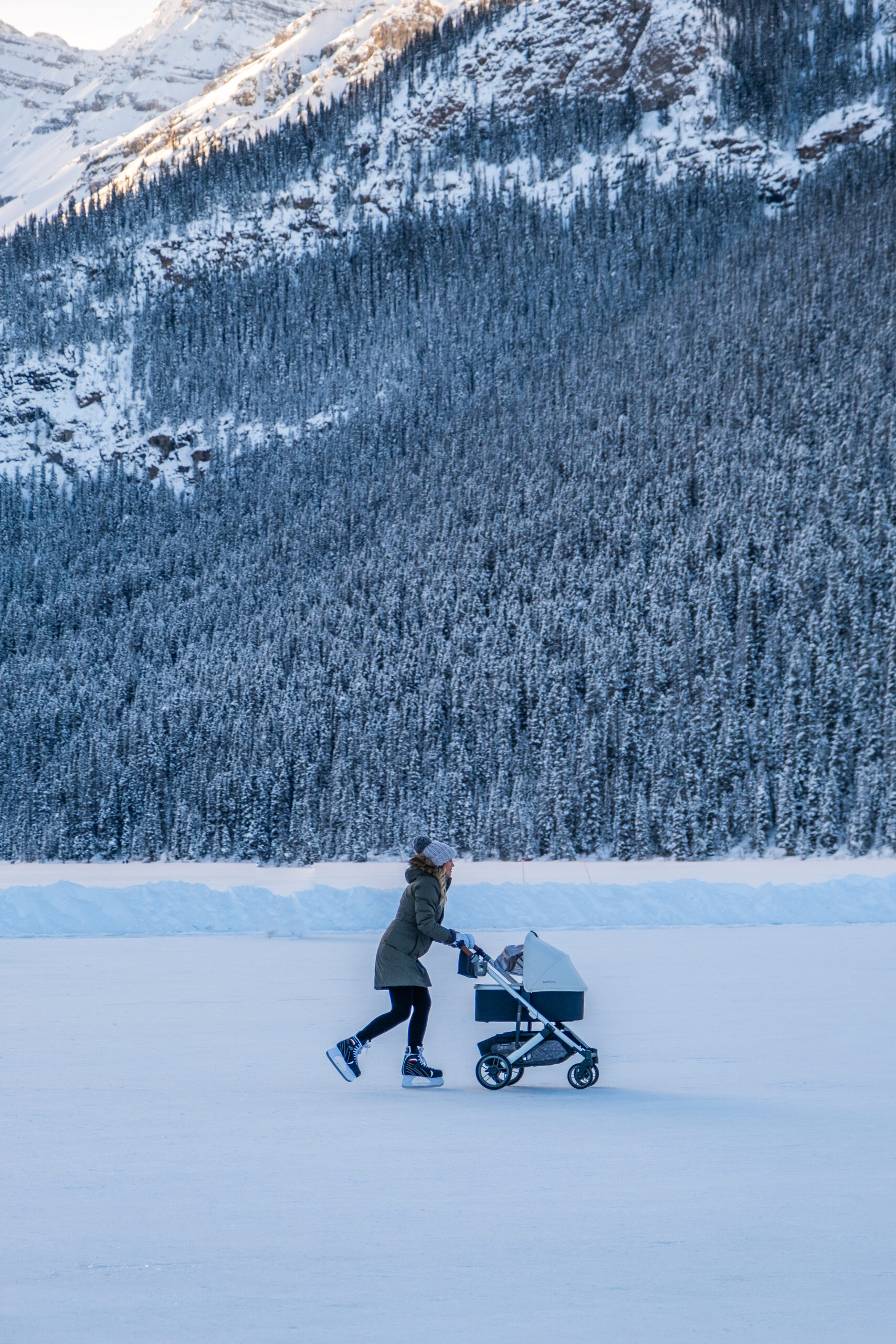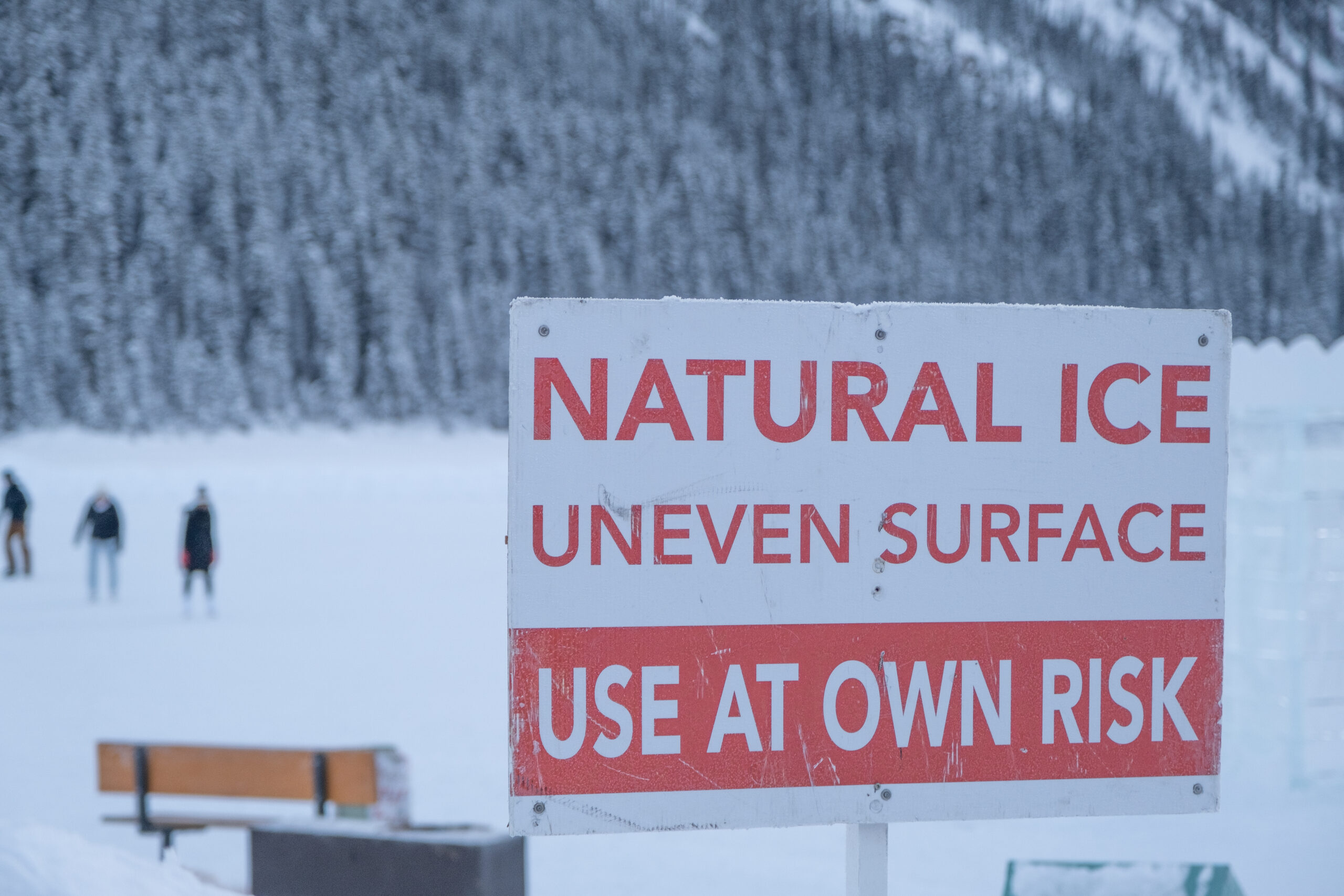 In case it wasn't clear, Lake Louise ice skating is an all natural experience. There's nothing man-made about this ice. It's all pure Canadian Rocky lake goodness. The lake starts to freeze around November, and by December it should be completely okay to skate and walk on.
Once the Fairmont's Ice Rink is maintained, you can rest assured it's safe to walk on, but if you're heading out before in the early season, make sure to check the ice for thickness. Ice should be at least 4 inches thick before you can skate on it. The best way to test ice is with an ice screw. You can see a few more of our ice skating safety tips here.
---
Lake Louise is Maintained Daily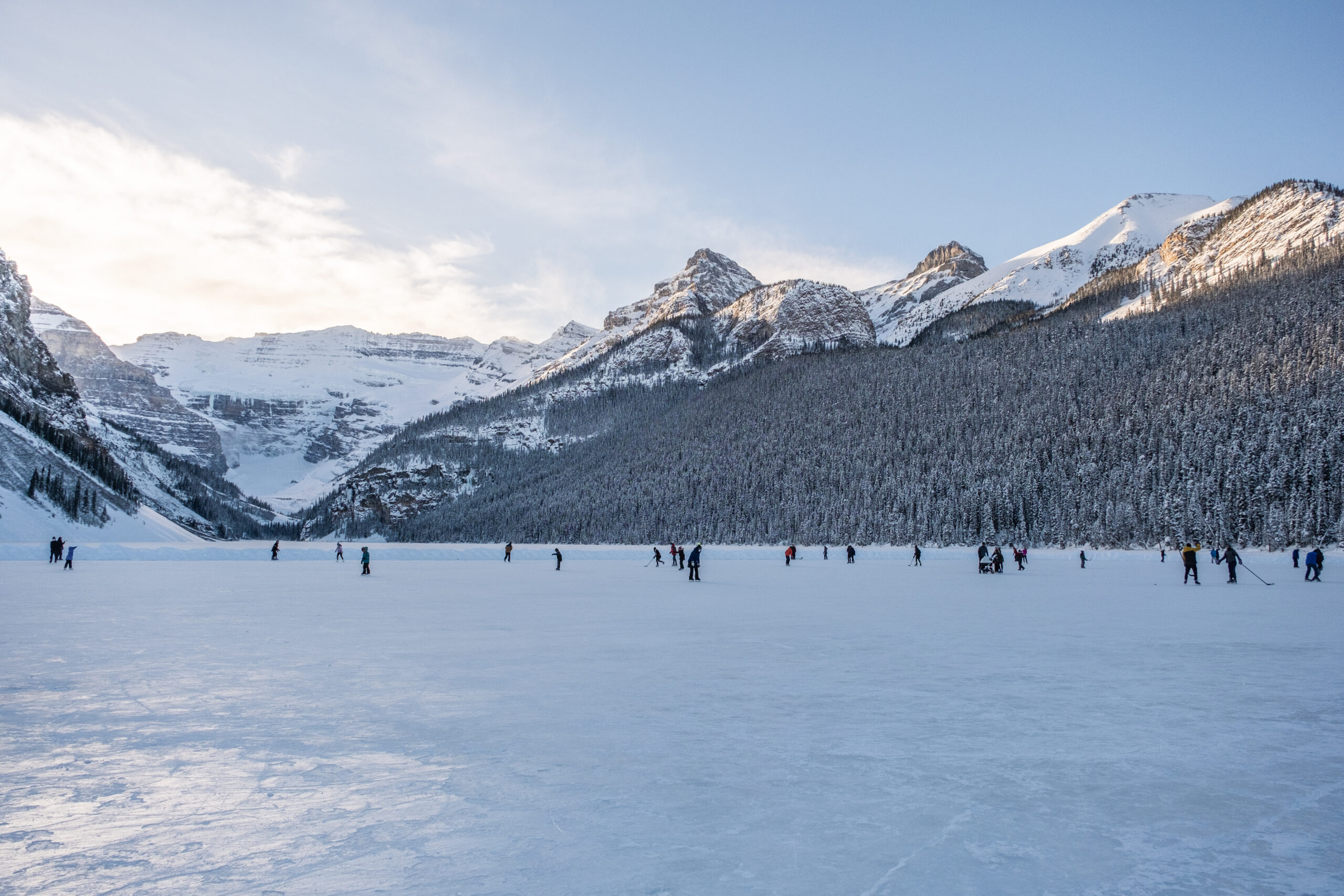 The Fairmont Chateau Lake Louise maintains the ice rink on Lake Louise daily. They clear it every morning of snowfall and keep it maintained from mid-December all the way to mid-April, but that depends on conditions.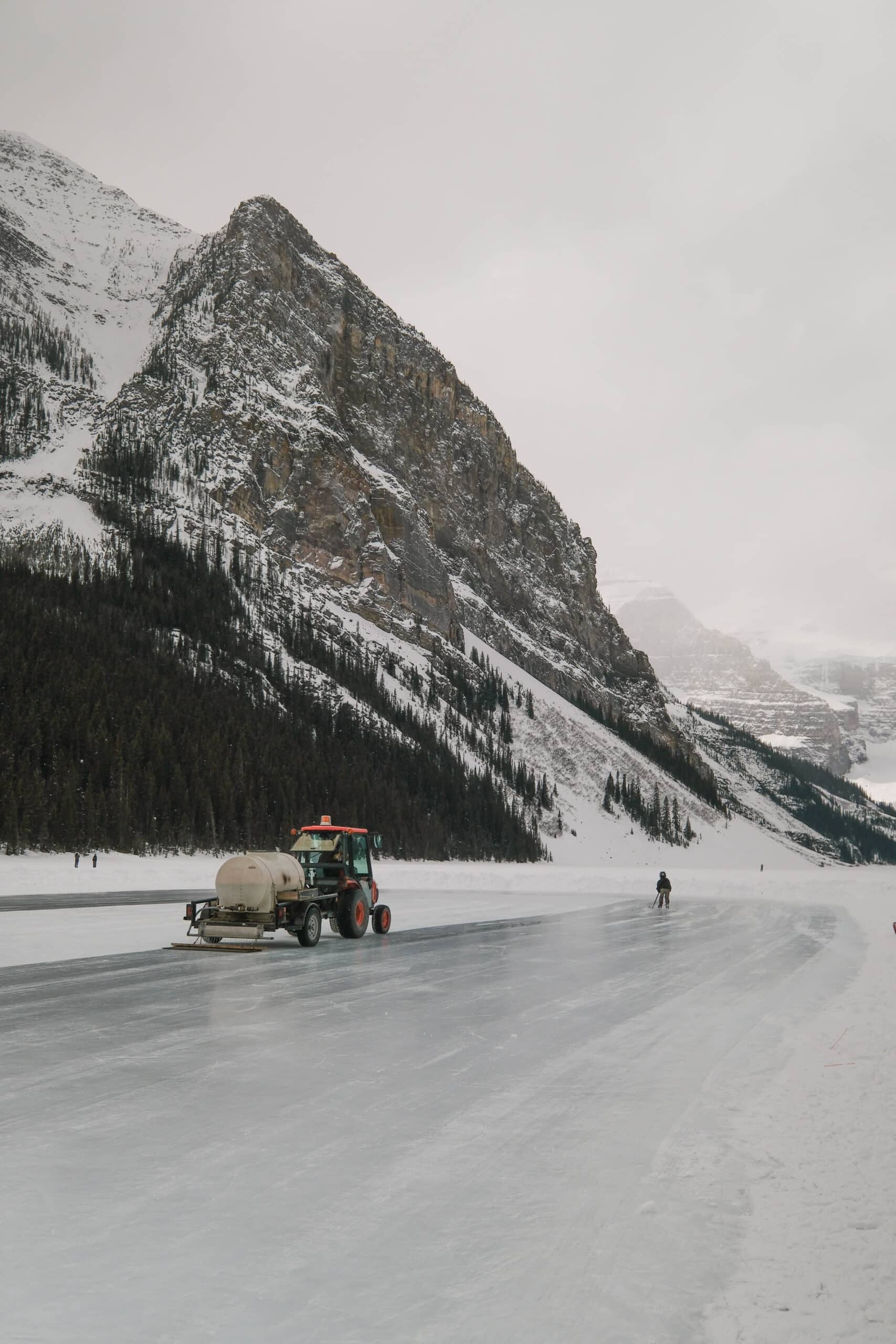 They even have a Zamboni (a machine that resurfaces the ice). This means that every so often, they bust out the Zamboni and shave a thin layer off the top, washing the ice, and this replaces the top with a fresh layer of water that will freeze and look crystal clear.
This is quite a contrast coming from the other frozen lakes in Banff. Lake Minnewanka, Two Jack, and Vermilion are all beautiful lakes to ice skate on. The problem is once they freeze, and then get covered by what feels like neverending snowfall in the winter they aren't good to ice skate on anymore.
---
Lake Louise Skating is an All Winter Long Activity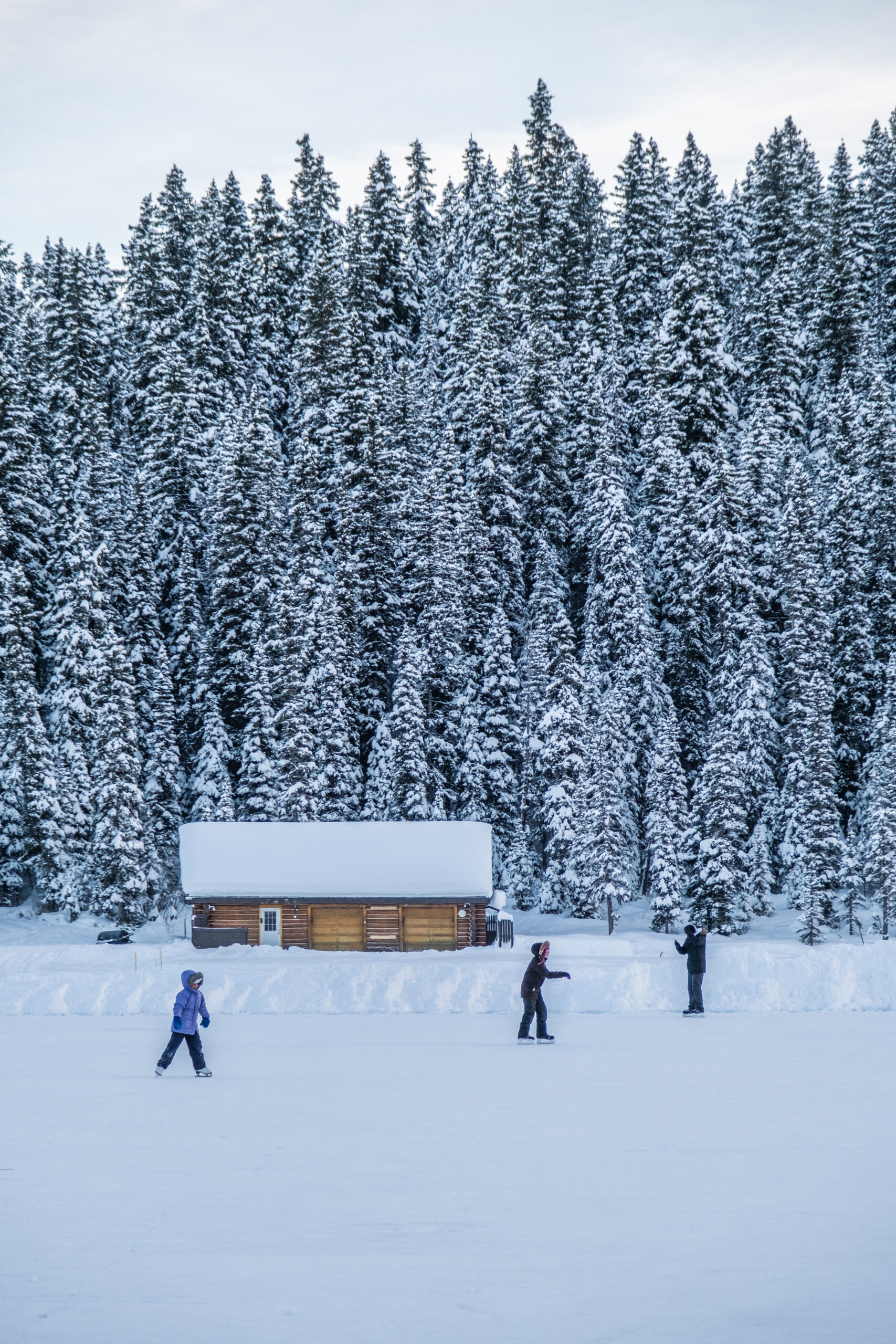 There are so many great lakes to skate on in the winter in the Rockies. Gap Lake, Spray Lakes, Goat Pond, and Johnson Lake are some of my favorites in the area. The key to skating on these lakes is to get to them right after they freeze (but safe enough to skate on), but before a large snowfall covers up the ice.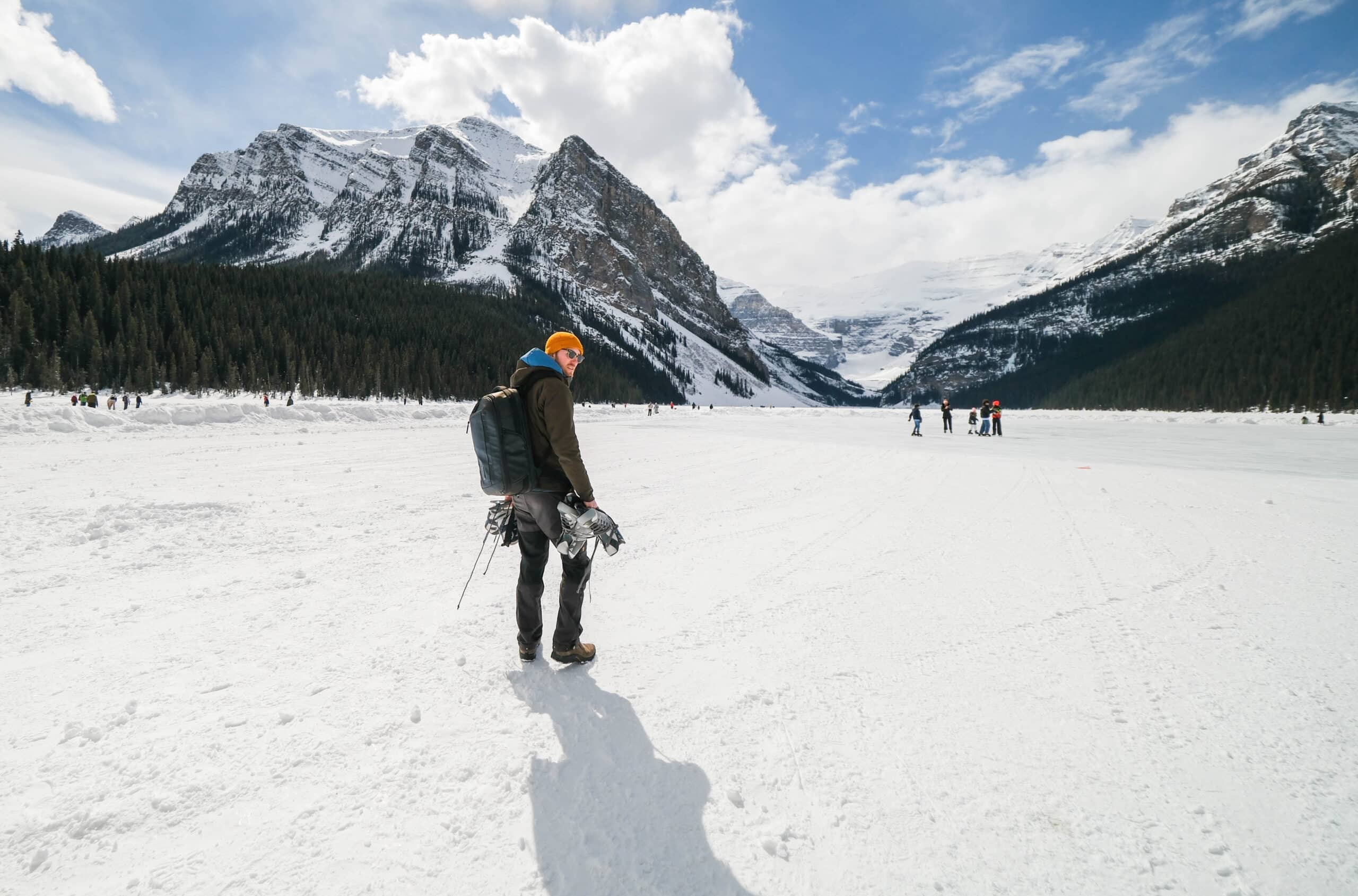 Sometimes this can be very small time window – one or two nights! It's all weather dependent and each year, month, and day is different. It can be hard to keep up with when you are not local!
Lake Louise, on the other hand, is good to go every single day in the winter. By mid-December plenty of Albertans will head here to enjoy the rink, and that lasts until April. All winter long the rink is maintained. So even if you are visiting for just a short time you don't have to worry about missing out on ice skating in Banff.
---
Ice Skating on Lake Louise is Free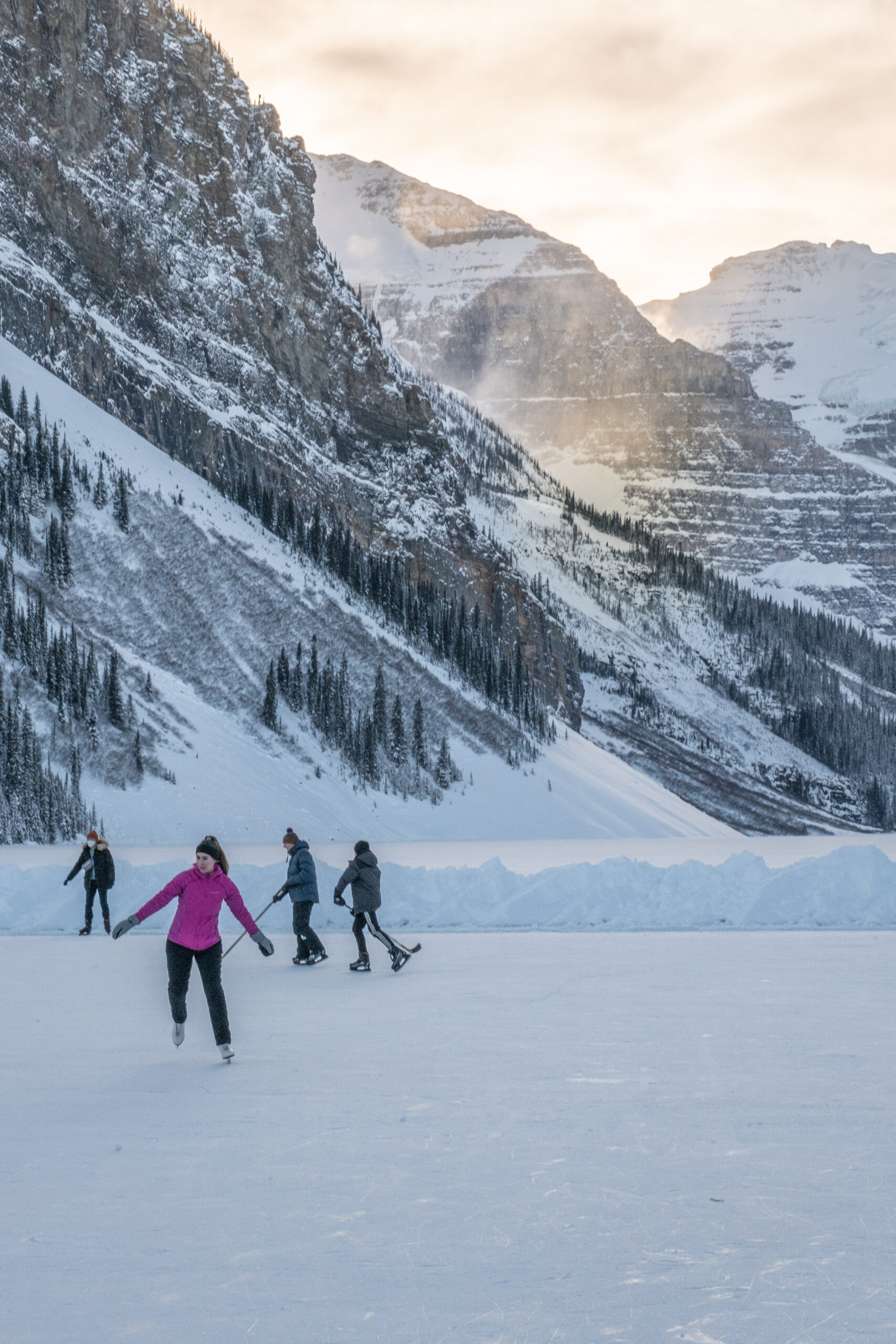 Yes, ice skating on Lake Louise, one of the most beautiful places in the world, is entirely free. There's no charge to skate here, but if you need to rent ice skates, you can easily do so at the Fairmont or Wilson Sports down in the Samson Mall.
You're likely going to get chilly if you are out for some time, so bring a warm drink canister with you with some hot cocoa powder to save money or plan to have hot chocolate inside the chateau.
---
Admire The Ice Carvings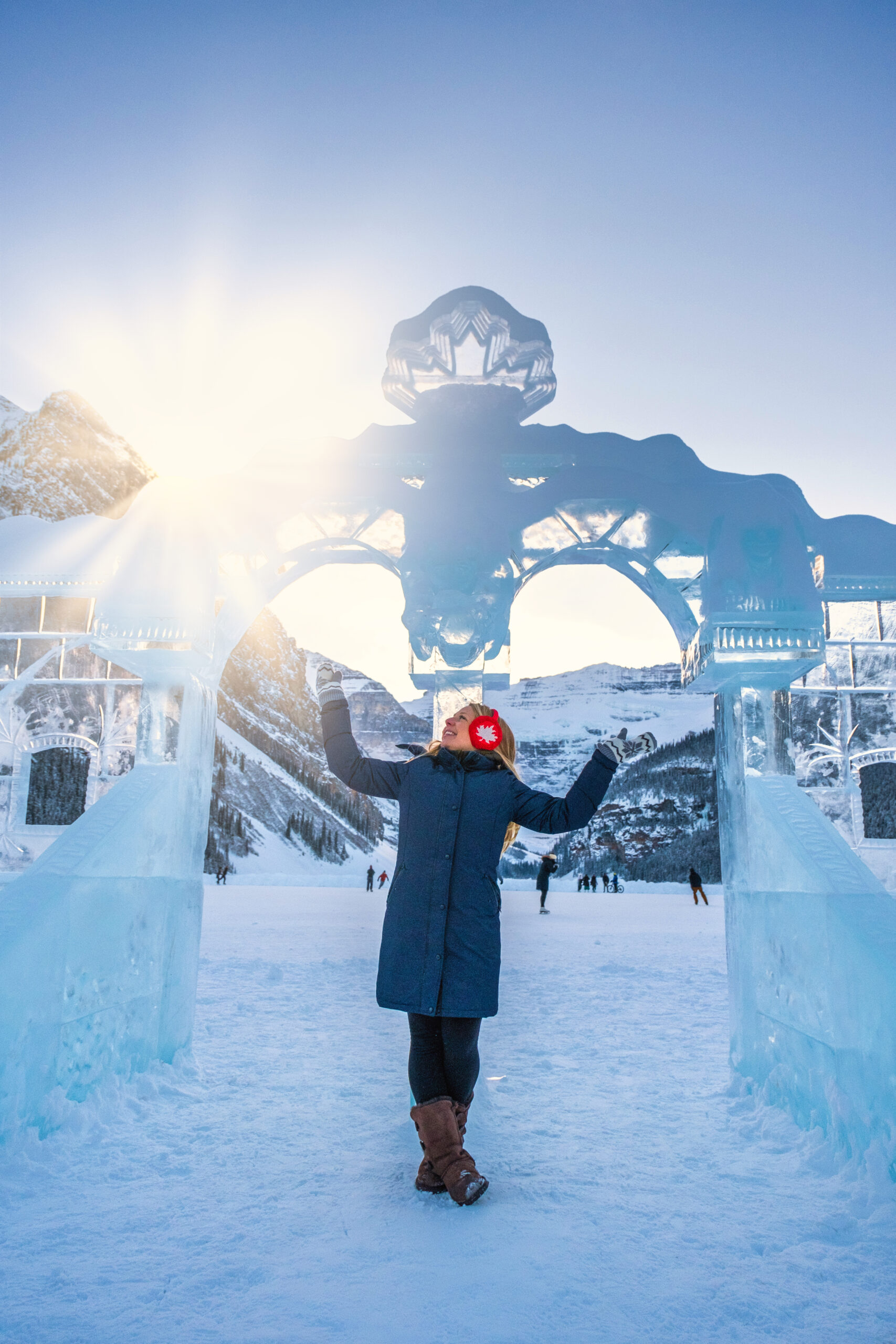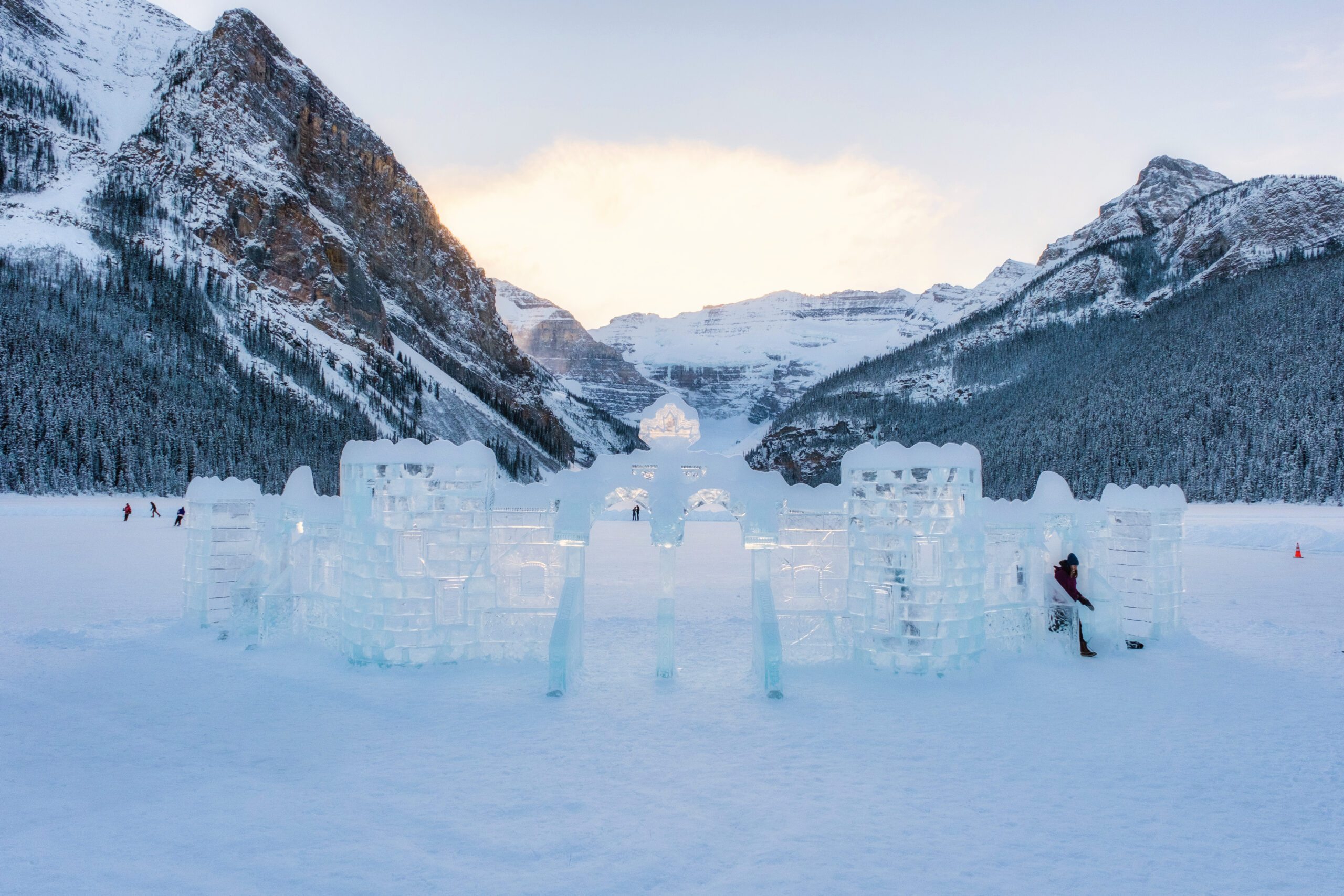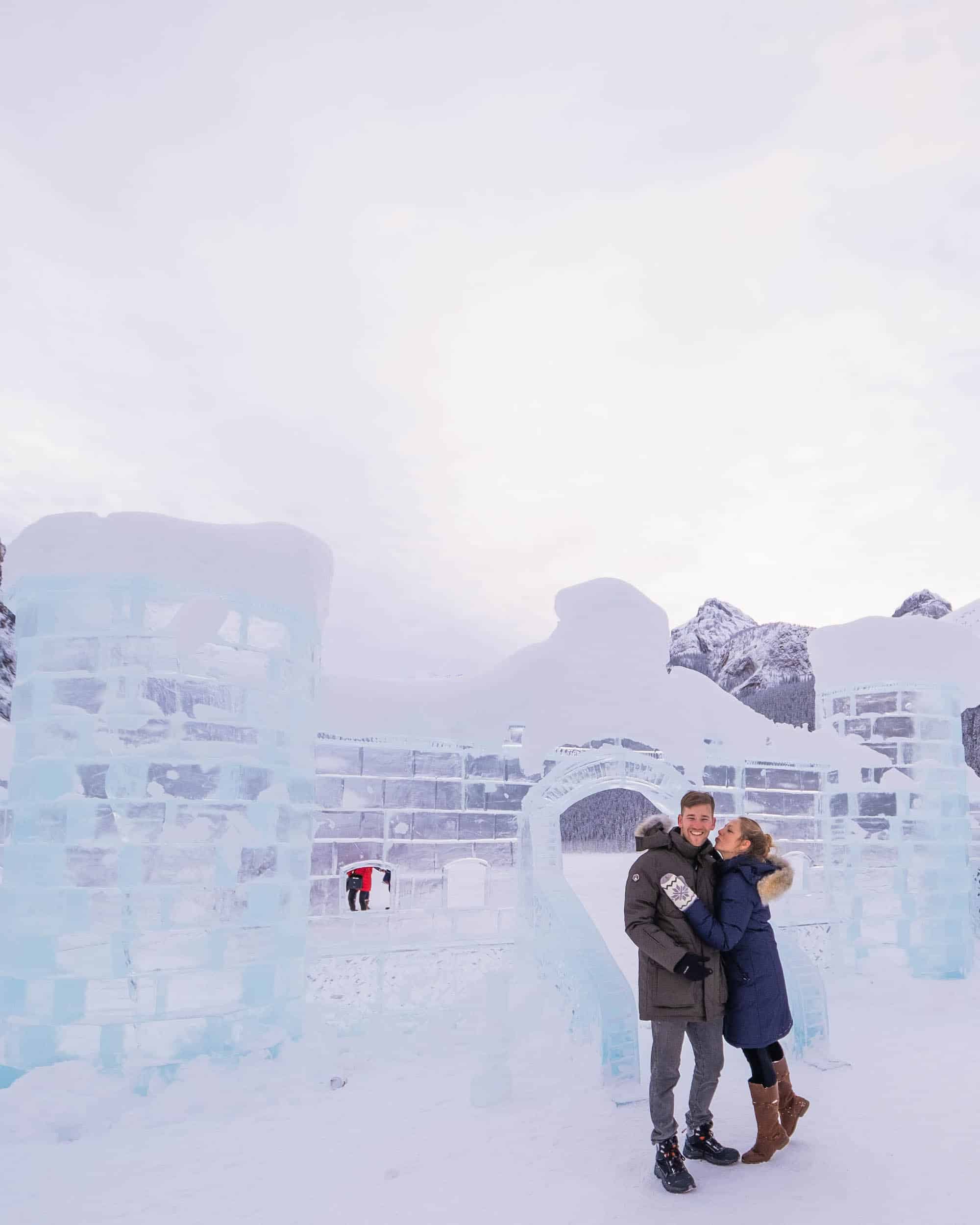 Every year the Fairmont invites ice sculptures to create a beautiful and intricate ice castle out of huge blocks at the front of Lake Louise. It's in celebration to highlight the most stunning rink in the world.
If you're visiting Banff in January, check out the Ice Magic International Ice Carving Competition, which happens January 19 – 30 (canceled in 2023). This is an extraordinary event at Lake Louise and what winter in Canada is all about. This is where ice comes alive and serves as a form of art and architectural design. During this time you can watch artists from around the world carve different frozen figures.
It's free to visit the ice carving events between Monday – Friday and on the weekends before 10 a.m. or after 5:30 p.m. During peak times on the weekend, an admission fee is charged. If you can't make the dates of the actual Ice Magic events, don't worry, the carvings will be on display all throughout February.
If you stay in Lake Louise at Baker Creek Mountain Resort, Castle Mountain Chalets, the Fairmont Chateau Lake Louise, or at Emerald Lake Resort tickets to the festival are included with your stay!
---
You Can Skate on Lake Louise at Night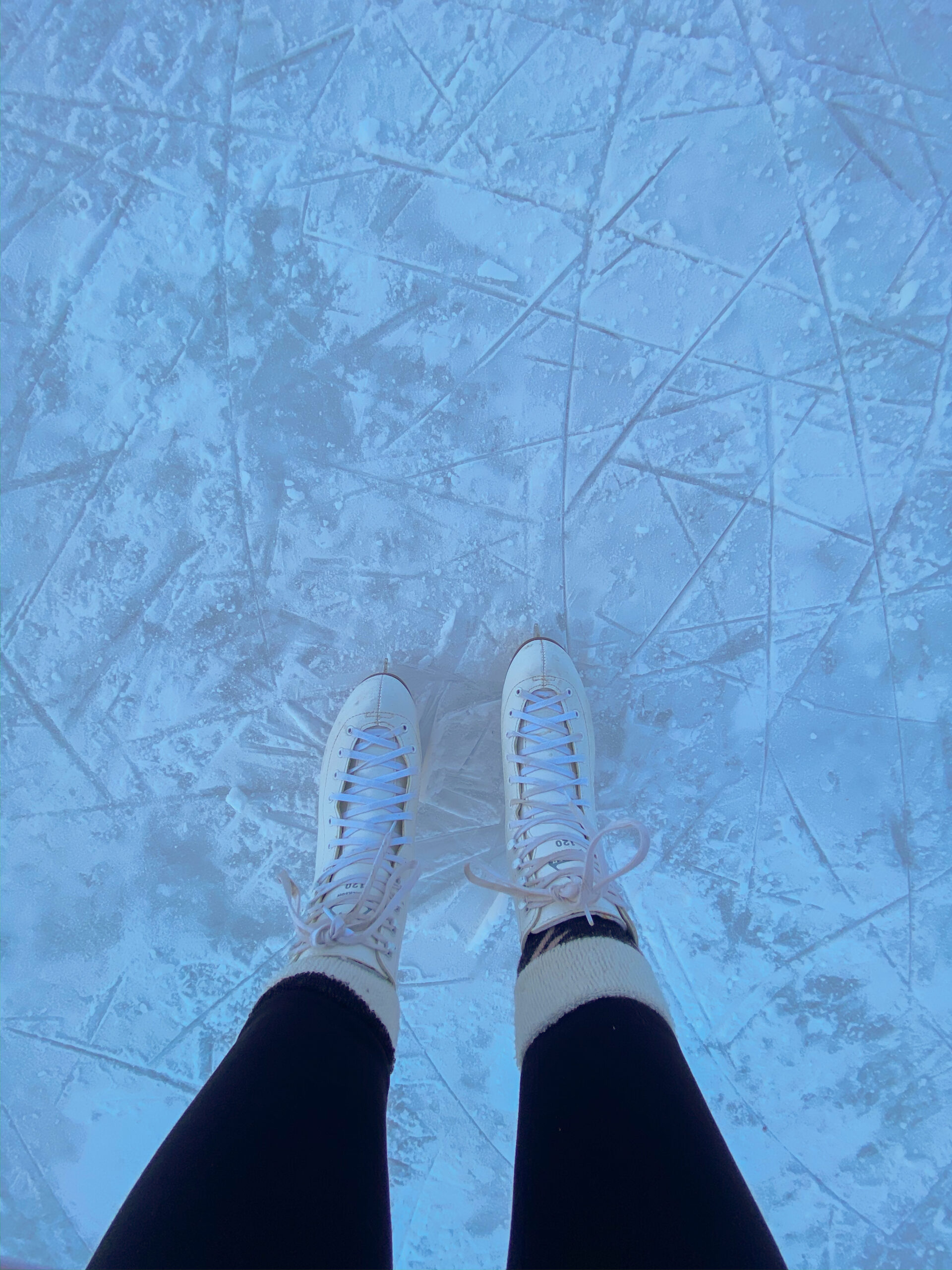 Remember when I said that Lake Louise is free? Well, that's because it's in a national park, which means it's open to the public. This means if you are comfortable with it, you can skate on Lake Louise under the stars. Just make sure to bring a toque, scarf, headlamp, and warm jacket – it's without a doubt going to be cold.
---
There's a Dedicated Hockey Rink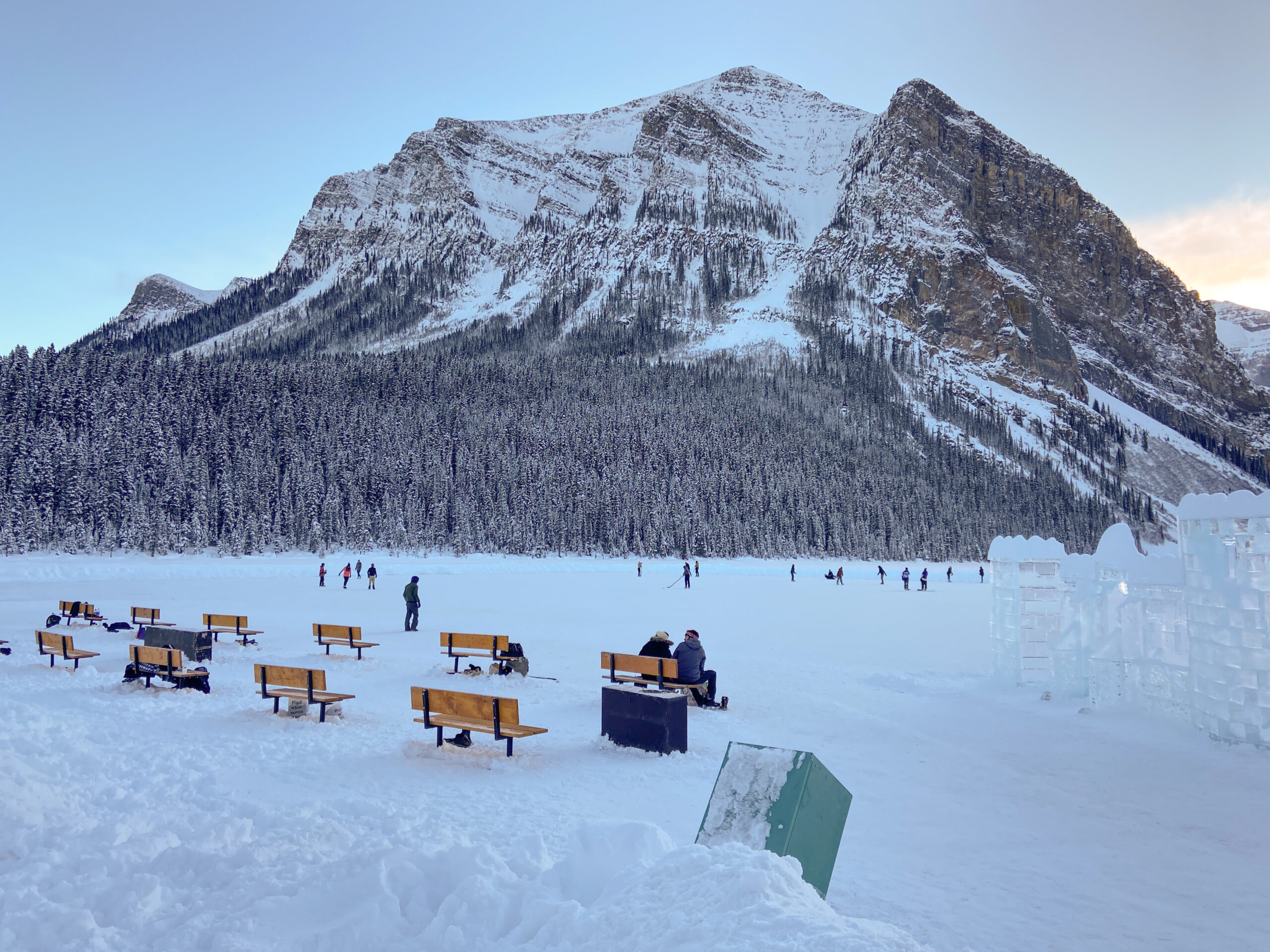 Ice skating at Lake Louise doesn't just mean putting on a pair of figure skates and skating around in a circle if you don't want to! There's a dedicated rink just for the hockey players. So bring your hockey sticks and a puck and enjoy it!
---
Lake Louise Skate Rental Hours And Cost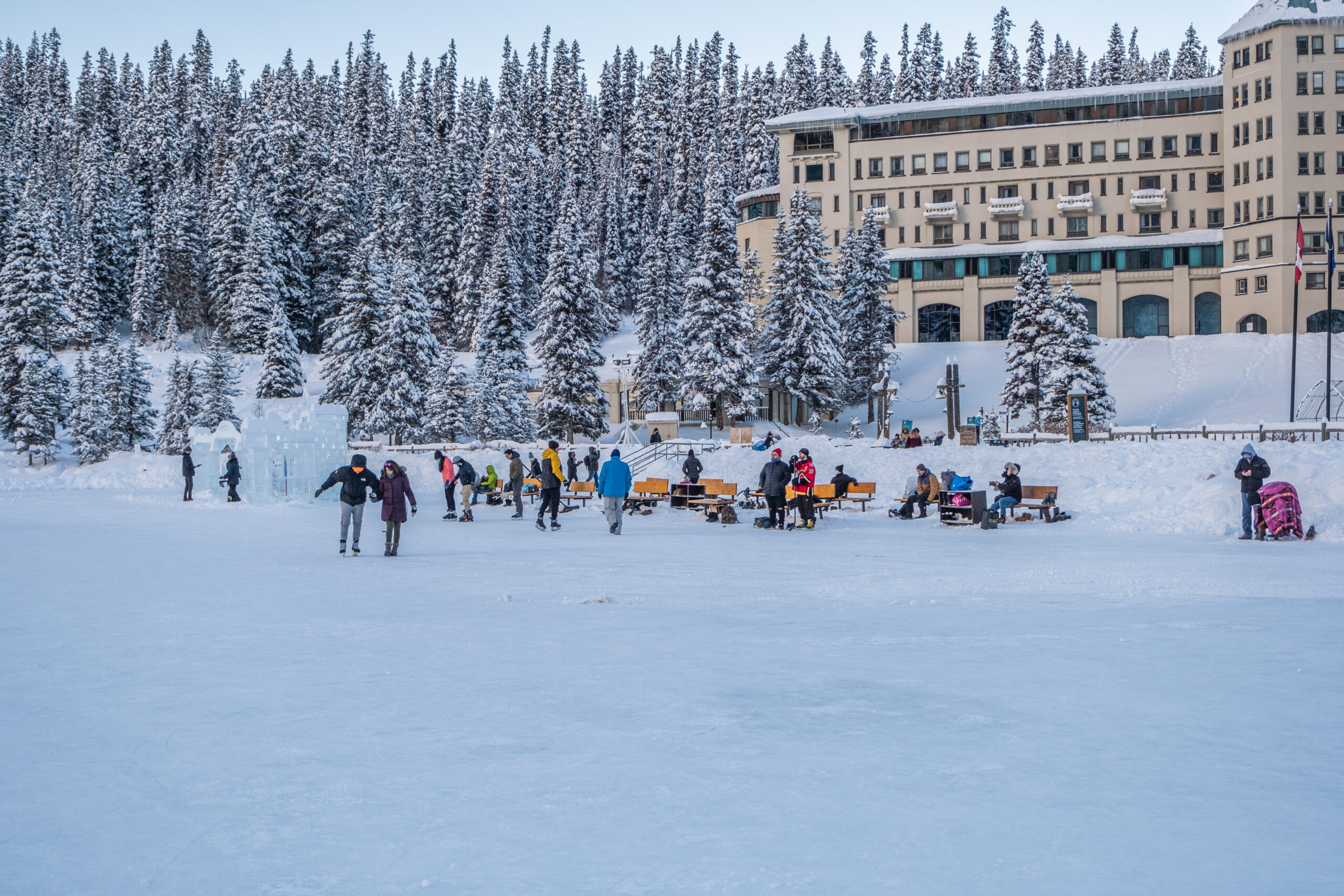 There are a few options to rent ice skates at Lake Louise if you don't have your own.
Skates are available for rent in the Fairmont Chateau Hotel through Chateau Ski And Snow, located just off the lobby. You can also rent hockey sticks and pucks to use on the hockey rink.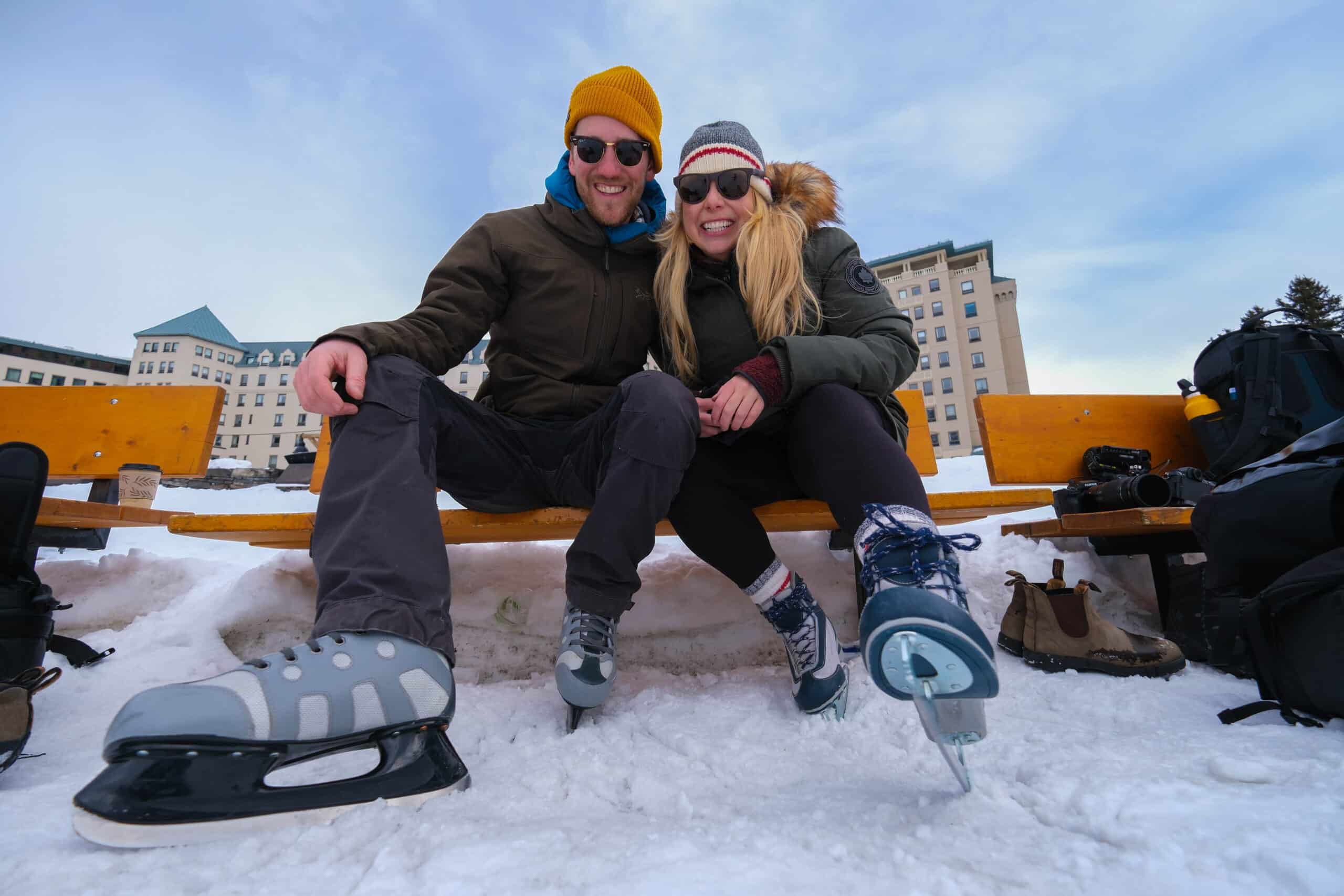 Skate Rentals from the Fairmont:
Half-Day Rental: Adults $23 | Children $13
Full-Day Rental: Adults $33 | Children $23
You can also rent skates from Wilson Sports in the Lake Louise Village for $12 or in Banff at Banff Adventures for $15 a day.
---
You Can Skate on a Bright Blue Paradise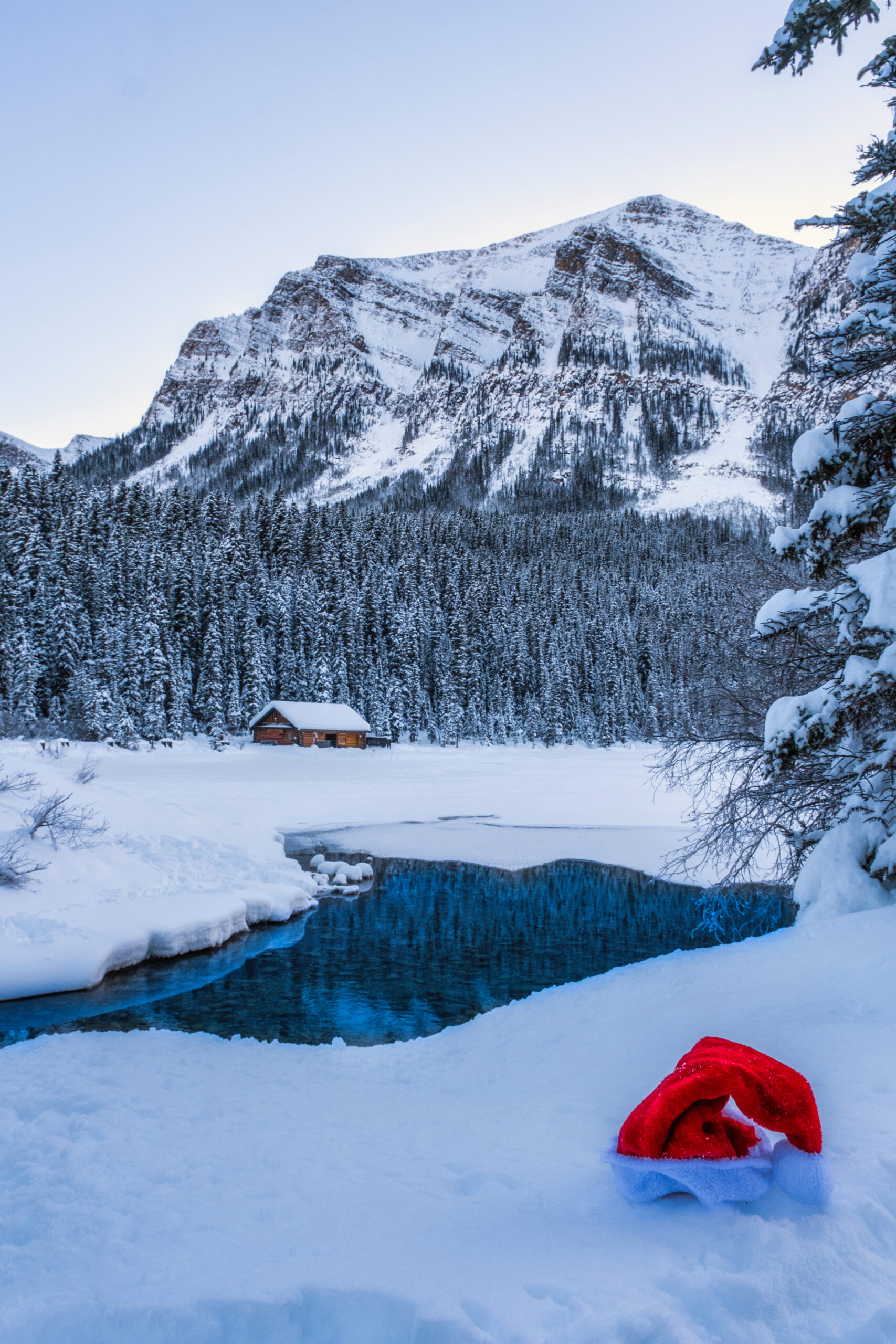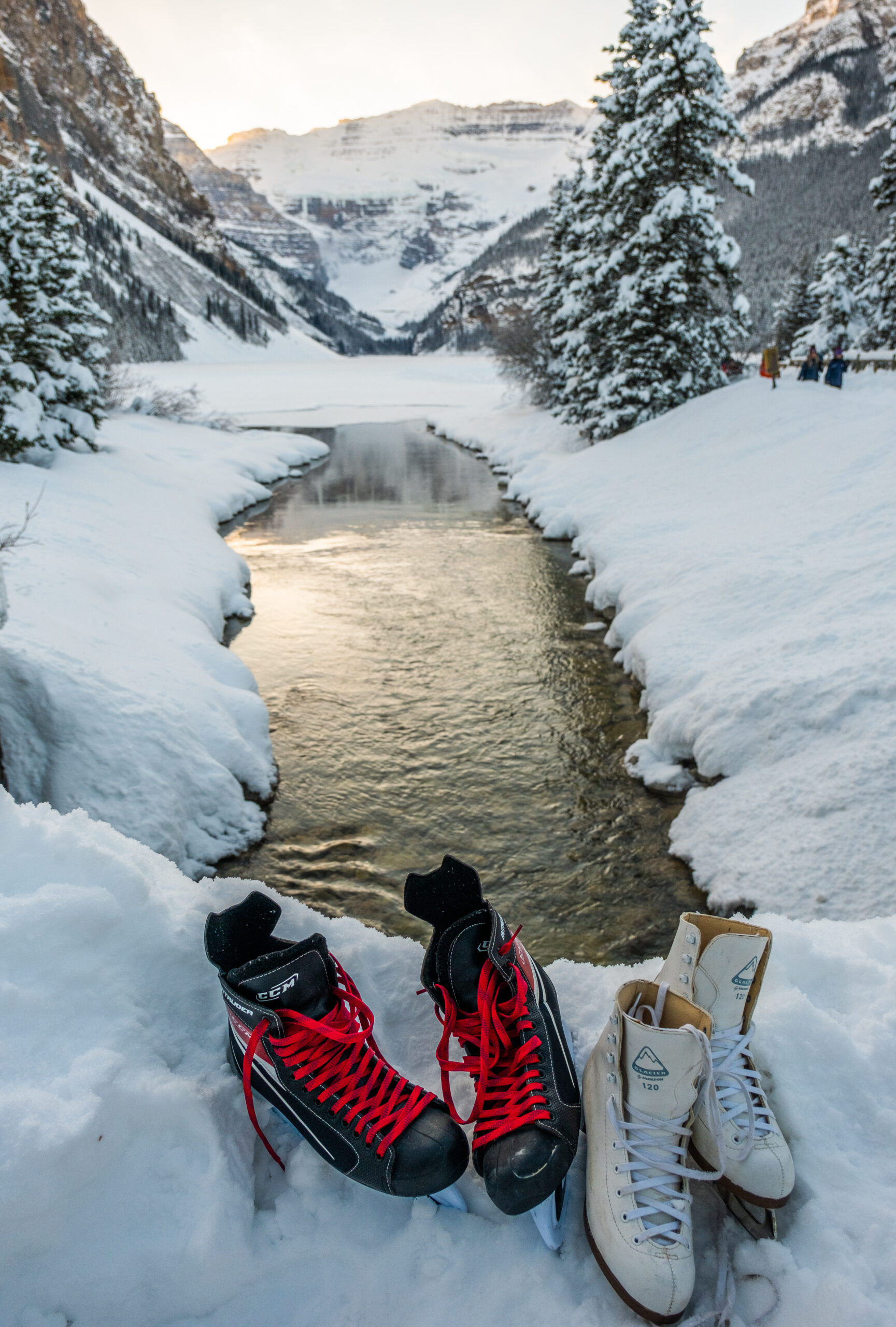 If you're lucky, and I mean super lucky, you might get a clear ice skate day on Lake Louise. Which means you can ice skate on a clear blue sheet of ice.
Lake Louise every few winters can freeze very early before a significant snowfall, and the result is a blue glass lake. It's an absolutely stunning natural occurrence and can happen in November, but don't count on seeing the lake this way as November is generally the worst month to visit Banff, so you'll mainly find locals enjoying it around this time.
To see the lake like happens for a very short window, and by short, I mean super short. It also doesn't happen every year. This past year people only had one day to skate on Lake Louise while it was clear. The key is to catch Lake Louise when it's safely frozen over, but before the snow falls again and covers it. We missed it last year, as it only happened for one night, so we have no photos of this clear blue ice skating rink unfortunately.
---
There's Plenty of Other Things to do on Lake Louise in the Winter!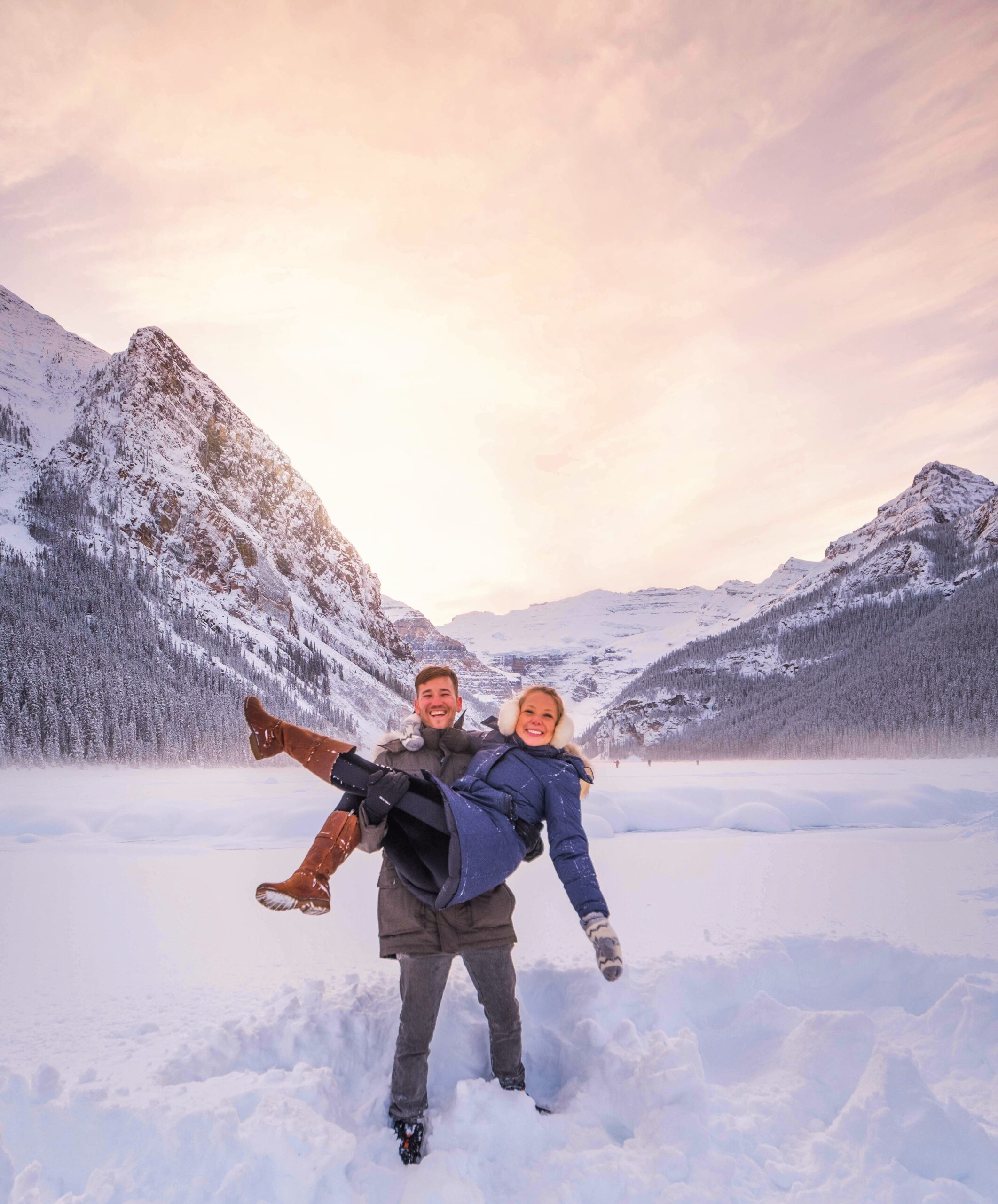 There are so many amazing things to do at Lake Louise in the winter. It's a magical time to enjoy the lake from skiing at Lake Louise ski resort to enjoying a horse-drawn sleigh ride. See the best things to do at Lake Louise below.
---
The Best Restaurants Around Lake Louise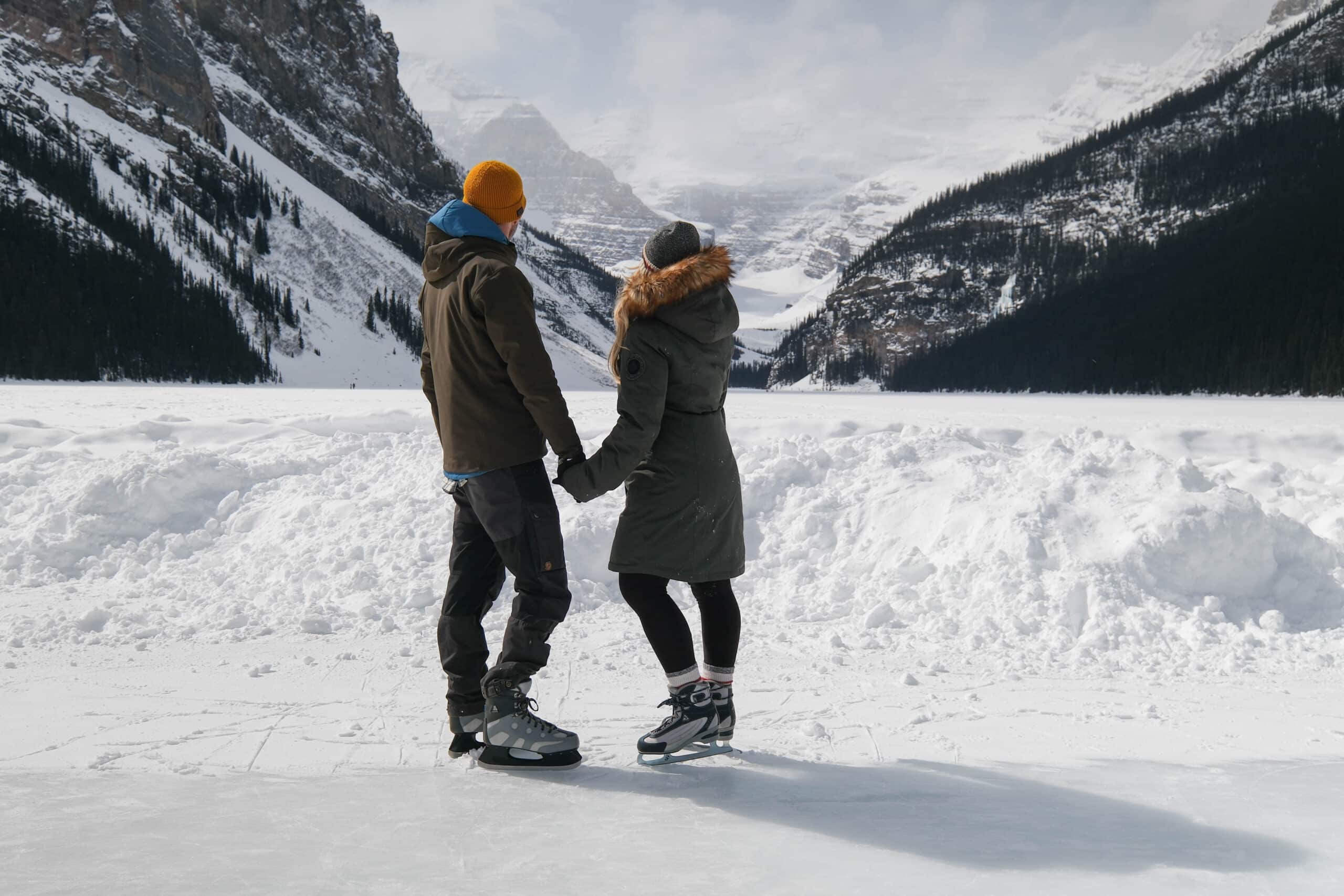 Walliser Stube: Perfect place to get fondue. Warm up here in the evening. Reservations are highly recommended.
Lake Louise Railway Station & Restaurant: The most unique place to eat in Lake Louise is inside an old railway cart! This Lake Louise restaurant is near the Lake Louise village.
Storm Mountain Lodge: You don't have to be a guest here to enjoy an evening in this beautiful Banff cabin. Reservations are highly recommended.
11 Lake Louise Restaurants You'll Absolutely Love
---
The Best Places to Stay For Lake Louise Skating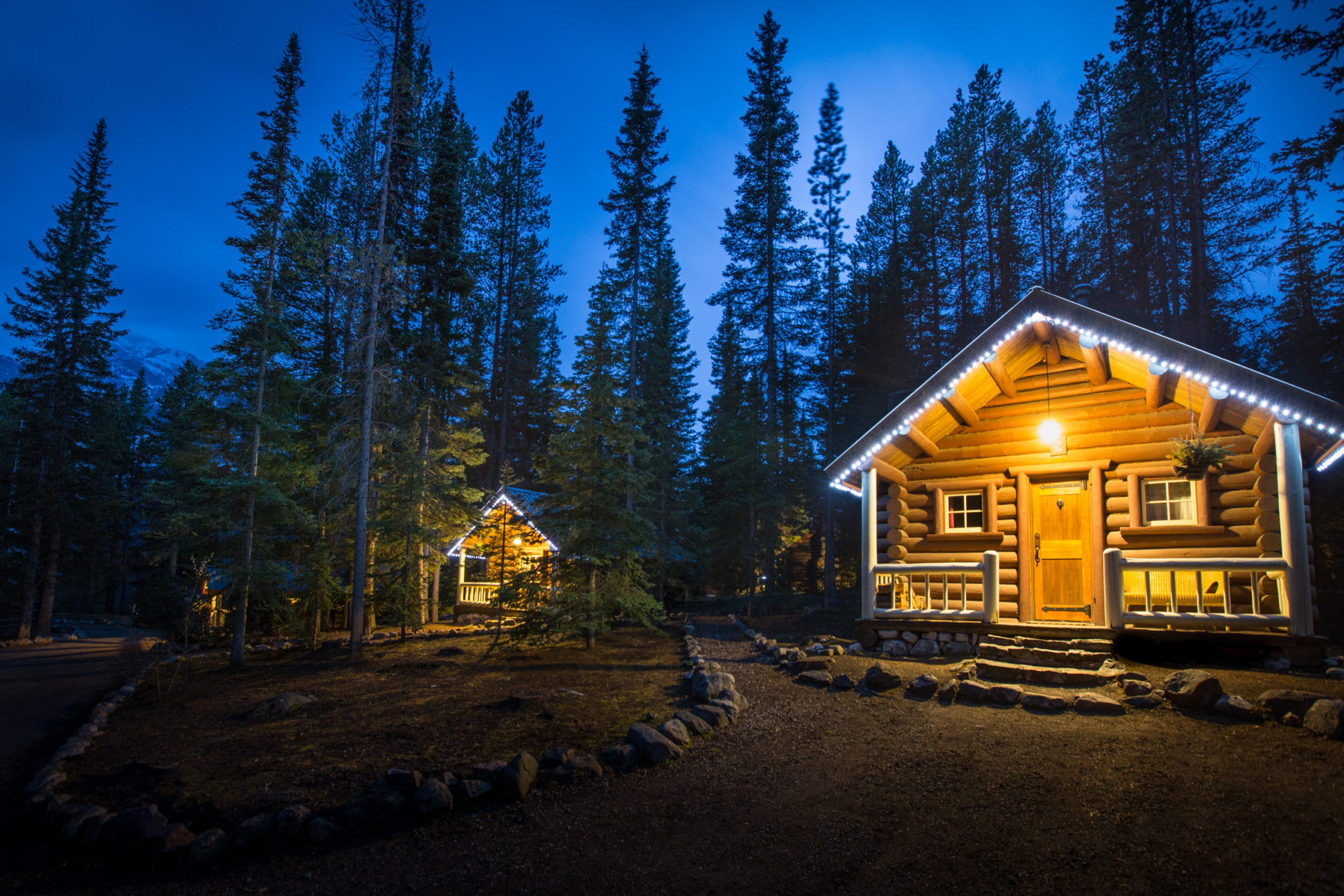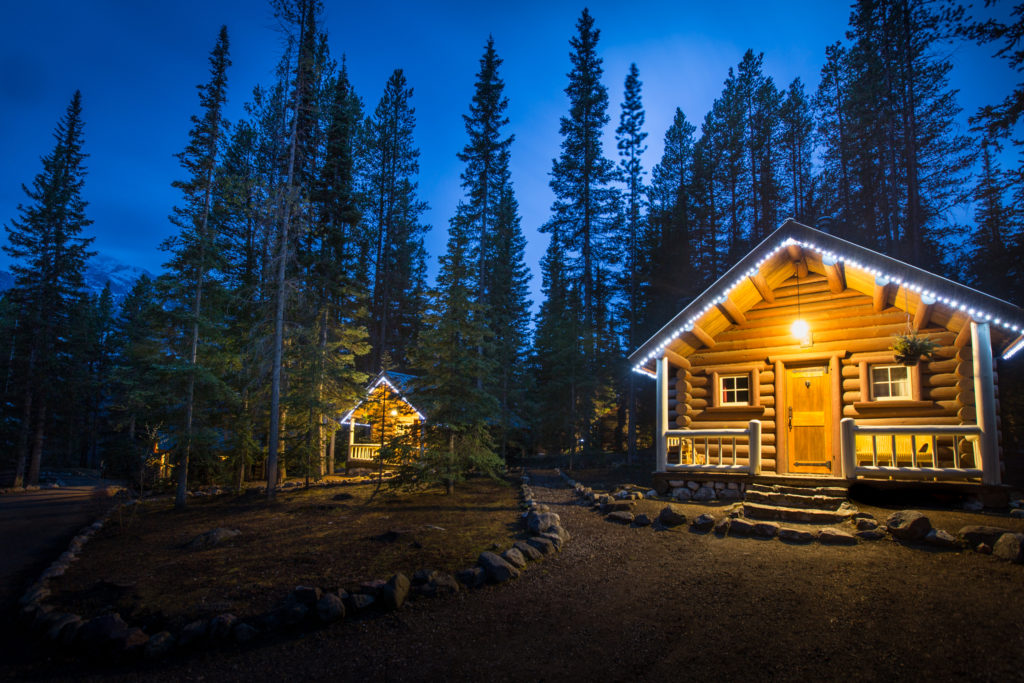 Just 20 minutes away from Lake Louise on AB-93 is the cozy and secluded Storm Mountain Lodge. If you are after a cozy mountain cabin feel for winter don't hesitate to book this place.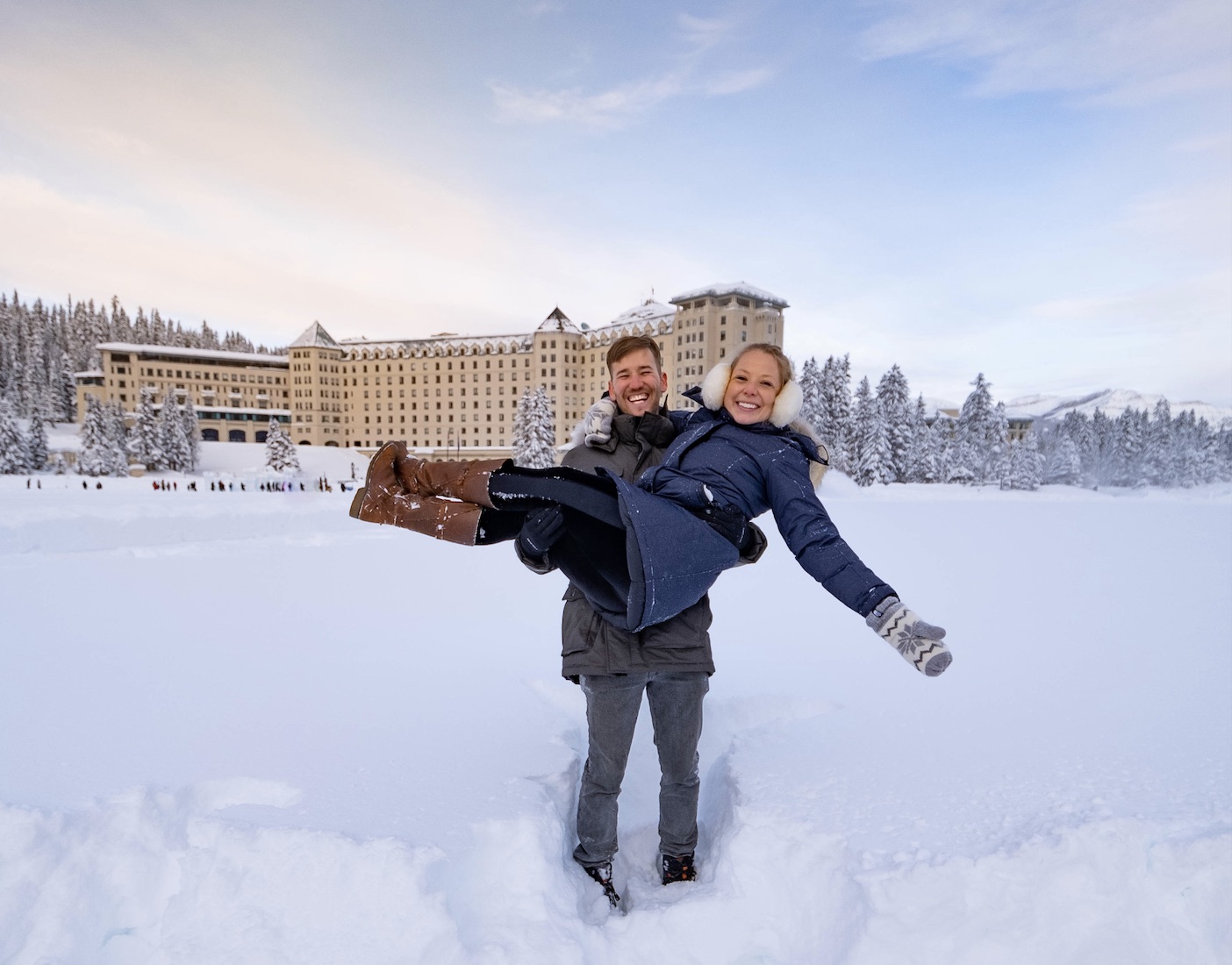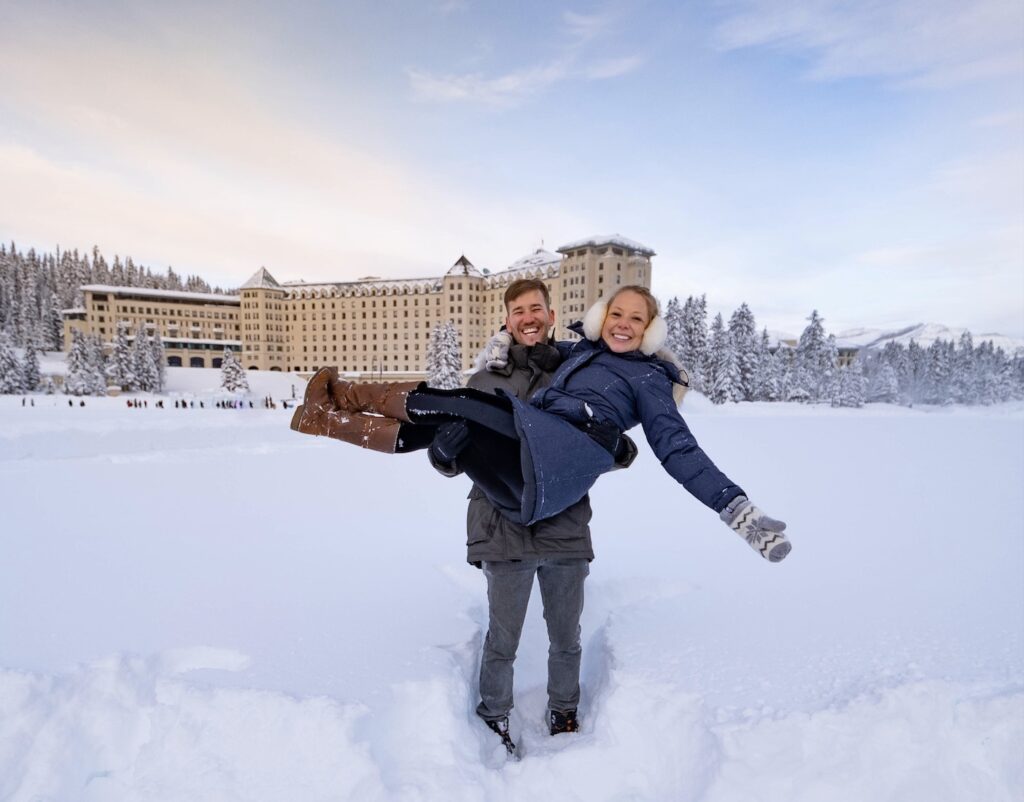 Obviously one of the best places to stay for some awesome Lake Louise ice skating is the Fairmont herself. This is the best property to stay at, and it's right on the shores of Lake Louise! That being said it is one of the most expensive properties in Banff.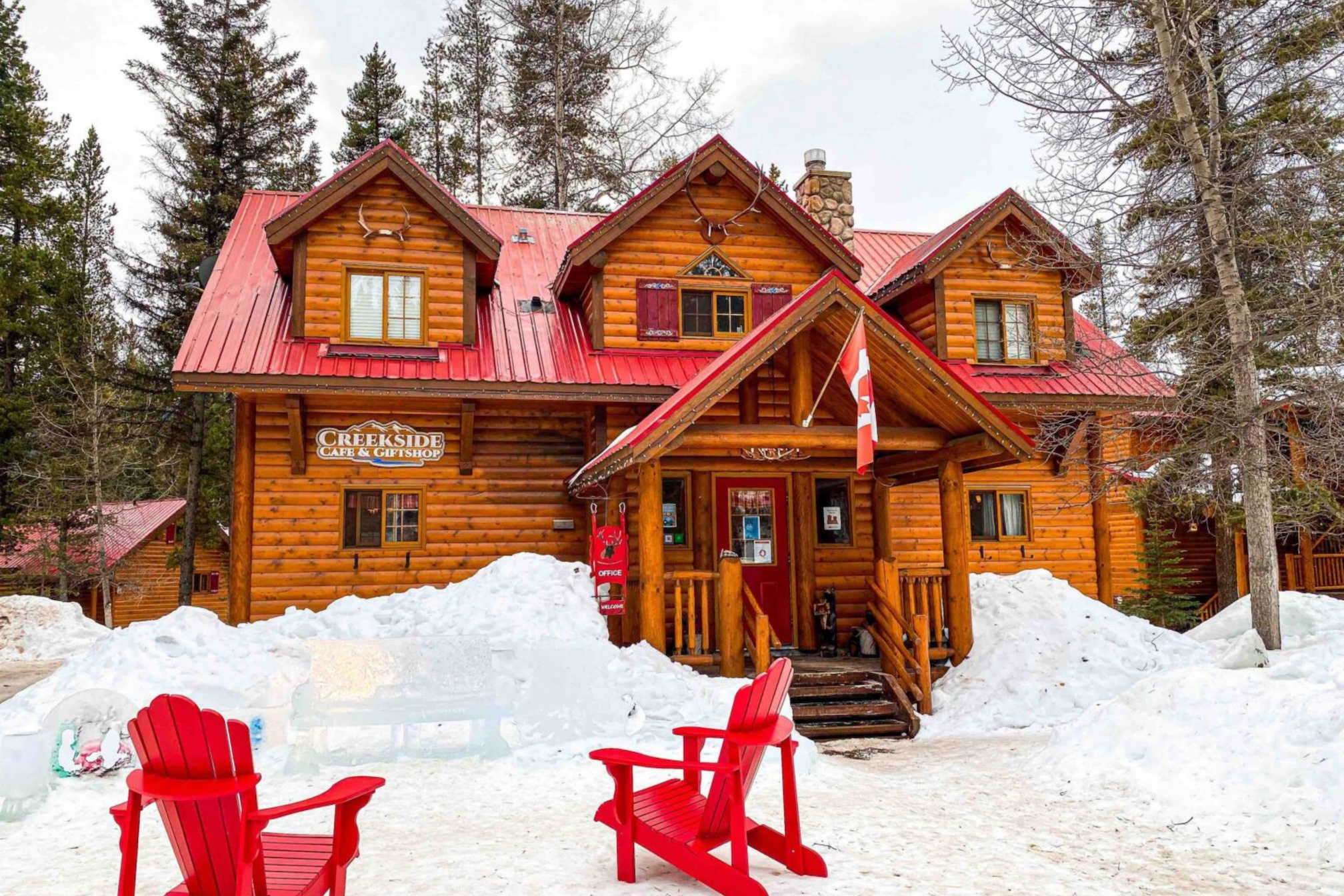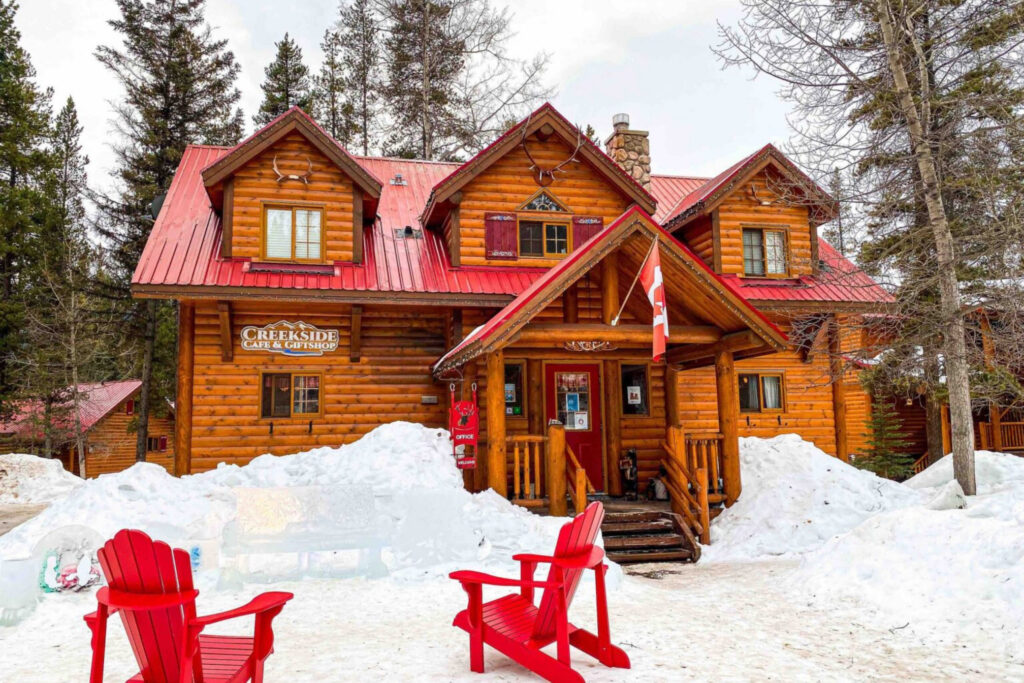 These cabins are located on the Bow Valley Parkway just a short drive away from the lake. It's perfect for those that want to stay in a cabin like accommodation and don't mind being away from the crowds.
---
What to Wear at Lake Louise in the Winter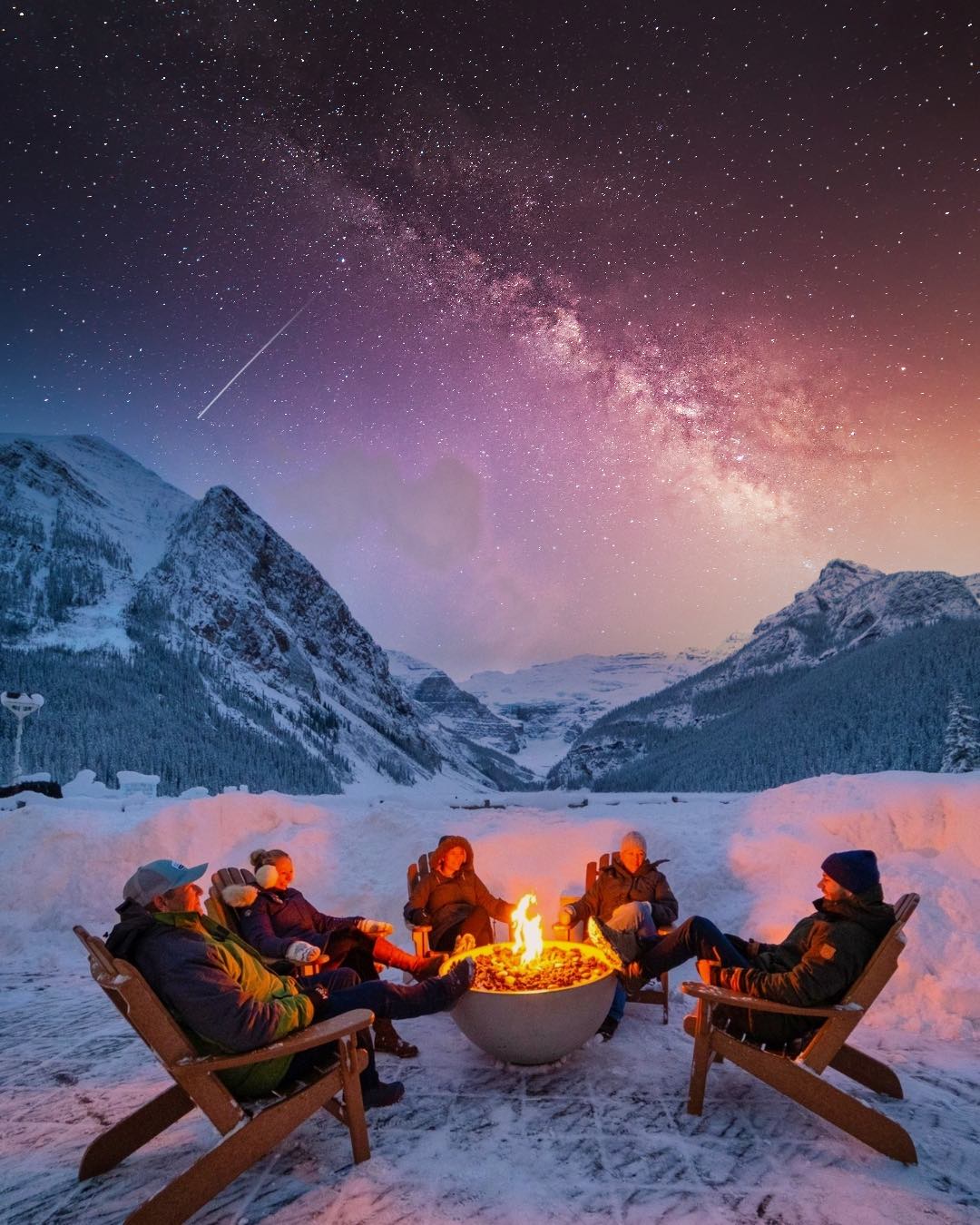 It always feels about 5°C colder at Lake Louise than in Downtown Banff. Dress for winter when ice skating at Lake Louise! You'll thank me later.
Outerwear
Snowpants
Hat, Gloves, Scarf
---
Hopefully, you'll love Lake Louise skating as much as we do!
If you have any other questions leave a comment or see our Canadian Rockies travel guide for more articles about photography spots, lakes, hikes, and everything else.
---
---
↓ Join the community ↓
The Banff Blog Facebook Group is your headquarters for the Canadian Rockies' travel advice and information. Including hike info and off-season travel information. This is also where you can meet one another when you need adventure buddies. 

Plan Your Trip to the Canadian Rockies