The Moraine Lake Shuttle is the best way to see beautiful Moraine Lake. It's always been difficult to get parking at Moraine Lake, and the stress of seeing her in all her glory has always been immense for visitors.
While many are bummed that they can't drive up to Moraine Lake anymore, the Moraine Lake shuttle is still here to help every visitor to Banff see the most beautiful lake in Banff. Here's all you need to know about booking the Moraine Lake Shuttle.
---
All About the Moraine Lake Shuttle
---
Can You Park at Moraine Lake?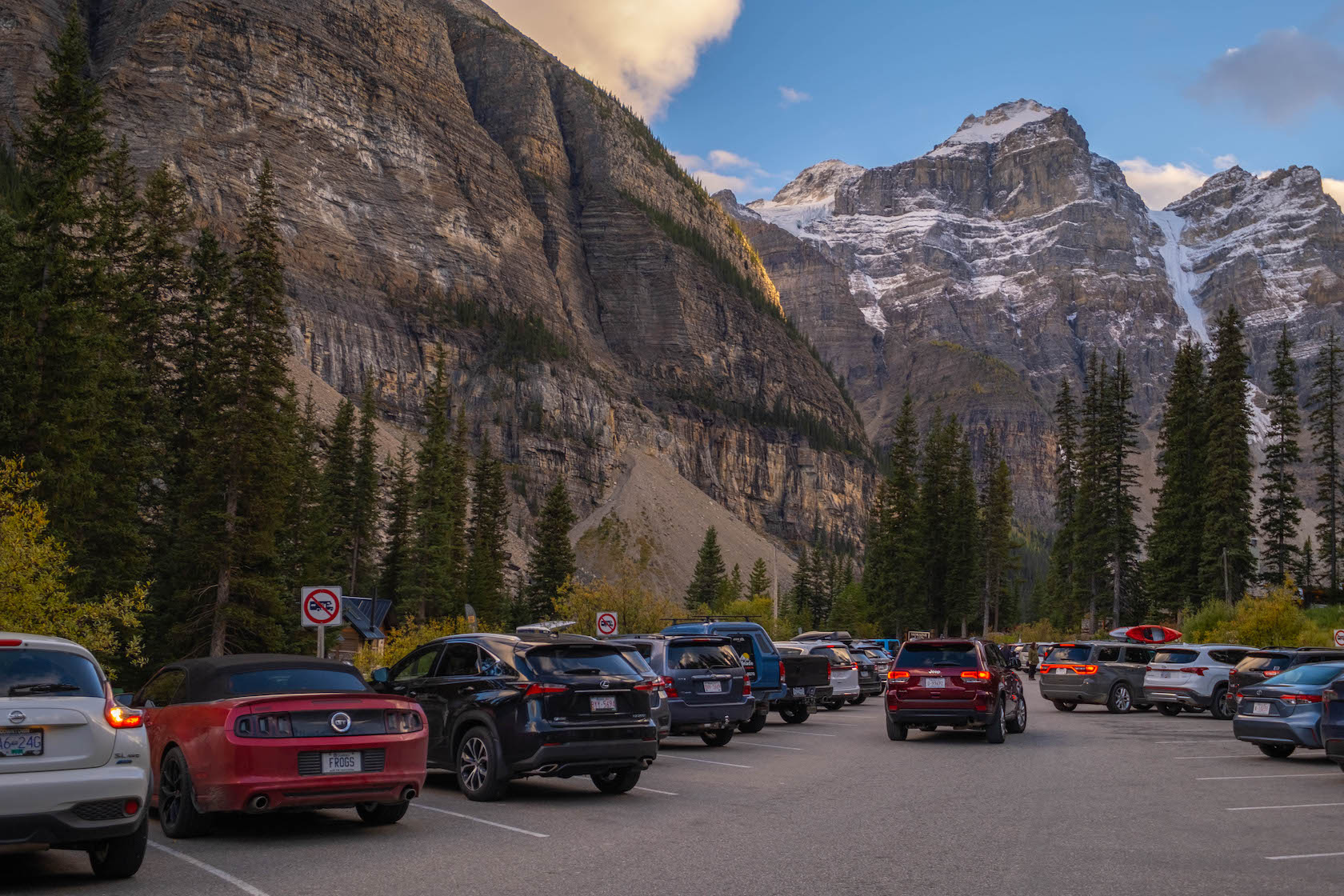 As of 2023, visitors are no longer allowed to park at the lakeshore of Moraine Lake, and it's recommended that visitors use the Park & Ride system provided by Parks Canada.
Moraine Lake Rd is closed to personal vehicles. The only cars allowed to access Moraine Lake Rd are the shuttle buses, Roam Public Transit, commercial buses (tours), and disabled visitors possessing a disabled hang tag.
---
When Does Moraine Lake Rd Open?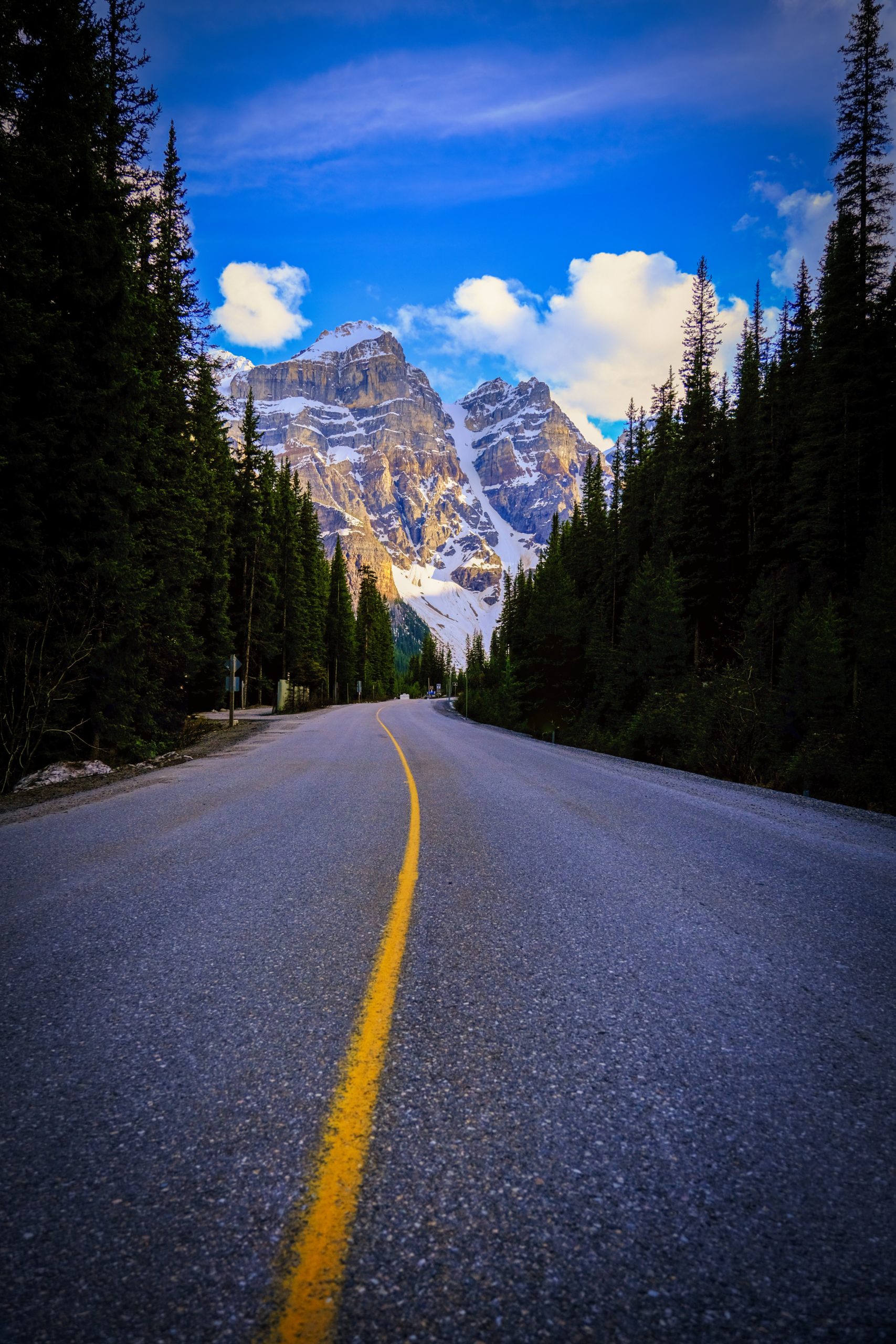 Moraine Lake Road typically opens on or around June 1st. Sometimes it's earlier, and sometimes it's later. This year it's scheduled to open on June 1st, 2023. Moraine Lake Rd closes around the second week of October, making the season to enjoy Moraine Lake relatively short, from June to mid-October.
The busiest months are between mid-June and the end of September, so pretty much the entire season that Moraine Lake Rd is open. After the golden larch needles have fallen, usually during the first or second week of October, Moraine Lake visitations dwindle down. The larch needles typically fall around the first week of October, meaning there is only one week of the whole Moraine Lake season that is relatively quiet.
Visiting Moraine Lake before June 15th or after October 1st may help avoid the crowds, although the lake will be far from empty.
Moraine Lake • Guide to Visiting Canada's Most Beautiful Lake
---
When Does Moraine Lake Thaw?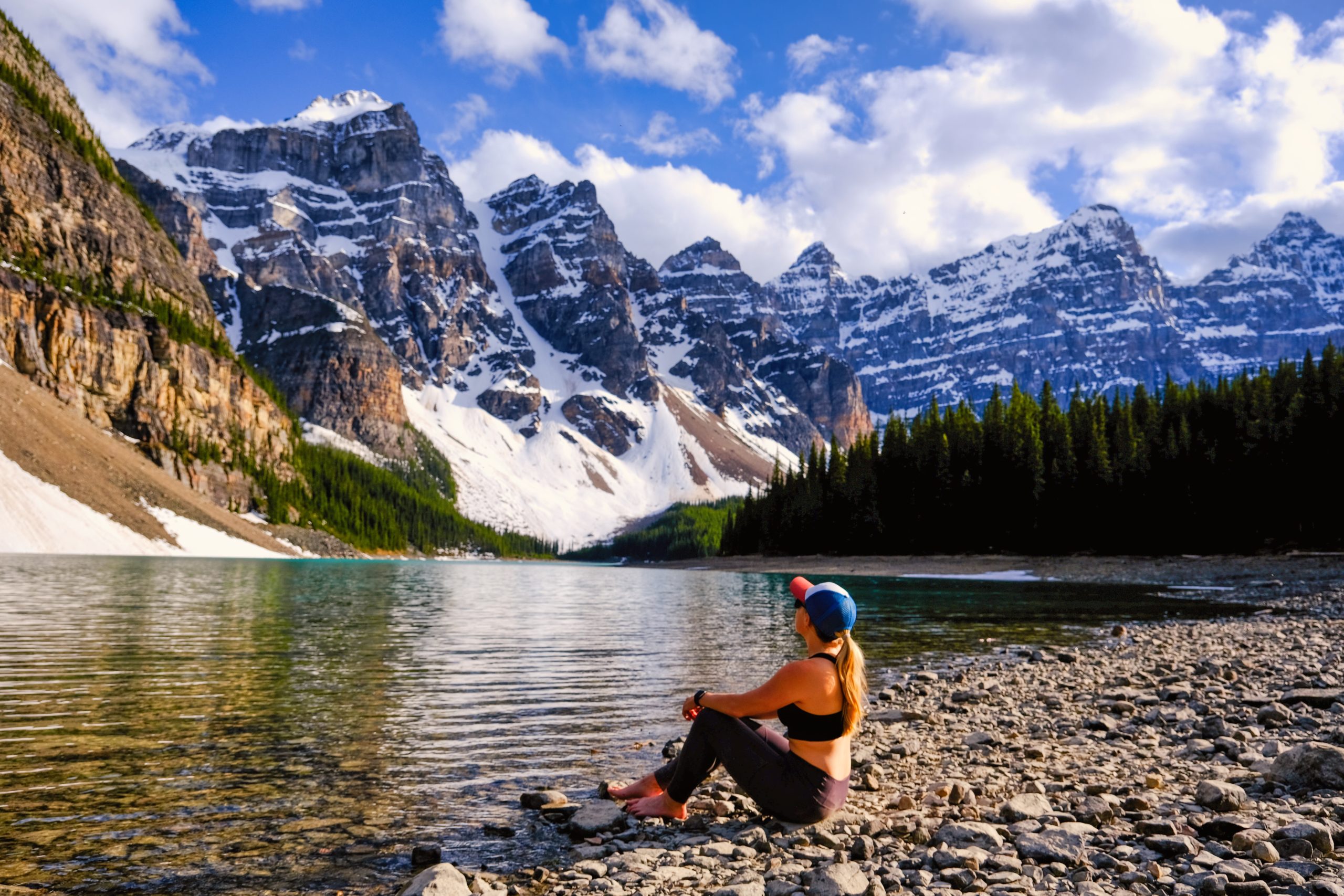 Moraine Lake typically thaws around the first week of June, but every year is different in the Rockies.
When is the Best Time to Visit Moraine Lake? 
---
All About the Moraine Lake Shuttle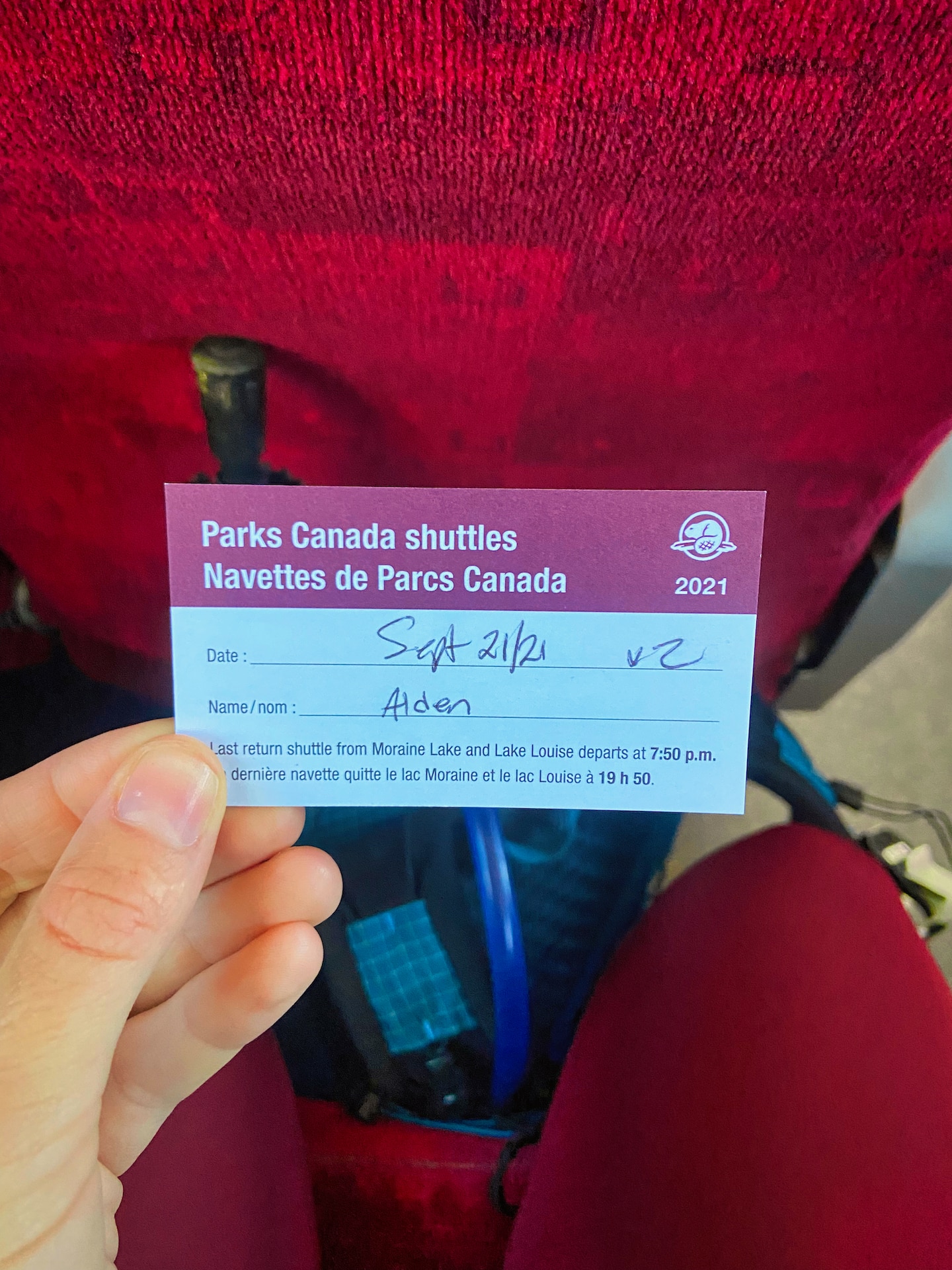 Parking concerns at Moraine Lake have worsened over the years, leading Parks Canada to prohibit all personal vehicles from accessing the road in 2023. The best option for most visitors to see the lake is the Parks Canada Park & Ride shuttle system, i.e., the Moraine Lake Shuttle.
The Moraine Lake shuttle guarantees access to Moraine Lake while reducing the harmful impacts of crowds and congestion in a sensitive environment. This system also eliminates the overall stress of parking at the lake, as every year, people were getting to Moraine Lake earlier and earlier to guarantee a spot. Some in our Facebook group even reported arriving before 3am! On top of all this, eliminating all private vehicles reduces emissions.
It is highly recommended to reserve a shuttle in advance. Shuttle reservations will be available in the spring of 2023, with Parks Canada releasing 40% of the operating season. The remaining 60% will be released on a rolling window at 8 am, 48 hours before departure throughout the season.
The Park & Ride shuttle runs every 20 minutes between 6:30 am and 6 pm. The last return bus from Moraine Lake to the Park and Ride is at 7:30 pm.
---
How Much is the Moraine Lake Shuttle
Park And Ride Shuttle Fairs (Return Trip)
Adults: $8
Seniors (65+): $4
Youth (6-17): $2
Children (under 6): Free
*There is a $3 non-refundable transaction fee per reservation when purchasing shuttle tickets on the Parks Canada Reservation System.
It's important to note that these fees are in addition to your National Park Pass.
---
When Do Shuttle Reservations Open?
The 2023 Reservation Launch date for Moraine Lake shuttle reservations is Thursday, April 13th, 2023, at 8 am MT.
---
What Are the Moraine Lake Shuttle Times?
The Moraine Lake shuttle operates daily from June 1 to October 9, 2023, and will run every 20 minutes between 6:30 am and 6 pm. The last return bus from Moraine Lake to the Park and Ride is at 7:30 pm.
The Moraine Lake Shuttle times change slightly throughout the summer season, so always verify the return time with Parks Canada staff.
---
How Do I Book my Moraine Lake Shuttle Reservation?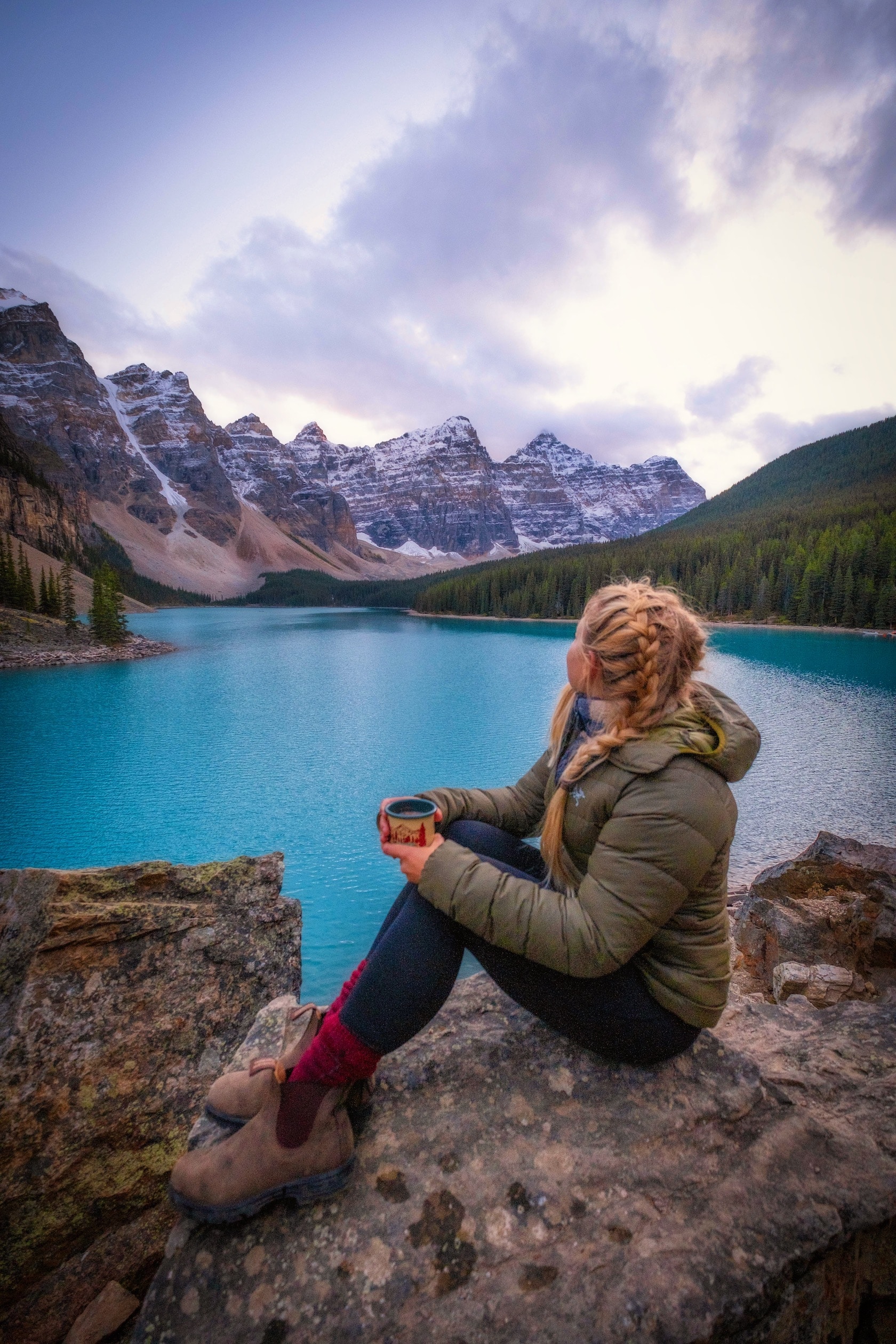 To make a reservation for the Moraine Lake shuttle, you can use the Parks Canada Reservation Service or call 1-877-737-3783. An account with Parks Canada Reservation Service is necessary to proceed with the booking. To avoid any inconvenience during the checkout process, it is recommended to create your account beforehand.
---
Is it possible to purchase walk-up tickets for the Moraine Lake shuttle?
If space is available, Parks Canada staff at the Park and Ride can assist you in reserving the next available time slot that day. However, booking in advance is highly recommended, as shuttles to Moraine Lake generally sell out by 9 am.
---
Where is the Parking and Departure Point for the Moraine Lake Shuttle?

In 2023, parking is only permitted at the Park & Ride Shuttle lot. The Lake Louise Park and Ride lot is at the Lake Louise Ski Resort (1 Whitehorn Road – GPS POINT). Parking here is free.
---
What is the Lake Connector Shuttle?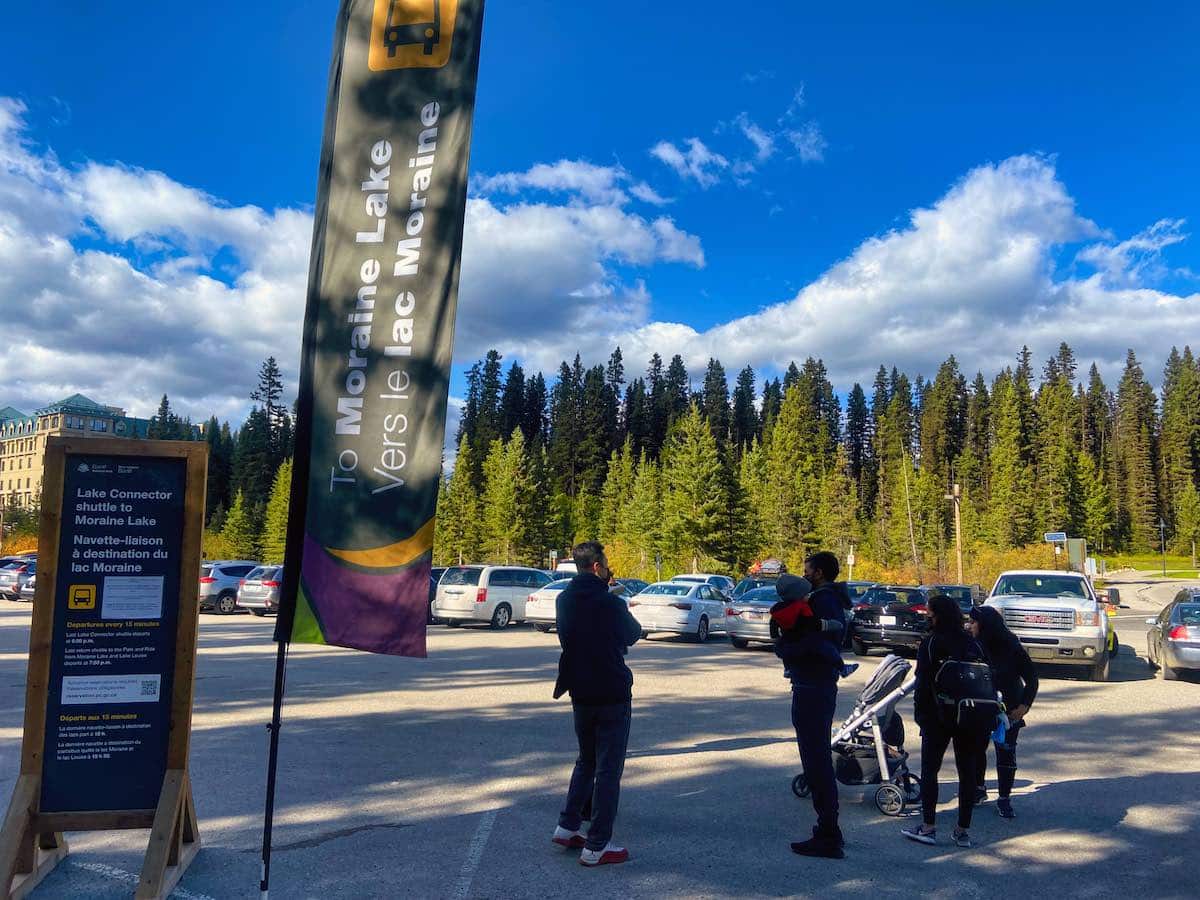 The Lake Connector shuttle is for Parks Canada Shuttle reservation holders only, after they have checked in at the Park and Ride (boarding pass required) or those riders who have purchased a Roam Superpass (more on that later).
The Lake Connector shuttle is a free shuttle that connects Lake Louise to Moraine Lake on a first come first serve basis. You must have a paid for reservation on either the Moraine Lake Shuttle or Lake Louise shuttle to use the Lake Connector Shuttle. To use the Lake Connector you must check in at the Park and Ride Lot and taking the shuttle. The only exception is for those that have the Roam Transit Super Pass.
The Lake Connector shuttle frequency is every 15 minutes starting at 8:00 am and the last shuttle runs at 6 pm, from both lakes.
Lake Louise Parking: Everything You NEED to Know
---
What if I Can't Book the Moraine Lake Shuttle?
You have several options if you can't book the Moraine Lake shuttle because it is sold out on the day or time you want to go.
Option 1: You can still go to the Lake Louise Park and Ride Parking Lots and hope there is space on the shuttle. If there is, the Parks Canada staff will try and assist you.
Option 2: Book the Lake Louise Shuttle and then hop on the Lake Connector bus.
Option 3: Get a Roam Super Pass (more on that below).
Option 4: Book a guided tour (we will discuss options below).
Option 5: Take a taxi from Banff or Canmore. Three Sisters Taxi operates Moraine Lake tours; you can learn more here.
---
Private Tours to Moraine Lake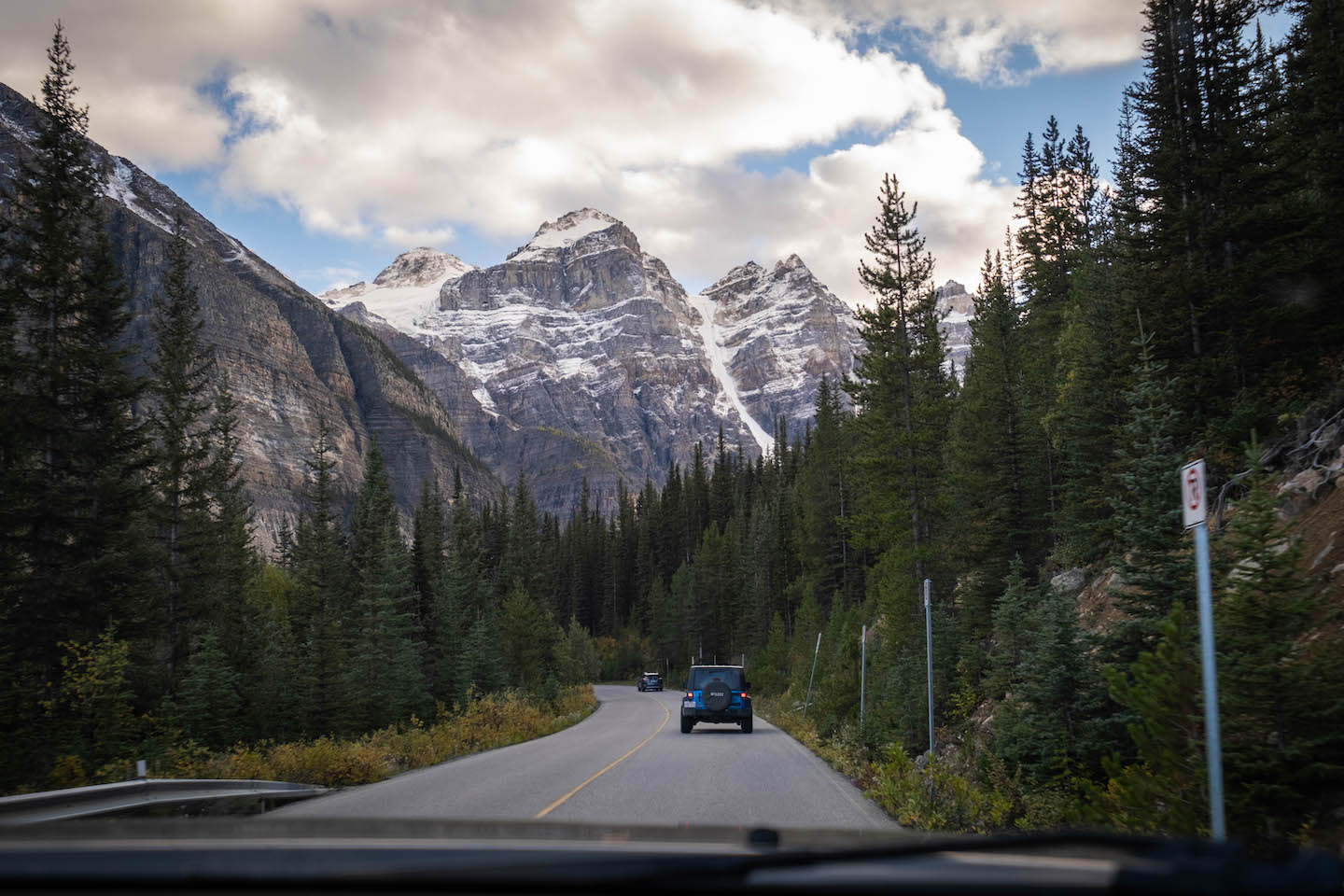 Tour operators have permission to park at Moraine Lake. Book a spot on a guided tour and enjoy a hassle free visit to Moraine Lake. Radventures, Brewster Sightseeing, Discover Banff Tours, HopOnBanff, Mountain Park Transportation, White Mountain Adventures and WowBanff all offer tours that include stops at Lake Louise and Moraine Lake.
---
Roam Public Transport to Moraine Lake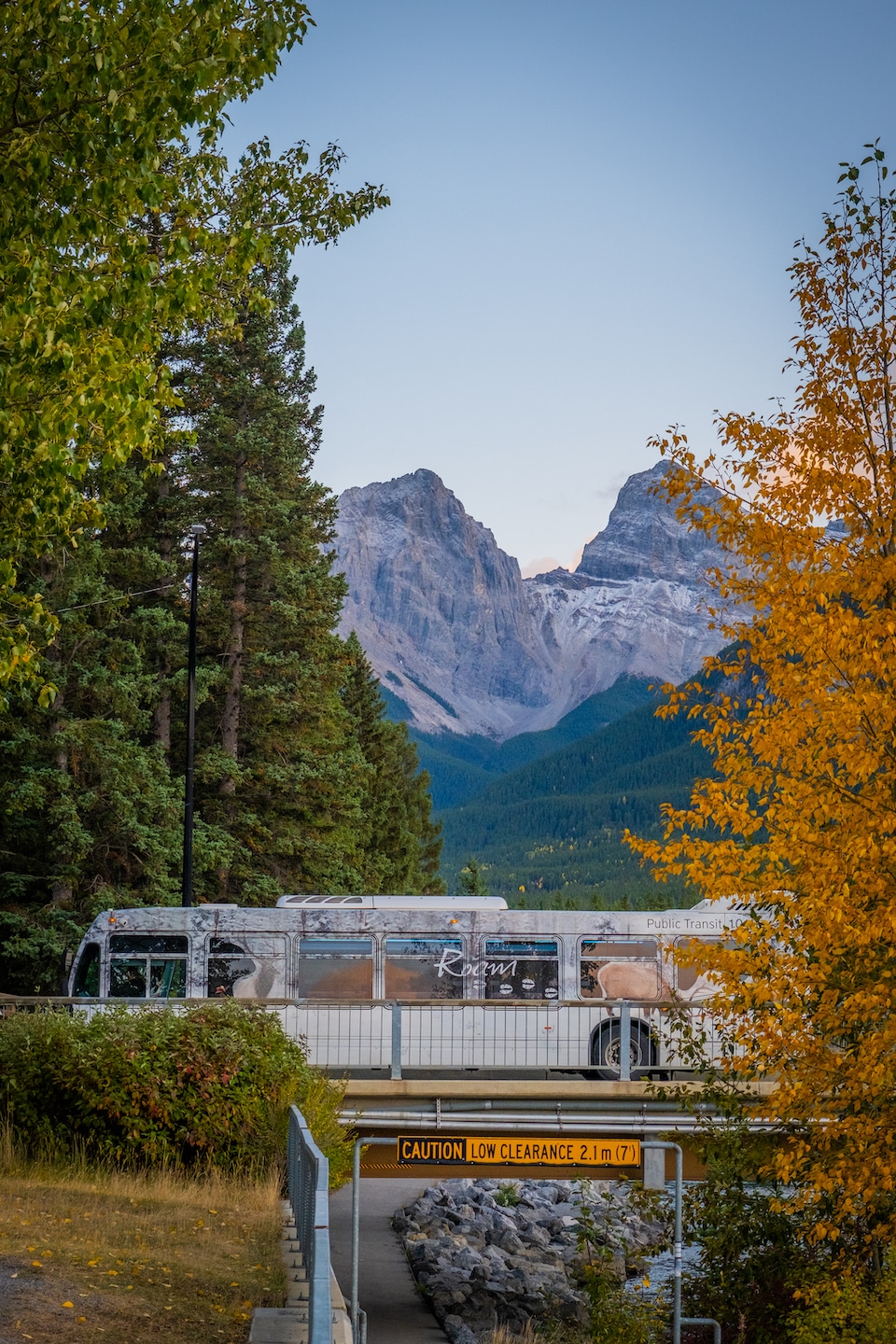 Between September 19 and October 10, 2023, the Roam Transit bus provides service to Moraine Lake solely for the larch season. During this time, visitors can catch the Roam Route 10: Moraine Lake Express from Banff to Moraine Lake.
From May 20 to September 18, 2023, the Roam Transit Route 8X operates daily, providing transportation between Banff and Lake Louise. The Roam Route 8X: Lake Louise Express travels along the Trans-Canada Highway, stopping at Lake Louise Village.
The Roam Route 8S: Lake Louise Scenic stops at scenic locations such as Johnston Canyon and Protection Mountain Campground. This route runs three days a week (Friday to Sunday) from July 1 to August 31. The fare is $10 per adult, and reservations are recommended. However, walk-ups to the fare boxes are also possible. Roam buses accept US and Canadian currency from as small as a nickel to as large as a $20 bill. Children under 12 can travel for free but still require a reservation.
The Roam Transit Super Pass is a One Day Super Pass, which allows travel on any/all Roam routes – From Canmore to Banff to Lake Louise for just $25. The Super Pass is sold only on the bus, at the Roam office in Banff, or through the Token Transit App.
The Super Pass comes with free access to the Parks Canada Lake Connector shuttle. With the new Roam Transit Super Pass, visitors will receive free access to the Parks Canada Lake Connector shuttle from the Lake Louise Lakeshore or Moraine Lake. Show a valid Roam Super Pass to Parks Canada staff at Lake Louise or Moraine Lake to receive your Parks Canada boarding pass.
---
What Are Other Options for Accessing Moraine Lake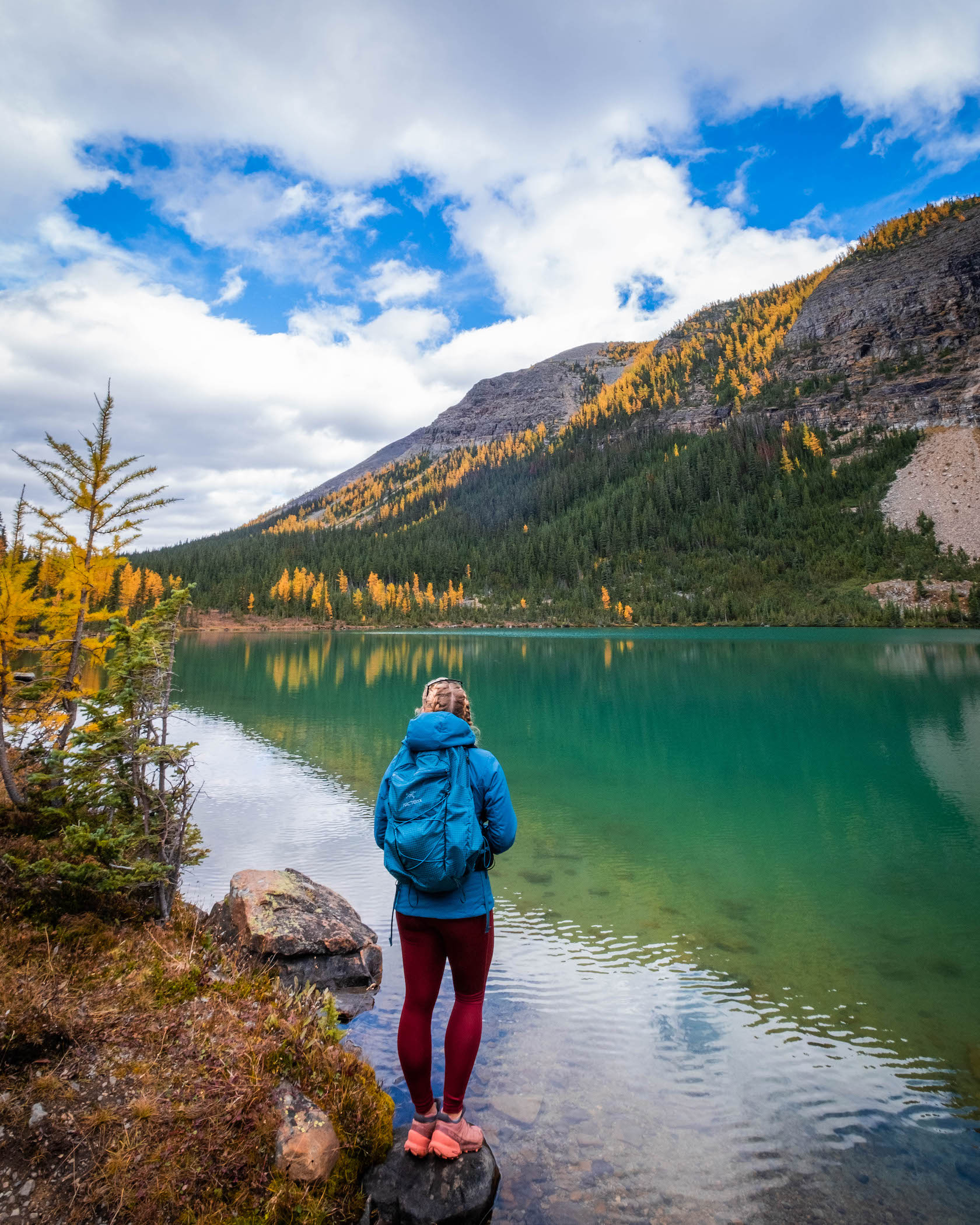 Besides taking a taxi, booking a tour, or taking the Roam Transit there are a few other options to get to Moraine Lake. Visitors can hike the Highline Trail, the Paradise Valley Trail, or walk the Moraine Lake Rd (not recommended).
It's also possible to bike Moraine Lake Rd, which is one of the best things to do around Moraine Lake. The road is 14 km all uphill from the Samson Mall to Moraine Lake. Cyclists will encounter bus traffic on a narrow road with no shoulders, but it is still a fantastic bike ride. If you are an experienced mountain biker, it's also possible to bike the Highline Trail to Moraine Lake.
10 Moraine Lake Hikes With Amazing Views
Book a Stay at the Moraine Lake Lodge
Guests of Moraine Lake Lodge have the best access to Moraine Lake that money can buy. This Banff cabin will cost you, but there is nothing quite like experiencing the stillness of Moraine Lake at sunrise or sunset with very few people around.
Guests of Moraine Lake Lodge are permitted to use their personal vehicles to access the lodge and will be contacted 30 days prior to their stay with information on how to access Moraine Lake road.
---
How Can I Catch Sunrise at Moraine Lake?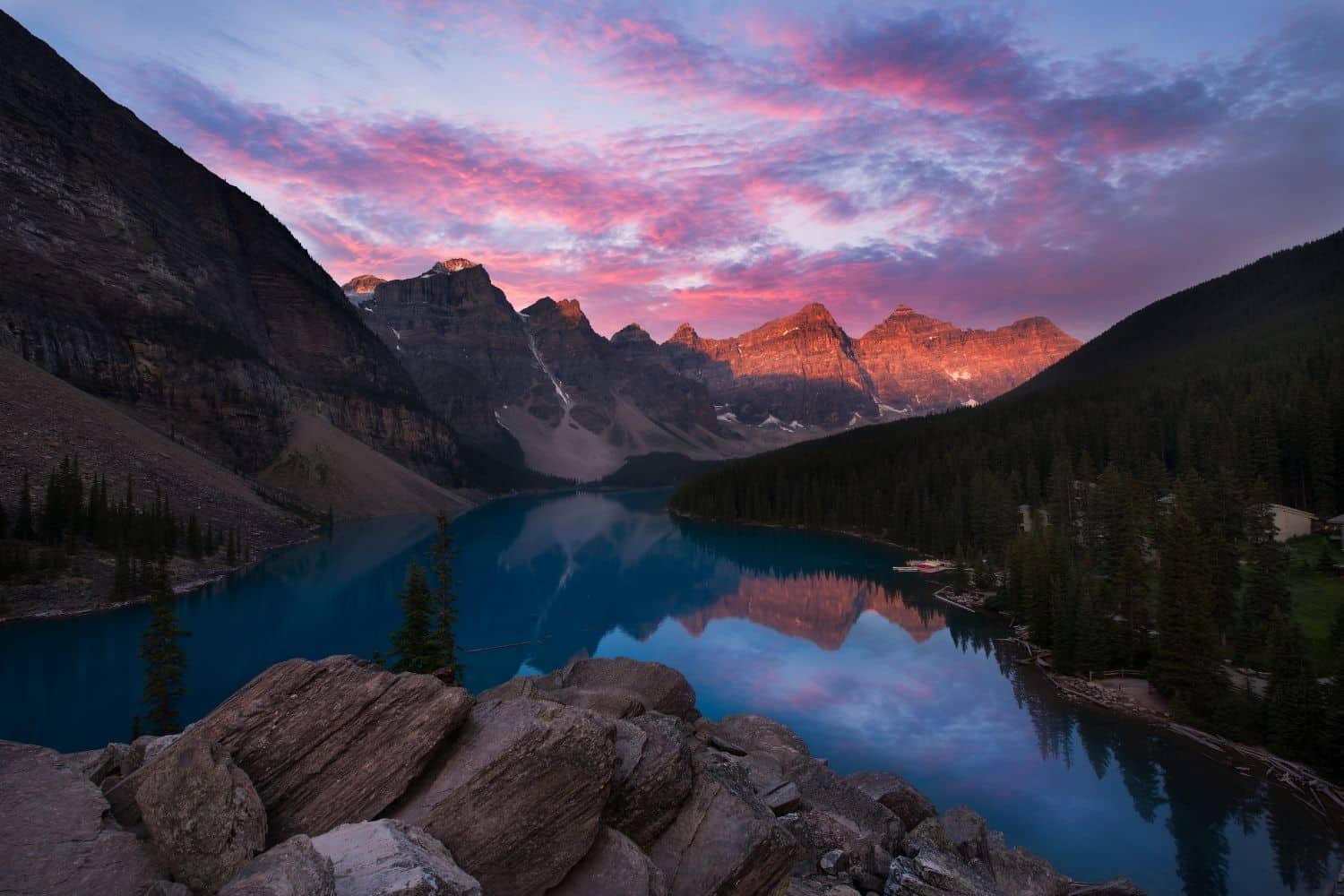 You won't be able to drive Moraine Lake Rd and catch sunrise there. There are a few ways you can still catch sunrise at Moraine Lake – only one of them is a "free" way.
You can book a stay at Moraine Lake Lodge, the only place to stay on the lake. You can book a tour, such as this Sunrise Explorer Tour by Radventures, or you can bike nearly 14 miles uphill to Moraine Lake before dawn.
---
What If I'm Staying at a Hotel in Lake Louise?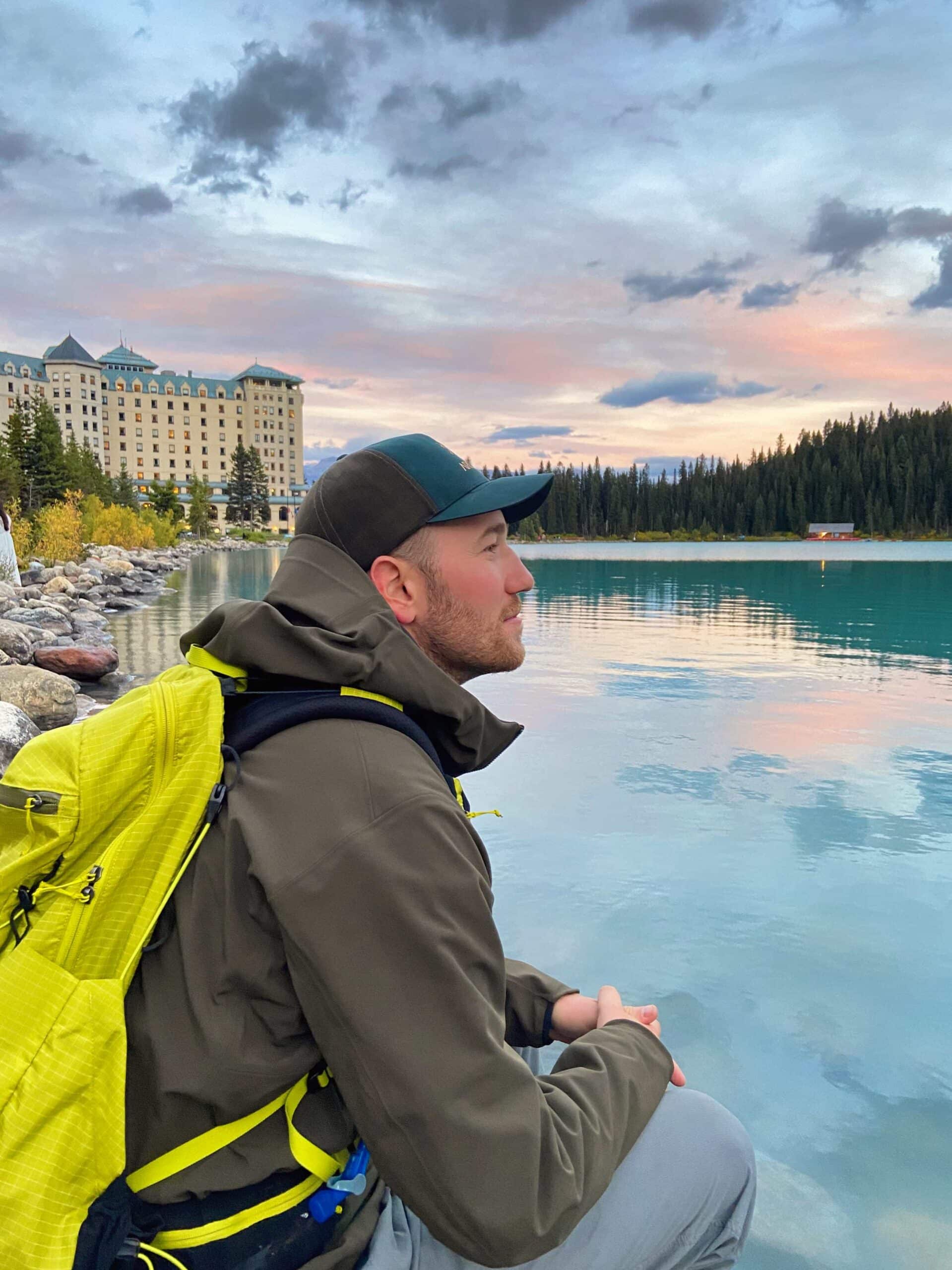 Guests of Lake Louise hotels don't have special access to Moraine Lake. Though Mountain Park Transit offers a shuttle for $25 that stops at the Samson Mall as well as the Mountaineer Lodge, Lake Louise Inn, Post Hotel and HI Hostel. Here is their schedule.
If you are staying in the village of Lake Louise or in the Lake Louise Campground, you are encouraged to leave your vehicle at your accommodation and use the free Park and Ride Connector shuttle that will take you to the Park and Ride lot, where you can get on the Moraine Lake Shuttle (you still need to pre purchase shuttle tickets).
---
Can I Bring My Kayak/Canoe to Moraine Lake?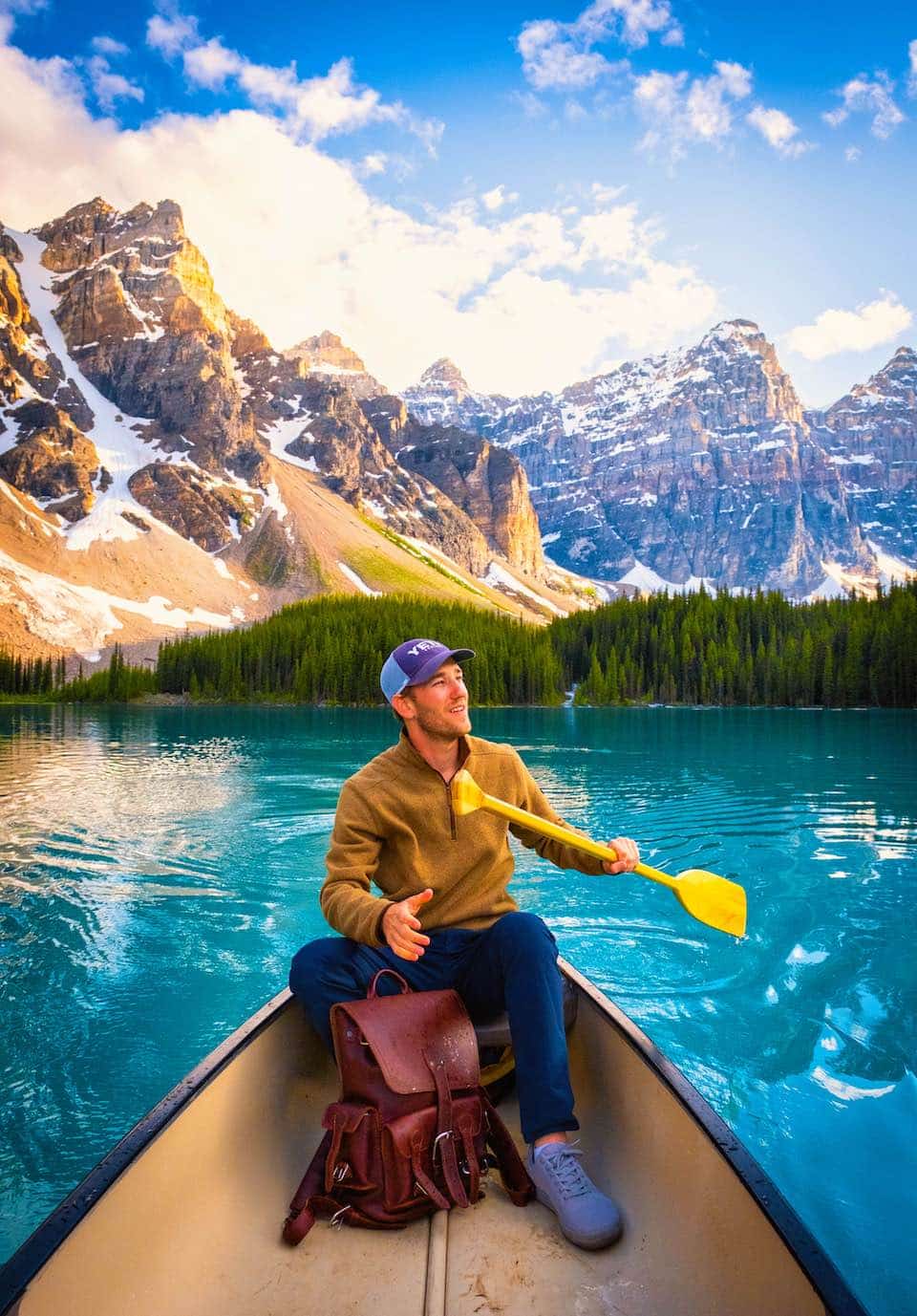 To access Moraine Lake with your own watercraft, driving and parking are not an option. Instead, Parks Canada shuttles are available to transport various types of watercraft, including packrafts, inflatable kayaks, inflatable paddleboards, and some small hard-sided kayaks if space is available. For those interested in canoeing on Moraine Lake, hourly rentals are available from the lodge.
We highly recommend the Oru Origami Kayak if you're searching for a foldable kayak option.
---
Is the Moraine Lake Shuttle Pet Friendly?
Certified assistance animals are allowed on board, owners should be prepared to show the animal's verification of training.
Passengers are permitted to bring their pets on board free of charge. These pets must be placed in a secure carrier specifically designed for animal transportation and small enough to fit on the owner's lap.
---
Are Strollers Permitted on the Moraine Lake Shuttle?
The Moraine Lake shuttle can take strollers, climbing gear, and large backpacks.
---
Is the Moraine Lake Shuttle Accessible?
The Moraine Lake Shuttle has limited accessibility, but if a visitor has a blue-accessible parking placard and is unable to take the Moraine Lake Shuttle they will be granted access to park at Moraine Lake.
While the Moraine Lake shuttle may seem like an inconvenience, we think the system is well designed and is an efficient way to see one of the most beautiful places in the world.
Plan Your Trip to the Canadian Rockies