Many people wonder whether it's possible to visit Banff without a car. The short answer is absolutely! In fact, depending on your trip timeline and priorities, opting to visit Banff by bus may result in a more affordable and predictable experience in the National Park.
While renting a car in Banff and driving offers flexibility and autonomy, it also requires you to compete for limited parking spaces, adding stress and uncertainty, not to mention the costs of a rental, parking and fuel, as well as the challenges of navigating variable mountain road conditions (especially in winter!).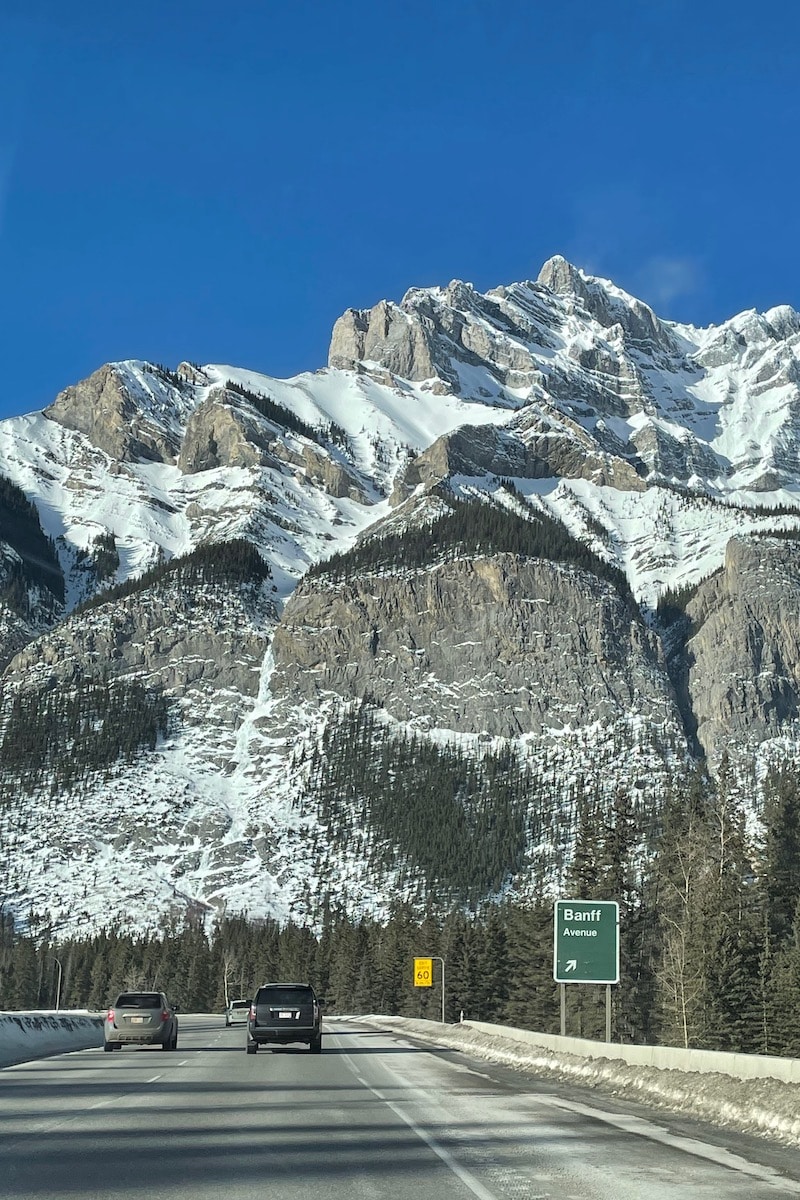 Parks Canada and local authorities have worked diligently over the years to make Banff more bus, bike, and pedestrian-friendly and there are now many options to help visitors move around Banff without a car.
As a testament to these efforts, Banff's regional bus service, Roam Transit, broke ridership records in 2022 with 1.65 million passengers!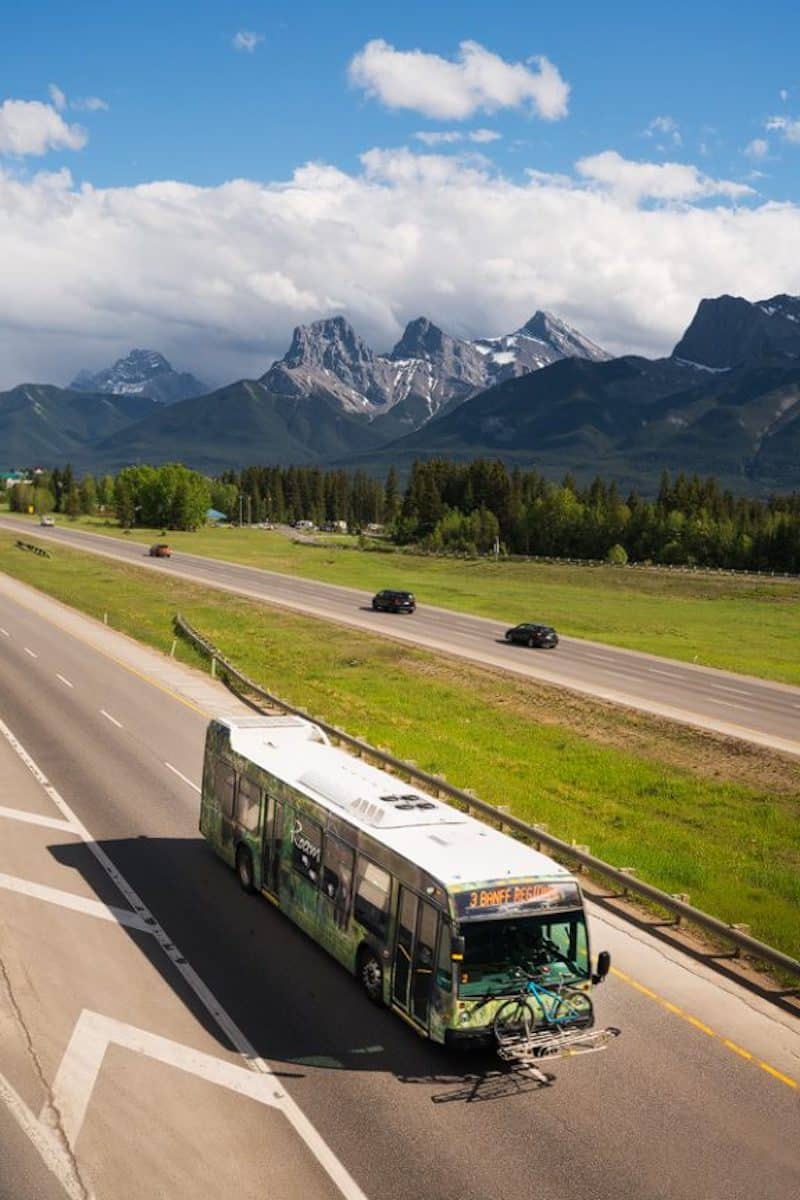 If considering going car-free in Banff, rest assured that you'll be in good company and that other wheeled options like shuttles and public transit are available to help you enjoy the Park's most iconic sites.
Remember that a National Park Pass is still required for the duration of your stay even if you are visiting Banff without a car.
---
How to Visit Banff Without a Car
---
Getting to Banff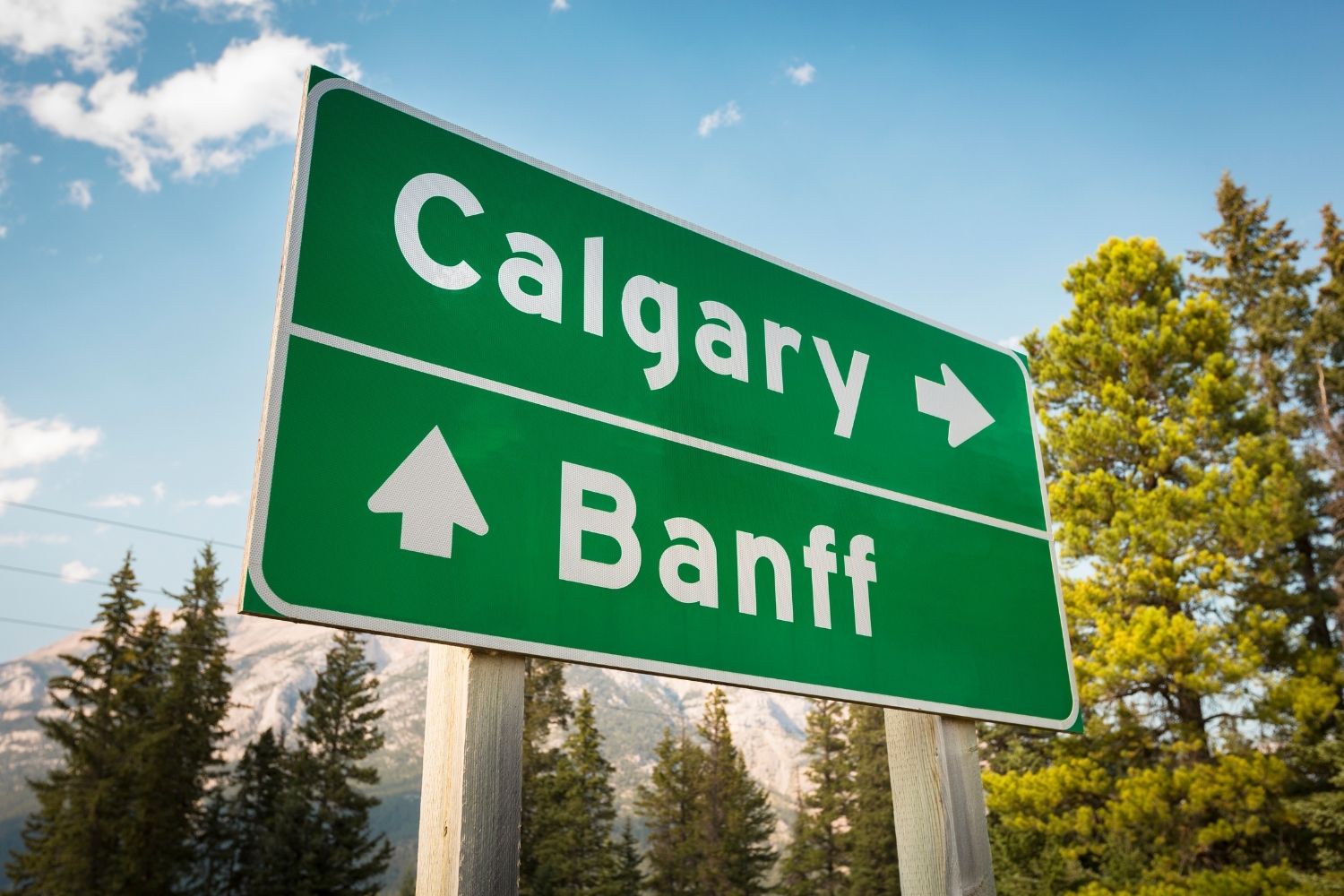 With the closest airport, Calgary International Airport, located over 100km away, connecting to Banff without a rental car may initially seem daunting. Fortunately, airport shuttles and regional buses cater to visitors and residents alike.
These bus services offer the chance to watch the impressive scenery instead of the roads. No need to worry about missing a turn when the driver knows exactly where to go!
Shuttles From the Airport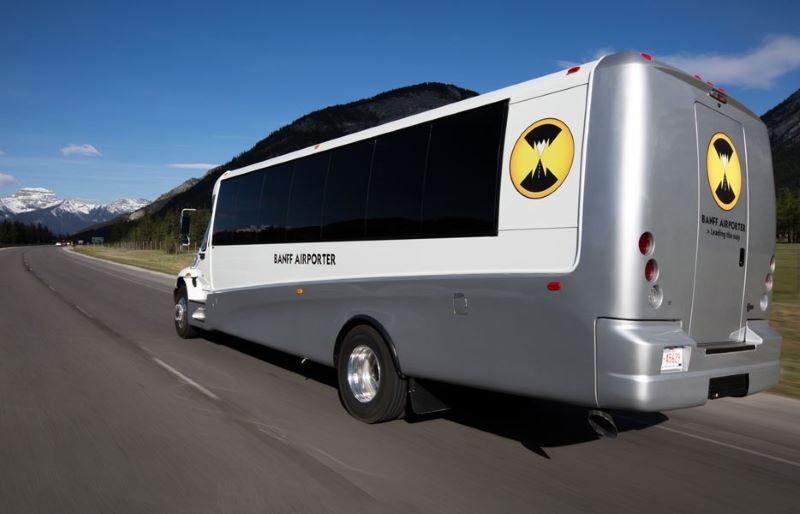 A number of well-established companies operate shared public shuttles to and from Calgary International Airport. Most use minibuses or large sprinter vans to transport passengers along the Trans-Canada Highway. It's about 1 hour 20 minutes to get from Calgary to Canmore and 2 hours to get from Calgary to Banff by public transport.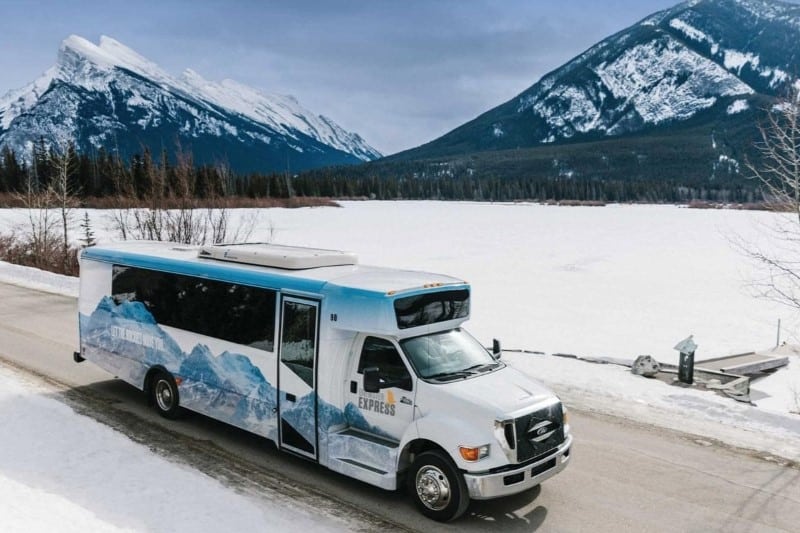 All shuttles run on a fixed schedule, with established pick-up and drop-off times. While door-to-door service is typically offered in Banff, there are only set stops in Canmore (often the Coast Hotel), meaning that you'll need to get to a specific location to catch the shuttle. Very few operators continue onwards to Lake Louise, Brewster Express being the most convenient option if staying in this area.
Consult each operators' websites for detailed schedules by season and for information on coordinating with flight itineraries.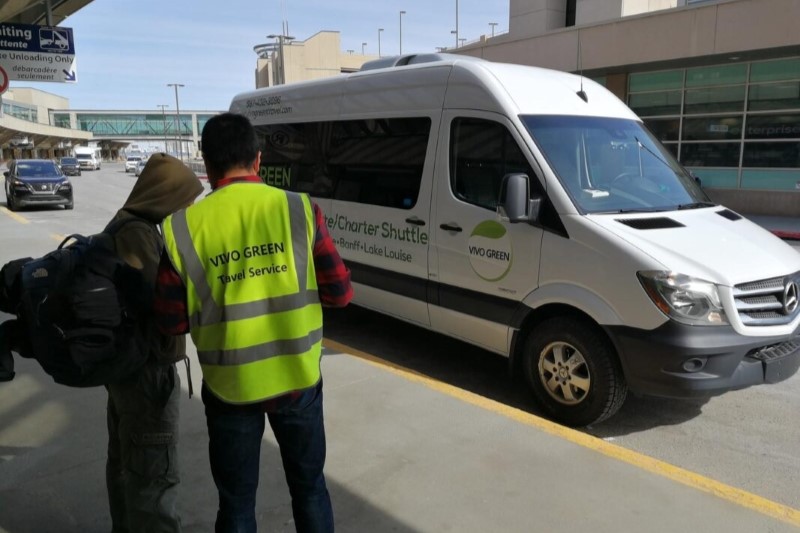 Ticket prices vary slightly by operator, ranging between $50 and $80 per trip with most offering slightly reduced rates for drop-offs in Canmore as well as discounts for roundtrip bookings.
To secure a shuttle ride, purchase a ticket online in advance. The Banff Airporter does have a kiosk near baggage claim in the Calgary Airport, but may not always have availability on the next outbound shuttle, particularly during busier times of the year, like the summer and winter holidays.
Once on board, you'll find the trips quite comfortable. All vehicles are modern, air conditioned, and usually equipped with charging ports for electronics. You'll also have the chance to recharge as you sit back and watch the scenery scroll by.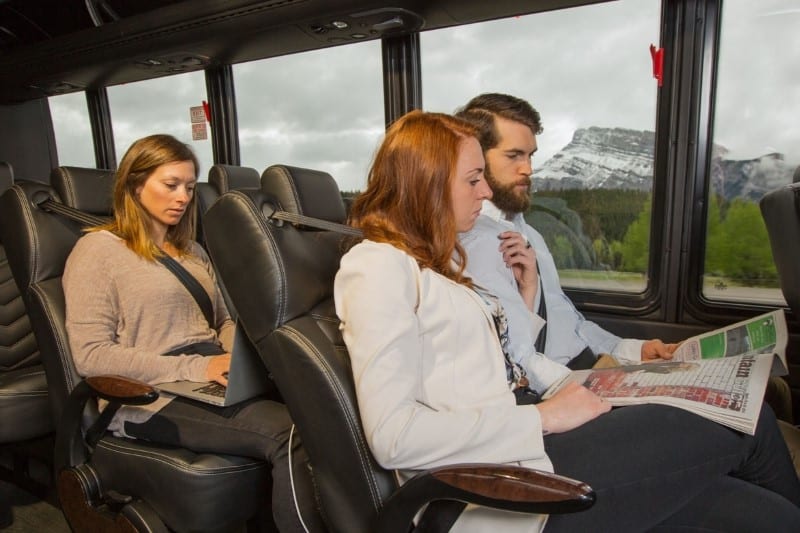 Luggage allowances are similar to airlines and the vehicles can also accommodate ski or snowboard gear in the rear storage compartments. The same cannot be said for pets, as shuttles only allow service animals on board.
The table below briefly outlines shuttle options between the airport and Banff. Checking how the schedules align with flight itineraries and accommodation locations will be most helpful in guiding shuttle selection:
Operator
Cost (one-way, adult ticket)
# of Daily Trips
Key Features
Banff Airporter
$77 – 80
10
Door-to-door service in Banff
Canmore stop: Coast Hotel
Will rebook on next shuttle if flight delayed
Free cancellation
Brewster Express
$79 (to Canmore/Banff)
9
Serves all Banff hotels and a few in downtown Calgary
Canmore stop: Coast Hotel
Some shuttles to/from Lake Louise
Free onboard WiFi
VivoGreen
$55 – 59
7
Door-to-door service in Banff
Canmore stops: Grand Rockies Resort & Solara Resort
Sometimes has option to book a connection to Lake Louise
RTB Tours & Shuttles
$49 – 65
1-3
Set stops
Connects to downtown Calgary and airport
Canmore stop: Coast Hotel
Ski/snowboard surcharge
Free onboard WiFi
---
Buses From Downtown Calgary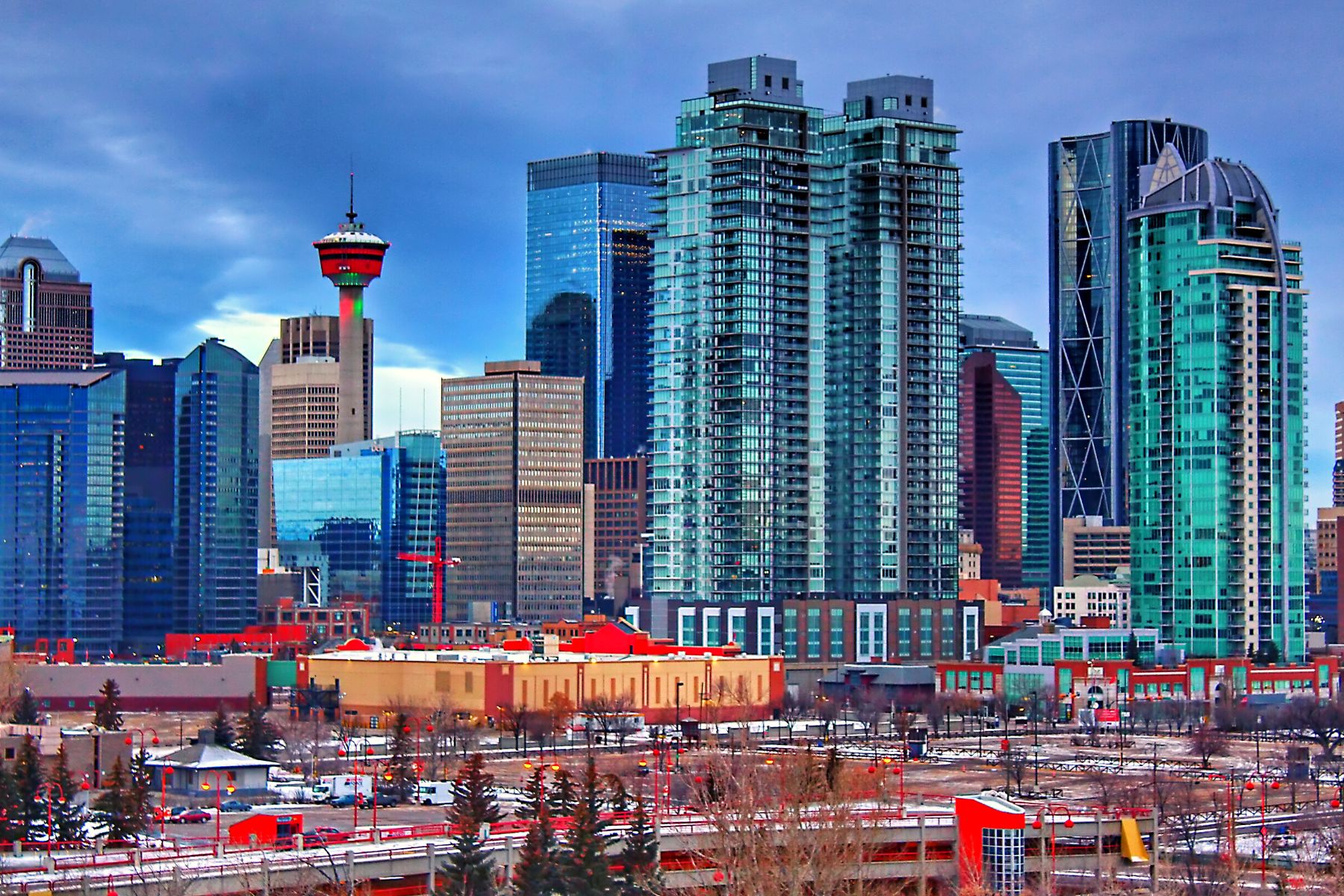 The most affordable way to travel between Banff and Calgary is the seasonal On-It Regional Transit service. Between May and September, a $10 one-way fare will get you a bus ride between Calgary's downtown and either Canmore or Banff.
These buses are most convenient if you are spending some time in Calgary, as the service does not extend to the airport. Instead, On-It caters to the high demand for weekend travel, by running buses on Fridays, Saturdays, Sundays, and statutory holiday Mondays.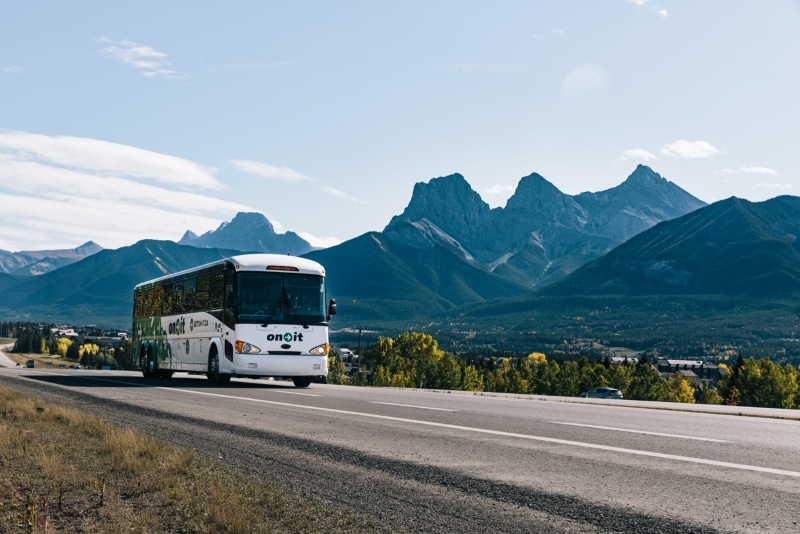 There are three stops in Calgary, one stop in Canmore, and one in Banff, all of which are well connected to local bus routes and major destinations. On-It riders can also connect to Banff's Local Roam transit routes 1, 2, 4, 6 for free on the same day of travel.
You can purchase On-It tickets online using card payment or buy when boarding from representatives at stops using cash or card. If tickets are purchased online, remember to download or print the ticket to present to the driver.
For a slightly higher fare of $35-40, The Banff Express makes two daily trips between Calgary and the Bow Valley with three stops in Calgary, a stop at the Canmore Visitor Information Centre, and a stop at the Banff Heritage Train Station. You can also ask the driver for a hotel or home drop off in Banff.
---
Regional Bus Stops to Bow Valley Map
---
Connecting to British Columbia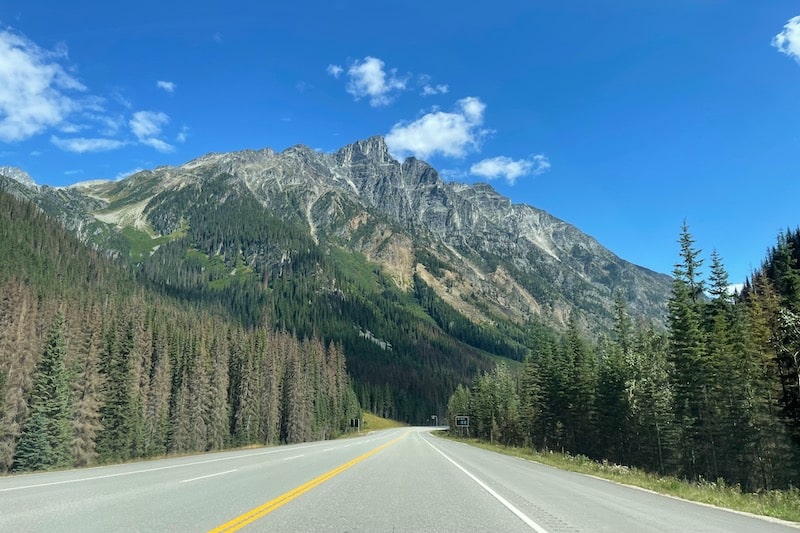 Most visitors to Banff arrive via Calgary, but for those arriving from or continuing onwards to British Columbia, the regional coach bus Rider Express operates a daily service between Calgary and Vancouver with stops in Canmore, Banff, Lake Louise, Field, Golden, and Revelstoke, among others.
You'll find the westbound Calgary to Vancouver schedule here and the eastbound Vancouver to Calgary schedule here. Overnight buses also run in both directions twice a week with slightly fewer stops. Ticket prices vary by distance, up to $162 one-way.
---
Connecting to Jasper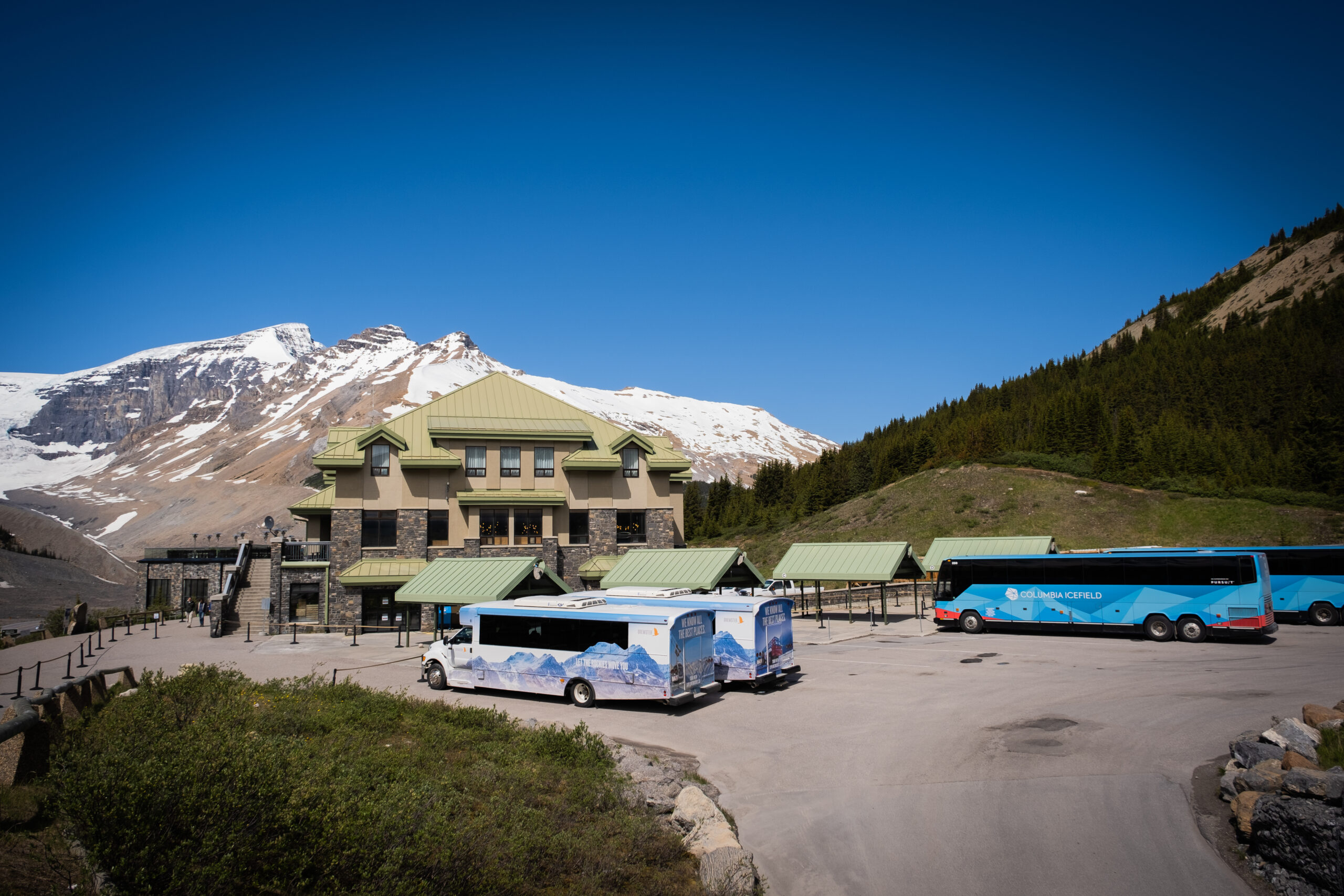 Travel between Jasper and Banff by bus is also possible with operators like Brewster Express and Sundogs, which run daily shuttles along the spectacular Icefields Parkway.
Be sure to buy a ticket in advance to guarantee a ride. A connector bus to Edmonton is also available for those looking to complement their Rockies trip with urban explorations or access another international airport.
---
Getting Around Banff Without a Car
Roam Transit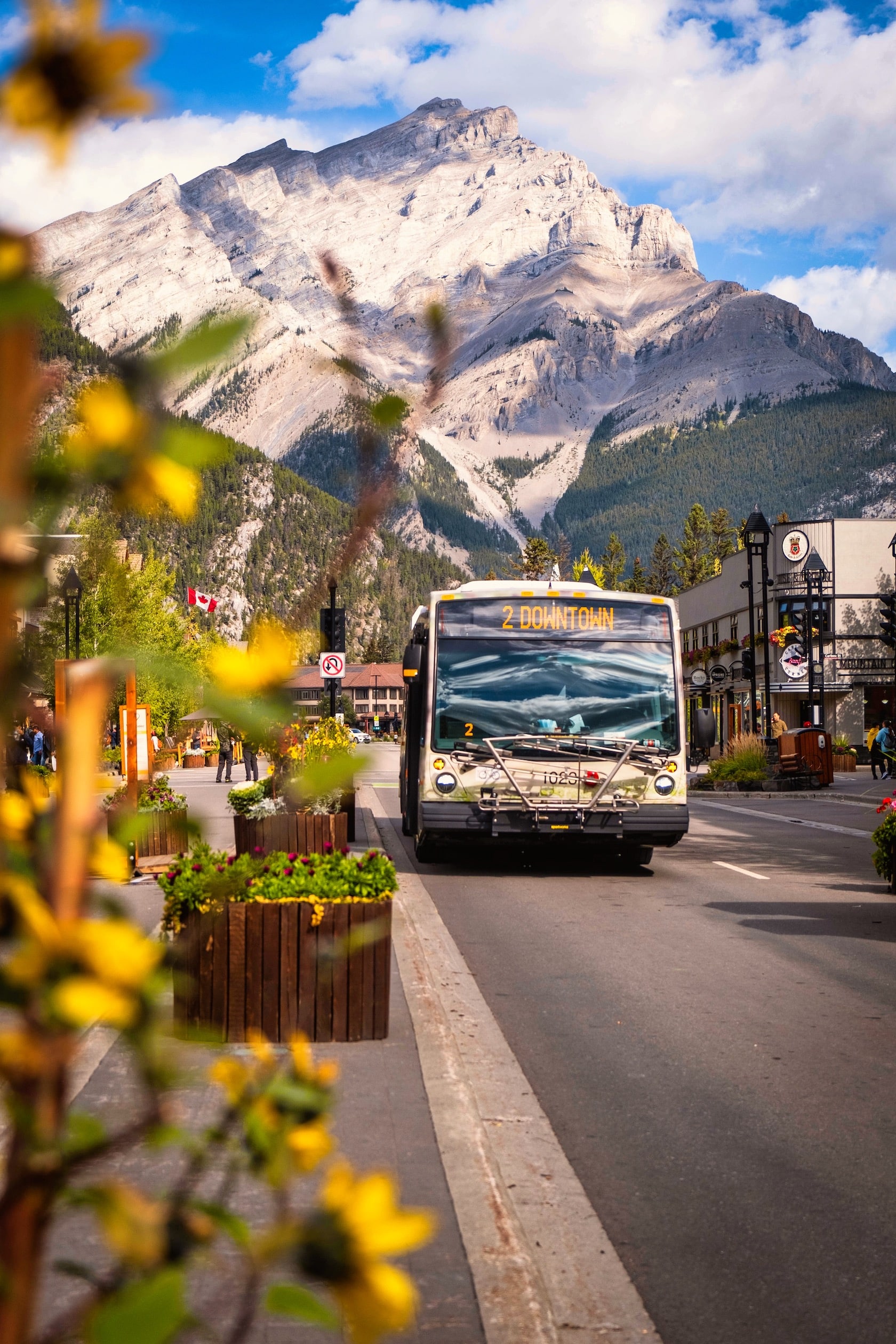 Once you're in Banff, you'll likely want to travel around and explore many of the Park's spectacular sites. Fortunately, a reliable regional transit system serves the Bow Valley, providing access to many destinations that are too far for walking or biking from the town centers.
Roam Transit buses connect people to the most popular and iconic places in the National Park, providing an affordable, stress-free alternative to driving, and making it possible to visit much of Banff without a rental car.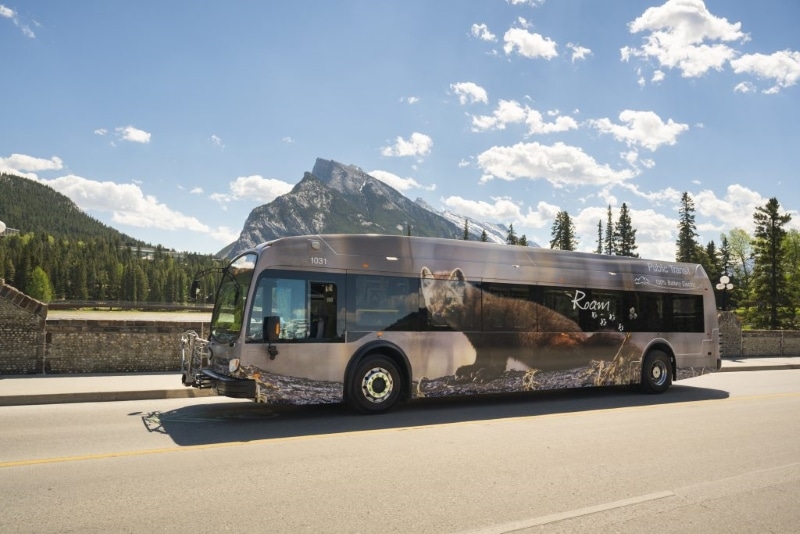 Roam Transit also boasts the most beautiful buses in Canada, if not the world. Complementing the renowned natural landscapes, each vehicle is wrapped in imagery by local wildlife photographers featuring animals that 'roam' the Bow Valley. Hence, the bus service's name.
The fleet of hybrid-electric vehicles also protects the valuable mountain environment, both by keeping the air clean and by enabling more people to visit Banff without paving this paradise to put up another parking lot.
Where Can You 'Roam'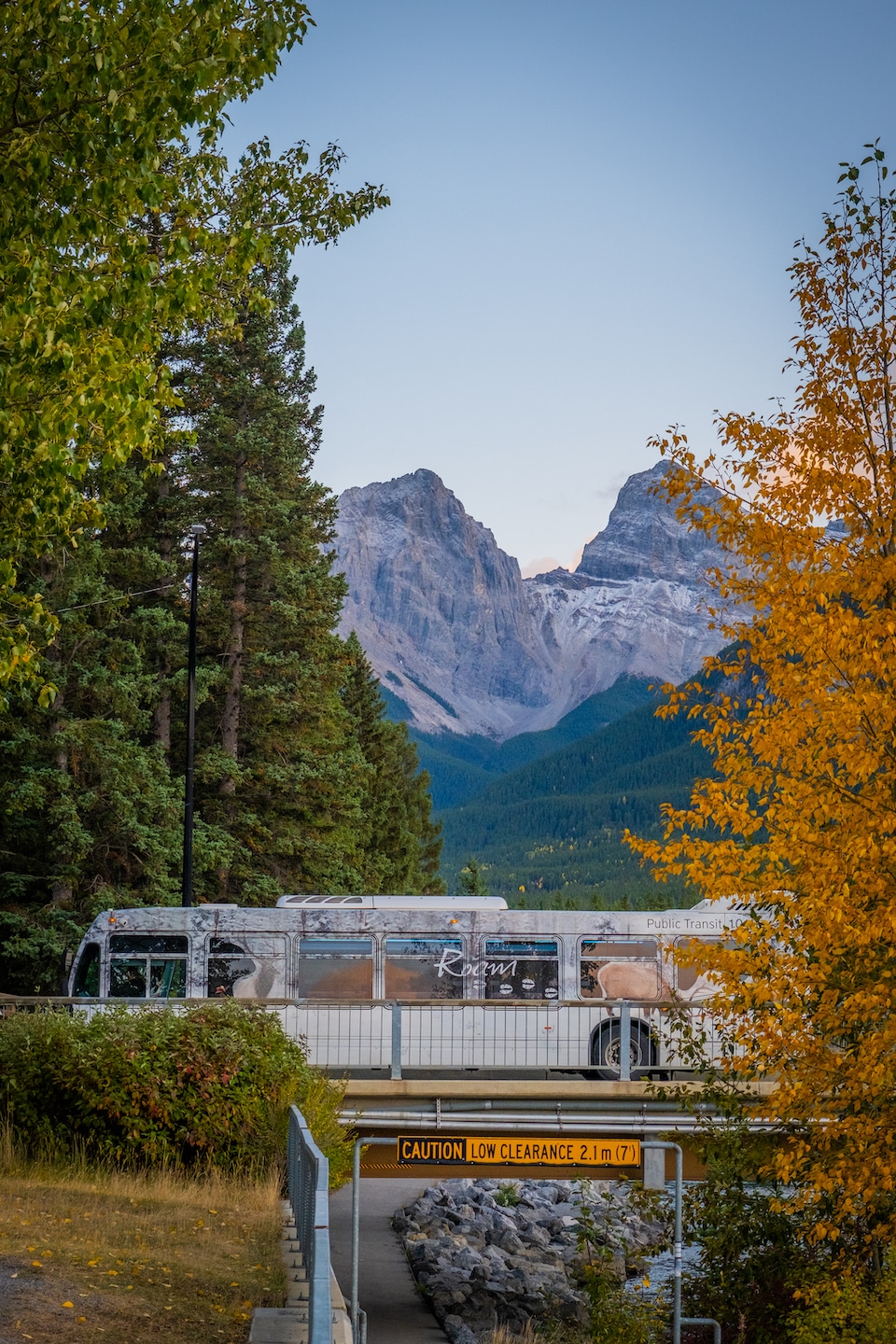 With 10 routes through the Bow Valley, connecting Canmore, Banff and Lake Louise, you can even access a number of campgrounds by bus! The routes vary somewhat by season, with year-round core routes serving Banff and Canmore towns as well as these popular places:
The Town of Banff has two local routes that run regularly along Banff Ave, with Route 1 extending up to the Banff Gondola and Upper Hot Springs and Route 2 meandering between the Tunnel Mountain Campground area and the Banff Springs Hotel.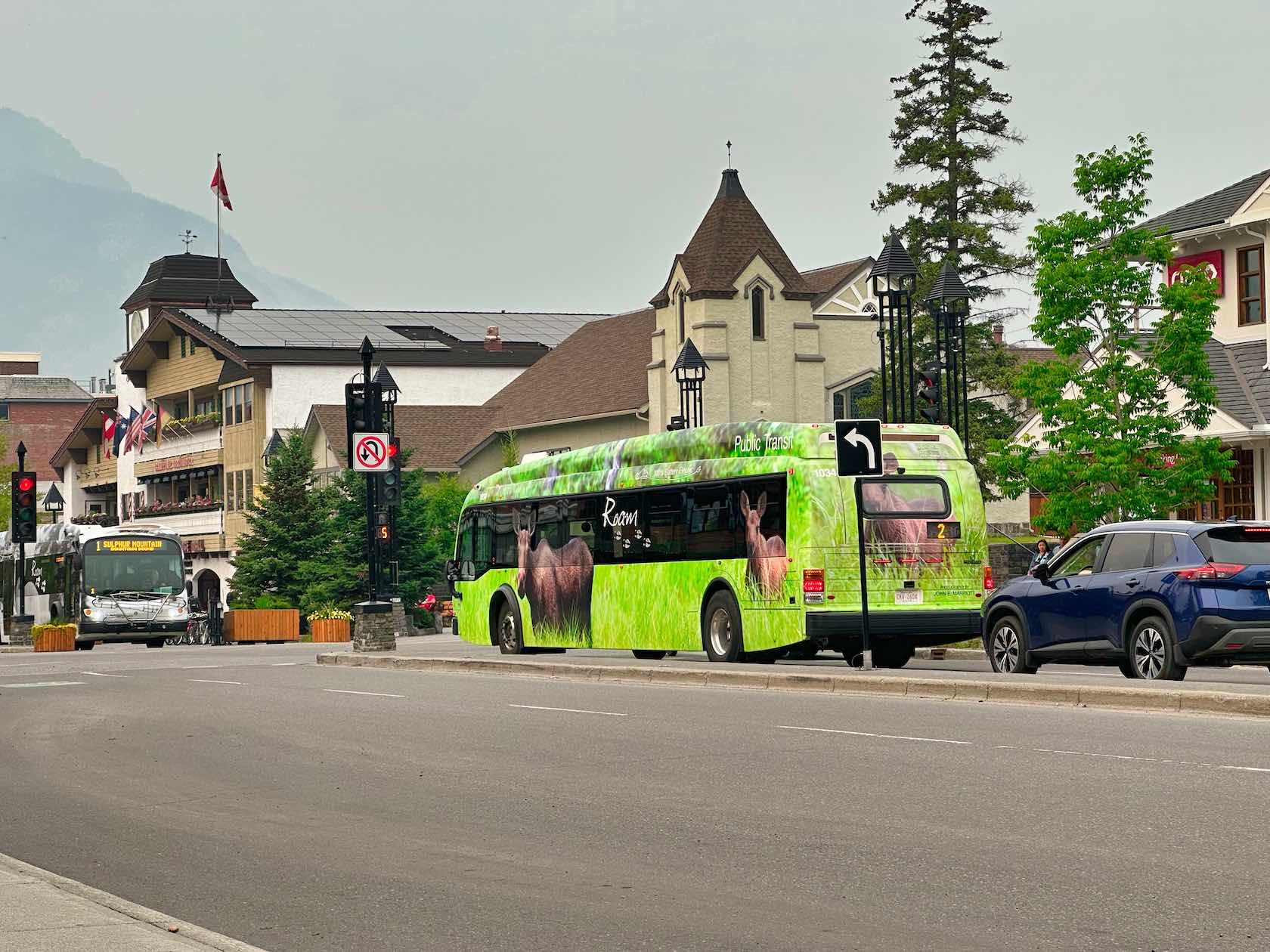 In the summer, two more local routes are added. Route 4 connects downtown Banff to the Cave and Basin area while Route 6 goes to Lake Minnewanka with stops at Cascade Ponds, Johnson Lake and Two Jack Lake (including campgrounds!). In 2023, these services will run from May 19 to October 2.
Roam buses are probably the easiest way to visit these popular lakes as well as Johnston Canyon, Lake Louise, and Moraine Lake, where there is high visitation and limited parking.
Regional Route 9 goes to Johnston Canyon via Castle Junction (weekends only in winter), while Route 8X provides direct service between Banff and Lake Louise (village and lakeshore) year-round.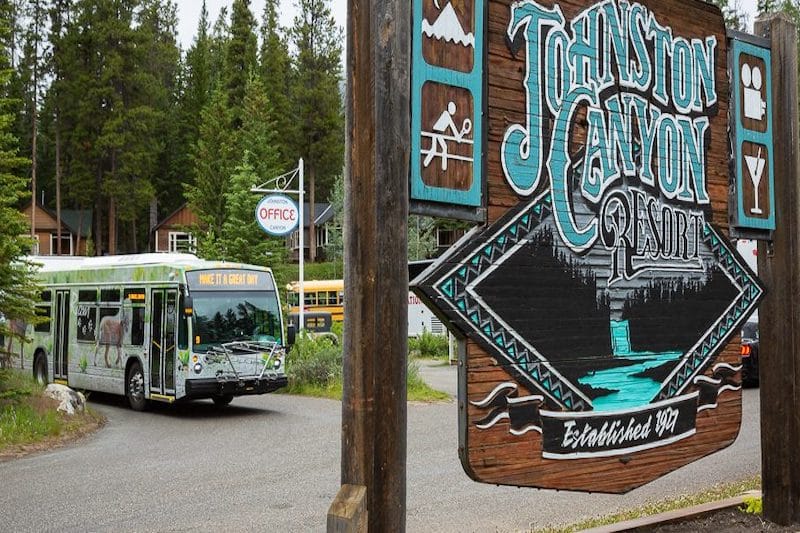 Scenic Route 8S also stops at Johnston Canyon over July-August weekends as it travels Highway 1A en route to Lake Louise. For 3 weeks in September, Roam Transit buses also go to Moraine Lake (Route 10). It is also possible to transfer to Parks Canada' Lake Connector Shuttle with a Super Pass from Roam Transit.
Canmore and Banff are connected 7-days a week, year-round by the regional Route 3, which runs on a loop between the two towns from about 6 a.m. to midnight. The bus will get you between the two towns in less than 30 minutes, bypassing any lineups at the Park gates.
You can view a PDF map with all bus routes on Roam Transit's website.
---
Planning a Trip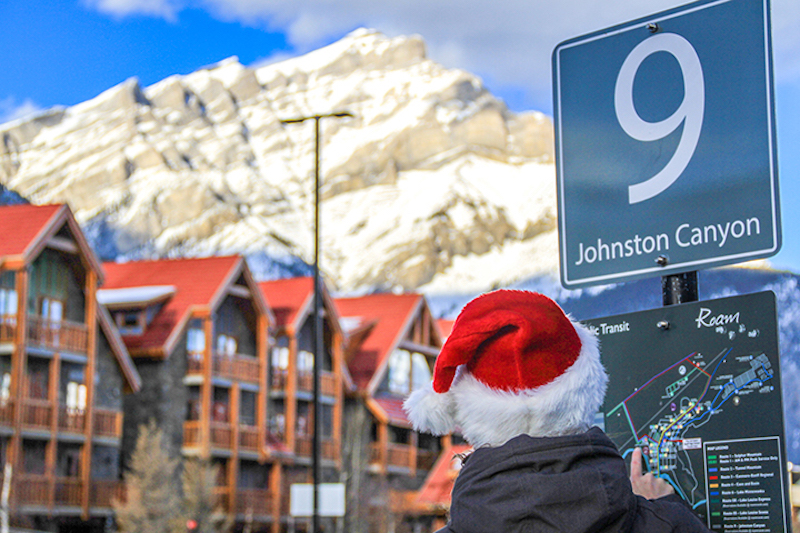 To plan a bus trip on Roam Transit, consult the schedules and route maps on Roam Transit's website or use the handy trip planner on their landing page. Downloading the app Double Map on your smartphone (available through Apple or Google Play) will also allow you to see live bus locations and arrival times. Without technology, you can consult the system information posted at stops.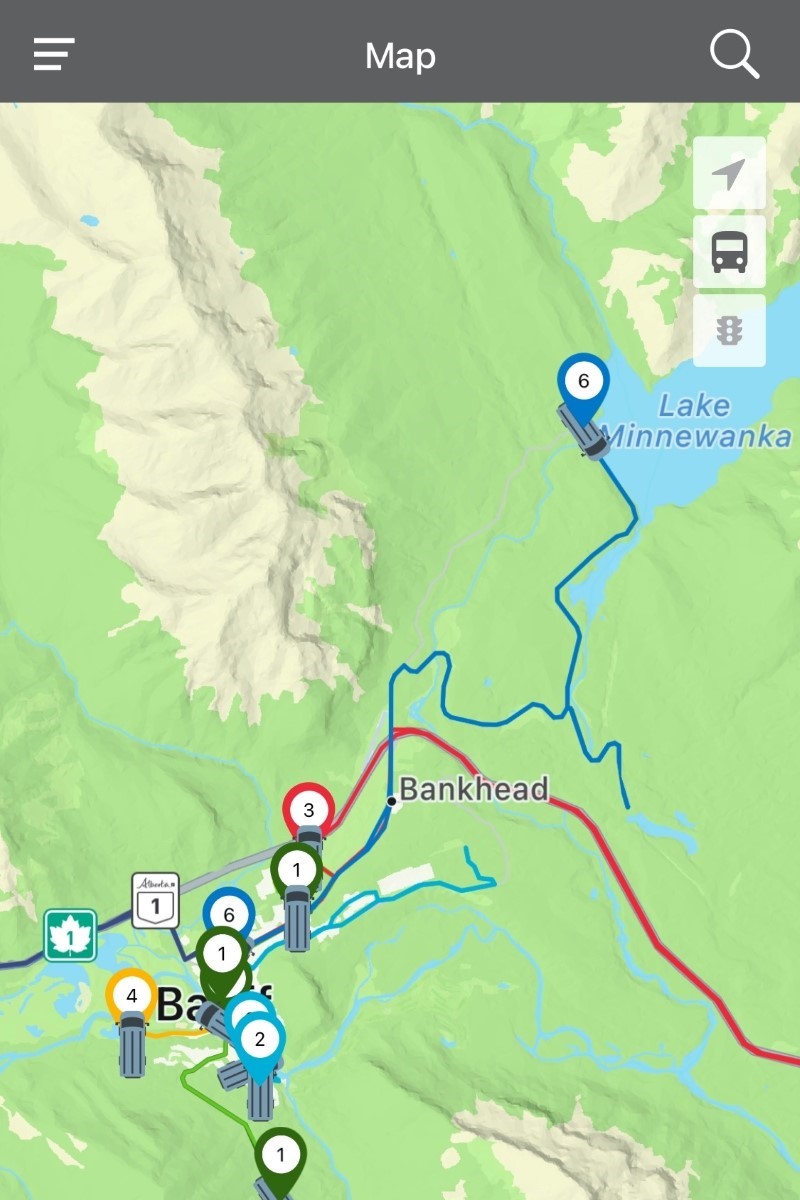 Using the system maps, identify the route that serves your intended destination(s) and locate the nearest stop to start the trip. If not boarding from a terminus, make sure to check the bus direction.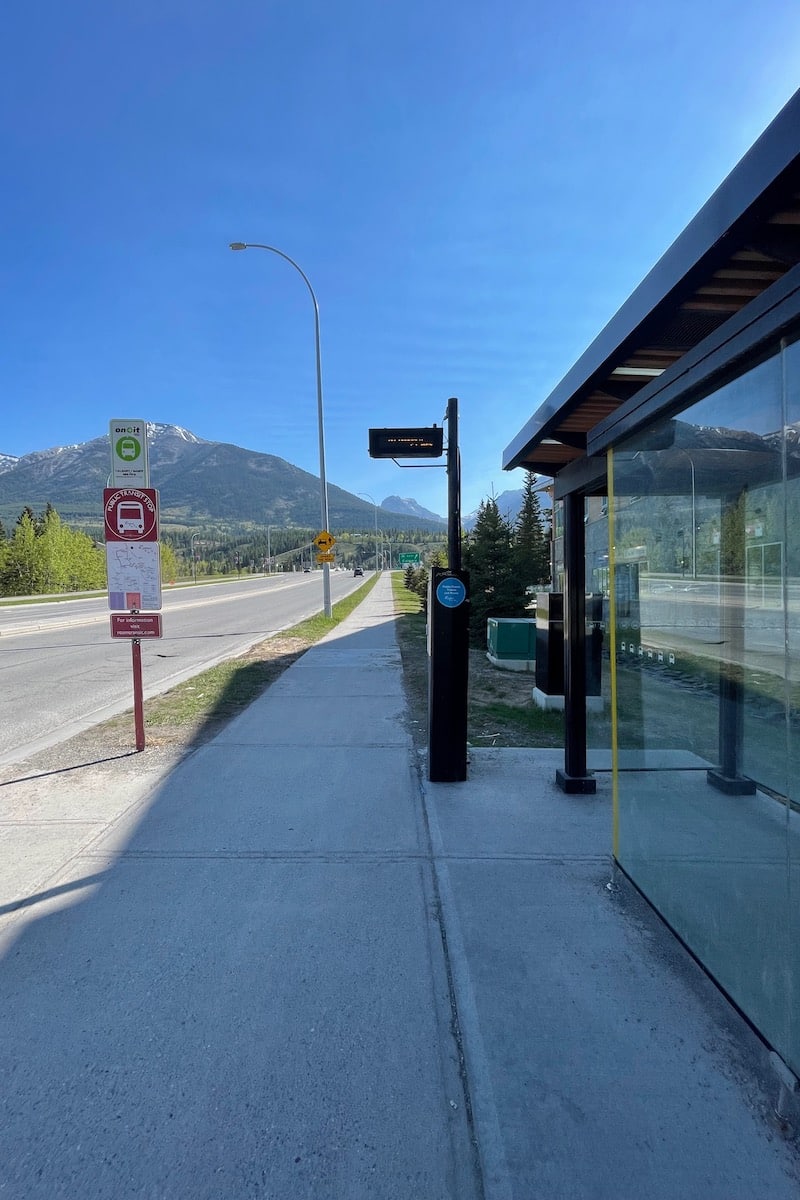 When on Roam, remember that all buses lead to the downtown Transit Hub at the intersection of Banff Ave and Elk Ave (except for Canmore local buses).
It is highly likely that your trip will start or end from these stops, particularly if traveling outside the town itself.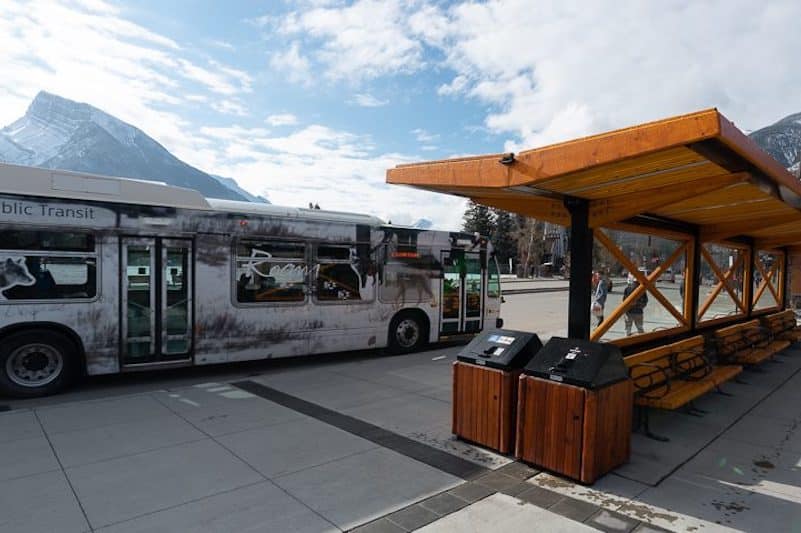 The published schedules will indicate bus frequency, while the live location maps allow you to see bus locations in real time. LED signs at some stops also indicate when the next bus will arrive, helping to minimize wait times. When embarking on excursions by bus, always make sure to budget enough time to catch a bus back!
Planning ahead where you want to go, how many bus trips you'll make, and the number of bus travel days will help inform what bus ticket to buy.
Buying a Ticket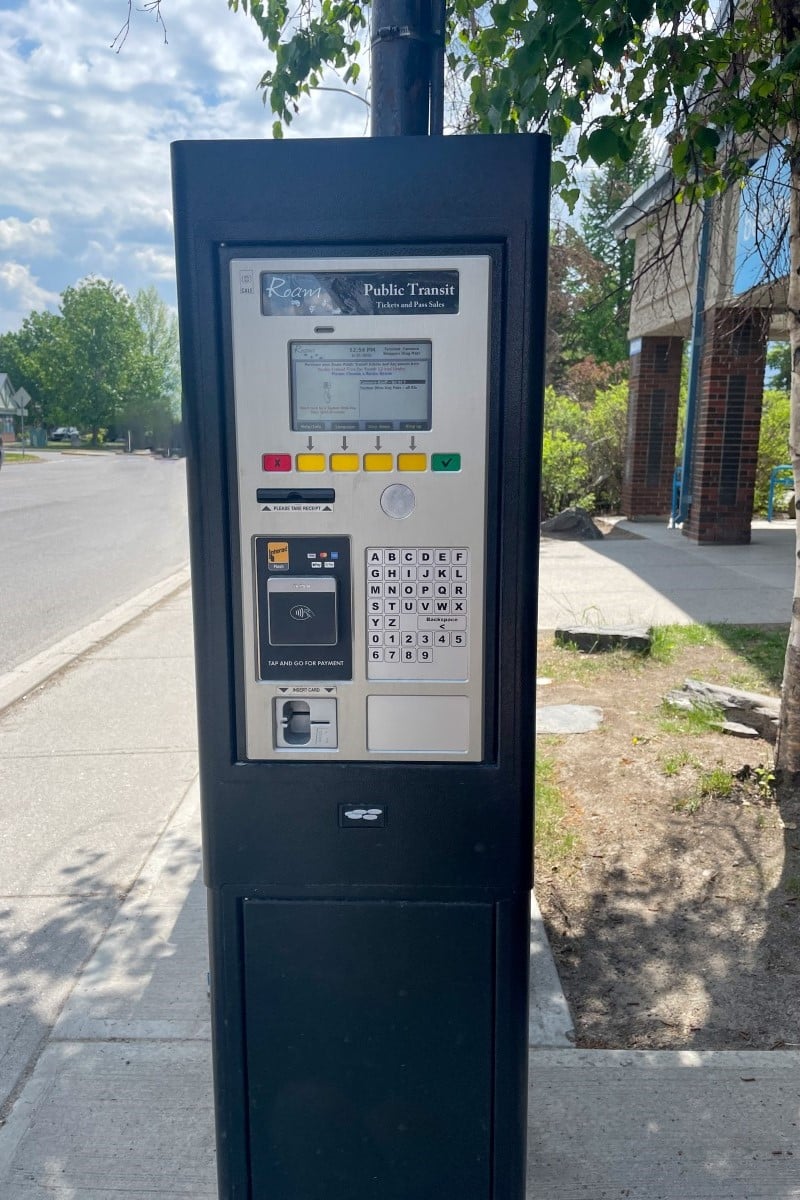 Most Roam buses operate similar to transit systems in large cities, with no required reservations. You can simply walk-up to the stop and purchase a ticket from a vending machine or on board the bus (chip-enabled credit cards accepted as well as U.S and Canadian currencies on board).
By downloading the Token Transit App you can purchase and display passes on your smartphone. The app also includes a function to send passes to other mobile numbers, which comes in handy when buying tickets for family or friends.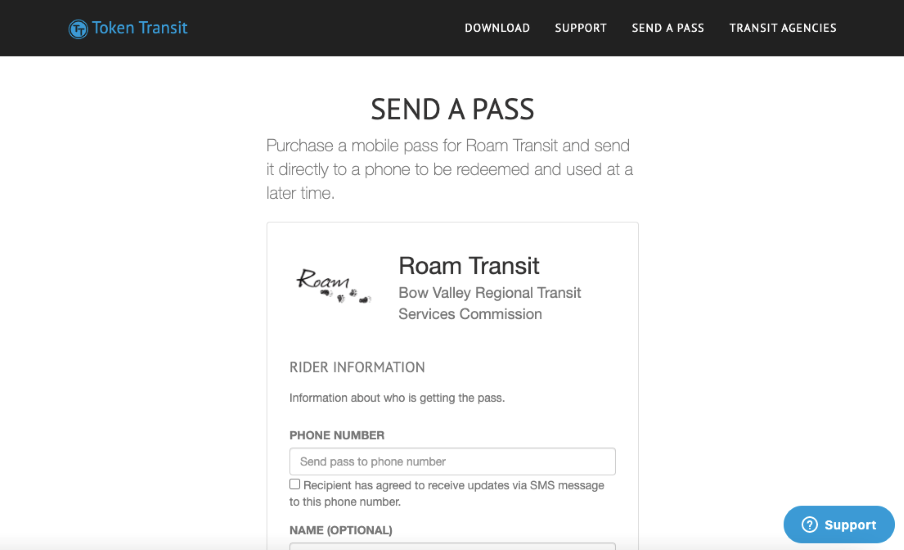 Roam Transit fares vary by route depending on the distance traveled. So a local bus from downtown Banff to the gondola will be cheaper than traveling to Lake Louise on a regional route. Fares remain affordable, ranging from $2 to $10 per trip.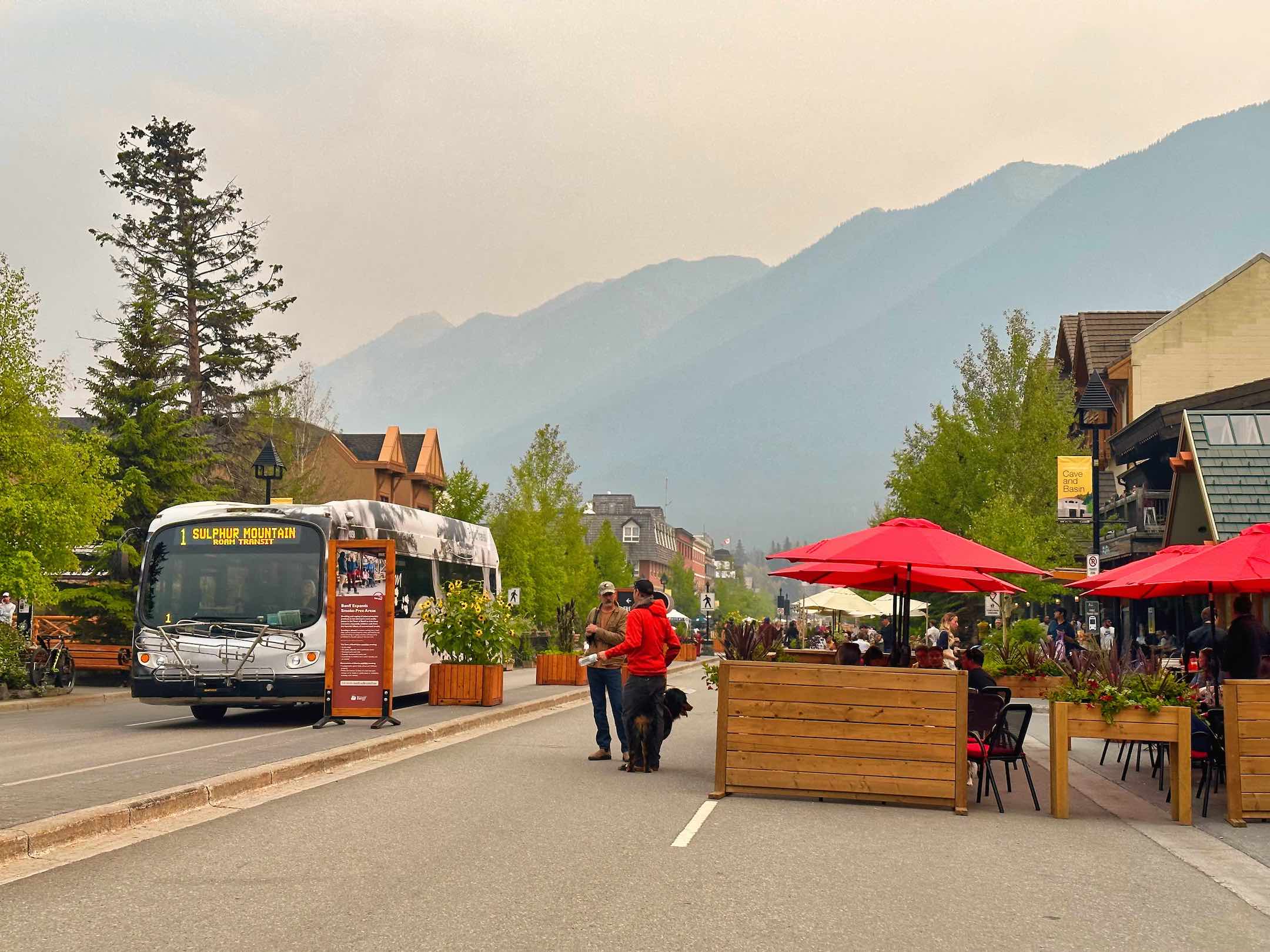 Discounted fares are also available for youth aged 13 to 17 and for seniors over 65 years, while children under 12 ride all buses for free. Some hotels in Banff provide guests with free local transit passes for Routes 1, 2, 4, and 6. And all the local buses in Canmore (Routes 5C and 5T) are free!
When purchasing a ticket, you can either pay for a single ride fare or purchase a day pass that will allow for 2-way travel and may also allow you to connect to other bus routes. If buying a pass, you'll need to consider the different 'zones' of travel. While a regional pass will also be good for travel on local service, a local pass will not be accepted for regional travel.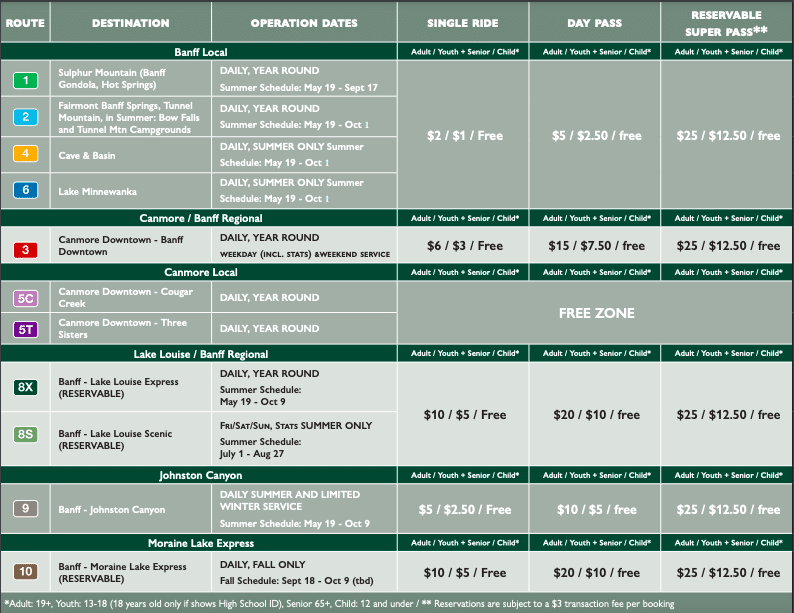 For routes to the Lake Louise area, tickets for specific dates and times can be reserved through Roam Transit's online reservation system. Unlike a walk-on fare or pass through Token Transit, this reservation guarantees a spot on a specific bus.
For those looking to cover a lot of ground in one day and connect to Moraine Lake, a Roam Transit Super Pass will give you the option to secure spots on buses between Banff and Lake Louise, while providing unlimited travel on all routes as well as access to the Parks Canada Lake Connector Shuttle to Moraine Lake (when operating).
Read More: How to Get to Moraine Lake
Bus Etiquette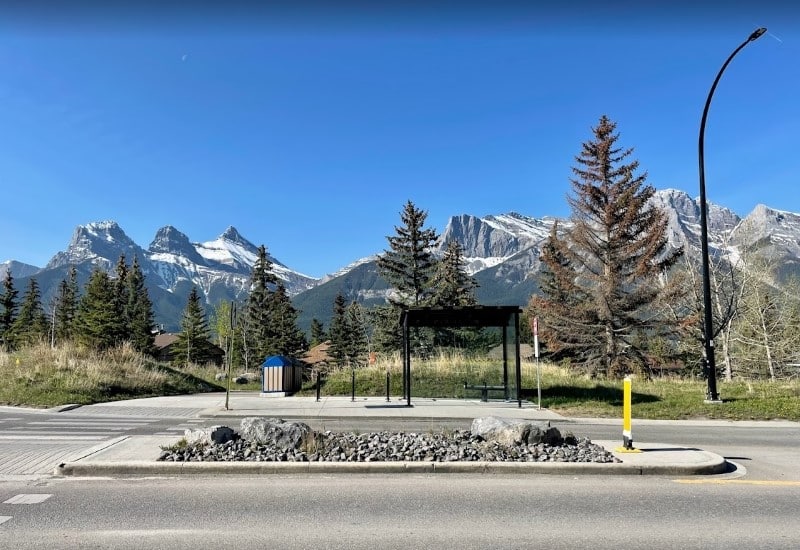 Even for seasoned straphangers, it takes some time to learn the unique quirks of a new bus system. Keep these tips in mind when riding Roam for a smooth, enjoyable journey:
---
The Parks Canada Shuttle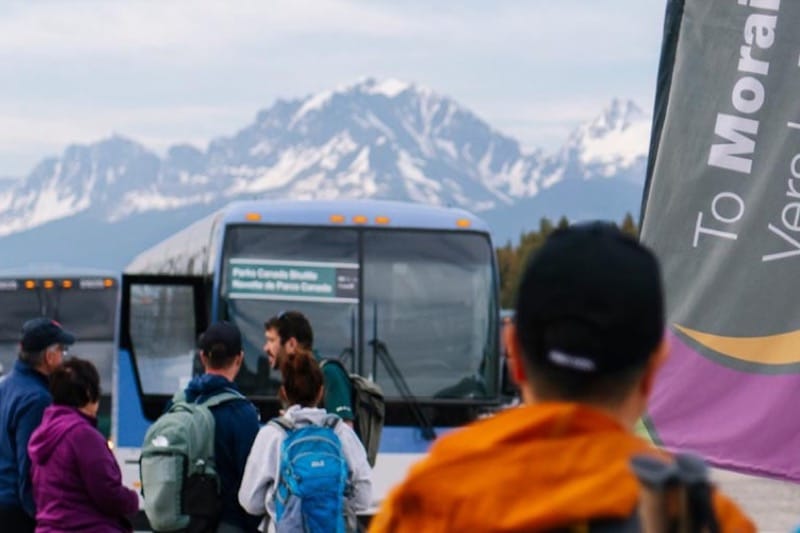 To accommodate high visitation to Lake Louise and Moraine Lake, Parks Canada runs a shuttle system, which allow more people to visit these highly coveted areas. The shuttles only circulate within the Lake Louise area, departing from the Park and Ride at Lake Louise Ski Resort, so are best suited to those driving into this area.
If busing from Banff, opting for a Roam Transit Super Pass will grant access to the Parks Canada Lake Connector Shuttle between Lake Louise and Moraine Lake. You would not need a separate reservation through Parks Canada. Connector shuttles are boarded on a first-come first-served basis to ticket and pass holders. You can read all about the shuttles below:
---
Ski & Gondola Shuttles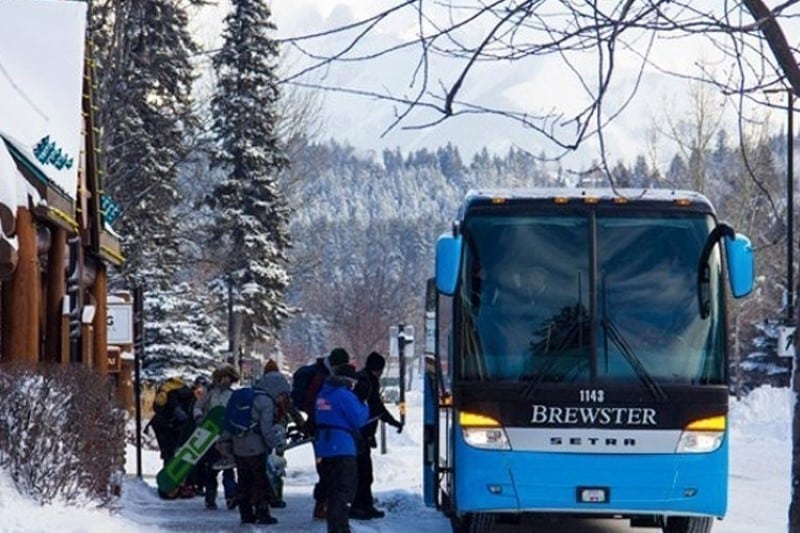 Each of the three ski resorts in Banff National Park – Sunshine, Lake Louise, and Mt. Norquay – run free shuttles to bring snow bunnies and their gear from Banff hotels to the lifts during ski season.
Banff Sunshine and Mt. Norquay restart the free shuttle service in the summer months to provide convenient access to their sightseeing gondola and chairlift rides (which do require payment) and also to trailheads leading from the resorts. Check each website for schedule and stop information.
Similarly, the Banff Gondola runs complimentary shuttles for those who have pre-purchased a ticket up to the top of Sulphur Mountain. A pre-purchased gondola ticket can also be shown for a free ride on Roam Transit's Route 1.
---
How to Visit Banff Without a Car: Tour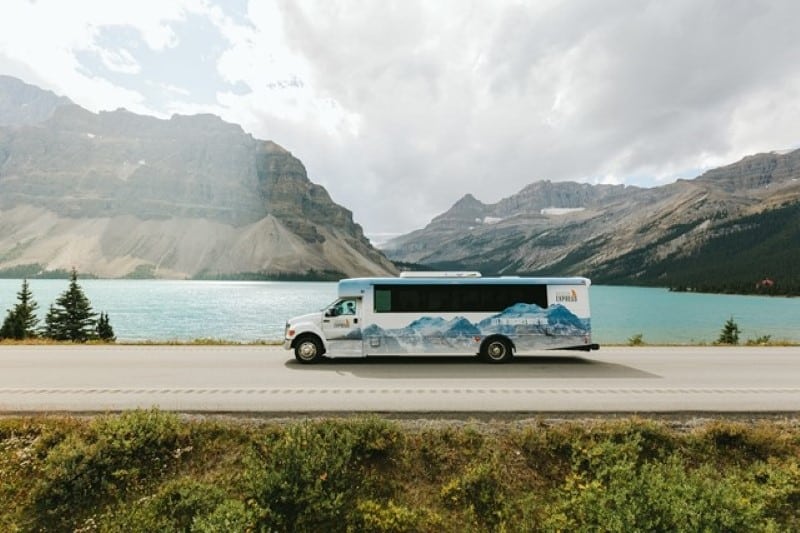 While Banff's bus networks and services have expanded over the years, they only reach so many destinations in the National Park and do not provide access to neighboring Yoho, Kootenay, or Kananaskis Country.
If you have particular hikes or destinations in mind that are not accessible by transit, day trips through one of the many tour companies or private charters may help you reach these more remote areas.
Radventures offers small group (max 14 guests) guided tours, starting and ending with hotel pick up in Banff, with local interpretation and an amazing guide on hand to answer questions.
Other Tour Operators in Banff Include:
---
Hop On Hop Off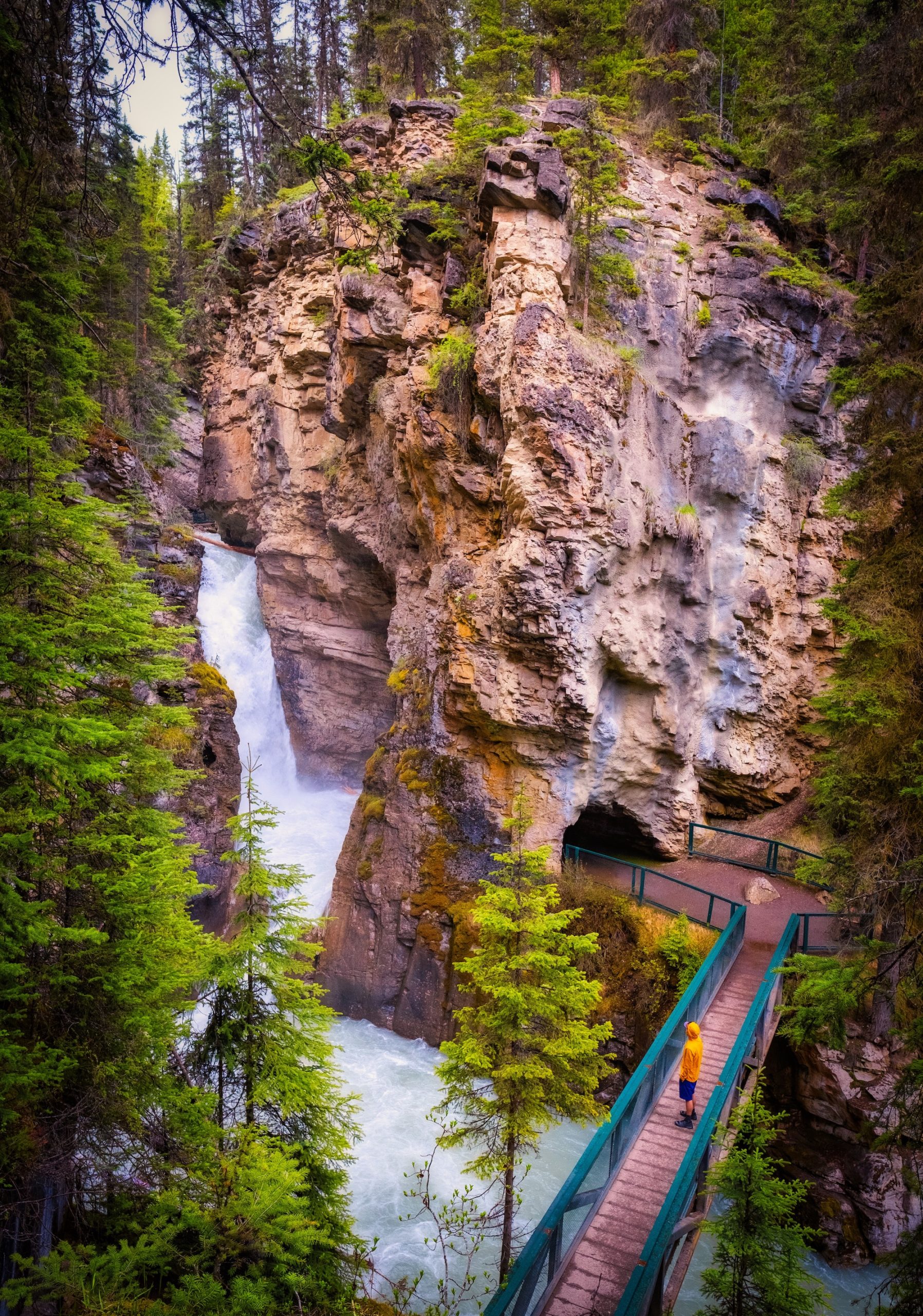 The Banff Hop on Hop Off Bus has become quite popular in recent years. The hop on hop off bus is exactly what it sounds like – a bus that lets you hop on and off when you want! The bus starts in Banff and stops at Johnston Canyon, Lake Louise Gondola, Lake Louise, and Moraine Lake. We recommend utilizing your time to enjoy some of the Lake Louise hikes like the Plain of Six Glaciers or Lake Agnes.
Buses depart 7 days a week from either the Moose Hotel and Suites on Banff Avenue (7:45AM , 9:30 AM, and 12:15 PM) or The Banff Heritage Train Station (7:50 AM, 9:35 AM, 12:15 PM). Just note that the later you depart the fewer places you can explore. The buses come back to Banff at 4:55 PM and 6:00 PM. Book that bus here.
---
Should You Rent a Car in Banff?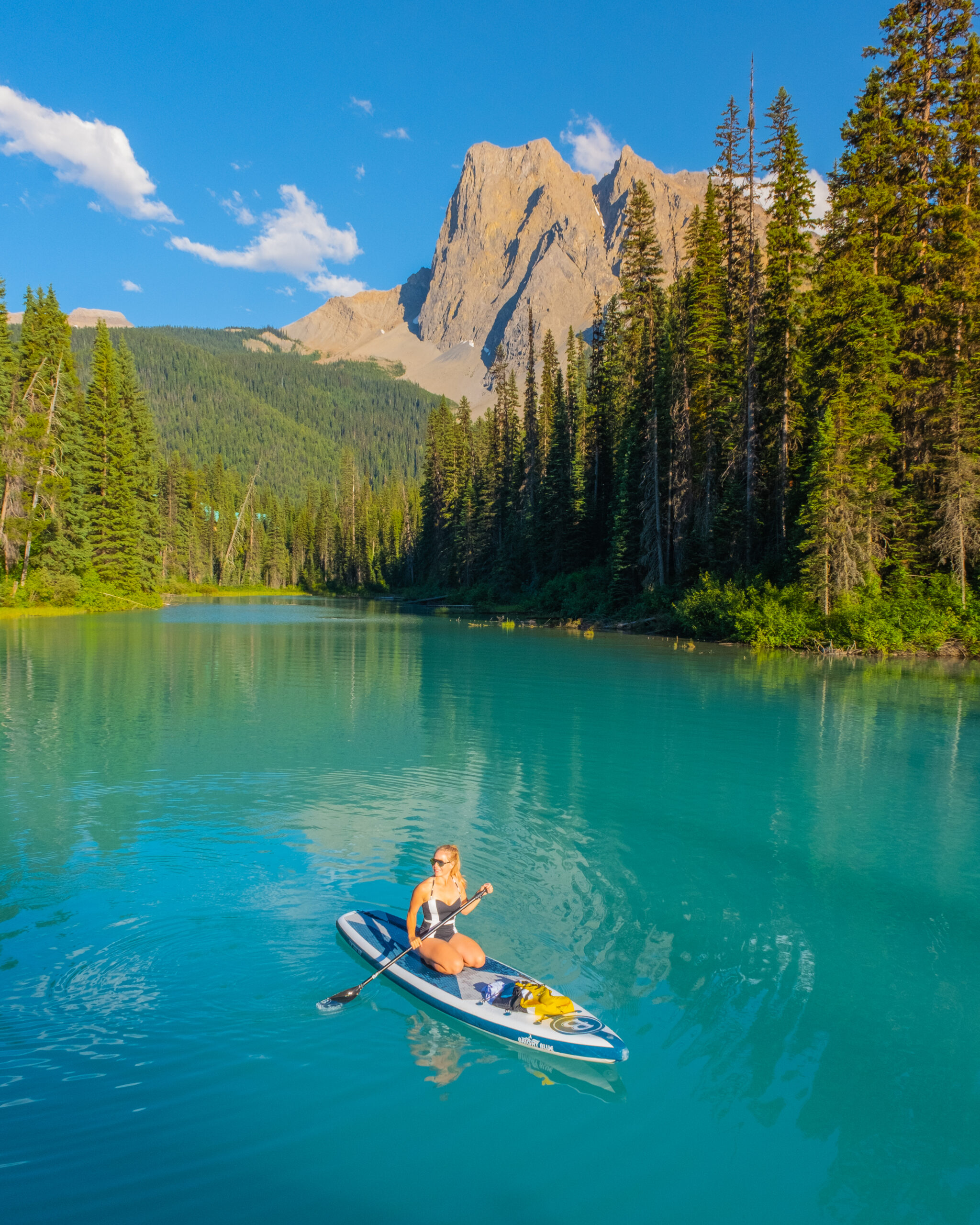 It depends. If you are visiting Banff and plan to spend your days strolling around Downtown Banff, heading up Sulphur Mountain, hiking Tunnel Mountain and seeing all the top attractions like Lake Louise, Lake Minnewanka, and Two Jack Lake you can easily get around Banff without a car.
However, maybe you have already visiting Banff and seen the majestic Moraine Lake. On this trip you want to go see Emerald Lake in Yoho, hike the Iceline Trail, and venture into Kananaskis. Maybe enjoying some long hikes and scrambles away from the crowds is exactly what you are looking for. If this is the case, then you will certainly benefit from having a rental car on your trip. The sooner you book your rental car, the cheaper the car will be.
---
Where Is The Best Place to Stay in Banff Without a Car?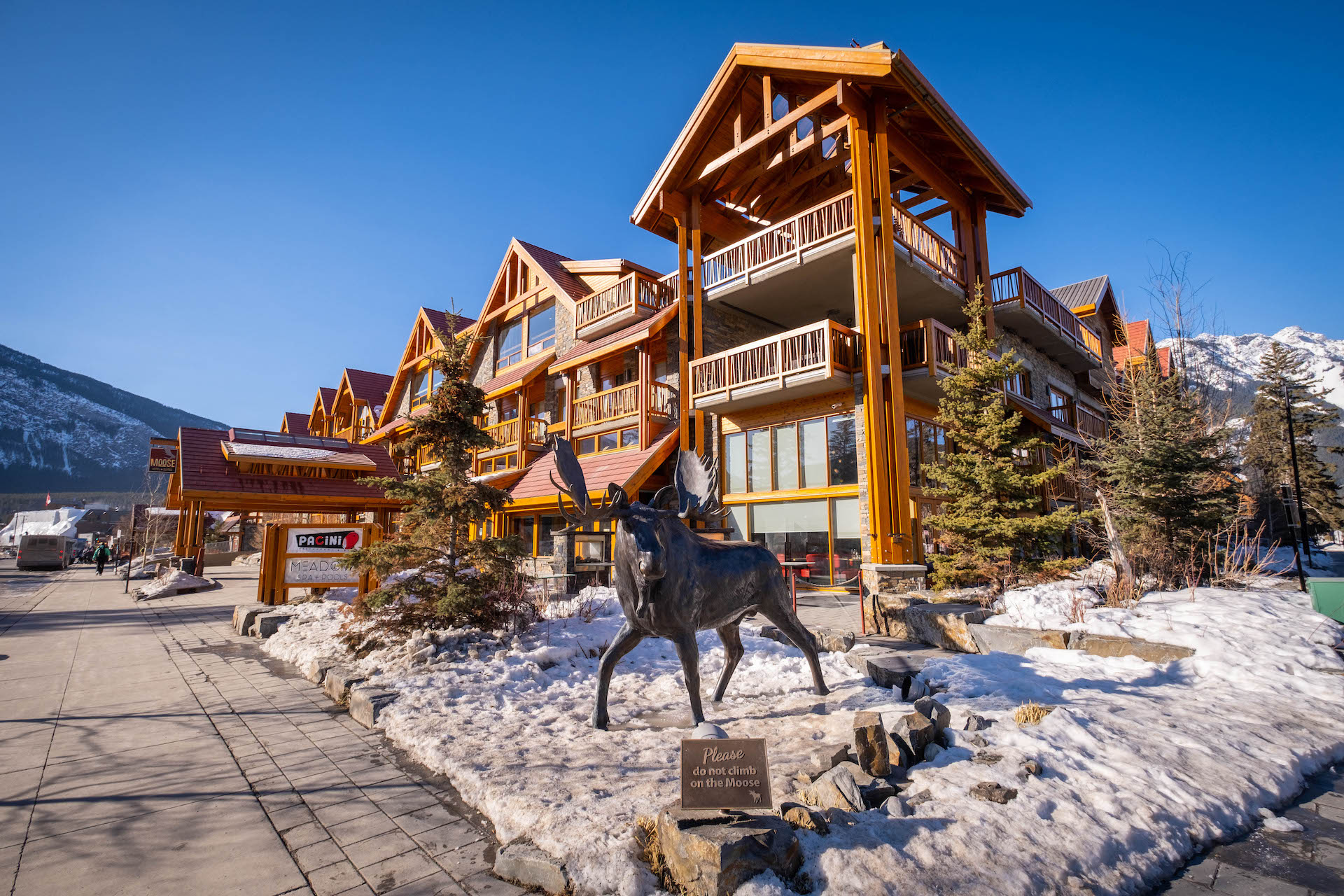 Downtown Banff is the best place to stay if you don't have a car. This will provide you with easy access to all the best Banff restaurants, shops, and public transit.
Steer clear of accommodations on the Bow Valley Parkway, the Icefields Parkway, and even Lake Louise as it will be tougher to move around these areas without a vehicle. Here are a few of our recommendations:
Plan Your Trip to the Canadian Rockies